May, 1977

This report is taken directly from notes I kept during the trip. This was a trip to Grandview, Washington and then Walla Walla, Washington. My dad flew up to Sunnyside (in a Cessna 140), where I met him at the airport. Additional comments are added.
---

California
start [from Sacramento, California on a Suzuki T-500 Titan, 2-stroke motorcycle]
miles 30,870
time 8:05am
miles 30,980 - 3.3 gallons
drafted truck up to this point. much easier. [I no longer draft trucks very closely]
high overcast. very good riding temperature.
time 9:55am
stop at rest area before Redding
time 10:50am
Redding
time 11:30am
mi 31,055 - 2.4 gallons
Weed
time 12:45pm
it's raining!
ate lunch of fruit cookies and cheese. good.
watched train switching operations.
mi 31,127 - 2.6 gallons
Oregon
crossed state line
time 2:05pm
mi 31,207 - 2.8 gallons
Collier Park
time 3:00pm
stay 1 hour. Decide to move on as it's not very late and it might be better weather up ahead.
mi 31,274 - 2.3 gallons
weather is better.
Bend
time 6:00pm
ate at McDonalds. good.
The weather has been rather patchy, but I haven't had rain since Weed. If I hold rpms above 4,500 I have no problem. Let it drop; and I have to work to get going again. Little traffic. have only seen three other motorcycles. [This 2-stroke motorcycle had limited power when the engine speeds were allowed to drop too low. If kept near redline, the engine was very strong, but the mileage suffered horribly]
mi 31,357 - 3.0 gallons
mi 31,400 - 1.6 gallons
stop for the night at rest stop before Maupin. It doesn't look like rain, but can't be sure. If it does rain, maybe I'll sleep in the restroom.
It didn't rain! But, it did freeze. It froze my pen. It looks like it's not going to rain today. [I slept outside, next to the motorcycle]
Grass Valley
mi 31,472 - 2.8 gallons
Biggs Junction
time 7.45am
mi 31,502 - 0.95 gallons
Washington
Sunnyside [via Goldendale and Toppenish]
time 9:25
mi 31,547 - 3.5 gallons
Grandview
time 9:45
mi 31607
Got ticket for not riding with lights on and for being noisy (my left baffle fell out, but it sure performs good!) It was just a warning. [A new baffle was purchased in Yakima]
Leave Grandview
time 3:30
mi 31,652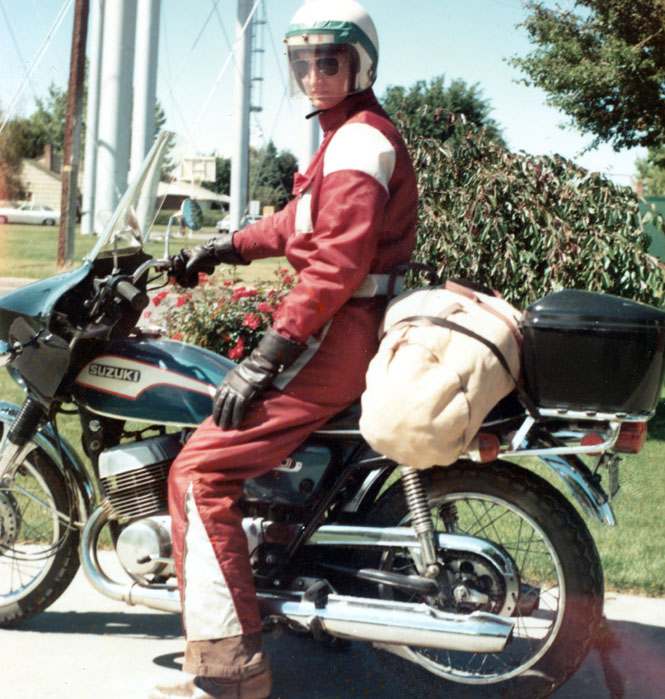 By the way... When I got to Grandview it turned out that Grandma wouldn't be able to stay at her house any longer, so Ruth and my dad decided to have her go into a nursing home, there. Also, Friday my dad and I went to the town of Grand Coulee where we were met at the airport by his old friend Bob Babbler. A nice man. He had most of his family there as one of his daughters was graduating from high school He lent us his Datsun 510 sedan and we drove around the town looking at all the sites. We also climbed the sand pile and took quite a few pictures. We stayed overnight there in a motel. The next day we were going to attend the opening ceremonies of the third power house, but it wasn't ready to be toured yet. So, instead we took the self-guided tour of the dam. On the way back from the dam we stopped at an air show at Moses Lake.
Now then... On the way over to Walla Walla I stopped at a rest stop near Wallula Junction and talked awhile with a man and his daughter who were on a 1973 Jawa 250 single.
At Walla Walla I played the organ quite a bit. Went out to the Army Corps to see if any openings were available. Just as I had thought, I'll have to go through the Civil Service Office before I can get anything. I have decided to leave early Thursday morning. The bike seems quite fit. I think that I'll go back the same way I came i.e.) Biggs, Madras etc.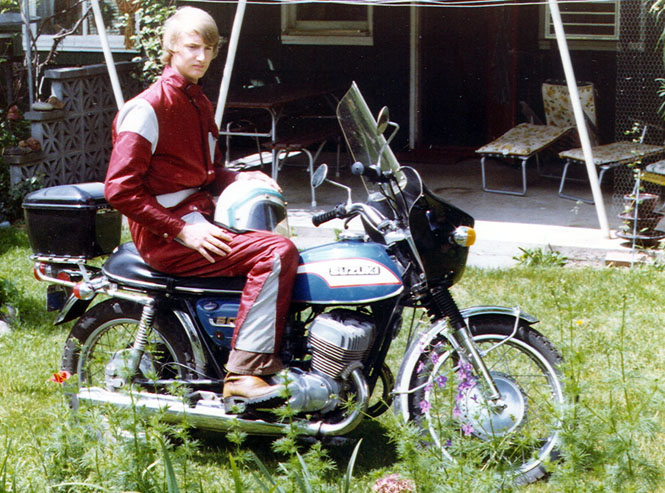 The weather was in the 80's today (5/31/77). Left Walla Walla at 8:00am. Very little traffic. No cycles. Stop at rest stop along river before Biggs. Only a few clouds in the sky. About 68 degrees temp. Stop at Ogden around 1:00pm (Crooked River Gorge). It must be around 75 - 80 degrees now.
Oregon
Stop at McDonalds again at Bend around 2:00pm. Collier Park around 5:00pm. My time isn't as good as it could be due to the road construction all up and down US-97.
California
Castle Craigs around 7:45pm. I hope to be able to camp at the lookout point and hope the ranger doesn't come up here on his fee rounds. The bike needs oil. Don't Forget!! [this motorcycle had a separate tank for the 2-stroke oil]
I've stopped taking mileage readings as it's too much trouble and I'm getting terrible mileage, anyway. This bike just can't carry heavy loads at high speeds efficiently. I really need a bigger bike!! (Moto Guzzi, where are you?) I've been doing between 65-70 mph as only at that speed does all the vibration leave. Also those rpms are in the power range, so I have no problem climbing hills.
Woke up at 5:30am. Stopped at gas station 6:45am and wait until 7:30am to get oil.
Sacramento 11:45
mi 32,544.
Total trip: 1,675 miles.
last edit: 3/2/2015