June, 1978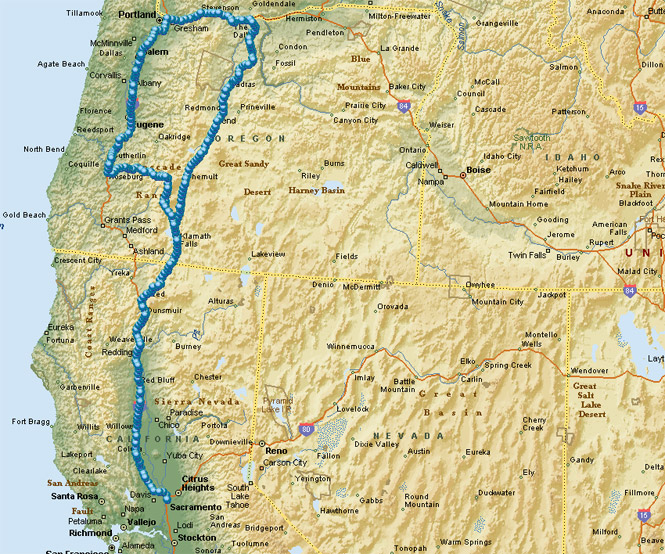 A trip taken in 1978 on the 1973 Guzzi California Police (Eldorado). The entries are from a journal that I used to keep on some of these early trips.
California
Left sometime around 6:30 PM to go to Crater Lake.
Arrived Redding at 9:50 PM. ~ 50mpg.
Arrived at Castle Crags State Park before 11:00 PM. Set the tent up in under 10 minutes.
Had French bread, cheese and V8 juice for breakfast. Walked down to the river where I am writing this, now. Last night there was a full moon and I could see Mount Shasta glowing in the moonlight. Pretty neat. The bike has given no problems at all. Before Redding, I was following a Jaguar doing 90 mph. The bike really sounds great at that speed.
Entered Oregon at 12:00 PM.
Ate lunch at Klamath Falls at a coffee shop.
Arrived at Crater Lake around 2:15 PM. Much snow still on the ground. The place is crawling with tourists--the stereotype tourist that is. Everybody seems to be overweight and southern. Many of the men have jeans that are rolled up past their ankles. The gift shop is full of people buying all sorts of Crater Lake garbage. The birds here are tame and will eat from your hand. I just noticed that the park was established in 1902 on my birthday. Oh, boy!
I decided to not sleep at Crater Lake because it was too cold. I took the north road out and then to Roseburg. I am writing this at Sweet Creek State Campground. Had a dinner of French bread, salami, cheese, deviled chicken and chicken-in-a-brisket crackers with V8 juice. The weather is just great, the bike runs great, though I must get the shift mechanism fixed.
Left camp after having to pay $5.00. Stayed on the road until I got to I-5, then turned north. About 20 miles north the bolt came off the shift lever. After a feeble effort at wiring it on, I went into the town of Oakland.
There I found a fine-thread nut that seems to work. The town is very old and neat. When I pulled up, about ten kids were painting the curbs. Many people were walking about. The local sheriff pulled up and everybody waved at him. He knew all their names. As I was leaving this very helpful town, a priest walked over to the kids and started talking with them.
The Portland drivers were so bad I decided to move on before stopping for gas. They drive far too slowly.
Headed east on I-80N. Stopped at Starvation Creek rest stop where this is now being written. The weather is now very sunny, while of course Portland was overcast.
Was planning to turn south on OR-197 at The Dalles, but I missed the exit. Continued to Biggs. At Grass Valley I talked to some BMW riders. They said it was raining further south. They were right. At times it was raining so hard I could only do 20 mph. Sheets of water on the road.
It stopped raining at Madras where I had a steak dinner.
Traveled south into the night until I came to La Pine State Park where I am writing this, now (in the morning). The ranger said the temperature last night was 35 degrees, but I slept good. Some chipmunks stole much of my food. Ah well.
No problem all the way to Sacramento except the generator is getting loose, the shift lever nut came off, and the exhaust flange came off repeatedly. I spent about 45 minutes in Willows trying to find a nut to fit the shift lever.
last edit: 9/3/2014