May, 1979

Sunday

Monday

Tuesday

Wednesday

Thursday

Friday

Saturday

27 May

28
Sacramento
Arcata

29
Grants Pass OR

30
Albany
Portland

31
Walla Walla WA

1 June
Grandview

2
Biggs OR
McDoel CA

3
Weed
Sacramento

4

5

6

7

8

9
This was a quick trip north to Washington to see Becky (who was also visiting) and the grandparents. The trip was notable in at least one regard for the higher than normal amount of roadside maintenance. The following comments have been taken from a brief journal that I kept during the trip, along with additional comments (25 years later).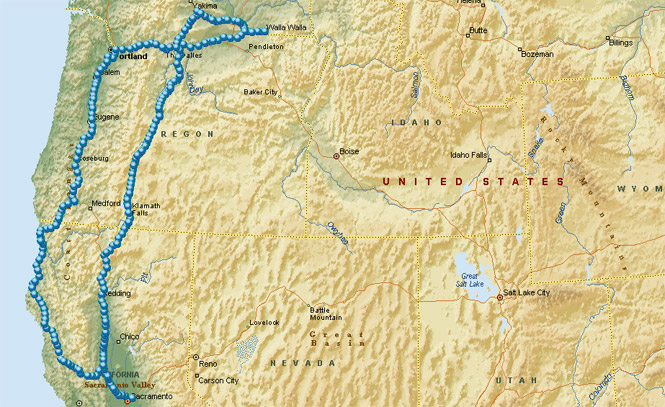 California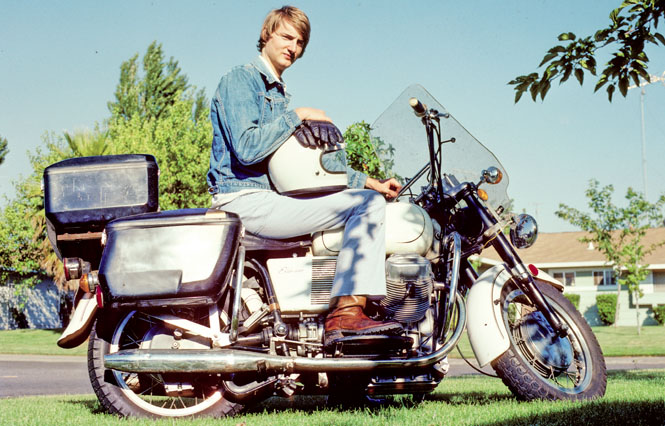 Left Sacramento May 28, 1979 for a short trip to Washington to see grandparents. On way to Arcata, CA to see Becky, I got a ticket for speeding.
There's a really tempting long downhill section of Highway 1 near Garberville that is often patrolled. I know that now. I didn't, then.
Most of the time, I kept the rear trunk and saddle bags off the bike, and often for smaller trips such as this, I didn't even bother with the rear trunk.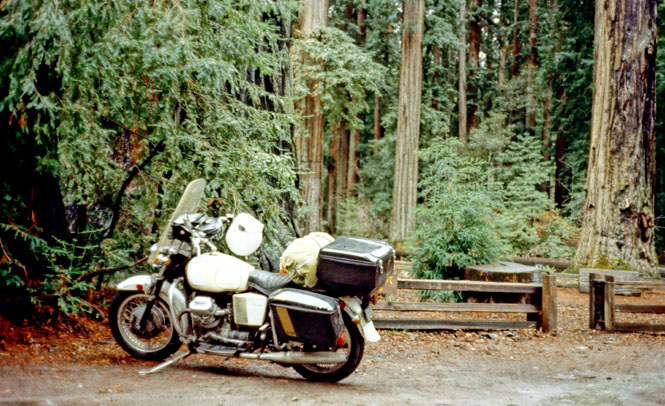 Stayed the night at Arcata. Left Arcata around 11:00 and went north on '101'. Before Crescent City I got a bug in my eye and pulled off on a side road.
Odd; I remember it, now, as a small piece of wood from a logging truck I had been following. In any event, something got in my eye.
While making a left hand turn, the bike touched down. I straightened up the bike and went off the road. I hit a rock and crashed.
This is a classic example of an accident that should never have happened. Relative to now, though, I was vastly inexperienced... The proper thing, of course, would be to not ride so fast as to drag the pieces of the motorcycle in the turns. But even at that, I should have avoided the common instinct to straighten up and hitting the brakes by just holding steady in the turn and staying with it. Actually, if it hadn't been for the large partially buried rock hidden in the grass, I probably could have saved it anyway. Didn't.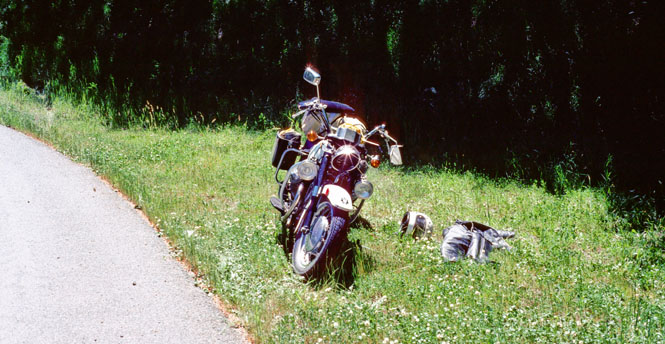 The bike smashed down and I landing about 10 feet in front of it. The windshield smashed to tiny bits
...because I went right through it...
and the headlight was gone. Also much of the left side of the bike was bent. The front forks were very crooked. At a rest stop near the border, I met a man who was interested in the problem. Together we straightened the forks somewhat. Being rather hard to battle the head winds without a windshield, I had to buy one.
Oregon
I got a ticket in Oregon for not having a headlight!!!!
I had tied a yellow scarf around the open headlight nacelle to protect the fuses, which are found there. I remain astounded to this day that I received a ticket despite telling the officer what happened. You might be wondering; but it never occurred to me to turn around. I still have a scar on my left side from that incident. I carried with me (as I still do) a first aid box containing several large medical pads and adhesive tape and gauze. I used two or three pads, and wrapped tape around my waist to hold it all in place. I spent that night camped off of a side road just north of Grants Pass. Didn't get much sleep.
In Albany Oregon I stopped at a Moto Guzzi shop and bought a new headlamp and a 'Harley' windshield
...which windshield would ultimately be destroyed on another trip--but that's a story for later....
Washington
From there I went to Portland and then to Walla Walla. I arrived at Walla Walla around 9:00.
Apart from my road problems, my visits to Walla Walla and Grandview were both very enjoyable.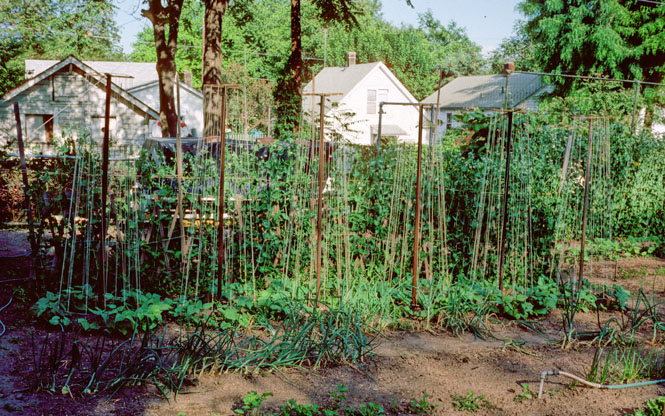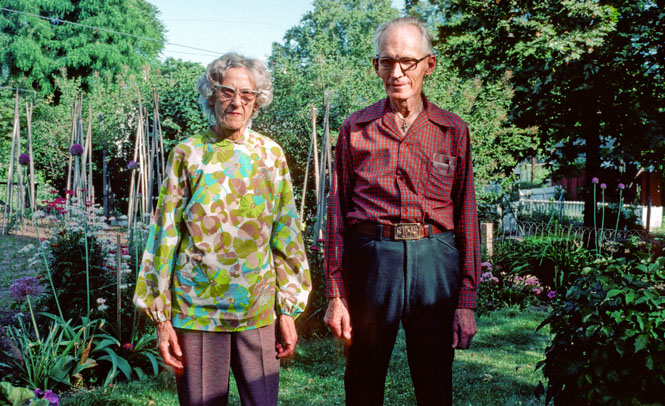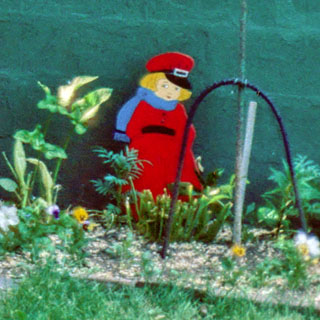 The wheel (front) is still very much out of alignment and will have to be looked at very soon. My mileage has been around 50 MPG. Not bad. The gas situation is good. Stayed in Walla Walla all the next day. Left Walla Walla around 11:00 and had a rather uneventful trip to Grandview. I went directly to the Walnut Grove nursing home where Grandma Shafer is. After visiting for an hour, I went to Harley Dorsey's and had lunch.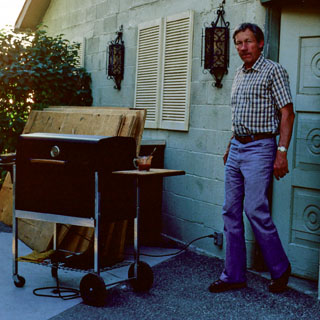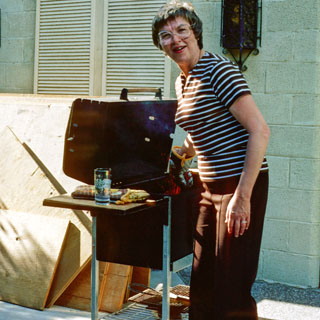 I spent a bit of time in Harley's shop straightening out the forks further.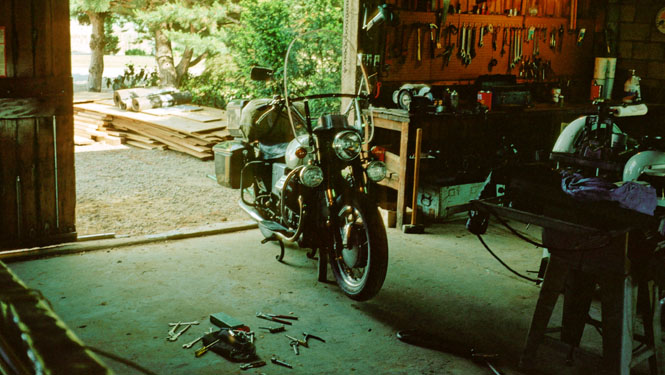 That's Myra Dorsey on the motorcycle. Notice the brand new Harley windshield and new headlight.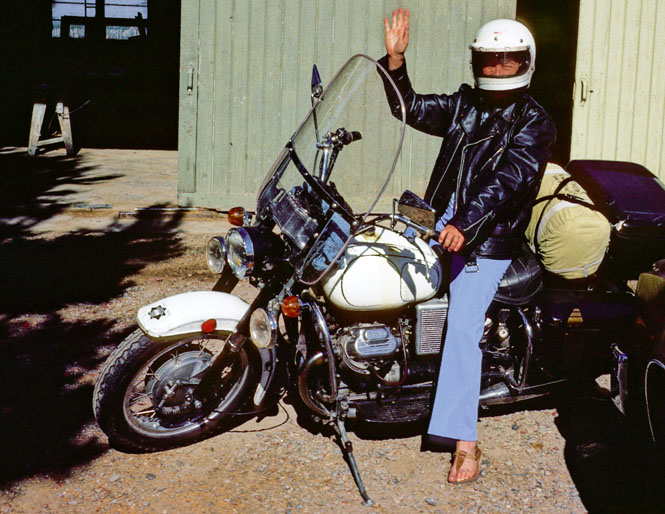 Harley showed me around his grapes and I got a good look at the grape harvester. Had BBQ chicken for dinner and some of their own white wine. Ate some Oreo cookies with double stuff. Slept that night in their guest room. The next morning (Saturday) I went out to the nursing home again to see Grandma. Spent about 2 hours there.
This was to be the last time I would see Grandma Shafer.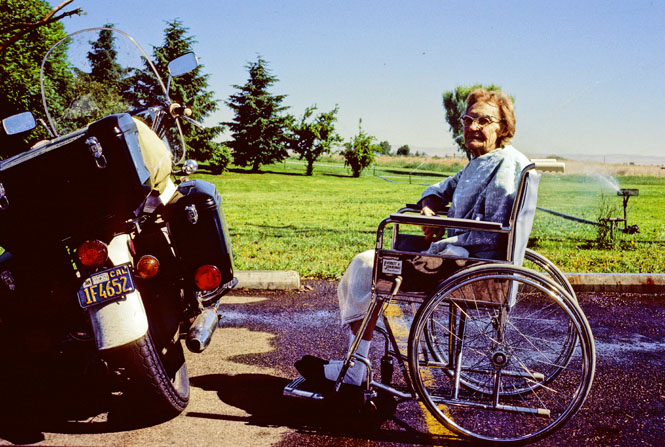 Oregon
Went to Biggs where I ate lunch. Got gas at Biggs. At a rest stop (before Madras) I repositioned the Generator.
The generator tended to come loose and start to rub on things.
Got gas at Bend.
California
Around McDoel the bike started cutting out due to the generator not operating
When I adjusted the generator, earlier, I had inadvertently pinched one of the wires, and was riding without any charging system. It doesn't take much electrical power to run just an engine, but as soon as I turned the headlight on at dusk, the engine died. I turned the lights off and found a place to stay the night as soon as possible.
Spent the night in the sand next to an abandoned home.
The picture below shows my further repair work on the generator.
After fixing the generator, I got a jump-start from a resident of the town. Got gas and food at Weed (parked on a hill). Rode from Weed to Sacramento non-stop (no gas stops or rest stops), about 230 miles
...in part because I wasn't sure if I'd be able to start the bike without a bump start (as I did in Weed), and there aren't enough hills along I-5 to allow an easy rolling start.
End of trip. I-5 is a horrible boring road to ride on. Avoid in the future.
The various problems on this trip shouldn't give the idea that it wasn't a good one. It was.
About 1,800 miles.
last edit: 2/18/2007