June, 1981


It is right that this trip should begin with the last photograph from the previous year. Near Mitchell, Oregon the connecting rod big-end bearing was ruined, and that trip came to a halt.
This is the view from the Greyhound bus on the way back to Wichita.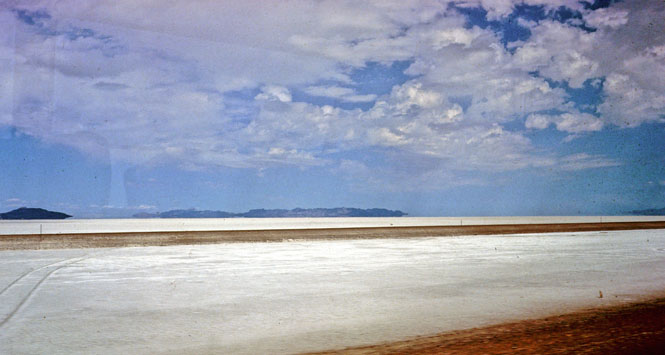 It would be a year before I got back to Sacramento to make repairs and to conclude the trip, properly.
California
It was a very hectic time. I had to tear down and rebuild the bottom end, and do it well enough to be able to immediately head out over the Sierra Nevada mountains and across Nevada.
The bearing shells I needed were not available in Sacramento, so I drove over to Oakland to get those. The crank was chromed to size and then ground back to blueprint by Master-Chrome of Sacramento (they did a terrific job). The connecting rods (with a big-end hole that was no longer round) had to be machined and reamed to blueprint (so I effectively lowered my compression ratio a very small amount--oh, well) by another shop. And, then the whole thing had to be put back together. Right after I buttoned it up, I ran it for about 5 miles, and things looked fine. The next time I started it up, I'd be heading up I-80 towards Reno, and beyond.
My dad rode with me as far as Emigrant Gap. We stopped once to check things over, and except for an oil line that needed to be tightened, everything looked sound. The next stop would be Winnemucca.
Nevada
I don't normally stay at KOA campgrounds (probably have only a handful of times), and this night reacquainted me with the joys of sharing a campground with multiple RVs. Generators were running all night. Not the best night.
But, the next morning, after a very careful inspection of the engine, everything still looked good. No worries about the engine after that.
Utah
This was not to be a normal see-the-sites trip. I was just making time and taking the direct route. Beyond Salt Lake City, I turned off on Highway 40 and would take that all the way to I-70 and Denver.
Colorado
Dinosaur National Monument is an interesting area. Besides all the Dinosaur interest, it's a good area to ride, too. I stayed the night at the campground, and spent time going through the museum.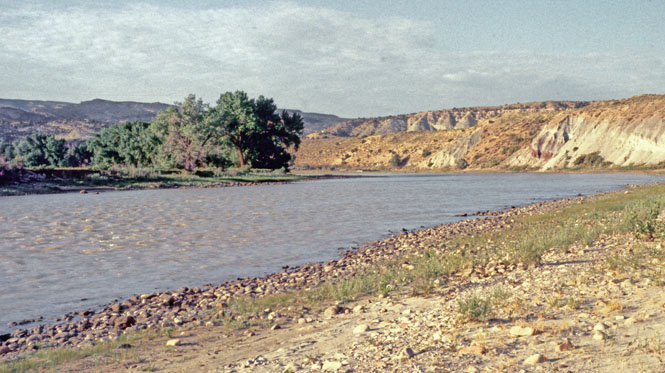 This is the Green River.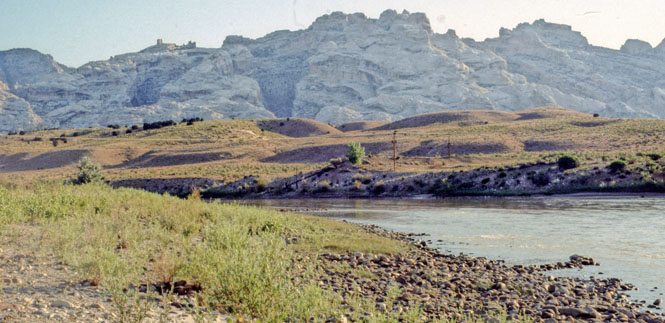 The highway is down in that valley. There are a few miles of gravel to get to the park.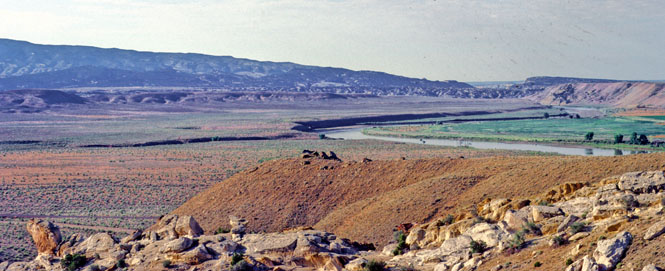 The visitor center is built over the actual cliff where many of the fossils are located. Only a limited (if any) amount of work is being done on these fossils, they being left for display purposes. Incidentally, the last time I was here (many years after this trip) the concrete guy you see was painted. I've no idea how they knew what colors to use, but it is more likely that these dinosaurs were colors other than grey.
At the top of the picture is a vertebra leading down and to the right and ending at the head of a dinosaur. In ancient times, this was something of a whirlpool of death for the creatures. Their loss; our gain.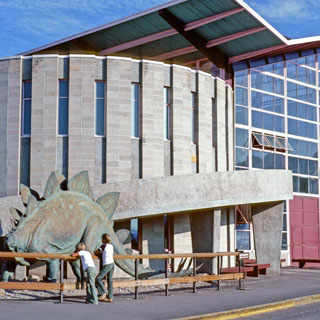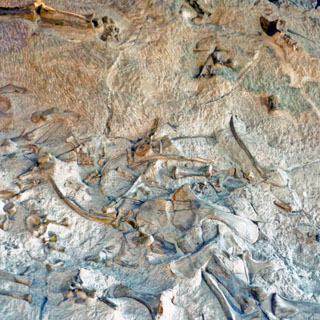 Rabbit Ears pass on highway 40 in Colorado. The road from Steamboat Springs to Empire is one of the great ones in Colorado. Just because I was only making time was no reason not to take the more direct of the better roads.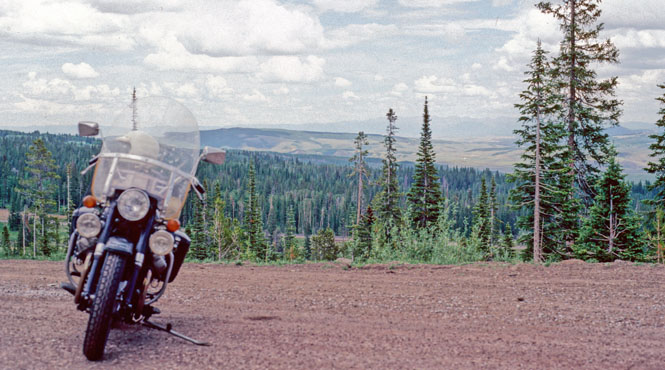 Taken someplace in eastern Colorado. Of course, once you're beyond Denver, you might as well consider yourself back in Kansas. In later years I learned to pack far less. Of course, on these earlier trips I rarely stayed in hotels or ate in restaurants, so I necessarily had to carry more. I had a rear trunk filled, mostly, with food and motorcycle needs. The two saddlebags held my clothes (the lid for the left saddlebag is on top of the rear trunk), while the tank bag held my maps and gloves and that sort. You can just see my map in the clear plastic sleeve on top of the tank bag. The sleeping bag and tent were packed together in the same bag, just behind my seat (that's a police solo seat). These days (being 2005) I sometimes don't even bother with maps.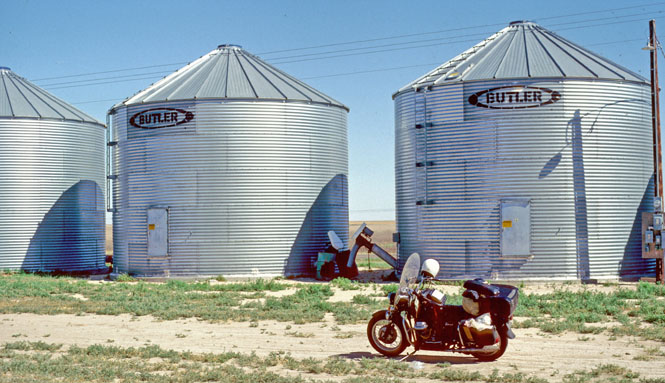 Eastern Colorado. Amber waves. No purple mountains, though.

Kansas
All went well. From a broken windshield in Wyoming (did you notice the new one in the photographs?) to the failure of the engine in Oregon to rebuilding the bottom end of the engine in California, it was an interesting trip.
last edit: 2/15/2008