March, 1982


Kansas
I took a number of short weekend trip during March. It probably doesn't take much sense to know that March is not the warmest time of the year to be out riding.
I had made an earlier attempt to ride down to Texas (for no other reason than to do it), but had to turn back due to the fact that it was really cold. When it gets down to around 20 it's just not as much fun. I had to turn back.
But, on this trip, I was going to make it, no matter.
A few photographs at a rest stop in the Arbuckle Hills of Oklahoma.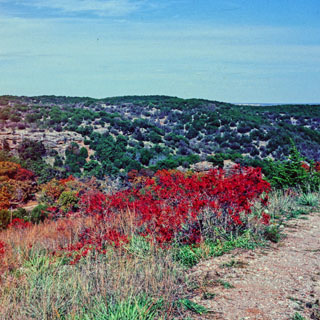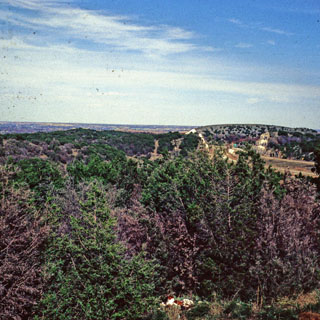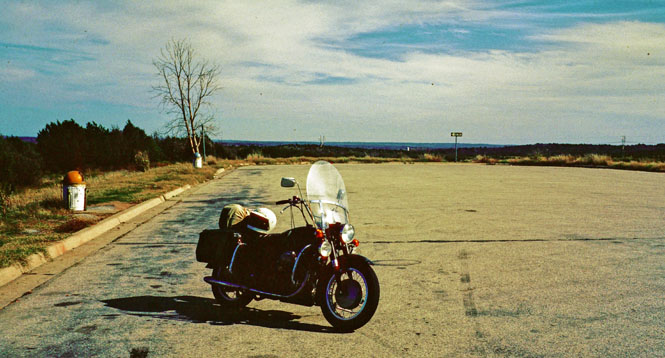 Notice the smoke tinted helmet face shield. This was not a good thing to have while riding at night and in the rain to come.
This trip was to be different than many trips in that I stayed to the freeway for quite a distance. Through Oklahoma, I stayed on I-35 to Dallas, and then turned left and followed the freeway east. By this time I had already achieved whatever I was after for the trip--make it to Dallas. But, since I was that close to Shreveport (and Louisiana) it made sense (using some odd logic) to just keep going. It was not getting any warmer. At Shreveport, I turned north (finally getting off the freeway) and made it as far as Texarkana, but which time I was chilled thoroughly, and so checked into a Ramada Inn (even though I was carrying my sleeping bag). Anyway, it was past midnight, and I was not prepared to hunt for a camping place.
The next morning I rode through the cold to make it into Arkansas before heading northeast towards Hugo, Oklahoma.
At Hugo I passed under the largest horseshoe weather front I'd ever seen. South of Hugo the sun was out. North of Hugo it was pouring rain. I had no choice. It rained heavily the entire way back to Wichita.
---
This was just a local one-day ride from Wichita to Eldorado and then to Diamond Springs.
Not all roads are paved.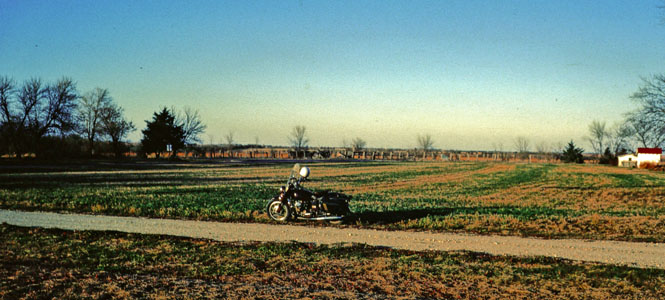 These schools date from around 1920.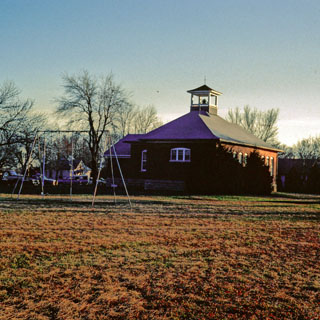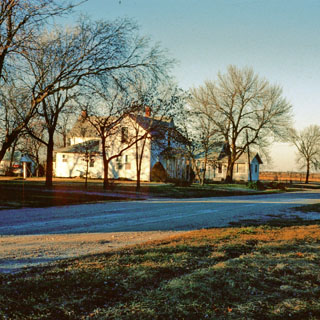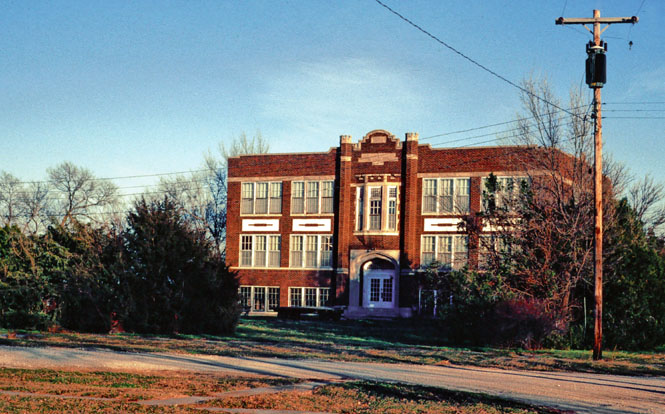 ---
The bridge across the Walnut River, near Gordon, Kansas.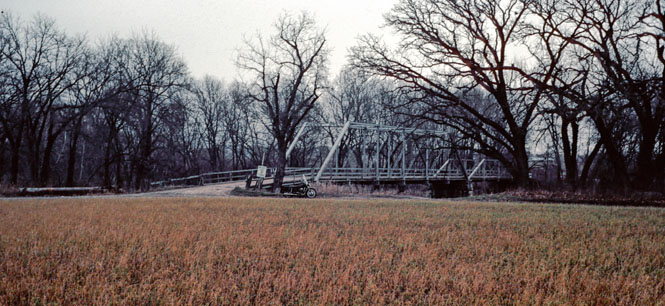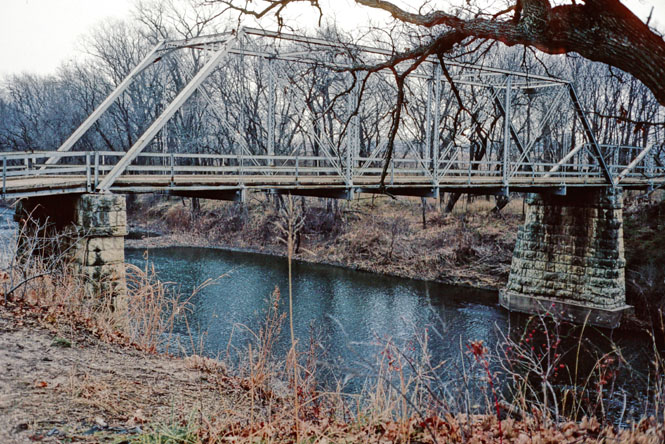 And, what's across the bridge? Not much except another interesting dirt road.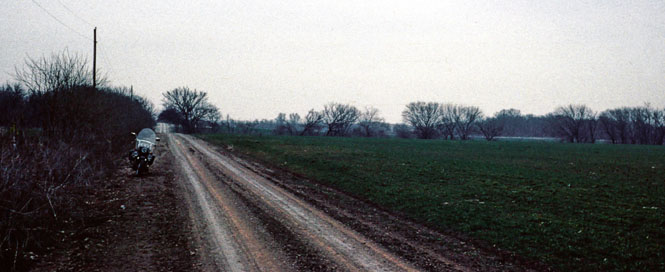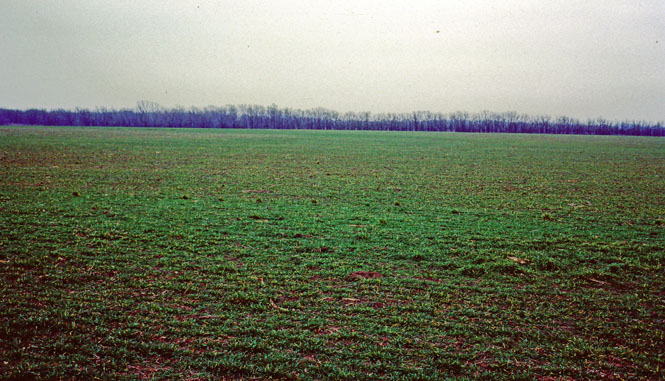 Traffic was not to be a problem on this day of riding.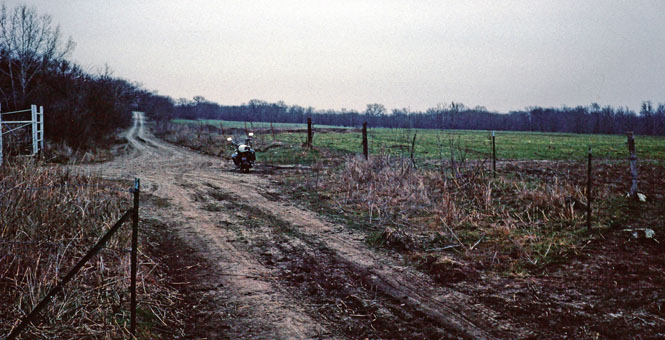 ---
Riding east to Augusta, Kansas, down to Atlanta and then on to Cambridge. These small towns are all fairly close by.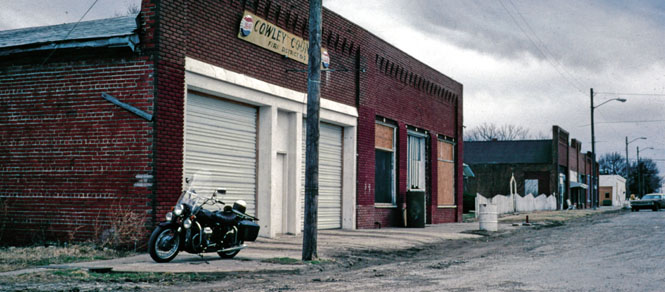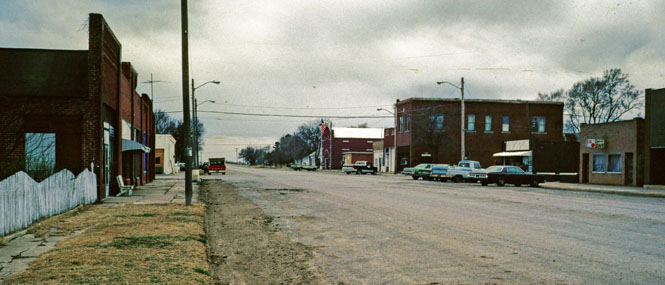 This photograph (taken in Atlanta) is noteworthy only for the fact of a clean and polished motorcycle. Considering the type of roads that I took this thing on, it didn't often look this good.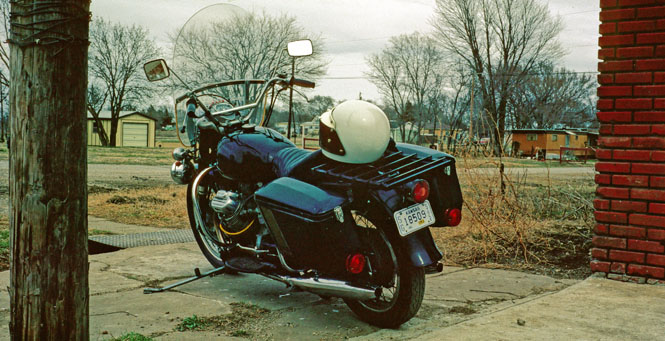 Cambridge, Kansas. The road from Atlanta to Cambridge is a very nice road (considering). Unfortunately, I rarely stop to take pictures along the really good roads, so you won't see one, here.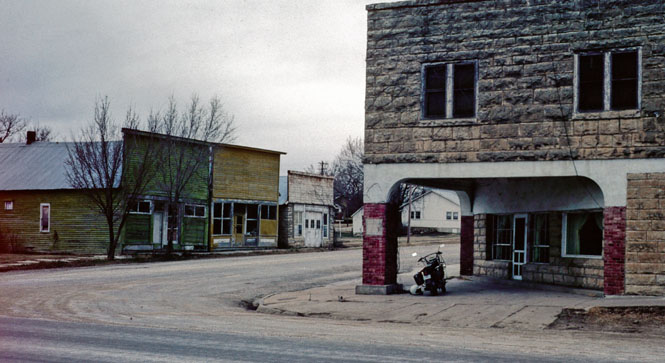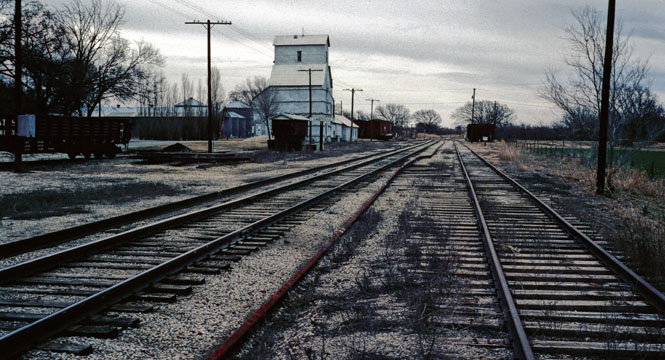 The tracks heading east out of Cambridge.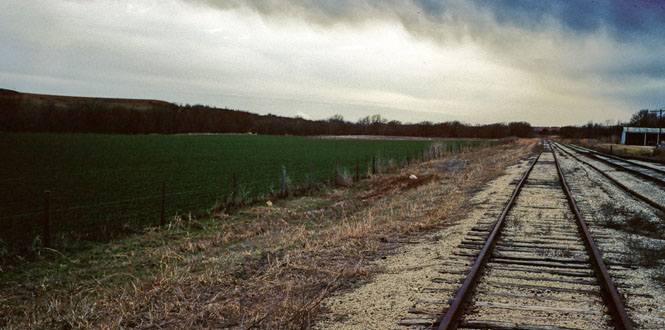 We're looking south from Cambridge. There's a dirt road that climbs over that hill. I'll soon be on it.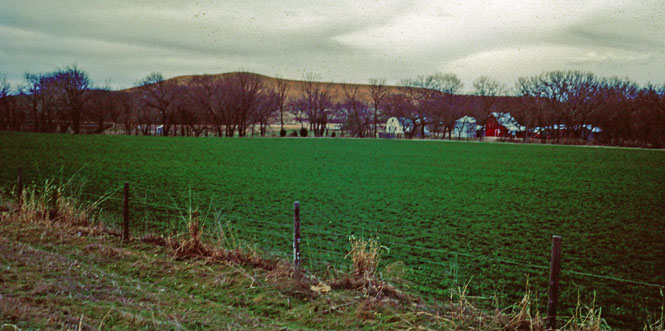 On that very road. This was an easy road to ride. No ruts.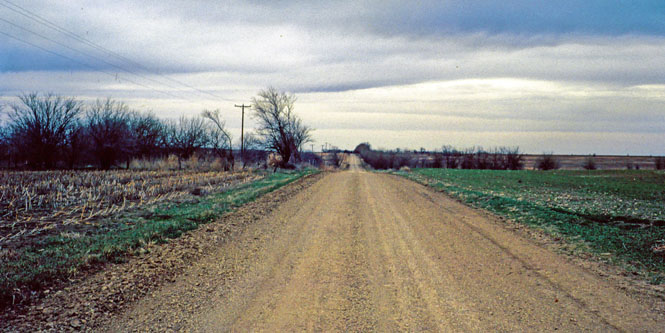 Abandoned farm house. It still had some of the original furnishing and wallpaper.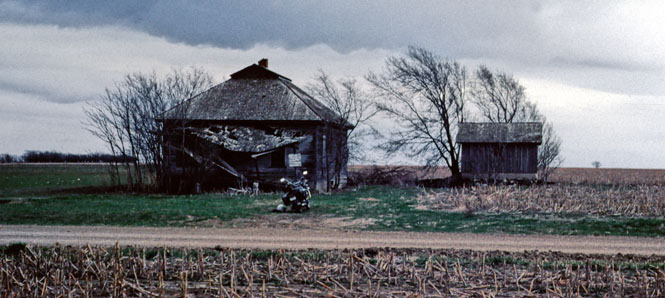 That was a serious looking storm, but it didn't get me.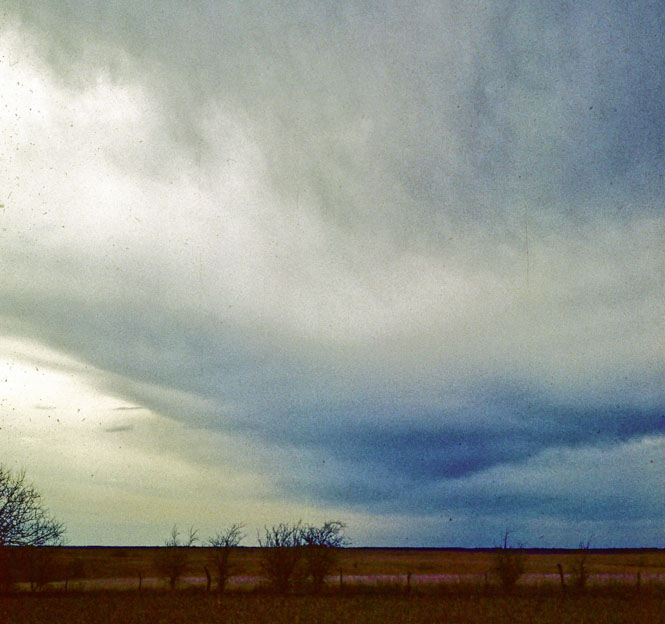 ---
An earlier trip was made to Texas and Arkansas for no other reason than to do it. This was a trip to New Mexico for a similar reason.
I took US 54 all the way towards Tucumcari (although I didn't quite make it to that city.
The Sampson bridge near Liberal, Kansas.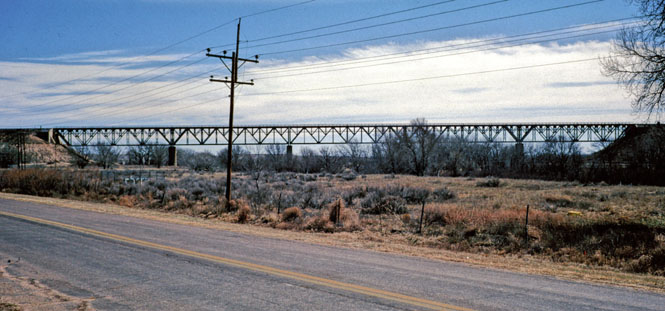 Oklahoma
Hiking around the Canadian River.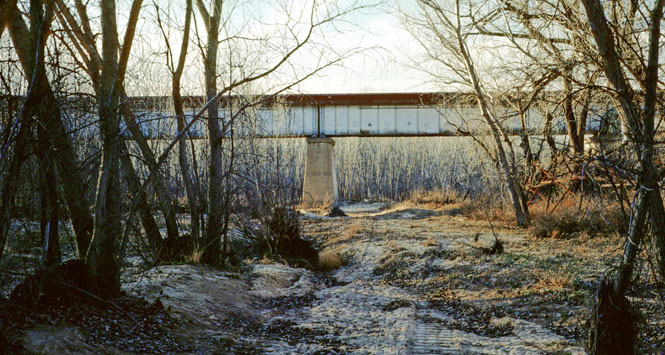 New Mexico
The sun was going down, so I pulled into an empty campground at Logan reservoir. You can see my green tarp behind the motorcycle. this was not a very scenic place to camp and it was rather cold (below freezing) and getting colder.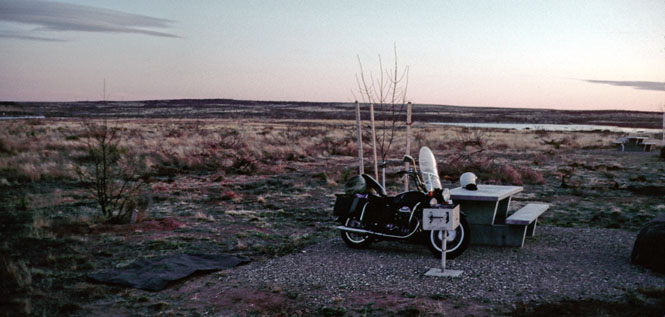 Texas
The next morning I dropped down to I-40 and then headed east to Amarillo before turning back to the northeast to Canadian.
Oklahoma
Poking around a bridge over the Canadian River.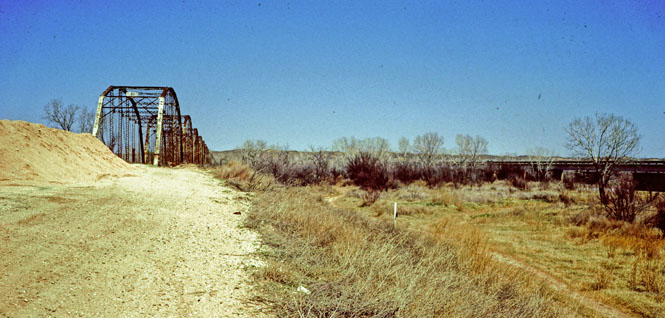 You can just see the motorcycle under the bridge.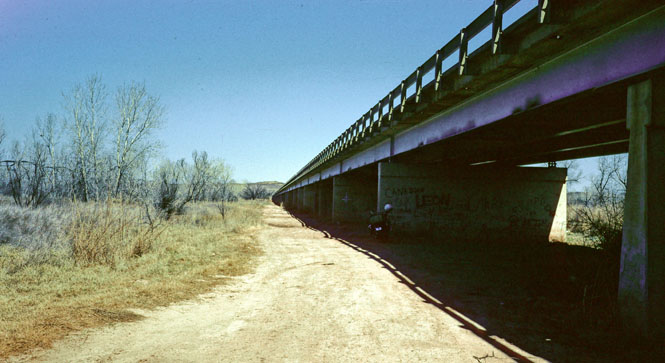 Little Sahara, near Alva, Oklahoma. Very fine sand. More like silt, really. See that Chevy with the door open? Not a smart driver.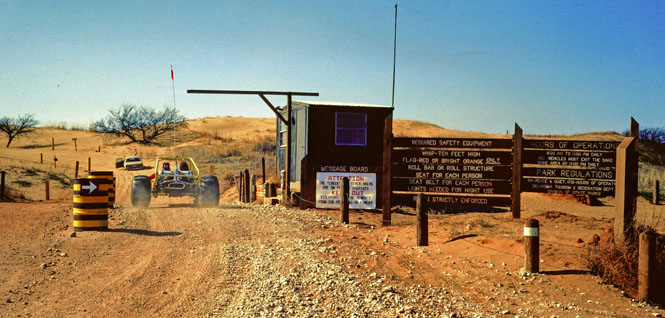 Needless to mention, I walked and did not ride into the dunes.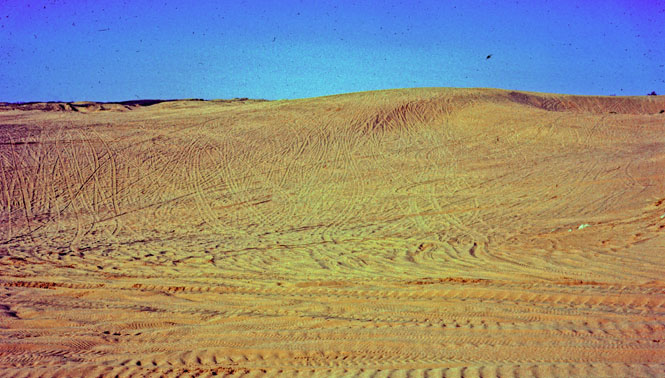 Eventually I helped several other people dig the car out, and then two dune-buggies were able to tow him back to the parking lot. Not a smart driver.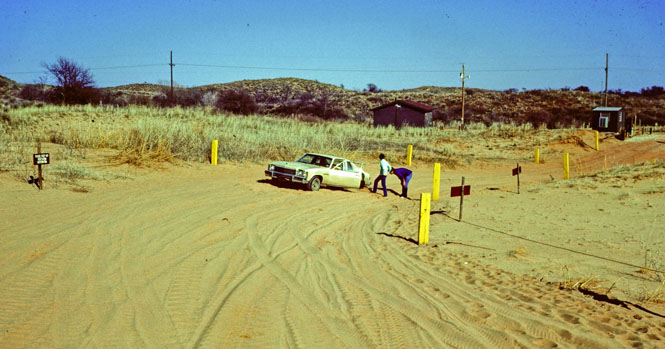 Kansas
I stopped along the road just to figure out why the engine was running poorly. Turned out that the choke cable had stuck. Easily fixed.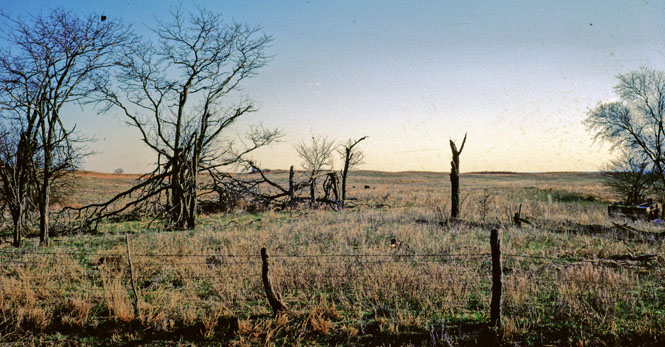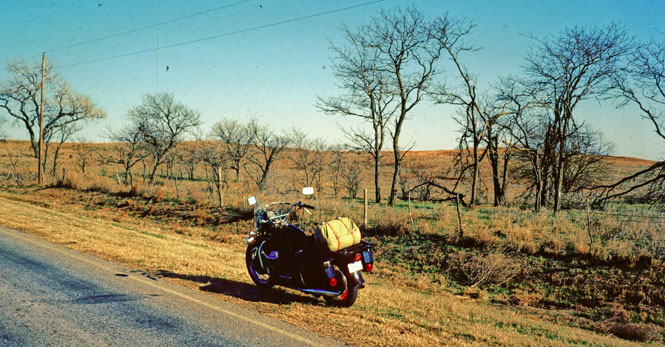 last edit: 3/04/2007