August, 1982

Sunday

Monday

Tuesday

Wednesday

Thursday

Friday

Saturday

1

2

3

4

5

6

7
Wichita
Dodge
Pueblo

8
Salida
Aspen
Dinosaur

9
Kemmerer
Arco
McKay

10
Glacier N.P.

11


Coeur d'Alene

12
Walla Walla

13
Walla Walla
(no riding)

14
Walla Walla
(no riding)

15
Walla Walla
(no riding)

16
Newport

17
Crescent
Arcata

18
Arcata
(no riding)

19
Arcata
(no riding)

20
Sacramento


21
Sacramento
(no riding)

22
Sacramento
(no riding)

23
Sacramento
(no riding)

24
Sacramento
(no riding)

25
Mono Lake
Lathrop Wells

26
Zion
Jacob Lake
North Rim

27
four-corners
Cortez

28
Durango
Wichita
One of my more ambitious trips: Canada, the Pacific Ocean, and the Grand Canyon. At three weeks, it is also one of the longer trips. For nine days, however, I didn't do any riding at all, which meant that on the days that I did ride my actual time in the saddle was high. [this report was written in November of 2004]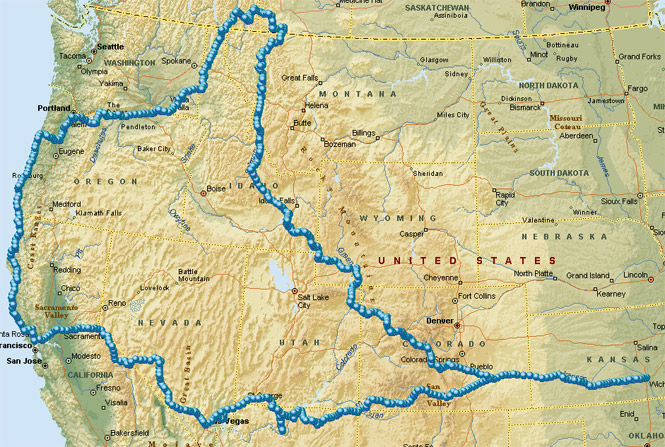 Kansas
I left Saturday morning around 9:00AM, heading west out US 54 towards Dodge City, and then on towards the Rocky Mountains.
At a rest stop not too far past Dodge City, I put the bike on its center-stand before walking into the picnic area to find a table to make my lunch.
Then the motorcycle fell over.
It seems that it was such a hot day that one leg of the center-stand sank into the soft asphalt deep enough that it fell over on its left side, bending the stuck leg of the center-stand as it went over. Oh...
With some effort, I managed to pick the bike up (even with the center-stand still extended) and then get it more or less propped up on the side stand. The center-stand was so bent that it would not retract, so I had to fix that before doing anything.
After removing the stand (I carry enough tools to fix most anything) I looked around for some way to get the rather heavy steel leg straightened out. I managed to wedge one end of the stand between the heavy grill and concrete side of a fire-pit, and then by bracing my legs against the concrete side and pulling with both hands, was able to straighten the whole thing out. This was all well and good, but it put a terrible strain on my back. I would pay for this stunt later...
After fighting the stiff springs to reinstall the stand, and after doing my best to clean all the oil and grime from my hands and arms and shirt, I was off, again.
Colorado
Bent's Fort near Las Animas Colorado is a reconstruction of a trading fort founded in early 1800's by the Bent brothers. The fort (more accurately a trading post) is entirely made of mud and timbers, so that park service has to constantly maintain it else it wash away.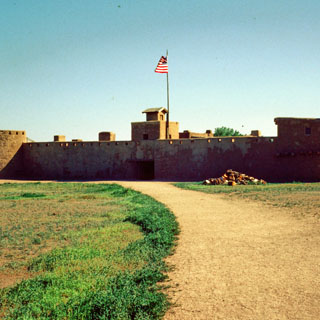 Most all of the park employees were dressed in period outfits.
Just short of Canon City I turned north up an unpaved side road towards the town of Cripple Creek. I didn't intend to go as far as the town; I only wanted to go far enough to find a place to camp for the night.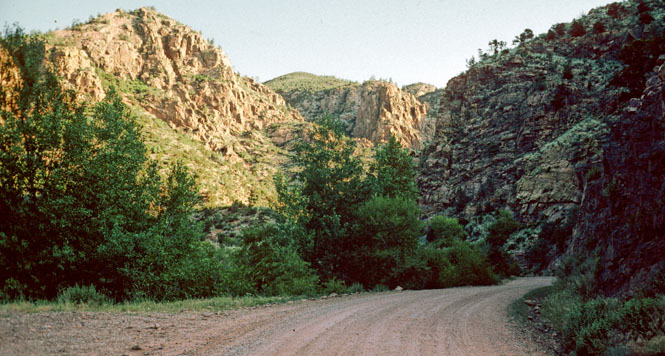 I probably rode about 25 miles (or less) on the smooth dirt road before coming to a spot that looked good. When I arrived, it was late in the evening and long after the sun had gone down. Just across a small creek from me was a couple, also camping. While I was setting up my tent, the woman started yelling incoherently at me and started stumbling towards me. She didn't make it very far before falling down. For a moment she was quiet, but then started yelling at her (we'll assume) husband still more incoherent things. Eventually, she got up and started walking (after a fashion) back to her camp, at which point she crashed
into her husband, and they BOTH fell down. At this point, I think they both passed out. Needless to say, these were two very drunk people. The next morning I didn't see any sign of them (though their camp was still there and so was their car).
Royal Gorge is the site of the world's tallest suspension bridge. Or, at least it is the site of what is claimed to be the tallest--I have my doubts. In any event, they wanted $3.00 just to park, and then another $6.00 to get to the bottom or to take a tram across. At the time, the roadway was also closed off due to a structural inspection of some sort. I did walk most of the way across (without having to pay anything).
This shot was taken from the opposite (south) side. While the bridge is an interesting thing, and while the view is nice, you can't but feel that the whole thing is a rather mean little tourist trap.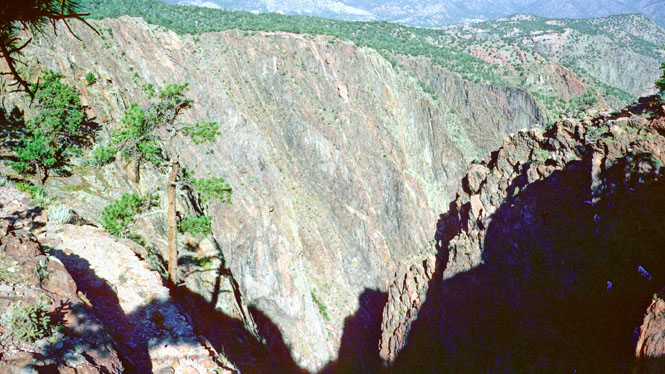 At Salida I made myself some lunch (using a Butane camp stove). I had a choice to make. But, since I did want to follow the continental divide, that settled it and I headed north towards Aspen.
This shot was taken just before turning towards Independence Pass. I stopped to put my jacket on as it was getting pretty chilly.
[note: this trip was taken before owning the riding suit that I now wear]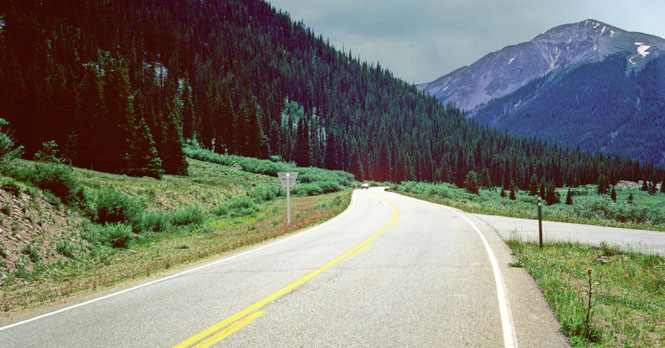 Across the valley you can easily see the road as it climbs up the to the summit. Independence Pass is one of the better ones in Colorado.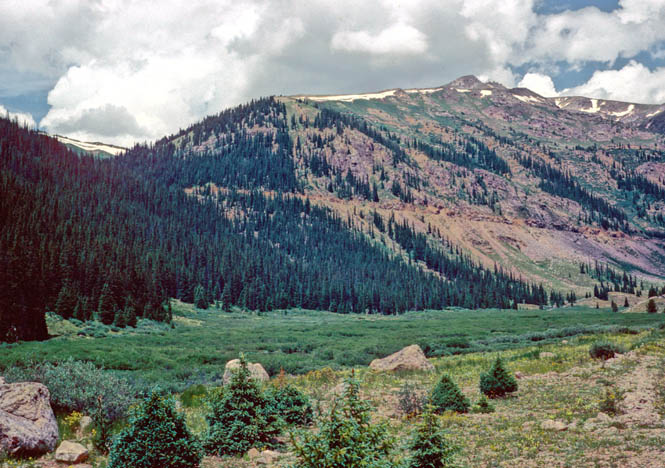 The top of the pass. We're looking back towards the east (you can just see a segment of the highway down there). You half expect a singing Julie Andrews to come spinning up the hillside.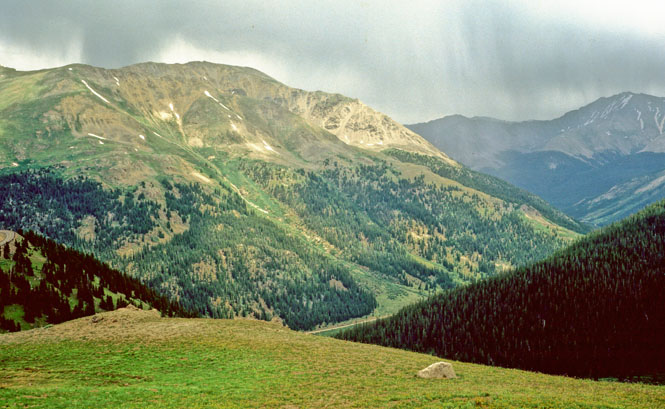 From near the same place, but looking towards the east, this time. There were a number warning signs cautioning you to stay on the path and to avoid damaging the fragile vegetation.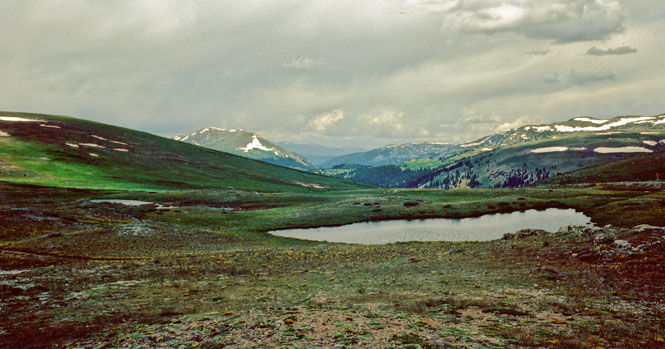 From Independence Pass, the road take you down quite quickly to Aspen, and then on to Glenwood Springs. At Rifle, I again turned north to Meeker, and then on over to Rangely and the small town of Dinosaur.
Not far from Rangely, I stopped at a small airport (it was raining, heavily) for a break. I noticed that my battery had skidded off to one side (related to the tip-over?) so I gave it just a tiny little nudge with my boot.
Stupid. Stupid.
Were you aware that the side walls of a battery are not very thick? Well, my boot went right in. Acid running everywhere. There was nothing to be done, so I quickly started the bike (with an image of all the electricity running onto the ground) and was on my way--rain or no rain.
I stayed at Dinosaur National Monument for the night. That's the Green River, which runs through the park.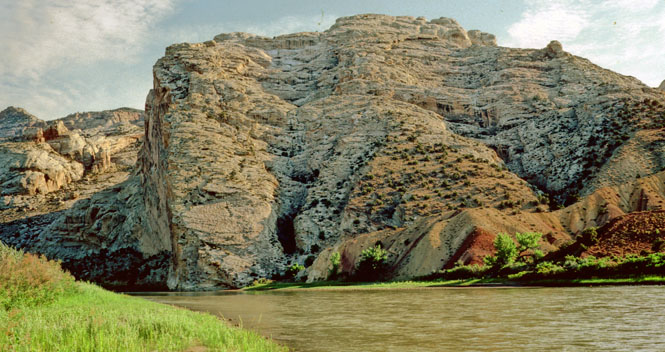 Utah
The next morning I rode into Vernal to look for a replacement battery at an auto parts store. No luck. The bike continued to run fine on the reduced volts, and it did continue to fire up, so I just kept going (but still wondering how I was making a connection across the plates).
Between Verbal and Flaming Gorge are the Uinta Mountains. For whatever reason, I didn't get gas in Vernal, thinking that there'd be plenty of stations along the way.
Not likely.
Eventually I did run out of gas. Almost. As it happened, I only ran out of gas when going down hill. Going up hill, I was doing fine. It seems that the drain line coming from the rear of the tank was helping me, but I knew that this good fortune wouldn't last very long. Luckily, I did come across a lone gas station so I didn't have to walk. Perhaps luck was on my side, now.
Wyoming
Flaming Gorge is just over the plateau in the photograph. An amazing place, unlike anything else in the country.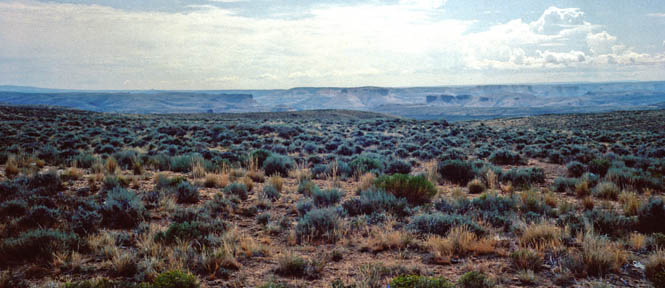 This is a wide-open place to ride. At Little America I checked (again) for a replacement battery, but by this time I was gaining confidence that it would continue to work fine, so I stayed the course, north to Kemmerer.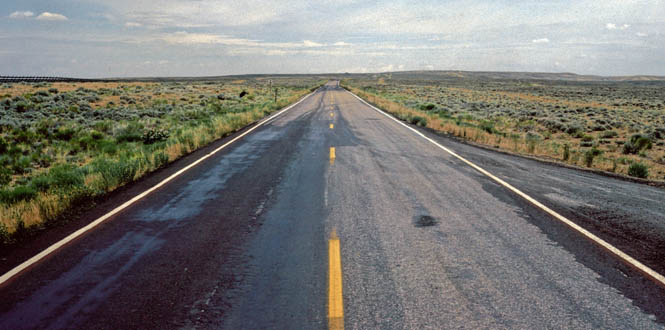 I saw something like 25 to 30 prong horn antelopes running along the road on the wrong (my) side of the fence. I'm not sure how they got there, but I'll assume that eventually they did find a way to get to their own side. I would imagine that they could have easily jumped the fence if they'd only stopped to think about it.

Fossil Beds National Monument is not really much of a tourist destination. This photograph was shot from the visitor center (a trailer).
The actual fossil beds are about three miles up the trail. I didn't walk much further than this, though. Places to go, miles to ride.

Idaho
From Fossil Beds I crossed into Idaho at Montpelier, and then to Pocatello. On the freeway now, I climbed the very long grade to Blackfoot and then across the desert (on the two-lane) to Arco and then to McKay. I've been across the Snake River basin twice, now, and have to say that this is the flattest desert that I have ever ridden.
It was dark when I reached Mackay Reservoir, just past the small town of Mackay. There was no drinking water at the camp ground, although that as not a serious problem as I carried plenty of food and water with me.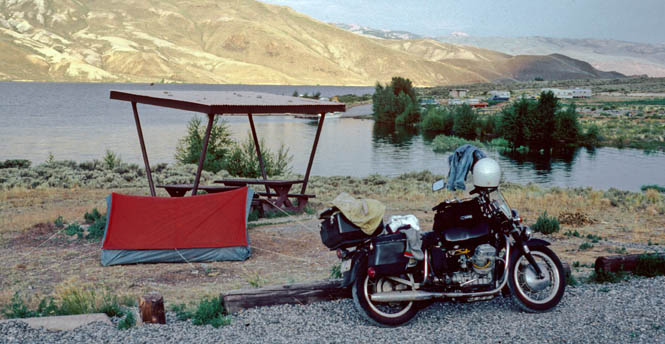 Leaving Mackay the road follows a narrow canyon with sides reaching up some 60 feet on either side. An amazing road.
I stopped at the town of Salmon for a food break. I believe that's either the Lemhi River or the Salmon River in the photograph (or perhaps it's both rivers coming together).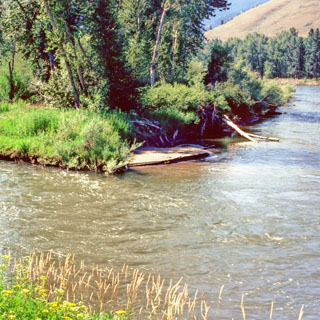 Montana
I crossed the continental divide once again at Lost Trail Pass and then dropped down into Montana.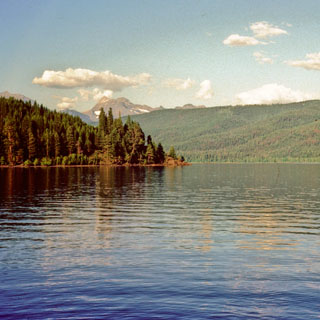 From here it's almost a straight shot north to Glacier. I had a choice of the west route or the east route around Flathead lake (I took the east) before entering Kalispell. In the park, it was evident that there were no camp sites available.
While I was talking with a ranger about other possibilities, a couple came by and invited me to share their own camping spot. Most people these days travel in trailers or motor homes, so finding space is really not a problem. It seems that nobody really uses campgrounds anymore except as a place to park. That works fine for me. I camped at the south end of McDonald lake (near Apgar). This was a shot (below) taken within easy walking distance. A terrific place to wake up in.
The Going-to-the-Sun highway is one of the great roads of the world. Absolutely spectacular.
But, I didn't take any pictures of it...
The photograph, below, is taken at Logan Pass. I could have stayed here all day.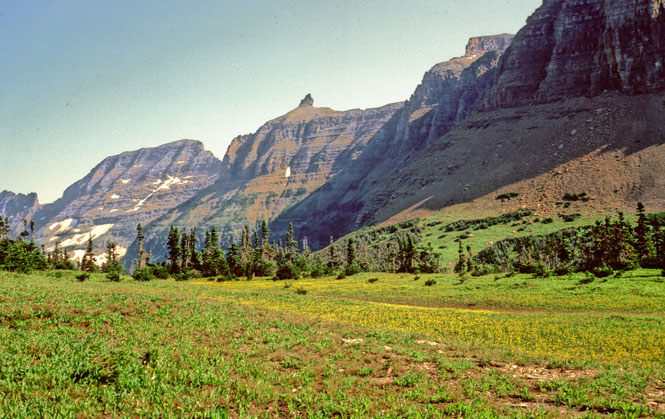 There will be no photographs between Glacier and Washington, including the entire stretch in Canada and Idaho.
Why?
Somehow an entire (36 frame) roll of film was ruined by some sort of light oil. I have no idea where the oil came from. Terrible.

Alberta
After passing through Glacier (we'll all have to believe that the photograph I took of a mountain goat family would have been really terrific). I headed north into Canada and then took the Crow's Nest Highway across to British Columbia.
British Columbia
I had the choice of staying in British Columbia and then dropping down in to Washington, or dropping down into the panhandle of Idaho. I decided to take the Idaho route. No real reason.
Idaho
I spent the night at Round Lake near Coeur d'Alene Idaho.
Washington
From Coeur d'Alene I picked up a variety of new roads through the Palouse Hills. This is a terrific area for motorcycles, and is very underrated. The hills are quite steep, and the roads necessarily have to twist and turn around them. Amazingly, the hills are planted in wheat. I did ride to the top of Steptoe Butte, and took some great photographs (again, we'll just assume that they would have turned out spectacular). I arrived in Walla Walla late in the afternoon. I would spend three days, here.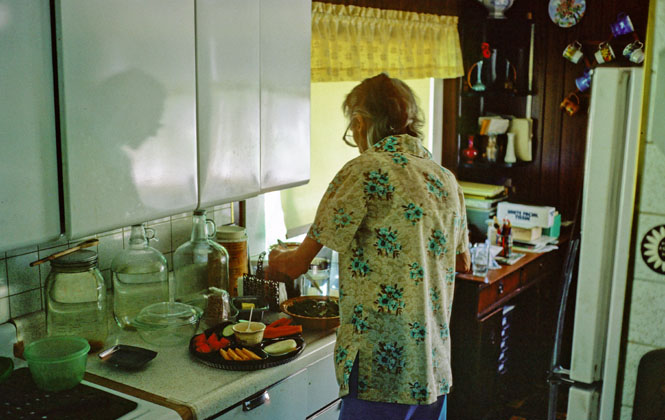 I wasn't sure just how best to ride from Walla Walla to Arcata, as I'd been on most of the obvious roads already. But, Grandpa suggested the southern loop (the old Barlow Turnpike of the Oregon Trail) around Mount Hood, so that's what I did.
I left Walla Walla around 8:00AM, expecting to come across an open gas station at any moment. At Wallula Junction I had no choice but to stop and wait for the pumps to open, which they did at 10:00. For the next 40 miles the engine was coughing and gagging with the (likely) water and in the tank. The 50 mph headwind coming up the Columbia River Gorge didn't help.
Oregon
Mount Hood. What a terrific road this is.
[Or was. The road that I took in 1982 is long gone, having been replaced by a much wider and straighter road. Likewise the small towns on the south side of the mountain are entirely changed.]

At about this point I had to stop and put on some warmer gloves. It was getting chilly.

From the town of Sandy, I made my way south along any number of smaller roads, all in an attempt to avoid riding on I-5. I'd been on that freeway many times, and it's never been very interesting.
At Albany, I turned towards the ocean along highway 20 through Corvallis and then on to Newport. This was another fun road.
The bridge at Newport. It was a bit squirrelly riding on the sand to get that picture.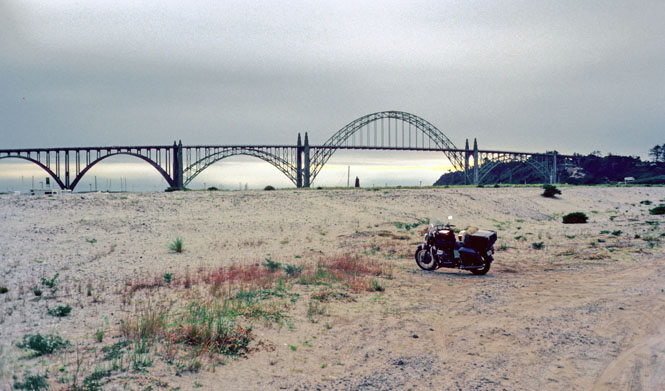 The Newport harbor, not far from where the above picture was taken.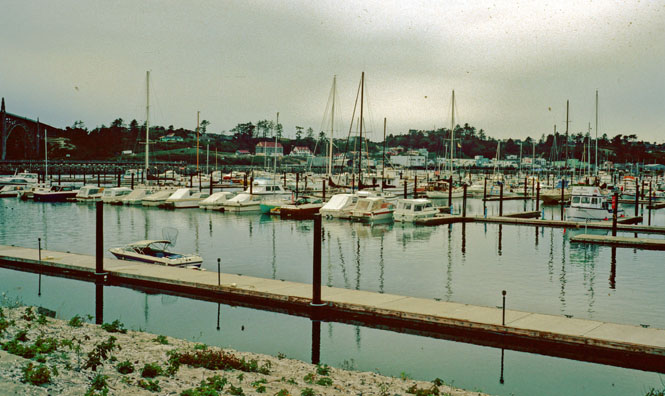 About fifteen miles south of Newport I stopped for the night at one of the many Oregon State Parks that line the coast.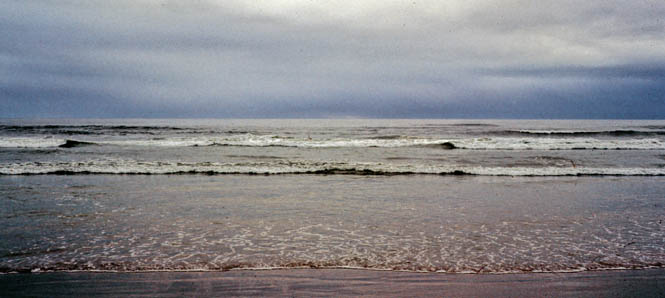 Red sky at night sailor's delight? Does that line of red at the horizon qualify? I was the only one on the entire beach for as far as I could see--north or south.

While paying my park fee ($6) a couple of other motorcyclists also arrived, so we split the cost for a single camp spot (one had come from Los Angeles where he was a programming consultant, and the other was in industrial engineer from Fresno. They had just met the day before). I was packed and ready to ride the next morning before they were even awake.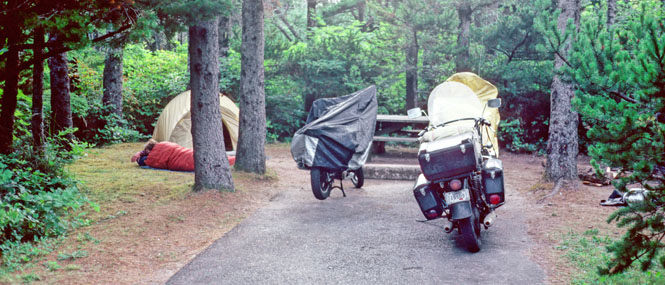 Oregon Dunes National Recreation Area is south af Reedsport Oregon. I spent some time walking along the beach and through the dunes. While the dunes are open to motor vehicles, nothing was happening this morning. It was quiet.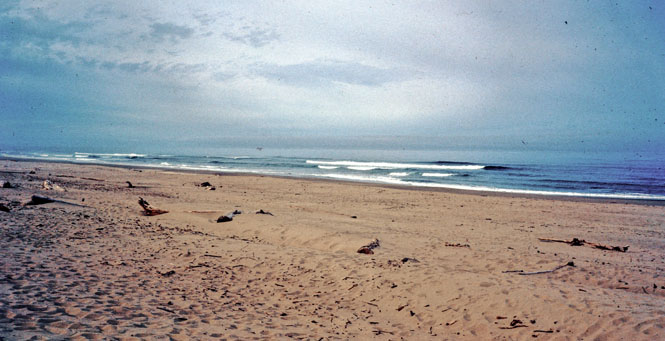 This was a common sight in Montana and all down highways 101 and 1. Lots and lots of road work and traffic delays. It looks like I'm being watched by a person in the camper.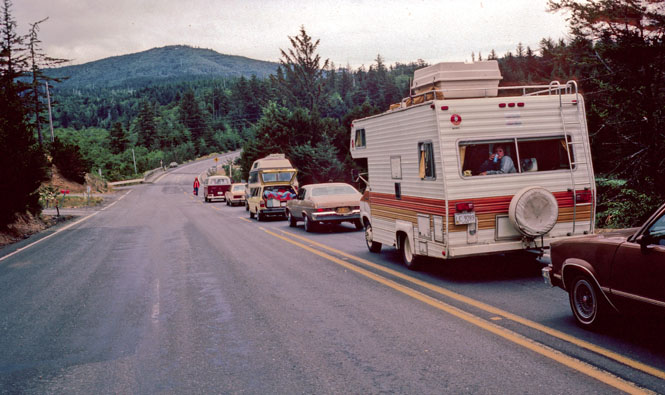 California
I stopped at Prairie Creek Redwood State Park and walked a few miles on the well-marked trails through the trees. It's always tempting (but never successful) to try to get an entire tree in a single shot. This was near the area where I crashed some years back, so I was being more aware than usual to avoid doing something stupid.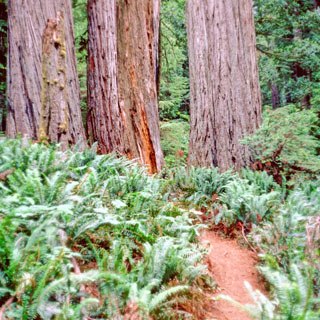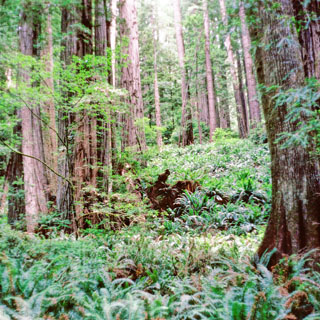 I arrived in Arcata around 4:00, but didn't really know where Becky's apartment was, although I at least knew that it was near a Safeway. So, I rode over to the University, which wasn't much better, since I hardly know my way around that campus. Anyway, I went back, and she was home. I stayed in Arcata for a couple of days. That's a shot of Becky's computer terminal area (her desk is somewhere beyond that window).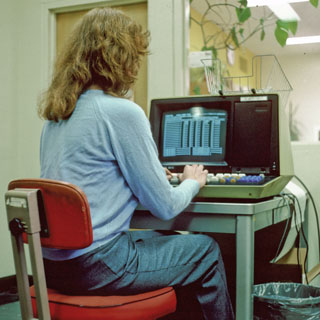 The Coast Guard station in Eureka.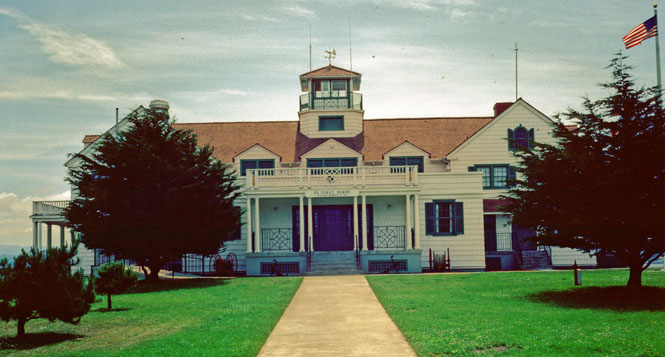 I walked out on the Eureka jetty. On the north side there's a horn that goes ooow (very lowww), and on the south side there's a horn that goes oooou (a little higher pitch). I ignored the warning signs and walked up to this one. Even with my hands pressed to my ears it was extremely loud. Chest vibrating loud. LOUD.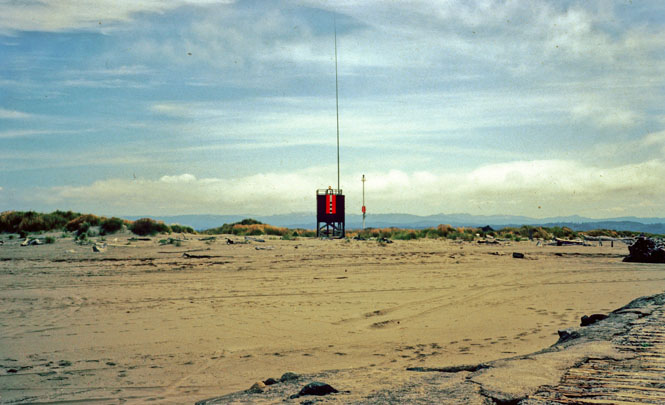 The route back was all the way down highway 1 (not the more tame 101) so that I could complete my journey of the coast highway from Newport to the San Francisco Bay. This stretch of highway 1 was very well-known to me (I've been on it many, many times), so I could push things pretty hard. It's a fun road. Near Santa Rosa, I cut across the upper bay, and then took the freeway into Sacramento.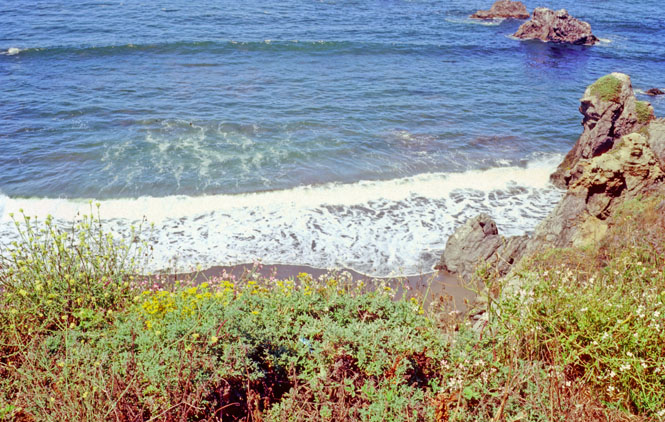 A sunny day on the northern California coast. Perfect.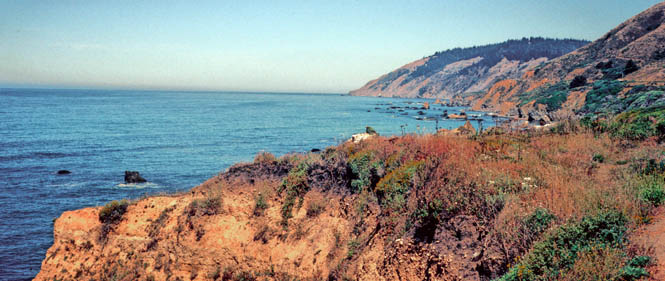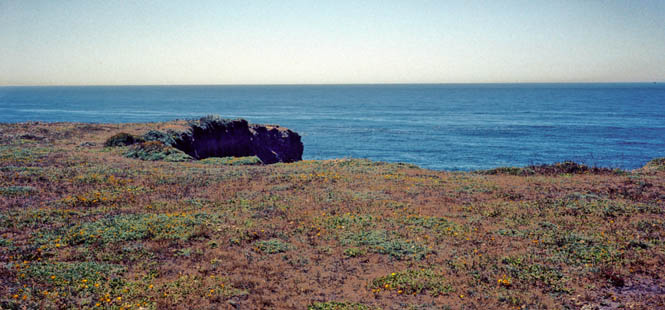 Point Arena California--not too far from Fort Bragg.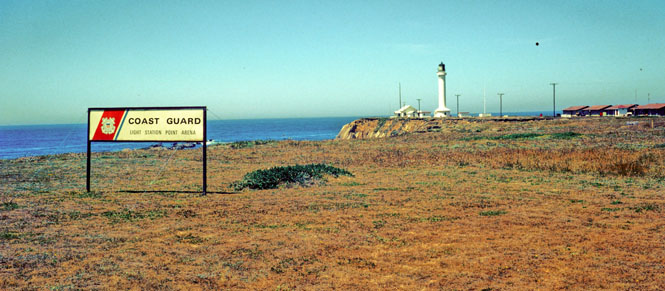 It was fascinating to watch the way the waves came through that opening in the rocks.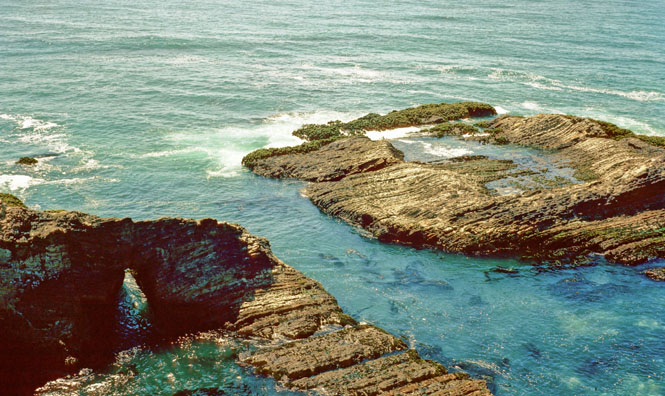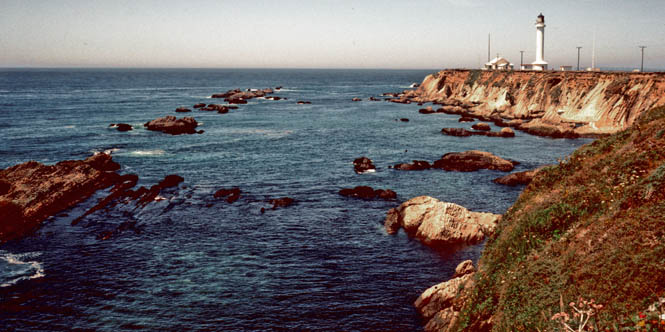 I spent several days in Sacramento. Of interest (to me, anyway) was that my back seized. Painful. Apparently, the damage I had done in straightening the center stand back there in Dodge City had finally caught up with me. I spent most all of one day flat on my back on the living room floor, and the next couple of days moving very slowly with the aid of a pair of crutches. It didn't seem that I would be riding a motorcycle halfway across the country any time soon. Well, things did get better. Good enough, anyway.
The capitol building had just opened up after undergoing a full restoration. It looked great.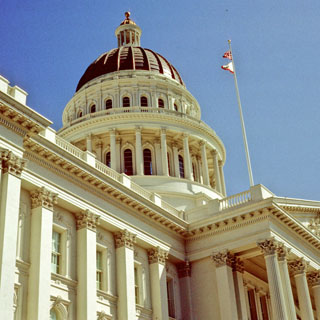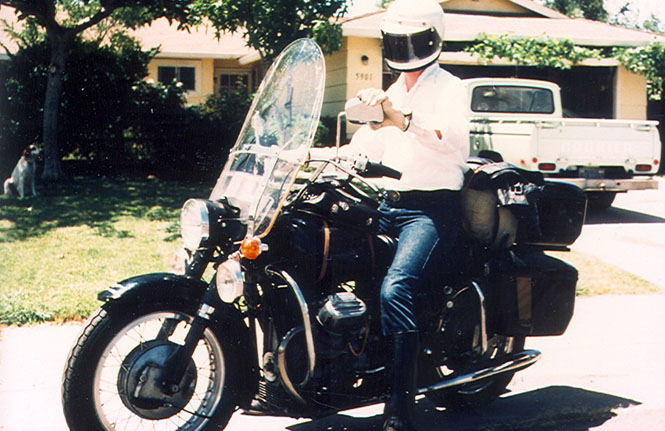 I took highway 50 into the Sierra Nevada mountains, and then cut across to 395 and Mono Lake. This is a very common photograph, taken from a rest area just north of the lake. It's quite a view. The road that I'll be taking is just down there, and then cuts across on highway 120 to the east.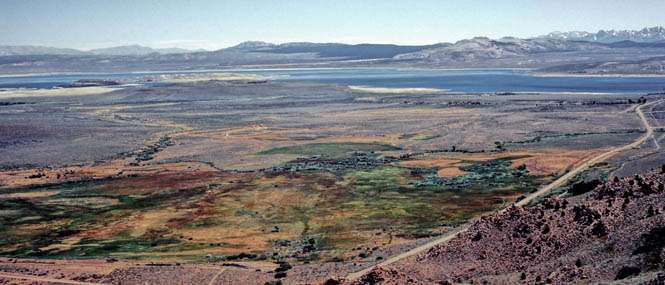 I took a needed rest break in the school yard. This is on the California side of the road to Tonopah. It was rather hot. A good time to sleep.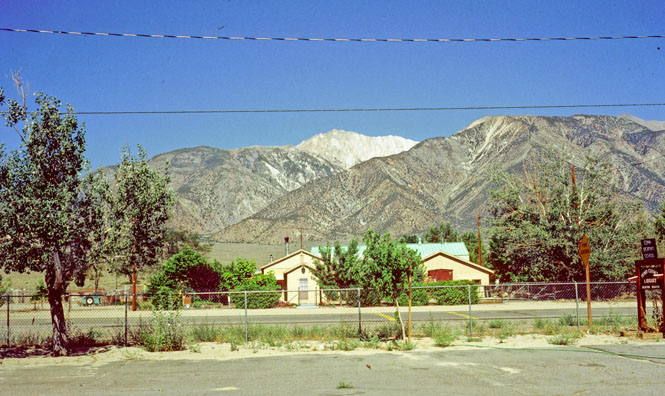 Nevada
I stopped again in Tonopah to get gas and to further cool down. Then it was south to Goldfield (photograph). There are quite a number of abandoned buildings in the town, including this high school. A small boy asked me if I was a good guy or a bad guy. I told him that I was a good guy...
I arrived at Beatty at night looking for a camp ground. Nothing seemed attractive. When pulling away, the bike was running just horrible. I stopped to figure it out. Then it dawned on me that I had left the choke on. Stupid.
I rode south to Lathrup wells quite late into the night and this is the rest stop that I slept at. There were a few trees there (see the shadows). No tent, just a sleeping bag. I couldn't figure out why the tent pegs wouldn't go into the dirt until the next morning when I found that I was trying to hammer them into asphalt.

I did not stop in Las Vegas (didn't even think once about it), but just kept on going, aiming for Santa Clara, Utah. The temperature was well over 100 degrees. I made a detour to Lake Mead and the Valley of Fire State Park just to go swimming. It's a fun road going into the park--a real roller-coaster ride. I got just a little airborne at the peaks and came close to bottoming out the shocks on the dips.

Near the Visitor Center of the state park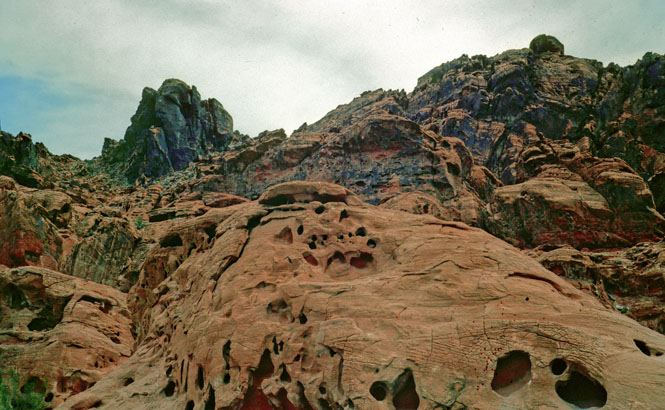 Lake Mead. Or at least the upper end of the lake. Hoover Dam is to the right (many miles away). I put my suit on and walked out into the lake, where I stayed for at least an hour. This was exactly what I needed. Finally I cooled off and things ran better afterwards.
Utah
The museum at Santa Clara.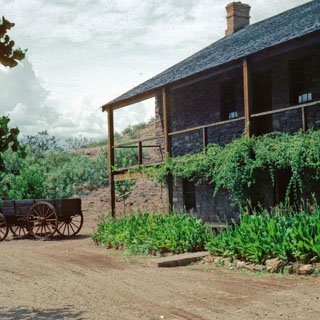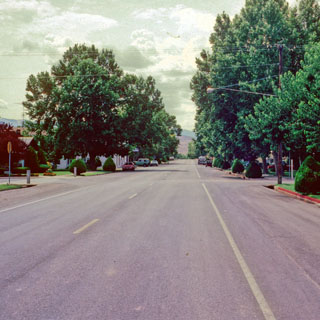 I did make it to the nearby cemetery to look up Hugs. It's not hard finding references to that name in this town.
Fom Santa Clara (St. George) it's not all that far to Zion National Park. What an incredible place. I did the whole Visitor Center bit, and watched the movie, but I wouldn't have too much time to spend doing much else.
Take a look at the top of that arch in the photograph, below. We will come back to it.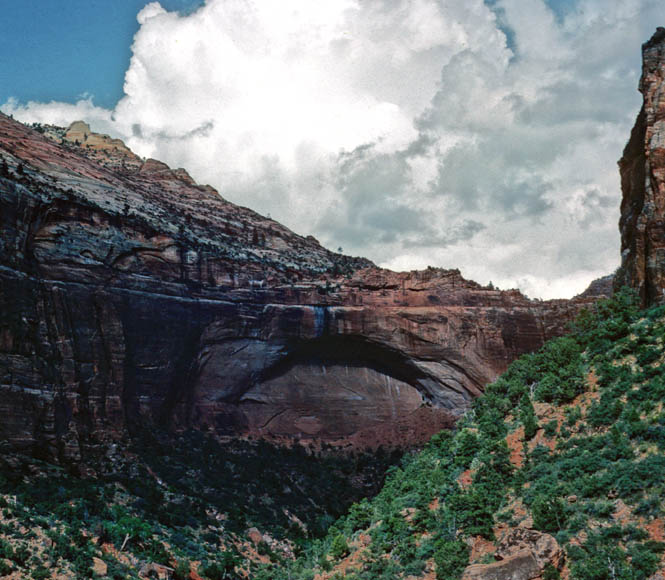 This is a view of one of the air vents of the Zion road tunnel. It's a 5,613 ft tunnel (built in 1928) that climbs and turns up and out of the park. It is a remarkable road that deservers to be compared to that other great park road: the Going-to-the-Sun highway in Glacier National Park.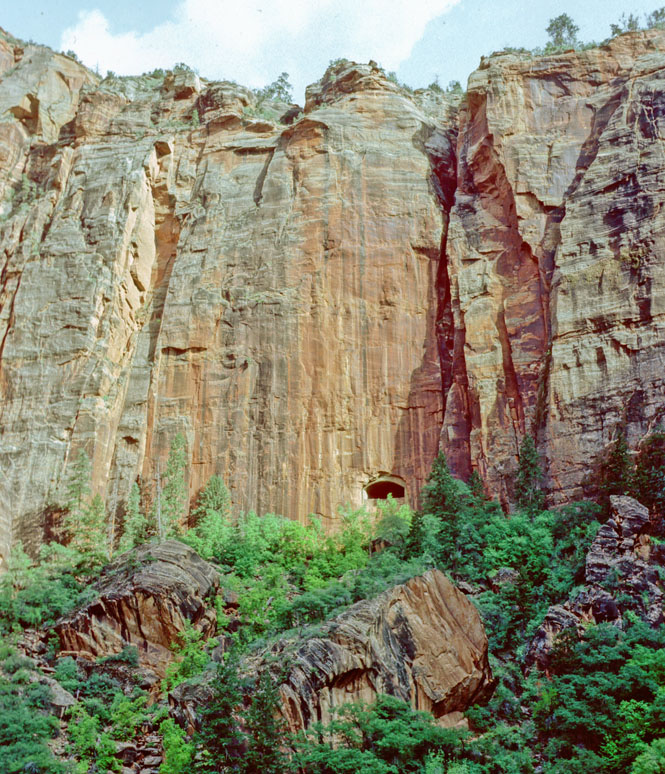 I had already gone through the tunnel at this point, and we're looking back into the entrance. It's rather startling to enter it. It gets dark very quickly. There's no light inside, except from your headlight (and the occasional air vent on the side).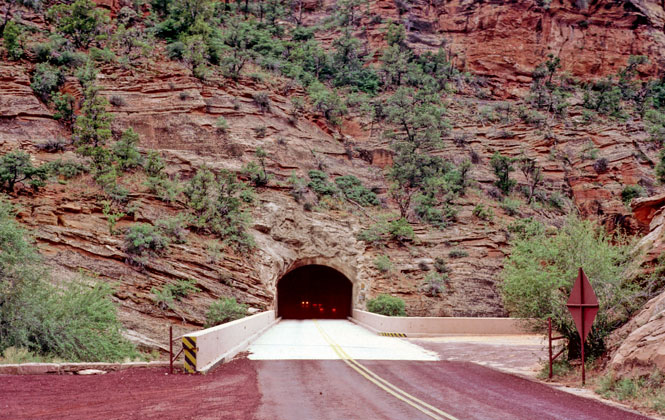 I took the hiking trail from the parking area.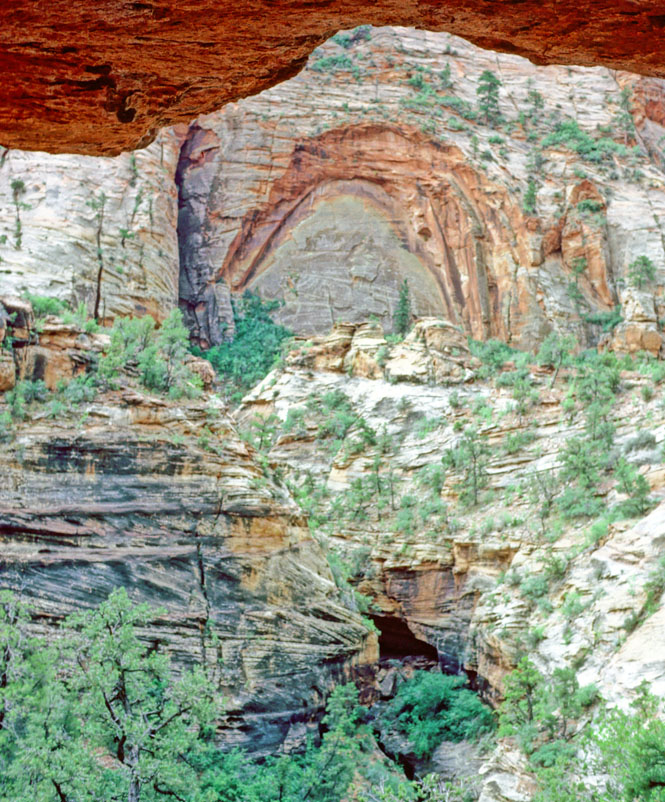 I like this photograph (below). Remember that earlier photograph of the arch? I'm standing on top and am looking out over the highway that brought me here. Actually, I had no idea just how close to the edge I was until I reached it. If you want to see Zion, you really can't do it from a car--at least unless it's a convertible.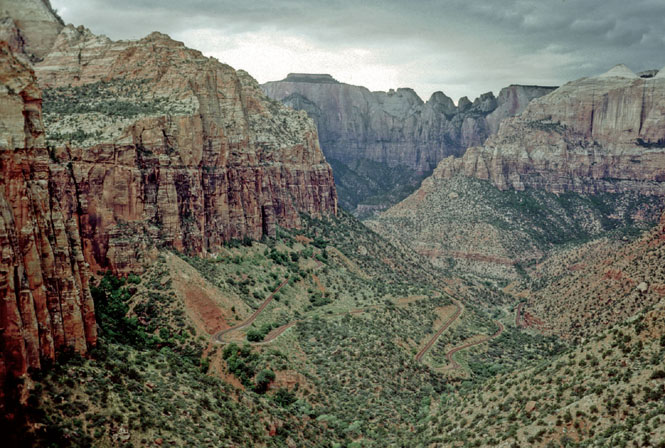 In the map (below) the the black box "Top of the Arch" indicates from where the above photograph was taken, and the yellow shading shows the portion of the road that is inside the mountain.

Arizona
at Jacob Lake I decided to travel the extra 60 miles to North Rim Grand Canyon even though it would mean adding additional pressure on me to get back to Wichita on time. It was worth it.
I arrived at the Grand Canyon late at night. The campground was full. It had been full since 10:00AM. But as learned before, that doesn't stop me from using my pup tent. I asked a couple in their motorhome if I could share their spot, and they were happy to help.
It rained all night and it rained all the next morning. I really do hate breaking up camp and folding up a tent in the pouring rain.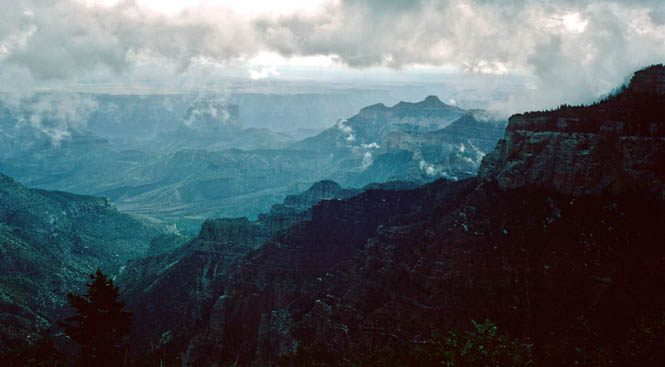 Sitting on the edge of the canyon with my legs hanging down, waiting for the clouds to lift. At some point I lost my camera lens cap and watched it roll down the side. I would use a (clean) sock for the rest of the trip.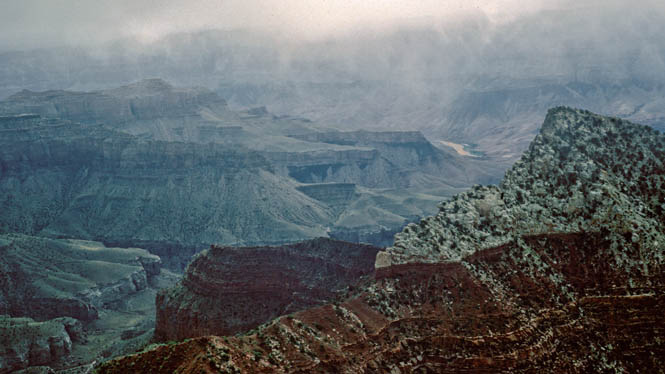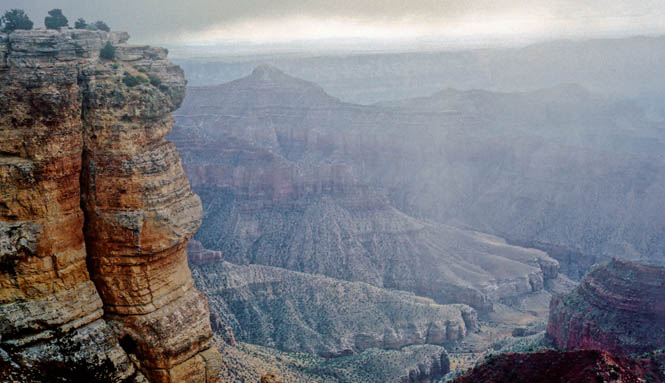 Gradually the clouds lifted. But, waiting for the clouds to lift was ensuring a very late arrive in Wichita... oh well.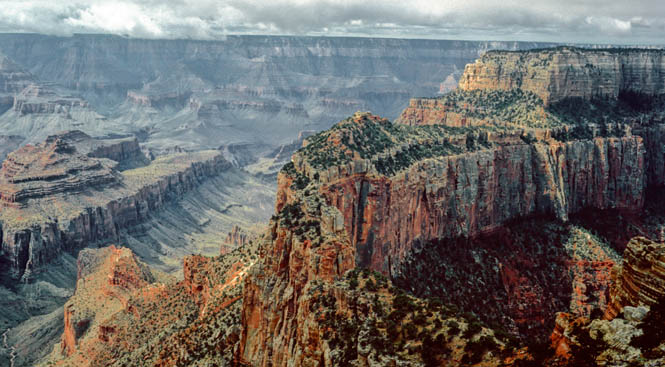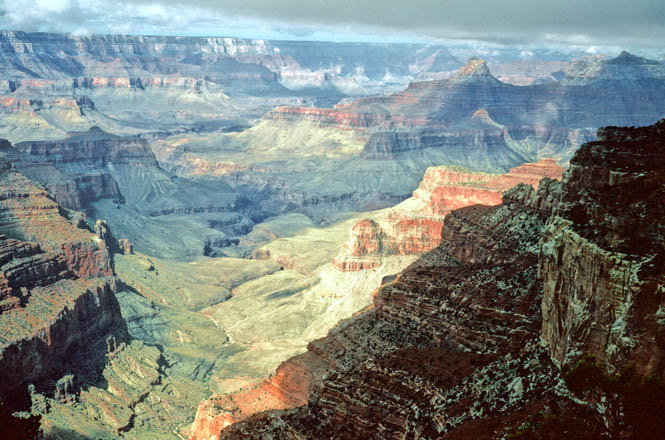 I saw perhaps five airplanes flying below the rim.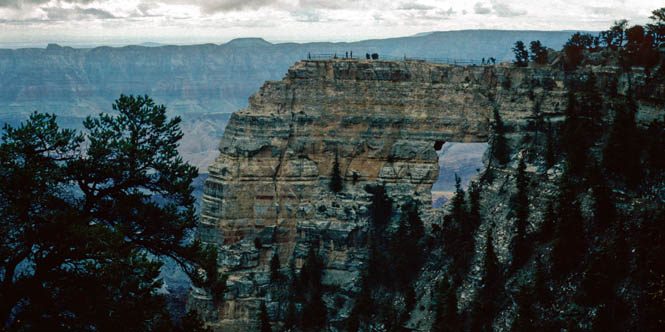 From North Rim I backtracked to Jacob Lake and then east to Marble Canyon and across the Colorado River to Page. The Glen Canyon dam is just a couple of miles to the left.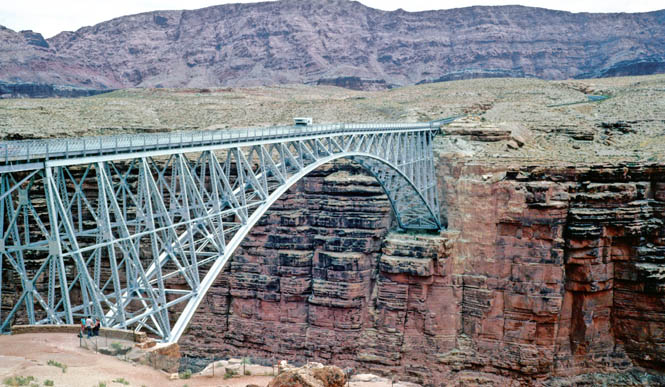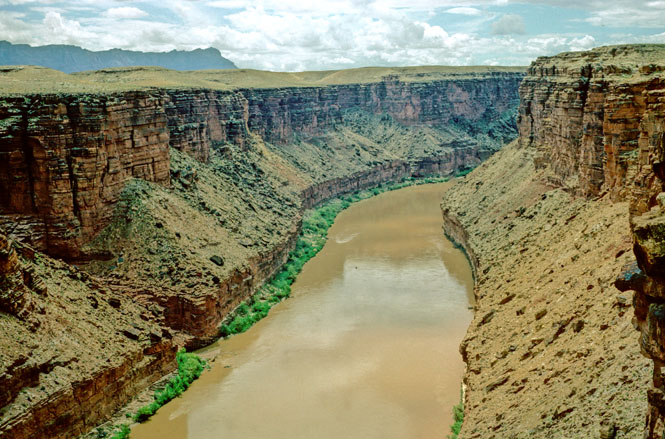 A sign at the entrance warned that the truck speed limit was 5 mph, and to further make the point, all trucks were to come to a full stop before starting across. I saw at least one truck zoom across without slowing down. Wow, that bridge makes lots of noise under that load. I guess they need to teach the truckers a few basic points of physics to convince them that it really does make a difference to the safety of the bridge just how fast they go across (perhaps they're thinking that if they go really fast, they'll get across before it collapses).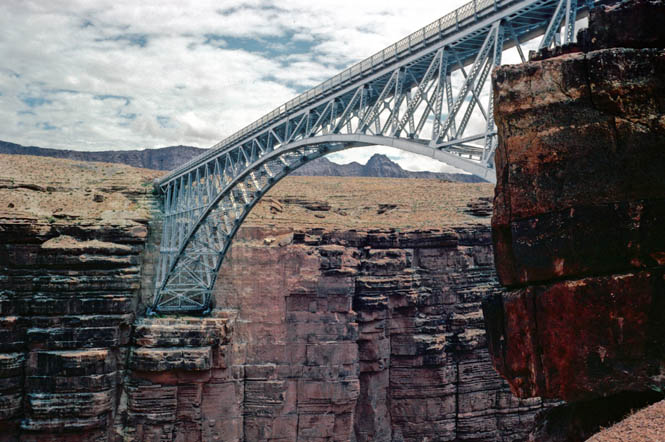 Utah / Arizona / New Mexico / Colorado




Four corners, on the Navaho Indian reservation. No movie cameras allowed without tribal permission. In the center of this not-so-attractive monument is the boundary point of four states. Is this really the best that could be done with this?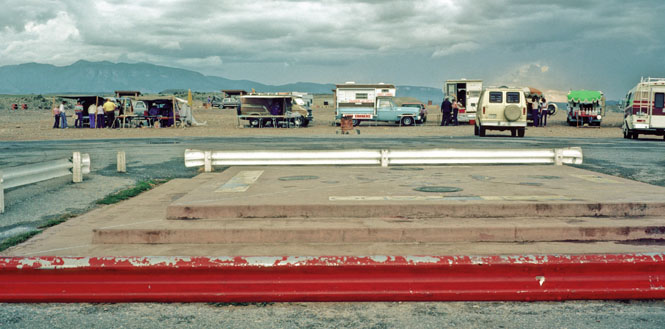 Still lots of rain. If it's not too cold, it's not too bad. If I had had more time I would have stopped at Mesa Verde National Park. It was frustrating not being able to do it, but, I was pressing to get to Wichita.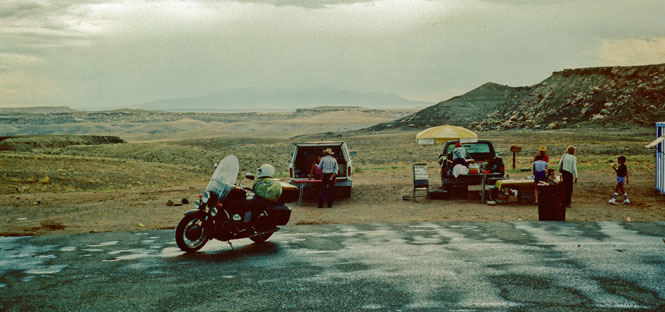 Colorado
Things were looking really wet as I neared Cortez. And, since I had started out that morning at the North Rim in the pouring rain, my sleeping bag and tent were already soaked. So, I checked into motel (first of the trip) so that I could let things dry out. Even though I didn't get out of Cortez until 10:00 the next morning, I would still ride all the way back to Wichita from here.
It would be a very long day. This is the the only and last shot I would take. Wolf Creek Pass on the continental divide. It's a great motorcycle road [note: but now quite tame].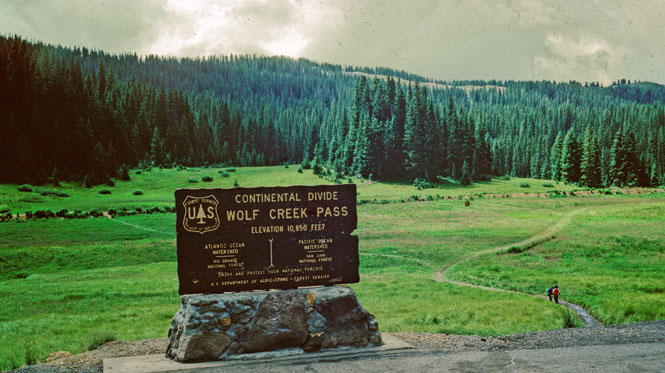 Kansas
I rode through Cimarron around 10:00PM Saturday night with Main Street full of high school cruisers. A couple of kids wanted me to buy them some beer, but I was not in the mood--I had 200 more miles more to ride into the night.
What a trip!
I saw an amazing number of things. This was one of the better ones. About 5,300 miles.
last edit: 02/24/2007