September, 1984

Sunday

Monday

Tuesday

Wednesday

Thursday

Friday

Saturday

2 September

3

4

5

6

7
Wichita
Greensburg

8
Tucumcari
Gallup

9
Flagstaff
Needles
Barstow

10
San Luis Obispo
Hollister
Sacramento

11
no riding

12
no riding

13
Reno Air races
no riding

14
Reno Air races
no riding

15
Reno Air races
no riding

16
Reno Air races
no riding

17
no riding

18
no riding

19
Sacramento
Ely

29
Green River
Montrose


21
Pueblo
Dodge
Wichita

22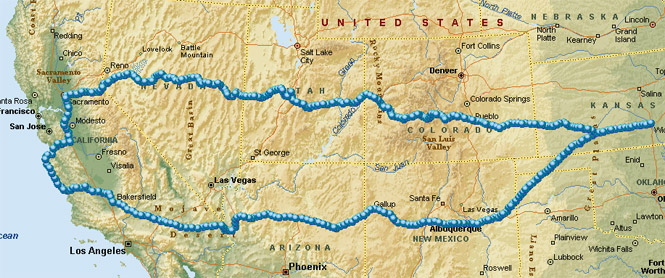 This trip was hardly more than two longer weekend trips separated by a couple of weeks of non-riding. Mainly, I needed to be in Sacramento for the Reno Air Races. Except for the stretch between Bakersfield and the ocean, I don't know that I even hit any new roads.
There are, however, two things that make the trip interesting (for me, if not the reader). The first, is that this would be the last trip of any length on this motorcycle (a 1973 Guzzi Police). It was just shy of 100,000 miles, and would be replaced by another Guzzi, a California II (which has yet to be replaced--2005). The second reason for remembering the trip is a short moment of excitement late at night in New Mexico.
Kansas
I didn't get out of Wichita until 8:00 Friday evening after work. It would have been more sensible to wait until the next morning, but I was ready to go. So, go I did.
I spent the night about 100 miles to the west at a rest stop just outside Greensburg, Kansas.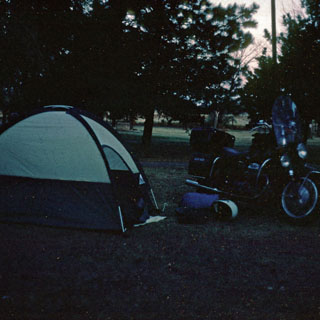 While this was to be the final trip of the old Guzzi, it was to be the first trip using this green tent. The old orange pup tent had finally given up (I don't think I paid more than $8 for it, so I can't complain). Twenty years later, I am still using this very same tent. It still works, it doesn't leak, it packs to a small size and I can't say that there's anything better on the market to replace it.
Oklahoma
Texas
New Mexico
I was making very good time, and feeling pretty good. So, I just kept riding well into the night.
It was around midnight, someplace beyond Gallup when I entered some freeway construction along I-40. There wasn't much traffic, and I hardly had to slow down, at all.
At a bridge construction site, my lane was being diverted to the left, while the oncoming traffic was also narrowed down to a single lane. The two opposing lanes were separated by a low, concrete barrier. These barriers work just fine at shielding your eyes from oncoming headlights when you're in a car, but motorcycles are quite a bit higher (an important point).
Just as I had started to straighten out to cross the bridge, I was blinded by an oncoming car. I flashed my headlights (to remind him to dim his) and immediately I lost all of my lights. Someplace an electrical connection gave up. (in the diagram, below, I'm shown by the yellow arrows riding from right to left)
So here I was: blinded by the oncoming headlights, and unable to see anything forward of me since my own headlights were now off. And, to make it more interesting, I knew that there was a concrete barrier right there ahead of me.
I swerved to the right, short of where I figured the barrier was, and then got hard on my brakes to try to get stopped before I hit anything. I did manage to see the orange traffic barrels well enough that I could thread between two of them and bring the bike to a stop on the part of the highway that had not yet been opened for traffic. I fully expected to hit the barrier, and then I was further prepared to crash into something, anything. Amazingly, stunningly, I came to a stop, completely intact.

I put the bike on the side stand, and spent the next half-hour pacing while I let the adrenaline pass completely through my system...
If you go back to look at the first photograph of the motorcycle (above) you'll notice that it has three headlights. The lower two lights are on a different circuit (and switch) than the main headlight, and they still worked. I didn't ride very far before I found a place to set up camp for the night. By this time it was around 1:00 AM.

The next morning (the time this photograph was taken) I went through the wiring harness, disconnecting and reconnecting everything until I found the problem with the headlights. Needless to say I was still careful not to mess with the highbeams for the rest of the trip.
Arizona
California
I crossed into California at Needles, and then continued on to Barstow where I spent the night.
The next day was a great one for riding. I rather wish I had taken more than one photograph, but I didn't stop too often. From Bakersfield, I cut across to Pismo Beach, and then stayed on US 1 all the way to Monterey, where I cut back across to Hollister and then on to Sacramento. I believe the photograph was taken near Morro Bay. The ride up the coast was just great.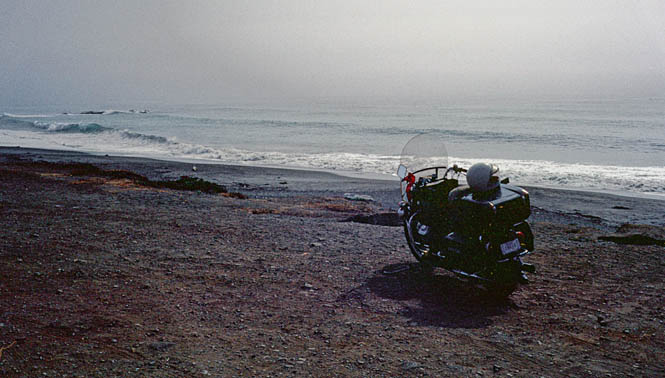 The ride back to Wichita was pretty quick, and I didn't take any photographs. From Sacramento, I stayed on US-50 all the way (strictly, I had to jog south a bit, since US-50 passes about 25 miles north of Wichita).
Nevada
Spent the night at a motel in Ely Nevada.
Utah
Colorado
The last night of the trip was spent in Montrose. The next day was a long ride back.
Kansas
Not enough pictures, and not really enough new ground ridden. By the way, the Air Races were very good.
Around 3,500 miles, and not many days of riding. The trip was not especially memorable, but 5 seconds of it are remembered down to the fraction.
last edit: 2/05/2005