April, May, June, 1987

Saturday

Sunday

Monday

Tuesday

Wednesday

Thursday

April

Trip 1

4 Trip 1
Wichita,
La Junta, Kim
Trinidad

5
Springfield
Ulysses,
Wichita

6

7

8

9

April

Trip 2

11 Trip 2
Wichita,
Scottsbluff,
Kimball

12
Sterling

13
Arriba,
Goodland

14
Wichita

15

16

May

Trip 3

9 Trip 3
Tucumcari,
Las Vegas,
Walsenburg

10
Pueblo,
Wichita

11

12

13

14

May
Trip 4

30 Trip 4
Limon,
Castle Rock,
Lamar

31
Wichita

1 June

2

3

4

June
Trip 5

13 Trip 5
Salida,
Leadville,
Aurora

14
Wichita

15

16

17

18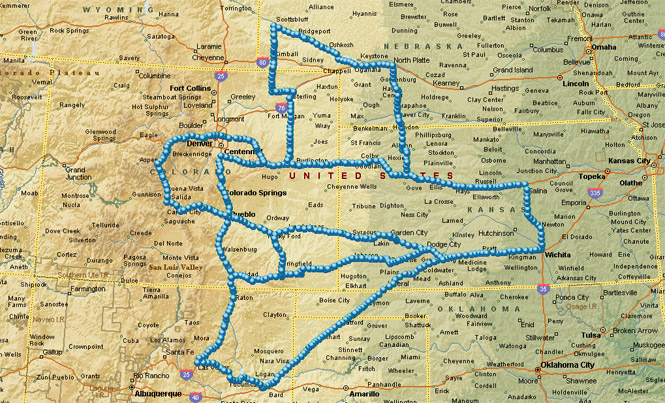 Being five weekend trips, taken across April, May and June. There's not much to connect them together except the time of year and, sometimes, the truly awful weather encountered (which explains the long weekend, above).
Trip 1

Kansas
I have a simple set of rules that I always try to follow on my motorcycle trips:
Never travel to the same location twice, never return via the same route and never go back to correct a wrong turn.
Quite obviously it is not possible to follow all of these rules at all times, but I do make an attempt to travel on as many different roads as I can.
Colorado
There existed a road in western Colorado that I hadn't been on and it was clear that I would have to make a special effort ride this road as it wasn't on the way to anyplace in particular. I'm talking about Colorado Road 109 from La Junta to Kim. As it happens the road map that I was looking at showed the road intersecting highway 160 not at the town of Kim, but about 10 miles to the west. Luckily I planned on starting from the north where it was shown correctly.
I left Wichita late April 3rd without any real notion of where I was headed, except that I was going to travel south on Colorado 109. As has become usual, I stayed that Friday night in Greensburg, Kansas and got an early start the next Saturday morning. The weather wasn't the best, but I pressed on thinking that this time of year things could get better just as fast as they could get worse. Well, as it happens I guessed wrong. I ate lunch at La Junta and then spent some time walking around the small town looking for an automatic teller machine so I could withdraw some cash. I didn't do any planning for this trip and really didn't leave with enough cash to buy gas and meals and still have any reserve for emergencies. It isn't usually a large problem because most places will accept credit cards. In spite of assurances from the locals that such a machine existed, I never found one. I have long since noticed that local citizens are not a very good source of information about either nearby road conditions or about where things are in their own town.
After a bit of searching (for signs that did not exist) I found the start of highway 109 and headed south. The road was paved the entire way, in spite of being quite narrow and (for the most part) un-striped as well. I think I passed only two cars going the opposite direction the entire distance of about 70 miles. The road turned out to be worth the ride as it followed a small creek and wound through narrow canyons and through vast wide open grazing land. I didn't see any houses along the road, but did pass several long-since abandoned farm buildings. These were probably the remains of the original homesteads. It would be very difficult to make a living here. Chances are the original settlers had only vague notions of the land they were to settle. I have seen many such abandoned areas on my trips.
By the time that I arrived at the small village of Kim (a handful of stone buildings and a surprisingly large brick school) the clouds had become much more threatening. I might mention that I wasn't completely unprepared for cold weather. I was wearing long underwear in addition to several layers under my heavier leather jacket. The road from Kim to Trinidad (US 160) is one I have been on before and knew from experience that I wouldn't be meeting anyone on it. Even though the purpose of this trip was over (traveling highway 109), I still had a vague notion of riding beyond Trinidad and into the Rocky Mountains.
About 45 miles from Trinidad it started to sprinkle. A little water didn't bother me too much. I was fairly well protected behind the windshield, and anyway, the sky didn't look all that bad. Very soon, however, the wind began to pick up until it was blowing at about 40 miles per hour across my left side. This was getting downright uncomfortable. I picked up my speed a little bit hoping to make it to Trinidad before it got any worse.
About 30 miles from Trinidad the temperature dropped to what I would guess was about 20 degrees. And now to my consternation the rain (for that was what it now was) was freezing to my motorcycle! Very suddenly the windshield that I had been using for protection became impossible to see through and I was forced to look over the top of it. Well, as you might imagine, just as soon as I did that, the freezing rain froze on my helmet face shield making it almost impossible to see through. There was help though. The cold weather gloves I was wearing have a large patch of soft suede leather sewn on the palms for use in wiping off fog. This worked quite well wiping off the ice so that I could, at least, see.
I would ride along just peeking over the windshield, and then about every 10 seconds I would wipe the ice off my face shield. Under any other circumstance the intelligent thing to do in this situation would be to pullover and stop. But, unfortunately I couldn't do that. There were no towns and no shelter of any type along the road. And because the wind was blowing so strong I certainly wouldn't have been any warmer. So, I kept going. Stopping out here, in these conditions, would have been impossible.
About 20 miles out of Trinidad I noticed that about an inch of ice had built up on my left leg. In fact there was ice all over the bike! By this time I realized that if I could ice up, then the road certainly could, so I slowed the bike down to about 25 to 30 mph and was very careful when crossing bridges. Though there weren't very many bridges (and these only crossed small dry creeks) they were by now all white with frost and I had no intention of sliding on one of them! At each bridge, I made sure that I aimed the motorcycle directly to the opposite end of the bridge and then slowly backed off the throttle during the crossing to completely eliminate any possibility of the tires slipping--basically, I was coasting.
Not too far from Trinidad, the frozen rain turned into snow, which, all things considered, was much easier to deal with. The snow wasn't sticking so much to me or the motorcycle. I must have been quite a sight to people when I finally rode though the town. By that time it was snowing quite heavily and my whole left side was covered in a thick, continuous sheet of ice. Still I was in a very good mood because I had made it! The people must have thought I was crazy as I rode through the snow with a big grin on my face.
That experience not withstanding, I'm not completely without any sense. I checked into a motel in Trinidad and relaxed in a warm bath until I was thawed out. I then ate dinner at the motel-restaurant (which used up most all the remaining cash on hand) and returned to my room where I hung up all my clothes so they would be dry by the next morning.
The next morning my bike wouldn't start. Things were really becoming annoying here! It was so cold that night that my engine oil had turned to a stiff sludge. I called AAA and they sent out a tow truck to give me a jump start. The weather wasn't the best, but at least it wasn't raining or snowing (much), so I headed back down the road I arrived on.
Without going into too many more details of this ordeal (which included resting my hands on the engine while riding) suffice it to say that by the time I arrived in Springfield I was cold. I stopped at a convenience store and stayed there for about an hour while eating some hot food. By that time the temperature had warmed considerably and it even looked like the sun might decide to make an appearance.
Kansas
By the time I reached Ulysses, Kansas the clouds had cleared away, the sun was shining, and all was right with the world. I stopped at Dodge City and after stopping at an automatic teller machine that I knew was there I ate a large meal at a restaurant. The final leg back to Wichita was uneventful except I do remember passing a field that was full of purple and yellow wild flowers in about equal numbers covering several acres. While I wouldn't want to repeat the trip just that way again, all in all, I did enjoy it.
Trip 2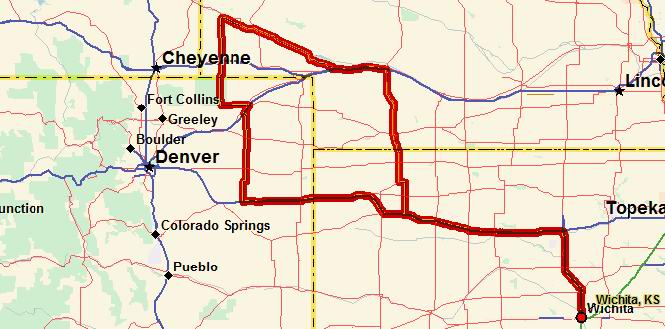 Kansas
By the next weekend all the cold of the previous trip was forgotten and I was off again. This time my destination was Chimney Rock National Historical Site in western Nebraska. I had seen the monument before on a trip to Mount Rushmore, but it was only in passing. I got off fairly late that Friday and only made it as far as Salina before stopping at a motel. Actually just as Greensburg is often where I spend the night on trips west, Salina is where I usually spend the night on trips north (when heading out late Friday).
Nebraska
The next morning I headed west on I-70 to the town of Grainfield where I turned north through Hoxie and then north on US-83. North of about Oberlin, just south of the border, the rolling wheat fields give way to the rather hilly sand hills of Nebraska. This is basically grazing land, and as such, doesn't support nearly the number of towns as Kansas does. While eating lunch in McCook I debated turning West on US-6 but decided to keep on US-83 to the town of North Platte.
North Platte is one of the larger towns in western Nebraska, but still has the look of a town that hasn't changed much since the 1930's. Just west of town is the summer home of Buffalo Bill Cody. The house (now a museum) wasn't open on weekends (huh?) so I wasn't able to tour through it. The house was built in the empire (haunted house) style and must have been very impressive, not to mention surprising to come upon, back when it was in use.
From Bill's house I rode west to Ogallala and then followed the North Platte River (as well as the Oregon Trail) as it cut a dead straight path north-west towards the Rockies. This area does not appear to have ever been settled. The highway stayed on the north side of the river most of the way, while the Oregon Trail followed the south side. It wouldn't surprised me to know that much of the trail was still visible there.
I crossed the river at Bridgeport and remained on the south side of the river clear to Scottsbluff (even though the main highway crossed again to the north side). I was expecting a park or visitor center of some sort at Chimney Rock. Instead there was a roadside rest with a sign detailing the history of the monument, but nothing else. The rock is a large finger pointing up. Even though erosion has caused it to be shorter than it was a hundred years ago, it is clear why it was one of the most important landmarks on the Oregon Trail (as well as Pony Express Trail). From here I rode the short distance into Scottsbluff.
I didn't spend any time in Scottsbluff, but instead rode straight to the monument. There was a very nice museum there that gave the history of the Oregon Trail. Because the trail passed over fairly soft sandstone here it is still quite visible as a set of deep ruts in the rocks. I spent about 40 minutes at the museum before turning south.
If I had come across a motel on my way back through Scottsbluff I would have spent the night there. Instead I rode on to Kimball, Nebraska where I gassed up the bike and found a motel room. As I was walking back to the motel room after eating dinner at a restaurant (about five blocks away) I passed a man with his wife who was struggling to lift his motorcycle off the street. It seems it had fallen over as he was putting it on its side stand (in front of their house) and it got away from him. That bike must have weighted more than 900 pounds! I don't understand why people ride such huge machines. It had everything except air conditioning. Anyway, between the two of us we were able to right the rig and I continued on my way.
Colorado
The next day I couldn't believe it. It was snowing. All I could think was "Well, here I go again!" I had no intention of staying in Kimball waiting for the snow to clear so I headed south on highway State-71 into Colorado. About 10 miles south of town things really started getting interesting. First it started snowing harder, then my left cylinder (the Guzzi only has two) refused to fire. I figured that the engine was acting up because of the all the melting snow that probably was getting into the electrical connections. While riding the bike on only half an engine was bad enough, what was really worrying me was that the other cylinder might stop working as well. When I reached highway 14 the freezing cold wind again started howling to about 50 mph from the north. I had planned to continue south all the way to I-70, but now I was more concerned with finding shelter, and besides I knew my gas mileage was probably pretty bad since I was riding nearly wide-open on one cylinder (just to maintain speed) and all the while un-burnt fuel was still passing through the other (non working) one.
At Sterling I stopped at a gas station where the attendant (and owner) suggested that I wheel the bike into his garage. I didn't see anything obviously wrong with the bike (it isn't easy to see an electrical short) and because the snow was coming down much harder now I decided to stay the night. The owner suggested a nearby motel so that's where I went.
The next morning the sky was still overcast but I was sure that once I turned east, things would get better. The bike started right off with no problems and I rode south towards Akron, Anton, and Arriba. Just north of Akron the engine again began firing on only one cylinder so I pulled into a convenience store parking lot, determined to find the problem. After a bit of poking around with a screw driver to find the short (and getting zapped a few times in the process) I found my problem. The spark plug cable connection at the coil was bad. What I needed was a special tool to attach a metal clip to the wire so I walked across the street to a garage where I found a willing mechanic. Between us we got everything put together the way it should be and I didn't have a bit of trouble with the engine from then on. And it's a good thing too, because I soon had other problems to contend with.
The map I was using (Rand McNally) indicated that the road from Anton to Arriba (Colorado) was paved. About five miles south of Anton, I found out the hard way that the map was wrong. Really wrong. Thinking that "surely the road is paved just ahead" I rode for about 45 miles on possibly the worst road I have ever been on. Because of the previous day's snow and rain the road was about 4 inches deep with mud and snow slush. I rode most of the way at not much more than a walking pace with both feet down as outriggers. I stopped once to take a rest from the intense concentration needed, and about sank into the mud. It took a lot of tire spinning just to get moving again. Needless to say my boots were completely covered in mud as was the motorcycle. Mud and snow and ice. When I got to Arriba I was dead tired. The people I talked with at the coffee shop there said that they hardly ever used that road because it was so bad, even when it wasn't all muddy. They were rather amazed to see me.
From Arriba I headed east on I-70 thinking that surely the weather would improve (ever the optimist). Instead it got worse. The north wind was so strong that I began to worry that it would blow the bike sideways as I crossed the icy bridges. I started crossing the bridges at the biggest angle I could, regardless of the lanes (there was no traffic). Since I didn't see much point in riding through this stuff all the way back to Wichita (and it looked like that is what I would have to do) I pulled into the town of Goodland and checked into yet another motel. I certainly was not making much progress!
Kansas
It was now Tuesday morning which meant I wouldn't be at work until Wednesday. I made use of the stop at Goodland by walking to a store and buying several pairs of socks. I then threw away the double pair I had been wearing for the trip to date. There really wasn't much else left to do until the next day.
The next morning, it took several trips with an ice-bucket of hot tap water to warm the engine up enough to turn over. The temperature was around 20. I rode from Goodland to Wichita without stopping much except for fuel and food. One side effect of my earlier ride through the mud and snow was that the grit completely wore out my brakes pads. I still had brakes (of a sort) except that they now consisted of metal on metal, which apart from the loud squealing when I applied them didn't help my discs too much. I planned my stops well ahead.
I was now two-for-two as far as lousy weather was concerned on my bike trips. It would be a few weeks before I headed out again. And I would assure myself that the weather was decent before setting out.
Trip 3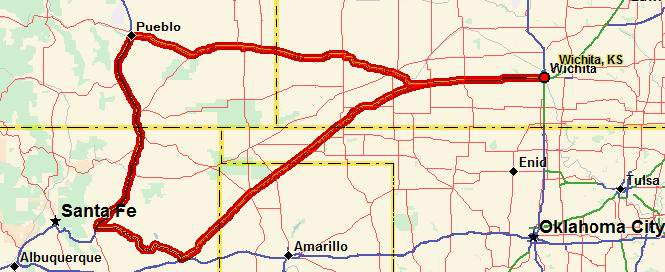 Kansas
Just as with the first trip the sole reason for this trip was to travel on a stretch of road that I had never been on and further would never travel on without making a special trip.
I've been on several roads in New Mexico already, but the road from Tucumcari to Las Vegas always has intrigued me. I left Wichita late Friday, and stayed that night, as is usual, in Greensburg.
The next morning I made fairly quick work of the stretch of road from Liberal Kansas to Tucumcari. If you look at a map of the United States you'll see that this stretch of road is probably the longest stretch of straight road in the country. In fact, I can remember studying this very road when I was still in elementary school years ago and wondering what it was like.
Oklahoma
Texas
By now I've traveled this route several times and I have the towns of Hooker, Guymon, Texhoma, Stratford, and Dalhart fairly well memorized.
New Mexico
In Tucumcari it took a bit of guesswork to find the right highway to Las Vegas. This is not a well-traveled road and it wasn't marked. I simply reasoned that if I kept traveling north-west eventually I would end up on the right road. I did.
Unlike the previous two trips the weather during this first portion was quite hot. I compounded the heat by wearing my heavy leather jacket, but at least I wasn't wearing the long underwear this time. About 20 miles out of Tucumcari I stopped for a break at Conchas Reservoir and tried to cool off.
From Conchas to Las Vegas there were no further signs of towns. The one exception was the (theoretical) town of Trujillo. This town consisted of two houses.
I know I've mentioned this before, but one of my favorite locations in the U.S. is the eastern slope of the Rocky Mountains. It's an area unlike any I have ever seen. It's a combination of steep desert valleys and vast high plateaus from which you can see seemingly for hundreds of miles. For a number of practical reasons, this large stretch of land from Mexico to Canada has only been settled in just a few locations (Denver, Pueblo, etc.). For the most part there are no signs at all that people have ever been here (save of course for the road).
About 25 miles from Las Vegas (New Mexico) the road entered what appeared to be a box canyon. I always try to predict the route of the road up ahead, but on this occasion it had me stumped. Then suddenly the road started climbing up the side of the canyon until we (the road and I) were on a new level abut a thousand feet above the floor where we had just been. I have never seen land quite like this. The land I had just come from was fairly flat as it stretched to the east. And the land I was now on was also reasonably flat as it stretched towards the west. But in between the two floors were displaced as if by a giant stair step that ran tens of miles to the north and south.
As I rode on to Las Vegas there were a number of large black thunder clouds up ahead. By now the previously hot weather had become a comfortable chilly. There are times when it seems the road has knowledge: each time it looked like I was about to ride under a thunderstorm the road would veer off and we (the bike and I) would ride right around it.
I stopped in Las Vegas long enough to fill the bike up and to grab something to eat. I must remember next time to order a taco instead of a hamburger. They sure don't know what a hamburger is supposed to be there, so perhaps they have tacos down a bit better. Perhaps not. As it happens I don't think that I have ever had a decent meal in New Mexico.
Colorado
From Las Vegas I headed north through the Raton Pass and down into Trinidad. Raton pass isn't really much of a mountain pass as such. The Rockies have a 'spit' of a small range sticking out into the plains, and rather than travel around it, the road crosses over the top.
As I passed through Trinidad I couldn't help but remember the last time I was there. This time the weather was much better, and I kept on riding until I reached Walsenburg where I checked into a motel.
The next morning I stayed north on US 25 towards Pueblo. The shortest route back to Wichita would have been on state-10 to La Junta, a nice road that I have been on several times before. But, because I had never yet been on the stretch of freeway between Walsenburg and Pueblo I decided to take that stretch instead. I realize it doesn't make much sense to travel on a fairly boring freeway instead of the more interesting and even shorter route.
Kansas
At Pueblo I turned east on US 50 and traveled the very familiar road back to Wichita. One last thing I remember about this trip was the view of the Rocky Mountains that morning. It had rained quite heavily that night (the main reason I stopped in Walsenburg the night before) and the air was quite clear the next morning. Along the route up to Pueblo I could see the Rockies stretching clear to the horizon both to the north and the south. The peaks were a brilliant white against a very deep blue sky. It would have been fun to ride into the mountains if I had had more time.
Trip 4

Kansas
My goal for this trip was the road from Limon Colorado to Castle Rock Colorado.
I took off May 29 and headed north on I-135 where I spent-the night in Salina Kansas (as usual). The next day I headed west on I-70 without much to-do and rode on into Limon.
Colorado
At Limon as I was trying to return to the freeway I missed my turn (see rules of travel at the beginning) and so rode awhile on a frontage road. Eventually I was able to return to the freeway by riding underneath the freeway through a one car tunnel. Swallows (I presume) had built hundreds of nests in this tunnel. As I rode through they all took off and flew around me. It was rather like riding through a cave with thousands of bats swarming about.
Very soon I was on state-86 and on my way toward Castle Rock. This road would be a much more interesting route to Denver (if that was where I was going). At Castle Rock I made inquiries about the conditions of the roads that my map indicated started from here. The map I was using said the roads were paved but the people I talked with (actually just one clerk in a store, but she called over several of her friends to get their opinions of the roads) said that roads were in fact not paved. I already had my fill of muddy dirt roads for the year and didn't feel like taking any more chances in that area again. So I headed south.
At Colorado Springs I rode through that town then up a valley to the smaller town of Manitou Springs. This is a very old town with many beautiful Victorian style homes that were in excellent shape. I was following the signs to the Pikes Peak Railroad. I didn't really have any plans on riding the train because it was getting late, and I probably didn't have the time. As I pulled into the parking lot that the signs finally directed me to, I saw a small train (with no apparent engine) and about a dozen people in the open car about to depart. So without hesitating I jogged over to the ticket counter, bought a ticket, and took my place on a rather slanted bench seat. All this and I had no idea just where the train was going. Once the train started moving I soon found out that we were headed to the top of mount Manitou. The tracks were dead straight and went right up to the top. Instead of an engine the train was pulled by a 1-inch cable that stretched clear to the top. As the car I was on ascended another identical car descended from the top. Because the grade wasn't a steady slope to the top there were places where the pulling cable ahead of us was perhaps 20 feet in the air. It was prevented from going any higher by pulleys that bridged the track. In places where the track leveled out, the cable simply dragged on the ground, protected by wooden blocks between the rails.
I spent about 30 minutes at the top (the time between runs) before heading down. The view was tremendous. The guide said that it was possible, on a clear day, to see clear to Kansas (a thrill for some people, I'm sure). The weather wasn't quite that clear on this day, but even so, it was quite something.
As I rode back south along I-25 I had my first chance to wear my new rain suit. But, alas, the showers didn't last too long, and by the time I reached Pueblo it was too hot and I had to take it off.
From Pueblo I rode nonstop to Lamar where I spent the night.
Kansas
The next day's trip back to Wichita was noteworthy only for the hot and windy weather I had to endure.
Trip 5

Kansas
For this trip I didn't really have any goals at all save for making it into the Colorado Rockies.
I left fairly soon after work and so made it all the way to Dodge City before stopping for the night. Near Mullinville I noticed a huge (and I do mean HUGE) black cloud, seemingly hovering over Dodge City. The cloud was circular in shape and had the appearance of two multi layered wedding cakes fastened together at the large ends. It looked rather like a gigantic saucer.
By the time I reached Ford the cloud had grown even larger and it was obvious that a tremendous amount of rain was falling on Dodge. I stopped at a grocery store in Ford to see just what was going to happen. By this time a very strong wind coming directly from the center of the cloud was blowing at perhaps 60 miles per hour; so strong, indeed, that it would have been foolish to attempt to ride in it even apart from the rain that might be coming.
In the grocery store people were gathered at the windows watching the storm. The radio was announcing that the highway patrol was recommending that all cars stay off the highways. After waiting about 30 minutes it looked as if the bulk of the storm was moving south of Dodge. I decided that if I took off immediately I would be able to skirt around it and arrive at Dodge before that storm hit Ford.
And that is exactly what I did. When I left Ford the sun had just set and the sky was a bright red and purple under the dark clouds. The storm was apparently quite severe because when I reached Dodge all the lights on the west side of town were out. The storm (along with the accompanying lightening) had knocked down lines and blown transformers. Luckily I am fairly familiar with the motels in Dodge and didn't have any trouble finding one.
After checking in, however, I had to wait while the receptionist took each guest, in turn, to their rooms. Because the power was out and because all the rooms opened into an inside hallway a flashlight was needed to find your way. Once I was in my pitch black room I found my way to the bed and went to sleep.
Colorado
The next day (with power restored) I rode straight through to Pueblo (that is except for a rest stop at Deerfield and lunch at La Junta). Once in Pueblo I quickly made the decision to keep on riding into the mountains and followed the Arkansas River to Salida.
The river was full of rafters floating down the river. There are many vacation raft companies that provide day trips down the river. At times the river looked more crowded with rafts than the road alongside was with cars (or motorcycles).
At Salida I ate dinner (or late lunch) and also withdrew some extra cash from a handy automatic teller machine so I wouldn't have to worry about not having any cash as I did on the earlier trip. From Salida I decided to head north to Leadville. The most direct route on the map would be to take the highway US-291 shortcut. But, since I had already been on that road I went the extra miles west so I could travel on the short section of US-24 that I hadn't been on before (see the rules).
At over 10,000 feet Leadville is perhaps the highest city in the United States. And yet, the climb up to the city isn't so steep as you might expect. Leadville lies at north end of a very long valley that stretches all the way down to Santa Fe New Mexico. The southern end of the valley is defined by the Rio Grande River while the northern end is traced by the Arkansas River. The Arkansas, by the time I reached Leadville, was only a minor stream. With this trip I completed the last part of the river I had not been to. I have now followed it from its source in the Rockies to its final destination at the Mississippi River.
Leadville is an old mining town that hasn't ever stopped being a mining town even though it tries hard to be a quaint tourist stop. There were great slag-heaps everywhere. It looked as if entire mountains had been chopped up. Halfway through town I ran into a hail storm. I only rode in the storm for about five minutes as I ducked into a Standard station to wait it out.
I had intended to travel north on US-24 to Vail, but somehow I took a wrong turn and instead rode north on state-91 (see rules). At Freemont pass (elevation 11,320 feet) I stopped for a look at the Climax mining operations. This is the largest molybdenum mine in the world. Moly is used to make high grades of steel (a standard steel used in aircraft production is 4130 which is a Chromium Molybdenum alloy). The waste products of the mines (sand for the most part) have been dumped into the nearby valleys creating enormous 'lakes' of sand held back by dams. This is mining on a vast scale.
From Climax I descended into Copper Mountain (the town, not the mountain) and turned east towards Denver. At the divide US 70 plunges right through the mountain into the Eisenhower tunnel. The tunnel is one of largest that I know of in the U.S. It must run for about a mile as it turns and descends through the mountain. From here on, I practically coasted down the mountain into Denver. I actually rode on through Denver preferring to spend the night in cheaper Aurora on the outskirts.
The next day I had only the oh-so-familiar trip down I-70 to look forward to. So, at Limon I rode on south to Kit Carson and then turned east on old US 40 all the way to Oakley.
Kansas
On the way I stopped for a break at Fort Wallace. This fort was one of the most active during the Indian Wars and the troops stationed here fought quite a few battles.
Once I reached Oakley I was all out of options. I've been on all the roads here so I just stayed on the interstate all the way into Wichita.
last edited: 12/11/2004