June, 1991

Sunday

Monday

Tuesday

Wednesday

Thursday

Friday

Saturday

23

24

25

26

27

28

29 June
Wichita
Scottsbluff

30
Harrison
Sheridan

1 July
Cody
Rexburg
Blackfoot

2
Pocatello
Boise
Grangeville

3
Lewiston
Elgin
Walla Walla

4
Yakima
Seattle
Shelton

5
Port Angeles
Ocean Park
Hebo

6
Orford


7
Eureka


8
Lucerne
Sacramento

9
Sacramento


10
Reno
Wells
Ely

11
Great Basin
Parachute

12
Denver
Wakeeney
Greensburg

13
Wichita

14

15

16

17

18

19

20
This was a two-week trip with the distinction of riding down the entire pacific coast highway from the Olympic Peninsula to Eureka, California. I'd been on most sections of this road, but this trip was a nice opportunity to do it all in one shot.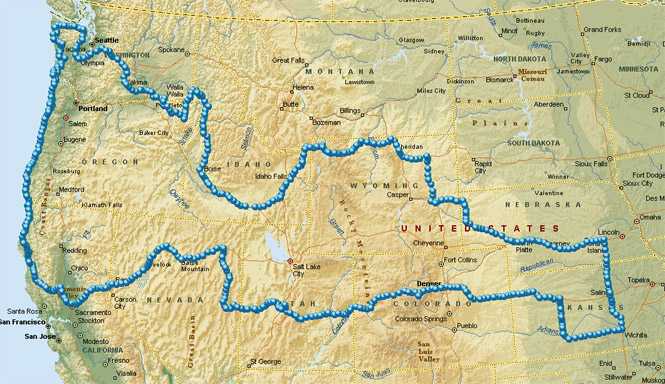 Kansas
I didn't leave Wichita nearly as early as I had wanted to. Actually, I wasn't all that sure (as usual) just which direction I was headed except that I knew I wanted to be on a general northwest heading.
I headed north up US-81 towards Nebraska passing through Salina towards York.
Nebraska
Once at York I turned west and followed the interstate as far as Kearney, where I turned south to Minden, Nebraska to go through the Warp museum for probably the sixth time. It is without a doubt the best American History museum outside the Smithsonian. After spending about three hours I got back on the freeway and rode on towards Ogallala where I had dinner.
A small town in Nebraska that I stopped at for about 30 minutes to cool off. It was really quite hot that day.
My plan was to ride on to Scottsbluff and camp at a park that I just knew was there. Well it wasn't. This was one of the few times on this trip when I saw even a few rain drops. I spent the night in a motel room in Scottsbluff (with the largest waterbed imaginable--it seems that I had some sort of "special suite"--I didn't ask).
I was up fairly early (poured myself out of bed) and rode out to Scottsbluff National Monument. This was a major landmark on the Oregon Trail and there is a very nice museum here. I didn't go through this time as I'd been there a couple of times already.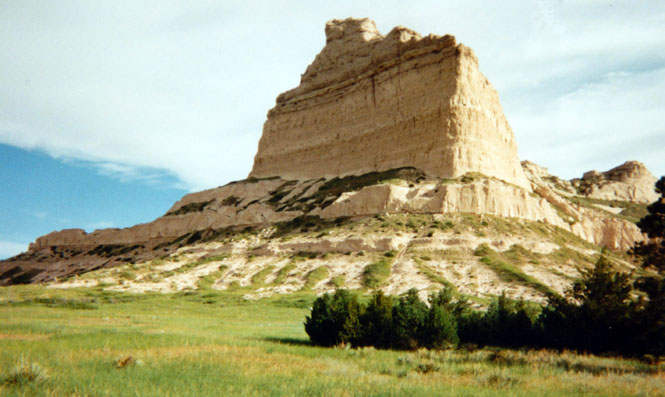 I had every intention of continuing on to Fort Laramie National Historical Site except that when I reached the small town of Mitchell I instead decided to head north to Agate Fossil Beds National Monument.
Either way, I was finally traveling on a road that was new to me. I probably only saw a half-dozen cars either direction on the road to the Fossil Beds. From the main highway it's a short (4 mile) dirt road to the park itself. It really is a beautiful place. But then, I've always liked the Great Plains region of the eastern side of the Rocky Mountains. I spent about two hours there. Worthwhile.
Headquarters of Agate Fossil Beds National Monument. It's little more than a couple of single-wides.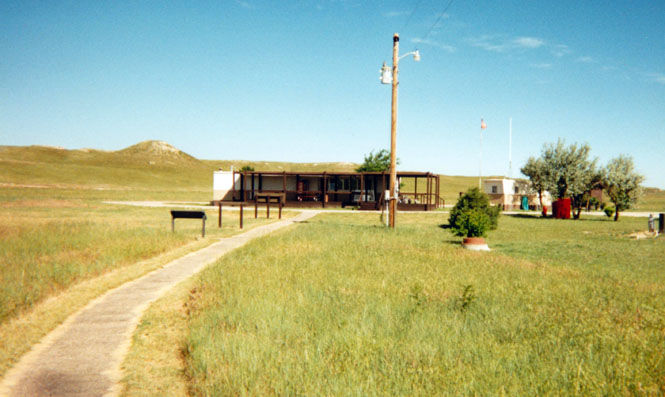 They don't get many visitors, but they're very happy to see you. I could have stayed here all day.
Unexpected wetlands in the area.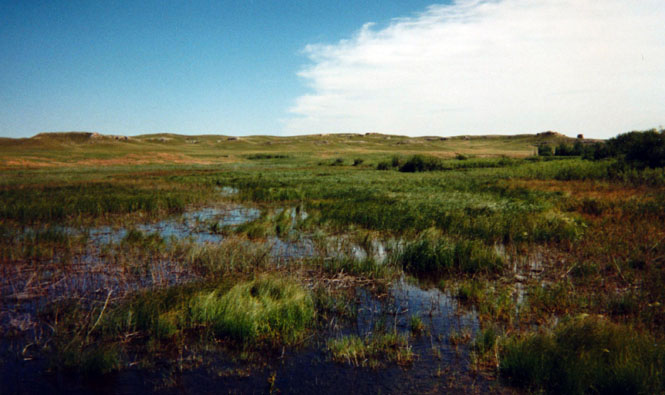 You can't tell by the photograph, but the sign says "Wild Black Currents"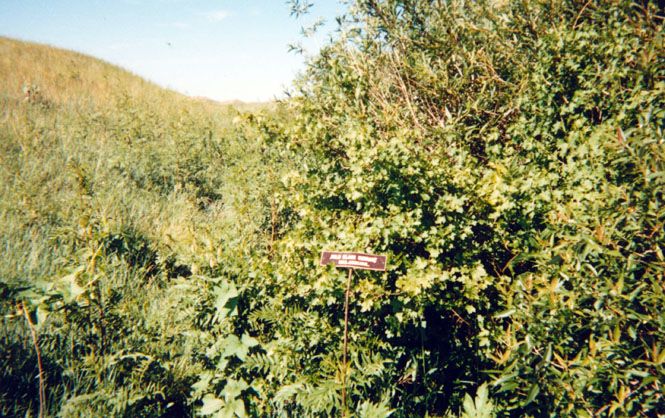 No fences, no roads. You could walk for miles and miles.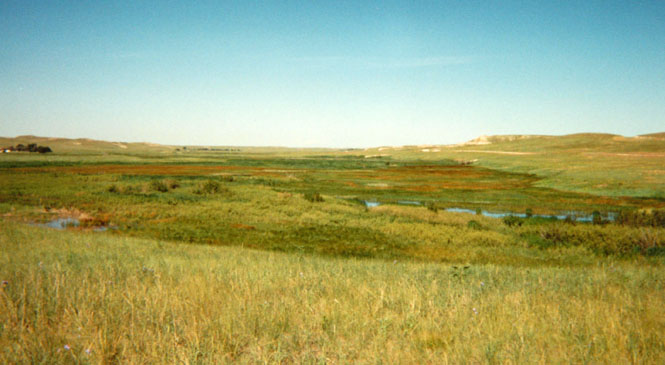 The trail to the area where most all the fossils have been found was rather well marked. I doubt you could get too very lost.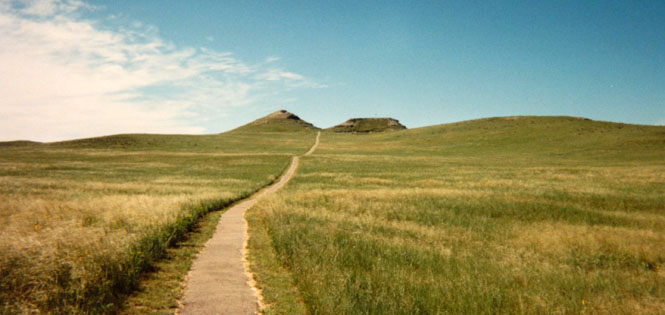 Taken from the top of one of the fossil hills. Some amazing fossils of early mammals (not dinosaurs) have been found here.
From the Beds I rode north to Harrison Nebraska and turned left into Wyoming. Harrison is the county seat, but more importantly it is about the only town left in this corner of Nebraska. There just isn't much left.
Wyoming
At Douglas I stopped for perhaps two more hours watching a drag race meet that I saw from the road.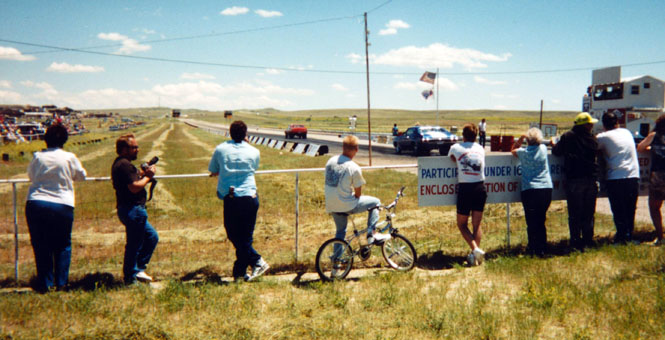 This was only a local affair but it was a lot of fun to watch. They certainly had looser spectator safety requirements than most such races that I've been to.
It's Chevy vs. Chevy. 50's vs. 60's.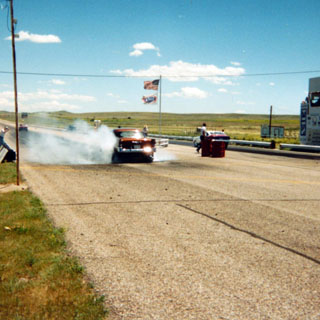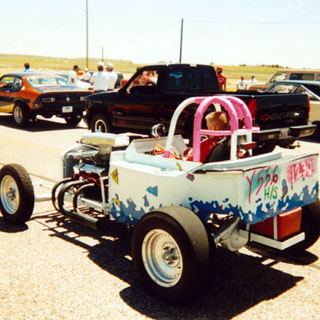 Once I reached Interstate 25 I was again on a known road so I was happy to turn north on highway 59--if only to be on new ground again. About the only things of any interest along this highway are the coal trains that appear every fifteen minutes or so heading south. Off in the distance I could see a number of coal mines. I would've ridden out to have a closer look at one of the mines but the roads didn't look too good and the semi-trucks on them drove as if they were the only ones there (they were).
At Gillette, Wyoming I had lunch/dinner (right) and then once more turned west.
Incidentally, I was stopped and given a ticket three (!) times during this trip. However, all three were only warnings. On one occasion I was following at the rear of a long stream of cars, and was still pulled over. Oh well, perhaps they just wanted to make sure I wasn't going to cause any trouble... They were all pleasant enough.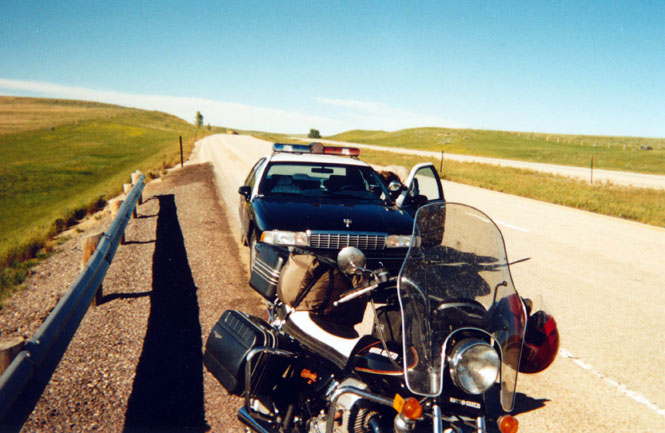 Just beyond Sheridan--but still short of the Montana border--I turned west on highway 14 and climbed into the mountains. By this time the sun was nearly gone and I didn't have much time to find a campground. When I found one it was full, but as I was on a motorcycle that was of no concern to me (nice how that works).
I set up camp off of one of the campground roads. The photograph was taken early the next morning, just before I strapped the tent and sleeping bag to the seat.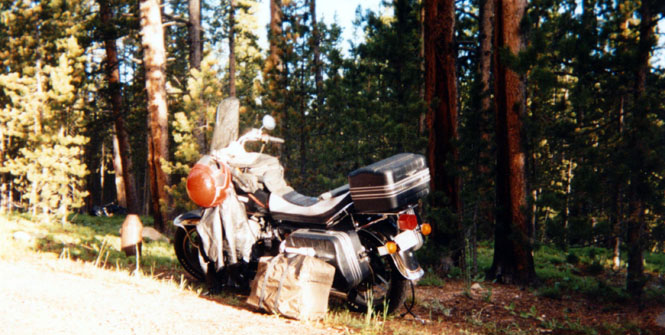 Heading out the next (chilly) morning I turned off on route 14A - the scenic route. This road contained some of the steepest grades I've come across anywhere on a federal highway (10%).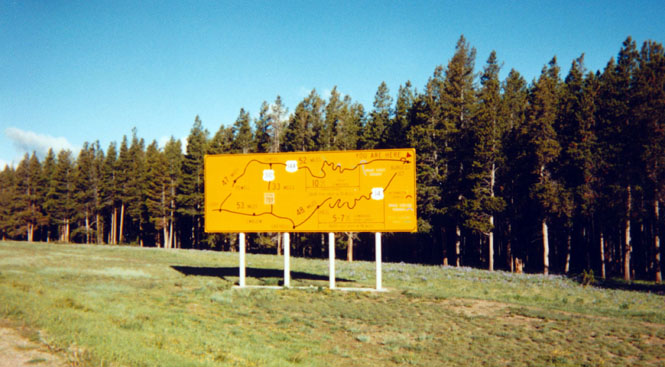 At the top of the grade is a rather detailed warning sign showing the locations of the steepest grades along the highway. Heavy trucks were advised not to continue.
Two views looking toward Yellowstone from the mountain top.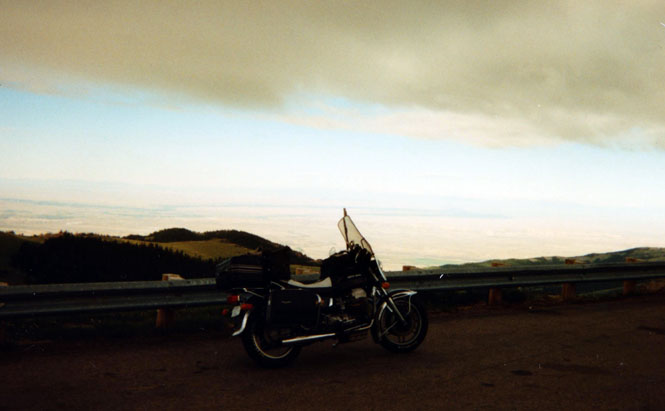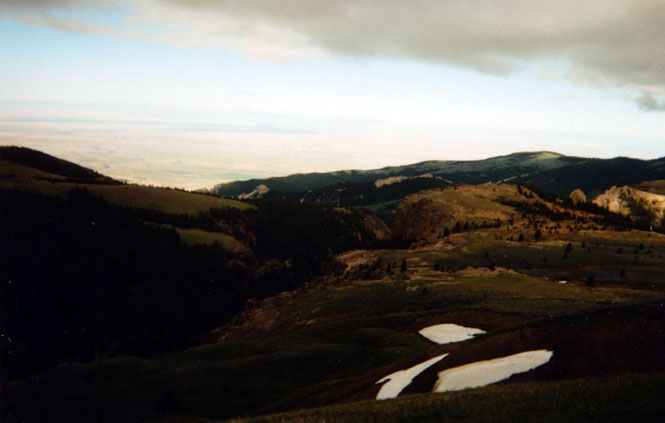 Descending down into the valley of the Shoshone River. Those are cows down there (photograph) on the highway. I rode very slowly through them, and was especially careful on the road that they had just walked on.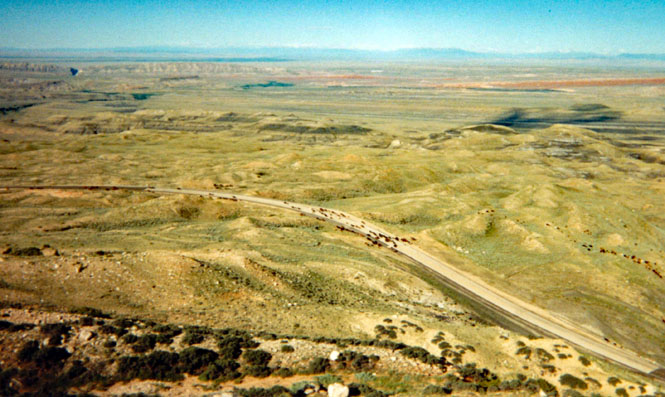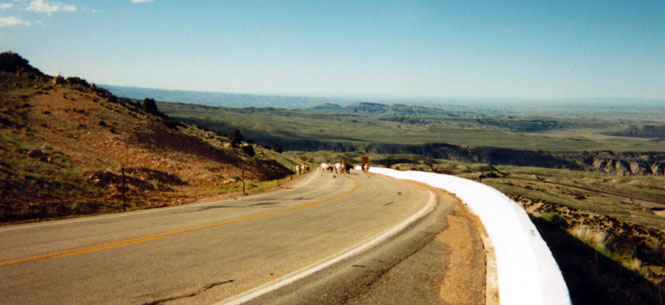 I continued on to Cody, Wyoming passing though farming country (looping around and entering Cody from the north). I spent a good four hours going through their museums and walking about the town. The Cody museum is especially worthwhile--plan on several hours.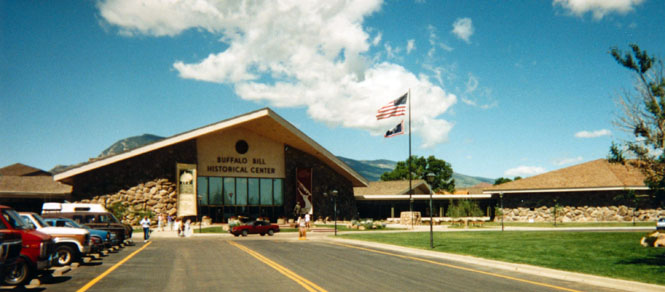 Downtown Cody.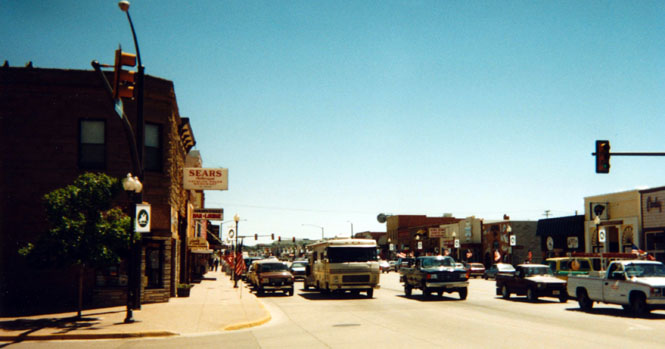 I had no real desire to see Yellowstone Park again, but since I still hadn't been on all the roads in the park I decided to go there anyway and pick up some new roads.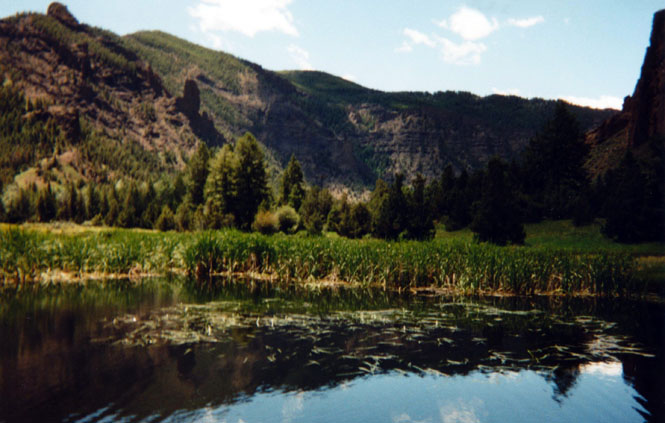 The road into Yellowstone and a memorial to fire fighters killed in the 1930's.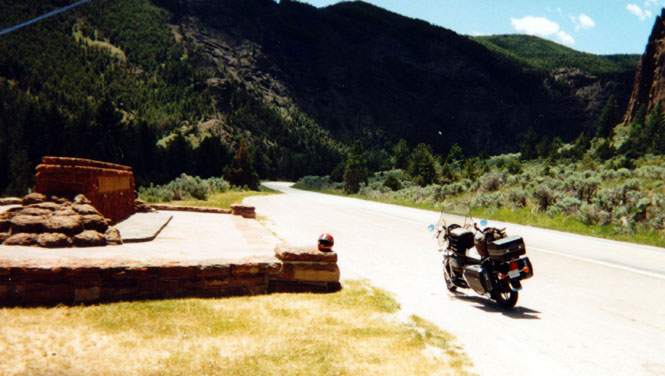 My standard Park Entrance photograph.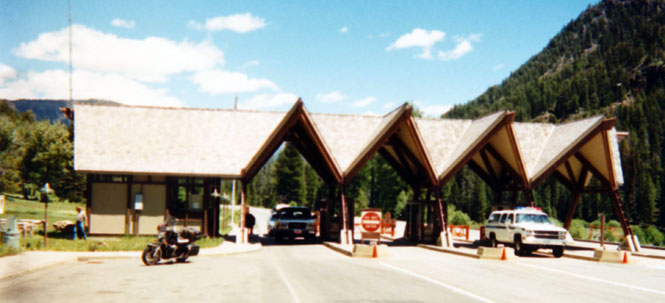 All the areas that were hit by fire were green with the exception of the burned trees that were still there of course. There seemed to be quite a few more bison than I've seen there before. They can create quite a traffic problem when most all the cars insist on stopping on the road to get a closer look and to take a roll of pictures. I also stopped at a service station within the park to change my oil.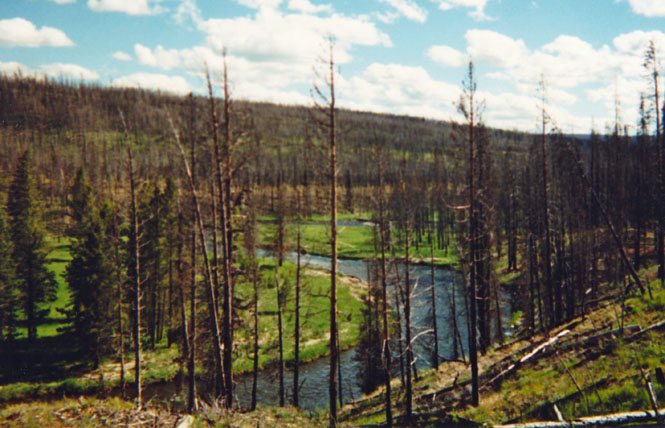 Idaho
From West Yellowstone I headed down highway 20 towards Idaho Falls.
A distant view of the Grand Teton range from the other side: Idaho.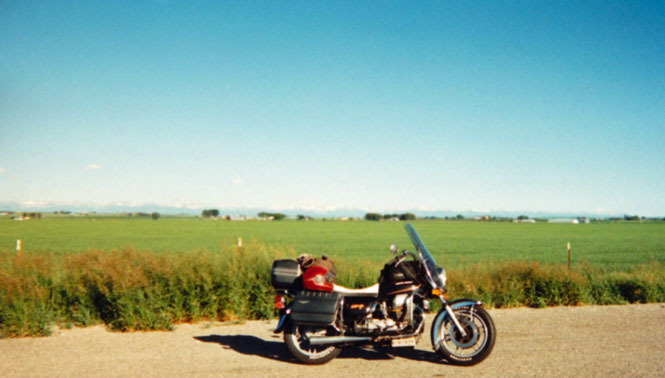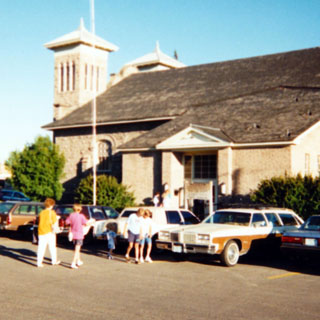 Along the way I stopped at the small town of Rexburg and went through their small museum (and church and community center) on the Teton Dam disaster that wiped out much of the surrounding communities. The complete failure of this major dam had a profound affect on all planned big dams in the country.
I spent that night in Blackfoot, Idaho.
A rest stop along the freeway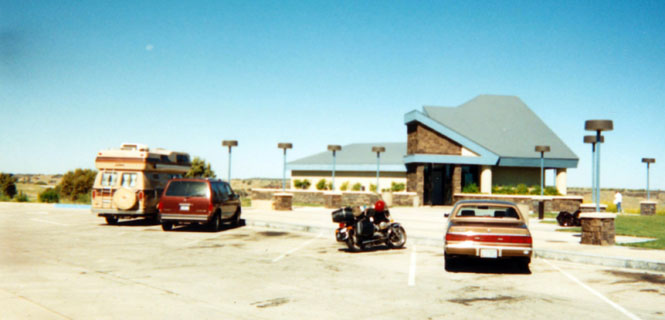 Next morning, I stayed on the interstate through Pocatello (filthy, yellow air) to Twin Falls where I turned off to have a look at the falls (which no longer have falling water) and to have lunch.
The Falls must have been spectacular.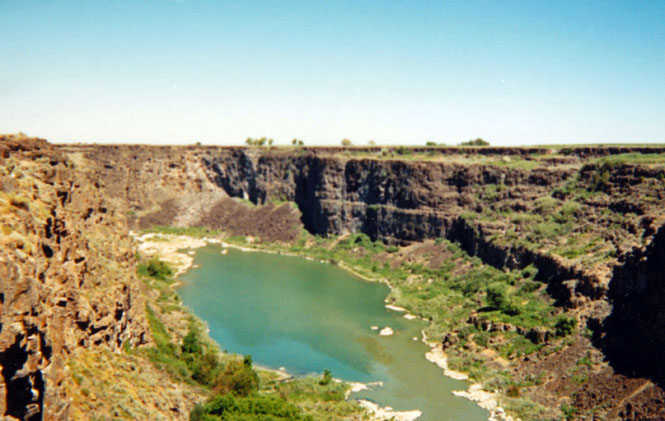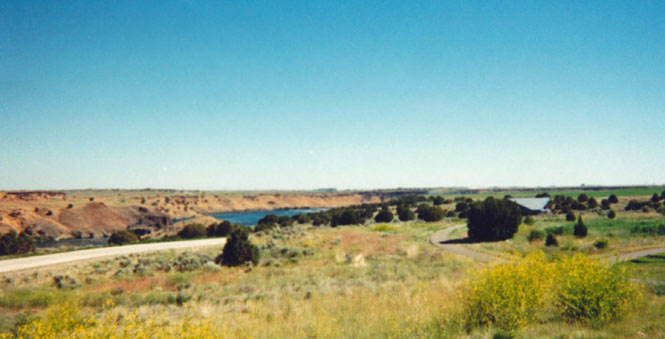 Crossing the Snake River near Twin Falls. It was near here that Evel Knievel jumped (or rather didn't jump) the canyon on his motorcycle.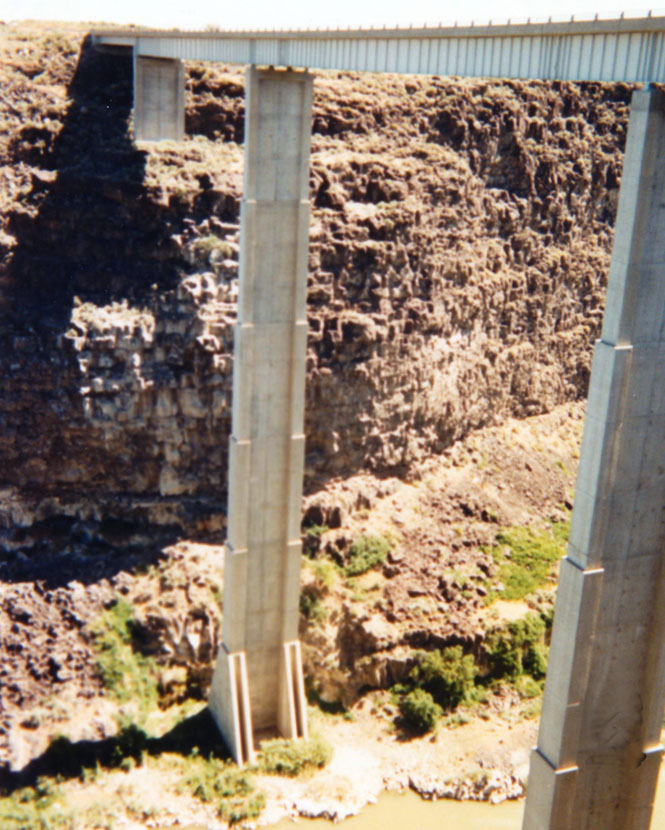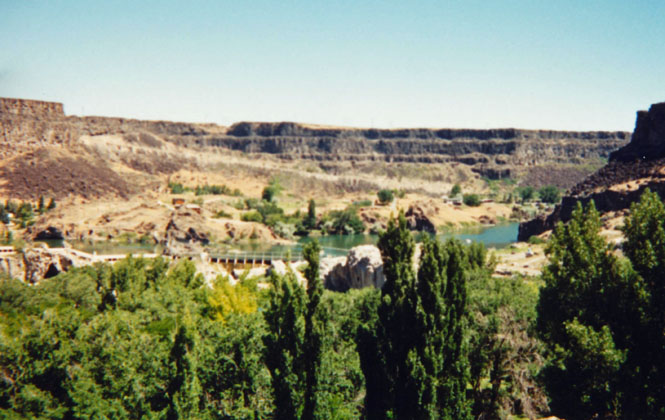 It was then back to the incredibly bumpy freeway to Boise, Idaho where I wandered through the capitol building for perhaps an hour. While I was sitting on the bike writing a post card two policemen came by and argued amongst themselves as to whether or not I deserved a ticket for letting my parking meter run out. I offered to accept a ticket, but they finally decided to let me go (too bad, it might have been nice to have received four tickets on this trip).
I was able to wander through the building, and pretty much go anywhere I wanted.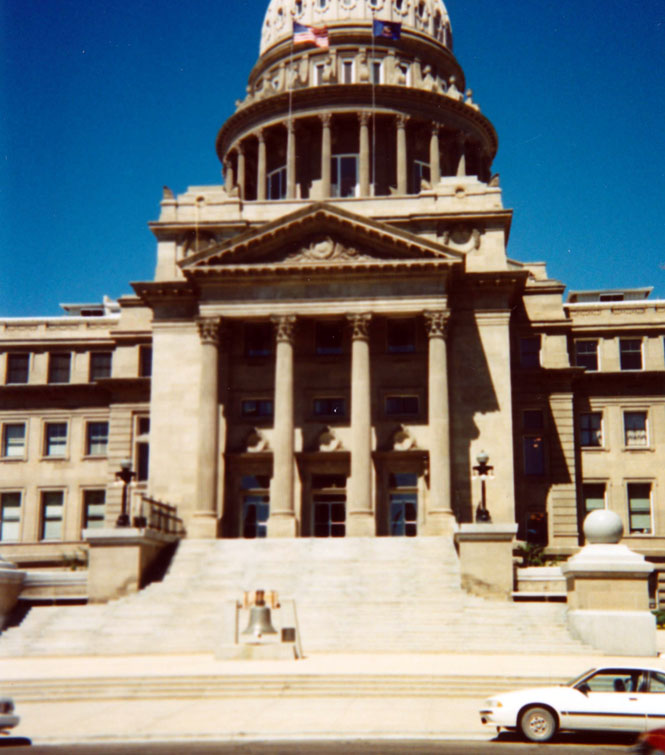 This is a rather strange picture, but it does show you the parking meter that which I was too slow to feed.
I had lunch in New Meadows, Idaho--turns out, it had to serve for dinner, as well.

The road north of Boise was one of the highlights of the trip. This is one of the really nicer roads in America. For the most part the road stays in the narrow valleys with occasional leaps over the small mountain ranges. The old pass road from White Bird to Grangeville is one of the most spectacular roads I have ever seen.

I spent that night in a motel in Grangeville.
A bridge over the Salmon River.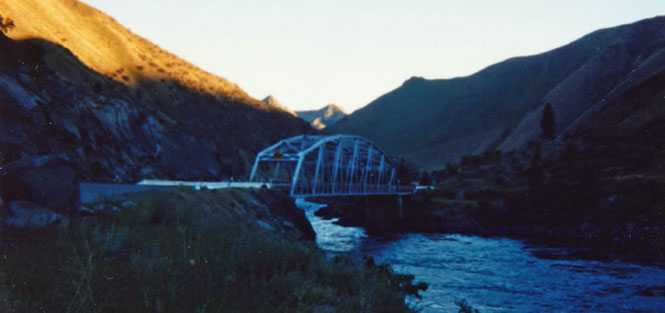 Nez Pierce land in Idaho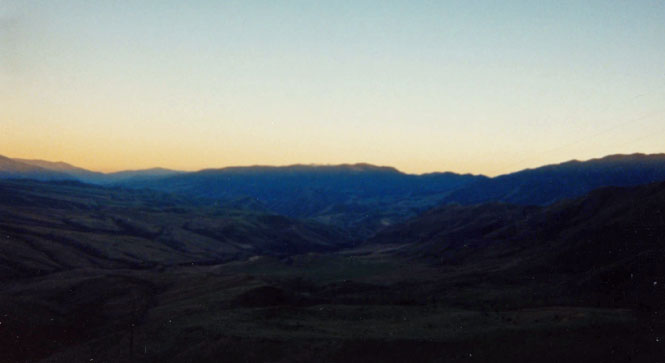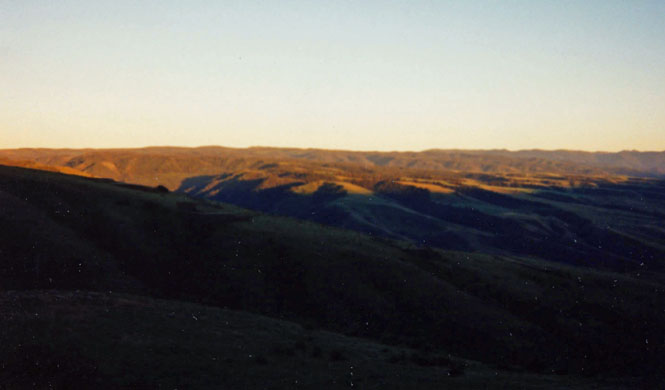 Grangeville, Idaho looking towards the north.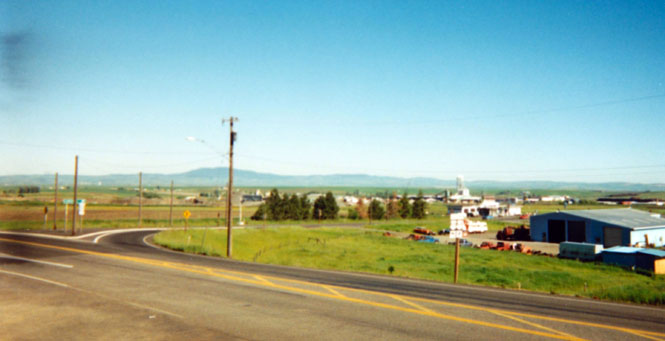 From Grangeville I rode north to Lewiston, but not before spending about an hour at the Nez Pierce Museum.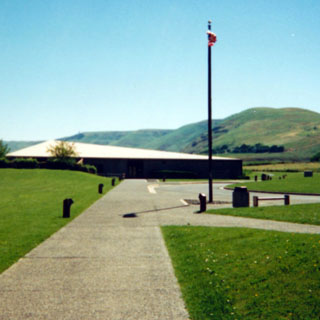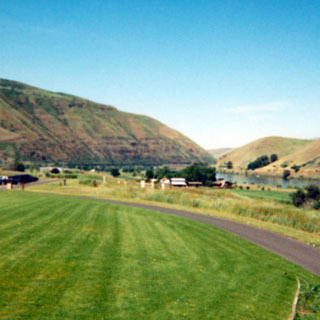 Washington
After crossing the Snake into Clarkston I headed south through Anatone and down into Enterprise, Oregon.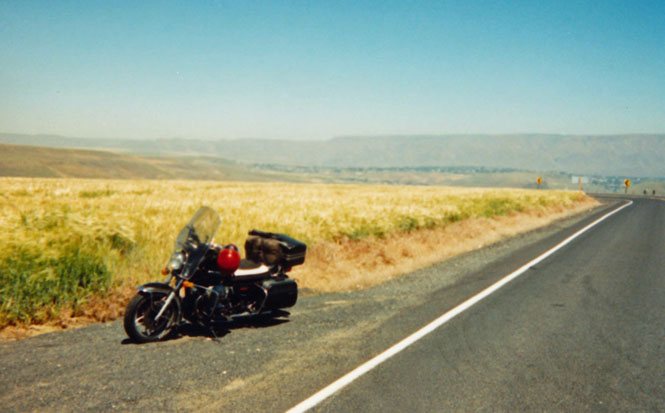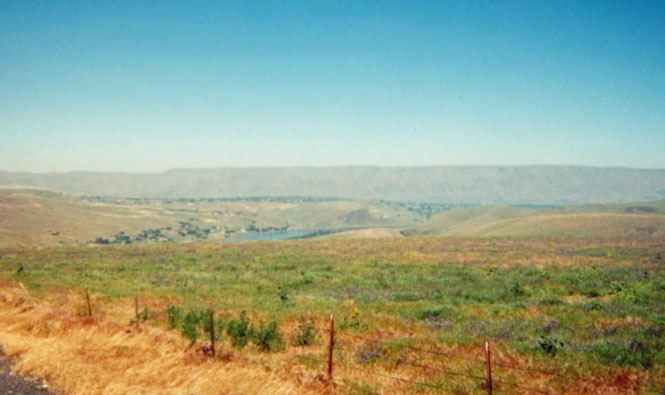 I had never been on this road before so I wasn't really sure what to expect. This must be some of the most rugged land in the United States. Its hard to imagine the Nez Pierce Indians routinely traveling through here.
At the Grand Ronde river crossing I stopped for some rhubarb pie at a small restaurant (the only thing in town) before continuing on to Enterprise.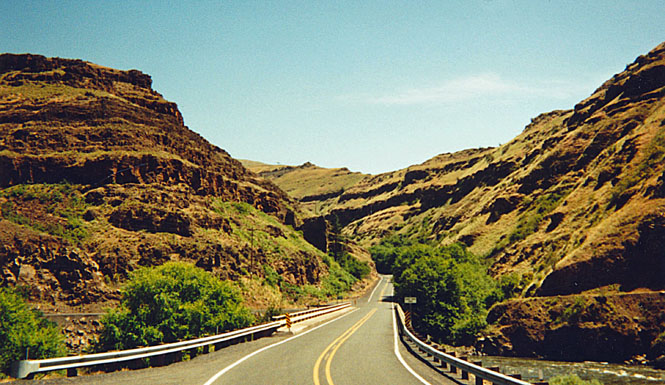 Oregon
It's quite a road!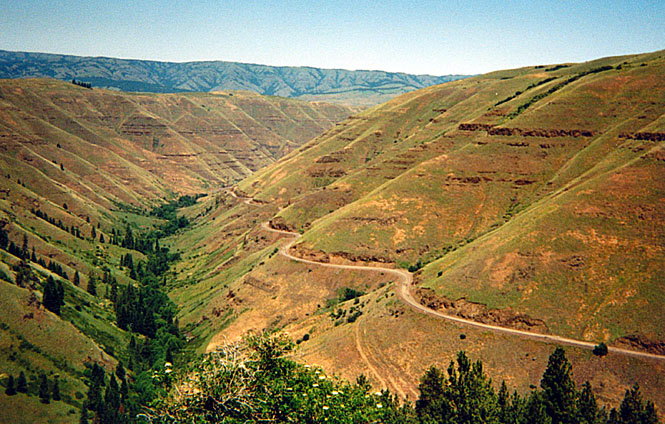 Enterprise, Oregon is not too far over the hill. A perfect morning for riding.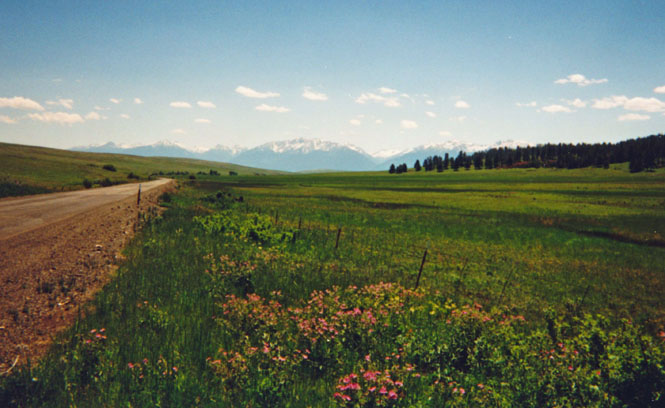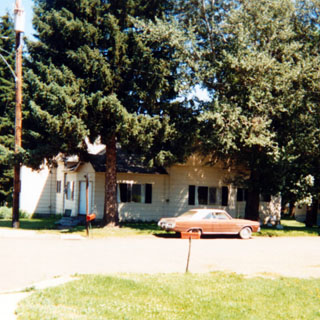 From Enterprise I rode through Wallowa and Minam and then Elgin where I had another rest break. Great Grandma Hug's house in Elgin is still for sale. The house doesn't look all that great but the yard was looking good. Now, if two small children agreed to jump over that tree (when it was but a sapling) and they did it every day without fail, then there's no telling how high they'd be jumping, now...
The Elgin Police Station/Theater/City Hall where grandma used to play the piano for the silent movies.
From Elgin it was a quick ride over the hill and into Walla Walla.
Mike and Lorraine Ragsdale in Walla Walla pruning back a holly bush that had frozen.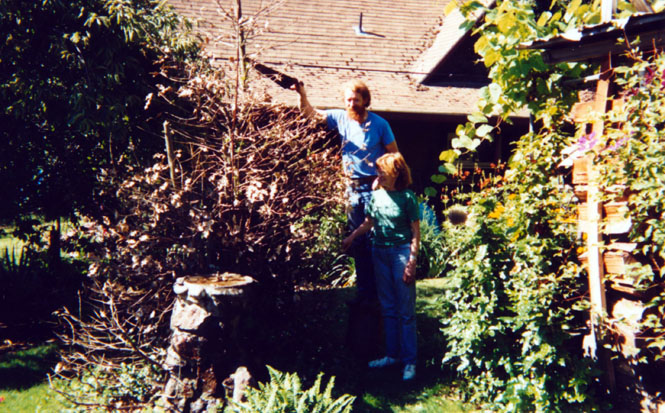 Washington
From Walla Walla I stayed on highway 12 through Yakima and Ellensburg where I caught the freeway to Seattle. I had considered crossing over to Bremerton on a ferry but I didn't look forward to fighting what looked to be quire a lot of traffic. So I shot down to Olympia and then reversed back up to Shelton where I spent the night in a motel.
From Shelton I really poked along riding around the Olympic peninsula. I was really fortunate to have near perfect weather throughout--Mount Olympus was clearly visible for much of the route. I stopped at Port Angeles for lunch and to walk around a bit before heading toward the Pacific Ocean.
One of the people-only ferries, off to Victoria.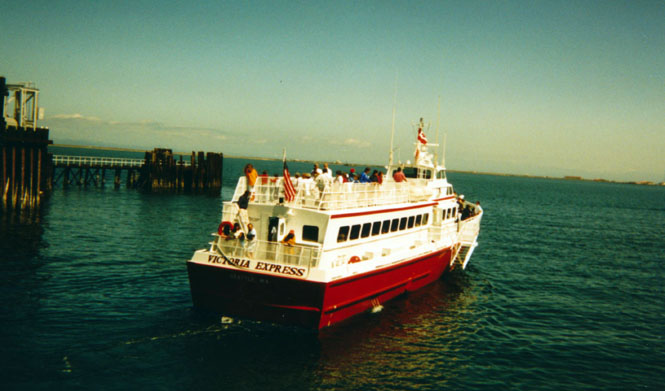 The ride around the peninsula was great--you couldn't ask for better weather.
And then this...
As always; just a warning, just checking... It must be the red helmet. My next one will be white.
Lake Crescent.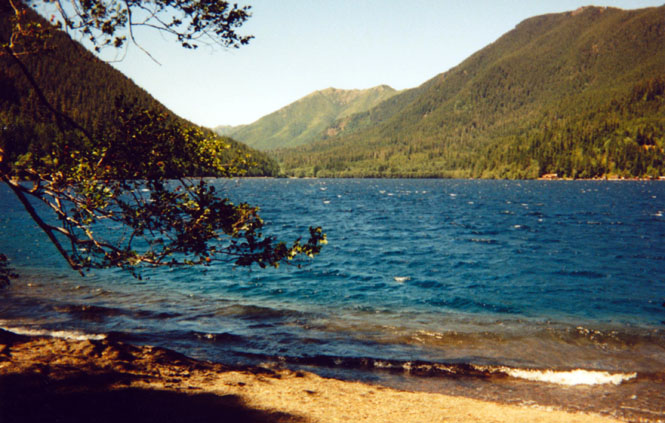 I reached the Pacific Ocean.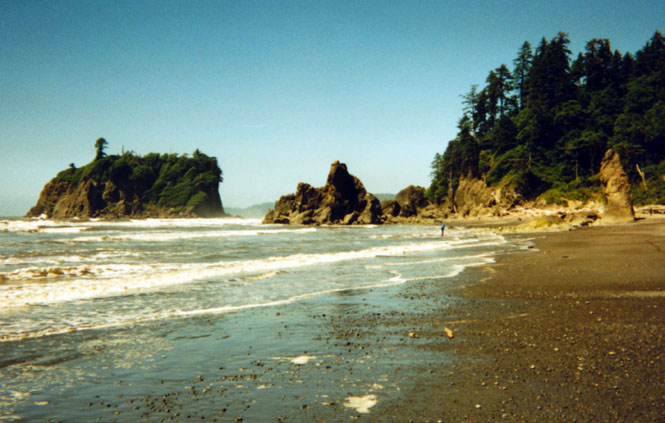 I stopped at Kalaloch Lodge only because of the name, but it really was a spectacular area--but then so is all of this coastline.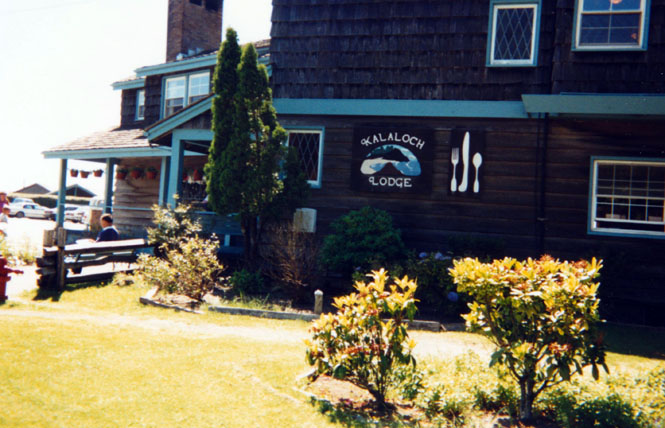 At Ocean Park, Washington and was surprised that I was able to find the cabin that we stayed in when I was five years old. Even though the beach is a driving beach I saw no reason to do something that dumb. There were plenty of others around, who were willing to do that.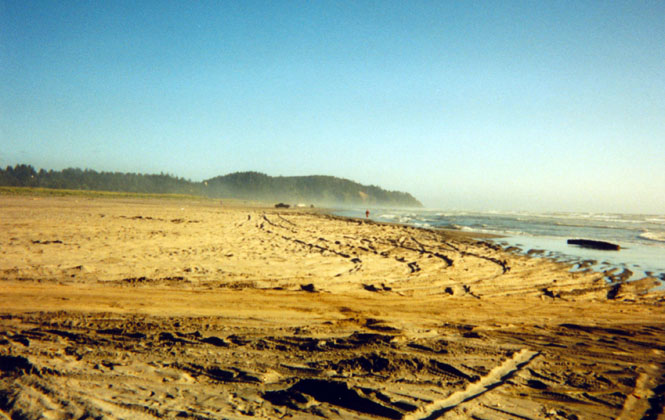 The view looking across the mouth of the Columbia river from Washington to Oregon.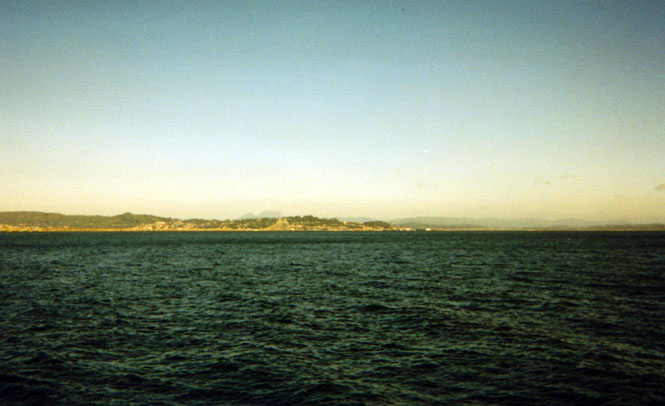 Oregon
Along the Oregon coast.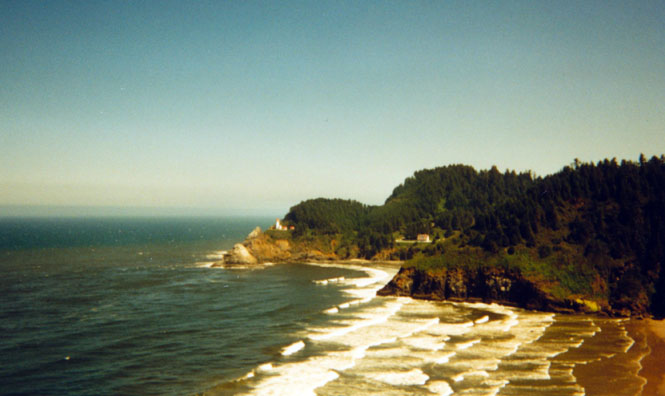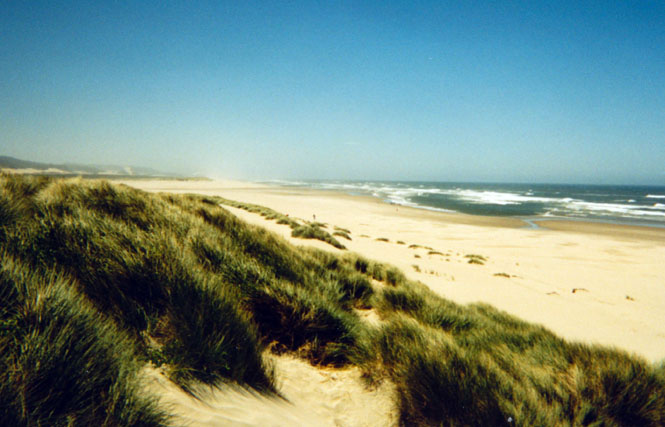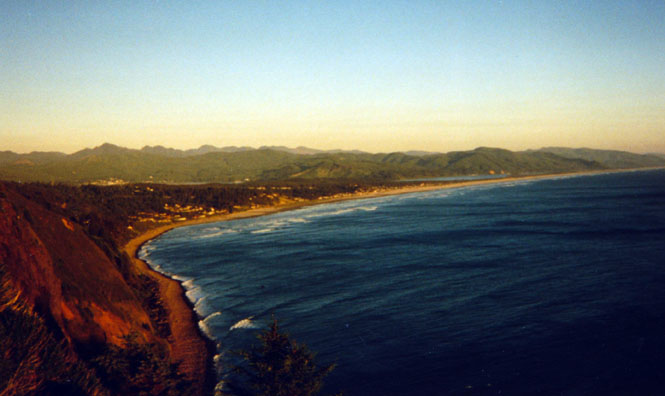 Sundown caught me riding along the beach roads west of Tillamook looking for a place to spend the night. It wasn't until I reached hte small town of Hebo that I finally gave up on the search for an obvious place to camp, and stopped in a churchyard. Actually, if you don't do it on a Saturday night, a churchyard is an ideal place to camp.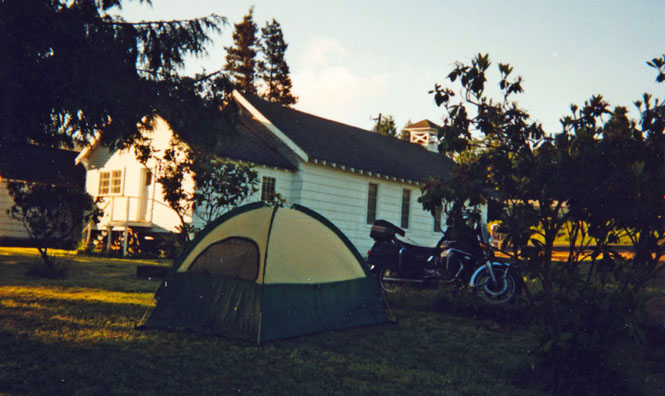 From Hebo I traveled on down highway 1 stopping fairly often until I reached Port Orford where, with not much (none) advanced warning, I stopped at Ruth and Bill's house. They insisted I spend the night there which I was more than happy to do. A very enjoyable evening and a spectacular place for a house.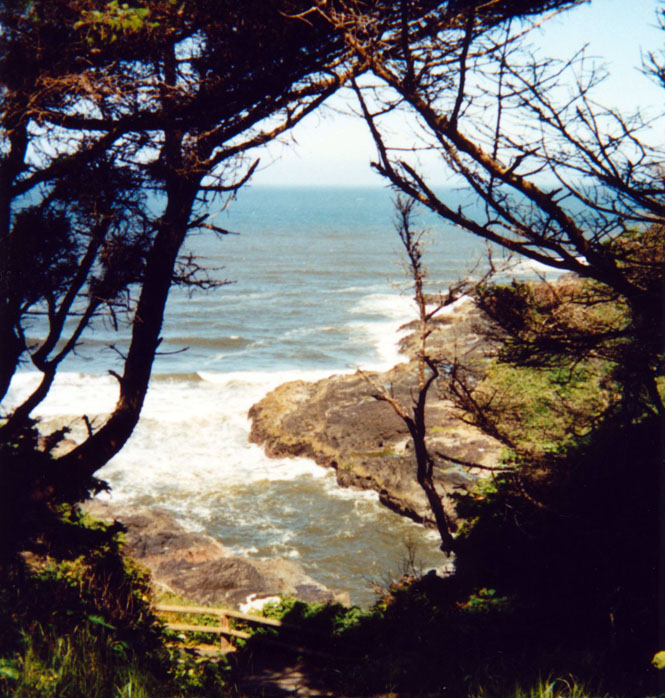 The view from the guest house.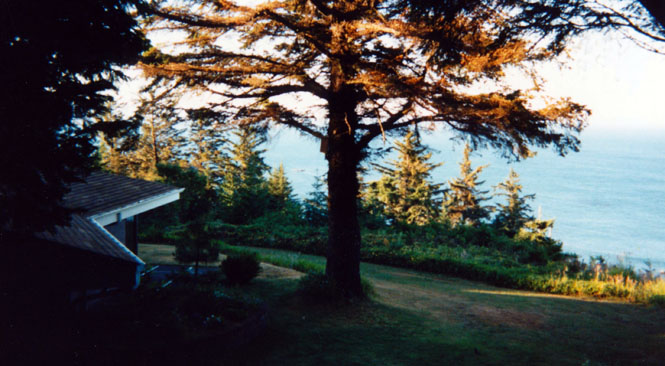 And, the view from back yard (!)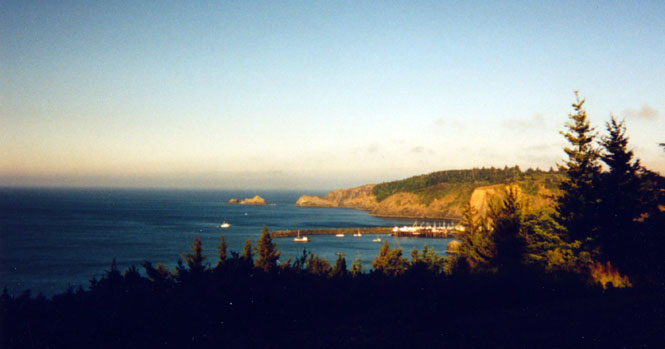 Ruth and her well camouflaged house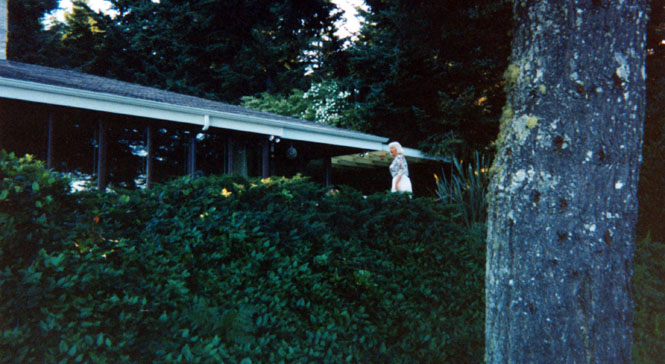 California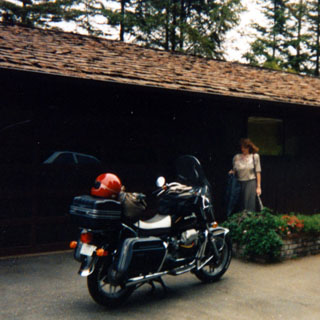 It only took a few hours to ride down to Becky and Gil's house in Eureka--barbecued chicken for dinner.
From Eureka I was traveling well-trod roads down to Sacramento--I didn't bother to take any pictures. After spending the next day in Sacramento, I left for the return to Wichita. considering the day, I clearly would not have time to do much more than put the miles in, over some pretty familiar roads.
Nevada
However, I was able to pick up a few bits and pieces of roads along the way that I had never been on before, such as the road from Wells to Ely where I spent the night
Rest stop in Nevada.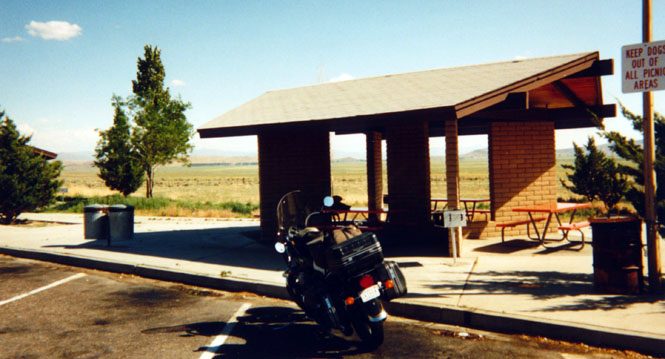 From Ely it isn't very far to Great Basin National Park. I've been to this area, before, but that was before it was a park. I spent about two hours here touring the caverns and looking about before heading across Utah.
Great Basin National Park.
This was the day of a great eclipse, so the ranger and his telescope out for viewing.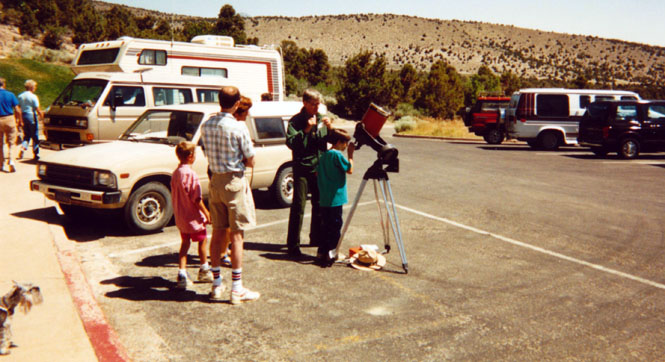 Utah
Not long ago much of the road across Utah was just two-lane-blacktop; now it's a full fledged freeway. But regardless of how many lanes the highway has, this is a spectacular drive.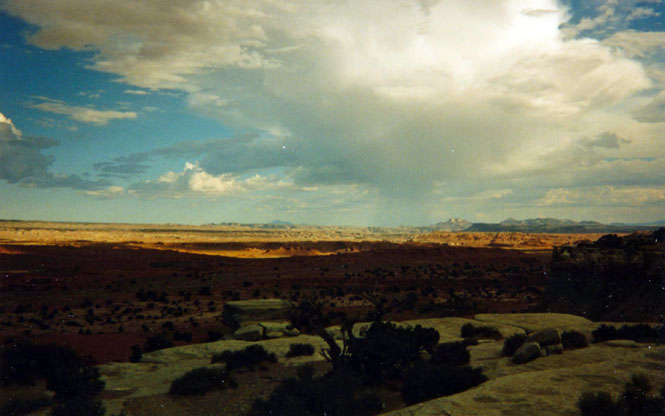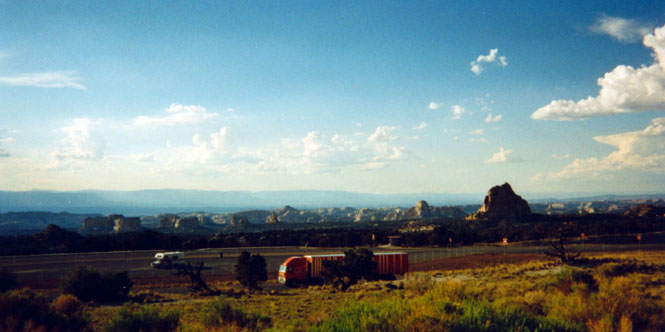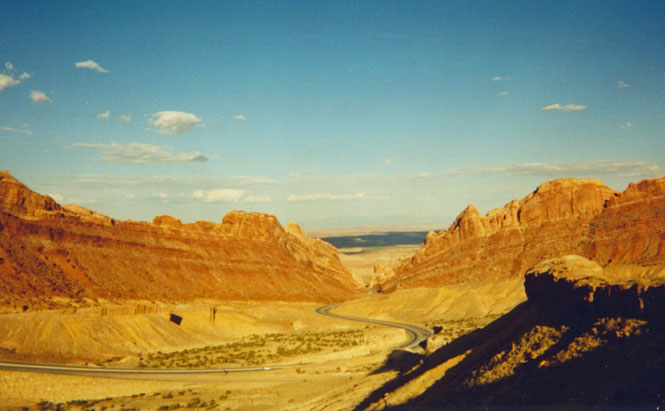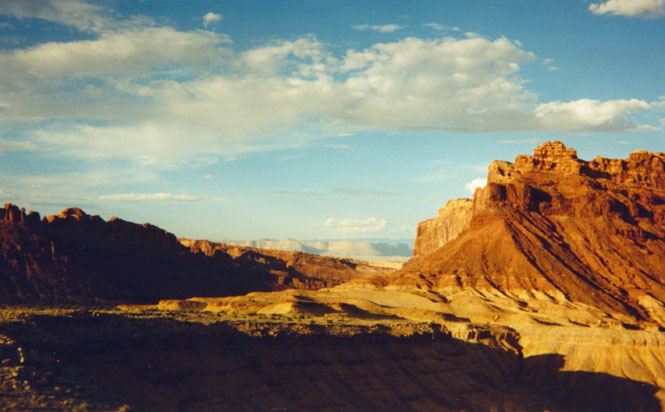 Once in Colorado, there was the usual delay due to the Glenwood Springs freeway construction project (note the rafters in the water).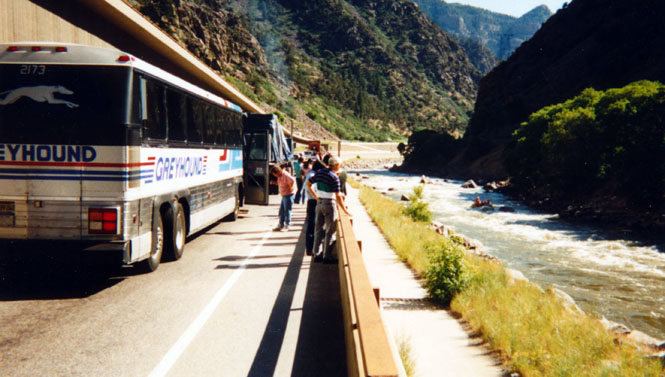 I made it to Parachute, Colorado before stopping for the night.
Colorado
From Parachute I stayed on interstate 70 through Denver, all the way to Wakeeney, Kansas. I had never been on the road from Wakeeny to Dodge City so I took this opportunity to collect it.
Near Georgetown, Colorado.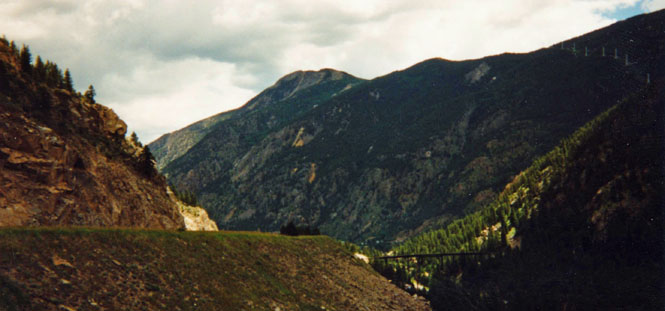 Kansas
I spent that night in Greensburg, Kansas. Even though it's just 100 miles from Wichita, I saw no point to riding into the night just to get there. I'd do that early the next morning.
Good trip. About 5,500 miles.
last edit: 5/26/2008