July, 1995

Sunday

Monday

Tuesday

Wednesday

Thursday

Friday

Saturday

26

27

28

29

30

31

1 July
Wichita
Nebraska
Holyoke Colorado

2
Ft Collins
Laramie
Green River

3
Jackson
Idaho Falls
Dillon

4
Missoula
Sandpoint

5
Colville
Chiliwack

6
Victoria
Port Angeles

7
Tacoma
Castle Rock

8
Eugene
Grants Pass
Eureka

9
Eureka

10
Lakeport
Sacramento

11
Sacramento

12
Manteca
Sonora
Tonopah

13
Ely
Salina
Green River

14
Grand Junction
Denver

15
Salina
Wichita

16

17

18

19

20

21

22
The goal for this trip was to pick up the Osoyoos-to-Hope section of highway 3 in British Columbia, which would also work out nicely for taking the ferry over to Vancouver Island. This was also a good opportunity to pick up the Snowy Range Pass in southern Wyoming, which was a road that I had had my eye on for some time.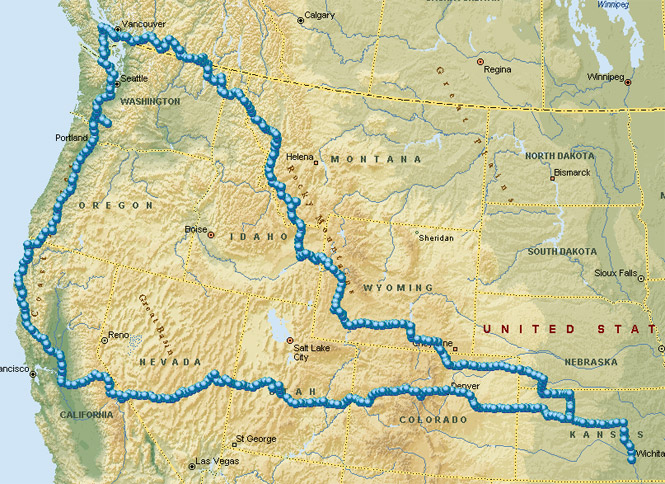 Kansas
I was not going to spend much time looking for interesting routes in Kansas. I just headed towards the northwest corner so that I could eventually line up with (new for me) Highways 6 and 14 across the top of Colorado to Fort Collins.
Nebraska
Here, at the busy rail crossing near Trenton, Nebraska. It was much colder and windier than I would have expected. This is July? Still, I far prefer cold weather to hot.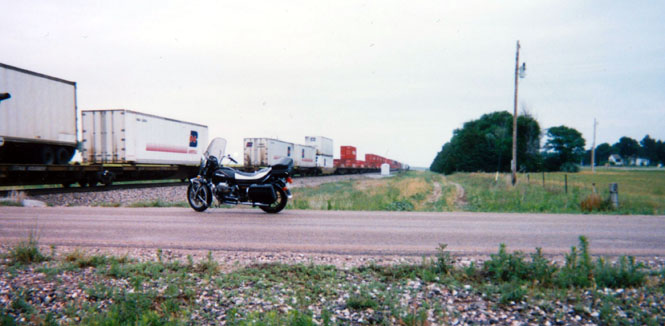 Colorado
The Grand Motel in Holyoke, Colorado. I stopped here well before nightfall; I was expecting that things would warm up by the next day, so I didn't see any point in riding more than was necessary in the cold.
From Holyoke I cut straight across Colorado on US 6 to Sterling, then Colorado Highway 14 (across the Pawnee Grassland) to Ft. Collins and then picked up the old highway (US 287) to Laramie, Wyoming (the Interstate highway takes you north to Cheyenne, being an instance where the freeway has added quite a few miles to the old route).
Wyoming
Since leaving Ft Collins I was riding the route of the old overland stage route. Still following the route I cut across the Medicine Bow mountains on Wyoming Highway 130 to Saratoga and then north to Rawlins, Wyoming. The pass across the Medicines was spectacular even if there was snow on the ground (and in the air). This is a worthwhile motorcycle road--one of the best in Wyoming.
This is a shot near the summit--that's some sort of WPA structure, I gathered.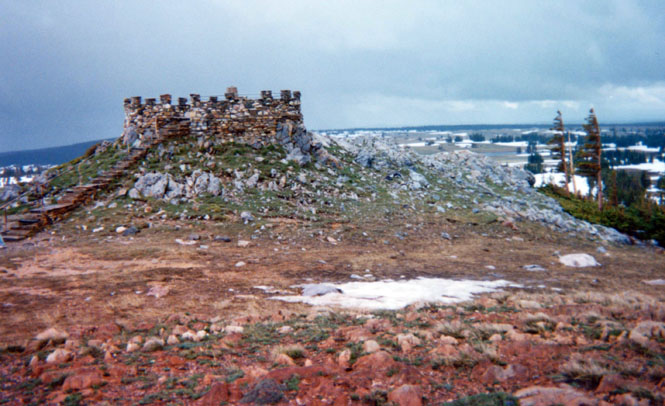 It was cold, and windy, and sort of snowing and raining. I was a bit concerned about ice on the road, but I never saw anything to be too worried about.
A restaurant in Saratoga, Wyoming. I had a BBQ sandwich that was really mediocre--well maybe it was just plain bad. Anyway, I was able to warm up, for all that.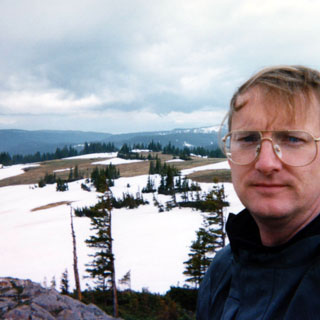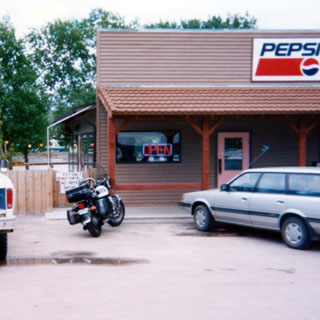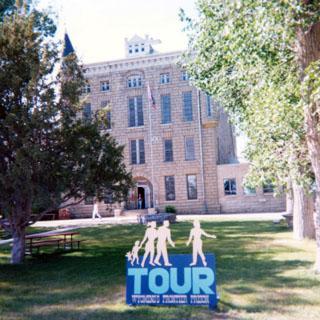 Rawlins is just up the road from Saratoga. I stopped to take the hour-long tour of the old territorial prison led by a really enthusiastic guide. It is clear that Wyoming was completely incompetent when it came to hanging folks. They didn't hang many, but the ones they did were nearly all botched jobs. In one case the guards resorted to pulling down on the prisoner's legs after he was hanged in order to complete the job.
At Green River, Wyoming my intention was to turn north on a new road, but since I knew that I could expect no motels in that direction until I reached Pinedale (or even Jackson) it made sense to first stop for the night. I've stayed at this hotel more than once--it's right next to the switching yards (which supplies loud mechanical crunching noises all through the night).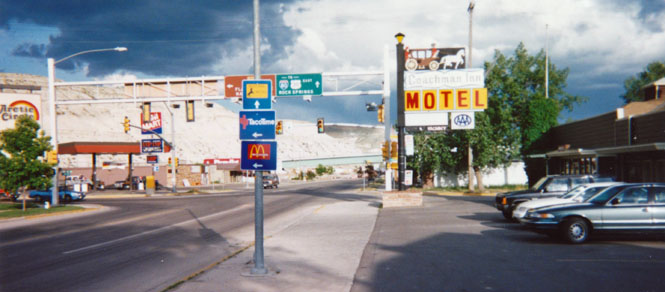 From Green River I headed straight north towards Jackson on Wyoming Highway 372. There are more scenic roads, certainly, but I've been on all of them--this was a new road. As you can tell, it wasn't very busy. I could have had lunch in the middle of the road without too much worry. Actually, the picture below is on another smaller road that turned north from 372. I thought I'd give it a shot to see where it went. Well when it turned into a rocky gravel road with no obvious end-point, I went back to the highway--such as it was.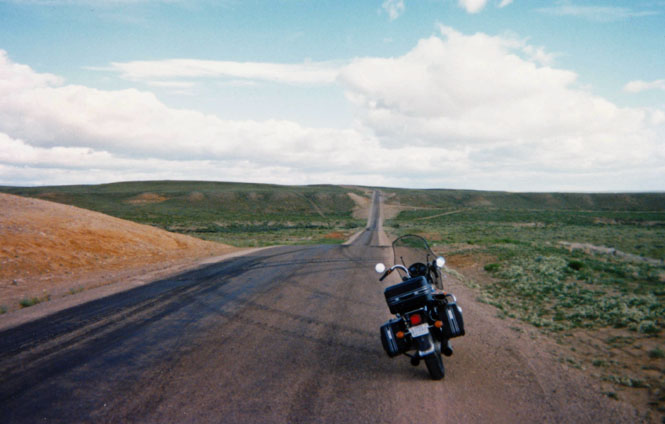 The photograph, below, is just downstream from Fontenelle Reservoir on the Green River. This isn't too far from one of several Oregon Trail crossings of that river.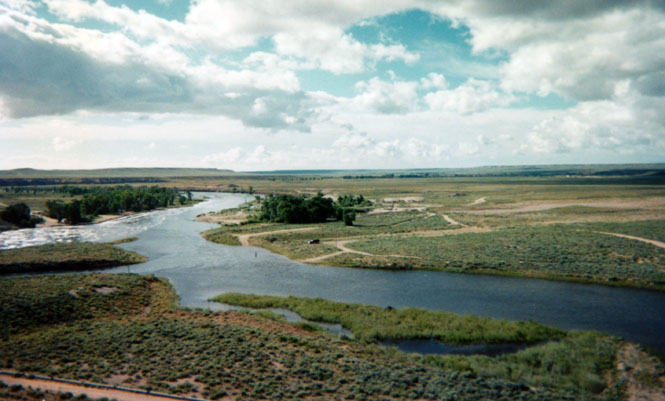 Mountain Man Jim Bridger signed his name on the rocks near this area, along with hundreds of other Oregon Trail pioneers. I am guessing that the dirt road you see if part of the remains of the Oregon trail on the west side of the Green River climbing out of the flood plain. This would have been a very busy place in the 1850s, and it would not surprise me that the main crossing roads were fairly well developed at that time.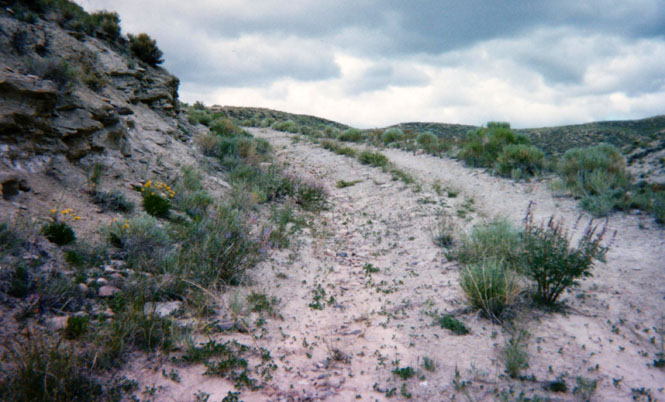 Jackson, Wyoming. I had fully intended to go into Grand Teton and then Yellowstone parks. I was getting tired of all the rain, however, and tried to wait things out in Jackson. It became apparent that things were not getting better so I decided against further travel north and instead followed the Snake River to Idaho Springs.
It helps to be flexible on these trips. If it's raining too much, then go someplace else. This picture (Jackson, Wyoming) has been repeated many times over many trips.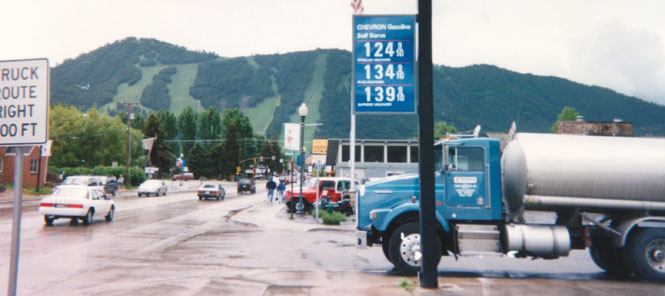 Idaho
The ride into Idaho Falls is always a nice one as it follows the Snake River. You will notice the rain in the background. If I had taken the picture looking towards the west you would have seen a really mean looking thunder storm. It had me a little worried as I seemed unable to ride away from these storms. I have always liked this road; long sweeping curves following the river.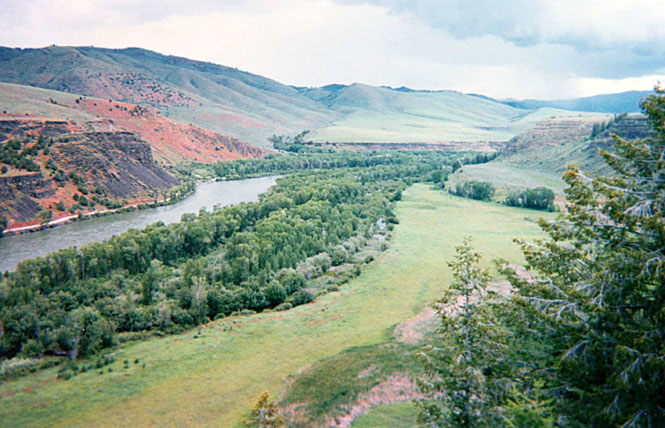 Idaho Falls is one of those towns that I can never avoid. It seems that whenever I'm here, it's hot and muggy, and I hit every red light in town. The temperature change between here and Jackson (not very far away) was amazing. I think during this day I was in everything from 35 degrees to 90 degrees (and that, more than once). Amazingly, there are still falls in Idaho Falls.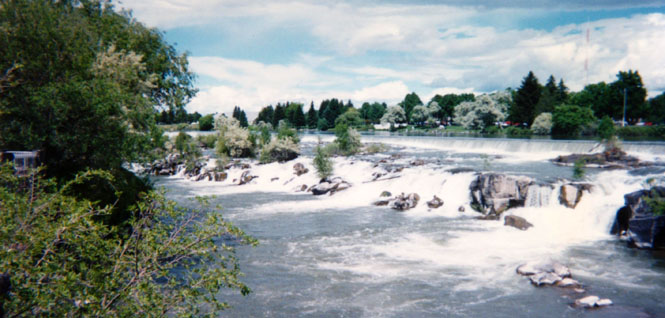 Montana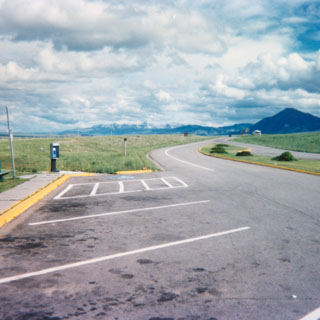 From the Falls I headed north up the interstate (I-15) fully expecting to eventually cut across to Challis and then down to Sun Valley, Idaho. However the weather didn't look good over there, so I kept on north (now thinking that Glacier Park might be nice). Sun Valley is something of the Holy Grail for me. Over the past 15 years I've intended to go there, but haven't yet.
I spent the night at Dillon, Montana, which is just off the interstate. The next day was the 4th of July, and the folks in the truck were setting up flags along the street that morning.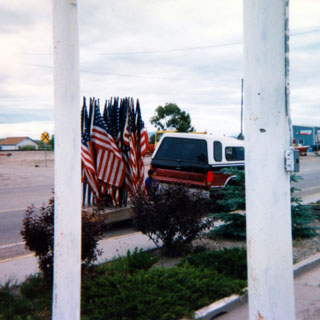 On getting up the next morning, I gave up on Glacier (more bad weather) and changed plans once again to head west towards Big Horn Battle Field.
I dropped just a couple of miles back down I-15, and then turned west on highway 278. This is a shot was taken just east of the side road to Bannock. A wonderful road, no traffic, perfect weather. Those clouds were still a concern to me, but they looked more spent than threatening.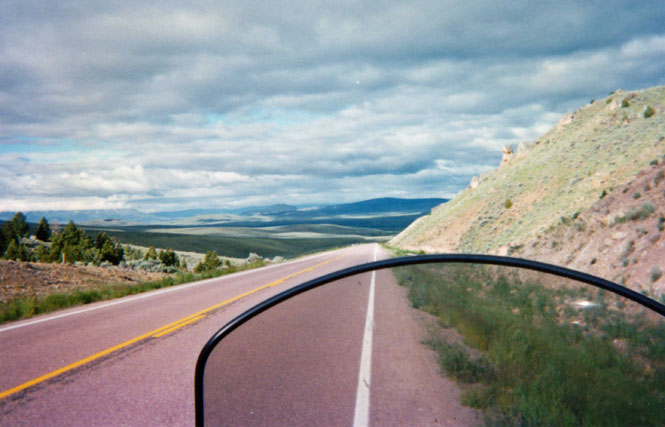 Bannock was the original capitol of Montana territory. The state has made the entire town a state park and has taken steps to preserve (but not restore) the remaining buildings. A remarkable thing that a town once so important lost virtually all its people. I was the only one there, and was free to go into any of the buildings and just snoop around.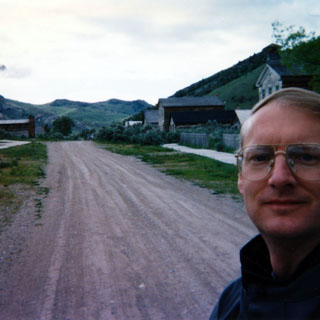 One of the hotels in Bannock.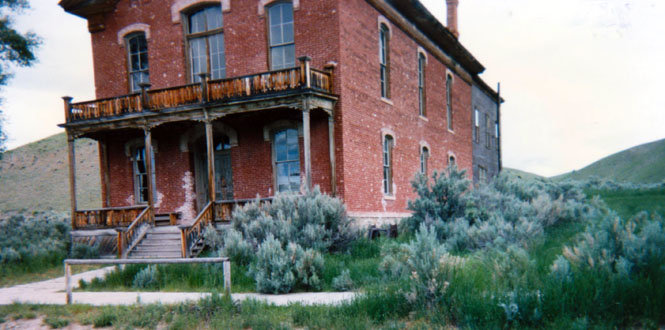 Main Street. Once, this was a rather lively place.

From Bannock I swung back up to 278 (just a few miles of dirt) and then road to the Big Horn battlefield. This was one of the major battles during the entire era of the US/Indian wars. You could argue that the Indians won this battle except that they really didn't have the men to spare whereas the cavalry did. Eventually, as you know, the Nez Perce had their final battle at the Bear Paw battlefield in north central Montana.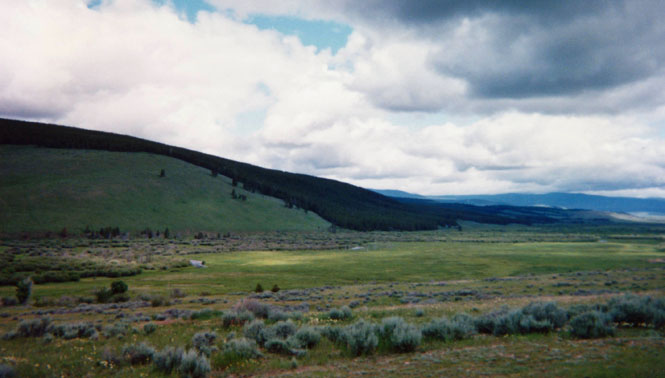 The visitor center.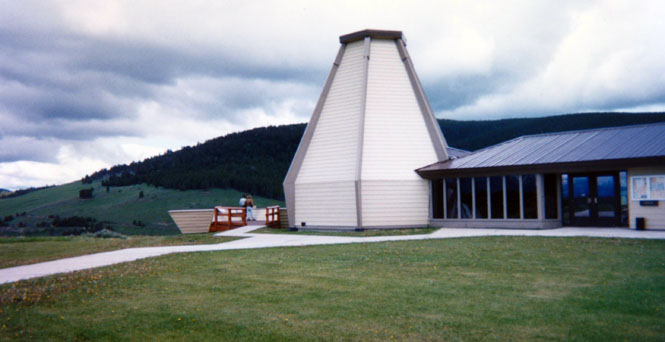 I spent a couple of hours going through the museum and hiking some of the trails.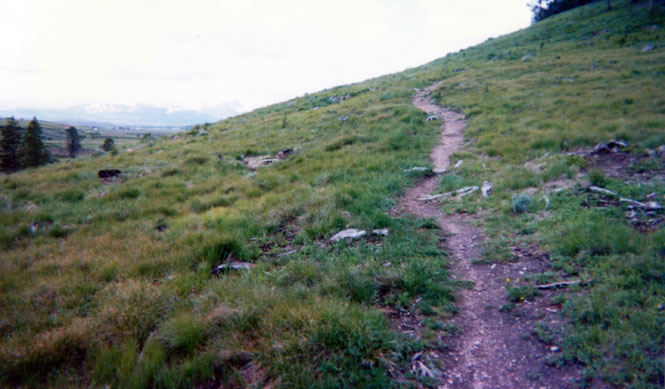 The canon that the cavalry hauled up the hill only to have it be capture by just a few Indian scouts. The Indians then buried it (there must be more efficient ways to disable a cannon than this). This may be a replica.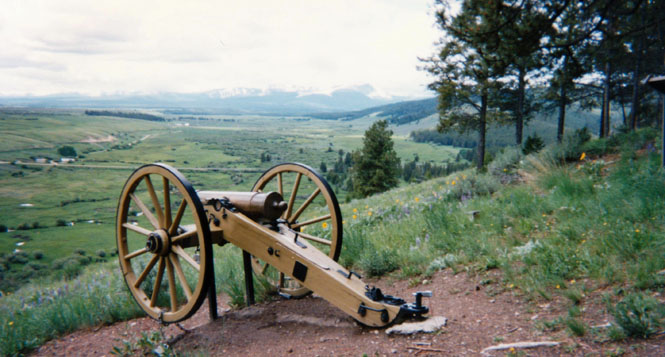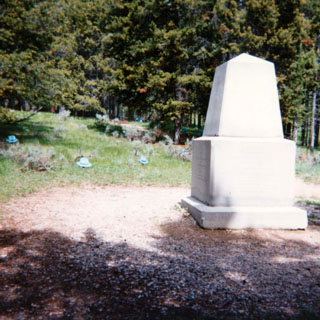 This monument was placed by the US government to the fallen cavalry men. In the background (in the grass) you can see blue cavalry hats. What you may not be able to see are some brown hats (civilians who fought with the cavalry) and feathers (Nez Pierce). These indicate where the combatants died during the battle. A rather eerie thing to see when walking through the forest. This was a fairly well documented battle so we know quite a bit about it and the men who fought here. It was an altogether unpleasant episode, and, in fact, the leader of the US forces later became a strong supporter of Chief Joseph.
Idaho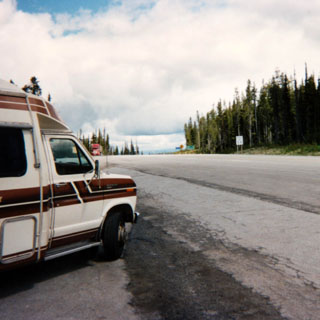 It's a nice climb up to the Lost Trail Pass in Idaho (named by either Lewis or Clark-whichever one lost it, I suppose). I pulled to the side of the road to decide if I wanted to head north or south. There were good reasons to go either direction, but north won out.
North it would be.
Montana
US 93 drops down pretty quickly to the Bitterroot River, and then runs fairly straight all the way to Missoula and then to Ravalli, Montana (shown). I've always thought it on odd thing that Interstate 90 follows a rugged mountain pass through the town of Wallace and then down into Spokane, while there's another road to the north that follows the Clark Fork River directly through the mountains with no passes required. I took this road--Montana 200. A really nice road.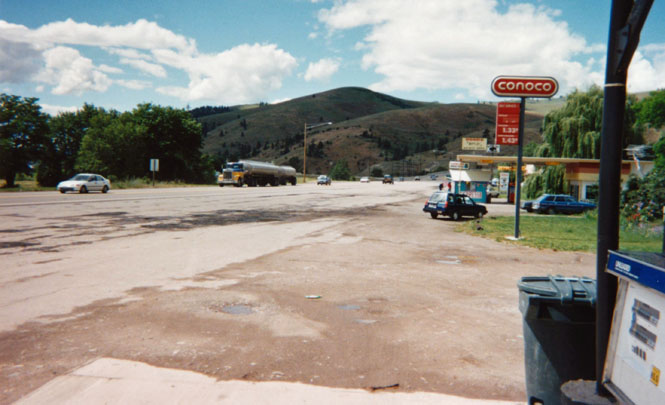 Idaho
Now called Idaho 200, this is not a challenging road, but it is quite scenic. Certainly there's not nearly the traffic that I-90 sees.
During certain times of the year mountain goats are supposed to be up on those rocks. When I was there I only saw great clouds of mosquitoes. What makes a goat venture out on such a cliff?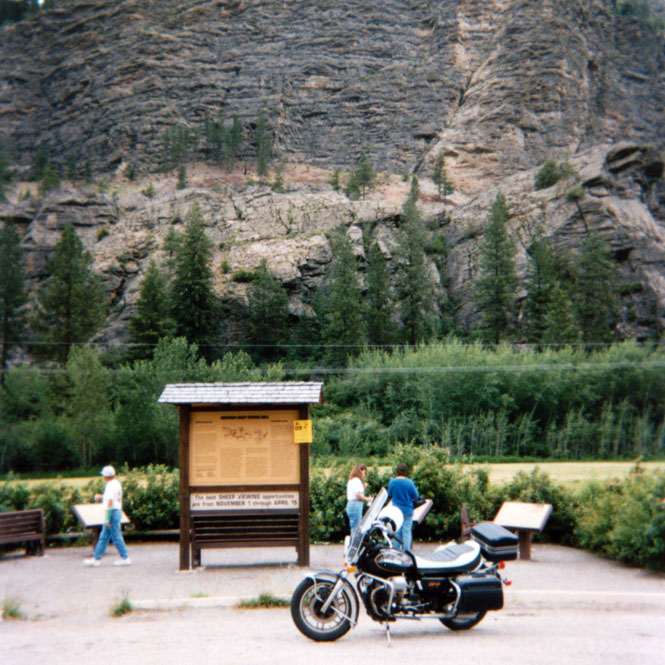 I stopped at the Noxon dam and reservoir. There was a nest at the top of a pole, which contained an eagle's nest (I think). The eagle kept kept swooping down and around me and was making a terrible noise; so I left. It seemed genuinely upset with me.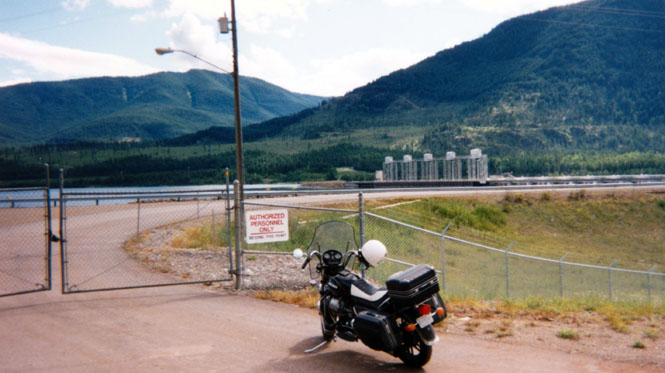 View of the dam. This was the one day of the year when the dam is opened to visitors. I was about 30 minutes too late for any tours. Even though the dam personnel were still there, they didn't offer to show me around. Can't blame them, but still...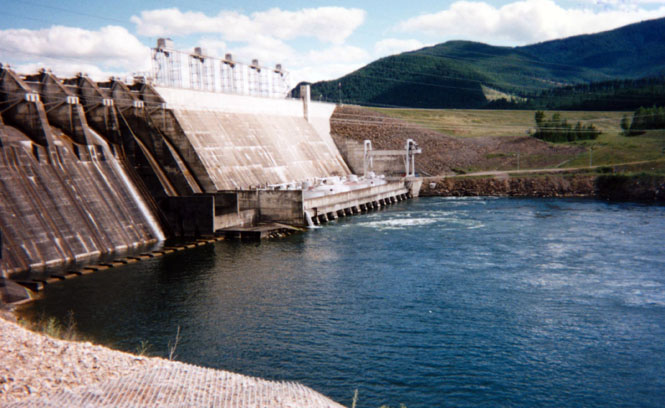 Lake Pend Oreille: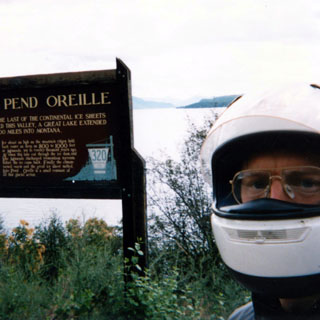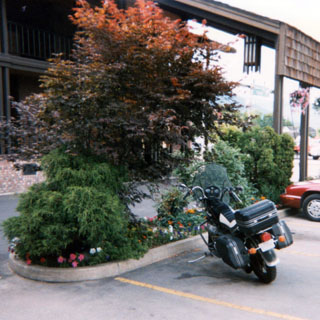 This was probably the nicest hotel that I stayed at during the trip. The Best Western in Sand Point, Idaho. This was the night of the 4th and the town was having fireworks along the lake. I thought about walking down to watch, but didn't. Before stopping for the evening I was considering continuing west on Highway 2. A massive downpour settled things for me, though. Good thing, too, as there was quite a bit of road construction ahead of me, and riding in mud is never much fun.
This is a small but good motorcycle shop in Sand Point. I judge these places by their willingness to let me change my own oil.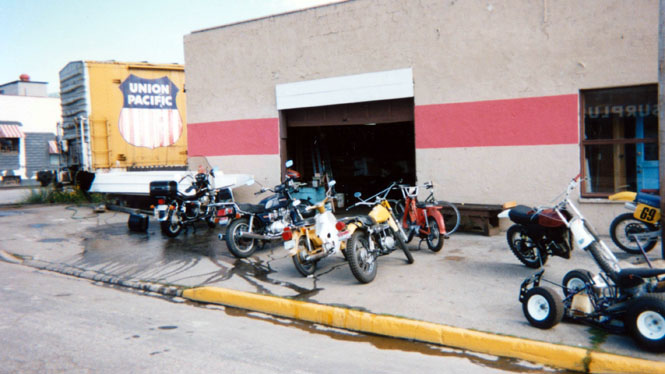 This place passed. You'd be surprised at the number of shops that don't allow that sort of thing. The owner even supplied me with all the washing things I needed as well. After all the rain I had been riding through, a good washing was in order. This used to be a large Bultaco dealership.
Smile, dog! Waiting for the road crew to let us through. As is usual during these trips I encountered about four to five places where crews were laying fresh chip-seal. Chip-seal can be really nasty stuff that sticks to the tires and the undersides of fenders. Whenever I traveled over roads like this I was thankful that I wasn't on the Guzzi Daytona. Other times I wish I had it.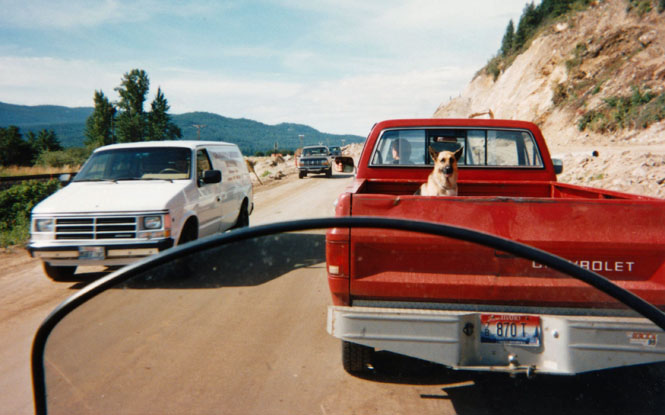 At an intersection in northeast Washington. I wasn't sure if I wanted to go north into Canada, or west across North Cascades National Park again. I spent at least 20 minutes looking at maps trying to sort out which direction would be better. I chose to go north except that I would enter Canada at Cascade instead of Nelway.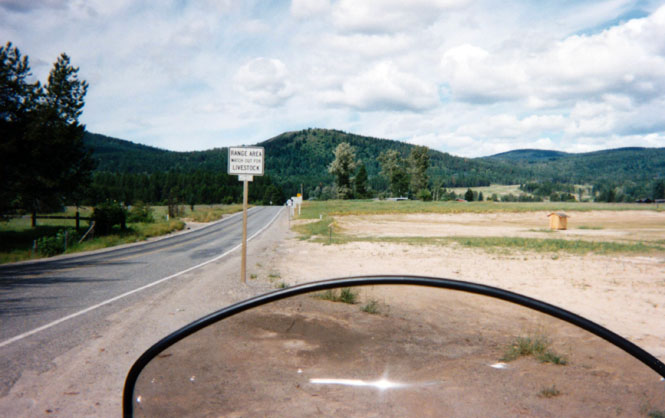 Just south of the border at Cascade. Last chance to buy gasoline by the gallon.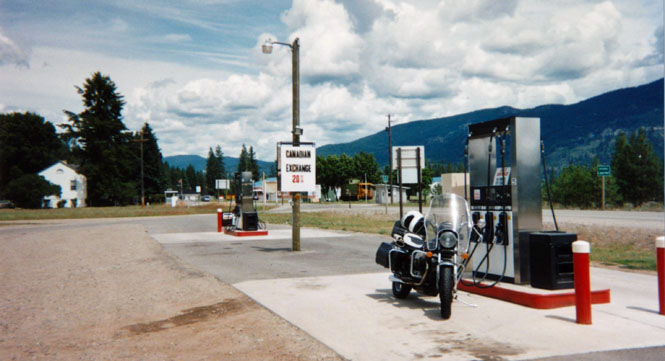 British Columbia
I stopped at this rail museum in B.C. The woman-in-charge would unlock the building and then just waited in the door while I looked around.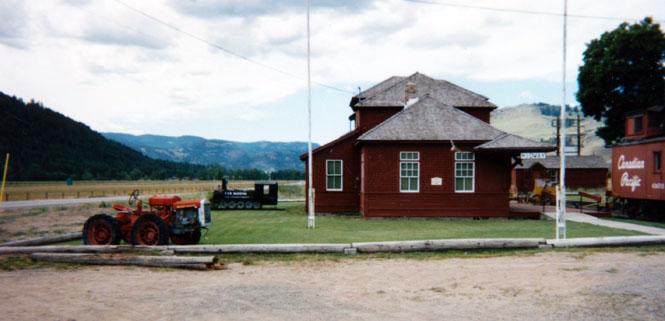 When I was done she locked things up again. I was torn between being polite and looking at all the exhibits and not wanting to stay too long while she just stood there waiting for me to finish. I gather she had nothing else to do.
The road into Osoyoos. Canada clearly has different standards of road construction than the U.S. Over-and-over I was impressed by how steep their roads were, and how unlikely the passes were. Part of the problem, I suppose, is that even if there were a more obvious pass to use, if that pass was in the U.S. they couldn't use it. A road just can't go willy-nilly crossing the border after all.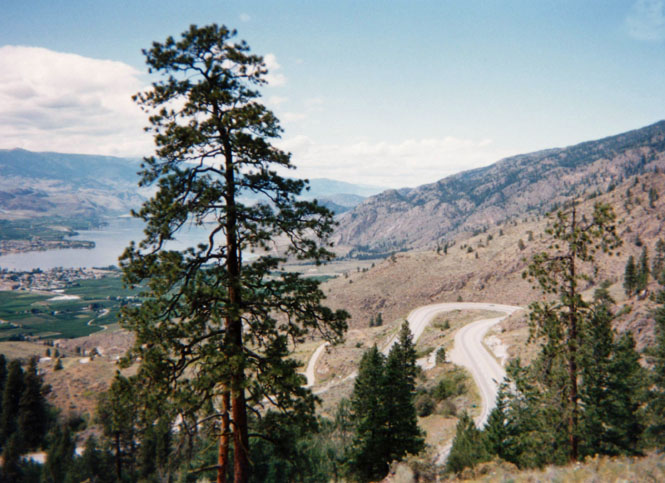 The grand view of Osoyoos. I have noticed that every person who goes to Osoyoos stops here to take this same picture.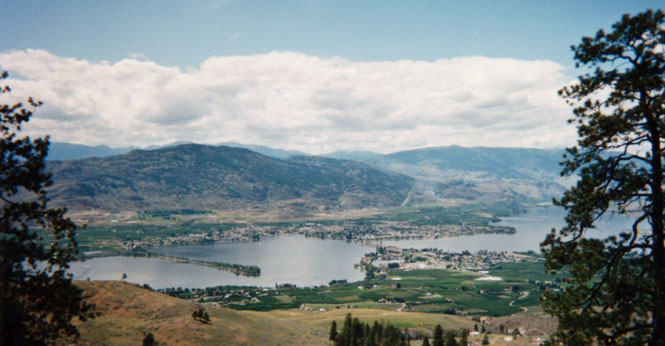 The road from Osoyoos to Hope is one of the best motorcycle roads that I have ever been on. It has a bit of everything. Consequently, I didn't take many photographs (I'm here to ride, not to take pictures). This is at a rest stop not too far from Hope.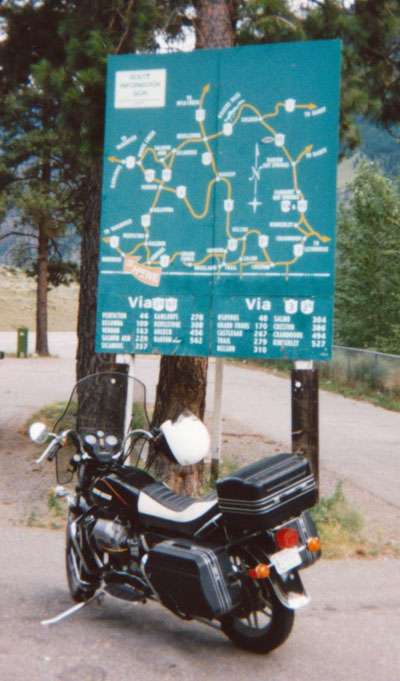 Not far west from Hope.
Several years ago a great chunk of the mountain slid down into the valley (and killed some motorists).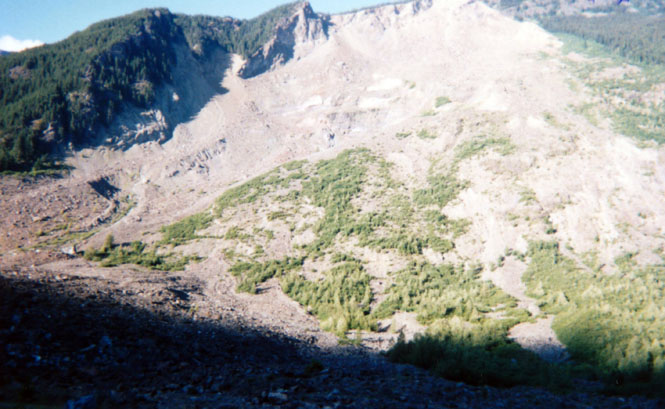 This man bought his 1957 Chevy Bel Air as a new car in 1957 and has had it ever since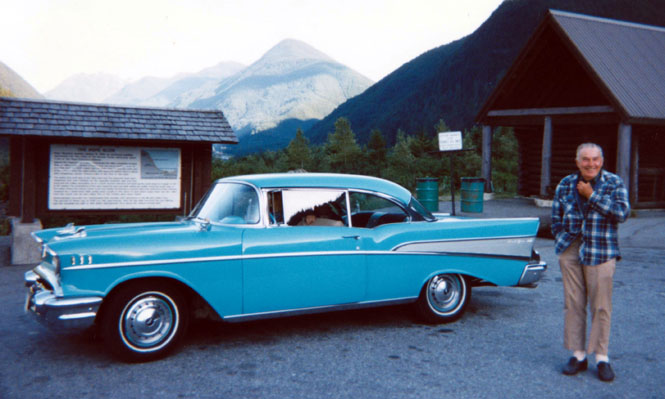 It was in absolutely perfect (and unrestored) condition, and had only about 40,000 miles on it. He was happy to talk about it. I'm afraid that his wife (who stayed in the car) was less enthusiastic (or had heard it all before).
Interesting thing: when he bought it (and he couldn't have been all that old then) he knew exactly what he had. He knew it was destined to be a classic. We ate fresh cherries out of his trunk
I caught the ferry at Tsawwssen. This wasn't my boat, but one of the same family.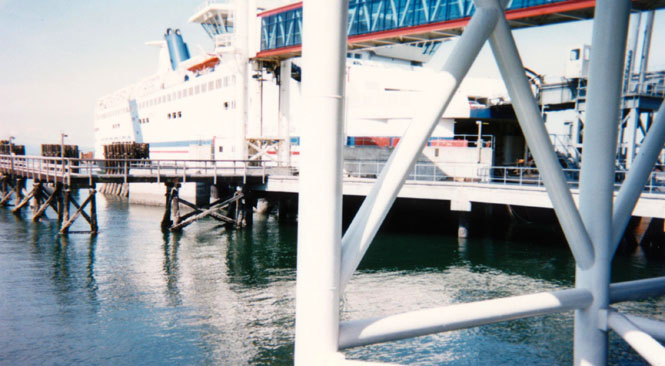 At the ferry terminal.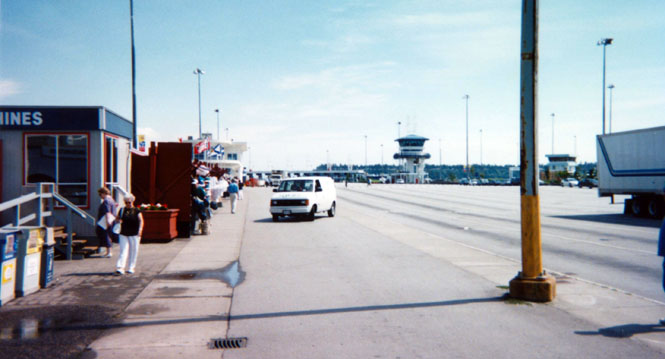 You will notice my motorcycle at the head of the line. Good policy. It's nice to be told "ride to the head of the line please."

I was keeping a close eye on the people standing next to my motorcycle. I'm used to people taking pictures of it, but I don't like to leave it unattended too long. I trust people to not have bad intentions, but there have been times when parents have actually wanted to put their children on the seat, or have innocently started messing with the controls. I don't know why that is. They'd likely get very upset if I reached into their car and started flicking switches.
We're just about all packed in, now. Looks like a full load.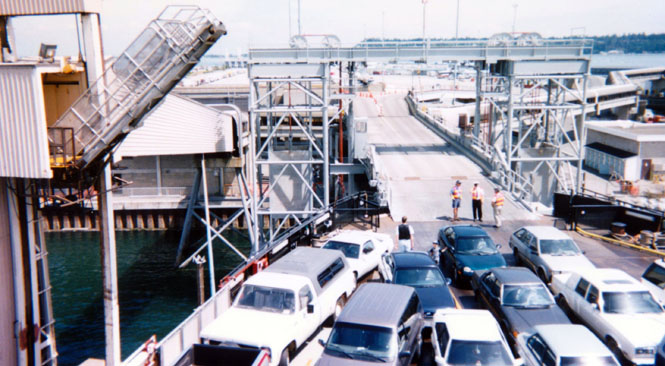 Off to Nanaimo. I didn't pick this destination for any real reason. When I bought the ticket I was asked where I wanted to go. I looked at the options quickly and said Nanaimo (although I'm sure I said it wrong). I would have had much less of a wait than I did (three hours) if I had said Victoria instead. Oh well. When you really don't care where you're going, it makes figuring out complicated schedules much less complicated. I'll buy a ticket to go--there.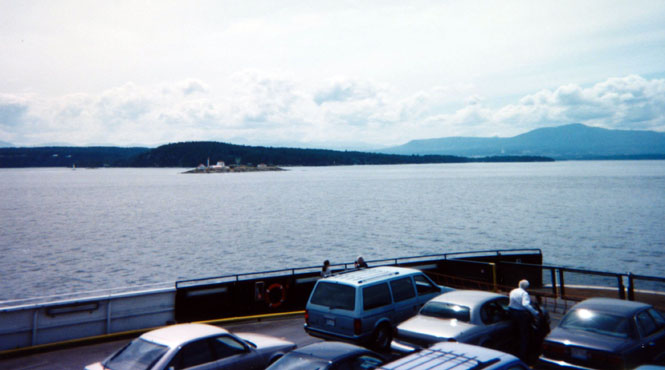 Land ho! Approaching Nanaimo.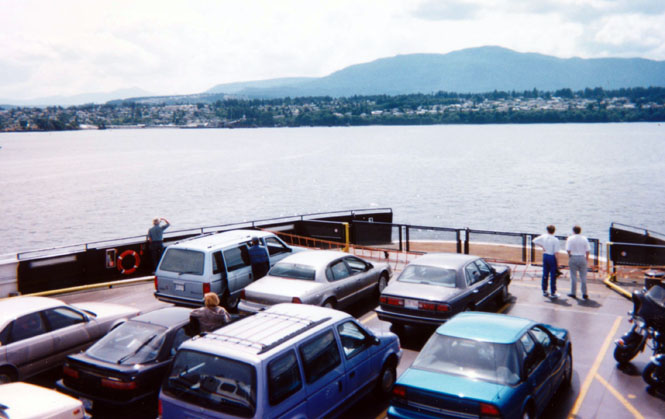 This shot taken at a rest stop not far from Victoria. The roads were getting rather busy and I needed to check the map before I jumped in. There is an advantage to using a tank bag in that you can have a map available under the transparent cover. For other reasons, I prefer not to use one (I used to, though). But, it does mean that in areas where I haven't been I would need to memorize my routes.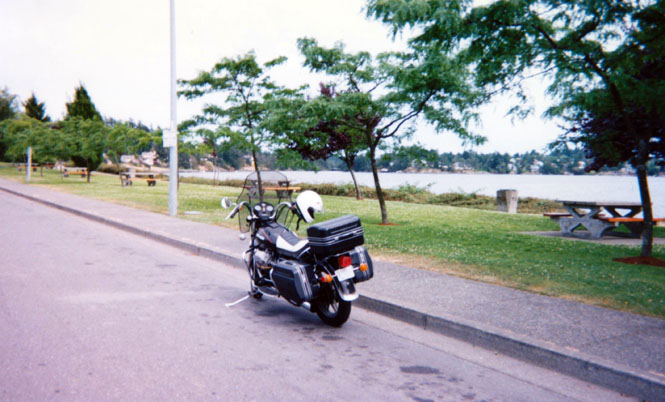 Parliament building and Queen Victoria. Victoria is a beautiful city.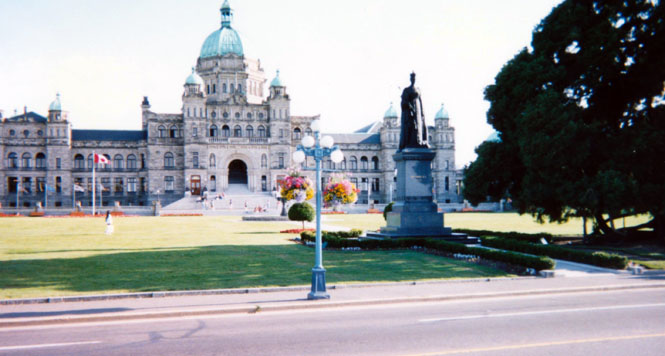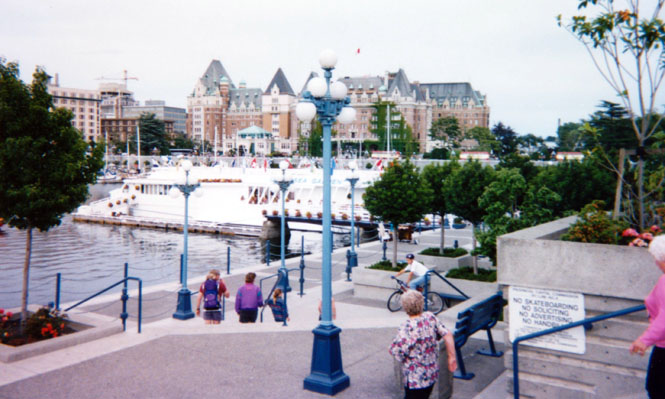 Downtown Victoria at the water.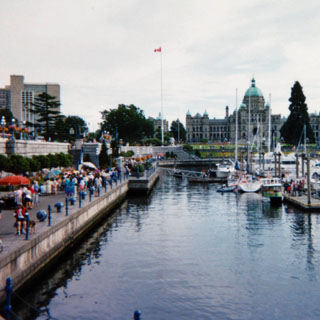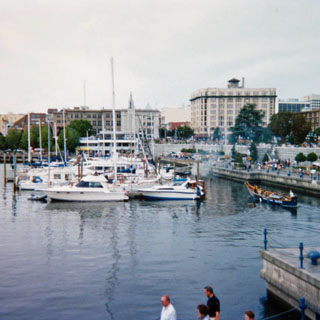 What remains of the old Crystal Garden. The salt water swimming pool has been closed for some time and has been replaced with a botanical display building.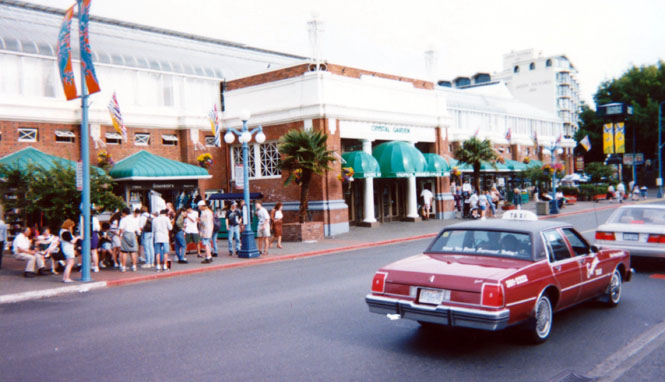 Inside the butterfly room in the Crystal Garden. The kid's mother was saying "Oh, I wish I had a camera." So I took this shot. I offered to send it to her, but I don't think she grasped what I was offering. Lawn bowling outside the Crystal Garden.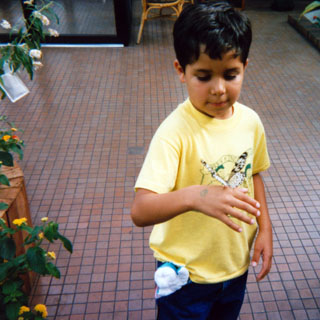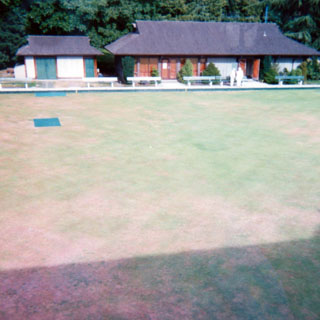 The totem pole museum across the street from the Parliament building.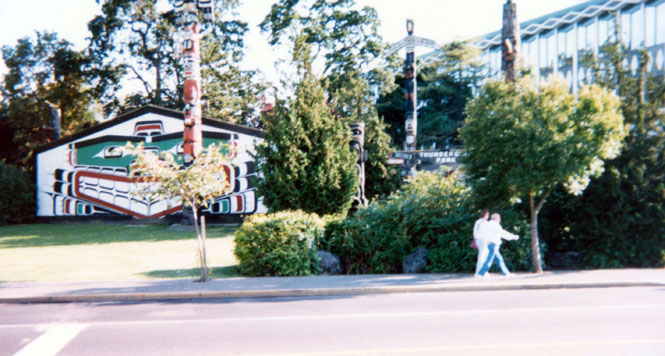 Sorry, I can't remember the name of this Hotel. I'll just call it the Hotel Victoria.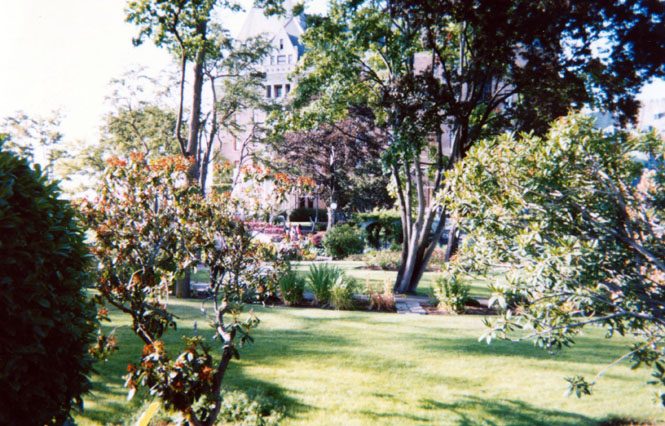 The ferry coming for to carry me away. I had really planned on spending the night in Victoria so that I could more properly see things. However, the ferry schedule for the next day seemed to force me to leave that same evening.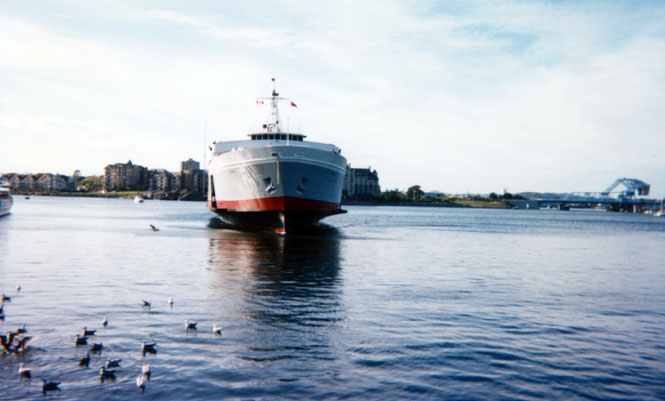 Waiting to load up. Bikes first. Mine is on the right.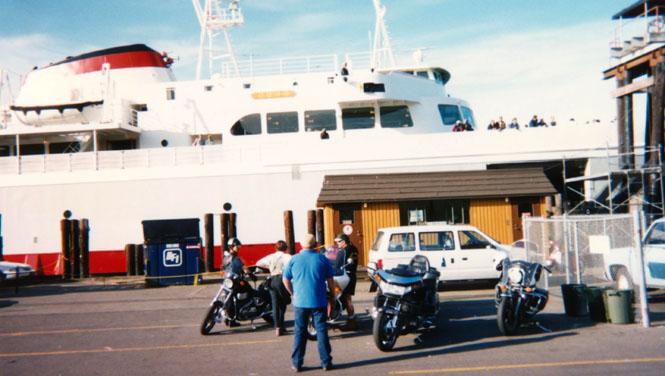 Inside the Coho. It was really noisy down here during the voyage. Interestingly, the truckers all stayed in their trucks for the duration. Ropes were provided to tie the bike down the best you could.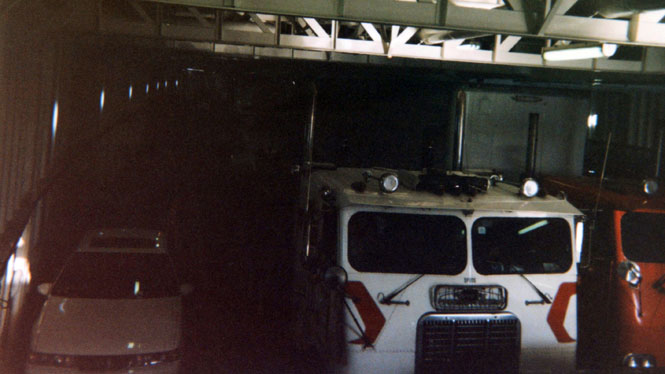 Leaving Victoria.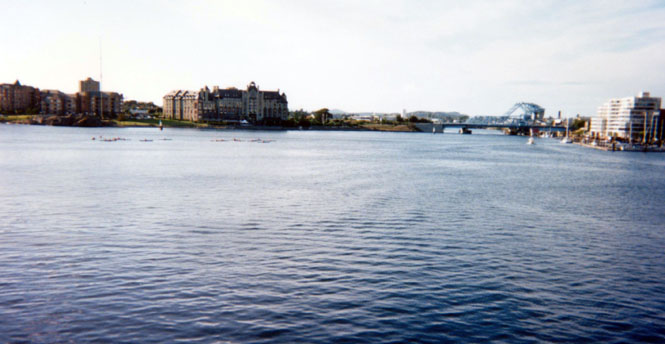 During the crossing, it got rather rough as the wind and swells picked up. Still, none of the bikes tipped over (I had lashed mine down pretty well).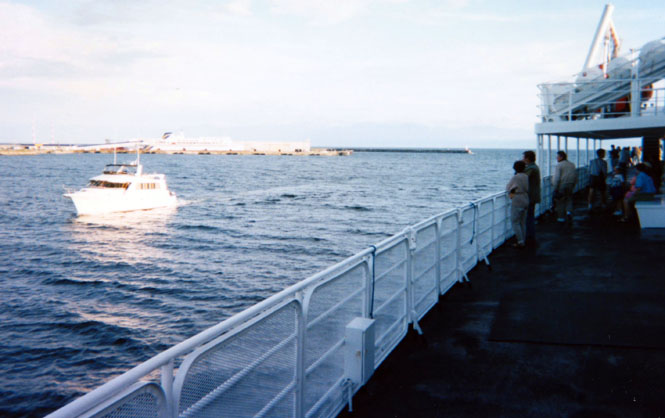 Washington
Spent that night in Port Angeles. This shot was taken from my room the next morning. When I rode off the Coho into Port Angeles it was late at night. As I rode into town, I was a little upset at several cars who seemed to be coming right at me in my lane. Then I noticed the signs. It seems that I was riding the wrong way on a one-way road. Oops. I quickly turned off on a side street to find a more appropriate street.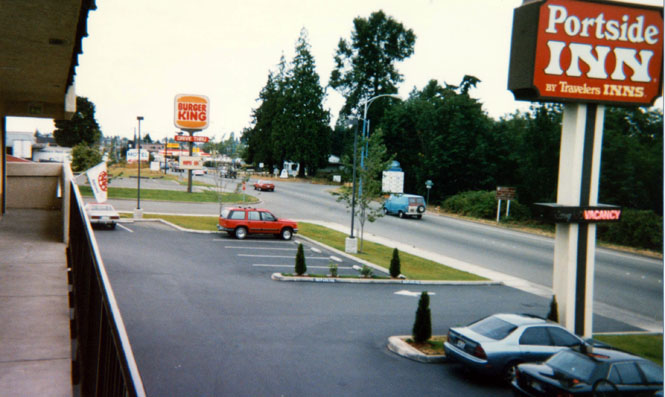 The Naval museum of undersea warfare. A museum of torpedoes and mines. All-in-all a worthwhile museum. However, I couldn't help but think they spent much more money on the building and displays than on actual things to display. Give me lots of "things" in a museum any day (the museum in Minden Nebraska is still the standard)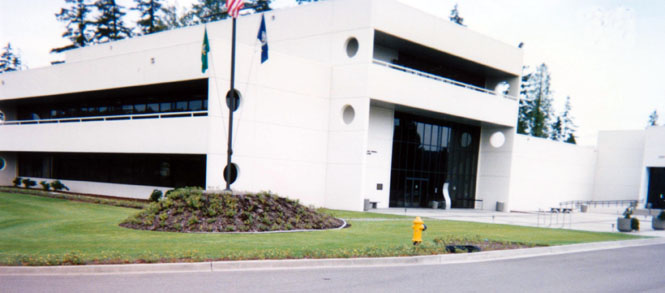 The Battleship Missouri. Its keel was laid about a year prior to Pearl Harbor and was commissioned June, 1944. 58,000 tons displacement. Conning tower armor is 17" thick!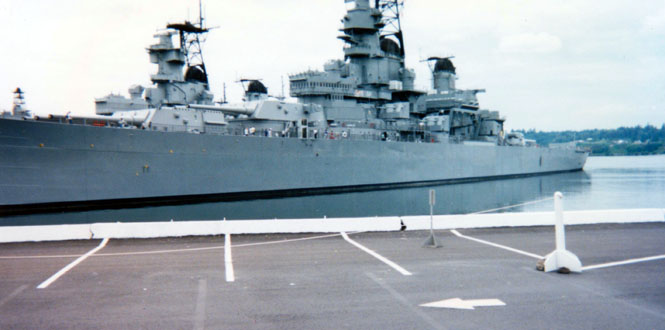 That's the USS Missouri on the right and the USS New Jersey on the left. A small part of the forward upper deck of the Missouri was open, including the spot where the final surrender papers were (It wasn't a "peace treaty," --the surrender was unconditional as was pointed out)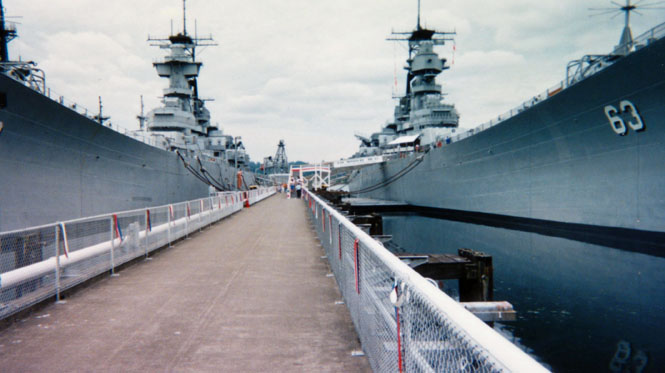 A view of the famous 16" guns.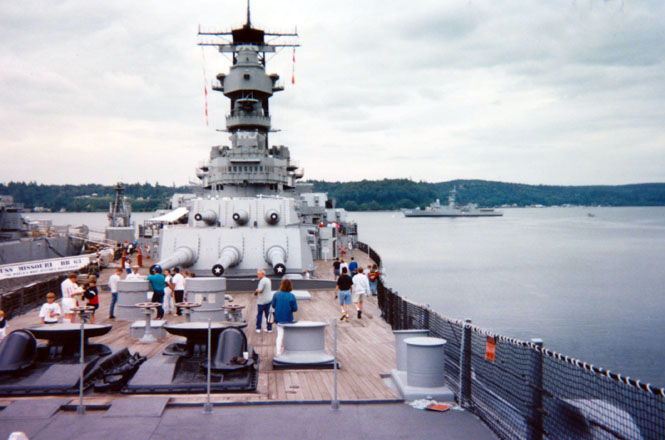 The signing spot.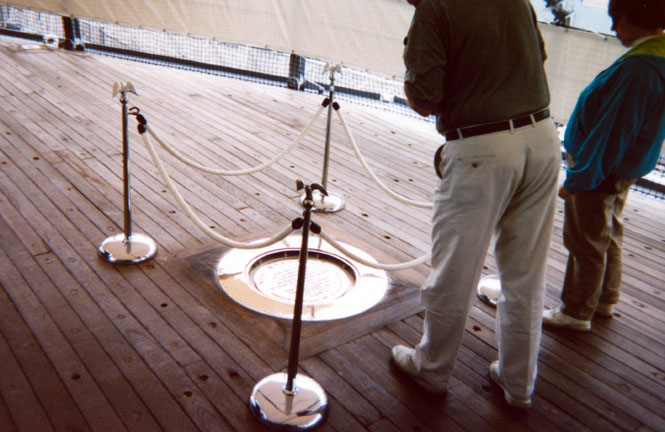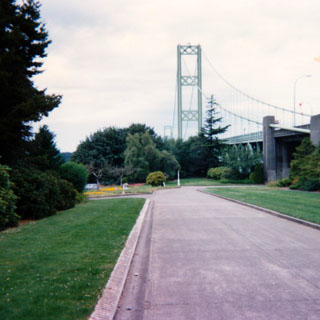 It wasn't easy to get here. This is a park under the Tacoma Narrows bridge--the replacement of the well-known galloping bridge that collapsed during high winds. I was hoping for a display of the event; and indeed there was evidence of an old museum--but, everything was shut down for good. I can't imagine that the state of Washington was too keen on advertising such a major disaster as the original bridge was.
The beginning of my nightmare-in-Seattle. I was out to find a specific Guzzi shop in Seattle. If I had known it would take over half the day to get to it I never would have even tried. This was just one of the many delays. Not shown are the burning cars that seem to be common (!) along the road system in Seattle. I've never seen so many clapped-out Japanese cars. They must go to Seattle to die. I have never been through Seattle where I did not pass at least one burning (or burned) car on the freeway.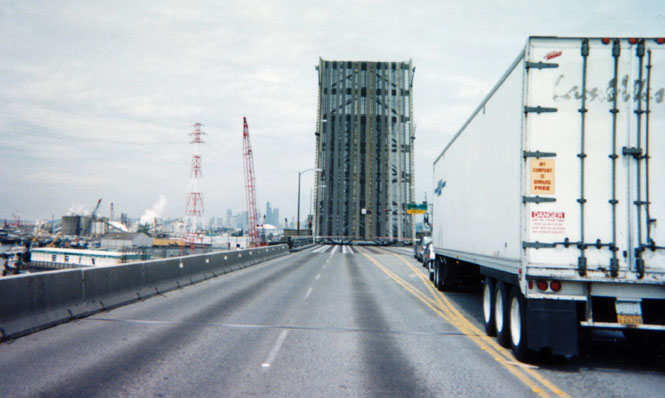 I stopped early in the evening at Castle Rock so that I could go to Mount St. Helens the next morning. If it weren't for the time spent in Seattle I could have seen St. Helens that day, and would have had time to drop down to Portland to see the folks there.
A good motel. The owner gave me all the detergent and buckets I needed to clean the bike. And, there were fresh cookies in the morning for me--a nice touch.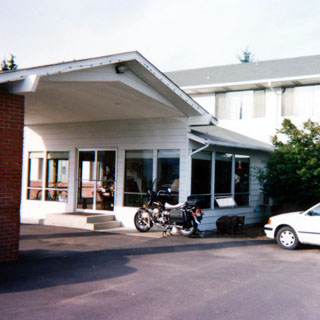 Mount St. Helens. It'll be a long while before things return to normal around here. The road out to the visitor center is quite a good one.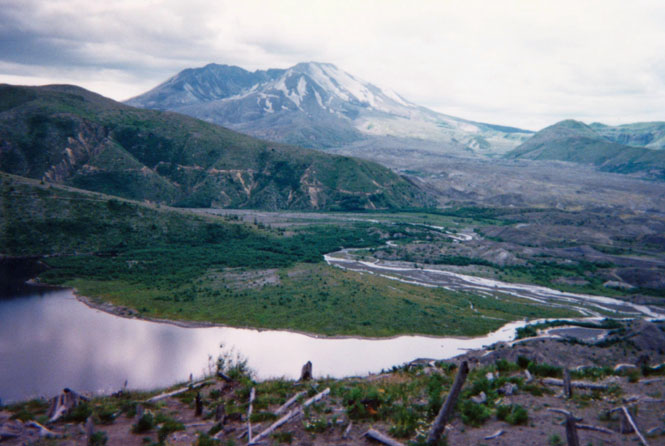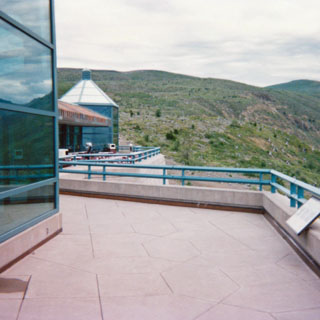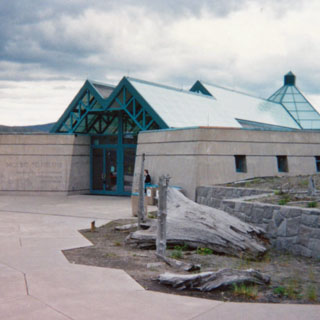 A rather nice visitor center. This was just one of four (?) that have been built in the past few years. Let's hope that they last for more than a few years before the mountain has its way.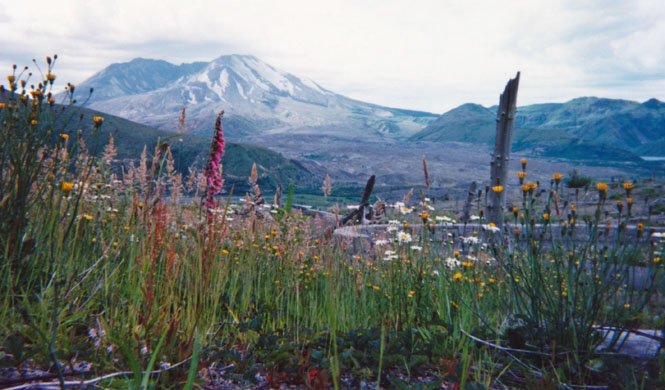 I'm not sure how somebody justified the expense of this road leading to the visitor center, but my, it is a great one.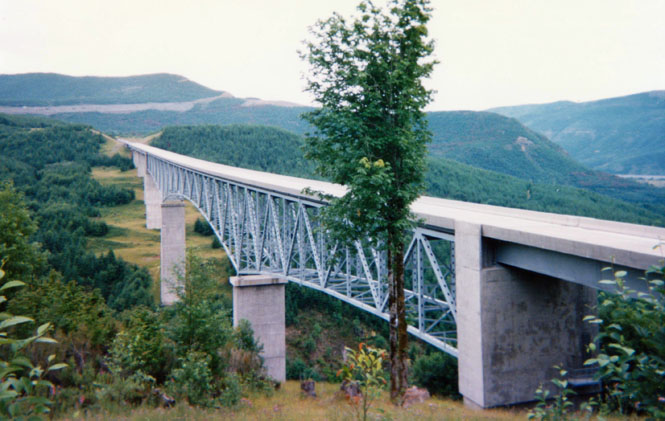 At one point I was riding serenely along the curving road when I looked to my left and there was a deer's face. RIGHT THERE. She had jumped out into the road and just missed running right into me. How we avoided each other, I have no idea. We could not have been closer without actually touching. I was much more aware of deer after that.
Oregon
As usual, I-5 was hot and long. I was just grinding out the miles at this point.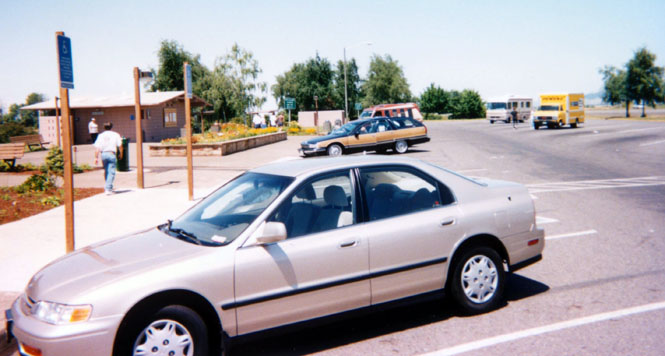 California
Just beyond the tunnel inside California and South of Grants Pass, Oregon.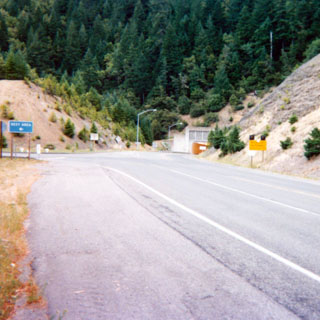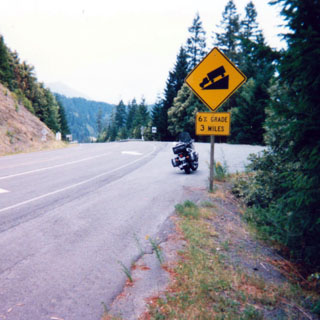 Somewhere in the Smith River Recreational Area near Crescent City. One of the all-time great roads, anywhere. I've been on this road many, many times, and never tire of it.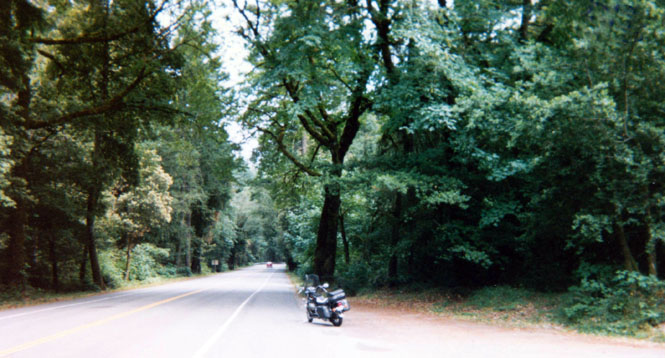 Crossing the Klamath River.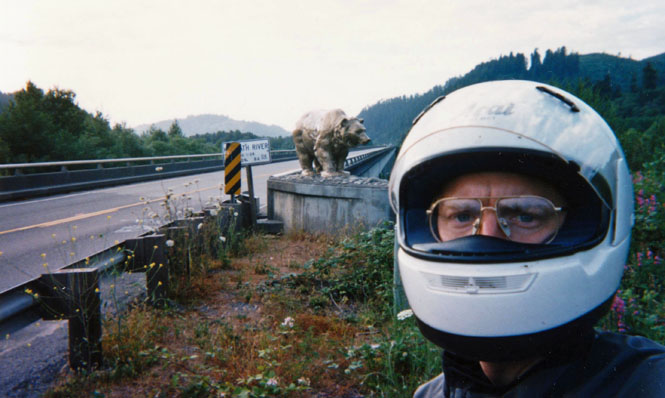 Elk near Orick (I think). The road signs promised elk; and there they were! Right on cue.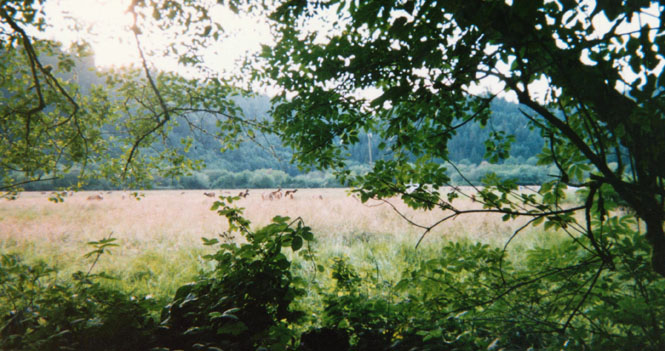 [Skipping over Eureka and Sacramento.]
Heading up Sonora Pass, a road that I had never ridden on a motorcycle. First, though, was the construction.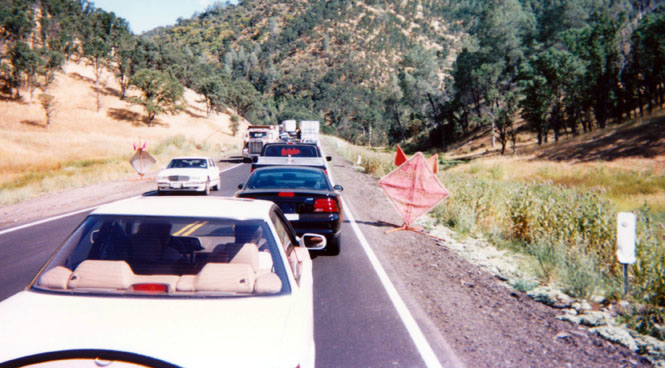 I couldn't tell you off-hand the name of that river, but it was a pleasant place to take a break.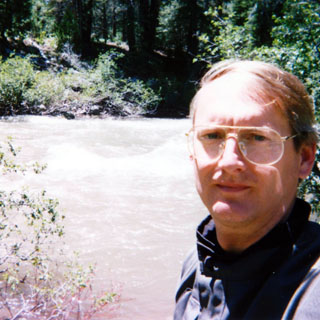 The high Sierra Nevada.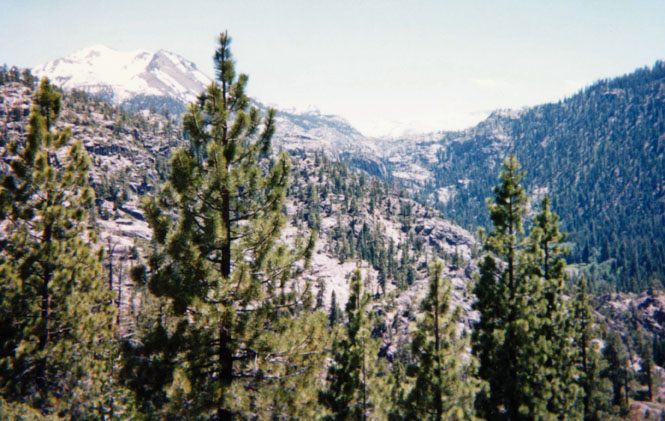 Nearing the top of the pass.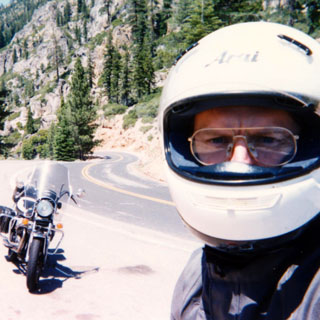 At the top. It was as cold as it looks, but not too terrible. The roads here are very steep. I think as steep as 15% grades which is more than I can remember anywhere else in California.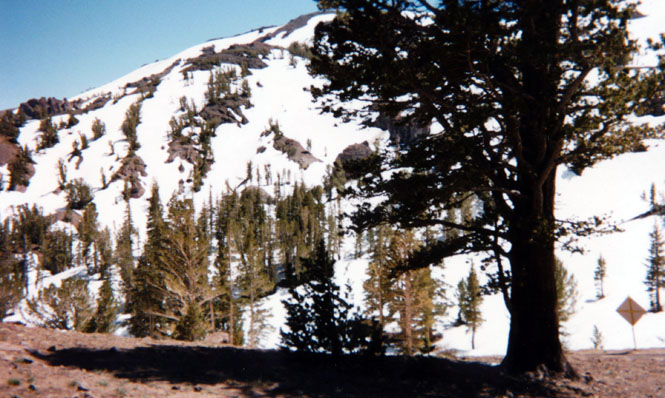 Now going down the East side.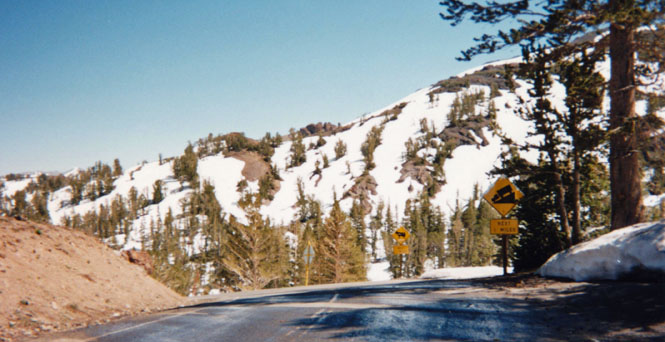 Mono Lake. This is a classic viewpoint. If you're here, you're almost required to stop and take a photograph.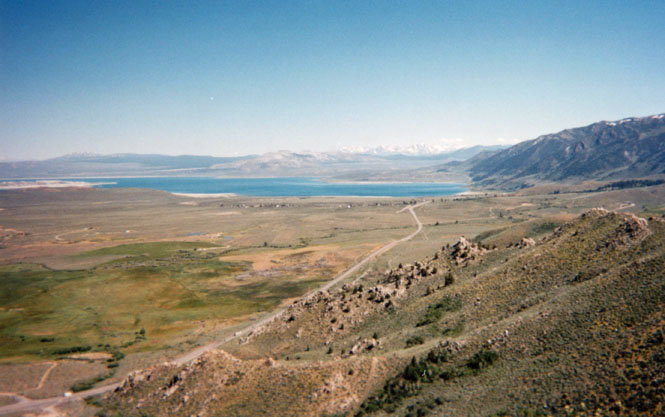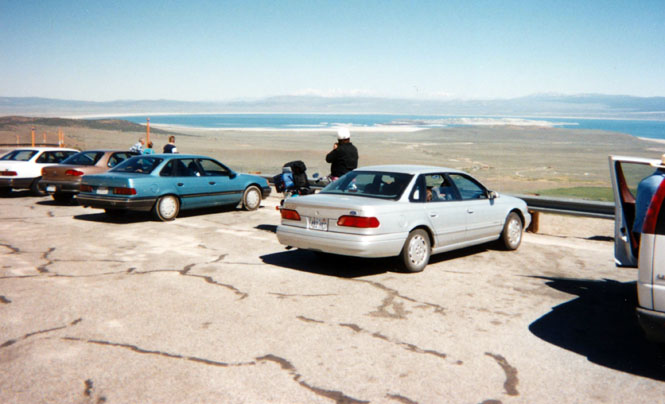 East of Mono Lake. That's pumice. I imagine that if you walked much in this stuff, your shoes wouldn't last too long. A strange area.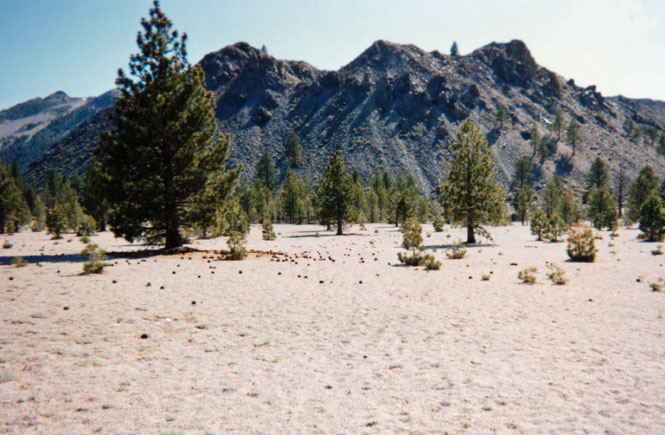 Great view of the lake.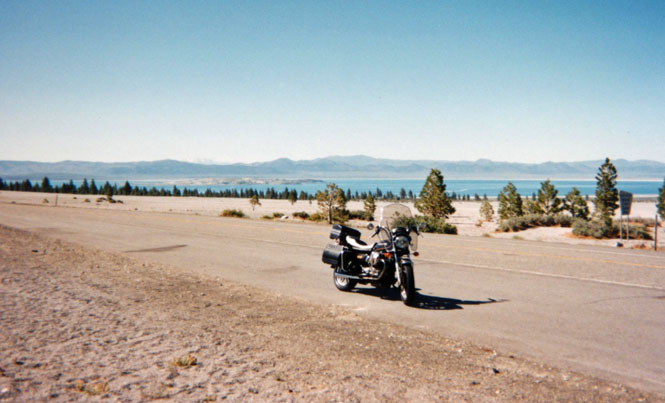 Nevada
I spent the night in Tonopah, Nevada. Kind of a down-at-the-heels sort of town.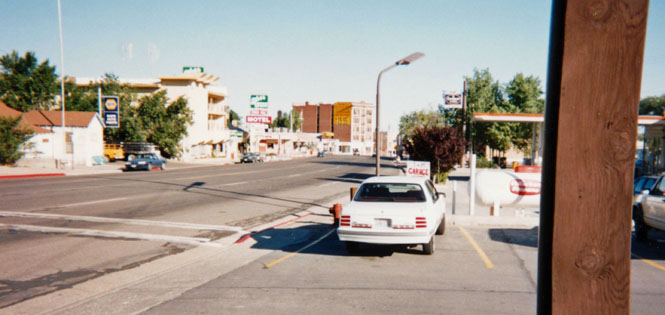 Still more of that horrible chip-seal stuff. It may be cheap to use, but...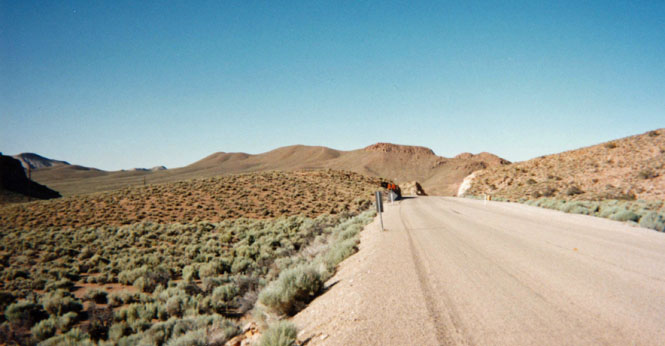 The road from Warm Springs to Ely was all new road for me. There's not much out there, but it's worth the ride. This is the view from the restaurant in Ely where I had breakfast/lunch.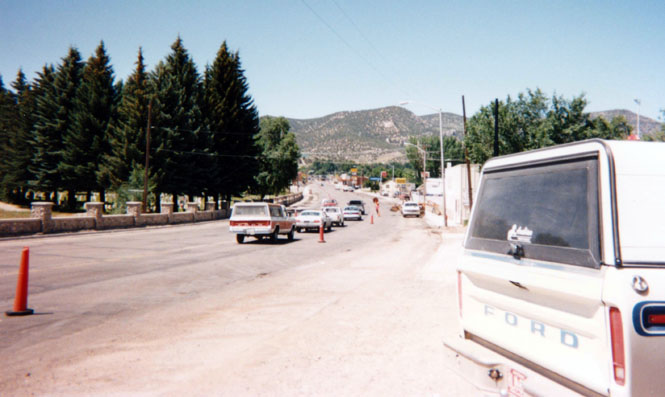 Utah
From the Utah border back to Wichita is pretty familiar territory for me. For some reason, I always stop to take this exact same picture. This is the Green River.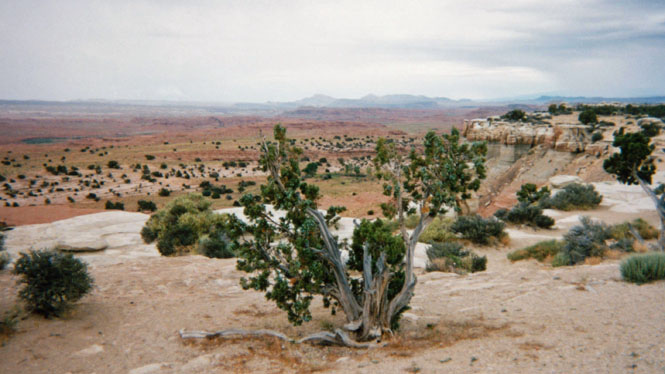 Colorado
I tried another BBQ restaurant in Glenwood Springs. I'm afraid it wasn't too good either.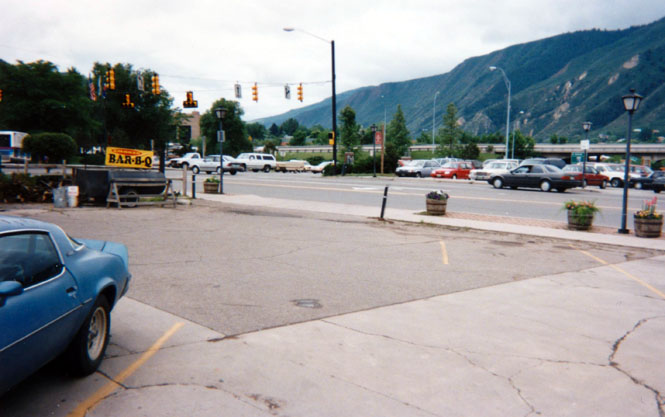 At a rest stop along the Glenwood Canyon section of 1-70. This road was 15 years in construction, but it's finally done. The first time I was through this canyon (18 years ago) there was no freeway, but only a narrow winding road. This is an amazing engineering achievement--putting a full freeway through such a narrow canyon, and still allowing room for a railroad track.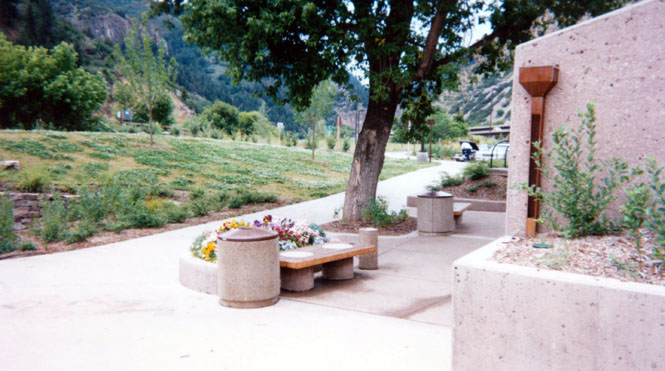 The water level of the Colorado River was very high. Evidently, it was even higher just a few days before.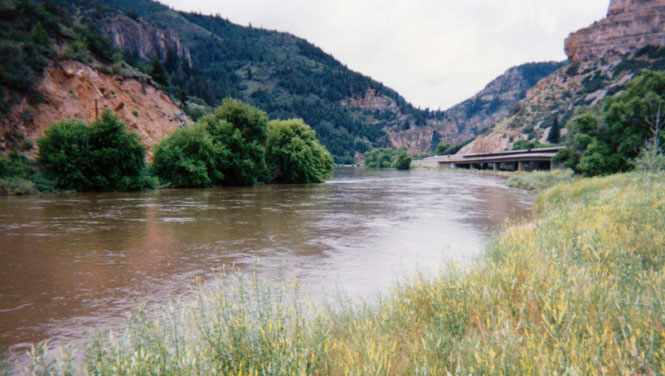 Vail, Colorado (parking garage).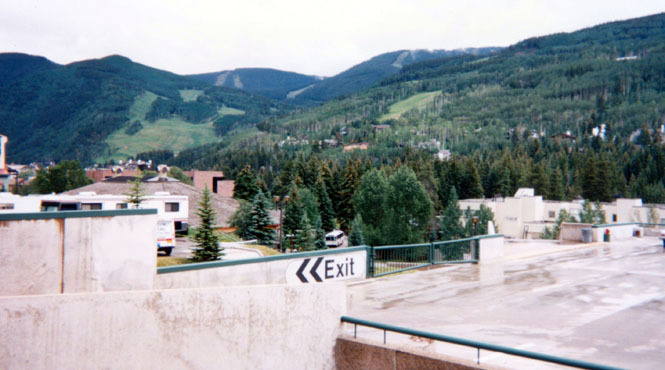 I don't know if this should be called good luck or not. I stopped in Vail because it was pouring down rain. Very heavy. When the rain let up and I went back to the bike, I had a flat tire. After fixing the tire (I do carry tire-irons with me) I was back on the road. I've had a blowout at freeway speeds before. Having a flat in a parking lot (when you're not even on the bike) is preferable. In the end, it was no big deal, and hardly even delayed me.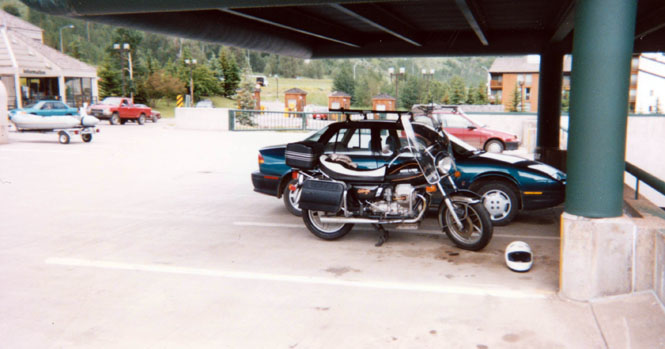 Kansas
Quintessential Kansas.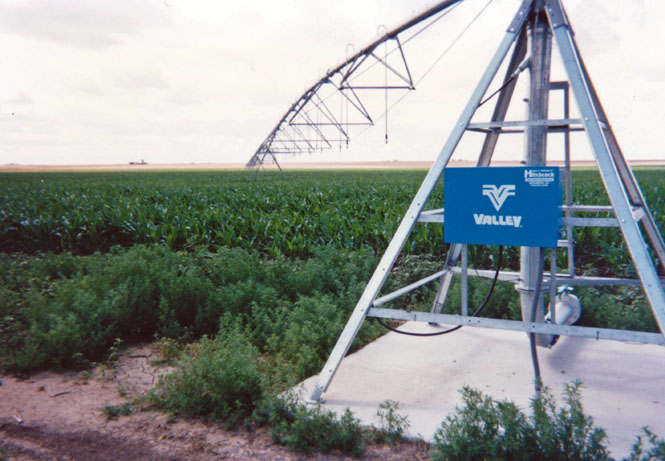 A good trip, about 5,500 miles more-or less. Lot's of new roads. Next time I may take more cold-weather clothes (of course then it would be hot). I packed very light for this trip--no tent, sleeping bag, or food. Makes the bike handle far better.
last edit: 4/27/2008