December, 2001

Sunday

Monday

Tuesday

Wednesday

Thursday

Friday

Saturday

16

17

18

19

20

21

22

23

Tulsa

Paris, Texas

24

Jefferson

Bossier City

25

Provencal

Natchitoches

26

Longleaf

Melrose

Opelousas

27

Eunice

Avery Island

Lake Charles

28

Sabine NWR

Holly Beach

Woodville

29

Bull Creek

Fort Worth

Denton

30

Irving

Dallas

Paul's Valley

31

Wichita

1 Jan, 2002

2

3

4

5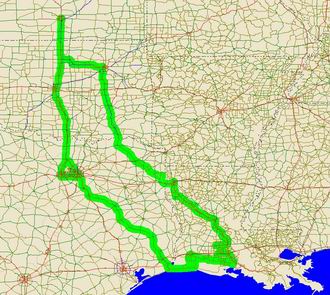 We had planned to take this trip--or at least something along these lines--last Christmas. The problem was that last Christmas was unbelievably cold. Record setting cold, in fact. So, I suppose it was fair enough that the weather this time around was almost entirely very pleasant, and even the small amount of poor weather we had at the end of the trip was not enough to cause any trouble.
There were only a handful of identified places that we noted before leaving, and even those were not considered essential: Natchitoches, Avery Island (both in Louisiana), the Gulf (to touch the water) and the Kimball Museum in Fort Worth, Texas.
I had in mind that the trip would begin by driving south on I-25 to Fort Worth, and then over to Louisiana, but it made more sense to drive directly to Shreveport first, and then pick up Fort Worth on the way back. We'd be driving on either side of Christmas, so this would clearly limit the sorts of places that would be available. There'd be no point in going to a museum on December 25.
This trip followed a clockwise loop from Wichita to Tulsa, then southeast through Paris, TX; Shreveport, LA; New Iberia, LA; and then west to Port Arthur, TX and back north through Dallas / Fort Worth, and then back to Wichita.
Kansas
We didn't get out of Wichita until fairly late Sunday. The packing was more difficult that first day, but only got easier as we went along. Hint: don't worry about where the coats go, just stuff them in anywhere. Of course, the fact that we were carrying unopened Christmas gifts those first two days made a difference too.
This was my first opportunity to use the GPS attachments for the new PDA. Overall, I'd say it worked pretty well. It usually knew the best way to get someplace, and it usually knew where everything was. Sometimes it was confused by a recent road realignment, but mostly, it worked good. I found that the best use of a GPS is not getting to a place (that's easy enough without any help from satellites), but getting out of a place. From downtown Dallas, for instance, it quickly was able to tell me (through voice directions) how to get to the nearest freeway on-ramp. And in that instance, it was not at all obvious.
This would also be the first time that I would use my high-school graduation camera in many, many years. All the b&w shots were taken with it. Most of the other color shots are digital and were taken with the PDA camera attachment, while the remainder of the color pictures taken by Mom's conventional camera.
Oklahoma
The route from Wichita south to Tulsa is well worn, and not worth much comment.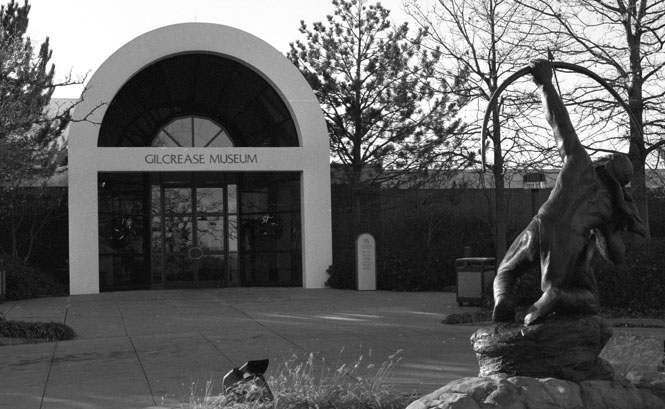 We'd been to the Gilcrease museum a couple of years ago, so had planned to eat lunch at their very nice museum-cafe this time through. Trouble was, we were a bit late in getting off, so there was some concern that we'd be too late. Not a problem; while we did indeed arrive near their posted closing time, there was still plenty of food in the buffet line. I had a large slice of salmon, and there were any number of other good things available.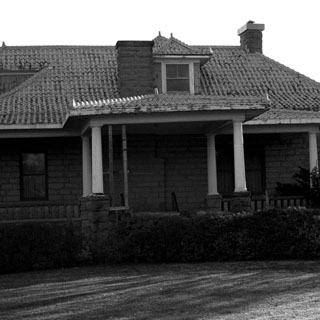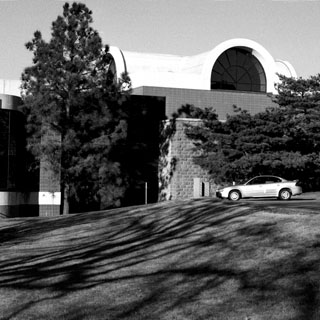 The Gilcrease has a strong focus on western art (which includes painting of the American West by European artists, too) but covers other periods as well. Well worthwhile; I think I enjoyed it even better this second time through.
While still in the parking lot, the GPS was set to Paris Texas, and we followed the instructions all the way, arriving in town well after the sun had set.
Texas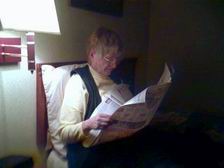 We checked into the Comfort Inn around 7:00. This was to be our Inn of choice for the entire trip, though we didn't always find one. Fairly early the next morning we were guided (once again my Mr. GPS) to the Paris cemetery. This would not be the first time that we were directed down some rather secondary roads even though it seemed that there were better suited routes. In any event, we drove as commanded and took the scenic route through the back neighborhoods of Paris. The cemetery had a number of interesting statues.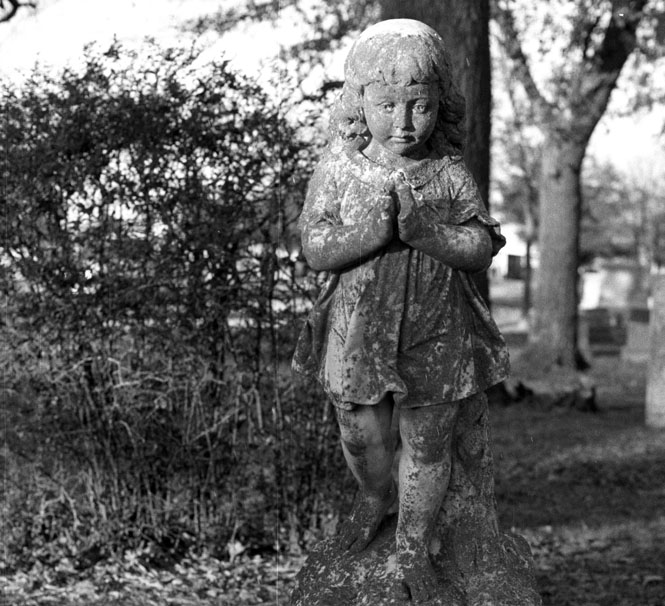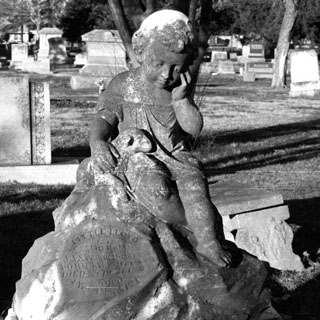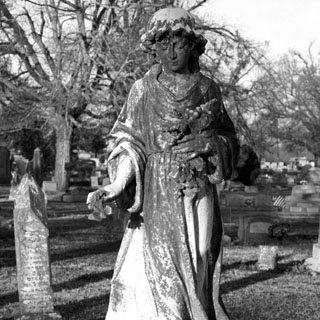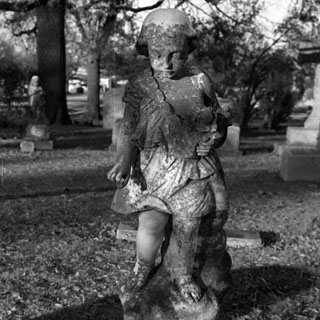 From Paris we took 271 southeast towards Jefferson, Texas, through the town of Mt. Pleasant. The Texas guide sang the praises of Lake Bob Sandin, southwest of Mt. Pleasant, offering scenic picnic areas and walks around the lake. Have to say they were stretching things just a bit. We didn't even bother to get out of the truck, continuing down the highway towards Dangerfield State Park instead.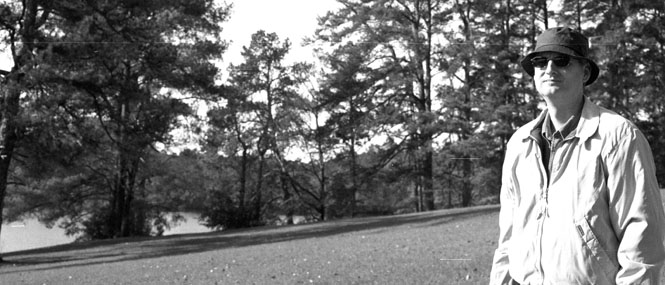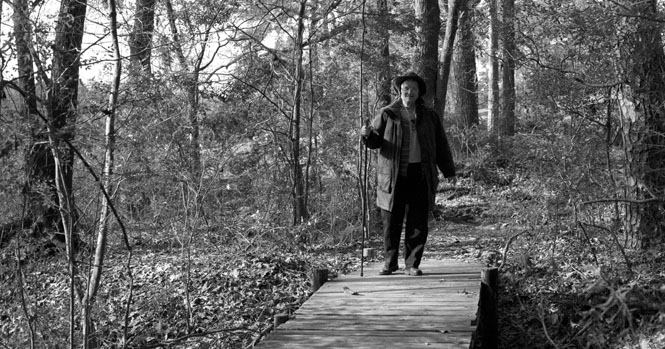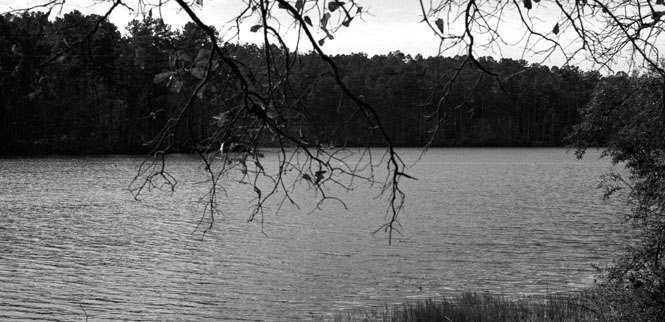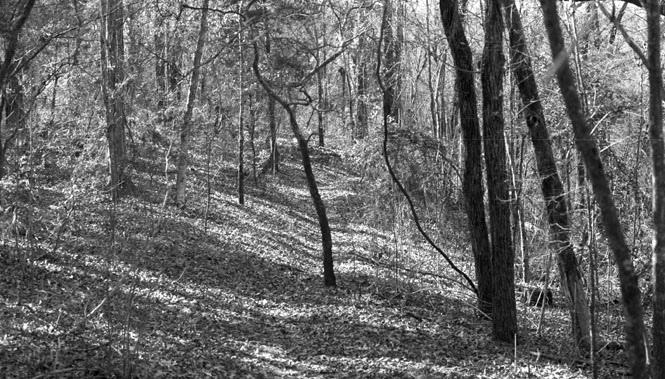 Dangerfield was a very pleasant surprise. It's a small reservoir, that by the looks of the modest earthen dam has been there for many years. At the park entrance we were given a map of the area, and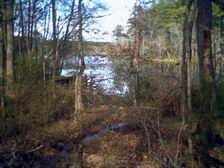 decided to take the perimeter hike completely around the lake. I'd imagine that the path would be more distinctive in the spring or summer, as the fallen leaves sometimes made the correct trail hard to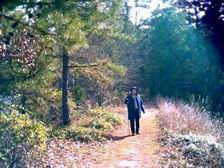 follow. Even so, I think we strayed just once. Along the way we were charged at by a large golden retriever named Shadow (as we later were told by his young owners) after the Disney movie whose name escapes me. Later on we were also waylaid by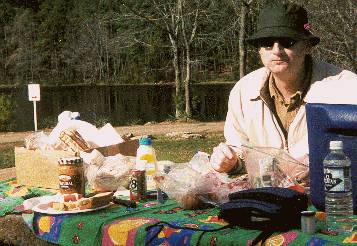 an excitable miniature dachshund. This was a very nice area.
We had lunch in the picnic area next to the parking lot. You can see the lake in the background. The red berries in my (bought in Scotland) hat were picked up on the hike, but were quite fragile, and didn't last too long. Turkey sandwiches, carrot sticks, celery sticks, and some very good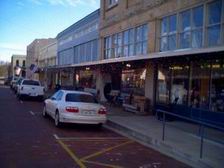 trail mix from the bags that Lorraine sent for Christmas.
The town of Jefferson is quite an historic place, and isn't too far from the Louisiana border. However, this being Christmas Eve, non of the museums were open, and more to the point, none of the restaurants were open either. Many antique shops were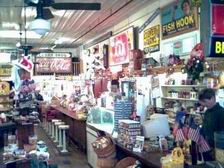 open, so we walked around one of the old-town blocks ducking into several. A couple of the antique shops were also candy / gift shops and still had working soda fountains. The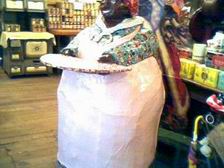 Aunt Jemima display was worth a shot, but unfortunately I was still sorting out the PDA camera, so I'm afraid I've cut her head off. We did check out an old Hotel, but really it wasn't all that late, and since nothing--beyond the antique stores--was open, we continued on.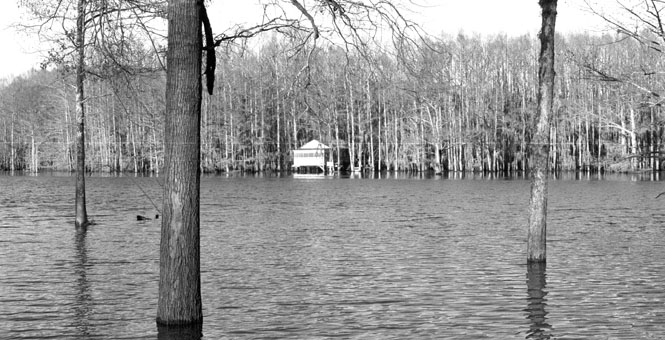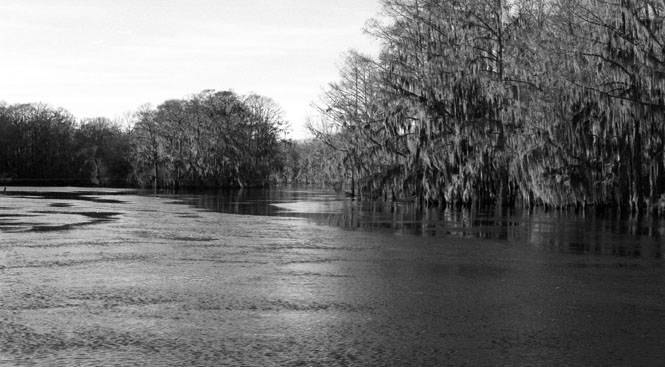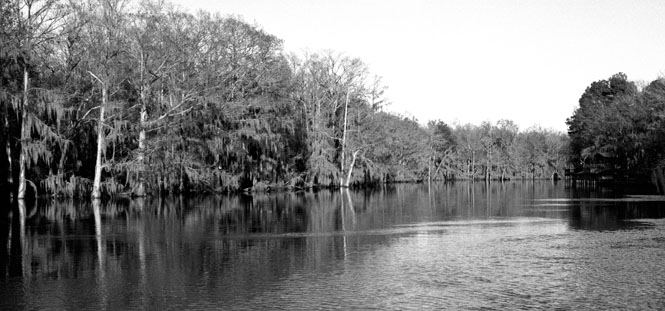 Caddo Lake is half in Texas and half in Louisiana. It's not altogether clear to me how the rivers run in this area, but apparently many years ago it was possible for steam ships to come up the Sabine River (or was it the Red River?) through Caddo Lake and into Jefferson. But, once an enormous log raft on the Red River was removed, the water levels changed and no more ships went to Jefferson. This was our first exposure to anything that had a swampish feel to it. We stopped at the village of Uncertain (on the lake), then drove along a number of small roads partway around the lake until we came to a section of road that was submerged for perhaps 300 yards under at least a couple of feet of water. Didn't seem prudent to continue on, and there was little point anyway.
We took a minor little road south of Caddo Lake to pick up I-20. This is quite a hilly and wooded area. Not sure exactly what I was expecting, but this was unexpected. A pretty area.
Louisiana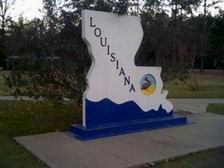 Shortly after crossing the state line into Louisiana we stopped at a ridiculously over-wrought rest stop on the south side of the freeway. I cannot imagine how much the state spend on this thing, but it was all done in a plantation estate theme with large Georgian columns supporting the roofs over each picnic table, and an equally elaborate building for the rest rooms. There was another larger building for the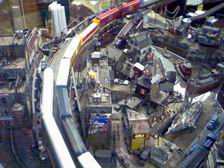 information center, but for all that expense, they were closed.
We were actually heading towards a Comfort Inn in Bossier City (twin city of Shreveport, on the east side on the Red River) when we passed the signs to the American Rose Society Center and their Christmas lights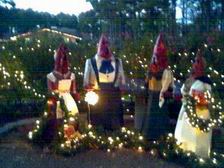 display. Why not? We timed it perfectly as we were apparently one of the first cars to arrive, and we got a very good parking spot. And, too, it was still daylight when we drove in. The Society's main building was partly devoted to a gift shop, but the remainder was devoted to a large model railroad display. It seems that there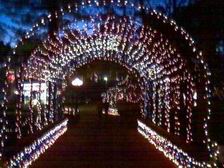 was a contest of local organizations to build the best scenery for the trains to roll through. All of them were really quite well done, with some incredibly detailed figures and scenes in them. The one in the photograph was a derelict ocean fishing village from the 1920's.
As to the light display, I'm not sure what to make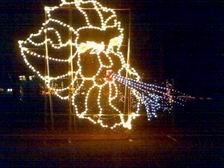 of the missile-headed family choir. It was original, I'll give it that. There were several dozen independent display areas defined within the rose gardens. Obviously, considering the time of year, there were no roses.
We stopped in at the chapel, not really expecting to seen anything but more lights, and found ourselves sitting in the back pew waiting for the beginning of a Christmas Eve service. We stayed for a few songs (accompanied by an organist who clearly had not been present at rehearsal), and then ducked out. The parking lot was pretty well filled up when we drove out. This time we drove straight though Shreveport to the Comfort Inn.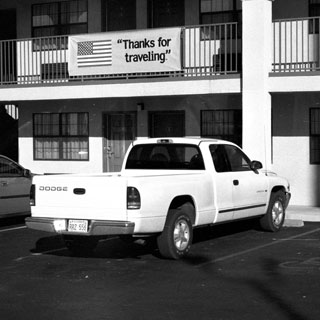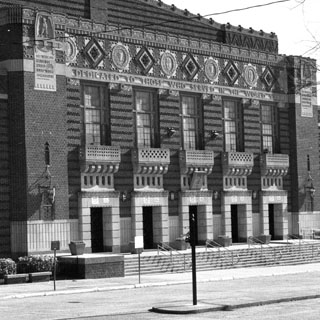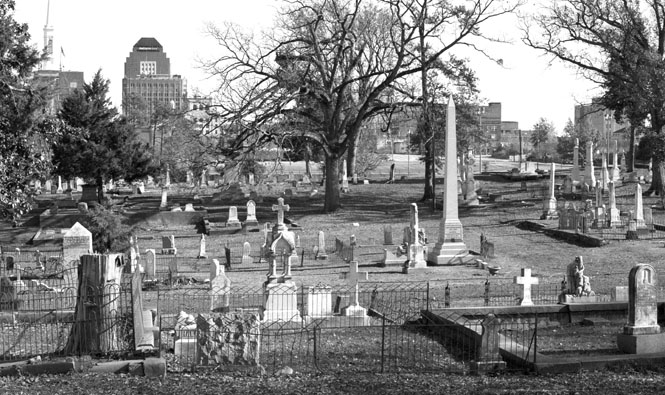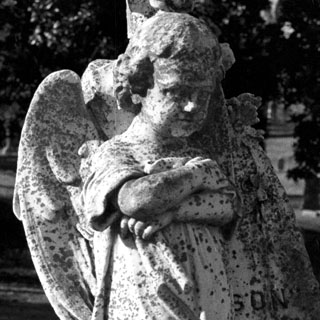 I had no idea that Shreveport had so many casinos. Both Shreveport and Bossier City. This being Christmas Eve, it wasn't likely that any restaurant other than the casinos would be open, so we drove west a short distance, towards the river, to one of the larger casinos and parked in their multi-story garage. I don't know why I would have expected otherwise, but you would have no clue that it was Christmas Eve. The gaming rooms were surprisingly full, and the buffet room was nearly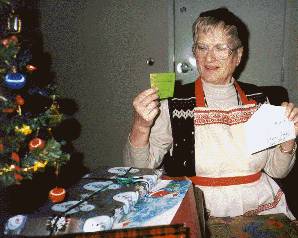 full, as well. The food was ok, not great, but lots of it, anyway. Afterwards, we drove through downtown Shreveport and stopped to look at the Millennium Mural. Couldn't really see much at night, so vowed to come back the next day.
The next morning was Christmas! As mentioned, we brought all the wrapped presents, and even had a small decorated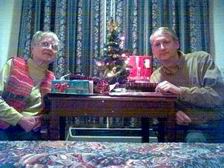 tree. I don't know that I would have thought to do that, but it was nice to have. Lots of good stuff from everybody.
The Millennium Mural is claimed to be the largest in the US (or is it the world?). Suffice it to say, it's big. Seems to have an overall theme of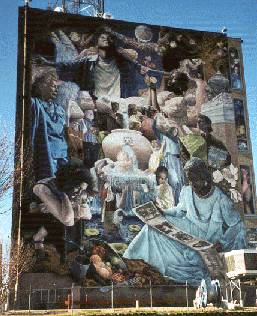 families through many generations, but there were some features that were not immediately obvious. The mural wraps around the side of the building, as well.
Just down from the Mural, we stopped at the Oakland cemetery. This being Christmas day, we were (for awhile) the only ones there. Several interesting markers. One large areas of the cemetery was marked as a Yellow Fever common burial mound. Apparently the number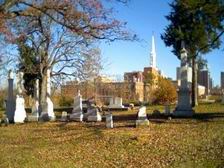 buried was in the thousands (which is hard to believe). On other occasions, we've seen other similar markers in cemeteries with equally large numbers indicated. But, in all cases, the marker was placed generations after the event. Perhaps I'm just skeptical. In any case, obviously a great many people died of Yellow
Fever in the 1800's.
There were a number of museums and other tourist centers in the downtown area, but we clearly had not arrived on the best day. So we walked downstream along the Red River for a ways, and then walked back.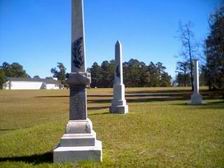 Getting out of Shreveport was a breeze with the GPS. Just told it we wanted to go south on I-49, and it led us directly to the nearest freeway on-ramp. Neat stuff. We intended to go through the Mansfield Civil War State Park, but after reaching it, it turned out to be closed like most everything else. So, after hoping over the rail fence and taking a couple of photographs, we moved on. Instead of taking I-49 to Natchitoches, we crossed over to the old highway 1 and drove south on the two-lane. Much more interesting.
We weren't really sure what to expect at the town. The web pages and other travel info stressed that this was the oldest town in the territory, and showed pictures of only the old town district. When we reached the city limits, it looked like most any other small city with its sprawl of strip malls and non-descript buildings. Oddly there weren't any major hotels in town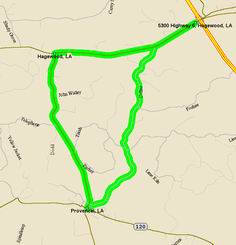 (and we were looking for a Comfort Inn, anyway) so we drove out to the Interstate where we found what we were looking for.
It was still too early to stay in the hotel, but too late to see anything in Natchitoches, and we needed food, anyway. Make a note: do not expect to find any restaurants open on Christmas day. Not even fast food places. No matter, we still had an ice chest full of food. So I set the GPS to take us to Provencal to see a bit of the Kisatchie Forest before we drove the Longleaf trail the next day. We hadn't driven west very far at all along the road (see the map above) when the GPS told us "Just ahead, turn left" I didn't see any kind of road, but being the dutiful slave to technology, I turned around and doubled back. Sure enough, there was a single lane blacktop road leading south into the woods. We were game. Turns out that while this was indeed the shortest distance to Provencal, it was certainly not the quickest. After the pavement ended, and it got a bit more rugged, we weren't sure just where we'd end up, but eventually the road brought us into the backyard of Provencal. We stopped at a general store / gas station and stocked up on some appropriate (for the region) junk food: moon pie, root beer, pretzels and a pickle. I didn't try the pickle, but have it on good authority, that I missed nothing. We ate our Christmas dinner sitting on a bench in the school yard and watched the townspeople drive their cars to a common dumping ground in the middle of main street (the two lanes being separated by a wide "mall" and dump their holiday trash. Odd. Presumably, eventually a trash hauling truck would come to pick up the pile.
Early the next morning (after the usual 'Continental Breakfast' at the hotel) we backtracked along the same roads as the day before through Provencal and on south to Bellwood before turning east on '59'--the Longleaf Trail--which would take us through the Kisatchie National Forest. This was a CCC road (although not paved until later) which took us through some very scenic hills--mountains, even. There are a number of hiking trails throughout the forest, some more developed than others.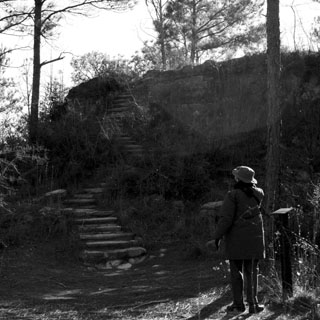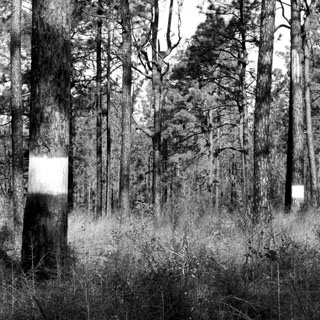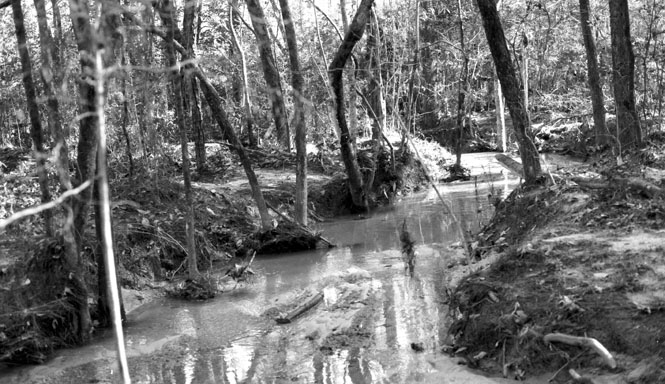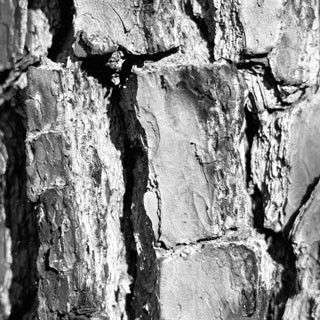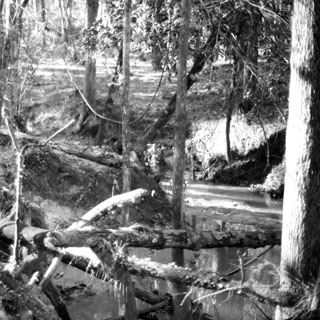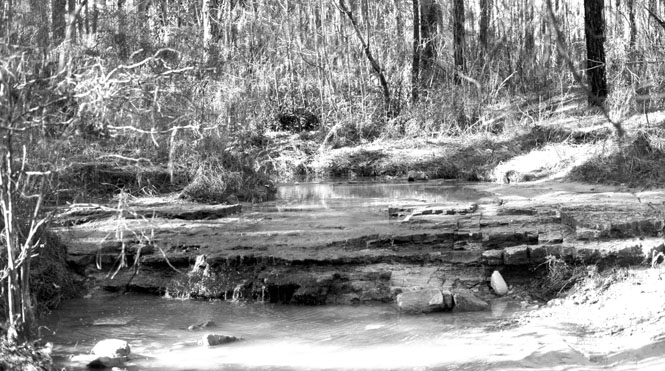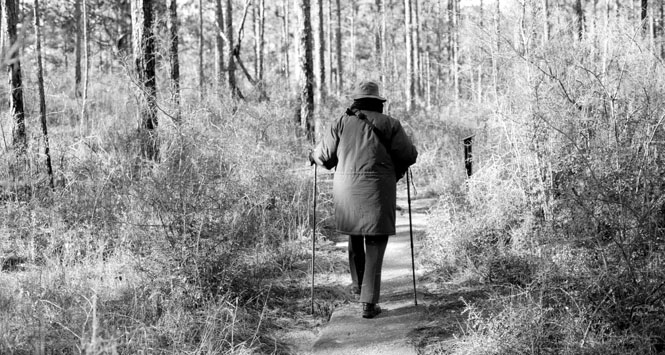 Eventually we stopped at a well-prepared visitor's area, with a paved parking lot and restrooms. From here we took a well prepared hike of a few miles that dropped down into a swampy valley before climbing up the side again for a full loop. Quite an unusual forest from what I am used to. A wide variety of trees that I had never seen before. Helpfully, there were several signs posted listing what the trees (and other plants) were along with how they were used by Indians, and later the settlers in the area.
The climb to a flat-topped "mount." This was at the beginning of the hike, when we hadn't yet dropped all the way down to the creek.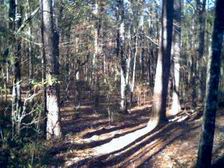 A good indication of the trail. It was easy to follow, and yet, wasn't so developed as to appear to be a sidewalk. Pretty easy walking, though, with the exception of one long uphill stretch as we climbed out of the valley.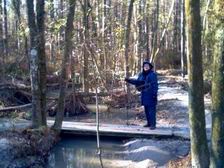 There were a few creek crossings. It was clear that during parts of the year, that there could be a tremendous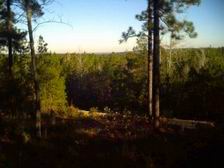 amount of water flowing. When we were there, it was quite reduced.
The view of the forest from the parking lot. Obviously these hills are not that high, but when hiking across this land, it is quite rugged.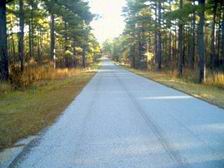 This forest is home to the Red-Cockaded Woodpecker. At least I read that. We looked, and saw nothing.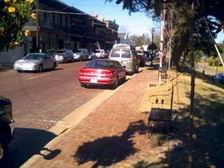 Once through the forest we headed back up the back roads towards Natchitoches. The old downtown district is quite charming. Perhaps a little forced (for the tourists--like us), but I guess that's ok. It really is a very old and nice town. We walked pretty much the entire length of the main street, stopped at the end for lunch, and then stopping next door in a nice old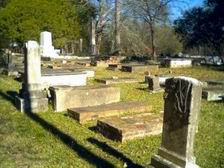 hardware store that probably hadn't changed in 50 years. I took the opportunity to have a spare set of keys made (lest you wonder, the spare was not needed during the trip).
The old, American Cemetery was a short drive from downtown. It was quite interesting, and it was also quite a trick to drive through it--probably should have parked someplace on the street.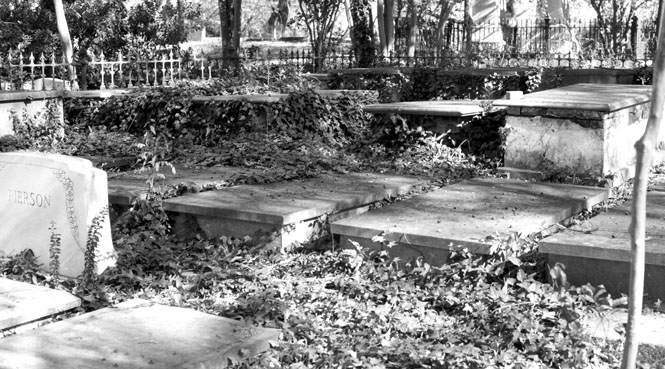 From Natchitoches we headed back south following the river. We passed a number of plantations and plantation houses that were open for visitors, stopping at the Melrose Plantation. This was quite an interesting place, and I'm glad we stopped. The plantation has a long history, and had been owned by an assortment of characters. At one time it was quite the retreat for aspiring and established authors. The folk artist Clementine Hunter also lived out her life here. Can't say that I knew anything about her, but I am now led to believe that she is, indeed, quite famous (see her "chicken" painting, below). It was interesting that the house (as built) had many doors opening outside, but not so many as you'd think connecting the rooms. Most of the upstairs rooms were only connected by first going out on the balcony. And, the 'boys' room was even more isolated in the corner of the house. The boys were allowed to pretty much do as they pleased, while the girls were kept under very tight wraps.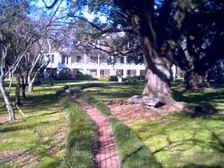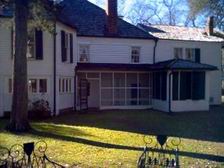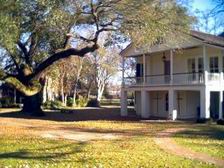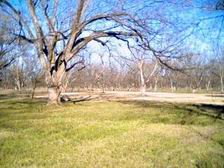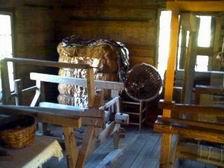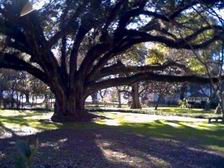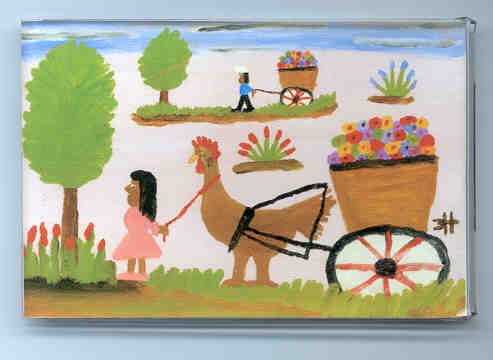 From the plantation we drove a short distance south to the Kate Chopin House. I will accept that Kate Chopin is a famous author, but I am not yet convinced that she is an author worth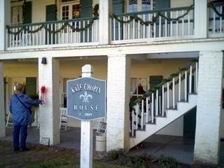 recommending. Anyway, if you want to read one of her books, read 'The Awakening.' We sat through the opening of a video on her life, but didn't stay in our seats long enough to see it through. It seems that Ms Chopin has been embraced as a wonderfully emancipated woman who was (almost) cruelly ignored in her time for her free-thinking ways. I'd like to thing that she was a nice sort of person who would roll her eyes at some of the claims made on her behalf.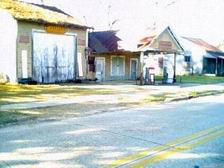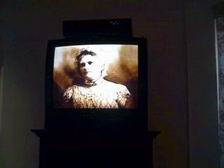 Next, we pretty much rolled on down the freeway towards Opelousas. But, I should mention this freeway. It's gorgeous! Wide, mowed and edged (!) green grass on either side leading to dense forests. like driving through a park.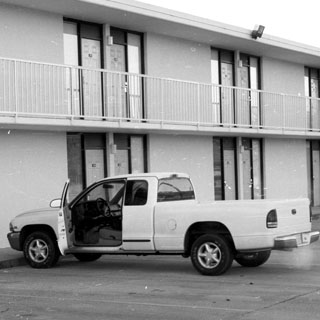 Once again it was a Comfort Inn. This was a rather odd setup, with a very large enclosed 'mall' or banquet room around which the two-story hotel was built. There was evidence that it served as a church on Sundays. Since there were no restaurants near the hotel, we drove into town looking for a place to eat, finally finding a Ryan's Buffet. Turns out that Opelousas is at the center of Cajun country, and there were likely many, much better, Cajun eating places someplace near. We didn't see them, though.
Up the next morning (another Continental breakfast) we were traveling down '190' through the heart of Prairie Cajun Country. First stop was Eunice, home of the Cajun Hall of Fame as well as the Prairie Acadian Cultural Center. I thought that both the City Hall Museum and the Cajun Music Hall of Fame were great. The two buildings were right next to each other. There were very helpful women in both museums, with both having terrific accents (that's ok, they could make fun of our accents--I never felt so obvious about being so clearly an outsider). In the pictures below are the Mardis Gras costumes, a crude washboard, and a cotton picking bag. I bought a couple of Cajun CDs and a Cajun-English dictionary.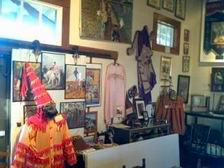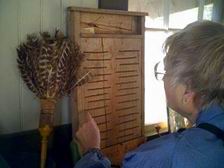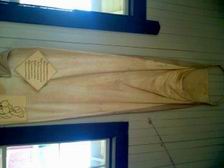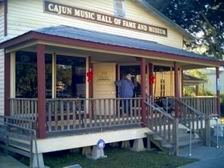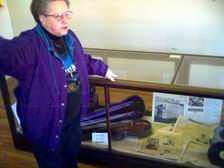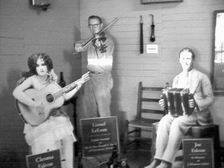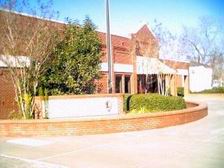 Just down the road from these two 'homespun' museums was the National Heritage Center for Prairie Cajuns. This was a much slicker affair, but I shouldn't imply that it was poorly done for all that. It was really quite well done. They did a very good job of presenting the history of the Cajun people, and I thought their video was very good.
From Eunice we worked our way south to Church Point where we had lunch (chicken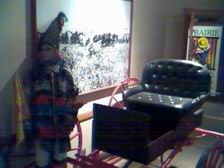 on an enormous bed of rice with fairly hot Cajun spices). We passed a number of flooded fields with an occasional person floating around in a boat, who, I came to find out, were catching crawfish. I have to admit that I didn't eat crayfish the entire trip (crawfish or crayfish?). It's worth mentioning that in these small towns it was common to hear people speaking French--or the Cajun flavor of French. We talked to one of the women in the first museums about their annual festival. She mentioned that quite a few people come from France, and they are all able to converse well enough.
From Church point it was south to Crowley and a walk through a large antique store, and then on down the highway towards New Iberia.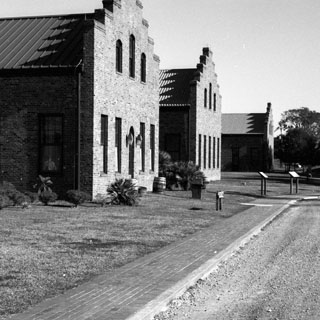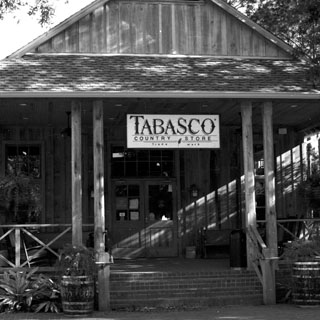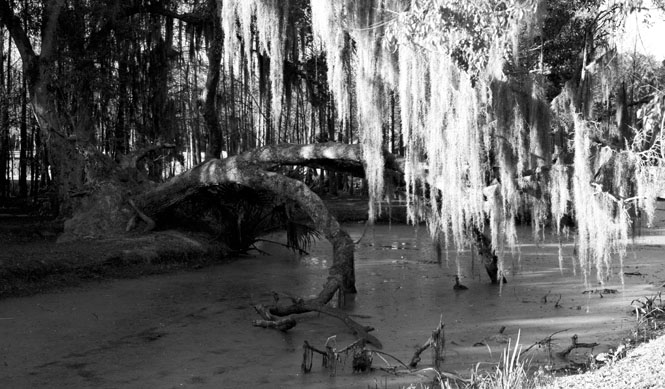 Just south of New Iberia is Avery Island--the home of Tabasco Sauce. This is a good sized industrial complex as one would expect for producing millions of bottles of sauce. The visitor's center is in the form of a back-woods general store. Anything, and everything Tabasco is available.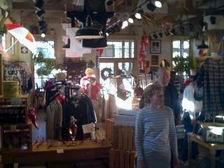 We took the tour of the main bottling plant (the brick building in the pictures). There're quite a few people who go through this tour, which means it was a rather over-organized affair with video monitors and tour guides who have probably said the same thing many hundreds of times. No matter, it was interesting. The drum-like thing in the picture is actually the barrel where the Tabasco sauce is aged. Interesting that the top is made up of solid salt. The aging process is much like the process for making whiskey (although they compared it to wine making)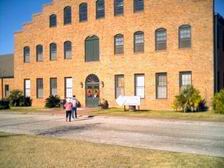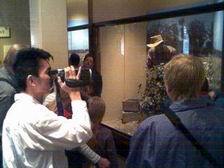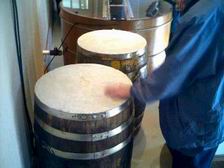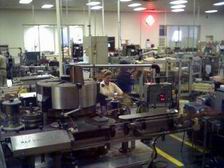 A big part of Avery Island is devoted to prepared gardens that are accessible through a number of interconnected gravel roads. Very nice, but at no time did I think I was looking at anything particularly natural.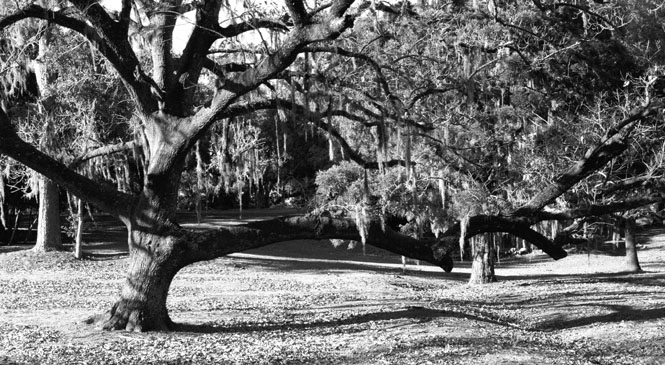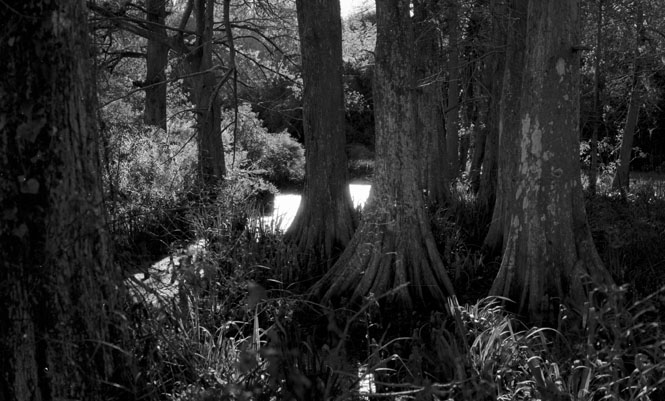 From Avery Island, we had to decide where to proceed next. The original plan was to drive south towards Pecan Island along the coast. However, as it was getting late, we decided to skirt straight across to Lake Charles through a number of smaller towns. The GPS was nice to have as there were a number of unlikely roads that took us to the state highway.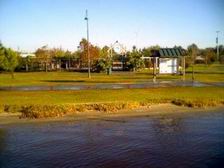 By the time we reached Lake Charles, it was night, which made finding a motel a bit trickier. The one we did find, probably didn't rank too high.
The next morning we drove to the north end of the City and went through their local museum and walked along the boardwalk. They had a few alligators in a cage, but that's not really the same thing. We were looking forward to seeing an alligator in the wild.
After taking a rather inefficient route through town (that is, we didn't circle around on the freeway bypass), we caught highway 27 and were again in the land of marshes (and listening to Cajun music on Radio Jennings).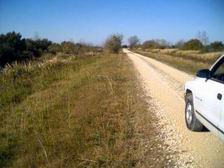 Just north of the intracoastal waterway is part of the Cameron Prairie National Wildlife Reserve. This consists of lots of water with built-up areas that have dirt roads. We did the drive--stopping occasionally to look at birds we couldn't identify--and then back-tracked to the visitor's center. The old lady in the boat (photograph) was an automaton that told stories of living in the swamps. The whole thing was pretty well done.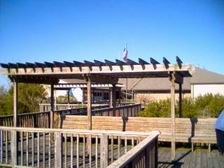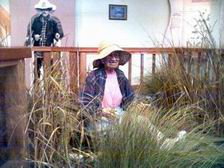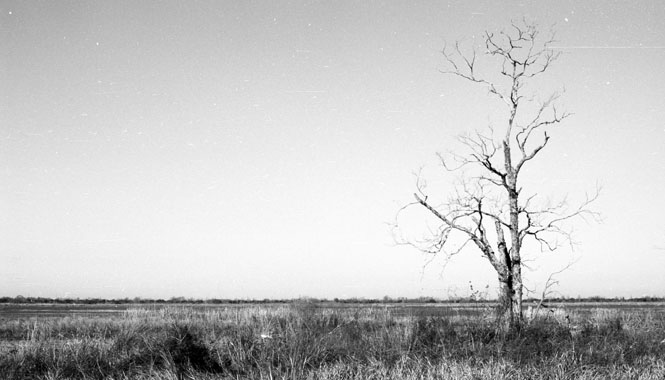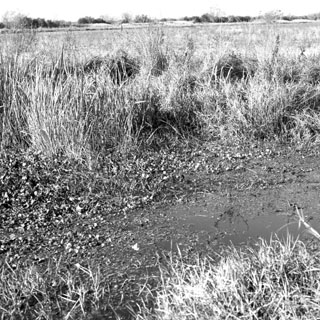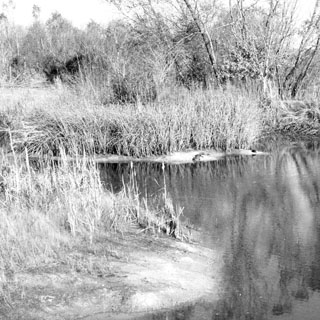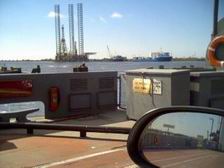 South to Creole and then west to Cameron. We had intended to cross the water (ferry) to Monkey Island, but the ferry didn't look in any hurry to come get us, so we crossed another ferry (taking us over the inlet to Calcasieu Lake). This was not a trivial bit of water, and the ferry was larger than I would have thought.
Driving up the west side of Calcasieu Lake, we stopped at the Sabine National Wildlife Refuge. This is really quite a large refuge, but we only saw the portion that had nicely done concrete paths and boardwalks over the water. There wasn't much of a visitor's center here, but the walking areas were terrific. And, we saw our first unleashed 'wild' alligator. He (she?) was sunning on the path. We were understandably leery about walking too close to it, as was everybody else who happened to come by. We sat on a bench nearby (but out of "striking distance" watching him.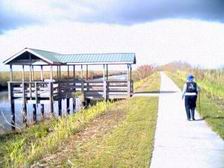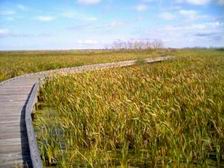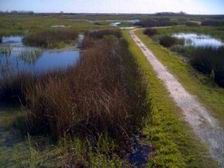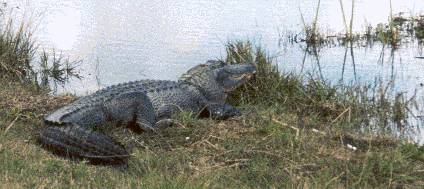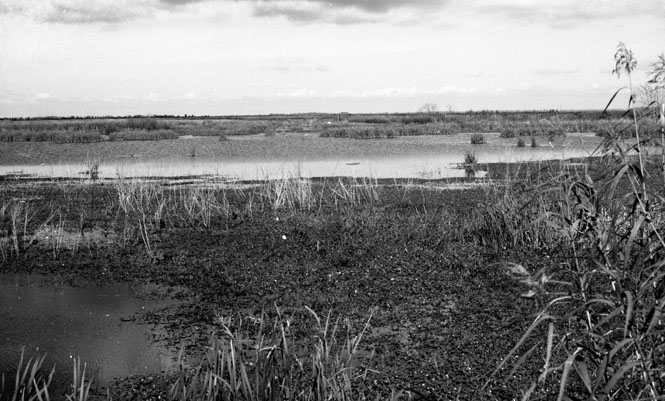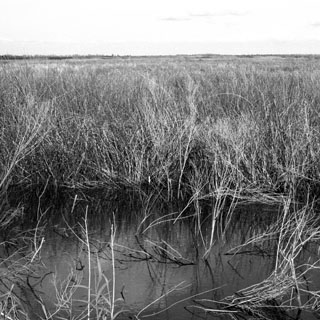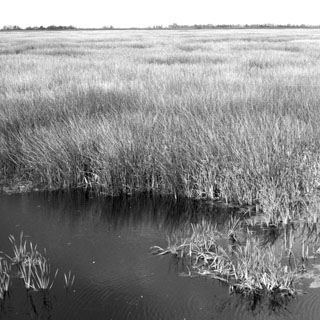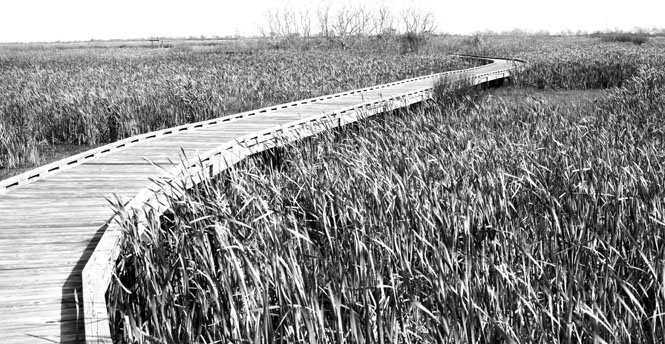 Back to the coast we stopped at Holly Beach. This is something of a resort community for the Cajun area. Nothing fancy, to be sure. It was fun to walk along the gulf coast. Interestingly, the sand seems to be made entirely of shells.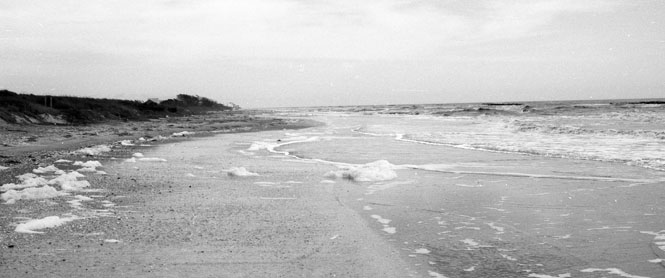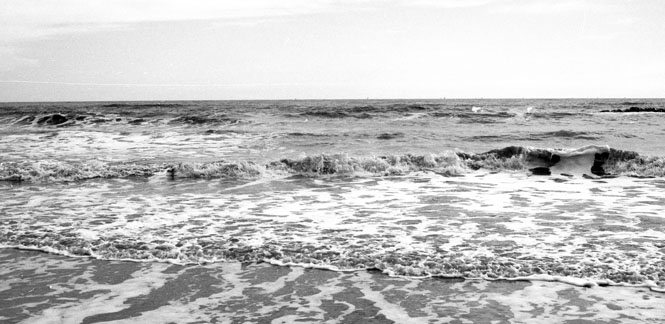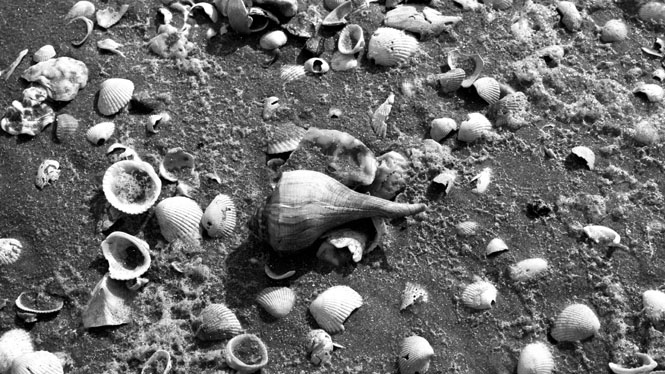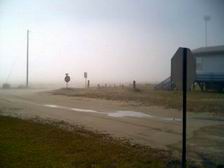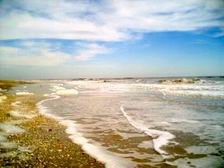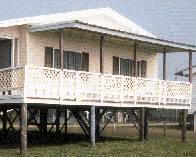 Texas
We crossed into Texas at Port Arthur. Not far from here is the Spindle Top historical site--location of an enormous oil strike that started the whole Texas oil boom. The hill is now actually a basin as the salt dome beneath it was depleted.
Had a nice dinner in Beaumont at the Olive Garden (a very dependable chain restaurant--go for the endless salad) before striking northwest on'287 towards Dallas. The idea was to stop at some town along the way.
Ended up in Woodville in the the Woodville Inn. This part of Texas is surprisingly hilly and wooded. Rather thick forest known as the Big Thicket.
The next morning, after less than an hour on the road, we pulled into the dirt parking lot of the Bullcreek Woodland Trail. We really knew nothing about the place, but were looking for a place to hike around a bit. Couldn't have picked a better spot. Really beautiful. We were the only ones there.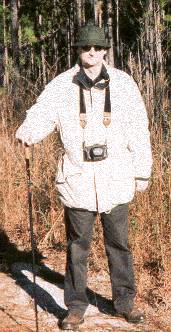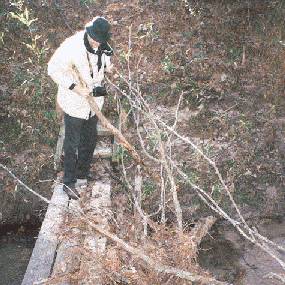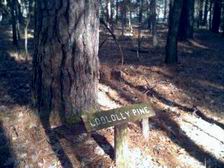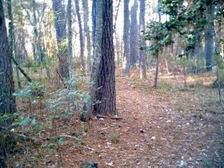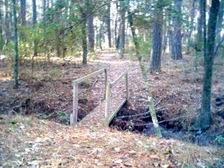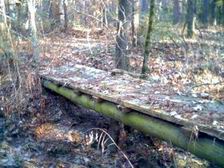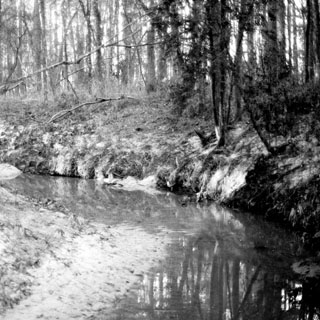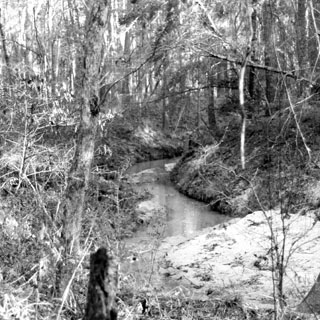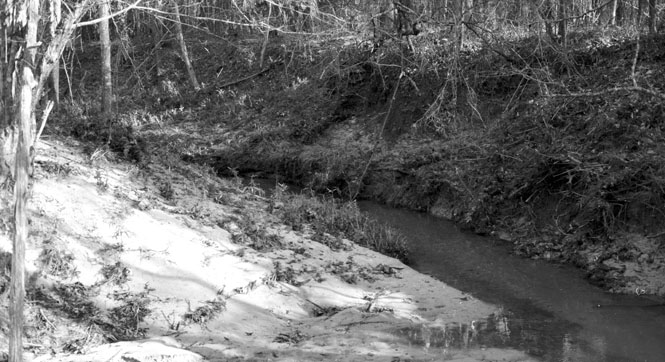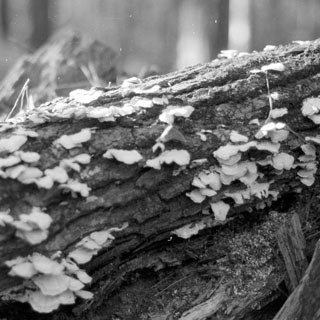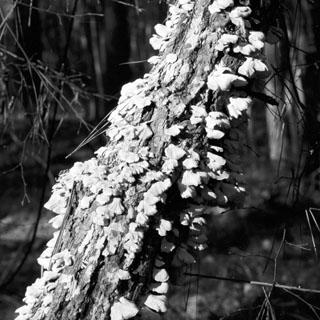 We stayed on the two-lanes almost all the way to Fort Worth. Our goal here was the Kimball Museum. I relied entirely on the GPS to take us to it. I guess I would rate the GPS as smarter than the driver, but I guess I didn't miss too many turns getting to it. In the end it worked well for the copilot to read the GPS instructions aloud as we drove. Anyway, we did arrive without too much fuss.
The Kimball is a relatively small museum with a tremendously good collection. The traveling exhibit that was showing at the time was from China, and was far more interesting than I would have expected. Photographs were not allowed, but I took a secret shot through the glass window of the museum director's office.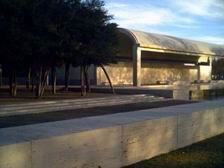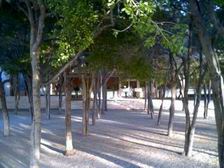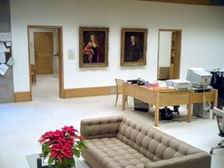 That evening we drove north to Denton (eating at the Macaroni Grill--not as recommended as Olive Garden) and stayed at the Best Western. After looking through the guide books, we drove back south to Irving the next day to look at the horses. This is an amazing series of sculptures. I liked it a lot. They're about 1.5 scale, and made of bronze.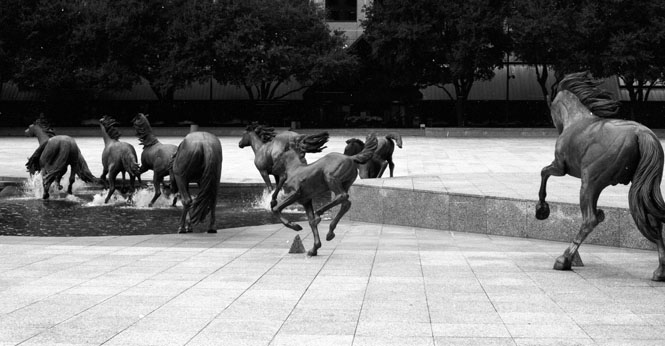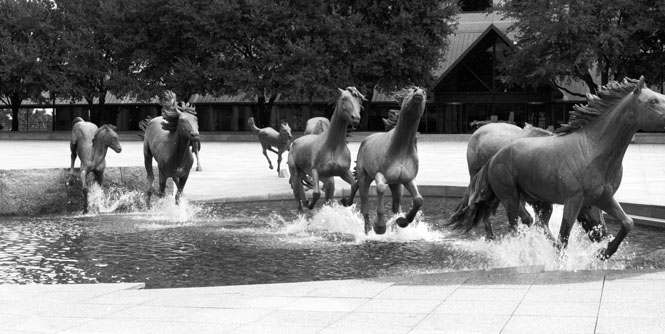 Irving is just to the west of Dallas, so it wasn't too far to drive to downtown Dallas (thank you GPS) and the Dallas Art Museum. Unbelievably, this major, major museum is barely listed in the AAA guidebook, while a questionable Bible museum rates 4 stars. We have come to take anything in the AAA guidebooks with skepticism. Apparently, just about anybody can do the rankings. The Dallas Art museum rates very high in our book. It is very good, and worth returning. The lunchroom doesn't rate as high as some museum restaurants we've been to, though.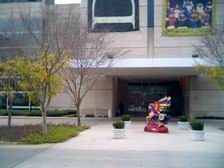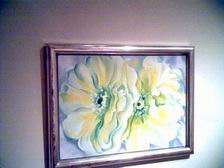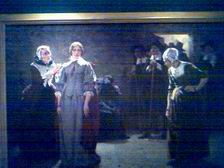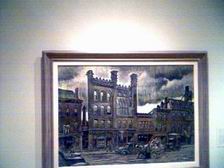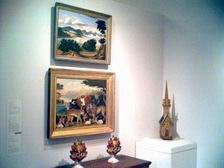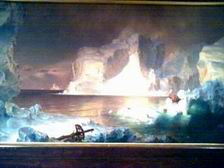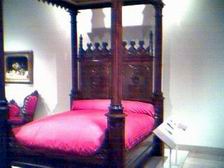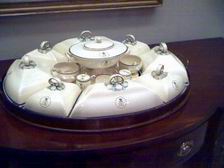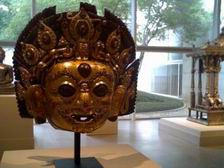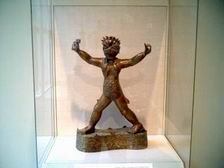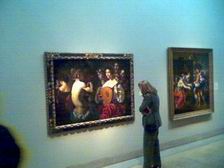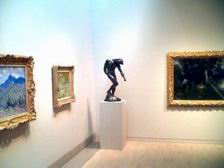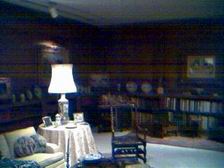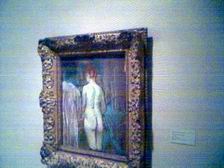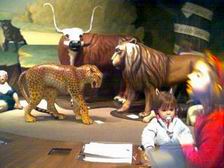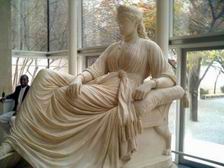 Oklahoma
It really is not that far from Dallas to Wichita, and ordinarily we would have spent the night in Oklahoma City. However, the roads were getting very, very, slippery driving over the Ardmore Hills, so we pulled into the first motel that was available. I'm very glad we did. We had seen several accidents on the road, and the hotels were filling up fast.
Kansas
Arrived back in Wichita at noon. Very nice trip.
last edit: 6/21/2008