July, 2002

Sunday

Monday

Tuesday

Wednesday

Thursday

Friday

Saturday

23

24

25

26

27

28

29

30

Wichita
Stromsburg
Mitchell

1 July

Huron
Sundance
Hulett

2

Belle Fourche
Big Horn
Billings

3

Columbus
Yellowstone
Twin Bridges

4

Dillon
Big Hole
Nampa

5

Baker
Oxbow
Joseph

6

Enterprise
Lewiston
Missoula

7

Polsen
Glacier
Great Falls

8

Ft Benton
Roy
Miles City

9
Baker
Lemmon
Aberdeen

10
Webster
Emery
York

11
Concordia
Salina
Wichita

12

13
A nice little trip. North to South Dakota, through Montana (often following the routes of Lewis and Clark) across Idaho into Oregon, and then looping north and back, again.
I hit several new roads that have long been on my list: US 34, west out of Pierre, South Dakota; US 212 from Belle Fourche to Custer Battlefield in Wyoming and Montana; the road between Hardin and Custer in Montana; the road through Wise River, Montana; the roads between Baker and Joseph in Oregon; and finally, the road from Fort Benton to Roy Montana. It must also be said that I missed several more roads along the way that will have to wait for another trip.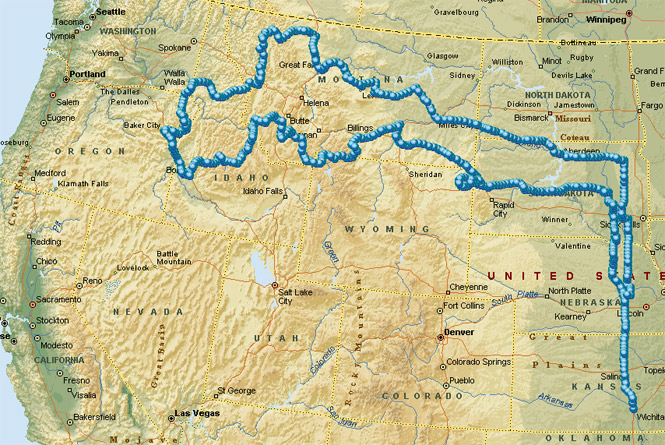 Kansas
The general plan was to strike out north and then to turn left (or right) at some point. This is the same plan that I've used on several of my trips. I had maps with me to cover either a ride to the Maritime Provinces of Canada, or the Pacific Northwest. My preference is to generally head northwest, so when the weather looked much better in that direction, that's what I did.
Staying on US 81 out of Wichita, I didn't stop until the McDonalds in Belleville for breakfast (breakfast #1, with orange juice)
Nebraska
I knew that I didn't want to stay on US 81 forever (I've done that, already) so I stopped at a park in Stromsburg, Nebraska to check out the map and to drink some water. It was clearly going to be a very hot day.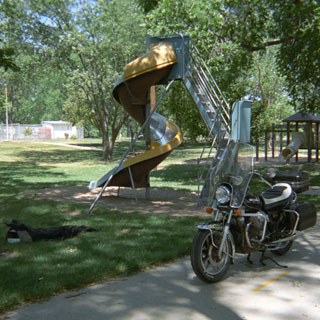 As I rolled to a stop on the sidewalk, next to the slide, I heard a slight tick-tick-tick from the area of the front wheel. I didn't think much about it, but when I started to ride away, it seemed even louder. So I slowly pushed the bike forward and backwards along the sidewalk, carefully listening to the noise. It was clearly coming from somewhere around the front wheel, but beyond that, I couldn't tell. Eventually I decided that it was related to a little "stiction" in the forks (I could repeat the noise by pushing down, and compressing the forks), and that the sound was unrelated to the turning wheel.
Just north of Stromsburg, I head northwest on Nebraska 39 to follow Beaver Creek. When I slowed to go through the small town of Genoa, I again heard that front wheel sound--except this time it was much louder, and there was little doubt that it was related to the turning wheel. By the time I reached St. Edward, I knew that I really had to stop and figure this thing out. I must have rolled the bike 50 times forward and back trying to sort out the sound. It wasn't there all the time, but when it did come it was always at either of two points on the wheel--180 degrees apart. One at a time, I removed each of the four brake pads, expecting that one of them was hanging. Nope. I then removed the front wheel itself, thinking that I would be able to feel some problem with the bearing (I found a brick and a piece of wood to prop the bike up so I could remove the front wheel--see picture). Still, nothing.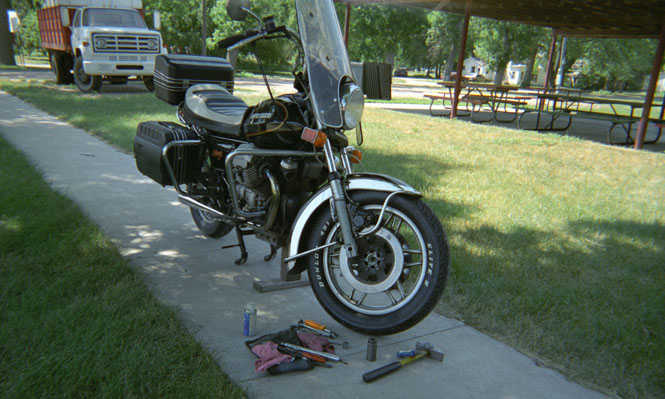 Finally, as I was sliding the front axle back through the wheel, one of the wheel bearings simply popped out. It's not supposed to do that! In my hand, now, the bearing felt perfectly good. No rough spots at all. I again carefully checked the other bearing--it remained in the wheel--and it, too, felt just fine.
Not meaning to drag this out; after no small amount of good fortune and good people (this being a Sunday in a very small town) I found the tools (and bearing Loc-Tite) I would need to reinstall the bearing in the front wheel, and put everything back together. You can see the large hammer I borrowed and a socket--to whack the bearing back--in the picture. The noise was gone, and things were, again, right as rain. Or good as new. Or, at least, fixed. For all that, I probably didn't spend much more time than I would have for the normal mid-afternoon heat break, so this little episode didn't slow me up at all.
I should note that I listened very closely to any noises coming from the front wheel for the next two days, but after that, I put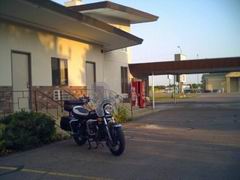 it out of my mind. It's been fine ever since.
I crossed the Missouri River at Niobrara State Park, where the Niobrara River enters. Quite a beautiful area. The old ferry has been replaced by a very long,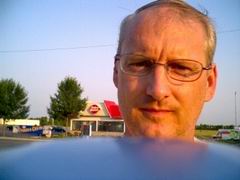 thin and high bridge that crosses from the low-lands on the Nebraska side to the top of the bluffs on the South Dakota side.
It took quite a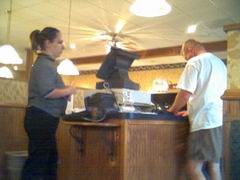 number of little roads before I was able to hook up to South Dakota 37 and ride north to Mitchell, where I stopped for the night. The other two pictures are a self-portrait with the PDA (that's the plastic cover at the bottom) and the cashier at the local restaurant.
South Dakota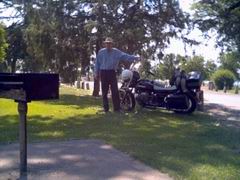 So, where to go next? I left that morning expecting to head north, and then turn left and follow South Dakota 34 to Pierre. Except I missed that turn, and, instead ended up in Huron before turning left on SD 14, again to Pierre. It's not that I didn't know that I missed the turn, it's just that I hate so much to ever turn around.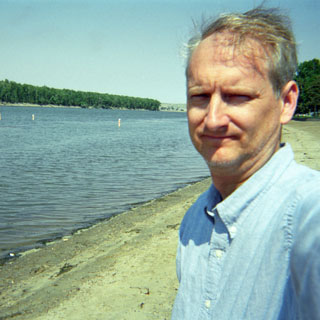 It was going to be yet another very hot day, so I parked the bike next to the Missouri River (or rather, whatever the reservoir is called here that contains the Missouri River) to wait out the worst of it. The state capitol wasn't too far away, so I walked there and wandered through it. Somehow, I expected some minimal amount of security. Nope. It was all open for me, including both the House and Senate chambers. Rather nice on the inside, but I don't care too much for the black cast-iron (I'm guessing) dome. When I got back to the bike, I relaxed in the shade reading a book, only to be bothered by a city policeman, asking that I move my motorcycle. He more than implied that I should move completely out of the park (if not the town), so after a few exasperated remarks towards him, that's what I did. Guess he figured that there was no end of trouble that I might be causing. Bikers. You can't be too careful, now.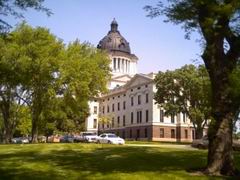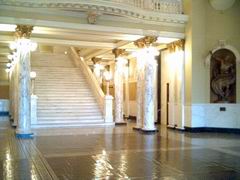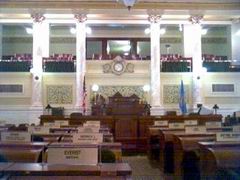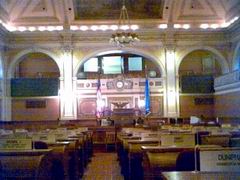 I should have bought gas in Pierre.
I just assumed (without checking the map) that there would be some sort of town along '34 with a gas station. It soon became clear enough that this is a very remote part of a very sparse state.
I had convinced myself that I was soon going to run out of fuel, and was deciding how best to park the bike on the shoulder, and what I should carry while I hitched a ride to a town. It was of some concern to me that I hadn't even seen any cars at all, so I was then thinking that I might have to be more proactive than simply sticking a thumb out. But, just as I was on my last miles (and, I was riding along at 50 mph to get the best mileage) I came to a service station--if such be the title--in Billsburg.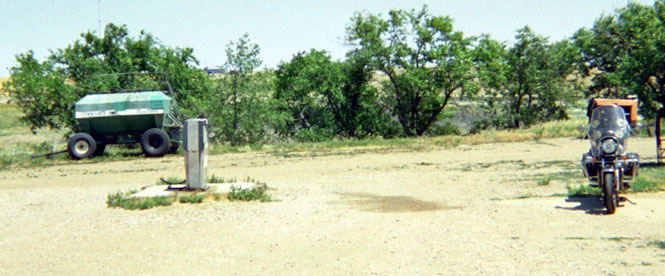 As you can see in the picture, this 'station' is little more than a single pump in a dirt lot. But, it pumped gas, and that's all that mattered to me. So, in the end, I didn't have to thumb a ride, after all. Sigh. Might have been interesting. Something to look forward to, the next time.
Nearing the Black Hills, I could see a large cloud of smoke on the horizon. It seems that there had been tremendous forest fires throughout the area, and they were still continuing. In fact, several of the major tourist roads (Rushmore) through the Hills were closed. I rode through Sturgis (site of an enormous annual motorcycle rally) without stopping, and continued on across the state line.
Wyoming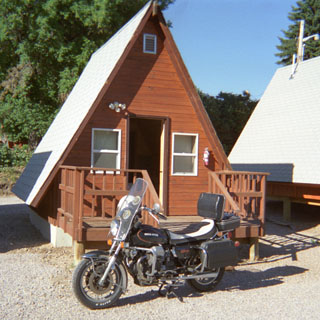 I missed so many turns just crossing the state line that I wasn't sure just where I was going to end up. I really hadn't planned on going through Sundance, but once there it seemed reasonable to turn north towards Devil's Tower. I'd been here before, so I just rode on by the entrance to the park. In any event, I did get several nice views of the tower. I decided to stop for the night in Hulett (picture). Not because it was all that late, but because if I had kept on riding, I knew that there weren't going to be many opportunities to find a motel in Montana. The motel in Hulett turned out to be really quite nice. I had my own independent little A-frame. It didn't have a TV, or even a telephone, but it did have a shower, and I was able to park the bike just outside the door. The Blackfall Creek flows behind the town, and the motel was right on the creek.

I spent the evening by walking through town, and then returning by walking along the creek. Not much of a trail to follow, but eventually I made it back. At one point I startled a young deer, who leaped into the creek and swam across (photo, below). It took a couple of tries to scramble up the opposite bank (the water level was quite high, as you can see) but, it did, and then trotted back up the creek.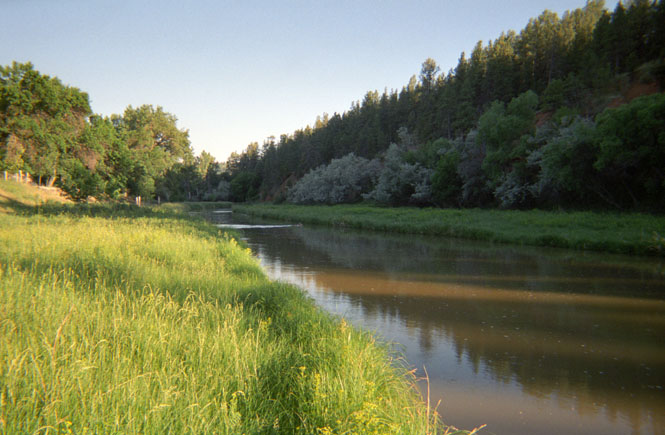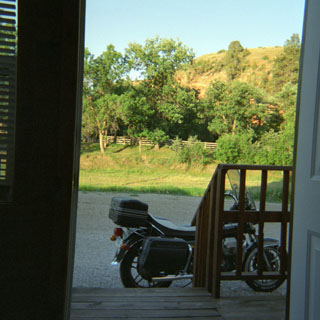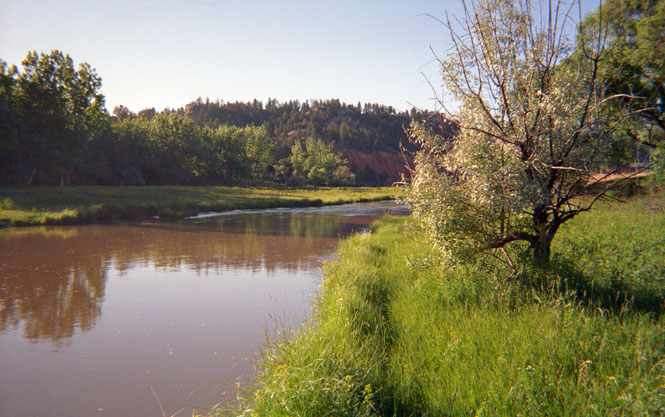 The next day I continued the same erratic path that got me there. I had intended to leave north of Hulett along highway 112, but, somehow ended up on highway 24, which took me back to Belle Fourche in South Dakota. Oh, well. It was a nice road, too.
Montana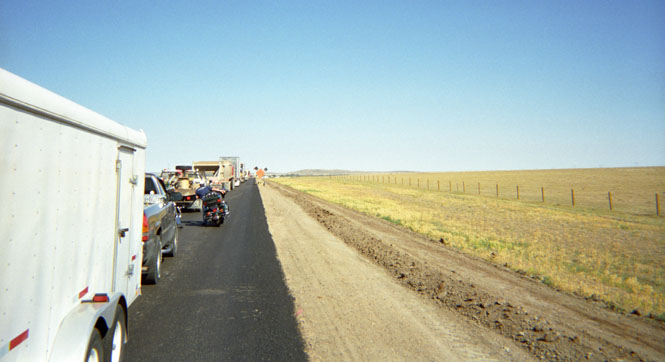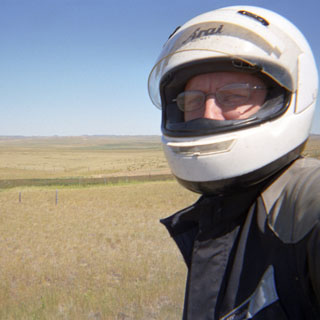 Finally, I hooked up to highway 212 (which was my original plan) and took off northwest back through Wyoming and then into Montana. This was an all-new road, and I had been looking forward to it. Along this route, three H-D riders passed me repeatedly at high speed, only to be passed by me not long after as they were stopped on the side of the road drinking water, or generally taking a break. Nothing special about this, except that a good sized support trailer was also following them the entire way (picture). I talked to them later in the evening, and discreetly mentioned that I thought traveling with a full parts supply trailer was somehow missing the entire point of motorcycling (and didn't put a favorable light on the reliability of their mounts), but they didn't see it that way.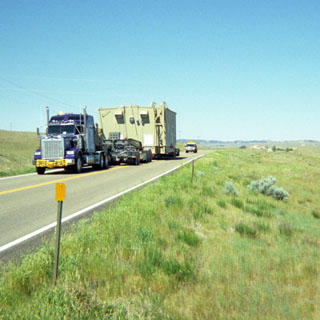 At some point all traffic was stopped by an on-coming escort vehicle so that a large piece of equipment for one of the local mines could pass by. It turns out that this same crew had made well over 20 trips from Canada hauling such equipment. They had to be very particular as to the roads that they traveled on.
For some reason, I expected this route to be entirely the sort of landscape that you see in the photographs. But, beyond Ashland the hills became steeper and higher, and I found myself riding in a genuine forest. Nice area. Nice road.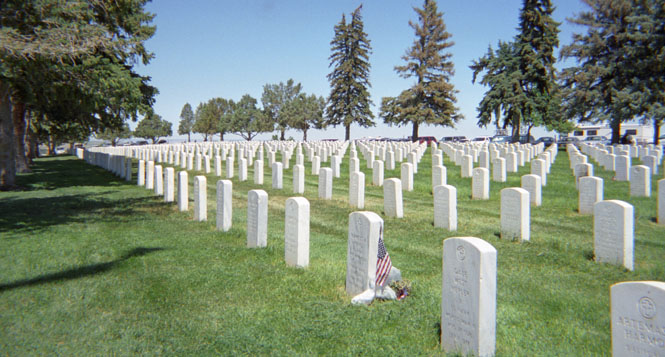 I'd been through the Custer National Battlefield many years ago (~20 years), but it had been long enough that I stopped again. This is also the site of a National cemetery, which is otherwise not related to the battle.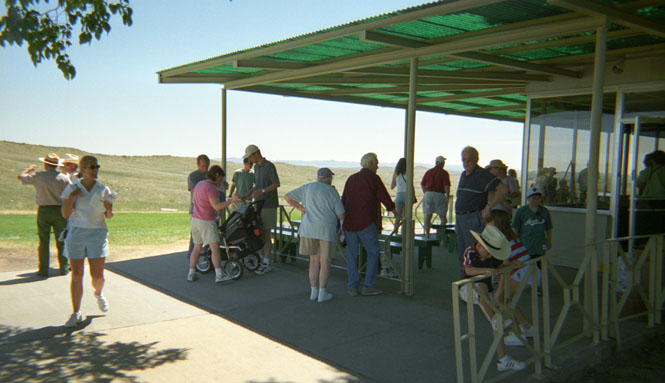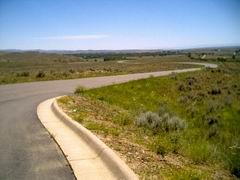 None of the participants are buried here. The visitor's center hadn't changed much from the last time I was here, but the gift shop was now free from all 'cheesy' items ("Custer wore an Arrow shirt") that detract from the overall somberness of a National Cemetery and a battle site. Good. The presentation was about as balanced as this sort of thing can be, as it explained what the US policy had been that led to the battle, and a fair amount of information on the troops and units that took part, as well as a summary of which tribes were in the area, and the events that led them to being here. The blow-by-blow details of the battle are now known to an amazing detail. Markings on found bullets have been linked to individual riffles, from which many details of the battle can be inferred. A ranger gave quite a long talk on the battle just outside the visitor's center (photo).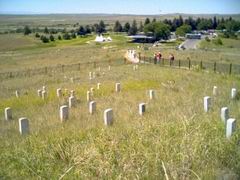 The battlefield extends over quite a large area, and there is a road that winds across it. I only wish that walking paths had also been defined for those (very) few people who would prefer to walk, than to drive. Markers have long been erected at the 'last stand' hill for each soldier (including Custer). None are actually buried here. Over the last several years, additional markers have been erected to identify where individual Indians were killed. Perhaps not surprisingly, these details are less well known. I didn't have nearly enough water to attempt the entire hike (hot, hot, hot), so after walking about 2 miles along the road, I turned back to the visitor's center (which, you can see in the grove of trees behind me in the photograph below).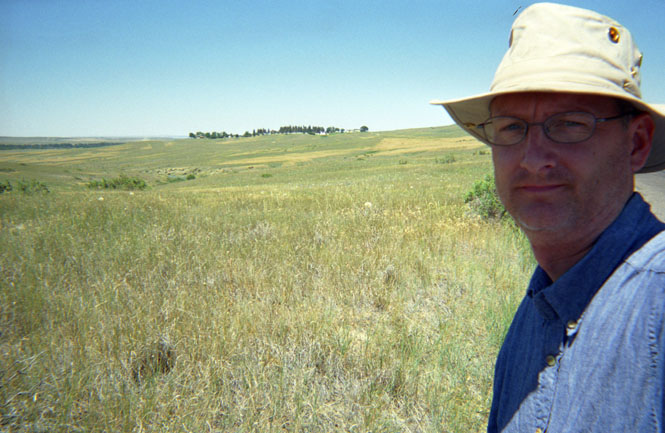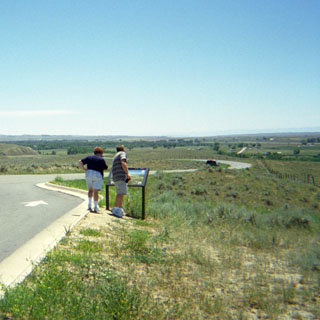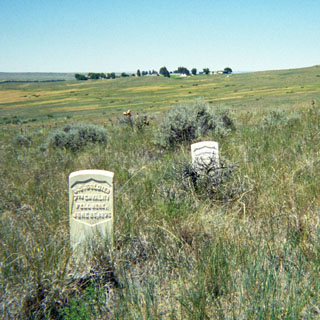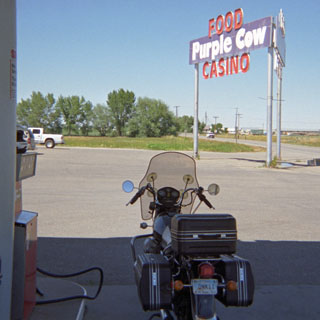 I stopped at the Purple Cow Casino and gas station in Hardin to sort out my next direction (I avoided the 'excitement' of the Casino). There's a road that follows Fly Creek to Pompey's Pillar on the Missouri, but this road is not paved, and I'm afraid that I just wasn't up to it on that extremely hot day. If I had been on the KTM, I wouldn't have hesitated, but then, if I were on the KTM, I wouldn't have been there in the first place. So, I headed north straight out of Hardin on '47 (the road you see in the picture--straight ahead) towards the small town of Custer. Turned out that this was a pretty nice road, too, and since it wasn't all that well paved, perhaps honor is saved.
Pompey's Pillar is a large rock formation on the Missouri River that figures prominently in the Lewis and Clark journals. Clark's name can still be seen carved into it, near the top (now encased in a glass frame). These days there's an extensive series of wood stairs that takes you to the top for a nice view of the river and the surrounding farmland. I spent about an hour just relaxing in one of the chairs outside the visitor's center chatting with one of the (volunteer) rangers. He was quite knowledgeable about Lewis and Clark, and would have talked to me about them all day if I had only stayed.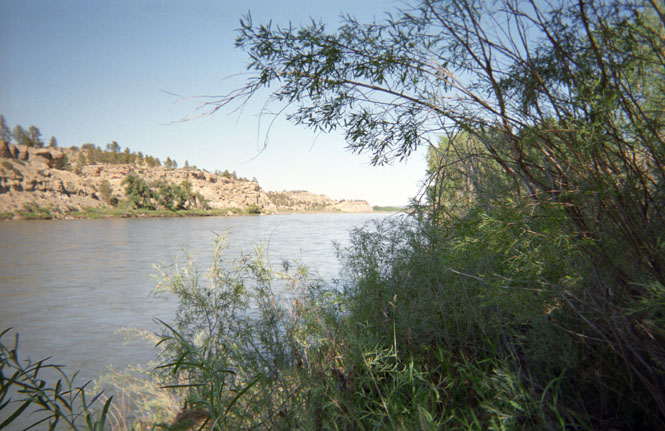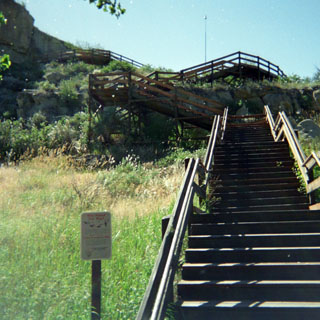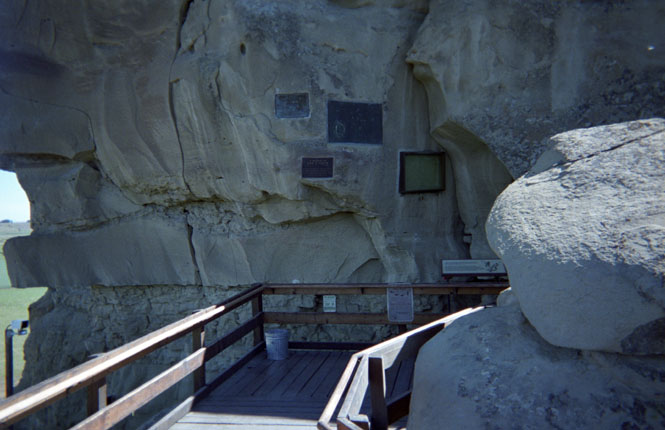 The small town of Ballantine, Montana is just up river from Pompey's. I bought gas at the convenience store, and walked around the town (didn't take long). It was still quite hot, so I was in no hurry to get out there on the freeway (which I had been avoiding).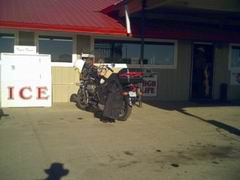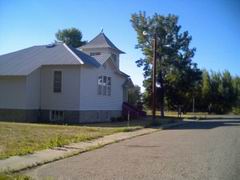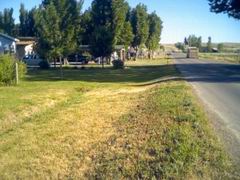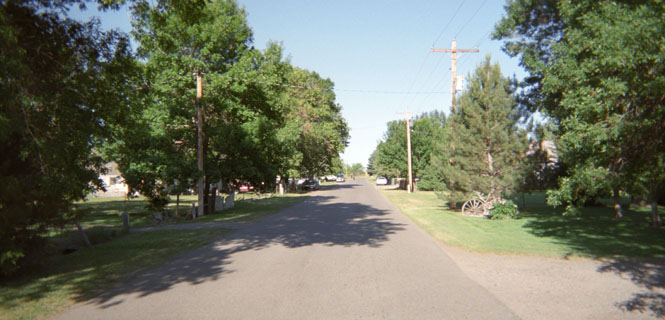 Since I planned to drop on down to Red Lodge, it made sense to call it a night in Billings. There wouldn't have been enough time to cross the hill down into Yellowstone, and I really didn't want to consider doing the Bear Tooth Pass at night.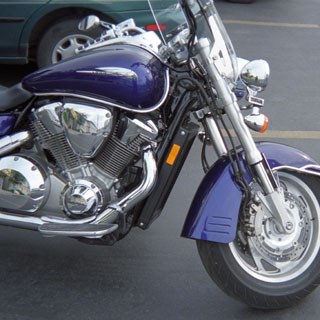 The next morning, I saw that the three Harley's and their support trailer had also checked into the same motel. I also talked a bit with a man who had ridden up from Arizona on a new Honda VTX. The VTX is a ridiculously large displacement (1,800cc) V-twin that was just introduced by Honda, and this was the first time I'd seen one ridden more than 50 miles from its home. I'm not sure of its proper marketing niche, but touring is certainly not what Honda had in mind, but still, the owner gave the bike high marks.
There are four ways to enter Red Lodge: either from the south or the north on US 212 (the same route I followed into Montana), which I've been on; from the east through the small town of Belfry, which I've also done; or from the west, through the town of Roscoe. This last one, I had never been on, so naturally I made plans to pick up this road.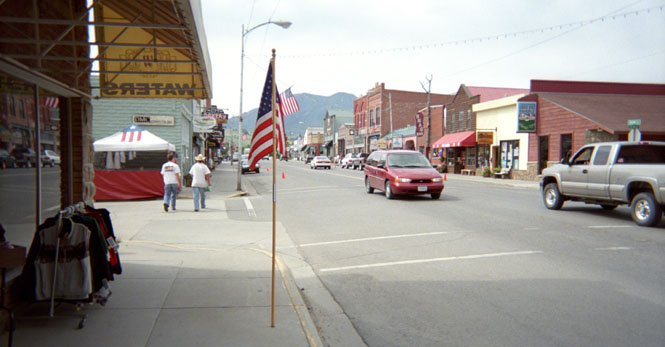 I headed west from Billings on the Interstate (alas, sometimes it cannot be avoided) and, then turned south on Montana 78 through the small towns of Absarokee, Fishtail, and Roscoe before dropping down into Red Lodge. Turned out to be a nice little road as it skirted along the north side of the Beartooth Mountains, crossing quite a few creeks along the way. Stunning scenery, but I fear--based on the number of new homes going up west of Red Lodge--that this is no secret. I arrived in Red Lodge on July 3rd, and the town was filling up with tourists for whatever festivities were planned for the next day. I didn't do much more than walk down Main street on one side of the street, and return on the other (and buy gas).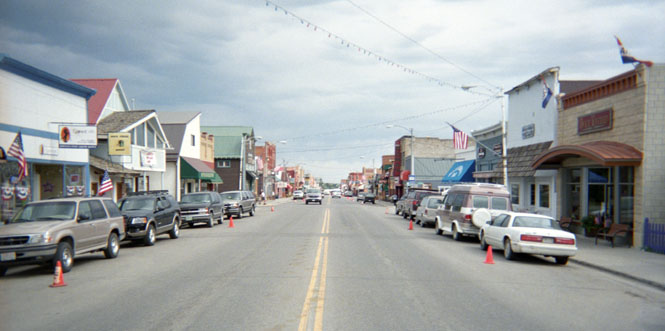 I'd been over the Beartooth pass twice heading north, and once heading south. And, I was about to do it for the fourth time. This would seem to violate my usual rule of limiting the number of times that I travel on a road, but this one is special. I rate it as one of the most (I hesitate to proclaim a winner) spectacular mountain passes that I've ever ridden. The map (picture) gives you some idea of the pass. Ridden from the north, the road follows a fork of Rock Creek up a thin valley until the valley becomes so narrow that the road turns left and climbs right up the side. It's been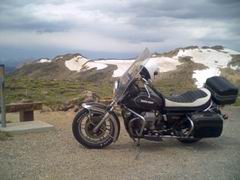 called the steepest ascent in the United States--not the road, understand, but the mountain side that the road is on. As you can see in the map, there are four major switch-backs before it reaches something of a plateau, and then a few more very tight switchbacks (15 mph) as it reaches the summit. At one point, I passed the rider on the VTX as he was stopped at a vista point taking pictures. The pictures below were all taken at the top. This is far above the tree line, and gave a terrific view of the Yellowstone mountains to the south, and the Beartooth Range on either side. What makes this pass distinctive, is the fact that there seems to be no real 'pass', as such. You're on top of the mountain--not in a valley. Wonderful place. But, at 11,000 feet, expect it to be cold and windy.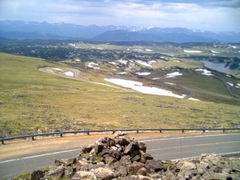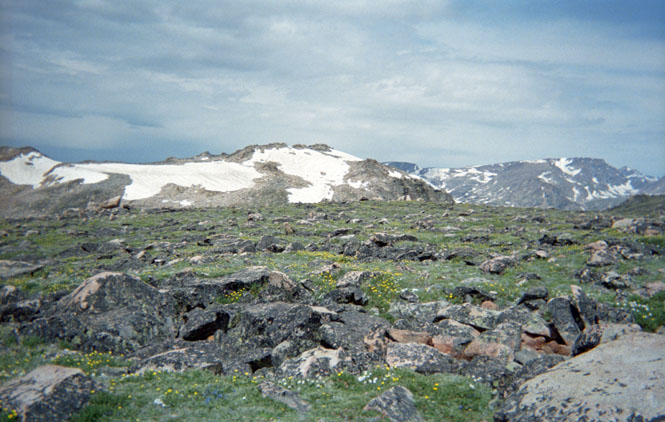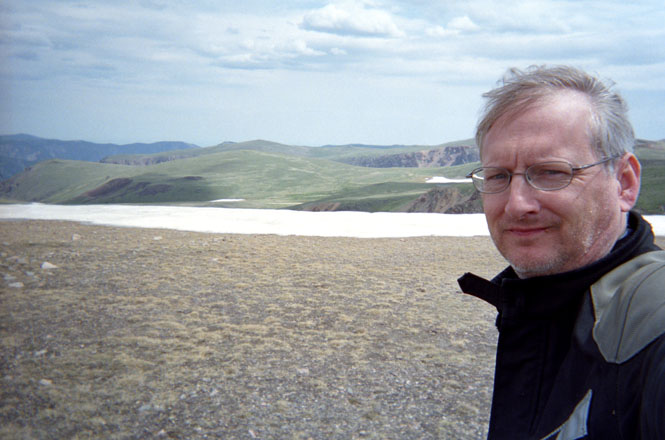 The route down the south side is awfully nice, too, but it's not quite as long, since we're now well up into Rocky Mountains. The road drops into Wyoming for about 35 miles, and then loops back into Montana at Cooke City, where I stopped for lunch (patty-melt).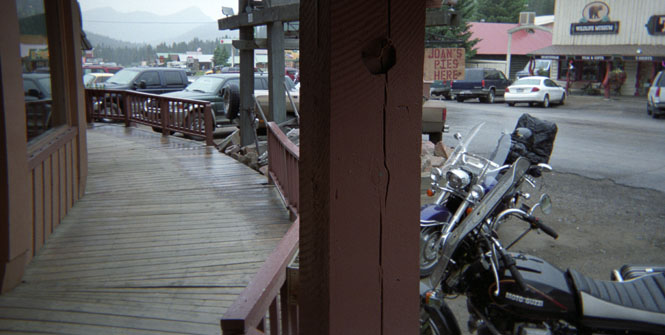 By this time it had been raining off and on--sometimes quite hard, but not so long at a time that it was ever too uncomfortable. My riding suit does a good job of keeping me dry (my boots are also waterproof, but my gloves eventually will become soaked). Just after I sat down at the restaurant table, the VTX rider walked in, so we had lunch together, and talked about roads we've ridden. Years ago, I came through Cooke City expecting to get gas, only to find that the only station had long been closed. These days, Cooke City seems to have been revitalized by tourism, so there was no danger of not finding an open gas station.
Wyoming

I really don't know why I keep taking the same photograph of entering Yellowstone National Park. Well, here's another one. You can see that the roads are wet, but at the time it was not raining, and it didn't rain on me much more when I was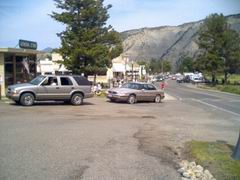 in the park. My usual practice is to pull off to the side of the road, out of the line of cars, and get off the bike to pay the ranger. You can't tell in the picture, but there really was quite a long line of cars waiting. This entrance to the park, is only a few miles down the road from Cooke City. I'm not sure, but it may still be in Montana.
In spite of all the tourists and all the tourist cars, and the generally poor roads, I still love riding in this park. I've lost count of the number of times that I've ridden through it. Certainly, I've been on all the paved roads. I rode on through Tower Junction, and stopped at Mammoth Springs Junction.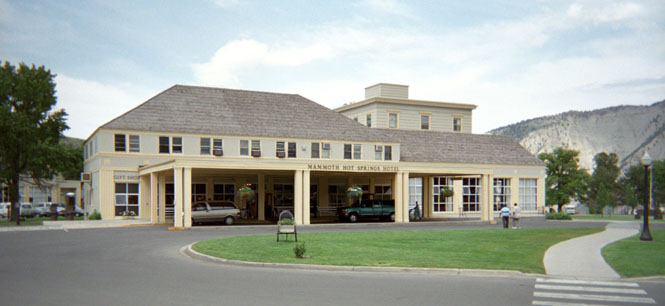 There's a good sized Lodge here, which had a much-needed ATM just off the lobby. After gassing up, I pushed the bike over to the gift shop parking lot (I can squeeze in most anywhere) and spent the rest of the time on foot. It's hardly a long walk from the lodge area to the springs themselves, but it is amazing how many people still get in their car for the drive.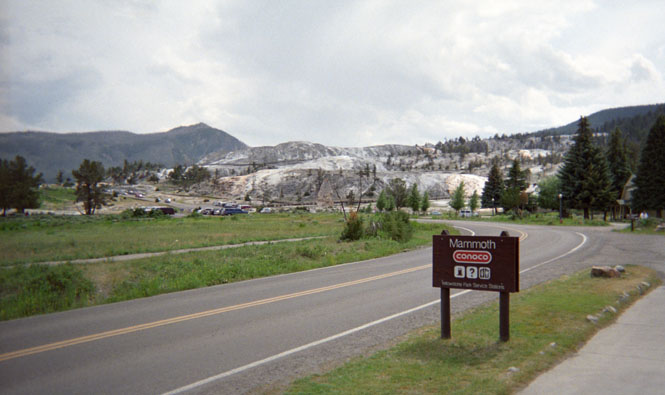 It's unfortunate, as it means the park must provide two parking lots, where likely a single one would work as well. I didn't walk the boardwalk over the springs (I least I took a picture of it), but instead took a little-worn trail than skirted alongside, and to the rear of the springs.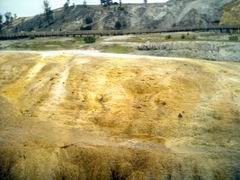 It was such a nice day, and such a perfect trail, that I really thought about taking a break and just spending the day here. That might have been nice, except that there was certainly no room in the lodge, and I wasn't carrying a sleeping bag, either. So, after spending a couple of hours, I was on the road, again. As I walked back to the gift shop parking lot, I once again ran into the Honda VTX rider. Somehow, we had managed to 'ride together' all day, without even trying. He was planning on heading down towards the Tetons, and I was heading out the west entrance, so that was the last time we saw each other.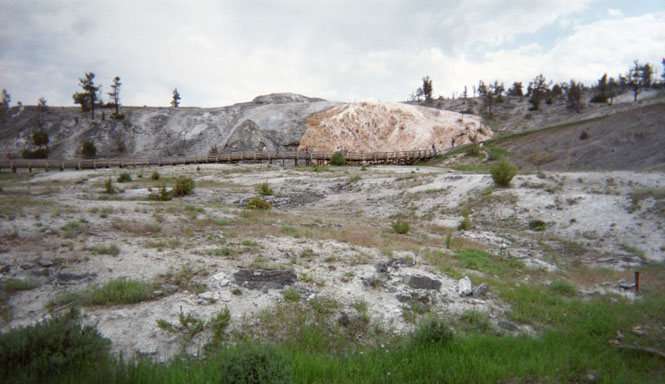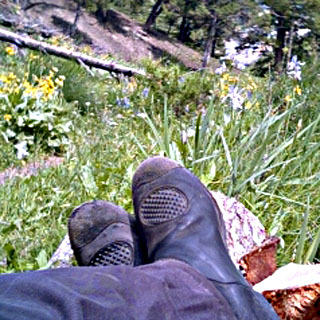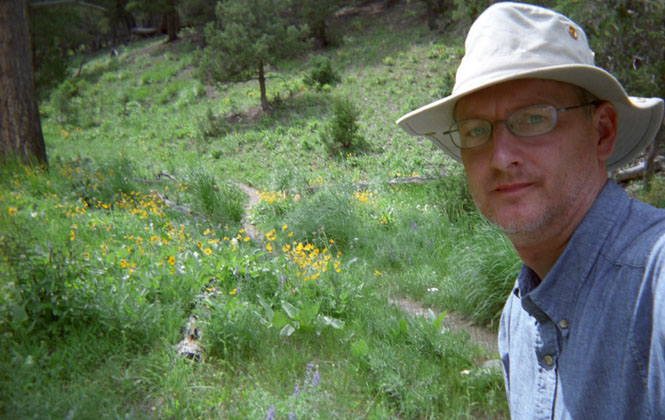 To answer your question, those little 'nubby things' on the top of my boots (photograph, above) are for protection against the gear shift. They're on both boots, as some older bikes have the shifter on the right. As it turns out, my Guzzi has floorboards with heel-and-toe shifting, so I really don't need the 'nubby things' anyway. At least, on this bike. I almost always change out my boots for walking shoes when I'm doing any walking at all, but this time, I kept my boots on. They're actually quite comfortable for hiking, but I still like changing completely out of my riding gear when I'm not on the motorcycle. And, too, the soles of these boots are very soft (grippy) rubber, and don't hold up well at all to much hiking over rocks.
From Mammoth, I took the direct route through Norris Junction, Madison Junction, and then west out of the Park to West Yellowstone. Not without--as is usual for Yellowstone--riding over at least 12 miles of dirt and sometimes muddy roads. I don't mind, so much, riding on smooth dirt roads, but I hate having to ride through deep, soft dirt. It seems that the winter months don't do the roads any good, so during the summer months, the park service is frequently tearing things up and repaving. Combined with the frequent rain storms in the area, though, it's not so much fun to ride on.
Montana
At West Yellowstone, I'd already been on every paved road out of town, so I took '287 as being the one that I hadn't been on in the longest time. This road runs by Earthquake Lake, which was formed by a fairly recent earthquake-cause land slide, which dammed up the Madison River. The Army Corps quickly moved in and stabilized the earthen dam with something more permanent.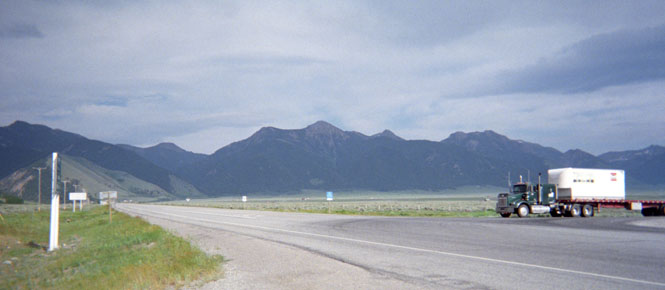 I stopped at the intersection with state route 87 (where the truck is entering the highway in the photograph), which runs over he continental divide at Raynolds Pass, and links up with highway 20. This is only a short, 18 mile stretch of road, and it links up to a road that I'd already been on, which headed in a direction that I didn't really want to go (south), but I was still tempted, as it is also a road that I've never been on. Didn't take it, but I will, someday.
I didn't really want to take '287 all the way back north to I-90, so I thought I'd spend the night in Ennis, and then head west from there the next morning. But, when I reached Ennis, there were no-vacancy signs everywhere. It didn't make any sense that great hordes of people would be wanting to come to Ennis, Montana, but I soon found out that this was the center of the world's best fly fishing (or so I was told) and the season was just starting. So. No motel rooms.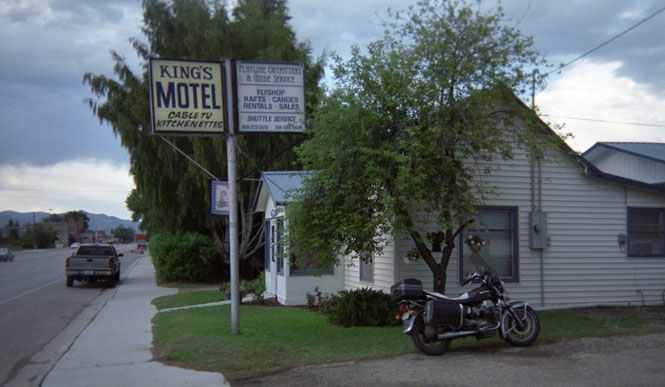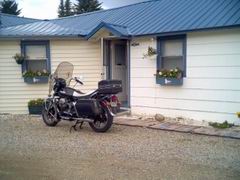 I turned west to ride over the Tobacco Root Mountains, thinking that there would surely be available rooms in Virginia City, but this determinably 'quaint' tourist town was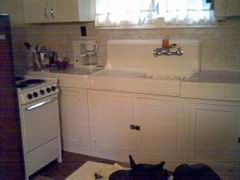 even more loaded with cars and people than was Ennis. It wasn't yet dark, but the sun was near setting as I rode through the towns of Alder and Sheridan, where even the dumpiest motels were showing no-vacancy signs. I was now thinking that I'd have to ride clear to Dillon (on I-15) before finding a room. When I saw the vacancy sign at the King's Motel in Twin Bridges, I stopped immediately, and was pleased to find that they had a single room available due to a recent cancellation.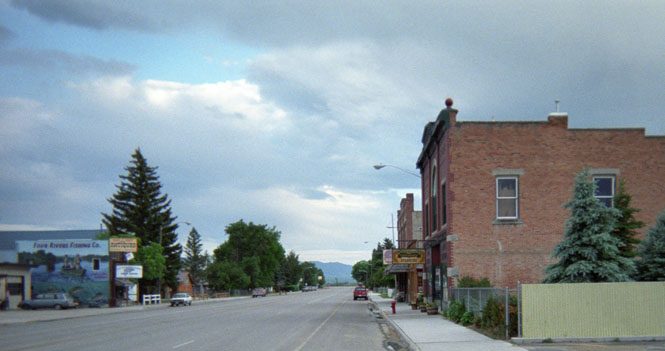 It turned out to be quite a nice place. Again, no TV, and no telephone (not that that mattered much to me. I later lent my cell phone to my neighbor), but I had my own cabin, with a living room, and a full kitchen (which went unused). I had my July 4th dinner at a small cafe on the north side of town. Not too bad, and the locals were fun to listen to. In the picture below, my cafe is at the far end of the street, beyond the trees, on the left side. The brick building on the left was also a restaurant, but the menu posted on the door was a little too dear for me, and I think that they catered mainly to the well-to-do fly fishing crowd.
There is a terrific road, which runs from Dillon to Wisdom, climbing over Big Hole Pass, and Badger Pass. It's a nice road, but I've been on it before. There's another road, which runs from Divide, through Wise River, and then on to Wisdom that I have never been on. That's the one I took. I can't decide which is the better, but the Wise River route was just about perfect, this morning. The air was on the cold side of cool, but there was no wind, and the sky was deep blue, and nearly cloudless. This might have been the best morning ride of the entire trip. I stopped at the small town of Wise River (that's pretty much it in the photograph) for some water and road snacks. They seemed to have thousands of different sorts of fishing flies for sale. Too bad I don't know a thing about fly fishing. I was certainly in the right area for it.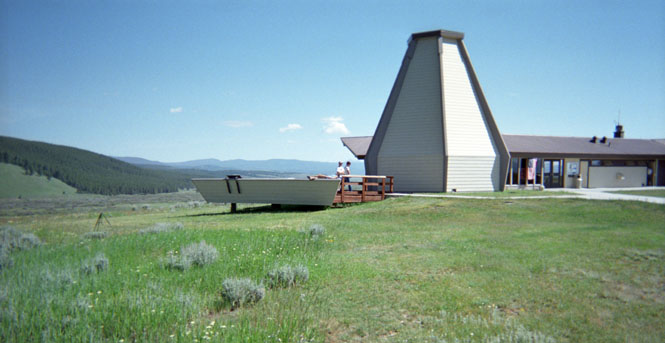 I suppose that there's a certain balance (or imbalance) in visiting both Little Big Horn and Big Hole National Battlefields. These are sites of the two major victories against the US Army during the US / Indian wars, although, obviously, in both cases the Army would win the final battle. The Nez Perce victory here was at a huge cost. This was my second time at Big Hole, so instead of climbing up the mountain side as I did the last time (first photograph, below), I walked along the river to the site of the Nez Perce camps and the site of most of the initial fighting. I parked the bike at the visitor's center, and then walked the 3 miles, or so (second and third photographs), to the encampment site (fourth photograph). Most of the teepee sites were marked as to who had been there (using eyewitness accounts), and the entire area is treated the same as a national cemetery, since 60 - 90 Nez Perce had been killed (most of those during the initial early morning raid), along with 20 - 30 soldiers (most of them on the hillside during the siege).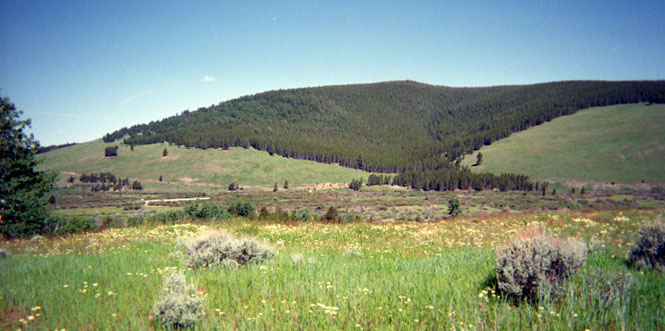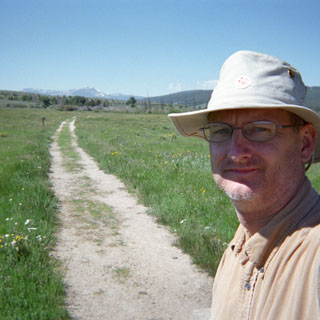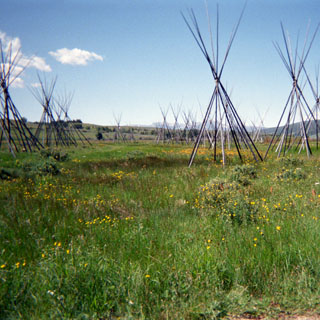 I was the only one at the encampment site, and later talked to one of the rangers about it. It seems that while quite a few people do drive to the visitor's center, not very many people drive down to the river, and even fewer of those will get out of their car and walk the mile to the encampment. We both agreed that if there were a walking path from the visitor's center down to the encampment, more people would take the time, but the park service didn't have the money to build a foot bridge over an irrigation canal, so it wasn't likely to happen.
And, it seems that nobody ever walks from the visitor center, back along the road, down to the river as I had done (second picture, above). I watched several cars drive slowly along the road (within the park), read some of the signs, and then continue on, without ever stopping to get out.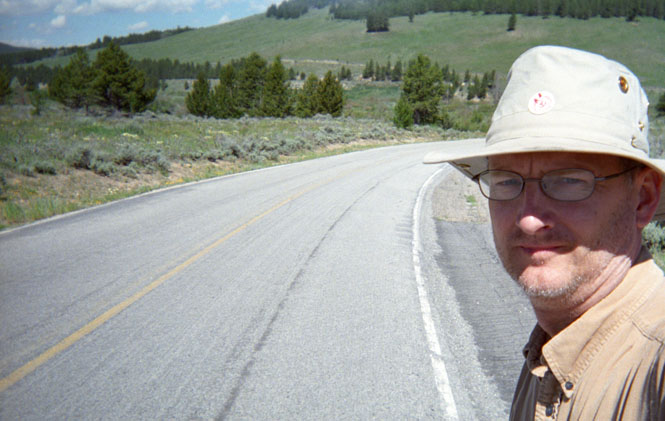 I probably spent 3 1/2 hours here, then continued west on '43 over Chief Joseph Pass and turned south to follow the Salmon River down highway 93.
Idaho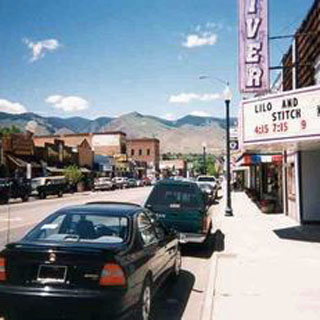 The first time I was on this road, it was a narrow two-lane blacktop that was rather steep, and had many sharp turns. These days, it's been tamed and now has passing lanes, and most all the sharp turns and steep grades have been smoothed over. It's still a good road, though. I stopped in Salmon for lunch (cold turkey sandwich, and a raspberry milkshake), as once again, it was going to be a hot one. I almost wanted to turn around, and head back into the mountains, but that wouldn't have taken me where I wanted to go--the Sawtooth Mountains.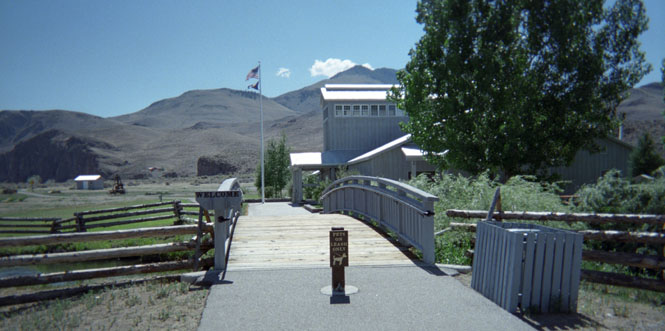 At Challis, I had the chance to ride a new highway! I always look forward to these new stretches of unseen pavement. The part of Idaho 75 from Challis to Stanley new to me. Where the road turns off from highway 93 is a new state museum devoted to this old mining region. I was concerned, at first, that it was yet another instance of spending the entire budget on the building, and paying no attention to the displays, but this one turned out to be very well done. I was particularly interested in all the many dirt roads that lead to the old (and abandoned) mining towns. Some day, I will have to return with the proper motorcycle.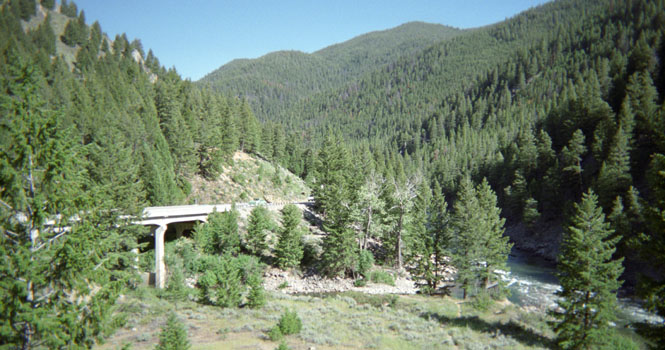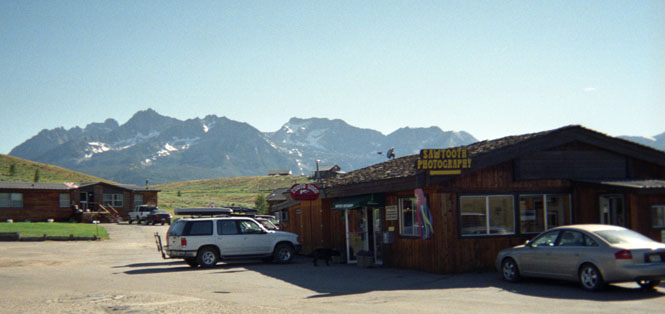 The road into Stanley is a nice motorcycle road. By this point the Salmon river has become only a small river winding through the mountains with the road on one side, or the other. I stopped at a small rest area, about halfway there, near the town of Clayton. It seems that there had once been a dam here (in early part of the 1900s), but that some time in the 20s (not sure of this time period) a government employee took it upon himself to blow the thing up.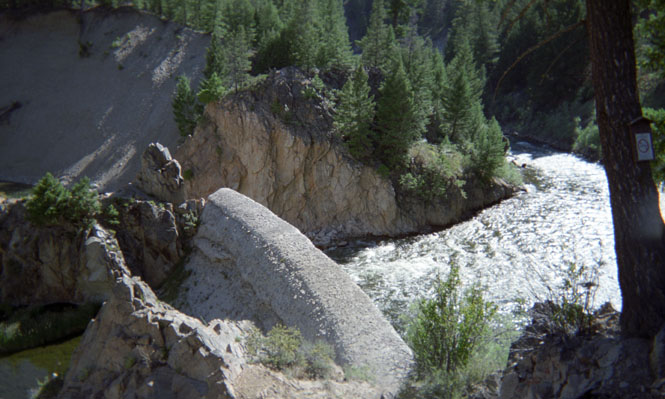 As the dam was there to support the mines, and as the mines were dying anyway, I guess there wasn't much need to rebuild. Somebody will have to check me on the dates and facts.
I'm not sure why I thought that I could find any rooms in Stanley, but there sure weren't any. Stanley is not a big town, and it has fewer hotels than you might think. It's certainly a resort town, but the most of the resort hotels are further south in Ketchum and Sun Valley. In any event, there wasn't anything here for me. The photograph shows the gas station, with the Sawtooth Mountains in the background. This is a stunning range, that the picture really doesn't do justice. For many years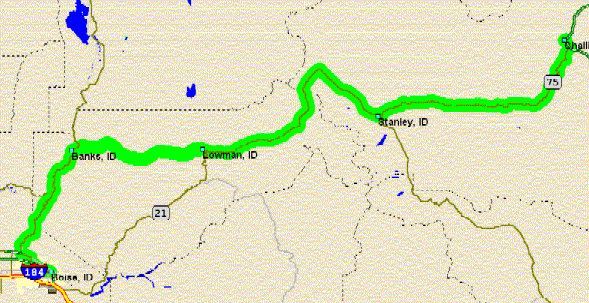 Stanley was on my list of must-see places, and it took so long for me to get here, that it seemed a bit surprising that I've been here twice, now.
If you look at the map shown, you'll see the route of a road from Lowman to Banks. All of the printed maps I have show that this is an unpaved road. No doubt, it was unpaved until recently, but, I'm pleased to say that it's paved now. And, what a great road it is. From Lowman, the road climbs up and over a pass, but soon enough attaches itself to the side of a shear wall as it follows a rushing stream down towards Banks, and the Payette River. Recommended. It was while running along this very winding road, that I passed a man on a Honda 900. Soon enough, he passed me back, so I just followed him for a couple of miles. It soon became apparent, by watching him, that he was riding way over his head to keep the pace. I was afraid that he was about to run over the side, down into the water, so I quickly passed him again, and then rode quite hard to get so far ahead of him that he wouldn't even try to keep up, and would perhaps slow down to his own speed. I never saw him again; hope he made it OK. As a general rule, I rarely ride anywhere near my limits on these long trips. It'll just tire you out, and I'm not in any hurry to be anywhere anyway. You can't ride at 10/10ths (or even, 8/10ths) and expect to do 600 miles in a day. Or, at least, I can't.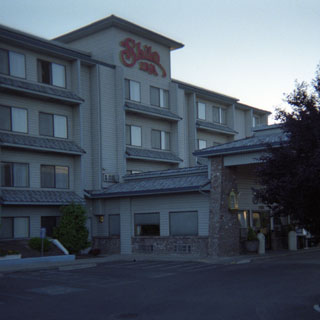 At Banks, I turned left, and followed the Payette River south. Or at least, that's what I should have done. If I had followed the river, I would have ended up in Ontario, which was where I was riding though the next day, anyway. As it was, I stayed on highway 55 to Boise, and then skirted west on the old highway to Nampa, before calling it a night. I do hate riding in the Snake River Basin. It seems it's always 100 degrees. I stayed at the Shilo Inn, which was a nice enough place. Oddly, though, none of the local restaurants were open (July 4th shut-down?), so I had dinner at a Jack-in-the-Box. Not necessarily bad, but I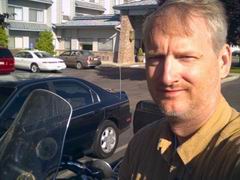 can't recommend it, either. The next morning, the restaurant next to the Shilo was open, so I had breakfast there. Much, better. I don't recall hearing any fireworks that night.
The next morning, I was grinding up the Interstate though Ontario. I had two options. I wanted to go to Joseph, Oregon (new place), and I had the choice of crossing the Snake River at Brownlee Dam and on to Oxbow after riding through Cambridge, Idaho, or I could continue to Baker, Oregon, and ride through Halfway to reach the same point before turning north and crossing the Wallowa Mountains to Joseph. I chose the second option. Why? Well, there's a good museum on the Oregon trail a few miles east of Baker City that I'd been to before, and going this way would allow me to continue that short section of road already traveled to it's end.
Oregon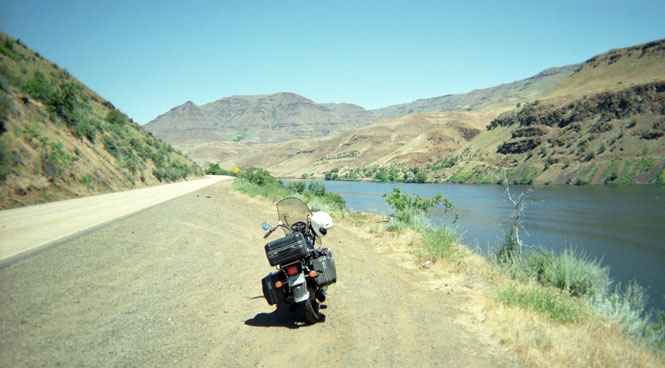 I spent an annoying amount of time in Baker City trying to find a place that I could change my oil. It seems that Baker City no longer has any full service gas stations, and I didn't even come across a likely auto mechanics shop that I've often used. So, I caught state highway 86 and was soon on a new highway towards the Snake River.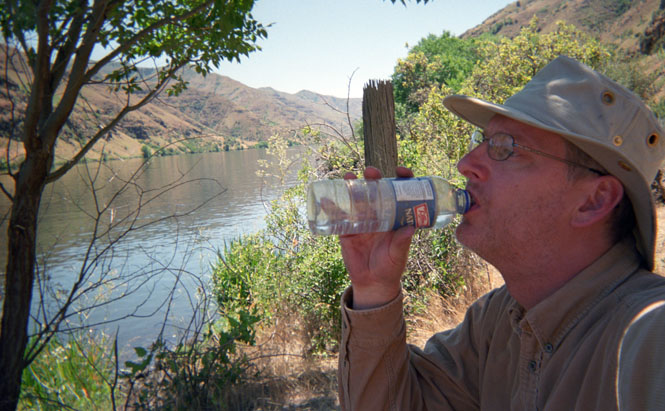 This is most definitely not the shortcut to take if you want to get to Joseph, but it is the more scenic. For the most part, the highway follows the Powder River as it winds down, down, down to the Snake. I wouldn't have thought that Baker City was all the high in elevation, but for 40 miles, it seemed the road never stopped descending. Beautiful area. At Richland, I turned north through Halfway, and then all the way to the Snake River at Oxbow Dam. I turned south and ran several miles along the river (or reservoir), but since I really didn't want to ride back into Idaho, I pulled to the side, and walked down to the water for a rest and some water for myself. Down in this dry valley it was pretty warm. I saw one boat on the lake, and I can't imagine that this place ever gets too crowded.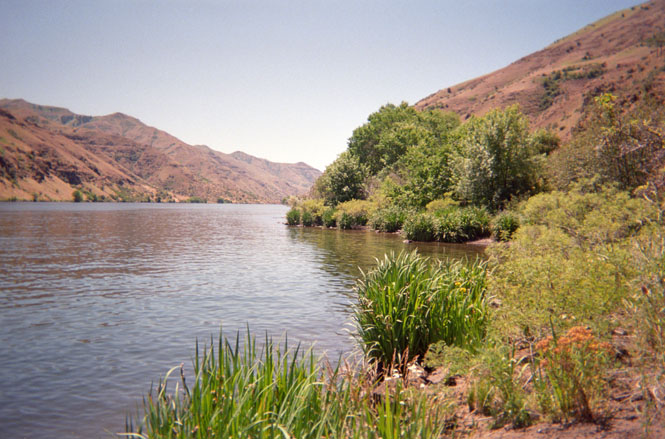 The road from here north to Joseph, was one that I'd looked forward to for many years. It's not an easy one to get to, though. There are no towns of any sort for at least 60 miles. It's a thin, but paved, road that starts out easily enough following a creek, but then takes off up

some steep and winding grades (see attached map) to cross over a couple of passes. Quite a good motorcycle road. The snow peaks of the Wallowa mountains are always visible to the west as the road actually goes around the highest peaks of the range. When I reached the T-intersection at state highway 350, I debated a bit on whether or not to run right and run on to Imnaha (at the end of the paved road), or to just keep on to the original plan of going to Joseph. Imnaha will have to wait for another trip.

Joseph is a neat little town. Having been to Enterprise (just up the road), I expected Joseph to be pretty much the same thing. As it turns out, Joseph has become quite an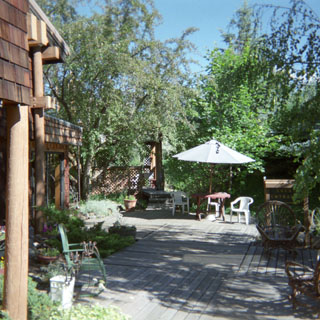 upscale artists town. Or at least, that's what it sees its future as being. I parked at a visitor's center parking area, and then walked into town. First I walked all the way to the north end, and then back to the south end. I was expecting a few more hotels. I stopped at a little information kiosk, and got the names of a couple of places, and then returned to my bike (and cell phone) and made a few calls). Luckily the B&B at the south end of town had an opening, so I was in luck. This turned out to be quite a nice place. I had a fully equipped room upstairs (didn't need to share a bath), and there was a nice deck
and patio out back. After unloading things, I took another walking tour of the town. There are several bronze foundries for sculptures (photograph) and there were several examples of their work all through the town. I particularly liked the painted sculpture of the girl in the summer dress (photograph). I'm afraid that I've grown tired of swoopy eagles and noble looking Indians, though.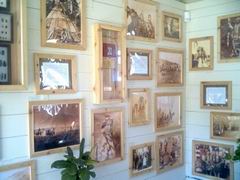 There was a small building devoted to pictures of the Nez Perce Indians (photograph), which I thought was quite interesting. Actually, 'Nez Perce' is not the name that is used, but the name that they use for themselves escapes me. When it comes down to it, it's a bit creepy (not to say , tasteless) that the town has named itself for Chief Joseph, considering the history of the land (and, perhaps owing to the fact that I had just come from the battleground where they were attacked after being driven off the land, part of which is where the town is today). And, while on the subject of unpleasant things, the Manuel artist center (or whatever it's called--see the photograph, below) apparently insists on playing mind-numbing new-age music at all hours of the day--on a loud speaker that is audible blocks away from the building. I cannot believe that somebody would think that the beauty of the place (mountains, and flowers, and mostly attractive sculptures) would be enhanced by adding music. It's a very nice building, but really, now...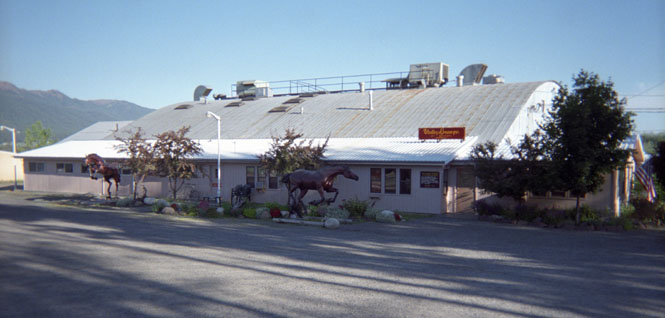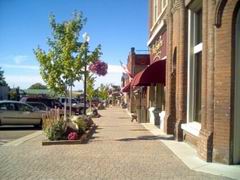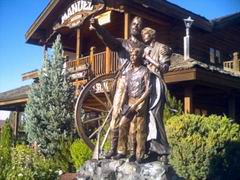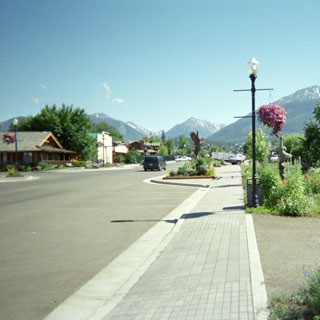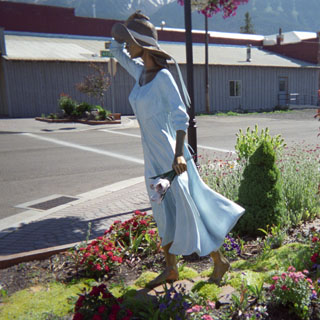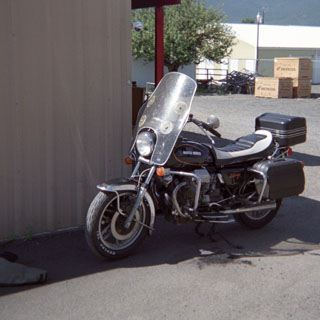 I needed to change the oil. Even though there's no reason the engine wouldn't be perfectly happy to do the entire trip without out it, I've rarely ridden over 3,000 miles without changing the oil. And, at 245,000 miles, I try to treat the old goose nicely.
So, I was happy (and, a little surprised) to see a Honda shop in Enterprise, and even more happy to see that it was open. The good shop that they are (this is the test), they were only too helpful to give me the oil pan and a funnel and let me do the work myself next to the shop. It takes less than 3 minutes to do the job (leaving the filter alone), so I was soon on my way again. I felt better for the motor.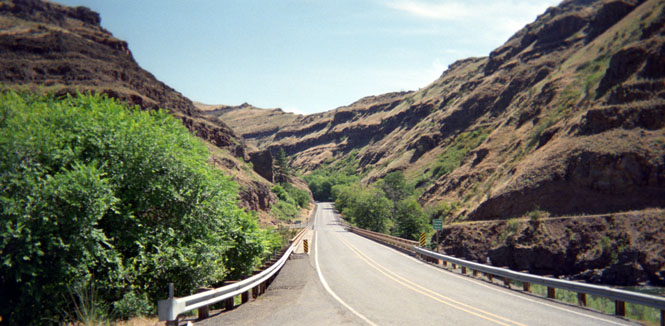 The road from Enterprise to Clarkston is a classic. One of the great roads in America, if only for the bit descending down to the Grande Ronde River and ascending back up on the other side. Nice, smooth, constant radius curves and amazing scenery. I stopped at the river (as is mandatory for all travelers) to enjoy a slice of pie (Boysenberry, this time). The owner of the Mini-Cooper (see photograph) sat at the next table. He drove specifically from Portland just to drive this road. I asked him about his car (it having just come out), and he was quite complimentary. I wondered how well he was treated by owners of real Mini-Coopers, and he said "Just fine", he owned two, himself. He loved the new one. I had to smile as he told me with excitement about the curves that I could expect further along. I had to tell him that I'd been here before. Nice road.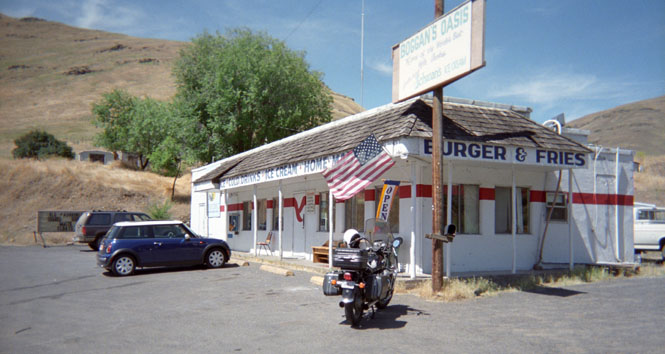 Washington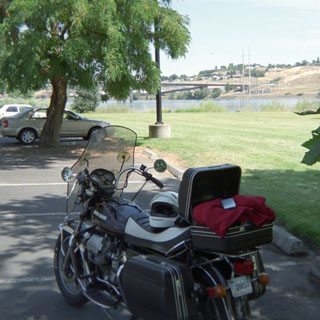 Staying on highway 129 I rode through Anatone (why is that sad looking town still here?), and then descended down a couple of switchbacks to Clarkston, Washington. I stopped at a nice rest area to catch up on my book, and to wait out (again) the worst heat of the day. I drank quite a bit of water on this trip (you can see one of my bottles resting on the red Polartec in the rear trunk). From here, I crossed the bridge (you can see it in the background), and generally took the most inefficient route getting back to highway 12 through Lewiston, Idaho. The highway isn't marked too well.
Idaho
There really isn't any other practical way to cross central Idaho except via highway 12. Luckily this is a very good motorcycle road. The route follows the Clearwater River, and the Lochsa River, and really becomes its best once beyond Kooskia. I probably saw more motorcycles on this road than at any other point in the trip. Looked like most of them were just taking day trips along the river. Other than a single stop for gas (and lunch) in Orofino, I didn't stop until I had crossed the state, and reached Missoula, Montana. Since I've been on this road quite a few times, I didn't bother with any pictures. Suffice that it's a nice road alongside a clear river with lots of boulders and the occasional rafting expedition. Of interest is that it was the route of Lewis and Clark, which I'd been following for much of my trip without really trying.
Montana
I've never really like Missoula. Seems I've never seen it at its best, and I'm always getting stuck in traffic jams at red lights that never seen to turn green. Anyway, I found a decent hotel, and took the opportunity of doing all of my laundry. I walked to a nearby restaurant, that looked (from the outside) about the caliber of Denny's. Except that my halibut dinner and pint of Guinness (my attempt at an English fish-and-chips meal) came to just under $30. No pictures of the hotel, and no pictures of Missoula.
The next morning, I had some decisions to make. There were a number of possibilities. One was to keep going east across Montana 200, another was to head north on '93 to Glacier, and possibly on into Canada. I elected to take the northern route, and if possible, to either cross over the Going-to-the-Sun highway to St. Mary, or at the least, to ride in the open-air busses that were not operating the last time I was in Glacier.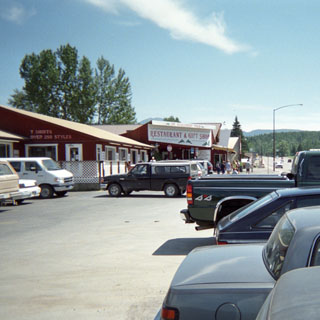 Of all the roads leading north into the park, the only bit that I hadn't been on was the section of '93 along the west side of Flathead Lake. The last time through this area, I took the road on the west side of the lake. So, that part was easy: through St. Ignatius, Polson Lakeside, and on into Kalispell. Kalispell is noteworthy for having at least 100 stoplights (it seemed to me) to get from one end of town to the other. Just outside the park, I stopped for fuel. I was planning to eat lunch at an adjacent cafe, but, the place was packed. Not a good sign. I walked back to the bike.
When I reached West Glacier, which is the resort town just outside the park (similar to the gateway towns just outside all the major national parks), the road was jammed. I looked left as I neared the park entrance, and saw cars backed up nearly to the intersection. And, I knew that the actual park entrance wasn't for another mile, at least. Perhaps the July 4th weekend is not really the best time to be visiting one of the major National Parks. Glacier may not be as popular as Yosemite and Yellowstone, but it's doing a good job of looking like it is. So, that eliminated crossing the park, or even riding up into Canada. Without slowing down, I just kept on riding along US 2. I did finally stop at the small town of Essex for my lunch. Turned out to be more of a bar than a grill, but the food was good, and not one Winnebago was parked out front.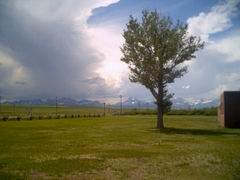 Browning, Montana is the center of the Blackfeet Indian Reservation. It's also a rather dreary place. Closed down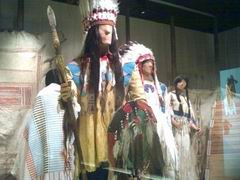 businesses, no hotels that I would want to stay in, and no obvious restaurants that I'd want to eat in. It is also the location of the Museum of the Plains Indians, which was started by the US Interior Department, and when first constructed, was likely a pretty nice place. Even so. Apart from the deteriorating building, and the displays that had not been changed in years, the displays that were there were stunning. I've never seen such a large display of native dress. Remarkable work. Most of it in very good shape. I hope it remains that way.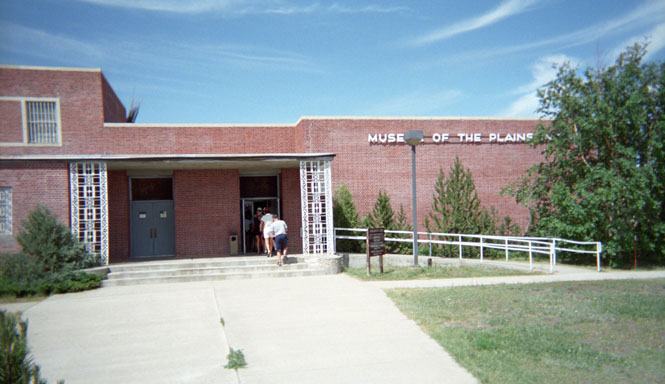 From Browning, I turned south on US 89 towards Great Falls. The interesting thing about this road is that the Rocky Mountains are constantly visible to the west (see the photograph, above of the museum), and that the land hardly looks like it has ever even been grazed. No fences. You almost expect to come over a rise and see an enormous herd of buffalo. I stopped at the town of Choteau for fuel, and still more water. If there had been any sort of clean looking hotel, I would have spent the night here. It's usually much better to stay in smaller towns that you can walk around in, than cities where the hotel is often at the edge of the city, too far away to walk anywhere. But, there was nothing here, so I continued on towards Great Falls.
The hotel in Great Falls was fairly close to the river, so I thought I'd just walk over to it to have a look. And, since I hate retracing my steps, I thought I'd just walk through the park, and return over another bridge to complete the circle. Well, 8 miles later (perhaps I exaggerate), I did just that, and managed to take a walking tour of some of the areas of town that the typical tourist does not see. What I didn't see were the actual Great Falls. I'm not entirely sure what is there, as the Missouri River has obviously been dammed. Perhaps there is some remnant of the falls below the dam. I'm not sure.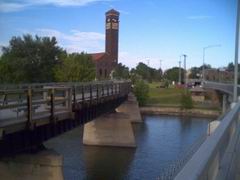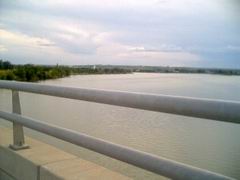 Next morning, I followed the Missouri River down to Ft. Benton. Historically, this was the end of the line for river boat traffic on the Missouri, and as such, was quite a bustling place, at one time (note the large, brick hotel in the photograph).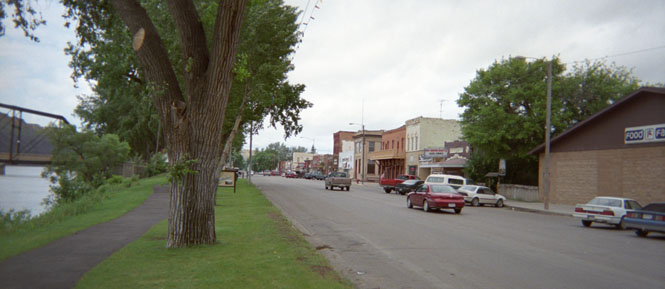 Not now, though. Even the main highway, US 87, misses the town by a couple of miles, so you really have to want to go to Ft. Benton, to be here. There's a very good Lewis and Clark center in town, which also serves as the jumping off point for canoe expeditions down the river. If you look at a map, you'll see that the Missouri River is virtually free of even any unpaved road access excepting for the crossing of US 191 100 miles away, beyond which the river flows into Fort Peck Lake. There were a couple of brothers who were getting advise from the rangers at the station before launching their own canoe. Based on the 'advise' that they were receiving, I can't help but think that the rangers do their best to scare off all but the totally committed. They clearly are trying to discourage the casual person who might think it would be fun to paddle down the river. It's pretty clear, that once you start down, the conditions are little changed from the time of Lewis and Clark, so you'd better be well prepared. The dog statue (Old Shep) is in commemoration of a locally famous dog who waited for the return of his dead master at the train station. A surprisingly common story, isn't it?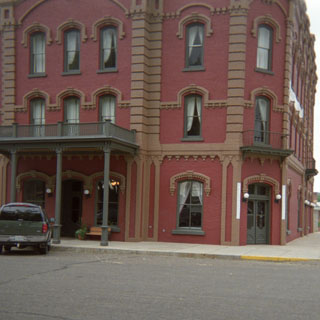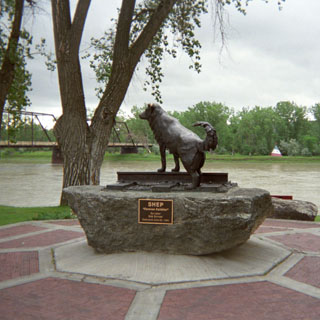 State highway 80 starts at Fort Benton, and immediately crosses the river to the southwest. I really enjoy this part of Montana.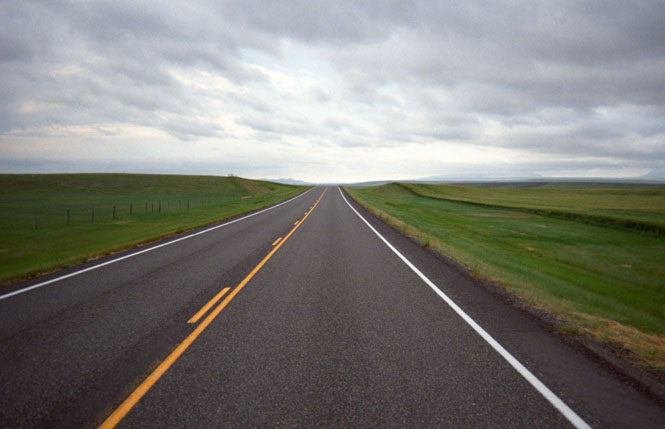 Rolling green prairie (even in July), very few fences, and mountain peaks all around. In this case I could just see the Bearpaws far to the northeast, and the Highwood mountains much closer to the south. At one point, I was so impressed with it all, that I just stopped on the highway and took a shot of the road. There's little danger of meeting any traffic. While taking the shot, I envisioned the picture as a computer desktop background so I made sure that there was enough room on top (in the sky) for the icons. And that's exactly what it's used for on my computer at work.

There were a few dirt roads crossing the highway, which left a trail of mud and goop after the rains that morning. Just at the moment that I crossed one of these, I passed a truck coming from the opposite direction, which splashed a huge amount of mud over me and the left side of the motorcycle. Mud covered half the face shield, and all the way down my side. Well. That's the dirtiest I got the entire trip.
I turned off on state highway 81 through Coffee Creek, and connected to US 191, which took me on into Roy.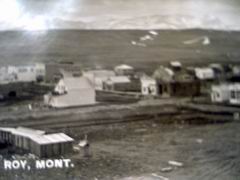 Roy Montana of course, is something of the homeland (it often seems to me) of the Kalals. Certainly, of our wing of the family. My trips through this area have been infrequent, and always (I'm sorry to say) without much warning. I parked the motorcycle on Main Street, and walked across town to the northwest corner to the home of Dick and Carley (my 1st cousin, once removed) Graham.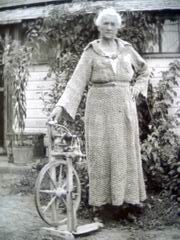 I had no reason to think that they'd be home, but Carley met me at the door, and--much more surprising--recognized me immediately. Carley made the three of us some lunch (many thanks), while Dick played a bit on one of the violins that he made himself. Later they took me through some of the storage buildings (it helps to be well organized--Dick and Carley are), and Carley opened a box to show me a large quilt made from men's suit fabric samples that Grandma (my Great-Grandma) Kalal (photograph) had made for Dan, but was never able to deliver to him. That quilt is now in my guest rooms. Also, Carley had several of Dan's old text books and a memo book full of his writings. Those books are now with Becky. Many, many thanks for keeping these things so well all these years.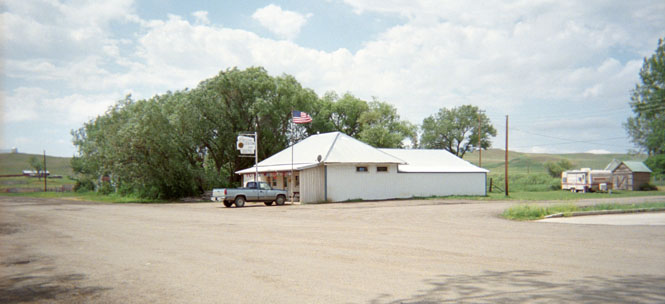 The American Legion Hall. Dan Kalal was one of the charter members, and on an earlier trip here, Dick Kalal showed my his entry in the member's book. I checked this time (so that I could take a picture of it), but nobody there knew where the book was.
The Wass Mercantile.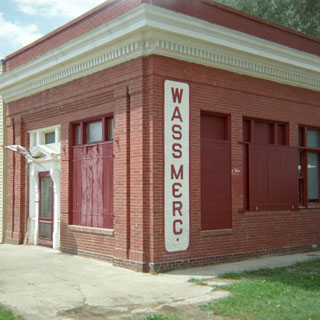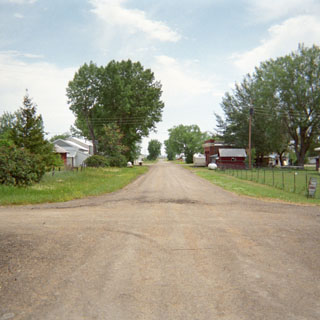 The view south on Fergus Street, not far from The Graham's house. The cross street is probably 1st street.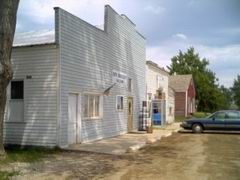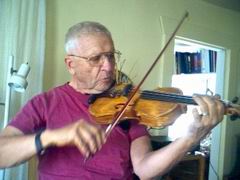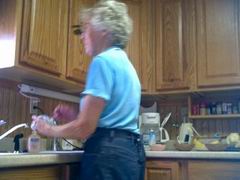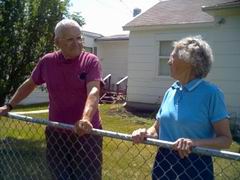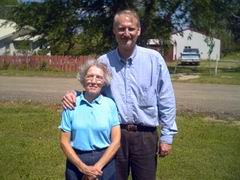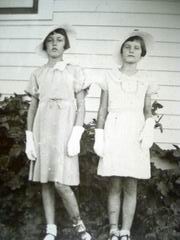 Cousins: Carley and Ruth.
From Roy, I dropped down to Grassrange to fill up, and then headed out on Montana highway 200. I met a man, there, who was riding around on an old Honda Helix scooter. Seems he's put quite a few miles on the thing.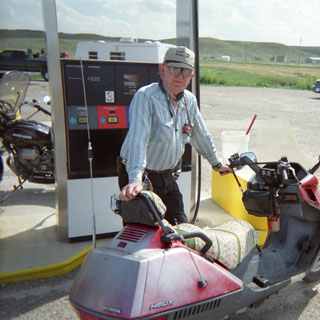 There's not a whole lot of anything between Grassrange and Jordan. But, I spent most of my time keeping an eye on a tremendously large thunderstorm that seemed to be following me, and even seemed to be curving around me (the photograph was taken in Sand Springs while the storm built up to the west).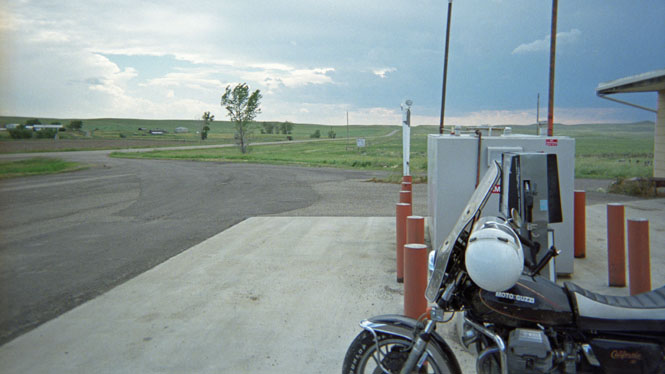 Eventually, it seemed prudent to turn south on '59 towards Miles City to put some distance between it, and me. Even so, the sky turned pitch black behind me, and the winds were starting to get very gusty, from all directions. Not long after I pulled into the motel in Miles City, everything let loose, and the storm howled all night. I saw quite a bit of damage done to trees and signs the next morning, but I managed to escape it, entirely. By the way, after nearly running out of gas several days earlier, in South Dakota, I wasn't taking any chances on these remote roads.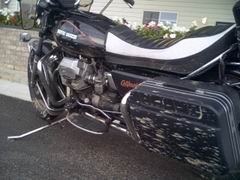 If I saw an open station, and I had at least 50 miles on the clock, and there was no telling how much farther I'd be riding, I stopped.
I probably spent about 30 minutes (reading) in the restaurant that you can see in the photograph below, before realizing that no waitress seemed in any hurry to pay any attention to me. So, I drank my glass of water (left no tip), and walked a block away to another restaurant. In the other photograph, you can see just a bit of the mud bath that I took earlier that day.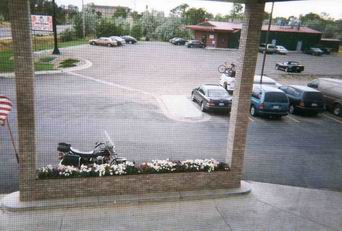 I had a coupe of options, the next morning: either go south on Montana 59, a road I've never been on, and looked pretty interesting; or, head east on US 12, and ride through a corner of North Dakota. I chose '12' since this would give me a chance to pick up just about the last few miles of this highway that I haven't been on. US 12 runs from Aberdeen, Washington, through Walla Walla, across Idaho, and Montana, and ends up in Detroit. Once I catch those few miles in Minnesota, I'll have it all. Well, there are worse reasons for selecting a route.
North Dakota
I crossed into the state at Marmarth, and, except for stopping for gas in Bowman, kept on riding across the state line to South Dakota.
South Dakota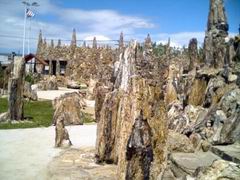 I stopped at Lemmon, just for a short break, but stayed much longer going through the Petrified Wood Park and Museum. Frankly, it's more of a museum of a 1930's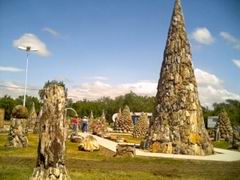 roadside attraction than anything to do with Petrified Wood. Nobody in their right mind would do anything of this sort today. There can be no question, that the good people of Lemmon would have done better, in the long run, to promote a natural Petrified Forest State Park, with the 'wood' in its natural setting, than by loading it all up into a flat bed truck and building this park. An amazing thing, though. And, just a little weird.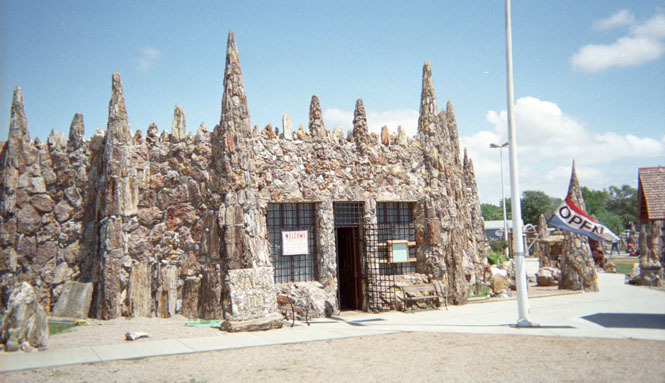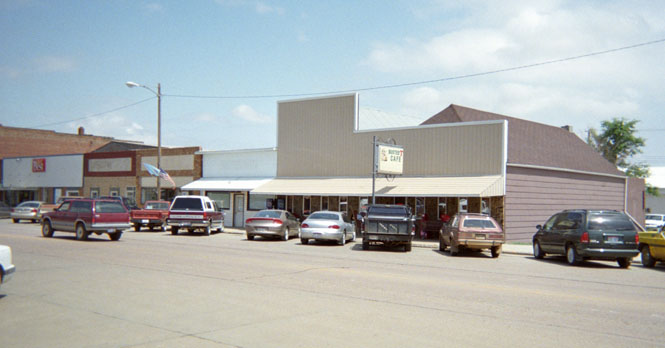 Just east of town, I hit the worst road outside of Yellowstone. Much worse, really. The highway was completely torn up for quite a few miles. The dirt and gravel part that you see in the photograph wasn't all that bad. It's when I had to ride through the soft dirt in the ruts cut by the earthmoving equipment that I began to wish that I had taken another route at Miles City. At times I was riding at a walking pace trying to keep the front wheel pointing in approximately the correct direction through the deep sand and dirt and ruts. I am grateful that it wasn't raining.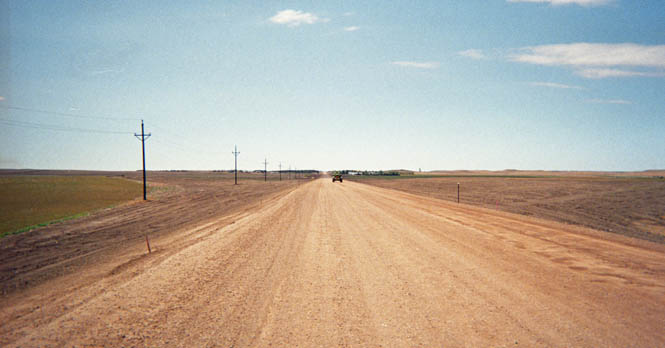 Once through all this, it was clear sailing all the way across the state to Aberdeen. I seriously thought about continuing on to Minneapolis (see above, for reason), but thought better of it. It was time to turn south, and ride home.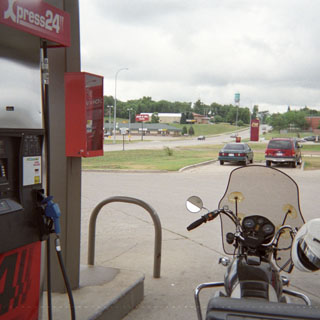 The next morning, I did ride east for just a bit, to Webster before turning left. I'd already been on the north-south route through Aberdeen, and I hadn't been on all of the road from Webster to Yankton, South Dakota, so that's what I did. Quite frankly, the scenery isn't all that much different, no matter which road you take. It's all gently rolling green farmland, with the occasional small town. All the roads here follow the section lines. Nice area, really. I like it.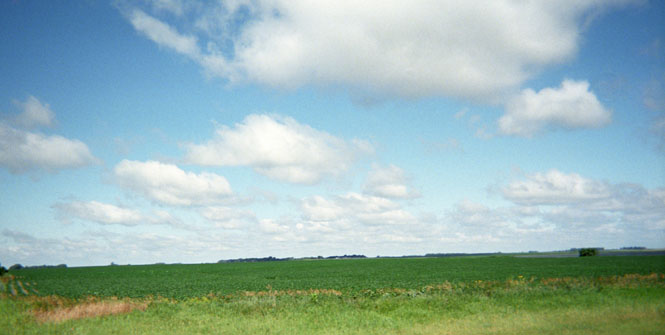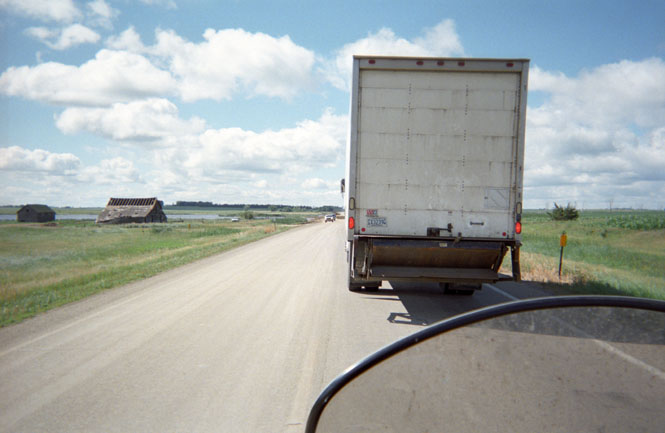 Staying on '25' I stopped at the small towns of Alexandria and Emery, looking for an open restaurant. I found one that wasn't too awfully bad. The empty lot in the photograph, is not really empty, at all. It's a city park dedicated to their most famous son--Sparky Anderson. I see that the concrete pad under the picnic table is in the shape of home plate. Not a real inspiring place. I wonder of Sparky was there for the dedication?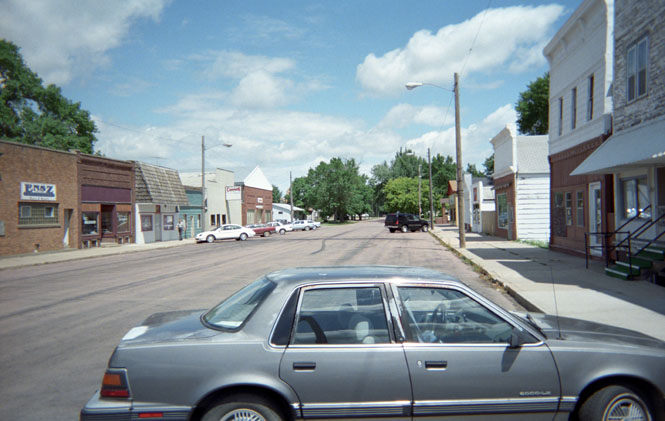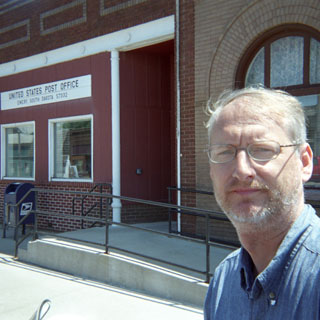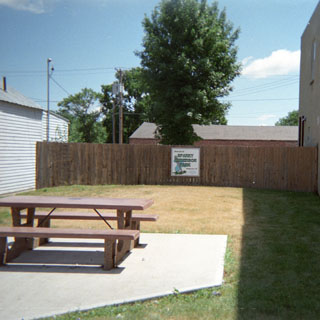 As it was yet another too hot day, I stopped at the riverside park in Yankton, South Dakota. Can't say I look too cheerful in the picture. No matter.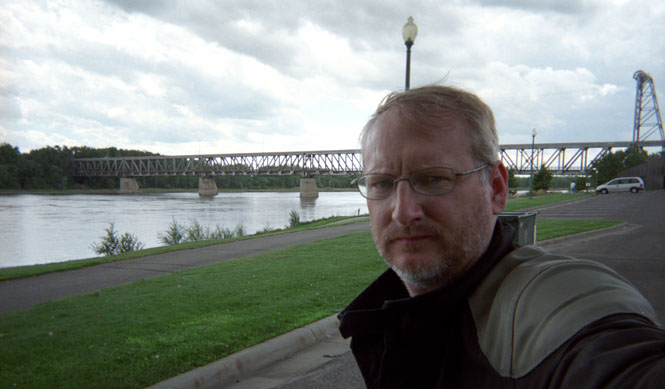 Nebraska
South on US 81 through Norfolk (home of Johnny Carson--as they are only too insistent on proclaiming), and then to York, where I spent the last night (there's a Chinese restaurant in York, not far from the Interstate. Avoid it).
Kansas
It's not all that far from York to Wichita. I was home for lunch.
Quite a nice trip, really. Those last 500 miles, regardless of the direction, often seem to be the hardest, as I'm riding over well-known roads. But, I saw quite a bit of new territory, and added still more roads to the collection.
Except for the first day's little incident with the front wheel bearing, I didn't have any motorcycle problems on the trip. I probably drank a couple of gallons each day, but I packed enough water on board to take care of that. Not much rain, and it wasn't unwelcome. Good trip.
last edit: 3/27/2007