December, 2002

A trip by Awanna and Daniel to Carlsbad Caverns. Little was planned beyond that one destination.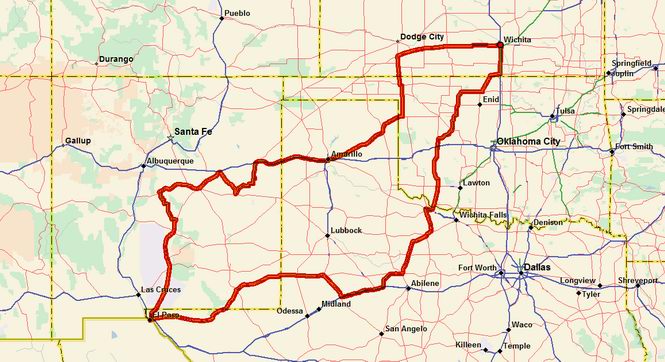 A word about the photographs: Three cameras were used 1) point and shoot with color film, 2) SLR with b&w film, 3) PDA with a camera attachment. The resulting prints (from the first two) were scanned in with varying degrees of success.
Oklahoma
South through Oklahoma and into Texas.
Texas
The day started clear and cold.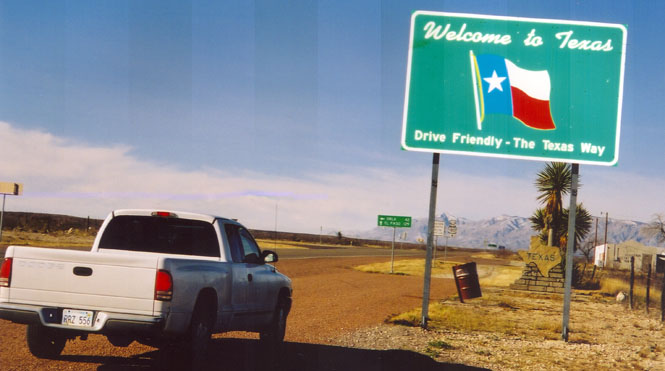 The next morning (in Abilene, TX) there was snow on the ground, and it was quite cold. It would remain pretty cold for much of the trip (we were well-prepared for it).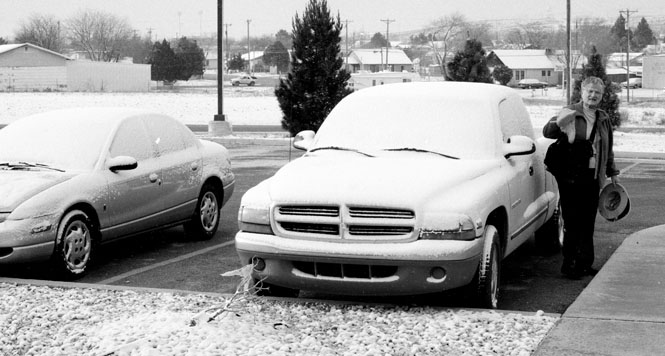 New Mexico
Carlsbad, NM, at the Living Desert Museum and Zoo. There was a mountain lion in one of the enclosures. They're much larger than you might think!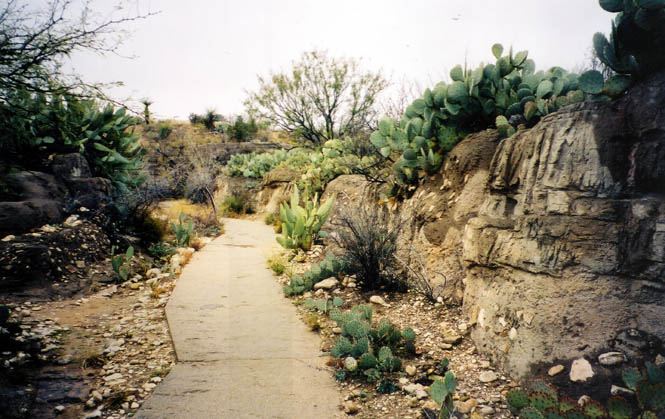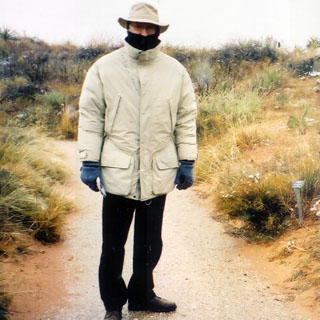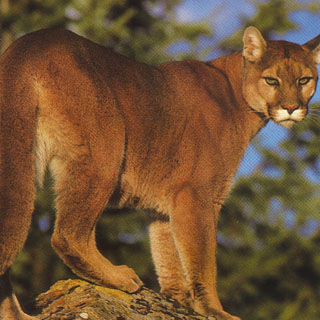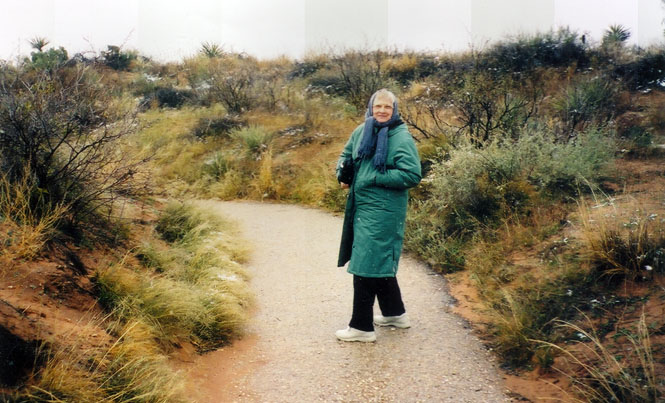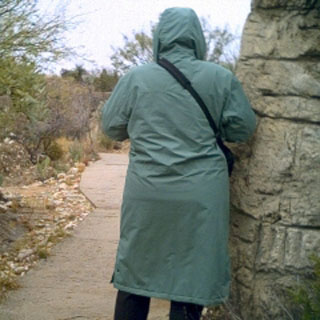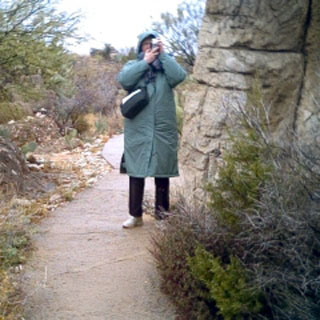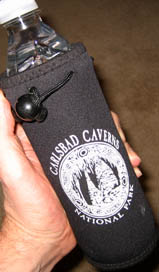 Carlsbad Caverns National Park is not far south of the city of Carlsbad. We bought tickets for the next day, bought water bottle carriers and ate lunch in the restaurant. We'd come back the next day to actually descend into the caverns.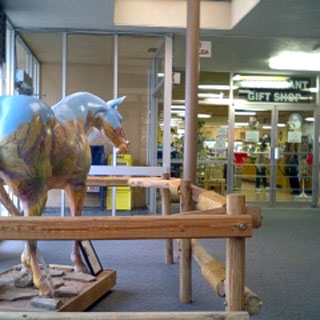 The Carlsbad Museum and Art Center. We saw the rudder position indicator from the USS New Mexico Battleship, which Joy Laughlin served on when he was a Marine.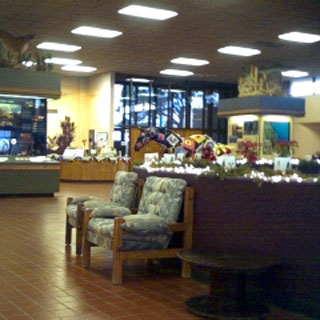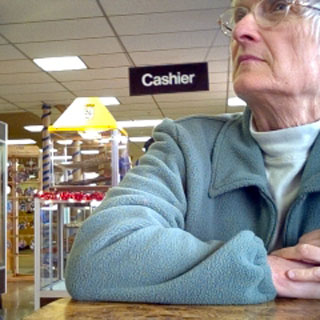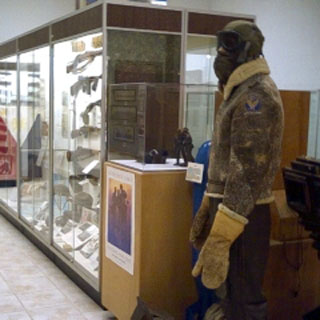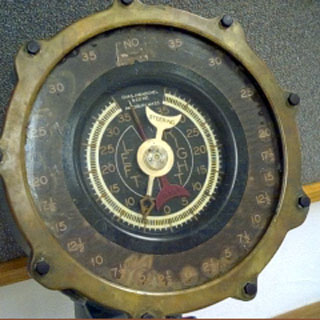 The next morning we were early at Carlsbad Caverns. We went down on the elevator because the outside entrance was closed due to ice and snow on the path. We took the "Big Room" tour.
This is also the entrance used by thousands of bats (hence the amphitheater seating).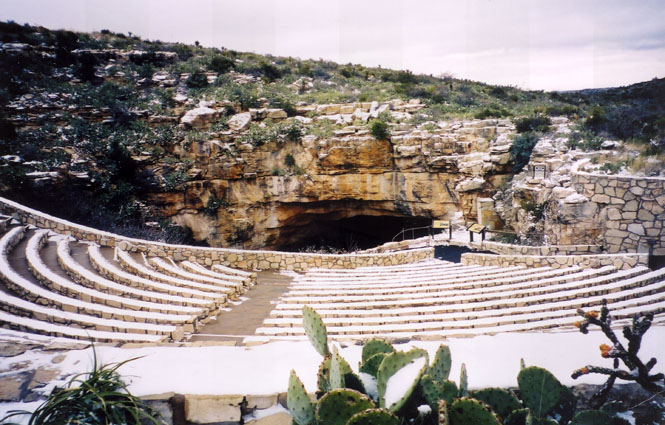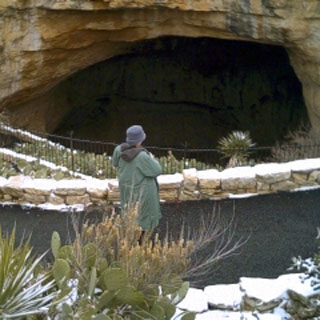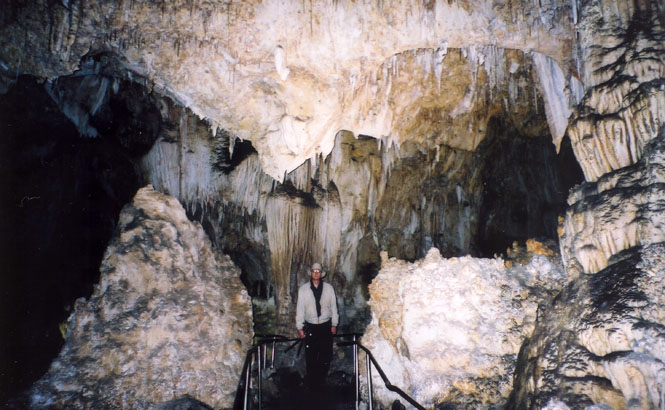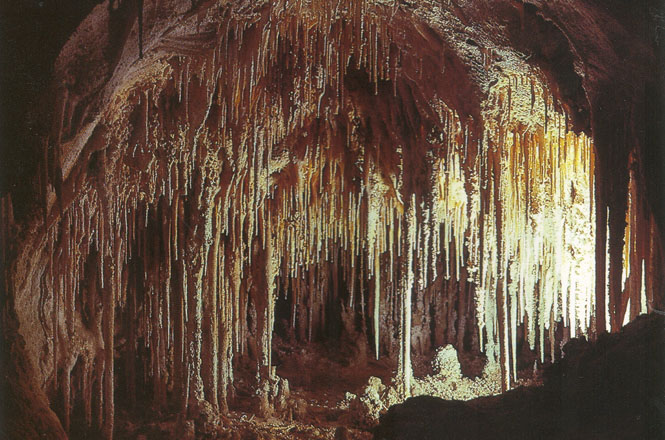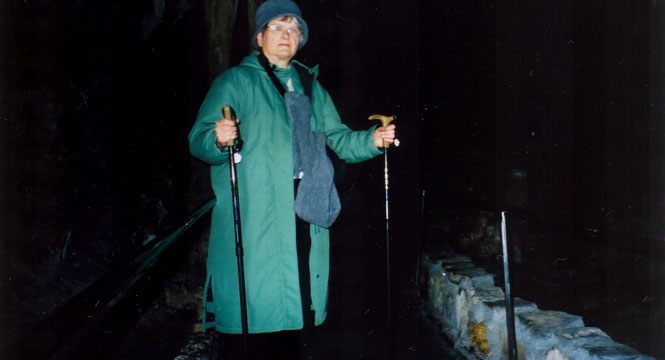 The view looking straight up (using flash).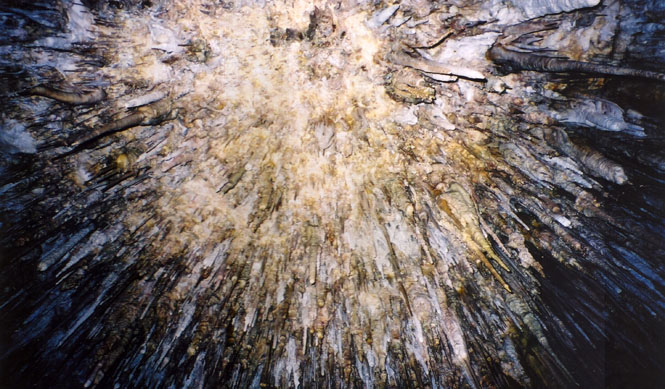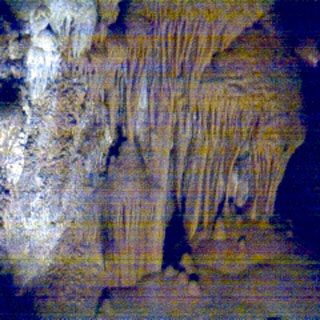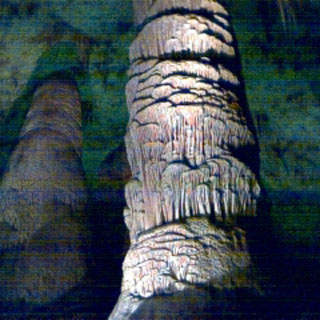 Lunch was in the cavern lunchroom--well underground, and a rather gloomy place to work.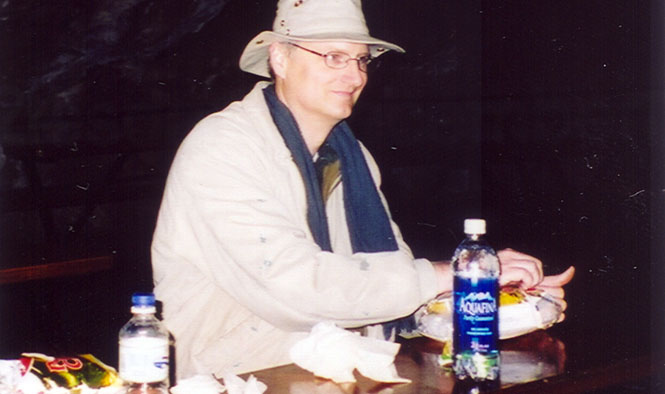 The Outside Entrance was now opened (after the snow had melted or been cleared). Daniel returned into the caverns through this entrance, and on the way saw a ringtail cat.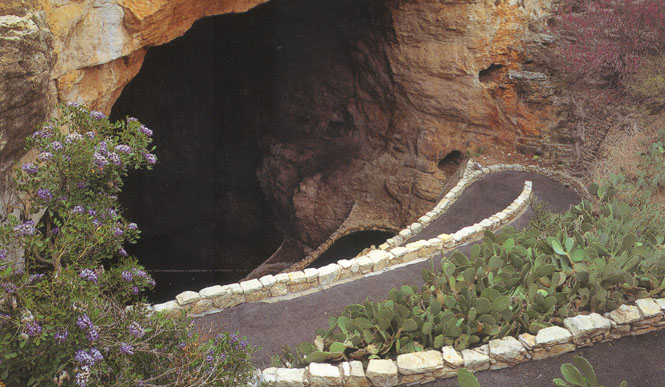 Back in the visitor center (at the top of the elevator shaft).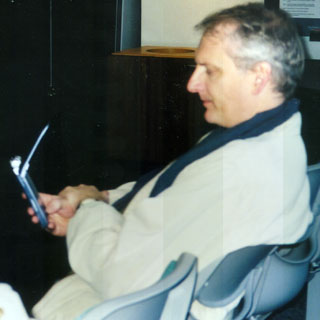 The Million Dollar Museum of White City. Included in the ten rooms were fifty antique European dollhouses. Also were skeletons of an "alien" baby, a small Indian and a two-headed snake. It's a type of once-popular museum that is slowly disappearing.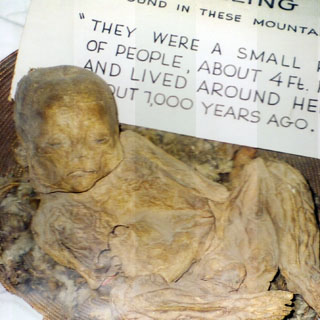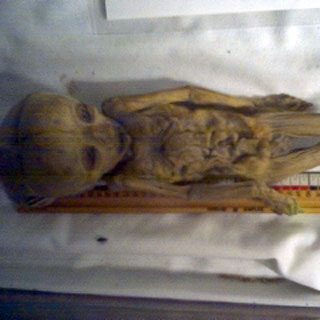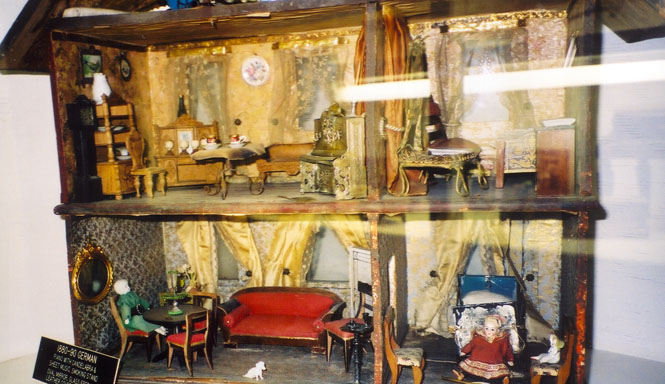 We have yet to see a javelina in the wild (nor a two-headed snake).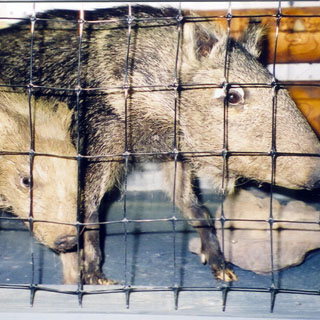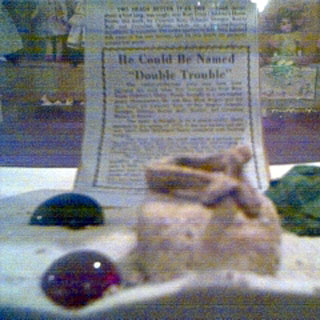 Slaughter Canyon (15 miles south of Caverns). After a very cold picnic lunch, we hiked the trail.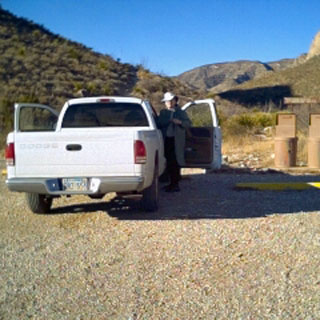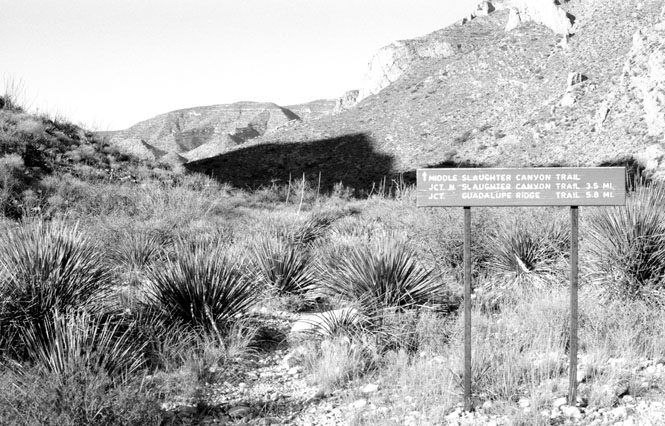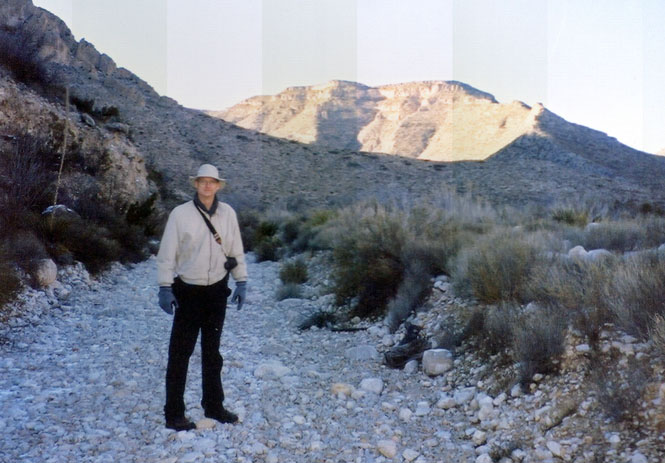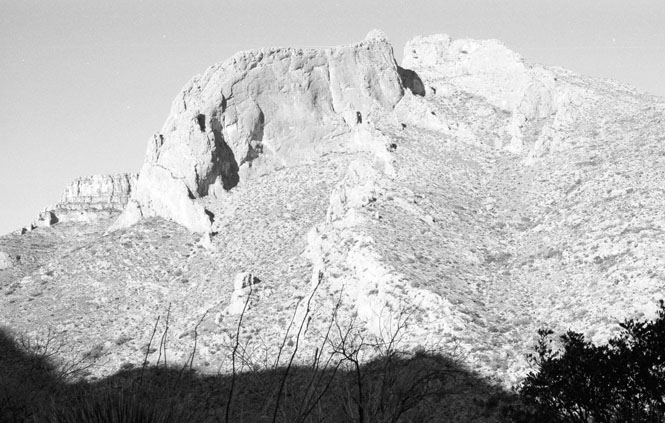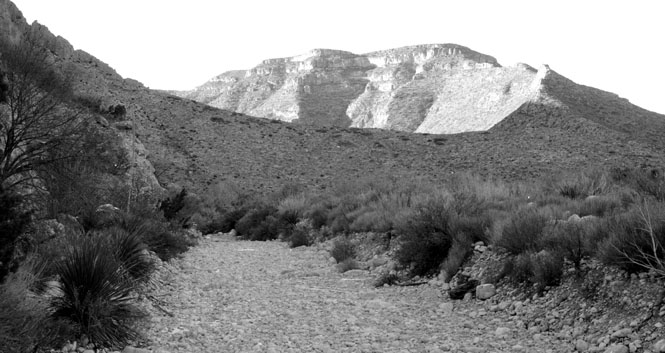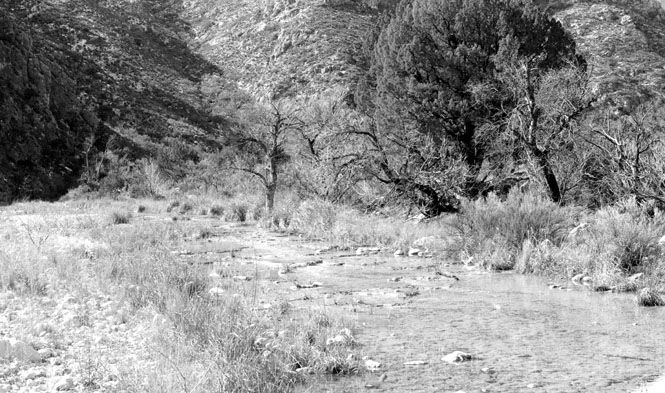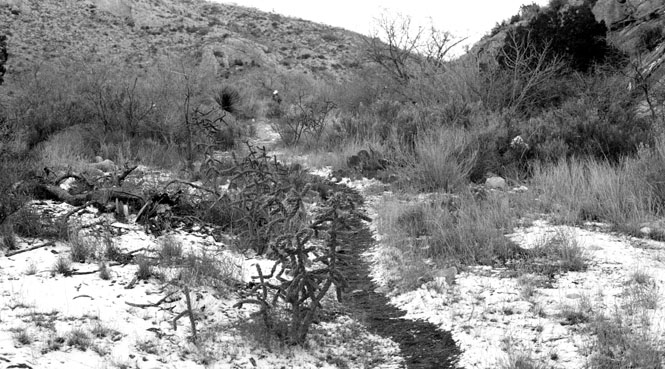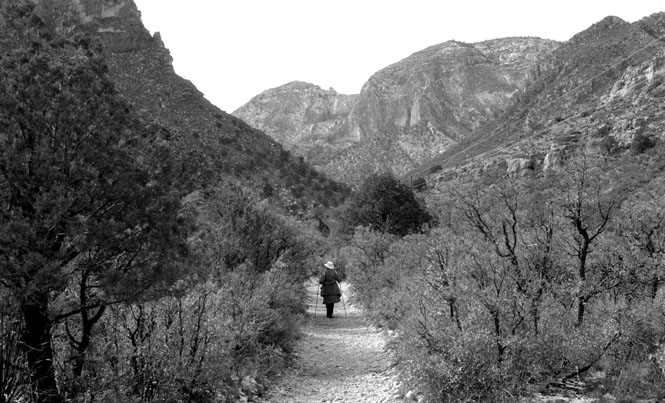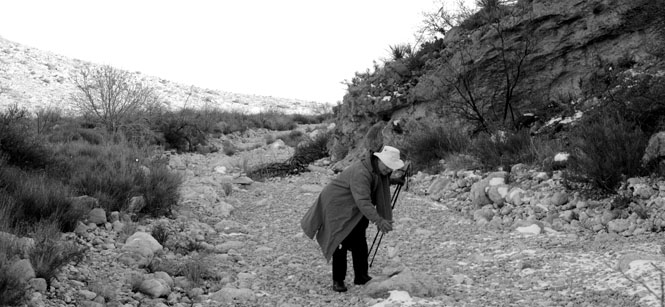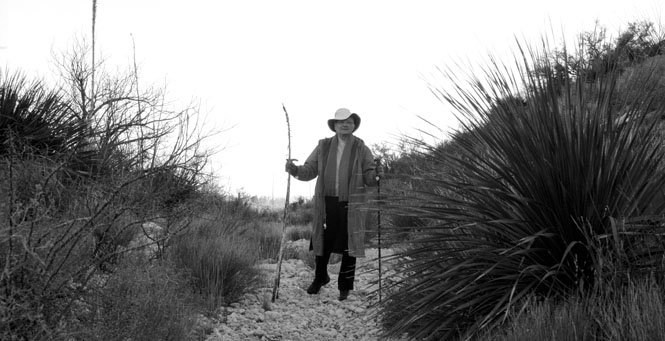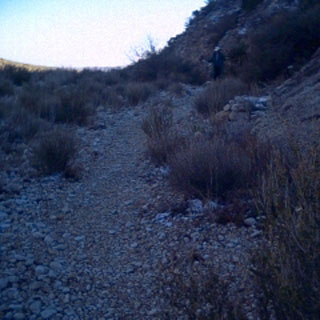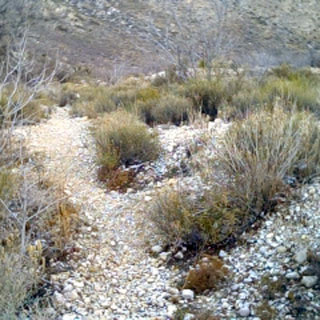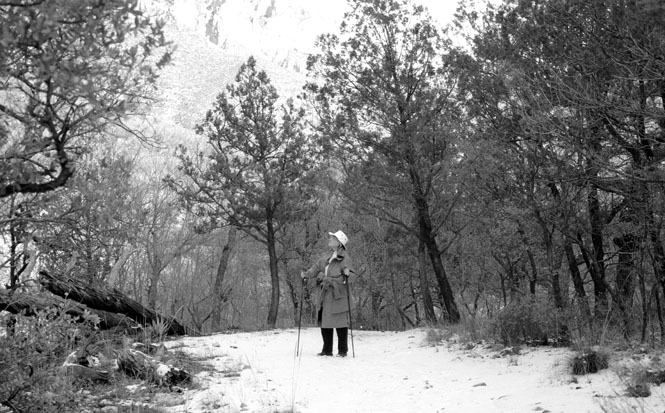 Christmas Eve at Carlsbad, NM (our second night). The Comfort Inn room had no table and only one chair, so we brought in folding picnic chairs from the truck and re-arranged some furniture to set up our small travel Christmas tree.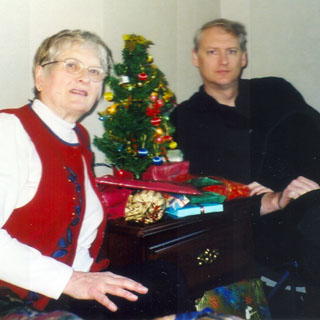 Texas
Guadelupe National Park. We hiked the 4.6-mile round trip trail to Pratt Lodge in McKittrick Canyon. Total time: four hours.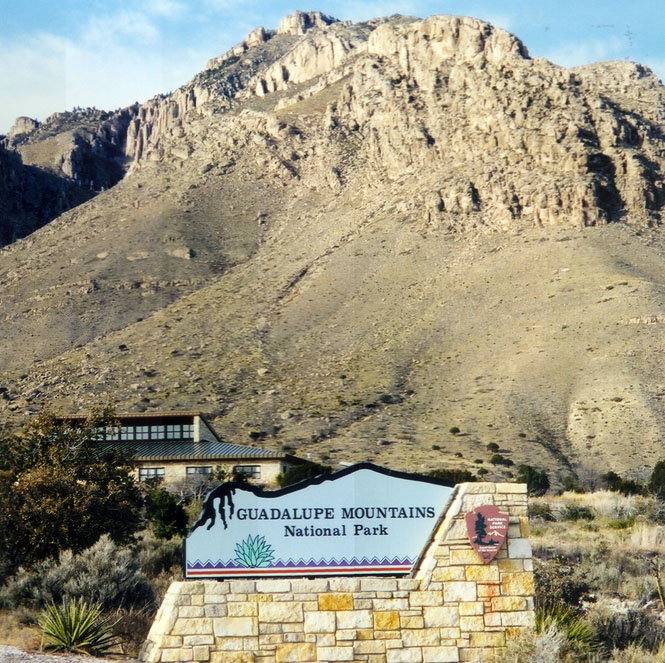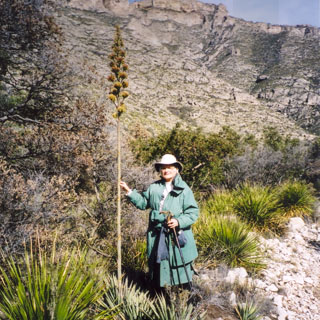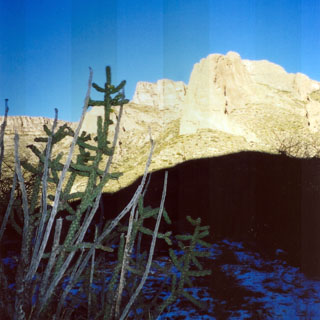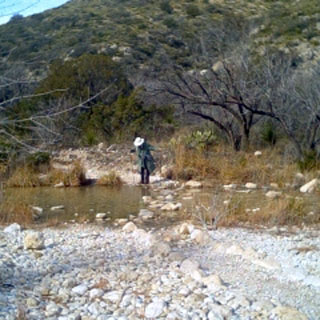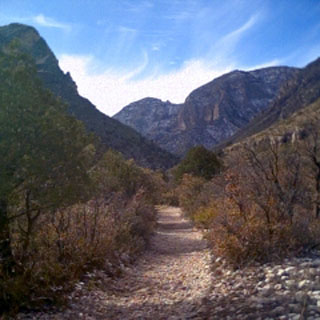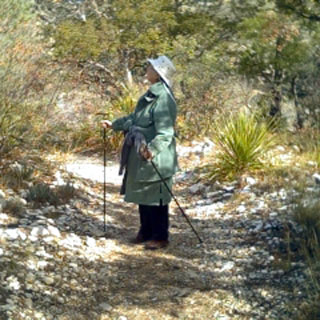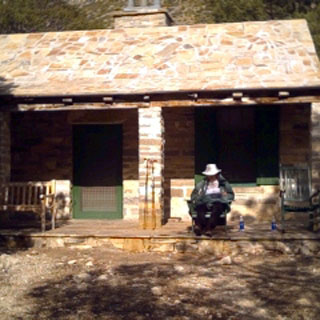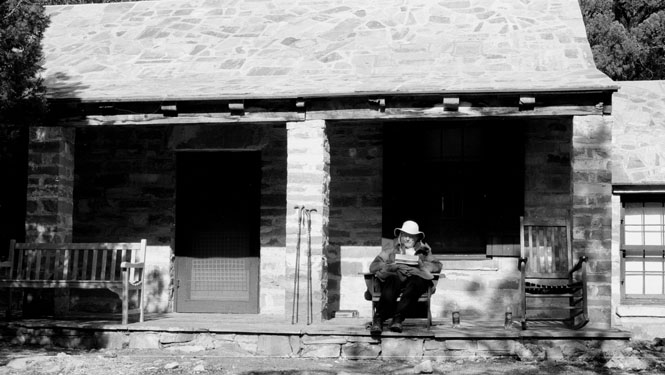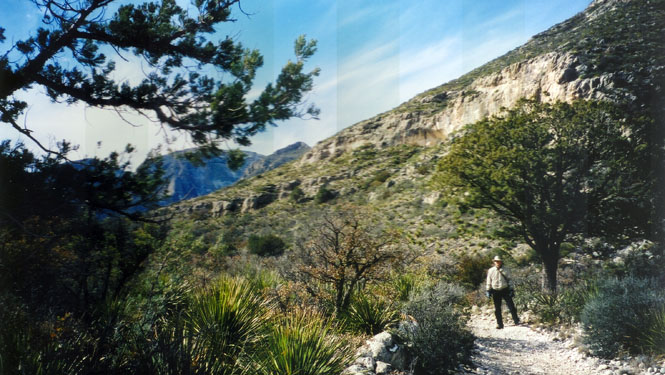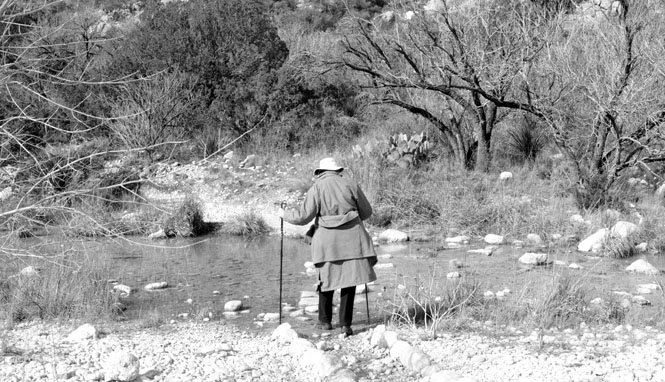 That evening we drove south and west to El Paso, TX. The Museum of Art had a visiting Renoir exhibit.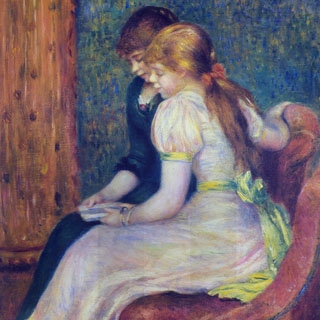 We walked to San Jacinto Plaza, which dates from the 1800's. For unclear reasons, alligators were kept in the plaza until the 1960's.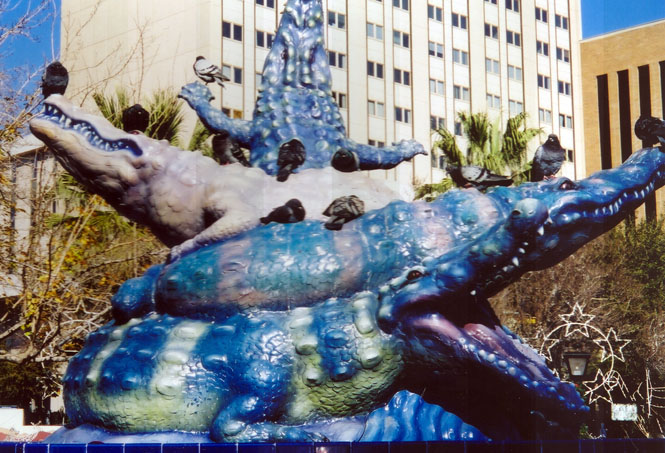 We walked over the Bridge-of-the-Americas to Juarez, Mexico (25 cents). There were many vendors and window washers approached most of the slow moving and stopped cars on the bridge.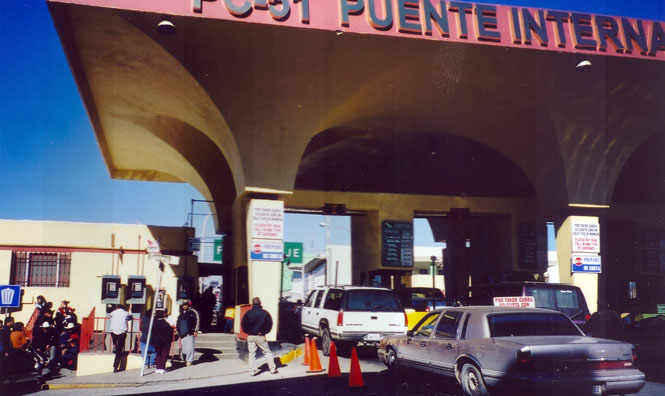 Mexico
Juarez, Mexico. Drug store employees were insistent to sell us Fosmax and Viagra. We were approached several times by taxi drivers offering to take us to the plaza for shopping.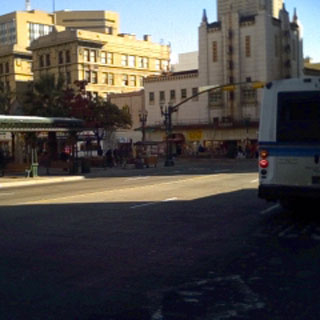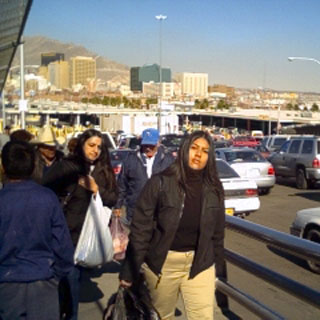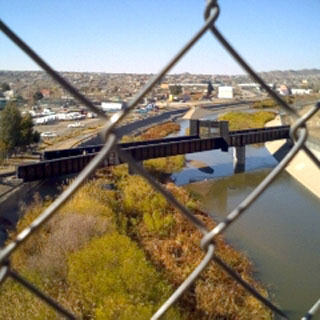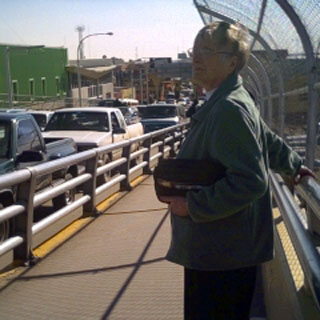 Walking in a slow moving crowd back over the bridge to U.S. Customs (25 cents, again).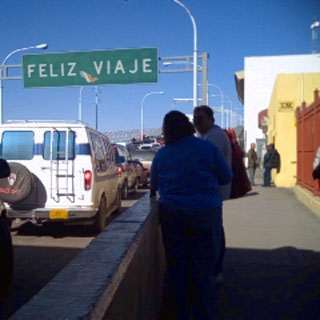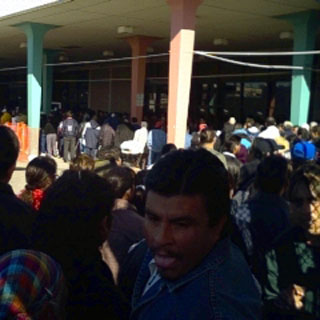 New Mexico
White Sands National Monument. We hiked and slid down snow covered sand dunes. There was a 2 inch layer of clean white snow on the equally white sand. Very rare.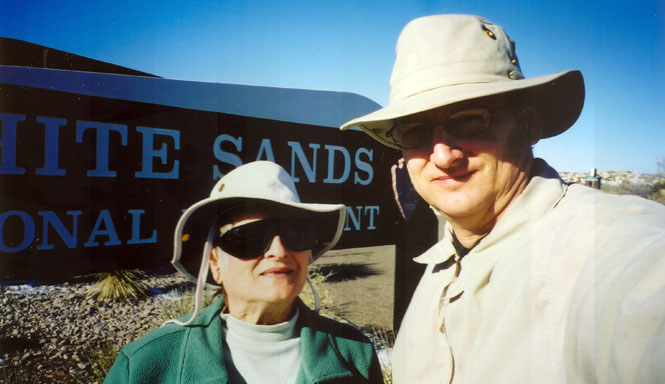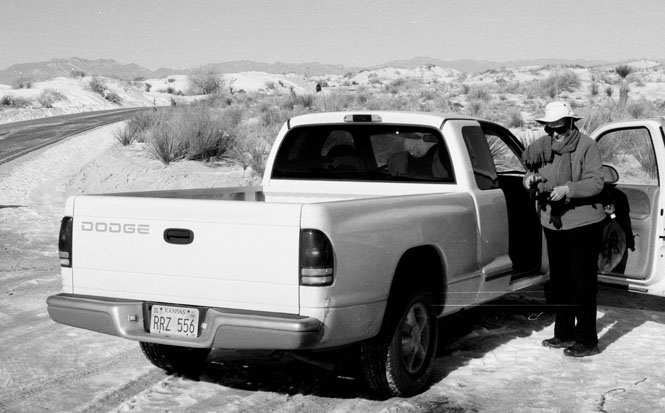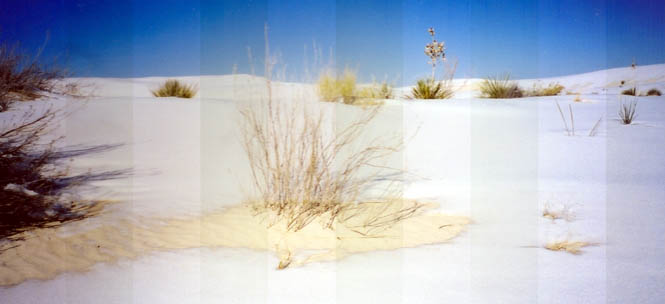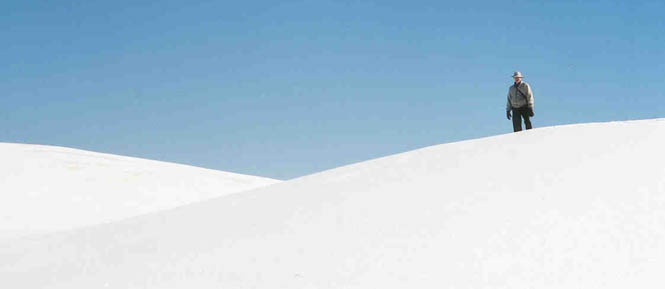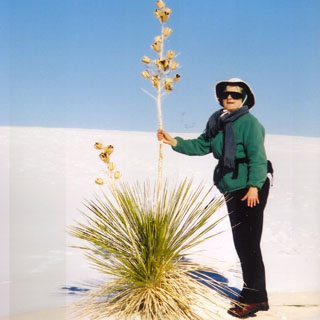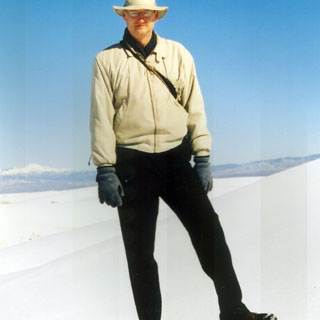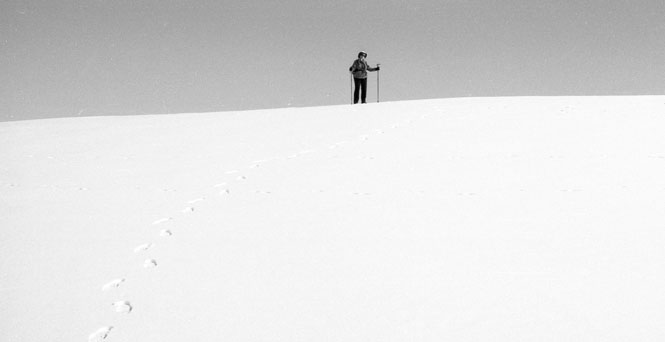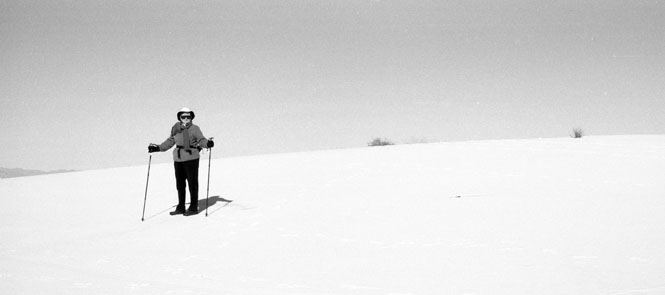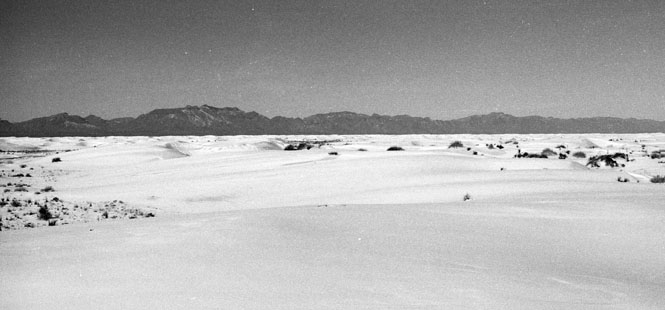 Salinas Pueblo Missions National Monument--Gran Quivira and the San Buenaventura Mission Church (ca. 1659 – 1672). The Tompiro and Tiwa Indians were here.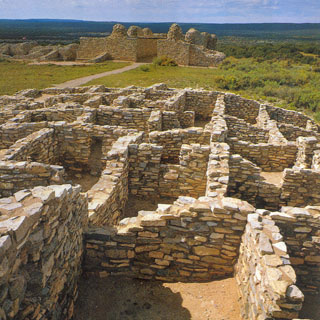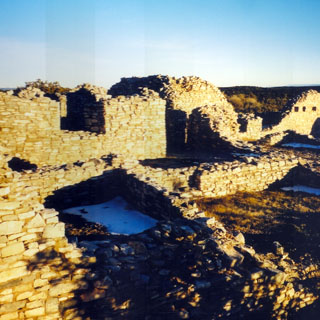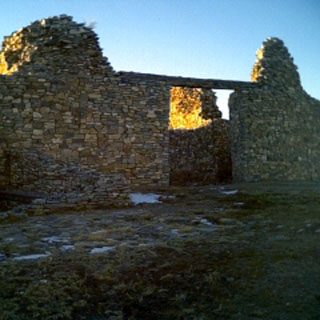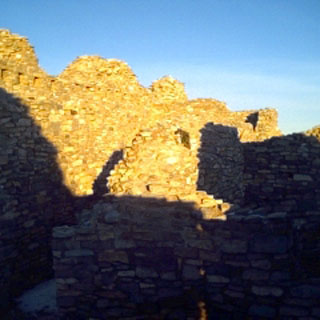 Stopped at Mountainaire, NM., but we did not stay in this motel. We waited quite a while to be served or even recognized by the clerk. Meanwhile, read a large hand-lettered sign entitled "You Should Be Ashamed." ___ stole 8 towels. __ stole two washcloths. ___ stole a television and the police are involved. ___ Construction Company from Sacramento burned a pillow and bedspread and slashed a bedspread. etc. etc. Decided to continue on for something better...
Puerte de Luna on SR 91. Site of abandoned Spanish settlements. Coronado camped here to build a bridge across the Pecos River. There were a few rundown houses and the church.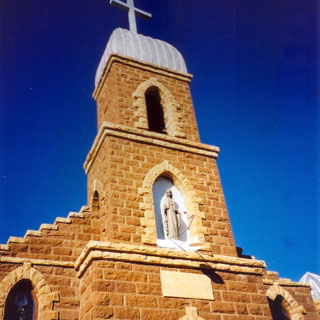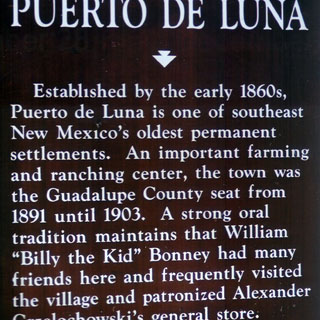 Questa Road SR 91. This is a narrow dirt road over rough hills to connect with SR 84. We had a picnic lunch on top of one of the hills.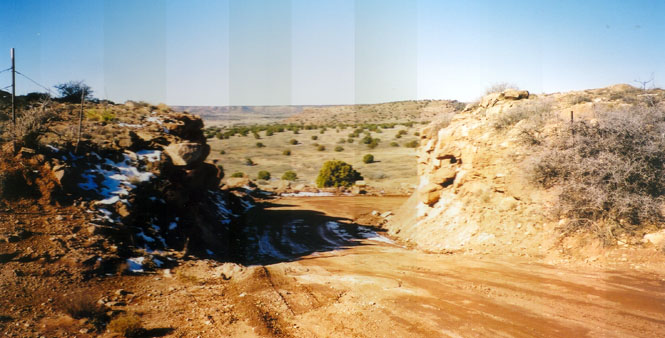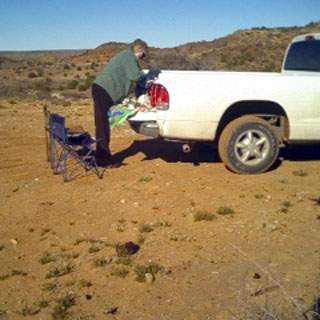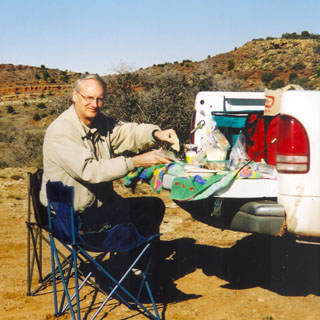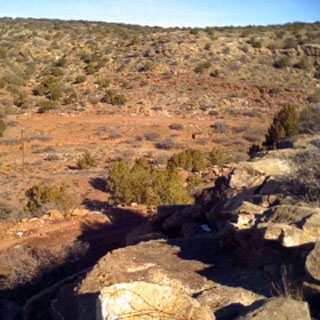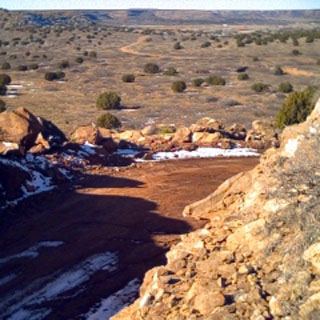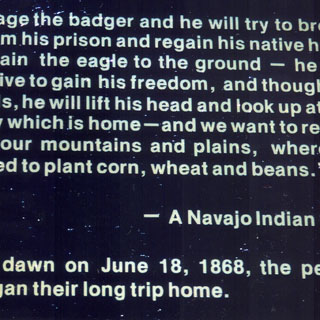 Fort Sumner. In 1864, the U.S. Army led by Col. Kit Carson rounded up and forced more than 8,600 Navaho Indians in Arizona to walk the 400 miles from their homeland to the location of the fort, which they were then forced to build, themselves.
Thousands died along the way. Stragglers, such as pregnant women and old people, were reportedly shot. At the Fort, many more died of starvation. After five years, a treaty was signed and the remaining Navaho were allowed to return home. There was no point to any of it.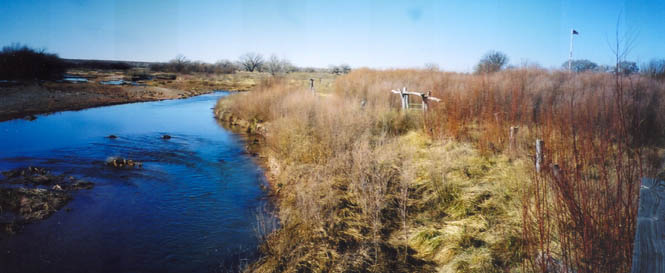 Billy the Kid is buried (within the cage) at Fort Sumner.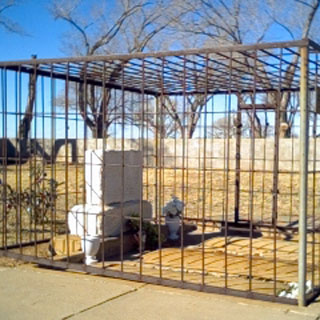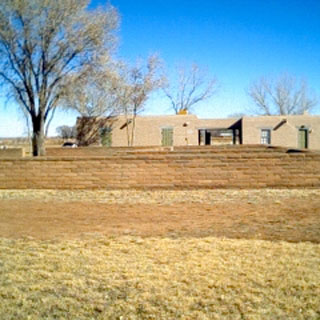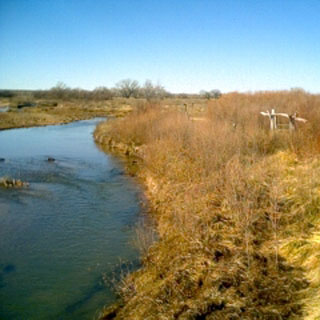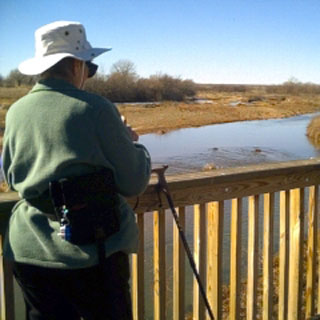 Commemorative rocks brought by descendents of those who were here.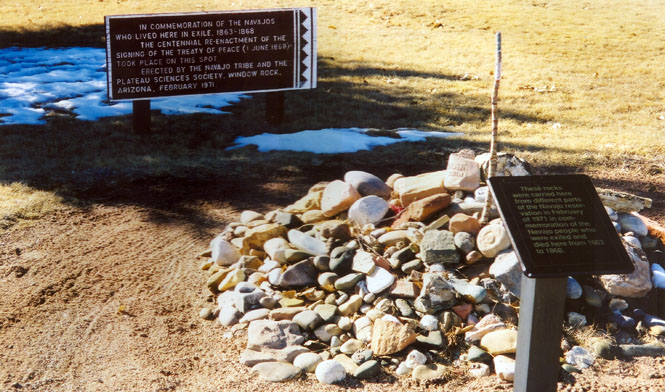 Ragland, NM. Not much is left.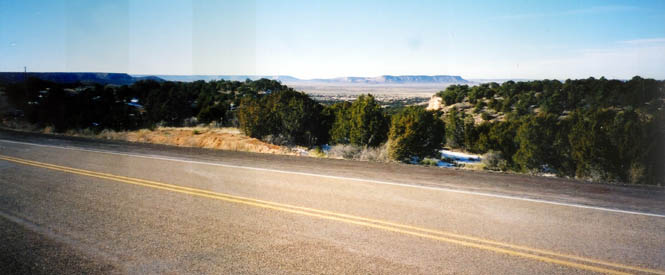 Tucumcari City and (another) Route 66 Museum.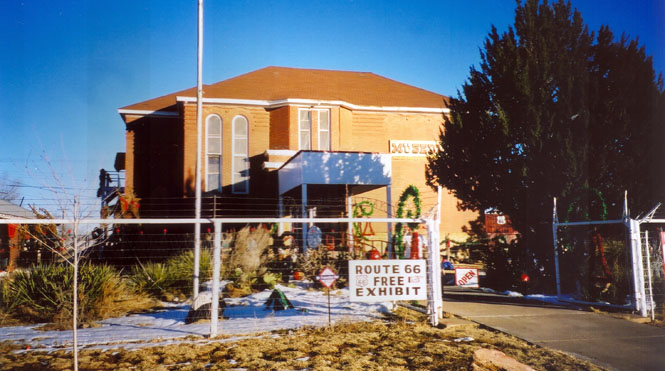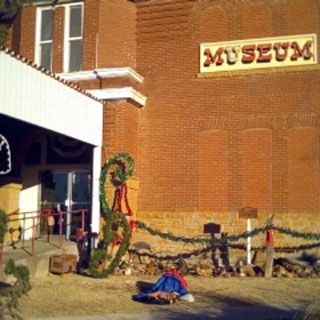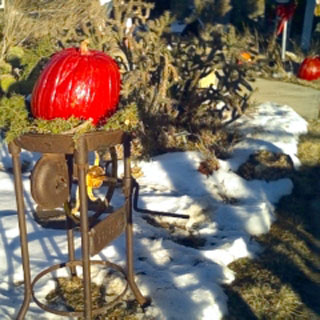 Oklahoma
Shattuck,OK. We saw signs for three separate cemeteries: Lutheran, Adventist, and Baptist in addition to a city cemetery in town.
Shattuck, OK. Windmill Museum. That had a furnished, sod house with a cat door, along with a homestead house. Nicely done.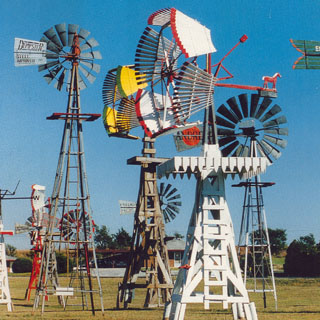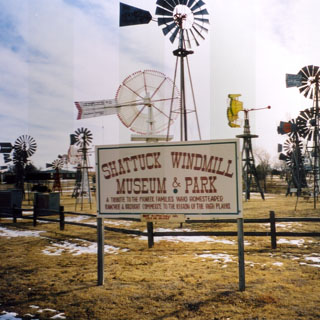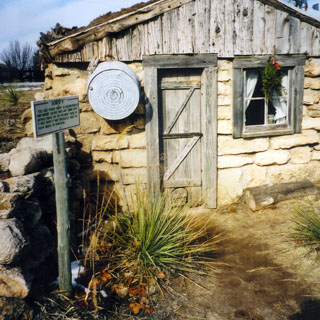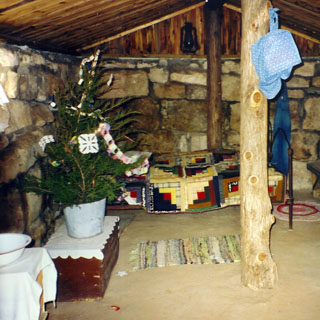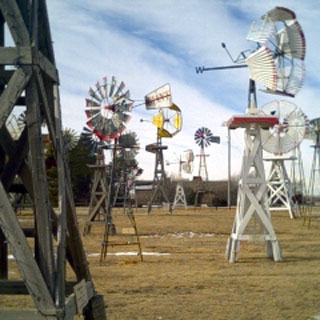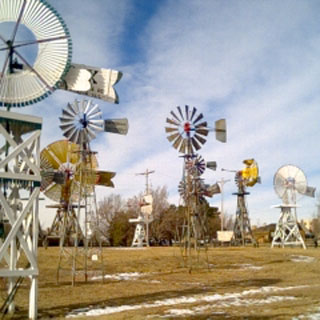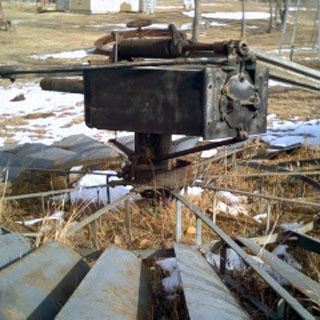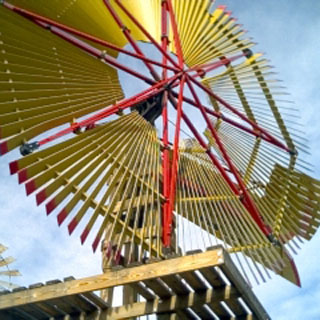 Sunday buffet at the Whistle Stop Café, where we talked to the newspaper editor, who unlocked his gift shop for us so we could buy postcards.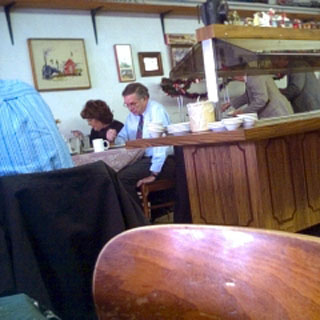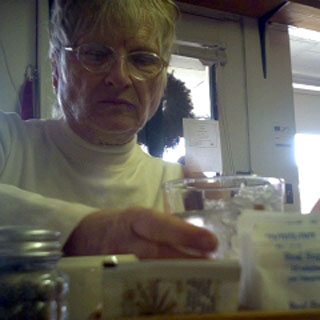 Bucklin, KS. Yard with interesting creations, including a large chicken covered with real feathers and a large cactus made of horseshoes.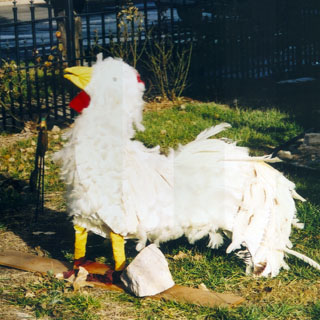 Kansas
Mullinville, KS. Hundreds of folk art roadside signs and figures made by M.T. Liggett. It's nice (and even perhaps necessary) that there are people who do this sort of thing. But, frankly most of his art was so mean-spirited that it's also nice that it's not nearby...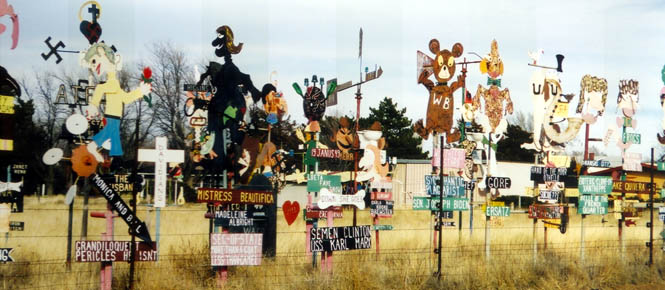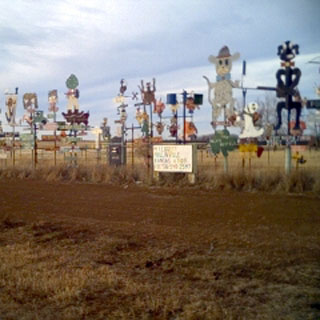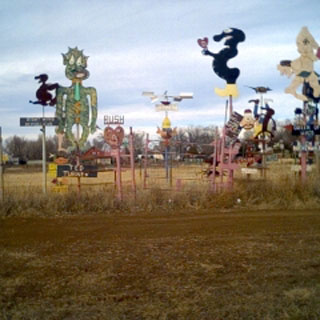 Total miles: 2,247.
last edit: 6/15/2008