April 2, 2005

I had been to the far northeast corner of New Mexico some years back, but I have never ventured west along the Cimarron River to Folsom. On that first trip, I was heading generally towards Taos, and didn't have time to spend on dirt; and anyway, the road south was a new one, too.
So, for this trip, I made it the primary goal to ride from Kenton, Oklahoma to Folsom, New Mexico. If there were other places, I'd sort that out along the way.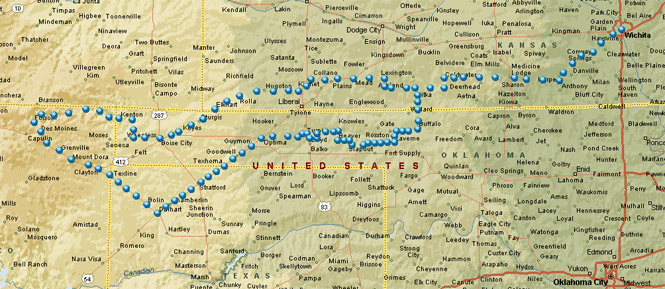 The most direct route would be US 54, which curves down to Liberal, Kansas and then crosses the Oklahoma panhandle. Instead, I chose to drop first down to US-160 and then cross along the bottom of Kansas.
Kansas
There's not a lot in Sharon, Kansas, although they do proudly claim that they are the hometown of Martina McBride. I know next to nothing of her (except that she's a country music singer), but a Google turns up the following:
She developed this strong sense of self while growing up on a Sharon, Kansas farm and graduating from a high school with only nine others in her senior class. "A big part of who I am is just the way I was raised," she says. "Nobody is better than anyone else, and if you really work hard, you might get lucky and get what you want."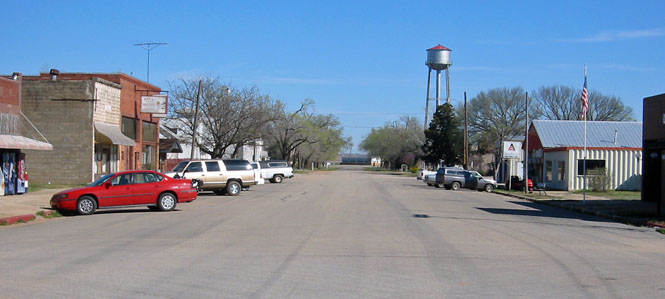 The corner market was guarded by this not-so-angry dog (oh, he barked a couple of times to show he was doing his job, but seemed a bit embarrassed by it).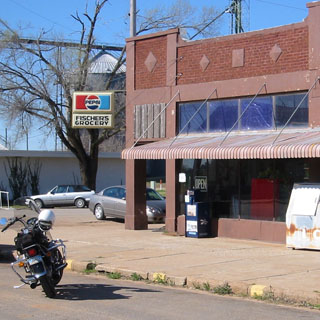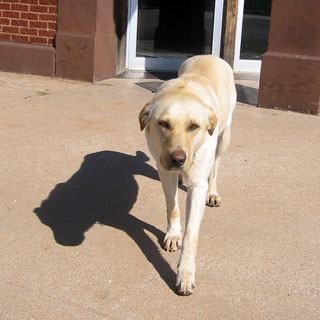 This seemed to be the time of morning for the local ladies to meet at the back table. I bought a bottle of orange juice.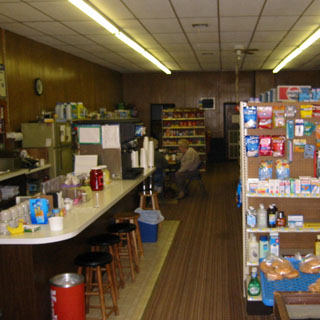 US 160 runs through the Gypsum Hills. There are some interesting dirt roads in this area, but they would wait for another trip.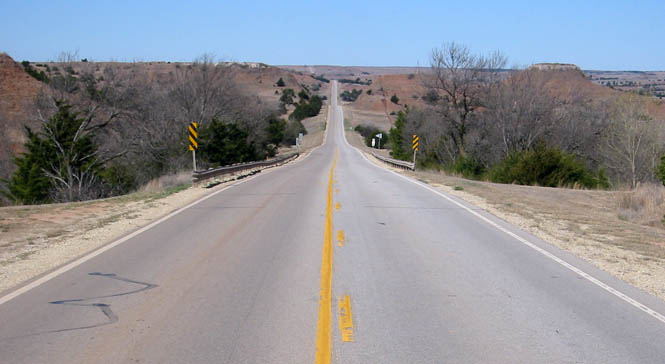 Coldwater, Kansas is a nice looking place. You can always tell the towns that haven't given up, and Coldwater is still making the good effort.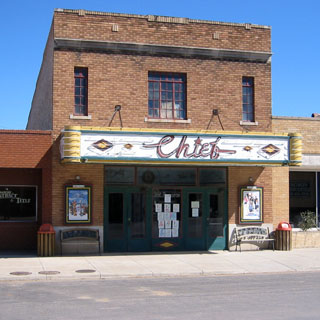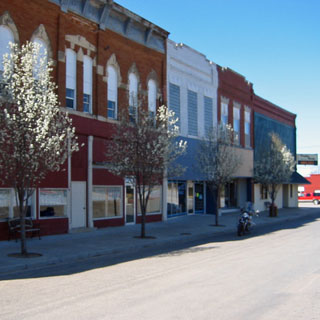 I stopped for breakfast in Protection, Kansas This little town is actually somewhat off the main highway. A good breakfast, and very good bacon--extra crispy. [note: keep ear plugs off the table]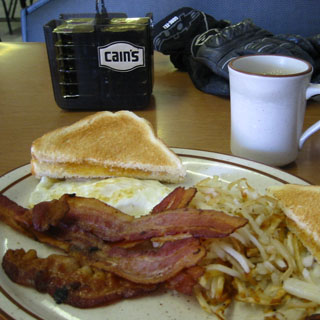 These two cars in Protection were stopped on main street for a discussion. It's not really a problem as there's plenty of room to go around, and, anyway, there just isn't any traffic.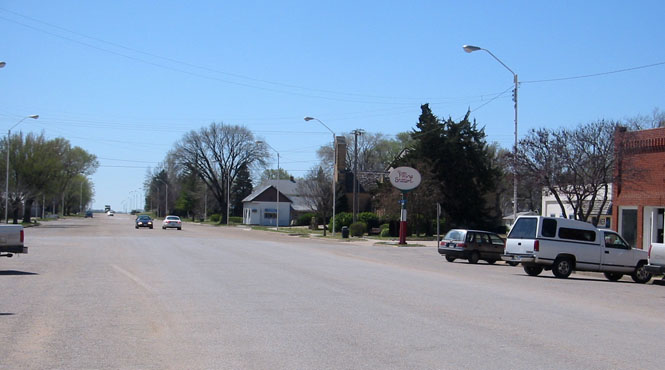 I stayed on US-160, skirting north of Liberal, Kansas, and then hooked up with US-56 (the route of the Santa Fe Trail).
I liked the Rolla, Kansas wind gauge, but am not impressed by their spelling.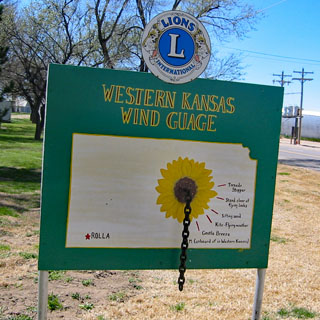 Update (March, 2017): I don't know when it happened, but, the spelling has been corrected on the sign and the overall readability has been improved: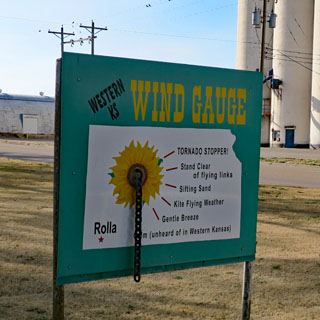 When the tracks are shiny, the tracks are still used.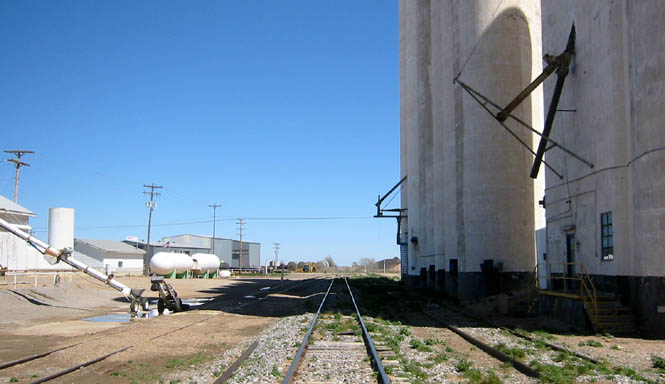 Oklahoma
US-56 eventually reaches Boise City (pronounced Boyce). This was really the point where my trip would begin. I took OK-325 (after riding around their courthouse) and headed west, and then north.
In the photograph, I've just crested the hill and can see the buttes in the distance for the first time. The pavement is not so good, but there's so little traffic that it hardly matters.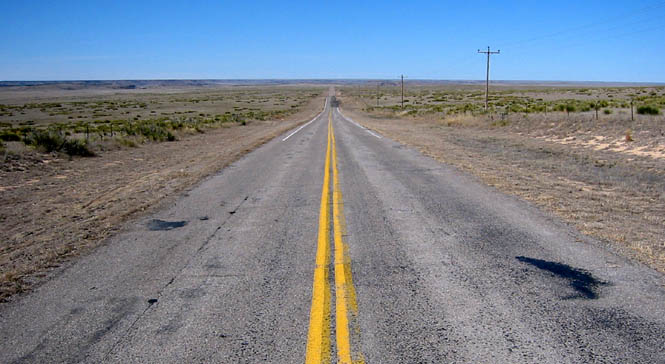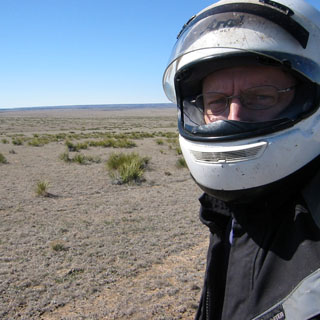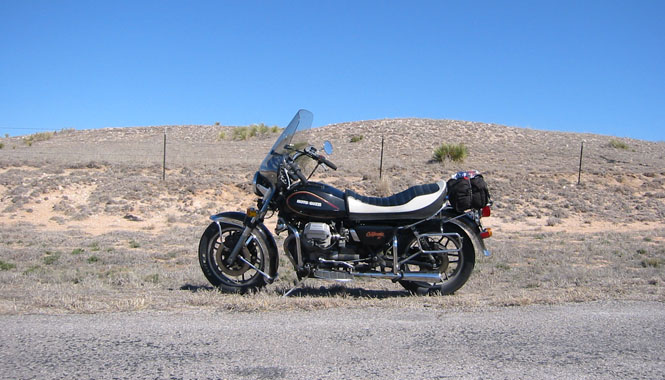 Kenton, Oklahoma is the last town in Oklahoma. I would like to have bought some gas, but the general store was closed. No matter.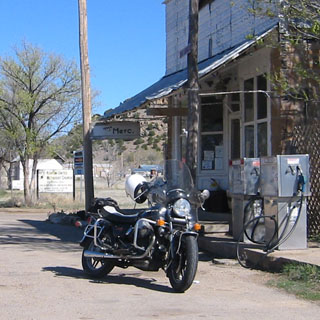 Even with the best building materials, things don't last forever.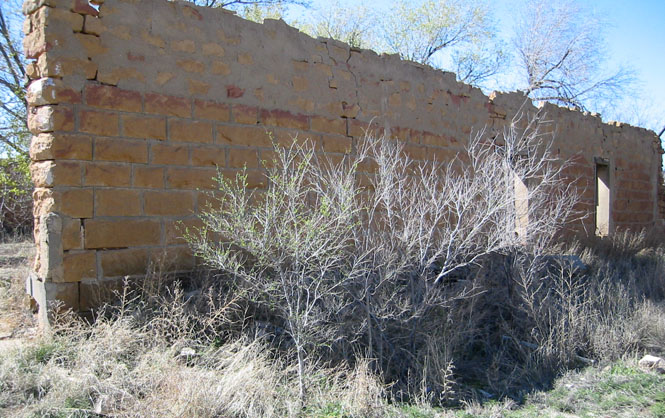 The view towards New Mexico. Those hills are still in Oklahoma, but the border isn't too far off.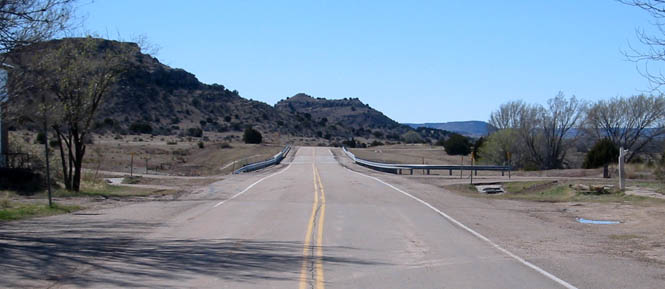 New Mexico highway 456 generally follows the Cimarron River, as you might be able to tell from this satellite image. The highway is visible as the light-yellow line running east and west. To the left, you can see a couple of north-south roads that intersect it.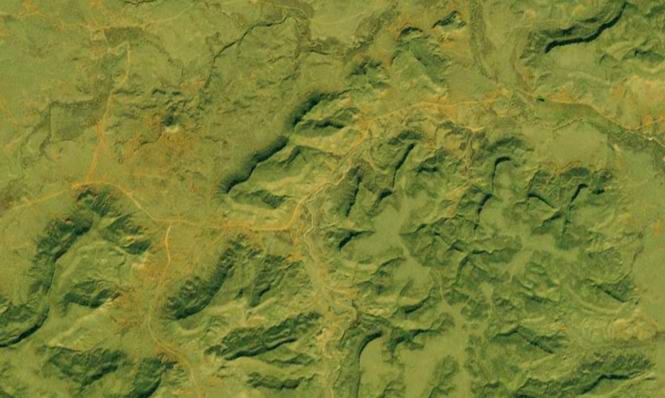 New Mexico
The quality of the road surface, in New Mexico, was just outstanding. No traffic. you could park in the middle of the highway if you wanted. I had expected the road to be dirt by this point, and, I was beginning to think (judging by the newness of the pavement) that the highway department had recently paved the thing, and the maps were just out of date.
It was a nice thought. But, wrong.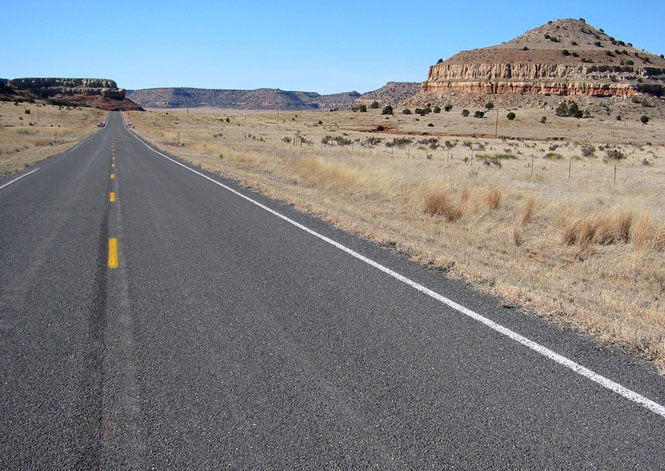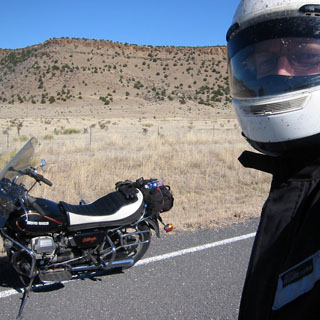 The hills are streaked in red and yellow. Stunning scenery. And, nobody ever comes here.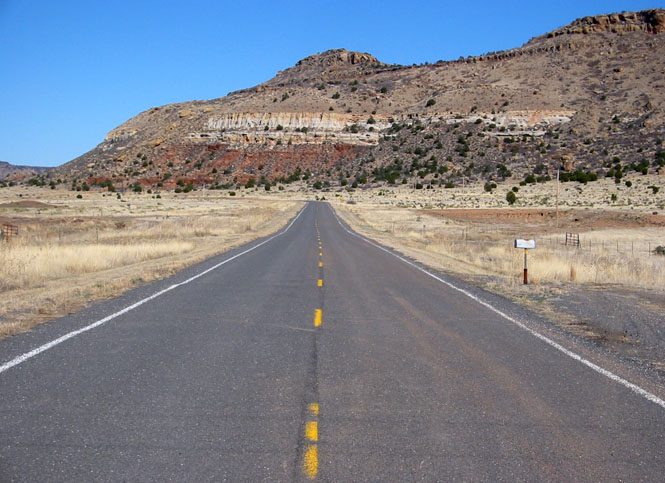 Much of the valley is open range land. You could walk away from the highway and see no sign of people. Miles and miles and miles.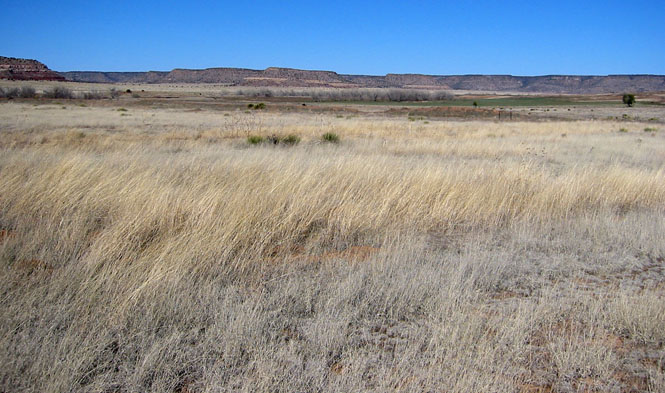 Then suddenly: dirt.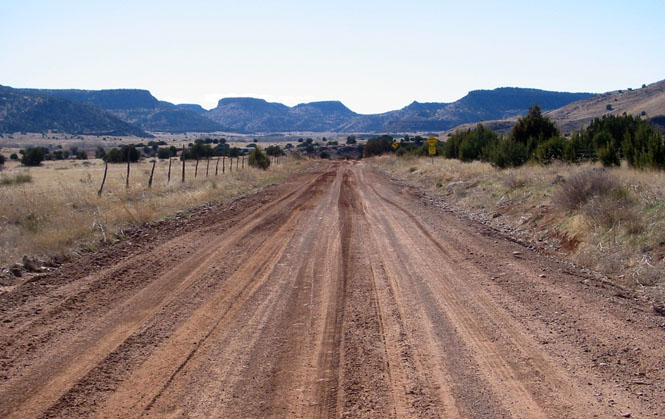 I had to put the brakes on pretty quickly. The sign said 17 miles of unpaved highway (remember, this is a state highway). I did some calculations on my fuel range. What I was concerned with was my no-go point. Remembering that there was no fuel in Kenton, my nearest fuel (if I had to turn around) would be way back in Boise City. If I continued, I'd have to go all the way, because I wouldn't have enough to get back. I expected that Folsom would have fuel.
Where it wasn't muddy, the road was really pretty easy, but, where it was muddy it was awful.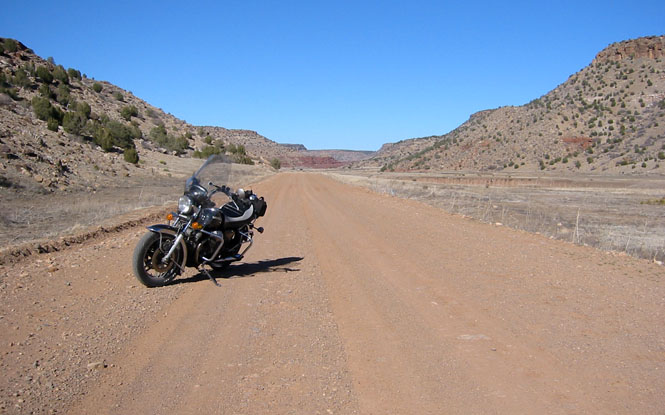 I stopped a number of times (this sort of riding can wear you out).
--dead quiet.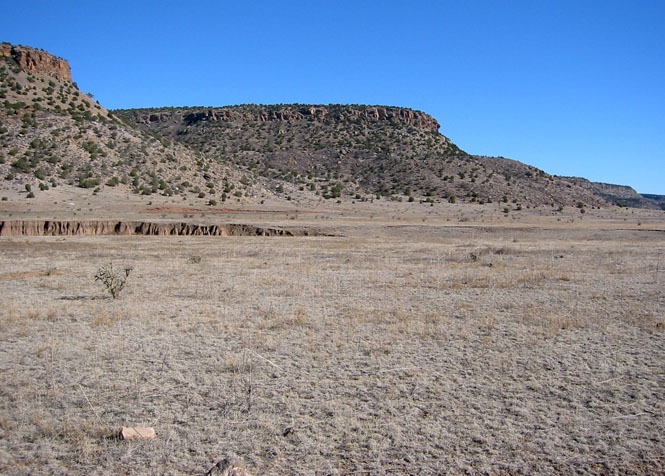 The occasional bridges over the Cimarron were nice resting points (they were paved, of course).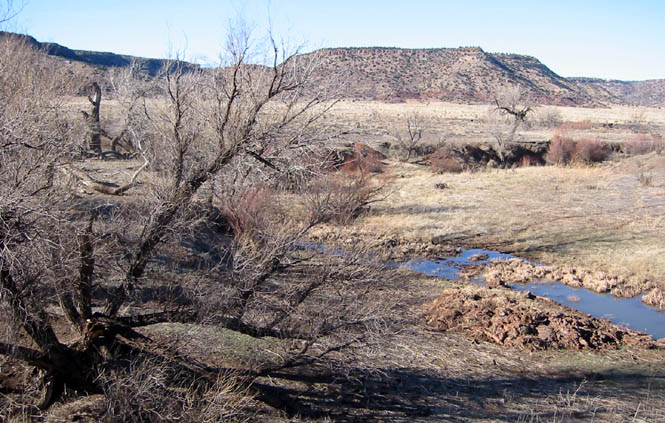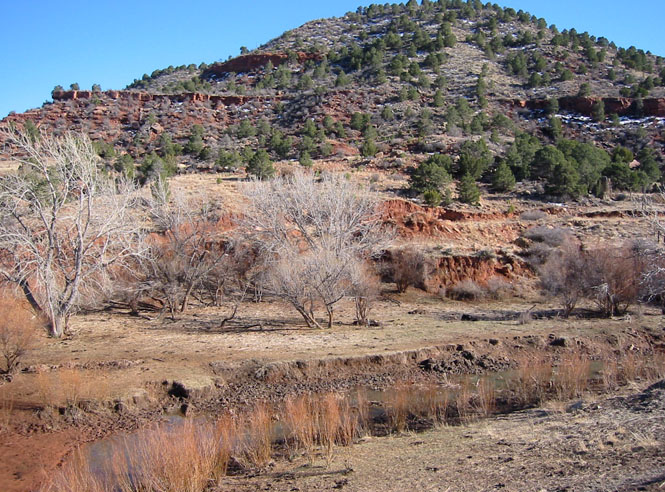 I kept hoping that it would get better. It got worse. I was paying close attention to the miles, and, at this point I knew I had only three miles left to go. The trick was to stay in the recent grooves made by a farm truck. The weight of the truck squeezed out the water, so it wasn't too bad. Of course, that, and the rut I was riding in, meant that I had to stay within an 8-inch wide path all the time. Best to look forward, and not focus so much on the road directly in front. Relax.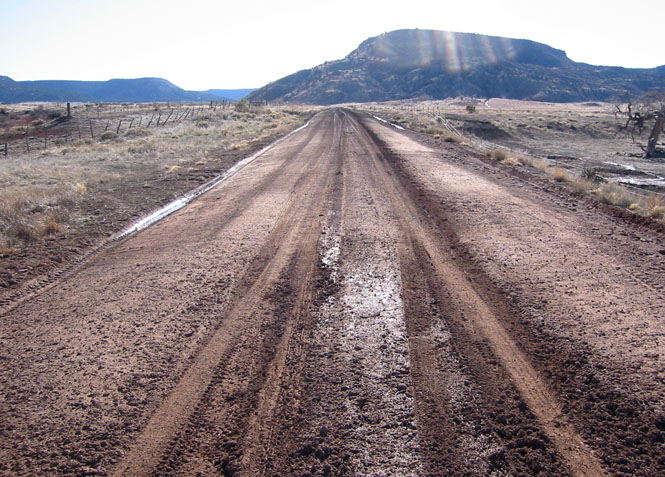 All things must end, and I did find pavement. This turned out to be a fun little road (the paved one, I mean).
By this time, I was zipped up and had the electric vest running. It was cold.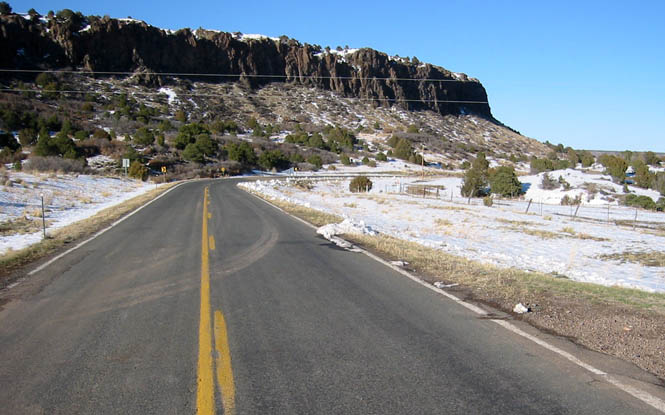 Folsom, New Mexico. I was expecting some sort of little touristy town--perhaps with some antique stores and a B&B. That may very well be what they aspire to be, but for now, there's not much happening in Folsom, New Mexico.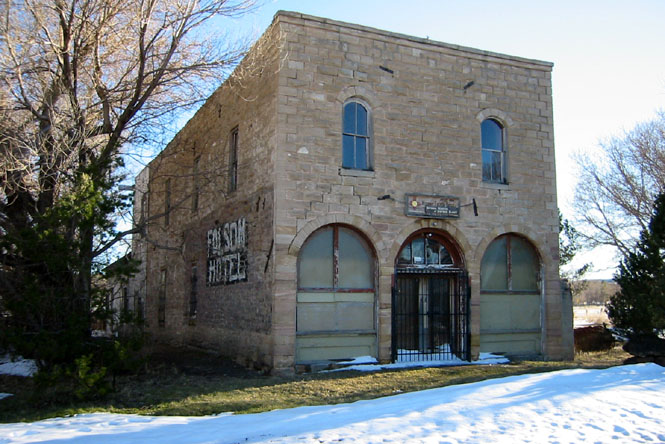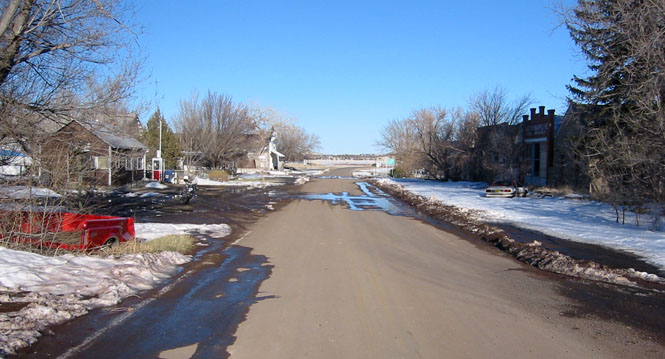 By this point, a little mud didn't bother me at all.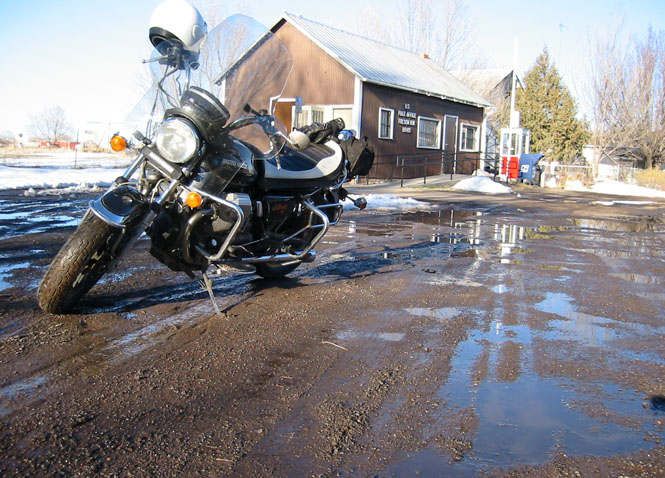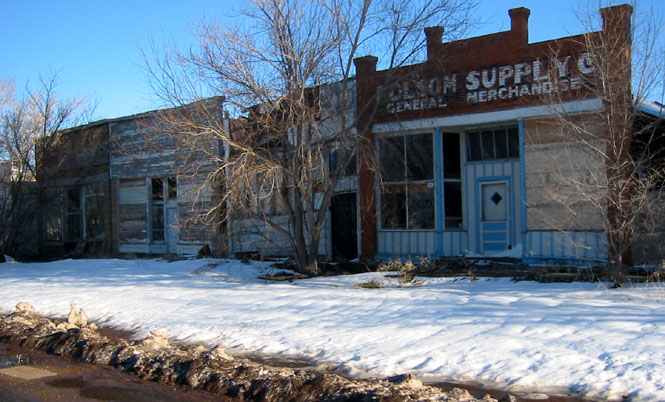 Here's one gas station...
...and, here's another. Actually, I was doing fine on gas, and wasn't worried that I'd run low before finding a station that was still in business.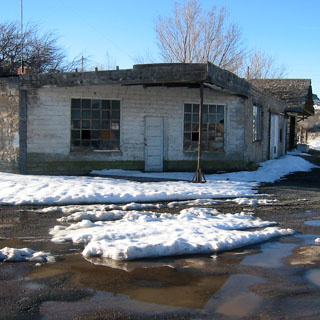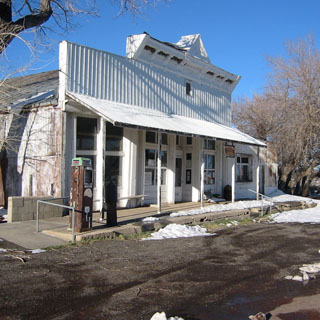 I considered riding farther west towards Raton, but then I'd just have to return on roads that I'd already been on. And, since I'd never been on the road to Clayton, that decision was easy.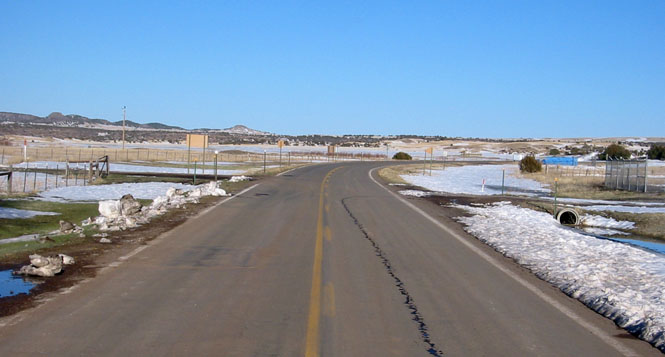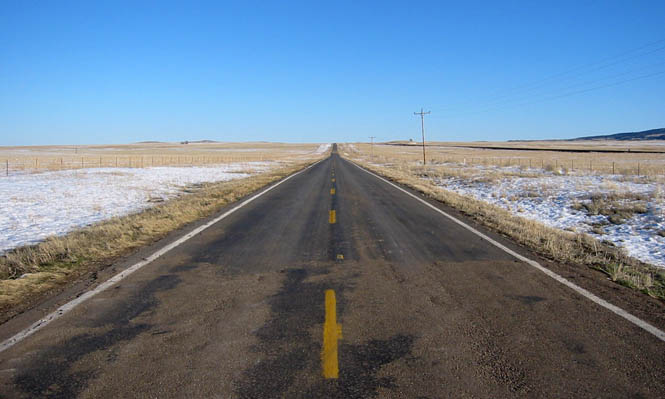 Mount Capulin is just southwest of Folsom. It was a beautiful clear day as the sun was going down. It was unexpected to have to walk in a foot of drifted snow to get these two shots.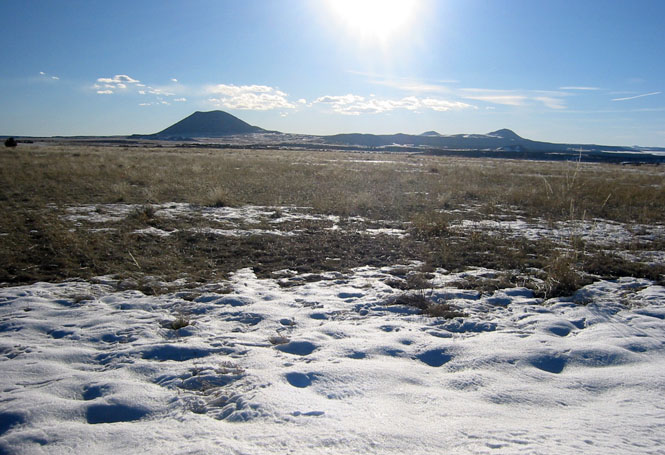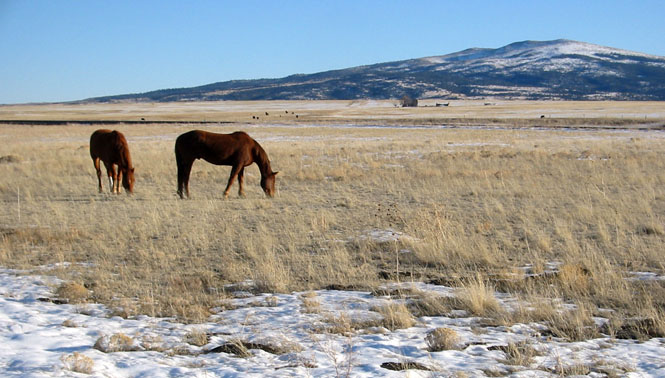 There's not much beyond Clayton, New Mexico, so I stopped for the night. Sometimes it's fun to check into an old historic hotel (or an old courtyard motor inn), and sometimes you just want to be sure that the shower will really work. After riding that 17 miles of dirt and mud, I wasn't looking for another adventure.
I thought that this was a no-pets-allowed hotel, but you cannot count on your cat to stay hidden. This one was watching me strap my pack to the motorcycle.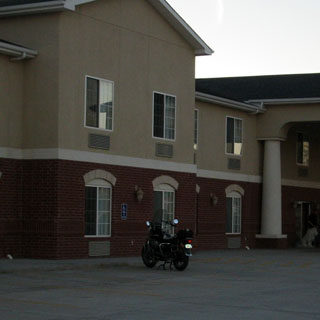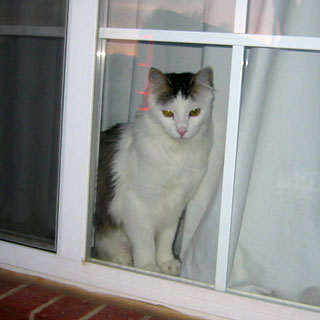 The Hi-Ho cafe. There are two tamales under all that. Recommended, but you may not want so much.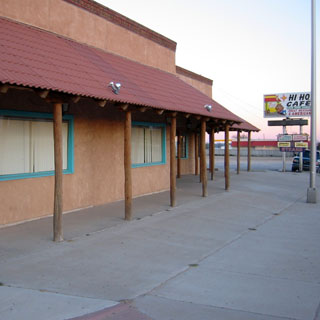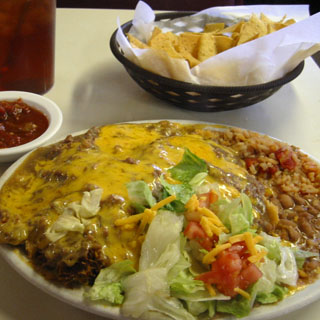 The direct route would have been to take US-56 back towards Kansas. But, the stretch of highway between Clayton and Dalhart was still un-ridden for me, so (once again) my route was clear.
Texas
Dalhart, Texas, early Sunday morning.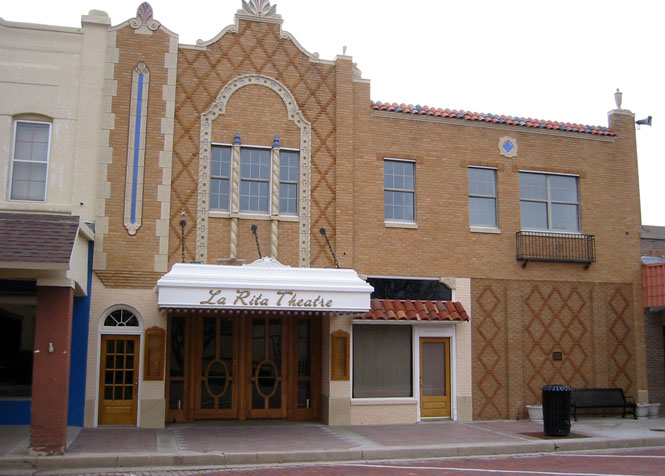 Oklahoma
Texhoma is in Oklahoma. I think. In any case, it's awfully close to both (I suppose it could have been the town of Oksas).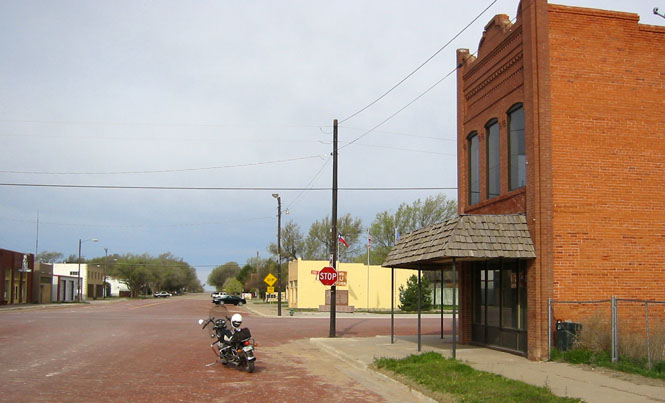 Crossing the panhandle of Oklahoma, I turned east on a promising (paved) road not far from Optima. I've been on all the numbered highways in this area, so it was time to lower my sights. I never did find out the name or number of this road. Likely it had several, as I just kept turning away from the dirt roads, and riding only the pavement.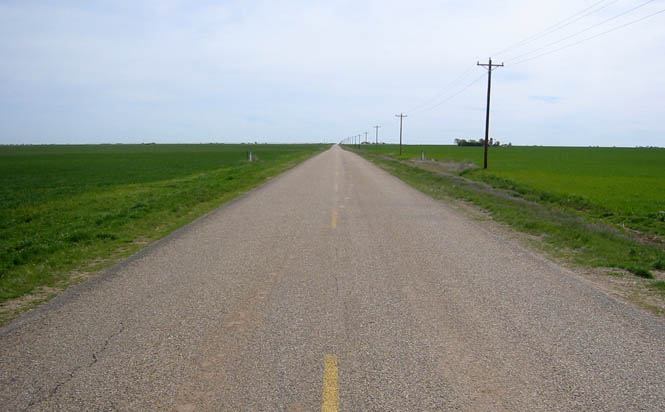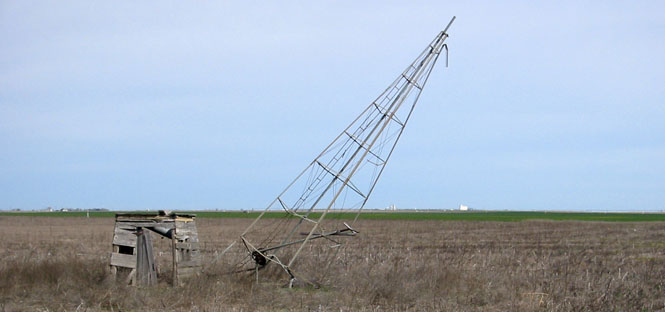 It was a nice little road. I don't think I saw more than two cars in 100 miles. Not much attempt to smooth out the little hills, either.

It's a tough to make a living out here.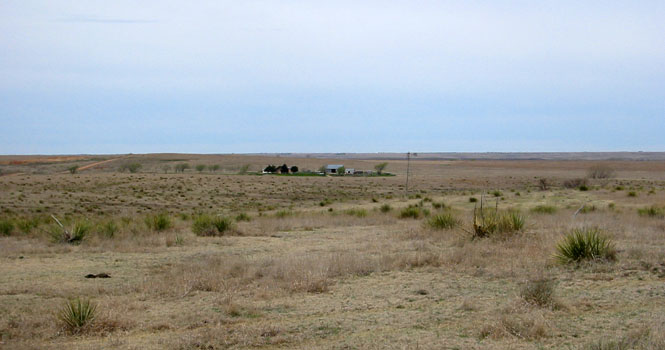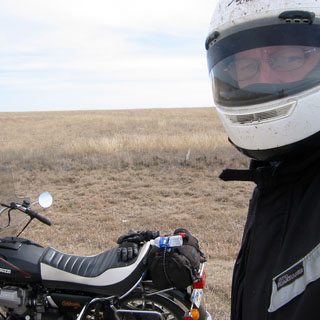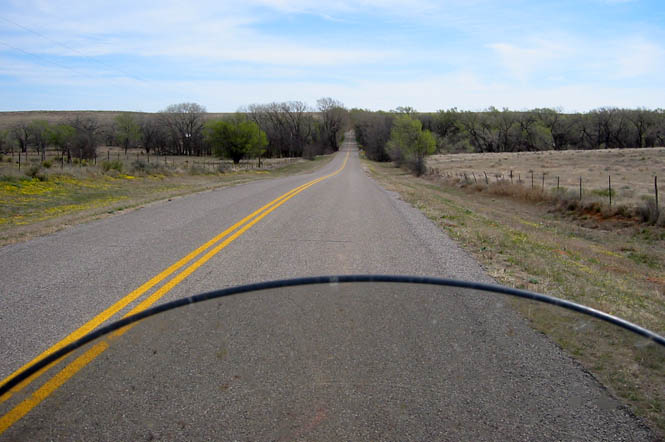 Beaver, Oklahoma. I stopped for lunch. This is the cow chip tossing capitol of the world (?), and there was a large Fiberglas beaver holding such a chip. I didn't take the photograph.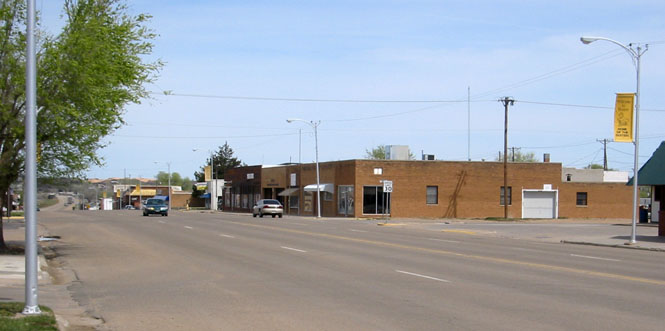 Miles and miles of open space. Sometimes the highway department put down stripes, but most of the times they didn't bother.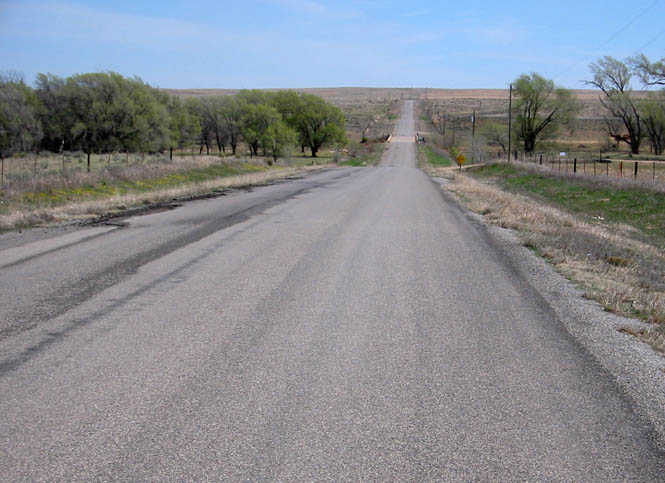 At Laverne, I reached the crossroads with US-283. I was now back on the map.
The trains stopped coming, and the tracks no longer even reach the station.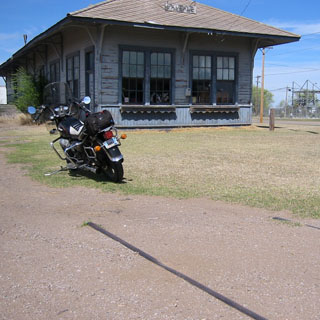 Staying on US-183 through some incredible landscape. Is the dirt red? Then this must be Oklahoma.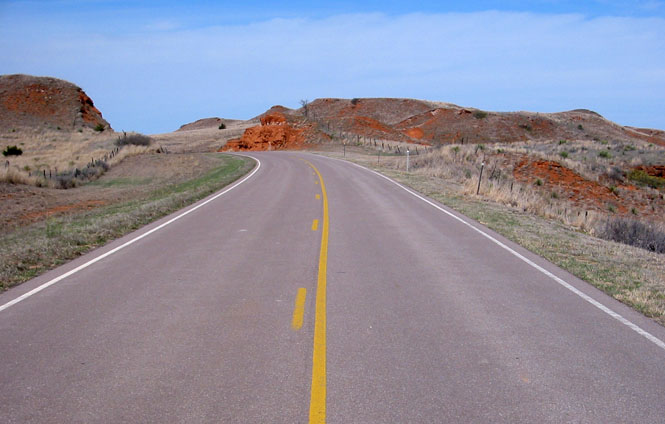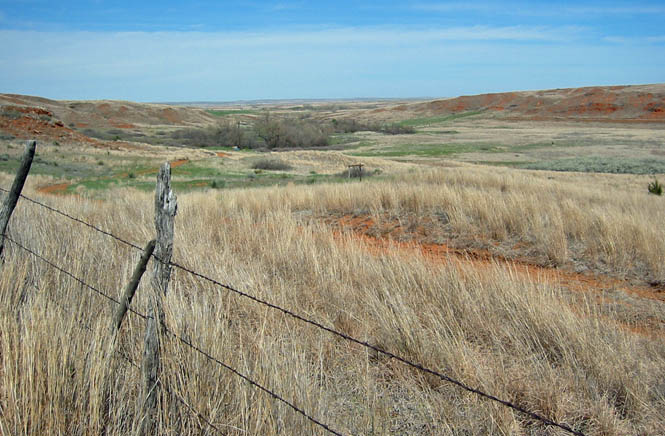 Kansas
I crossed the Cimarron River once more. This time it's in Kansas before looping down to Oklahoma. The water was very clear.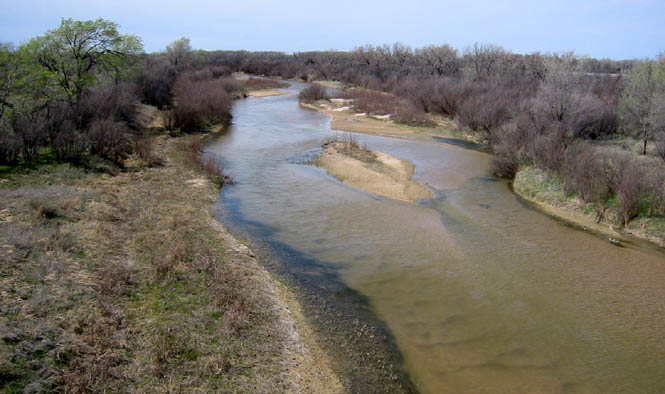 The long bridge across the Cimarron.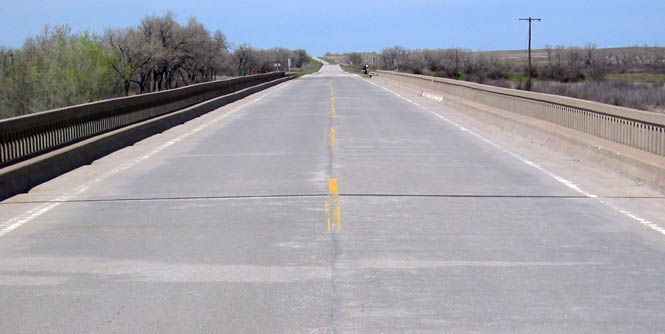 Sitka, Kansas is the last town before reaching US-160 (and the same way back to Wichita).
I don't know what the published population is, but it can't really be much more than five.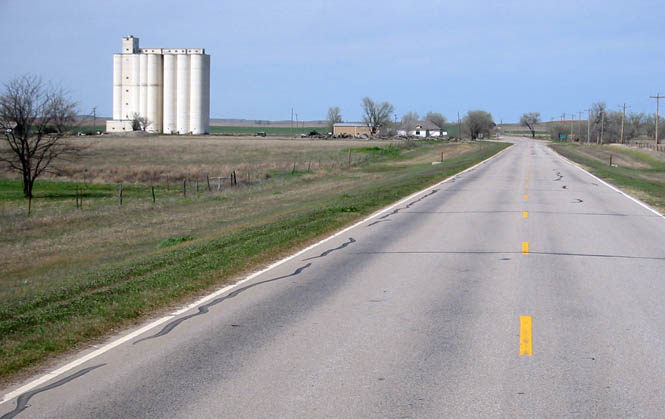 This was the nicest house in town, and from what I could see, it was the only house in town.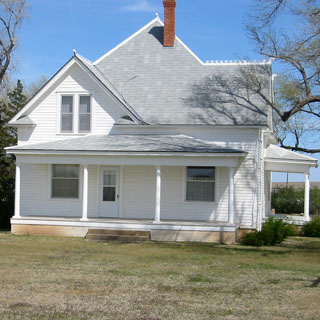 When the winter wheat comes up, you almost need sunglasses, it's so green. This time of year, much of Kansas looks like an enormous manicured lawn.

I give this house five years, maybe ten years, before it comes down. It's pretty easy to tell from which direction the wind blows.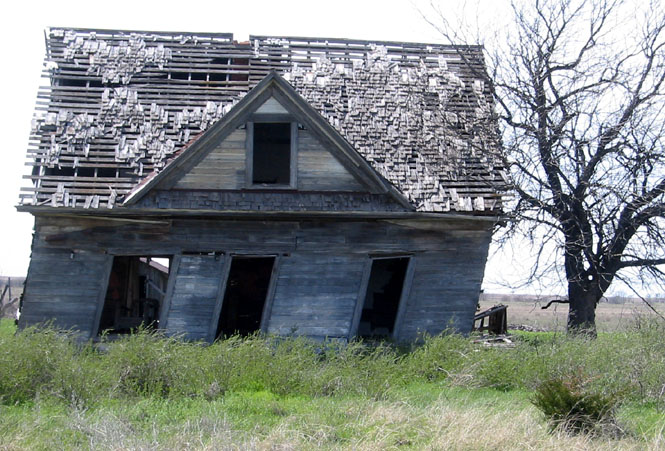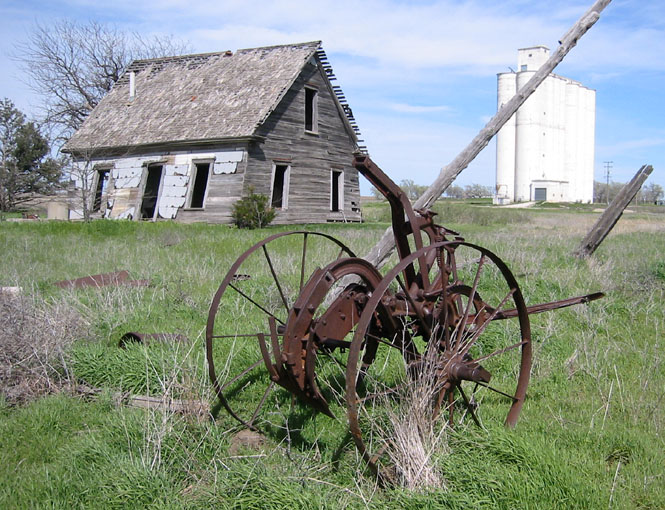 A couple of pets buried out back (I suppose). This old house was at least a half mile from the road, and I had to walk across the open field to get to it. It makes you wonder what the story is behind the graves.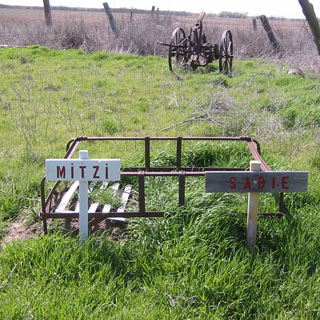 A nice trip. Just over 900 miles.
last edit: 4/4/2005