March 17, 2007

Carter Nine is a small town in the Osage Nation in north central Oklahoma. At least, that's what some map sources show. More tellingly, it is not on the current Oklahoma highway map. Existing or not, my goal was to find Carter Nine.

Kansas
I was not taking the most direct route by running through Silverdale, Kansas.

The road between Silverdale and Maple City is never crowded.

This is one of the few buildings left in Maple City, Kansas.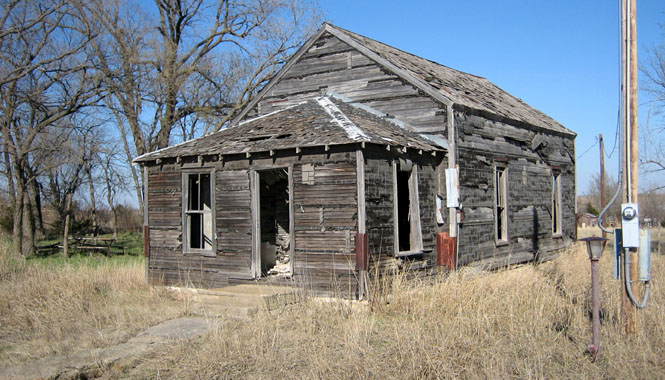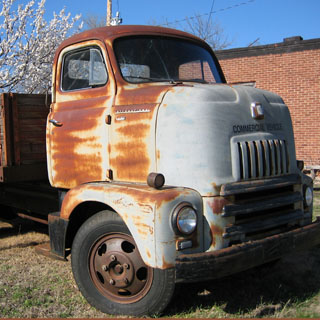 Of course, this Maple City school has not been used in years, but even so, it is in very good shape.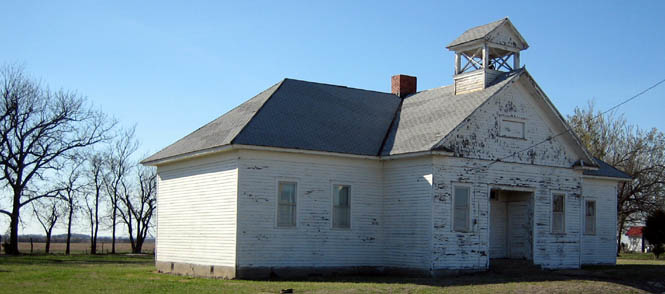 Oklahoma
I stopped to check the Garmin GPS. Carter Nine should be somewhere beyond those trees (I think).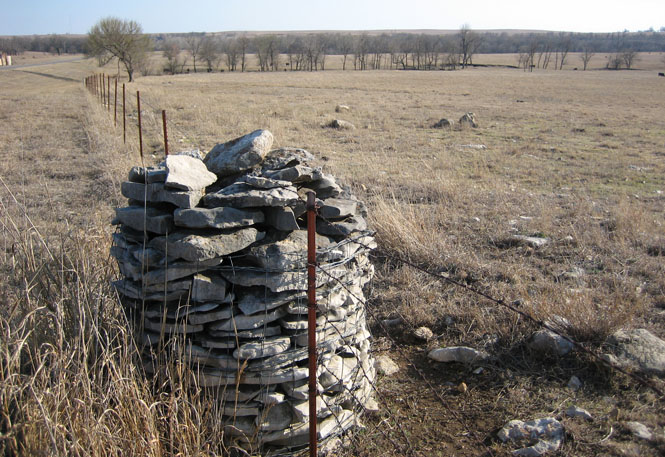 It's supposed to be near here? I certainly didn't see a town (standing in the road is not unsafe).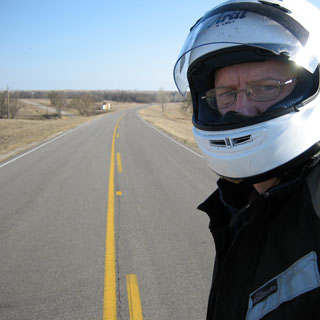 The GPS only shows Carter Nine as being a point on the road. Of course, I know it's not. Time to look harder.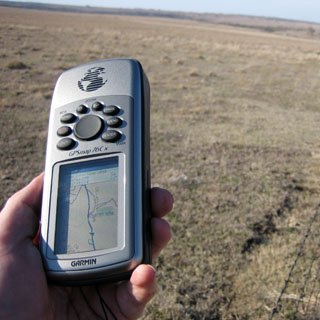 I saw a larger clump of trees and took this oil-service road to have a look.

This must be it--Carter Nine!

An old house. Nothing else.

A storm cellar, but the house is gone. The town is gone, too.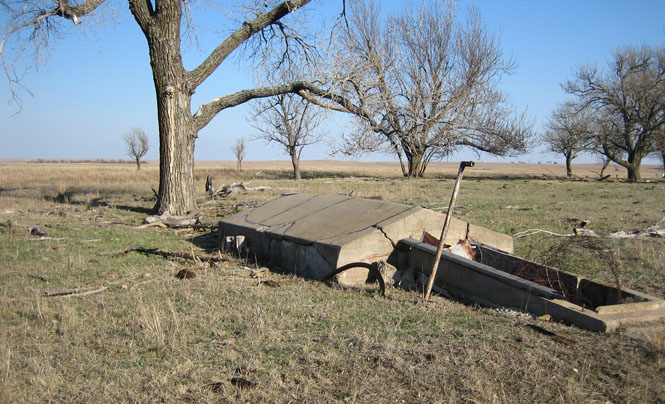 Pawhuska, Oklahoma. That (so-called) "Triangle Building" is empty (as are most of the other buildings).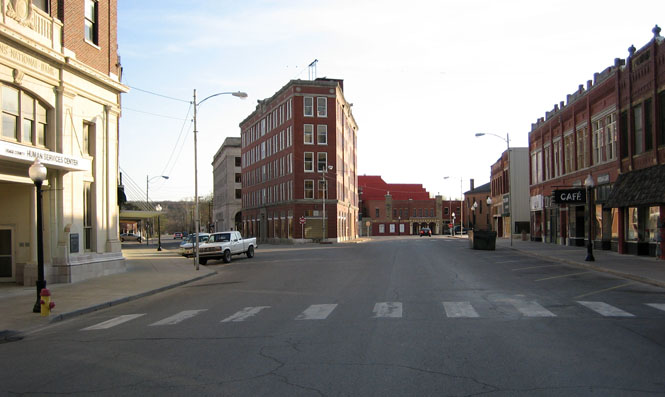 Looking the other direction.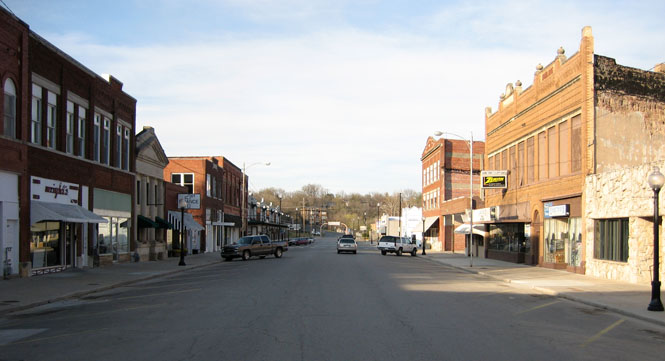 They built the courthouse on top of the hill. That makes it tough on the pedestrians.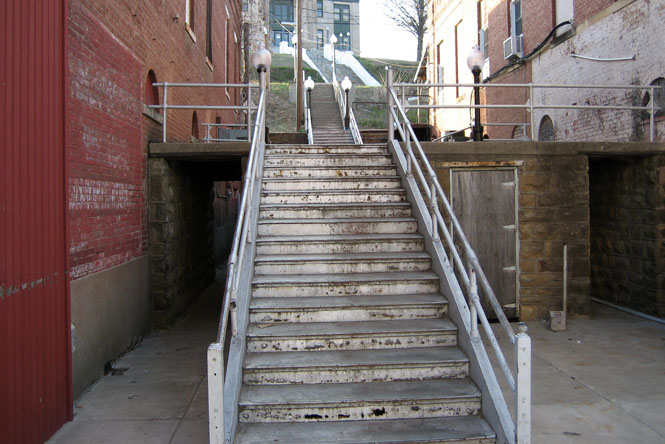 Barnsdall, Oklahoma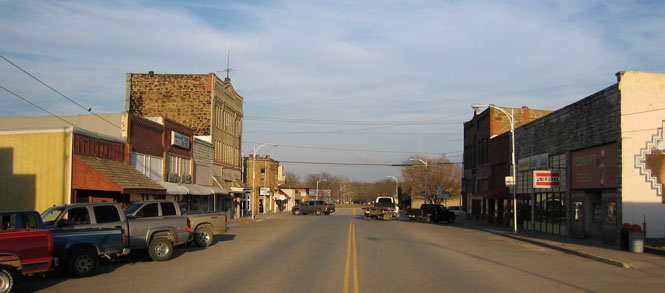 Along Oklahoma Highway 11. Generally, if you see flowers (daffodils in this case) growing out in a field, you've probably found the foundation of an old house. In this case, there was nothing left but the remnants of the garden.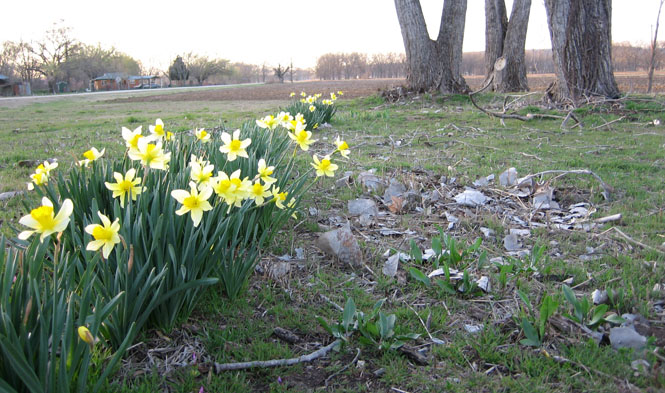 Still traveling Oklahoma Highway 11, I believe that these are pecan trees.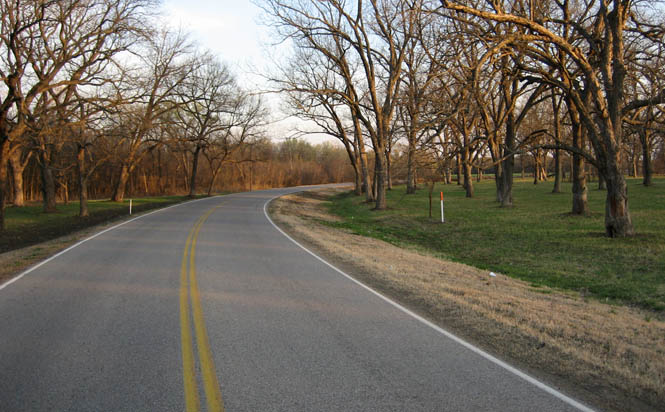 Drumright, Oklahoma. I don't know what those trees are, but they've just started to bud.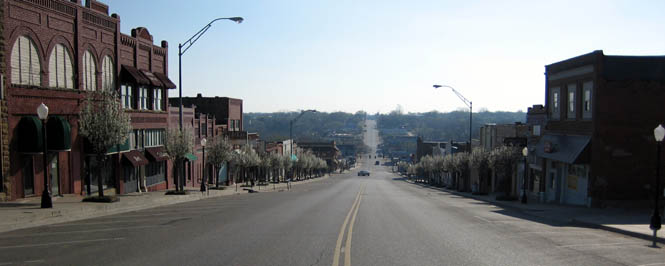 The old Chevrolet dealership in Drumright, Oklahoma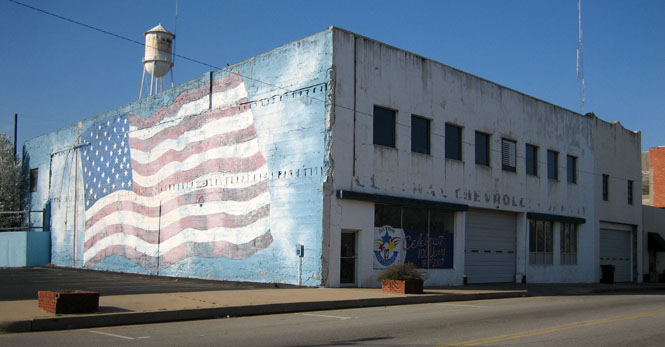 Across the Cimarron River, Oklahoma. You can just see the old highway bridge.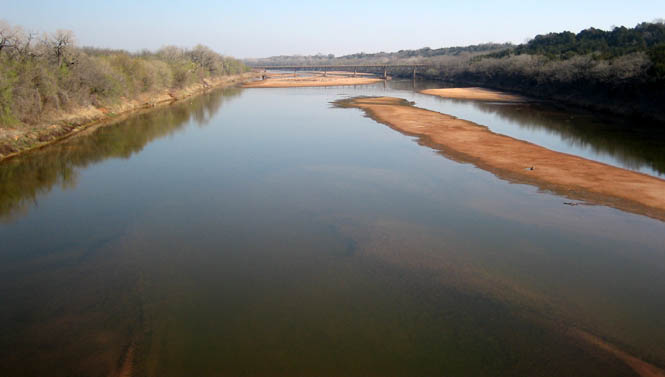 Near Oklahoma Highway 33. The redbud trees are starting to blossom.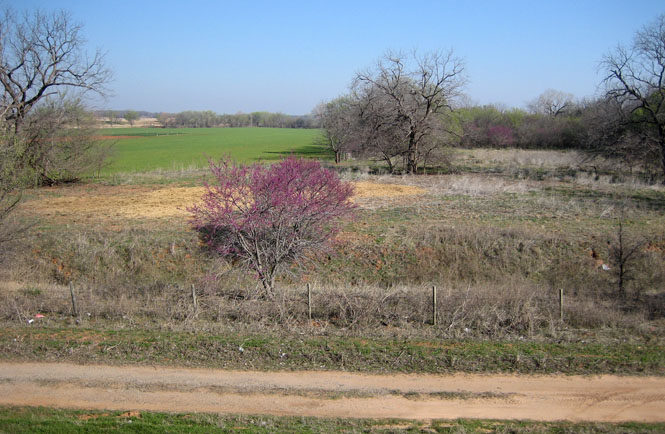 The Watonga, Oklahoma courthouse.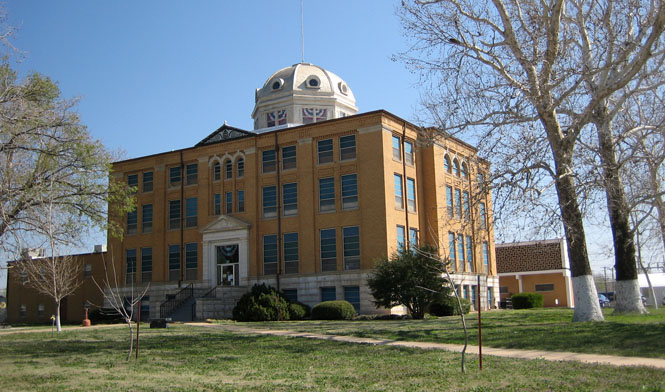 Downtown Watonga, Oklahoma.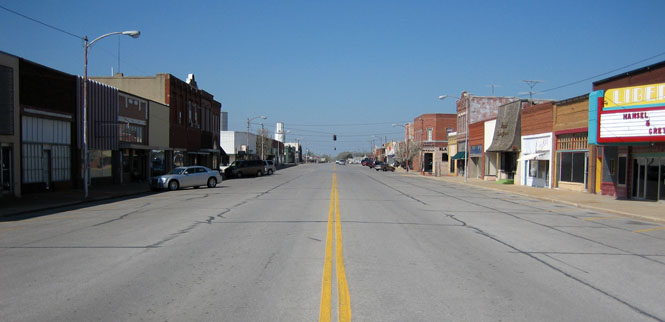 Walking through town, I came across the Noble House Restaurant.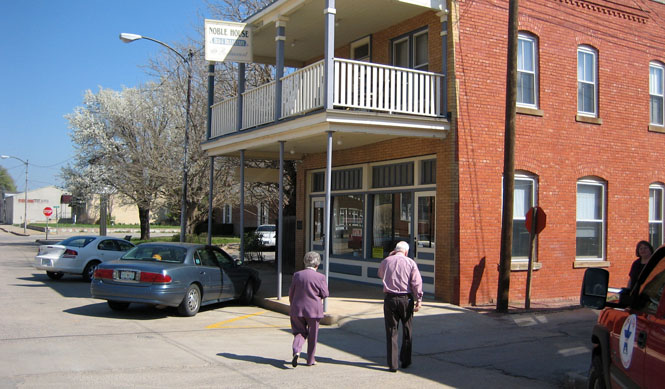 The menu was quite simple. You had two or three items to select from: main item, type of salad, type of vegetable, dessert. I had the sausage, coleslaw, corn and mashed potatoes with peach cobbler. I did feel a little under-dressed...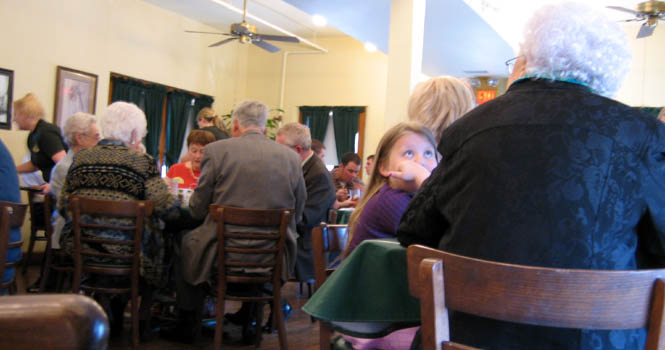 Total price? $7.95 including the iced tea.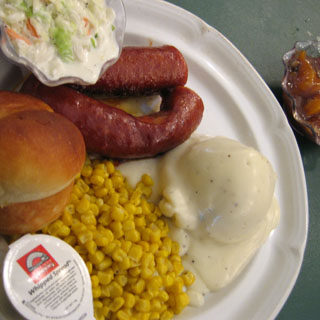 Oklahoma Highway 132 is not at all busy.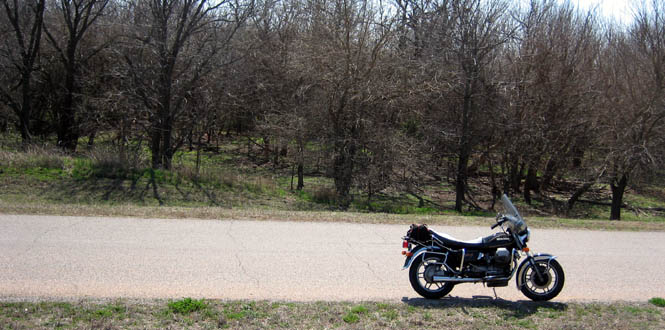 One of the annoyances of riding a high-mileage motorcycle is that fatigue cracks can happen in unexpected places. I noticed that my turn signal and license plate was hanging by one bolt. The bracket had failed. I fixed it (for now) with a couple of plastic cable-ties.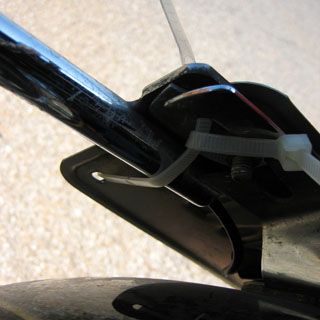 Jet, Oklahoma has a mounted Cessna T-37B on display.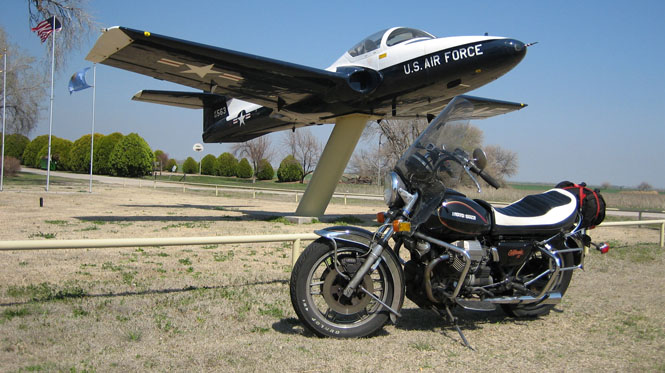 Near US Highway 81 (Grant County, Oklahoma) is this very nice round brick barn.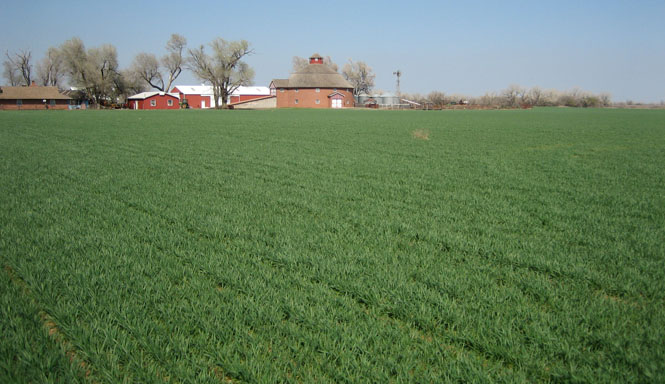 US Highway 81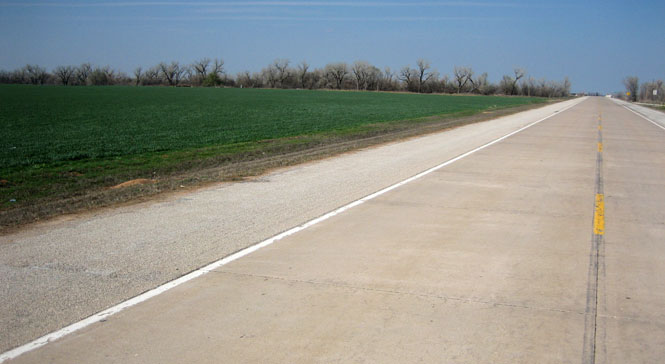 Near Jefferson, Oklahoma. This is the old highway, which doesn't get much use. The town of Jefferson is virtually gone.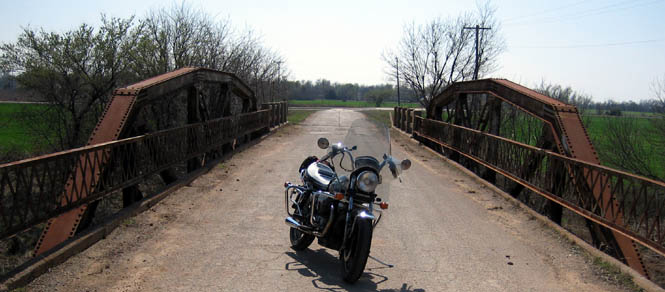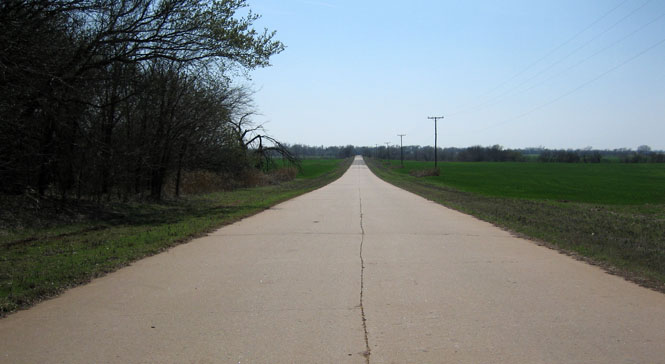 Renfrow, Oklahoma.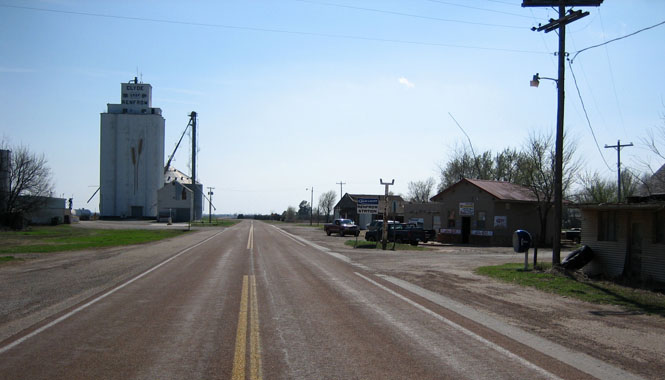 Kansas
The road near Bluff City, Kansas. I dislike this combination of dirt and pavement.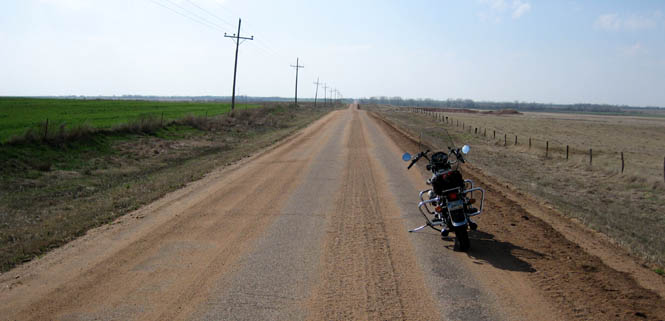 A Czech cemetery near Bluff City, Kansas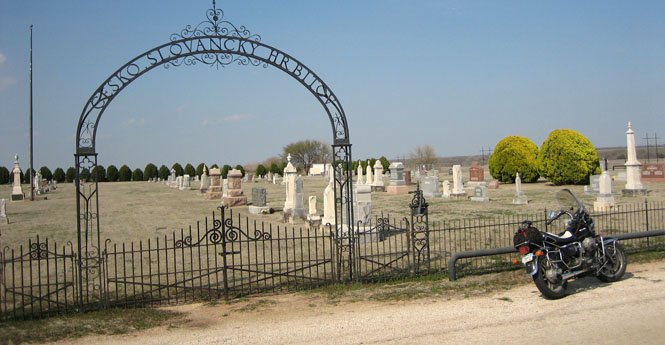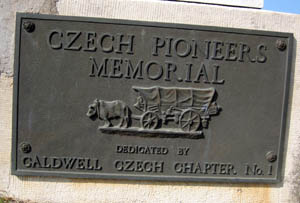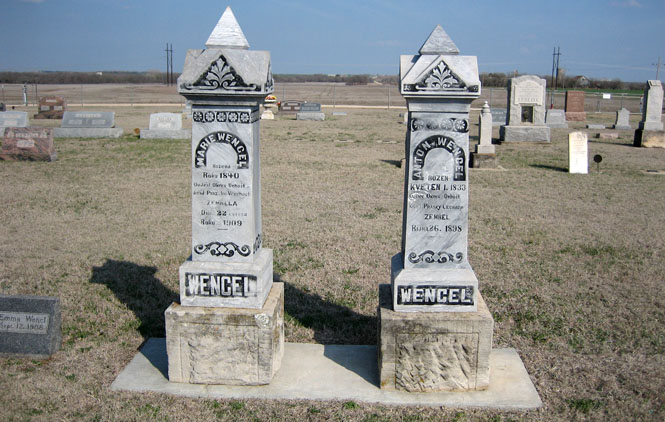 More information on Carter Nine:
1) Carter Nine was an oil company town in Osage county, 22 miles Northwest of Pawhuska, the county seat. It was established on 14 August 1928. The name was a combination of the name of the Carter Oil company which owned the oil and the land description, Section 9-Township 26N-Range 6E. The town was closed early in 1969.
2) Carter Nine was established in 1920 by the Carter Oil Co. in the Burbank Field of Osage County. It had a 12-year school, post office, grocery store, gas station and barber shop.
last edit: 3/18/2007