September, 2008

Sunday

Monday

Tuesday

Wednesday

Thursday

Friday

Saturday

24 August

25

26

27

28

29
Wichita
Houston
Newark

30
Malpensa
Milan

31
Mandello

1 September
Chiavenna
St Moritz
Davos

2
Surava
Silvaplana
Andermath

3
Airolo
Sarnen
Englebert

4
Altdorf
Nafels
Malbun

5
Appenzell
Wil
Stuhlingen

6
Hori
Zug
Gersau

7
Luzern
Basel
Oensingen

8
St Ursadne
Le Cret


La Côte-aux-Fées

9
Bulle
L'Isle
Le Sentier

10
Nyon
Evian
Visp

11
Zermatt
Varzo
Domodossola

12
Mandello

13
Mandello
Milan

14
Malpensa
Newark

15
Houston

16
Wichita

17

18

19

20
Europe Trip #2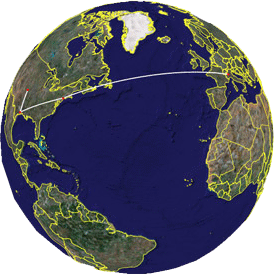 This would be my second trip to Mandello del Lario to rent a Moto Guzzi. On that earlier trip I stayed in northern Italy, although I came within a few feet of the Swiss border. But, the focus of this trip was to be entirely Swiss.
My knowledge of Switzerland--at least the layout of the place--was not good. If asked, I could not have accurately placed Zurich or Bern, nor could I have accurately said just where the Alps were, and where they were not. So, the preparation for the trip mainly consisted of looking at maps and reading a couple of guide books. I would leave the guide books behind, but the maps would stay with me. Incidentally, the map I like the best is from Berndtson & Berndtson. It's laminated (important on a motorcycle), and does a very good job of showing even the very minor roads. I've found that Michelin maps, for all their fame, are not nearly as readable (not to mention they're the size of a bedspread since they're printed on just one side).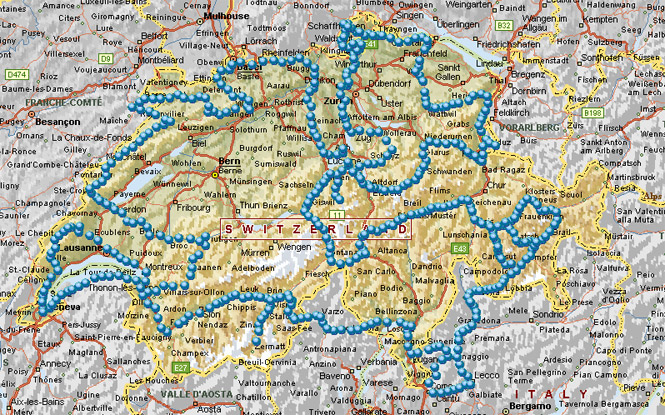 It may or may not be obvious to say, but Switzerland is not a very big place. If it weren't for the mountains, you'd hardly notice before you'd drive right across the whole country. But, of course, there are mountains. Lots of them.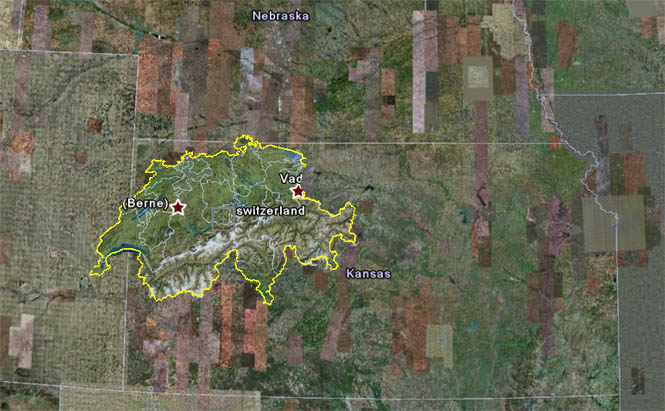 Continental has the easiest schedule if you need to be in Milan. This is the B767 I'd fly from Newark to Milan.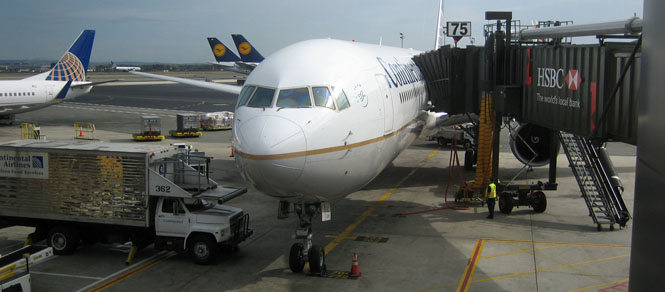 And look! I even had a baby on board (who really wasn't all that noisy, so I won't complain). The flight was as forgettable as these things always are.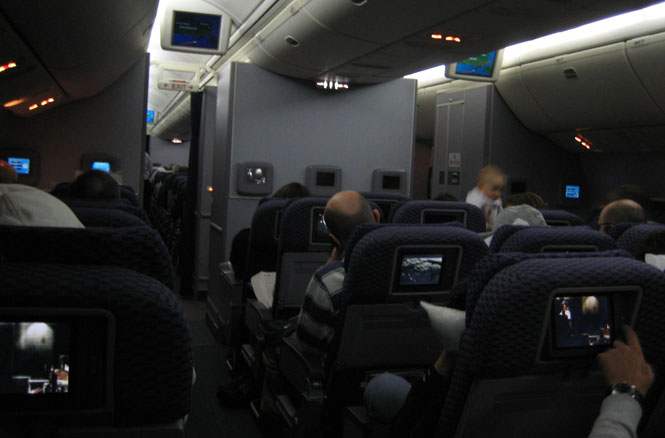 Italy
Having been here before, the return trip was that much easier. I stayed in the same hotel, and made the same general arrangements. The idea was to spend the first night in Milan, the second night in Mandello, and then hit the road on the third day. That's enough to settle out the time zone difference (I don't want to ride a motorcycle in Zombie-mode).
The main advantage of staying at the Palazzo delle Stelline is that it is within easy walking of the terminus of the Malpensa Express train from the airport.
I recognized the same bellhop from the last trip. The remarkable thing is that he remembered me. It's more likely, of course, that he really remembered those bright yellow bags that he had to carry up three floors of stairs.
They're not all that heavy. The smaller bag (carryon) has my helmet and gloves and some other stuff, while the larger bag has my riding suit, boots, and all the rest. Altogether, I packed for six days without laundry.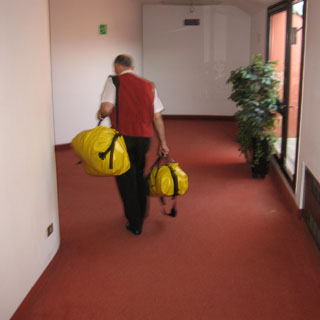 After checking in, I had that day to just walk around Milan.
The Basilica di Sant'Ambrogio dates from 387AD (although what's seen in the photograph is only about half that old).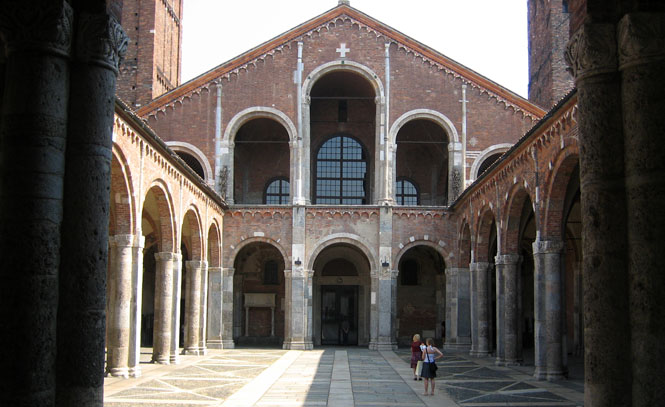 Unexpectedly, the founder of the Basilica (St. Ambrose, himself) can also be seen.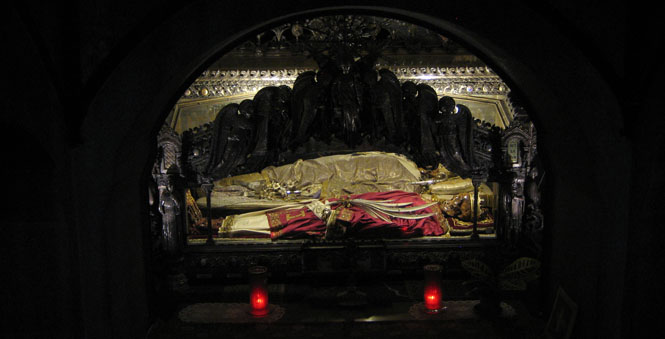 I've been here on other days when the streets were packed with people. This is late morning, Saturday.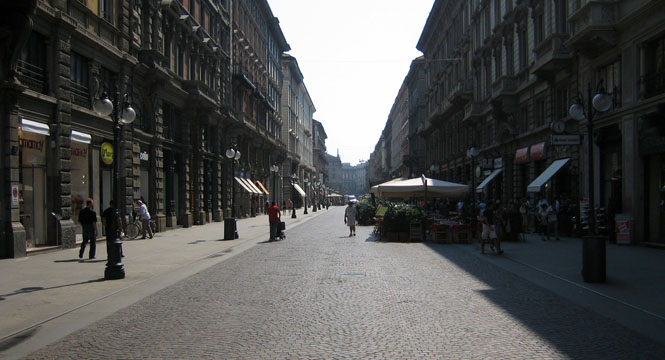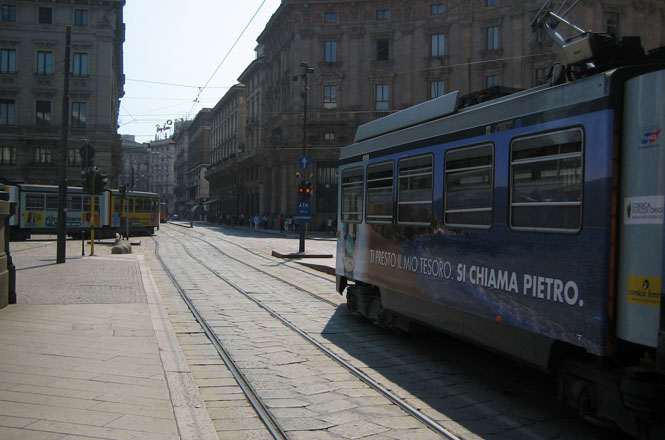 Duomo Milano. I didn't enter the cathedral this time, but I did walk around it.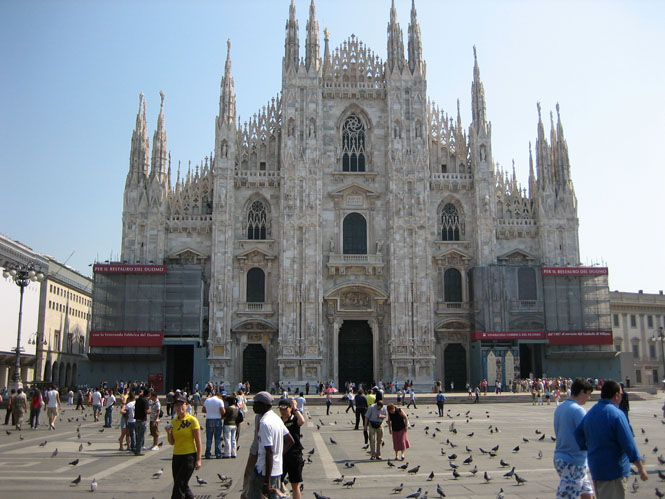 This is a detail of one of the very large entry doors. Impressive.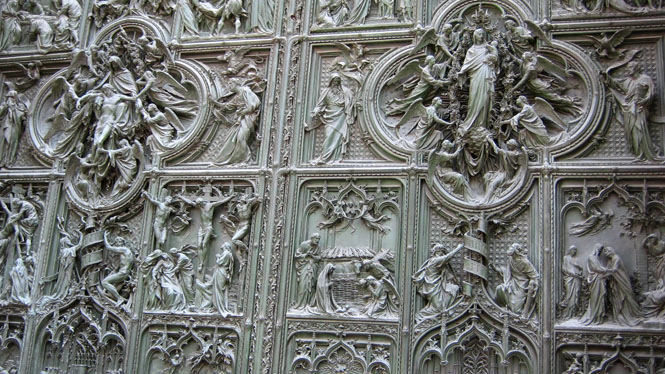 The Galleria d'Arte Moderna was evidently at one time a residence (the Villa Reale, home of Napoleon). I had the place practically to myself--if you ignore the security guards in every room.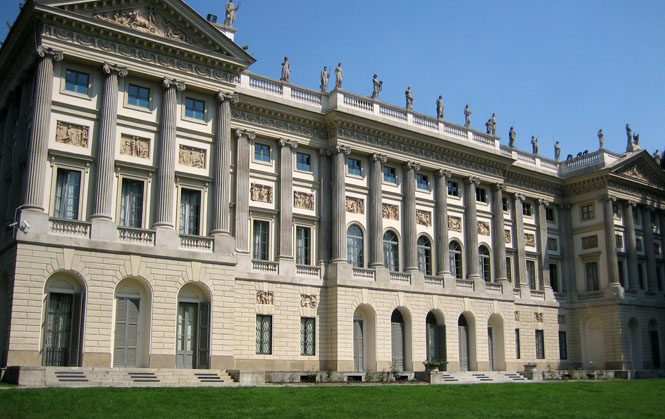 I was impressed by the floors.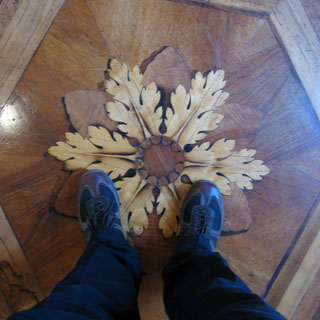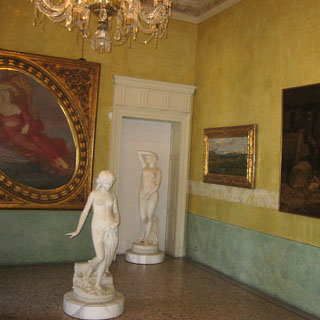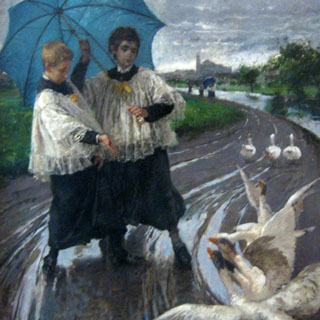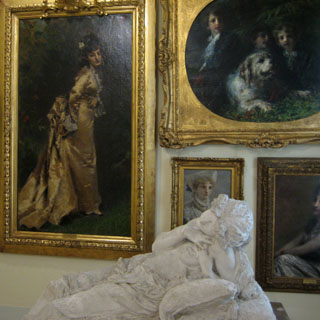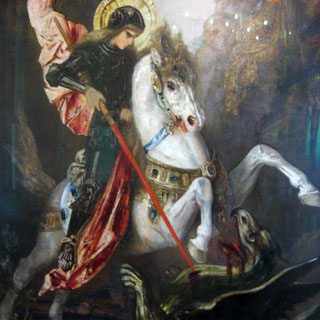 Guzzi owners will (or should) recognize the man, below, as Alessandro Manzoni, one of Italy's more famous authors. He was born in Milan in 1785.
Manzoni's connection to Moto Guzzi is that the road that marks one of the boundaries of the factory is named for him, and one of Guzzi's models--the Griso--is named for a particularly nasty character in his most famous book, I Promessi Sposi. [the book is worth reading]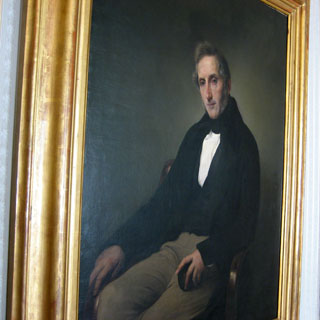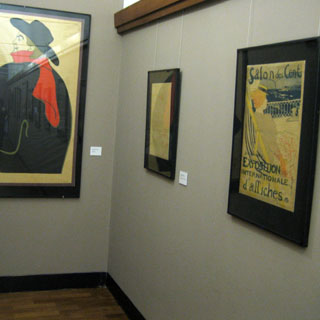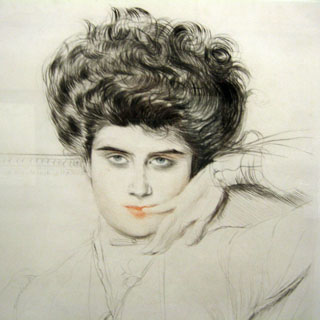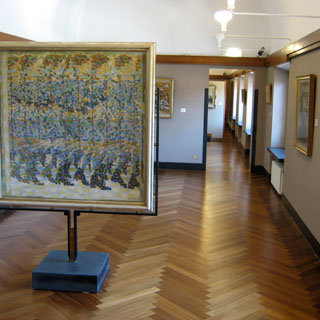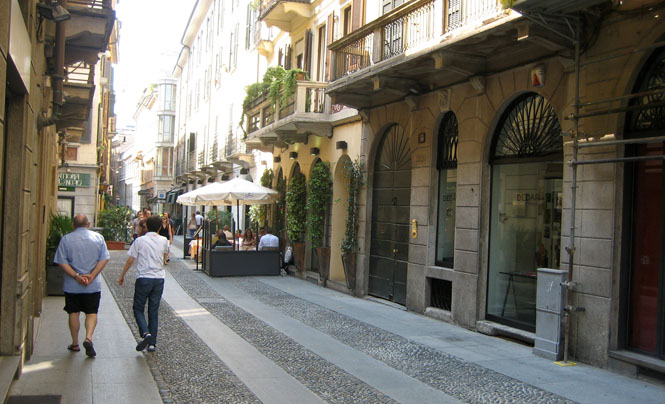 Nice to see the Milanese police riding the local motorcycle.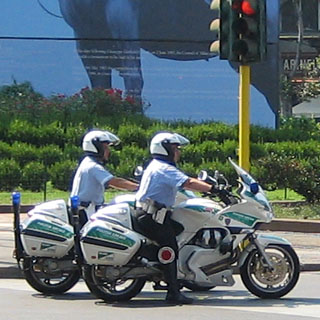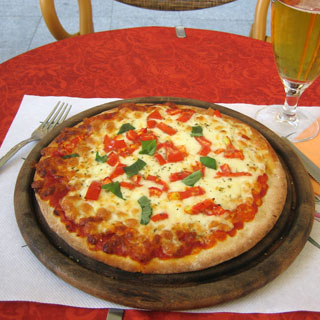 Castello Sforzesco is at the heart of Milan (unless the Cathedral makes that same claim).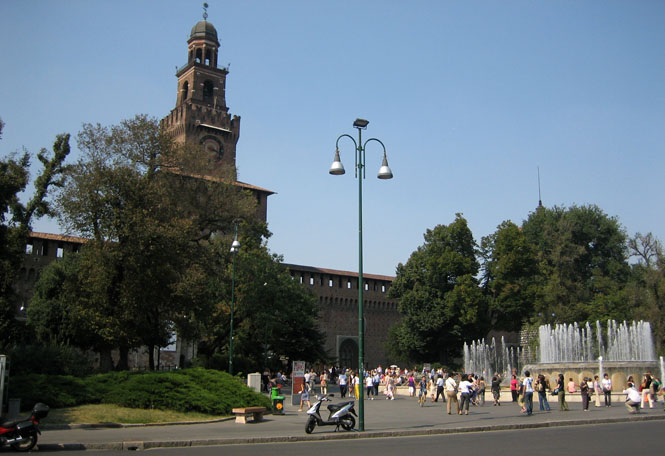 This is the view from my hotel of the church of Santa Maria delle Grazie. Leonardo de Vince's Last Supper is here, but I did not see it.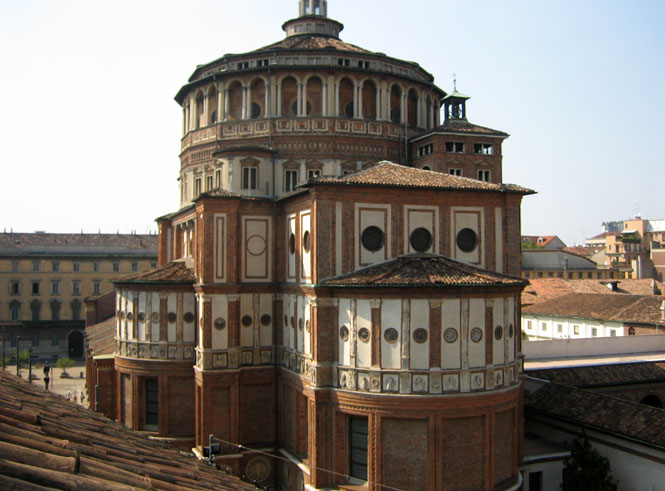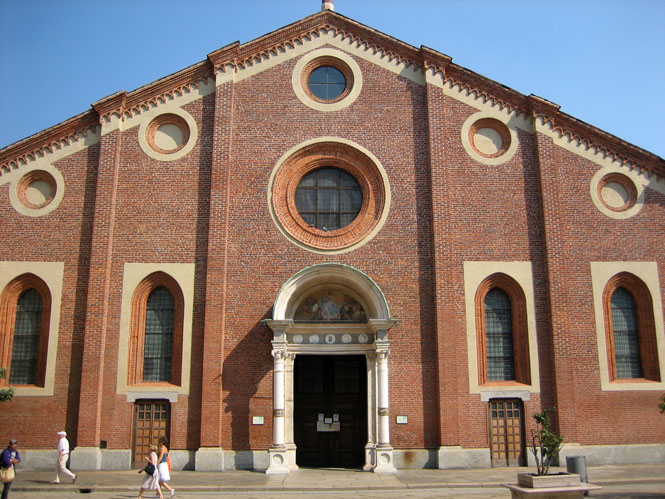 The door to my hotel is on the right, just beyond where that scooter is parked. It's an impressive hotel (it was once a monastery before becoming a home for the "poor and humble beggars" in 1578), but you wouldn't know any of that from the front.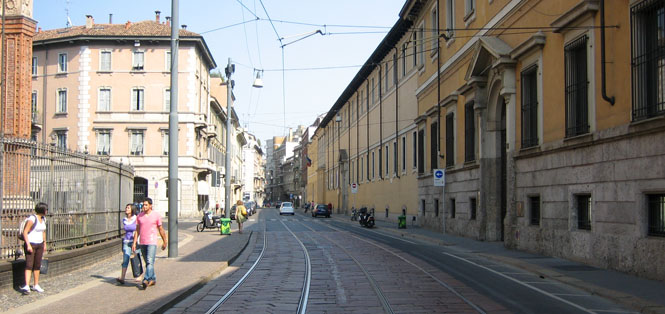 The Milano metro system works well; this is the Green Line to the train station. A single trip costs just 1 Euro.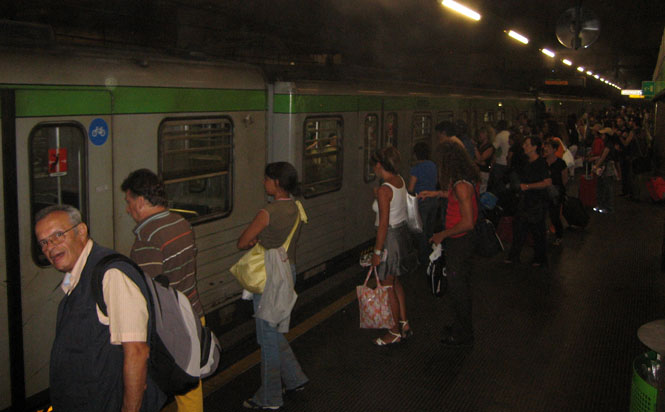 Staziona Centrale is enormous. It's the easiest way to get to Lecco.
With these automated ticket machines, you can enter where you want to go, and your train ticket(s) will be dispensed. It's a good system and quite fast (there are other machines for the Metro). Or, you could stand in a rather long line to buy your ticket from a human.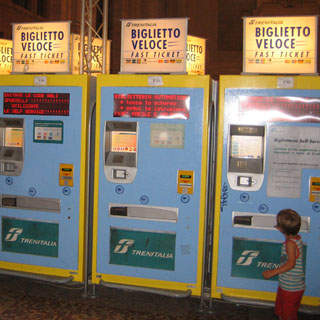 Lecco is on the south tip of Lake Como (or Lake Lecco, if you prefer), and only a few miles from Mandello. I'd change trains here.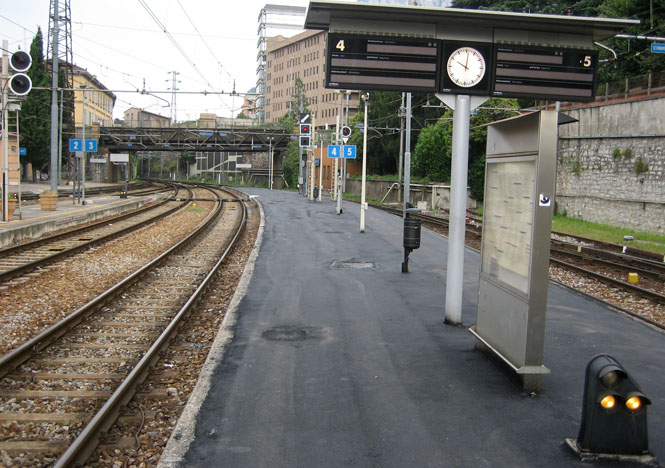 This yard engine looked interesting. It's apparently a direct diesel and not a diesel-electric.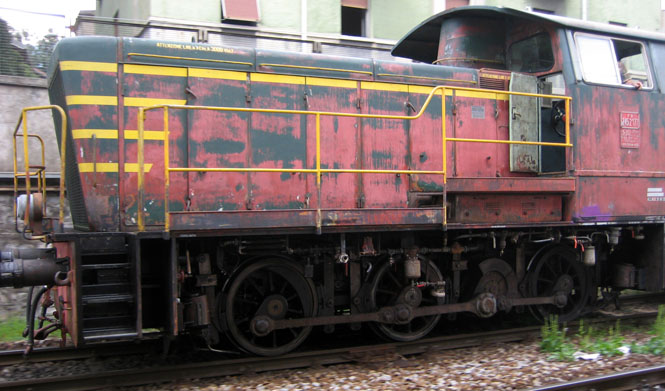 In Mandello del Lario, walking from the train station towards the lake.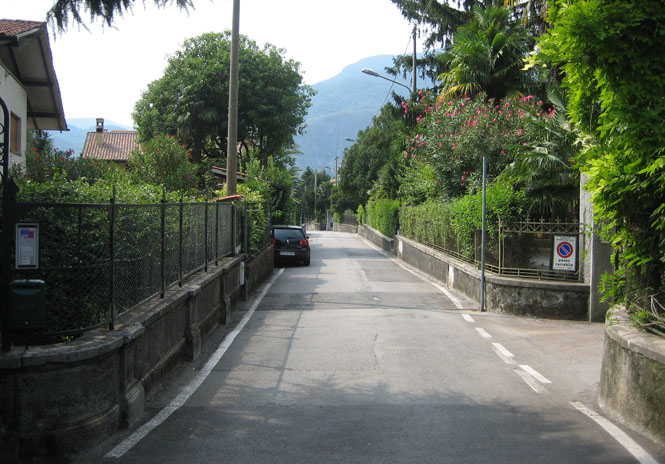 Mamma Ciccia. I've stayed here before, and someday when I return, I'll stay here again. It's an easy walk to Agostini, and it's just a few steps from the water. I had made earlier arrangements to spend the first night here, as well as the night of my return.

Mamma Ciccia Ristorante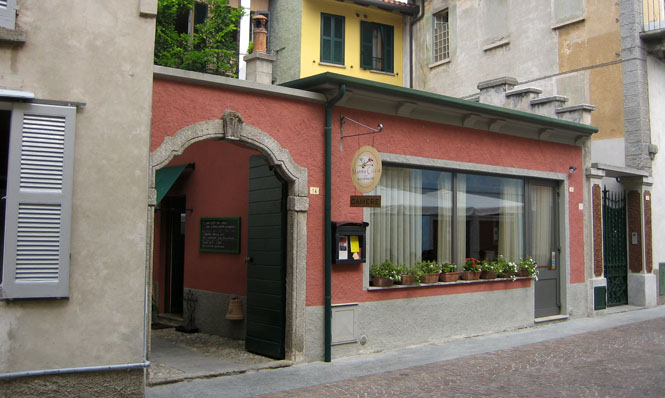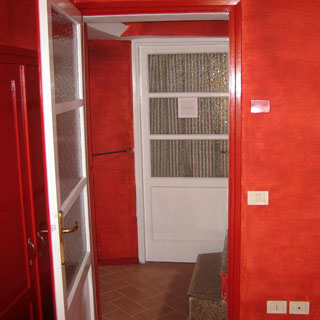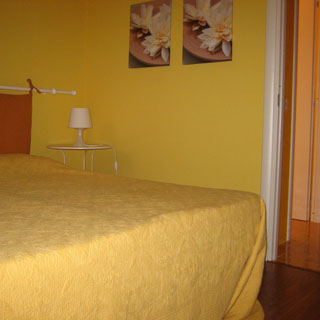 The need to plug stuff into a wall. From left to right we have a Garmin GPS, Canon camera battery, phone and PDA. I am a believer in the use of bright orange tape to help prevent leaving things behind. So far, it has always worked. The GPS and phone charge from a USB cable, which means I only needed one transformer for both devices.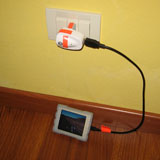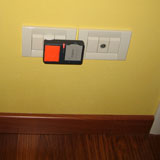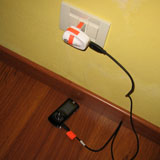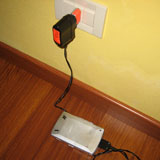 Lago di Lecco (or Lake Como if you prefer) from Mandello del Lario. A person wouldn't really need to go any farther--this should be enough.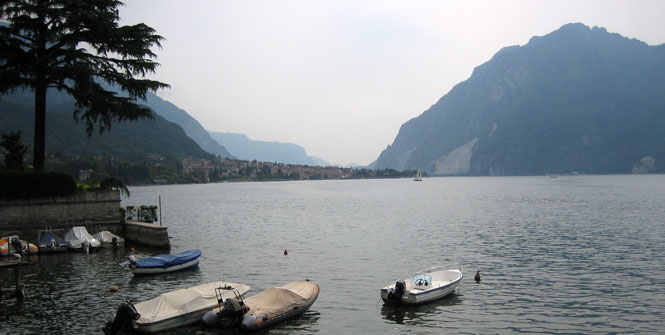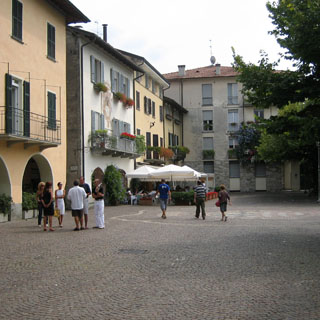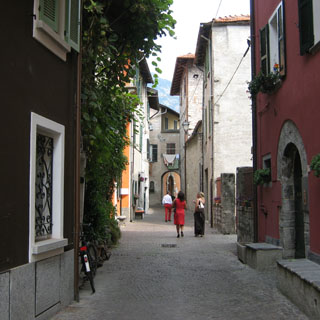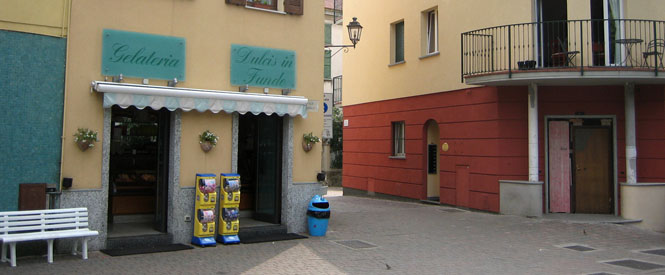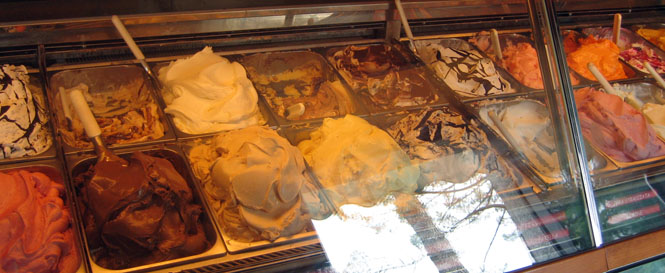 This is a repeat photograph (from the last trip) of Berto; this one is better.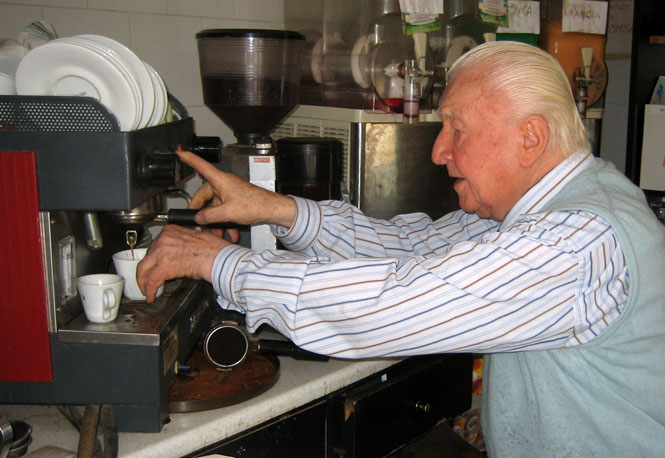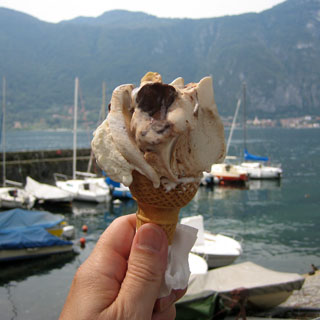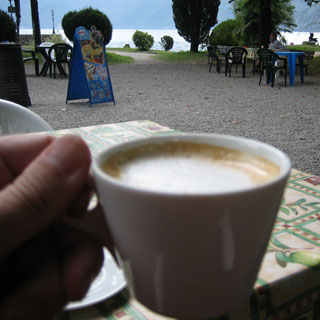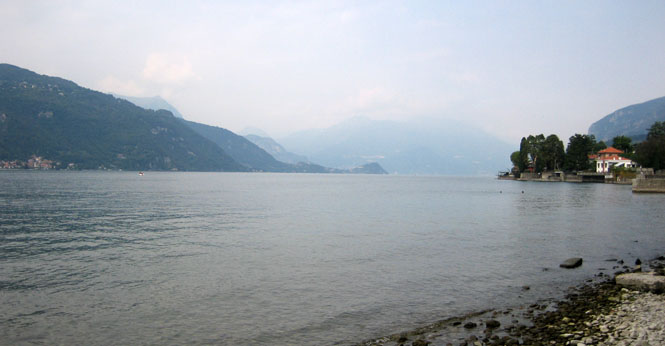 From the water, I walked "up the hill" to the restaurant Al Verde. It's not a trivial walk, and I still have a good ways to go from this point.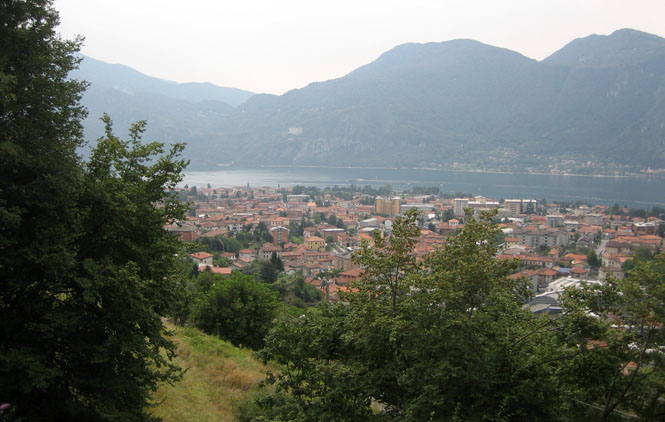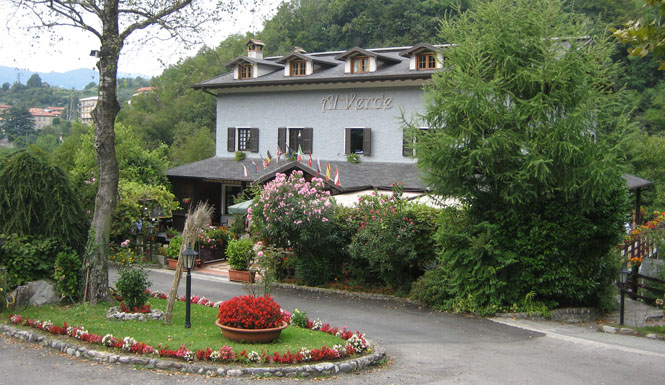 There was a large birthday party in progress, but they found a table for me. I don't think I actually ordered anything, but they figured out what I needed, and it was very good. I suppose drinking the full bottle of wine made the return hike easier. On the right is Tiramisù; on the left is a plate of three unknown pasta creations.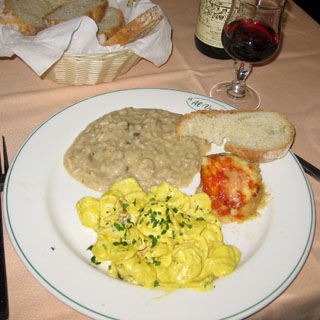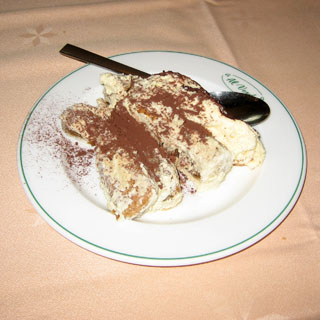 This may be the most photographed gate in town. On a Sunday afternoon, the Moto Guzzi factory is not a busy place.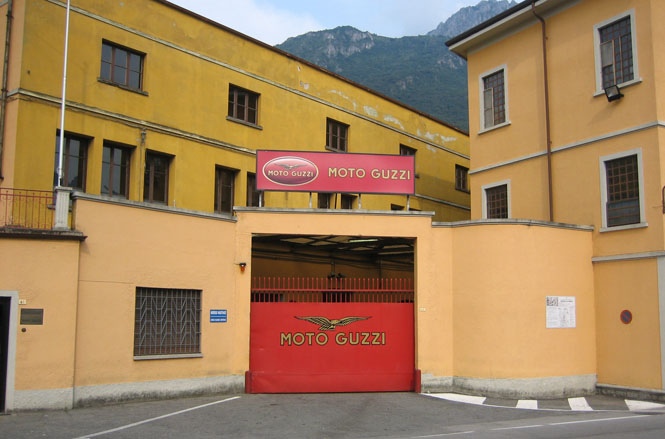 The Mandello del Lario city park.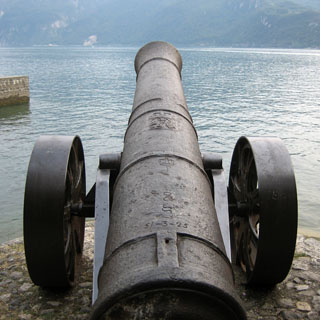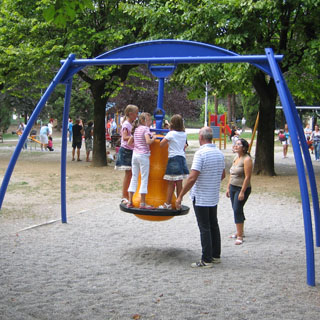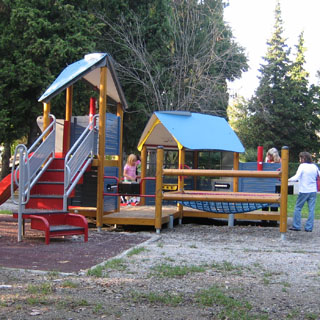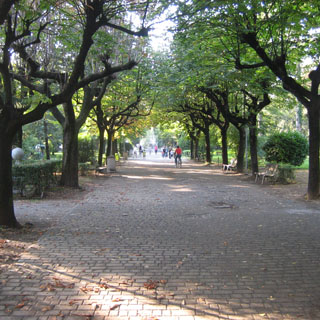 I never looked inside the church the last time I was here. Wow! Very impressive. That's the ceiling on the left.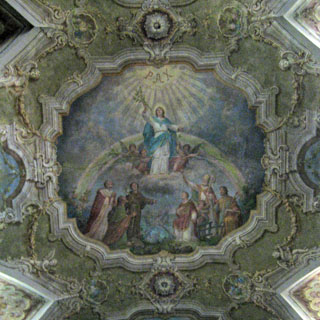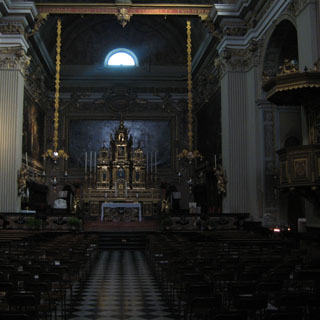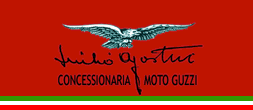 Duilio Agostini Concessionaria
And, this is where the trip actually begins: Duilio Agostini Moto Guzzi. Alis couldn't have made this part any easier. I show up, toss a couple of cards on her desk, and I'm good to go. The motorcycle was out in front, fueled and ready.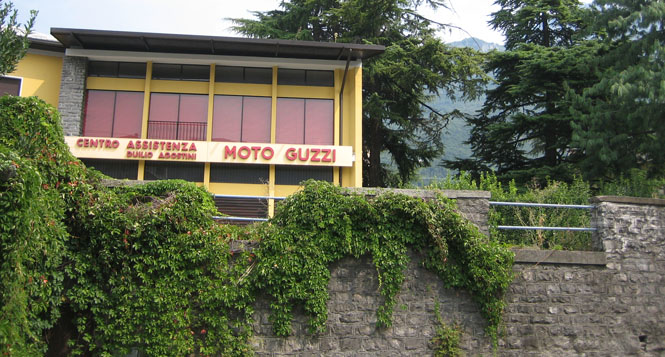 There is a full size photograph of Duilio, just inside the shop, and a large painting (also of Duilio Agostini) in Alis' office. You look at that face and you know he's going to beat you and enjoy himself thoroughly while doing it. How long has it been since a white scarf was natural part of a racer's gear?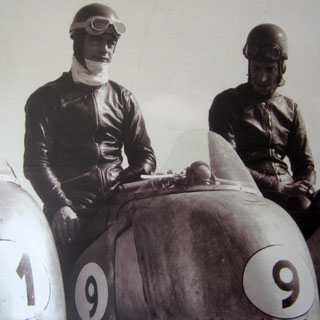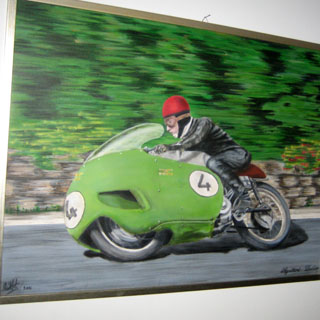 Duilio Agostini died this year, April 12, 2008. He was 82. He was a Moto Guzzi test rider in 1947 and later raced for the factory team. He won the 1953 Milan-Taranto (a race that runs the entire length of Italy) as well as the 1955 French Grand Prix. In 1956 he founded the shop and then dealership that bears his name.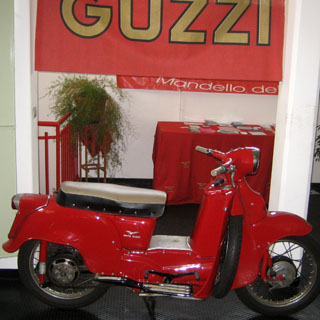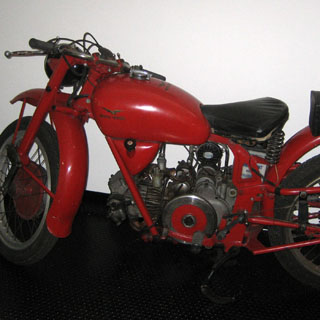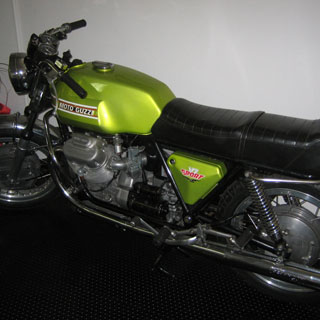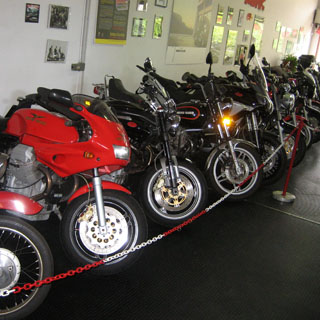 I didn't need the rear trunk, preferring to use the waterproof duffle-bag. And, in hindsight, I could easily have removed the saddlebags, as I didn't use anywhere near their capacity. This might be the best view of the Stelvio. I never quite came around to the look of the front. No matter. The bike worked flawlessly the whole trip, and it is one of the easiest Guzzis to ride on tight mountain roads as you'll ever find.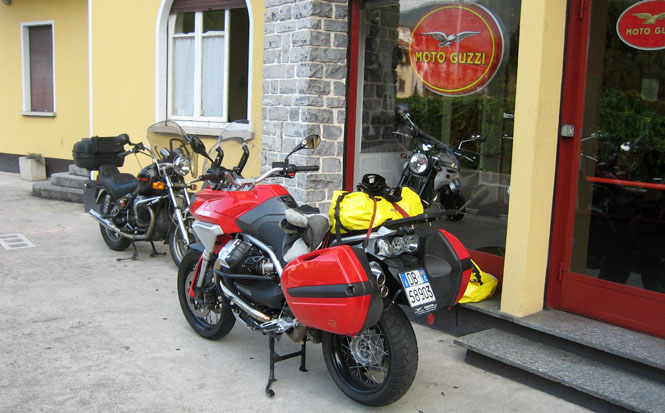 Switzerland
Graübunden
Even though Switzerland is not an EU member, the border-crossings were not much more involved than crossing from Kansas into Colorado, and easier than crossing from Oregon into to California.
Castasegna. I knew I had to buy a vignette (sticker) in order to ride the motorways (freeways). I never intended to spend much time on those roads, but, often there was no other choice (40 Francs).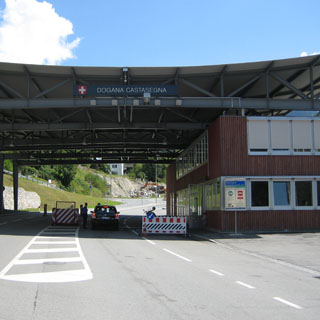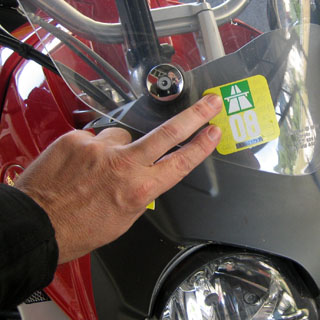 | | |
| --- | --- |
| | This means that there's an international border crossing, although it was never clear if it meant that I had to stop. I think, not. Anyway, mostly I rolled slowly through, hoping to catch the guard's eye until he motioned me on (which he always did). |
| | This one makes sense, and there's little confusion. Do not turn left. There can be no missing that red slash across the symbol. But, for the most part, the red slash is hardly used; then what? |
| | No red slash on this one. So, does this mean that motorcycles are welcome? No. It actually means that motorcycles are not allowed. Sometimes, all sorts of symbols would sometimes fill up the red circle. But, why not use the slash? |
| | I was never sure about this one, except to note that it must have something to do with tanker trucks driving on water, and had nothing to do with me. Whether these special trucks are requried to drive on water, or are prohibited from driving on water isn't clear. Real meaning: ground water is used for drinking; special procedures are in place in case of an accidental spill. |
| | If this had a number, it would be the speed limit for the road (km/hr). So, one might presume that a missing number simply means that you should travel at whatever the standard speed for that type of road might be. But, instead, I came to believe that it really means that you are not to enter this road. Frankly, I'm still not sure. I need a Swiss highway handbook. |
| | No blue cars allowed? This one means that there is no parking on whichever side of the road you see this sign. If there were two counter-lashes, then you cannot park on either side. Of course, this would not apply to sidewalks, which is where I parked. |
Passo del Maloja is a graceful pass, and made a good introduction to Switzerland.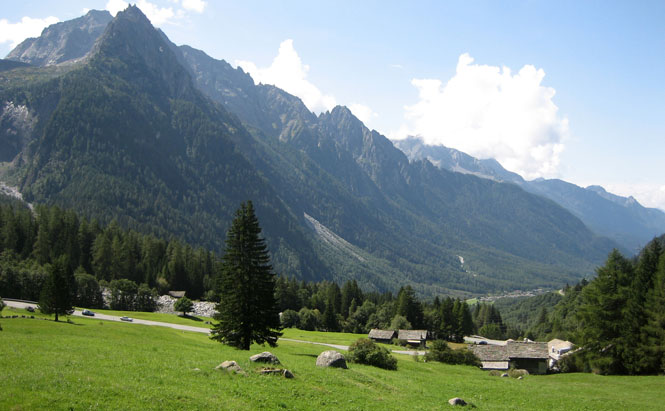 I diverted off the main road, and kept to what was clearly the old highway. I stopped in Celerina for lunch. This was ideal: buffalo mozzarella and tomato.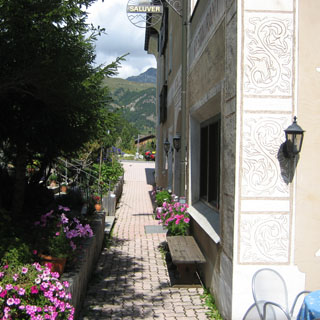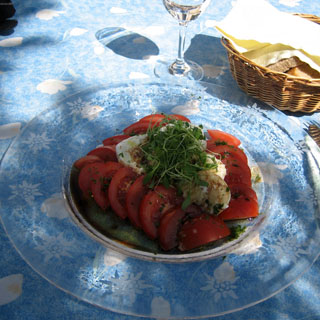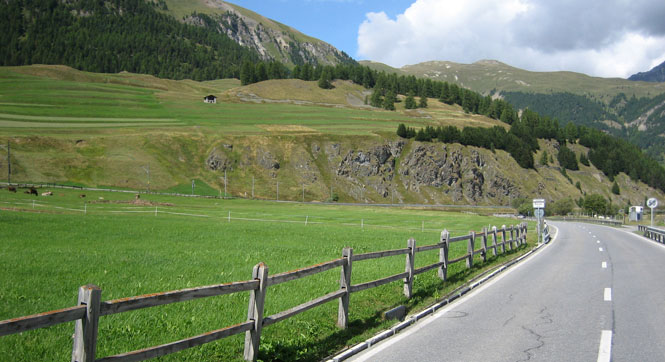 Flüelapass was more of a challenge. I stopped near the summit to take a couple of photographs.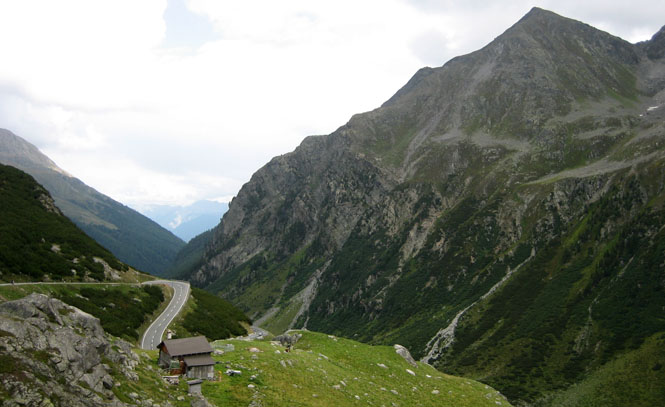 Those are my gloves on the handlebars. I only took the single pair, and these worked just fine. Incidentally, the seat is adjusted to its highest position. That worked fine for me.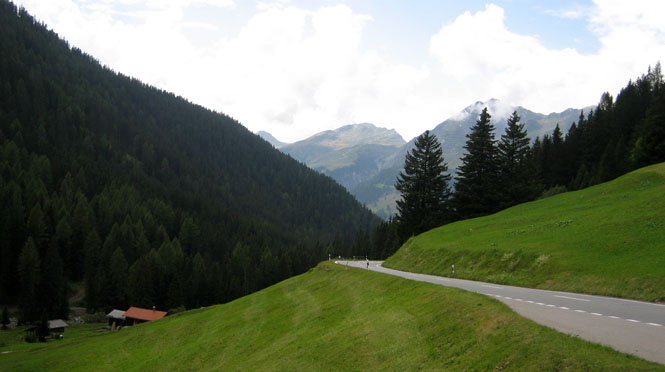 It was lightly raining when I reached Davos, and since I never wanted to ride all day long, I stopped here for the night. This was a good way to begin the trip, since Davos is a fairly large resort-oriented town. There was no problem finding a good hotel, and I had plenty of time to walk in the evening (something I would do every evening of this trip).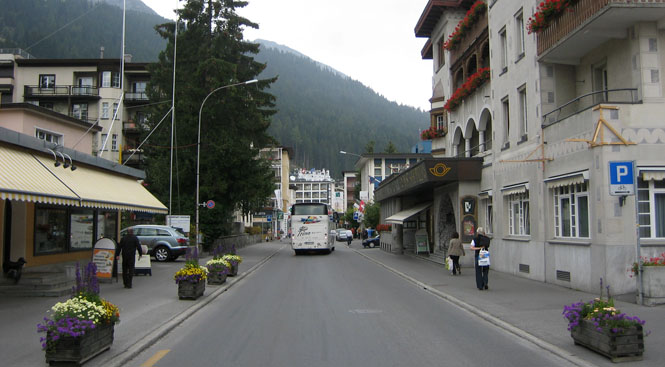 That's city hall (or the equivalent) and police station on the right.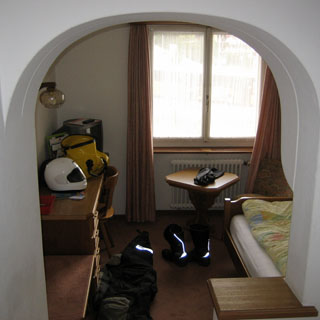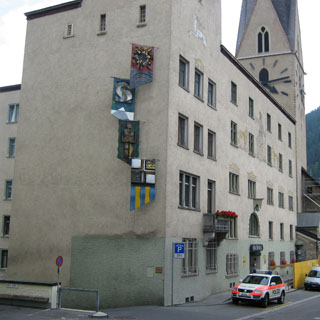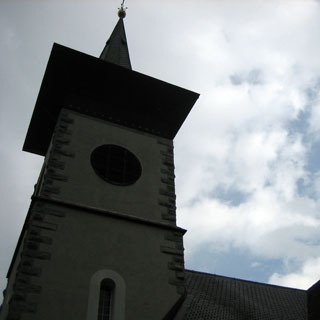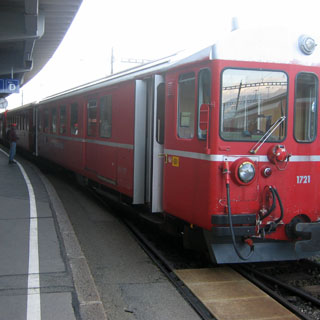 This was the only time that I would loop back on my route, but in this case, I wanted to ride a smaller secondary road over another pass.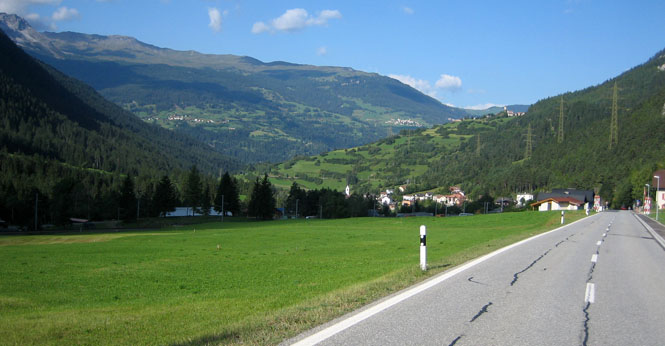 What a lot of trouble to build this road! I've no doubt that it was much more interesting (or frightening) before the concrete barrier and retaining wall was built. The bottom of the canyon is well below what you see in the photograph.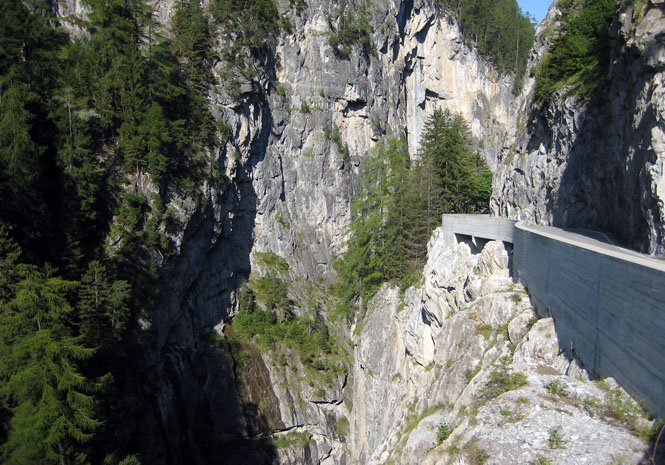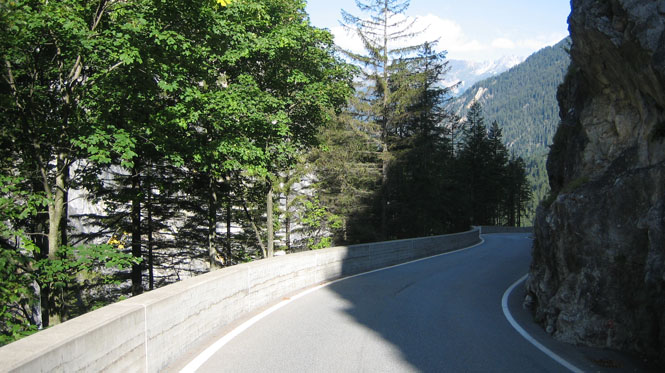 Much of the time the road followed the same route as the railroad. The exception was that the railroad was often running loops into tunnels in order to make the elevation changes.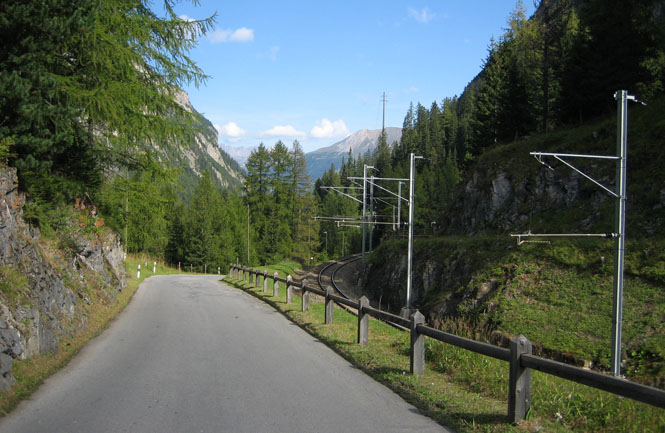 Albulapass; a much more dramatic pass.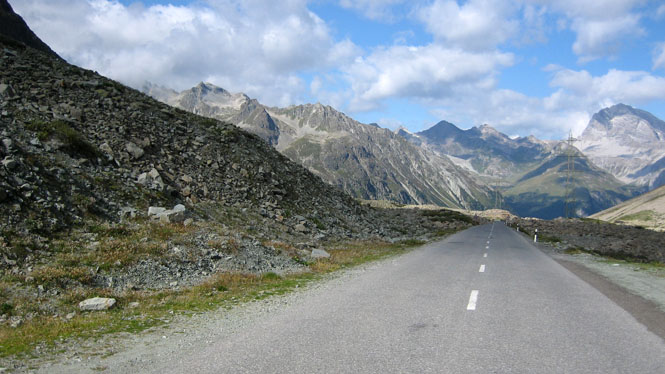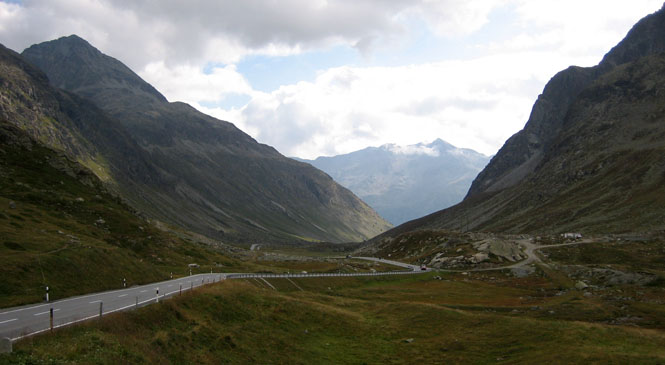 Running back through St. Moritz, I turned north to cross Julierpass. this was a fun road, with lots of sweeping turns.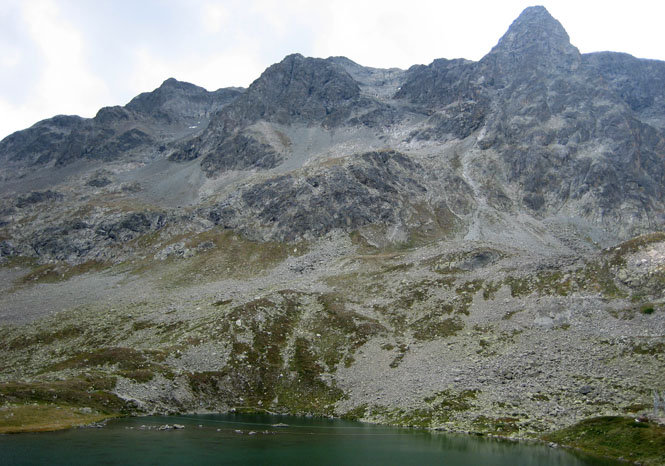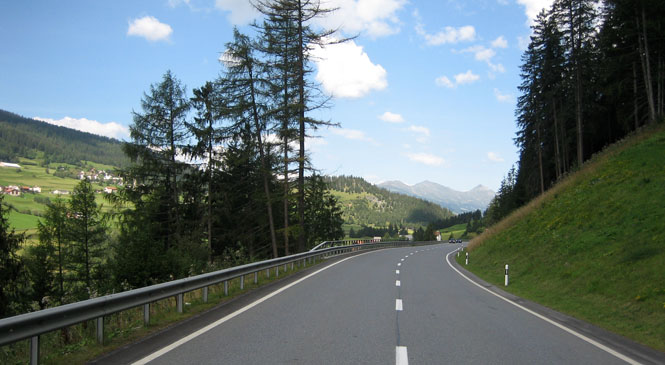 It's just as flat as western Kansas only with more trees.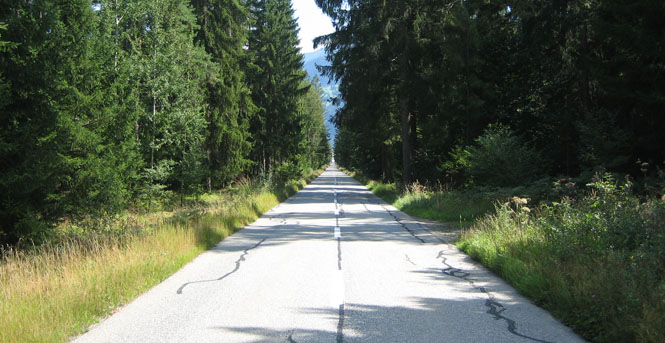 I kept to the secondary (and less) roads as much as I could. There was almost no traffic on this one. I could pass oncoming cars well enough, but two cars, meeting, would have to work something out between them.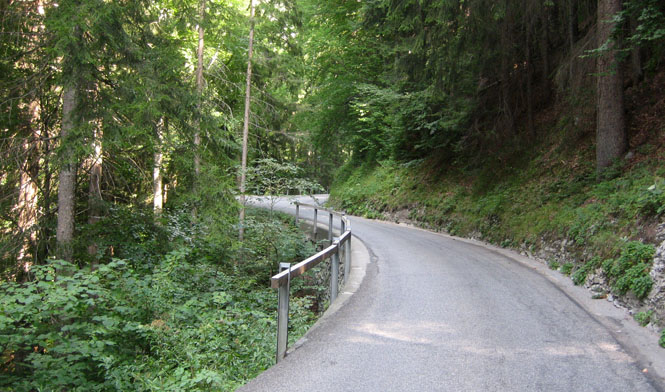 River Anteriur. I'd follow this river for several miles (but, always well into the hills).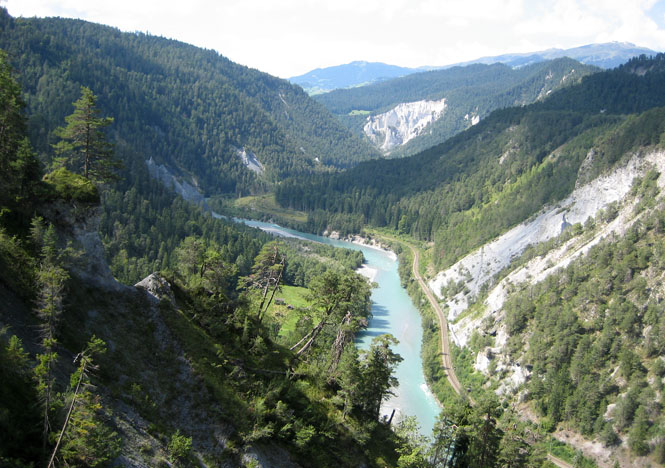 I saw this sort of thing, often, and the intent seems to be to prevent water runoff from going across the road. Sometimes there were great sheets of water with impressive waterfalls at the edge.
An informed native informs me that avalanche protection is the primary reason.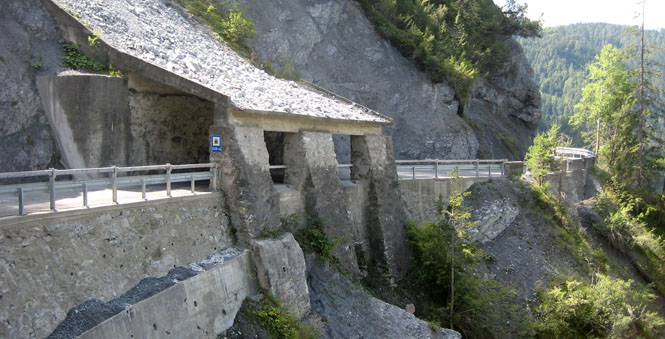 I stopped at Versam for a break. It's interesting to think that this little town is served by the same narrow road (and only that road) I'd been riding.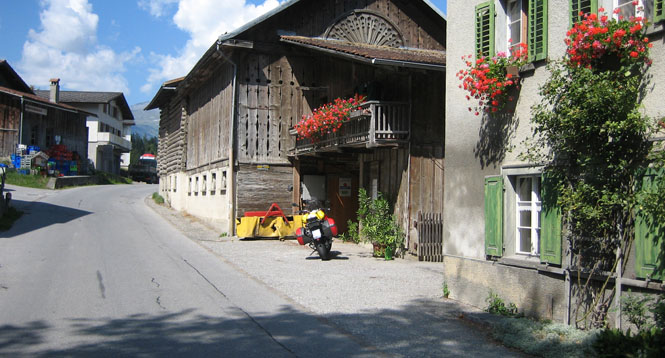 Cheese and bread. This is an ideal lunch. Actually, I thought I was asking for cheese and bread separately; not in the form of a sandwich. But, this is what came. No matter. The two walnuts were a nice touch.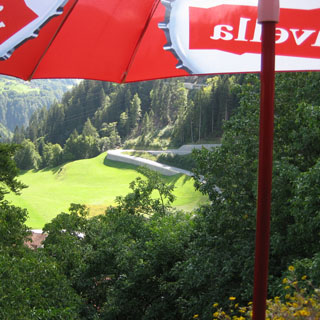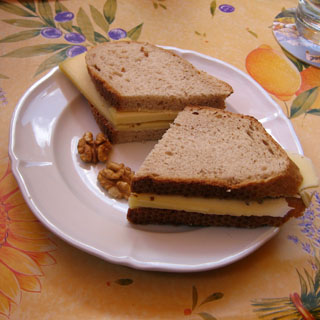 Running along the same road, I saw that church, those mountains, and that cow and knew I had to have the photograph. Perfect.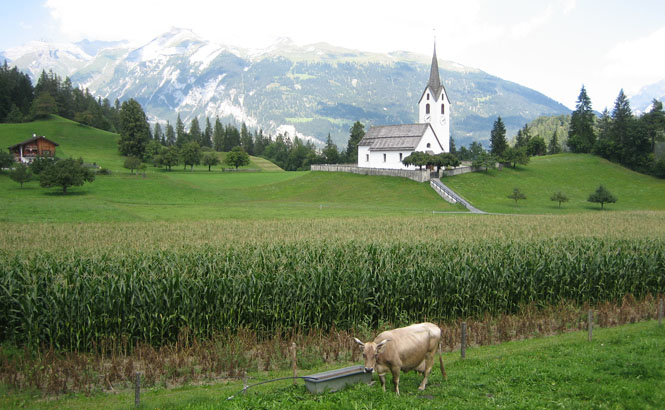 Disentis has a very large
Benedictine monastery
.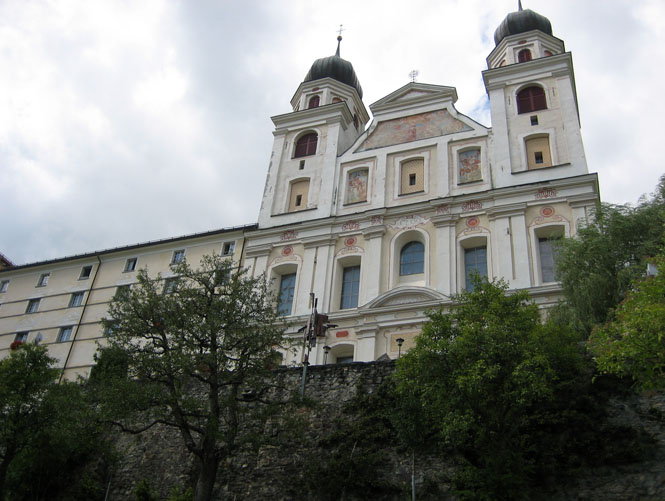 Typically, the highway markings end in the town as there is often not enough room for two approaching cars to pass each other at all points.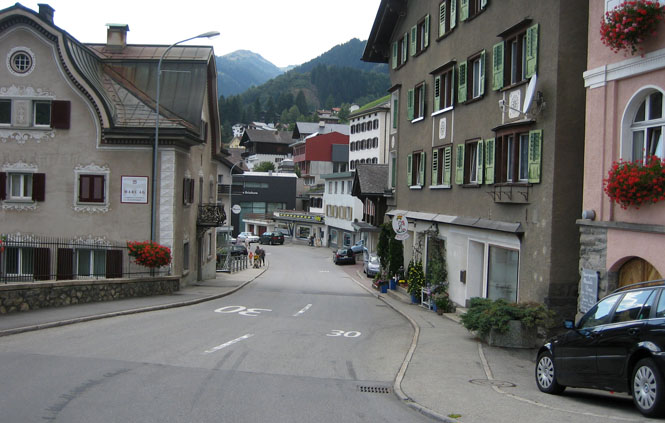 Uri
Oberalppass is at the end of the long valley.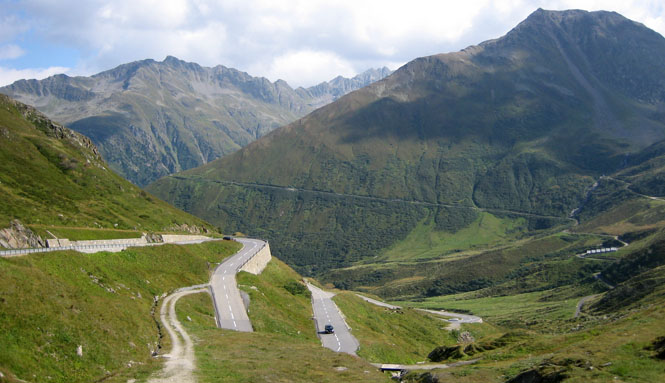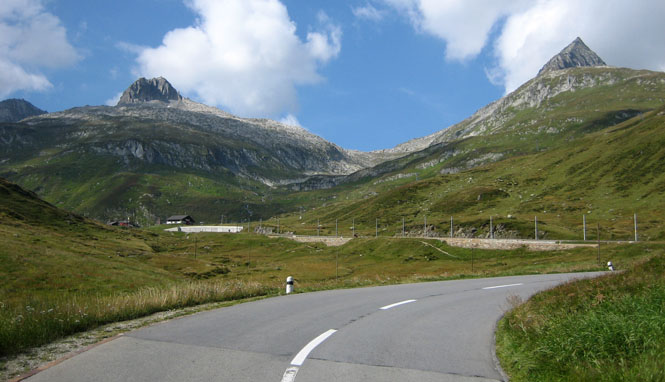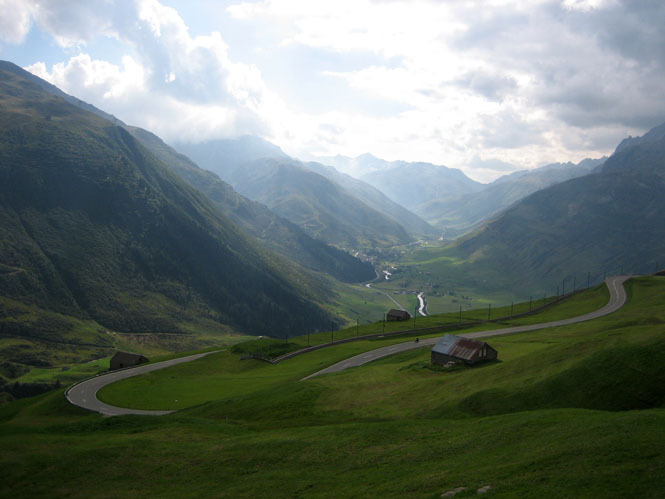 Andermatt is at the foot of another valley, on the other side of the pass. It seems to be a destination-town for motorcyclists as there were lots of them. Cobblestones are not all that bad, but it's still nice when smoother tracks (often paving stones) are also used.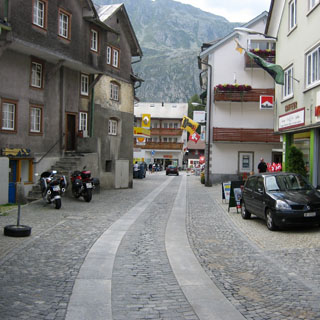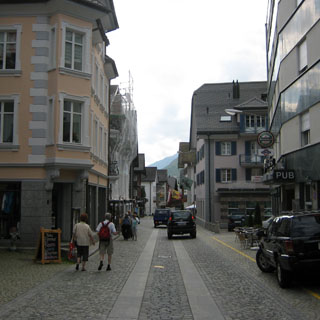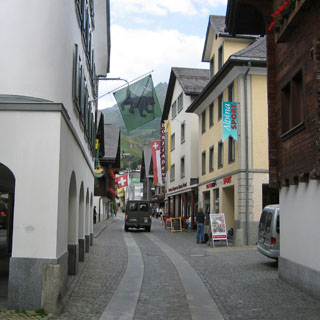 That motorcycle? This was a common sign everywhere that the hotel welcomed motorcyclists (the word "biker" or "toff" is the usual term used). The bear was an interesting addition. Some of the motorcycles used were quite exotic, while others were trash.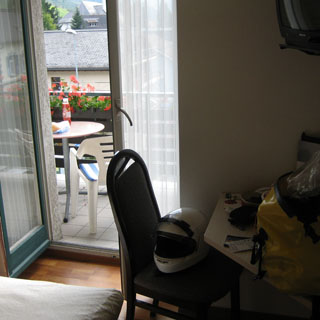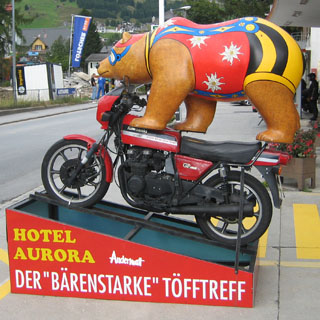 Strudel and houses and church of Andermatt.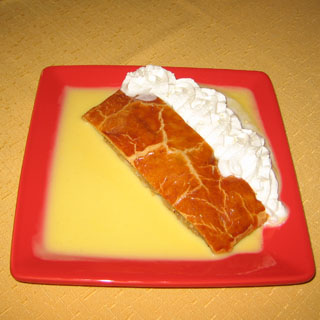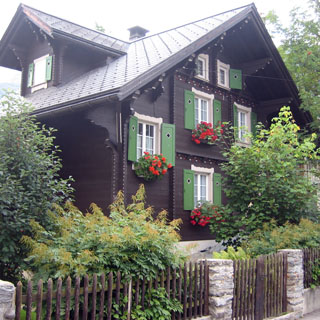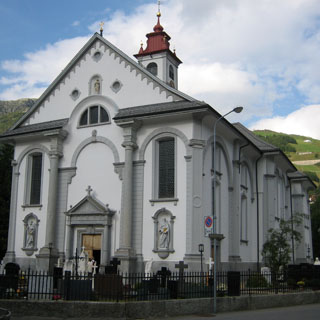 St. Gotthardpass is one of the more famous passes of Switzerland. This is the old route into Italy. I was riding in the clouds most of the time, which is not pleasant. Would you think that heavy, blinding fog would also exist inside tunnels? It does.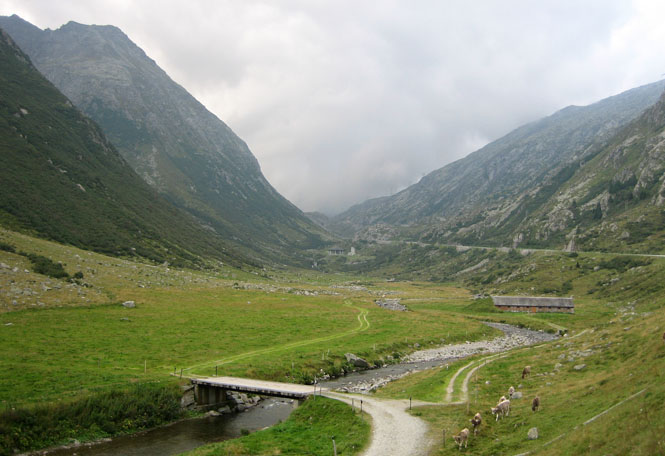 I admired that red stripe of cobblestone down the middle. You wonder why they didn't stripe it. It's an amazingly straight line when you consider that each block was hand placed. The reason this old surface is still on this road is that the vast majority of the traffic is now well below the mountain in a vastly long tunnel, and there's not much on this road (evident by the fact that I'm kneeling on the road to take the photograph).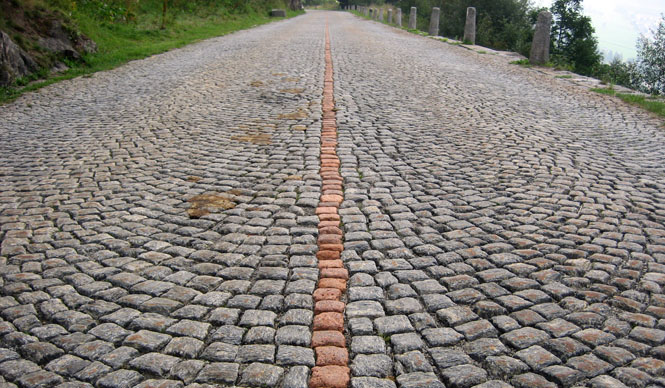 Ticino
Airlolo. I generally got gas between 120 and 180 kilometers. That would be way too often if I were riding in Kansas, but I'm not in Kansas...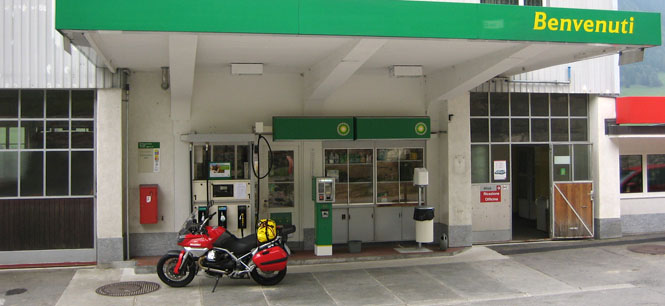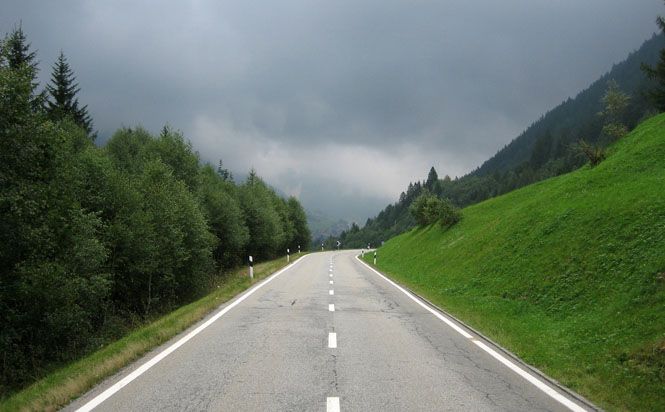 Nufenenpass might have been my favorite high pass. The road seemed more contoured to the mountain, and less forced than some passes were.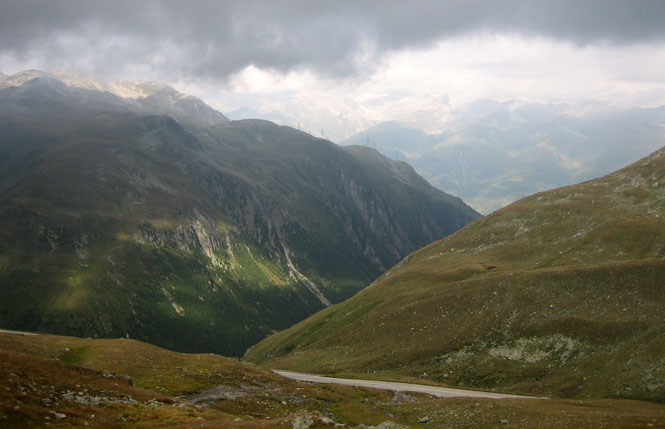 Valais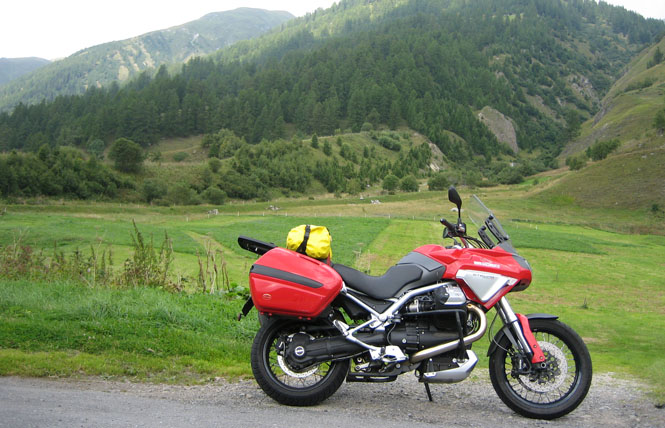 And, speaking of forced roads. This is Grimsellpass. There's nothing organic about this road. It has to get up the mountain, so they did what they had to do. Back and forth and back and forth.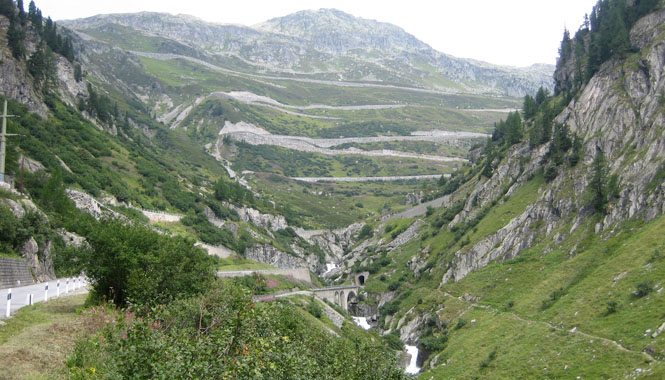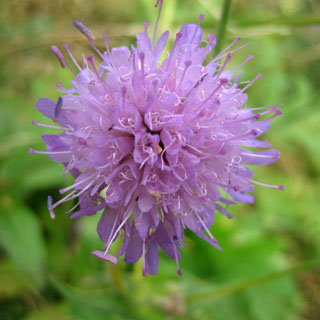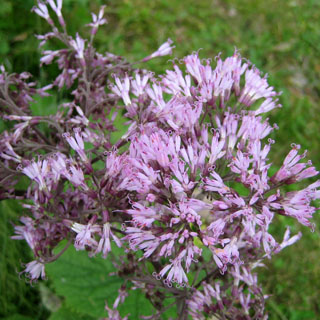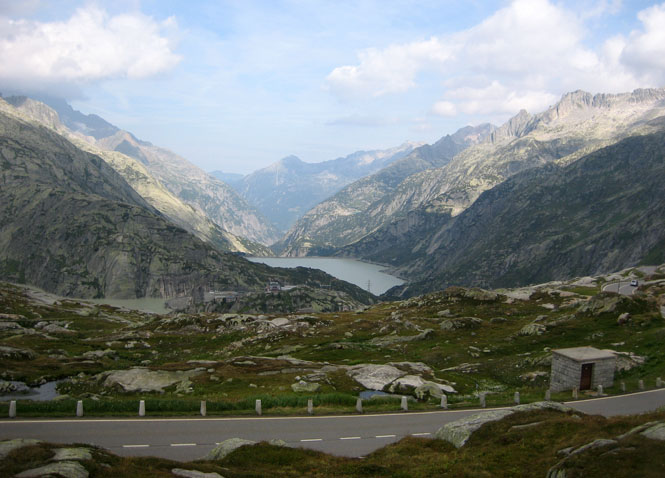 Berne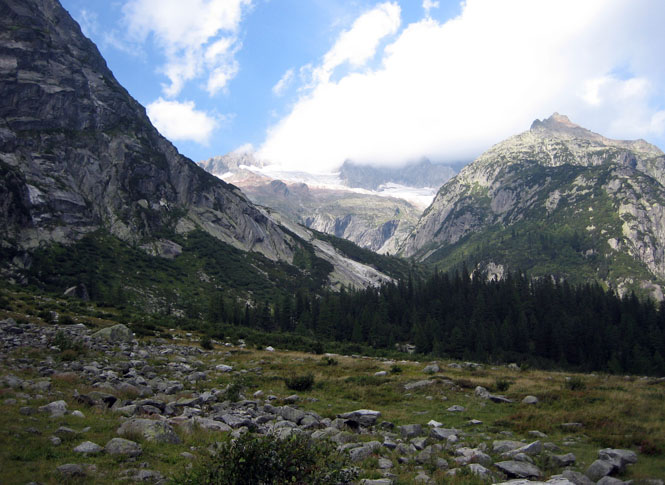 Brünigpass is more in the foothills of the Alps. I really liked this area.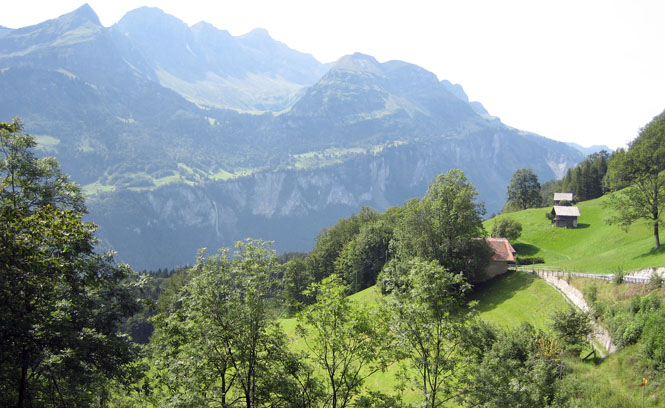 More cheese and bread. I could not tell you the type of cheese (yes; it's all Swiss Cheese).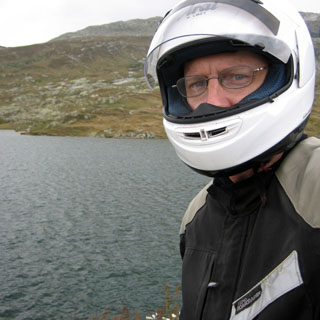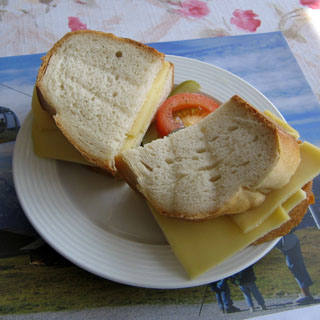 Obwalden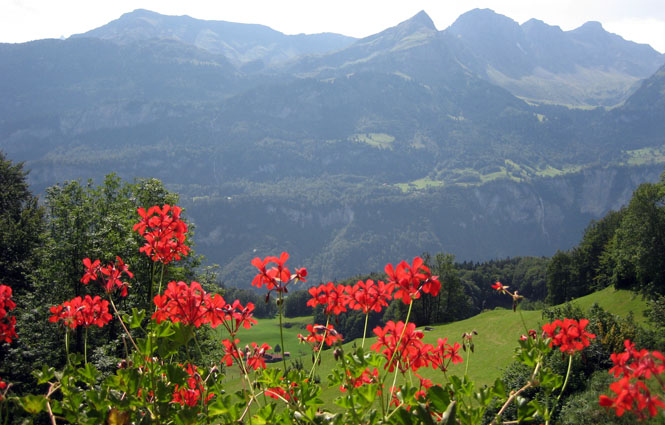 I stopped at the Sarnen airport to have a look around. I hate to admit it, but I had a hard time identifying some of the airplanes, which I've never seen. Others, were much easier. It was interesting that the lineboy I talked with pronounced Cessna with a hard 'Ch'. That's ok. I've always pronounced the French aircraft "Robin" the same way I'd refer to the bird--wrongly, it now seems.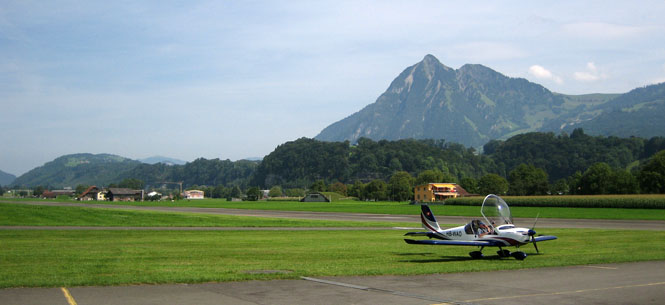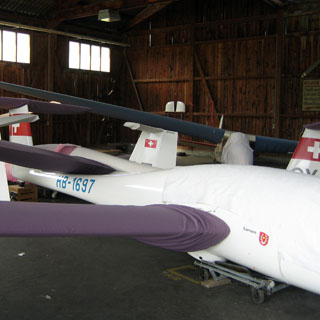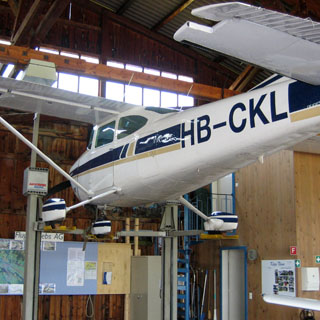 Nidwalden
Obwalden
Engleberg is a winter-sports town, at the end of a narrow valley.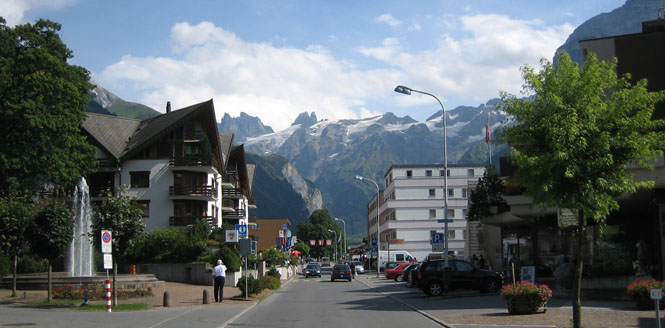 I had plenty of hotels to choose from, but I liked the look of this one.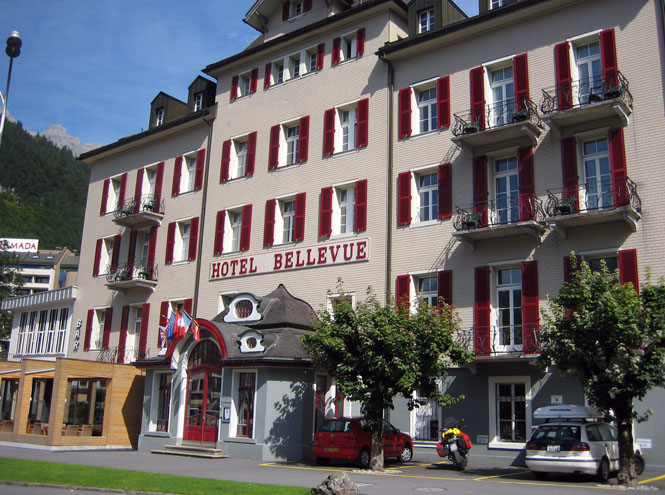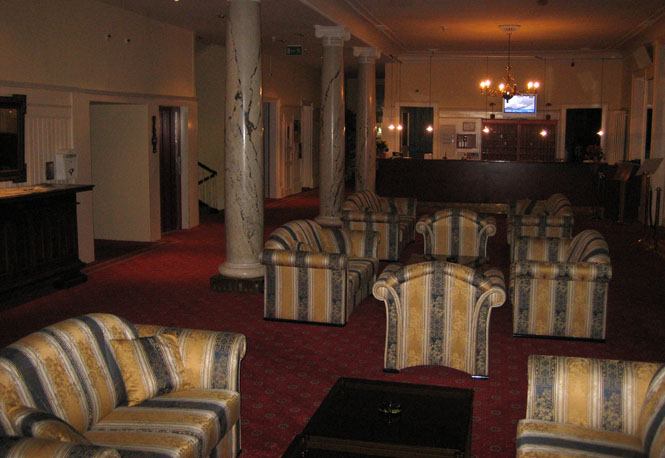 Looking through town towards the end of the valley.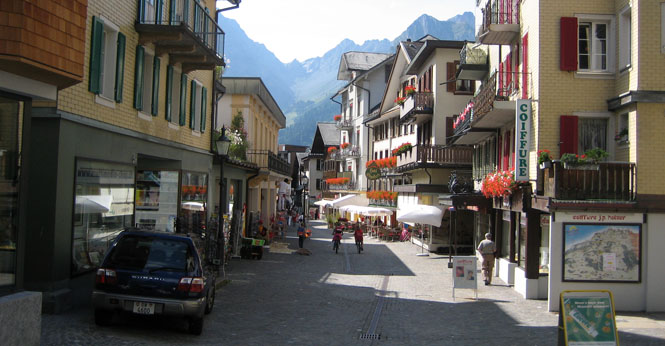 These Fiberglas angels were everywhere. All were painted differently, and generally in some theme that represented where they were.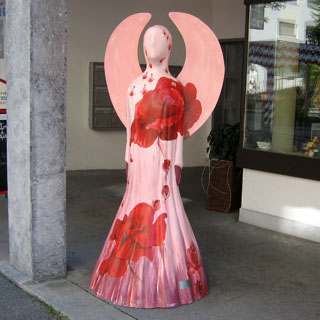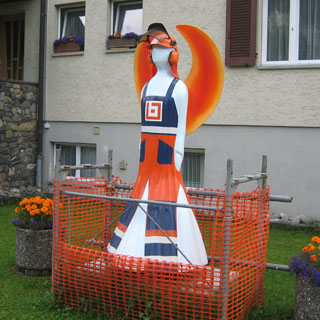 The large monastery that I assume was the original core of the town.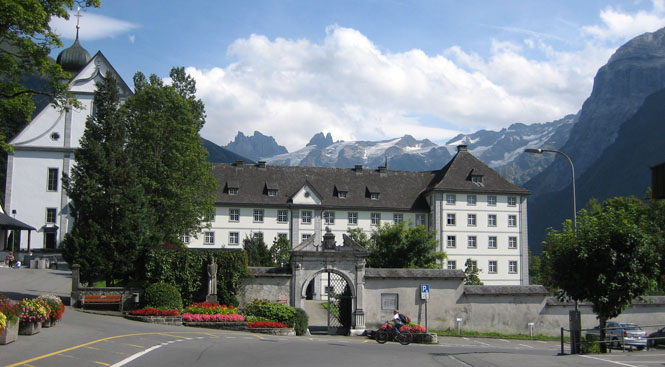 I would walk to the end of this valley. What a view!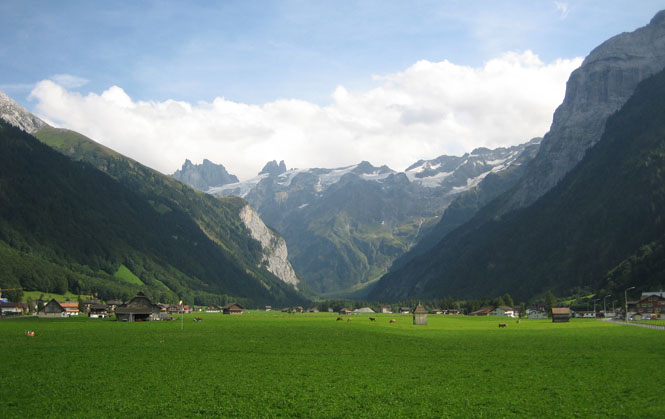 Glacier-fed streams always have a distinctive frosty blue color.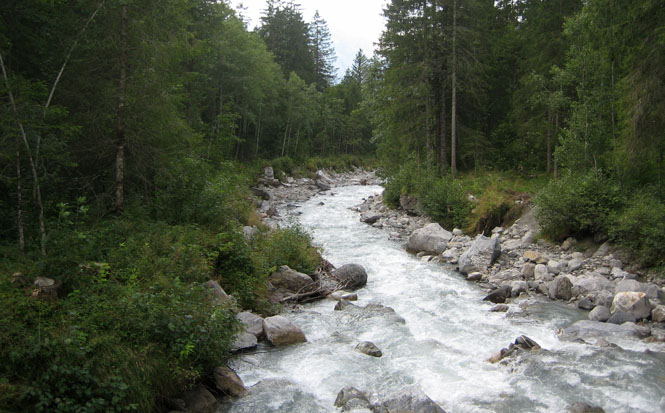 These signs are for walkers. Notice that distances are not given; instead, only walking times are shown.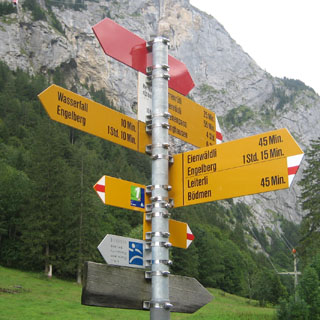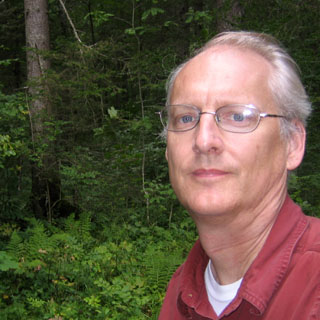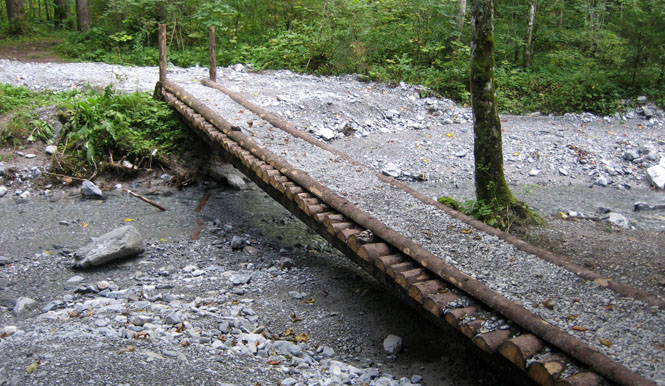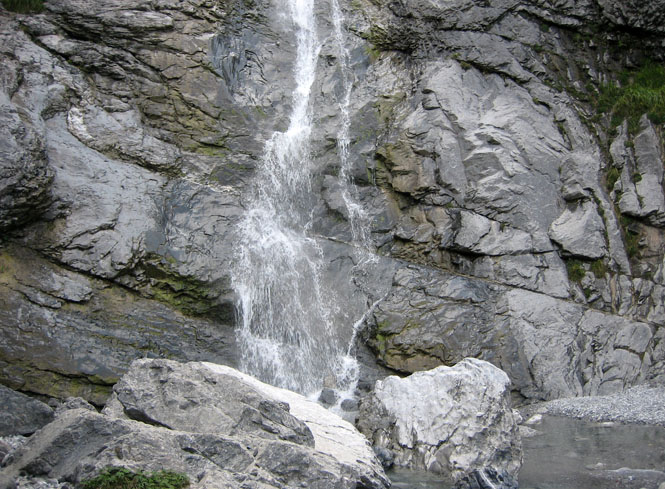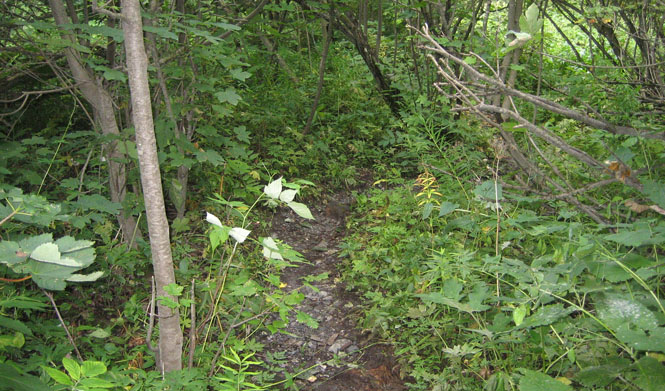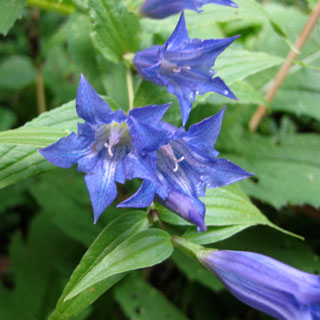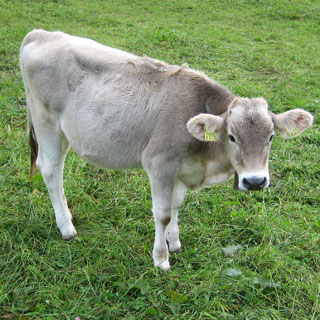 Several rock climbers were practicing on this face.
Pretty clearly, a great deal of water comes this way on rare occasions.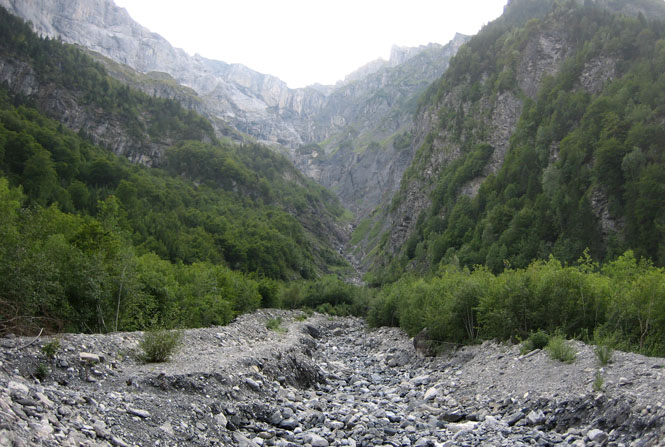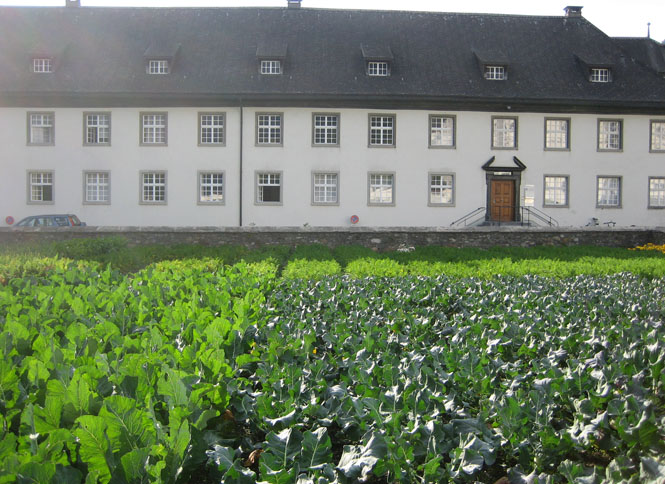 The inside of the church at the monastery. It had two organs; a very large one, with the pipes filling the rear wall, and a much smaller one (but still sizable) across from the altar. This last one was being played while I was there.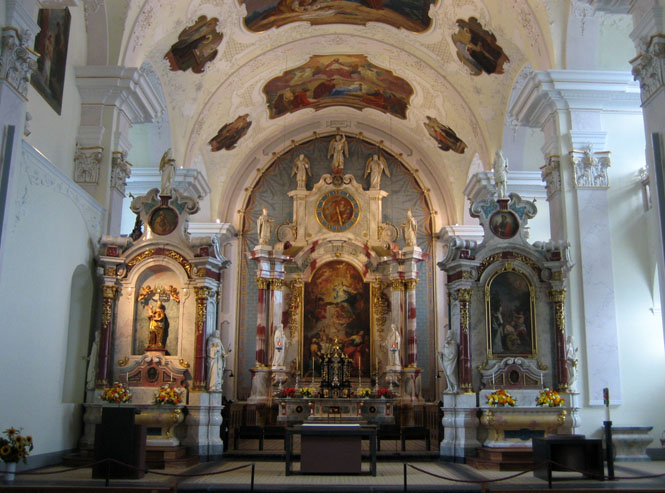 It is an interesting thing, to have your bones on display. It appeared that all the remaining bones were also there, being wrapped in fabric.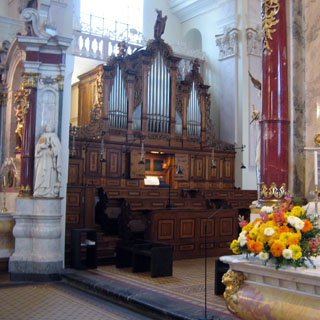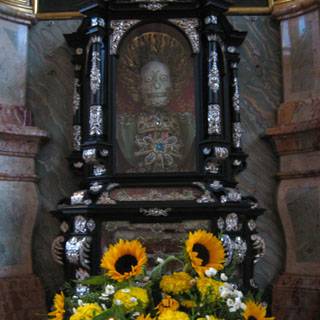 Plenty of trains into town. This is the end of the line.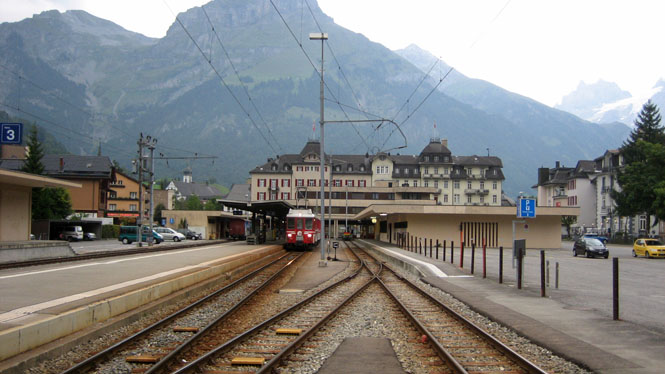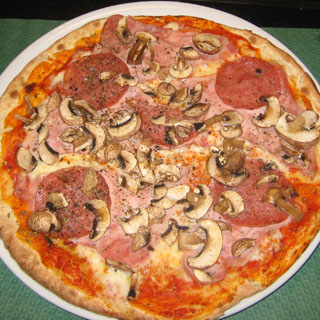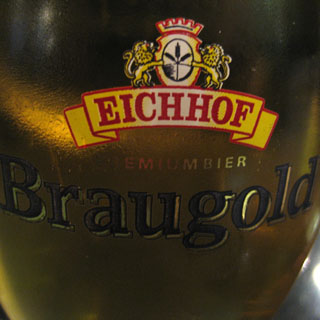 Uri
I think the Klausenpass was my favorite road of the trip, although that's a difficult call to make (and I may change my mind). Unfortunately, the summit was deep in a dense cloud, which made riding very difficult. I had to pull over and stop a few times to wait for things to clear up enough to continue. If you cannot see the road in front of you, there's little point in riding.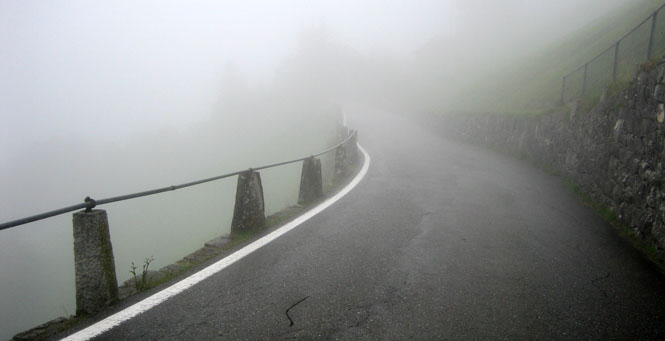 Glarus
The further north I was from the Alps, the more industrial towns I came across (such as Flums). But, even so, you would hardly do it justice to dismiss it as uninteresting.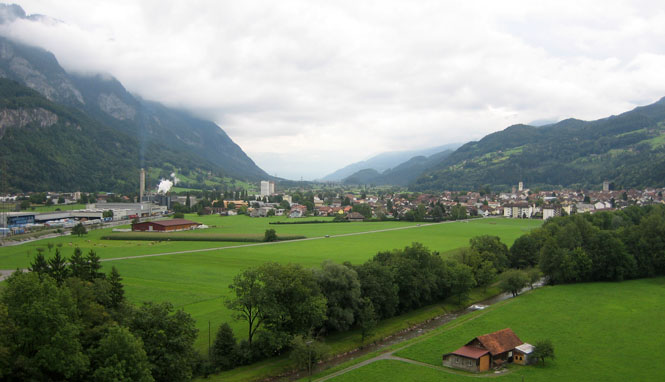 Just about every valley entrance was guarded by an abandoned castle or tower such as this. I made a point to find the road that would take me to this one.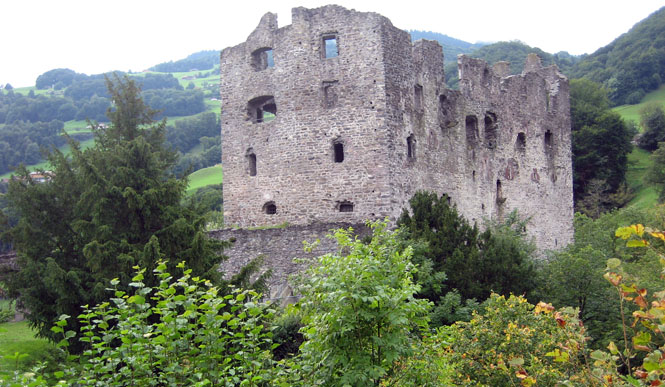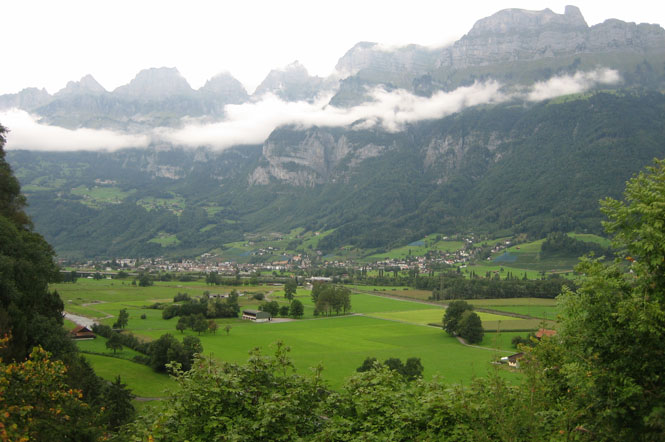 Maienfeld seemed to be a nice little place, but I was not aware that it was the home of Heidi.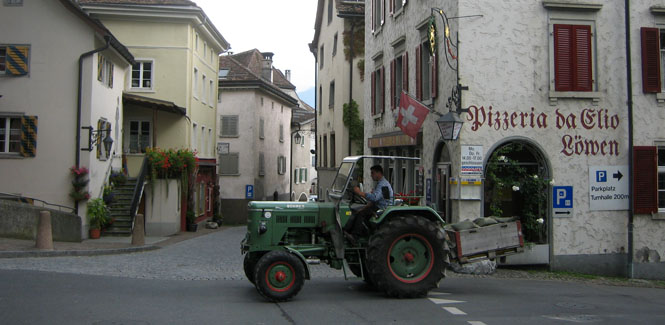 This is as close as I ever got to entering one of several Heidi shops. They seemed to be mostly popular by women of "a certain age", in spite of the fact that Heidi is generally seen as a book for young girls.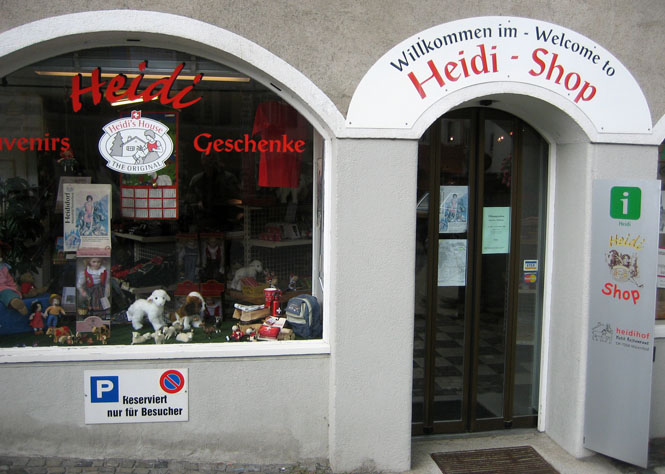 On the left is the public WC. This is one of the better ones, but public restrooms such as this are fairly common. The local soft drink "Rivella" comes in a number of flavors: blue, red and green. I tried them all. I think the colors are meant to match the flavor, but it probably helps to know ahead of time what that flavor is.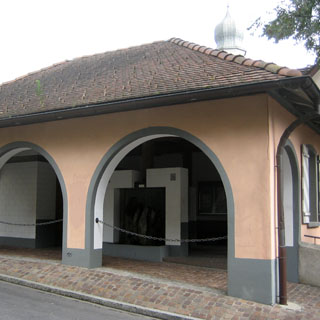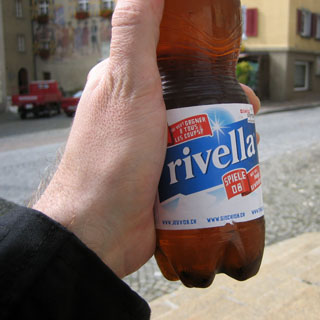 A very small grocery store, with a very large selection of cheese. This is common.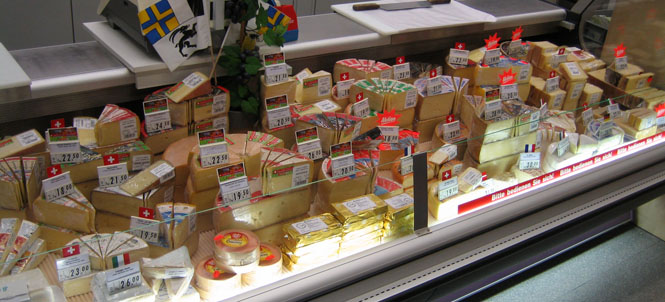 Liechtenstein
I had a general idea where Liechtenstein was, but that's about it. The photograph, below, is about a mile from the border crossing.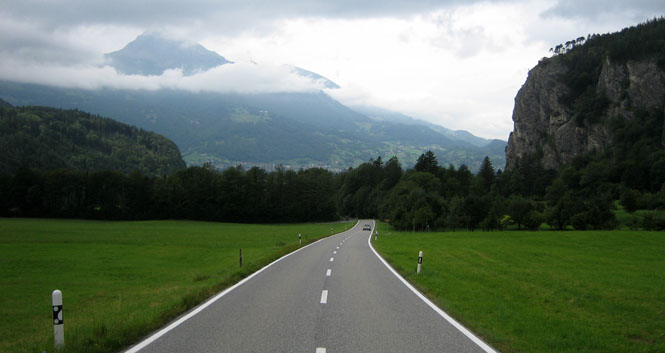 Triesen.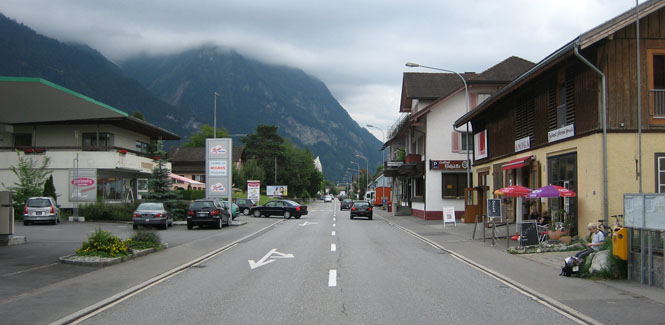 Climbing out of the valley towards Malbun.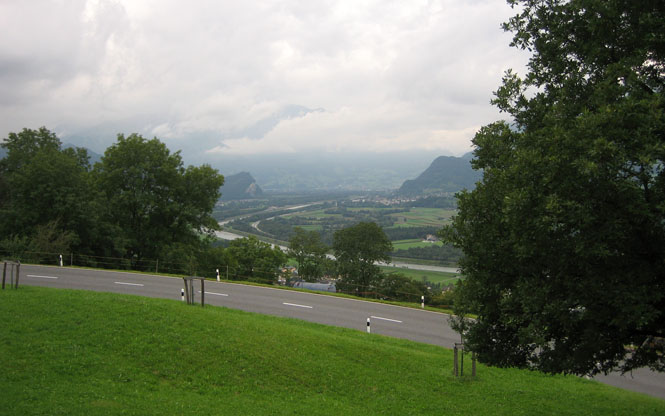 As with Engleberg, Malbun is at the end of a valley. My hotel is one of the buildings in the photograph. This is entirely a winter-sport resort town.
Sometimes (most of the times) I didn't know what I was ordering. But, I was never disappointed. Likewise the beer. I didn't recognize anything on the list, so the waiters always brought me the local thing.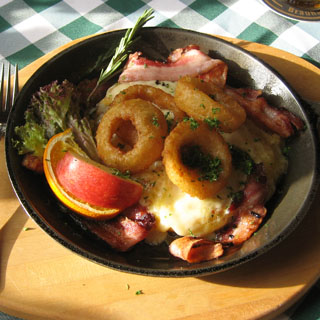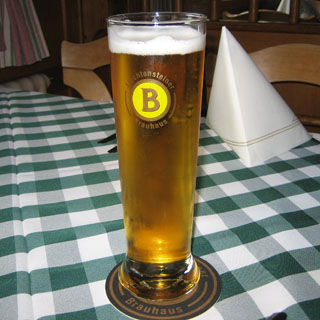 I tended to eat dinner far earlier than everybody else. Here it is, 6:30, but they wouldn't start serving more people until much later.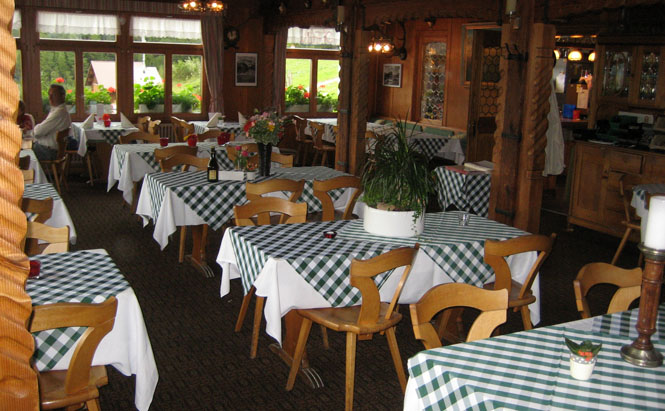 It was a good walk up a dirt road to reach this small dairy.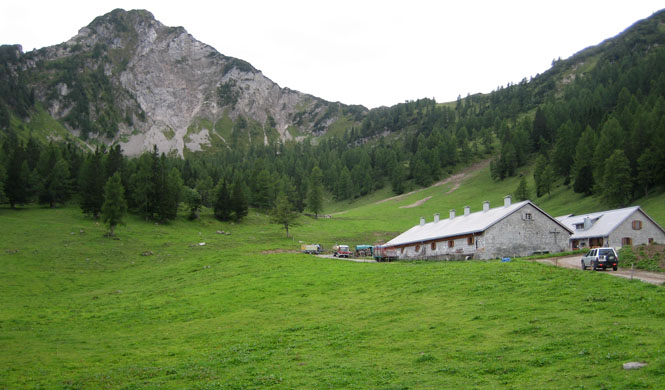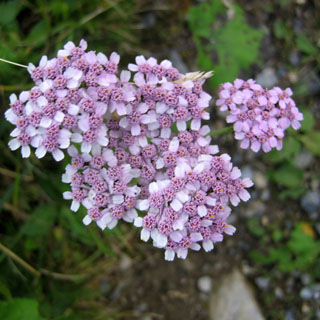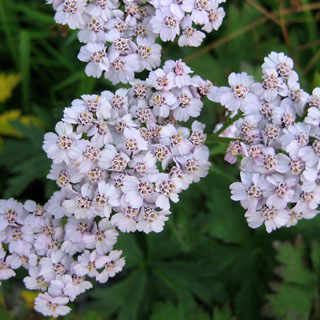 I probably walked more during this evening than any other during the trip.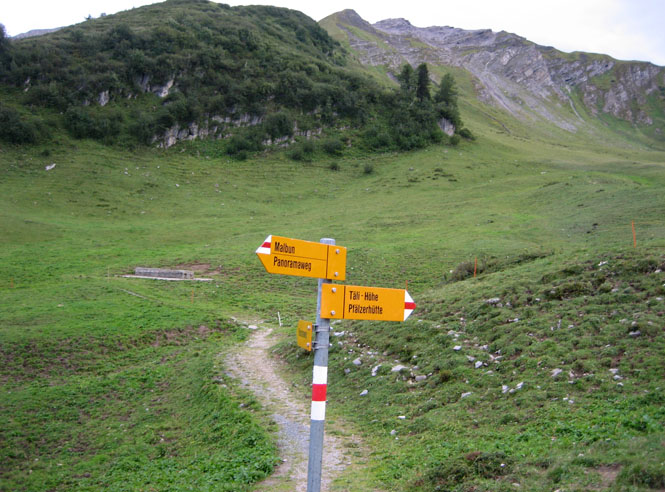 Beautiful.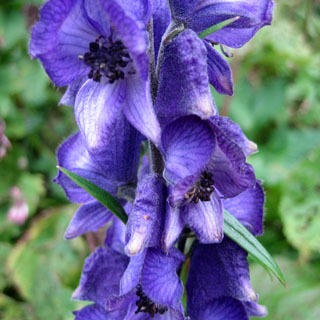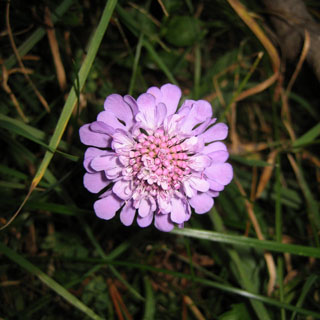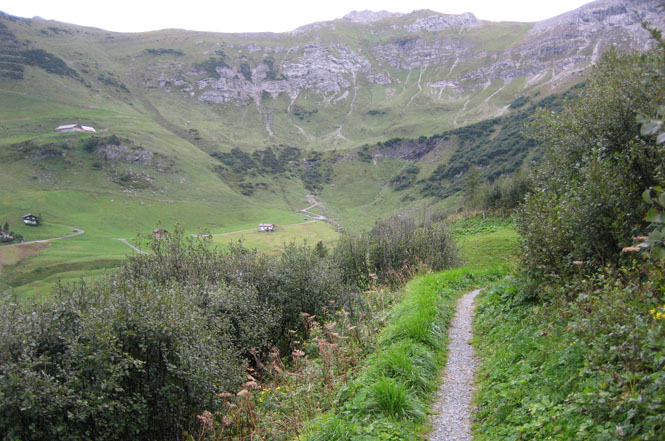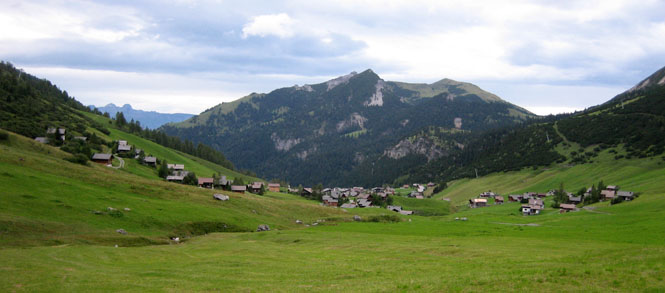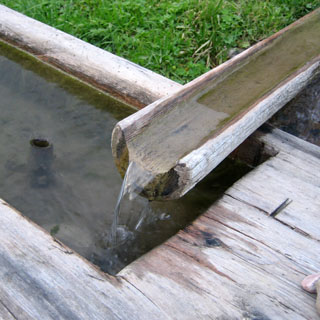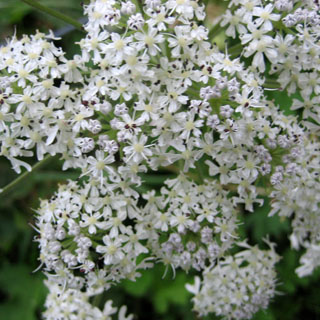 Appenzell Ausserrhoden
Stosspass is back in Switzerland, across a broad flat valley. Those mountains, not far in the distance, are in Austria.
Appenzell Innerrhoden
I wasn't going to try to ride through those rambling cows. I pulled to the side, turned the engine off, and waited.
They looked at me, but otherwise didn't pay me much attention.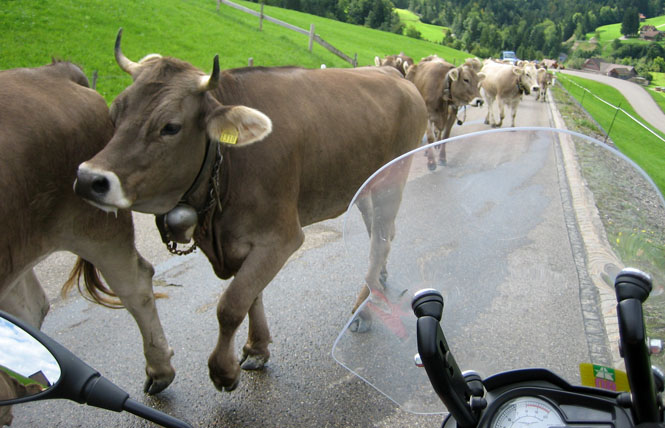 St. Gallen
At Wattwil, I had several options as to where I'd go next. This called for sitting at a cafe table, and unfolding my map.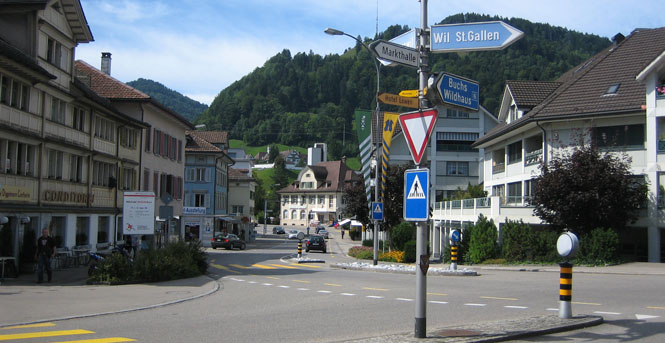 Thurgau
The further north I rode, the lower the hills and the more crops I'd see. This was an enjoyable day, and (not surprisingly) I didn't see any of the groups of sport-bikes that I had been seeing earlier.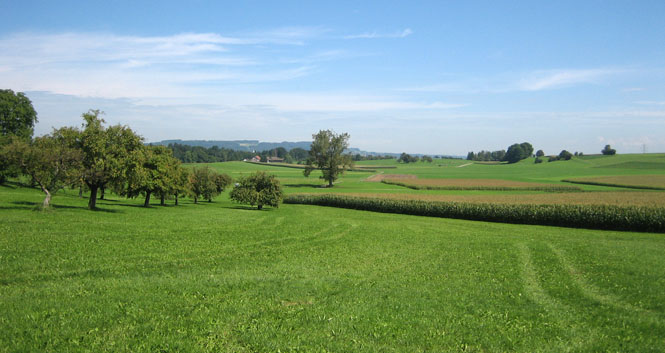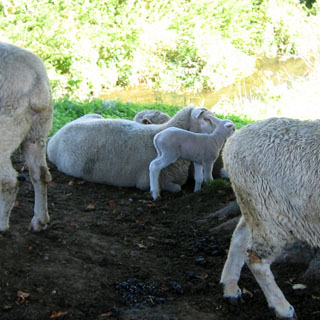 The Thur River.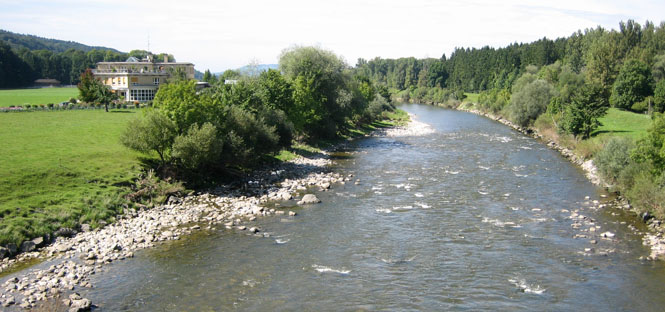 The Unter See is really the Rhein River (it's just very wide).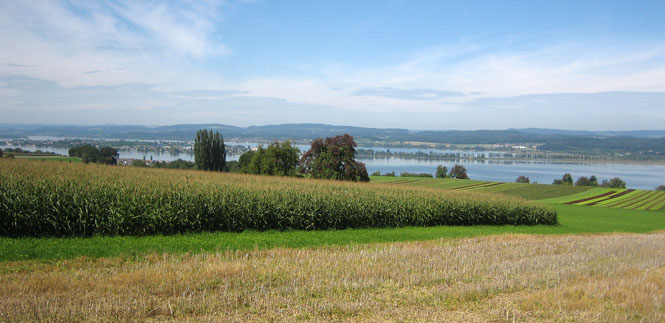 Steckborn is on the lake. I'd take time to walk through the town.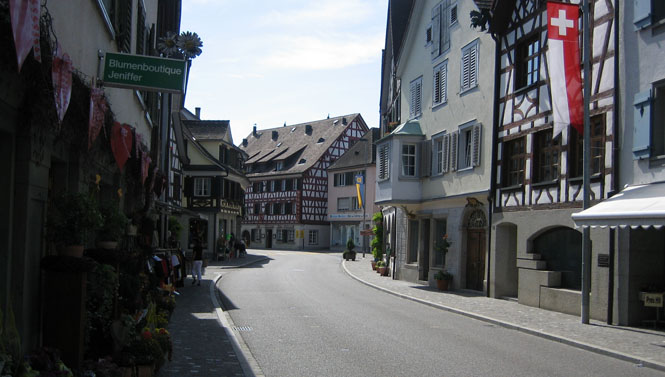 I saw a number of school children wearing this sort of reflective pendant. The backside is identical. Of course, the older boys tended not to wear the things, and by--say--age fourteen, they didn't wear it at all. But, when you saw a few children walking along a narrow road, they really stood out. It's a good idea.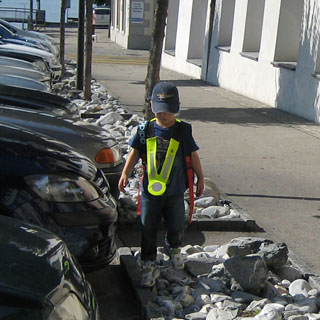 Schaffhausen
Rheinfall. The canton Schaffhausen is in a little bubble of Swiss Territory that extends into Germany, connected with just a narrow neck, not much wider than this river (Rhein).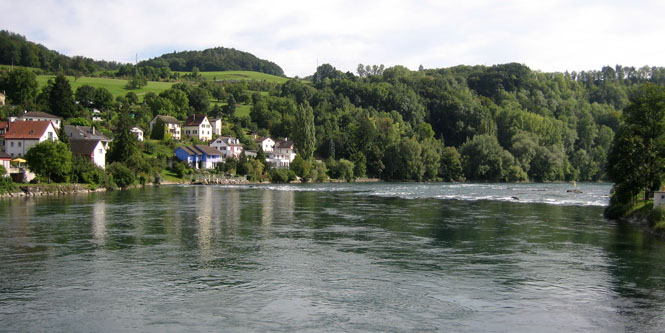 Schaffhausen.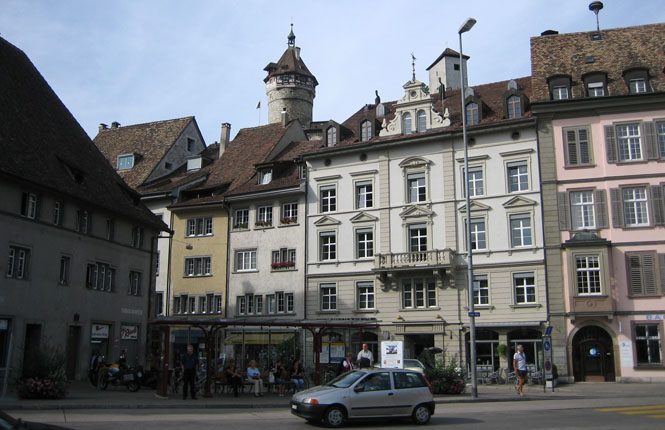 I walked up seemingly endless stairs to get to this guard castle.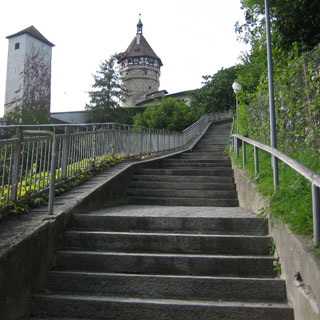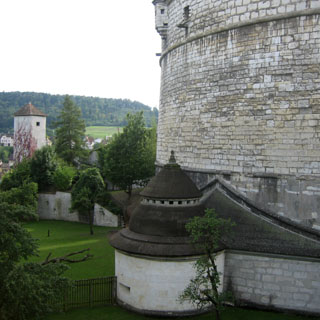 The Rhein River.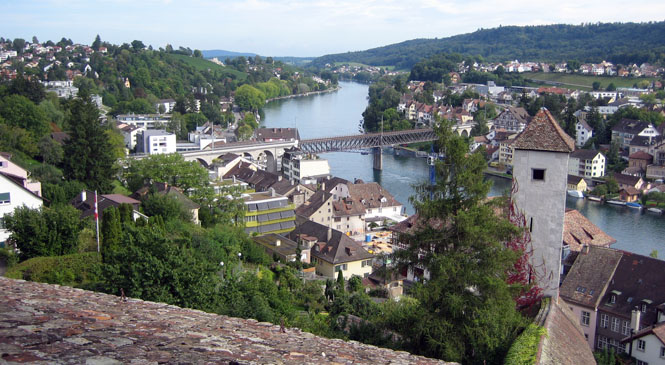 What a pretty town this is.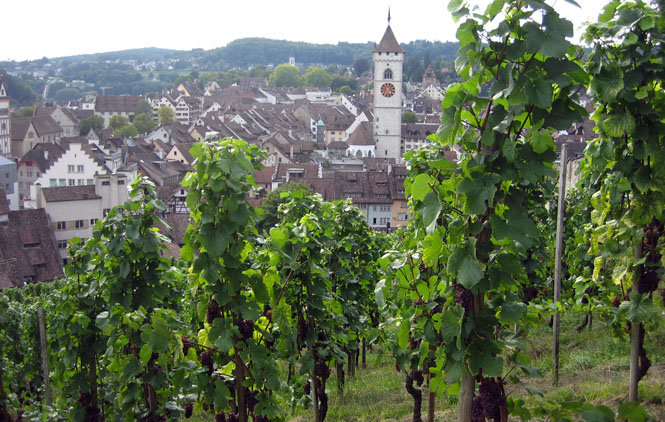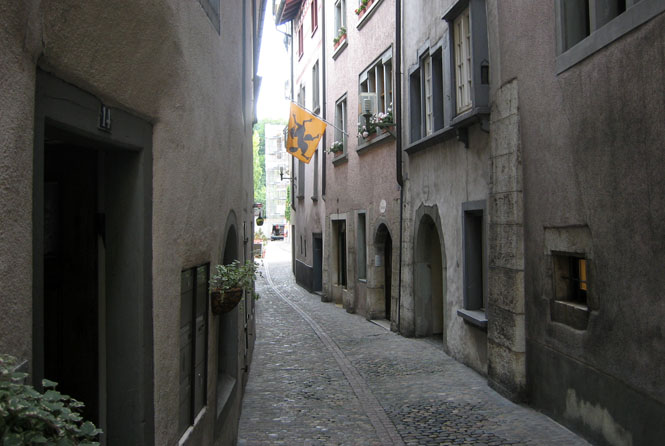 Sibligen is very near the German border. These were very nice roads, gently winding around the hills.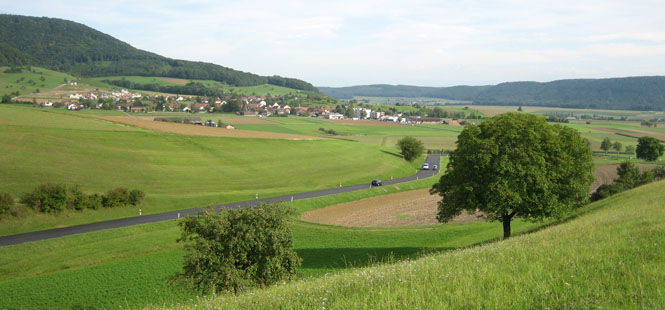 Germany
There were not any hotels on the Swiss side of the border, so I rode into Stühlingen to spend the night.
That's the hotel on the right.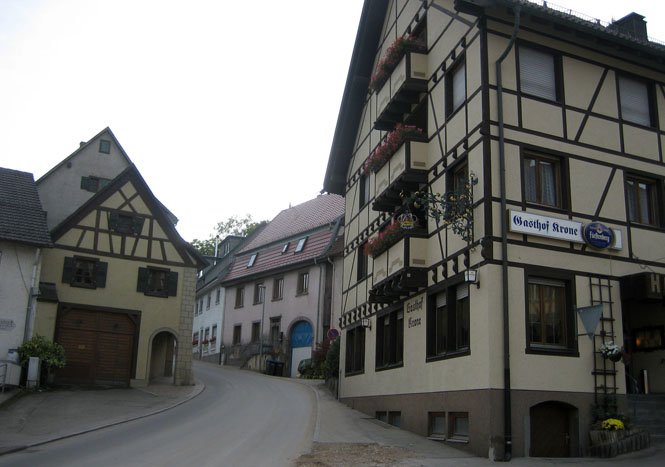 This seems to be a working-class town with no effort to be a stop on the tourist trail.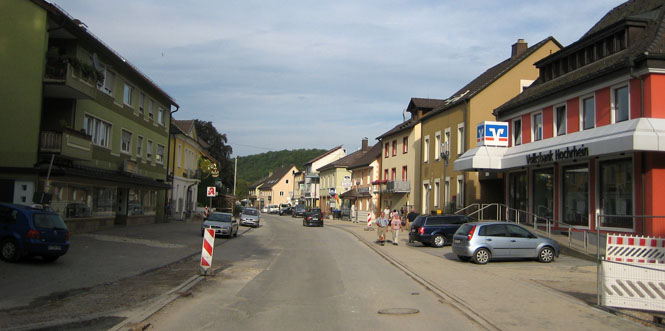 A nice selection of breakfast cereals.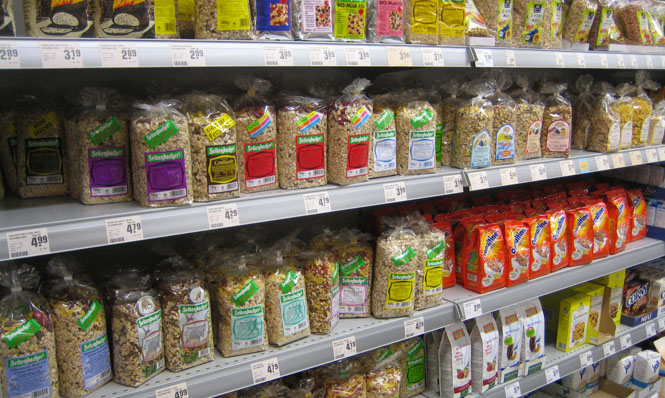 I saw a number of tracks with steel ties.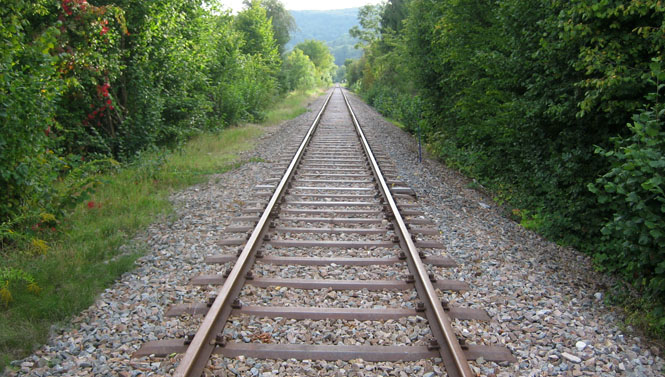 Schaffhausen
This is the small town of Hallau early in the morning. The air was so very still, I could hear church bells from miles away.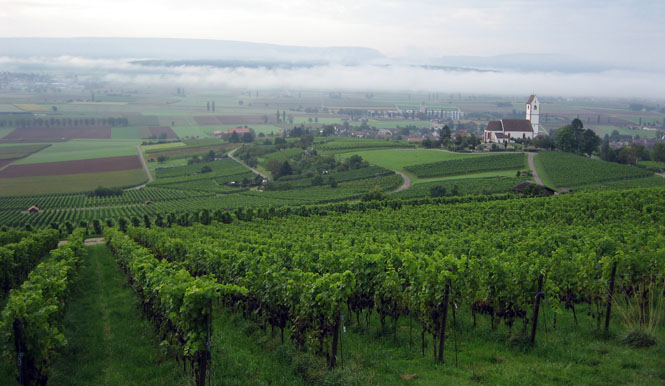 Zurich
Weiningen is the hometown of my great-great-grandfather (Henry Hug), who emigrated to the United States (Anna, his wife, emigrated from Bern). In his journals, he mentioned the fountains of his town, so I made a point to take photographs of all the fountains I saw.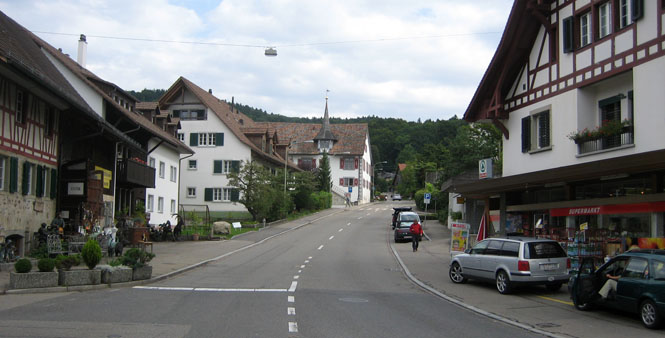 This building was also mentioned by him.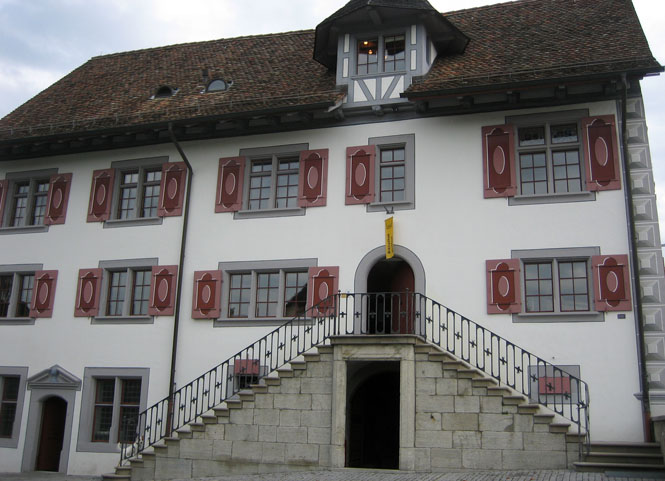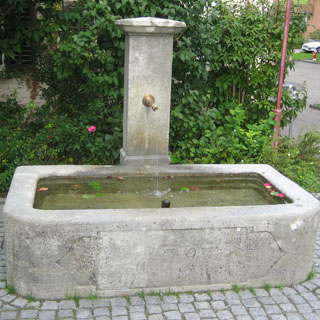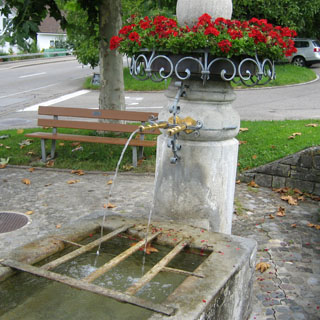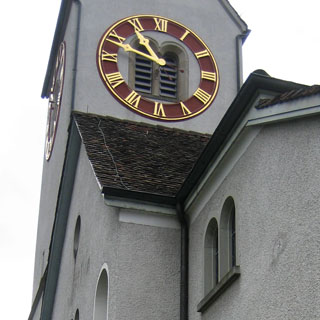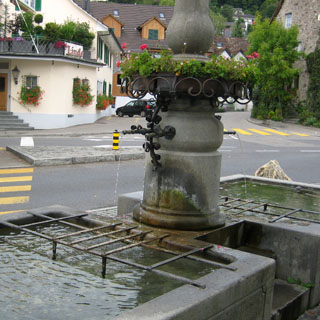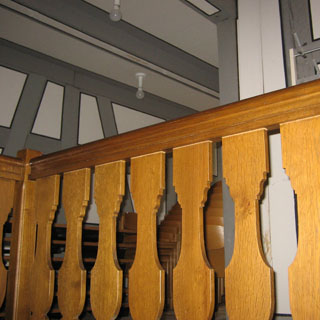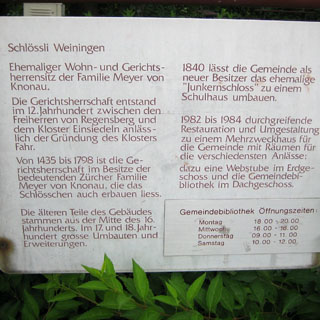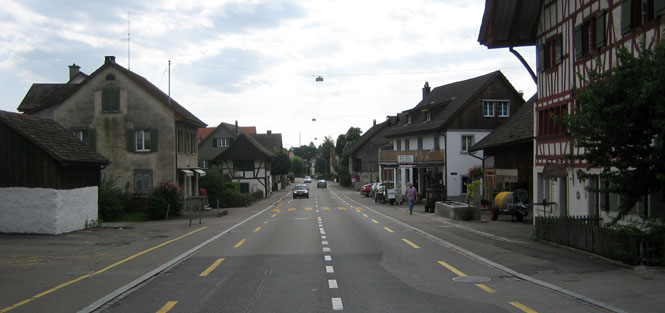 Zug
Zuger See.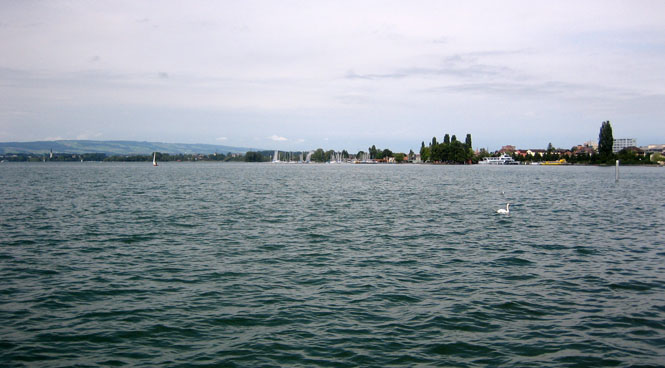 Zug seemed to be a very old city. I parked the motorcycle in an alley and walked down any street that looked interesting.
Parking in the middle of town would be nearly impossible with a car, but having a motorcycle makes it a non-event. The food was very good.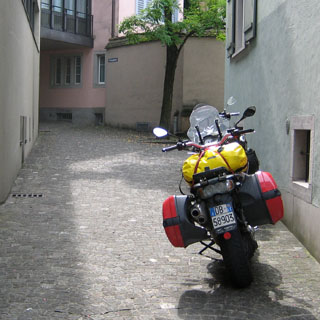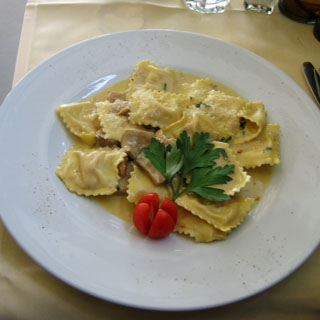 Schwyz
Sihl See.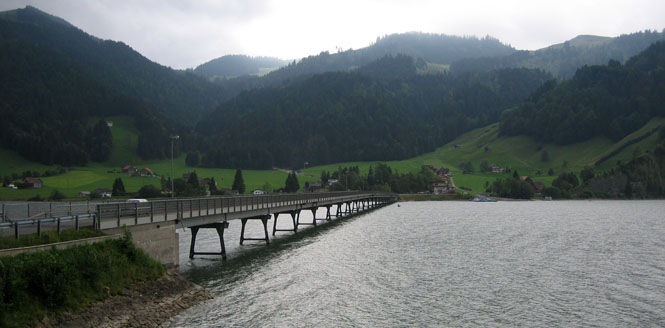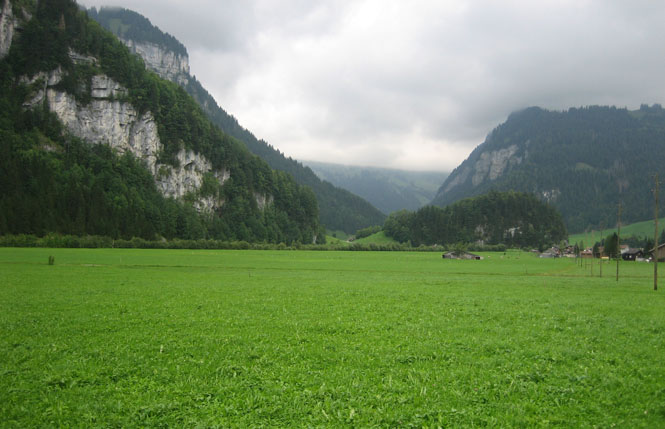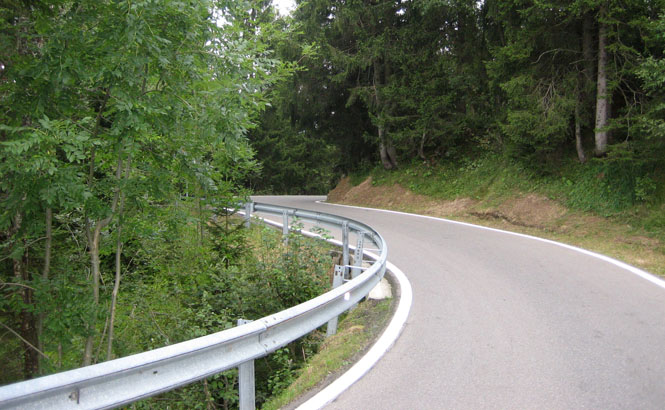 Ibergeregg Pass is not on the main road into Schwyz, which is why I was on it. I was especially impressed on several occasions by the skill of some of the sport bikes that passed me. Putting a knee down on a public road and drifting wide isn't something I'd ever do, but these guys were so very, very smooth. I assume they knew the road, well.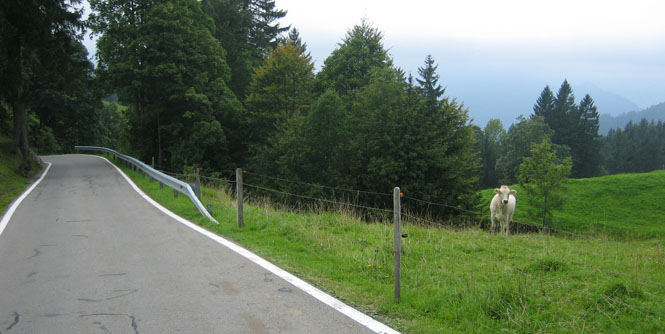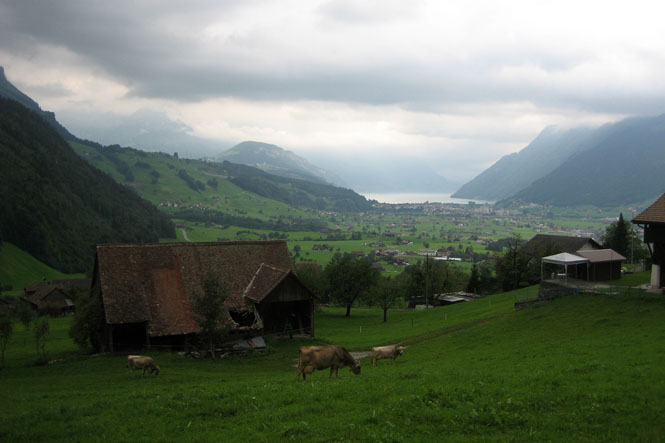 Schwyz was important to the whole development of Switzerland as a confederation. After all, they gave the name.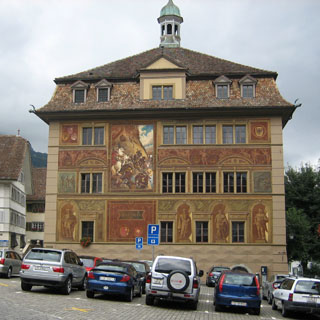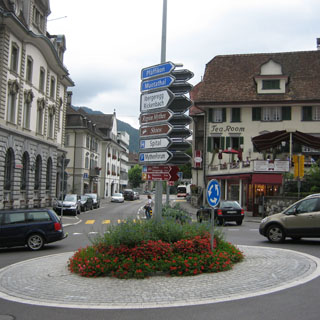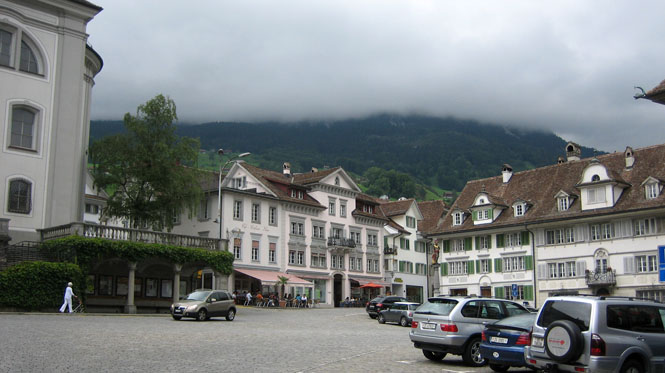 Vierwaldstätter See.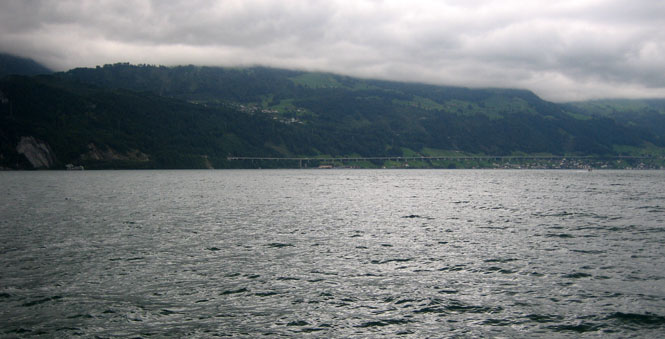 Gersau is a small resort town on the Vierwaldstätter See. I was getting much better at identifying more likely (and more interesting) places to stay. This is where I'd spend this night. The view (with balcony) out the back was the best.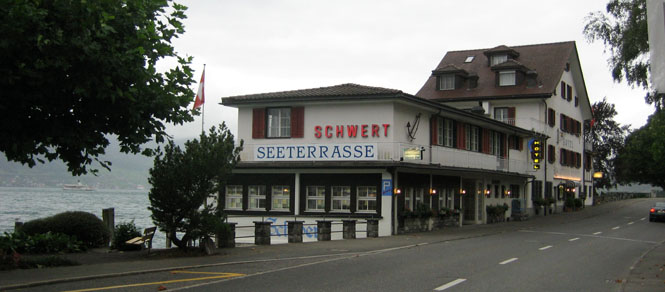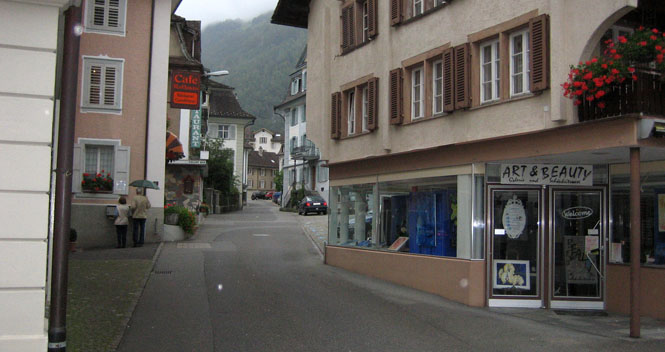 A side paddle-wheel boat using reverse power to bring the boat to a stop. The photograph was taken from my balcony.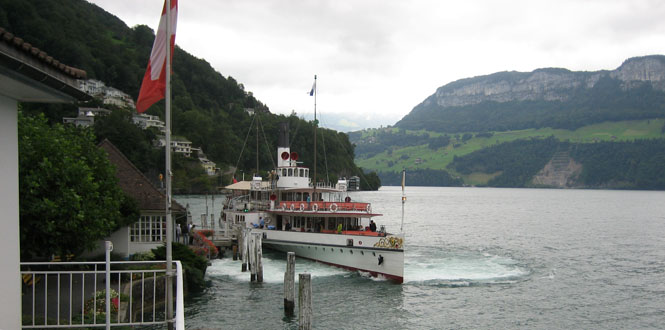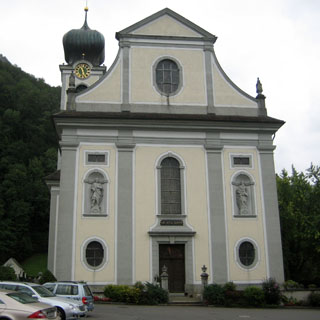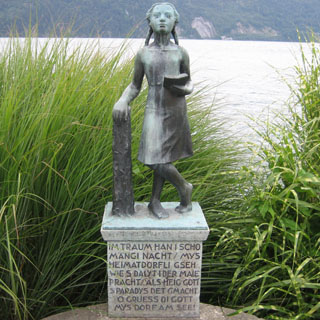 Lucerne
I did ride through a few larger cities. This is Luzern on a wet and raining afternoon (but, not cold).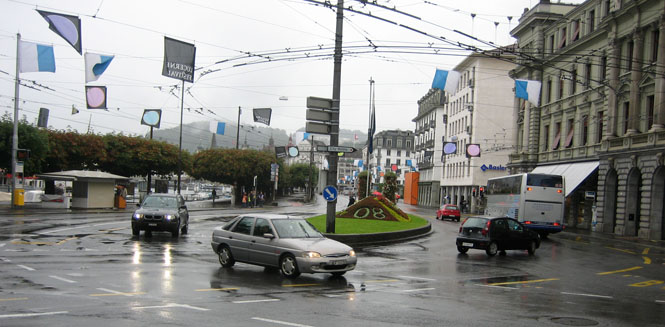 Again, if you park on the sidewalk, it makes things far easier.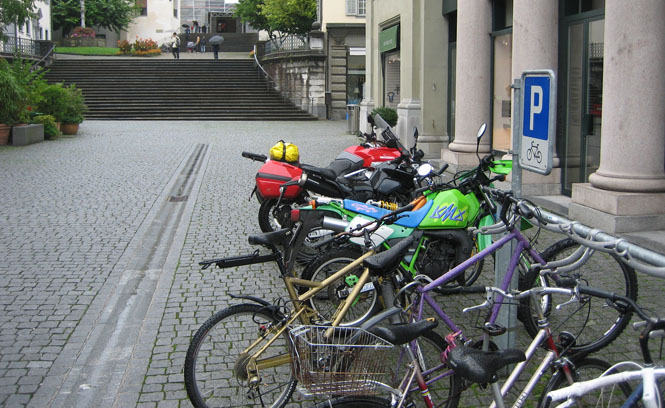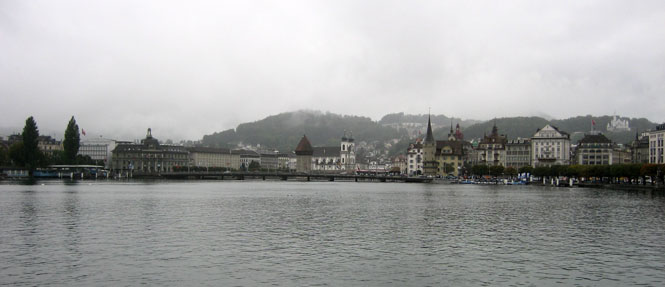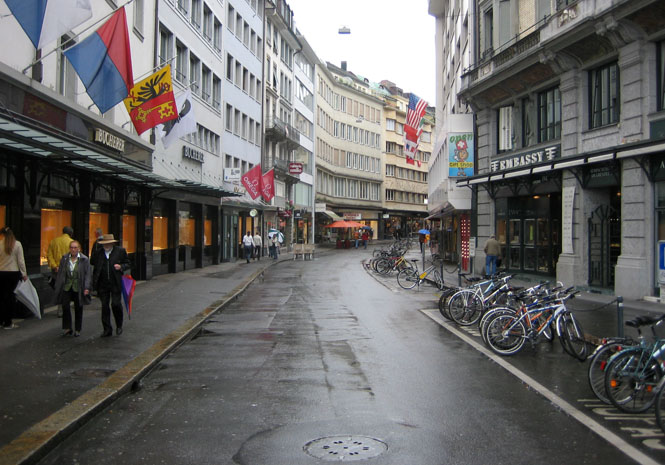 I was surprised to see one of Trollope's mail posts. It seems that it was a gift from the U.K. to the people of Luzerne. This is evidence that you can lead a unicorn to water, but you can't make him drink.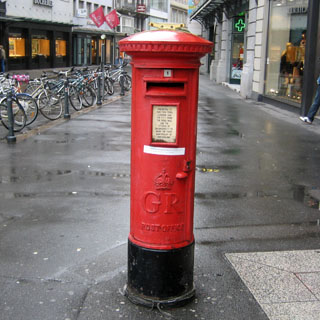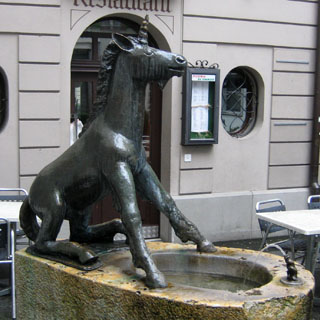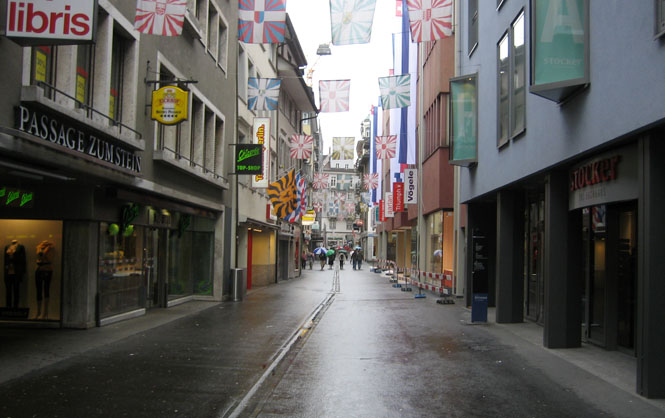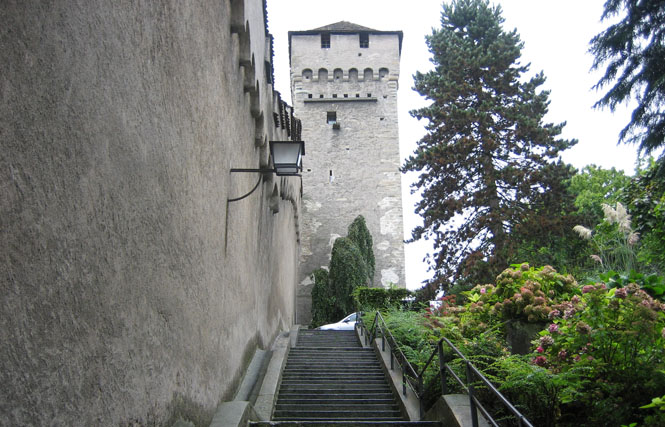 Do you need a good watch (or an expensive watch)? Then this is the city for you.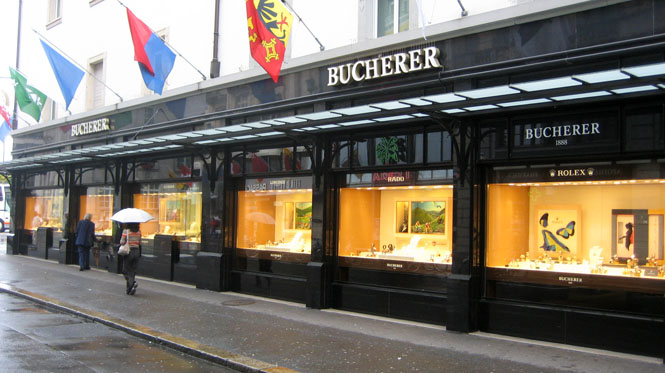 Typical shot. Get the GPS out of the belt-pouch and the map out of my riding suit pocket to figure out where I am and where I want to go.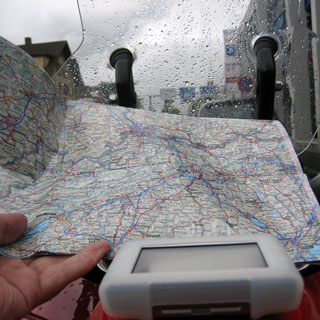 Aarau
In the previous town I smelled coal burning, but I didn't think much of it. Then I started seeing men with cameras standing at rail crossings. I figured it out.
At the next available stop, I pulled out my camera and waited at the tracks for the steam engine that I knew would be coming. It turned out to be a double-engine, which has to be pretty rare. Train watchers are the same, everywhere.

Beinwil Station.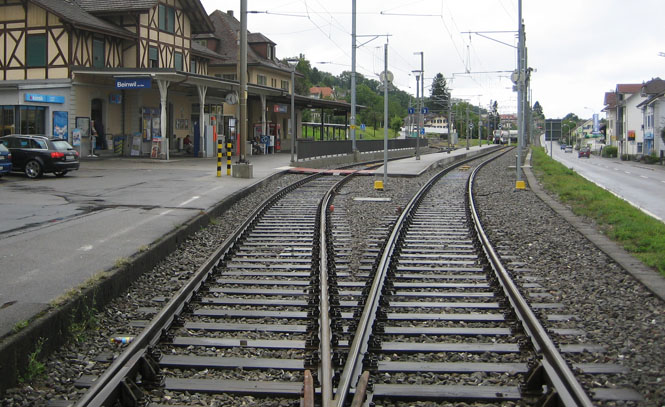 Hallwiler See and sailboats enjoying the afternoon.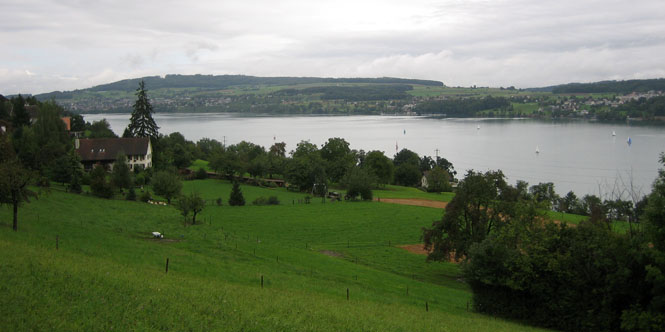 I came across lots of construction zones, but never did they have me running across dirt.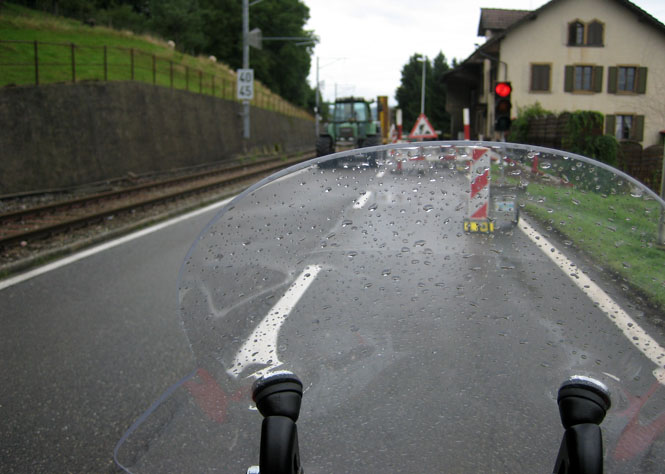 The Aare River.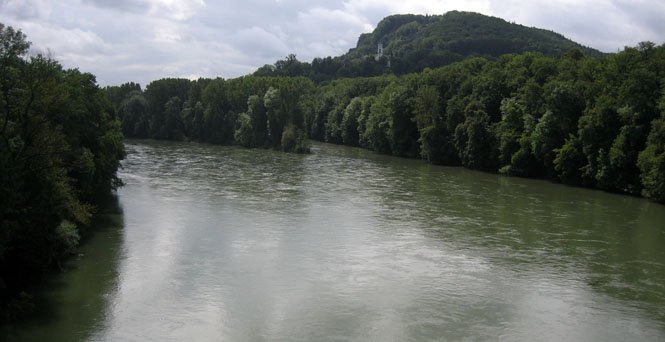 A sweeping road with no traffic, blue sky with white clouds, and everywhere is green. Nice.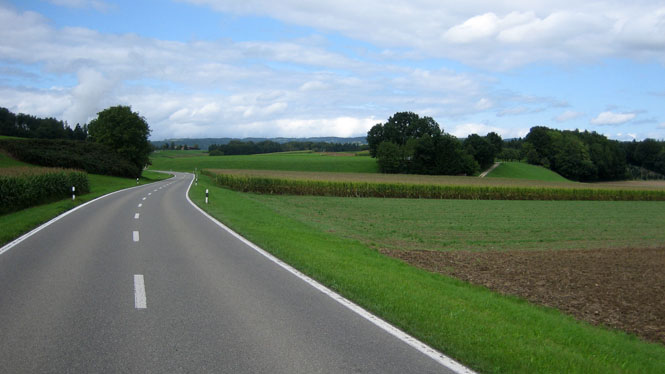 The Rhein River.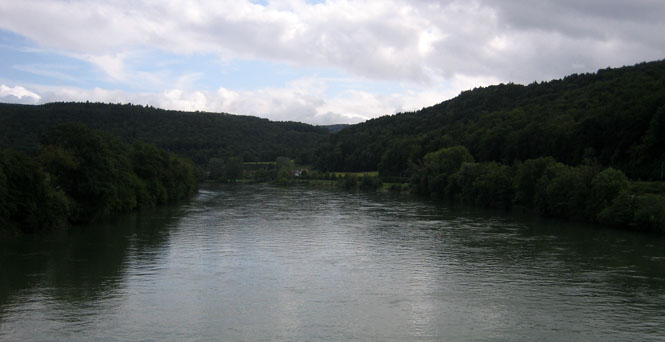 Basel-Landschaft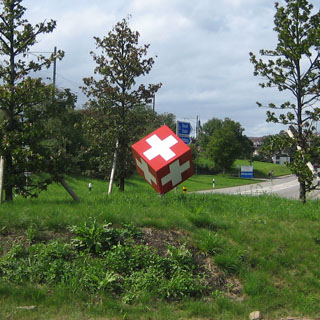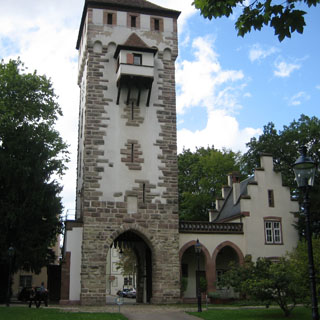 Basel-Stadt
The city of Basel is its own canton. I rode into the center, and parked with the bicycles.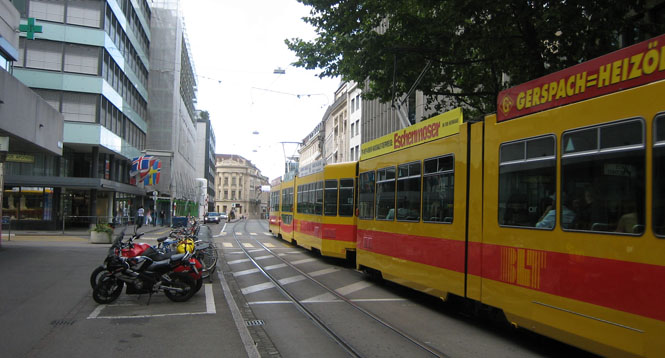 The steel trolley tracks made me nervous, but I never had a problem. They look much worse than they are, although I'd be more concerned if I were on a bicycle.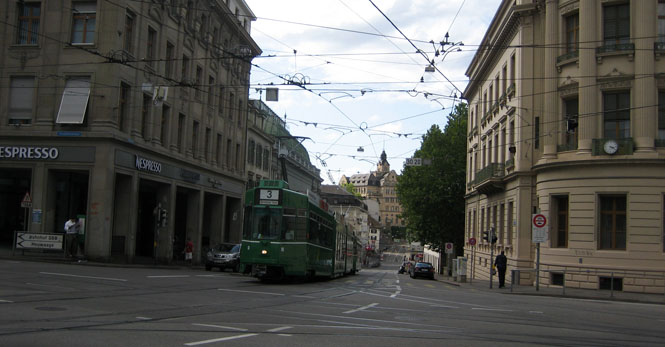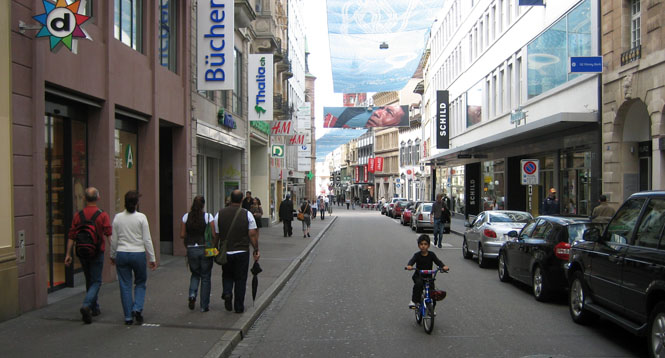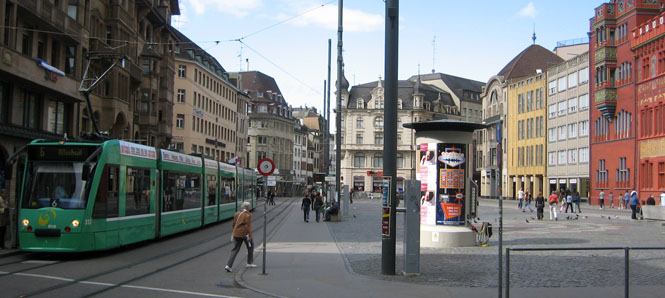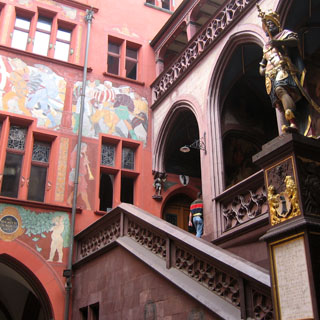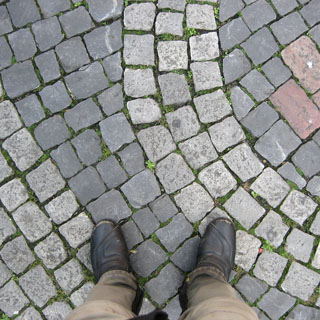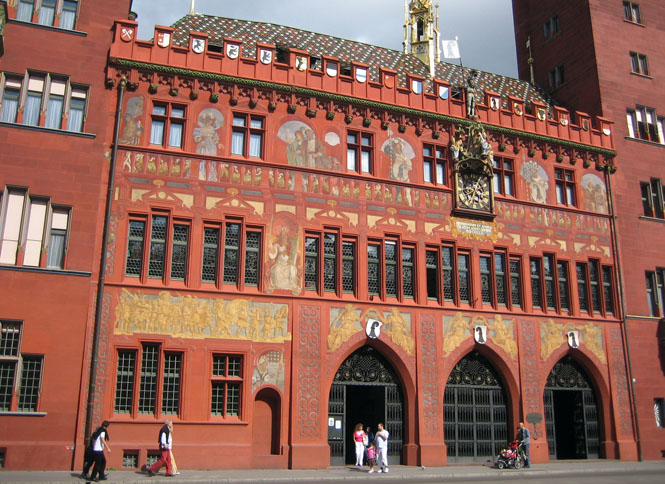 France
How did I end up in France? I'm not exactly sure. I took whatever roads seemed to be going in the right direction to get out of Basil, and eventually I came to the French border. That made it time to pull over to see where I was.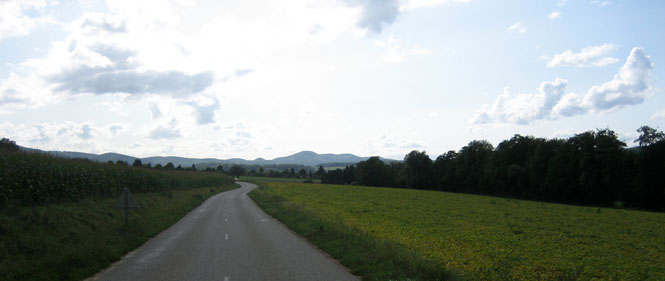 Solothurn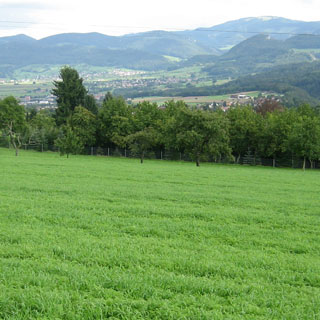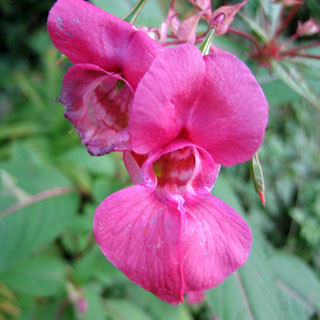 This side of Switzerland is altogether different than the other side. I like them both, but I think I like this better (which is what I tend to think wherever I am).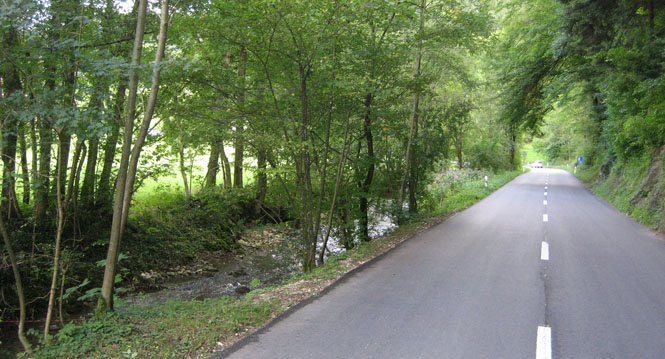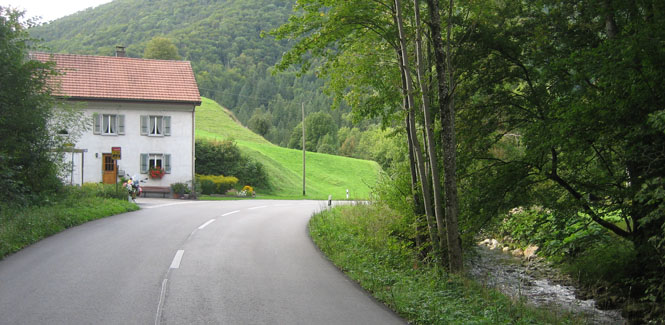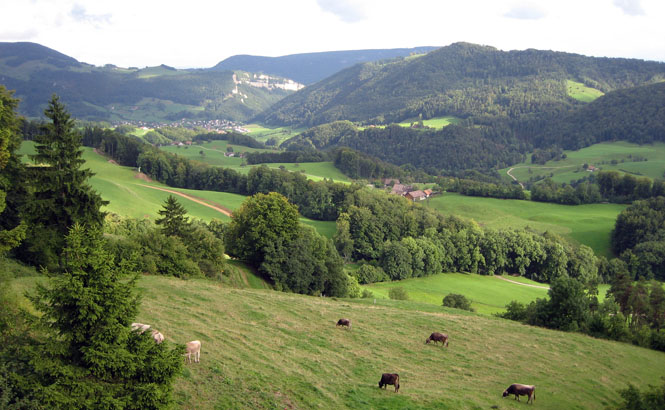 This is not a hairpin turn. This is just a nice curve.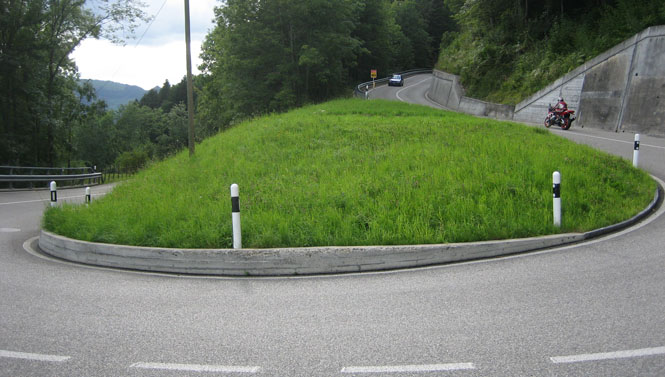 Balsthal. Notice the guard castle on the hill. Switzerland was once a dangerous place.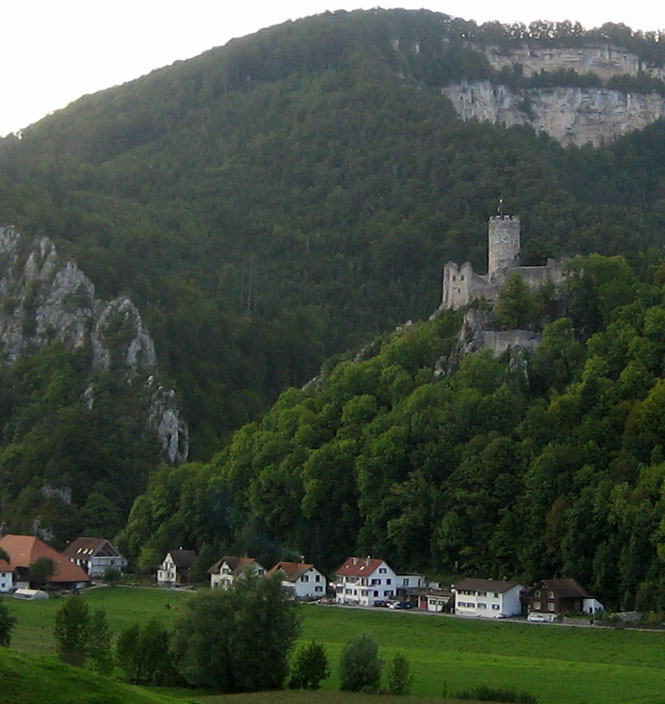 I stayed in Oensingen for the night.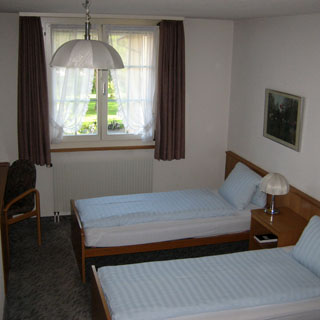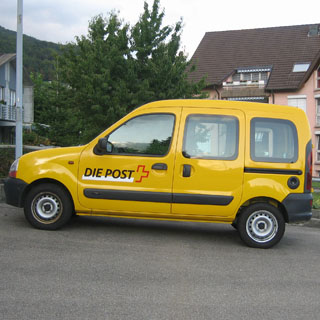 These new hydrants are elegant designs. But, they had a few of the earliest style, too. Neither is strictly functional, which is sort of nice to see in something as mundane as a fire hydrant.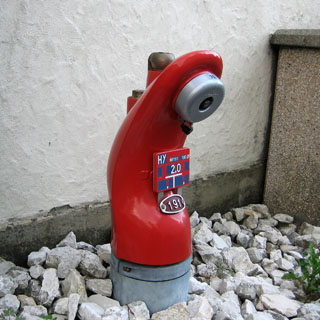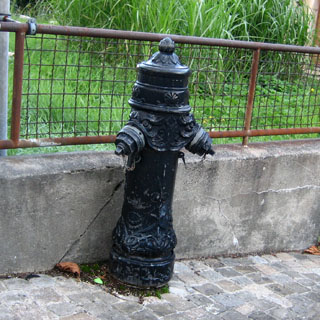 Once again, I was not sure what I had ordered, but it was very good.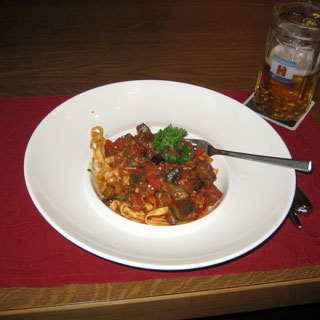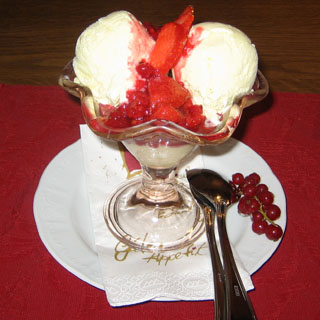 Berne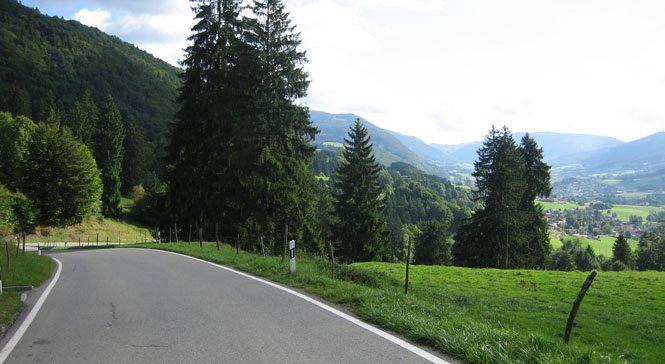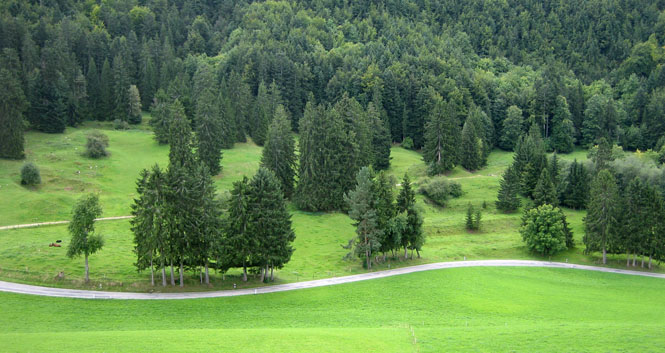 Georges du Pichoux.
The road barely fits between the rocks, and you only hope you don't meet another car coming the opposite direction.
The trains run above.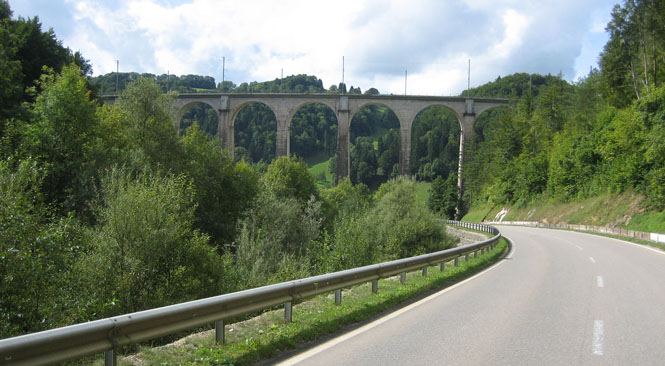 Jura
Saint-Ursanne probably hasn't changed much in several hundred years. I parked on this side of the river, and walked across the ancient bridge.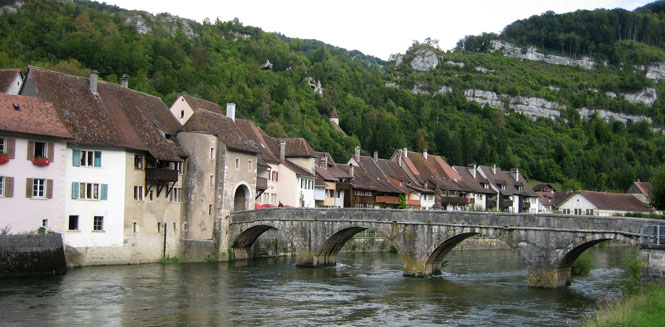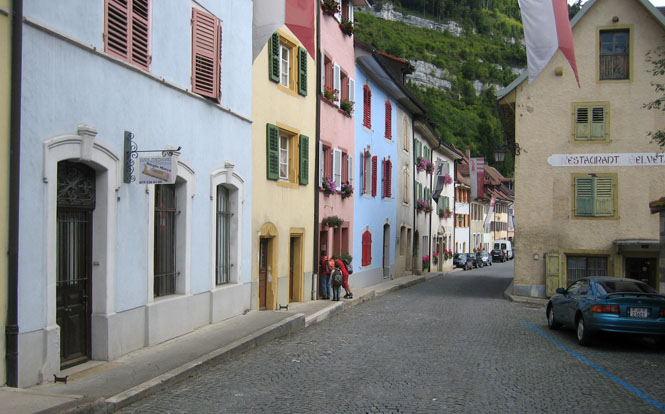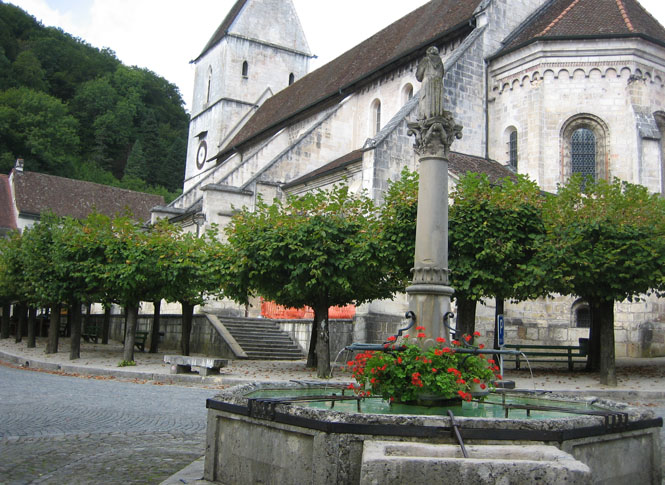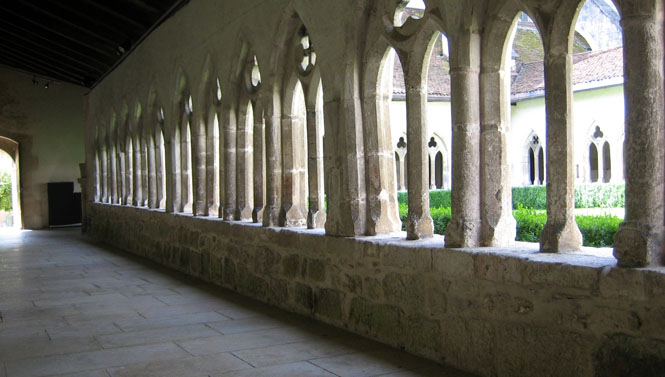 I'm always amazed at the stunning interiors of some of these churches.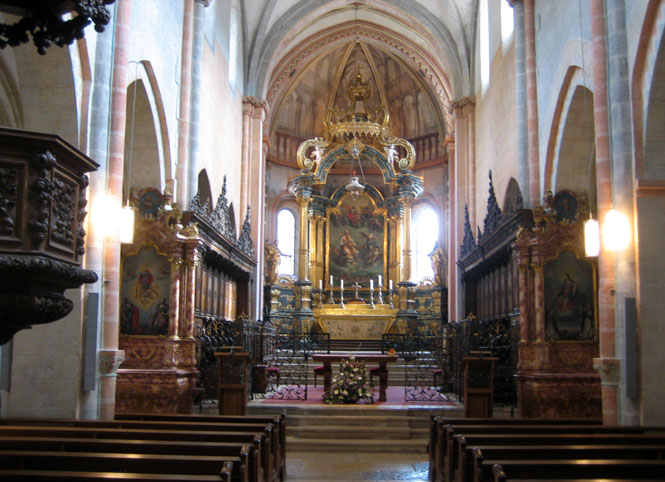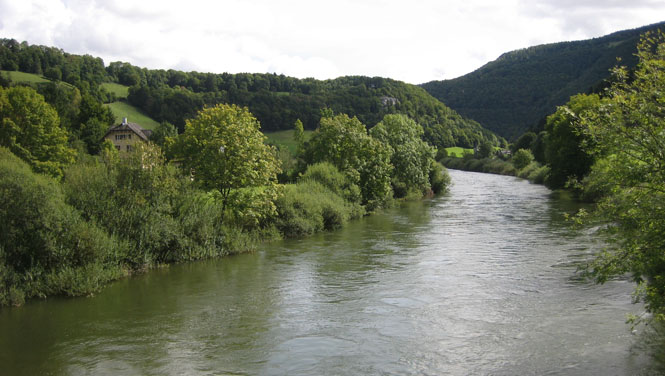 France
This time, I entered France knowing that I was doing so.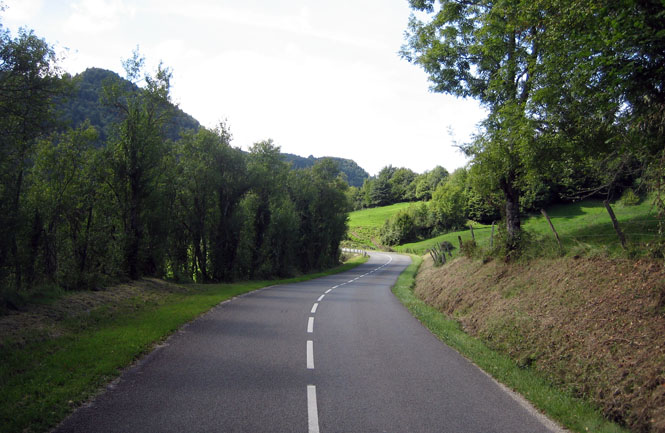 St. Hippolyte is a very attractive town not many miles from the border. You want to slow down taking these roads through town.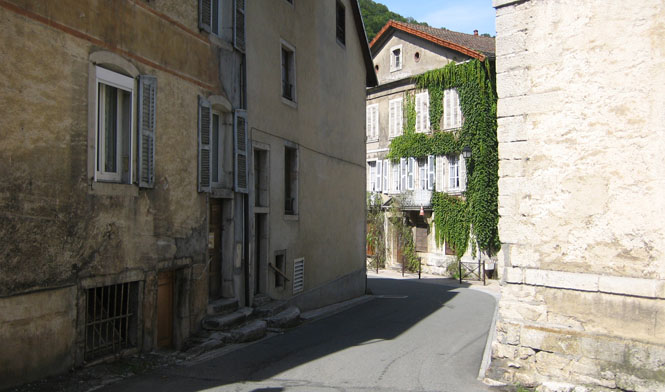 I'm not sure a tall truck could make this turn without taking out a good chunk of building.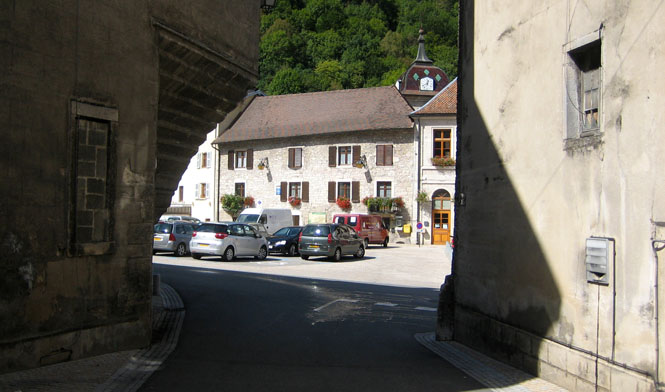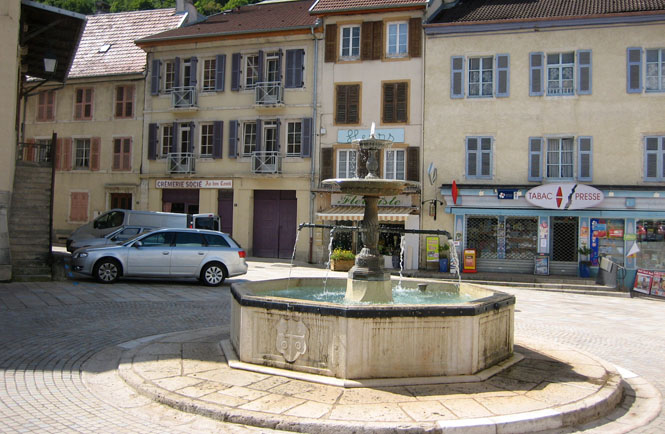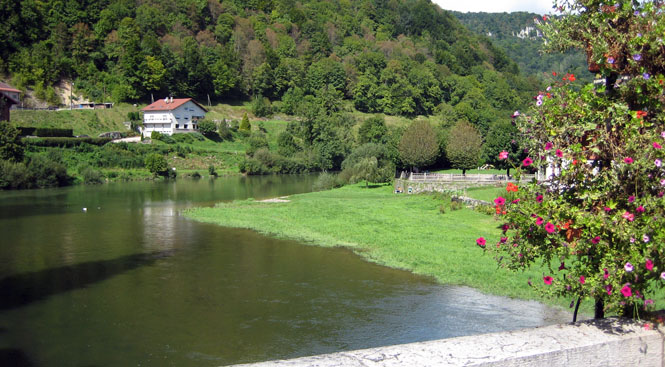 I had lunch at the restaurant--this is not fast food.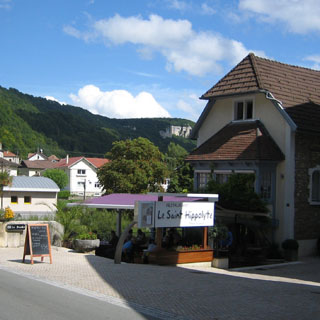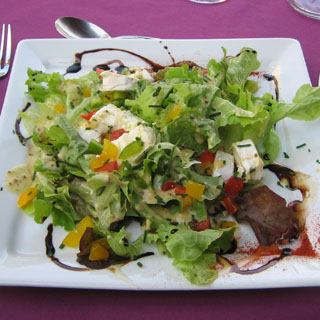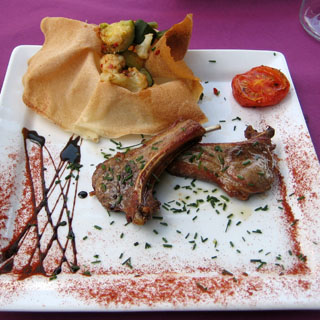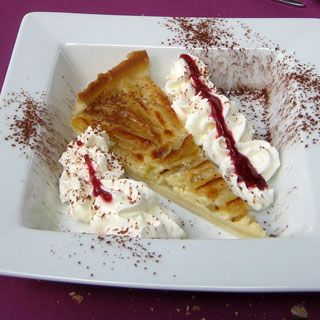 Goumois
Neuchâtel
Wide, flat valleys surrounded by steep hills with rather challenging roads.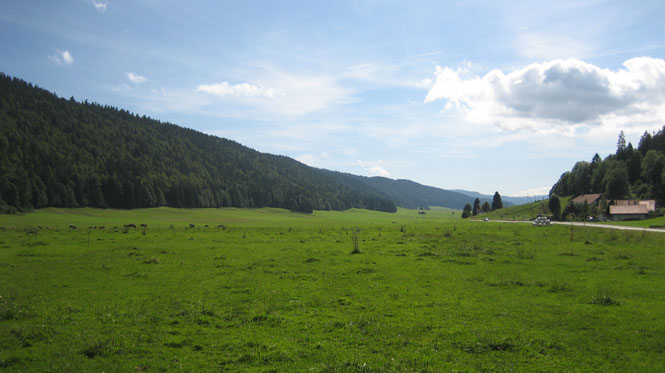 I really wasn't sure where I'd be spending the night, but I entered La Côte-aux-Fées and saw a promising hotel.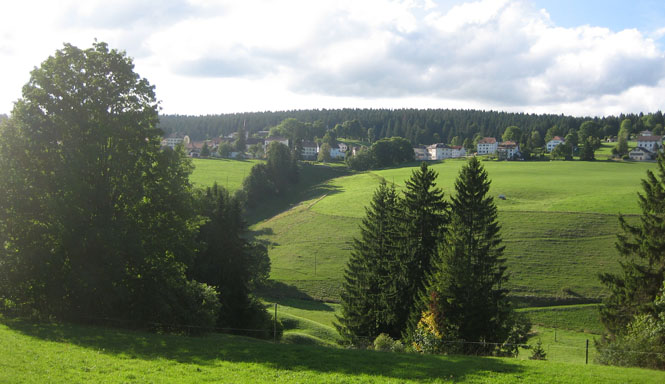 The owner and his wife were quick to welcome me. They backed their car out of their garage and insisted I put my motorcycle in for the night. She was very concerned that I might miss having a TV in my room, but I assured her that I would not need one--and I didn't.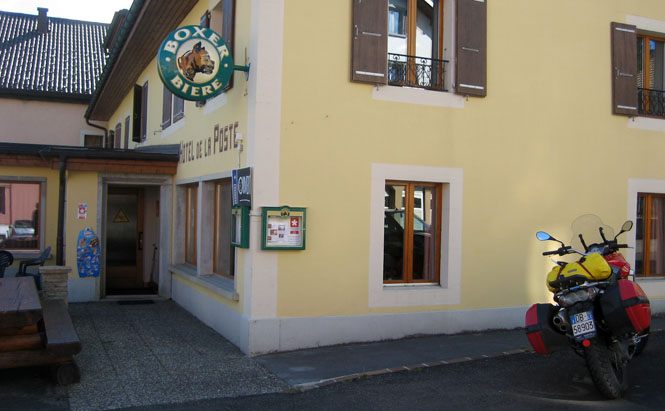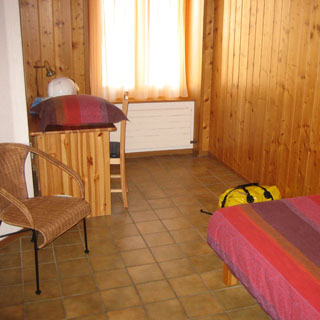 As always, lots of walking in the evening. These cows are being milked.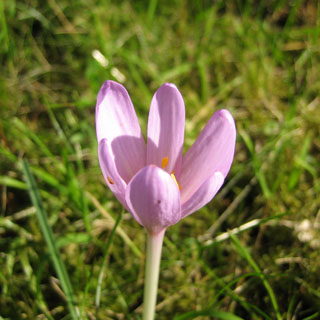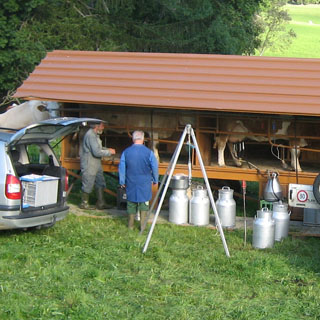 I walked a few miles to the Grotte, not having any idea what I'd find.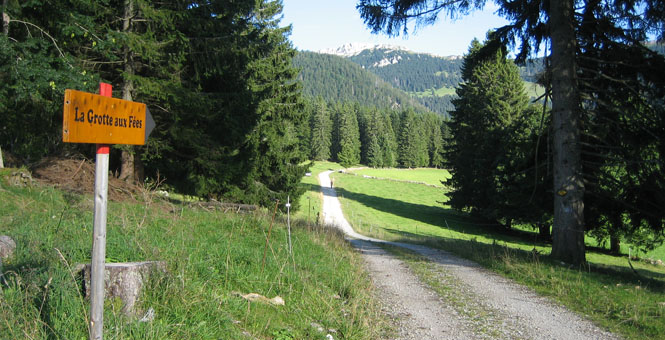 The trail got more narrow, and then crazy-steep (the chain was necessary).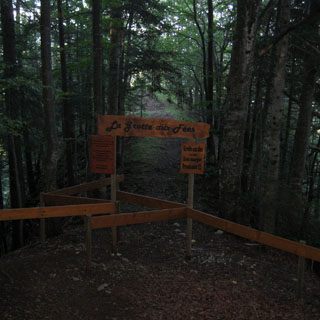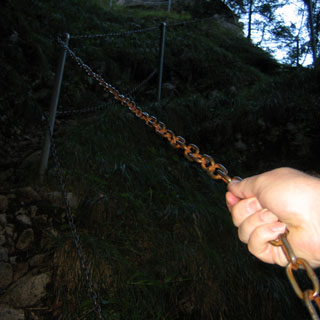 I guess I should have brought a flashlight. The photograph (on the right) shows part of the interior. Of course, it was really pitch dark. I took the photograph (with flash), and then reviewed it with the camera to see where I was, before proceeding. The dim, red, focus-beam from the camera also helped.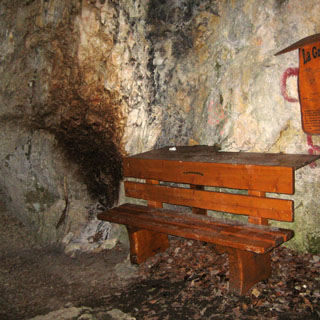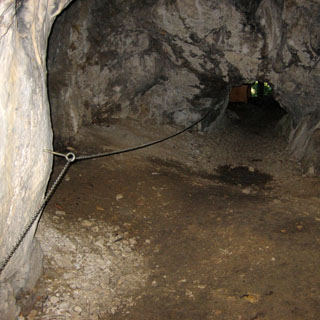 A good example of a typical barn/house structure. Living with your cows should keep you warm.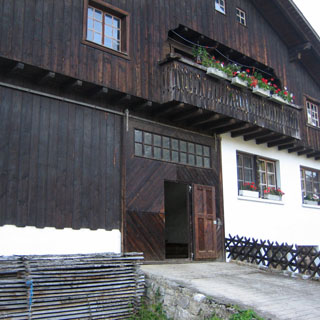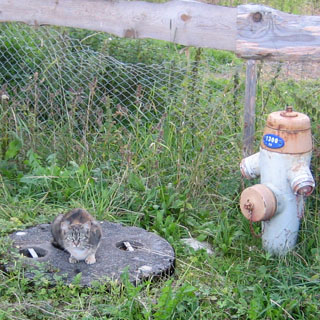 My host at the hotel.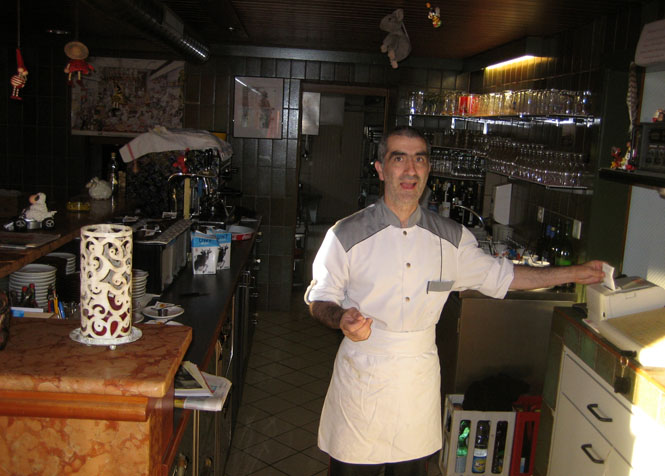 I'd come to an intersection labeled with towns that were not even on a map (at least not with those names). So, I'd get off, and sort out with the GPS which road I really wanted. Then, off to the next confusing intersection.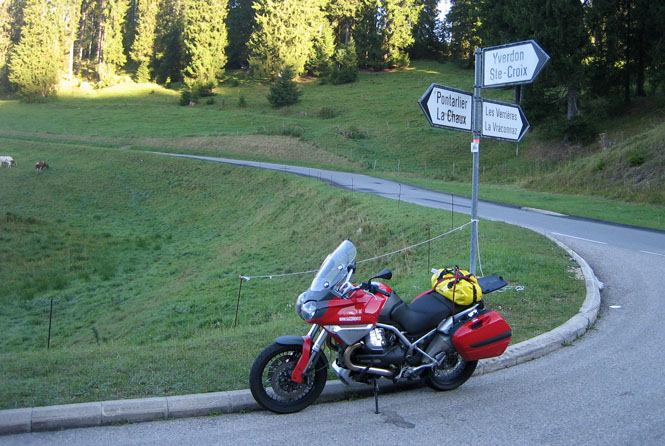 Way across the valley, you can see the Alps.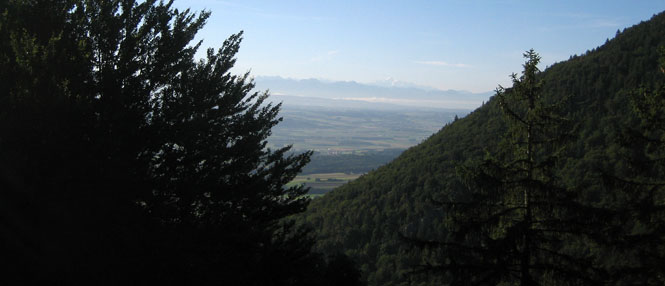 Fribourg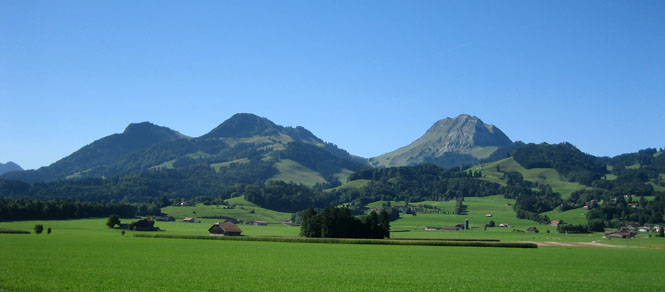 Berne
Did I say I liked another pass the best? Well, now I like Jaunpass the best. This road was really nice.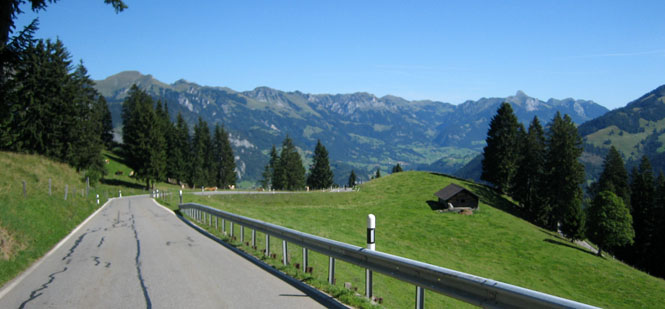 Reusch. Well, perhaps I really liked this road the best. It was pretty bumpy, though the Guzzi Stelvio soaked that up, easy enough. Not much traffic and spectacular scenery.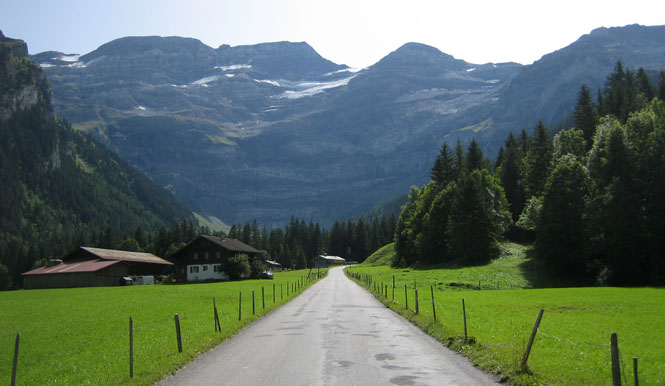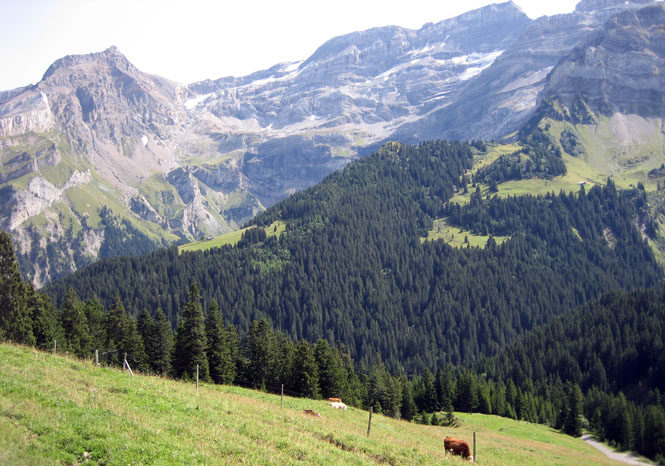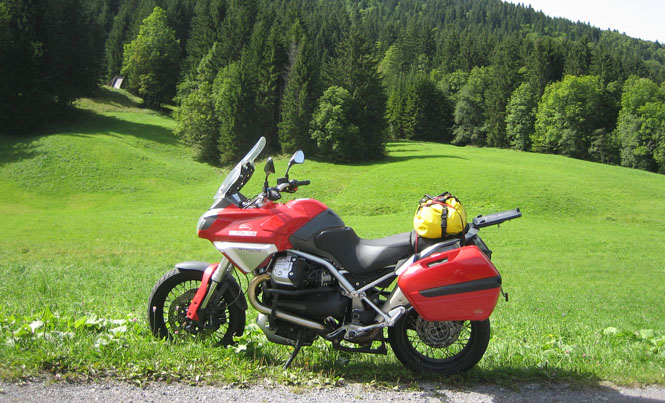 Vaud
Col de la Croix.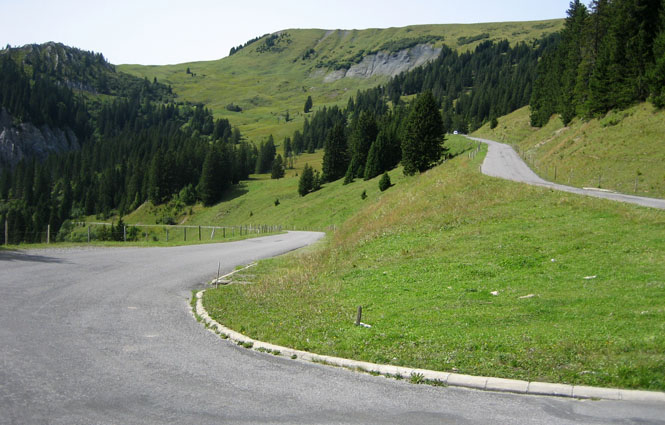 Lac de Joux.
I expected to spend the night in Le Pont, but despite the fact that it is a resort town, it didn't seem to have any hotels that were open. Very odd. Perhaps I just didn't see them.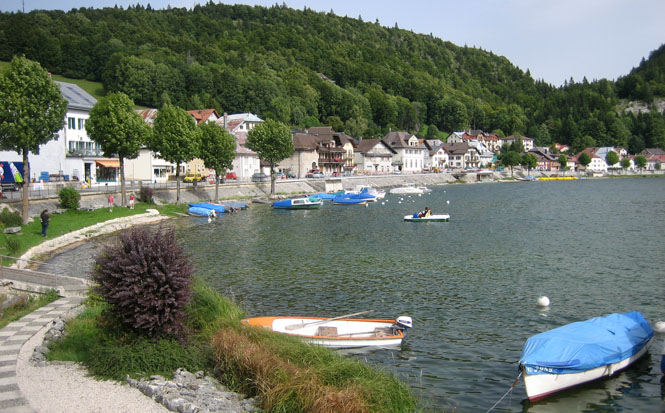 So, I continued riding to Le Sentier and stayed here.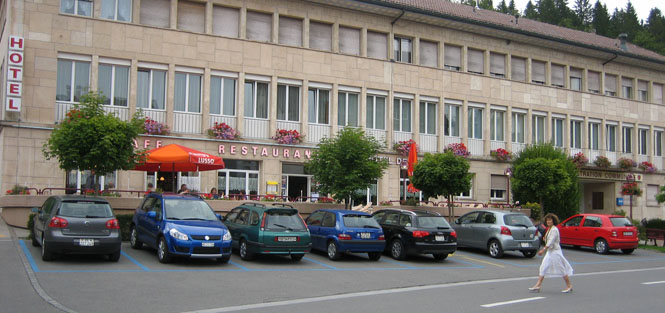 This is the only night I slept under a shiny red comforter. A steak and an extraordinarily hot slab of granite to cook it on.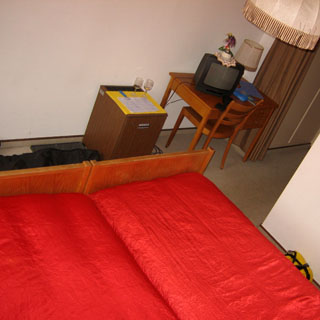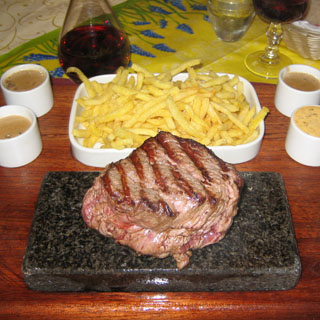 I watched a local-league soccer game into the night. They were all yelling in French, and I don't really understand the game, but it was still fun to watch.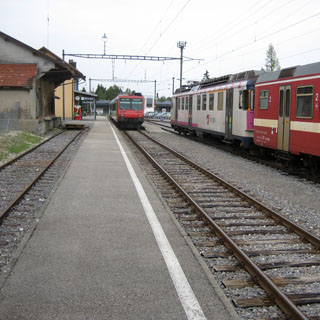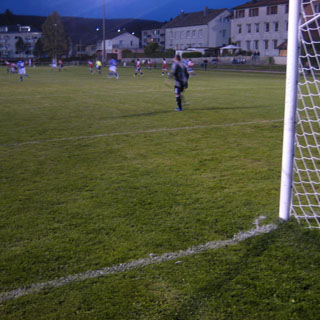 Rock walls always impress me.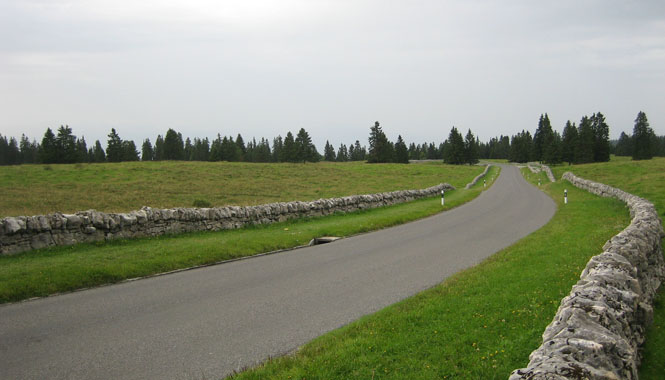 Geneva
Genève was the biggest city I was in. I do not recommend riding here, but the town would be fascinating to spend more time walking.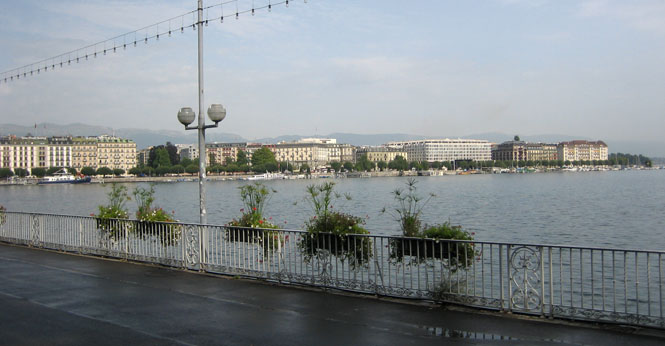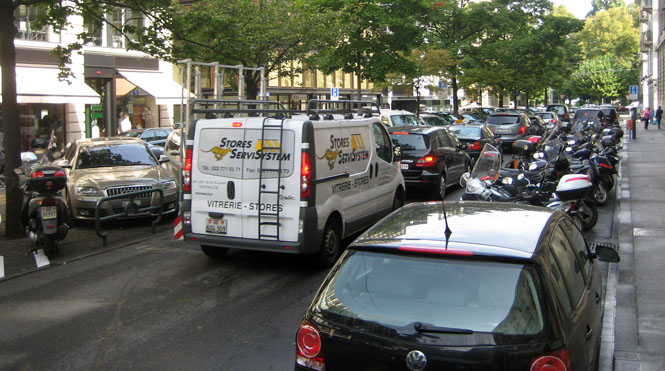 This is a International Museum of the Reformation, which includes John Knox, Martin Luther, John Calvin, and a whole host of others. Some known to me, and some I'd never heard of. Genève was an important part of the movement.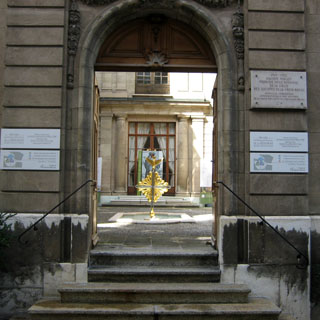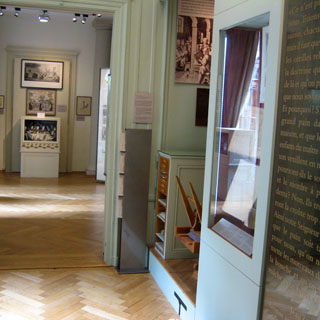 I cannot imagine how much work went into this collection of original editions from the Protestant Reformation (frankly, most all of these men seemed to be just a little unhinged, and none of them seemed to have any sense of humor.)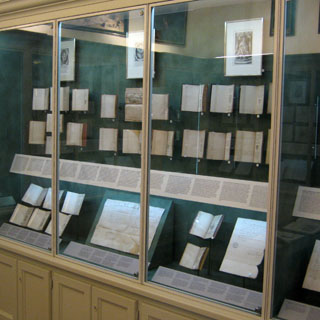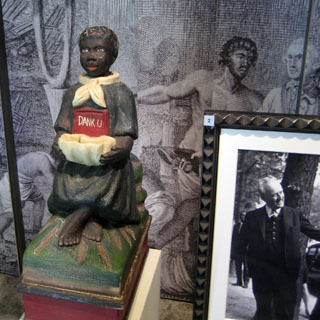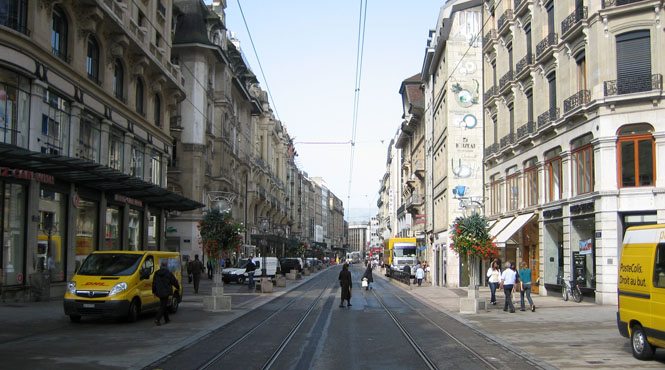 This was once a Catholic cathedral, but considering that John Calvin preached here, that changed. Naturally, all the interior paintings have long since been erased, and all the alter sculptures removed. I would like to have heard that organ.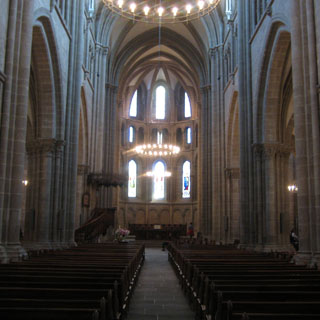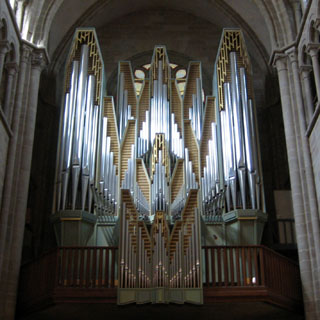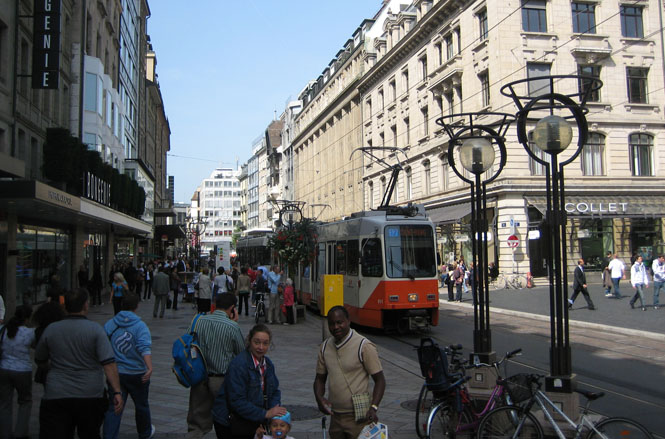 I came across this store of scientific antiques. I could have spent several hours. The owner had a huge collection (which he was happy to show me), but it was not a museum. Everything you see is for sale. This Curta isn't all that old (mid-sixties), and I could have had it for around $800, in the box. This was the pinnacle of mechanical calculators, and actually overlapped electronic calculators in use. A slide rule is a great tool for two, or three-digit accuracy, but if you needed better, than you needed a Curta.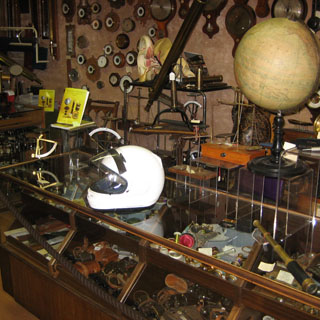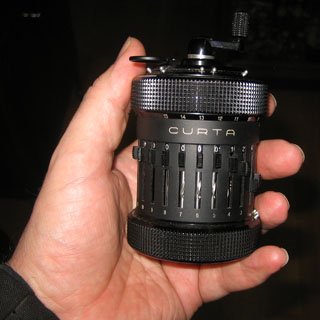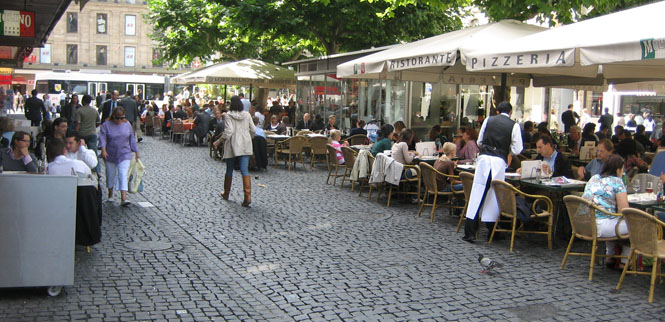 France
The south side of Genfer See (we might call it Lake Geneva) is in France.

Evian is an impressive 19th century resort town. The estates along the lake are stunning.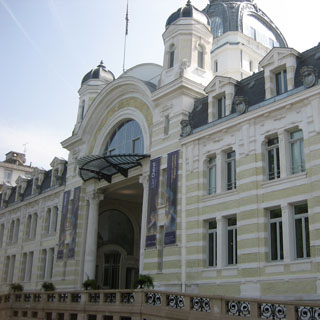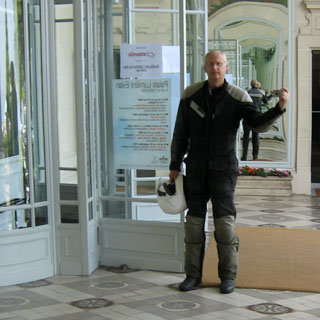 Valais
Sometimes you need to take the on-ramp, and just get on with it. Sure, there were side roads, but the valley wasn't all that wide, and what would be the point? The Guzzi Stelvio is quite happy at 140 km/hr, and I still never felt I was going fast enough to use 6th gear.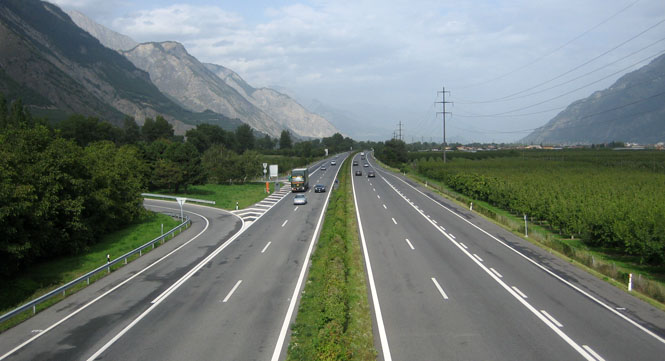 Visp for the night.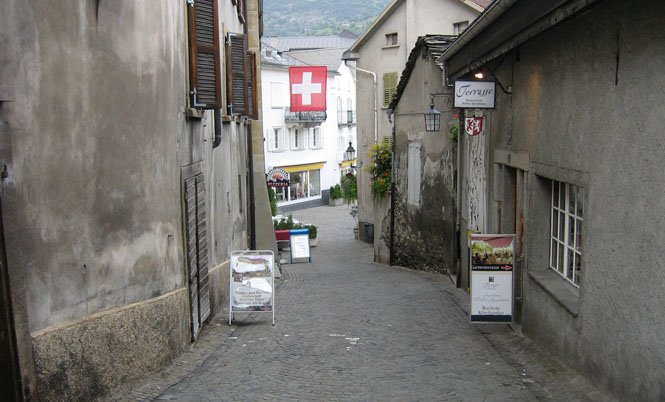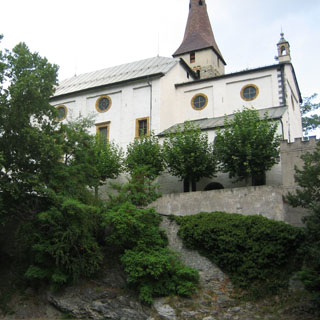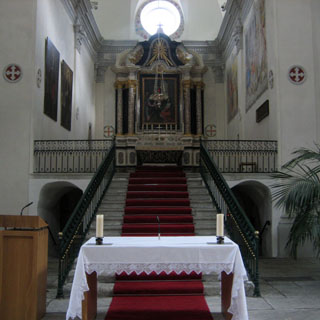 I liked the latch and lock to the church door (which was open).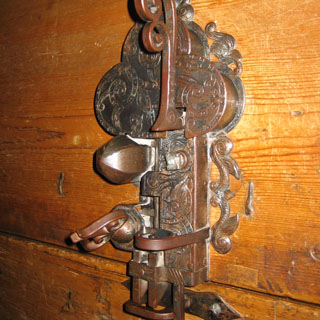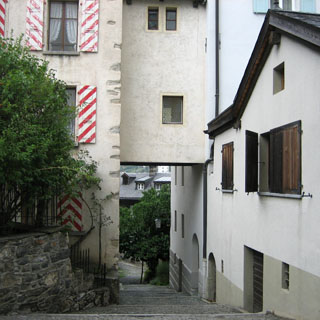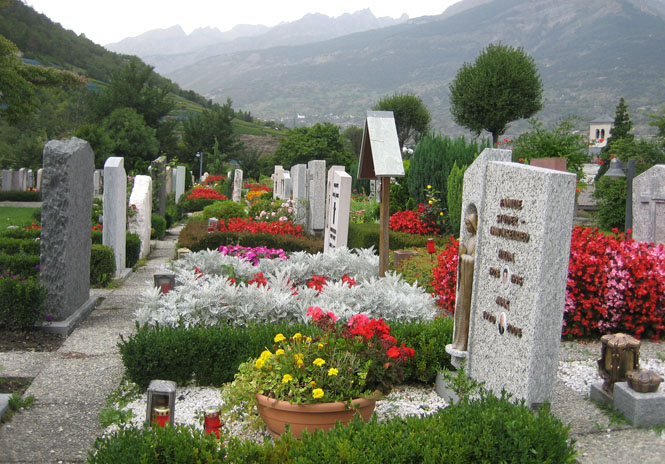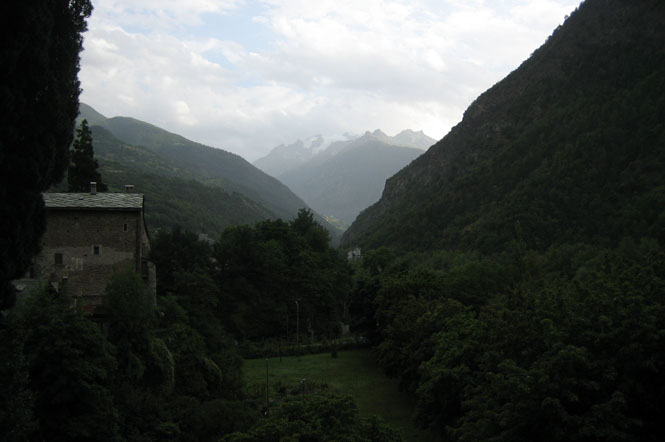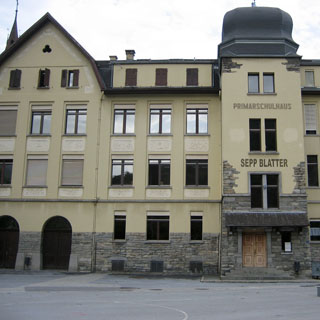 The post office runs the bus network, delivers the mail, and also seems to be a bank of some sort. Everybody smokes, and, they smoke everywhere. Do not expect to see no smoking signs.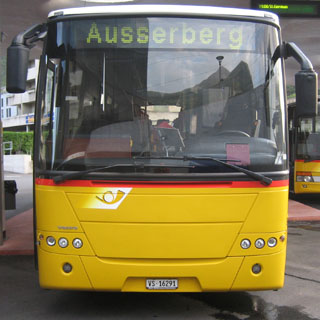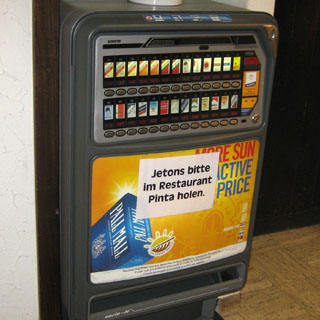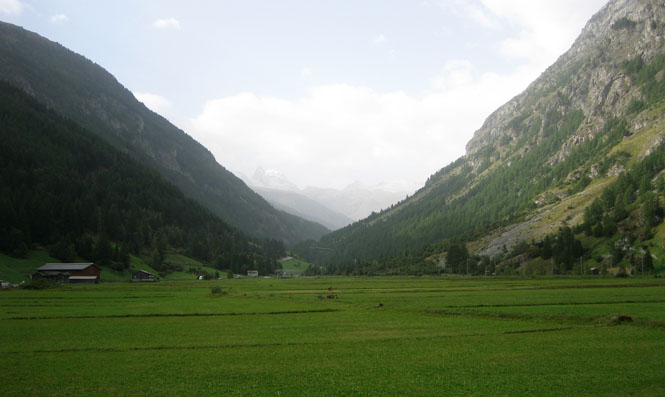 To reach Zermatt, you need to park miles lower and take either a bus or taxi or train the rest of the way. I shared a taxi up, and then took the train back down.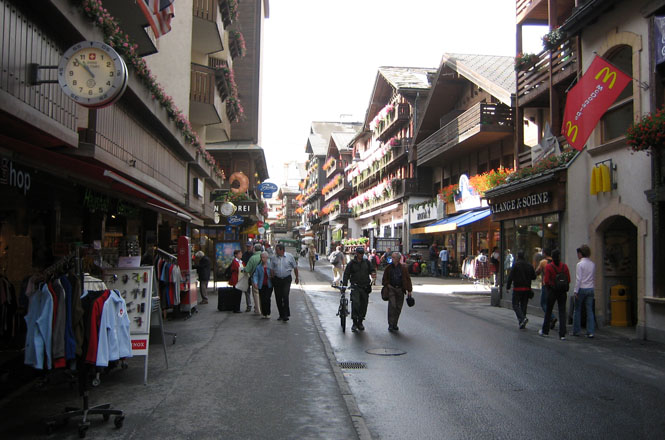 The church had a fair size cemetery next to it, with several markers for people who had died while trying to climb the Matterhorn.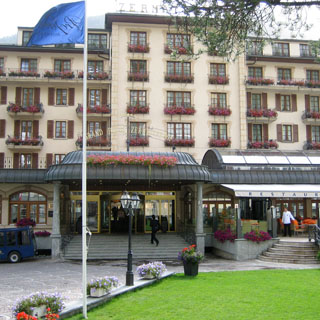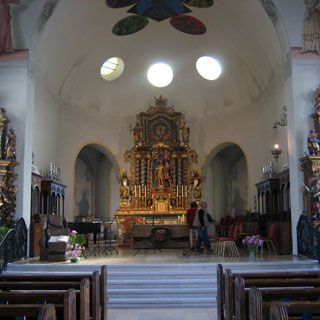 Taking the Gondola (one of three) up to the top. All total, it took about 45 minutes to get there.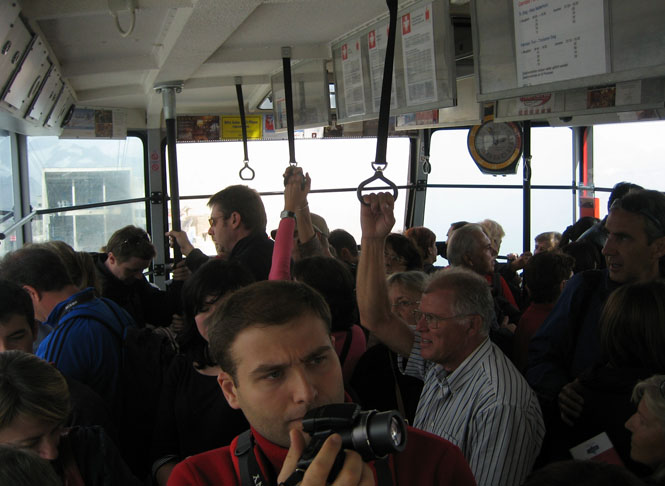 Glaciers everywhere.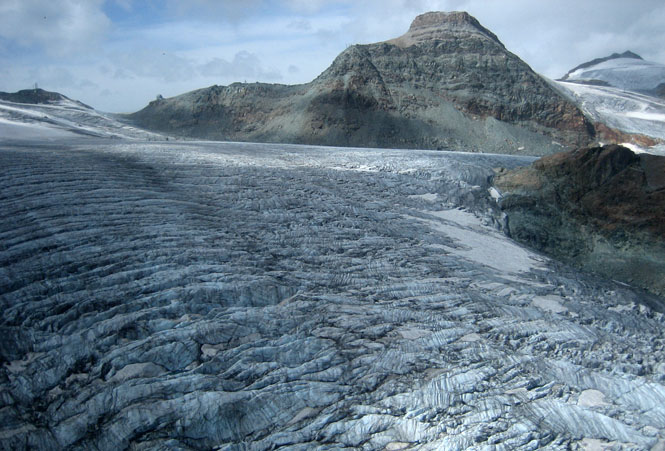 You just cannot believe that anybody could build a cable terminal on this mountain top. How did they do it?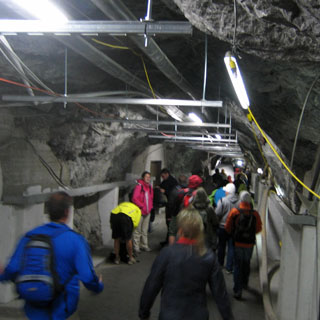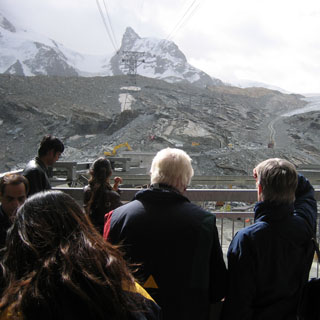 Schwarzsee Klein Matterhorn. I wish the clouds were not there. The Matterhorn is in there.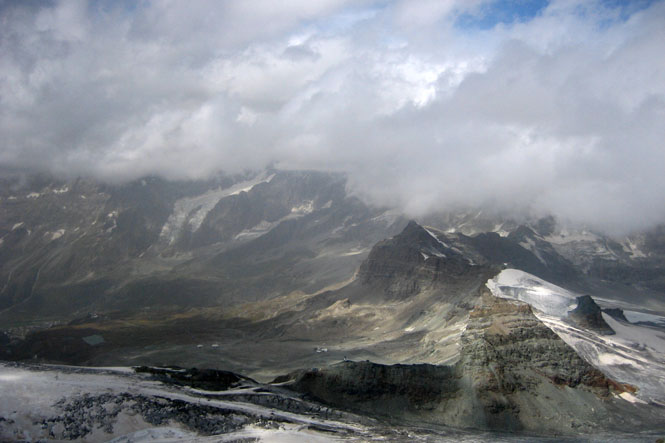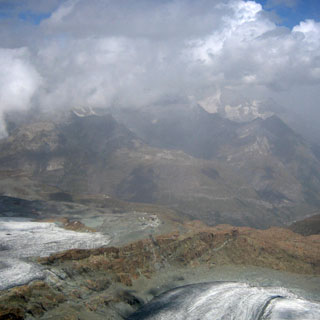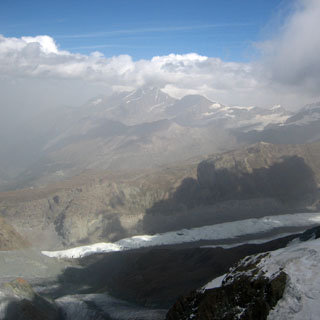 The return trips were much more crowded.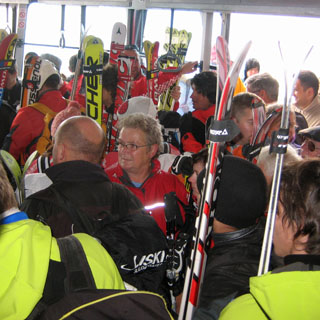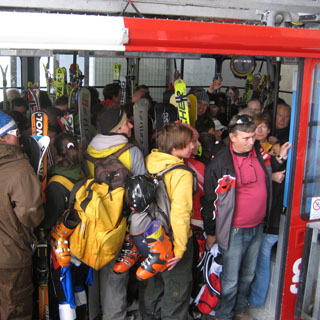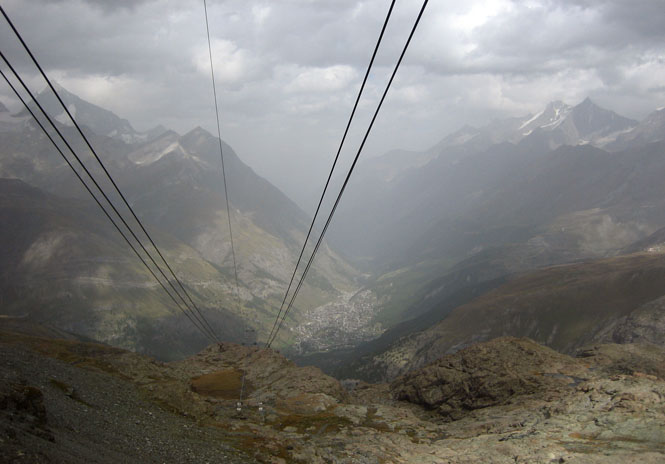 Taking the train back down the hill.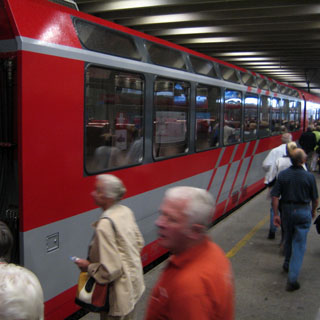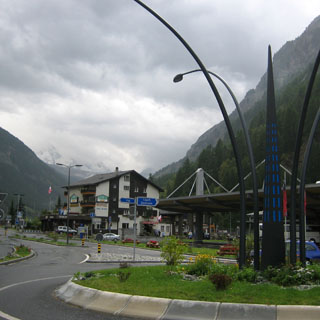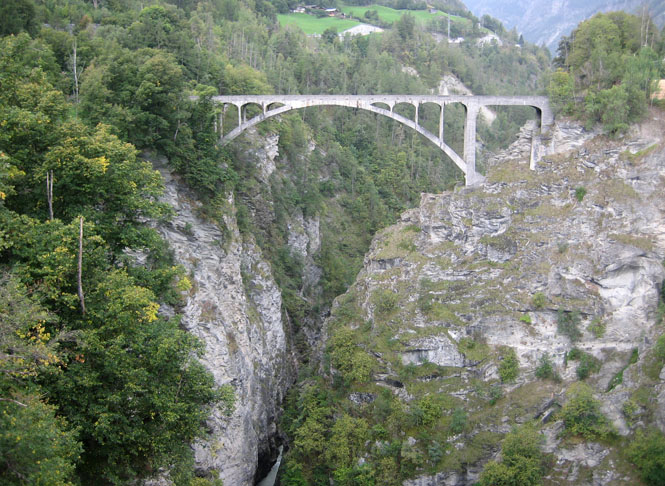 Simplon Pass is a fairly easy pass that takes you south towards Italy. You can just see the old stone bridge that I'll be riding over in a few minutes.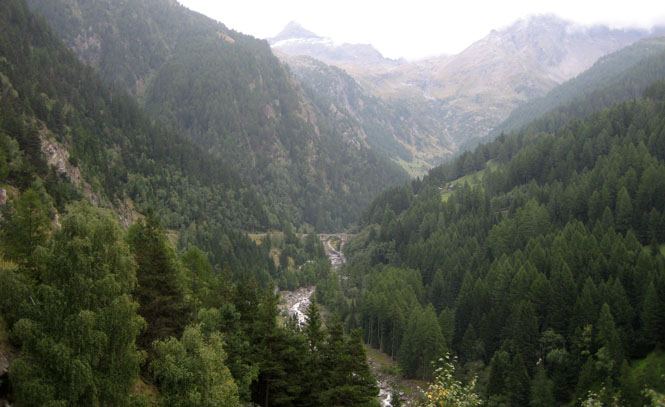 When this new bridge is completed, you won't be going over that lovely old bridge anymore.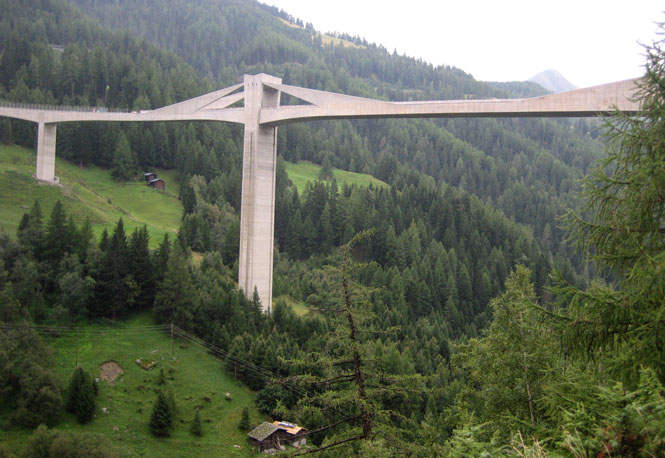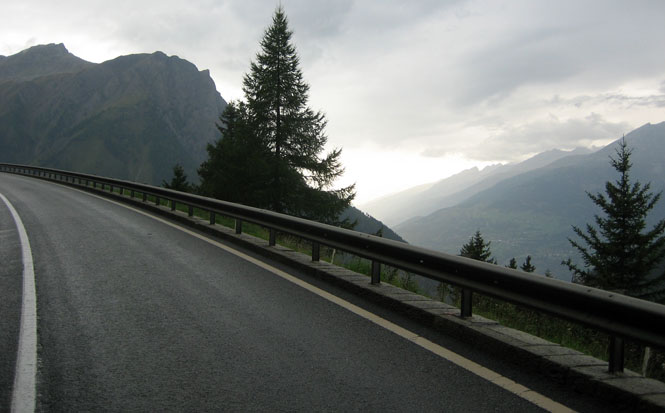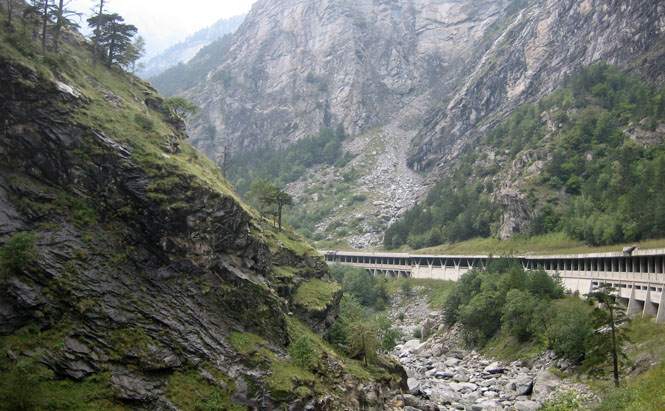 Gondo. This Shell station is not far from the Italian border.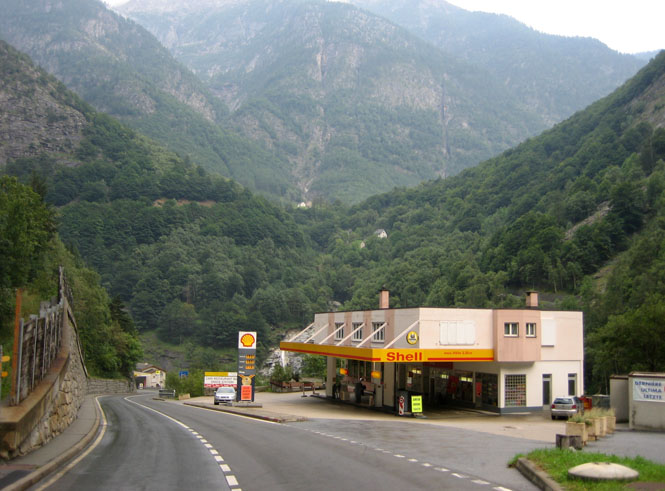 Italy
Varzo. Yes, that's the highway through town.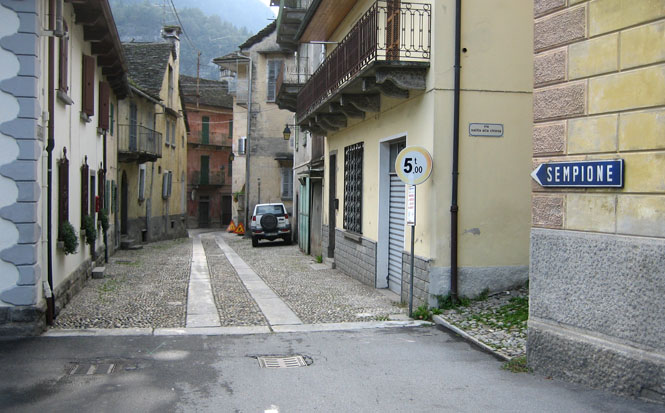 I expected to stay in Varzo, but didn't see a single hotel. So, I rode farther south to Domodóssola, where I stayed at a very nice one.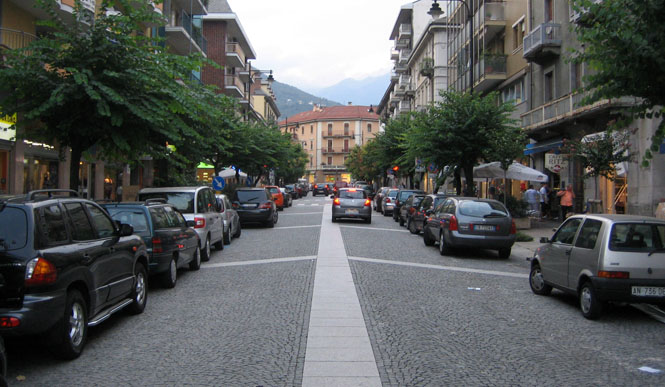 There was a wall of photographs of celebrities who have stayed here, including a picture of Paul Newman slurping spaghetti in the hotel restaurant.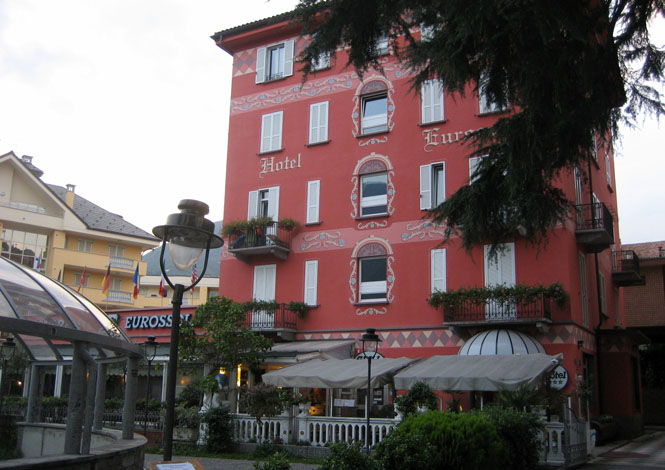 You know you're in Italy, and not Switzerland. It's different.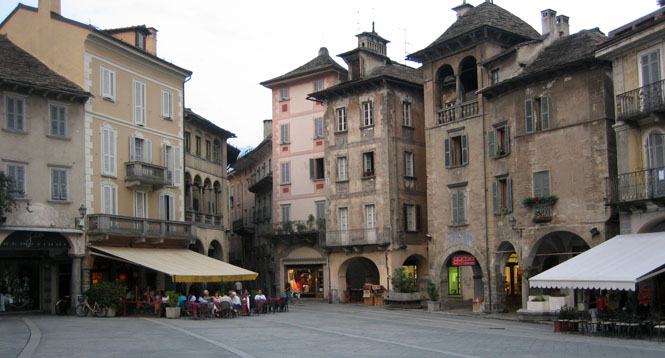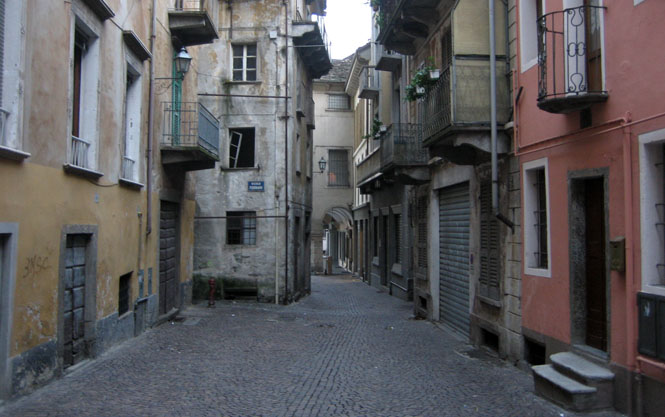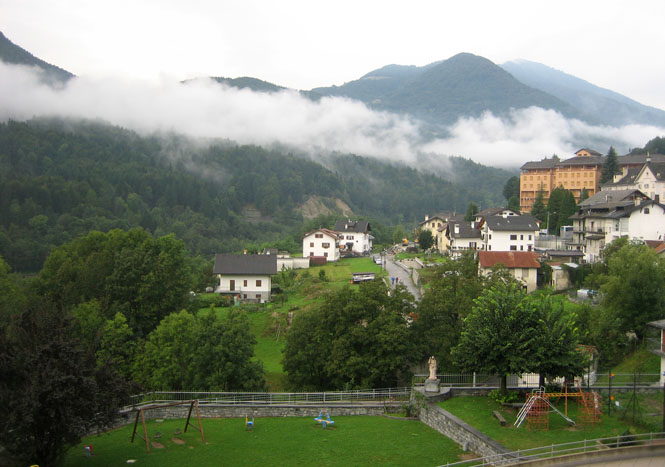 The small town of Re has a huge church and not much else.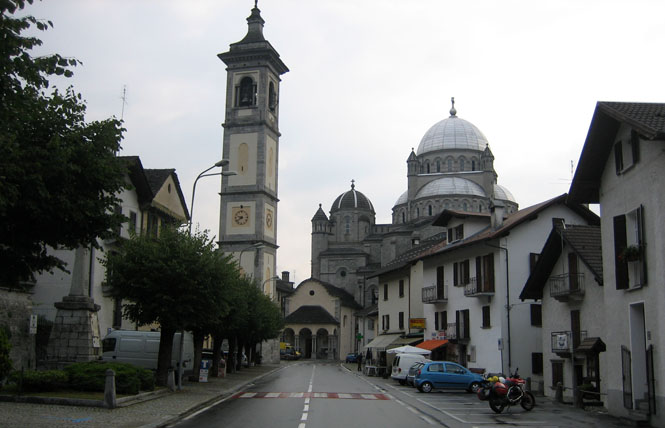 Ticino
Back in Switzerland. These roads just cling to the side of the mountain.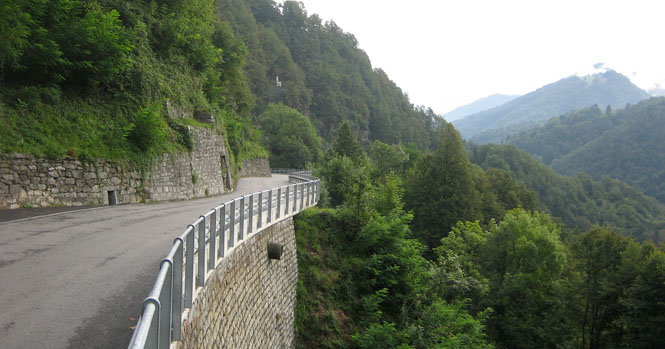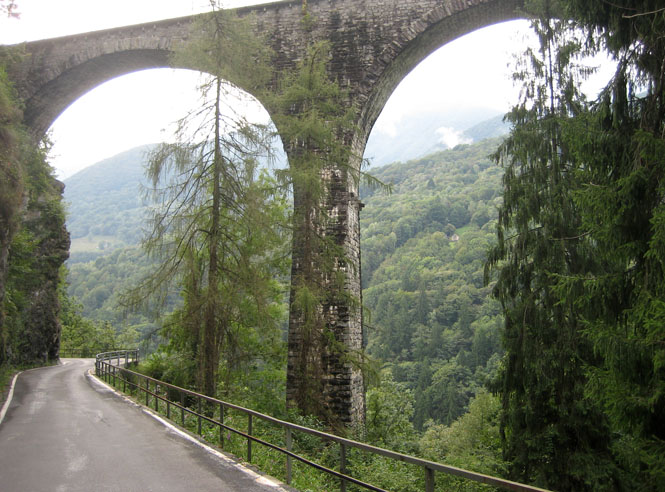 Minusio. The Swiss army was doing some training parachute drops, so I stopped to watch for awhile.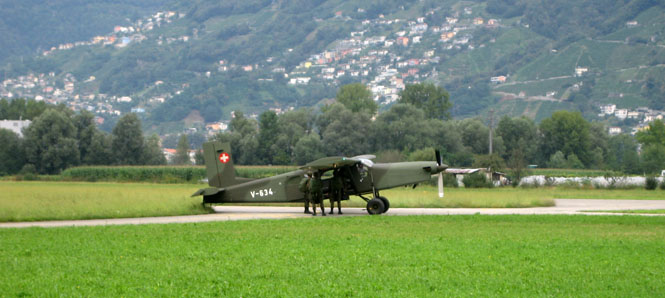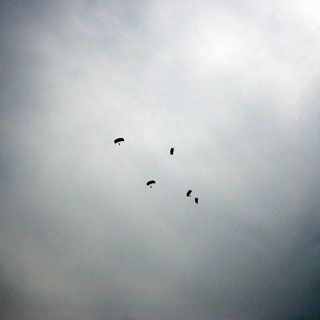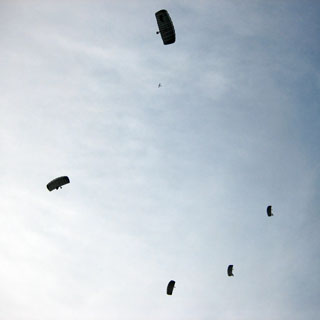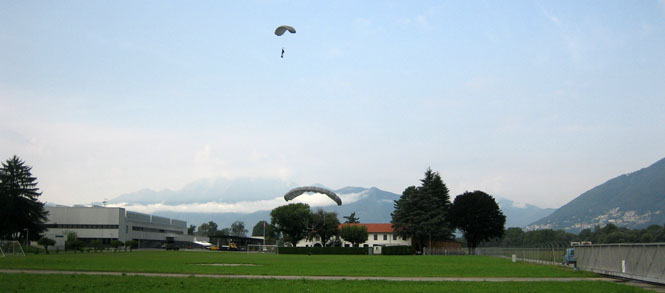 Italy
Lago di Lugano. Frankly, I did not enjoy trying to ride through Lugano. It was not easy to get where I wanted to be. A few signs would have helped.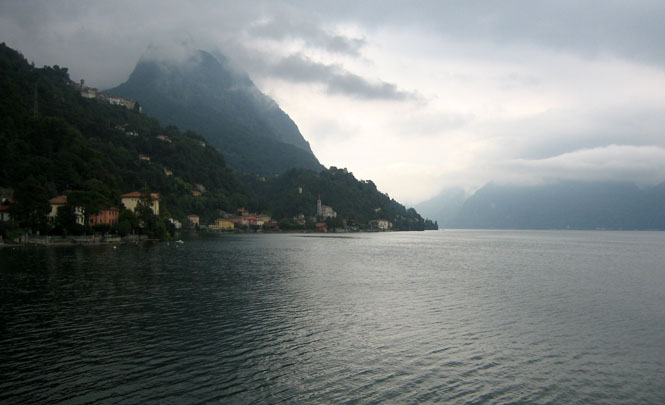 Lago di Como. That's Bellágio across the lake. I considered taking the ferry across, but decided to ride around the lake, instead. As it happened, by the time I reached Como, it was clear that riding around the lake would take far more time than I had, and anyway, there was too much traffic to enjoy the ride.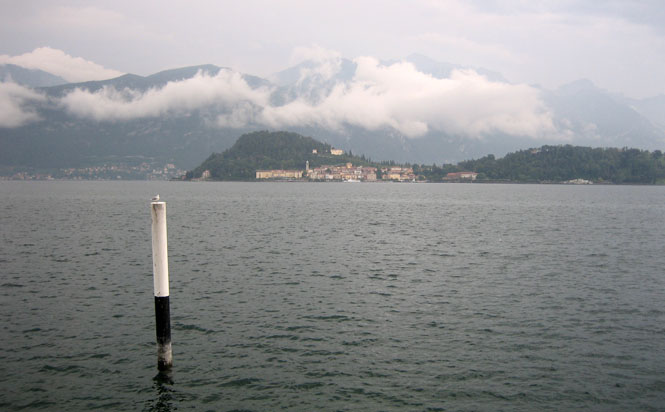 Return to Mandello del Lario. I have no idea who this gentleman is, but he and his cat seemed so contented (how could you not be?).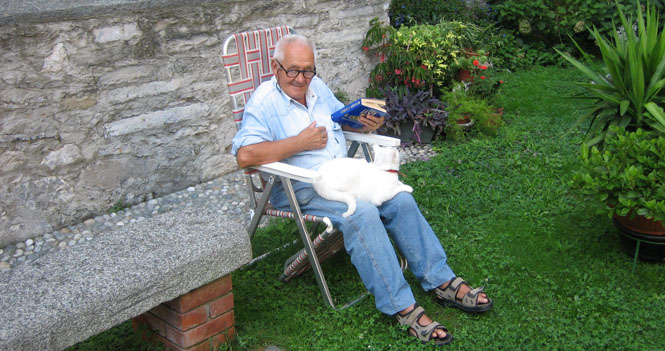 Sylvia is Momma Ciccia. Thanks, Sylvia for the ideal beginning and ending of a trip.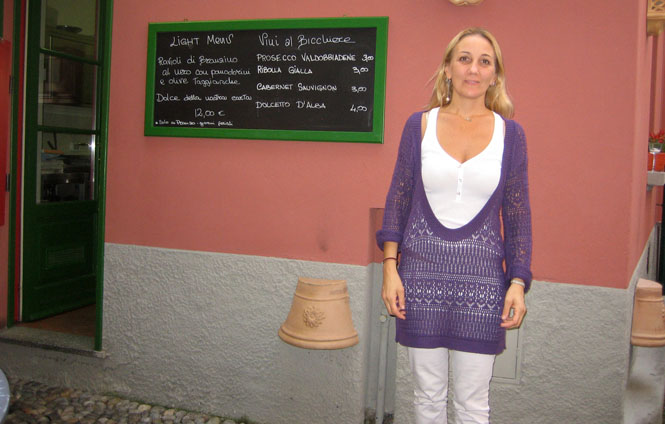 Lake Como. It may be the most beautiful lake in the world.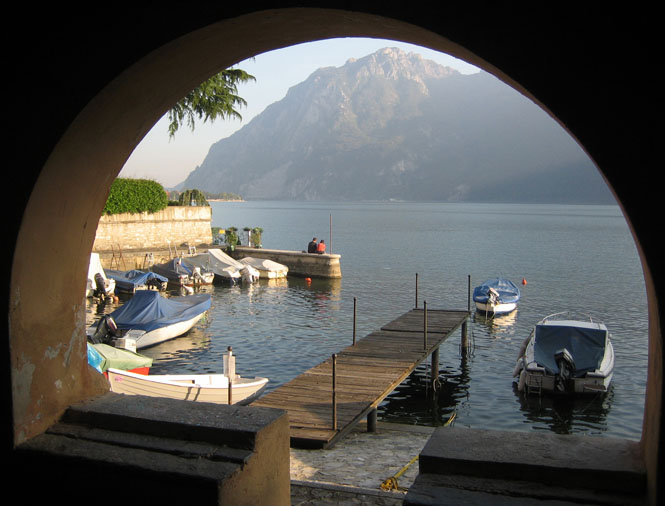 The Moto Guzzi rowing team out for training.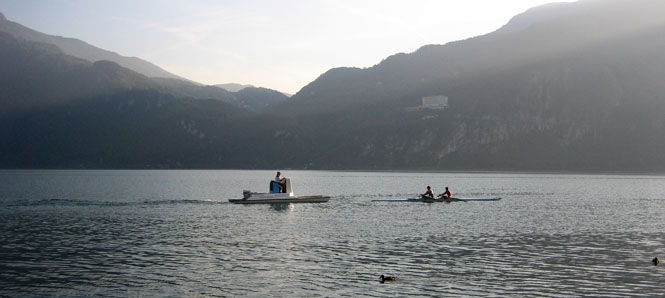 Friday evening, after hours, at Agostini for Champaign and chips.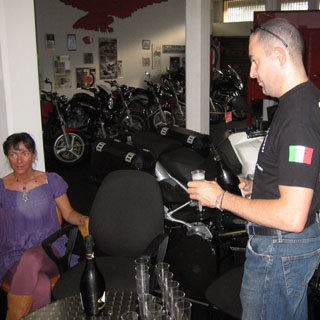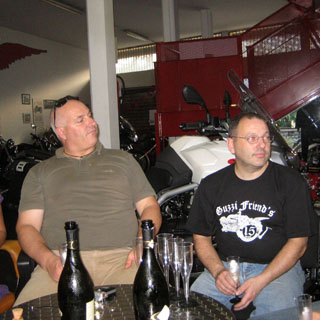 This is Alis' most intelligent cat.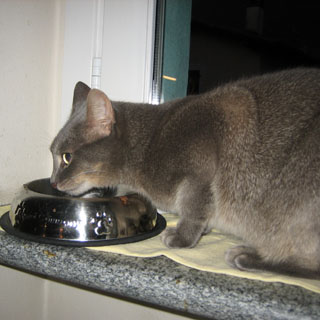 The Guzzi Stelvio is returned, and I am once again, on foot. It's all too sudden. You live twelve days on motorcycle, never being far from it, depending on it for everything, and then it's gone!
It all went so well. I can't say it went to plan, since there was no plan, but it was as good a trip as I could have hoped.
Thanks Alis and Peter and Francesca (and Zorba). Without you, this would all have been impossible.
It was raining hard in Lecco on my return, but luckily it eased off before the train loaded.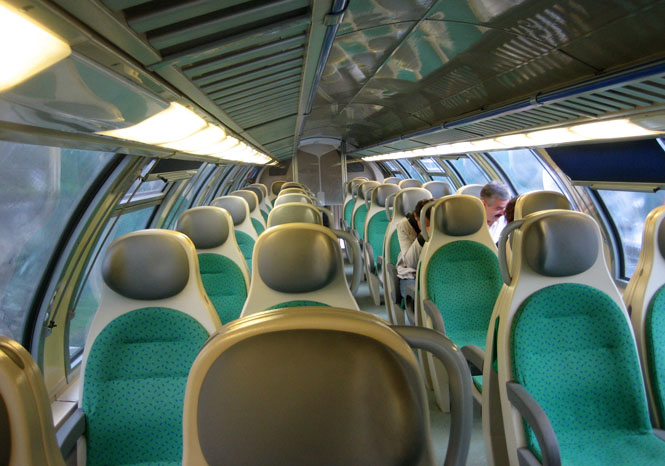 I walked a different direction in Milano, and took in the newly opened design museum. What a drastic change from the previous two weeks! This was one of the more avant-garde displays I've seen in a museum. They have very ambitious plans. This first display is all about Italy and design and what it all means. Later they plan to focus on more specific topics. But, not one Guzzi was on display (just the expected, and too-obvious Vespa).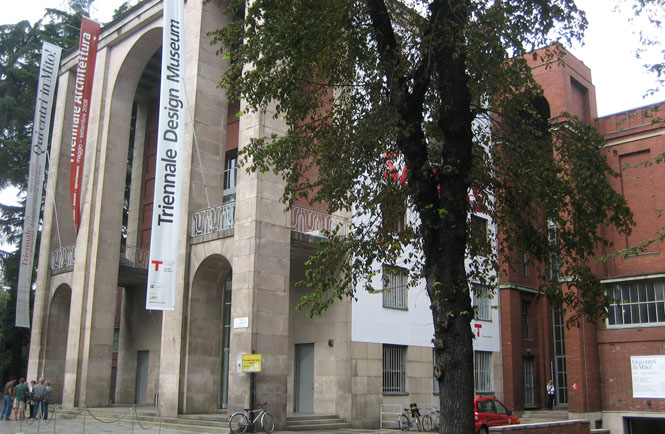 I returned to the Castle.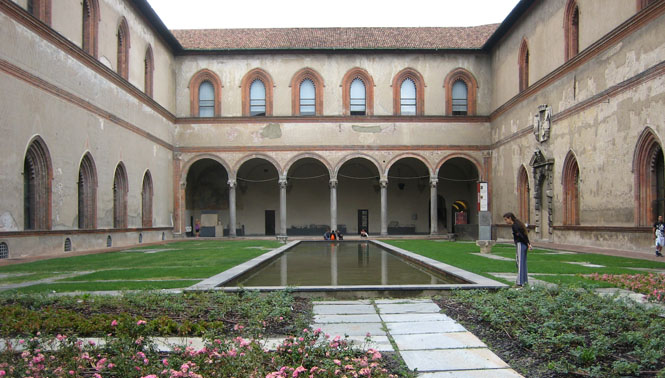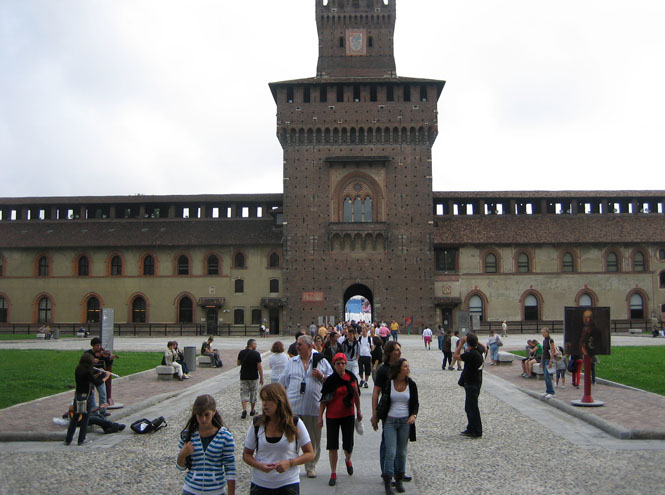 I struggled to understand this. There was a Harley-Davidson meet at the castle fountain by several local Harley rider clubs. They seem to have embraced the whole American Harley culture, except that culture seems at odds with everything you see around you. The long open highway with just you and your Harley doesn't exist in Italy. And, the patches and stickers with the rude American words that would be at home at Sturgis or Daytona seem especially strange when worn by people who are not speaking English (do they know what that patch says?). But, perhaps the Harley/Cowboy image is even more attractive when it's at a distance.
To be fair, they're probably talking about the guy wearing the space-suit and riding that funny looking motorcycle.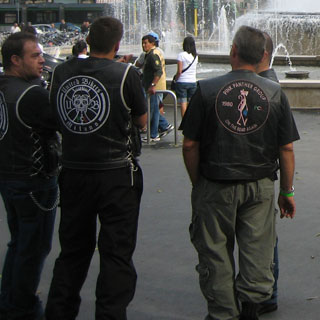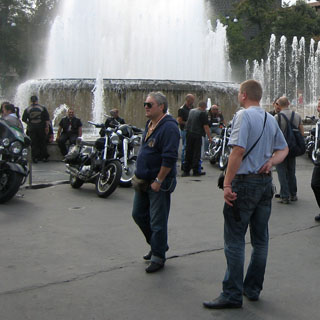 Rechecking into the Milano hotel.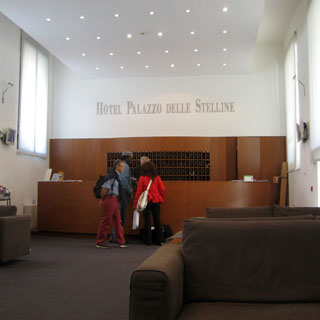 All airports are alike. This is the Malpensa Airport.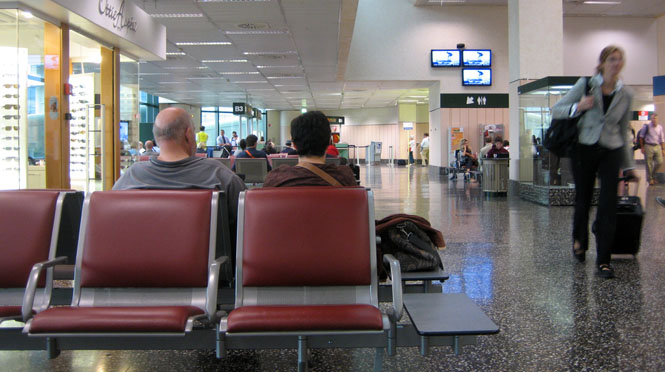 A great trip. I couldn't be more pleased with it.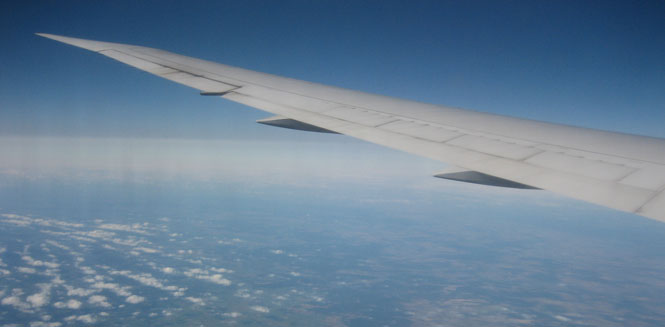 notes
It couldn't have gone any better.
Interesting how much cheese is used as the main course for breakfast. Cheese and bread is perfect as road food.
Speaking of which, nearly every breakfast table had a large plastic container at each setting--I assumed for trash.
I saw an unexpected number of Harley-Davidsons on the trip. Amazing, since the advantages of a big FL do not include tight turns and short straights.
Where are the posted highway numbers? This made it very difficult to navigate through towns. You have no way to know which road is the right one. All you can do is ride in the general direction, and figure it out later. Numbers on a map are hardly ever matched with posted numbers on the road.
Swiss gasoline smells horrible and strong. This is true when pumping it, and when following a car. At times, when there were several cars in front of me, I would just pull over and stop as the fumes were so bad. On busy roads, my throat became quite raw.
Drivers, in the main were quite courteous in Switzerland.
Motorcycle riders were not as skillful in the Alps, but much better elsewhere. I'd guess that many of those riders in the Alps were from all over Europe and were not any more used to this than I was.
I like the idea of Müesli and yogurt. At first, I didn't understand how it was all suppose to work--you pour thin yogurt on your cereal? Really? But, it's good!
Train whistles in Switzerland are not lonesome. Instead, they shriek, just as in old movies. They must wonder what in the world Hank Williams was singing about.
more notes
There are 26 cantons in Switzerland. I rode in them all. At least it means I've generally seen all regions of Switzerland, even if it would be ridiculous to claim anything more than that.

























I learned to aim for the older and long established hotels. The first days, only after walking around in the evening would I find where I probably should have stayed to begin with.
I need to see if I can reduce my load to just a single small duffle-bag, and no saddle bags or tank bag. I think it's possible.
The hiking shoes I bought for the trip worked perfectly. After lots of looking, they were chosen for their aggressive soles, and for the fact that they could be packed flat and light (not for their looks).
Staying in Milan that first day and last day still seems to be the best way to go.
It occurs to me that I never went swimming in any of those Swiss lakes. I should have.
Always remember to pack water.
Always remember to take two credit cards.

Switzerland
[2:09]
last edit: 10/26/2008