November, 2009

Sunday

Monday

Tuesday

Wednesday

Thursday

Friday

Saturday

8 November
9
10
11
12
13
Wichita
Los Angeles
14
lost day (International Dateline)
15
Sydney
Canberra
Bungendore
16
Canberra
Bungendore
17
Oberon
Kandos
Mullaley
18
Manilla
Wrialda
Inglewood
19
Millmerran
Mundubbera
Monto
20
Cania
Dululu
Middlemount
21
Nebo
Sarina
Rockhamption
22
Rules Beach
Wartburg
Bundaberg
23
Noosa
Kobndalilla
Woodford
24
Fernvale
Mt Lion
Evans Head
25
Tyringham
Dorrigo
Kempsey

26
Sydney
Kiama

27
Nowra
Bendalong
Bungendore
28
Bungendore
29
Canberra
San Francisco
Wichita
30
1 December
2
3
4
5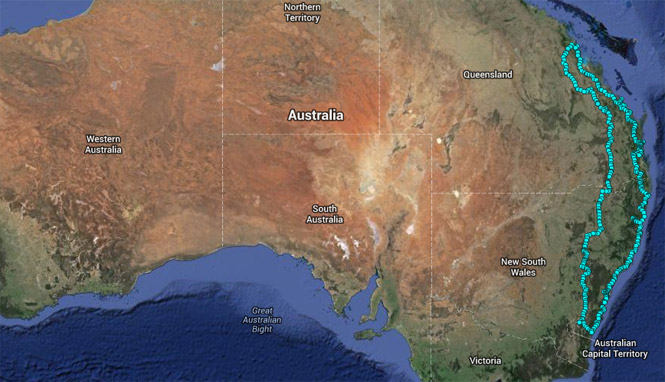 Kansas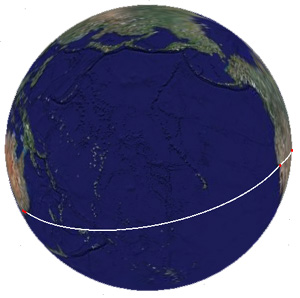 Back in 2007, I borrowed Pete Roper's yellow Moto Guzzi Griso, and rode south from Bungendore, across to Tasmania and then through Victoria, and back. That was a very good trip, and I really enjoyed riding through Australia.
Earlier this year, I rode a Guzzi Stelvio from Italy to Norway. Generally, I just do one decent sized trip each year, filling out the year with dozens of two and three-day trips. But, this year, I had more available time than usual. Would it be too much to borrow Pete's bike, again?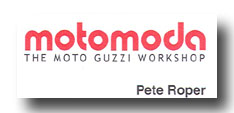 Instead of the yellow 1100 Griso (with a two-valve head), I'd be riding Pete's green 1200 Griso (with the four-valve head). The two bikes are essentially the same from a riding comfort perspective, although there are slight differences. I don't know that Guzzi expects the Griso to be a touring bike, but I have to say for the type of riding I do, and the amount of luggage I need to carry, the Griso may be nearly the ideal motorcycle.
I'd be leaving Kansas late Friday (after work) and would return on Sunday two weeks later.
California
Los Angeles International Airport. It's a nice coincidence that the arriving connection from Denver uses a gate right next to the departing gate for Sydney.
My Los Angeles celebrity sighting: Fred Willard, who was the clueless lieutenant in the movie "This is Spinal Tap."
This is our monthly "At Ease" weekend. It gives us a chance to let our hair down, although I see you've got a head start in that department. I shouldn't talk, though, I'm getting a little shaggy myself. I'd better not stand too close to you, people might think I'm part of the band. I'm joking, of course.
- Lt. Hookstratten [This is Spinal Tap]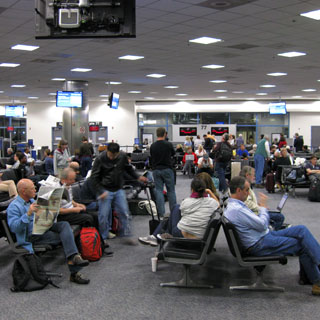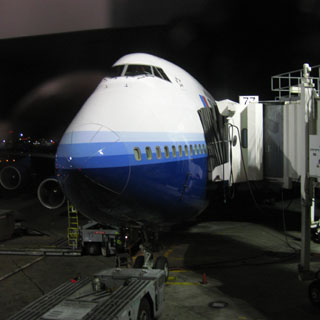 New South Wales
What's to say about this flight? It's long.
Sydney Airport. The route through immigrations and customs was quick enough (save that I was sent to the holding pen as the name on my visa didn't exactly match my passport--I was never told the details.).
While the U.S. TSA did inspect my checked luggage (the larger yellow duffle-bag), Sydney customs did not, so I didn't have to answer for the exhaust muffler I was carrying. Unfortunately, TSA was pretty heavy-handed with the thing, and apparently knocked it on the floor before carelessly repacking the bag.
I have come to expect my yellow waterproof bags (one carryon with my helmet, and the other larger one with my boots and riding suit) to come under special scrutiny. I have always been stopped for the "random" inspections of carryon luggage at the gate, and the checked duffle bag has always been emptied and repacked when I pick it up at baggage collection. I refrain from making the obvious comment that a terrorist would be unlikely to use such a highly visible bag--these people have no sense of humor, and it would make no difference.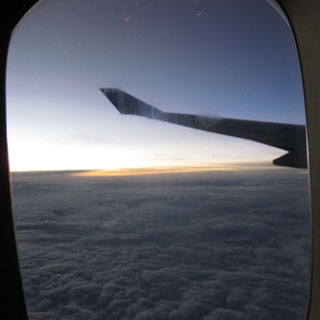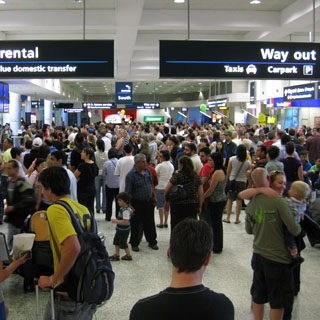 I would have a few hours before my connecting flight to Canberra, so instead of just waiting in the airport, I caught the train into Sydney. I wouldn't have time to do anything more than walk around, but that's often enough.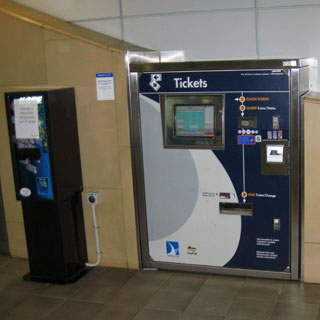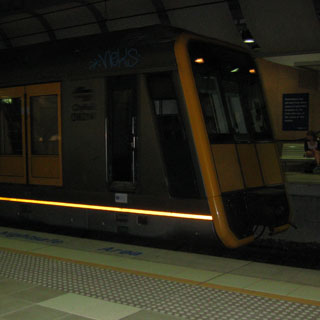 Sydney. I was impressed by their rail system. It's easy to use, and frequent enough to make it convenient.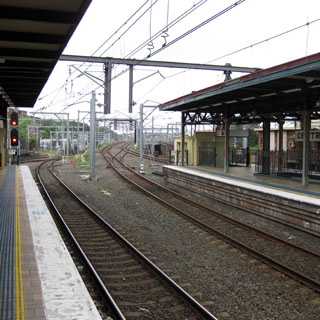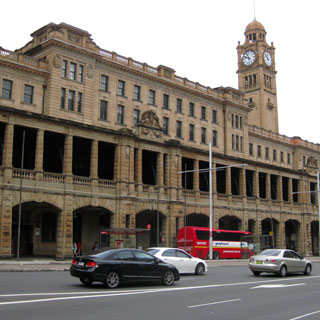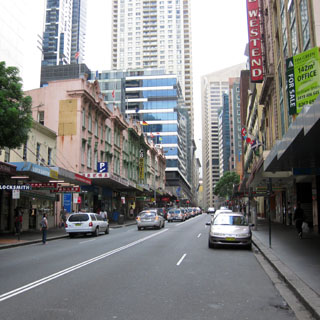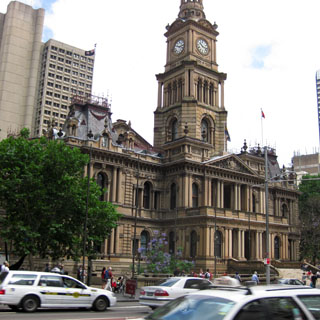 A naked man avoiding a bull with a rather sharp horn and a turtle spitting water with great force. I'm sure there's an interesting story behind this fountain sculpture.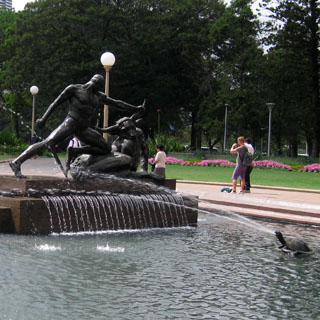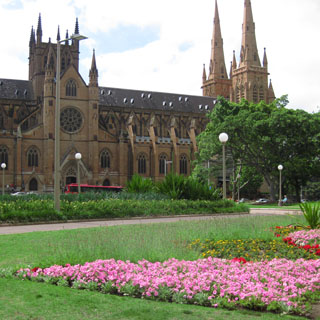 I hardly had time enough to walk through several of the galleries.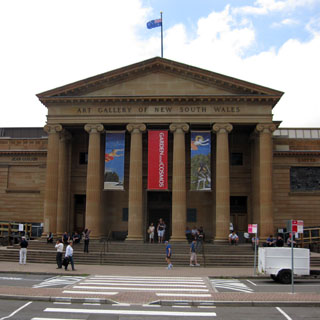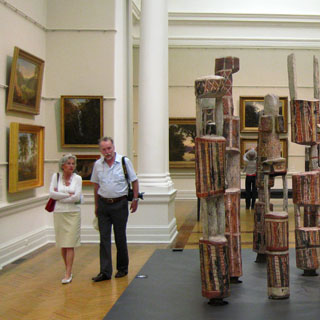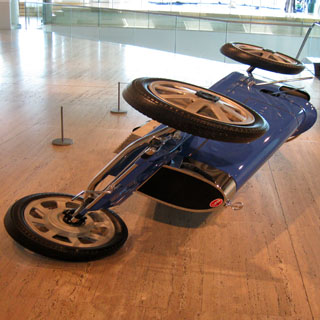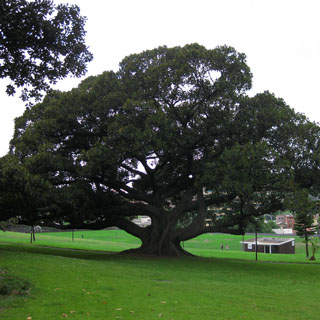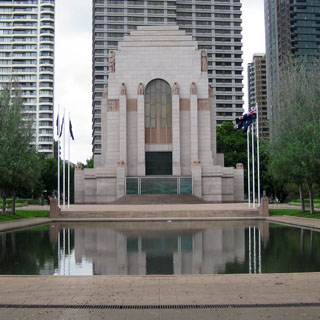 Pete picked me up at the Canberra airport (which is vastly smaller and easier to get through than Sydney).
Bungendore. I would add to the collection of photographs that I took the last time I was here.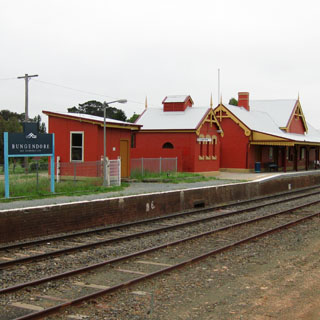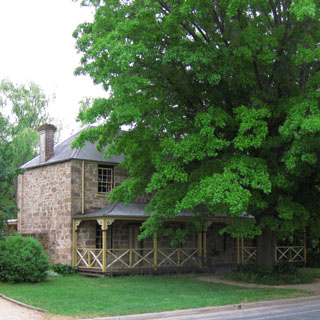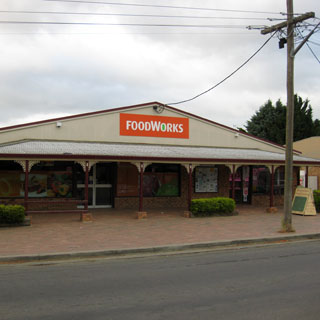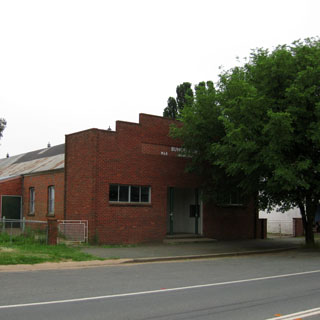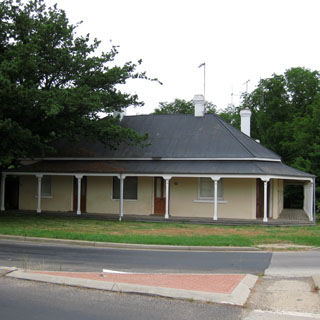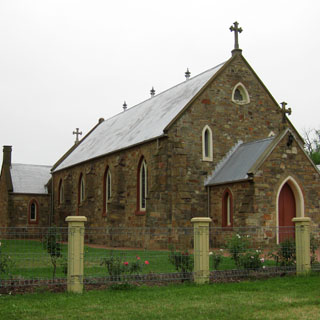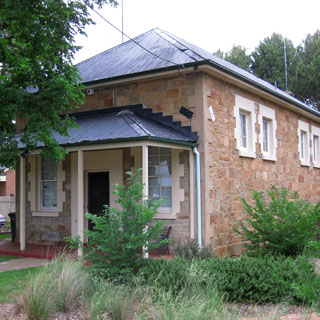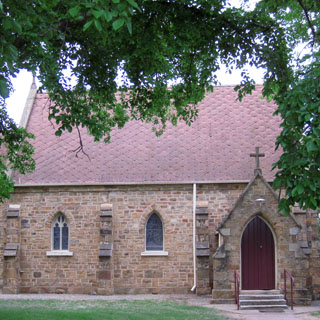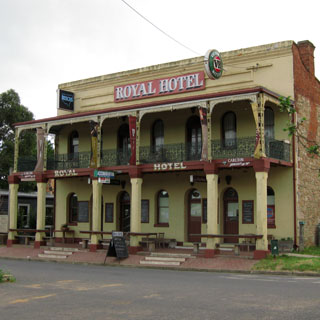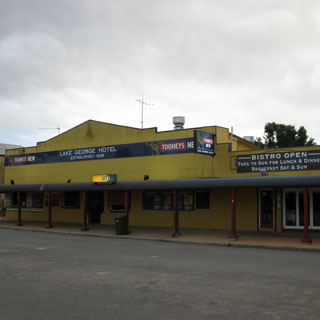 Pete installed the muffler that I had brought with me (luckily the damage caused by TSA could be corrected or was hidden from view). The exhaust sounded terrific. Not loud by any standard, but very nice sounding.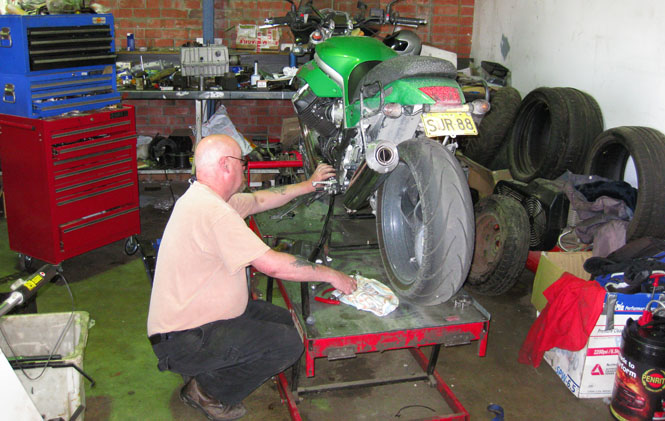 ACT
Canberra. The last time here, I went through the other major buildings, but did not have a chance to walk through the new parliament building.
Parliament Building.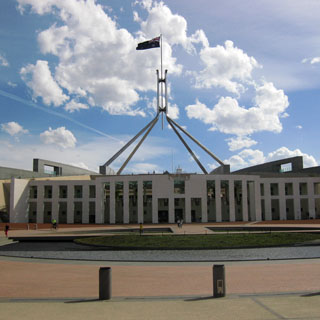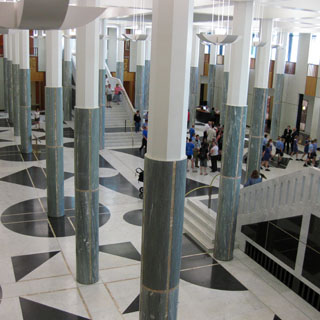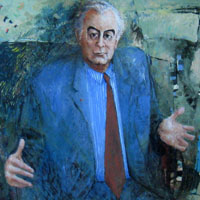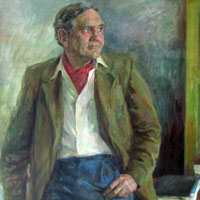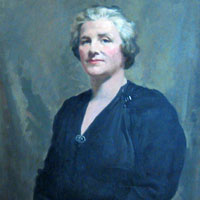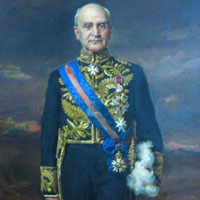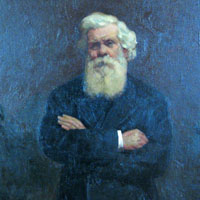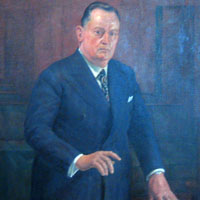 Parliament was in session, and I was able to view the proceedings of the lower house from the balcony seats. Photography was not allowed. The arrangement of seats and the speaker's bench and center table was quite similar to Westminster, even including the mace. The debate (not really the right word) was all about carbon credits. It wasn't easy to follow what was going on, but it was also clear that things were far from unanimous.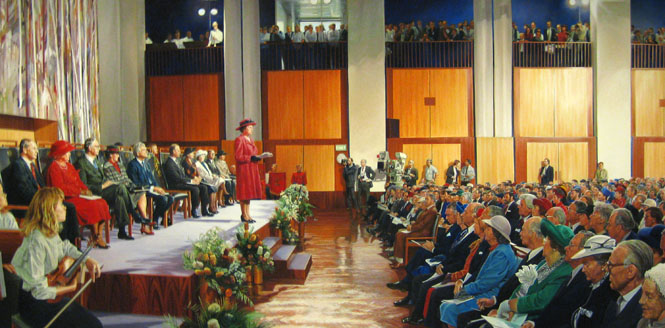 Time to ride.

I knew the first couple of roads that I'd be taking. After that, I'd figure it out along the way. The idea was to ride north, on the west side of the dividing range, and then to cut across to the coast when I felt the time was right.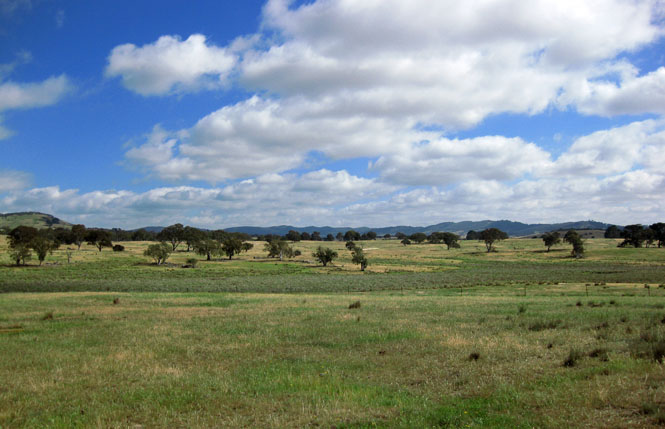 My map showed sections of this road to be unpaved, but Pete said that it had been paved a few years ago. Otherwise, I probably would have skipped it. This back road to Bathurst is a good one.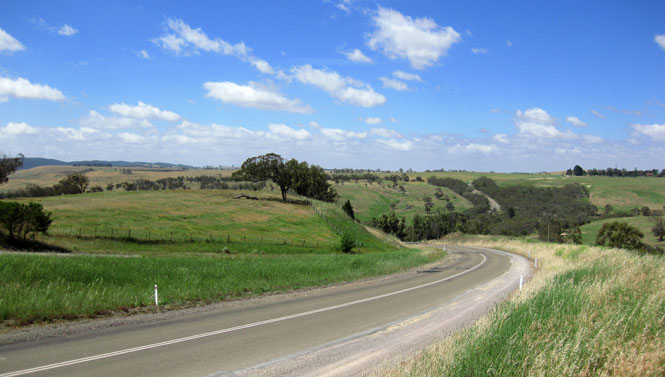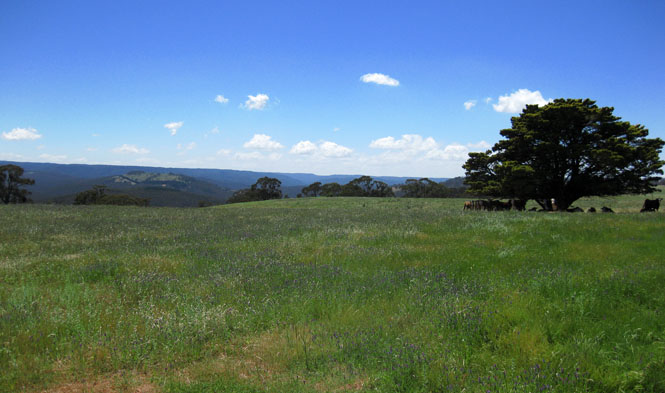 I can't remember if I saw any traffic at all along this section. I don't believe so.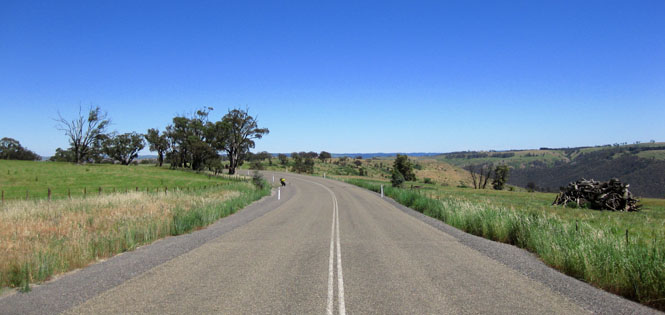 I always prefer wooden bridges that have their planks cross-wise to the bed, but there's nothing to be worried about with this well-built bridge. When the gaps are wide and the planks are loose is when you want to be careful.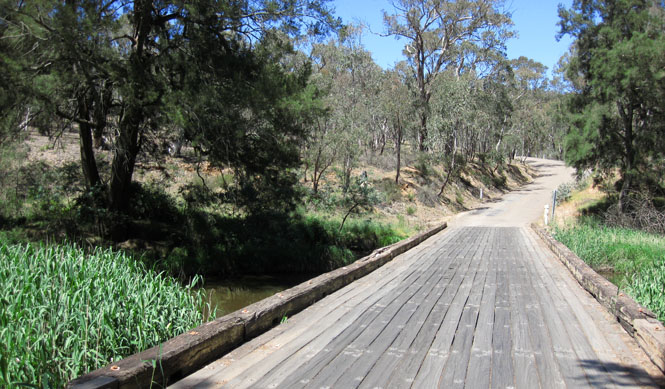 Abercrombie River.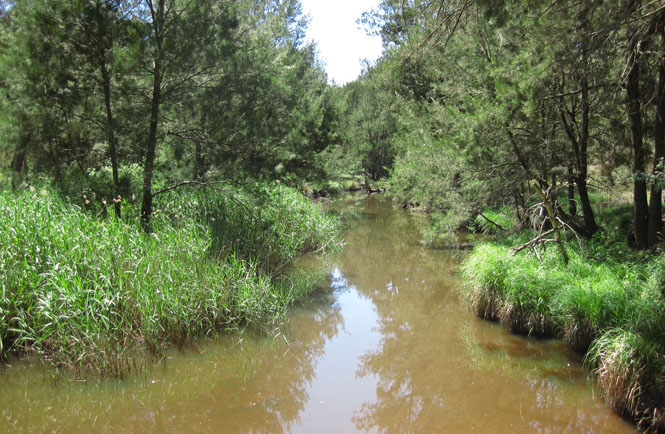 I believe this was the section that was recently paved.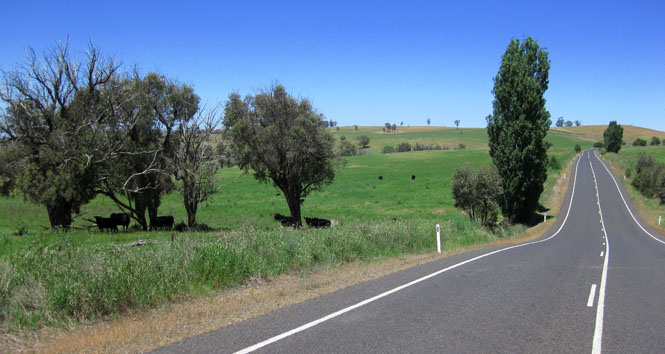 The Griso holds sixteen liters, and didn't get especially good mileage.
As towns were not frequent, I generally filled up whenever I had the chance. I'd go as far as 190 kilometers, and sometimes get fuel after as little as 80 kilometers if I wasn't sure about what was available further down the road. Whenever it was available, I'd use the highest octane fuel. At the smaller petrol station, you had no choice, but the Griso is happier with the higher number.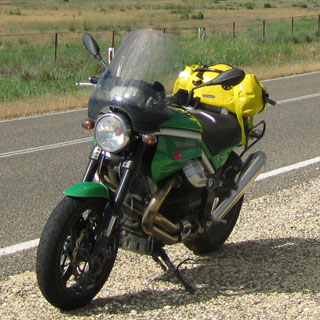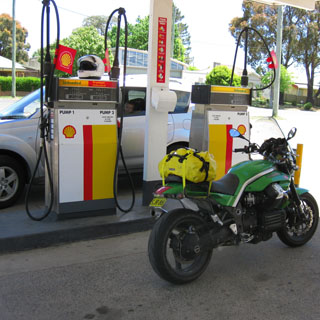 That yellow duffle bag is all I used. I packed virtually the same as I did for my earlier European ride, including the jacket and a Polartech pull-over sweater for use as a liner for my riding suit. I didn't use either of those. In addition, I carried a pair of walking shoes, a single change of clothes and a small toiletries bag. Pete gave me a tire-repair kit as well (never used). I would be washing clothes every evening. In later photographs, you'll see a red onion bag tied to the top of the duffle bag. I used that to carry a couple of water bottles.
Oberon.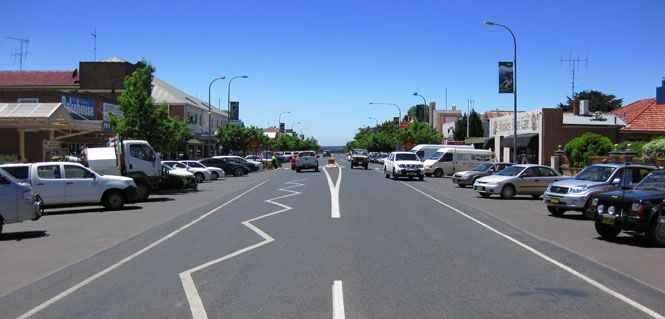 Some food is better than others. This wasn't too bad, really. I like the ginger beer. It's nothing at all like our ginger ale, being cloudy with chunks of ginger and quite a bit stronger. The other thing is a chicken schnitzel--a fairly common menu item, but this would be the only time I had it.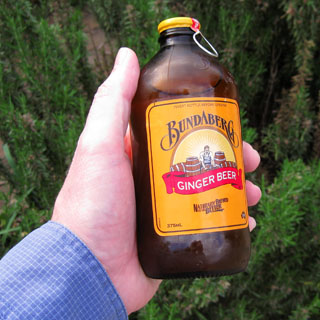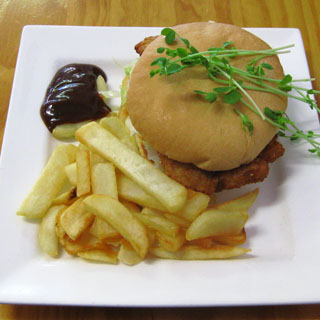 I was riding a road that passed through Sofala that I had intended to ride two years ago. But, on that trip, I missed the turn (I rarely will turn around). So, this time, I made the point to jog over to that road. It's a good one.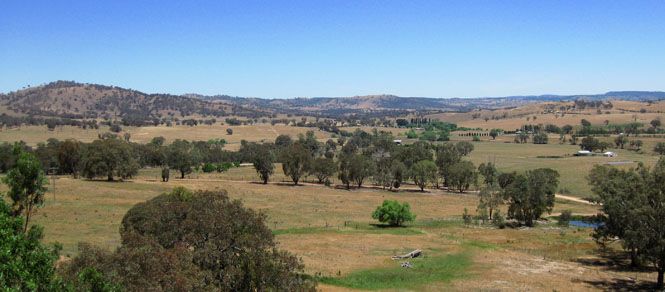 Sofala is a preserved old mining town that is just a bit off the highway.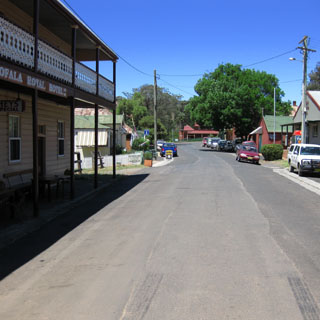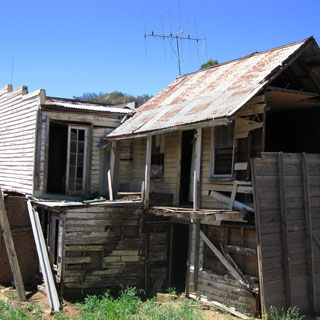 The temperature is well over 100 degrees, so sitting in the shade seemed a good idea.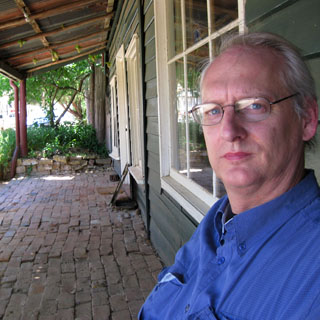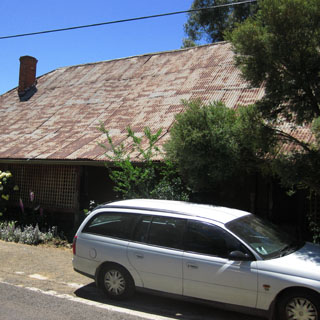 The old house (below) is interesting in that it has original shingles, and has not been recovered with the corrugated steel that is more typical.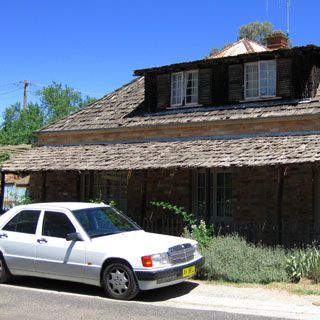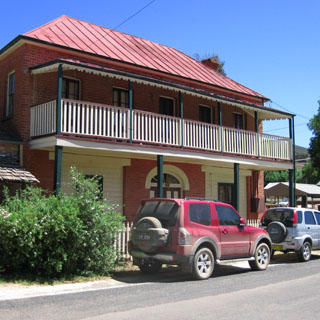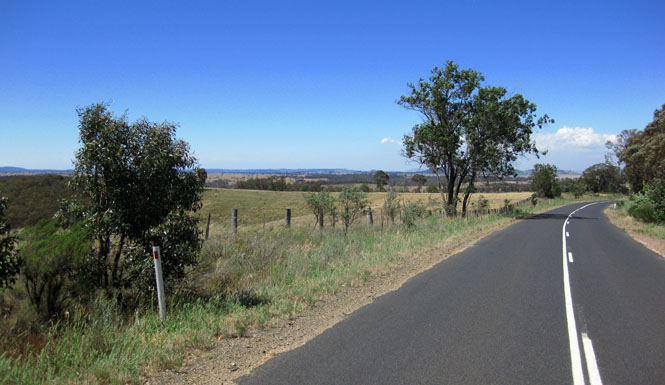 Kandos is next to a large cement works (at least, I believe that's what it was). I bought a few postcard stamps at the post office.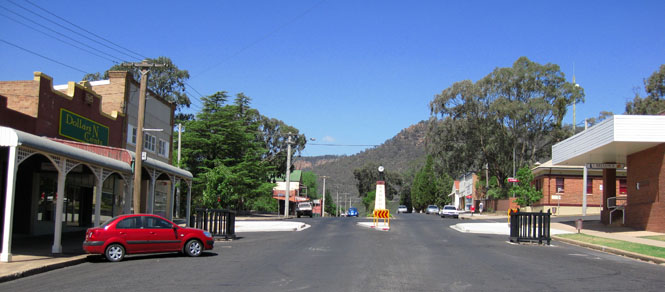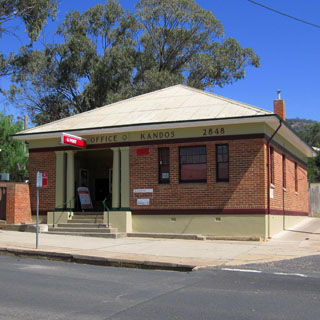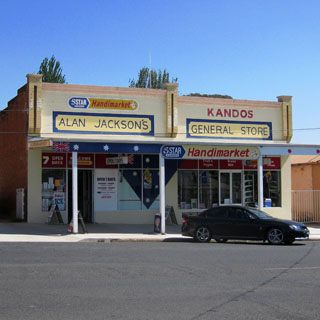 I'm sure many people would consider this to be just desolate land to get though, but I really like it. There are similar areas in the U.S., but there is nothing to compare with the huge expanse of such open land as I rode through. I was not riding well-traveled roads. A break-down would be annoying.
The Griso ran perfectly the whole trip.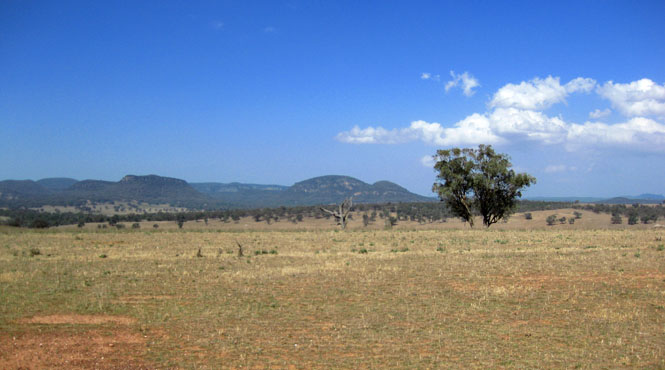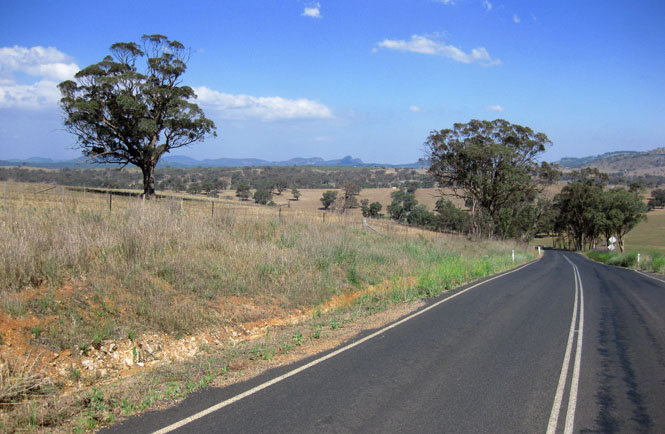 Ulan Coal. This was quite an impressive strip-mine, but I wasn't able to get close enough for a good photograph.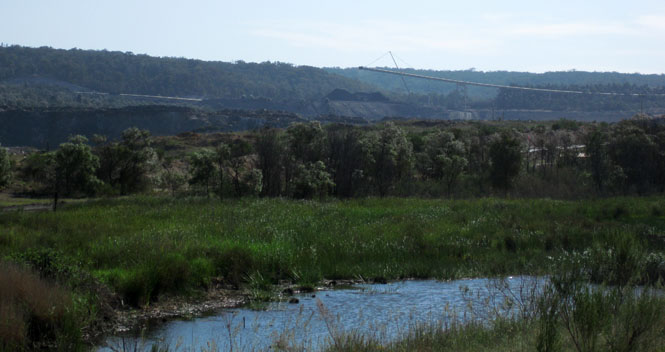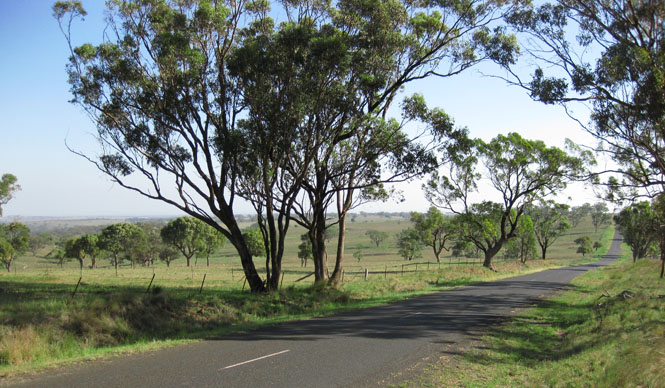 I would snug down the yellow straps in the morning, and at the next fuel stop I'd give them one more pull. Nothing moved after that.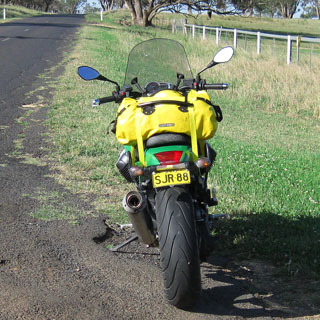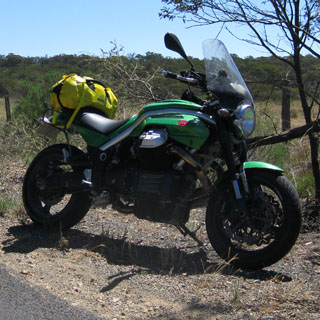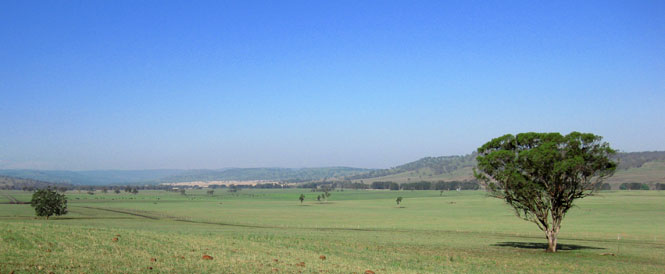 A person could ride very fast on these roads if they had a mind to. I generally cruised at 120 kph in 4th gear. The Griso has a six-speed transmission, but I don't think I ever had it in 5th, and certainly I never used 6th. At steady speeds, it was happy at something over 5,000 rpm, so that's where I kept it. Of course, you could run slower rpms, but everything was so very smooth up there, and Guzzis are generally happiest at higher rpms. If you need to pass, just twist the throttle and hold on. This was the hardest pulling Guzzi I have every ridden.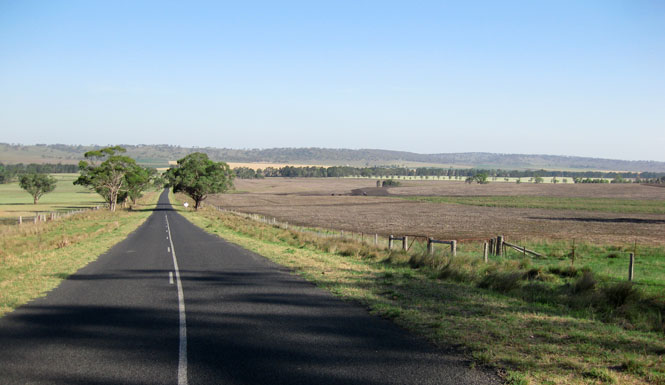 Mullaley.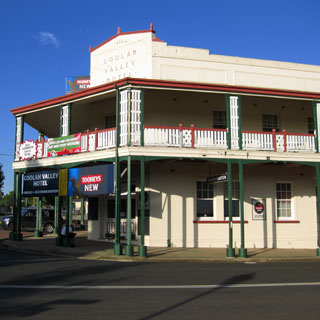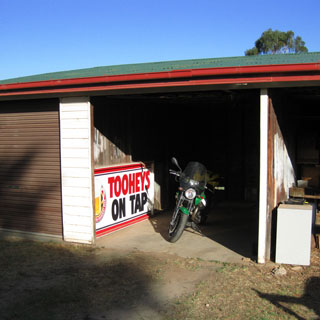 I expected to be staying in pubs during the trip, but didn't think I would be doing so that first night out. The price is low and the room is perfectly clean and comfortable. The showers are down the hall. It's a bit of a nuisance not to have any electrical outlets in the room, but that's hardly anything to be bothered with. There's no air conditioning, but that's why the windows are open.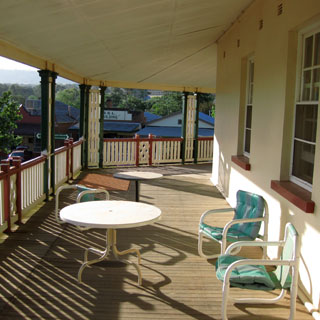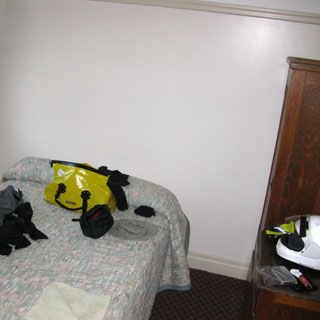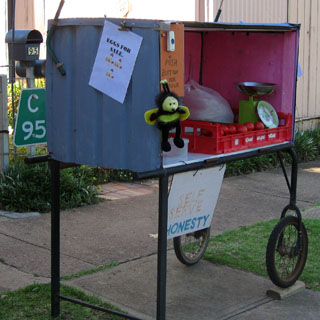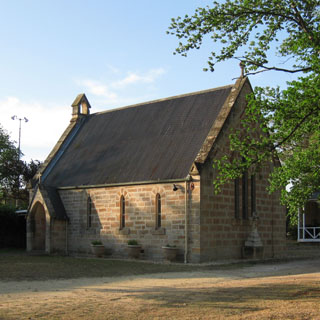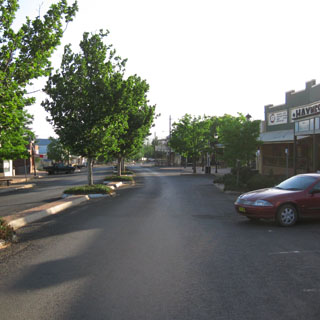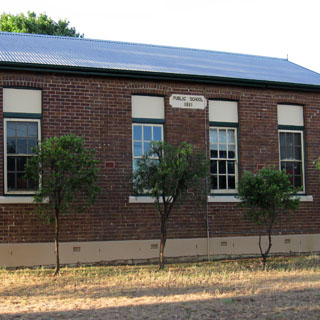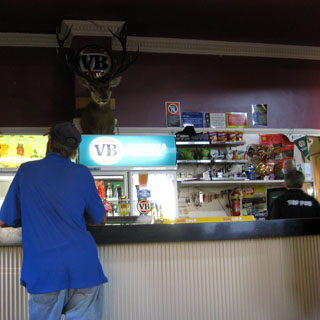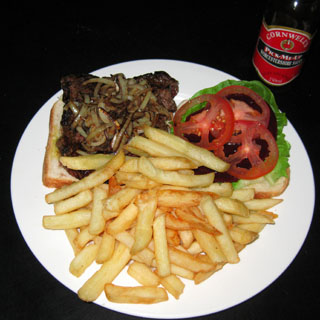 I always prefer to get down the road for an hour before stopping for breakfast. At this point, I'm looking to see what roads I might want to take.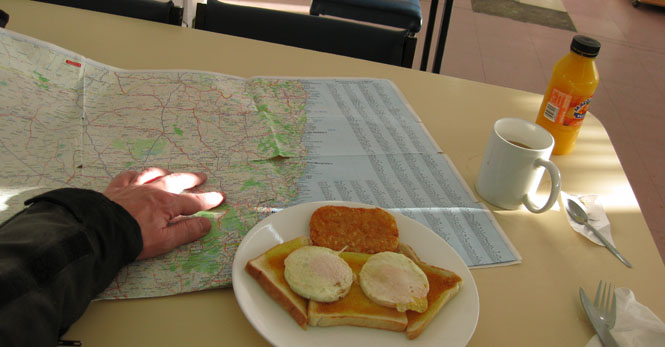 Wheat was being cut.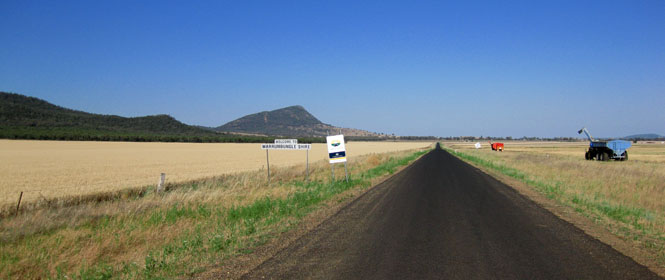 Gunnedah.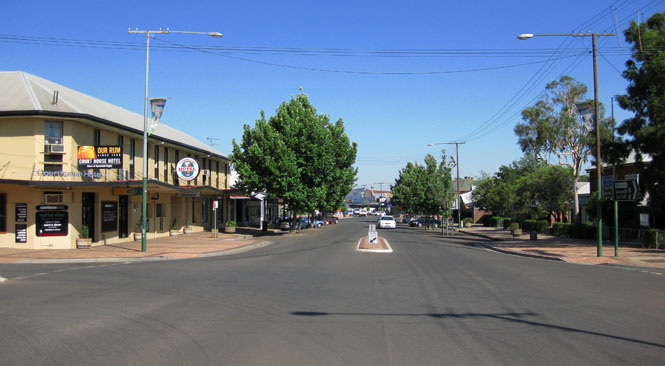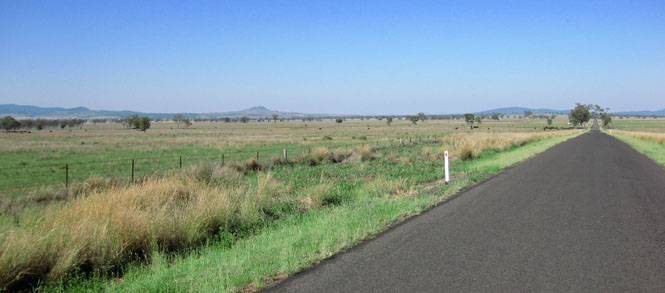 Generally, the water-pumping windmills I saw were larger diameter than the typical wind turbine you might see in Kansas or Texas. I suspect that that peak wind speed is much lower here.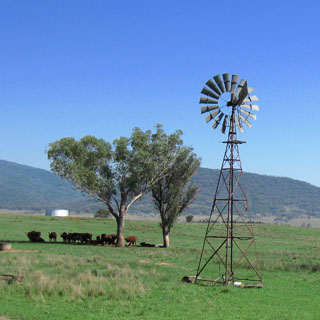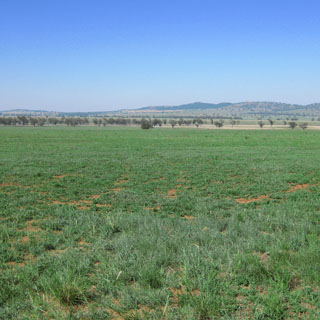 Manilla.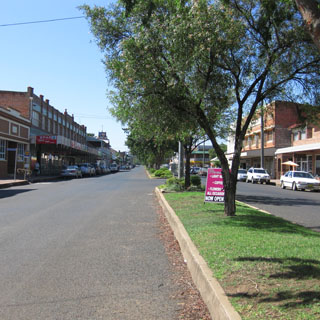 Around the world, you can count both on librarians being helpful, and libraries having Internet access.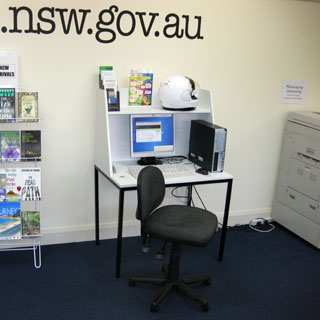 Gwydir River.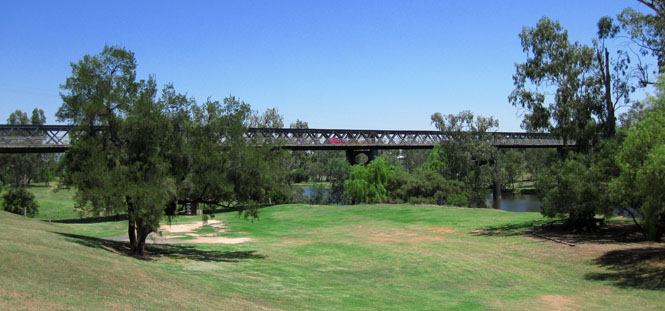 Bingara.
I stopped at the park (to take the photograph of the bridge) and noticed that large swimming pool. It sure looked nice...
They had a few left-over suits in the office, but nothing that would fit me. So, I rode back into Bingara and bought the only suit they had in my size on the rack (they had been picked clean--my adult size 'M' was buried with the child size 'S' suits and so had been overlooked).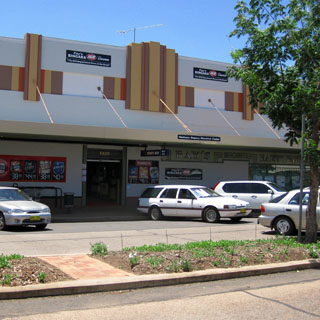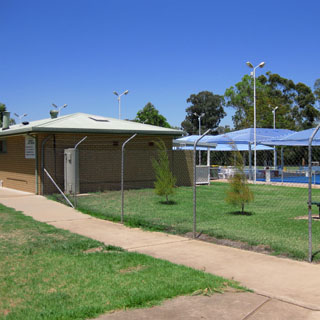 Nice. Nice. Nice. This wouldn't be the last time this trip, nor even this day, that I would use a community pool. I didn't have a towel to dry with, but that's not important. Starting out wet on the motorcycle is not a bad thing.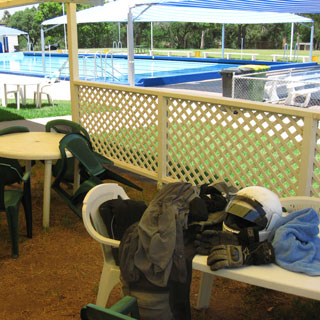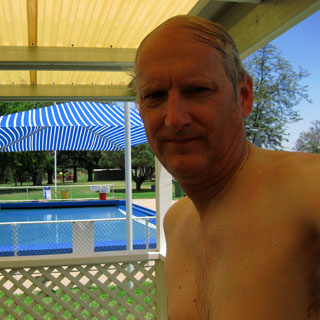 Warialda.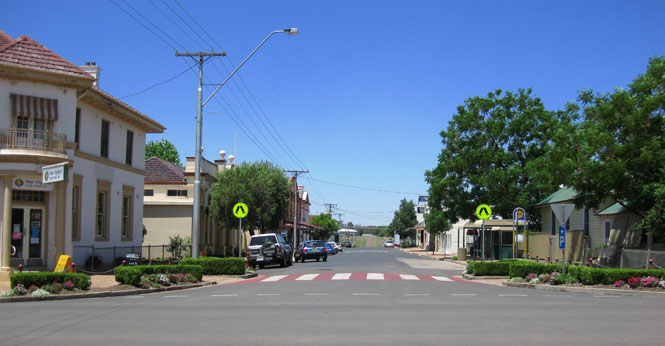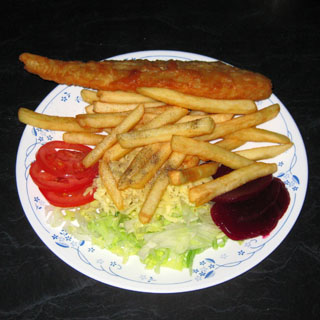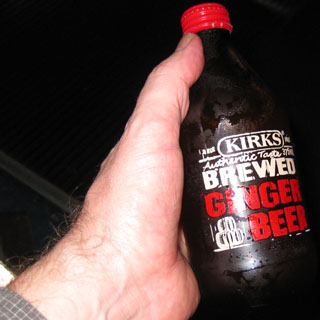 Such flood-plain crossings were common. None of them was ever covered with water.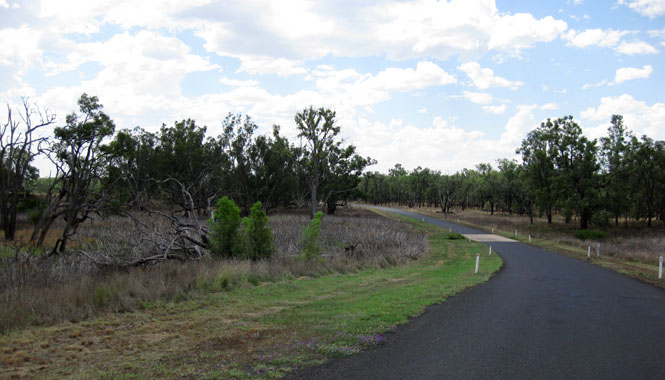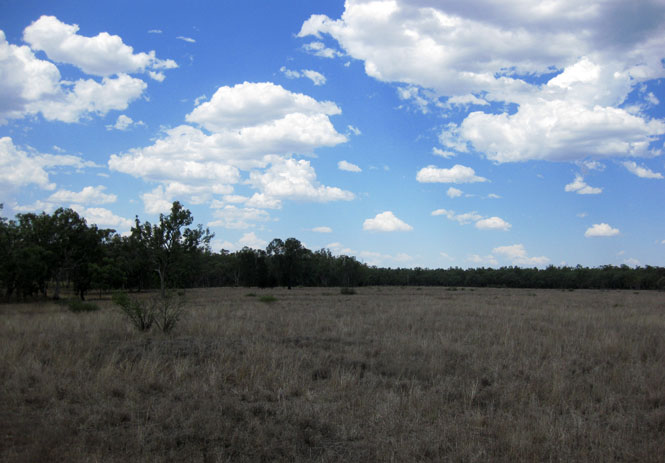 Queensland
Texas. Why is this town called Texas? I do not know.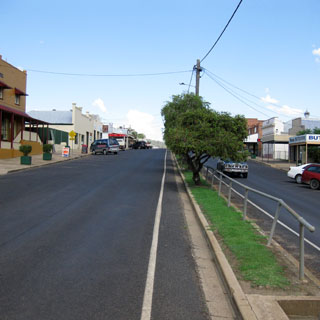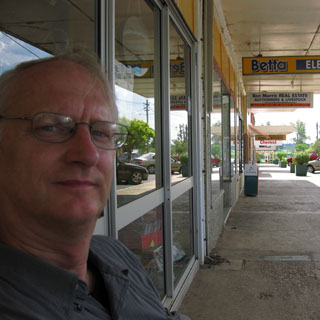 Another pool! This day was particularly hot, and I was trying to avoid the afternoon peak heat. We were joined in the pool by a dog, who was quickly carried out.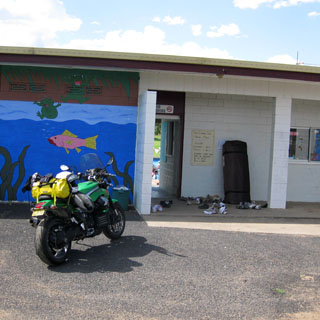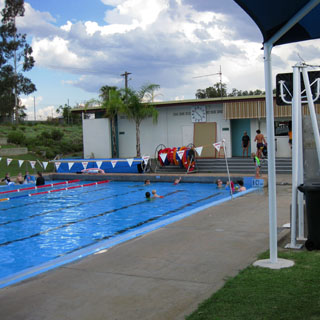 Inglewood.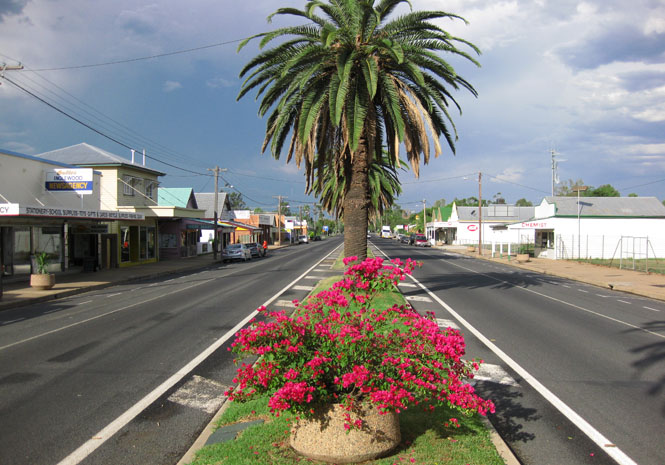 I assumed that the clock was wrong. I was not aware that Queensland is in a different time zone than New South Wales. That would explain why nothing was ever open when I started out in the morning.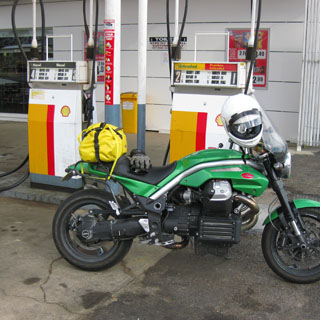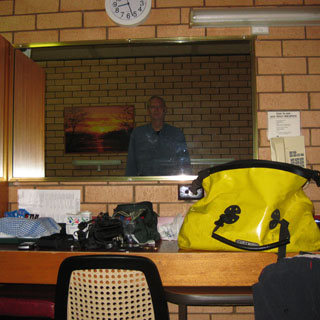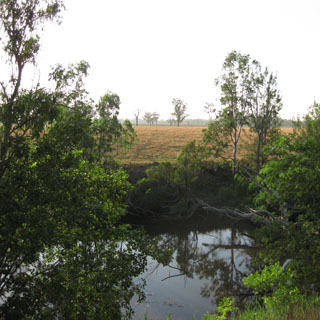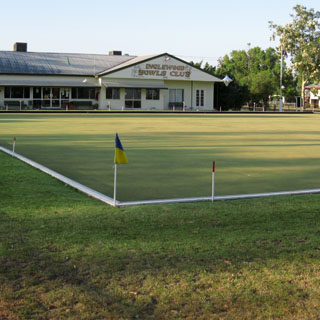 Tilling and cutting looks pretty much like what you'll see in the central states.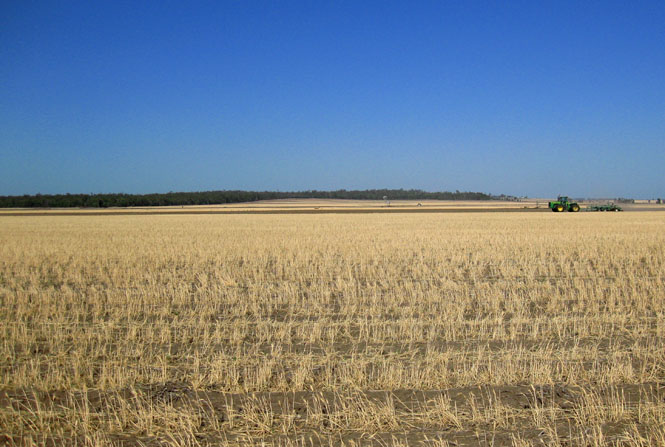 Millmerran. The tracks are no longer used, but the elevator is still in operation.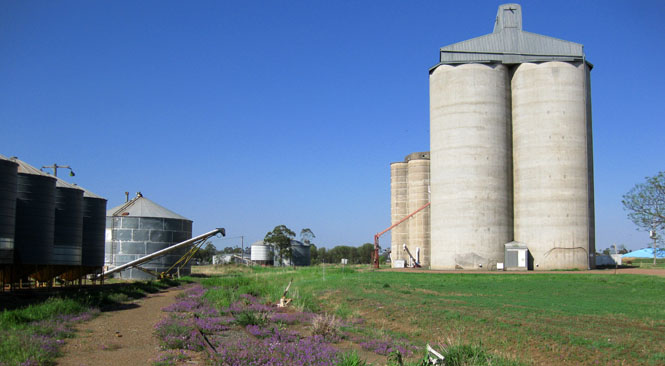 This was one of the better breakfasts on the trip.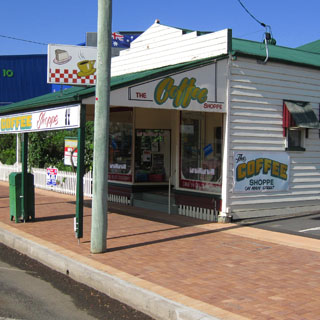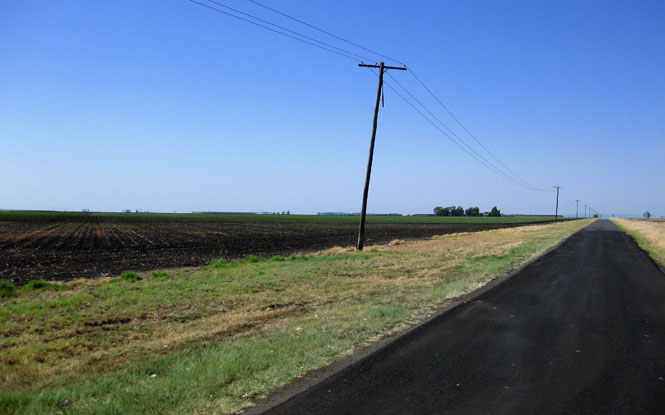 I'm well off any sort of primary highway. Notice the paving--it's only wide enough for a single car. If two cars approach, they'll both move over to drag their outside tires in the dirt. I don't think I ever came across a car on this stretch, but if I had, I would have stayed on the pavement.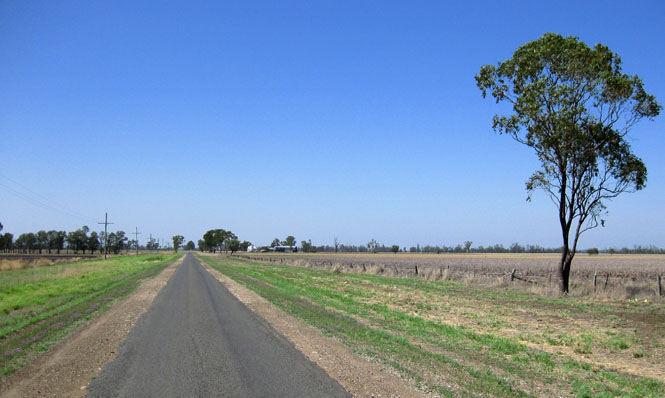 Darr Creek. I was very glad they had fuel.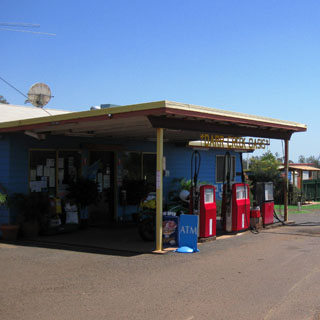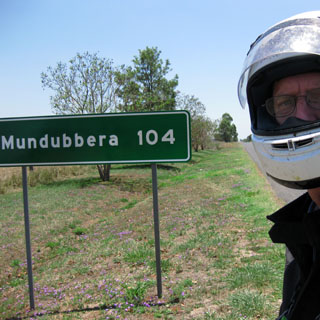 Boondooma Homestead. This was an original homestead of the Scottish settlers that first came to this part of Australia. It is now an historic museum.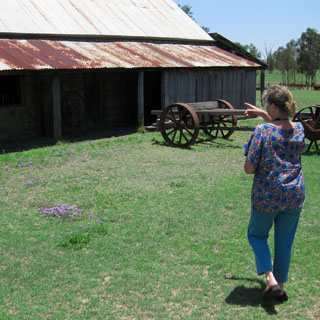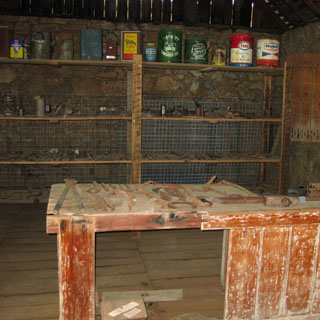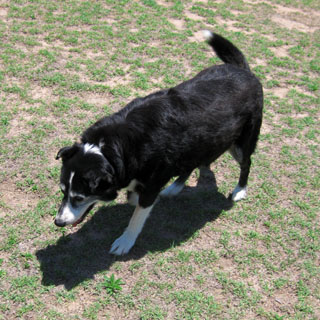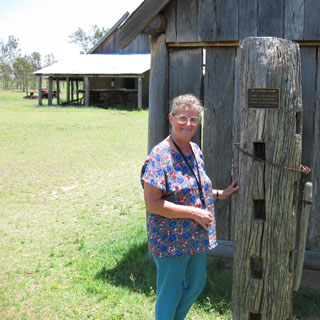 The pot came from Falkirk, Scotland.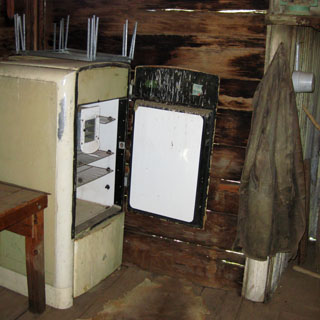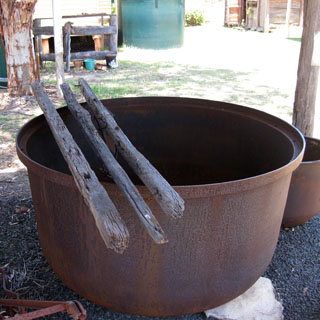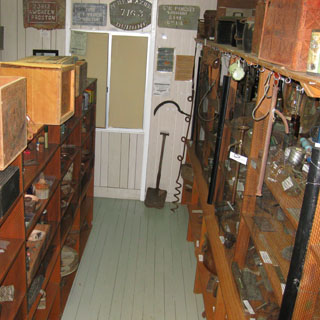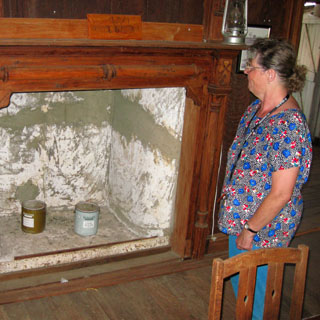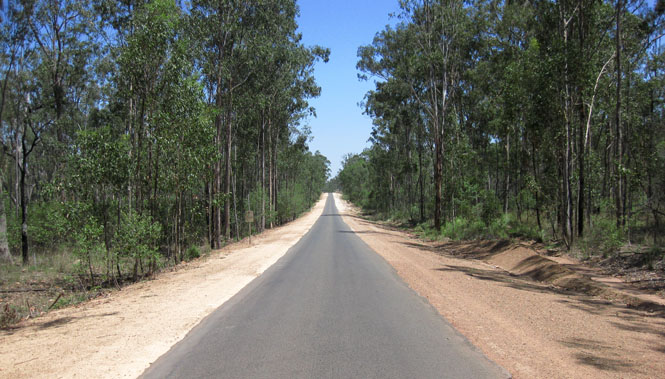 Mundubbera. I really came to appreciate these very nice pools in even the smallest towns.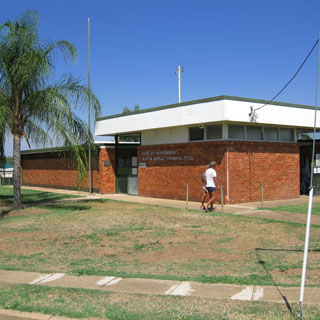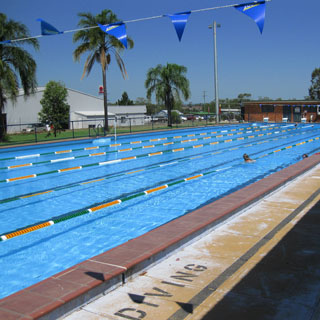 A bakery is your friend if you want a quick and high quality lunch. I never went wrong.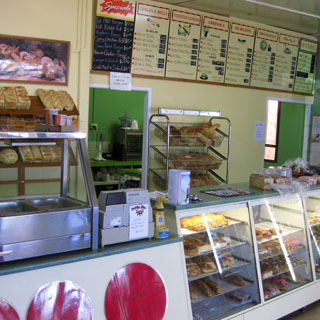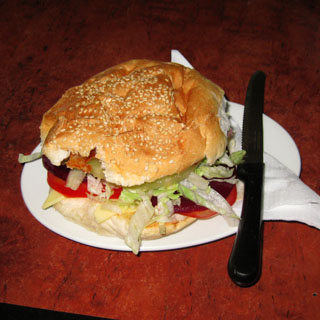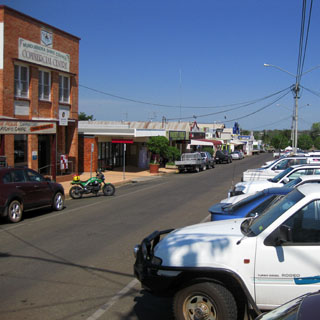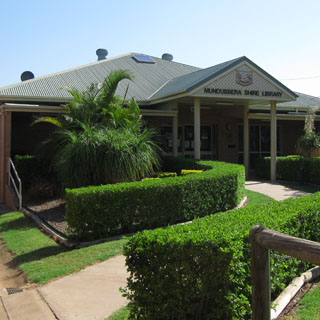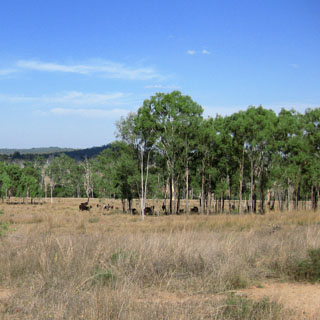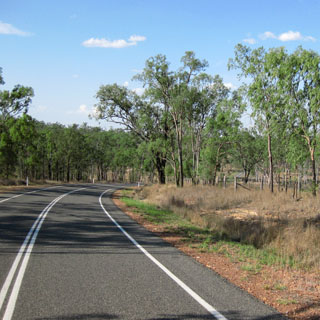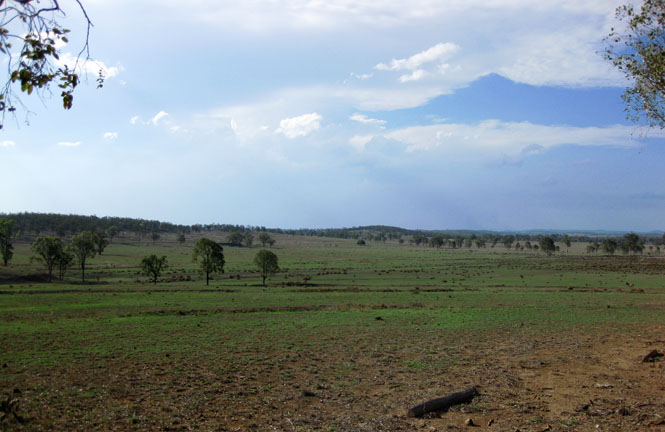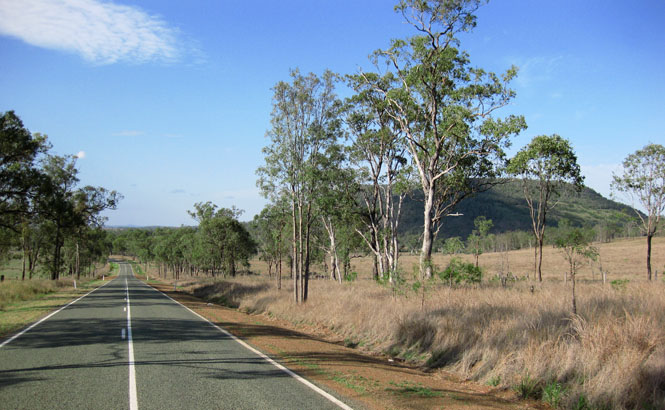 Monto.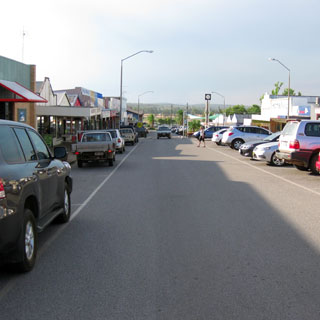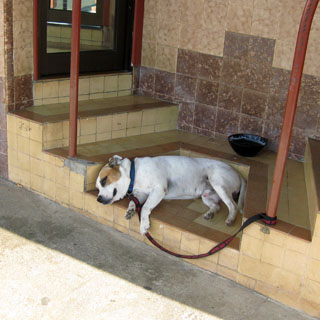 Cania Gorge National Park is just a few miles up the road from Monto. I spent a couple of hours here.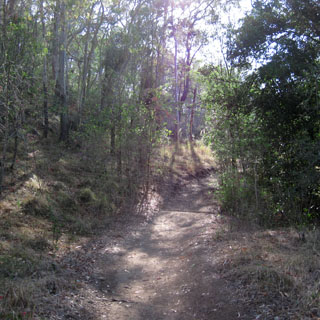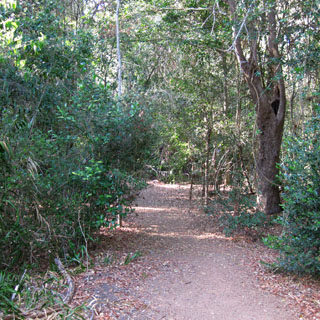 I hiked probably no more than two miles.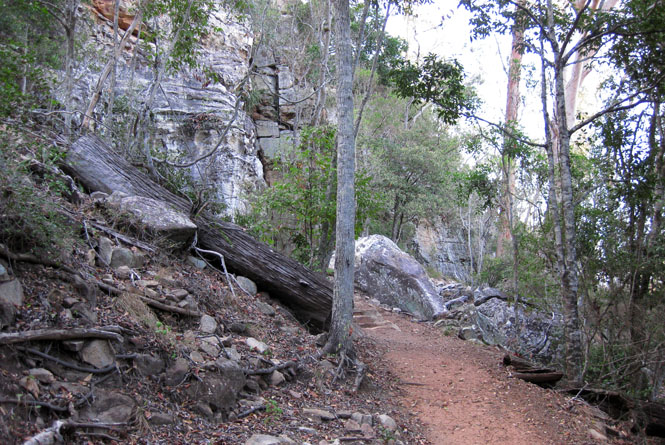 I saw a few kangaroos over the trip, but this guy was as close as I ever came to a live one.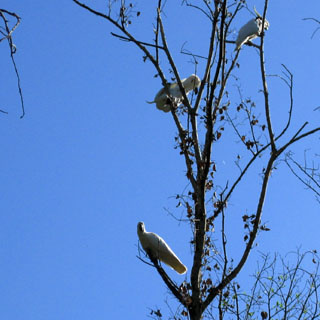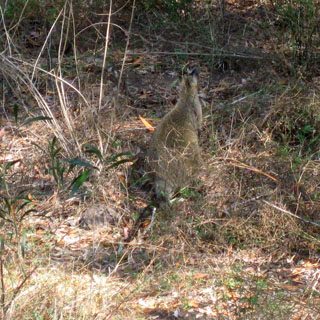 The view across the valley from within a shallow cave.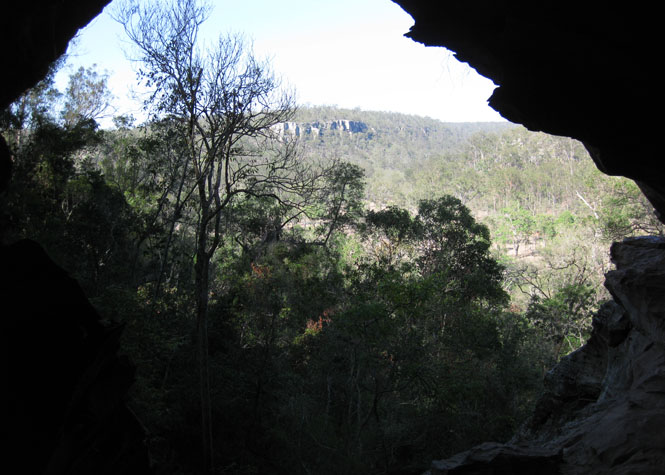 Dululu. This store, and the hotel just out of the picture is all there is. But, they do have fuel.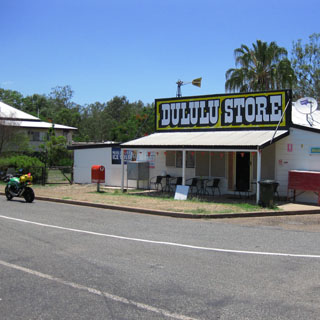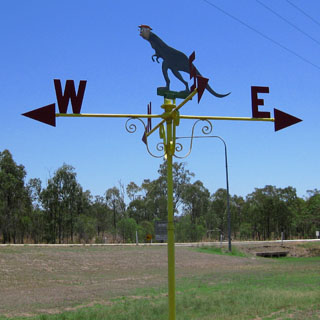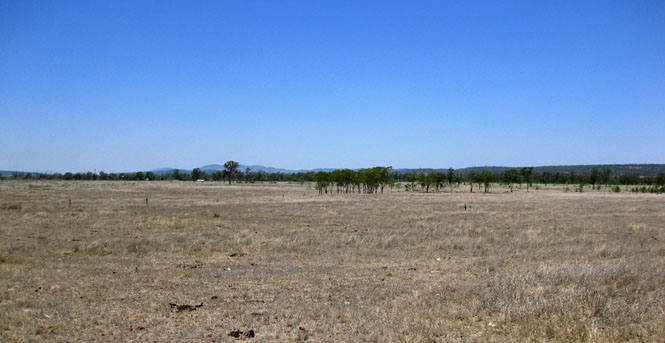 Dingo is where I turned north on something called the "development road." The name concerned me, but people told me that it was entirely sealed. This town had the largest truck stop I saw during the trip.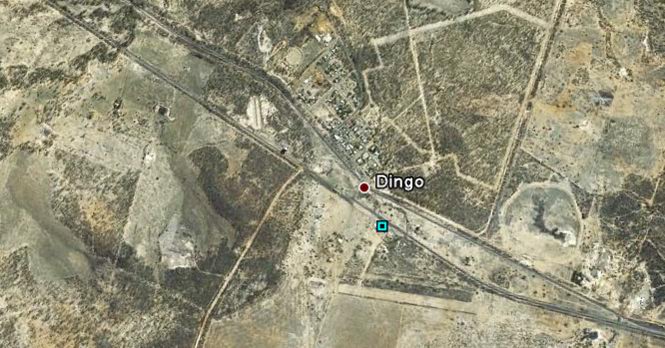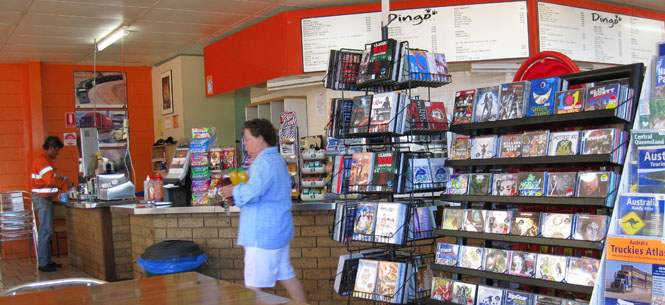 Middlemount is a company town for a nearby coal mine. There were very few people, and hardly any men when I was walking around. But, it did have the highest quality swimming pool of the trip.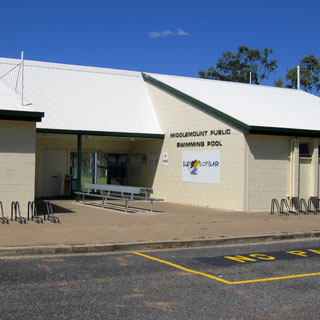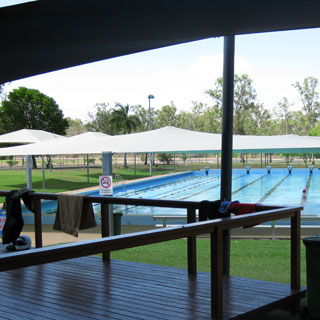 The green Griso had been painted in Holden green. Here's an example.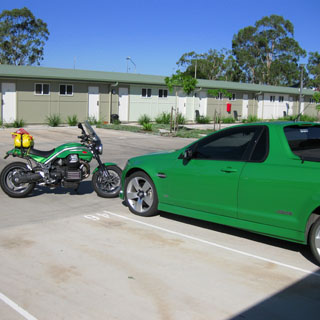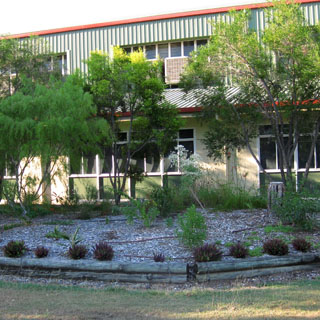 Nebo. For breakfast, I had a meat pie from the local store. Time to stop and figure out my route.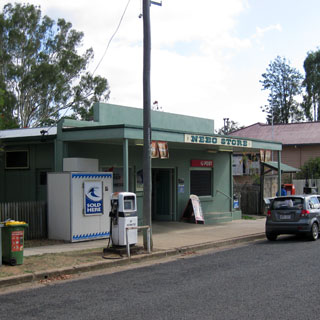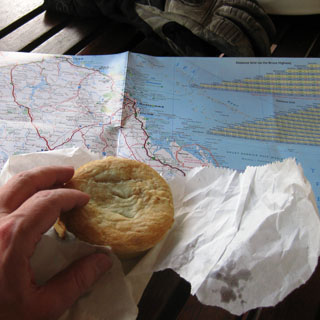 Sugarcane fields. At Nebo, I was heading towards the coast. I could have continued north, but the roads were not obliging me, and fuel might have been a problem if I had stayed inland. So, I decided to turn east, and then run down the coast.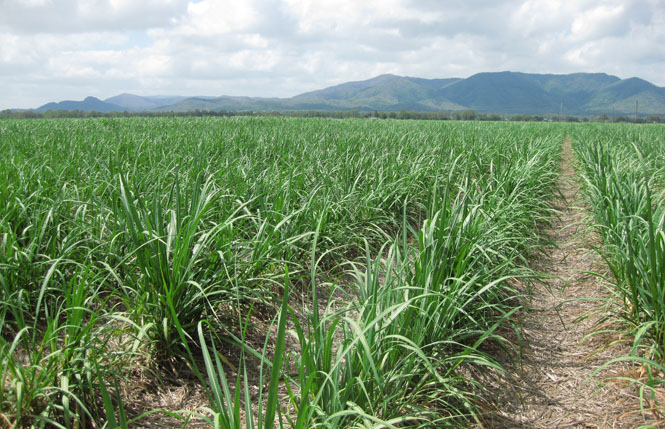 Sugarcane trains run on very narrow tracks. This was not the right season, so I didn't seen any trains.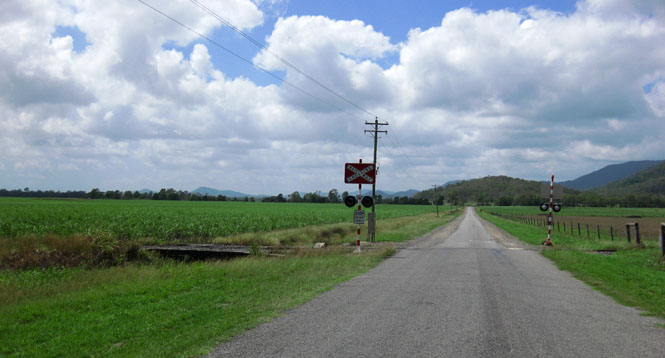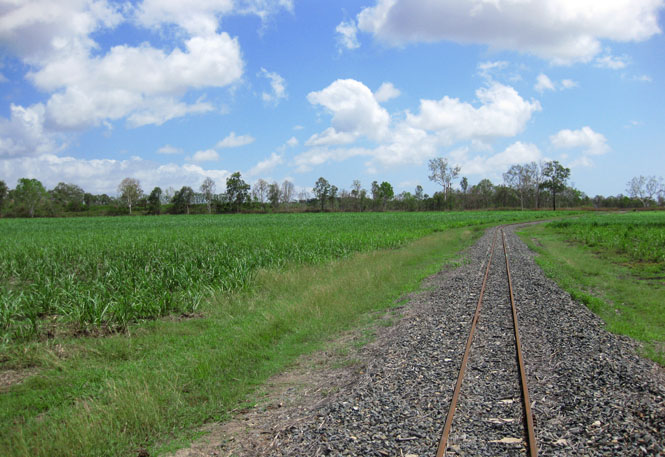 Sarina Beach. The were having some sort of competition with paddled surf boards. There were frequent announcements that all competitors must wear their "stinger suits."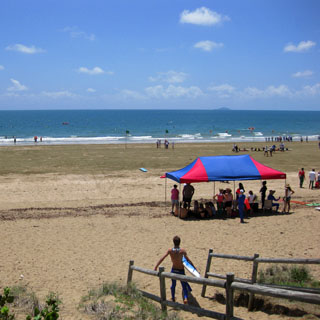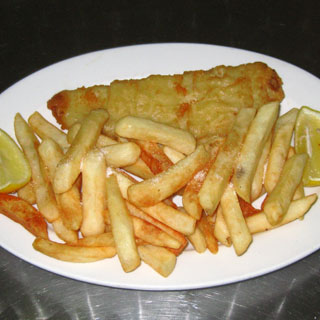 Cattle crossing.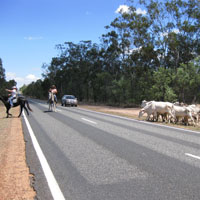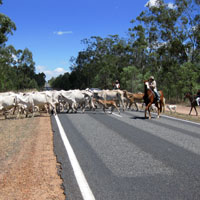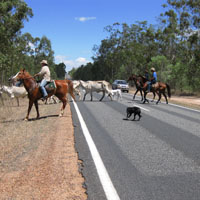 Rockhampton. This was once a major shipping point. Based on the buildings along the river, it was a very wealthy town.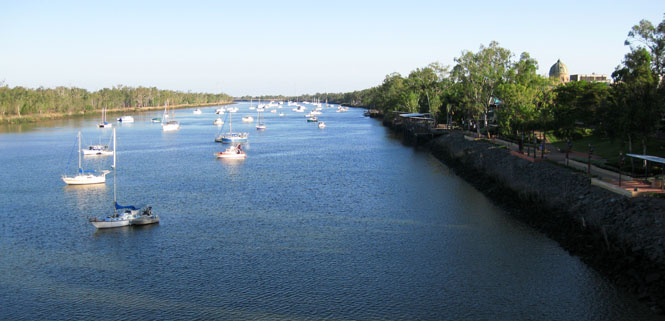 The evening routine. Check in to the hotel, toss yesterday's clothes in the sink, add hot water, put on walking shoes and go out for the evening. On returning, squish the clothes a bit, and hang to dry. They will be dry the next morning for wearing, and the clothes a wore this day are put in a bag (happens to be my helmet bag) for the next evening washing.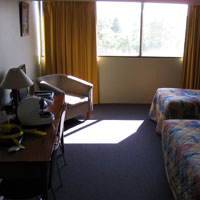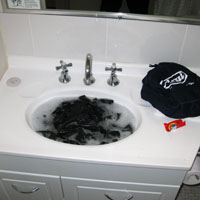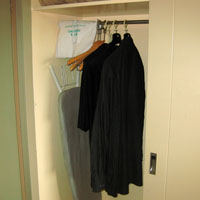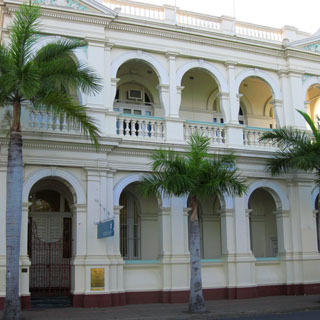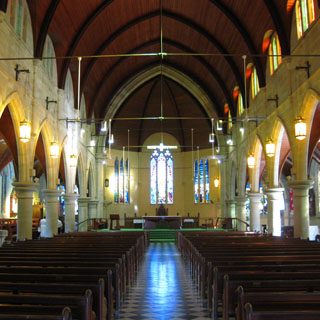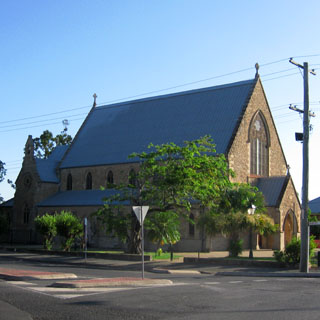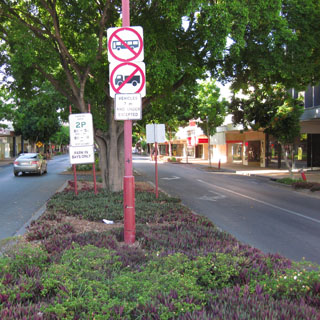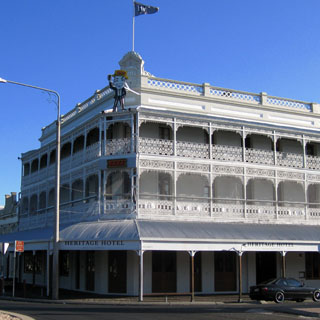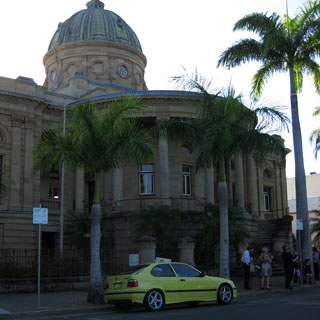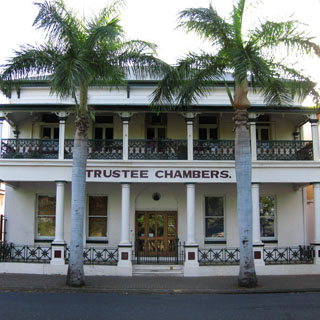 I mentioned the best breakfast, earlier. This one was at the other end of the list.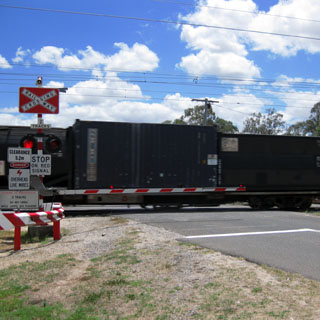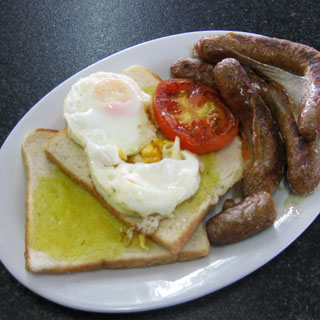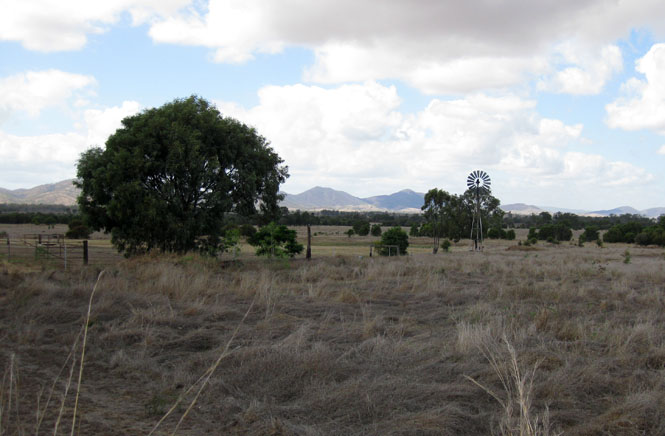 Seventeen-Seventy is the name of the small town where Captain Cook and Joseph Banks landed (the second landing on the continent after Botany Bay). You can probably guess the year this happened.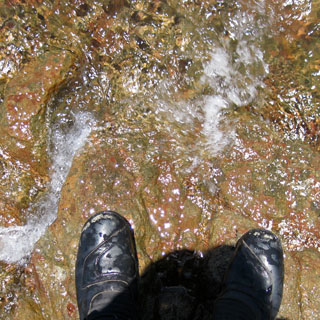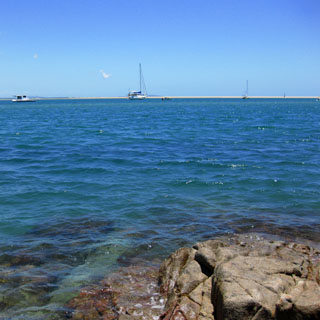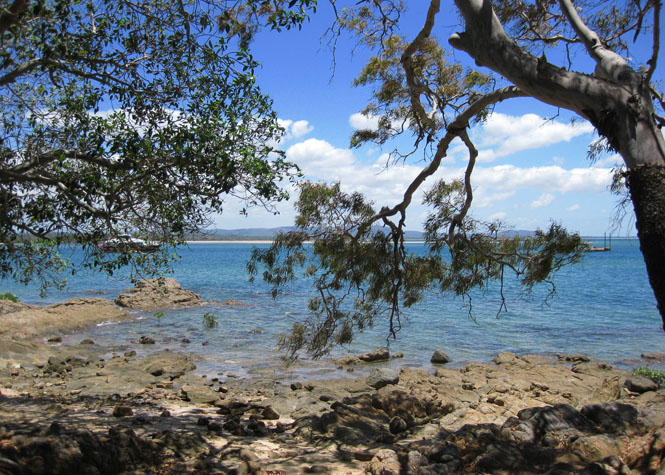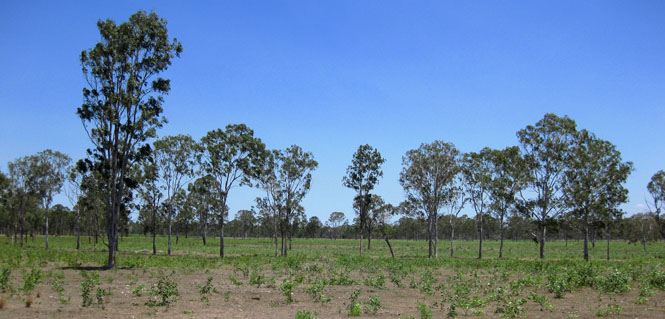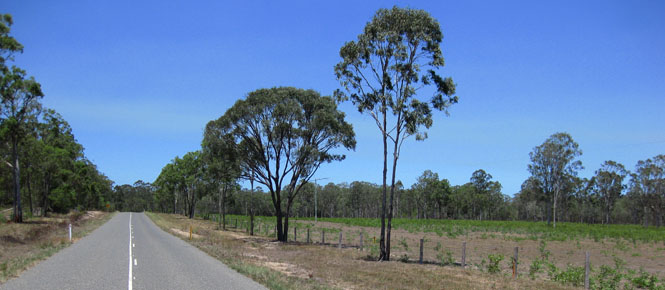 Rules Beach is empty and probably not visited very often. But then, the whole coastline is not much different. Gorgeous.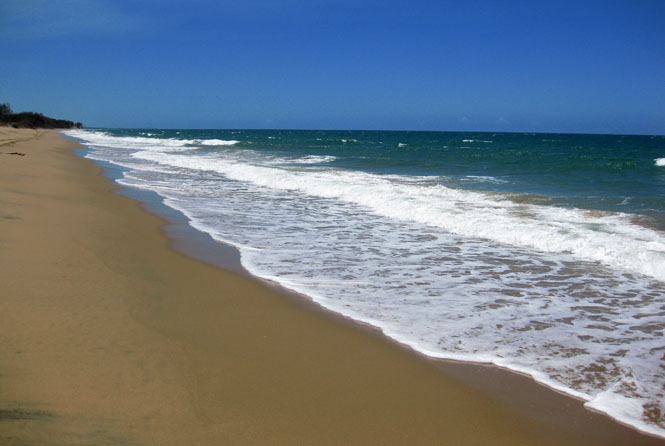 Wartburg. I rather liked the Wimmers brand of bitters.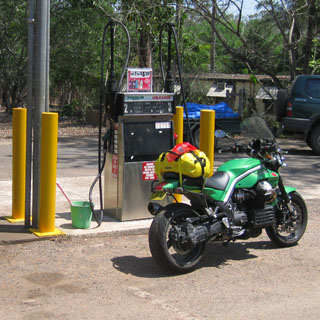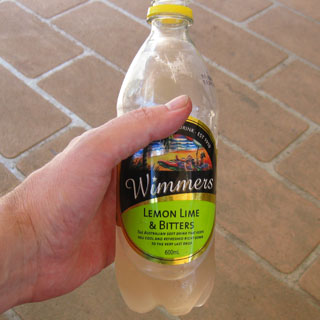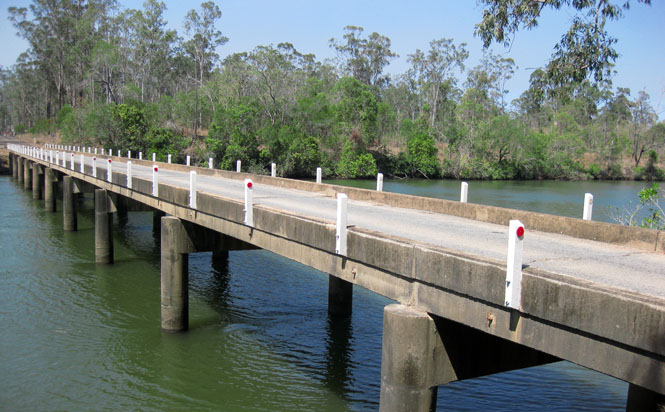 Bundaberg. This turned out to be a larger place than I expected.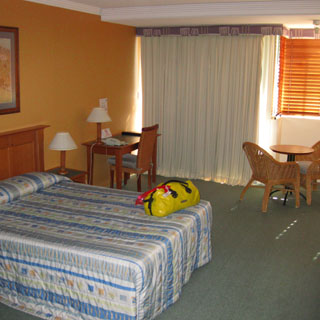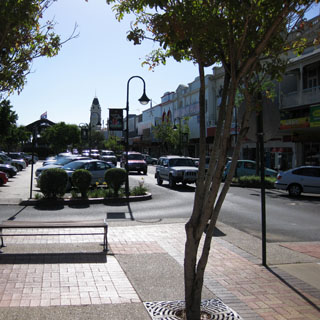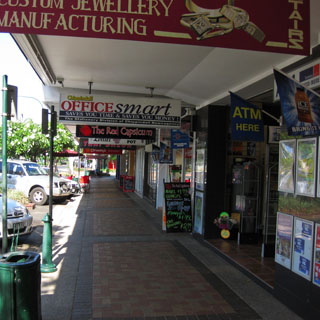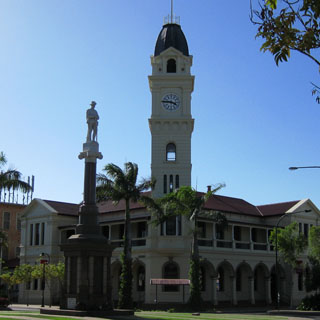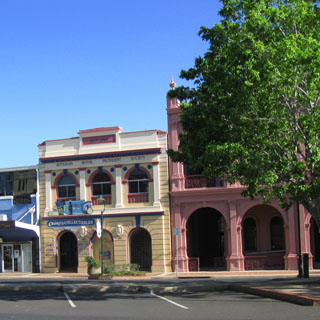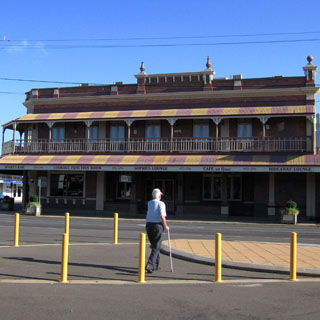 While walking by the church (below) I happened to hear just a bit of a string quartet playing, so I went in and had a seat.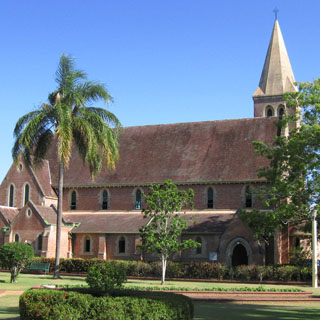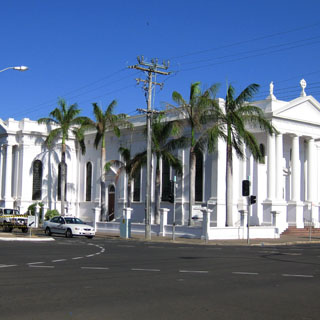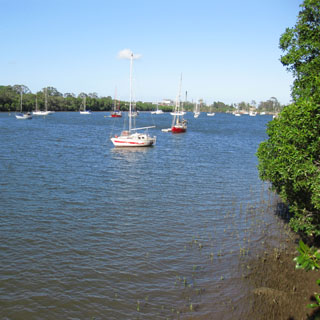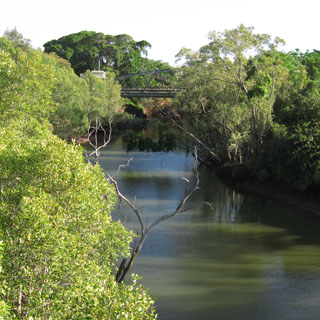 Bundaberg Distillery. I didn't think they'd be open when I got there, but I thought I'd walk to the distillery, anyway. They weren't open.
As is the case for all my trips, once I park the bike for the evening, I never start it up again until the next morning. If I need to be somewhere, I'll walk.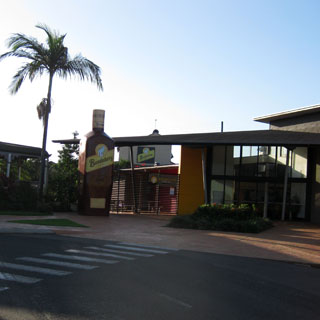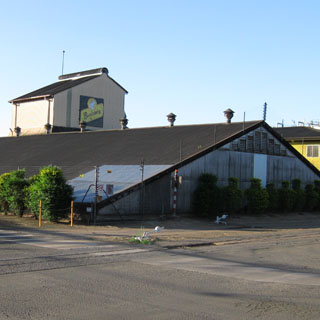 Noosa Head.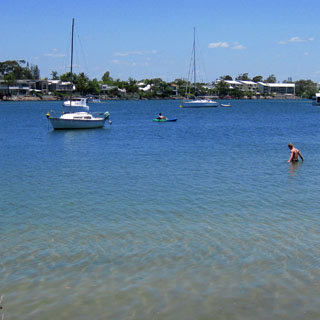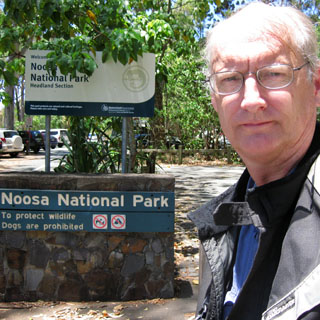 A lovely place, but a bit of a disappointment. The traffic was horrendous getting here (tourists of all stripes), and I never had a comfortable feeling about leaving the bike (and my bag and riding suit) in the parking lot. So I didn't stay. This was the only time during the trip that I had any concern for the security of the motorcycle and my things.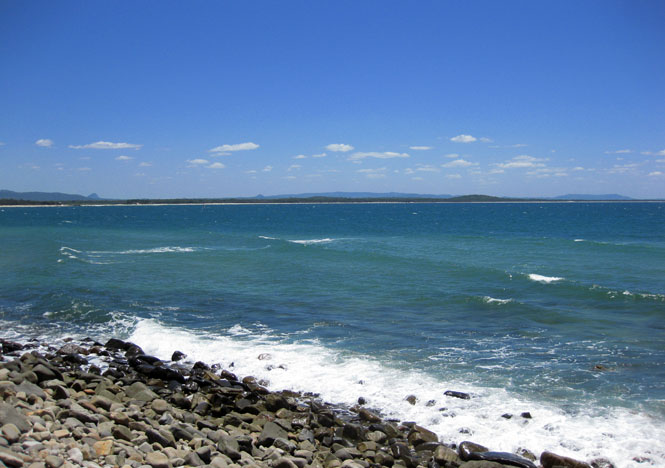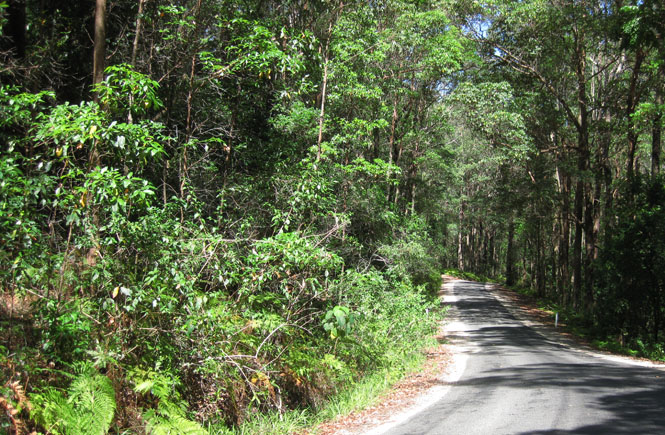 Mapleton. A pleasant little town.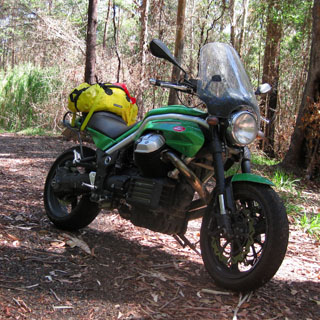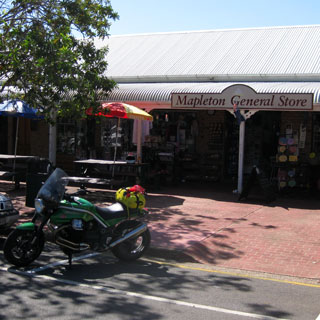 Kondalilla National Park. I didn't know what to expect. I saw the sign, and decided to go.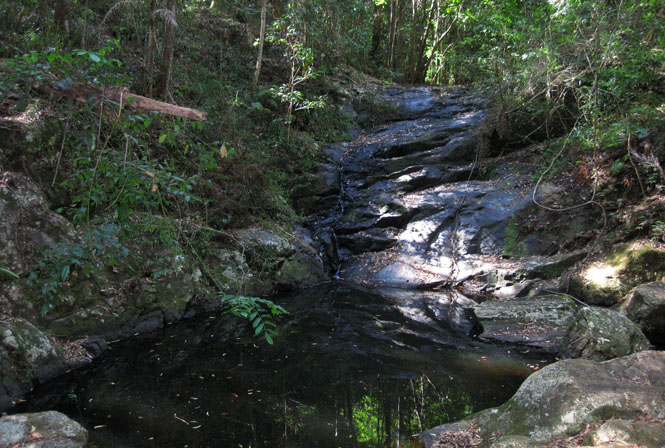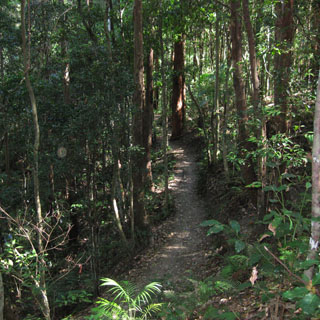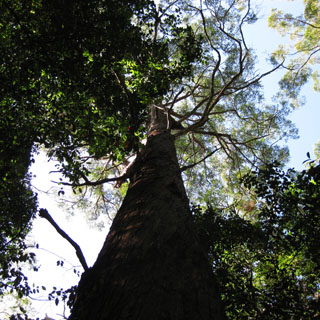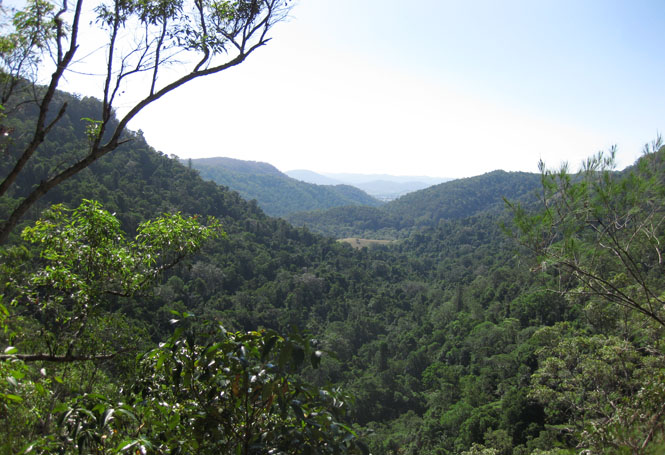 This pool is at the top of a long drop-off that forms the waterfall.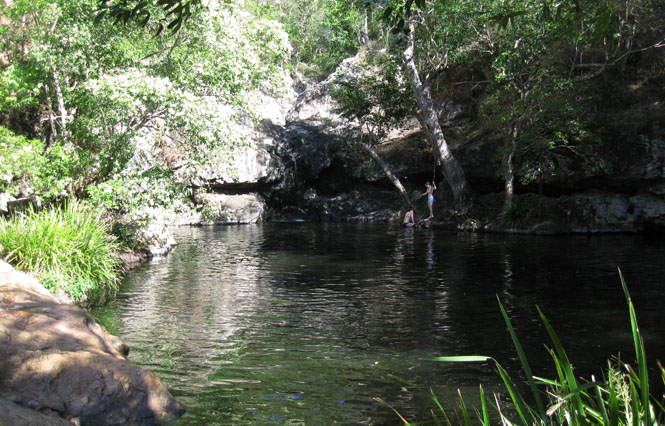 And, here it is.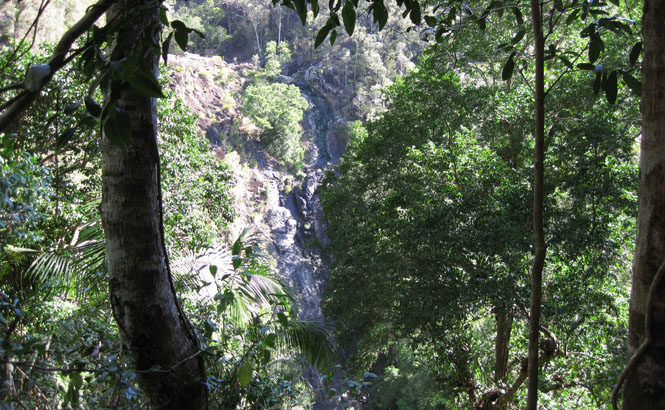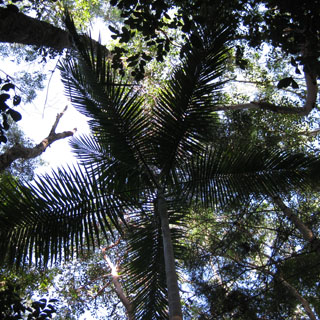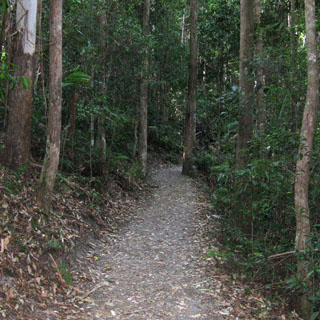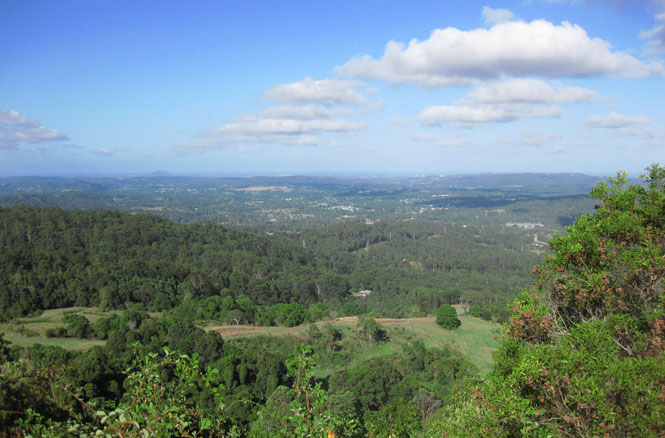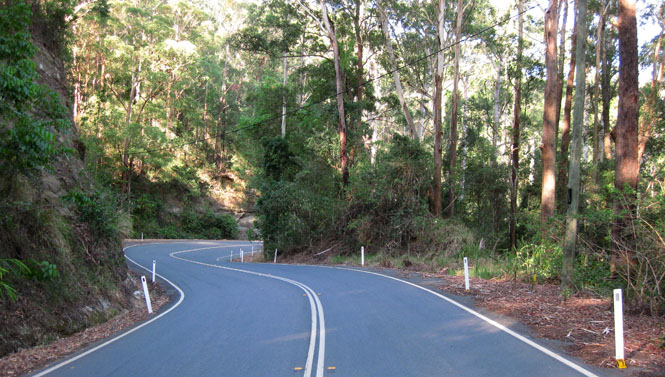 Glass House Mountains. These are the remnants of old volcanic plugs. Remarkable.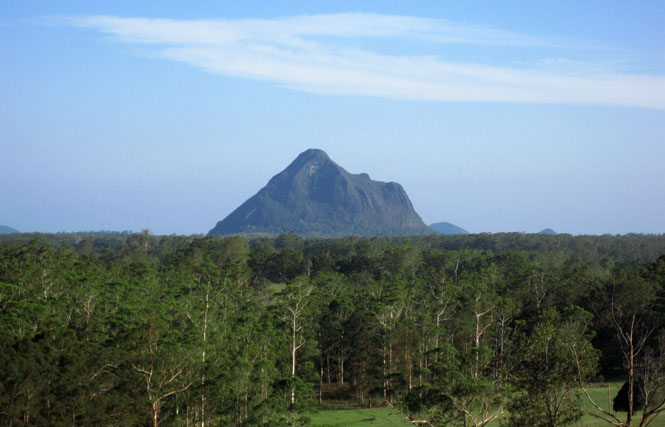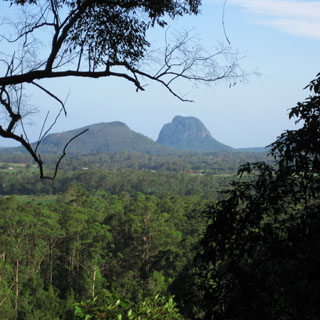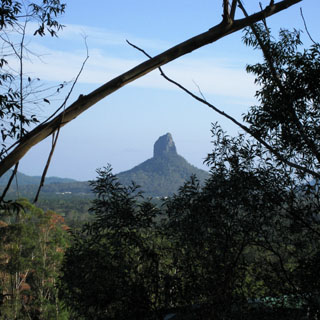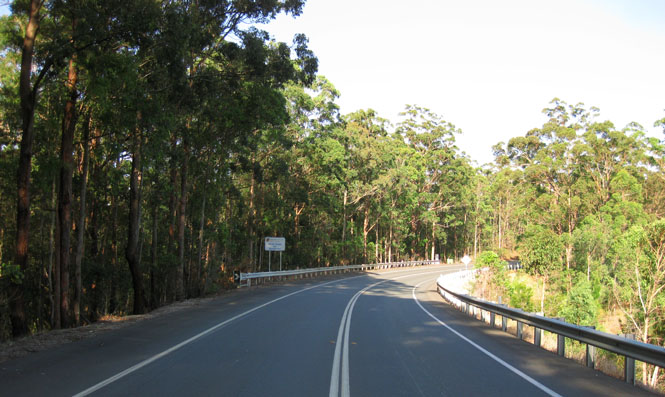 Woodford. I stayed at the Woodford hotel.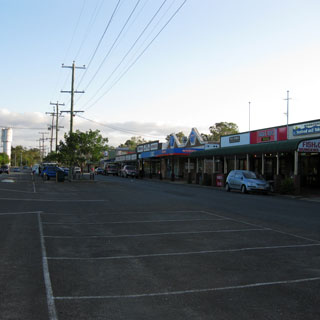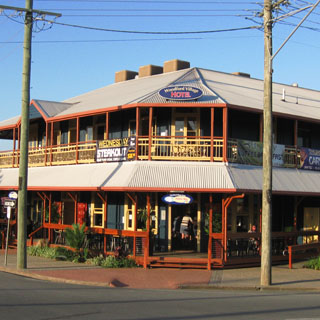 Rod was following my trip (using the Spot tracking) and rode to Woodford early in the morning to catch me before I set out. We had a cup of coffee, and Rod was able to fill me in on several of the good roads in the direction I was heading. In particular, the "Lions Road" isn't one that I would have found on my own. Thanks, Rod!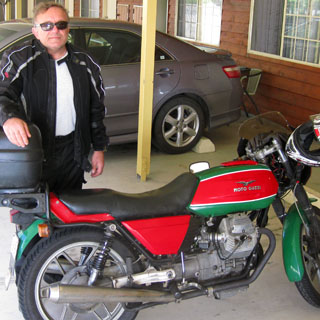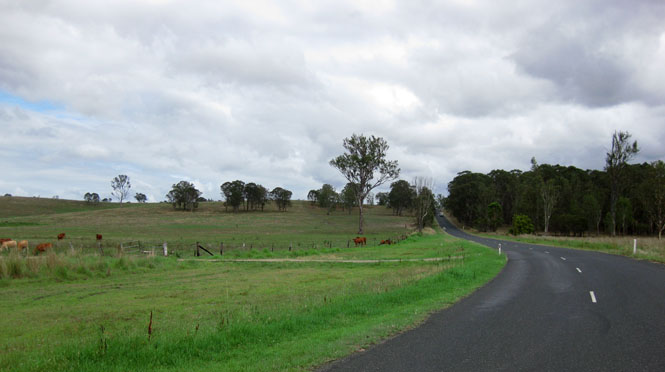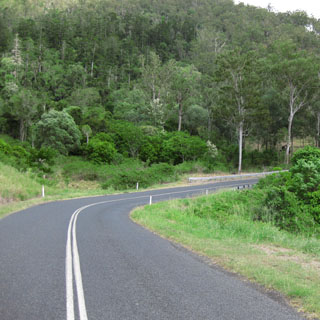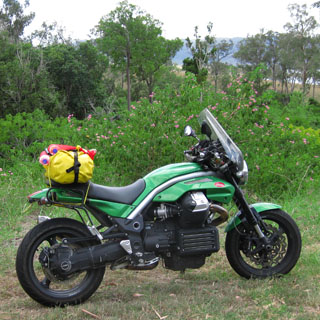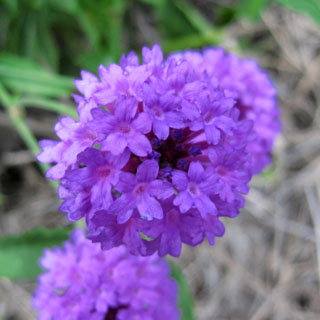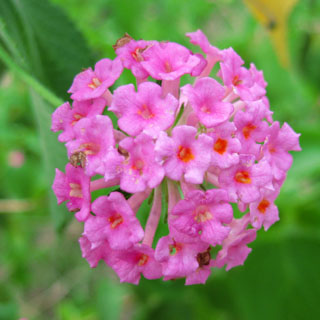 Following one of Rod's roads. Very, very nice. This is a beautiful area.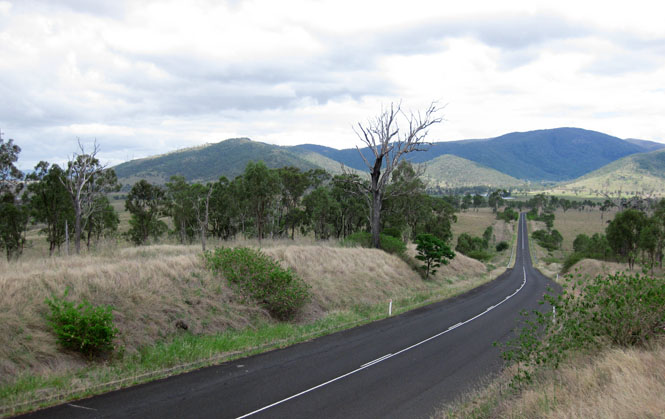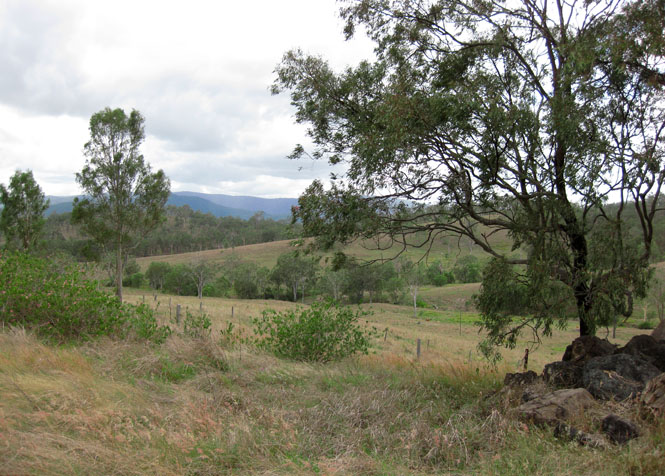 Fernvale (and "Australia's Best Pies").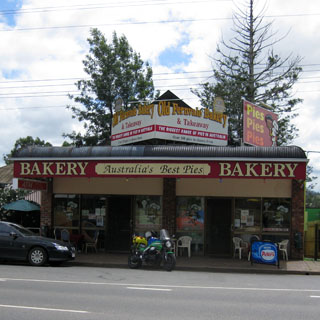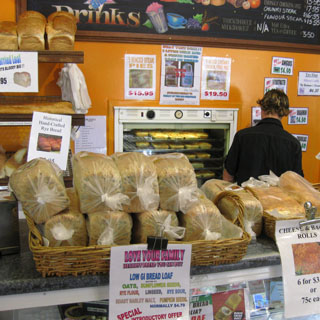 Ipswich.
This is a fairly good sized place that I was only intending to ride through without stopping. But, I came across this motorcycle (and rider) in the middle of the road that had only just moments before been hit by a turning vehicle (the most common reason for motorcycle accidents in the U.S., and--I'm sure--in Australia). I did what I could. The rider was mostly OK (he'll be hurting for awhile), and I stayed until the ambulance arrived. Driver: "I never saw him"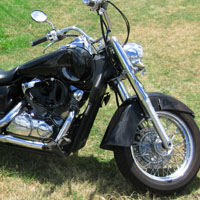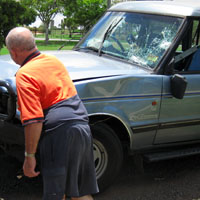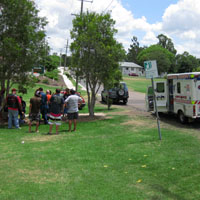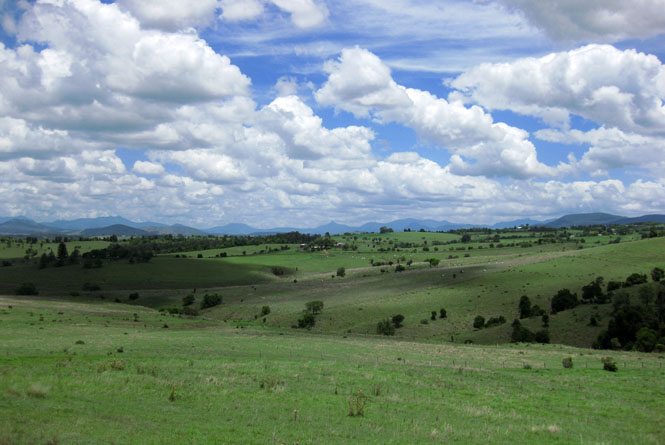 Beaudesert.
Another meat pie...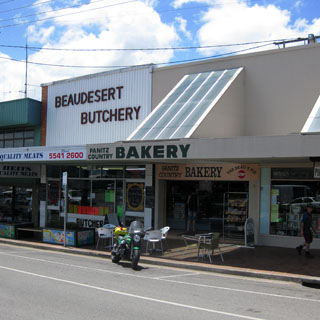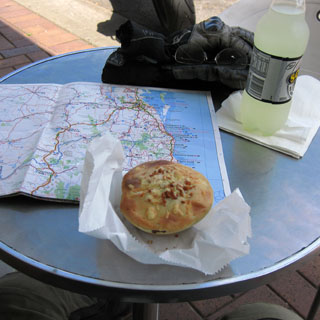 ...and, another swim!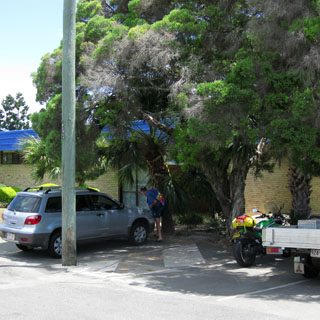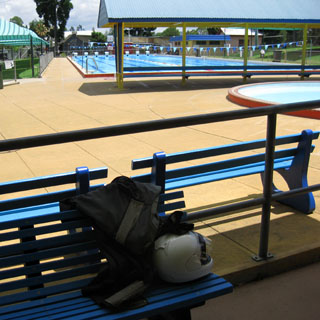 What a wonderful road this is! I cannot imagine pushing the limits of a motorcycle through this as the road was generally only a single lane wide and the sight-lines were sometimes impossible.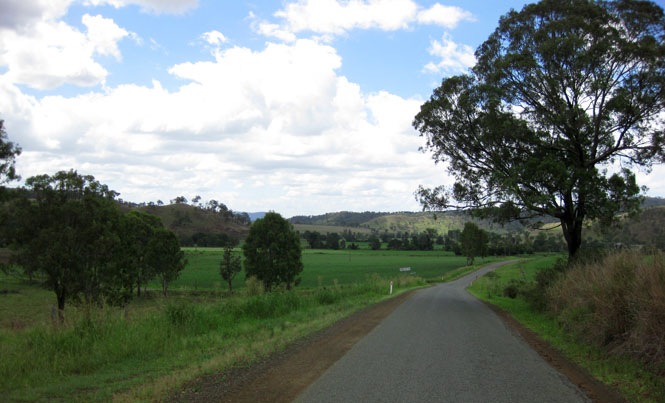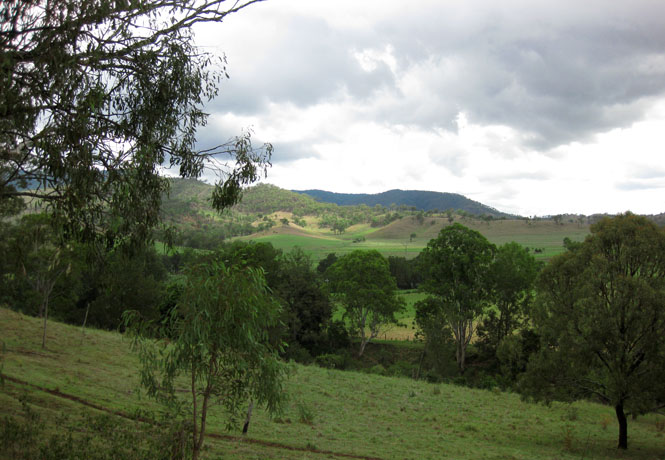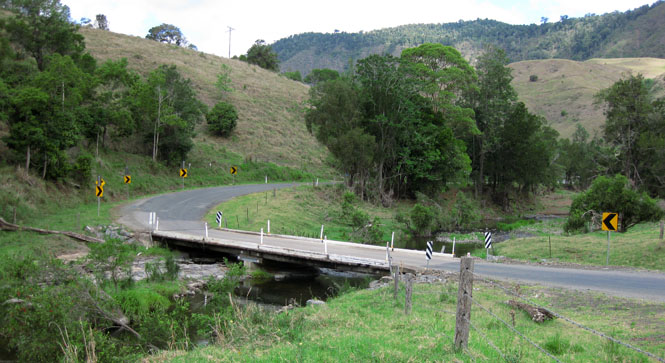 New South Wales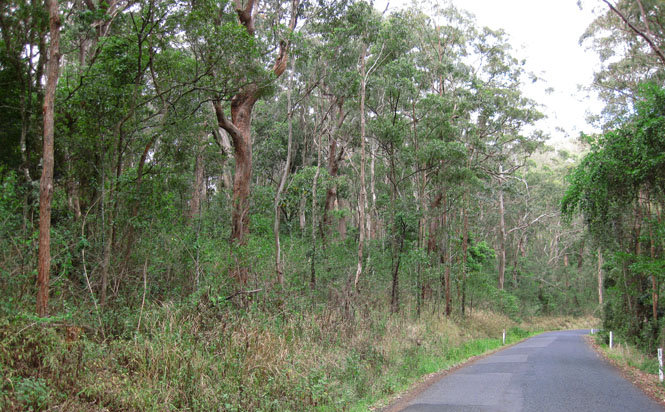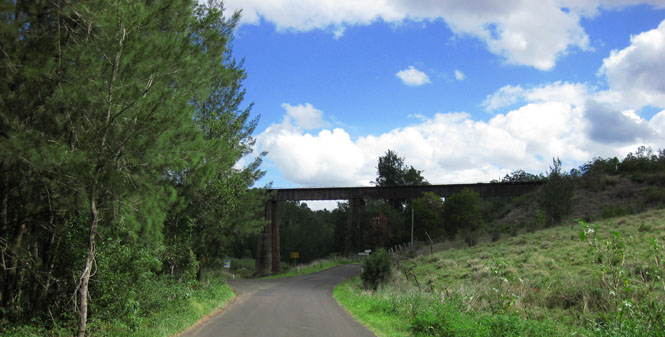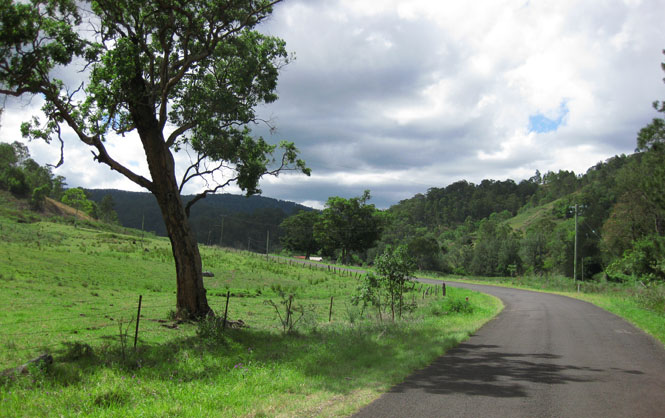 Cattle were free to stand wherever they wanted (including the road).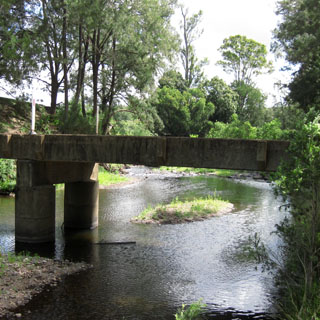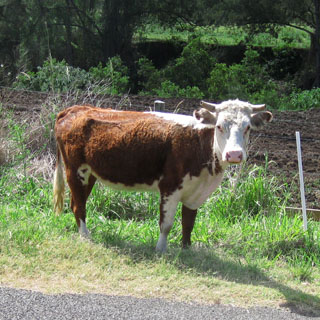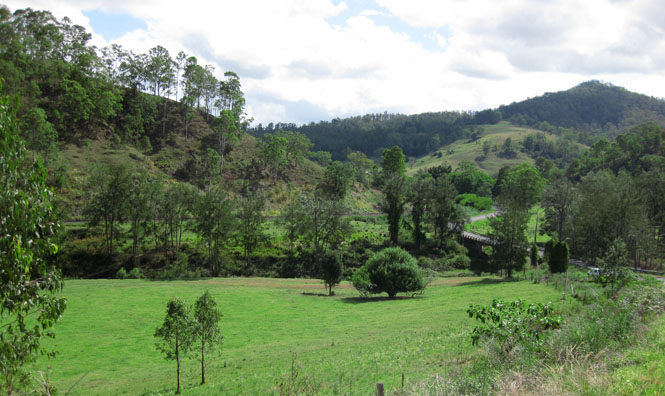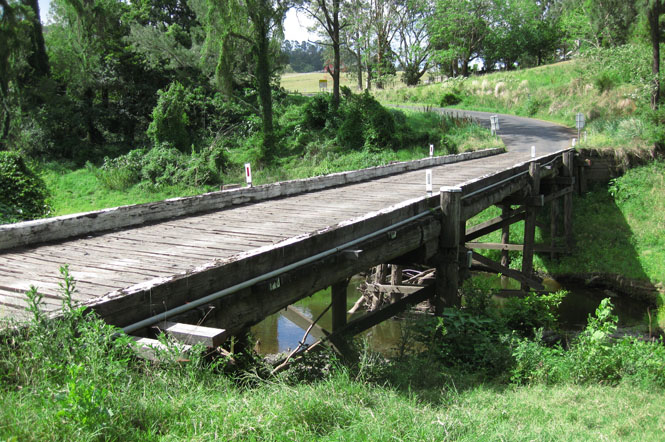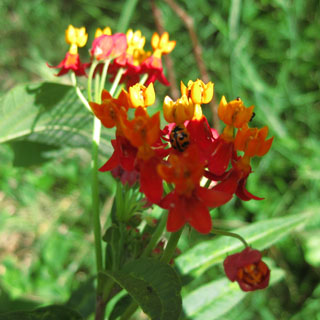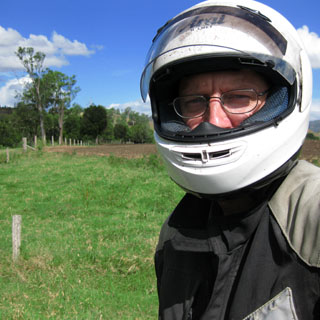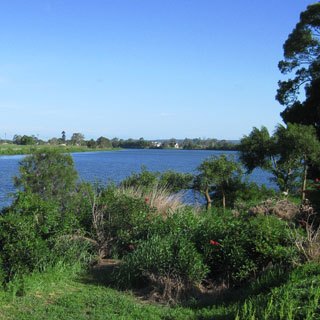 Evans Head. I wanted to spend this night on the coast, so I turned east and dropped down to the ocean.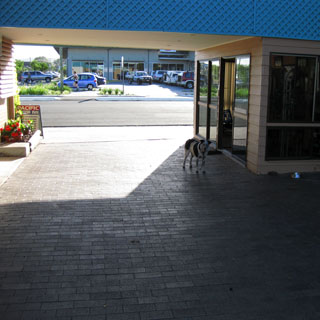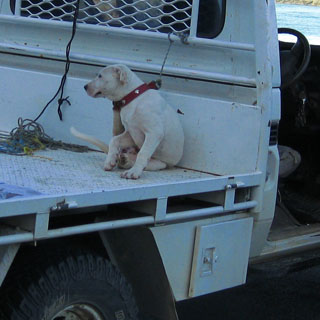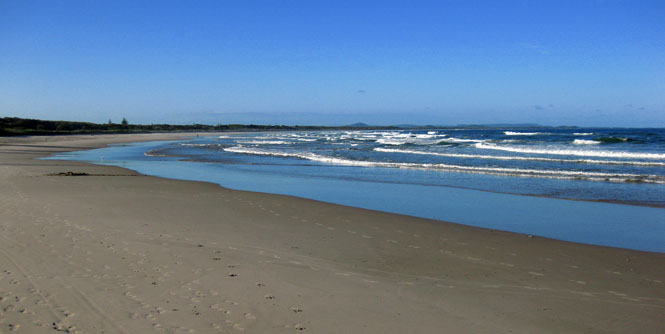 You're not really there unless you get your feet wet.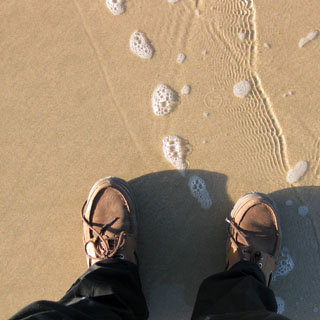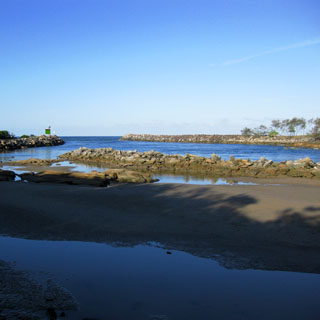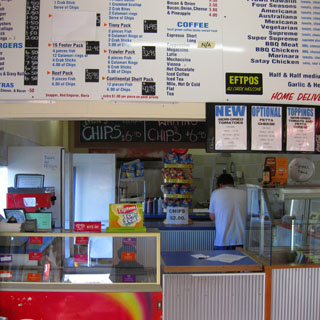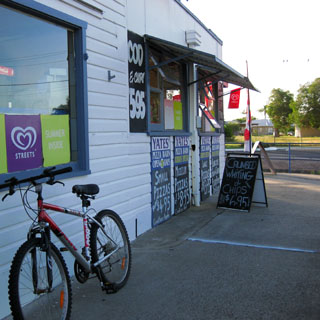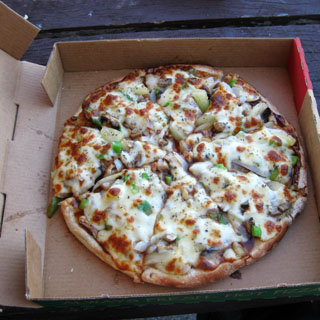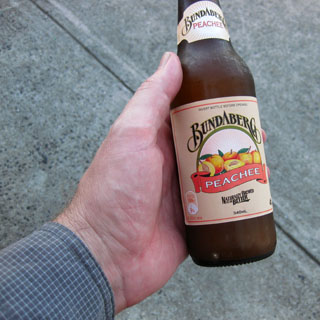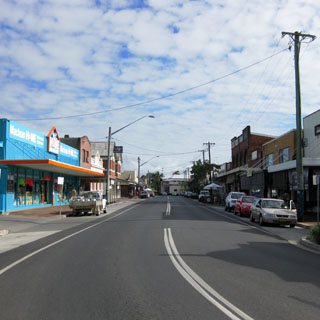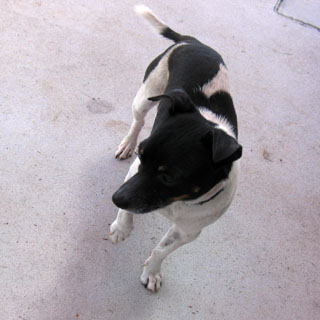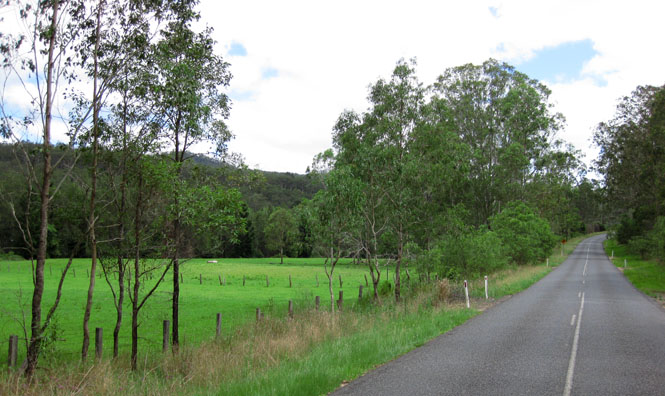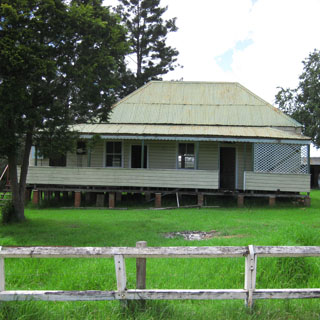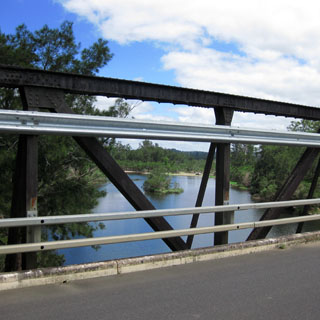 Another glorious motorcycle road--except that I didn't see any motorcycles.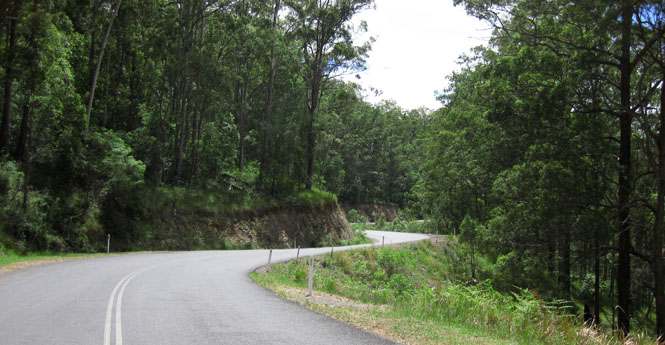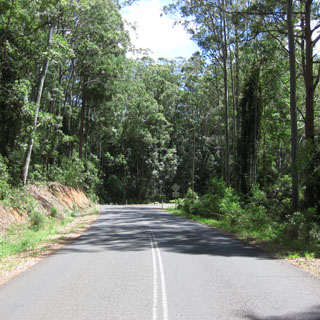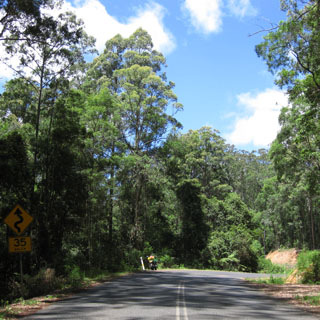 Tyringham.
This was another place that I was glad to find had fuel.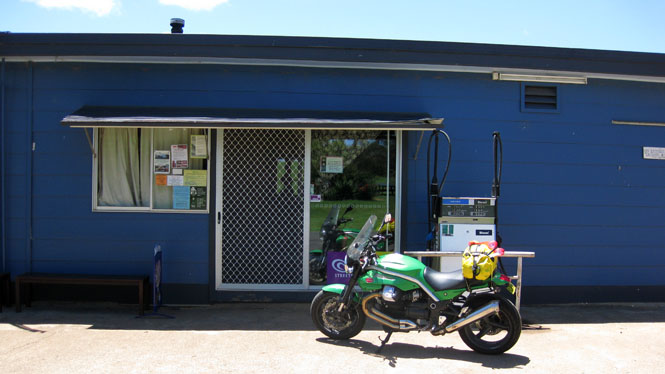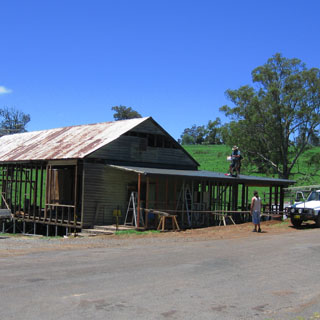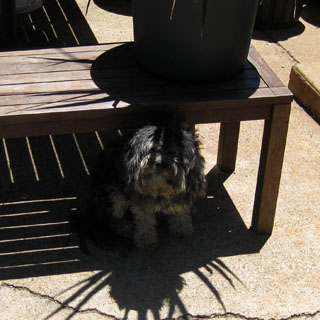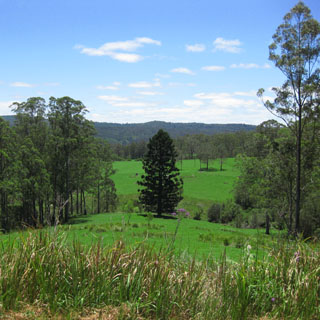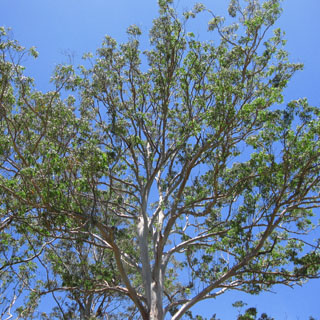 Dorrigo Steam Railway and Museum
This museum isn't open for visitors, although they likely get a fair number. It is an enormous collection of steam and everything else. and, apparently, they also have all the paraphernalia that goes along with it--clothing, equipment, and everything else that support trains.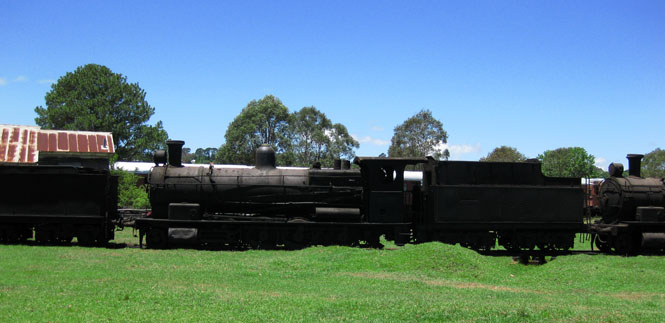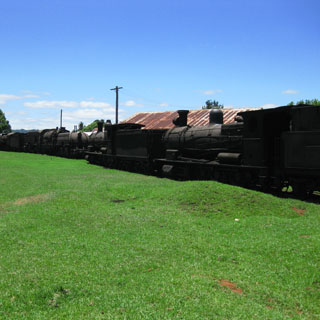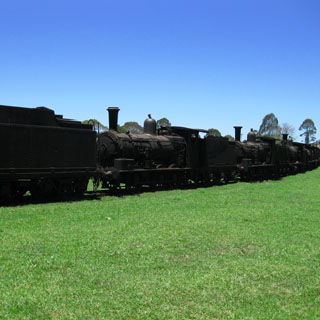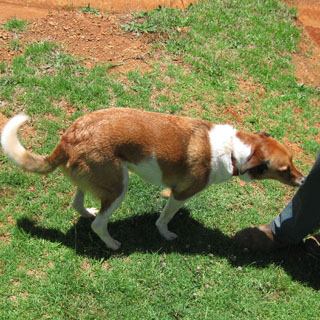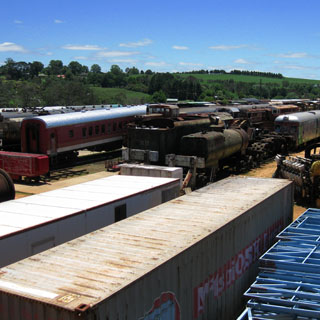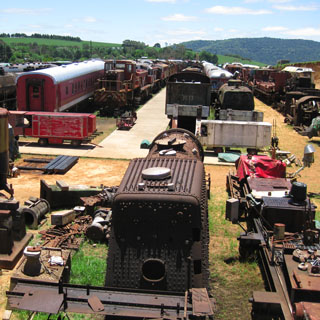 The park is just south of the town of Dorrigo.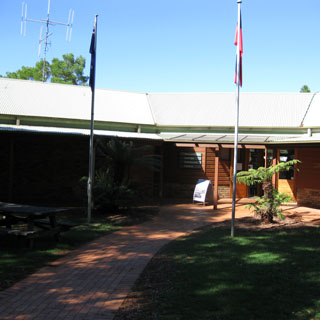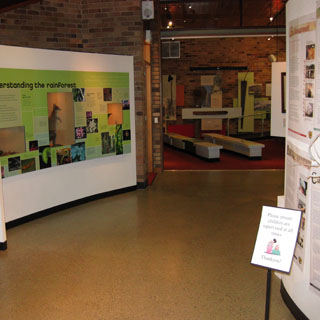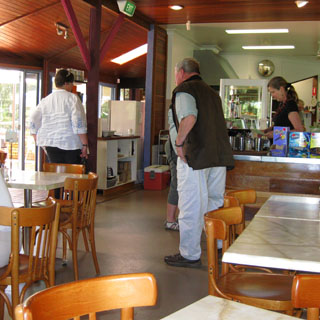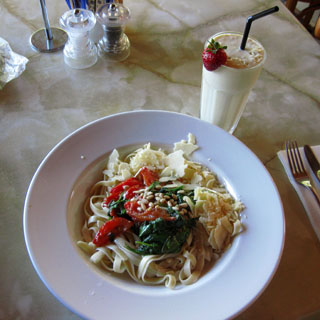 This walkway extends out and over the rainforest. The sounds coming up are amazing. It's called a rainforest (and it is), but it clearly was the opposite of raining this day.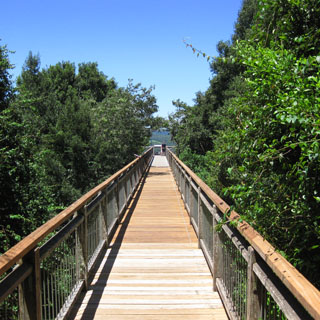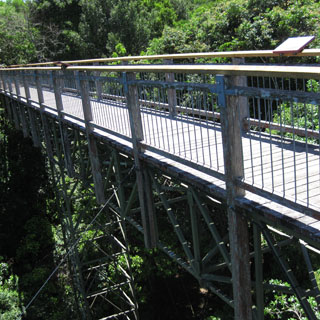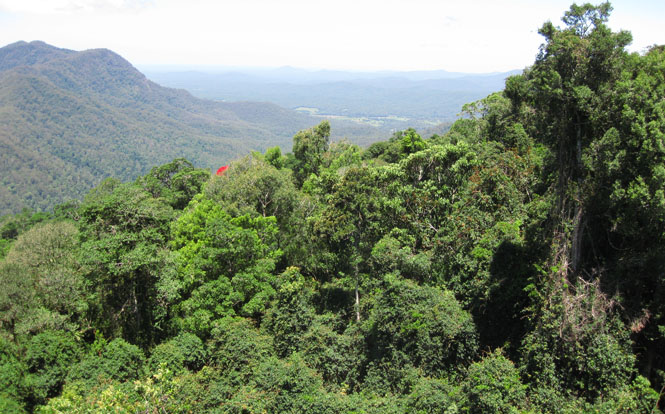 I walked a couple of miles down the trail to the waterfall at the end.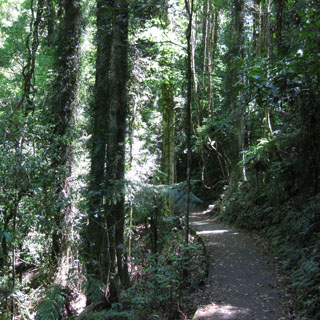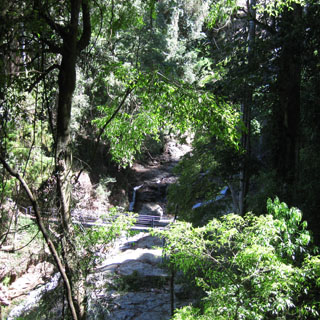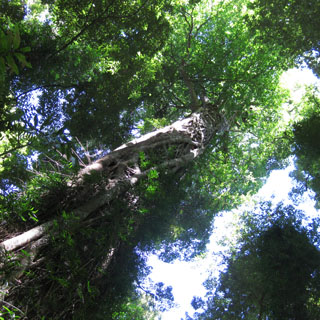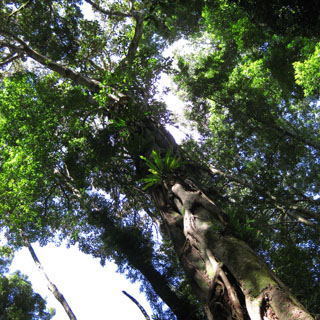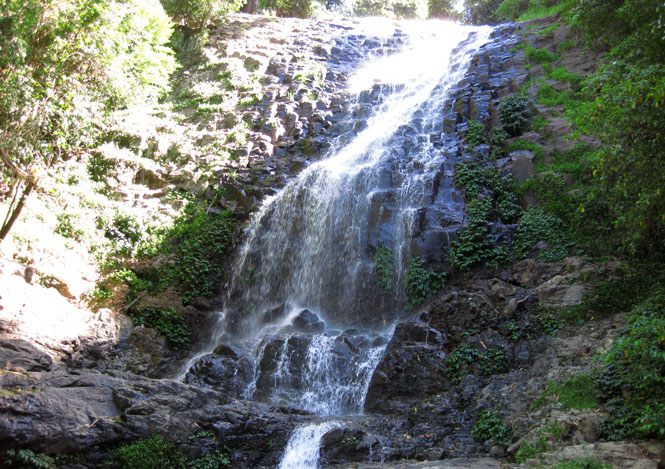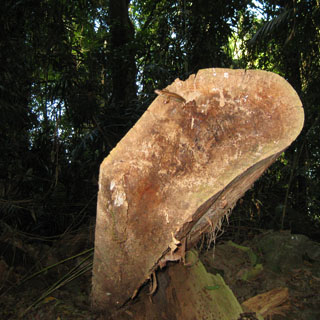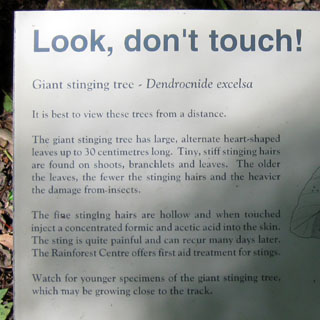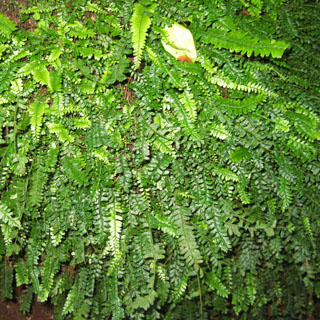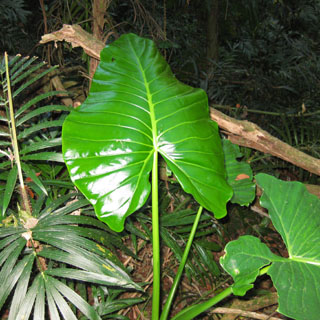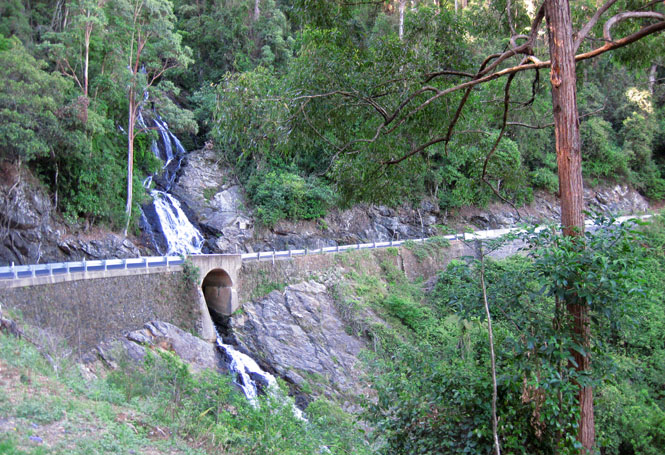 Kempsey. This was the one place I stayed the night that was not within a town. That's not desired. I did stop at a McDonalds the next morning (at a fuel stop) to see what their breakfast menu looks like. It doesn't look familiar, but the food was fine (or at least as good as you'd expect).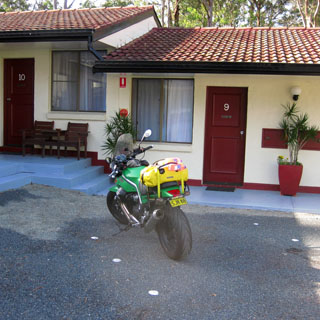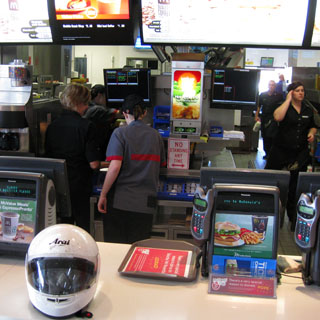 Georges River National Park. Getting through Sydney was a mess. I almost always have an instinctual feeling about which roads to take and which direction to head, but it all fell apart here. Eventually, I got through it, but I sure wouldn't do it that way the next time.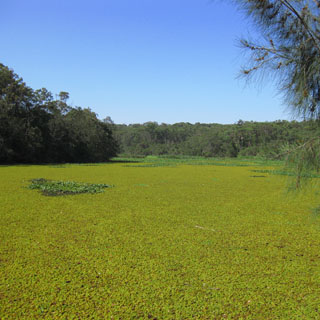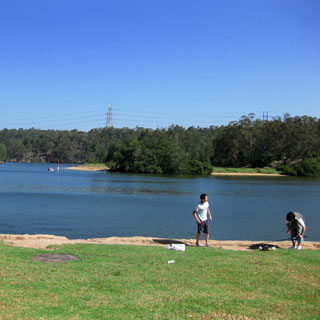 This endless line of cars creeping along was apparently a routine thing for people going home after working in Sydney. Horrible. I notice that nobody is going
towards
Sydney.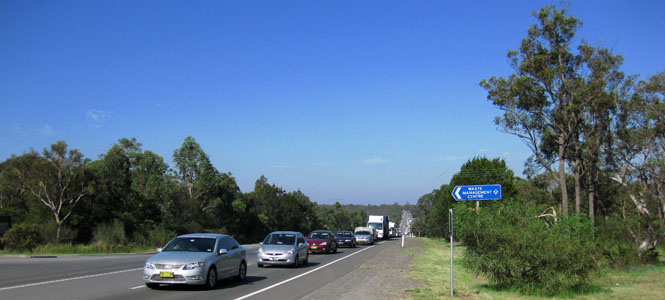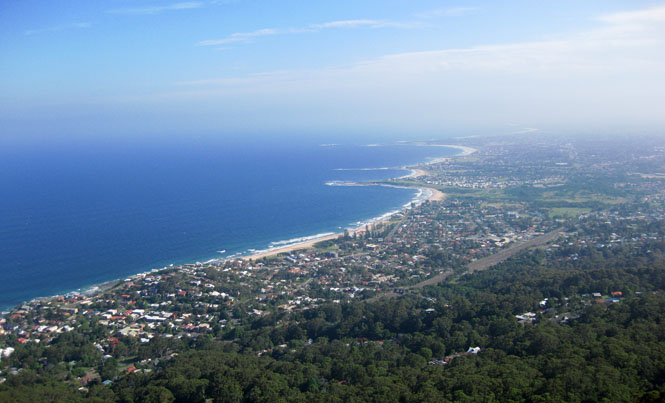 Kiama. This would be my last night, and it turned out to be quite a nice little town.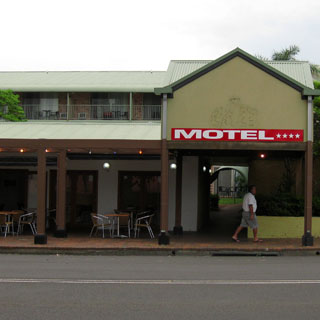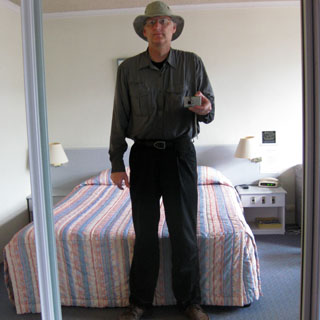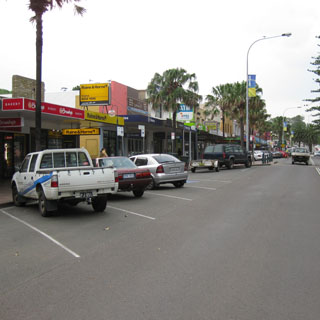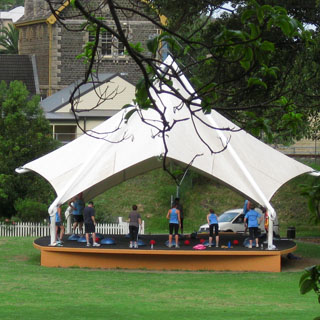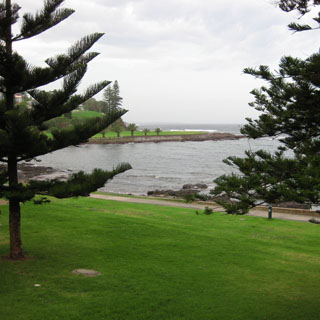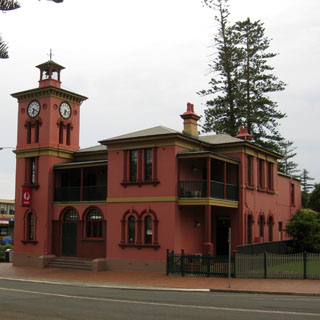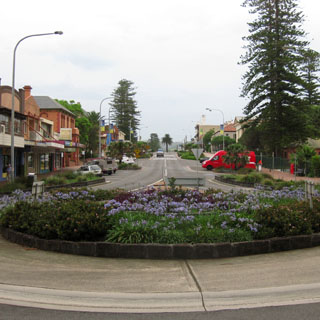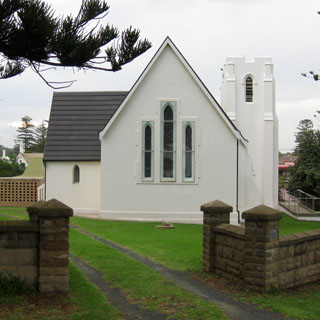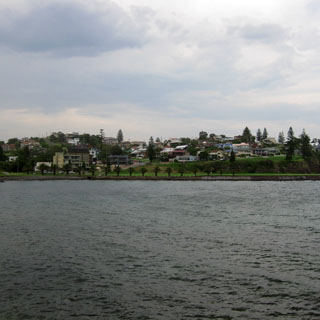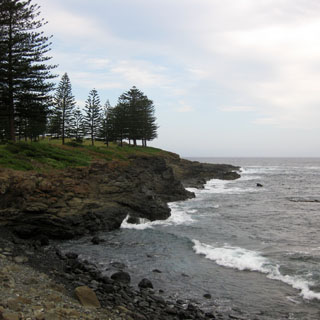 This dog had a duty to keep all birds off the cricket pitch. He was doing a fine job.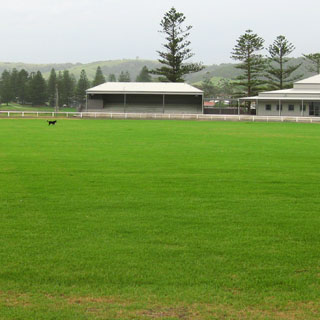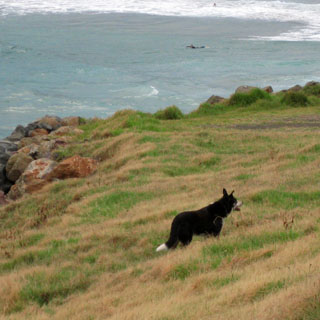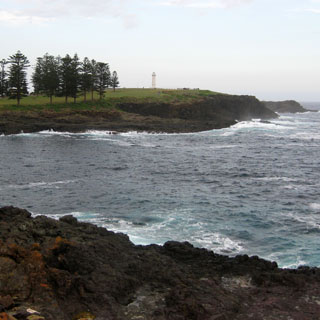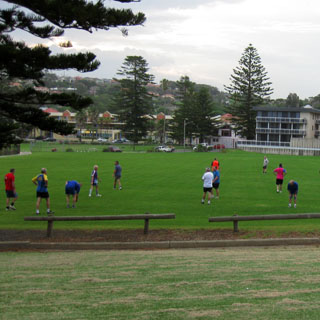 What would I have for Thanksgiving? I thought a Mexican restaurant would be sort of appropriate--at least it's food from the same continent.
I can't say that it was a good Mexican enchilada (which is what it was supposed to be), but it was a marginally good Italian lasagna with Indian rice.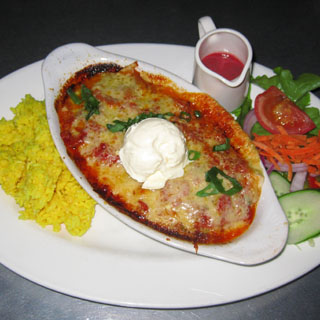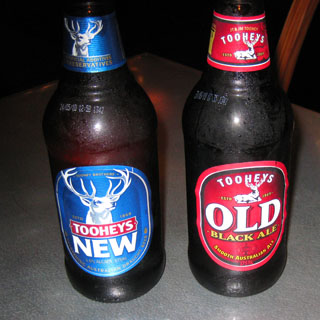 Berry.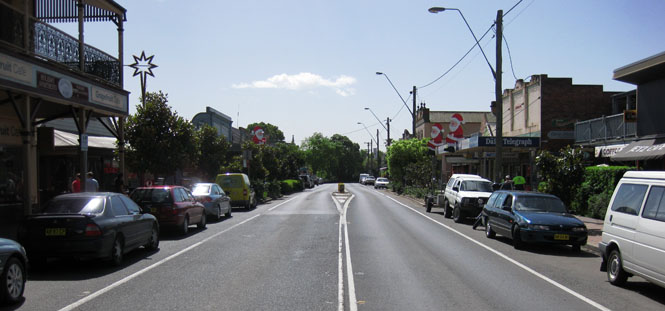 You know? This might have been the best breakfast of the trip. By the way, that tall frothy drink is what you'll get if you order orange juice.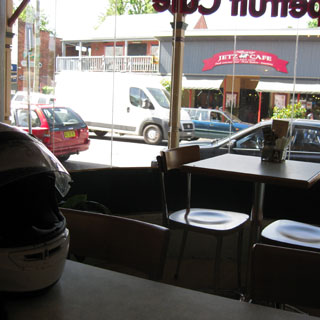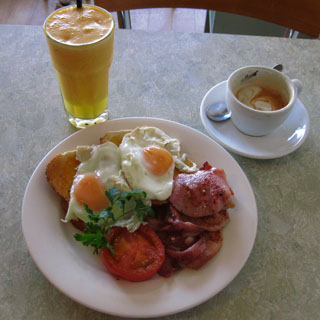 Nowra. Fleet Air Arm Museum. The Australian navy no longer has any fixed-wing aircraft, but they certainly had a glorious history of flying them.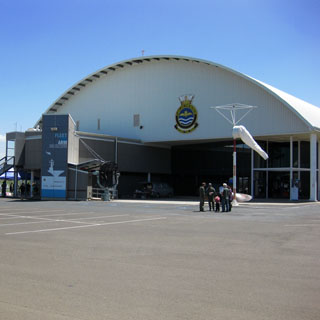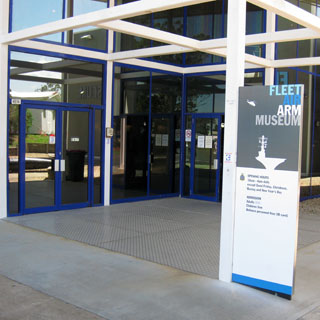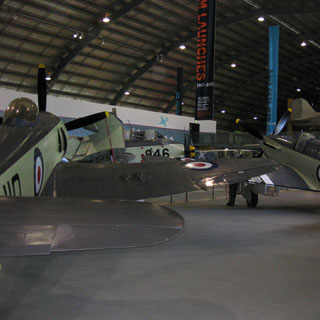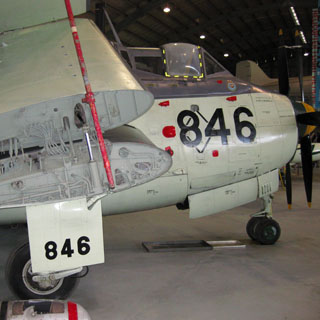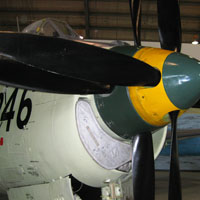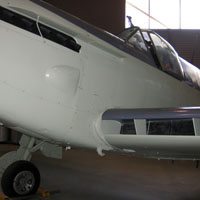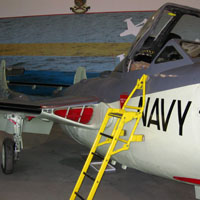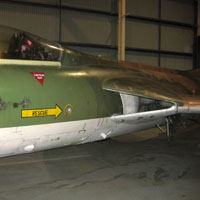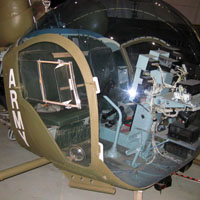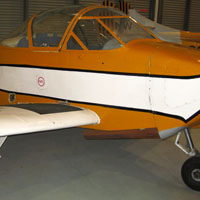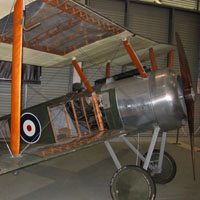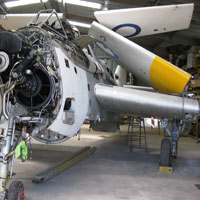 Bendalong. I took the road that wound down to the ocean beach. You have to love these long, empty stretches of the most gorgeous sandy beaches you'd ever want to see.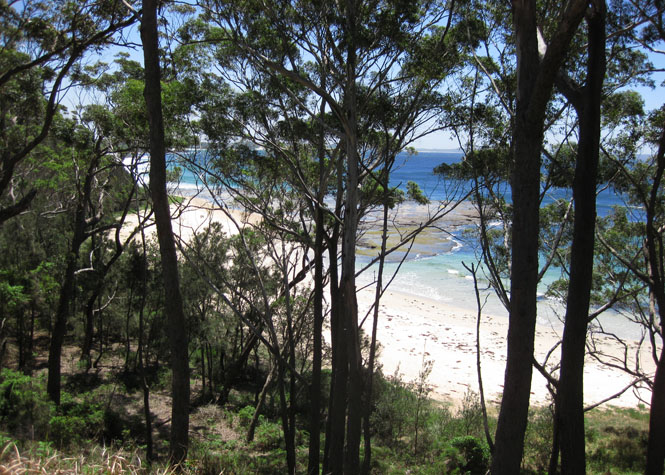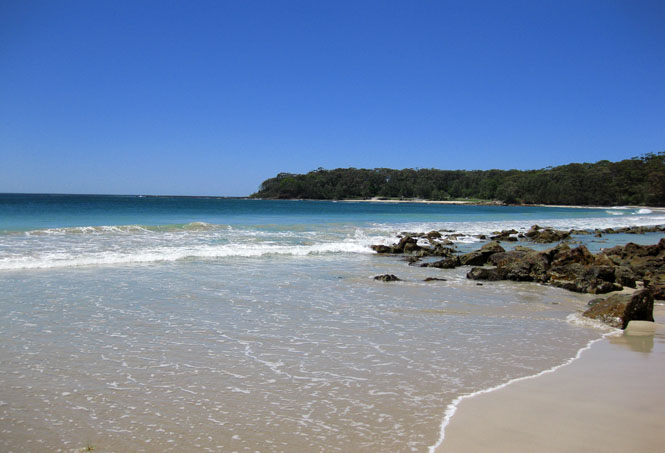 Batemans Bay. Fuel? Where's the petrol station? It took me awhile to find it.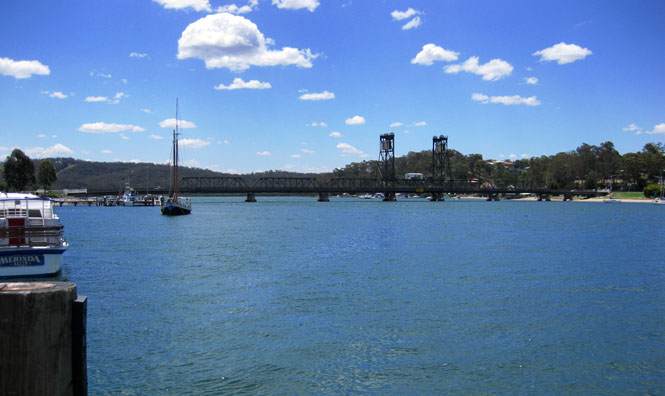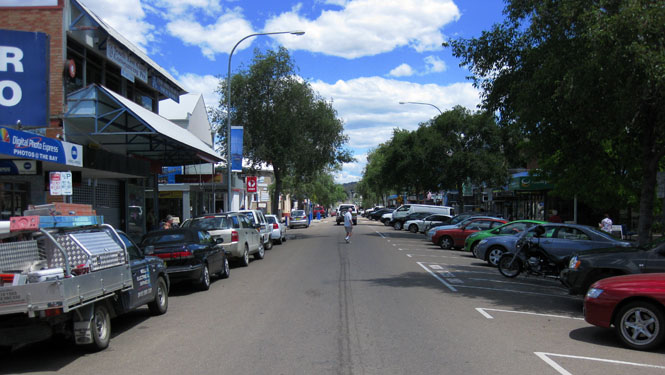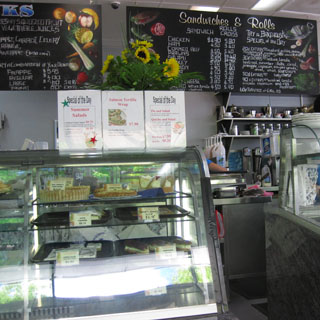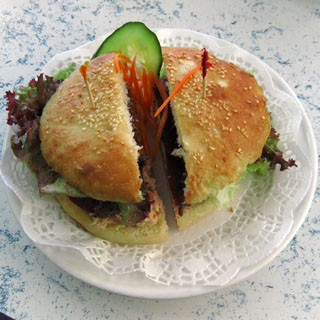 The road back to Bungendore is a very good one.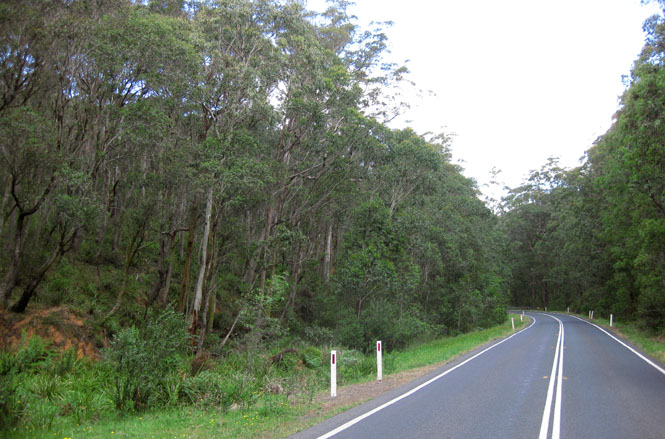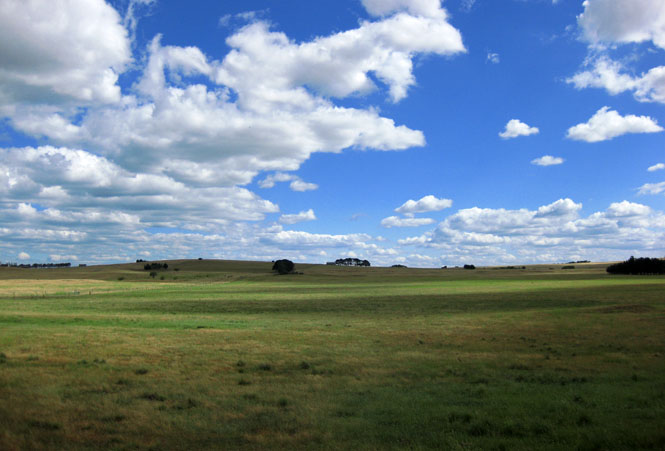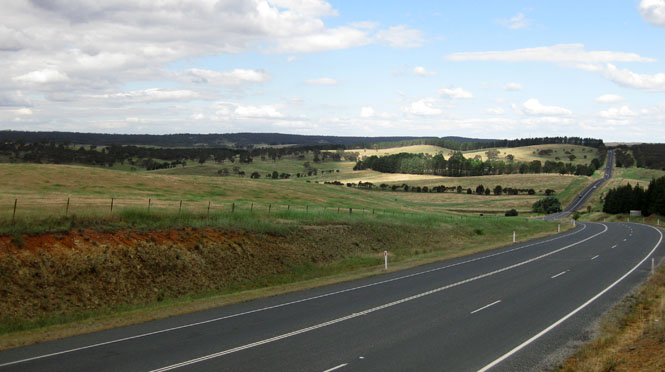 Why am I back on Friday, when my flight is on Sunday? Stupidity, is the main reason. I had copied the information card that I used on the earlier European trip where I show which days are travel days and which days I need to be at my destination. For that earlier trip, I needed to be in Mandello del Lario on Friday, and Milan on Saturday. But, when I copied that same card for this trip, I neglected to mark that Friday could be a riding day. Of course, if I had thought about it for more than 5 seconds, I would have realized that, but I didn't. No matter; this gave me an extra day in Bungendore, which was where--incidentally--I had the best dinner of the whole trip: barbeque with the Ropers.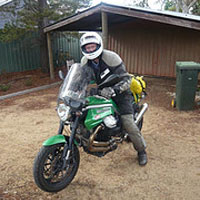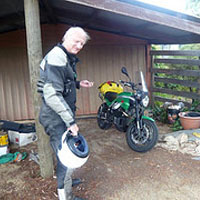 Roper cats. They were insistent on getting in the house for their breakfast.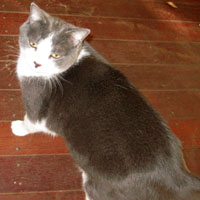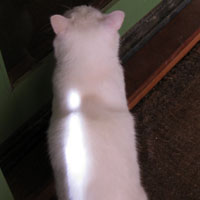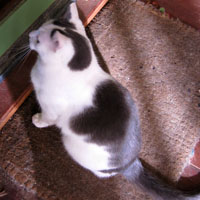 Sydney Airport. It's almost funny. Sydney, like lots of airports, forces you to find your way through an endless duty free store when you're trying to find your gate.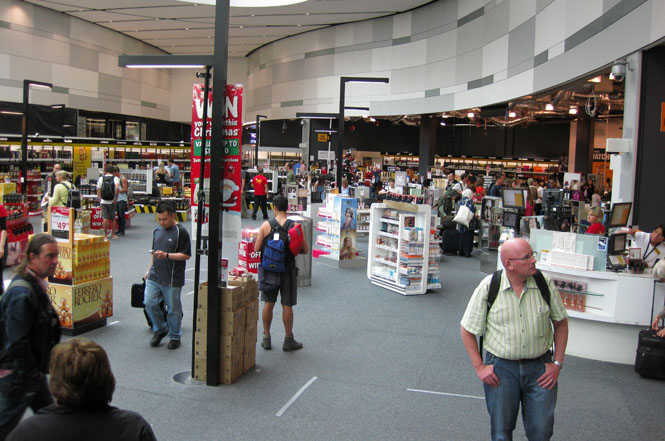 California
Oh man. The flight back always seems far, far longer than the flight away (in reality, it is longer by about an hour).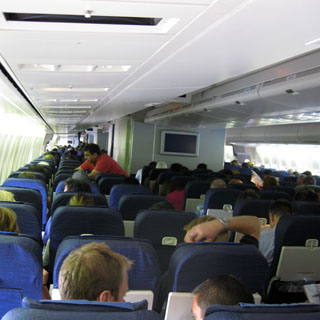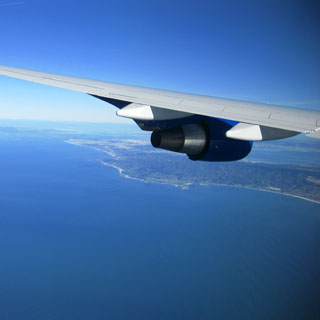 What a great trip. I do like riding in Australia. The people were in every case terrific, the roads are all you could want, and the scenery is like nothing else. All this on one of the best Moto Guzzis ever made.
Thanks especially to Jude, Pete and Connor. Guzzi people are the best.
last edit: 12/6/2009