June, 2010

Sunday

Monday

Tuesday

Wednesday

Thursday

Friday

Saturday

30
31
1 June
2
3
4
Wichita

5
Milan
Lecco
6
Lecco
7
Mandello
8
Barcelonnette
9
Alet-les-Bains
10
Barbastro
11
Toro
12
Arganil
13
Navahermosa

14
l'Hospitalet del l'infant
15
Beaucaire
16
Saint-Lautent-du-Var
17
Alessandria
18
Mandello
19
Milan
20
Milan
Wichita
21
22
23
24
25
26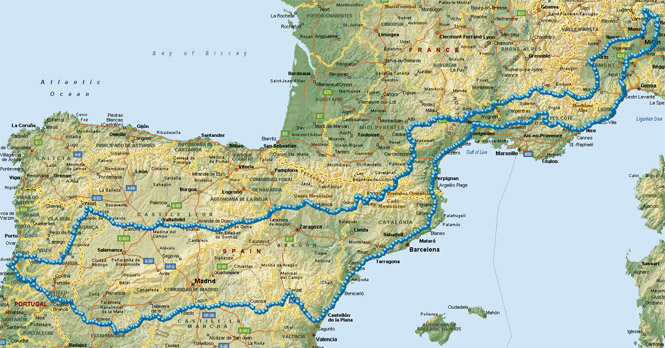 Europe Trip #4
This trip really began last year in Mandello--at the conclusion of my ride to Norway--when Alis Agostini mentioned how very nice Portugal was. That was enough. This, then, would be a trip west out of Mandello, over the Alps and into France, and then generally in the direction of Spain and Portugal.
The only thing planned was that I wanted to cross into France over Della Lombarda Pass into France (a very thin and obscure route). As you'll see, that didn't happen, which only goes to show what planning is worth.
Kansas
I flew to Italy the usual way. Up early in Wichita for the Continental flight to Houston. Then to Newark, and then a longer flight (still Continental) to Milan.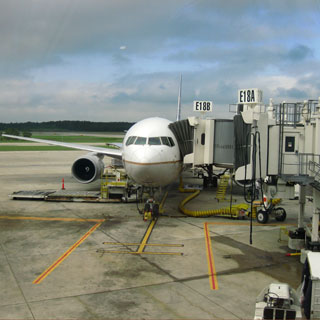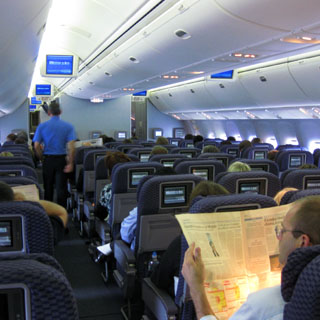 Italy
Of course, the Milan airport isn't even close to Milan. Previously, I've taken the express train, but for this trip I took the bus as I'd be continuing on by train and the bus takes you direct to the main train station.
In fact, either the train or the bus take about the same time to Milan. It matters more which destination you prefer once you're there.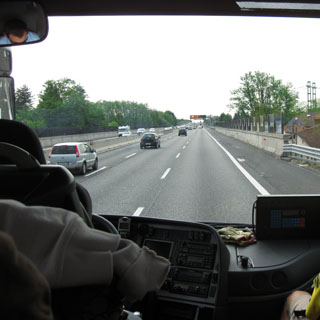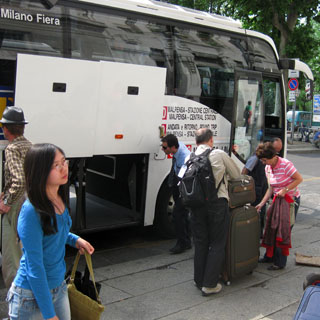 Milan. I would not be spending any time here; instead I'd catch the regional train to Lecco.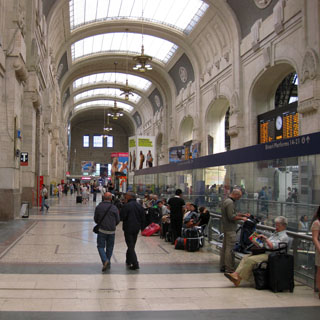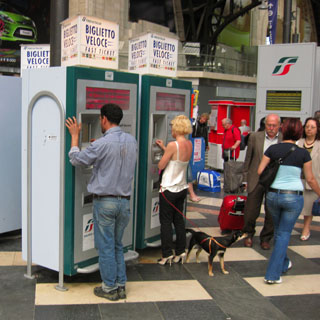 The station in Milan is always impressive. I'd be carrying the same yellow duffle-bags as on many earlier trips. The larger bag holds my riding suit, boots and clothes, while the smaller bag holds my helmet, pull-over and whatever else I tossed.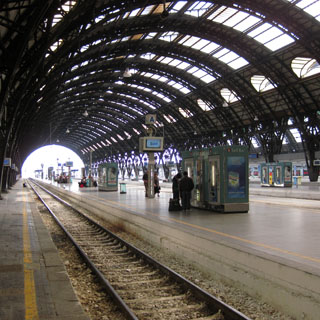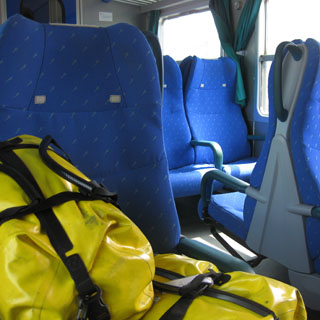 Lecco. The whole point of this day in Lecco (and the next) is to get on track with the time zone shift. I wouldn't think twice about heading out on a car, but for riding a motorcycle I'd prefer to have a couple of nights before starting.
Hotel Alberi fronts the lake. This was a pretty nice hotel, and it's very handy to the train station.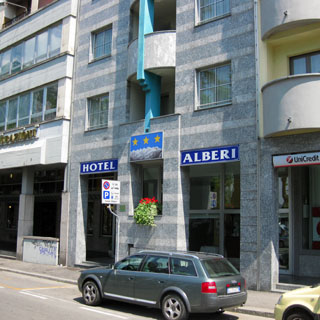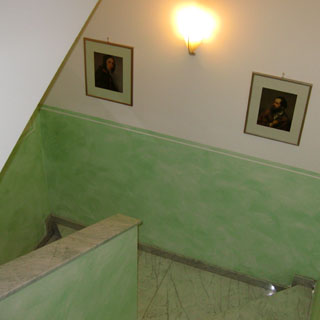 Lecco isn't really known as one of the prime tourist towns on Lake Como, but it seemed nice enough to me. Lake Como is shaped like an inverted 'Y'. Como is at the end of the west leg, and Lecco is at the end of the east leg. Bellagio is where the two legs come together.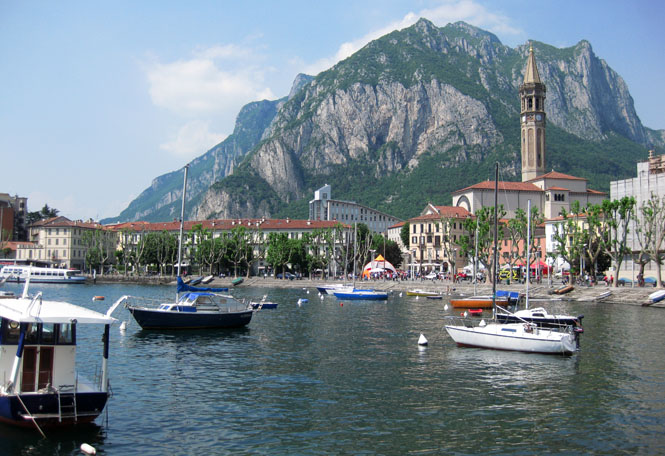 The Azzone Visconti bridge is the oldest (1338) of the several bridges that cross the lake at Lecco.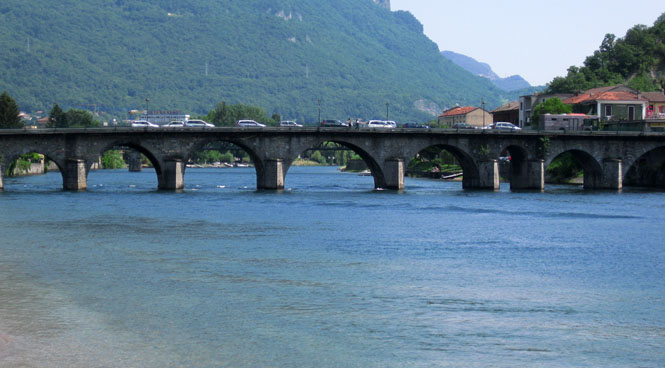 You'll see many statues of Alessandro Manzoni in Lecco (and elsewhere) as well as street names. In fact, the street that the Moto Guzzi factory is on is named for him.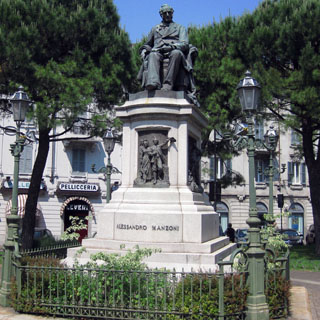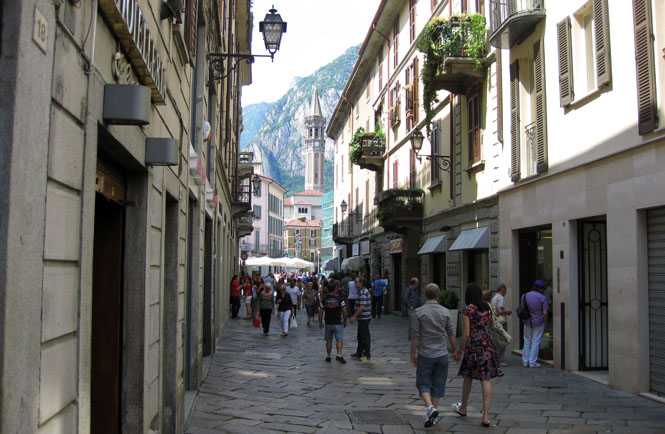 Some sort of endurance foot race was just beginning. The men with the heraldic flags were part of the opening ceremonies.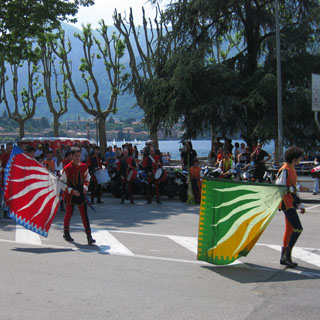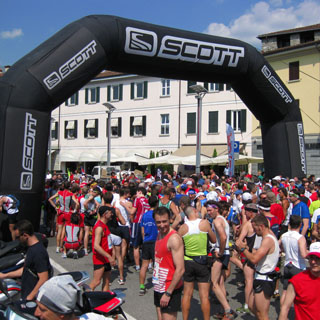 The tower that you often see in photographs of Lecco? That's it on the right (below).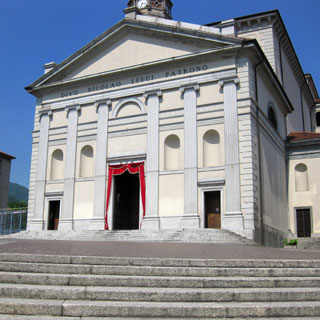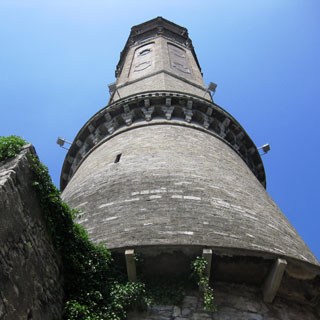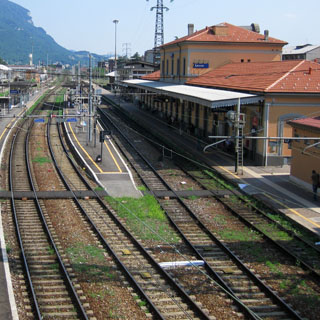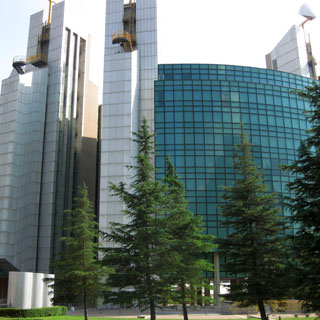 The house owned by Alessandro Manzoni is now a museum. I asked the guide just how important a literary person Manzoni is in Italy. He said that Dante Alighieri comes first, but after him comes Manzoni. Every high school student will have been required to read I Promessi Sposi. I've read an English translation, but I think you need to have a very good grounding in the history of the Italian nation (Spanish rule, Austrian rule, etc.) to see it as something more than just an adventure novel that reads like an Italian Walter Scott.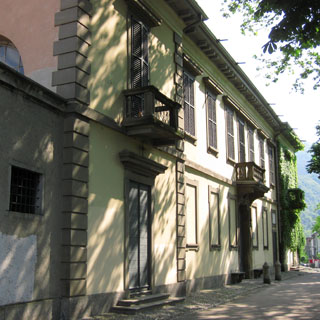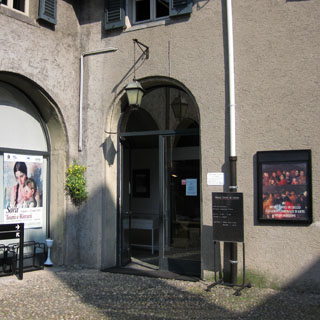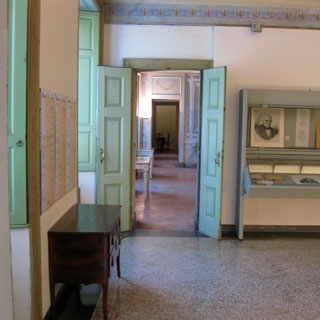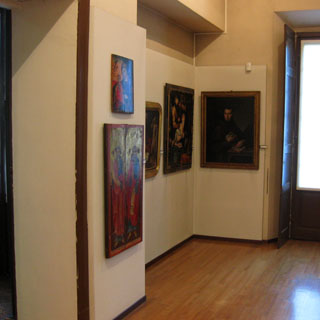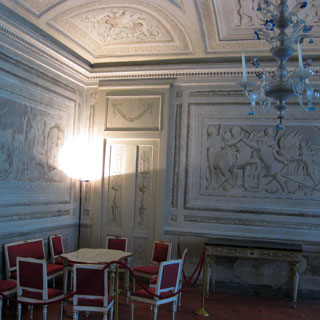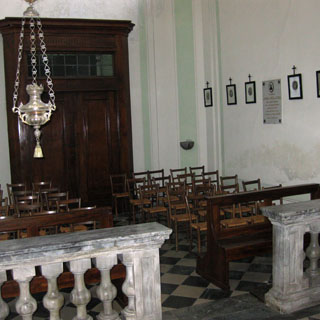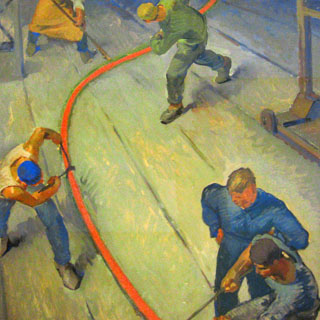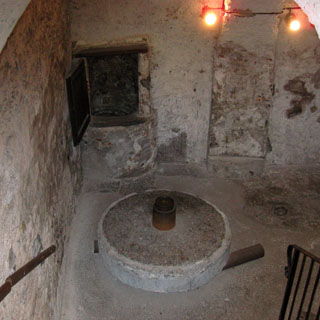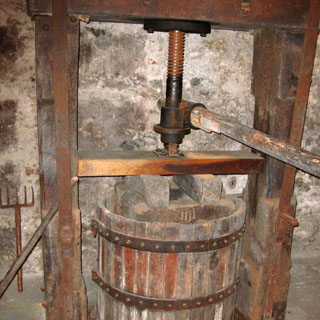 Several hours after they set off, the racers are returning. Some are far more fatigued than others, and some have collapsed. There were plenty of emergency responders ready to help.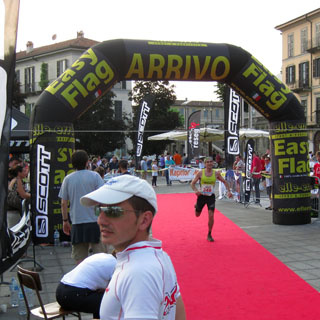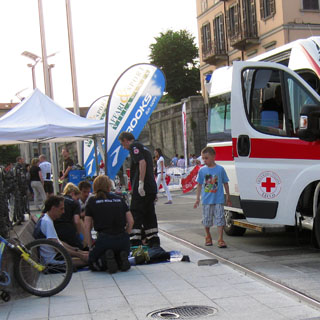 The town doesn't really pick up until after 8:30pm. In fact, except for a pizzaria, you couldn't find a restaurant that was serving before then.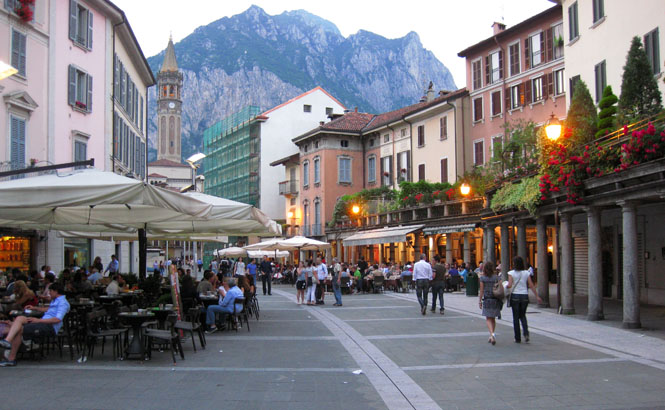 I've no idea what sort of event was happening, but a military band was playing that evening.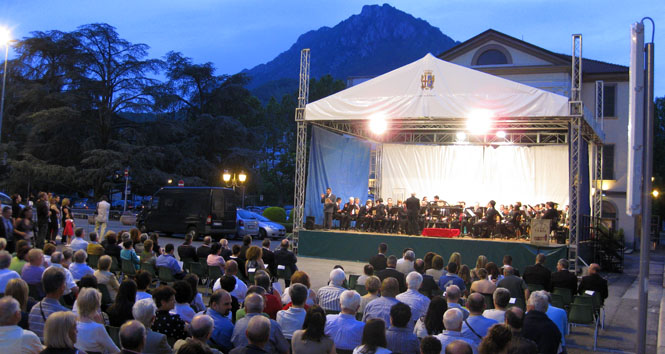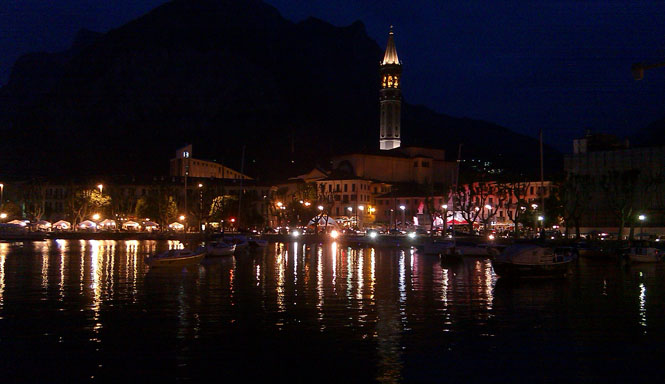 There were many very nice old Italian motorcycles parked along the street.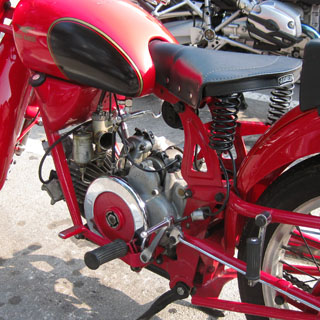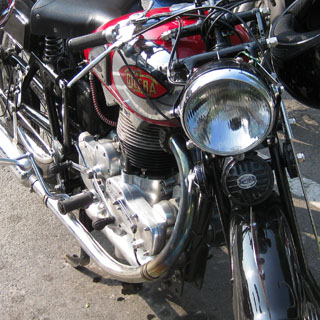 There is an extensive network of ferries that covers the length of Lake Como. Boats leave Lecco every hour. I'd be taking the boat to Bellagio.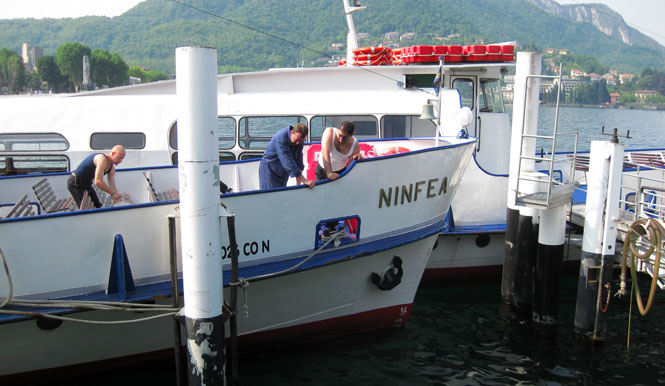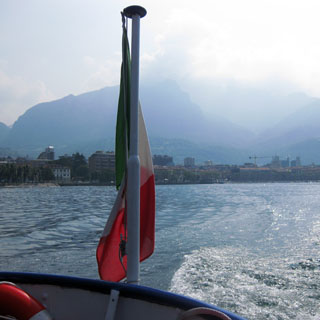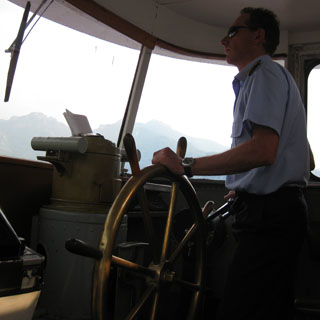 This is Mandello. I'd be back...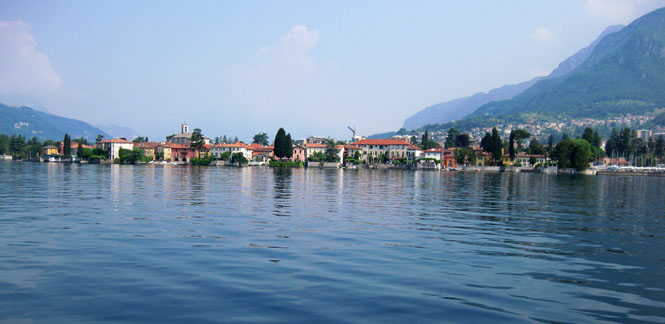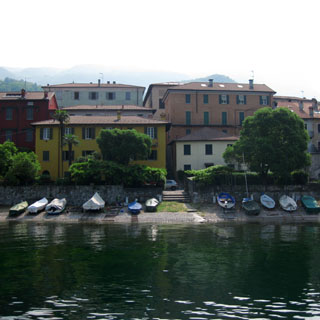 This has got to be one of the most beautiful lakes in the world.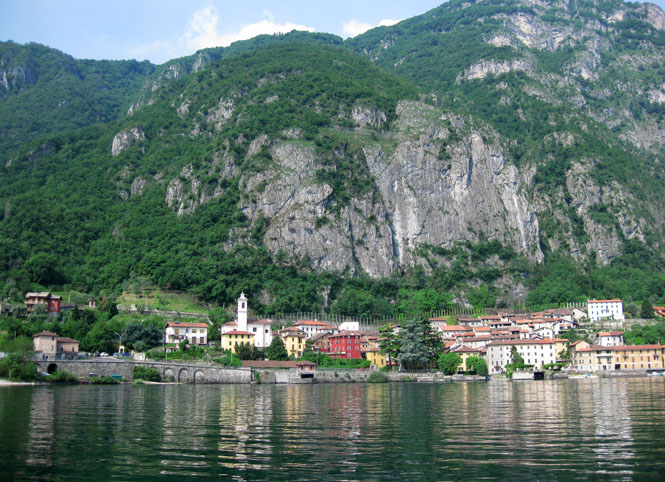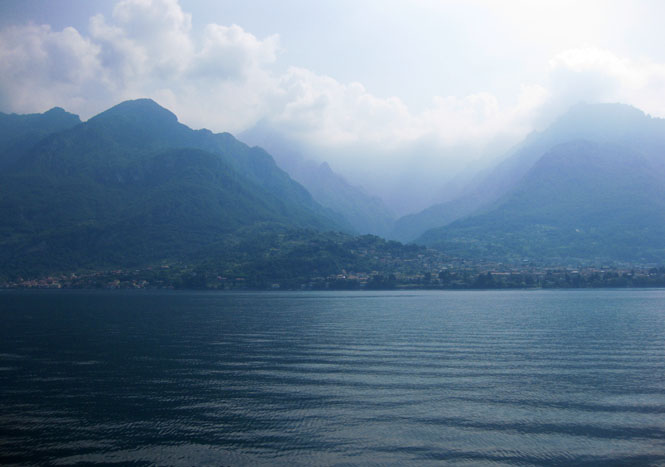 These are on the small side, but there are many very impressive villas along the shore.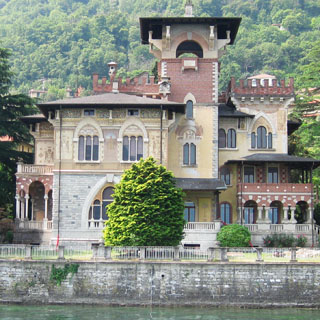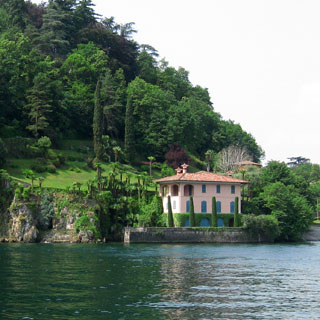 Bellagio. It's really just a village with a few very nice hotels.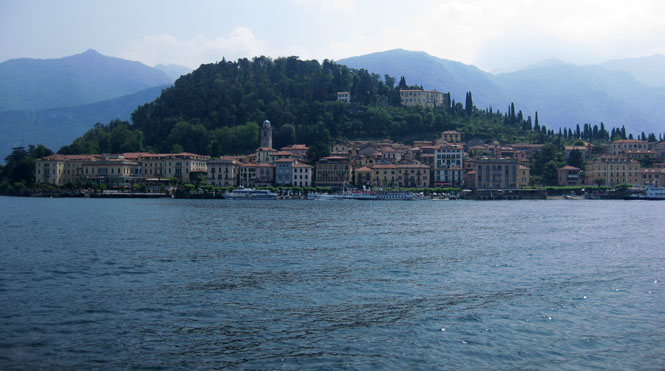 If you like shopping (and I don't especially), this place is amazing. The streets (stairs) will wear you out.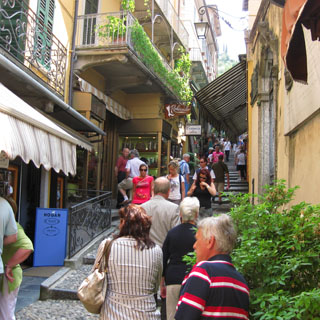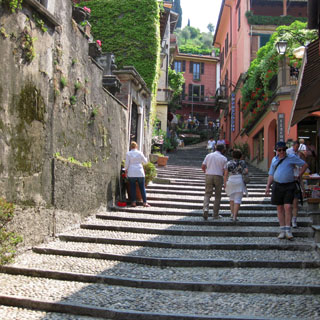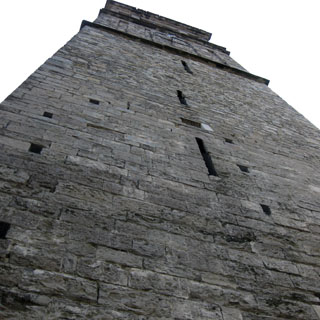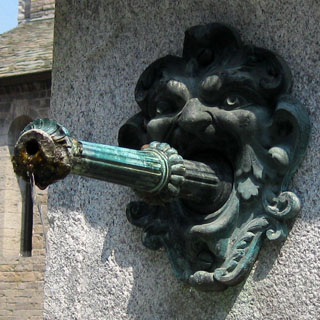 Classic boats such as this were available, to take you wherever you wanted on the lake. Of course, most people took the ferries.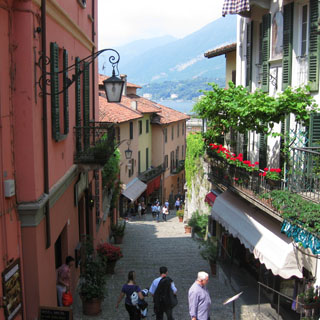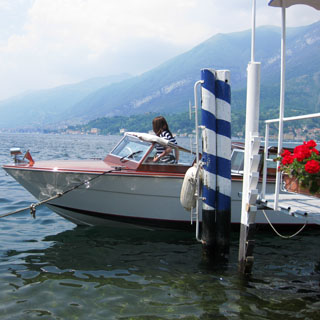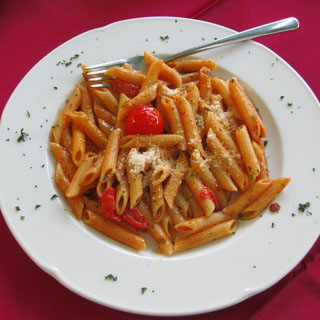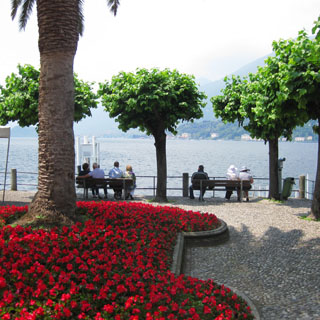 Some of the ferries held cars (such as this one); others just people.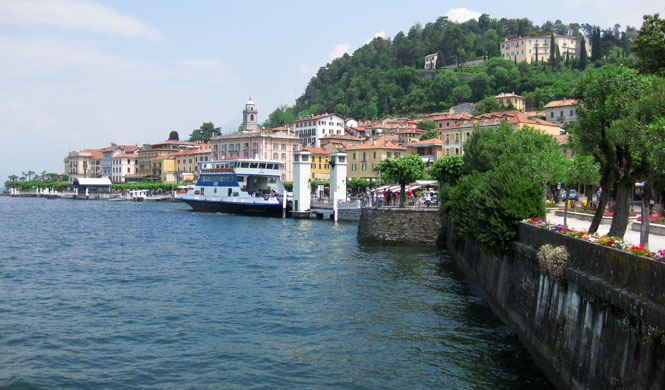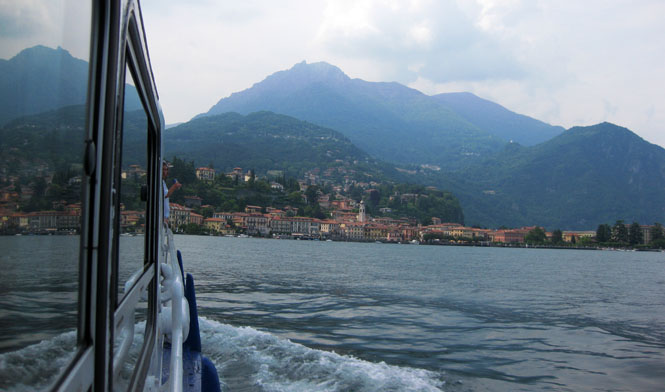 Lecco (again).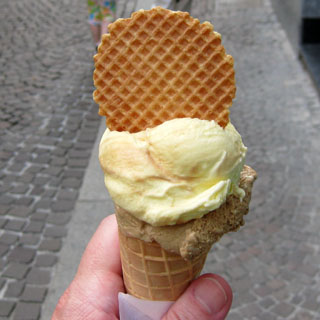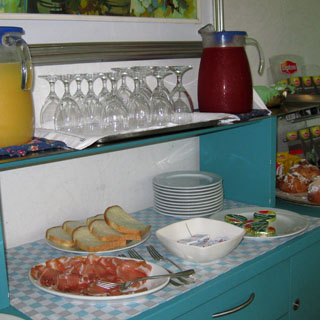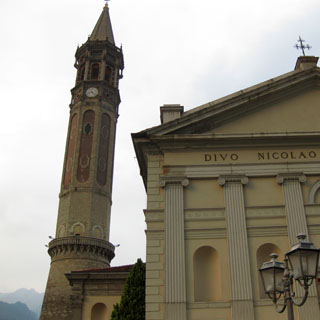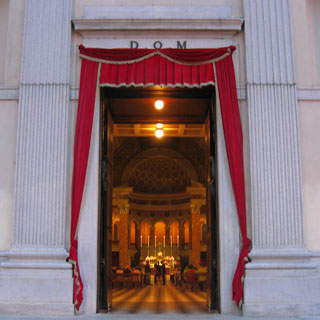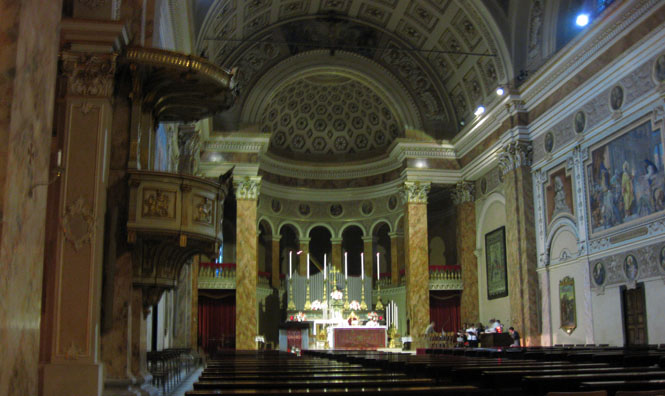 That evening there was a large procession to the church. Of course, the streets were blocked from auto traffic.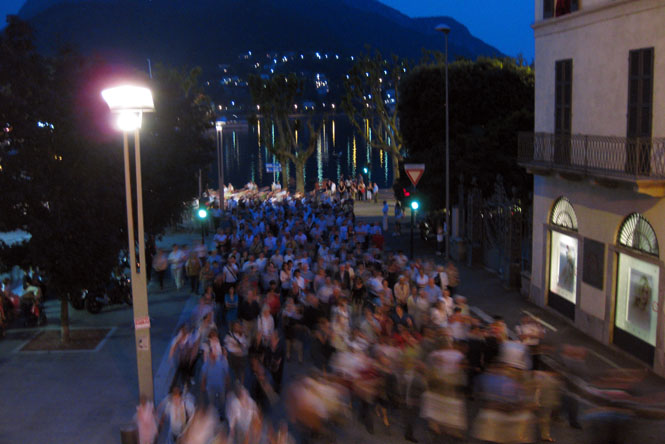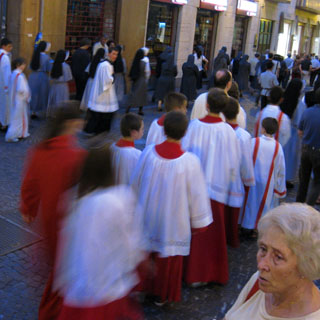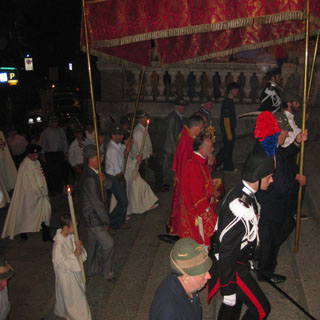 Lecco to Mandello. I'd be starting the trip today. Mandello is not very far from Lecco. It's a short walk to the Guzzi shop where the motorcycle would be waiting for me.
The bike was ready for me with a full tank of gas. It didn't take me too long to transfer my things to the smaller duffle-bag. Of course, I'd be wearing the riding suit, boots and helmet. I'd leave the larger (now empty) duffle-bag in the shop. The smaller bag was strapped to the seat; I did not need any other storage.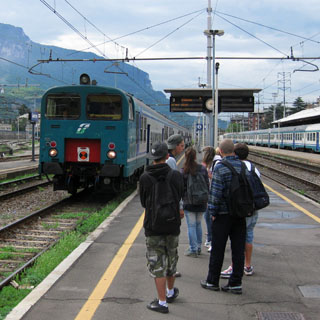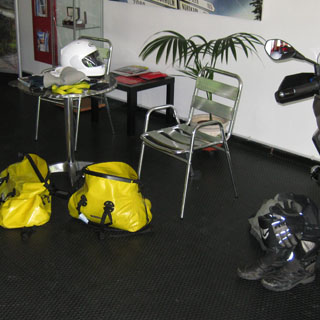 The idea was to get out of Mandello and away from Milan as quickly and painlessly as possible. It seems odd, but the freeway that runs south from Lecco does not connect to the ring freeway that runs around Milan. The couple of times I've done this, I've gotten it wrong. This time there was road construction that had me running well off the main road--then I somehow found myself riding directly into the core of Milan before I was able to turnaround and try again.
I was aiming for Torino and then south.
Fueling on the A4. This is a toll road (as were nearly all the super-highways I'd be on), so there were service areas that you could use without actually leaving the autostrada.
On earlier trips I carried a phone, PDA and GPS. For this trip I'd be carrying just a single smart-phone that replaced the PDA and GPS. Of course, I didn't use the GPS feature for navigation while riding. I'd stop and check where I was and then put it away (in the inside pocket of my riding suit). I had paper maps for planning, but paper maps do not have any detail of city streets, nor can they tell you where you are. For GPS software I had both ALK and Garmin-Maps. Garmin-Maps required 3G access, which was not always available, but ALK worked stand-alone with loaded maps. The Garmin was a bit easier (and faster) to use in cities, so I would try it first.

River Po. This river, as all the rivers I would cross, is running very high. There clearly had been a great deal of rain recently, and there were reports of serious flooding throughout my trip. Spain and France were particularly hard hit. I avoided any problems caused by the floods.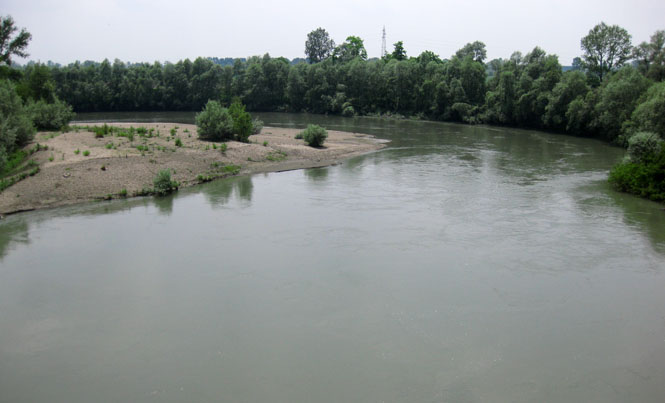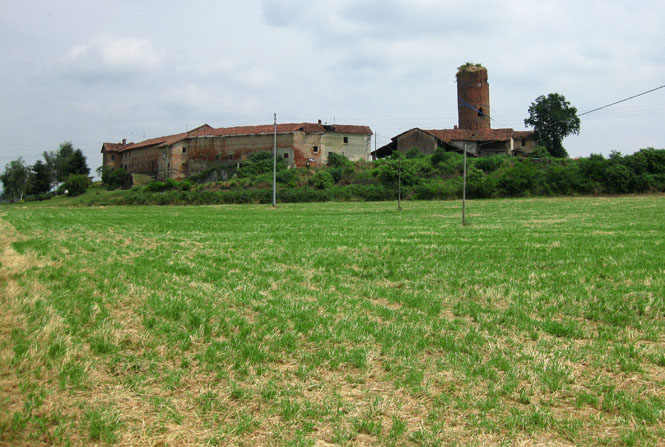 The bridge over the Stura di Demonte near Cuneo. I'd be crossing that bridge in about twenty minutes. It turns out that the much smaller bridge I was aiming for (and am standing on in this photograph) only supported people--not motorcycles.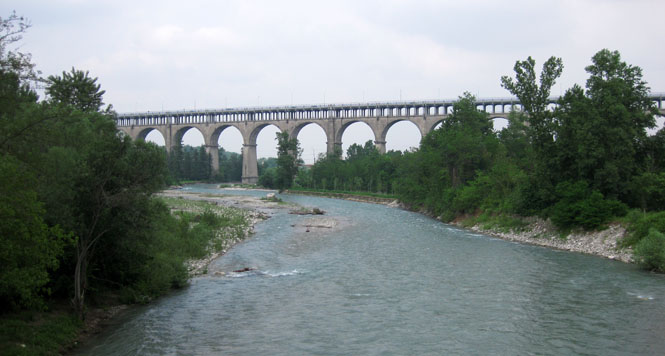 Borgo San Dalmazzo.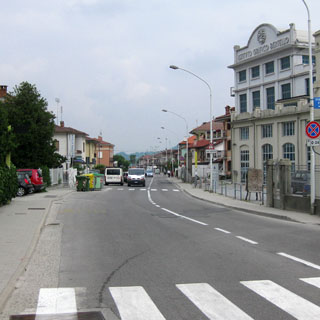 Vinadio. There was evidence of fortifications in place in this valley for hundreds (thousands?) of years. This is about three hundred years old (but probably built on existing works).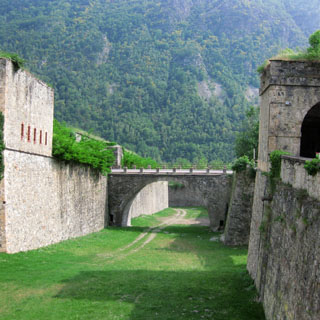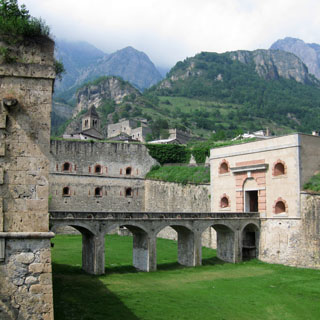 Stura di Demonte.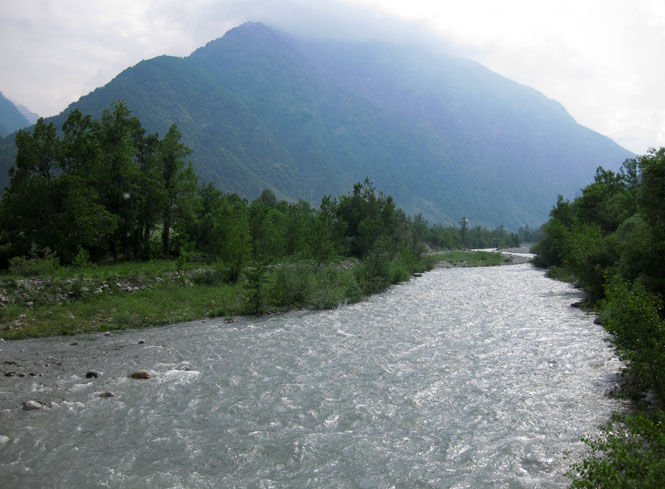 Well, rats. I was hoping to cross Colle Della Lombarda into France and even had some idea of the town that I'd be spending that night. I debated heading out no matter what the sign said, but if it turned out to be true, I'd be in a difficult spot. So, I took this photograph and headed on down the other road. If there had been any traffic at all, I would have asked; but, there was none.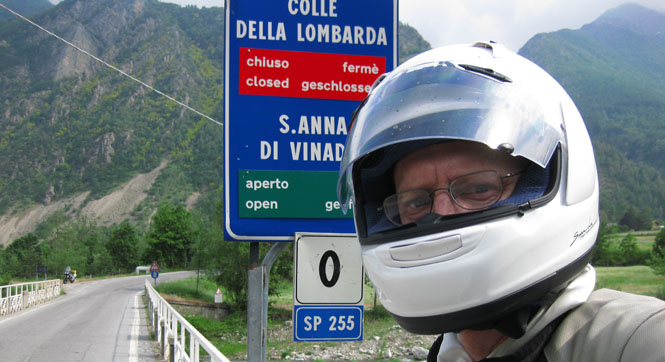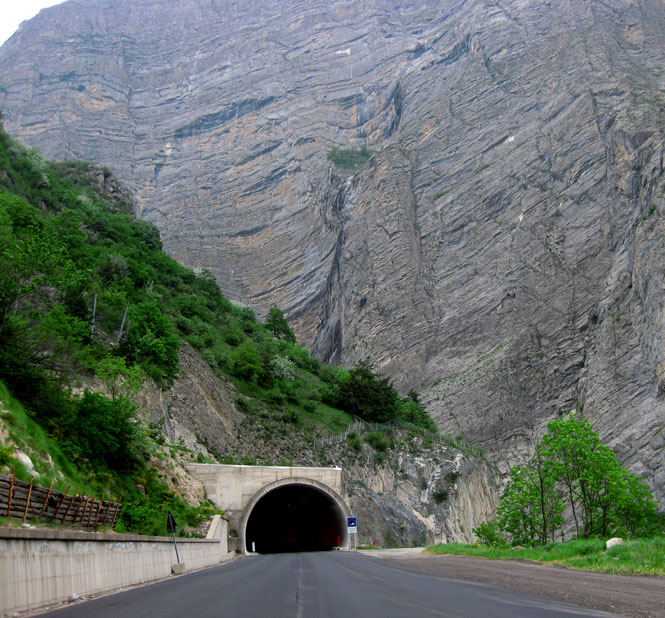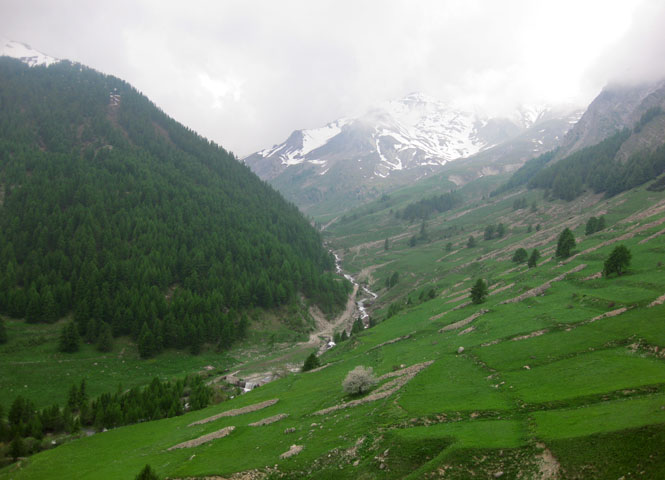 Colle della Maddlena is a fairly easy pass, and it would be unlikely to be closed as often (or long) as Lombarda.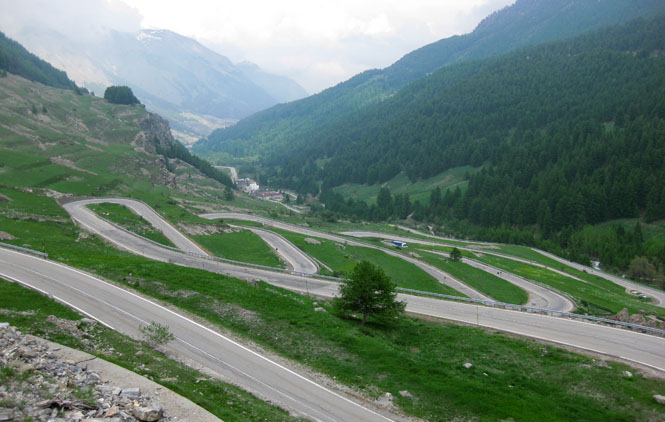 France
The gentle ride down the other side was really nice. The Alps are much broader than I once supposed, and these mountains go on and on.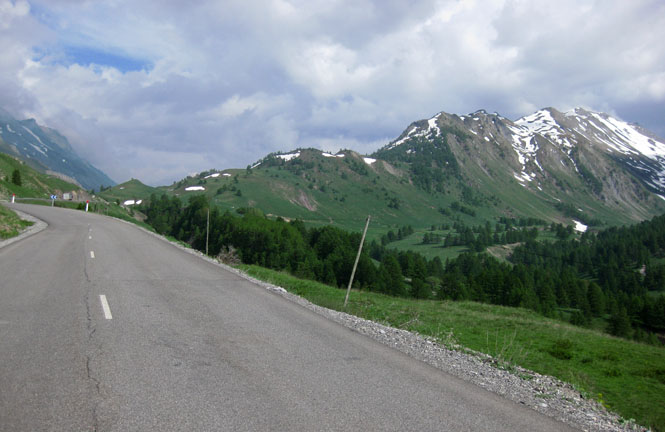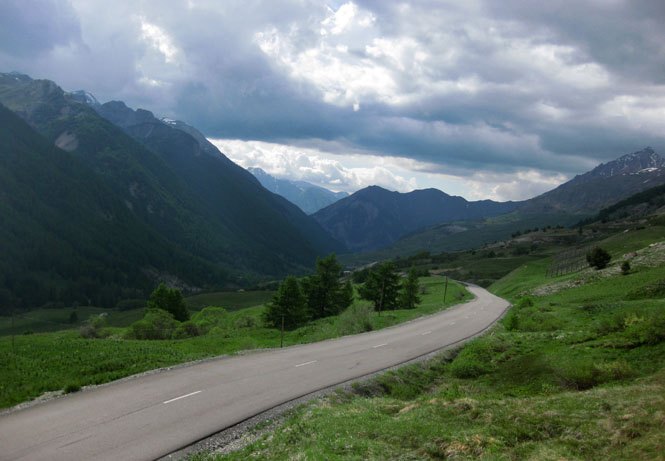 In the morning I'd cinch the straps down. Then, at the first stop (probably for a photograph), I'd cinch them down a bit more and that would be enough for the rest of the day. The bag is positioned on the seat to give me just a bit of lower back support (I didn't need the rear rack, but it cannot be removed). The Moto Guzzi Stelvio is comfortable enough.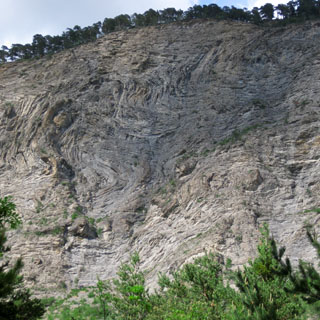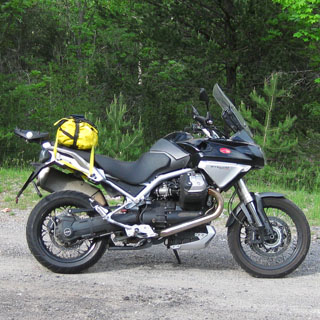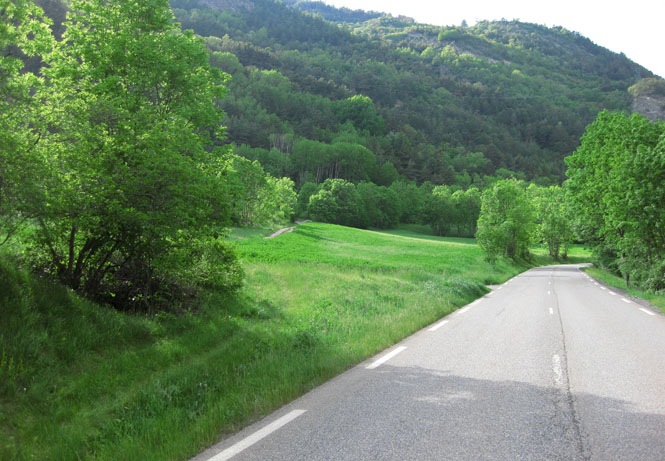 Barcelonnette for the night. The date is near the solstice, so it doesn't get dark until near 10:00.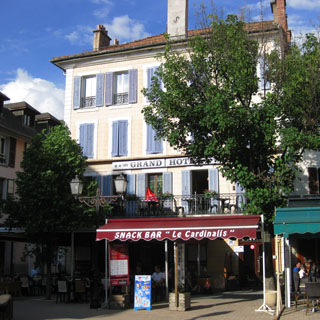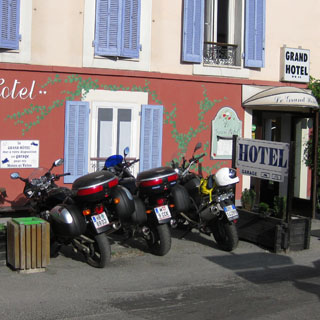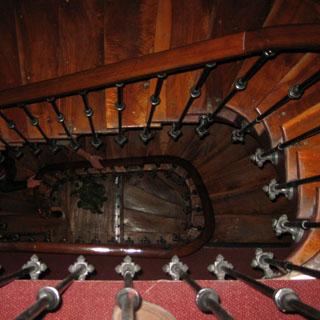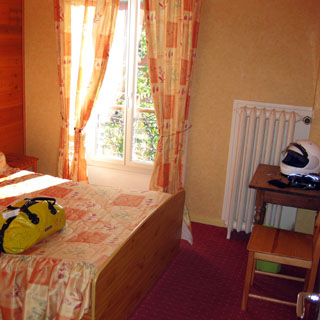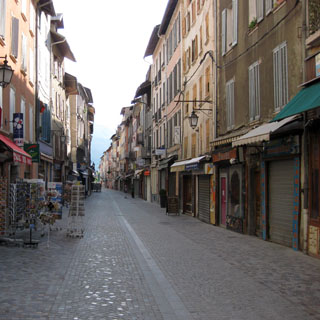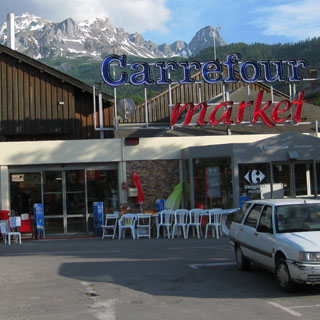 I bought some bread and cheese and juice at the market (and the bag to carry it in). This would be my dinner tonight. I wouldn't eat the next morning nor until the morning after that. It sounds illogical, but a thirty-six hour fast at the start of a trip works well for me.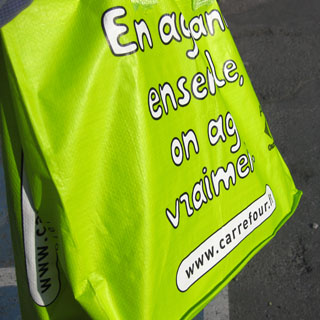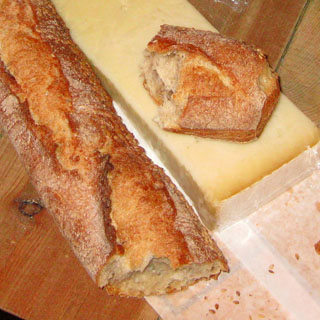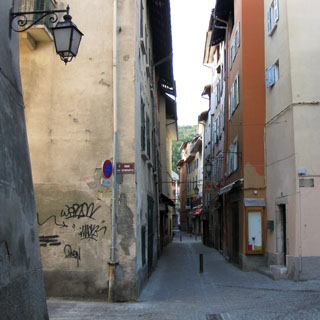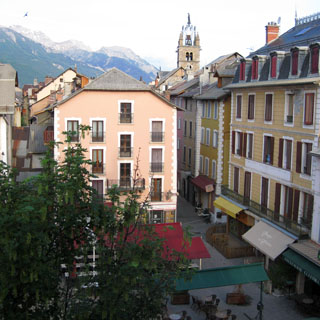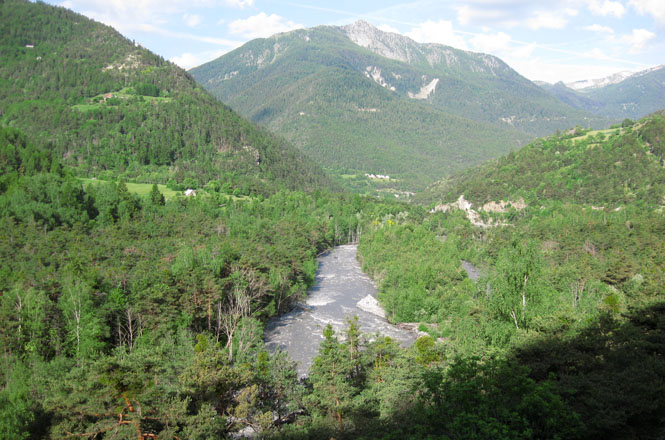 I've always liked how these roads were carved from the rock. Only just enough material is removed for clearance (mostly). That church on the rock? That's not uncommon; you have to wonder what they had in mind.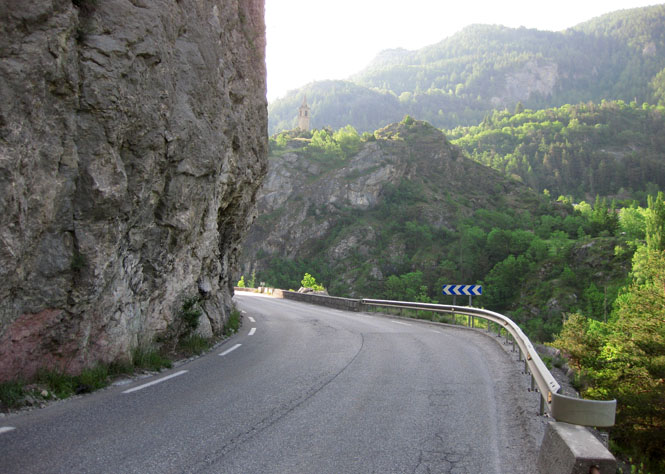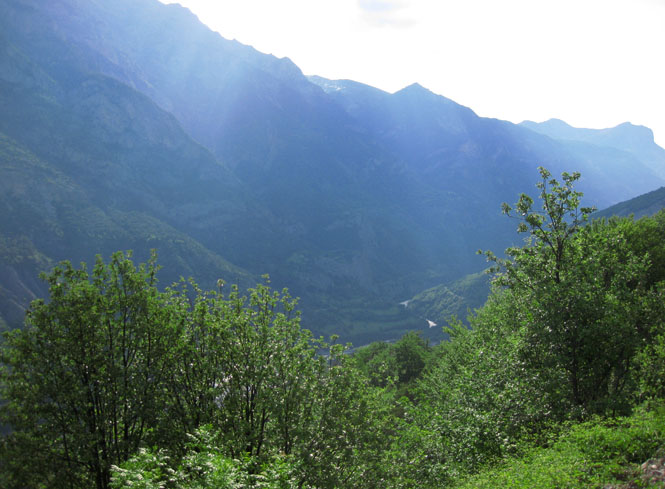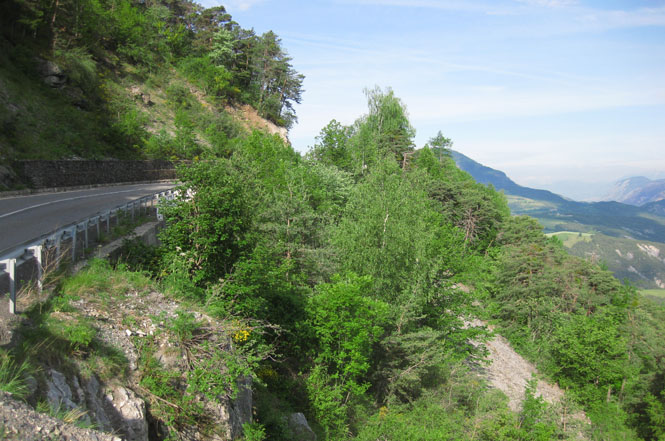 Yes; I'll sometimes stop the motorcycle and walk out into a meadow for the photograph.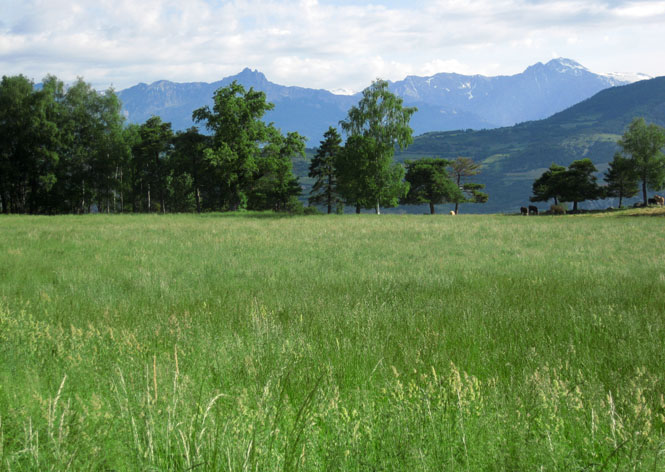 This was a terrific road. One of many on this trip.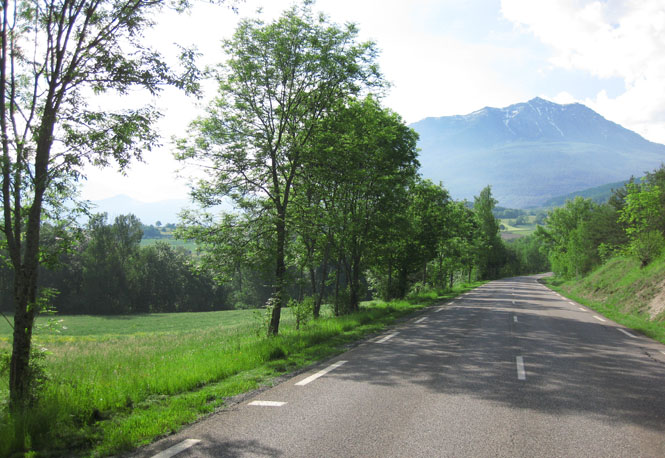 Gap. Typical for this trip, while I didn't really want to be in Gap, I would find myself in the core of the town looking for the right road to take me through.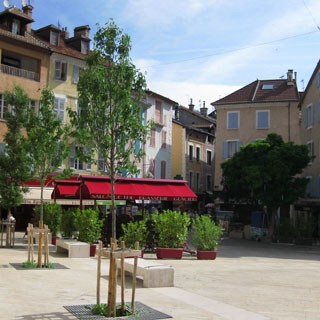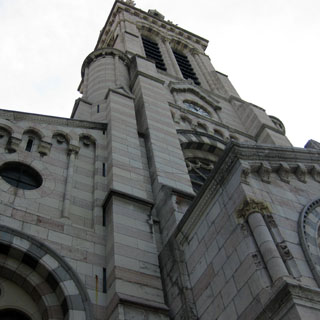 La Freissinouse. The spelling varies from country to country, but wherever I was the word for "Diesel" (as it would be known to me) was so similar to "gasoline" that I was always very careful to check and double-check. These are prices per liter (the 98 sans plomb converts to about 92 octane unleaded @ $6.90/gallon US).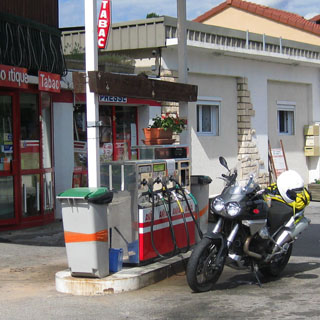 Heavy clouds were constant during almost all the trip. And less often, rain.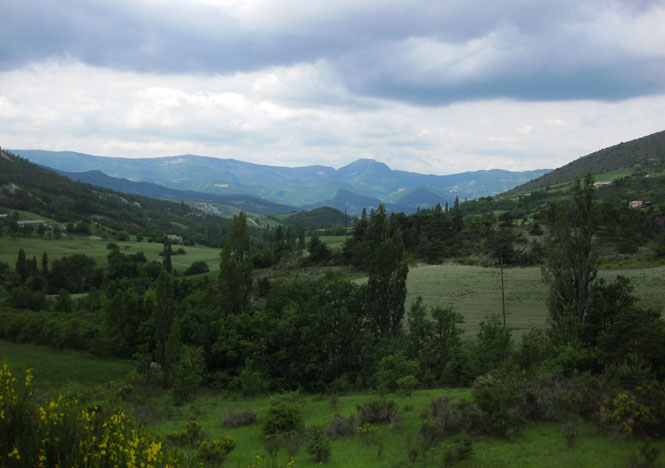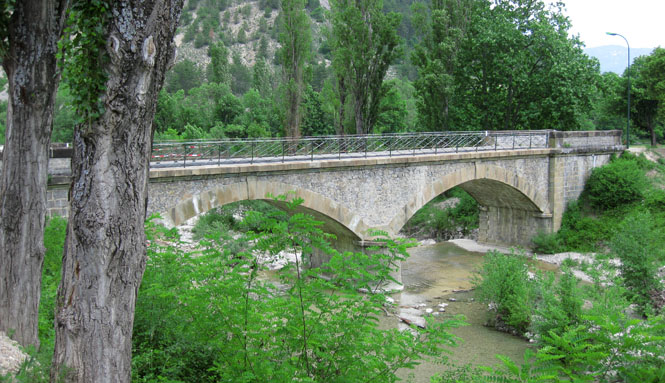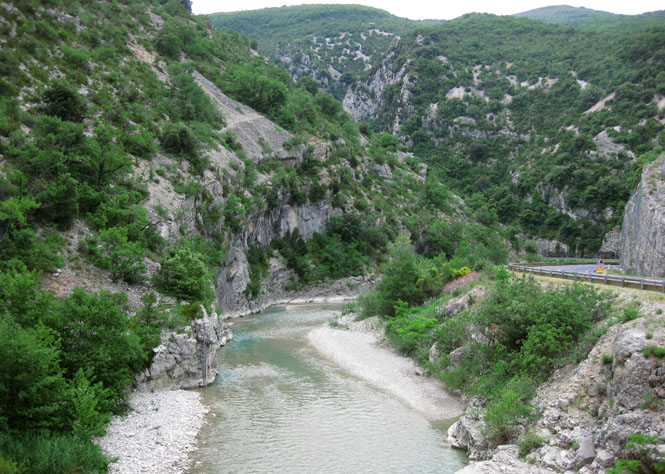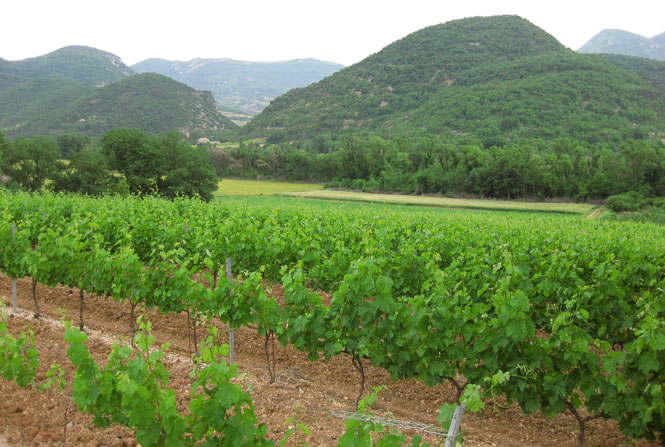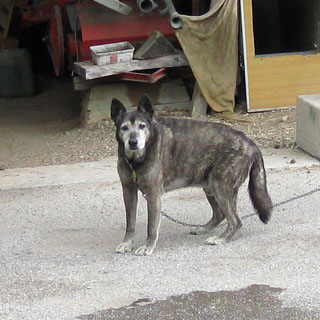 I never quite managed to get a photograph of a really old vineyard surrounding a larger château (something I did see). These will have to do.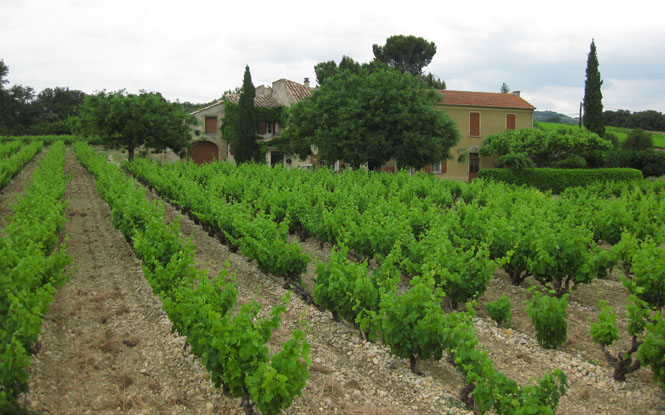 Suze-la-Rousse. Sometimes a château means something more. It was good to be a feudal lord.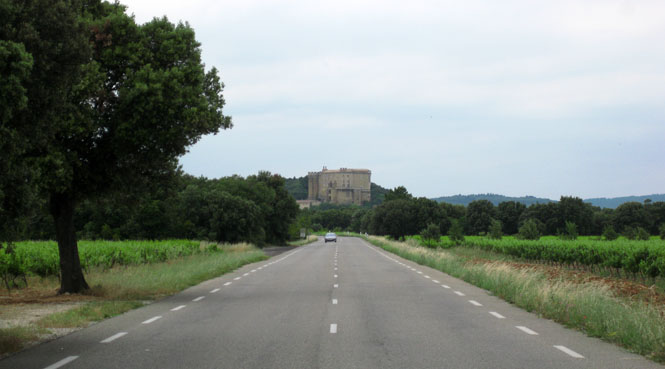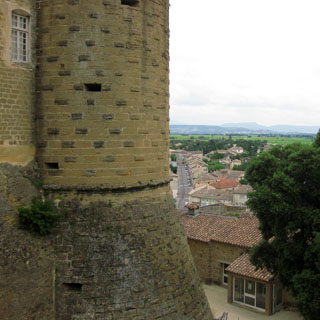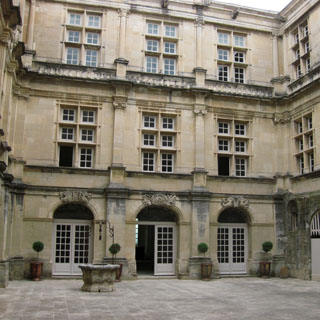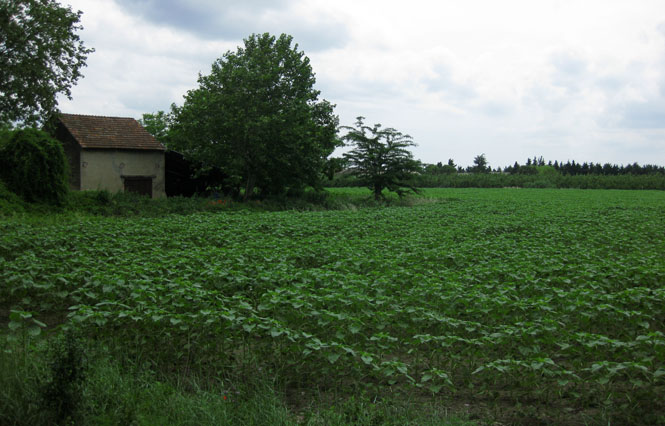 This one isn't too bad, but I would come across other tree-lined roads that were even more impressive than this. They would run for miles.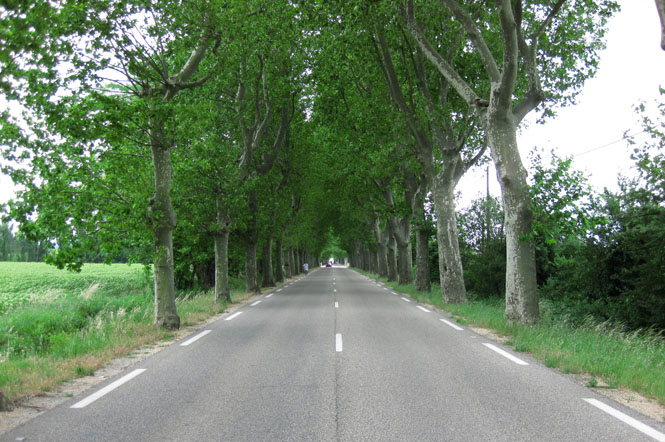 Darned birds.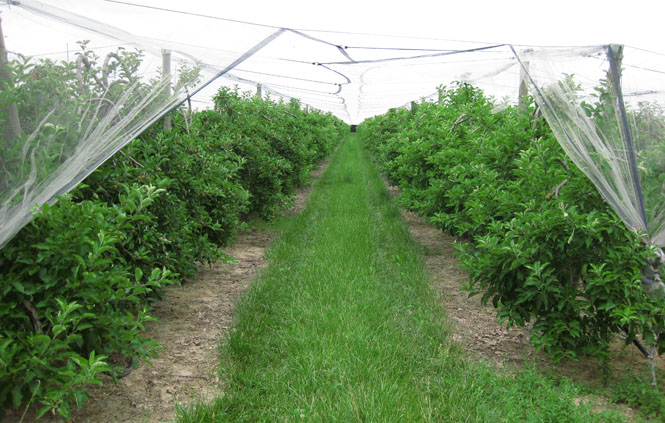 Rhone River. This is the natural bed for the Rhone, but not far away is a much straighter channel that was largely completed in the 19th century to allow shipping.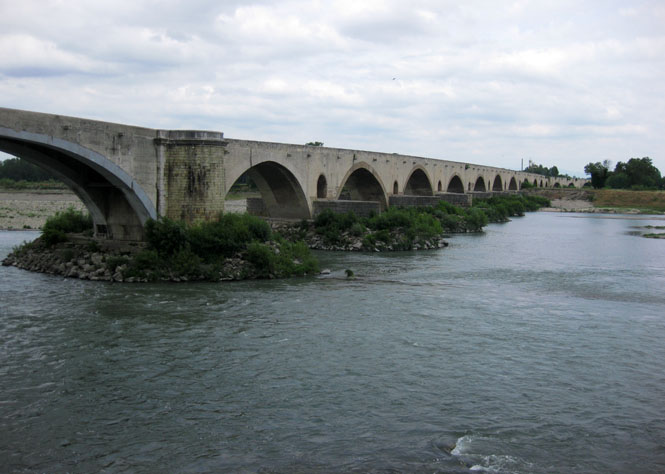 Pont-Saint-Esprit is at one end of the bridge (above). By no means is it a tourist town, but I found it fascinating to wander through these old, narrow streets.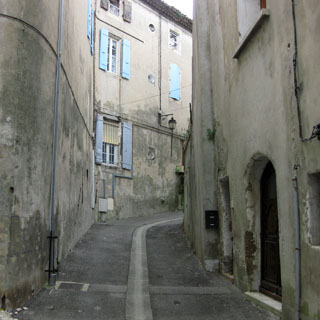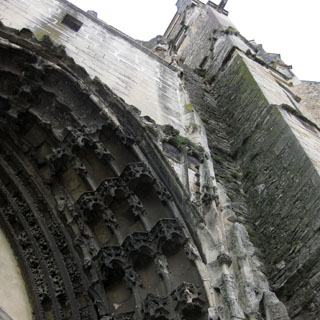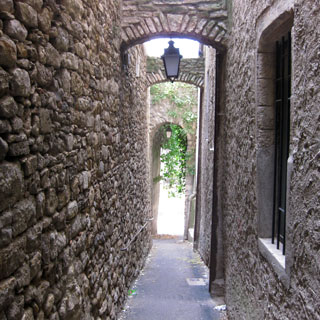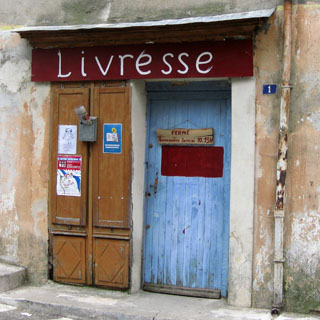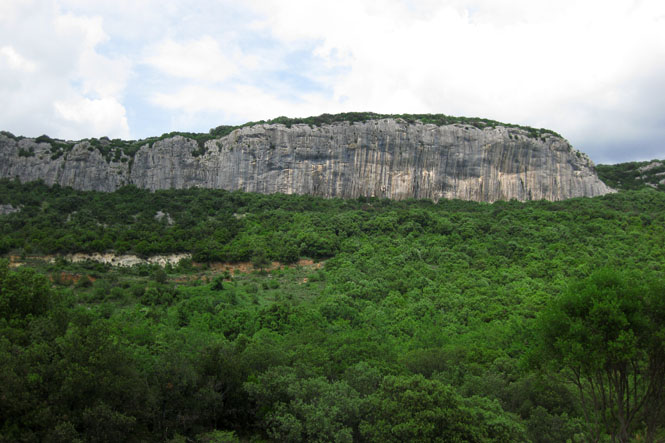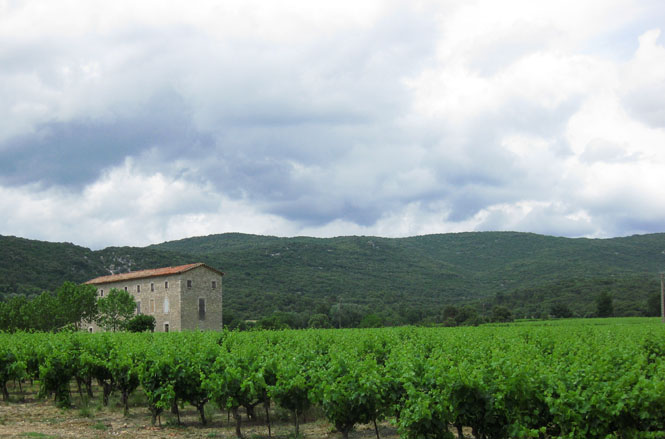 Anduze. I managed to really get off track around here. No matter; the roads were interesting (although I worried that they might turn to dirt). I'd soon be riding through the gap on the right side. Turns out, I should have been on the left side of the river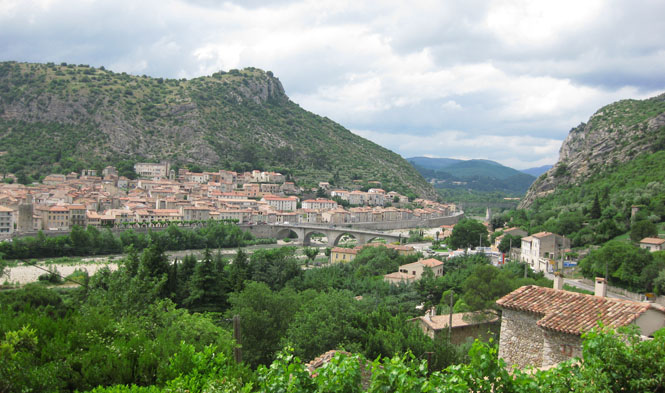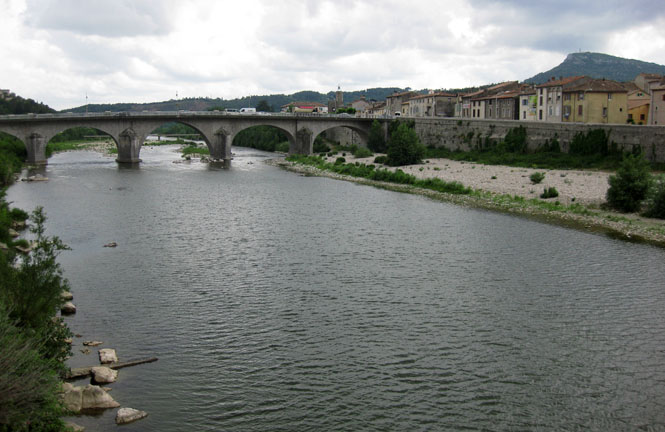 Not much traffic along here (which comes from taking the wrong road). Such a beautiful area.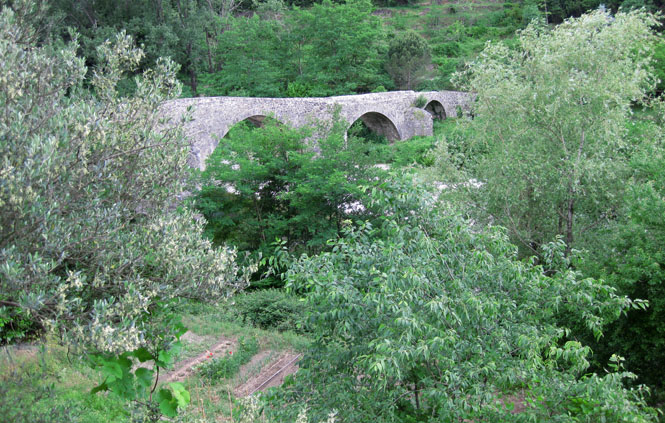 I don't know that I came across a single dog that wasn't friendly and happy to see me.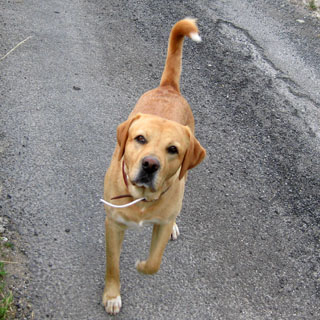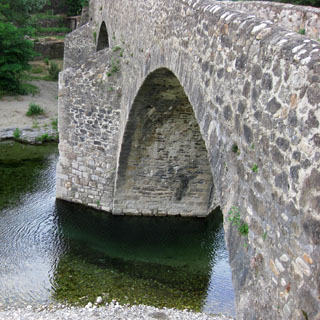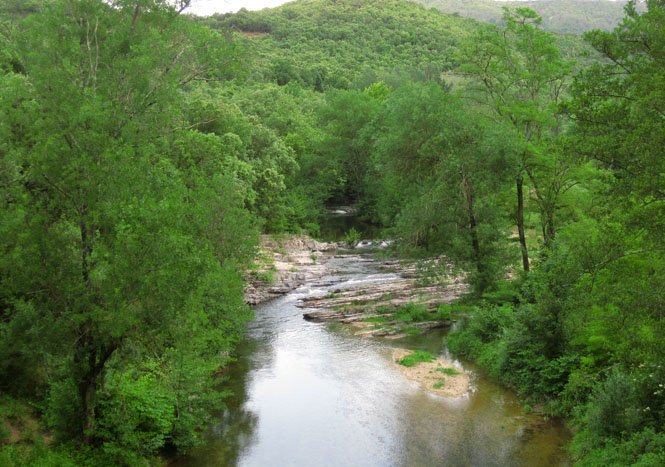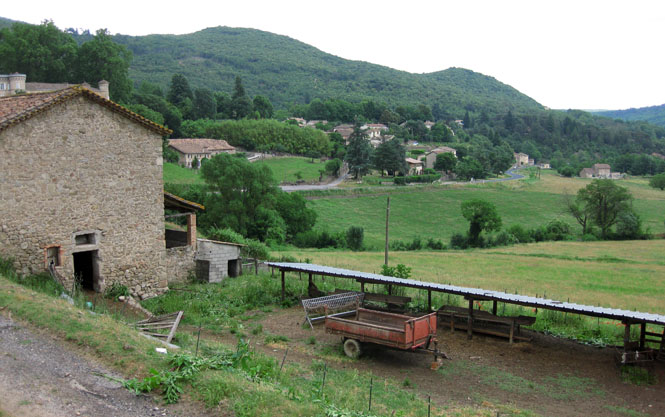 Saint-Jean-du-Gard.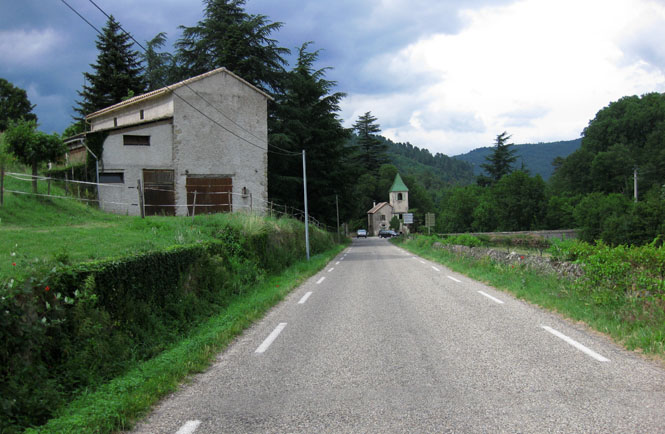 Le Vigan. I had a struggle to find a hotel in this town. Unlike most small towns, this hotel is not in the core of town, but is on the outskirts.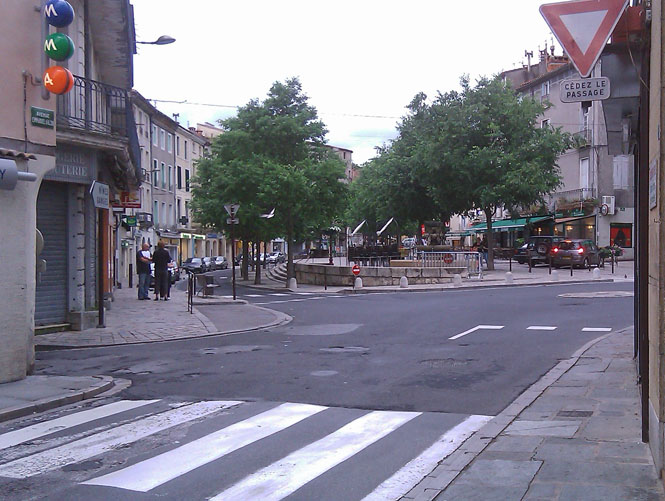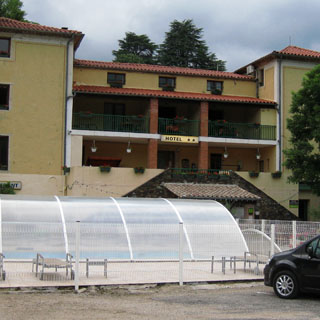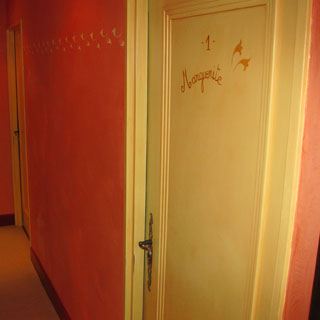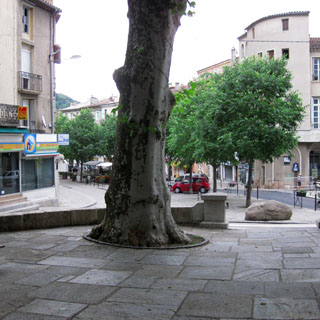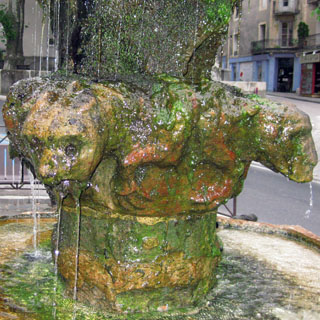 The old mill pond is still here, as are the mill buildings (on the right). I wonder if the wheel is still there? It looks like this town once had quite a large grinding operation.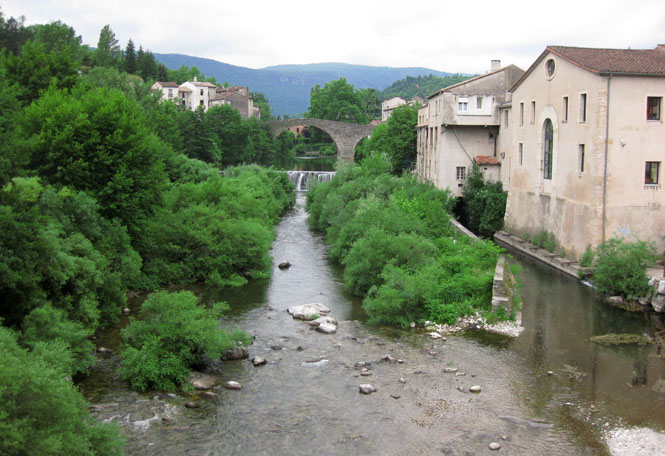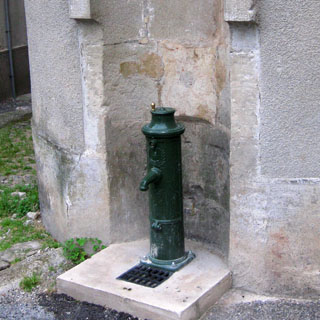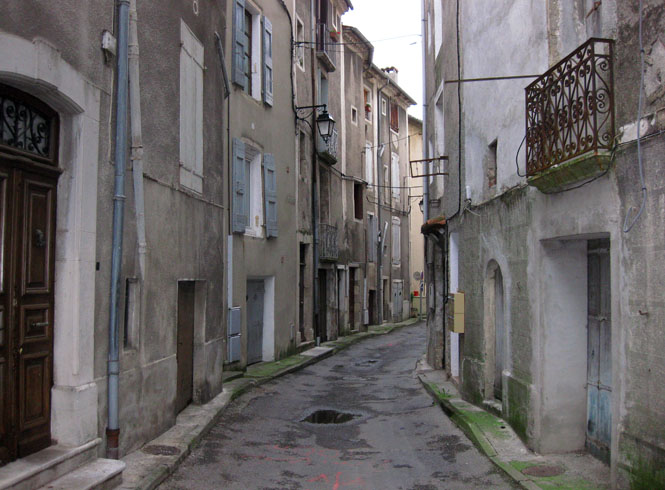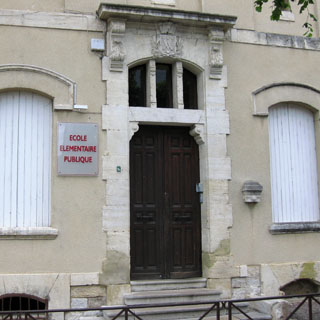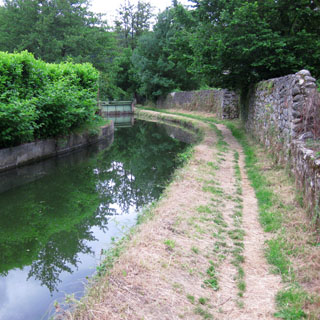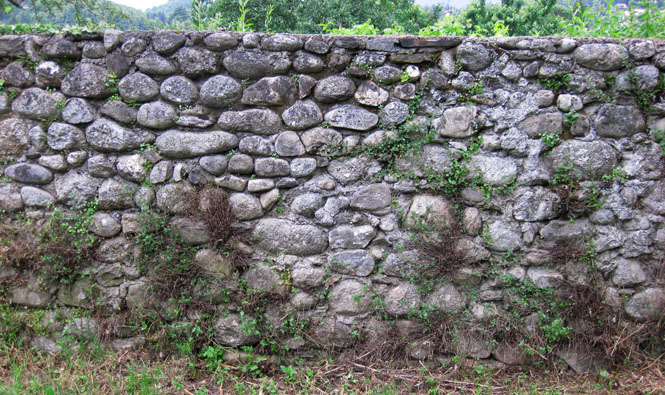 Railway civil engineers in the 19th century did some amazing things with bridges.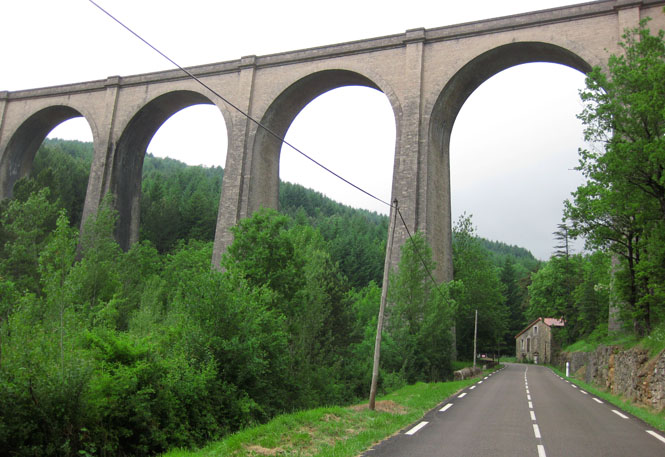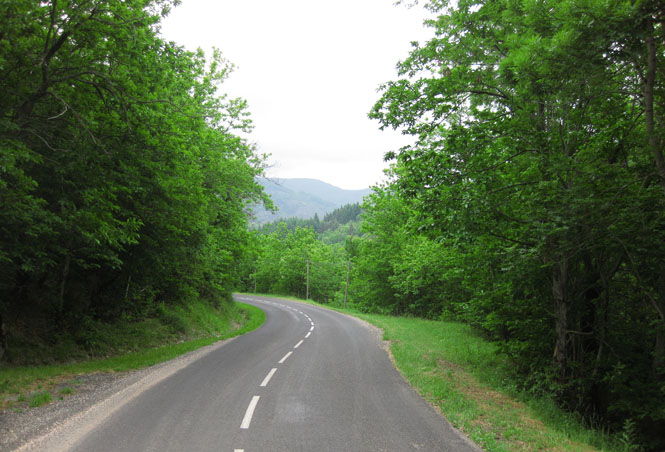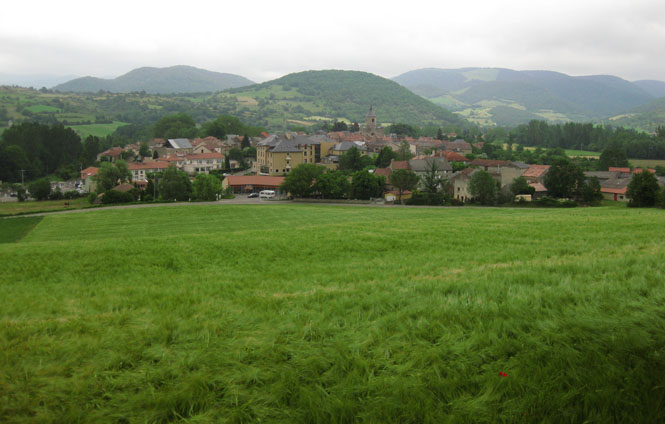 La Cavalerie. This was a very old Templars town that managed to make it through the centuries largely intact. It was raining fairly steadily so there were not many (any) visitors. This was my guide along the top of the old wall.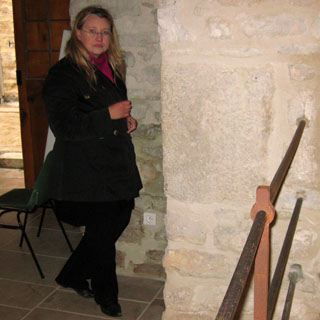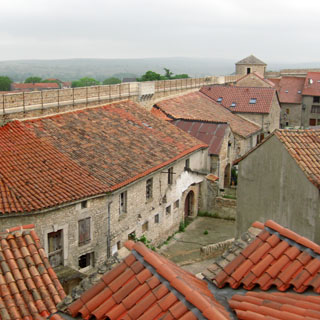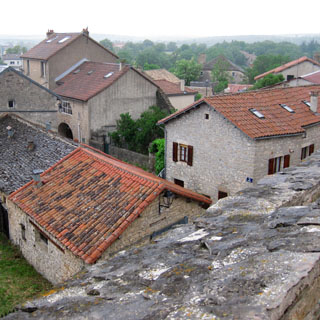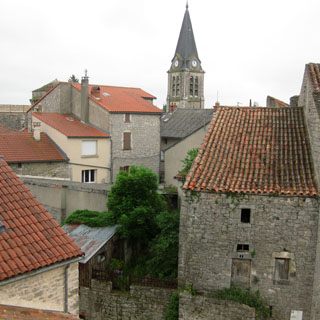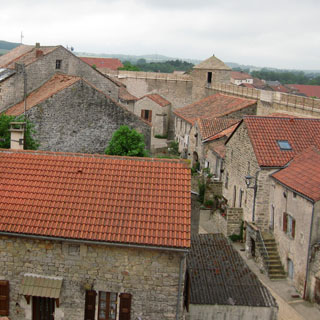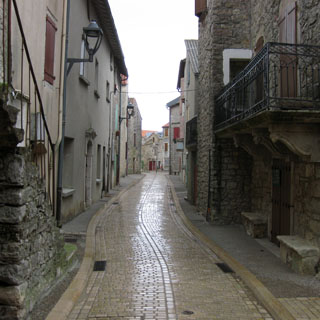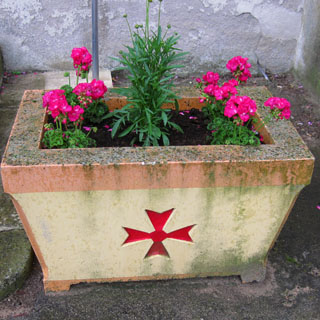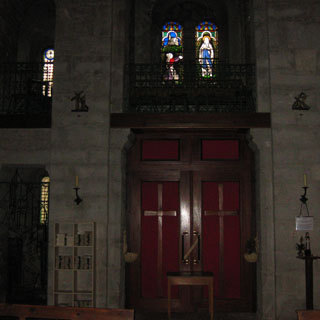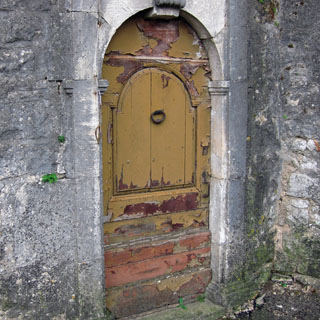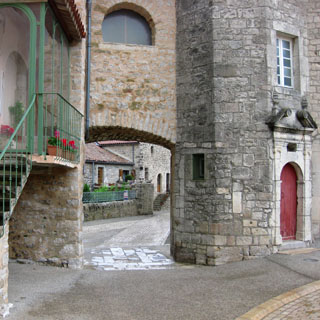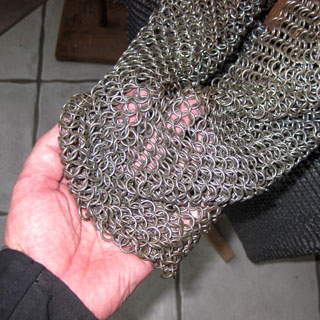 Saint-Affrique. I'm not quite sure, but I think these girls are celebrating their graduation. In any event, they made a lot of noise.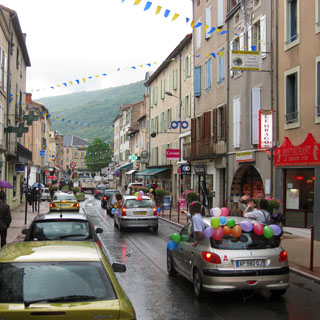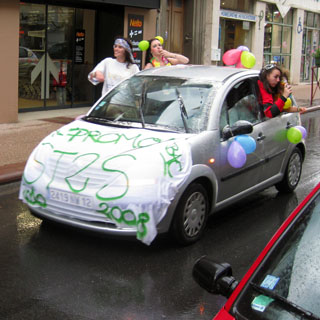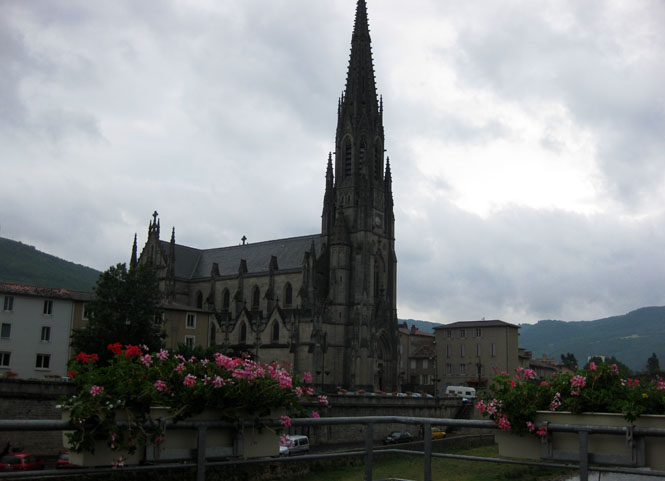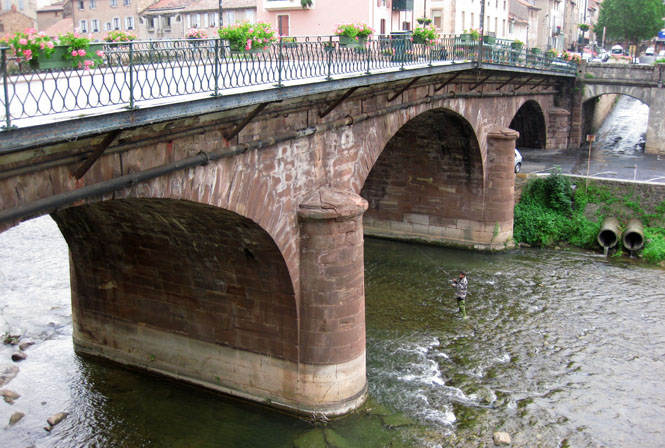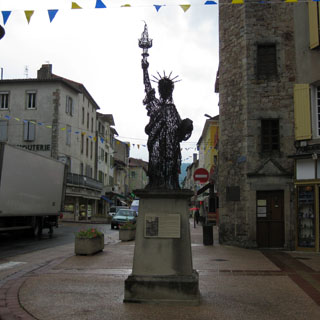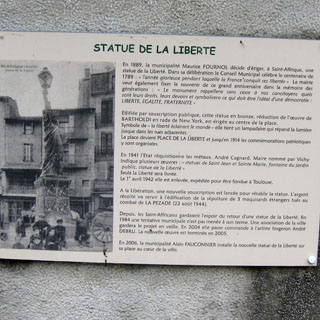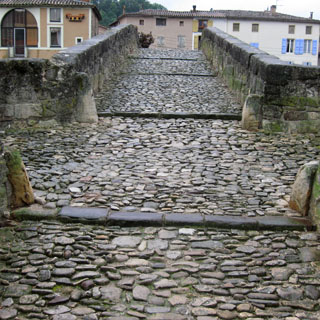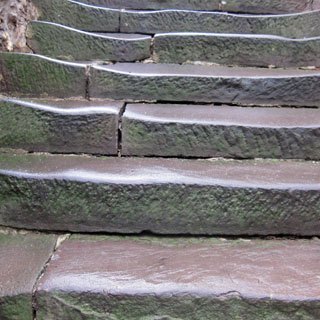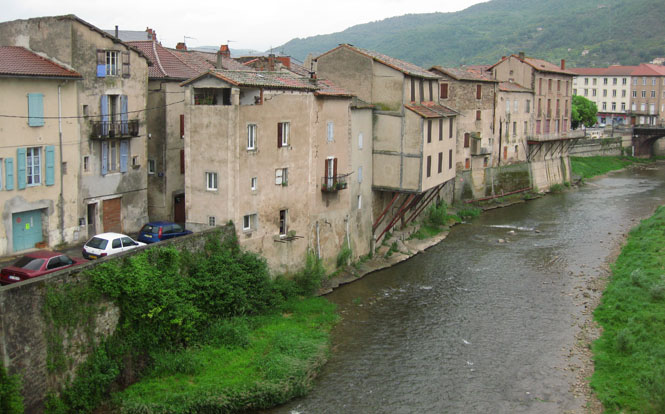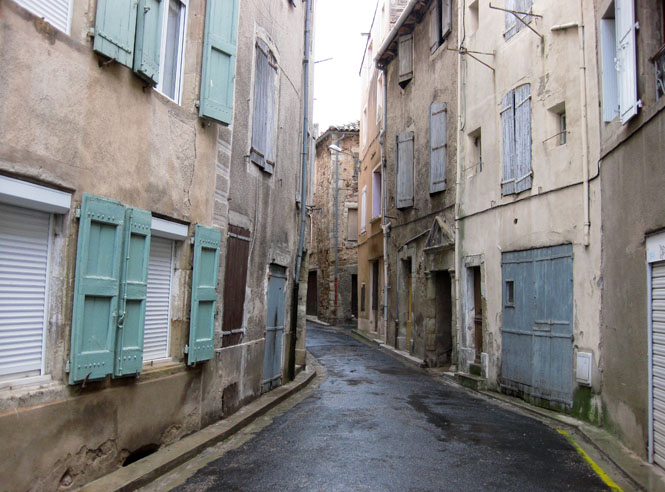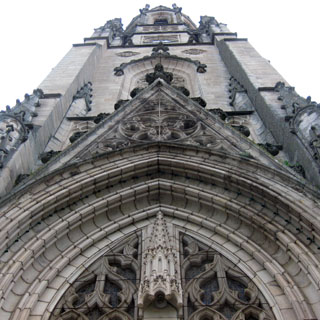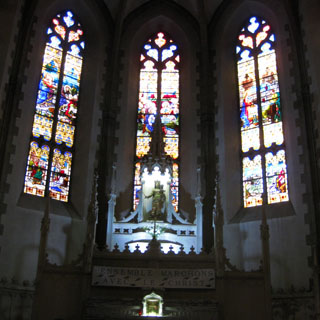 Those blue pouches? Those are used to hold water bottles and they clip to my duffle-bag. They worked perfectly. I bought them at an REI store in Seattle earlier this year.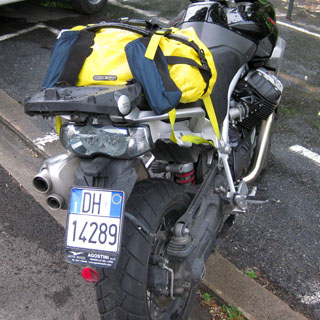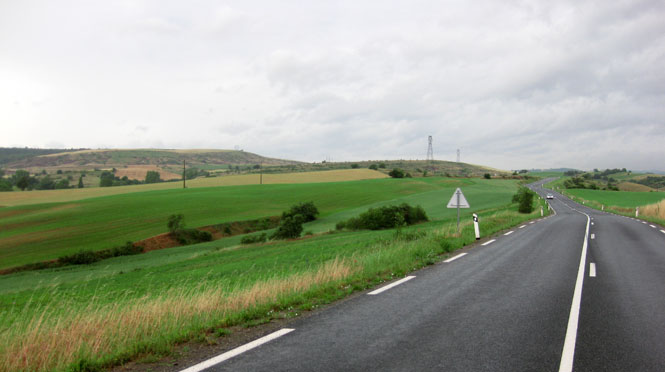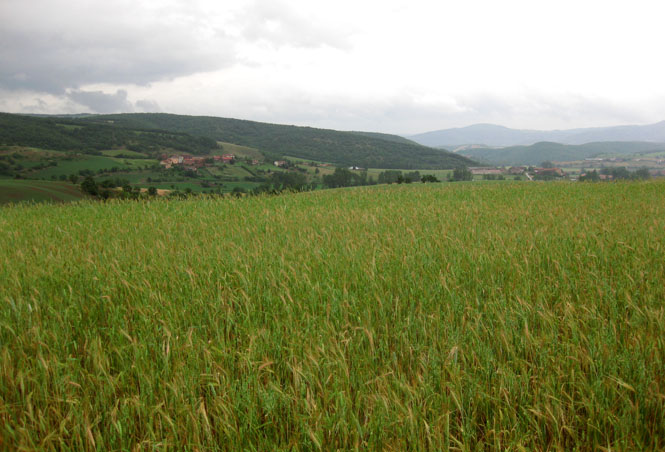 I didn't care for the rain, but these roads are stunningly good.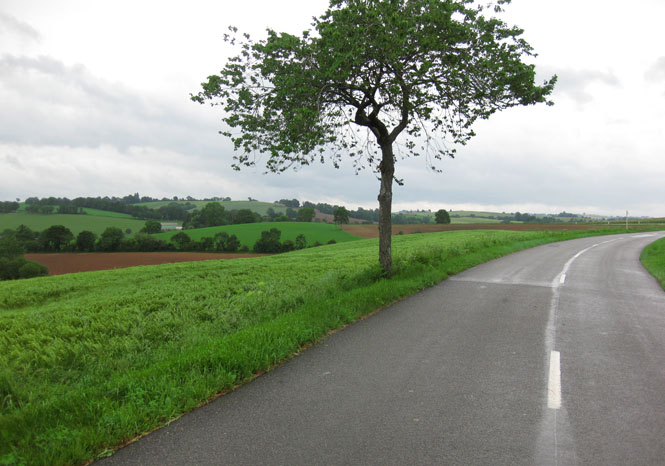 The camera cuts through it, but the fog was quite thick in places, and I found myself slowing down and riding with my visor up to try to see just a little bit farther into the fog.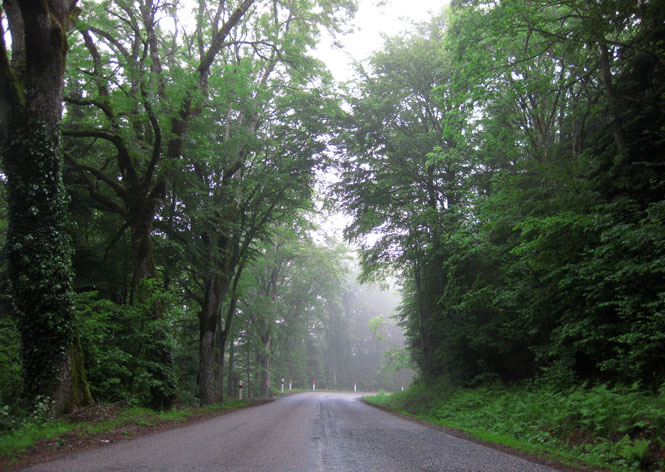 More trees along the road. This is common, but I keep taking the same shot, just the same.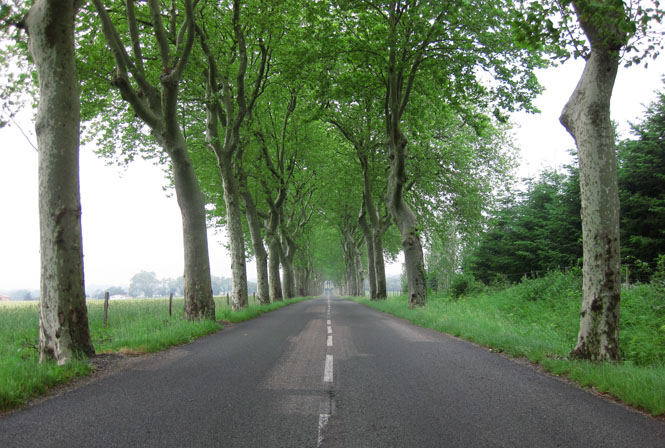 A word about that orange device (below). I've used a SPOT tracker on several trips. While it does allow people to monitor your progress on a web site that reflects your position, the more practical use for me is that after the trip is over I can review my route to find out exactly where I've been. Sometimes I'm not so sure. This is a SPOT-2, which replaced the SPOT-1. The -2 has the advantage of being much smaller and thinner. This means that I can easily carry it in the leg pocket of my riding suit (it properly points towards the sky when I'm in the riding position) and don't need to pack it in the duffle-bag. The trade-off for this small size (and more powerful transmitter) is that the battery life is quite a bit less. But, I can depend on it for six full days of use before replacing the batteries. The map at the start of this report came directly from the recorded positions from SPOT.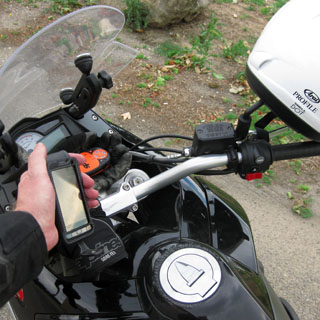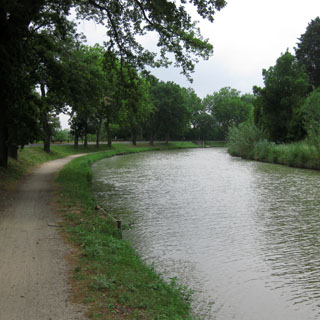 Alet-les-Bains. I had expected to ride further towards Andorra before stopping for the night. But, I saw this town and decided to stay.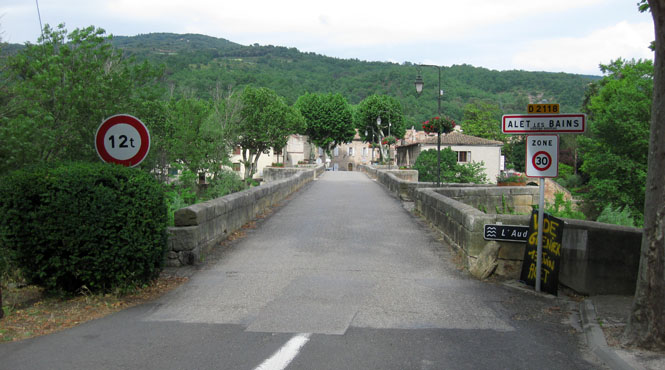 The hotel was once a fairly large monastery. The room was nothing special, but that didn't matter--I didn't spend much time in the room.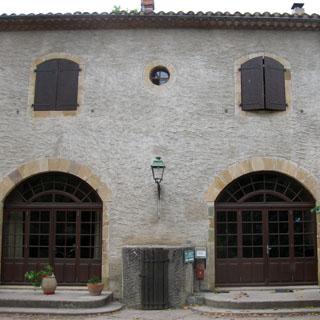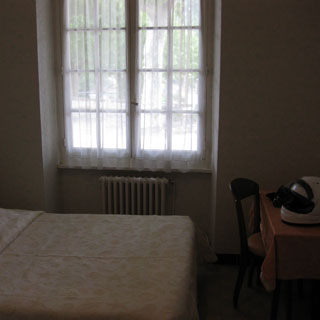 Without fail. The first thing to do every evening is to toss the previous day's clothes into the sink for soaking. I carry a rubber disk with me as you cannot count on the sink stoppers to work. I'd leave things to soak in the detergent while I set off for my evening walk. By morning everything is dry and this is what I'll wear that day. I have the clothes on my back, and the previous day's change in the bag. That's it.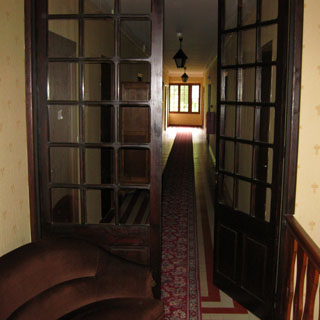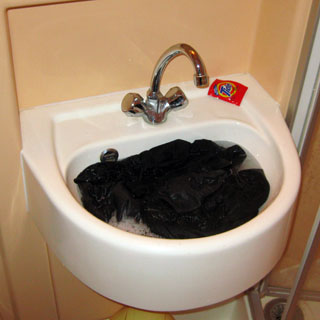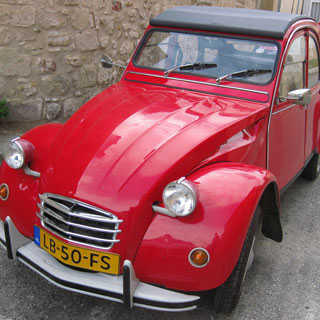 This school is justifiably quite proud of their redwood tree. The sign on the tree says:
"Wellingtonia GEANT
Originaire des Monlagnes Kocheuses - Nevada - USA
PLANTE en 1896
par M Cubat, Cuisinier du Tzar a Moscou.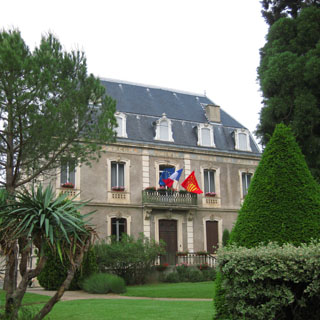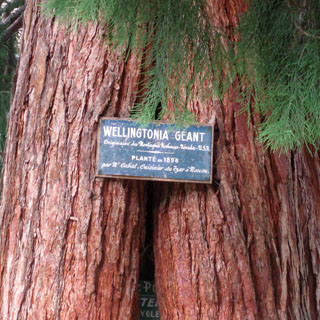 Are there any mean-spirited dogs in France? I begin to think not.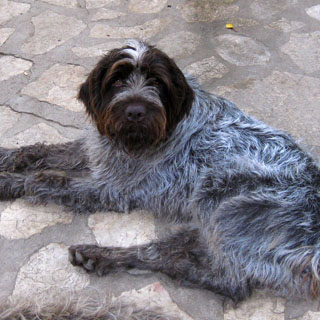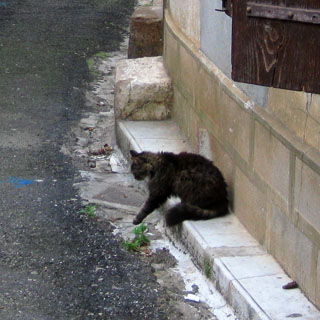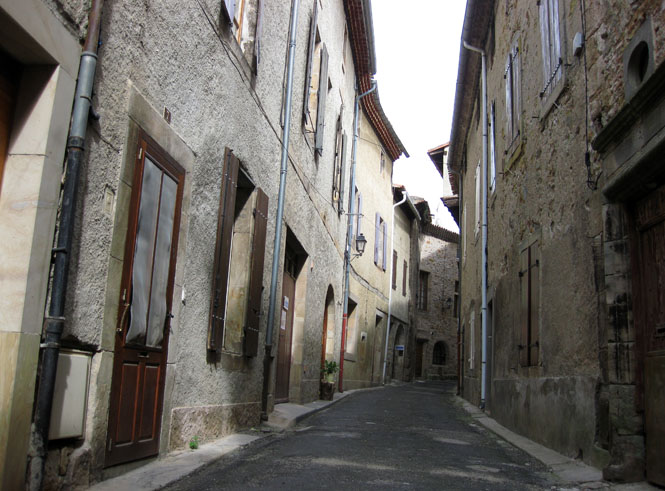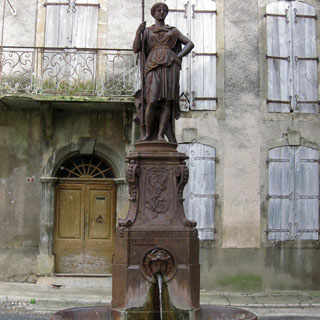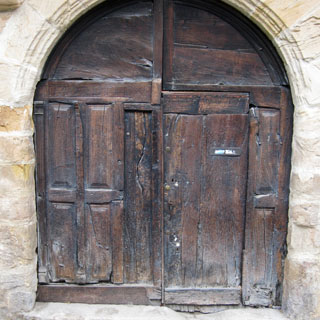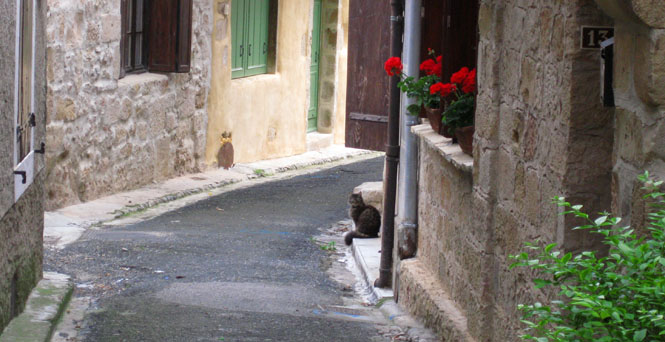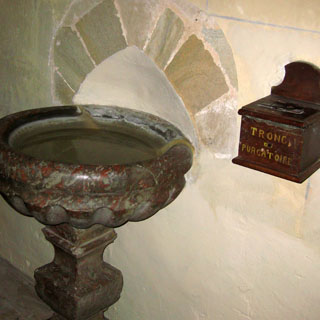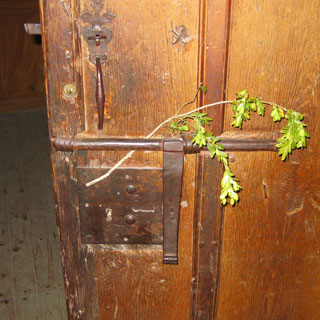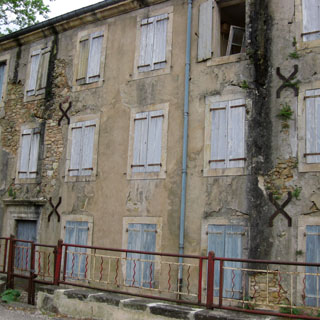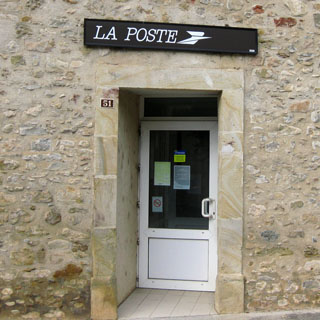 The back road to Andorra was fun. Most traffic is elsewhere on a road not nearly as interesting.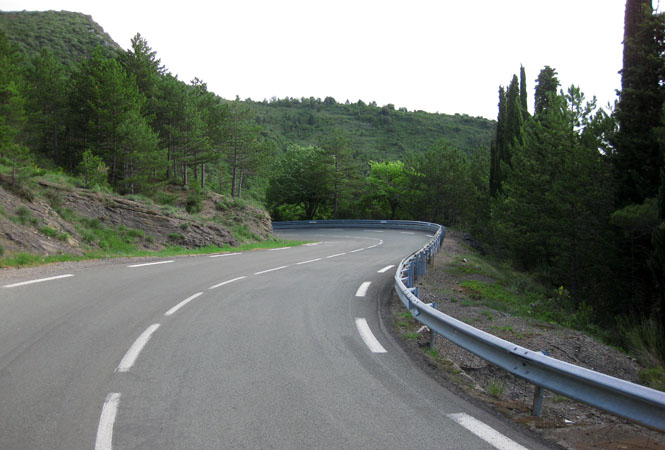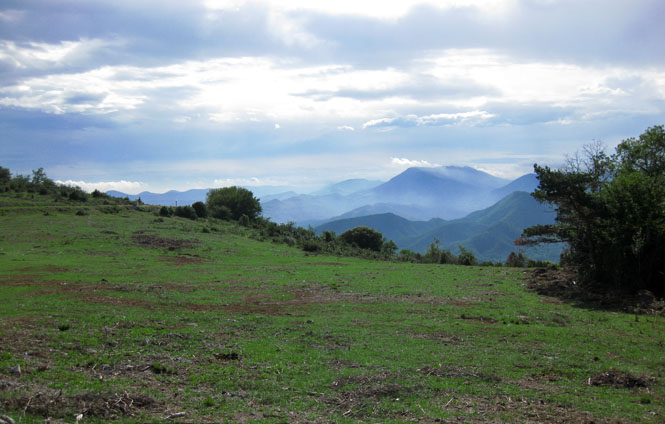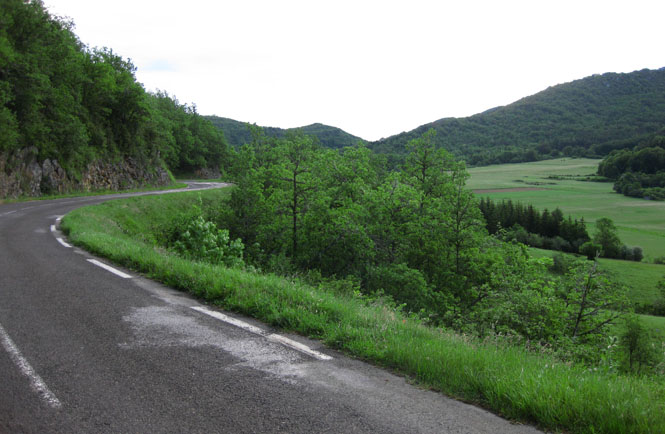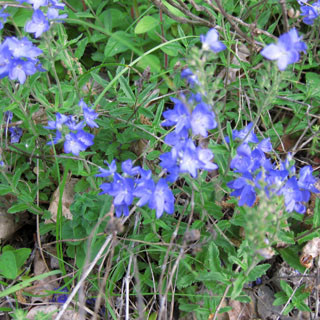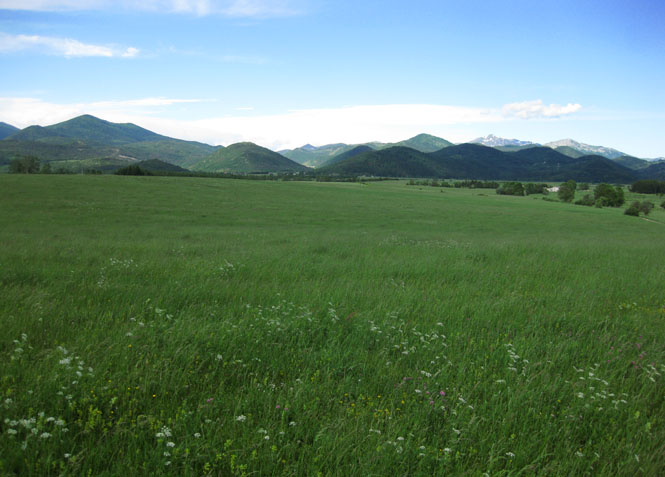 Those peaks are in Andorra; we're still in France.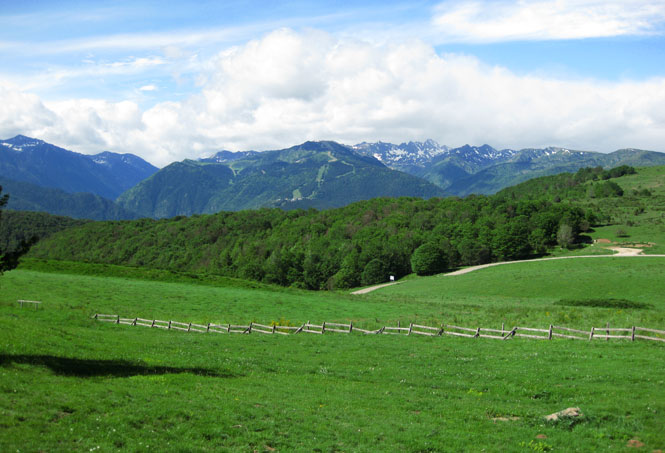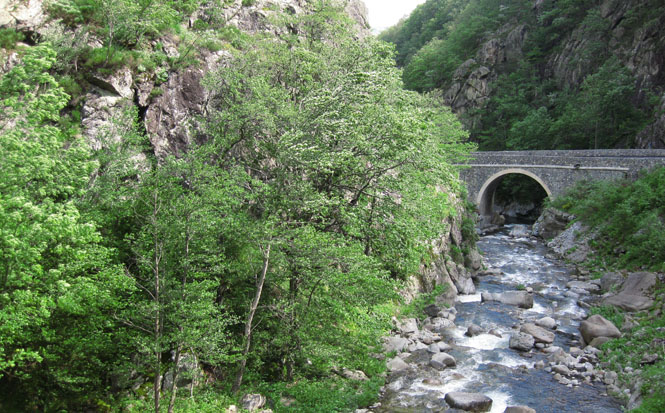 Under all this is a long tunnel, but how much fun would that be?.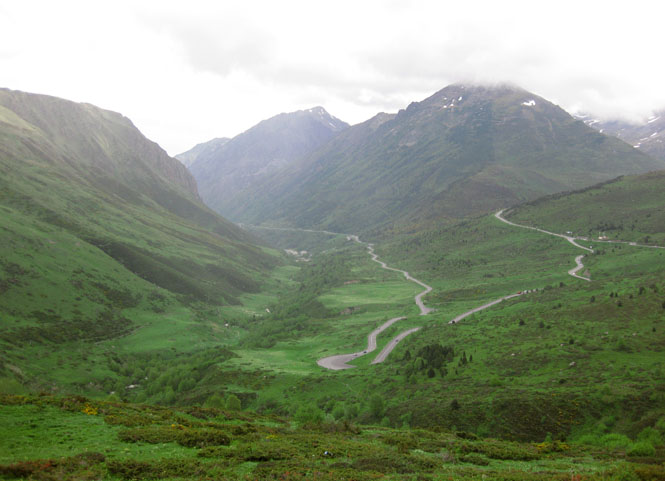 Andorra
Soldeu. Andorra has a single main road that runs through it. There are a number of towns along the way--some fairly good sized. This is a prosperous looking place. At one time, tax avoidance was the main reason for the country, but it looks now that this place is becoming an upscale year-round destination.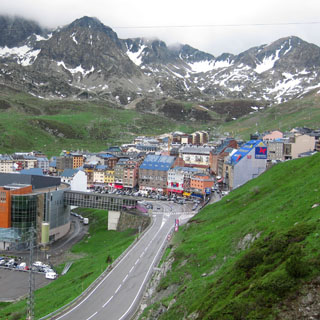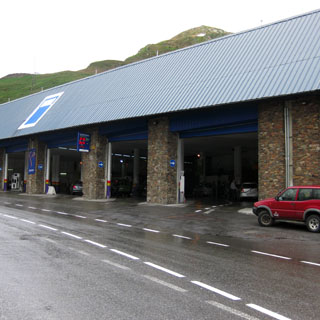 Canillo. Rain and lots of it. There comes a point where riding is foolish, so I stopped to wait it out. My riding suit is waterproof, as are my gloves and boots, so that's not the problem. Visibility is the problem.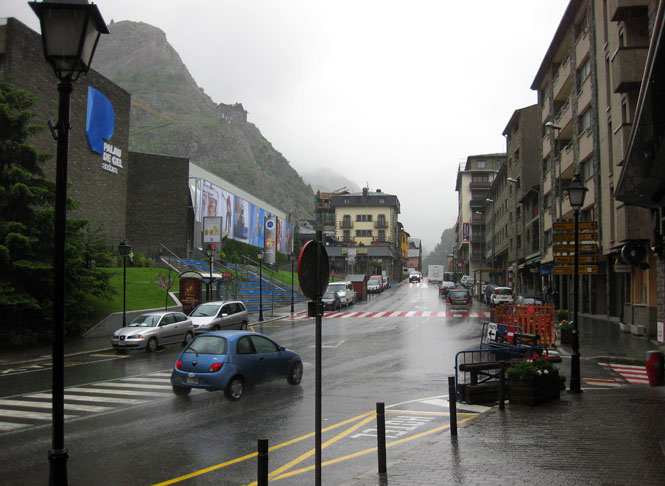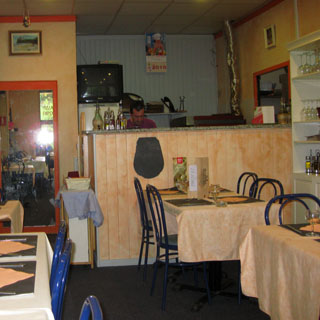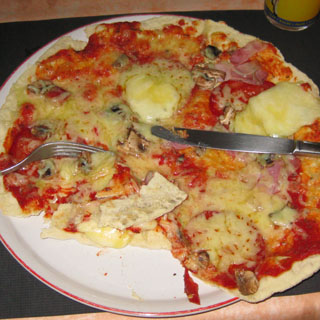 The river through Andorra was running very high. It was just short of causing tremendous problems, and probably would be further down.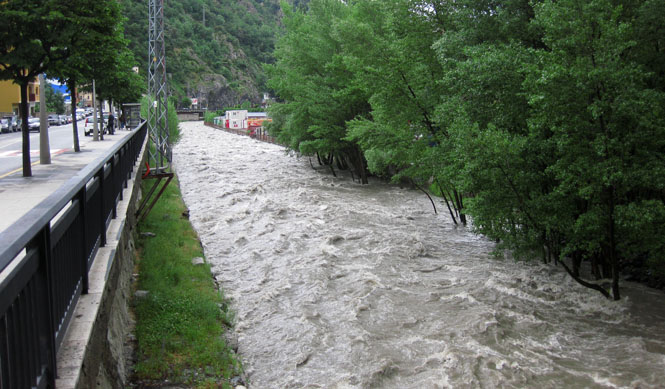 Andorra la Vella. This is the largest city in Andorra. I made the mistake of running right through the city instead of taking the circuit road around. It was not trivial to get through it all.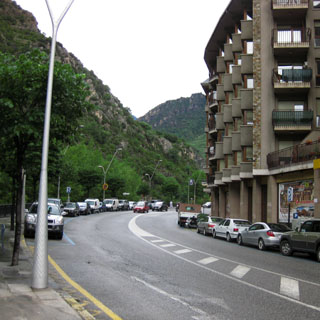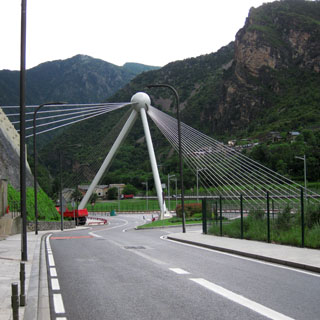 The customs and immigration stops into and out of Andorra were the only ones during the entire trip that were more than just a sign by the road. I only had a couple of questions and they sent me on my way.
Spain
El Pla de Sant Tirs. I turned away from the main highway just as soon as I could.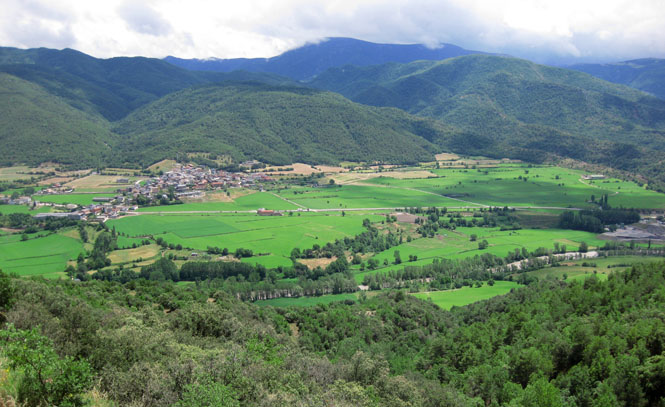 The quality of almost all the roads I was on in Spain is very high. Excellent surface.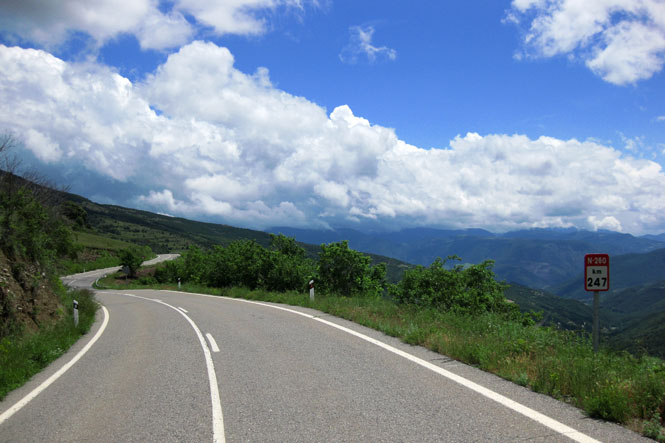 Soriguera.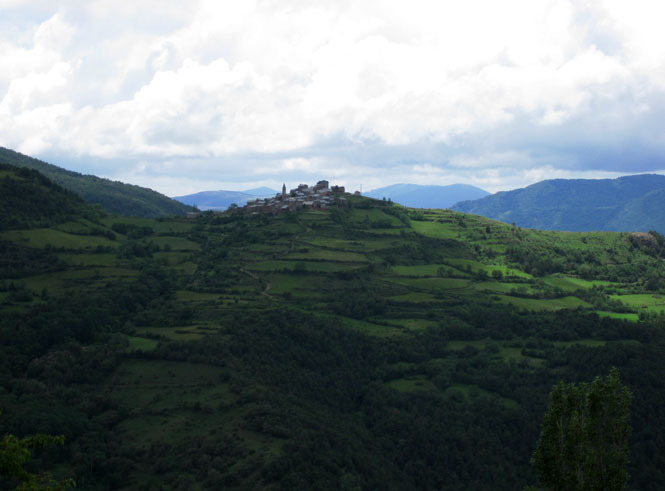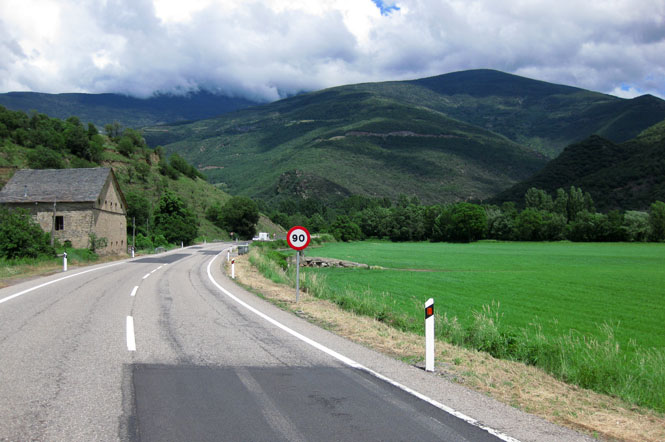 This was not a primary road by any means, so I was surprised to see tunnels (which cannot be cheap to construct)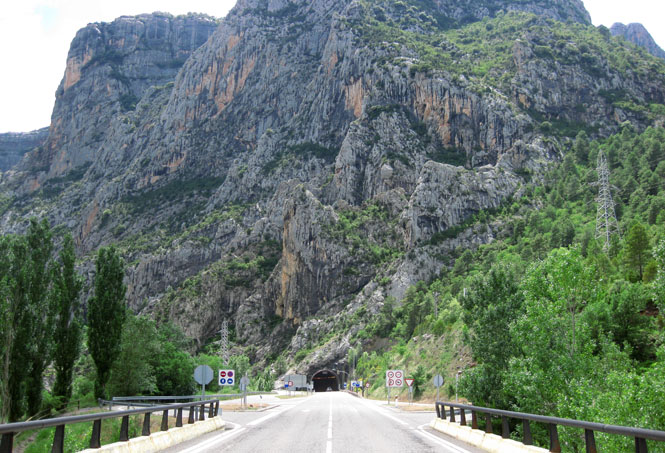 Perves.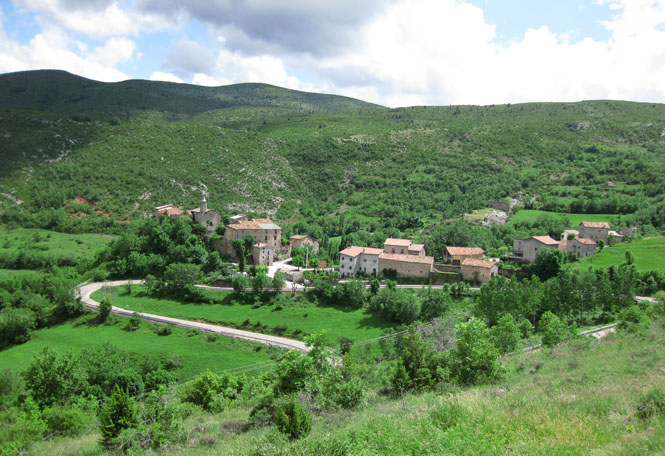 I'd go for many miles before seeing any traffic.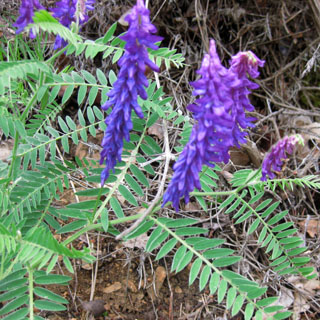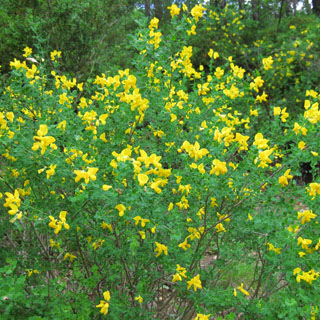 Whatever this is, it's without sugar. I don't believe I would have it again.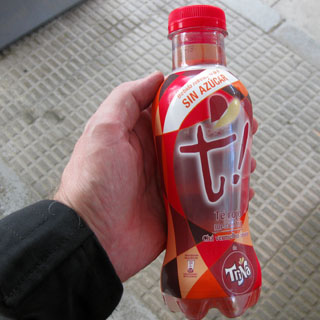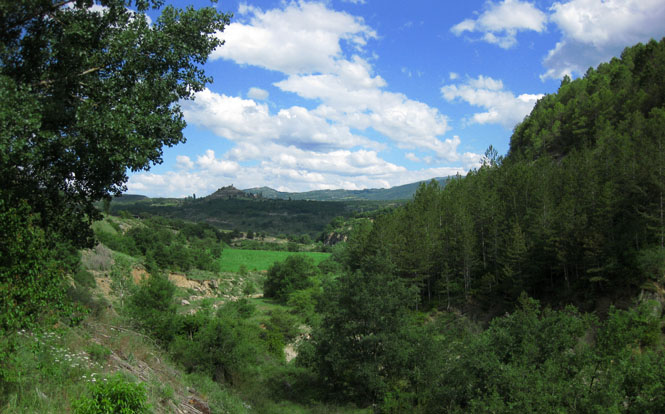 I never needed to drink both, but it was nice to have two bottles with me.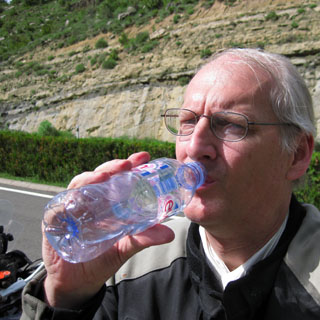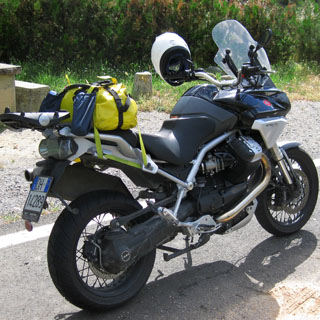 It may look like I've "punched up" the photograph colors, but this is pretty accurate. A bright day after lots of rain makes all the colors just pop. This was a nice day for riding.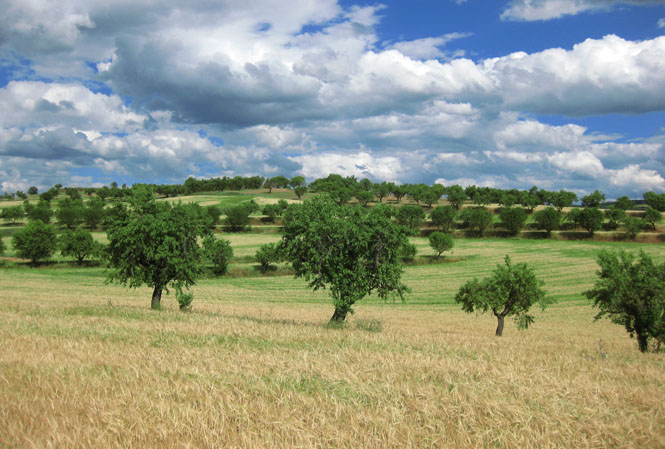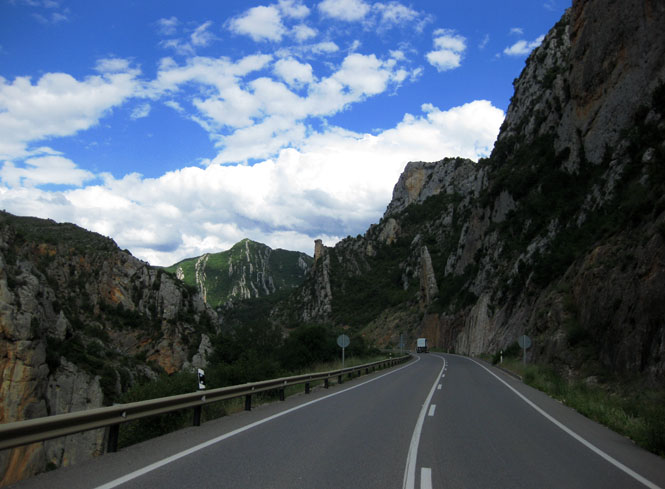 No; I didn't ride over this bridge, but I did walk it. It was part of a very old trail that followed the river.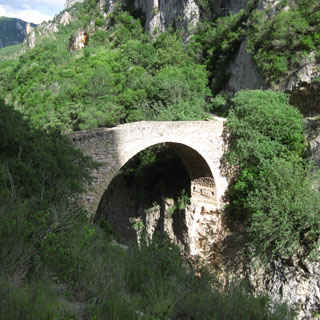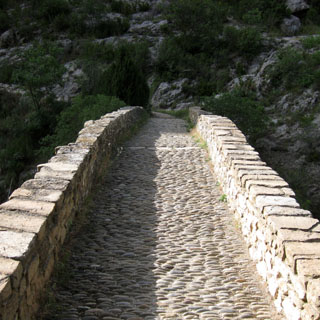 When no longer than this, these tunnels left with natural walls are not a problem. But, when they are much longer, they can be disorienting. The best tunnels have white walls, good lighting, and ideally, some sort of reference points along the sides (either a painted stripe or reflectors).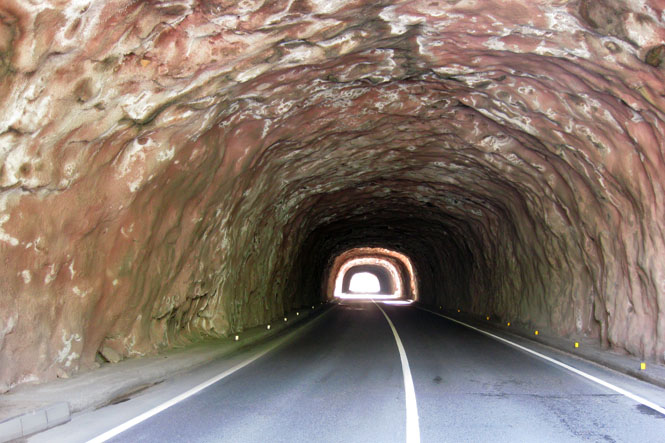 Barbastro for the night. None of these hotels costs all that much. I think I paid around 35 Euros for this one. Might as well stay in the better ones. You'll notice the motorcycle parked just outside the window where the night clerk would be sitting. This was at the suggesting of the clerk who checked me in.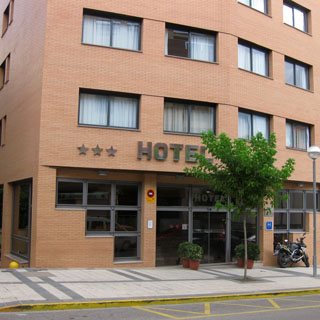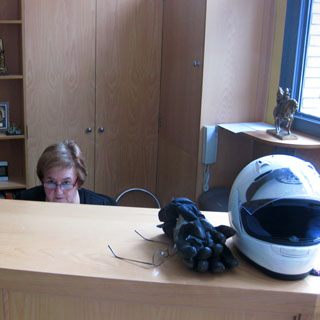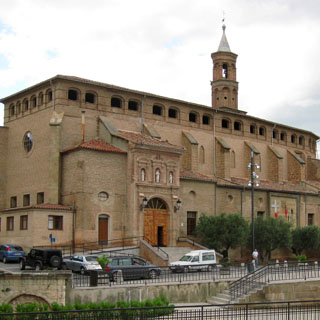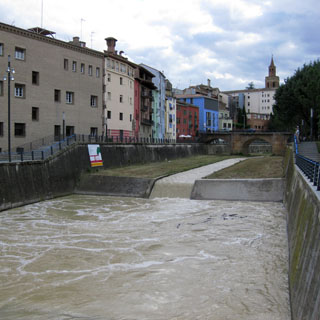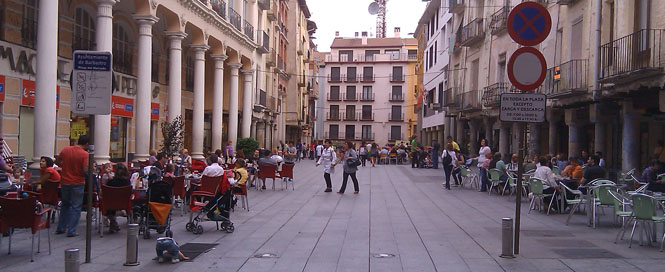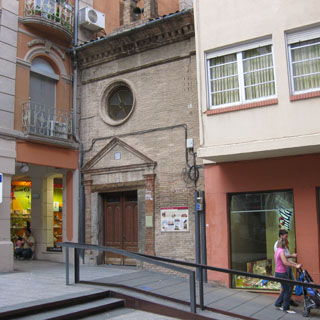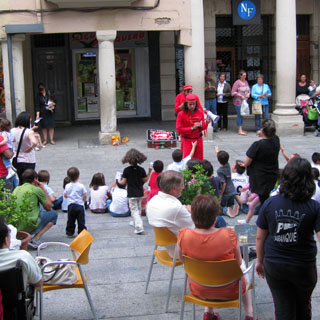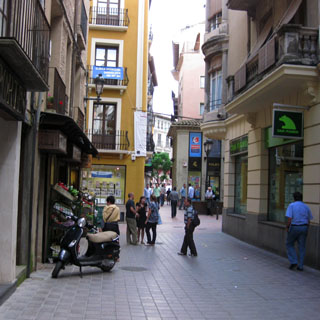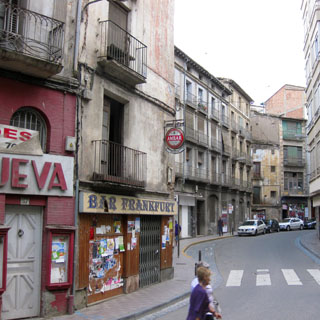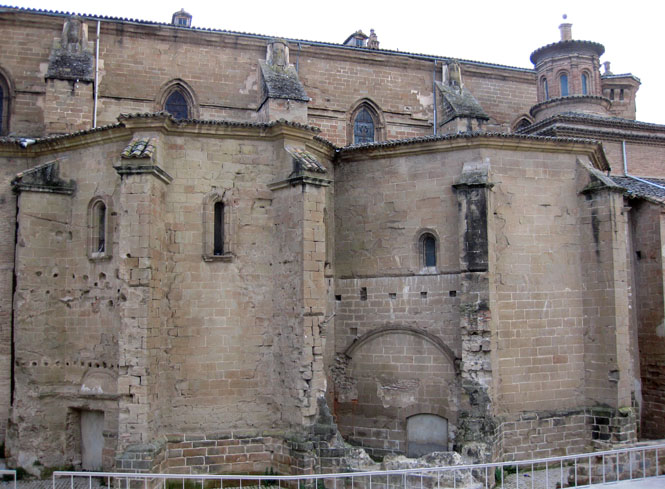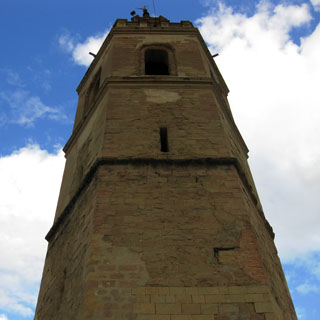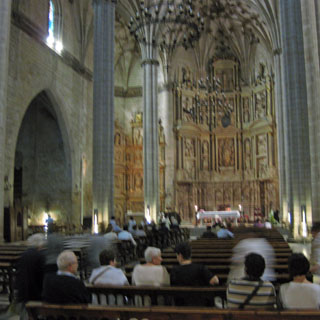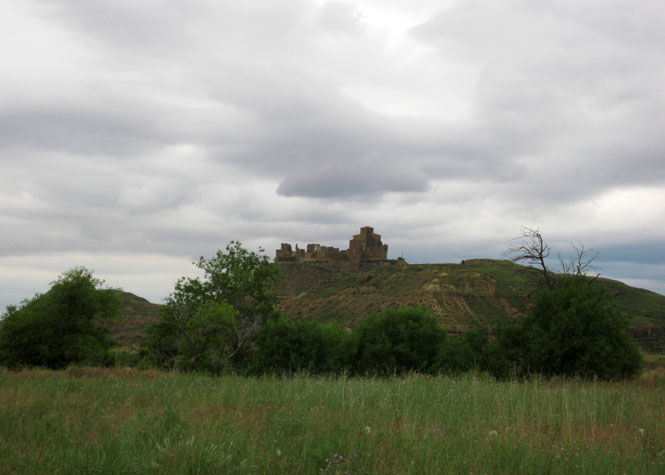 Broad plains and mountains. I rode through both.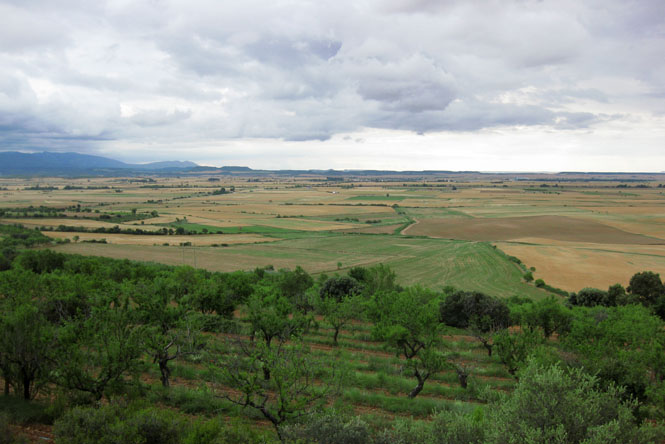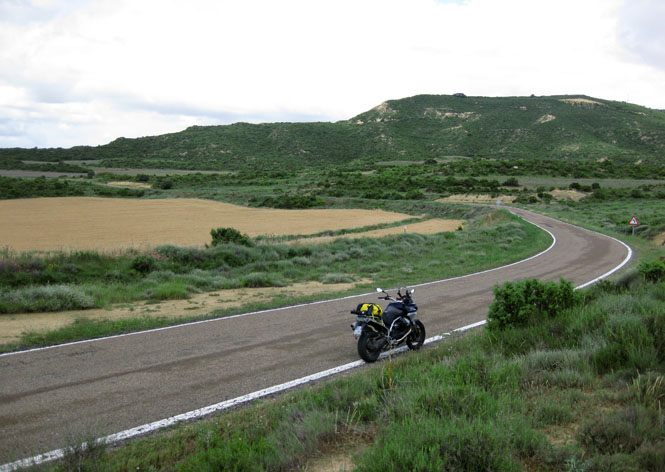 I liked this area.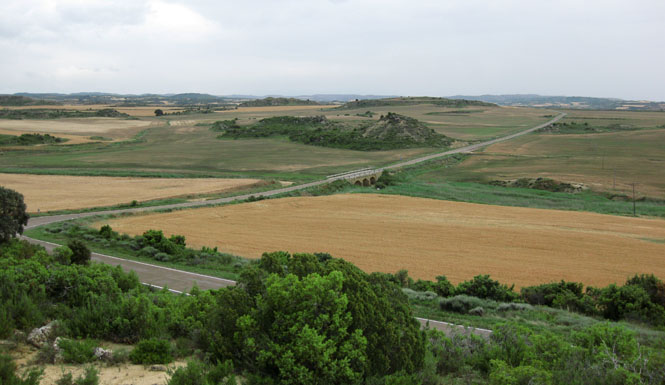 Every stop for fuel was a reason to get the map out and figure out where I was going next. I generally brought out the SPOT device at the same time to ensure that I'd have a good record of this point (the reception would be poor when standing up if I kept it in my pocket).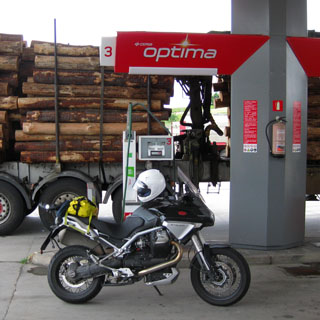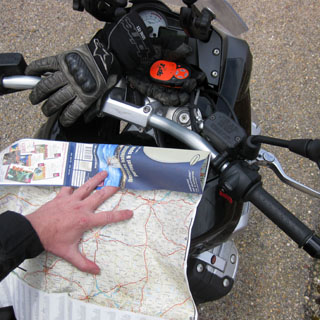 It's raining ahead, but I know it won't last long.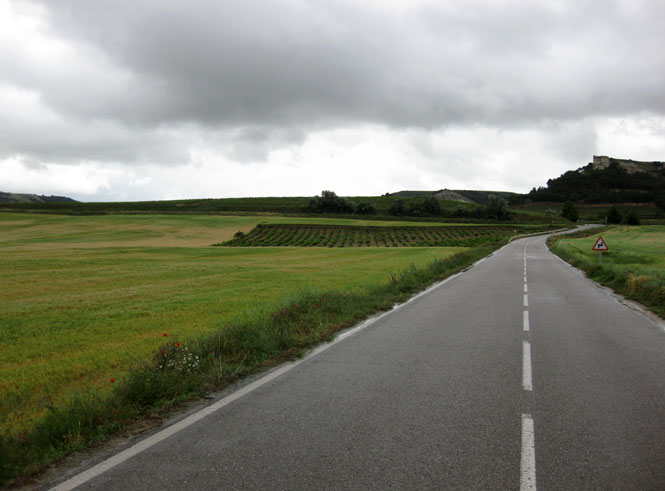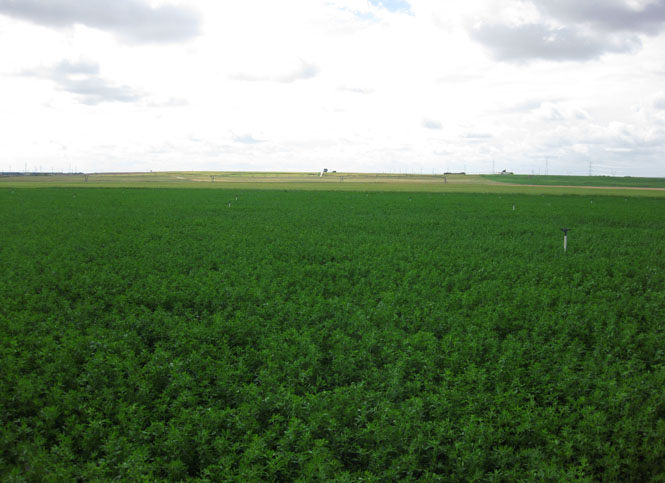 When the red circle is around a number, it means that this is the speed limit. But, when the red circle is around a symbol, it means you can't do this. I wonder why the diagonal line that is commonly used in the US for such cases is not used in Europe?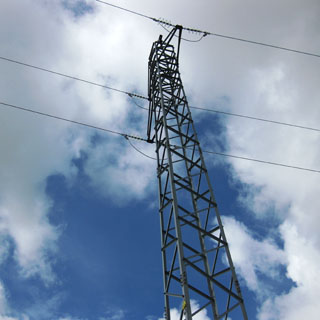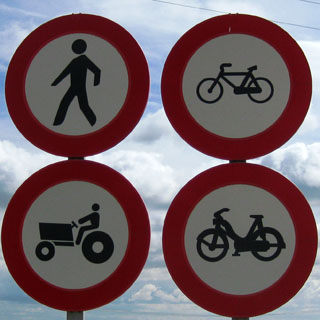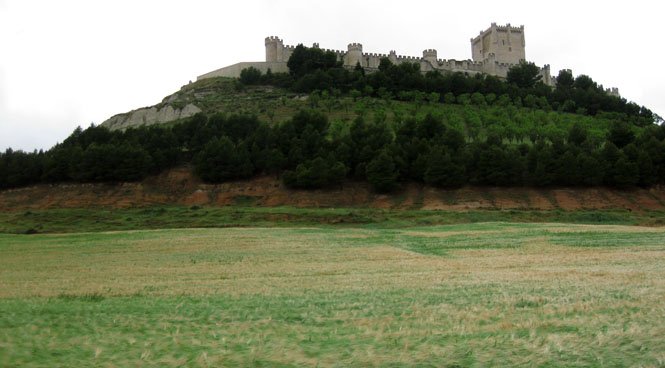 Torro. This was the perfect sized town to stop for the night. I avoid larger cities, and if the town is too small, there may not be a hotel, and there may not be much to see while walking around in the evening.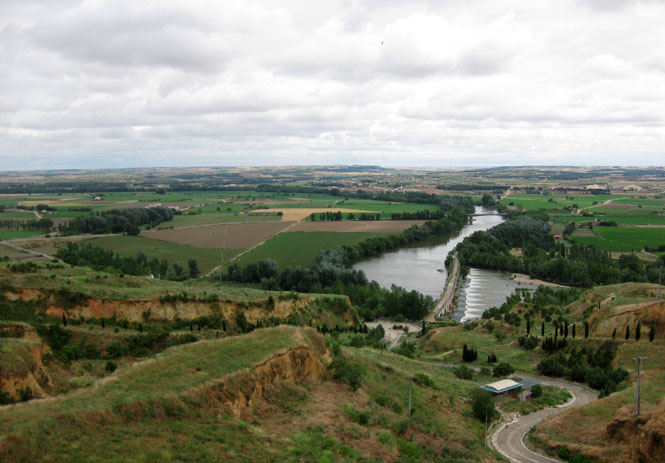 That open door on the 3rd floor? That's my room. A perfect location--right in the heart of Toro.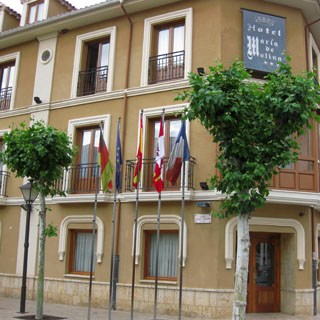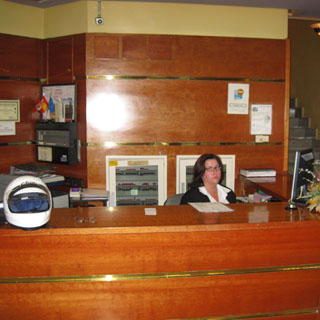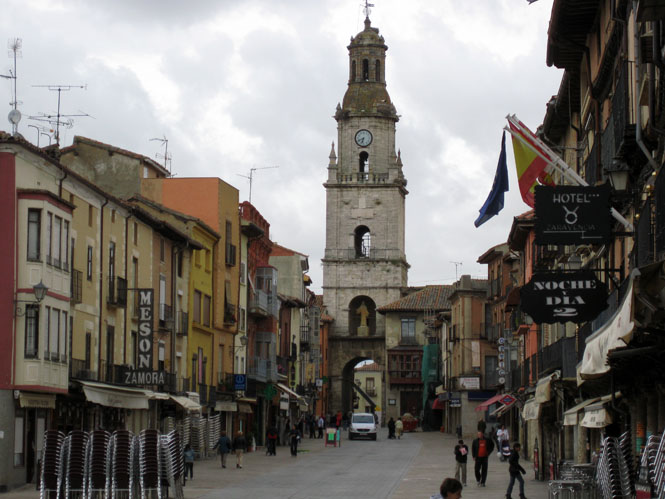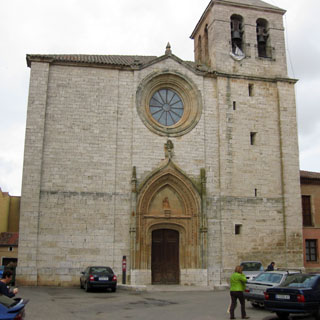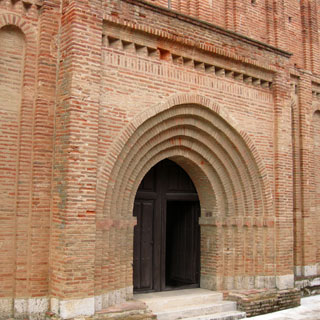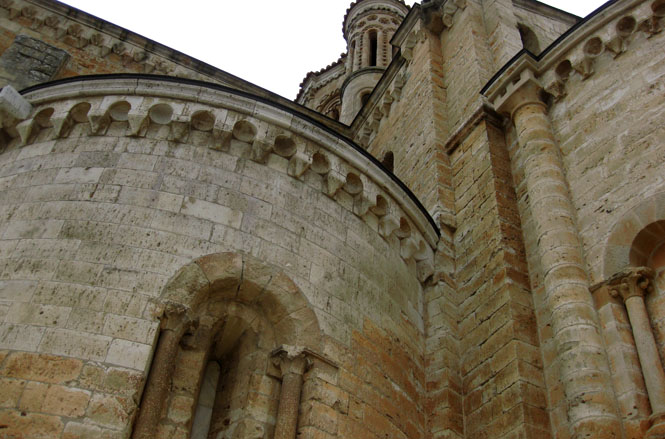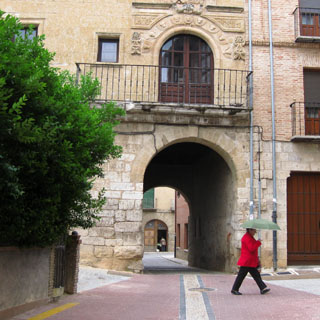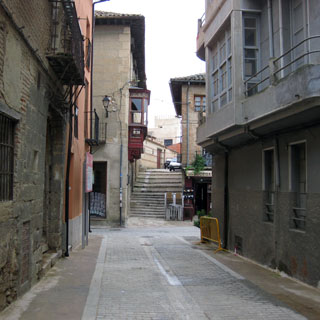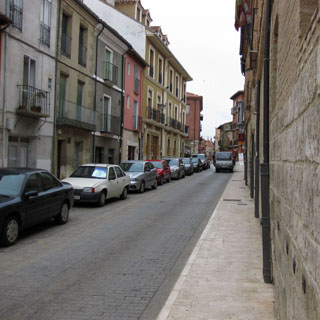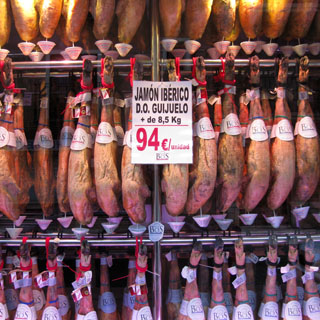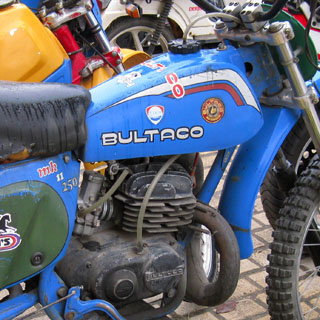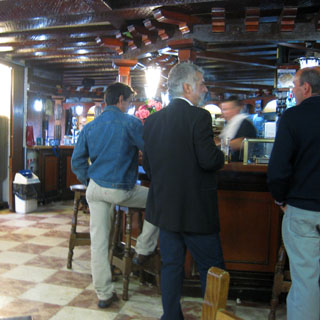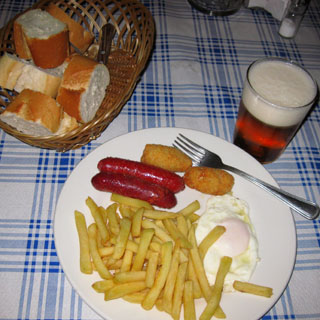 Portugal
I really, really liked the roads in Portugal. Smooth, well built, and with almost no traffic.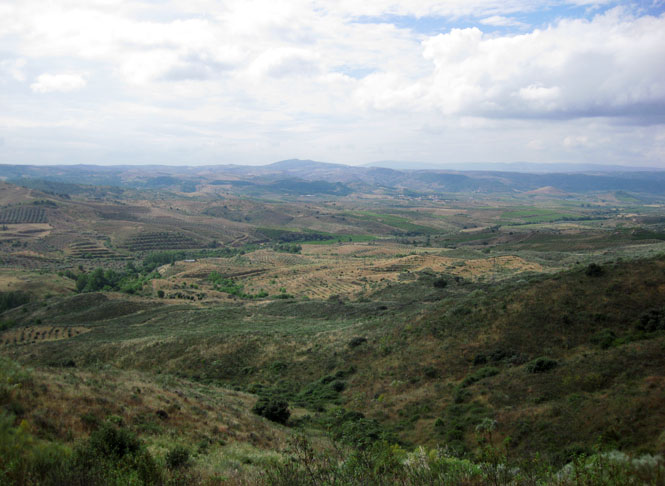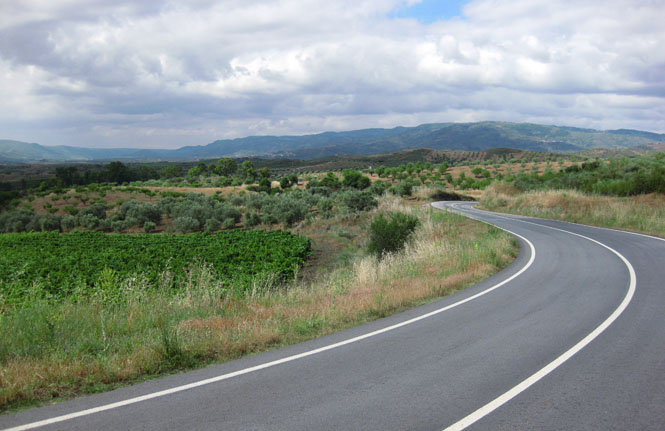 I was impressed by this building. No mortar; nothing but gravity keeping everything in place. It will be here for centuries.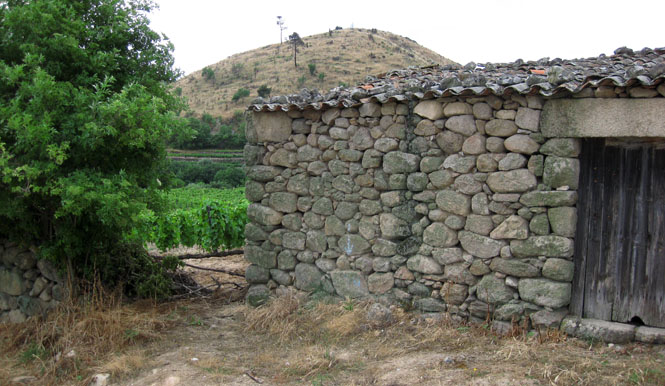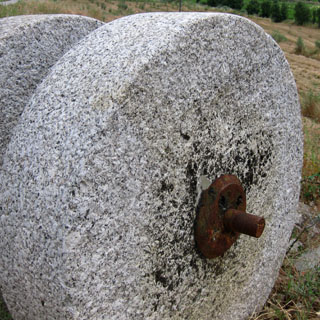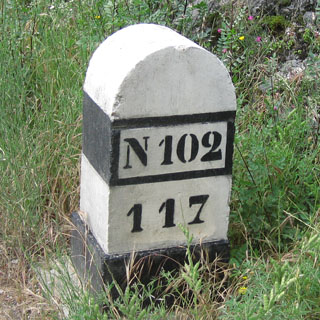 Celorico da Beira.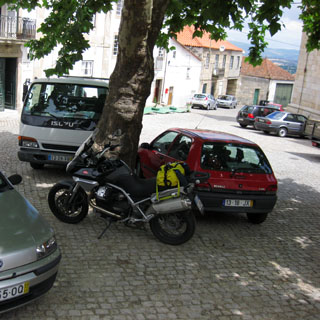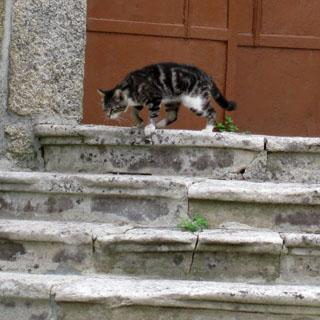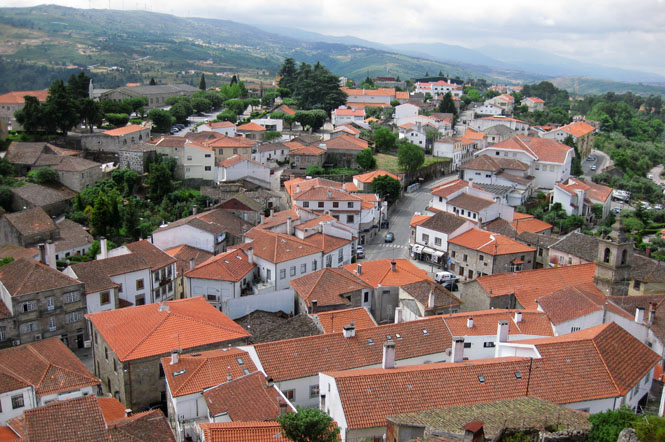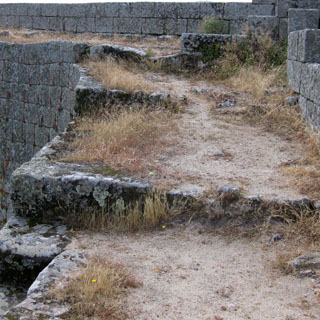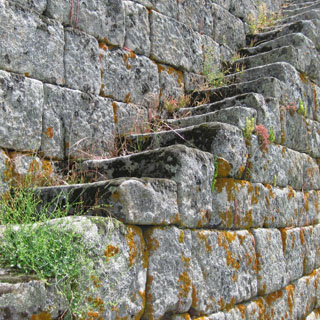 I don't trust that castle tower to be at all like the original. It has the unfortunate look of what people in the 19th century thought castles should look like (when they "restored" them). They were a little too romantic and a little too free with their imaginations when they rebuilt old ruins.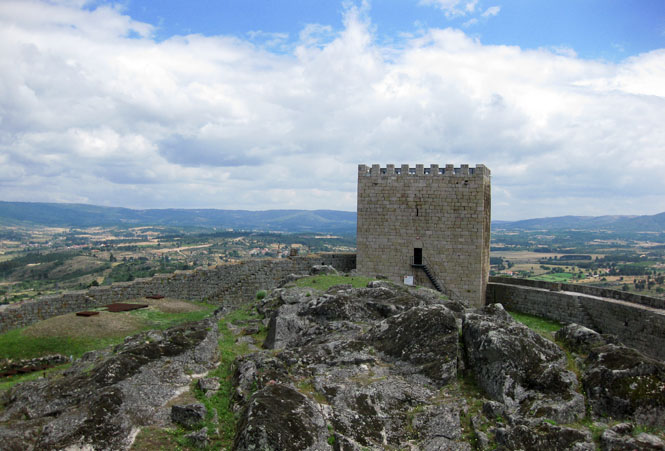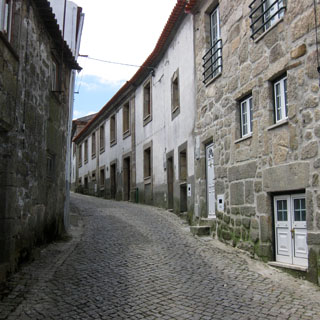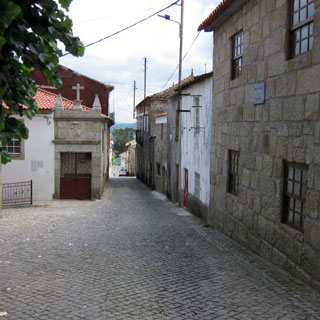 Portugal (or perhaps the E.U.) has been on a road-building spree in the past several years. My map didn't show anything like this.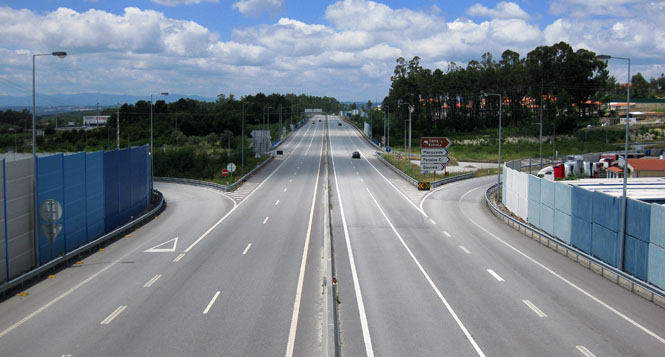 You'll notice that the diesel pumps alternate with the gasoline pumps. Be very careful.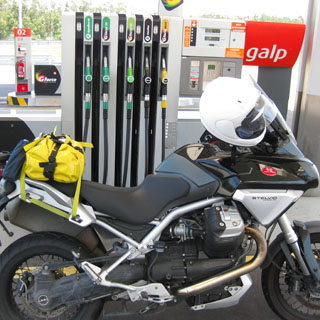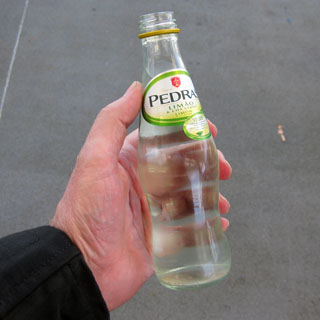 Praia de Mira. I had to pick a place to land on the beach, and I picked Praia de Mira for not much more reason than the interesting name.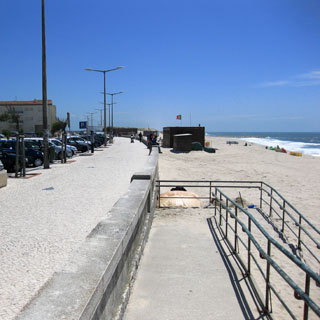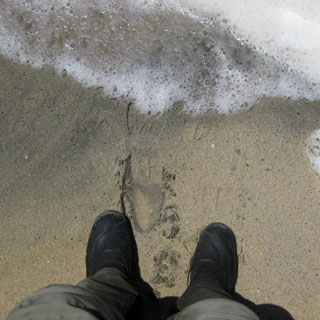 The sand is very fine; makes it even hard to walk. It was a very windy day (as I suspect most everyday is).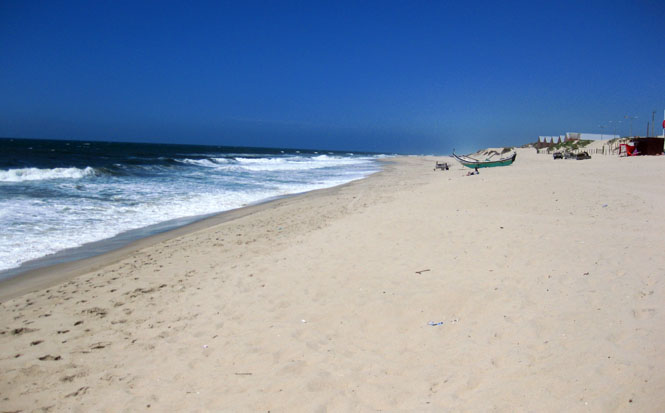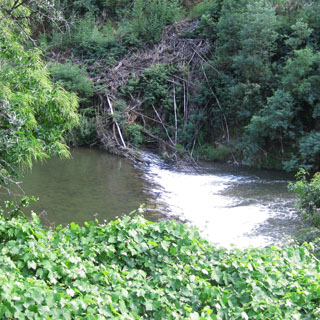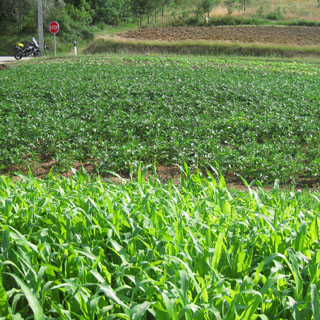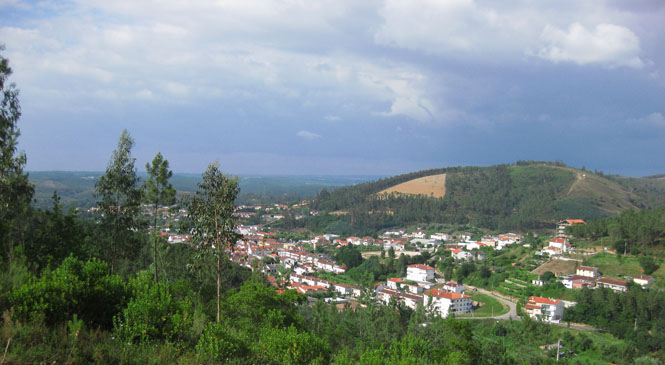 Arganil is not quite on the road I was on, but I wasn't finding a hotel and had to deviate a few miles. I liked this town.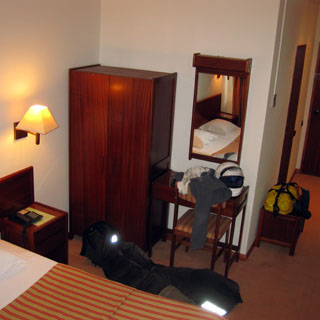 Some sort of festival. The city band was not too bad, and they continued to play for an hour or more after they marched into the city square.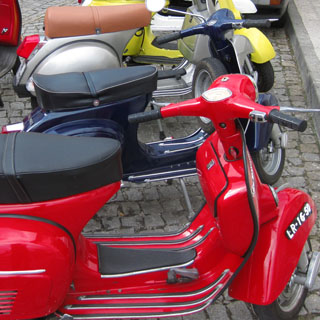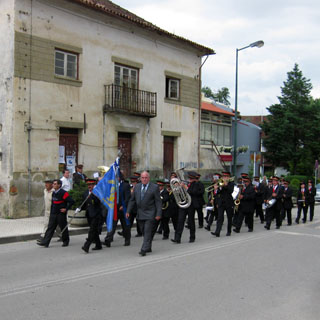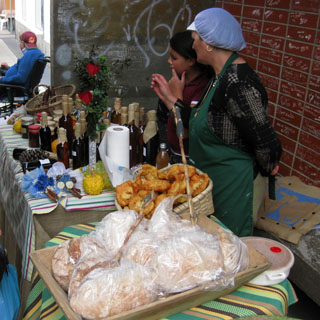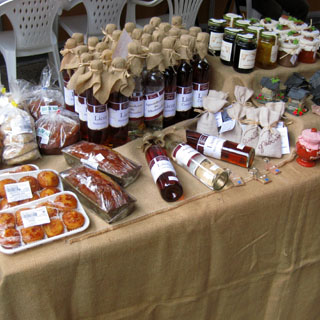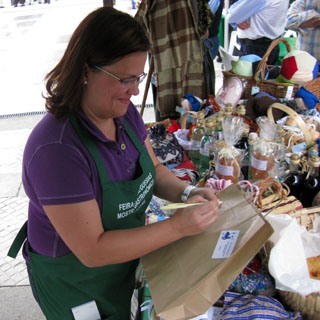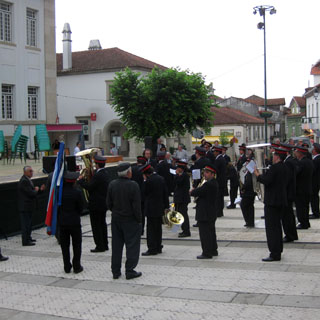 Whatever you call that fry-bread, it was exceptionally good. I ate mine hot out of the vat.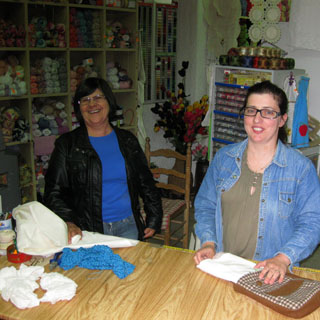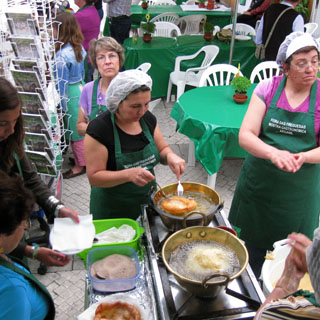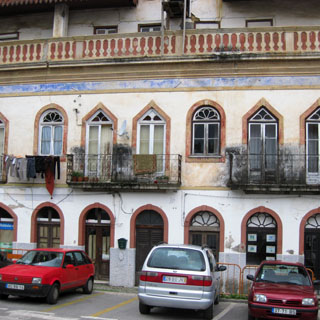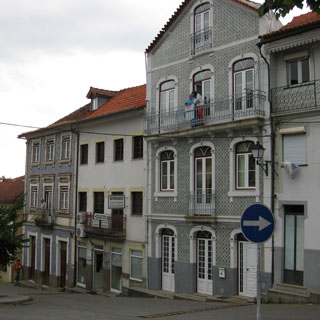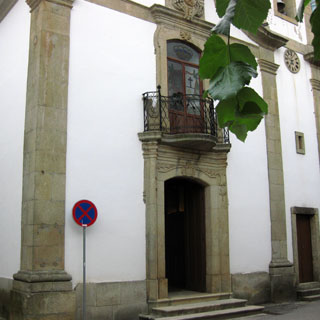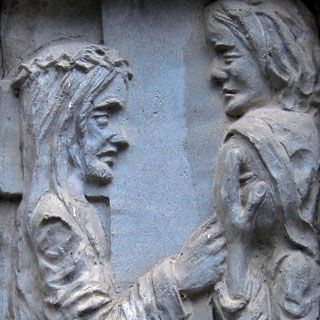 I was given a seat at the table. I had given my order an hour earlier. Lucky for me, I was given plenty of help. The pitcher of wine? It was all for me.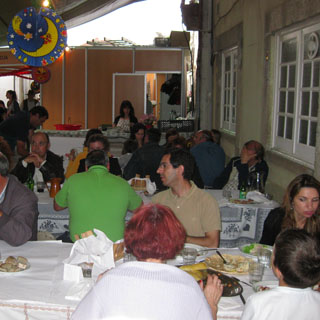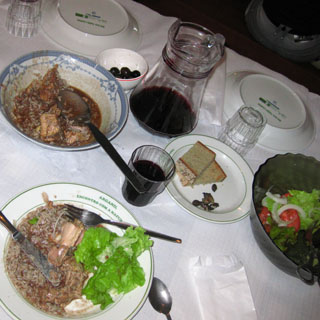 Was this the best road of the trip? Could be, but then each day I'd think I was on the best road of the trip.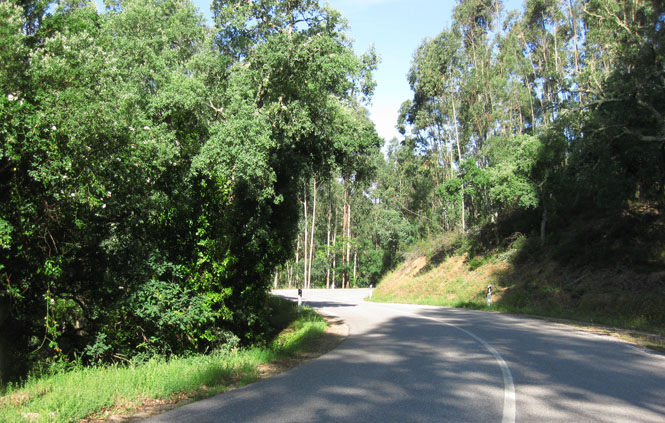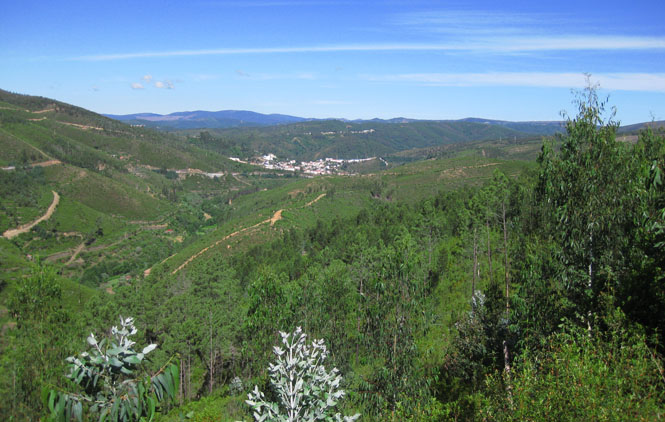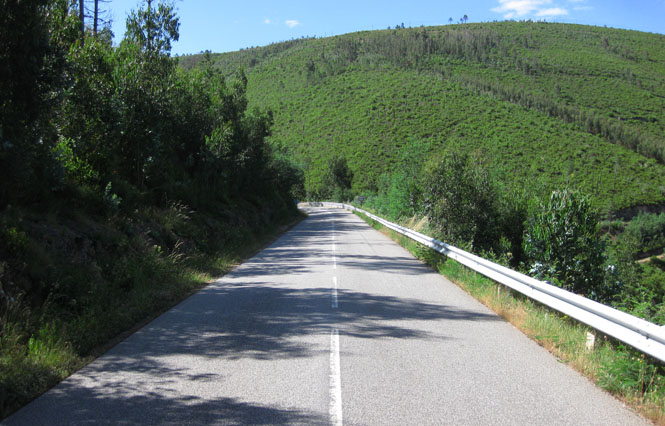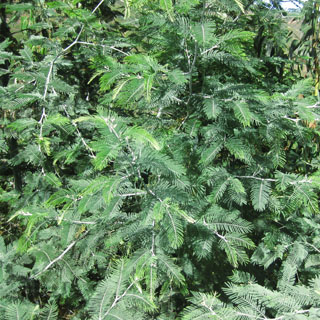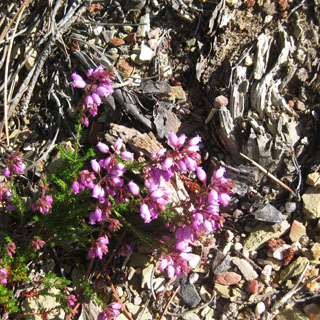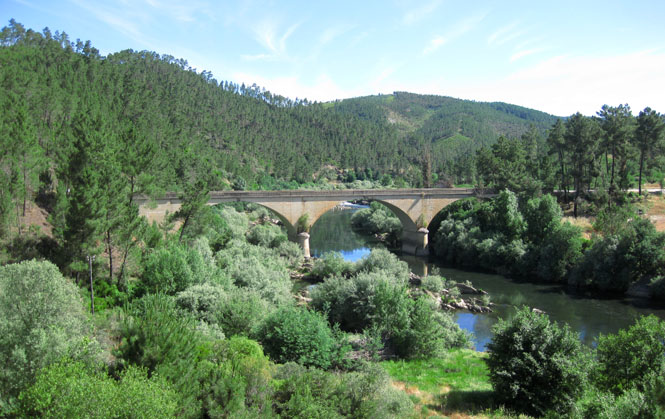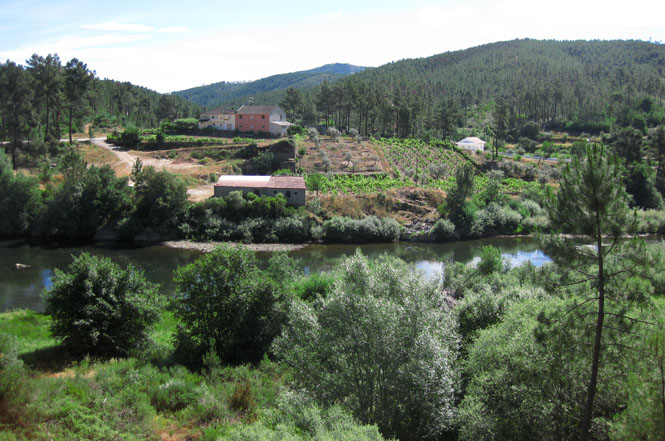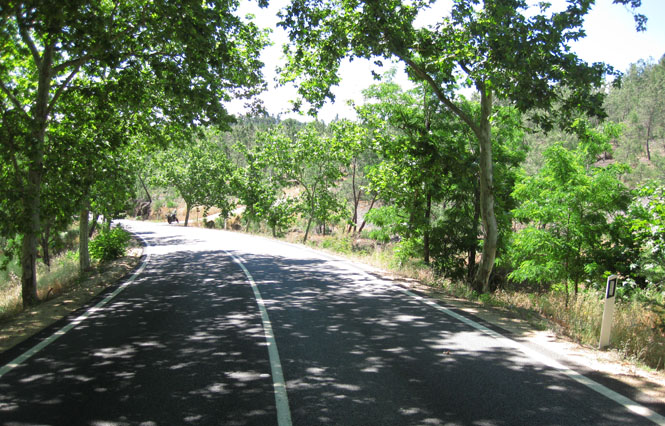 This all reminded me of central California. The rocks, the trees, the water--it all felt very comfortable to me.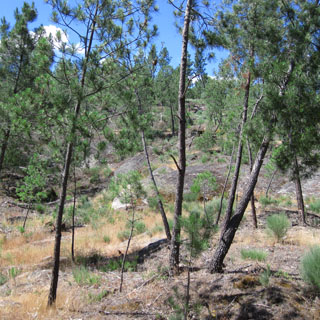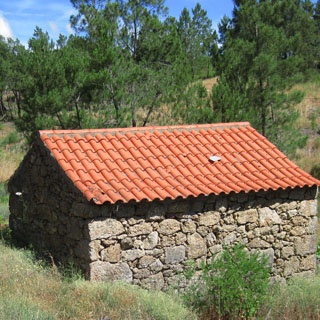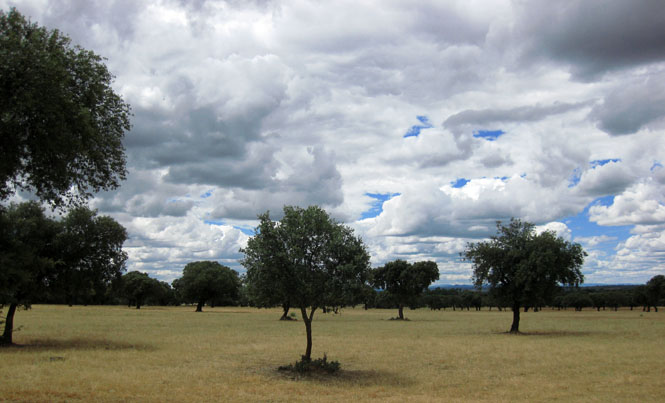 Segura. We're near the Portugal/Spain border.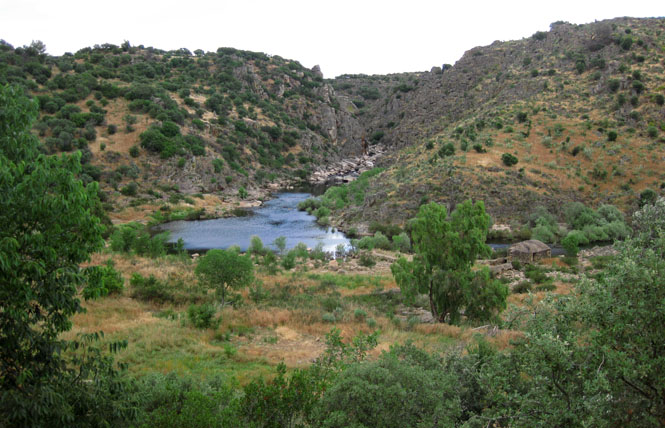 Spain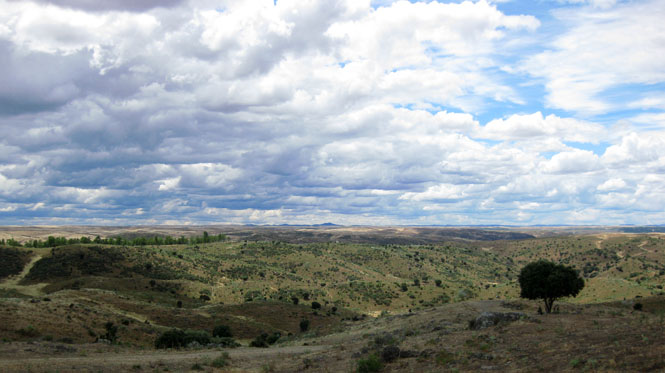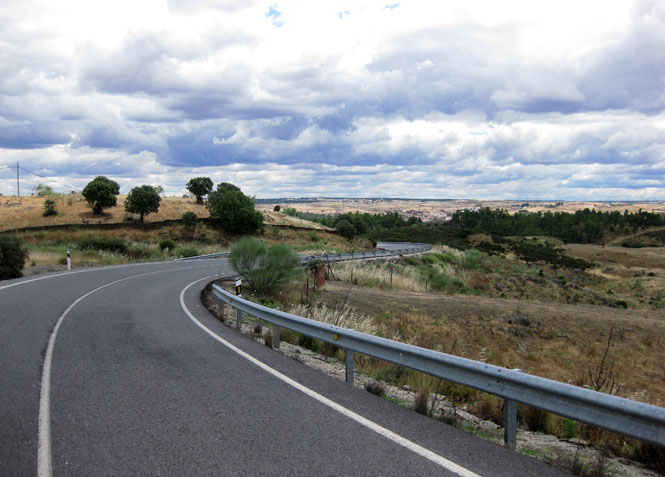 Alcantara. No; I didn't ride up that road. I think it was built for ox-carts and not cars.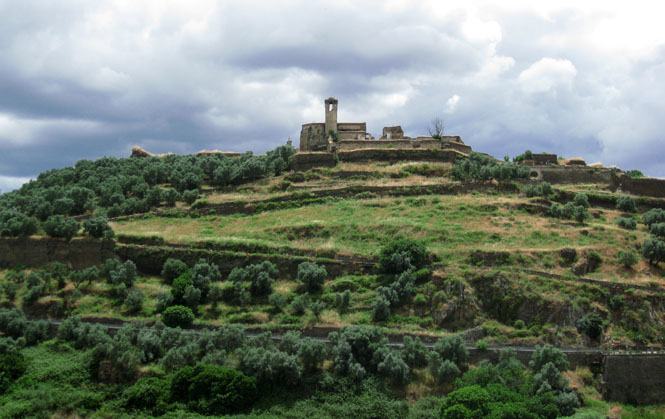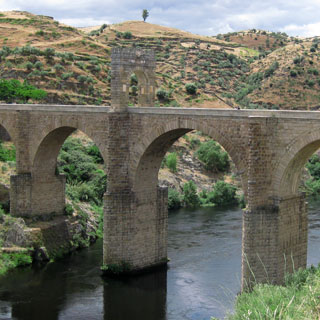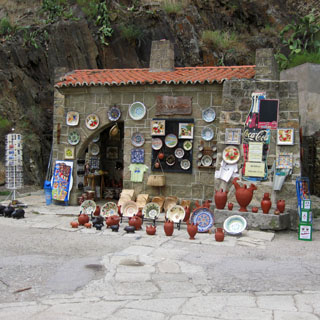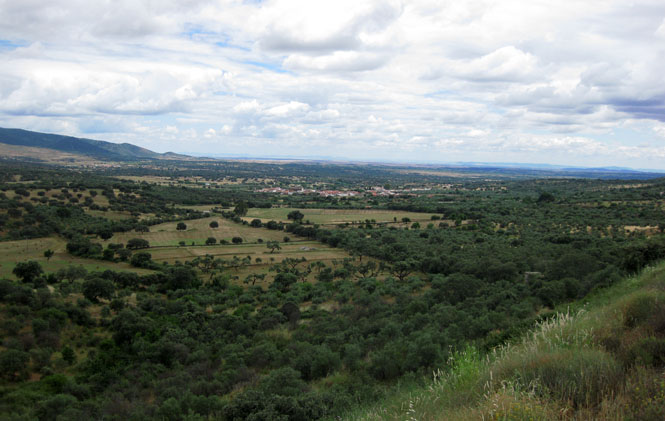 Miles of olive trees. Beautiful.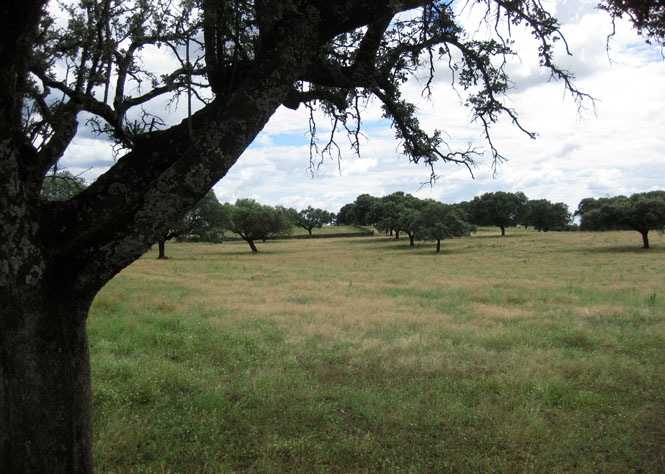 OK. Perhaps this is the best road of the trip.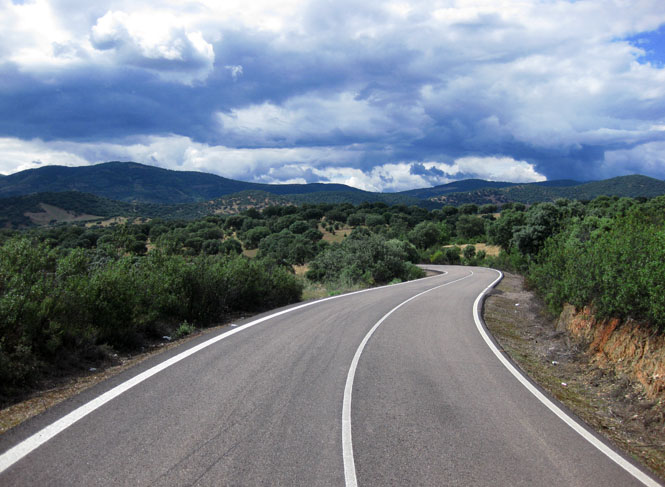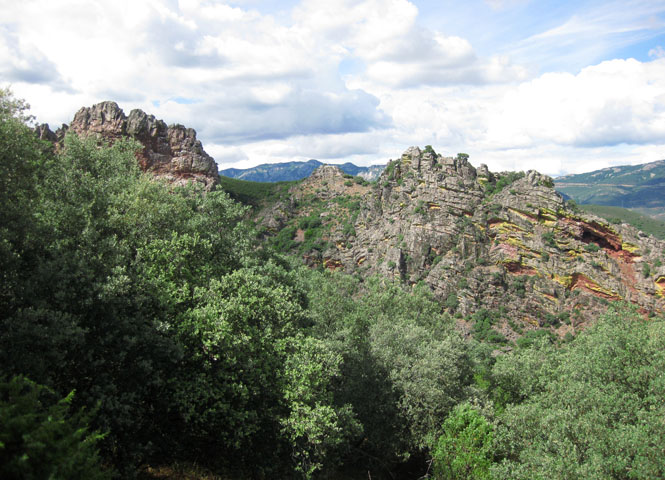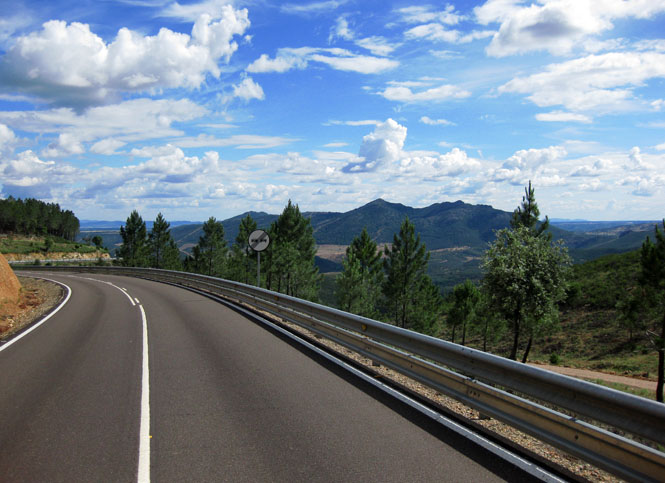 This is a typical scene. I'd come to a sign-post, but would have no idea which way to go. Time to stop and stare at the map.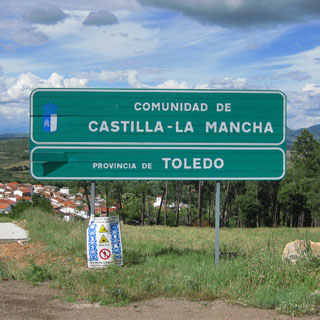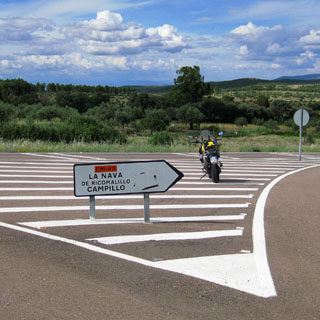 This road was way off the main route. There was no traffic at all.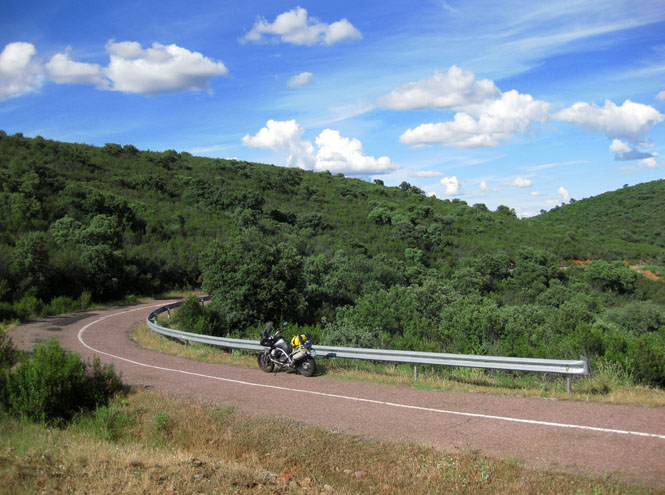 Eventually, the weeds will grow across the road. I began to hope that the pavement wouldn't turn into dirt. When you ride for an hour without seeing any cars at all, you begin to wonder...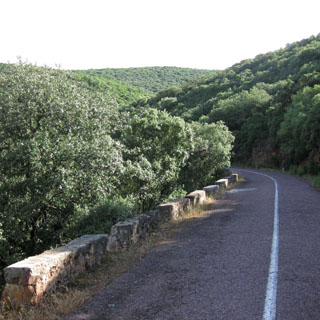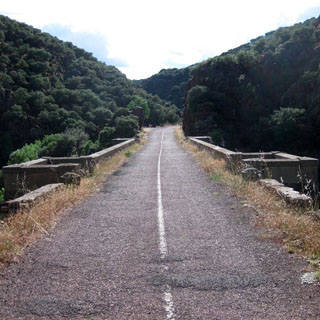 An ideal place for the Guzzi Stelvio. This was a rough road that sometimes required every bit of the suspension travel.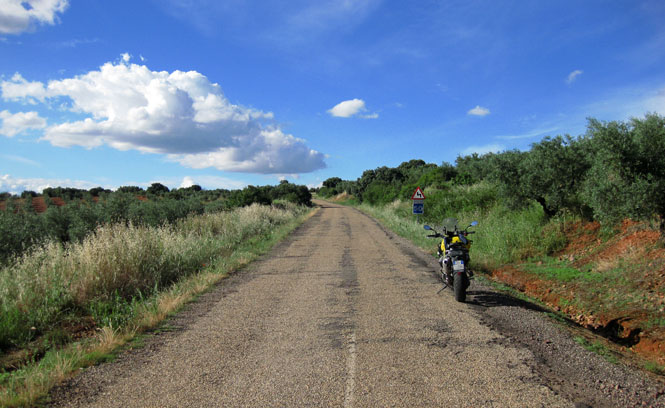 I didn't see a shepherd, but he was probably not far away (and might have been watching me).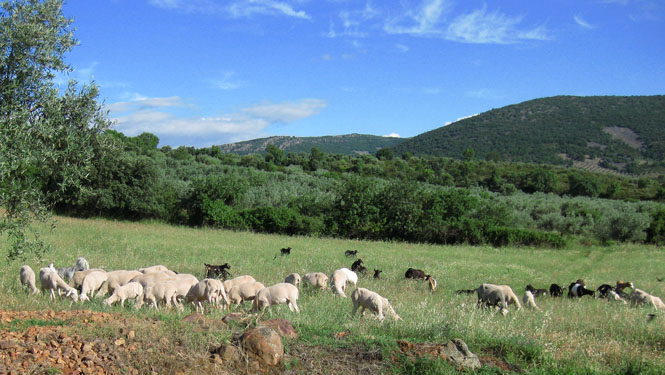 I saw this view and just had to stop and walk into the wheat field.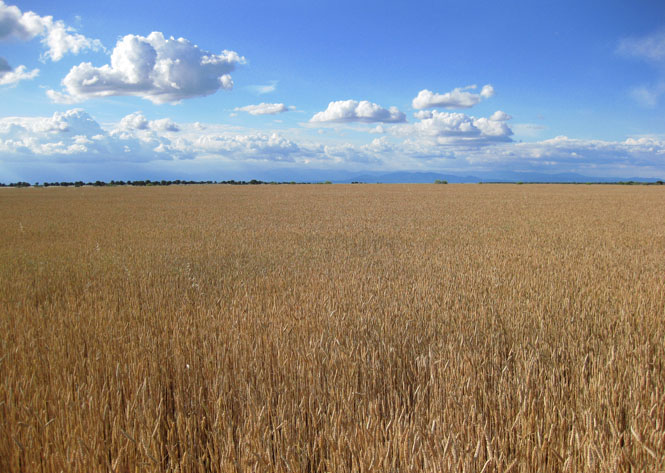 Navahermosa. This was an interesting town, but the hotel was well outside the center--too far to walk back.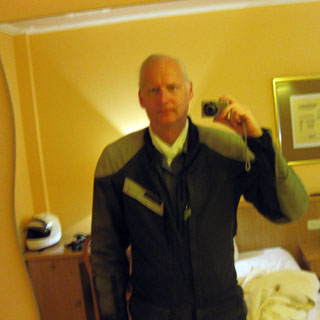 Toledo. I wanted to avoid riding through this large city, but ended up doing it anyway.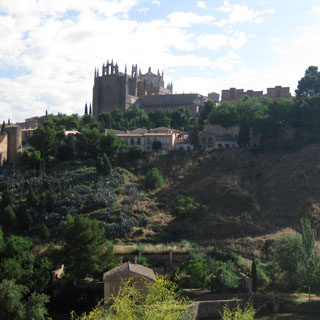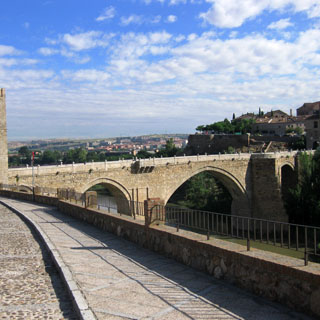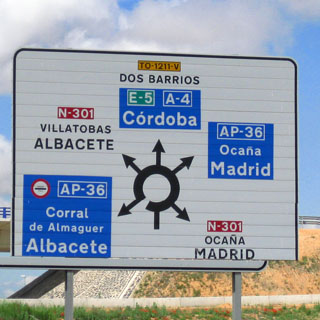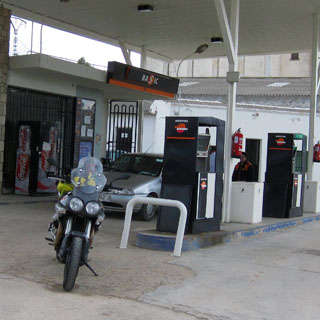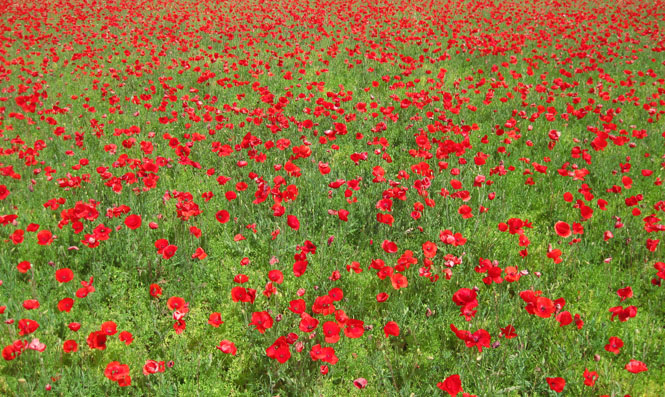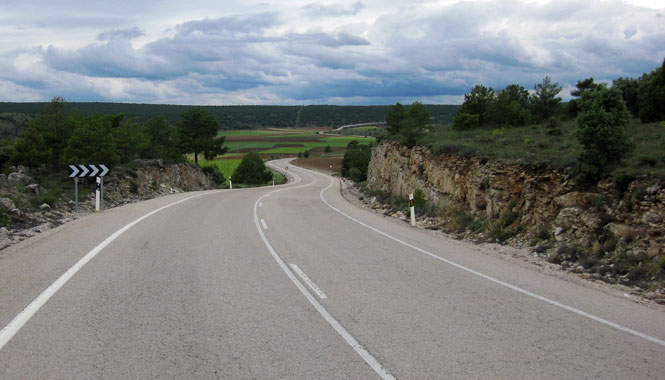 Best road on the trip? This would have to be considered.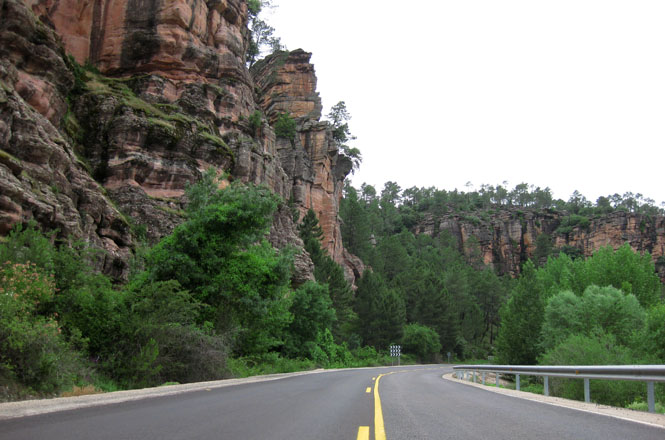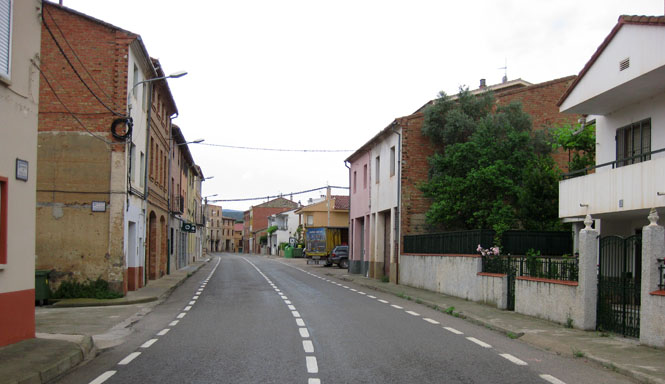 A classic Basque shepherd with a red txapel.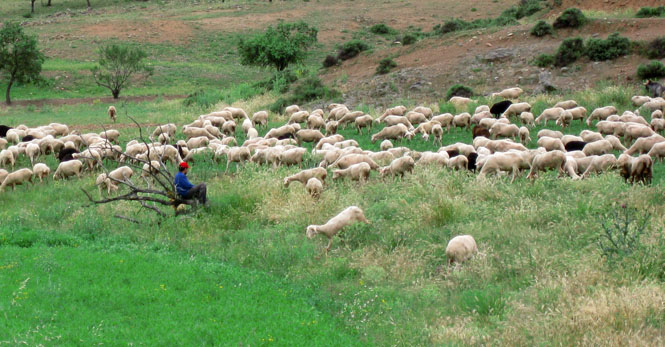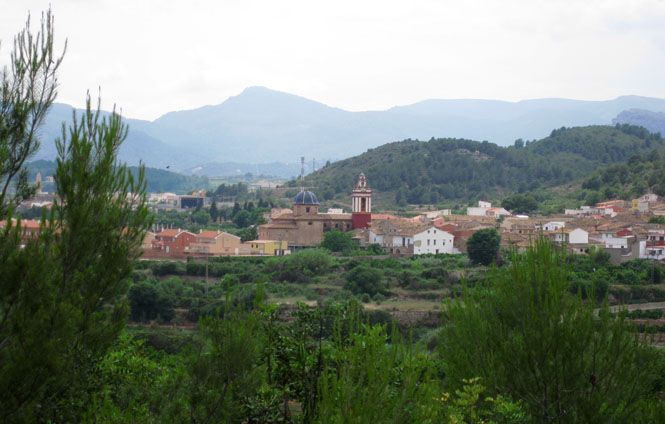 Vandellòs i l'Hospitalet de l'Infant. There are a number of resort towns along this long coastline and this was a nice-sized one to stop at for the night.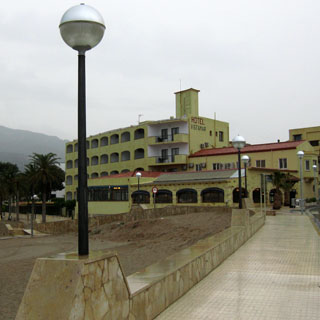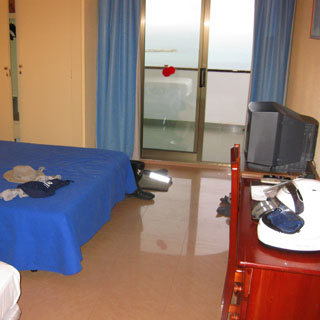 It rained very hard that evening and all through the night. I avoided most of it when I was riding.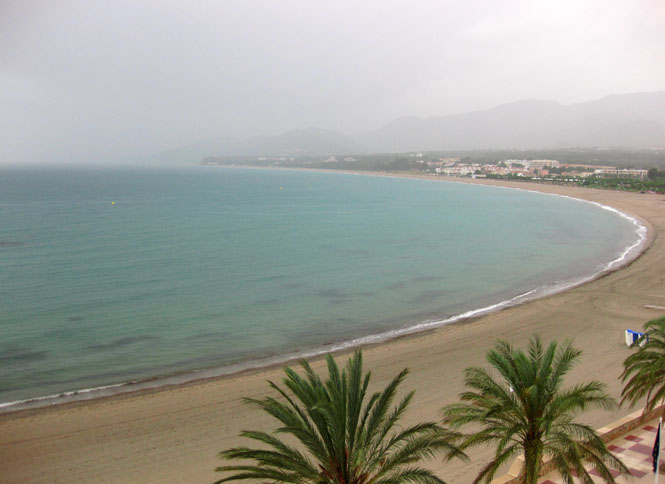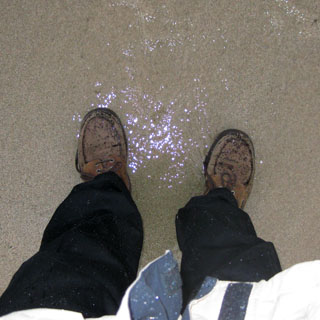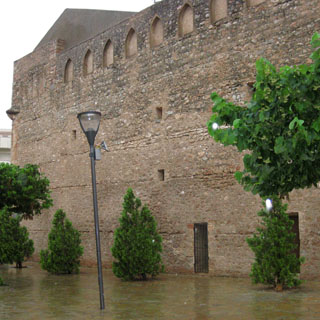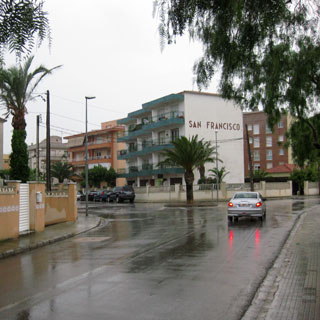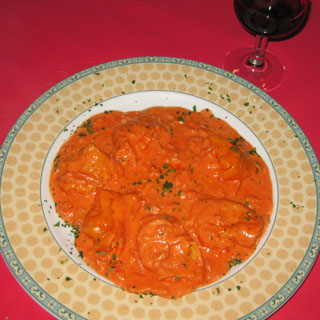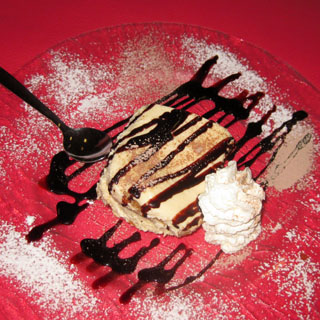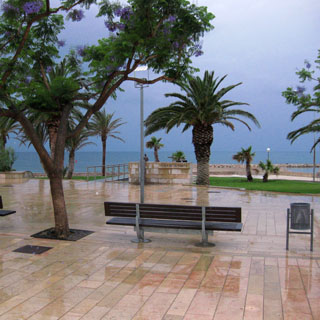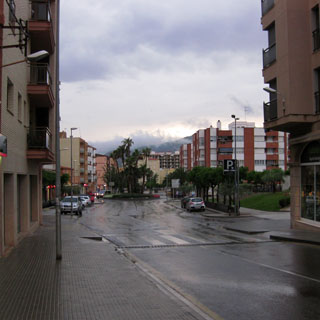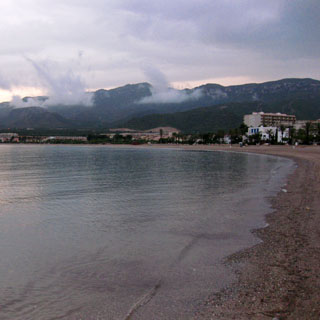 France

I wasn't sure where I wanted to go, but I was sure that I had had enough of the toll way. Certainly, it's a very efficient way to go, and I did need to ride enough to catch up so that I would not be stressed to make it to Mandello the final day, but it's not a very enjoyable way to ride.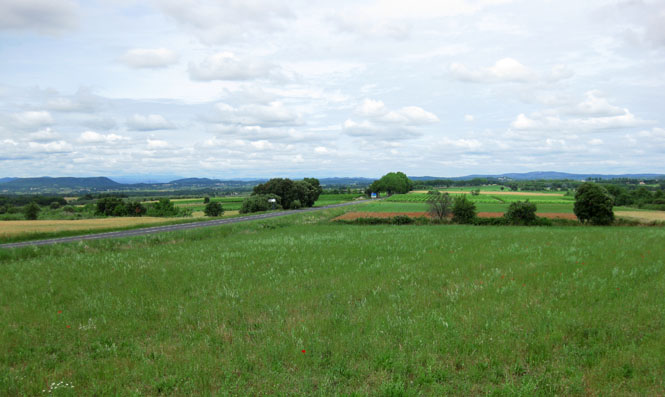 When the rain is so heavy that you can't see; stop riding.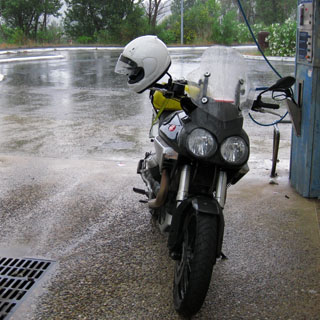 Beaucaire. I liked this town.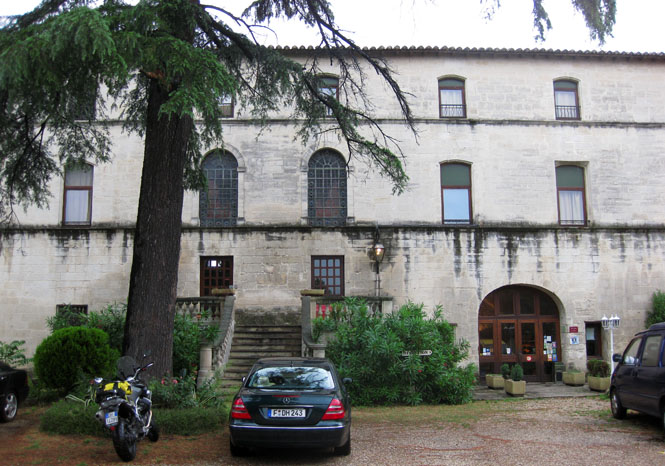 Again, I was in an old monastery.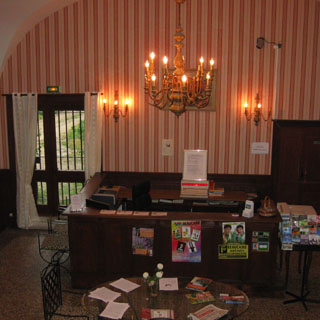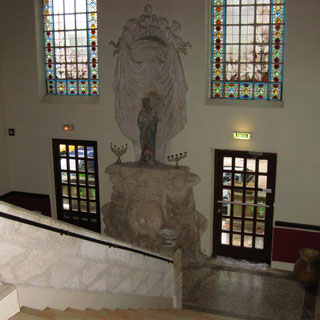 This canal connects to the nearby Rhône.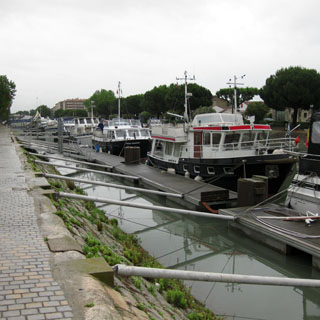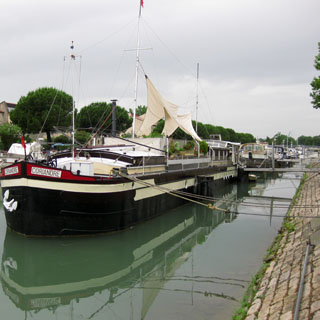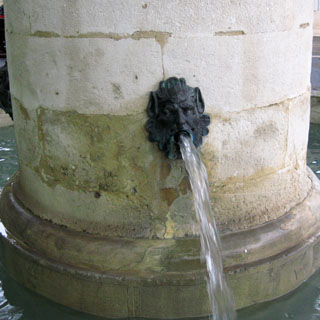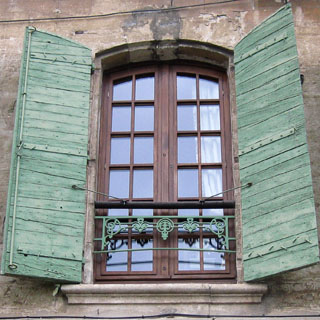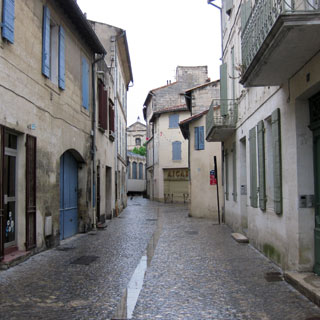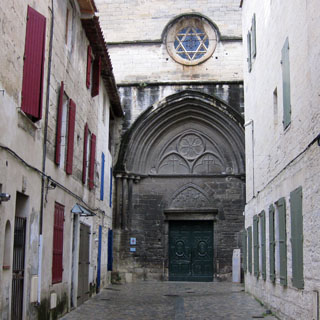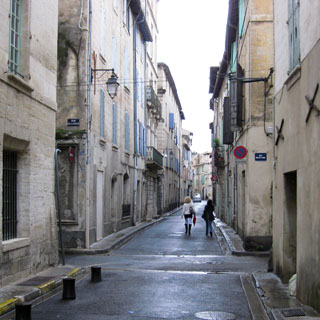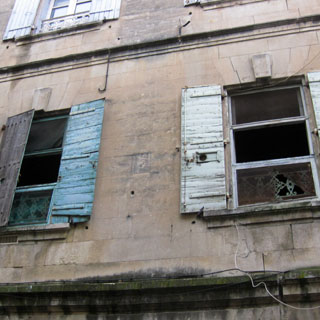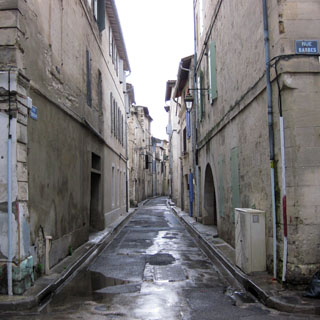 The Rhône River.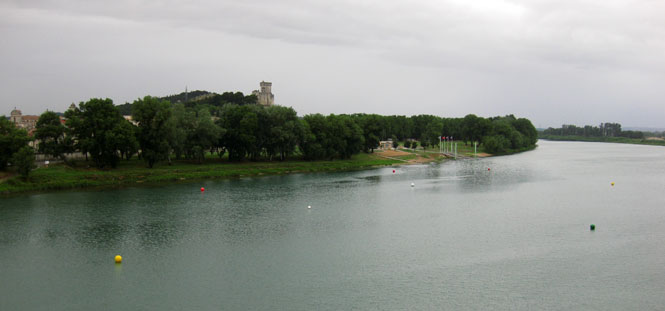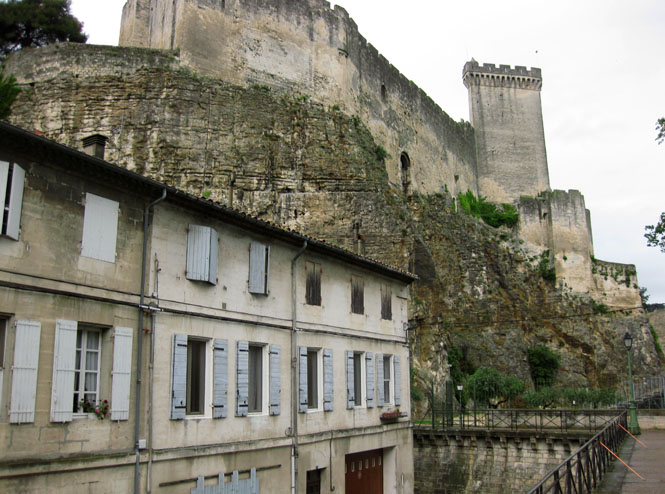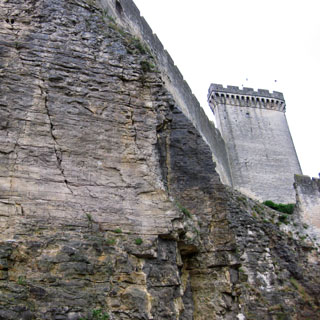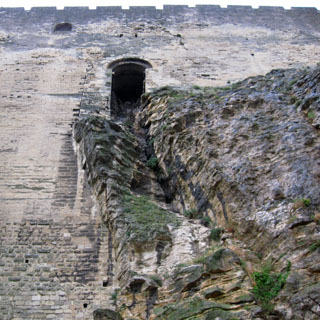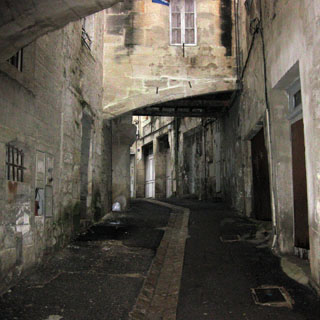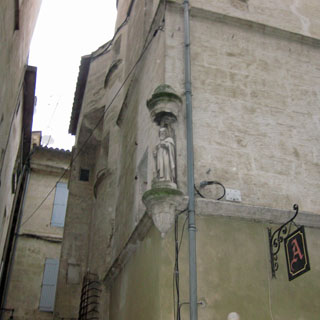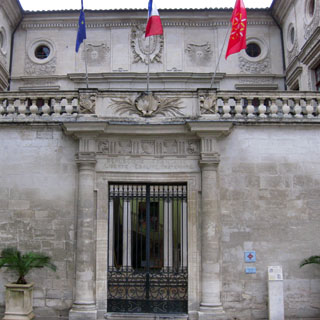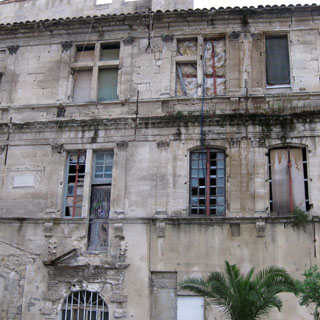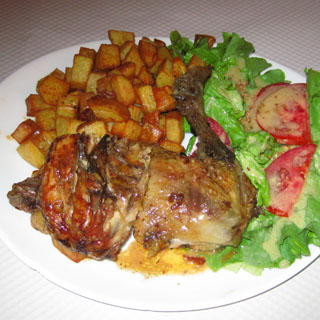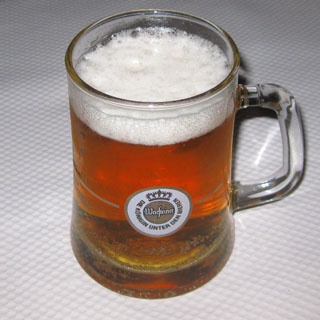 I'm not sure if all the revolutionary Cuban posters were just part of the décor, or something more. I think something more.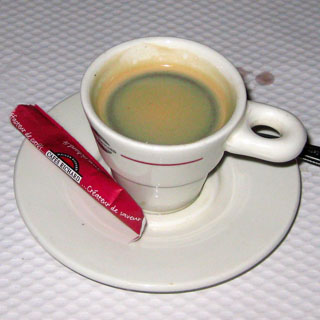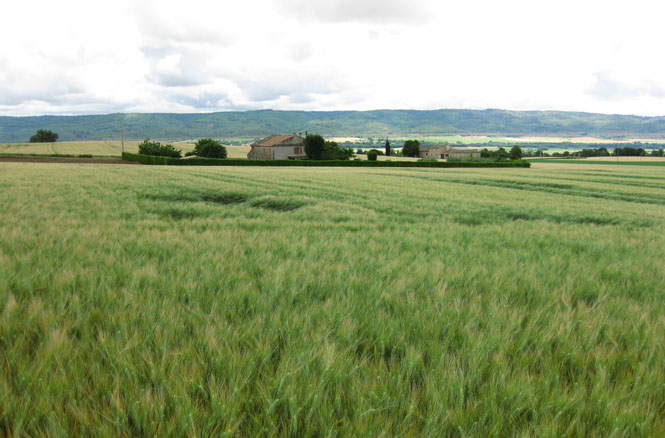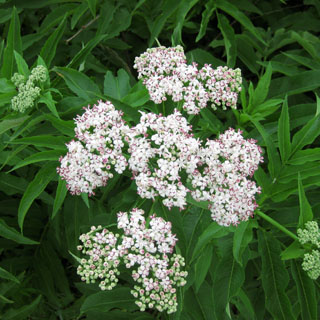 River Durance is running very high. This is well above flood level.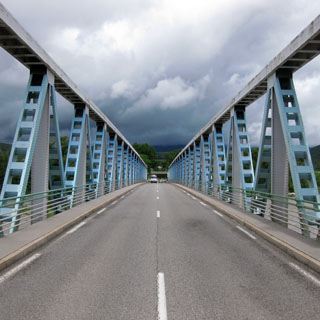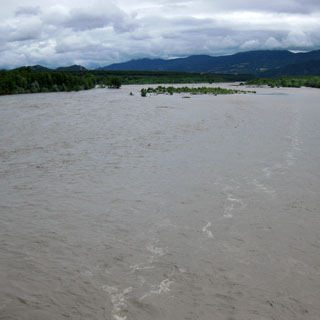 Off on another obscure road.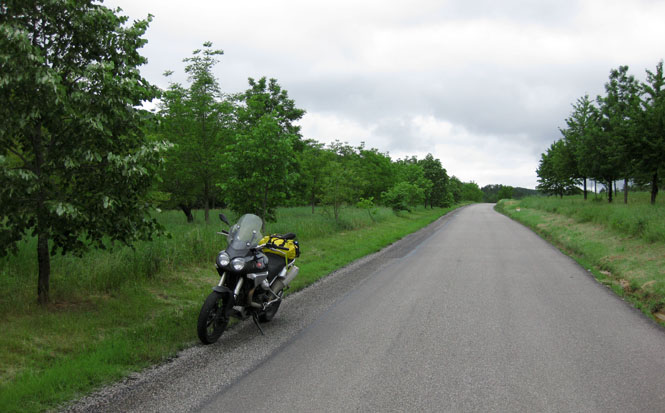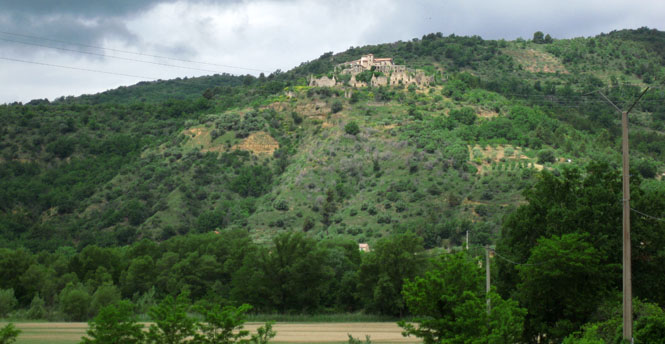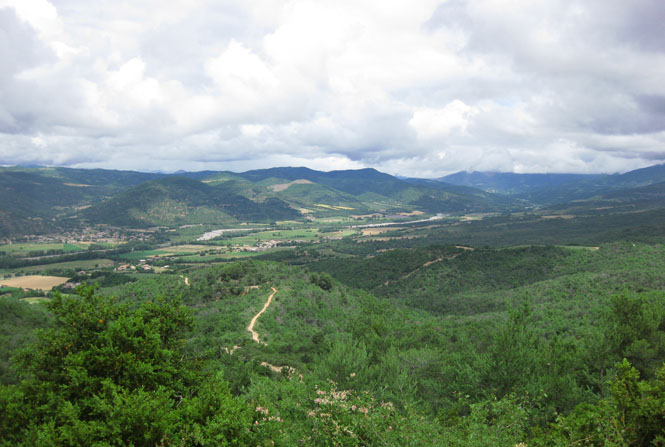 In weeks you'll see fields of lavender across Provençal. But, not just yet.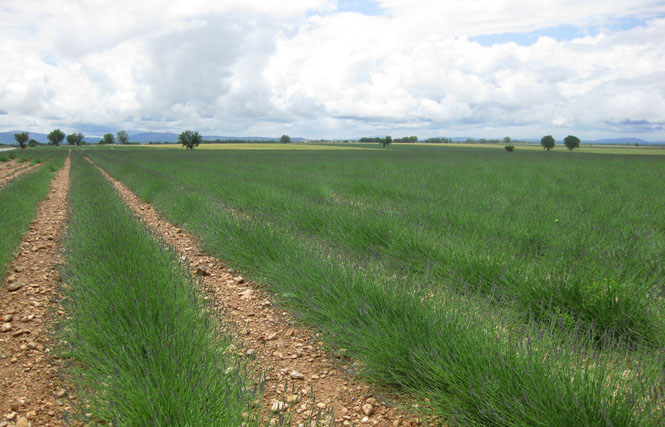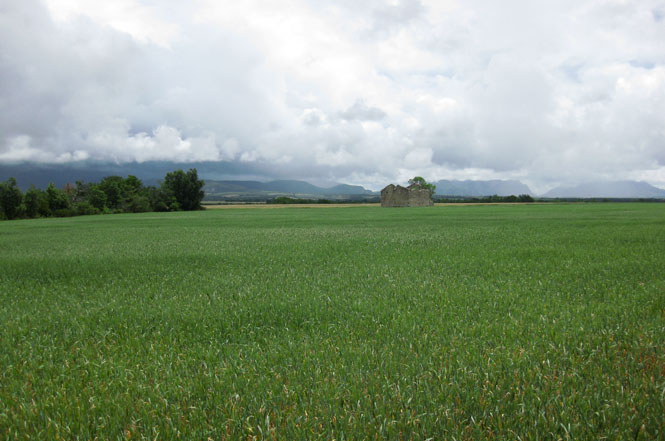 Moustiers-Sainte-Marie.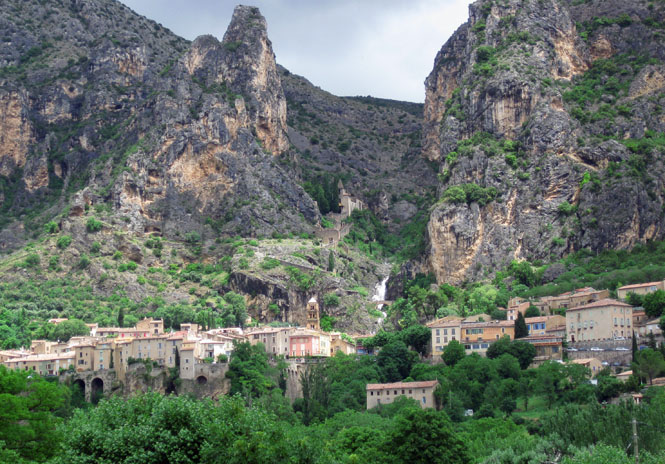 When you're near Roquefort, you should eat a Roquefort salad.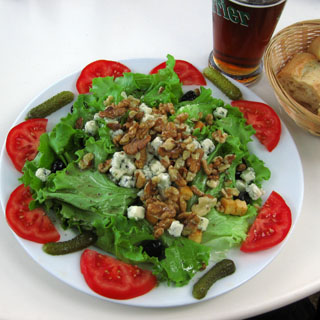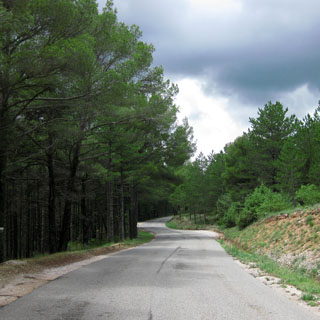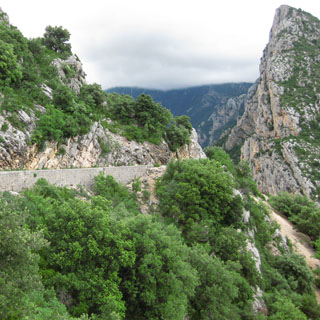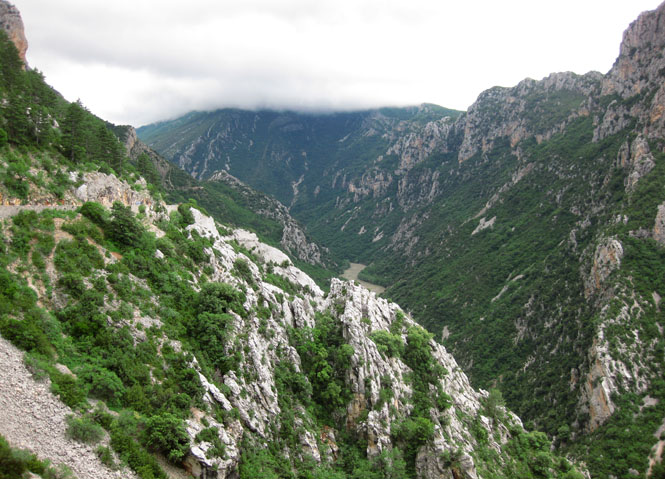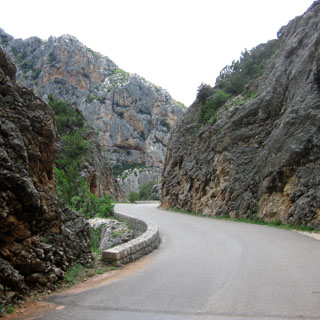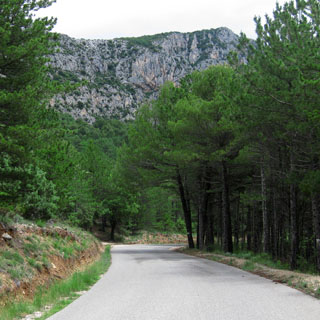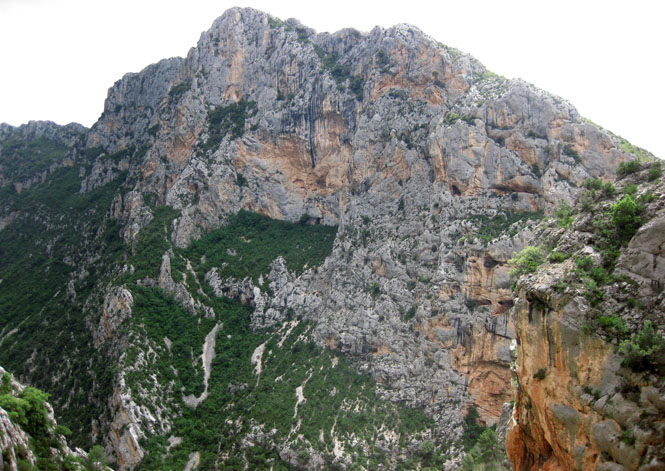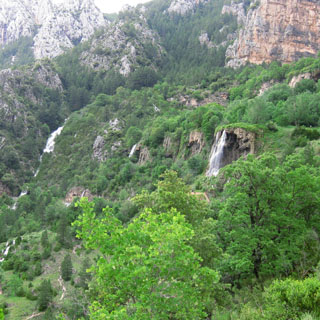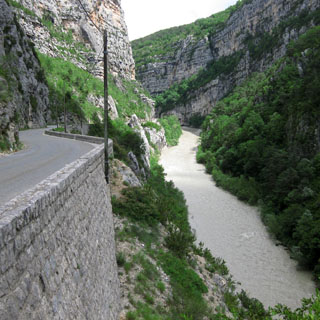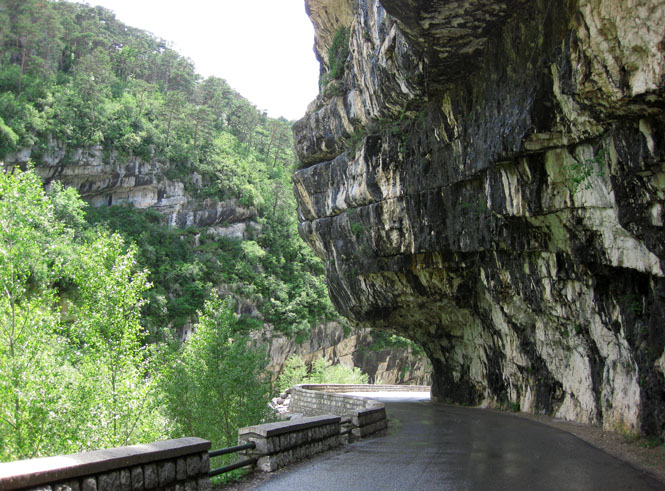 Castellane.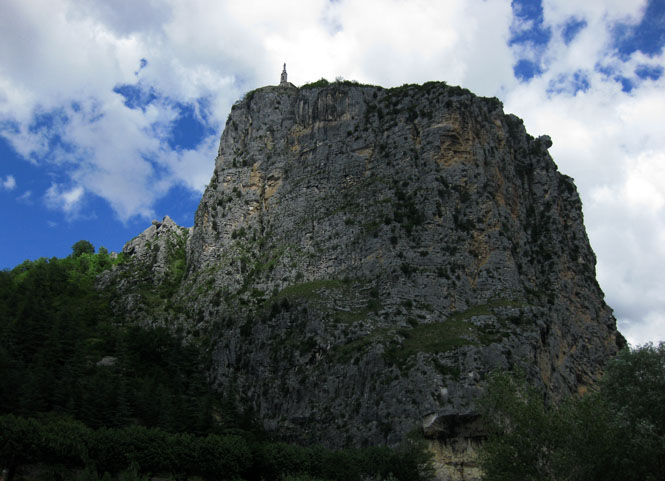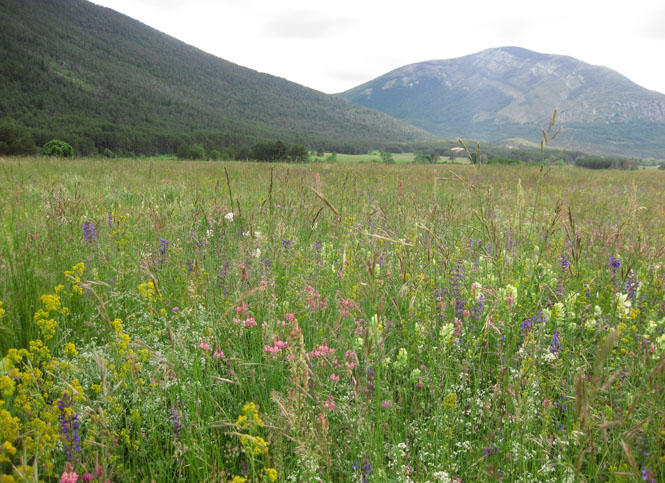 The view of the Mediterranean. That's Cannes just over the hills.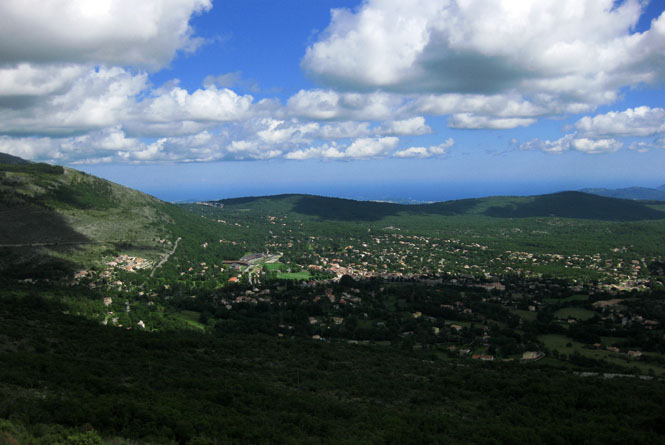 Saint-Lautent-du-Var. This was easily the most expensive hotel (95 Euros) on the trip, and the least enjoyed. The room smelled so much of perfumed cleanser that I had to keep the windows and the glass door to the balcony opened at all times.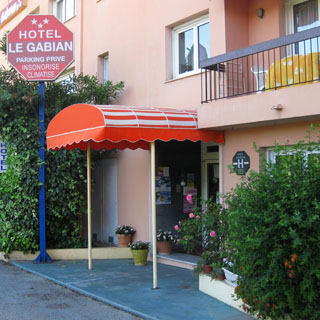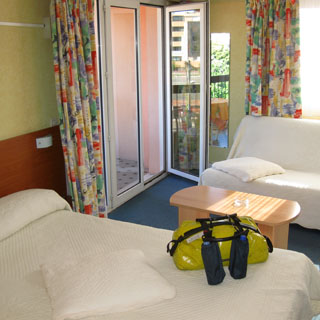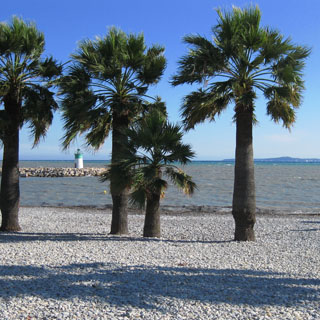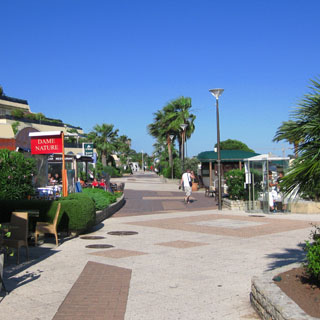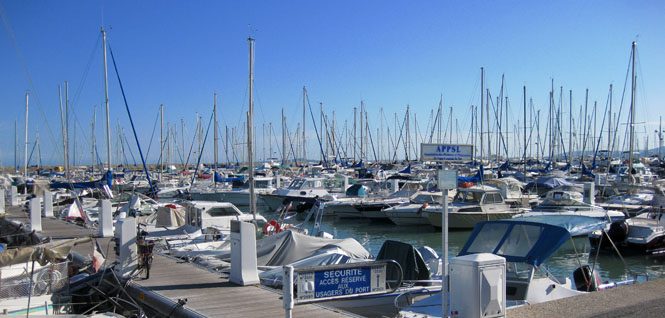 A mile of restaurants. Nothing opens until around 8:30.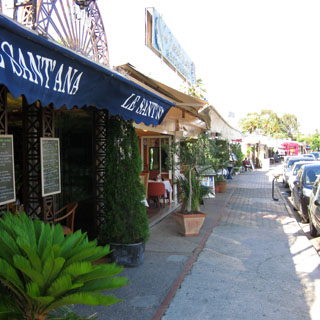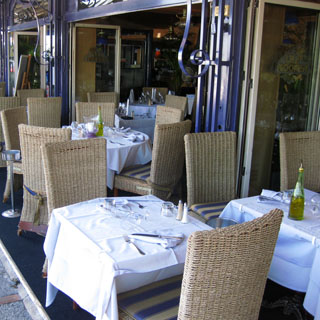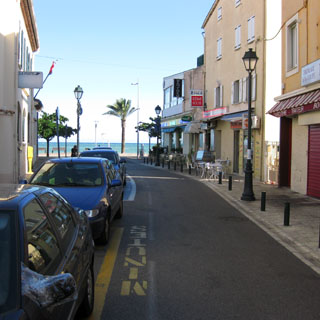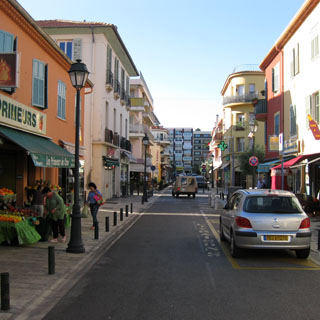 Nice. Did I intend to ride through the heart of Nice? No; of course not! It's as if I were sucked into it no matter how much I wanted to avoid it. But, I got through it all eventually.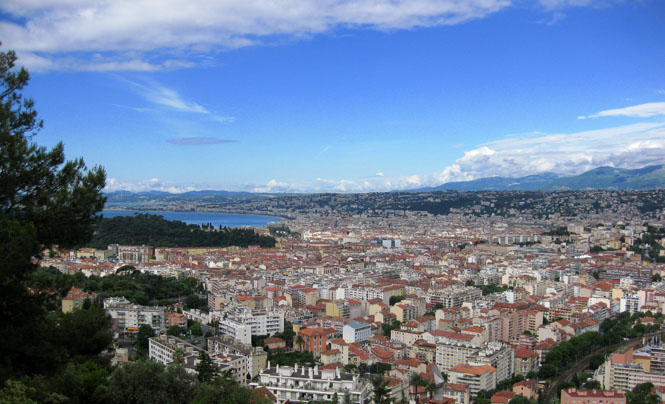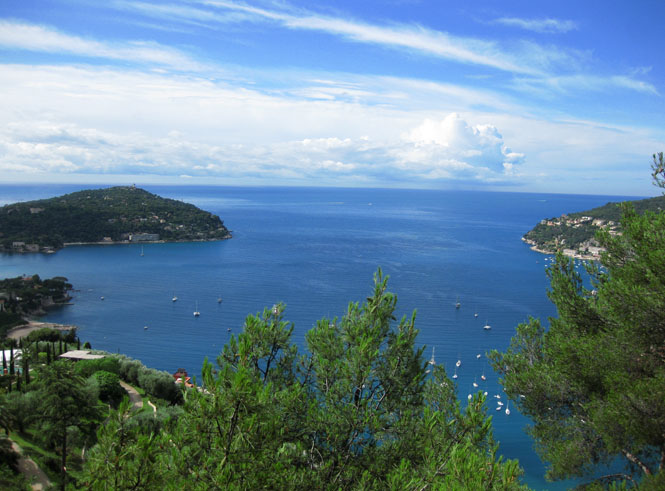 Monaco
Monte Carlo. You have to wonder at this city. There wouldn't seem to be enough level land to build much on, but here it is nonetheless. The nice thing about being here on a motorcycle is that parking is not any sort of problem. That wouldn't be true if I were here in a car. I could easily ride down to the beach and park pretty much where I wanted. I've no idea where you'd be parking if you were driving.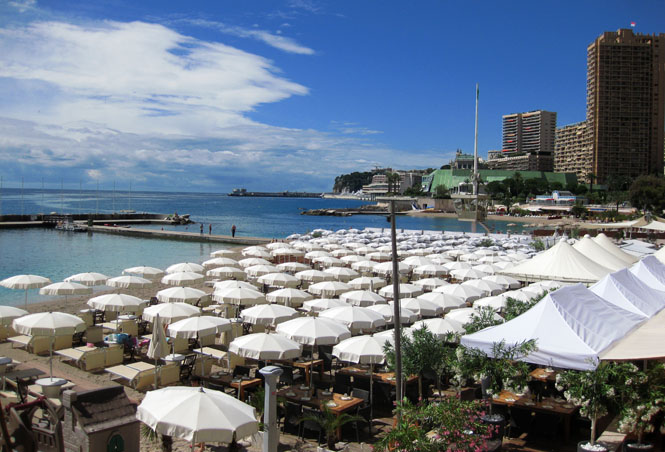 Not very many mega-yachts, and very few people on the beach (even though the day was warm and beautiful). Clearly, this is not 'the season.'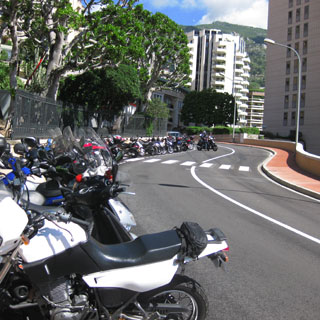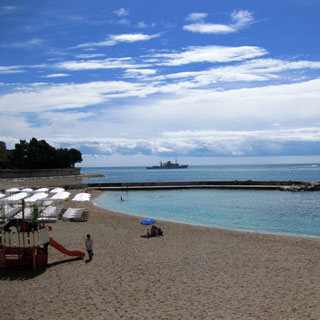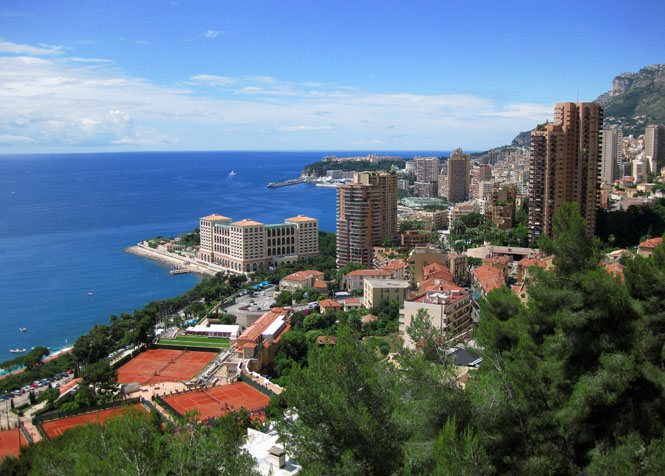 Italy
Albisola Marina. I stayed on the autostrada as much as I needed, and then got off for the final time. This toll station was not manned, and it was frustrating to get through it with my credit card. The instructions were not clear (nor was it clear which of several possible slots for my card I was to use).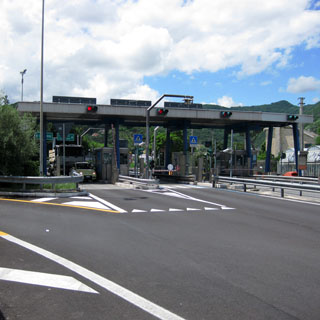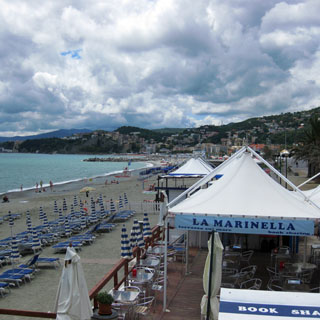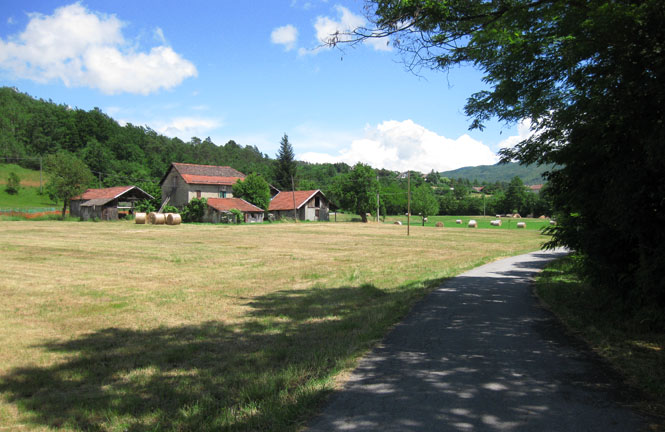 This place smelled rather good before I even saw the building. Amaretti Virginia has been making almond paste biscuits since 1860.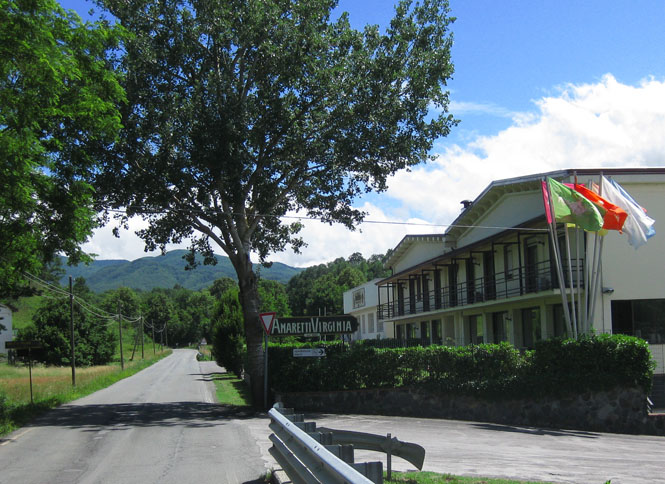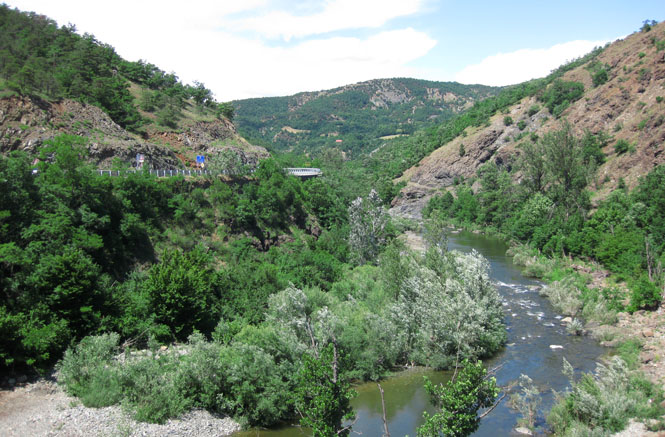 Best road? Could be.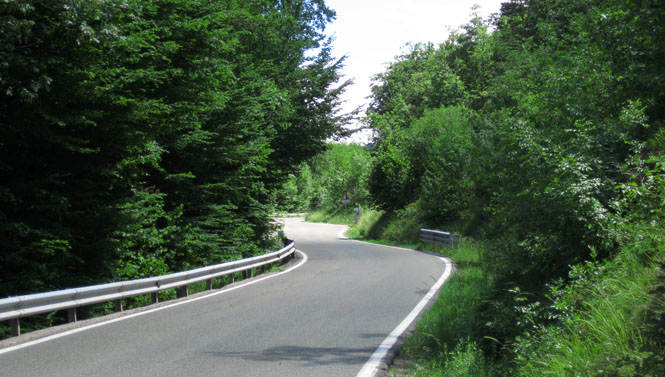 Alessandria. I was aiming to return to Mandello from the east, so I was skirting around south of Milan. When I reached Alessandria, it was clear that in just a few minutes the rains were going to start and it was going to be very heavy. This would be a good time to stop for the day. This might have been the hardest hotel to find. I ended up just parking the bike and walking to find it.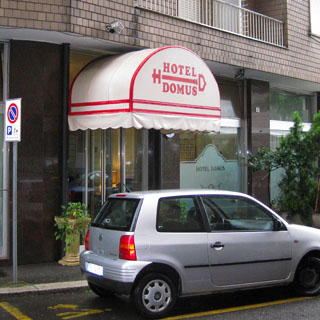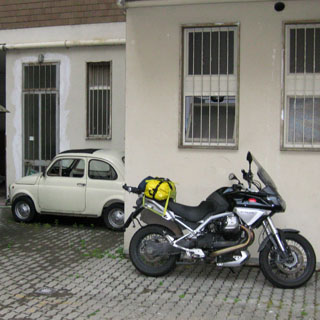 Incidentally, I wore a silk scarf the whole time during the trip, and it really made things very comfortable. Carrying my stuff up to my room from the bike is simple. At the end of a day those boots would come off immediately (replaced by shoes) as would the scarf.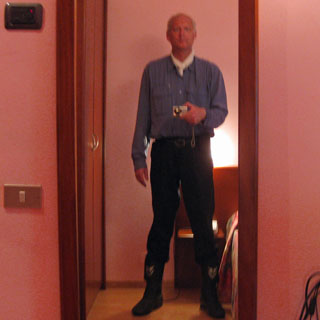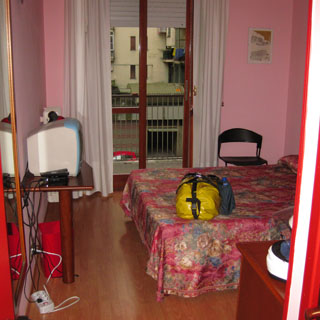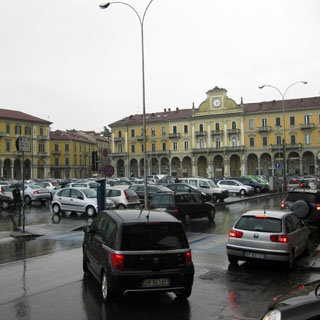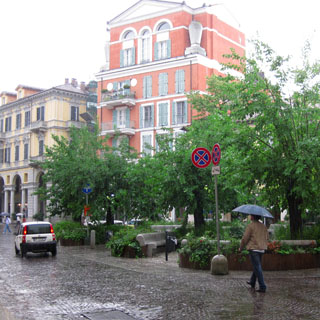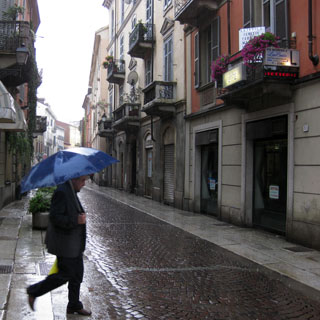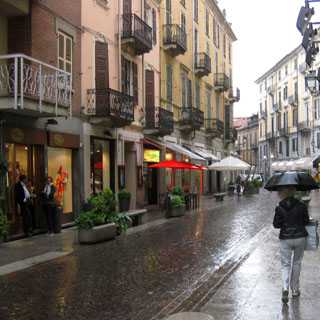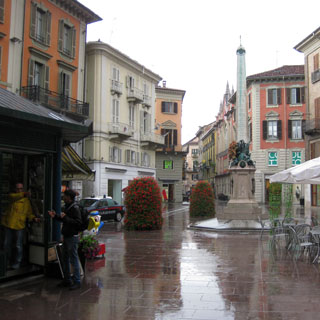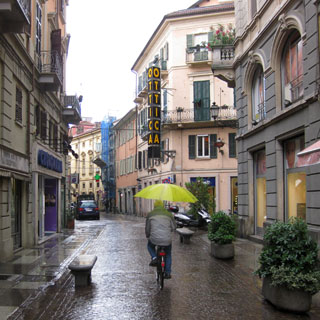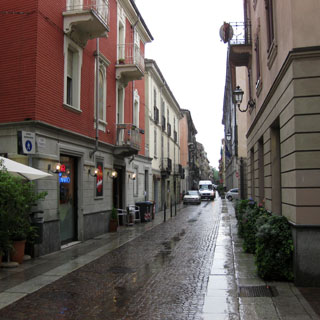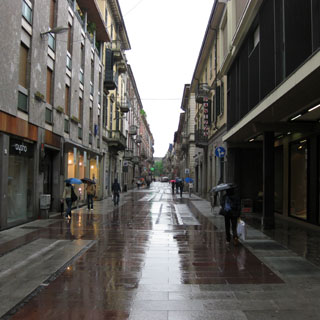 Do you see that semi-circular shaped window in the church below? I noticed that same shape in many church windows in this part of Italy. I'm not sure what it means.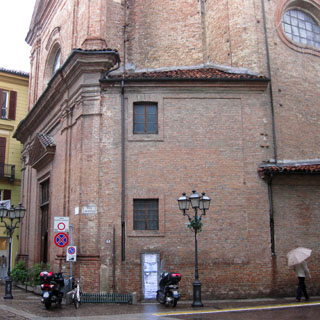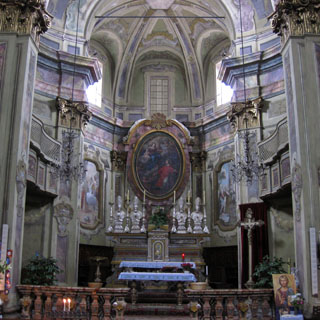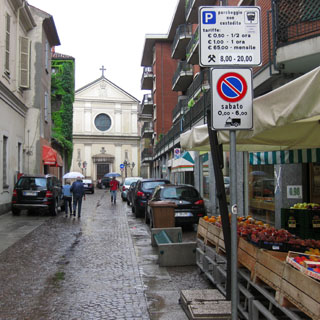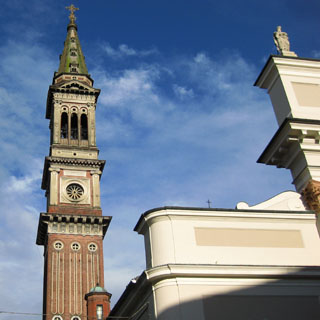 River Po.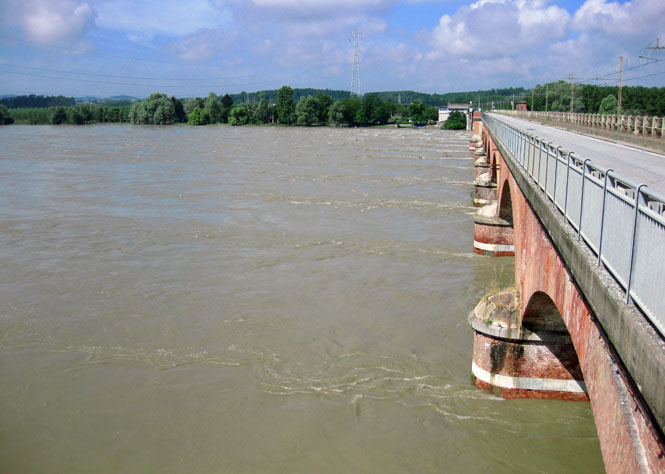 That's rice on the left, but I don't know what the crop is on the right. This part of Italy is agricultural.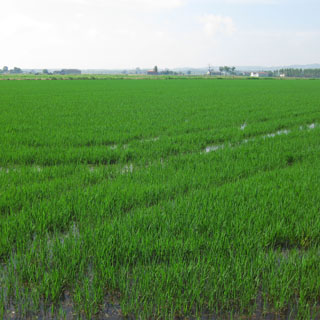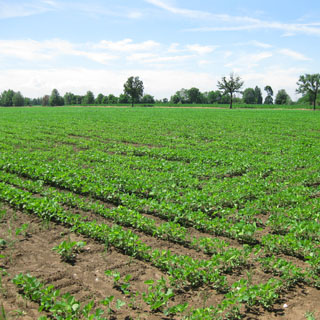 San Giovanni Bianco. I rode through Bergamo with the intention of reaching Lake Como from the east side, over the mountain.
Brembo River.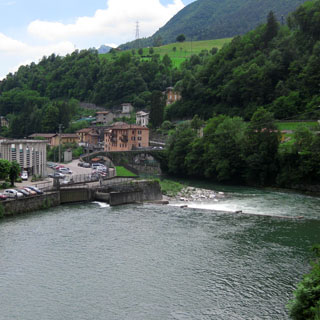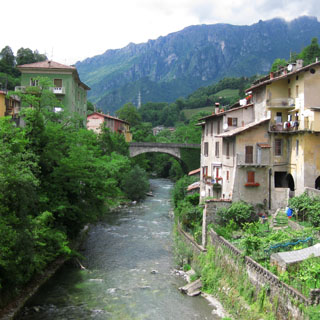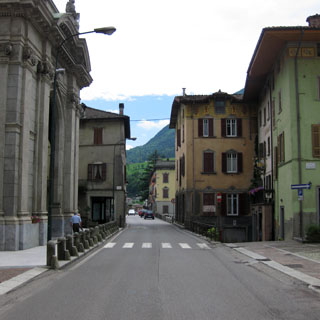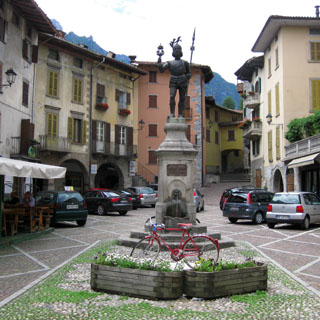 Wow! What a road this was. Not much traffic, which is a very good thing.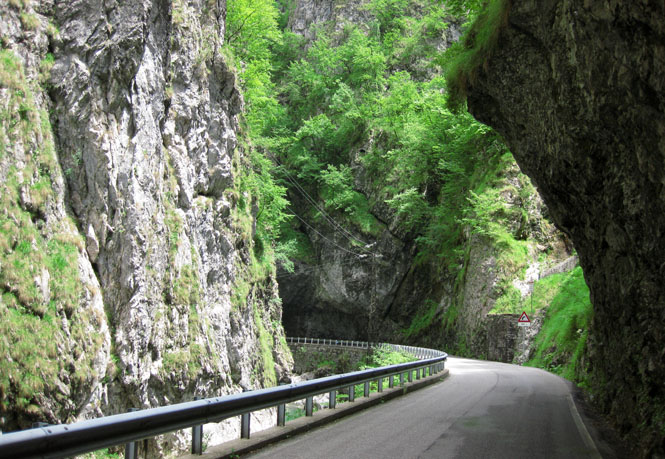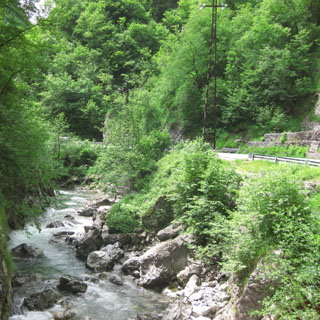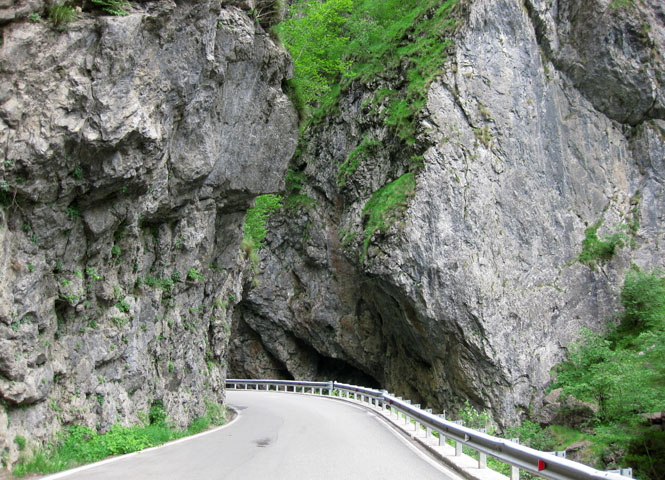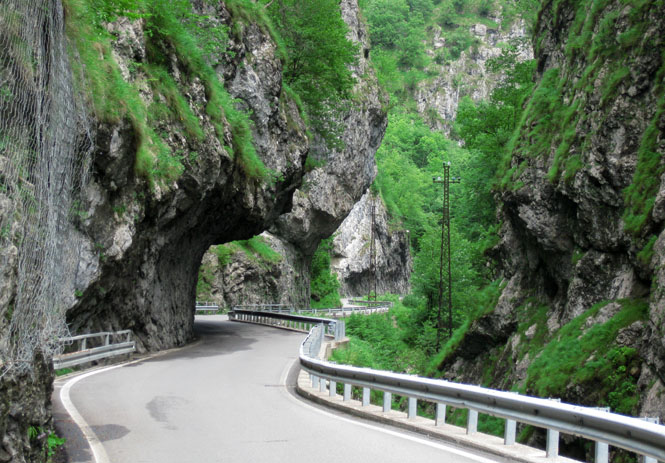 Two cars would have a tough time passing each other.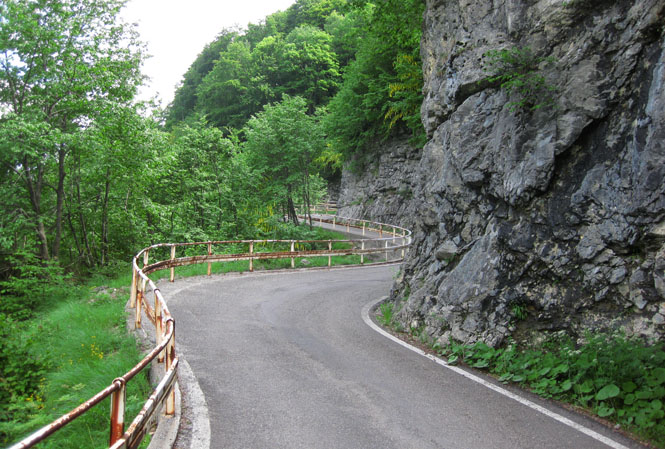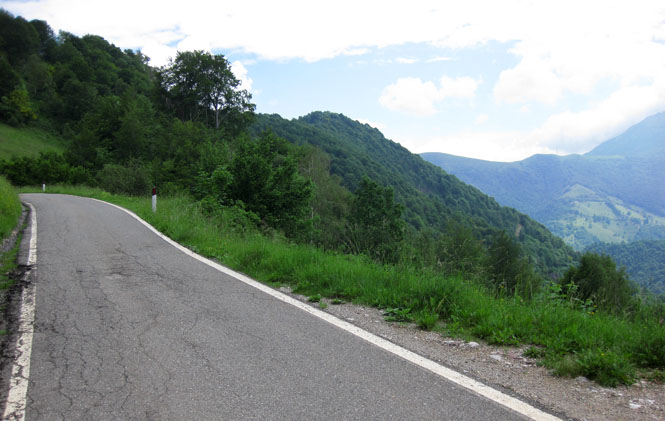 I do not like these unlighted curving tunnels.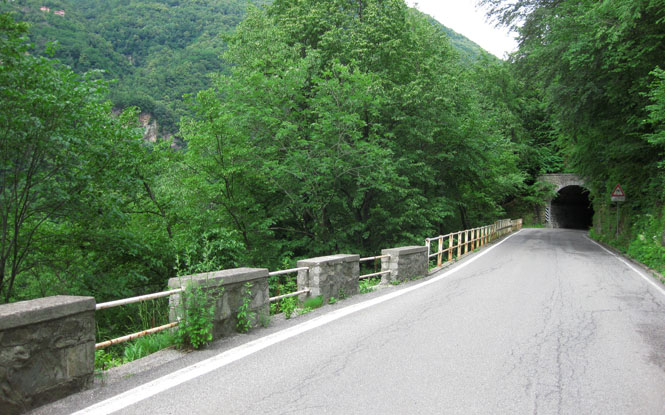 Bellano and Lake Como. I'm nearing the end.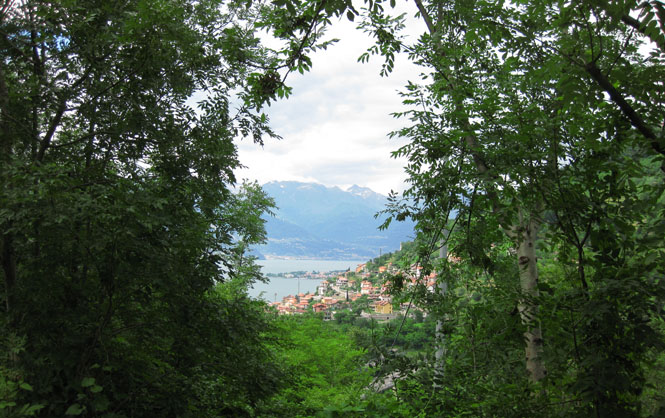 Mandello del Lario. Nicola Arnaudo is checking the final paperwork after my trip. The Stelvio ran perfectly. It's the ideal bike for this sort of trip. My only slight complaint is that it needs a larger fuel tank.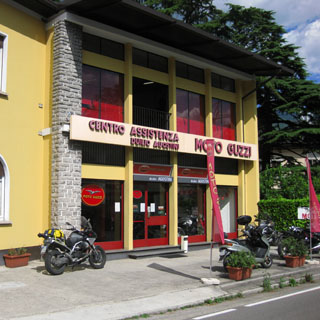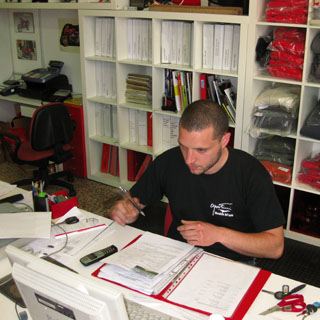 As always, I stayed at Mamma Ciccia's B&B in the old town.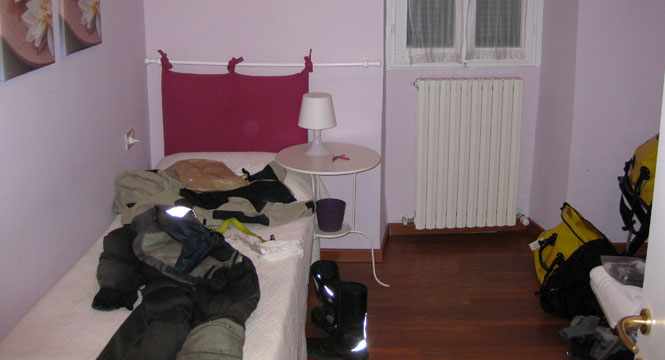 When the bell rings, the sign lights up to tell you if the next train is going towards Lecco (south) or Colico (north) and which of two tracks it will be on. I'd be going to Lecco to catch the next train to Milan.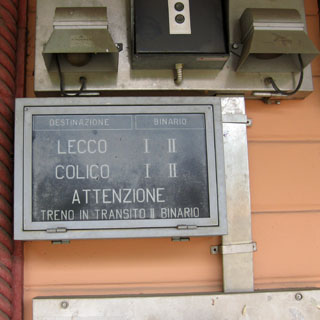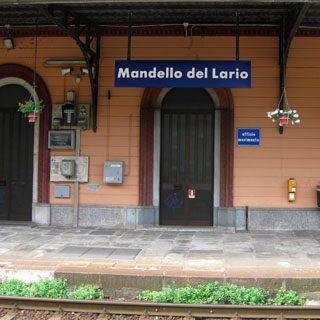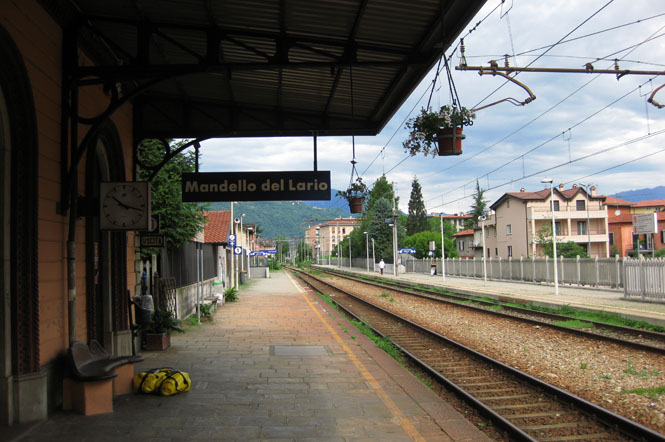 Milan. The Station Hotel is in easy walking of the central train station (and just across the street from the iconic Pirelli building). It was once called the New York Hotel, which must cause some confusion.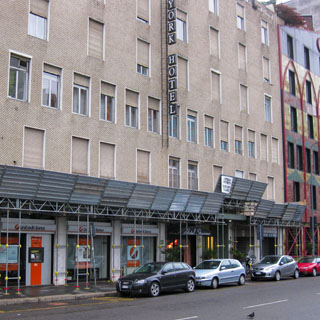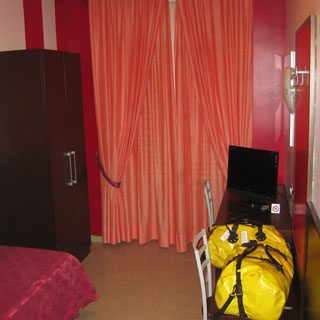 Pinacoteca di Brera museum. That's Napoleon in the courtyard (wearing not much). He's the one who founded the museum. I've been to this museum before, but didn't have a chance to see all of it then as there was construction.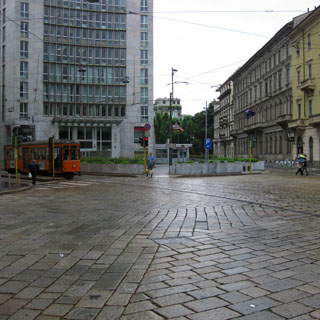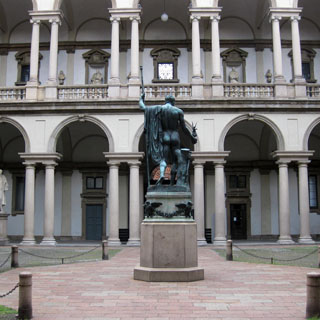 This first one must be one of the more well-known paintings in all of Italy, but particularly northern Italy. This one and the third one are wrapped up with the independence of Italy.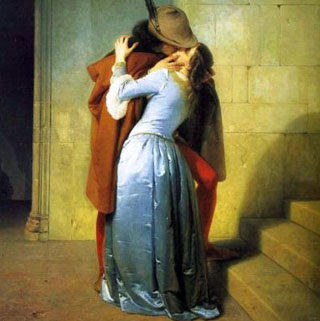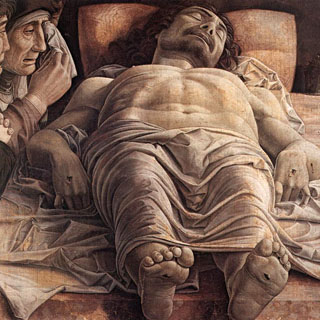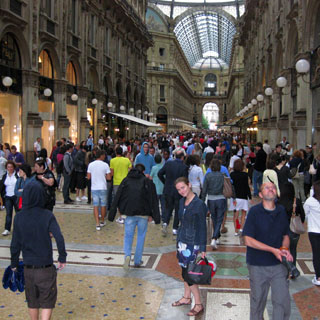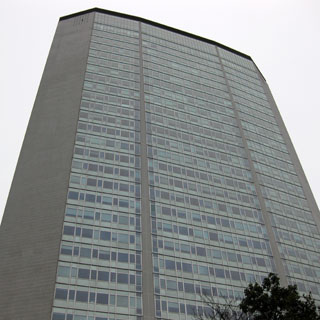 That's the 767 that will be taking me back to Newark.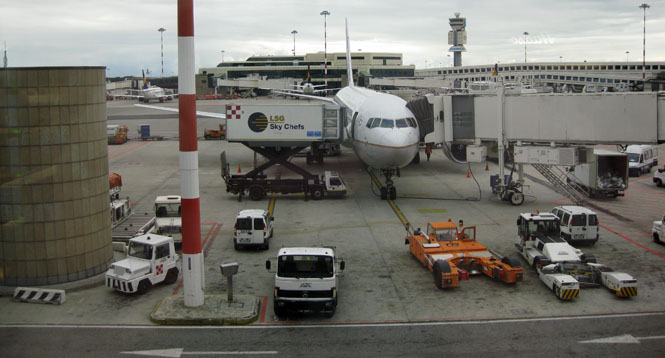 A great trip. Thanks to Alis and Peter and Alby and Nicola.
Notes
The packed extras worked well. I debated taking them, but I needed the polar-tech pull-over liner more than once (I was sometimes riding in temperatures below 50 degrees with rain), and the 3/4 length waterproof jacket worked well in the evening rain storms.

One extra shirt and set of underwear continues to work well. Washing clothes every evening isn't something to look forward to, but that's the way it goes.

The silk scarf made a difference. It isn't the best for rain, but otherwise it works in both hot and cold weather to protect your neck from any abrasion.

Amazingly, my yellow bag was never held back for inspection at any airport.

But, in Spain it was the subject of interest. I was approached by an undercover official of some sort (he had a badge) and was asked to open the yellow bag for inspection. He was very professional, and after I was cleared (of whatever crime I was suspected of) he shook my hand and wished me (by name) a pleasant trip--all in Spanish of course.

I continue to wish that highway numbers were emphasized and consistently used. As it is, you cannot rely on them for navigating between towns nor for finding your way through a town.

I've use many brands of maps over the years, but prefer Reise maps. They have two advantages over the others: 1) they're waterproof, and 2) the colors are ideal for easily seeing the smaller roads. When I was in France (on the out leg) I left my pocket unzipped and my very nice Southern France map blew away. I had no choice but to buy a Michelin map. These are fine for detail and accuracy, but they're certainly not waterproof, nor are their colors well chosen.

A video of the trip
[03:03]
last edit: 7/17/2010