November 26, 2010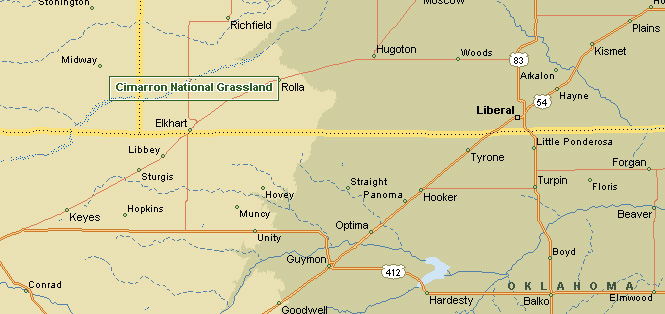 Cimarron National Grassland was created in 1960 out of the devastation that was left in Morton county after the dust-bowl years. From 1821, the Santa Fe Trail crossed this area, and people started homesteading around 1880. But, whatever success they might have had plowing the land for wheat came to very little by the 1930's. Those old photographs you've seen of skies black with huge dust clouds? Likely they were taken in this region.
Oklahoma
The National Grassland is in the southwest corner of Kansas. I'd approach it from Oklahoma.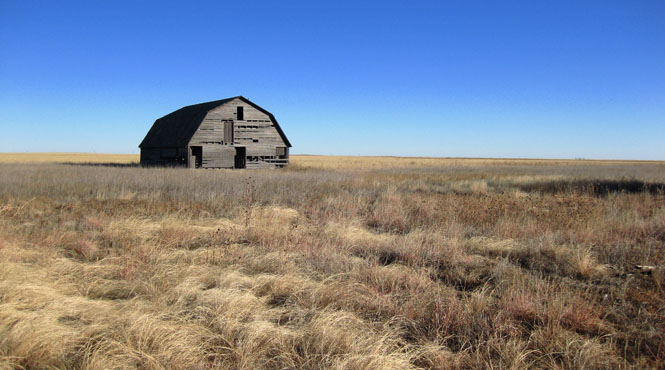 Kansas
The boundaries of Kansas are mostly mathematical. With the exception of the Missouri river in the northeast, there are no physical things that mark the line.
The dirt road (below) is running on the Oklahoma line. To the right is Colorado, and to the left is Oklahoma. I'm standing in Kansas.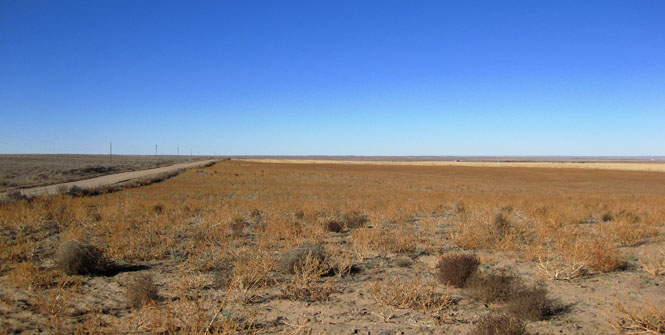 I'm guessing that the tower (below) at one time stood directly over the steel plate that marks the boundary corner. But, since there is now a dirt road, the marker stays, and the tower has been moved out of the road (and is entirely within Kansas).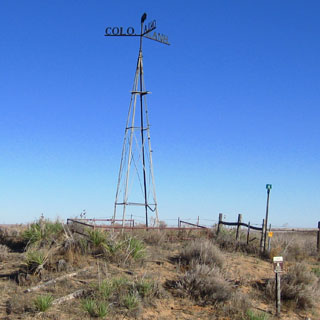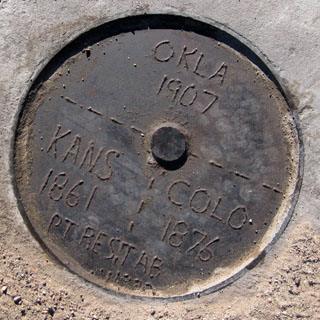 Elkhart, Kansas.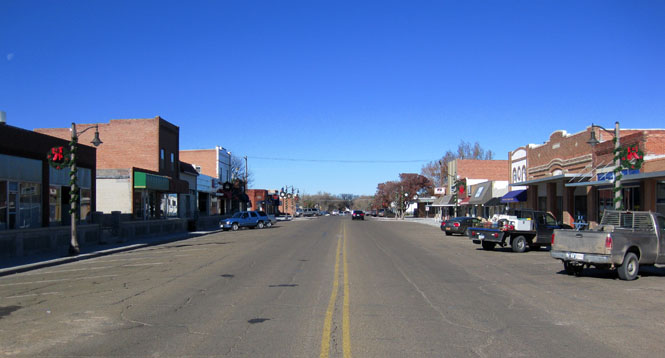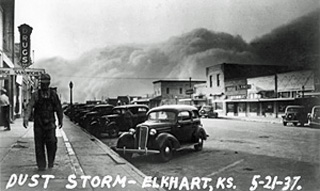 These enormous piles of grain were common. That looks like milo on the left, and the other two are corn.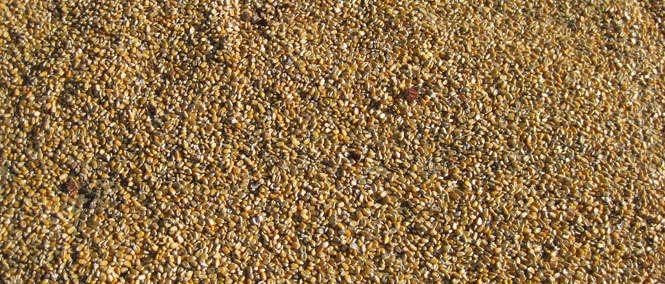 The ranger station for the grassland is in Elkhart. I picked up a few helpful maps and brochures.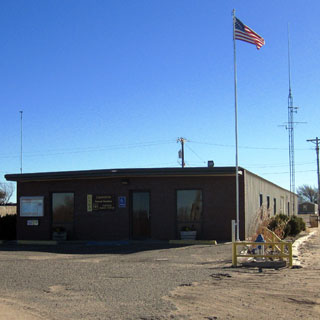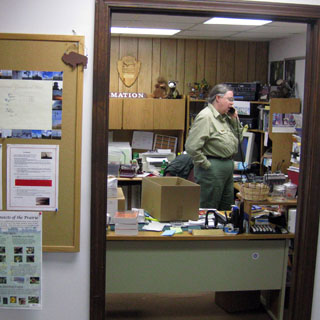 This sign is about as formal as the place gets. I doubt that the Cimarron National Grassland has many visitors.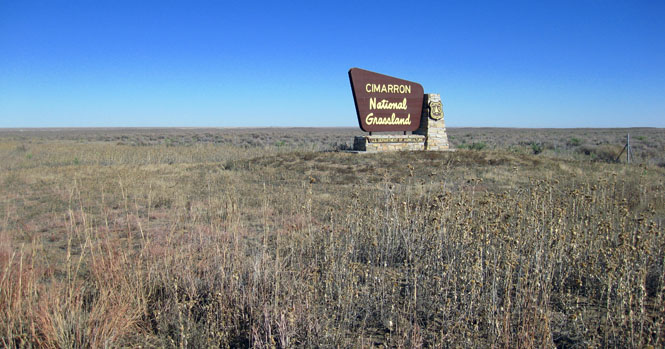 Point-of-Rocks was a notable feature on the Santa Fe Trail, and was even mentioned by Francisco de Coronado when he came through this area. Remember that in the 19th century (not to mention the 15th century of Coronado) there would have been no trees--even along the river bed.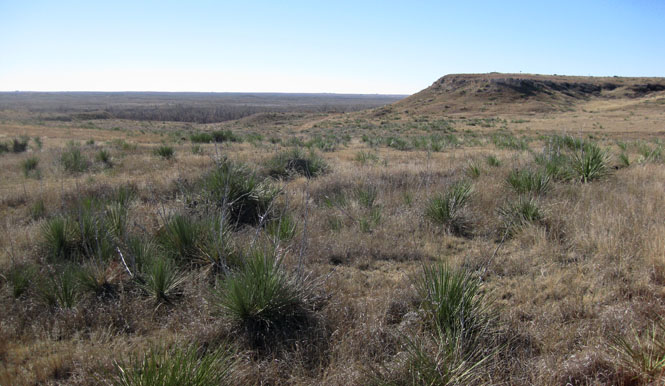 The view looking west from the point.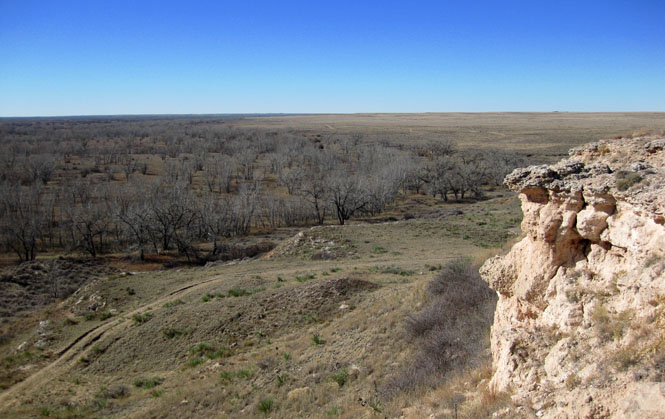 You can walk many miles along the Santa Fe Trail.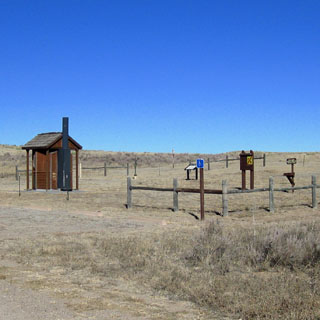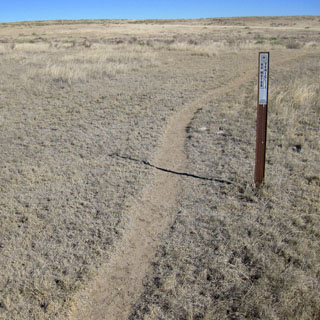 I diverted from the marked trail, and just headed out over the hills.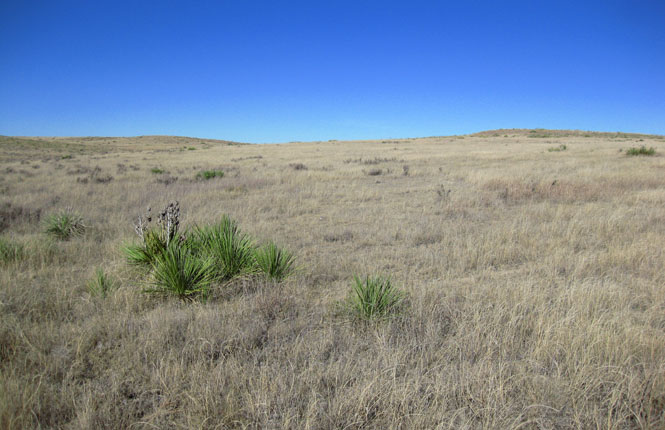 That orange device (below) on the dried cow-patty? That's the Spot GPS transmitter.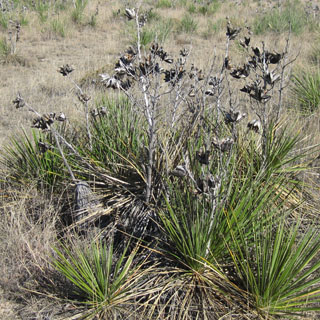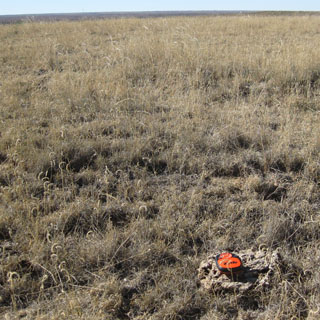 And this is where Spot said it was:
That's Point-of-Rocks off in the distance.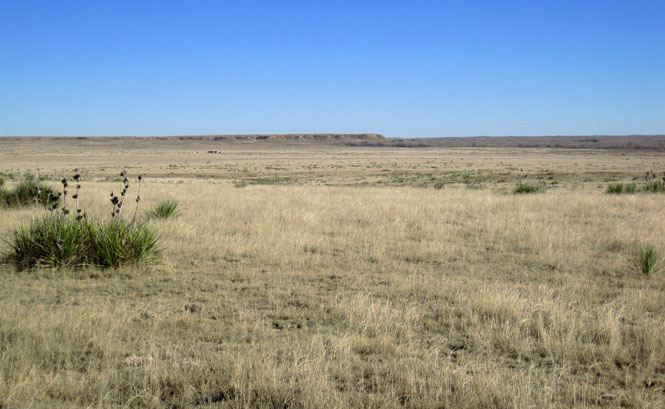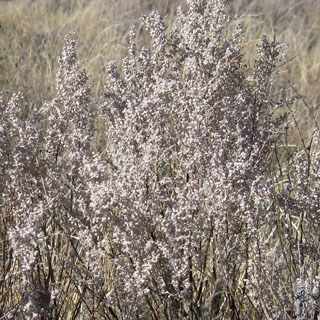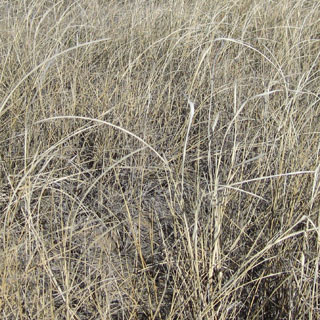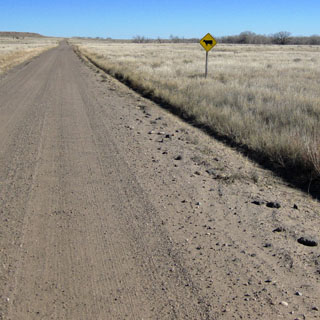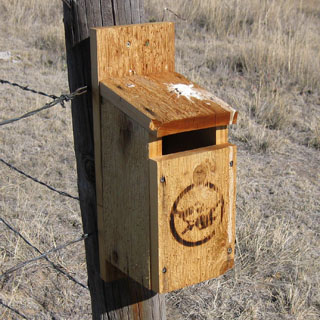 During a huge flood of 1914, two children died. Their bodies were found several miles downstream from their cabin (which washed away), and this is where they were buried.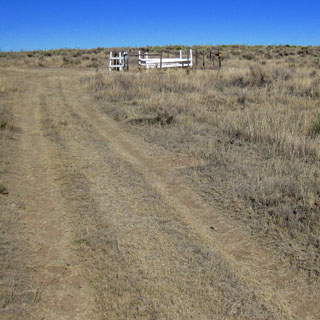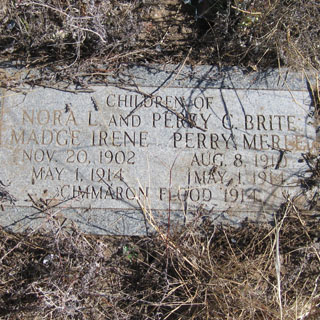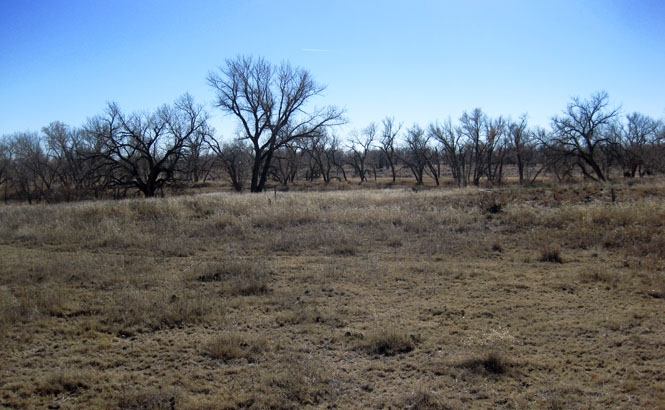 The river bed hardly ever has water in it.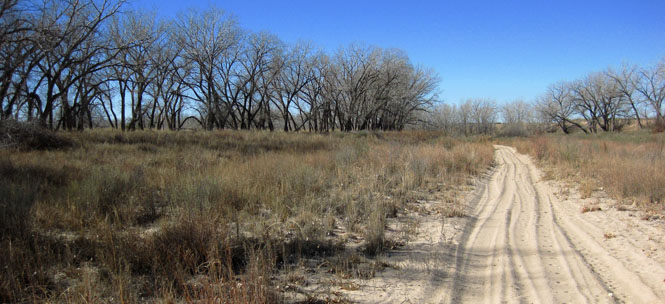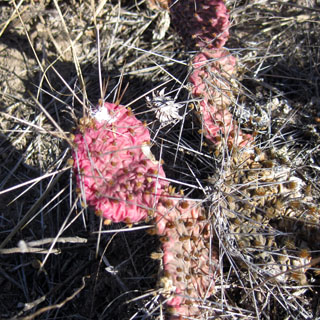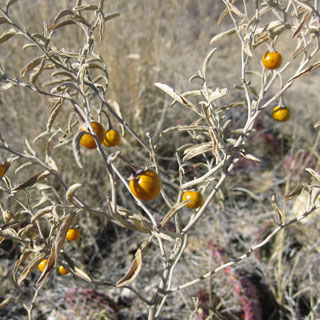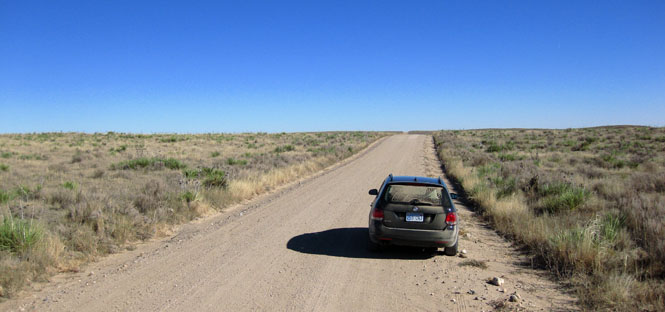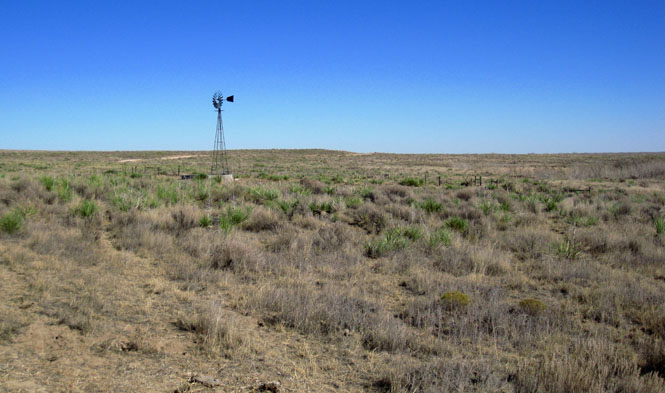 The Santa Fe Trail is marked by these limestone posts. I presume the three-legged frame is meant to keep cows from rubbing on the posts and knocking them down.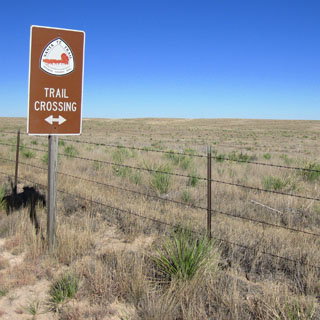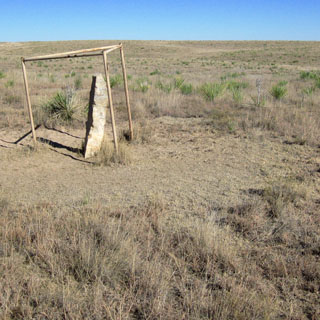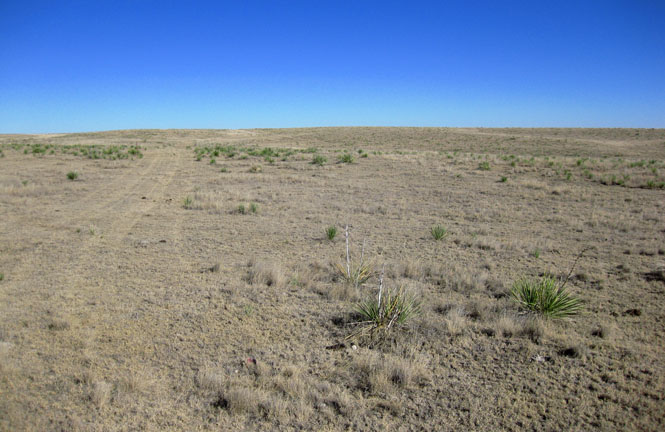 I have been to the large round barn south of Bucklin, Kansas before, but the photograph I took was poor, so I dropped by again.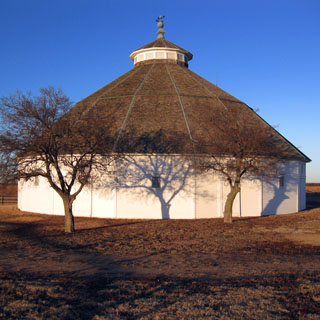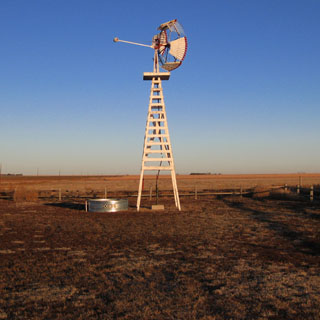 Mullinville, Kansas.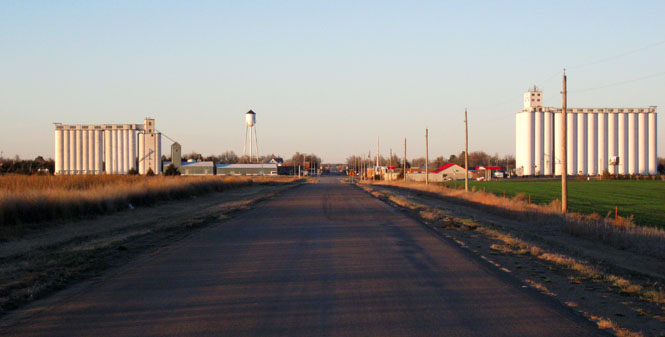 More information on Point of Rocks - from santafetrailresearch.com
last edit: 11/27/2010