May, 2010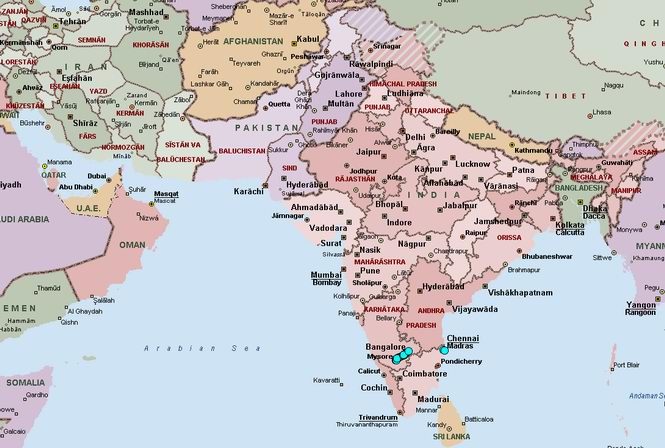 Kansas
This trip was foremost a business trip. The reason for flying to India had nothing to do with seeing the countryside, visiting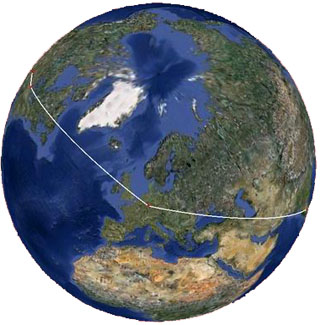 temples or walking through the old palace of the Mysore Maharaja. Any of that would take place on the weekends. Most of my time would be spent at the facilities of Cessna-India, at the southwest edge of Bangalore.
Partly by plan and partly by happenstance, the week I was to be in Bangalore was also the last week that friend and ex-Cessnan (of some renown) Natesan Ramachandran would also be in Bangalore (the home of his parents) after an extended stay. Nate's help would be invaluable, and the trip would have been quite different without it.
Germany
The route from Wichita to Chicago to Frankfurt to Bangalore is a fairly direct one. The Chicago-Frankfurt leg was diverted well south over Spain to avoid the ash plume from the Iceland volcano, so the plane arrived late in Frankfurt. To their credit Lufthansa had a bus waiting at the jet way for Bangalore-bound passengers (there were several on the Chicago flight) so we were able to transfer directly to the Bangalore plane without transiting through security.
It's a very nice thing to travel business class. On its own, it's still not all that comfortable to spend many hours sitting in a chair with little to do, but compared with economy class; well...
Both of the longer legs were on 747-400s. The first leg was upstairs (facing backwards), and the second was on the main level (facing forwards).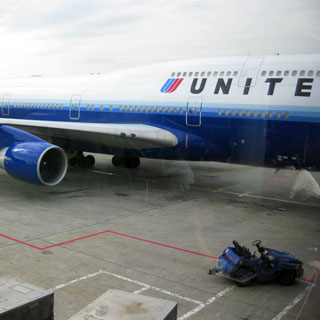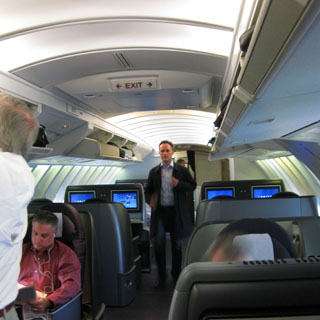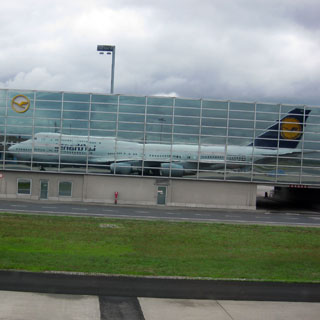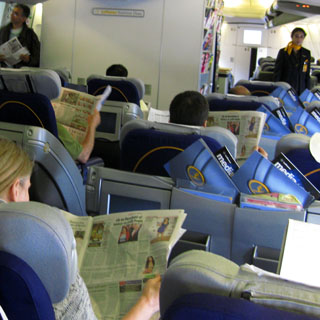 India
Generally, I packed identical to a motorcycle trip with the exception that I didn't bring the fleece riding suit liner nor the lightweight jacket. I'd be doing laundry in the sink every night. The advantage of not using the normal yellow waterproof duffle bag is that I was never stopped by security for a "random" check. That happens virtually 100% of the time when I carry the yellow bag.
I was met at the airport by Rob and Nate, which made the arrival so much easier.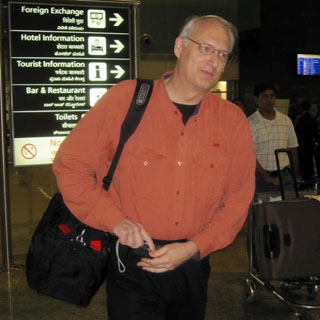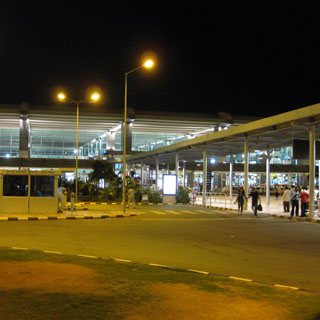 The Gateway Hotel turned out to be a pretty good place to stay. While it appears to be quite an upscale place (and I suppose it is), the rooms are pretty much what you'd expect to find in any Holiday Inn Express. Internet Wi-Fi access was available, but expect to pay a fairly stunning amount for the service. I didn't bother.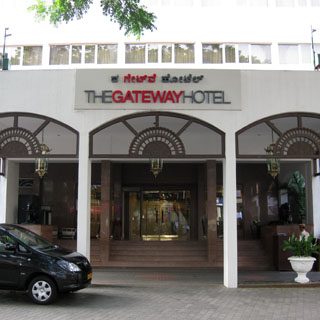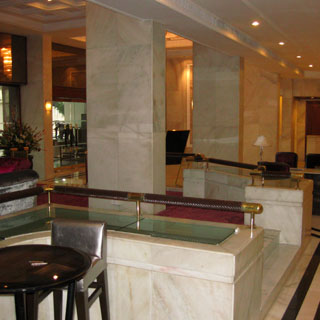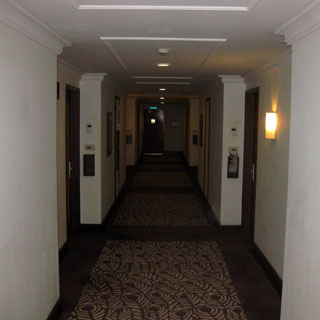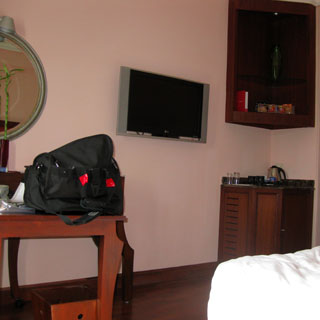 During the stay, I had full-time access to this brand new diesel Toyota and driver, Raju. Driving in Bangalore would be an adventure that would have to wait. I was happy to have somebody else take care of that.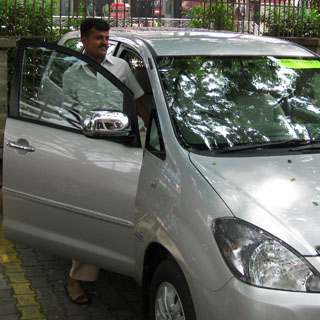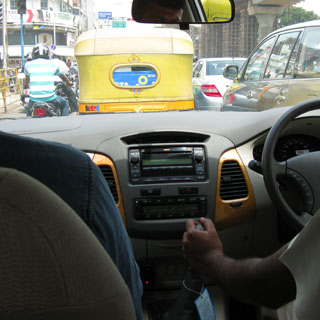 The Hotel and the engineering building of Cessna-India are not really very close. As you can tell, Cessna-India is actually outside the core of the city. Depending on the time of day it could take up to an hour to drive this distance.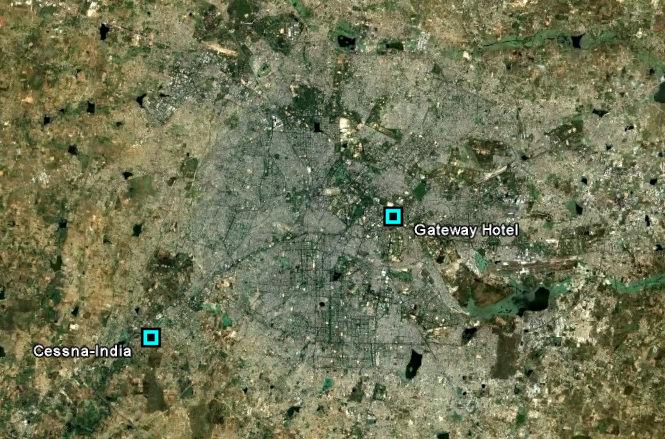 A sugar cane press and tender coconuts piled in the background.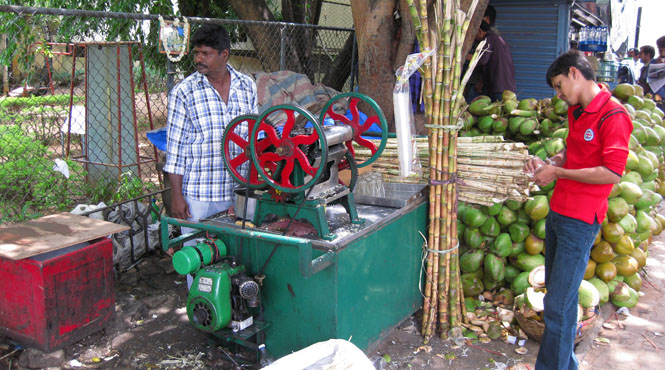 The Vishweshwaraiya Museum of technology.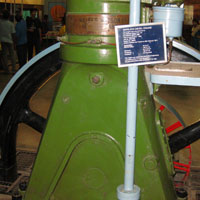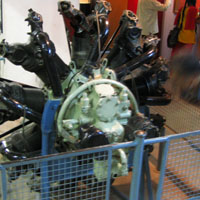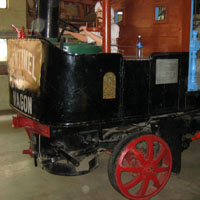 A couple of government buildings for the state of Karnataka.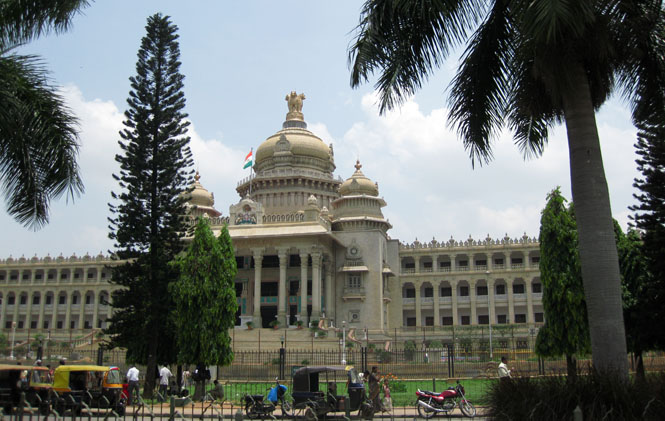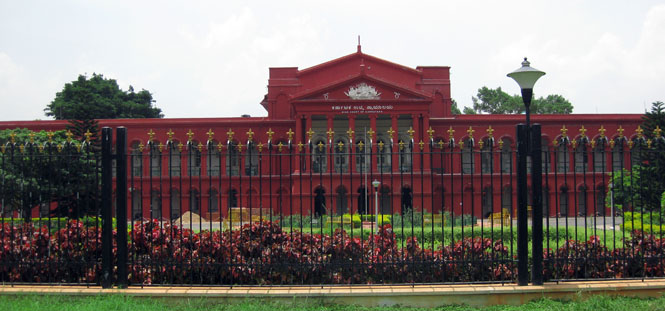 There is no telling how many lanes of traffic were intended for this road. Whatever fits is what is done and two-wheelers fill the gaps if there are any gaps left.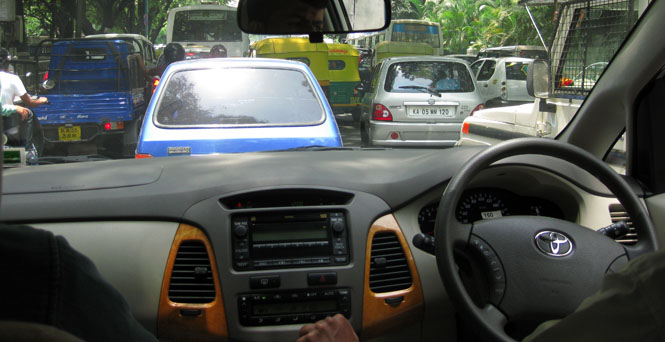 The Lalbagh Botanical Garden.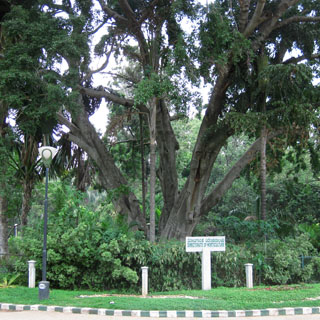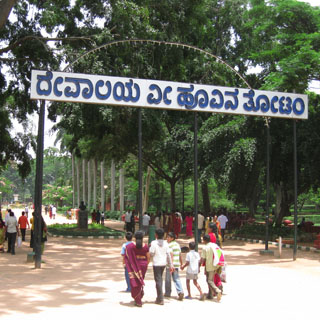 This large rock outcropping gives some idea what the land around Bangalore might have looked like when it was just a small village. Rocks and forests.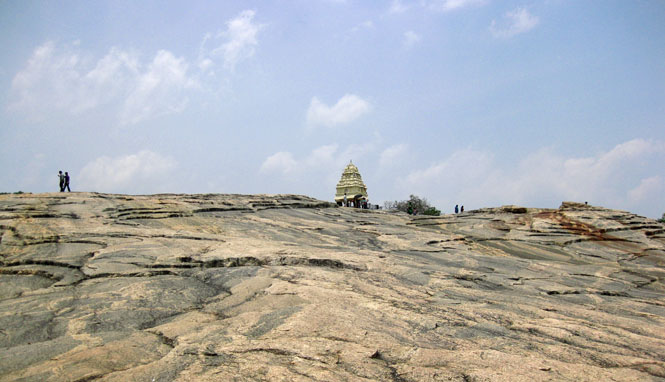 The Kempegowda tower was at one time a boundary marker of the old city of Bangalore.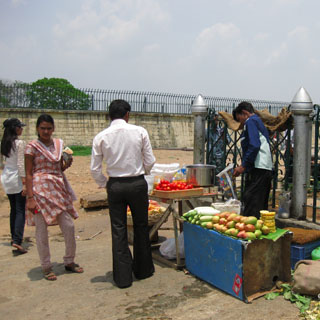 It really looked as if this bridge were intentionally designed to send strolling park visitors into the ditch.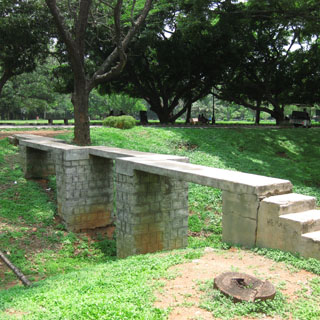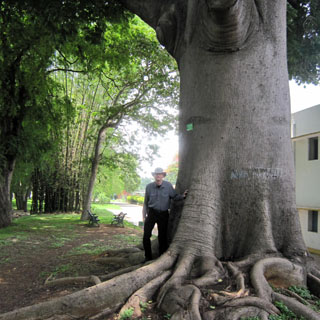 Vagrant dogs. Bangalore has them wherever you look. Mostly they're doing nothing more than this one is doing.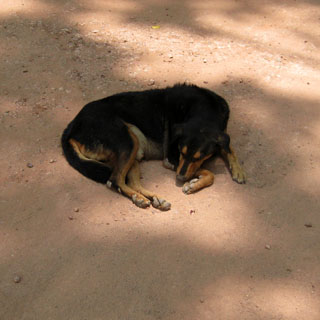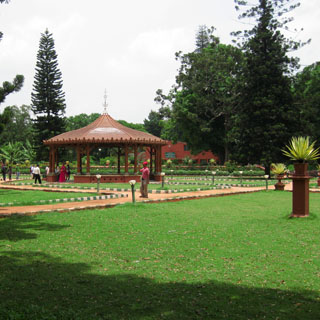 You'll see many women riding sidesaddle. The yellow-topped auto-rickshaws "autos" are everywhere. Some are two-strokes, some are four-strokes. Some seemed to run on a shade-tree mechanics system of propane fuel that didn't look safe at all. They probably can't run much faster than 25 mph. That's a good thing as I don't think the front brake on the one below is going to work very well (note the brake cable).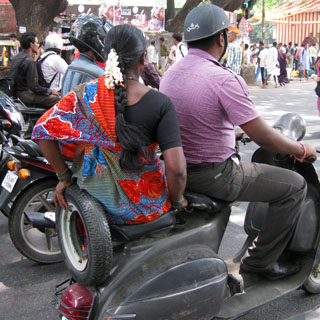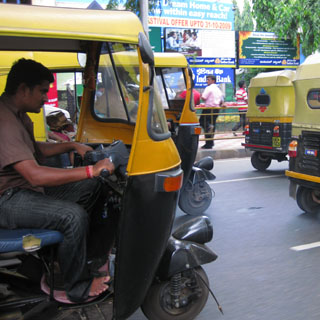 Kamath Yatri Nivas restaurant (and making Jowar Roti--a sorghum flatbread). Nate found this place after making a couple of phone calls. It was quite good (I thought).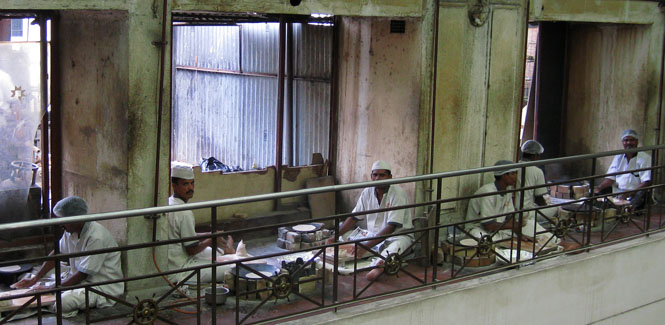 Cleanup is quite easy in a restaurant that doesn't use plates or silverware. The wash-up area is outside and around the corner (still on the 3rd floor level).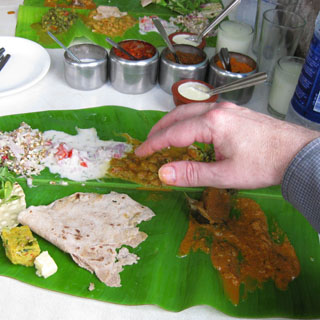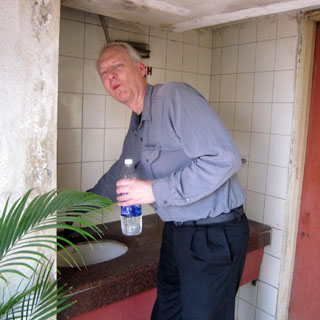 Stopping at Rob's flat for an evening meal. Life is good here.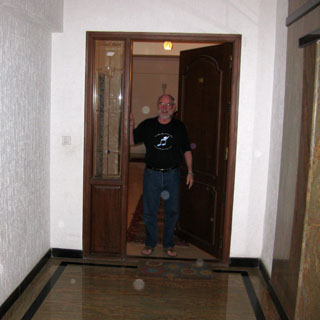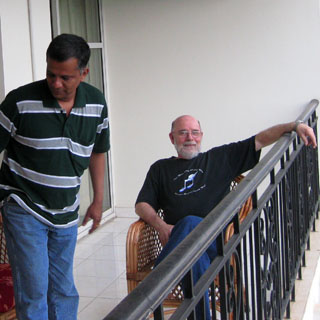 This man is making Paan. You start with a betel leaf and add pretty much anything and everything (it seemed) before rolling it up and popping the whole thing in your mouth. "Hold the tobacco" was the one restriction.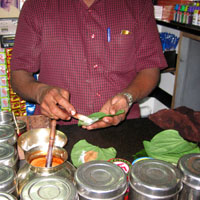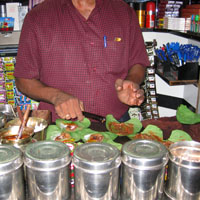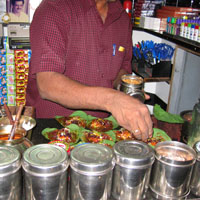 I can't imagine the age of this thing. It's a cigarette lighter. Push the button and light the cigarette against the glowing coil. UL approved? Not likely.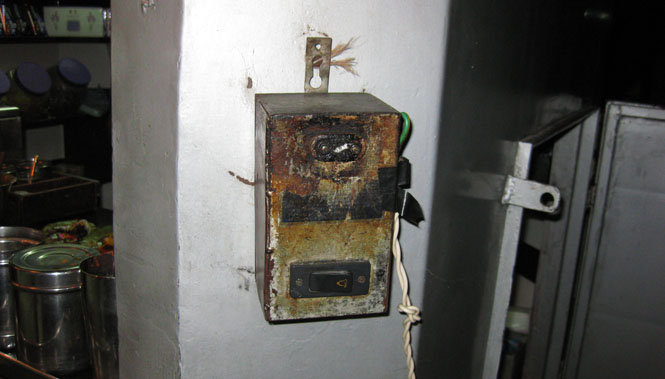 Channapatna is a small town along the way to Mysore. It specializes in making small children's toys.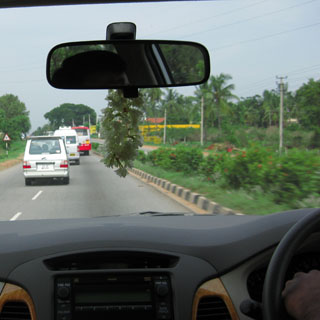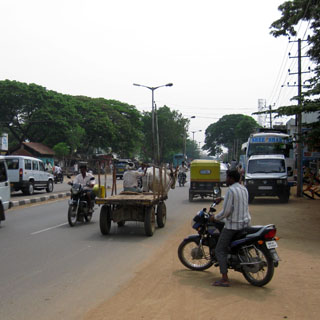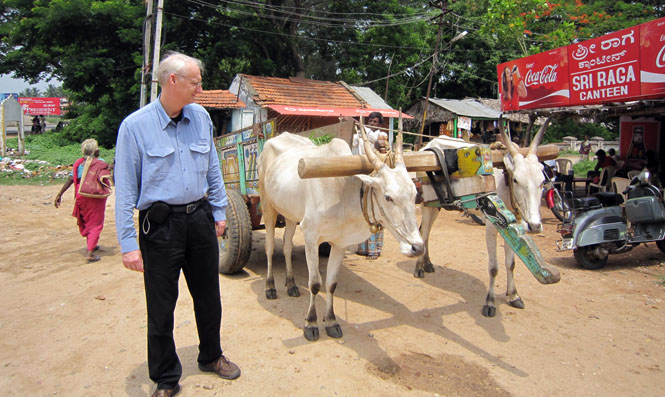 Ranganathaswamy Temple, also along the Bangalore-Mysore road.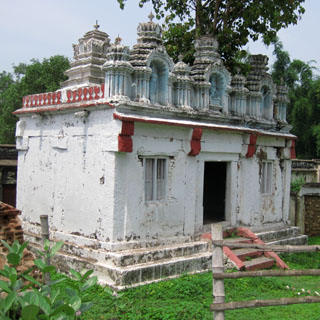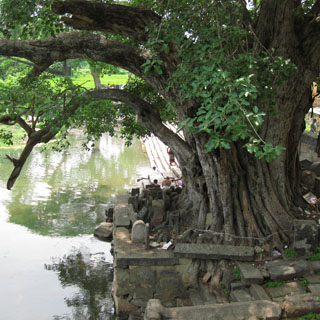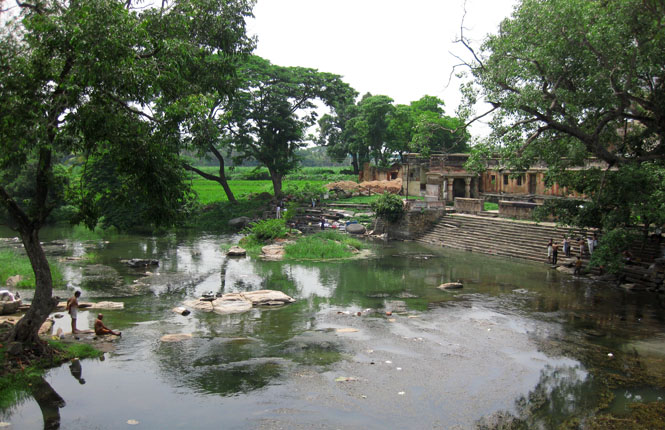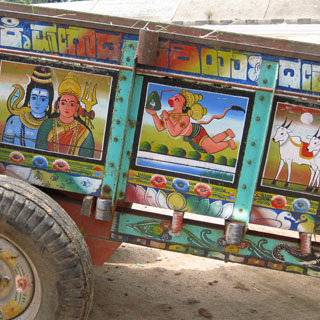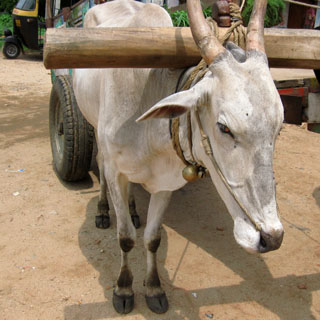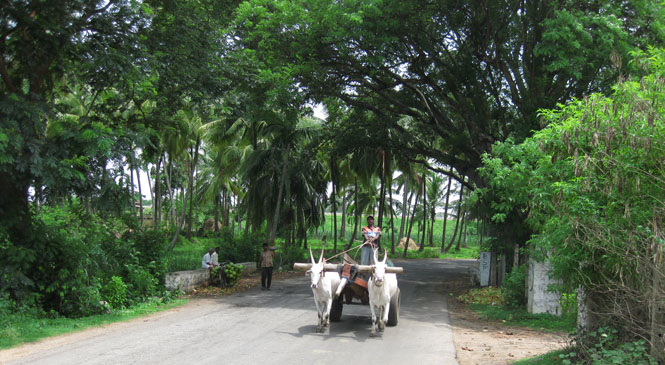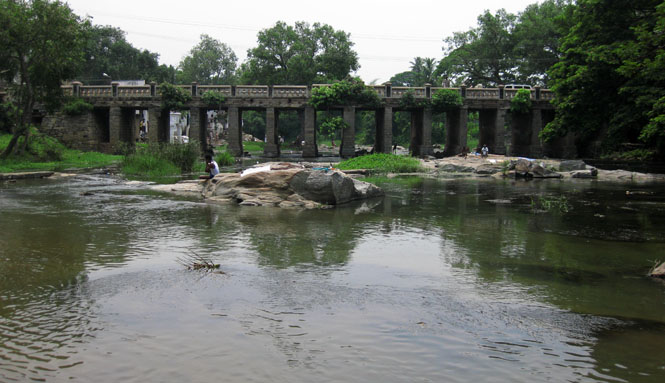 I wouldn't have thought that monkeys would leap into water on their own. This one did.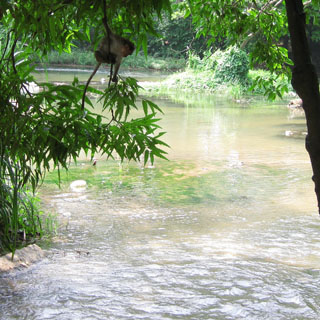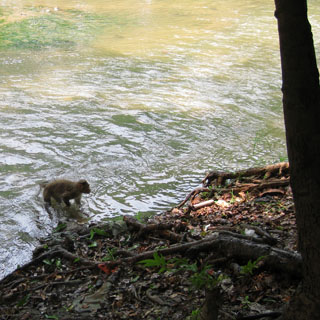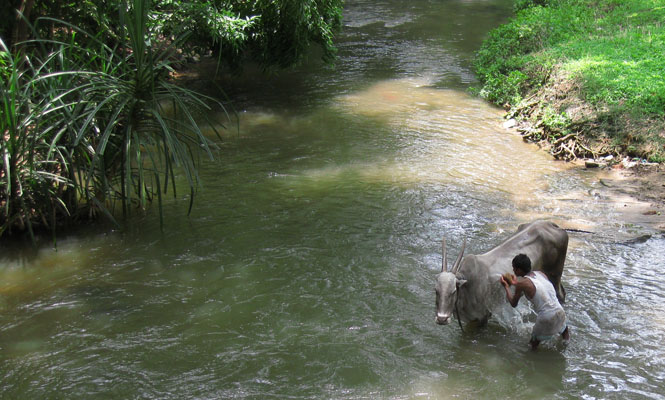 The Ranganathittu Bird Sanctuary.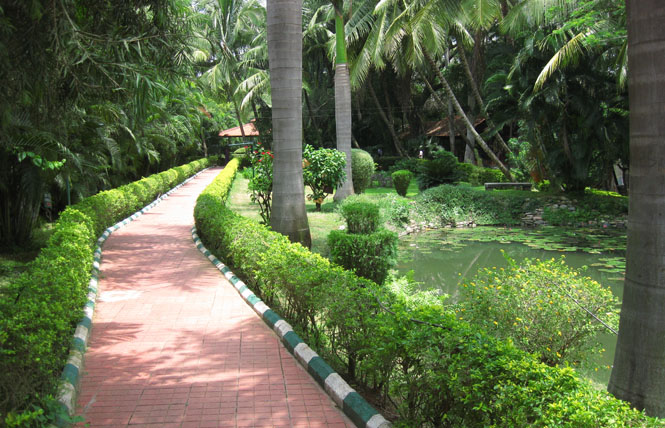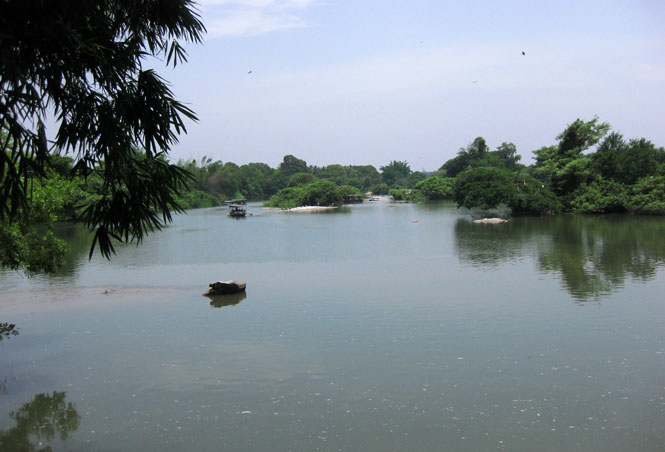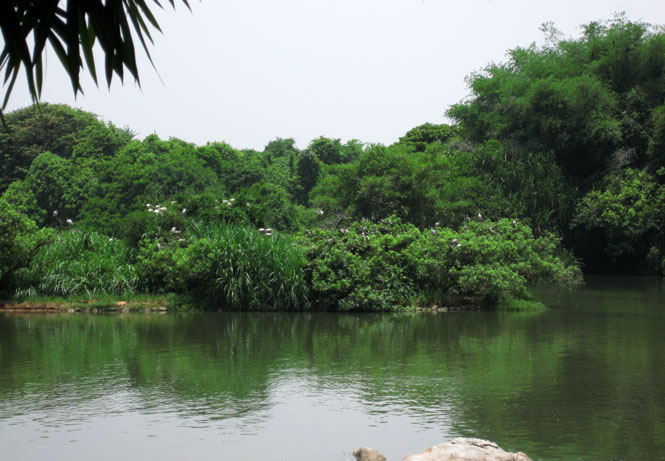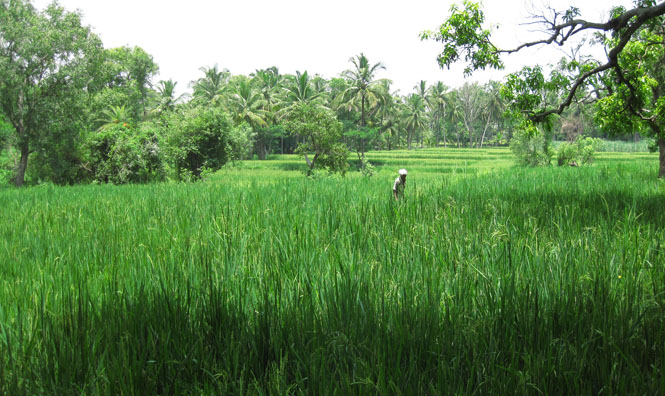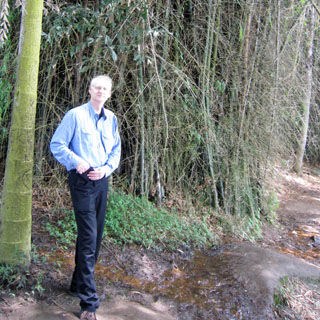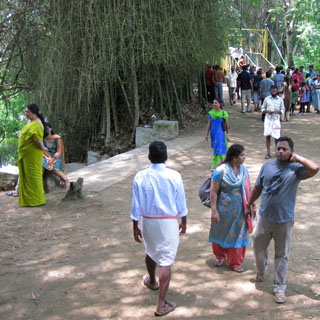 The
Lalitha Mahal Palace
is one of several in Mysore. This one is now a hotel and restaurant (and I would presume a convention center of some sort).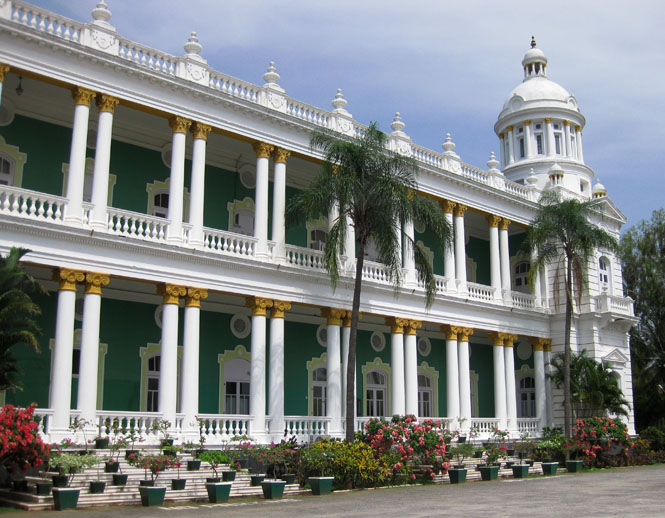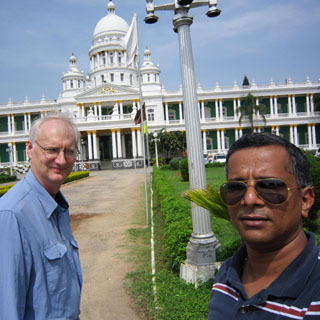 You can just see the musicians on the elevated stage at the end of the room.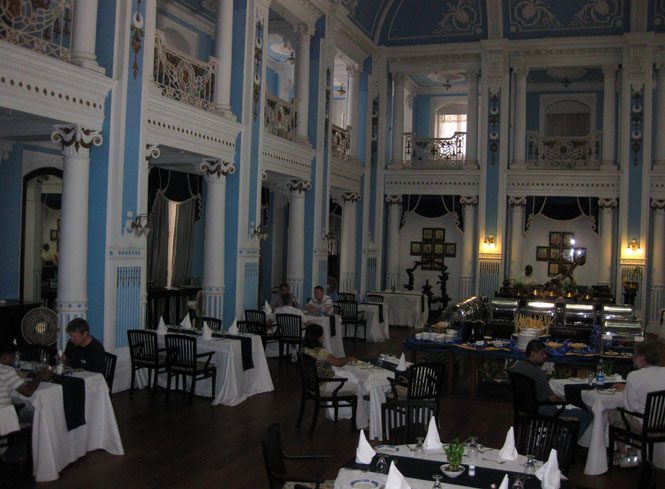 The Mysore Palace. This building is actually not all that old. Over the centuries there have been a number of palaces on this spot that have been destroyed and rebuilt. This version was completed in the early 1900s.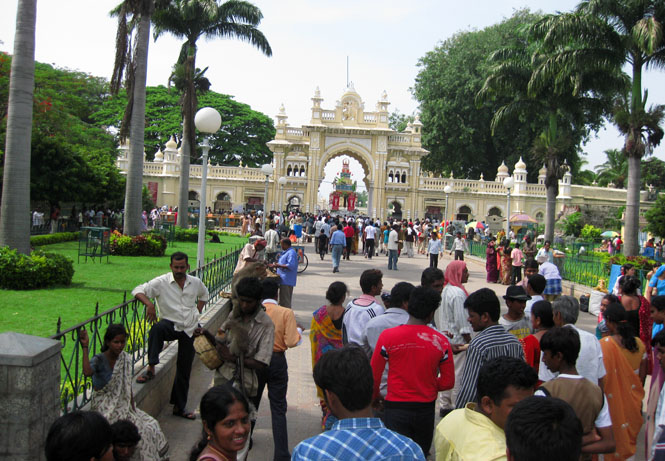 A monkey, a cobra, a baby and a flute: there are many ways to bring in money; these are just a few that we saw.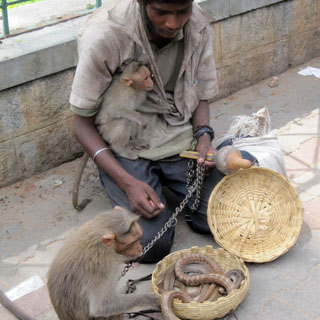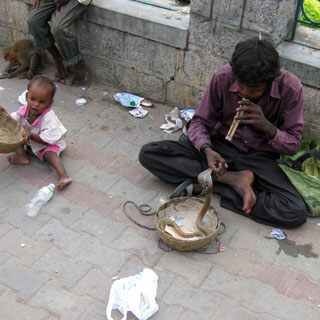 Buying a ticket to the palace and then passing through the narrow gate to get in. This was a curious thing. There was absolutely no reason for this pressing throng and no reason to be using the narrow passageway. Nobody was checking for tickets, and there was a much wider (closed) gate just ten feet away.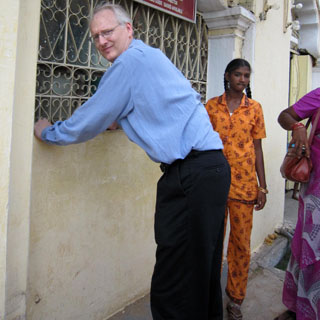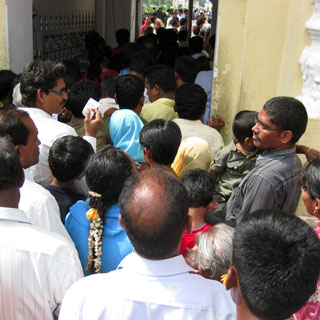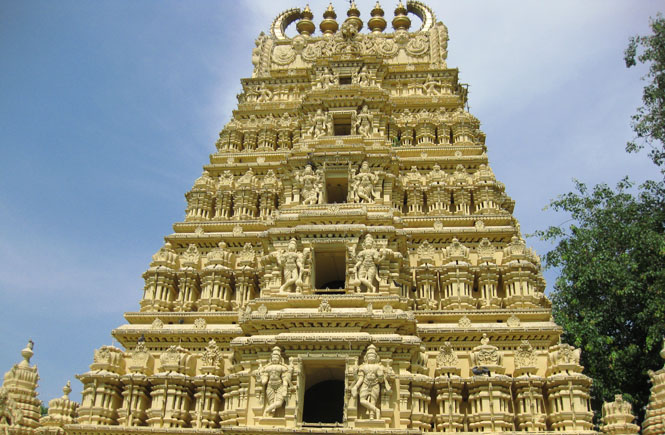 This is the front of the palace. I would have expected a more conventional (European type) entrance, but this one is essentially a large reviewing area where the population can see the elite sitting in their shaded stands and the elite can watch the parade in front of them.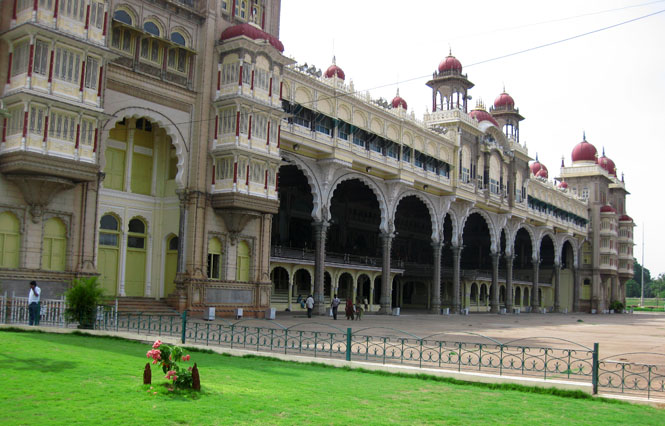 Shoes must be removed before entering the palace. No photographs are allowed. Some of the rooms were spectacular. You might think there would be a limit to how much brightly colored paint and tile and wood carving and gold you could use to decorate a room, but you would be wrong.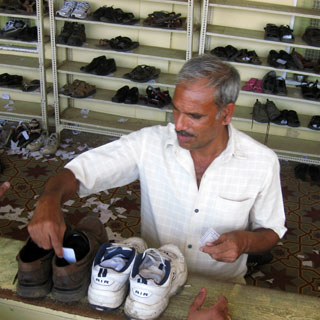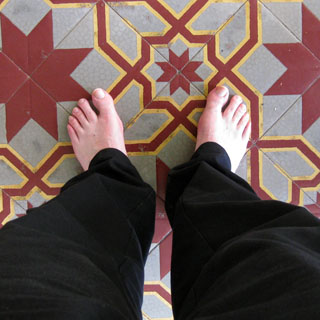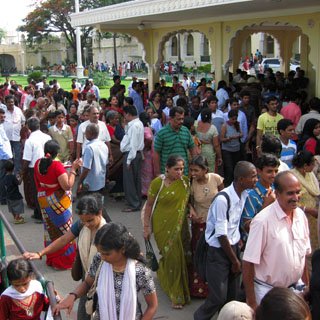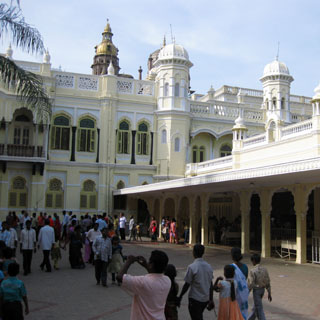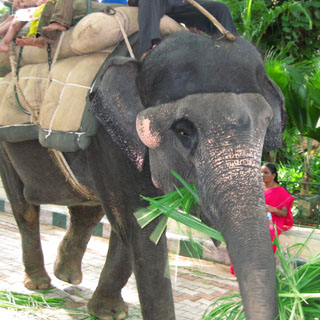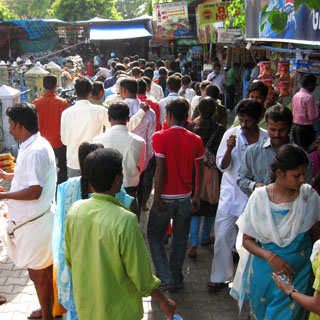 St Philomena's Church in Mysore (built 1936). This is a good place to mention women's clothing. No matter where I went, women were amazingly colorful and gracefully dressed. It occurs to me that my memory of the bright colors of the city streets is really due to the colors of the sarees.
Traffic is close to impossible pretty much all the time.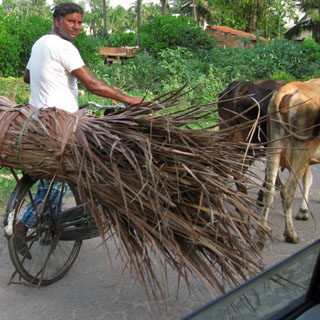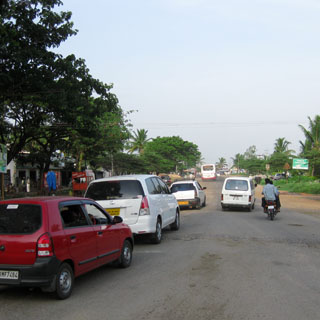 This rail crossing was an interesting example of filling up both lanes on both sides of the track with the inevitable and predictable chaos that results when the crossing bars are raised.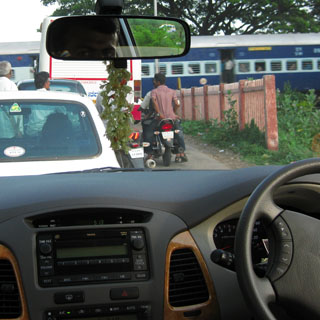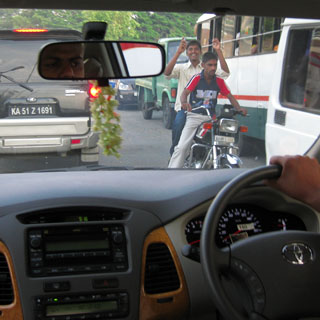 A typical morning drive to Cessna-India.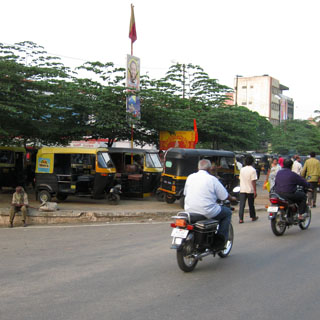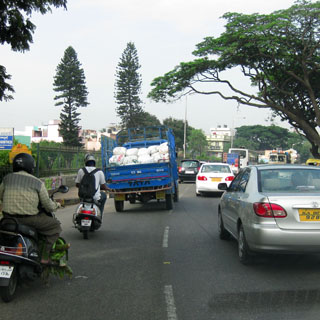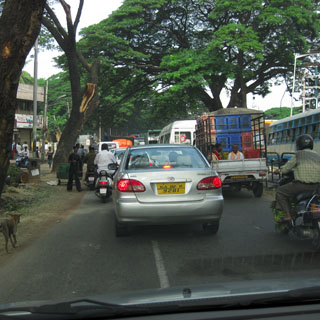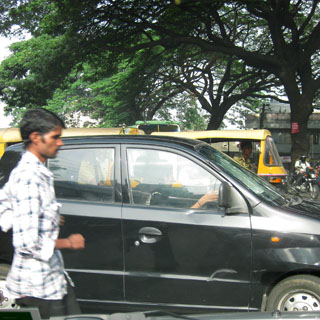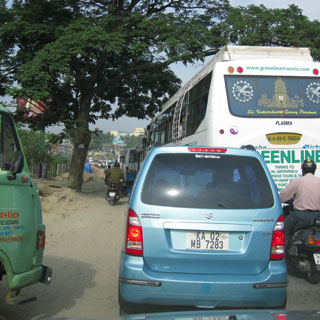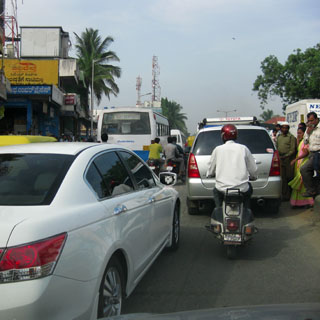 Gopinath and Kanwardeep at work. This was Kanwardeep's first day on the job in India.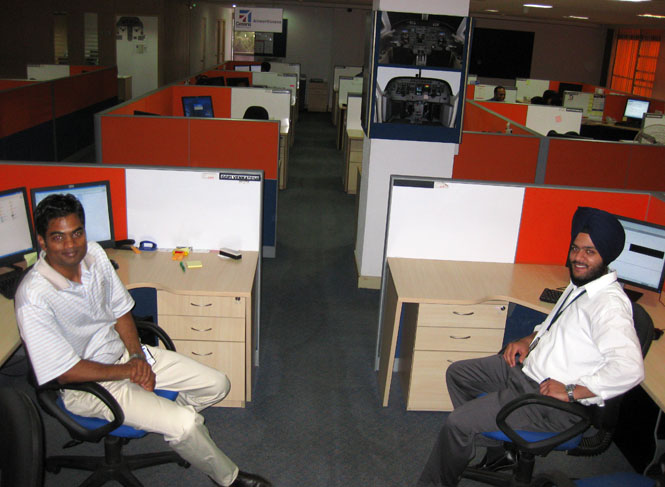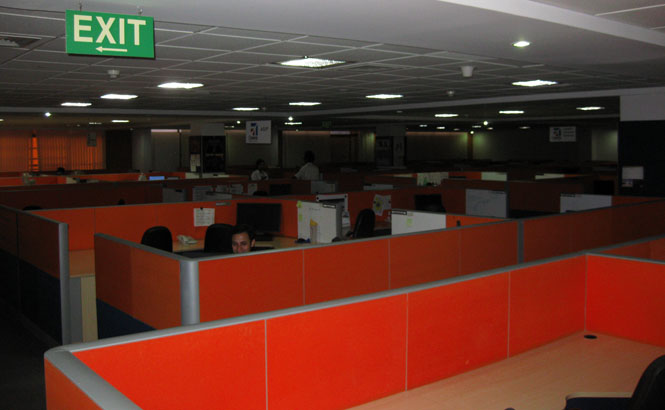 There's a lunch area on the roof of the building.
Some of the surrounding buildings. It's really a pleasant area.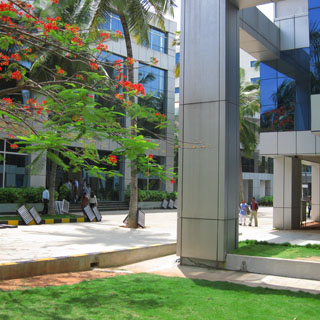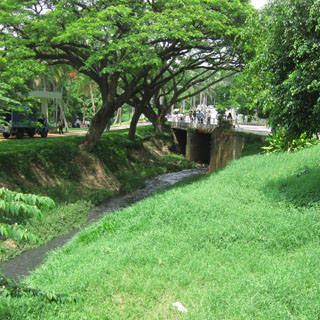 A common food court shared by all the area office buildings.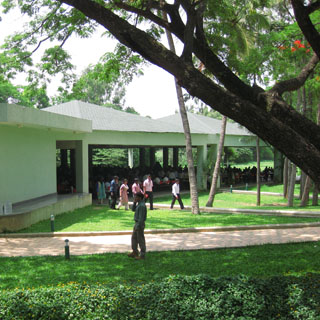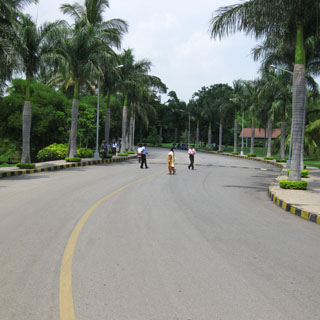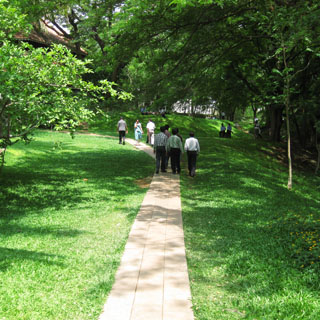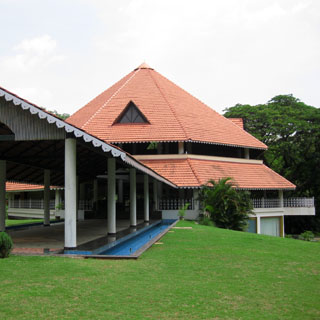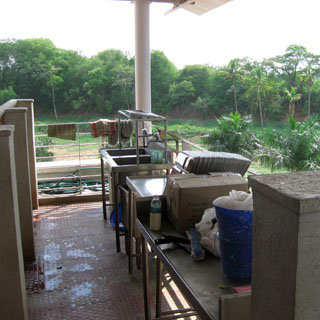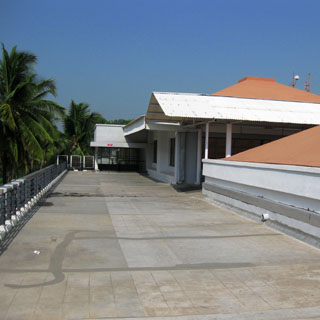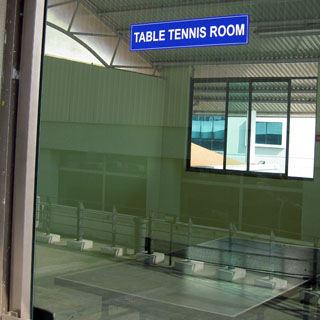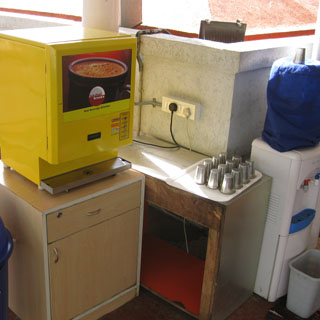 The evening ride back to the hotel.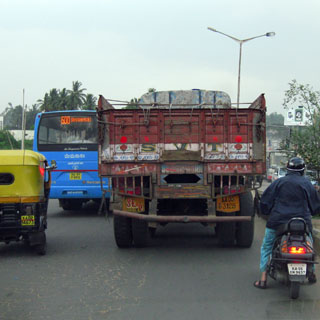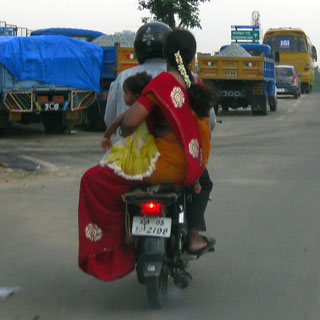 Seeing four people on a motorcycle wasn't too unusual. I never saw as many as five, but I've no doubt that it is often done.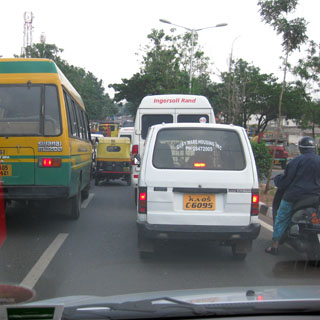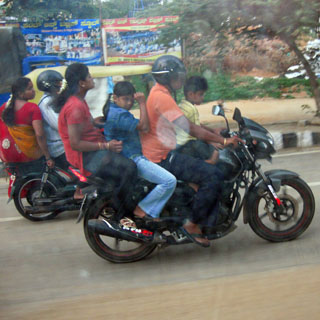 Riding an Enfield Bullet in India. It's something I've considered for years, but this is as close as I've come (riding it just a block, up and back). This was quite a nice bike. The newest version is fuel injected and has therefore lost the kick-starter that this one has (a shame).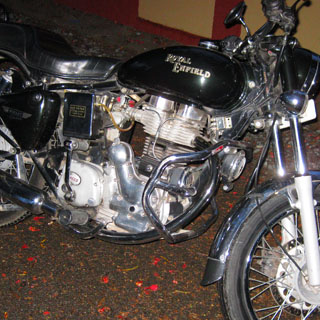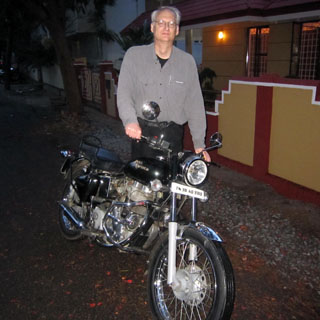 The Royal Enfield Bullet is a motorcycle built in Madras, India since 1955 from an original contract with the English company that had been making motorcycles in Redditch, Worcestershire England since 1899. The Bullet has been virtually unchanged since then and-- outside India--is an anachronism typically owned by enthusiastic riders who love the bike for its heritage and character. The design dates from 1938. By any current standard it is not fast, not reliable and vibrates; but it is loved all the better for that.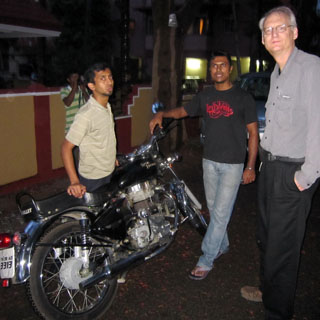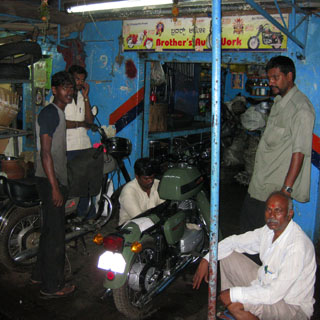 Visiting the home of Natesan's parents. From left to right we have: Bhagyalakshmi R, Ramachandran S, (me), Soundarya, Sriram and Lakshman.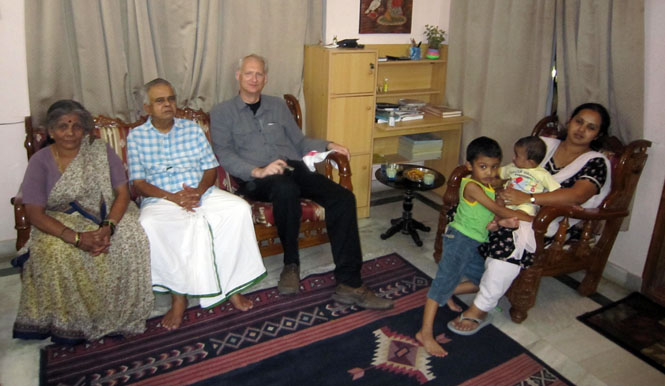 Wednesday, Natesan and I would travel to Chennai to visit with Dr. Sriram at the IIT-Madras.
Night at the central Bangalore train station.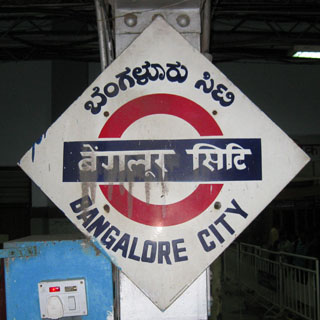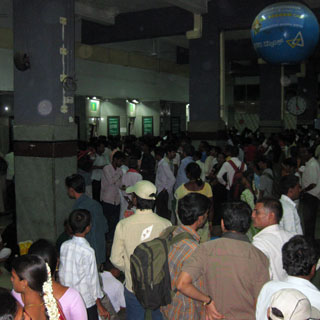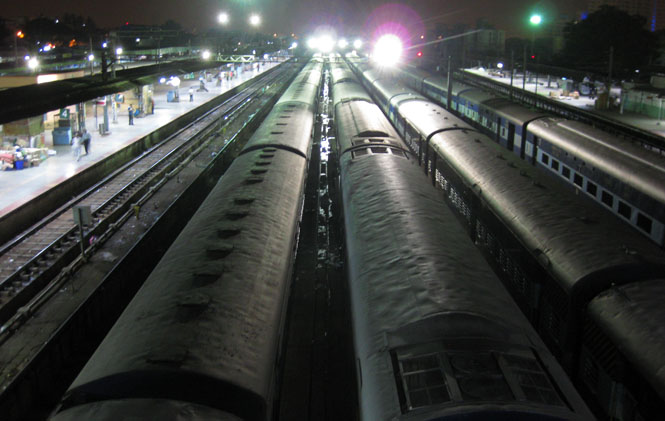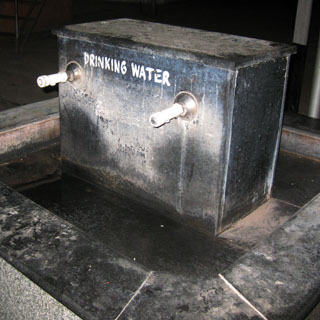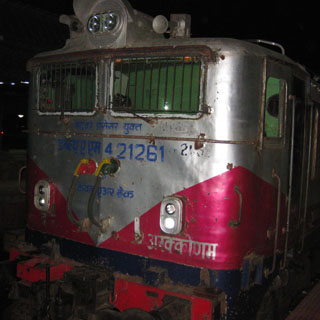 We would travel on an express train in the first class car.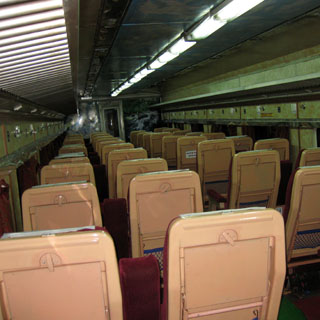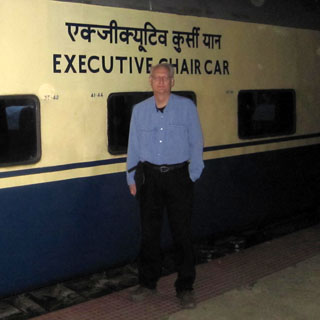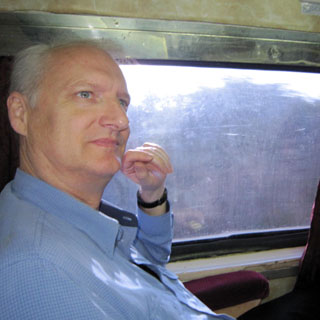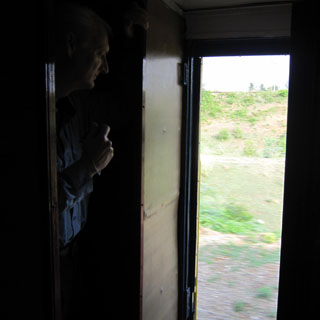 Several shots taken along the way.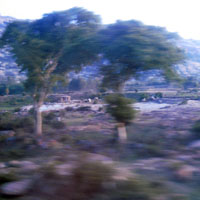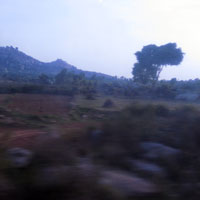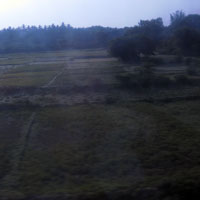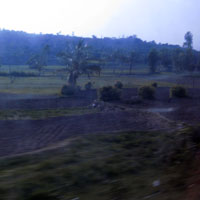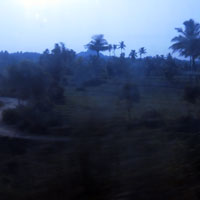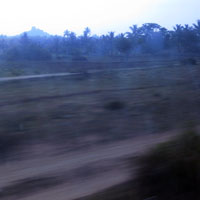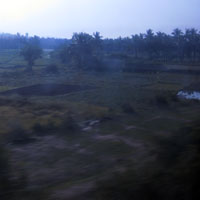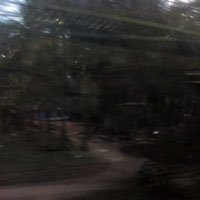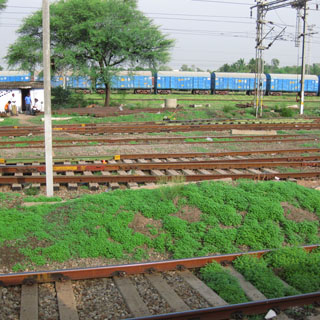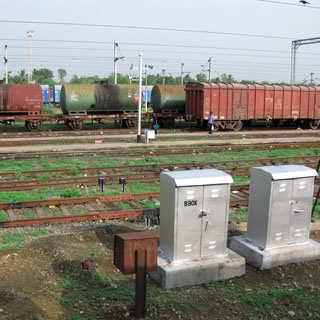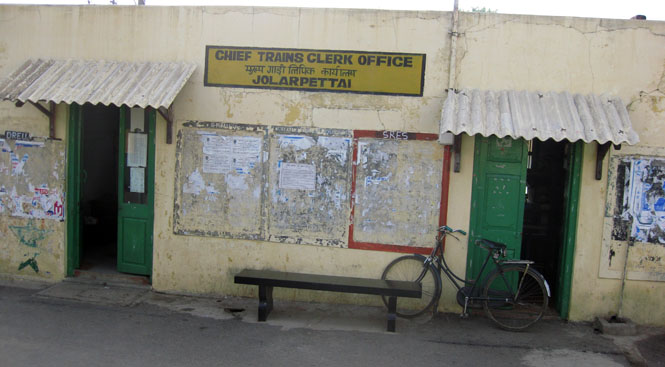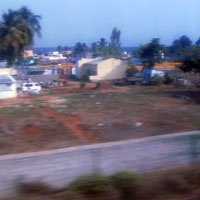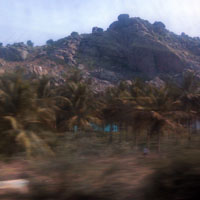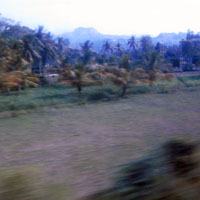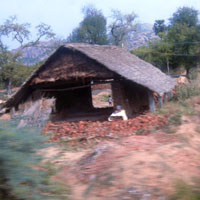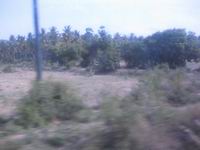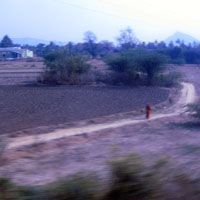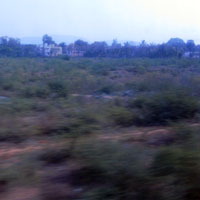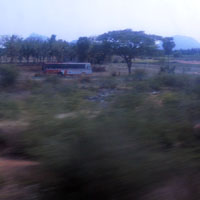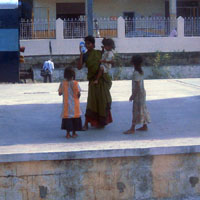 Food was provided.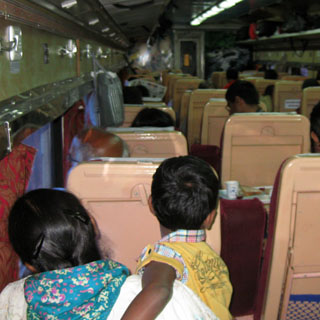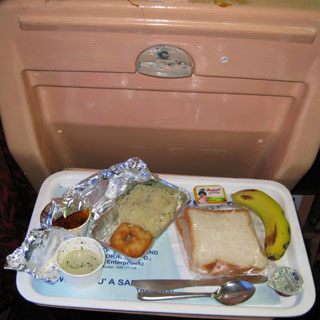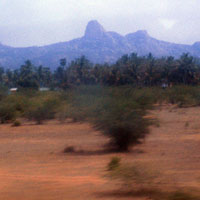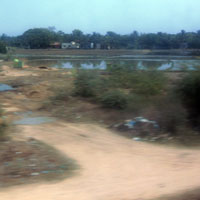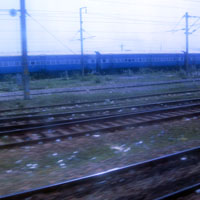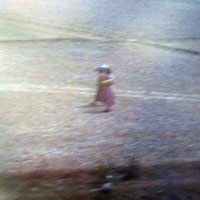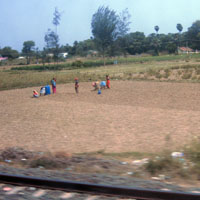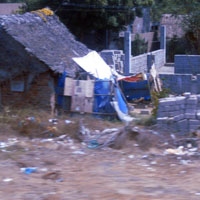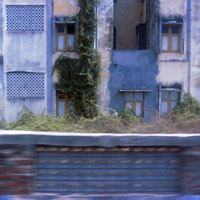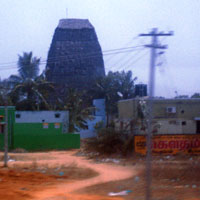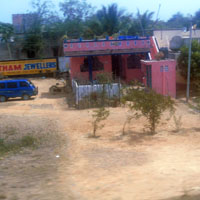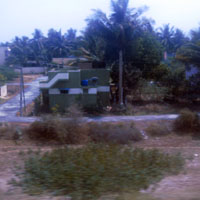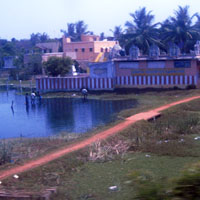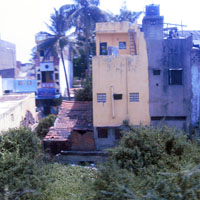 The Chennai station at the other end. This was a (very) noisy and busy place.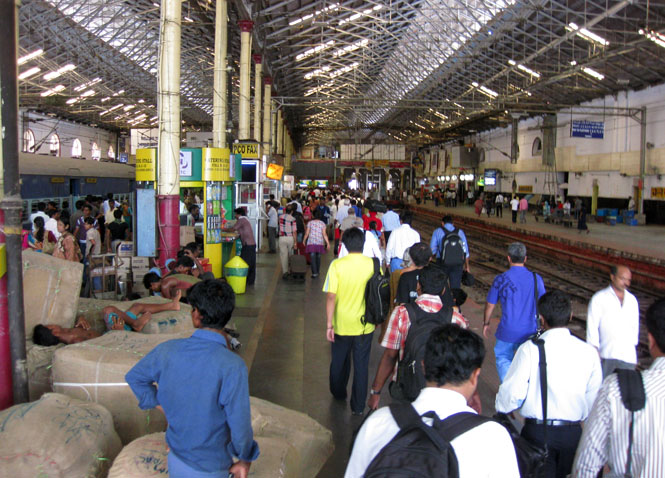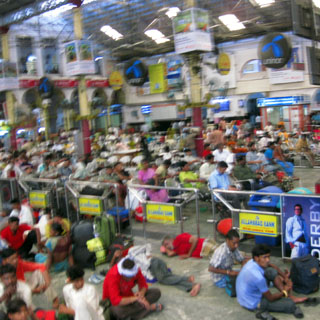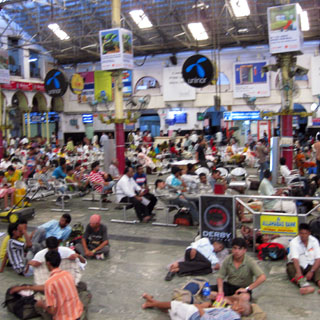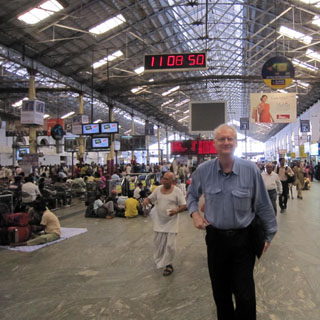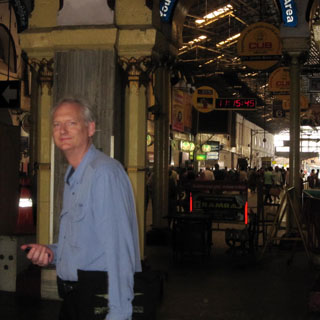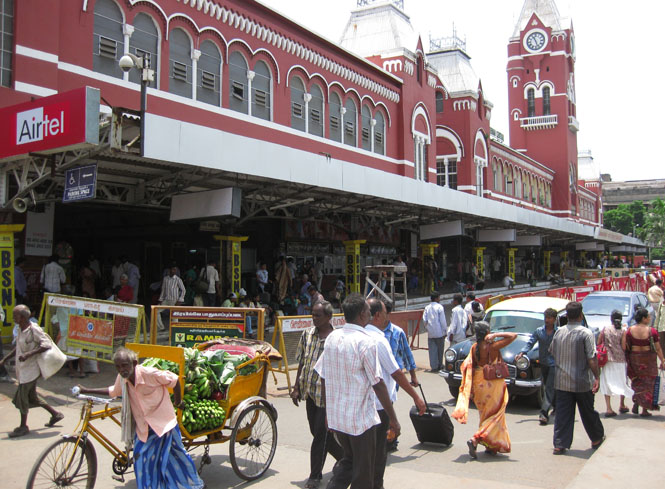 Our driver in Chennai was Muruga.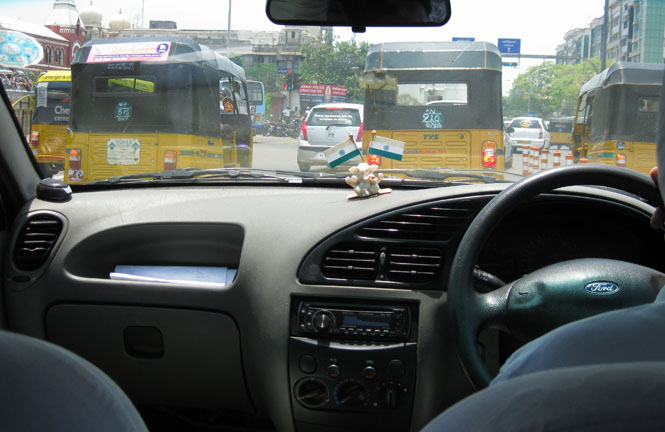 Dr. Sriram at the IIT-Madras.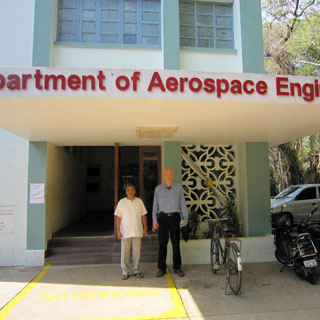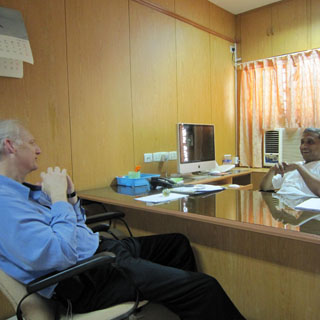 You can't be that close to the ocean and not see it (and touch it).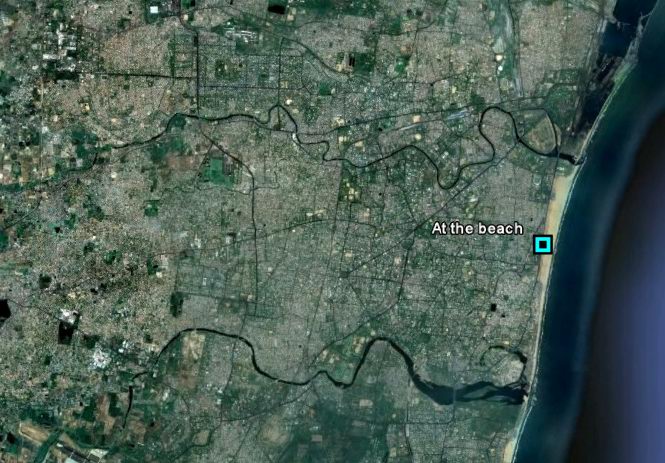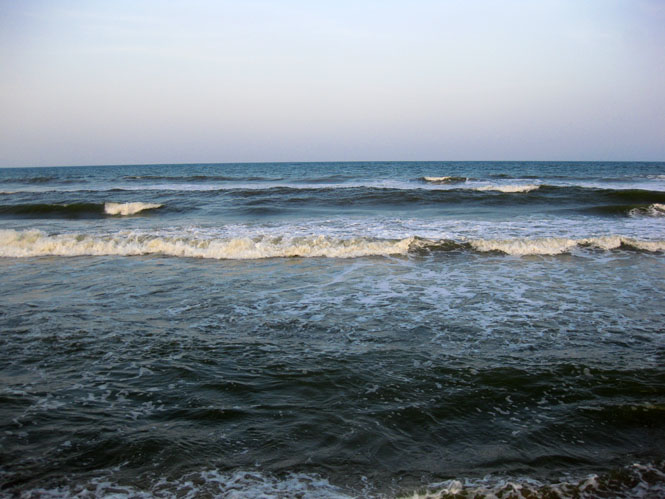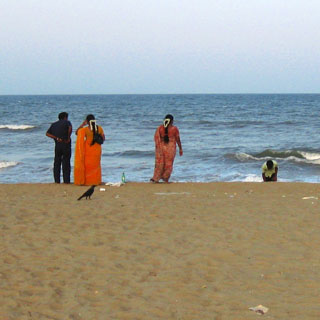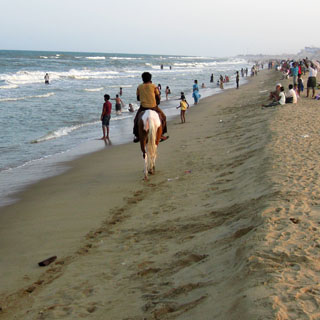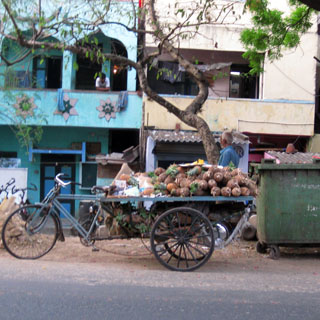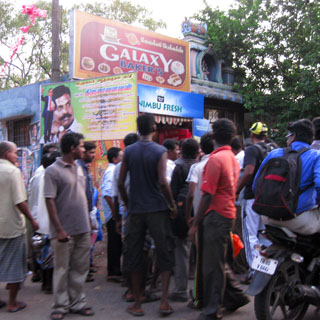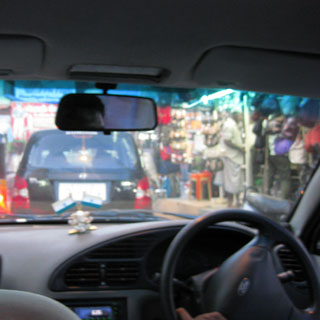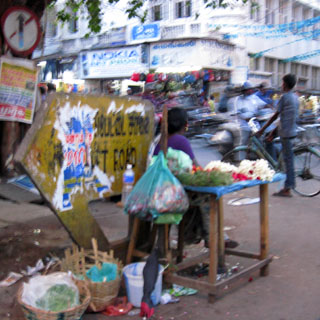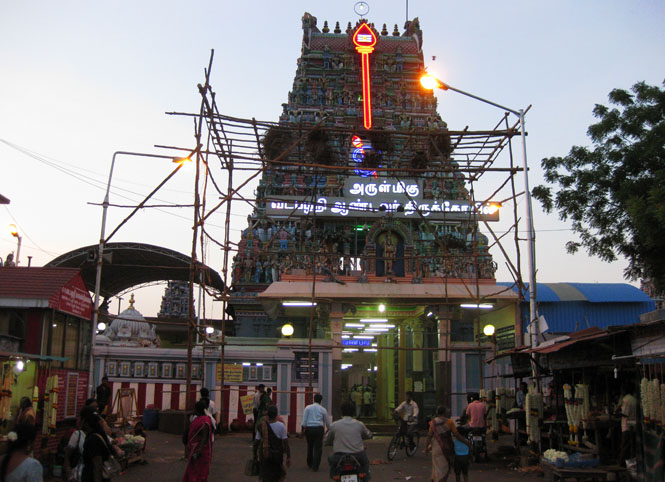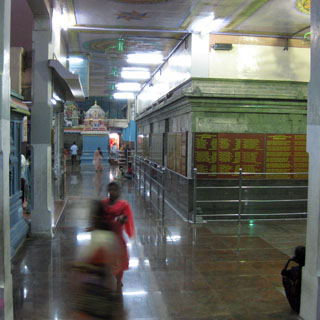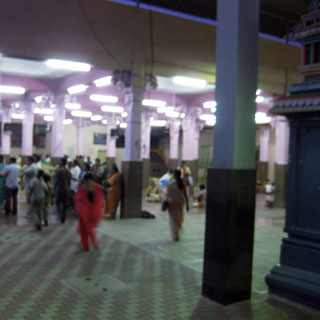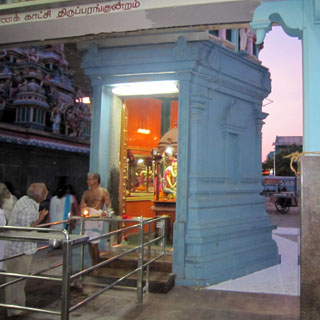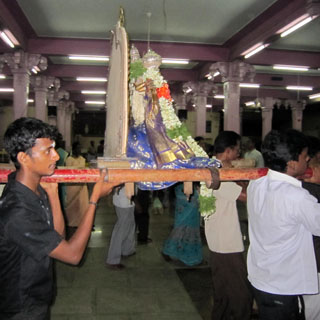 On my forehead is the sacred ash Vibhuti.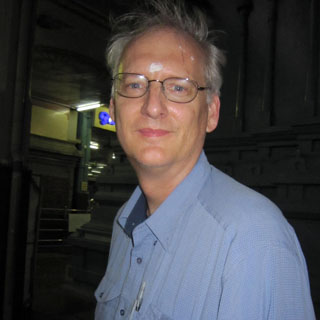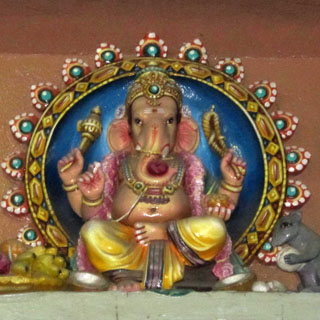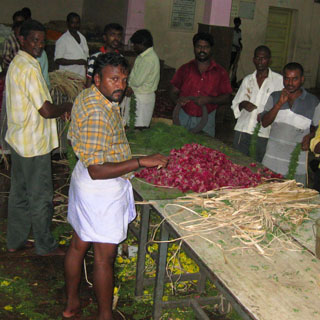 This is Viji's mother Vimala Rao, along with Arjun (son of Sudhakar and Priya).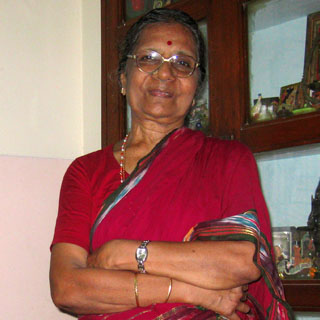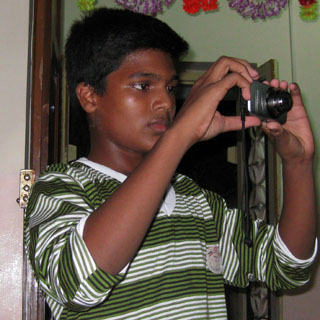 Vimala and Priya.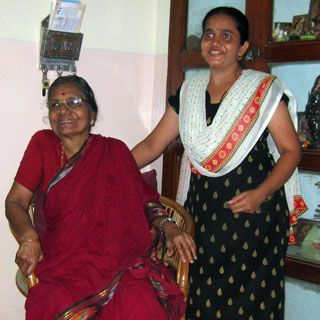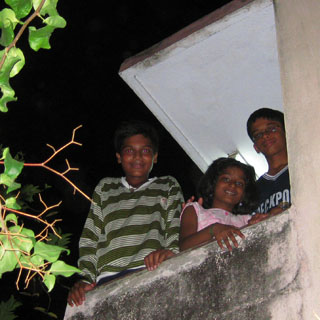 Retrieving a Mango.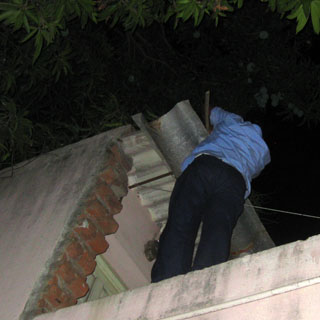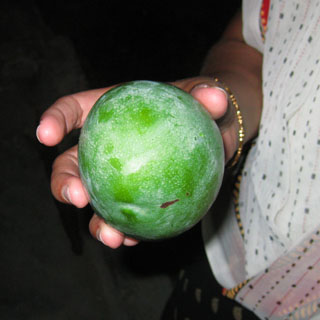 Priya and Arjun.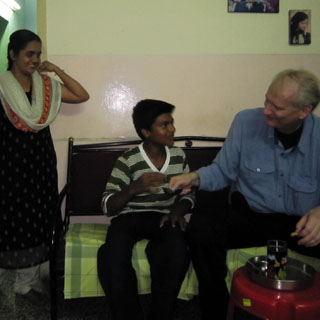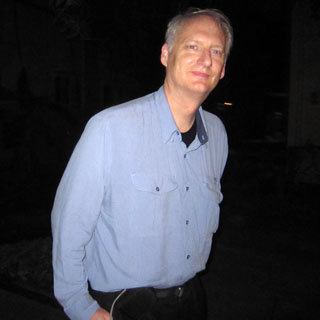 Cousin Ravi and his sons Suru and Shylu played some really remarkable music for us.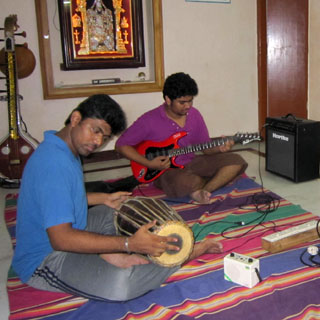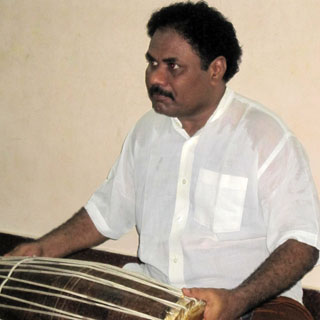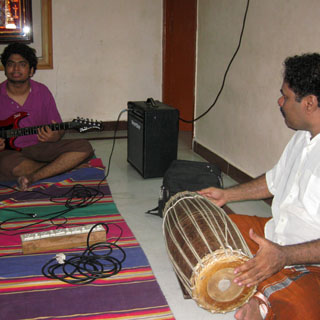 Late night back at the Chennai station.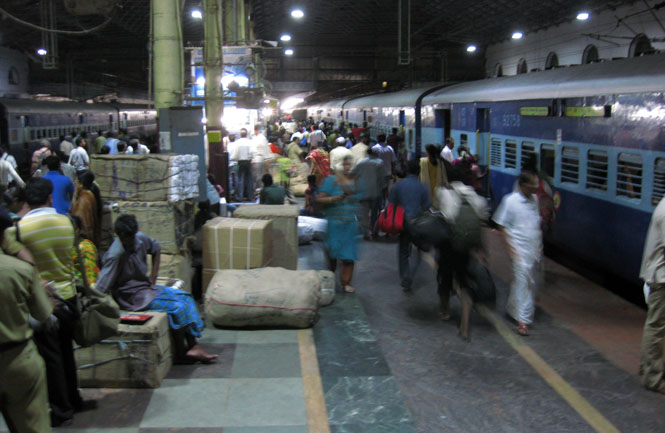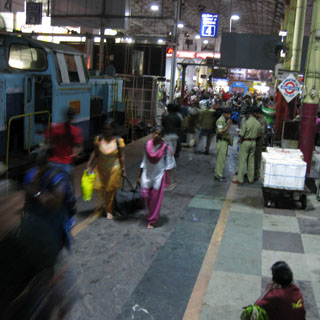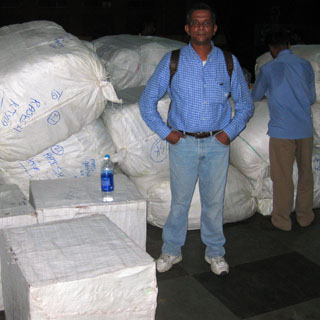 For this trip we had a sleeper car. I slept pretty well before the early morning arrival in Bangalore.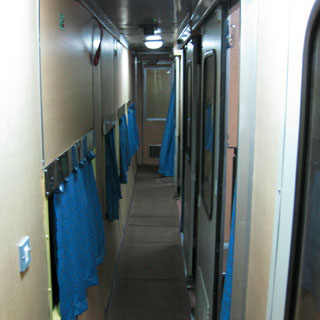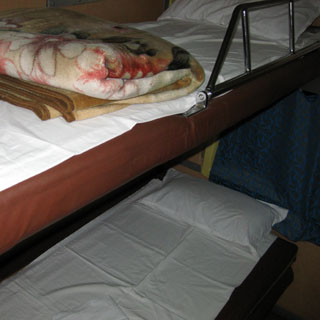 Back at Cessna-India later that morning (the days seemed to just run together). I was provided an office for my use during the visit as well as a laptop (and network connection). The staff at the office did a terrific job. (Yes; that's a Kansas road on the laptop screen)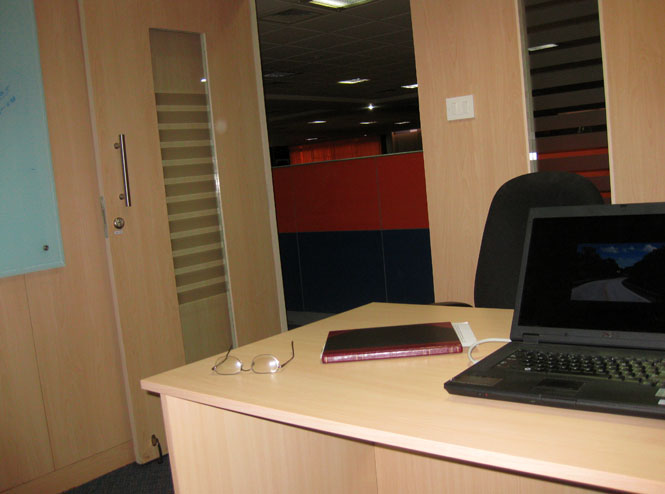 Kanwar and Gopi and their new motorcycles.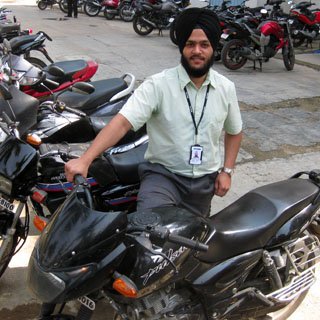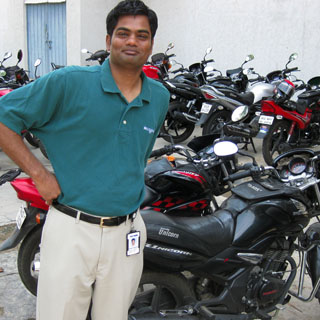 Some of the older Empire-era homes within walking distance of the hotel. They aren't used as homes now.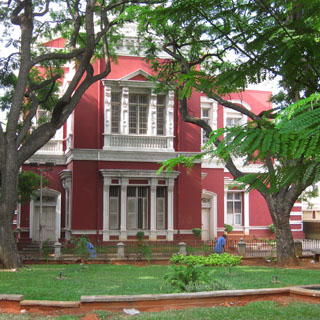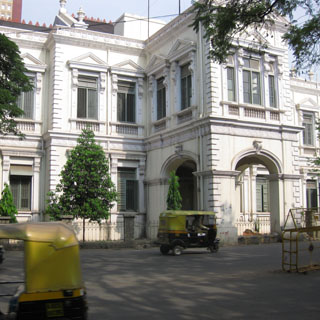 You'll come across temples such as this one every few blocks.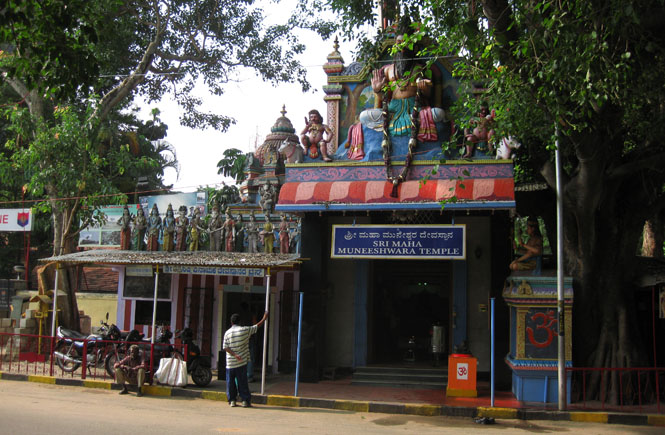 Ultimately, the metro system should relieve some of the traffic of Bangalore. But for now, it's still under construction.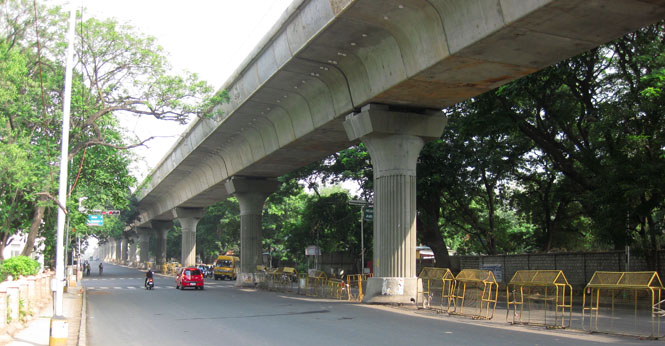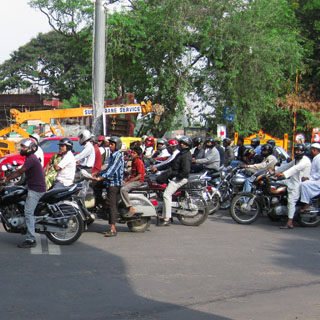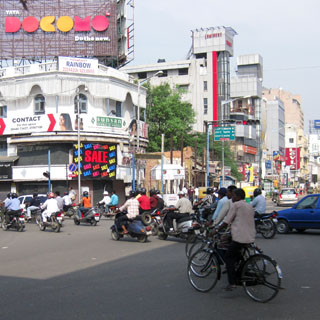 Back to the Karnataka government building. Rob and I had a very nice tour that was arranged for us by Veda (a Cessna engineer).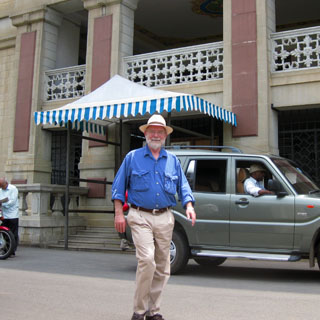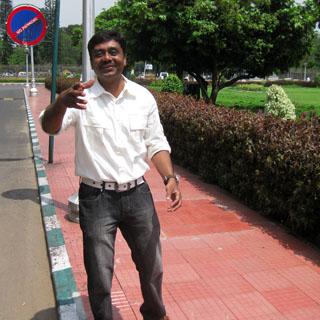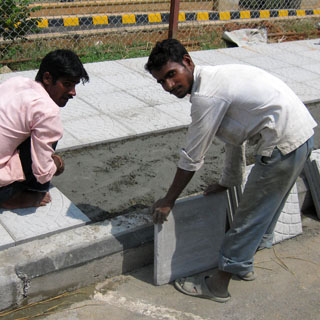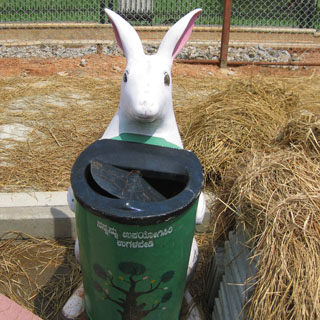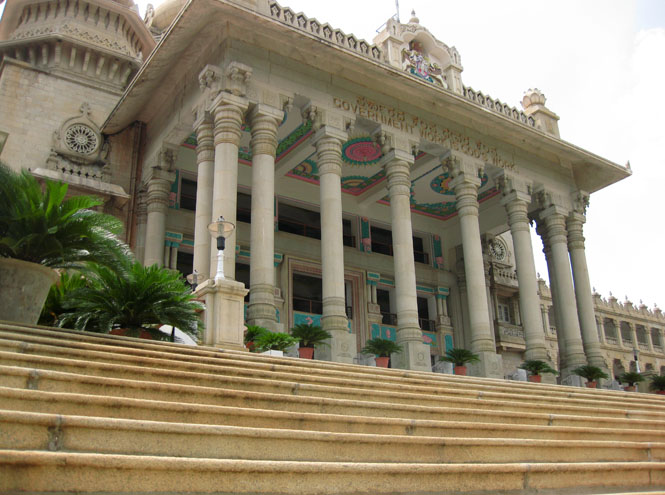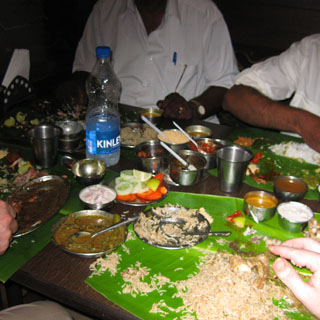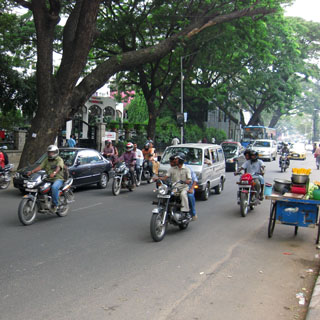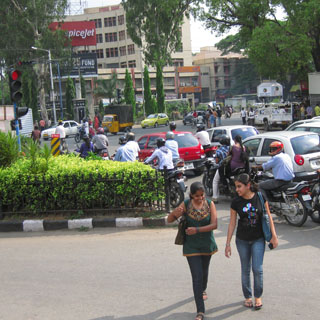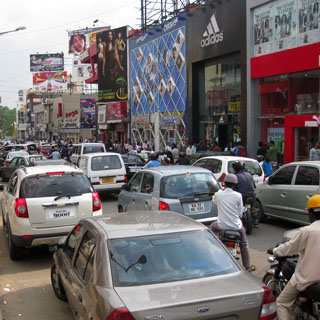 Natesan and I at the Bull Temple. Of course, shoes and socks must be removed.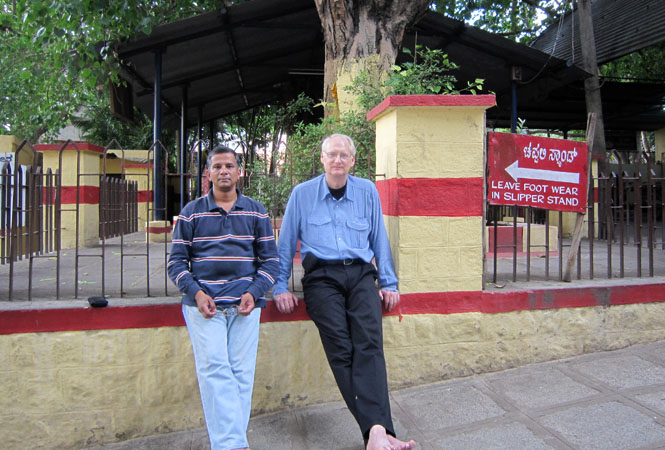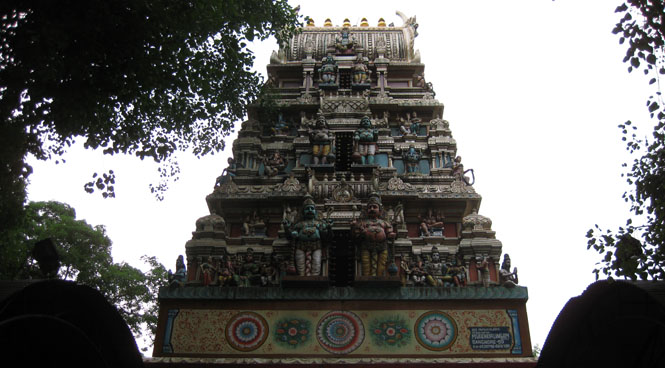 The coconuts and other items are sold as temple offerings.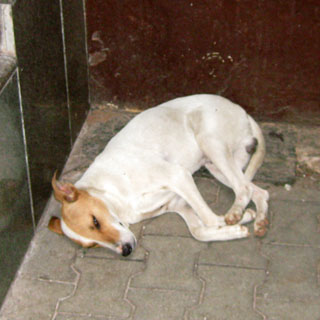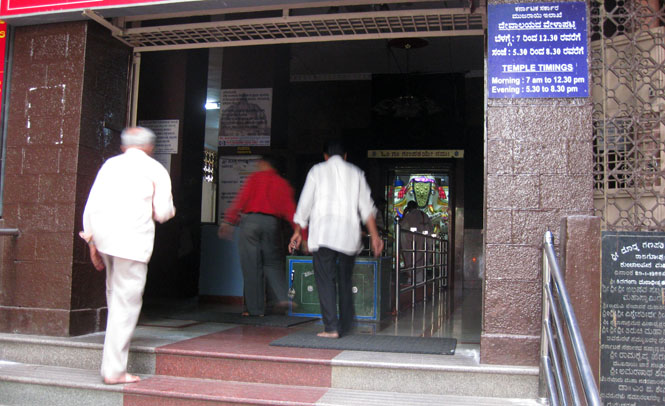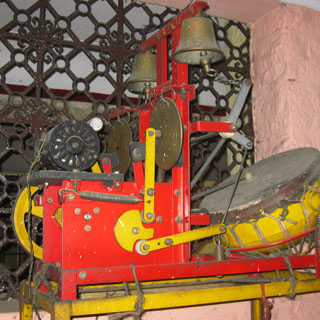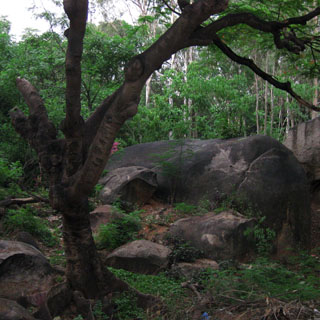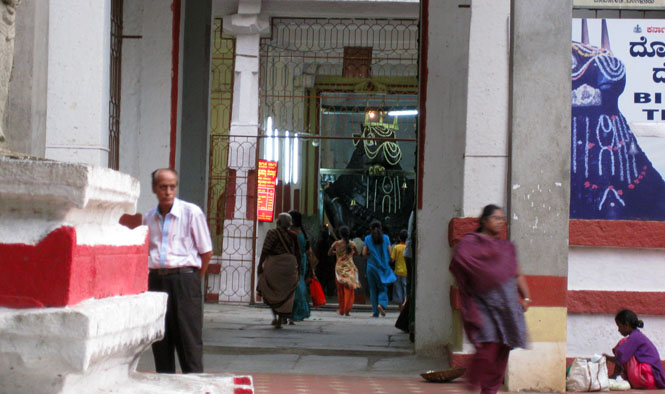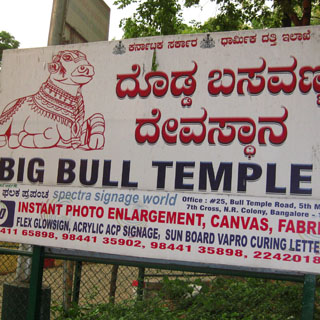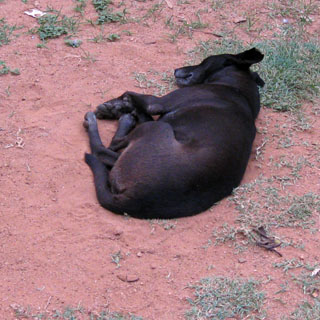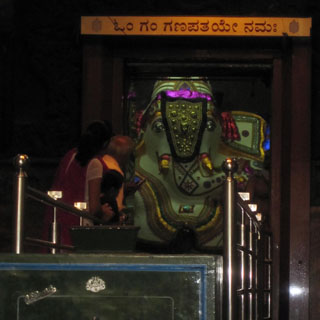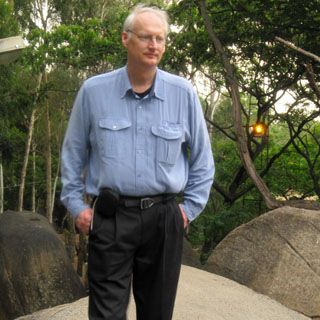 A short (but loud) procession to the temple that I passed on the way back to the hotel.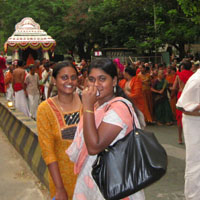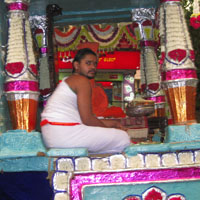 Raju has added Anjaneyar to the dash of the Toyota. Check-in at the airport went quite smooth.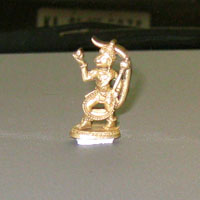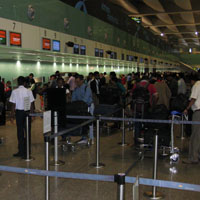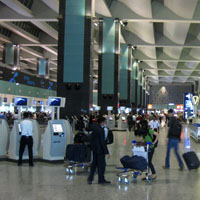 There's little to say about the long flight back. Your best bet is to try to sleep.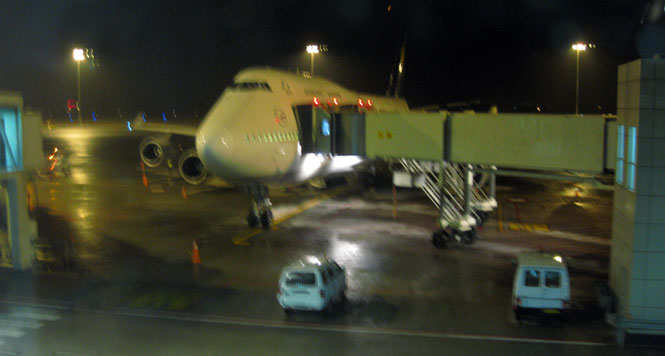 Quite an event-filled trip. Thanks especially to Natesan and Rob and the whole Cessna team.
last edit: 5/23/2010