May, 2011

Sunday

Monday

Tuesday

Wednesday

Thursday

Friday

Saturday

15 May

16

17

18

19

20
Wichita
Newark

21
Malpensa
Como

22
Como

23
Mandello

24
Pill

25
Schärding

26
Havlíčkův Brod

27
Martin

28
Spišská Nová Ves

29
Sátoraljaújhely

30
Berettyóújfalu

31
Grubišno Polje

1 June
Senj

2
Tolmezzo

3
Mandello

4
Milan

5
Milan
Wichita

6

7

8

9

10

11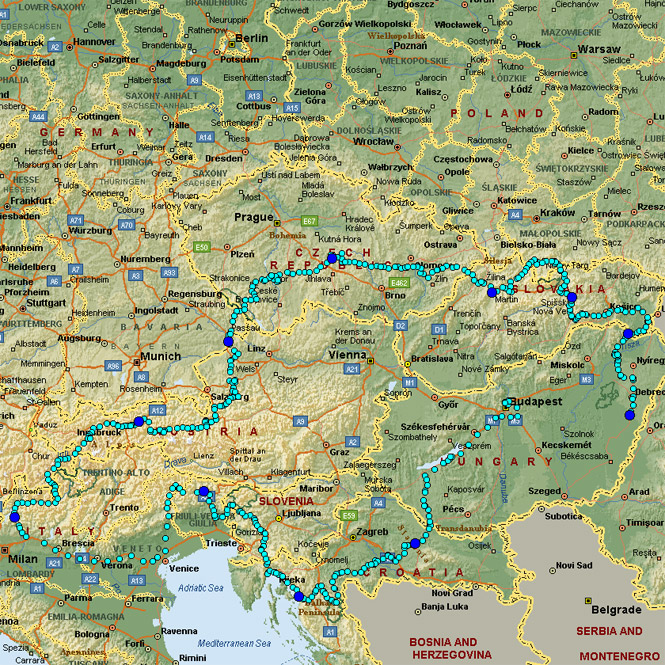 Europe Trip #5
For as long as I've been riding motorcycles, I've thought of riding through Bohemia—the land of my great-grandparents and multiple generations before them; but, I was never serious enough to do anything about it.
But, after last year's trip to Portugal (and the trip to Norway the year before that) it became clear that a trip to the Czech Republic wouldn't be difficult at all. Easily done, in fact.
So that was the plan. Of course I'd be starting at Mandello del Lario. Depending on the weather, I'd either ride north over the Alps or east towards Vienna and then on to the Czech Republic. Beyond that goal, I wanted to swing farther east through Slovakia and then down to Hungary before returning.
A long-time colleague from work (Joe Latas) had often talked of his own ancestral town of Plaški (now part of Croatia). So, that would be another marker to define my general route.
---
The beginning wasn't smooth. Around 9:00 pm—the evening before my early-morning flight—I received an email notification from a trip-following service that my flight had been cancelled. I immediately went online, and found this was true even though Continental Airlines had yet to let me know.
I made a phone call to Continental. Two hours later (most of it on hold), and after several transfers, I had new tickets that would take me first to Denver and then back to Newark. Apparently, there was some issue with pilot flight-time and the FAA rules for mandatory rest periods. No matter; I did feel for all those people who were at the airport the next morning only to find that their flight had been cancelled and there were no other available flights that day.
I was on my way and I would still make the original connection at Newark for the flight to Milan.
---
Flying (the wrong direction) to Denver.

Waiting in Denver for my flight back the other (correct) way.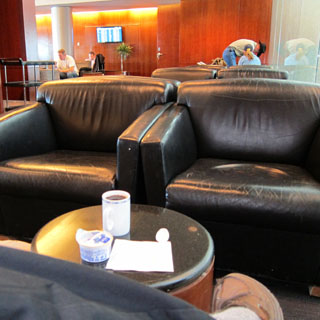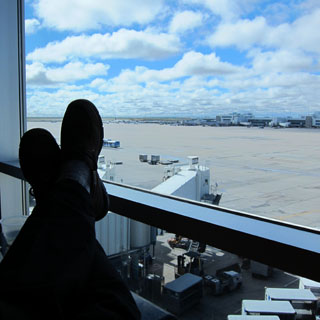 At Newark and then on the plane. I thought the Milano cookies a nice touch (but probably coincidental).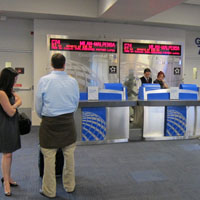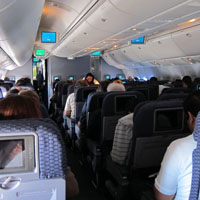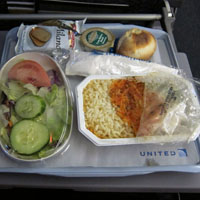 Repubblica
I
taliana
(Italy)
As always, I would not be on the bike until two nights had passed. I prefer to be mostly adjusted to the time-zone before starting out on a long ride. For this trip, I'd spend those first two nights in Como.
It takes two trains to get to Como from the Malpensa airport.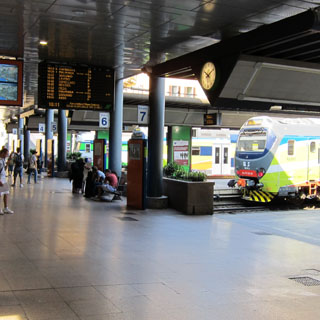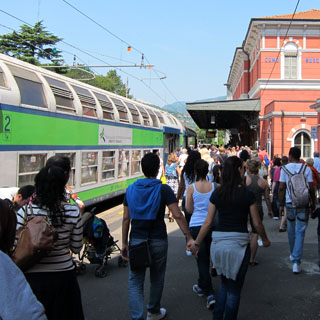 Como, Italy. I'd be at the Albergo Firenze, which is right on one of the larger plazas. I have no idea where you'd park (if you had a car), but that was not a problem for me.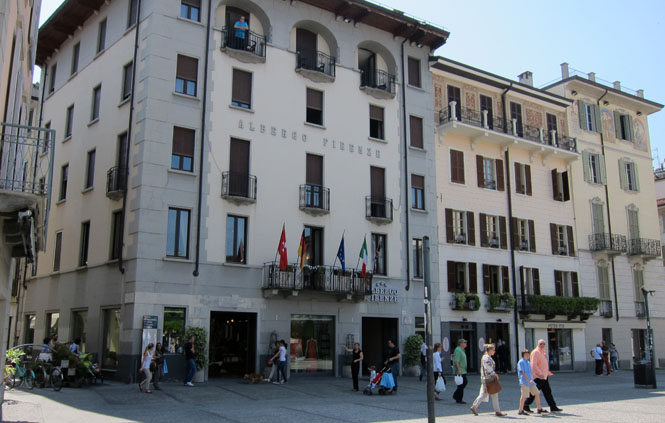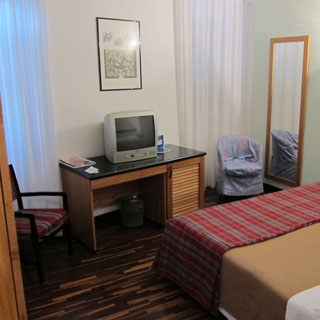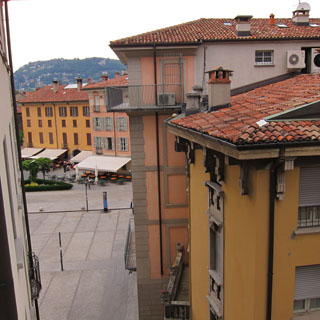 Como Duomo.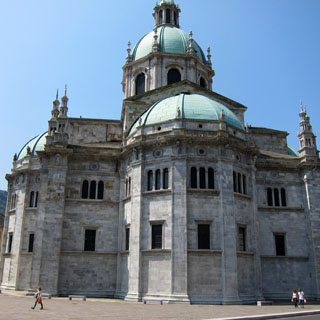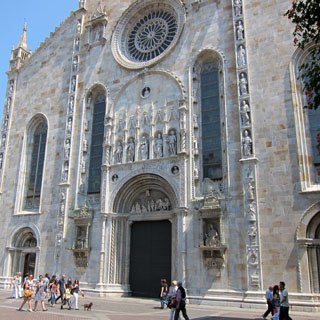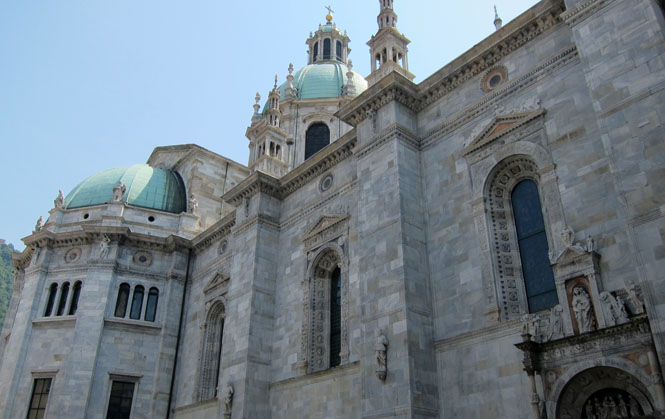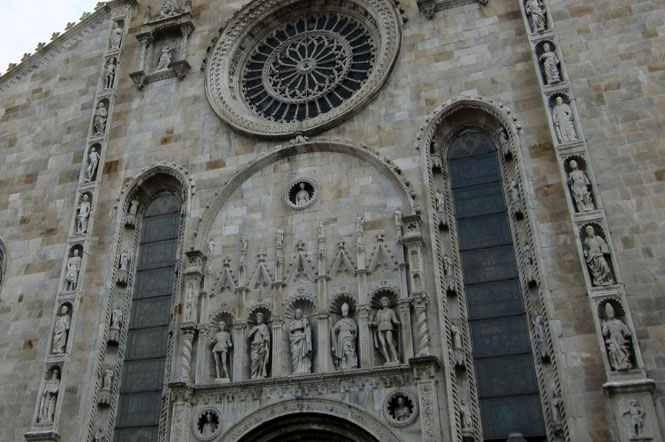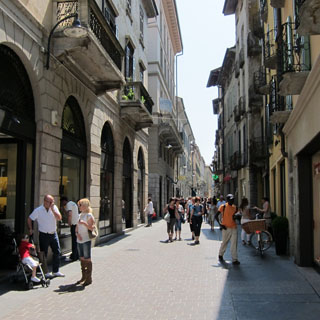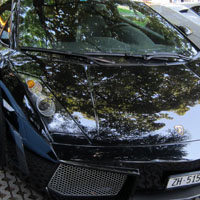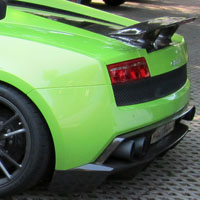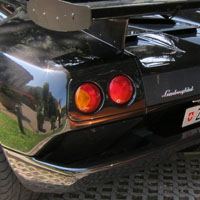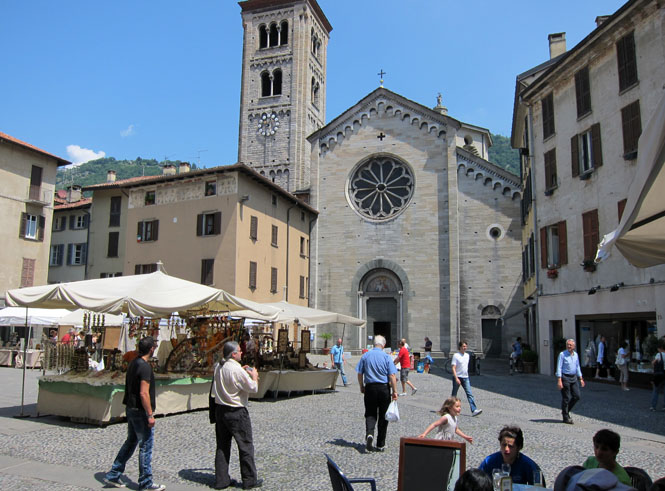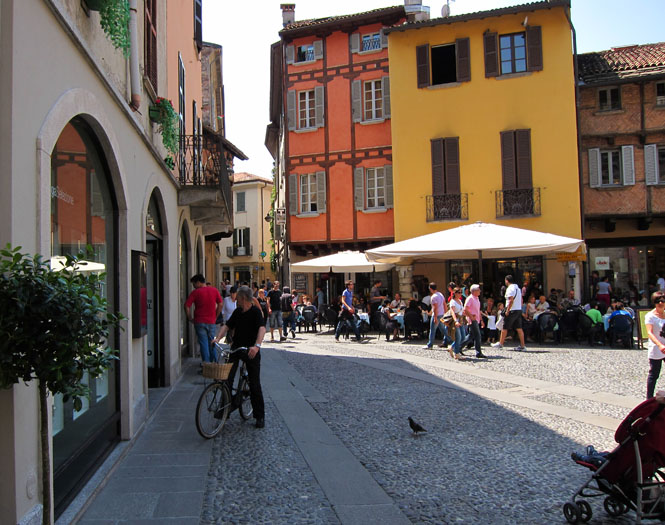 The Como aero club has an active floatplane base.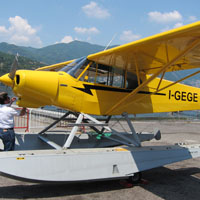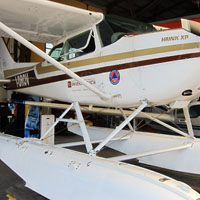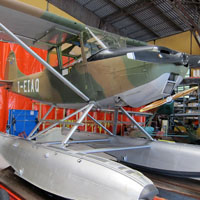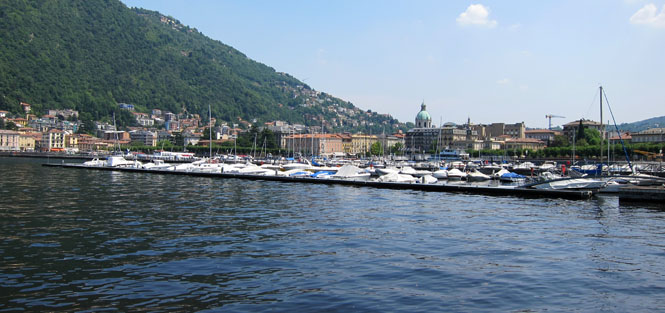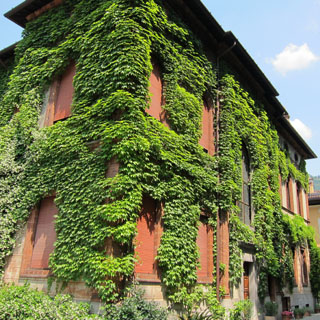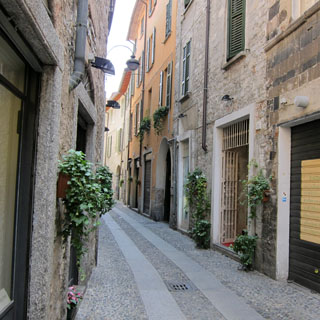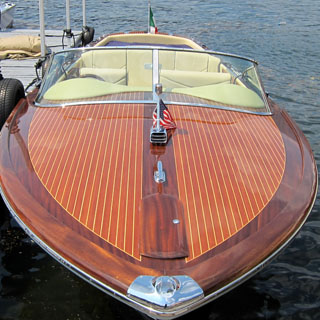 There are several villas near Como. Most are private, but others have become civic buildings--and, in this particular case, an art museum (where photographs are not allowed).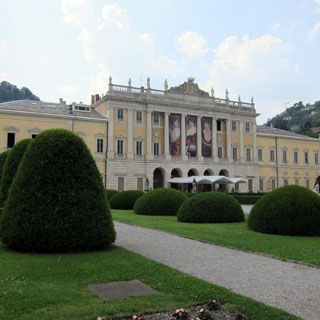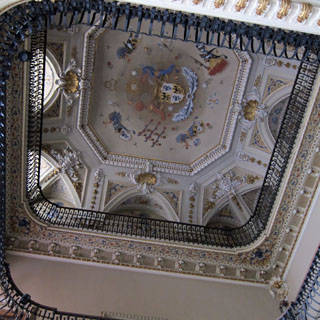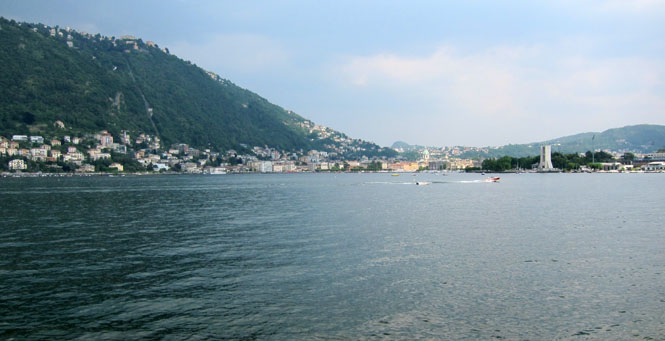 The ancient town walls of Como are still here.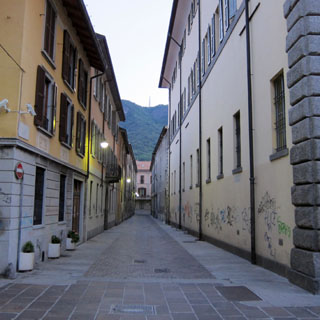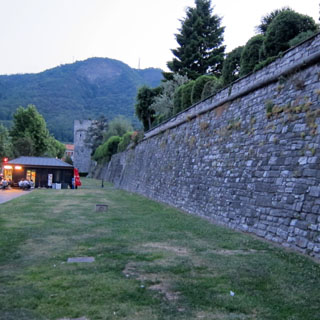 The town has many historic churches that date several hundreds of years. I tried to walk through most of the ones I saw (but, I won't try to label any of them here).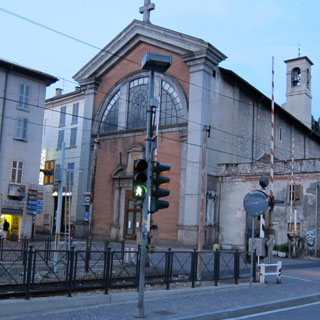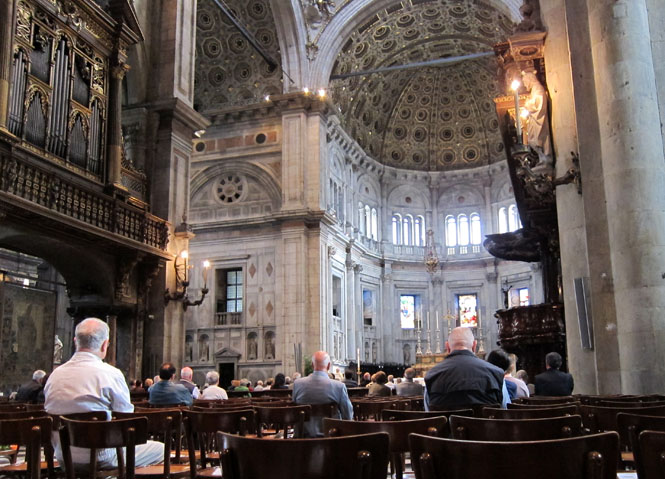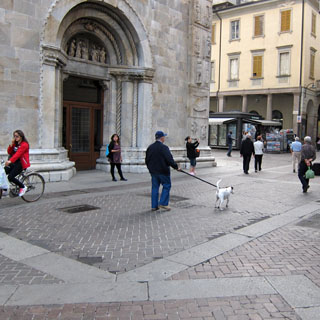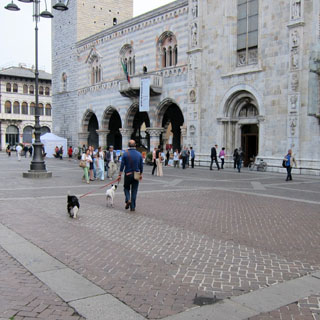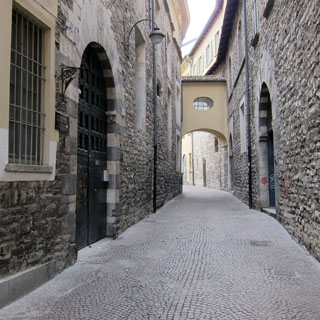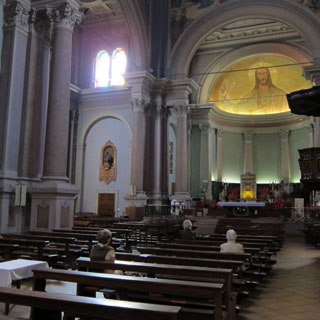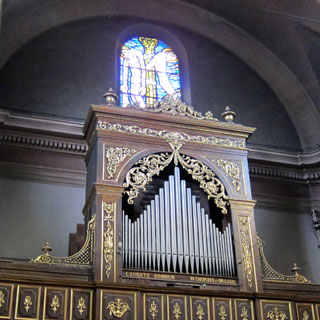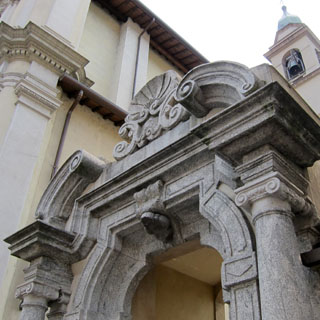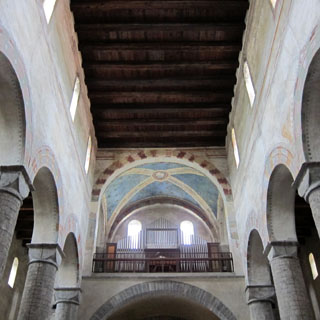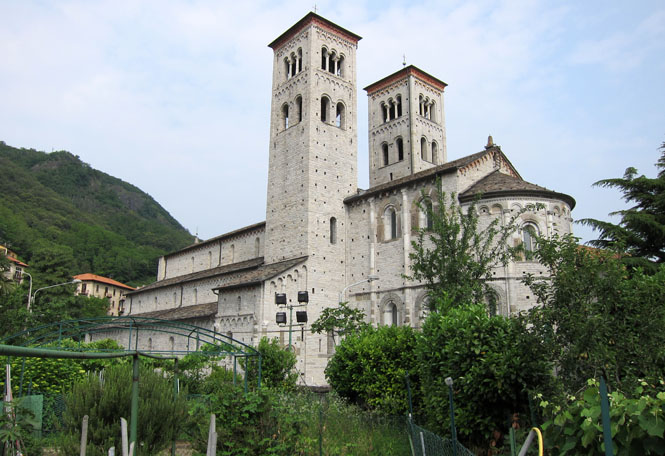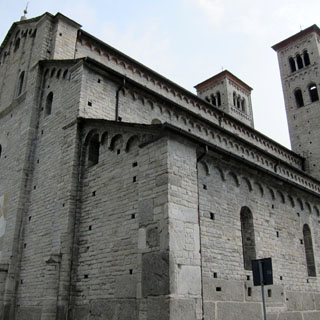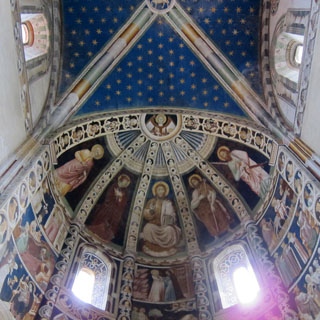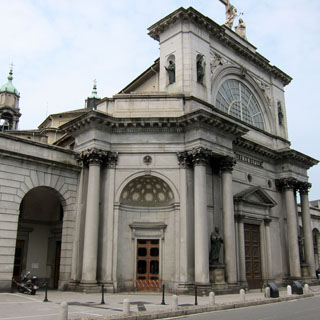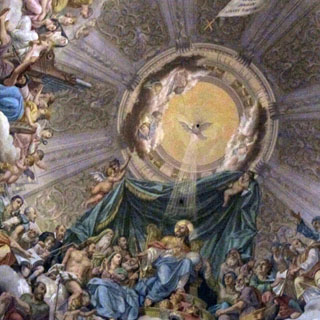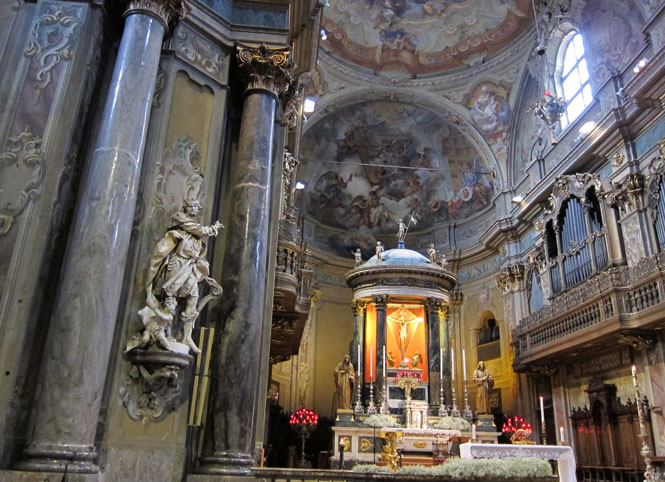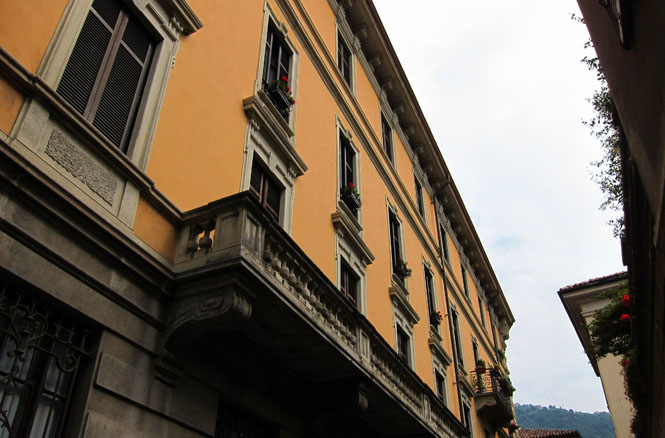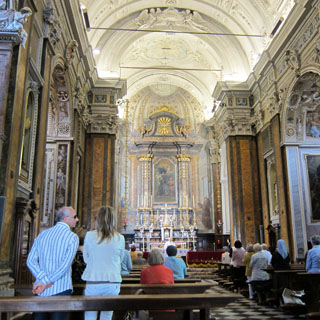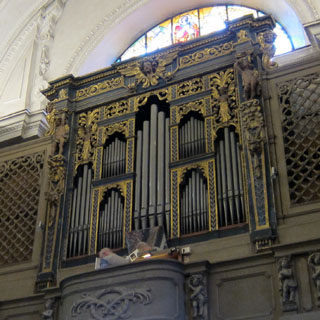 This is the Como art museum (both modern and historic). Photography was allowed except for the special exhibitions.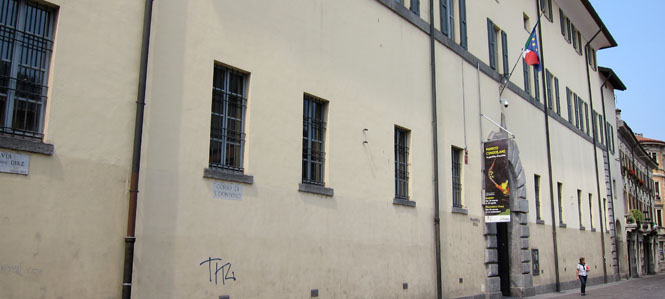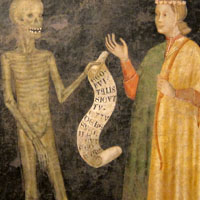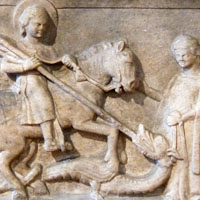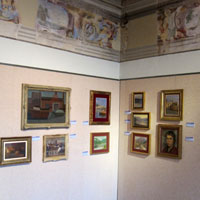 I walked a lot--my hotel is just off the lake in the distance. This shot was taken from near the top of a hill where the remains of a very old castle are still in place.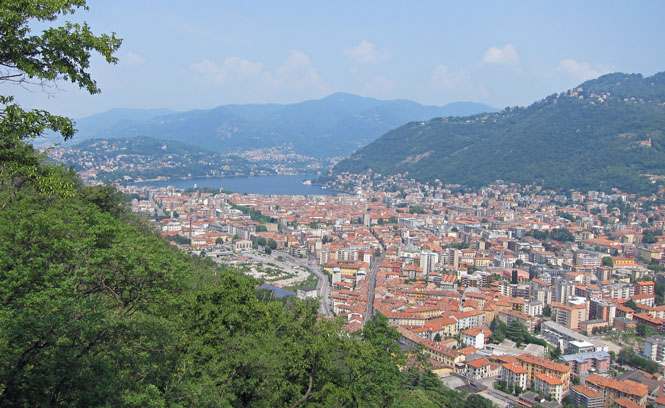 The war with Milan was devastating to the castle (but especially to the occupants). Castello Baradello Como.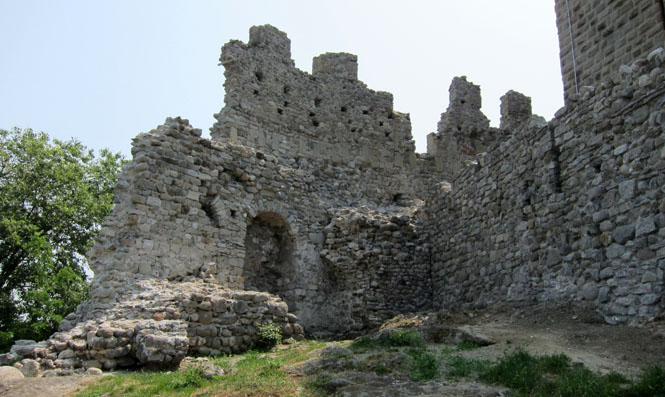 It was a hot day and this spring-fed fountain couldn't have been nicer to cool my head down with the chilling water. See that canvas hat? I may have been the only person in Como wearing a hat. Why is that?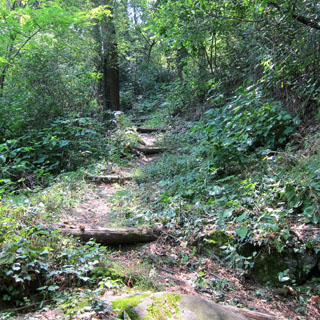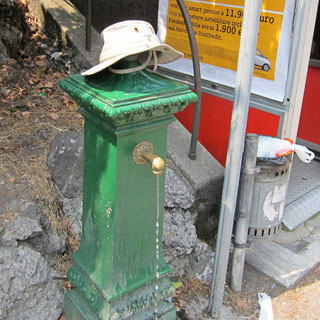 Through this opening is the small outdoor cafe where I had lunch.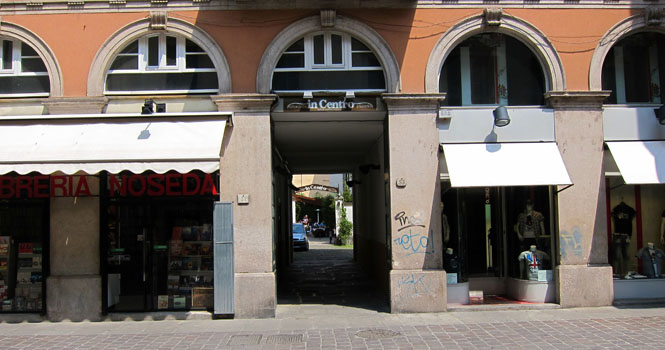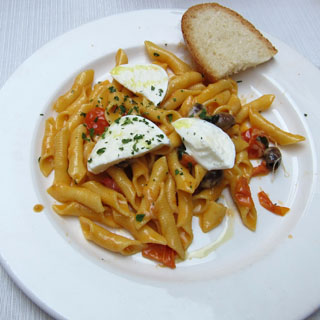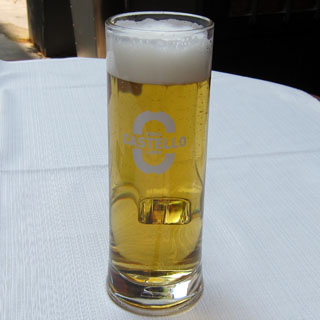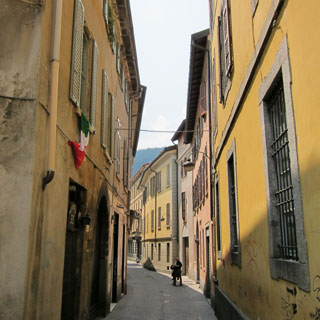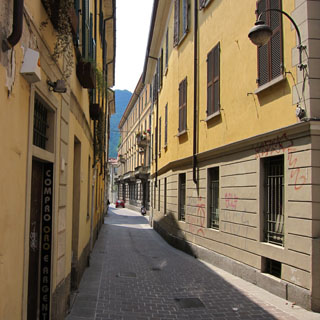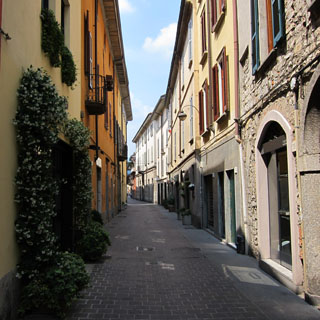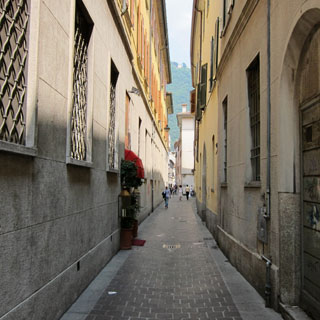 An extravagant memorial and museum to Alessandro Giuseppe Antonio Anastasio Volta (who invented the battery).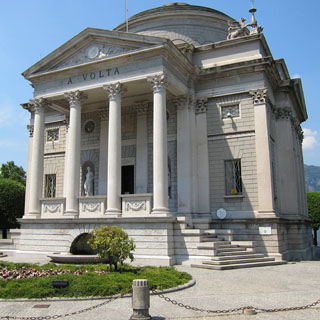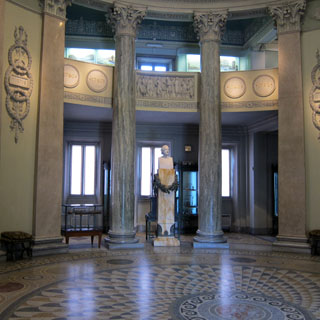 The man was brilliant. It's stunning to think of having an electrical laboratory where there is no power supply to use, except for what you create yourself from chemicals and metal.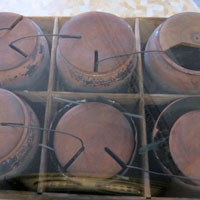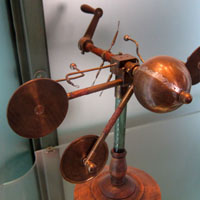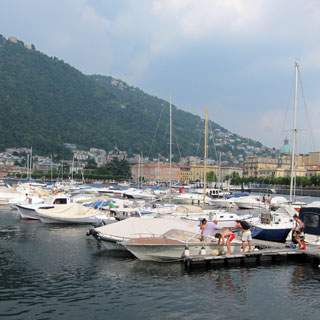 Look above and behind the juggler—you'll see three green-and-white clubs in the air.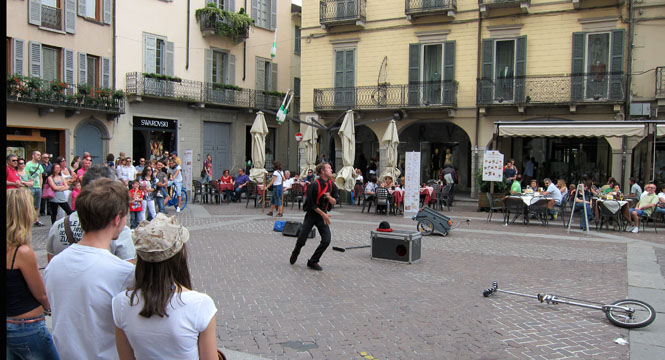 A busy Sunday afternoon in front of the Duomo.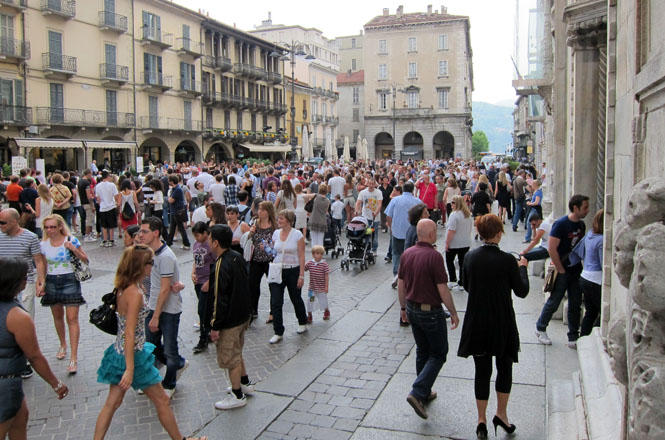 It's not hard to get from Como to Mandello del Lario, but you should catch the short (two car) morning train that runs between Como and Lecco. Otherwise, you'll be looking at three trains (with a stop in Monza) and a fair amount of waiting.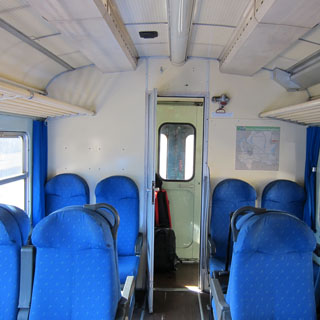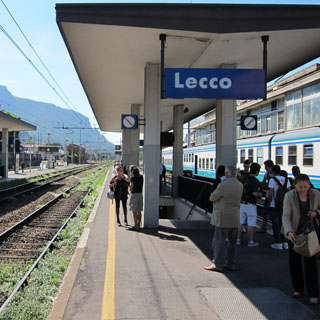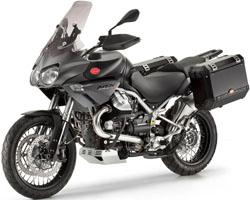 I've been on a Moto Guzzi Stelvio on three of my previous four European trips, but there was a really nice improvement with this one. The fuel capacity has been increased to ~32 liters, which would make the trip all the easier for not having to worry about where the next petrol station would be. This model comes with some rugged looking saddle bags, but I wouldn't need them, so they were removed. I wouldn't be using a rear trunk, either. A single waterproof duffle bag works well for me.
Mandello del Lario. That's Nicola Arnaudo getting the Stelvio ready.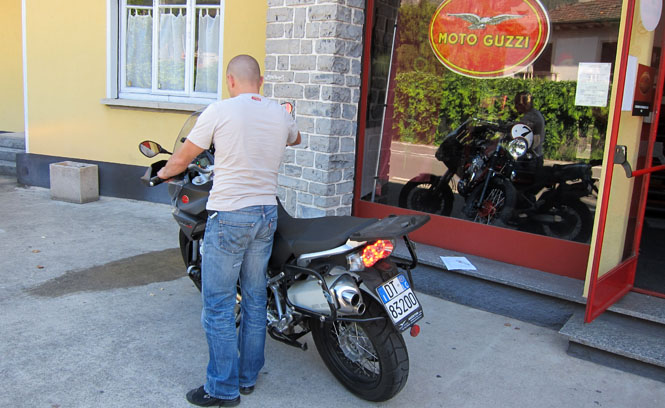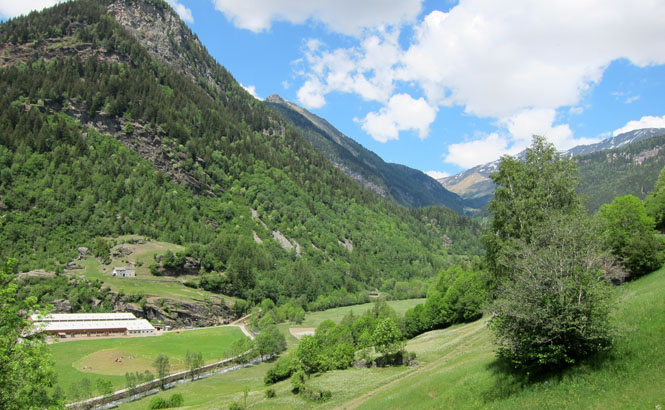 Confoederatio Helvetica
(Switzerland)
Towards Bernina Pass. Any worries I might have once had for snow and cold temperatures in the Swiss Alps were gone.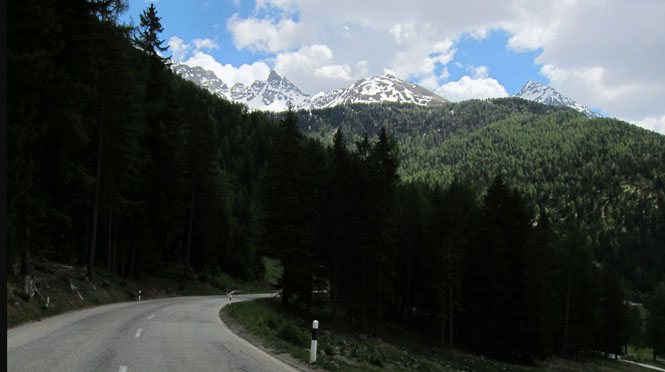 It could not have been a more perfect day for riding.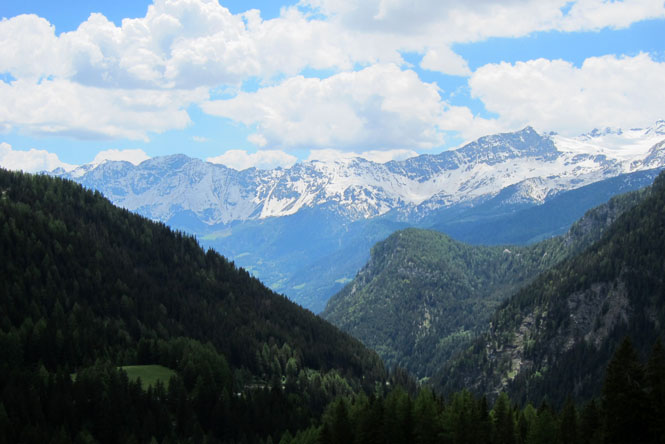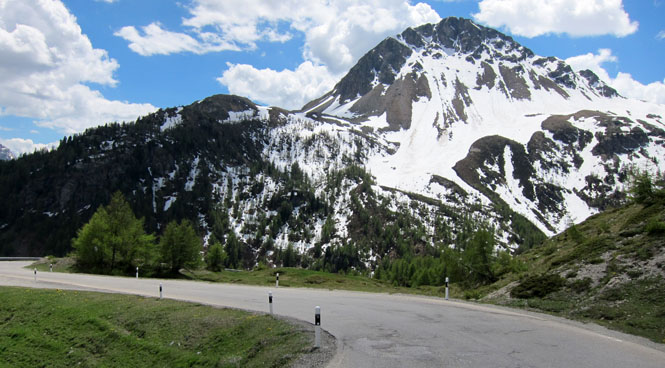 I tried to avoid any roads I'd been on before; and, for the most part succeeded.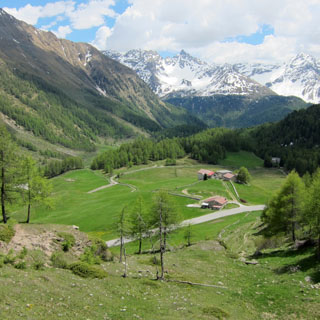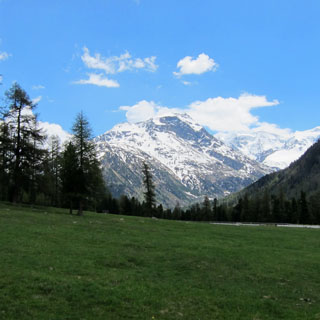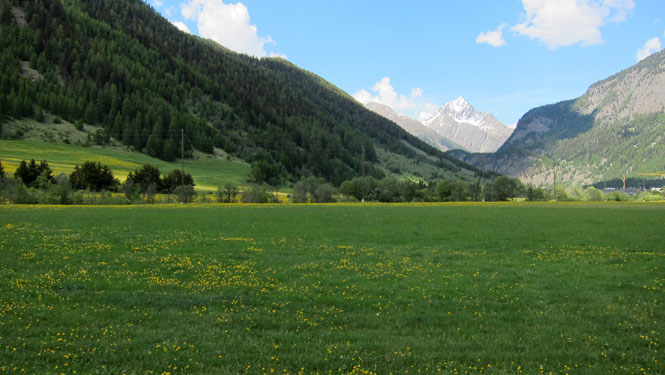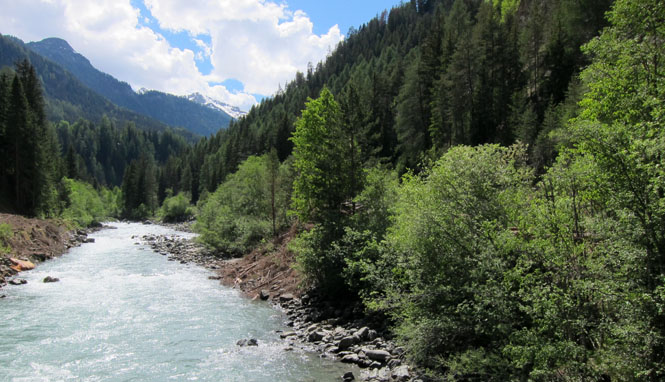 Republik Österreich
(Austria)
Within the E.U. countries, the transit across borders is easy.
After the first push through Switzerland I'd be on much smaller roads. I stopped in Kauns to figure out this sign post and to decide where I wanted to go next.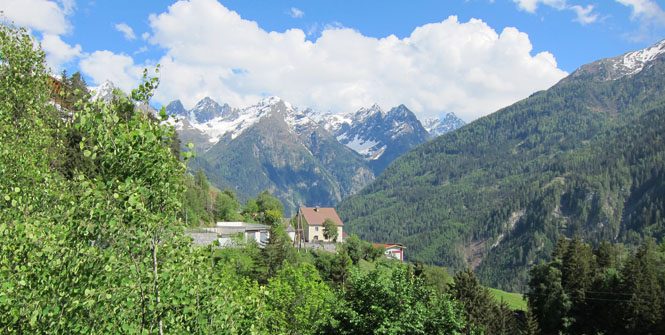 This road was sometimes down to a single lane wide (and I sometimes wondered if I was even on the right road). There wasn't much traffic.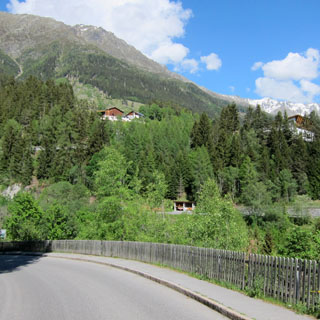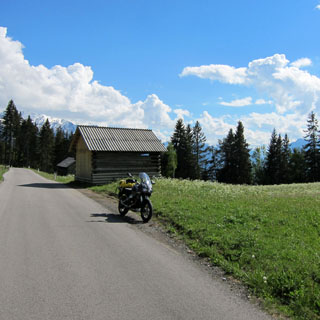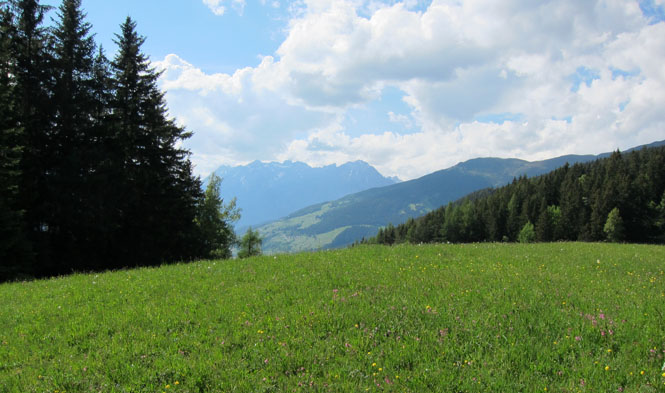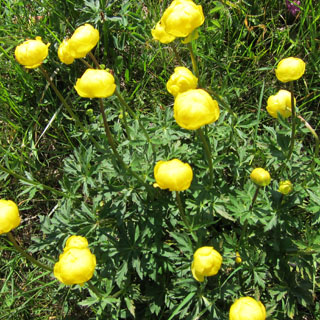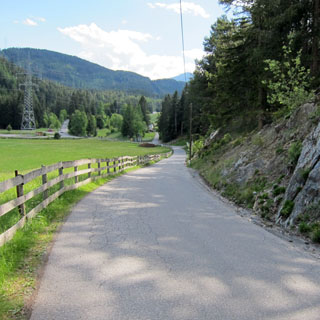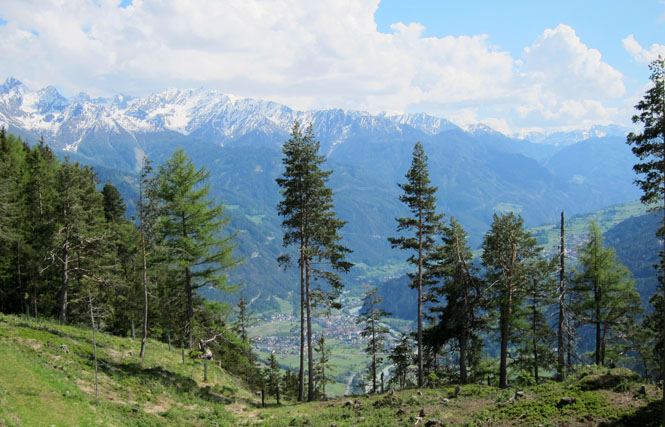 I think I had more trouble finding a hotel this first night than I did the rest of the trip. Riding through Innsbruck was a bit of a chore, and it wasn't until I was well away from that city that things opened up and I found a Gasthof with a vacancy. As it turned out, this one (in the small town of Pill) was practically empty.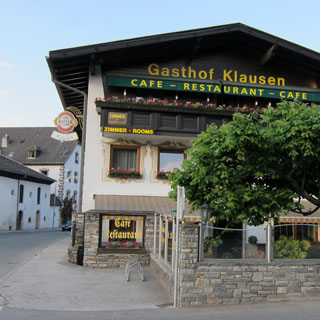 It's the same routine. Check into a room and then dump the previous day's wash in the sink for soaking. I'd be wearing these the next morning.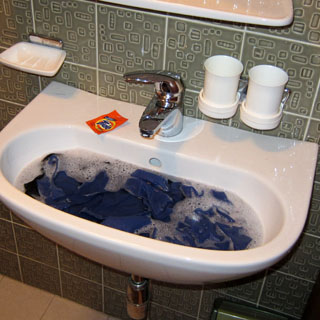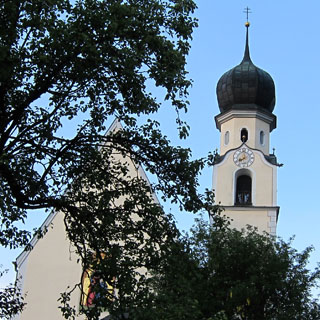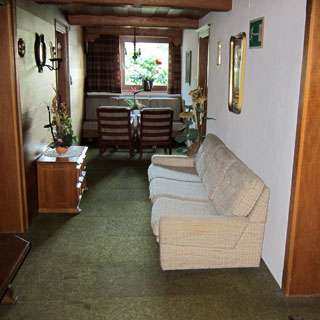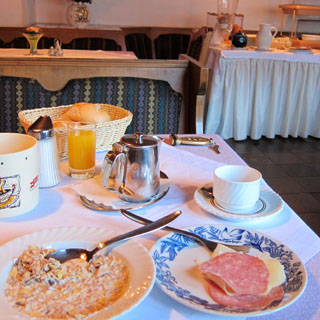 Zell am Ziller.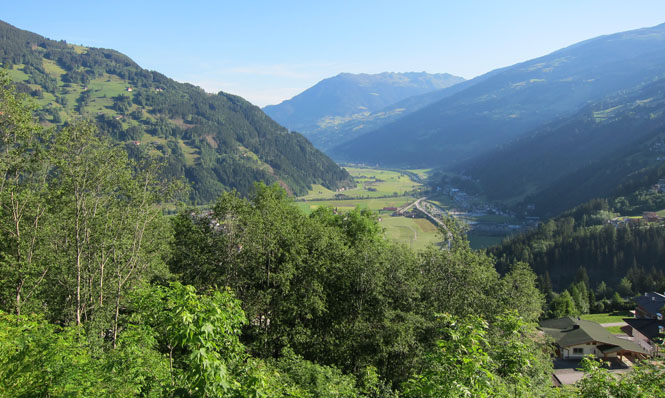 B165 is a toll road.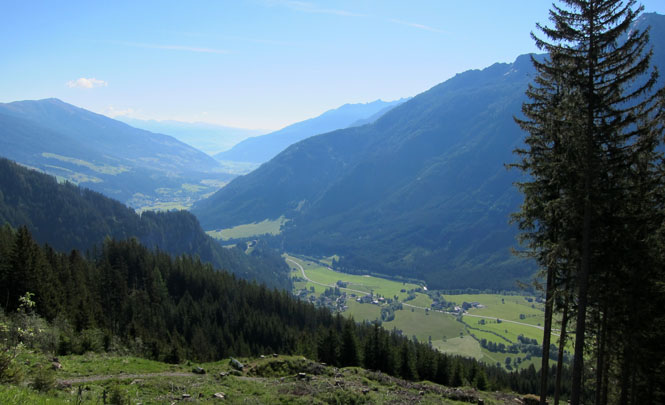 Krimml Falls, Austria. I believe this is the largest waterfall in Europe. In the photograph (below), the road is in the middle, but you can see the extent of the waterfall on the left.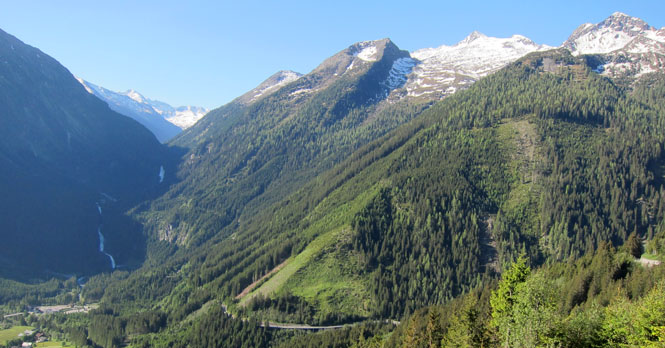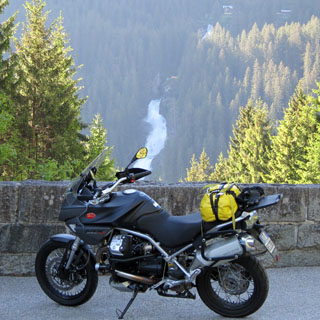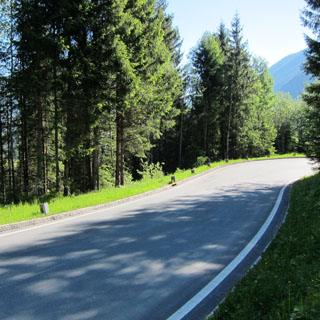 The cool mist was nice. This was a warm day for riding.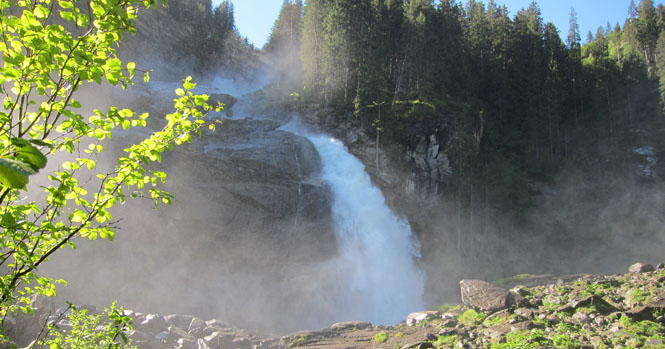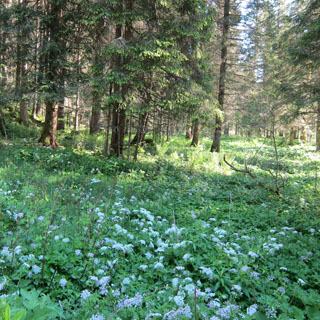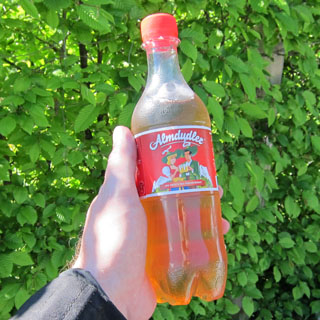 There's a network of (very) narrow gauge railroads that seem to be used for hauling logs and cut lumber.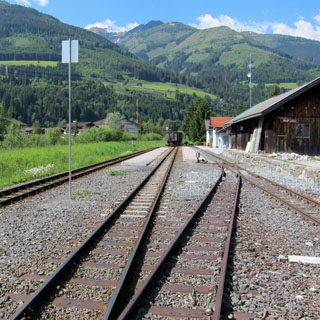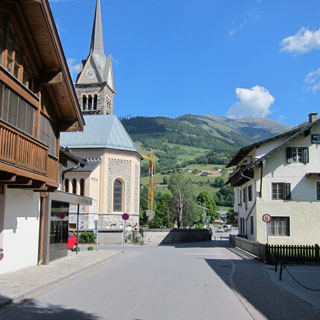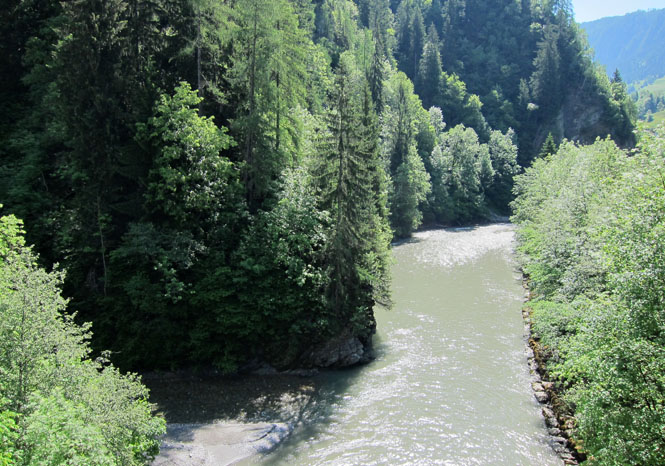 I'm on a thin little road that cut through some amazing mountains.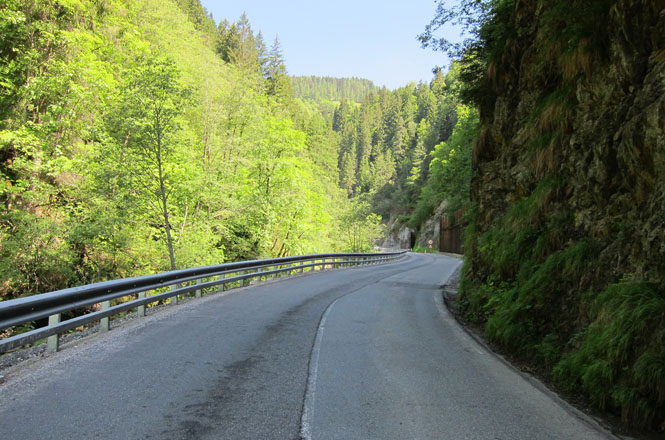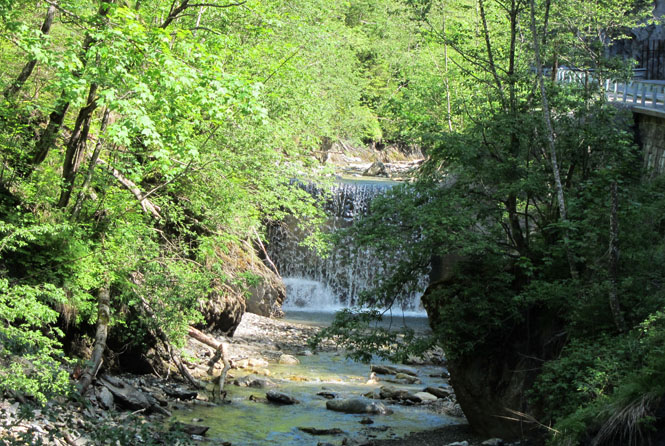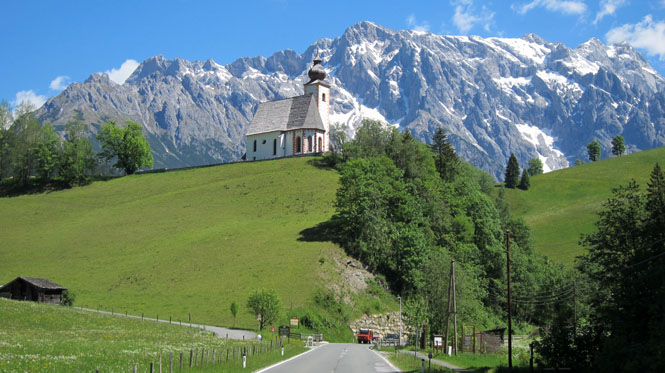 As is normal, I didn't know what I ordered. Whatever this is; it was very good. When I order, I try to gauge the reaction of my waitress. If she frowns, I'll point to something else. If she smiles, I only hope she's not laughing at my selection.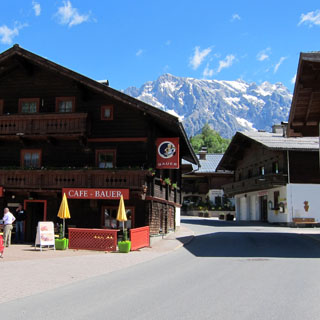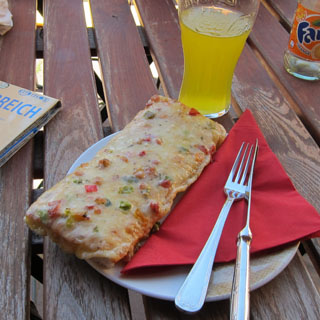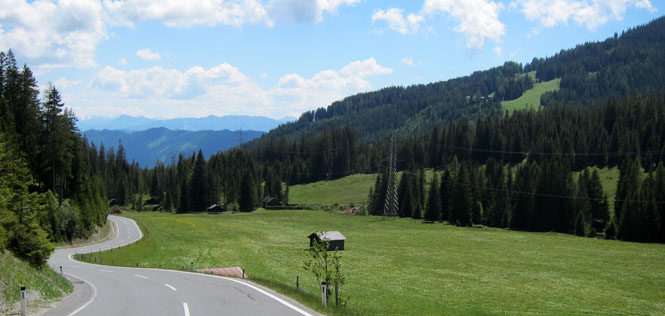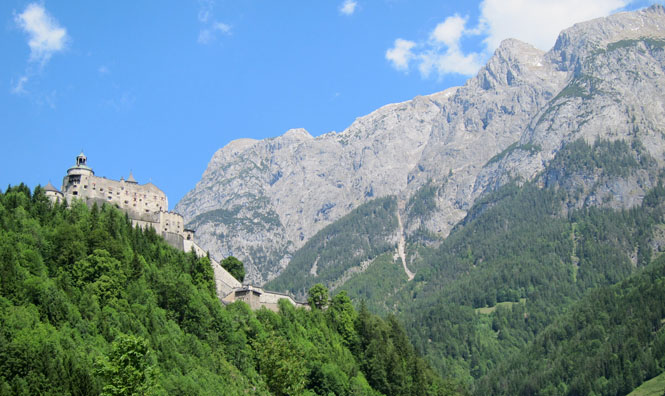 The trains often have the better route. It must have been quite difficult putting some of these roads in.

Stunning roads. In Austria the mountains form a real barrier. In many areas, there just is no way across. You must go around.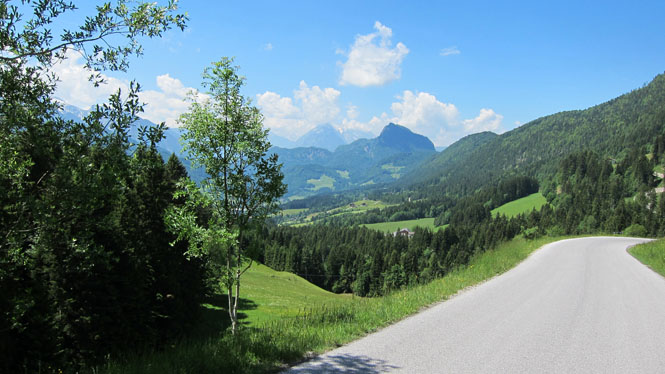 The toll both for another private road. Unlike the earlier one, this is self-serve.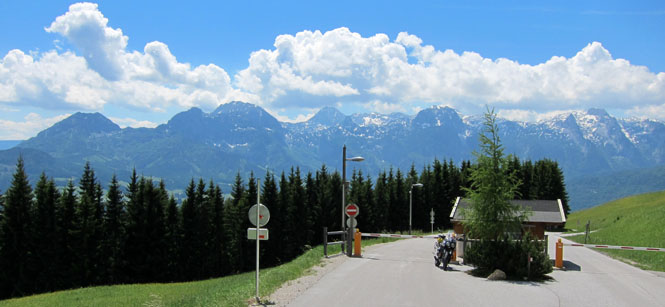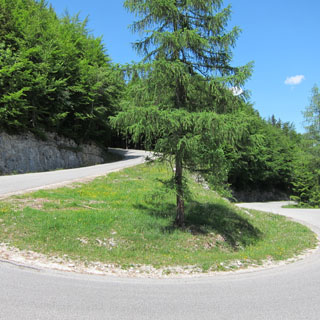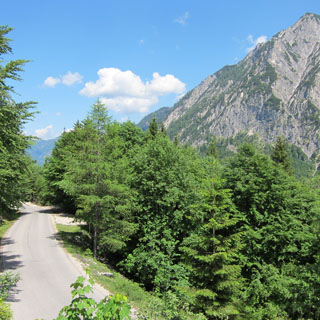 Very little traffic. I think this route is mostly used for reaching a ski resort.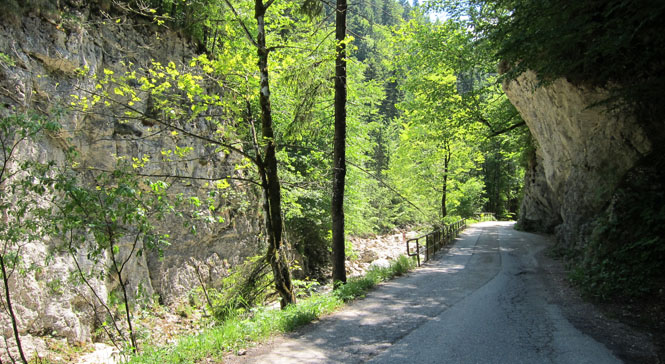 Attersee. This is quite a large lake.

North of the lake; you are completely out of the Alps. The transition is very sharp.
Many round-a-bouts had interesting sculptures in the middle.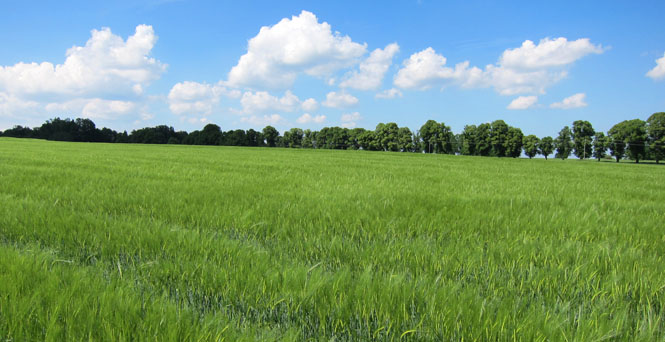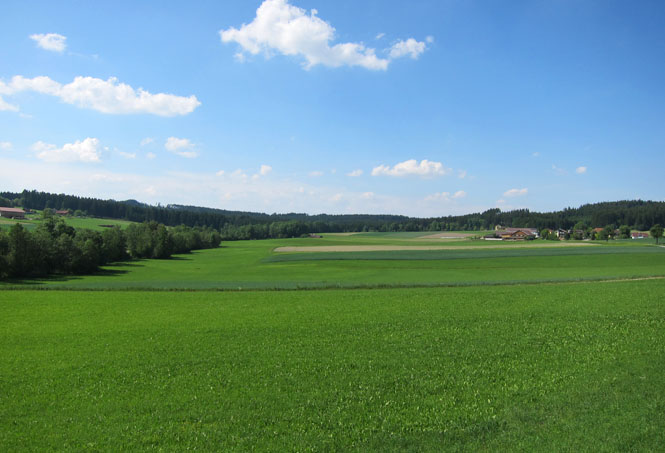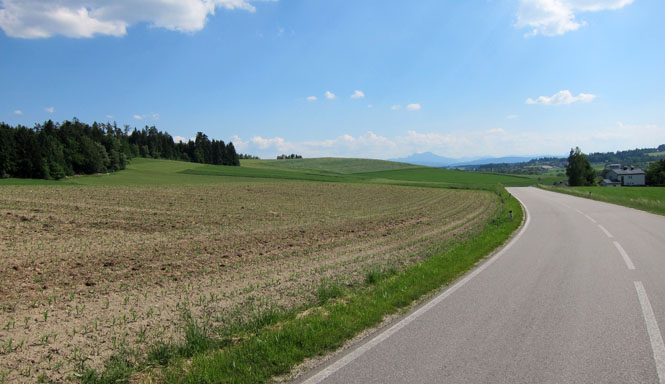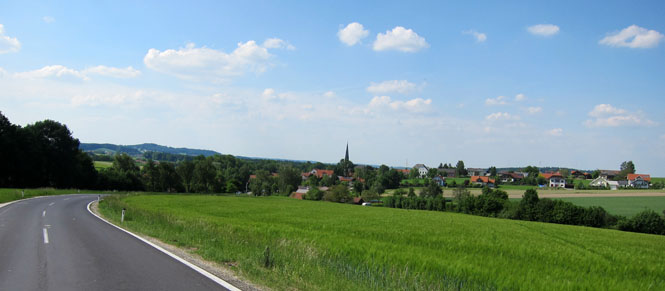 Schärding would be my last town in Austria. It was not where I was heading, but it turned out to be a nice place.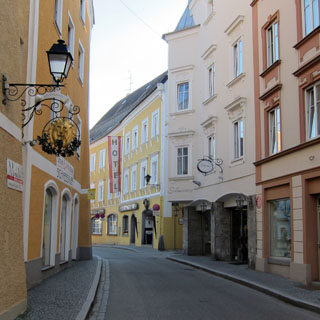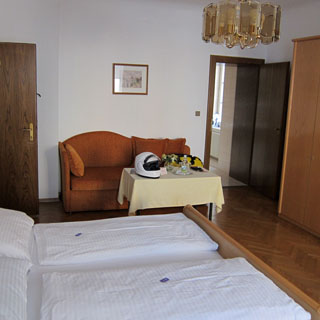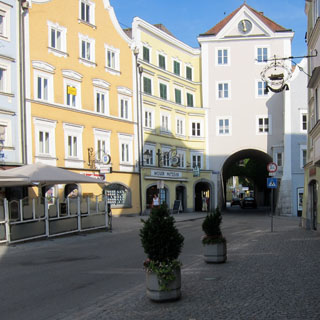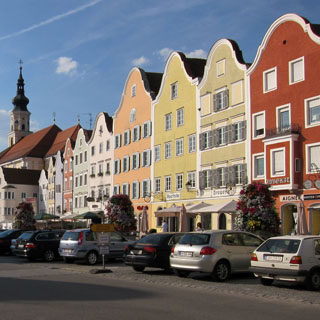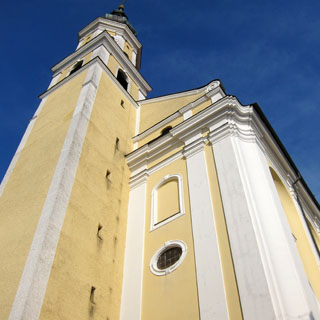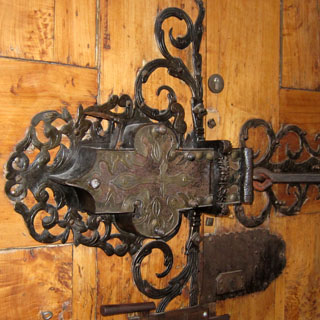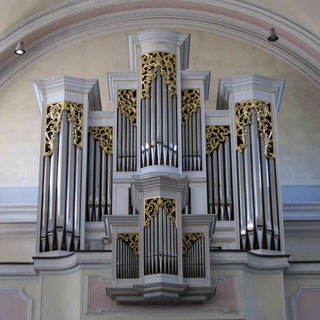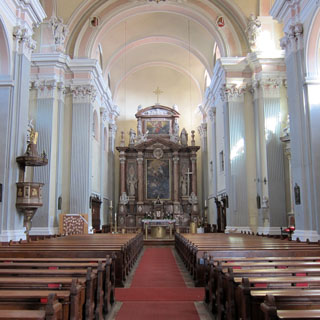 The Inn River. That's Germany on the other side.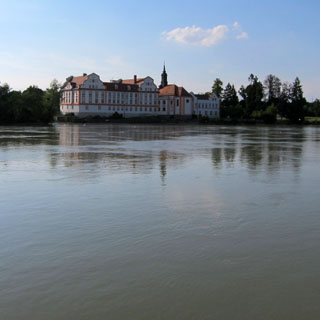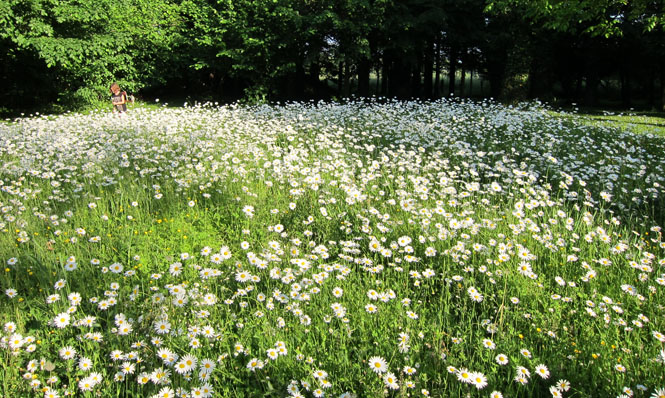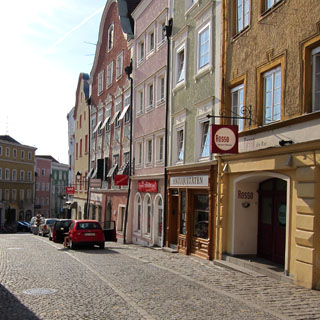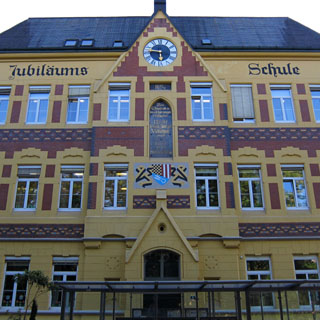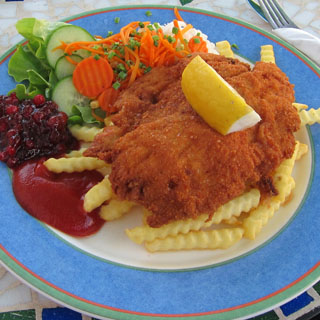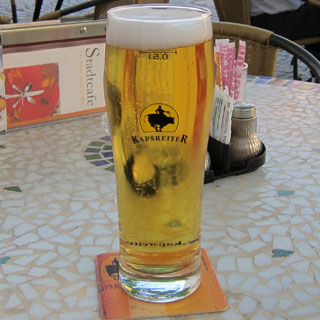 Bundesrepublik Deutschland
(Germany)
I wouldn't be spending too much time in Germany.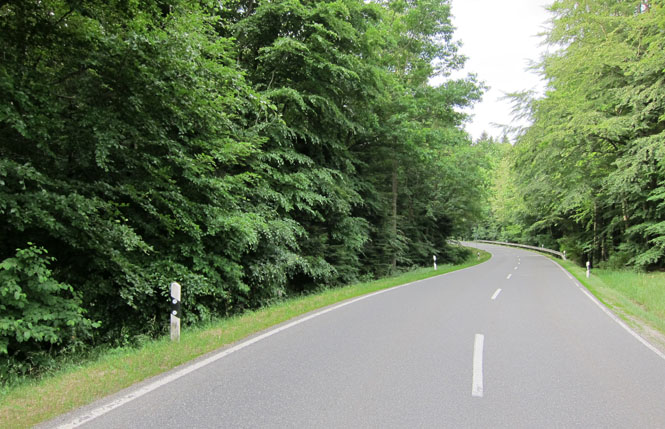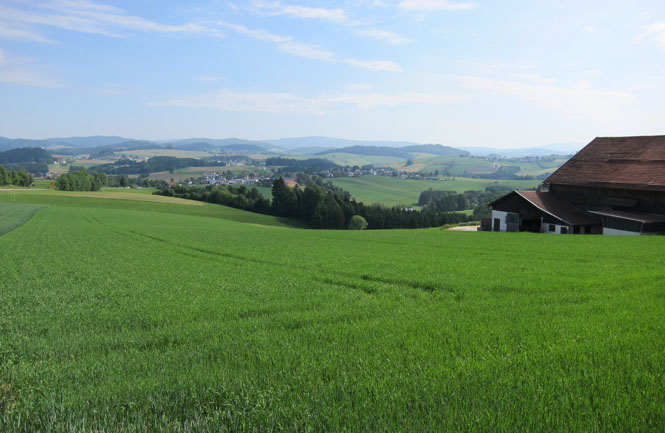 I did want to dip into the Bavarian Forest National Park. At least the boundary region. This is Mauth.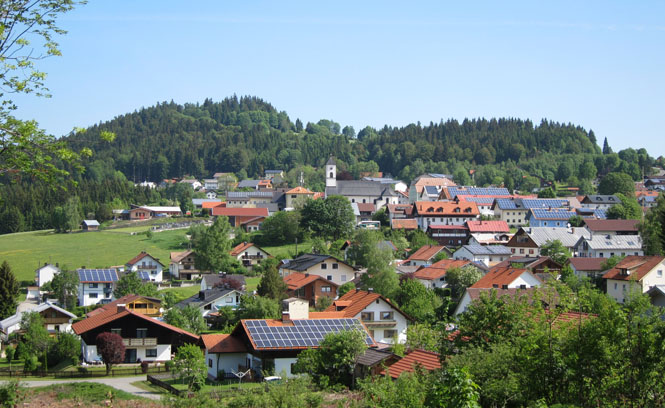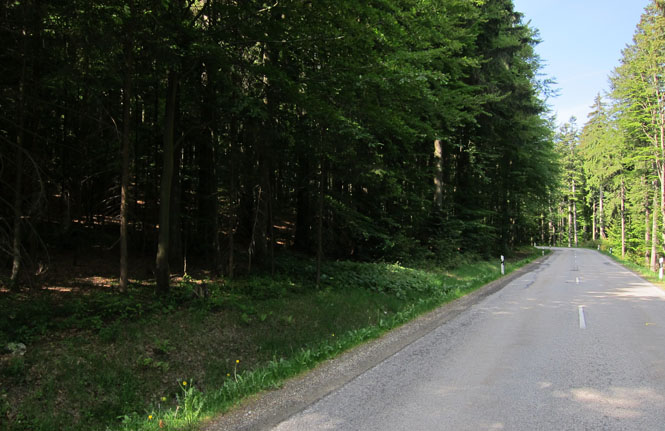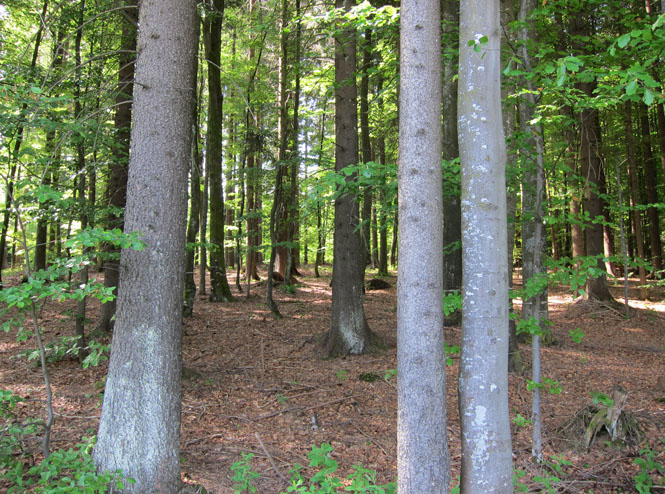 Česká Republika (CzechRepublic)
I entered Bohemia at Strážný and then wandered around for more than I was planning. Pointing the bike along whatever roads happen to be going where you want works sometimes, but not so well this time.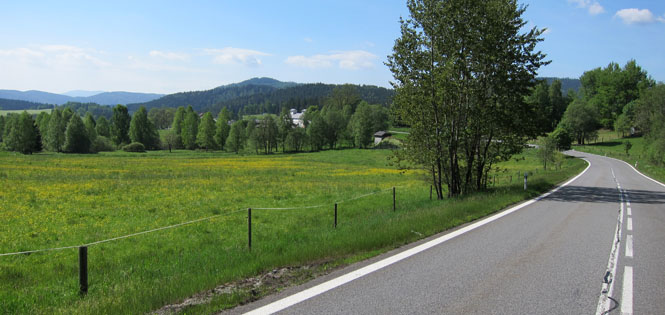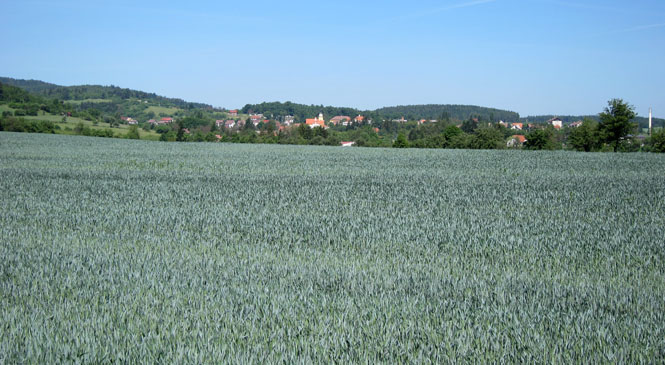 The cross? A very common thing at intersections (and this is a remote intersection). Sometimes it will be more elaborate with statues and shrines; other times just a basic cross such as this one.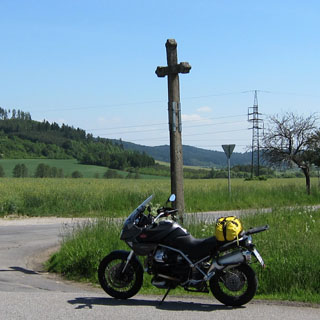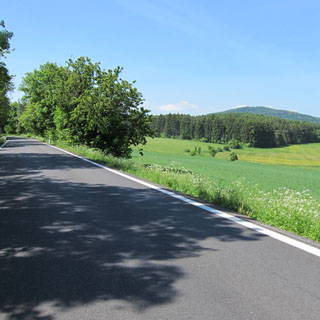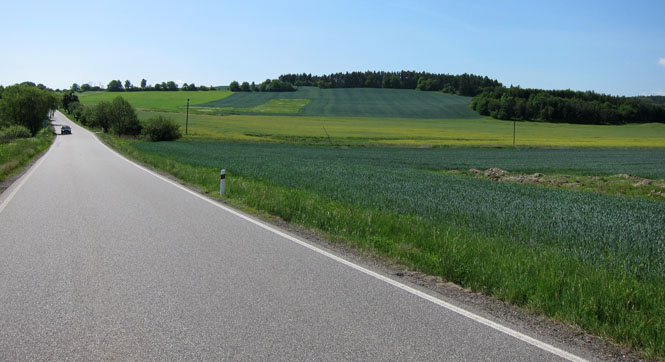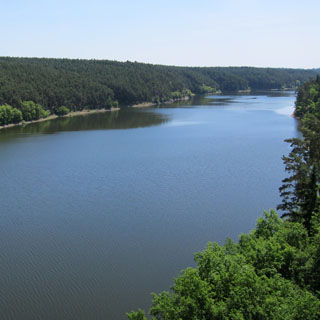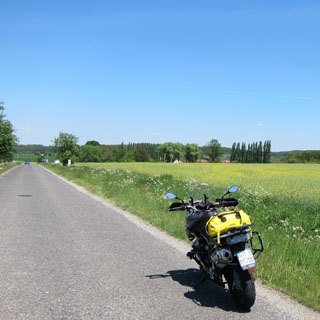 Jetětice. Home of Jan Kalal (b 1856) and of many generations of Kalals before him.
Forefather Kalal [b1645]
Jakub Girug Kalal [b 1670]
Matej Girug Kalal [b 1700]
Jiri Girug Kalal [b 1726]
Jan Kalal [b 1761]
Jan Kalal [b 1790]
Jan Kalal [b 1815]
Jan Kalal [b 1856]
- emigrant to United States from Jetětice
Daniel Kalal
Robert Kalal
Daniel Kalal - my return to Jetětice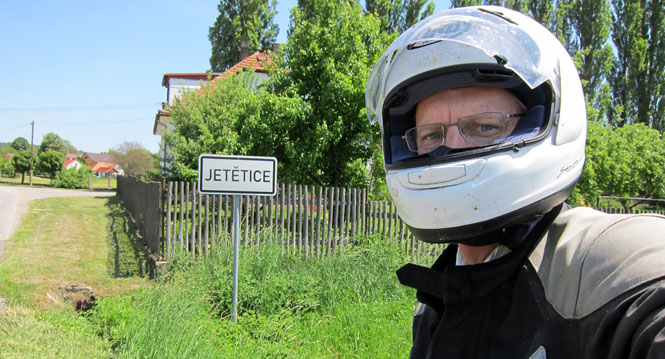 A monument at the church and part of the inscription.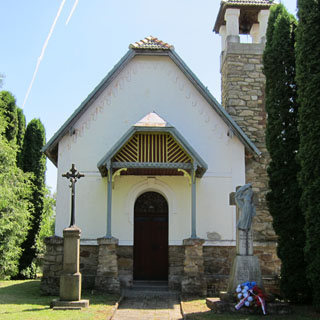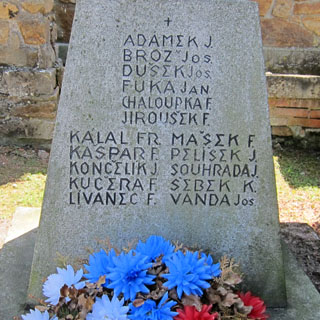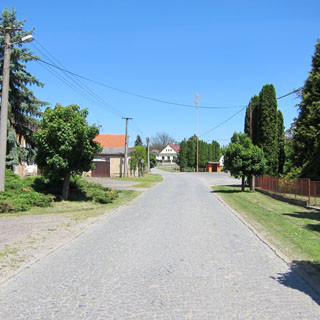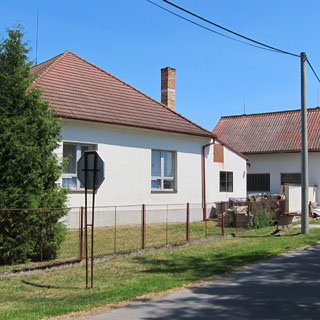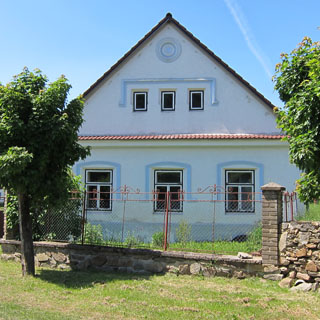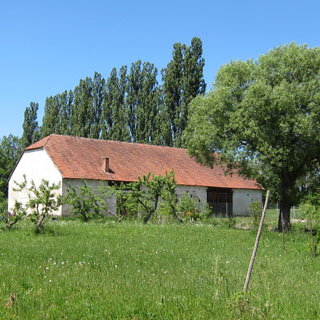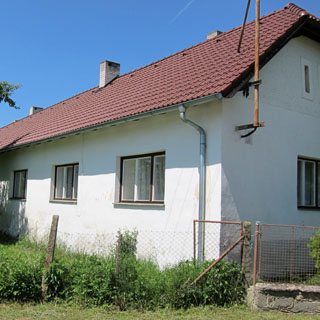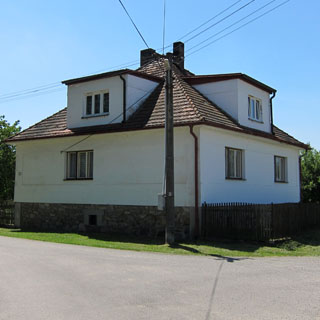 Jetětice still has passenger train service.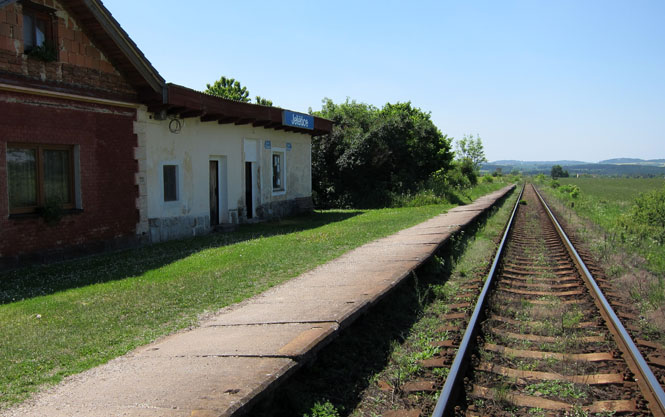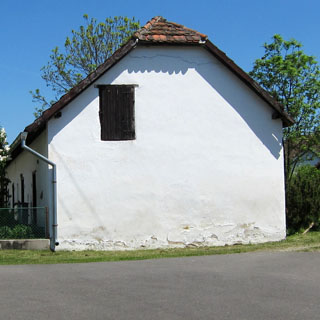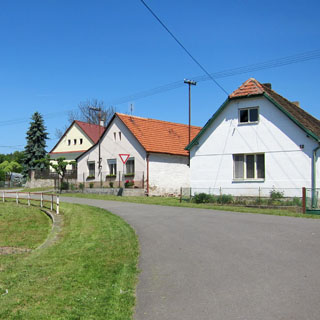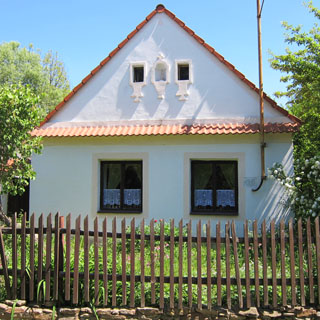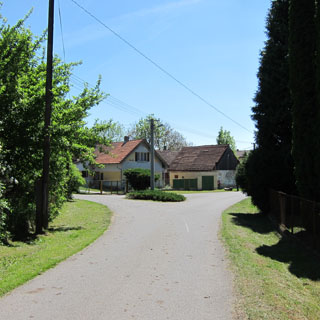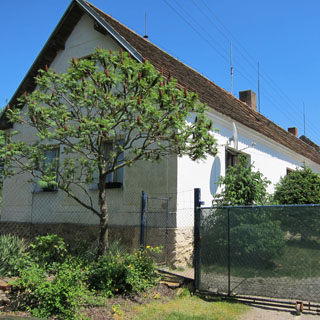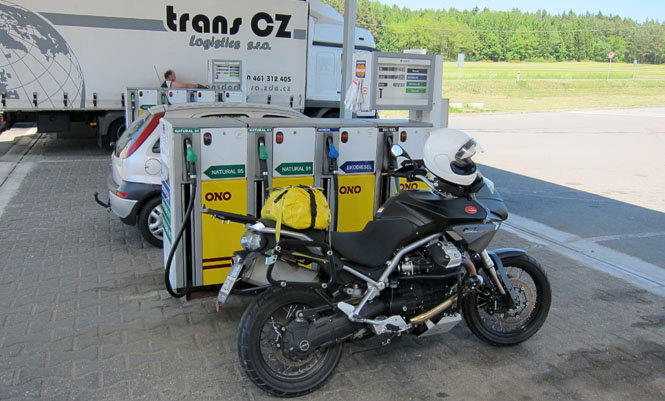 Bernartice.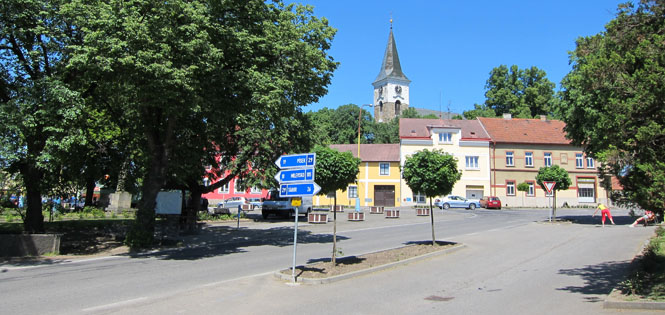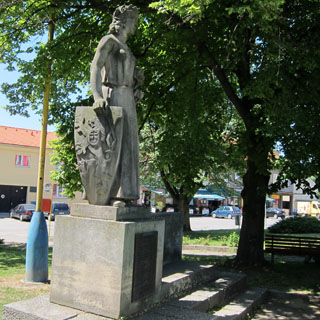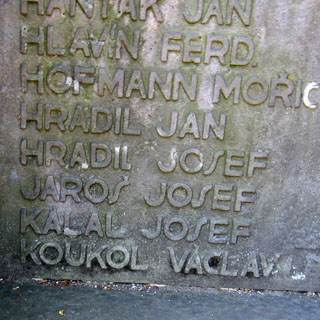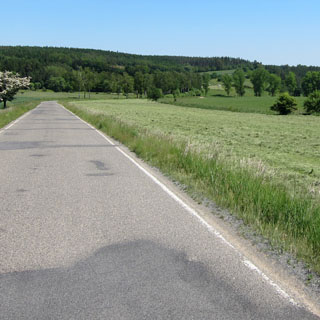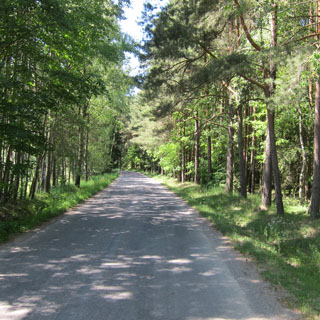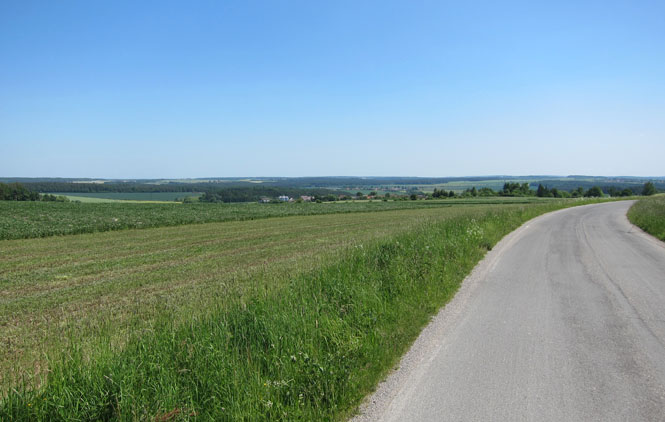 Radětice, home of Antonette Marie Benda (b 1856).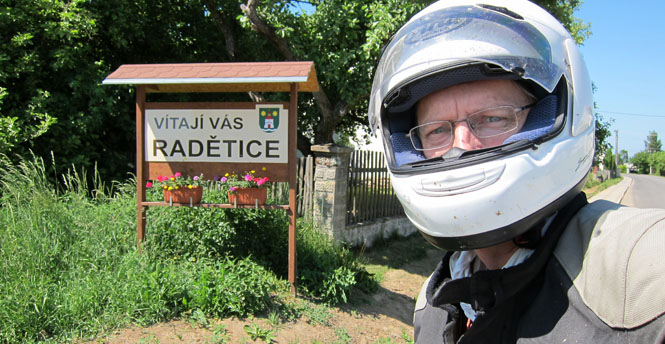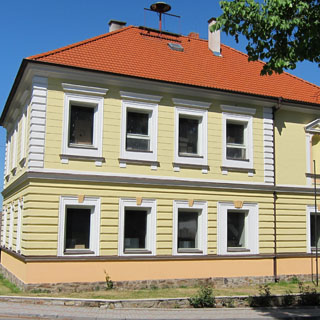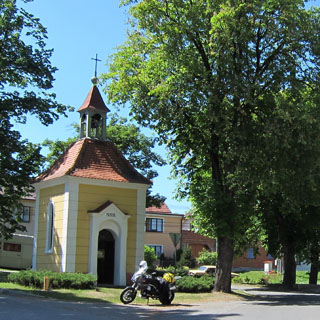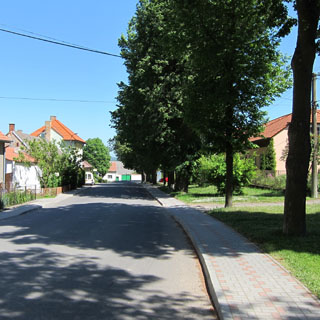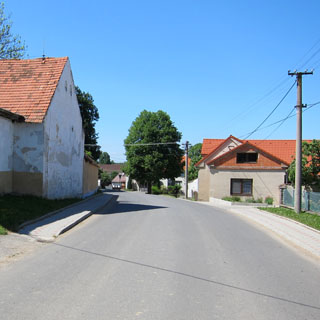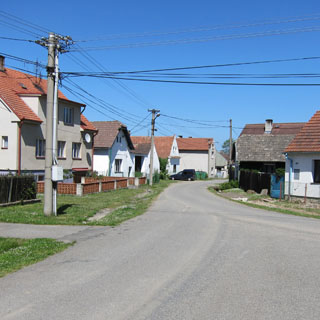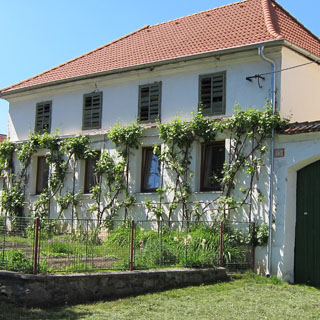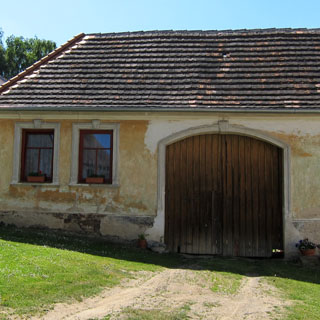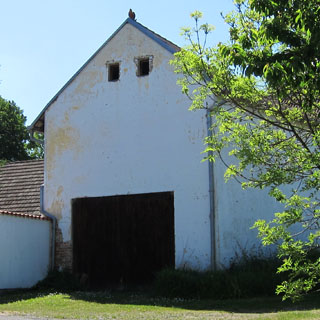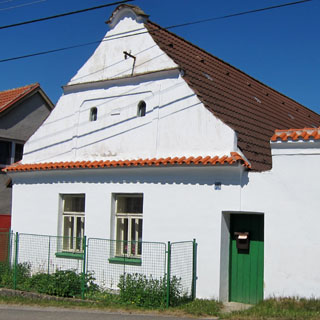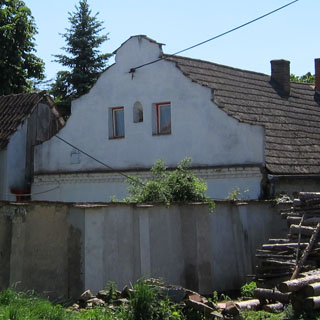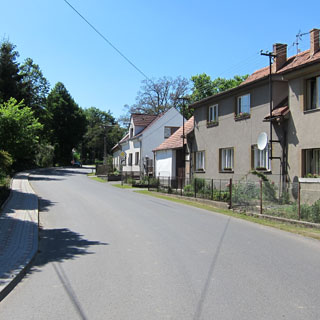 #23 was Antonette's home.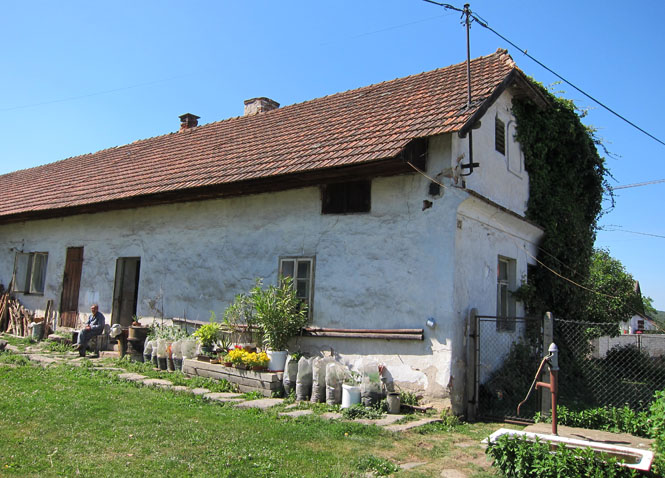 My very helpful guide Marie Sobíšková (and most helpful translators).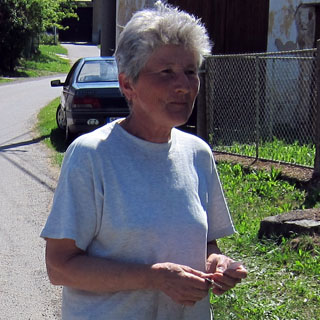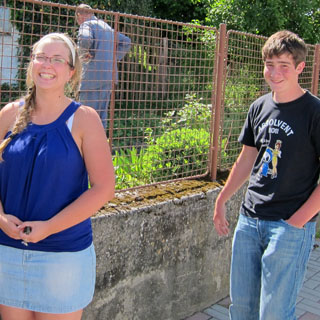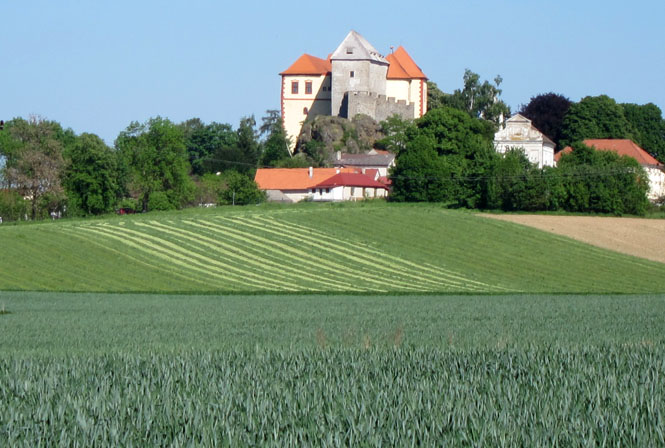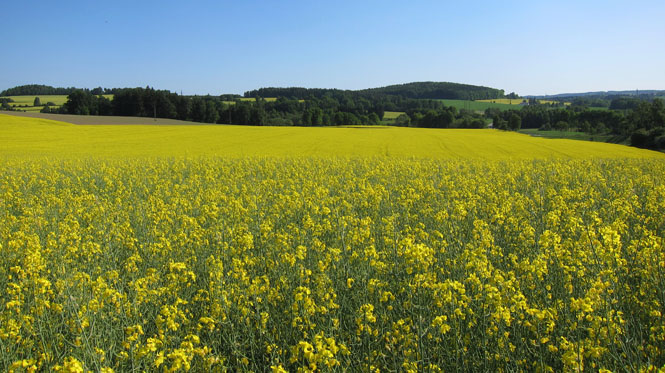 Havlíčkův Brod for the night.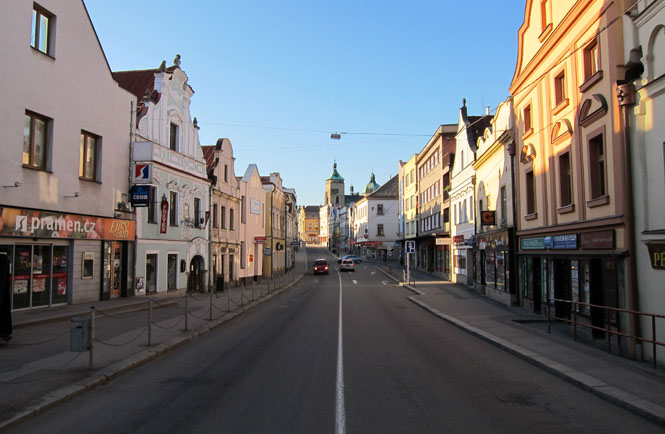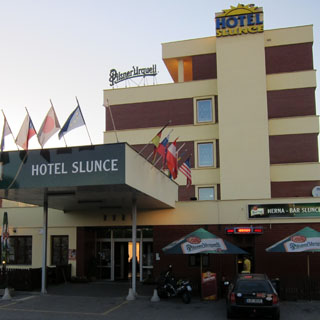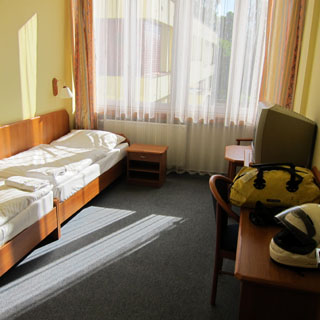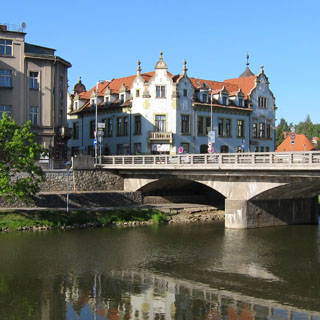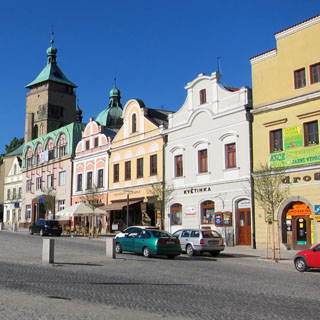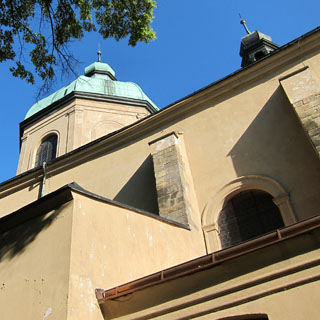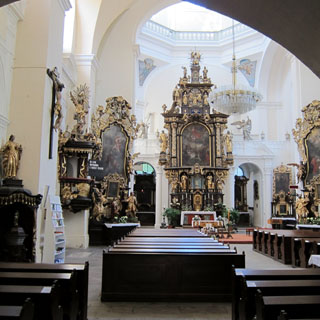 Bedřich Smetana was from here? I hummed his tunes while walking.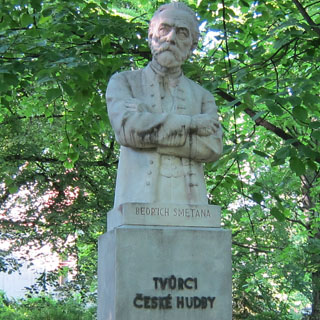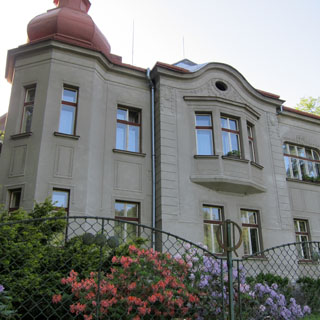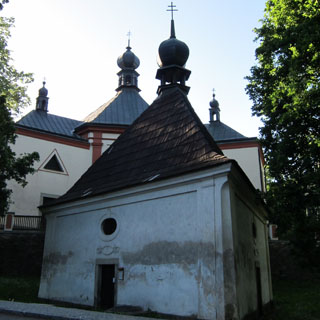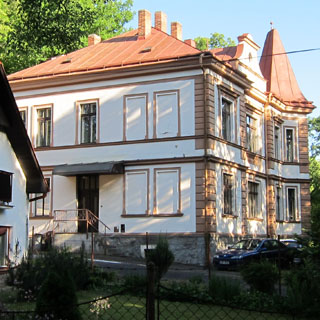 Not sure what the words mean; I only hope I didn't do it. The Czech sign system is a good one. The number on the left is the road number (which you might be able to track), and the number on the right is the distance (in kilometers). The pointy end of the sign might be on the left, the right or even straight up.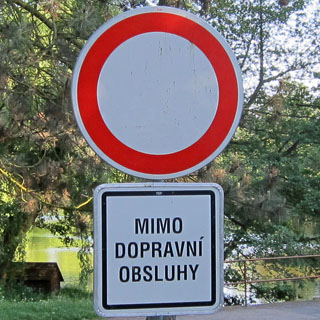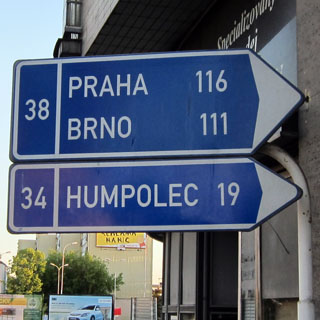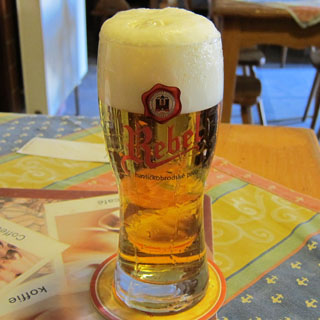 A Trabant! I did not see too many of these on the trip, but, in every case, they were slow. Cute car in a homely sort of way.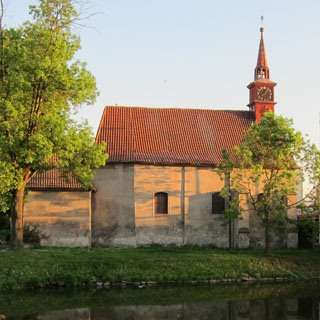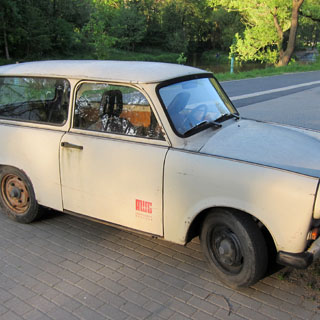 I was at a performance of a percussion-based group "Tap." They were just amazing. They do have instruments (brass, keyboards) but mostly it's all about the beat--and a very complex beat. I have no idea what their story is. Many members were physically confined, and some didn't have much motion (using their feet on an electric drum kit in one case). They often sang or chanted while playing. I was impressed, and the audience was very enthusiastic.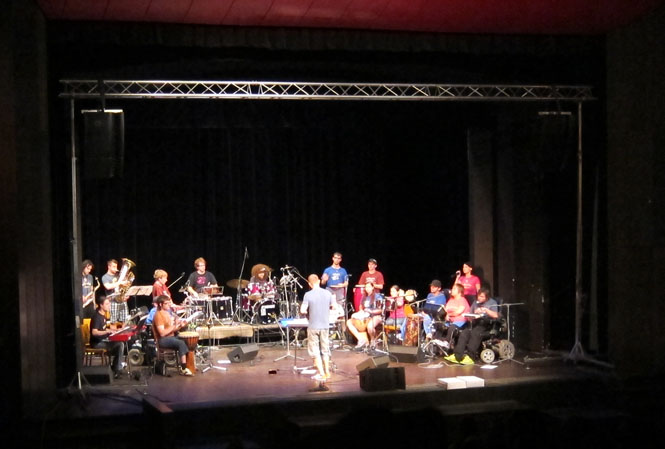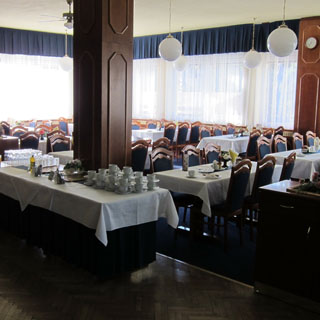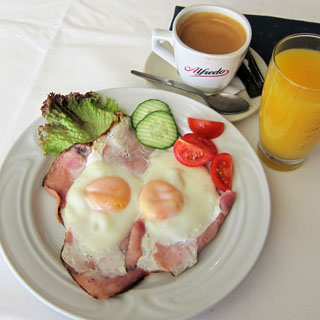 On the road the next morning I was more "lost" than normal. No matter; I did get someplace eventually and as long as the road was paved (mostly) I wasn't too concerned.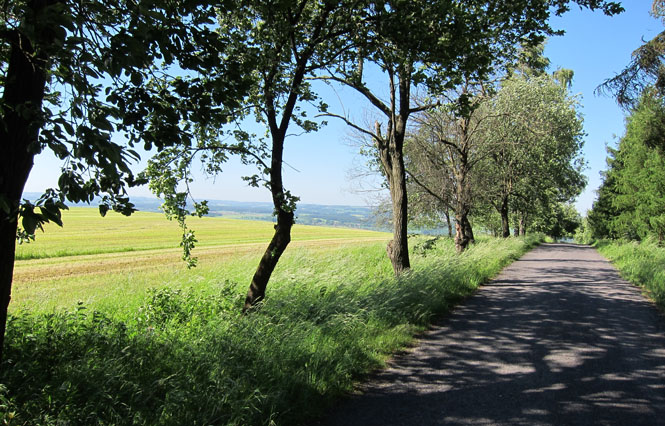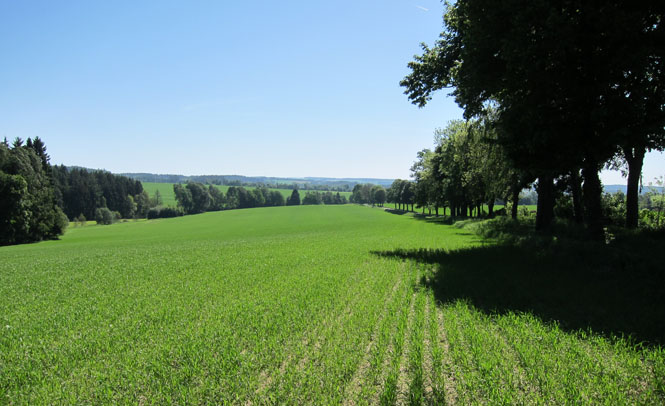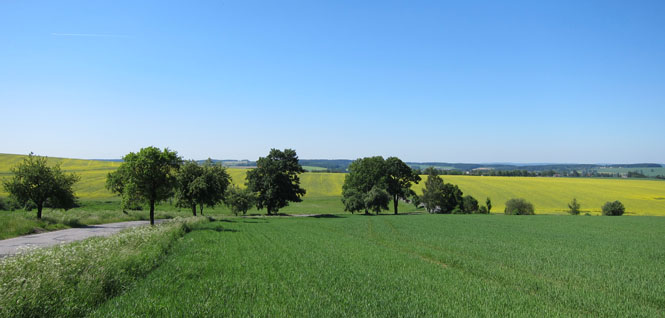 Eventually, you figure out what places are restaurants; that's what this is.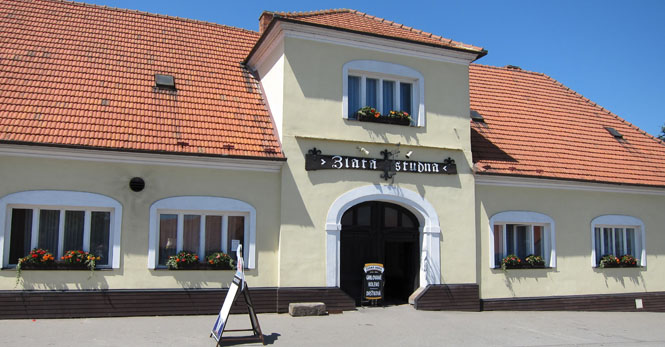 I'm not really sure exactly what I ordered. I used the "smile system" and stayed with what the waitress seemed to think was a proper choice. Her smile was correct. It was very good.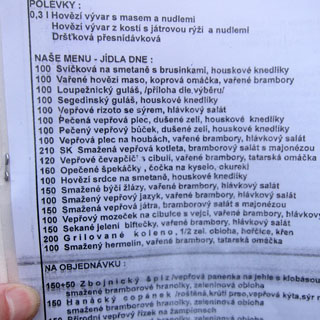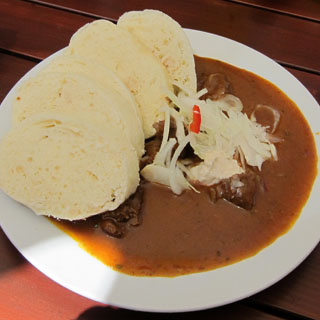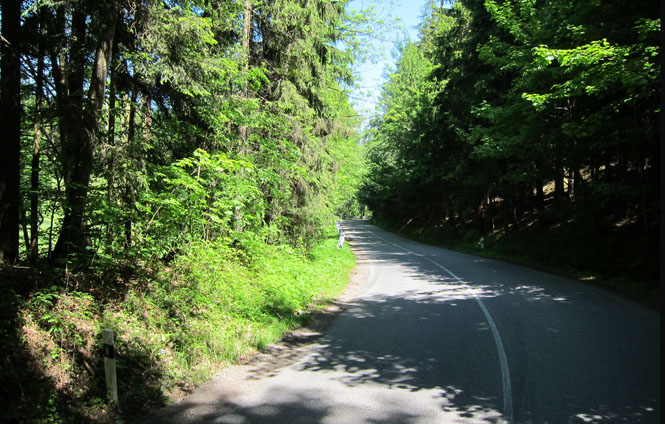 The countryside is full of crumbling old mansions and religious buildings of some sort. This is Plumlov Castle, which seems to be under some limited renovation (or at least stabilization).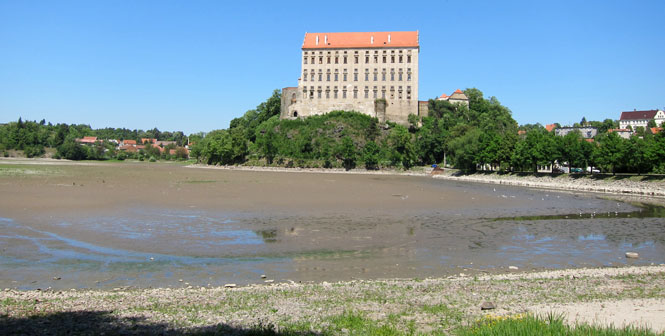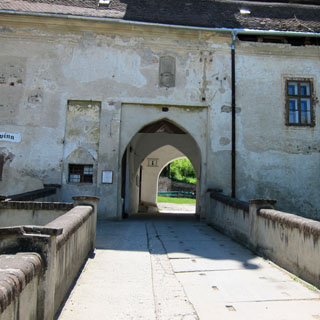 As I would frequently do, in this photograph I have pulled up and over the curb onto the sidewalk to stop while I look at the road sign and at my map. Where am I? Where do I want to go?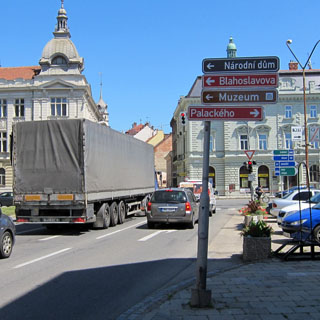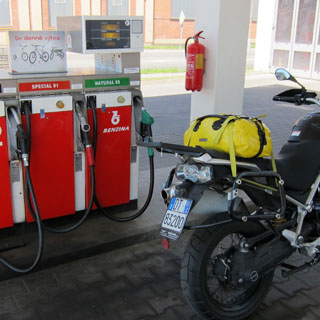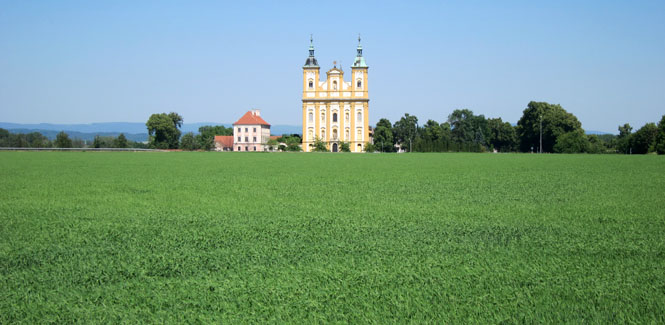 Very tall and clean poles with banners and streamers on top. In this case there's a Czech flag. What do they mean? Almost every town of any size had one. I wouldn't want to climb it.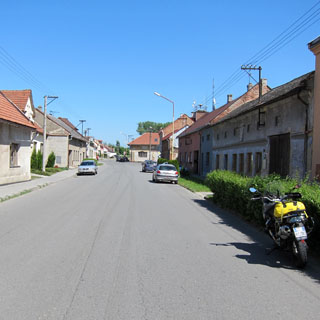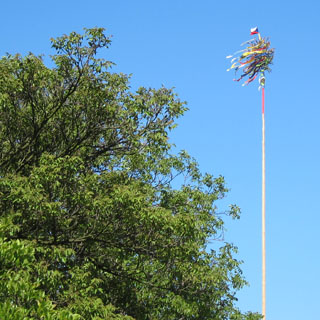 Is this a Trabant tractor? I don't know, but it did have a two-stroke engine, which seems an odd choice for a tractor.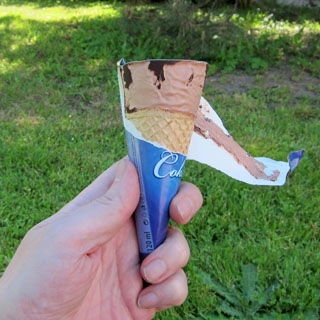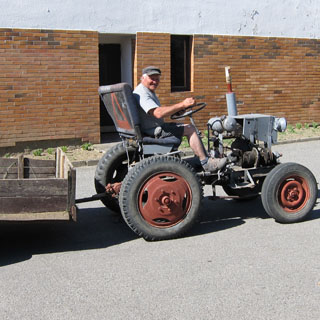 Slovenská

R

epublika
(Slovakia)
This sort of memorial statue was fairly common. It's hard to know what side this soldier might be on or who he was fighting against. You could usually tell the Soviet statues (which this one looks like).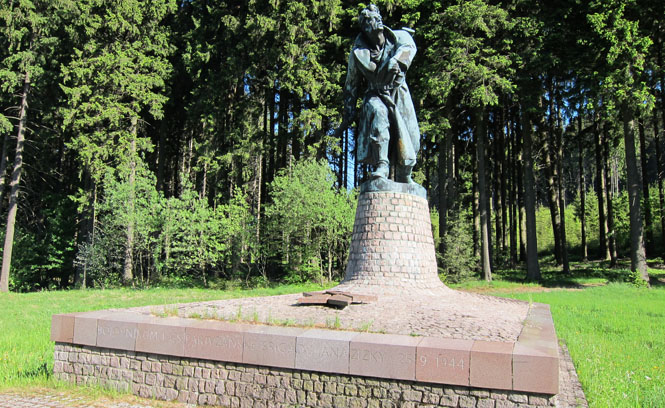 Martin. This was not my first stop for the night, but I gave up finding a decent looking hotel at a larger city. This was good.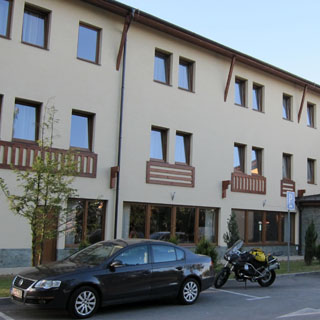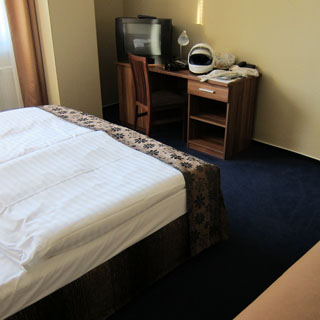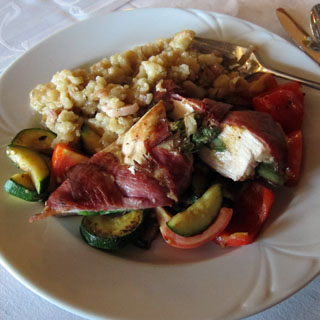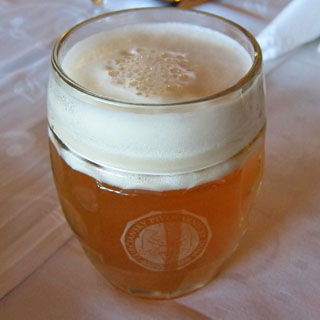 Continue the routine. My shirts are selected to dry very rapidly. Hang it up at night and it's always dry by morning. Blue or orange; those are the colors for this trip.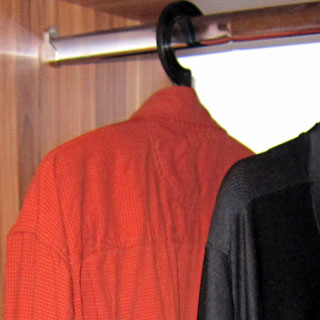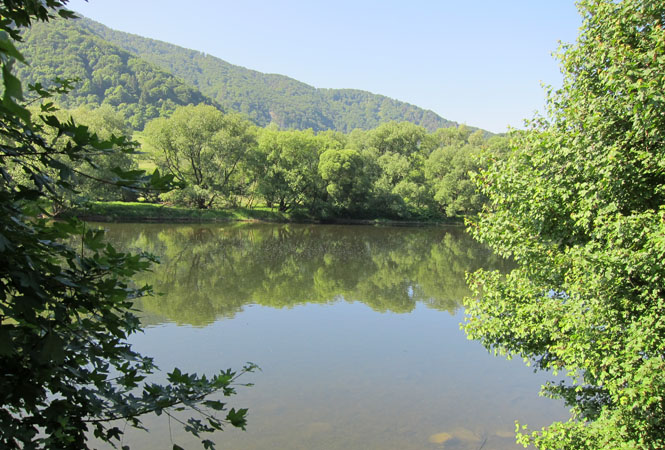 I turned into this small village looking for a secondary road that would take me north. Eventually, I did see a sign for the next town up the road but there was a strip of tape across the name of the town, so I didn't take the road. This is a common method of indicating that the road is closed--plastic tape across the sign.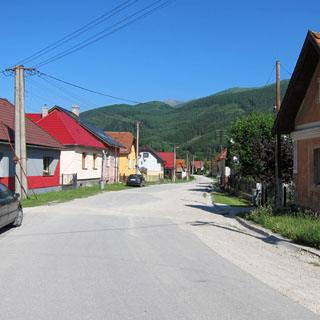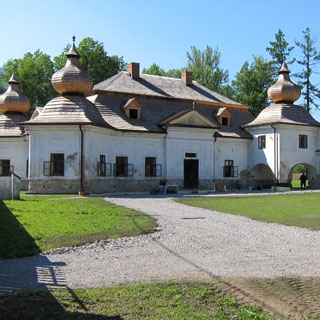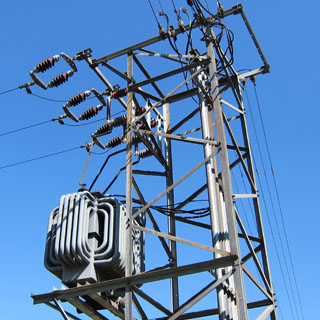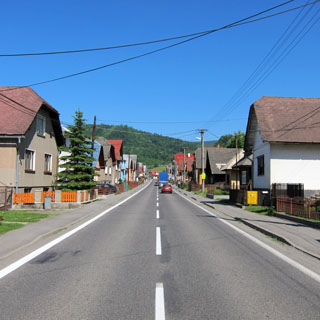 Old ruins of castle fortresses and the remains of ancient churches are fairly common.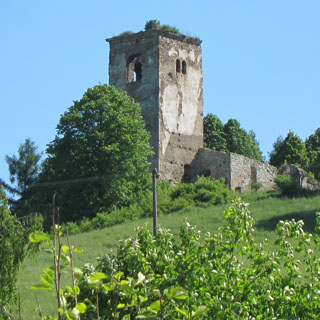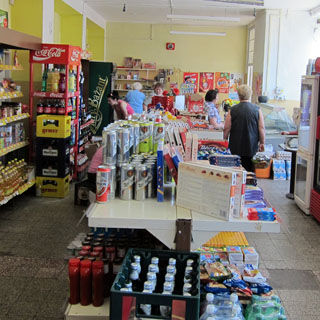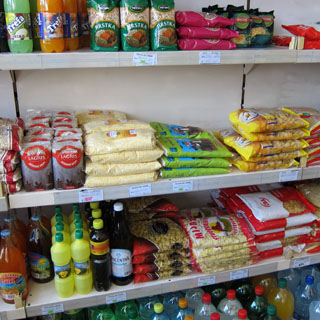 You will not find a huge array of cold drinks in the market. This is an apple drink. It wasn't bad, although I might not have it again.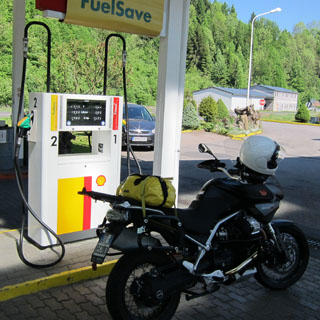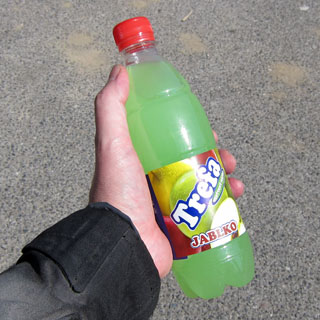 These guys probably don't get many visitors. Anyway, I was still not sure if Slovakia required a vignette for motorcycles to travel on the express ways and autostradas, so I thought I'd ask a good source.
The answer is "no." Several countries require that you purchase a sticker to use the freeway system (not really free, of course). Slovakia is one of them, but motorcycles are excluded. There are times when it is impossible to avoid spending a little time on these roads, so it would be nice to avoid a very big fine.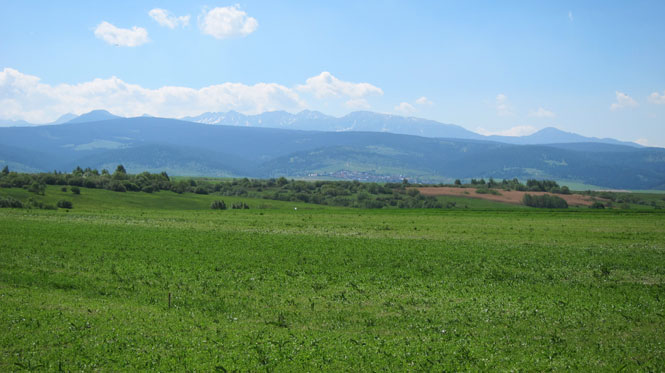 Rzeczpospolita Polska

(Poland)

I wouldn't be spending too much time in Poland. For one thing, I had no maps. Looping up north was a way to get around the mountains you see in the previous photograph. And besides, I just wanted to ride in Poland.
I didn't think I could go too far wrong following whatever road seemed right. But, at times, I wasn't sure if I wasn't just on some road that would lead to a farmhouse. Eventually, I did reconnect to a road that looked a fraction more important.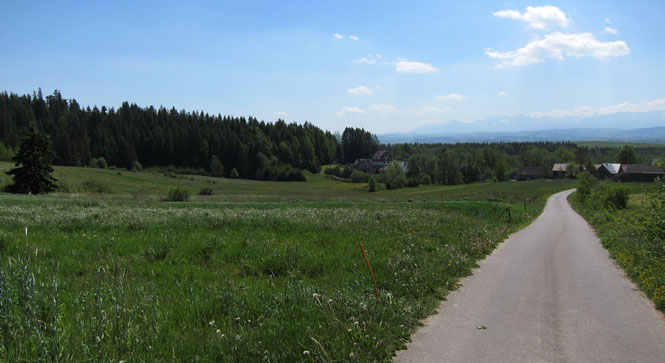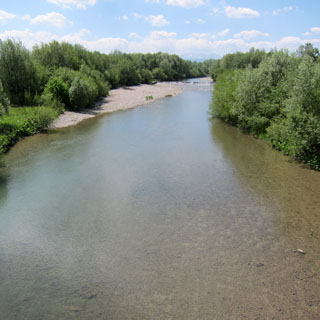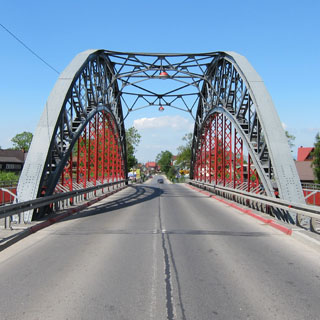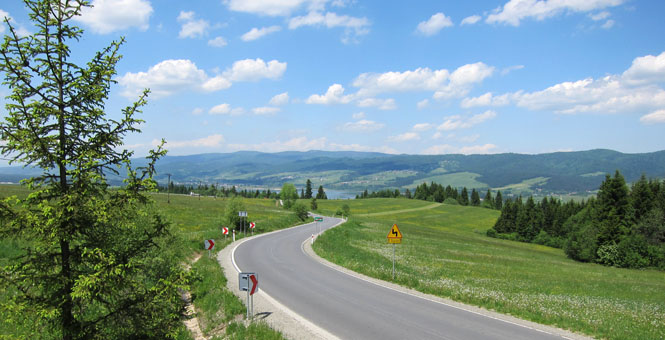 I suspect that every valley and entrance to a mountain pass will have the old remains of a castle fort.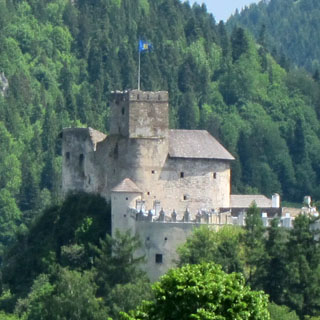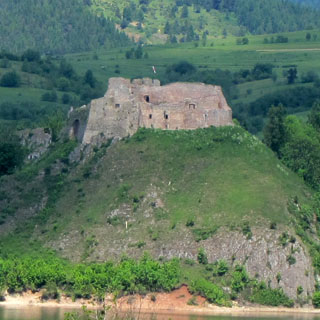 Slovenská
R
epublika
(Slovakia)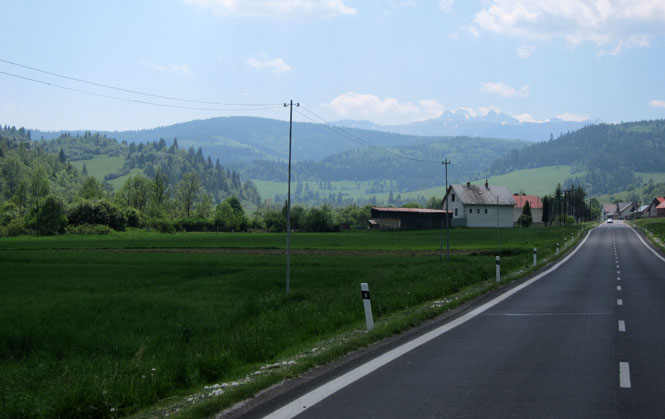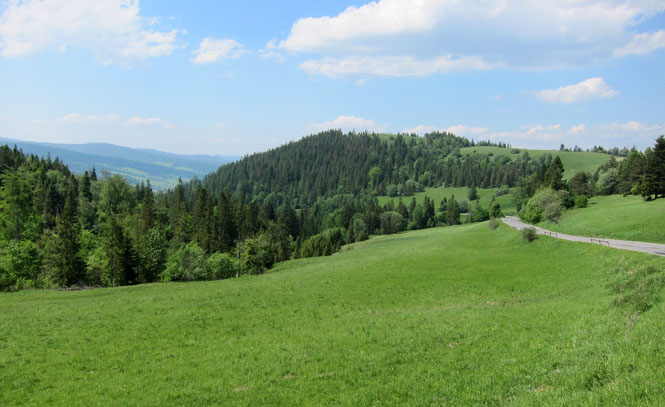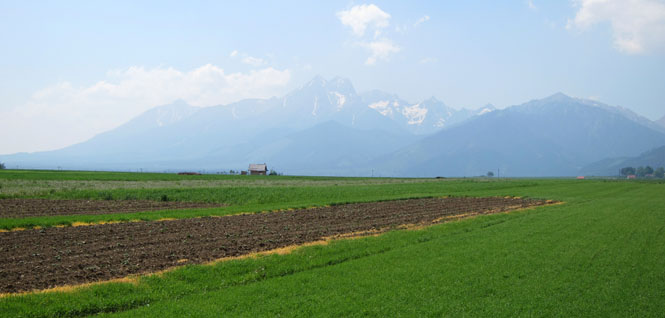 As soon as I sat down, the waitress gave me the large pot of soup. The struggle I had was to figure out what to order. I'm pretty sure I've ordered what is shown. In any event, it was very good. It's doubtful that anything on the menu would have been disagreeable.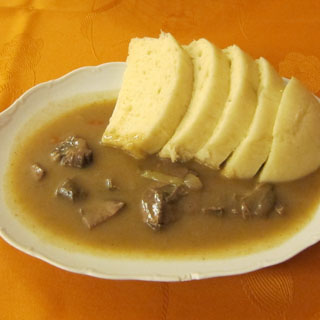 Spišská Nová Ves. It wasn't clear that the small towns ahead of me would have any sort of lodging, so I stopped just a bit earlier this day.
Three-star or not; hotels are pretty cheap.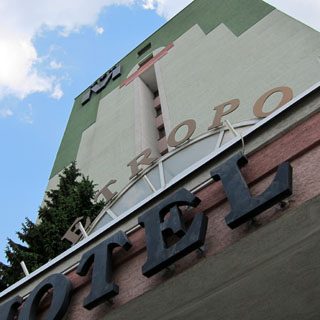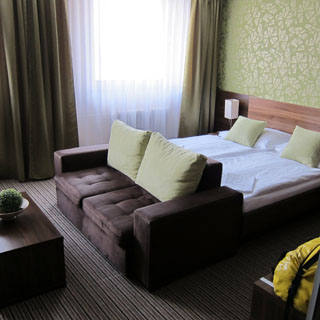 That's the highest church spire in Slovakia.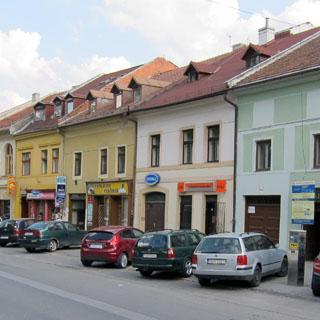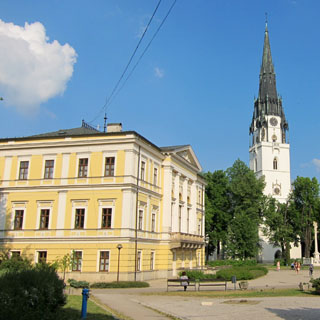 I seemed to have interrupted the rehearsal for some sort of event. A wedding? I'm not sure. Perhaps not.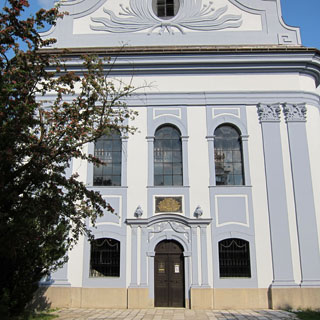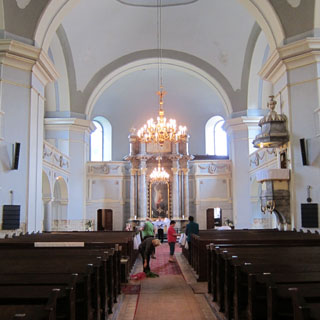 Using the organ loft for a library seems like a sensible use of space.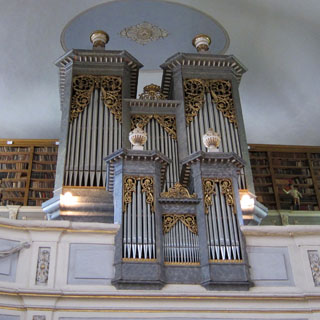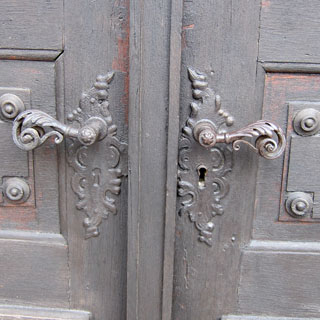 More happy soldiers.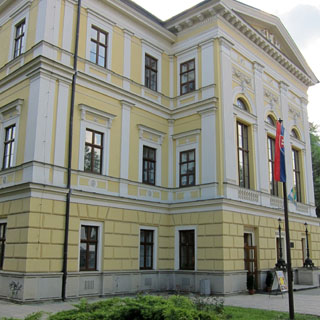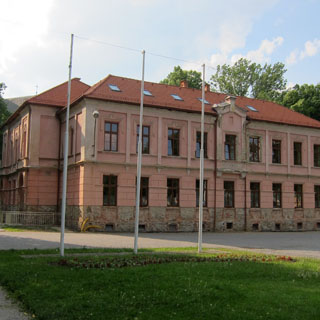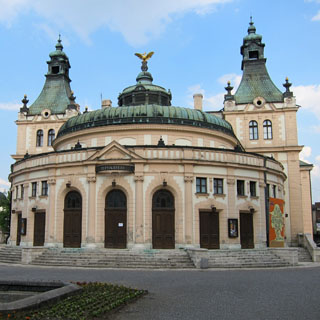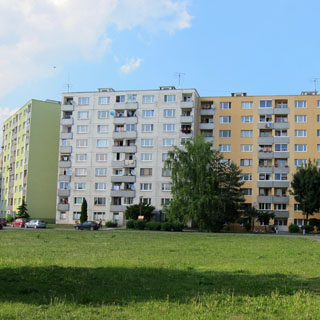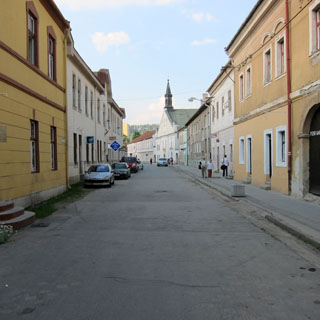 Of course, August 21, 1968 is when the Soviet Union rolled into Czechoslovakia to put an end to the Prague Spring. The separation of the Czech Republic and Slovakia was part of that reform movement, but didn't come to pass until well later.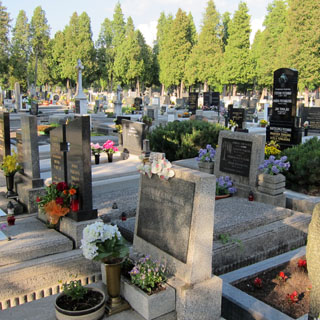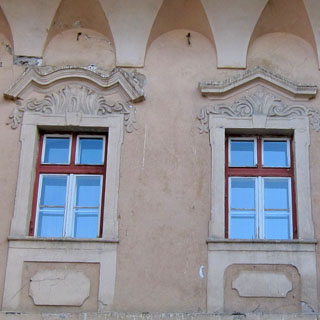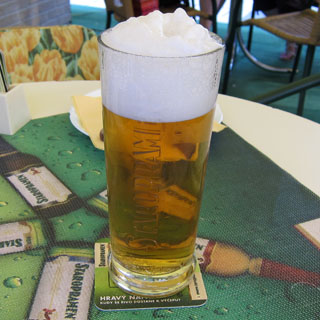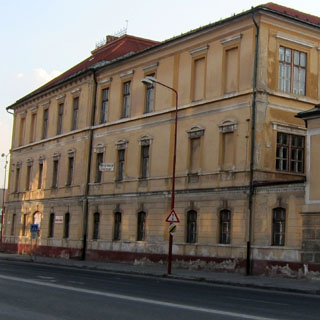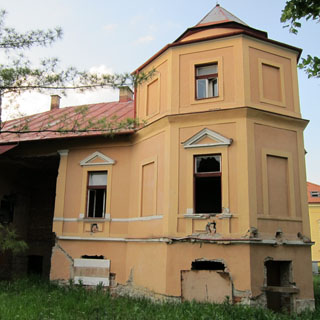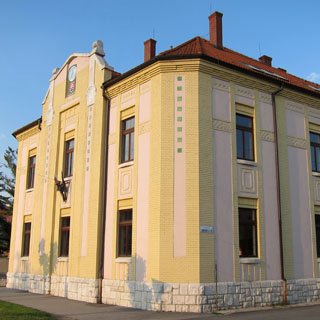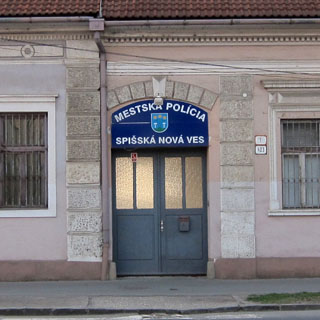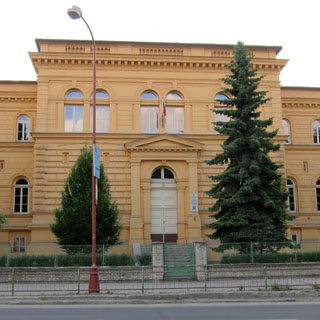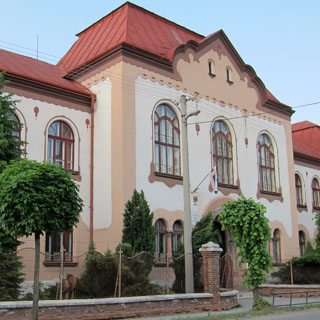 I'm heading for a thin road through the mountains. There was virtually no traffic.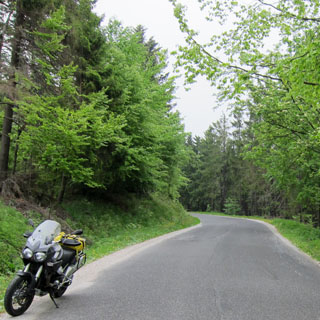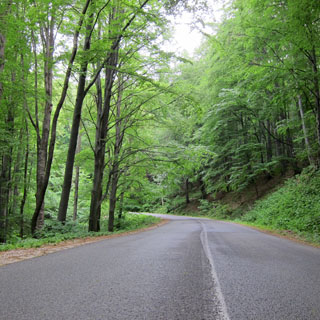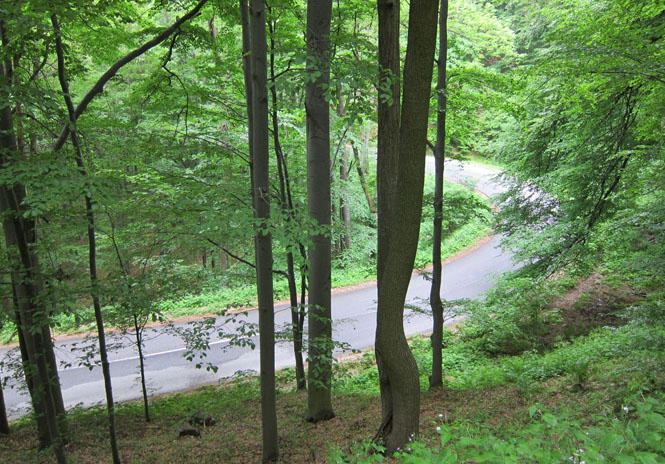 Betliar. The core of the house dates from the 15th century, although it has been remodeled and rebuilt considerably over the years.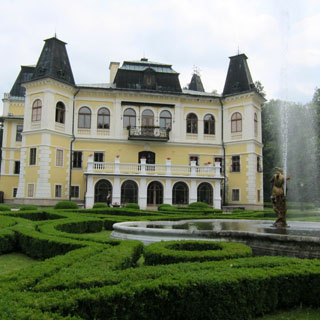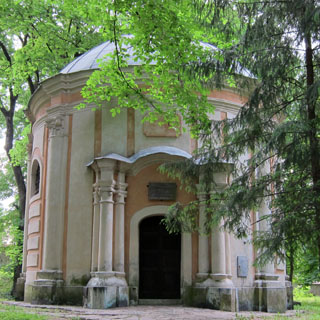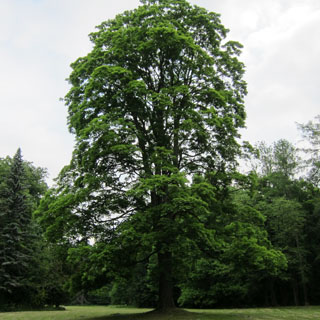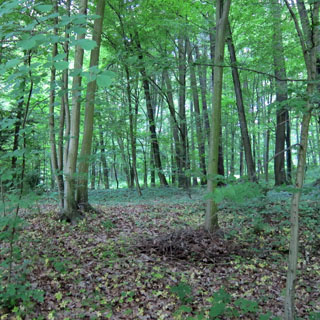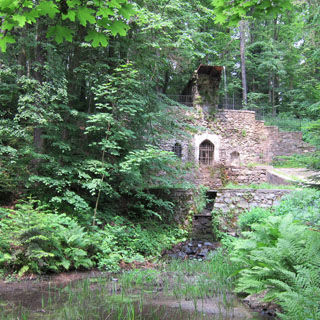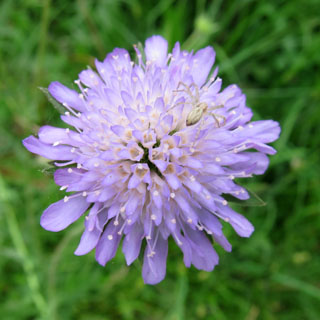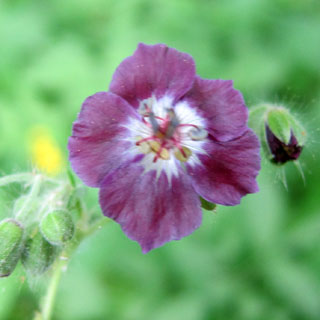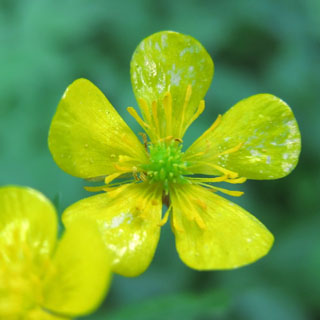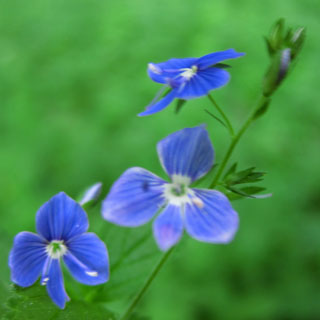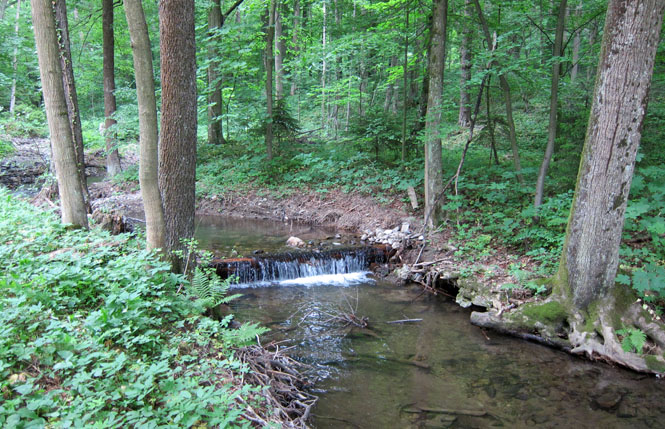 The museum had an exhibit on Gutenberg and included several examples of printing presses over the centuries.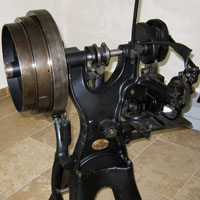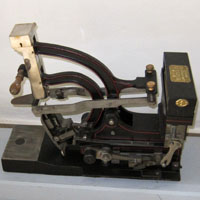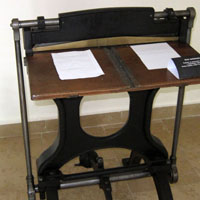 Krásnohorské Podhradie and Krásna Hôrka Castle.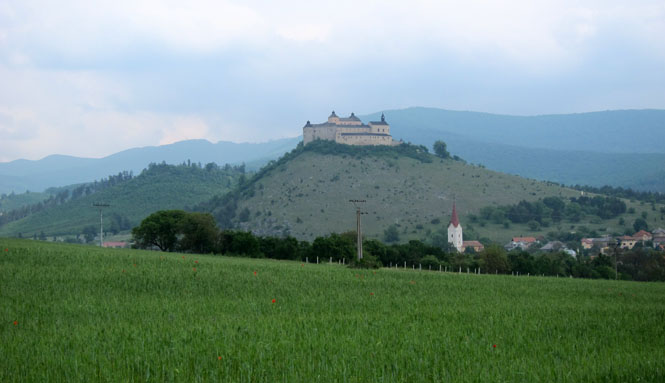 Our tour guide (in red).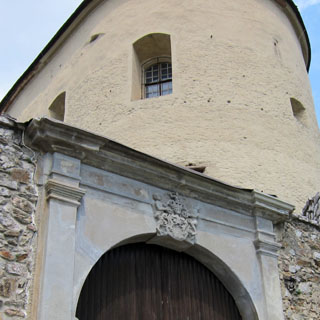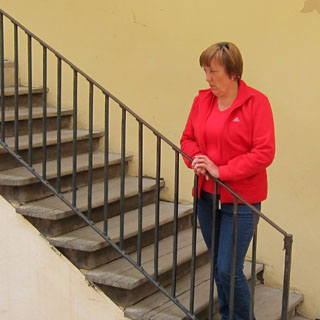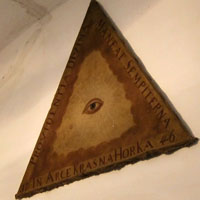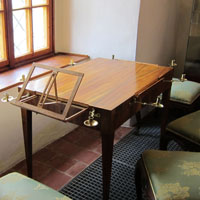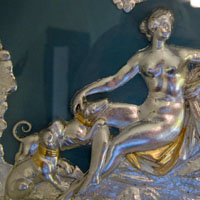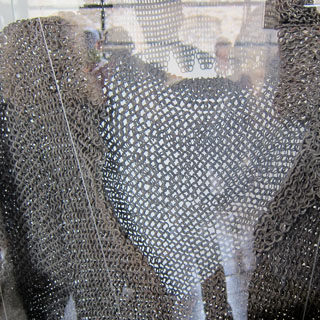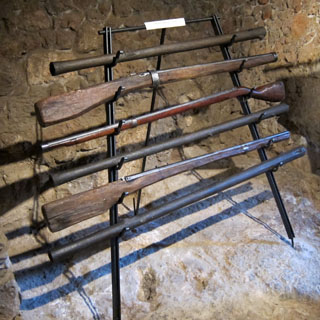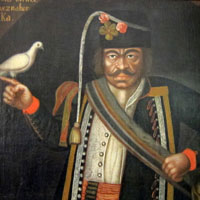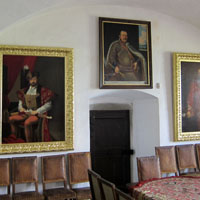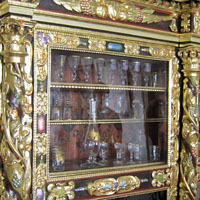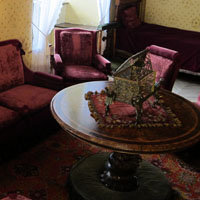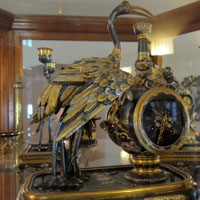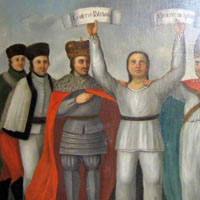 This stunning chapel is the best preserved part of the entire castle. Yes; that's the exposed body of one of the earlier inhabitants that those people are looking at.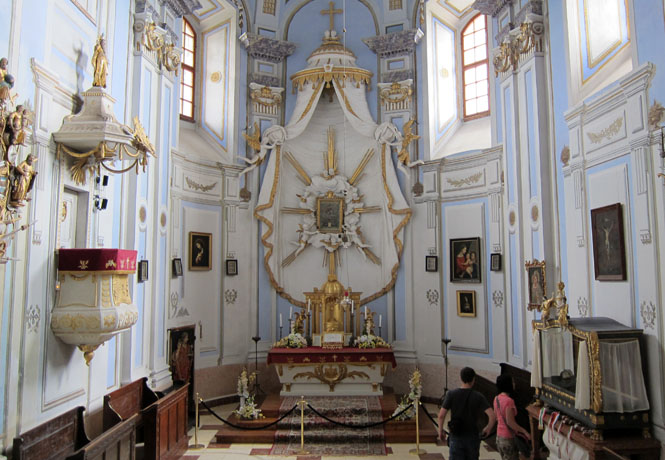 I worry when my road becomes gravel. But, in this case, it didn't last long and was mostly the patch-over-patch that I had become used to. A Guzzi Stelvio is ideal for this sort of road.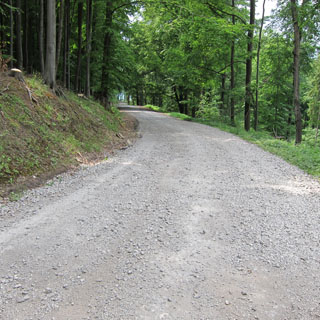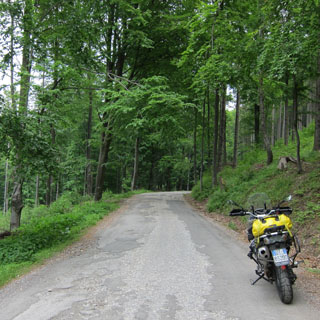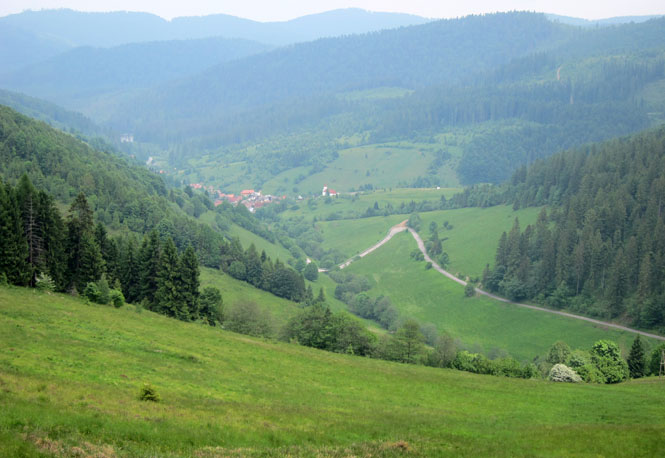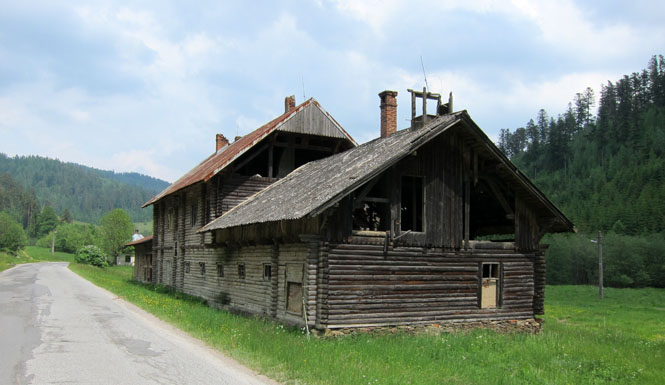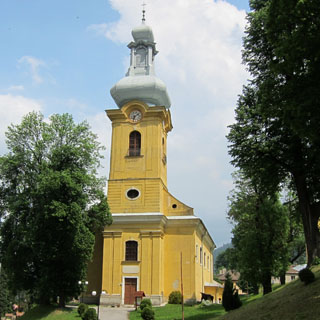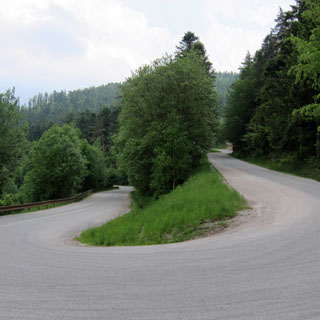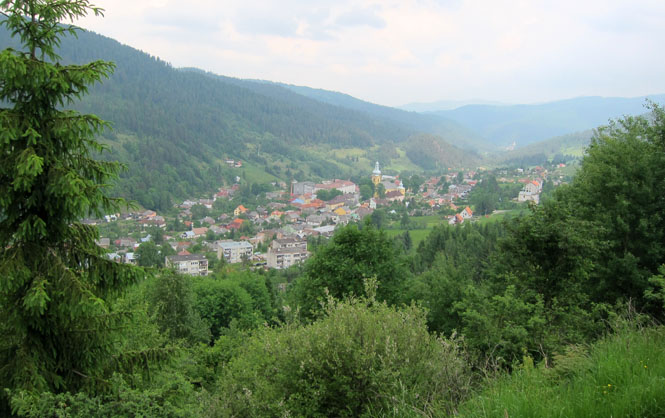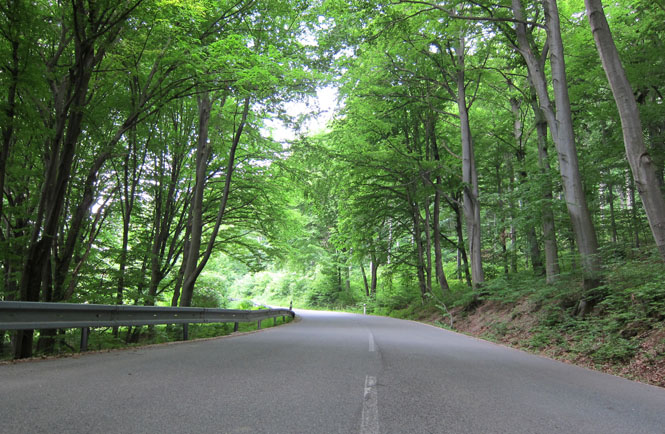 Košice is a pretty big city, and I only wanted to get through it with a minimum of fuss. I did stop at a petrol station.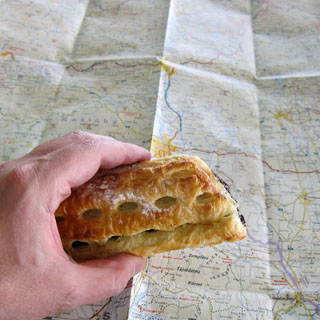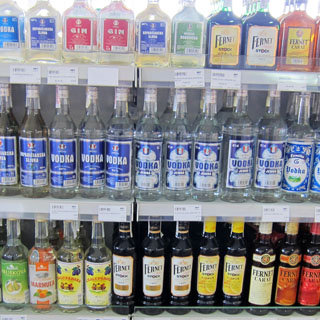 On one side of the road we have a tank and some sort of self-propelled artillery piece. On the other side is a Soviet monument with an imposing entrance. The turnoff to the Soviet side was blocked off (nobody was there); children were playing on the tank. Loud music of a men's chorus singing battle songs was being played on the empty side. The heritage of this country is difficult.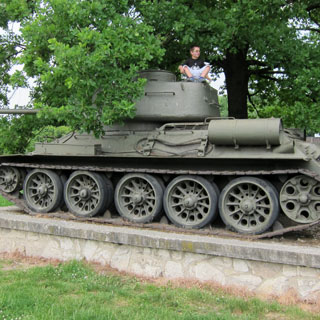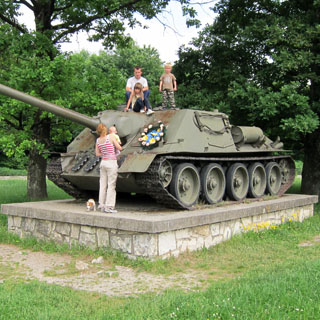 I came within just a few miles of Ukraine before turning south towards the Hungarian border.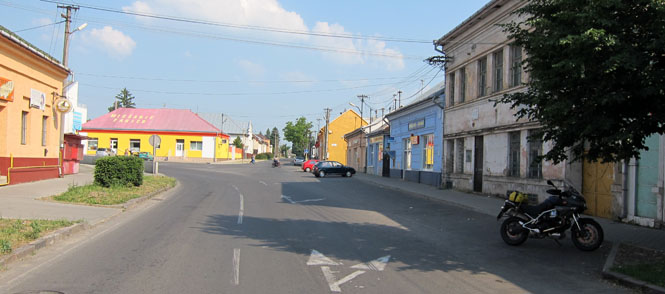 Storks. Nests such as this one were everywhere. Most every town I rode through had several.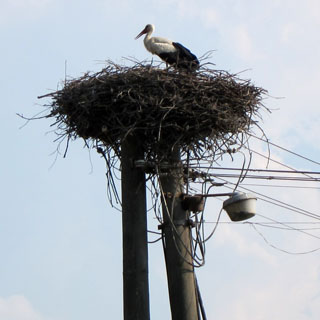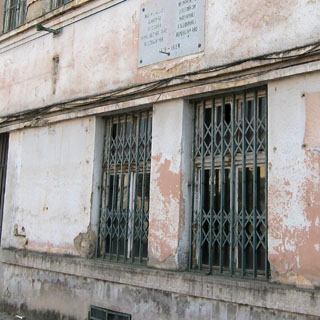 This southern part of Slovakia is very flat, and looks to have once been swamp land (notice this road is elevated). It looks like miles and miles of levies have reclaimed the land for agriculture.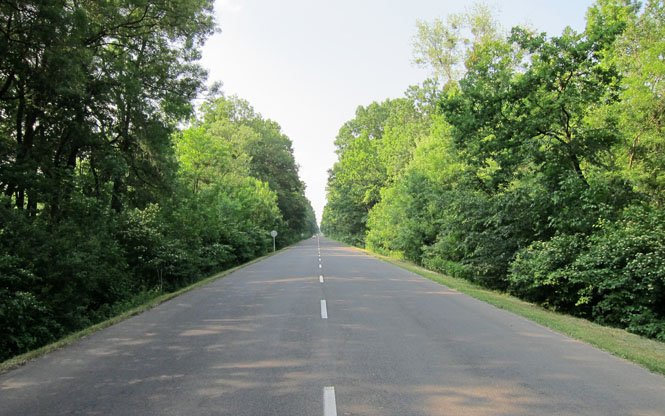 I kept an eye on that cloud. I did manage to avoid it except for the final forty minutes of riding when I was in some pretty heavy rain.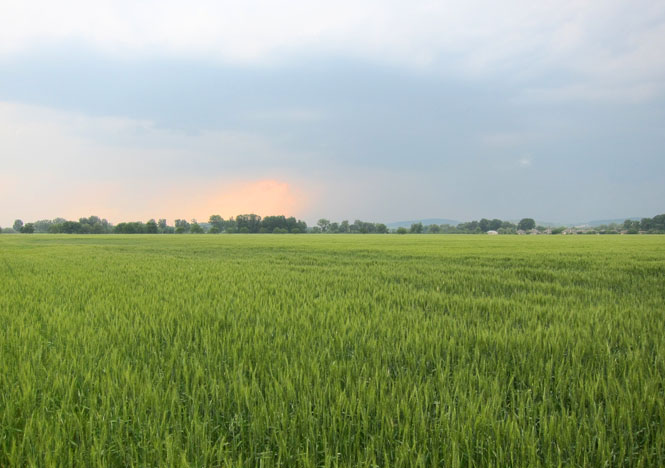 Magyar Köztársaság
(Hungary)
Sátoraljaújhely is just across the Slovakian border (which incidentally has moved around quite a bit over the centuries). The rain has mostly stopped by this point. I'd be staying at the Hotel Konig.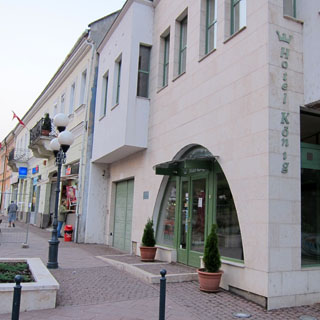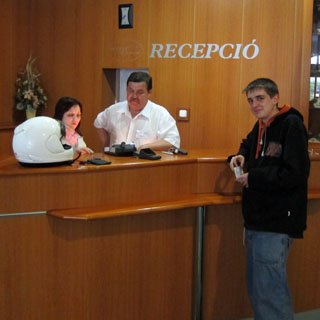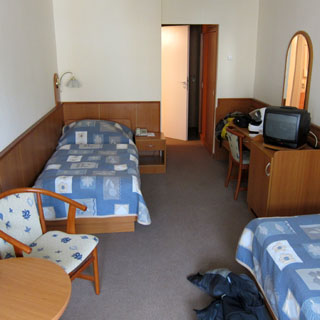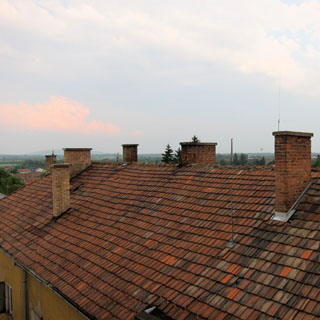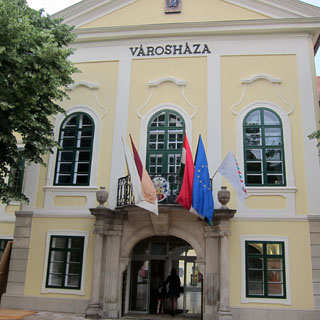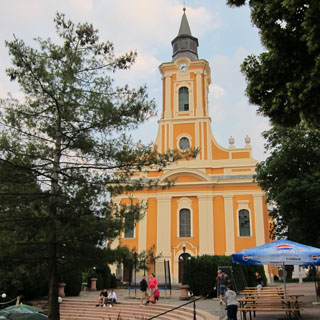 There was a festival taking place in the central area. For now, I just needed food.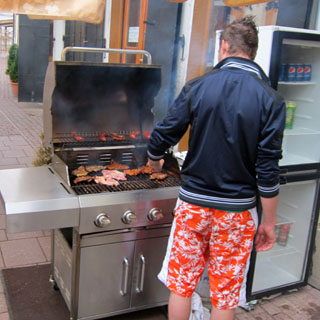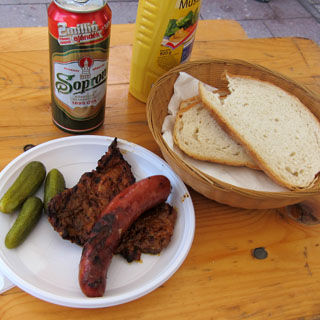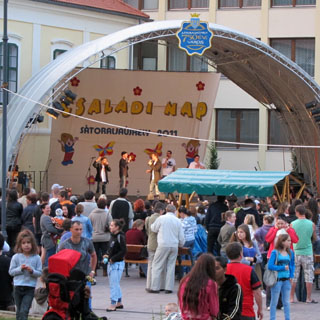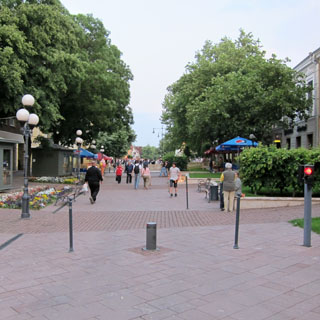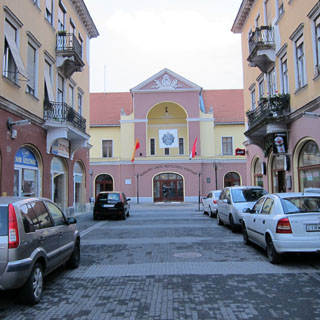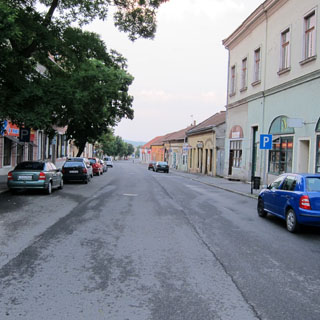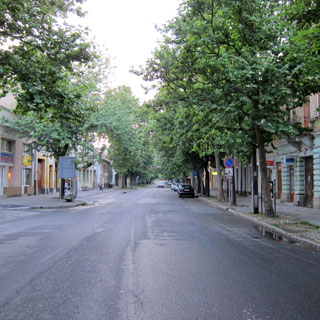 I know those are grapes on the left. I'm not really sure what is on the right, other than it was fairly common.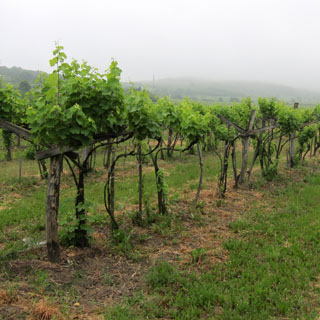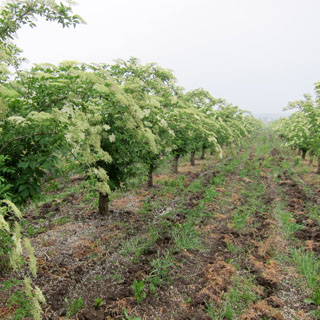 I suspect barge traffic was once far more common.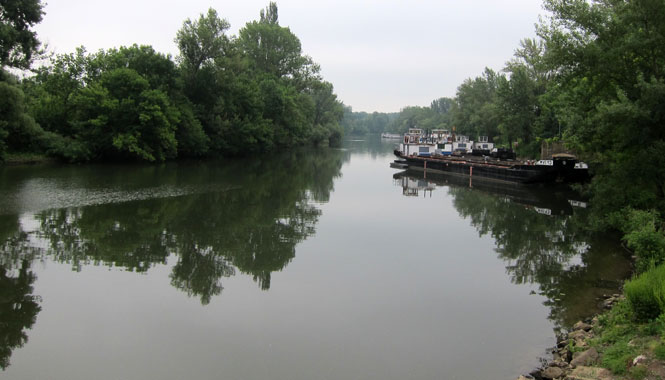 The Tokaj region. Lots of vineyards.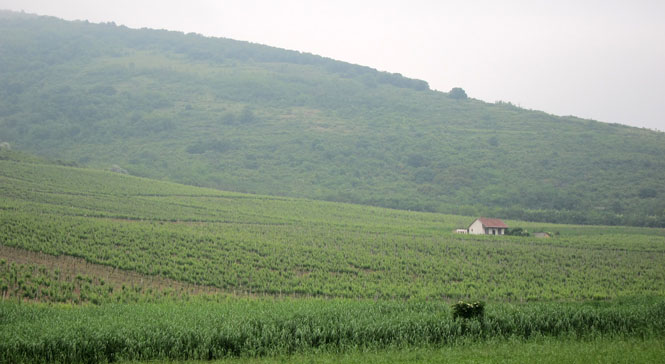 I was not expecting this ferry over the River Tisza. It didn't cost much.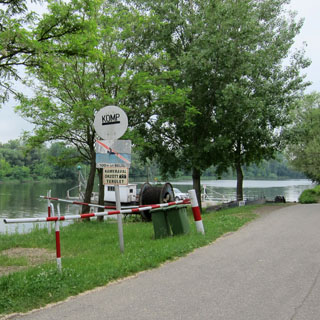 Since I was not following numbered roads, I stopped frequently at these intersections to figure out which way to turn. Frankly, I had the hardest time just remembering the names of the towns I was riding towards.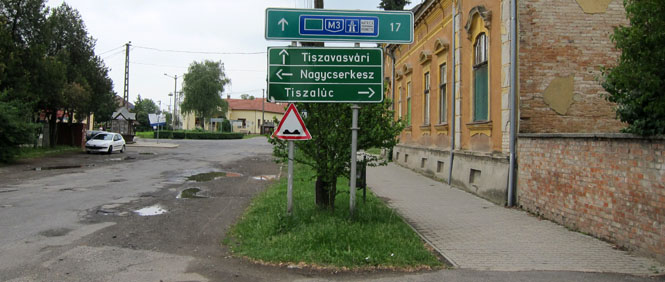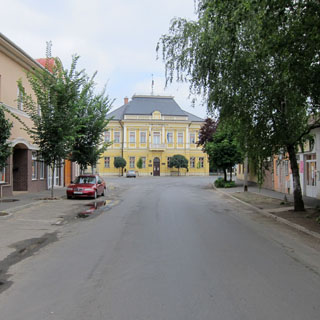 Debrecen. I only stopped long enough to check the map.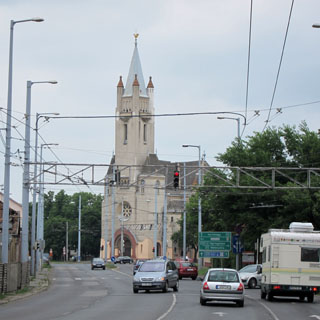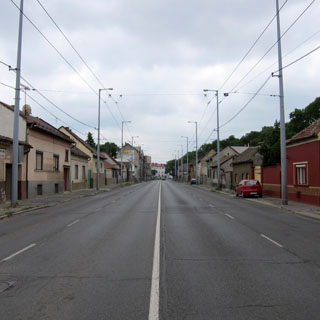 You're riding along, everything working well, when suddenly the engine shuts off and you're coasting to a stop. What do you do? You take a photograph.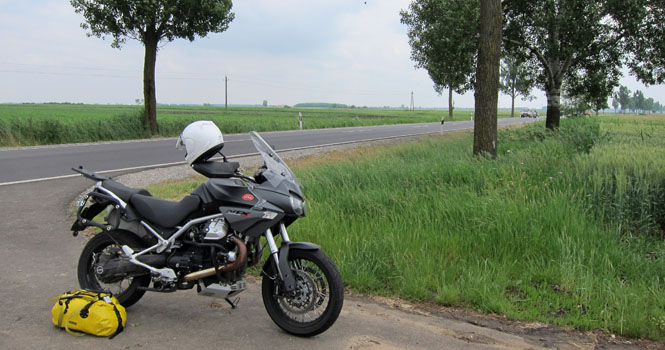 Electrics nearly dead. I can hear the fuel pump, but the starter does not work. The horn works, the instruments are dead. Check fuses. OK.
Call the Guzzi roadside service. Italian. Call again. Figure out that you are being asked to press (1) for... and to press (2) for... I press (2). I hope somebody speaks English. They do.
Ultimately, a connection with a Hungarian service is made and arrangements are made for a truck to come out from Berettyóújfalu.
I think my trip plans are about to change.
Berettyóújfalu.
I spent that first night in this hotel, and would then move to another in the same town for the second night.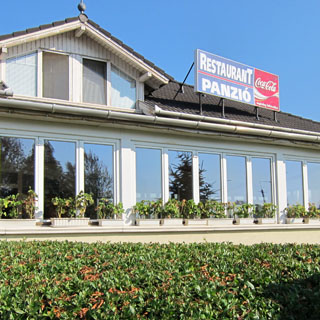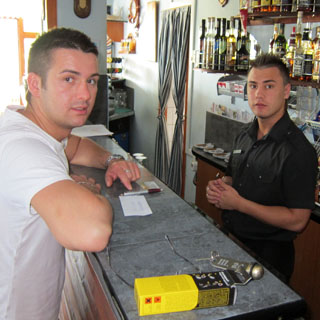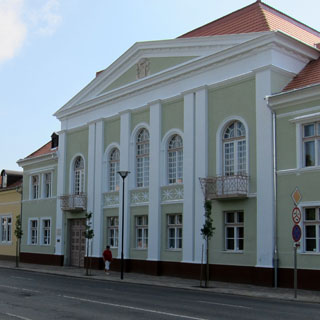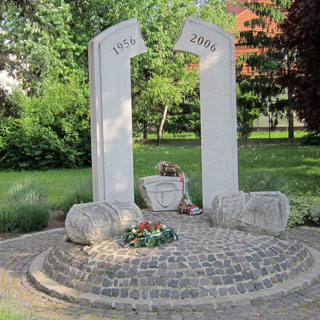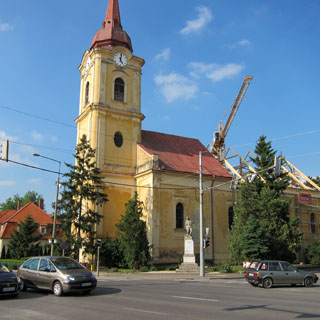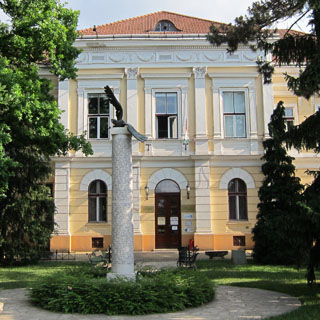 Evidently an old synagogue, but long out of use.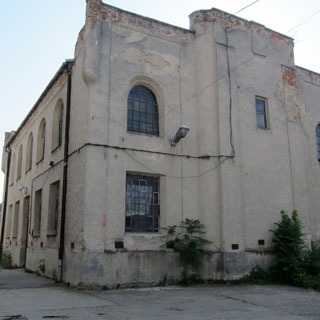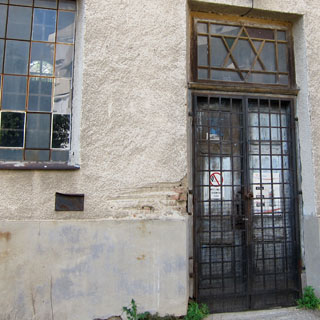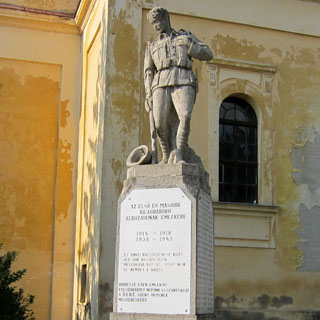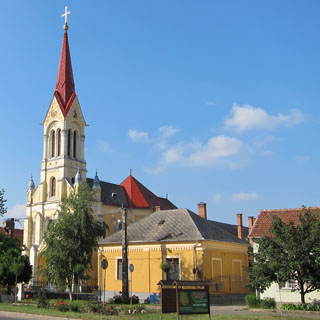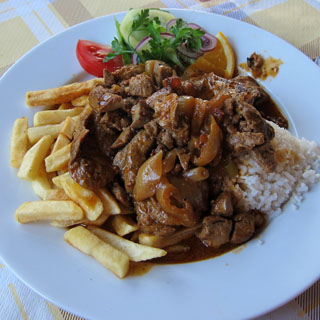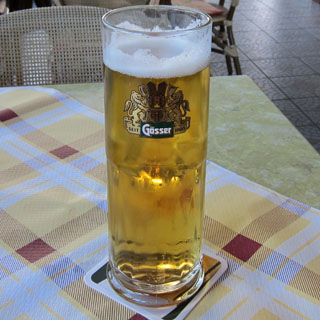 I'm always on the lookout for a Trabant. This little Fiat looks quite modern and powerful by comparison.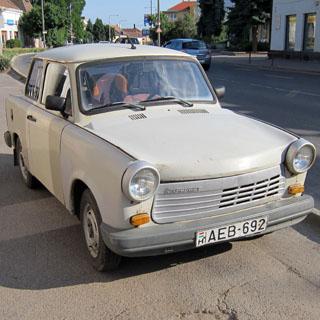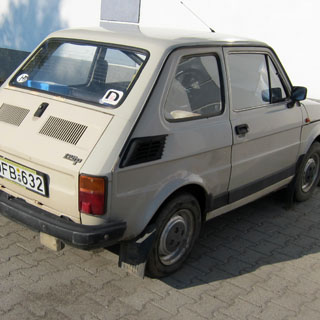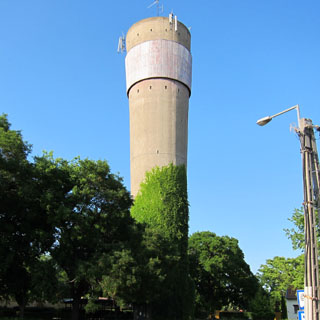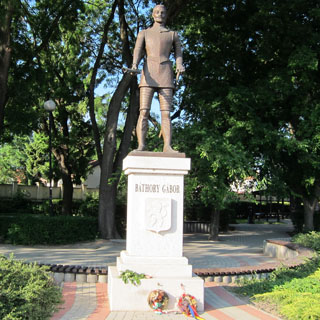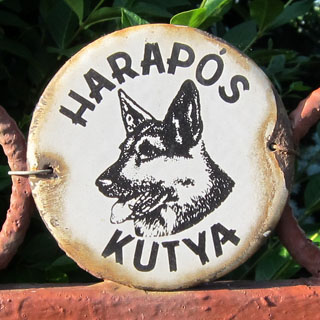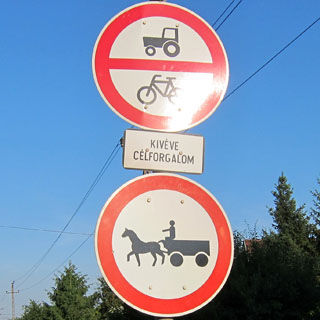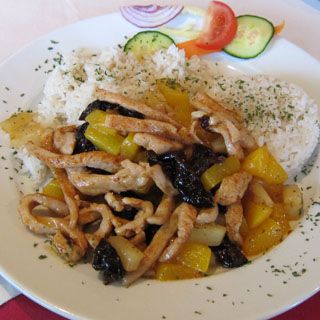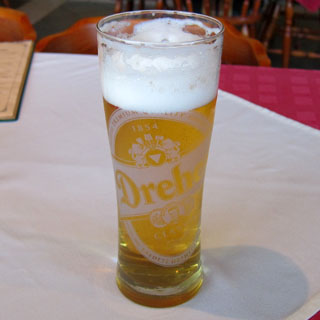 In time, arrangements are made to tow the bike (and me) to Budapest where there is a Guzzi service center.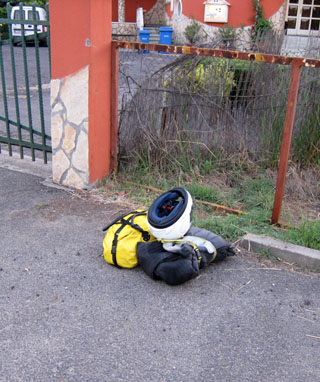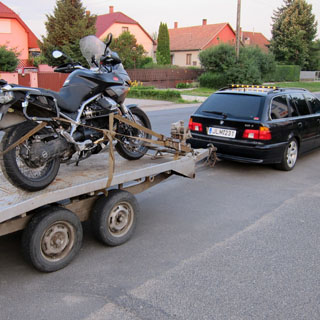 Many thanks go to Jozsef Bukta and son (also Jozsef) and son (also Jozsef) for all their help. It's very appreciated!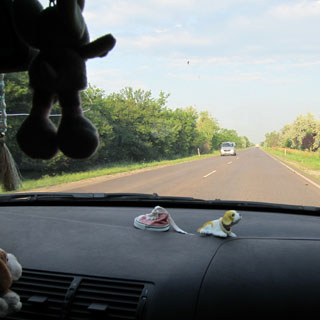 The folks at Millie Motor did a fast job at tracking the electrical problem down to water finding its way into a "sealed" connector box. They sealed that and took care of others that were questionable. It worked. Even though I rode in some very heavy rain, the problem never returned.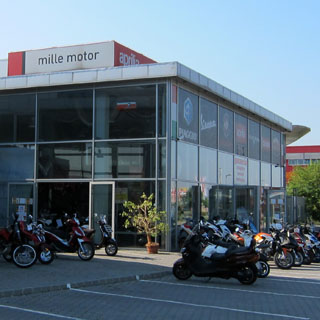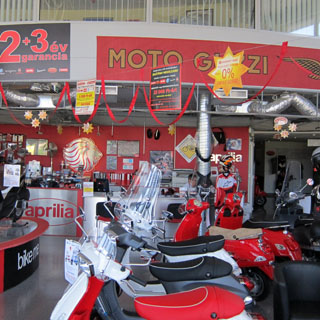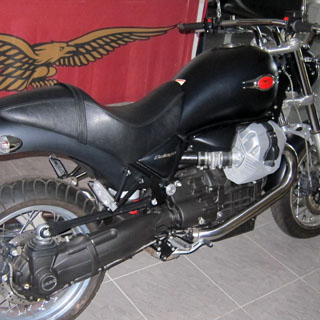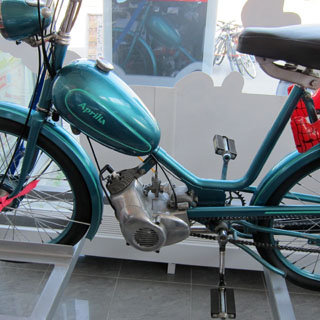 Thanks for your help!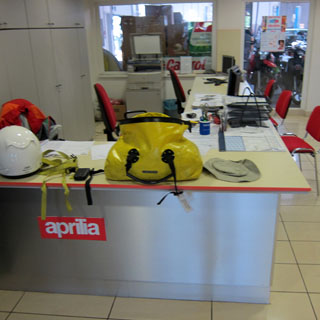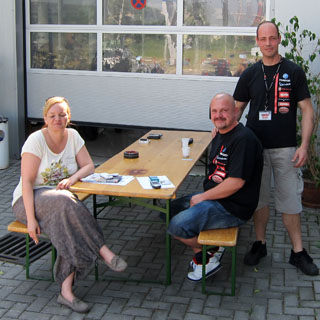 It was time to make time. I managed to purchase a vignette (required in Hungary) and charged down the Autostrada along Lake Balaton...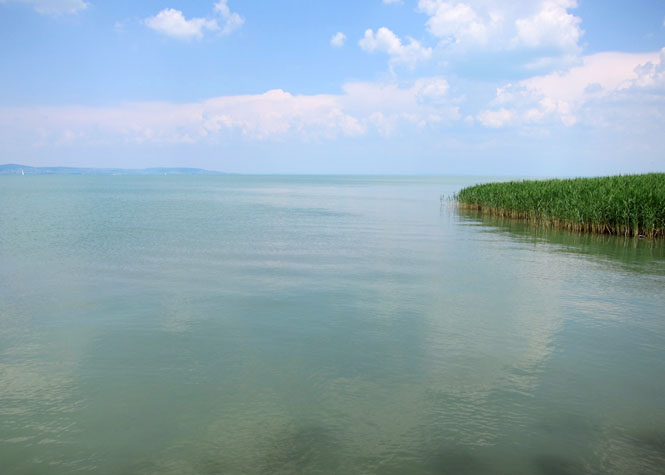 ...stopping long enough to have a nice lunch.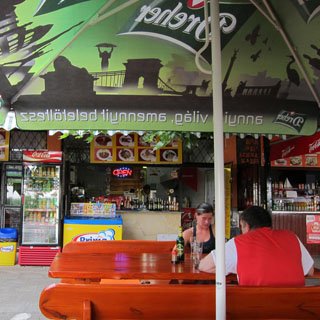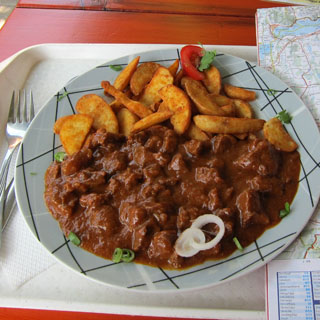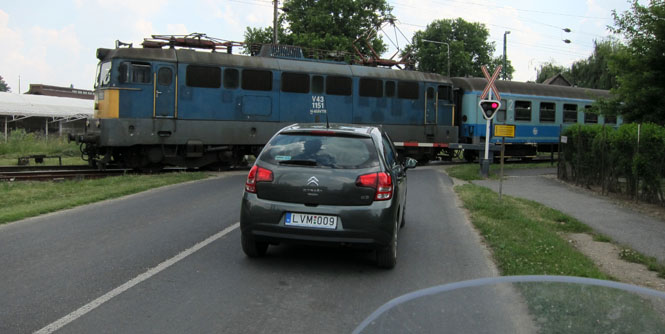 The road system is very modern and fast. You can just see one of the bridges in the distance.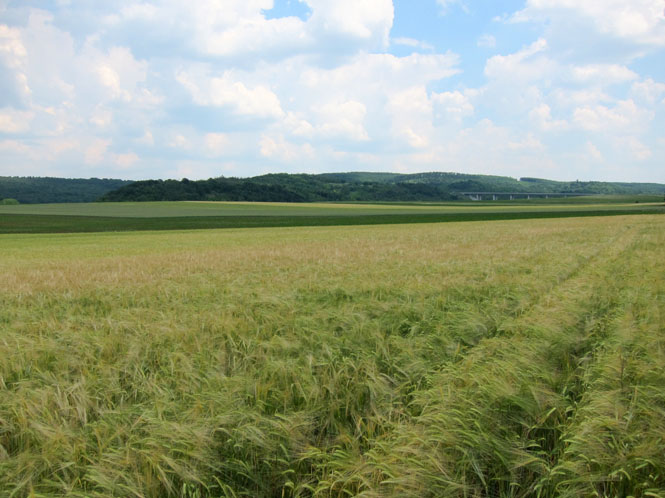 It's not the sort of road I normally like to take, but if you need to cover distance in a short amount of time; this is how to do it.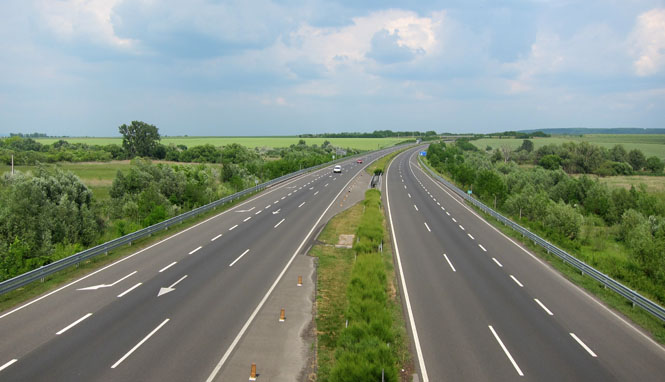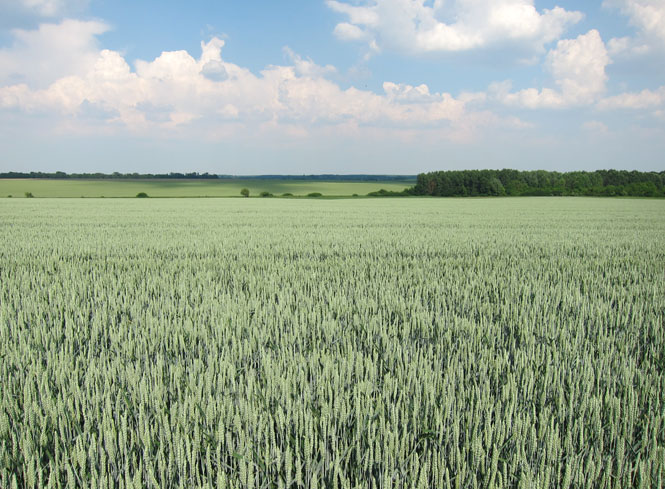 But, eventually, I felt I was back on schedule so I turned off the big road and returned to the thin lines. I was dropping south towards Croatia.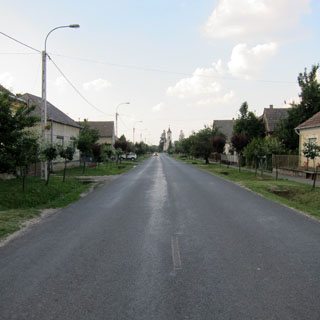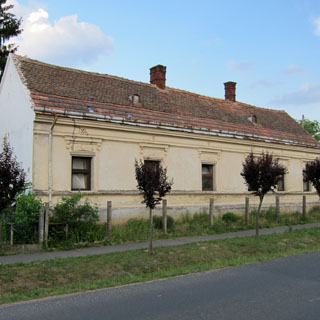 Again, these large old manor houses are common enough, but I don't know that I saw a single one in use. That upper story is clearly a more recent add-on.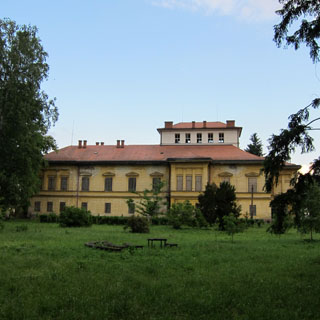 Wonderful roads.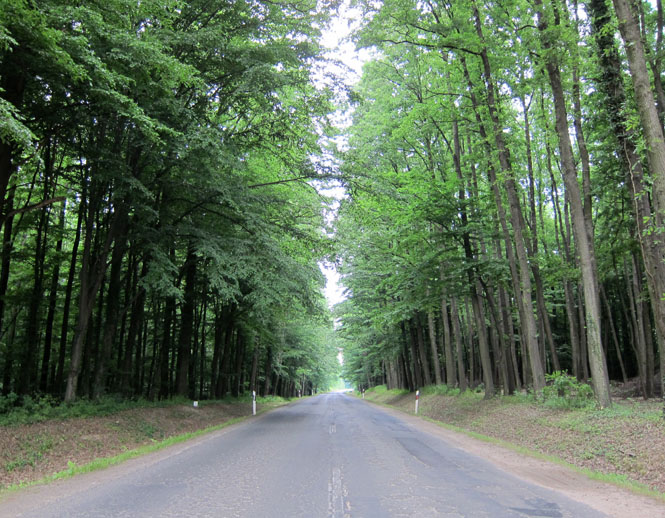 Republika Hrvatska
(Croatia)
This was the only time I had to go through a passport check. Croatia is not part of the European Union. Of course, I had to do the same thing when I left. A visa is not required.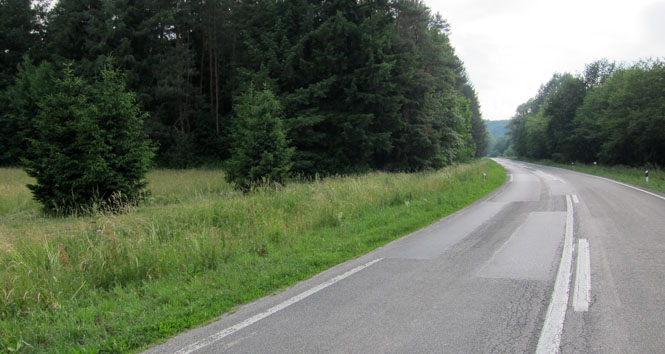 Grubišno Polje for the night.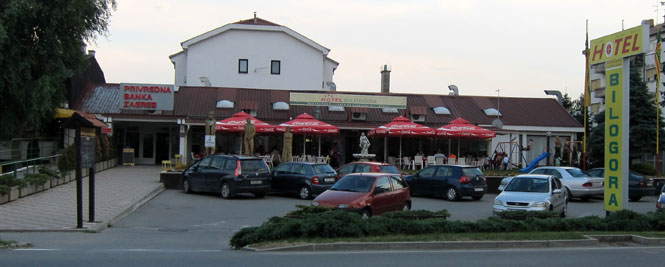 You know the routine, by now.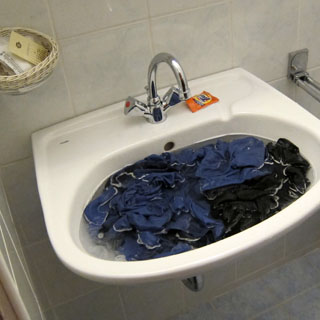 Numbered roads are almost non-existent here. You must memorize the names of the towns you are heading towards (and often the name changes)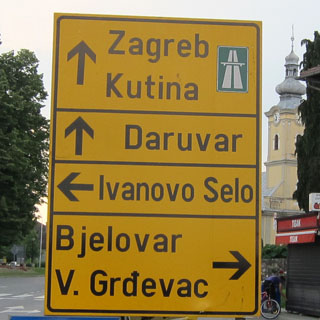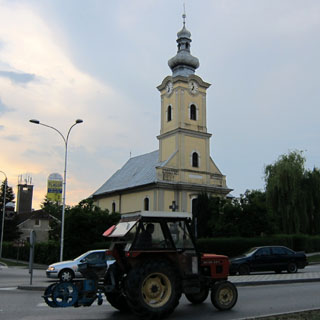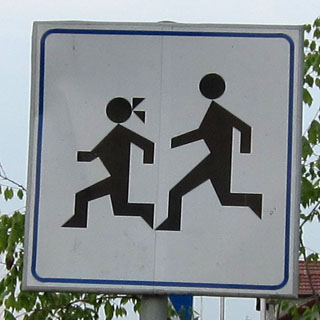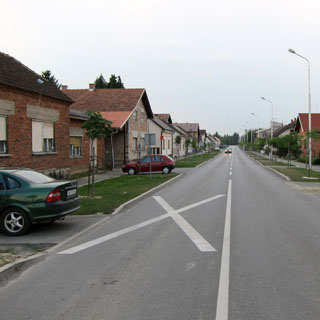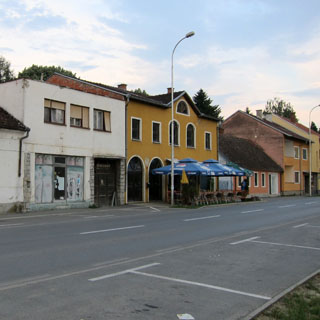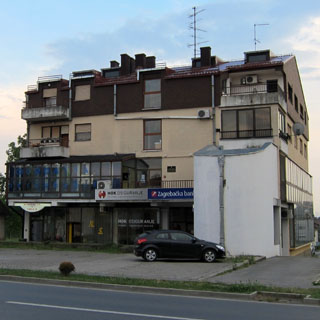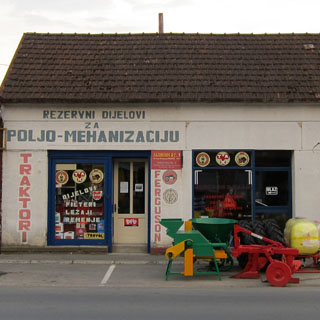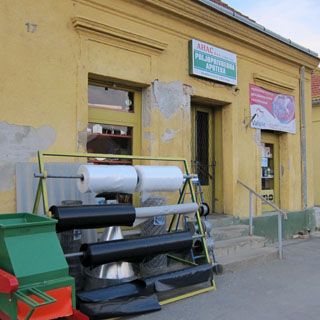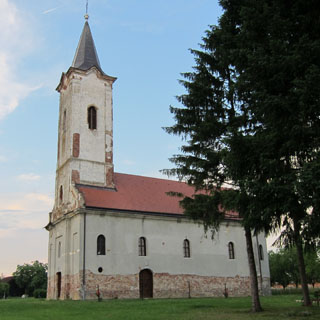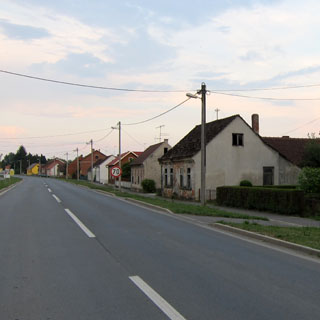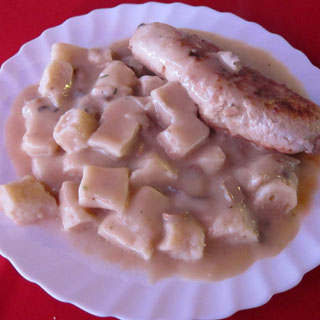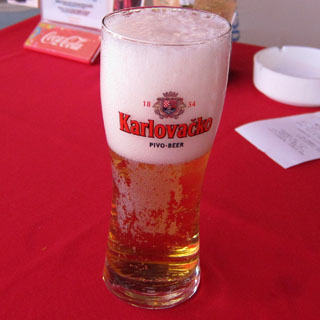 More gravel. As long as it isn't raining, then this sort of road is perfectly fine. I know that eventually I'll run into something.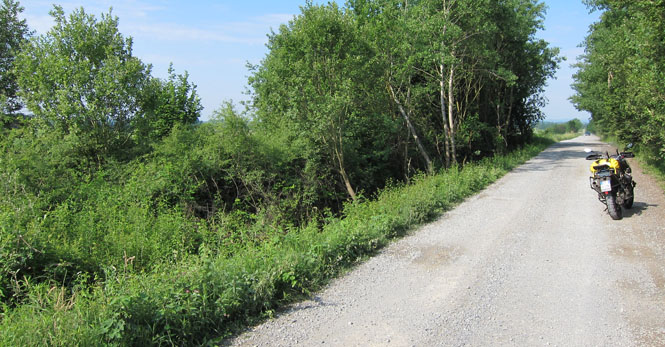 This isn't the first trip where I've relied on Schweppes Bitter Lemon. For all the photographs of beer in this report, I'll only drink that after the day is done.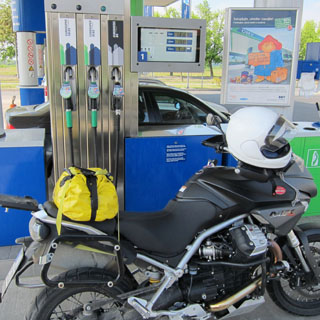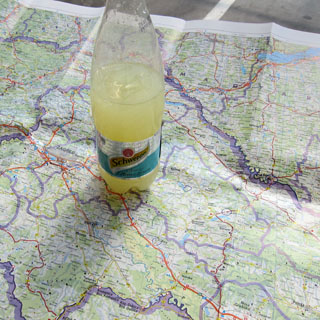 The Sava River.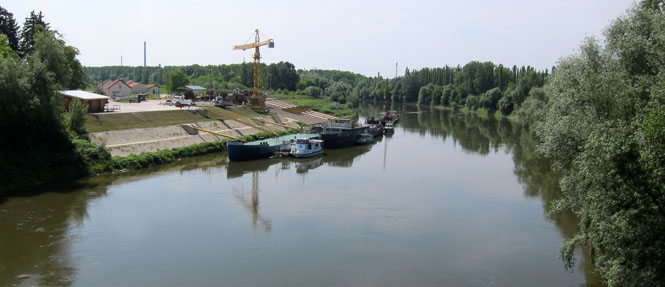 In this instance, I believe the manor house is actually being used.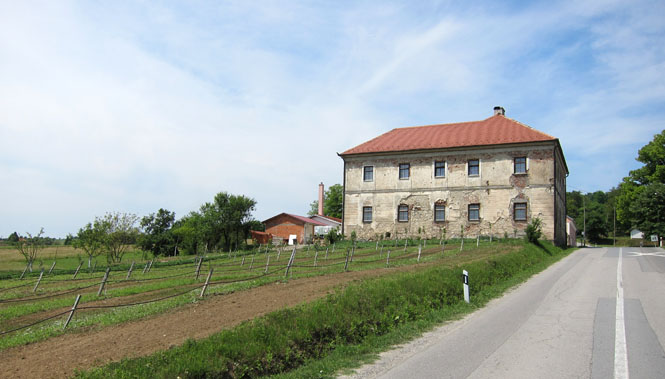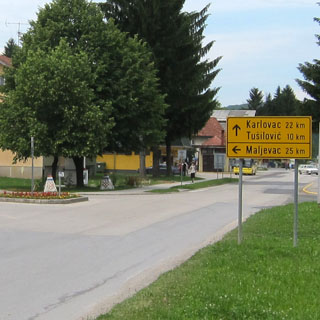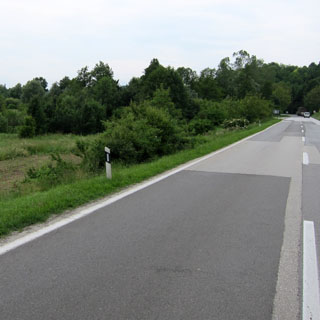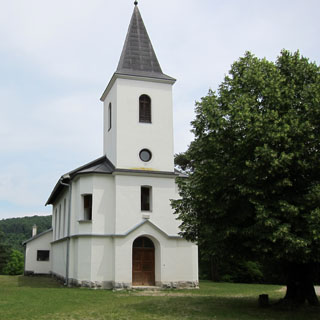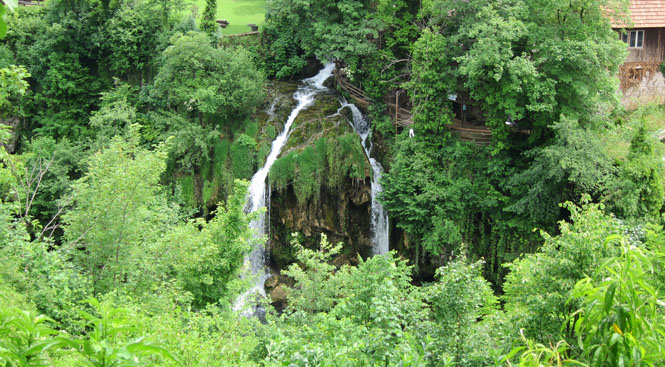 The road north to Plaški is not smooth, but it is beautiful.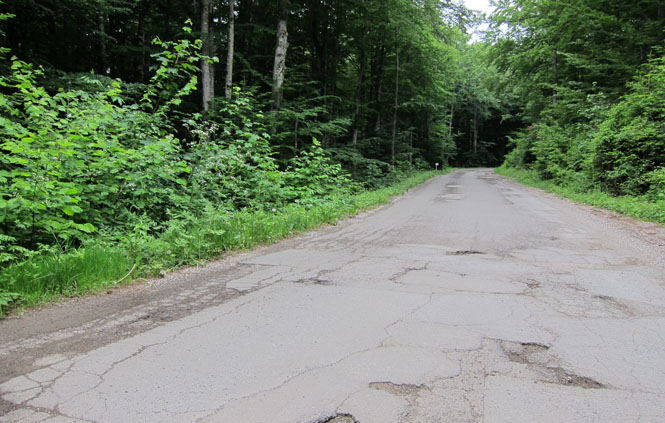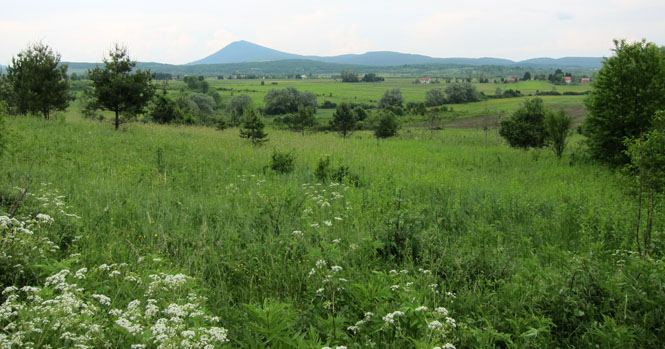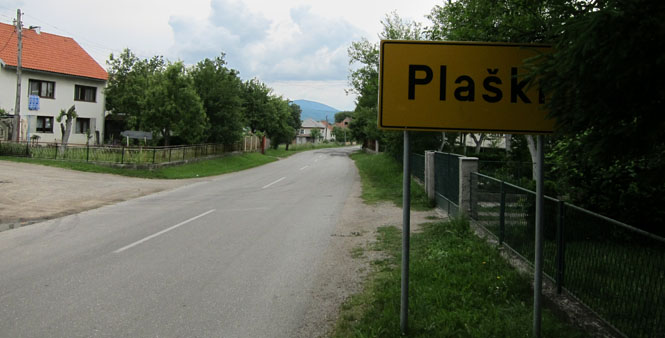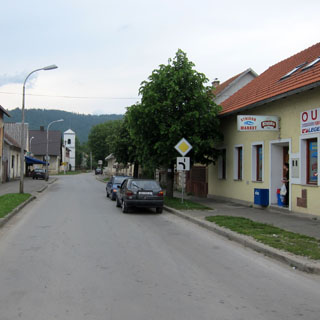 Joe Latas' father and mother were born in Plaški and were married in this church in 1906. They (and Joe's oldest sister) immigrated to the United States in 1909.

An excerpt from a letter to Joe:
The Serbian Orthodox church in Plaški is dedicated to the Entrance of the Mother of God into the Temple (or "Vavedenije" in Serbian). Usually it is called St. Mary's Serbian Orthodox church because the church is dedicated to one of the Feasts dedicated to the Most Blessed Mother of God. There is no other Orthodox church in the area. The church will celebrate its 250th anniversary in July of 2013 and Fr. Goran is getting ready for the big event. The church needs a lot of remodeling and Father is doing a wonderful job getting funds and help from the Croatian Government, Serbian Diocese and the people from Plaški who live abroad and their descendants.

--In Christ, Fr. Alex.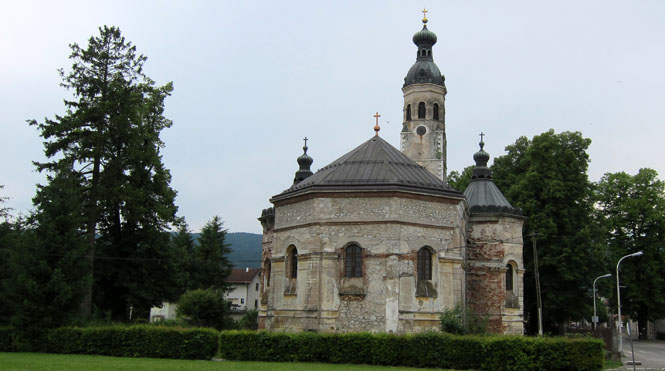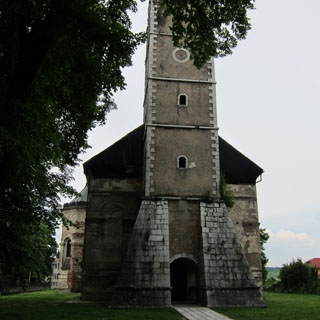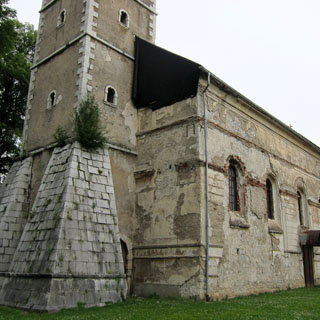 The building appears at first to be stone, but is evidently all brick.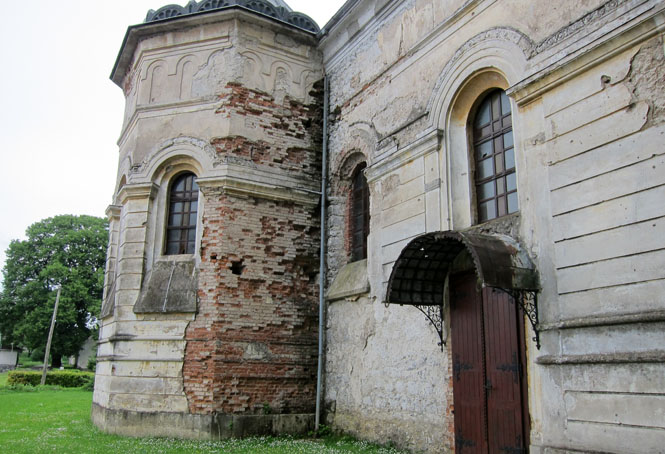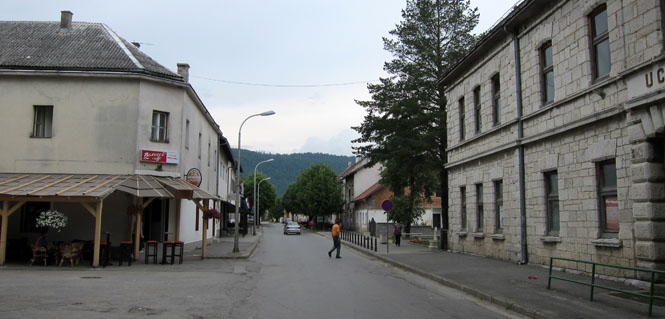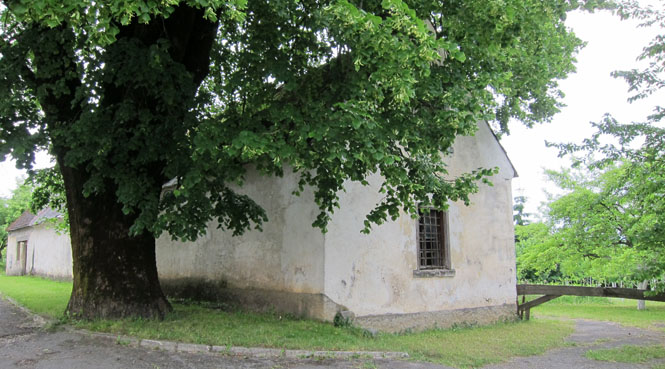 I'd continue up the valley and then turn to the west to cut across to the Adriatic.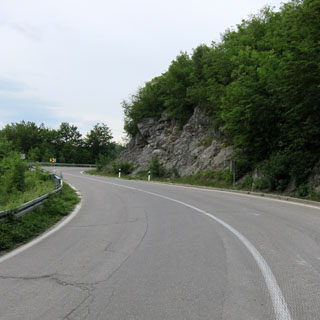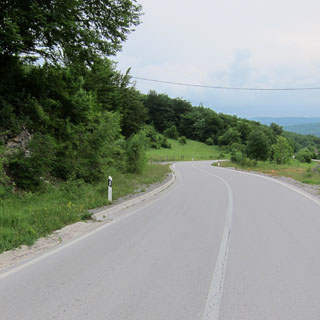 This road has been replaced by an Autobahn that tunnels through much of this mountain. There was no traffic at all on the road I was on.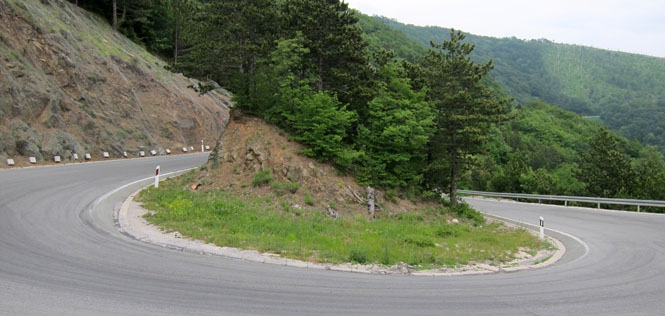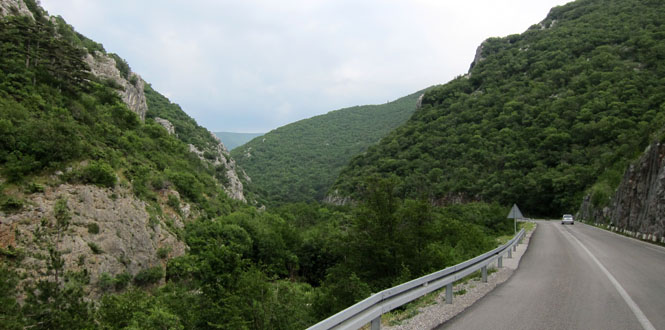 Senj on the Adriatic Sea. It was raining slightly when I arrived, and really came down hard all night. I had some worry about the motorcycle electrics, but had no problem.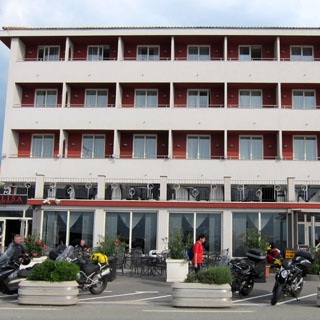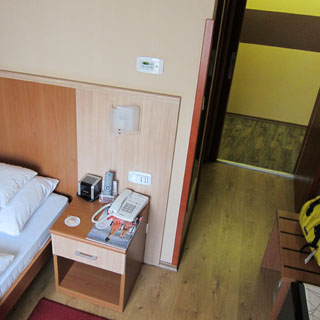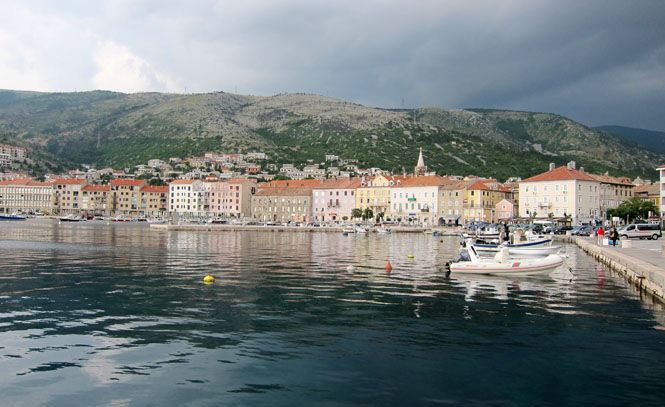 This enclosure is for swimming. The water is connected to the sea, but would still be considerably warmer.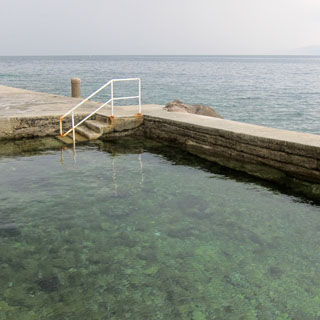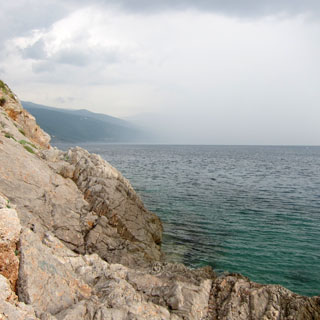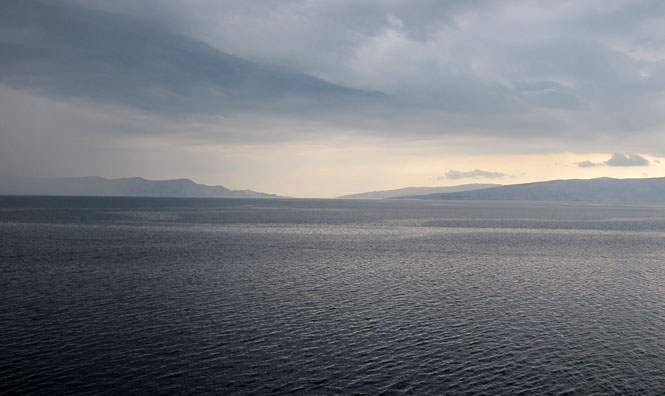 Much of the old town wall is still here.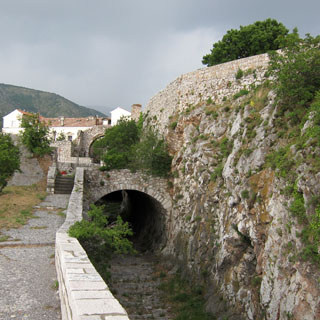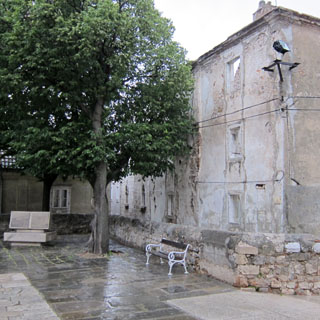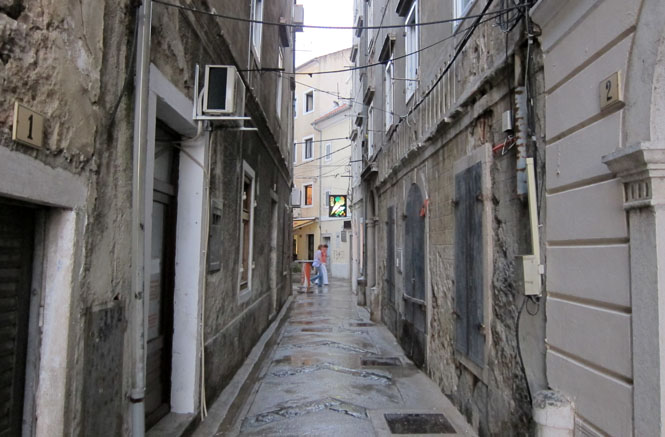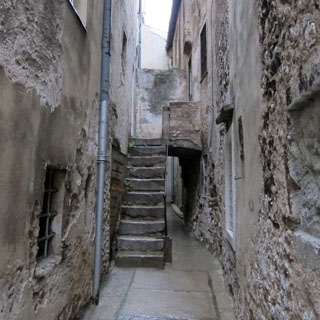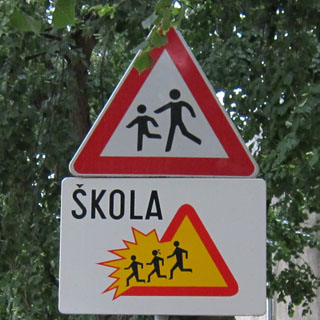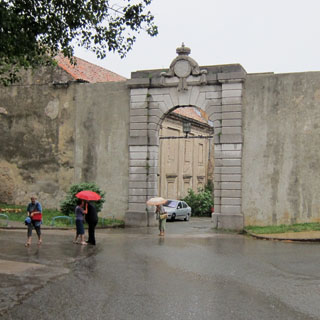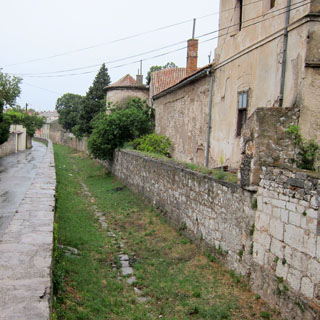 I walked up the path to the old fort that guarded the town.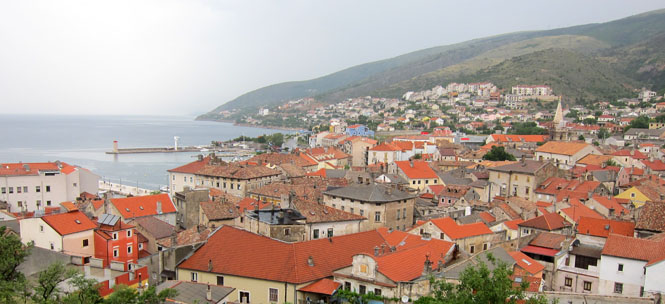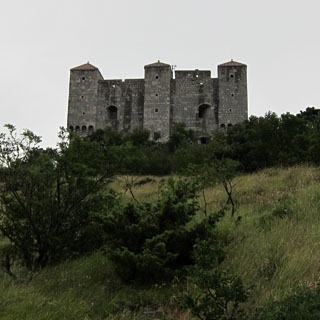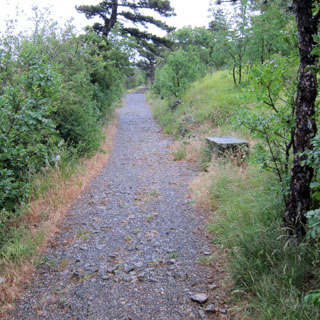 The fort museum was closed, but the restaurant was open.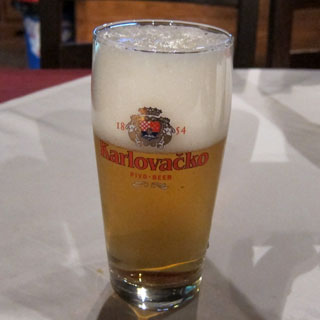 Swiss chard and potato. I didn't know I ordered so much food! The pancakes and ice cream were terrific.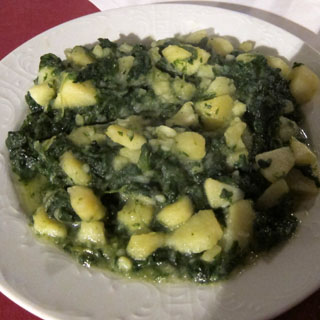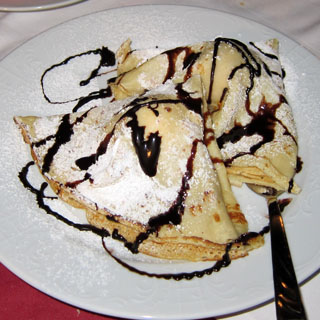 Riding up the coastline. This is Kraljevica.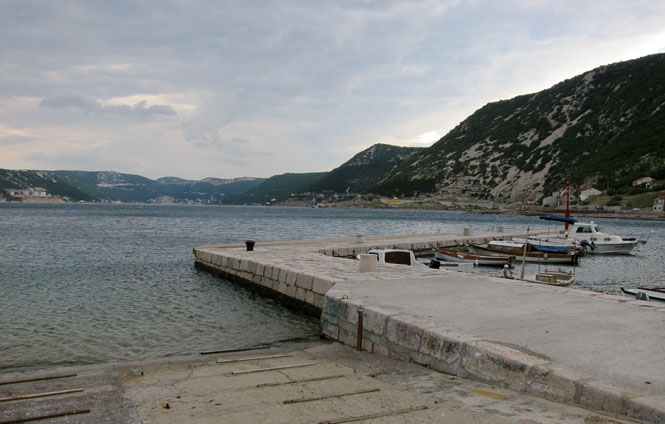 The small town of Bakar is well below the main highway.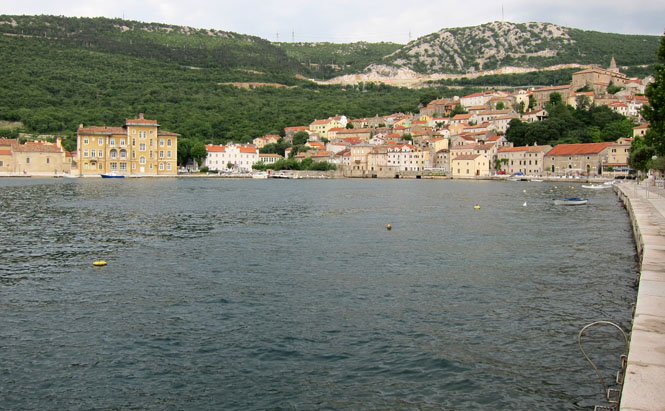 I did my best to get through the crowded city of Rijeka, but then somehow missed my turn to go north. At Opatija, I figured out where I was and turned away from the coast.

It was impossible to avoid this stretch of motorway. I don't know what the toll was, but I do wish they'd exempt motorcycles. Taking off gloves and fishing out money and then putting the gloves back on takes ten times longer on a bike than a car, and it must be equally frustrating for the cars behind you.


Republika Slovenija

(

Slovenia)

What terrific roads there are in Slovenia. Perhaps the best roads anywhere. Smooth, and nicely engineered.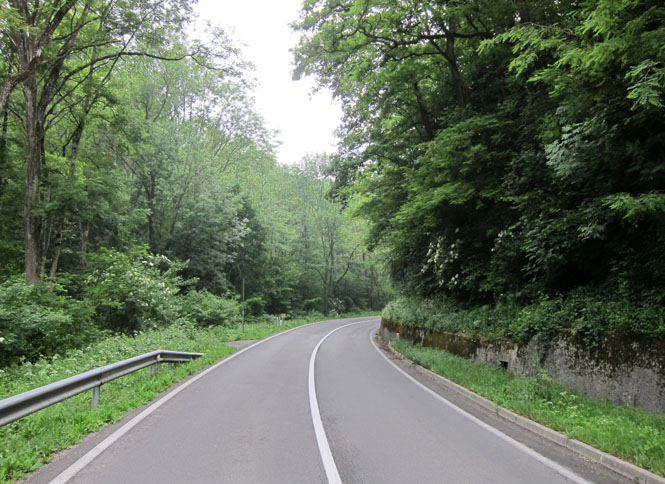 Mrzlek River.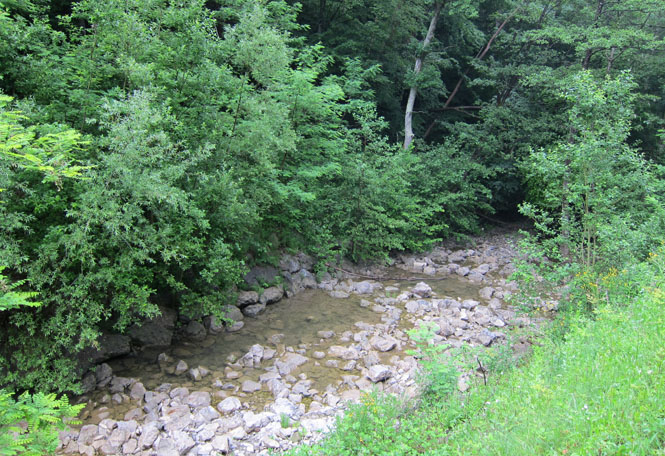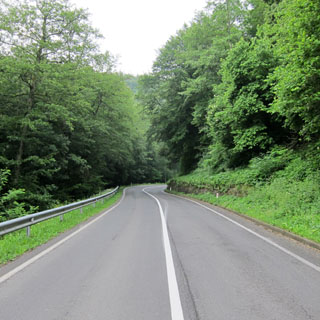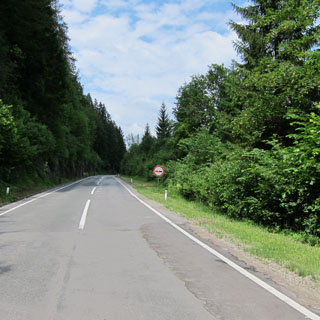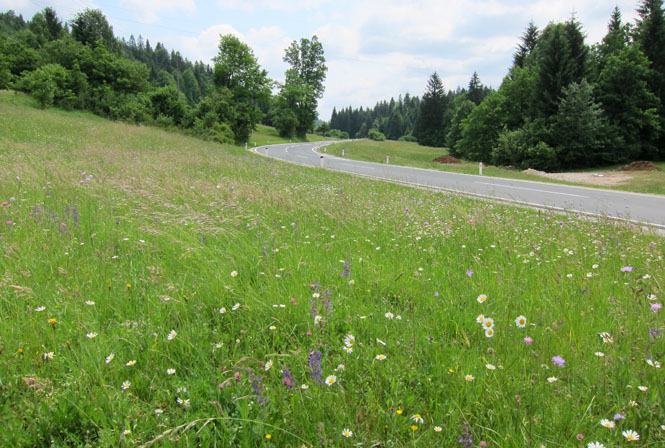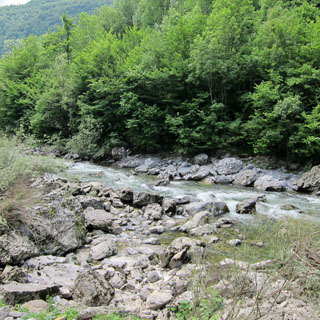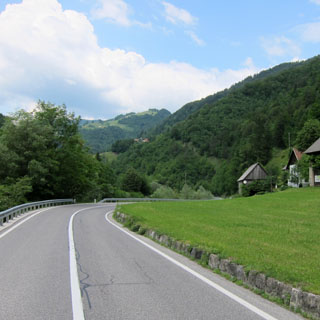 A very pretty rail bridge.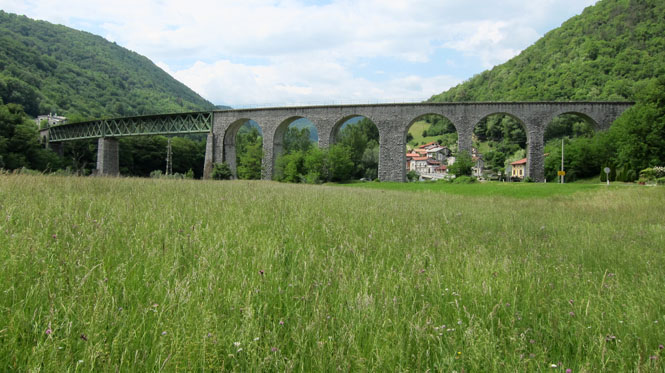 Glacier melt always makes the best colors.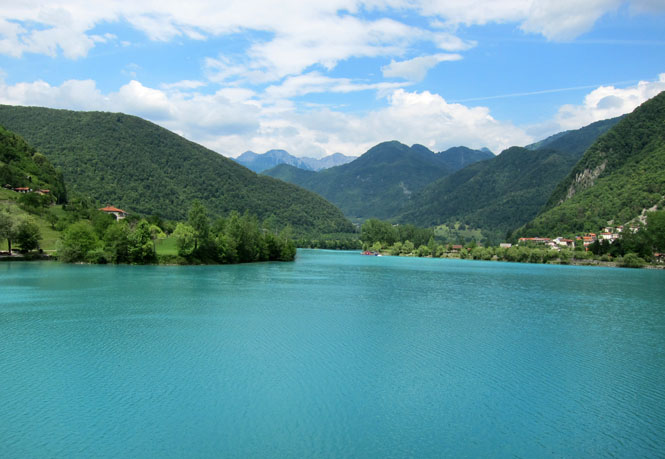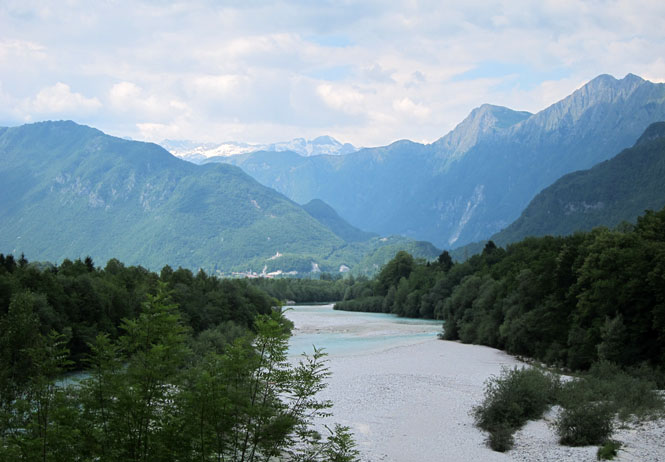 Kobarid is only a few miles from Italy. I'd stop here for lunch.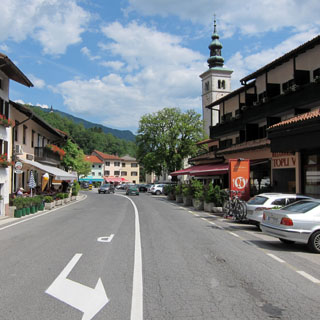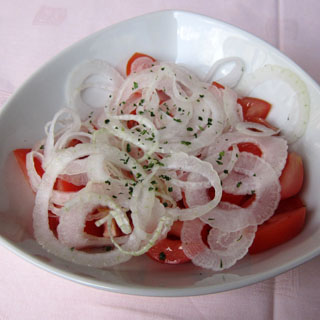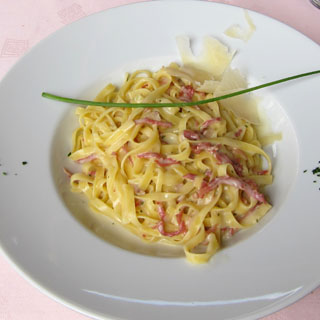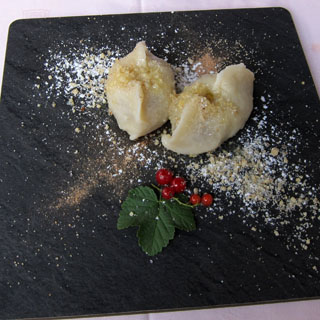 Repubblica

I

taliana

(

Italy)

My plan was to head back into the lower Alps before heading to Mandello del Lario. That was a good plan except that I did not account for just how slow it can be when riding in the Dolomites.
Tolmezzo is in the shadow of the Alps.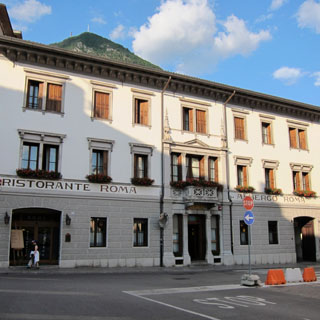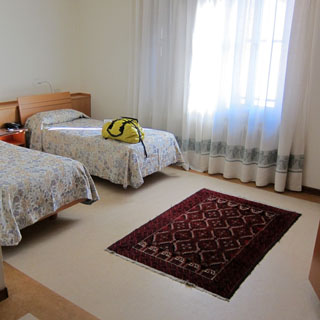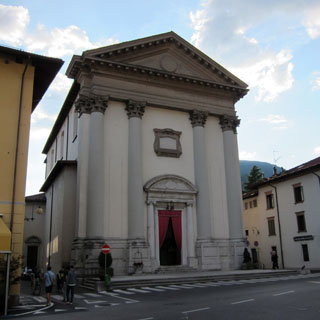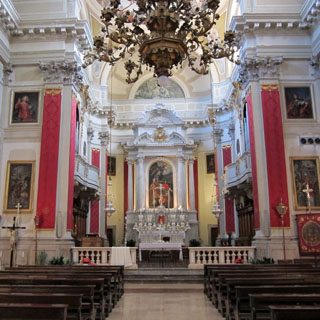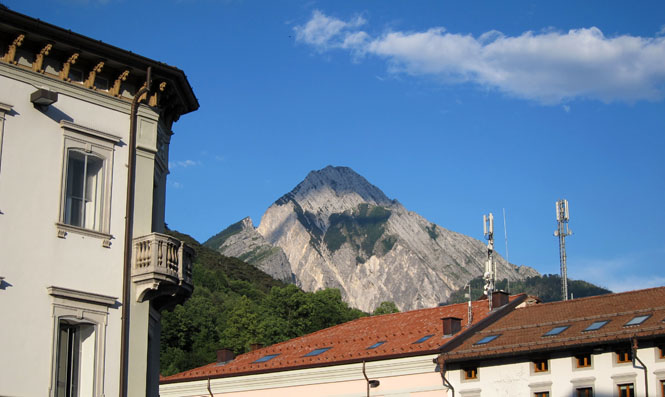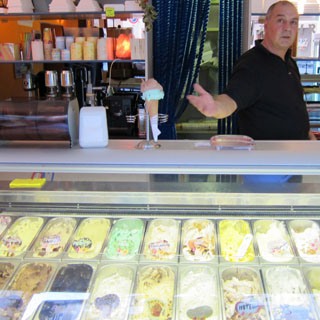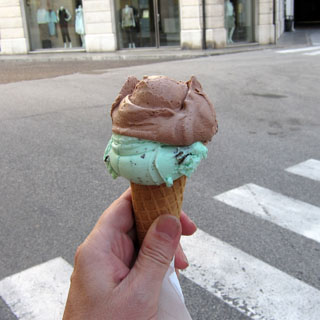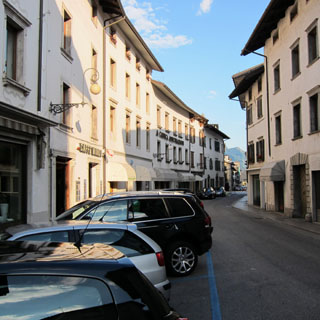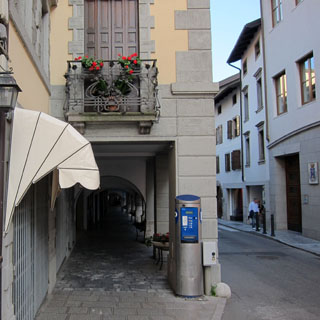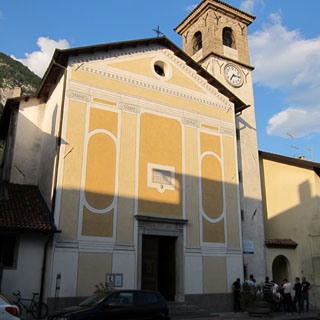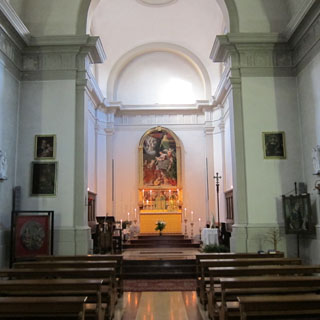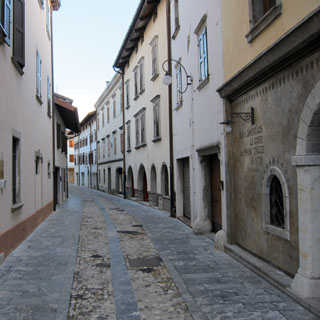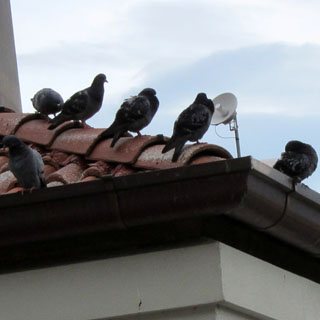 The Dolomite Alps are distinctive. Very jagged.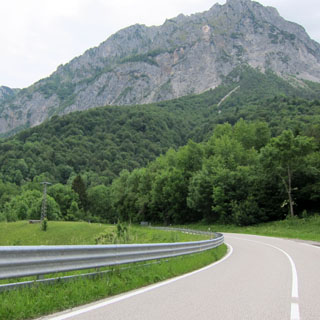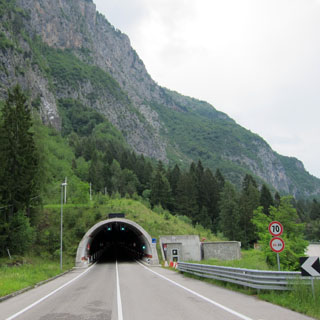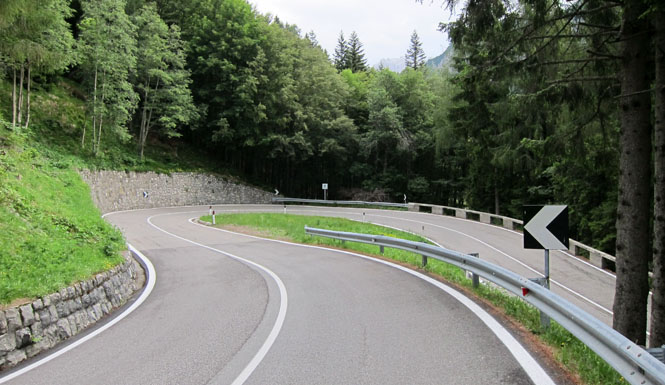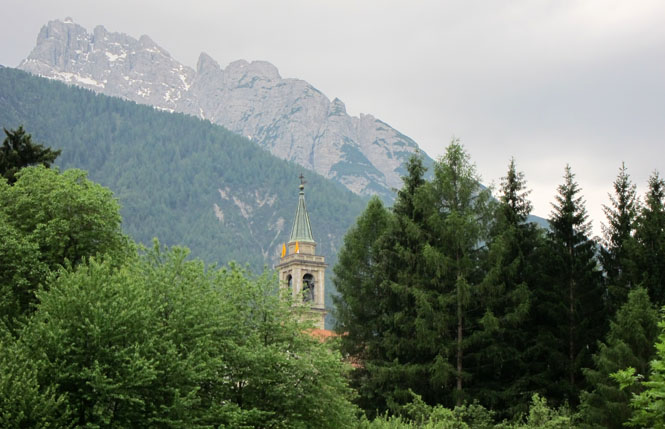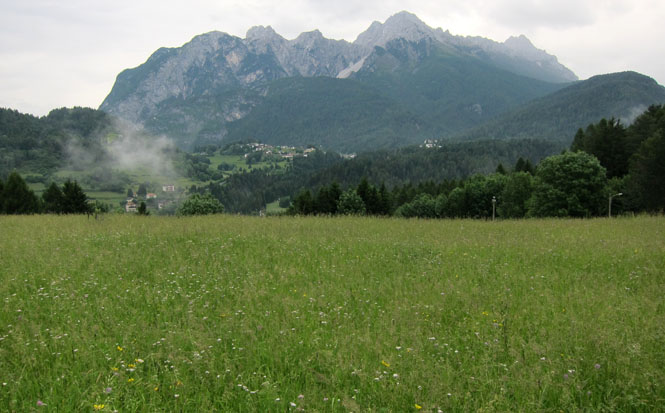 I kept on as far as Domegge di Cadore, but the fun had to come to an end. If I stayed north, I amost certainly would not get back to the shop in time. So, with some reluctance, I turned to the Autostrada, cranked open the throttle, and let the Stelvio run free.

Back home.
The next step is to (once more) figure out how to get money from an American credit card that does not incorporate a PIN chip. This was often a bother during the trip. It never kept me from being able to pay, but I suspect in a few years something will have to change. Perhaps we'll be able to request a special European credit card?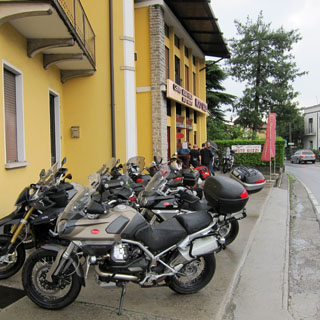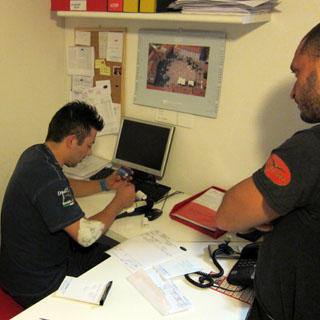 You need parts for a seventy year old Moto Guzzi? Come to Mandello del Lario.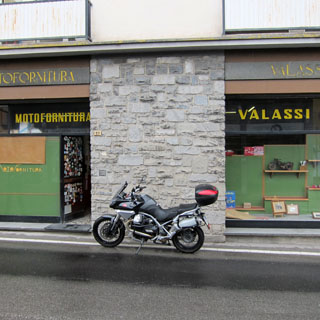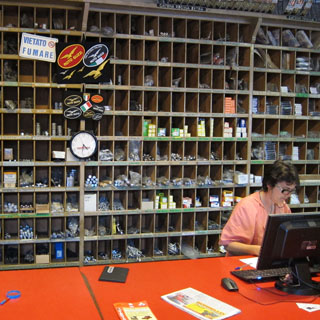 Look at the Stelvios lined up in the factory parking lot. I think Guzzi really has a winner with this model.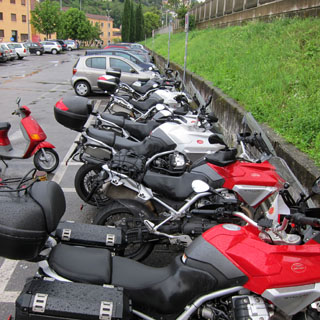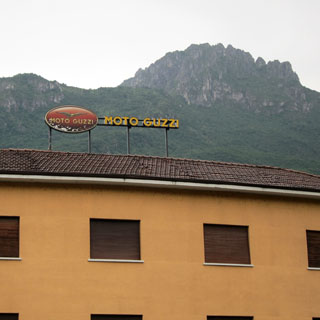 Common sights in Mandello.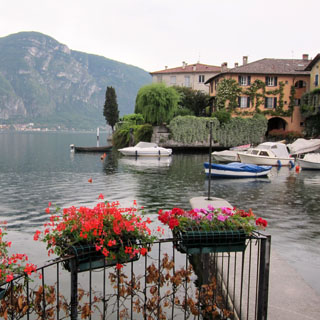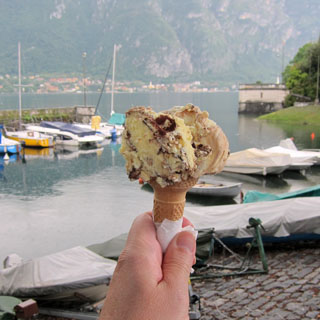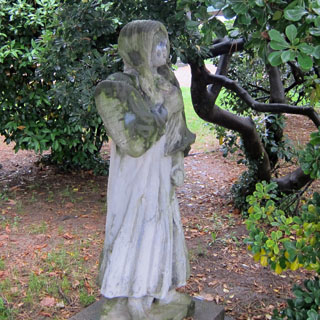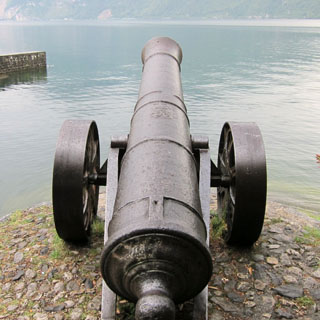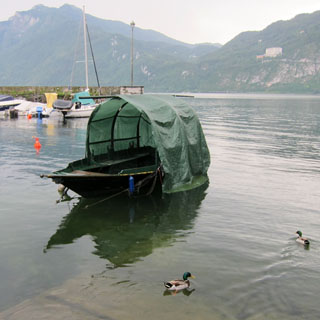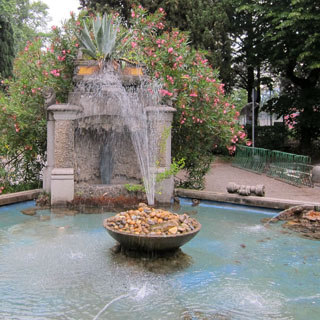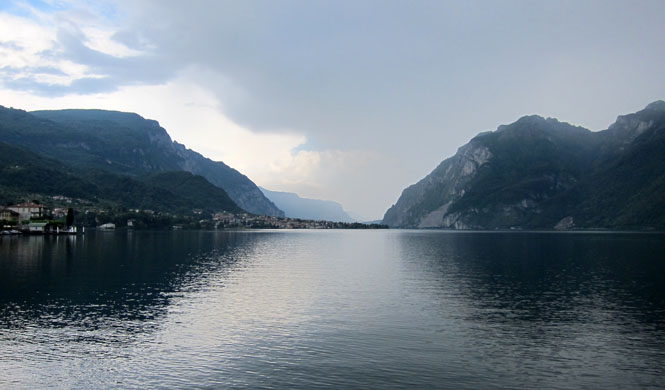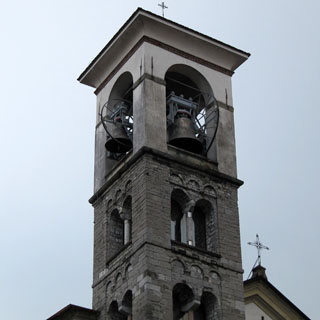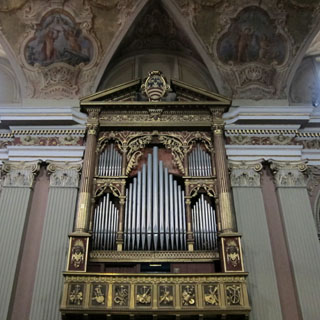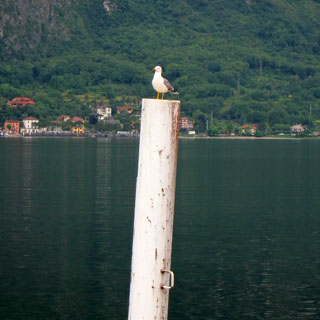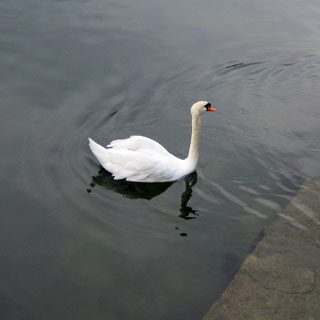 As always; I stayed at Mama Ciccia's.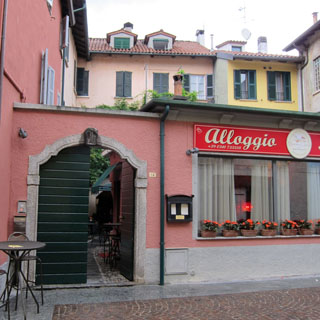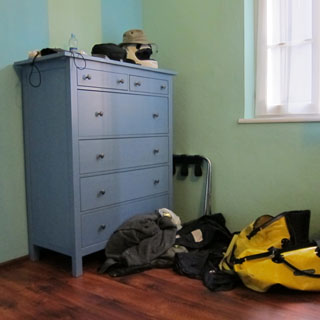 Dinner with Alis and Peter and Francesca (and Zorba and _____). Without Alis, none of this would have ever happened.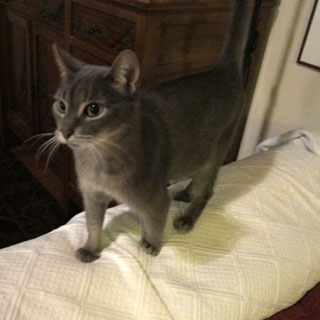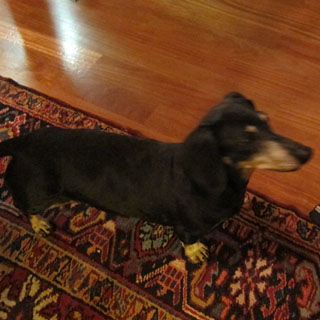 Waiting for the train back to Lecco, and then to Milan.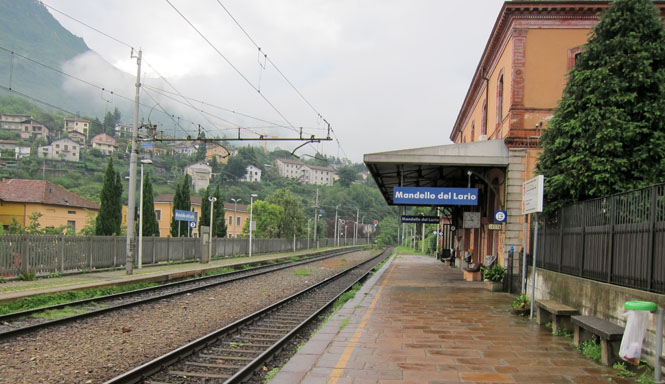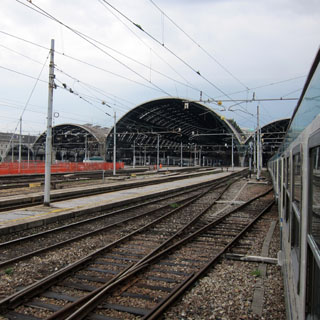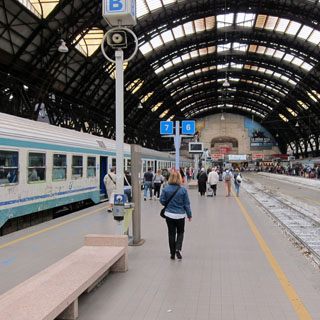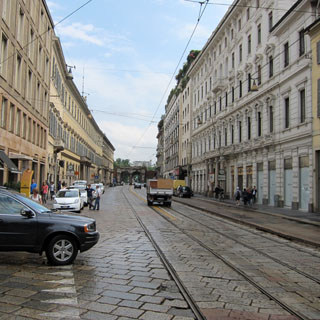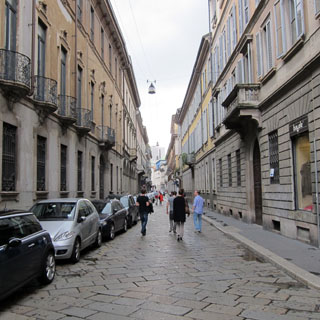 yes; I've taken this same shot many times...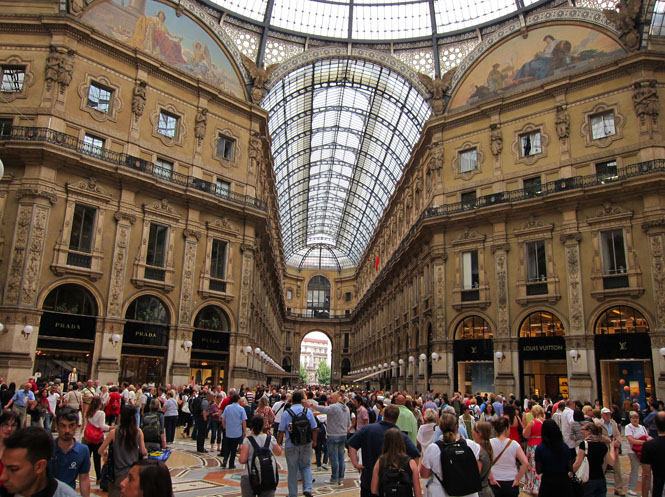 ...and, this one too.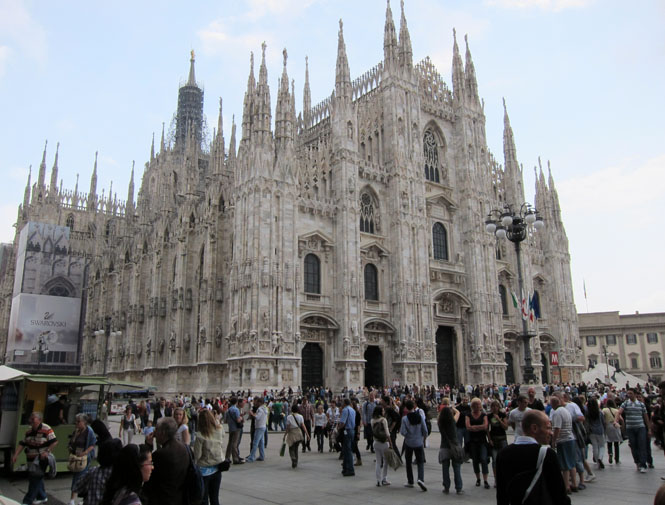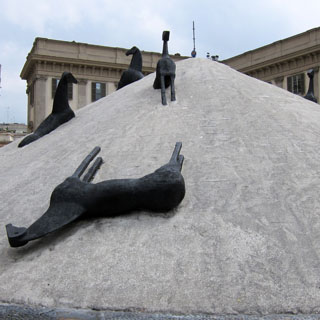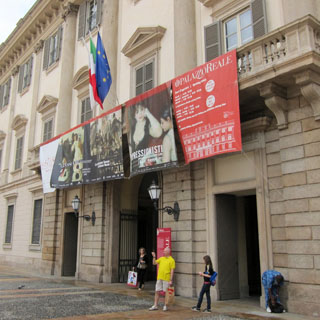 As stunning a building as you will ever find. Inside and out.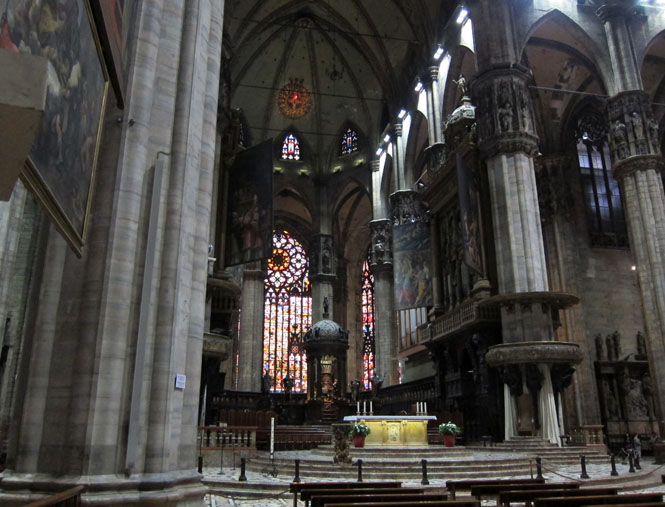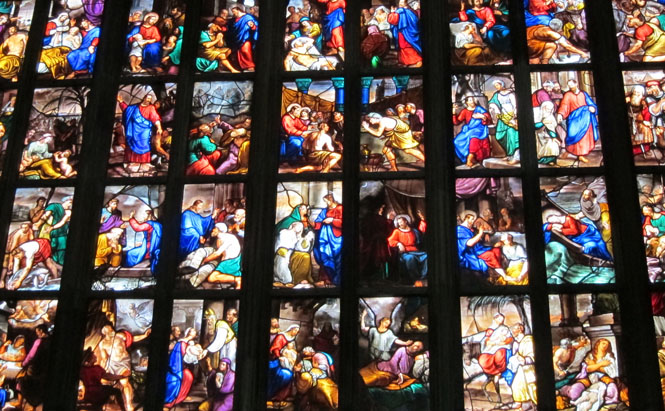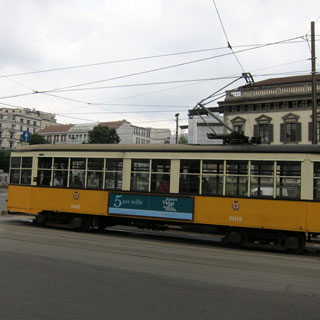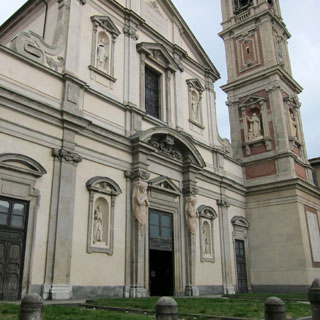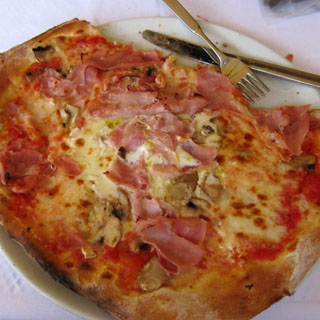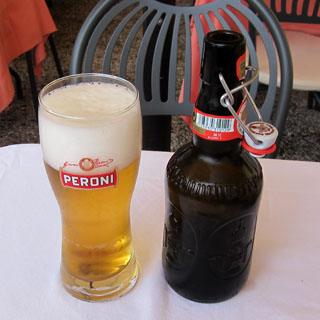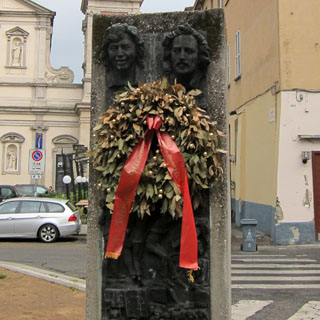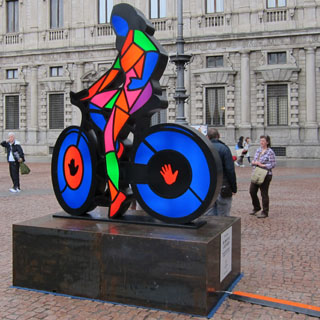 My hotel is just across the street from the Pirelli building (and within easy walking of the train station).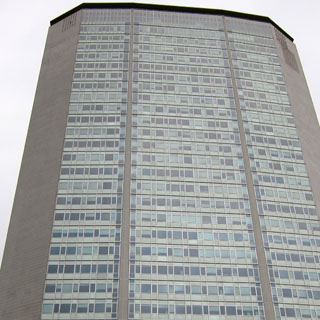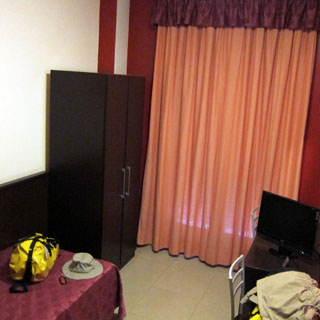 There's a choice of bus or train to the airport. The train is more comfortable, and perhaps quicker. The bus is easier (pay the driver when you get on) and leaves more frequently.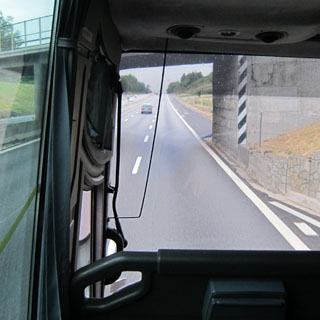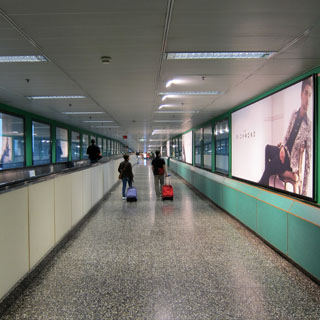 Quite a trip!

Notes:
I wore one set of clothes and packed a spare.
At the last moment I decided not to strap a water bottle to the duffle bag. I should have.
You cannot pack all the tools you may ever need, but a wiring diagram takes no space.
I brought my heaviest fleece jacket (which can be worn under the riding suit) and never needed it.
The 3/4 waterproof jacket that I brought was needed. Combined with the hat, I had good rain protection while walking.
Already mentioned, but a PIN enabled credit card will be on the list of things to get for a return trip.
Thinking that knowing just a few words in the several languages that I would be riding through (excepting Poland) would be helpful, I put together this chart. It worked.
| | | | | | | | |
| --- | --- | --- | --- | --- | --- | --- | --- |
| English | Italian | German | Czech | Slovakia | Hungary | Croatia | Slovenia |
| hello | ciao | hallo | ahoj | ahoj | szia | halo | hello |
| goodbye | arrivederci | Lebewohl | sbohem | zbohom | viszontlátásra | zbogom | adijo |
| please | per favore | Bitte | prosím | prosím | kérem | molim | prosim |
| thank you | grazie | Dank | děkuji | ďakujem | köszönöm | hvala vam | hvala |
| yes | sě | ja | ano | áno | igen | Da | yes |
| no | no | keine | ne | nie | nincs | nema | brez |
| gd morning | buongiorno | Guten Morgen | dobré ráno | dobré ráno | jó reggelt | dobro jutro | dobro jutro |
| gd evening | buonasera | Guten Abend | dobrý večer | dobrý večer | jó estét | dobra večer | dober večer |
| ticket | biglietto | Ticket | jízdenka | lístok | jegy | ulaznica | vozovnice |
| north | nord | Norden | severu | severu | északi | sjever | sever |
| south | sud | Süden | na jih | na juh | délre | jug | jug |
| east | est | Osten | na východ | na východ | keleti | istočno | vzhodu |
| west | ovest | Westen | západ | západ | nyugati | zapad | zahodno |
| Hotel | Albergo, pensione | Hotel, Gästehaus | Hotel, penzion | Hotel, penzión | Szálloda, vendégház | Hotel, gost kuća | Hotel, gostišče |
| Restaurant | Ristorante, cafe | Kaffeehaus | Restaurace, kavárna | Reštaurácia, kaviareň | Étterem, kávézó | Restoran, kafić | Restavracija, cafe |
| food | cibo | Lebensmittel | potraviny | potraviny | élelmiszer | hrane | hrane |
| have room? | Avete una camera? | Haben Sie ein Zimmer | Máte pokoj? | Máte izba? | Van egy szobát? | Imate li sobu? | Imate sobo? |
| One person | Una persona | Eine Person | Jedna osoba | Jedna osoba | Egy személy | Jedna osoba | Ena oseba |
| gasoline | benzina | Benzin | benzín | benzín | benzin | benzin | bencin |
| left | sinistra | links | vlevo | vľavo | balra | lijevo | levo |
| right | destra | Recht | vpravo | vpravo | jobb | pravo | pravica |
| Men | uomini, maschio | Männer, männliche | muži, samec | muži, samec | férfi | muškarci, muški | moški |
| Women | donne, femminile | Frauen | ženy | ženy | nők, női | žene, ženske | ženske |
| push | spinta | Push | tlačit | tlačiť | push | guranje | push |
| pull | tirare | ziehen | táhnout | ťahať | húzza | povući | pull |
| open | aperto | offen | otevřeno | otvorené | nyitott | otvoren | odprte |
| closed | chiuso | geschlossen | zavřeno | zatvorené | zárt | zatvoren | zaprto |
| entrance | entrare | eingeben | zadejte | zadajte | lép | ući | vpišite |
| exit | uscita | Ausfahrt | výjezd | výjazd | kijárat | izlaz | izstopa |
| road, street | strada, via | Straße | silnice, ulice | cesty, ulice | út, utca | cesta, ulica | cest, ulic |
| freeway | superstrada | Autobahn | dálnice | diaľnice | autópálya | Autocesta | avtocesti |
| motorcycle | moto | Motorrad | motorka | motorka | motorkerékpár | motocikl | motorno kolo |
last edit: 7/4/2011