June, 2012

Sunday

Monday

Tuesday

Wednesday

Thursday

Friday

Saturday

27 May

28

29

30

31

1 June
Wichita
Newark

2
Malpensa
Varenna

3
Varenna

4
Mandello
Die

5
La Châtre

6
Saint-Malo

7
* Ferry
Southampton

8
Craven Arms

9
Rhayader

10
Symonds Yat

11
Portsmouth
* Ferry


12
Saint-Malo
Blois

13
Poligny

14
Etroubles

15
Mandello

16
Milan

17
Milan
Wichita

18

19

20

21

22

23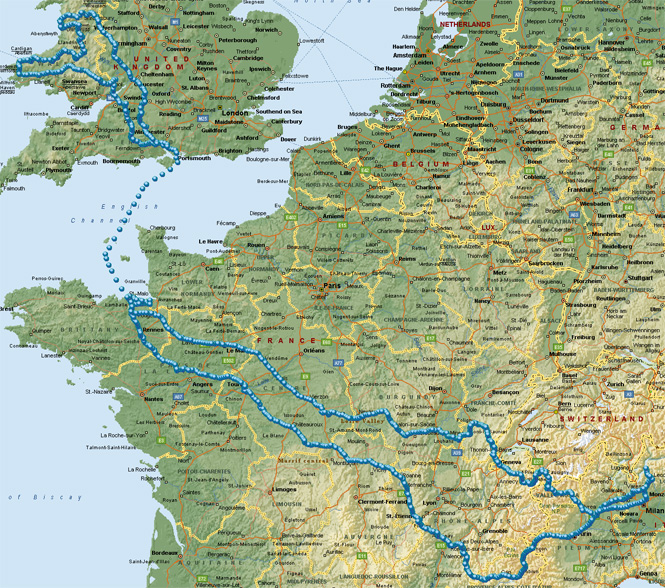 Europe Trip #6
The idea for this trip derived naturally from previous trips: (always starting in Mandello) east to Slovakia, southwest to Portugal and north to Norway. It was time to head northwest, and in any case, I'd always wanted to ride in Wales. Wales it would be, then.
This would be my sixth trip starting in Mandello del Lario and my eleventh international motorcycle trip overall.
Colorado
Last year I ended up flying to Denver as a result of an airline cancellation. This year, it was part of the itinerary. Yes; it's the wrong direction, but the schedule just worked better.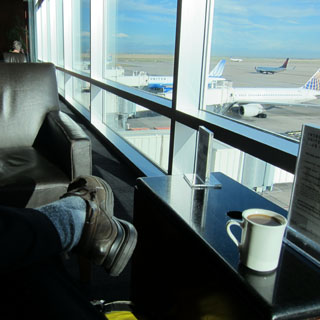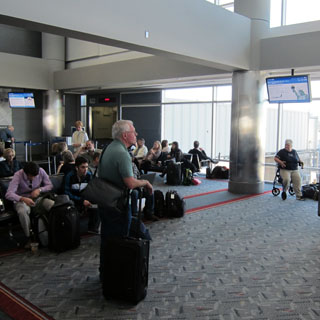 New Jersey
I'd be taking the same flight from Newark to Milan as the other trips. The Newark airport lounge is as good as the others, but there isn't much to be said about waiting a few hours for your flight.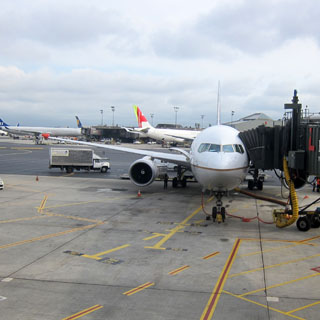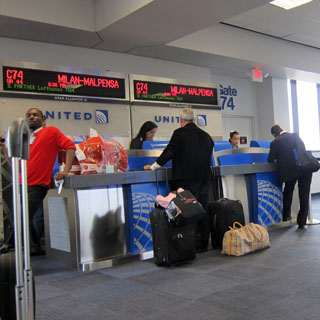 Italy
Sometimes we deplane straight into a jet way, and other times it's down the stairs to the ramp. No matter; it's a nice morning. There cannot be another airport as easy to transit through than Malpensa. No paperwork to fill out, hardly a stop at the passport check, not much wait for baggage, and no customs check at all.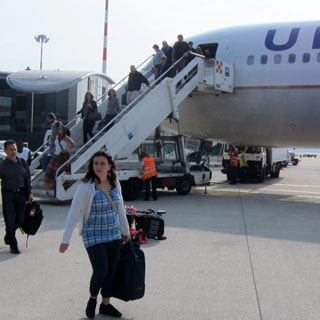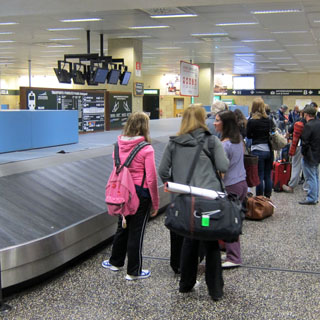 The Malpensa express train is faster, and perhaps more comfortable, but it's hard to beat the line of busses waiting at the curb. Just give your euros to the driver and step on board. Easy.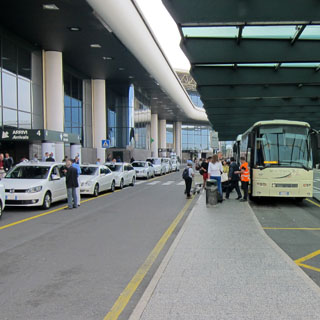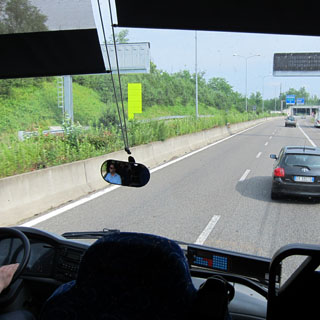 The busses all end up at the same place next to Milano Centrale. From there it's an easy walk to buy a ticket and wait for the next train to Lecco and Lake Como.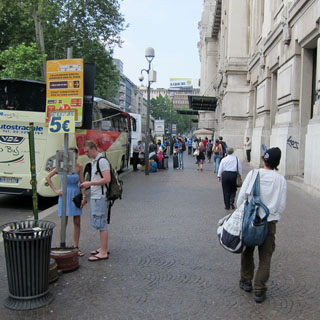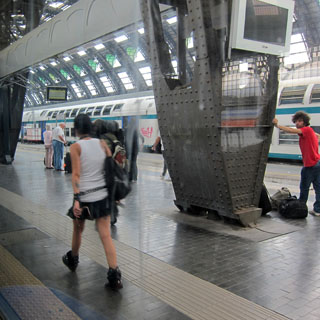 These regional trains are surprisingly fast. My phone GPS is showing 77 mph. Generally, I have to change trains in Lecco, but apparently there is enough traffic between Milan and Varenna, that this train proceeds direct to Varenna.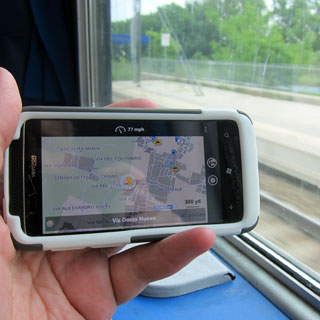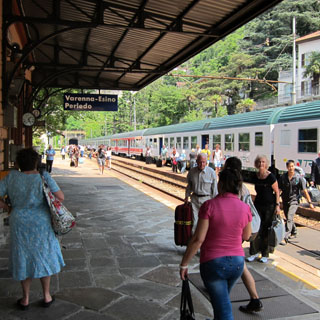 I've picked a different town each trip; always within a short train ride to Mandello on Monday morning. For this trip, I'd be spending the first two nights in Varenna, which is not far up the lake from Mandello, and is across the lake from the more famous resort destination of Bellagio.
That's the Hotel Olivedo. I couldn't ask for a better place to stay. My room is on the top floor on the left (with the balcony).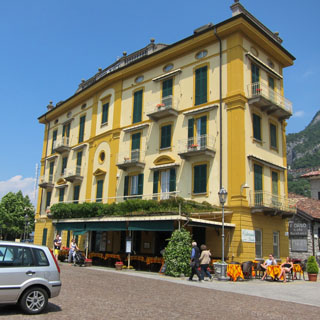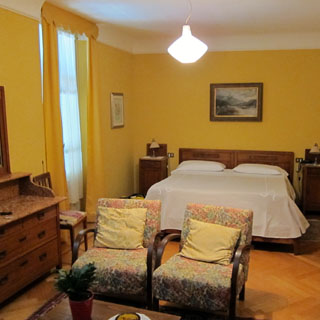 The view (from my balcony) of the ferry terminal. Varenna is connected by a sidewalk that often hangs over the lake.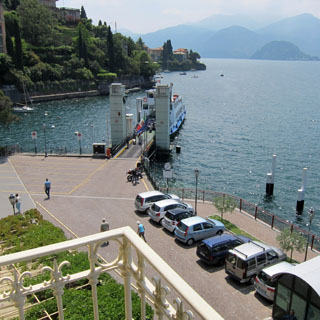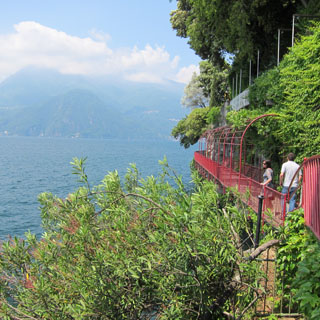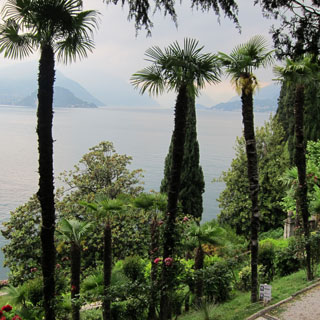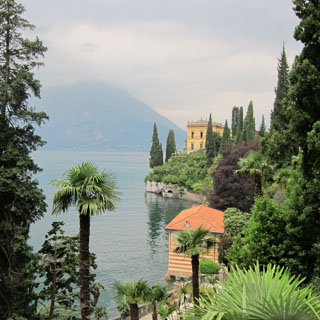 There were some seriously nice cars passing by the hotel.

My first dinner in Italy included fish from the lake.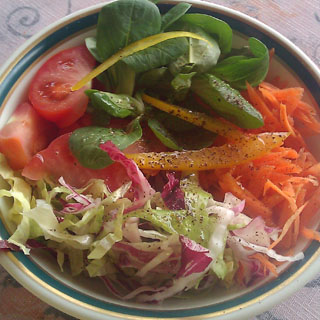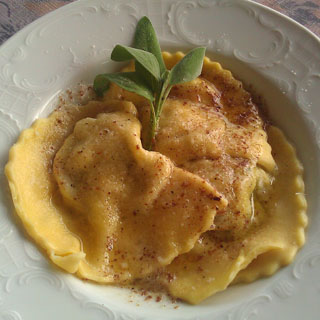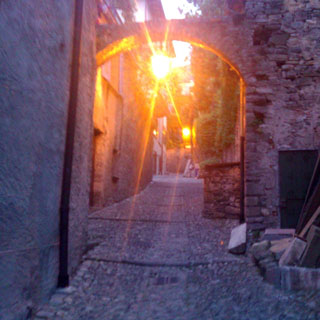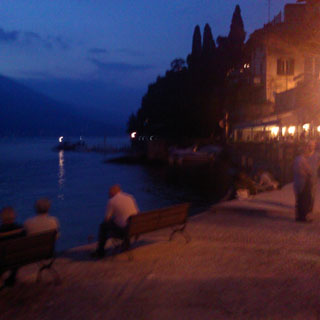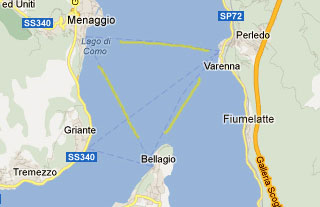 Lake Como has three legs, with the bottom legs being fairly close to parallel. Where these two legs come together is Bellagio. from that town you can cross one leg of the lake to Varenna, and the other leg to the town of Menaggio. Clear? A ferry shuttles back and forth from each of the three.
This is Menaggio.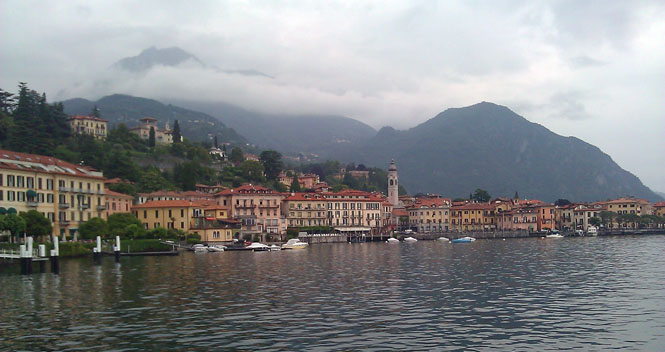 At end of the previous day, I started noticing that my camera was taking quite a long time to save each photograph. Fifteen seconds sometimes. So, I didn't want to continue shooting until I replaced the memory card with a new one. Consequently, the previous two evening shots in Varenna (above), and all of the shots in Menaggio (below) were taken with my mobile phone. There was a photography store in Menaggio, but it was closed. But, Bellagio was open for business, and I was able to buy a 32GB card that I used for the rest of the trip. The shots that I had taken on the old card were still retrievable (and you've see them above), but the card was untrustworthy for further use.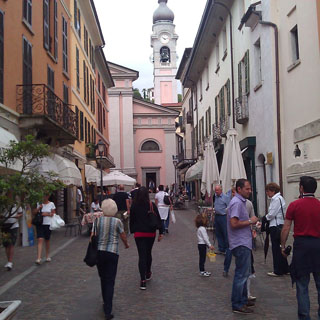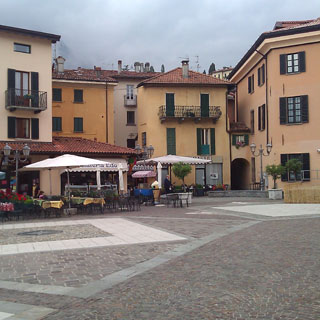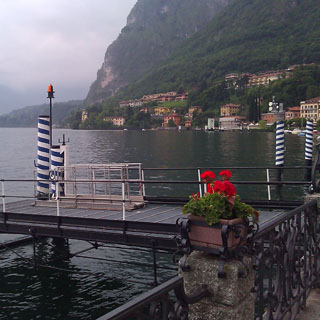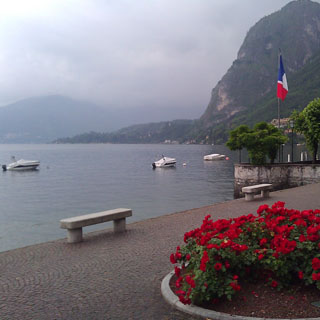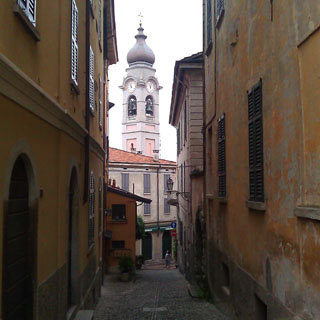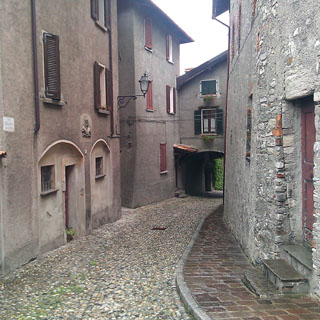 Like nearly all the towns along Lake Como, Menaggio is built on a hill. If you want to see all of the town, you'll need to climb.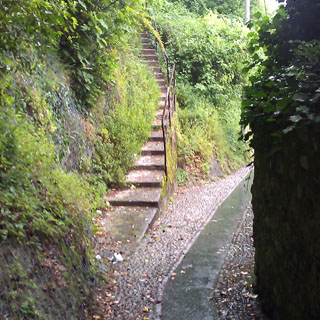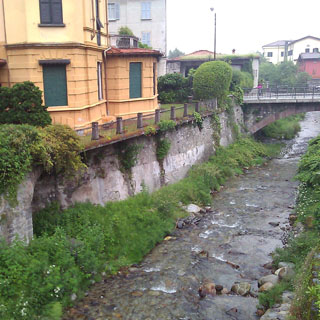 Catching the ferry that brought me here for the trip over to Bellagio.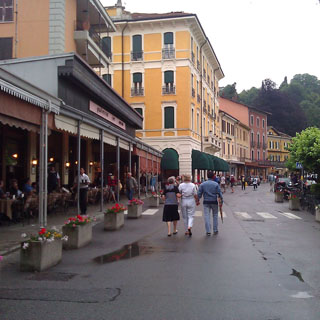 The rains were keeping a lot of people indoors.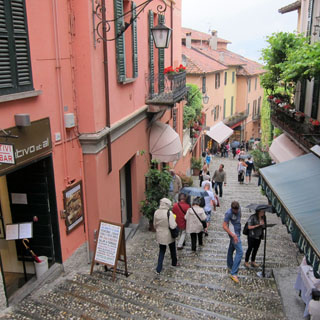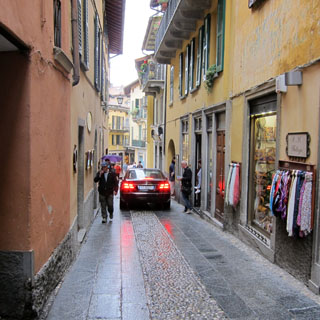 Years ago, probably anything made from silk came from this region (with the raw material imported from China). It still remains important.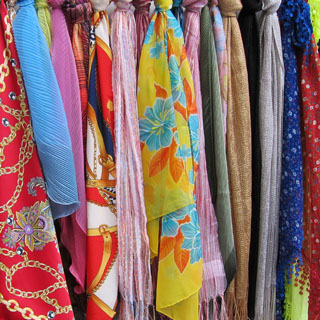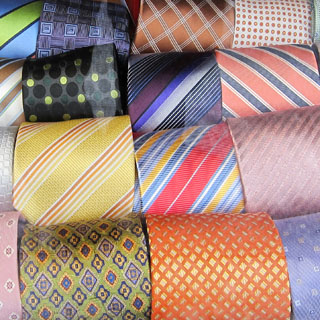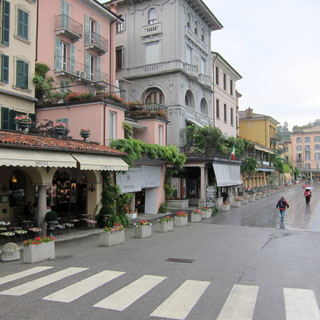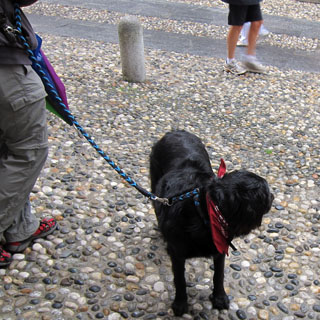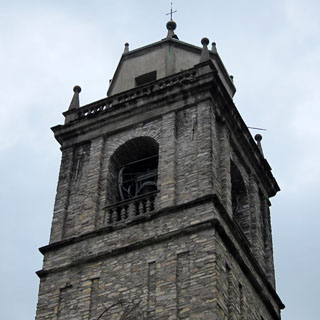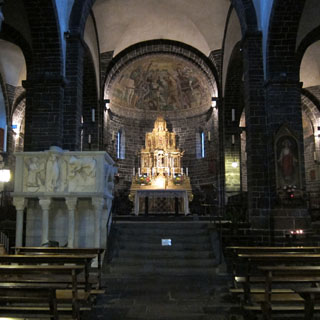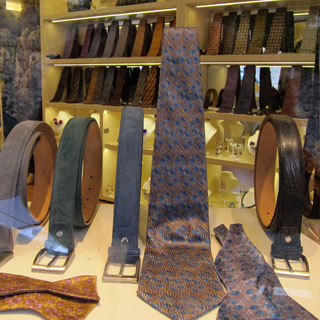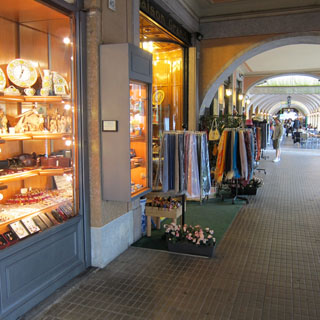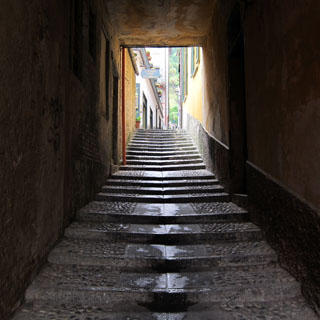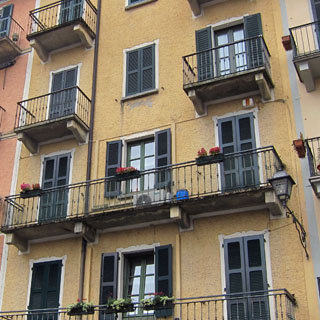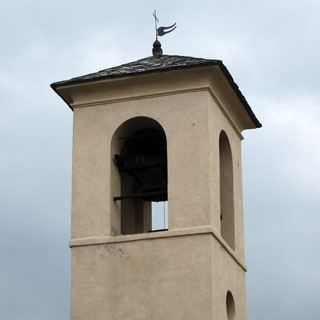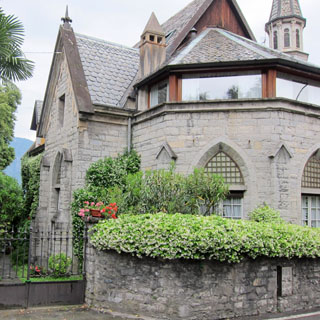 The road below is typical of many in the area. The neighboring estates are divided by stone walls. Between the walls will be a roadway (if it's wide enough) or just a walkway (in most cases). I did quite a bit of walking today.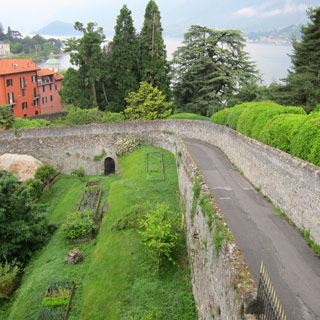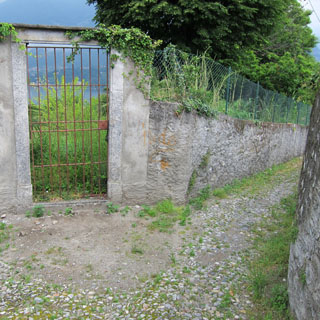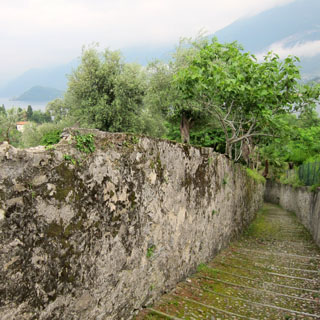 These goats were on the level of the top of the wall, so they were above me. They seemed happy to munch on all the green stuff, and didn't seem inclined to leap onto the sidewalk below them.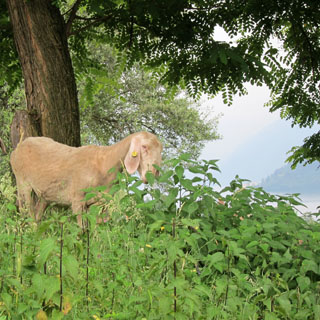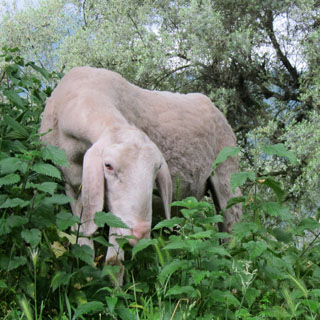 The boat (below, right) is of a type that for centuries was used to carry goods and people up and down the lake. It uses a tall rectangular sail that is wider at the top than the bottom. I imagine it's the ideal thing for the regular winds.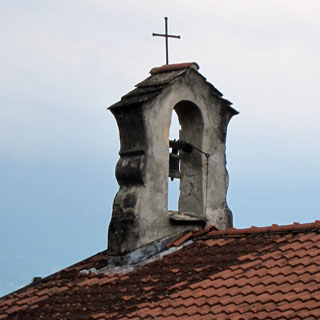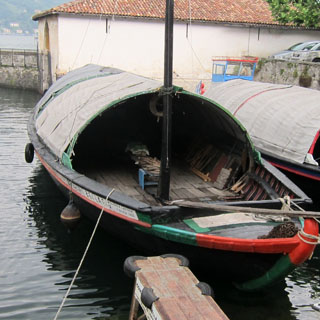 I now just expect to come across a terrific restaurant in a place that you wouldn't think would ever have enough traffic. But, this is near Bellagio; things are different here.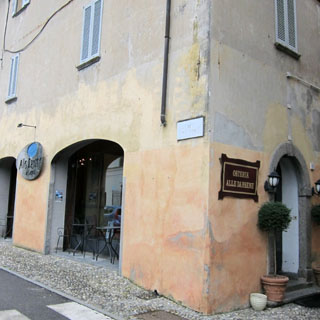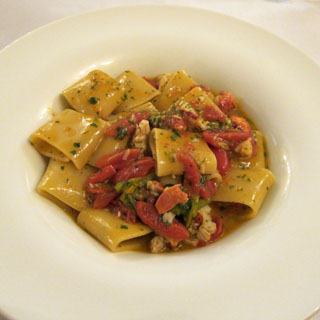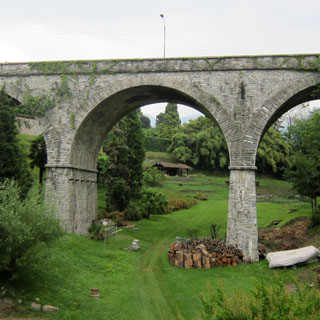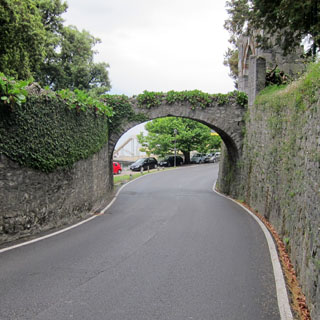 I Giardini di Villa Melzi
is a large villa not far from Bellagio. It remains privately held, but the grounds are accessible (with a ticket).
This architectural complex was realized between 1808 and 1810 for Francesco Melzi d'Eril (1753-1816), Duke of Lodi, Vice President of Italian Republic under Napoleon and afterwards Gran Chancellor of the Napoleonic Reign of Italy. Francesco Melzi d'Eril relied upon the architect and decorator Giocondo Albertolli (1742-1839), an exponent of great importance in neo-classicism, asking for a villa looking sober and polished whose simples lines and volumes would emphasize the surrounding amazing countryside

.
- website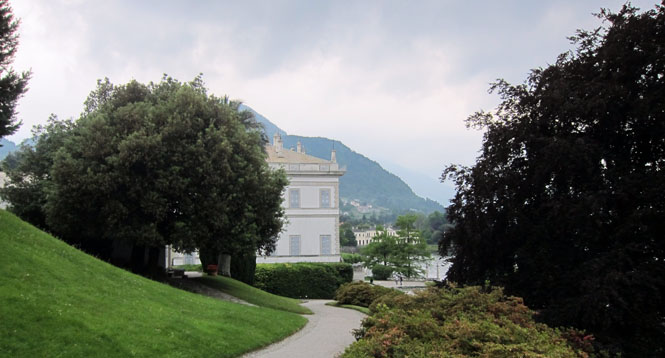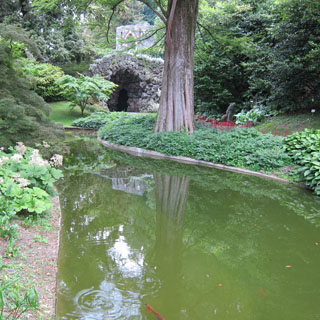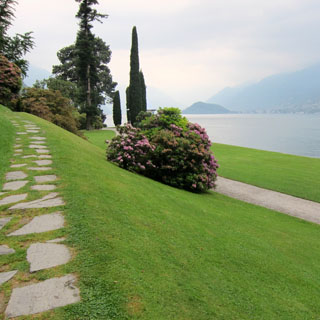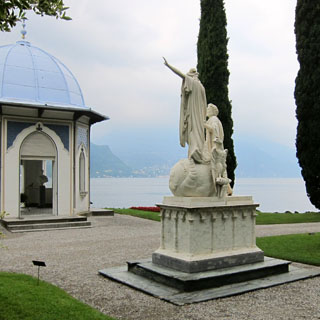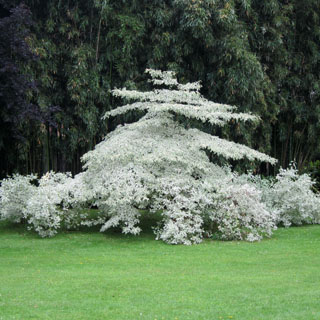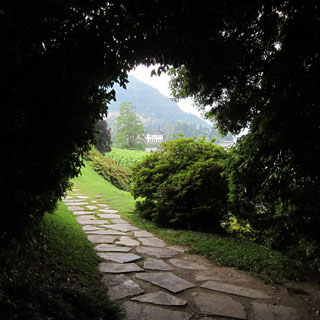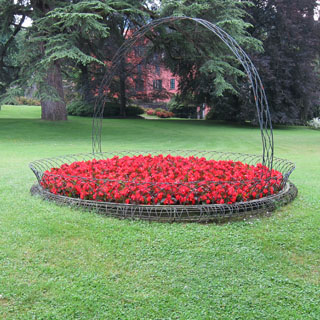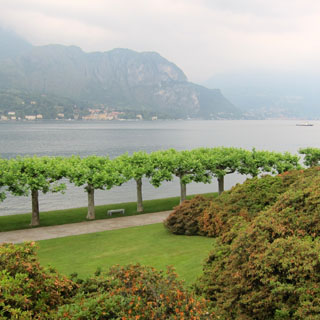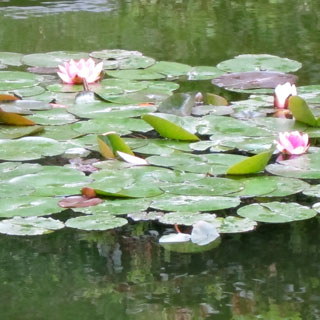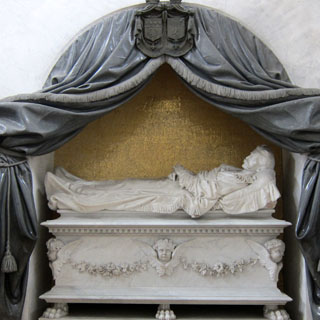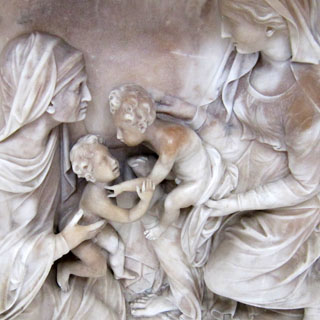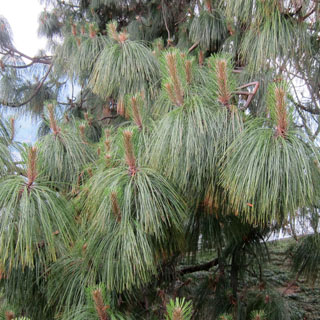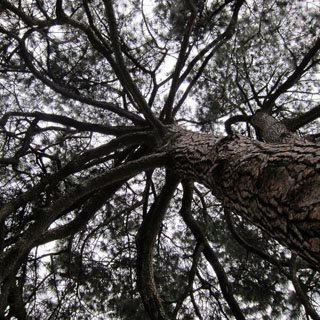 The Bellagio waterfront.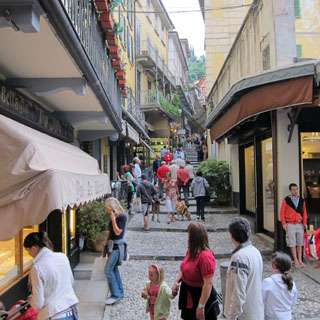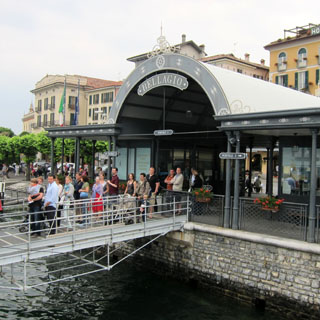 Returning to Varenna. No; I did not artificially boost the colors of the photograph.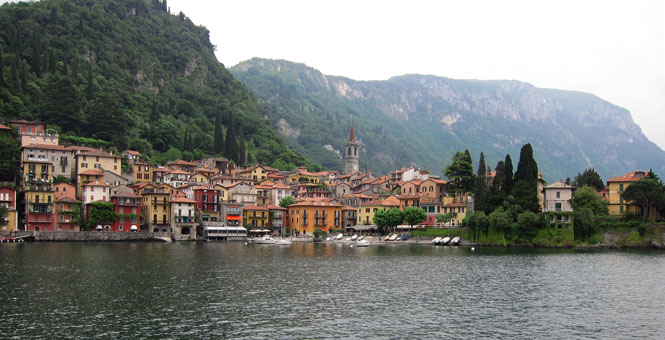 My second dinner at the hotel also had lake fish, but prepared entirely differently.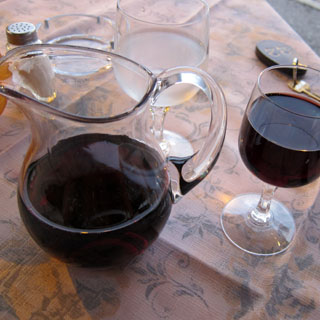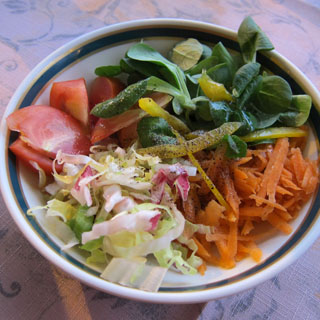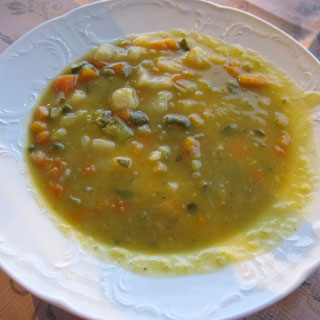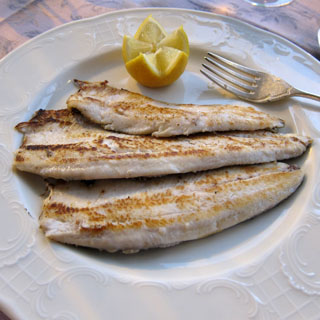 It's Monday morning, and time to start riding. As with all but the first trip, I'd be on a Moto Guzzi Stelvio, and I'd be starting from the Agostini dealership in Mandello Del Lario. This bike ran flawlessly the whole time.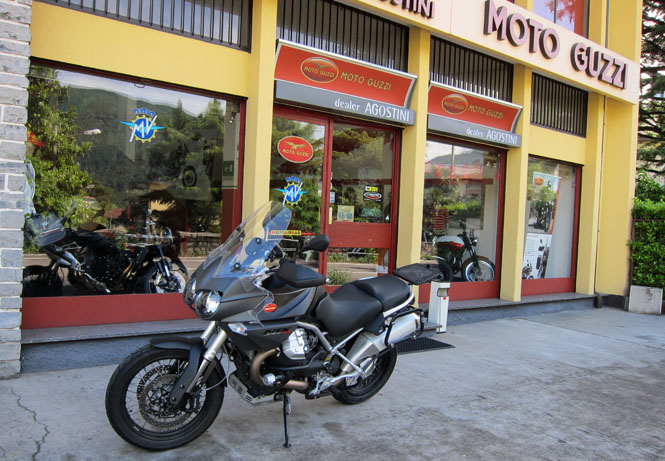 Heading west towards France.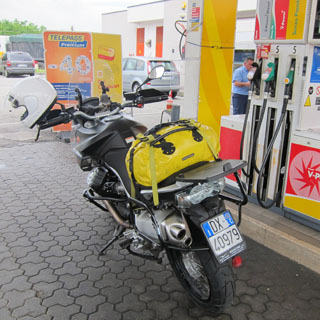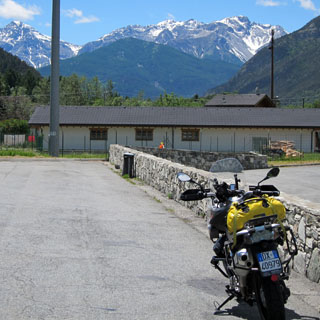 I've been packing this same yellow bag for several years. It's a small size Ortlieb waterproof bag and is incredibly rugged. It has no pouches to put things, and no zippers or other features. It isn't the best if you want to retrieve something during the day, but it is what it is, and it works very well. For this trip, I attached Velcro to the ends of the yellow nylon straps. After I've cinched things down, the ends are tacked down with the Velcro. No more waving strap-ends. I've got quick-disconnects on the yellow straps, so I can remove the bag in seconds, and yet it's very secure.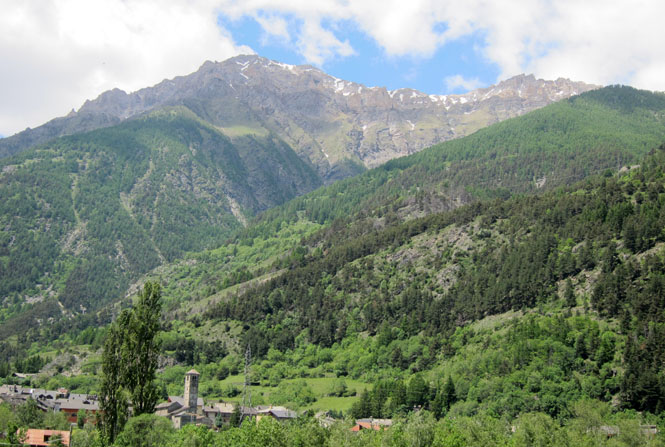 I had no intention of staying on the Autostrada more than needed, and as soon as I could I turned south. I wouldn't be on any toll highway for the rest of the trip.
Cesana Torinese.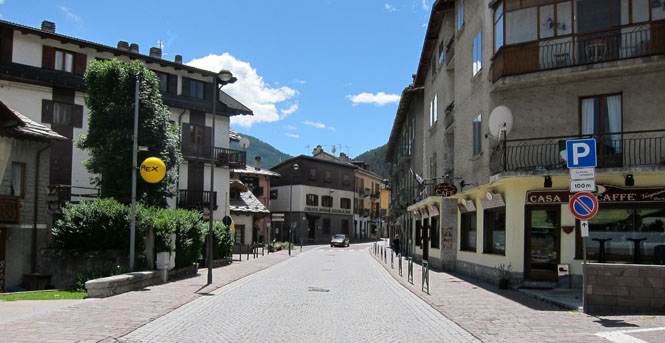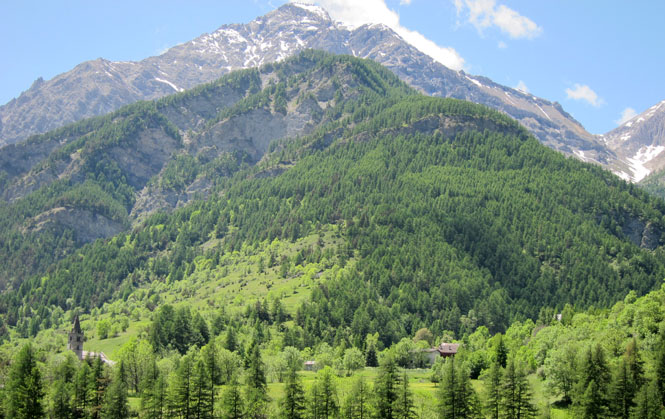 This is a fairly easy pass. It'd be even easier if I took the tunnel route, but there wouldn't be much point in that.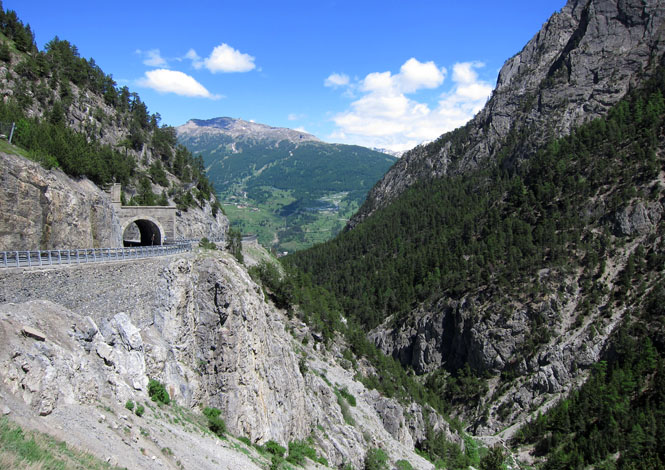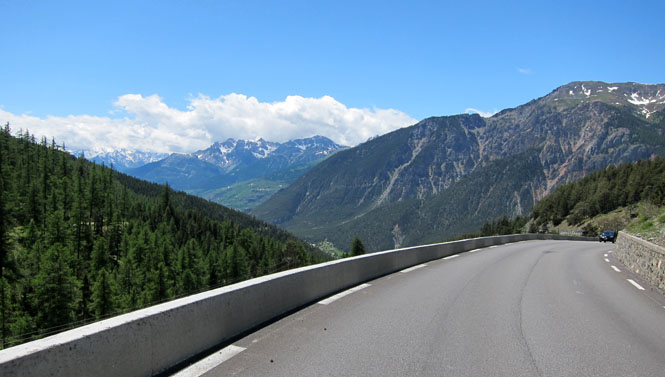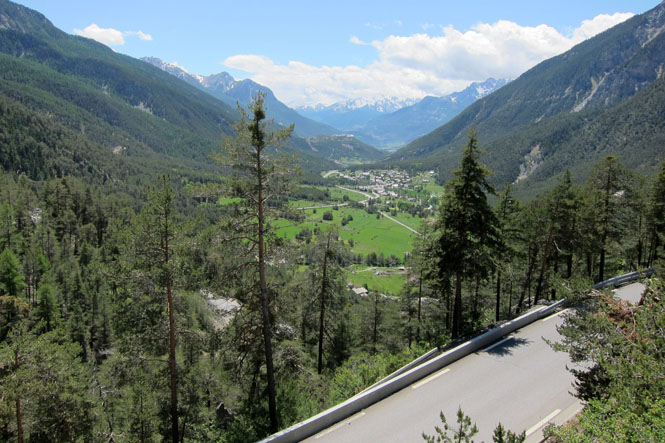 France
Briançon has long guarded the entrance into France, and the town was strongly fortified.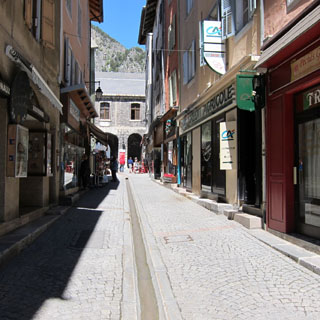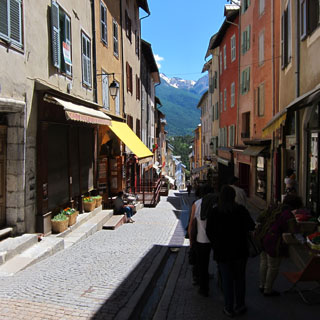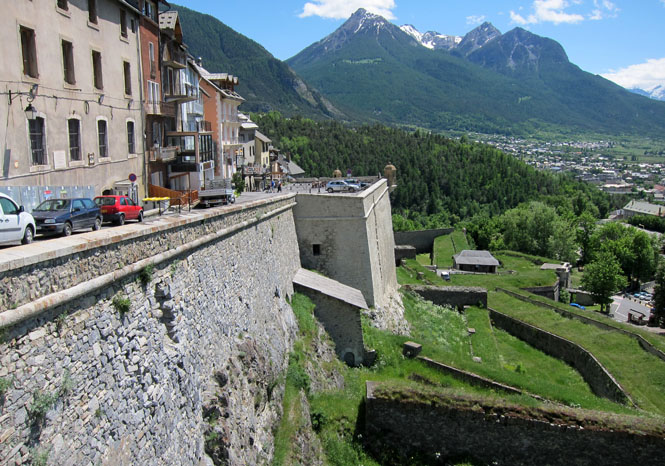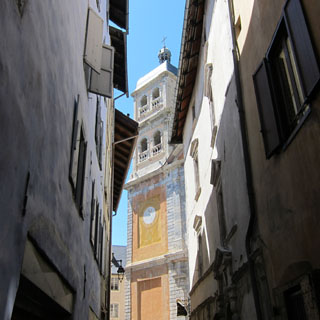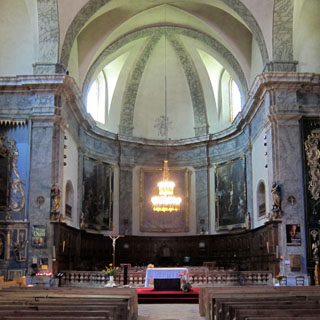 Now, I'm largely out of the alps and running through the lower mountain region of eastern France. This is a beautiful area.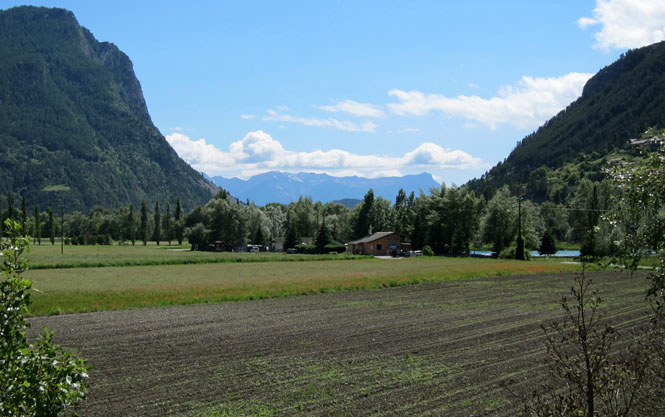 Certainly near all the passes, you can expect to see some fortification in the best strategic location.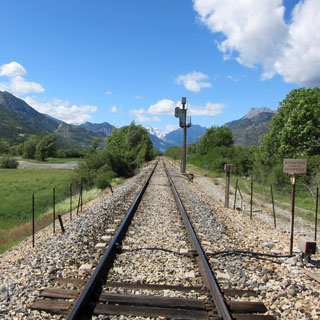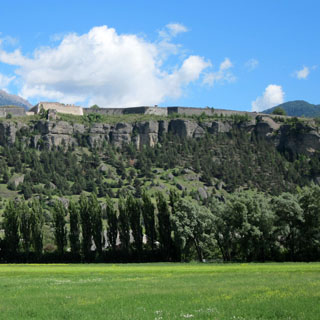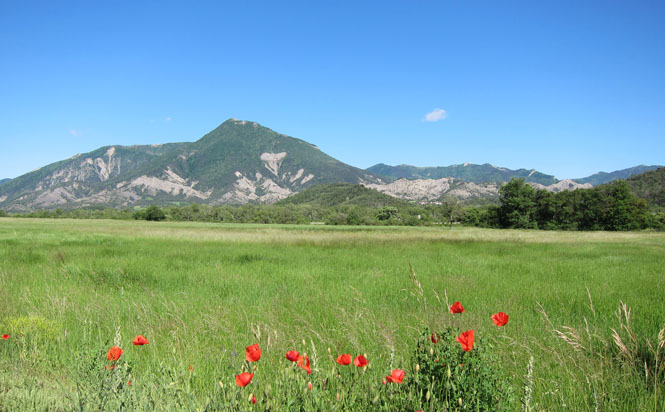 I'm well off the main highway now.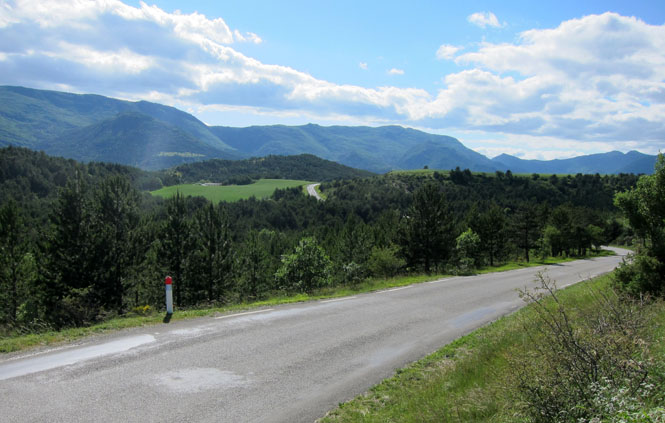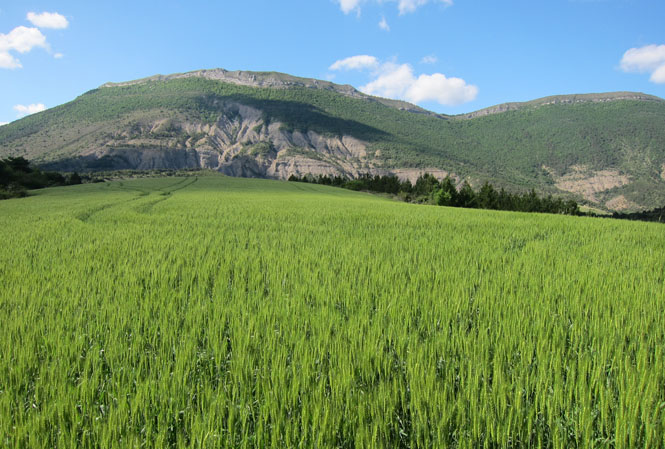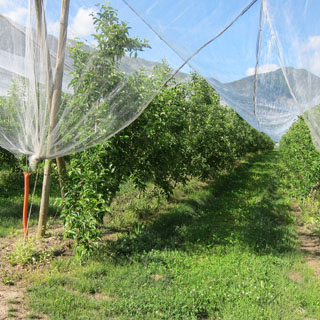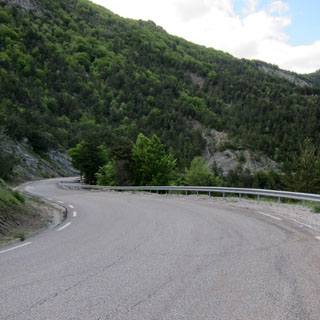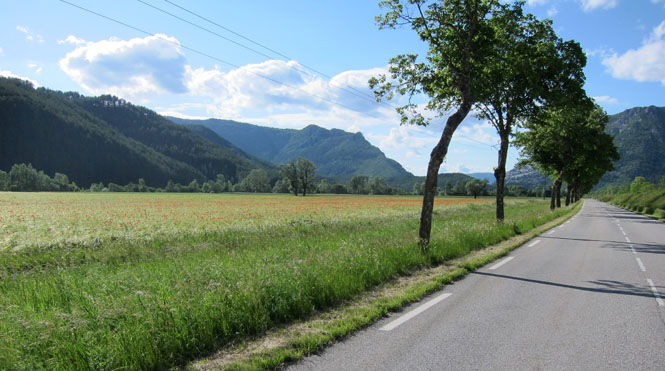 I don't know if they saw the rocks and decided to run the road through them as a challenge, or if they had no choice. Bit of both, I suspect.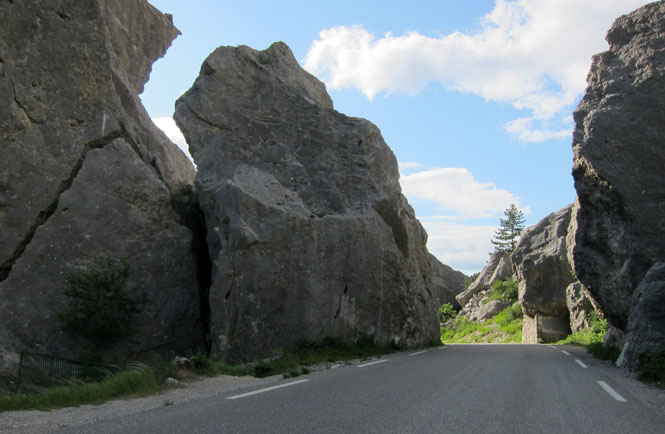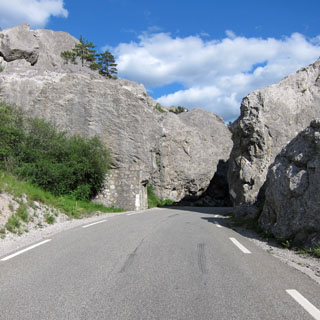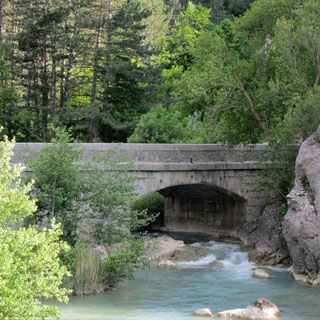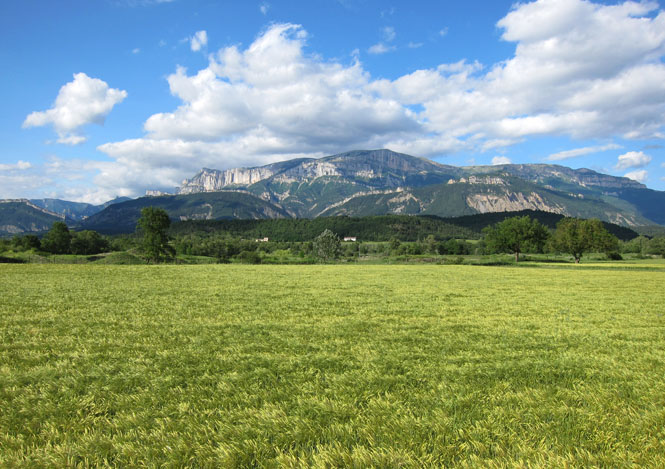 The Stelvio holds 32 litres, so that makes it more relaxing when the fuel stations are closed.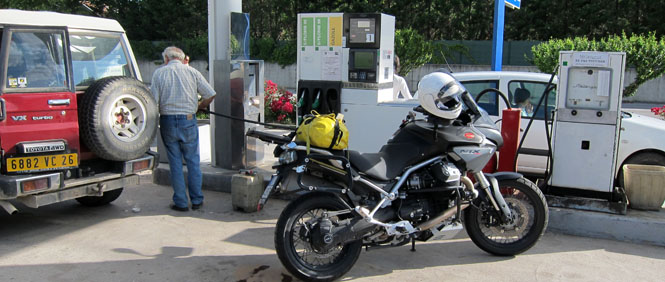 The small town of Die for the night. I'm much better at finding a place to stay for the night than I once was. The Hotel des Alpes is a good one.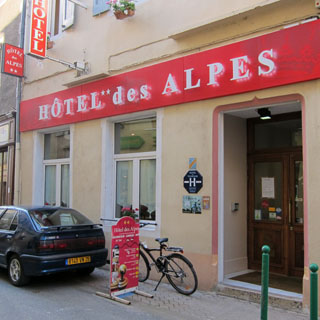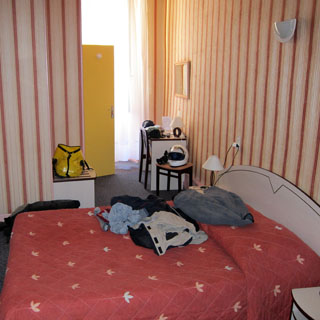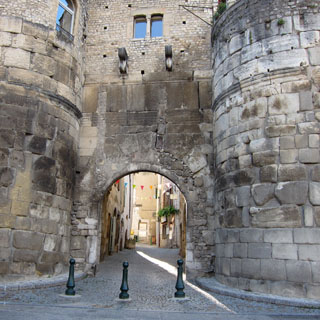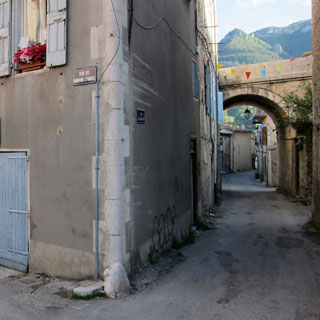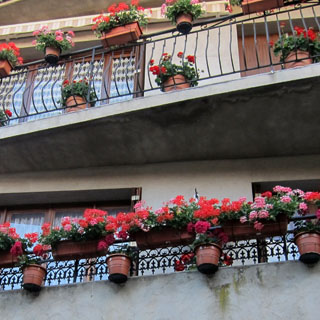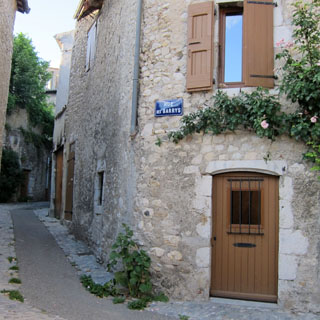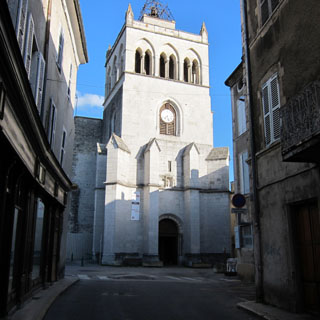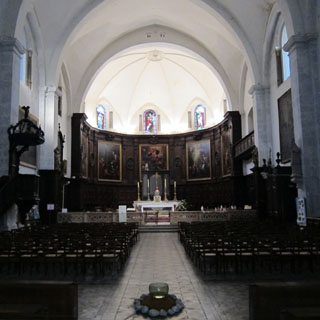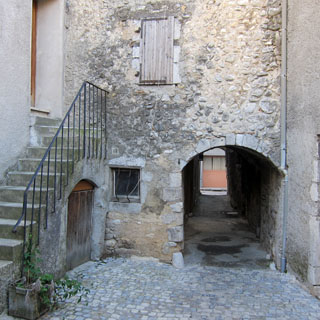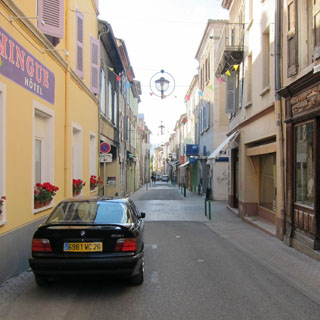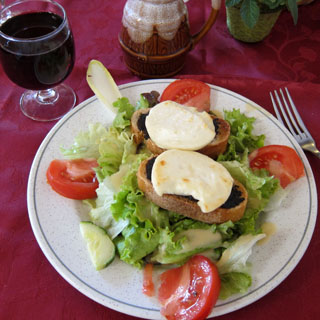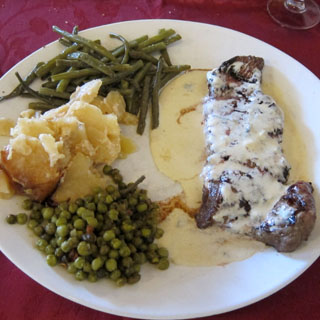 Next morning, I'm riding north out of Die. I'm in search of highway D76, which I believe has some interesting features.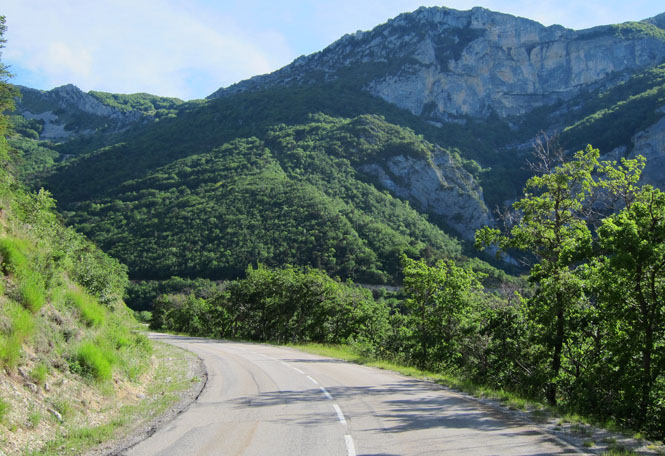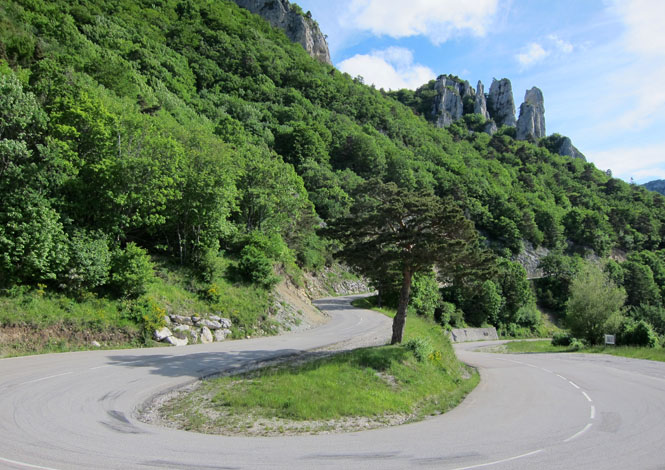 There isn't much traffic out here.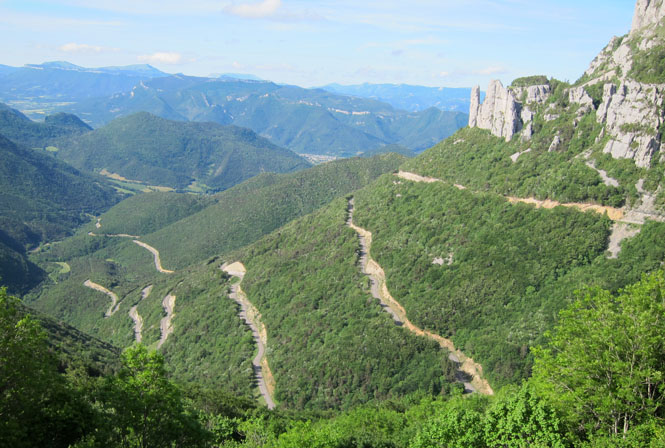 A memorial to the resistance fighters from the area. Those are school kids on a field trip.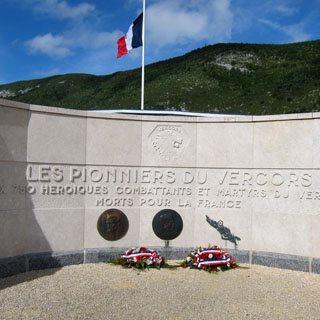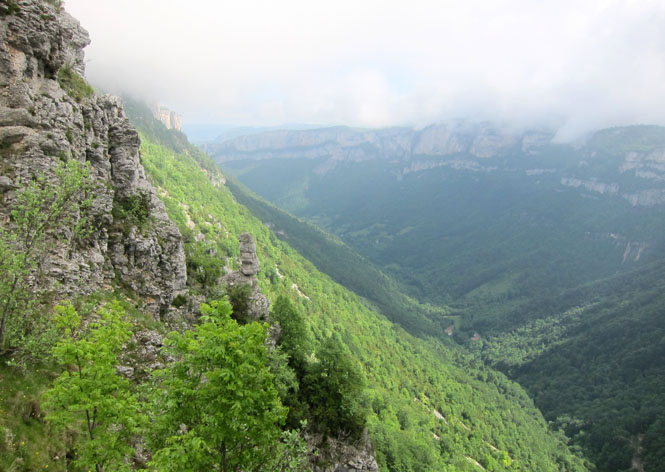 I wonder what the history of this road is? It must have been very difficult to build.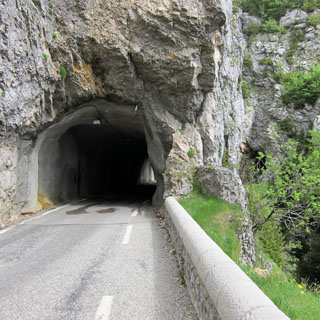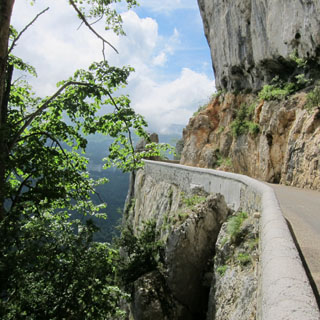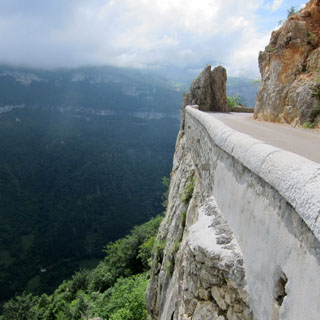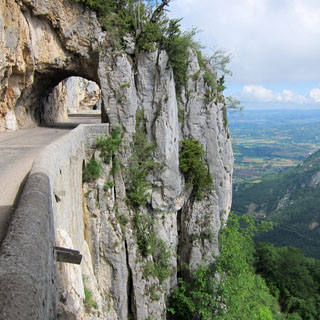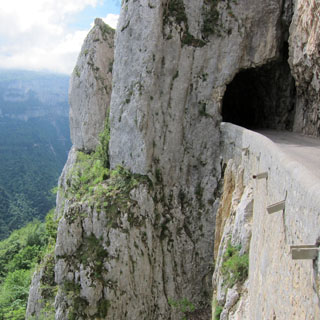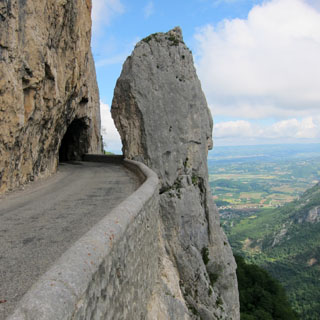 This is not the sort of road to push the speed limit.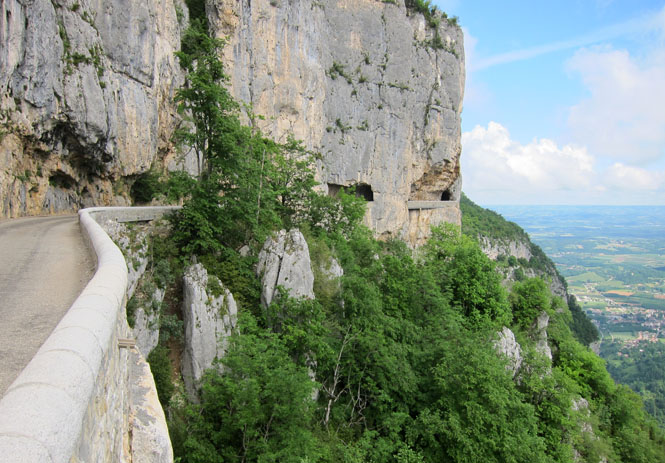 Romans-sur-Isère. I saw quite a few 19th century rail bridges of this sort.
Saint-Vallier along the Rhone River.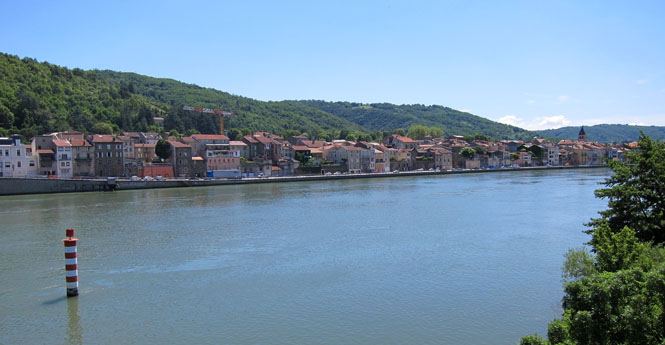 Sometimes the road I'm on is less than primary. Sometimes much less.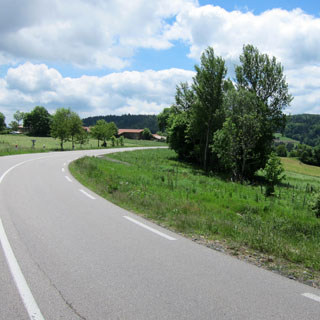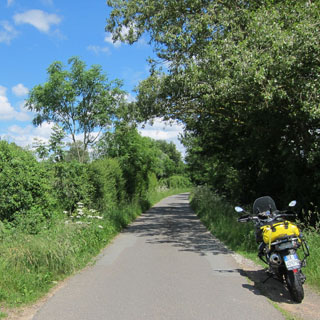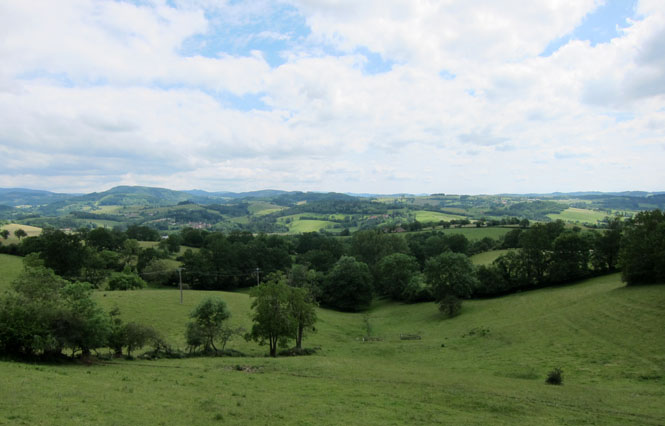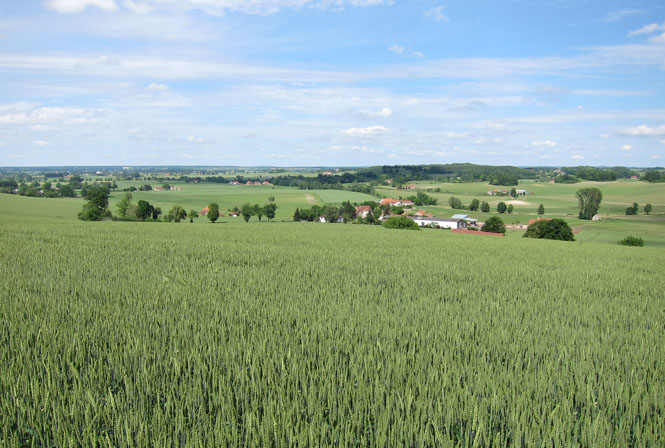 Saint-Pourçain-sur Sioule. I stopped here for a break. Even though I'm traveling the secondary roads, I'm still putting down some miles. I was keeping to a fairly aggressive schedule to get to the channel early enough so that I'd have sufficient time in Wales.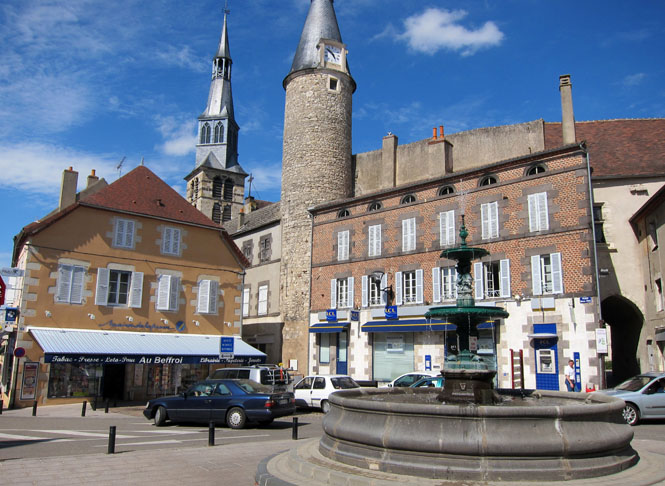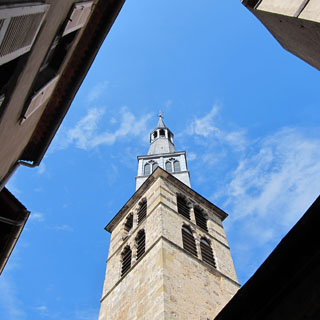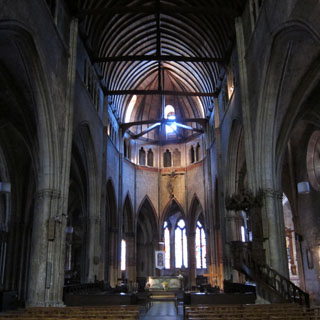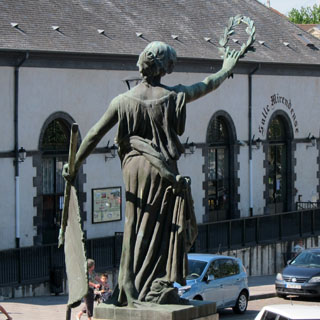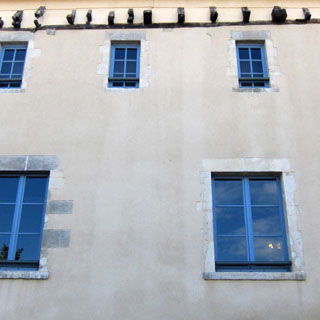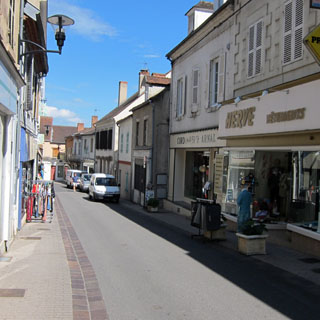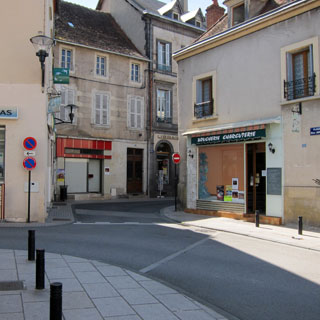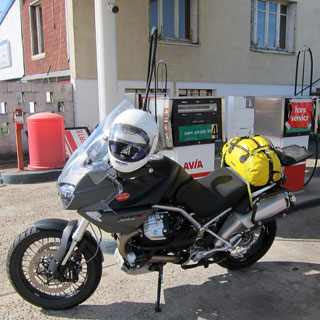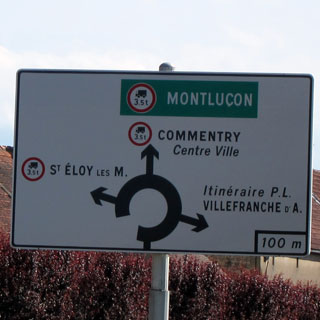 This was the first strip that I used a mounted GPS. I've got a small Garmin Dakota with an SD card of all of Europe. I picked the
Garmin Dakota as being small enough to drop in my pocket, but still having a screen that is easy to read. I don't need the sound, and keep that turned off. It's waterproof and battery powered, and I can remove it from its mount instantly. It really proved its worth in getting me through the towns and cities where there are no signs with a minimum of fuss. It also knows to avoid toll roads (which means the equivalent of the Interstate Highways in the U.S.)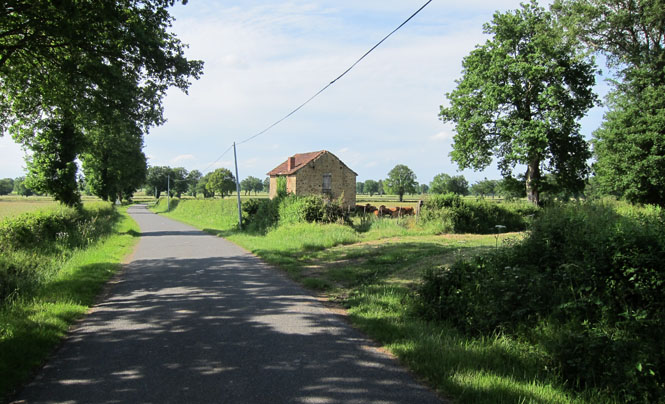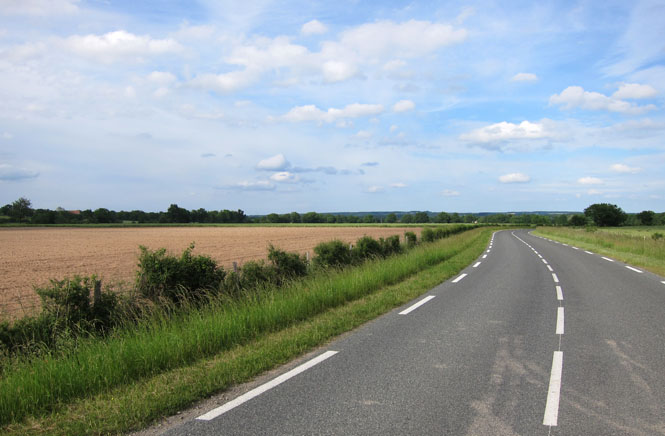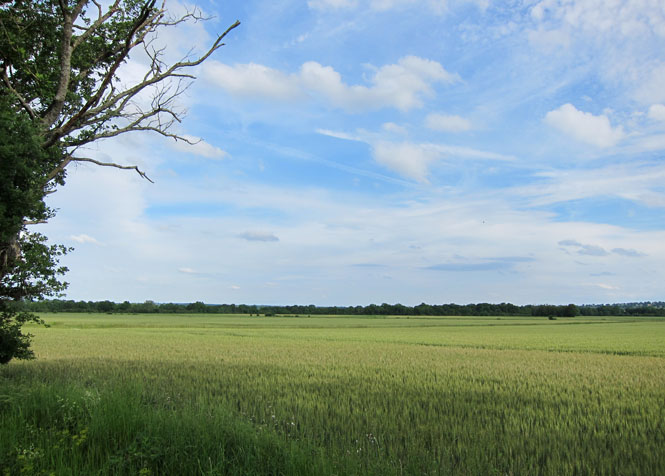 La Châtre. I pushed things this day, but it really helped and took all the pressure off the miles that I would need to put down the next day. This was an important day, and by reaching La Châtre for the second night, I knew that the entire trip would be achievable.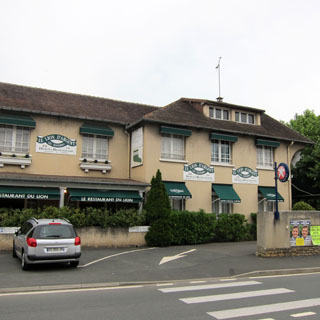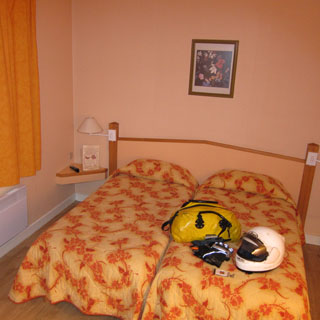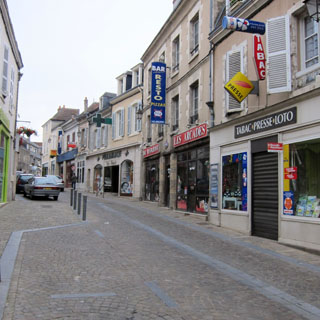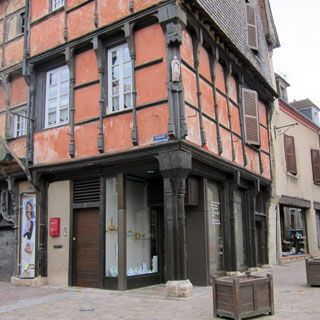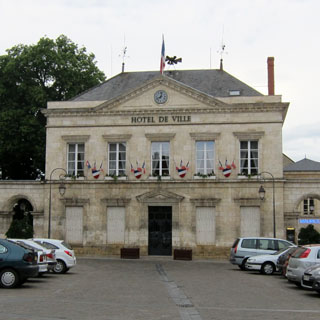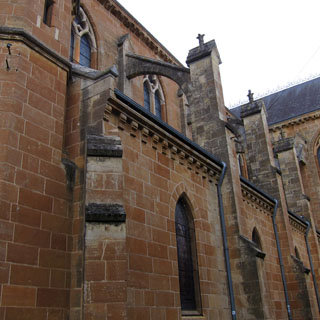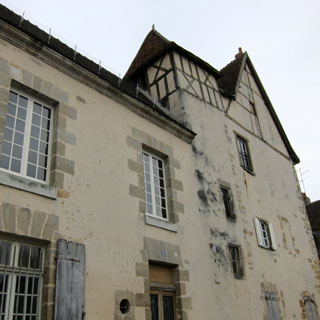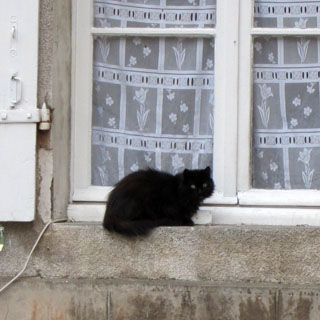 She didn't speak English, and I don't speak French, but the resulting food was quite good, regardless (whatever it was).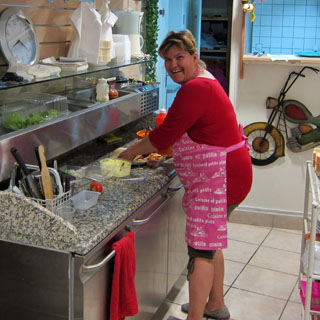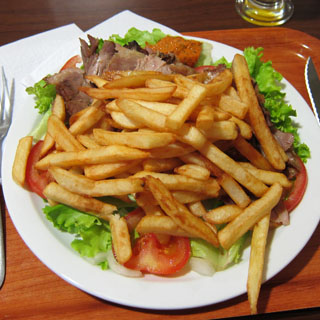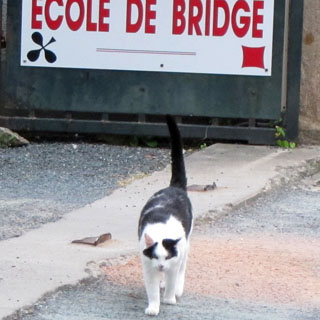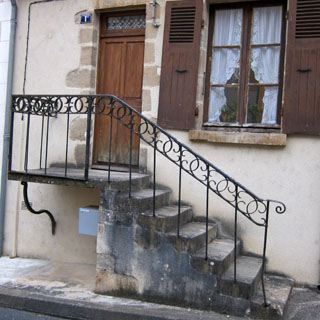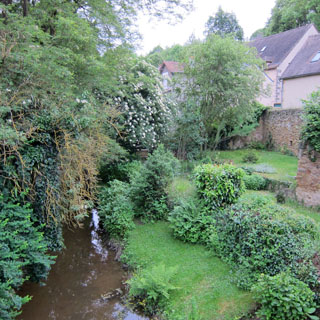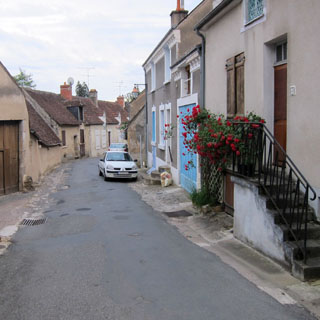 My favorite kind of road. I could ride an hour without coming across any traffic.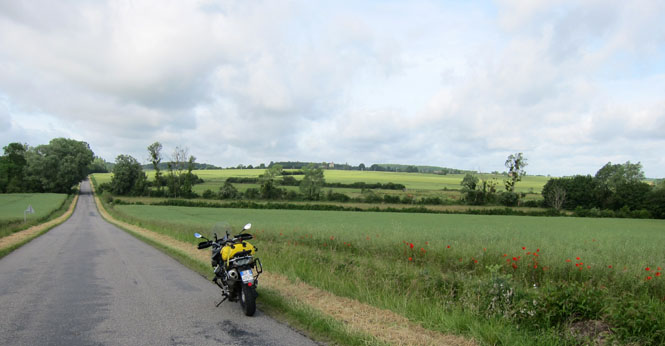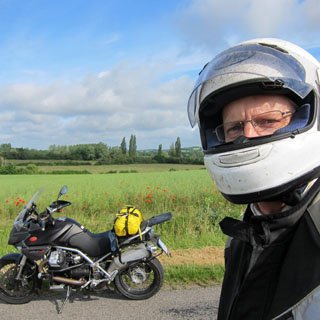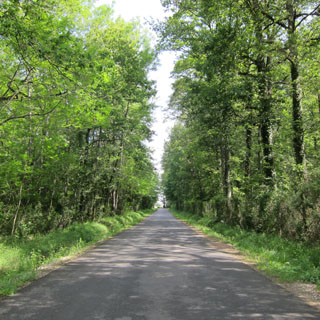 There is nothing special about this round-a-bout. That's why I took the picture. They all look mostly just like this. They're not all landscaped as nicely, but many of them are.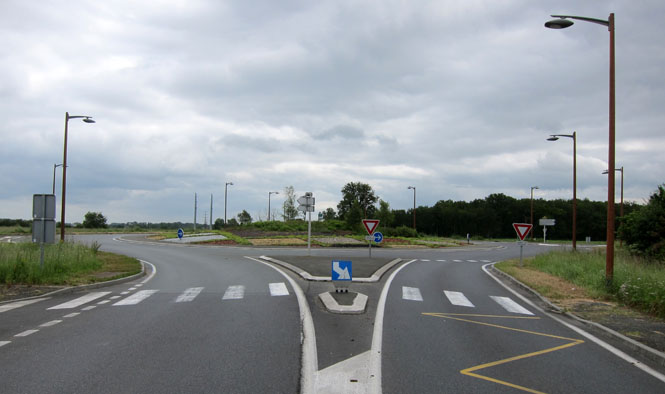 Échemiré. While walking around this small town, I took photographs of various campaign posters.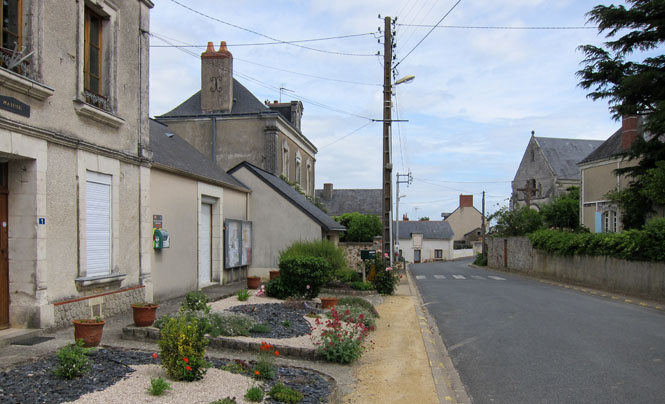 I have no idea who these people are, or what they are running for. But, they have all selected an interesting image for themselves.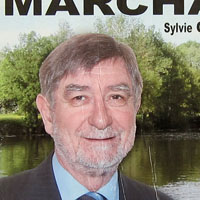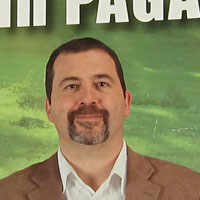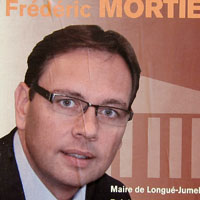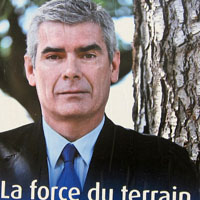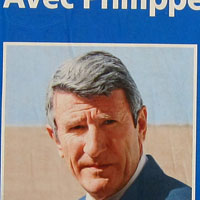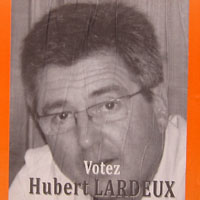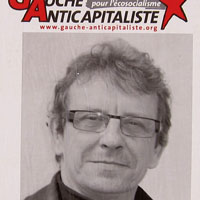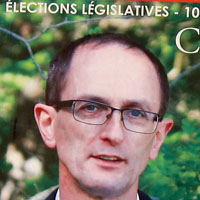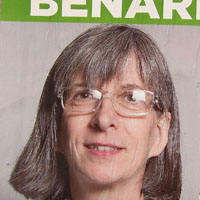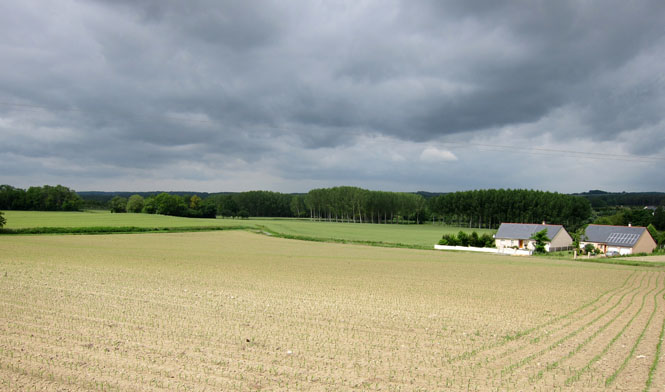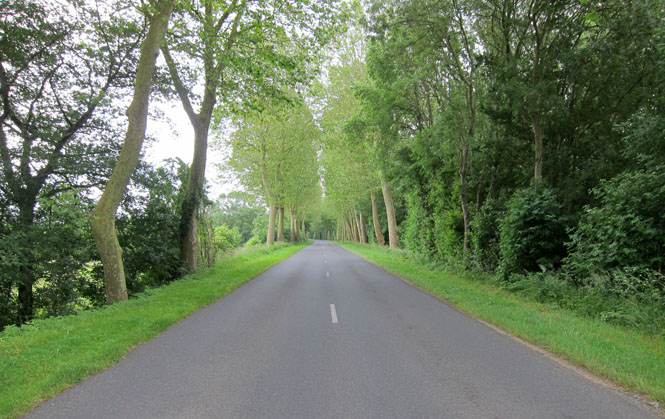 Mont Saint-Michel. By riding to a remote location to take this shot, I have avoided showing the mass of cars and tour busses and the extended parking areas. There's even a reptile house, which pretty well caps off any serious tourist destination. So, no; I did not make it over to the monastery.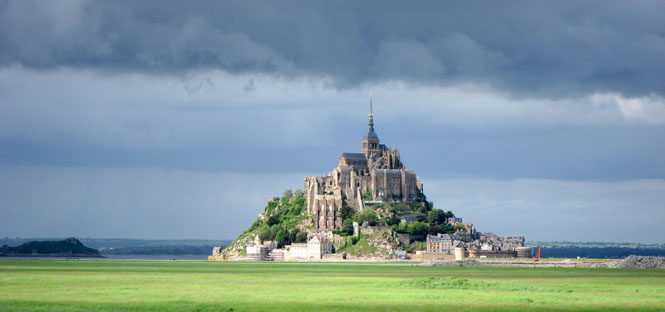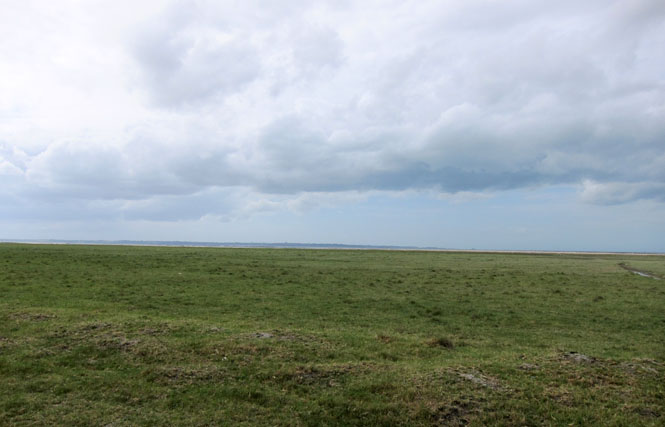 There are choices for catching a ferry across the channel, but Saint-Malo was the best one for me. This is one of the nicer hotels (or at least more expensive) I stayed at during the trip.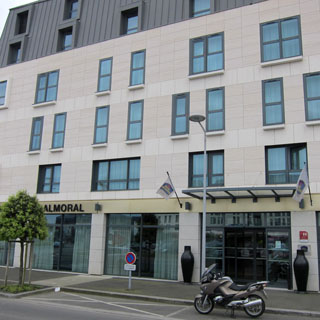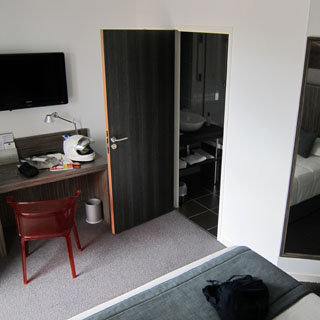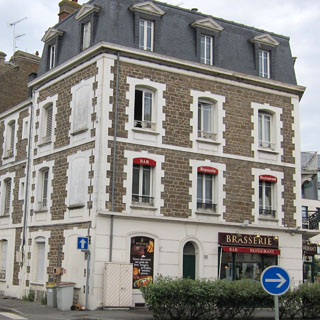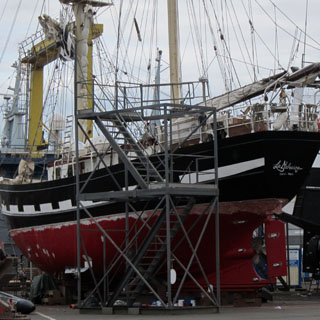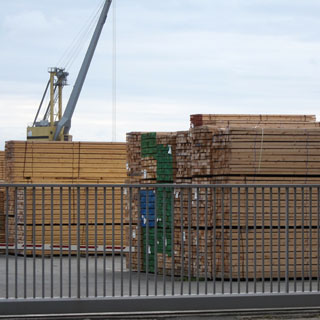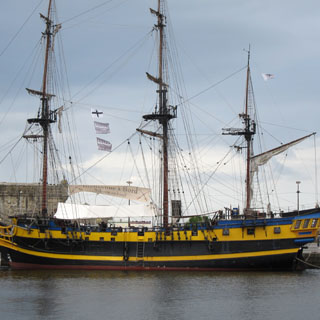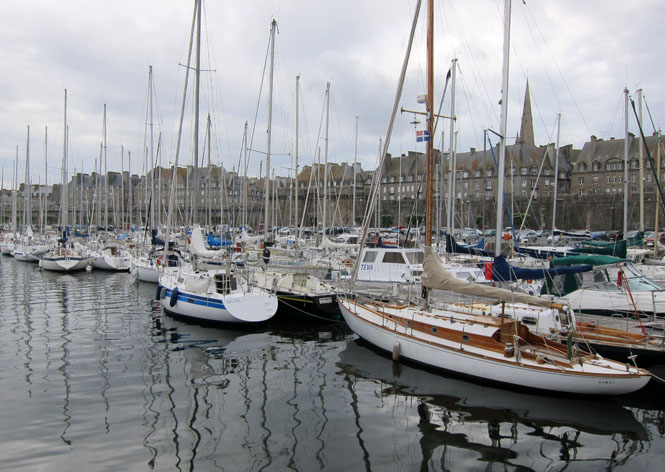 Saint-Malo is an old city that has often needed its fortifications, although they didn't help much in World War II.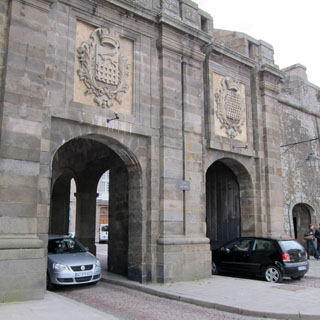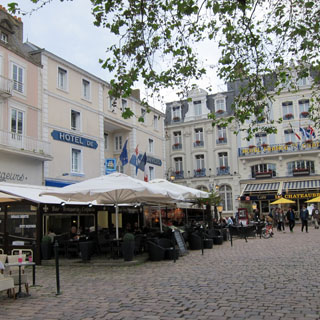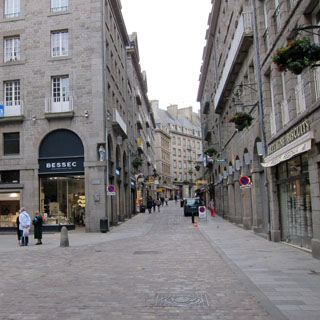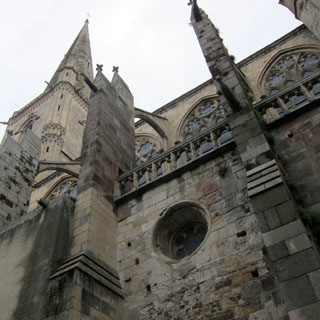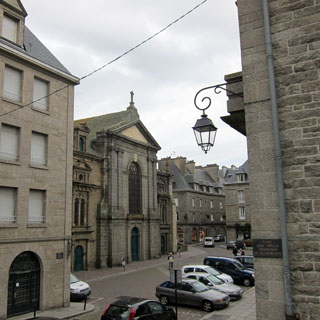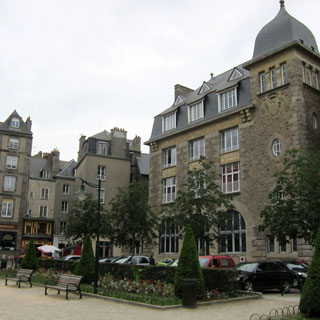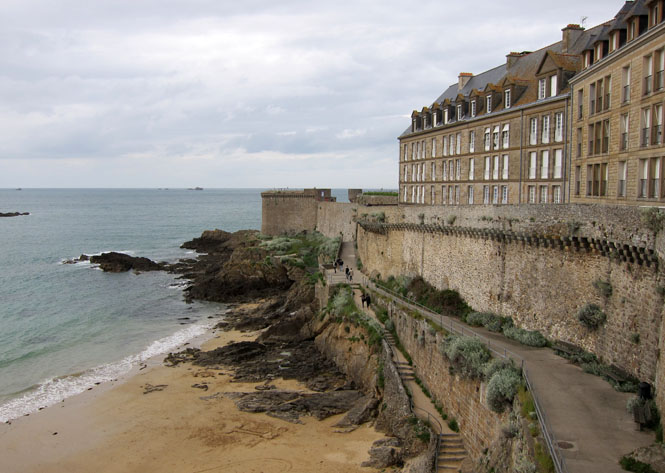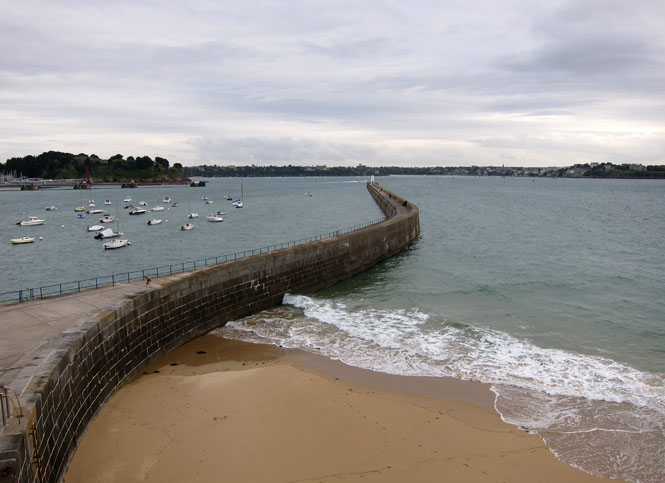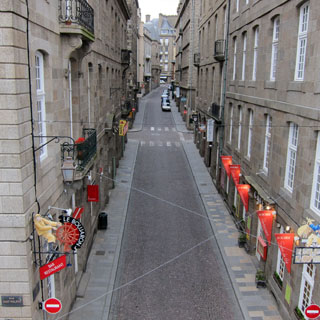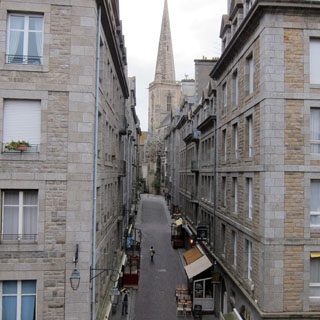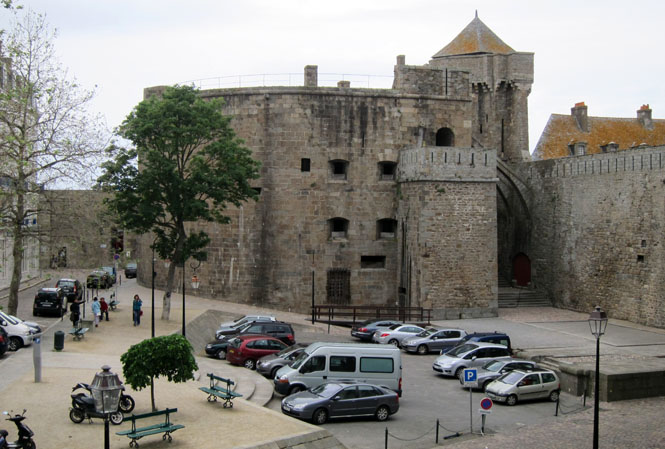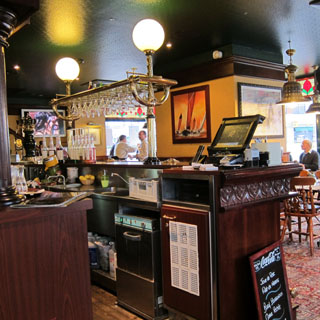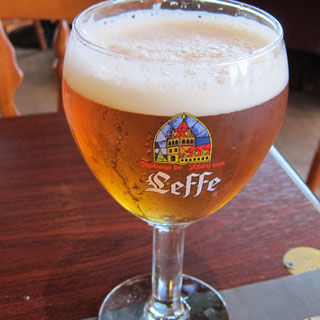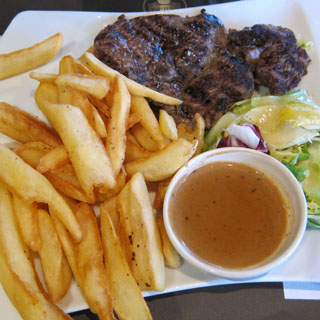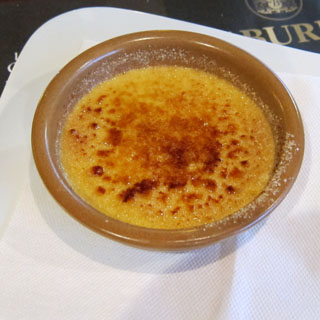 This is the ferry I'd be on. This same ship runs back and forth between Saint-Malo and Portsmouth. North in the day, and south at night. I bought my ticket the evening before.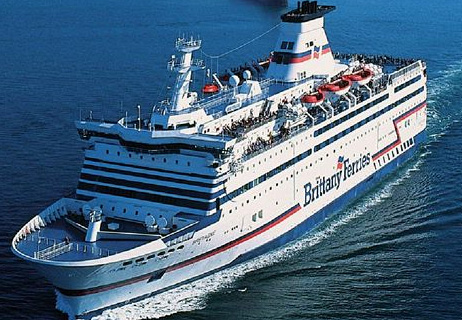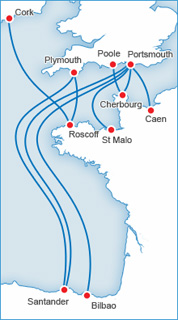 I packed straps with me, but did not need them. A ferry worker did a conscientious job at securing everything with the single strap.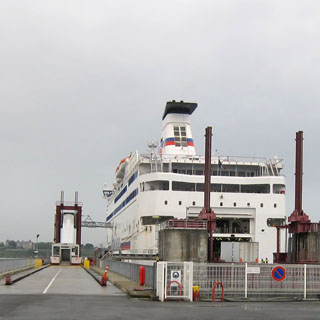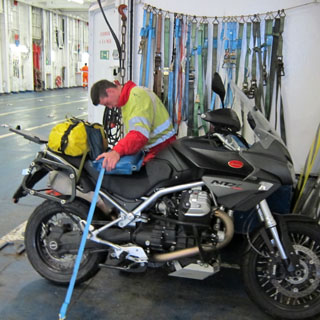 My helmet still shows the rain that was coming down that morning.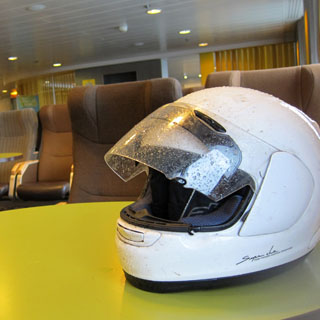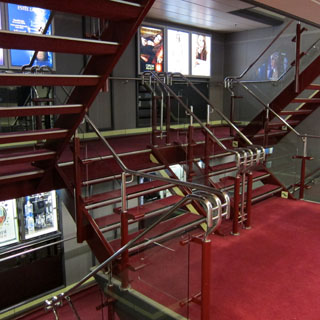 There were at least two nice restaurants on board, but I was happy enough to have this Bacon Laitue Tomate.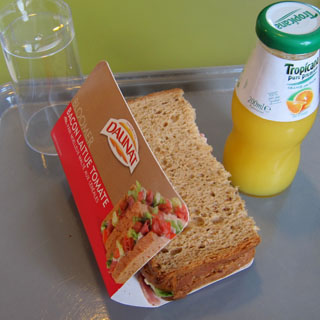 This would be a good time to use the sailing schedule to figure out my options for the return trip. There were three viable possibilities, and I kept all three in mind.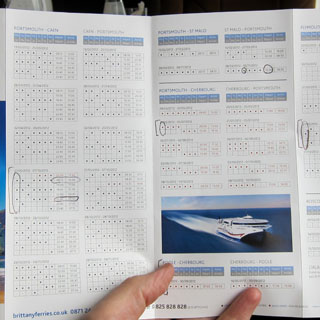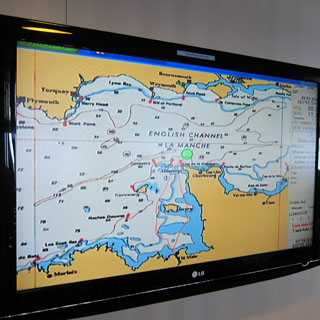 The crossing was very smooth.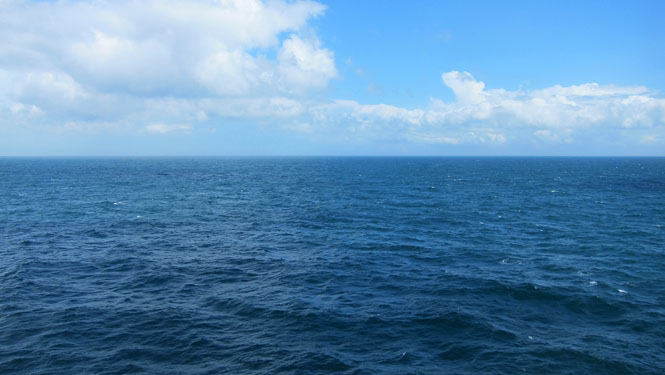 United Kingdom
Portsmouth.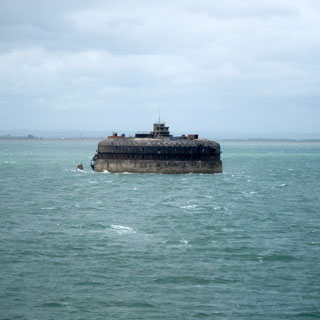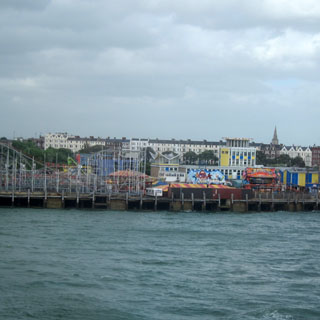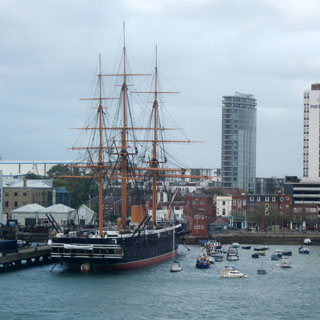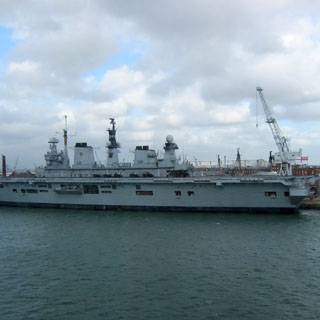 Motorcycles were first on, but we were certainly not first off.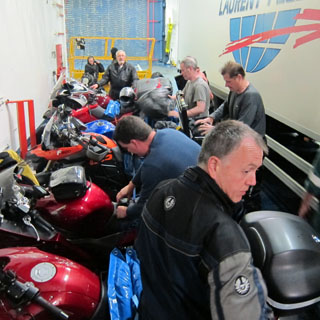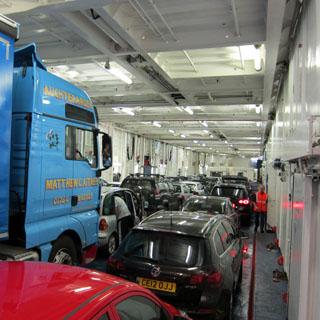 Of course, you drive on the right on the continent, and on the left in the U.K. I wondered how it would be to make that transition in the same day. The answer is: no problem at all. It all came naturally enough, and when I returned to France, I resumed the position on the RH side of the road without much thought.
England
Southampton. It was drizzling when I arrived in Portsmouth, and I did not intend to ride too far. When I reached the exit for the Southampton airport, I turned towards the city, thinking that this would be a natural place for hotels. Surprisingly; no. Eventually though, I did come to this business center hotel, and it worked very well for me. This isn't the kind of place that caters to tourists. I think most people were here on an expense account.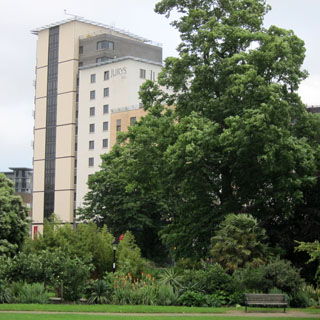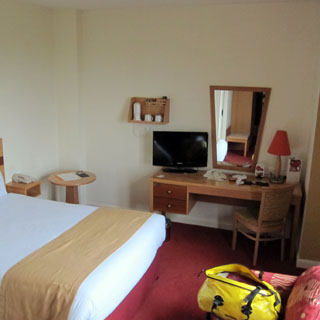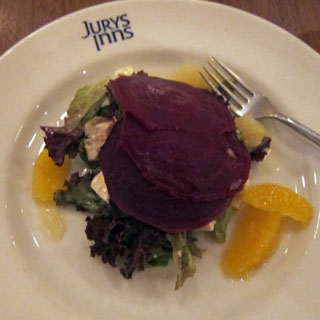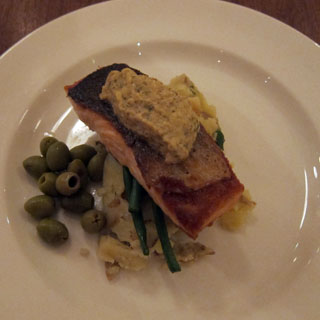 The breakfast bar the next morning. There's nothing like this in France.

The next morning, it was still raining, but not so heavy as to be a nuisance.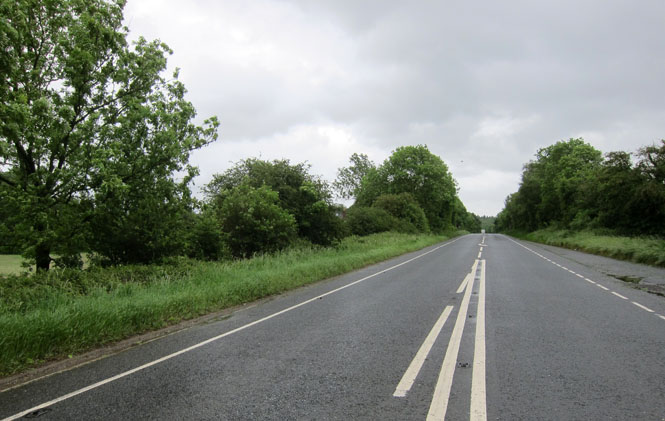 Salisbury. I called friends Dennis and Barbara, but I had the wrong phone number. It's nice to be able to park pretty much anywhere.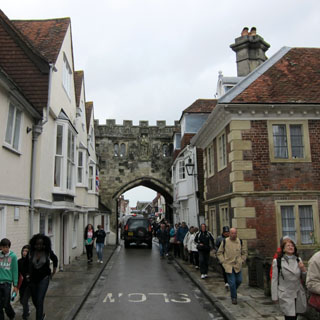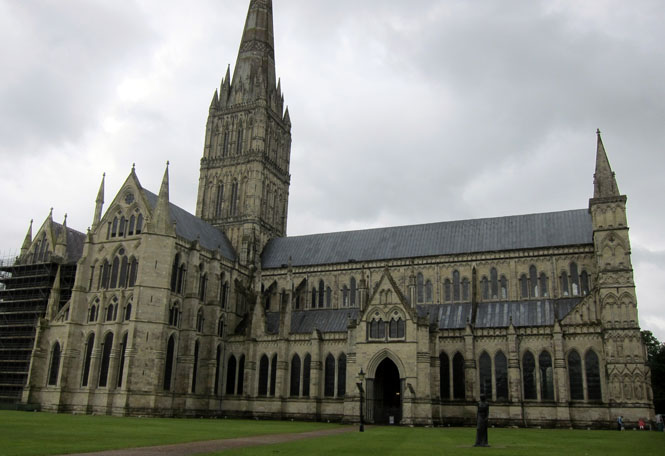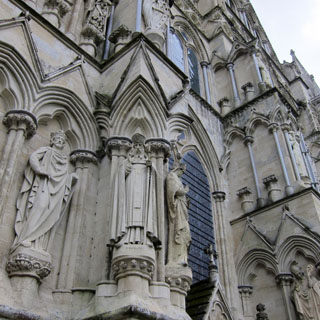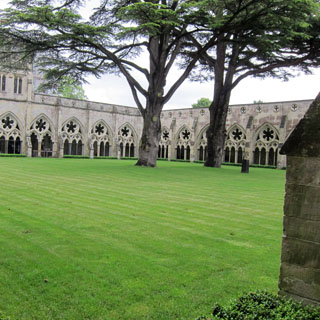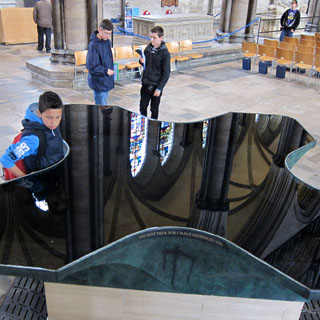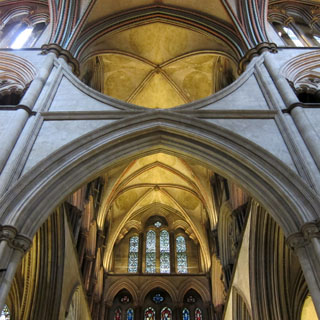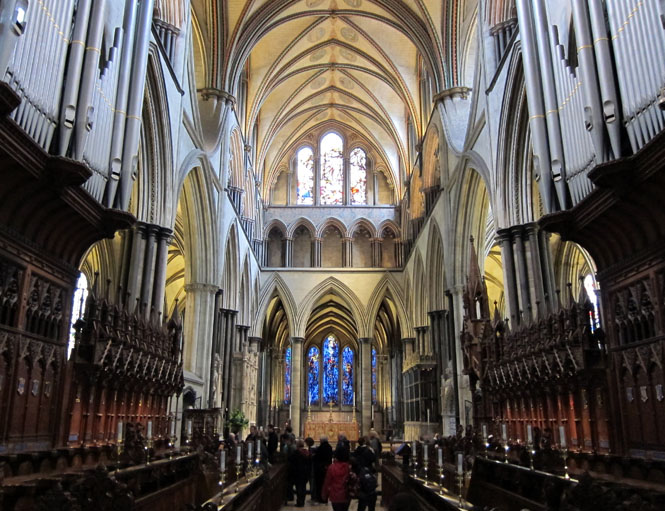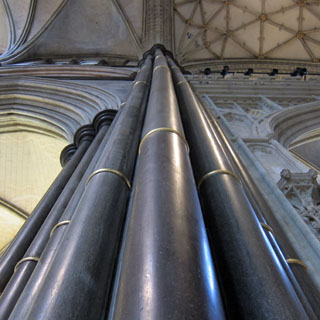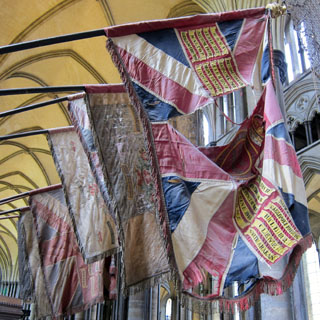 It wasn't raining too much, but it was surprisingly windy.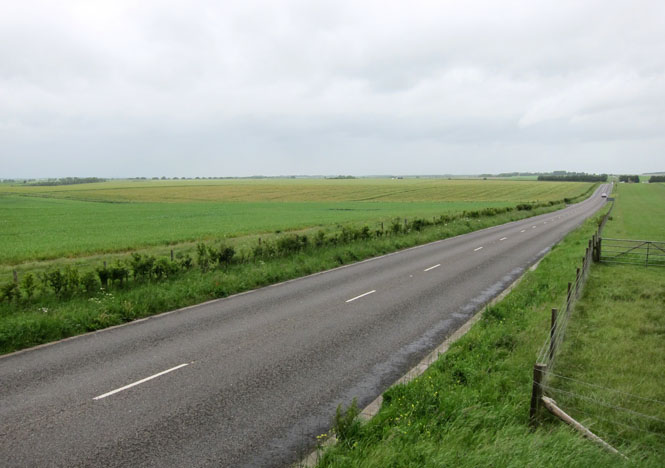 Stonehenge. The planning folks have done quite a good job at isolating the large parking area and all the tour busses away from the monuments. There's a walking underpass that takes you under the road to Stonehenge, so once you're at the site, you don't feel as if you're surrounded by too much of the modern age.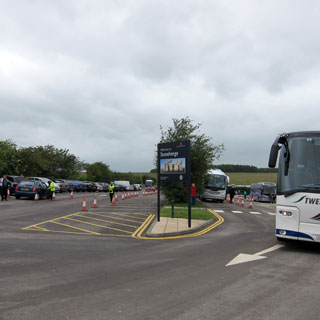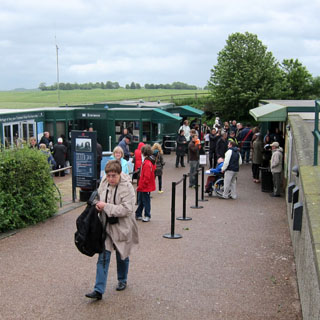 You cannot get closer than this (unless you are a cad). This is all for the good. The grass is allowed to grow, and everybody will get a photograph that is of the monument, and not dozens (hundreds) of people getting in the way.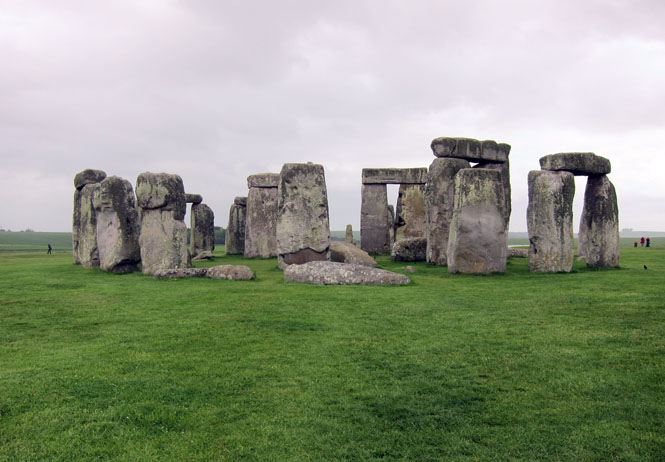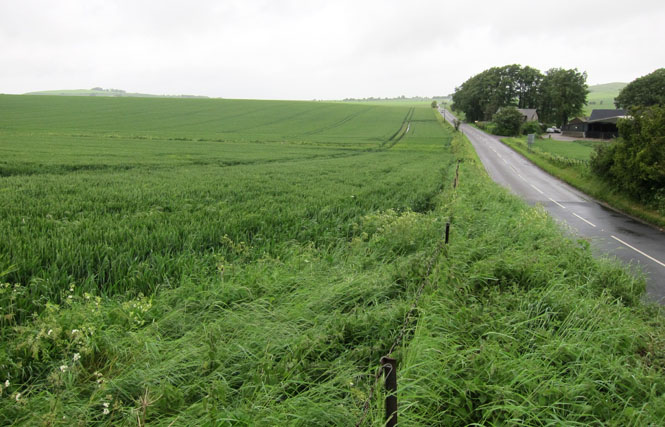 The rain was becoming a nuisance. Time for a break.
I asked the bar keep what town this was: "It's Royal Wootton Bassett!" All three names.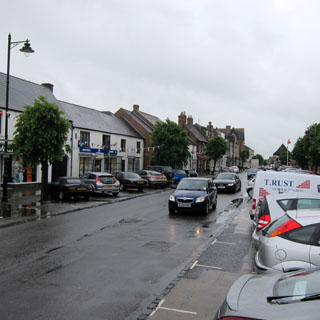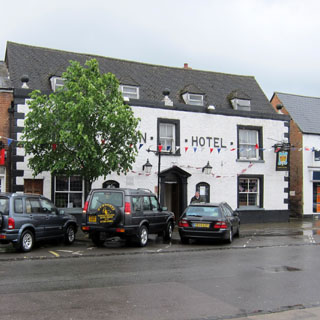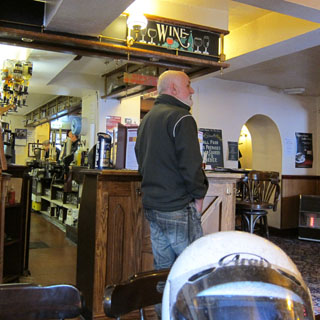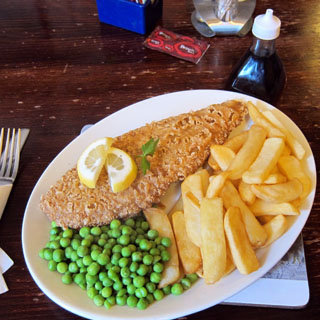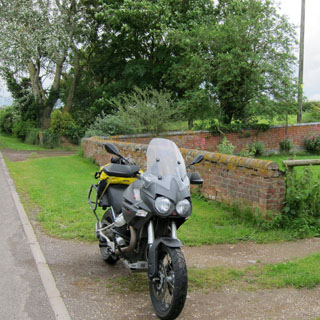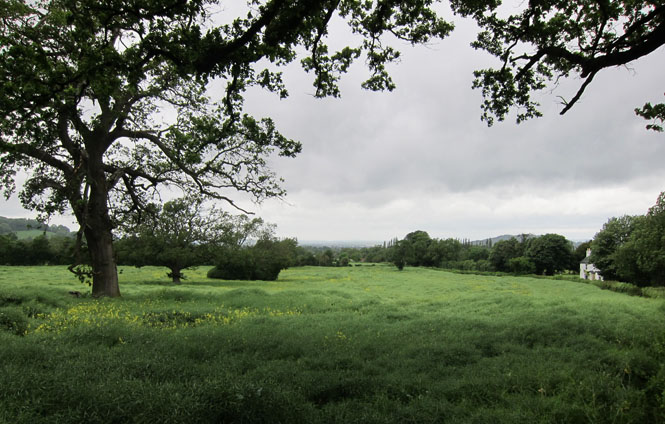 I love these roads.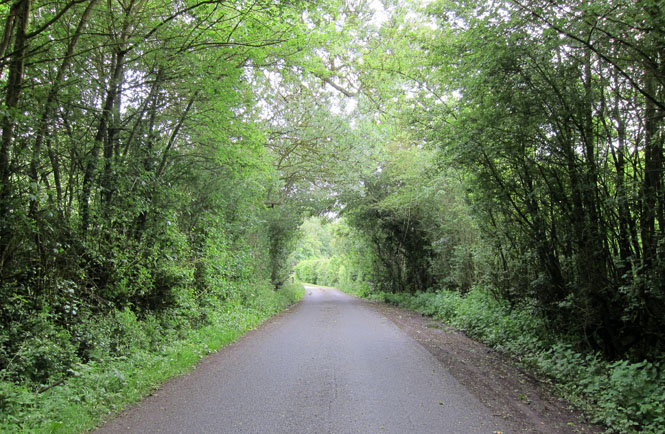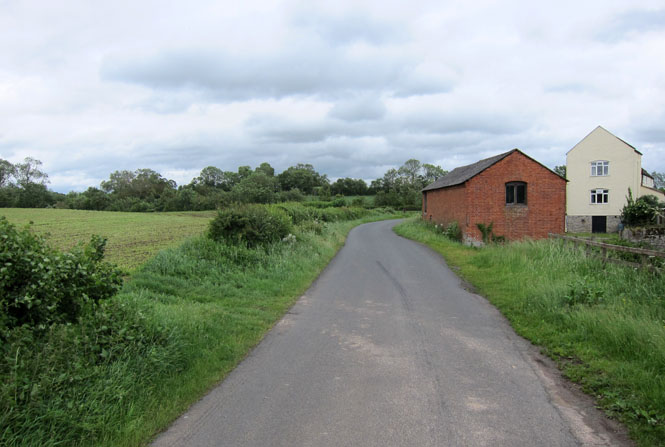 Near Ledbury. Victorian civil engineers had a lot to be proud of.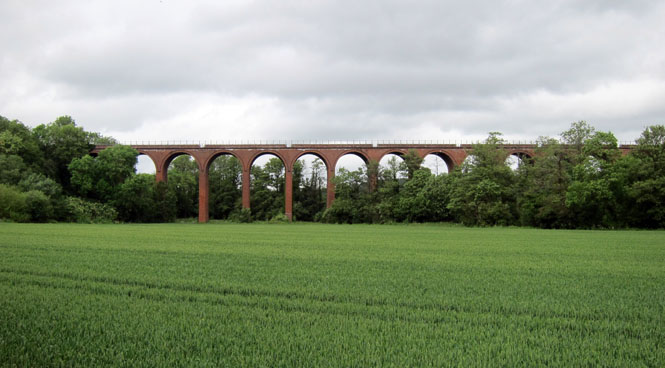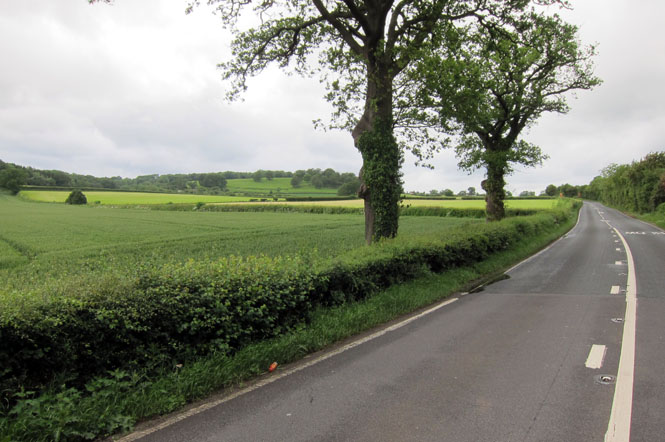 No! I've got nothing for you! The cows were all coming at a fast clip when they saw me taking their picture. I'm sure they were disappointed.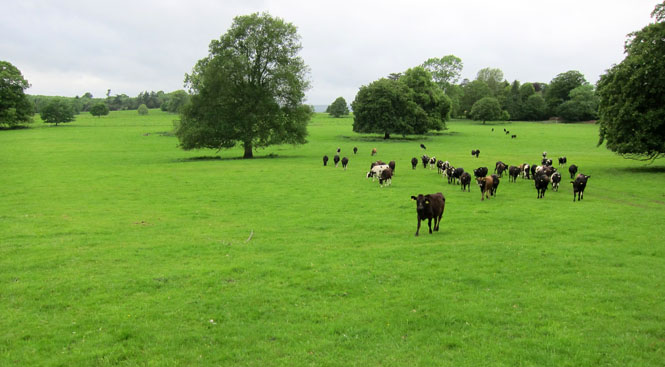 Berrington Hall (near Ashton) is the sort of English country house that I could easily be comfortable in. It looks imposing, but it really isn't all that big.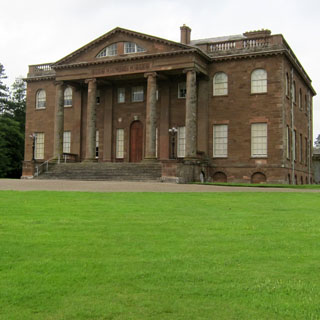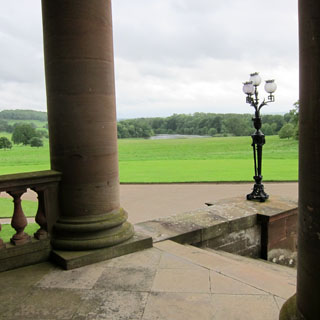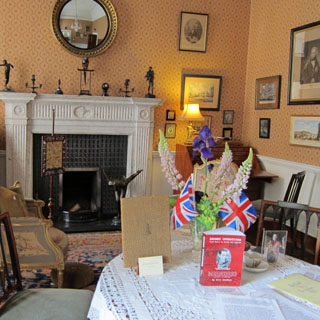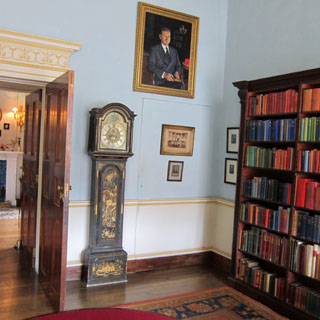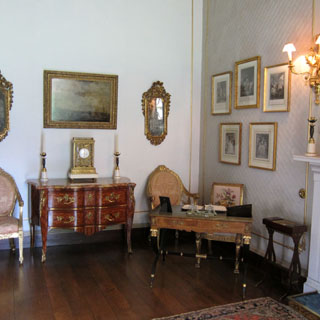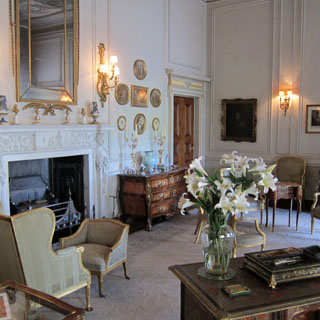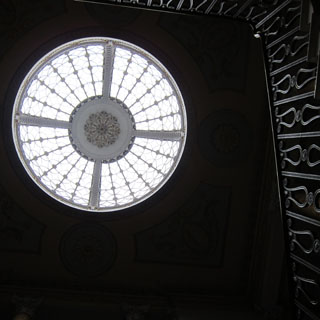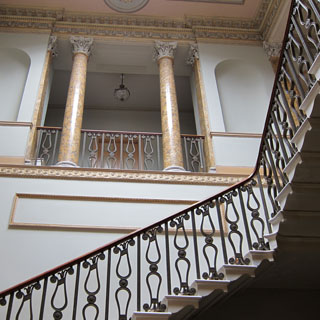 I liked seeing Eeyore and Piglet having an egg.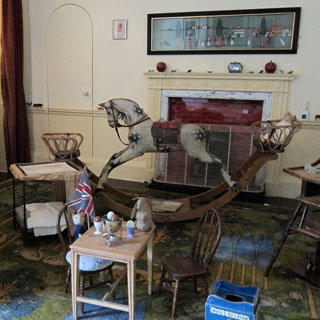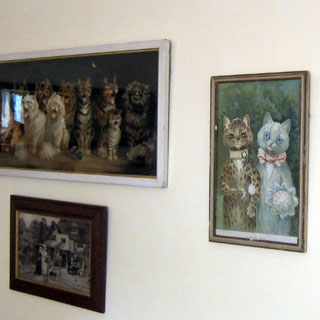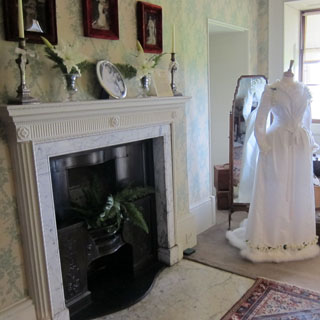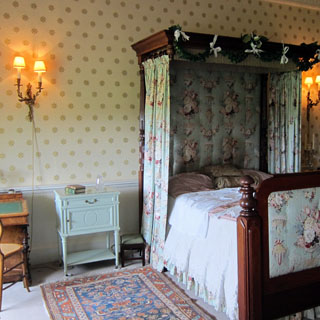 Three brothers, all killed in action. At the table was a printed account by one of the brothers during the Gallipoli campaign. As his father sat in the house of Lords, he was able to send uncensored letters directly to the House. His letter is quite honest in his evaluation of the Turkish and of the British forces. He is scathing about the commanders that are leading the British.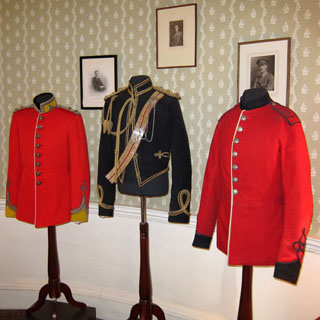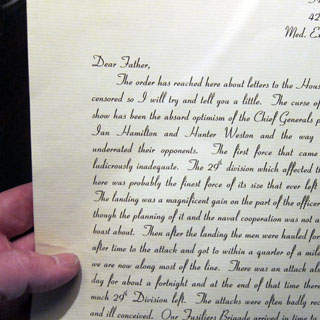 A gentle way to remind visitors not to sit on the chairs.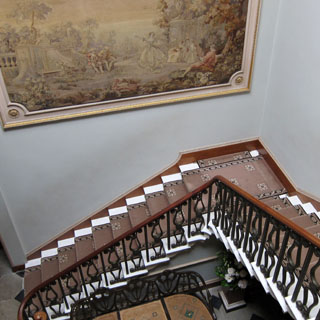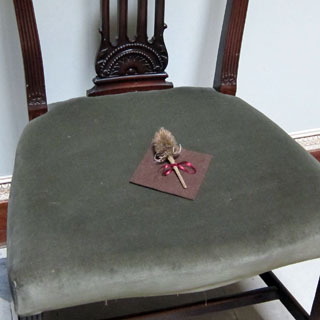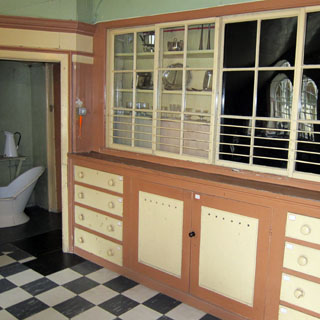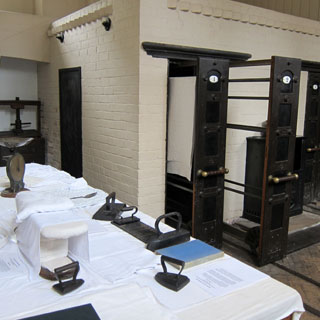 Craven Arms is short of the border, but would be a good place to stop for the night.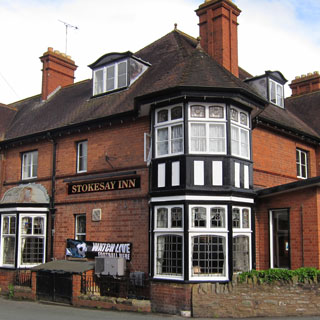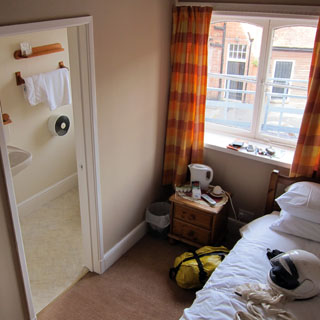 It's nice to have a large table to spread a map out. Michelin maps are the size of a bed spread.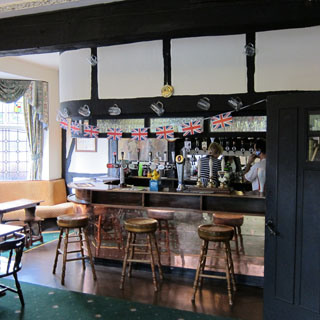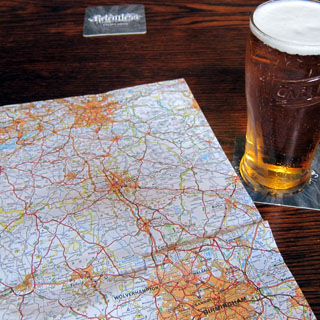 The silver jubilee celebrations were over, but there were still lots of flags out.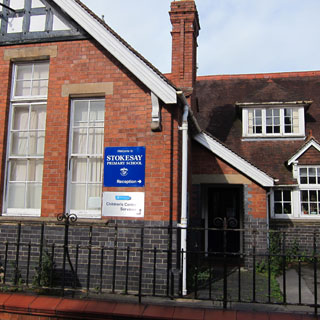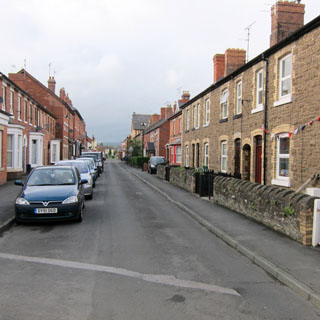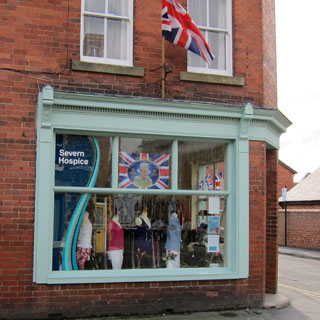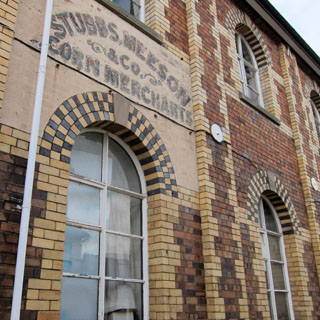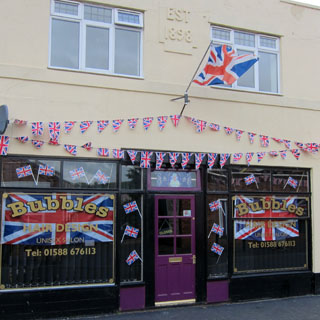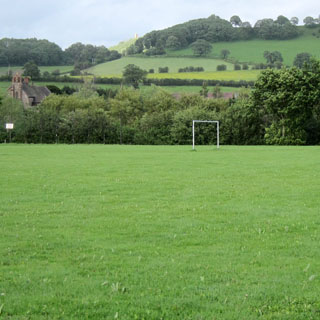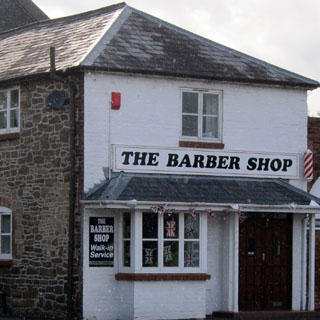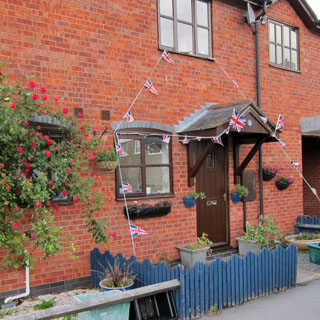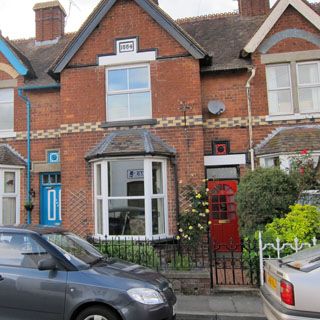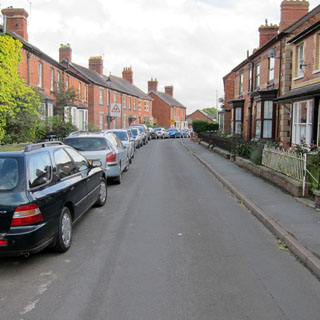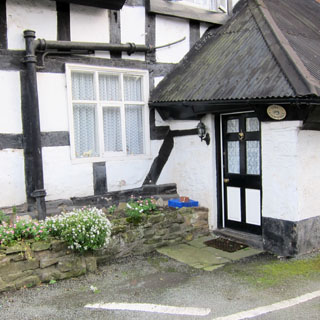 Dinner...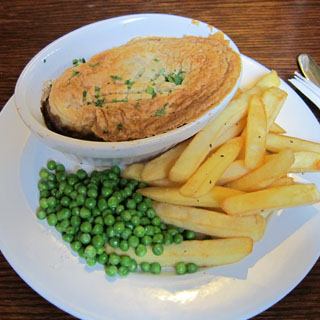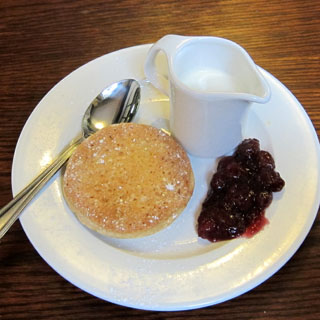 ...and breakfast.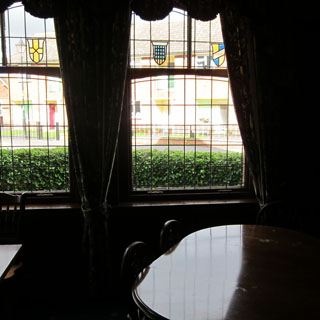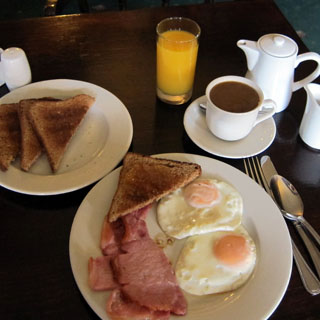 Wales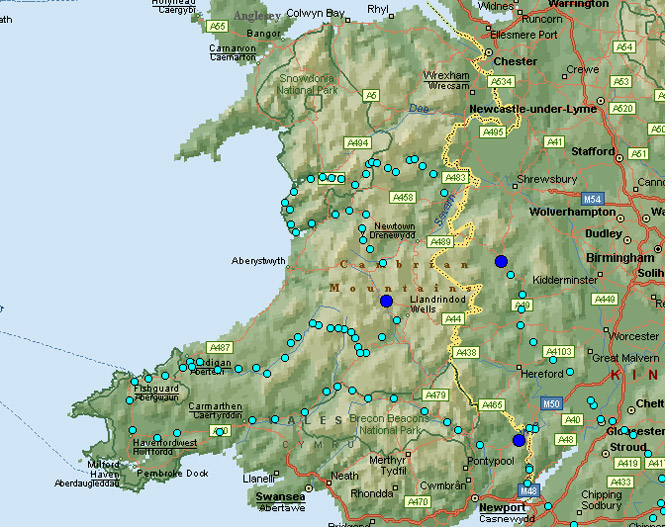 I don't know what town this is; it doesn't matter. Let it represent every small town and the road that leads into them.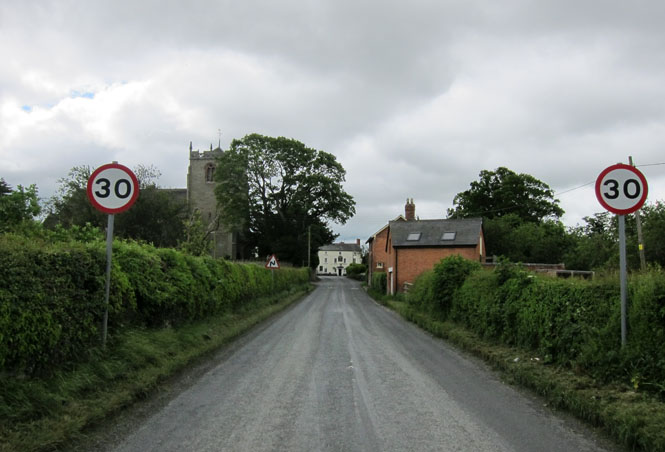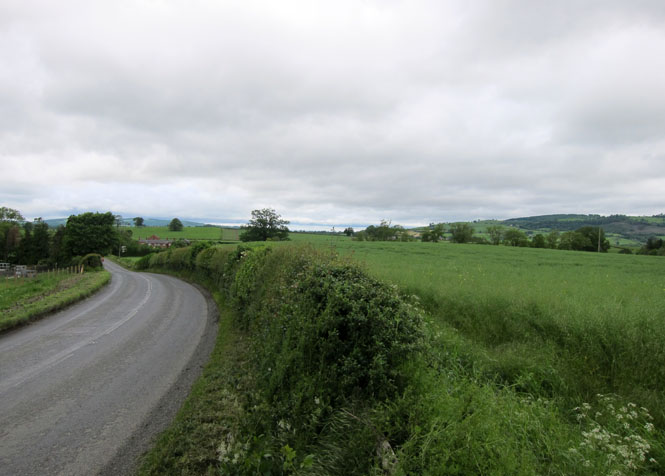 Welshpool. I stopped at the Tesco to pick up some batteries for the GPS. Two AA batteries will last one full day of riding plus about 6 more hours the next.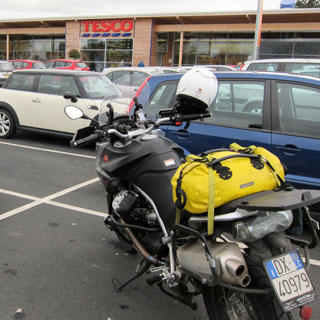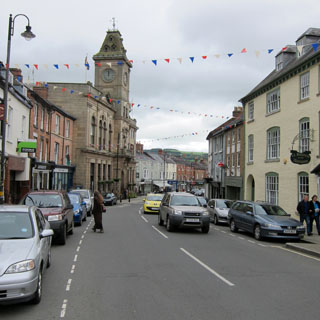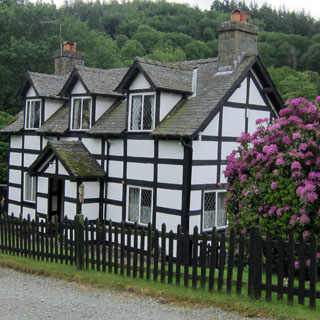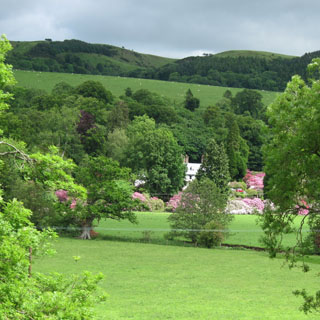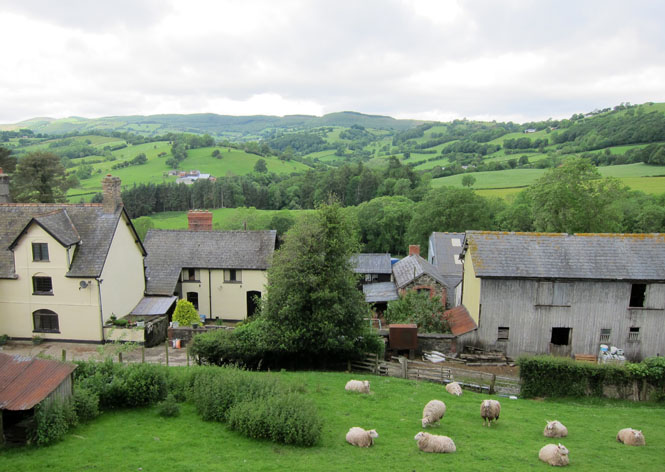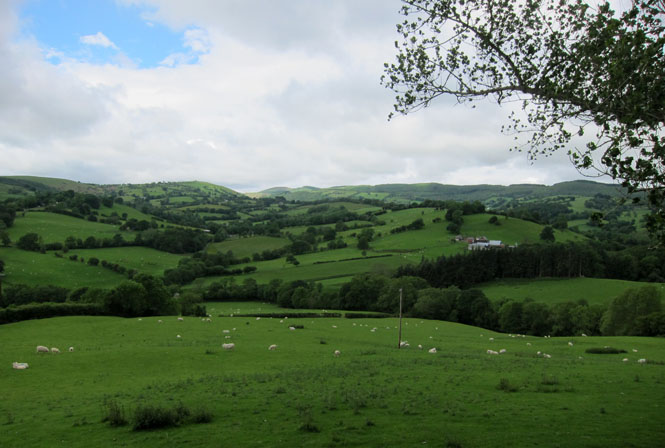 Yes; this is the road I'm on. I learned to trust that if I once started down a paved road, it would not turn to dirt (not true in Kansas).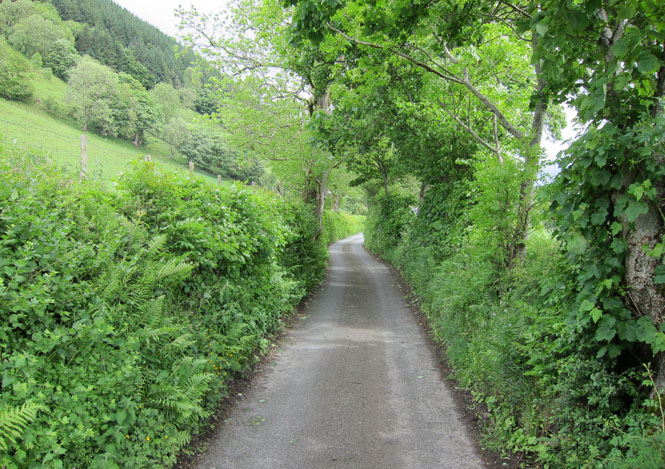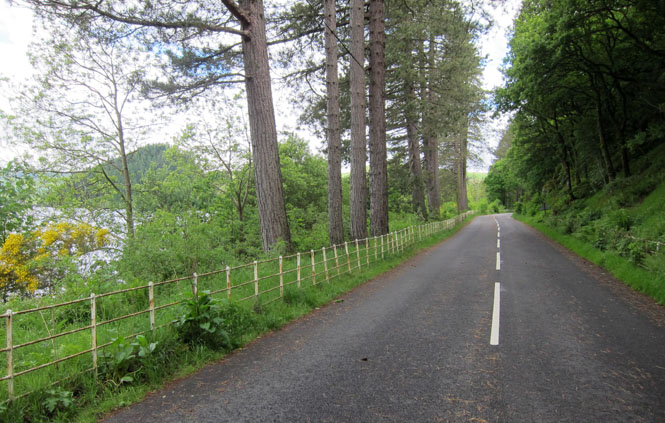 Lake Vyrnwy. The stone dam was built in the 1880s to supply fresh water to Liverpool. Another tip-of-the-hat to our Victorian civil engineers.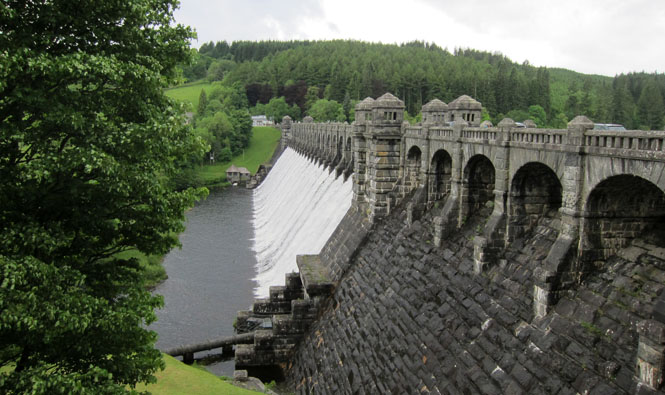 The gothic tower? It's the inlet to the aqueduct that takes the water to Liverpool. Its purpose is to strain any debris.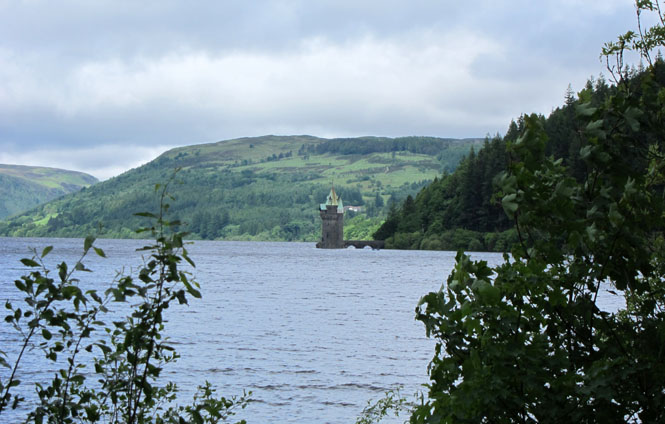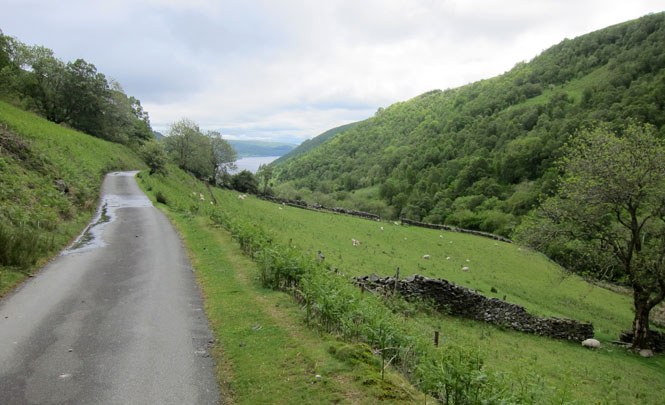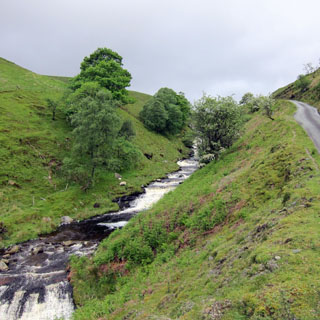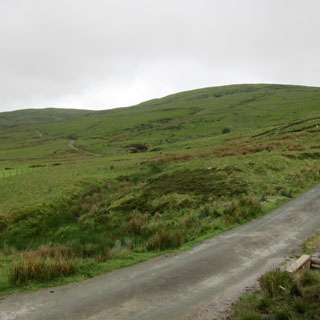 This day, and the next, might have been my favorites of the trip. Amazing valleys, amazing roads.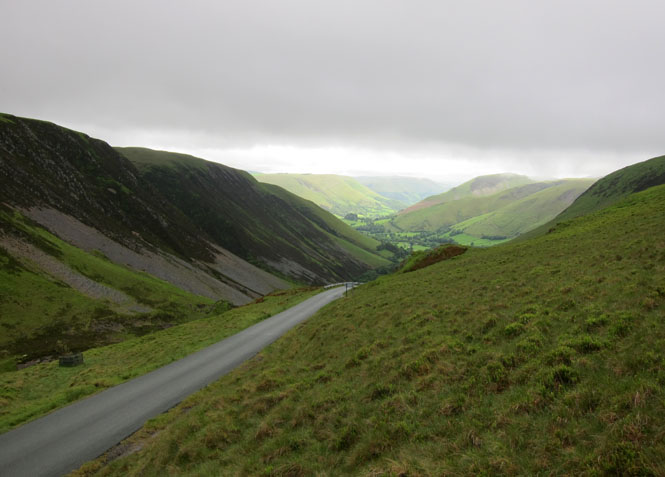 Llanymawddwy. These flowers are everywhere.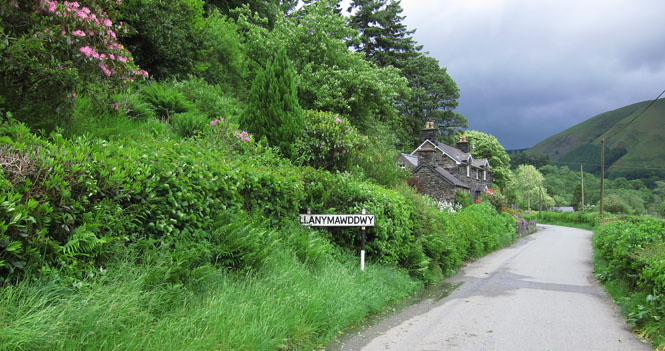 Dinas-Mawddwy.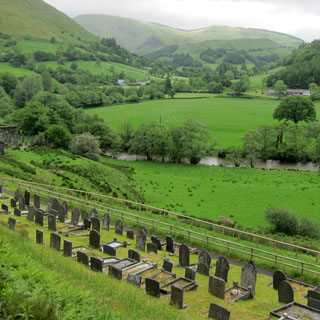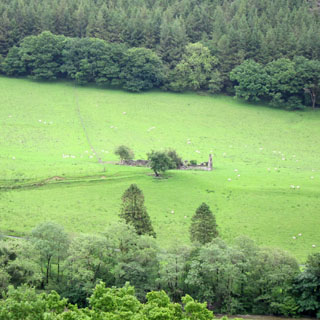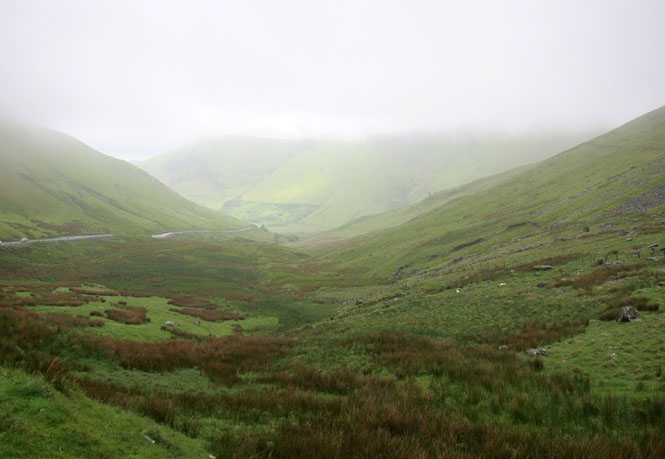 Dolgellau. It was time to stop and decide how far north I would be going, and when I'd head to the coast. Wales was under a severe flood warning, and I was doing my best to avoid areas that were under evacuation--in particular, Aberystwyth.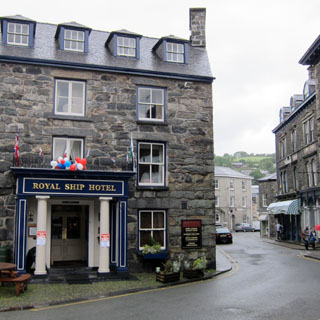 That's a bacon-mushroom toastie.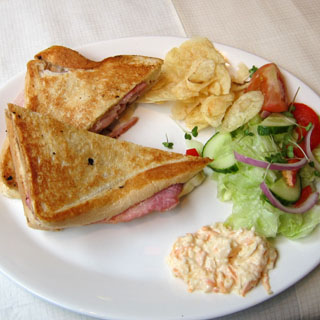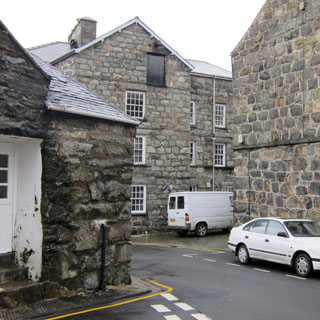 Church cats are always friendly.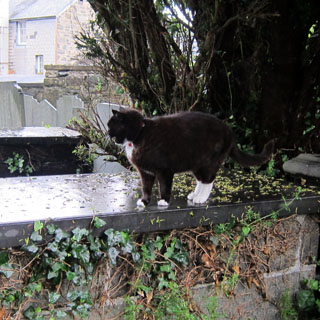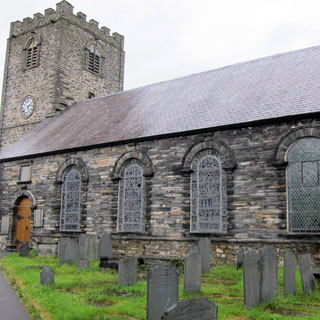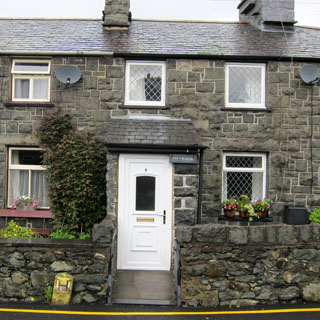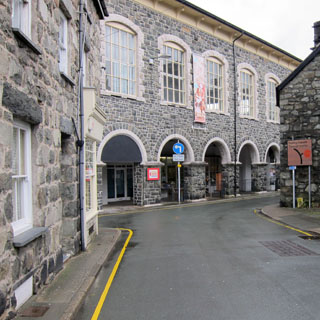 Water everywhere, and not always where it should be.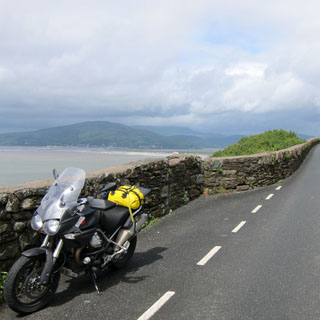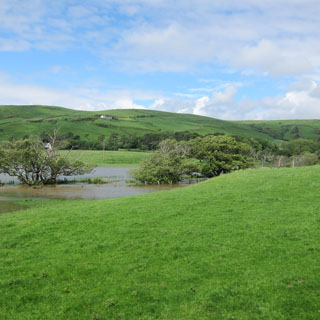 Aberdovey. The flow to the ocean was incredible. I'd be turning inland here as the worst of the flooding was to the south.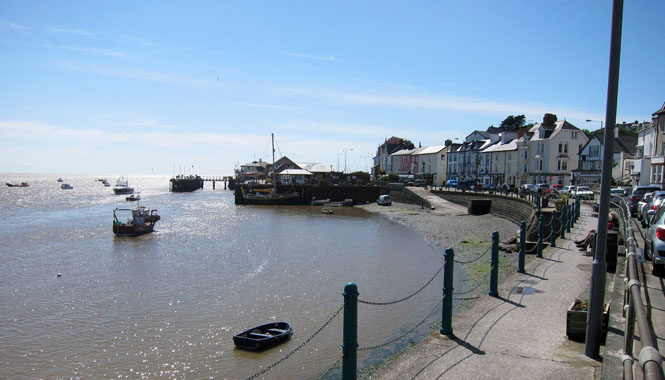 This was one day after the crest, so I imagine that people were very worried about this bridge, but it looks like the danger has passed. The bridge was barricaded when I was there.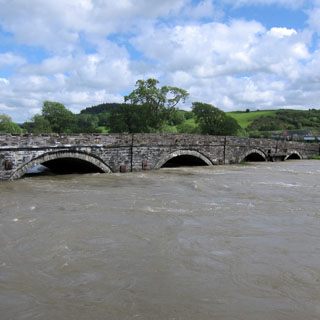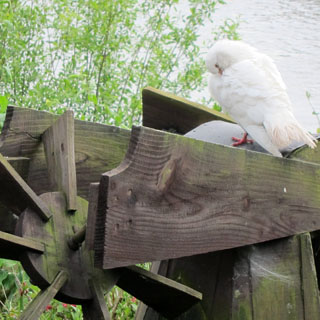 Hedges everywhere. The road is wide enough for one car and a motorcycle to pass. An advantage of the Moto Guzzi Stelvio is that it's a very tall motorcycle. My head is often above the hedges, so I can see things that drivers in cars cannot. For instance, I can often see cars coming, when I know that they cannot see me.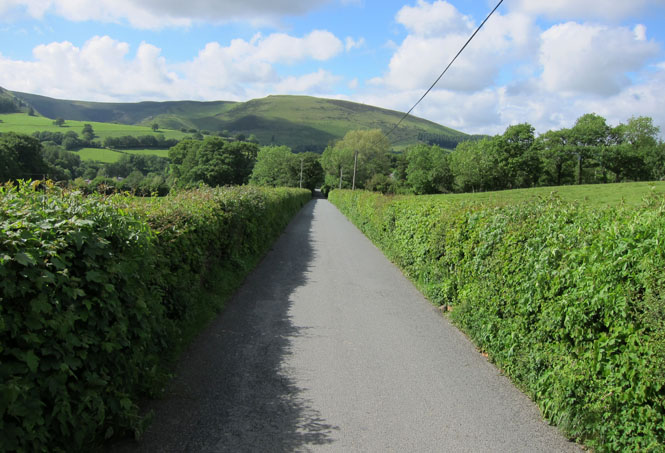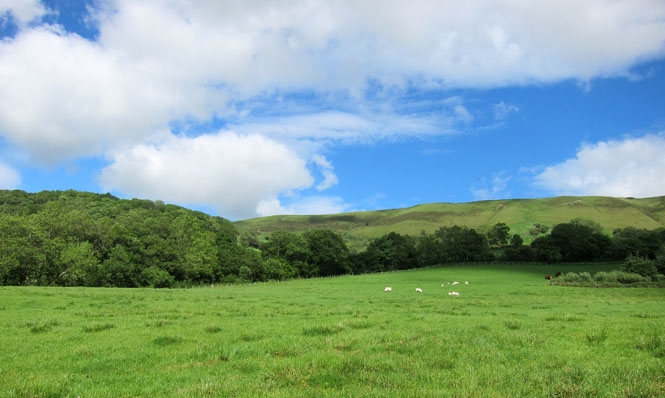 Rhayader for the night. This is Brynafon which was once a work house. Things are much better for a guest than they would have been in 1870 (the workhouse closed just before World War II).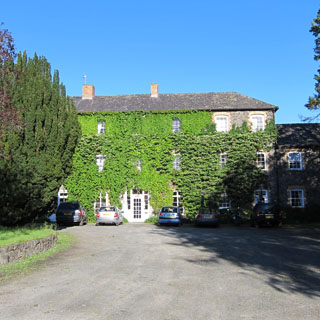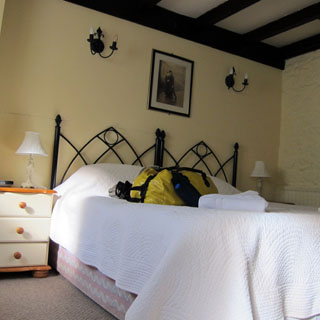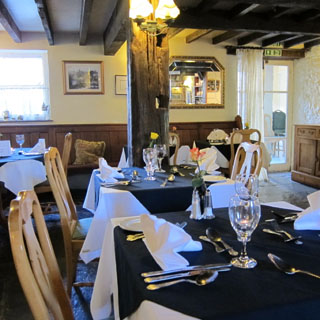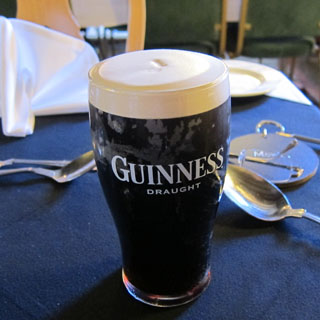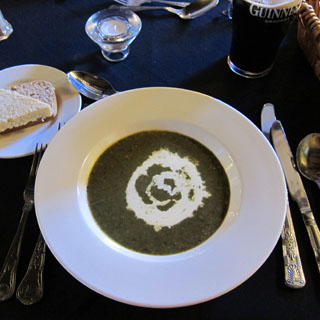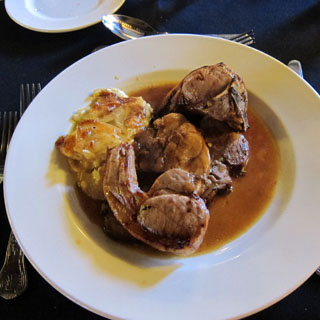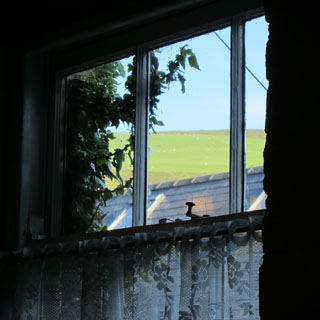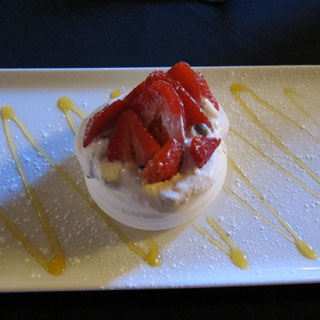 The river walk started promisingly, but there is just too much water. I had to move up the bank to avoid slogging it out in the muck.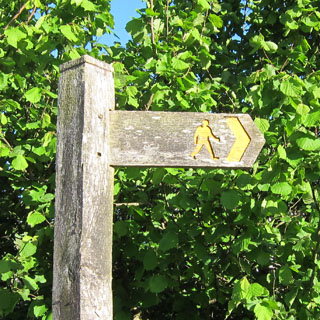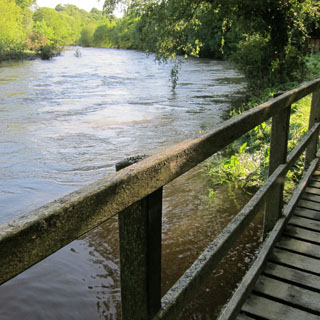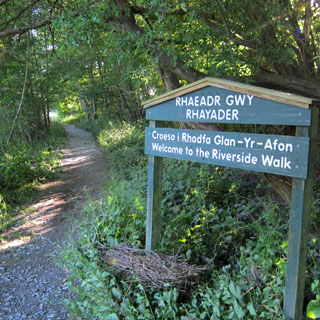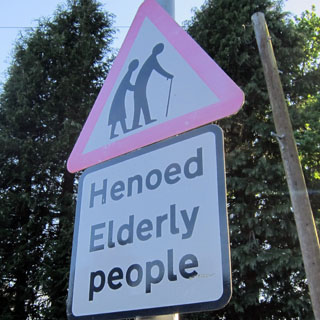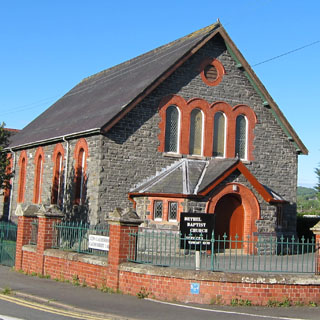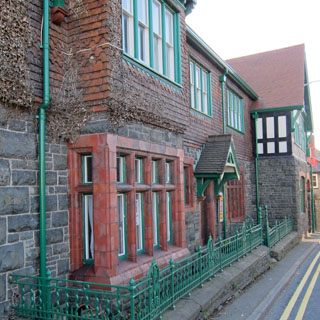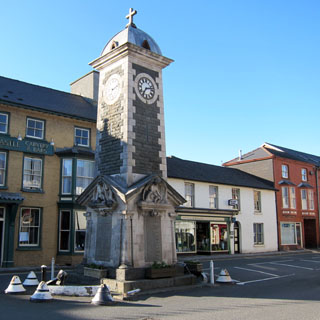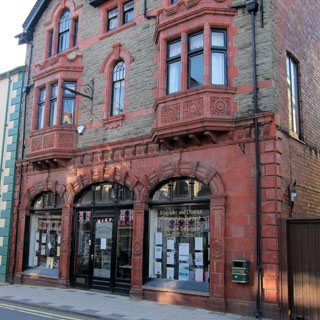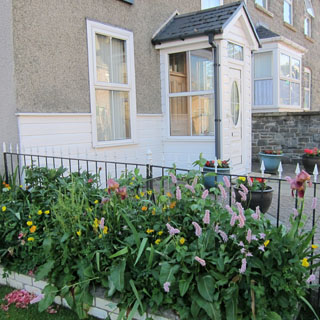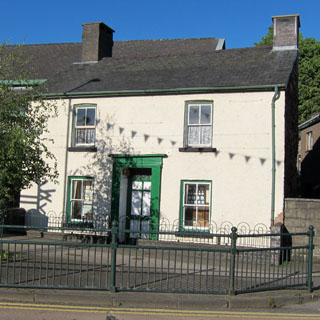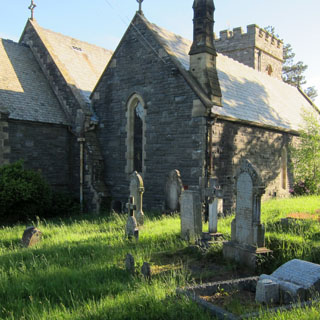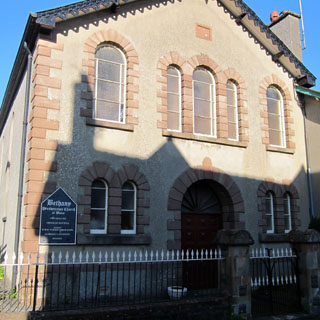 This particular dog (on a lead) was keeping one eye on the girl in the play area, and another on his master--presumably her grandfather--coming up the walk).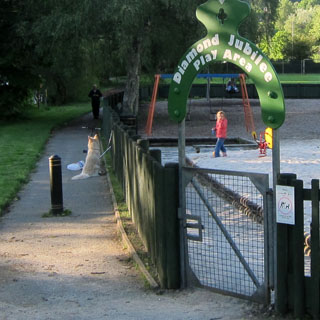 Way, way too much water.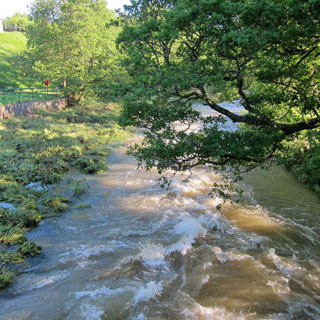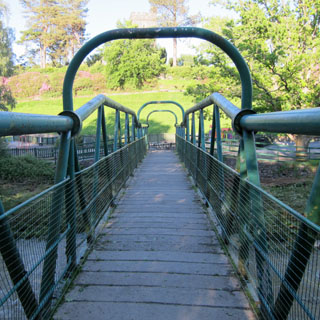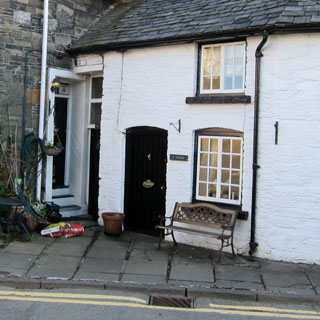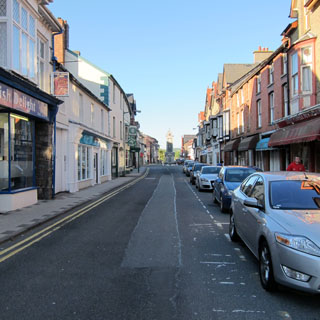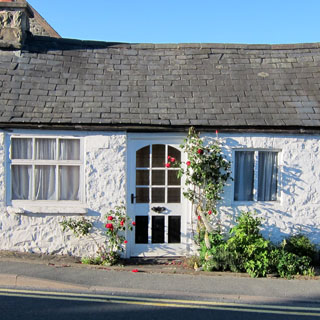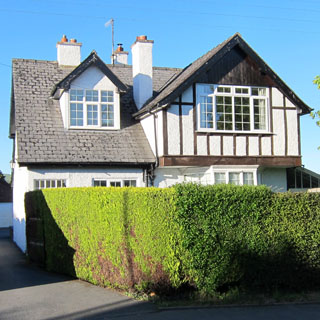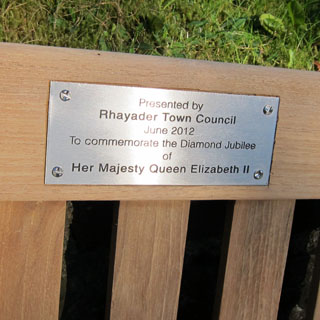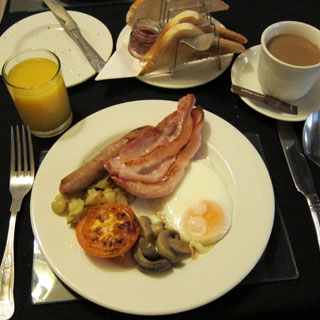 I liked how the roads were draped over the hills. In places they were quite steep, but you get used to that.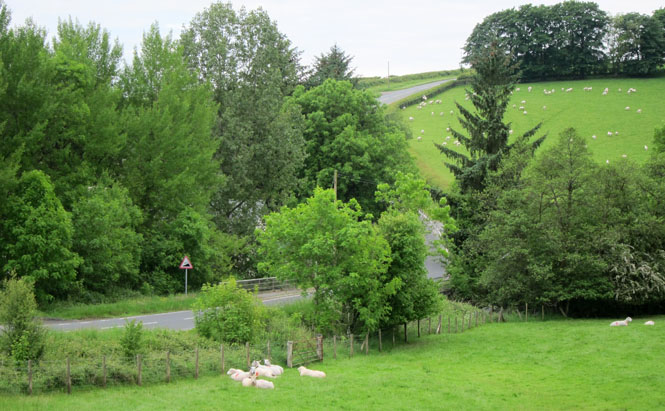 Cwm Irfon.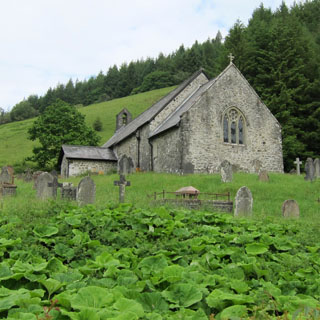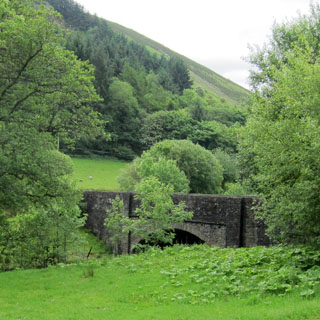 Pwilgochu Washpool. By the name, I presume that people once did their washing here?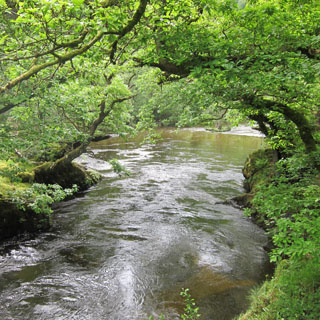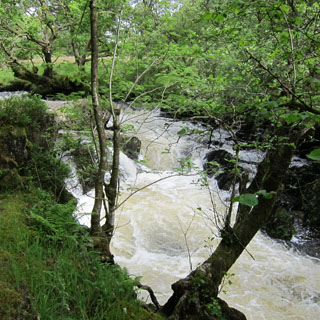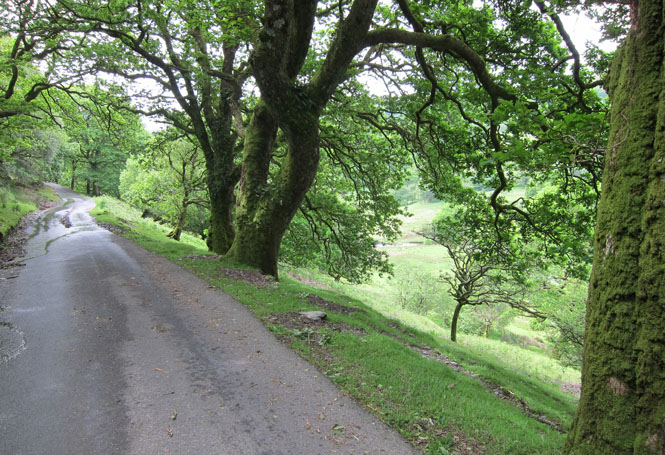 Do I need to add that I didn't come across any traffic on this road?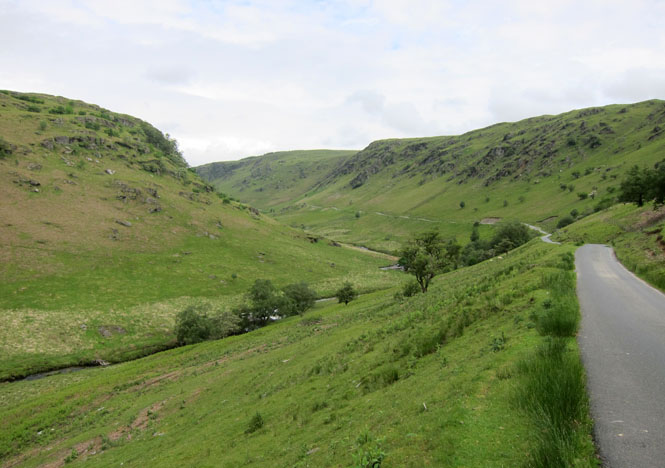 25% grade. Really? Combine that with a few (even steeper) switchbacks, and this is not a proper road for anything large. Nothing to worry about on a motorcycle, of course.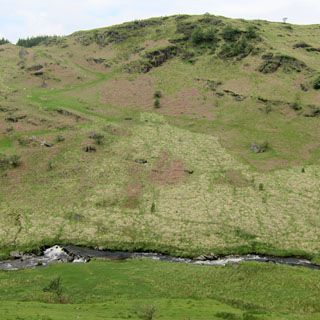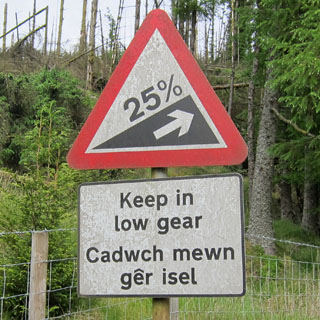 That water crossing had me worried when I saw it from a distance; but, it wasn't a problem. It is probably a good thing I wasn't here the day before (I hate turning back).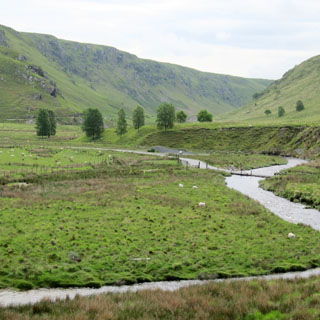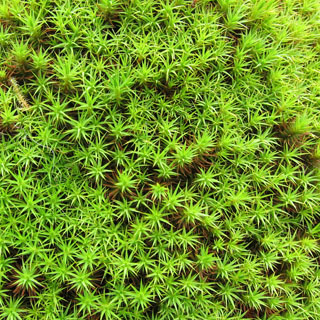 Wonderful, wonderful.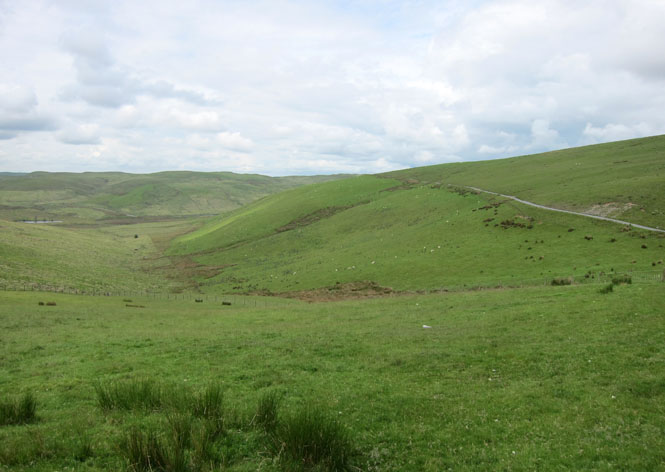 You don't expect to see a red phone booth out here. The mail box might make some sense, as I suppose there are farms here and about.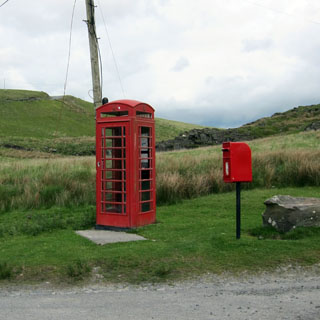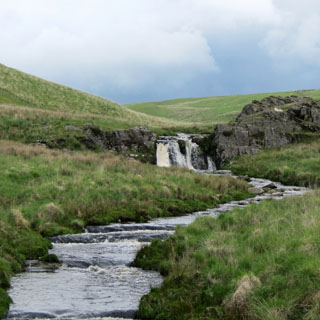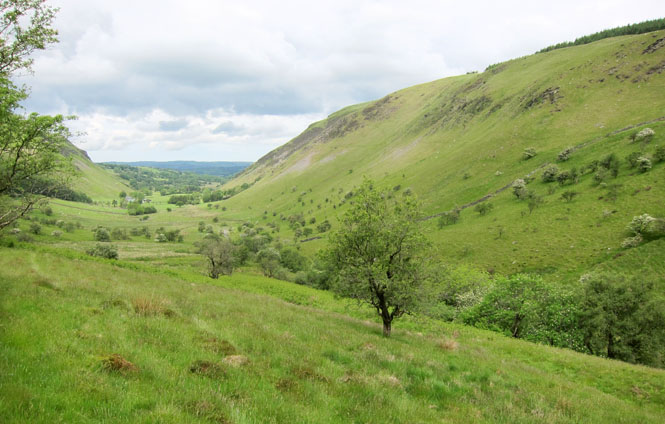 Tregaron.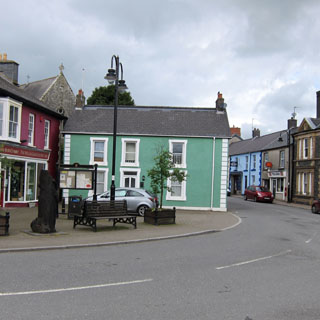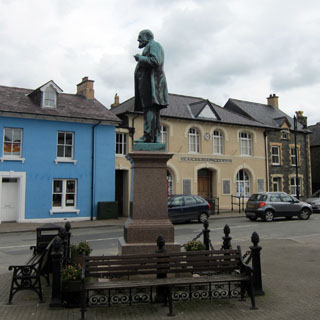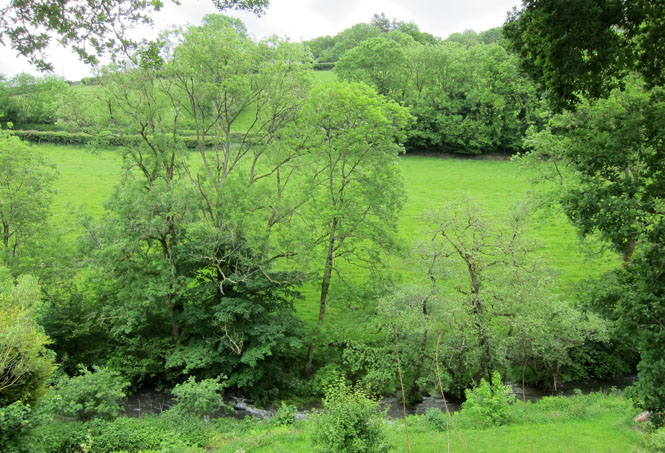 Cilgerran Castle. There are many such castles all over Wales. This one was mentioned in 1109, but there's no telling how long something of this sort was here.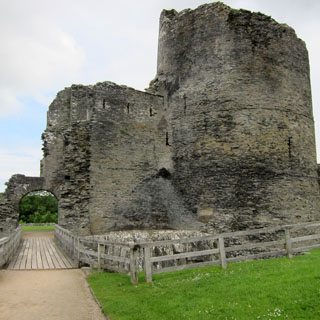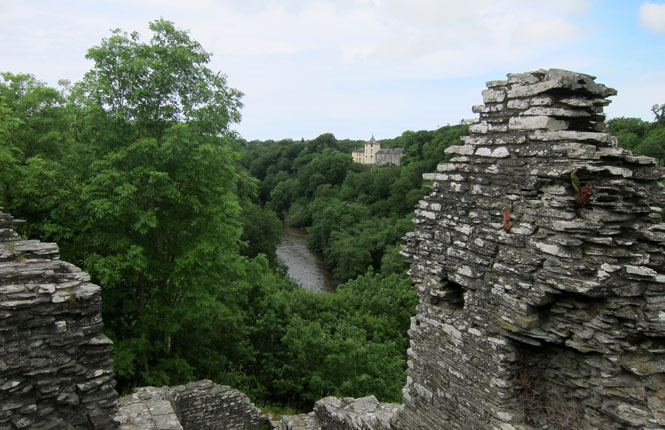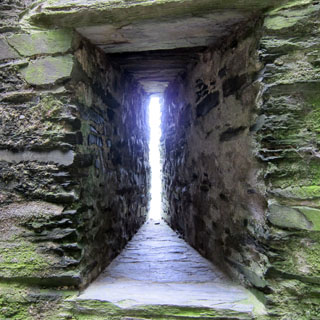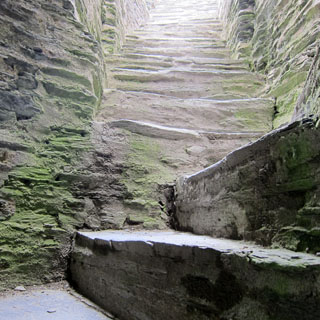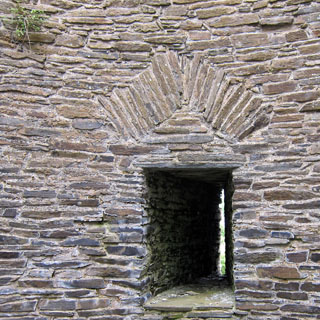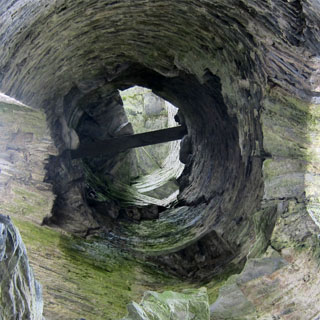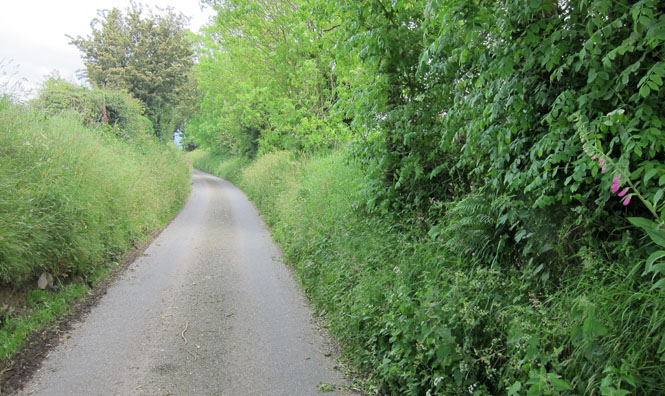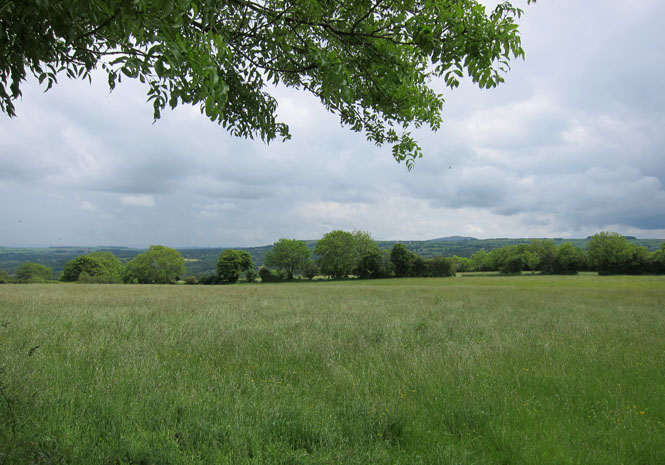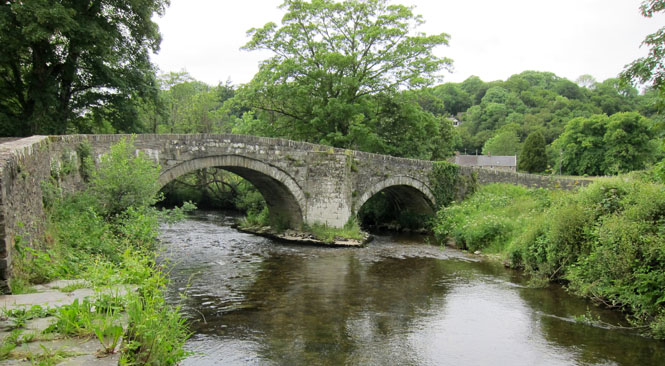 I wanted to see the ocean one more time, so I aimed for Fishguard.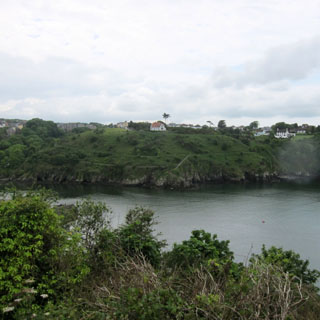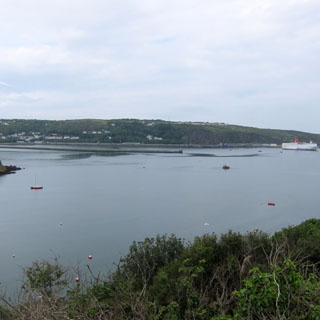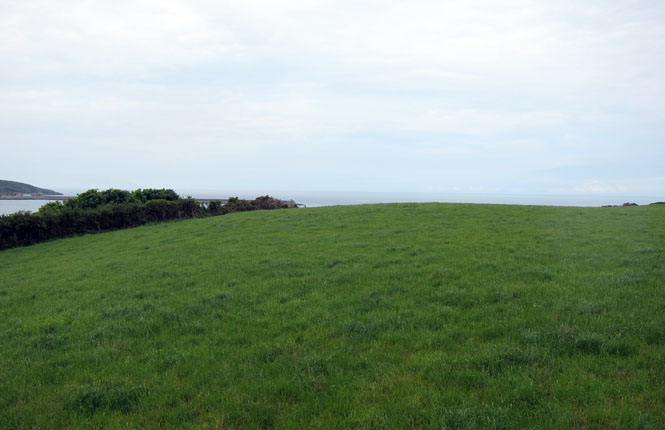 Fishguard. That woman (below) and her husband evidently saw my license plate (with the 'I' for Italy) and eagerly came up to me speaking Italian. Oops.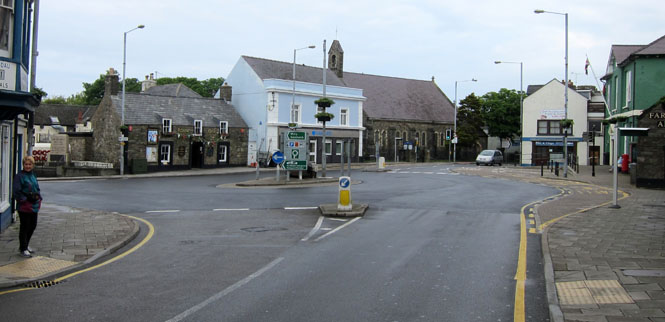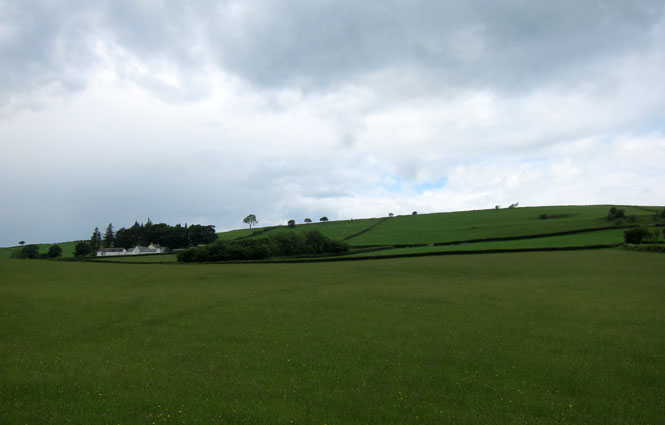 Crickhowell. I paused at this fork in the road to sort out which way I needed to go. This last riding hour of the day, I'm putting down some miles without stopping too much.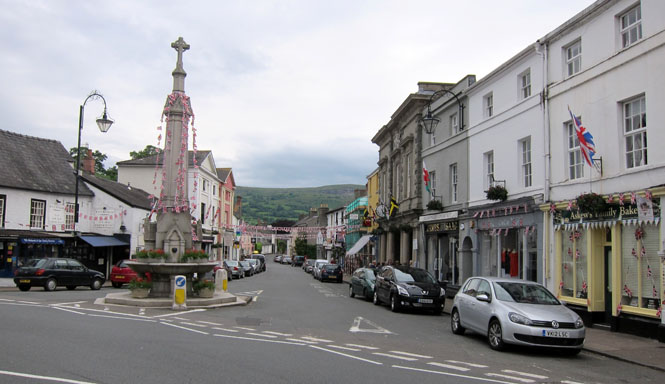 I intended to stop in Monmouth for the night, but I was not finding any likely hotel along the route through the city. So, for the first time, I asked the Garmin to find something for me. It took me to Symonds Yat (which is actually just over the border in England).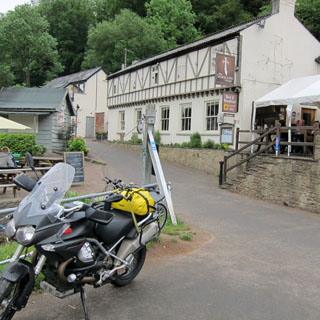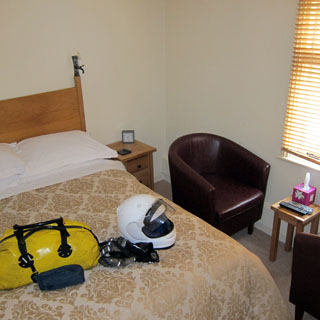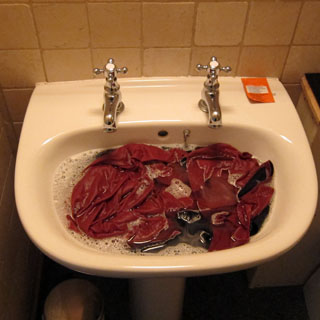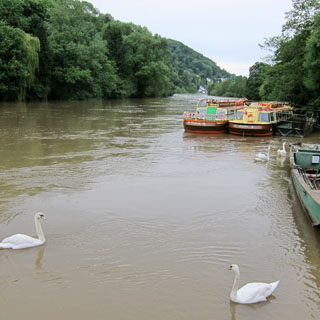 If this
Be but a vain belief, yet, oh! how oft,
In darkness, and amid the many shapes
Of joyless day-light; when the fretful stir
Unprofitable, and the fever of the world,
Have hung upon the beatings of my heart,
How oft, in spirit, have I turned to thee
O sylvan Wye! Thou wanderer through the woods,
How often has my spirit turned to thee!

excerpt from "Lines written a few miles above Tintern Abbey, on revisiting the banks of the Wye."
William Wordsworth, 1798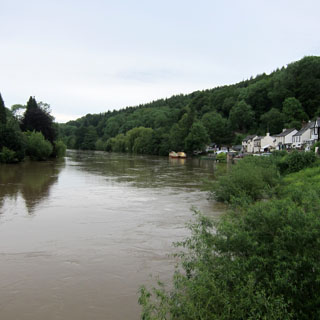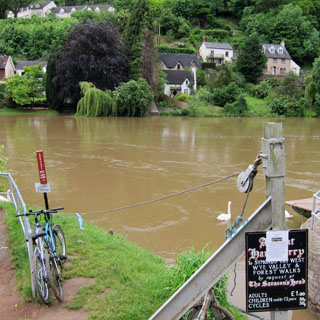 Because of the water level, the hand-pull ferry was not in operation.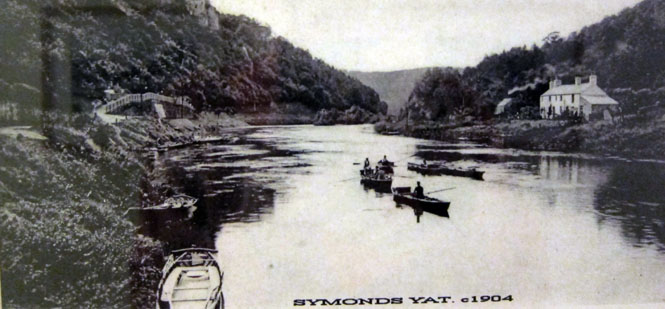 Dinner...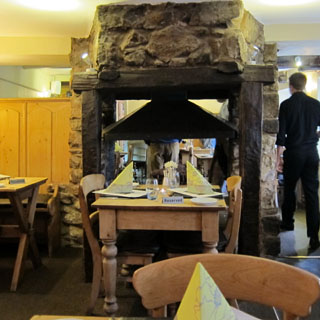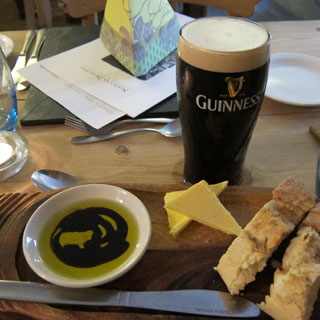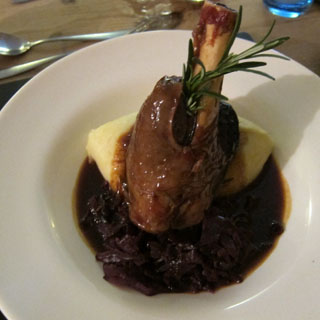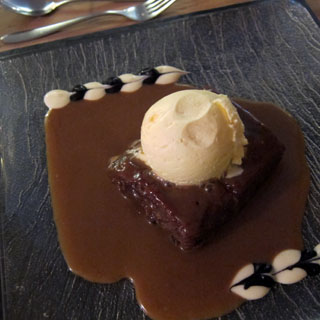 ...and breakfast.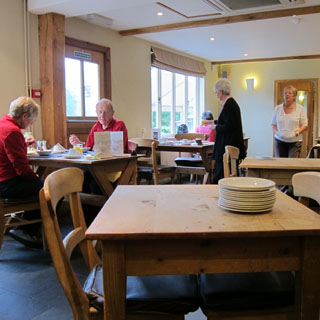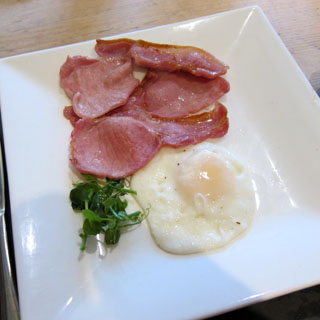 Tintern Abbey is at the boundary of Wales along the Wye River.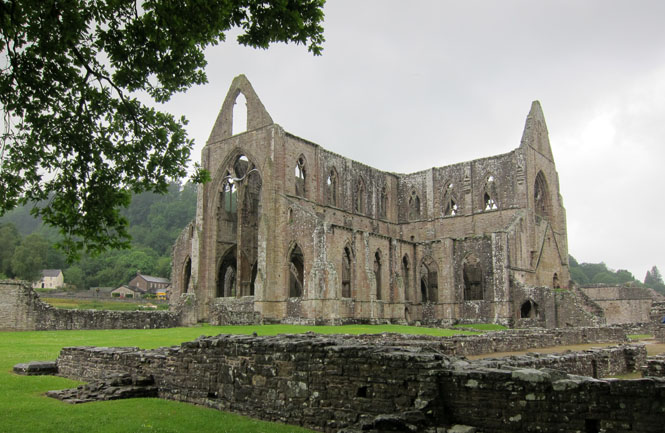 The rain was coming down softly, which seems to have kept the other visitors in the gift shop. I had the whole place to myself.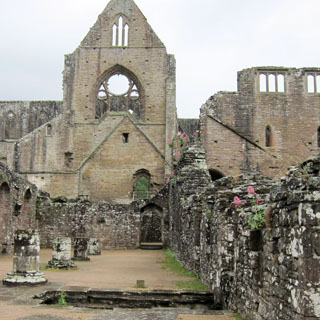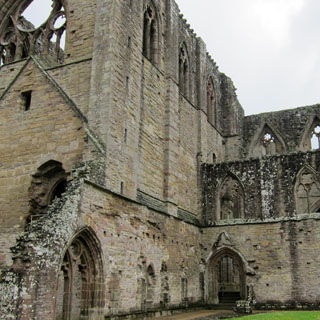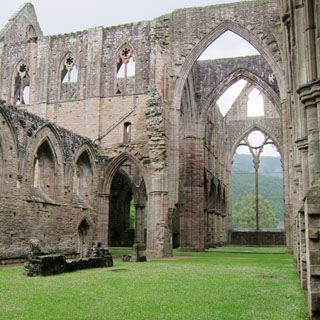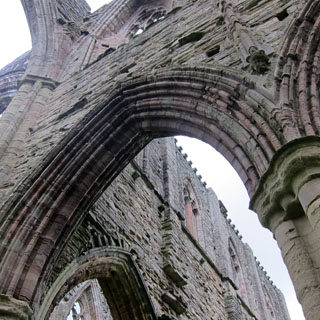 England
Bath. I really did not want to ride through the heart of Bath (especially in the pouring rain), but it seemed I would have no choice. There is only one bridge across the river, and you must go through Bath to use it.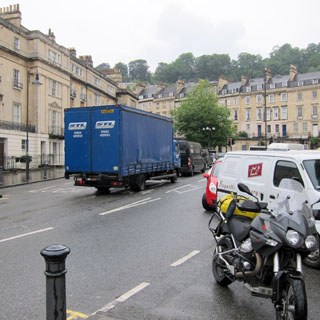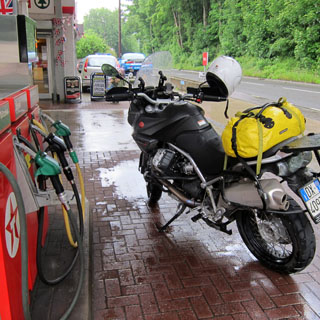 Yes; it's raining, but it's still a beautiful place to ride.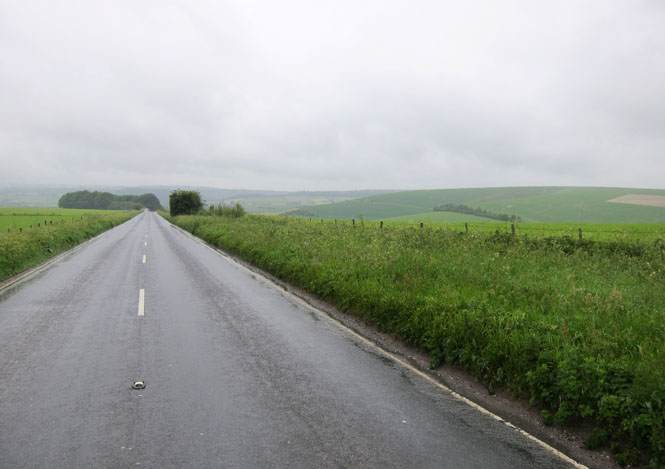 I need to point out that the mystical swirl of the road is caused by a rain drop on the lens.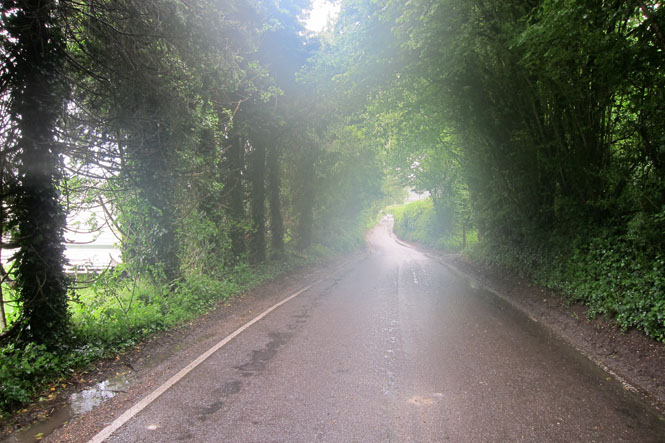 Fordingbridge. Too wet, and perhaps too cold. By this time, my waterproof gloves were soaked, and I had damp socks inside my waterproof boots. There is a limit, and when cars are pulling to the side, that might be it. Let's try a tea shop.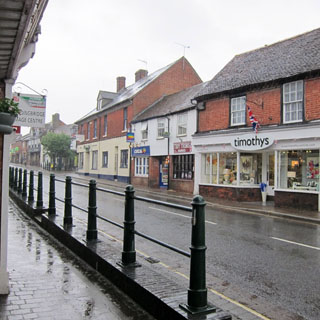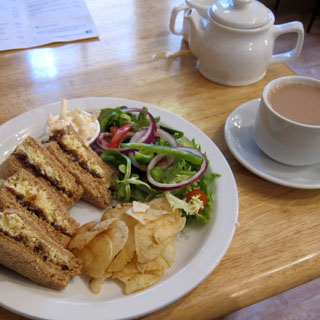 Portsmouth. The ride from Fordingbridge to Portsmouth was decidedly unpleasant. At least when I reached the ferry terminal, the rain had reduced to just a heavy misting. The size of this place indicates that they have a lot of traffic during the high season.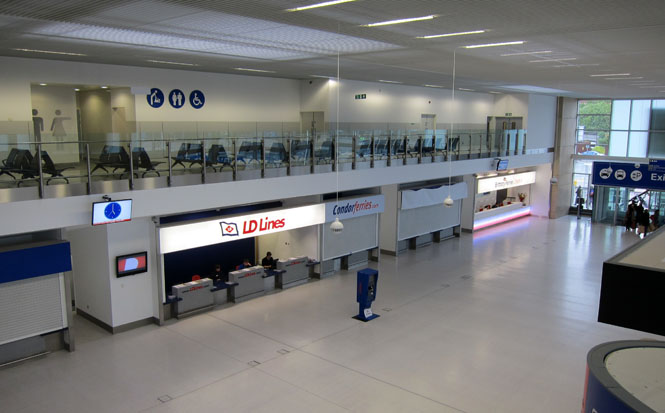 This would be the return trip on the same boat. For this direction, the trip would take eleven hours (clearly the engines are throttled back during this journey). And since it would be during the night, I booked a cabin.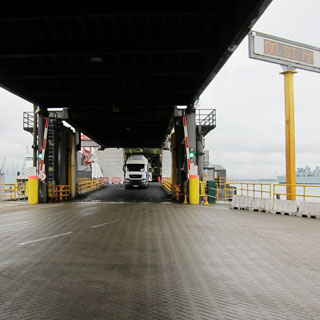 While those other fellows are removing saddle bags and rear trunks and tank bags and struggling with repacking what they'll need for the night, I just undo a couple of clips, and I'm ready to go. It's not a big cabin (which can be had at a price), but it's all I needed.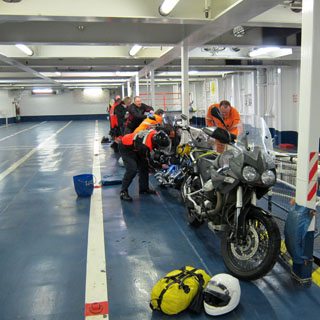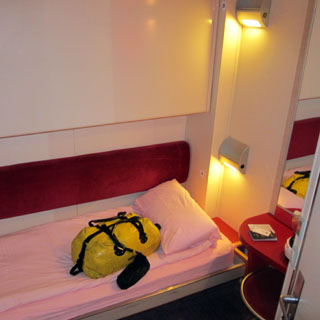 Saint-Malo, once again.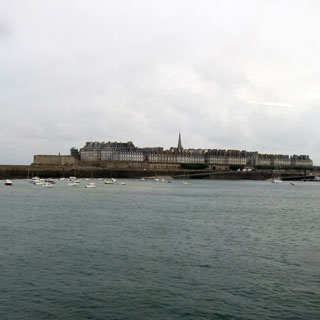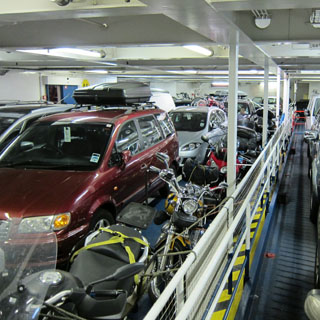 France
Bazouges-l-Pérouse. My return back across France was meant to be south of the outward leg, but a quick glance said that there would be more rain to the south than to the north. So, I stayed north. I'm flexible that way. I still had plenty of rain, but perhaps not as much as I would have had.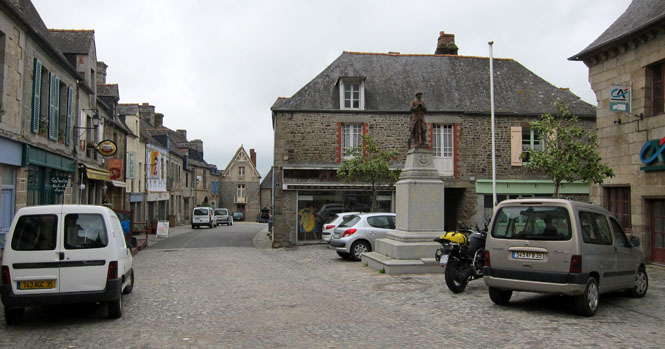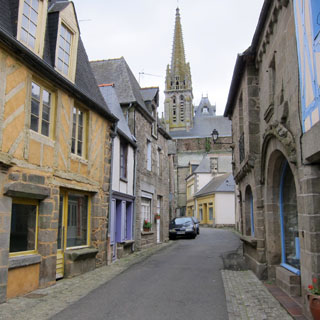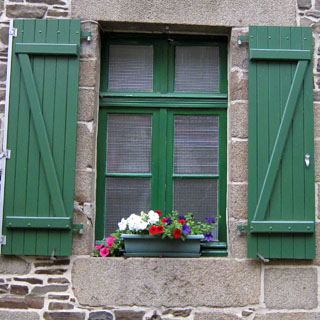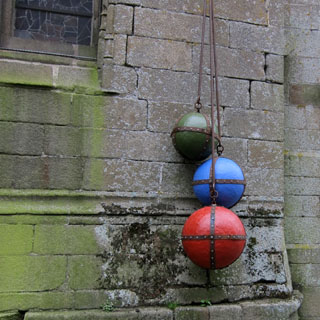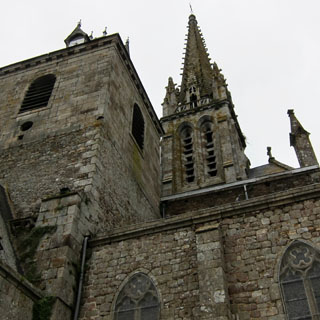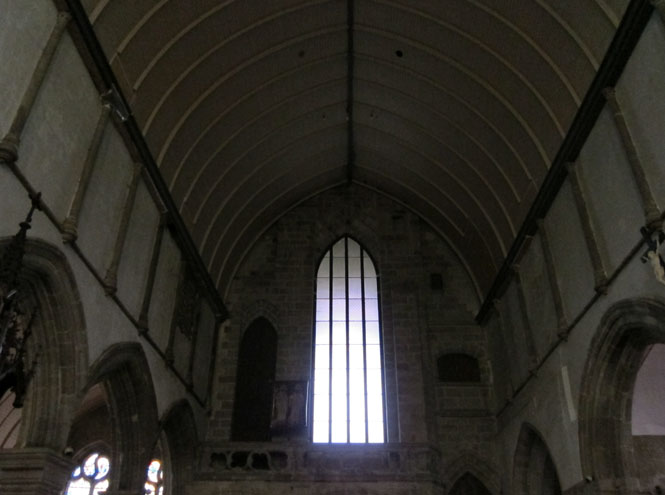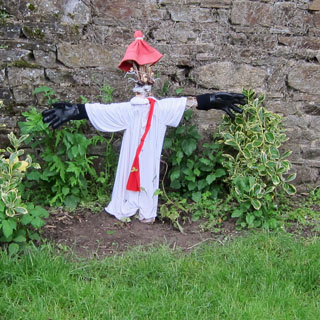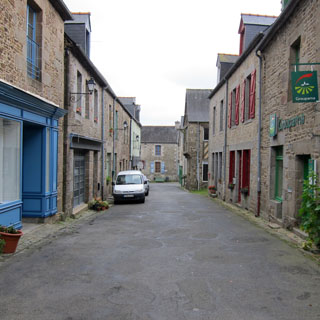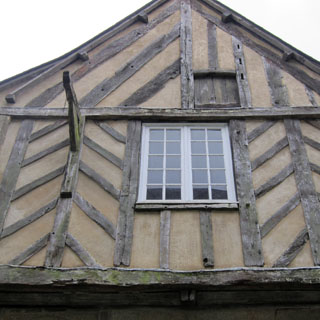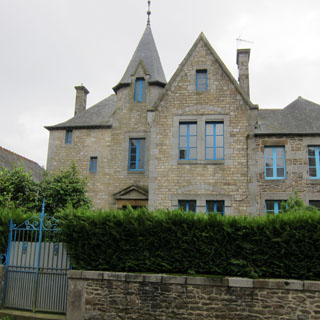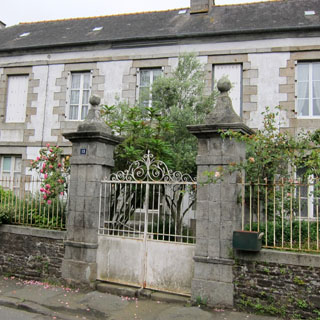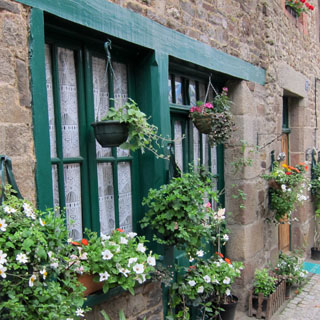 La Croixille. Somehow a miniature cup of espresso doesn't warm the hands as well as an endless cup of coffee.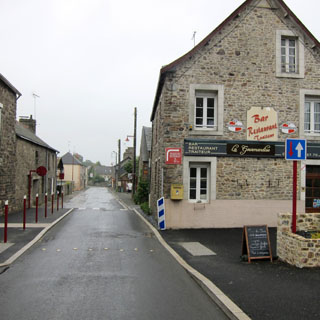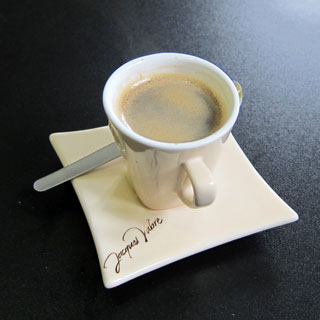 Laval. I'd seen these 'Buffalo Grill' restaurants before. Time to have a look at what 'American Style Food' looks like.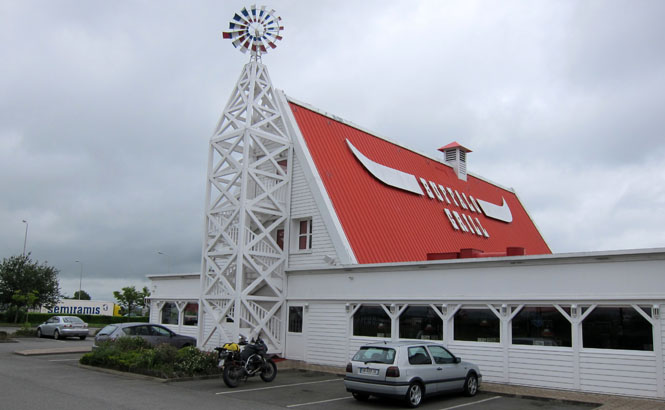 The food is fine. Quite good, in fact. But, it's about as American as 'Outback Steakhouse' in the U.S. has anything to do with Australia. I thought the ice-cream on (what I would call) French toast was ironic, considering that it was labeled as 'authentic American style'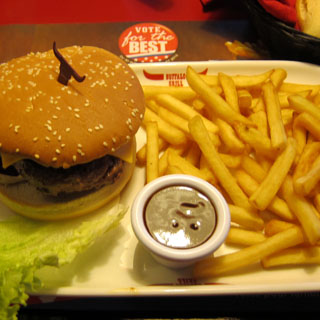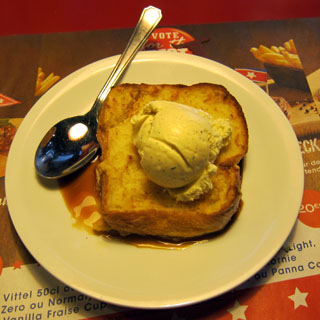 Barns are interesting no matter where you find them. Function over style, always.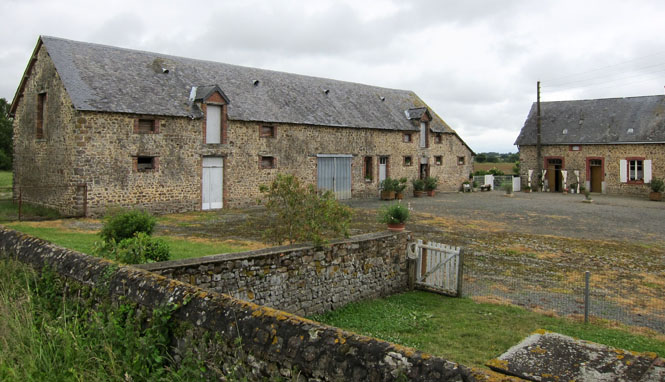 Bouloire.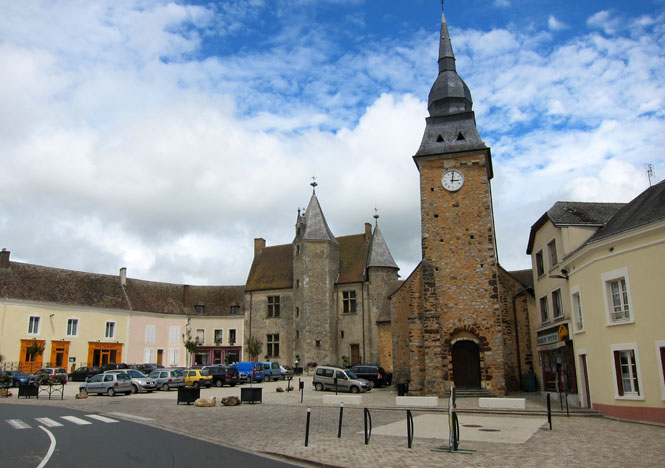 How do I remember the names of these places? In many cases, I don't. I would often take a quick snap with my mobile phone camera. The phone saves the coordinates with every shot, and when I later view the photographs online, the nearest town is (amazingly) displayed with the photograph. What a handy thing! Of course, I only use the images from my regular camera.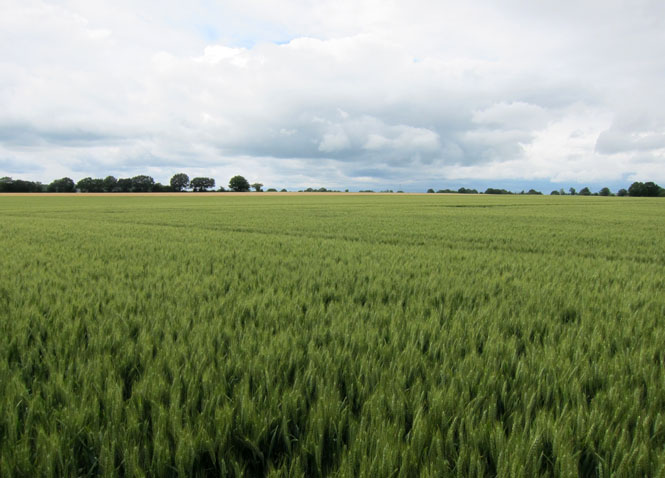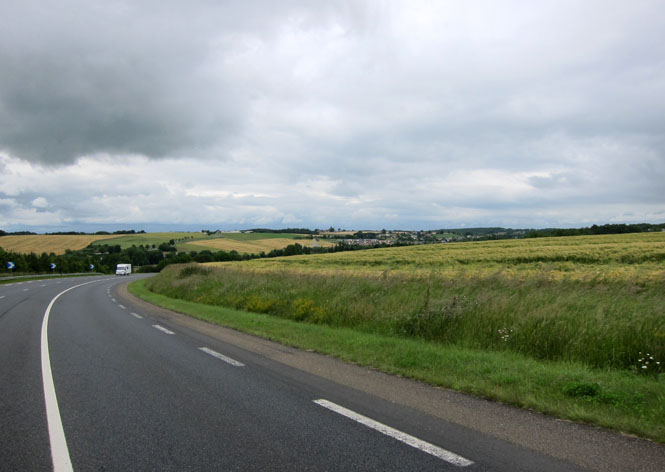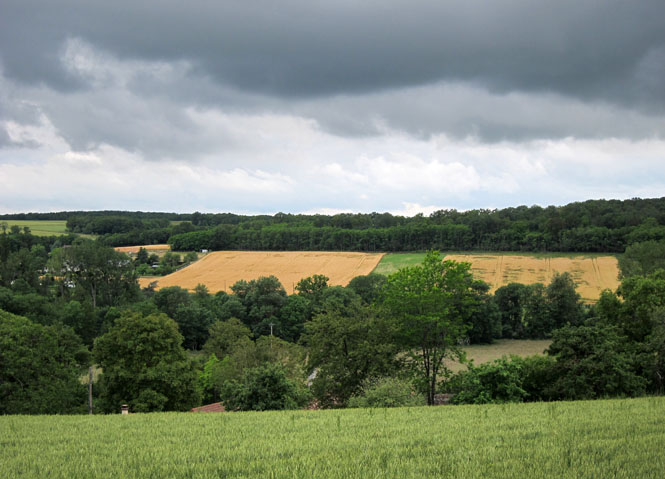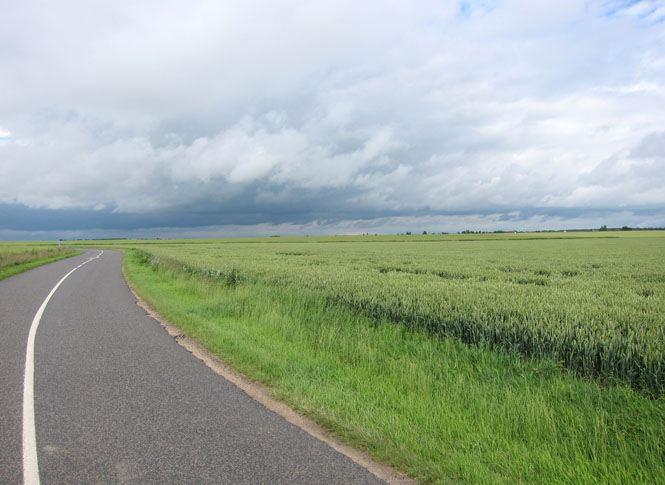 Blois is on the Loire river. I could easily have ridden farther, but I could see some very black clouds in my way. It seemed prudent to stop here, and this is a good place.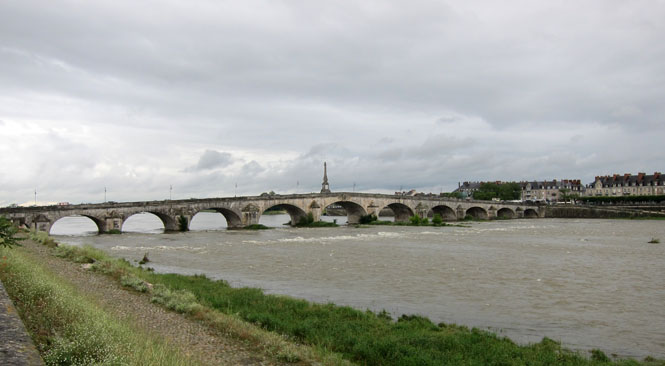 The heavy rain lasted about half an hour and then stopped for good that evening.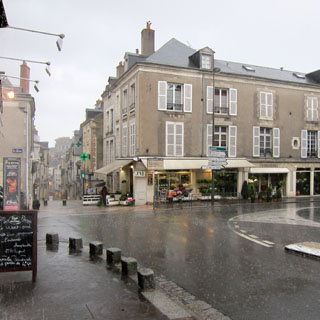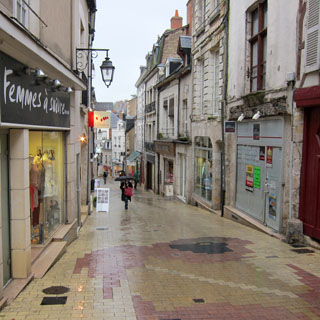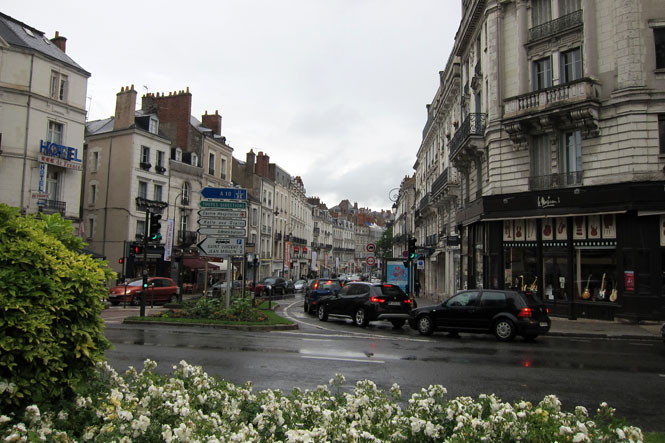 Blois was long the resort town of the French nobility.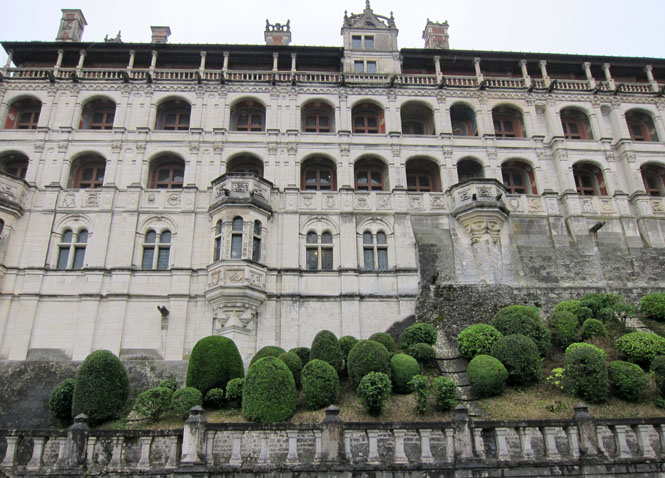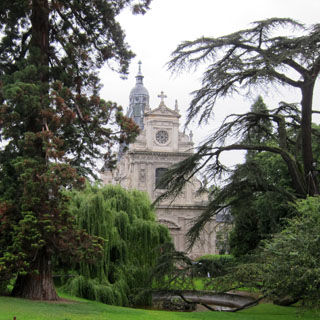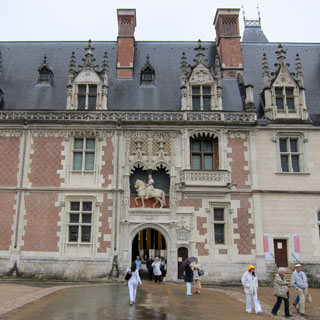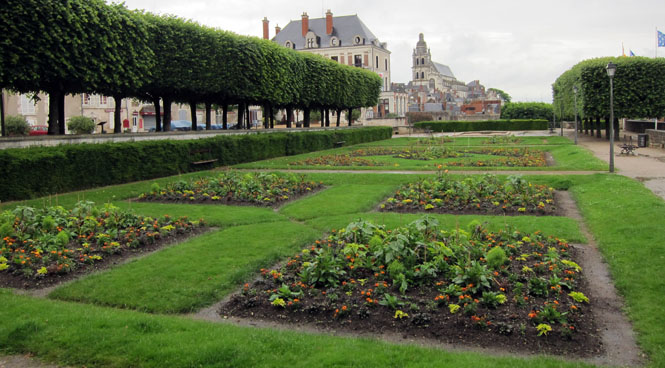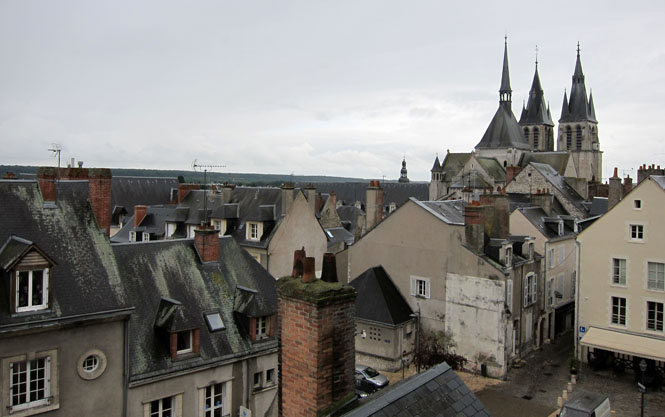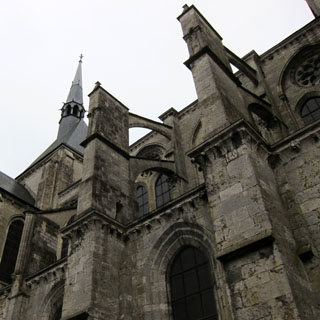 This abbey church was particularly interesting as it seemed to be of the same size and style (at least the interior) as Tintern.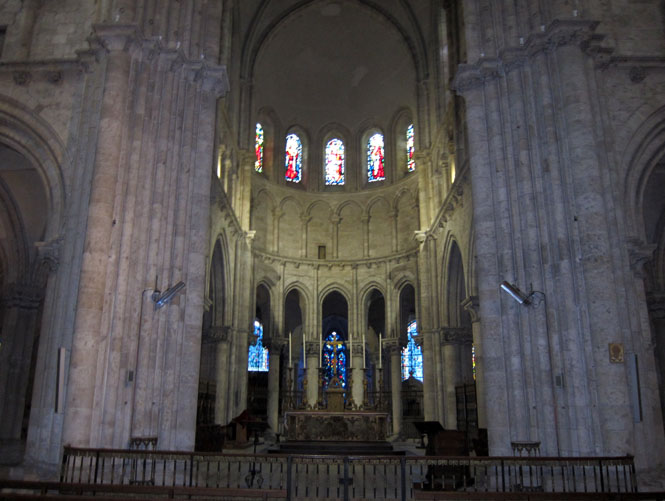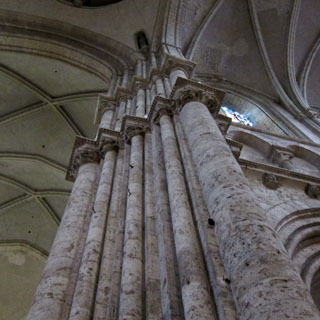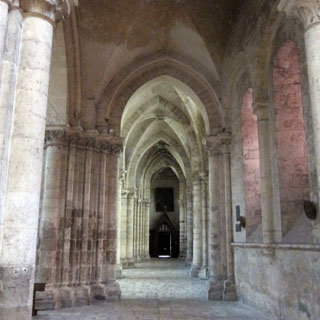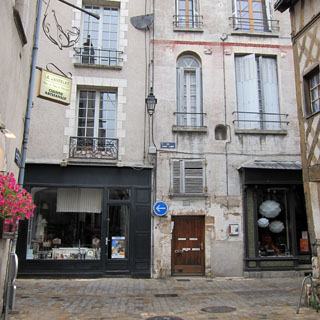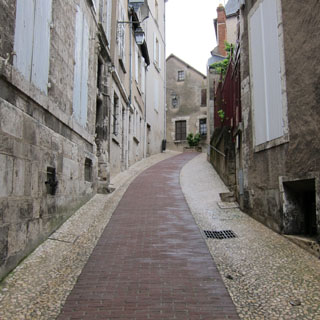 The cathedral.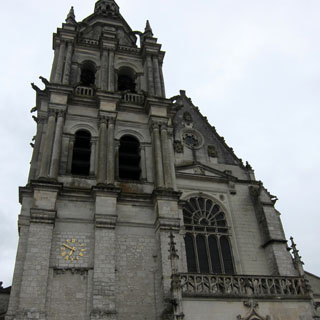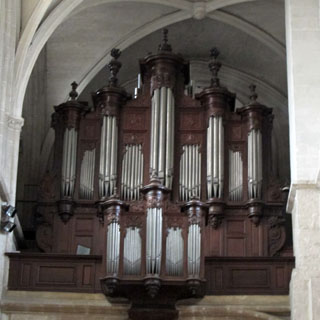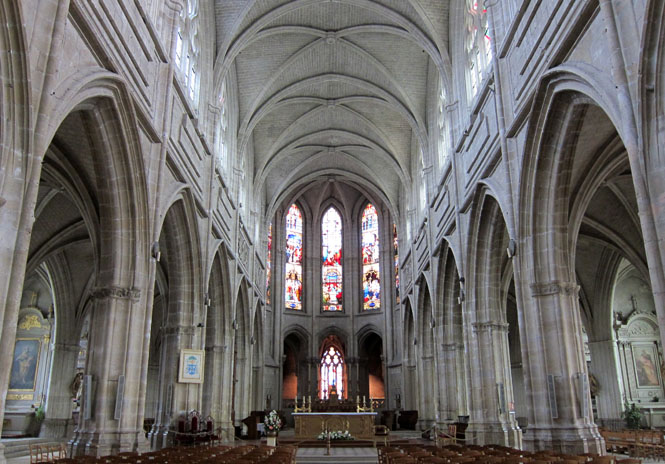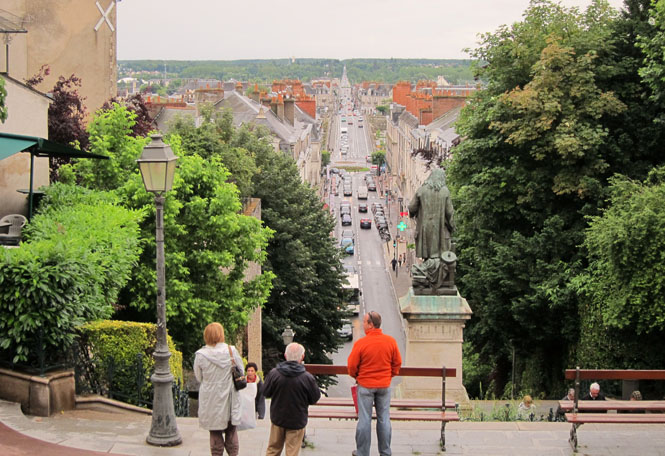 Mur-de-Sologne.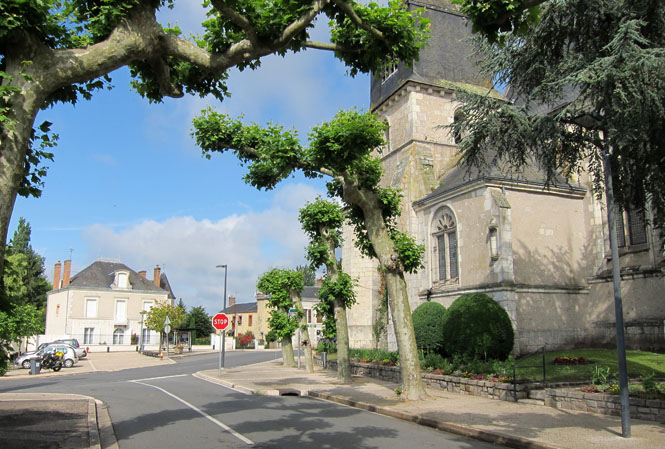 Mennetou-sur-Cher. I passed over a number of old canals such as this. Evidently barge traffic was able to move goods all over France.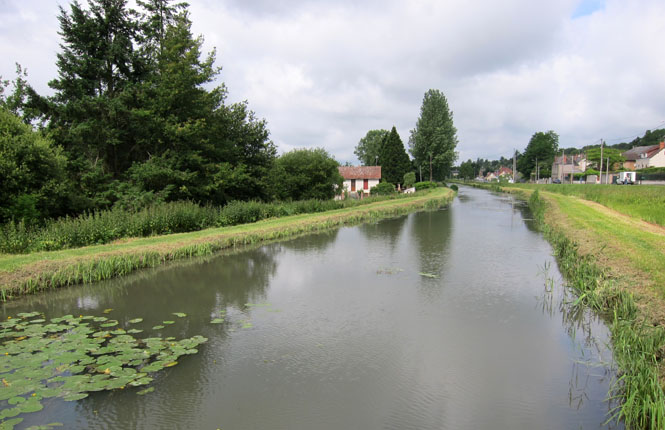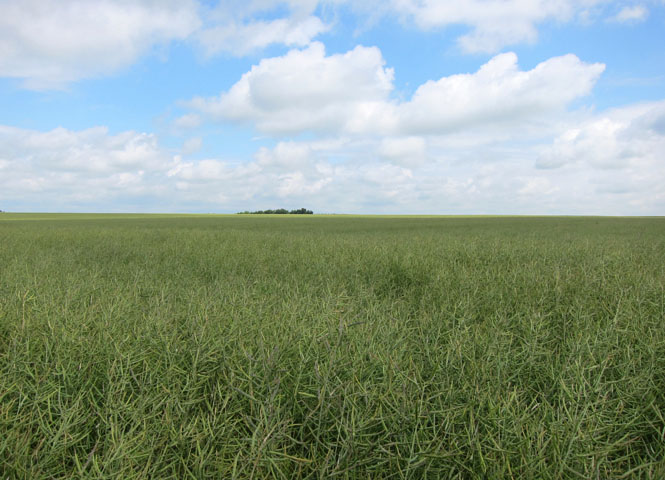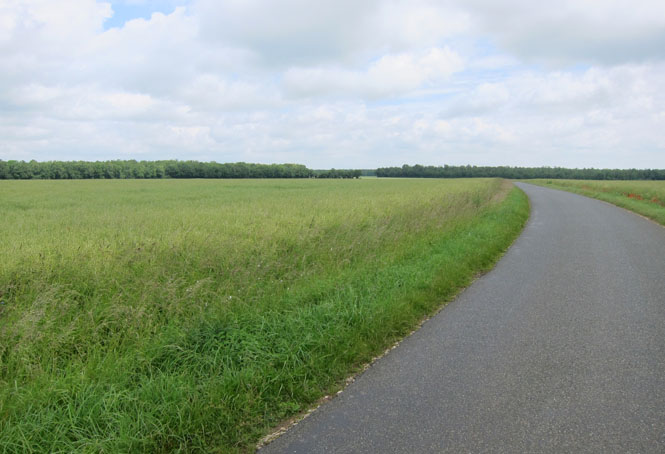 Bengy-sur-Craon. A good place to stop for lunch. The lady behind the counter said she'd prepare me a "good French sandwich." And, so she did.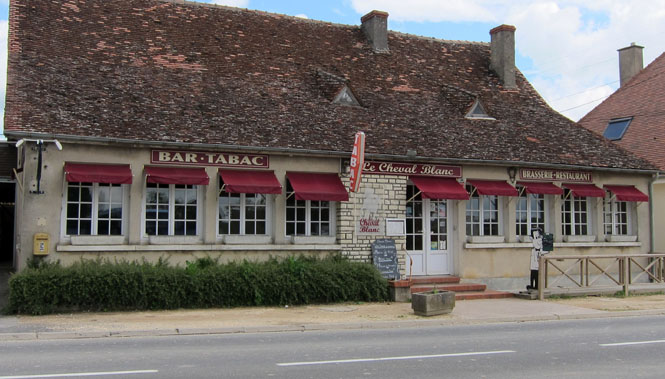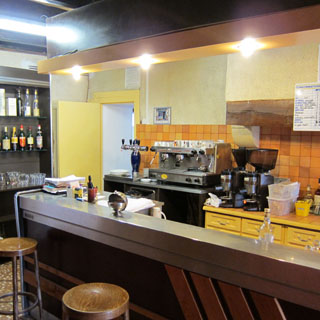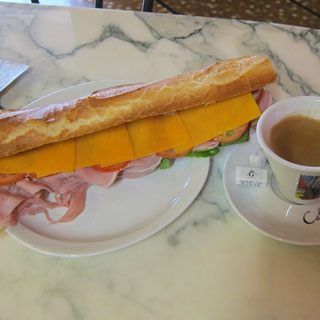 Near Le Guétin and the Rives de L'Allier.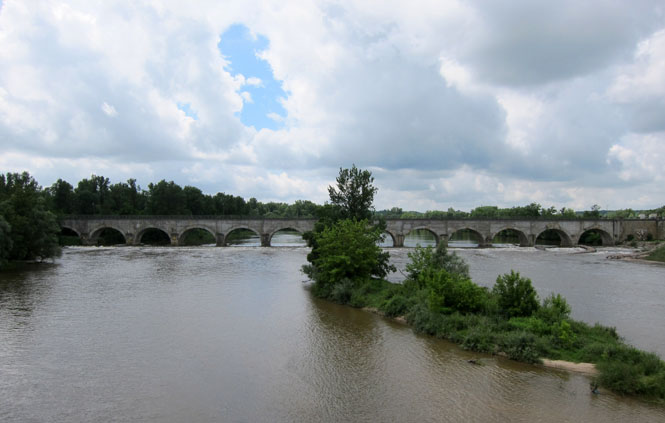 Châtillon-en-Bazois. I really did need fuel, but the sign on the door said he wouldn't be back until around 2:00. No problem, that's just fifteen minutes from now.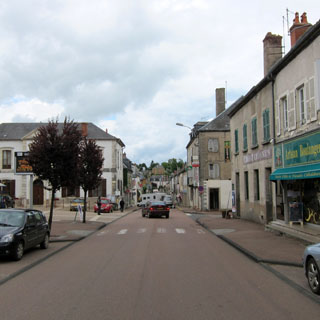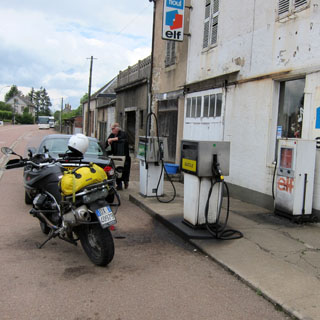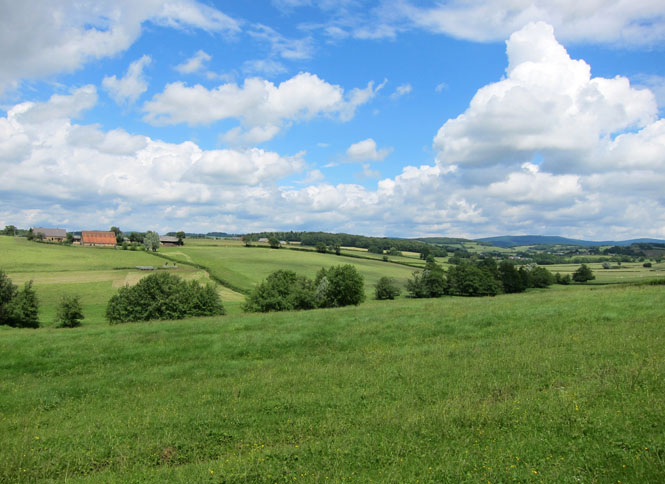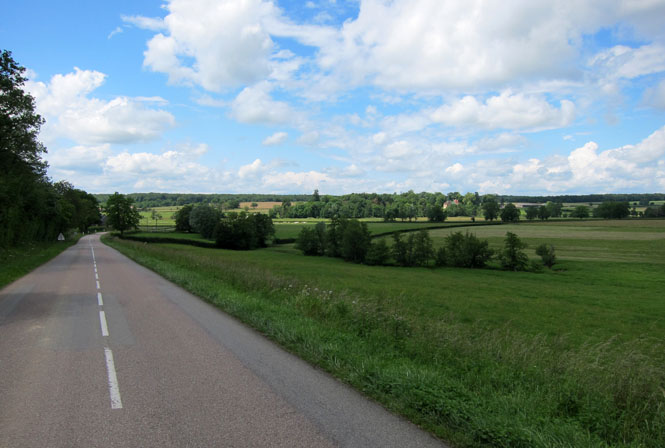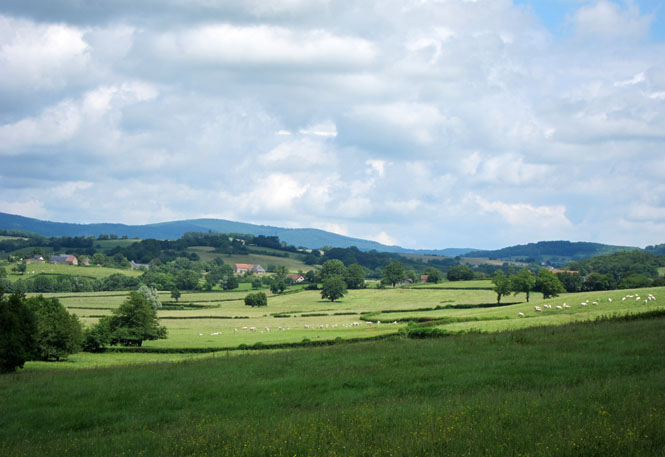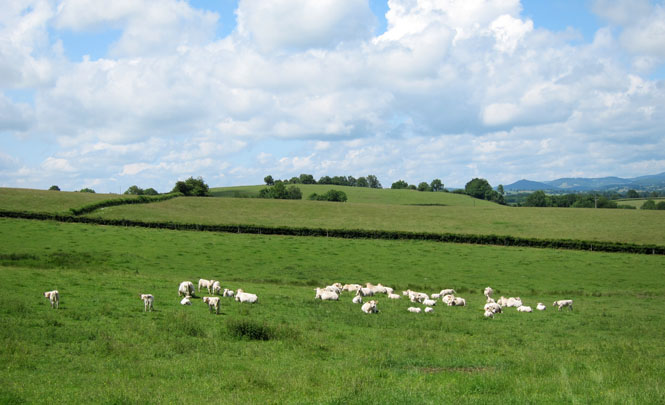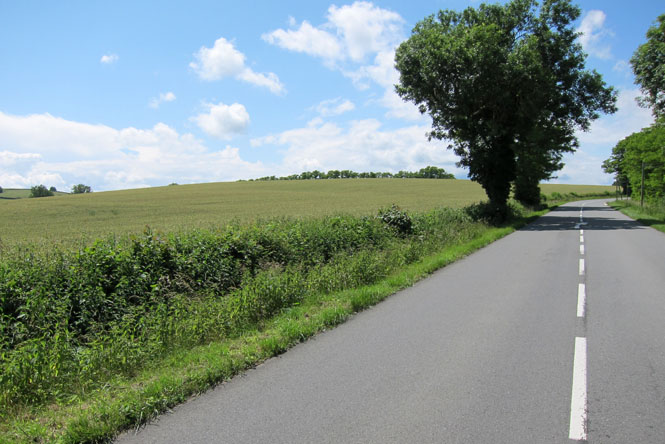 Toulon-sur-Arroux.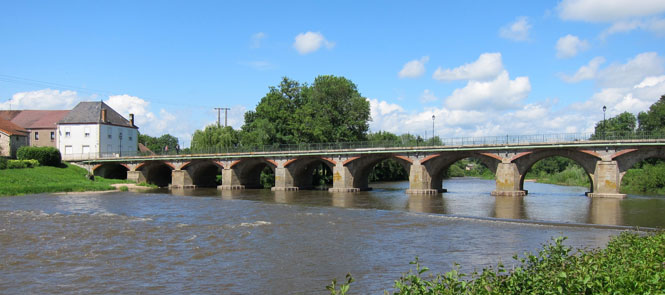 This may have been the only water-pumping windmill that I saw on this trip. Why are they so rare?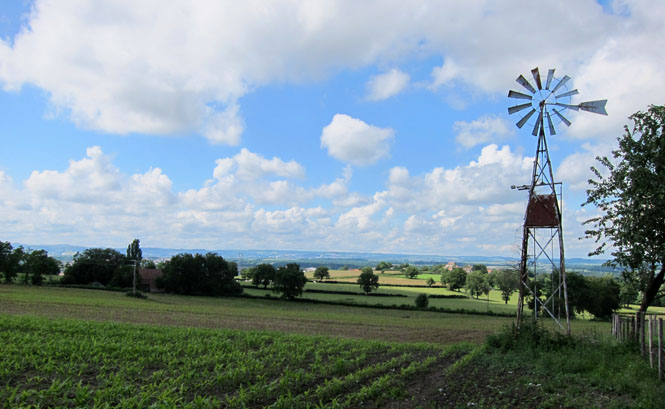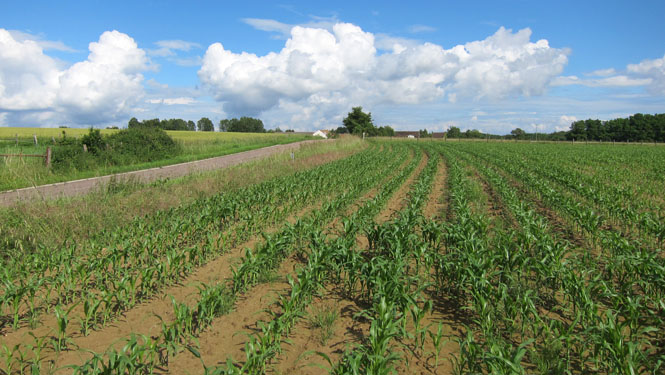 Saint-Vincent-en-Bresse. I've no idea why somebody commissioned this chicken statue.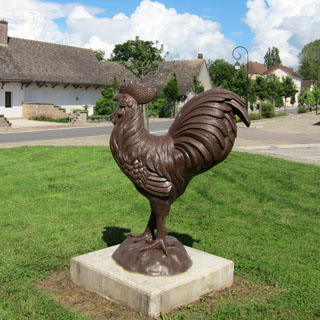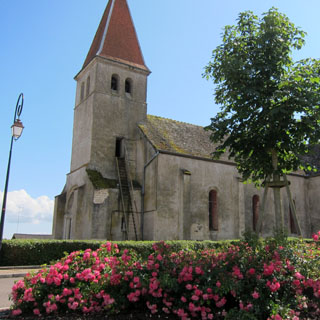 For the only time on this trip, I had trouble finding a hotel. There was nothing available in the larger town of Lons-le-Saunier, so I kept riding.
Poligny had a room at the Hotel Paris.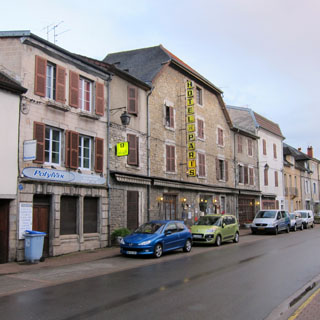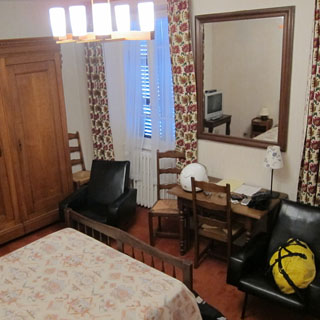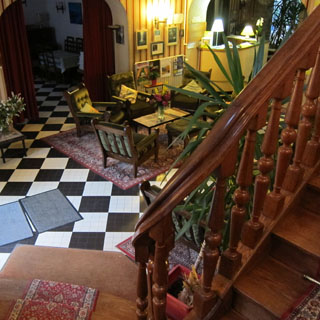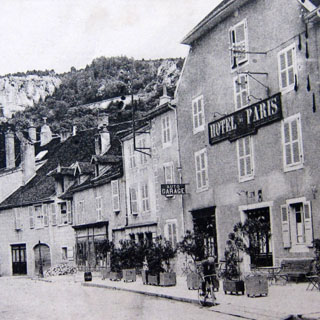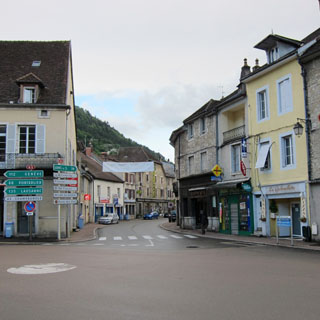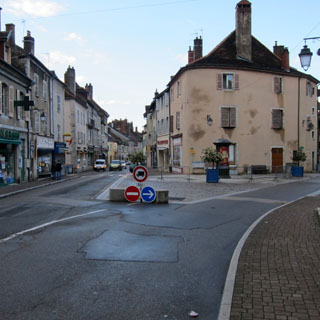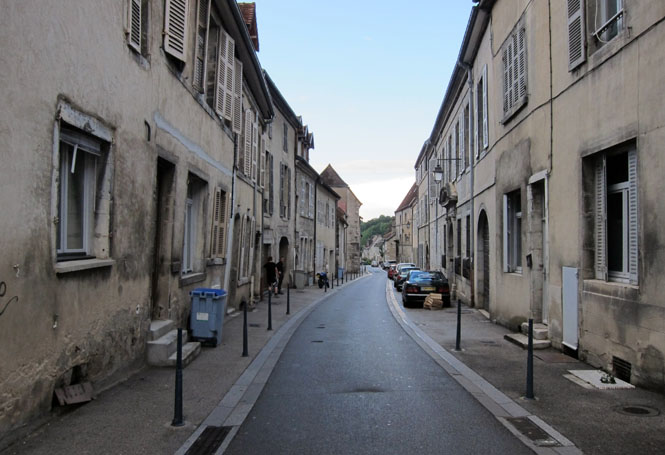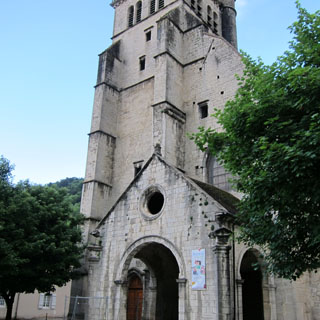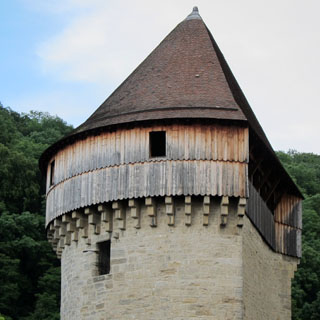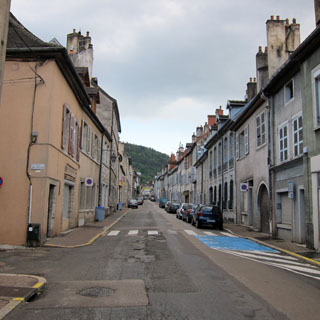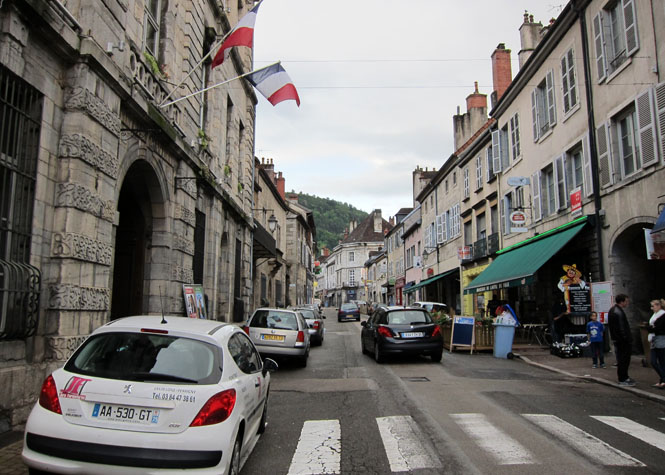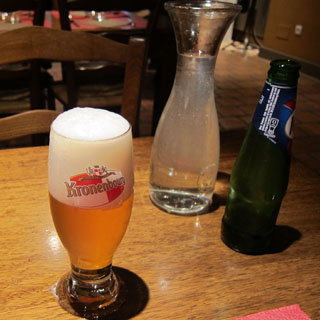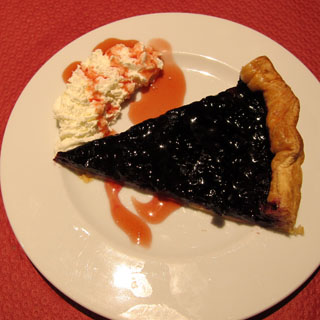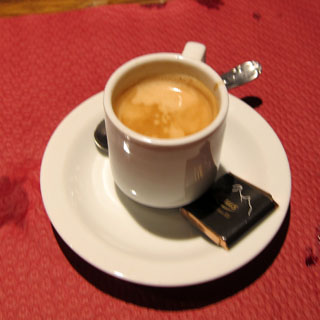 Poligny is just on the edge of the mountains, so the next morning I started climbing immediately.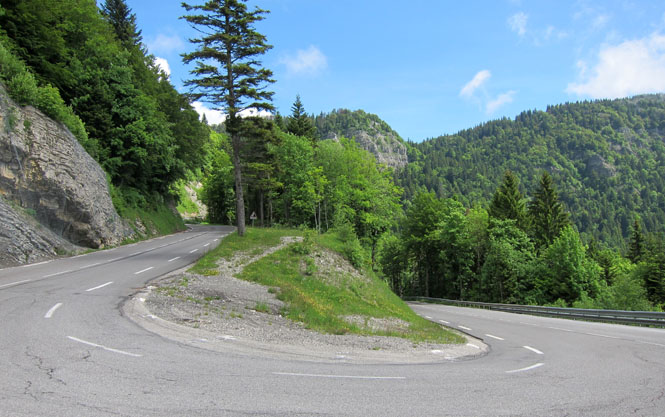 That's Geneva in the distance, and the Alps beyond.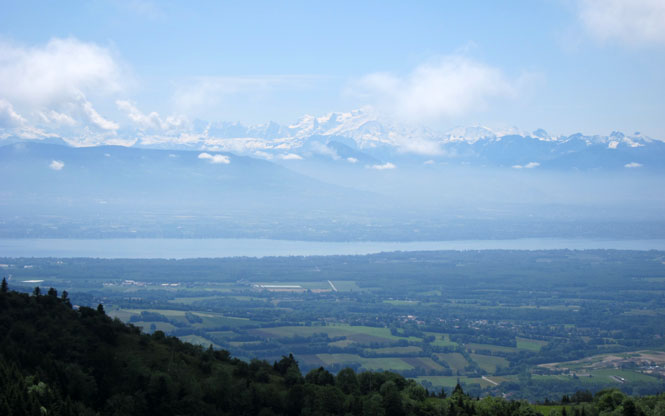 Bonneville.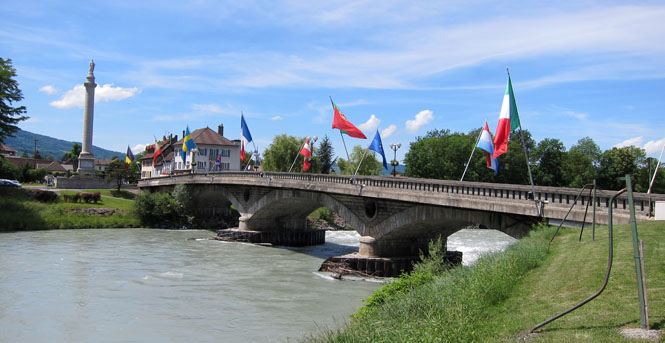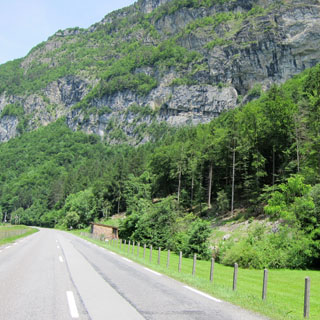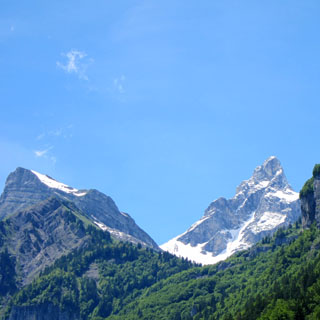 Note the waterfall.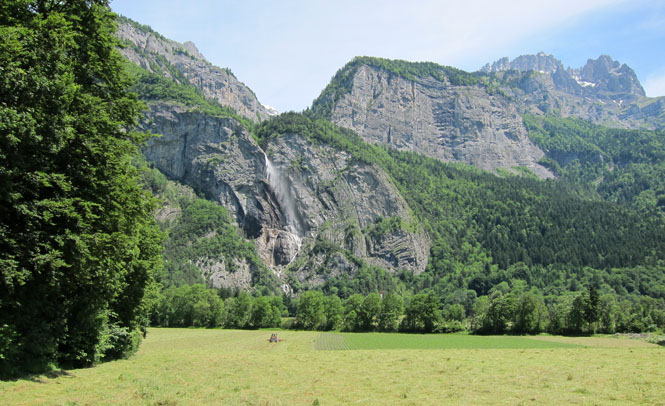 Chamonix-Mont-Blanc. This is where the very-long (over seven miles) Mont Blanc tunnel takes you through the Alps. I'm not interested in that.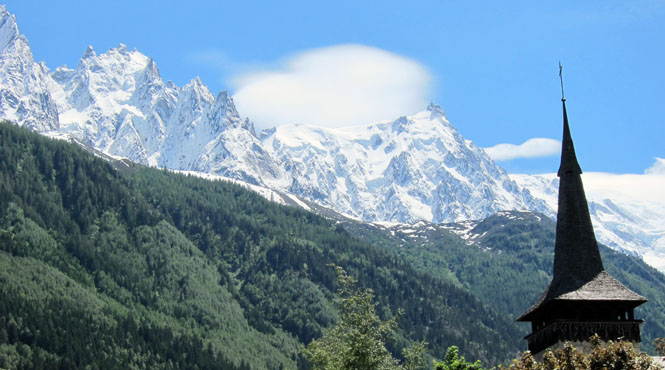 Switzerland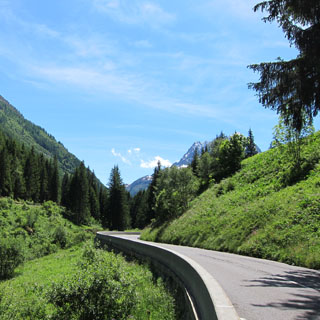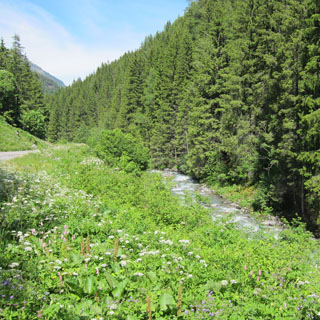 Nobody is at the border station. Ride on through.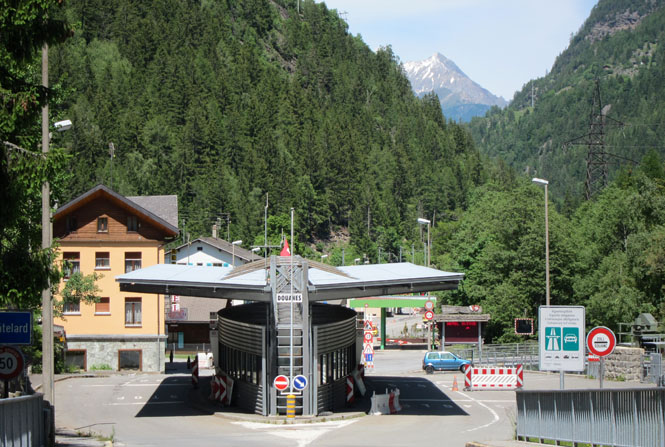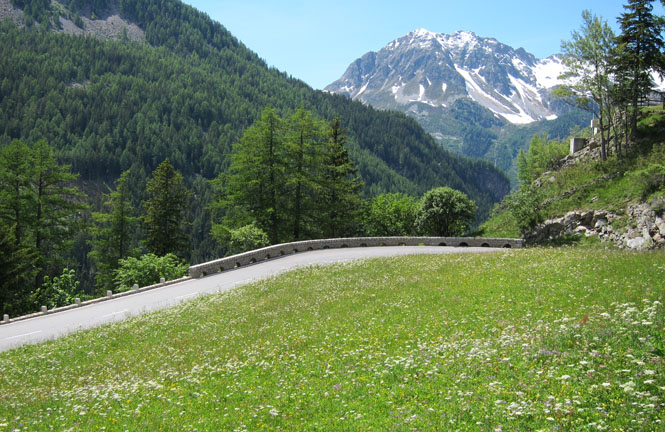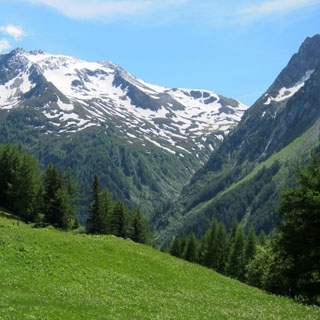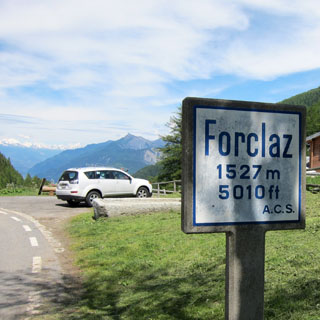 Martigny.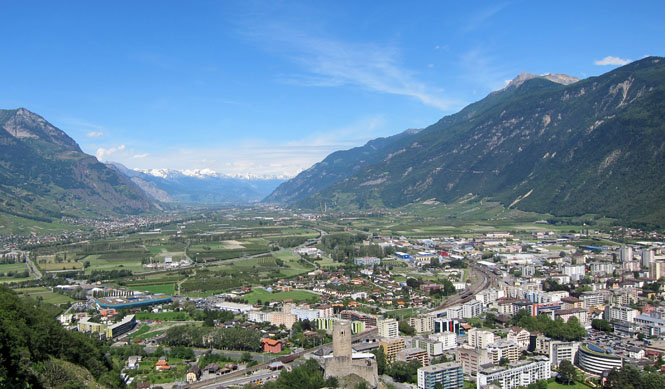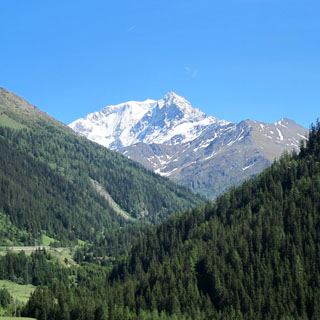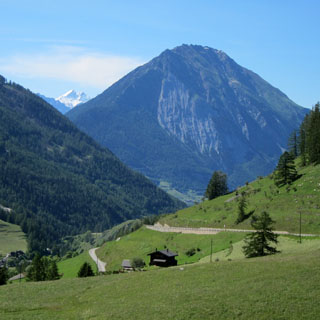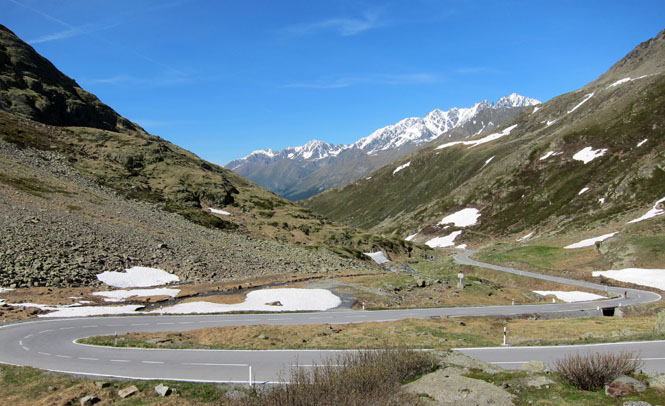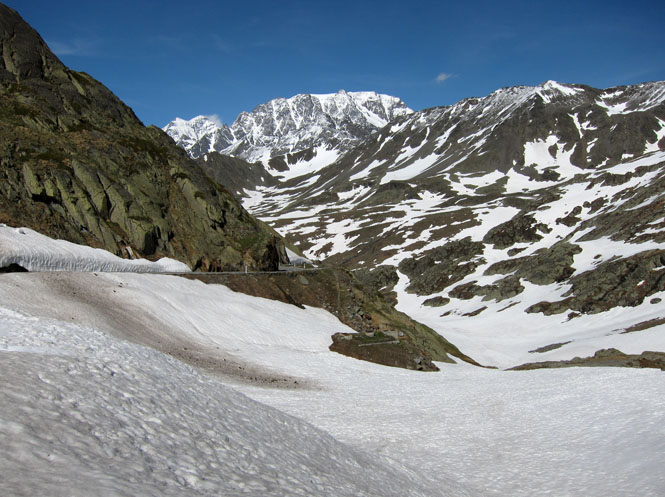 Le Grand Saint Bernard. This is the route that Napoleon used when he invaded Italy. Forty Thousand French troops marching over the pass (with canon and supplies) must have been something to see.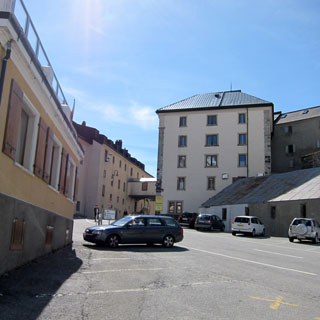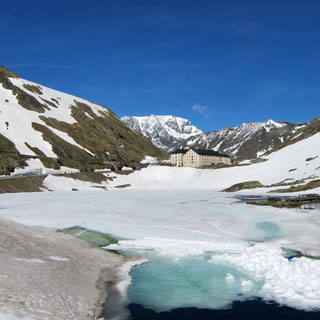 Italy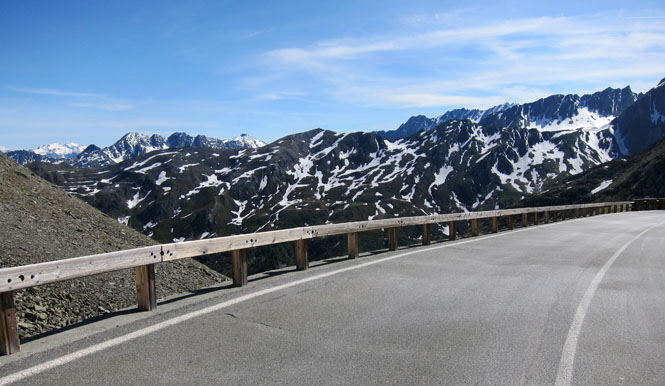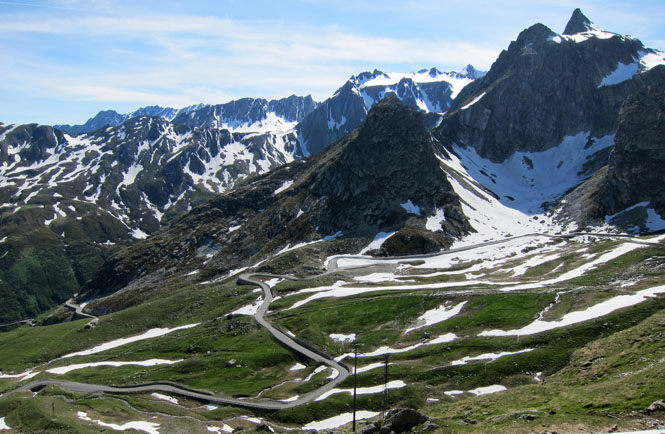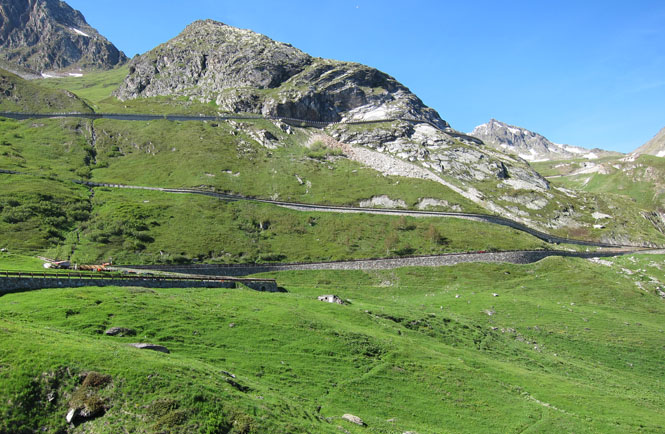 Etroubles for the night. It was still early, but I was no longer under any time constraints. It's better to spend the last night on the road in the mountains.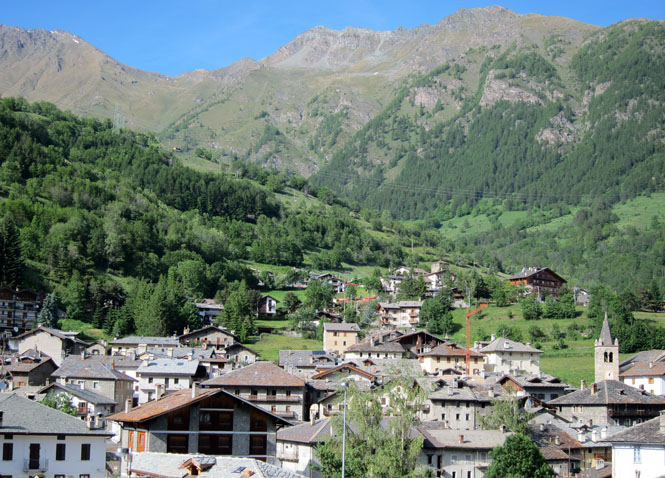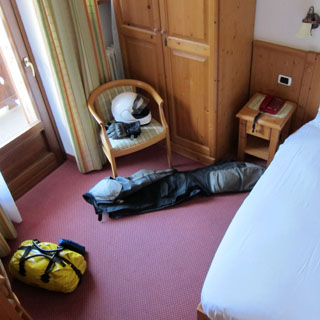 It's the same routine; my first task on entering my room is to put yesterday's clothes in the sink for soaking. By the next morning, everything is dry and ready for wearing. Repeat every evening.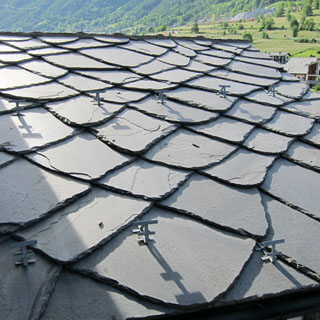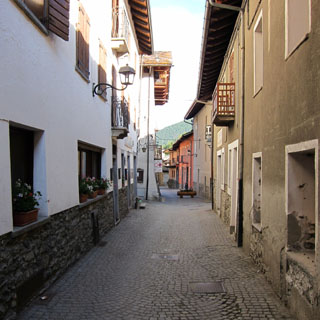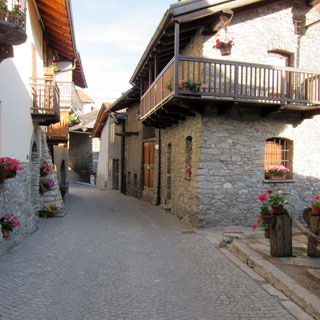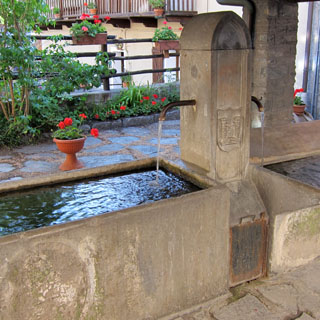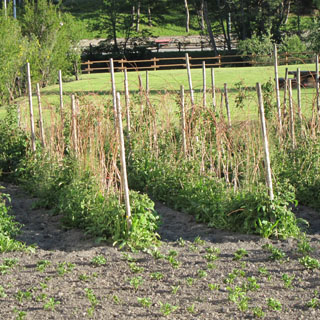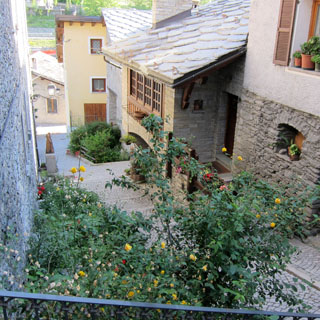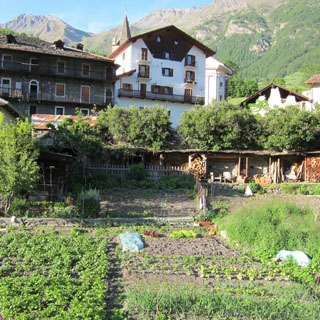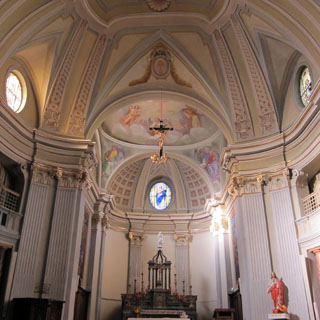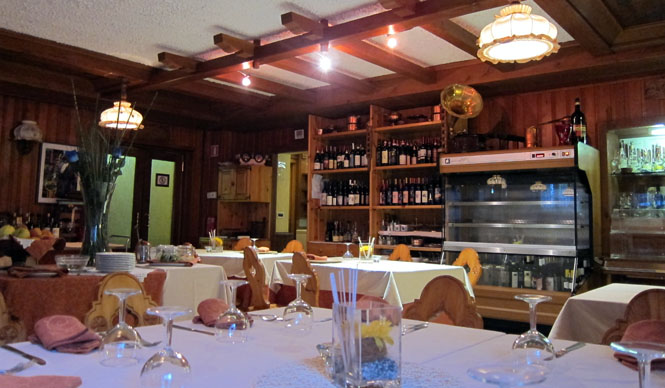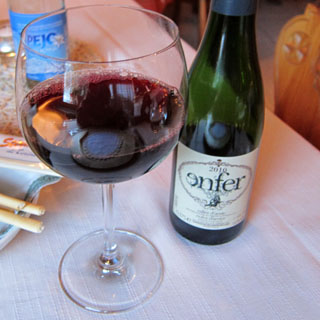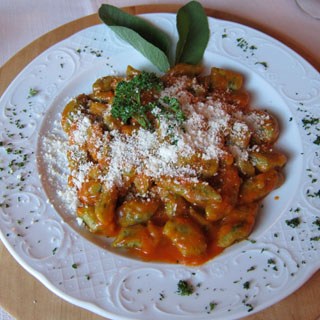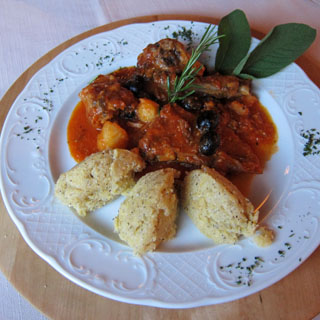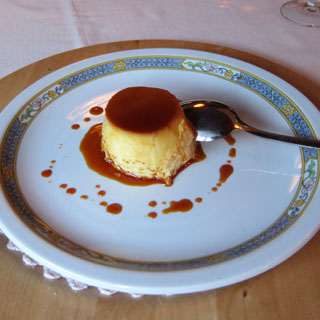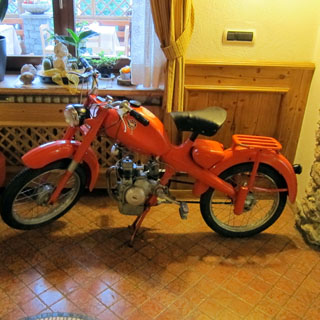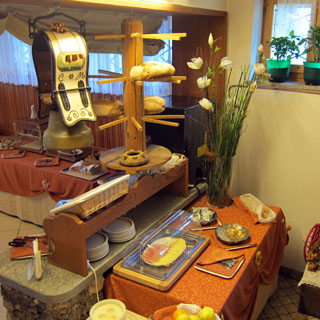 I'm riding the road that goes around and over the mountain, not the one that goes through it.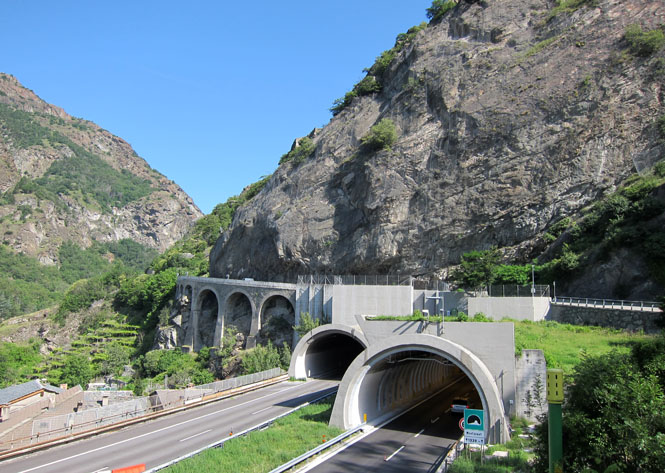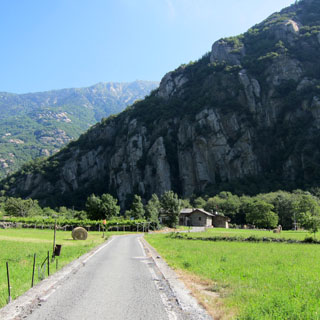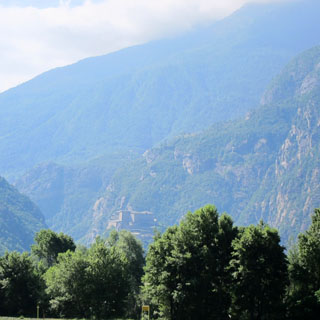 Every pass is fortified. This is Forte di Bard in the Valle d'Aosta.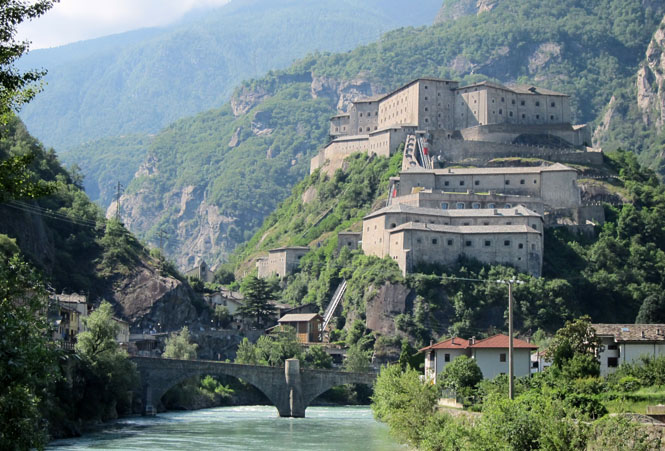 Viverone. A beautiful lake.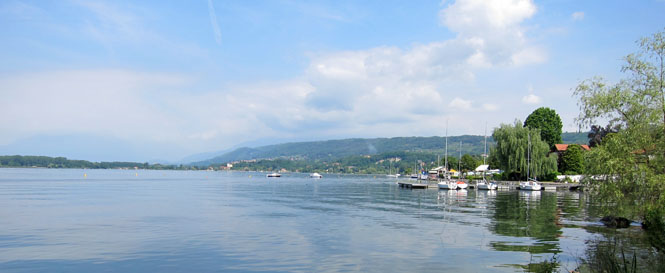 Carisio. I'm riding across the level plains back to Lake Como, doing my best to stay off the autostrada.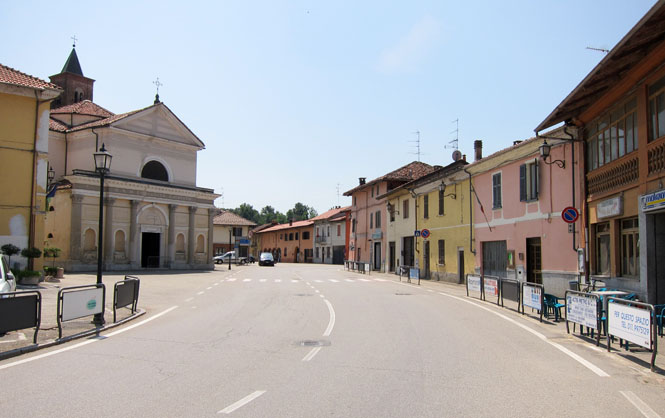 Rice fields.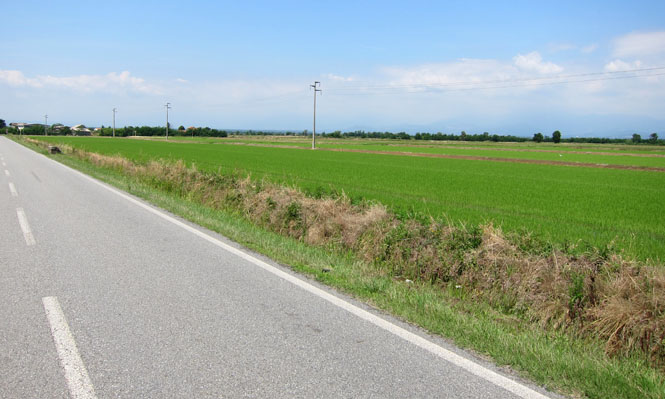 Arborio.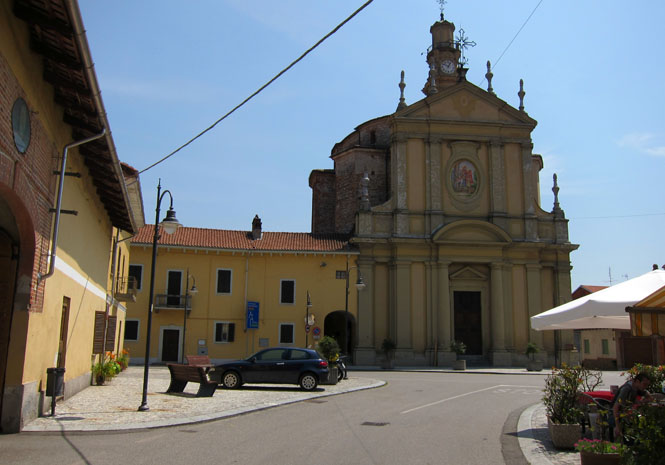 My cards are not welcome in the machines, but this one takes bills.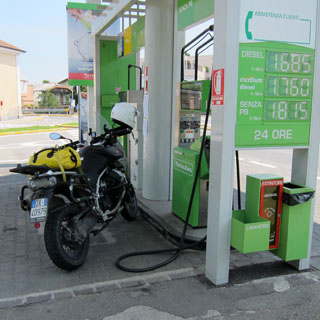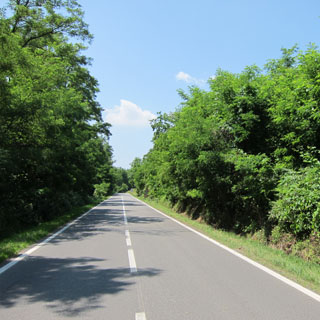 Barengo.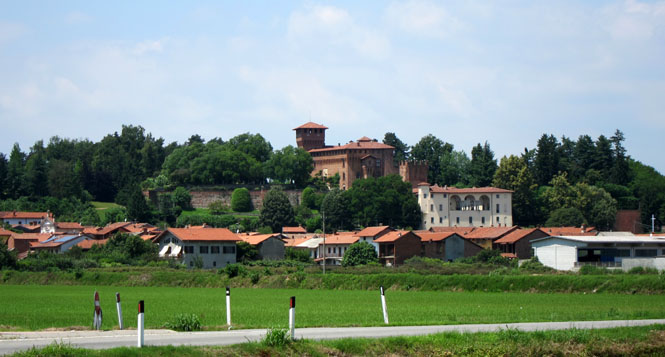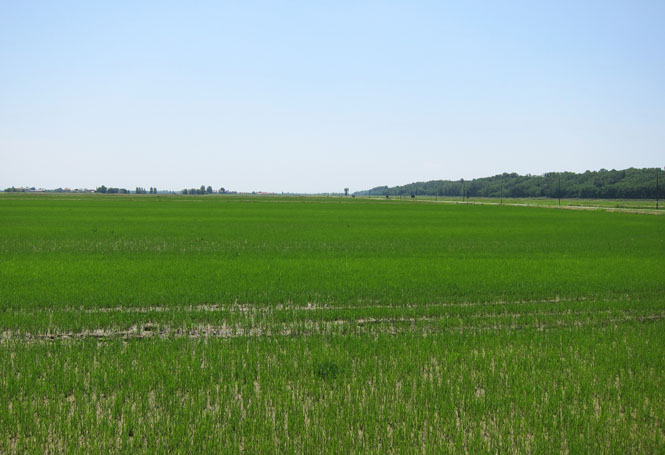 Momo.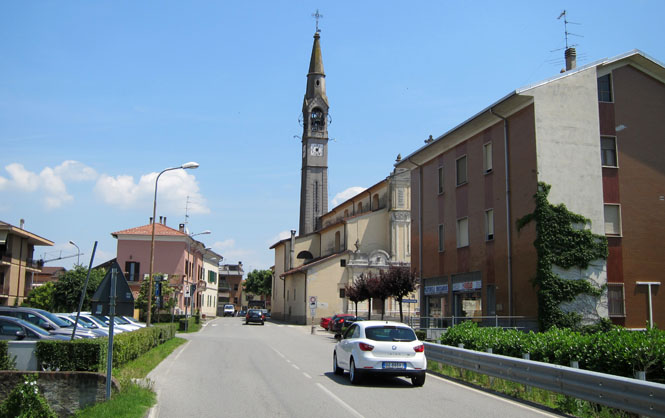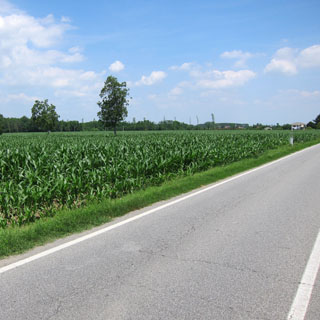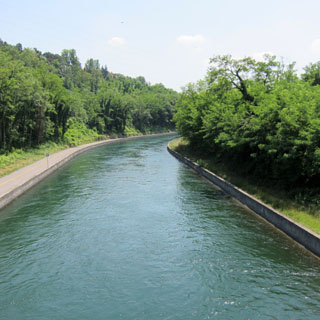 And, back in Mandello Del Lario. It couldn't have been smoother; the bike performed perfectly. Thanks, guys.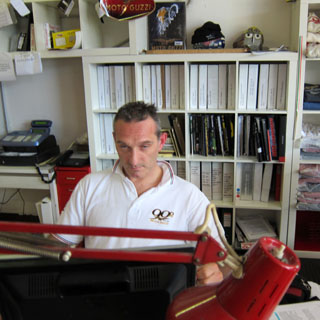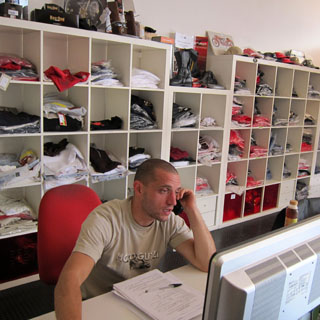 A new statue to Carlos Guzzi in the center of Mandello, and a repeat photograph that I've taken every tine.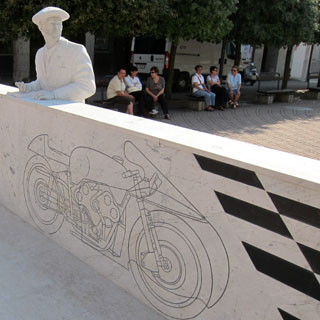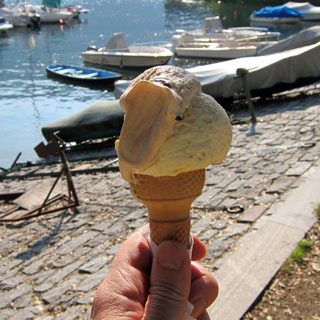 I return to Mamma Ciccia's for the last night, as I have done for every trip. This white cat, too, has seen me on every trip.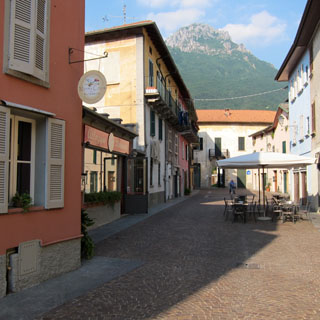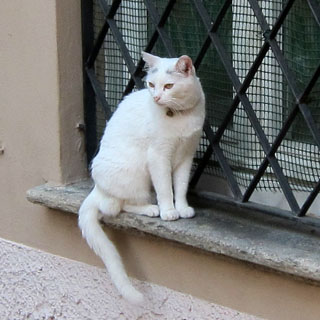 Lake Como. There are not very many places that are as nice.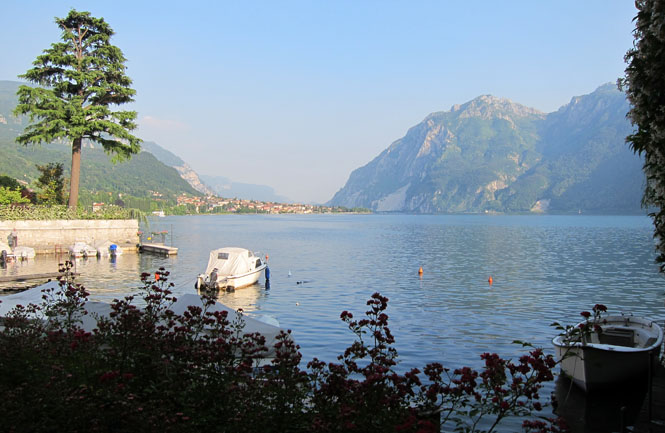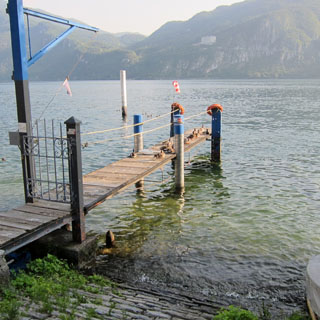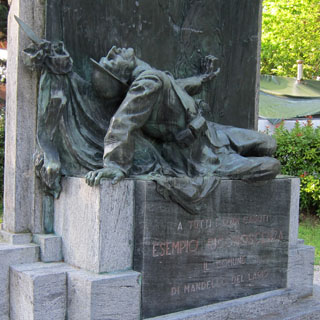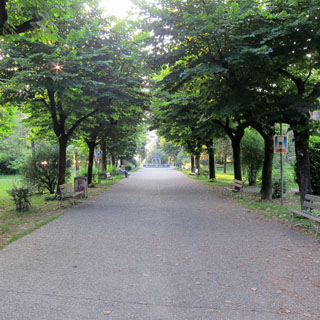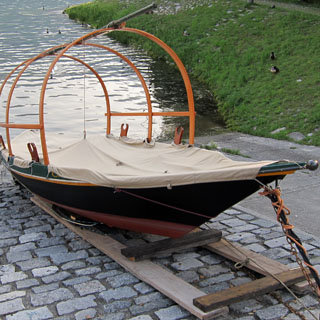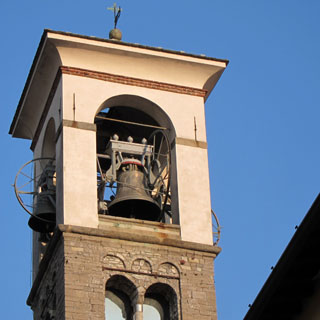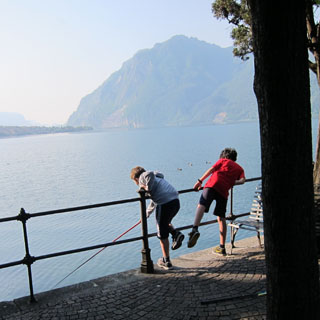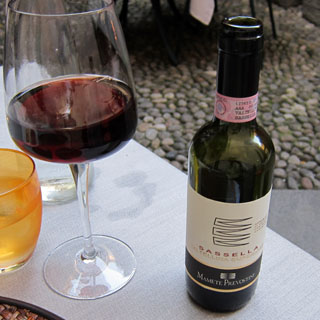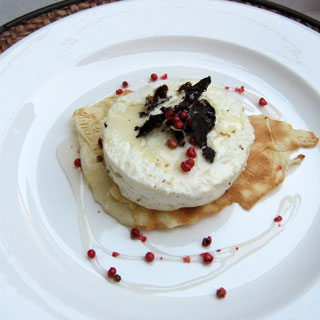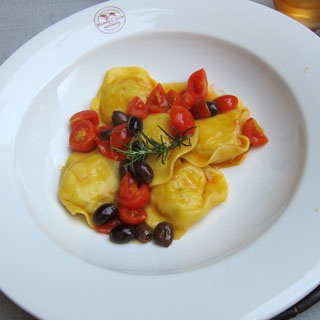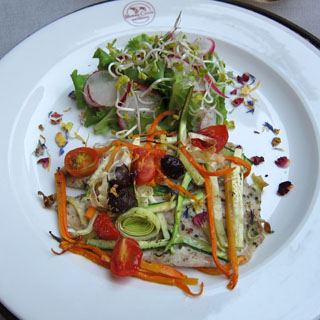 Waiting for the train to take me to Lecco, and then on to Milan.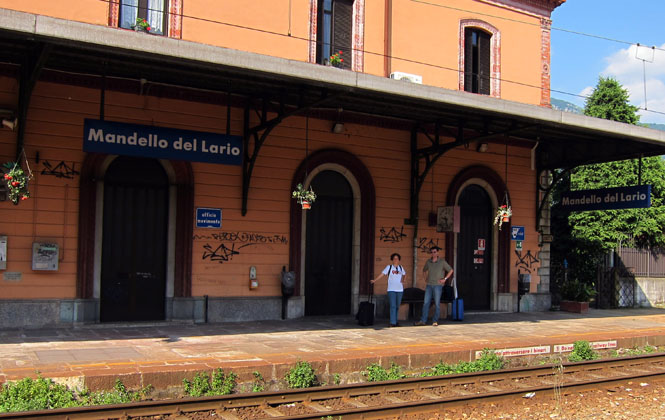 Milano Centrale (320,000 people pass through here every day).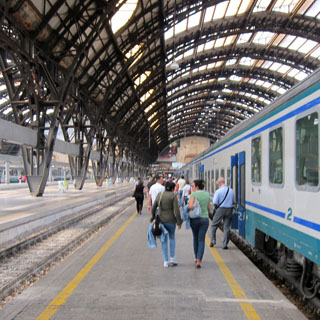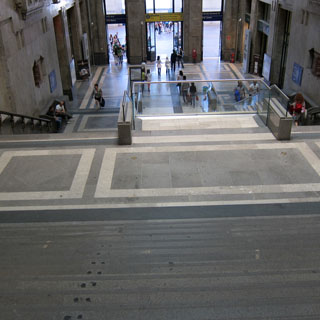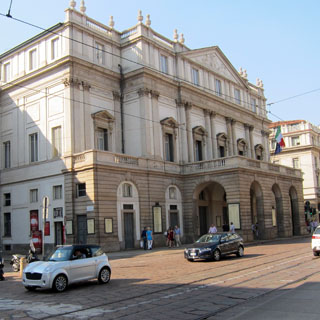 Their hours are very limited (no visitor is admitted after 12:00), so this was the first time that I was able to go through the La Scala museum and to see the interior of the opera house. No photographs allowed, but I don't think they'd mind a quick shot of the stair well (below). The photograph below, right? Obviously, not taken by me. I was able to stand in one of the balconies (about in the middle of this shot, above the royal box); but, again, no photographs were allowed.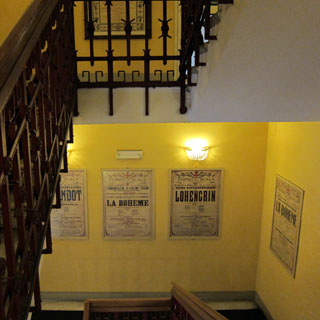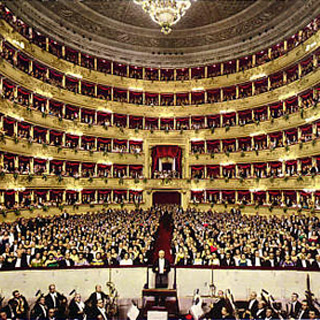 The cathedral. There's always something going on at the piazza. There is a child in each of these large balls, and they're in some kind of race.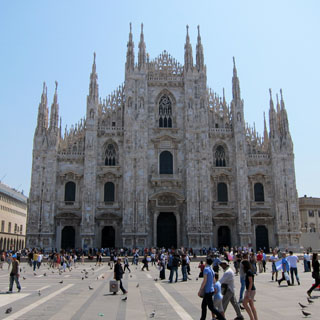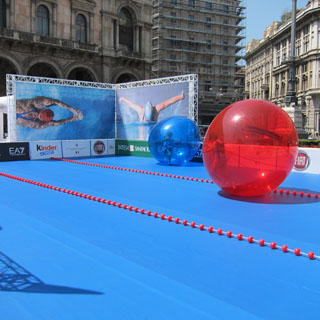 The Museo del Novecento is one I've missed before. It's quite a good museum, and is generally also very focused.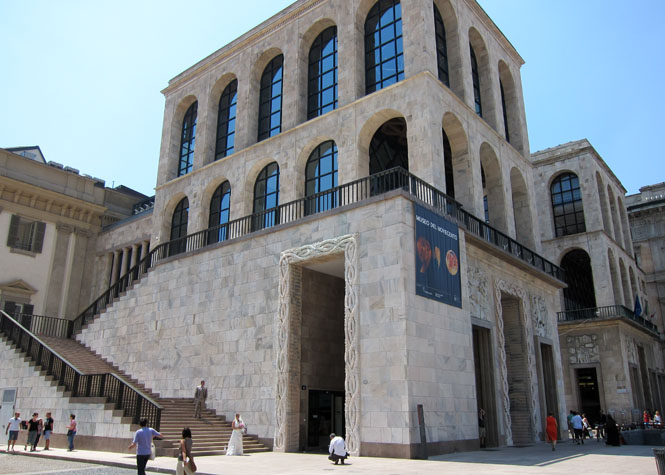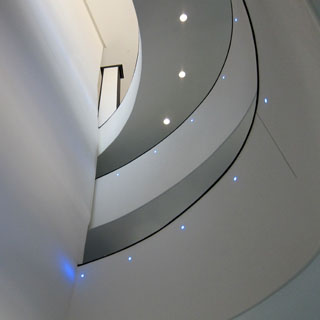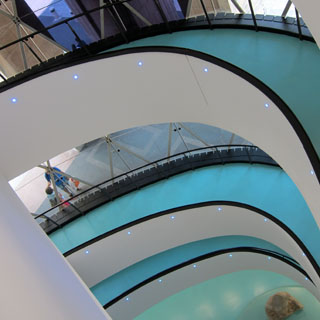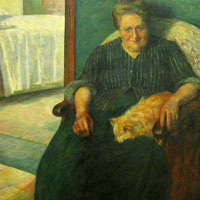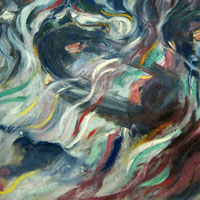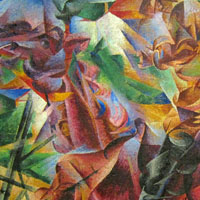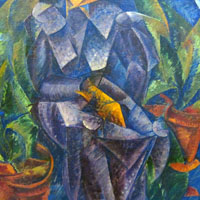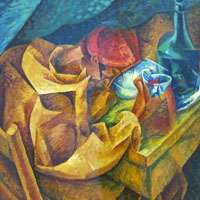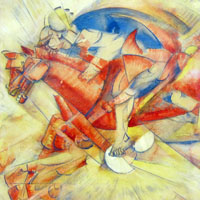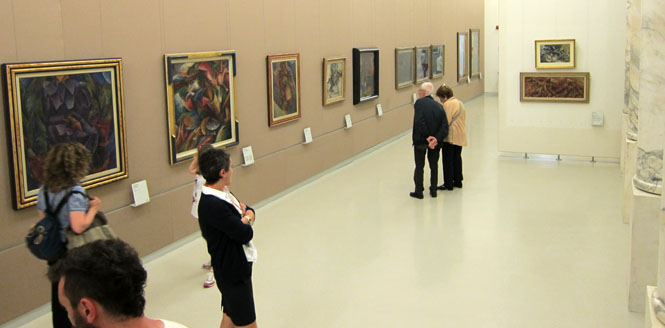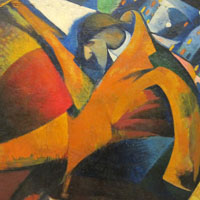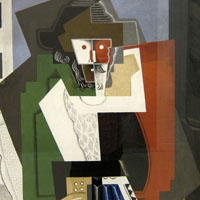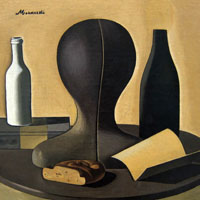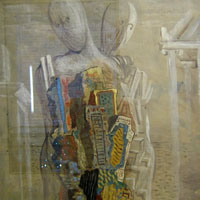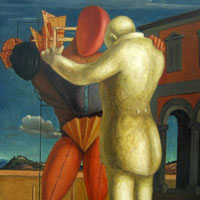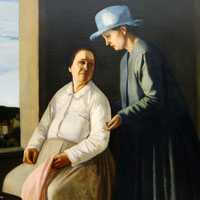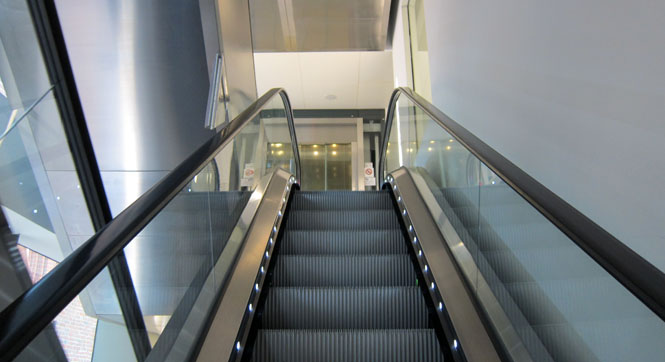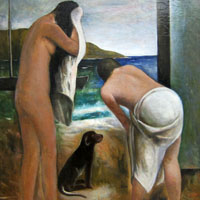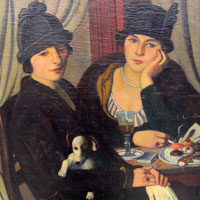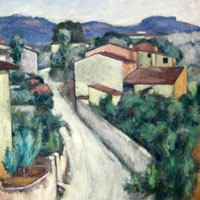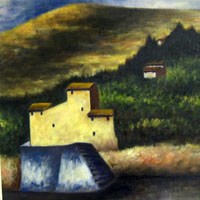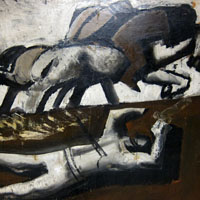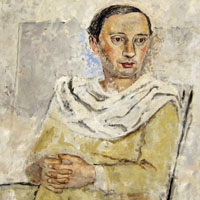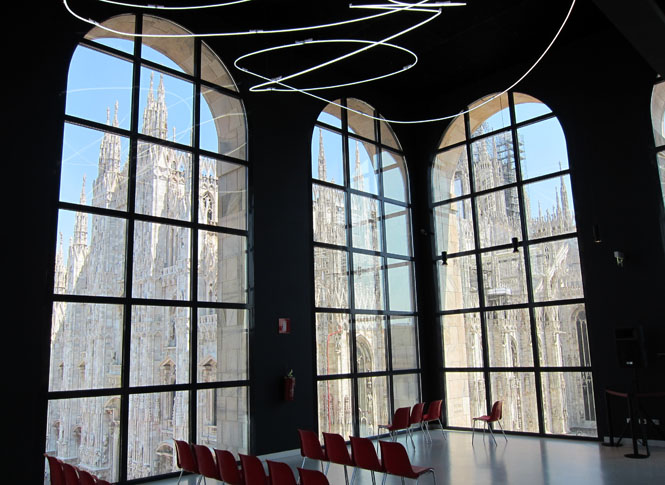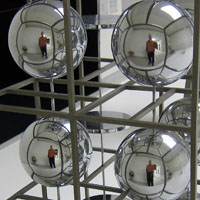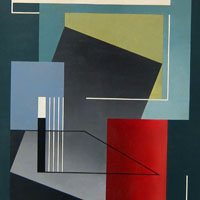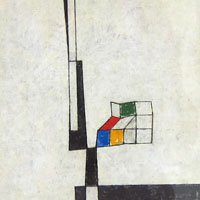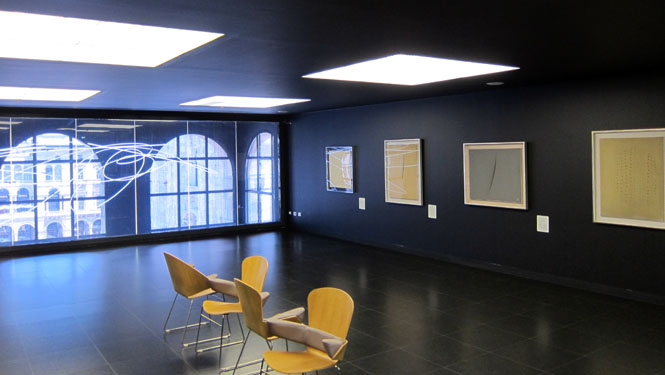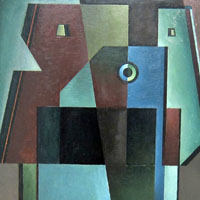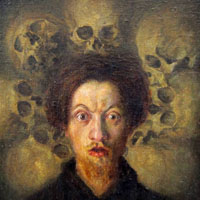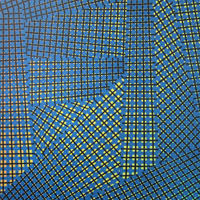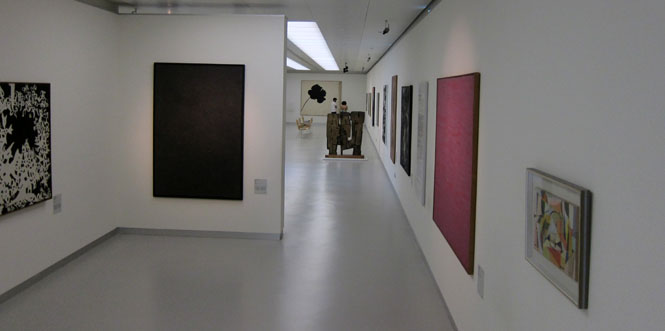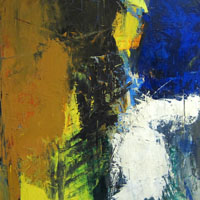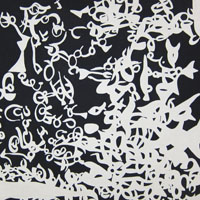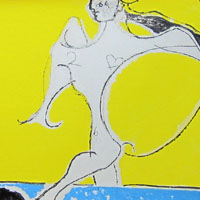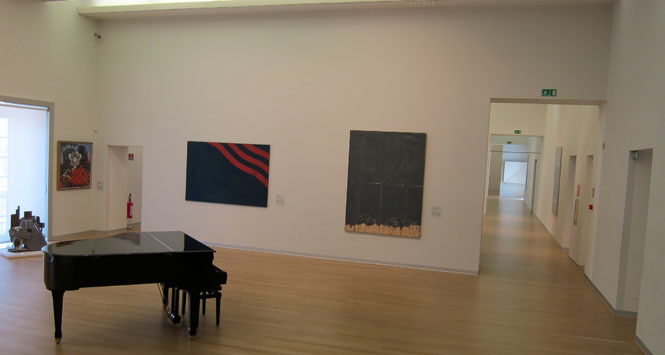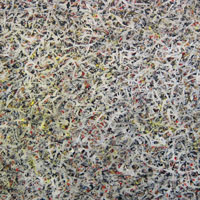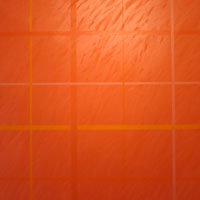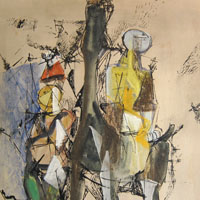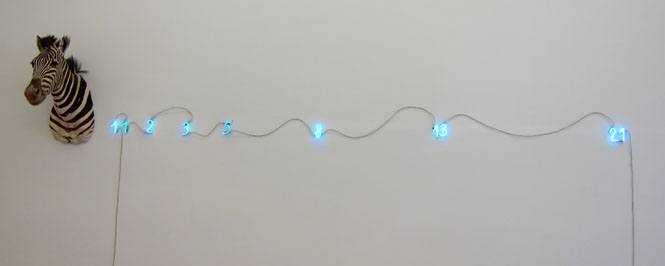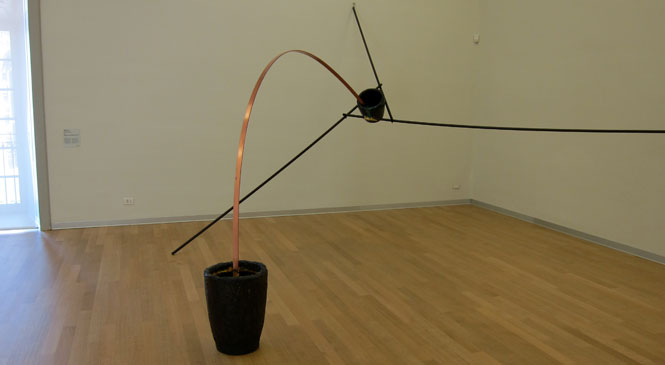 The title of this piece? "Crogiuoli con acidi" (Crucibles containing acids).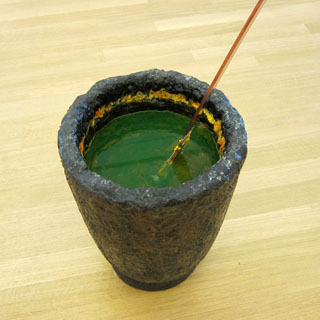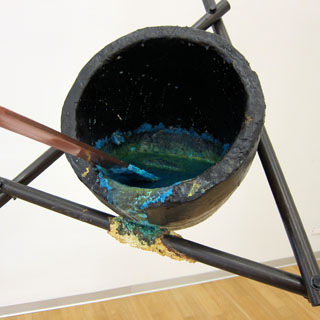 The Torre Velasca building is iconic, but it always gives me an uneasy feeling. It was meant to suggest medieval towers.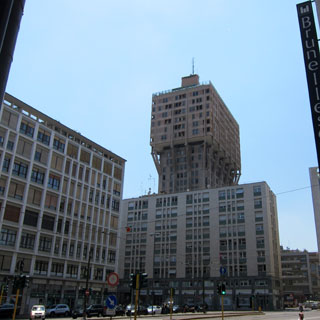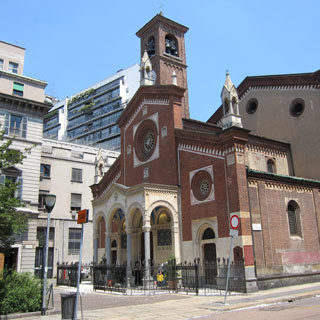 The Basilica of Sant'Eustorgio dates from the 4th century (with many changes over the centuries)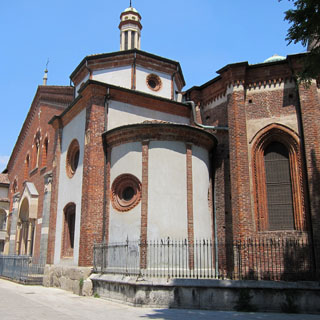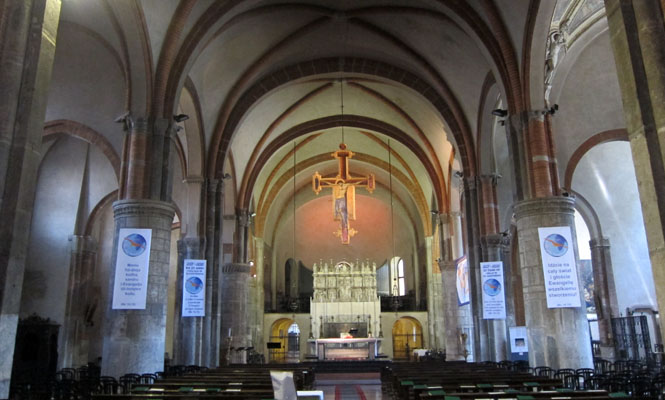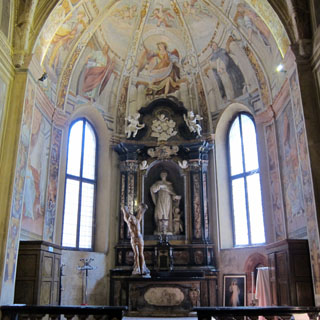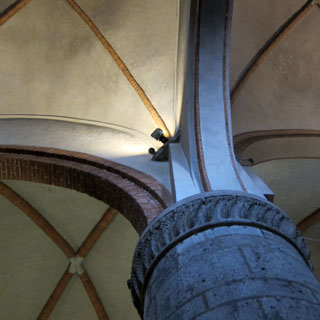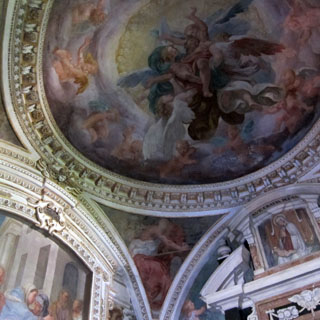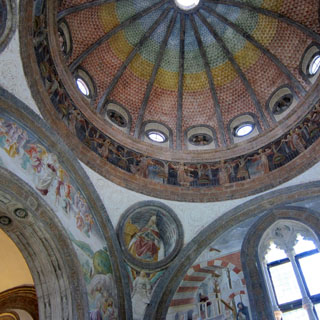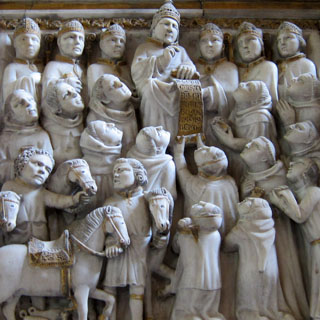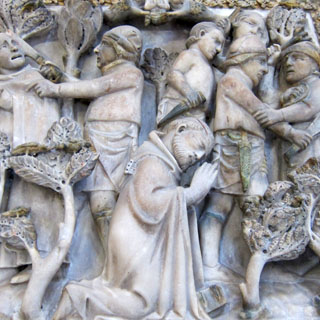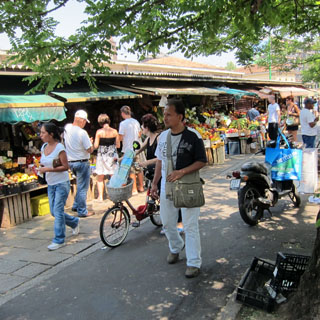 Milan is connected to the Adriatic through their canal.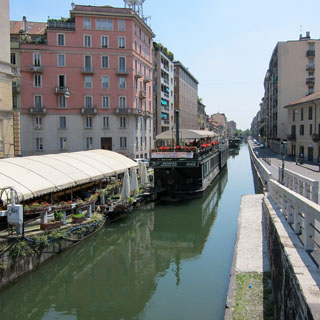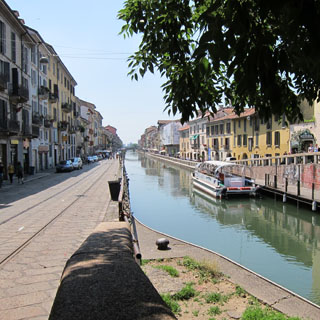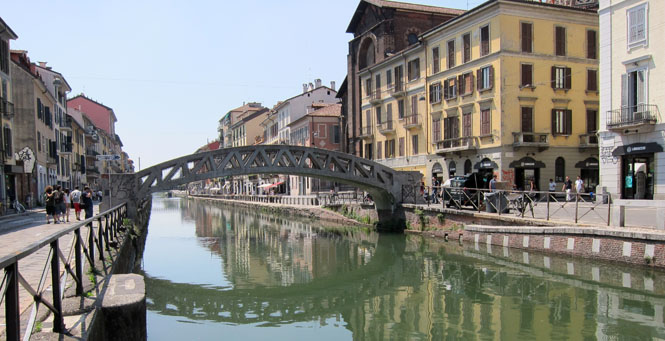 The salad is celery and parmesan cheese.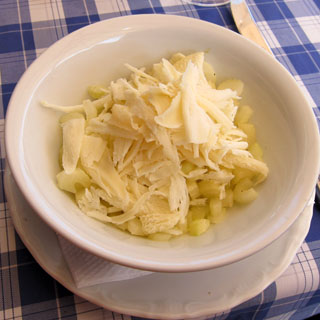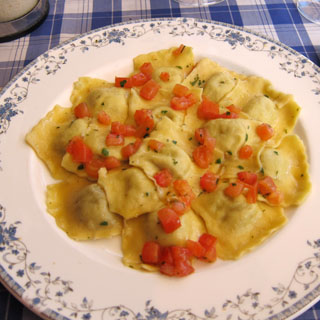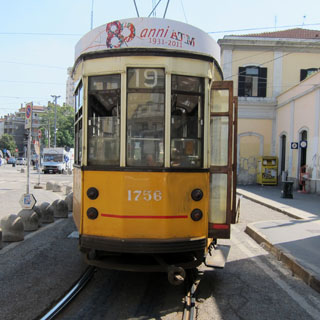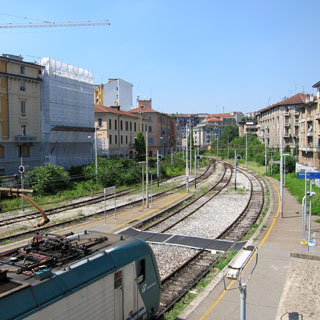 The Saturday market was winding down.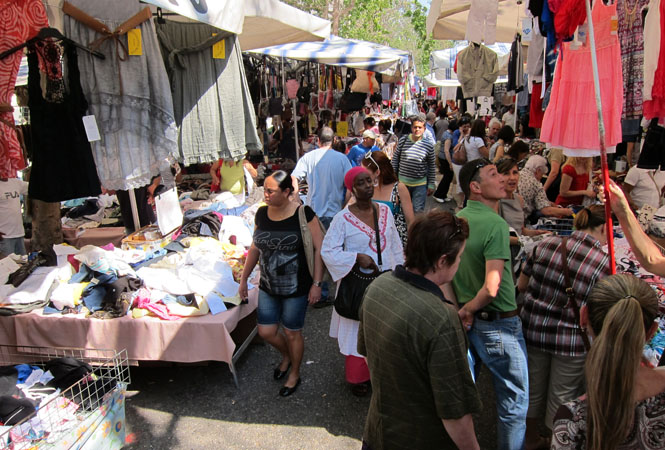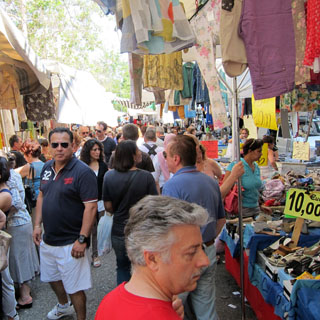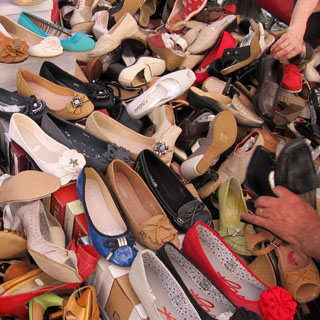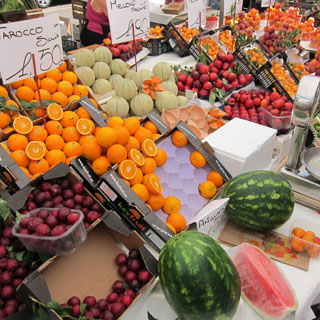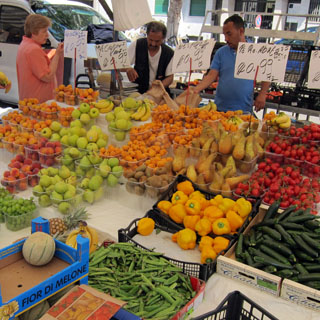 A monument to the war dead of Milano. This extends a remarkable three levels underground, and has a foot-square plaque for each name. Photography was not allowed. The man you see (below) minded the guest book, but was otherwise the only person.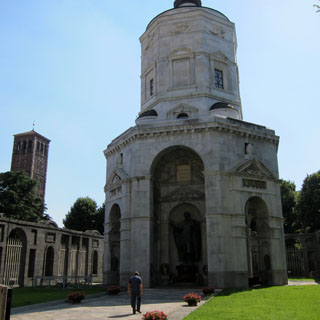 The first time I was here (in 2006), there was some sort of event with attractive young women preparing to go on a great adventure. Well, they're here in the same place again, so I guess the adventure continues (as some sort of reality TV show, I think). The marks on the pavement? They're from the side stands of the motorcycles and scooters that park here.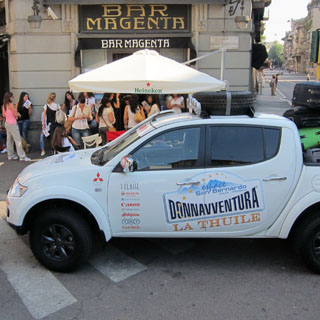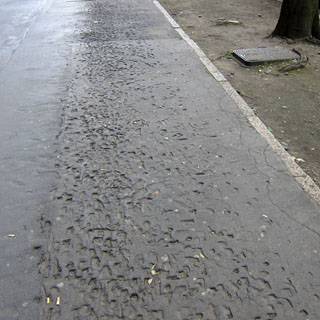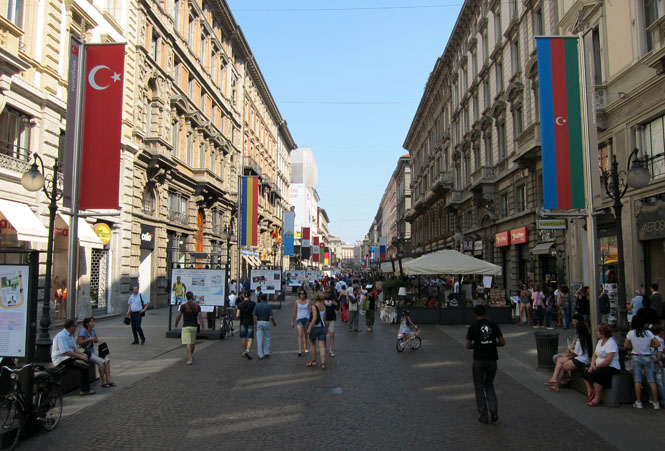 The Galleria.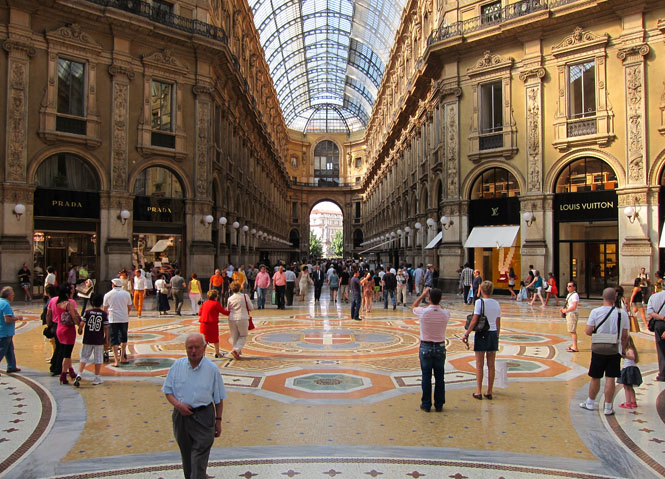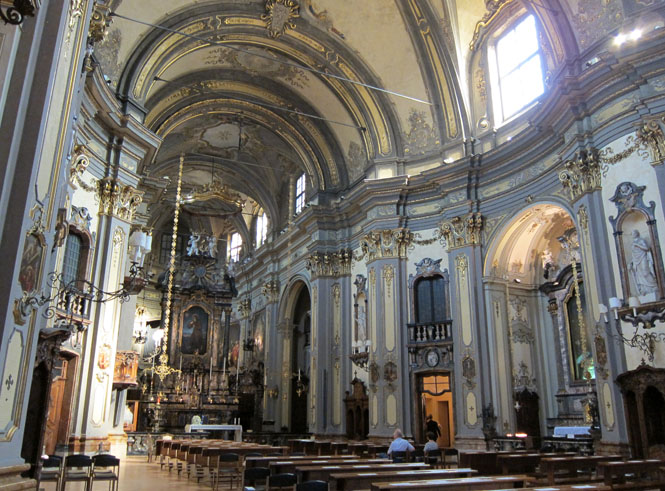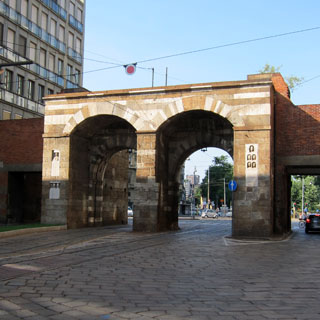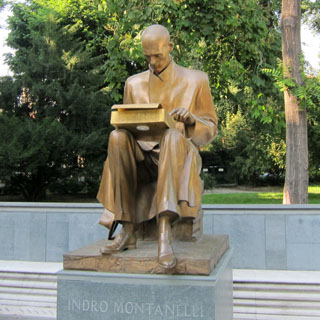 What are they protesting? I'm not sure. They seemed more cheerful than angry.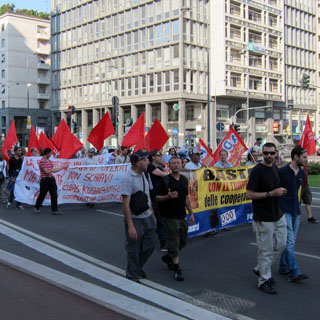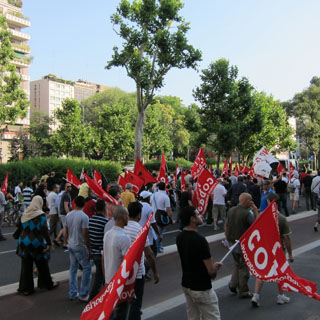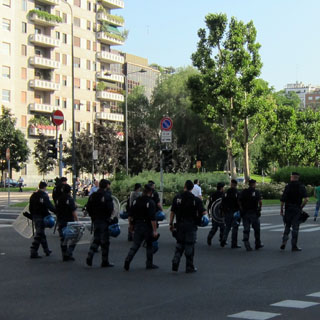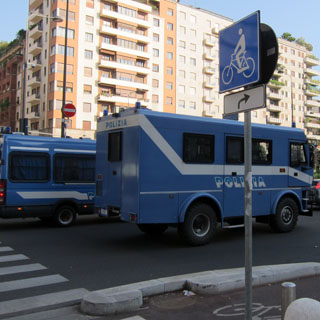 My Hotel Stazione is handy to the train station, but doesn't have much else to say for itself. It only has ten rooms and is surrounded on all sides (including above) by other hotels. I'm not sure what this construction project is all about.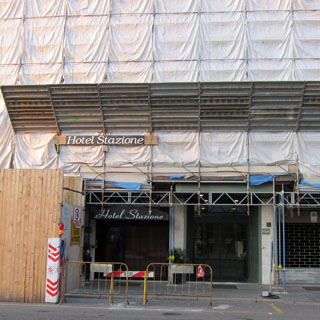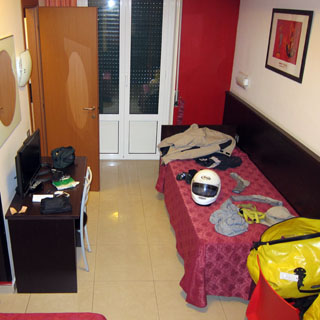 Waiting in the airport lounge. It's not much to look at, but they do a terrific job at keeping the food bar stocked with all sorts of interesting things.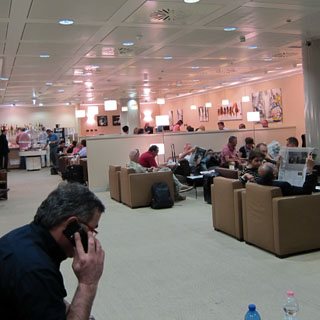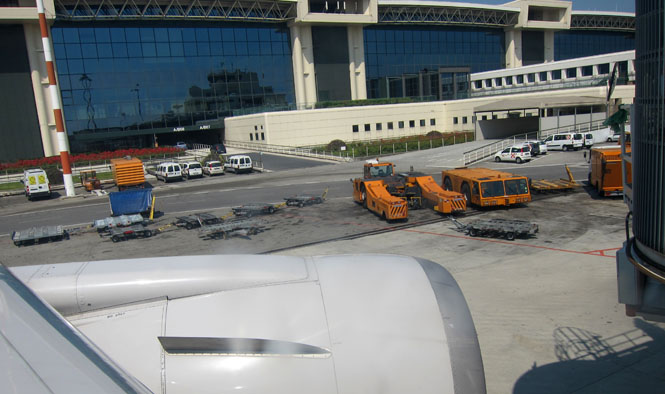 My air route followed my motorcycle route. Here we are flying over Mont Blanc, and then Geneva.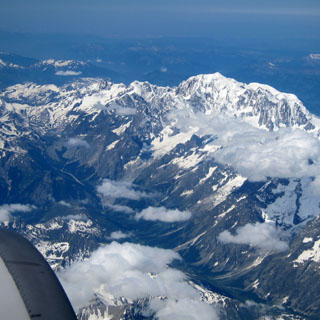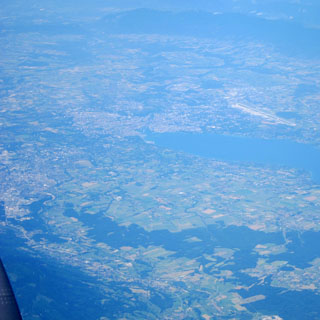 New Jersey
Checking out the wiper blades?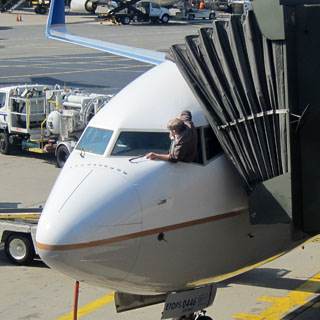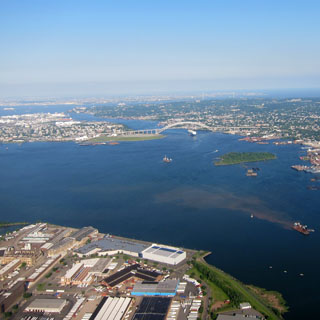 My goodness; what a trip! Few have had so much variation. Thanks to all the folks at Agostini's. This wouldn't be possible without them.
last edit: 6/25/2012