April 24 - 28, 2013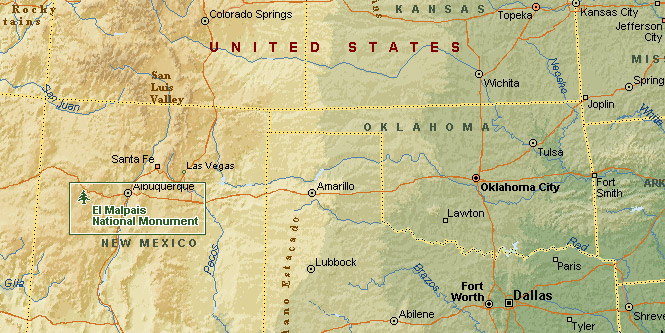 El Malpais National Monument is in western New Mexico, south of Grants. I'd been through the area several times, but never visited. For this trip, I'd be going to El Malpais and would pick up whatever else I saw along the way.
Kansas
Liberal, Kansas.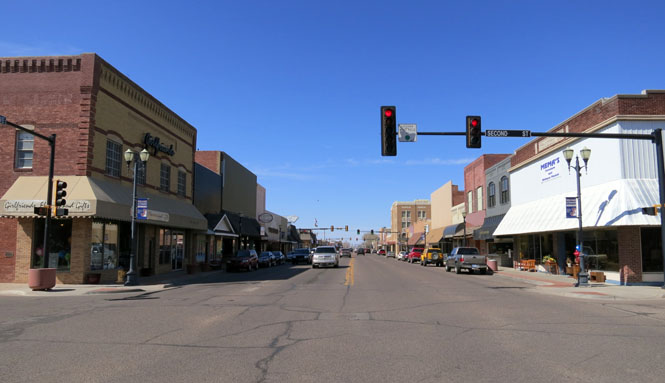 New Mexico
Tucumcari, New Mexico. Route 66 runs a few blocks south of Main street, and of course the freeway (I-40) ignores the town altogether. There's not much left downtown, and except to stop at a hotel at the interchange, not many cars pass through anymore.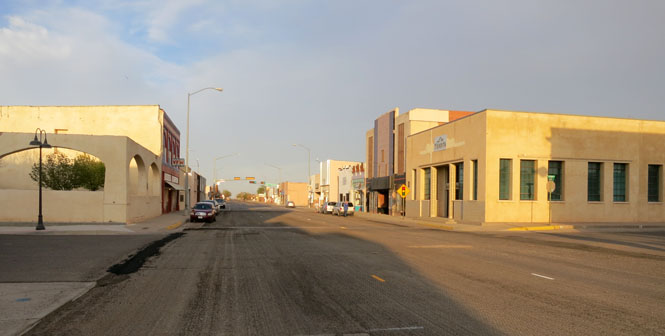 El Malpais National Monument
The primeval black basalt terrain of El Malpais was created by volcanic forces over the past million years. Molten lava spread out over the high desert from dozens of eruptions to create cinder cones, shield volcanoes, collapses, trenches, caves, and other eerie formations. This stark landscape preserves one of the best continuous geologic records of volcanism on the planet.

--NPS web site
It takes a bit of driving to visit the various places in the monument; that will cover the edges. If you want to see the core, you'll need several hours to walk.
El Calderon Area.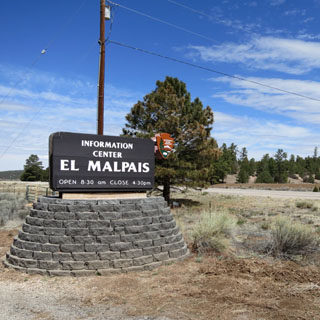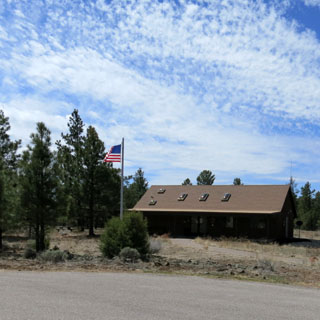 These are some of the older lava flows as is clear by the amount of vegetation that has covered the lava. The several caves in the area are closed to help protect the bats.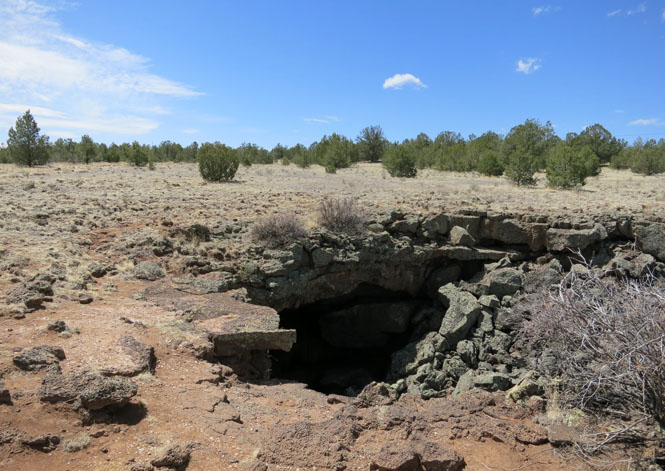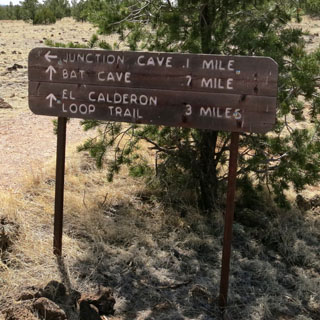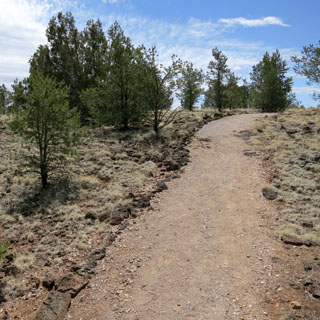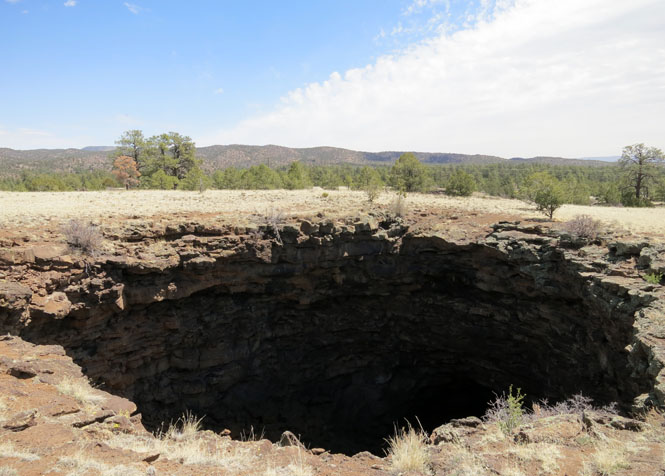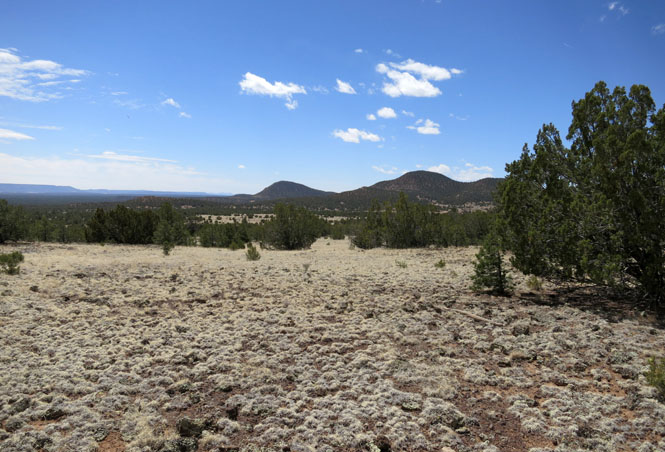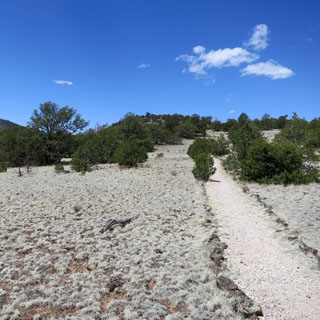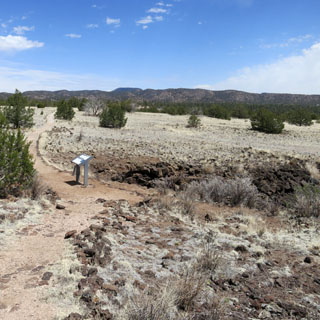 We're at elevation 8,500 feet, so you'll notice a shortness of breath on a long climb.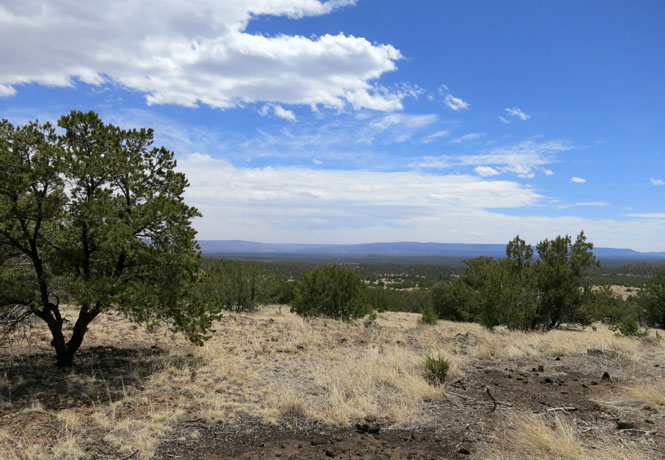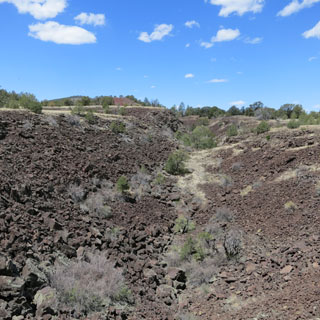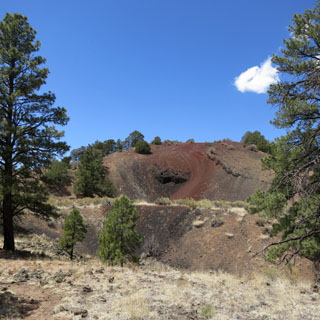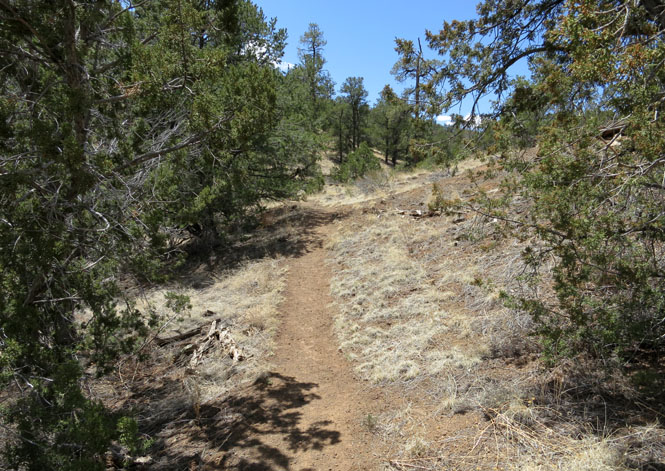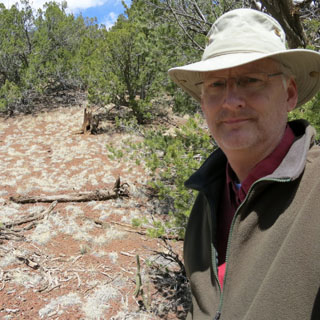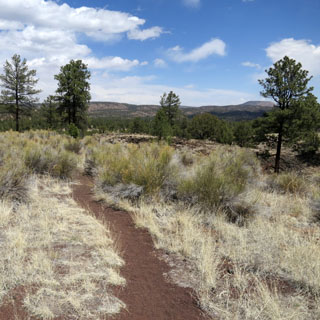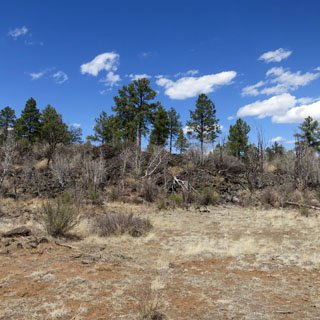 The drive to the eastern edge of the monument.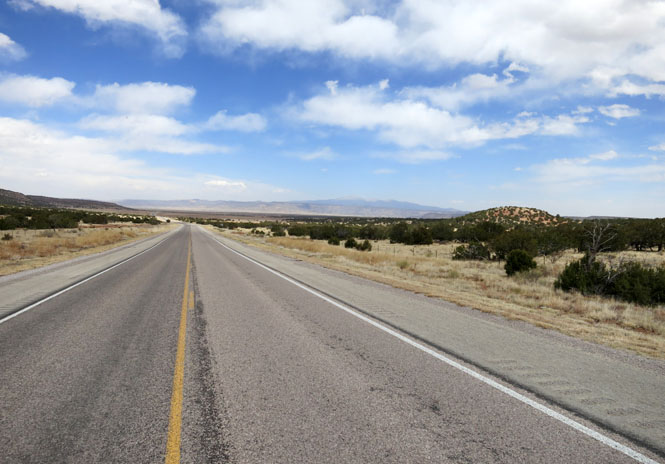 Sandstone Bluffs.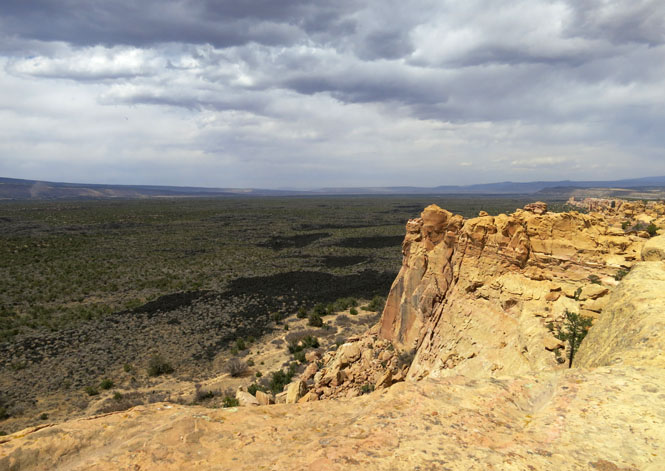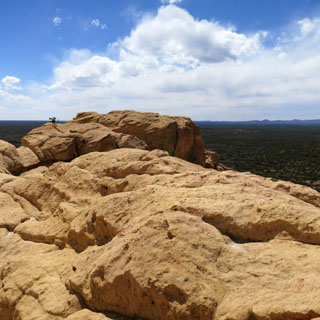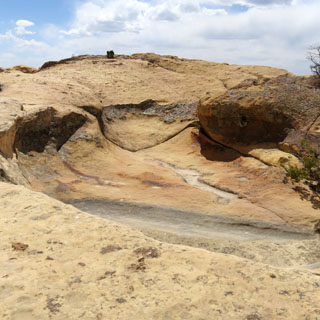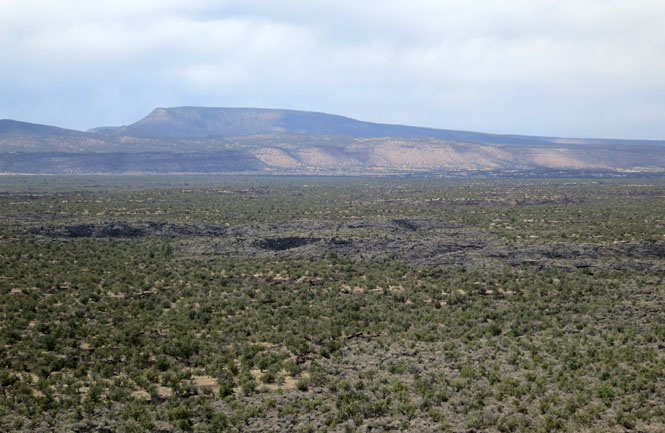 Lava Falls Area.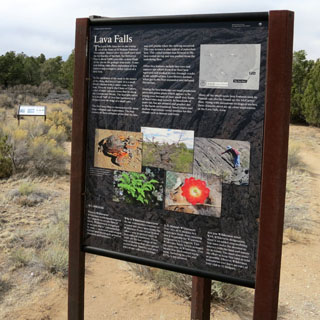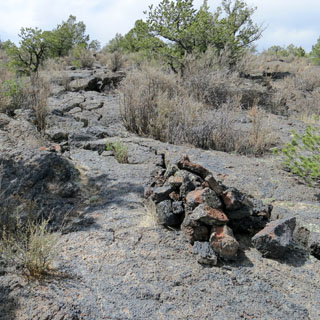 The trail is marked by piles of rocks. You'd think that would be easy enough to follow. It's not. You've got to pay attention.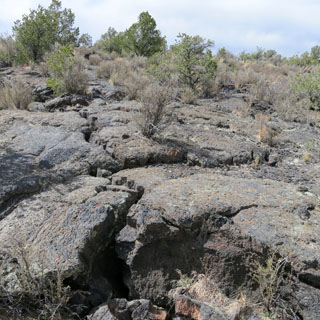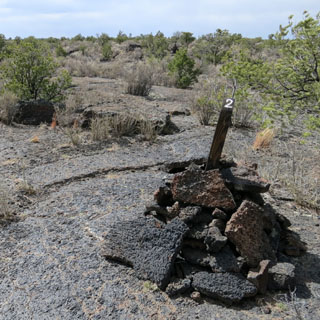 You wouldn't want to be walking here at night. You might end up down a deep crack in the earth.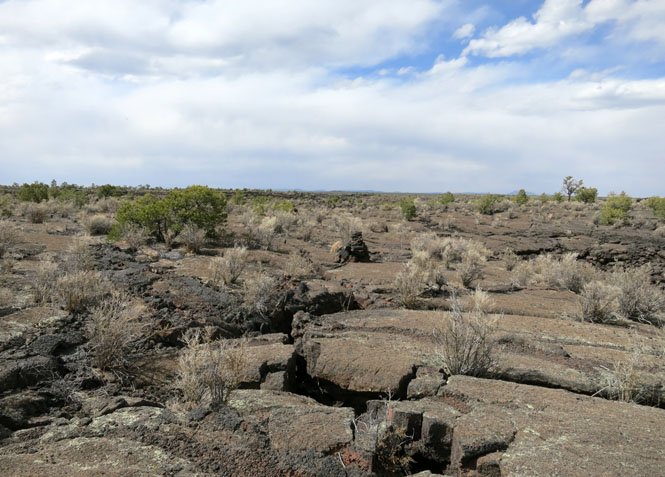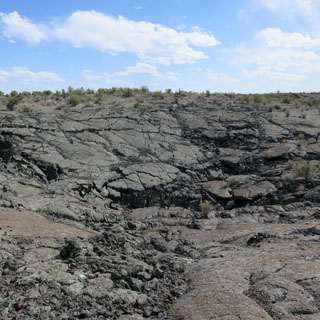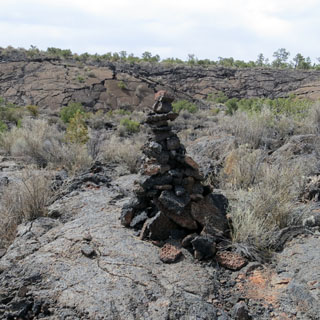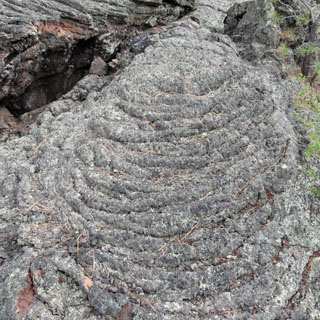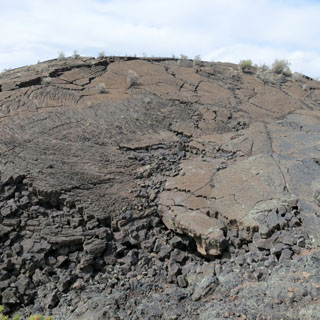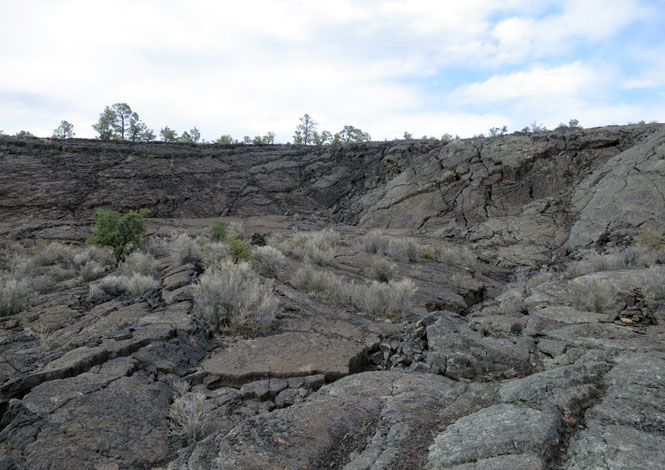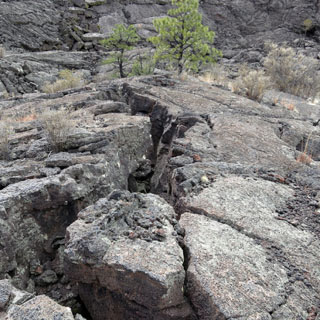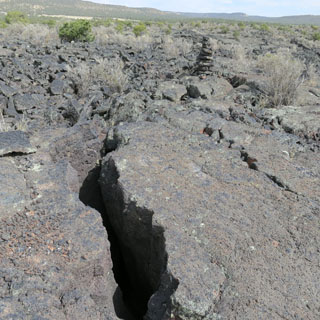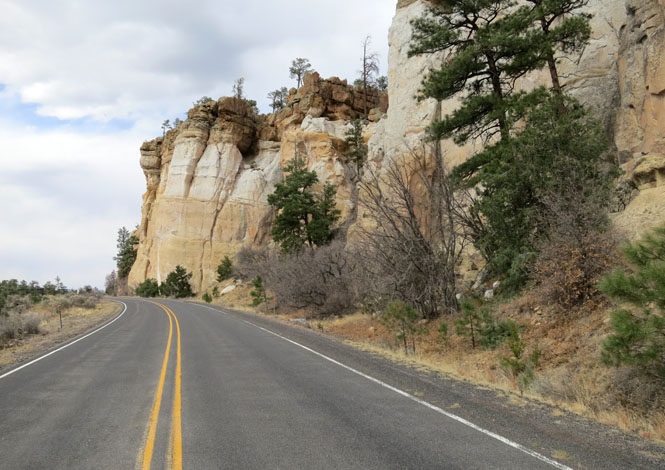 La Ventana Natural Arch.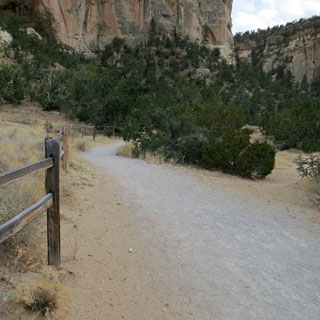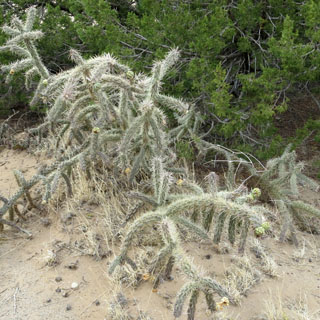 This is the second largest arch in New Mexico.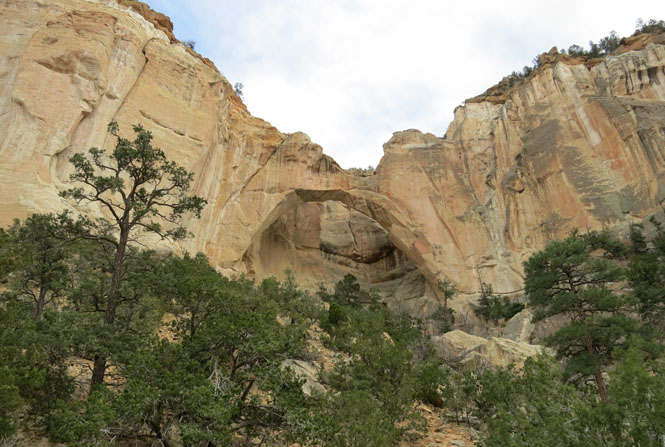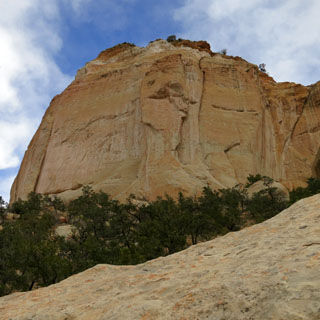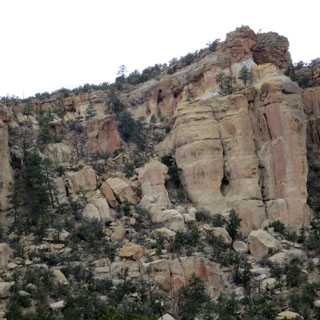 Just a short distance along the Zuni-Acoma Trail, which if I continued would take me across several lava flows back to the El Calderon Area.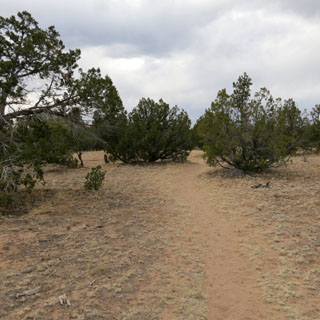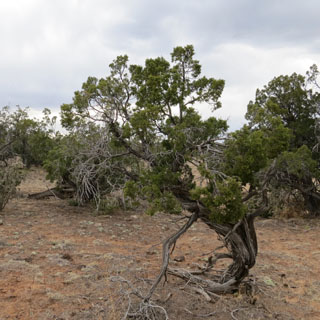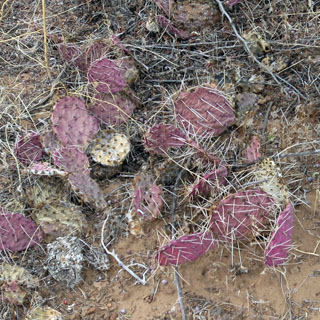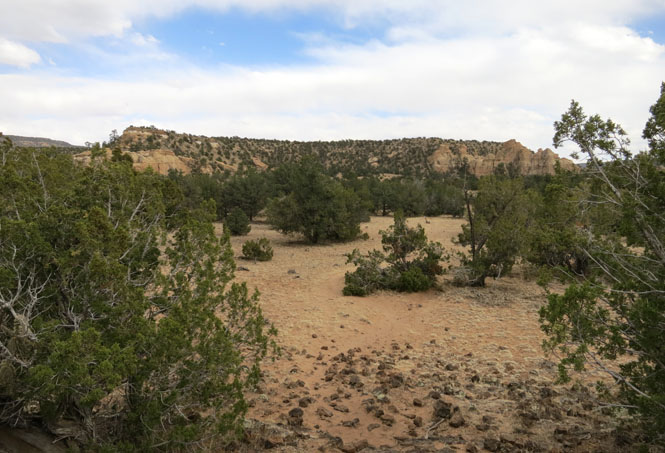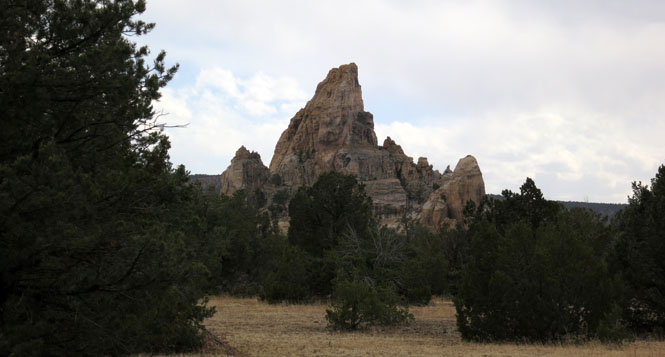 Grants, New Mexico reminded me of Tucumcari. These places did reasonably well when Route-66 went through town, but I-40 passes right by, and there's no need for anybody to venture into the town.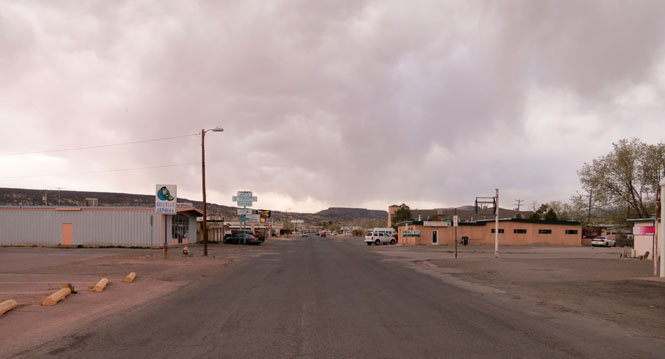 El Morrow National Monument
Paso por aqui...
Imagine the comfort and refreshment of finding water after days of dusty travel. A reliable waterhole hidden at the base of a sandstone bluff made El Morro (the headland) a popular campsite for hundreds of years. Here, Ancestral Puebloans, Spanish and American travelers carved over 2,000 signatures, dates, messages, and petroglyphs. We invite you to make El Morro a stopping point on your travels.

--NPS web site
This location has been a stopping point for hundreds of years. There is a dependable pool of water at the base of those bluffs.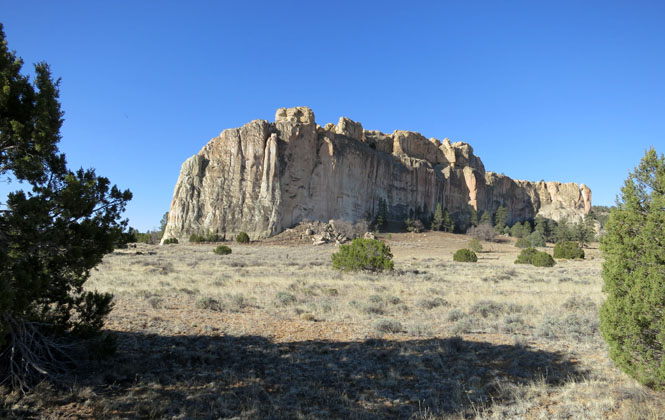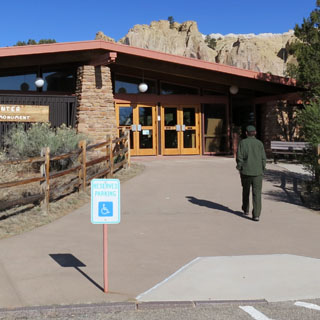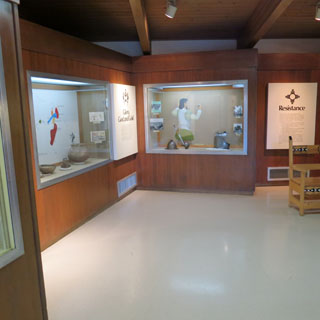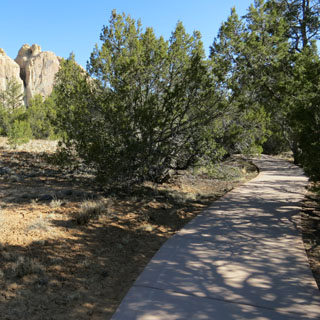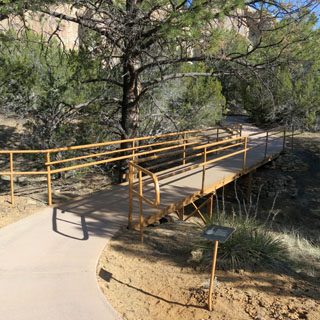 The pool is supplied by runoff from the top that drains into many cracks and crevices before eventually finding its way to the bottom.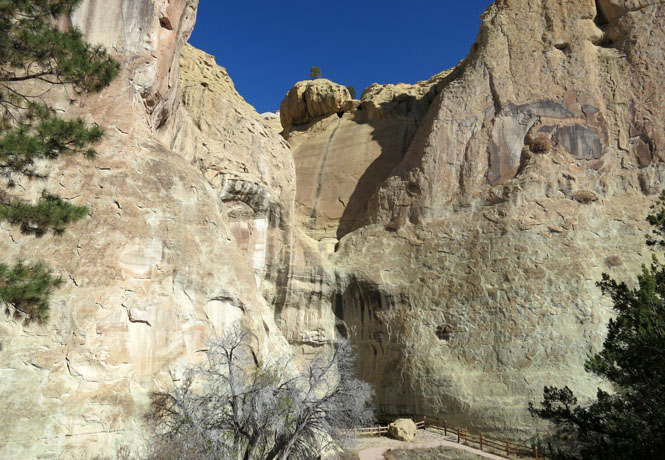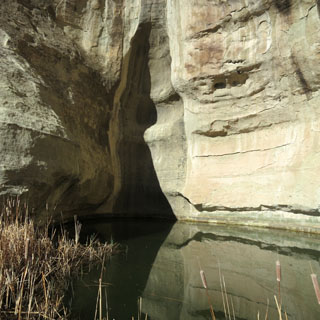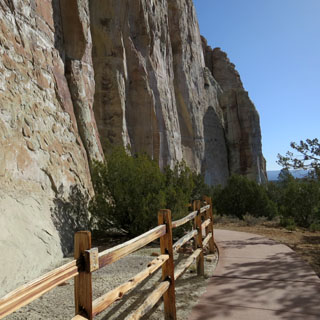 People have been leaving their mark.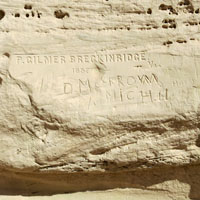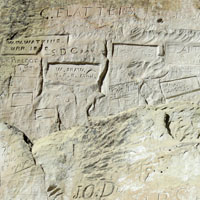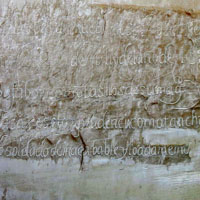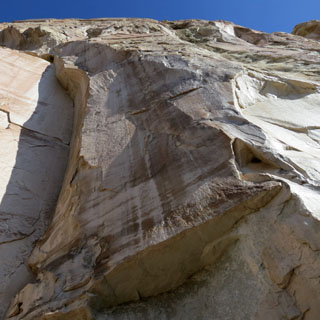 The trail takes you around the base and then to the top.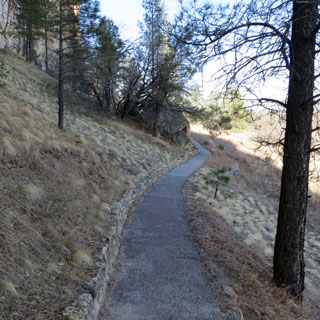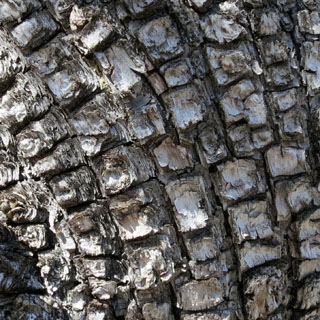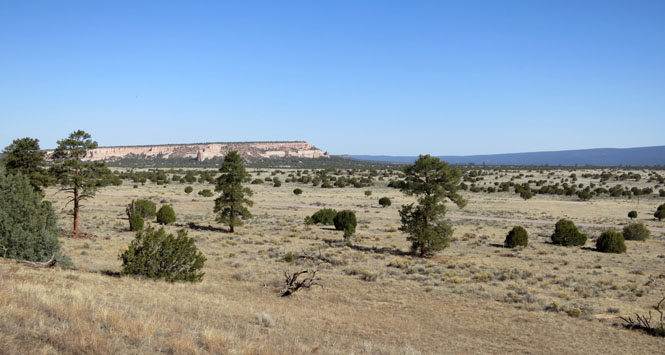 Several switch-backs before you reach the top.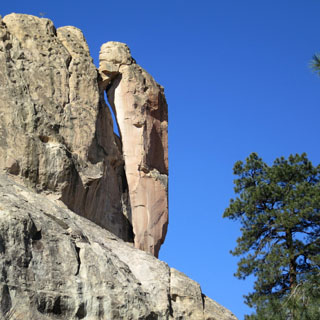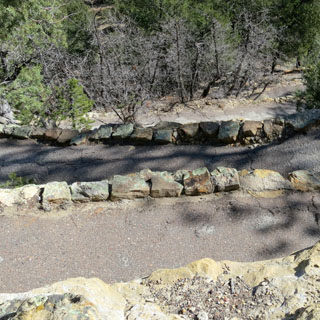 By now, I'm used to following the piles of rocks that mark a trail.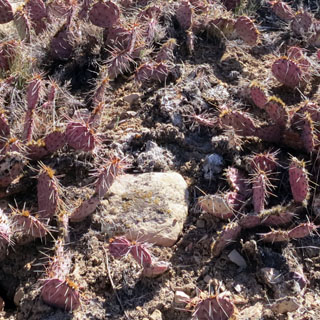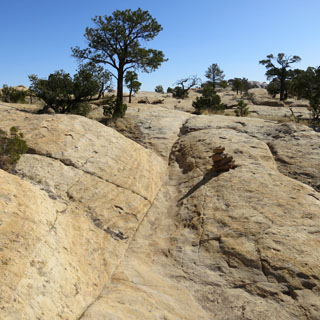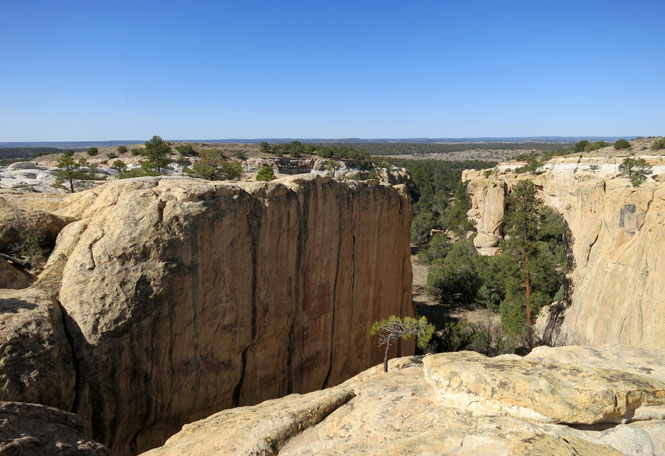 Years ago, the park service would do this sort of thing (cut stairs into the rock). That isn't done today.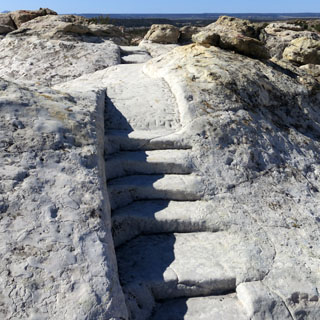 People once lived up here. They had water; they had protection.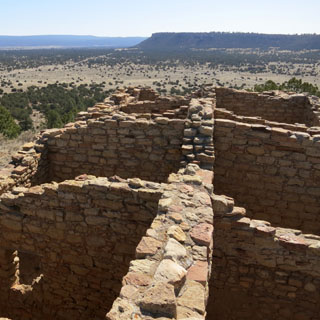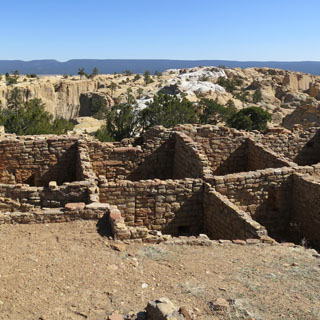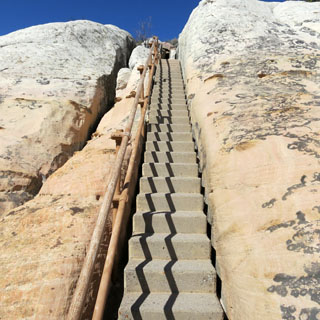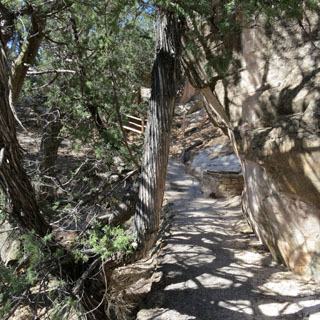 Arizona
US-191, Arizona.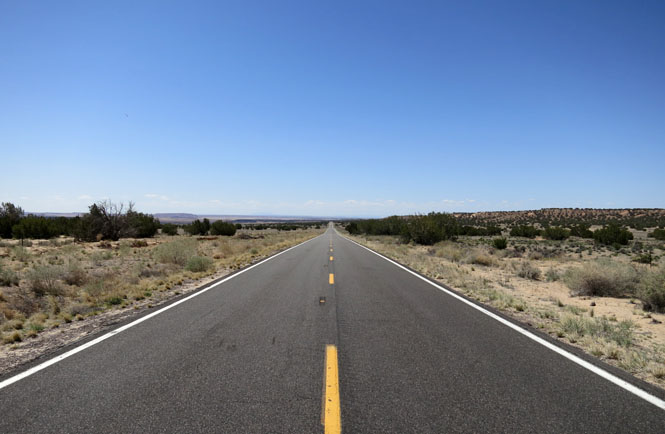 St Johns, Arizona for lunch. I was only a few miles into Arizona, running south on US-191 which parallels the border with New Mexico.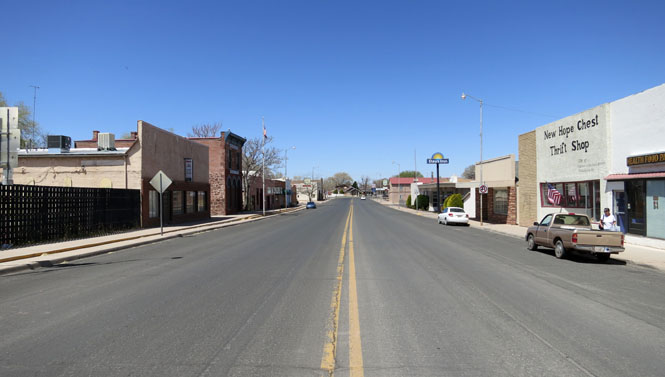 Turning back towards New Mexico on US-60.
New Mexico
Quemado, New Mexico.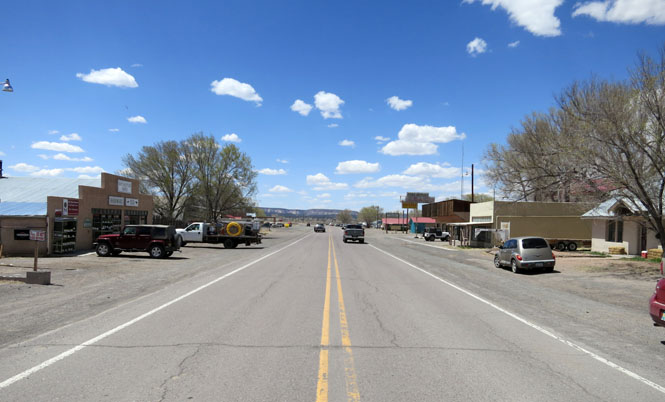 Pie Town, New Mexico. I've been by this place before, but never did stop for pie. This time, I did.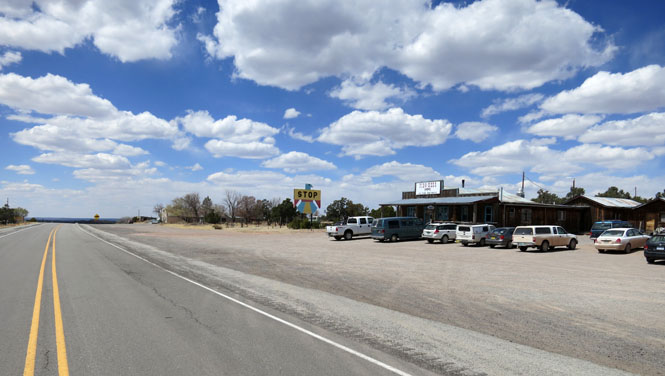 Blueberry pie and Leek soup. Both quite good.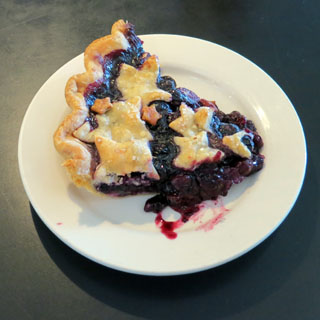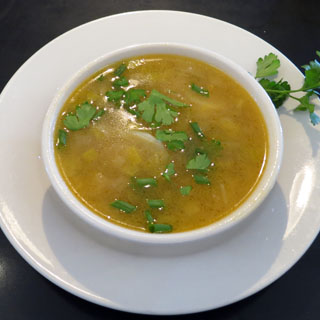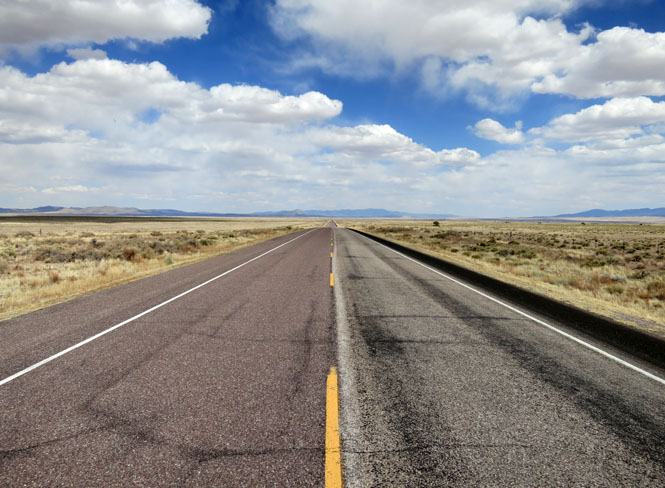 The National Radio Astronomy Observatory--Very Large Array
There are twenty-seven antennas in a Y-configuration. I was lucky as today they were all located quite close together. At the other extreme, the dishes are spread out so that each arm is thirteen miles long. They are moved every four months along the rails.
The movie was perhaps a little soft-and-squishy on the science side of things, but the exhibits brought the science and engineering right up front.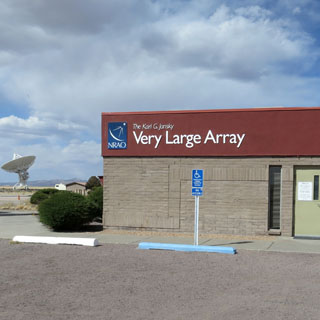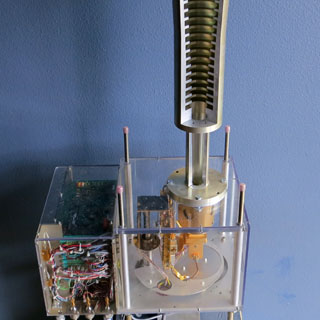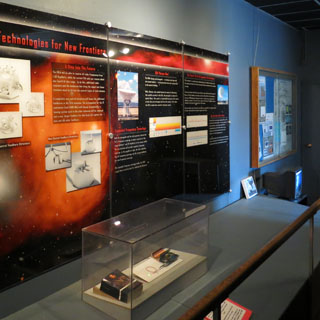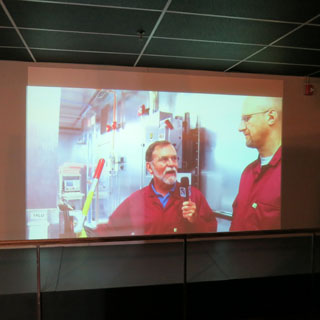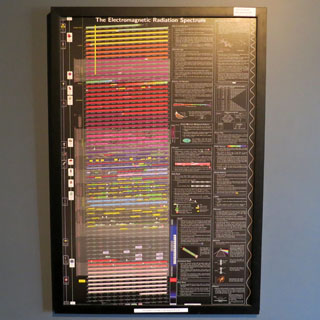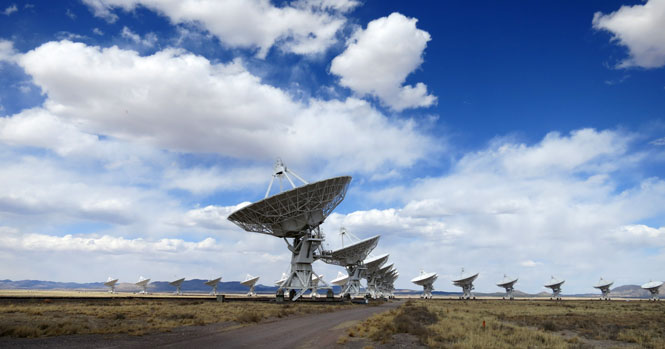 It's not really about the antennas, as distinctive and impressive as they are. The real advanced stuff is in this building (which is closed to normal people). "The Correlator" brings all the information together and makes sense of it. The computing power and the sheer volume of data collected is astonishing (as is the power backup). The people in the red coats and blue booties? That's a photograph of a photograph--I didn't go inside.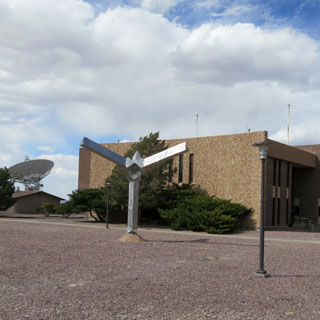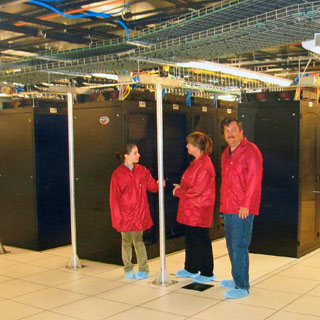 Magdalena, New Mexico.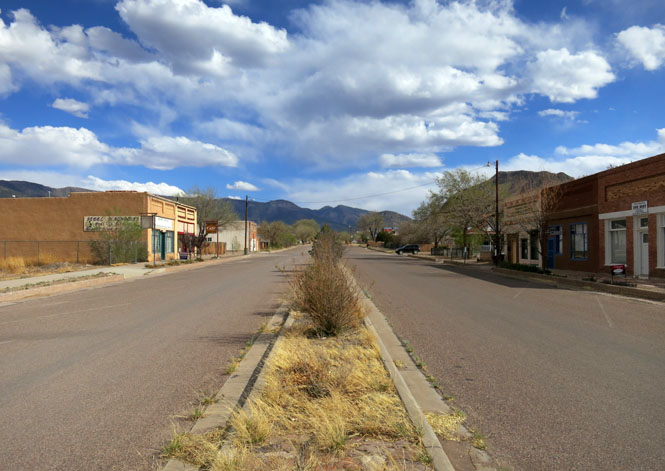 Socorro, New Mexico.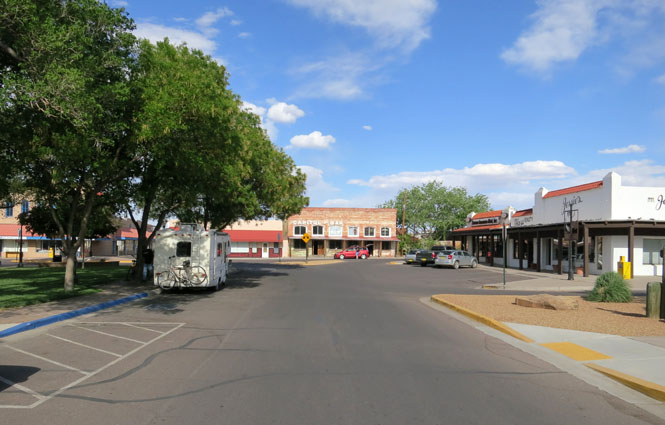 The church was built in 1615, but has been modified and remodeled since then.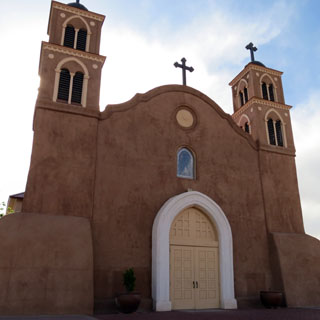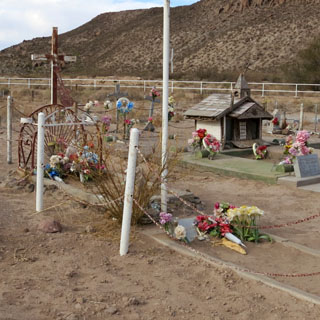 Sevilleta National Wildlife Refuge
The 230,000 acre refuge includes four different biomes that intersect and support a wide array of biological diversity. The Rio Grande flows through the center of the refuge, and is an important source of water that creates an oasis for wildlife in the arid landscape. Scientists from across the country and internationally come here to conduct research in these amazing ecosystems. The refuge is unique in that it was set aside "to preserve and enhance the integrity and the natural character of the ecosystems of the property by creating a wildlife refuge managed as nearly as possible in its natural state." Thus the refuge is not managed for specific wildlife species but to allow natural processes such as flood and fire to prevail.

--NWR website
There's quite a bit to see here, and Sevilleta is one of the largest refuges in the country. But, alas, the gate was closed, so I only was able to continue my curious practice of riding a unicycle at a wildlife refuge.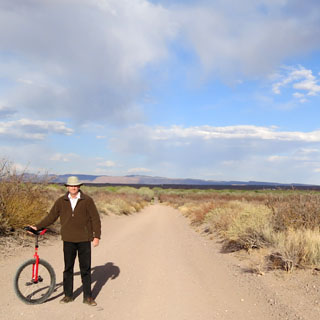 I found my way to the old part of Belen along the tracks. This old Harvey House is now a museum, but was closed for the evening.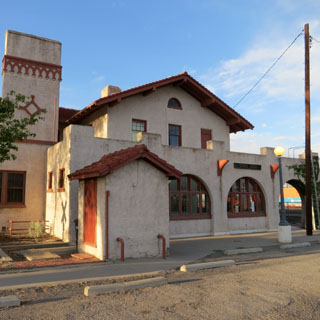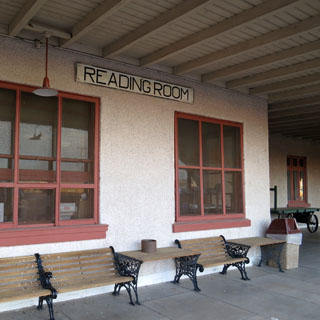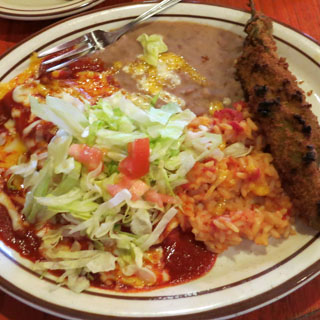 Belen, New Mexico.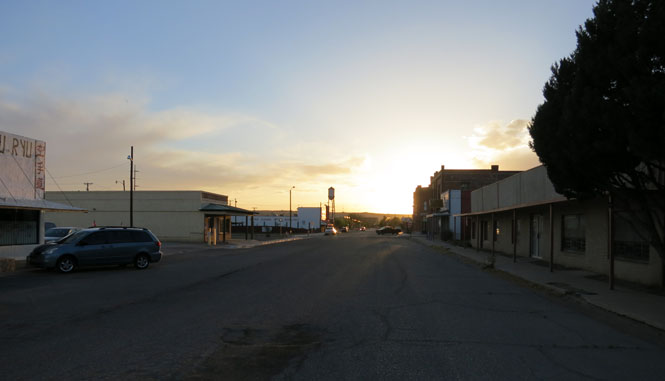 Salinas Pueblo Missions National Monument
Salinas Pueblo Missions is a curious park in that it is a collection of three discontinuous units, each with distinct Spanish Missions, Native American Pueblos, and a variety of other historic buildings and ruins. The park started on November 1, 1909 with the preservation of the Gran Quivira unit. This first park, Gran Quivira National Monument was joined in 1980 by the Abo and Quarai Units which were transferred to the National Park Service from New Mexico State Monuments. The two new units were combined with Gran Quivira to create Salinas National Monument, which was renamed Salinas Pueblo Missions National Monument in 1988

--NPS website
Abo Ruins
In 1622 Fray Francisco Fonte was assigned to the Abo Mission. Working with the Puebloan, Fonte established the use of rooms in one of the pueblos for an early convento. An early smaller Abo Church and Convento were built starting in 1623. Similar to Quarai, the convento for this church curiously contained a Circular Kiva. This Puebloan religious structure probably aided in early conversions. Construction on this earlier church and convento was completed by 1628. In 1629, a second missionary, Fray Francisco Acevedo, was assigned to Abo. In 1640 Acevedo began to renovate the Abo church and convento. This renovation increased the size of the church and included many improvements. This new, larger church was built around the smaller church, allowing services to continue until the smaller church needed to be dismantled and removed. Renovations to the church and convento were complete by 1658. Like Gran Quivira, a combination of disease, drought, famine, and Apache raiding led to the abandonment of Abo in 1673.

--NPS website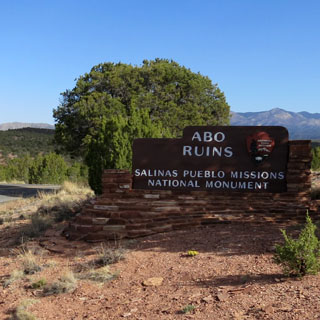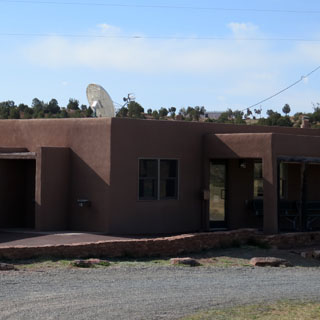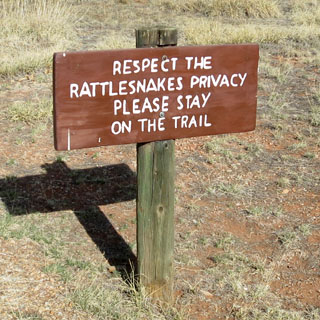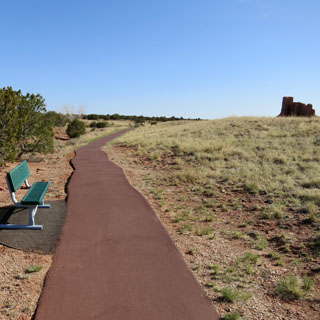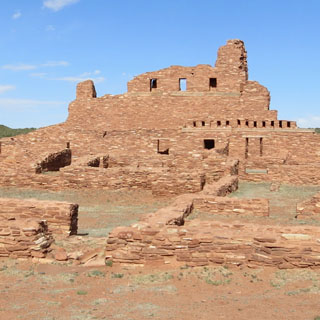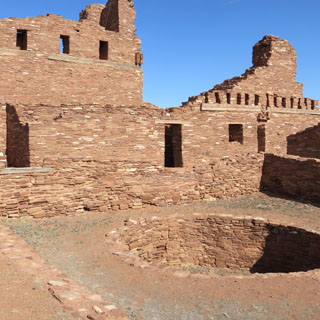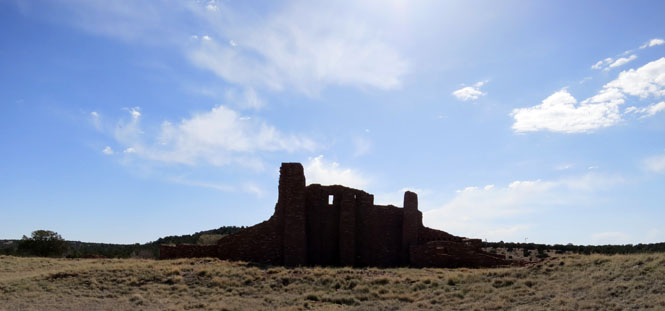 Mountainair, New Mexico.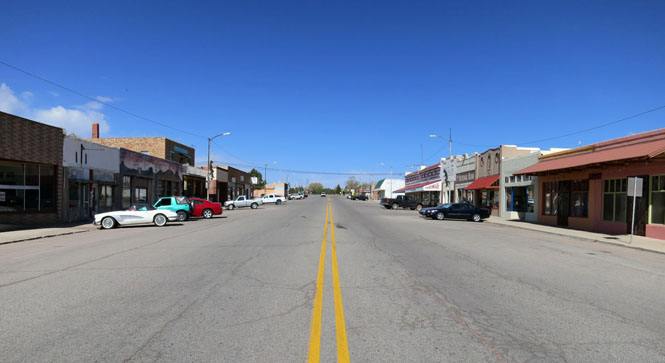 Quarai Ruins
The Quarai Mission and Convento were established at Quarai in 1626 overseen by Fray Juan Gutierrez de la Chica. Construction began on La Purisma Concepcion de Quarai in 1627 and continued to 1632. Curiously, within the newly built convento, a Square Kiva was built. Like the other Missions of Salinas Pueblo Missions, a combination of disease, drought, famine, and Apache raiding led to the abandonment of Quarai in 1678.

--NPS website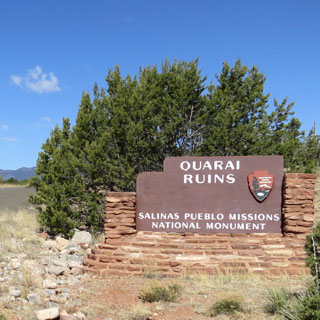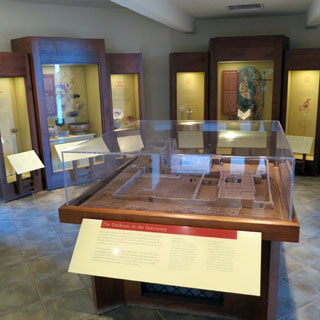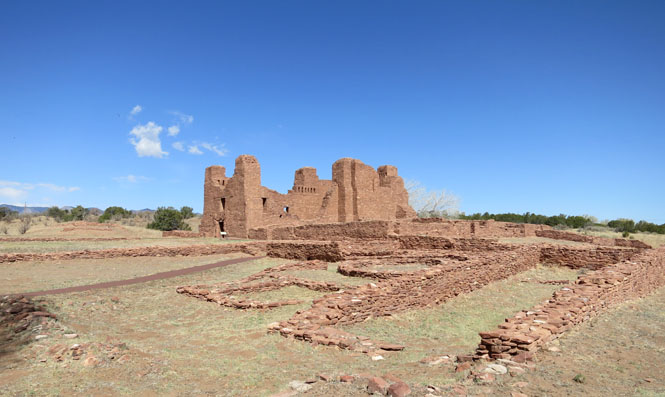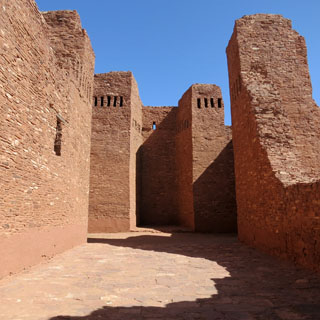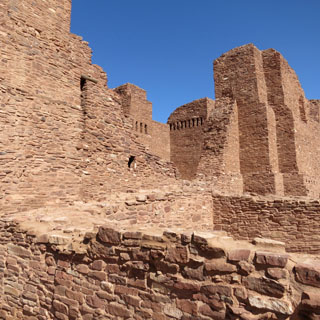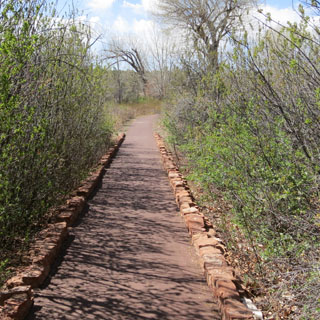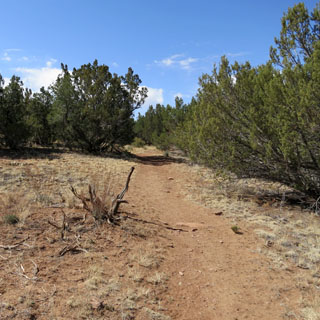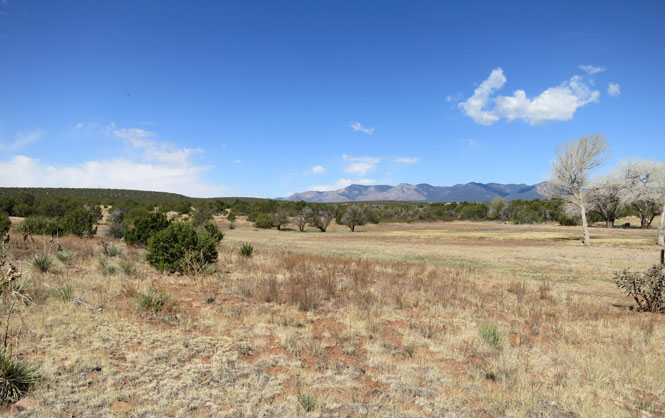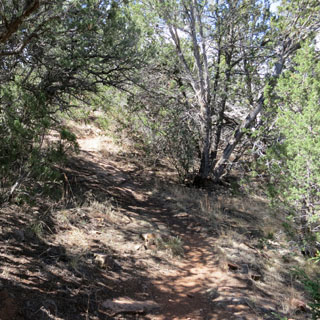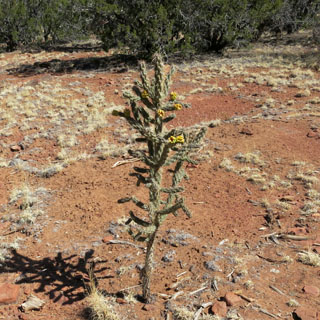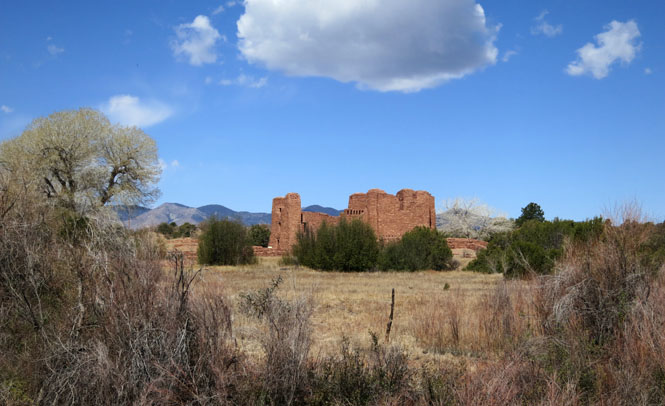 Gran Quivira Ruins
The Spanish returned in 1598 with the expedition of Don Juan de Oņate who was the first Spaniard to colonize what would become New Mexico. Oņate visited a pueblo he called Las Humanas which was the southernmost settlements. As part of the mission system, Las Humanas (Gran Quivira) was first placed under the Pecos Mission District. Later, with the arrival of Fray Alonso de Benavides in 1626, Gran Quivira was given more attention and later became a visita (a satellite mission without a resident Father) of Abo in 1629. That same year construction began on the first permanent mission at Gran Quivira. Under the supervision of Fray Francisco Letrado, rooms on the west end of Mound 7 (the Letrado's Convento) were used by the Spanish for housing and probably an early chapel. Letrado was moved to the Zuni Pueblo in 1631 and Gran Quivira came under the control of Fray Francisco de Acevado at the Abo Mission. Construction on Inglesia de San Isidro was completed in 1635. In 1659 Fray Diego de Santander was permanently assigned to Gran Quivira. Soon after, construction on a new larger church, San Buenaventura, began. By 1672 a combination of disease, drought, famine, and Apache raiding led to the abandonment of Gran Quivira.

--NPS website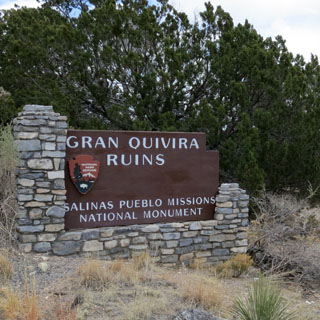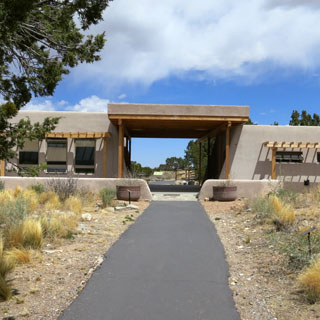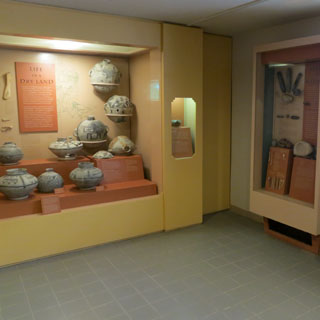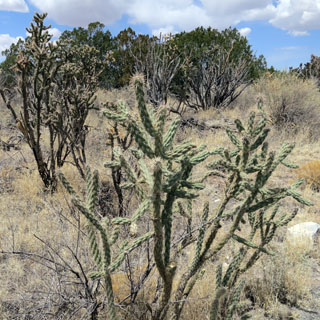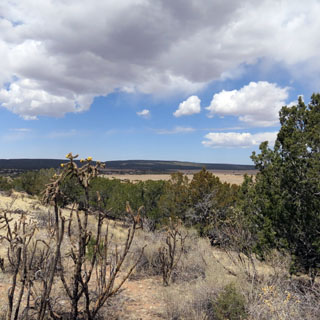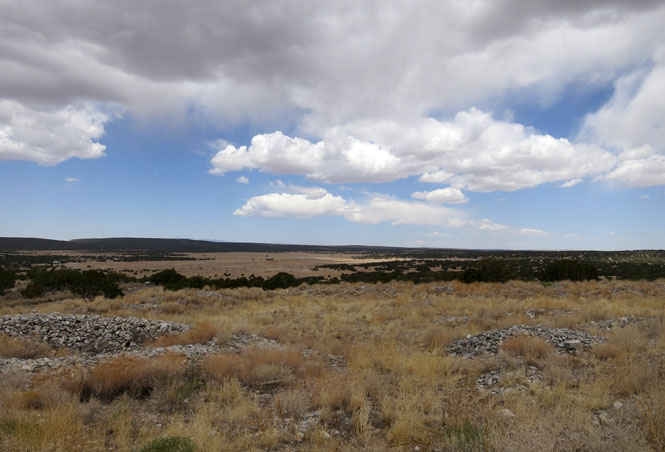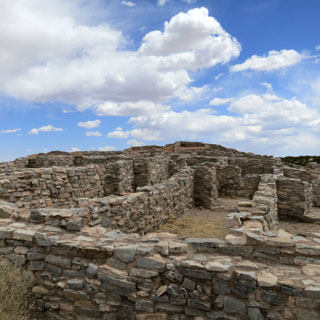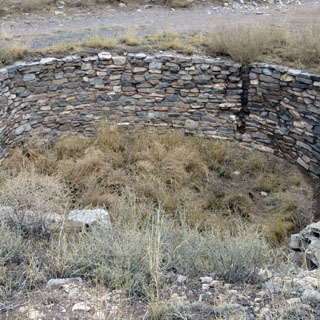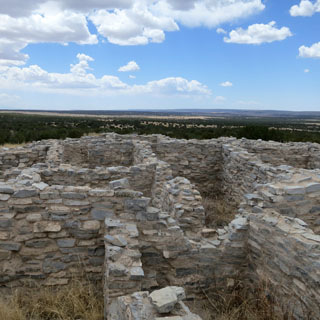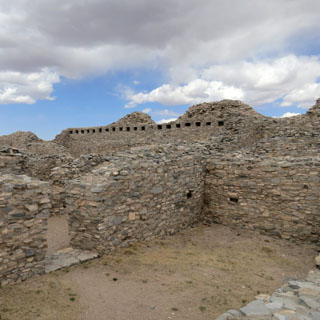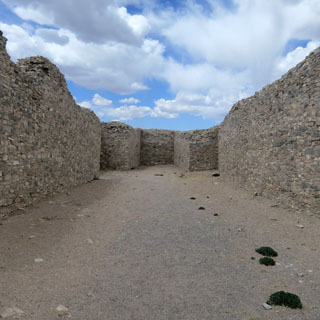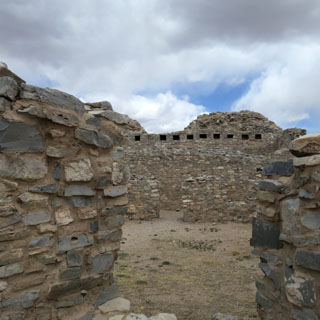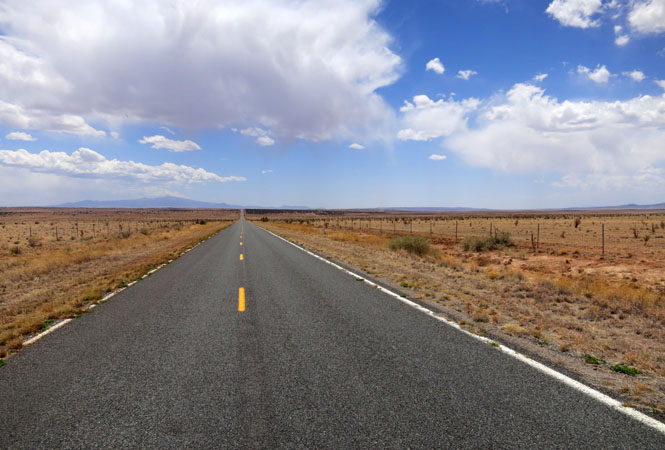 Carrizozo, New Mexico.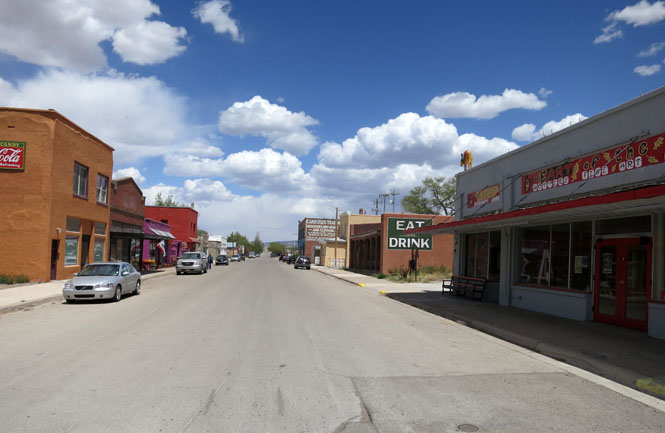 Roswell, New Mexico.
The Anderson Museum of Contemporary Art is part of a residency program created by Donald Anderson.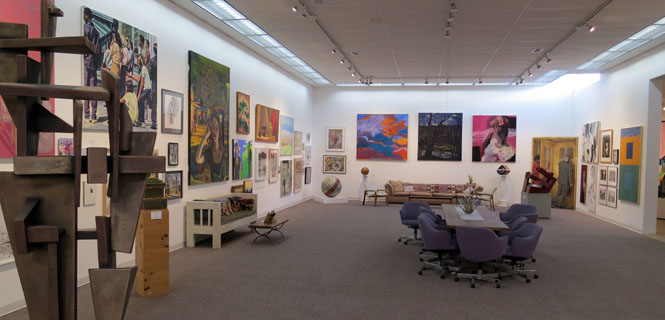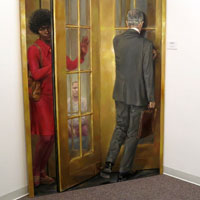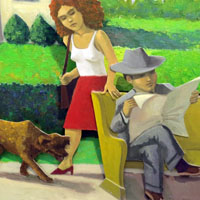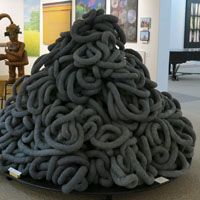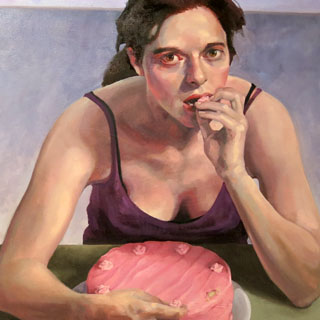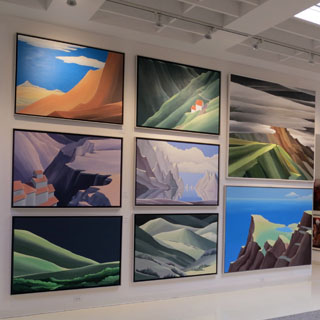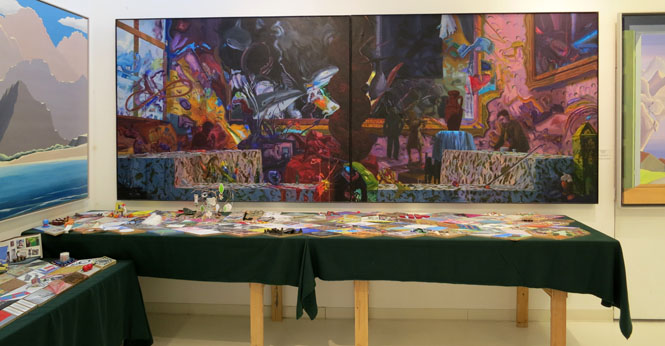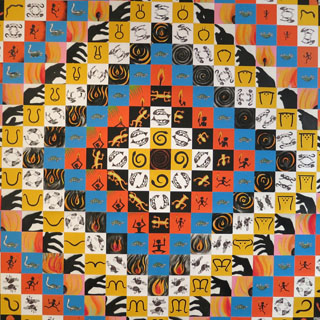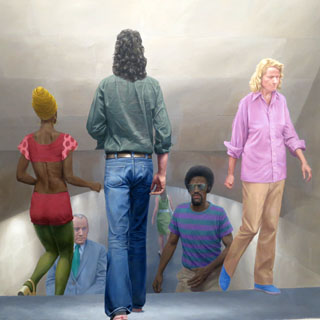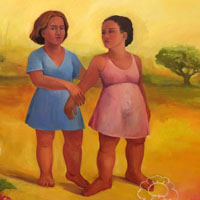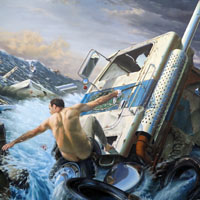 The Roswell Museum and Art Center is about a mile from the Don Anderson museum. The two are clearly supportive of each other.
The Roswell Museum and Art Center was founded in 1935 through an agreement between the City of Roswell, Works Progress Administration (WPA), Federal Art Project (FAP), Chaves County Archaeological and Historical Society, and the Roswell Friends of Art. The Museum opened in 1937, deriving its initial support from the WPA as part of a Depression era project to promote public art centers nationwide. Today, the Roswell Museum and Art Center is among a handful of these Federal Art Centers that remain in operation.

--museum website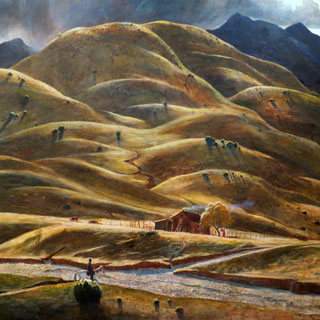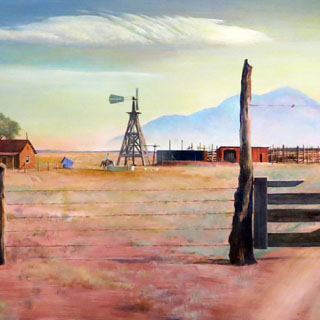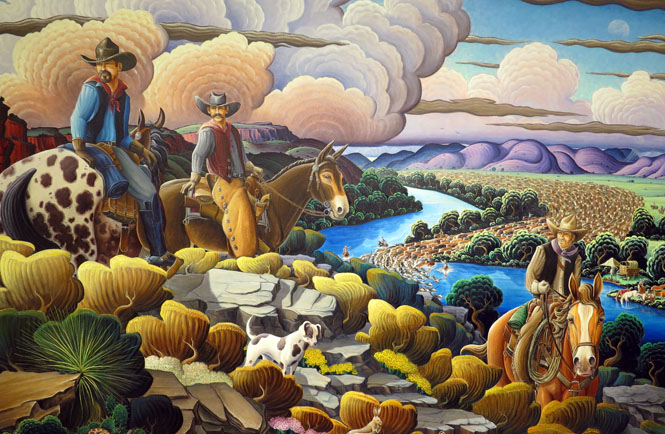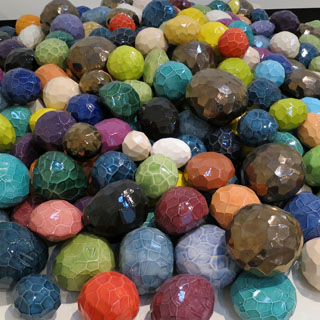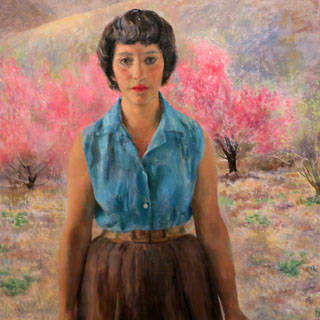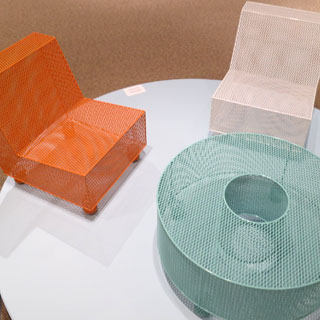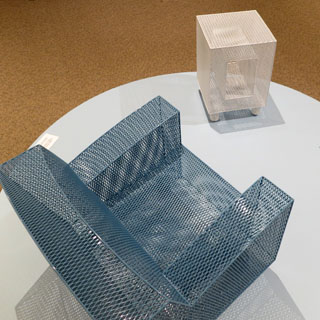 Within the art museum is this historical exhibit. New Mexico history is so complex that I think they did a very good thing by having a densely packed showcase for the different views of New Mexico.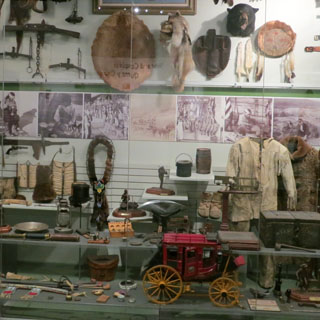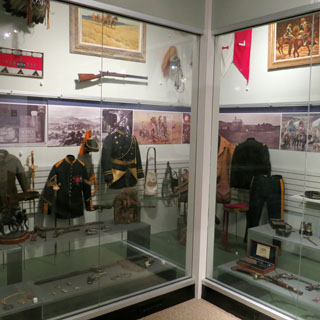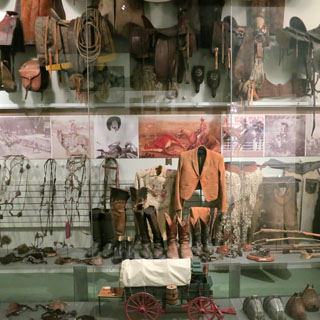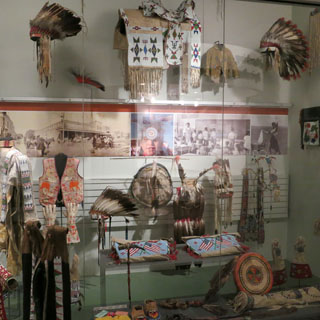 The museum has a re-creation of Robert Goddard's workshop, which was very impressive in its completeness.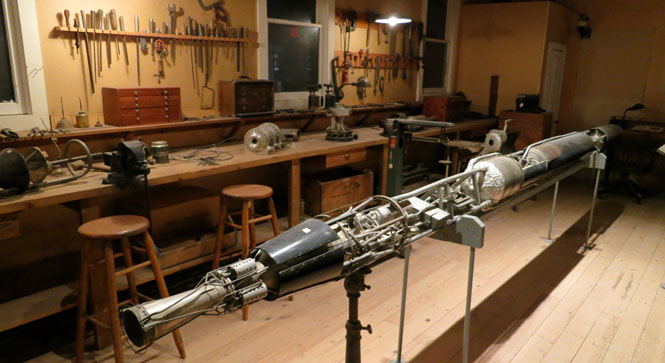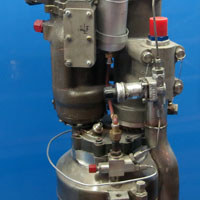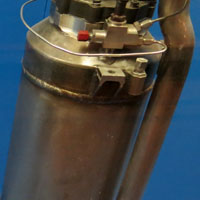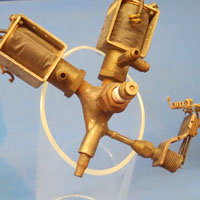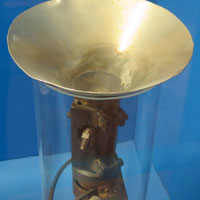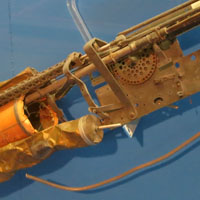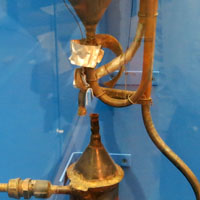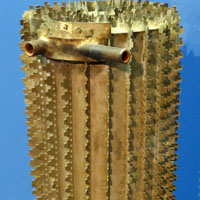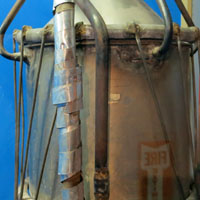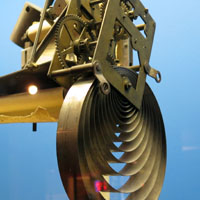 Elida, New Mexico.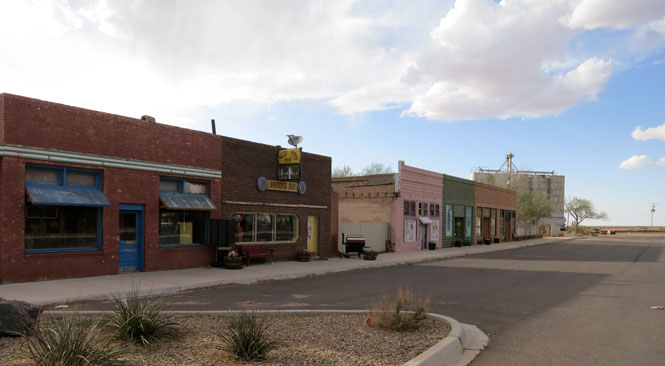 Portales, New Mexico.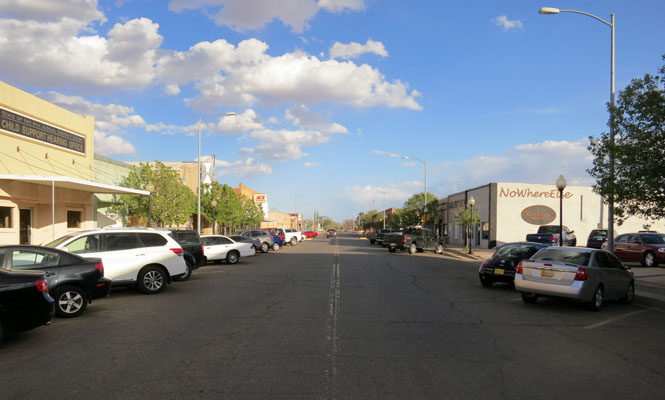 Texas
Friona, Texas.
Hereford, Texas.

Buffalo Lake National Wildlife Refuge
A valuable wintering area for migrating waterfowl, thousands of ducks and geese over-winter on Buffalo Lake National Wildlife Refuge every year. Located in Randall County in the Texas Panhandle, the refuge is made up of 7,664 acres of shortgrass prairie, riparian, marsh, woodland and cropland habitats. Maintaining these habitats provide homes for migratory and resident wildlife species.

Riparian areas, consisting of trees and grasses adjacent the dry lake bed, provide habitat used for feeding and nesting by neotropical migratory birds, deer, and numerous other wildlife species.

Wildlife food crops are planted in the dry lake bottom by cooperative farming. The crops are used by wildlife for food and the mix of crops, stubble, and natural plants provide nesting and winter cover for migratory and resident wildlife.

Buffalo Lake NWR contains some of the best remaining shortgrass prairie in the United States, including 175 acres designated a National Natural Landmark. Shortgrass prairie ecosystems were historically maintained by annual grazing of migrating American bison. With the bison gone, this ecosystem is maintained by grazing cattle.

--NWR website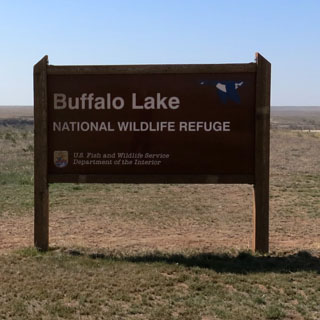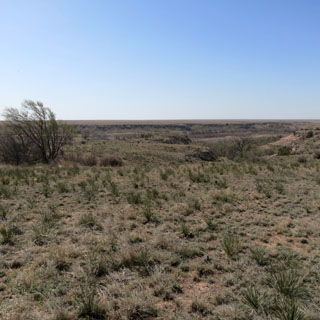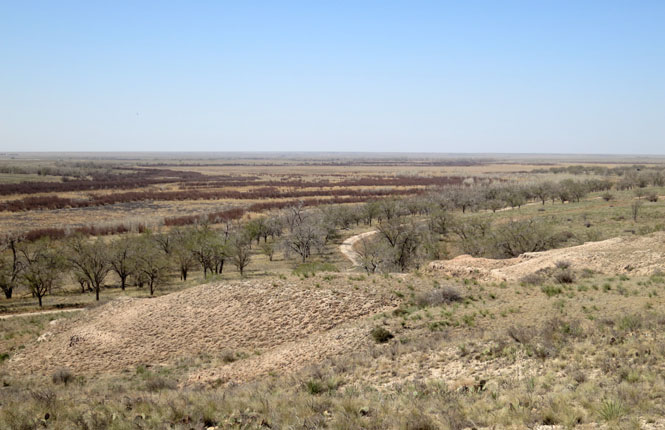 I did see one snake (it was brown and tan), so perhaps the viewing platform does serve a purpose.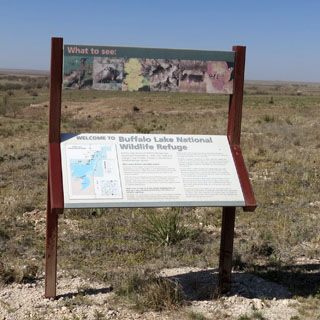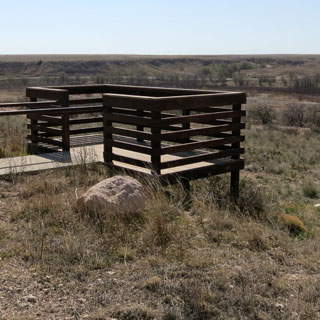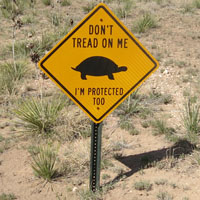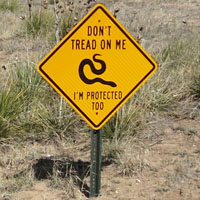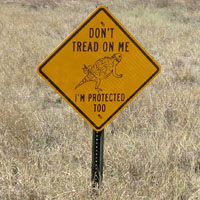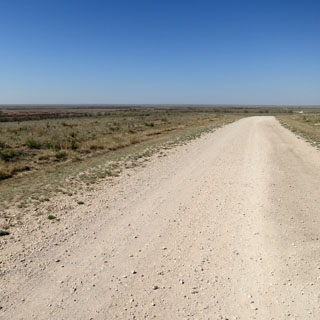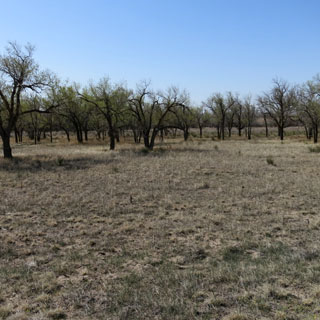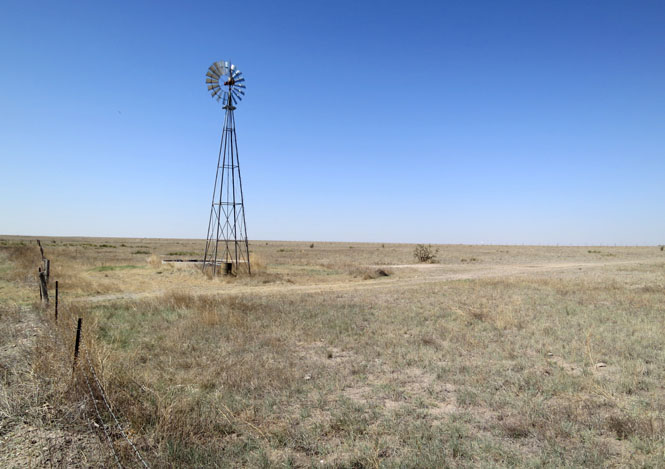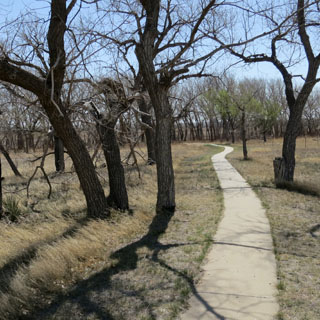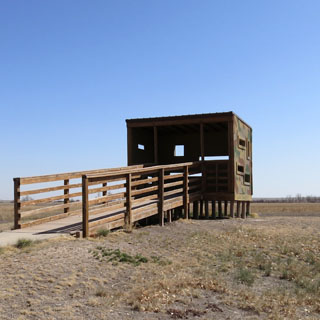 When the lake existed, it was here.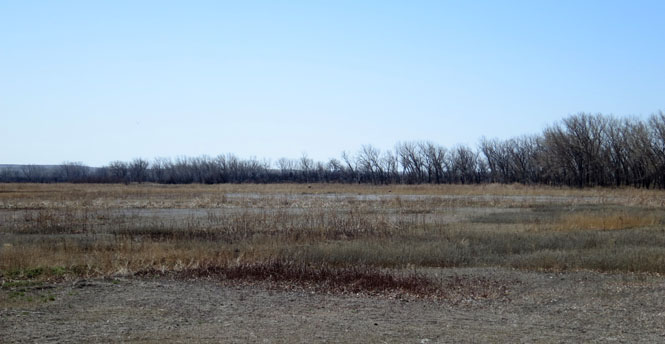 And another opportunity. For this sort of hiking path, an off-road unicycle really works well; It's much faster than walking, but without the bother of a bicycle.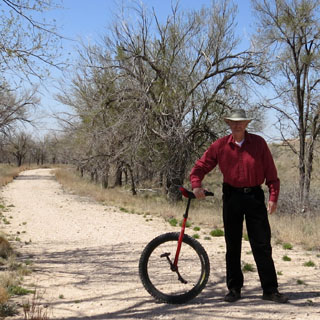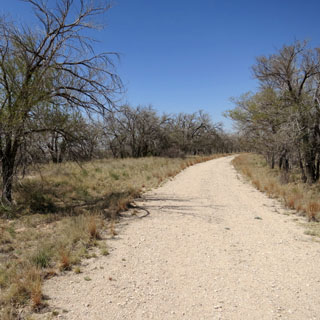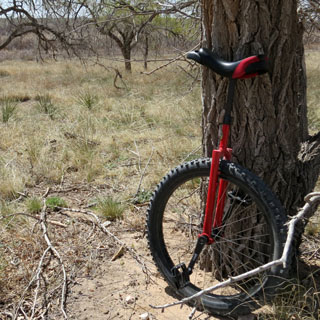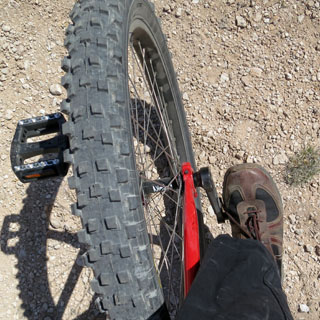 White Deer, Texas actually has a white deer.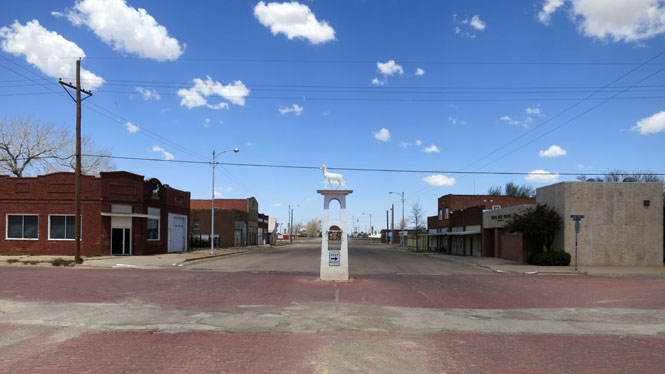 Pampa, Texas.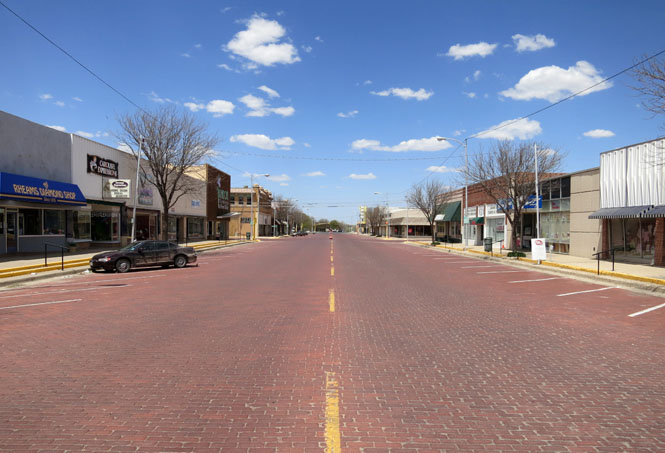 Perryton, Texas.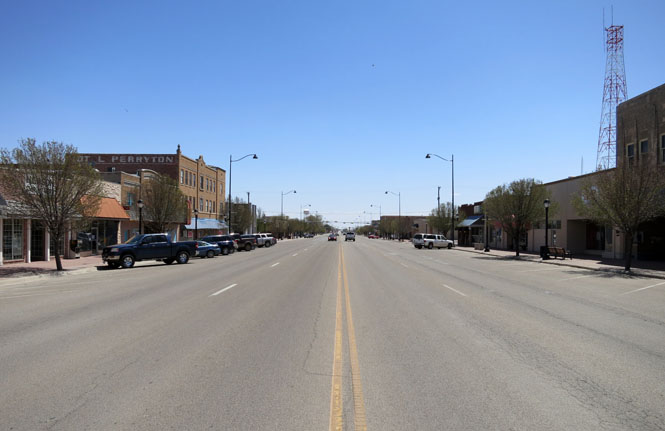 Oklahoma
Turpin, Oklahoma.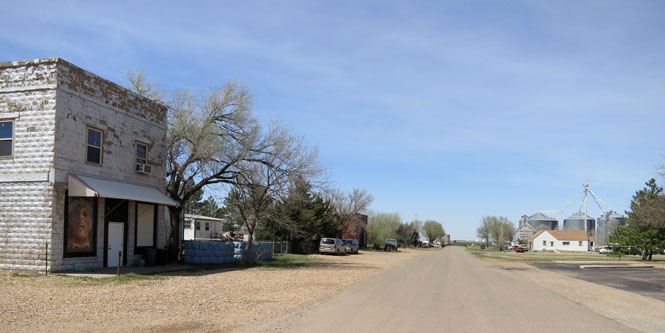 last edit: 4/30/2013