May 16 - 21, 2013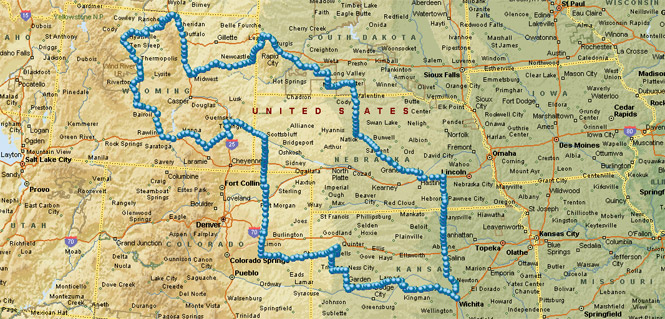 This was intended as a trip of a few days to the Black Hills of South Dakota, and then perhaps west to the Big Horn Mountains. Mostly, though, I'd be keeping an eye on the weather so that I could avoid too much that was unpleasant. And mostly, I succeeded.
The route shown on the map (above) was taken directly from my Garmin Dakota GPS. For the most part, I used the GPS to simply show my current location; not as guidance to a destination (which I really wasn't sure of).
Nebraska
Nebraska Highway 2 is a nice route through that state as it follows the Loup River valley. I've been on this road several times, and it's a rare thing to see more than one vehicle at any one time.
Ravenna, Nebraska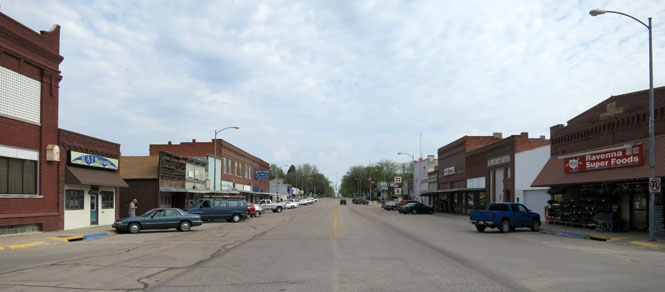 Litchfield, Nebraska

Ansley, Nebraska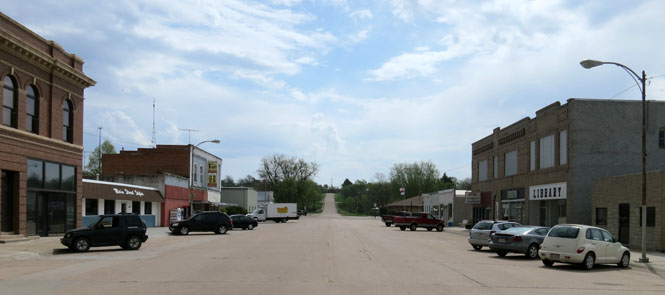 Broken Bow, Nebraska. Some towns were put down on a simple grid, while others went for the large central square. If they were lucky, they'd be named a county seat and a courthouse would be built in that square. Broken Bow has the square.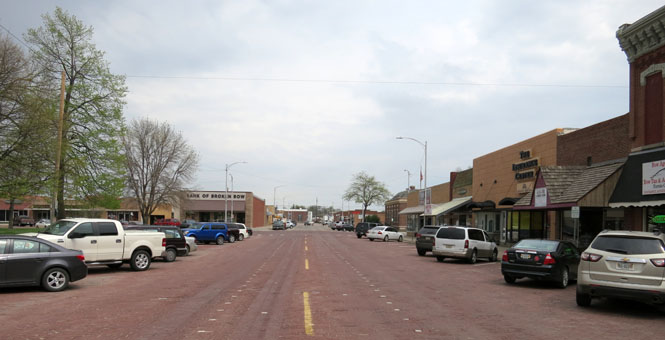 Anselmo, Nebraska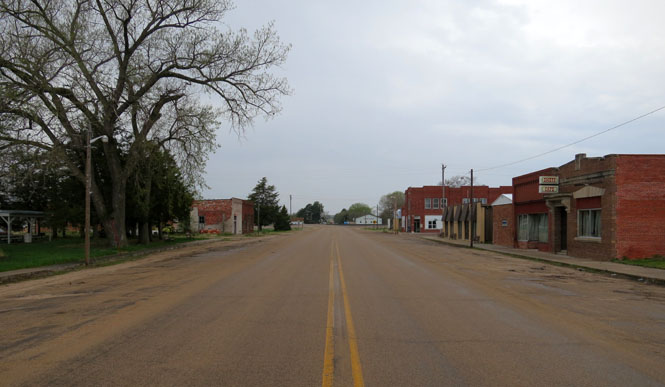 We're entering the Sand Hills; but here, the land between the hills is still flat and can be farmed. Later that won't be the case.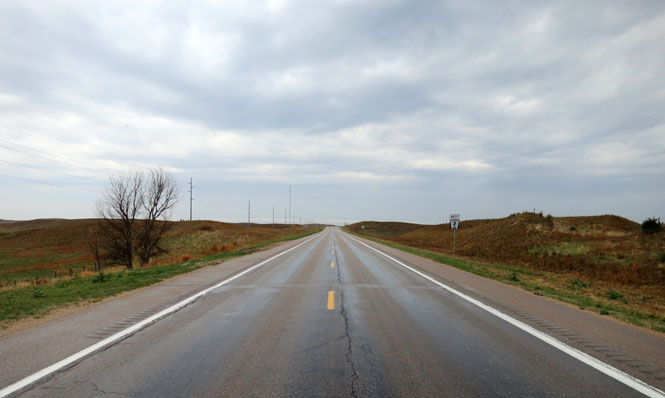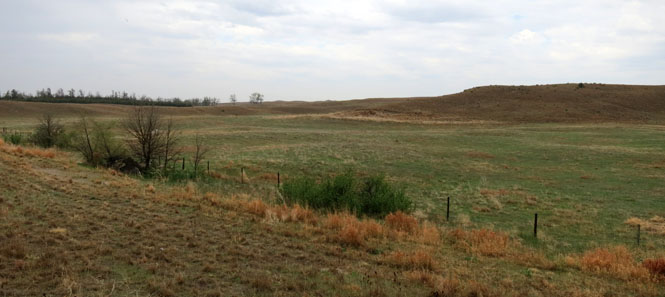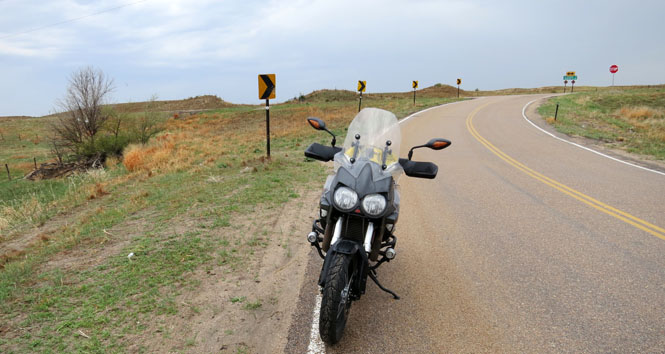 Halsey, Nebraska. These small-town cafes don't seem to even try to attract outsiders Don't expect a sign; you've got to look for the trucks parked out front.

The menu (if there even is a menu) might have any number of things listed, but your best bet is to go with what everybody else is having. It will be fine.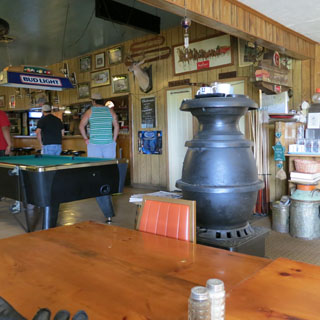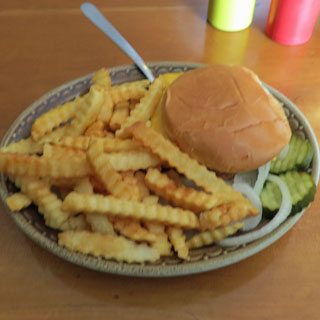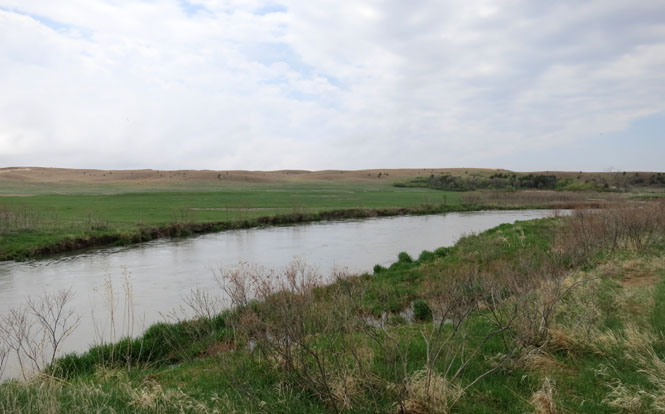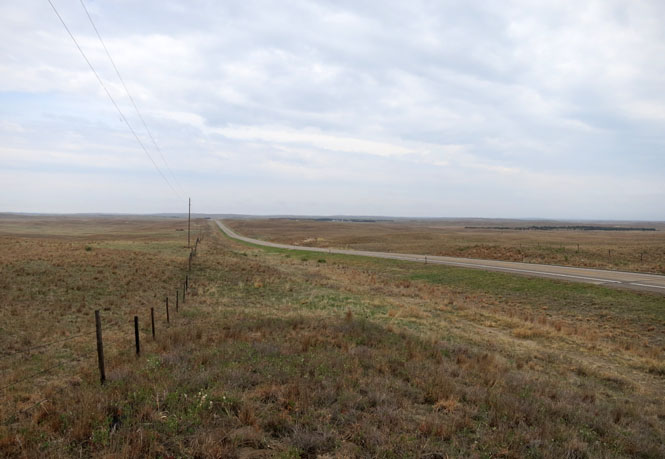 You cannot farm this land. It's just sand. But, there is water; the water-table is quite high, and there are hundreds of small lakes between the hills.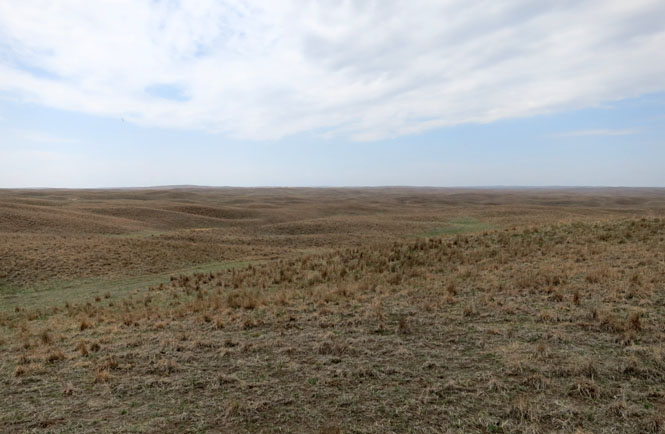 Sand. And wind.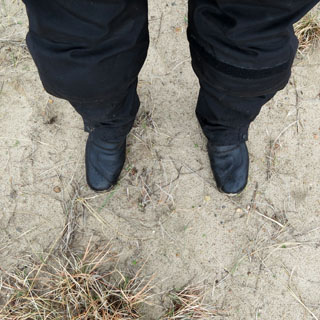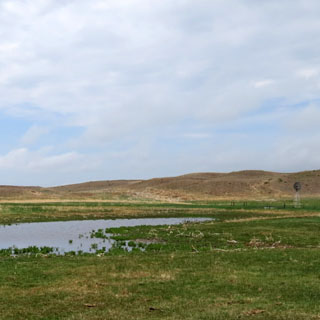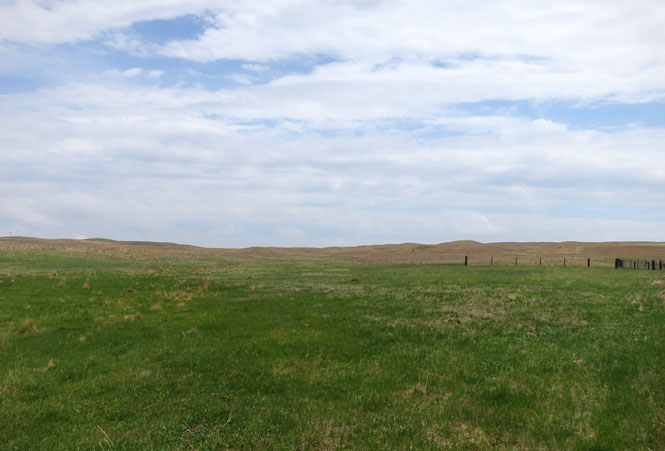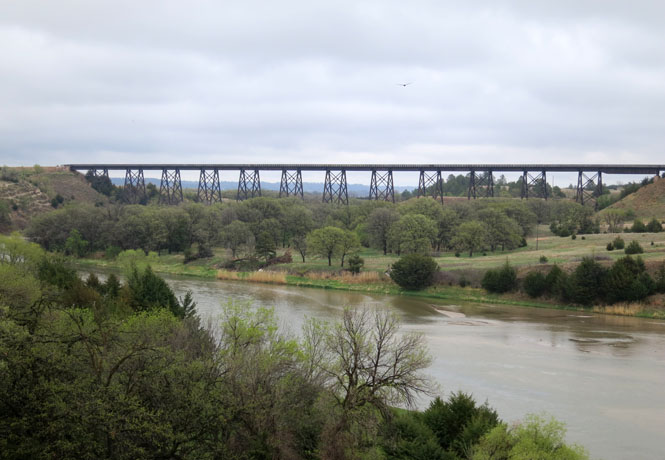 Valentine, Nebraska. I was not doing such a good job at avoiding rain. At times, it was quite heavy.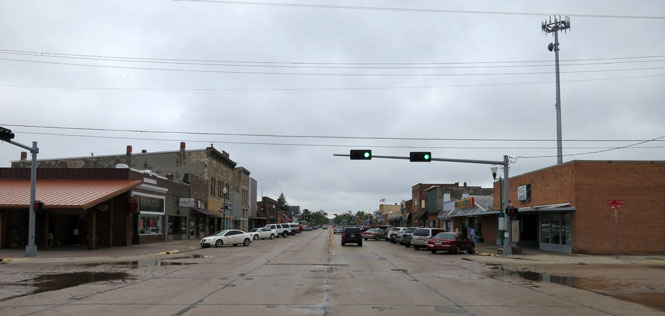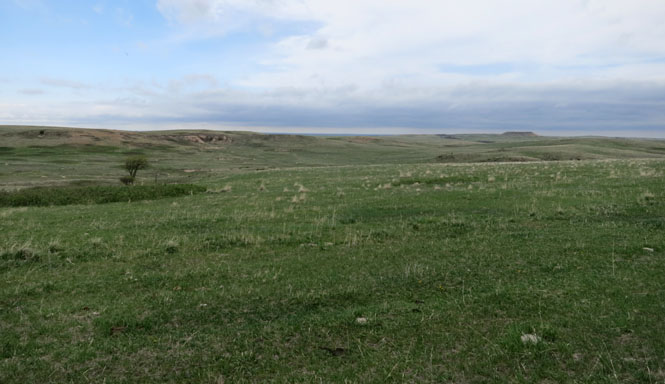 South Dakota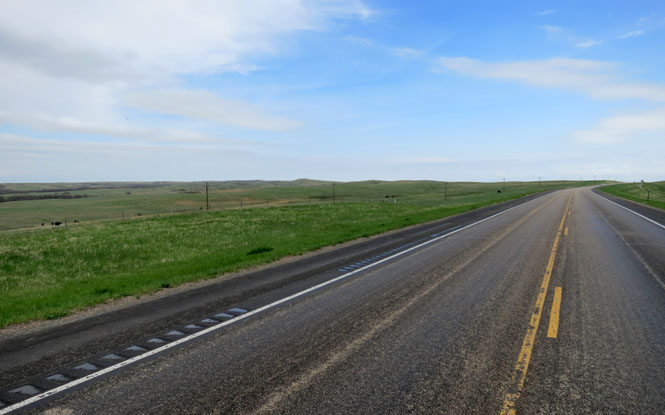 White River, South Dakota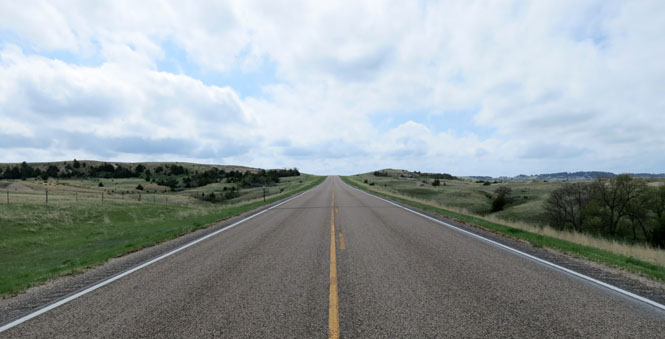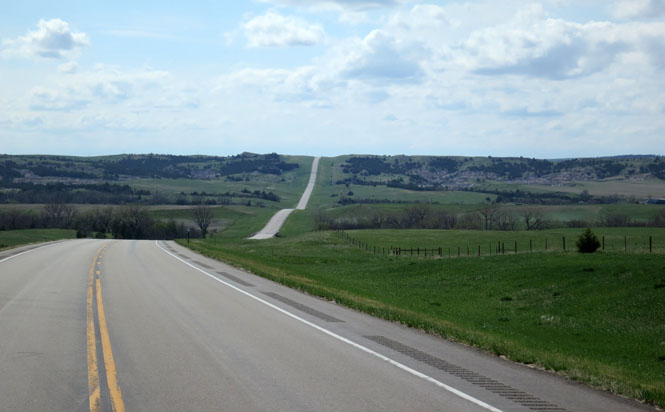 First view of the Bad Lands. I've been through the National Park several times already, so I wouldn't be stopping on this trip.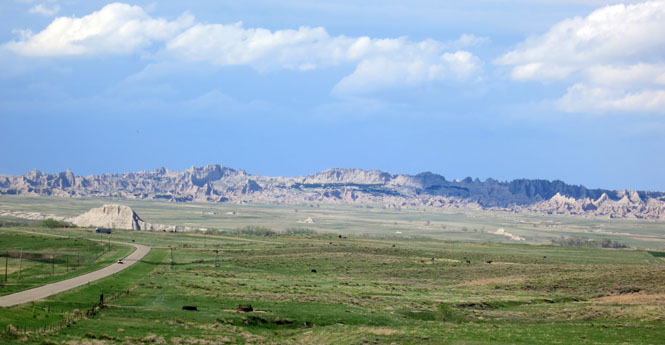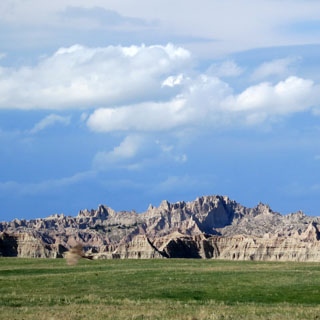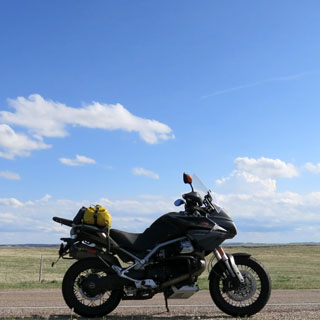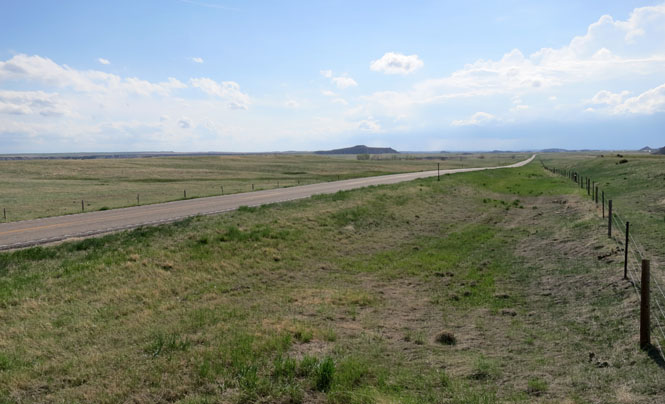 The bright sky beyond can be misleading. In any event, I'm going to get a good drenching before I see the sun.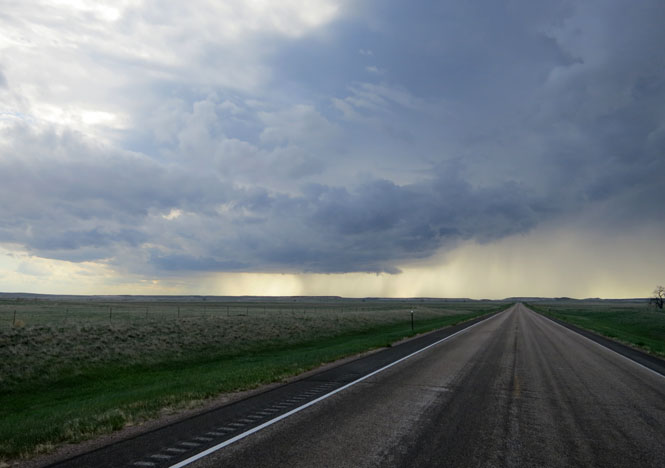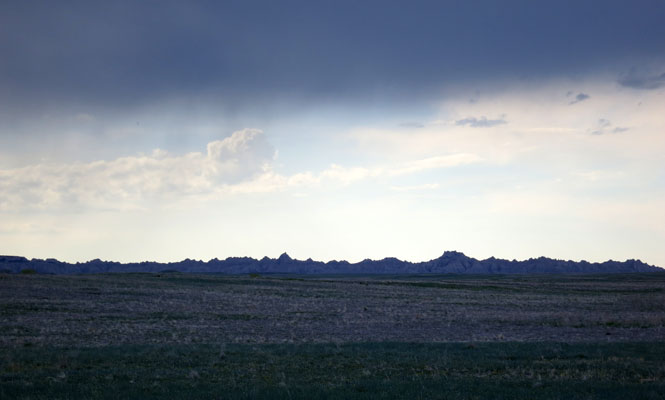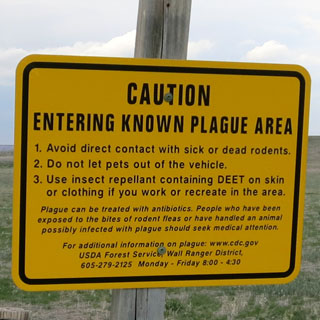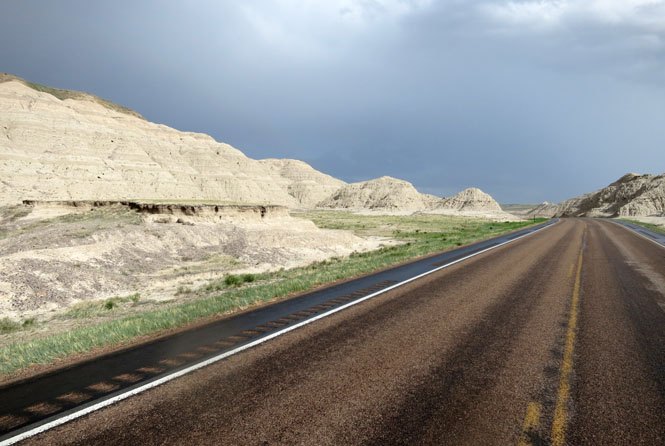 Scenic, South Dakota. Each time I ride through this town there's less of it. Not one of the buildings has a business that is open. I once had breakfast in this town; not now.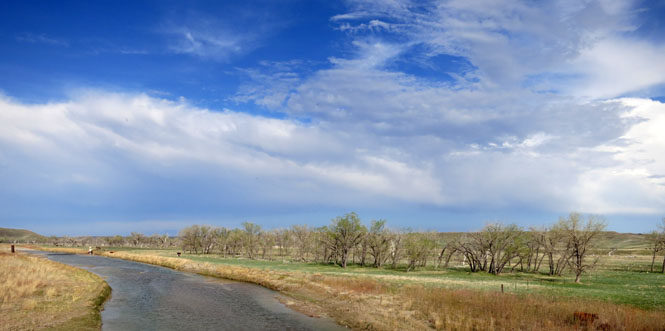 Spearfish, South Dakota is on the northwest corner of the Black Hills. It's a better place to stop for the night than the much larger Rapid City.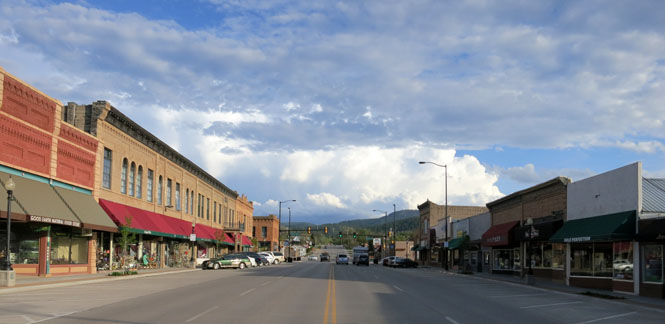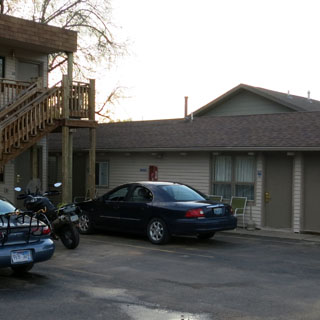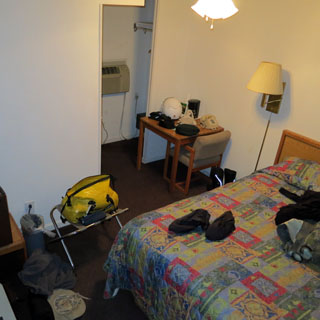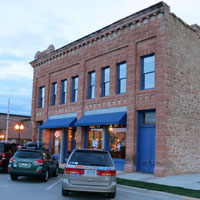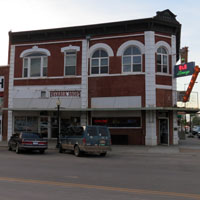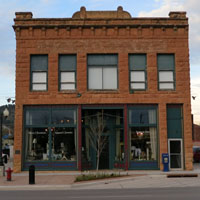 That's some sort of mushroom and pasta dish. It was quite good.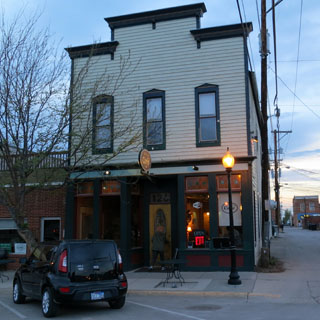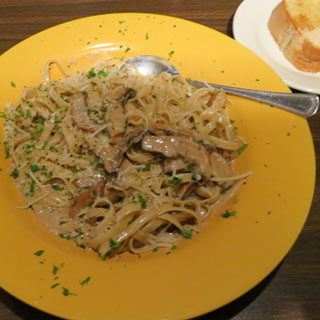 The Spearfish Canyon road is a good one. The posted speed limit is a rather unreasonably low 35 mph. Everybody ignores it. I suspect that during the Sturgis Motorcycle Rally, this bit of road is well patrolled.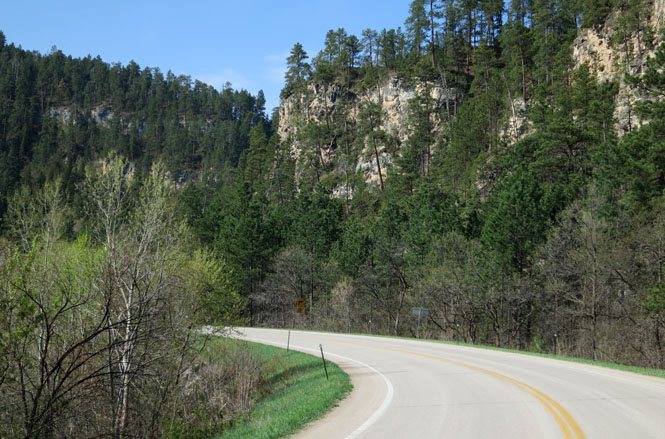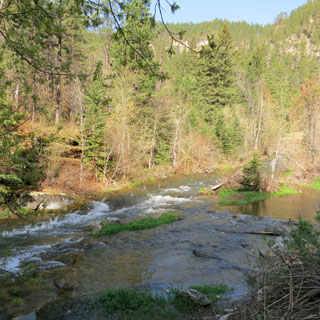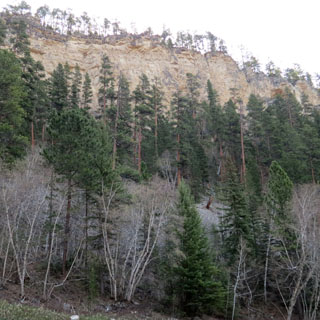 I needed to make a decision of directdion, and I decided to turn east at Cheyenne Crossing. But first, I'll have breakfast...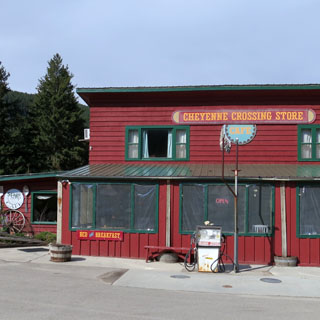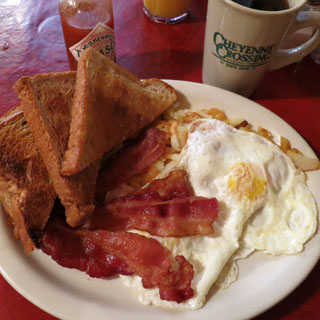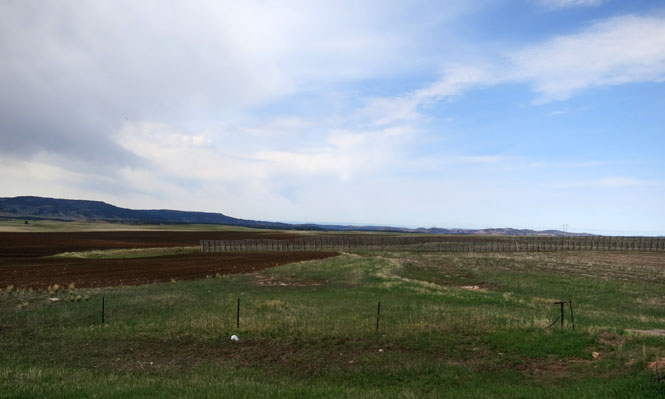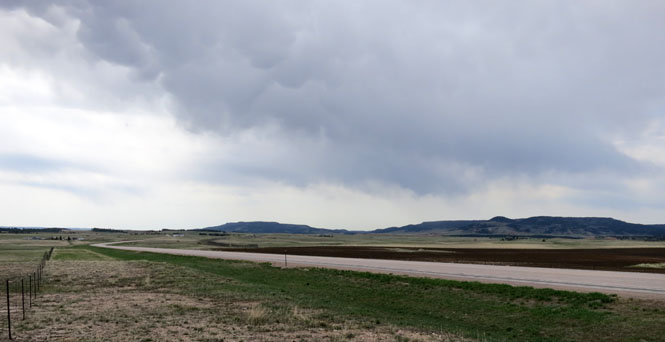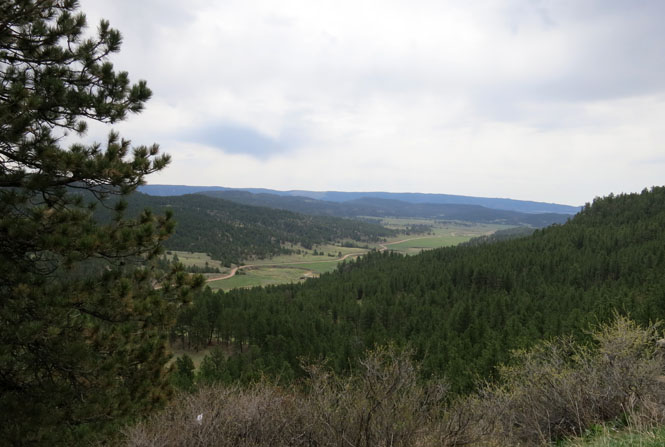 Wyoming
Newcastle, Wyoming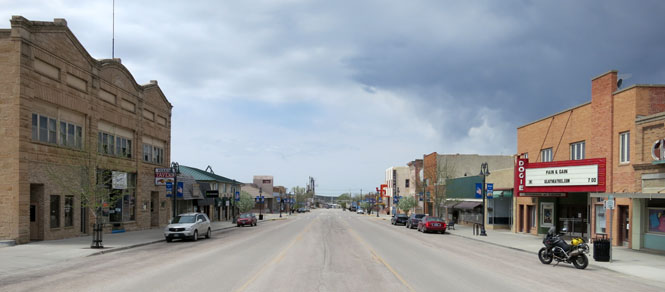 Once you descend out of the Black Hills, you're back to the open prairie.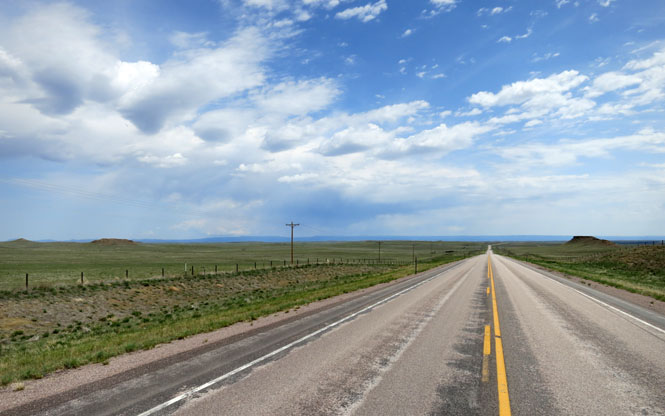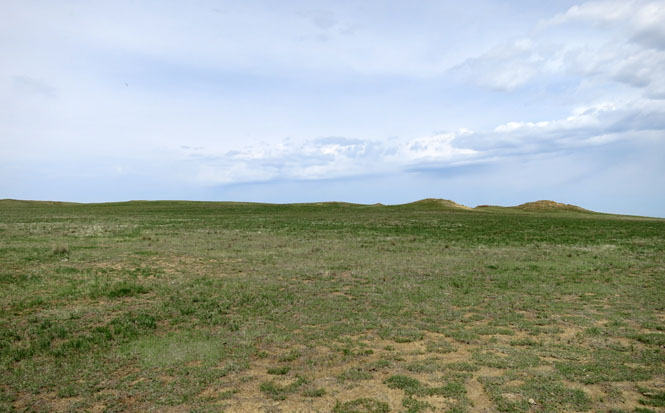 Thunder Basin is the largest open pit mine in the North America (so says the sign). These trucks are huge, and they're moving pretty fast.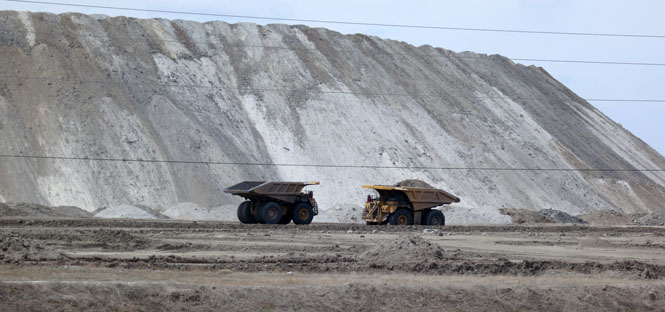 Coal is what they're digging.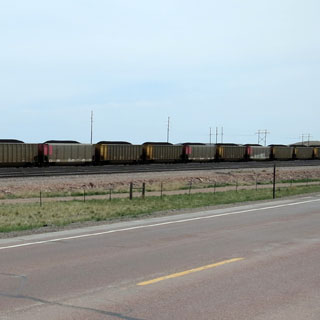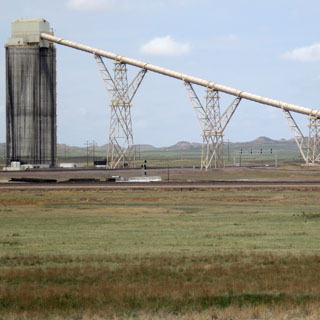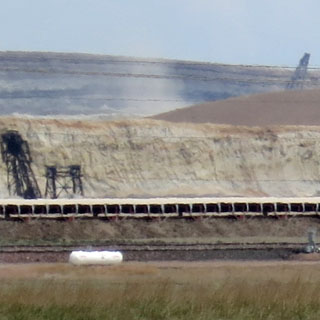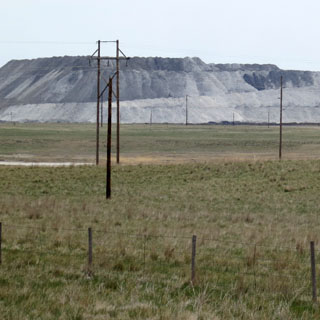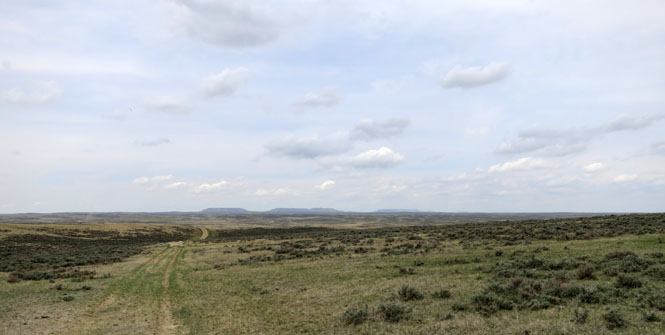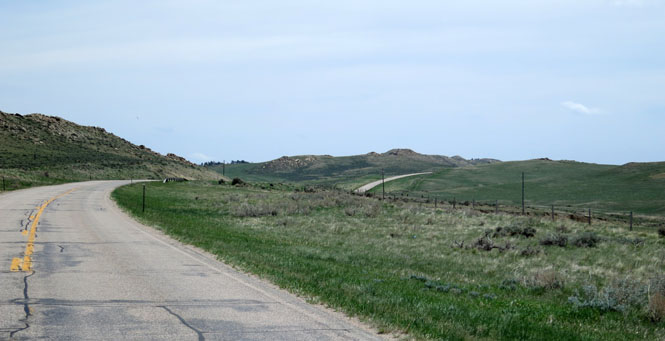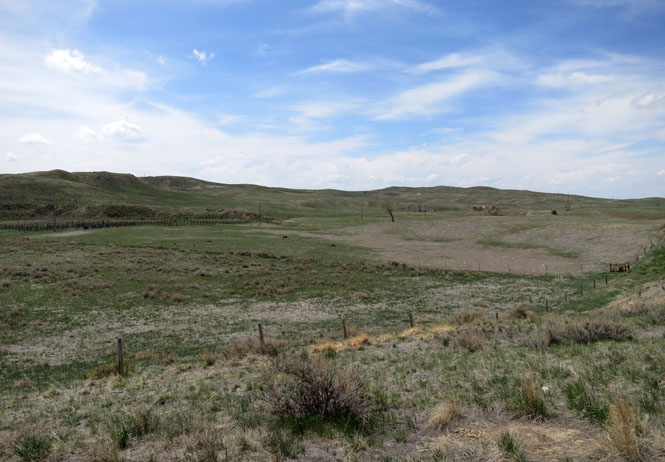 Linch, Wyoming. When something needs mining, a town springs up. When the mine is through, there's not much of the town that remains. That's Wyoming.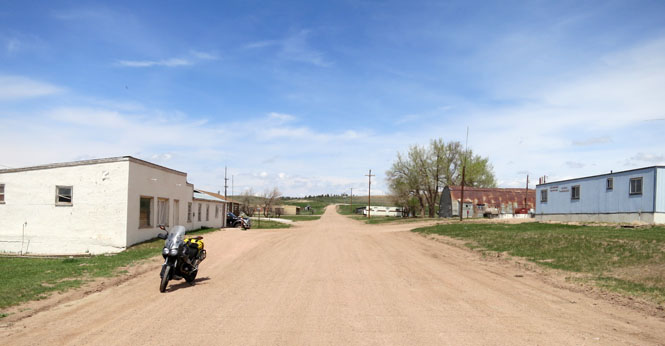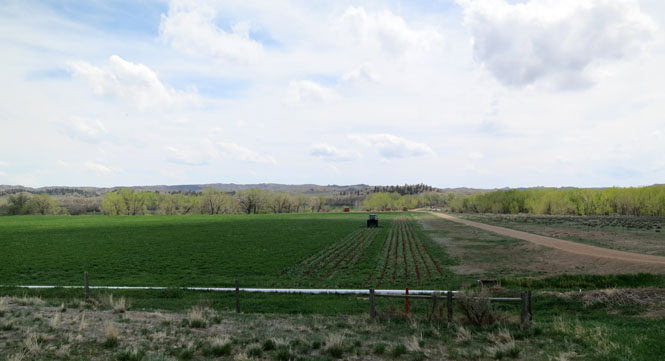 Kaycee, Wyoming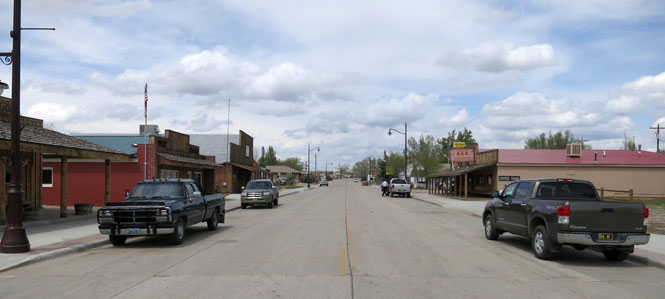 Buffalo, Wyoming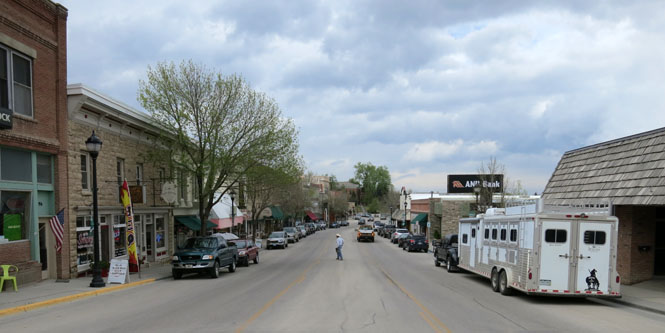 Ranchester, Wyoming. From Buffalo to Ranchester, I'd been riding in some very heavy rain. It's time to stop, since I'm not going to cross the Big Horn Mountains in this weather.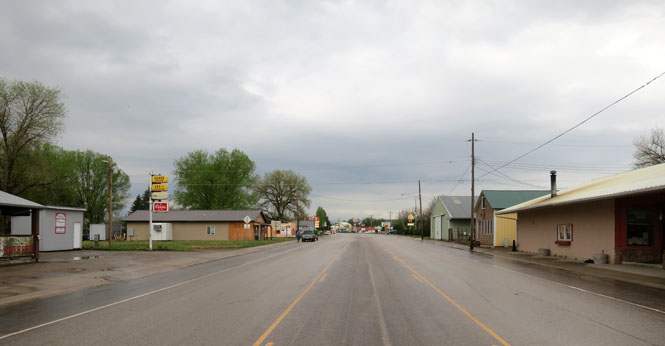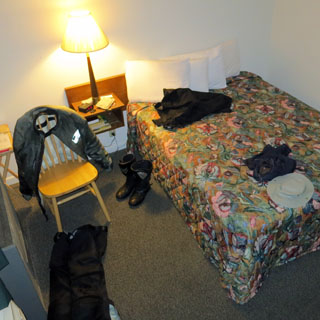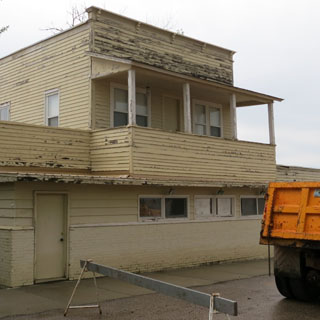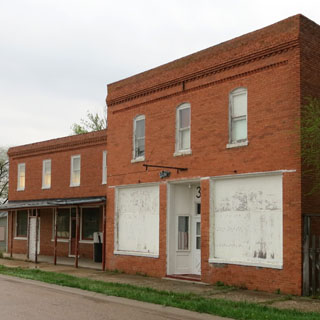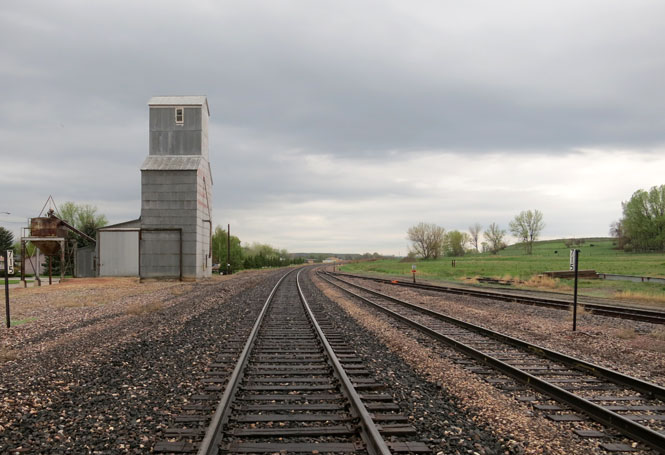 It's early the next morning, and I'm climbing up the mountain. It was cold and sometimes sprinkling, but really it was fine.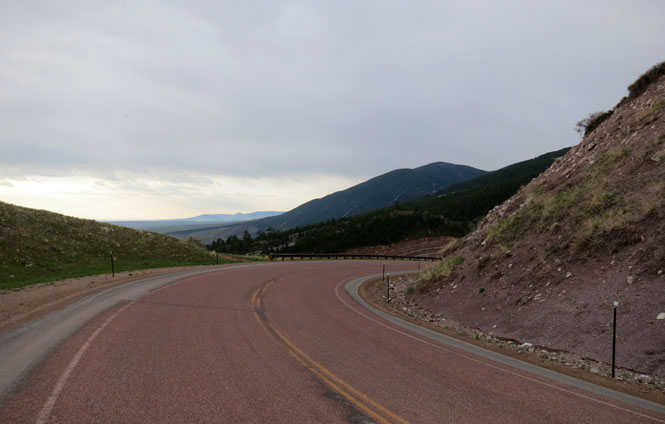 The view looking to the east.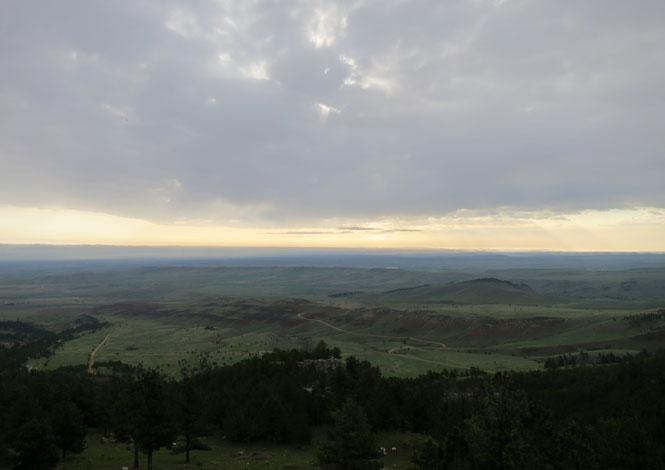 At the summit, there was quite a bit more snow than this.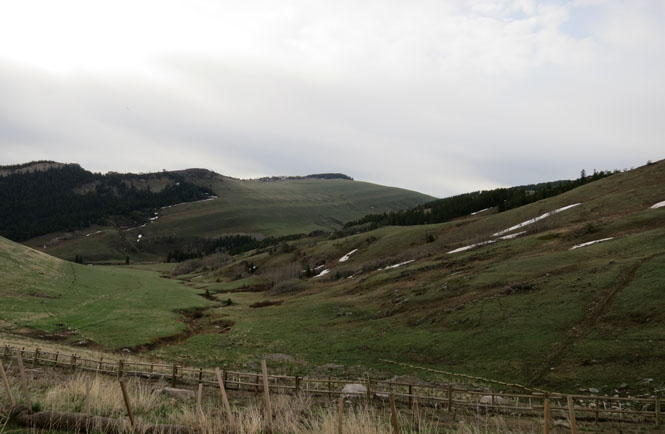 That's a lake, and yes, it's frozen.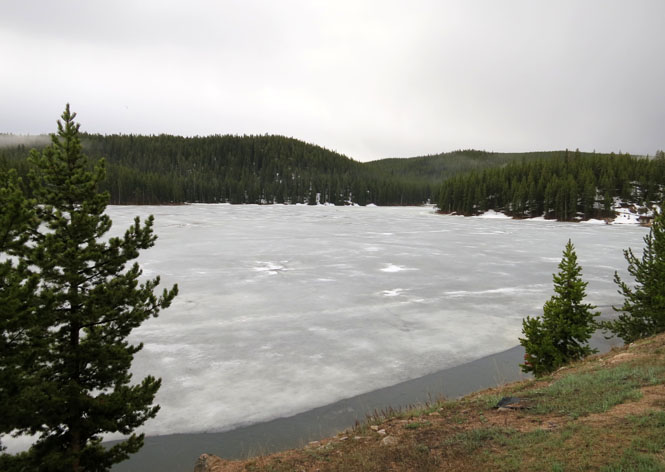 Burgess Junction. I think I've never been through Burgess Junction without stopping for food. This morning it would be corned beef hash. It was raining pretty steadily, so I waiting an hour, or so, for things to settle down before continuing.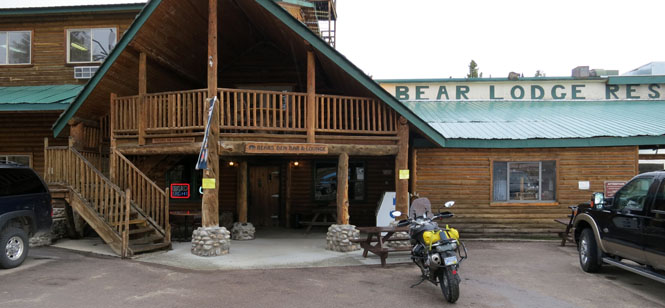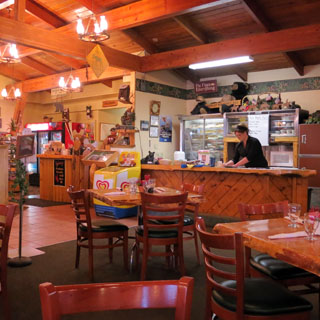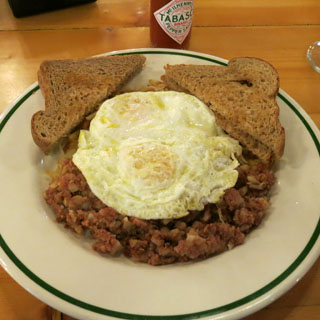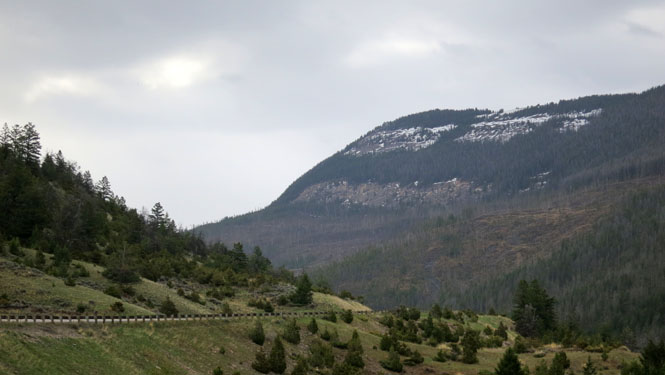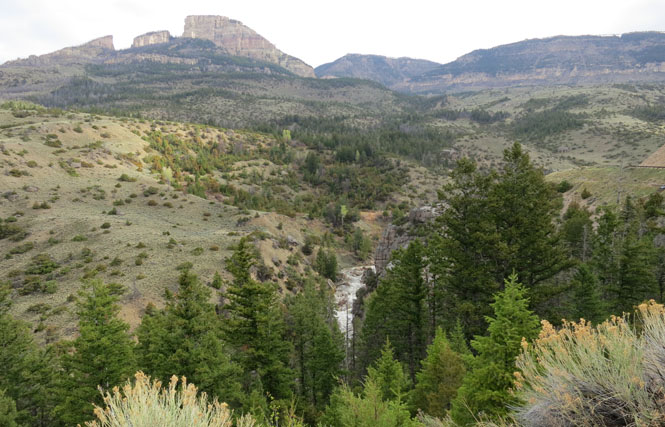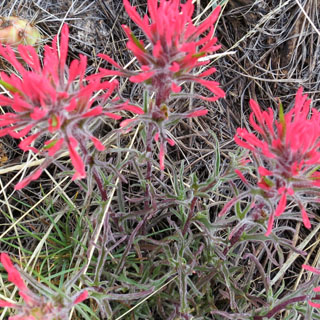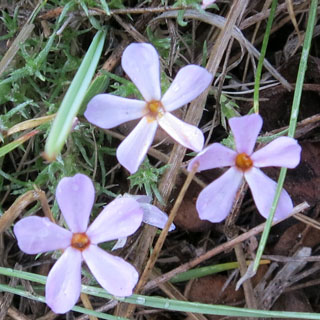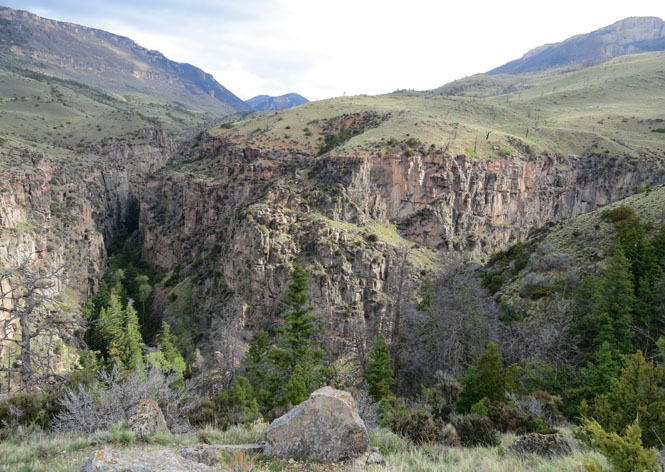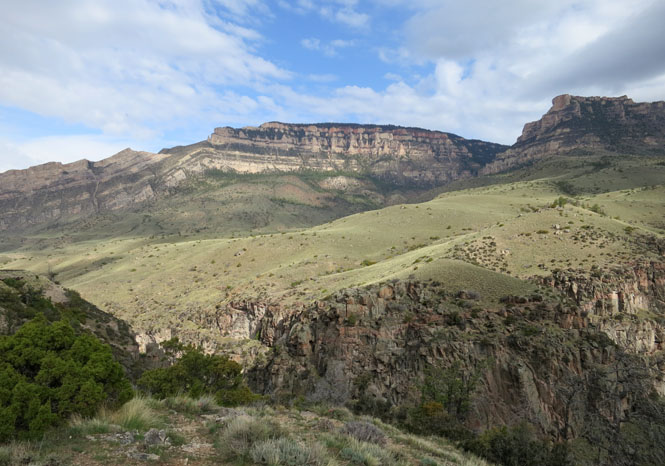 The Shell Creek road is commonly mentioned as one of the best in the country.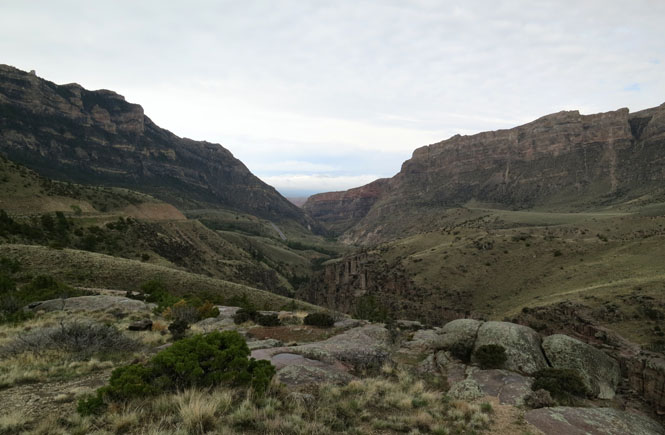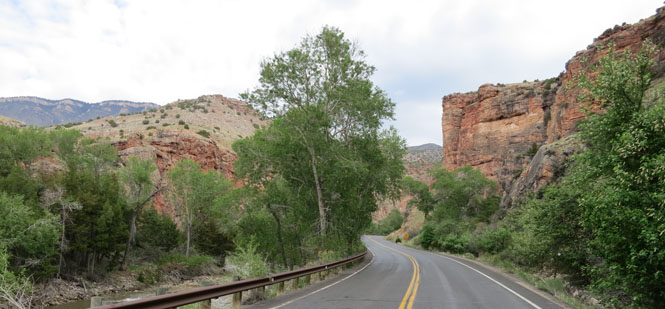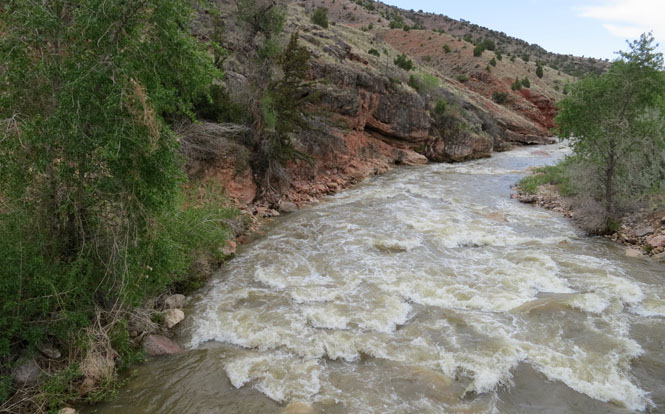 Greybull, Wyoming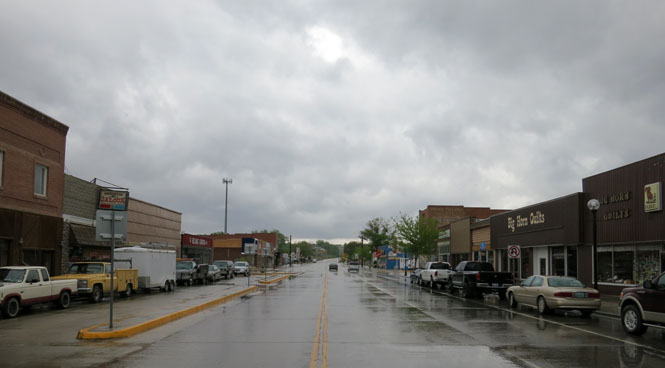 There were a few smaller county roads in the area that I hadn't been on before. This is one of them.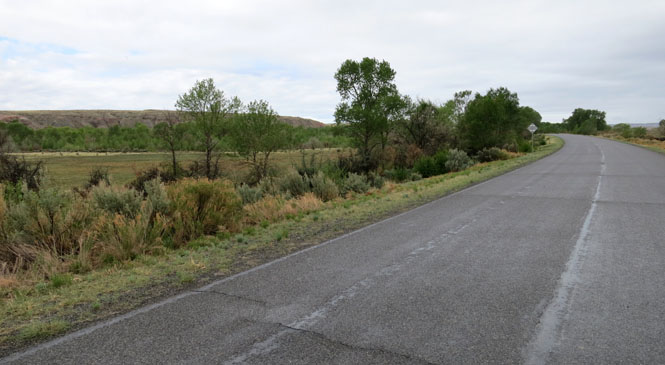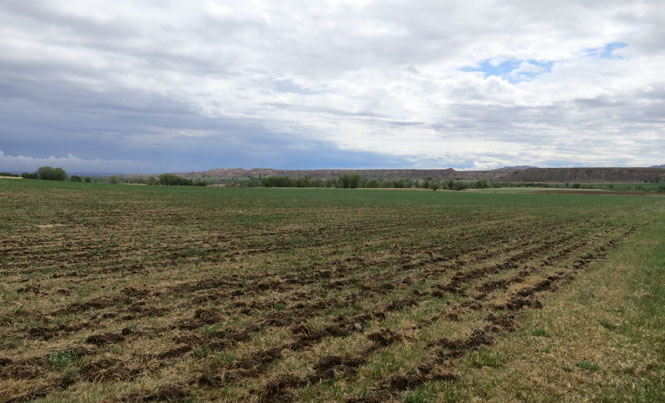 I was lucky. I rode far more often on wet pavement than I did in the rain.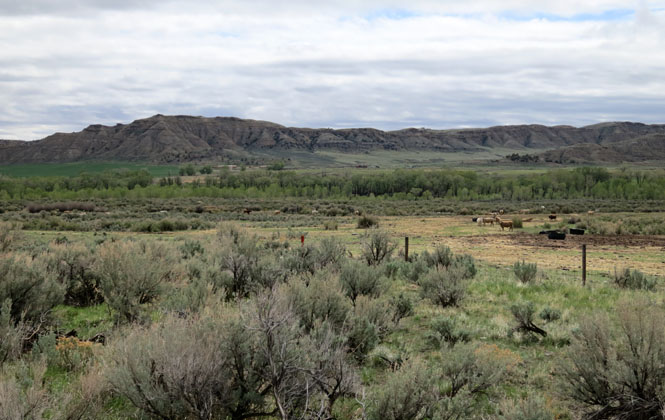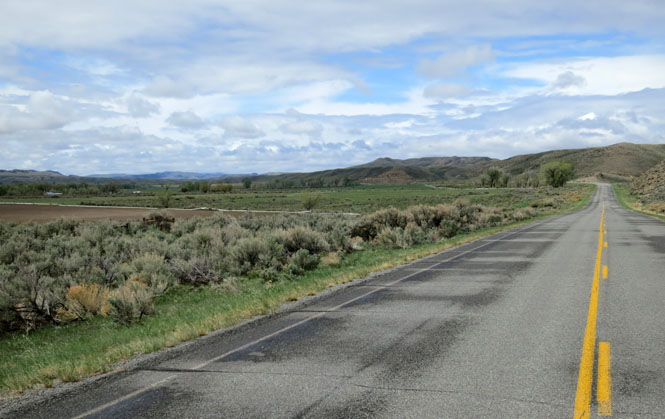 Meeteetse, Wyoming. Time for lunch.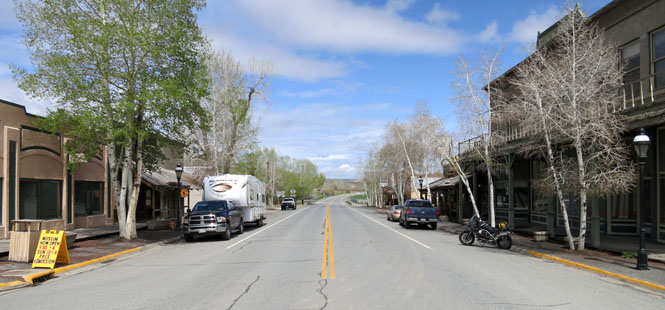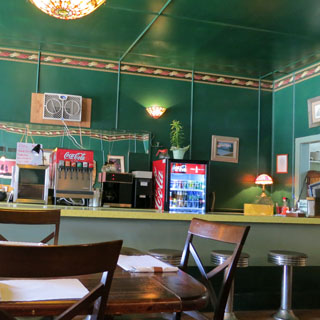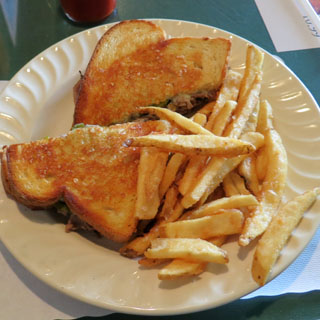 Here's the thing about Wyoming road construction: it's efficient. They rarely work on one lane before starting the other. Instead they'll tear up the entire road for many miles. It's inconvenient, but it probably finishes the job quicker. It's awful when it rains. I hate mud.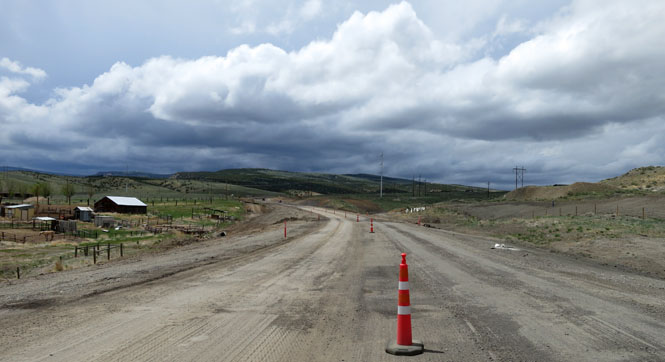 Thermopolis, Wyoming is home to one of the world's largest hot springs.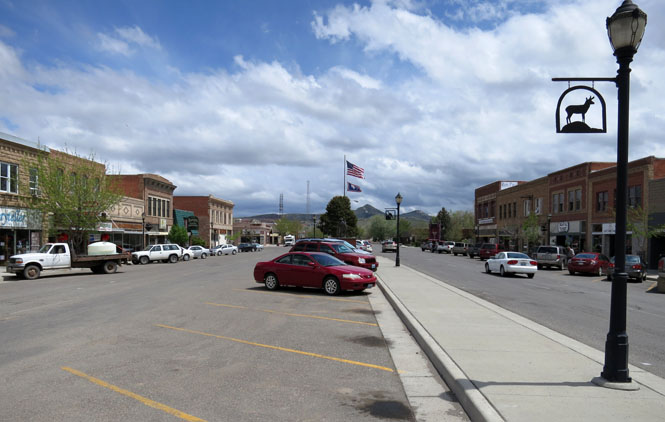 There would have been a time not long ago when this would be a waterfall of steaming hot water dropping into the river. It must have been spectacular.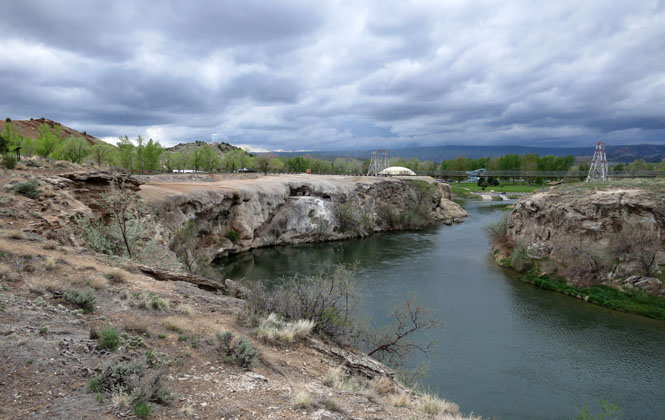 The Wind River Canyon. I've always liked this road.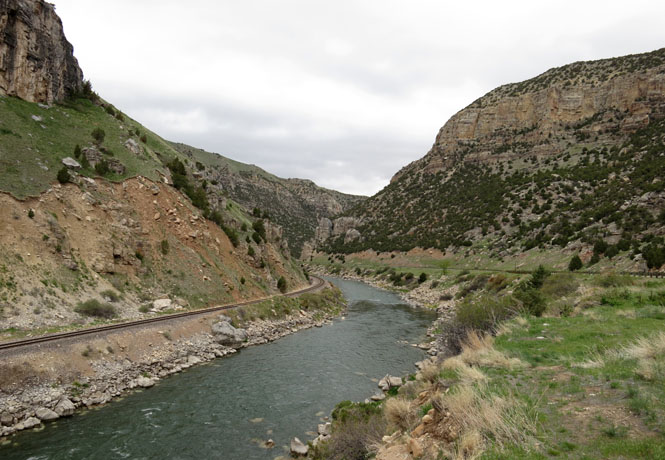 This motorcycle doesn't have much of a rear fender.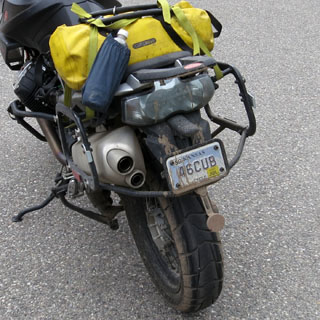 Riverton, Wyoming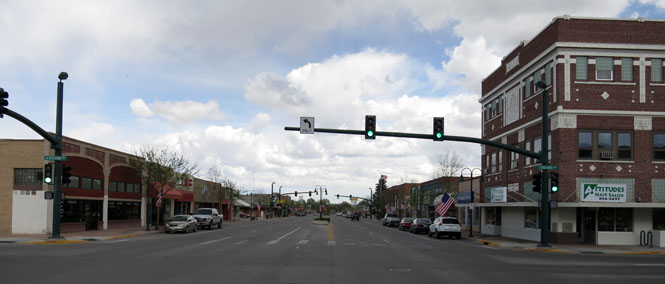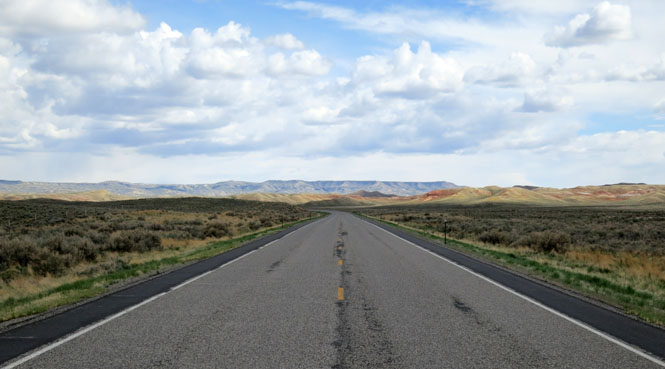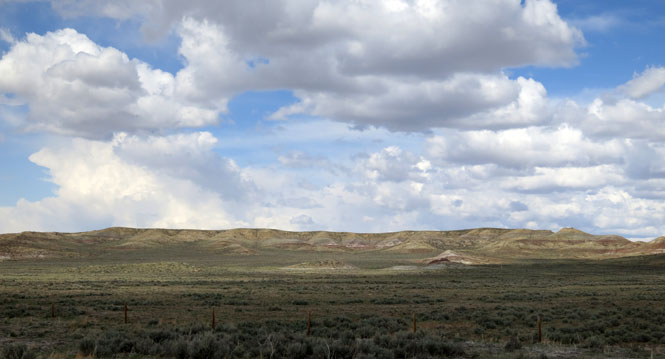 The view of a wide and empty basin.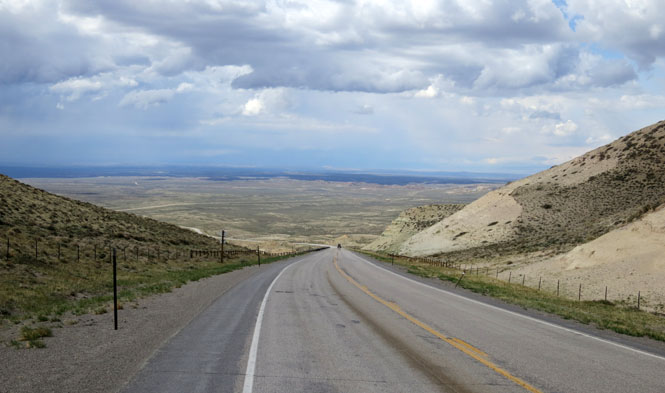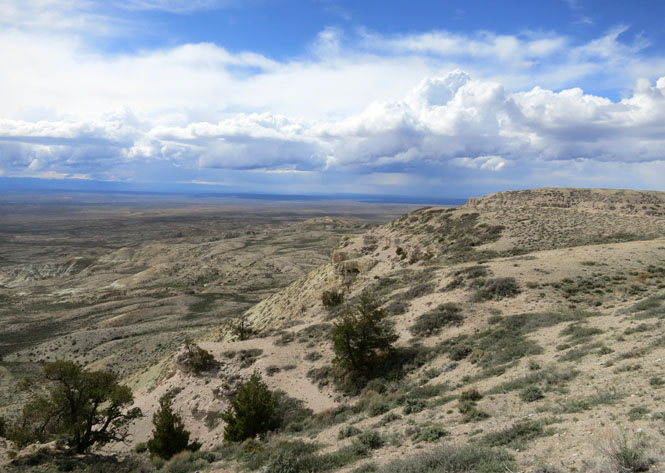 Jeffrey City, Wyoming. During the boom-times of Uranium mining, this place was very busy. That's all done.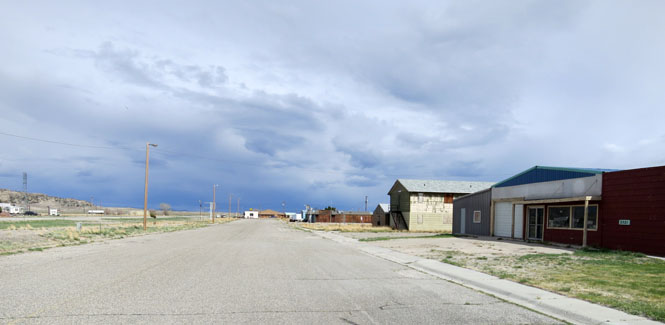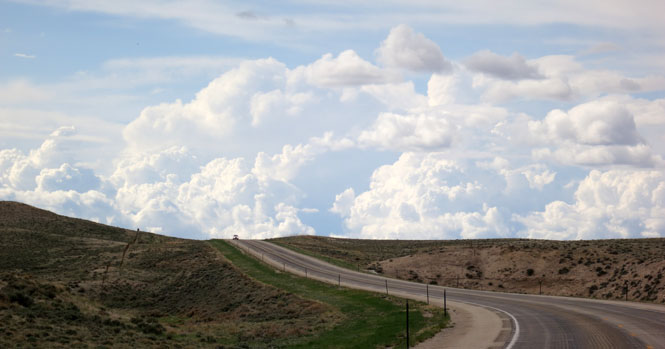 Wyoming desert mountains make up in colors what they lack in vegetation.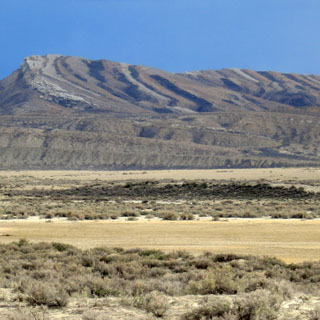 Rawlins, Wyoming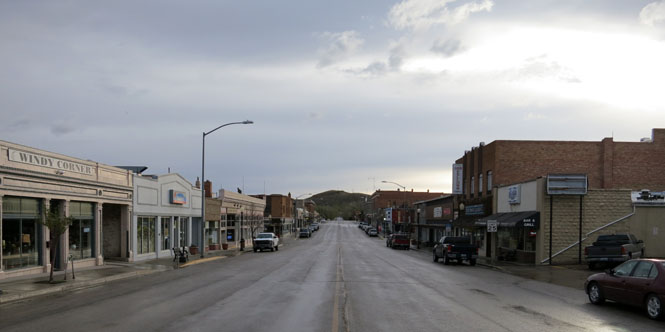 I don't know that you would expect to find a good Thai restaurant in Rawlins, Wyoming, but there is one.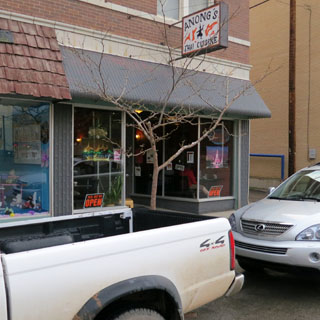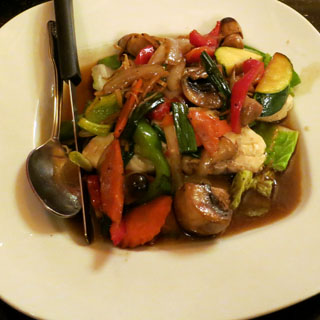 Hanna, Wyoming. It hasn't happened to me for several years, but I had the onset of hypothermia this cold and windy and wet morning, and I knew from experience that I had to stop quickly or I'd be in trouble. It was a good thing that I just happened to be approaching Hanna.
Stop the bike, put the side stand down (don't forget to do that!), sit down, and wait it out. It doesn't take long before things are better.
I re-learned the trick of putting my hands on the valve-covers of the engine to warm them. The longitudinal 'V' engine of the Guzzi with the cylinders sticking out on either side is perfect.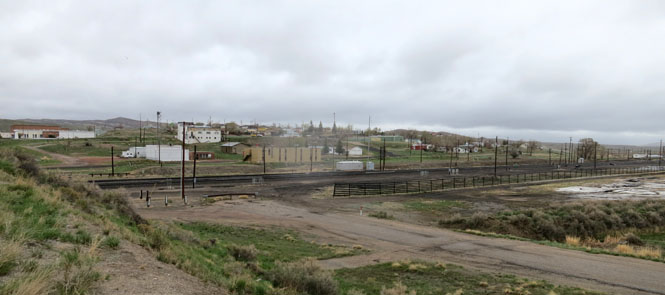 Medicine Bow, Wyoming. We're on the route of the Lincoln Highway.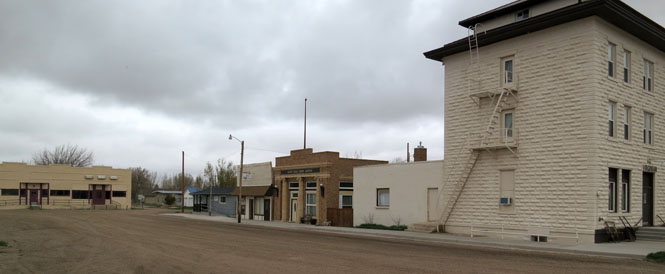 There had been silence over in the corner; but now the man Trampas spoke again.

"AND ten," said he, sliding out some chips from before him. Very strange it was to hear him, how he contrived to make those words a personal taunt. The Virginian was looking at his cards. He might have been deaf.

"AND twenty," said the next player, easily.

The next threw his cards down.

It was now the Virginian's turn to bet, or leave the game, and he did not speak at once.

Therefore Trampas spoke. "Your bet, you son-of-aŚ."

The Virginian's pistol came out, and his hand lay on the table, holding it unaimed. And with a voice as gentle as ever, the voice that sounded almost like a caress, but drawling a very little more than usual, so that there was almost a space between each word, he issued his orders to the man Trampas: "When you call me that, SMILE." And he looked at Trampas across the table.

- The Virginian [Owen Wister]
This town--and this saloon--was the setting for that novel.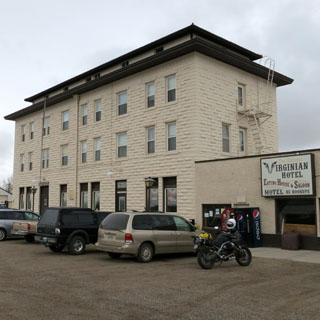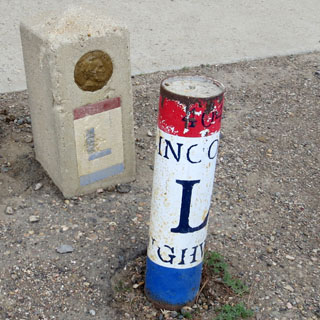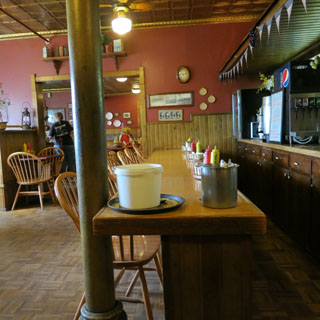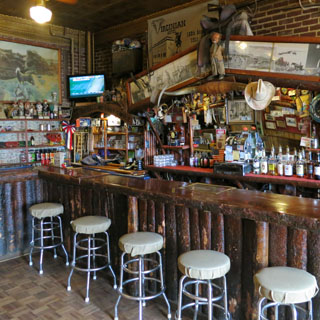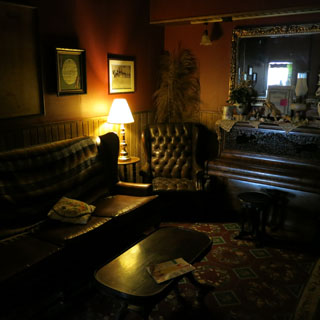 Rock River, Wyoming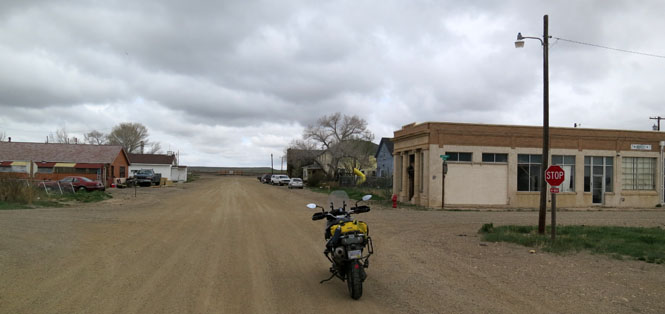 Normally, when I'm standing on tracks to take this sort of picture, I don't pay too much attention. But, these tracks get lots of use from some rather fast freights. I looked behind me.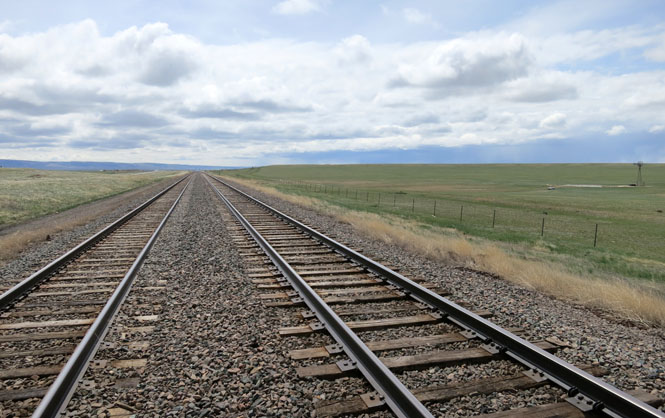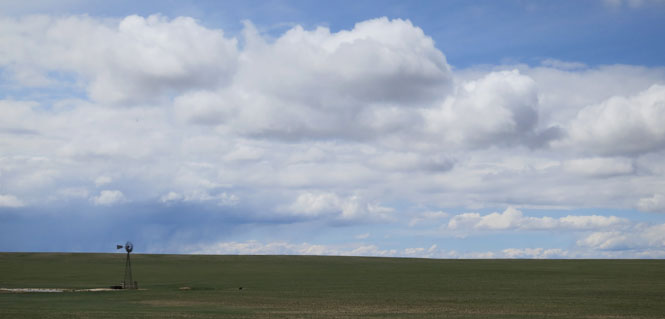 Bosler, Wyoming probably was busy enough as a stopping point on the Lincoln Highway. But, it's been a long time since these cabins were used. Time stopped when the new Interstate Highway took traffic many miles away from here.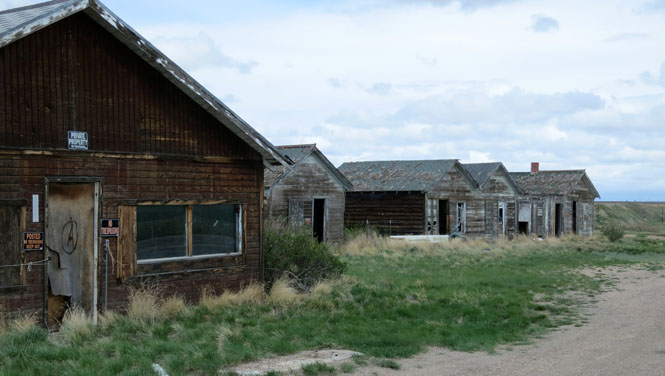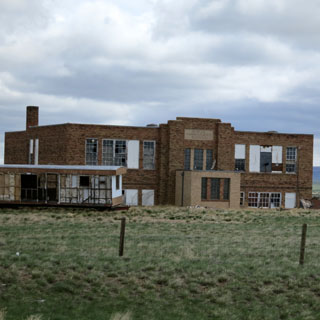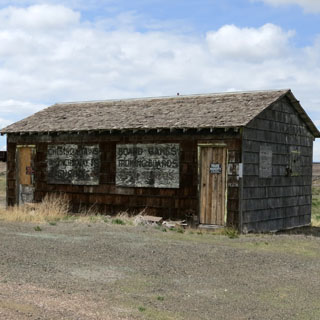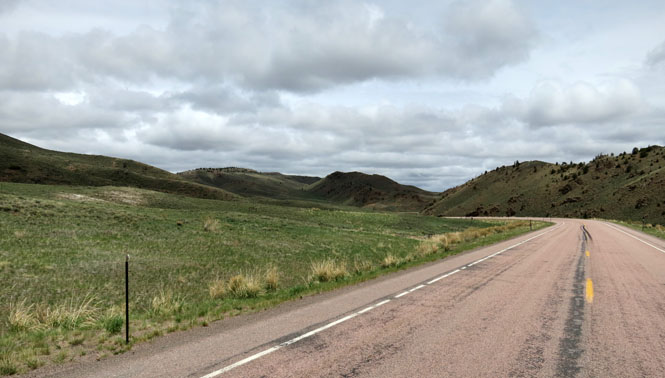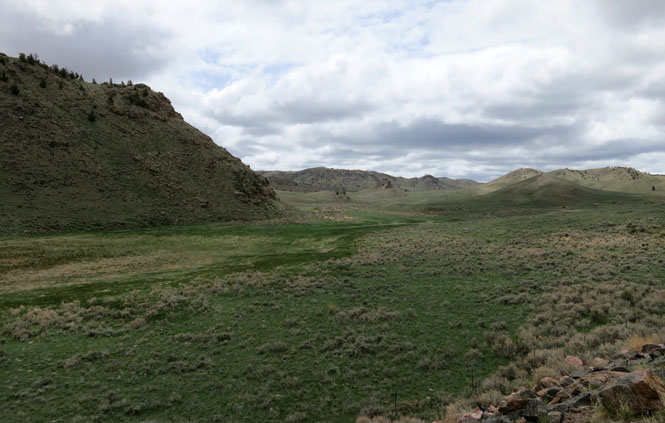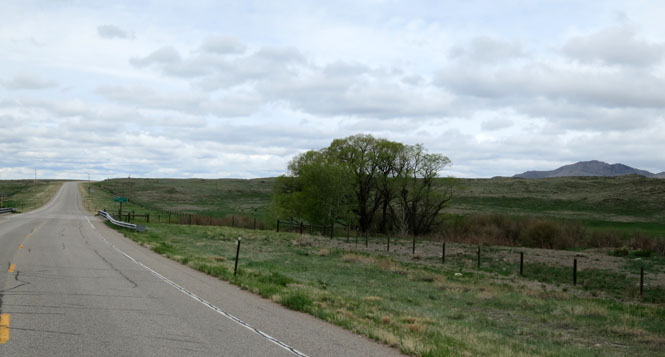 Guernsey, Wyoming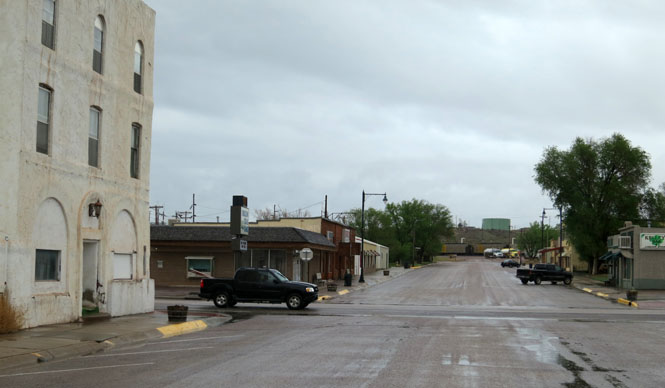 You cannot go too wrong with a patty-melt.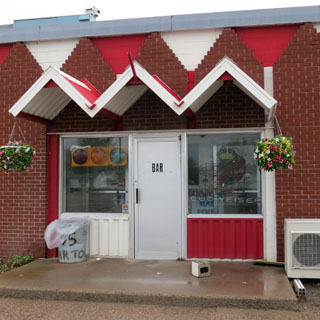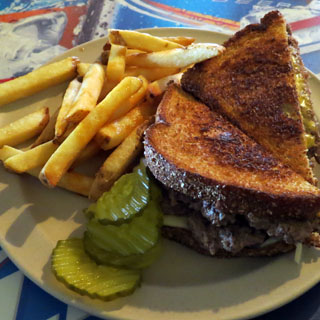 Torrington, Wyoming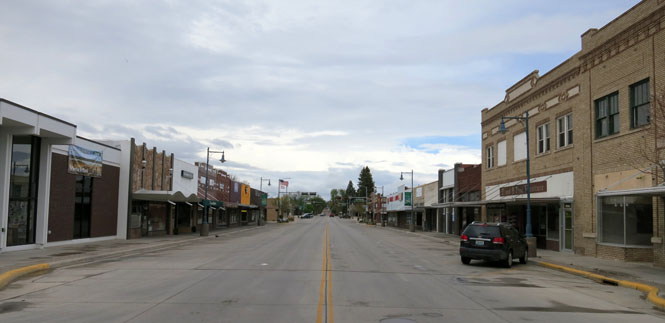 My Aerostich Roadcrafter (single-piece) riding suit that I normally wear is back in Duluth having some upgraded zippers installed, so I'm wearing this Aerostich Darien (two-piece) suit. It works well, and is completely waterproof.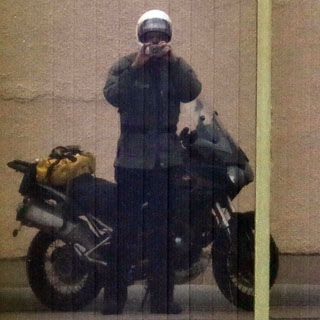 Nebraska
Morrill, Nebraska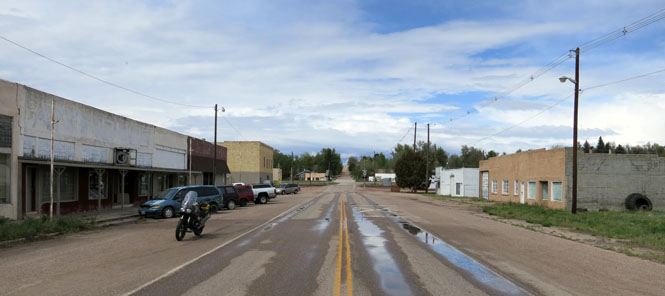 You can see Scott's Bluff in the background. The original Oregon Trail crossing was the low point in the middle. Later, the trail crossed at the notch on the left.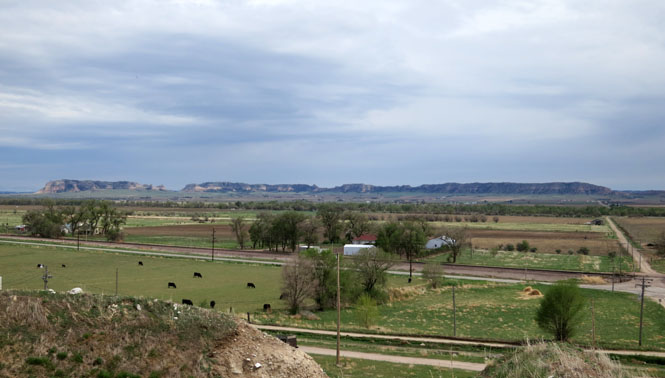 Scottsbluff, Nebraska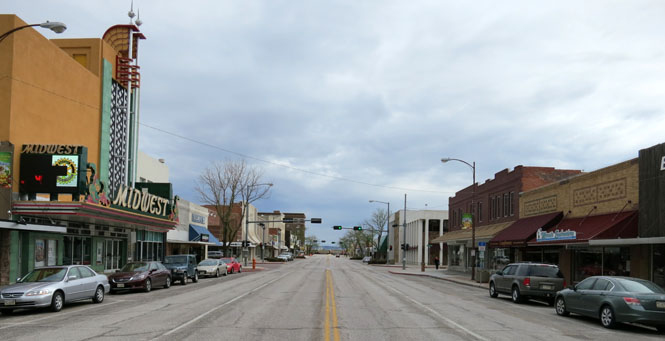 Here's the view of the notch from the other (east) side. I've been to the visitor center a few times already, so I didn't stop this trip.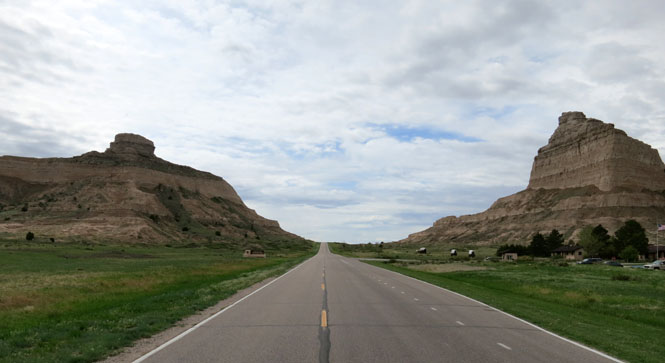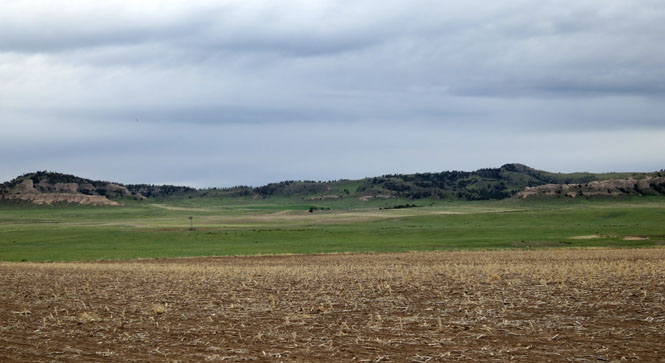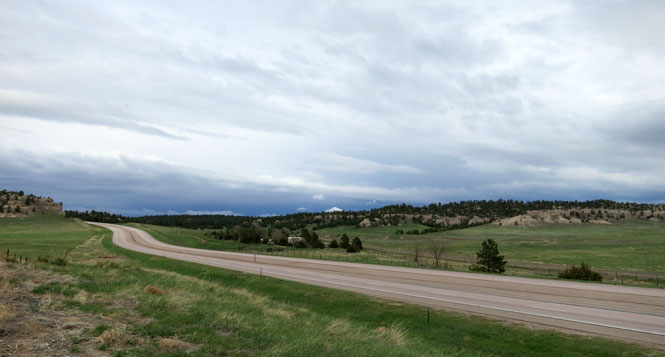 Kimball, Nebraska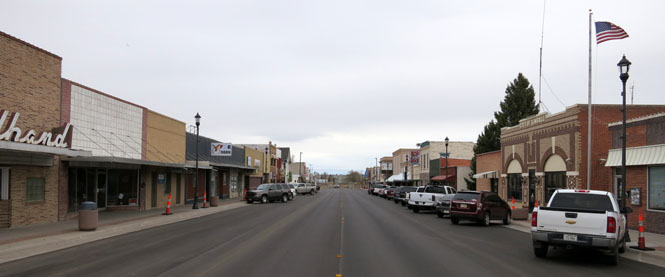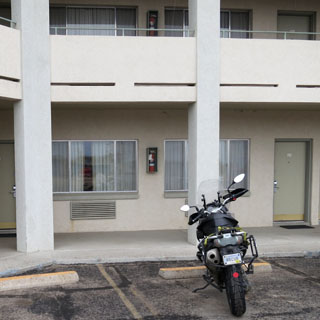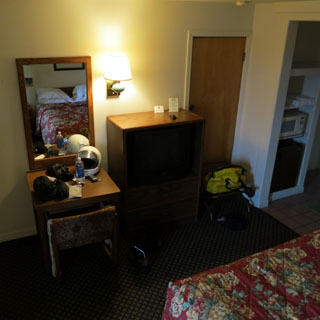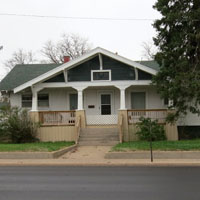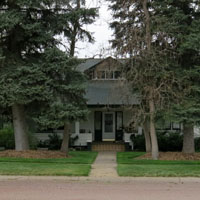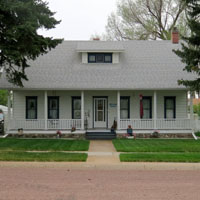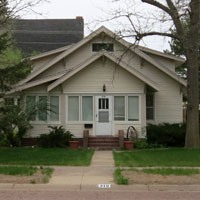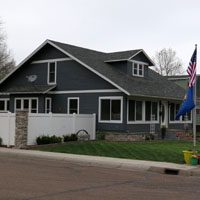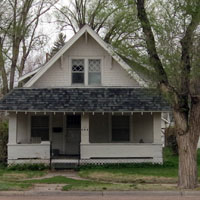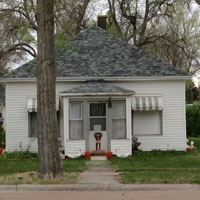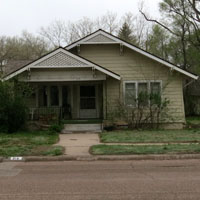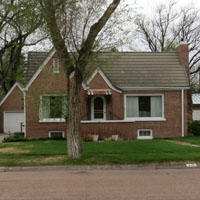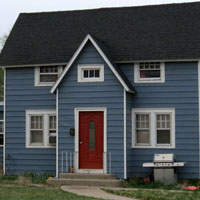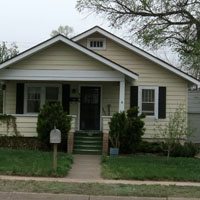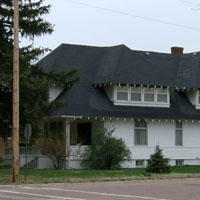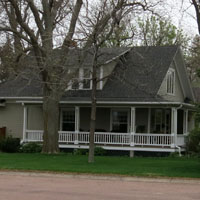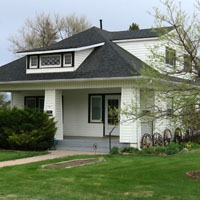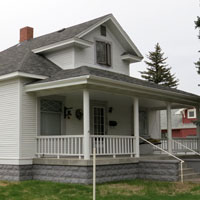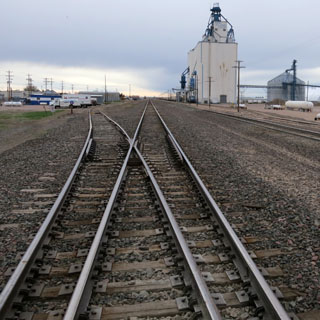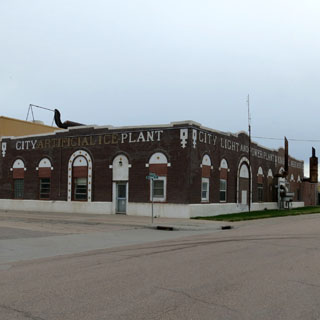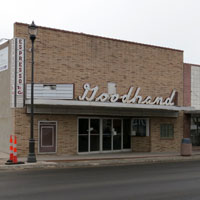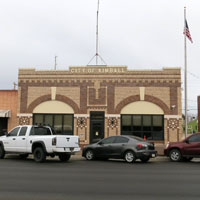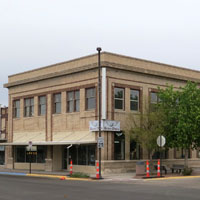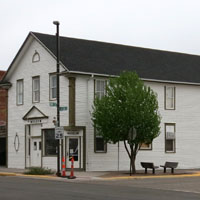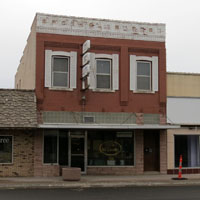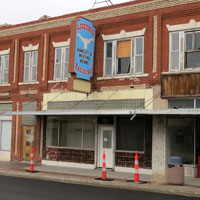 The serious storms had passed during the night, but I'd still hit some rain this morning.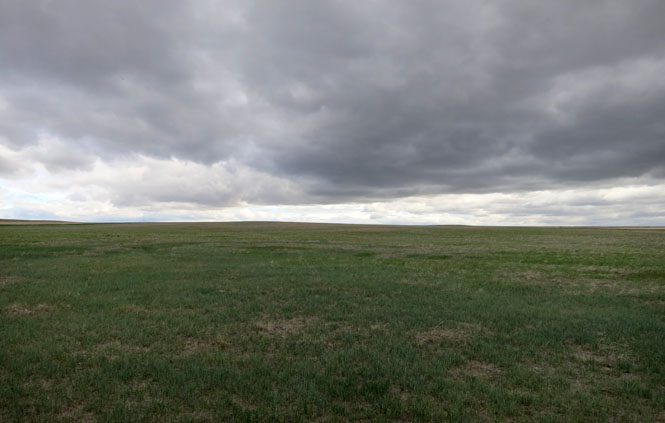 Stoneham, Colorado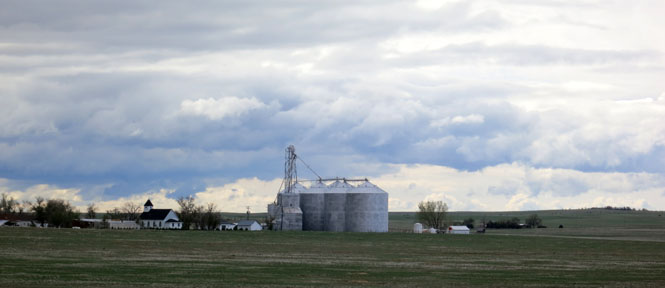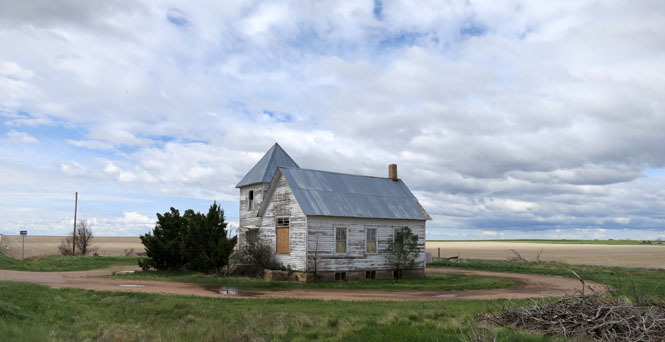 There are wide loads, and then there's this. Any on-coming traffic had to pull off the road to let this load go by. Of course, there's almost no traffic on these county roads.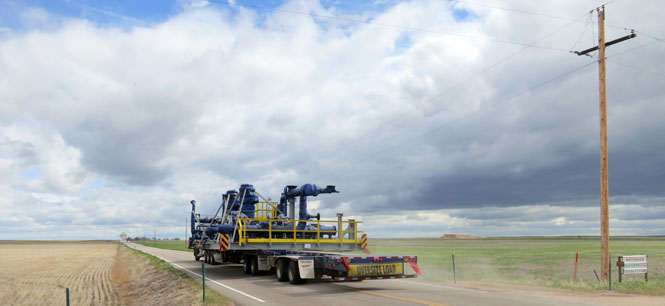 North Platte River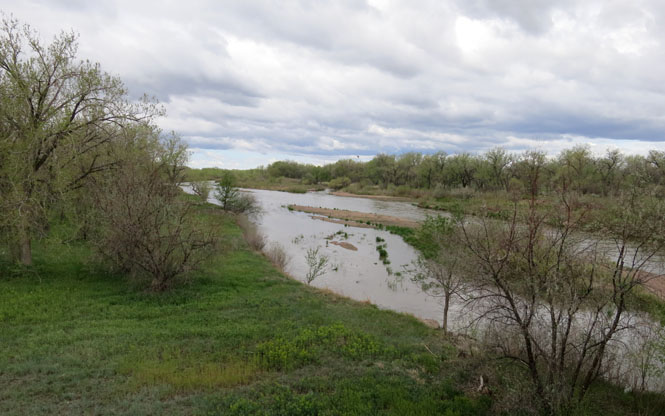 Brush, Colorado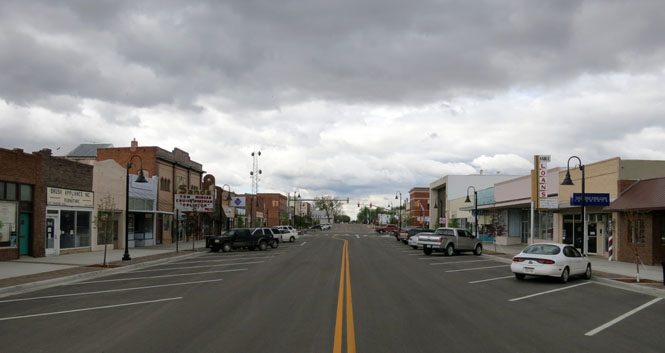 This was the best breakfast of the trip.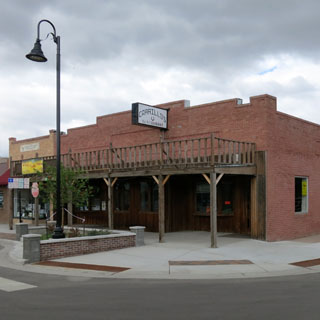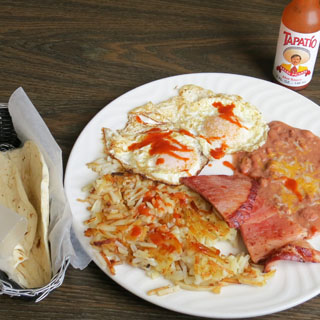 Last Chance, Colorado. Years ago, this would have been a primary route across the country; but, not now. Interstate I-70 is many miles to the south and not many travelers come this way.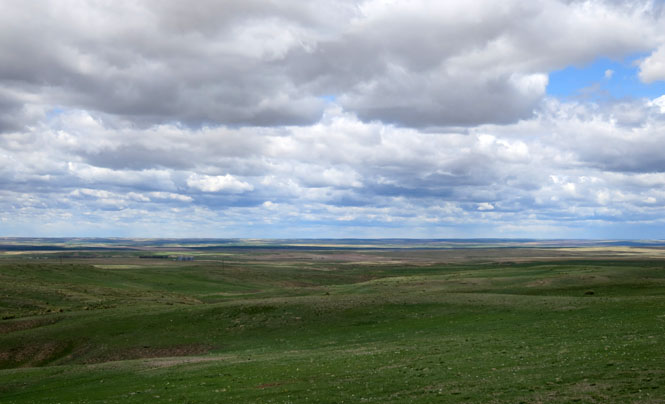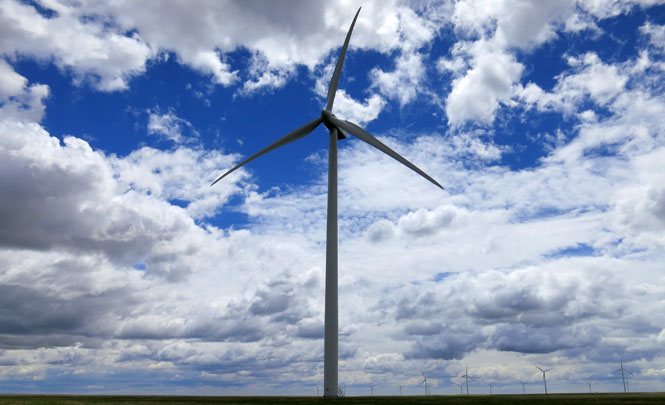 Limon, Colorado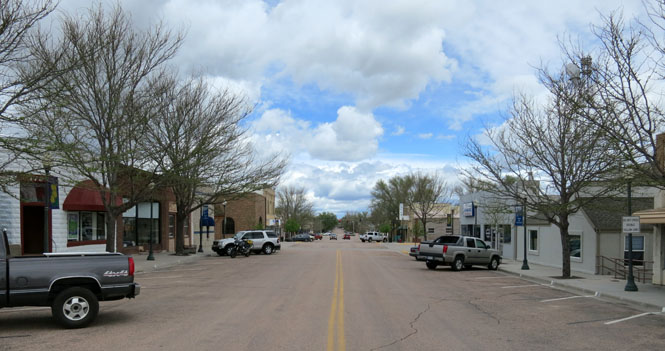 Eastern Colorado is uncluttered.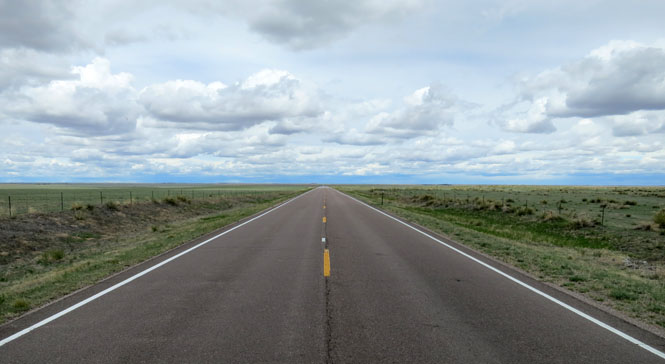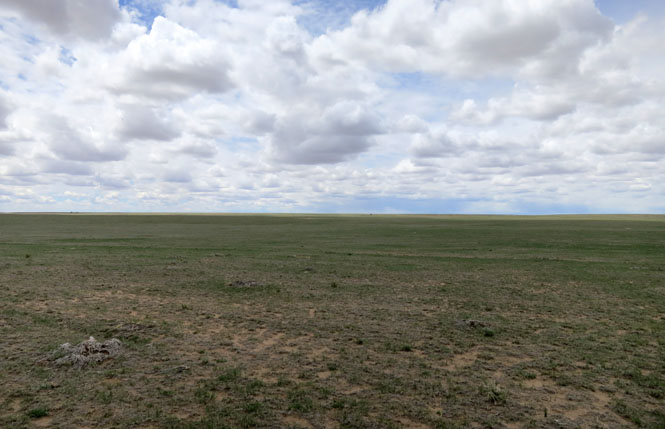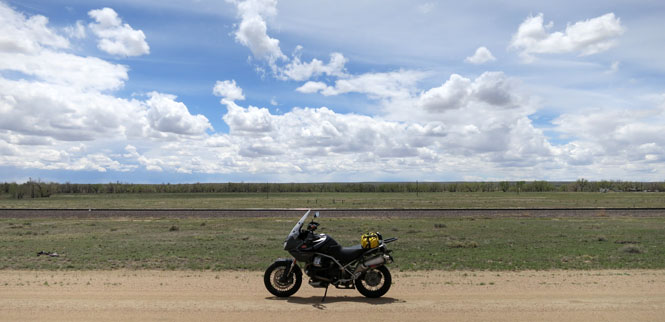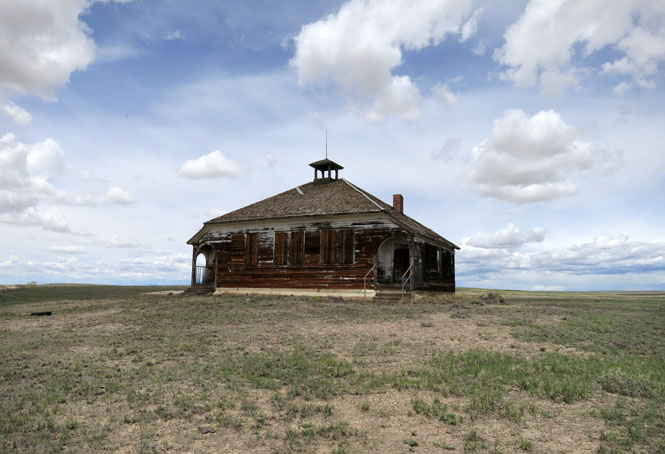 Wild Horse, Colorado

Kit Carson for lunch .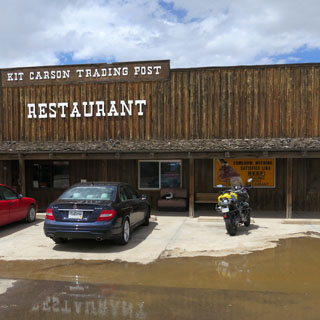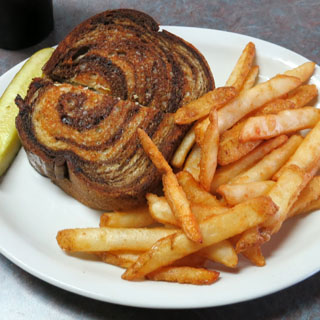 An old photograph of the marching cowboys in a Kit Carson parade.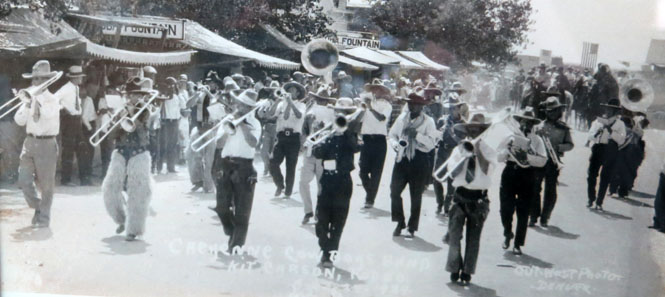 Cheyenne Wells, Colorado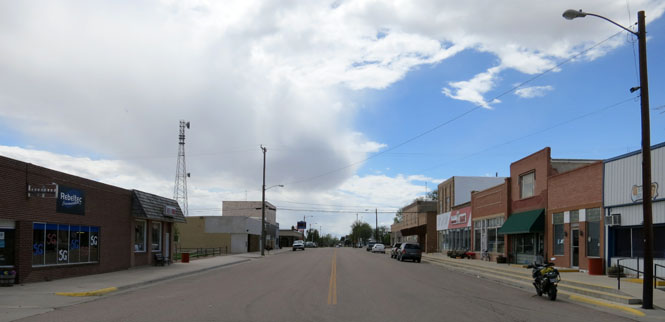 Arapahoe, Colorado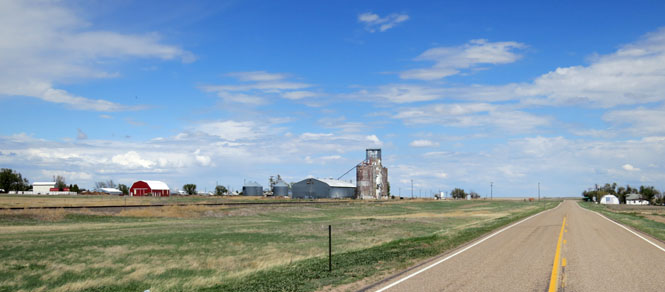 Weskan, Kansas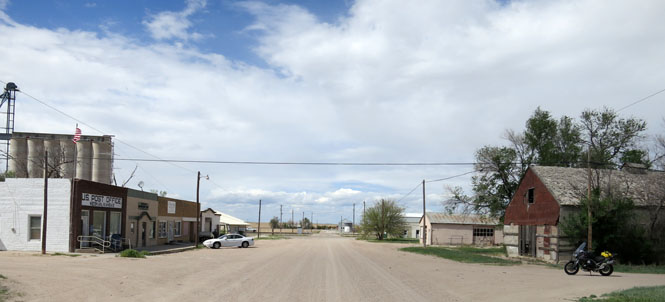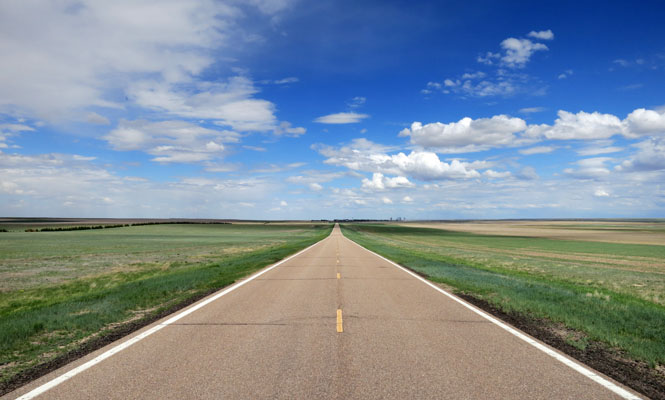 Sharon Springs, Kansas

Winona, Kansas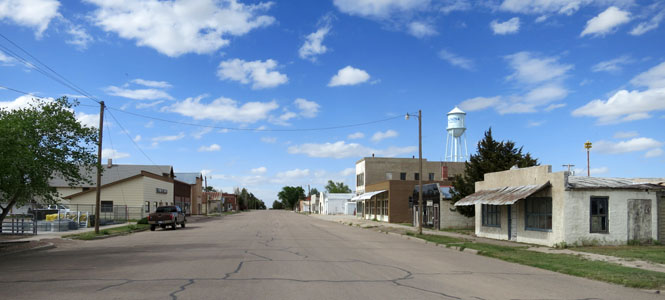 Russell Springs, Kansas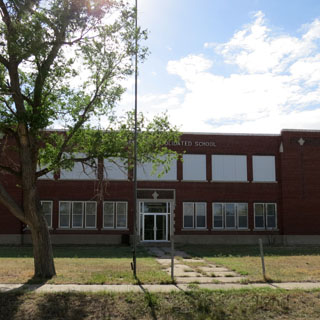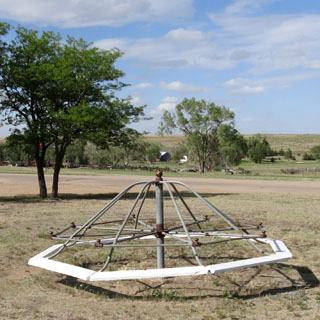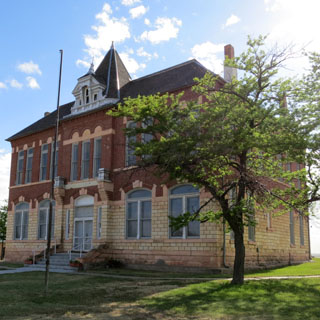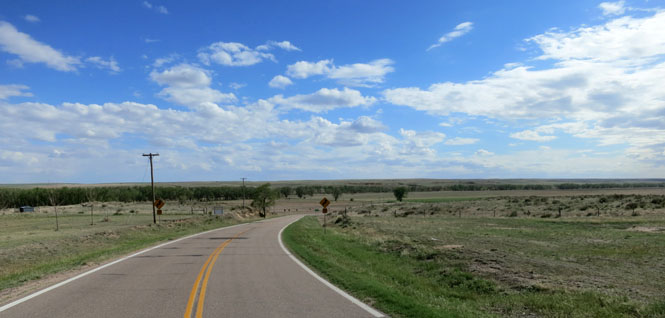 Kalvesta, Kansas

Jetmore Kansas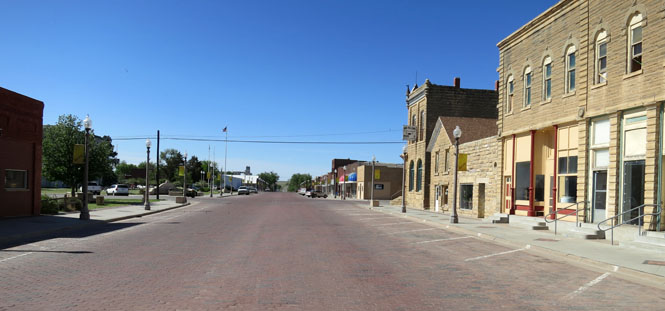 Hanston, Kansas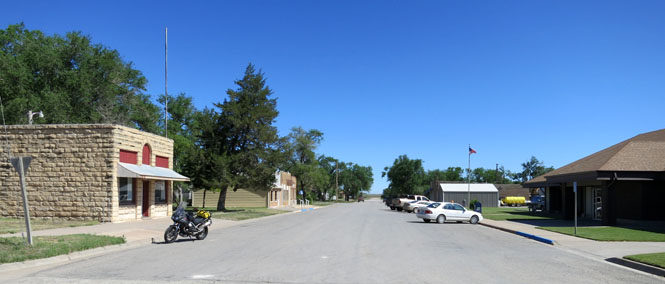 Burdett, Kansas

Rozel, Kansas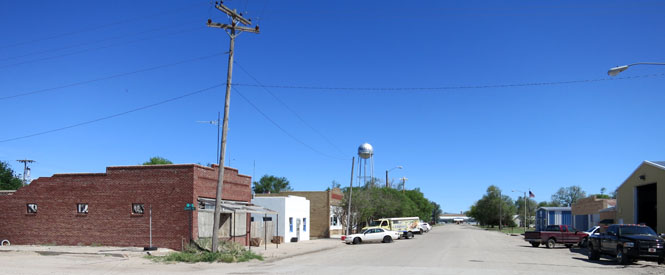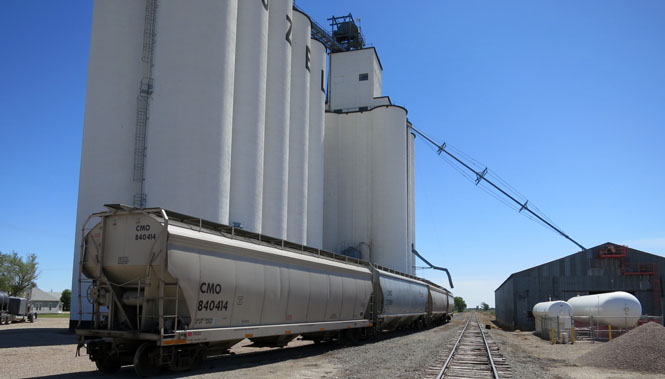 Zook, Kansas

Macksville, Kansas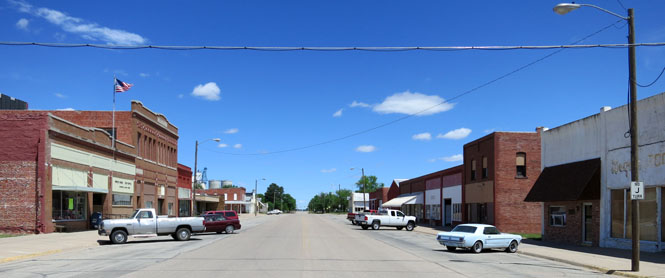 last edit: 5/22/2013