June, 2013

Sunday

Monday

Tuesday

Wednesday

Thursday

Friday

Saturday

2 June

3
4
5

6

7
Wichita
Newark

8
Malpensa
Como

9
Como

10
Mandello
Bourg-en-Bresse

11
Verneuil-sur-Avre
12
Cherbourg
* Ferry
13
Glengarriff
14
Glenbeigh
15
Carrick-on-Shannon
16
Carlow
17
Rosslare
* Ferry
18


Le Puy-Notre-Dame

19
Saint-Flour
20
Le Bourg-d'Oisans
21
Mandello
22
Milan

23
Milan
Wichita

24
25
26
27
28
29
Europe Trip #8
Last year's ride to Wales made me realize that it wouldn't be much more difficult to do something similar with Ireland. I've never been to Ireland...
But even with three ferry companies to choose from, there are far fewer options for ferries than between France and England, so it took some planning to come up with a two-week span that would allow me time to reach the French coast and to have enough time to return to Italy, but to still have enough days in Ireland to make it all worthwhile.
Illinois
The underground passage between United Airlines terminals B and C at Chicago is one of the more successful connectors that I've seen at any airport. It's only too bad that the celestial background Gershwin is interrupted by a robotic voice saying "the moving sidewalk is ending; please..."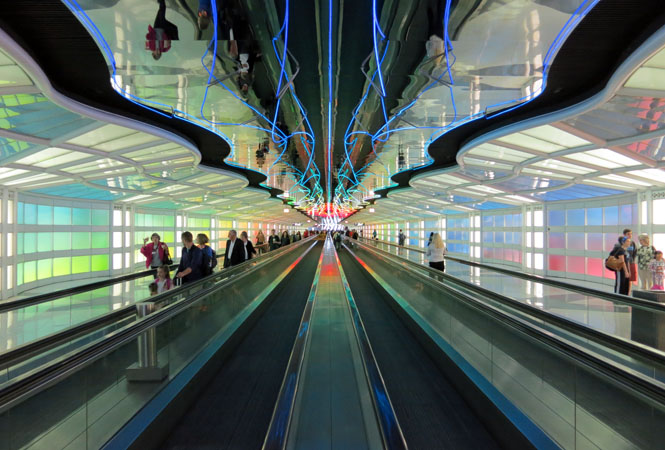 New Jersey
After several years, the flight number has changed from #45 to #18. But, it's the same flight and same schedule between Newark and Milano that it was from the days of old Continental Airlines.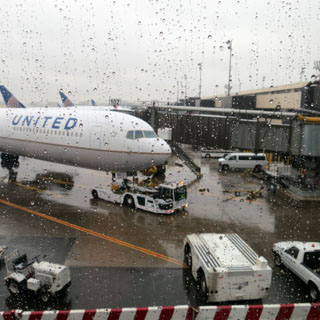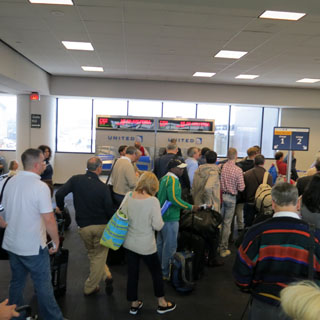 Dinner and breakfast are served--and only a few hours apart. It's all to trick your body into thinking it's running on Italy time (but, your body is not fooled).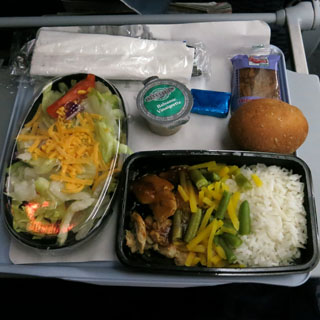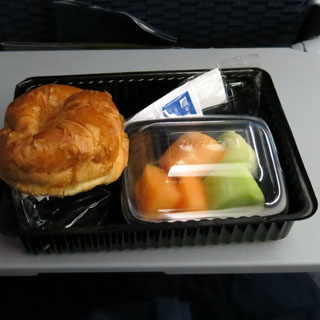 Italy
I'd be spending the first two nights in Como for this trip. I took the Malpensa Express into Milan, and then virtually came right back, but on a different train, running northwest to Como.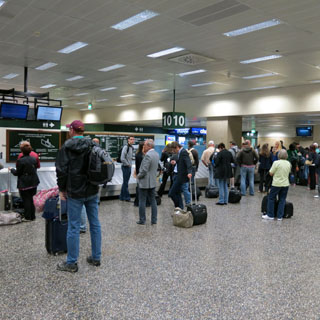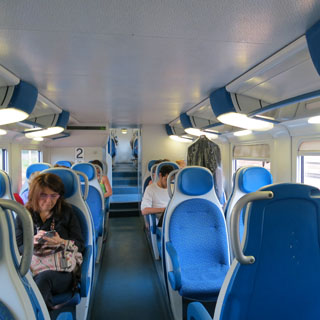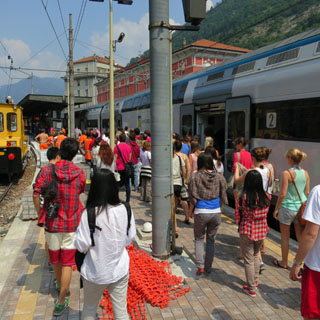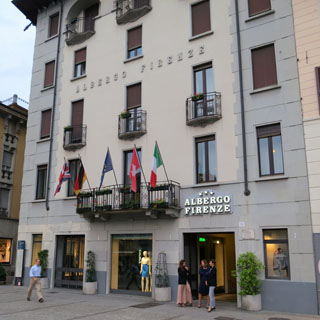 The Albergo Firenze is midway between the two train stations in Como (I'd be walking to or from each) and is on a pedestrian-only plaza. This is the same hotel I stayed in a couple of years ago. That's the view out my window (below).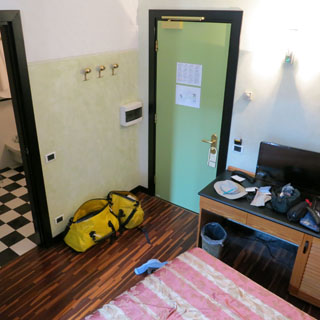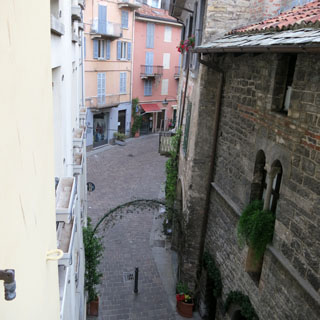 The village of Brunate is high on a hill to the south of Como. To get there you can take the cable car (funicular) up the hill. This rail line has been here in some form since 1894, when it was steam powered.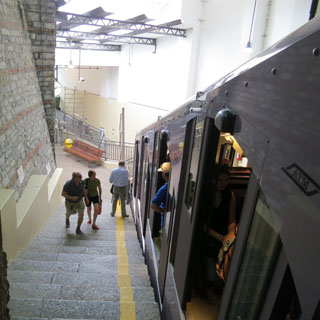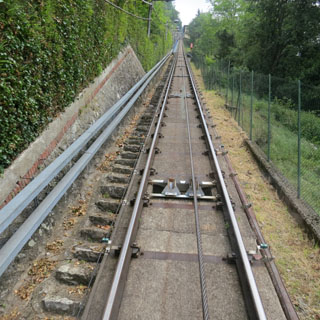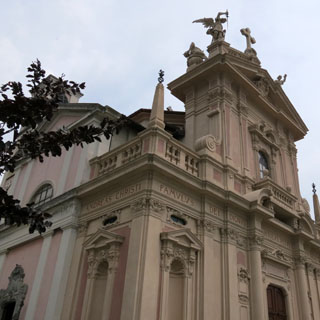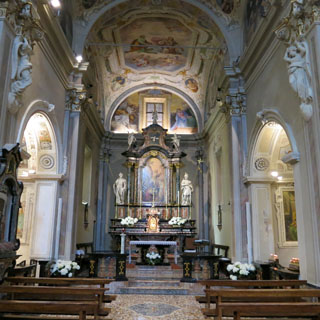 The view back down to Como is terrific.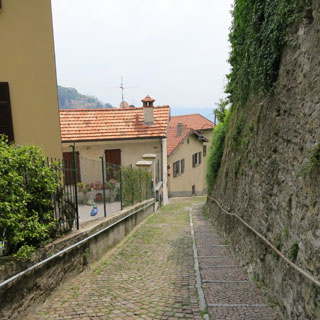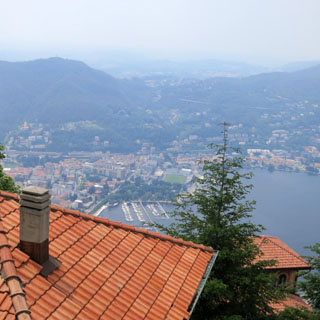 I had lunch at a trattoria on their outdoor balcony. That's a (very) large, hot bowl of polenta with sausage and mushrooms.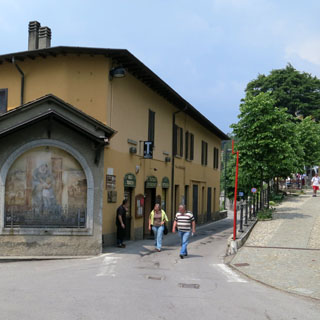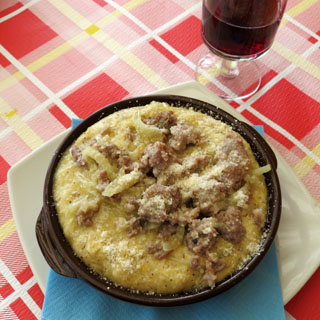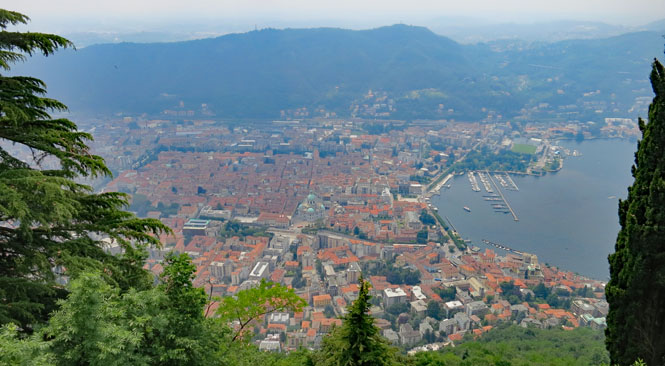 It wasn't wise, but I walked the trail to the bottom of the hill. My poor knees were unhappy and complained for the next several days.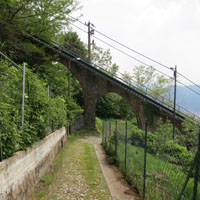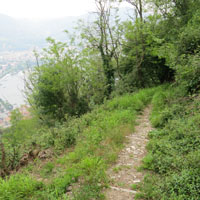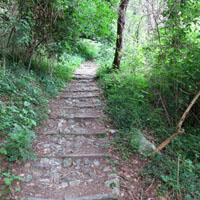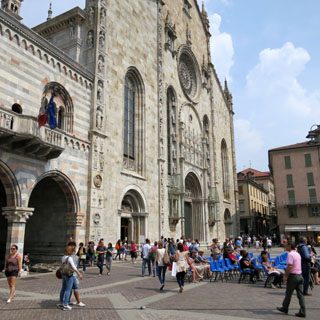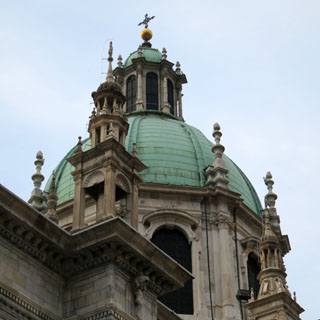 Isola Camacina is a small island in the western arm of Lake Como. It was a long Roman holdout until finally conquered by the Lombards (in AD 579).

Things were even more violent during the wars between Como and Milan in the late 1100's. After a siege, the army of Como (with Frederick Barbarossa) invaded the island in 1169 and made certain that no buildings and no people would remain. Even the island itself was condemned by the Bishop:
"Non suoneranno più le campane, non si metterà pietra su pietra, nessuno vi farà mai più l'oste, pena la morte violenta"

"The bells shall not sound, no stone shall be put upon stone, no one shall ever host someone on the island on pain of violent death."
I'd be using the Navigazione ferry service to get from Como to Camacina.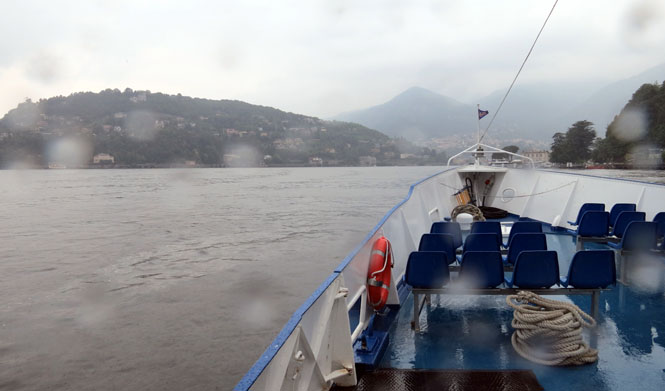 Torno, Italy.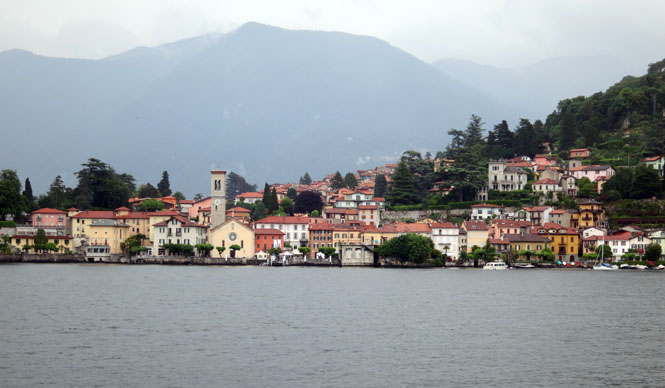 Carate Urio, Italy.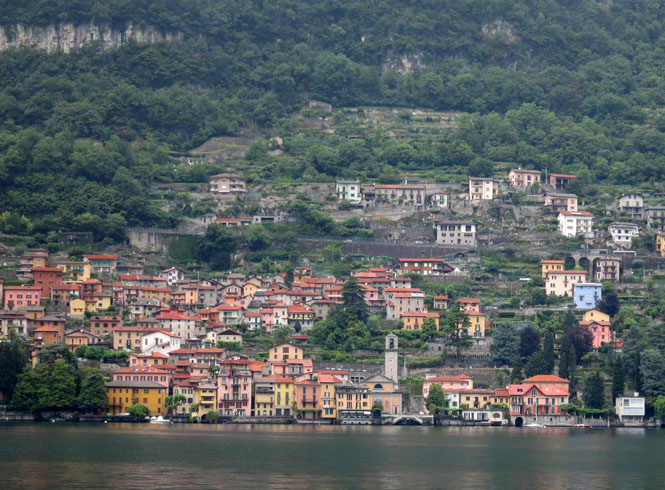 Pognana Lario, Italy.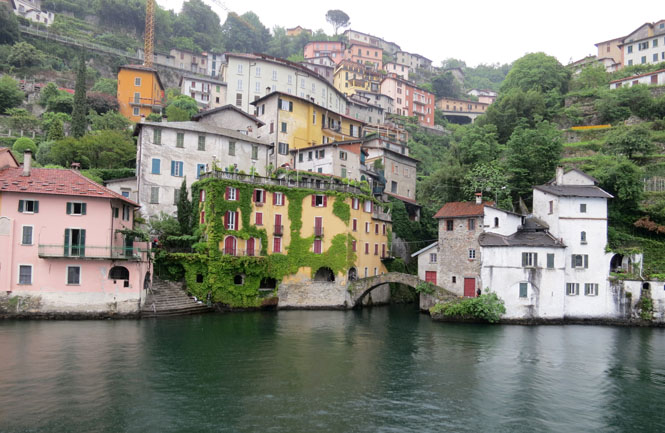 Arriving at the dock at Isola Comacina, Italy.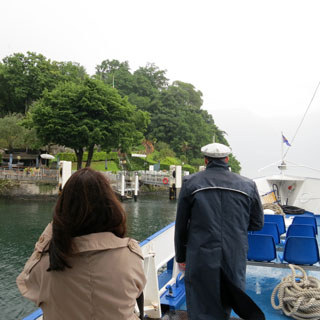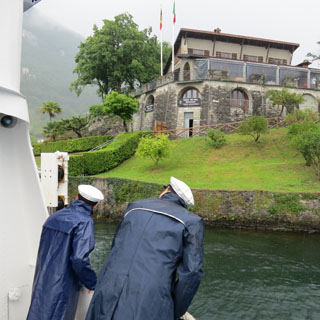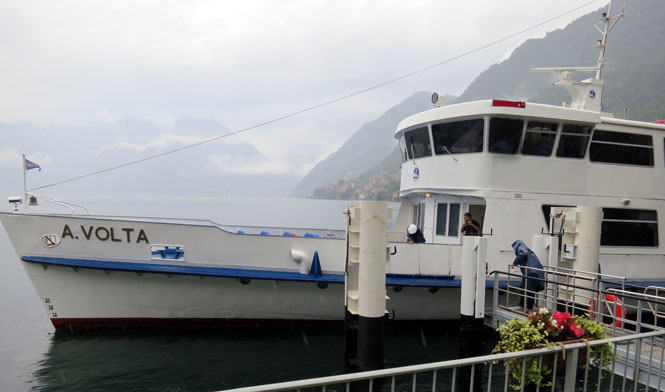 While I gather that this is a very popular place to visit, I was the only one to get off at the landing and I didn't see many people on the island. There's a restaurant on the island that is well regarded, but I was early, yet, for that.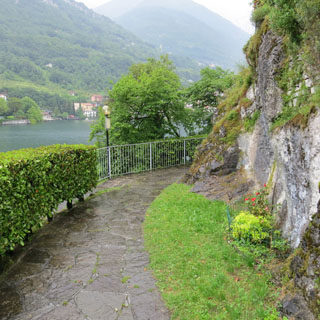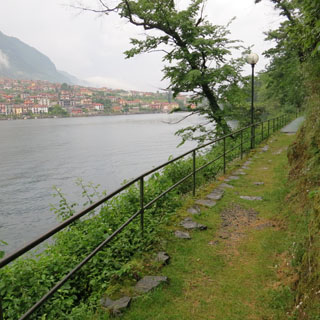 It's not a big island, and is easy to walk around using the paved paths and grass trails.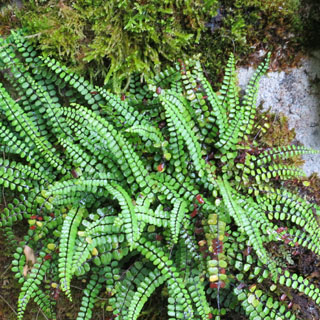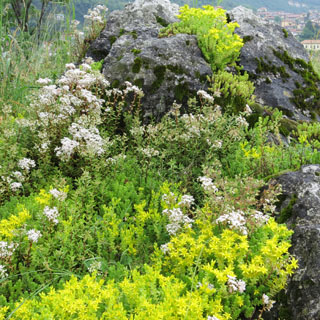 Sala Comacina, Italy.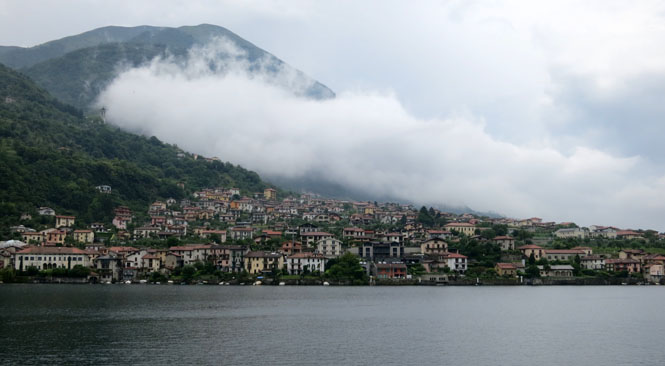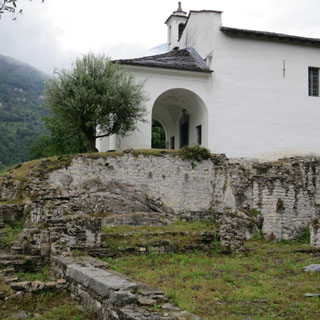 Lenno, Italy.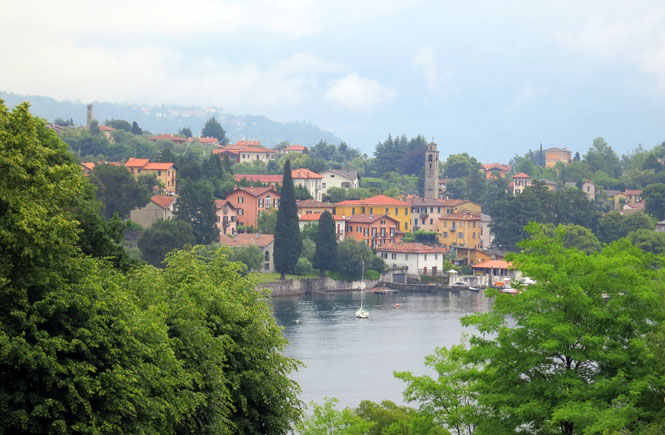 The island is a treasure for archeologists. Foundations of pre-Roman times are mixed with the foundations from those unfortunate enough to be here in 1169.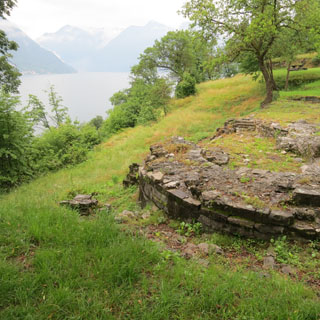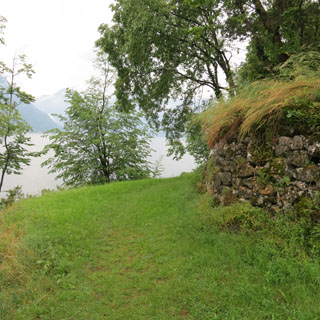 I'd spent time in the Pinacoteca Civica the previous visit, but I looked in to see what might be new. They had an exhibit of architect Antonio Sant'Elia. Sant'Elia was an early proponent of "futurist" design. He had quite an influence even though he died (in the first world war) before much of his works were built. Looking back at it, many today would find his proposals dehumanizing, although for his time that was part of the intent. Great, overpowering mechanized cities.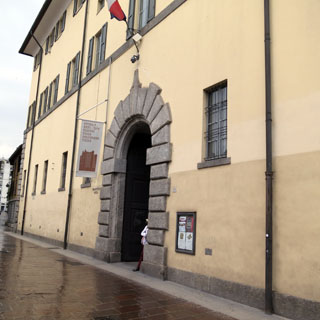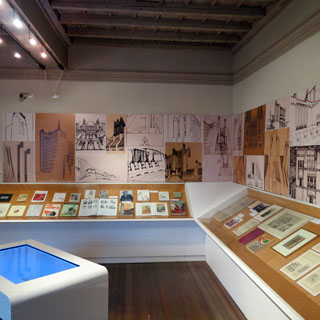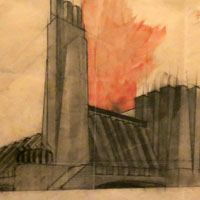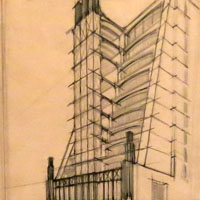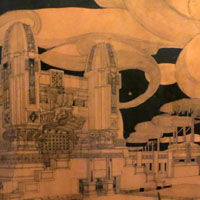 I had a second look at some of the stone masonry examples taken from the many reconstructions of the surrounding churches. I suppose any master mason could turn this stuff out without much trouble (or have his assistant take care of it for him). Did the architect just leave these details to the masons?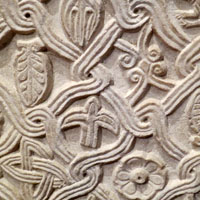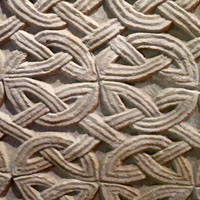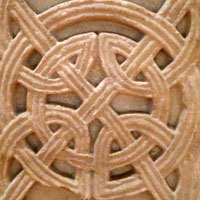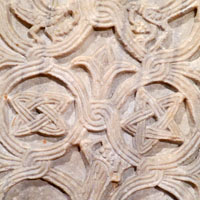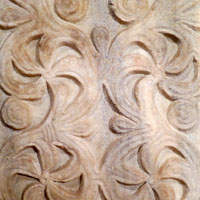 Rain. I would have lots of it during this trip. This is the plaza outside my hotel. It's pouring, and all sensible people are indoors.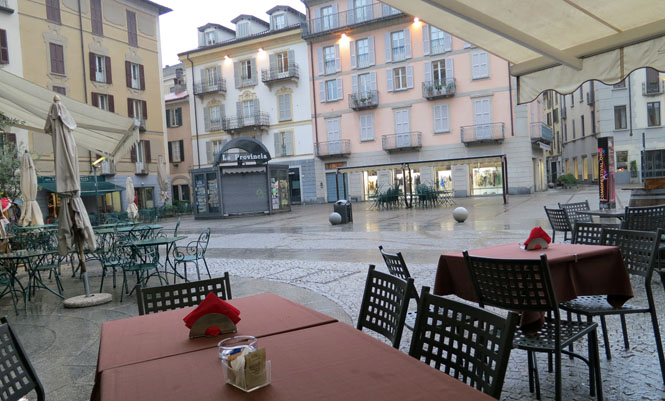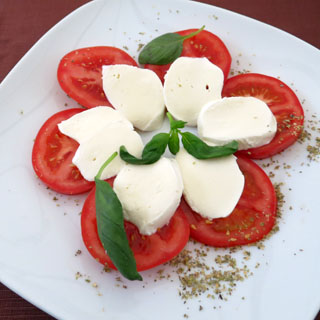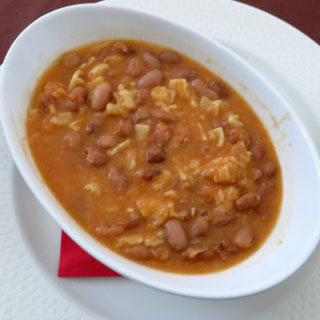 The breakfast buffet in the hotel before walking to the train station.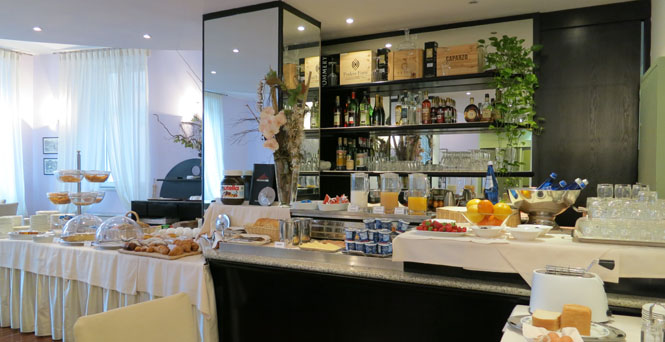 There's a rail-car that has a limited schedule between Como and Lecco. It's ideal for me.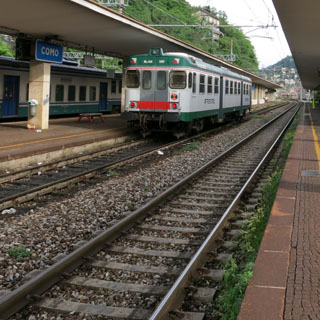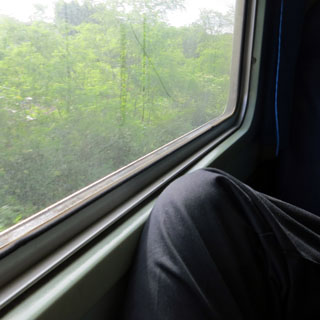 The walk from the Mandello del Lario train station to the Agostini Moto Guzzi dealership is a short one. My Stelvio was waiting; the seat and the windshield adjusted for me.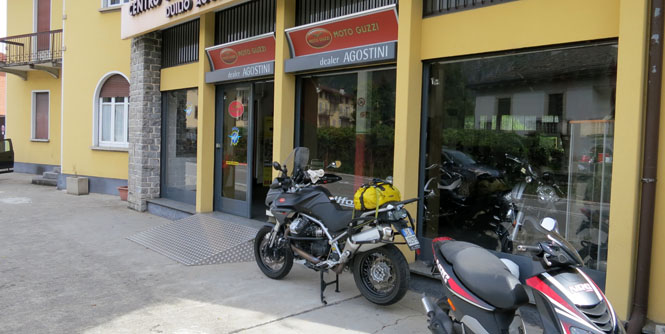 I didn't spend much time wandering in Italy. I rode towards Milano, got on the autostrada, and aimed for the French border on the way to Geneva (but, not intending to go to Geneva).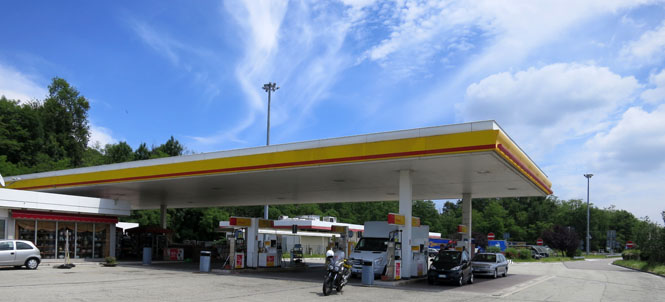 Morgex, Italy. I pulled off the autostrada for a short break and to get a bit to eat.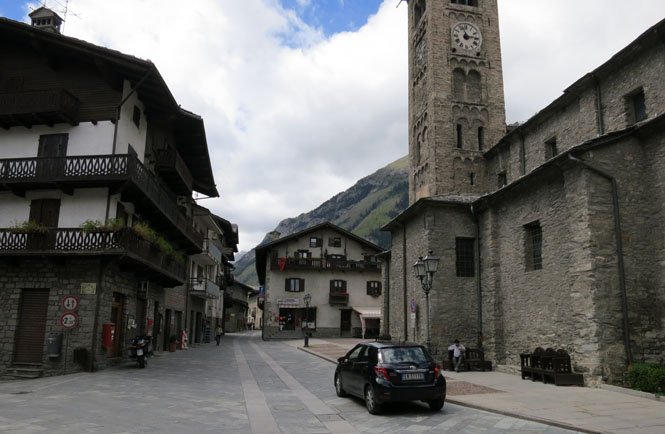 This bar was open, so I had the Italian version of a ham and cheese sandwich.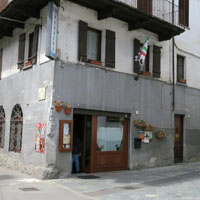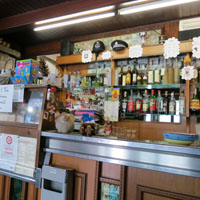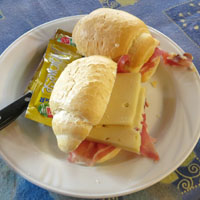 If I had stayed on the autostrada, I'd be up there. As it is; I'm down here on the old (more interesting) road to Monte Bianco (which would become Mont Blanc once I crossed into France).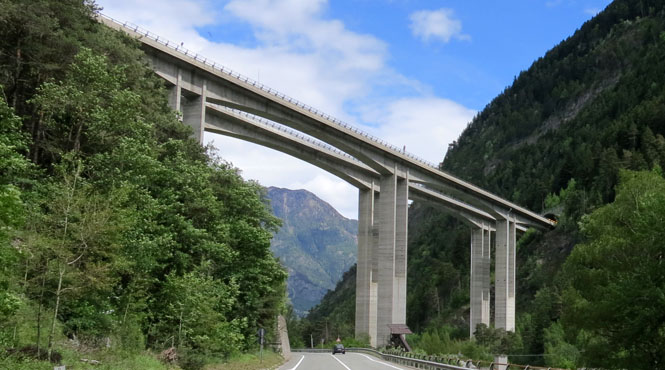 It cost me something around 28 euros to pass through the tunnel.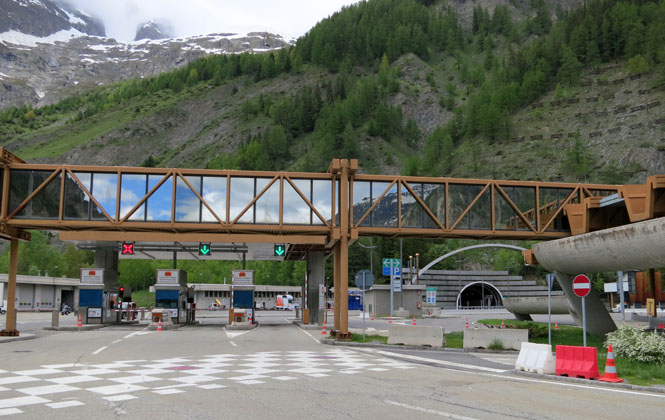 The tunnel was completed in 1965. At just over 7 miles long it remained the world's longest until 1978. It's just two-lanes wide and the traffic is not separated. They're very strict about maintaining proper separation and speed.
France
And, here's the entrance (or exit) on the French side. That gendarmes is waiting for a particular car to arrive (I believe the paper in her hand has a photograph of what she's waiting for). Ultimately, I saw the BMW 7-series come rolling out of the tunnel clearly running too fast. You could see the hood dip down as the driver applied the brakes, but by then it was all too late. Busted. He was directed to the special parking area to receive the bad news.
I made it through without being called over, but from talking to people, it's not an unusual thing to be fined for following too closely, or for exceeding the limit at some point within the tunnel. Cameras and sensors are watching you.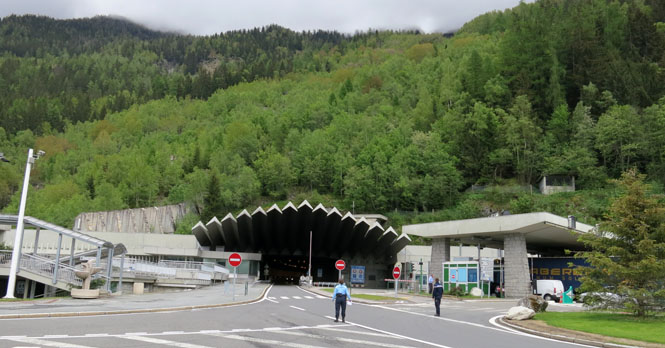 Sigh... I really dislike the tollbooths along these highways. But, I needed to make good time, so (for now) I put up with it.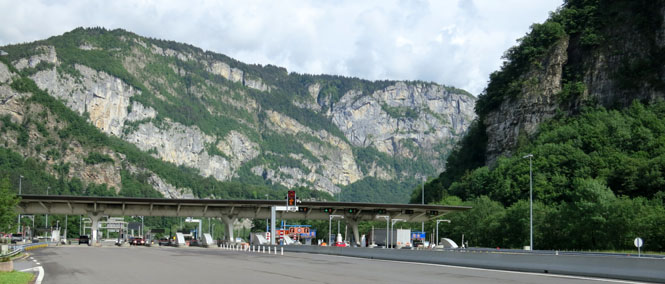 Bourg-en-Bresse, France.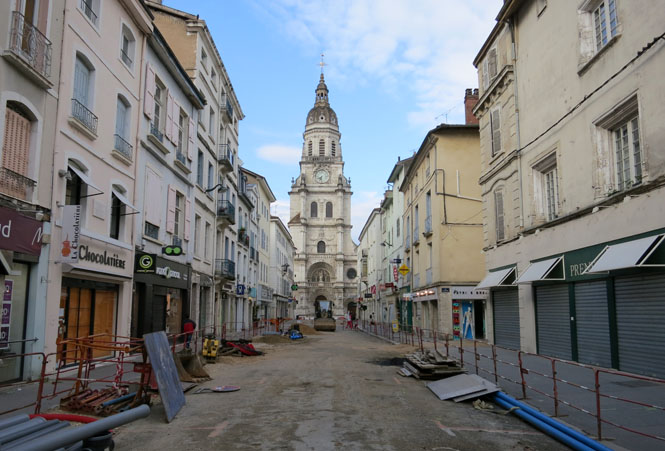 I stopped at the Hotel de France for the night. My room is at the top--one of those smaller windows you see under the eves.
Here's where packing light has its advantage. I grab the one bag off the seat behind me, and I've got everything. As always, the first task is to dump yesterday's clothes into the sink for washing (and wearing the next morning).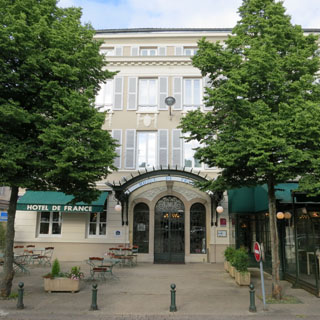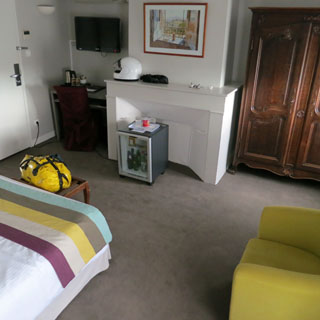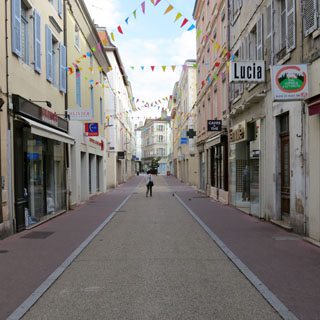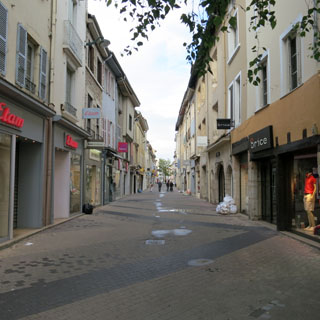 The tomato soup might be clear enough; the fish-infused thing on the right might not be. I couldn't tell you what it is (a croquette?). My system of ordering doesn't always give me a clue as to what I'll get.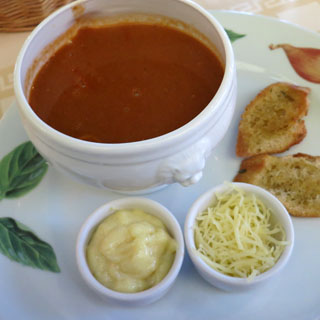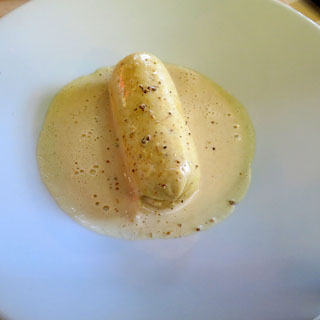 I'd made good progress this first day, so I was rewarded by not needing to travel on the motorways anymore.
Mâcon, France.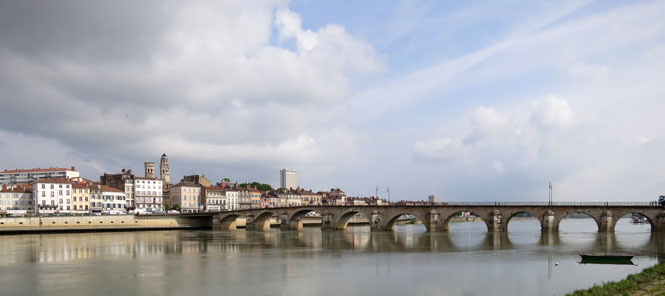 Mâcon (looking straight across the Saône River).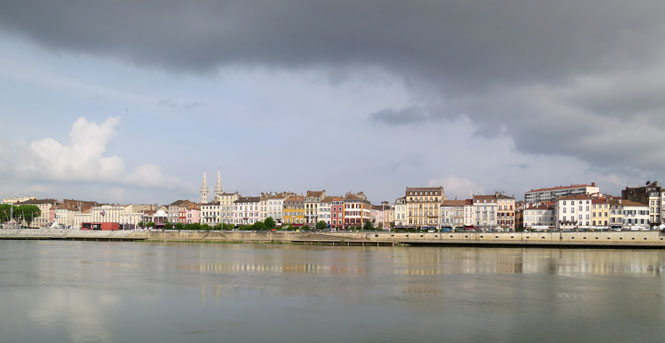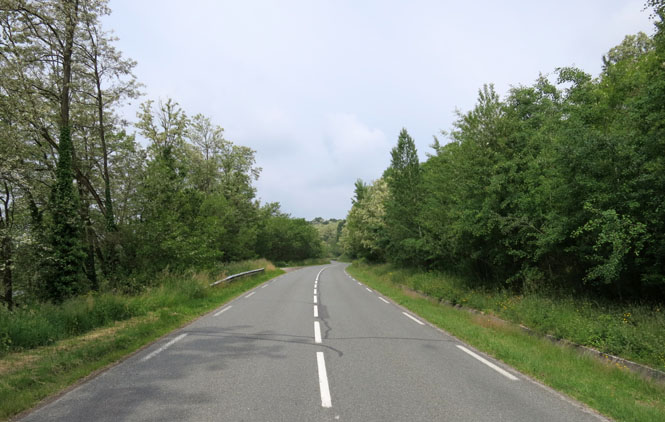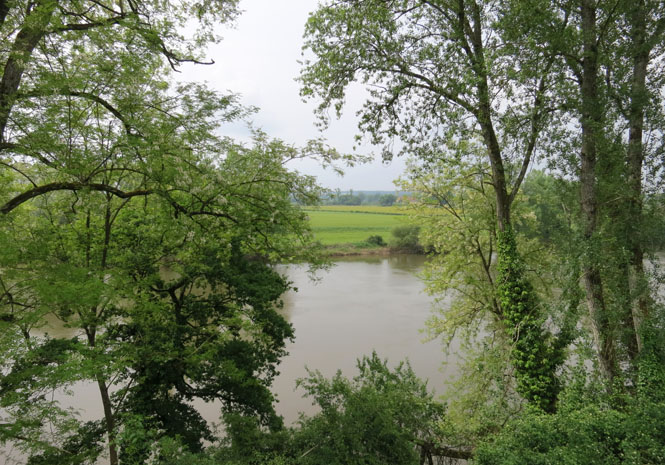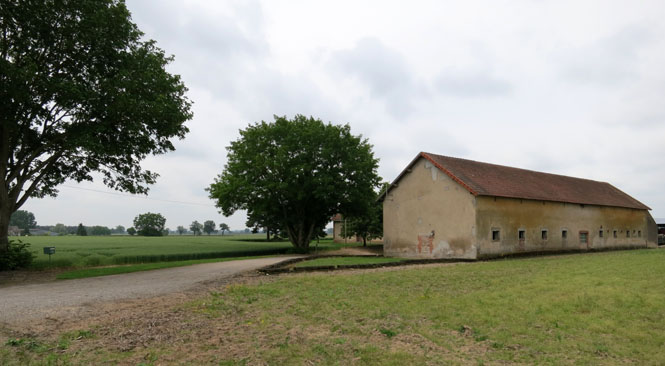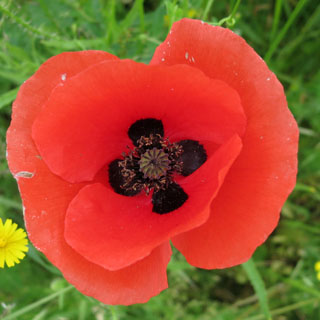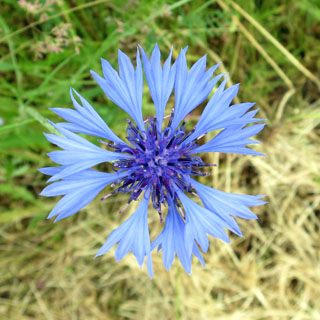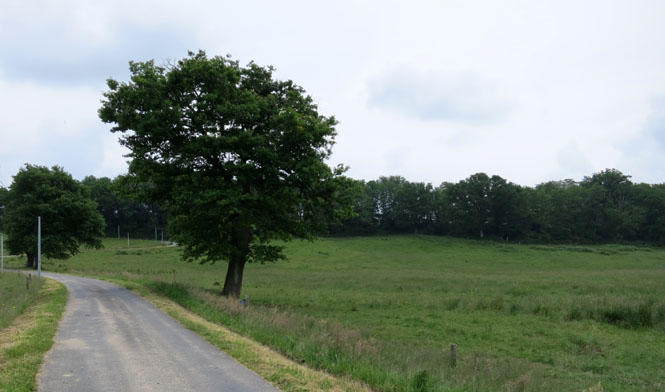 The canal and locks for the Allier River.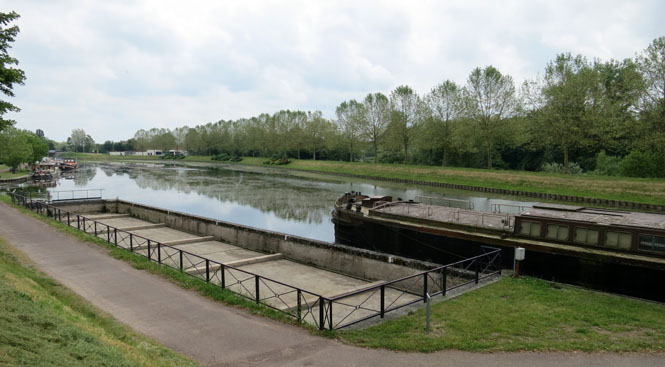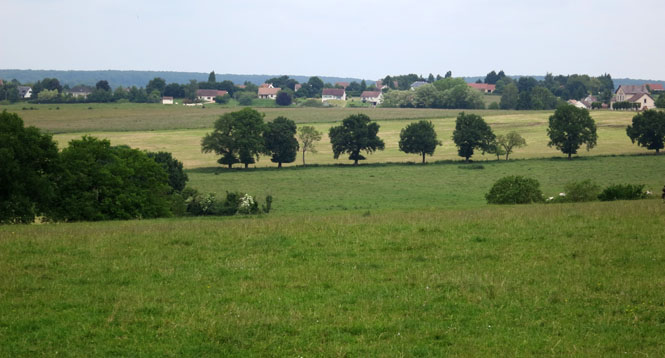 Saint-Ouen-sur-Loire, France.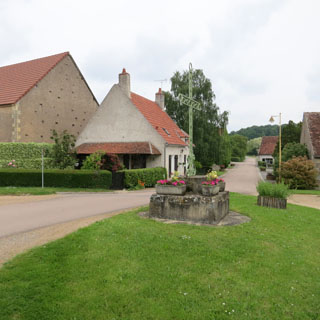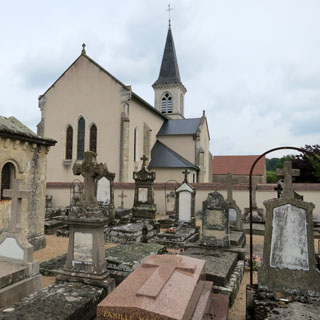 The River Loire.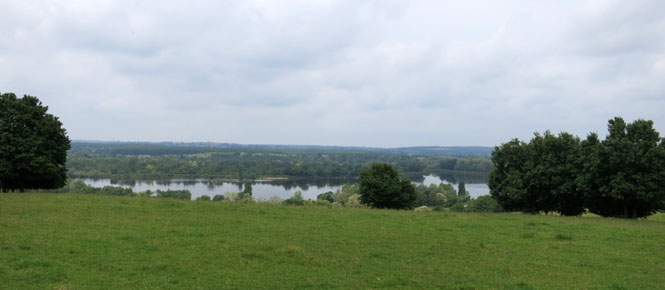 La Celle-sur-Loire, France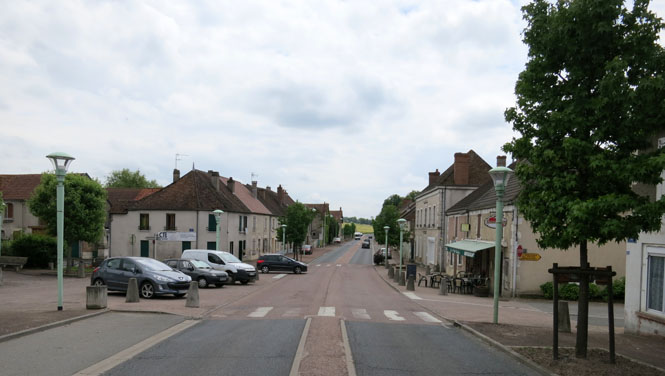 Gien, France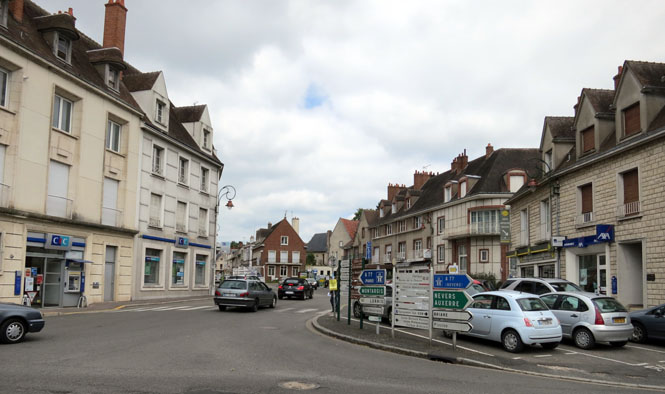 The old bridge over La Loire, I believe that's Le Berry on the other side. I would stay on this (north) side and continue to follow the river.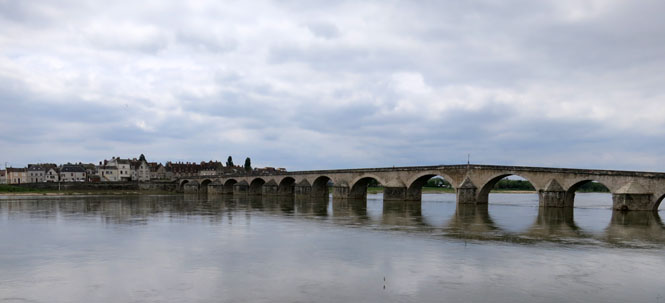 I balanced between taking the least of the roads (such as this one) and the roads that were faster, but more actively travelled.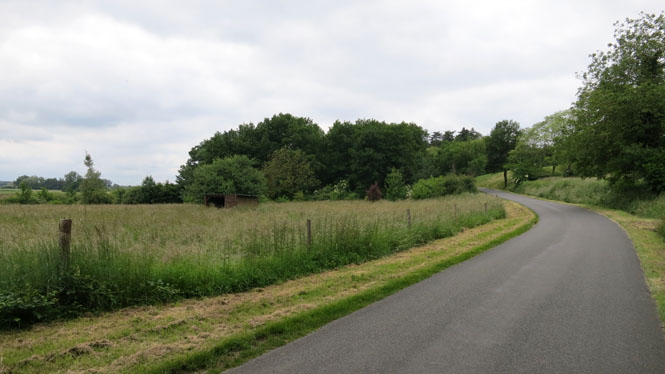 Traînou, France. From a distance it would always appear that the road was heading directly at the church bell tower. Of course, once in town, the road would swerve one way or the other. It's clear, though, that originally the roads were simply the path that people took as they walked to the next town and the next church bell tower.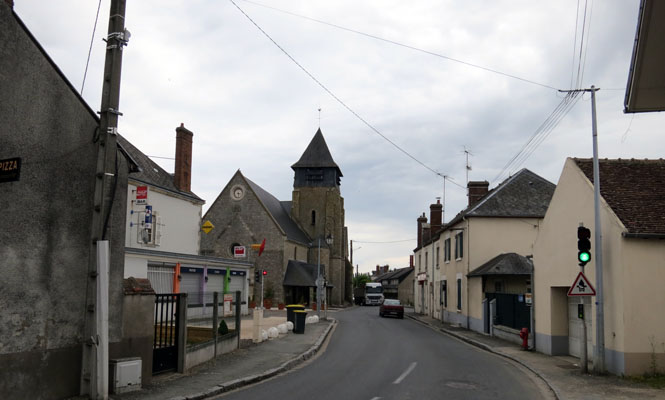 Neuville-aux-Bois, France.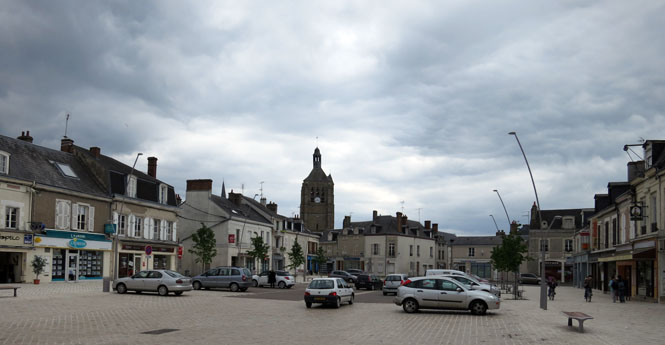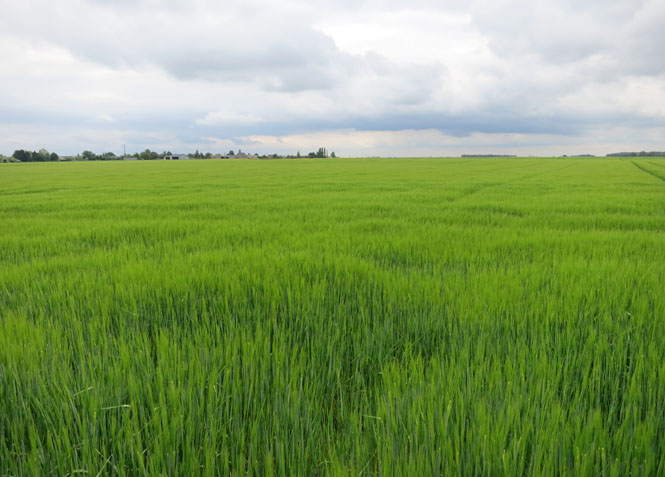 Yes; I used a GPS, but that was necessary to keep me mostly on track, and to especially help me pass through towns. I would plot out my destinations using the folded map each time I stopped. I only carry laminated maps as paper will very quickly become a soggy mess.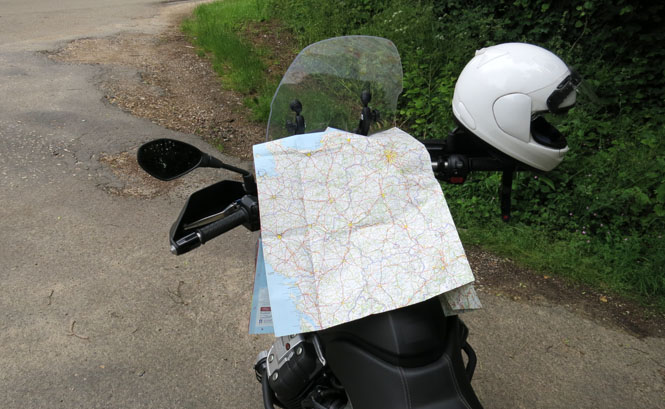 Châteauneuf-en-Thymerais, France.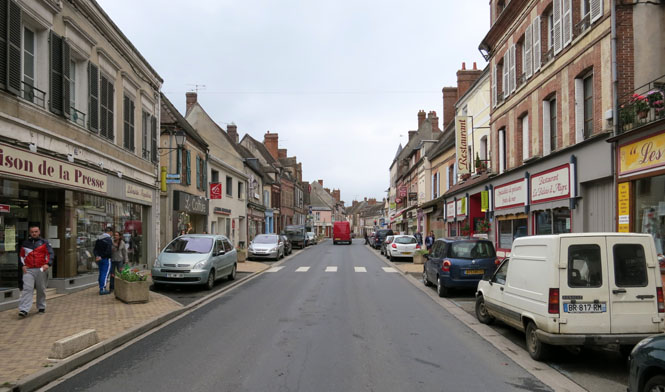 Verneuil-sur-Avre, France. These broad open squares are fairly common in the larger towns. I presume that on market days, you'll find rows of stalls in place of the cars.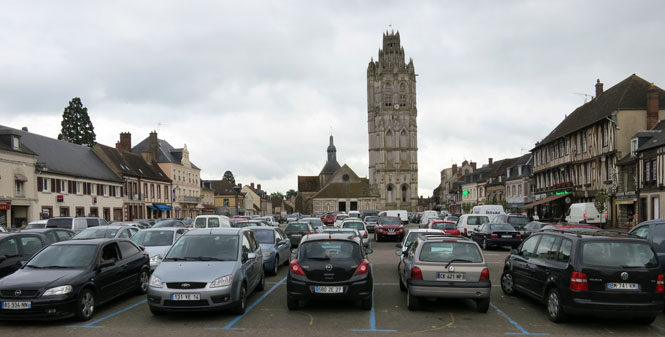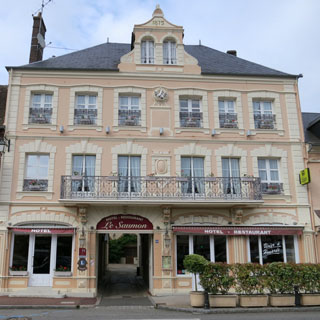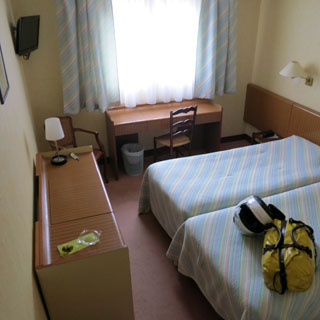 My room has the window just above the parked motorcycle. Just opposite is the large window looking into the kitchen. I took this photograph from my room.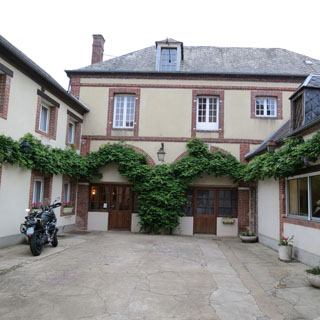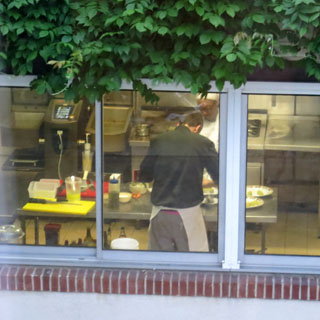 If I remember, that's a duck on the right along with a few slices of cooked apples and pasta. Seemingly, you cannot order anything in France without a rich sauce poured over the top.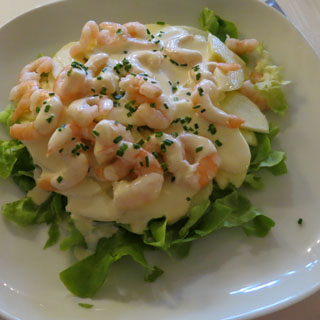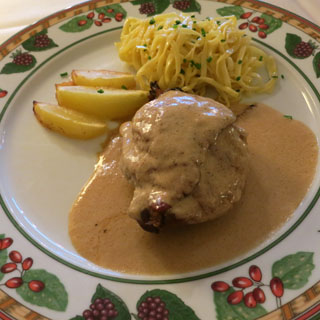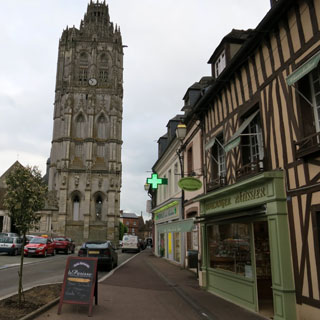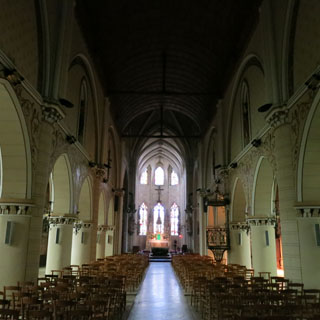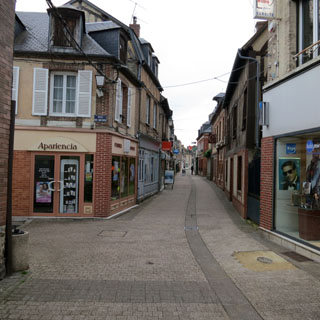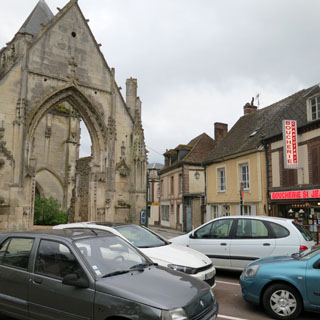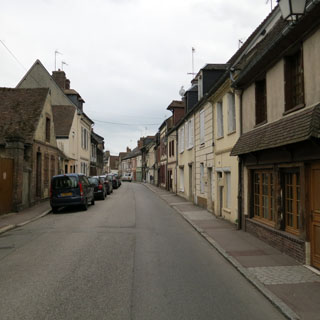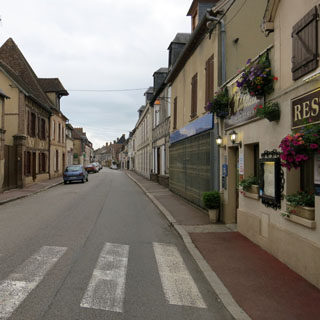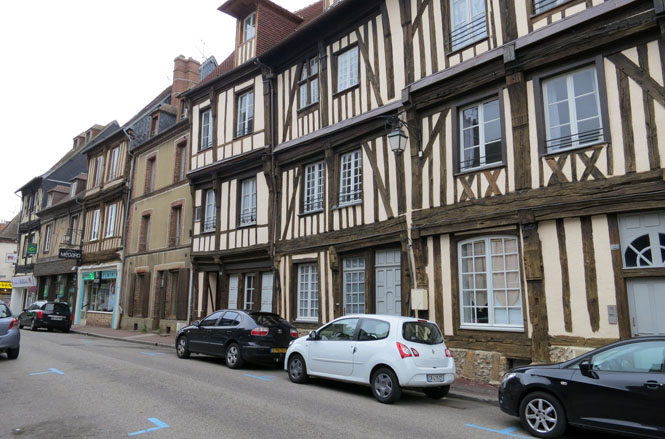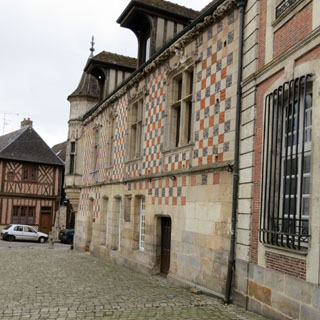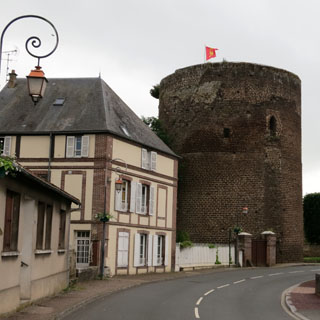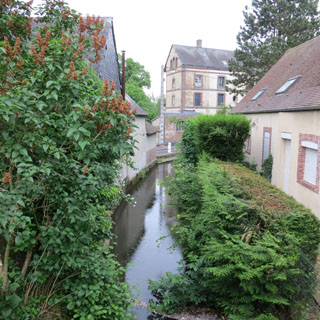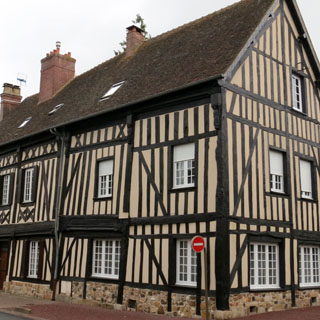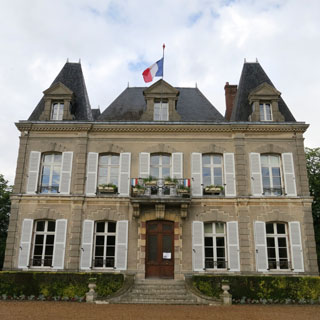 Villers-en-Ouche, France.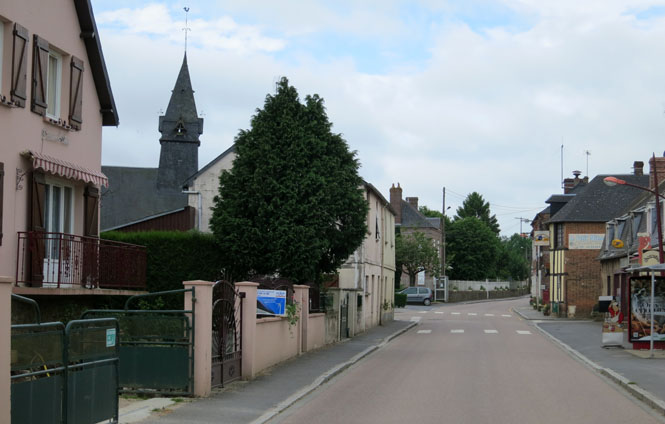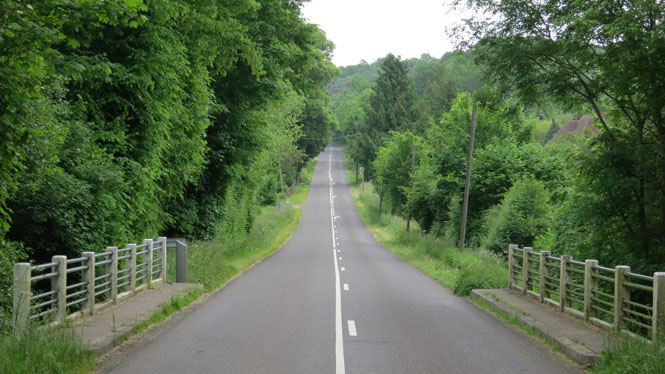 Ticheville, France.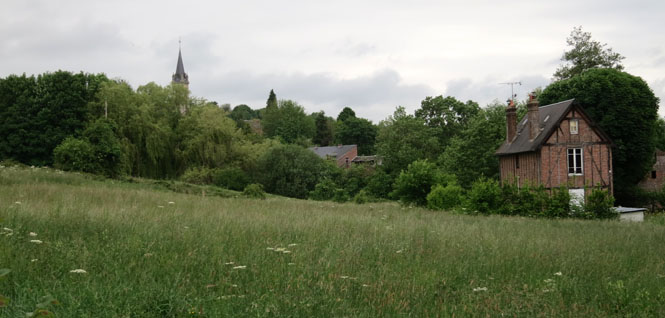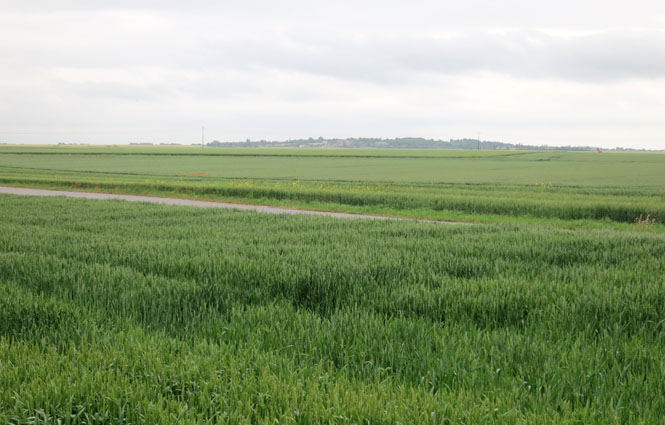 Bayeux, France. This cathedral (1077) was likely the original home of the Bayeux tapestry showing the events of the Norman Conquest. It now has its own dedicated museum. But, of course, I only rode through the city and didn't stop much longer than to take this photograph. I never saw the tapestry.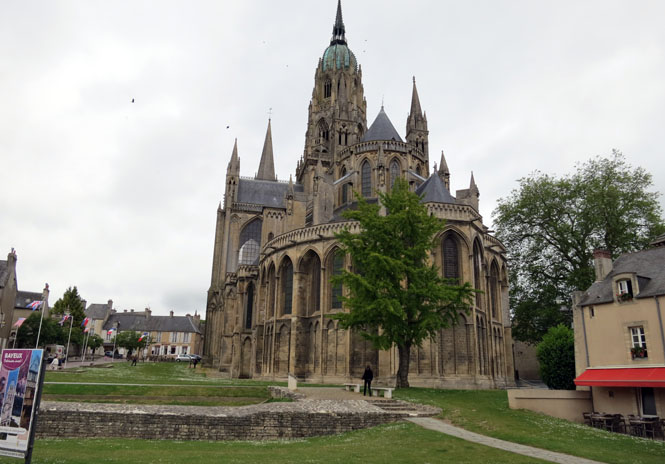 The Normandy American Cemetery is just beyond the bluffs of Omaha Beach. It is a terribly sad place, and as you'd imagine there were occasional small groups of people gathered around a particular marker. I was there just days after the D-Day anniversary.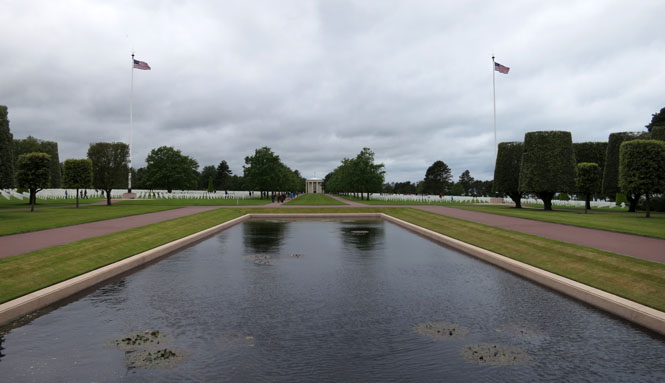 The markers have been installed with remarkable precision for both location and height. There are 10,625 graves.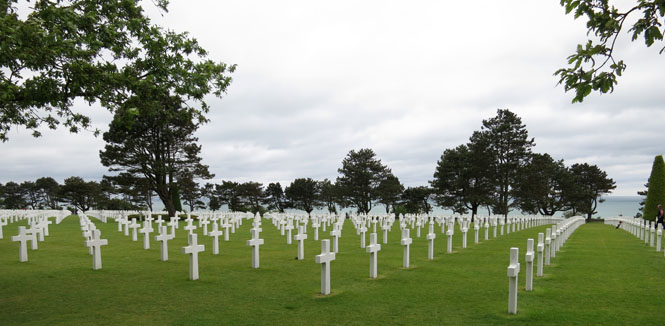 Of course, this is mainly a cemetery; but, there is a small, but well-done museum devoted to the history of D-Day. The surrounding towns have larger museums devoted to all aspects of the invasion. American flags are common in all the towns.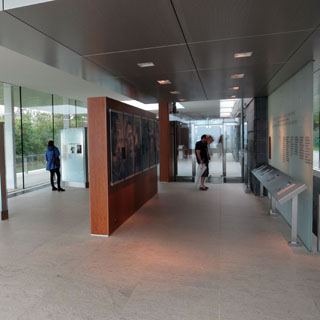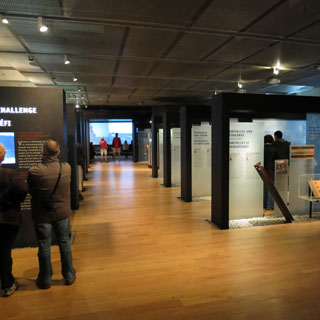 There's an easy path that takes you down the bluff and across the beach. There were a few other people down at the beach with me, but it seems that nobody talks while they're here.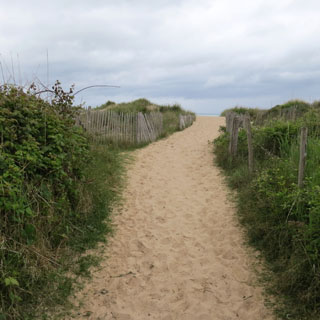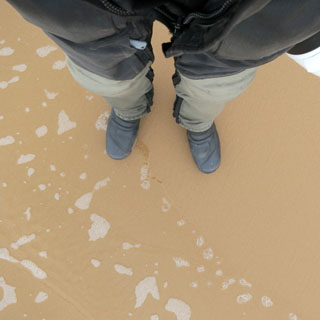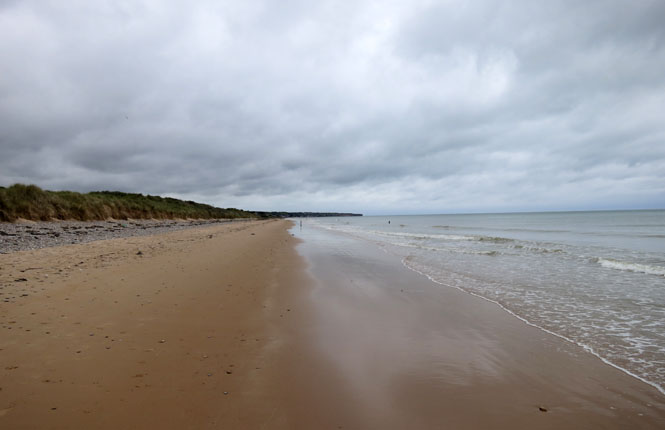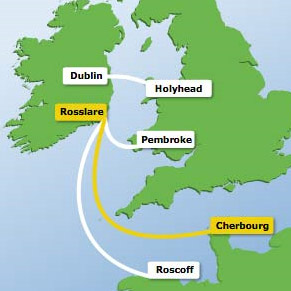 There are several ferry companies that operate in the channel, but only two were relevant to me: Irish Ferry and Celtic Link Ferry.
I had plotted out every possible scheduled sailing between France and Ireland, but had a preferred sailing out and back; that was on Irish Ferry between Cherbourg and Rosslare.
Cherbourg is not a large city, so it wasn't too hard to ride to the terminal. I checked in with Irish Ferry and bought a ticket for both directions. I'd have a cabin each way as this is a long (18 hour) voyage.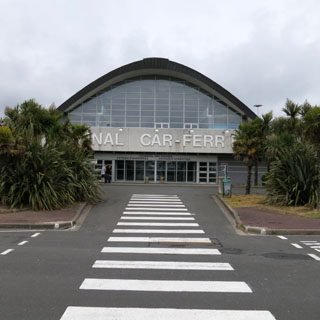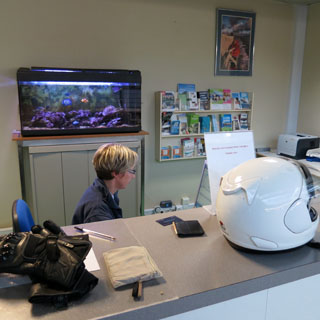 I waited with the Irish Lambretta club to load into the Oscar Wilde.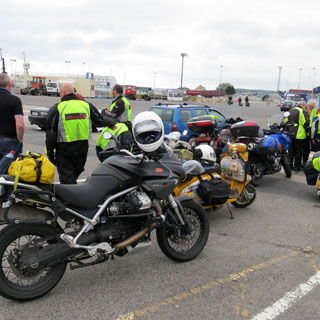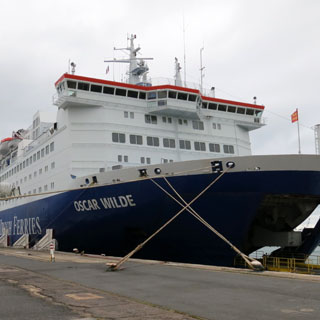 I always pack straps when I know I'll be on a long ferry, but the company provided good quality straps, so mine weren't needed. you put the carpet square on your seat and put a single strap over that with the hook straight down (not fore or aft) to the deck-ring. Keep the bike on the side stand. Then put a wheel chock at the front and rear tire and jamb another chock under the engine at the side stand location. It makes for a very secure load.
I give credit to Irish Ferry for painting the steel deck and for keeping it free from diesel fuel and oil. I've been on others that were not so well maintained and it can be quite treacherous.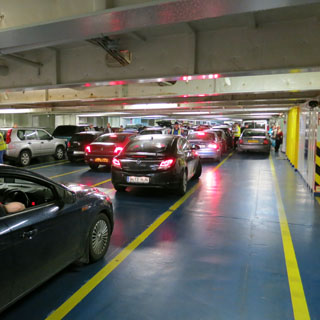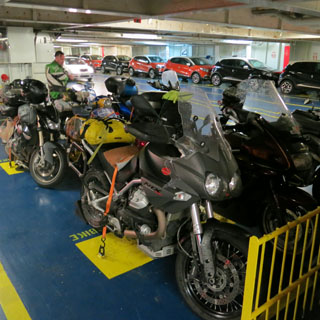 For this leg I had a cabin with a window. These cabins are small, but you don't spend much time in them.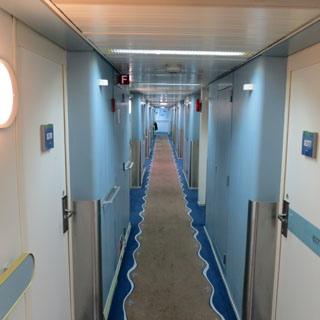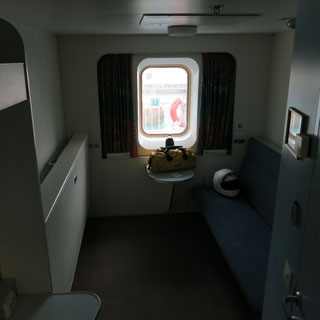 The seventh deck was (mostly) the main deck where everybody hung out. The two theaters were up on the ninth deck and shopping was on the fifth. If you wanted to eat and drink, you were well covered.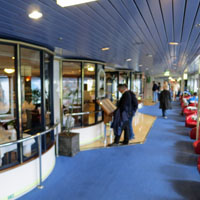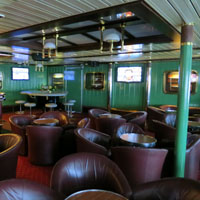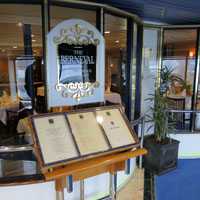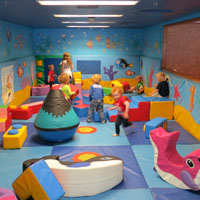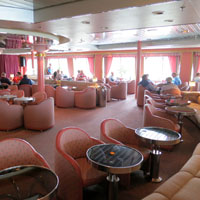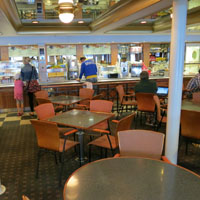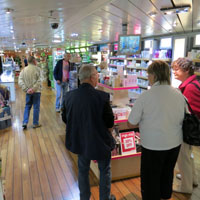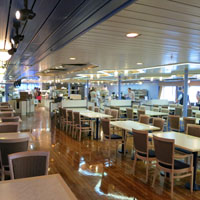 Nice that the chart was posted.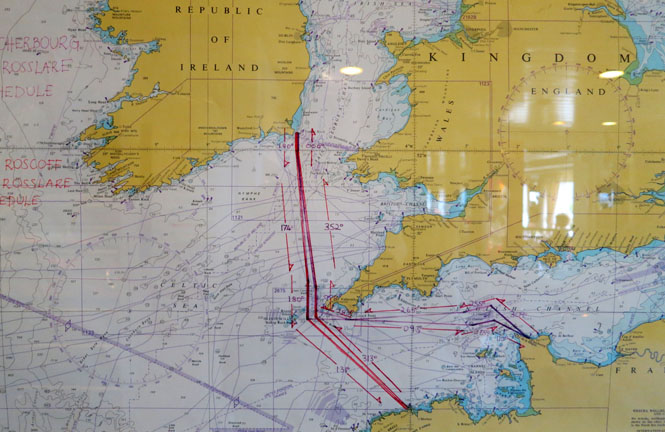 The outward crossing was rough. Those were the words of the captain--"we expect a rough crossing tonight." I was not affected, but it was clear the next morning that not everybody came through with happy stomachs. The (single) bed had a side railing, so it would be unlikely that you'd ever roll out of bed.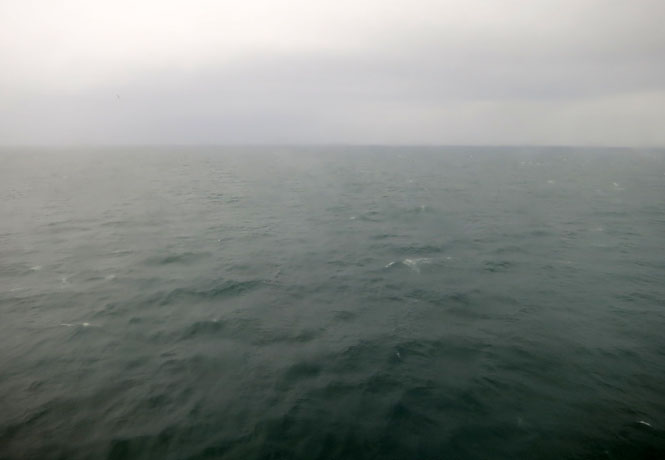 Breakfast? You're not in France anymore.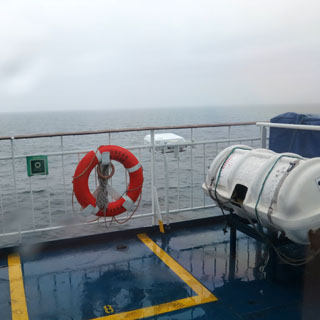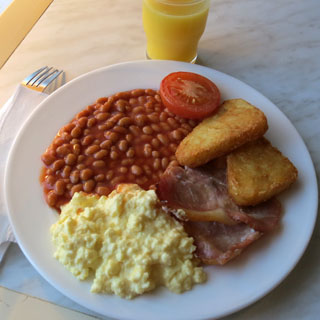 As it was last year, I didn't have any trouble switching over to the left side of the road. I did need to remind myself when entering a road, but mostly it came naturally.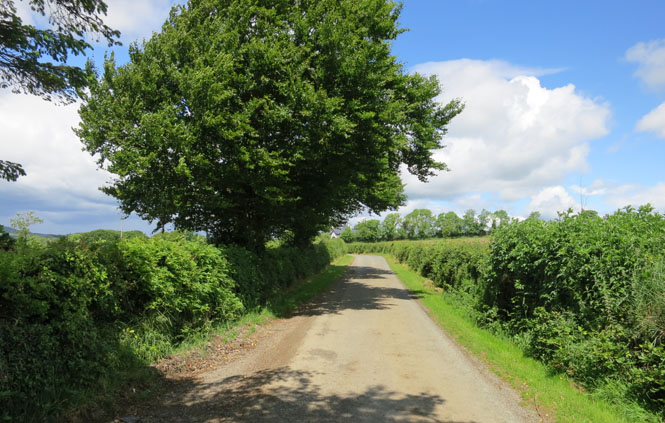 Dungarvan, Ireland.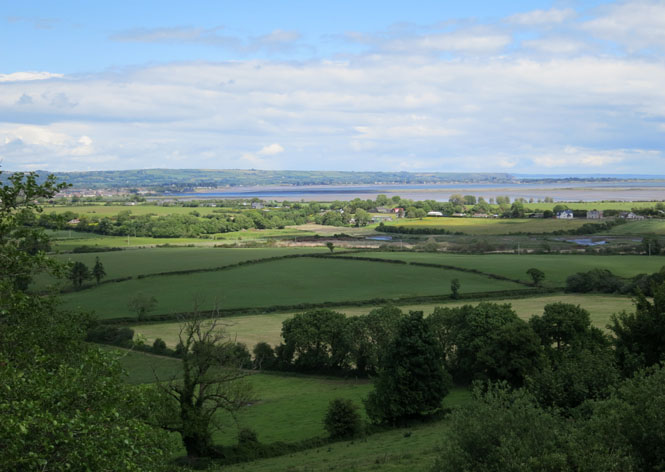 Cork, Ireland. There is a way to use the motorway to avoid riding through the congestion of Cork. But, I didn't find it. It wasn't all that bad, but it did take much more time than I wanted and it wasn't at all clear which roads were leading me through the city.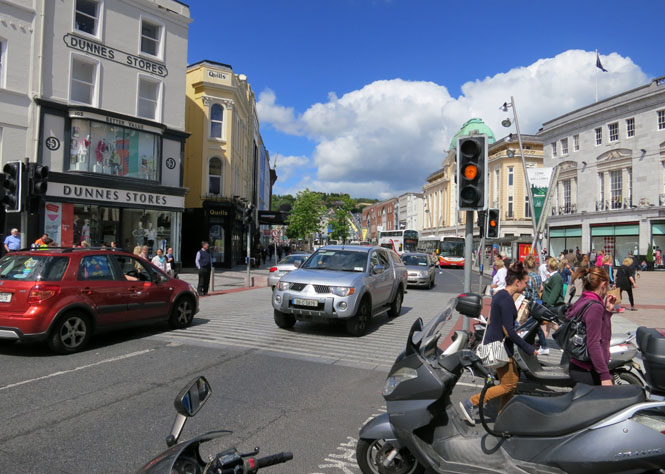 The River Lee. I can relax. I'm through Cork and I'm back to riding the small roads.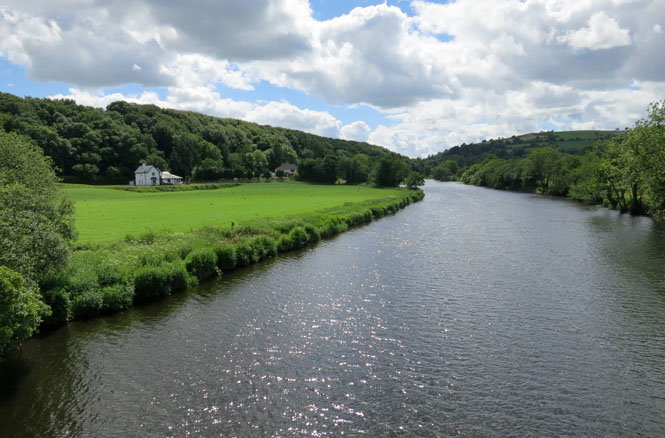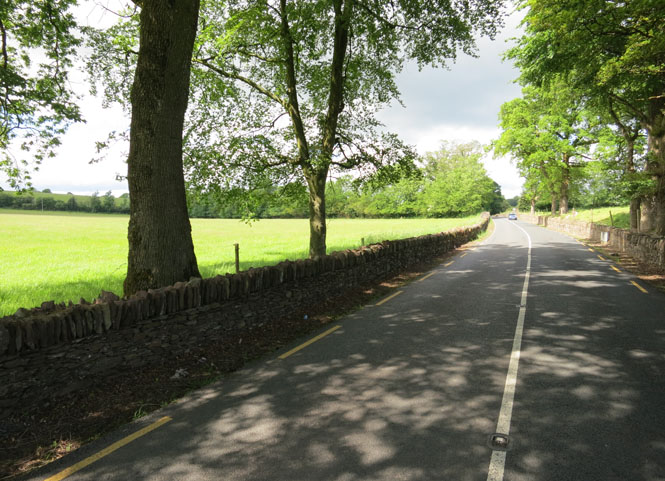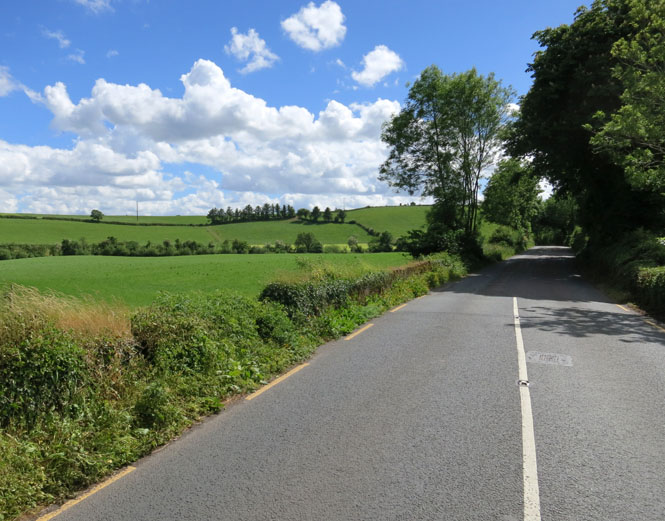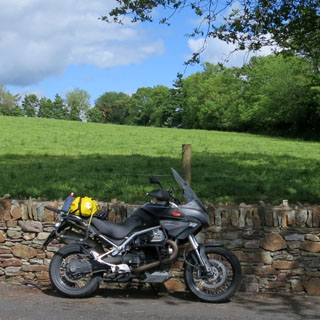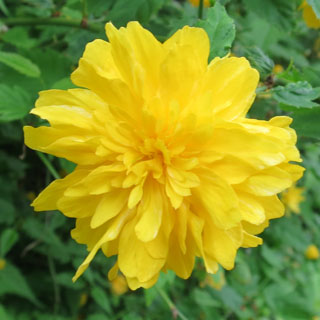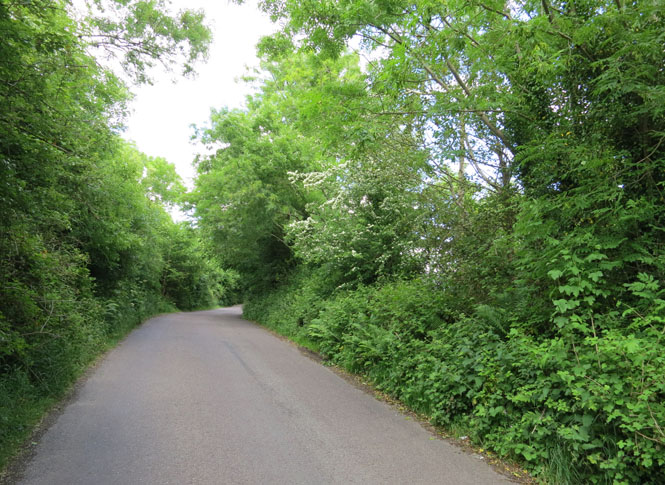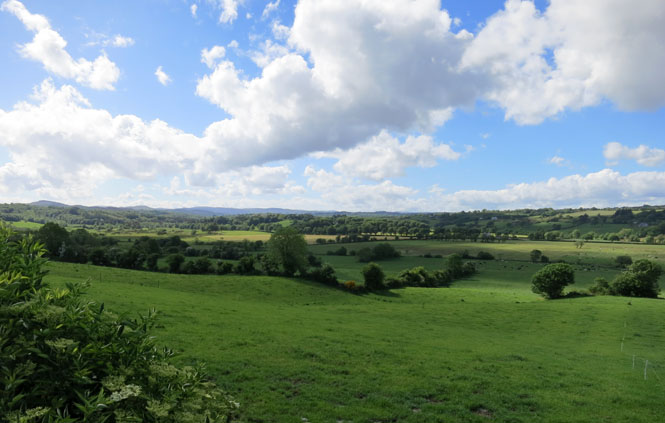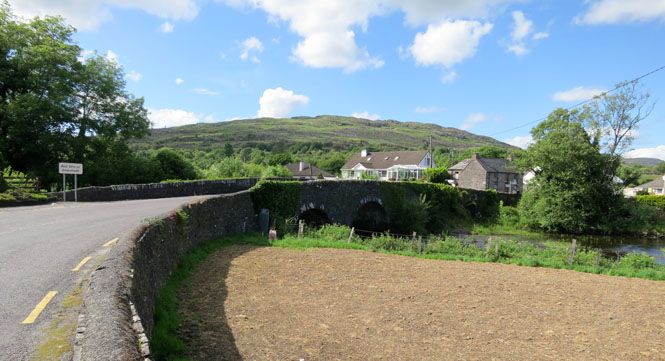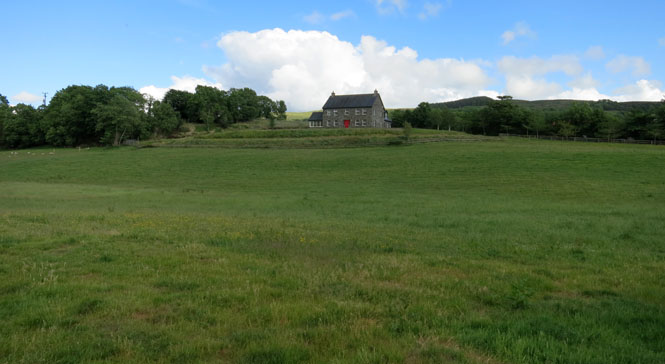 Carriganass Castle over the Owvane River. The castle was built around 1540 but it's now in ruins.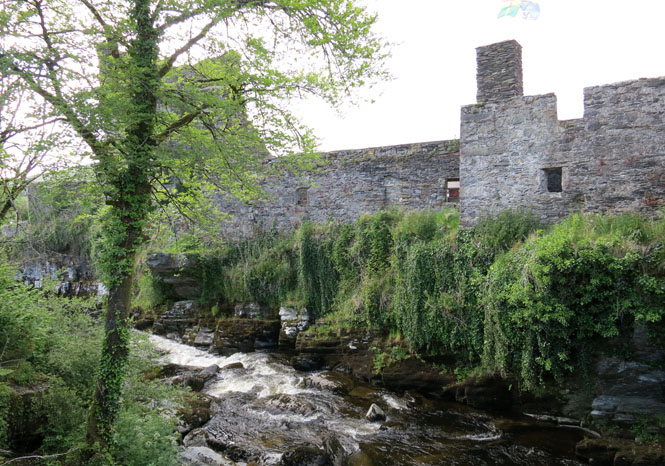 Glengarriff, Ireland. You'll note that I am riding within days of the solstice, which means if I wait for it to start getting dark before stopping, I'll be riding towards midnight.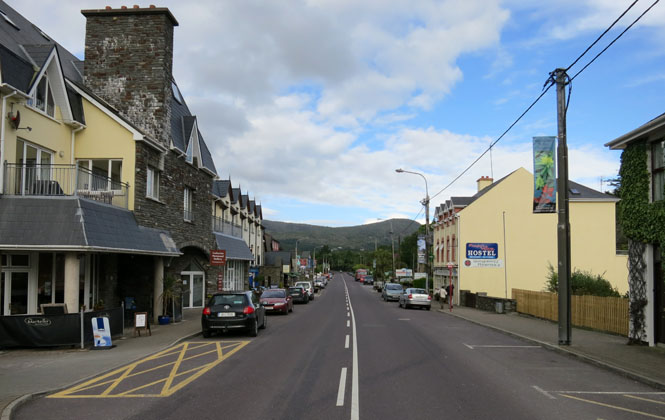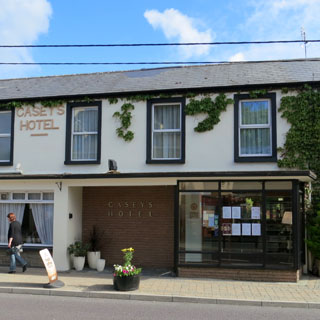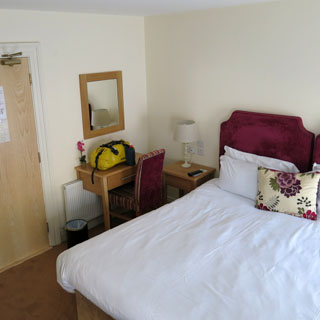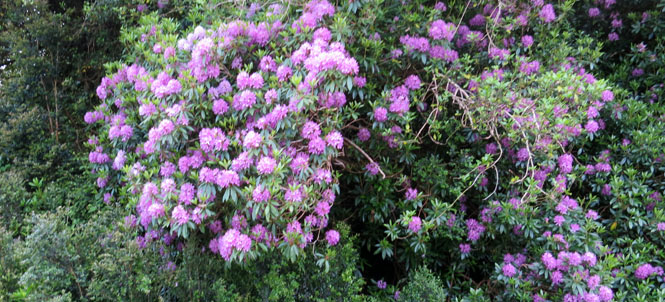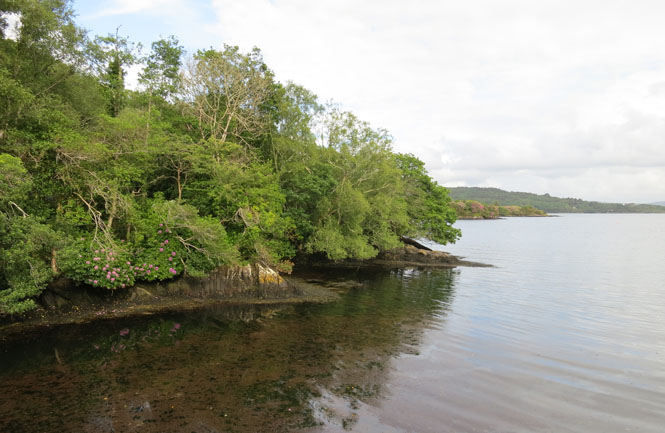 There's a very nice series of trails that connect the town to the little harbor.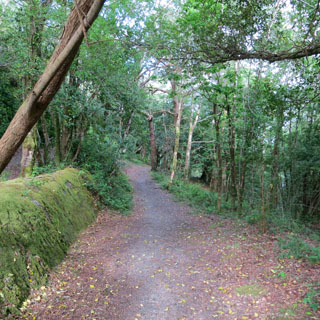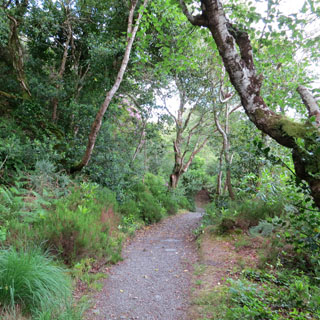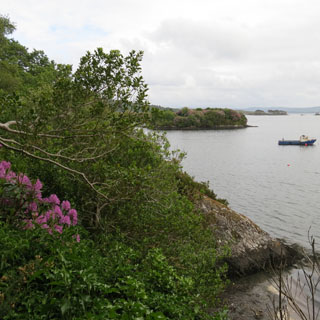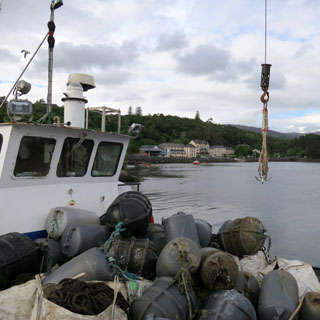 The change of pace in food has been dramatic. By the way, that's a rhubarb crumble.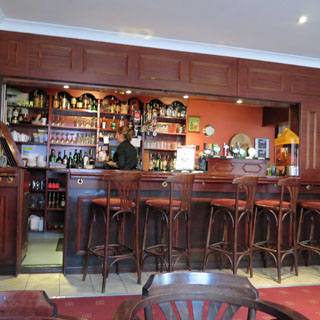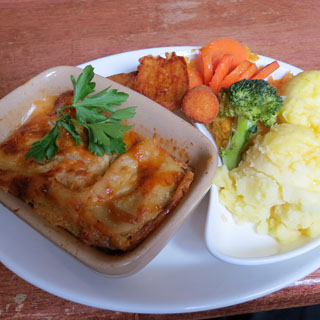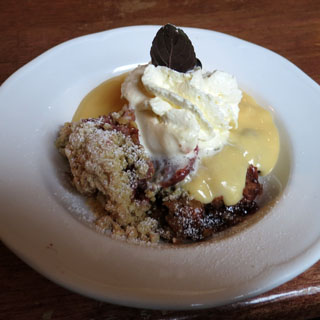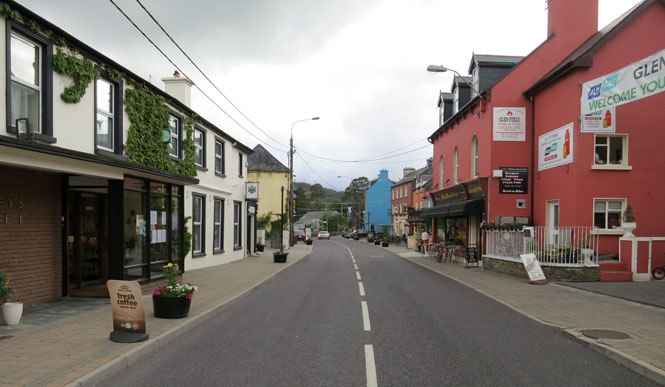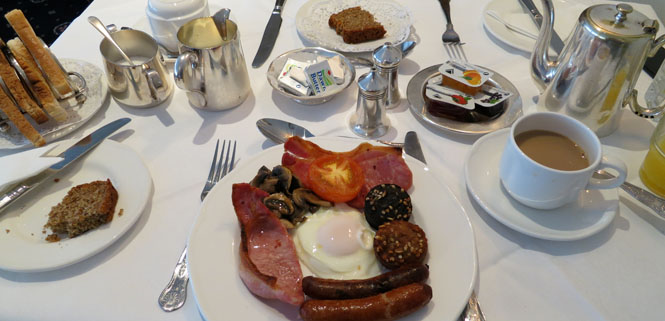 This morning was promising to be a wet one. I planned to ride the Ring of Kerry around the peninsula.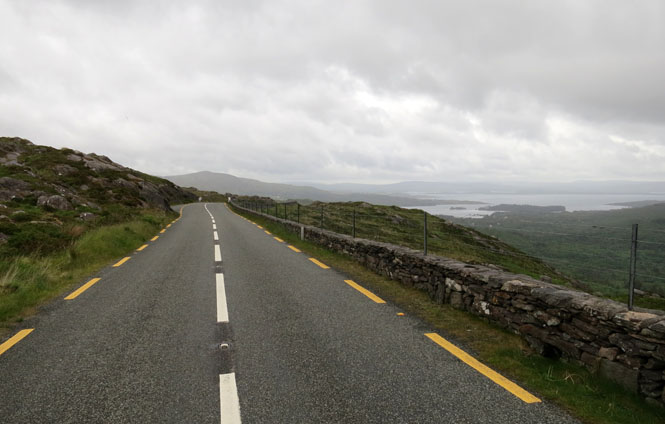 There are four types of roads: M, N, R and L. The letter designation is followed by a unique number. M-roads are motorways and should always be avoided; we won't talk further of them.

Without really knowing, I've assigned the others to be N=National, R=Regional, L=Local.

The N-road is usually two lanes with an extra wide shoulder that would allow passing. Sometimes an N-road is multiline.

The R-road is more narrow, and sometimes barely wide enough for two cars to pass. It is always striped, and if you stay on it, you'll end up someplace.

The L-roads are the least of them. They often are not striped, and often are only a single lane wide so that two cars cannot pass each other without one of them pulling off the road. You may not get anywhere on one of these.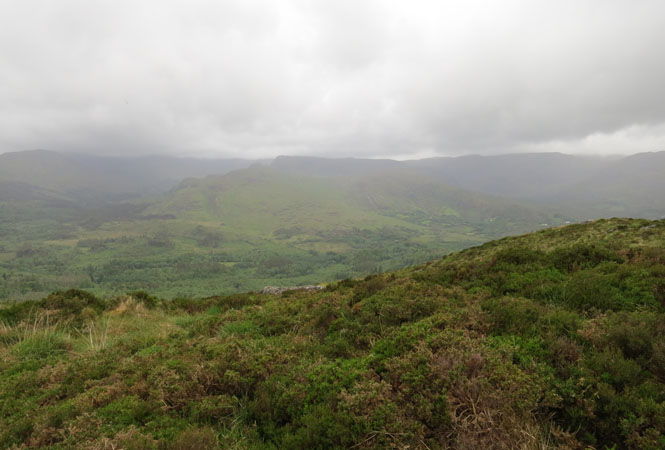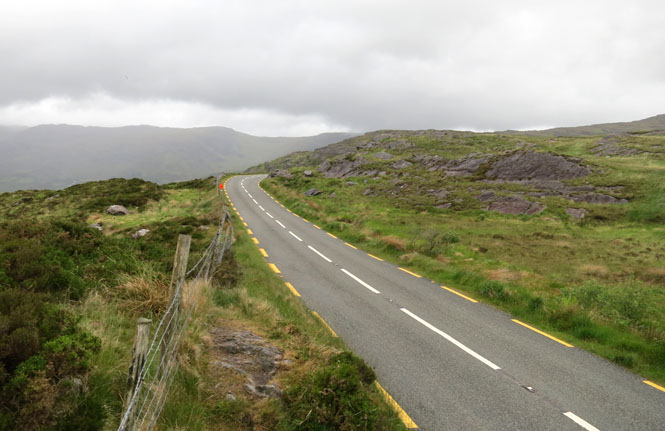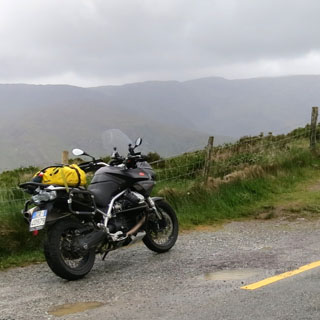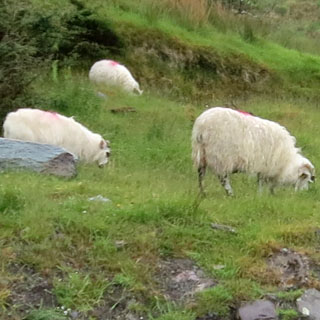 The tunnel passes at the Kerry and Cork county boundary.

Kenmare, Ireland.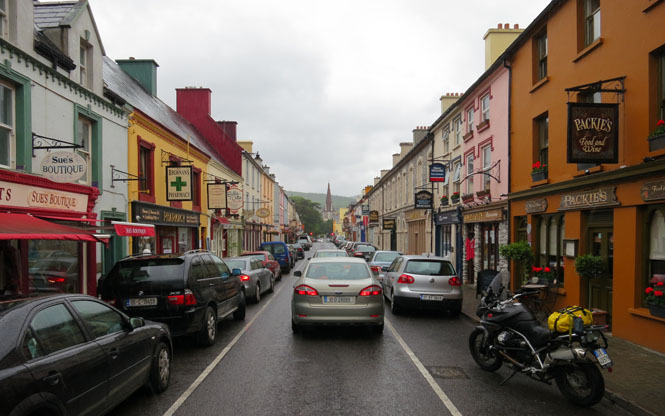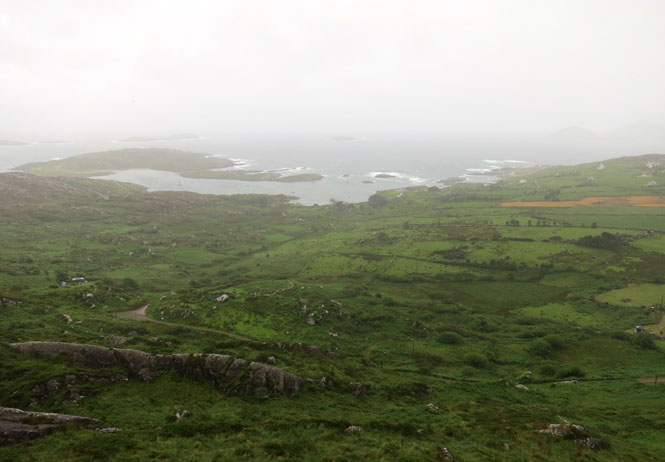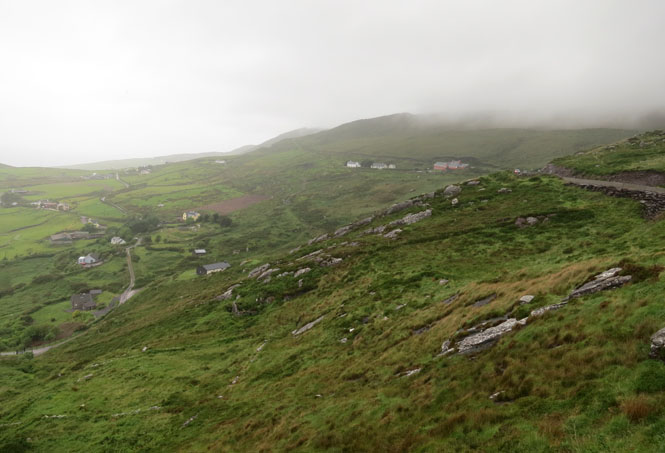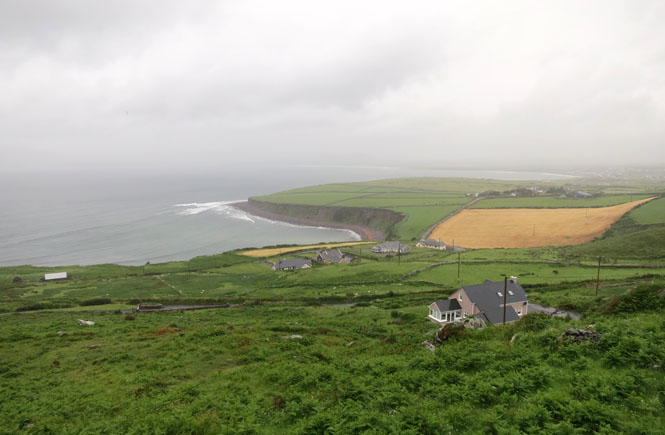 The weather was becoming intolerable. A little mist or drizzle off and on is a fine thing--even welcome. But, a torrential downpour that shows no sign of letting up is not.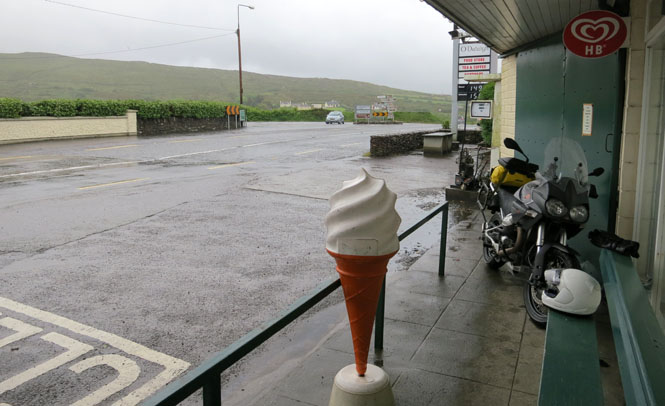 Glenbeigh, Ireland. It's 2:30, or so, but the rain has become too much for me. Visibility is poor, and there doesn't seem any point in riding when you cannot see anything beyond the stripes in front of you. My riding suit is waterproof, but there are limits, and those limits have been reached. It's becoming uncomfortable.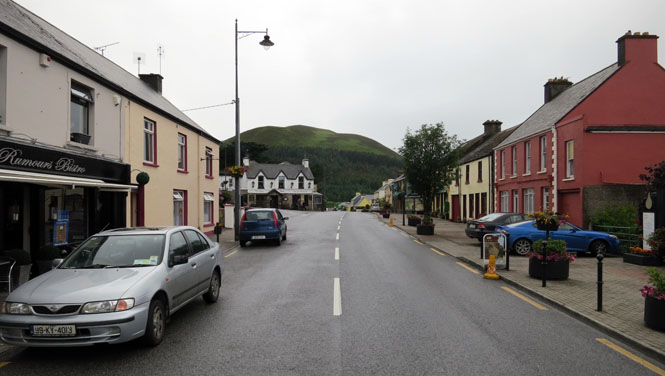 This turns out to be a terrific pub and hotel. I'm happy to be here, the room is all I'd want, the fireplaces are nice, the bar dog is friendly, and the food is good. Perhaps the rain will let up in the evening, and perhaps everything will have a chance to dry out.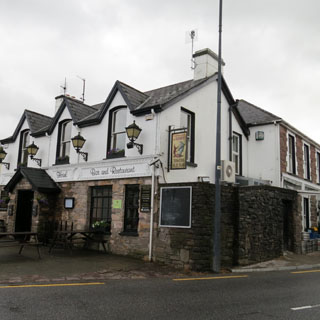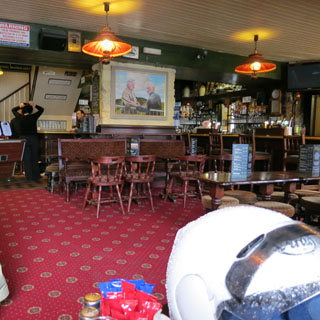 That's some sort of vegetable soup and those are fish-and-chips where the fish is salmon.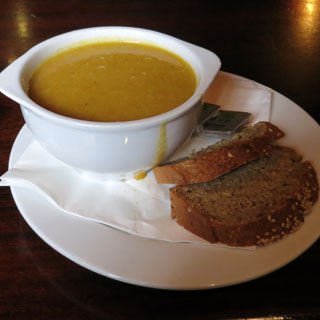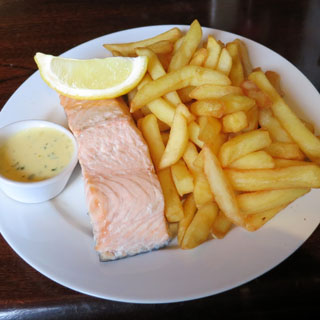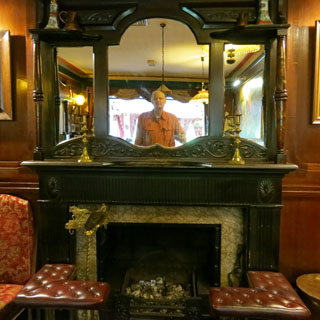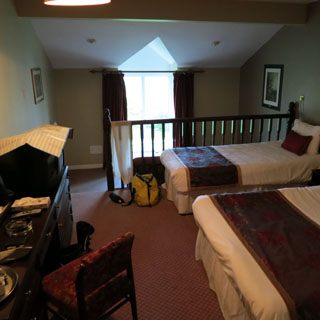 The rain did (mostly) stop, so I was able to walk to the beach.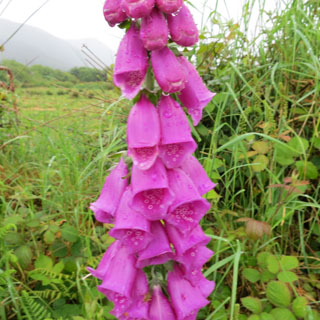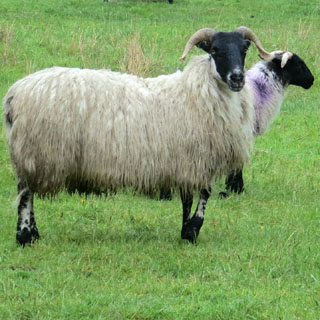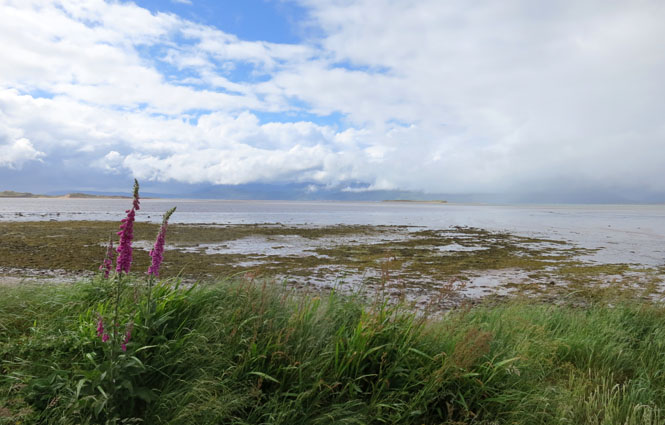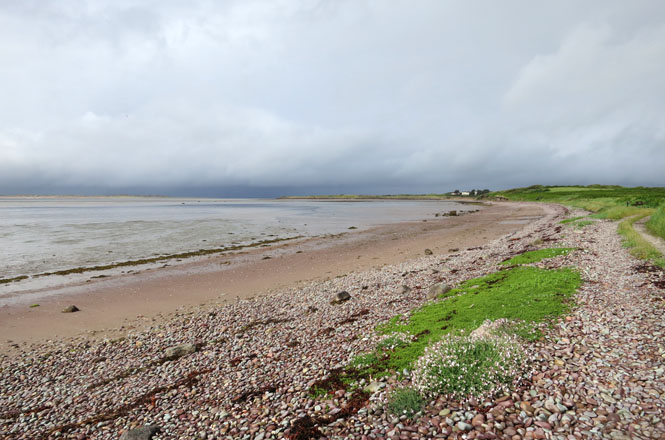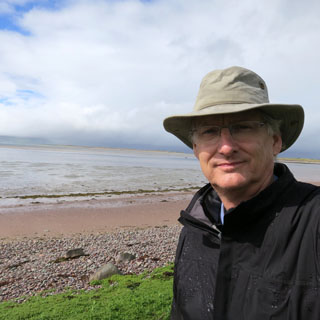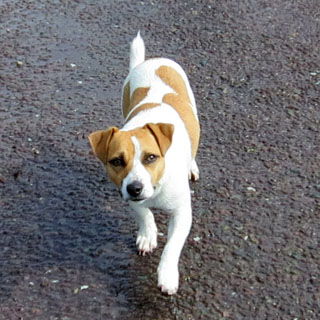 This shortened day made me adjust my plans just a bit as to the potential destinations, but I'd be fine.
Killorglin, Ireland.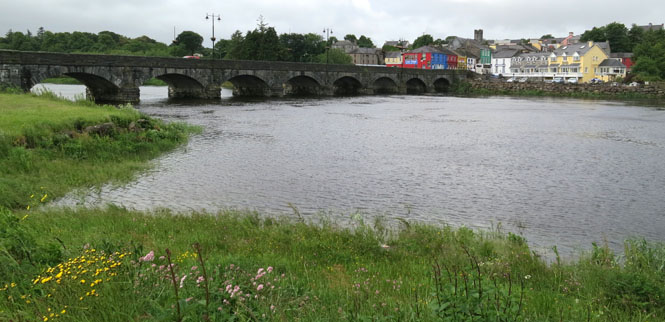 To avoid the sidetrack through Limerick, I took the Kilrush Ferry between Killimer and Tarbert.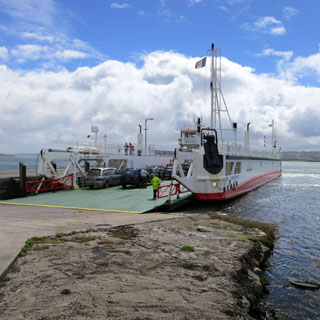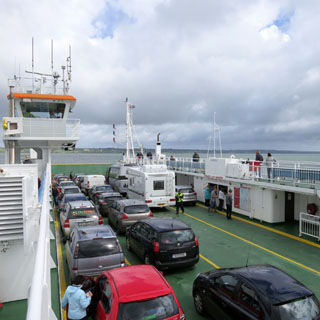 There's a more established road that continues from the ferry, but I preferred to head straight across the peninsula on whatever road I found. I came to trust that once paved--always paved, even if sometimes there was grass growing down the middle.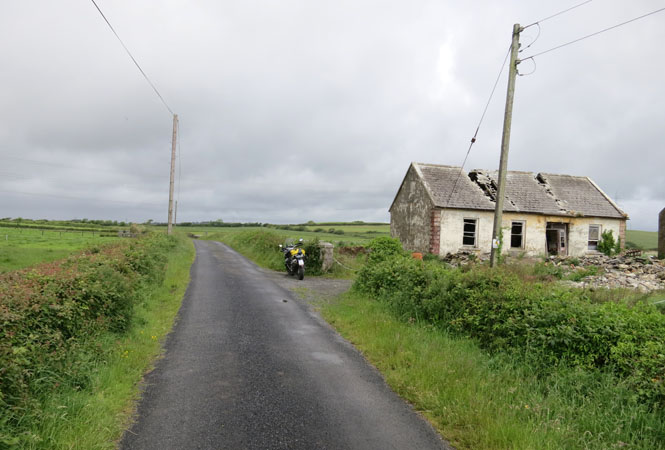 The Cliffs of Moher are claimed as Ireland's most visited natural attraction. I believe it, as there were lots of people here on a really poor day for it.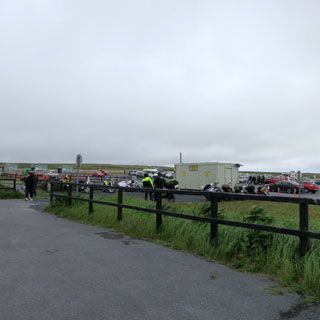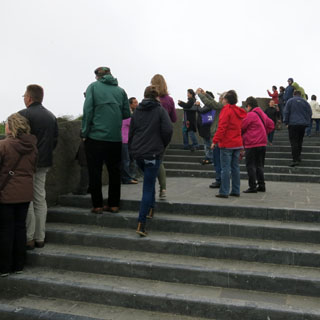 "You'll have me over the cliff," he exclaimed hardly even yet putting out his strength against her.

"And so I will, by the help of God. Now think of her! Now think of her!" And as she spoke she pressed him backwards towards his fall. He had power enough to bend his knee, and to crouch beneath her grasp on to the loose crumbling soil of the margin of the rocks. He still held her by her cuff and it seemed for a moment as though she must go with him. But, on a sudden, she spurned him with her foot on the breast, the rag of cloth parted in his hand, and the poor wretch tumbled forth alone into eternity.

That was the end of Frederic Neville, Earl of Scroope, and the end, too, of all that poor girl's hopes in this world.

"And Eye for an Eye" - Anthony Trollope (1879)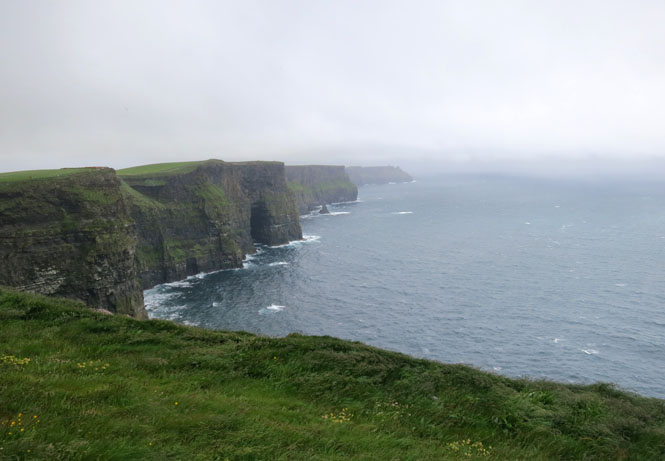 They really are quite spectacular. Not long after I took this shot a cloud bank moved in and obscured even the view of the ocean. I felt a bit sorry for the many people in the tour busses who were arriving. They'd see nothing for all their effort.
But, the rain is back (sigh...) and now there seems to be a hurricane moving in. It is really, really blowing. Let's stop at this tavern and see how things work out.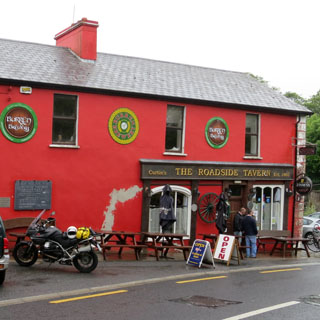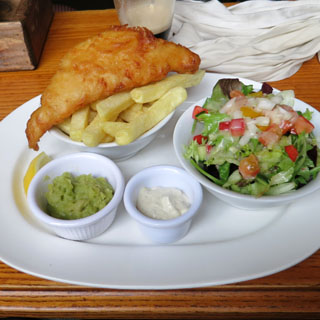 You know? I think it's better! Carry on.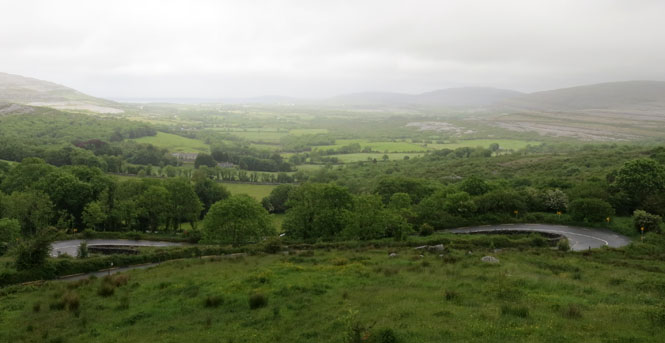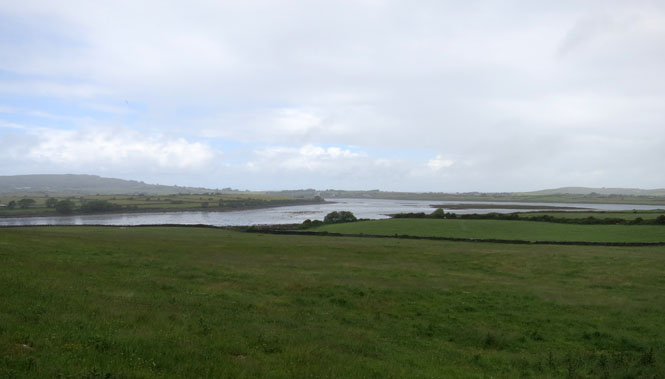 Riding in a gentle mist (such as this) isn't so bad. The face shield tends to fog over, which is a problem, but that's a fairly minor thing.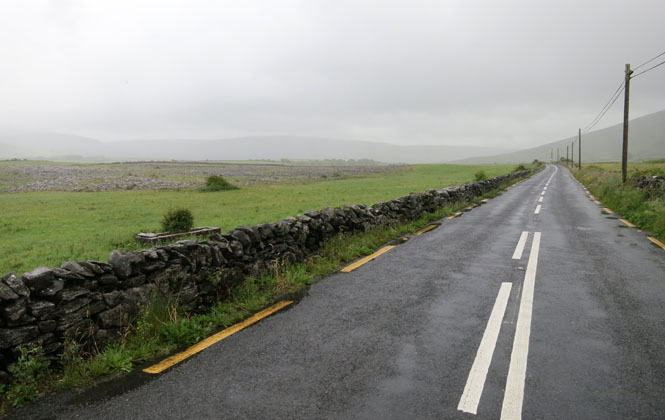 There is no shortage of rocks to make fences.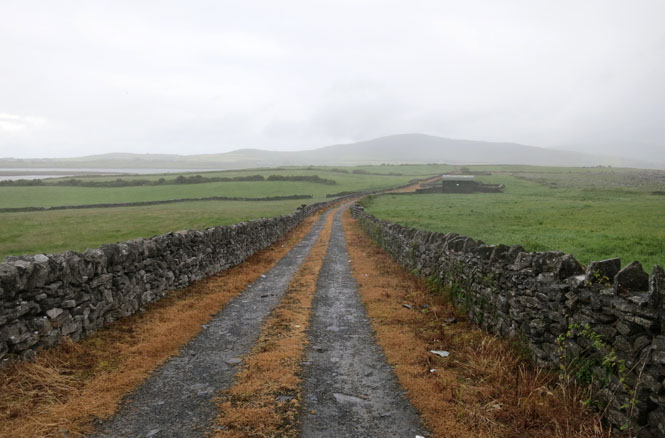 The sun! It will turn out to be a splendid day. I'll power straight north, away from this western coastline that seems to be a magnet for poor weather.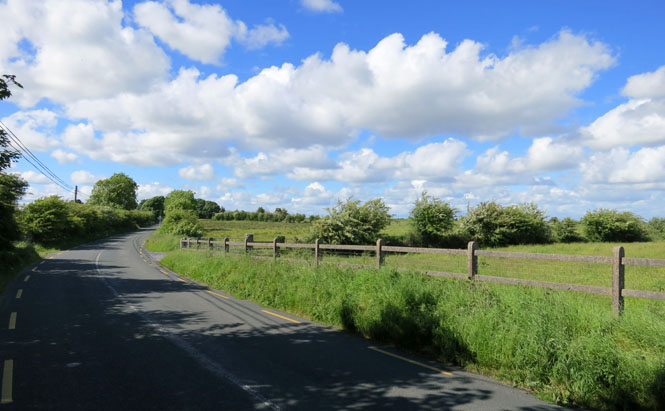 A typical road sign like all the others. At each crossing you learn to look quickly at the sign facing the side road in order to confirm that you're heading in the right direction.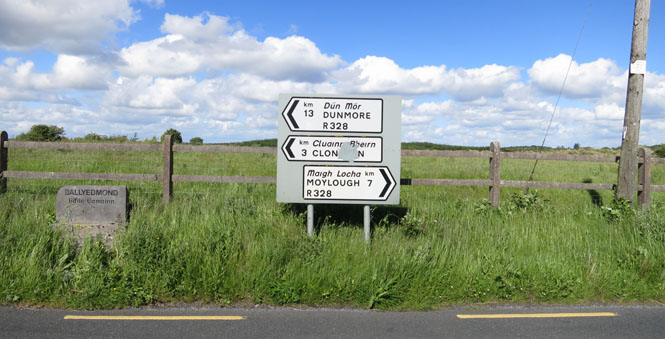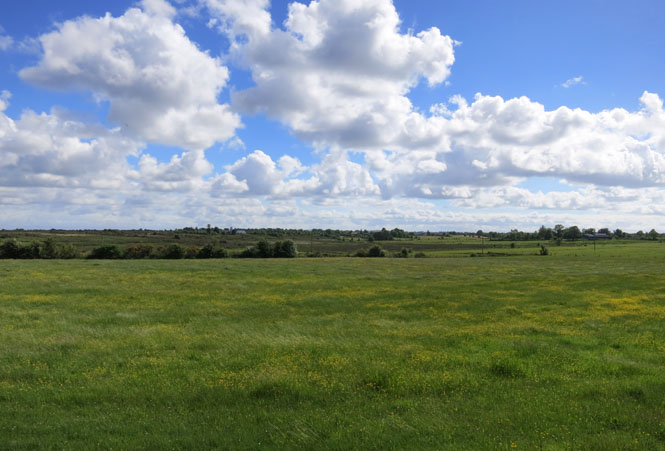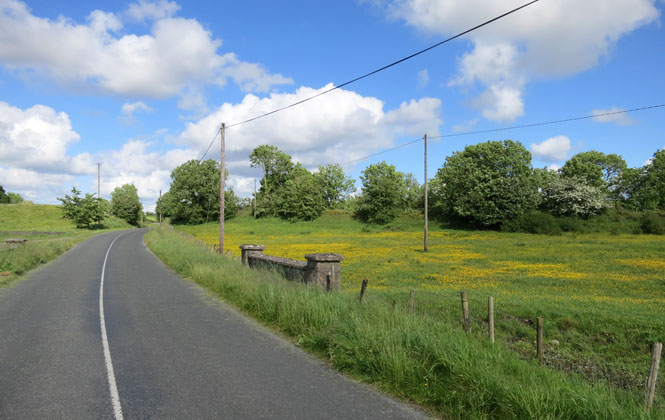 Where have the Irish cottages gone? I saw some, of course, but in many cases, where you'd think to see one, there'd instead be a house that wouldn't look out of place in a suburban tract in California. This house looks to be original.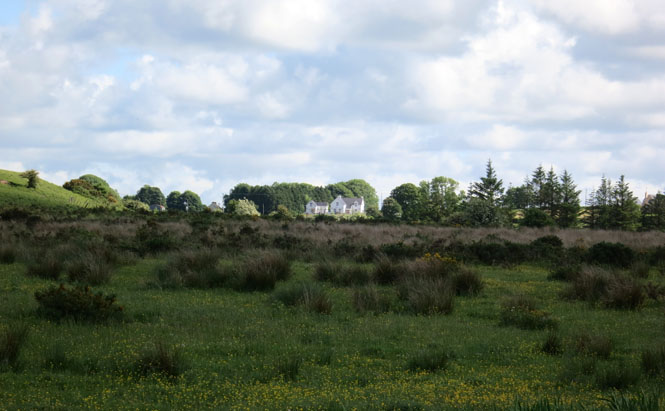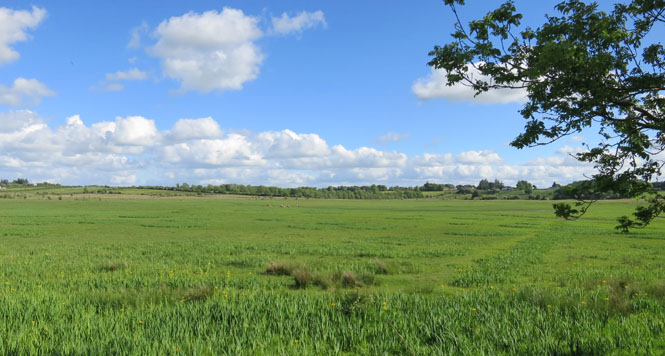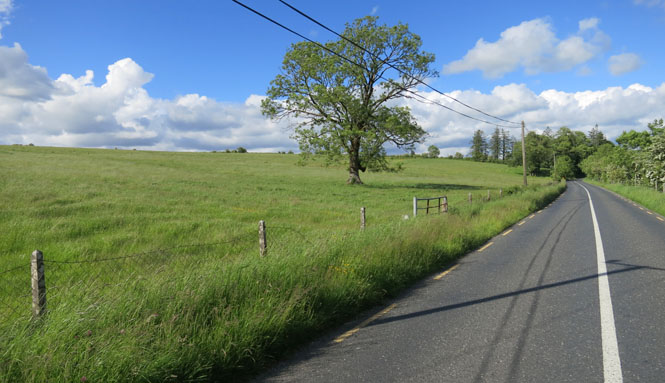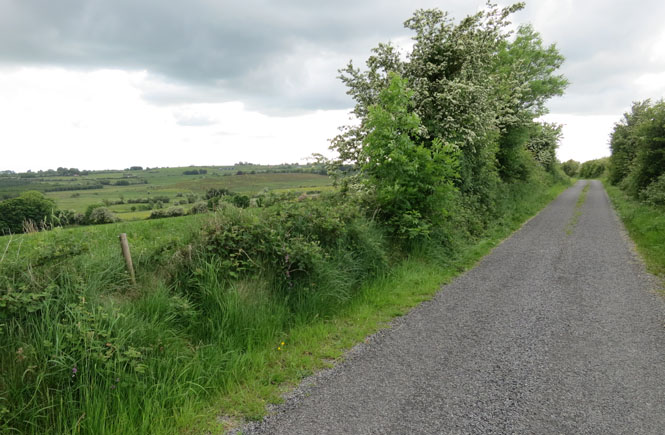 Carrick-on-Shannon, Ireland. I thought I might make it to Northern Ireland for the night, but this place looks well enough.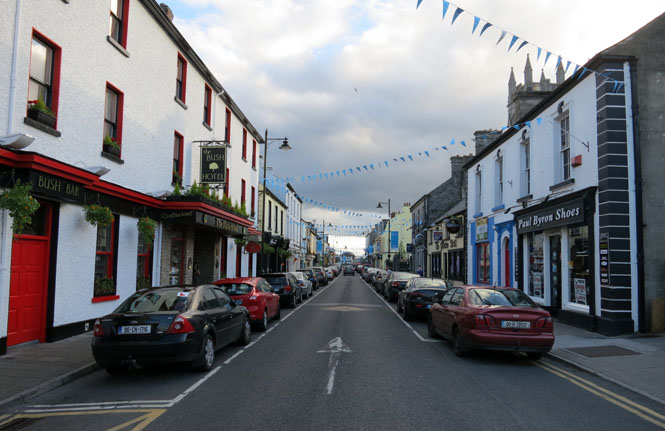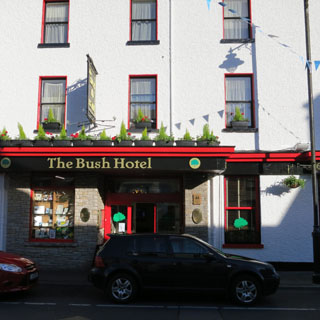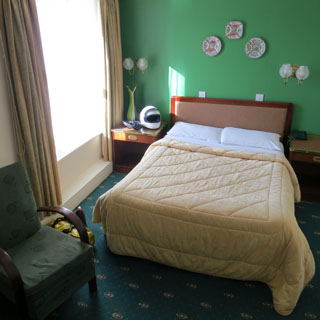 I was warned repeatedly that it was going to be noisy that night. A "Hens and Stags" night apparently. It turned out that yes, the hens and stags were quite noisy (including up and down the street in front of the hotel), but it didn't really bother me at all.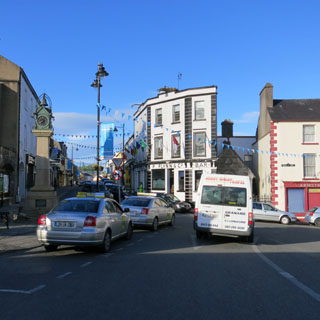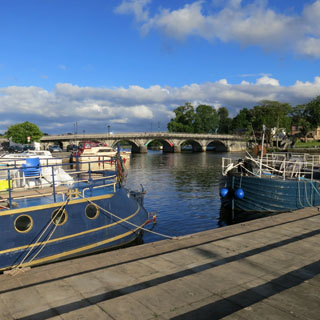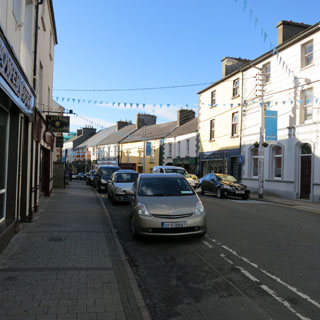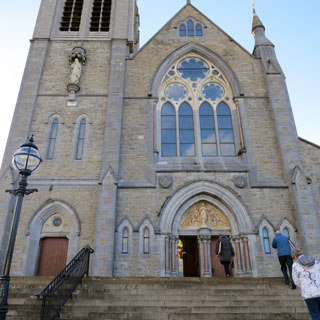 It was not completely clear, but the building (below) was once a hospital and is on the site of the county poor house. During the famine years the poor house was overrun with starving people, but they were unable (or incompetent) to do much of anything. That's a soup pot (below right) that was used to ladle out what food they had. It wasn't enough. Fairly recently--with help from an Irish organization in America--the burying ground for the dead just down the hill was cleaned and given proper recognition.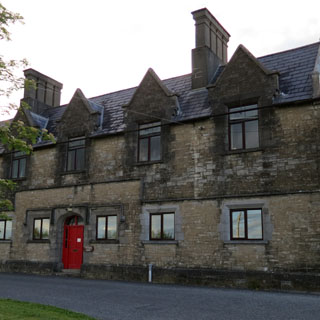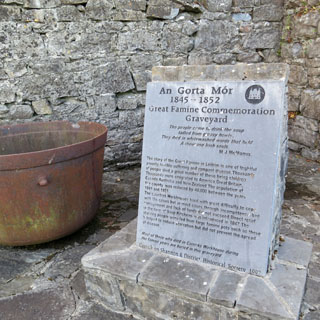 I gather that the bodies were simply dumped or covered over. This was not any sort of proper cemetery. There's no telling how many are here. Overall, approximately one million died from starvation and disease. The famine (Gorta Mór) changed everything for Ireland.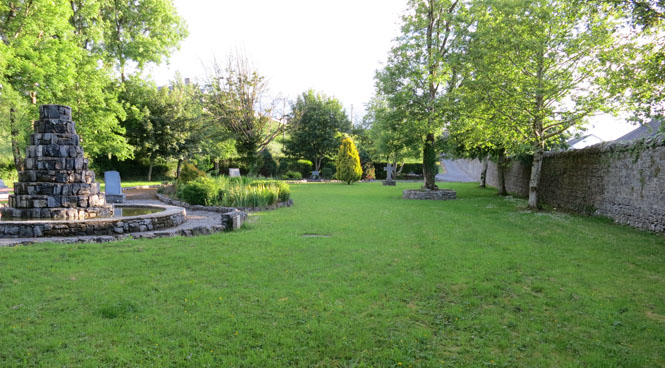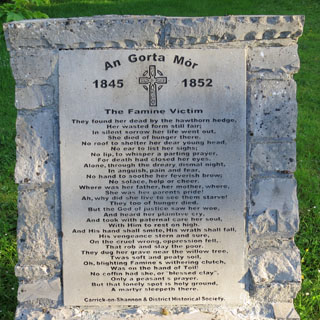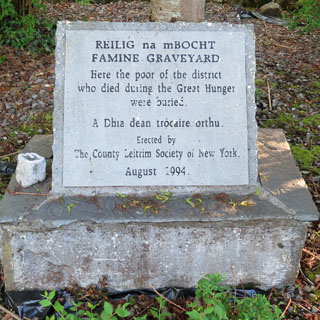 An Gorta Mór
The Famine Victim
[Patrick T. McGovern]
They found her dead by the hawthorn hedge,
Her wasted form still fair;
In silent sorrow her life went out,
She died of hunger there.
No roof to shelter her dear young head,
No ear to list her sighs;
No lip, to whisper a parting prayer,
For death had closed her eyes.
Alone, through the dreary, dismal night,
In anguish, pain and fear,
No hand to soothe her feverish brow;
No solace, help or cheer.
Where was her father, her mother, where,
She was her parents' pride!
Ah, why did she live to see them starve!
They too of hunger died
But the God of justice saw her woe,
And heard her plaintive cry,
And took with paternal care her soul,
With Him to rest on high.
And his hand shall smite, His wrath shall fall
His vengeance stern and sure,
On the cruel wrong, oppression fell,
That rob and slay the poor.
They dug her grave near the willow tree,
'Twas soft and peaty soil -
Oh, blighting Famine's withering clutch,
Was on the hand of Toil!
No coffin had she, or "blessed clay,"
Only a peasant's prayer
But that lonely spot is holy ground,
A martyr sleepeth there.
Irish coffee is a fairly recent drink (evidently being invented in the 1940's for Pan Am flying boat passengers at the Shannon Airport), but it's noteworthy enough that I thought I'd better have one. Yes; it's good.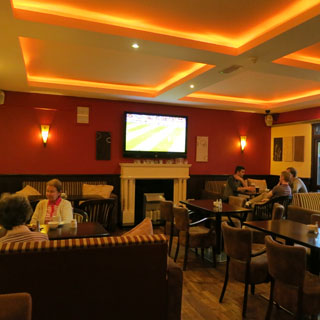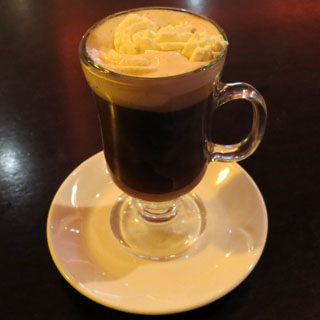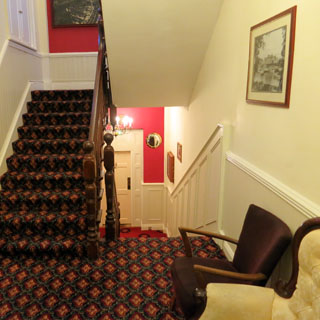 Northern Ireland (U.K.)
The border crossing was noteworthy for not being noteworthy. No sign; no real indication except that there was a road sign that noted that posted speeds were in miles-per-hour. You could also tell by the yellow paint used on the edge of the road instead of white.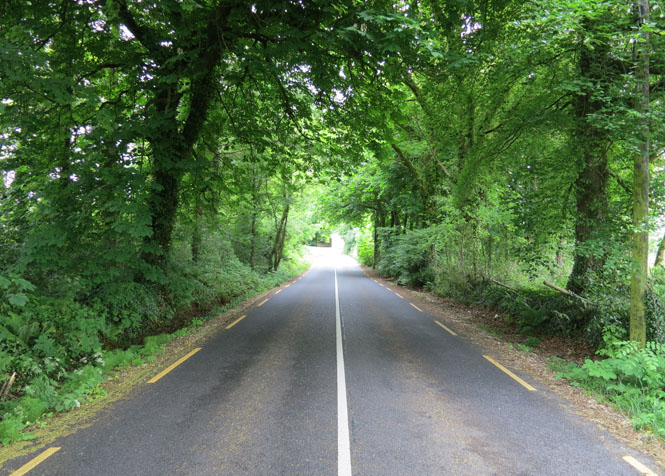 Tempo, Northern Ireland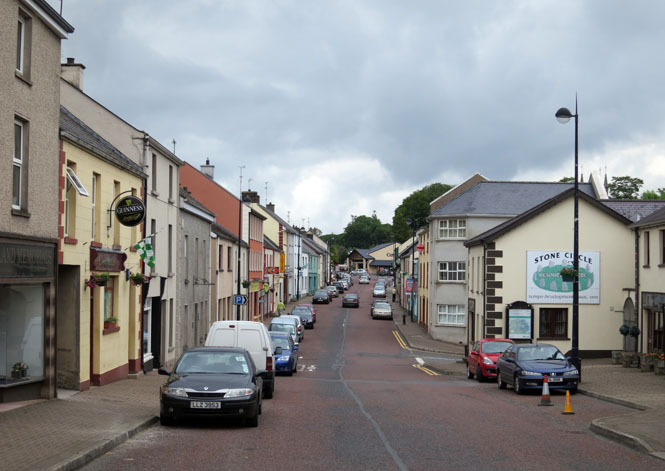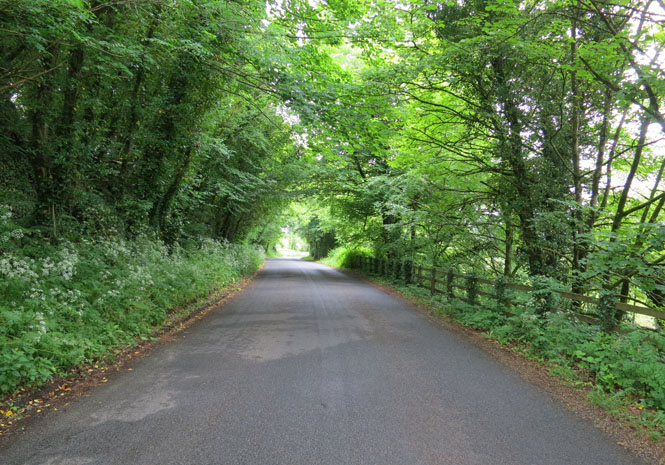 Mainly, I rode north, looped to the east and then came back south across the border.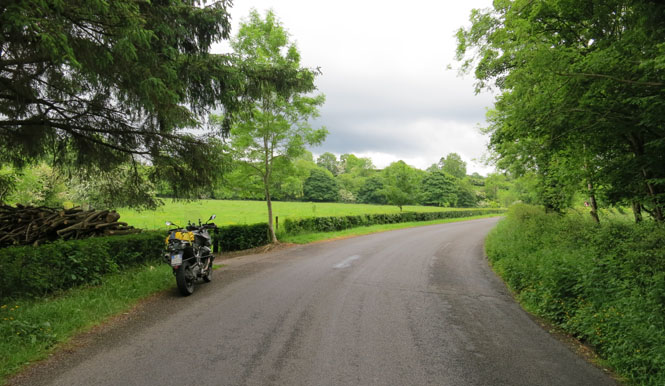 Not seen in these pictures is the large police presence for the G8 economic summit being held in Belfast.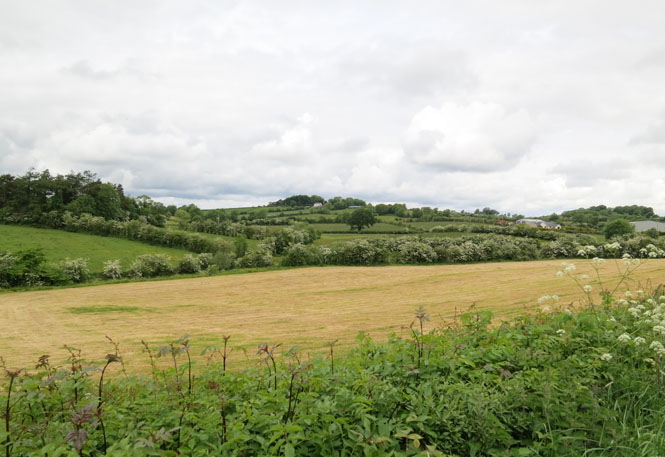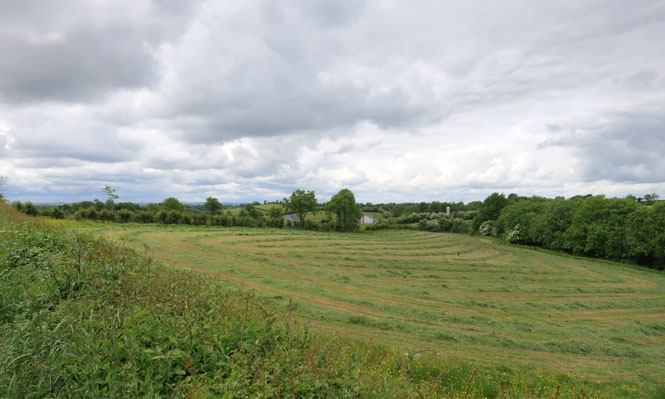 Ireland
Ballybay, Ireland.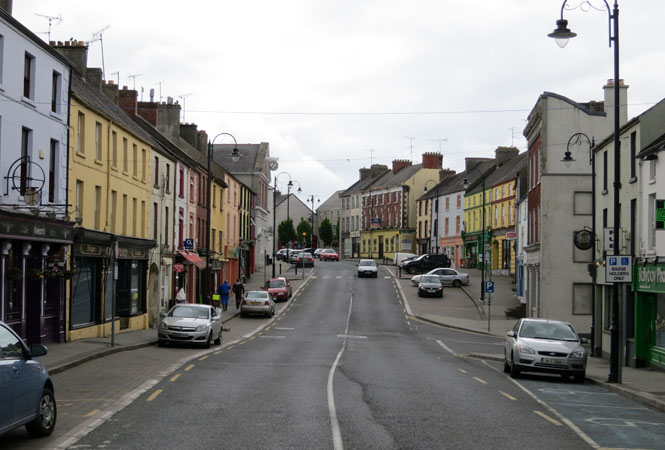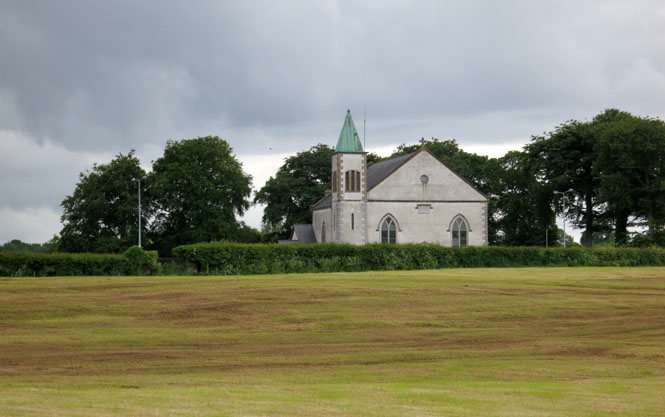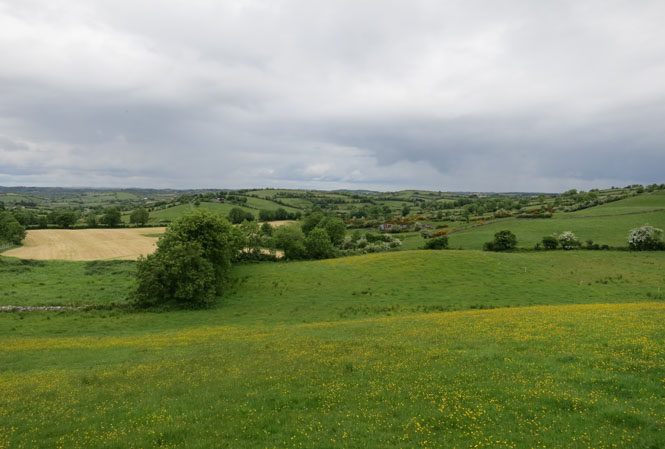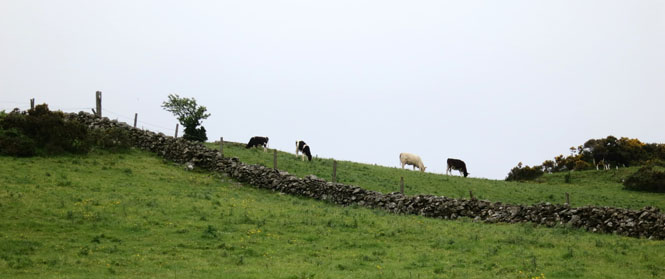 Virginia, Ireland.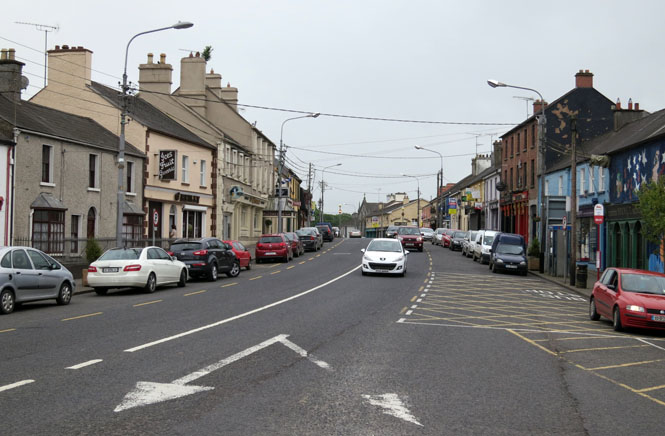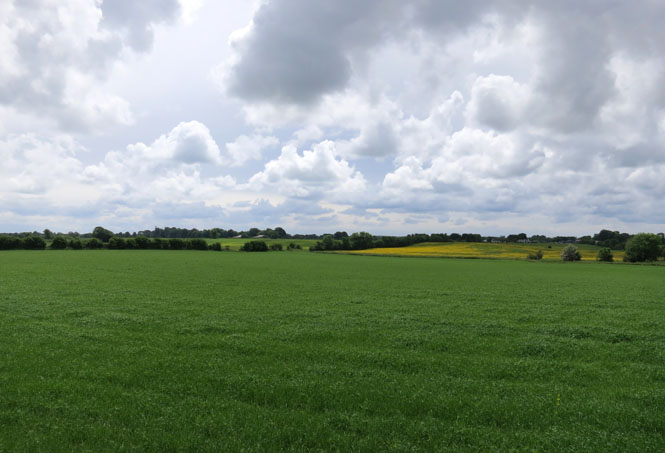 Trim, Ireland. I arrived for the Haymaking Festival, held every year mid-June. This was a wonderful fair.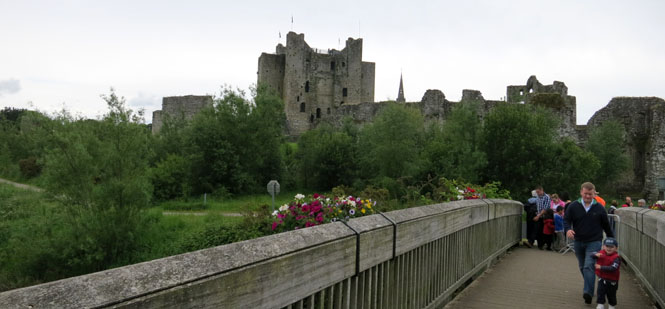 Trim castle is Norman and was completed in 1172.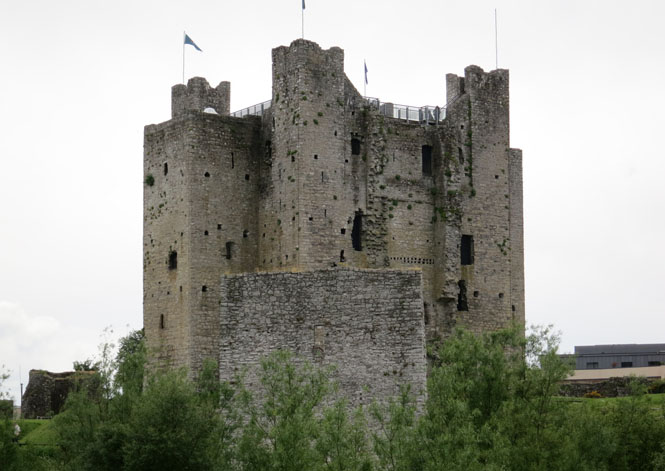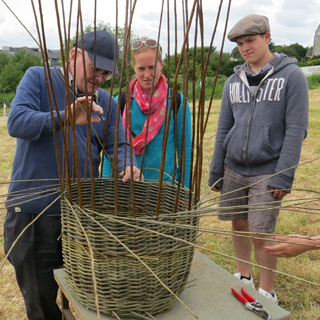 The tool is used to dig peat. These chunks are really light. Fuel peat is sold in bags and is fairly common.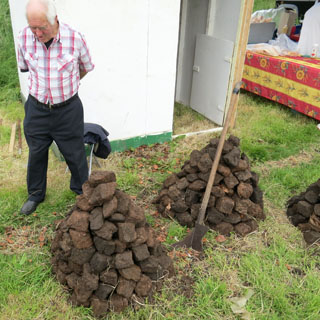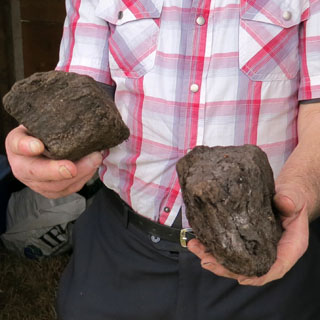 Practicing your fly fishing technique. I'm not sure of the use of these basket-woven little huts. They'd likely keep the rain out, so were perhaps used by sheep herders. Perhaps they still are.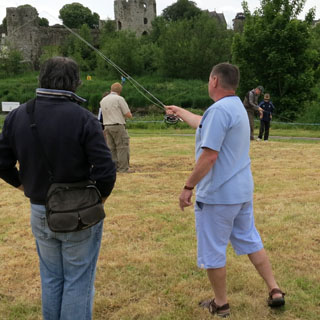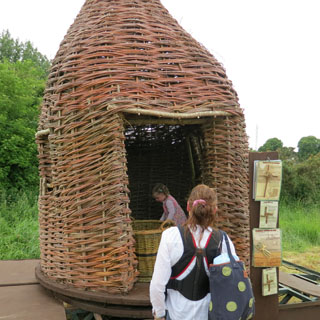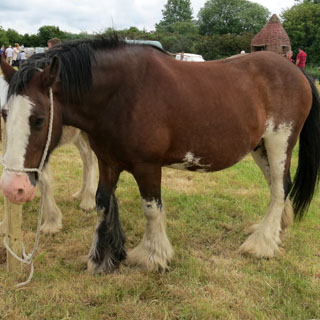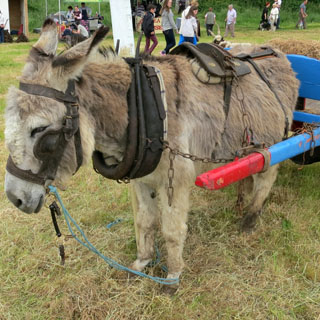 I have never seen a real tinker at work. The results looked magnificent.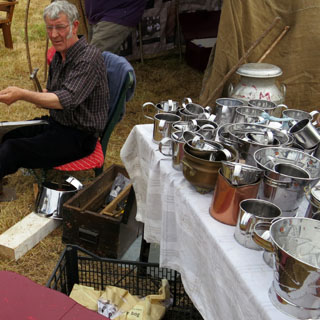 A schnitzelbank by any other name is a device to hold your wood fast while you work on it (I don't know what name is used in Ireland). The woman on the right? She would have told my fortune if I had asked for it. I didn't.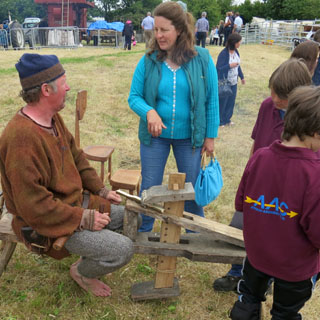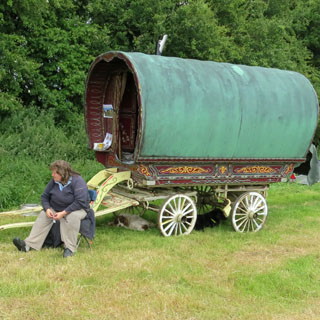 Donkey races. That's cute, but what this? You can bet on the results?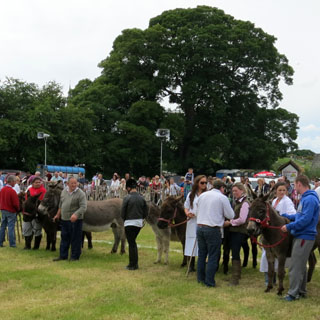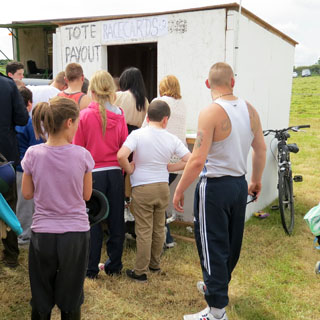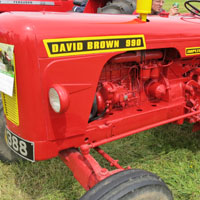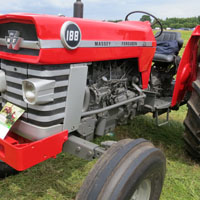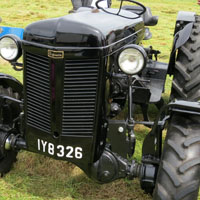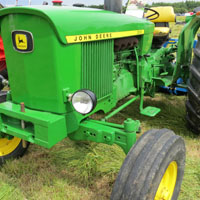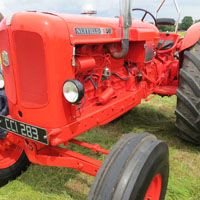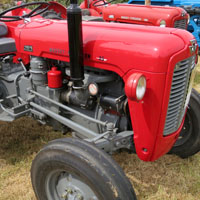 At least for one of the classes (none of which were at all clear to me) the Irish (naturally) Setter held by the girl in the red shirt won first prize. The prize is being given by the very small girl in the red sweater.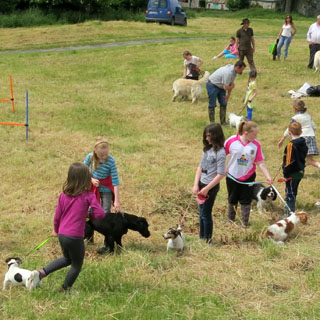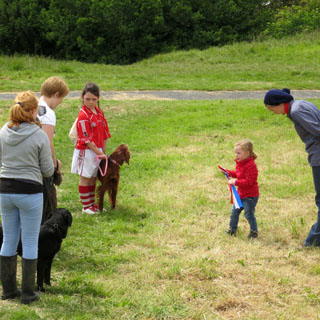 This man is amazing! I gather that he's ridden bone-breaking high wheelers thousands of miles and has the facial wounds to show for it. He's ridden halfway across the U.S. on one. To hear him talk about riding these things, you'd think anybody would be crazy to even try. The risk of doing a high-speed face-plant is very high. From what I could figure based on his stories, he must be around ninety years old.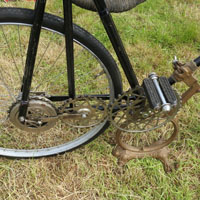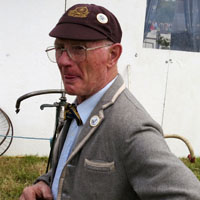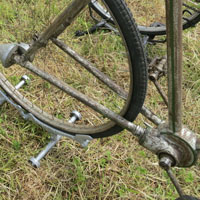 This is the point of the festival. A competition of hand-reaping with a scythe. I was tired just watching these guys. What back-breaking work. That's a judge with the clipboard and the lab coat.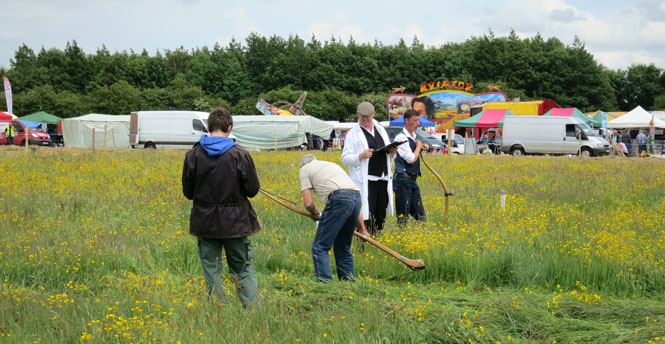 The task is a bit easier with one of the two-horse rigs.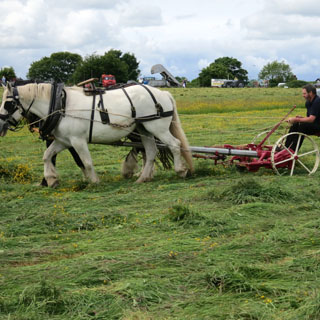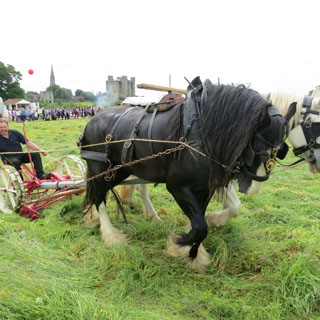 Children (mostly) playing Irish folk music. And, here's something you will never see at a U.S. county fair--certainly not in Kansas. A working still and the final product. I took a sip. It's powerful stuff, and not at all subtle. It was suggested that I drink all of it, but I declined. I'm afraid I left the men at the still with a poor impression of American drinking ability.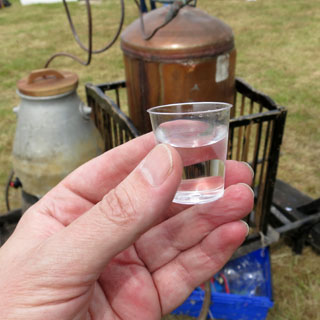 There are a couple of major canals in Ireland with several branches to them. Ireland may have led the rest of the United Kingdom in building canals. I think these were intended to move coal from the mines to the coast and construction started in the 1760's.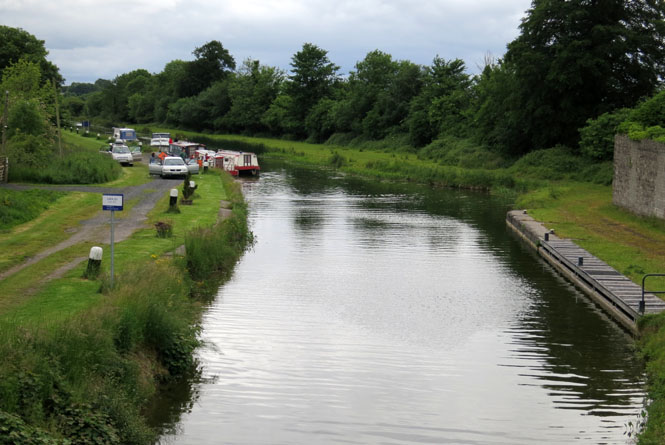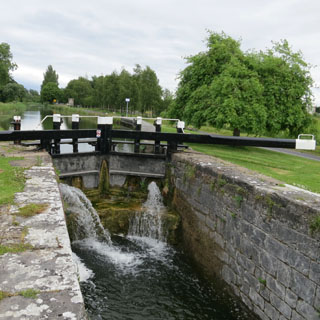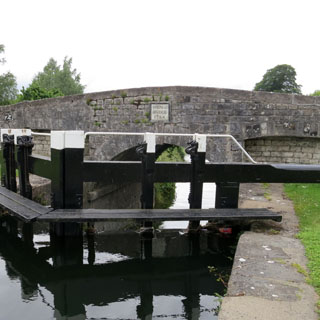 Carlow, Ireland. I needed to be a the Ferry dock by afternoon of the next day, but I didn't want to risk being too far away in case the rains picked up to much. As you can tell in the photograph, I was back to riding in rain. Carlow was close enough that I had a good pad to be at the ferry with plenty of comfort for any weather.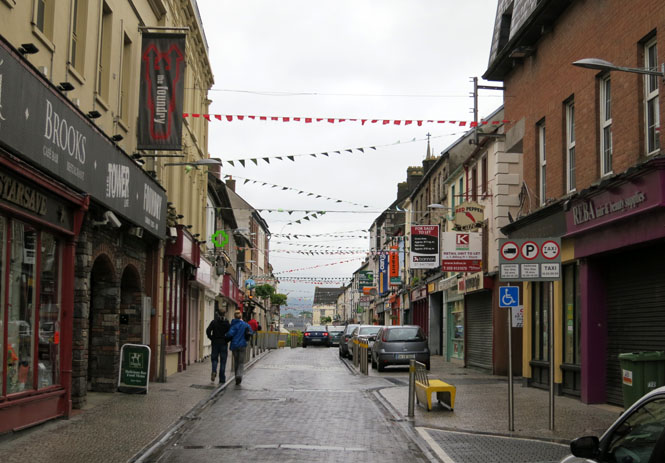 During the trip, I had to be used to always ducking my head to avoid hitting the ceiling or a light fixture.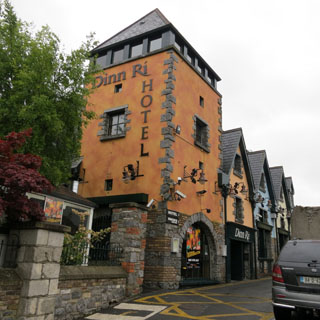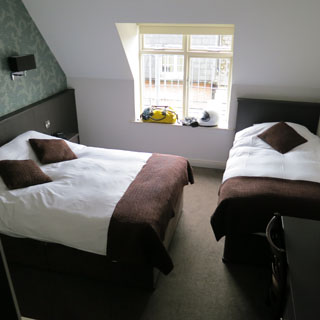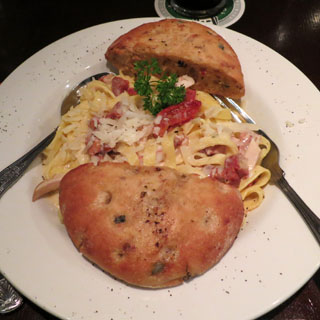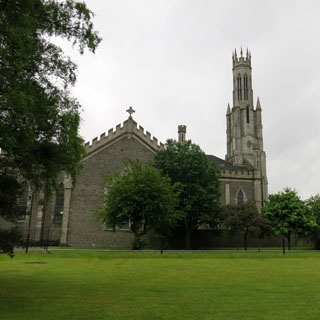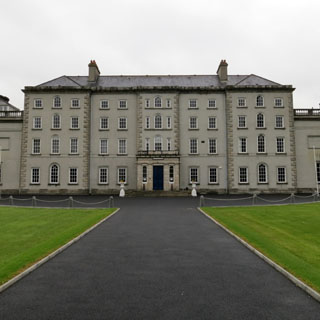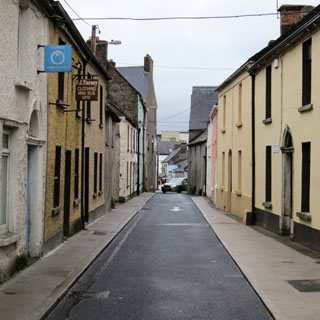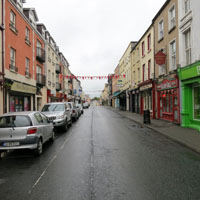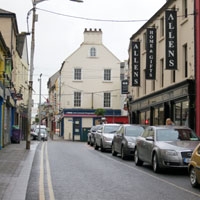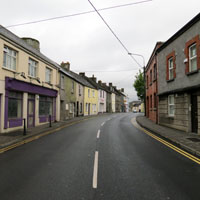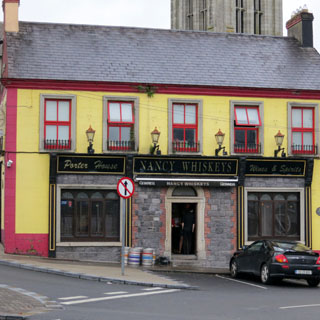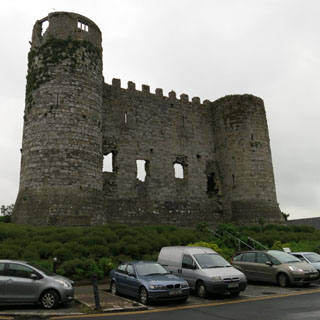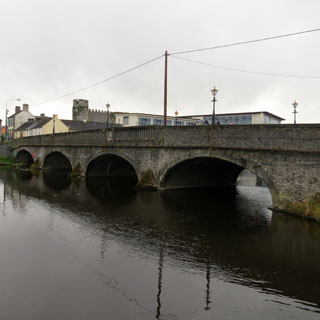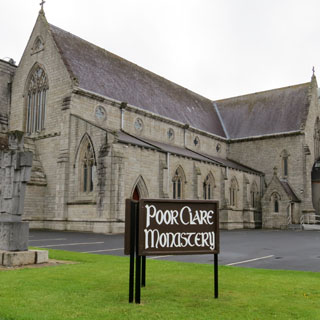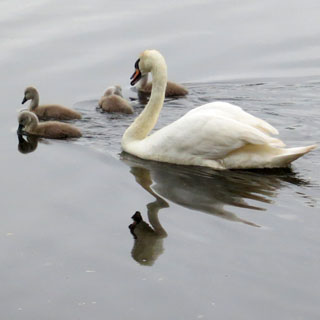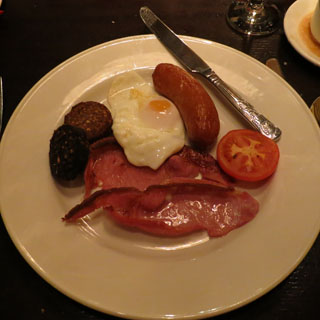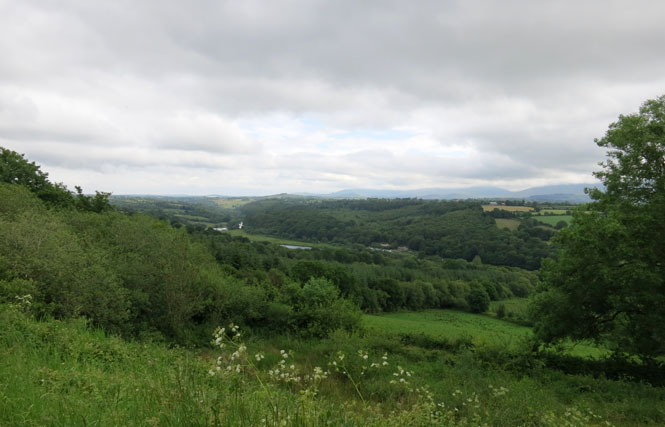 New Ross, Ireland. This is the fiftieth anniversary of a visit by John F. Kennedy to Ireland and specifically to New Ross, Ireland.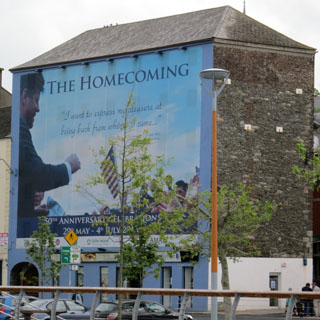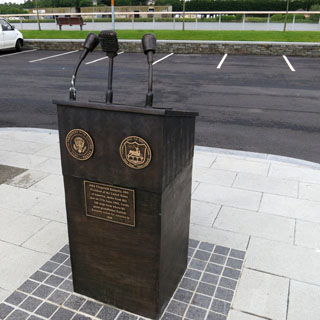 The Dunbrody Famine Ship is a replica of one of the ships used to carry immigrants away from Ireland.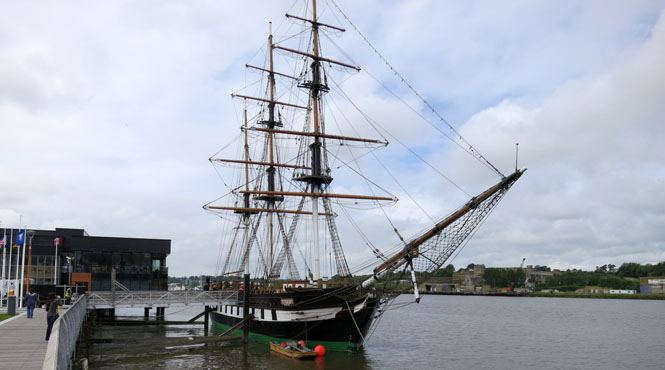 Tintern Abbey was founded by William Marshall in 1200. This abbey was connected to the abbey of the same name in Wales (with the Welsh abbey being the mother house). With the Dissolution, this Irish abbey was lucky in not being torn down as so many were. Instead it was granted to a baronet, and eventually was donated to the nation (around 1960). By that time, only a small part of the original was serving as a useable dwelling.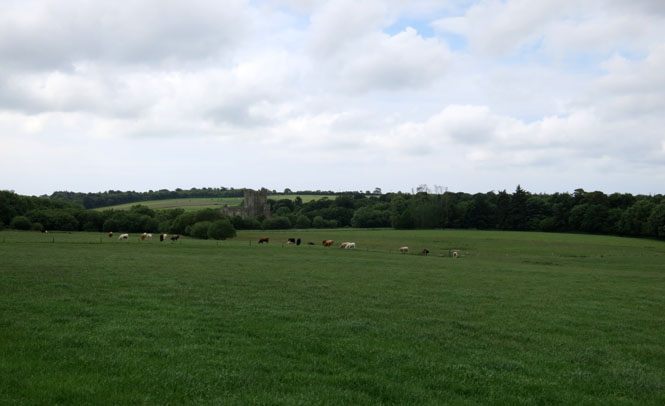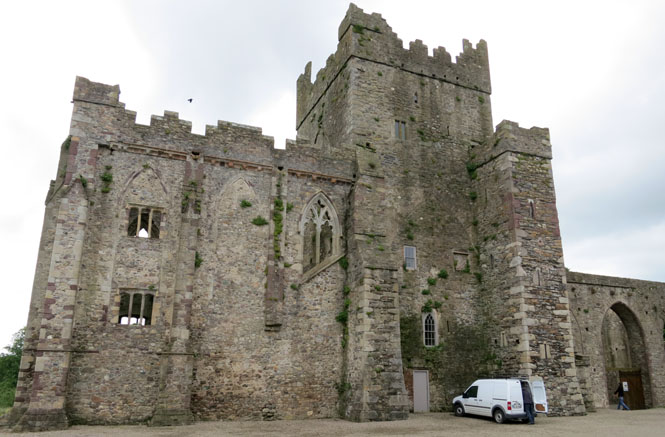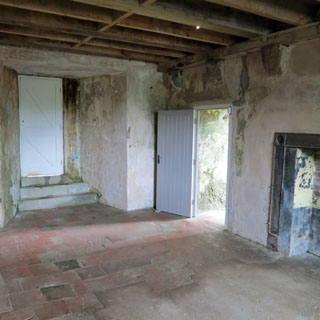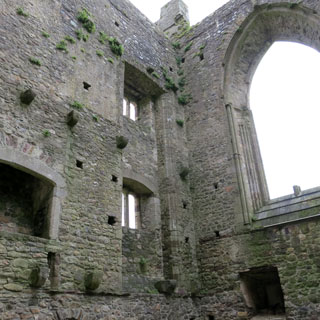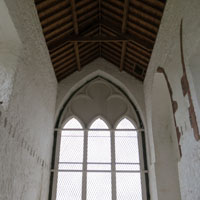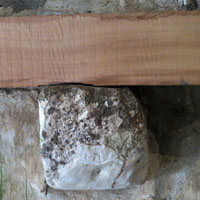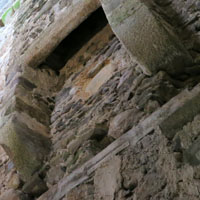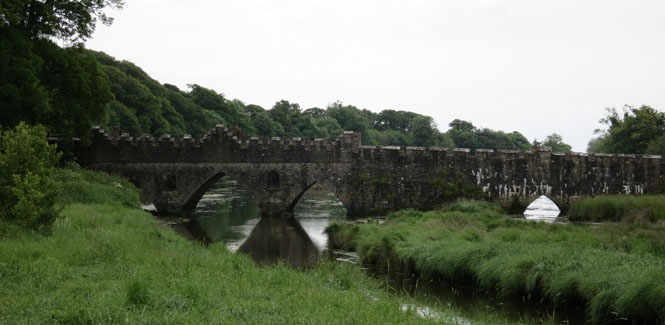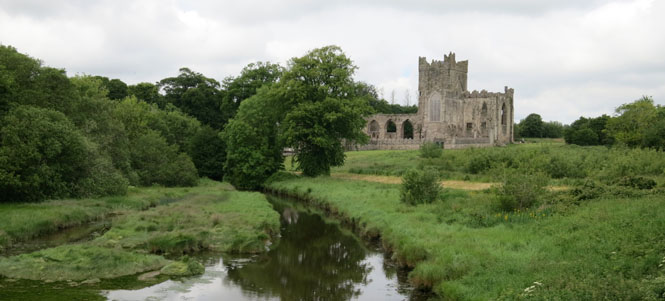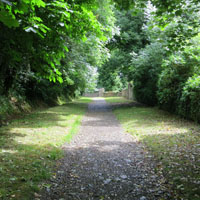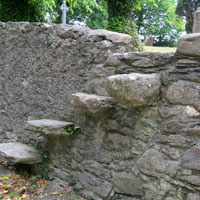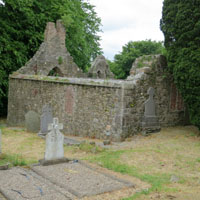 The day turned out to be a very good one. I was able to ride the back roads to Rosslare and arrived at the dock in good time.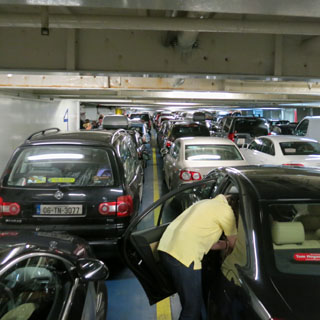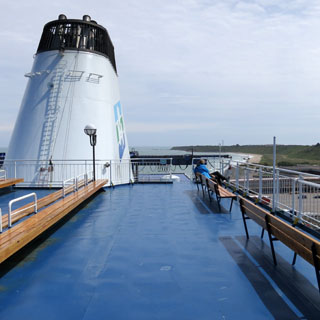 For this leg, my cabin was closer to the center of the ship, and I therefore did not have a window. Unlike the trip from Cherbourg to Rosslare, this crossing was smooth. Just a gentle rocking motion to put you to sleep.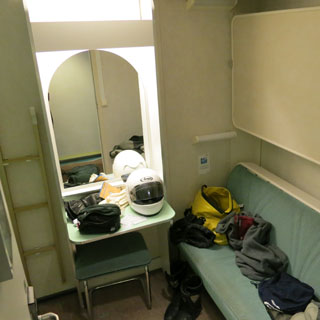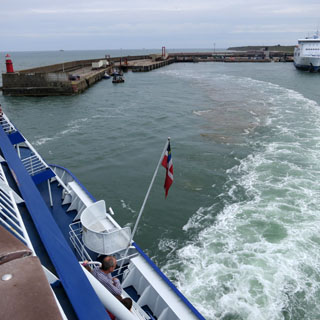 France
I certainly did not want to return the same way I came; nor, did I want to trace one of the other routes I've taken across France. So, I would ride south from Cherbourg before turning east.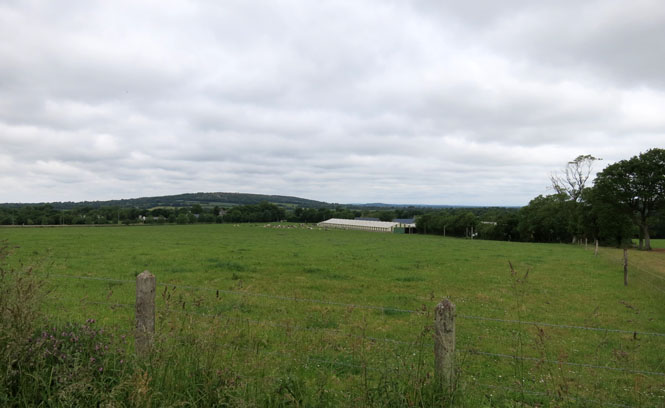 I think the whole Normandy region is dotted with memorials to American soldiers (as well as other nation's soldiers). All were well tended and all had fresh flowers.
Aux valeureureux soldats Americains
de la 82 eme airborne pour la prise
de la colline 95 4-5-6 Juillet 1944.
Ici reposent les cendres du Lt Kelso C. Horne.

To the valiant American soldiers
of the 82nd airborne for the capture
of hill 95 July 4-5-6 1944.
Here lies the remains of Lt Kelso C. Horne.
La Haye-du-Puits, France.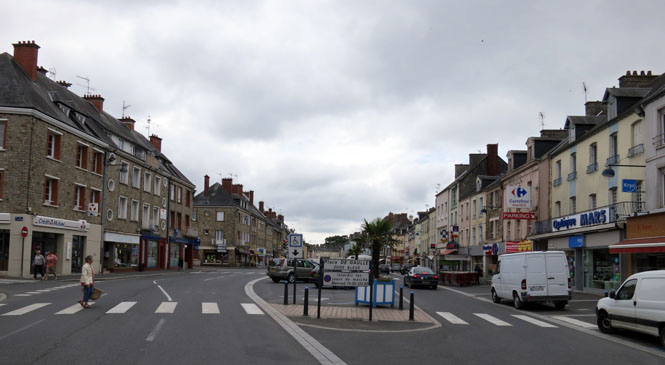 Saint-Pierre-de-Coutances, France.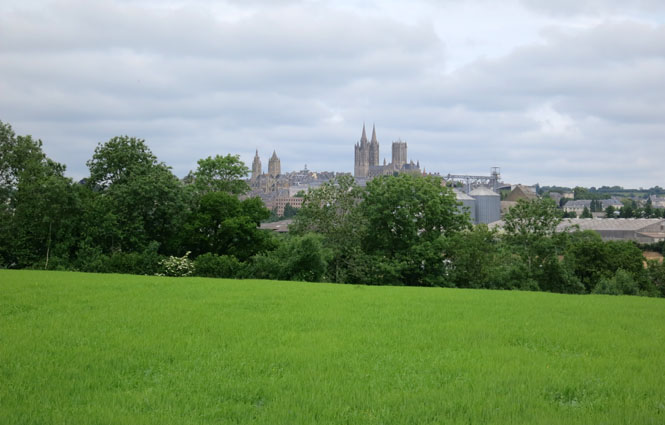 Gavray, France.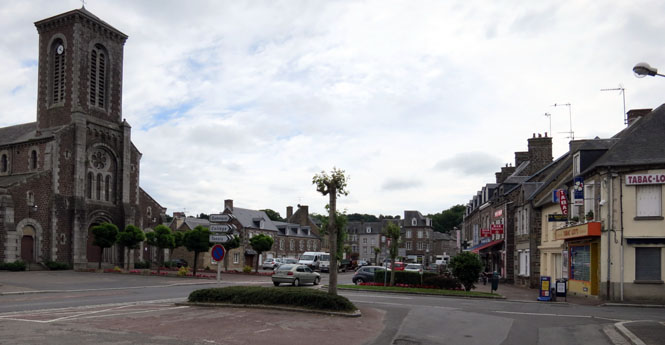 I at least had a vague notion of what I had ordered, but I'm always a bit surprised by white French celery. That's a celery salad on the left, and a variation of an omelet on the right.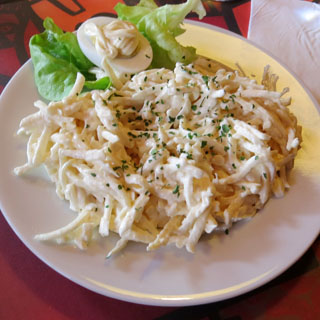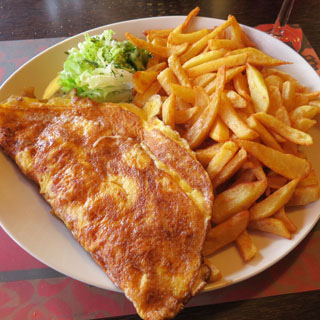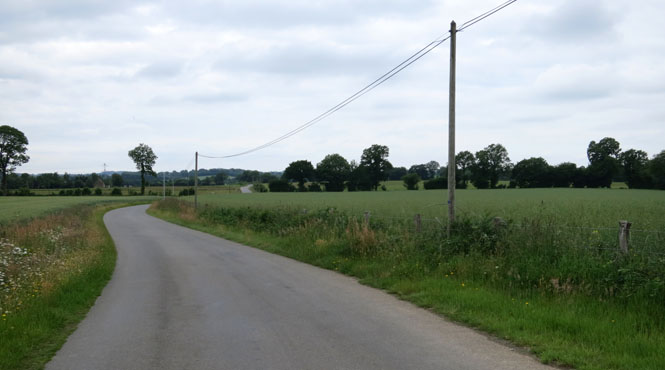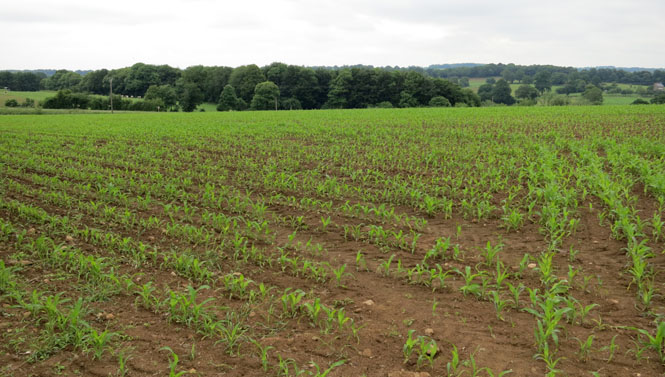 I don't recall the exact details (I didn't photograph the words on the sign), but this is the general story:
An army truck with a few Americans (three or four) was heading towards the nearby small French town as part of the Normandy invasion. The truck was hit with an explosion and the men were left there during the day. At night several French citizens risked their lives to get to the still-burning truck and there found an American who had managed to crawl free of the truck, but was very badly wounded. The others were dead. At further risk to their lives these French citizens took the wounded American across the German lines to a hospital, where he eventually did recover. But for the French citizens who helped him, he would certainly have died.
He returned to America to his wife and started a family. Some years later he did die of complications from his injuries. Many years later (just a few years ago), his widow organized to put this monument of thanks at the spot where the rescue took place with heartfelt thanks from her to the French people who helped her husband and to recognize those other soldiers in the truck who died.
So this monument is perhaps the reverse of most that you see in Normandy. It gives thanks from an American family to the French people for the sacrifices they made.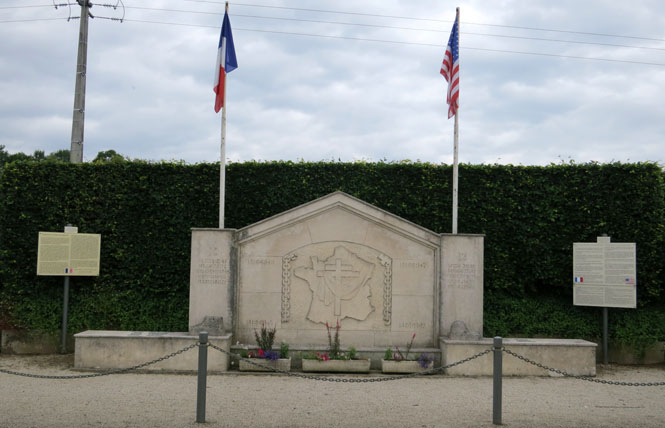 Loigné-sur-Mayenne, France.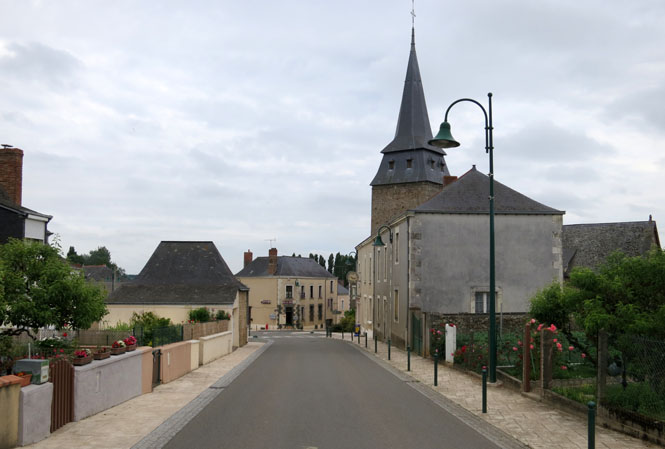 Le Puy-Notre-Dame, France. I had made good progress this day, and as it was raining (as it almost always seems to be doing), it was a good place to stop for the night. It was nice, too, that the bike also had a shelter.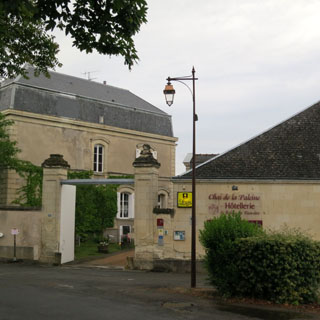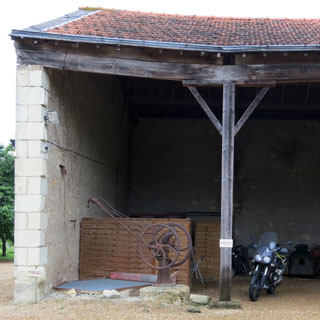 This bedroom required more ducking than most. I liked having a commons area. The other guests were from Australia.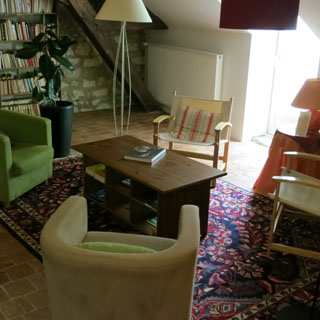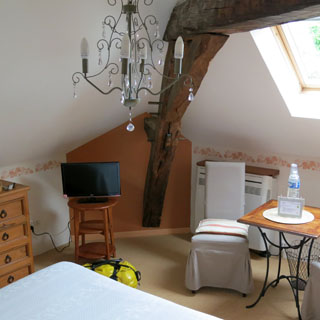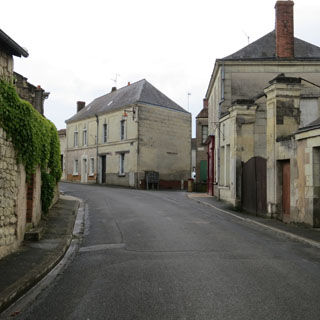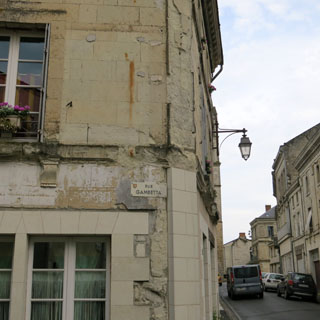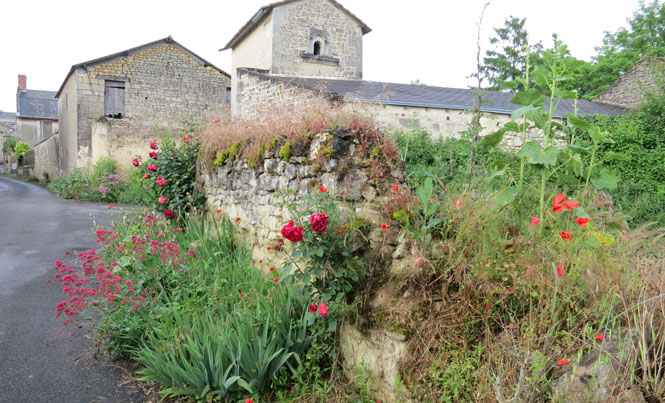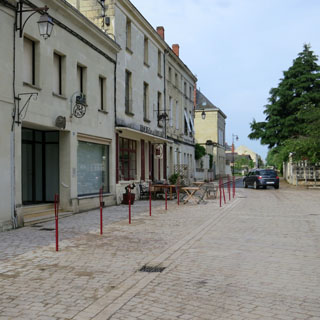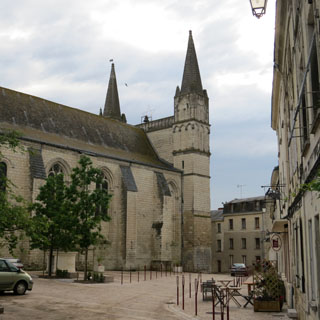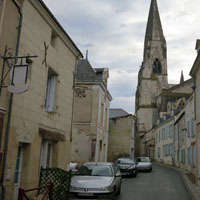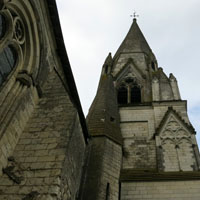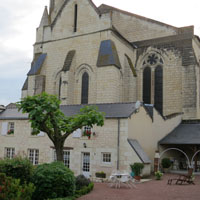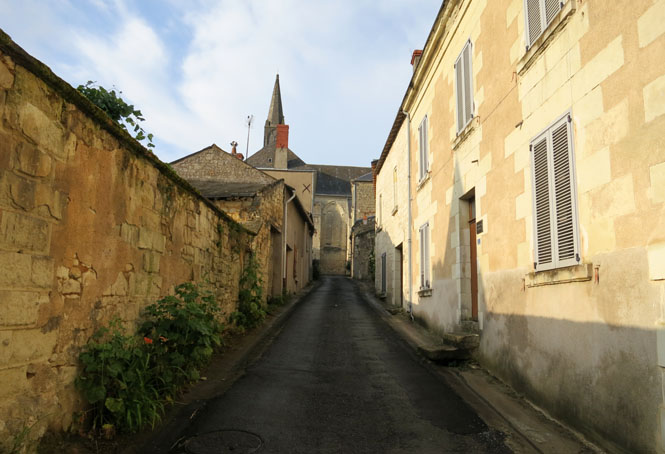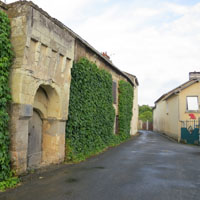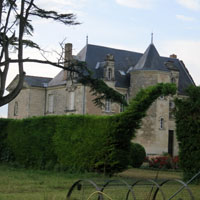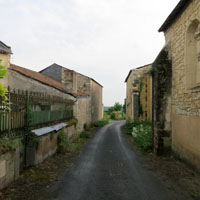 This is wine country.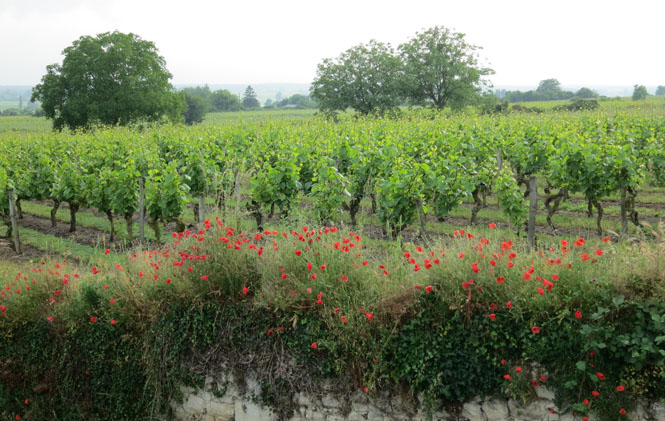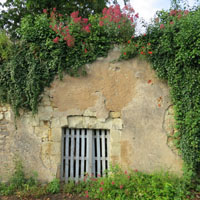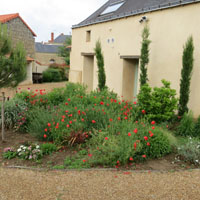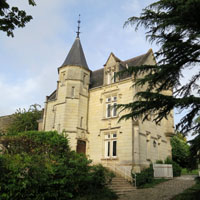 Alas; pouring down rain again. Sometimes it's worth waiting for fifteen minutes or so. It often will clear up for an hour before the rain starts again. Note: do not ever put gazole in the tank even if it sounds sort of like gasoline. It's not; it's diesel. What is wanted is S/Plomb (sans lead).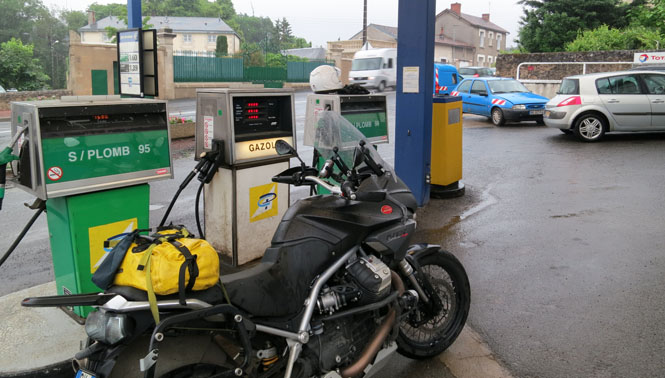 Magnac-Laval, France.
That bar with the red awning (below)? I think I'll stop for lunch.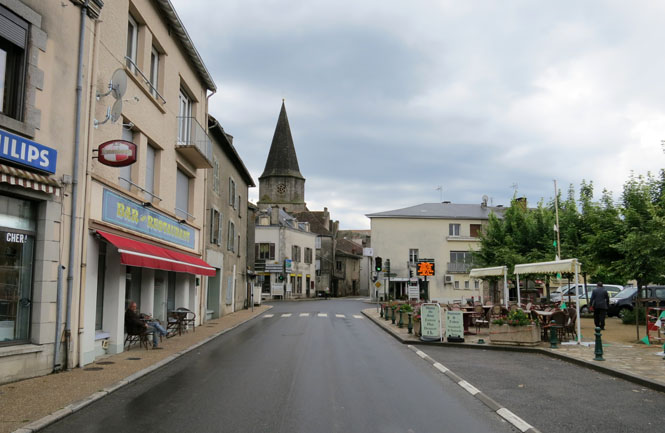 That's a quiche on the left and a chicken/pasta something on the right. Both very good.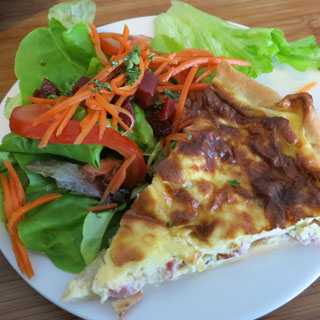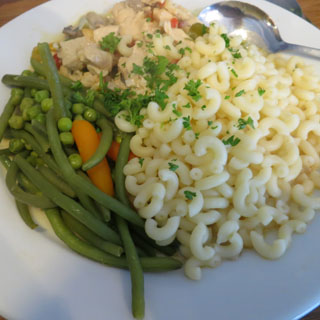 Saint-Pardoux-les-Cards, France.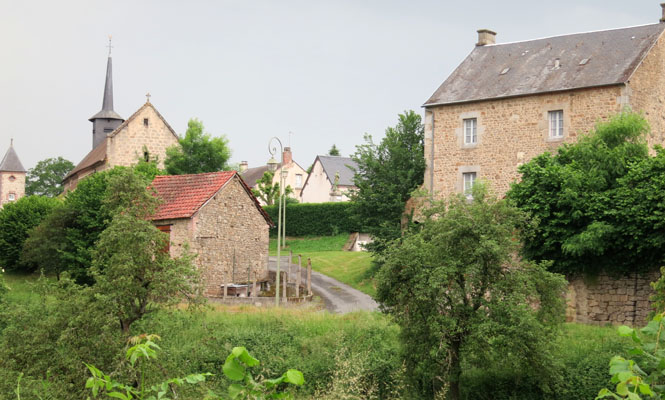 Couret, France. Here was a case where it was raining so had I had to stop immediately. Luckily, I had just entered this small village.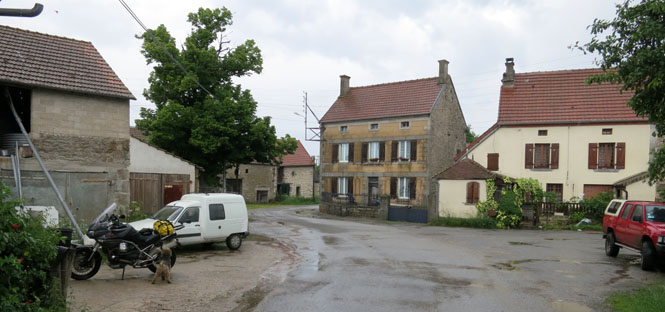 There was no traffic on this road, and I was impressed by how many little villages I rode through. Some of these towns were not on my map.
My riding suit, boots and gloves are all meant to be water-proof. All of them achieve this through a membrane system--Gortex. But, Gortex has its limits, and on this day everything failed. My boots (both of them) opened up at the sole so I had soggy feet inside soggy wool socks inside soggy boots. My gloves were heavy with water, and my riding suit was letting in enough water to have me sitting in wet pants. The good thing to say was that it wasn't cold.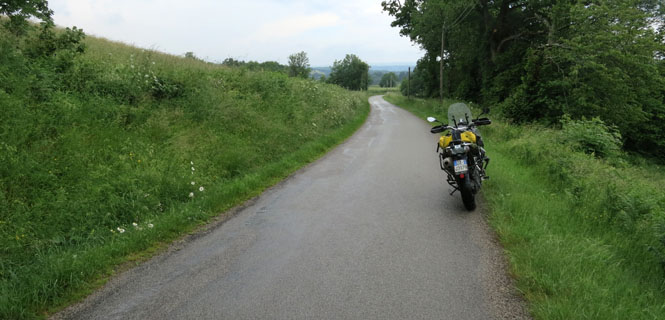 Saint-Médard-la-Rochette, France.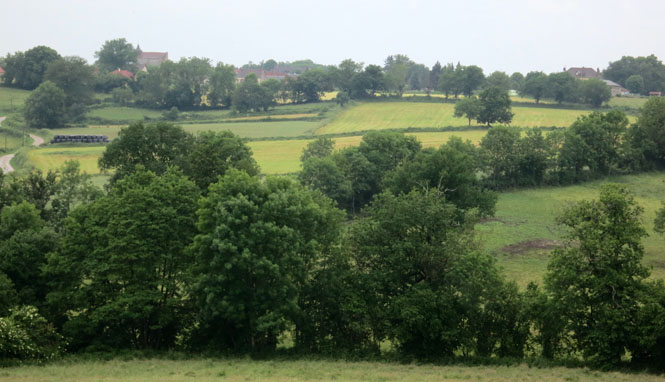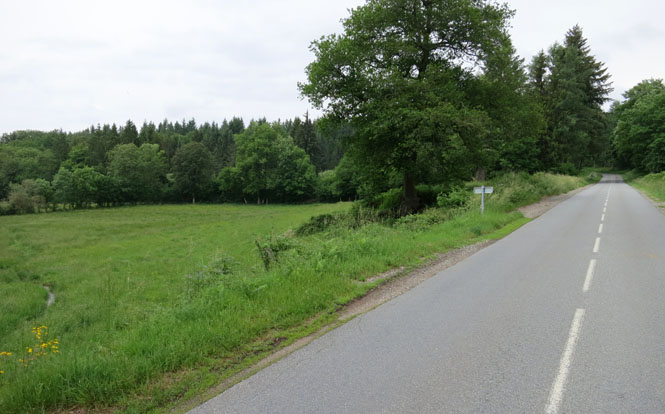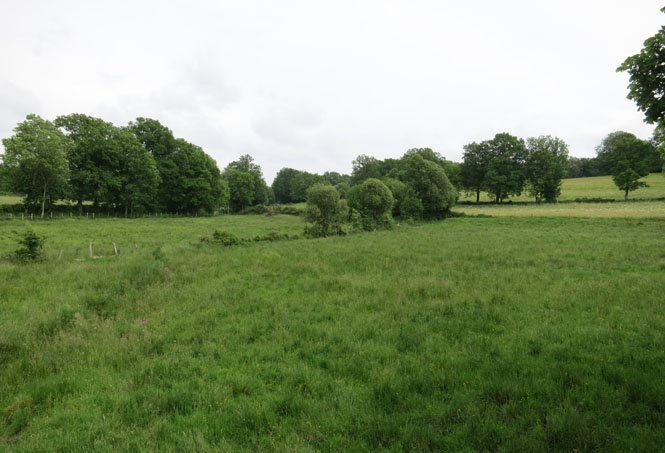 Crocq, France.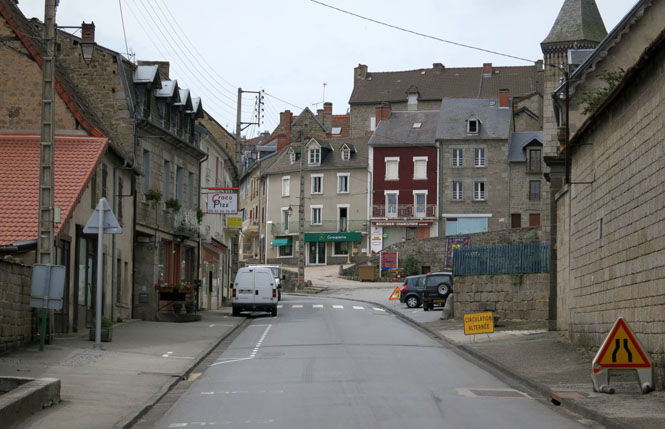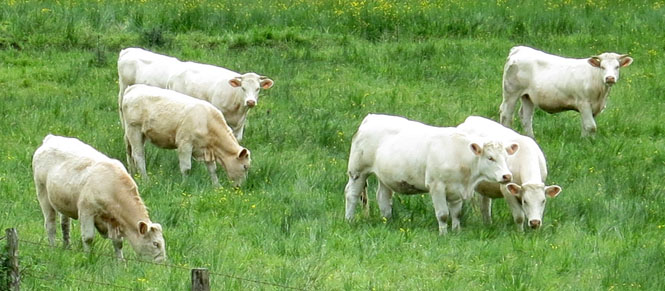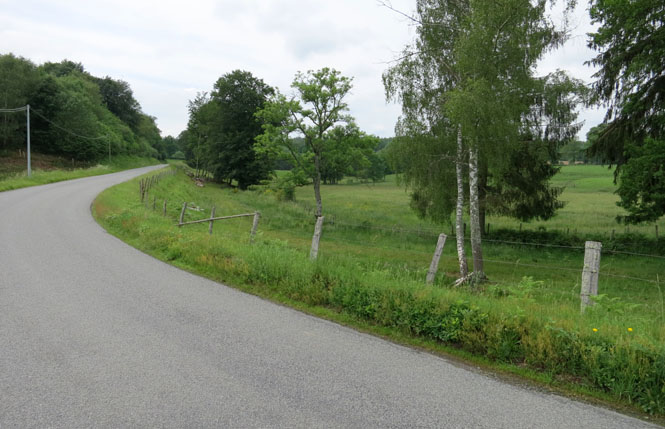 La Mazière-aux-Bons-Hommes, France.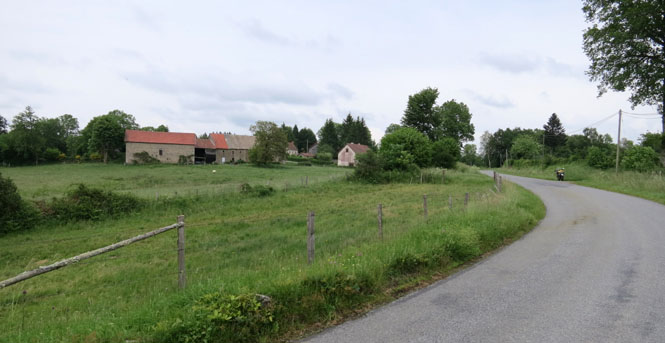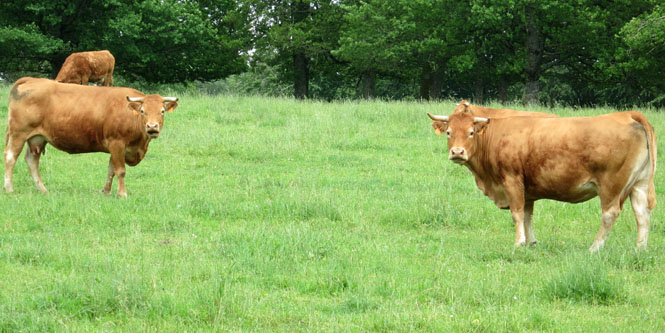 When the rain stopped, things did start to dry pretty quickly. When you're moving, everything dries. But, just hanging them up to dry? It could take a week.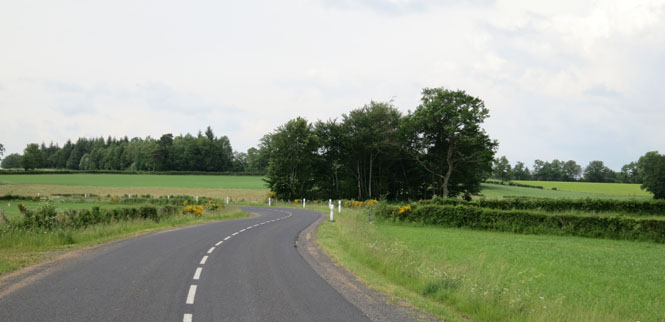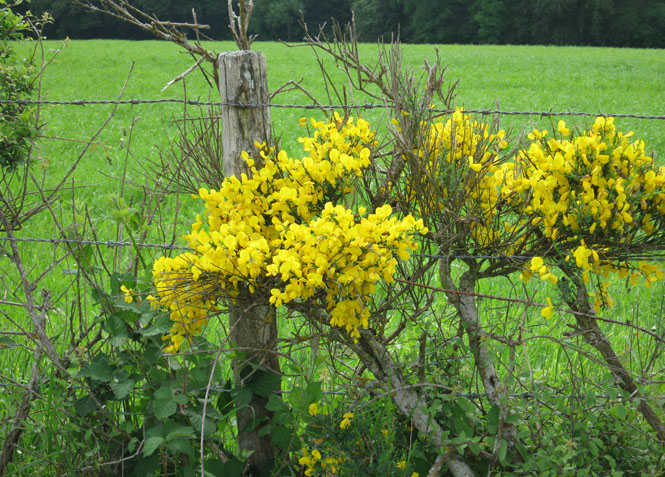 Olby, France.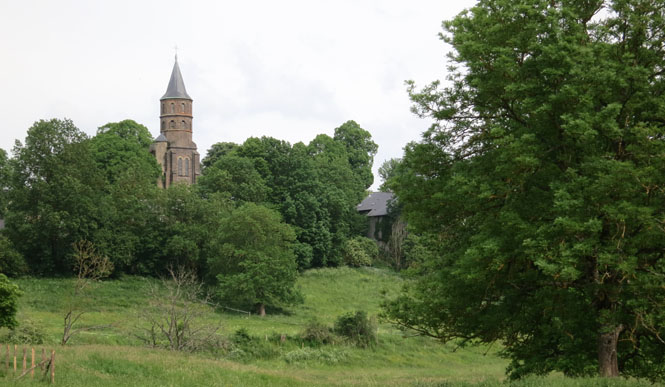 Saint-Amant-Tallende, France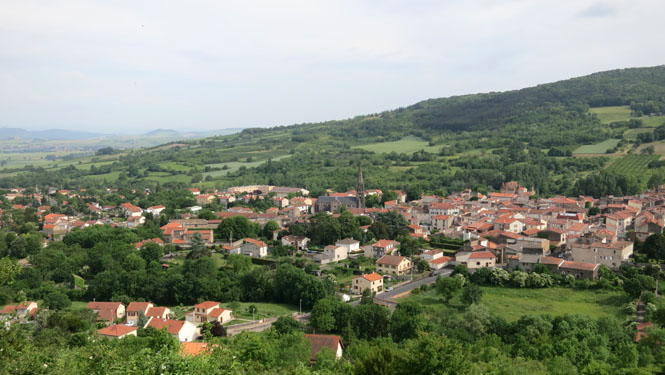 Saint-Flour, France is on a steep hill with a flat top.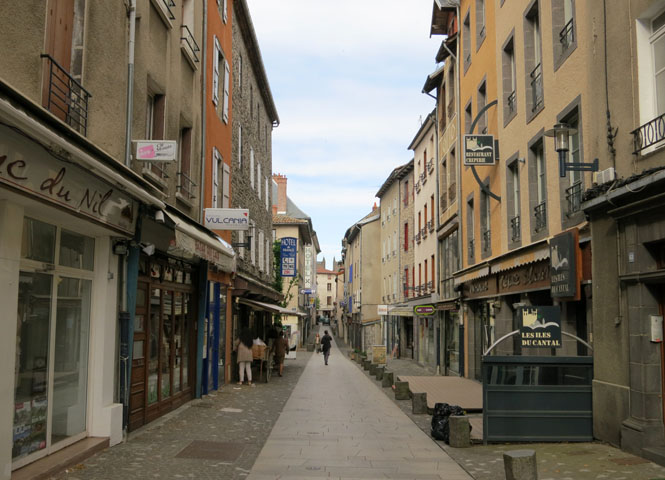 I checked into the Hotel de L'Europe and had a room at the top floor (but, not in the attic). The first task was to spread everything out to give them the best chance to dry.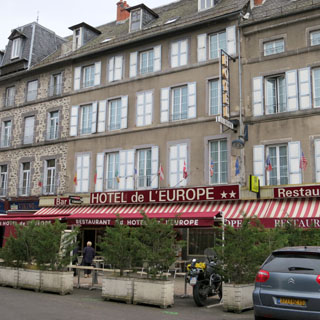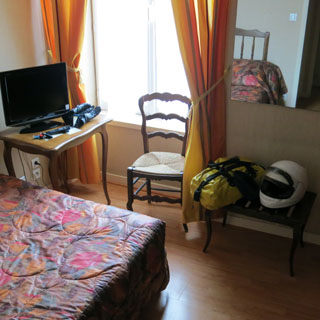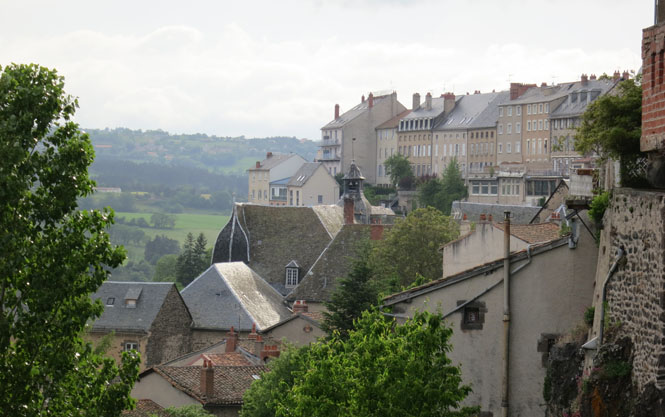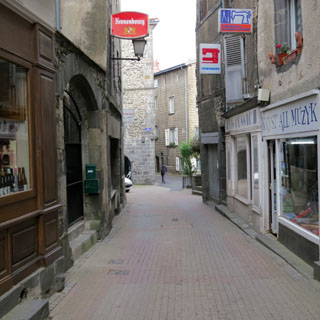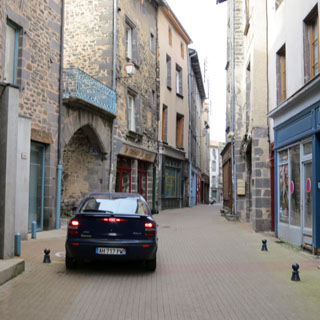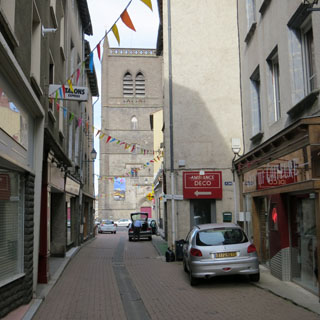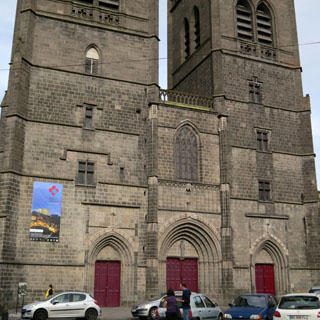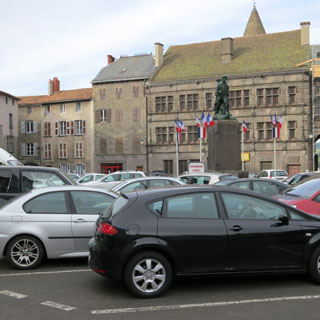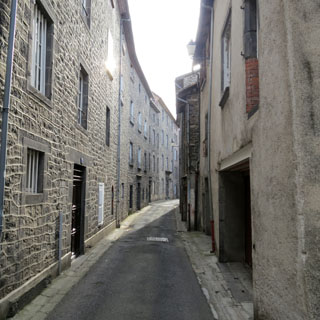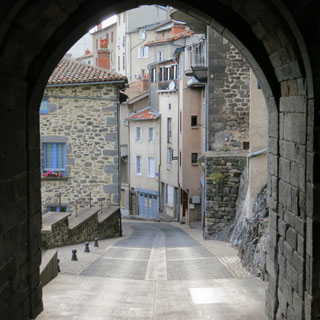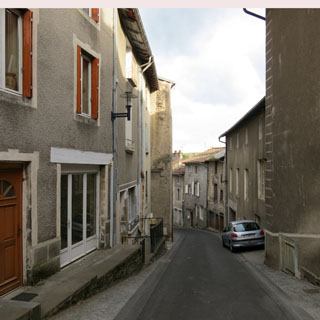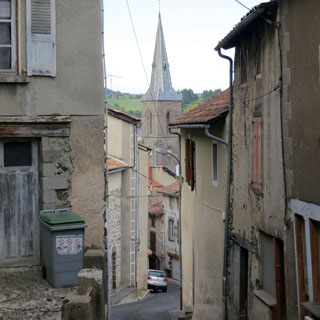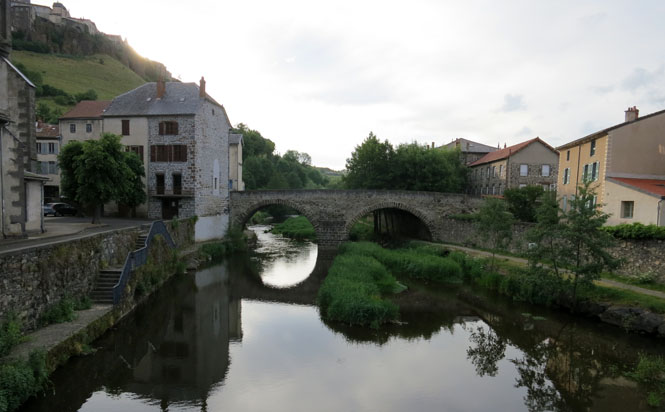 The next morning I rode to a Carrefour store (something like a 10% Wal-Mart with food) to buy some glue for the soles of my boots. The best I could find was some contact cement for repairing shoes, which turned out to work pretty well. Unfortunately, this morning was also raining quite heavily, so my first attempt at a repair failed. I'd try again (more successfully) the next evening when the rain had stopped.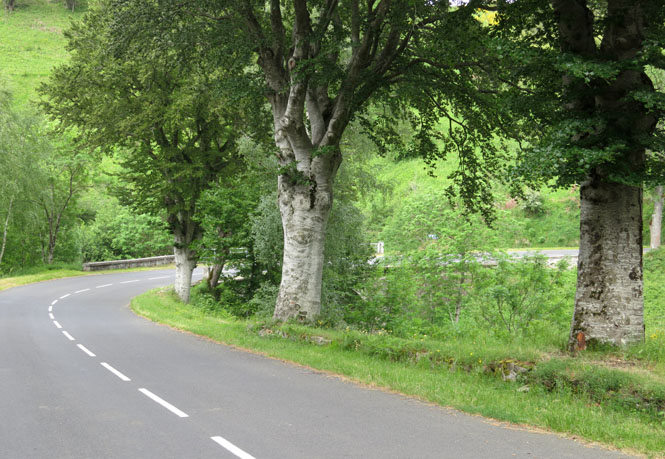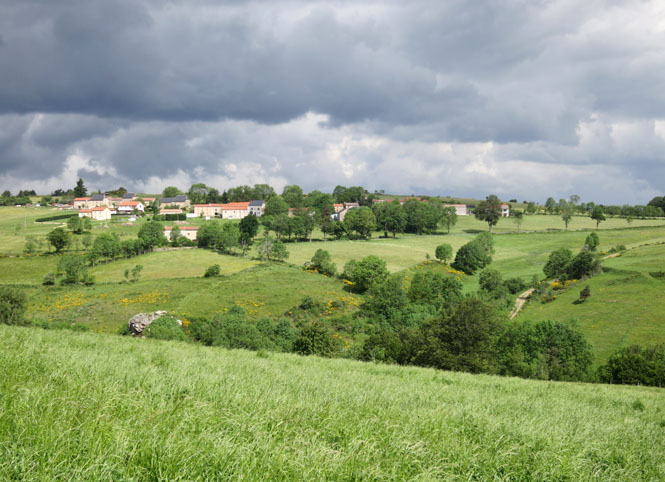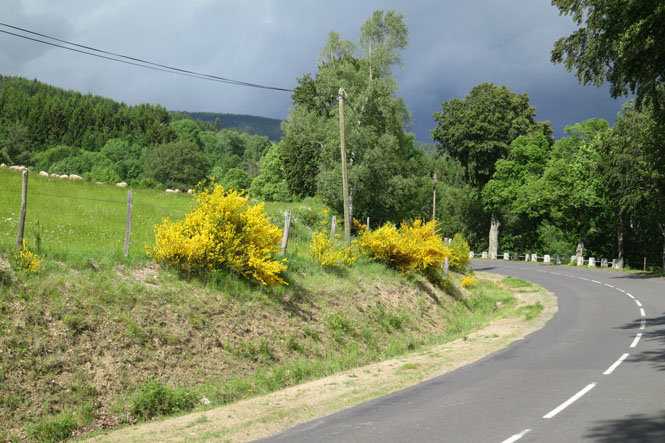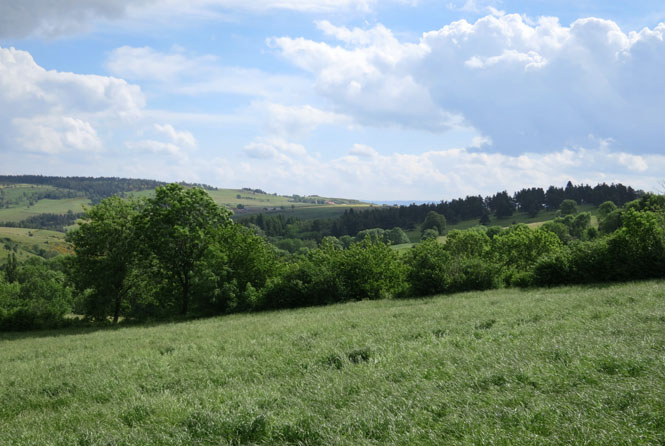 First there was one cow on the road. Then I noticed a couple dozen more behind them, all walking quite slowly. I shut the engine off and waited for all to cross the road.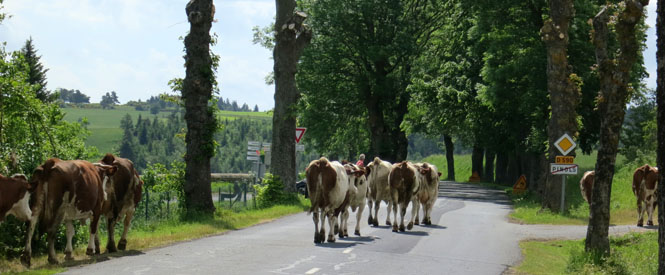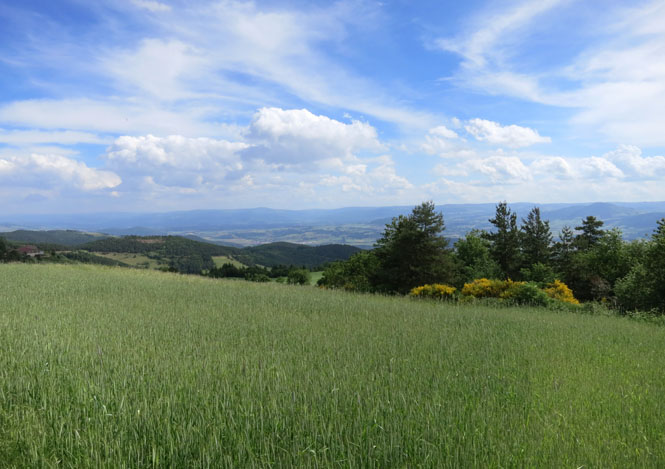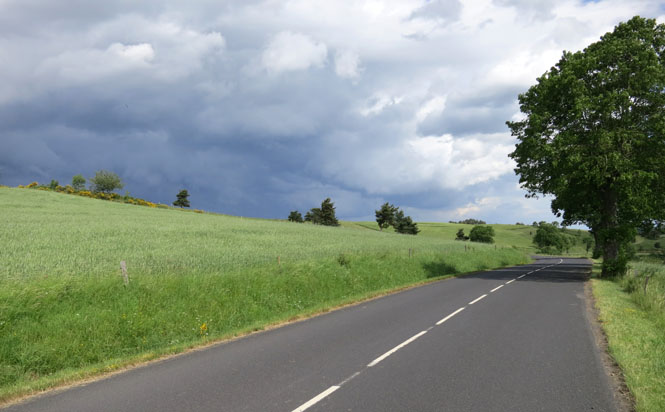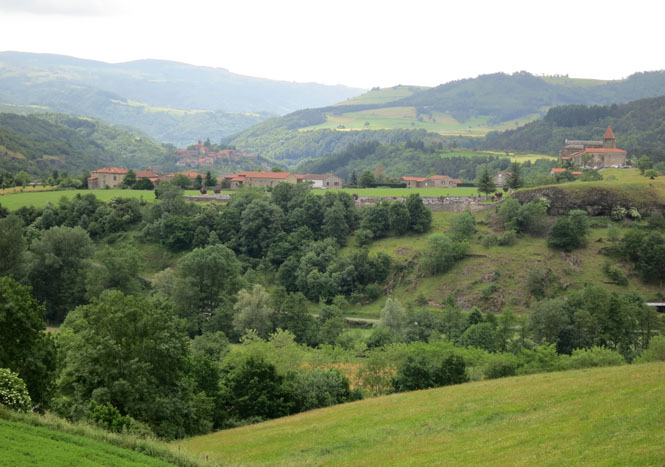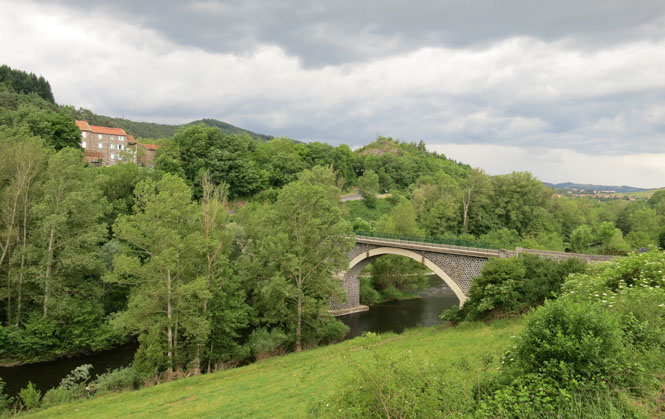 Saint-Arcons-d'Allier, France.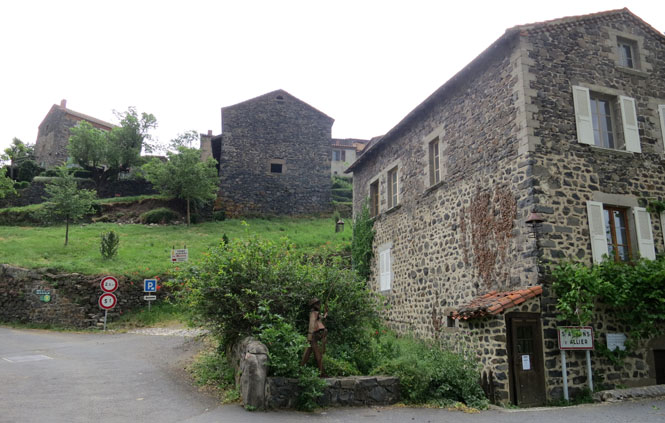 This part of France is just glorious to ride through.
Solignac-sur-Loire, France.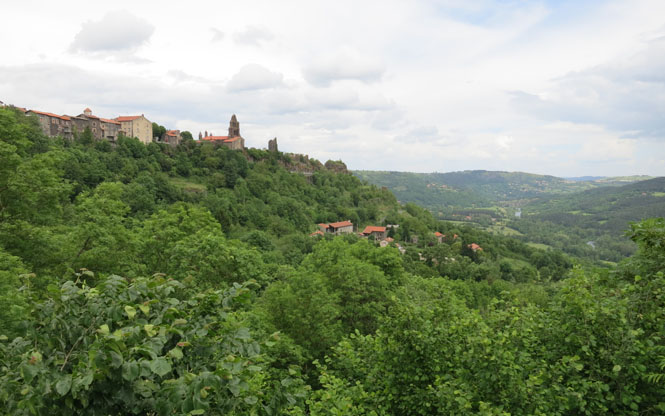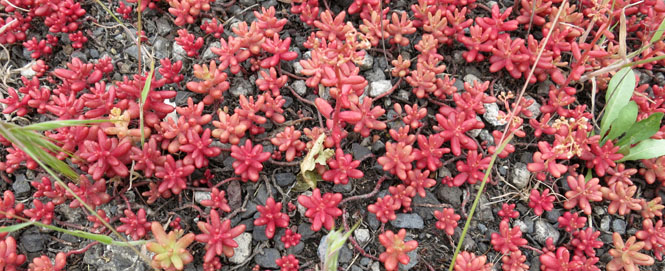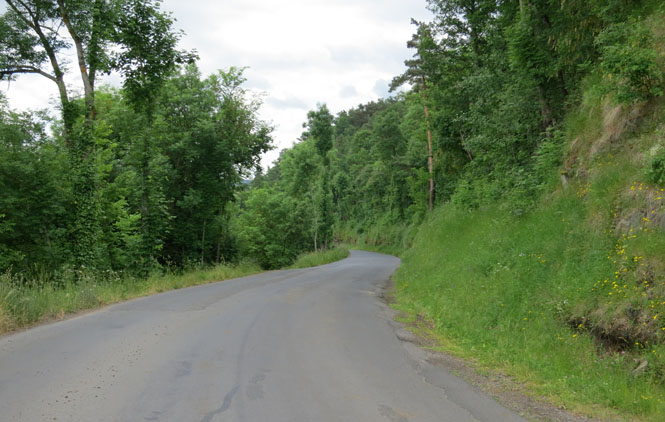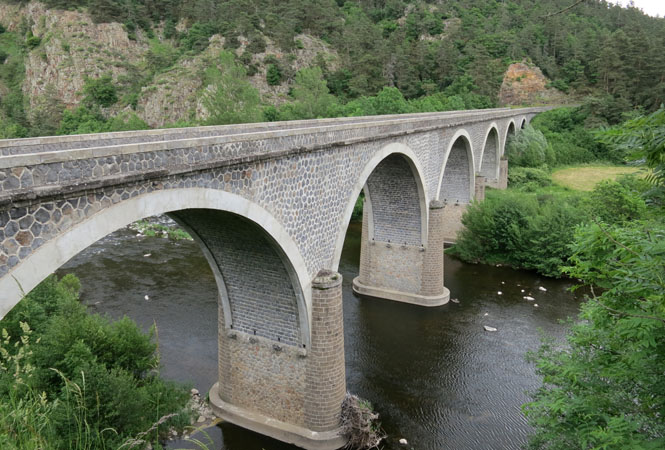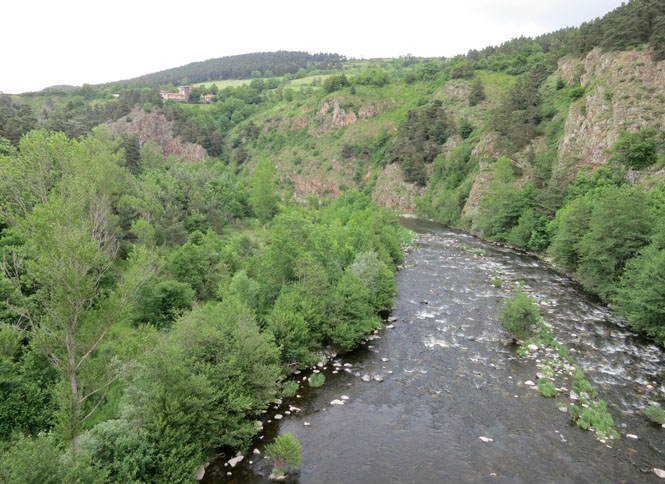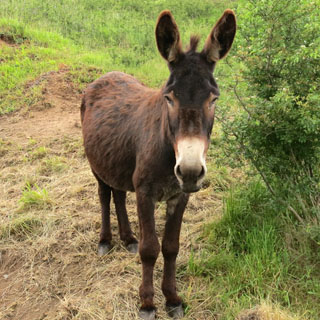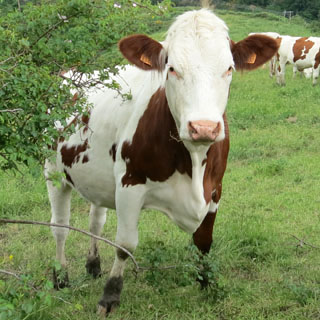 We're not yet in the alps, but we are getting close.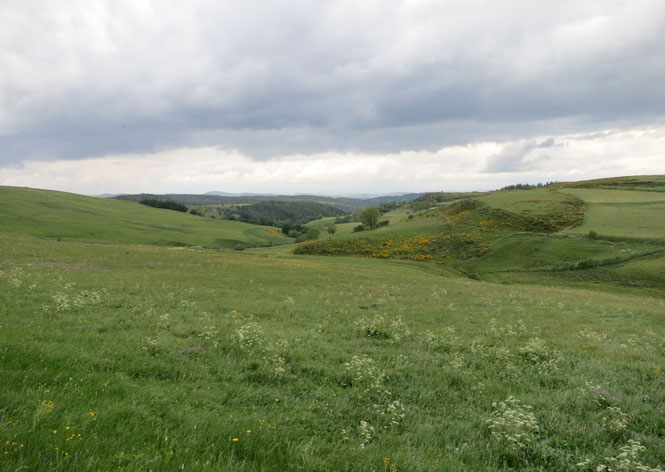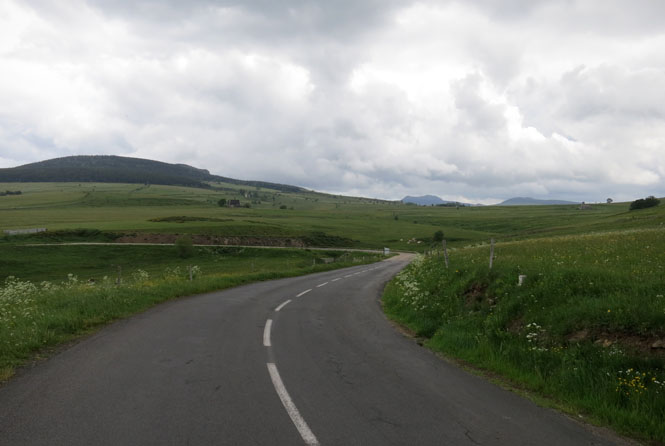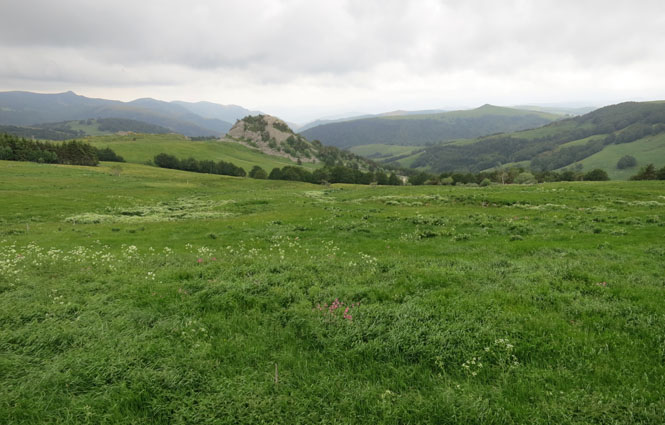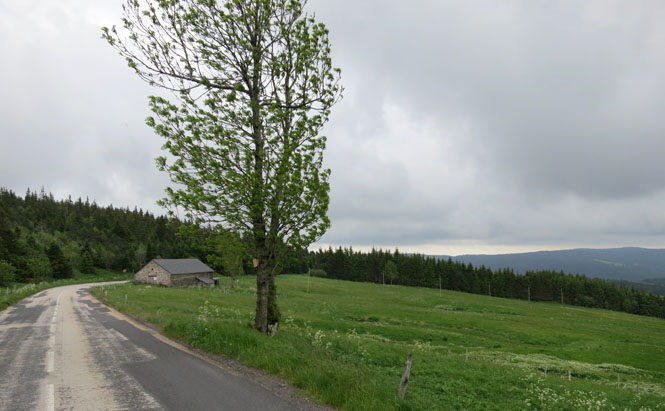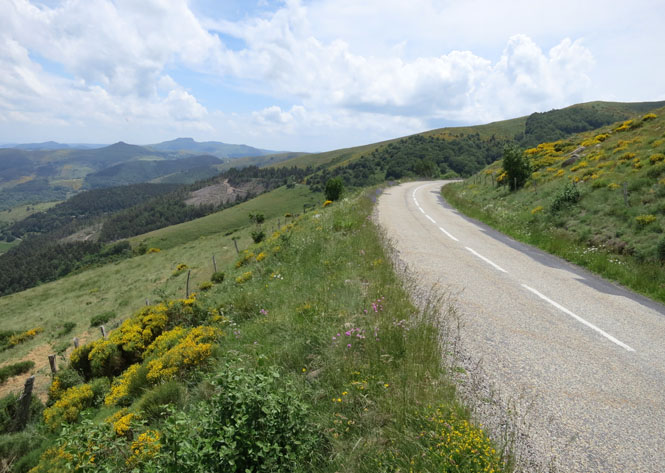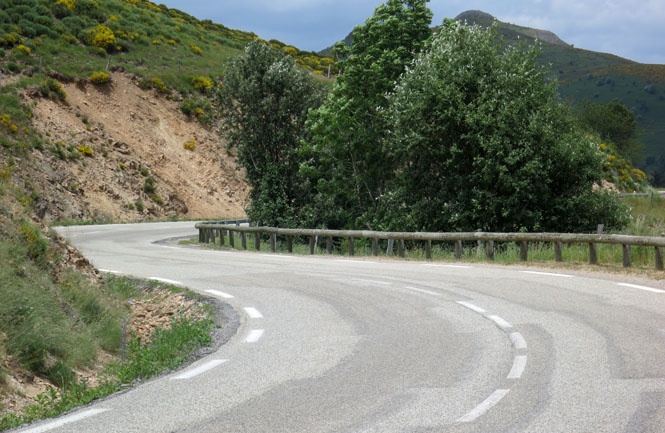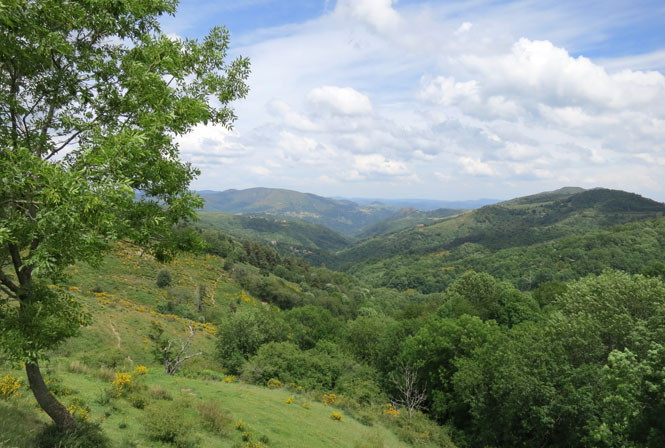 Pontaix, France.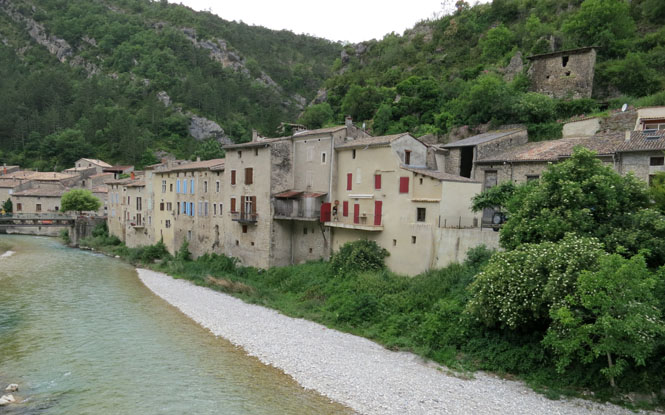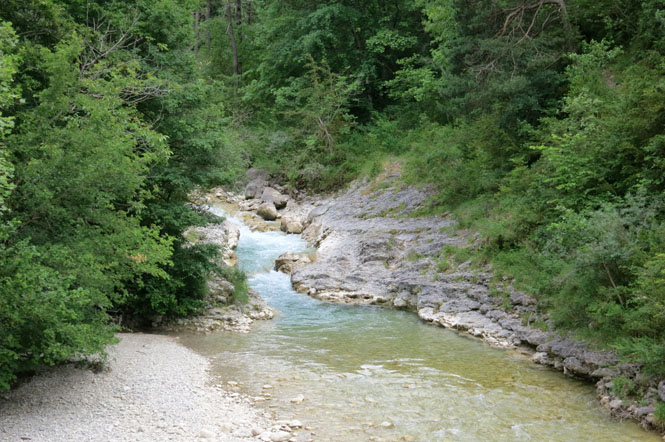 This was an amazing canyon to ride through.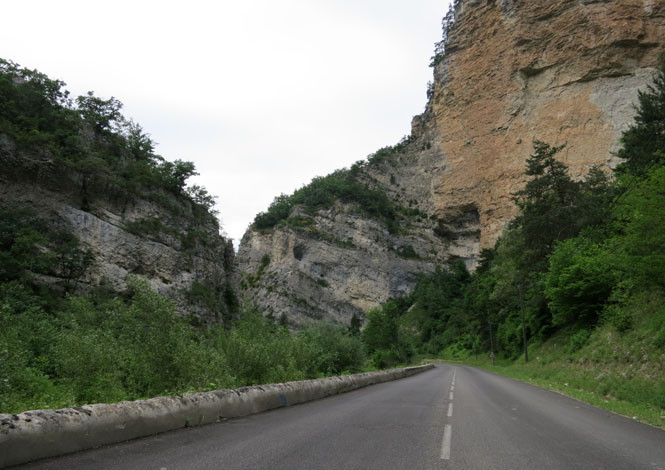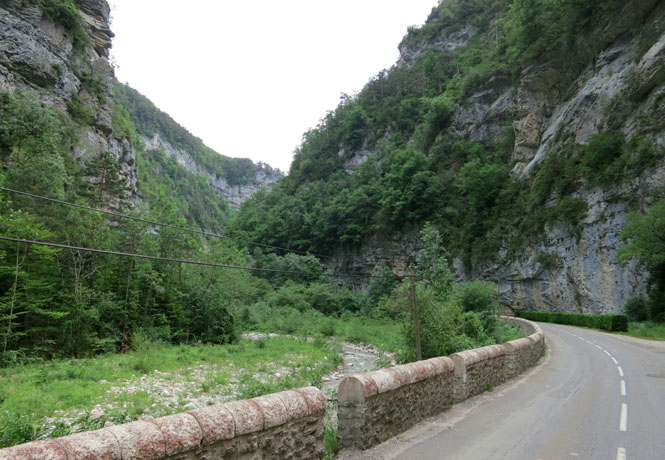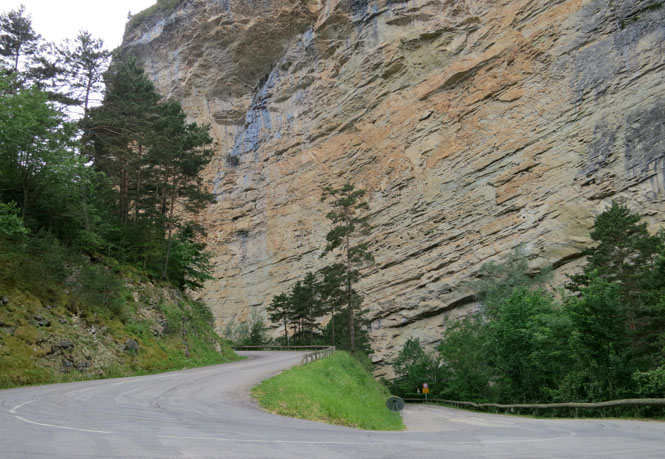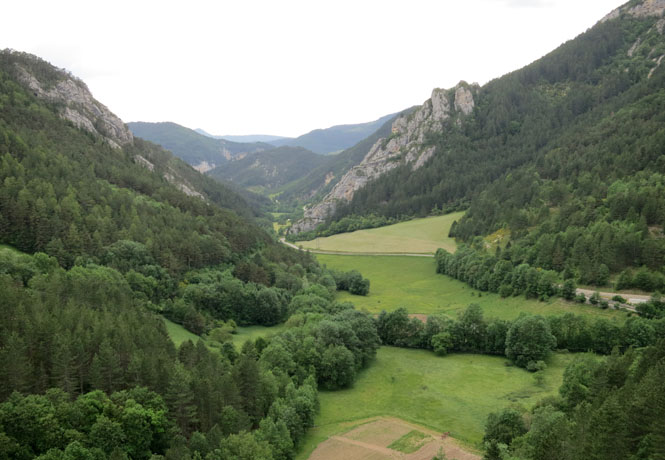 Those are the Alps. It gives you an appreciation for road building in this area, and it also helps you understand why long tunnels are the only answer if you want to put a motorway through.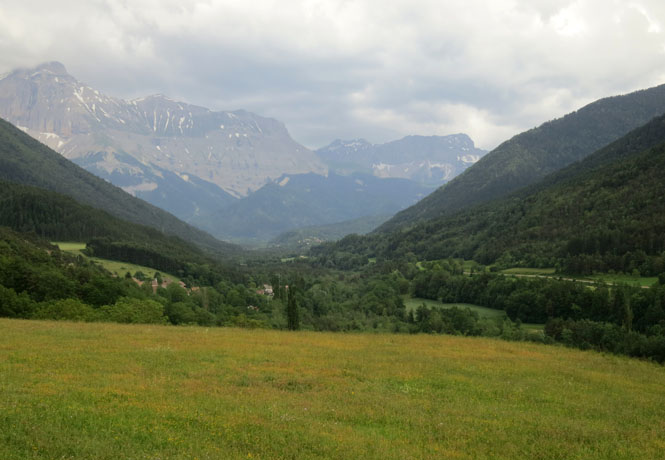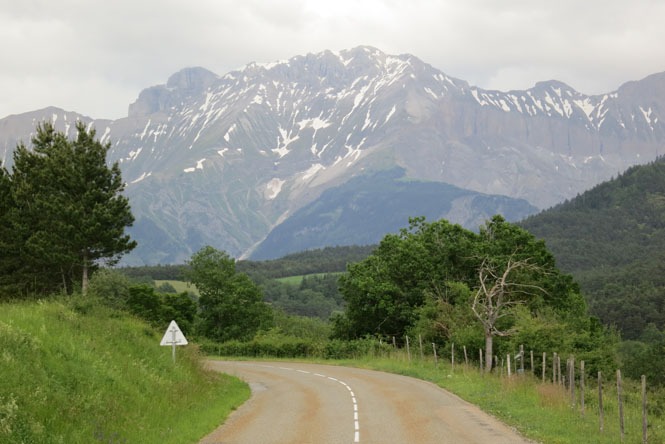 Mens, France.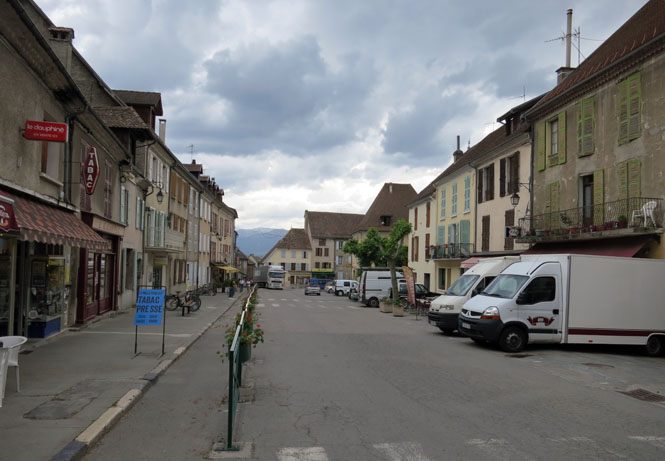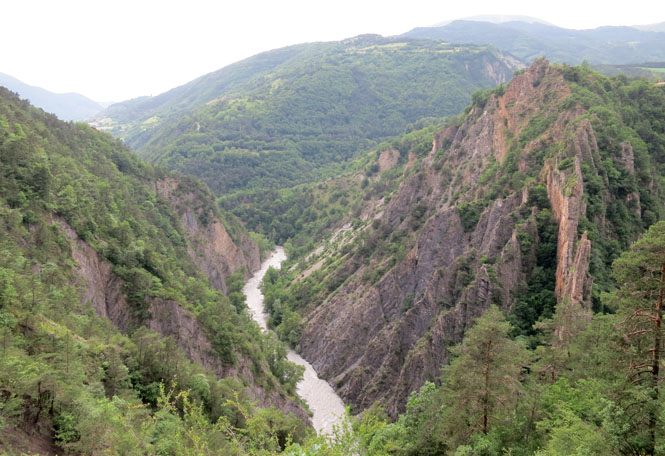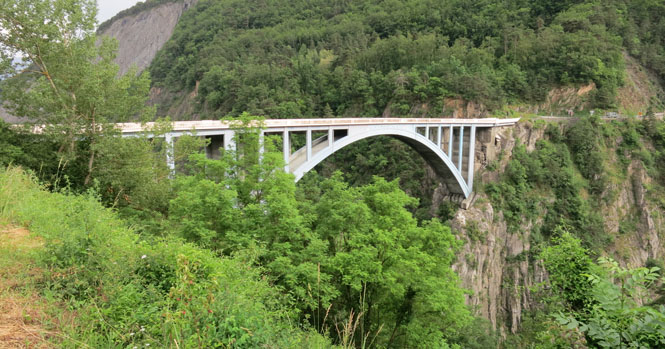 At this point I was committed to driving on later into the evening than I had during the whole trip. I would need to be back in Mandello the next day, and I didn't want to get caught short. Regardless of the miles shown, you cannot expect to make good time on these roads.
Le Bourg-d'Oisans, France.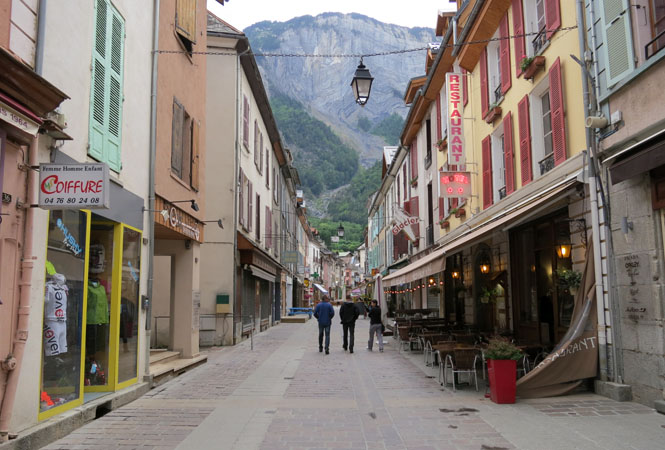 Before the great tunnels were drilled through the Alps, this would have been a busy place. These big old hotels are from a different time. It was a curious thing that the electrical outlet was installed in the door jamb to the bathroom. This means if you tried to shut the bathroom door, you'd scrap off whatever was plugged in. Expedient adjustments have been made to the rooms over the years, and costs must be kept down.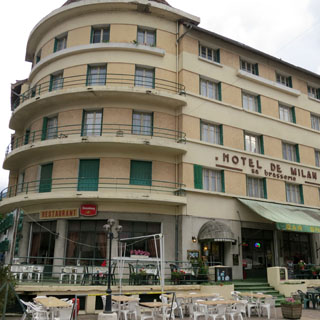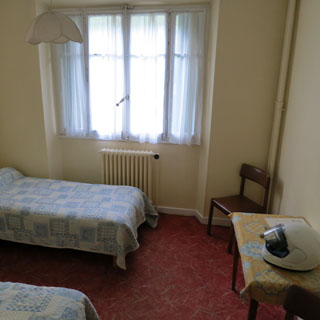 I used the stairs.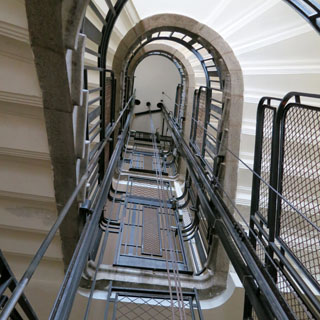 A piano in the guest lounge. I like that they respect their guests enough to think that some of them will want to play something.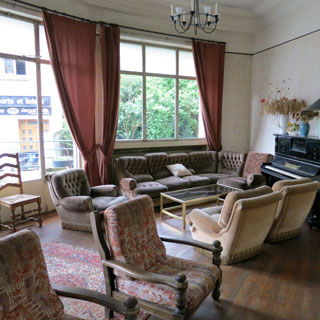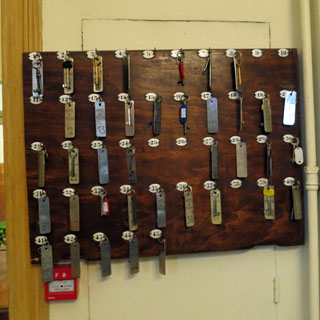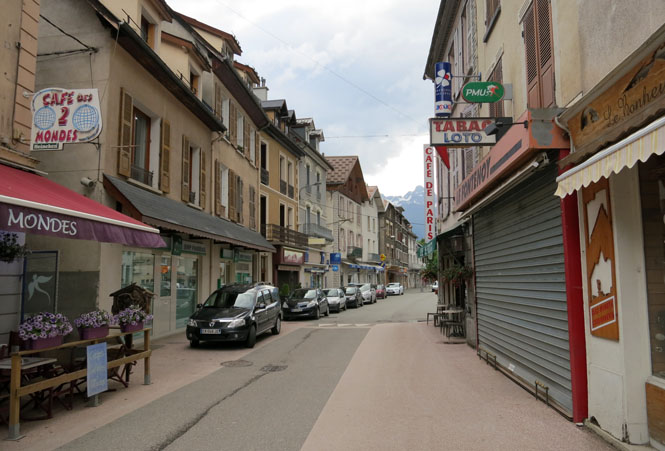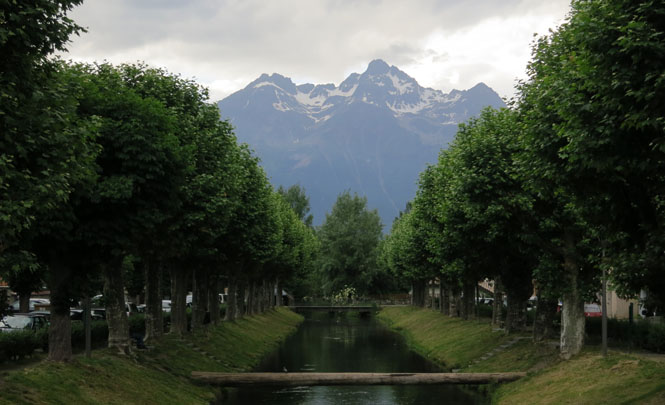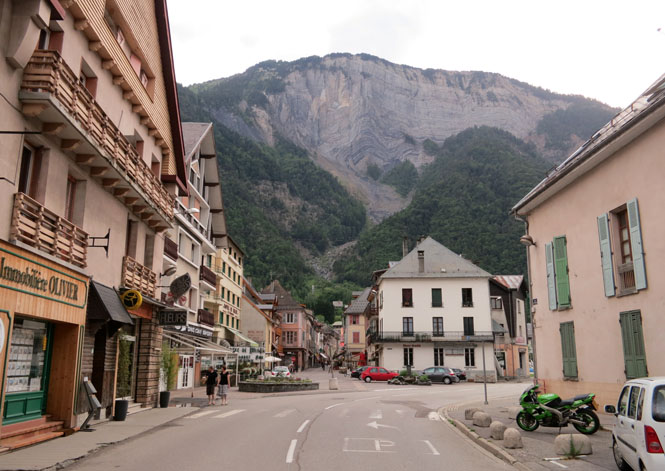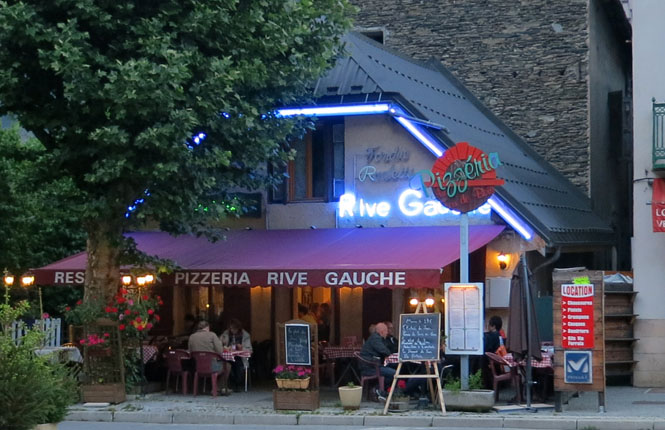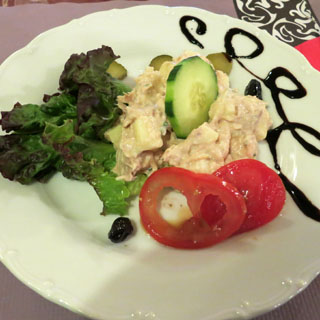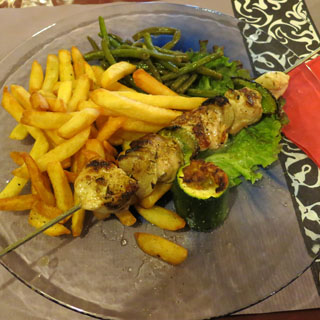 This impossible mountain is the view from behind the hotel.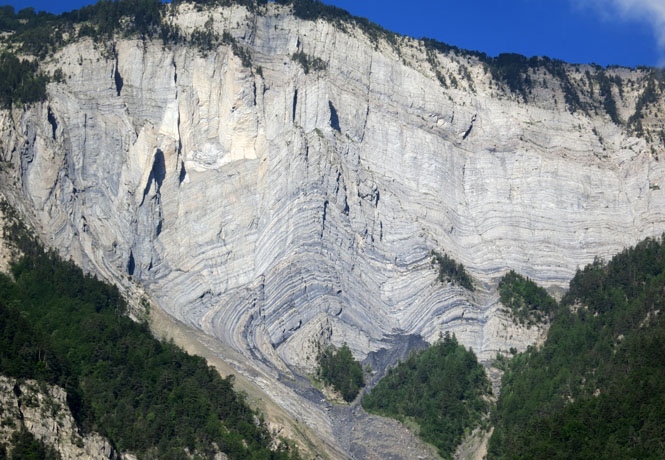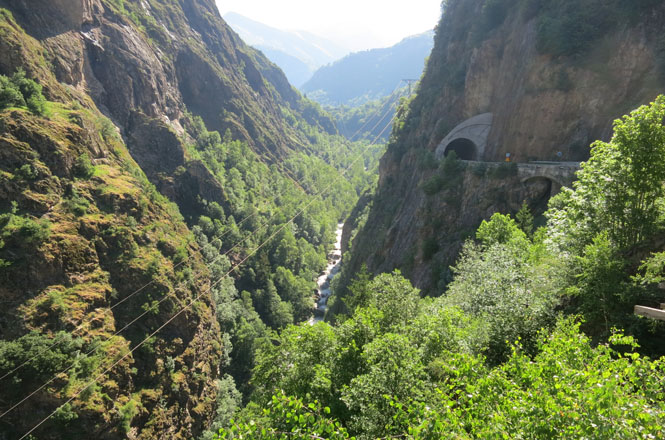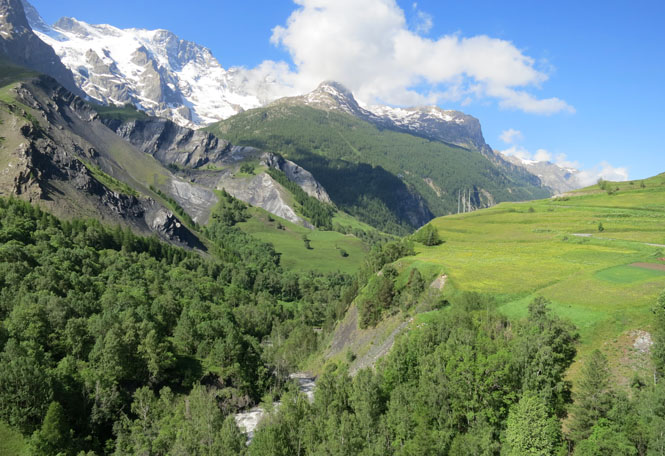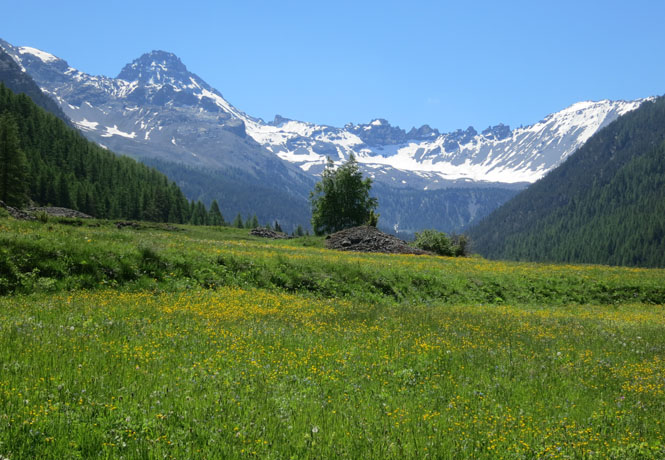 I wasn't entirely sure if the Agnel pass between France and Italy was a paved road. My Garmin said no. The Michelin map said yes. Michelin was right. In any event, it qualifies as obscure.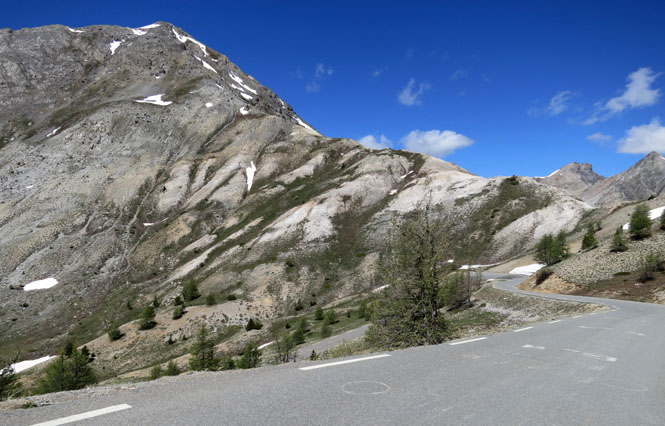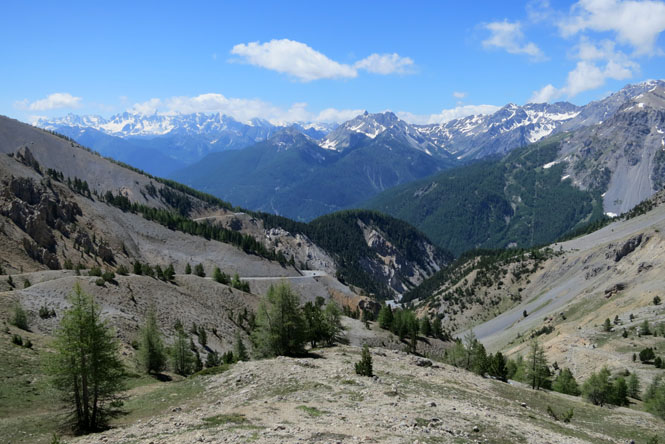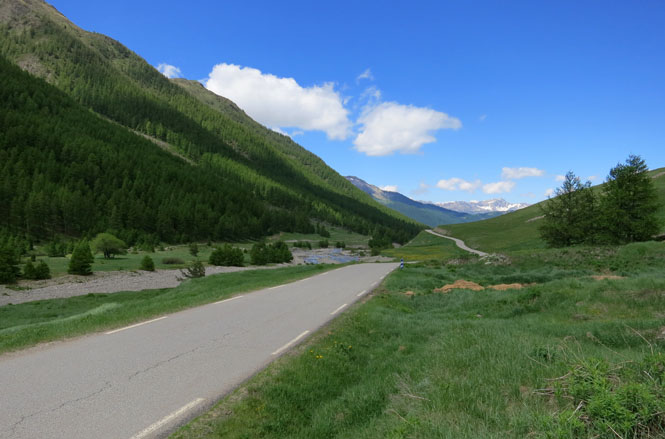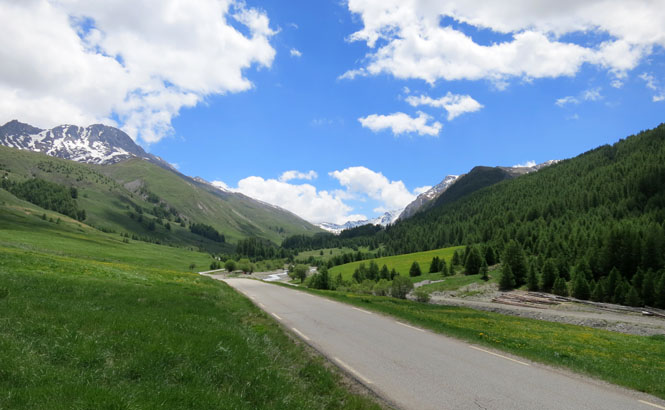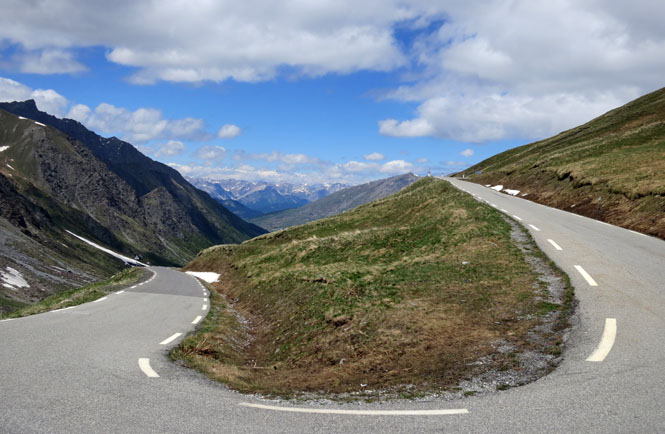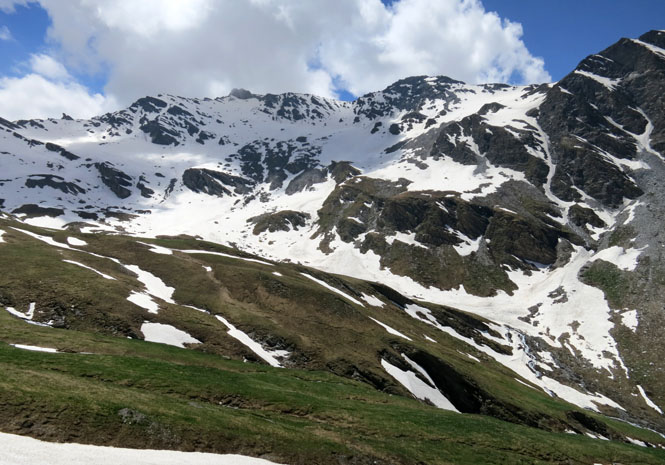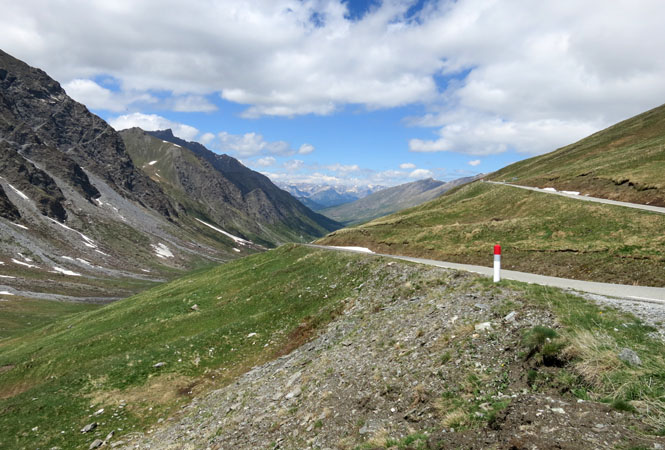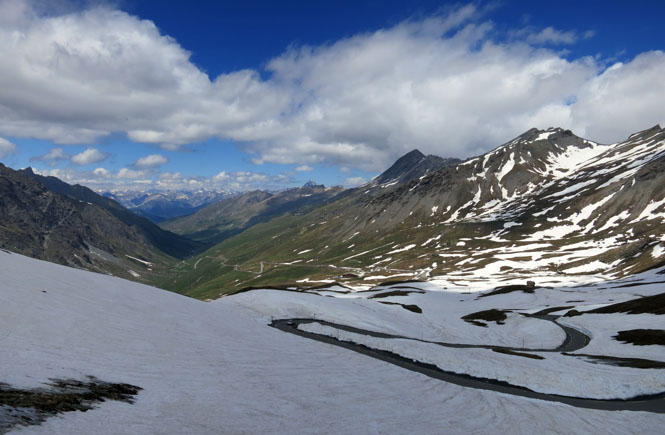 The monument behind me says 1823. I don't know what kind of road they had in 1823, but anything more than a trail must have been really hard work. I should consider myself lucky that the snow was clear from the roadway. Colle dell'Agnello, This is the highest international pass in the Alps.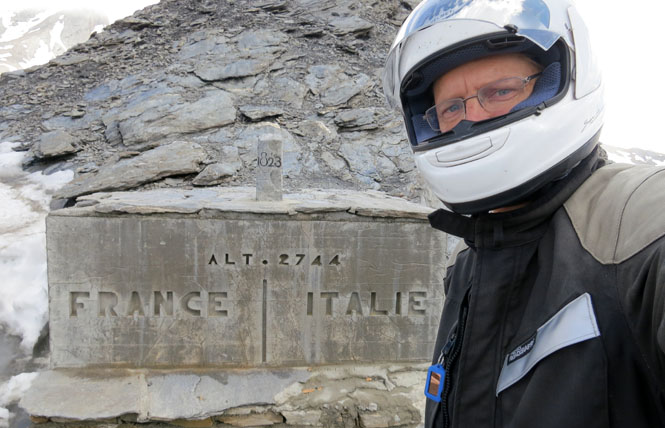 Italy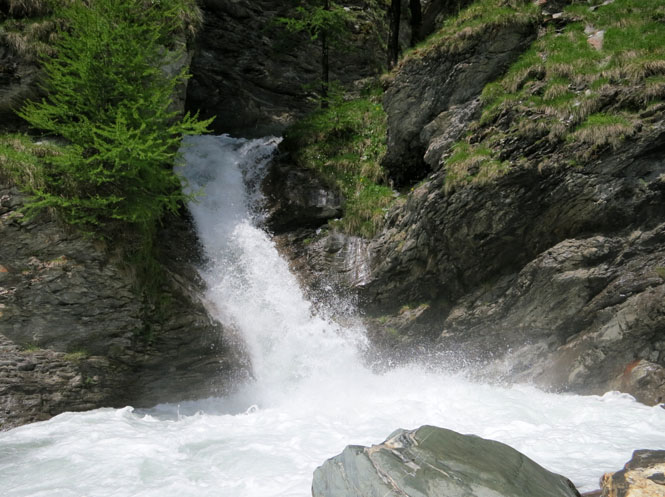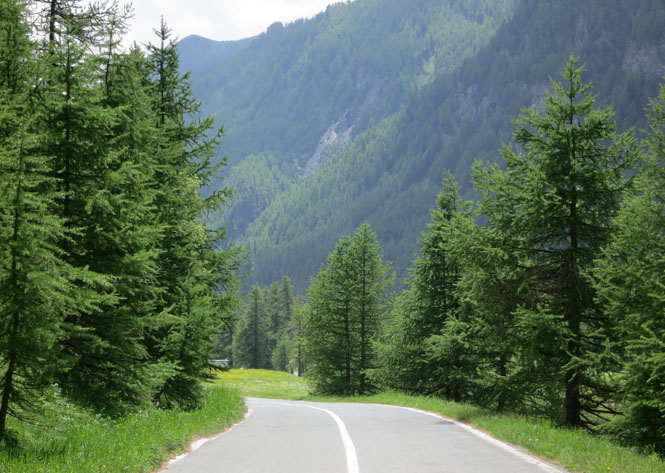 From quite cool in the Alps to humid heat. Welcome to the Po River valley.
Tomorrow's polenta?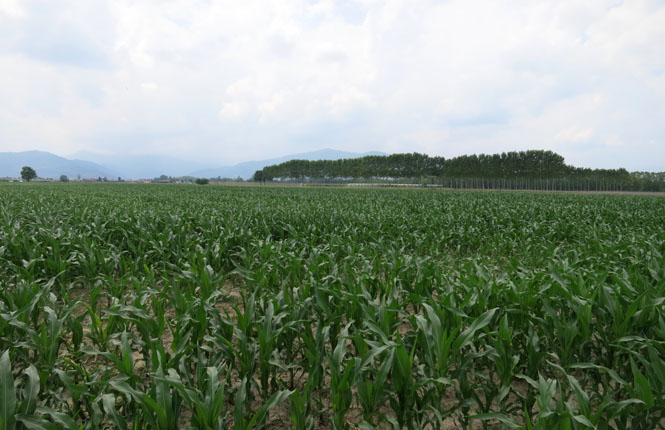 Tomorrow's pasta?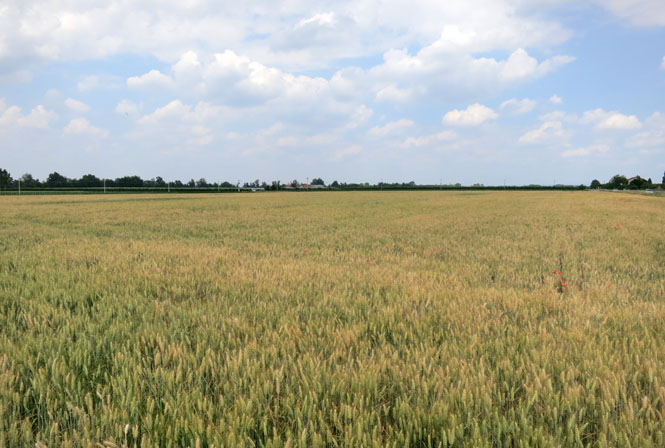 Ah...
Back in Mandello del Lario and Sylvia and David and Mamma Ciccia. For eight trips I have finished here. There cannot be a more relaxing place.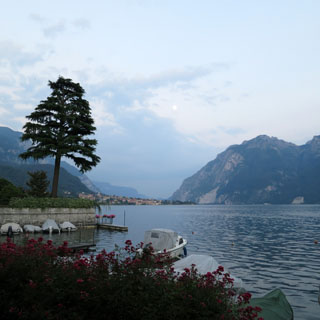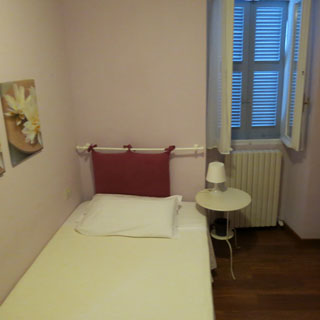 David helps me chose a wine for dinner. Well, actually, David offers to pick something from the local vineyards--I'm hopeless at this.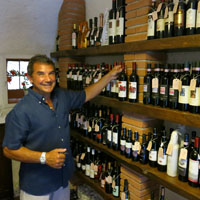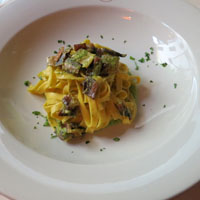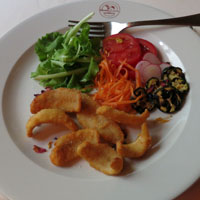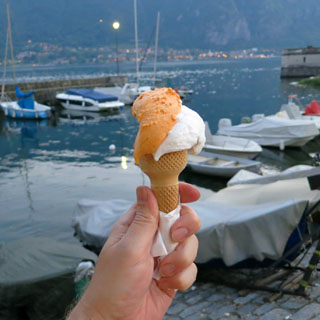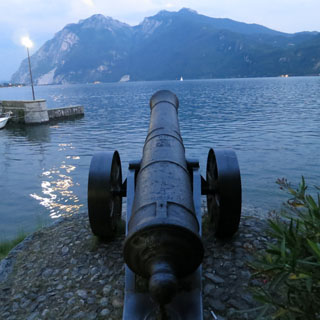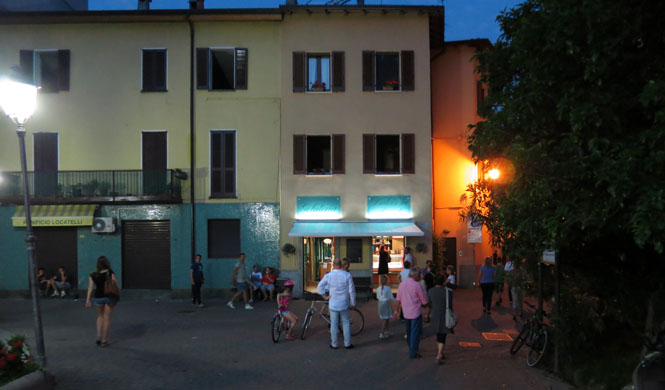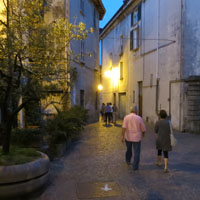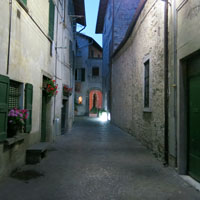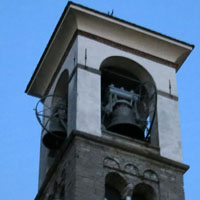 Arrivederci, Moto Guzzi factory...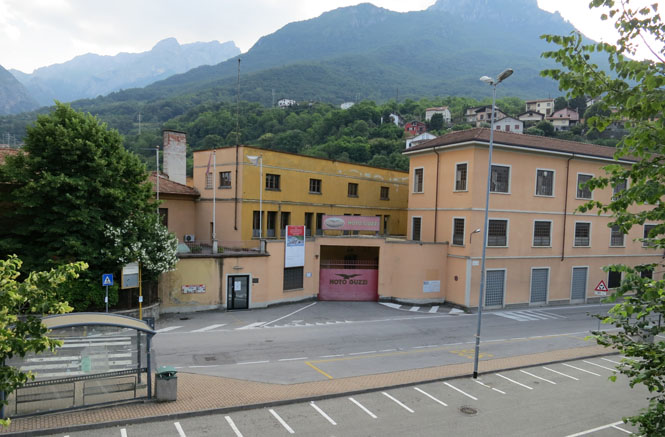 Don't forget to validate your biglietto in the yellow box.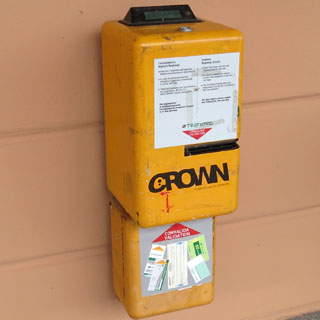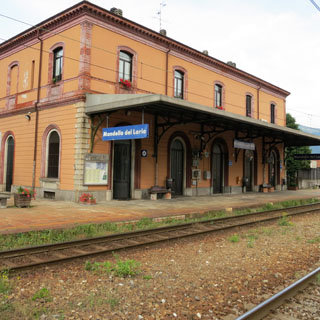 Benvenuto, Milano.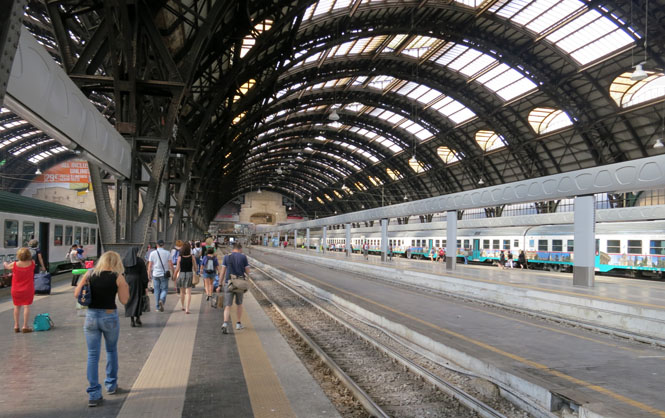 There are quite a few hotels along this street near the central train station. For this trip, I stayed at hotel Flora.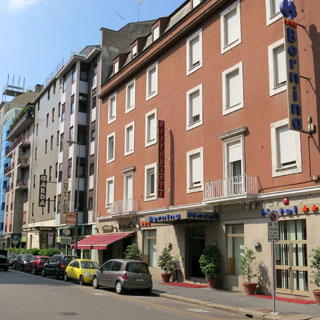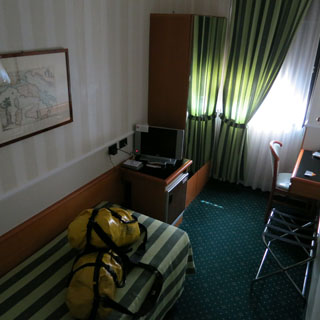 Walking the subway to the metro station.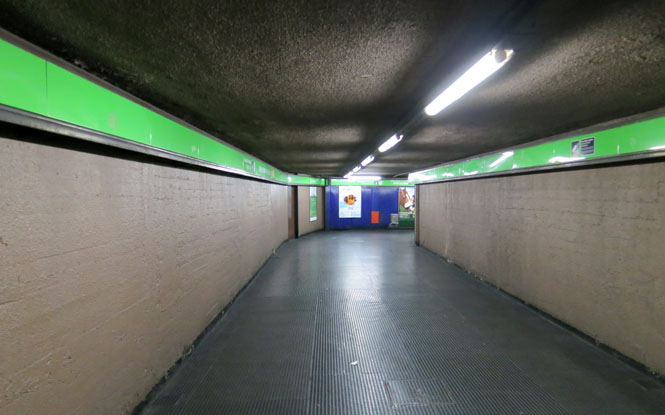 I had seen on a map the location for the "Museo Popoli e Culture." No idea what that meant, but let's go look.
It turns out the museum is run by the PIME Missionaries--a group of Catholic priests devoted to missionary work (something founded in Italy in 1850).
It's not in an imposing building, and nothing seemed to be open. But the building supervisor was happy to unlock the door and turn the lights on for me.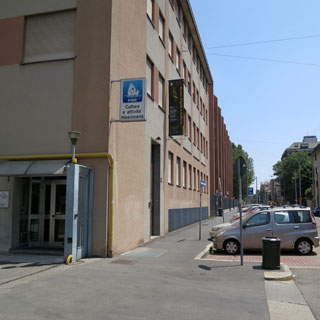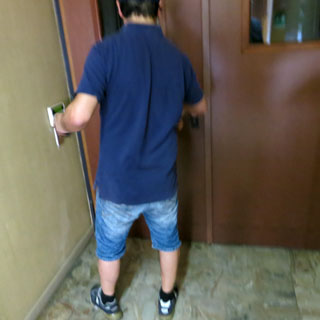 What sort of collection is this? It seems to be religious items from a broad Asian region. In a few cases there is link to Christian beliefs (sort of a Buddhist-Christianity amalgamate, for instance), but mostly, not. How were these items collected? How did they get to Milano? Who funded all this? It's not clear. I'm the only person here.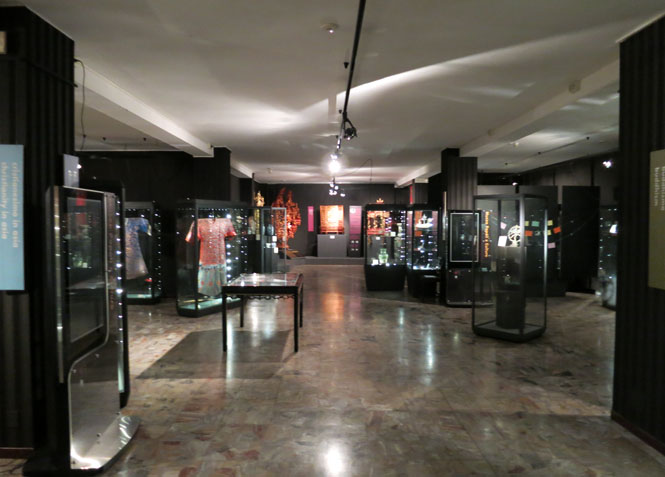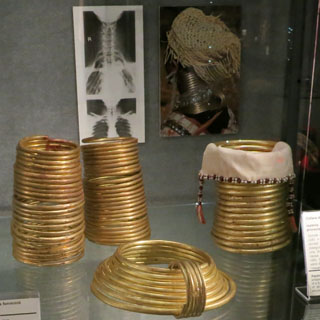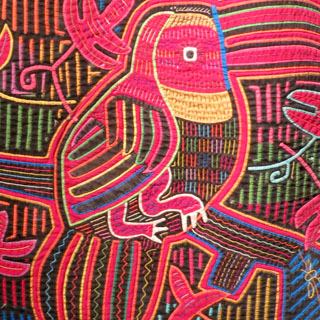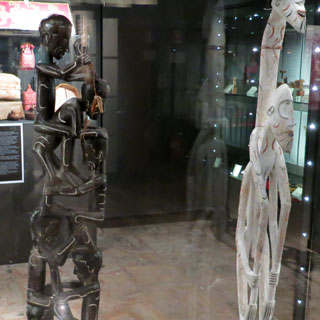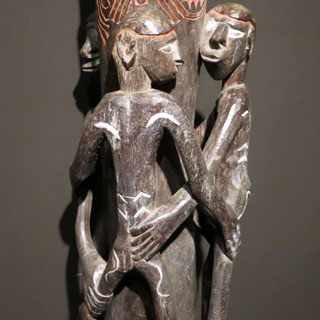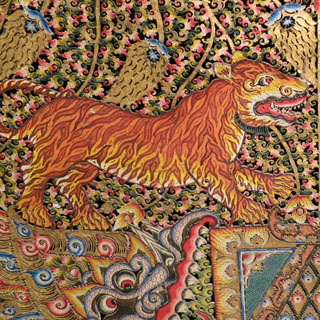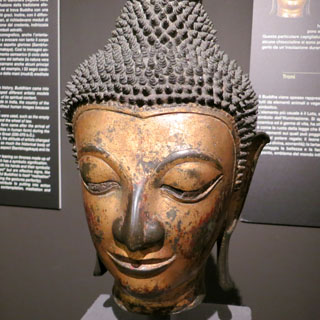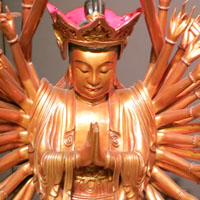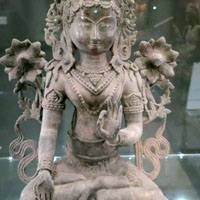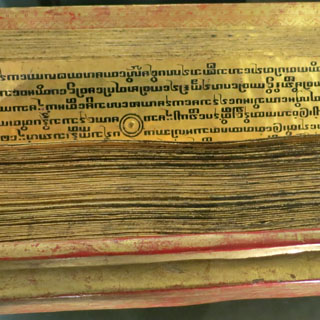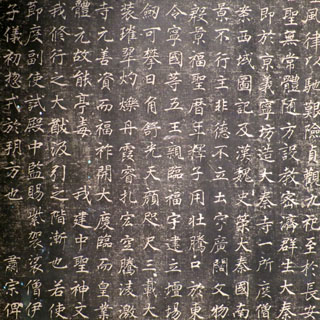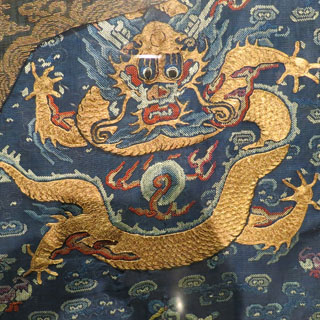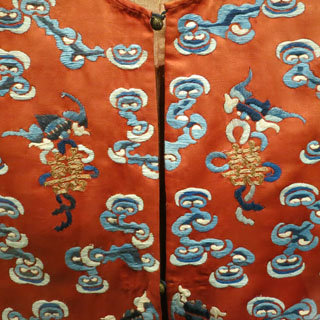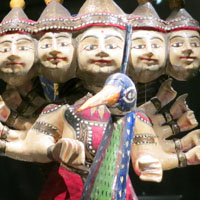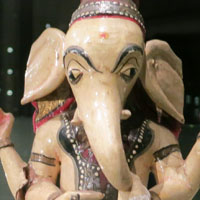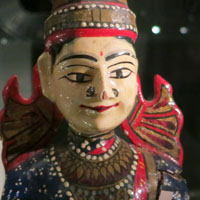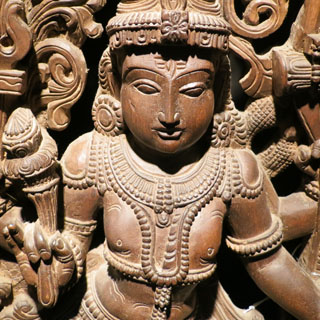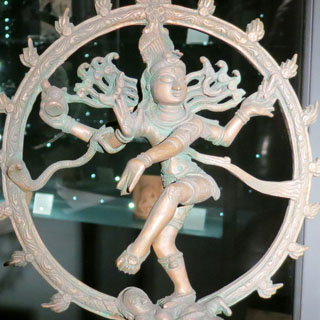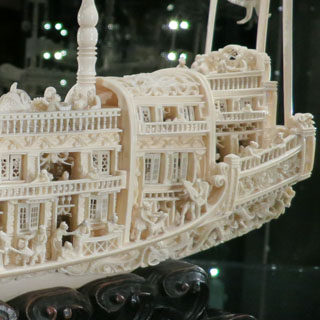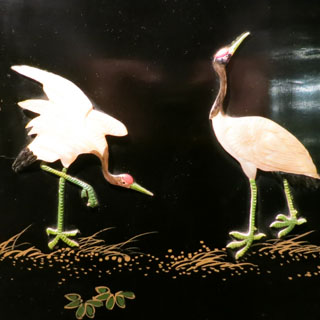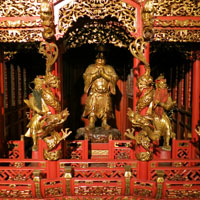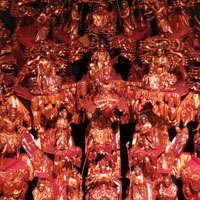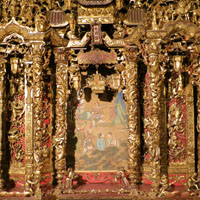 Ever wonder where Giuseppe Verdi is buried? He's such an important figure in Italy, that I would have supposed in Rome, perhaps. No; it's here.
Walk through the entryway in the brick building across the plaza (that's a statue of Verdi) and you'll come to a crypt across a courtyard.
The rest of the building seems to be a music conservatory of some sort. In any event, I heard pianos being played--clearly, by students being instructed. Those doors were signed as being off limits to wandering tourists.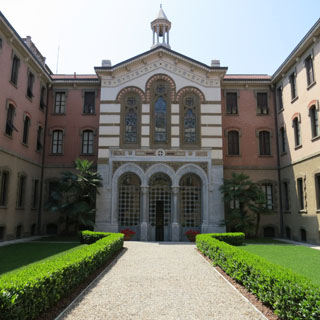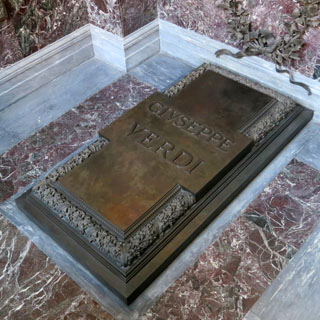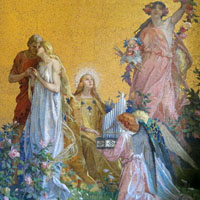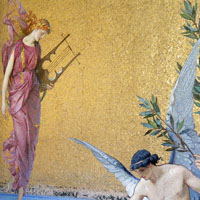 There are several very good art galleries within easy walking of the Duomo. I've been to all of them.
The Museo Del Novecento is in the rectangular building (below) to the right of the Milano Palace (also an art museum). This is quite a large museum and it extends far to the rear of what you see and wraps around to actually nearly connect with the palace. Their new exhibit was on Andy Warhol (from the Bank of America collection).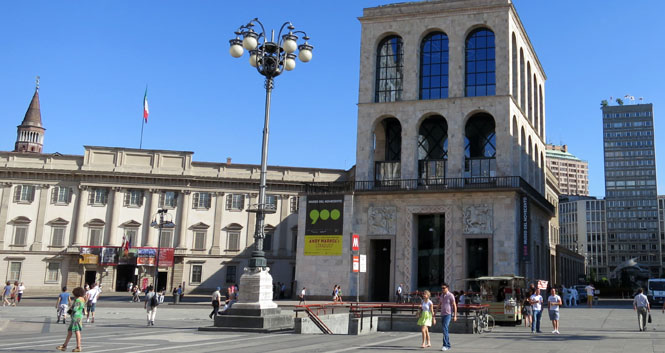 But first, I'll go to the top floor restaurant (just behind those tall gothic windows) and have something to eat. That's some form of gnocchi on the left (with clams) and sea bass on the right.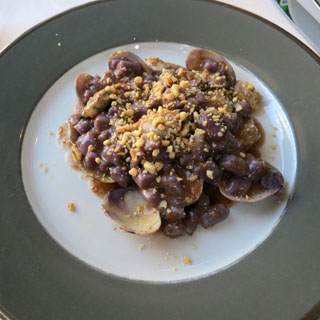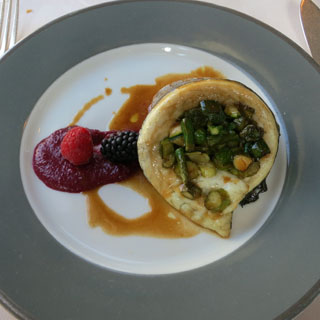 This was the view from my table.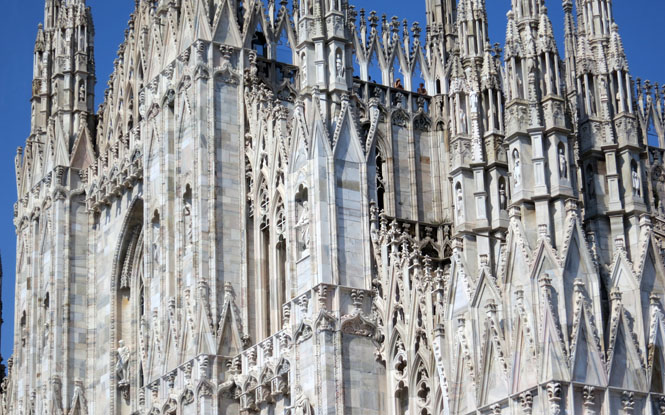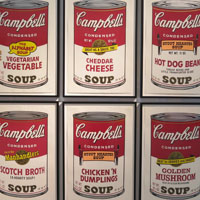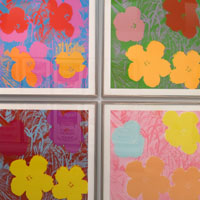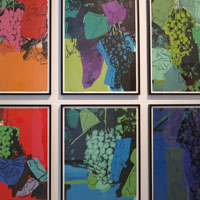 If you look around, Milano has quite a bit of interesting public art. This weary fellow is struggling with a load of fluorescent lights up an I-beam.

Many of the buildings have interesting ground floor entries. But, let's look up a few stories. Architects in Milan have clearly been allowed to try some creative things over the years.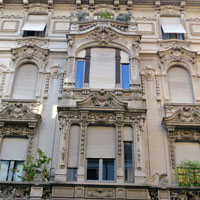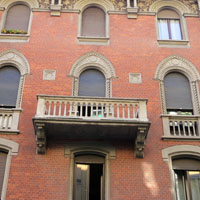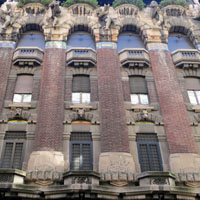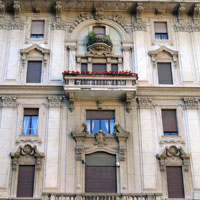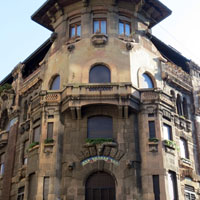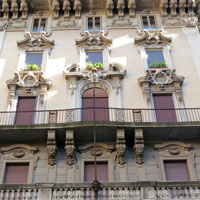 Catching the "yellow line" metro back to my hotel.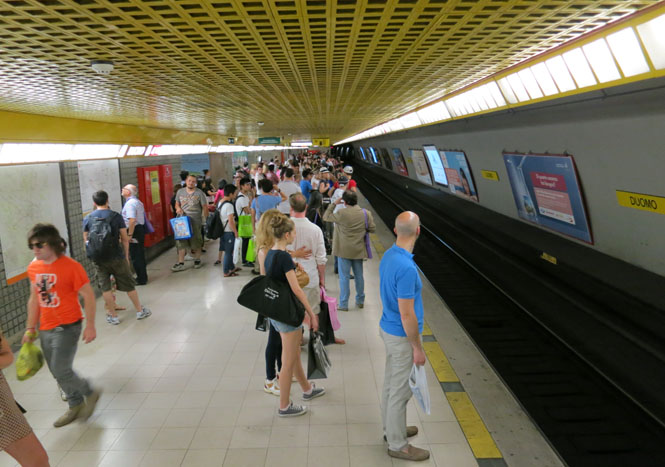 notes
I loved the secondary roads of Ireland. It's important to get away from the primary highway corridors (which tend to look like lots of other places), but when you do, Ireland really opens up to you. Wonderful.
Being constrained by rigid ferry schedules does take away some of the freedom to go where you want. But, even with that, I still had enough time that I was never pushed to ride beyond what I wanted.
The southeast corner of France has to be on a short list of favorite places to ride. The roads are good, the towns are small and manageable, the scenery is amazing, the food is very good, and finding a hotel is easy.
Fuel: 73 gallons (276 liters)
Distance: 2,591 miles (4,170 kilometers)
Efficiency: 35.5 mpg (128 kpl, .00783 lpk)
Two more desserts and a French cat: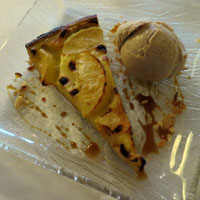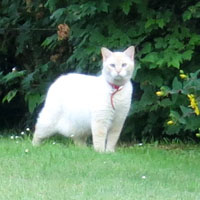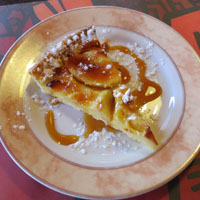 and, more notes
My high-end Vendramini Marathon boots seemed to collapse on me all at once--mainly the bonds. But, they've served me well for many, many years and the soles are about through.
I really have come to hate tollbooths. Pealing your wet gloves off to find your change and then (worse) putting your gloves back on before proceeding is miserable. Meanwhile, the drivers in the cars behind you are getting very impatient. Norway does this best: motorcycles are exempt; ride on through. It makes everybody happier.
Chip-and PIN credit card. When will we have these available in the U.S.? This trip had more problems than the last (at fuel stops), and I am sure my next trip will have more problems than this one. People look at that magnetic stripe and you can see their face drop.
The 8.5 gallon (32 liter) fuel tank on the Guzzi Stelvio is a terrific thing. This was a tremendous help and gives me a range of 300 miles.
A new French law requires that all vehicles have a breathalyzer onboard. Presumably, this is to allow the drunk motorist to know enough to check himself and then to further make the rational decision to not drive if the result is positive. I've heard of vehicles being checked when arriving in France from the ferries (there is a small fine), so I bought the kit when I was onboard the Irish Ferry. It isn't much, but it seems pretty pointless to me. I'll add this to my normal kit for the next time I'm in France.
last edit: 7/9/2013