September, 2013

Sunday

Monday

Tuesday

Wednesday

Thursday

Friday

Saturday

8 September

9
10
11
12
13
Wichita
Newark
14
Malpensa
Lecco
Mandello
15
Lecco
Sondrio
16
Mandello
Sedrun
17
Basel
Baccarat
18
Luxembourg
Bastogne
19
Ninove
20
Breendonk
Oss

21
Stadskanaal
22
Hoxter
23
Abtswind
24
Dachau
Schongau
25
Schaan
26
Thusis
27
Mandello

28
Milan
29
Milan
Wichita
30
1 October
2
3
4
5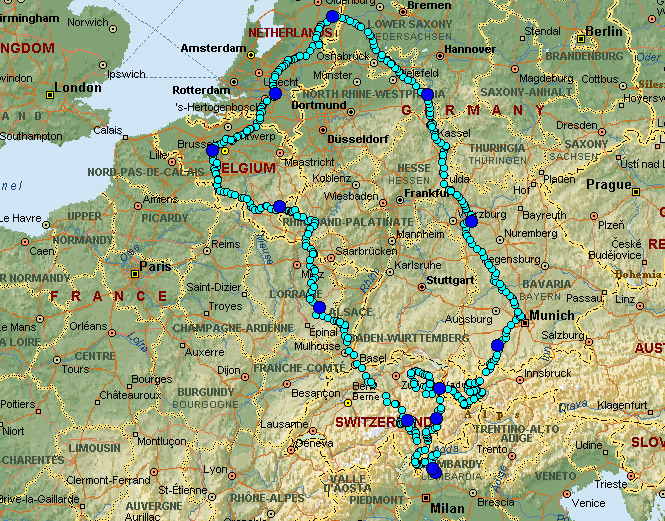 Europe Trip #9
You don't often hear of Belgium, Luxembourg or the Netherlands as being one of the great destinations for motorcycle riding. These countries don't have high mountains, nor do they have spectacular vistas from scenic winding roads. On the other hand, the Great Plains do not have any of those things, either, but I still like riding in Kansas and Nebraska.
I've never been; so, let's see what the Benelux countries have to offer.
As with all previous European trips (this is my ninth), I would start riding on Monday, and finish riding the Friday of the next week. By leaving Wichita early Friday morning I'd have two nights in Italy to adjust to the different time zone.
Newark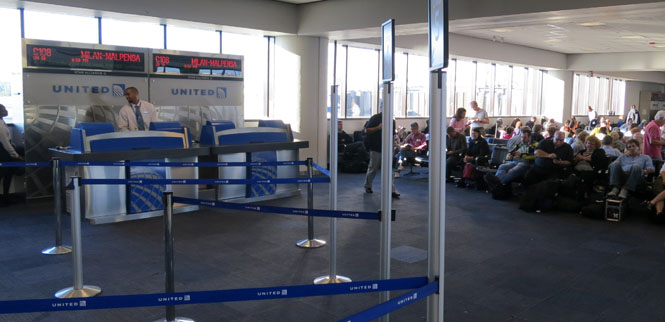 As has always been the case, I flew in a Boeing 767 from Newark to Milan (Malpensa). I added the Guzzi name to the high-score list of trivial pursuit (at least for my seat).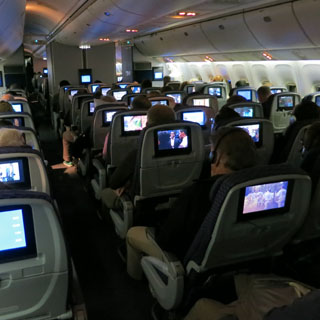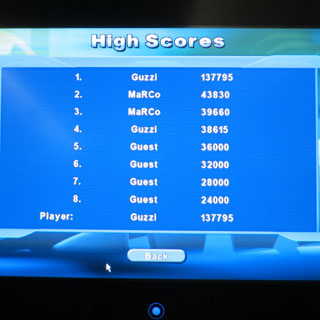 Italy
...waiting for a bright yellow bag at baggage carrousel number 10 in the Maplensa airport.
For the first couple of days, I try to move my home base around from trip to trip. This time I'll be returning to Lecco, Italy. It's easy to reach from Milano, and from Lecco it's easy to reach other places by train or ferry.
Lecco, Italy. My hotel faces the lake.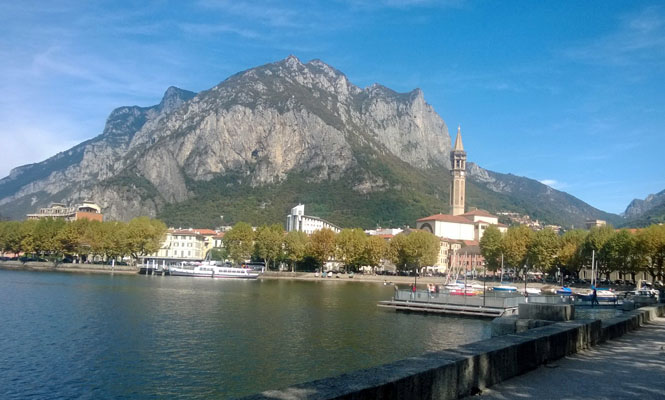 Saturday: A train trip to Mandello del Lario.
A large gathering of Moto Guzzi riders had been planned for this weekend in Mandello. I didn't plan my trip around this event, but it turned out to be perfectly timed for it.
The Moto Guzzi Factory would be open for tours, the company museum would be open all day (a rare thing) and the Mandello park would be full of vendors and motorcycles and people spending the night in tents. The town really turns out for these things.
Mandello is only ten miles up the lake from Lecco, so it doesn't take long to get there by train.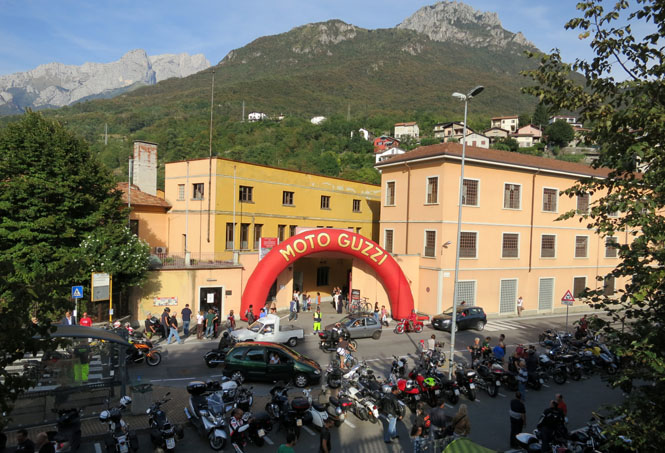 I'd been to the museum before (in 2006), but I was looking forward to walking through it again. Guzzi as a company has always respected their heritage. They have the very first motorcycle made and pretty much have every model made since they started in 1921. The Guzzi racing history is very strong and many of the bikes on display are noteworthy racing machines of the 1930s through the 1950s (when Guzzi pulled out of Grand Prix racing).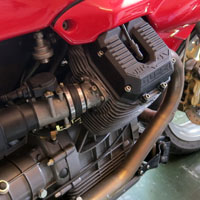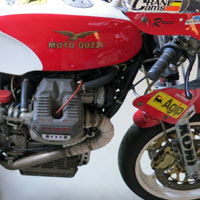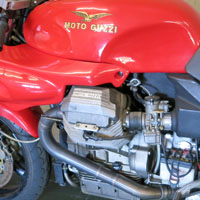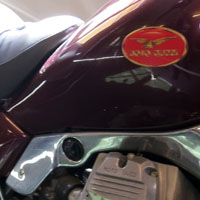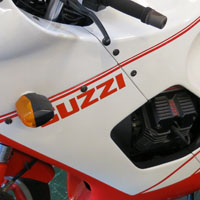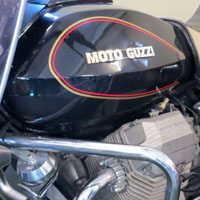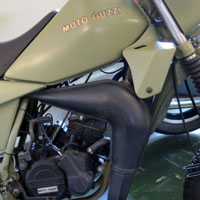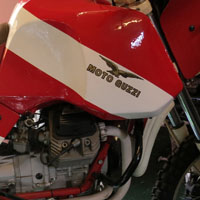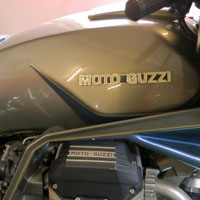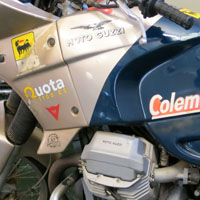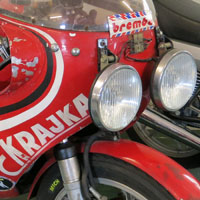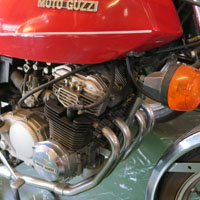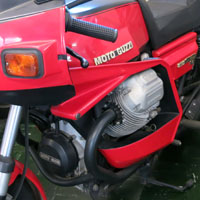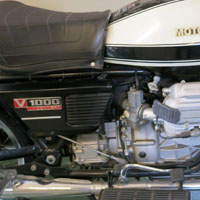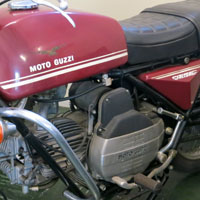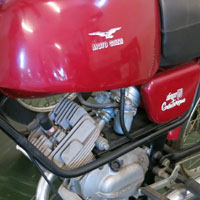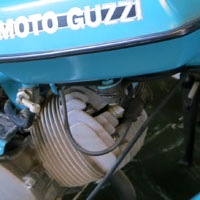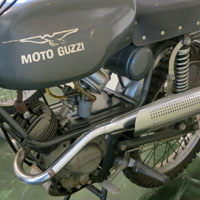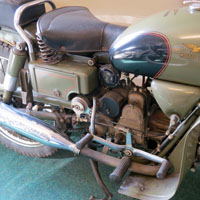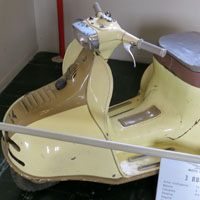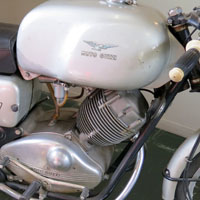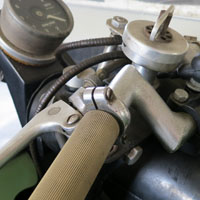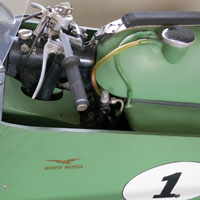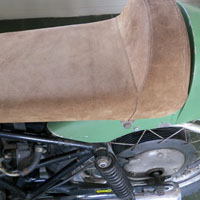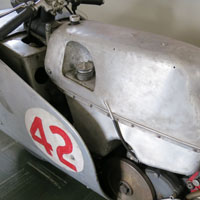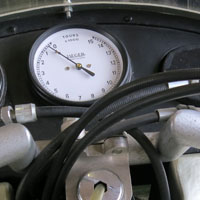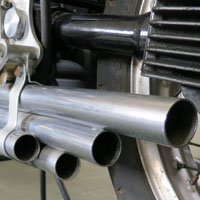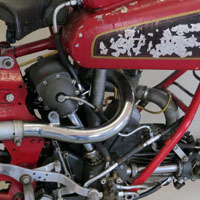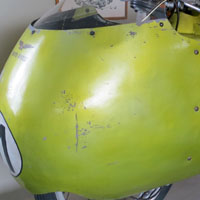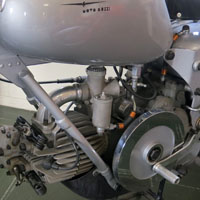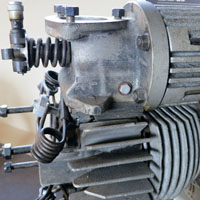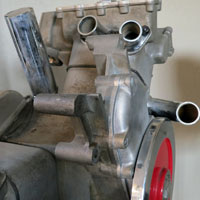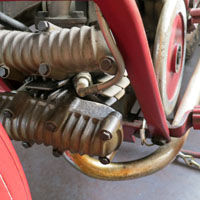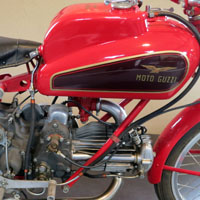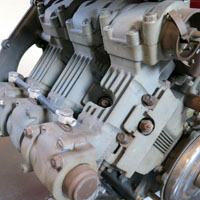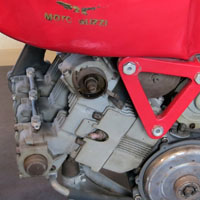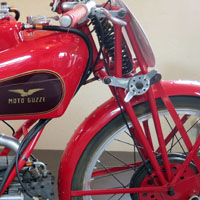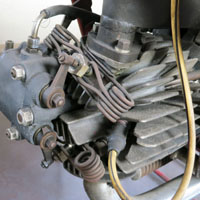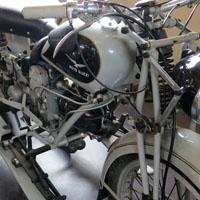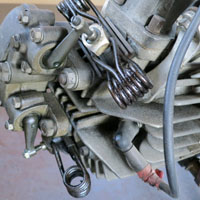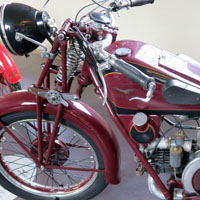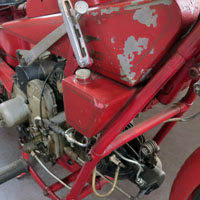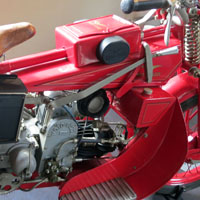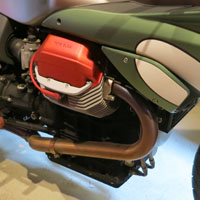 The legendary V8 Grand Prix racer of the late fifties will always have a place of pride in the museum.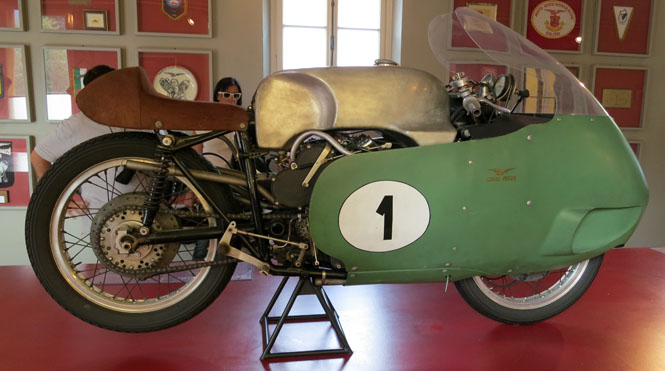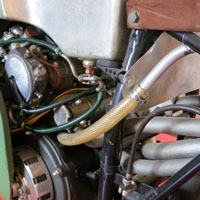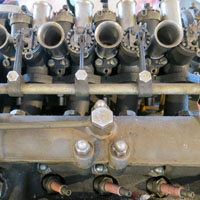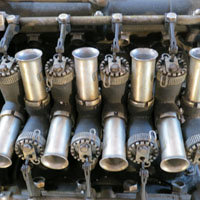 If the factory was open back in 2006 (when I last visited the museum) I wasn't aware of it. This would be my first opportunity. As you'd expect they had finished samples of the current lineup on display along with drinks and cappuccino (Italians have a flair for these things). The assembly line looked like any modern production line you'd see anywhere--right down to the Kanban cards. You couldn't help but notice that within the factory complex, many of the original buildings have been brought down. I can only hope that there are plans to rebuild, bringing the production facilities up to the same level as the assembly line that I saw.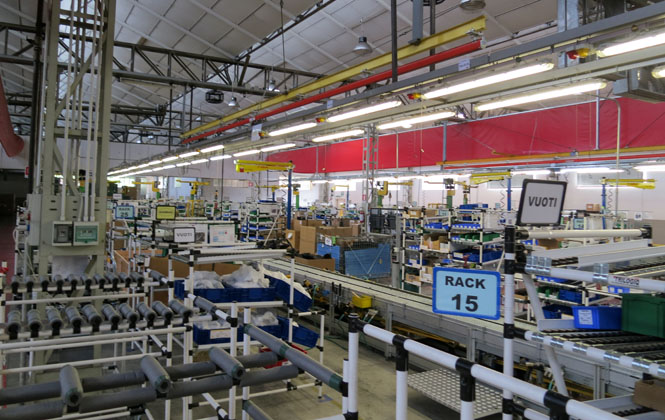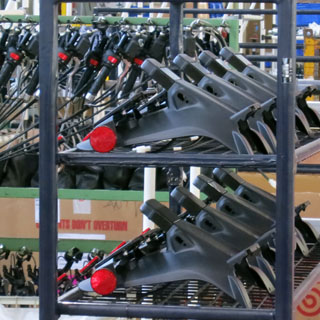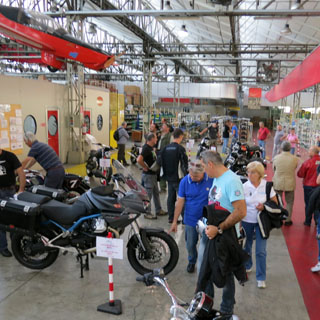 I had a chance to walk through the town and the lakeside park. There were thousands of Moto Guzzis, everywhere. Some were really quite exotic, but most were just your well-used bike owned by somebody who rode it a lot.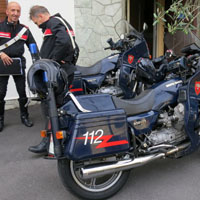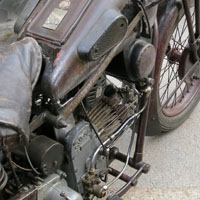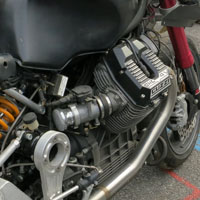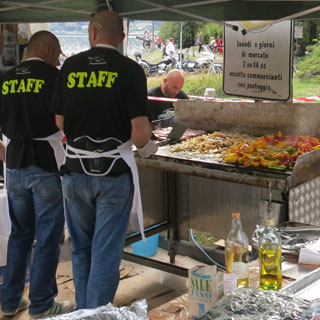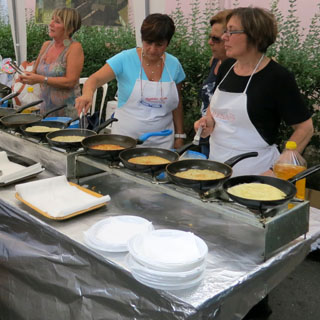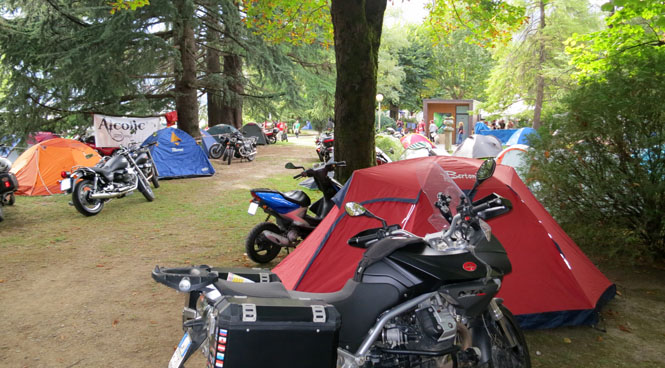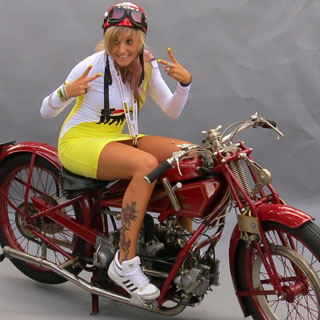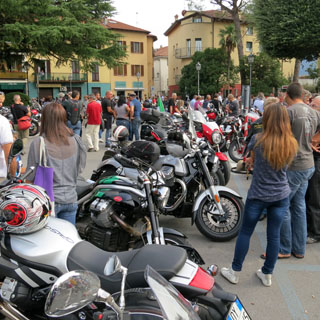 Sunday: A train trip to Sondrio.
Sondrio is northeast from Lecco; it takes about an hour to reach it. I picked this town as a good one to spend a day walking around.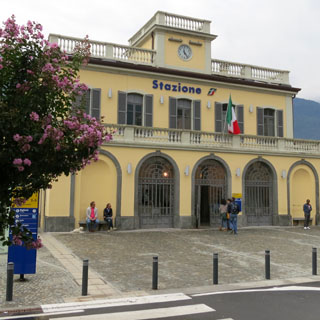 This was a market day and I was amazed at the number of stalls that were setup along several streets along both sides of the river. People evidently come here from miles away. The cheese and sausage vendors were especially impressive.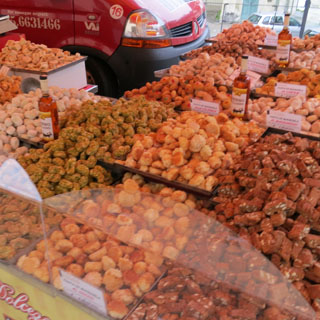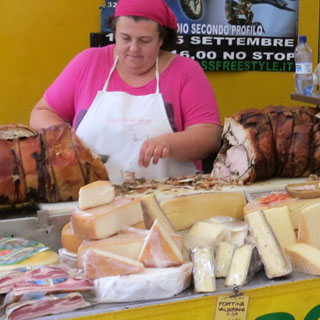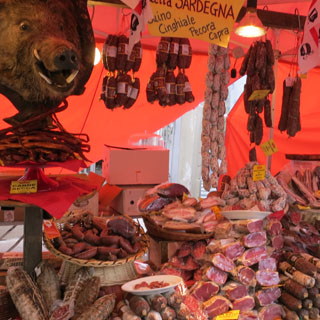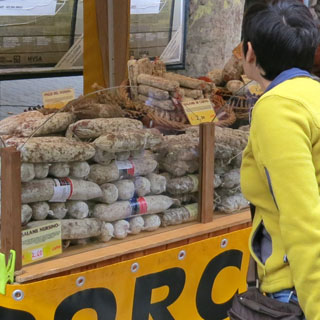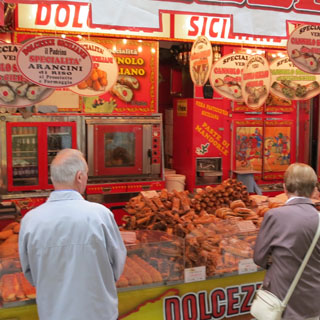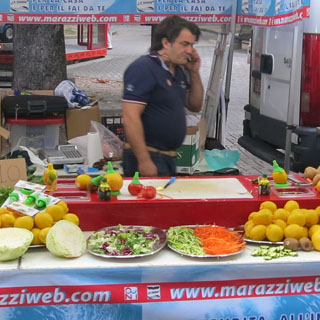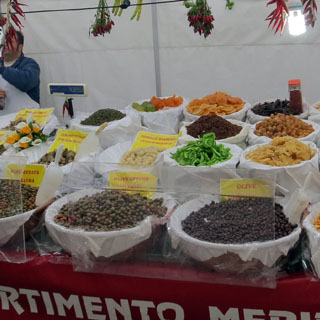 Sondrio has quite a nice church (which was in use this day).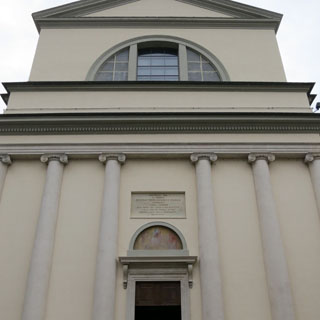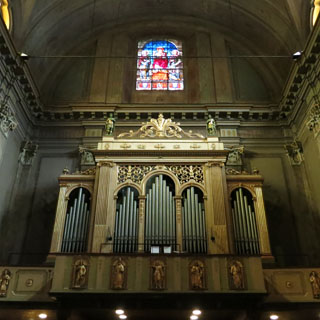 And there's also a rather good art (and historic artifacts) museum that now occupies what would have been a villa.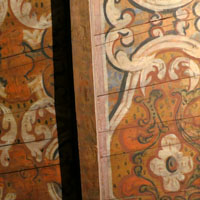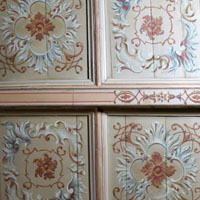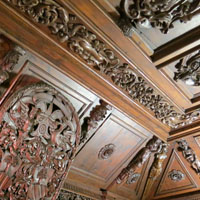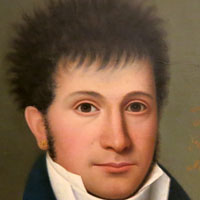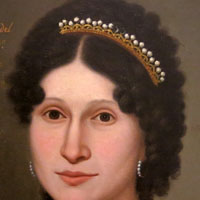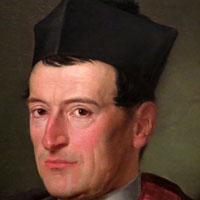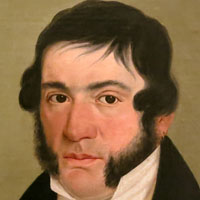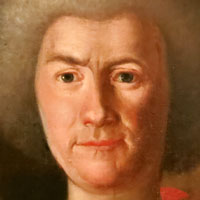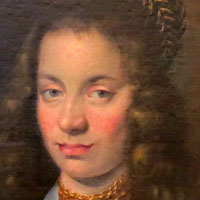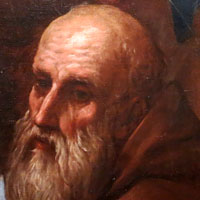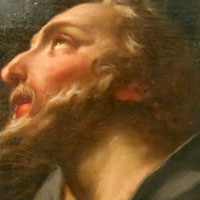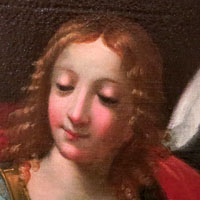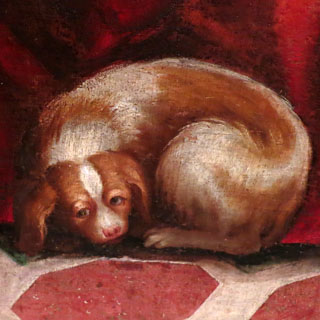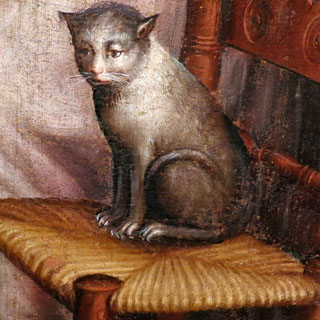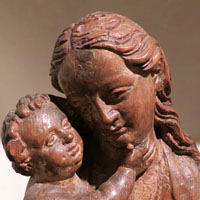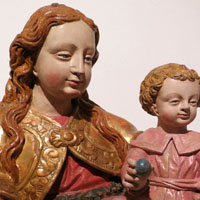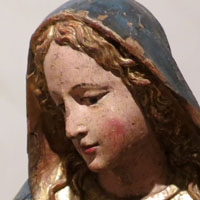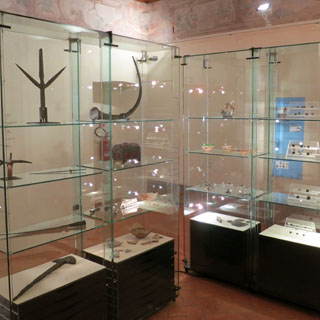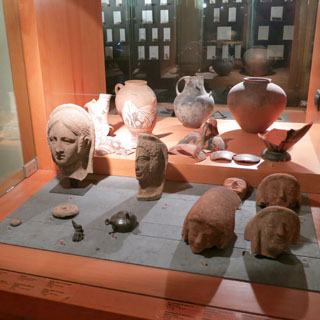 ...something to eat at a covered outdoor cafe while waiting for the rain to stop.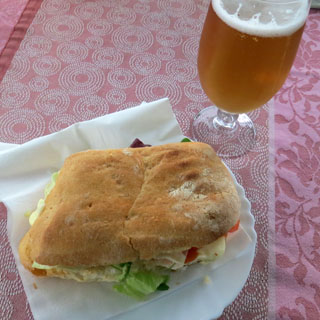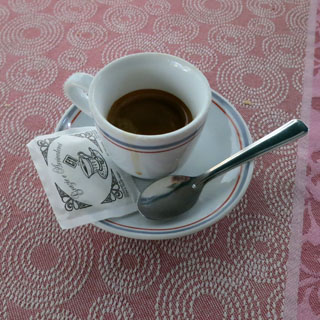 ...and, walking about as the sun tries to come out.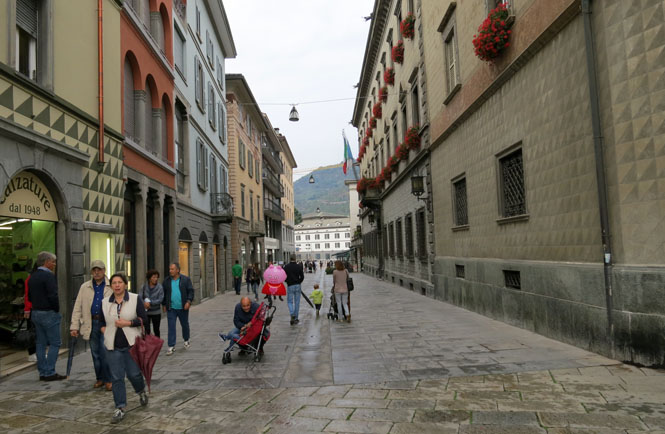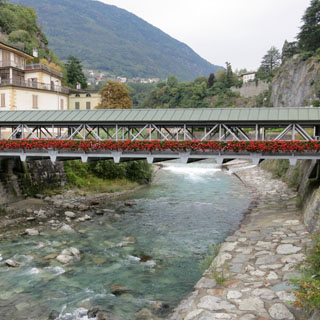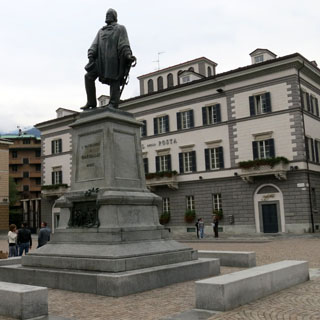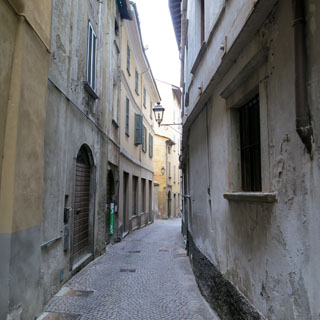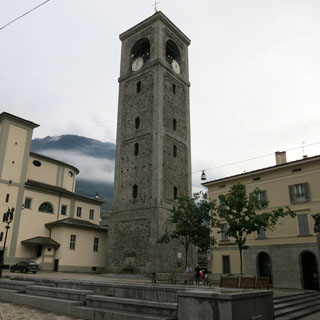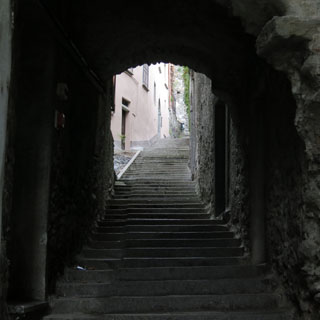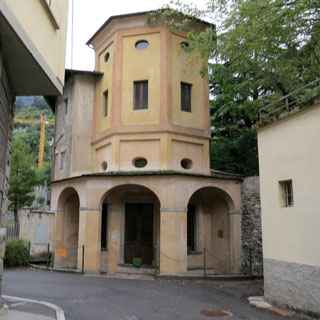 High on the hill above Sondrio is an old fortress, which I hiked to. This is the view: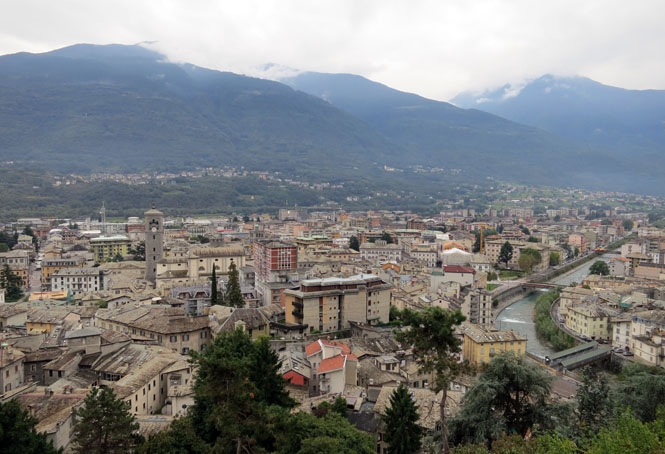 ...back in Lecco that evening for dinner and a walk around the town before starting the real trip the next morning.
Salute!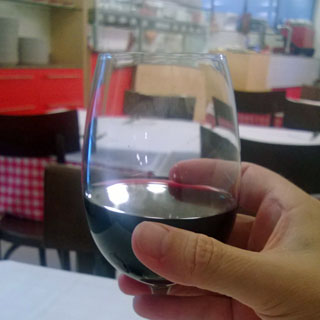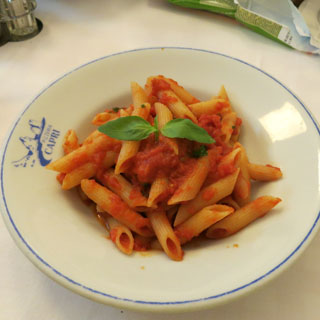 A late evening outdoor talent show.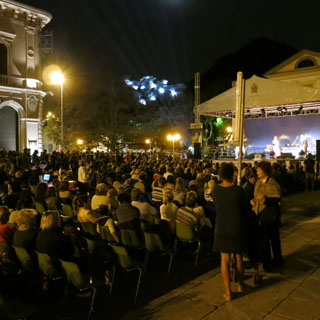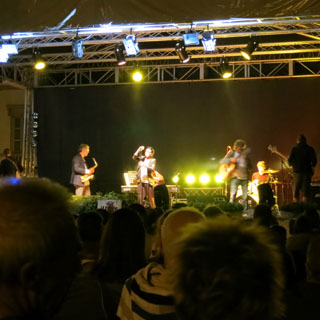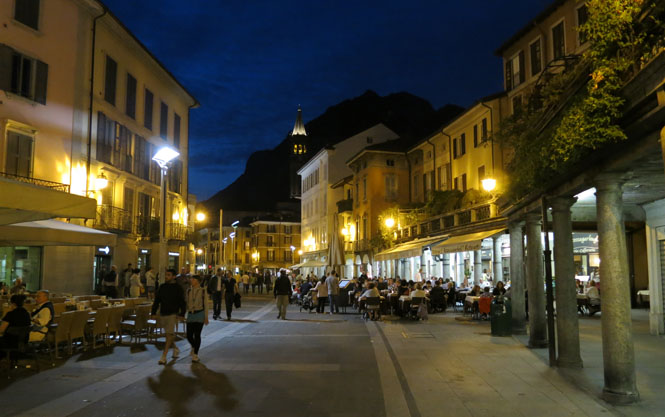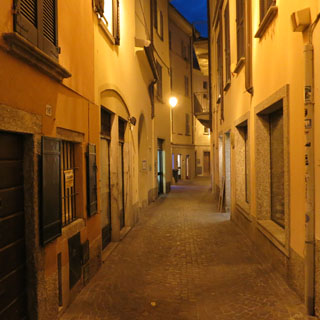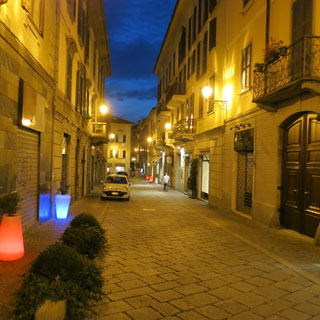 Monday: The ride.
I had just two items on my list when leaving Mandello del Lario. I wanted to avoid the traffic between Lecco and Como and I wanted to ride Lukmanierpass over the Alps. This pass is the more obscure alternative to Gotthard Pass (which I've already been on).
So, I rode a few miles north to Verena and took the small auto-ferry across the lake to Menaggio. After the usual small struggle to get cleanly through Lugano, I was on my way.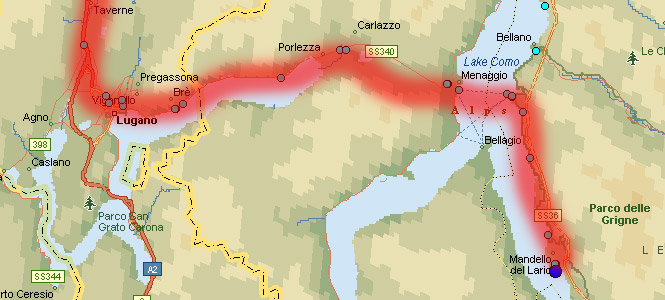 Leaving Verena on the auto-ferry.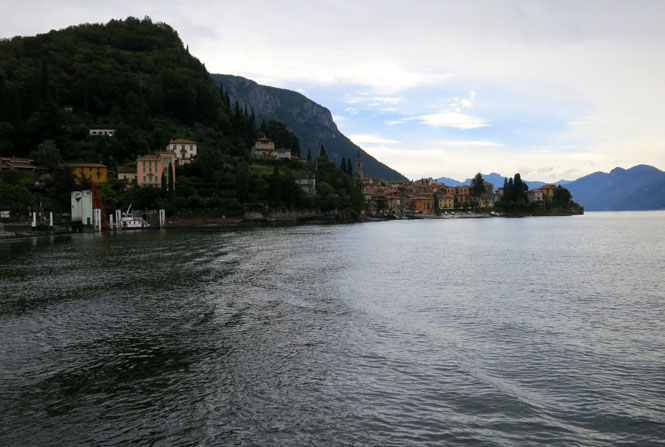 Switzerland
At the border I stopped to purchase a Swiss vignette (40 francs). The fine for traveling on certain primary roads without this sticker is 200 francs (plus 40 more to buy the vignette you should've had in the first place).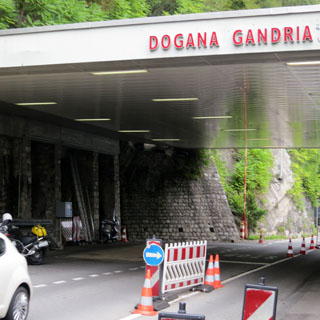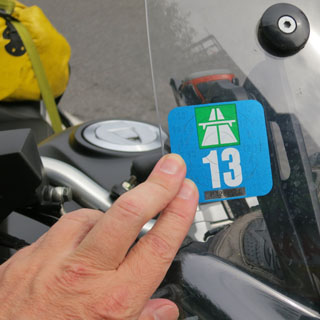 This little road across the high mountains turned out to be quite a nice route. It was misting and raining most of the way, but I didn't think it was too bad.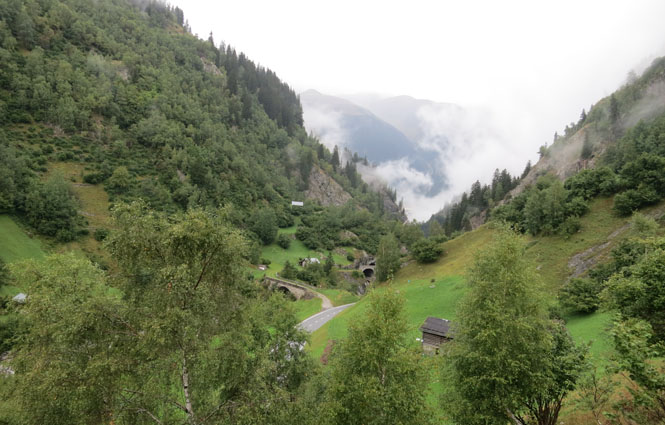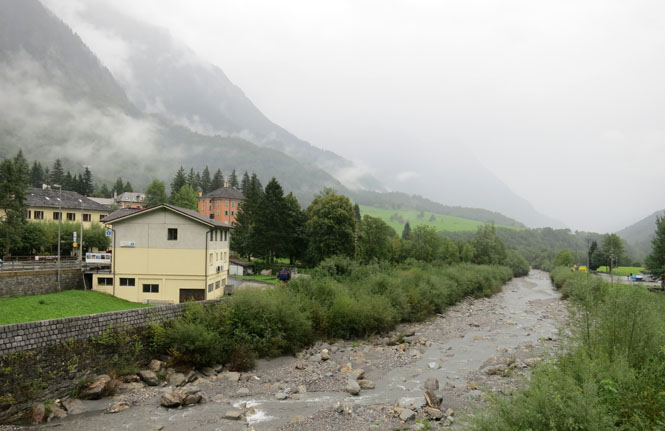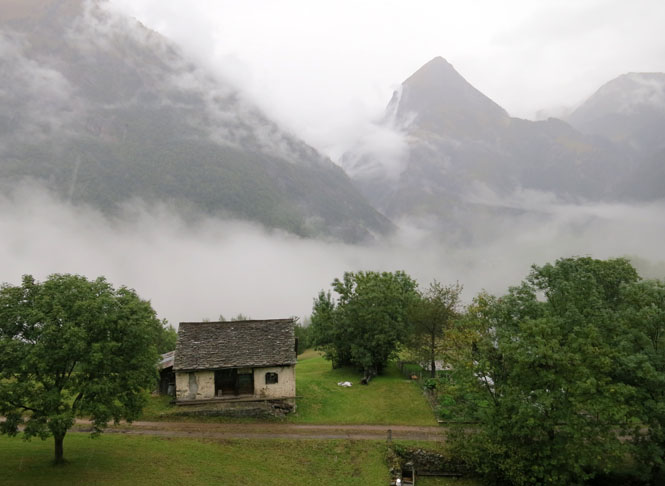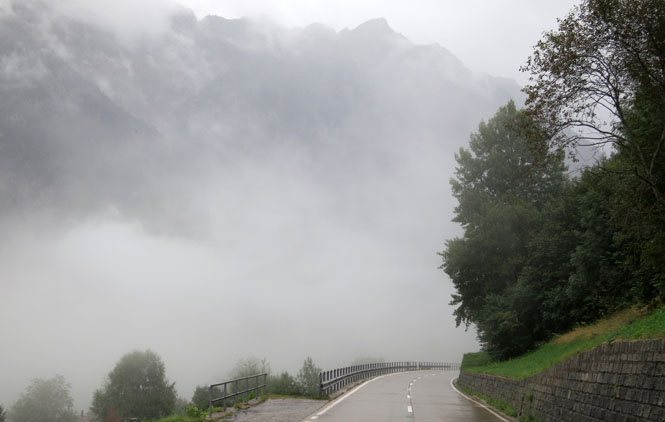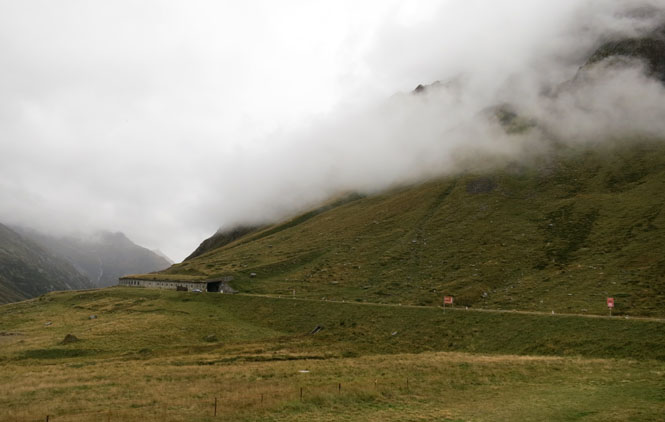 The temperature dropped to the mid-forty range near the summit, so I stopped a couple of times to warm my hands on the cylinder heads (a Guzzi has this inherent design advantage).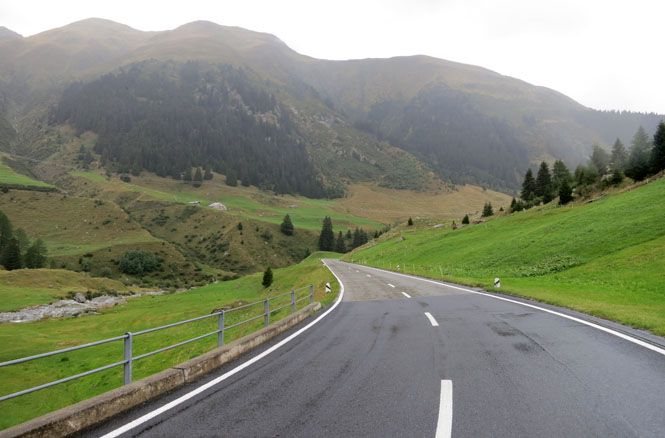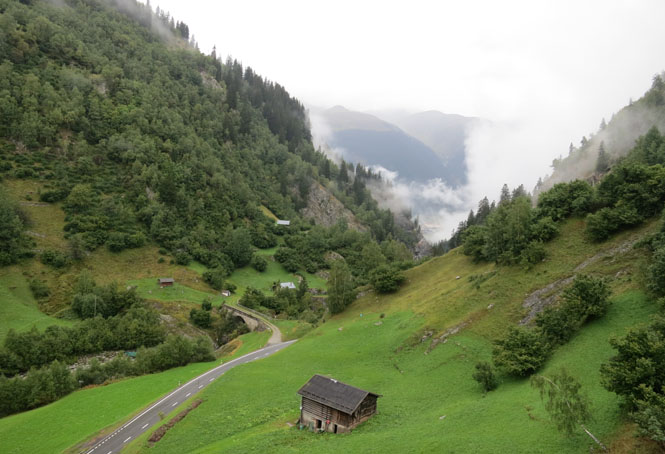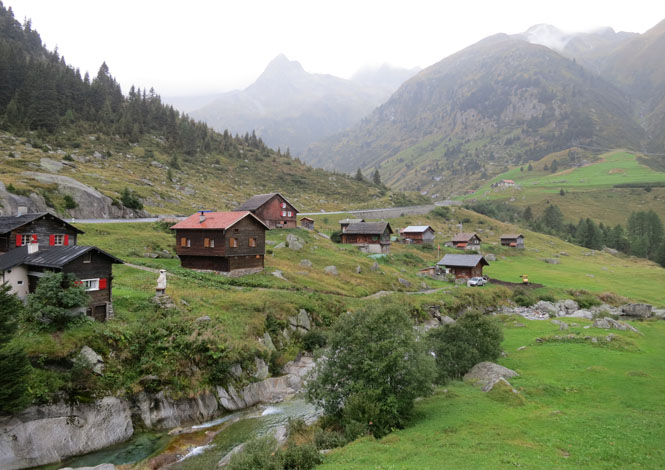 When I dropped down to Disentis, the rain was coming down a bit harder, and when I reached Sedrun, it was hard enough that I didn't really want to continue up Oberalppass that evening.
After checking into the Sedrun hotel, I spent some of the evening walking around this small resort town.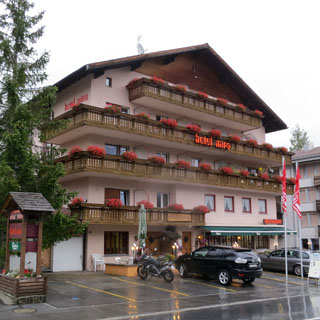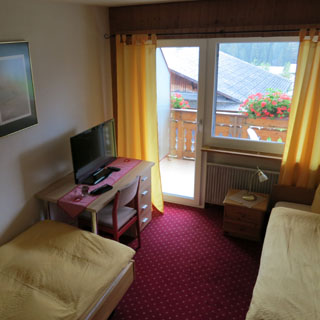 Did taking pictures in the rain and drizzle cause my camera memory card problem? Possibly. It was during this walk that I saw the dreaded error message in the view screen. No amount of removing and re-inserting the SD card would help (of course). As luck would have it, I found a small store the next morning (still in Sedrun) that had SD cards for sale. I could now answer my question: "Would the camera work?" Yes.

Several weeks after returning from this trip I was able to recover most (but not all) of the previous three days of photographs using the services of eProvided.com. The SD card had physical damage, and recovery was not straightforward. Every photograph that precedes this note was one that was recovered.
Sedrun, Switzerland. This is the view late the next morning (with a fresh SD card in the camera) after things were starting to dry out.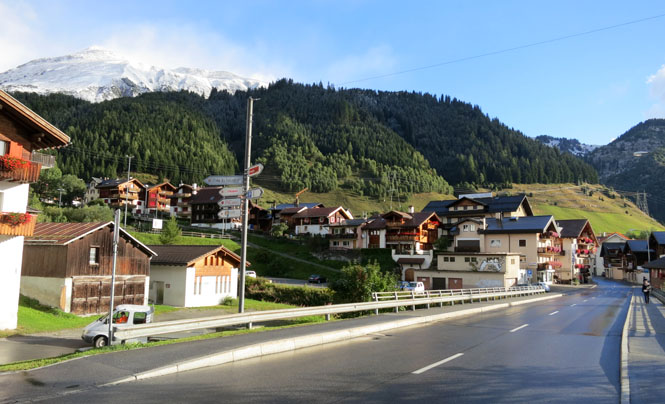 The temperature reached down to the twenties overnight and it was snowing. This was a concern. That morning, I was plotting any number of different courses; all of which were in a different direction than I wanted to go. But, waiting was the easiest. Later, the snow stopped, and the temperature climbed into the forties. I knew it might still be iffy over the pass, but it now looked possible. Let's do this.
What does it mean when a snow plow passes you from the other direction? It means the road is probably clear, but you'd better be really, really careful. I made sure to stay on dry pavement as much as possible, and to be especially wary in the shadows and in the covered snow sheds.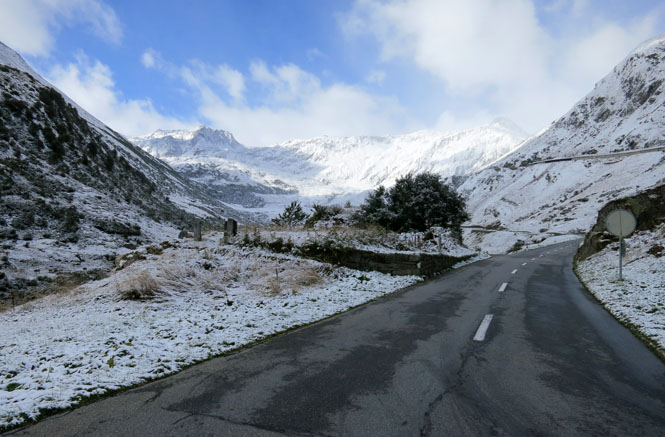 This was the only day of the trip where I had my full-warm outfit on. Mainly, in addition to zipping up all the vents of my riding suit, this means I am wearing a long-sleeve undershirt as well as a Polartech pull-over sweater. It was enough.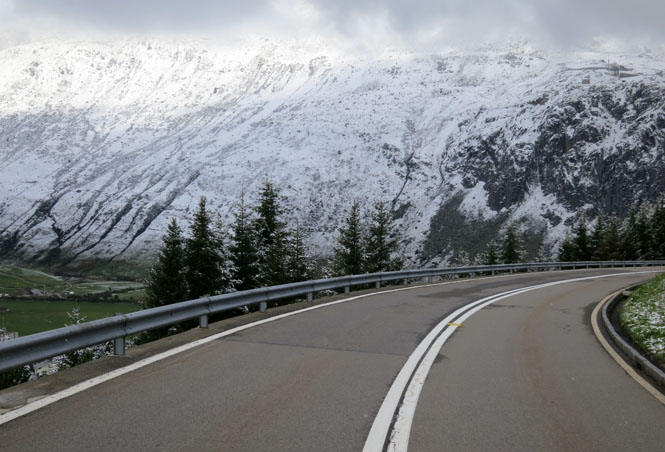 Before this weather, I had thought I'd ride some of the other passes that I've not been on. Those will wait. Now, I'm just going to head north towards lower elevations.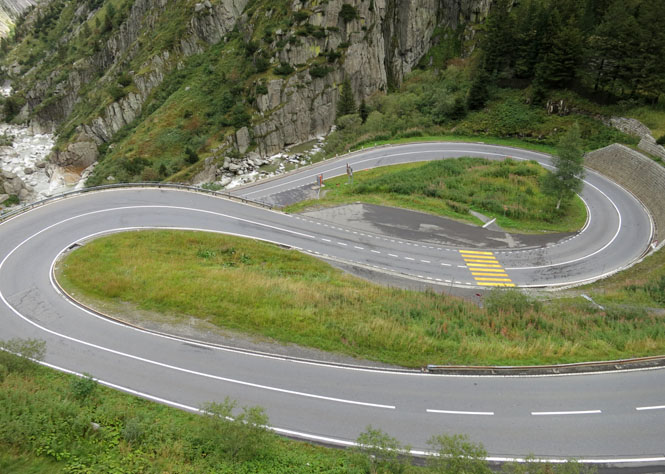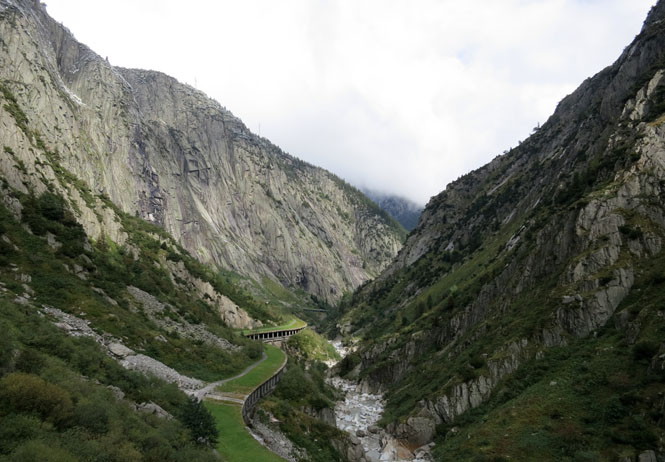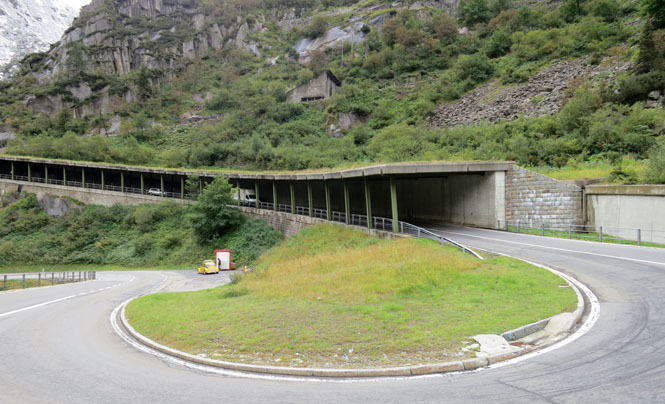 Lake Lucerne.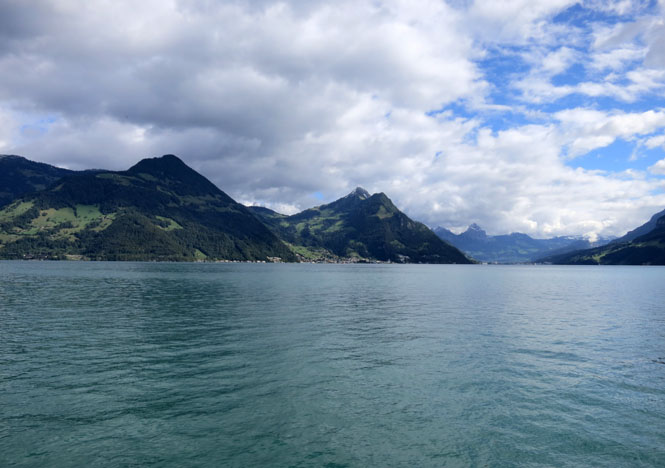 Wikon for lunch. The soup has carrots (and other things that I could not name--and I'm not really sure about the carrots) and the other dish is mostly potatoes under that fried egg. To complete the "Swissness" of the meal, I was drinking Rivella (do they drink this in any other country?).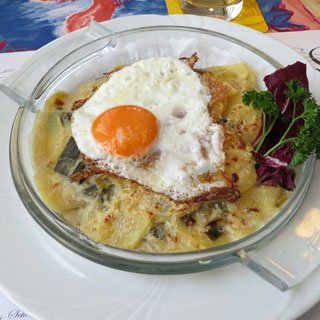 Germany
I have been through Basel three times, now, and I have yet to do it cleanly. I intended to exit Basel at the French border, but ended up at the German border, instead, when I missed my exit. Oh well. One's as good as another, and I'll be able to cross over to France soon enough.
France
Niederhergheim, France. Let's stop and take an accounting of where I want to go and how I want to get there. One thing I am certain of, I don't want to ride any more Autoroutes, Autostradas, Autobahns or Motorways if I can at all help it.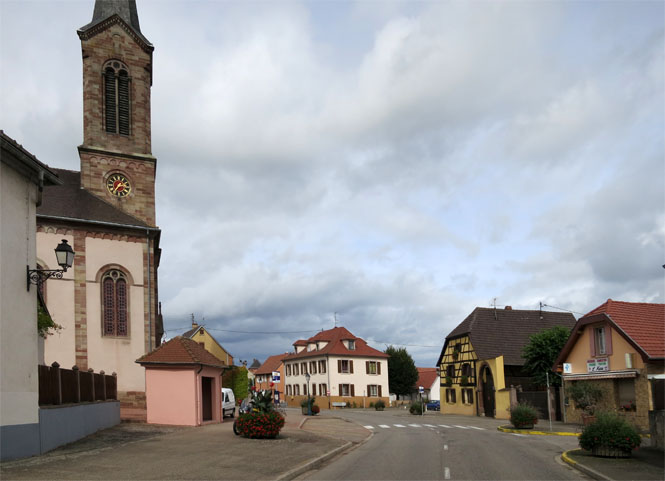 Mittelwihr, France. This is serious wine country.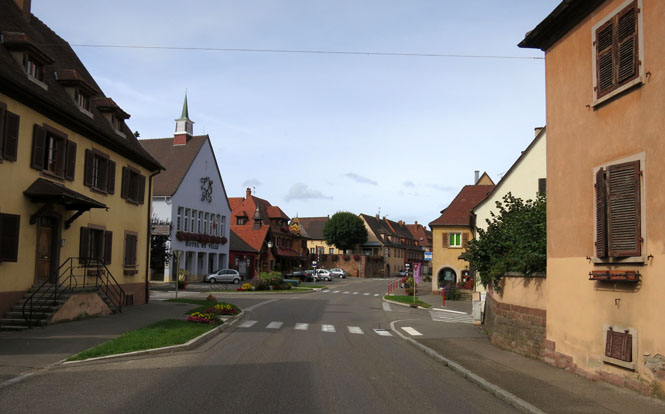 Zellenberg, France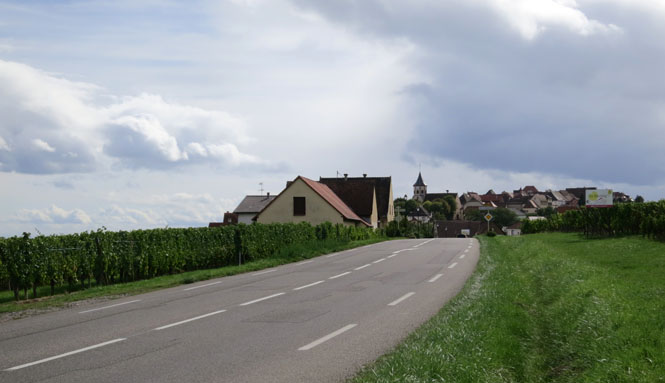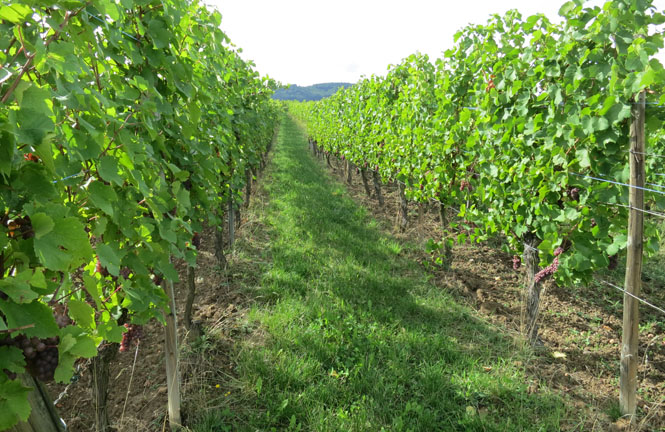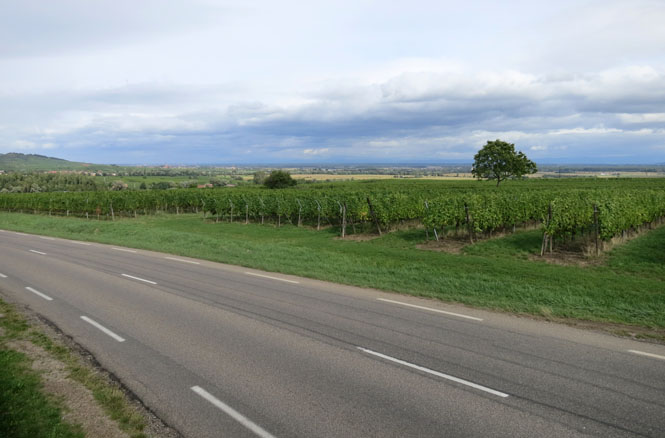 Ribeauvillé, France. A gorgeous area.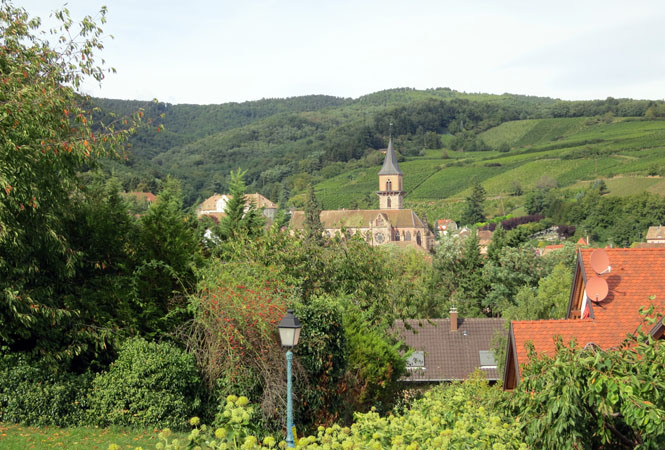 It almost seems every hill has a castle or château (which, I believe in France amounts to the same thing).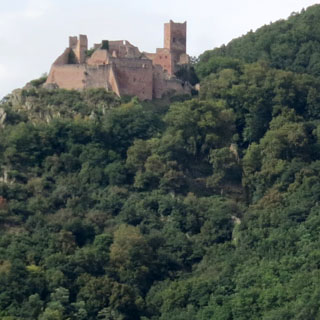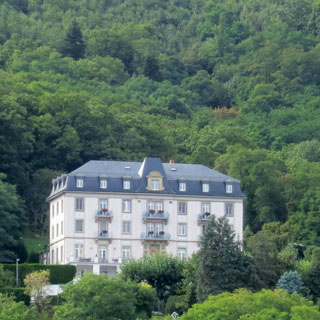 Lovely to look at, but I'm not a fan of paving bricks when it rains.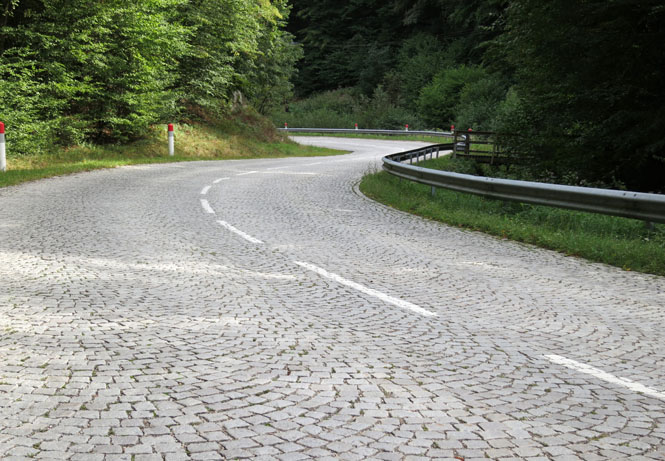 Almost no traffic and a wonderful road over the mountains. I often rode on wet pavement, but I somehow mostly avoided actually riding in the rain.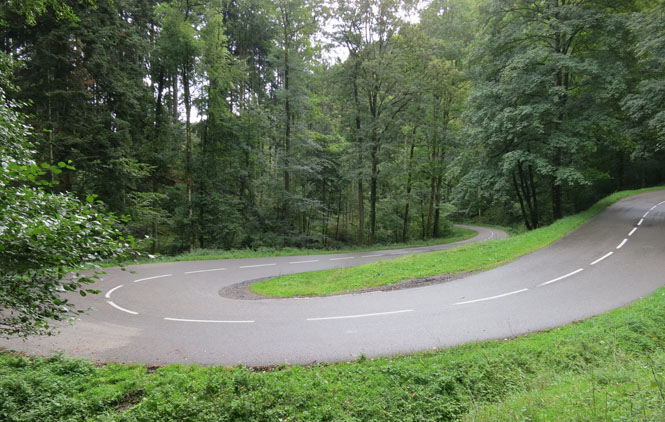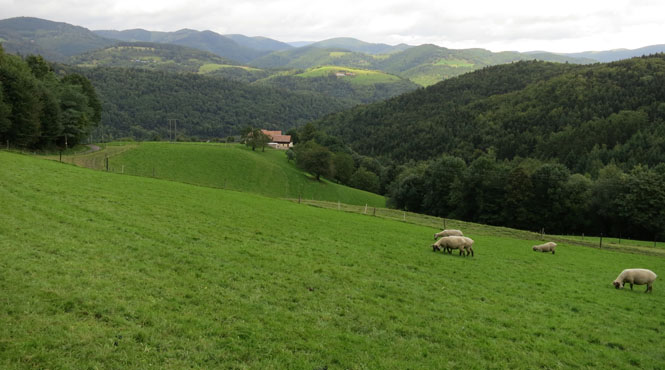 Sainte-Marie-aux-Mines, France. Funny; when I turned around after taking this picture, there was a long line of cars waiting behind me. Je m'excuse!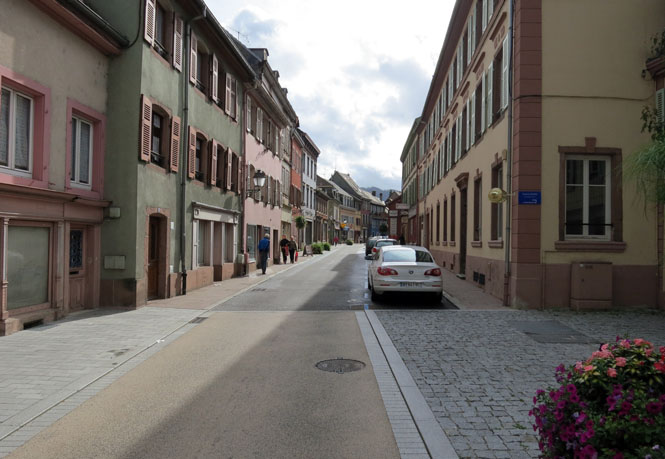 Baccarat, France. I did not know this, but Baccarat is a center of the cut crystal industry. There were high-end shops everywhere selling things at very impressive prices. This is not the place to by a little souvenir glass trinket.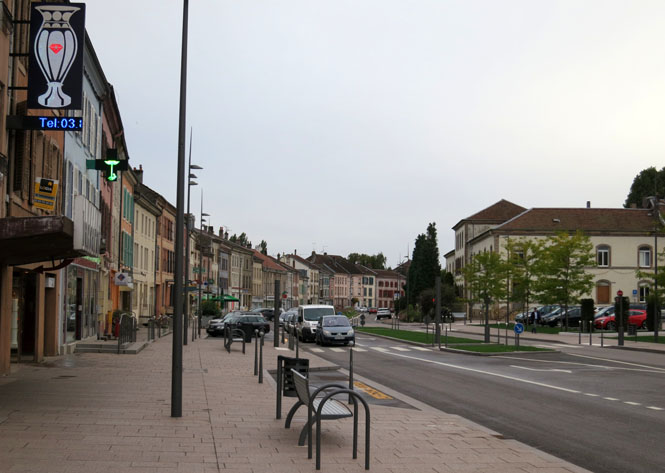 My room is at the top floor. As is almost always the case, the desk staff are very helpful in providing a shelter for the motorcycle.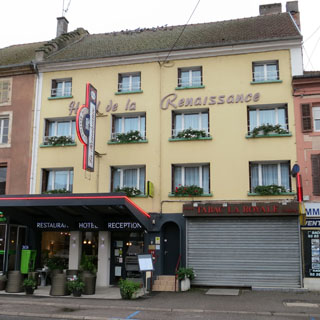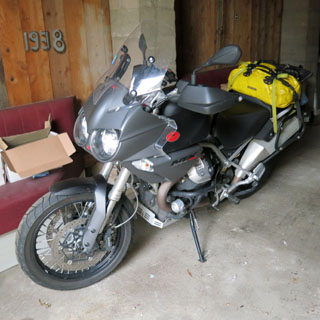 Every evening is the same. The first thing done is to dump yesterday's clothes into the bathroom sink for soaking. I only carry a single change.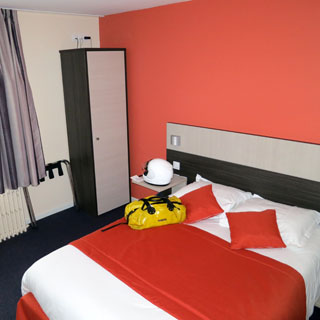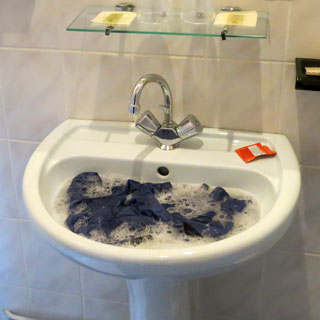 If you want anything made of crystal; this is your town.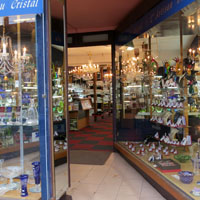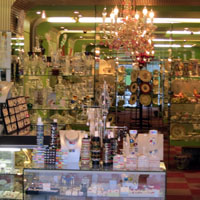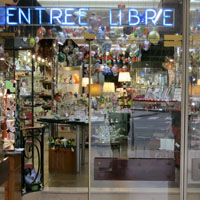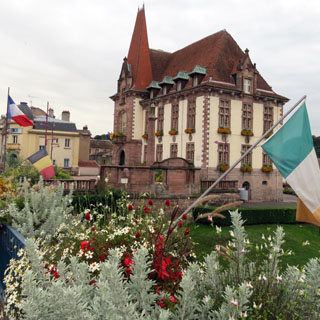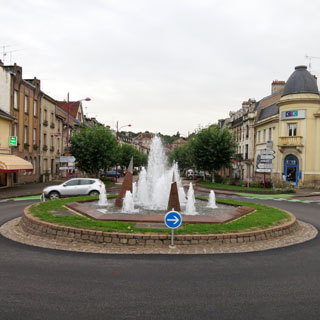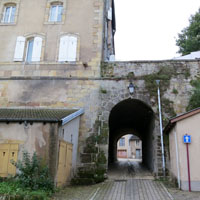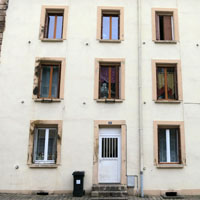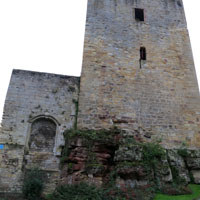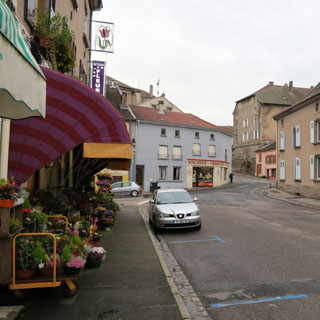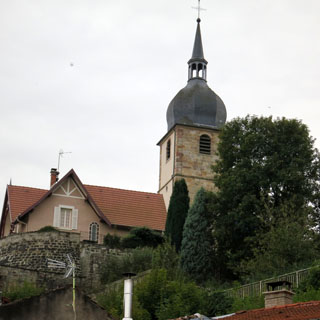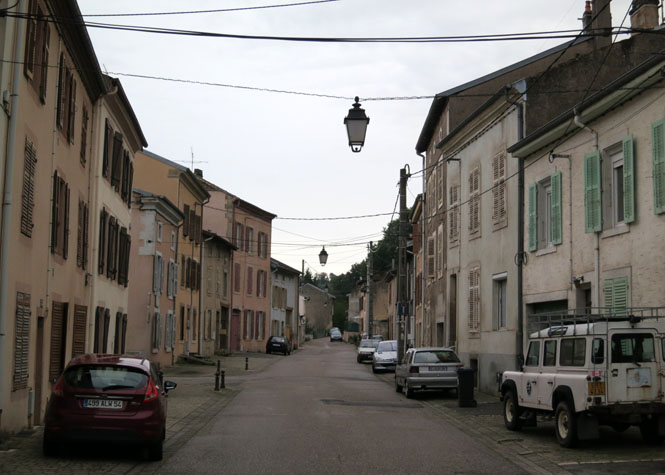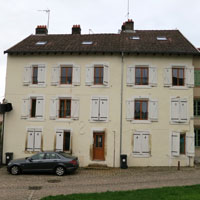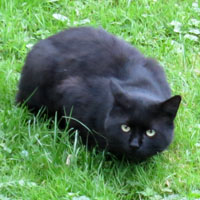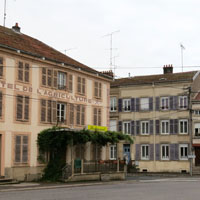 This French pizza was unlike any I've had in Italy (mainly due to the cream sauce). It was quite good.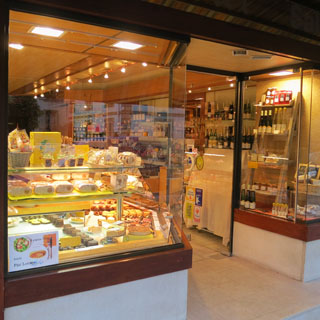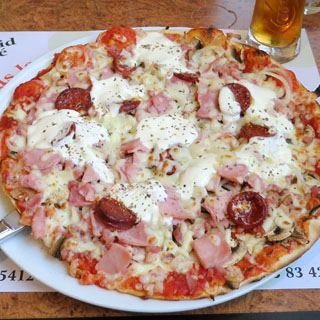 Arracourt, France.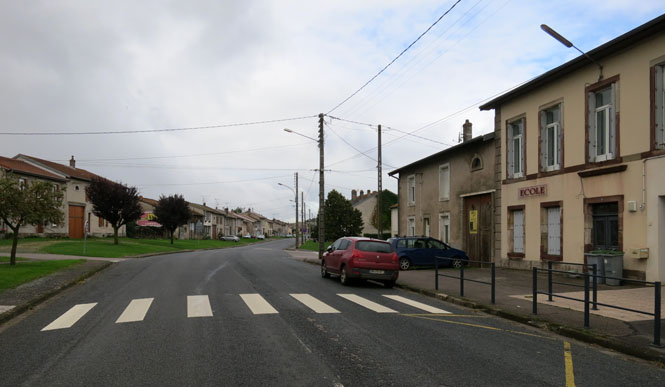 The Battle of Arracourt was a battle between U.S. and German armored forces during World War II near the town of Arracourt, Lorraine, France, from 18 to 29 September 1944. As part of a counteroffensive against recent U.S. advances in France, the German 5th Panzer Army had as its objective the recapture of Lunéville and to force the collapse of the U.S. XII Corps bridgehead over the Moselle River at Dieulouard.
With a local superiority in troops and tanks, the Germans anticipated the defeat of the defending Combat Command A(CCA) of the U.S. 4th Armored Division. Against German expectations, due in part to poor tactics and the terrain, the 4th Armored Division's CCA, in concert with U.S. tactical air forces, defeated two Panzer brigades and elements of two Panzer divisions.

--Wikipedia entry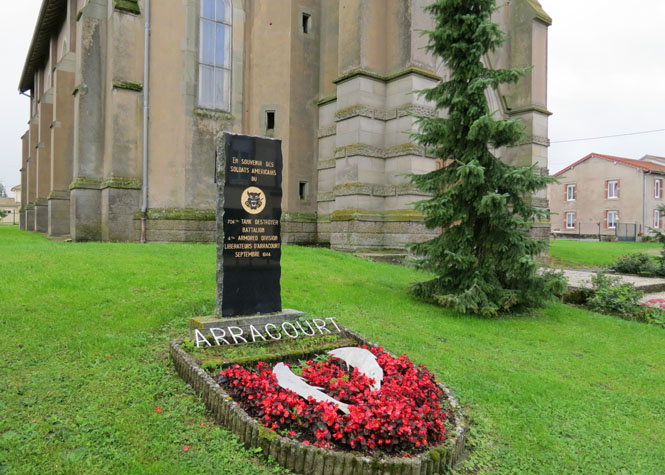 Amelécourt, France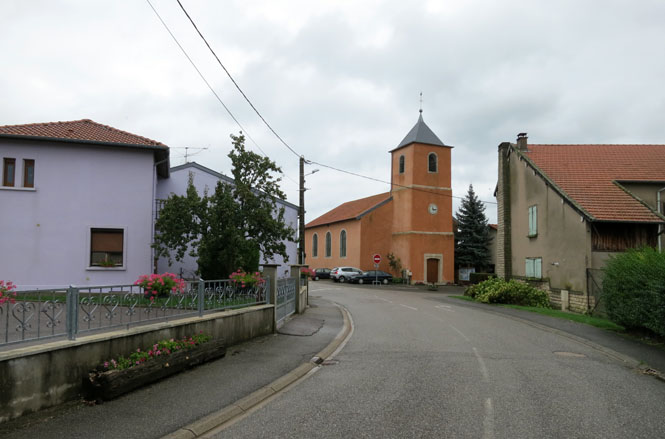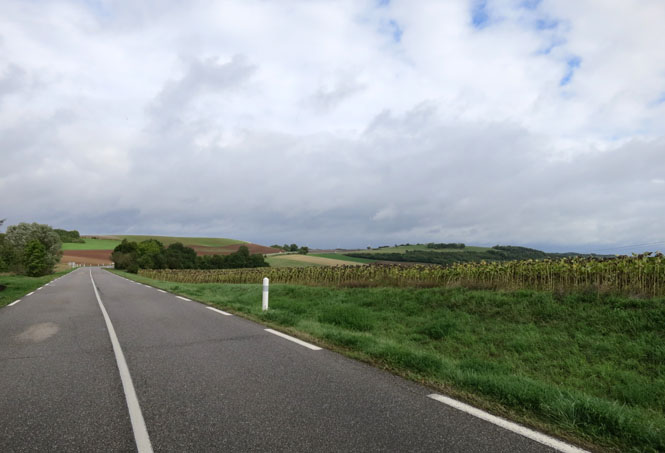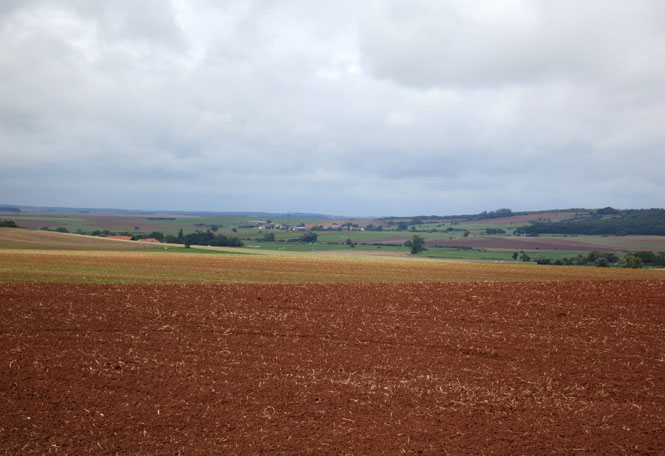 Faulquemont, France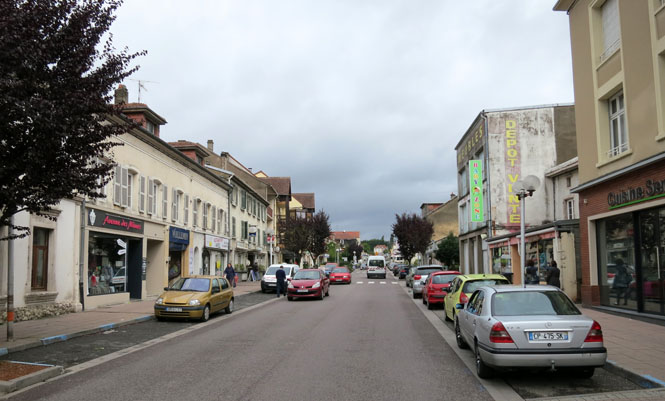 Bouzonville, France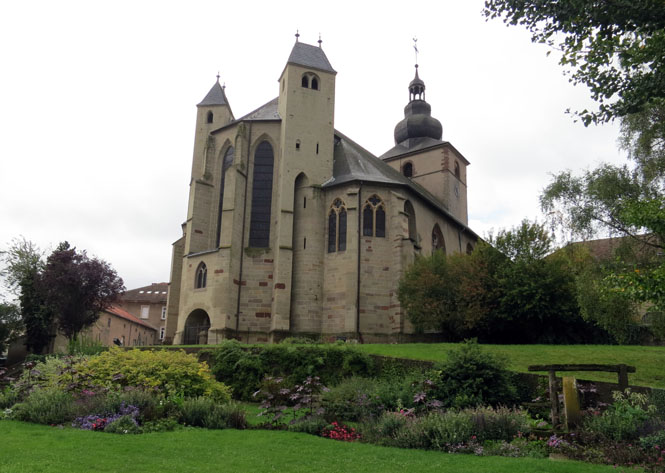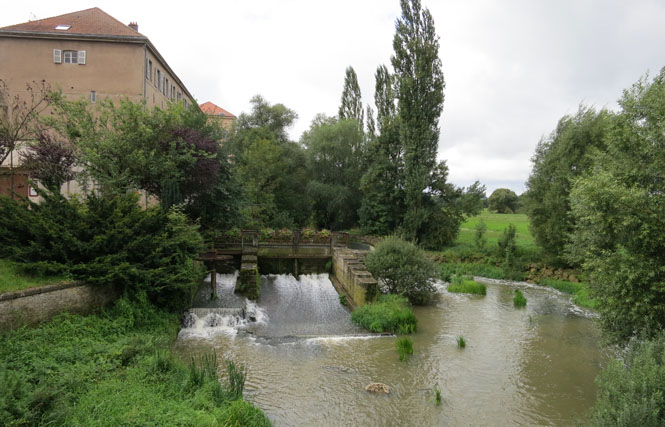 Luxembourg
My gosh this was a slippery place! I was actually able to slide with my boots as if I were on ice on the mixture of diesel and water. I paddled away from the pumps very slowly.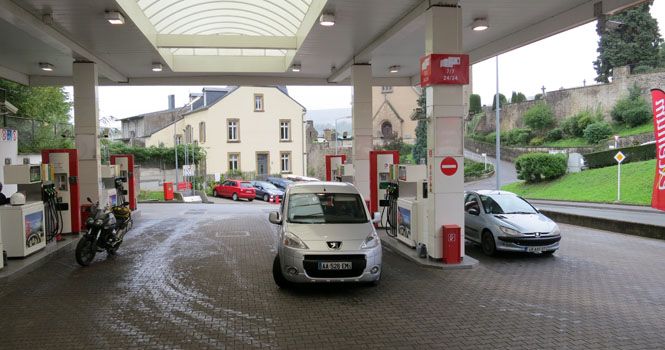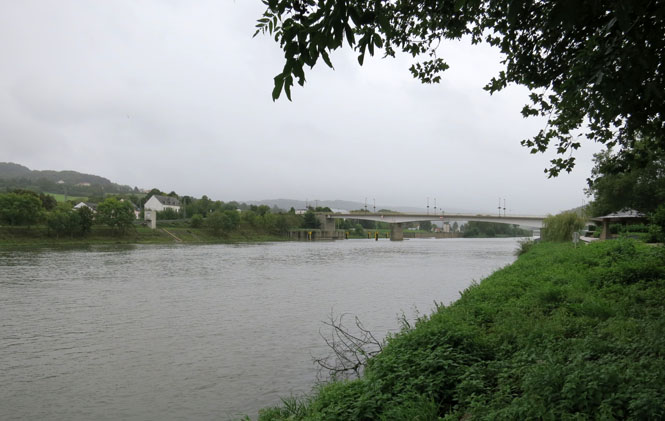 It's raining pretty heavy, so I'll stop at this restaurant to eat and to watch the barge traffic. That's the Mosel River.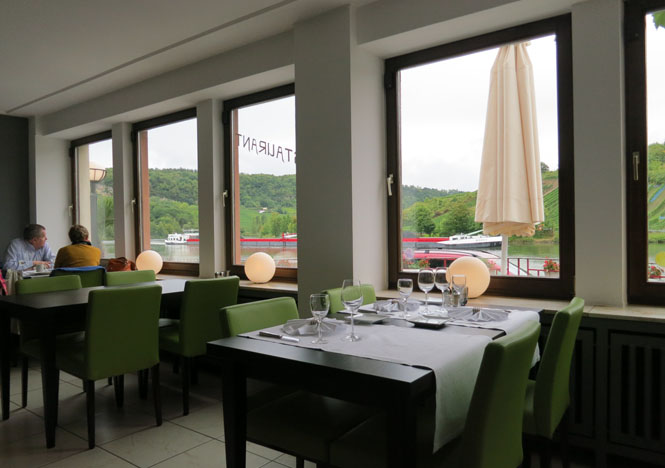 My old-fashioned magnetic-stripe credit card worked fine through most of this trip, but not here. In the end paper cash did the trick.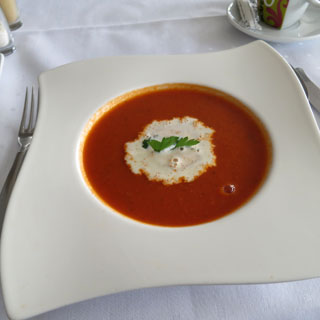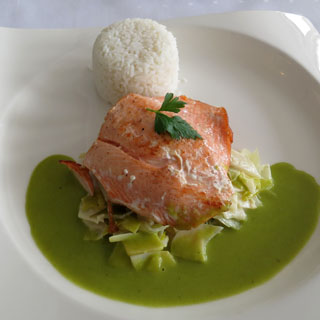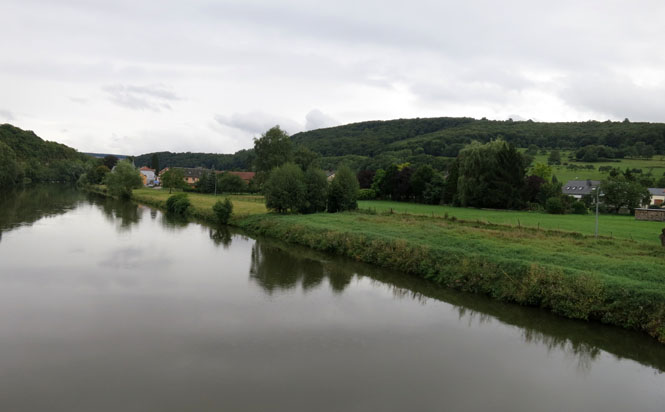 Moestroff Luxembourg. I wish the sun would come out and that it would stop drizzling, but no matter. The countryside of Luxembourg is gorgeous.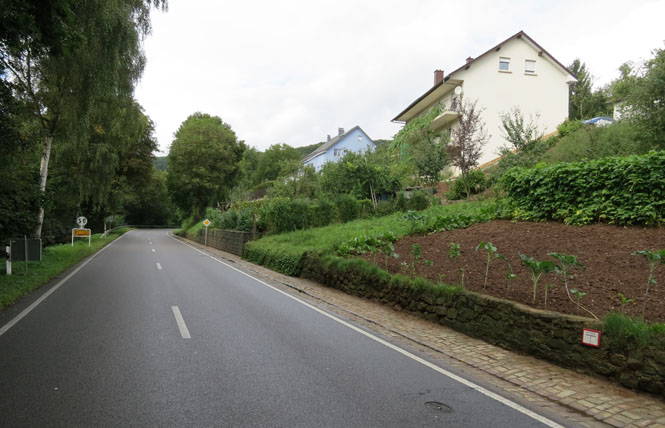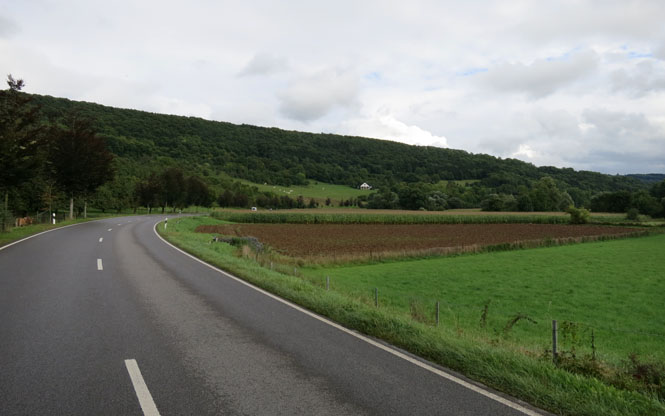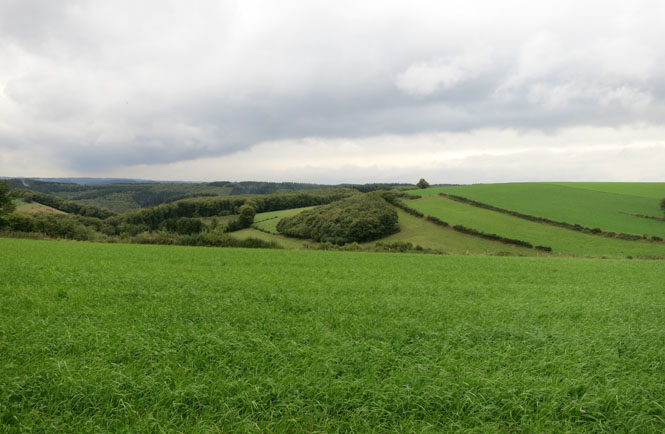 As I always do, I did my best to avoid the larger towns and any congestion. I still had to contend with the worst tailgaters of the trip. When an Audi A8 is a meter from your rear tire, the best solution is to wave him past or pull over (making sure to slow down gently).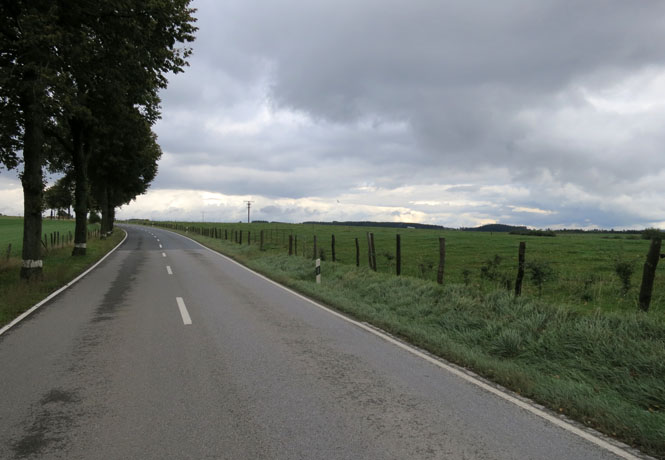 It's hard to imagine a large invading army coming through this forest. But, it happened.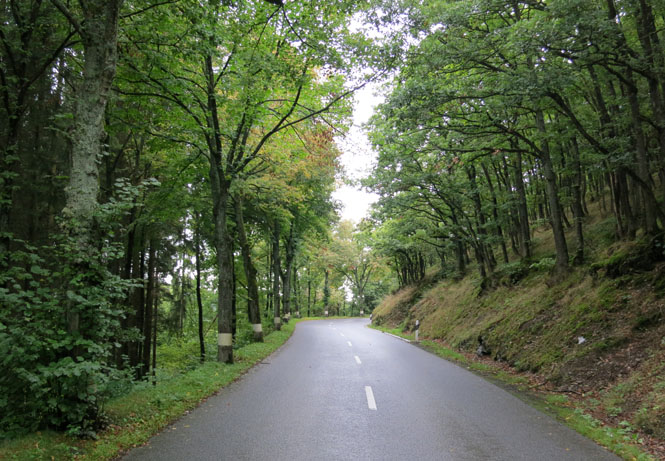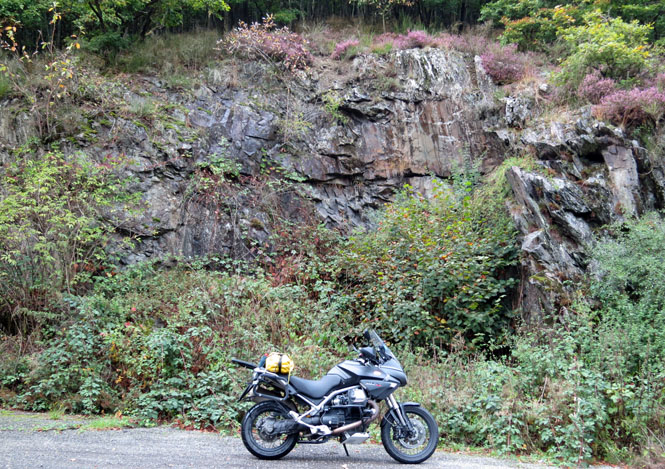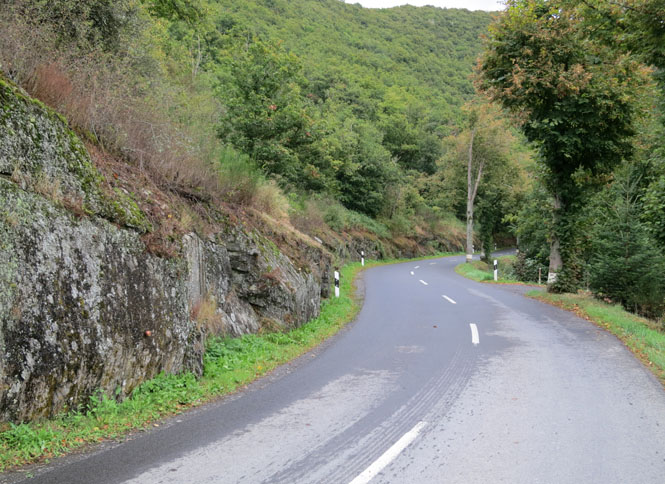 Kiischpelt, Luxembourg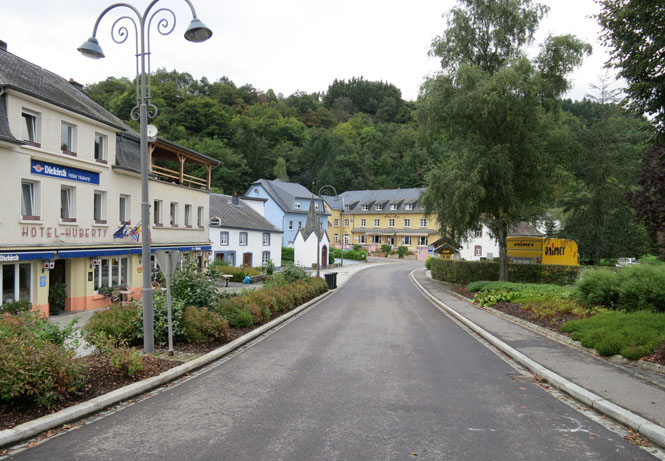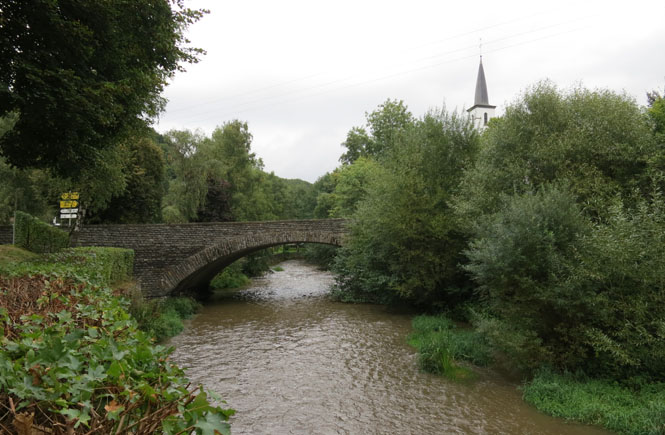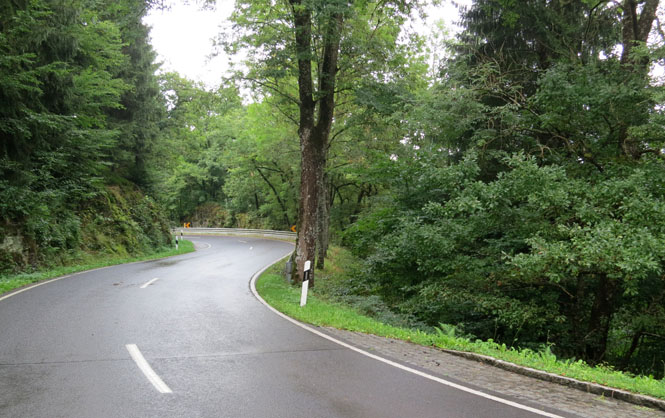 I expected to stay the night in Luxembourg, but in the small rural towns I rode through, I didn't see any hotel that looked viable. No matter; something will come up in Belgium.
Belgium
Bastogne, Belgium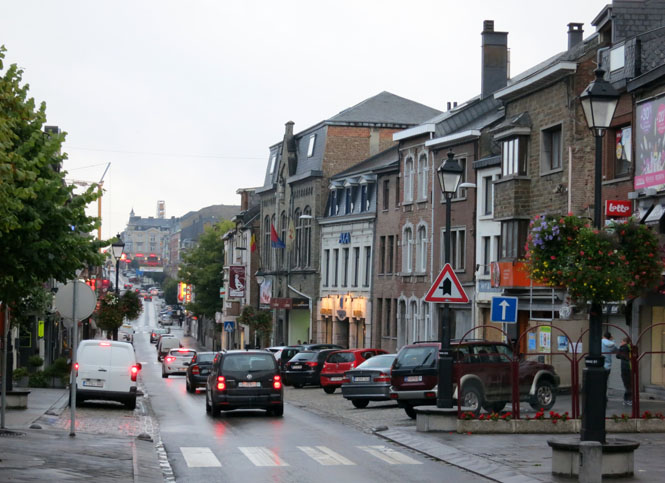 The Siege of Bastogne was an engagement in December 1944 between American and German forces at the Belgian town of Bastogne, as part of the larger Battle of the Bulge. The goal of the German offensive was the harbour at Antwerp. In order to reach it before the Allies could regroup and bring their superior air power to bear, German mechanized forces had to seize the roadways through eastern Belgium. Because all seven main roads in the Ardennes mountain range converged on the small town of Bastogne, control of its crossroads was vital to the German attack.
The siege lasted from December 20–27 when the besieged American forces were relieved by elements of General George Patton's Third Army.

--Wikipedia entry
My room is on the top floor at the corner.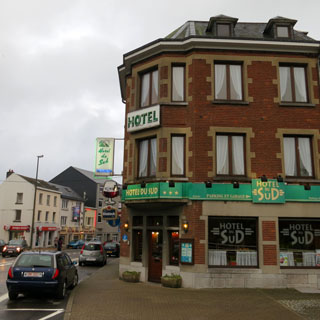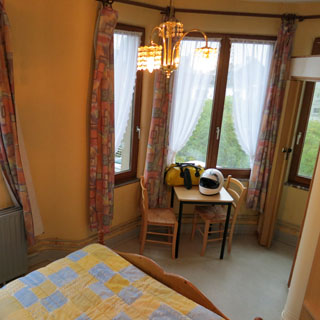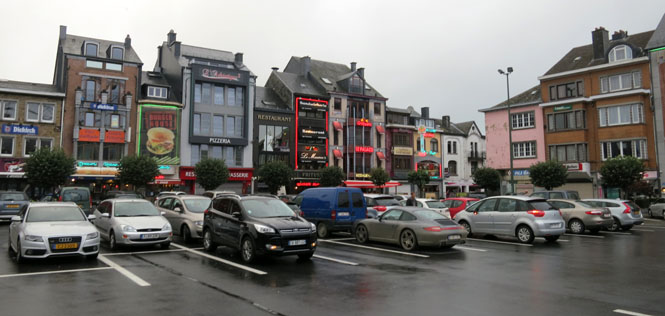 To: the U.S.A. Commander of the encircled town of Bastogne.
The fortune of war is changing. This time the U.S.A. forces in and near Bastogne have been encircled by strong German armored units. More German armored units have crossed the river Our near Ortheuville, have taken Marche and reached St. Hubert by passing through Hompre-Sibret-Tillet. Libramont is in German hands.
There is only one possibility to save the encircled U.S.A. troops from total annihilation: that is the honorable surrender of the encircled town. In order to think it over a term of two hours will be granted beginning with the presentation of this note.
If this proposal should be rejected one German Artillery Corps and six heavy A. A. Battalions are ready to annihilate the U.S.A. troops in and near Bastogne. The order for firing will be given immediately after this two hours term.
All the serious civilian losses caused by this artillery fire would not correspond with the well-known American humanity.

The German Commander.

To: the German Commander.
NUTS!

The American Commander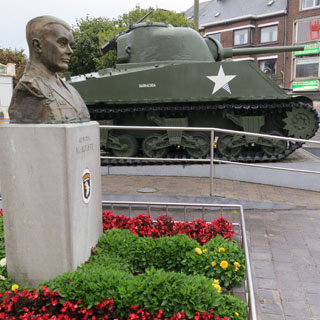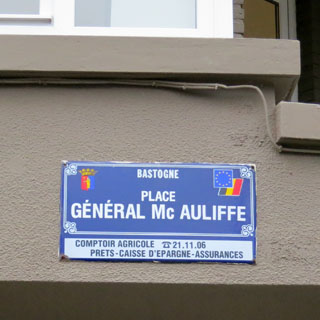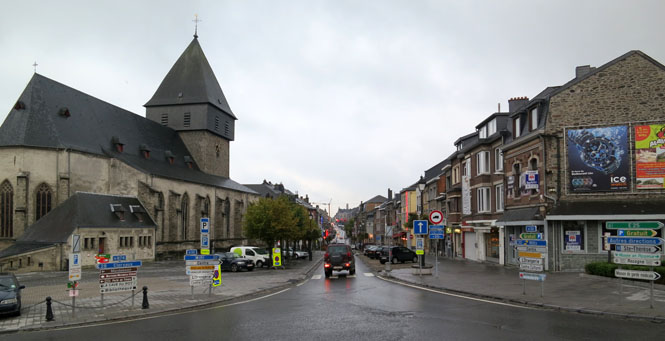 The memorial is quite impressive. A large museum (adjacent to this memorial) is expected to be dedicated by the anniversary of the battle in 2014.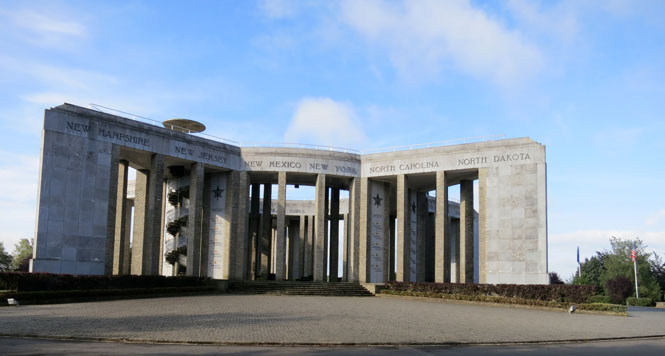 Each corner has a bronze locator that identifies the detailed battle locations. As you'd expect, everything written at this memorial is also written in English.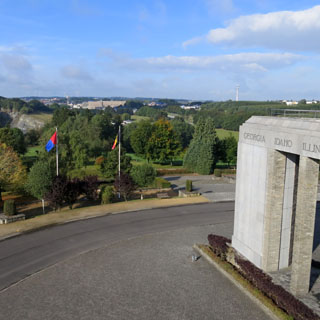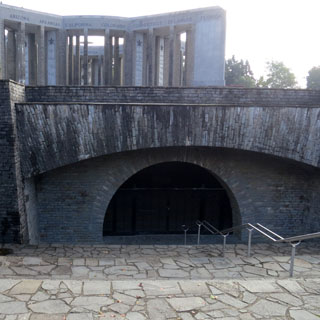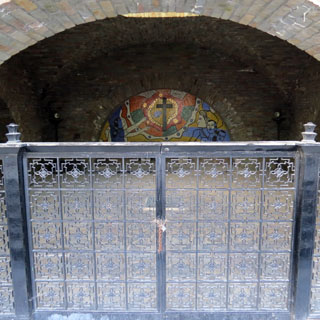 Sibret, Belgium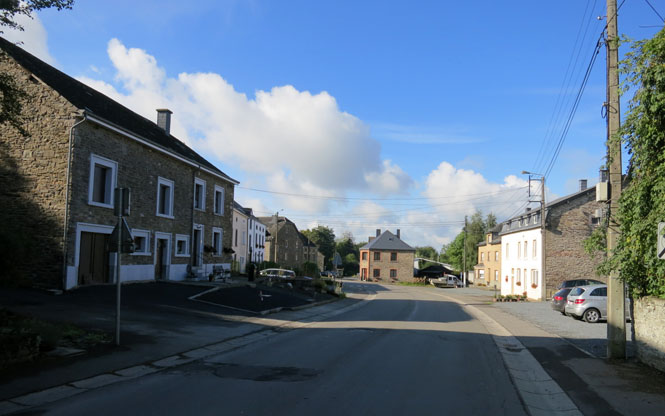 With this road, I am wandering well off the beaten path. Tractors (and cattle) are my biggest worry.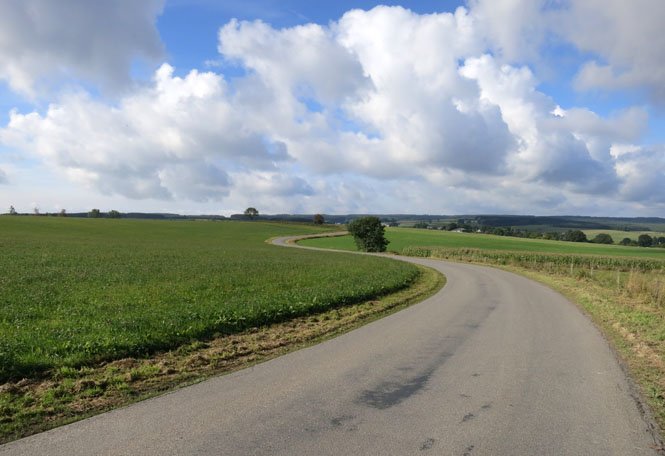 Saint-Hubert, Belgium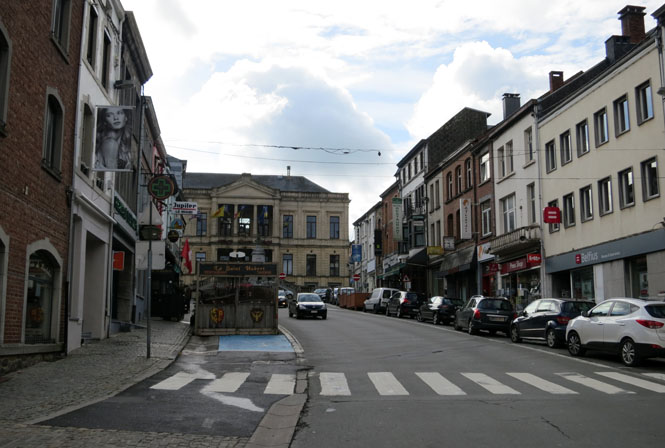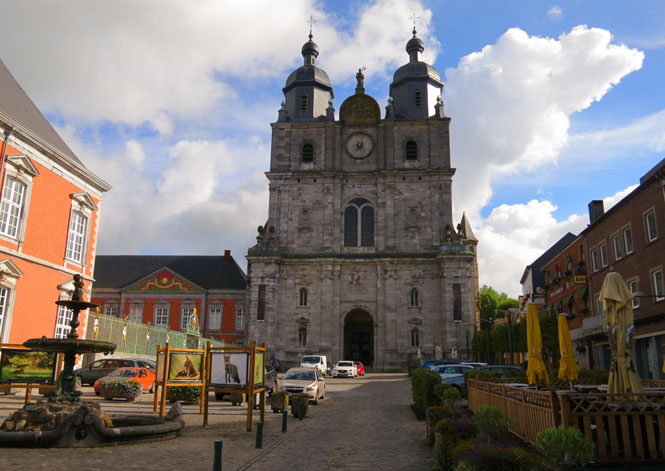 Libin, Belgium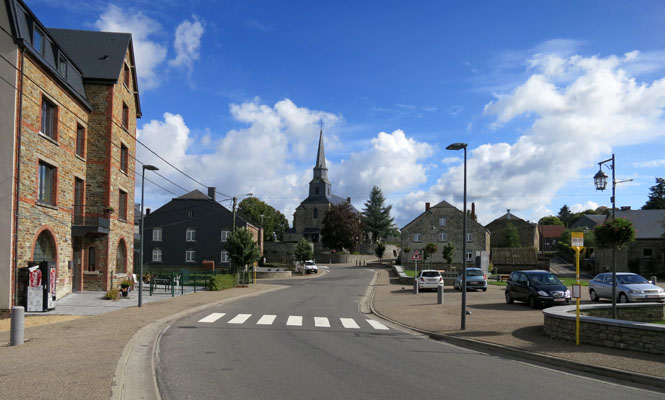 Haut-Fays, Belgium. Some towns (such as this) are almost entirely new buildings. I can only assume that there wasn't much left after the war to build from.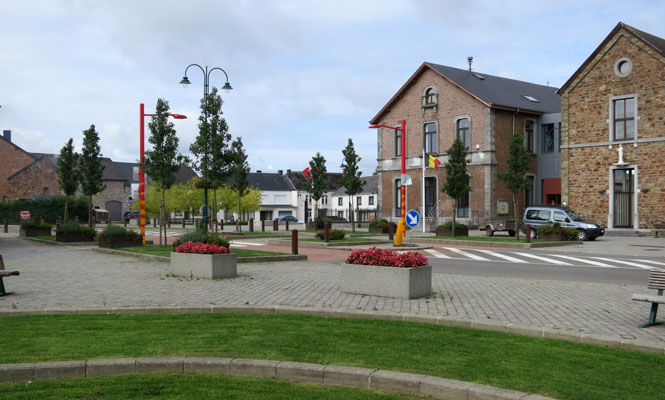 France
Givet, France. If you look at the line of the Belgium border, you'll understand how it's possible for a road to cross a border several times. This is the Meuse river.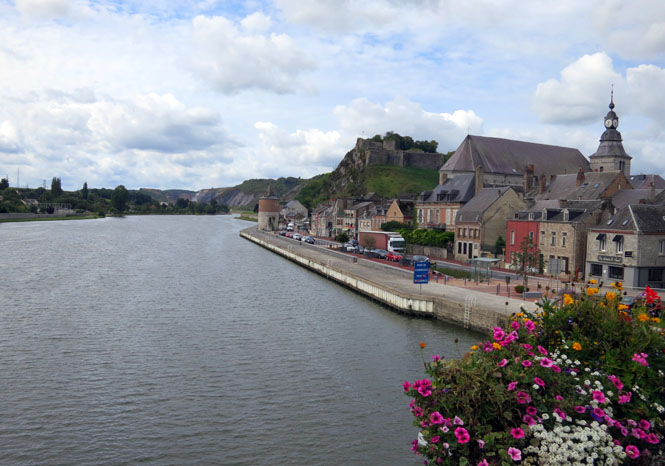 Belgium
Villers-le-Gambon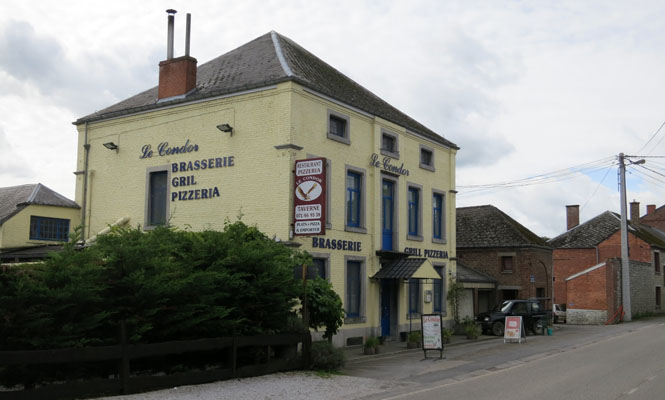 Noodles with truffles and soup with pretty much everything.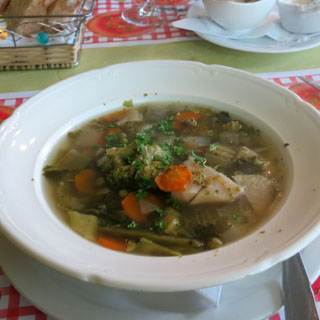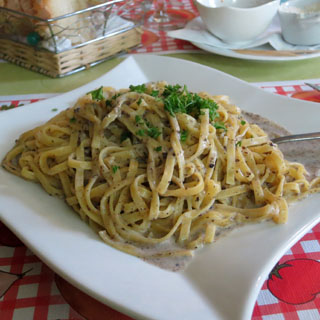 Yes; this is a two-way road. No; there was no traffic.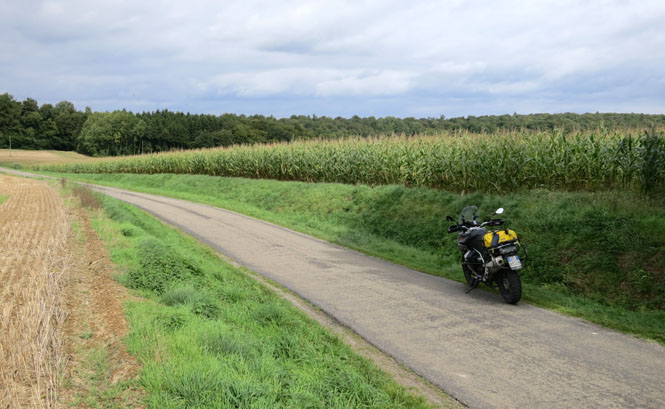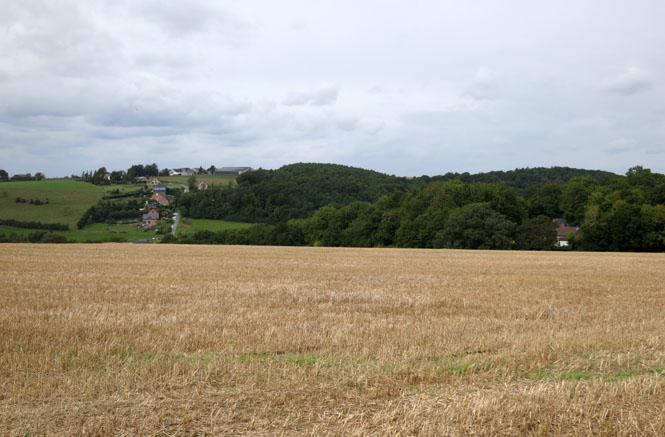 Silenrieux, Belgium. You might consider this a typically gritty Belgium town off the main tourist routes. These are the places I prefer to ride through.
Merbes-le-Château, Belgium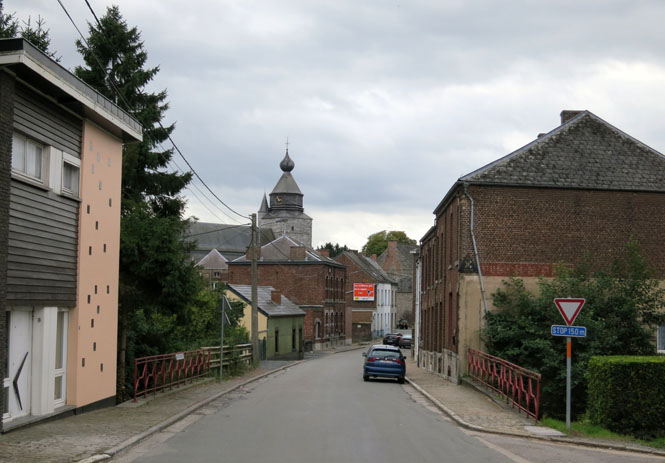 Binche, Belgium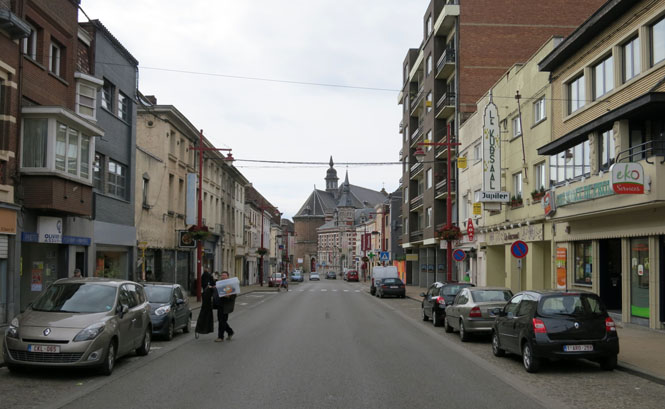 Look once, look twice. Don't pump diesel into the Guzzi.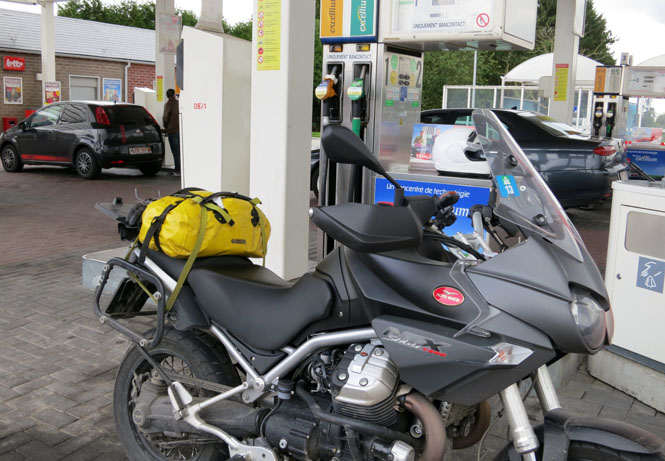 Ninove, Belgium. Time to stop for the evening.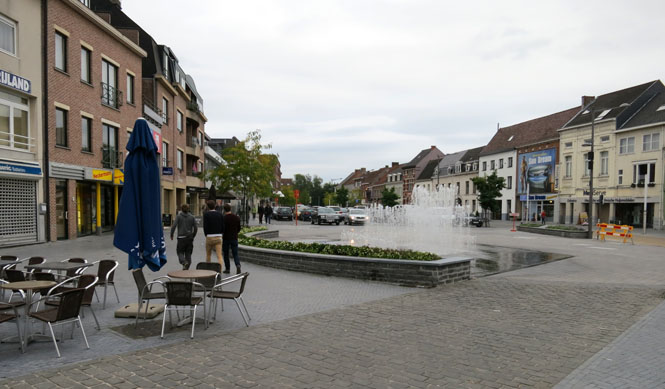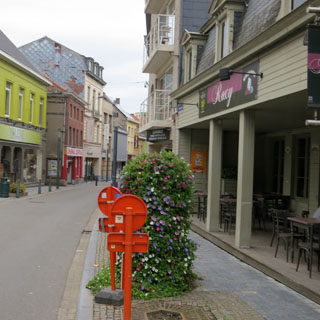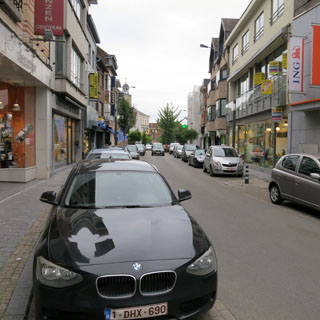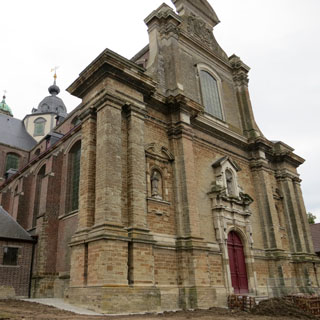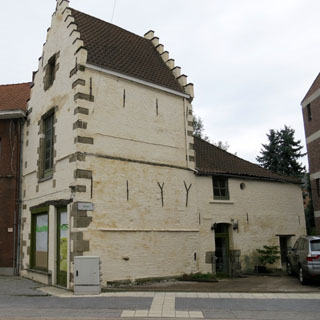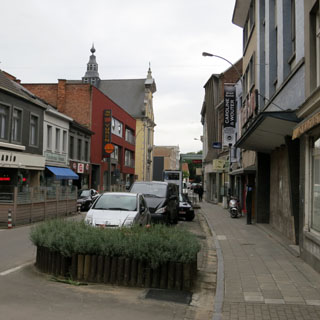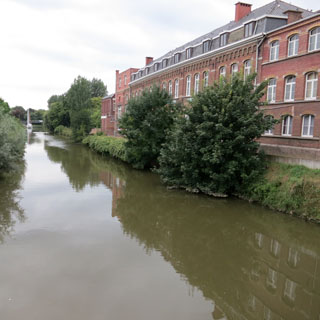 ---
I hadn't heard of Breendonk. The fort was built in 1906 as part of a larger system of defence for the city of Antwerp against an anticipated German invasion. But, when the First World War started, the fort was ineffective.
After the German occupation of Belgium in 1940, Fort Breendonk was converted to a prison by the SS.
Belgium has not been spared the horror of Nazism and its concentration camps. The fortress of Breendonk is a moving and striking example. It is one of the best conserved camps in Europe.

Breendonk is only a dot on the gruesome map of concentration camps, but one which witnessed the same desire to annihilate the individual, which shared the same objective of enslaving and negating the human person.

Between September 1940 and September 1944, around 3500 prisoners passed through Breendonk. The majesty of the site and its Dantesque appearance make it a symbol that perpetuates the memory of the suffering, the torture and the death of so many victims. Breendonk, although small in comparison with others, was nevertheless a camp that saw Nazi barbarity sink to its vilest depths.

Although the history of Breendonk, the war and the post-war years hardly give cause for optimism, we want to put across a message of hope, like those men who gave humanity the universal declaration of human rights. The defence and respect of these rights. That is our cause.

The Memorial seeks to embrace others in a quest for openness. It reaches out first of all to those who, in one way or another, have fought for freedom, have stood up to oppression, have suffered, victims of racism and blind fanaticism: war veterans, Resistance fighters, prisoners of war, the concentration camp prisoners, Jewish Resistance fighters and victims of the Shoah. And well beyond, it reaches out to all those who, driven by the same ideal of democracy, find in Breendonk the justification behind their cause.

---www.breendonk.be (official web site of Fort Breendonk)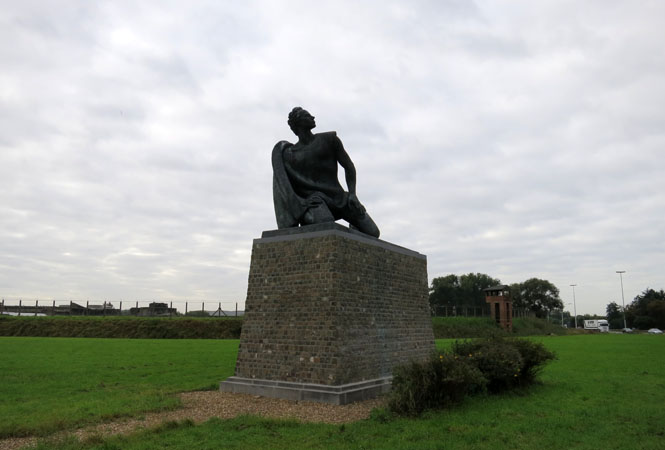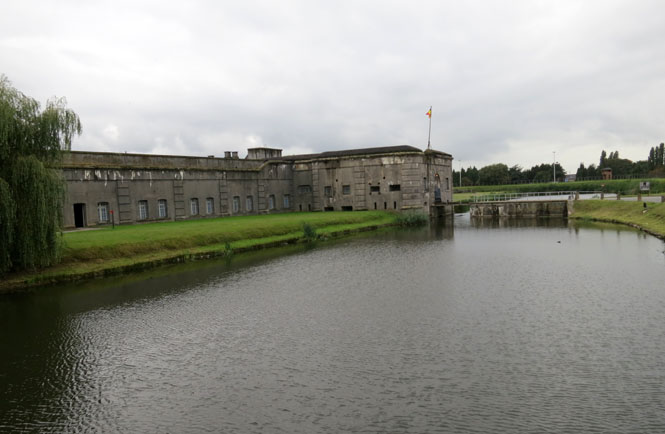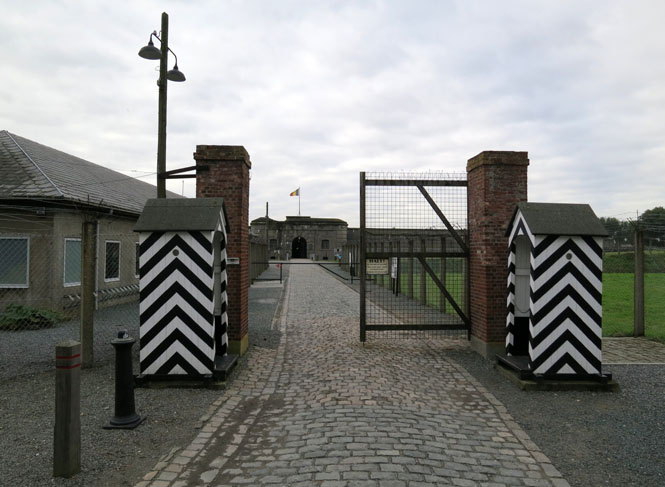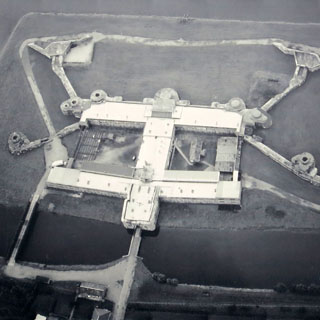 Virtually all of the facility is open. The hand-held audio guides were particularly well done. Naturally, I selected the one for English speakers. Key in the posted number and listen to a (British) narrator describe what you're seeing as well as additional background information. When I was there I saw several larger groups of school children being led by a guide. Only Dutch was spoken, otherwise I would have tagged along with one of those groups.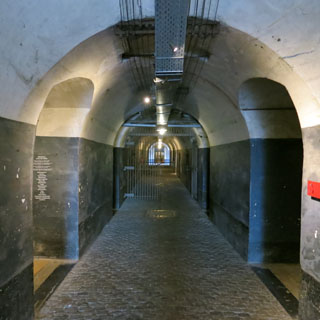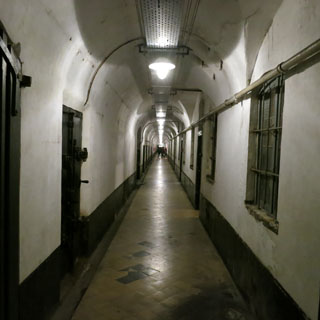 What makes Breendonk special is that it is so complete.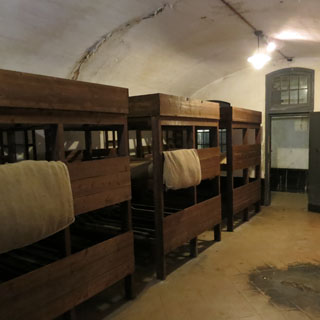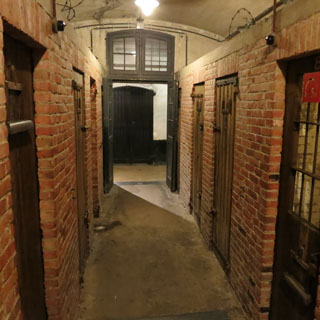 Ashes and names. Evidently, less than 10% of the people who came to Breendonk as a prisoner would survive the war.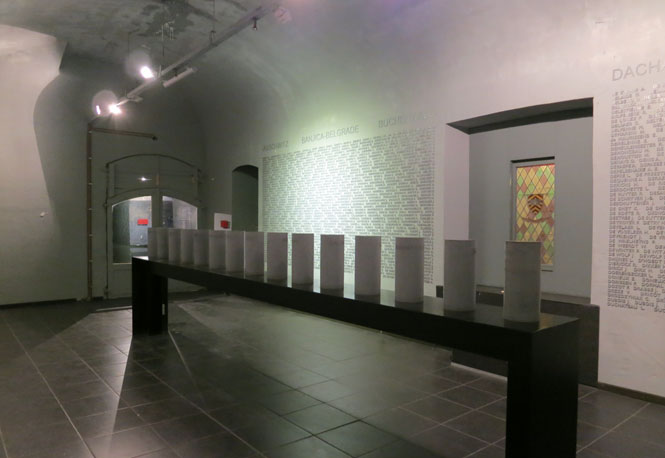 ---
Mechelen, Belgium. There's nothing special about this road except that this was my view for miles and miles. From town to town, I was riding between two rows of buildings. Oddly, there were few side streets, so traffic did move along well enough.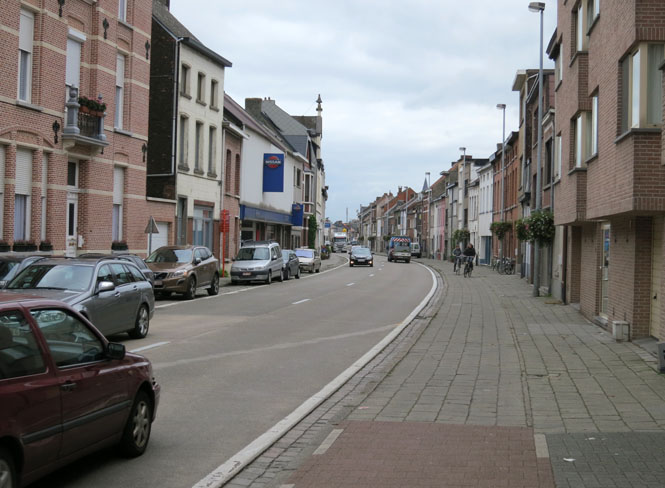 Koningsbooikt, Belgium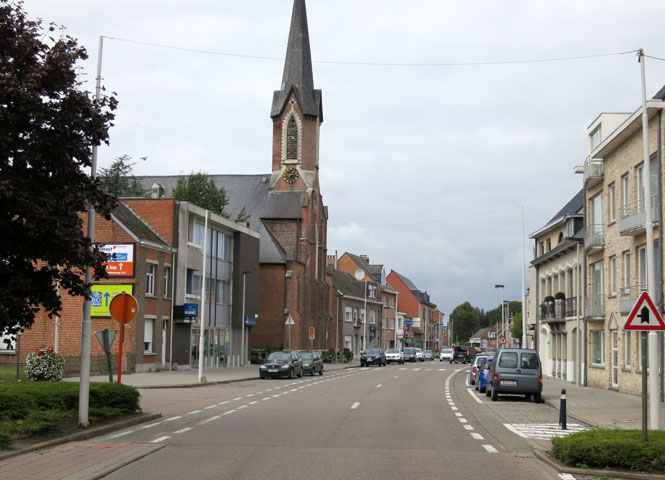 Grote Nete Canal.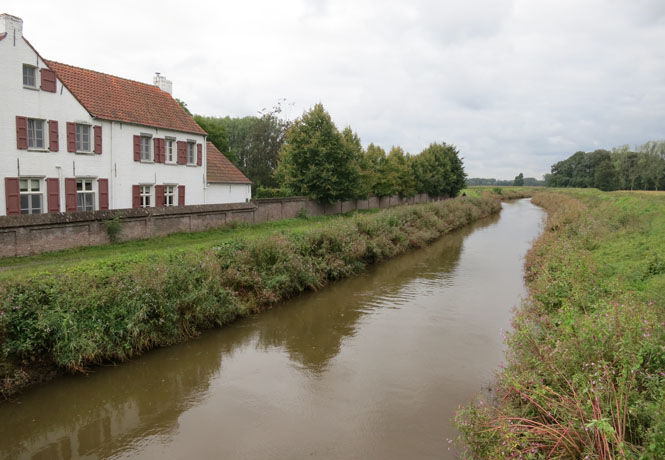 Large areas of Belgium seem to have been set aside as undisturbed forest. Well done.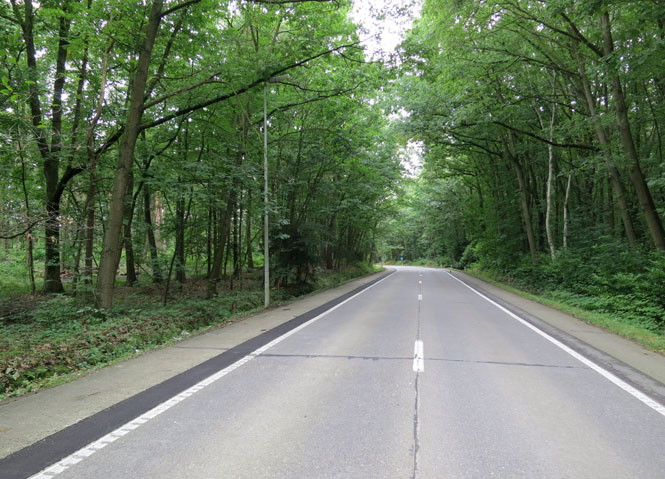 I stopped at what might be considered a fast-food place. When first offered some sort of egg roll thing, I told the man that I wanted Belgium food. So (with apologies to Belgium), here's some quintessential Belgium food (including that glop of mayonnaise):
Netherlands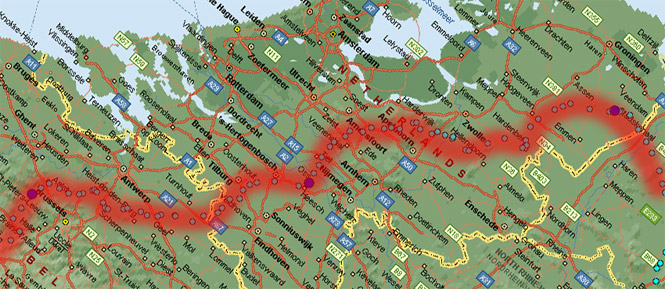 An easy way to know you're in the Netherlands is that the roads seem to be bicycle lanes that grudgingly accept auto traffic as well. In this country, you use your bicycle.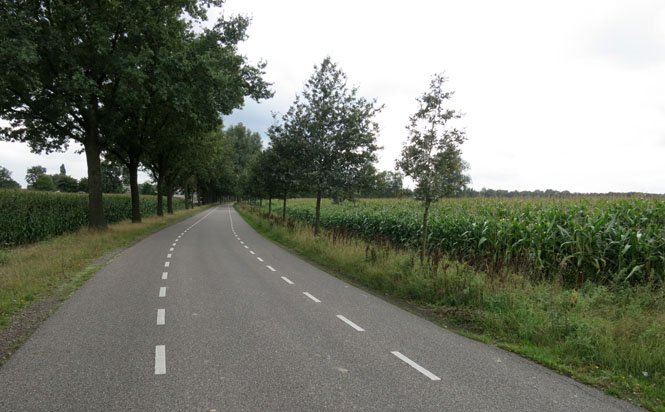 Update: Here's a clarification of the different stripes on Netherland roads and what they mean. It turns out that they refer to speed limits.

Wilhelmina Canal, Netherlands. This sort of combination lock and draw-bridge is quite common. I'm guessing that they are self-operated by the boat owners.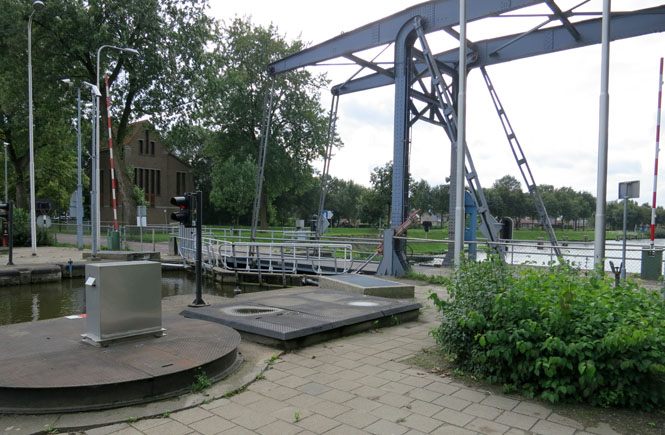 Are there any windmills still in operation doing what they were meant to do? Probably no, except perhaps at an historic site. They're quite impressive the way the entire structure can pivot in the wind. I would guess that the lad who helps out would have the job to keep the blades pointing in the right direction.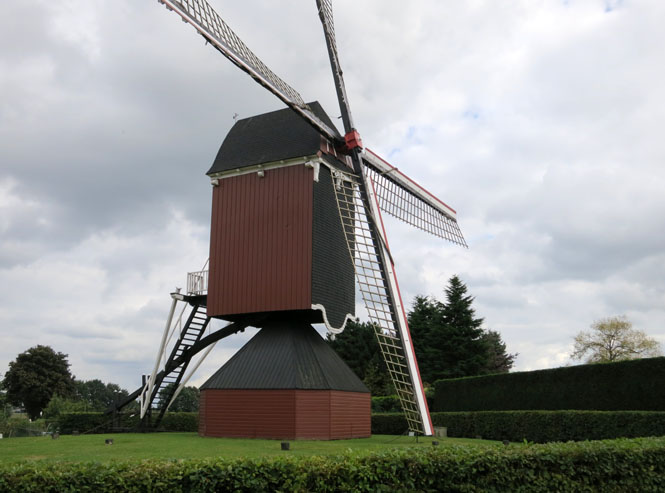 Haaren, Netherlands. I'd been passing many houses with thatched roofs. I think I'd better get a shot of a couple.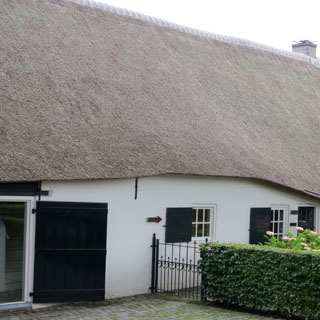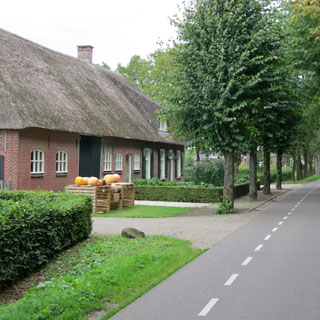 Oss, Netherlands. It isn't all that late, but all the stores are closing.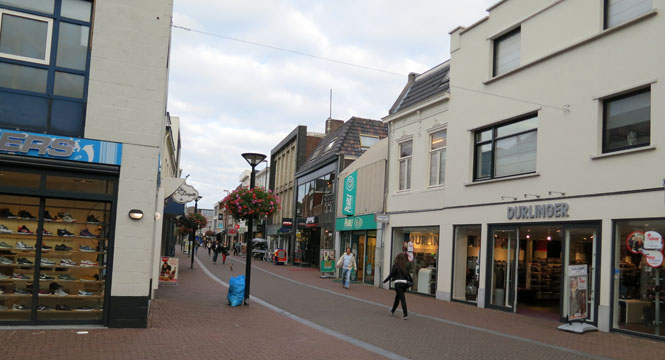 My room is something out of the New York Times Style magazine. It's all greys and whites and very sleek (my yellow bag destroys the whole look).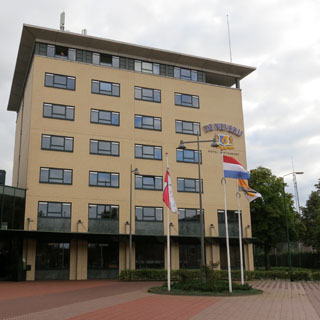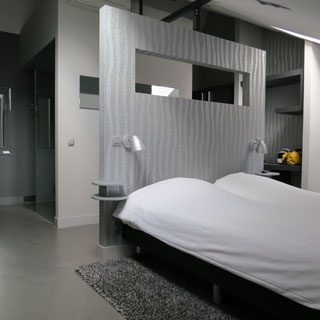 This sink is a marvel of modern design, but how am I supposed to do my washing? There's no basin. Answer: use the waste basket. Luckily, it didn't leak very much, but I kept it in the shower, just in case.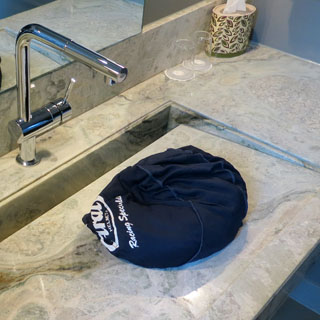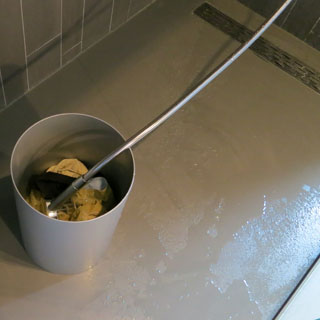 Apparently, nobody shops in the evening.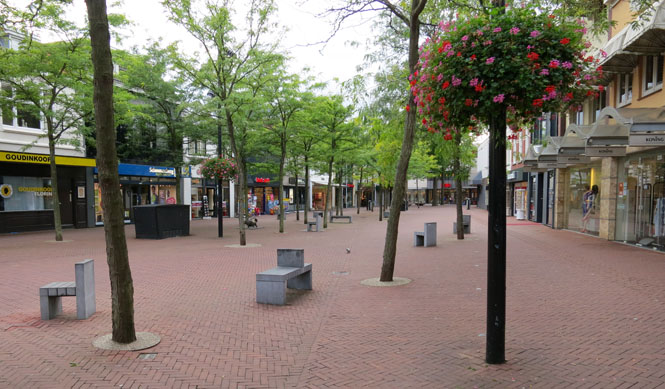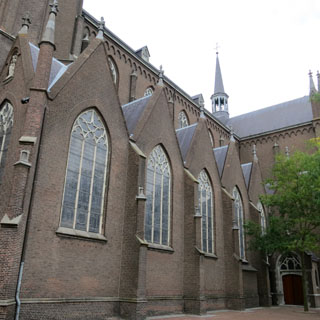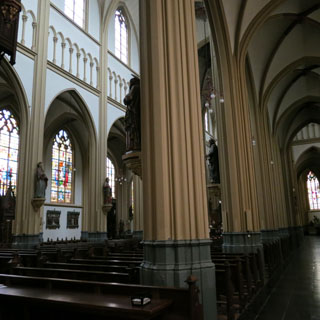 I heard a distinct rumble in the sky. Looking up, it's a C-47 passing low overhead.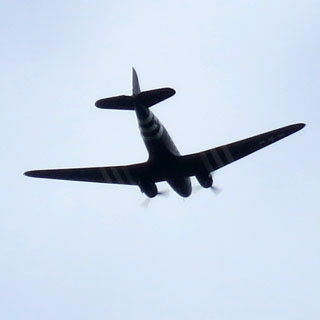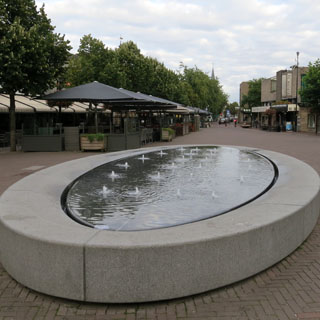 Any train station will have hundreds of bicycles in an impossible jumble. It makes you wonder how anybody finds their own.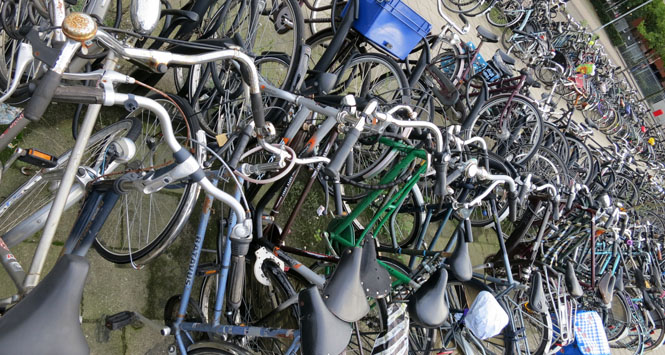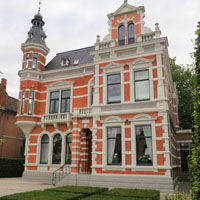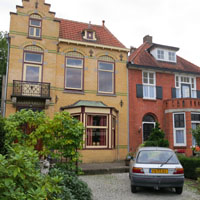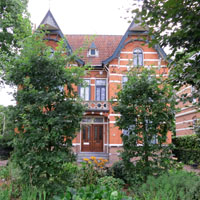 This country is crisscrossed with canals. Each ferry I used cost 1.20 euros to cross, although most people seemed to have a pass of some sort. That man in the blue? He's the captain. You'd think he should be on the bridge, but I suppose he's done this once or twice before. At any rate, we're being pulled by a cable, so we're not likely to miss our docking point by too much.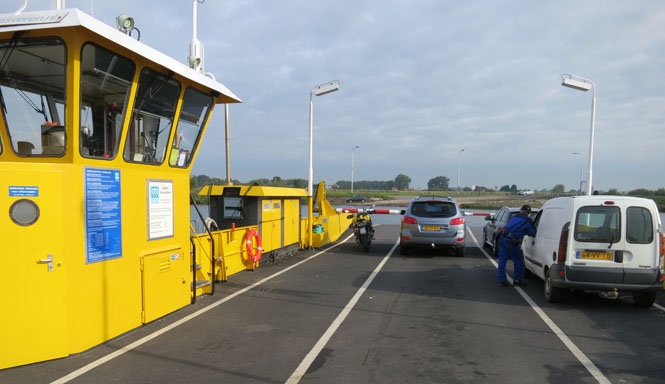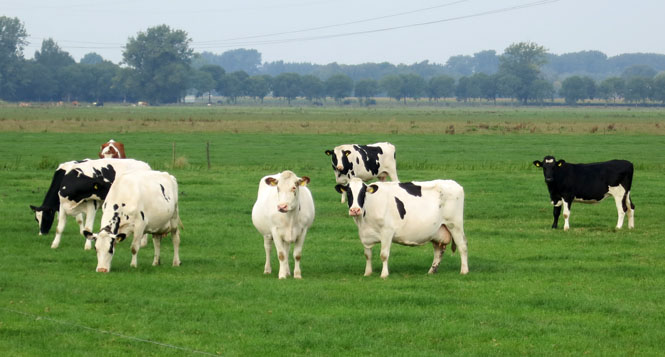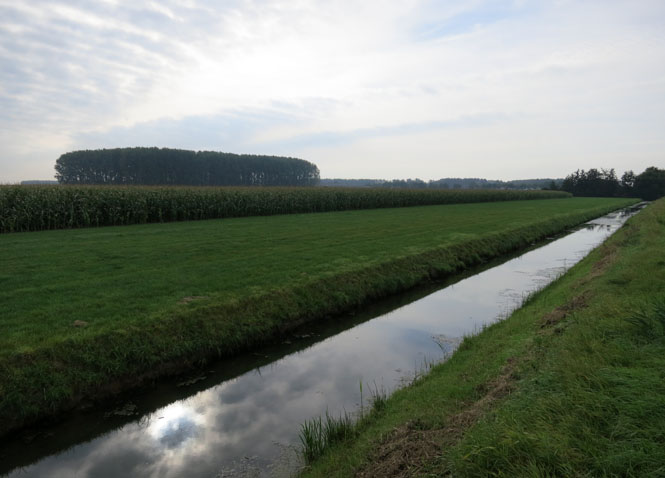 With this road, there's at least a separate bike path on the side. But, that still doesn't keep bicycles from taking up the road.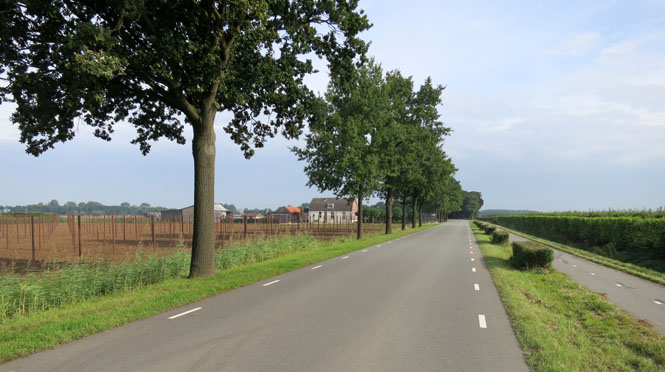 Another ferry.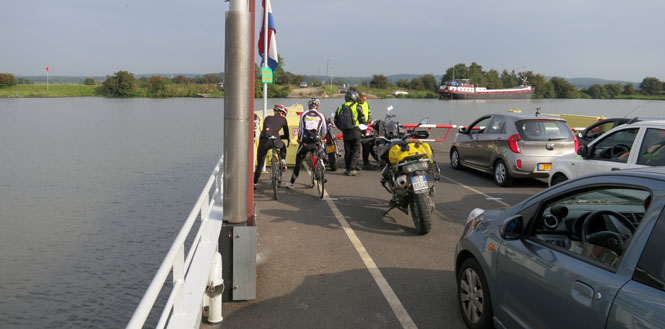 Amerongen, Netherlands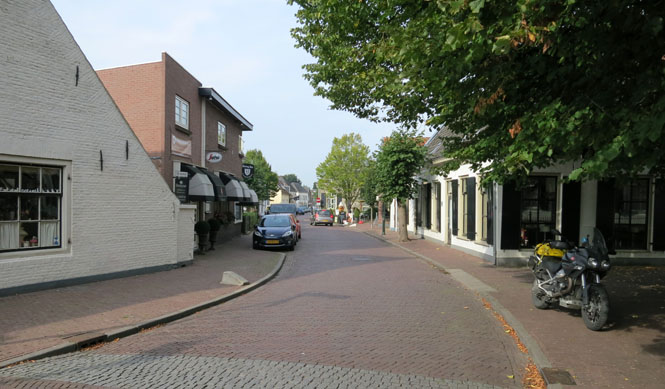 Like Belgium, I ran through a number of dense forests.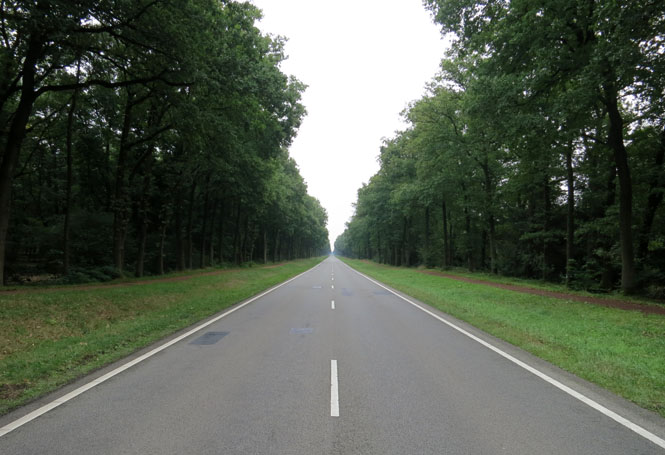 Garderen, Netherlands
I do my best to scan the menu for items that I think are regional. Of course, it's possible that the cook sees my order and thinks "What? Somebody is really ordering that?"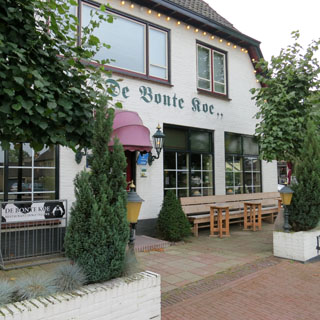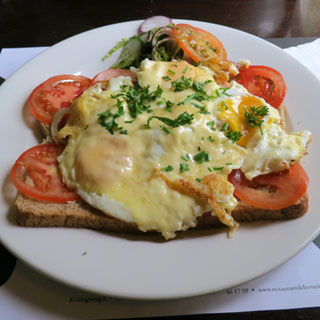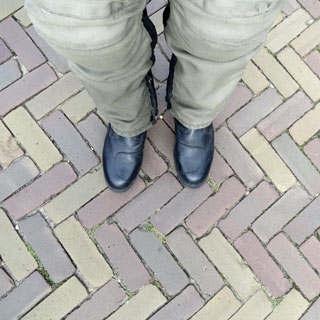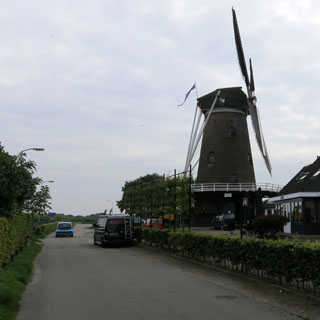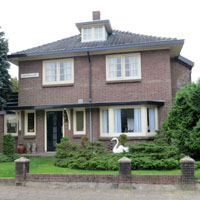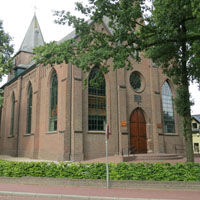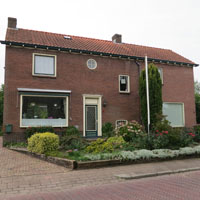 Except for the trees, this could be Scotland. Curious that so much land was (apparently) never used for farming.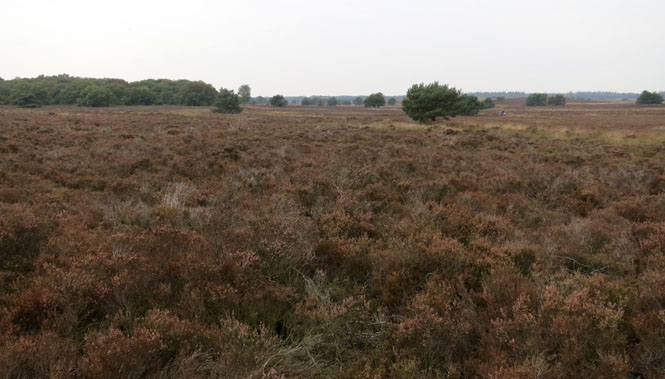 Something I noticed: when approaching a pair of bicyclists (such as this) they are not likely to move over into a single file to let you go by. It's up to you to pass safely. They're on bicycles; you're just on a motorcycle.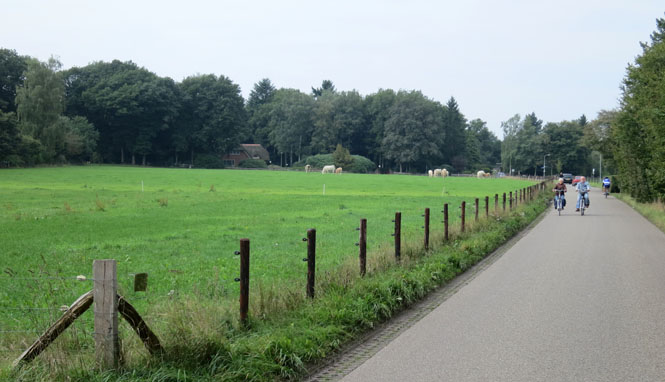 The landscaping of many homes is amazing. This one is not at all unusual.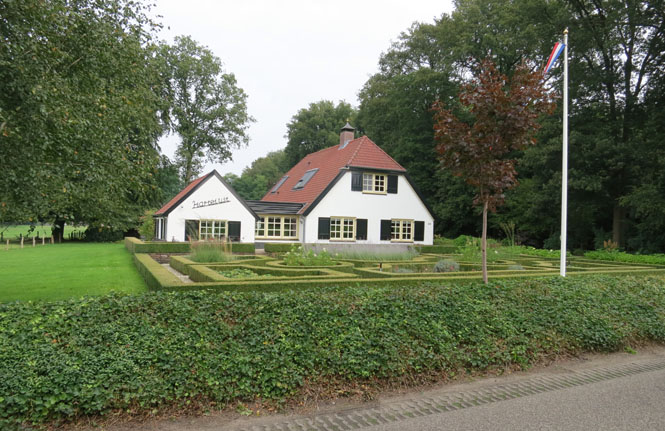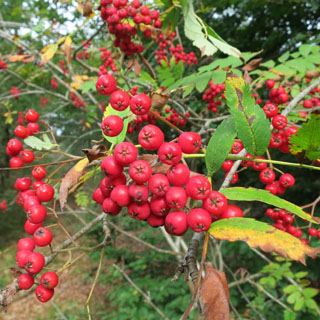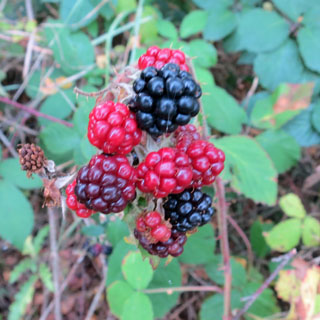 Terwoldsche Wetering. It wouldn't take much to flood this land.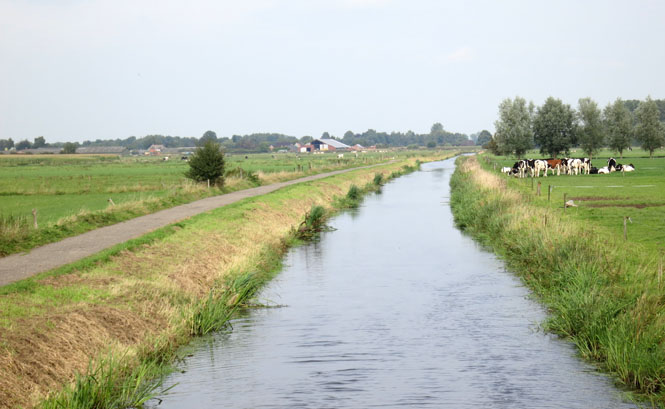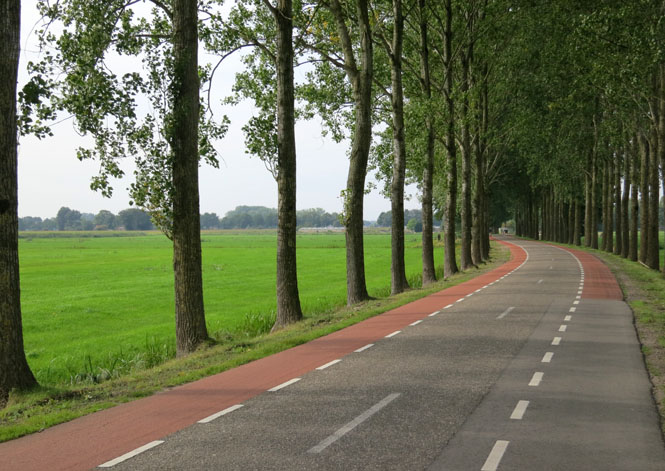 Ijssel River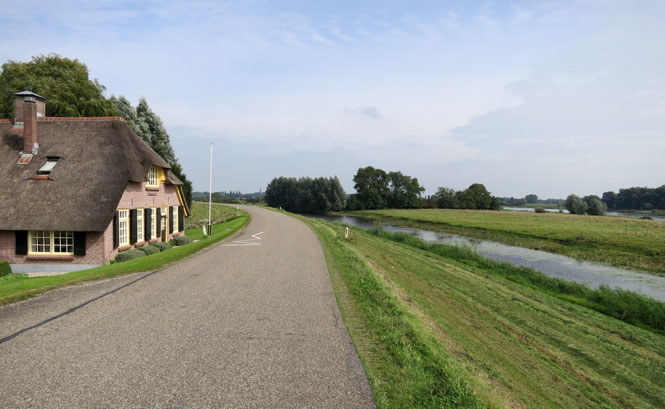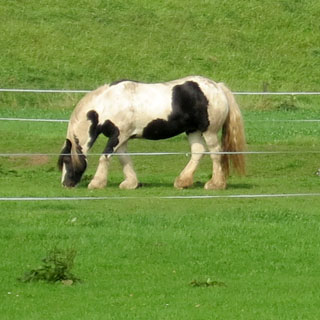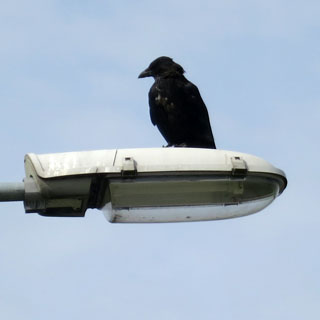 The captain was emphatic that I move to the bicycle lane of the ferry--something I hadn't been doing, but would remember to do from now on.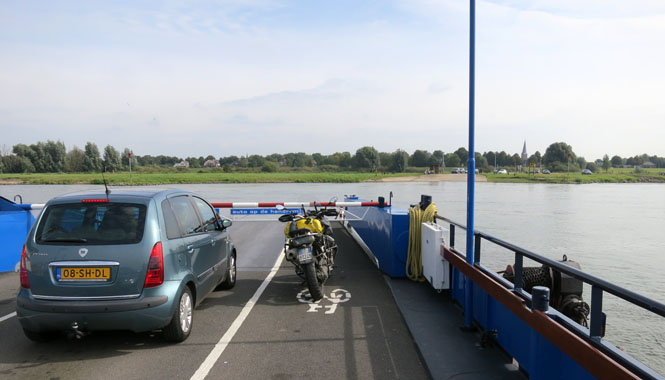 Raalte, Netherlands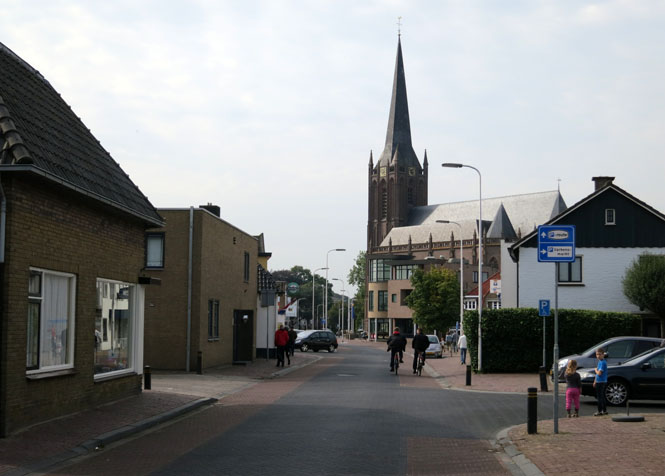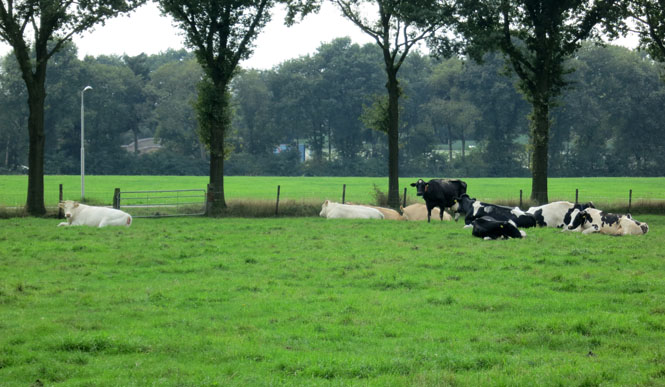 I'm going to guess that most all of the corn I've been seeing is destined for the cattle.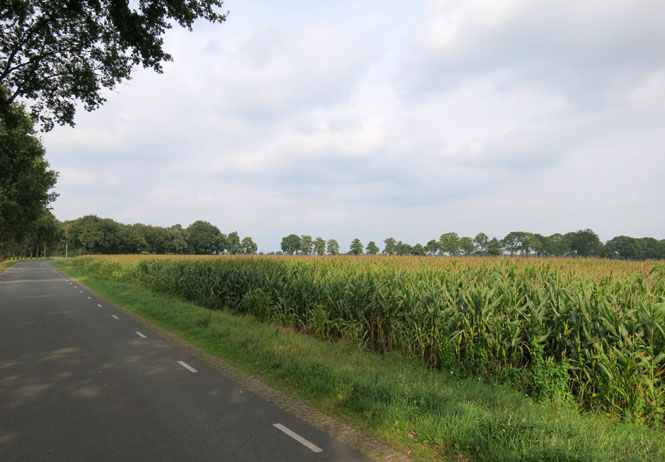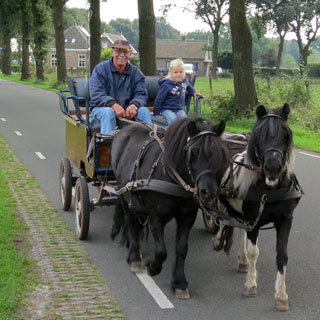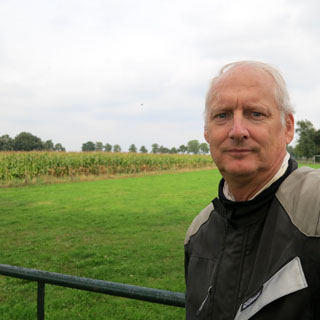 Noordscheschut, Netherlands. All hands must wear their PFD at all times.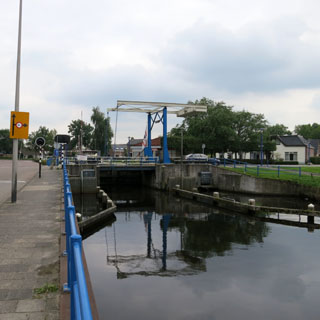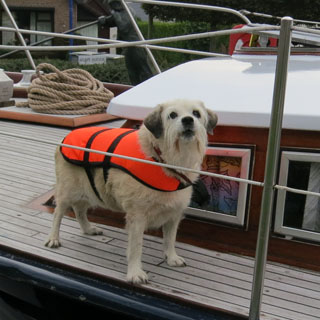 This was an ice-cream and snack shop, across the street from the lock. I had a chocolate milkshake (which was listed exactly that way on the signboard).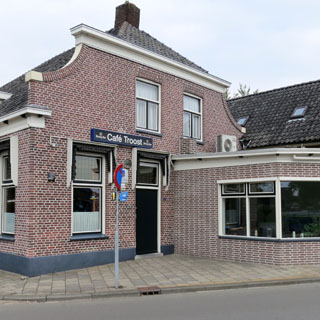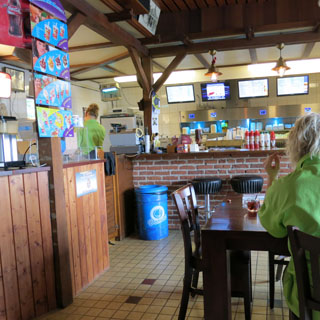 The Netherlands has the tallest road signs I've ever seen. In any another place, I might think heavy snowfall was the reason. Perhaps flooding is the reason, here?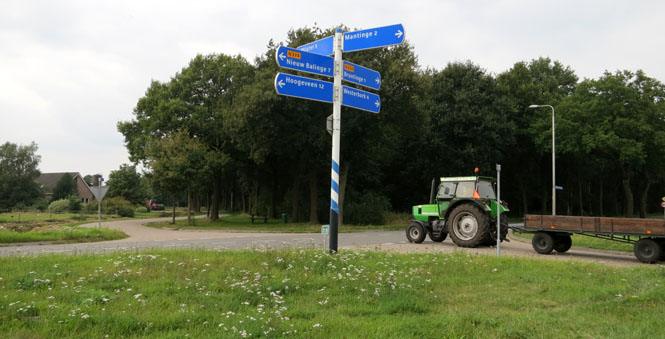 If the cars drive between the lines, somebody will have to give. As always, it's easier to be riding a motorcycle.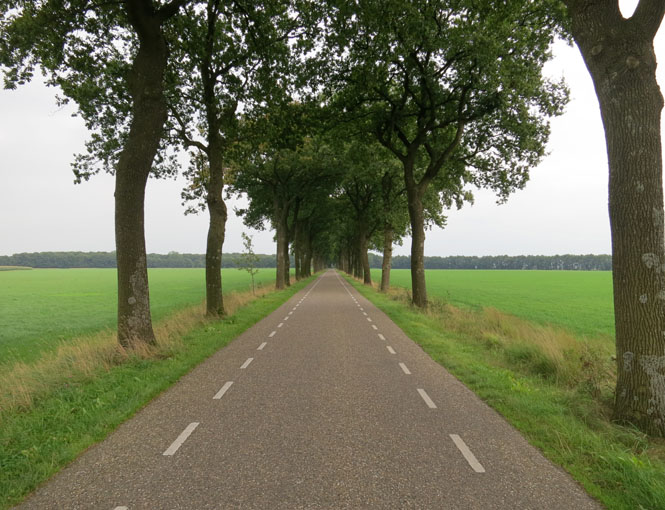 Stadskanaal, Netherlands. It's after 6:00, so naturally the stores are closed.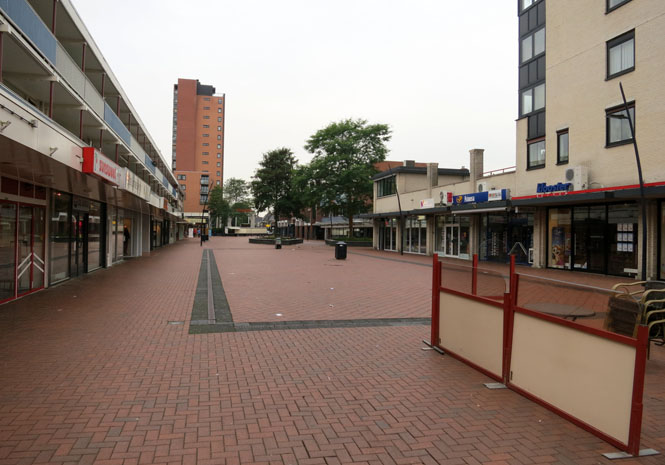 It's another stylish room, but it still doesn't compare with last night's.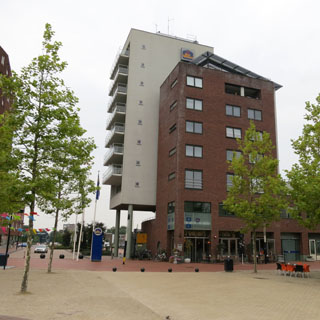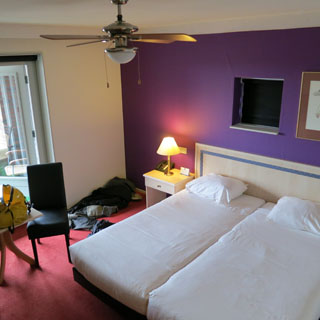 Water is everywhere.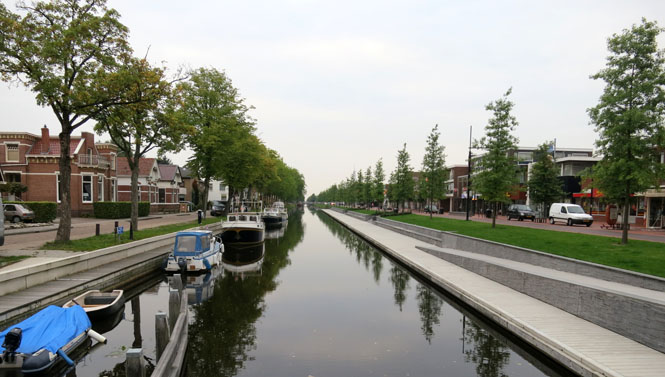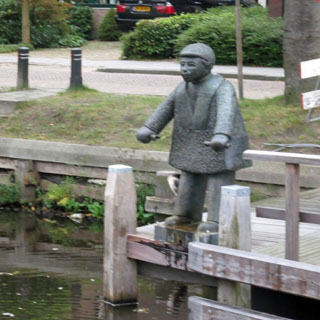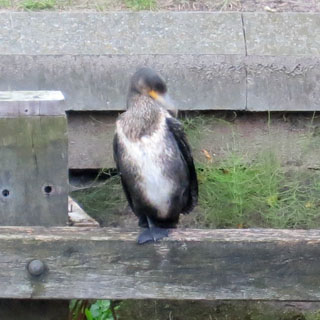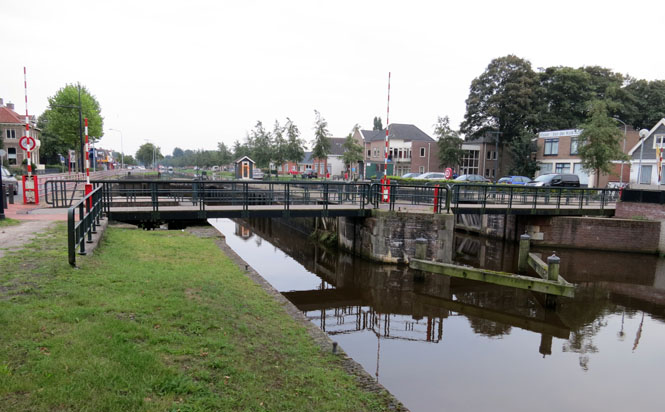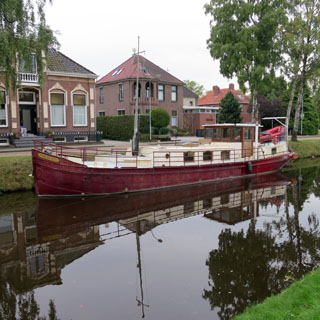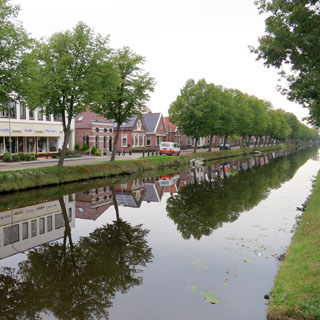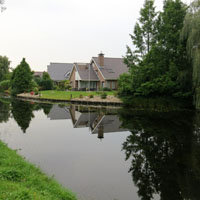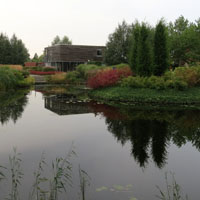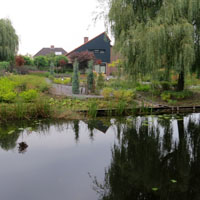 Germany
I thought about riding the few miles north of Stadskanaal in order to hit salt water, but other than doing it, there wasn't much reason. Let's turn right and cross into Germany.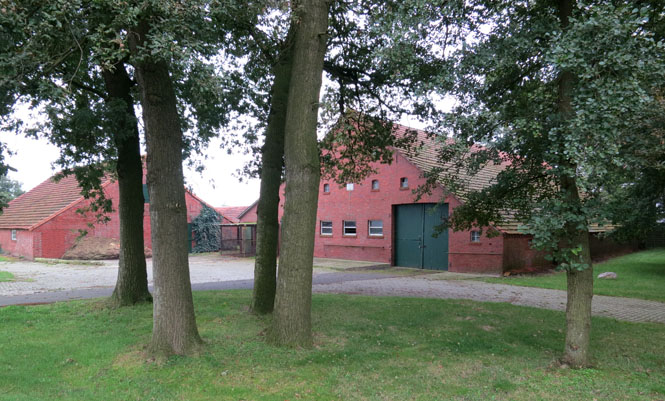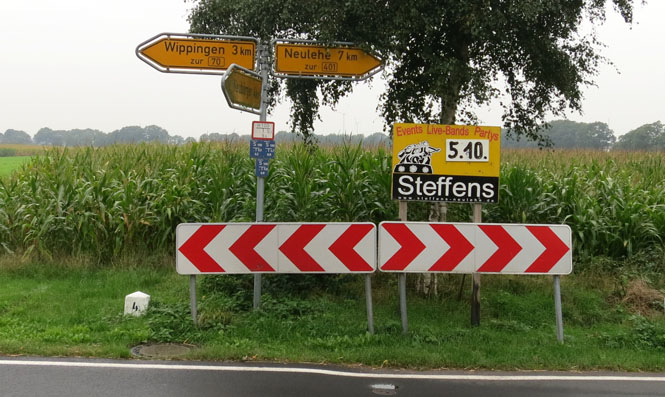 Spahnharrenstätte, Germany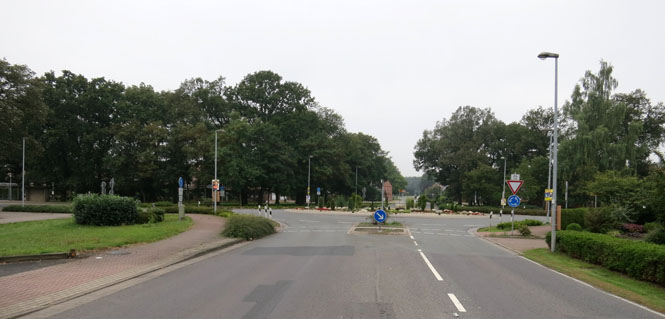 Werlte, Germany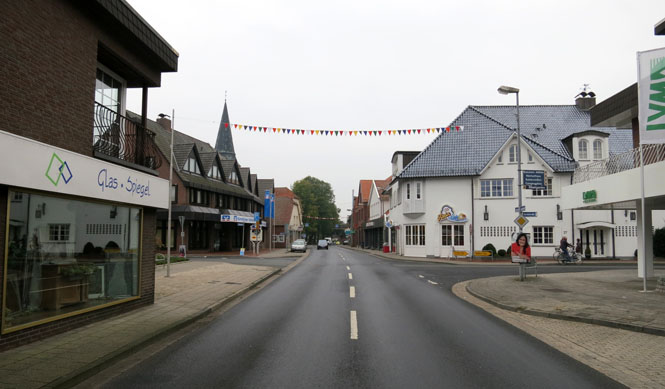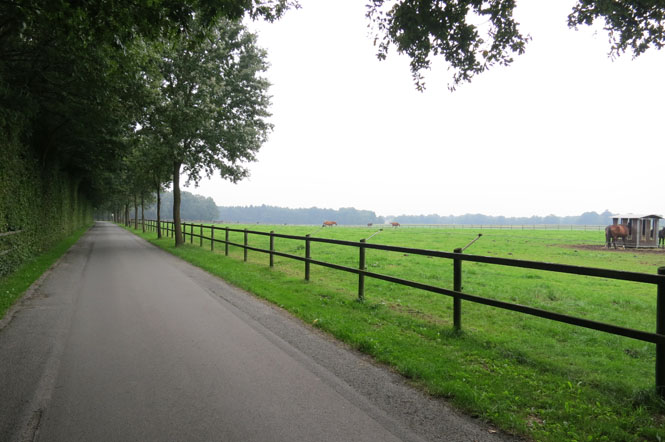 Gehrde, Germany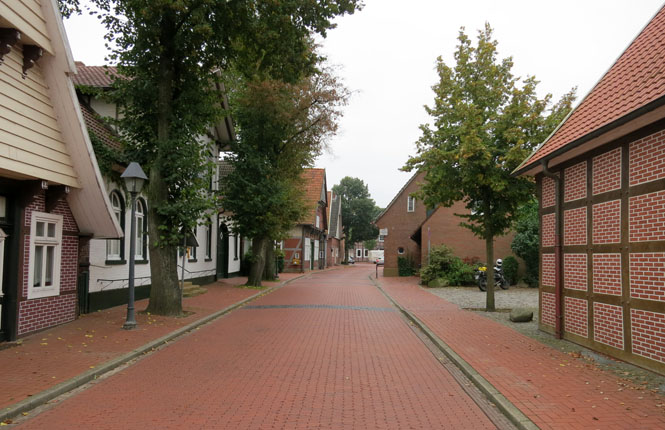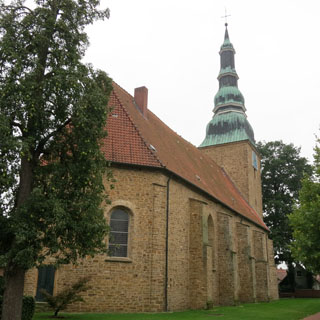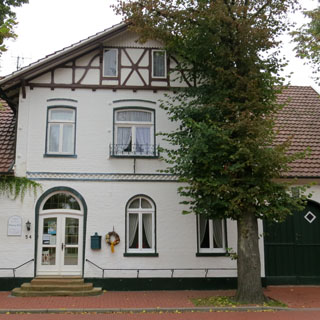 You'll notice that the interesting bicycle stripes of the Netherlands are gone, and we're back to more conventional solid lines at the borders.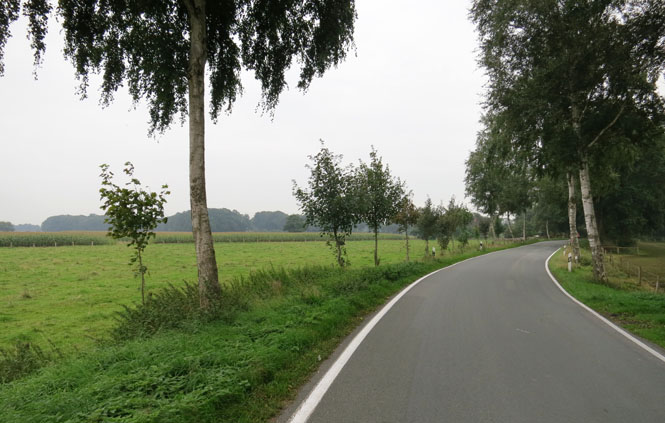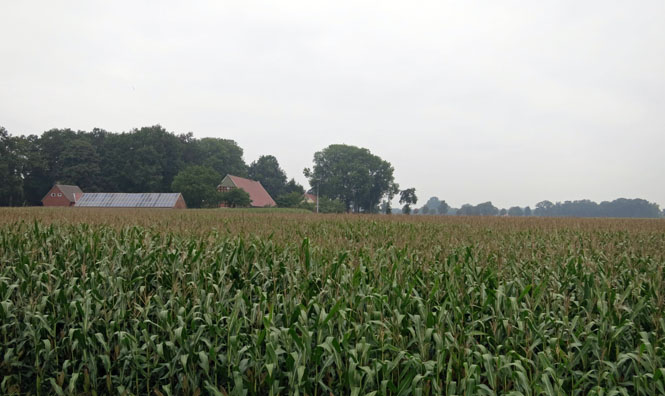 Elbe-Weser Kanal. Many of the bridges have speed limits posted for tanks.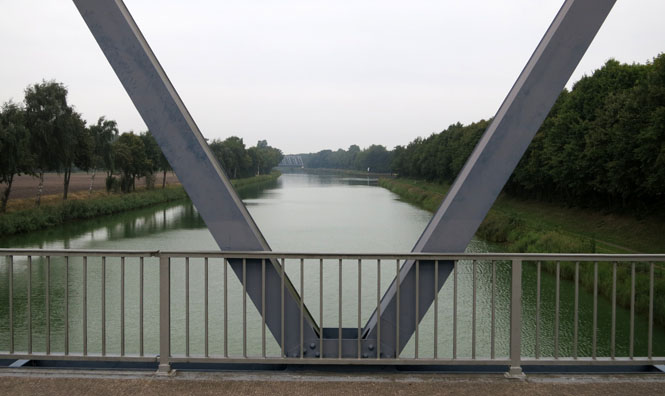 Schloss Ippenburg, Germany. This place was mentioned on my map. Unfortunately, it wasn't open. Hidden in the background, you can just see the large house. There were also large gardens surrounding the house.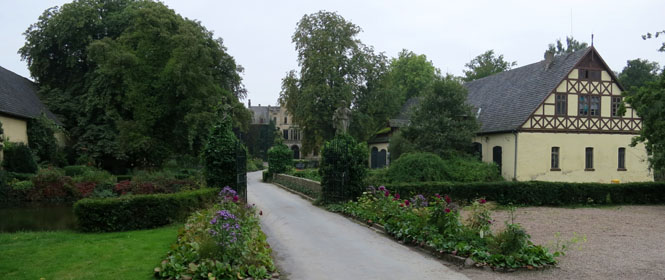 Büscherheide, Germany. Let's see what Germans eat for lunch.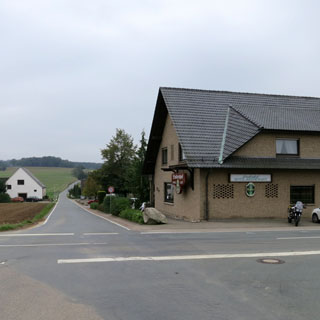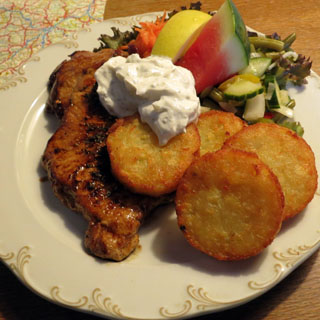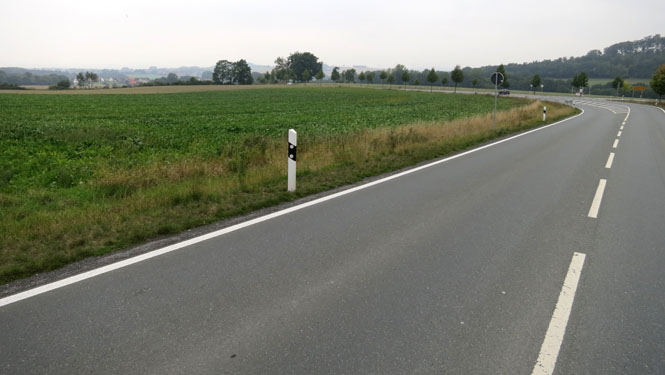 Marienmünster, Germany is the site of a former abbey (Abteikirche Marienmünster).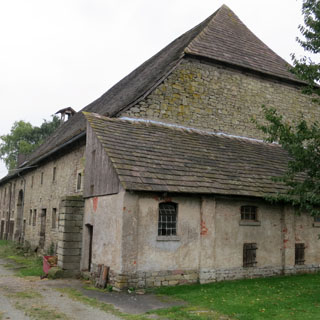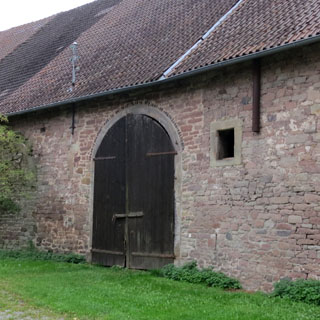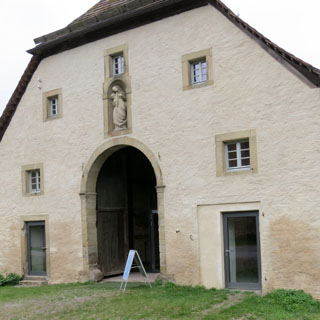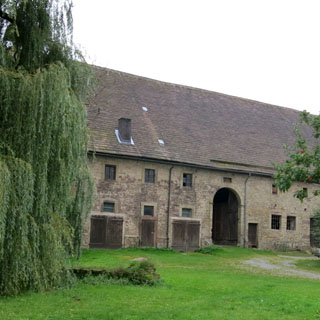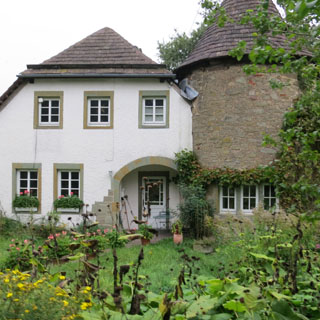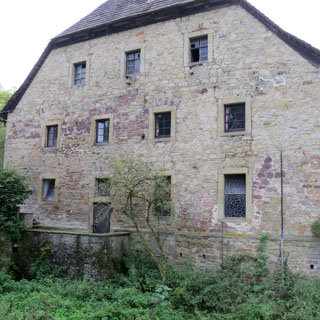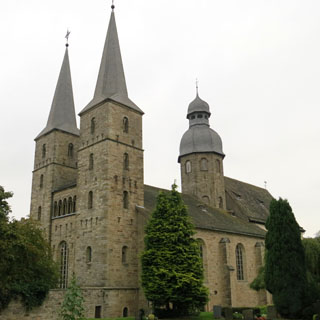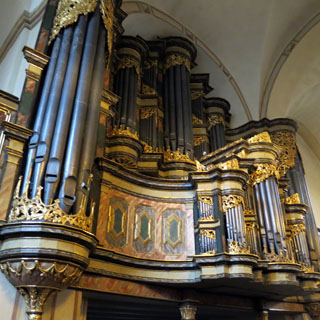 The Weser river.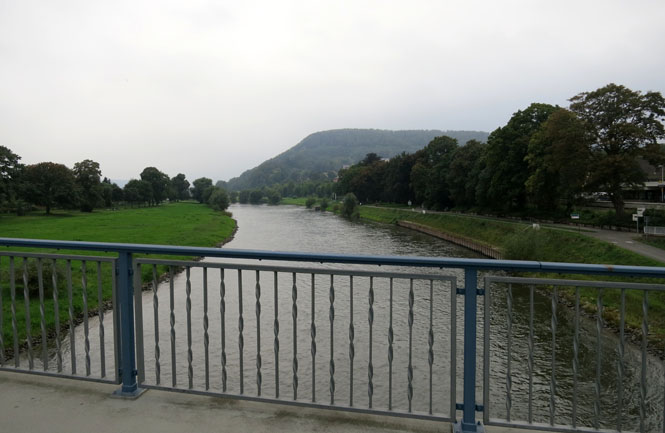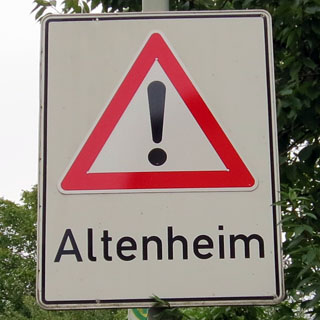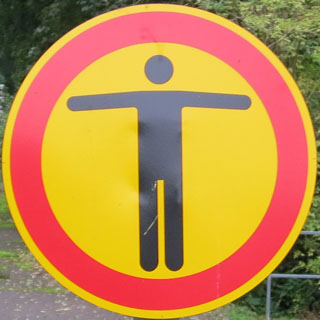 Höxter, Germany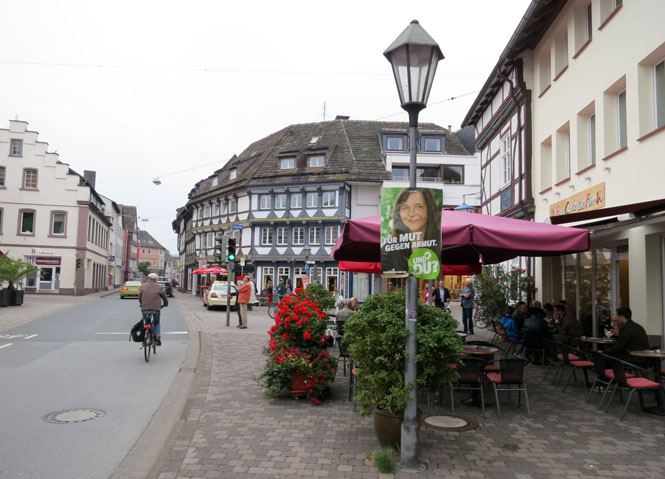 My hotel is just across the street from the railway station.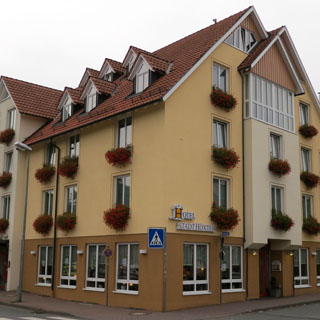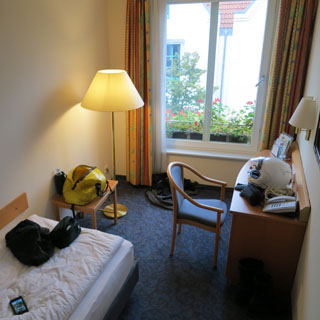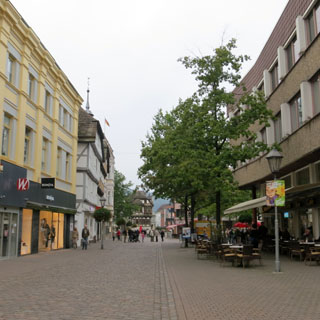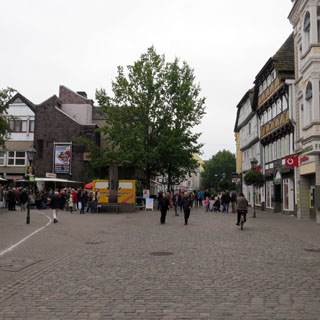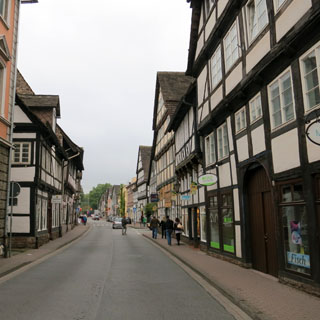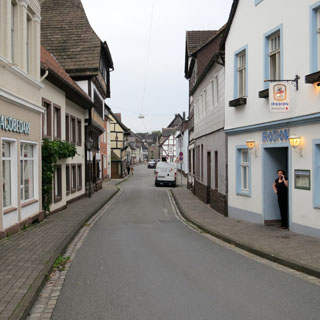 The churches in this town have some terrific organs.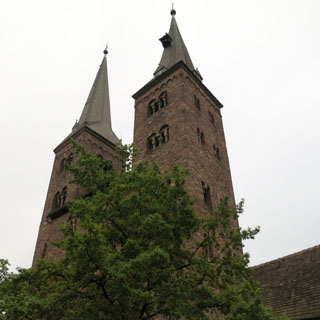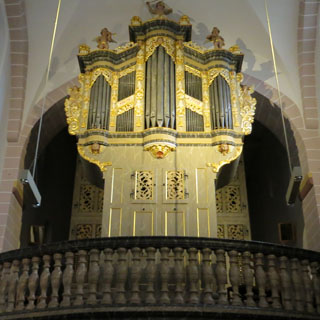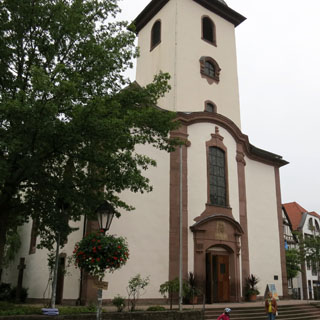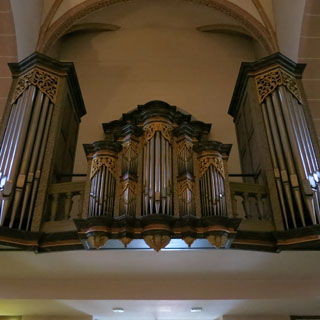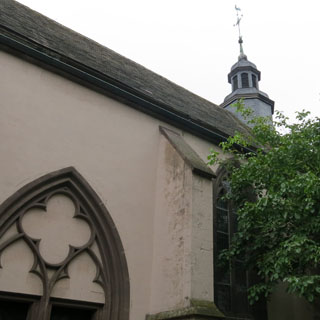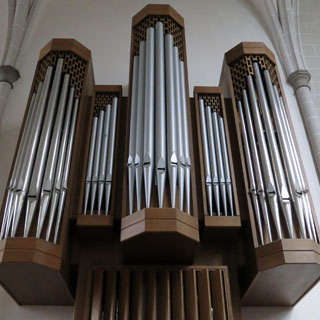 The old mediaeval buildings look great.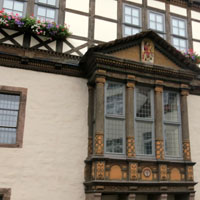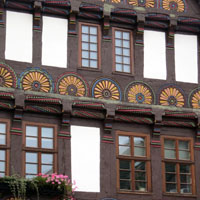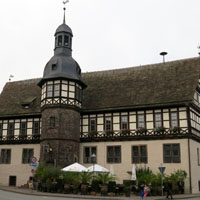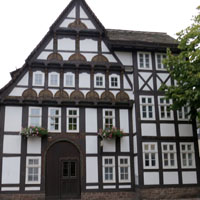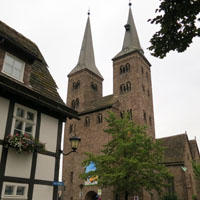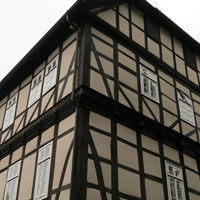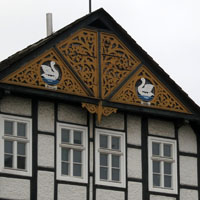 The Schloss Wilhelmshöhe in Kassal is quite remarkable. This was the home of the King of Westphalia. Up to the end of the first war, it was the summer home of Kaiser Wilhelm. Today it's a large art museum. Unfortunately, it was closed (sigh...)
The view of Kassel from the steps of the Schloss.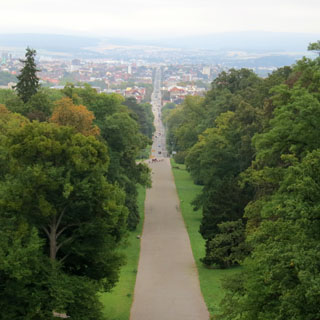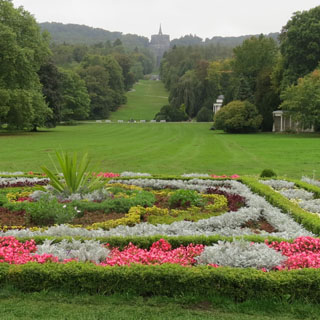 If you want a high-speed rail system, you'll need to build viaducts and tunnels (significant elevation changes don't work so well).

Odensachsen, Germany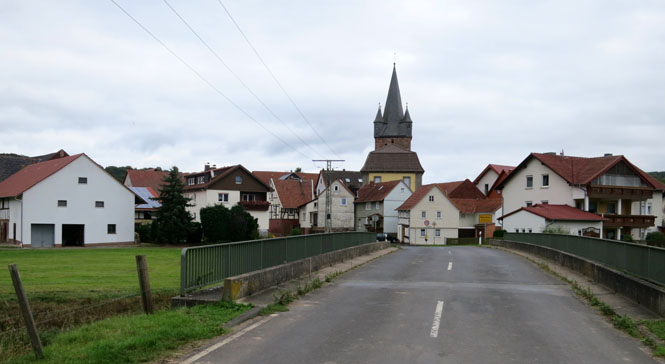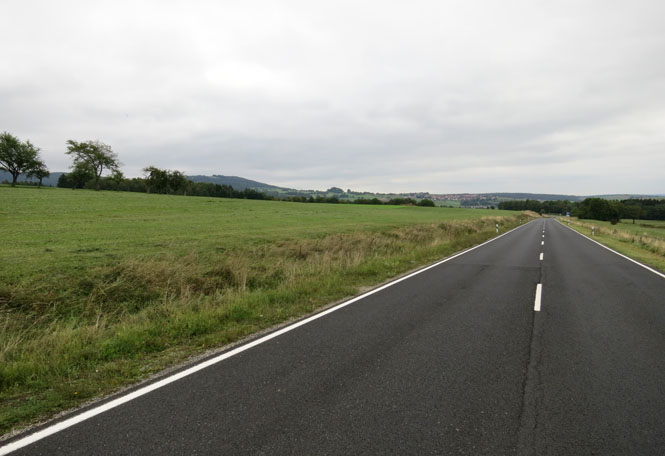 Geroda, Germany. Beautiful countryside to ride through. A little sunshine would be nice, but as long as it's not raining, I'm happy.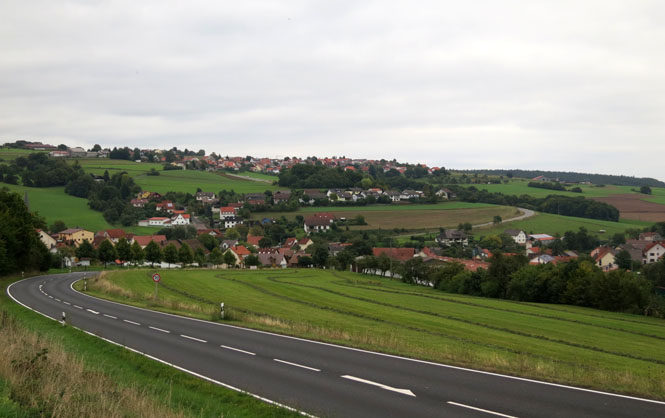 Schweinfurt, Germany
In 1939 Schweinfurt produced most of Germany's ball bearings, and factories such as the Schweinfurter Kugellagerwerke became a target of Allied strategic bombing during World War II to cripple tank and aircraft production. Schweinfurt was bombed 22 times during Operation Pointblank by a total of 2285 aircraft.

The Schweinfurt-Regensburg mission caused an immediate 34% loss of production and all plants but the largest were devastated by fire. Efforts to disperse the surviving machinery began immediately and the Luftwaffe deployed large numbers of interceptors along the corridor to Schweinfurt. Bombing also included the Second Raid on Schweinfurt on 14 October 1943, ("called Black Thursday because of the enormous loss of aircraft and Big Week in February, 1944.

--Wikipedia entry
I was well aware of Schweinfurt's role in making ball bearings during the war, but it didn't occur to me that it is still a major producer. Here I am at the SKF factory.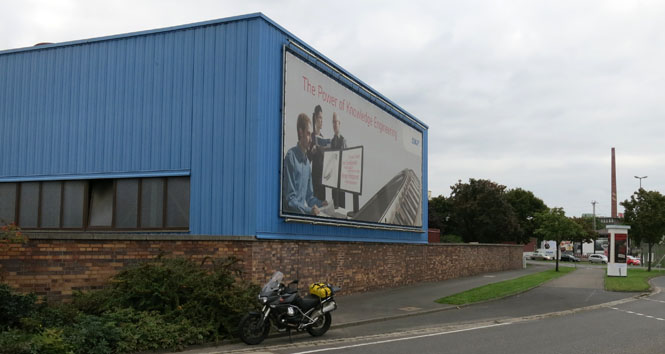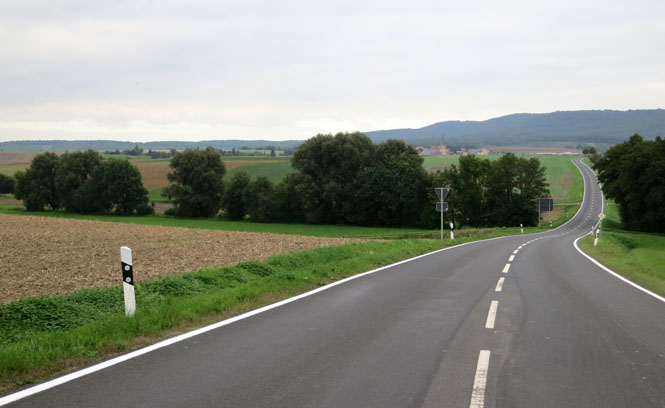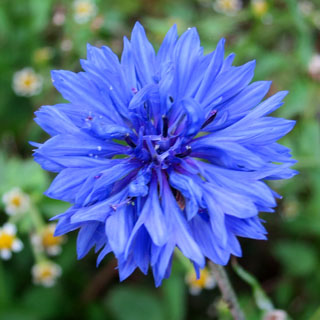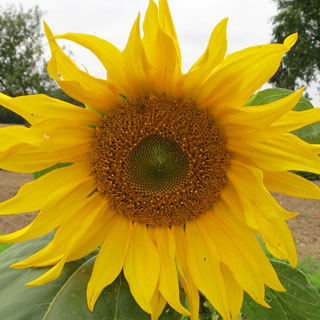 Geesdorf Germany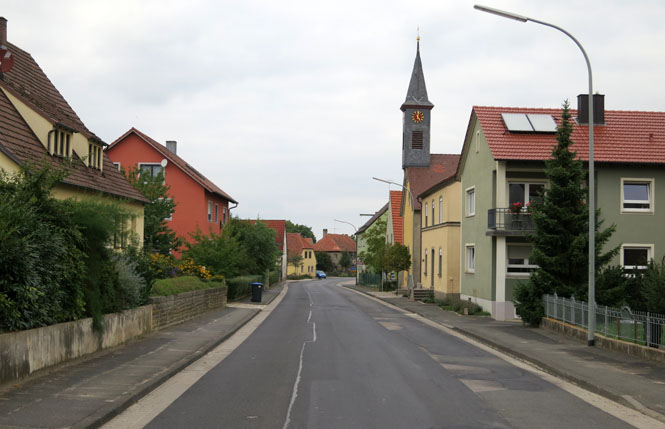 Abtswind, Germany still has much of its old town walls and gates.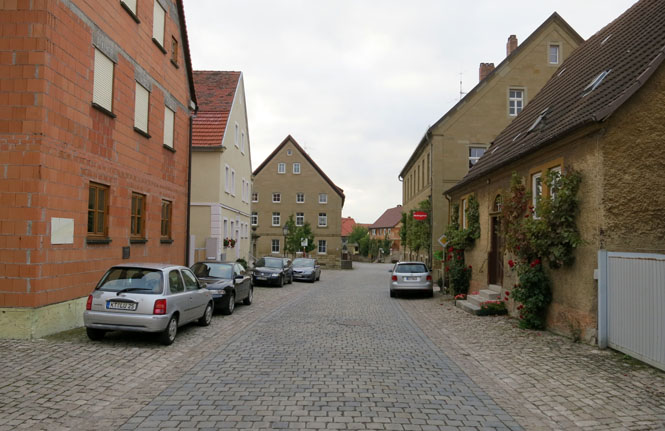 The building to the left of that small car is the restaurant. The hotel is just inside the fence, to the right.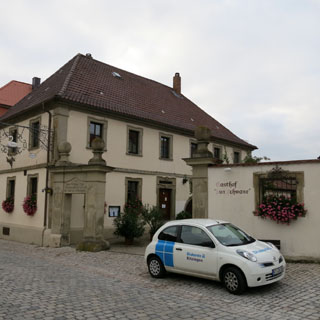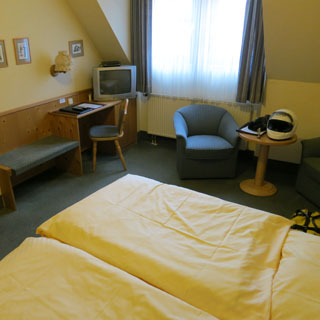 As I always do, I spent the evening walking around the town. One thing was soon apparent; this is the day that all restaurants are closed.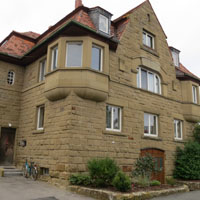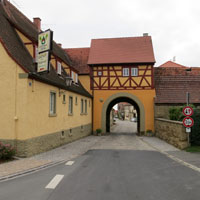 About those shoes. Perhaps they're not attractive (ok, they're not), but they are really comfortable and have become my new travel shoes. They pack flat in the duffle-bag, and have a wide and grippy sole. Keen shoes: recommended.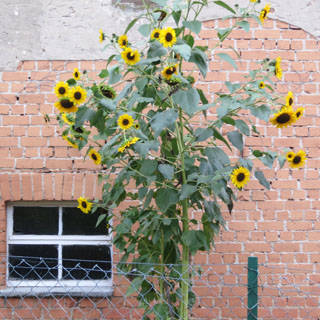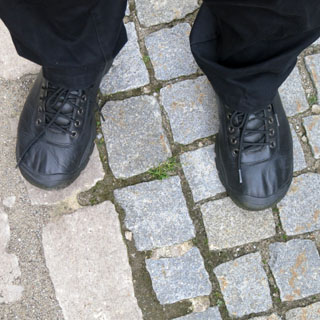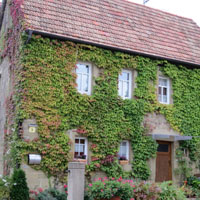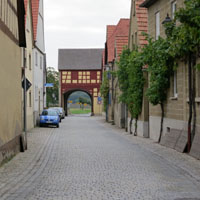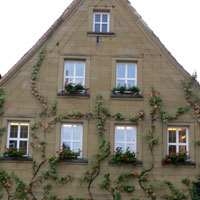 Unseren sohnen: Our sons, 1939 - 1945.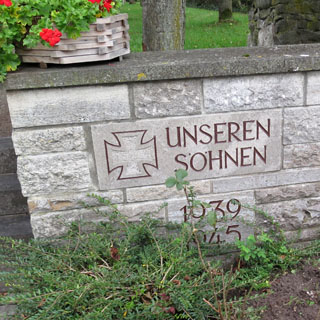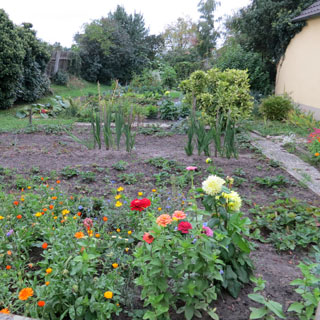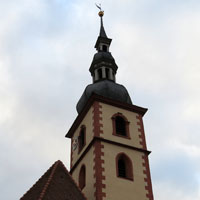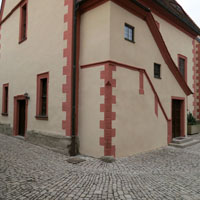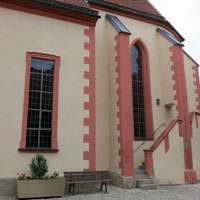 The grass on this soccer field looked more like dense green fur. This is a grounds-keeper (there he is) who loves his grass. He must hide himself away when they actually play soccer on it.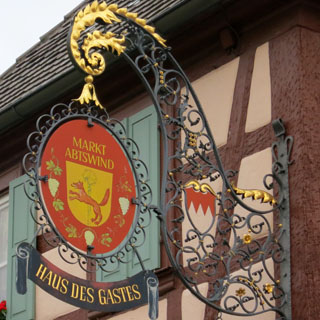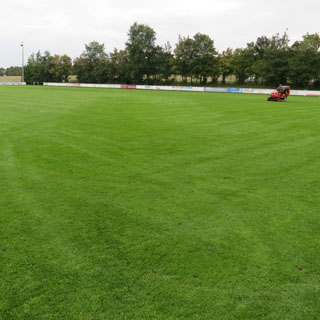 You won't see a tile roof on a Kansas barn.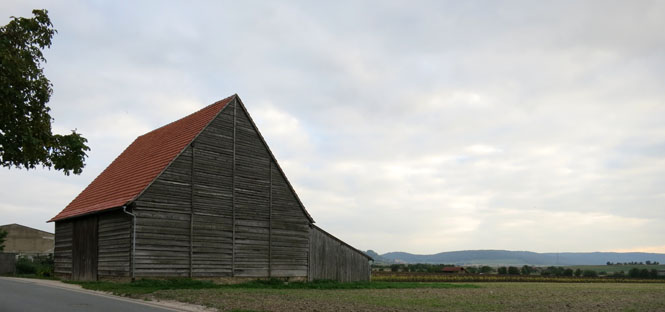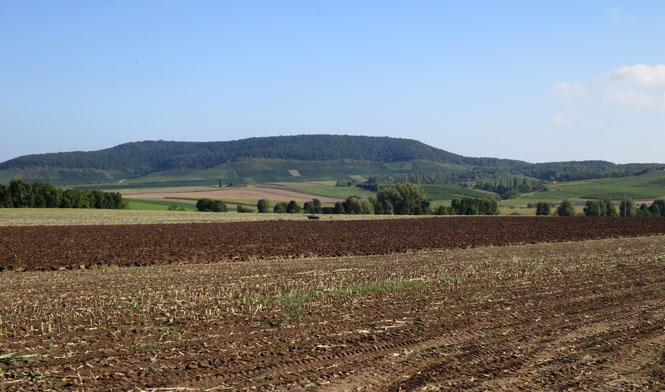 Ippesheim, Germany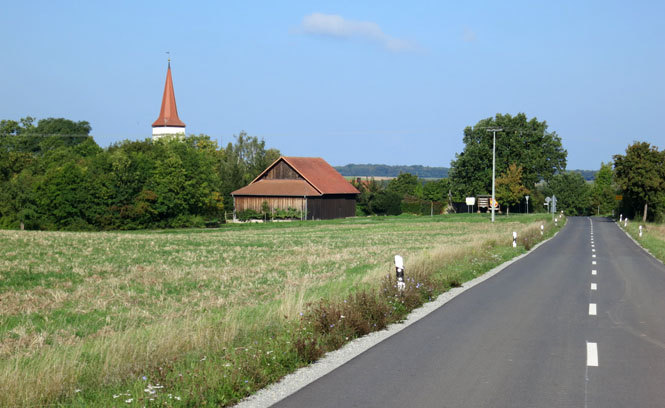 Aha, Germany. Why did I stop at this small town? The name...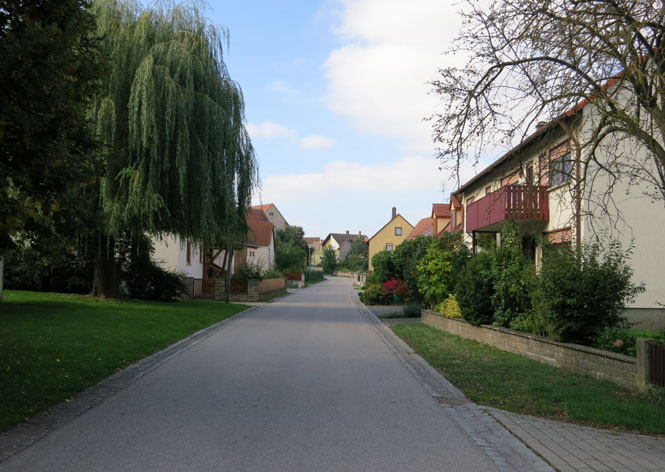 I do not know the story behind the statue of the girl with the rake, but I like it.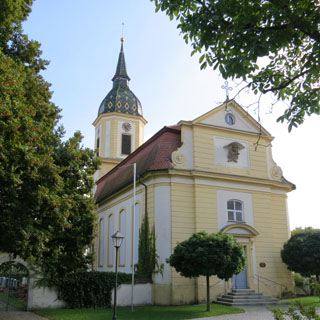 I saw this frequently in Bavaria: the cemetery plots are small flower gardens. Beautiful.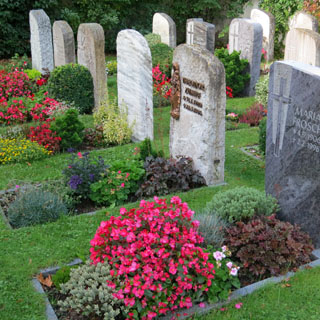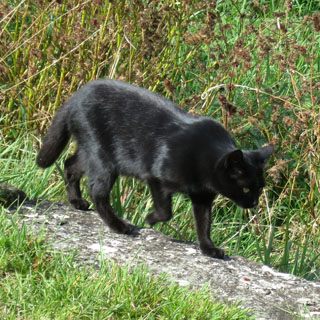 Meinheim, Germany. I stopped here because of that spectacularly tiled steeple. Nicely done.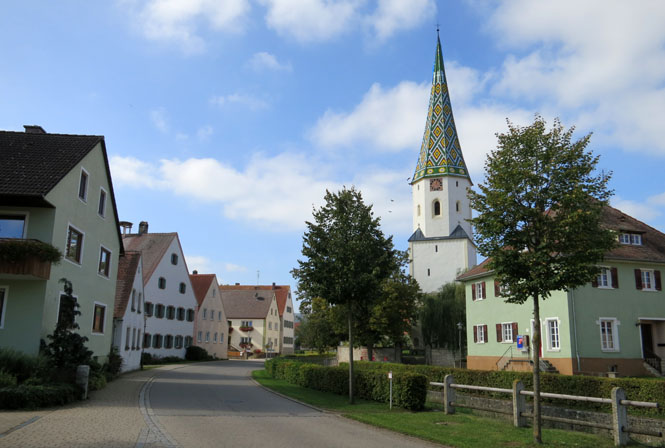 There's a water-way that passes by the shed towards a millwheel. At one time, this must have been a water powered lumber mill.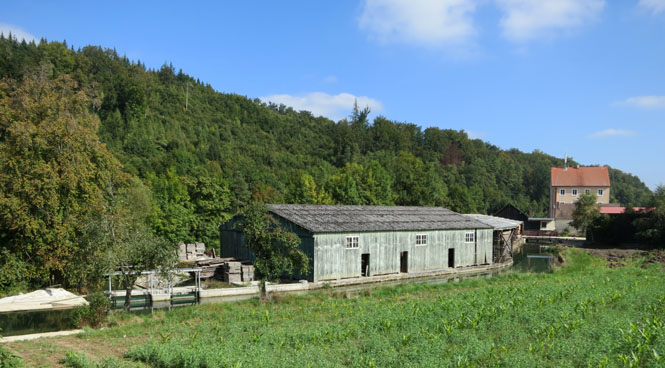 Ammerfeld, Germany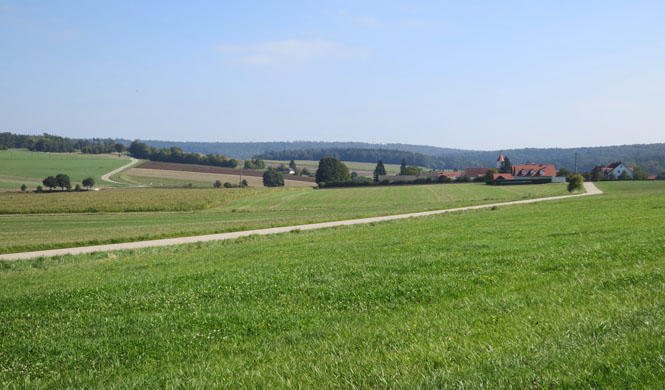 Danube, River. I'm standing on a low dam with a lock just to my right.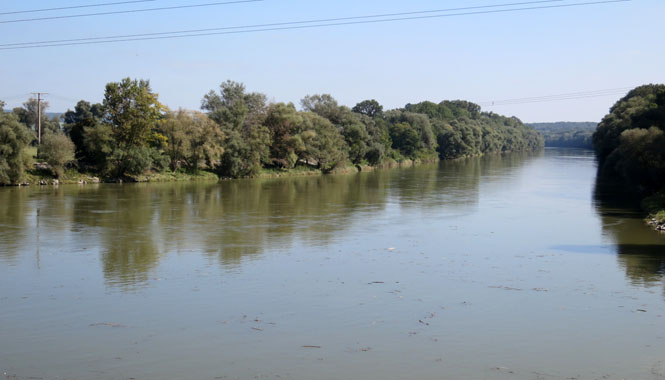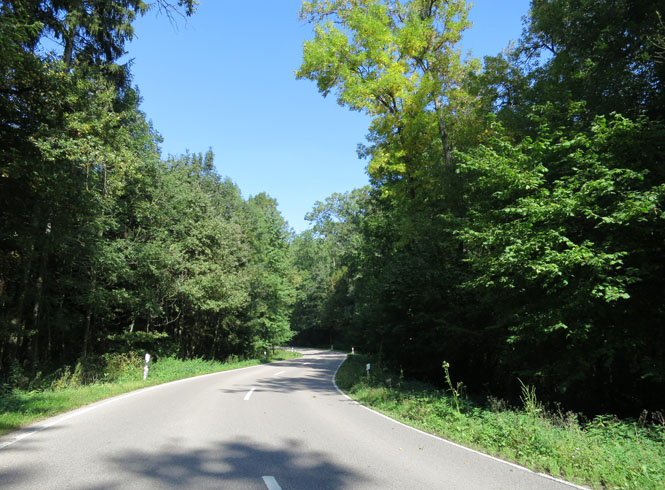 Schrobenhausen, Germany. Finding a place to park is never a problem for me.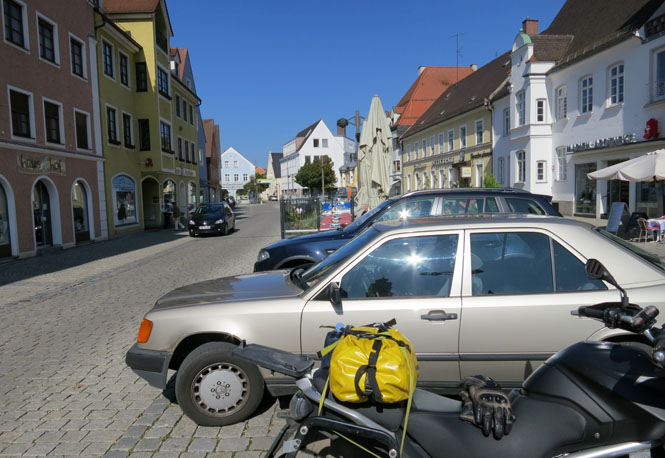 Klenau, Germany
That tall pole? These were common. Are they platforms for storks (such as I saw in Slovakia and Hungary), or are they something else.
---
This was my destination for today. Dachau is a town just north of Munich. The camp is within the town at the northeast border.
On March 22, 1933, a few weeks after Adolf Hitler had been appointed Reich Chancellor, a concentration camp for political prisoners was set up in Dachau. This camp served as a model for all later concentration camps and as a "school of violence" for the SS men under whose command it stood. In the twelve years of its existence over 200,000 persons from all over Europe were imprisoned here and in the numerous subsidiary camps. 41,500 were murdered. On April 29 1945, American troops liberated the survivors.

The Memorial Site on the grounds of the former concentration camp was established in 1965 on the initiative of and in accordance with the plans of the surviving prisoners who had joined together to form the Comité International de Dachau. The Bavarian state government provided financial support. Between 1996 and 2003 a new exhibition on the history of the Dachau concentration camp was created, following the leitmotif of the "Path of the Prisoners".

--http://www.kz-gedenkstaette-dachau.de (official website)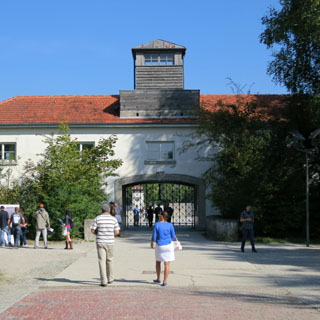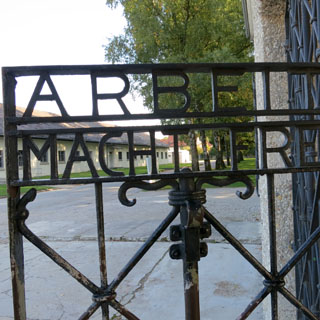 Looking across the assembly grounds. The vast rows of barracks are behind me.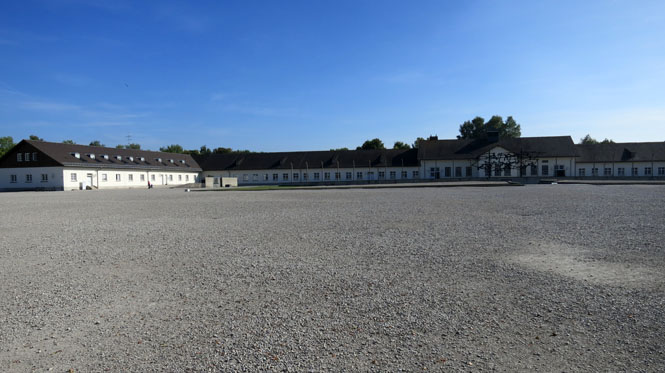 They've done a very good job with these exhibits. It's a combination of artifacts, photographs and videos. As Dachau served as the prototype of all the camps (as well as the training facility for the operators of those camps), much more than just the history of this concentration camp is shown.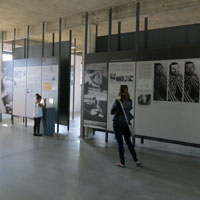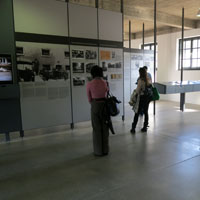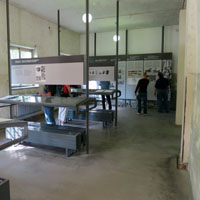 The large wall map shows the locations of all the camps and satellite facilities (yes; Breendonk is shown). The transportation system connecting these was quite large and extensive. The large horizontal model was quite helpful. The rectangular area (with the close-spaced barracks) on the right is the concentration camp. The facility to the left of that is the SS training camp.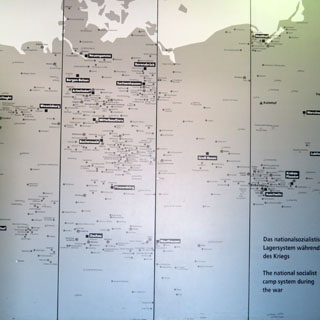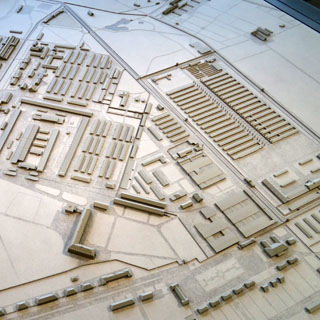 The names.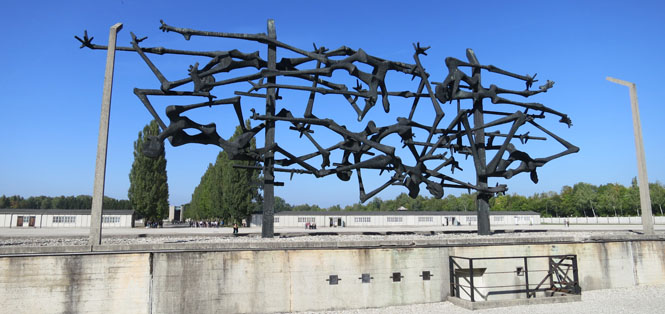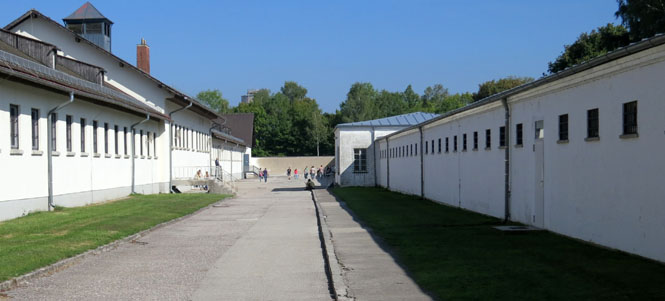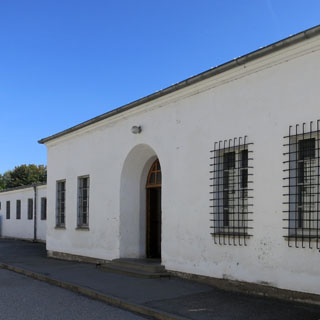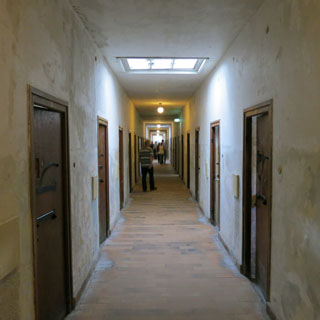 The original barracks are gone (although a replica of one is open). Each one is now marked by its concrete foundation. Walking the length of these barracks give you an idea for the enormity of the place.
The trees remain.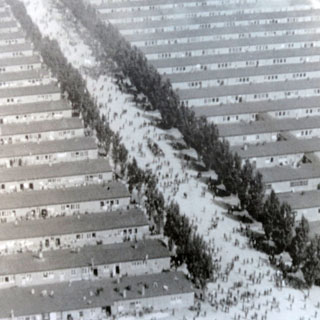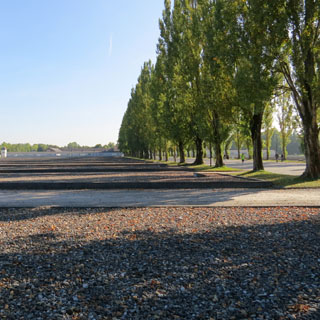 There are a number of memorials at the end of the camp.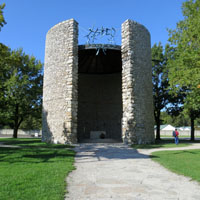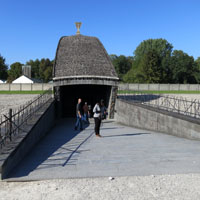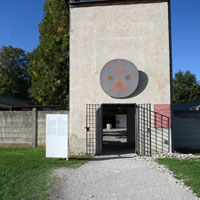 This was not an extermination camp (as with Auschwitz), but even so, the original crematorium was not large enough and had to be expanded. The Zykon-B gassing room was built and evidently ready, but the end came before it was used.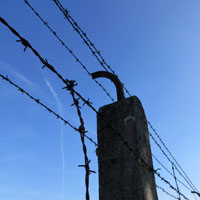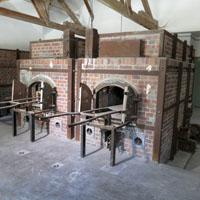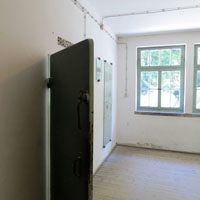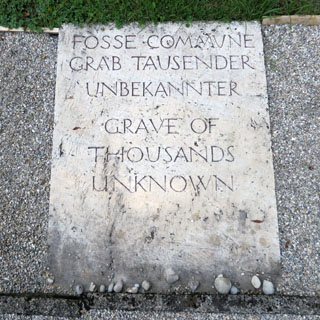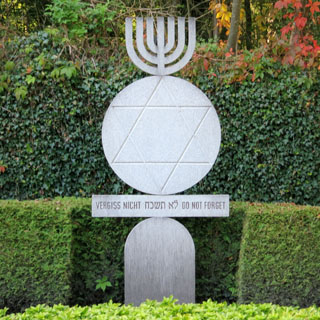 ---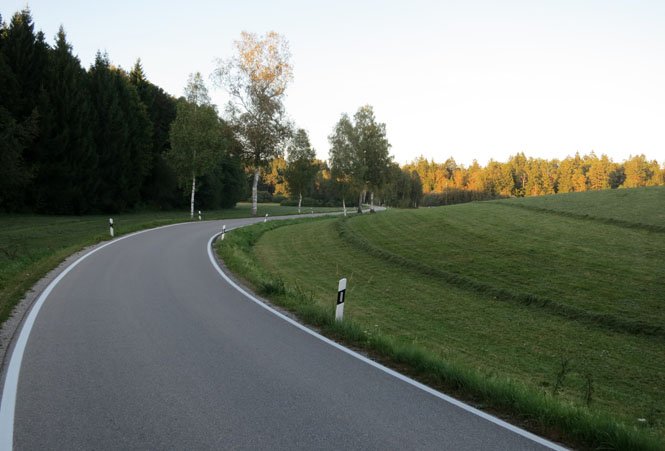 Schongau, Germany is an old walled town built on top of a hill.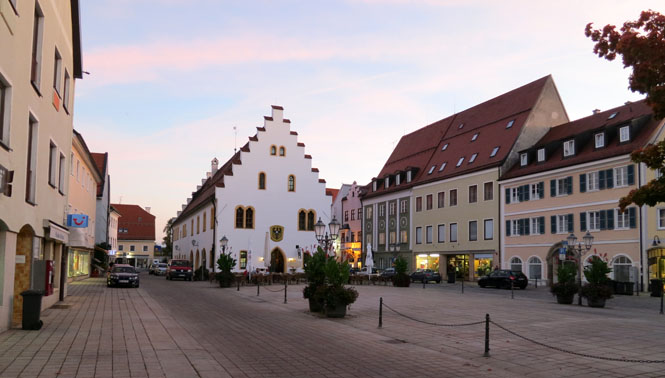 I believe my room had enough beds.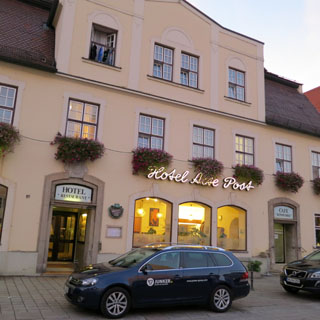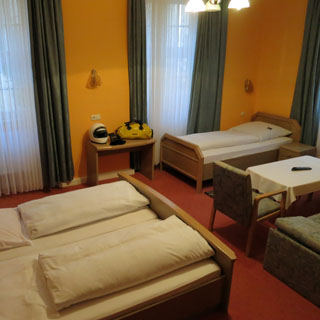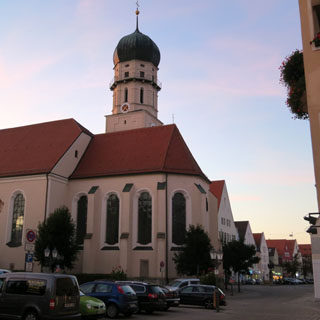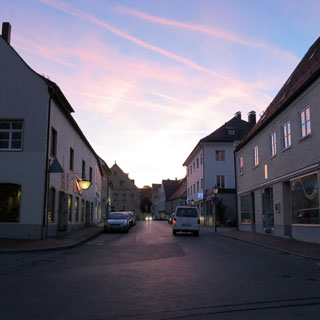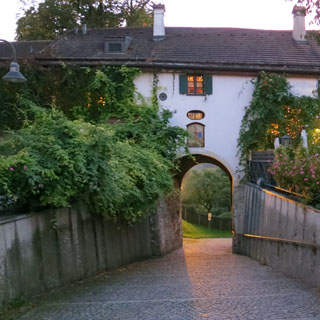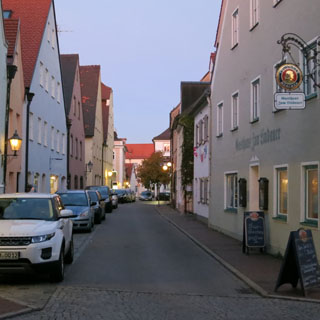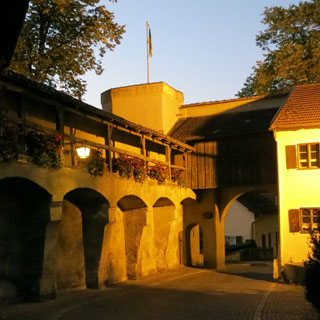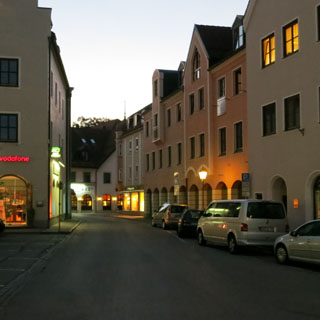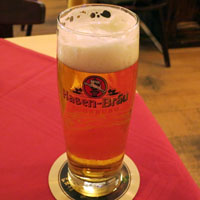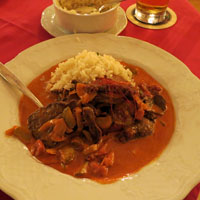 Riding through Bavaria towards Austria.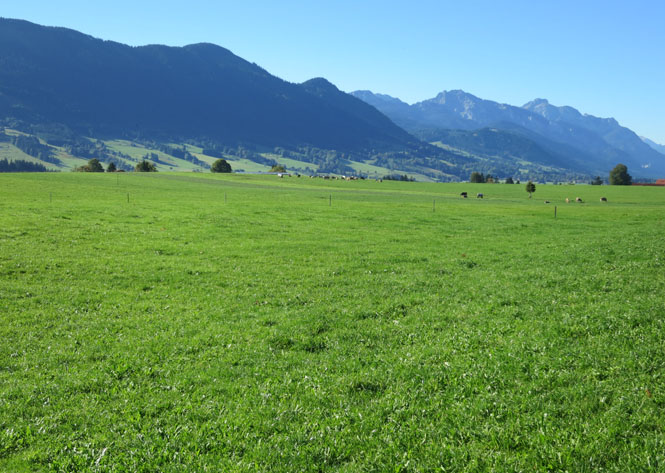 I've always been impressed how the Alps just seem to rise up. Yes; there's a road across.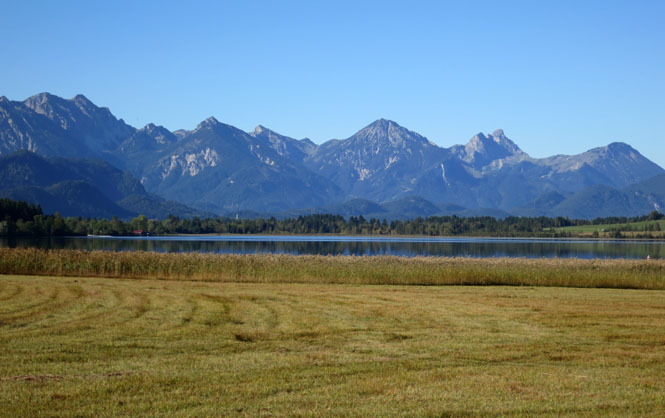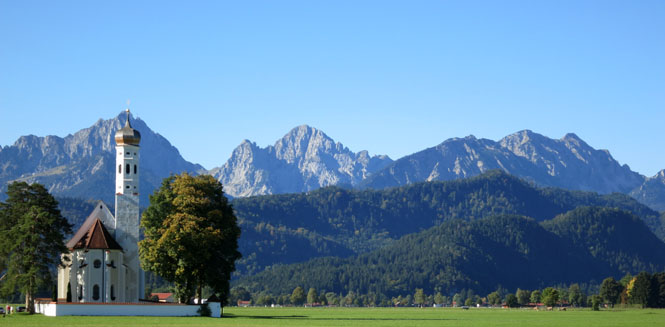 Ludwig II was King of Bavaria to 1886. Was he mad? Probably not really. He just liked to build extravagant houses. This is Schloss Neuschwanstein.
Austria
My plan was to take some smaller roads across a pass that I've not ridden.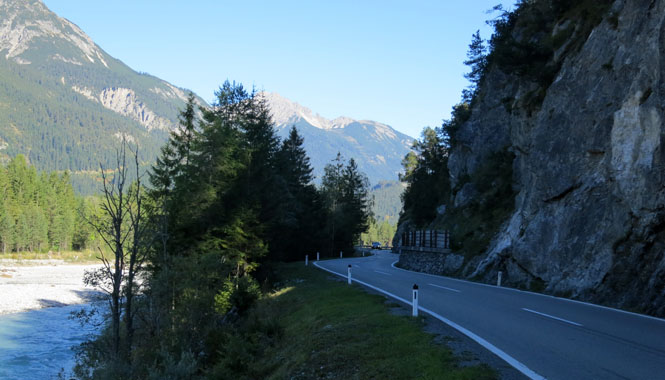 Köglen, Austria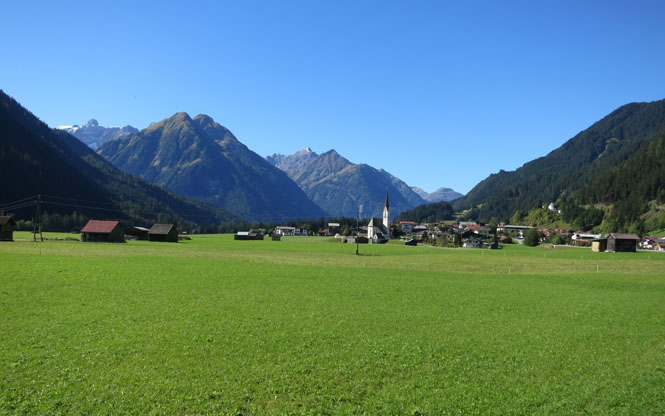 It's not easy to get across Austria (or Switzerland) without a lot of zigging and zagging.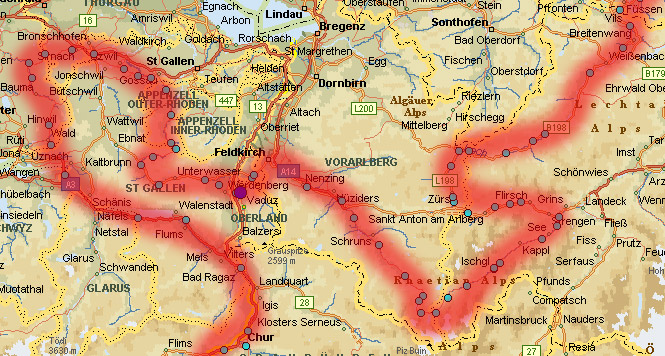 Warth, Austria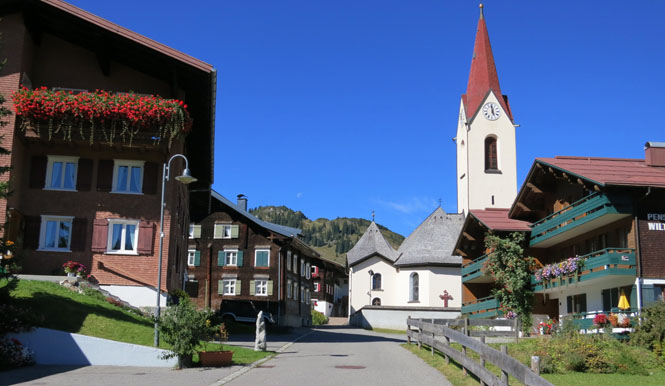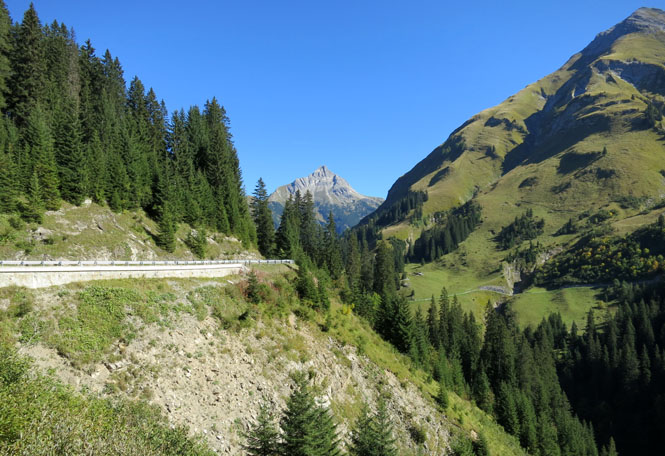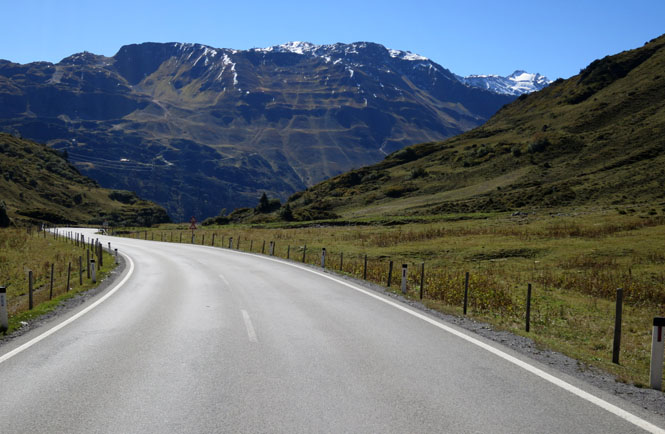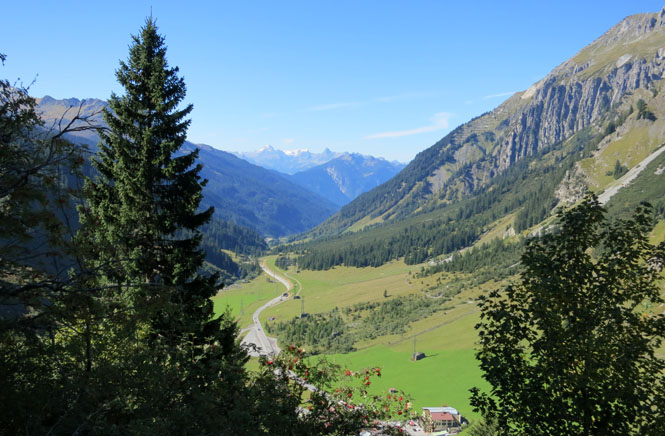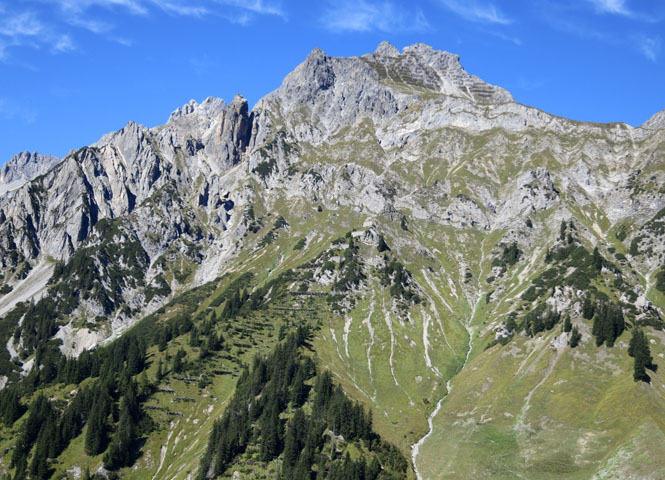 Pettneu am Arlberg, Austria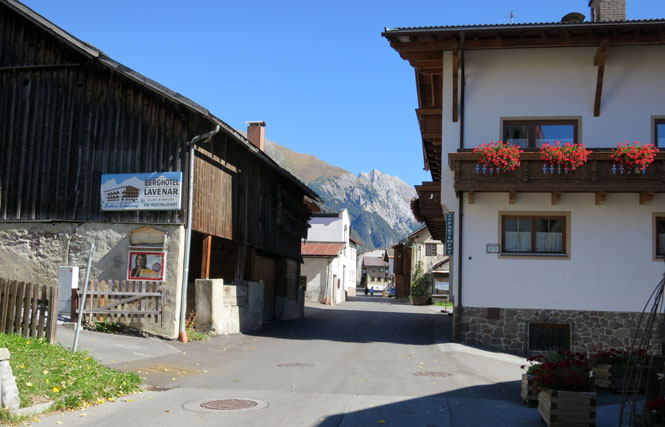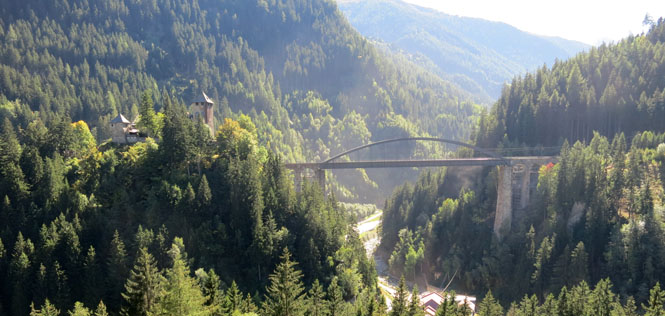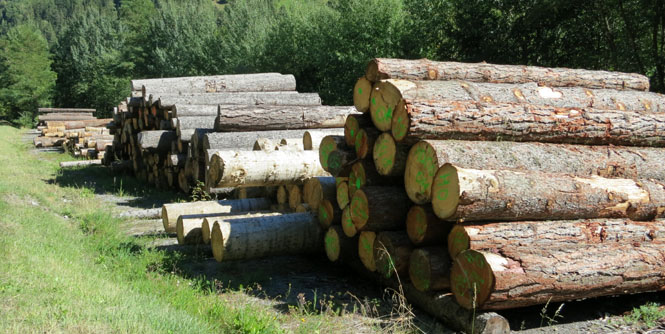 Ischgl, Austria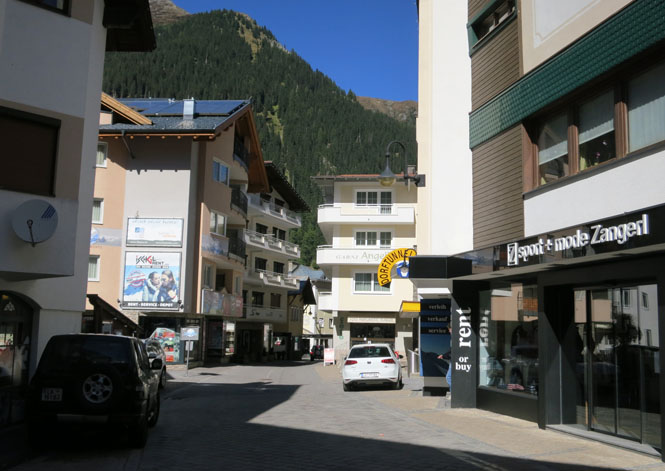 Let's have a strudel and cappuccino and figure out the route.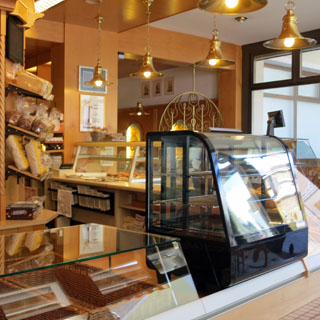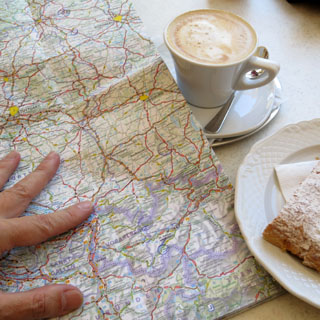 Tschafein, Austria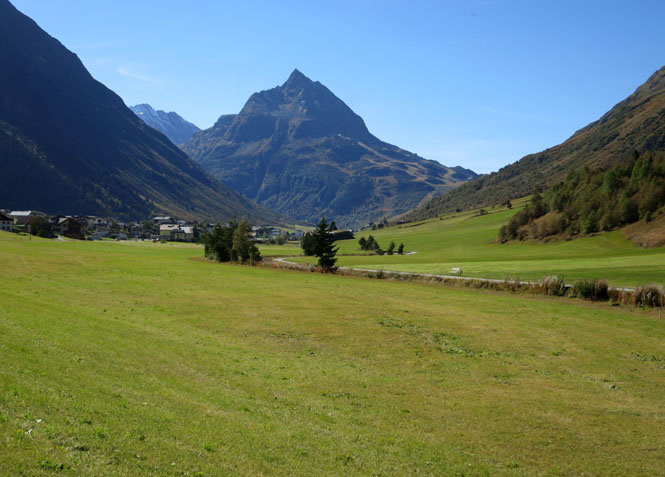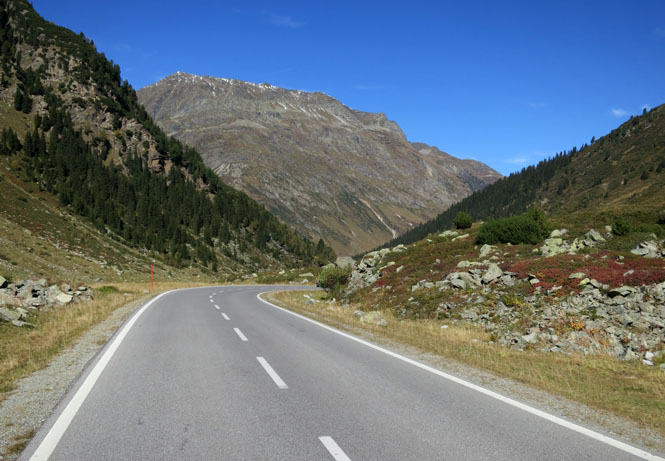 On the Silvrettastraße. This is a toll road and will cost you eleven Euros to ride. It's worth that, and much more.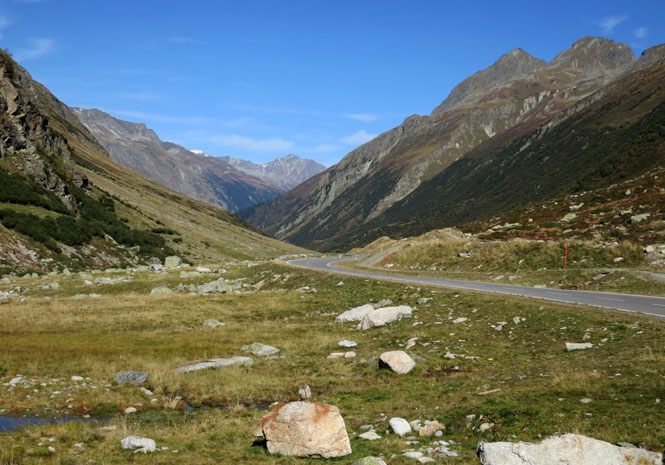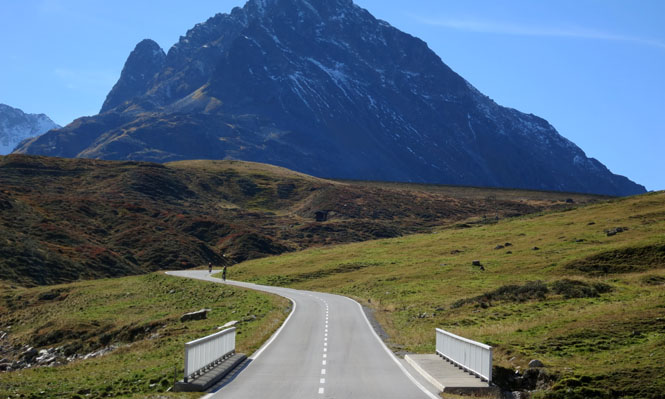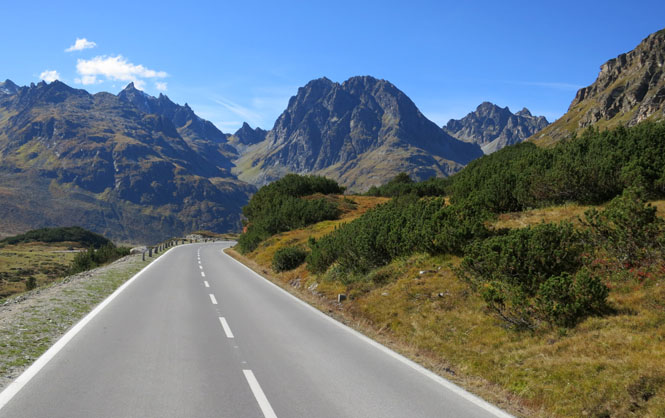 Look again. The road is dropping and turning and dropping and turning.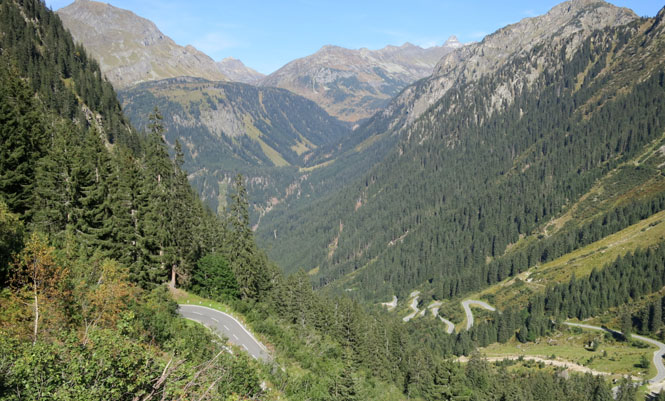 I could not have had better weather for this ride. Perfect.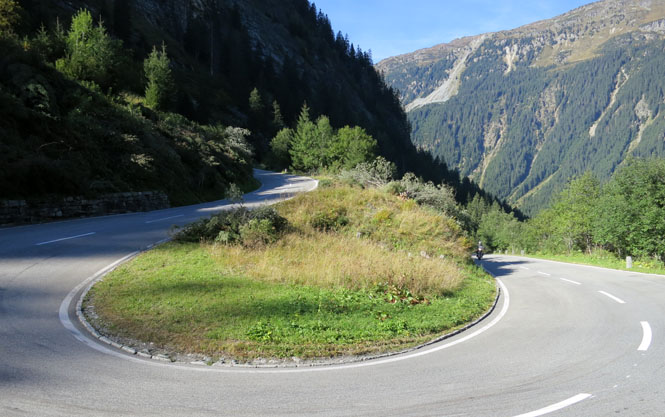 Liechtenstein
Schaan, Liechtenstein. They use Swiss Francs here.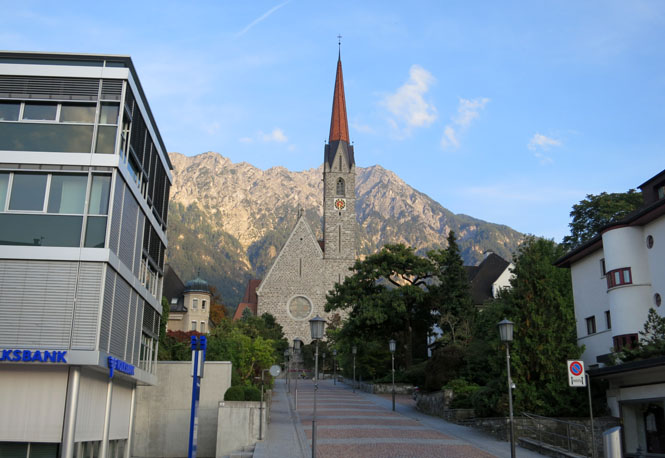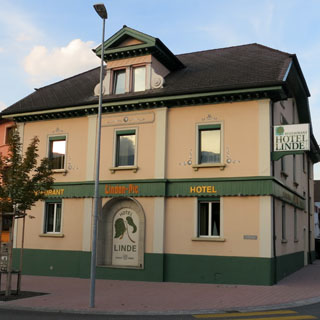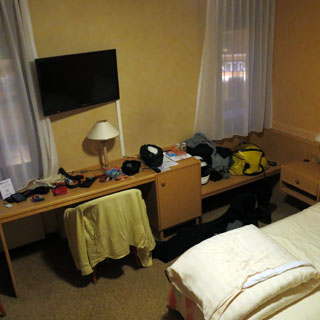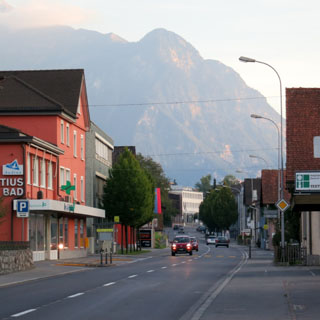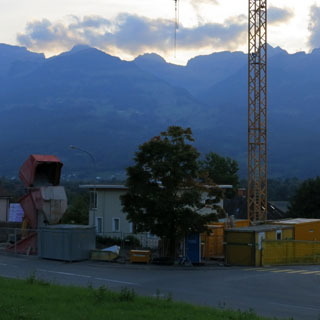 Yes; they have farm animals inside the town limits. You'd think people would object to the cow bells (they're quite loud), but I guess it's just part of living here.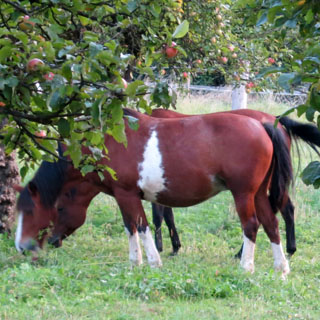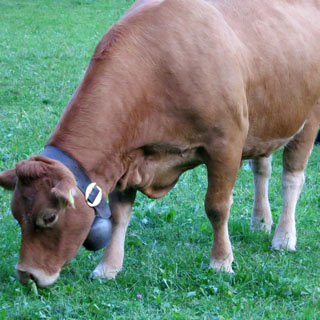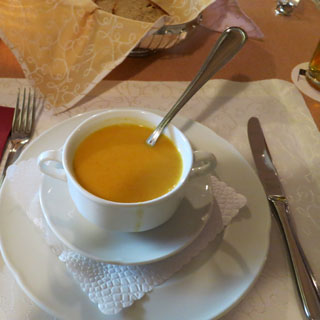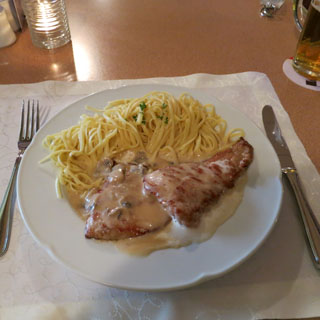 Switzerland
I had a day to pretty much just ride around. So, I figured out which roads I hadn't ridden before, and aimed for those.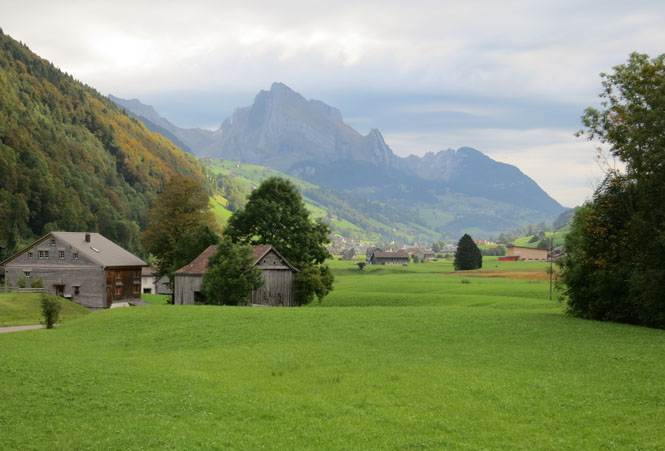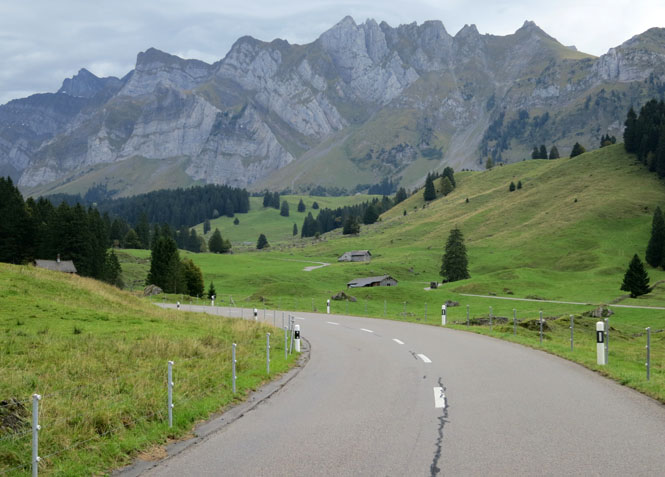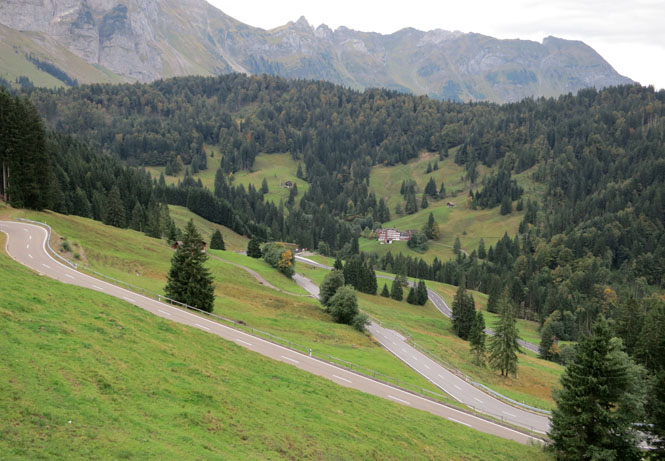 These "dragon's teeth" are fairly common Switzerland. I don't believe they proved to be all that effecting during the war, but I think Switzerland still maintains them in some areas.

Turbenthal, Switzerland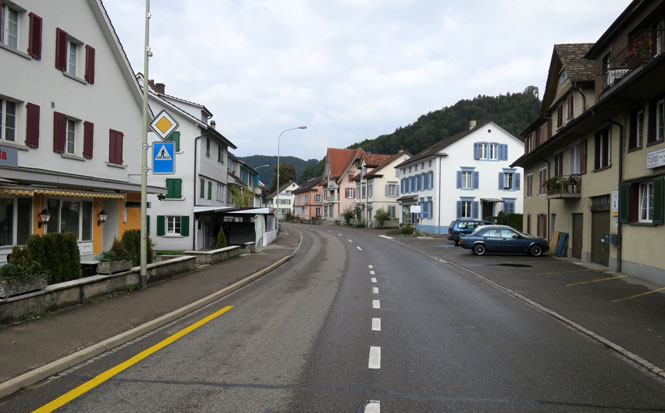 My ongoing attempt to eat what is eaten locally.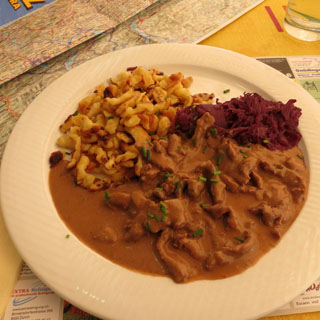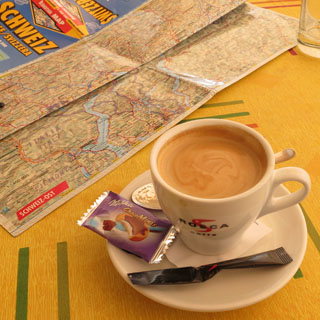 Riet be Gibswil, Switzerland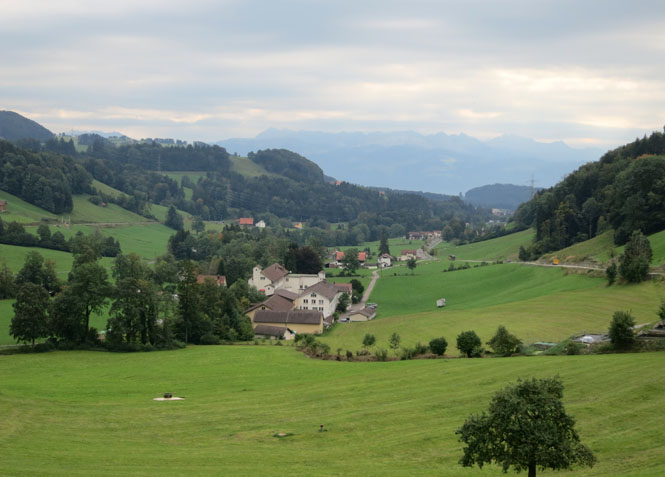 The oldest road is at the bottom, then the newer road above it, and the latest highway at the top. All of these take you to San Bernardino Pass. But, it's raining, so now is a good time to stop for the evening.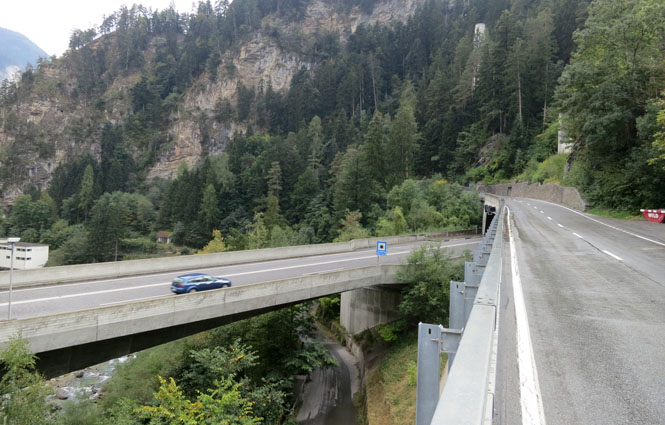 Thusis, Switzerland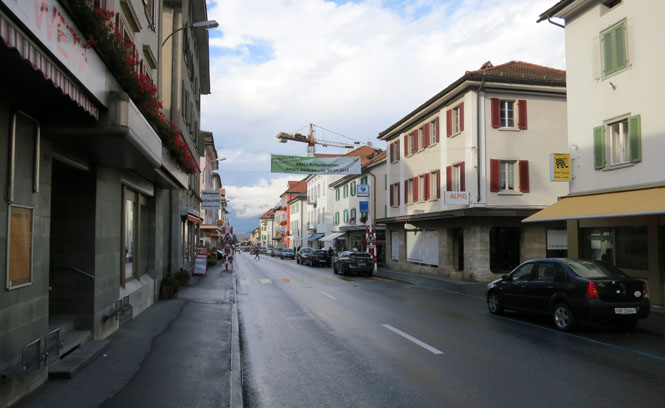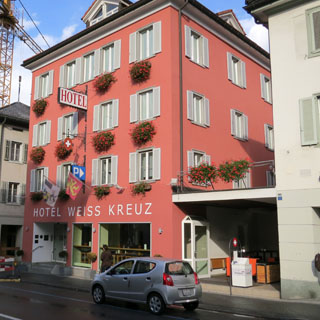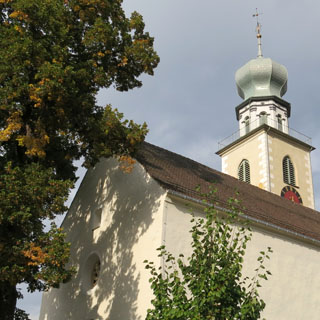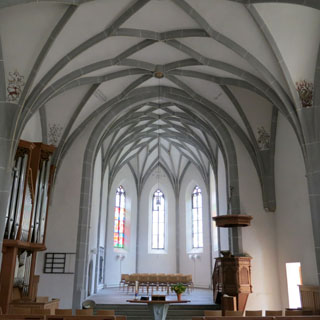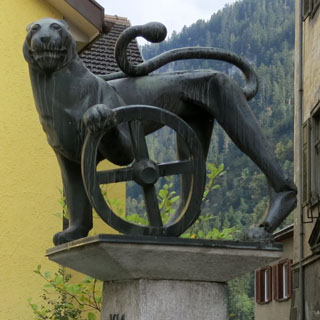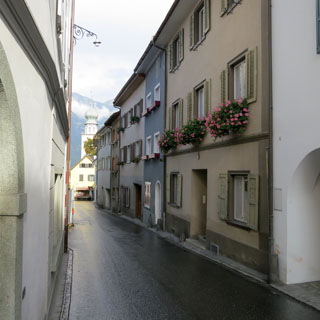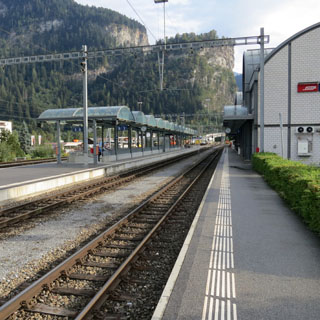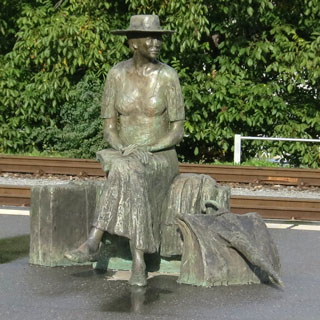 I was hoping for clear weather the next morning, but I was met with more drizzle and clouds. As long as it doesn't really rain (or snow), I'll be content.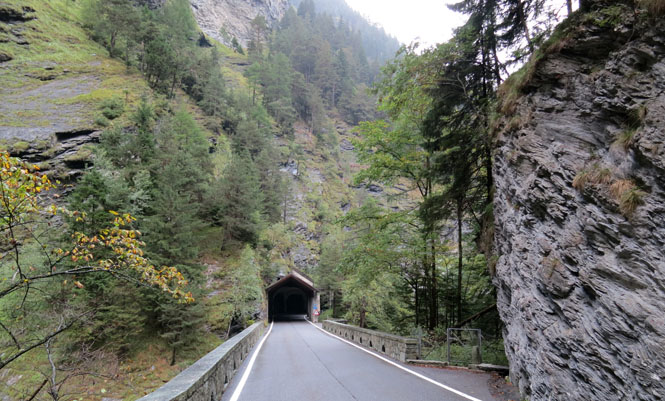 Turquois water always comes from glaciers.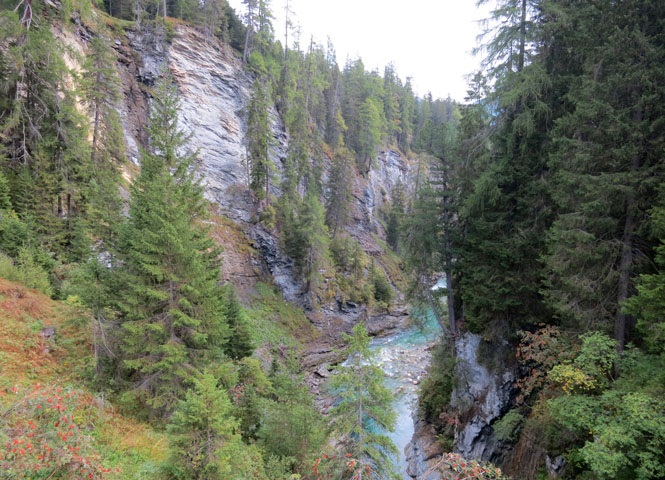 Nufenen, Switzerland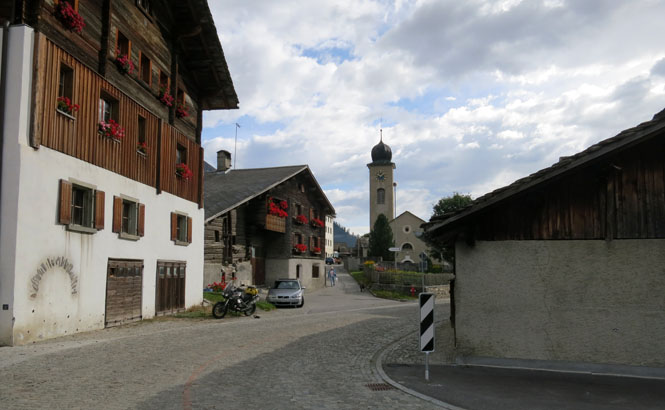 Yes; there's a long tunnel under me. Let's avoid that. I'm on the old San Bernardino pass that climbs over the mountain pass.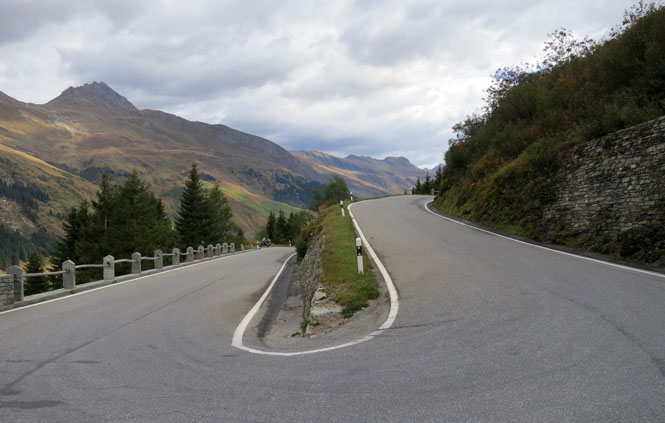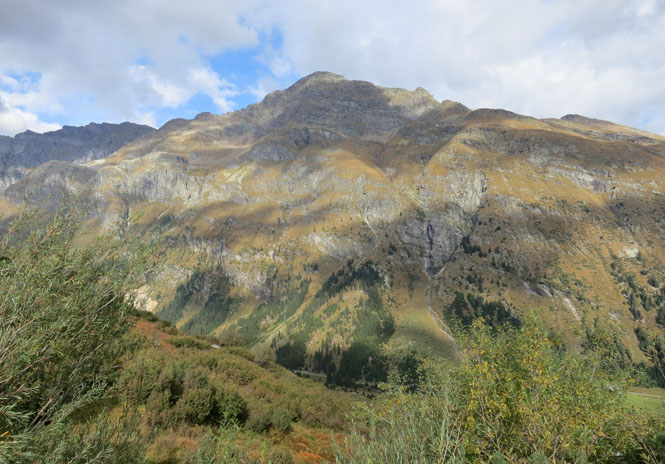 Blue sky, and the road is dry. It's a perfect day for riding.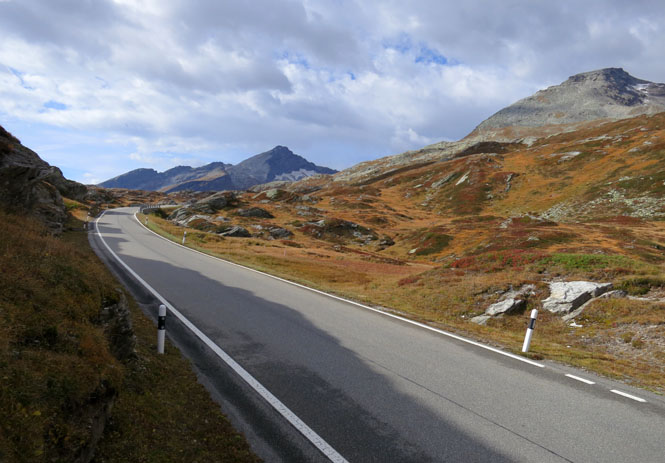 Way across those mountains is Italy. But, for now, there's still a lot of dropping to be done.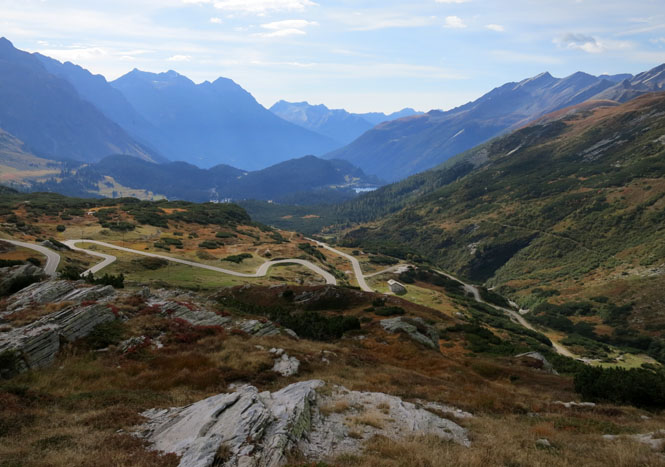 San Bernardino, Switzerland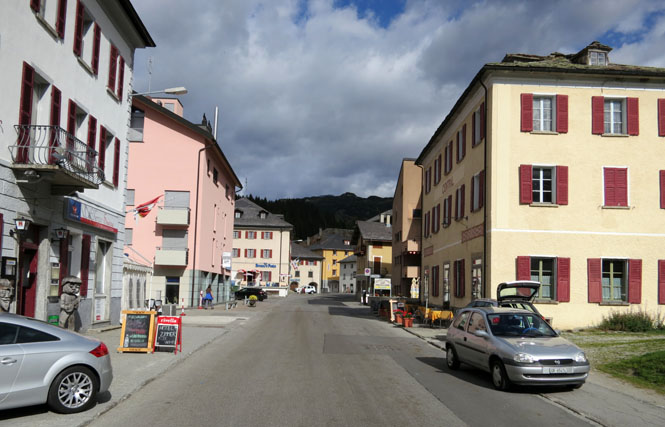 Almost down, now.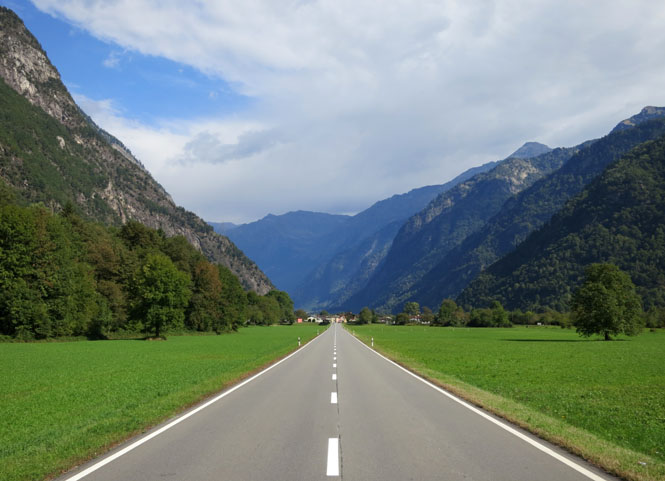 Lugano, Switzerland. This would be my third attempt to cross through Lugano without a misstep. I failed again. There just are not enough signs for the non-local to be able to pick up the several turns necessary to make it through this city.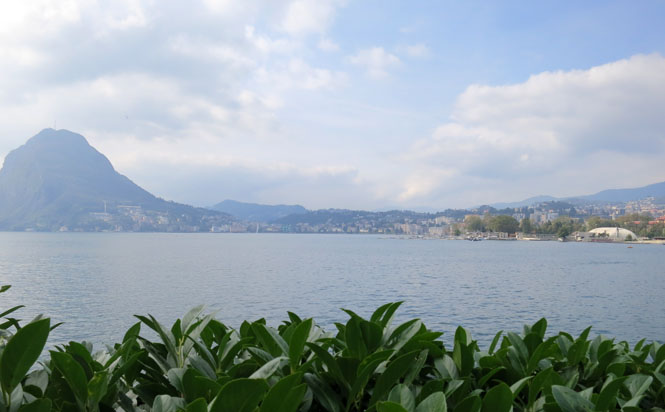 Italy
Albogasio-Oria, Italy. There's just something relaxing about northern Italy towns in the lakes region.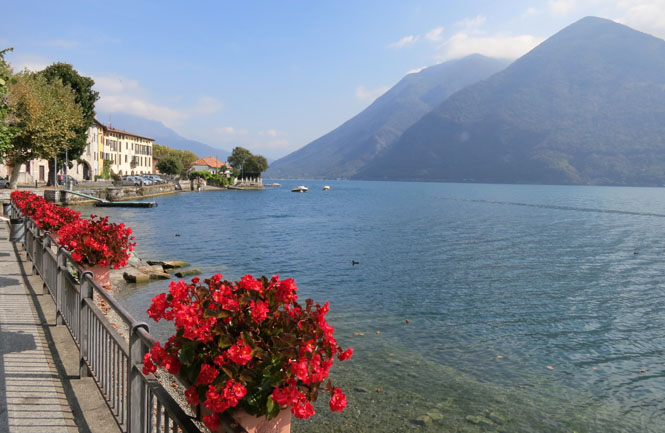 Domaso, Italy. I've got plenty of time, let's stop for a good lunch.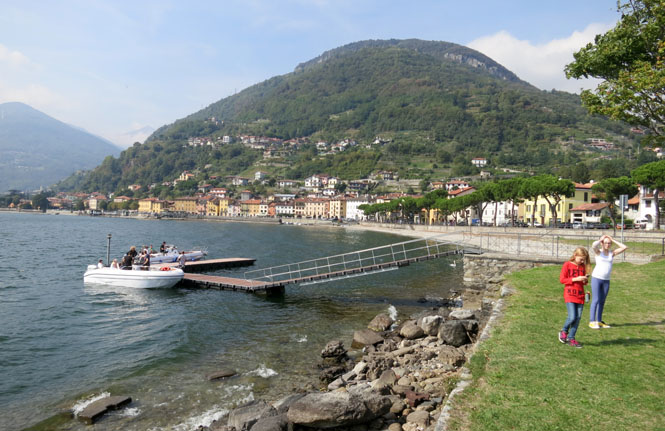 That fish came from the lake (Lake Como). Is it a Perch?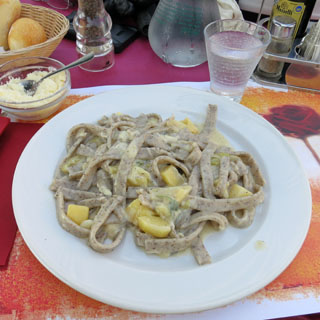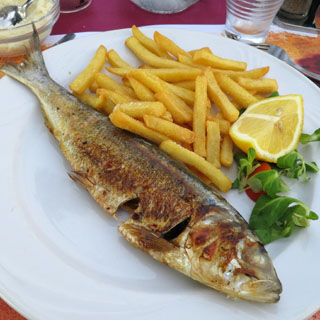 Mandello del Lario. As always, I will be staying at Mamma Ciccia's in old town Mandello. I've been in this same room a number of times.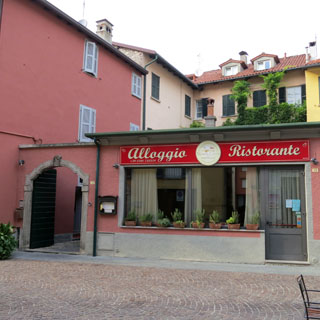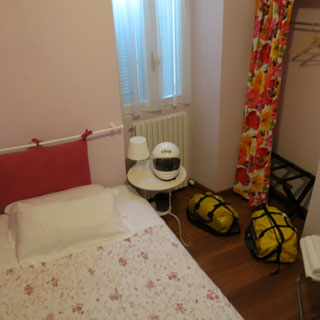 It's the perfect place to wind down. This white cat? I've seen her on most of my trips.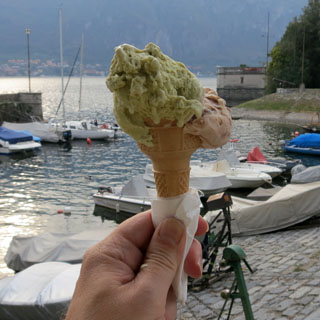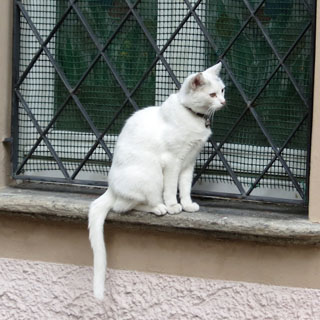 Carlo Guzzi; still timing his rider.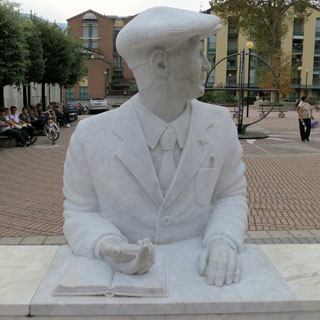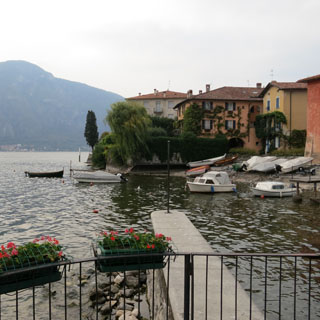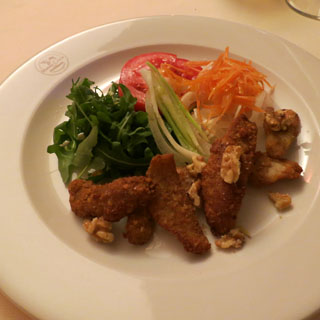 Without a motorcycle, I'm now hauling two yellow bags in order to carry my boots and riding suit and helmet. The train will take me to Lecco, from where I'll transfer to another train to take me to Milano.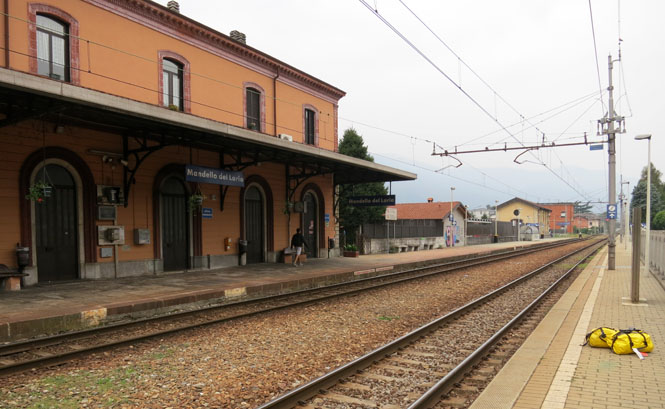 I'd have most of Saturday to walk around Milano before catching an early Sunday flight back to Newark.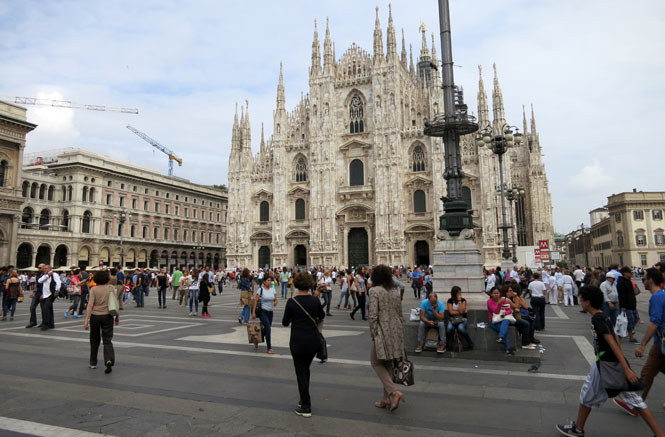 last edit: 10/31/2013