October, 2013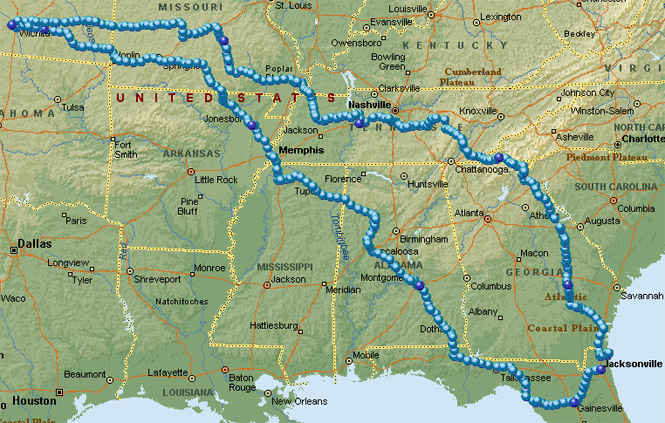 Kanwar knew my weak point when he asked if I'd be interested in speaking to students at the University of Florida in Gainesville: "You haven't been there on a motorcycle." Joining this with an ASTM F44 aircraft certification committee meeting in Jacksonville, the trip came together pretty easily.
Kansas
Beaumont, Kansas. The weather was not supposed to be this bad. It was supposed to be cool leaving Wichita, but to stay above forty degrees--and most importantly, it was supposed to stay dry.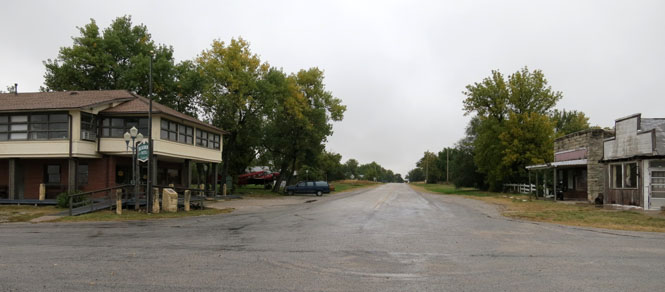 Yes; that's snow. It seems to be coming down rather more horizontally than vertically. And, it's cold; really cold.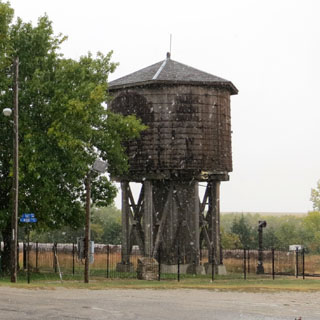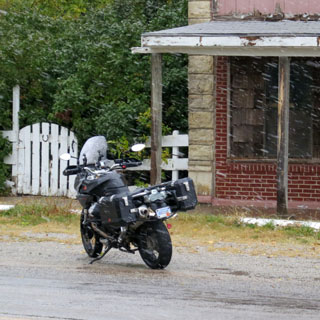 I've stopped for lunch or breakfast at the Beaumont Hotel a few times, and have landed on the adjacent runway a couple of times (you can taxi right to the hotel). But, I've never spent the night.
The walls are covered with airplane pictures. Where there's room, you'll find motorcycle pictures (look closely at the cafe wall below and you'll see a photograph of Burt Munro at the salt flats).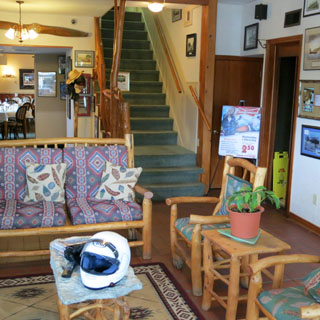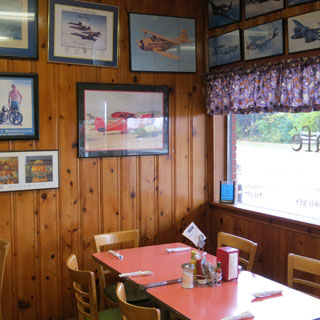 This place is as close to a small European hotel as I've ever been in this country. There's a dining room, bar/cafe and comfortable living room (not merely a lobby) down stairs, and bedrooms above. It has long-since been remodeled so that each room has its own bath. It's really quite a nice hotel.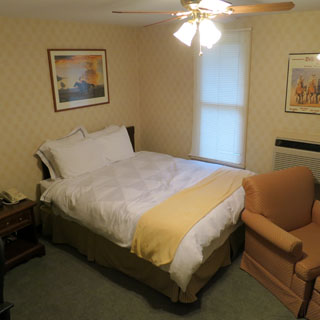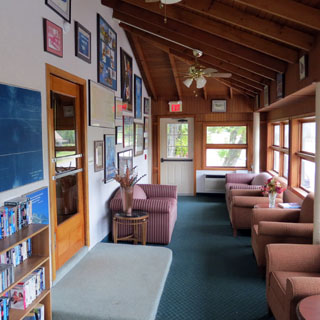 That's one of the original "Frisco Ponds" that was dug to support the herds of cattle that were driven to this rail town. That Beech 18? Apparently, it was landed here by the owner of the hotel. The engines have been removed, so it won't be going anywhere.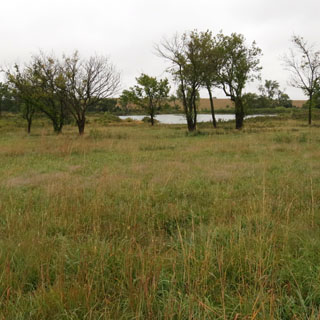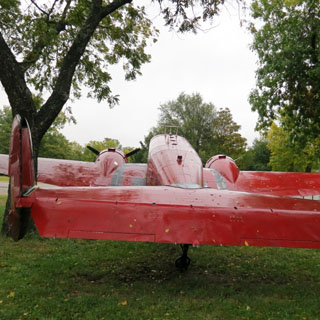 Let's hope for better weather tomorrow.
Dinner (chicken fried steak, naturally) and then breakfast the next morning (it comes with the room). The Beaumont Hotel is highly recommended. Yes; the weather is better this morning (even if still cold).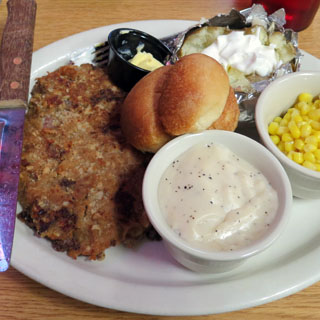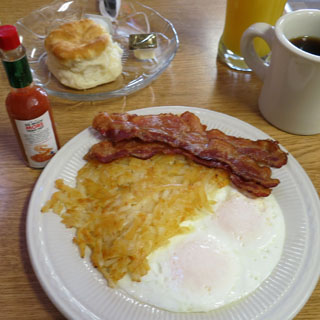 Missouri
There are lots of BBQ joints along the way. Occasionally I haven't been impressed, but mostly they're all very good. It's a good sign when you sit on a bench and the place mat is clean butcher paper.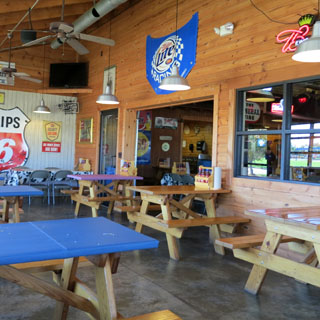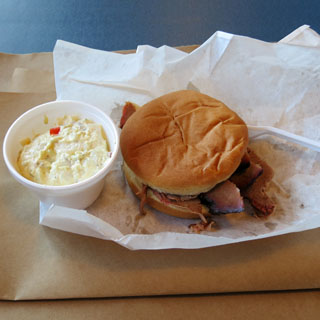 Mansfield, Missouri is where Laura Ingalls Wilder wrote her "Little House" books. There's a museum in town, but I didn't search it out.

Arkansas
It's getting warmer. I've not used saddle-bags for a long time, but I wanted to have several clean shirts in Florida and didn't want to do washing every night; so, I didn't use my normal bright yellow duffle-bag.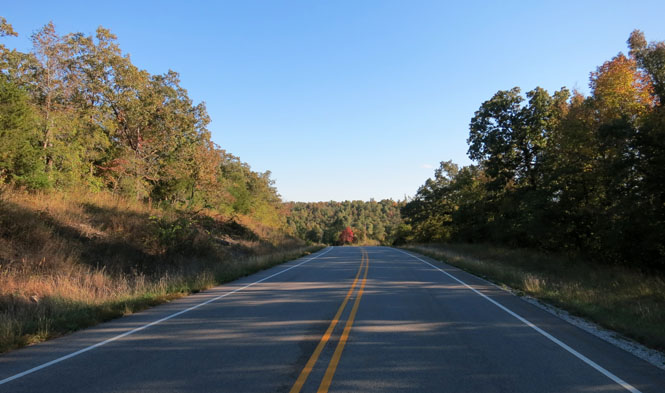 Tennessee
That's the I-55 bridge across the Mississippi River into Memphis.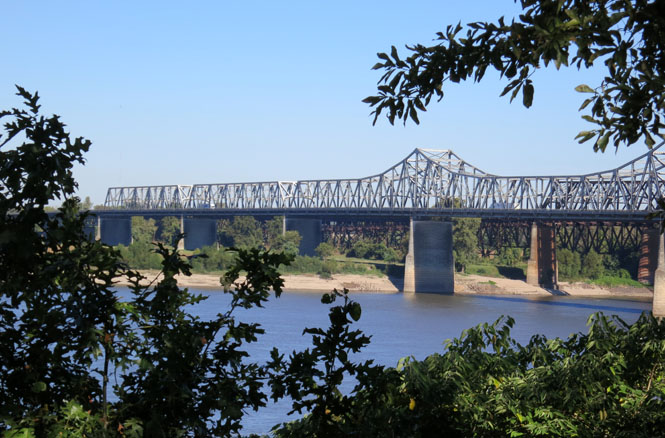 Mississippi
It was good to get off the four-lane highway and ride through rural Mississippi. But, I'm needing to make good time (having lost a day), so I didn't spend as much time on these roads as I normally would.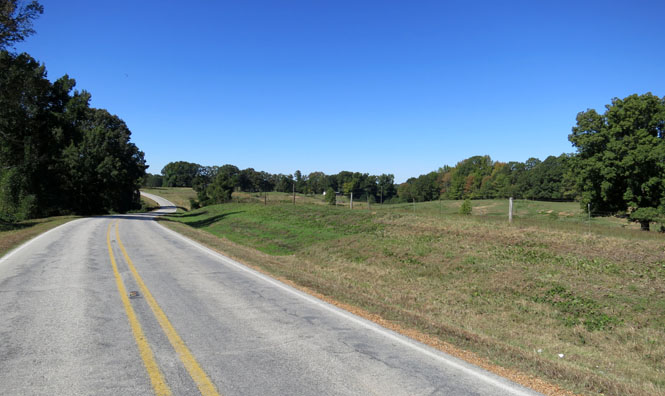 Alabama
Oakman, Alabama. For unclear reasons, many of these small towns in Alabama had stop lights. You wouldn't think there'd ever be enough traffic to justify the expense over using a simple (and cheap) stop sign. Maybe it's a prestige thing.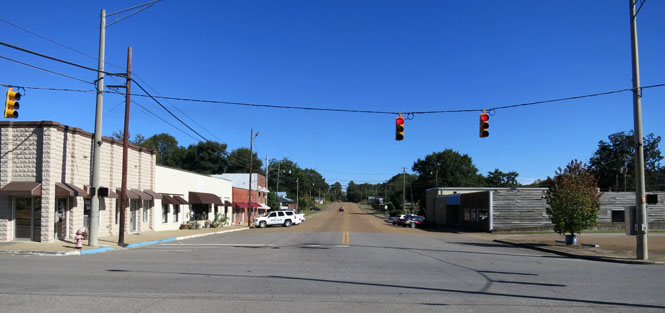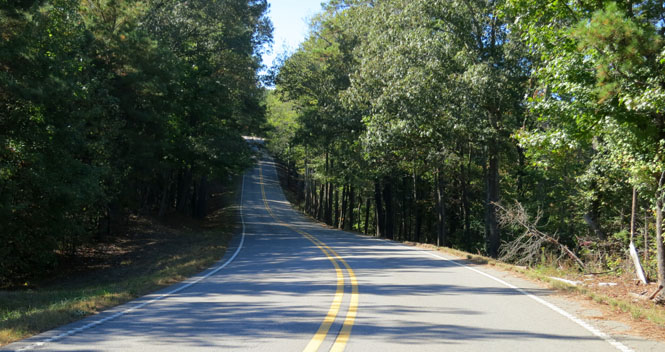 Centreville, Alabama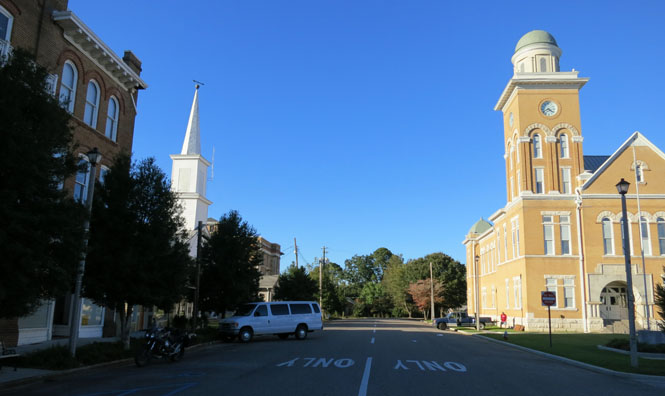 I don't think I'm too far wrong if I say that every town in this state has a monument of some sort "to our confederate heroes." I noticed that these were often erected forty years, or more, after the end of the Civil War.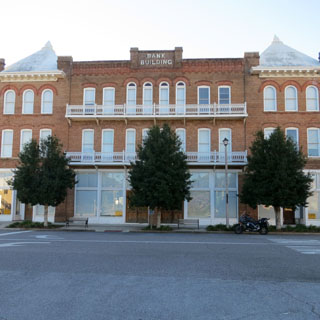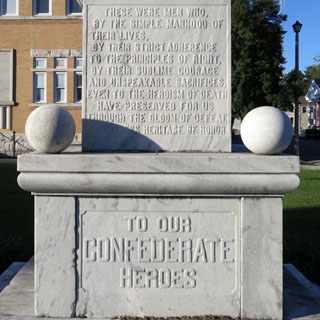 Florida
There's not much that is interesting when running dead straight on a four-lane divided highway.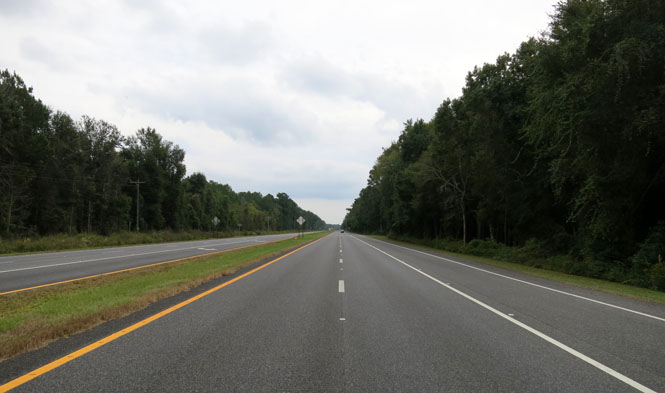 I wanted to see the gulf side of the state, so I deviated to Keaton Beach, Florida.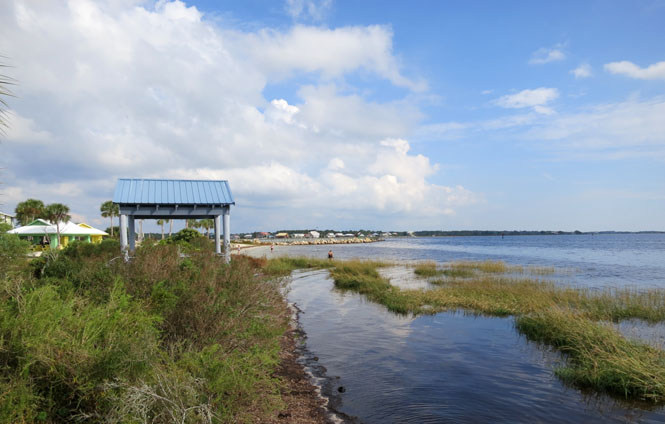 Away from the pavement, the ground is a brown talc-like sand that clumps on your shoes.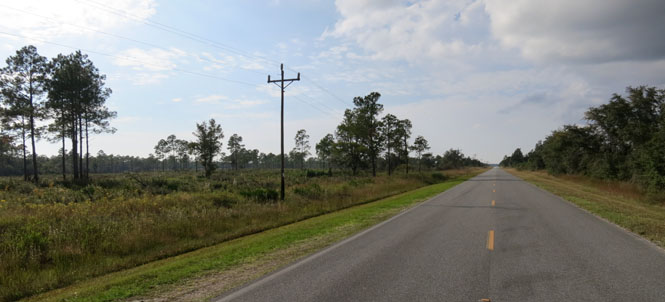 Newberry, Florida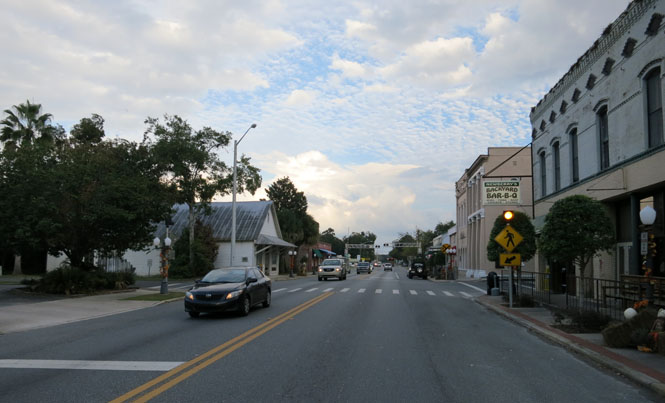 Sarab and Kanwar looked after me the two nights I spent in Gainesville. There are three "Gators" who have won the Heisman: Steve Spurrier (1966), Danny Wuerffel (1996) and Tim Tebow (2007). You get the impression that football is really, really big around here.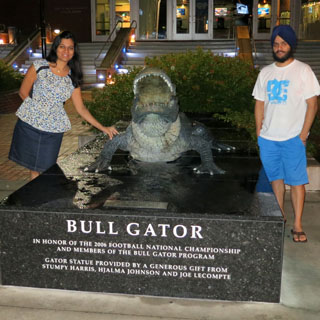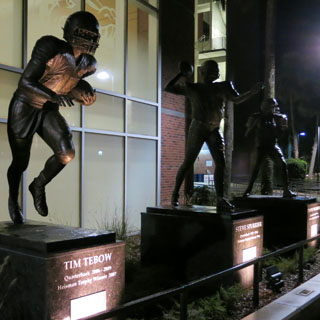 Lake Alice in the heart of the campus. It's a beautiful place. I did not see any alligators but, just the same, I don't think I'd want to go wading.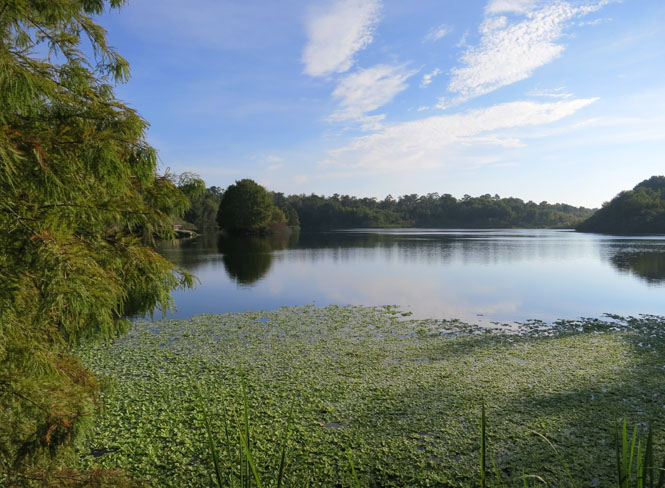 This is the Baughman Meditation Center, right next to the lake.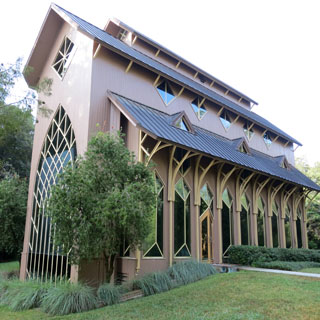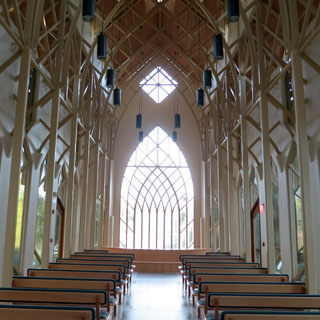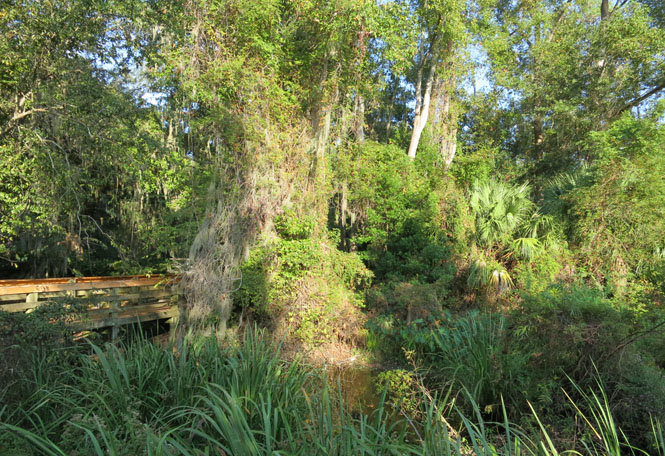 Jacksonville, Florida looking across the St Johns River.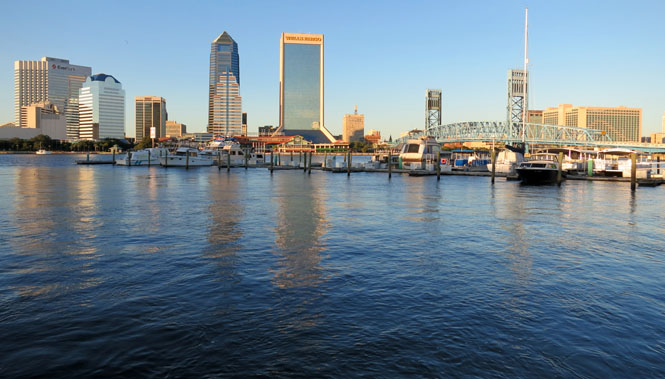 The committee meetings were inside the Hyatt (which is where I spent two nights). The Stelvio stayed under cover in the parking garage the whole time.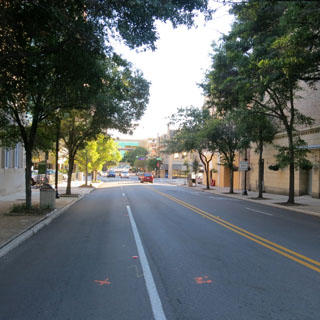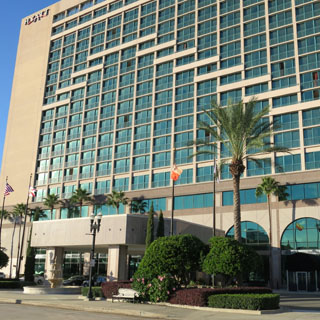 ...lots of interesting bridges crossing the river (the rail bridge is in the "up" position).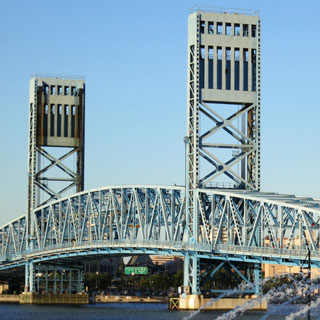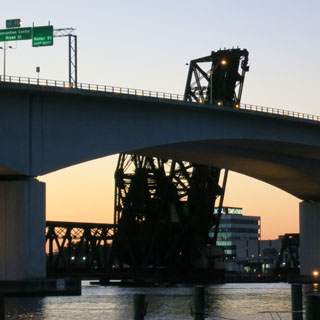 The Acosta Expressway Bridge.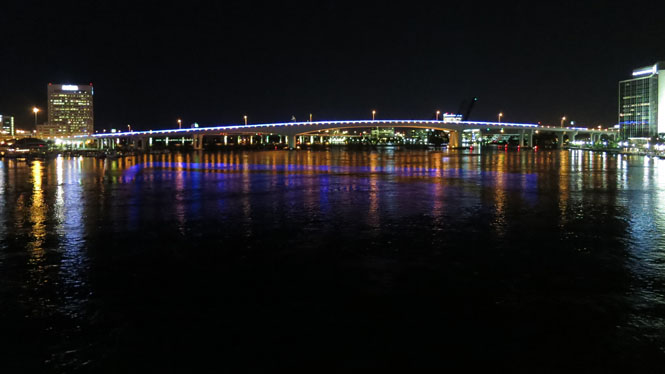 Friendship Park Fountain.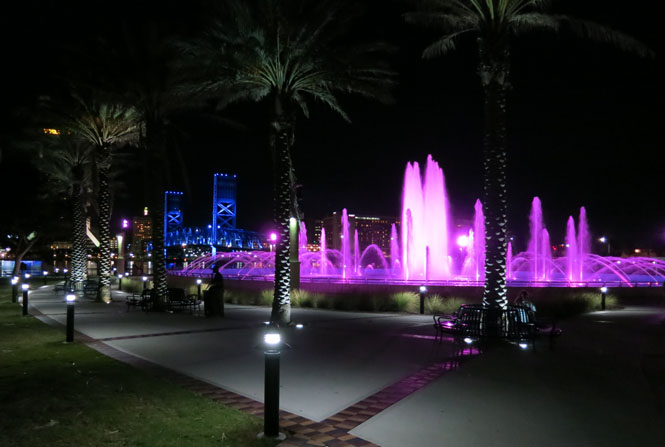 The Main Street Bridge.
Two herons along the river: a black-crowned night heron on the left, and a great blue heron on the right.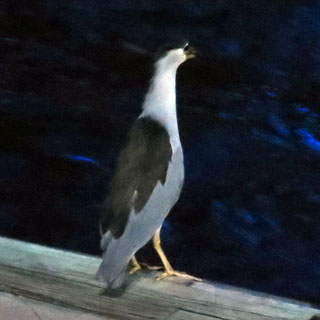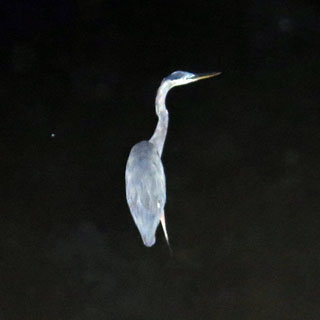 The morning view from my hotel room. There's a small barge moving up-river (which flows with surprising swiftness).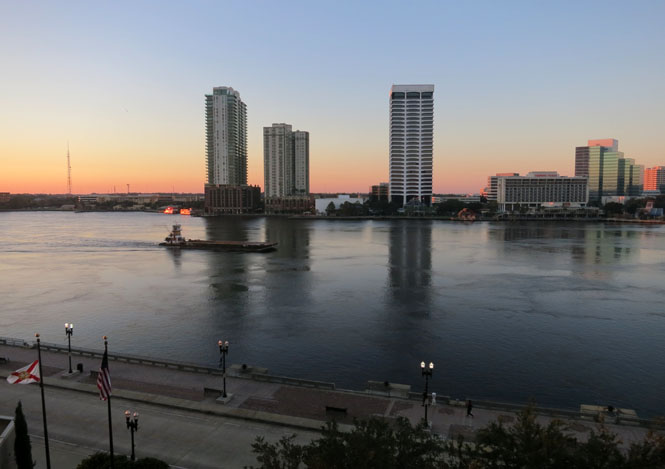 Fernandina Beach, Florida is just south of the Georgia line. I wanted to at least see the Atlantic Ocean.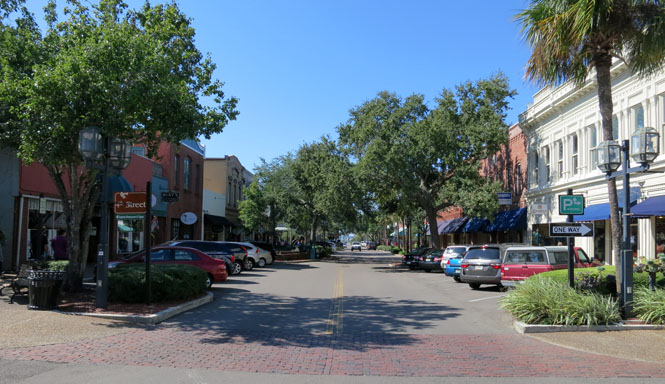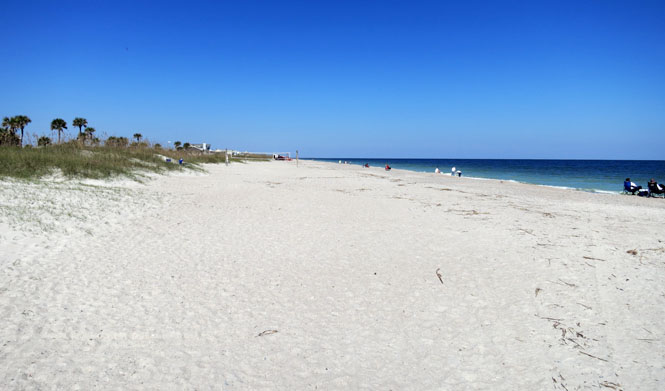 A fish hit the line as I walked by. This man was pretty quick to start reeling him in when he yelled "shark!" Within yards of the water's edge a shark took a big bit out of the back half of the fish. I do not think I'll wade in the water.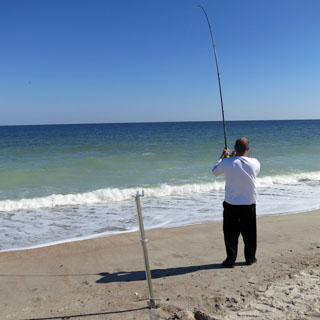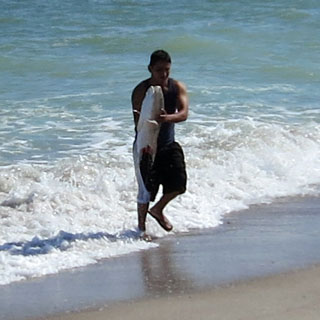 Georgia
I'd mostly be on two-lane roads through Georgia.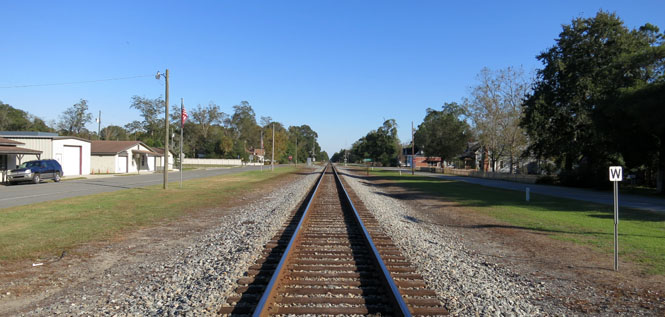 Surrency, Georgia
The Altamaha River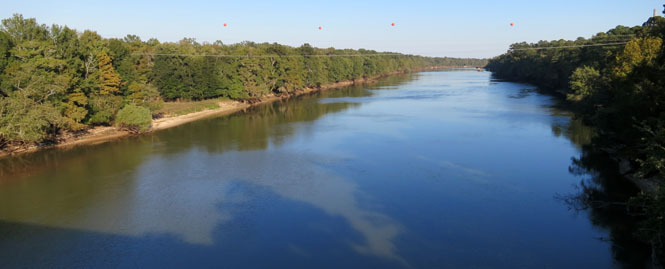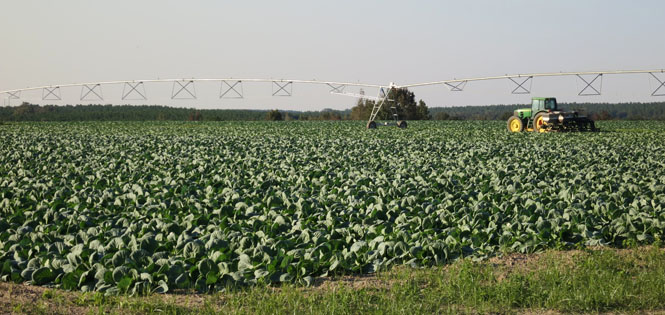 Vidalia, Georgia. No; I didn't eat a sweet onion (I ate at a Japanese restaurant, of all things).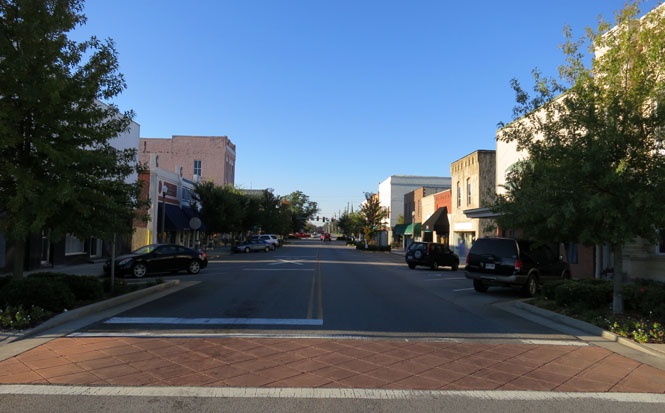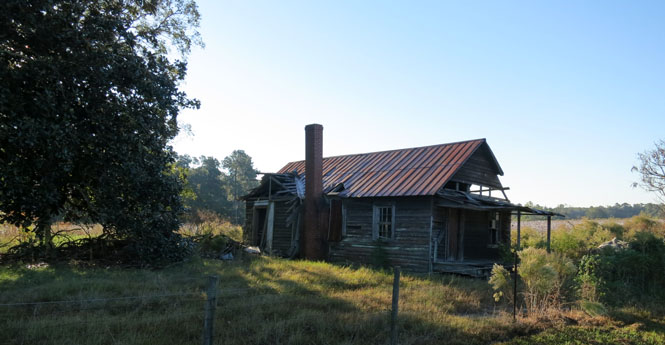 This part of Georgia is flat and rural.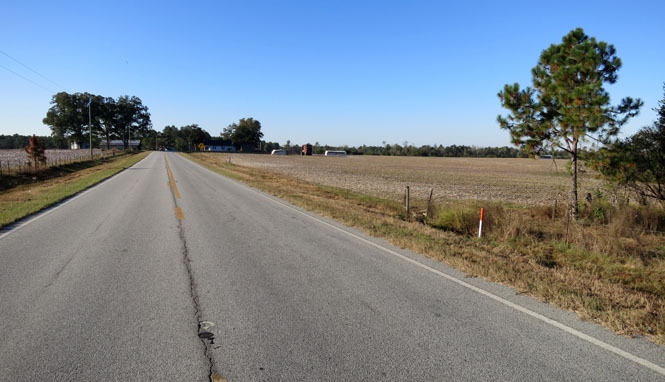 Wrens, Georgia

Thomson, Georgia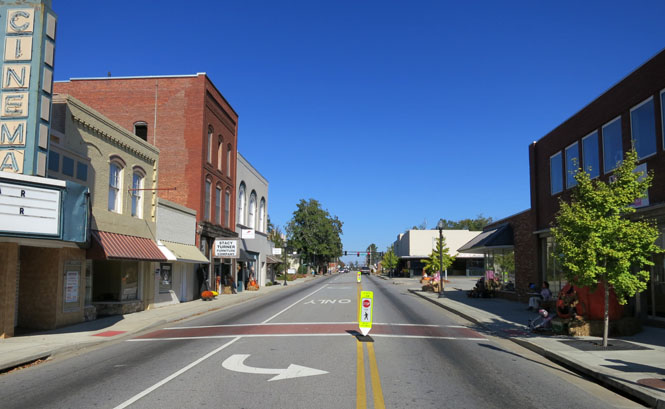 Tignall, Georgia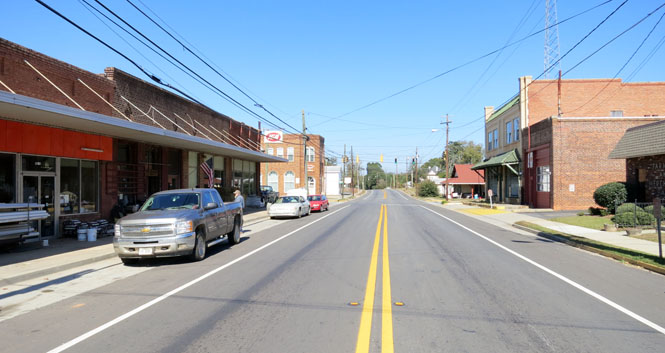 Elberton, Georgia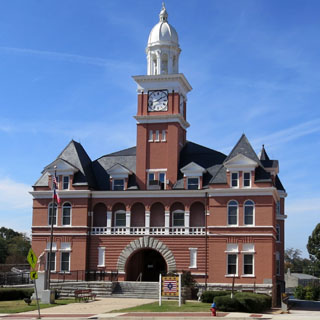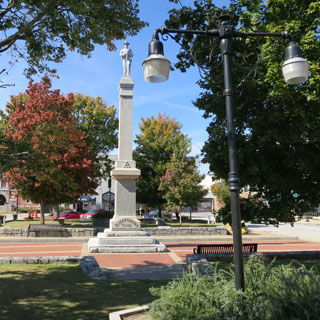 Canon, Georgia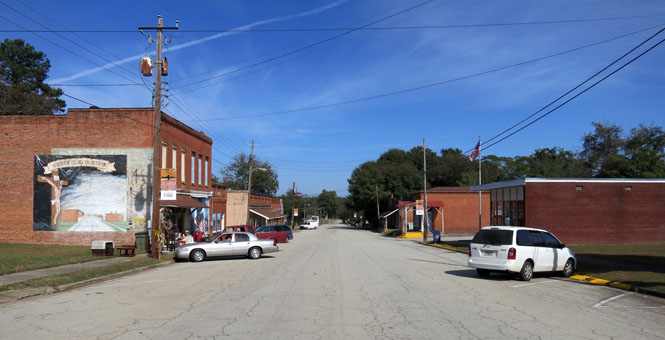 Martin, Georgia. A harvest festival was happening. Throngs of people were arriving while I was leaving.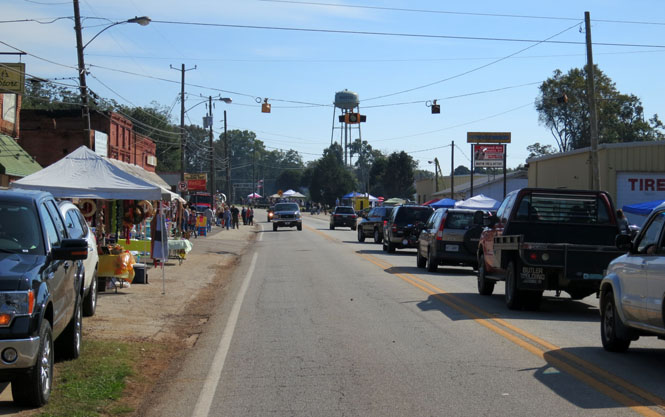 The Tallulah Falls overlook isn't really much of an overlook, but I give them credit for milking what they have for maximum commercial value. You need to walk the full length of the gift shop before you come to a point where you can even see the gorge. Really, the best place to be is on the other side, where the state park is.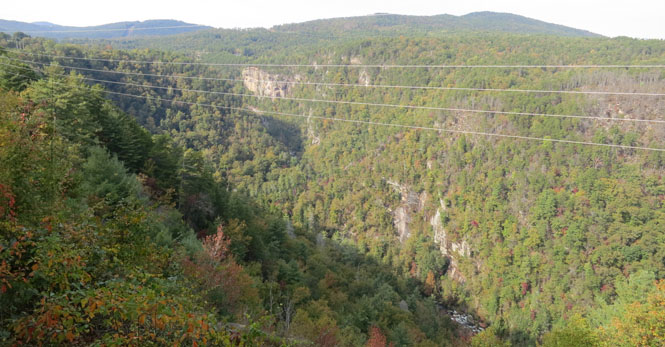 Boiling peanuts inside the shack.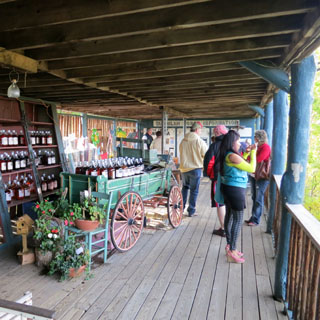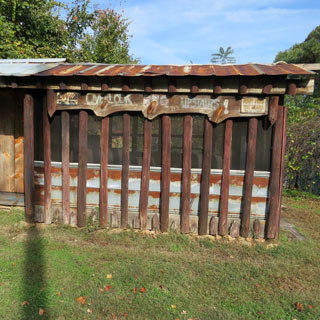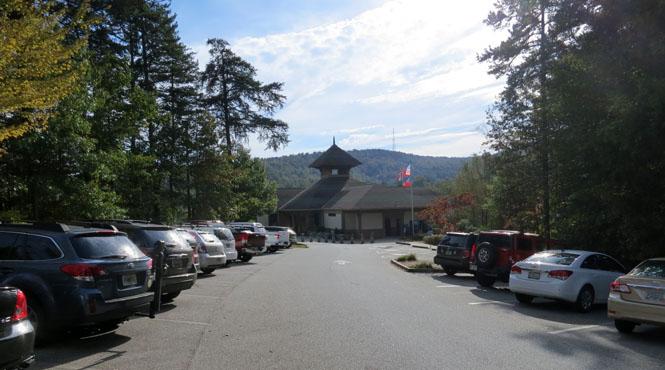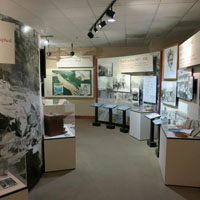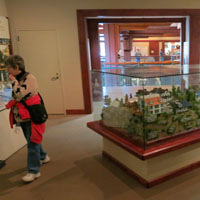 The best way to really see the gorge--and the many falls in it--is to hike the trails. I only did the short walk along the rim.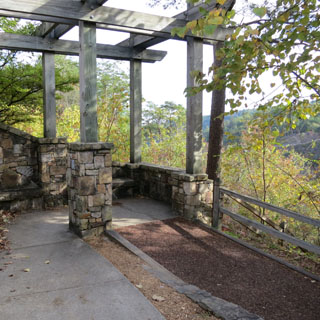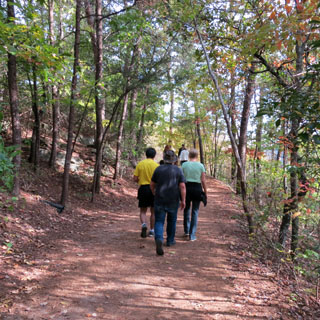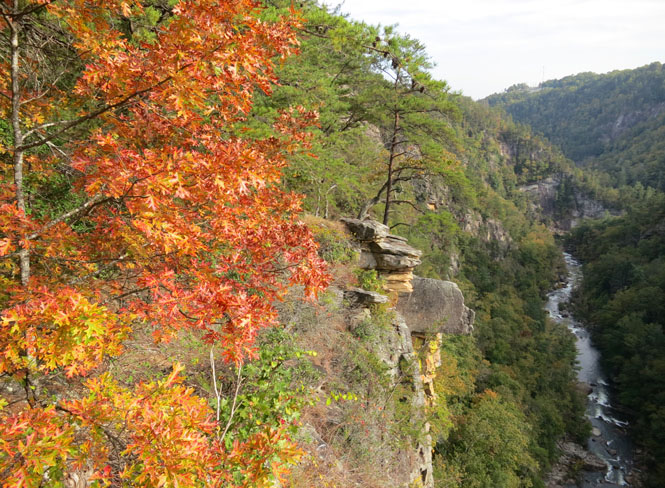 I used the telephoto lens; I was never this close.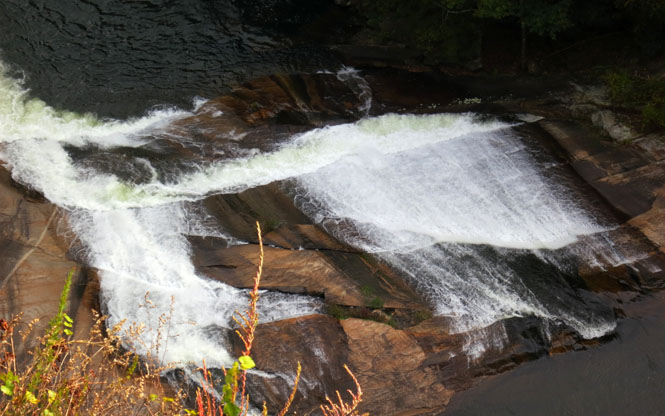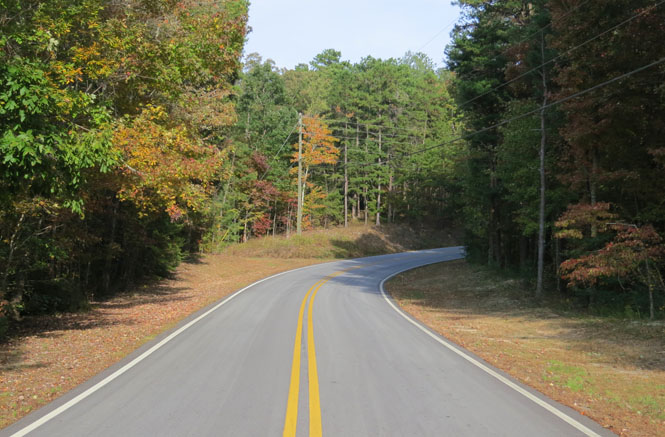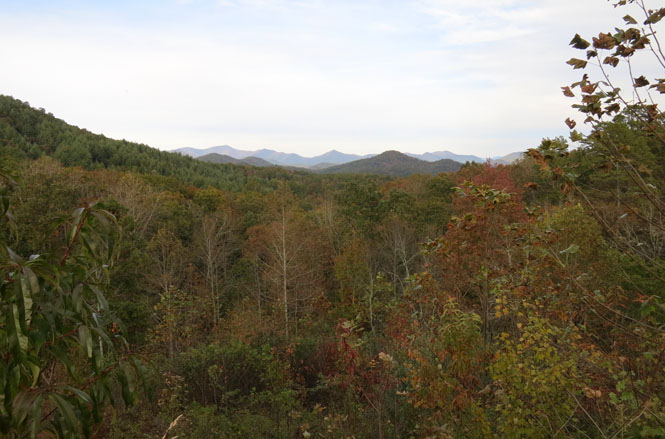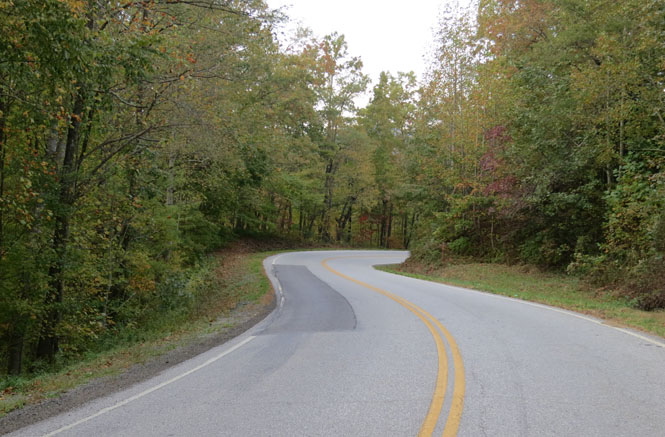 North Carolina
For a four-lane divided highway, US 64 is quite nice.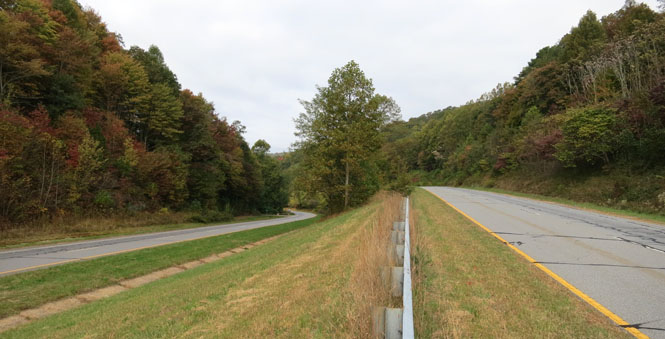 Tennessee

I think I'm about a week too early for the maximum colors, but some trees are in their full color right now.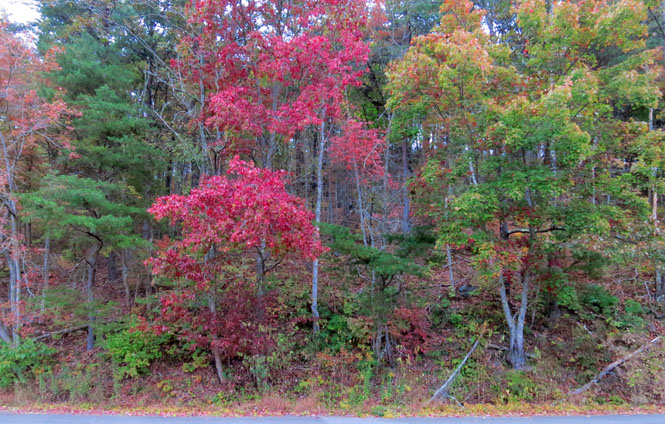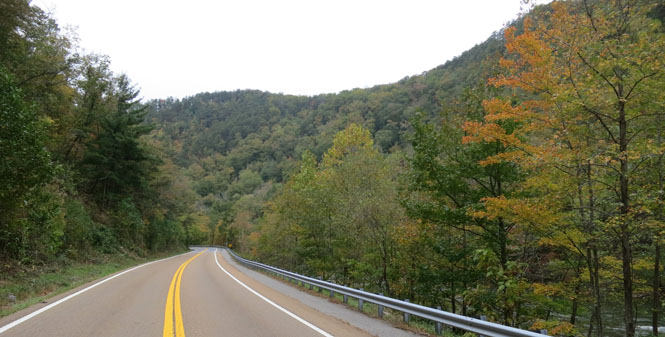 That's the Ocoee River. The 1996 Olympic whitewater events were held here.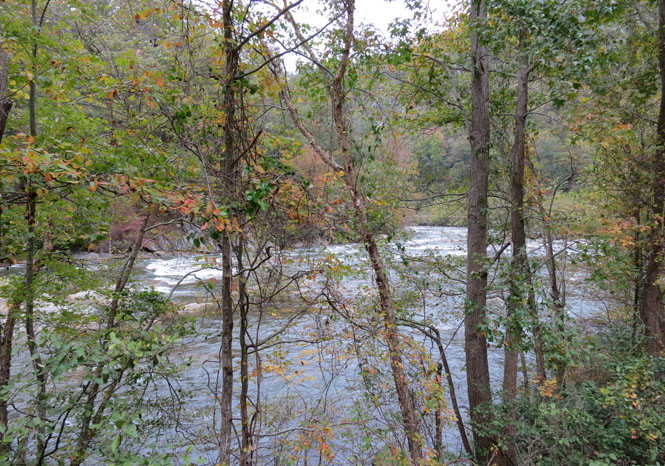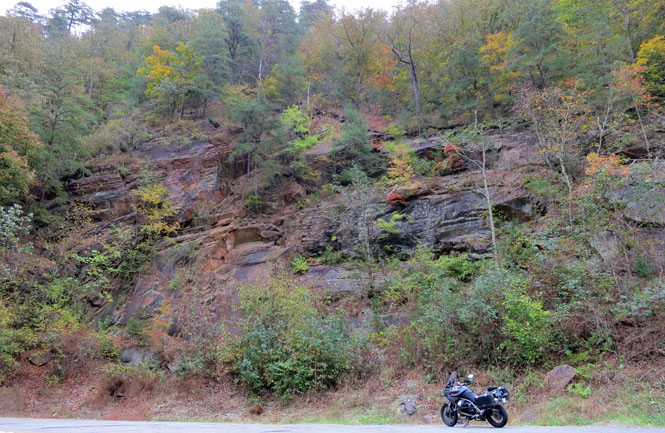 Near the Blythe Ferry over the Tennessee River is this Cherokee Trail of Tears memorial site (one of several). A ceremony was planned later that day to dedicate a new memorial addition.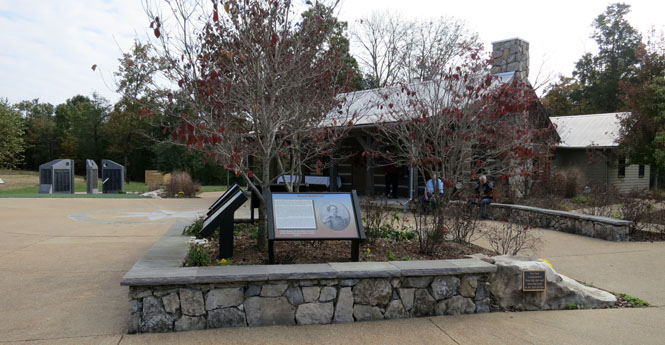 In 1838, the ferry was used to transport nearly 9,000 Cherokee people across the Tennessee River to begin their trek west. It took several weeks to move the entire contingent across the river, with the last detachment crossing on Nov. 12.

Those 9,000 Cherokees and 300 Creeks had been imprisoned in stockades in Bradley County, a few miles to the east of the ferry, prior to the removal. Descriptions of the stockades said that conditions were terrible and that people were left exposed to the elements for weeks prior to being taken to the ferry. The ferry site is now part of the Cherokee Removal Memorial Park that was dedicated in 2005.

--cherokeephoenix.org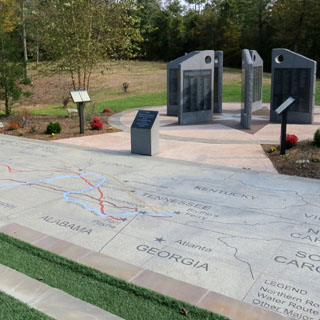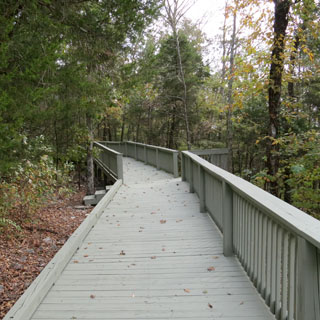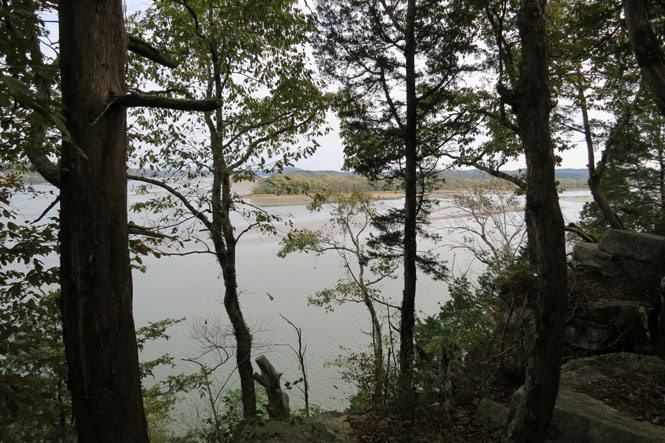 Pikeville, Tennessee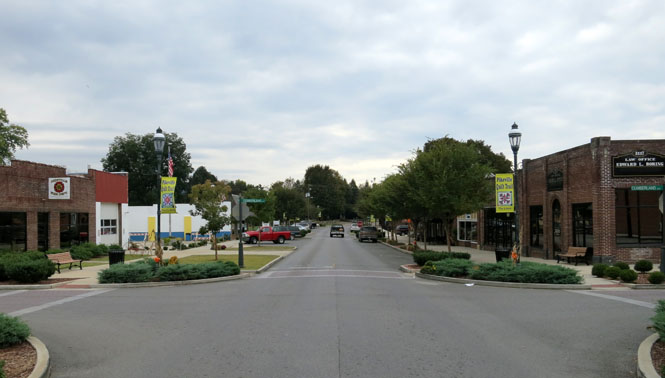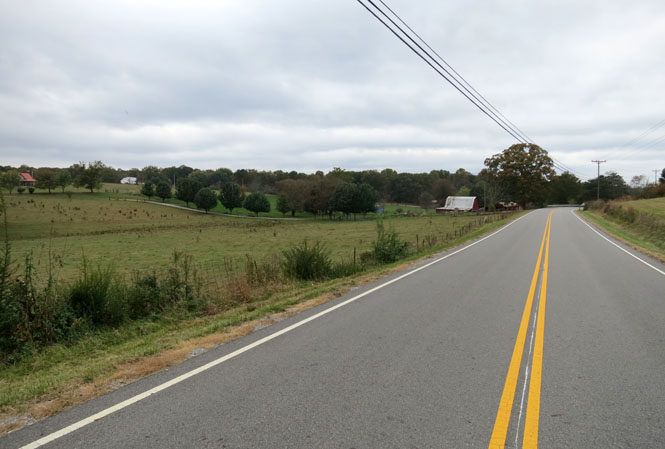 Here's my take on why there might be an orange elephant in the yard: The team color of the Tennessee Vols (University of Tennessee in Knoxville) is orange. Their major rival is Alabama, whose mascot is an elephant. So, I presume this Alabama elephant has decided to switch sides and cheer for the Vols. It's a guess...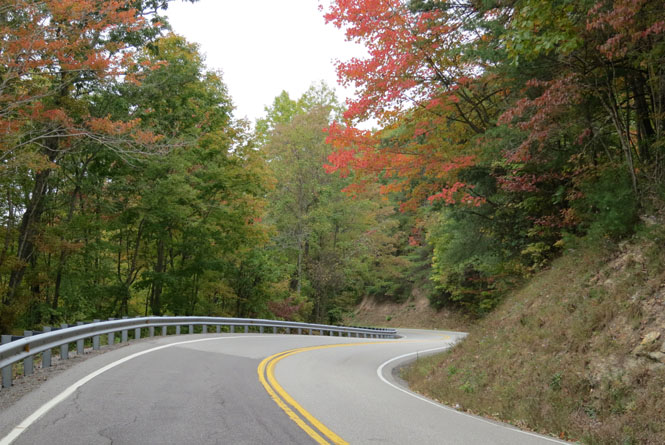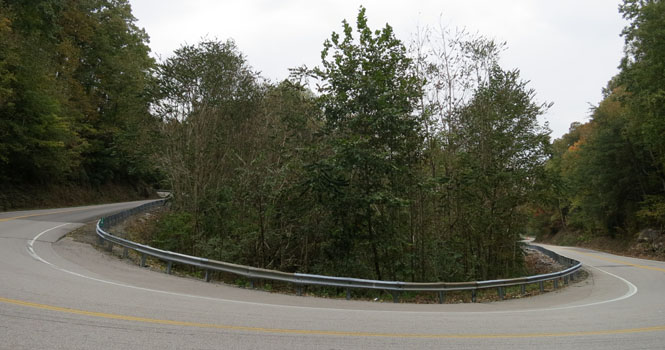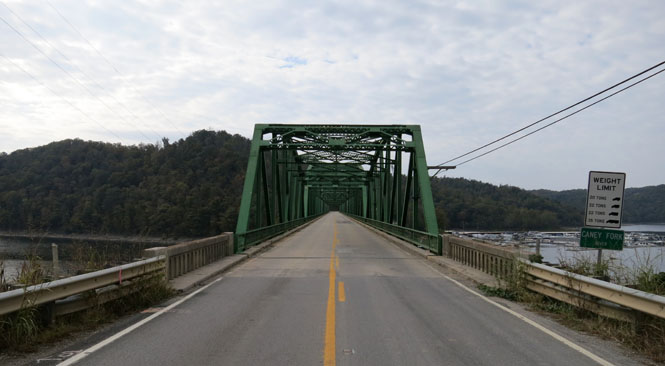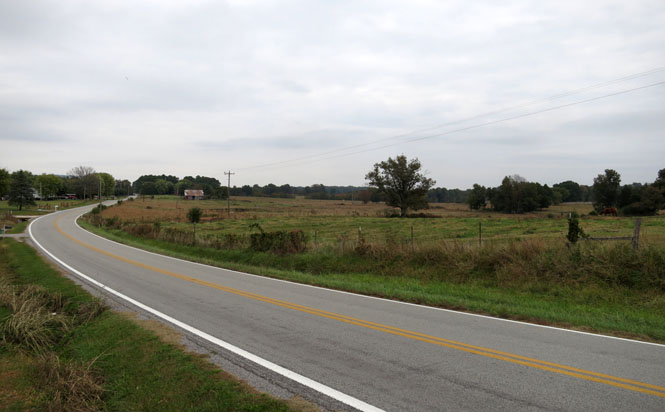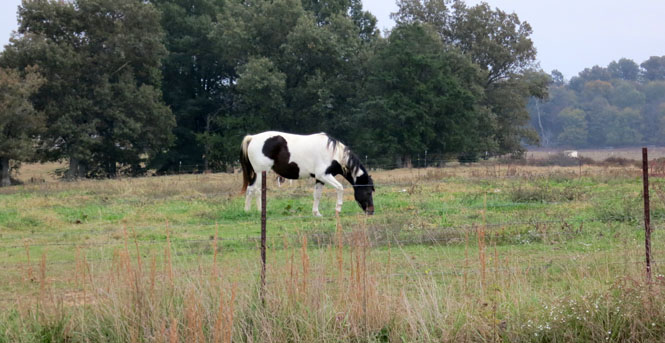 Woodbury, Tennessee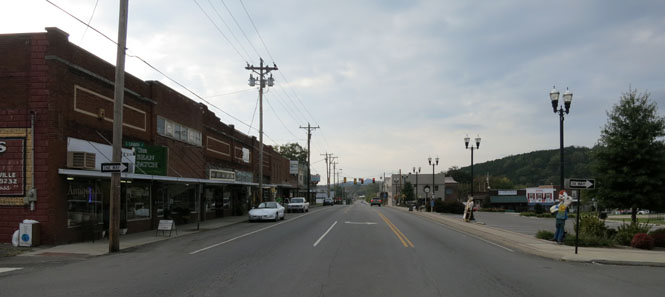 Franklin, Tennessee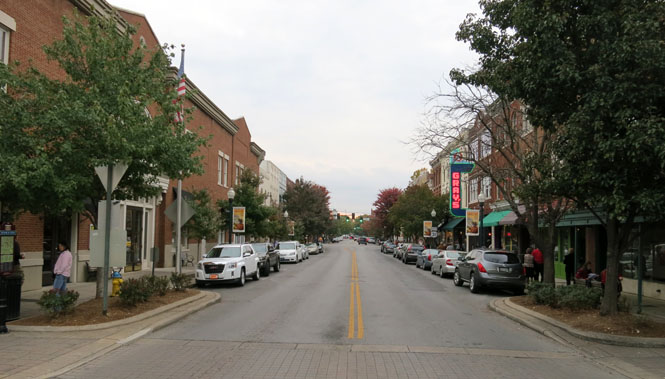 That bridge is part of the Natchez Trace parkway.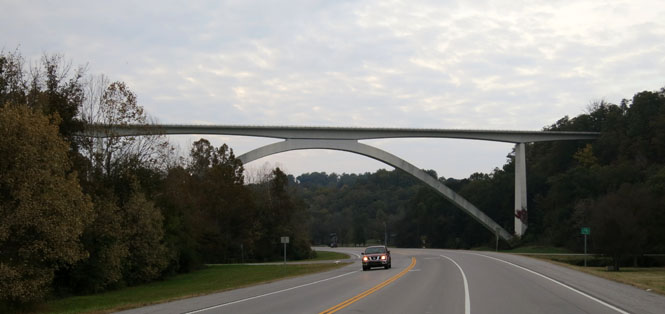 Loretta Lynn's Kitchen is in Hurricane Mills. The walls are covered with signed pictures and framed album covers. The food is probably just what you'd expect. It says something about her fans that the groups of people sitting near me in the restaurant talked about her as if she were a member of their own family--and always by her first name.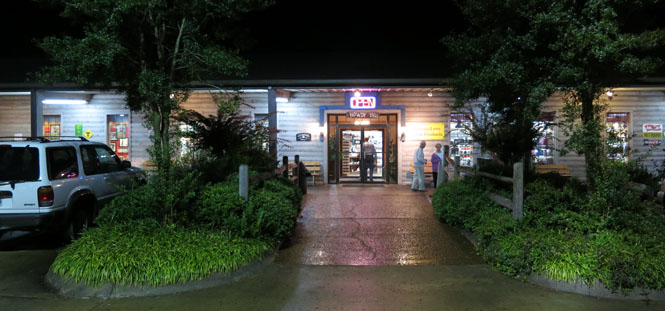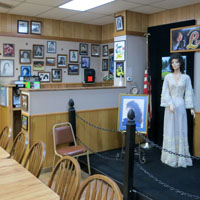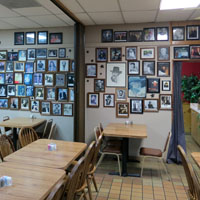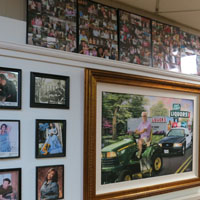 Nobody could ever leave this restaurant feeling hungry (you can also order from the menu).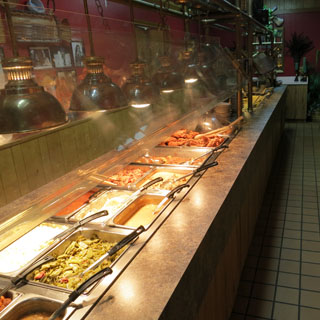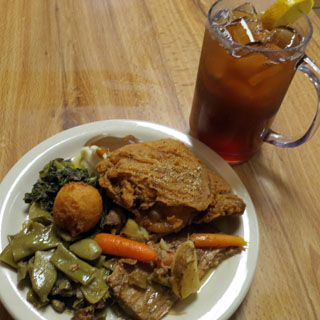 Waverly, Tennessee. I'd been in four towns named Waverly. Now, I've been in five.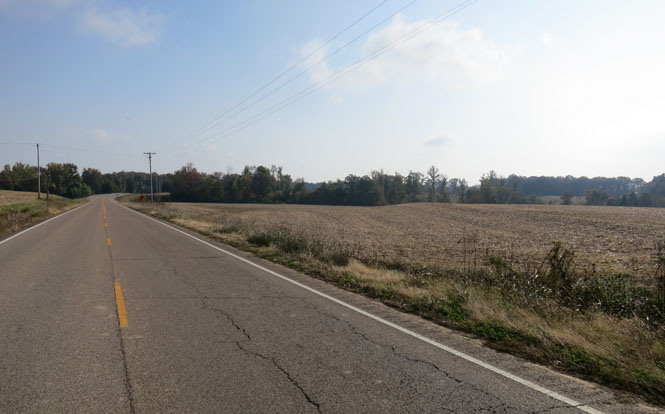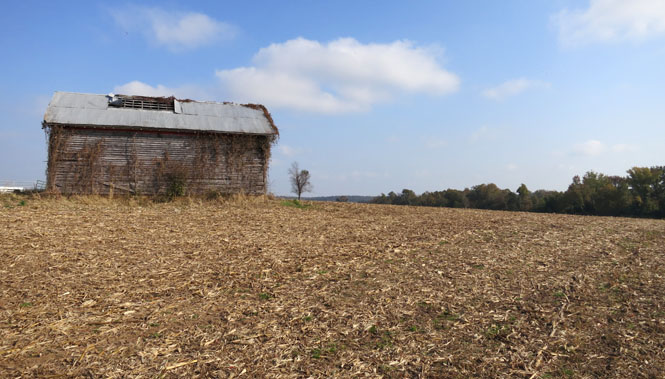 Atwood, Tennessee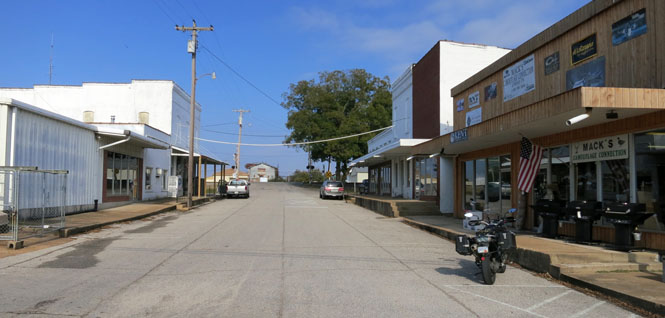 Trenton, Tennessee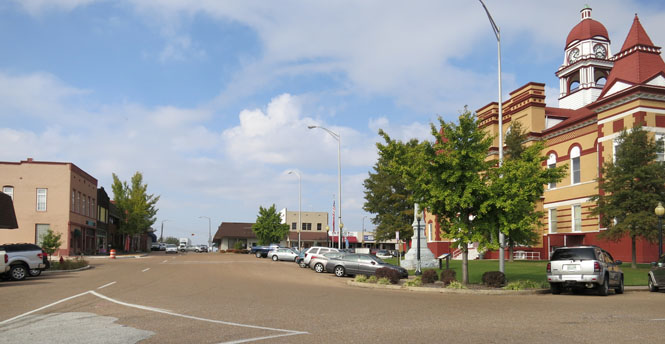 Union City, Tennessee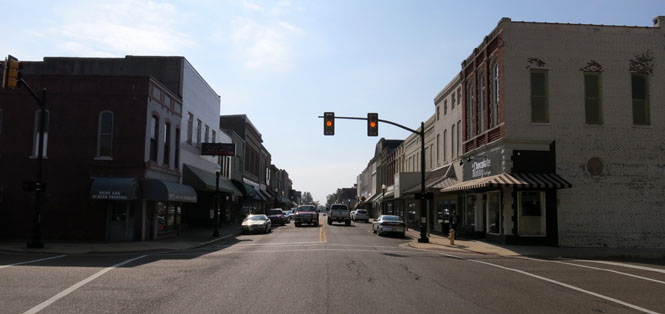 Kentucky
There are not very many ferries crossing the Mississippi. The Dorena-Hickmann Toll Ferry crosses from Hickman, Kentucky. The toll is $5.00 for a motorcycle, $14.00 for a car (and $2.00 for a horse). I was lucky and didn't have more than a few minutes to wait.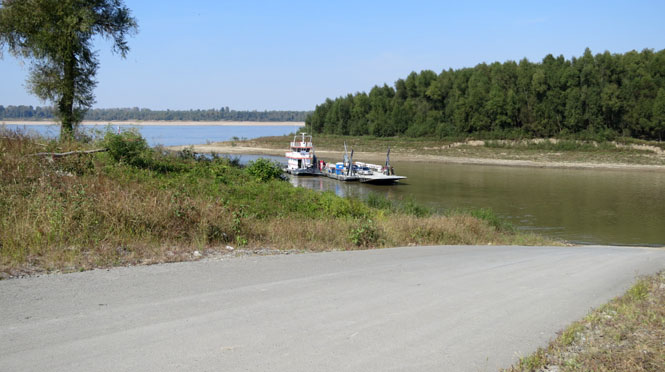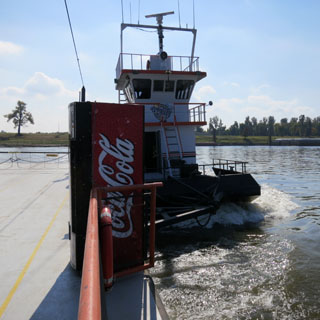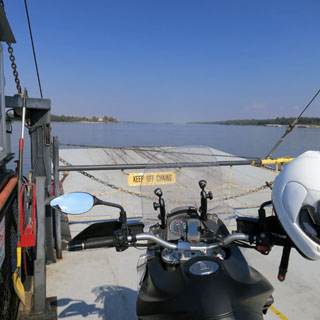 Missouri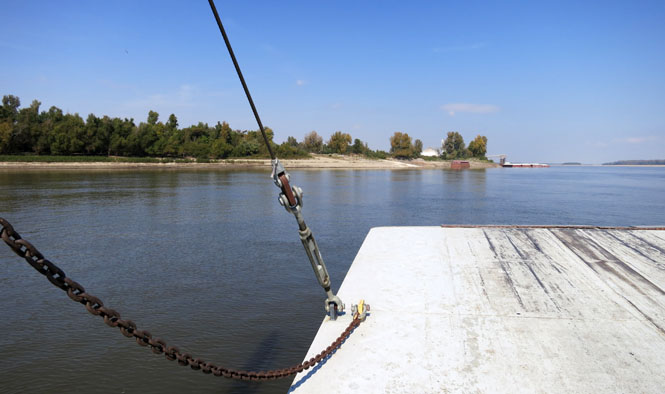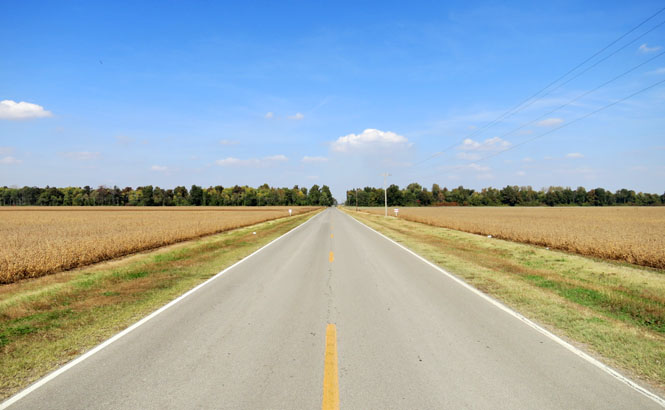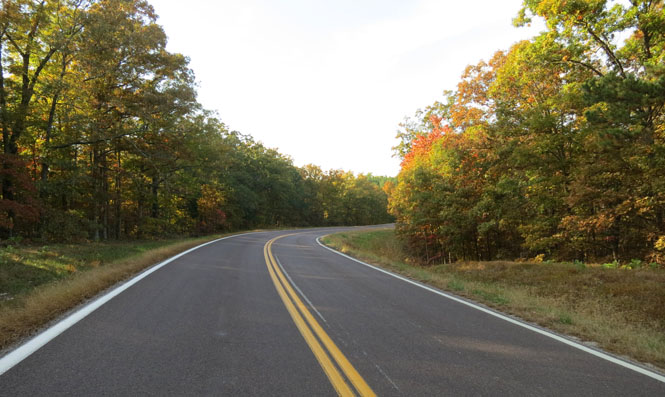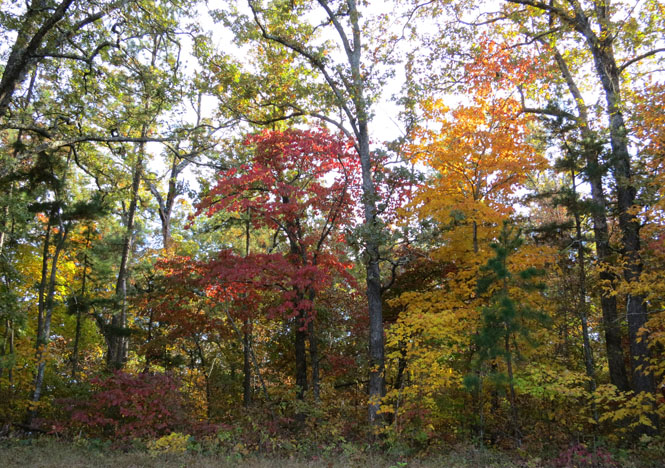 Eminence, Missouri
Missouri Highway 19 through the Ozarks is especially nice.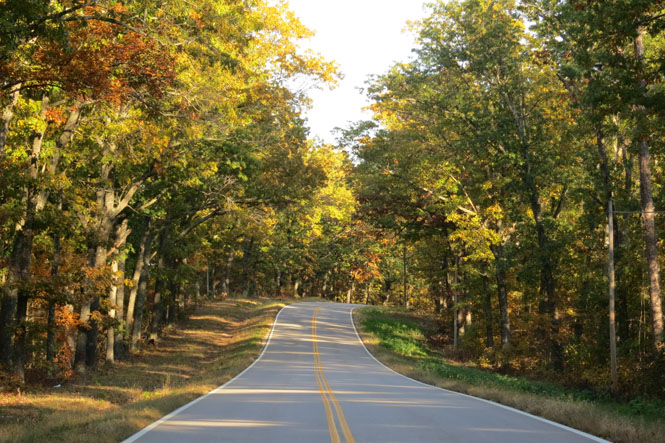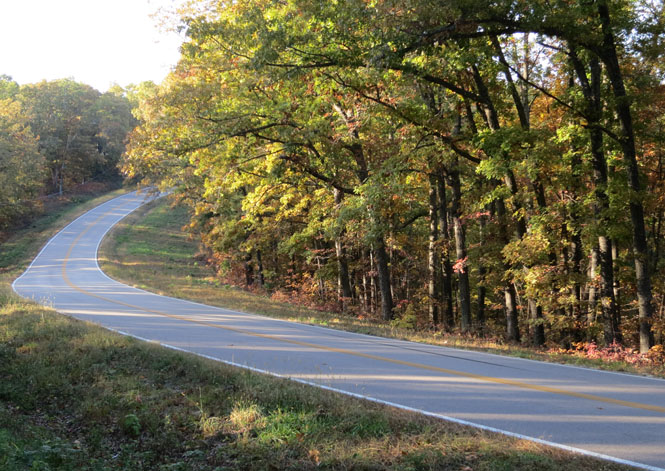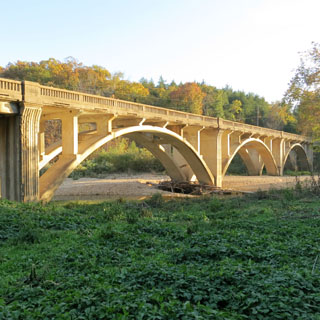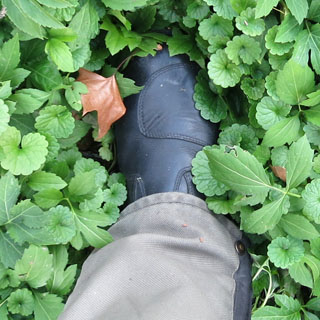 Salem, Missouri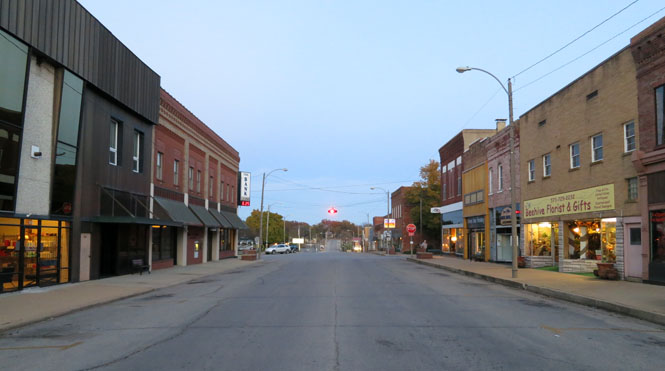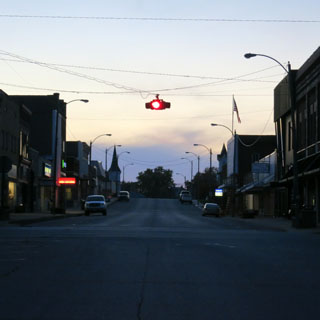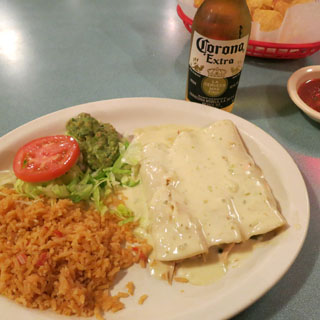 If you like your fries fat and thick, then the Preston Cafe is for you.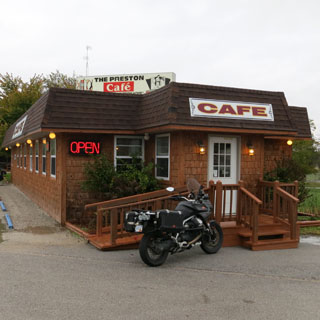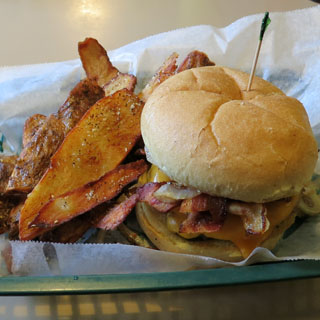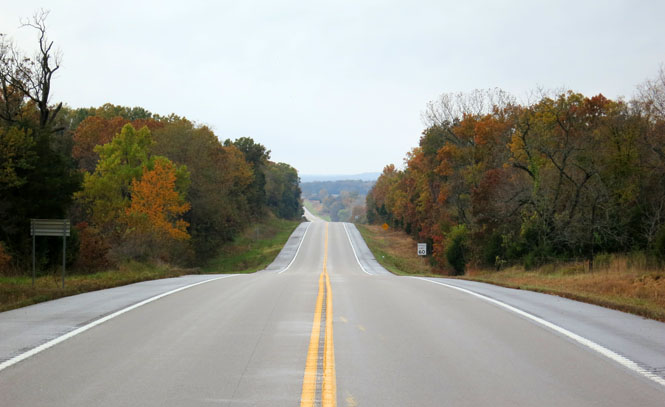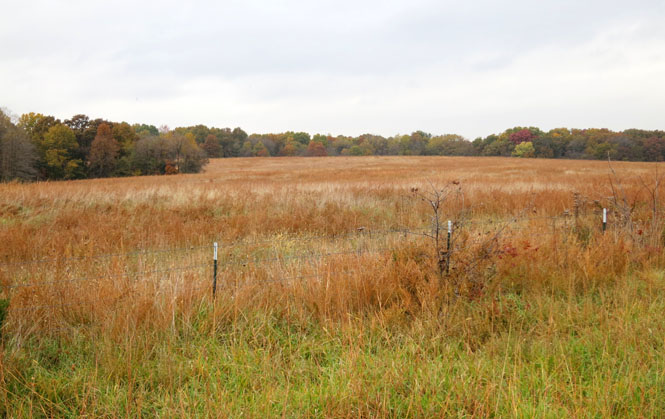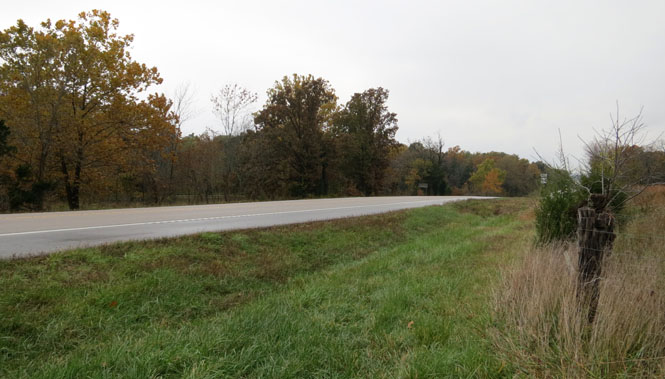 Kansas
New slogan: "It's not Florida."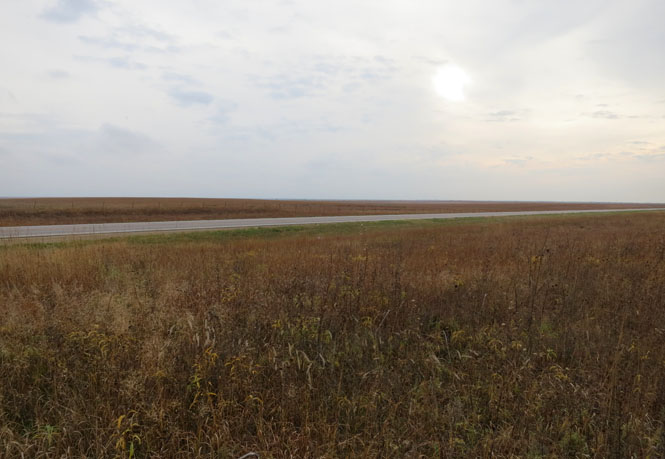 last edit: 11/2/2013