November 17, 2013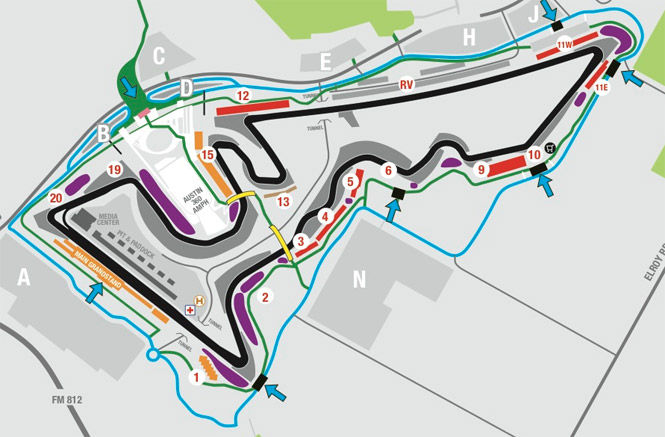 Earlier in the spring, I attended motorcycling's premier road racing event--MotoGP--at the COTA track in Austin. This would be a return visit for the premier road racing class for cars--Formula 1.
While the motorcycles of MotoGP are very similar to what you might have on the street (at least by appearance), it'd be a stretch to compare a Formula 1 racer with anything you might be driving. But, let's do that, anyway:
| | | |
| --- | --- | --- |
| | | |
| | Formula 1 | VW JSW diesel |
| weight | 1,200 lbs | 3,283 lbs |
| wheelbase | 118 inches | 101 inches |
| horsepower | 740 hp | 140 hp |
| Engine Displacement | 2.4 ltrs | 2.0 ltrs |
| engine redline | 18,000 rpm | 5,000 rpm |
| turbo boost | not allowed | 15 psi |
| cylinders | V8 | I4 |
| maximum speed | 225 mph | 133 mph |
| fuel capacity | 62 gallons | 14.5 gallons |
| fuel consumption | 3 mpg | 45 mpg |
| height | 37 inches | 59 inches |
| transmission | 7 speed paddle shift | 6 speed stick |
It'd be my guess that if the above Ferrari and that same diesel VW launched at the same time at the Austin track, that by the time the VW reached turn 11 the Ferrari would have gone all the way around the track and passed it. Who knows? it just might pass it again by the time the VW completed one lap. However, the VW would use less fuel...
Texas
The difference in good traffic control between the race in April and this time was huge. They're learning. I parked downtown in a parking garage that had plenty of spaces available. After walking just one city block, I boarded a bus (for $5) at the convention center that took me to the track without any fuss at all.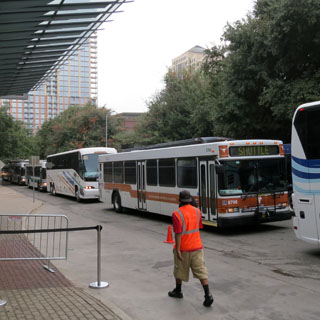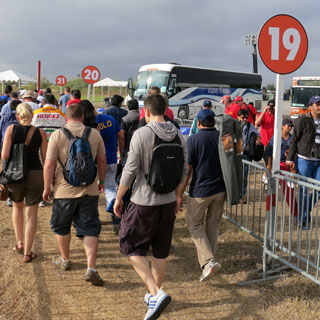 There was another 1/2 mile yet to walk to reach the ticketing building, but it was all really easy. Well done, Austin.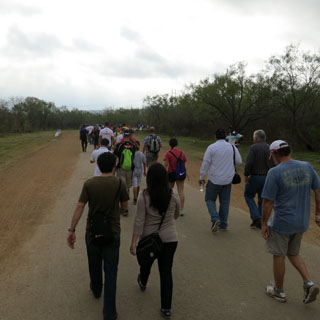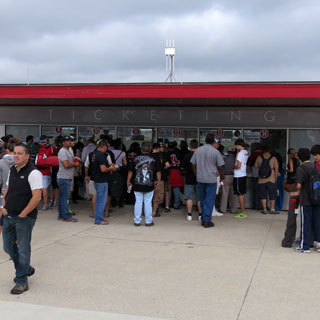 There were multiple lines to pass through the bag-check security area. It all went very fast and the people were quite polite.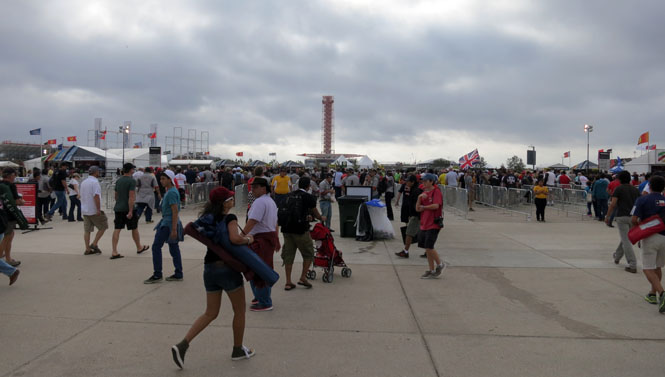 Turn 1 is about as dramatic as they come. The car you see on the track is one of the smaller supporting classes that ran in the morning.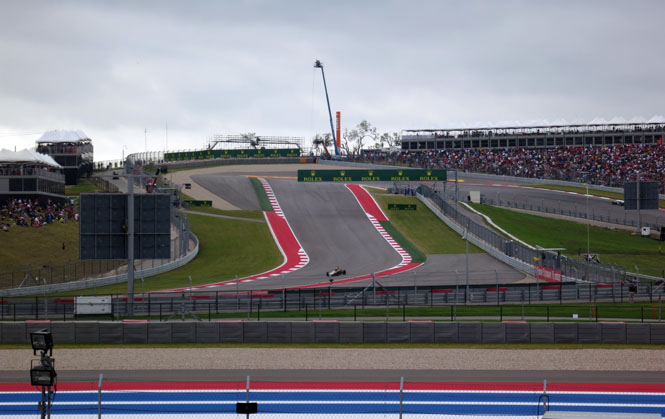 "Yes; that's a Ferrari on my head." Two masked Mexican wrestlers waving their flag. The Finnish fans had no answer for this.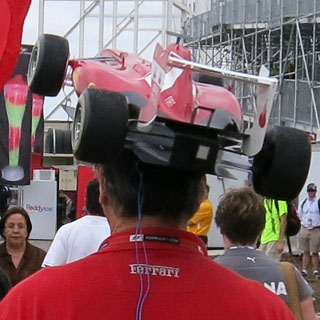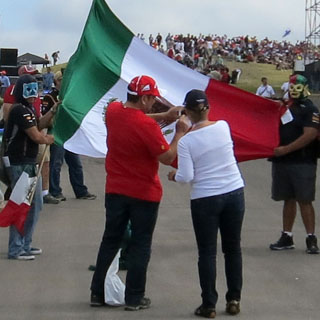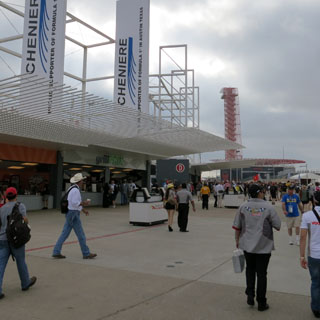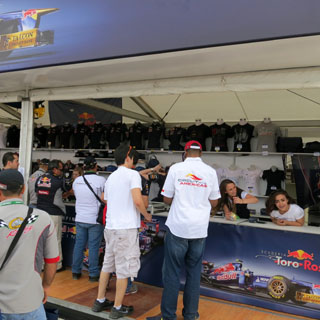 At the MotoGP races there were many more vendors selling things that you could actually use: boots, helmets, jackets, tires, performance parts--stuff at discounted prices. Here, team shirts and caps are the order of the day. And, nothing is discounted.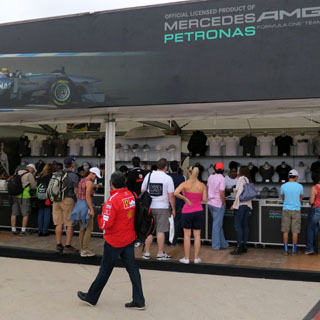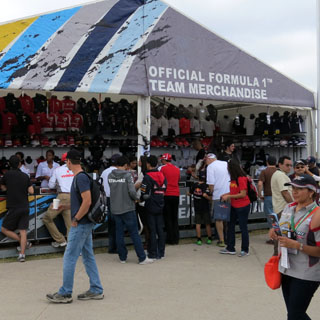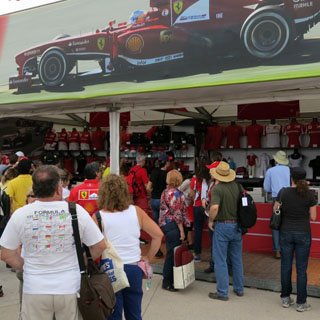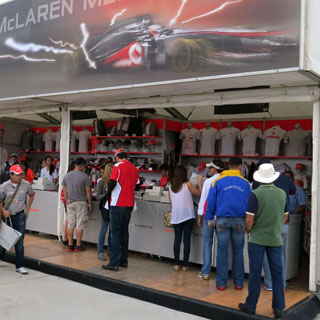 Really, the food all looked good. Of course, nothing is cheap, but then, you really don't expect that.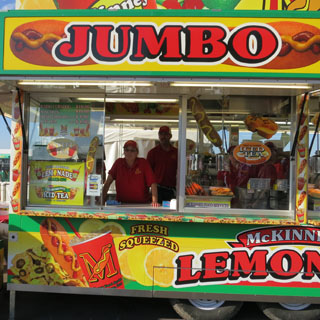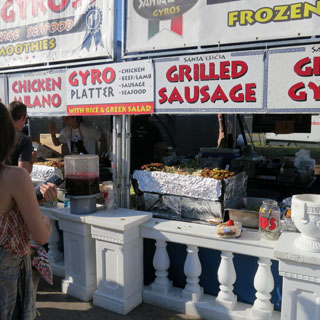 The other support class for the day was the "Ferrari 458 Challenge." If you want a road legal Ferrari 458 Italia, it will cost you $233,000 but I'm guessing you wouldn't be able to find one available at your local Ferrari dealership. What these racing versions might cost I cannot imagine. And yet, they drove them the way you might see at the Saturday night dirt track races at any track in Kansas. Rubbing might be racing, but sheesh; settle down, guys!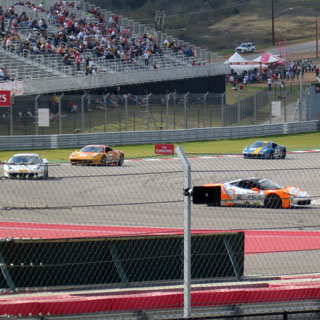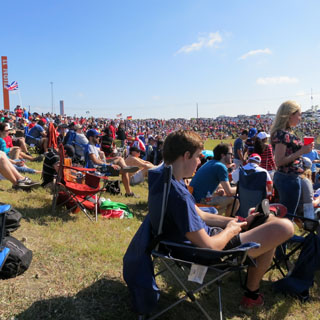 Standing for the anthem. We're about to begin racing.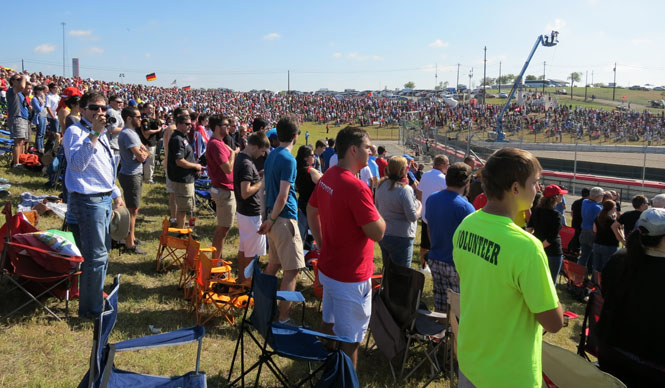 But first, let's watch the Dallas Cowboy cheerleaders. Why? Because we're in Texas, that's why. I spent the race at Turn 11, which is at the end of a long straight, and the beginning of an even longer straight. It was a good place for some very brave drivers to make a pass.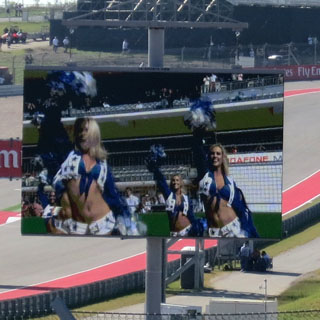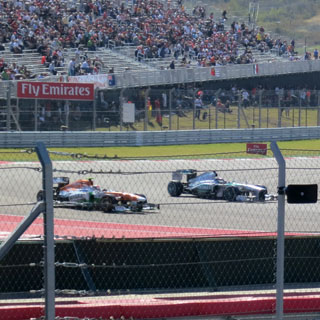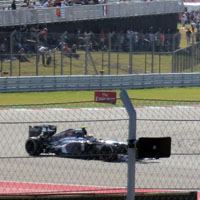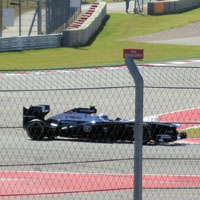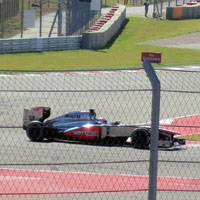 All are waving to the winner, Sebastian Vettel (Germany). He returned to the corner to leave quite a bit of rubber on the pavement and smoke in the air doing several donuts. I happened to be right downwind from this action. Cough.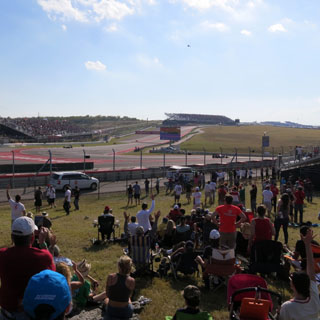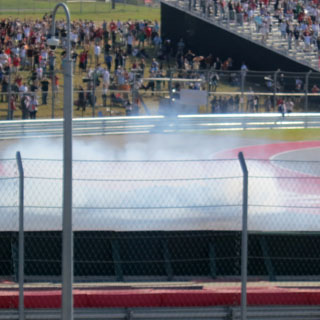 The track was opened to everybody after the race. This is the scene at the start/finish line. That hill in the distance is turn one.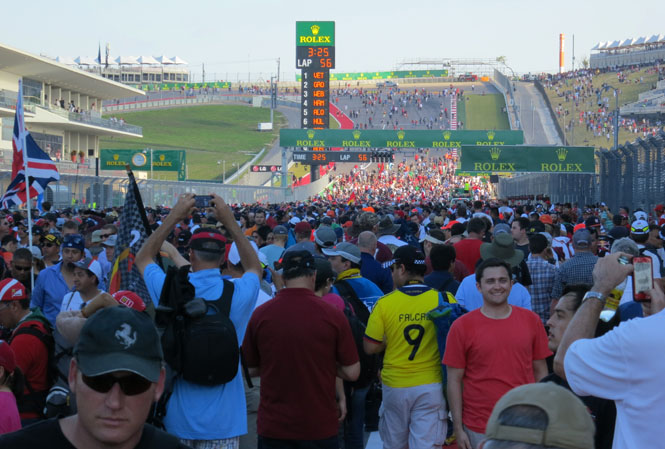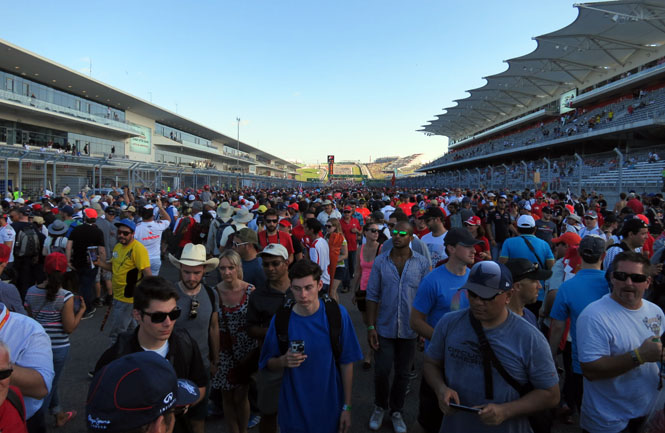 Behind the fence, the cars are lined up for final technical checks.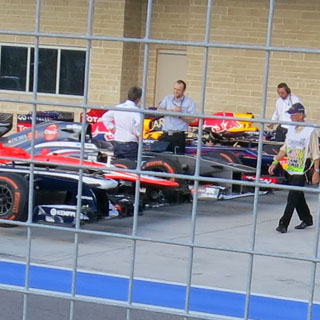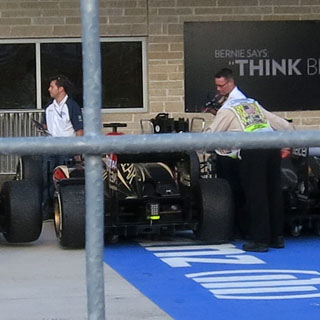 Leaving was just as easy as arriving. The line was long, but it never stopped moving. Lots and lots of busses were waiting to take everybody back to Austin. The race was great; Austin did a wonderful job. I will be back.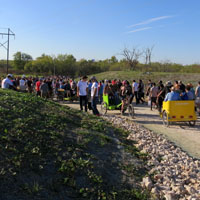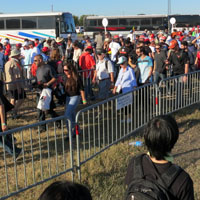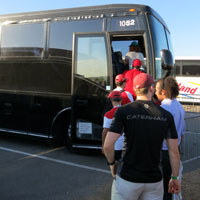 At a gas stop on the way back, I found yet another entry to my dog-in-truck collection. This stern guy was copilot in a semi-truck.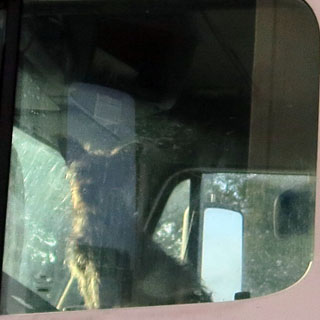 last edit: 11/20/2013