April 21, 2013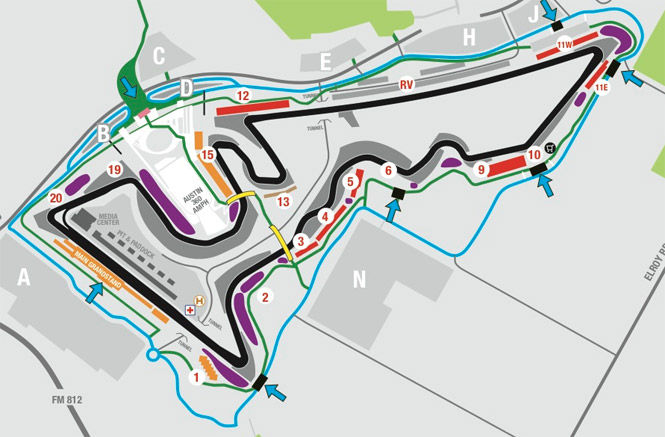 MotoGP is the world's premier motorcycle road racing series. The schedule for this year has three events in the United States. This day, I'd be attending the Austin, Texas round at the Circuit of the Americas (COTA).
7-Apr Qatar Grand Prix
21-Apr Grand Prix of the Americas
5-May Spanish Grand Prix
19-May French Grand Prix
2-Jun Italian Grand Prix
16-Jun Catalunya Grand Prix
29-Jun Dutch Grand Prix
14-Jul German Grand Prix
21-Jul United States Grand Prix
18-Aug Indianapolis Grand Prix
25-Aug Czech Republic Grand Prix
1-Sep British Grand Prix
15-Sep San Marino Grand Prix
29-Sep Aragon Grand Prix
13-Oct Malaysian Grand Prix
20-Oct Australian Grand Prix
27-Oct Japanese Grand Prix
10-Nov Valencia Grand Prix
Texas
I parked (for $30) outside Gate 10 (see map at the top), only to find that you can only buy tickets at the main COTA entrance. That's a rather long walk.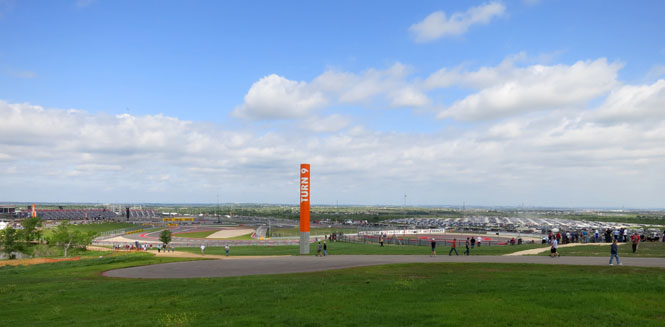 Here's the main entrance, but I now find that you cannot buy a ticket here, either. You must continue to walk to the Gate 15 entrance.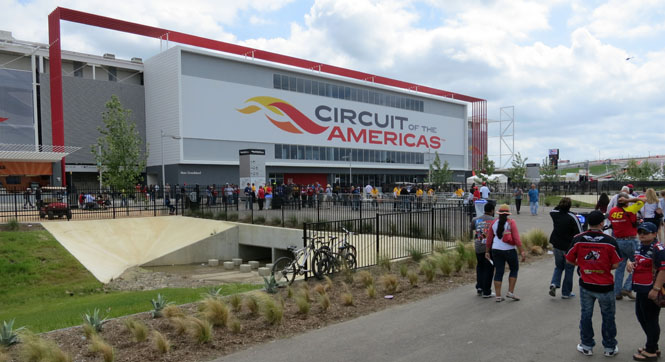 Tickets! For the price of $59 for general seating. General seating means that none of the bleachers are open to you.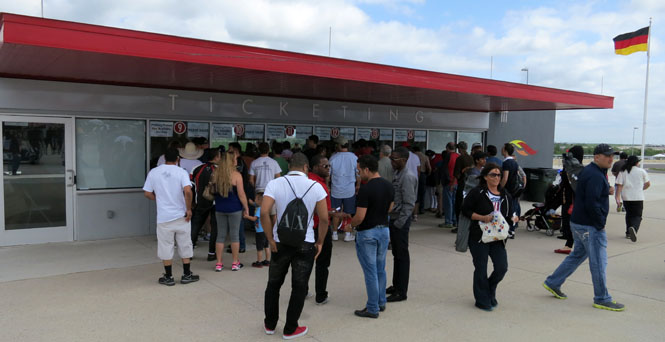 As usual for these things, the major manufacturers had large pavilions showing all their current offerings.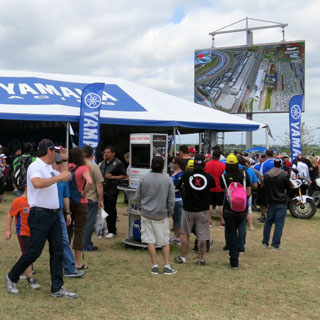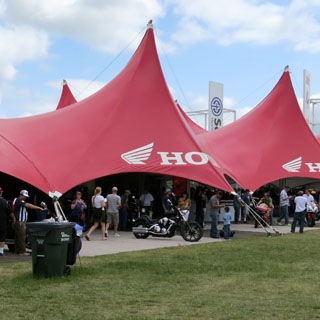 Somehow, everybody who had their photograph taken with one of the Ducati girls looked particularly dorky.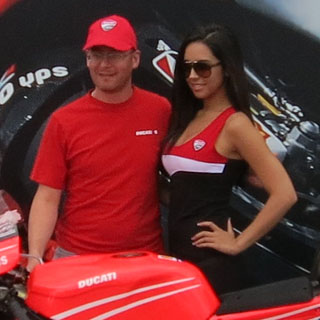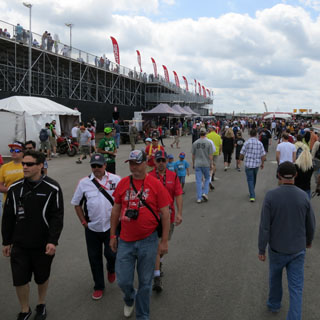 The facility is new; this is the first time that MotoGP has been run here. Formula 1 was here last year. That structure on the right? A rather impressive observation tower.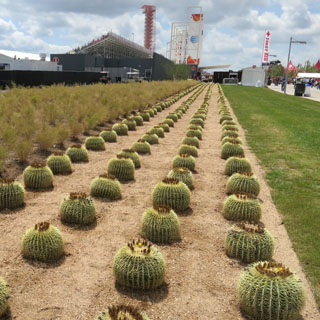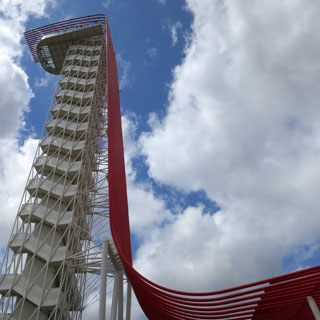 Turn one is quite striking. The bikes run up the hill for a hard left turn and then back down the hill for a very fast right turn.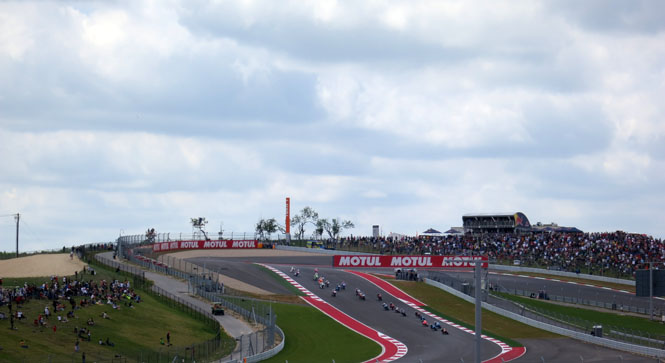 The bleachers had the best lines, but the viewing from the grass hills wasn't too bad.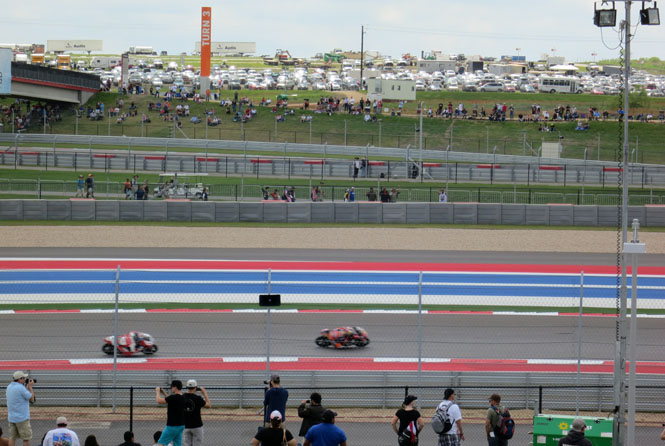 Some freestyle jumpers gave an exhibition.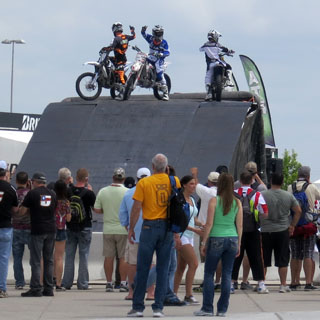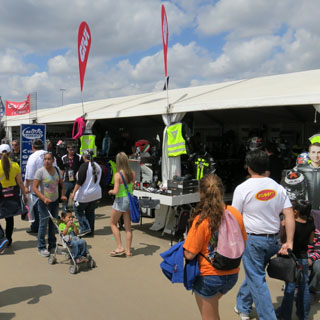 The day was beautiful. Perfect for sitting on the grass.

The food? Perhaps not so perfect. I've no doubt that someplace on the grounds there were some terrific places eat. It's just that I didn't find them.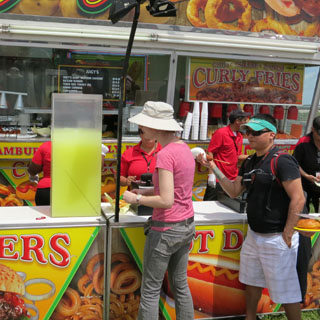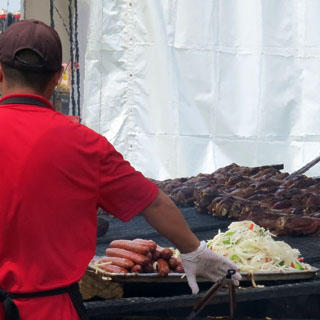 I watched all of the final race from this spot (Turn 11). There's a long straight to a hairpin turn, which let you see how much sliding the riders do when they are hard on the brakes.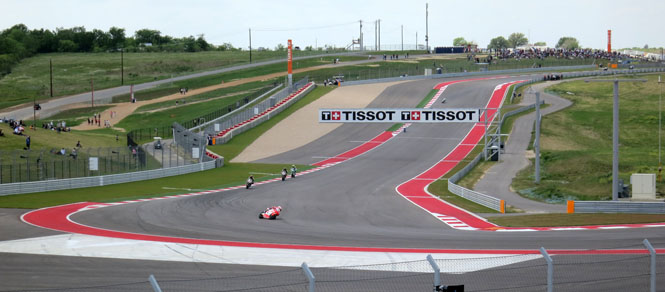 There were more people here for this first-time event than I would have expected. I hope it was financially successful. I'd like this to become a permanent fixture on the schedule.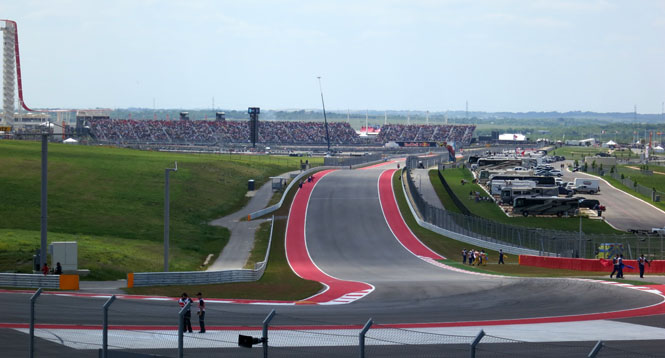 Yes; they're not just dragging their knees, they're dragging their elbows.

I'd expect that many millions more people were watching this in Europe than in the U.S.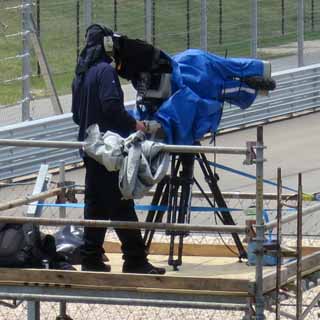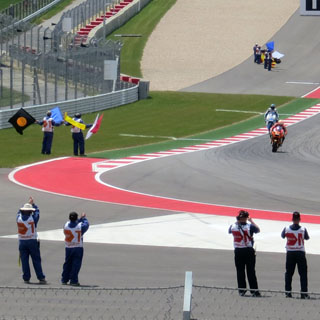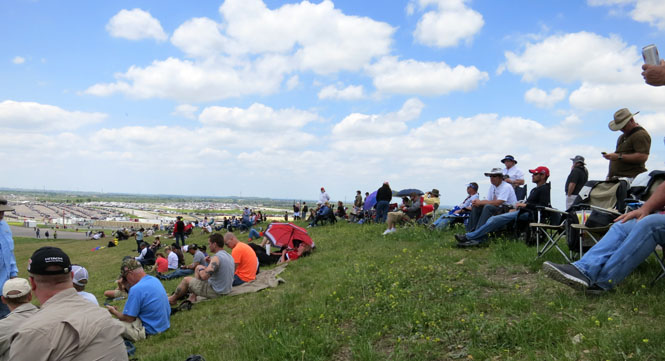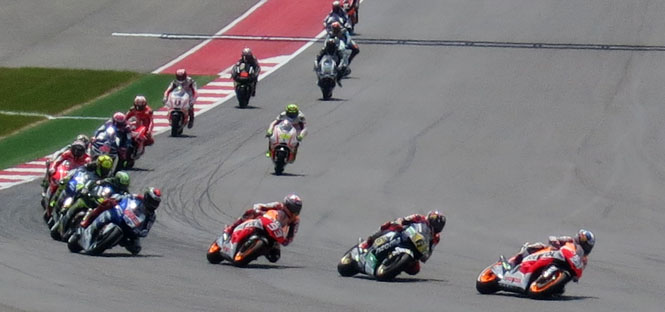 Then winner was young Marc Marquez from Spain (youngest winner in history). He was clearly riding a more aggressive line than any other rider. Nicky Hayden was the top placing American rider (ninth).
| Pos. | Rider | Team | Bike |
| --- | --- | --- | --- |
| 1 | Marc Marquez | Repsol Honda Team | Honda |
| 2 | Dani Pedrosa | Repsol Honda Team | Honda |
| 3 | Jorge Lorenzo | Yamaha Factory Racing | Yamaha |
| 4 | Cal Crutchlow | Monster Yamaha Tech 3 | Yamaha |
| 5 | Stefan Bradl | LCR Honda | Honda |
| 6 | Valentino Rossi | Yamaha Factory Racing | Yamaha |
| 7 | Andrea Dovizioso | Ducati Team | Ducati |
| 8 | Alvaro Bautista | Go&Fun Honda Gresini | Honda |
| 9 | Nicky Hayden | Ducati Team | Ducati |
| 10 | Andrea Iannone | Energy T.I. Pramac Racing | Ducati |
| 11 | Aleix Espargaro | Power Electronics Aspar | ART |
| 12 | Bradley Smith | Monster Yamaha Tech 3 | Yamaha |
| 13 | Ben Spies | Ignite Pramac Racing | Ducati |
| 14 | Randy De Puniet | Power Electronics Aspar | ART |
| 15 | Yonny Hernandez | Paul Bird Motorsport | ART |
| 16 | Michael Laverty | Paul Bird Motorsport | PBM |
| 17 | Hiroshi Aoyama | Avintia Blusens | FTR |
| 18 | Hector Barbera | Avintia Blusens | FTR |
| 19 | Claudio Corti | NGM Mobile Forward Racing | FTR Kawasaki |
| 20 | Bryan Staring | Go&Fun Honda Gresini | FTR Honda |
A sea of cars.

Getting out of the lot was really quite easy. It helped that I watched the final race not all that far from where I started that morning.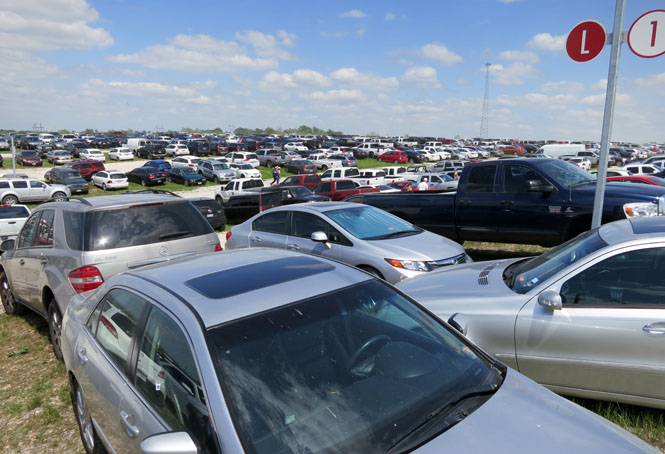 last edit: 4/22/2013