April, 2014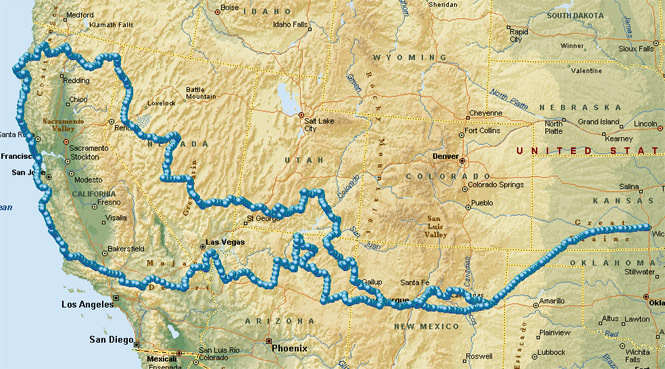 Arizona was the goal--but, perhaps I could do more? It wasn't yet April when I started out and I knew that I could expect most any kind of weather in the Rocky Mountains or the Sierra Nevada. But, I was hopeful.
It seemed that each morning I needed to change every plan I'd made the evening before. When the temperature is in the twenties you look for something warmer. I did make it to the Pacific and back, but only by circling completely around the Sierra Nevada Mountains and by avoiding the Rocky Mountains north of Santa Fe.
Oklahoma
Earlier in February, I rode to New Mexico. On that trip I stopped south of Hooker, Oklahoma to take a shot, but noticing that my SPOT GPS tracker had gone missing, I never did get that photograph. This is it.
This siding is more extensive than most, but throughout the Great Plains you'll see grain cars waiting for the harvest.

Just after taking the above shot, a strange yellow car came sliding by at high speed being pulled by a smaller engine with the longest coupling imaginable (longer than the car itself). This is the Union Pacific EC-4 Track Geometry Car, which is one of two (I believe) that surveys the condition of the tracks throughout the Union Pacific network. I read that the car was manufactured in Austria and contains an amazing array of electronics and sensors to record everything about the status of the tracks.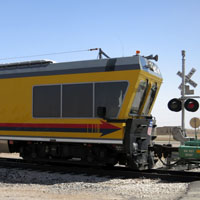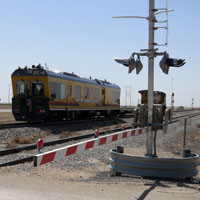 Texas
There's a museum in Dalhart, Texas that covers the XIT ranch, one of the largest ranches in Texas (and therefore, the world). It's just across from the courthouse. Unfortunately, It turns out that I picked the one day that it's not open.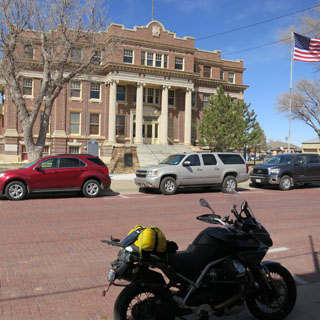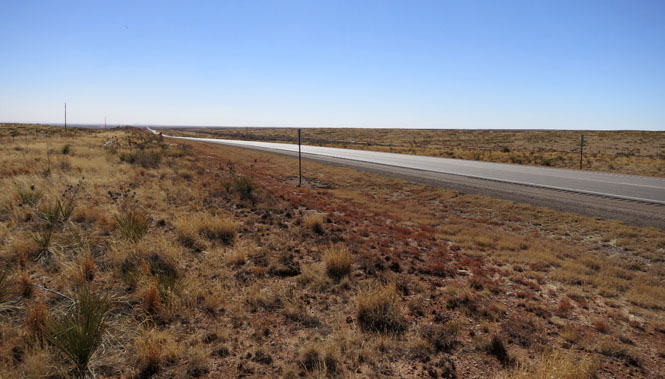 New Mexico
North out of Tucumcari is a little-used road that runs to Las Vegas. I'd been on this road many years ago, but it's been too long.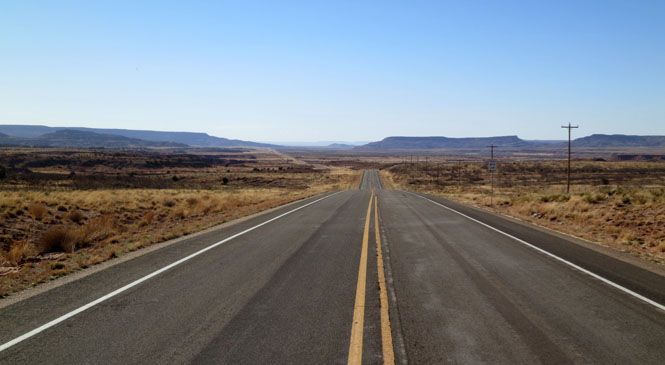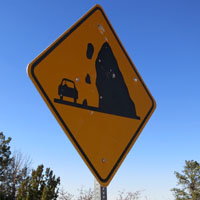 Variadero, New Mexico. This used to be sheep country. It's not clear how people make a living out here, these days. But, whatever they do, there aren't too many people doing it, now.

The prairie is mostly flat, but eventually a steep mesa must be climbed.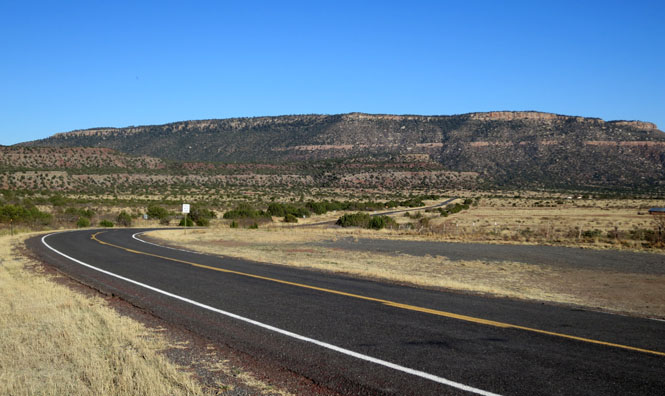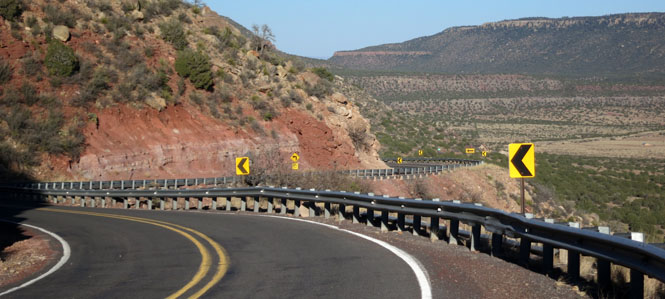 Once on top, the ground seems even less suited to either growing or grazing.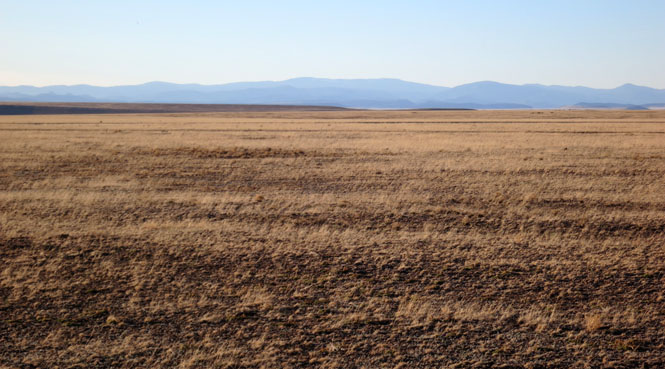 Riding into a setting sun is the best reason for finishing a ride before now. Inevitably, on this trip, I seemed to find myself riding with one hand--the other hand being needed for a sun shade.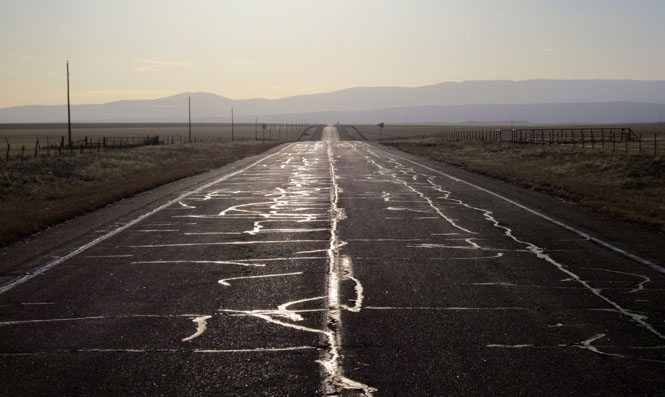 Las Vegas, New Mexico once thrived on the Santa Fe Trail.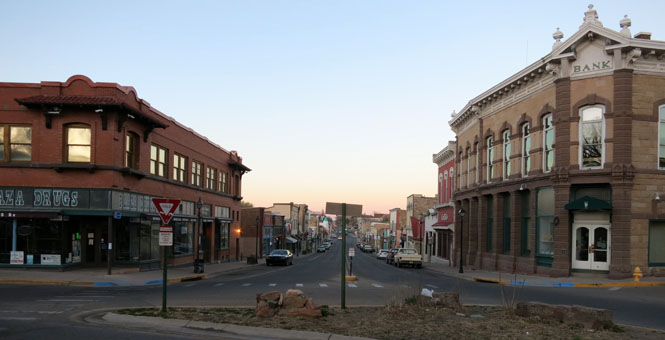 The trail ran directly through the old plaza. I'd imagine that when one of the freight trains came through, this was a busy and noisy place (of course, the Santa Fe Trail was used to haul freight, not people).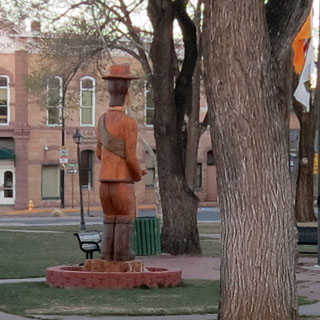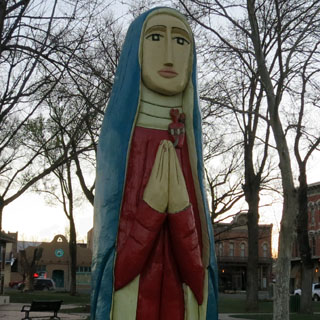 I stayed at the Plaza Hotel.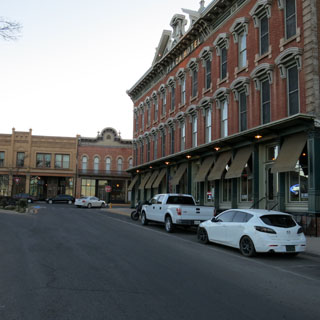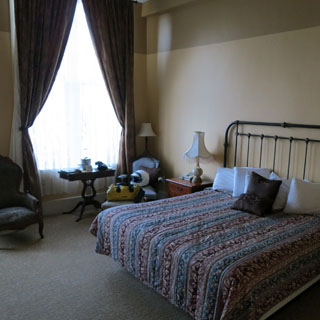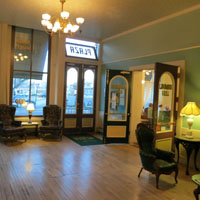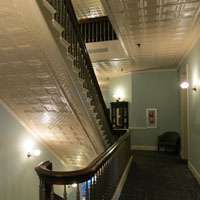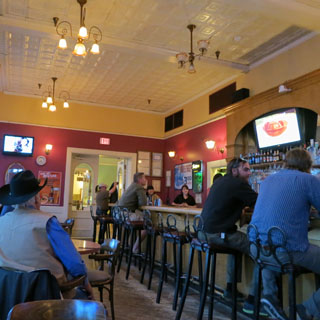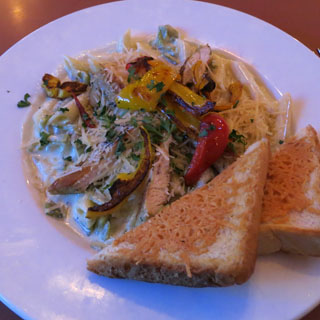 It wasn't I-25 that I wanted. I wanted the less travelled two-lane road.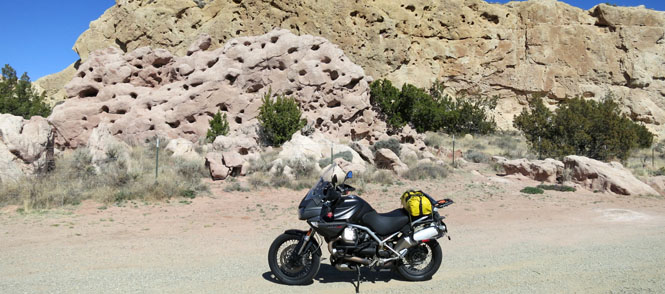 Madrid, New Mexico seems to have turned itself into an artist's town. There are other towns in New Mexico that have staked out the high end (Taos comes to mind); Madrid will take the other end.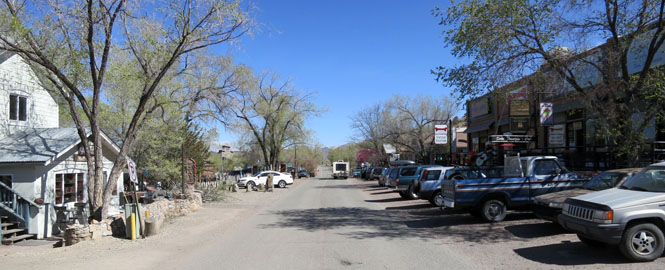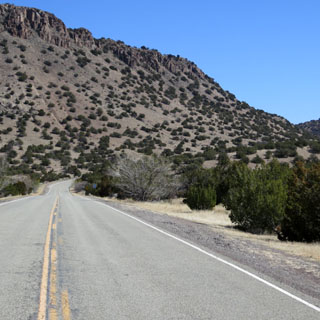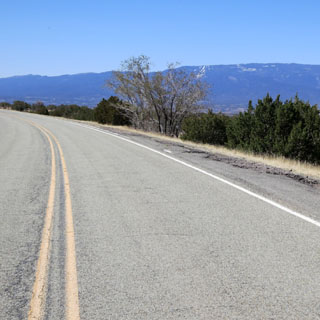 This could have been the warmest day of the entire trip. It was mid-seventies. I'd guess that the average daily temperature for the entire trip was something nearer fifty.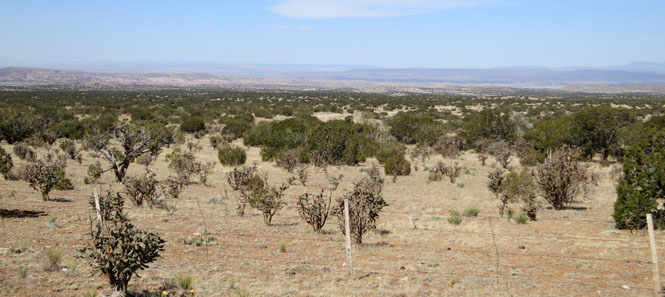 There's a well-known tramway that takes you to the top of a peak that overlooks Albuquerque. I've never been on it, and this seemed like a good time. You'd think that if the tram were closed, they'd post a few signs miles before you reached the entry station. You'd think...
I turned around and took this final shot of the Albuquerque valley. While I was there, a few cars did the same U-turn that I had just made. The drivers looked irritated.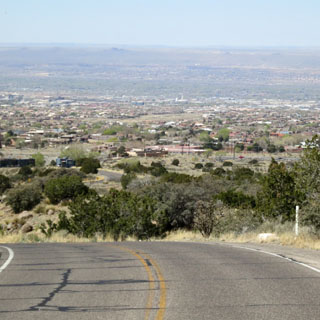 Laguna, New Mexico was founded in 1699. That seems pretty old, but it's one of the younger pueblo communities in New Mexico.

It's not often that a cross-wind will blow so strong that I feel I need to pull off the road, but that's the case, here. It was a knock-over-the-semi-truck wind at a steady 50 mph with gusts much higher than that.
This is New Mexico, so green chili is always on the plate.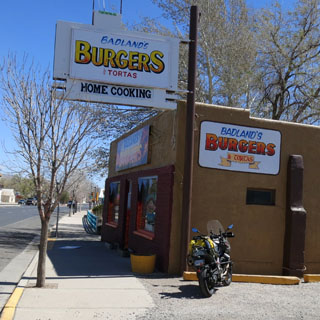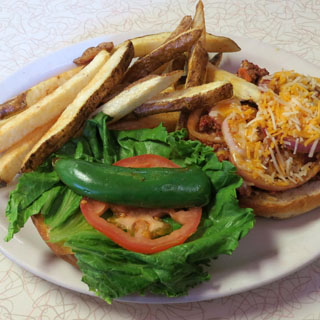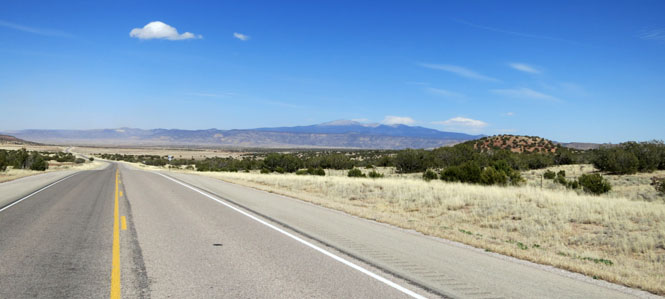 Lava covers much of this land.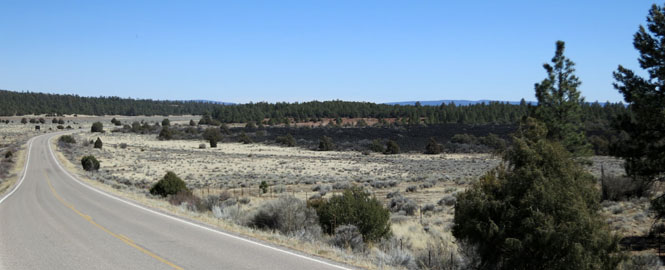 El Morro was an important trail marker for centuries. There's a spring at the base of the cliff that remains reliable year-round.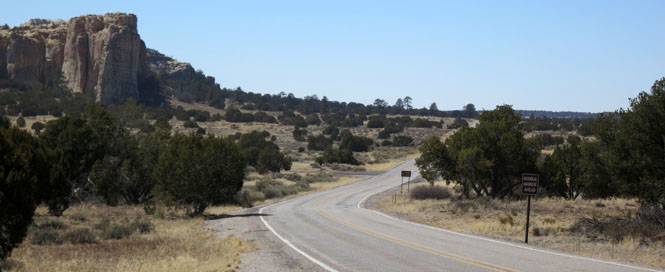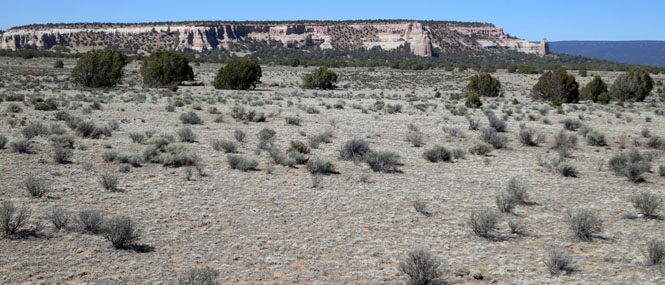 Ramah, New Mexico was an extended settlement from Utah Mormon pioneers.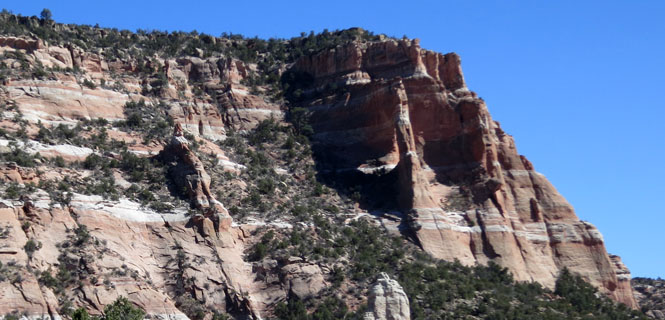 Zuni
Zuni, New Mexico. The older part of this town had a notice that largely kept me from riding into it. So, this isn't a very interesting photograph for a town that is very, very old.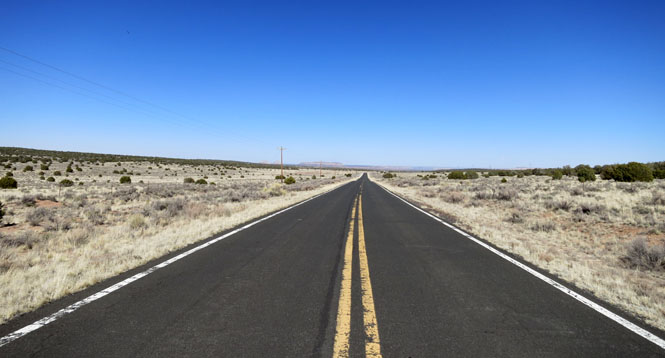 Arizona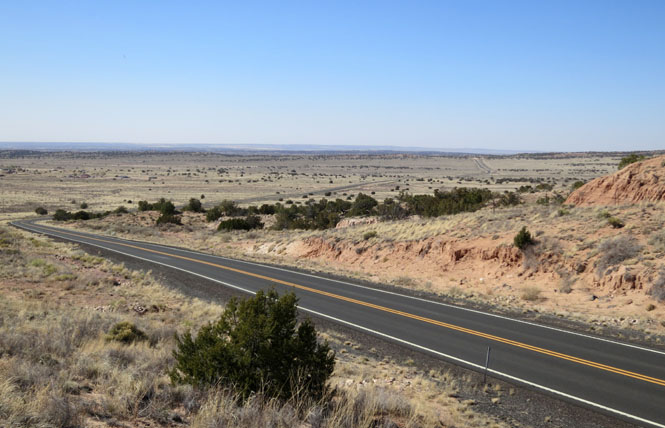 Navajo
Riding north out of Holbrook on BIA-6. It's a beautiful morning to be on the road.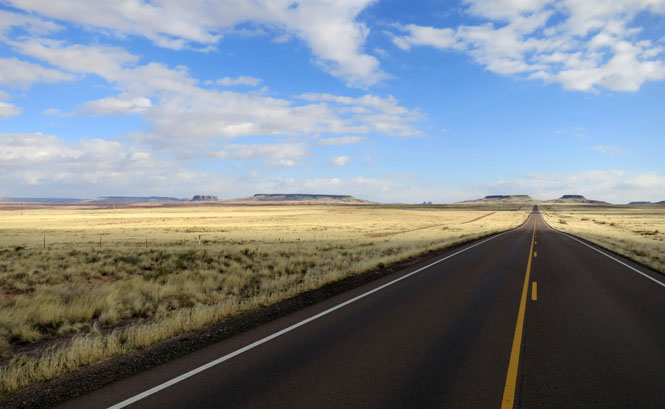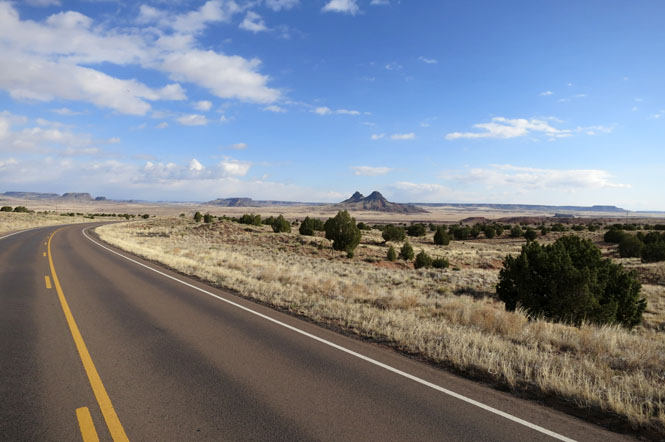 Keams Canyon, Arizona. The temperature has dropped below freezing (the dash on the motorcycle has been displaying a little snowflake for many miles).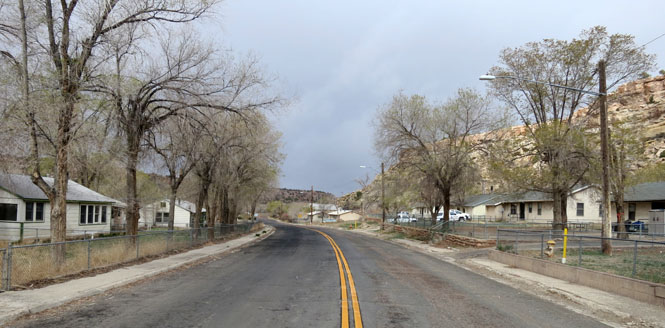 It's not evident by the photograph, but there's enough snow coming down and the risk of ice on the road is strong enough that I think I'll stop for an extended breakfast break.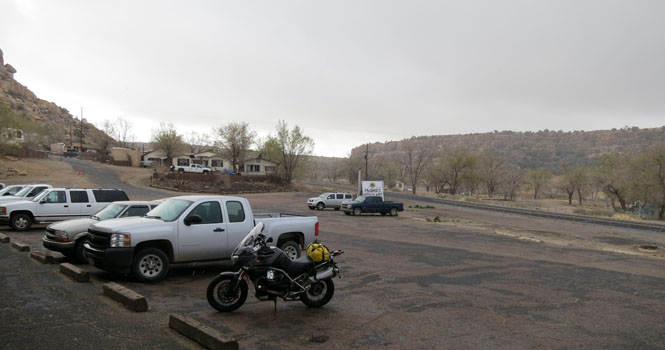 Blue pancakes taste pretty much like any other color of pancake.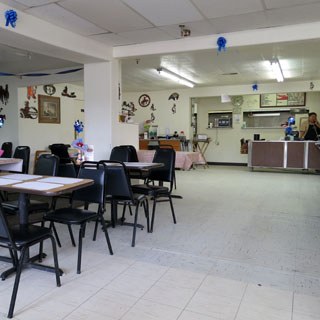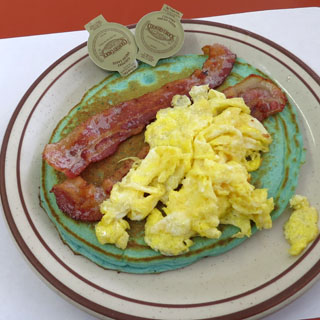 Hopi
Walpi, Arizona (First Mesa). There are three mesas in the Hopi Nation, each with a number of small villages. I've done my best to name them correctly, but it wouldn't surprise me if I was wrong on both counts.

Mishongnovi, Arizona (Second Mesa).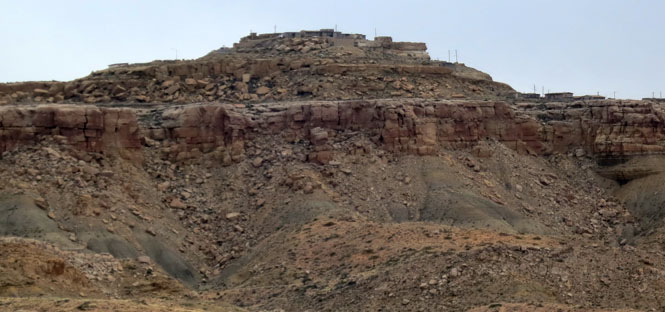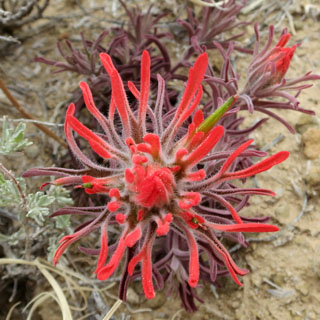 This is the "other" route across Arizona. I-40 is the choice of virtually everybody else. The roads were empty.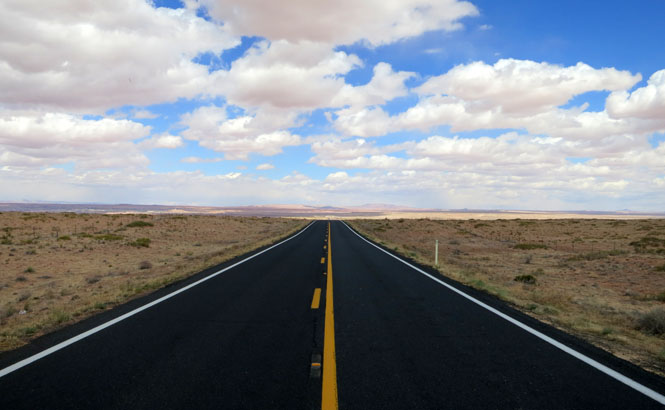 Navajo
Tuba City, Arizona. I sometimes struggle to find the "center" of a town to take a photograph. This will have to do. Tuba City is the government home of the western Navajo.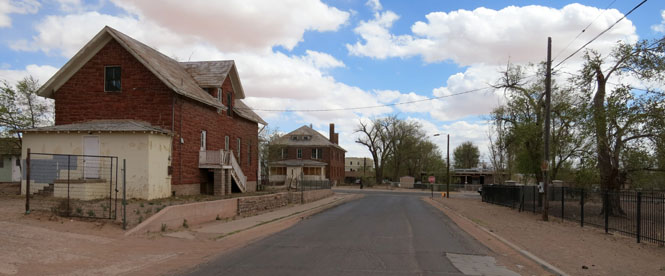 It took me by surprise at first, but today was a special one at this restaurant. As part of a fund-raiser for a local charity, the Navajo Police were working as greeters and food servers. There were so many that my glass of water was topped off at least every three minutes (it seemed). All tips this day went to the charity. I had beans with fry-bread (and tipped well).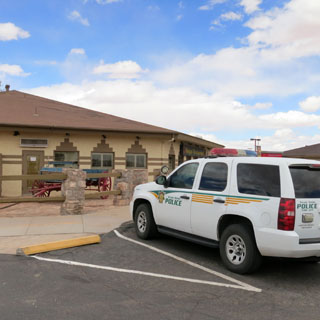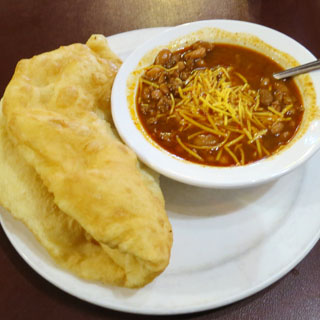 Windy, windy. I placed my helmet on the gas pump before walking to the distant building to pay my bill (few pumps in this area will accept a card). When I came out, my helmet was on the ground about halfway to me. Rats. I noticed that the chin vent was missing. I walked back and forth several times, but eventually gave up finding it. A strip of clear packing tape would have to do to close that opening.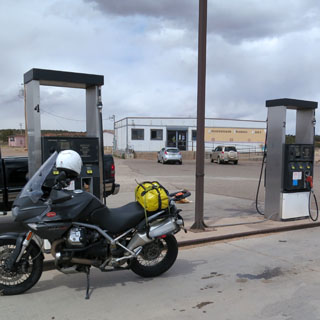 If I had known that it would cost $28 to replace that plastic vent, I would have spent more time looking for it. Later in the trip I replaced the clear strapping tape with white duct tape. At least it looked better.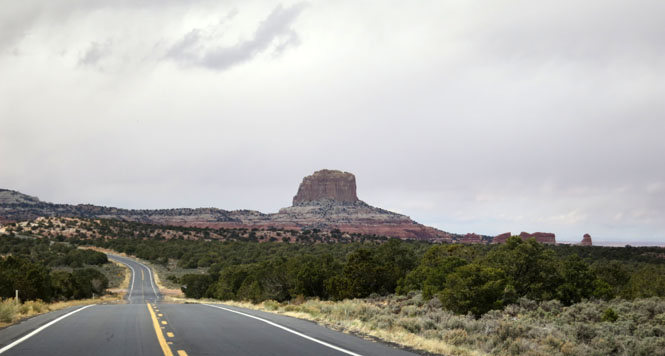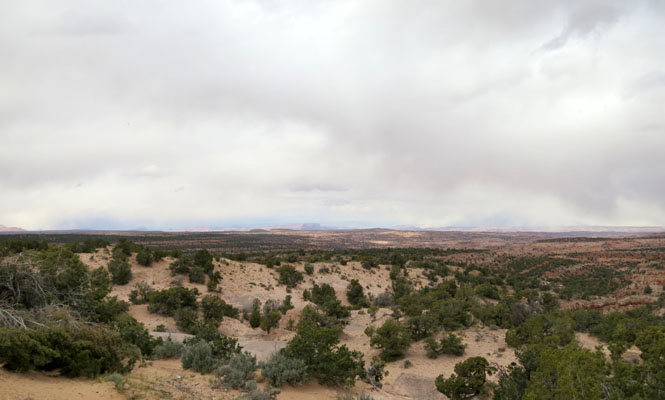 Navajo Generating Station. I had no intention of taking a picture of such an unsightly thing in this beautiful country. But, while stopped at the entrance of a long service drive to the power plant to check my map, a security guard drove up and ordered me to push the bike off the (empty) drive and to park on the highway (with no shoulder). It was then that I also noticed the signs that said "no photographs."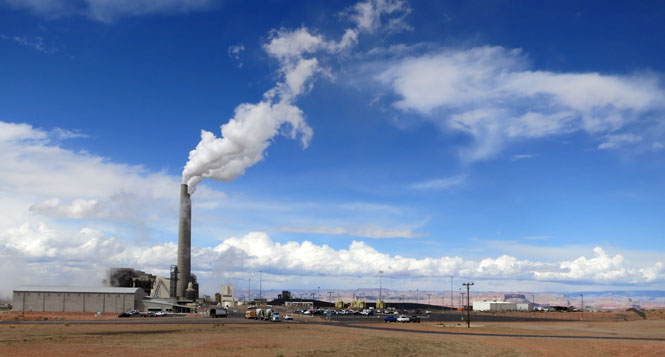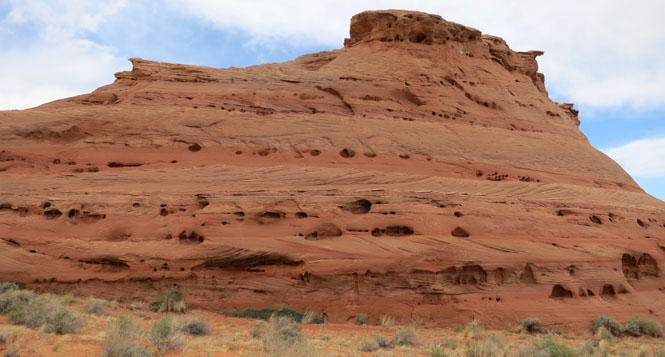 I had plans to ride down the Colorado River south of Page. If I had checked ahead I would have known this:
In the early morning hours of Feb. 20, 2013, a landslide ripped through a section of US 89 along a mountain slope about 25 miles south of Page, buckling more than 150 feet of the roadway and tearing the pavement up in six-foot-high sections.

The significant roadway damage forced the Arizona Department of Transportation to immediately close a 23-mile-long stretch of the highway (at mileposts 523-546) between the US 89A junction near Bitter Springs to the State Route 98 junction near Page.

US 89 will be closed for the immediate future as geotechnical experts and ADOT's engineers examine the mountain slope and roadbed to determine the exact cause of the damage and what steps are required to reconstruct the roadway and get it back into shape for travelers. There is no timetable for reopening the highway; however, ADOT is working to rebuild the highway as soon as safely possible.

A temporary detour (US 89T) route opened with limited access on Aug. 29, only three months after construction began the $35 million project to pave Navajo Route 20, which was mostly a dirt and sandy road before work began in late May.

The 44-mile-long US 89T route runs parallel to US 89 from The Gap to LeChee and is accessible from US 89, approximately 17 miles north of the US 160 junction (Tuba City exit). Previously a Navajo Nation roadway, US 89T will be maintained by ADOT while it is in use as a detour

At least the detour was paved, although it often had a ridiculously low speed limit in spots, which made for pretty easy pickings. It seemed dangerous to be plodding along at 40 mph when others (having not seen the signs) were appropriately cruising at 70 mph.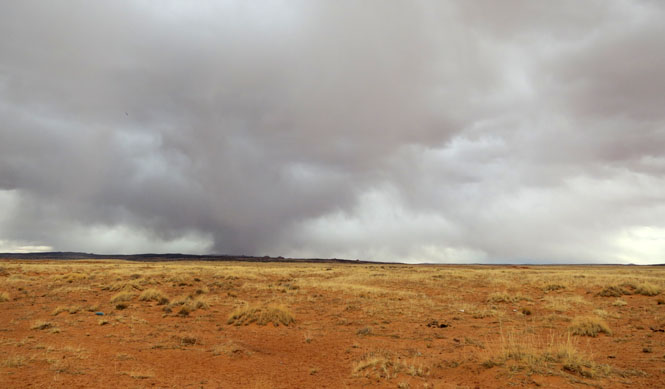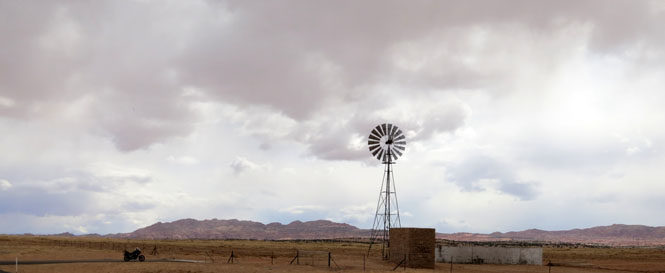 The idea was to turn right at Cameron and ride to the south rim of the Grand Canyon and to find lodging there. It would have been a fine plan if it hadn't been snowing quite hard.
I was wiping my visor of crusty snow every ten seconds when I pulled off the road to wait things out in this Navajo sales shack. As soon as the snow stopped for a bit, I turned right around and rode down the hill back to Cameron.
The shot on the right is of the spectacular Little Colorado Canyon. No; you can't see anything.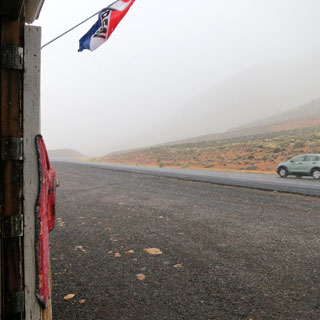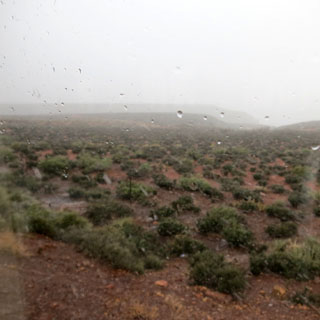 Yes; that cloud holds some pretty fierce weather. I think I'll stay right here in Cameron. This is the view of the Little Colorado River from near my hotel room.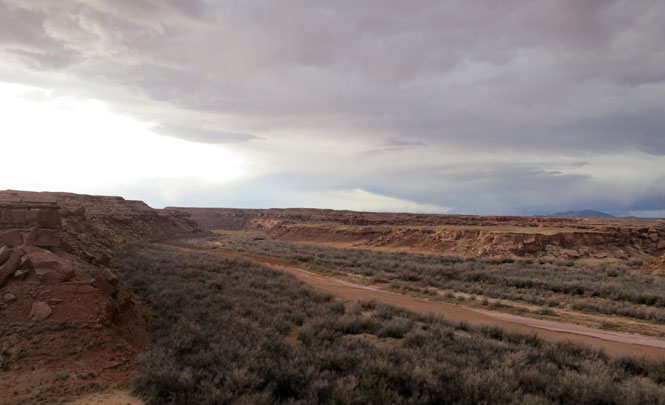 Cameron Trading Post, Arizona.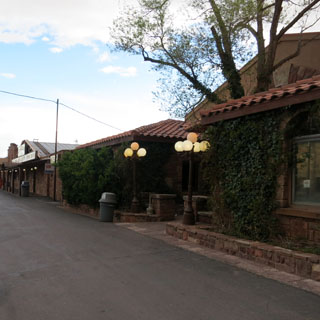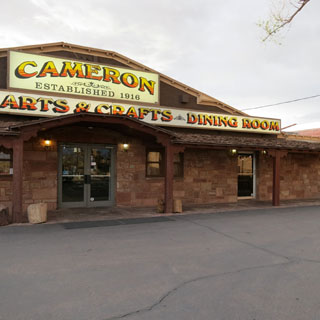 This is quite a nice place, and at prices much lower than in the park (or near the south entrance of the park which is where the majority of hotels are found).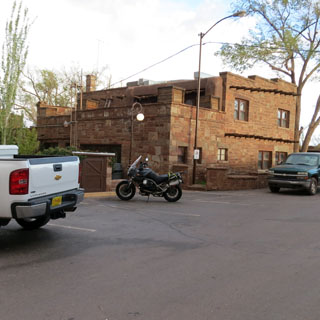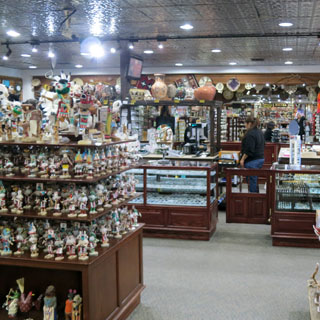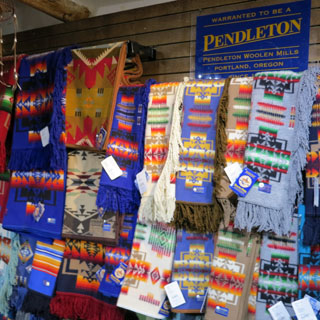 This is Arizona--not New Mexico--but, green chili is still the order of the day. That's part of the courtyard of the lodge.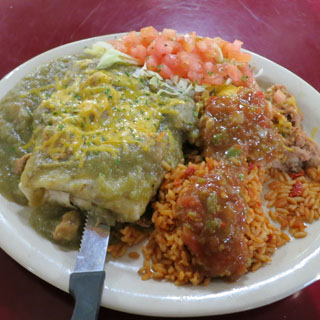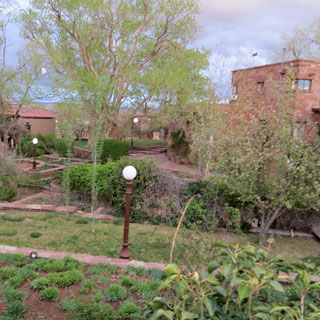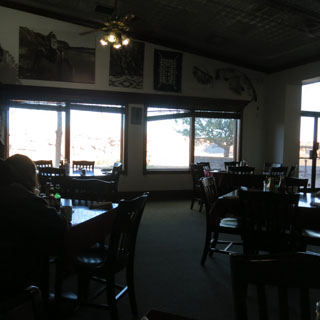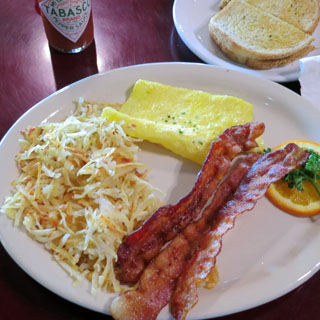 Humphreys Peak (elevation 12,600 feet) had quite a bit of snow. Flagstaff is beyond it (at 7,200 feet) and I was smart enough to stay away.

Next morning, the weather is vastly better. I'm climbing back up the same road that defeated me the evening before. There was still snow on the road, but I was hoping that it would melt by noon. If you're in a car, it'll cost you $25 to enter. Motorcycles are $12.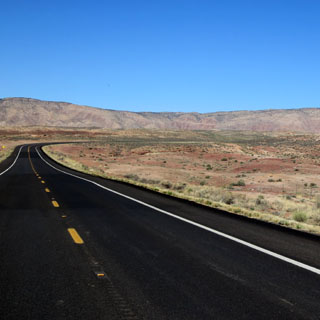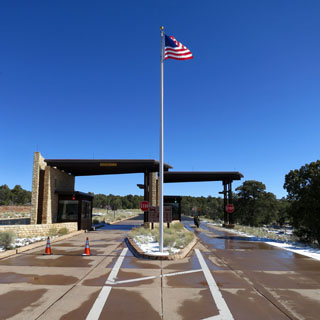 Over several years, I've been here four times on a motorcycle. It remains stunning. That first look catches your breath every time.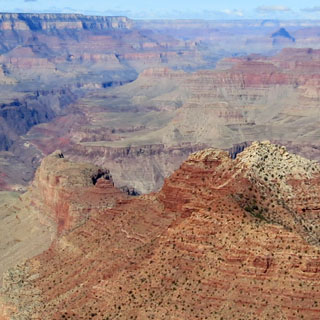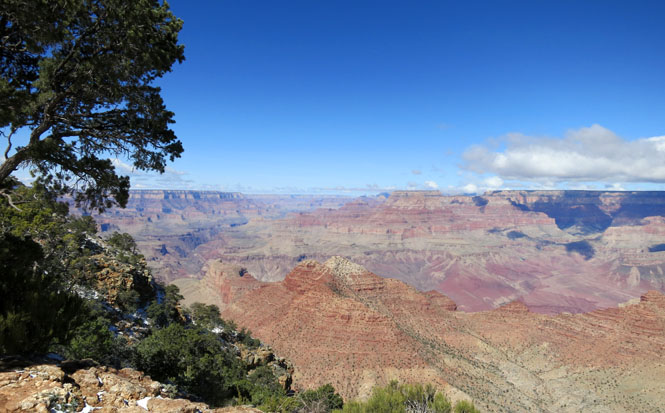 Walking away from the crowds, I came to a bench not for from the rim that had a stunning view (above). The roads were still icy, but the sun was climbing. I stayed at this spot for an hour as the air warmed.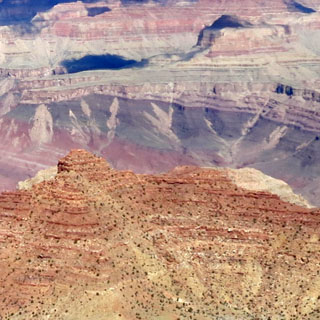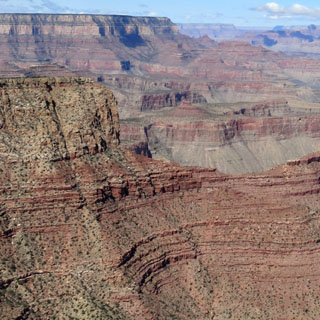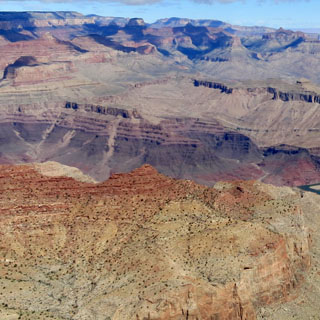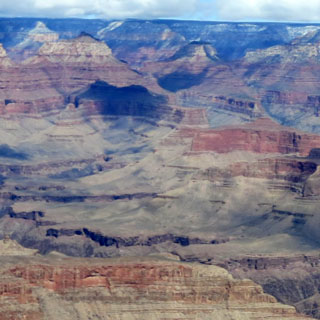 As I rode towards the south rim visitor center, I stopped at most all the overlooks. The views are different, but there's really no need to hop to all of them. For future visitors, I'd recommend staying put in a quiet spot--not hard to find.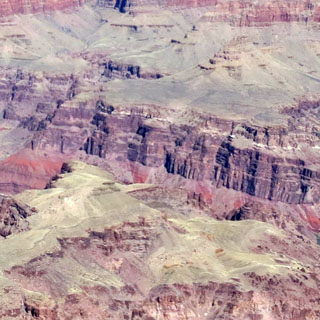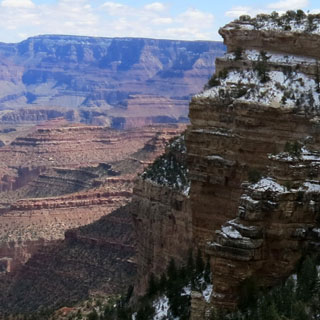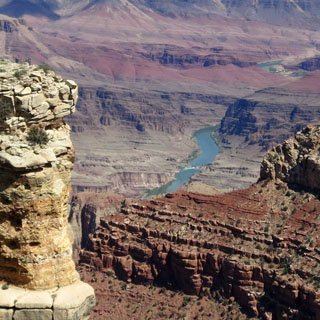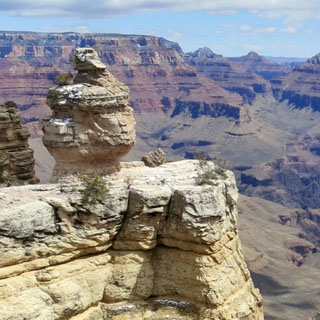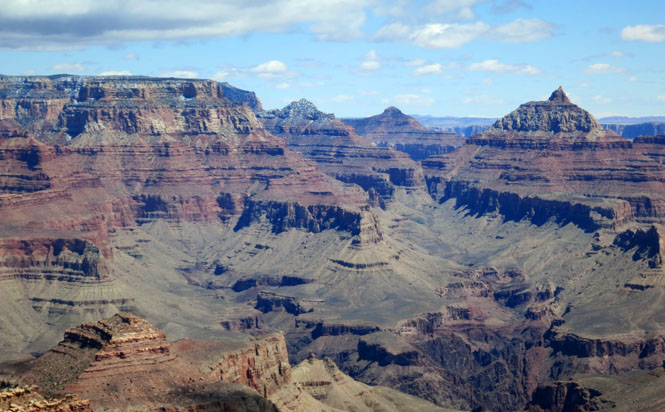 I needed to be careful when the road was in the shade, but largely the snow was entirely off the pavement.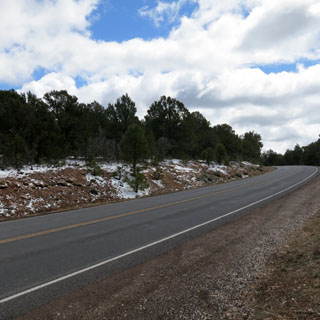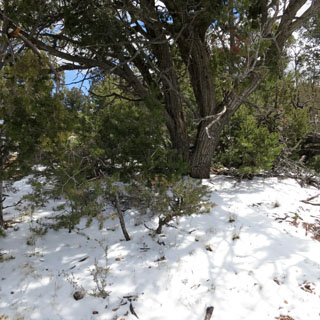 It's all so big...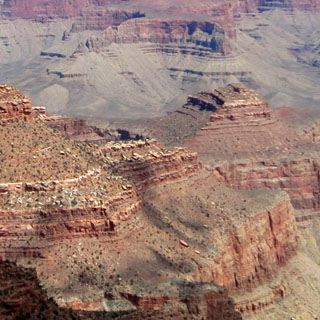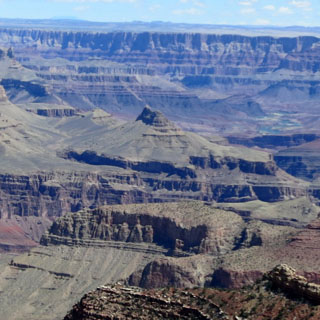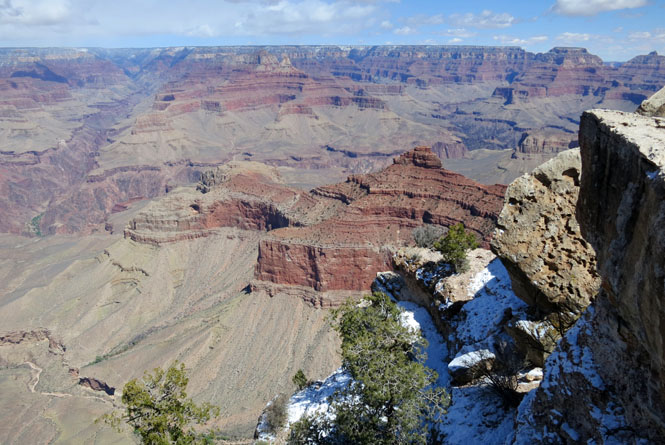 In the past several years, the park service has moved the throngs of visitors and their cars away from the old center (where you'll still find the lodges). Unless you have a motorcycle, really the best way would be to arrive by the morning train from Williams and to use the frequent shuttle buses to take you where you need to go.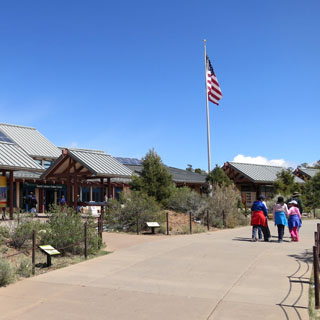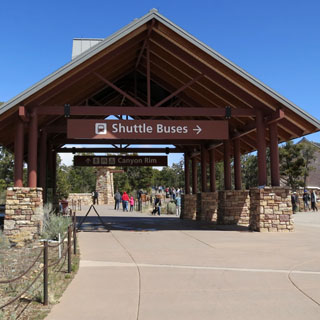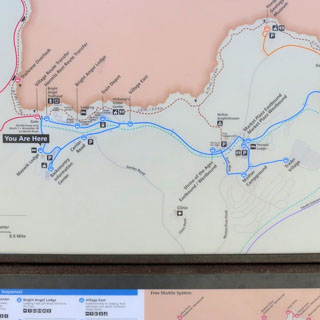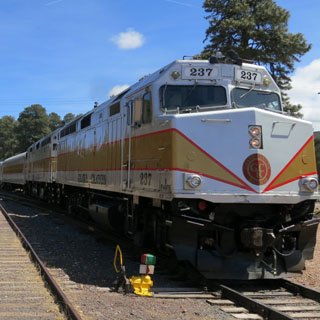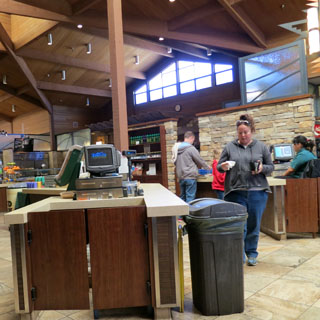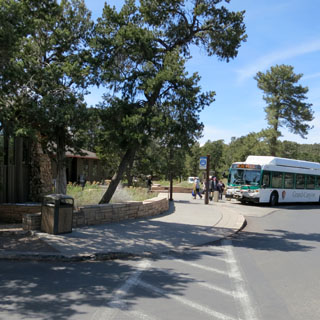 There are sometimes no other options. This is I-40, once again.

Seligman, Arizona is the entrance to a long stretch of route-66 that was not replace by the interstate highway system. The first time I rode this stretch, route-66 was something for memory (from Steinbeck's book and the old TV series). But, now, route-66 is big business.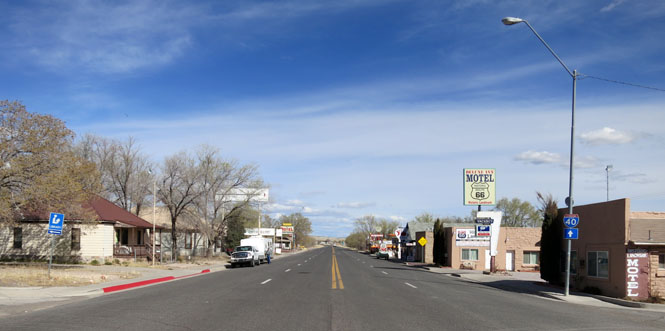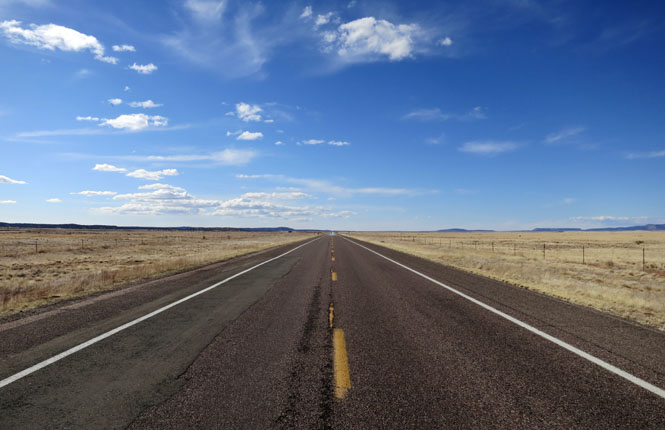 Peach Springs, Arizona was once an important point on the Santa Fe Railroad.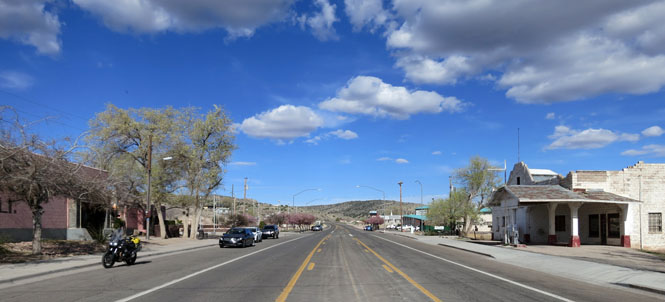 Truxton, Arizona.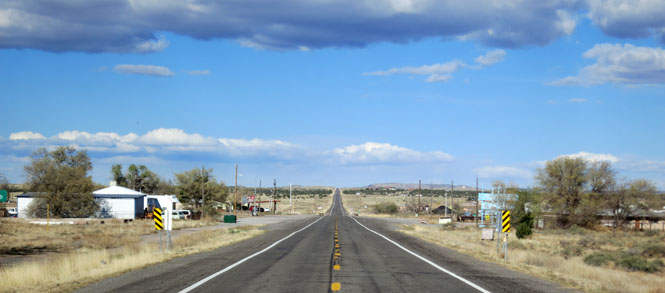 Valentine, Arizona. The school has long been closed.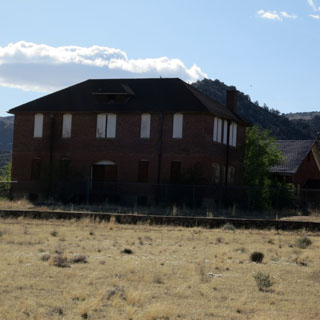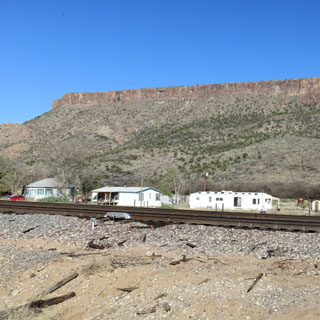 Of course, the road follows the railroad--the railroad came first. The interstate highway has moved far to the south, but the railroad remains.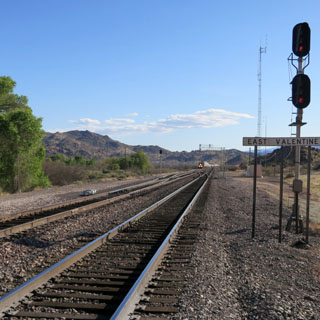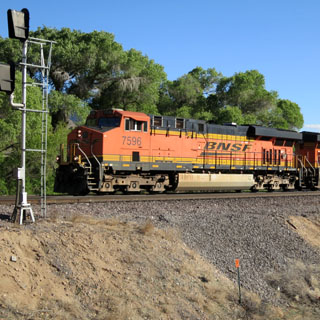 Many years ago (at least forty years) I read something about this curve on the Santa Fe railroad. It was special (in some way). I filed that away in my brain. So, when I approached the apex of this curve, I made a point to park the bike on the highway and walk to the tracks to get this photograph. I'd look it all up, later (which I did):
The longest continuous curve on the former Santa Fe (mp493-MP496)is on the Seligman Subdivision Main between Hackberry, AZ and Hualapai, AZ (20 miles east of Kingman). Coming in just under three miles, Antares Curve was touted as not only the longest on the RR, but claimed it was (possibly) the longest one in the western states.

--from 2002 post on a train enthusiast forum by "Gabbyh1"
An old forum post may not be a solid reference, but it's the best I could find, and it seems authoritative.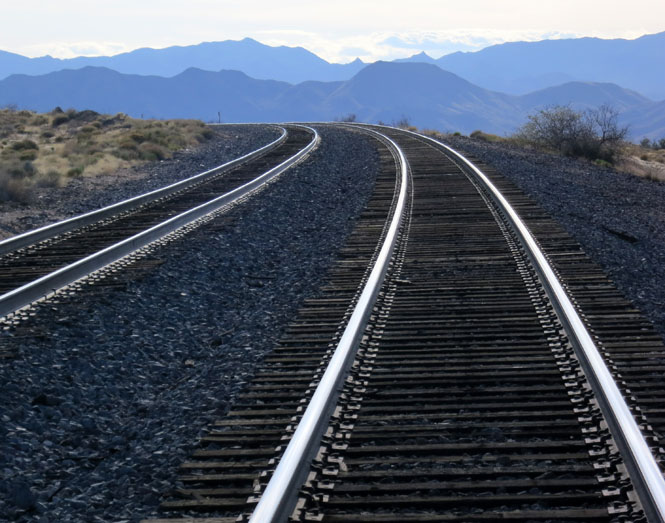 Nevada
Hoover Dam. Excavations were completed June 1933; the dam was completed September, 1935.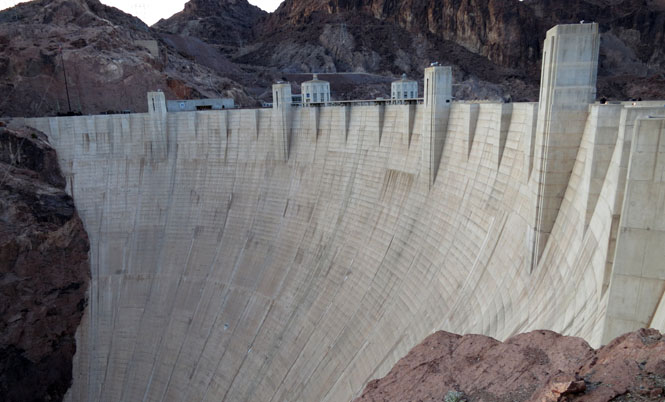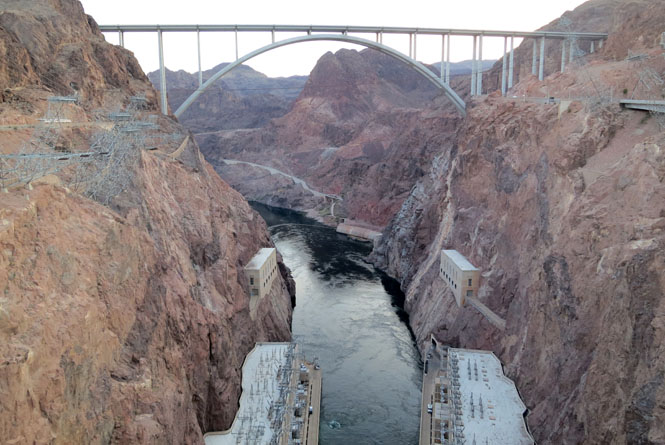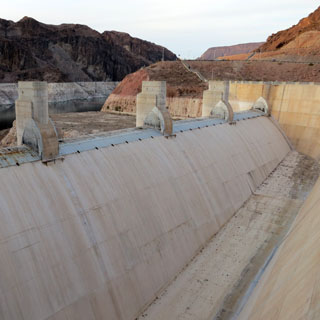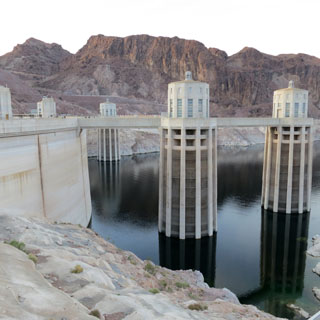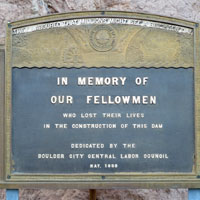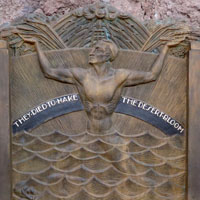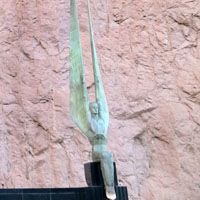 Dan Kalal (Employed by "Six Companies", died April 8, 1933, Arizona side. Struck by falling material).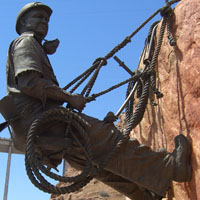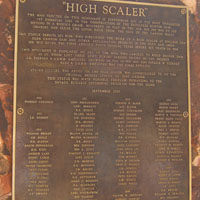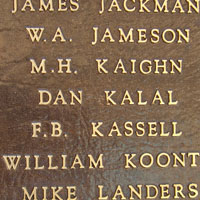 Boulder City, Nevada was created by the Bureau of Reclamation as the headquarters of the construction of the dam. It's in a triangle pattern with the Bureau building at the apex. Most of the workers would have lived here. Boulder quite rightly calls itself the place that built the dam.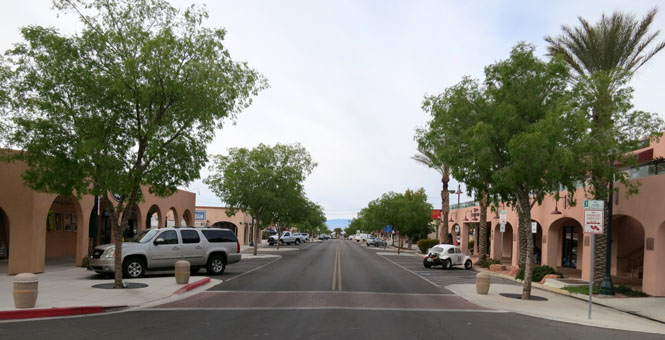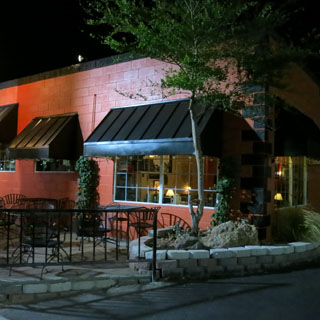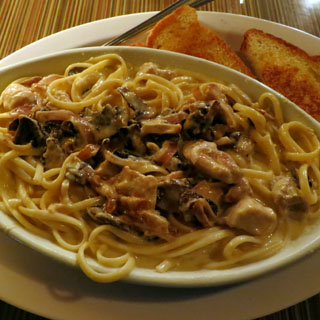 Searchlight, Nevada is due south from Boulder.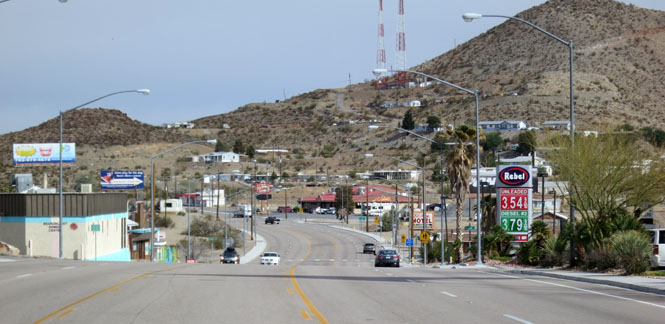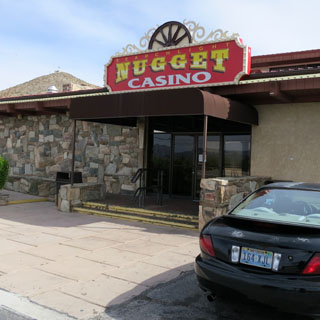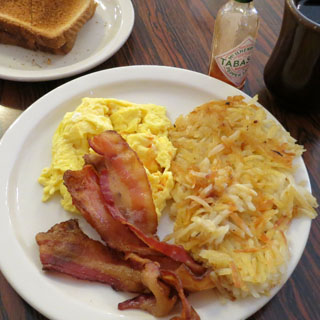 I'd be turning west on a slight road, and then south off that road on an even thinner road.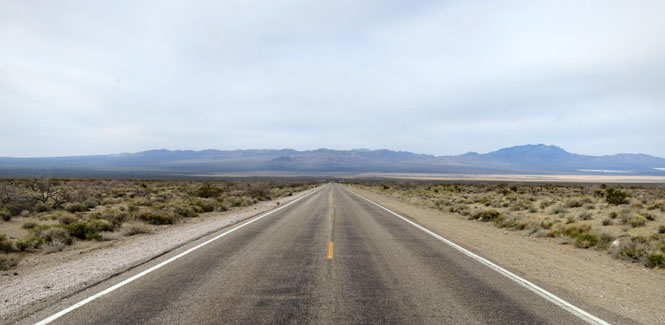 Joshua Trees.
California
Solar power along the mountain slopes.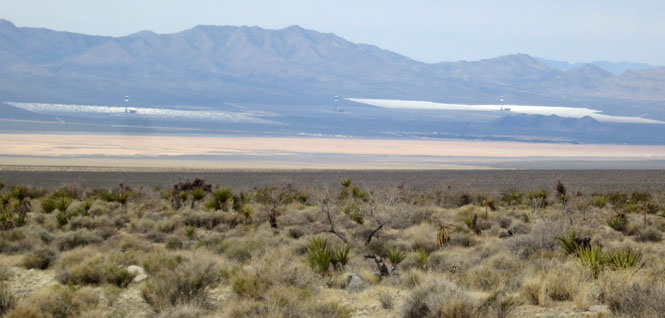 Nipton, California was built to service the railroad (water). There's not much to keep it going, today, although the recently created Mojave Preserve should keep enough people passing through.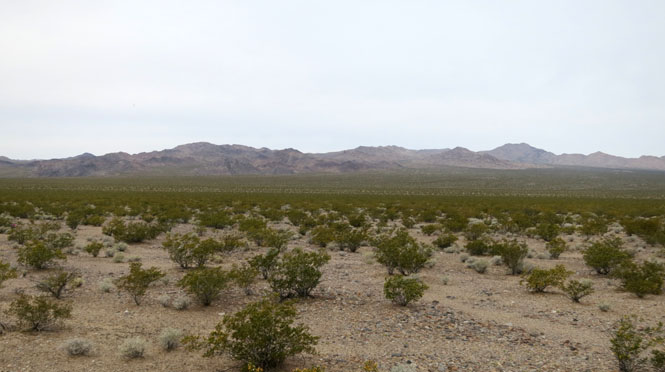 Kelso, California. Back when the engines were steam, Kelso had an important role. The powerful "helper" engines pulled the trains up the hill, and then coasted back down to meet the next train. This was an active place. Now, with corporate mergers of the railroads, and most rail traffic now moved to the south, not much passes by Kelso (and the helper engines are not needed in any case).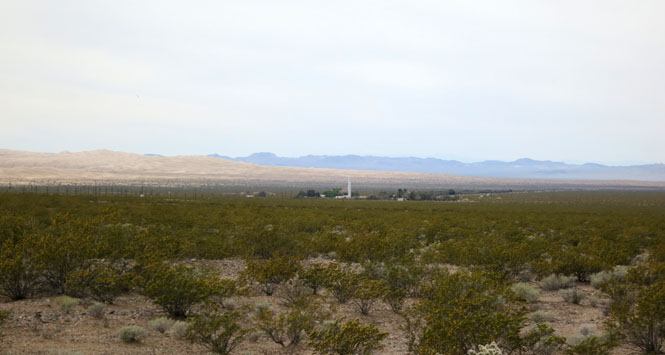 Those are the Kelso Dunes behind the town.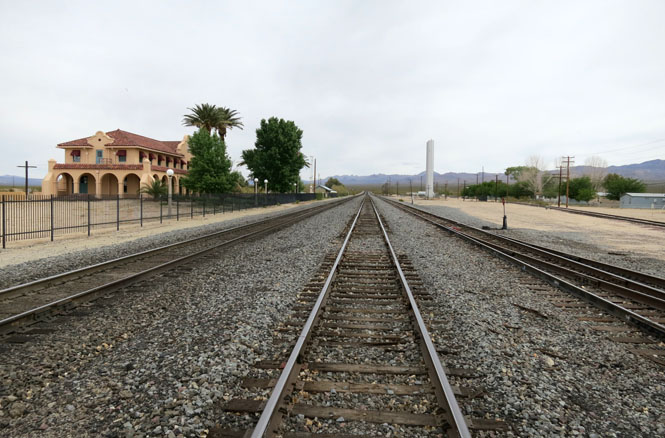 Union Pacific once planned to tear the old station down, but enough people rallied to support it. It has been restored. It now serves as the headquarters of the Mojave National Preserve.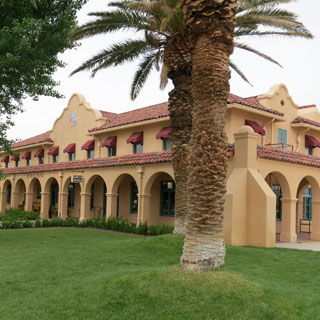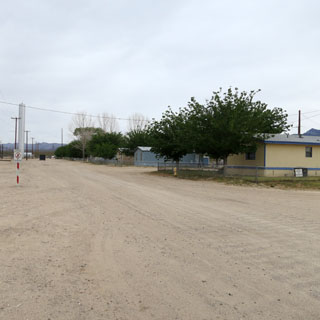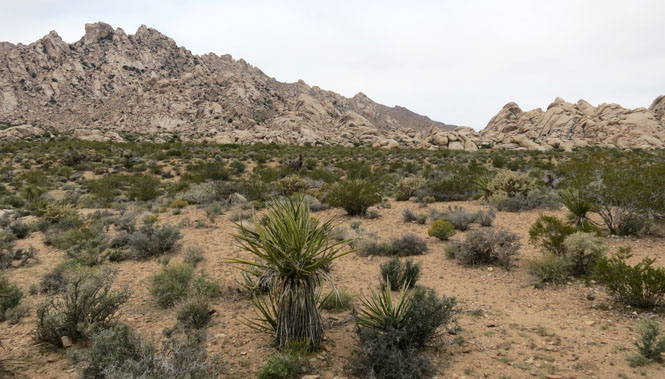 Running south out of the Preserve to hook up (again) with I-40.

Crossing the desert towards Palmdale and beyond.
Frazier Park and it's starting to either rain or snow (it can't make up its mind). It's a good time to stop for the day. The San Rafael Mountains (and San Gabriel Mountains) separate Los Angles from the desert. I'd need to cross.
It's evidently all-Italy day at the hotel (two Vespas along with my Guzzi). I wore the electric vest everyday, and had it turned on most all the time.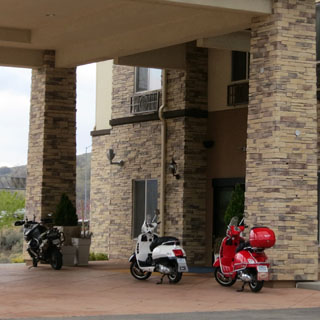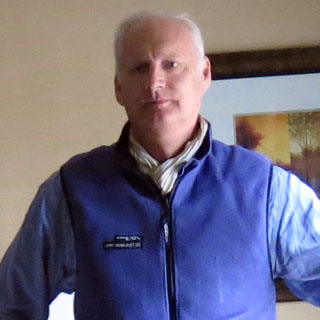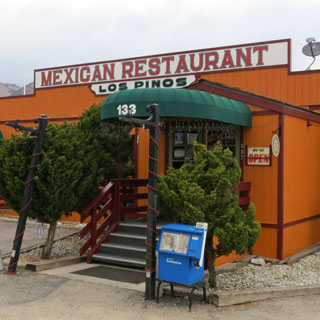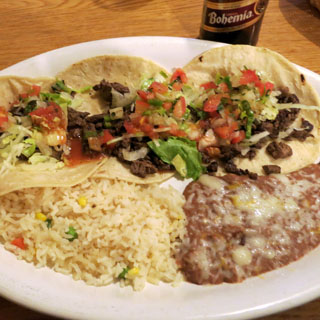 Only a few miles up the road and things aren't looking so good. I stayed at this small grocery store for a couple of hours. I kept an eye on the cars coming down the mountain. As long as they were still covered in snow, I could wait longer.,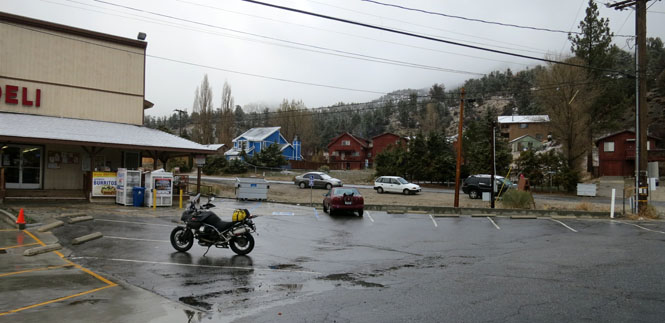 Let's make a go of it. Mostly, the road was clear as long as I stayed in the tire tracks. I was hoping that I could reach the summit soon enough, as I knew that the backside would quickly clear up as I approached the ocean side.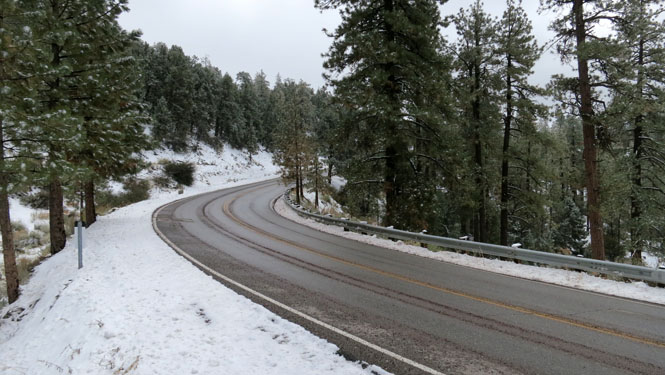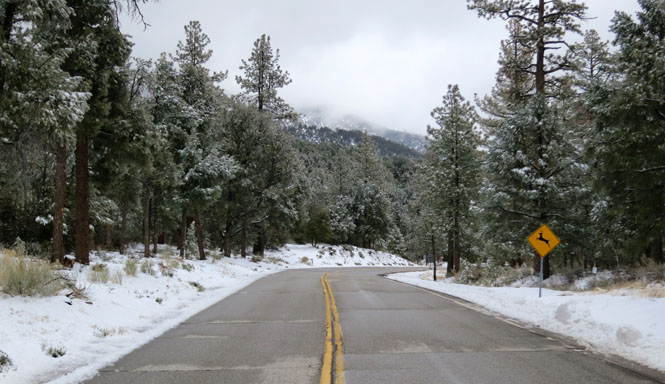 Well, the snow is pretty well gone, but now I'm left with a very dense fog. It's slow going, but as there isn't any traffic, there's nothing else to worry about.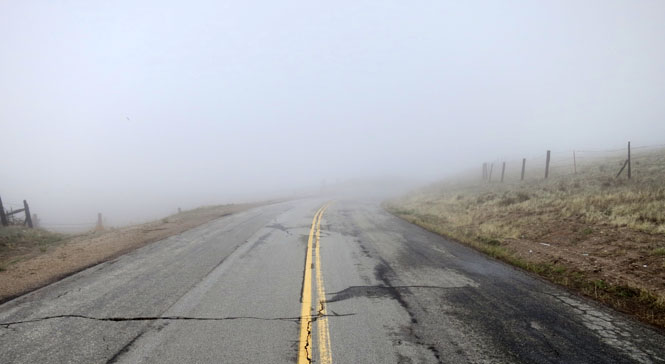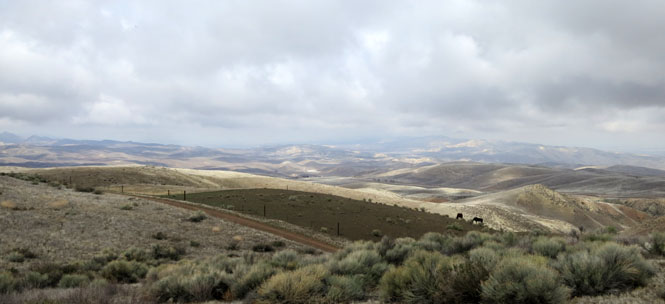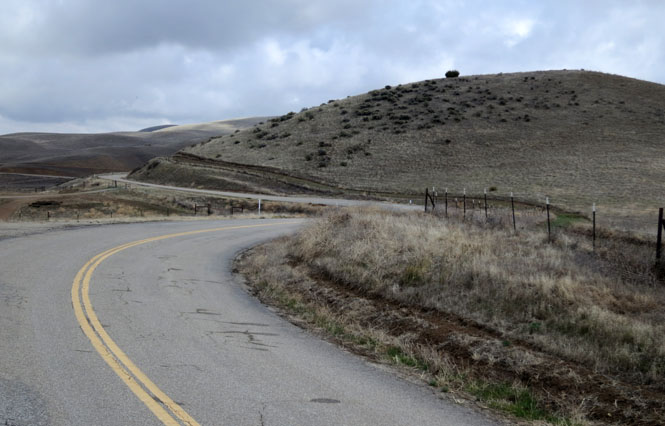 It was nice to see those bits of dark blue sky. It may still be very cold, but as long as you have a bit of sun, it doesn't matter.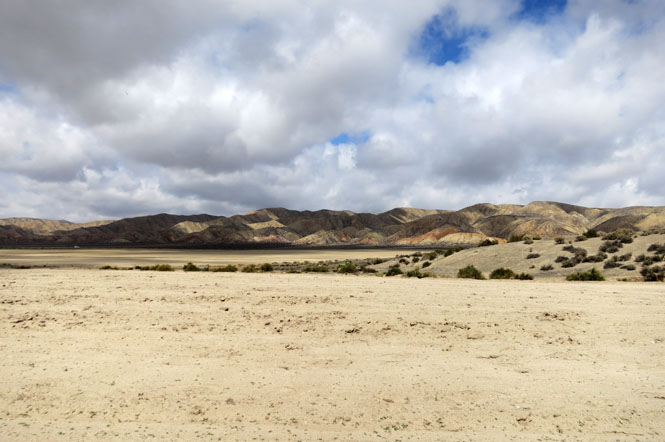 Riding down into the Cuyama Valley.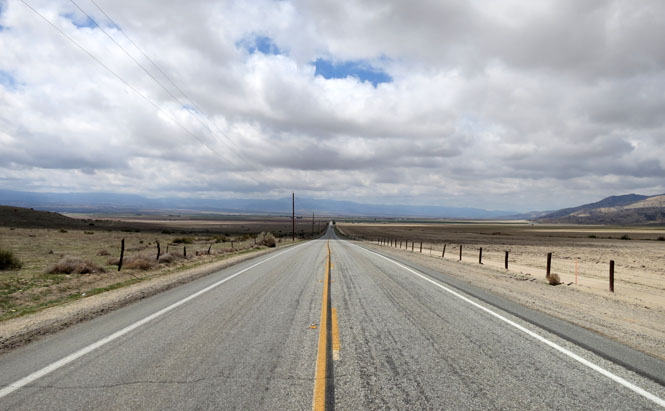 New Cuyama, California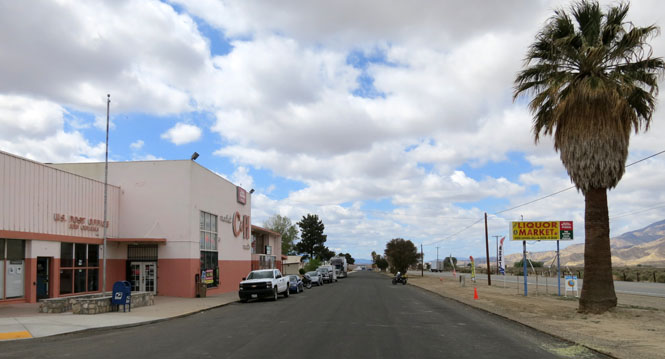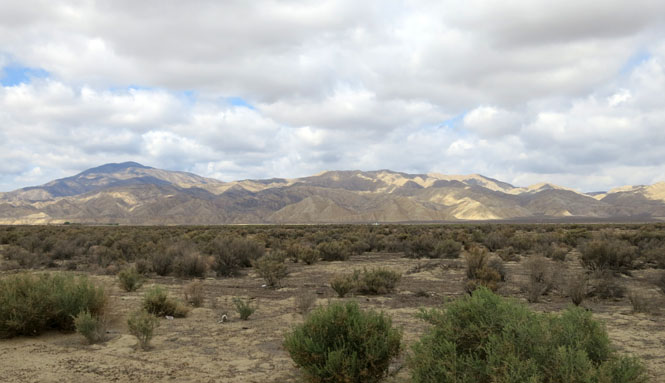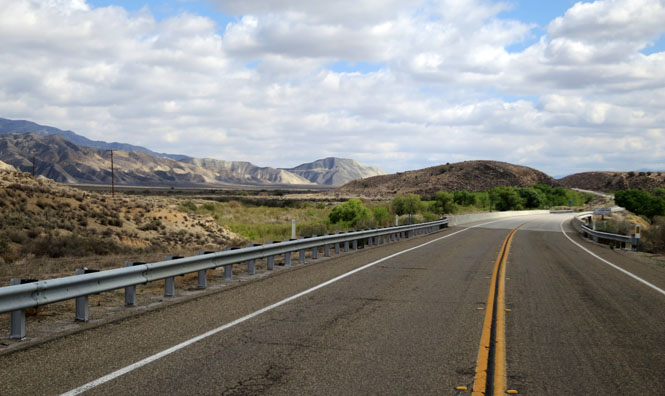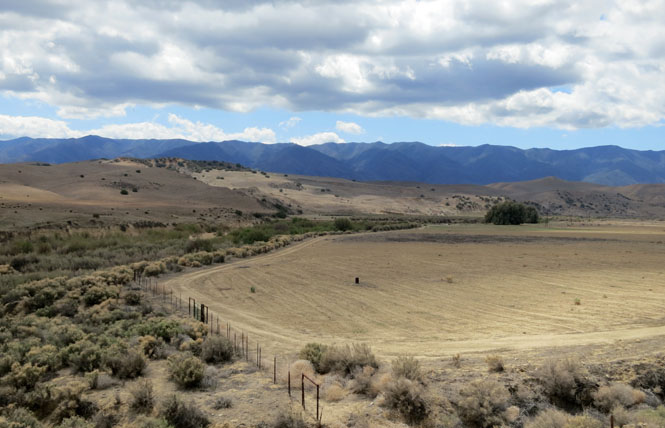 What I nice country road this was.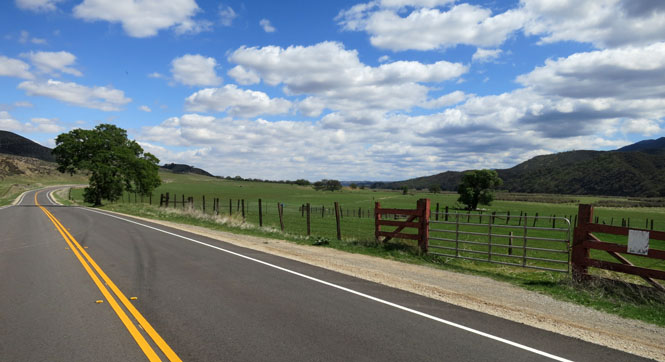 Across the water, that's the town of Morro Bay. You can see Morro rock in the haze to the right.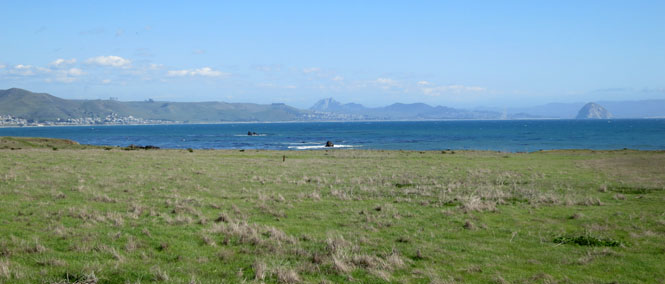 I'll be staying on CA-1 for quite a few miles. All the way up the coastline.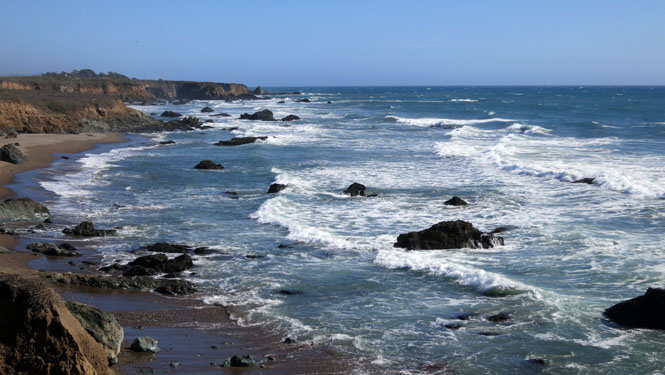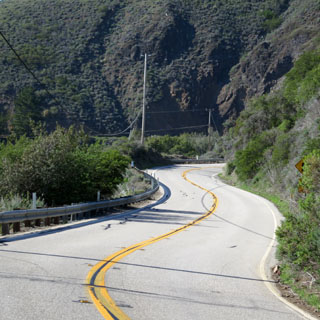 One of the most beautiful bridges in the most beautiful location. Big Creek Bridge, 1937 [36.070117, -121.600374].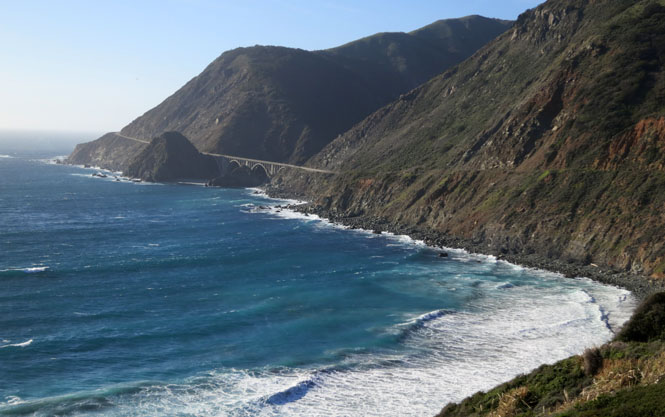 Sunset over the Monterey peninsula. The hotel I'm staying in is right on the beach.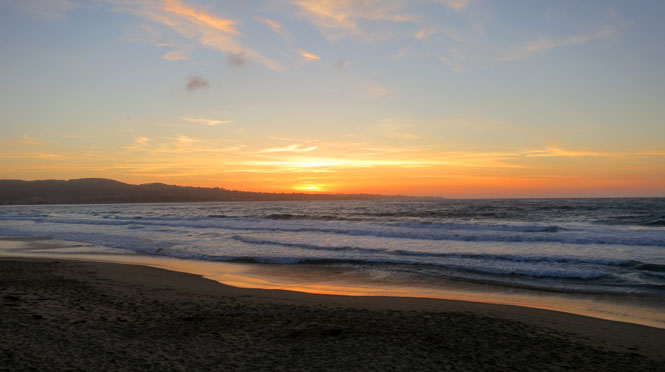 Strawberry fields near Castroville.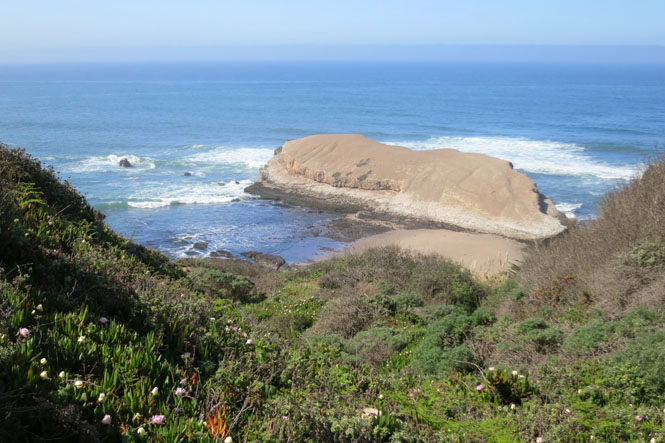 The crab is in about a foot of water.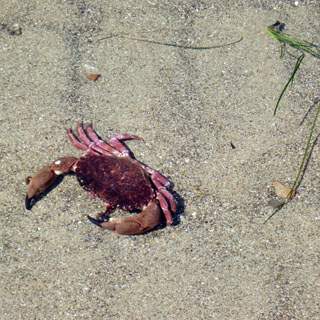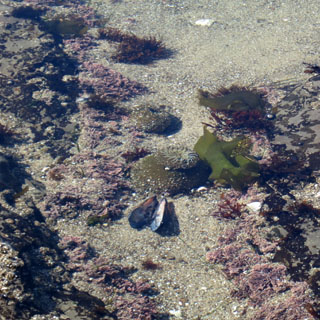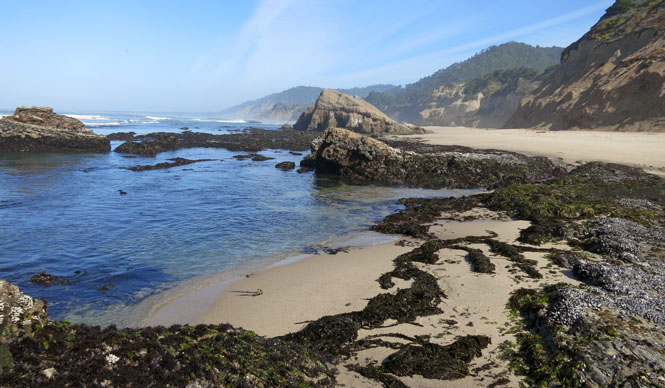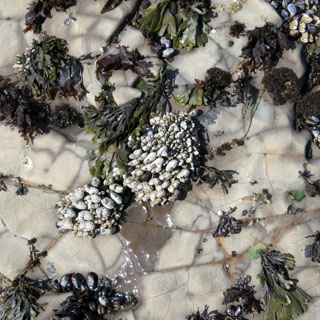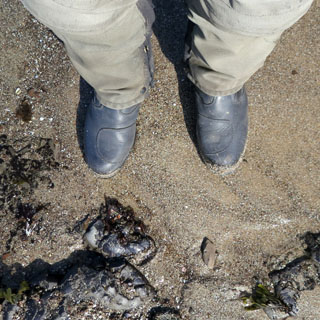 Riding up the Cabrillo Highway (CA-1).
For as much as I've ridden these coastal roads, I have never ridden across the Golden Gate Bridge. Now I have. No clouds, no fog, lots of people are out.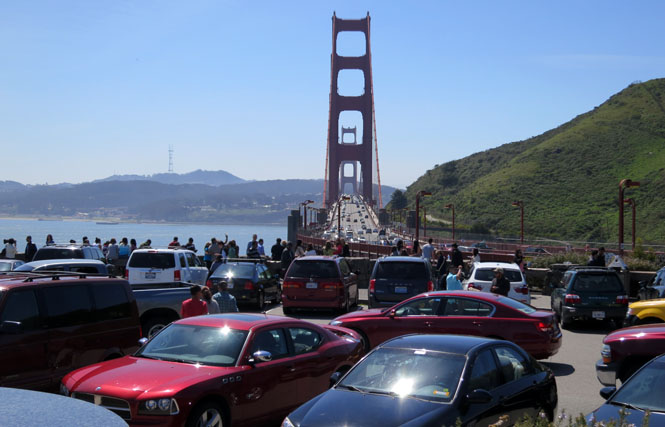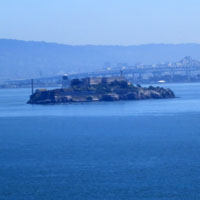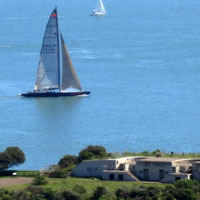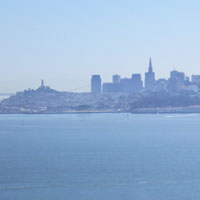 Highway 1 turns west at the town of Tamalpais. The town has an ill-considered four-way stop light that had traffic backed up for miles. Sometimes a traffic round-a-bout is the perfect solution. It's here that a woman in a Volvo wagon thought she'd put her bumper into my rear tire. Or, perhaps she wasn't thinking about anything at all... With only a bent rear reflector out of the mishap; I was happy to be away from her and all her other Volvo friends.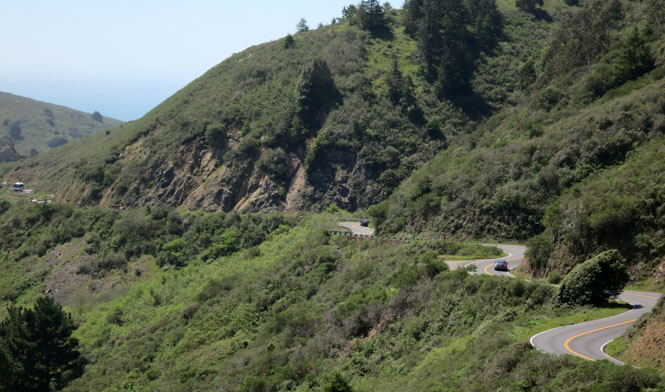 This bit of the highway is actually quite a bit of work. A Moto Guzzi likes sweeps. This road doesn't sweep; it zigs and zags.
The shallow end of the Bolinas Lagoon. If you look at a map, you'll notice that this is a part of an enormously long fault line. It's not subtle.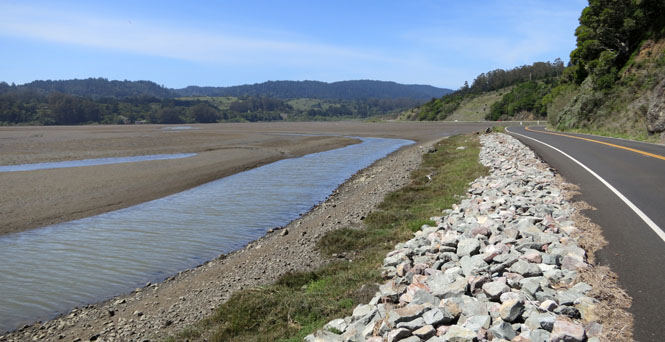 This was a perfect day for riding.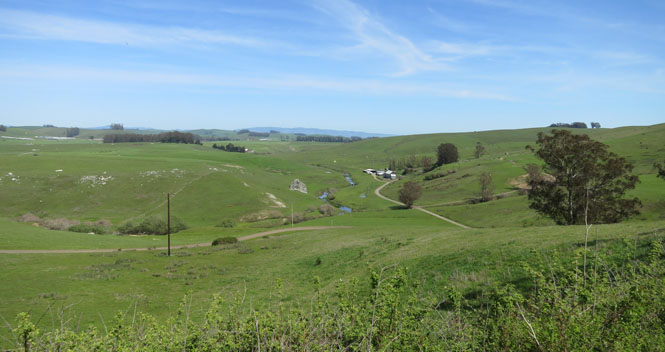 Crossing the Russian River. I've been on this road when it was a parade of motorhomes and trailers. Not today. Today, the road is mine.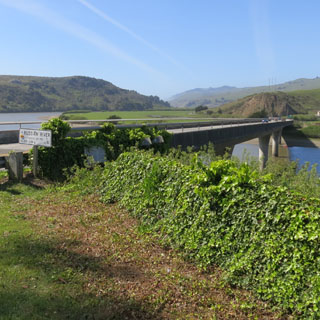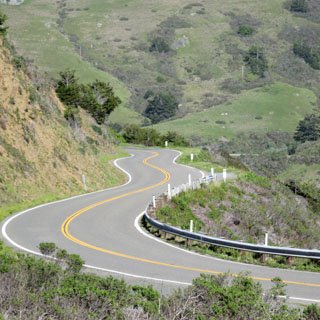 At most every inlet, the road turns inland, wends down to sea level, crosses a creak in a sharp left hairpin, and then climbs back up to the cliff-level and resumes its journey along the ocean.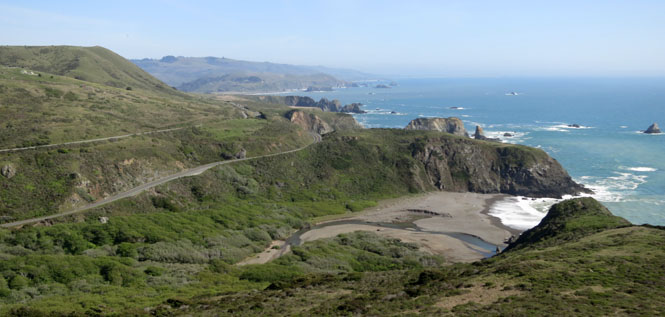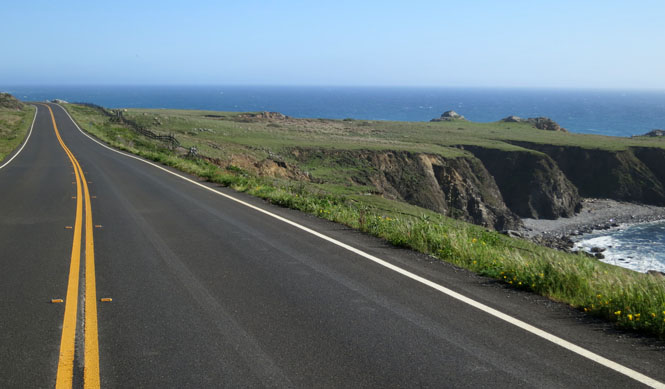 Gualala, California is where thee Gualala River grows tired of staying in the fold of the San Andreas fault and turns sharply west to meet the ocean.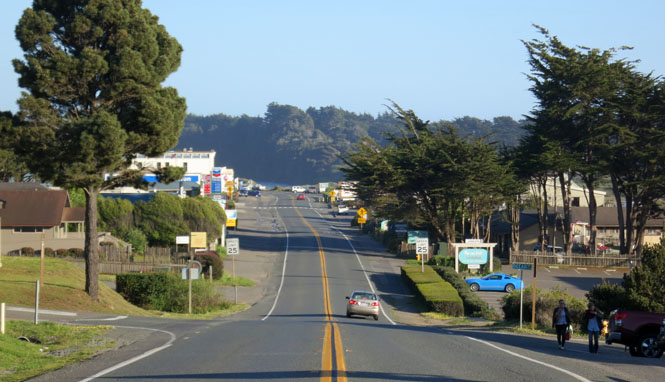 My room is about in the middle of that bunch on top of the hill.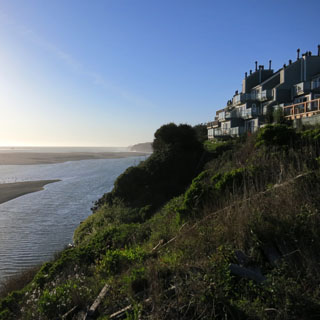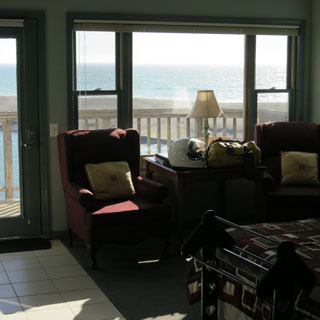 Stepping out on the balcony to take this shot.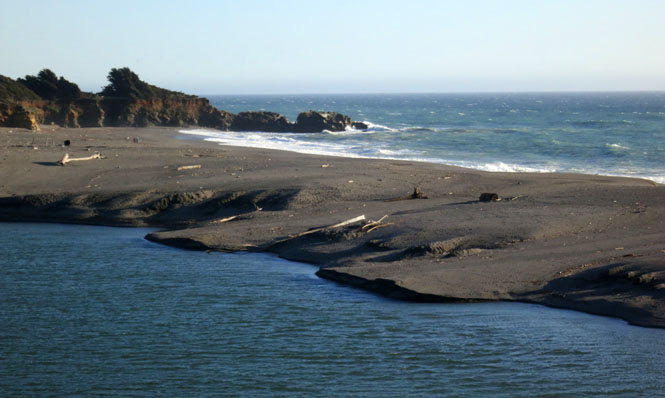 Where the river strikes the ocean, the waves are pretty dramatic.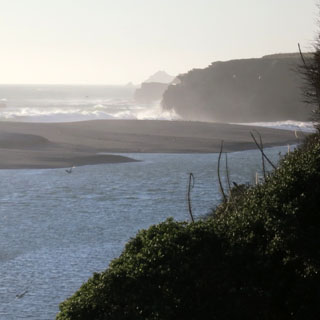 Point Arena, California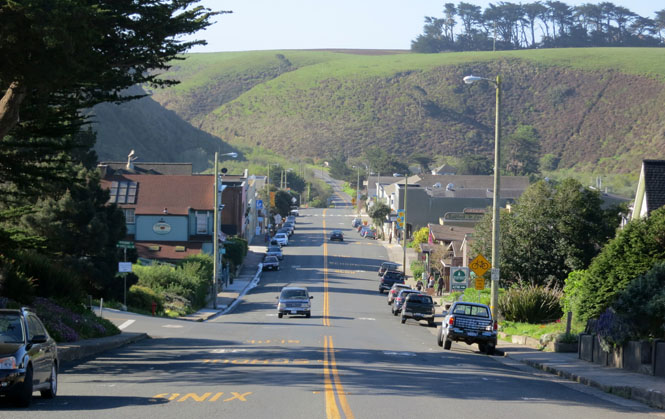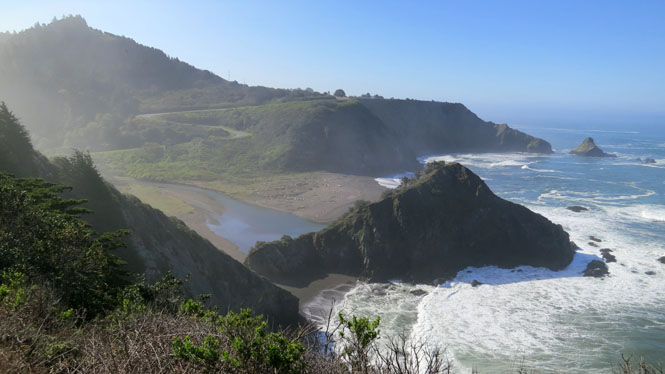 Elk, California. I've been on this road when the fog was so thick you wouldn't know that there was an ocean to one side. But, today the air was brisk and clear. Perfect.

Fort Bragg, California.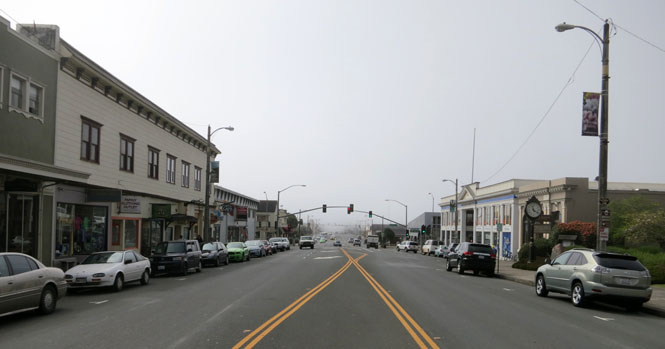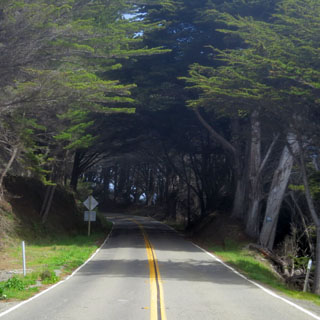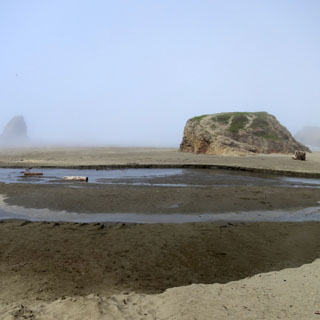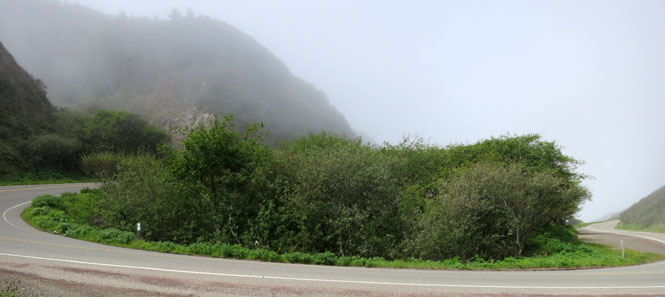 Westport, California. It's nearly time for the highway to turn inland. The coastline is too rugged (or perhaps too unstable) much north of here.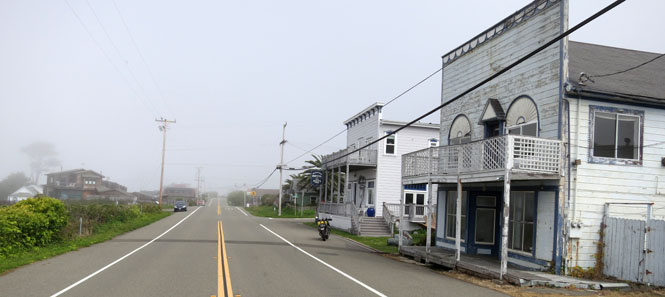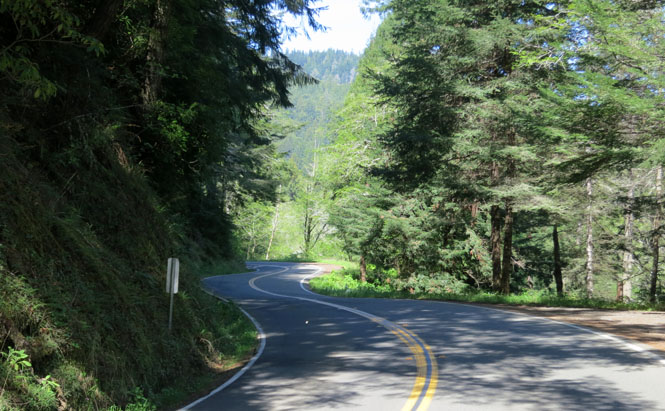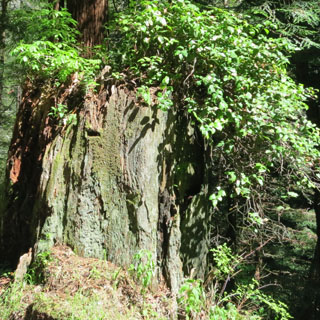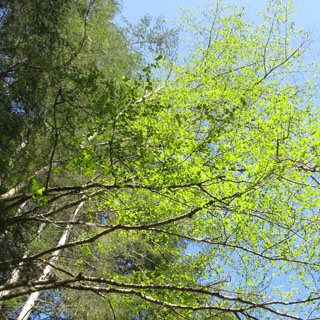 You'll ride through all sorts of different types of forests between the coast and Leggett. This stretch of highway 1 is one of the more famous motorcycle roads in the world.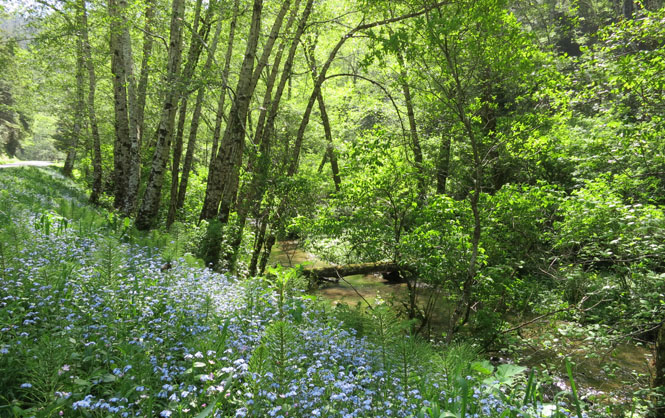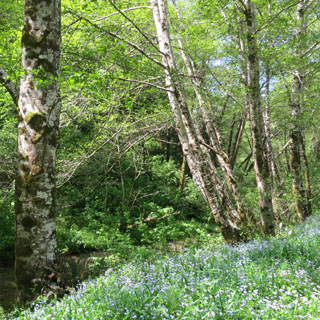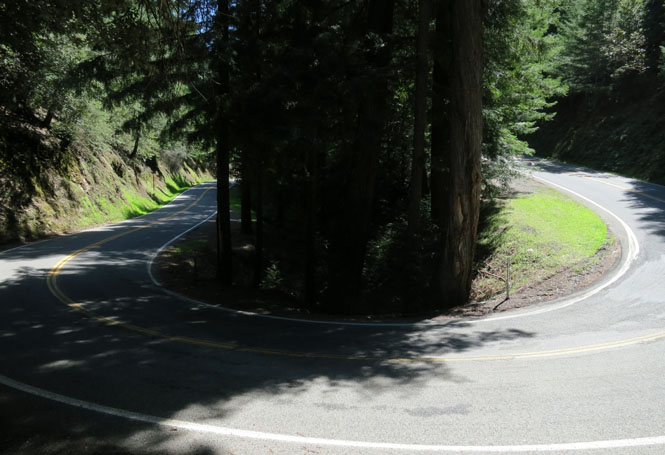 For generations (or at least since the early 1930s), people have been driving (and riding) through the Chandelier Tree.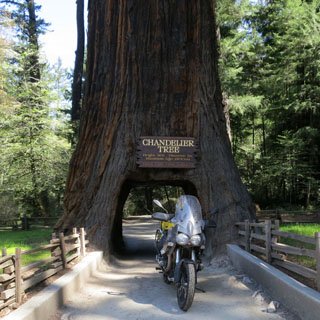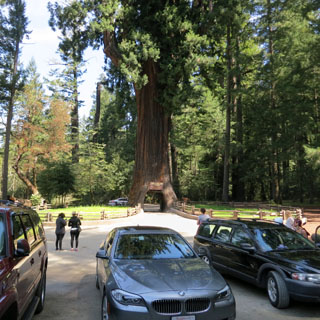 Tall trees. Very tall trees. The road I'm on runs (mostly) straight ahead; the bike is parked at a siding. This is not the sort of road where you'd want to be riding too fast. Not me, in any case.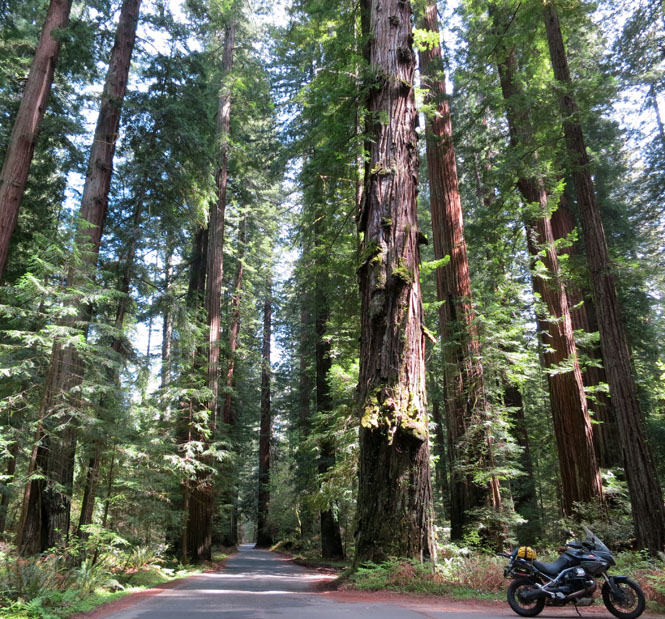 I still haven't taken care of that missing vent in the helmet (the clear tape is looking a bit ragged).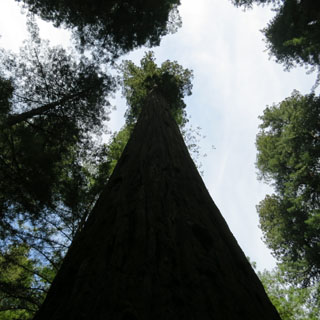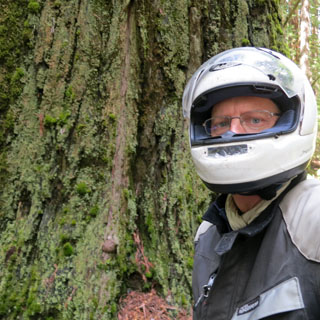 This road is as similar to some I've been on in Northern Italy as I've seen in this country. Perhaps the turns aren't as sharp here, but it's close.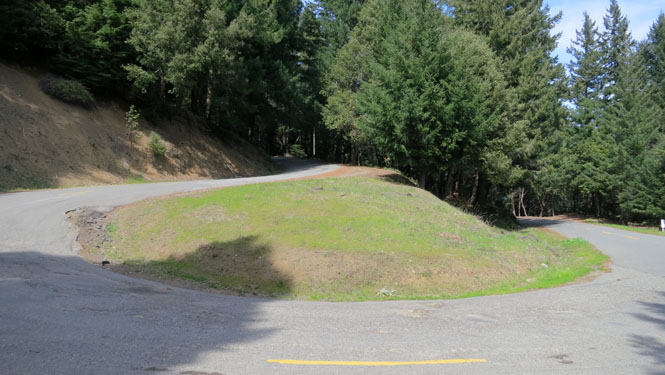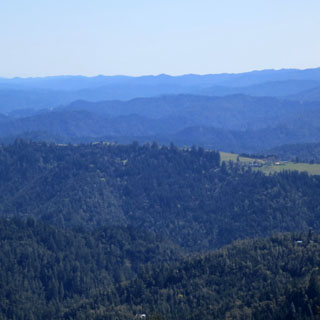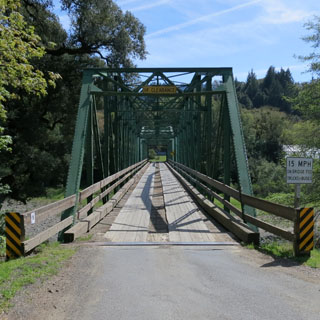 Honeydew, California. There are a few houses here and there, but this general store is mostly the entire town.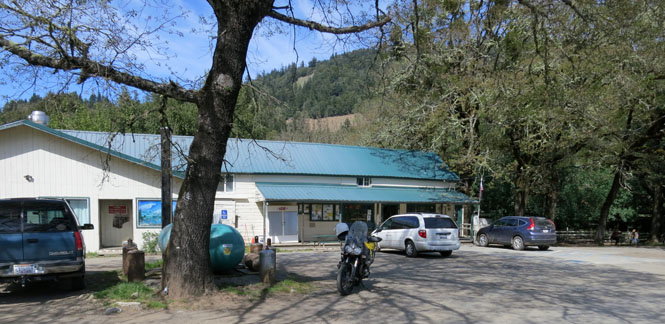 The Mattole River.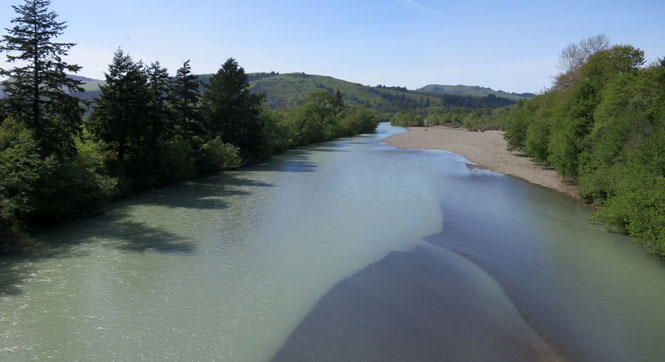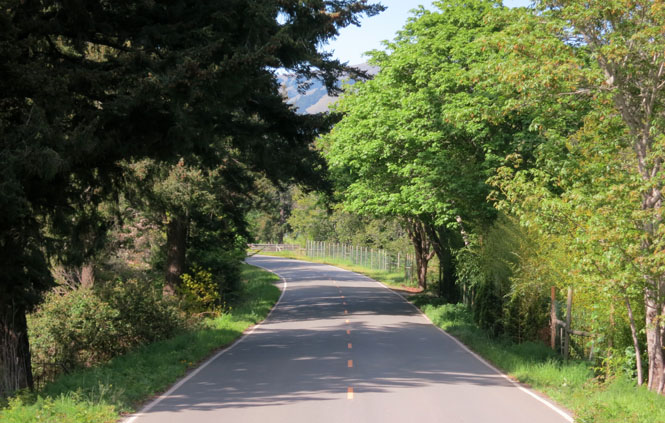 Petrolia, California had the first commercial oil well in California. That's all in the past, of course; nobody is pumping oil out of the ground, now.

Riding north up the "lost coast."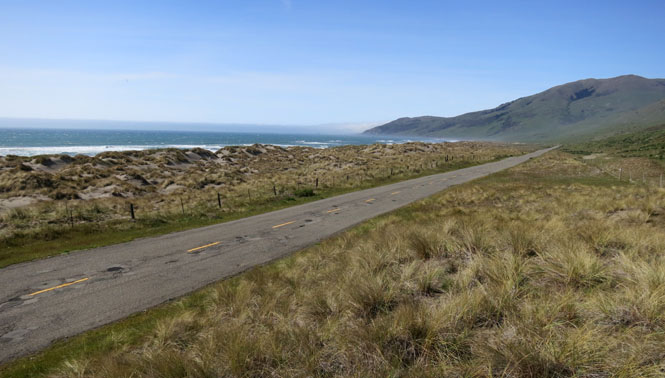 I think somebody only wanted one turn up the hill, so they put in this rather steep grade. You'd best hope that there's not a car coming down the hill crowding your side of the road at that turn.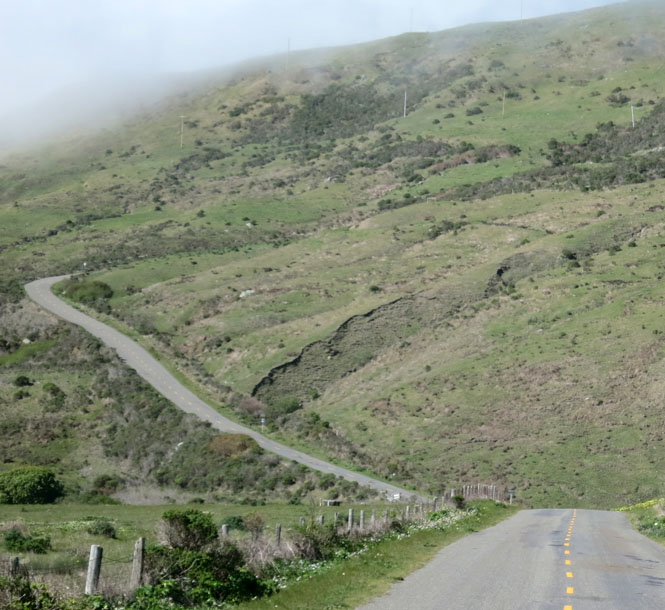 Ferndale, California is a pretty place.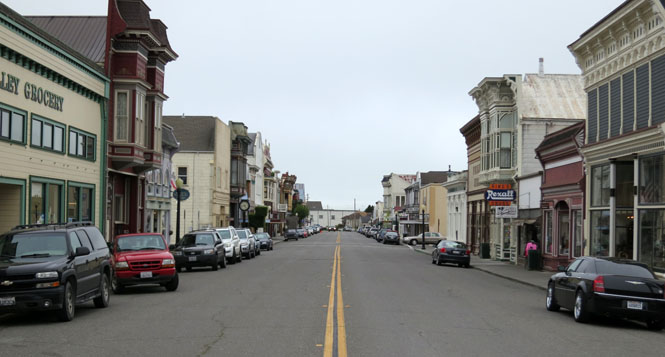 Eureka (the town, not the exclamation). I'm greeted by Gil and Becky (who took this shot).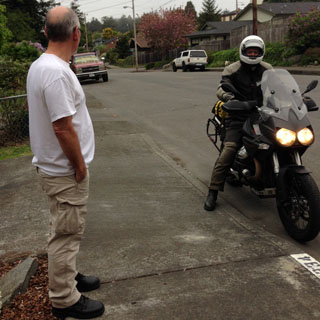 Arcata, California runs on a different timeline than the rest of the world.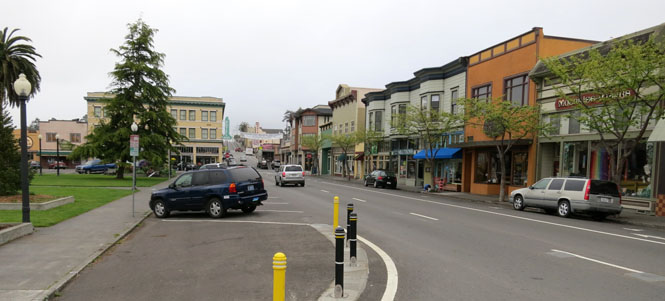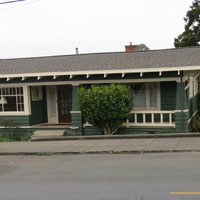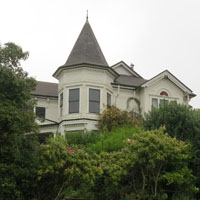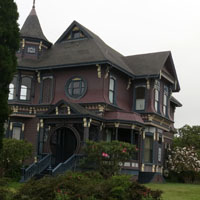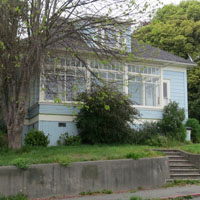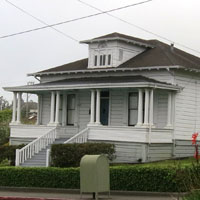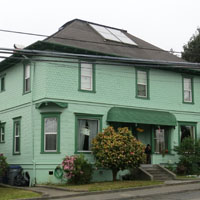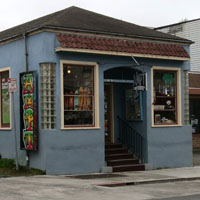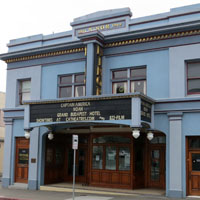 The Eureka Zoo and two of their feature animals: Bush Dog and Red Panda.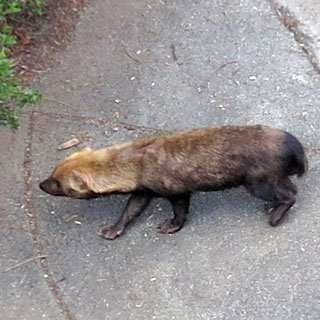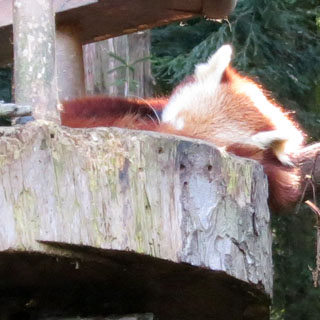 Morning breakfast at the Black Lightning Motorcycle Cafe. This is a destination-place for local (and not-so-local) motorcyclists.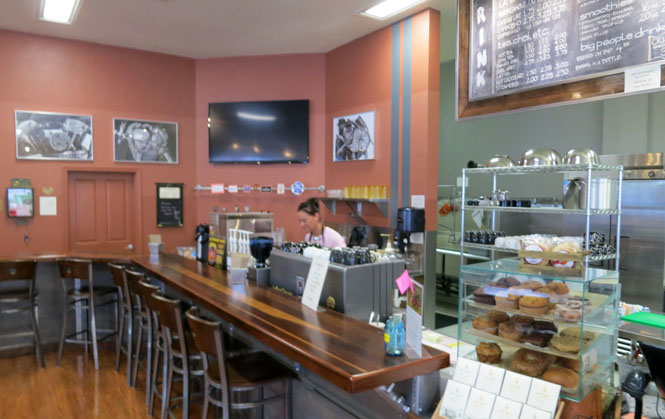 Good food, and good coffee and...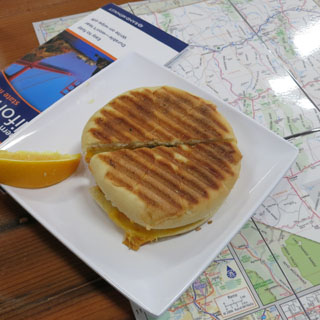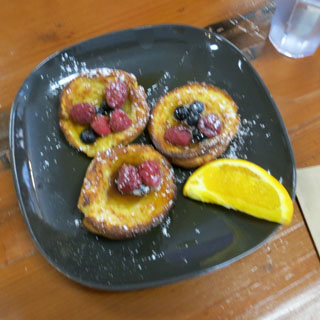 ...even Guzzi stuff!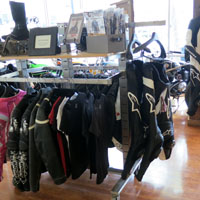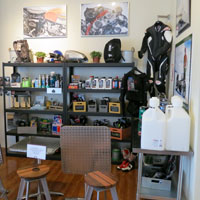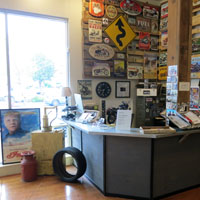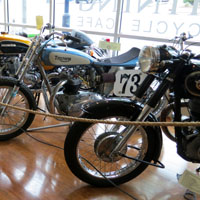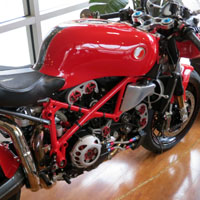 And, (after two days of no riding) away...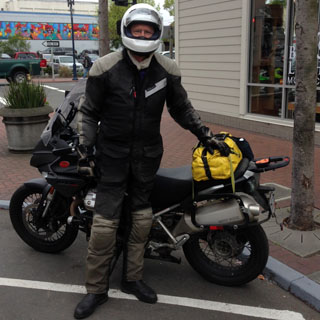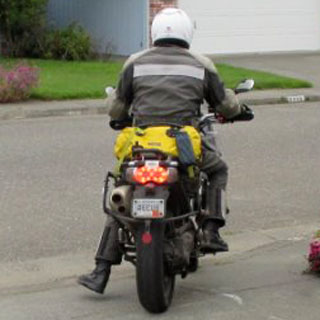 The day begins with some easy stuff: Highway CA-299 to Highway CA-96.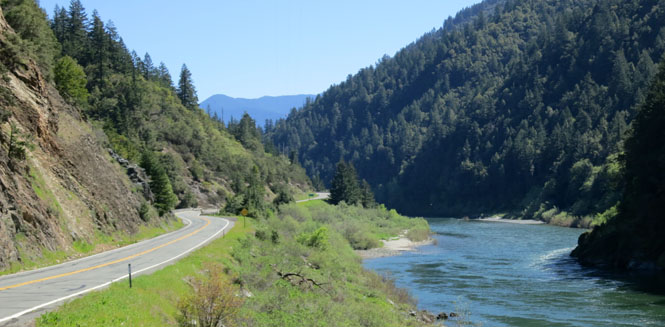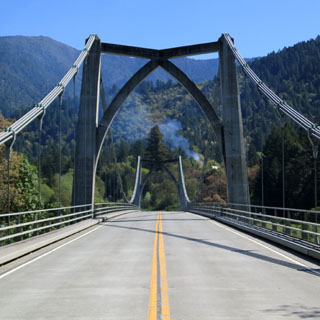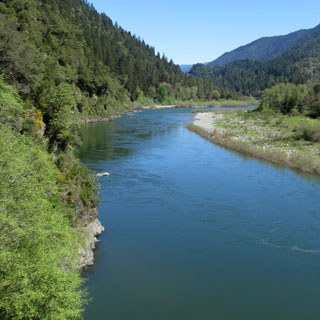 Orleans, California and it's time to turn off this wide, smooth road and find something less developed.
The sign is to be believed. Regardless of whatever the speed limit might be (it's not posted), the best you should expect is an average of around 30 mph.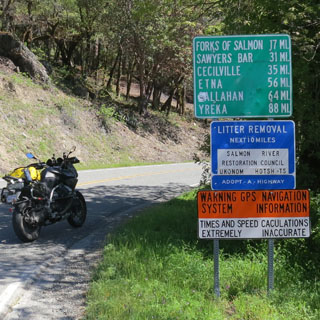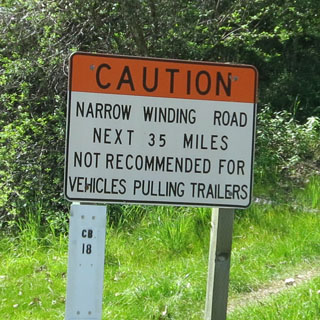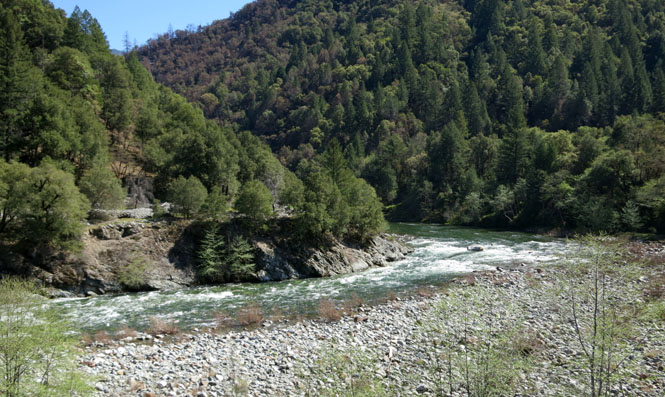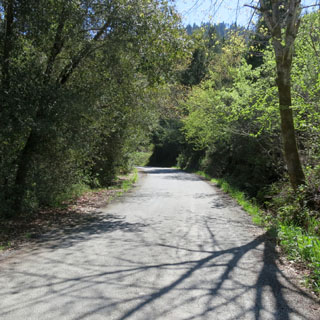 Much of the road looks like this. A single lane of rough pavement with a long drop-off on one side to the water and a jagged rock face on the other. If two cars meet, I would presume the up-facing vehicle gets the right-of-way, and the down-facing vehicle has some backing to do.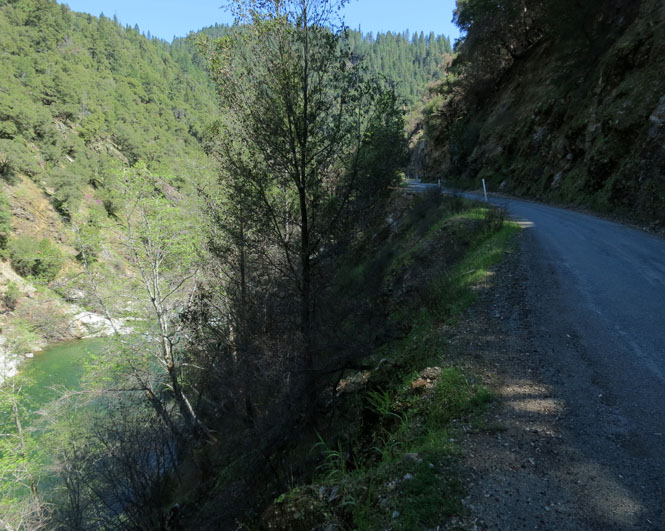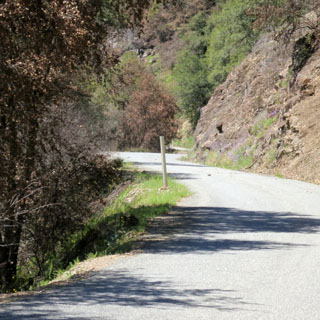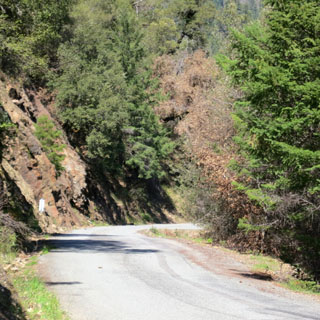 Forks of Salmon, California. This was once a busy little mining town. I can guess that this flattened area was where the stamping mill might have been.
I'm standing over the south fork of the Salmon River looking at the point where it and the north fork come together (which, likely enough, is where the town of Forks of Salmon can be found).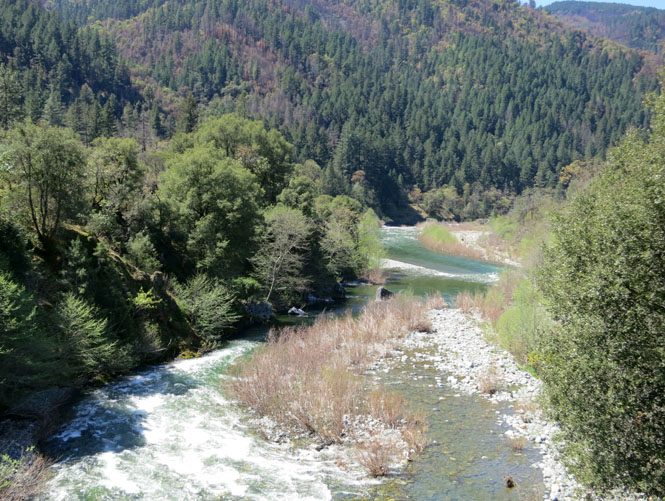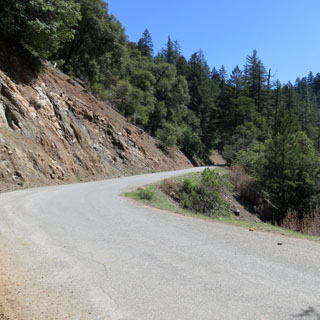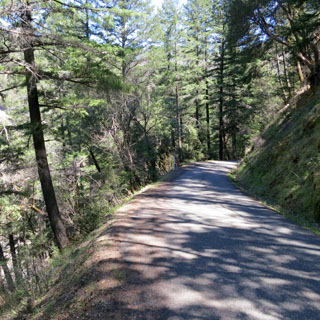 The Trinity Alps region of California is as isolated an area as you'll find in the lower 48 states.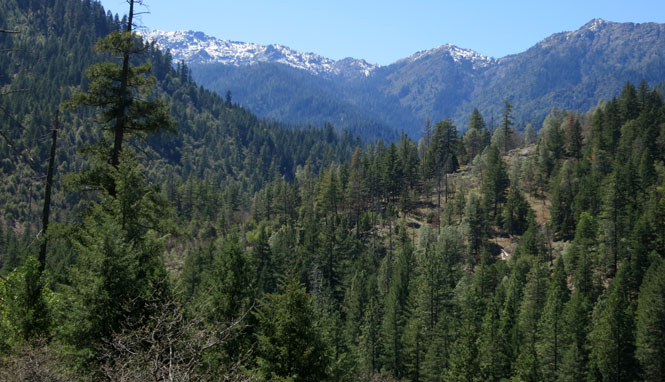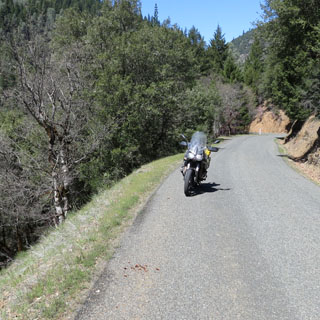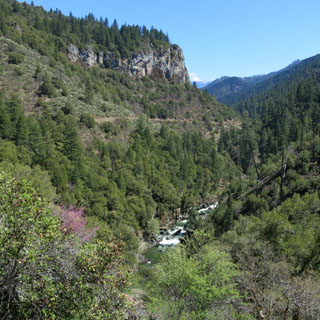 You'd best pay attention. This road will accept the width of one car and it's a very long way down. It's better to be on a motorcycle.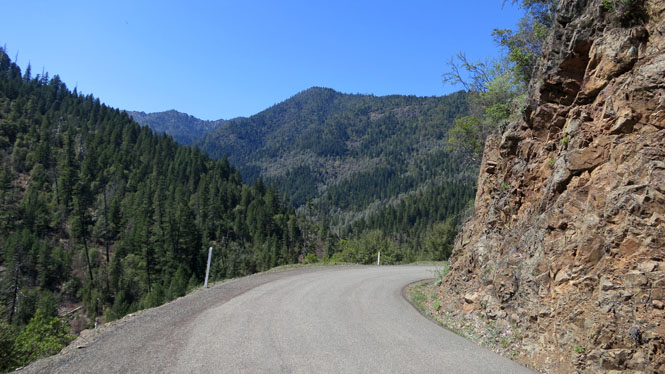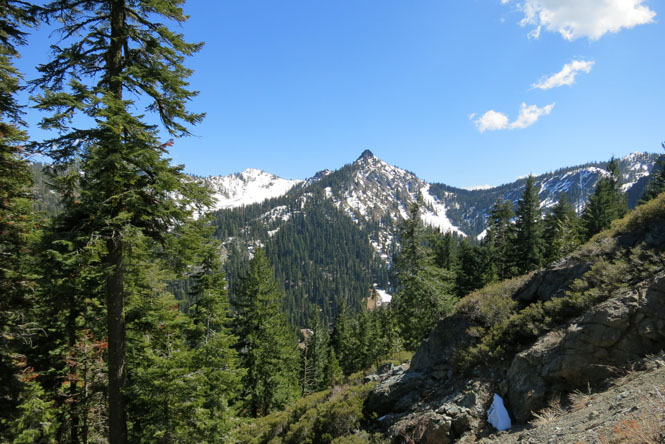 At the town of Cecilville the rough road turns into a smooth dream of a road. Miles and miles of perfect pavement passing through beautiful mountains. Zero traffic. None.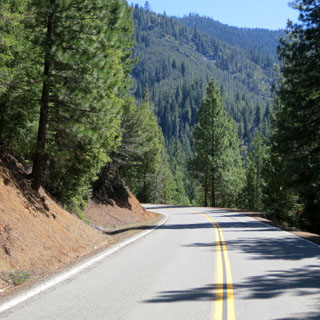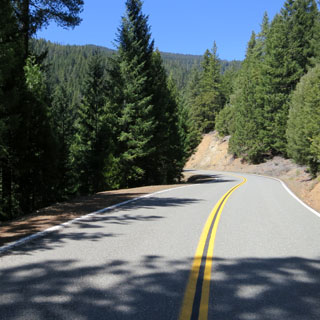 Callahan, California was once on the main north-south route between Oregon and California. Those pioneers on the Oregon Trail who didn't want to risk the desert crossing of the California Trail would pass through here (it was a longer route, but safer). Eventually CA-99 (and then I-5) would take a route to the east of here, leaving a string of small towns frozen in the past.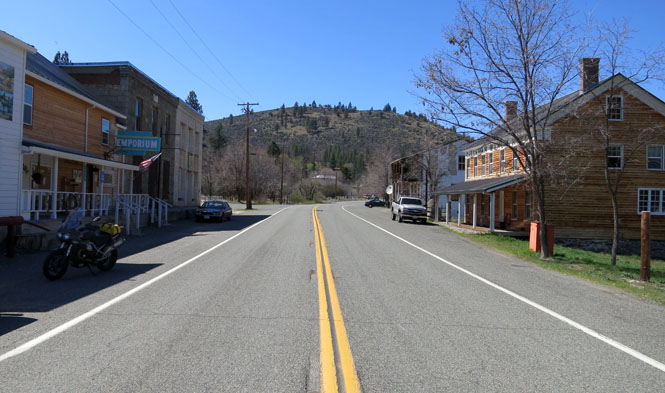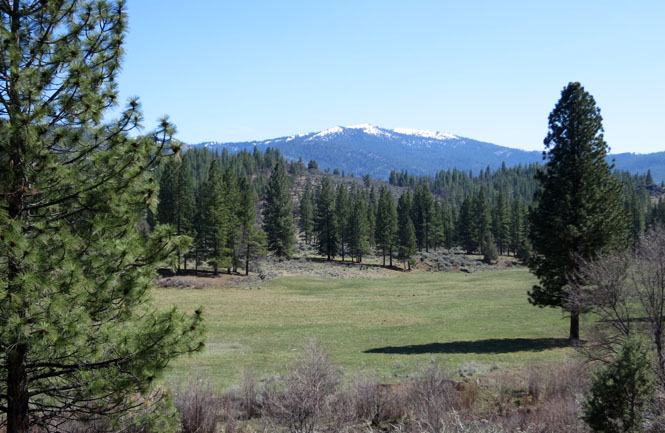 As the road descends out of the Trinity Alps, pasture land opens up.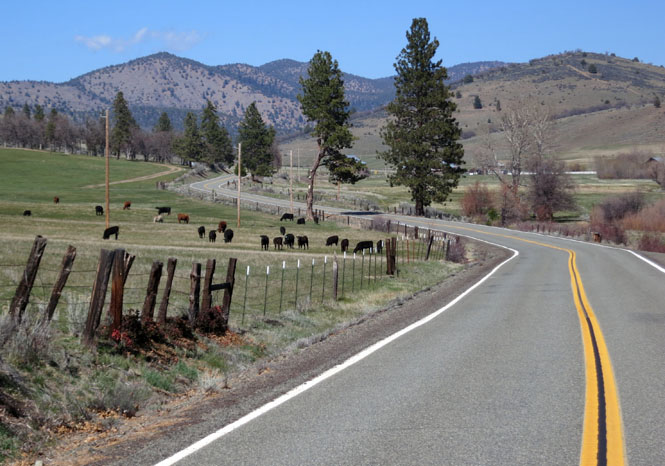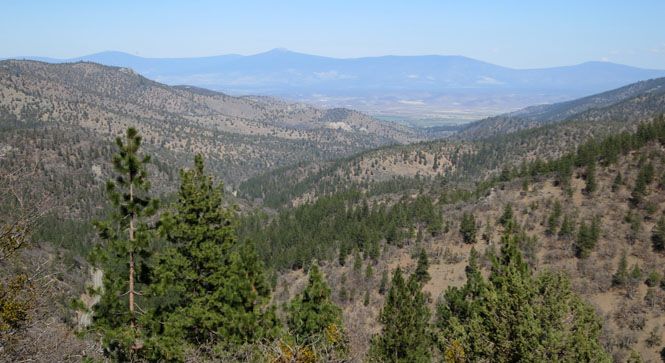 One final steep descent and we're down.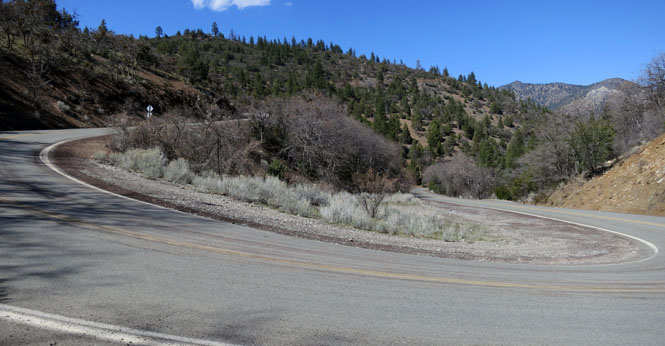 Mount Shasta (14,200 feet). It's such an overwhelming part of the landscape that you feel it, even when you don't see it.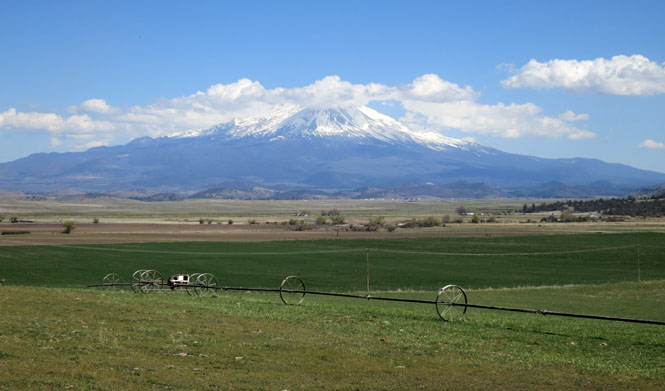 Gazelle, California was once an important fuel and food stop on old CA-99. I would have been through this place years ago. I-5 is a few miles to the east of here, and I don't believe there's even an open gas station in town, now.

Weed, California.
The Hi-Lo motel and cafe is a pretty good place to eat; I've stopped here many times.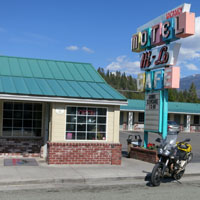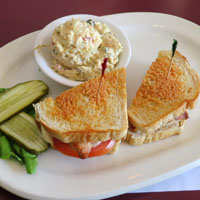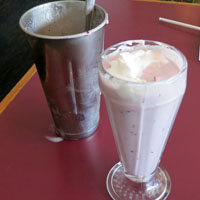 McCloud, California. Looking down Main Street you can see Mount Shasta.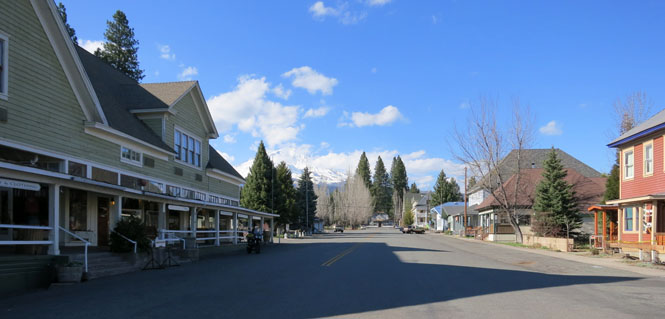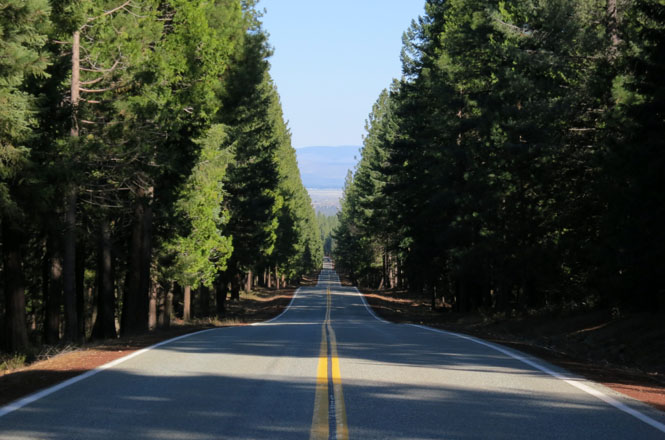 I believe alfalfa is the major crop in this area. The northeast corner of California is an obscure place, but it is worth the effort to visit.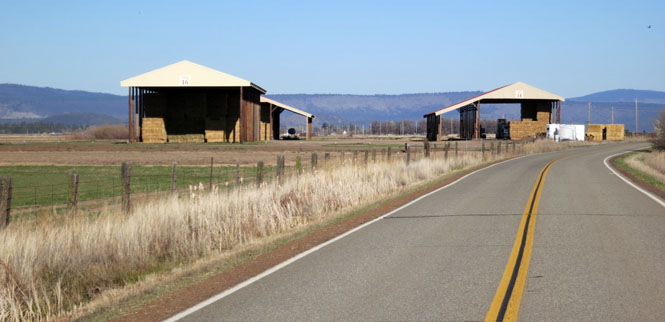 Mount Lassen (10,500 feet).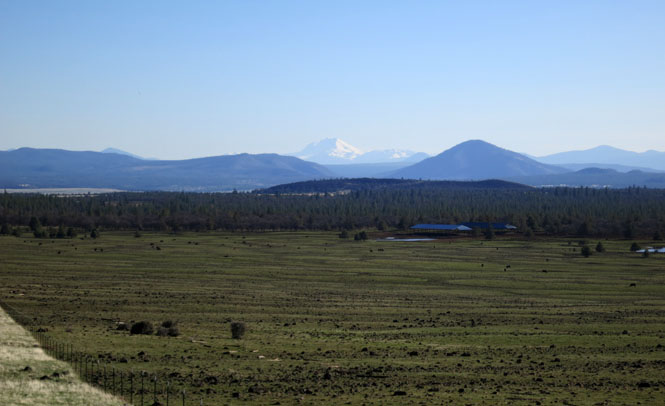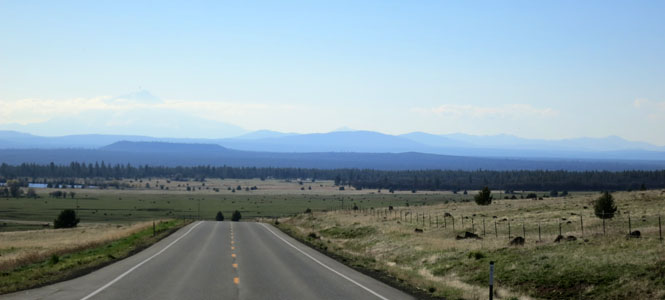 Nubieber, California. One supposes that this is the newer version of...

...Bieber, California. The two towns are quite close. Bieber is the larger and more successful.

Adin, California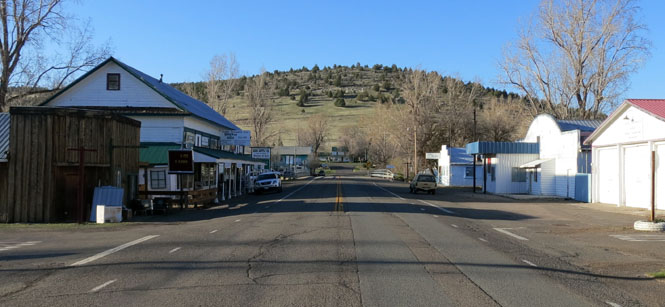 Canby, California. Major General Edward Canby was the only general killed during the Indian Wars (that happened not far from here).
Alturas, California. If I'd only paid more attention, I would have spent the night at the old Hotel Niles. As it happened, I was checked-in at an ordinary place that I've stayed in a couple of times before I noticed that the Niles was open for business.

The Sierra Nevada Mountains are not nearly so formidable this far north. I could cross the summit without much worry of snow--although they had been hit pretty hard the week before I was there.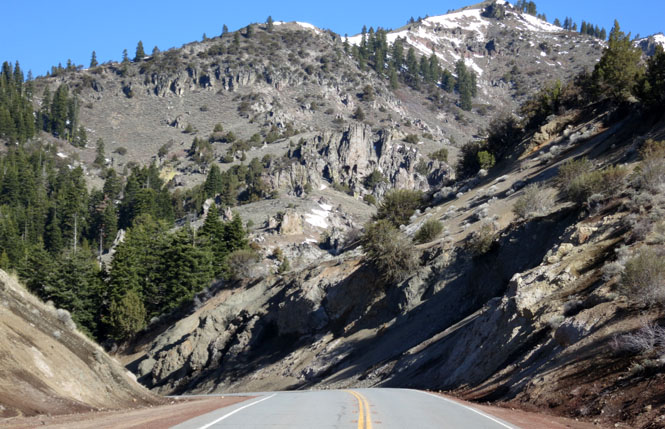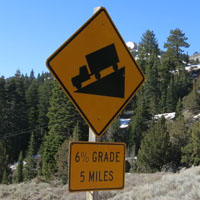 Cedarville, California is in the beautiful Surprise Valley of northeast California.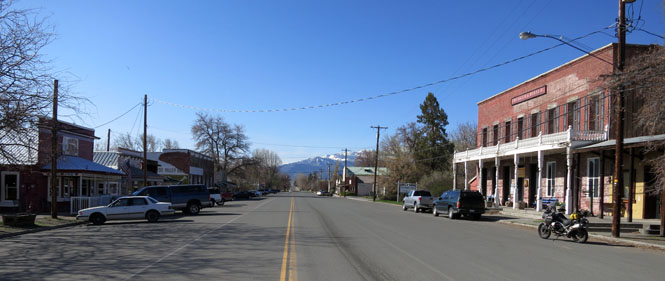 Lots and lots of hay.

Eagleville, California.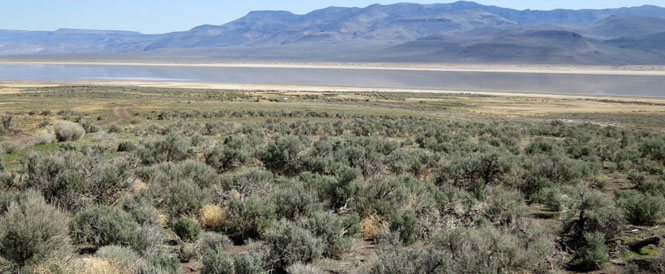 I came across this fellow while walking away from the road to take the photograph (below the badger photograph). This is what I've learned about badgers:
Badgers are solitary animals that are mainly active at night, and tend to be inactive during the winter months. They are not true hibernators, but spend much of the winter in cycles of inactivity or torpor that usually last about 29 hours. During torpor, body temperatures fall to about 48°F and the heart beats at about half the normal rate.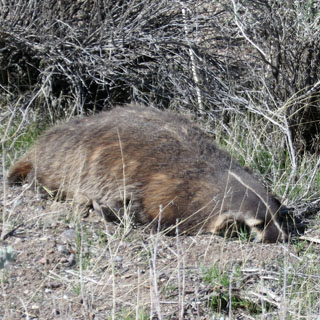 He never moved, and I didn't ask him to. "Let torpor Badgers lie" is my new motto.
The road above is running parallel to the Nevada border. Once it turns left, it's only a few miles to the state line. I was once worried that the road might not be paved (as was the case not many years ago), but it's now a perfectly fine road.
Nevada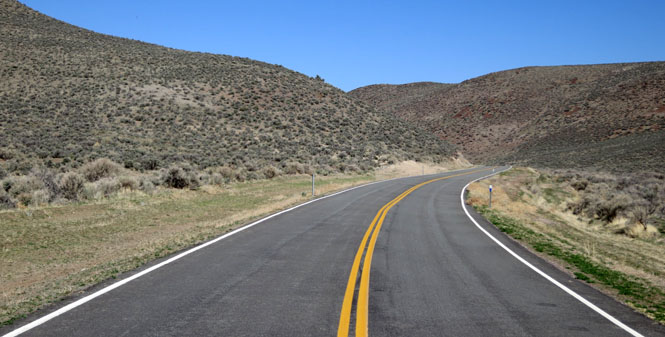 Wow; what a perfect morning for riding through this remote area of Nevada.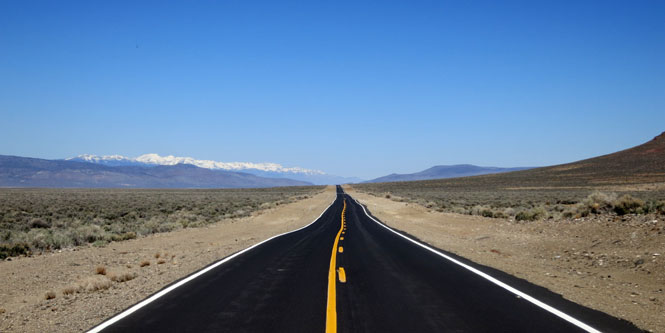 Nevada is dashed with multiple north-south mountain ranges. Few roads cross these mountains; most go around.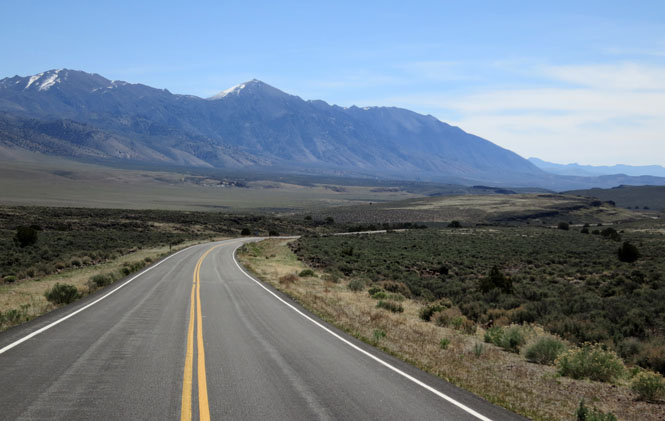 Gerlach, Nevada. The town owes its more recent existence to the railroad, but that's hardly necessary anymore. I suppose the Burning Man festival and the occasional land speed record attempt at nearby Black Rock Desert is enough to keep things going. Certainly, everybody who comes through will buy gas. I did.


That dry lake was once not dry at all and was something of a sister to Pyramid Lake. But dams and irrigation diversions have stopped the flow of water, so now it's what you see.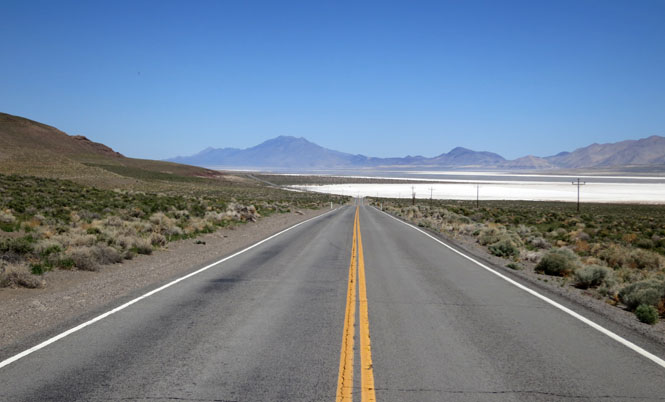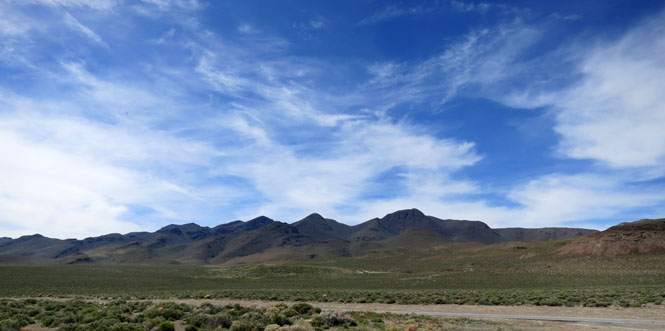 Pyramid lake.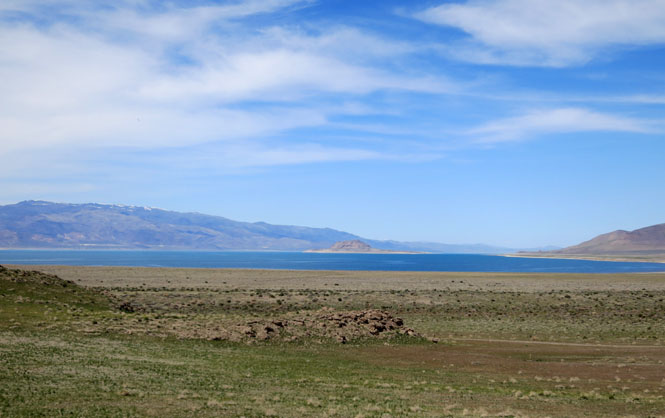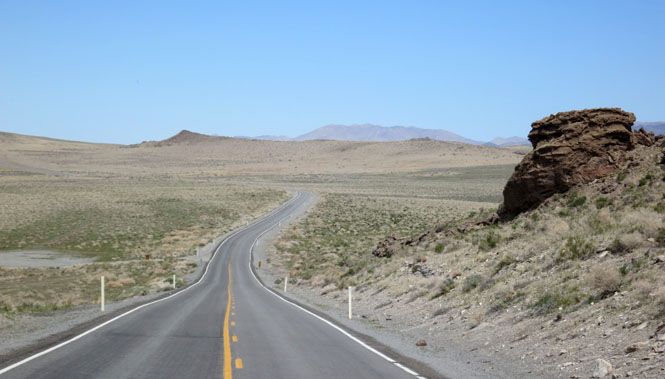 That's Sand Mountain across the salt.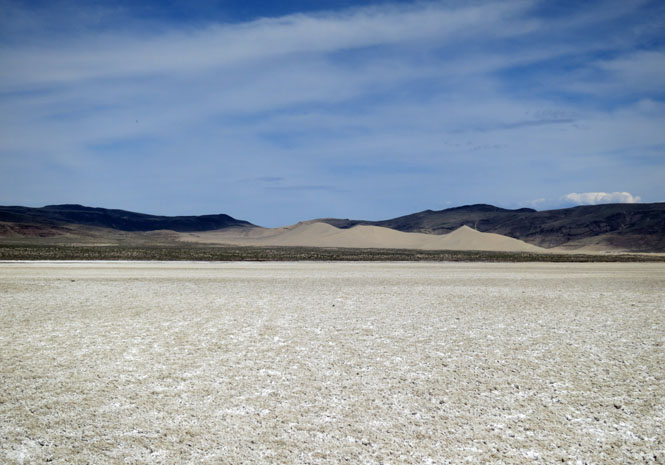 There's a shortcut (that's not really so short) that takes the back entrance to Austin through a rugged mountain pass. Most everybody else is on the comparatively busy highway US-50. This is better.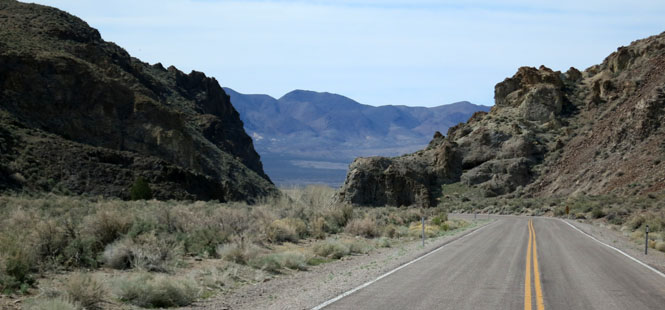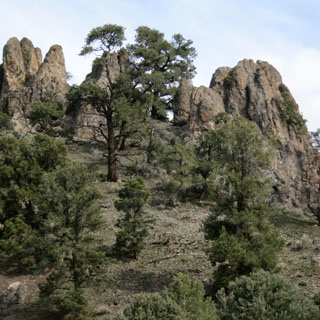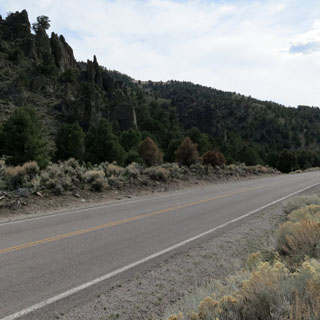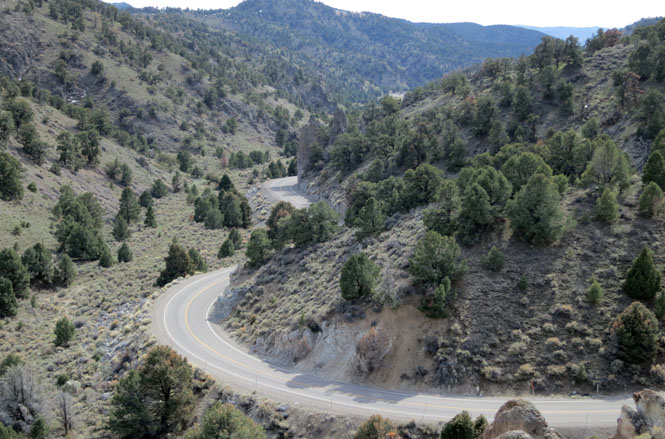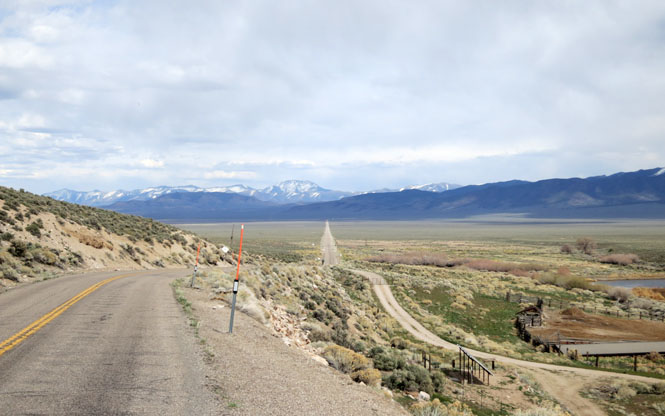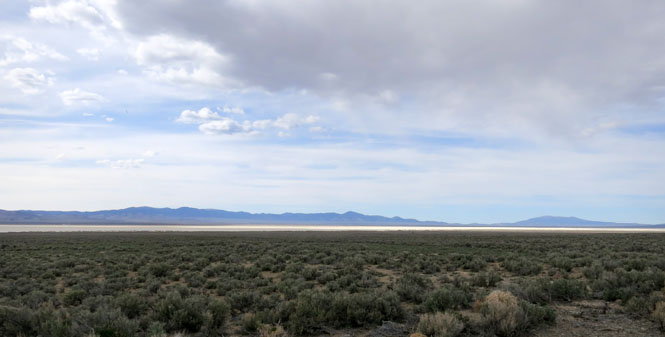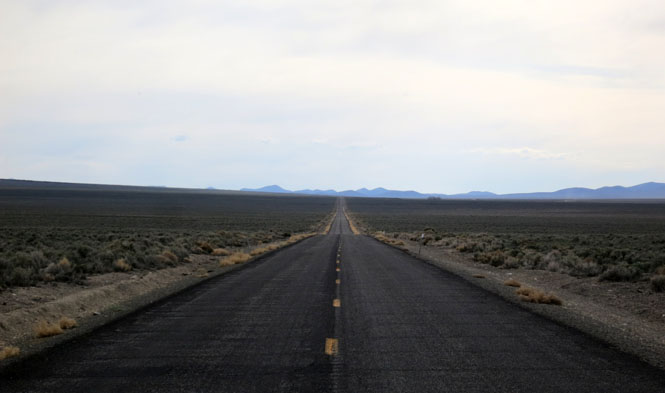 That range below? I need to be on the other side of it. This road runs north to Austin where it crosses over, and then I'll pick up another road that mostly parallels this one, but heads south.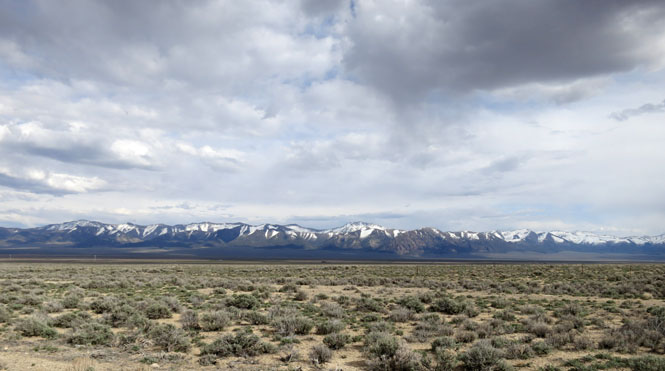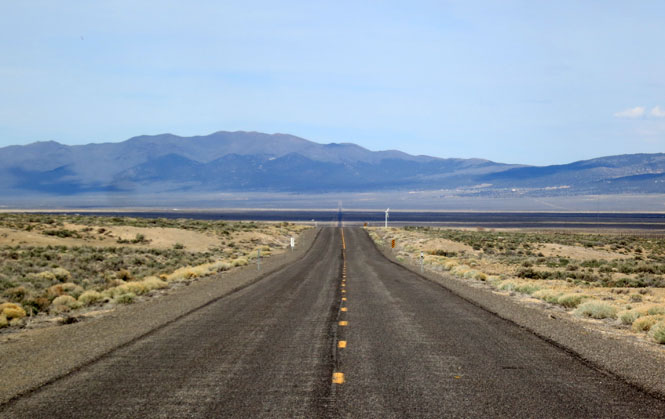 Austin, Nevada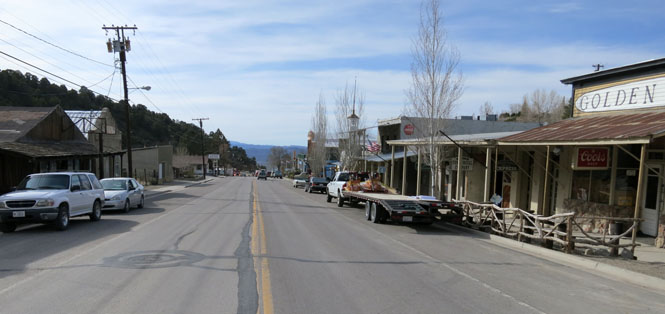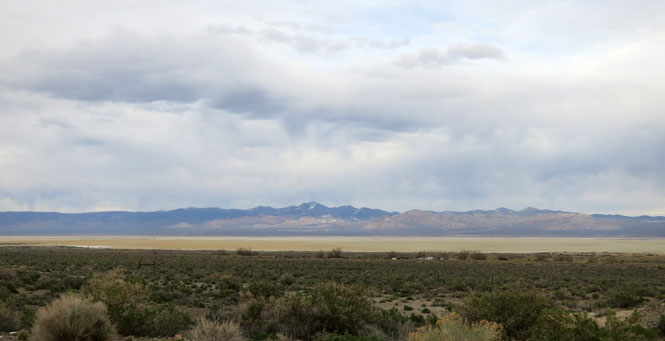 Another mountain range to go around (and some rain to be avoided).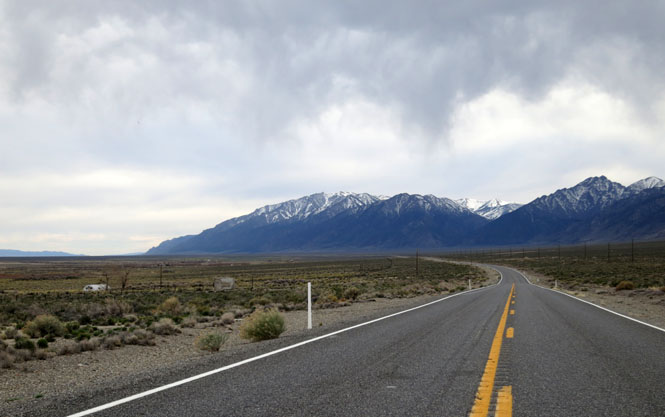 This mining operation is enormous. What you see in the photograph is just a very small part of the overall mine.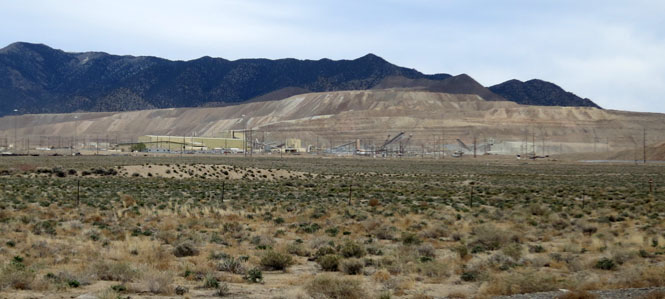 Tonopah, Nevada. I stayed in the historic Mizpah Hotel, once the best hotel in all of Nevada.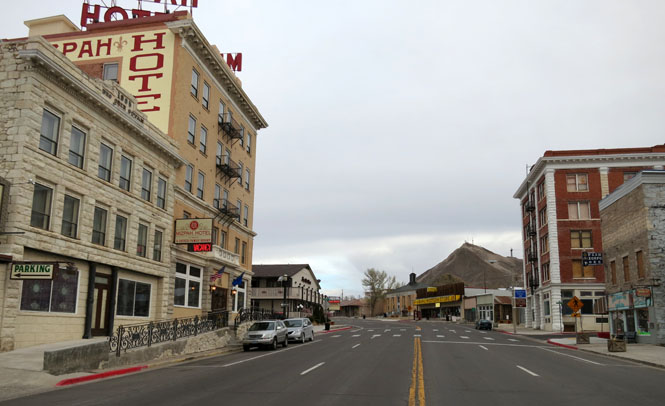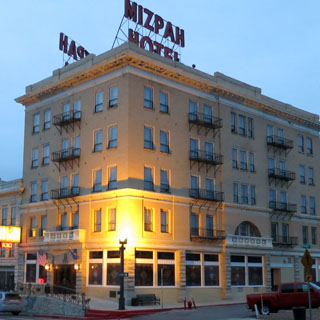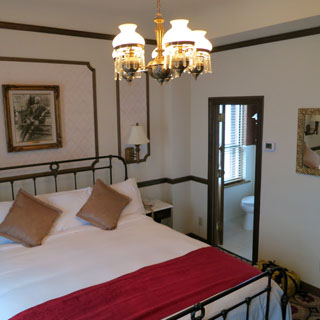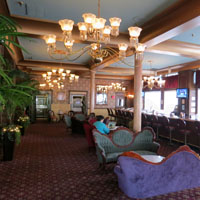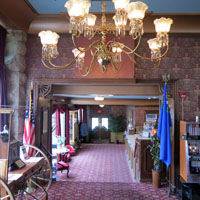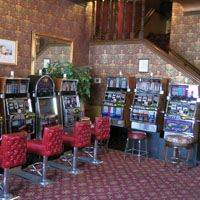 Big Bill Murphy is a celebrated miner who returned again and again down a mine site to rescue his fellow men during the Tonopah Belmont Mine fire of 1911. He made a third trip; he did not return. Seventeen men died; Murphy saved perhaps as many. There's a statue of Bill as well as a large mural.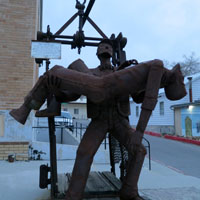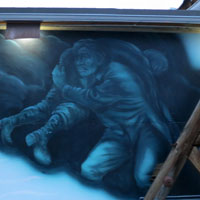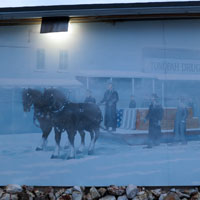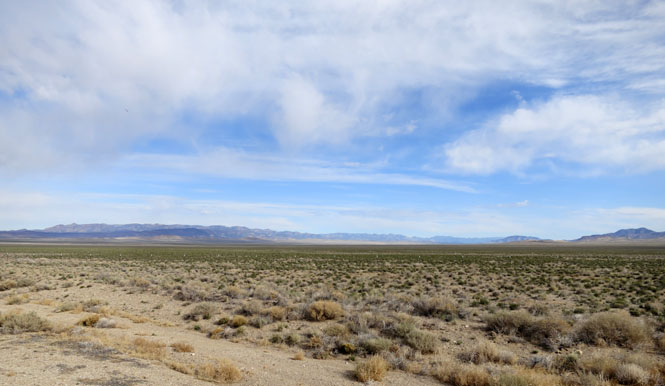 Your map will show this intersection as the town of Warm Springs. Don't expect any people; and, don't expect a gas station.
The sign says 111 miles to next gas. That doesn't cover the fifty miles of empty desert that it took to reach the sign, and it doesn't mention that in 111 miles you still won't find an open station. Between Tonopah and Calienta is 195 miles. You'd best fill up in Tonopah. The 8.5 gallon capacity of my Guzzi Stelvio is a nice thing.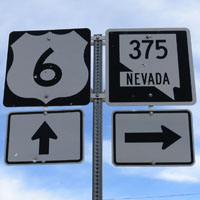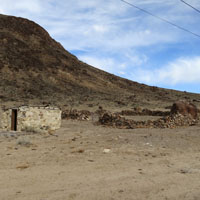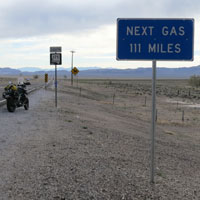 Rachel, Nevada has made a name for itself for being the center of any sort of UFO conspiracy you'd care to invent.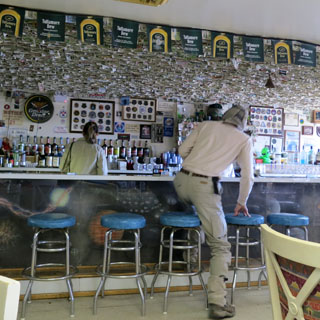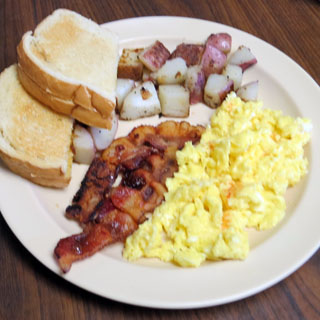 Dollar bills above the bar.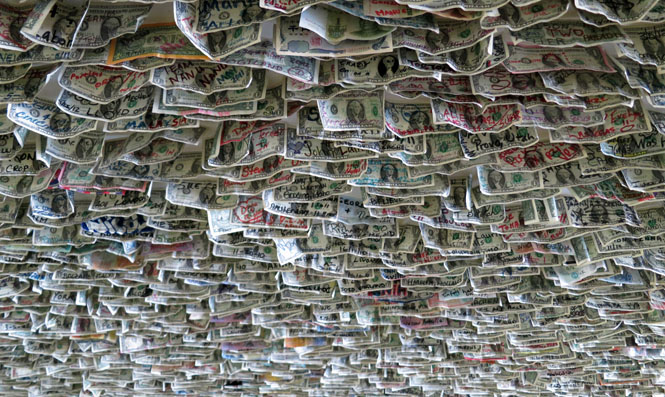 I suppose if your UFO theory meets the high scientific standards of all the others, you can have your photograph pinned to the wall. You'll have company.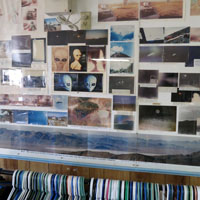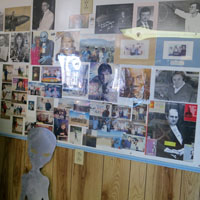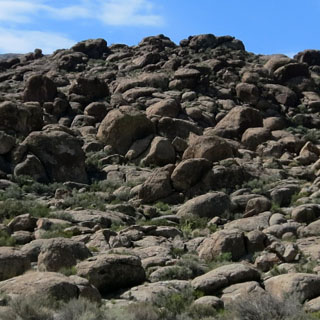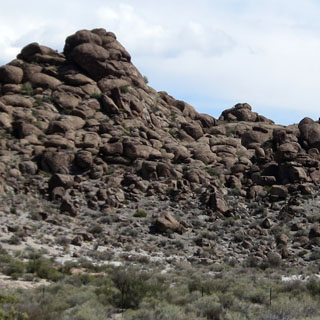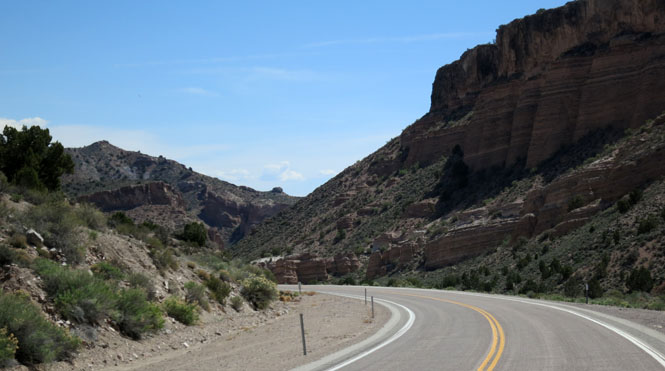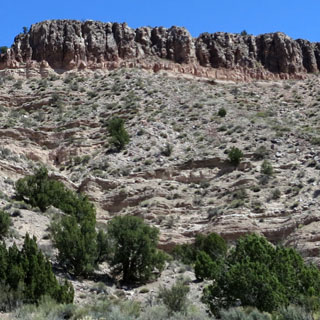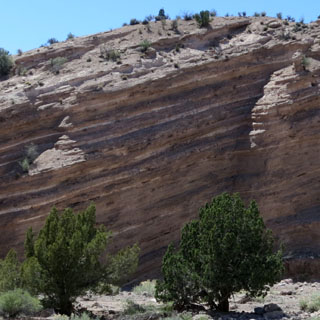 Caliente, Nevada is here because of the needs of large steam engines. The need is gone, but the town remains.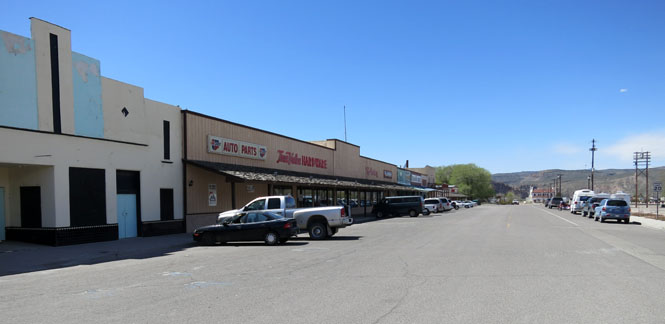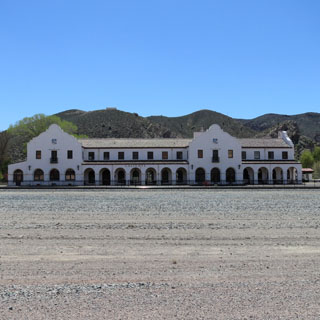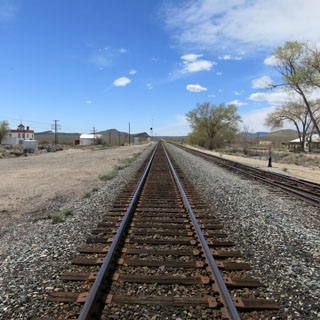 Utah
Modena, Utah. Not one Ferrari in sight.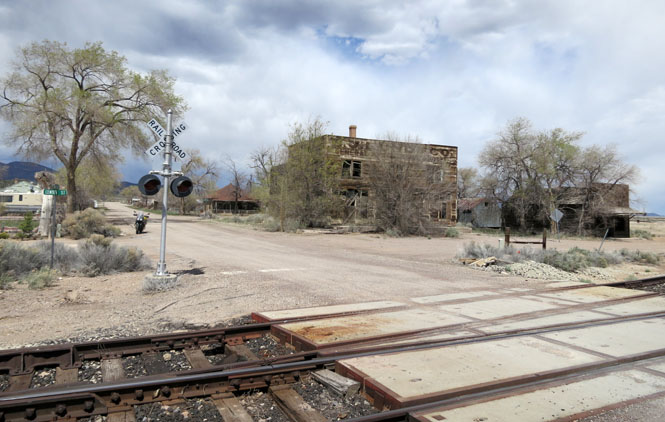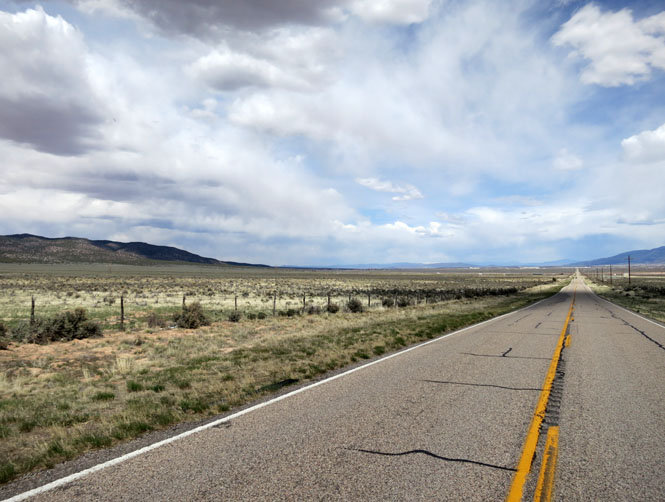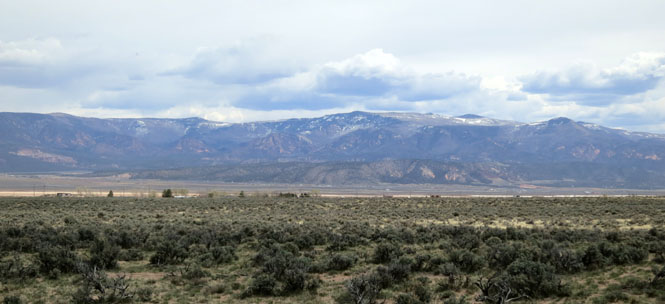 Cedar City, Utah.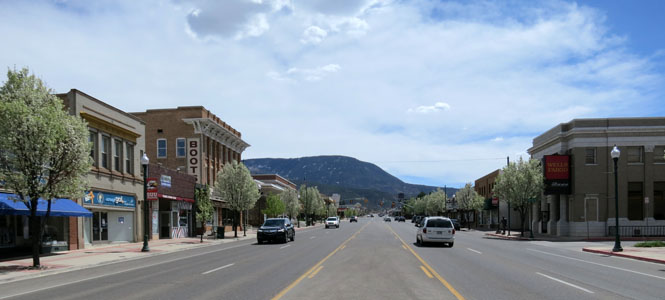 The Tushar Mountains are fairly high (with peaks over 12,000 feet) and I had some concern of snow. It was cold, but that was it.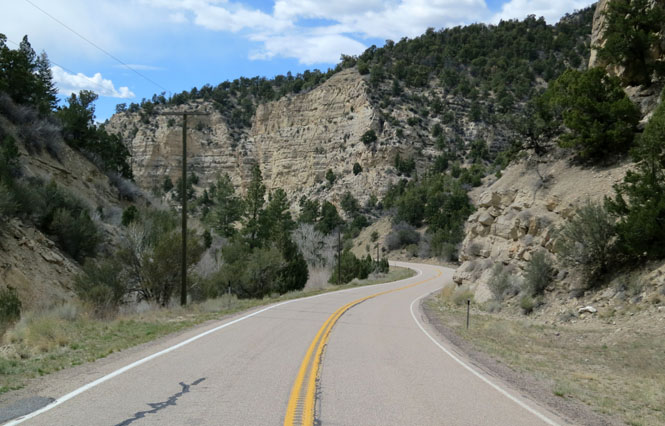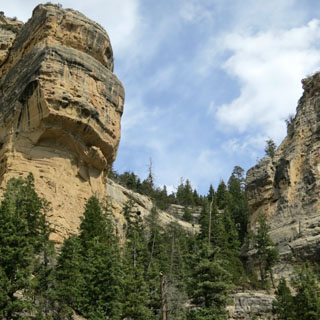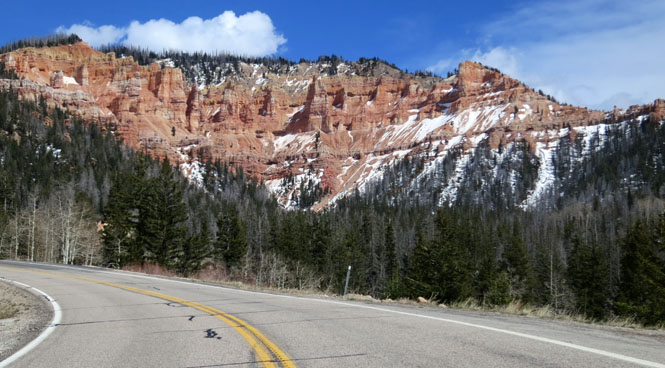 The view to the south shows the valley of Zion National Park.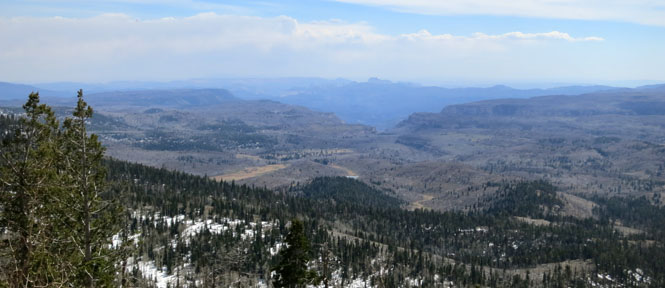 This lake was frozen and snow-covered, but the road surface was dry. However, the road north to Cedar Breaks that I had been considering was closed due to snow.

Red Rock Canyon.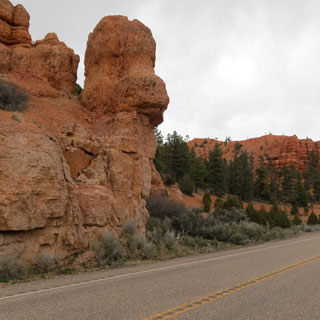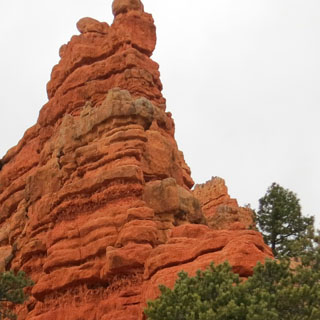 Ruby's Inn is both a town and a sprawling hotel complex. It's just outside the entrance to Bryce Canyon, and pretty much has a monopoly on all lodging for the national park.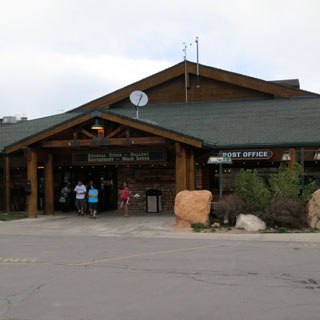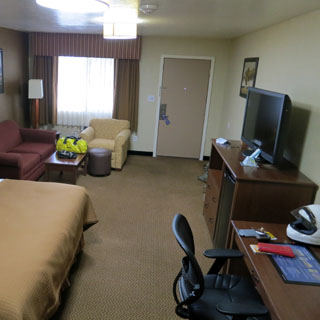 Every night I do my laundry so that I can start out fresh the next morning. Putting the previous day's clothes to soak in the sink is the very first thing I do when I enter my hotel room.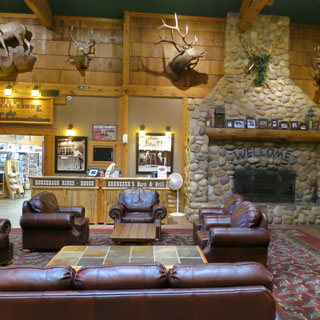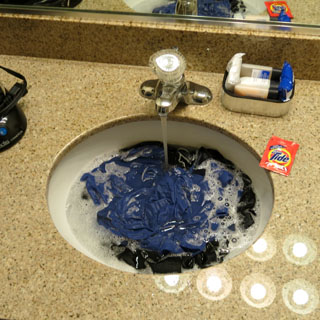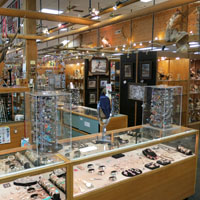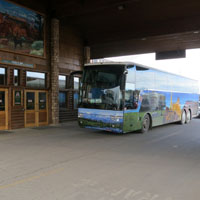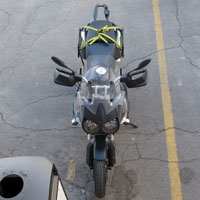 It snowed that night, and wasn't looking too great in the morning, but after around 10:30 I could see bits of blue sky. It'll be fine.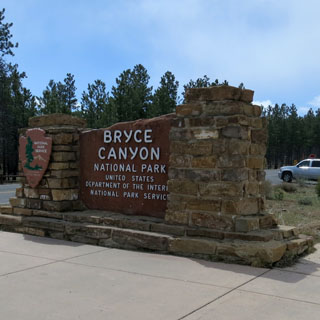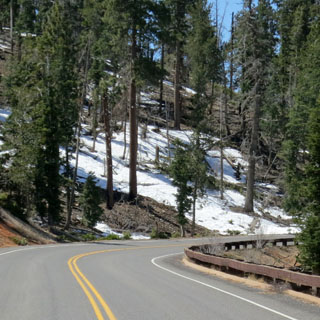 There are trails that take you to the base of these hoodoos. I'm sure that's the best way. But you can also just drive from overlook to overlook to see them from above. That's what I did.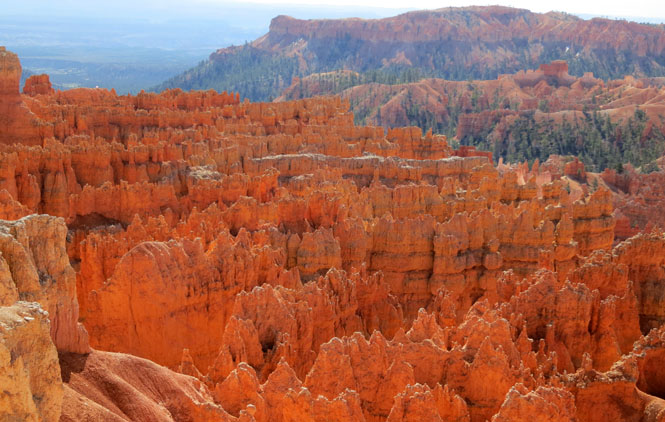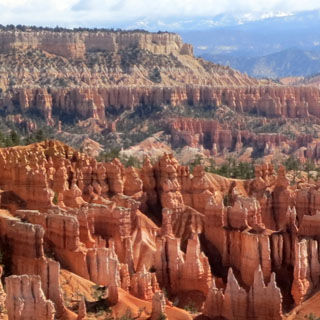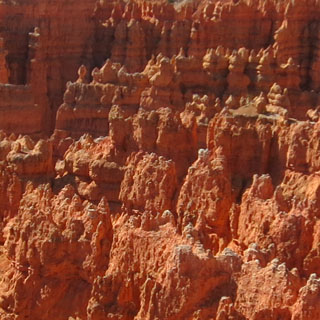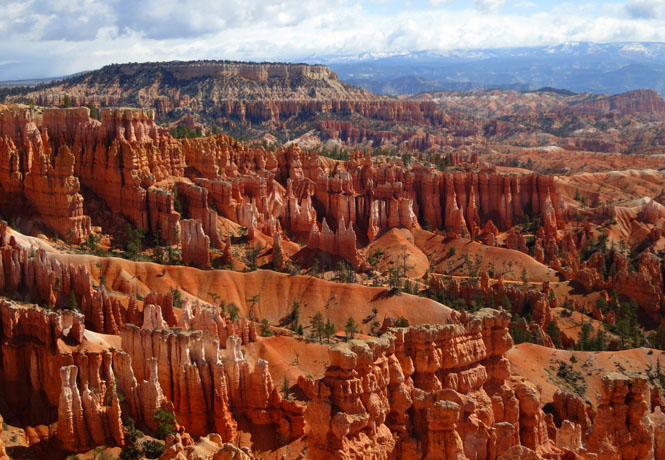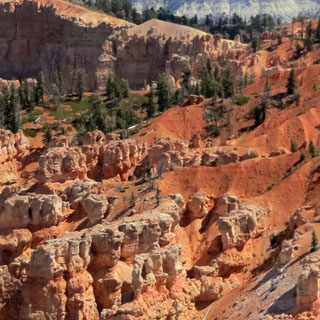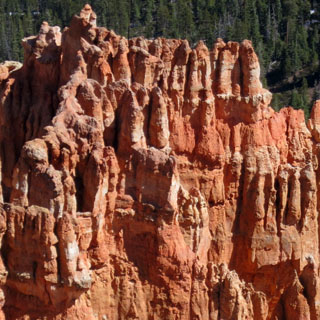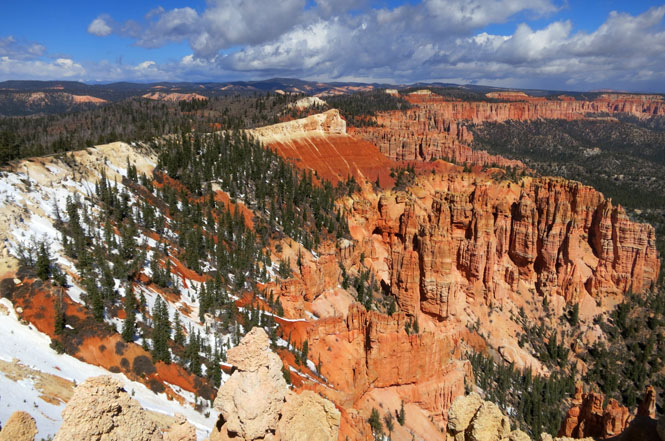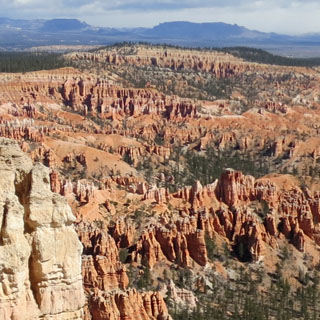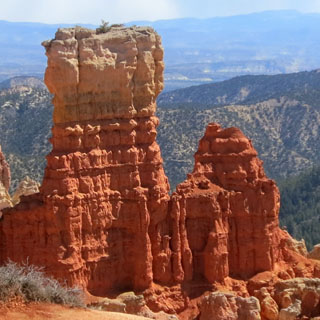 Looking across the valley at a town (Cannonville) that I'd be riding through and a mountain range that I'd need to cross. Those clouds gave me some worries.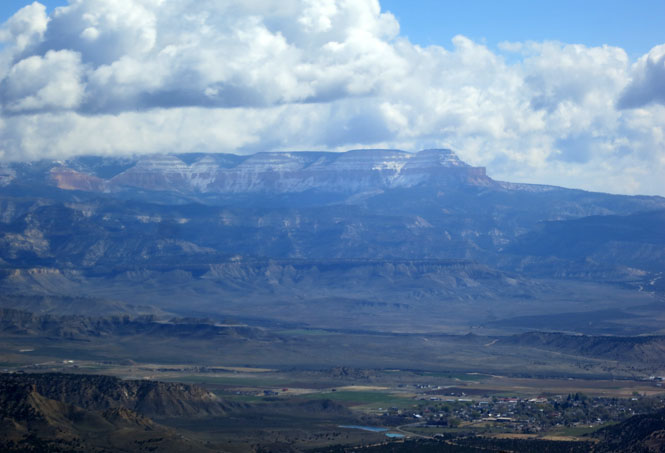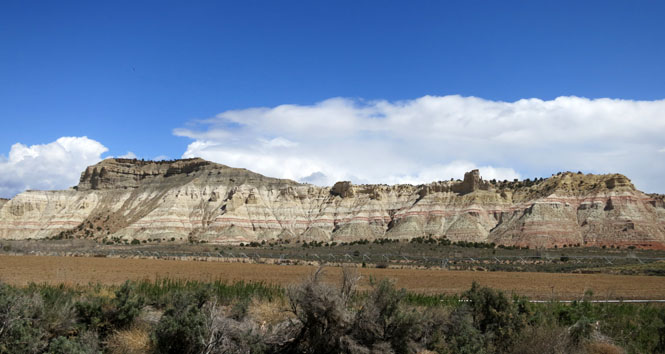 Cannonville, Utah as seen from ground level.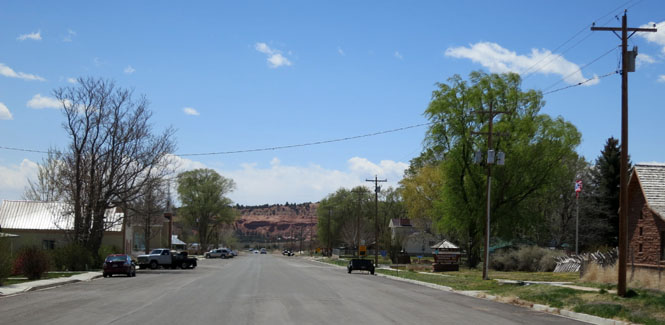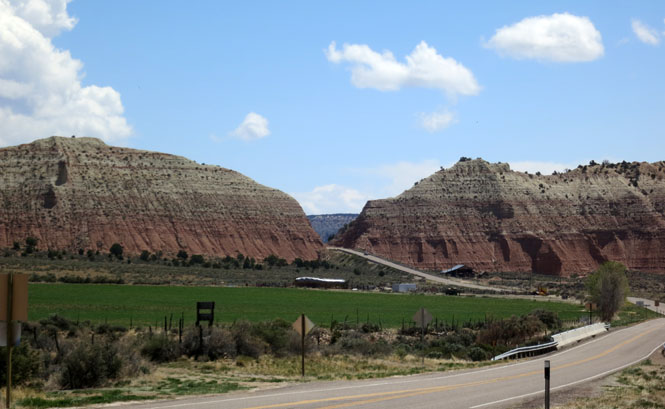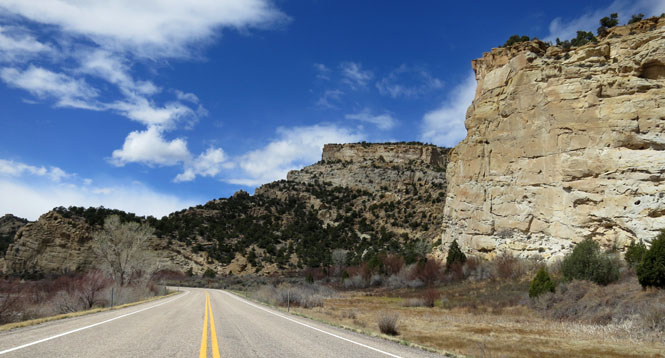 Escalante, Utah.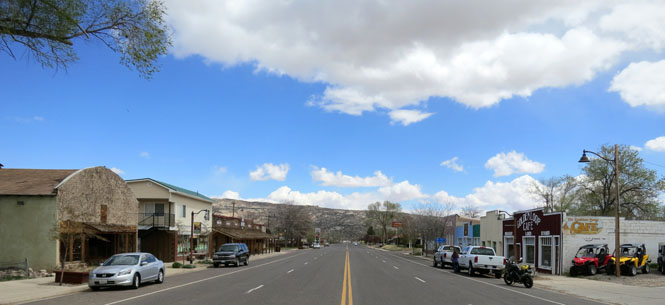 Utah highway 12 is one of the more amazing roads in the world. When somebody tries to list the top 5 motorcycle roads in the U.S., this road will always be on the list. As it should be.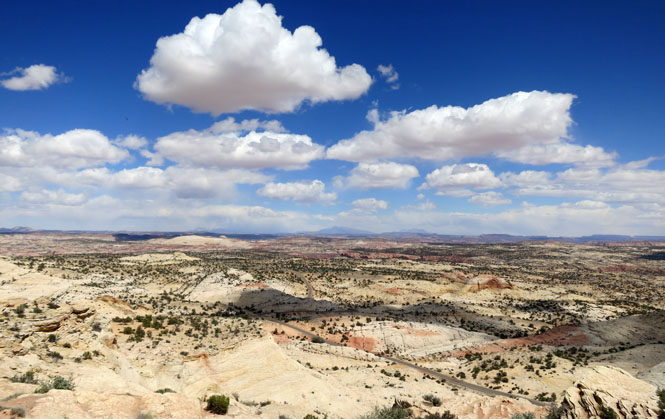 It wasn't an easy road to build. Thank Roosevelt's CCC for the effort.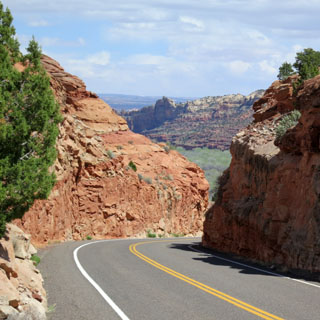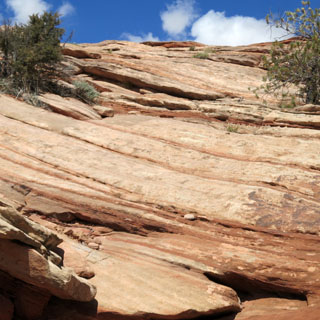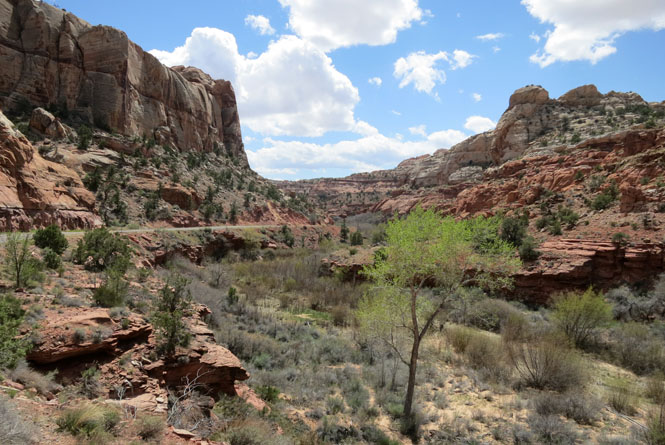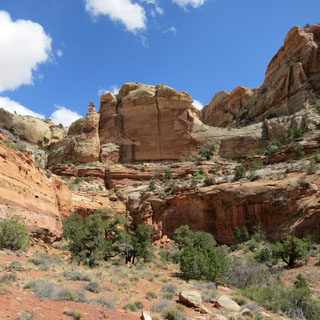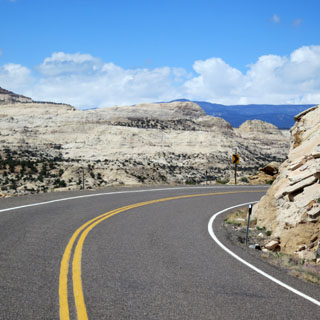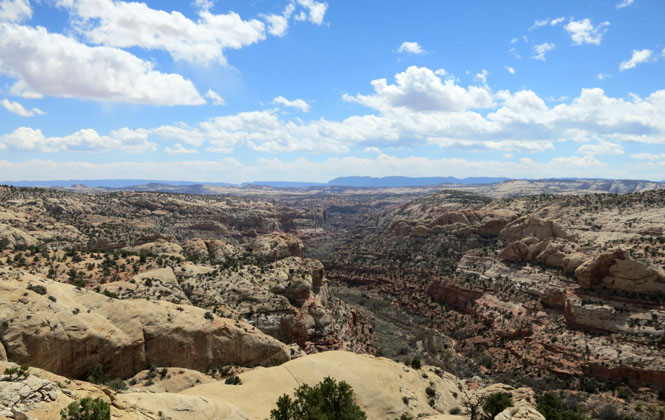 How many roads have a drop-off on both sides? I've ridden this twice; I'm careful.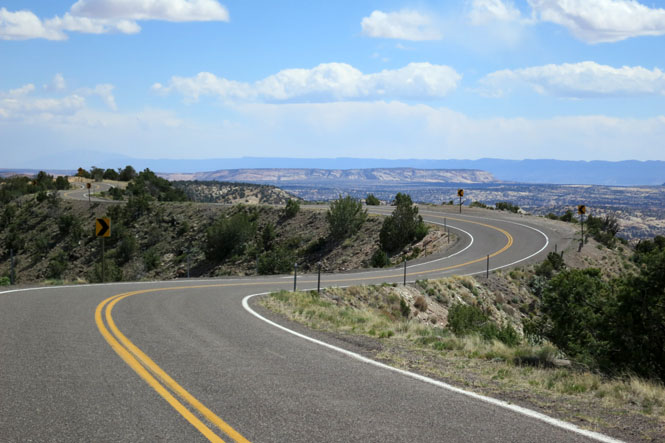 There's a mountain range that I won't be crossing. The town of Torrey is not far beyond the red mountains, where I'd be turning right.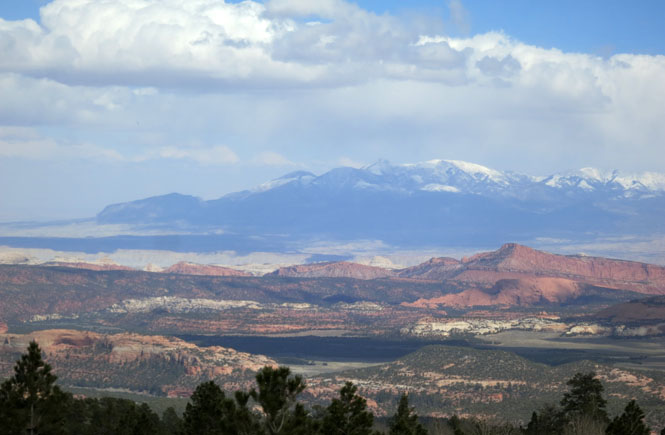 Torrey, Utah. When I rolled into town the wind was blowing and the temperature was near freezing.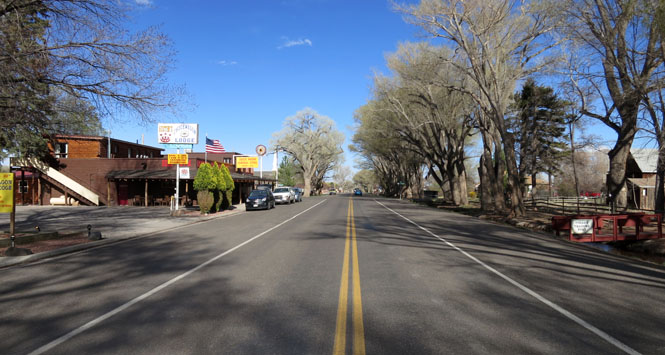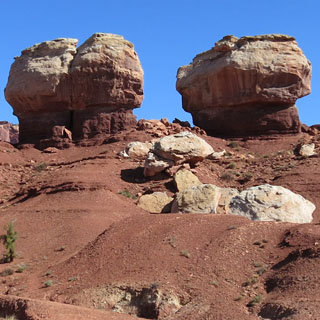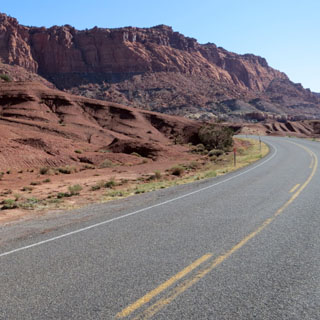 Riding through Capitol Reef National Park.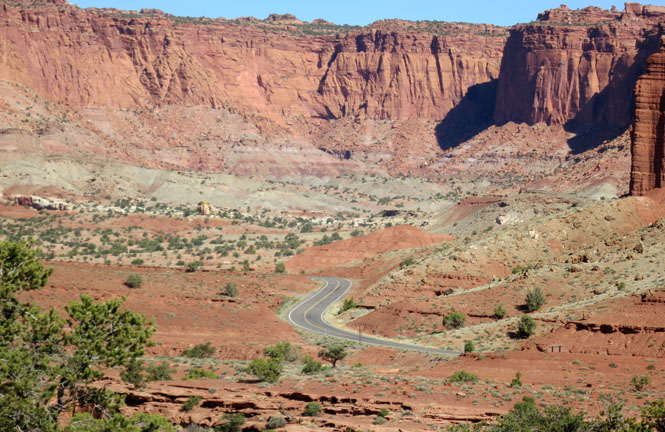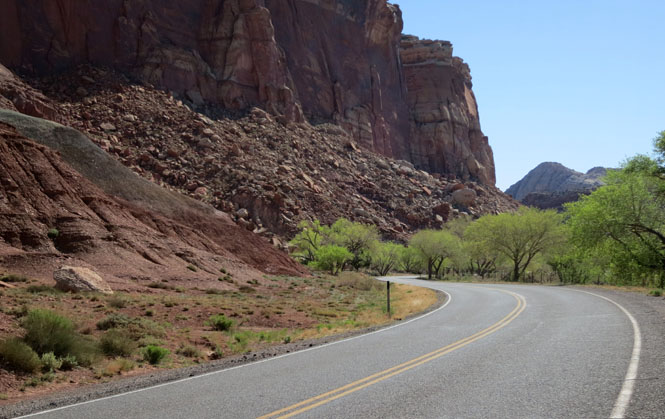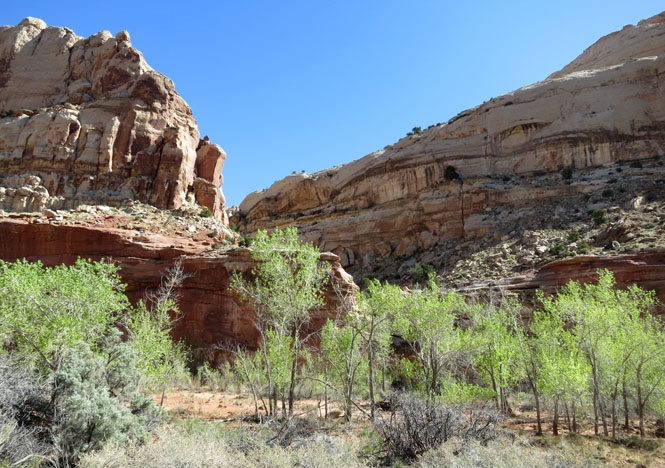 Highway 12 comes to an end, but the scenery continues with Utah 95.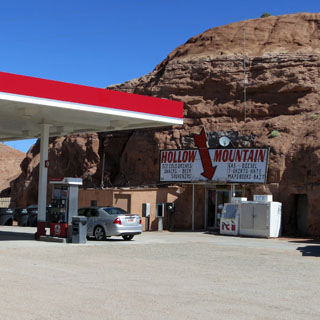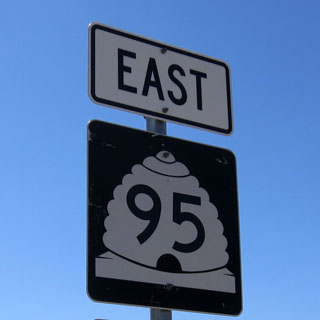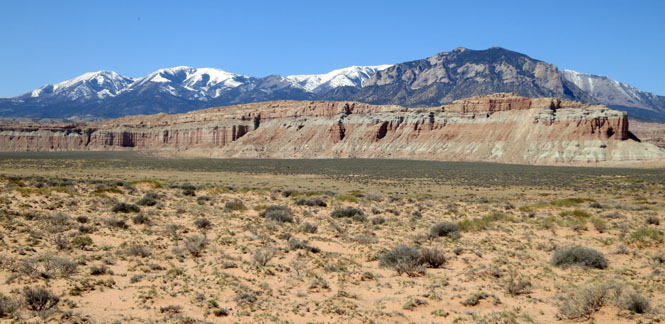 Riding down to Glen Canyon.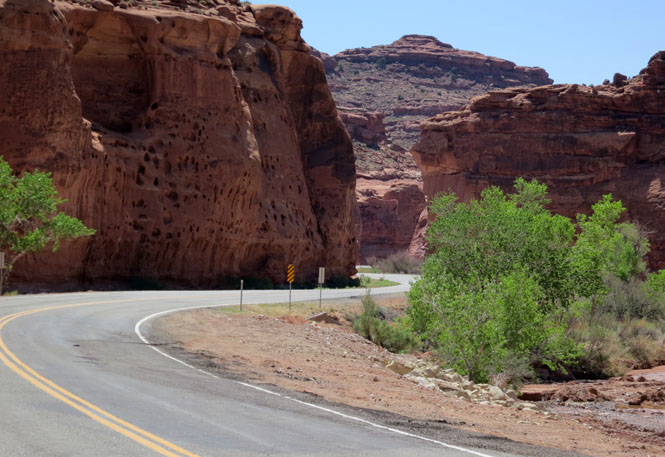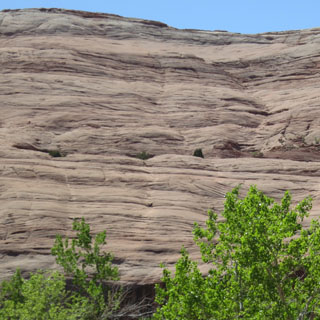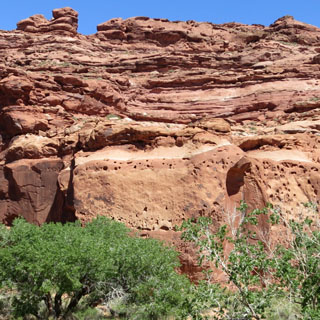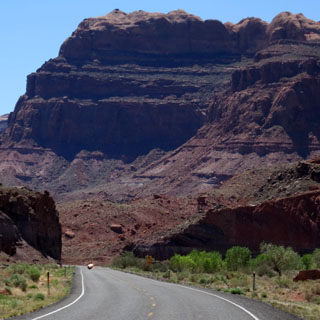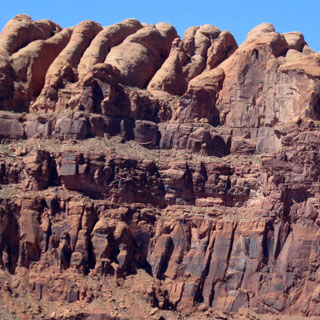 Crossing the Colorado River. This is the upper reach of Lake Powell, but water levels are so low, that the river still runs free.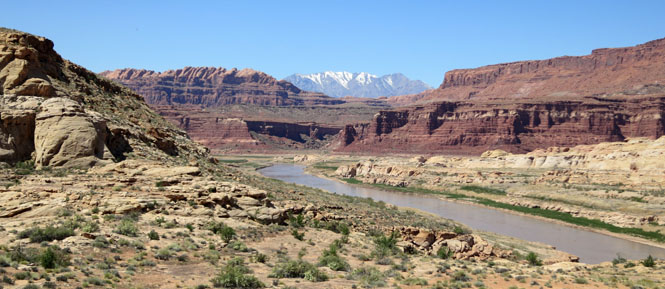 Most of the road is paved, but there are three miles that might give some drivers pause.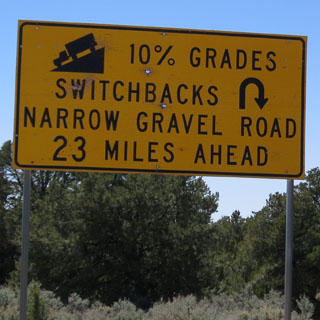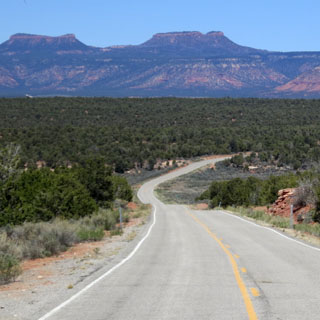 Dugway: A road constructed along a hillside by using material excavated immediately above it for the fill on the downhill side.

Moki: A name for ancient Pueblo Indians (Hopi) of the region (spelling variation Moqui).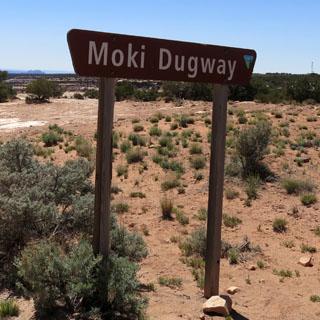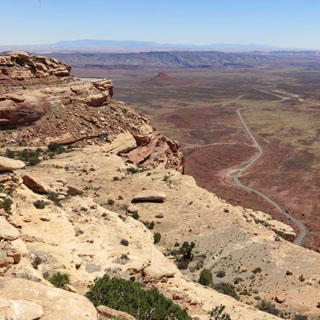 This dirt road was built in the 1950s to support the Uranium mines. That's all gone, but this amazing road remains as part of the Utah highway system.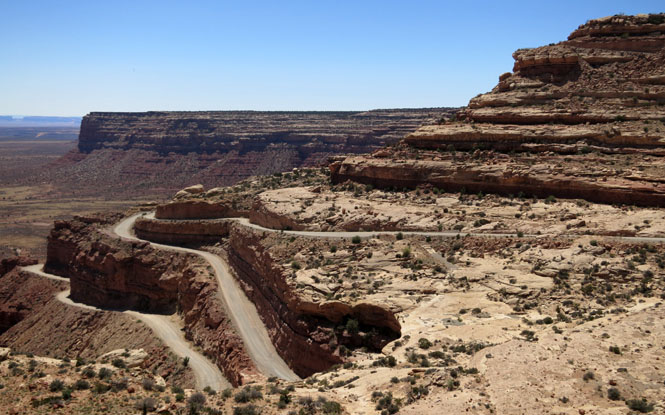 The view looking back. If you know where to look, you can see the road climbing up. You've got to respect the folks who built the thing. At least you don't need to worry about following a slow RV on this road. Those guys are miles away.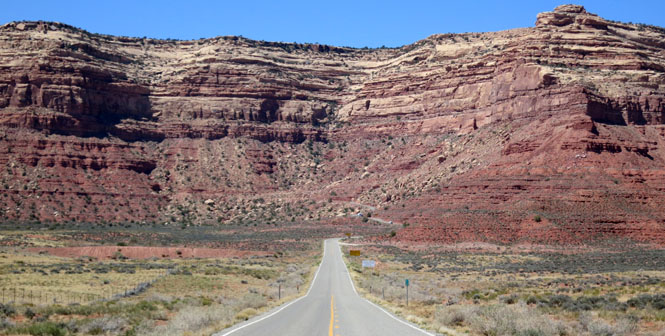 Need an idea for a rug pattern? Look around.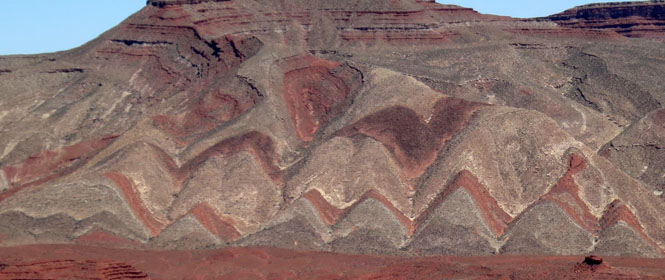 The small town of Mexican Hat was named for this curious formation. The wall in the unexceptional cafe was covered with these notes from people from around the world who attached a bit of their own coins. (Why would a foreign visitor keep such coins in his pocket?)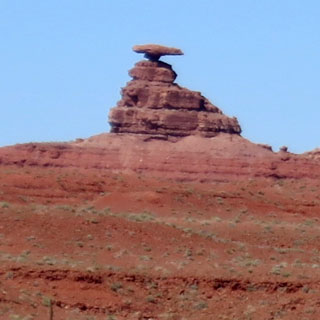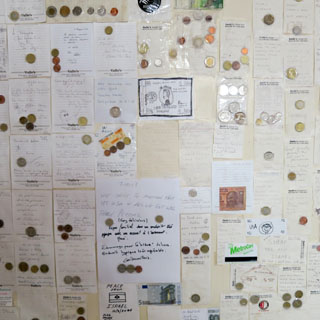 Monument Valley.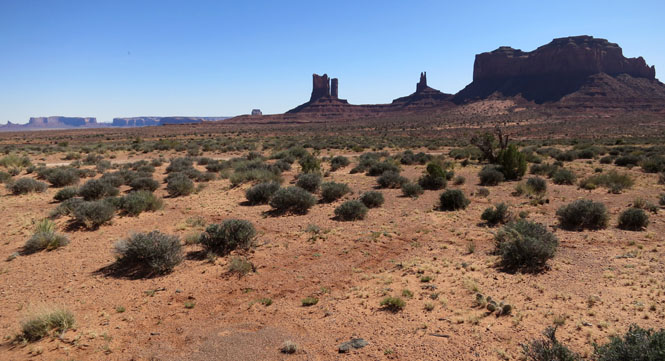 Arizona
What a remarkable place. You cannot take a bad photograph no matter which way you point your camera.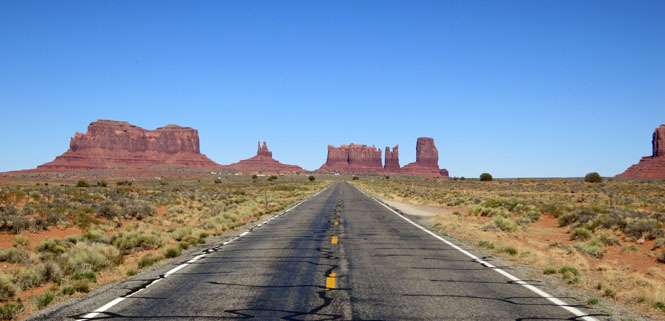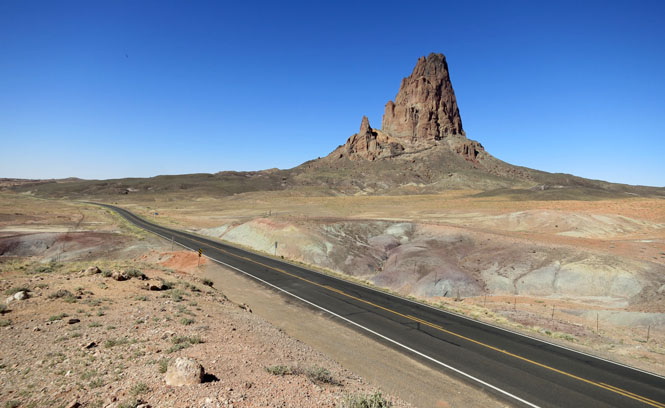 Kayenta, Arizona. I have a hard time shooting these towns that don't seem to have a center core. Yes; there's more to Kayenta than a gas station on every corner at a four-way intersection, but this will have to do.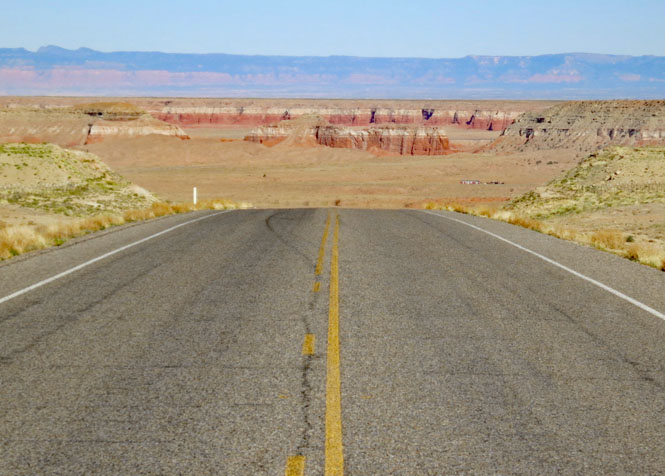 Canyon de Chelly is perhaps the most important place for the Navajo people (and Spider Rock within the canyon being the focal). I stayed at the lodge that night.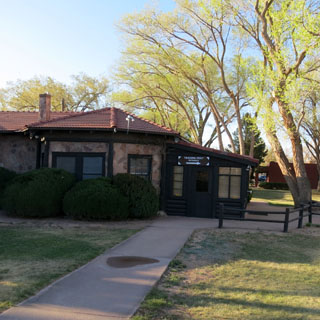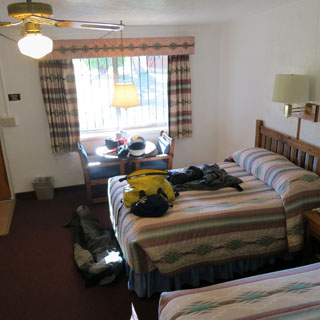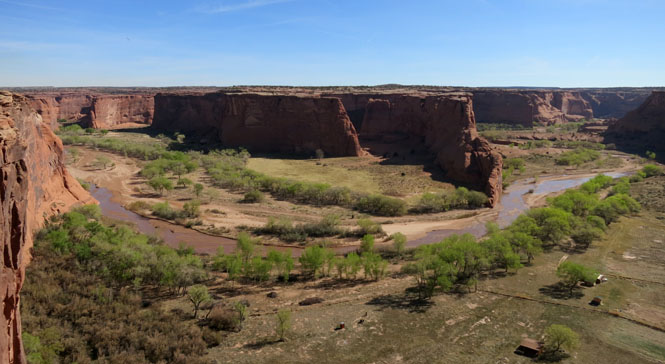 Is it the chance of floods or defense from enemies that made people live in such a difficult place?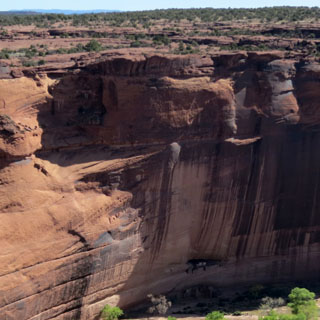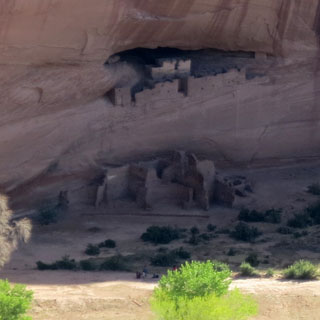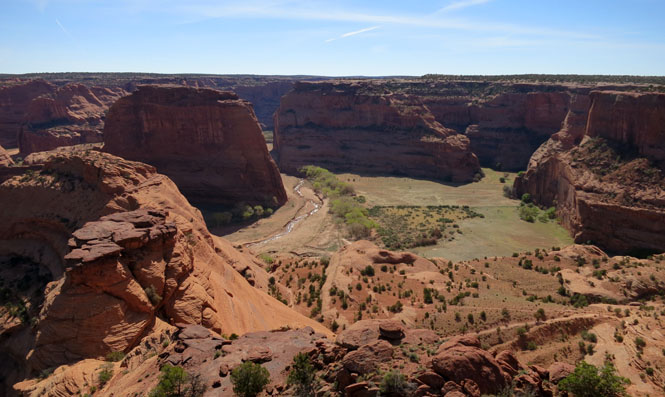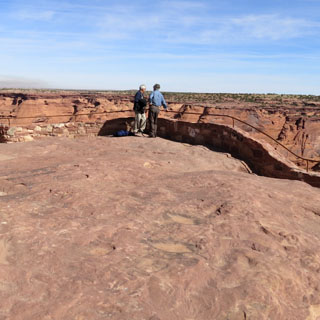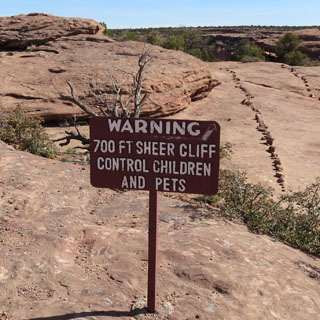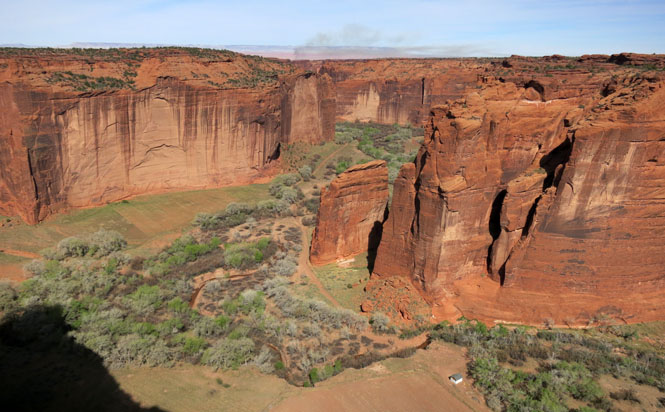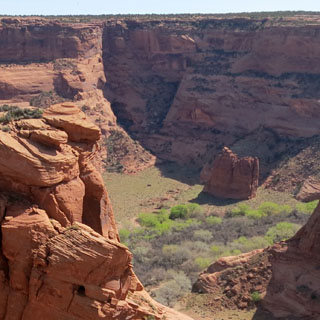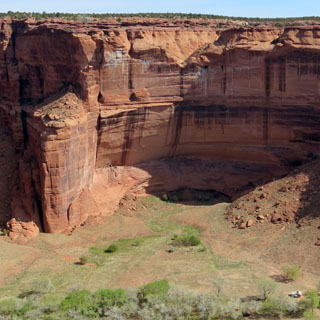 Spider Rock is over 800 feet high. Spider Woman lives at the top.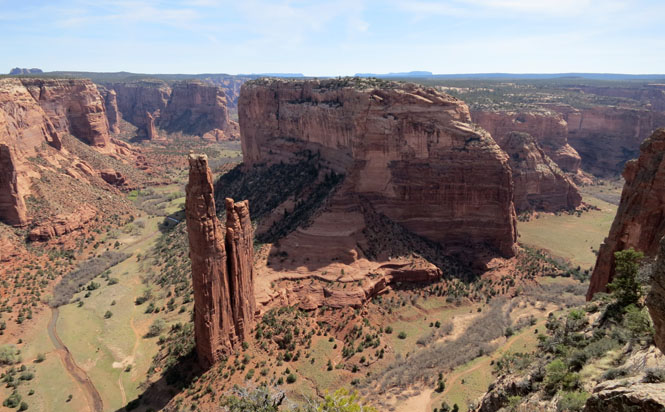 Generally, everybody selling Navajo art is also making what they're offering. This woman's skill and speed was amazing. She was following a complex pattern that she had designed to string multiple beads of string to form the final picture. You can see the two strips of tape she is using to mark the several threads.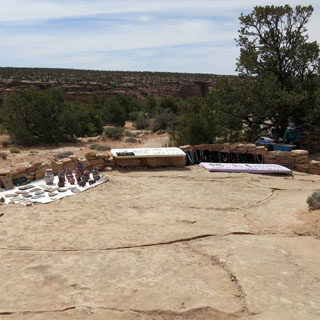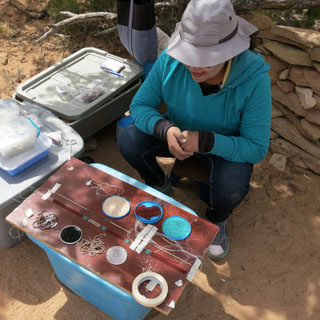 The canyon floor continues to be farmed, and people do still live here.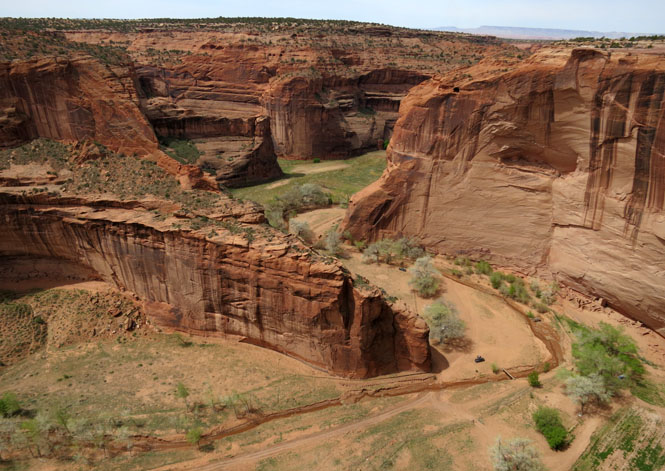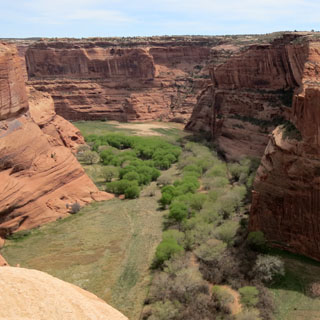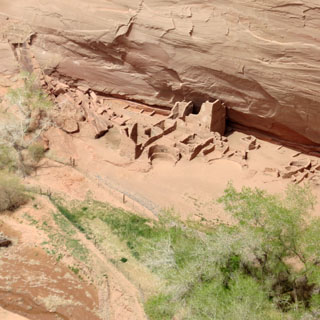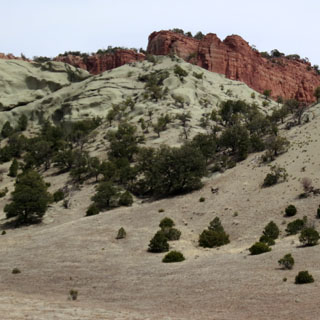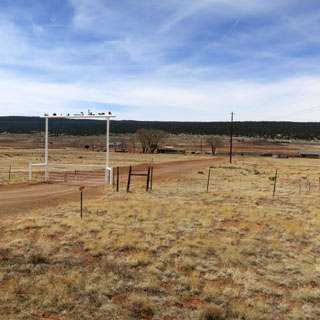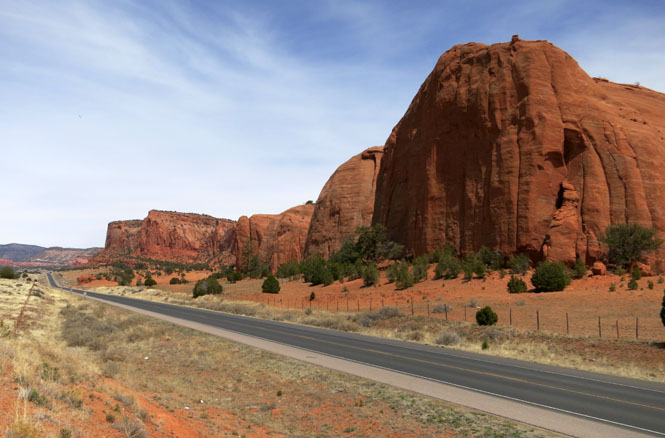 I stopped at the Navajo Museum in Window Rock.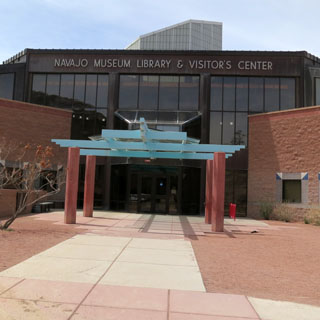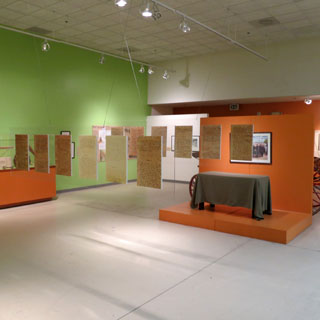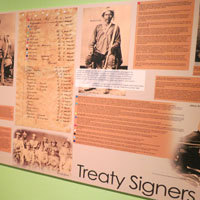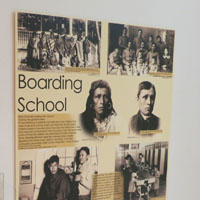 New Mexico
Gallup, New Mexico. I few days earlier I gave up on my plan to cross the southern Rocky Mountains along highway 160 (and Wolf Creek Pass). While the weather didn't look too bad, the roads were still snow-packed. So, I was back south on I-40 once again to make the easier crossing with no chance of snow or ice on the road.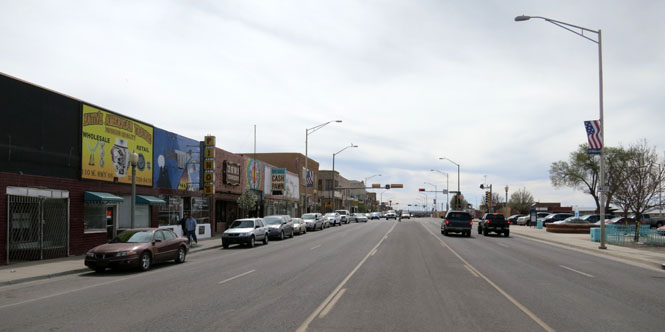 Santa Rosa, New Mexico.
Texas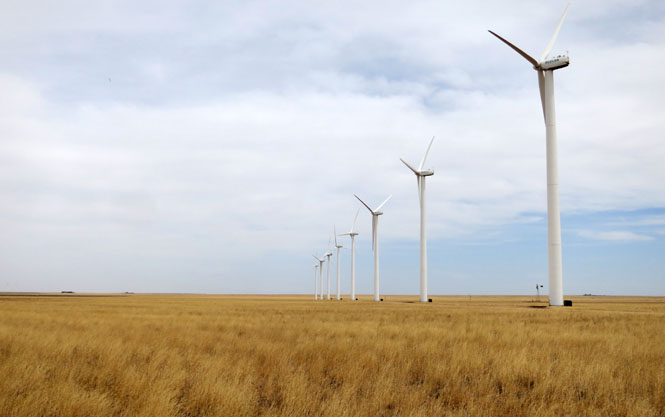 Oklahoma
Hooker, Oklahoma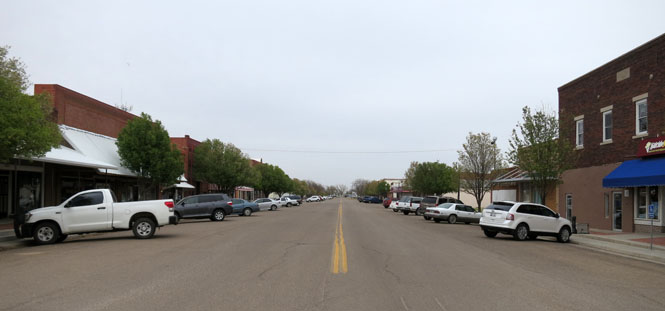 Kansas
Bucklin, Kansas
If you're flexible with your plans, and don't have your heart set on any one destination, this sort of trip can work out very well. 5,200 miles and a few days over two weeks.
last edit: 4/21/2014