May, 2014

Sunday

Monday

Tuesday

Wednesday

Thursday

Friday

Saturday

18 May

19
20
21
Wichita
Newark
22
Malpensa
Lecco
23
Lecco
Tirano
24
Mandello
Schwaz
25
Lanskroun
26
Plock
27
Marijampole
28
Salacgrive
29
Tallinn
30
Turku (ferry)
31
Kastlosa
1 June
Trelleborg
2
Schwarzenhof
3
Dessau
4
Nordlingen
5
Chur
6
Mandello
7
Milan
8
Milan
Wichita
9
10
11
12
13
14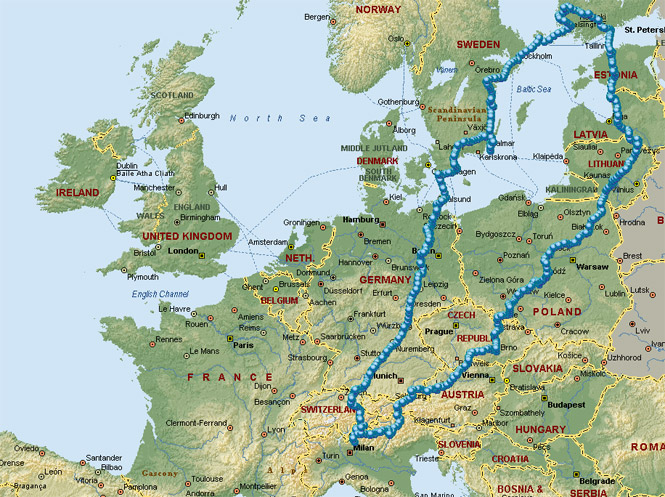 Europe Trip #10
Three years ago, I barely crossed into Poland from Slovakia; so, I thought for this trip I'd make Poland my primary destination. But, then, it didn't seem that much of a stretch to continue into Lithuania. Of course, I might as well do it right and ride through all the Baltic countries and take the ferry to Finland.
New goal: ride around the Baltic Sea (or at least a big part of it).
Naturally (and as always), I'd be starting from Mandello del Lario, Italy. This would be my tenth trip.
New Jersey
United Airlines no longer calls for boarding based on your assigned seat. That only caused a massive pile-up at the gate while people waited. Now they have four or five gates for the different boarding groups so there's at least a small amount of order in the mass of people standing around. This is Newark; we're waiting to board the B767 for Milan. There will be no empty seats.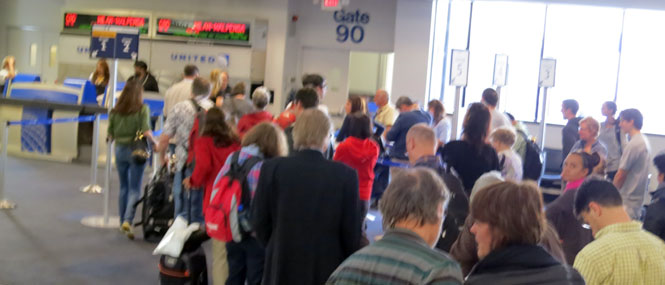 Italy
Malpensa Airport (which isn't exactly near Milan) is a joy to arrive at. You hardly slow down for passport check, the bags arrive quickly, and customs hardly seems to exist at all. Simply take your bag from the new (for this year) carrousel and walk out the door.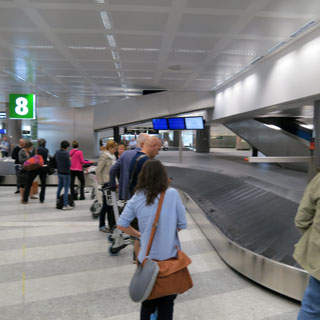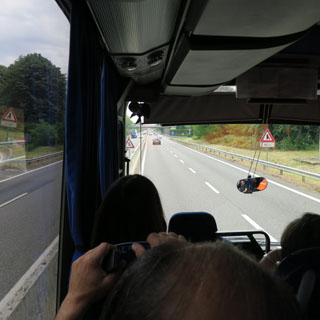 Lecco makes a pretty good starting point to spend a couple of nights getting used to the time zone shift before starting the ride. I've stayed here a few times before.

The gold icon is facing the boats that are leaving Lecco for the greater Lake Como. A blessing for good fishing?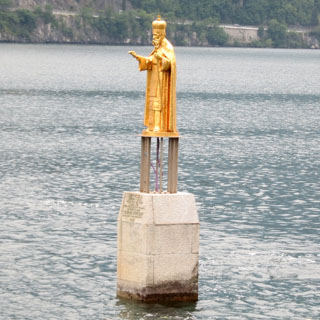 Those lake fish are on a bed of polenta (on the left) and risotto (on the right).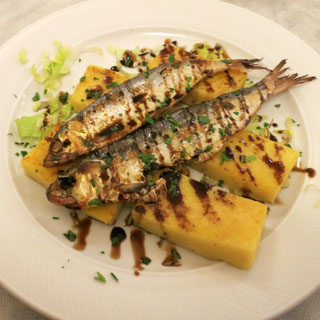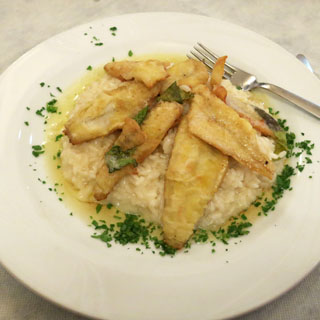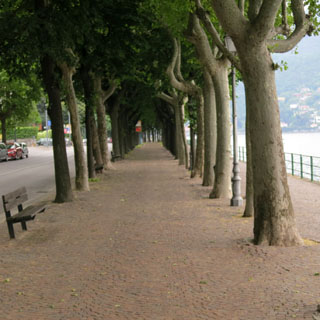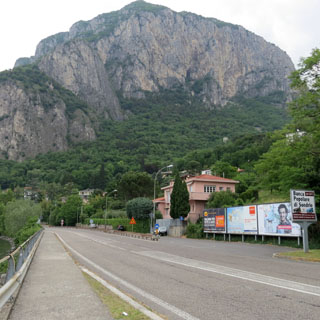 I thought I'd spend much of my next full day in Tirano, Italy and on the Bernina railway up into the Swiss Alps.
The Rhaetian Railway runs on metre-gauge tracks through the Alps on inclines of up to 7%. That's pretty steep. I didn't think I'd need to worry about reservations this time of year, and I was right.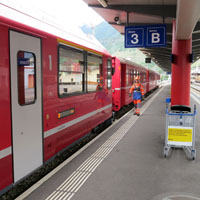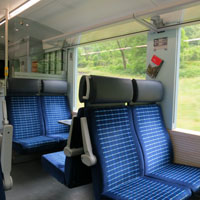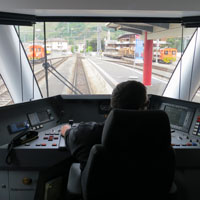 I wasn't needing to actually go anywhere, so I bought a round-trip ticket as far as Alp Grüm. This would take me into scenic parts of the Alps without going all the way to St. Moritz.
Switzerland
The Bernina Express is the premium version of this train, having much more luxurious cars with larger windows (and dining). No matter; what I was in was plenty nice enough.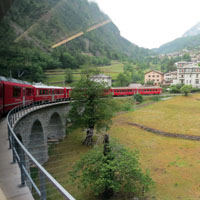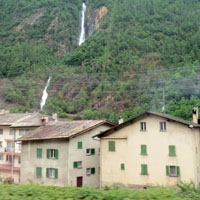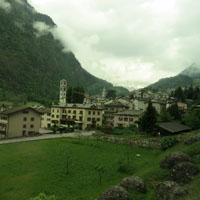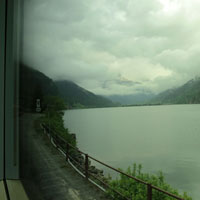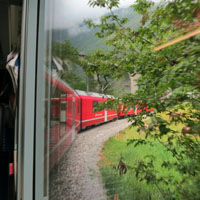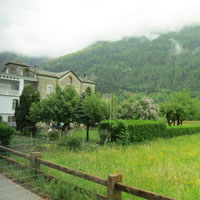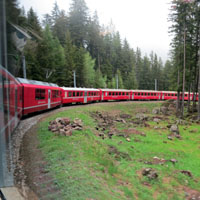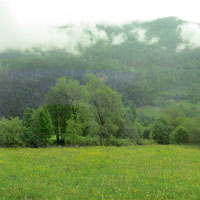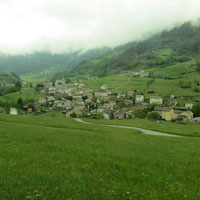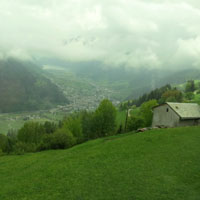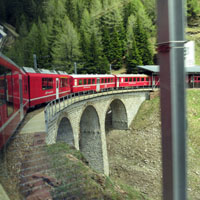 Alp Grüm. I was the only one to get off the train as it made a quick stop at the station. This place only exists because of the railroad.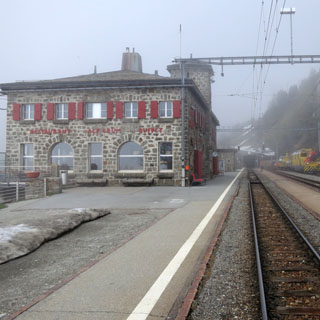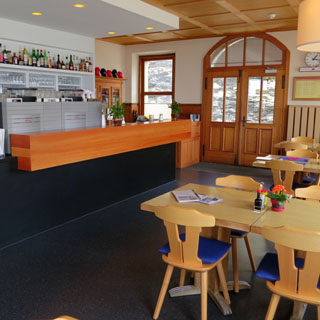 While waiting for the clouds to clear, I'll have some lunch.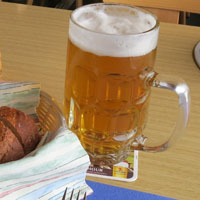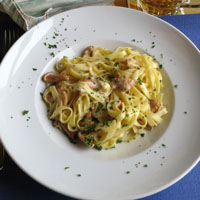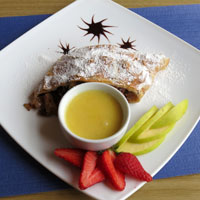 And, the clouds did clear. What an amazing place. And, what a remarkable thing that anybody could have looked at these mountains and decide that a railroad was even possible.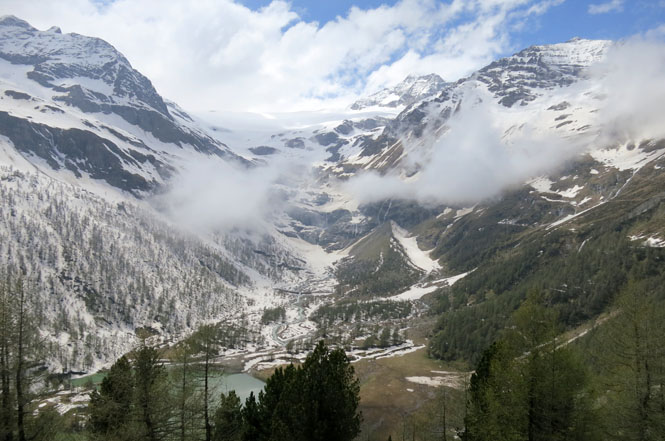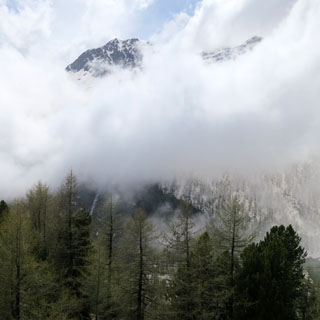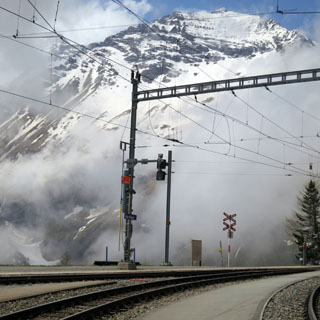 This is a famous loop. The best shot would be from up the hill, but it isn't too bad shooting out the window of one of the last cars.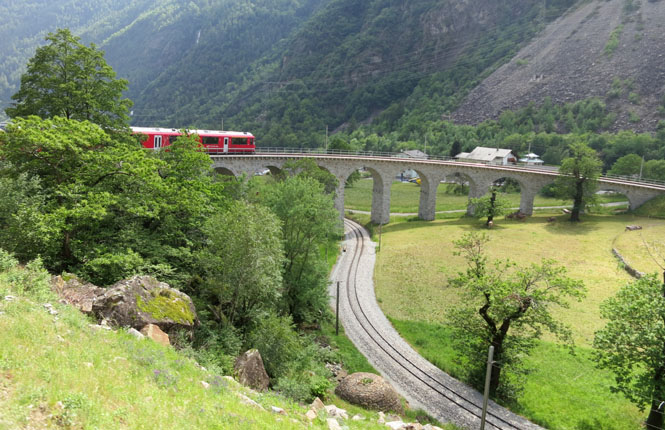 Italy
I've been on this road on a motorcycle and was annoyed by the tracks. It's a curious thing rolling through town along a narrow street, between the buildings.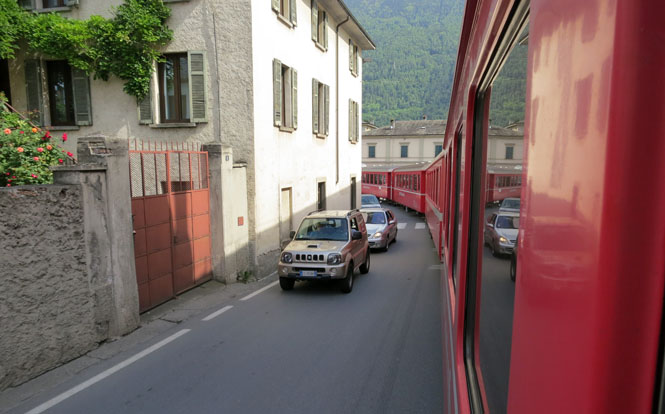 Tirano, Italy.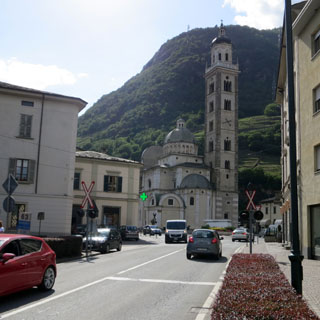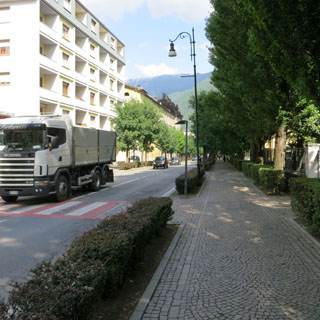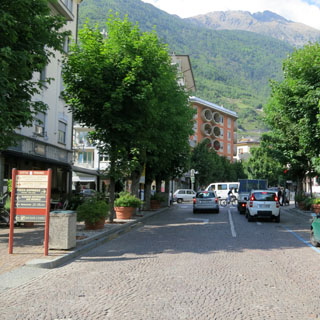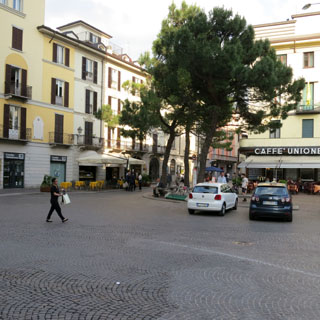 It's Saturday; time to ride. On the previous nine trips, I started out on Monday. But, I had a lot of miles to ride over uncertain roads and had three long ferries to catch, so I added a couple more days.
Everything is shifted to the small yellow duffle bag. Of course, the boots, riding suit, helmet and gloves would be worn so I would leave the larger bag behind.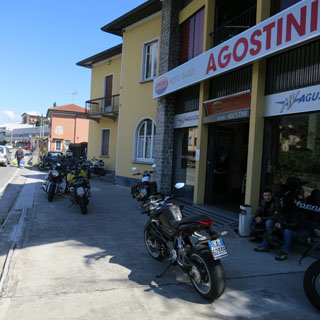 These are just a few of the terrific photographs of Duilio Agostini hanging on the walls of the Guzzi dealership in Mandello del Lario.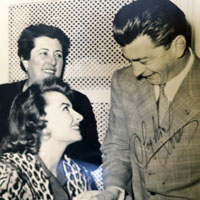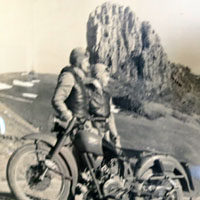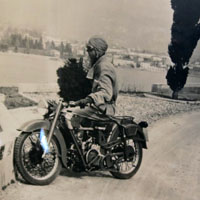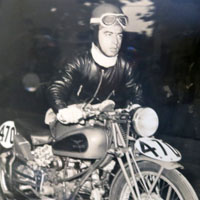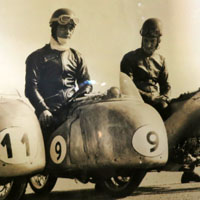 That's Verena, Italy jutting into Lake Como. A beautiful town.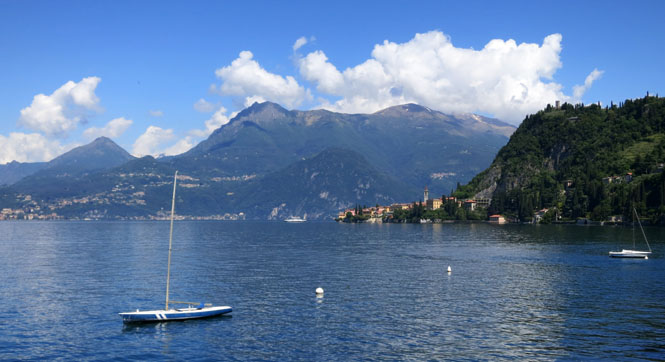 The first fuel stop. Make sure everything is in order: change the dash display to English, give the outside temperature as Fahrenheit, and show the time in 12h mode. The guys at Agostini had already put the seat and windshield where I needed them. I also bought a bottle of water to put in the pouch.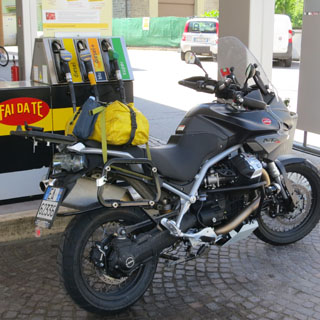 Aprica, Italy. My plan was to cross the mountains to the east before picking up the Autostrada and heading north into Austria. I don't much like riding the Autostrada (or Autobahn), but if you want to put some distance down in a hurry, it's the only way.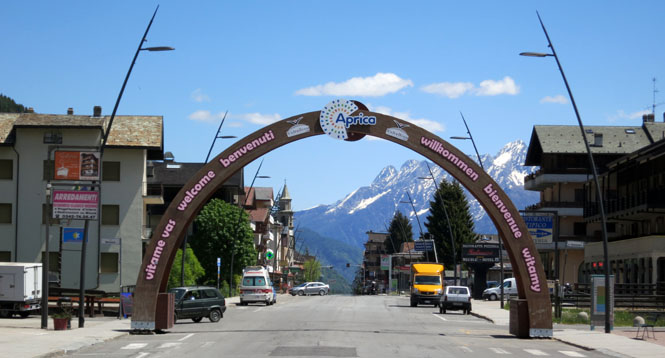 Maggio, Italy.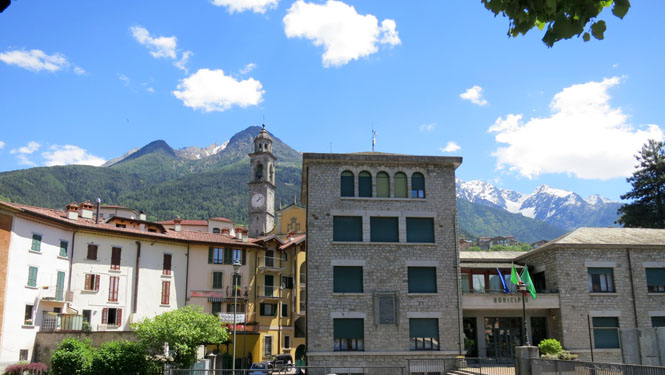 Stunning mountains. Sometimes it's not clear how the road will manage to get across, but it always finds a way.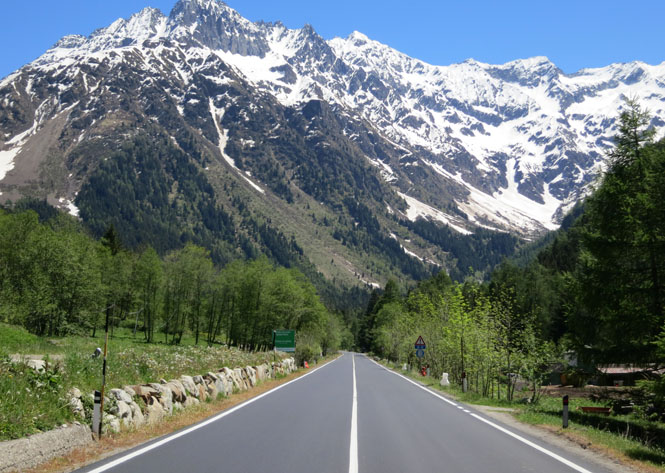 Ossana, Italy.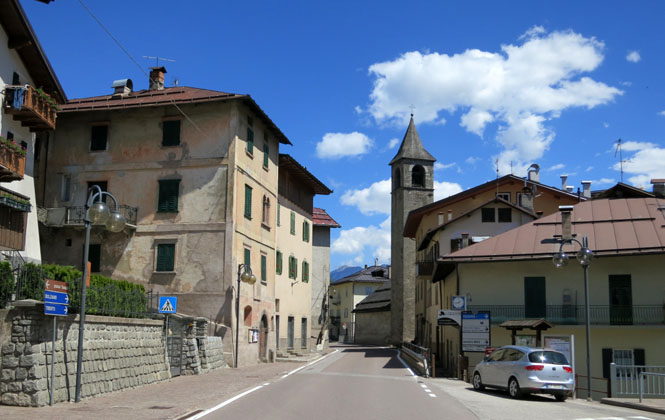 In the long green valleys between the mountain ranges, you'll find lots and lots of vineyards.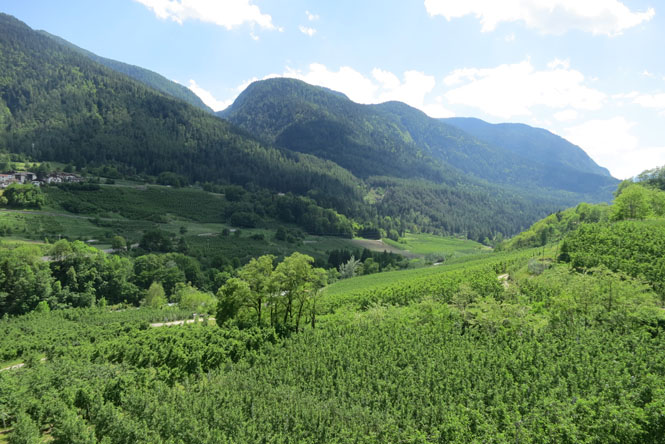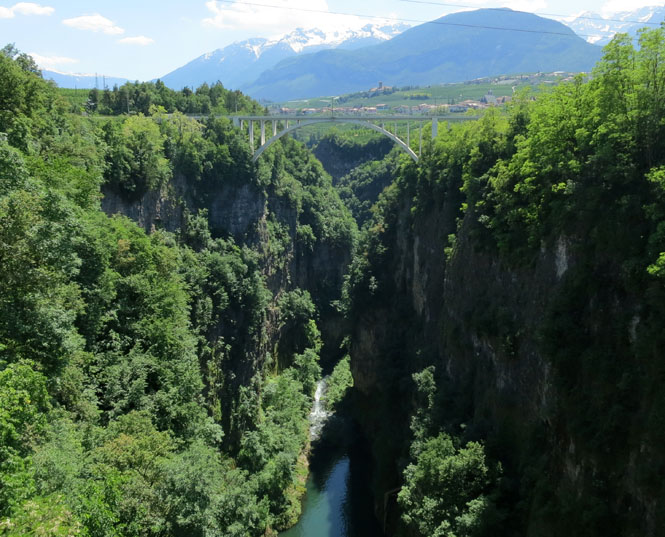 Mezzolombardo, Italy.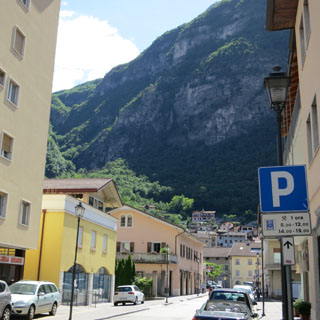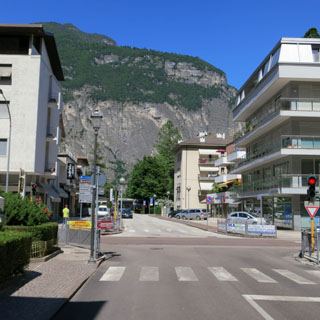 One reason I don't like riding the Autostrada is having to stop far too often to pay the toll. Normally, I'll aim for the booth with a person, but this time I somehow didn't see it in time (it isn't always on the end), so had to fumble for a credit card to get through.

Austria
This is annoying. You'll see two stickers on the windshield. One is for Switzerland and the other is for Austria. These vignettes allow access to the highways of these countries (whereas Italy and France have frequent tollbooths). So, why is there a tollbooth in Austria? Apparently, there are exceptions for some mountain passes...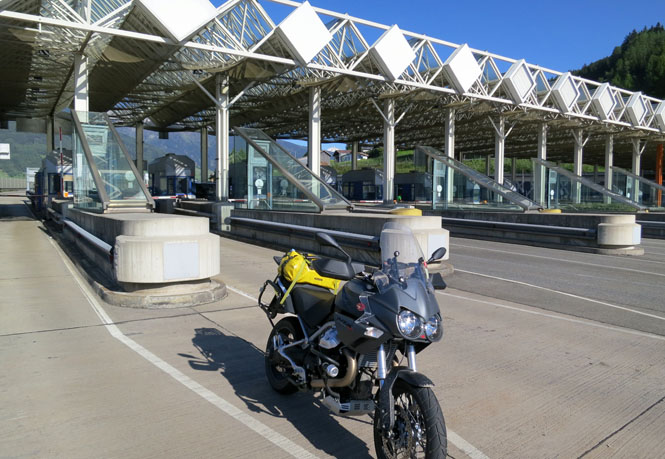 Schwaz, Austria.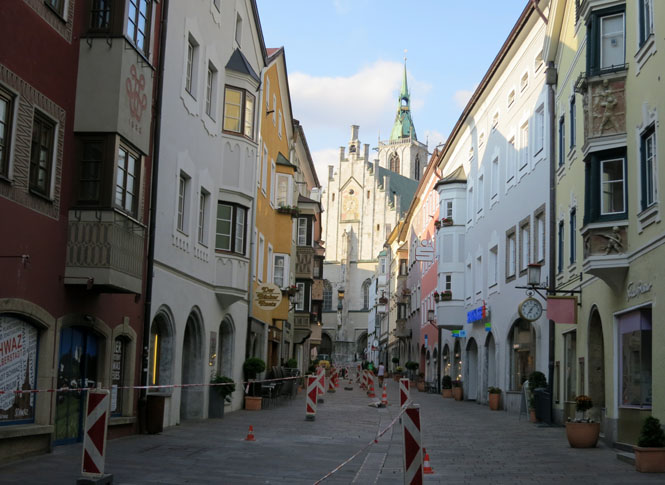 I made fairly good progress, today, but I expected to do even better. Tomorrow will be a key day to see that I can maintain a pace to loop around the Baltics.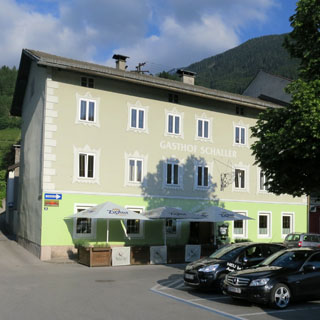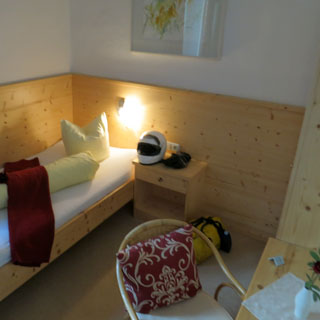 I begin to really like the various cabbage dishes. There's more to cabbage than coleslaw.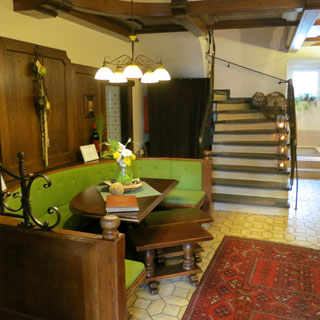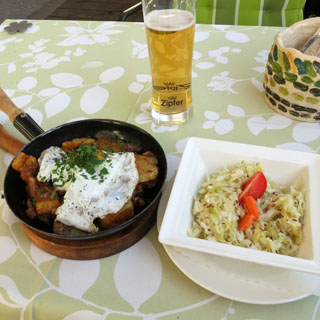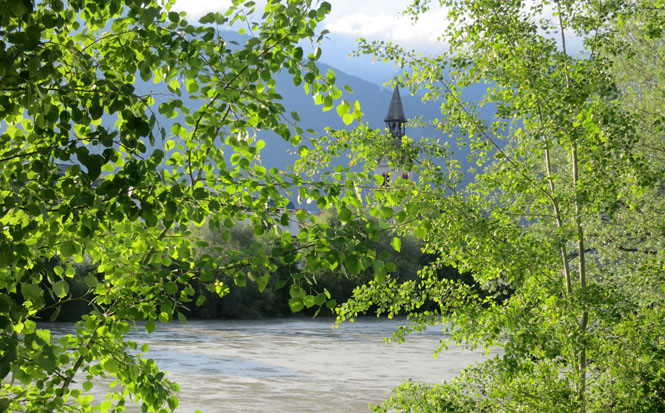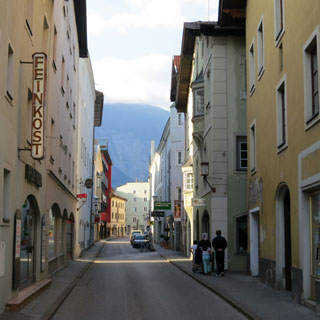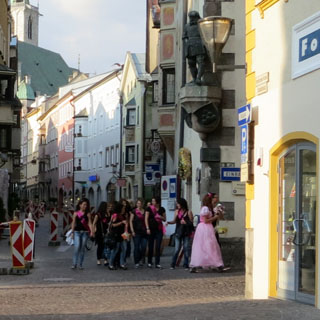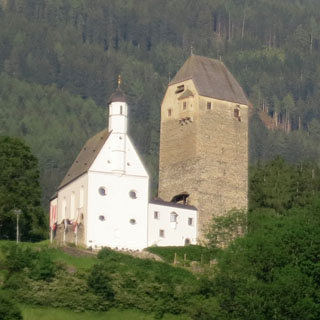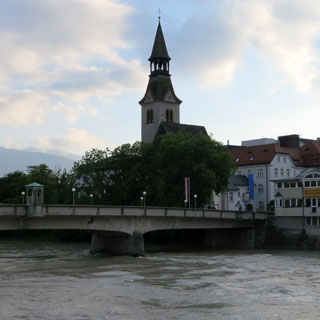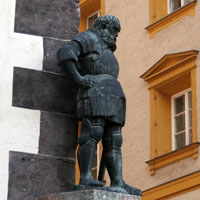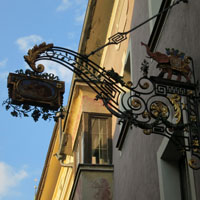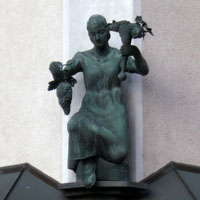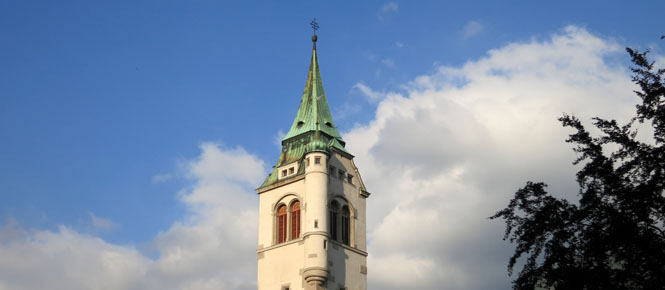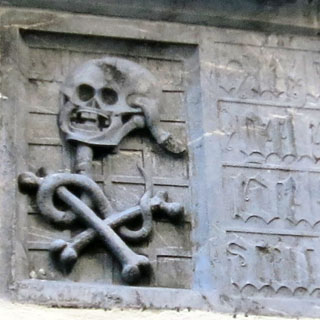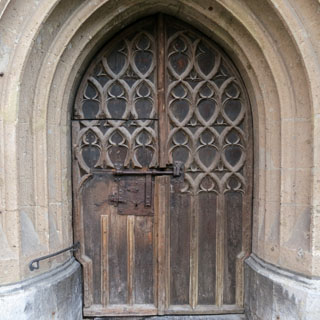 Germany
This day would be my Autobahn day. I'd be putting more miles on that fairly dull highway than all the rest of the trip. The point was to get ahead of the schedule so that I wouldn't need to worry about putting miles down the rest of the trip. That plan worked.
Getting from one part of Austria to the next actually means running through Germany for just a bit.
Übersee, Germany.

Chiemsee.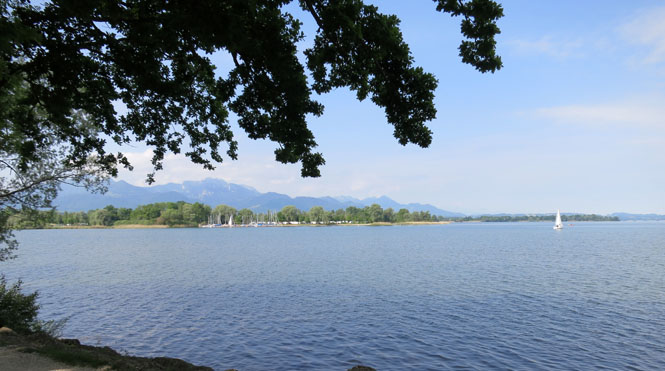 Austria
Sankt Georgen im Attergau, Austria.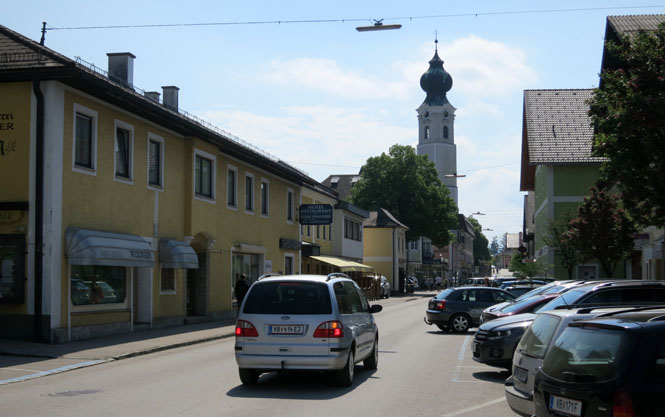 I navigated by paper maps and generally plotted a new destination every 100 miles, or so. But, in-between these waypoints, I used the GPS. GPS is particularly useful when riding through towns. The highways are often not especially well marked, and unless you have a good knowledge of the name of the next town (which is how the routes are indicated), it can be difficult.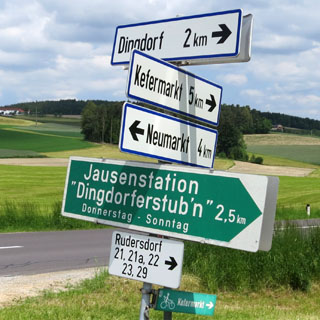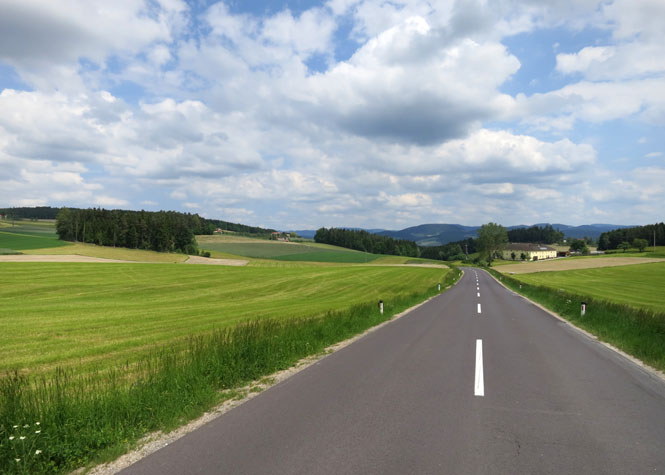 Sankt Martin, Austria. These extra tall Christmas trees are quite common. Actually, i suspect that they're good old-fashioned pagan May-polls that have been transformed into something more acceptable to the current religious environment.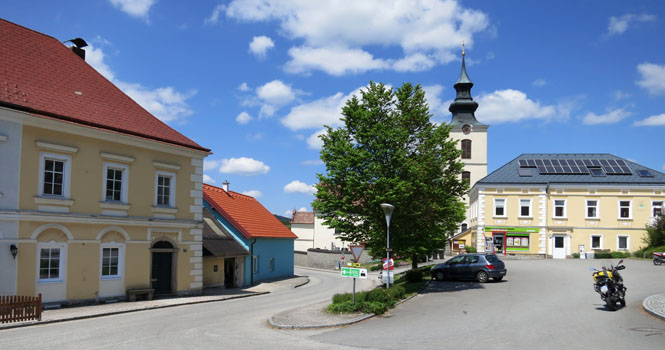 Weitra, Austria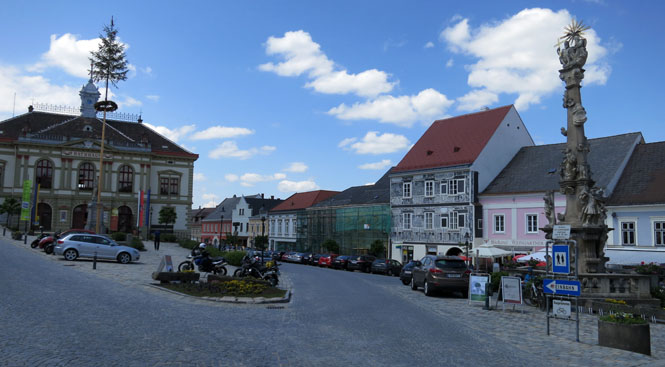 There's nothing special about that salad (w/vinegar dressing). But, pay attention to the bread. The waitress dropped off the basket of bread with my meal (as is pretty common everywhere). When I went to pay my tab, she asked me how many rolls I ate. How many? All of them! Ouch. I think she charged me a Euro for each one...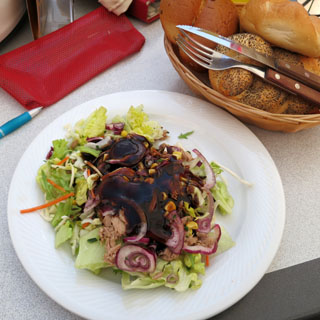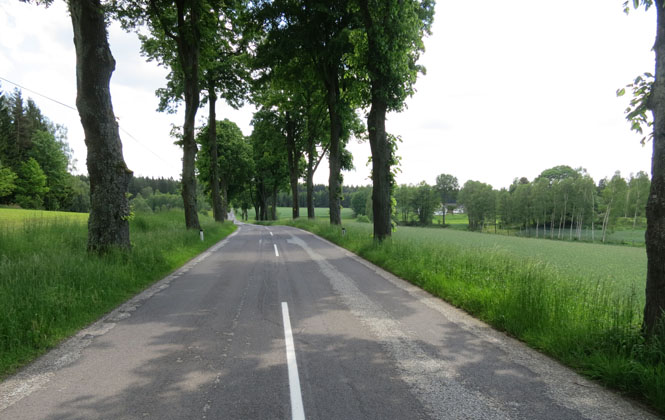 Czech Republic
At the border, the smooth Austrian road turns into a rather rough Czech road. There is not much else to indicate that you've passed from one country to another.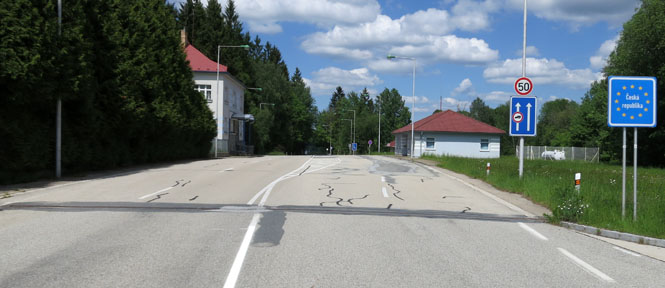 Nová Bystřice, Czech Republic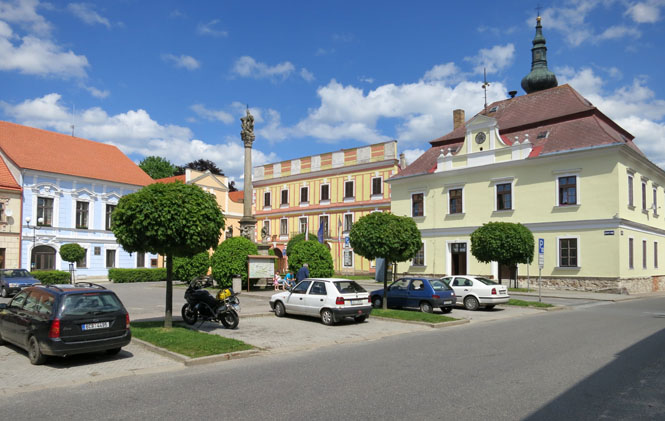 Except for being quite smooth, this is typical of most of the Czech roads I was on.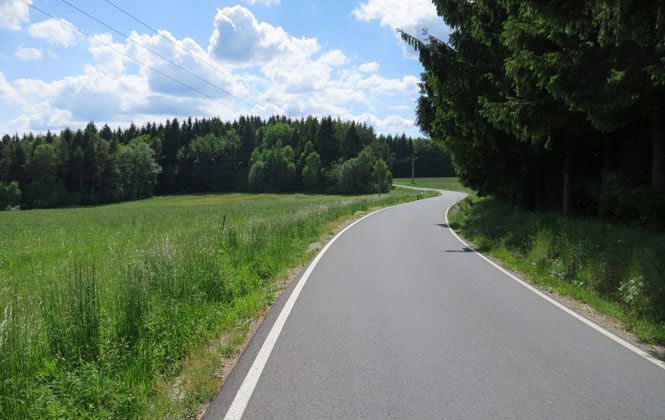 You'll see these roadside crosses everywhere. Nearly every intersection of any size will have one. Some are more elaborate. Some are very elaborate.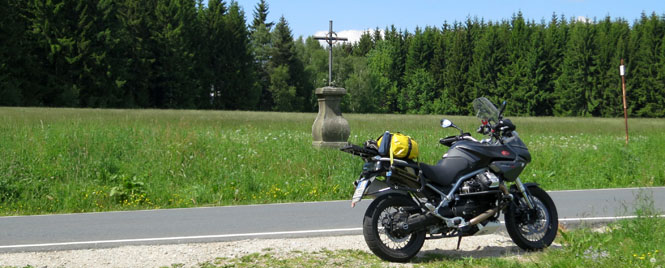 The forest floors are as clean as I've ever seen. You'll often see bundles of small branches and twigs piled up. Likely somebody's firewood.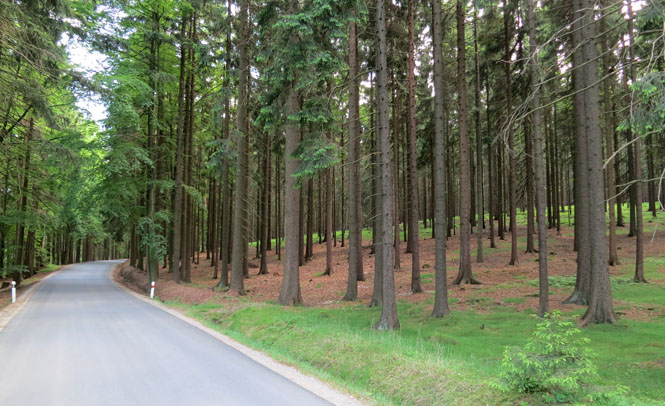 Třebíč, Czech Republic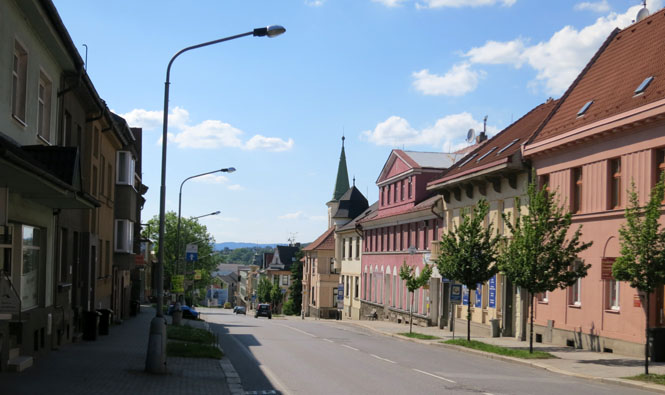 Budišov, Czech Republic. You get used to these thin roads connecting fairly good sized towns.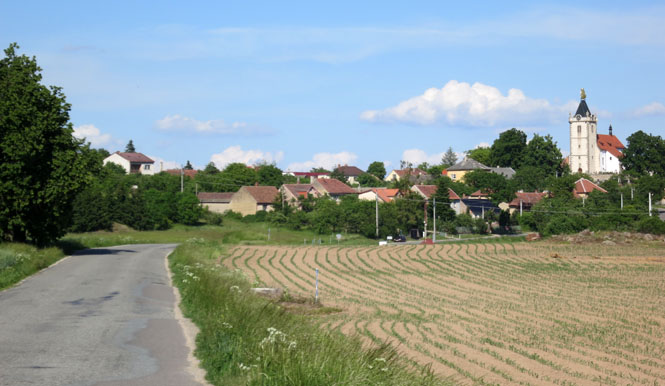 Lanskroun, Czech Republic. Finding a hotel in this town wasn't as easy as I'd expect.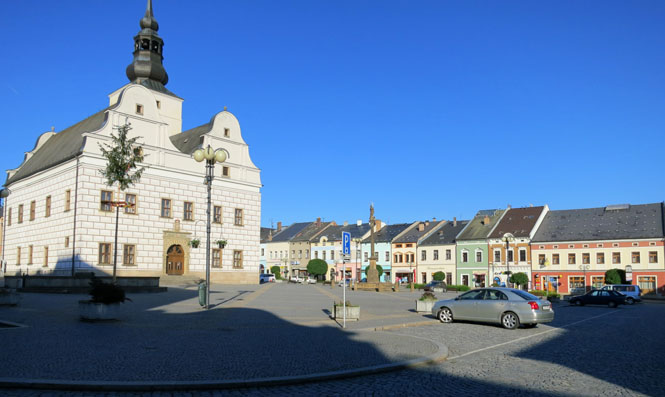 This tavern had rooms upstairs (with a toilet down the hall). I seemed to have found the only tavern that only served drinks--no food. Well, I wasn't all that hungry this evening (all those expensive rolls earlier in the day?), and their beer was very good.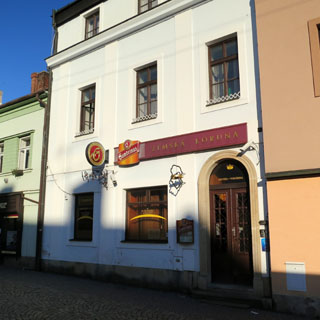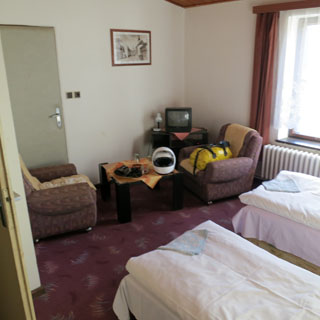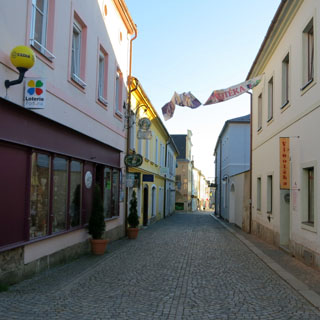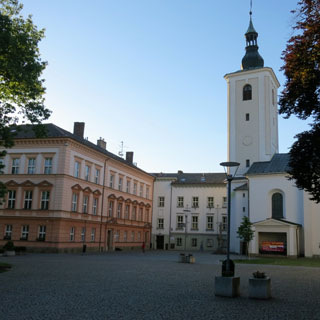 Bystřec, Czech Republic. The hills of the Czech Republic are wonderful to ride.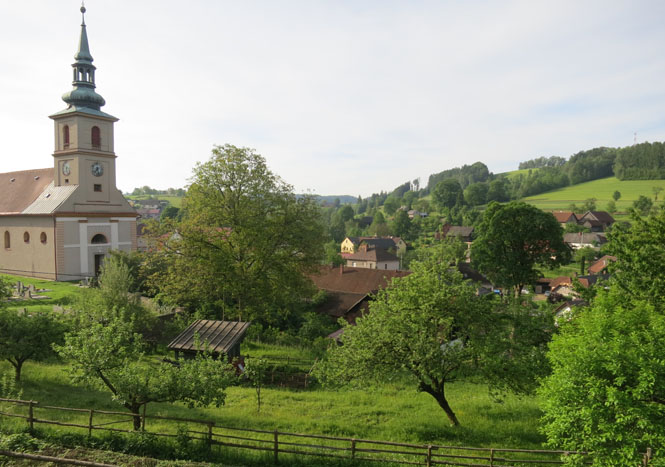 Poland
Międzylesie, Poland. I wonder if I could find a place to eat breakfast around here (considering I only had beer for dinner)? No.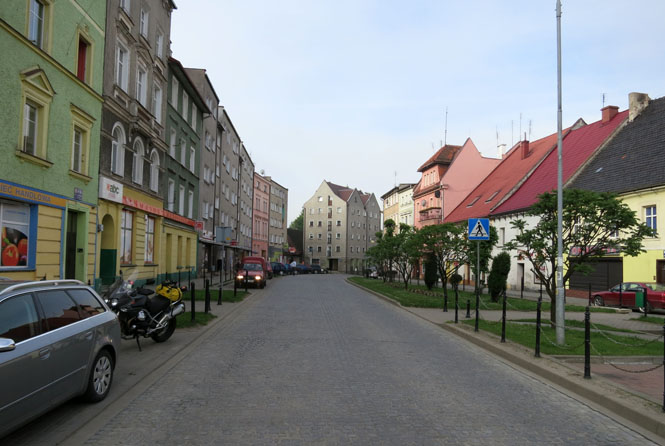 Domaszków, Poland.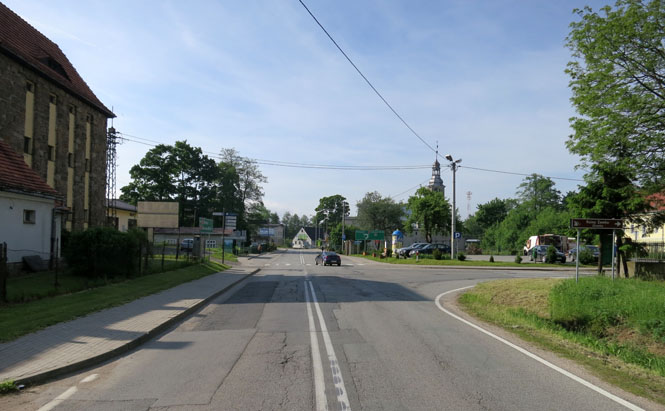 Kłodzko, Poland. Few of these small towns have a market district. You'll find a church (or more) and houses and perhaps some barns. But, no stores.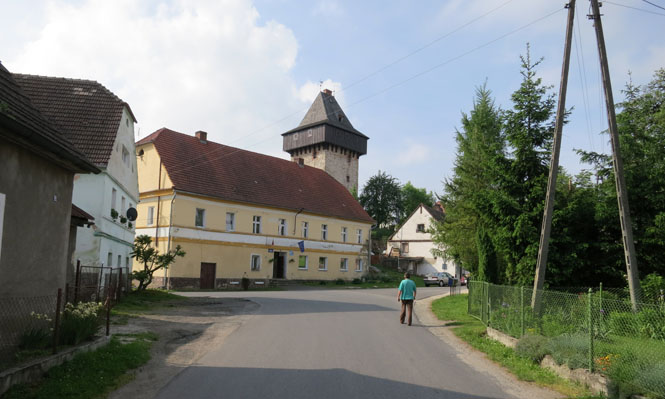 It's an interesting arrangement (but, not unique in this region) to have the church building fully contained within an enclosure.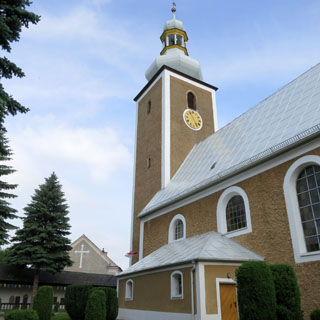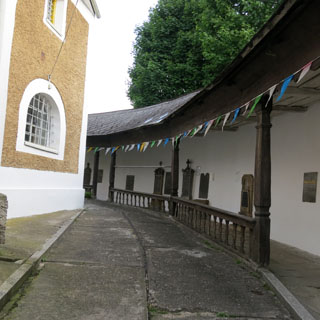 Miles and miles of earthen dams to make this lake.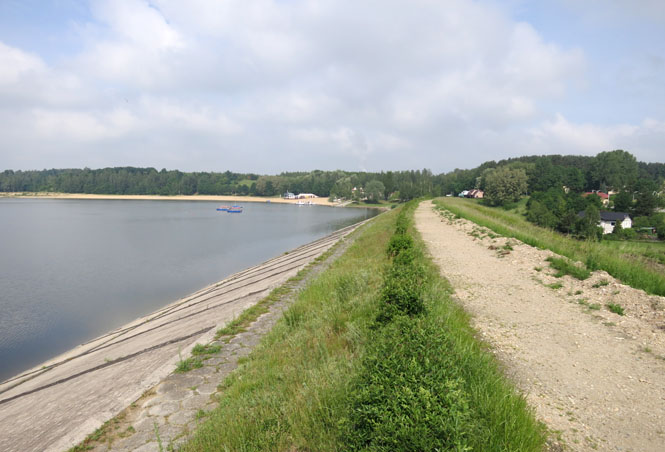 Grodków, Poland. So, all the people who live in the surrounding towns without any markets (or Main Streets or High Streets or Front Streets) will need to come here if they want to buy something.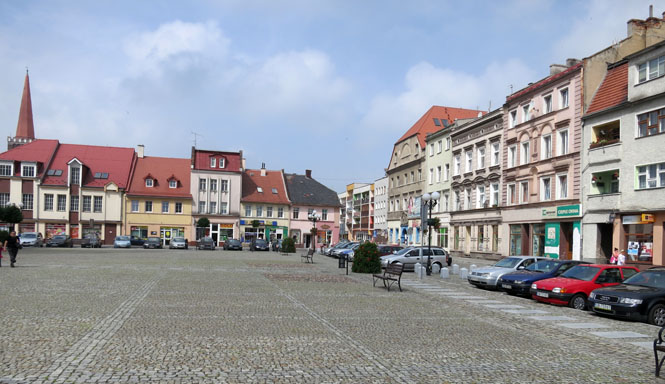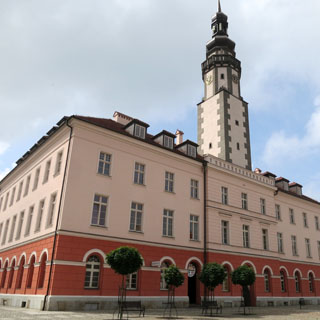 Pępice, Poland. Towns with streets of paving stones are not unusual; they're all that way.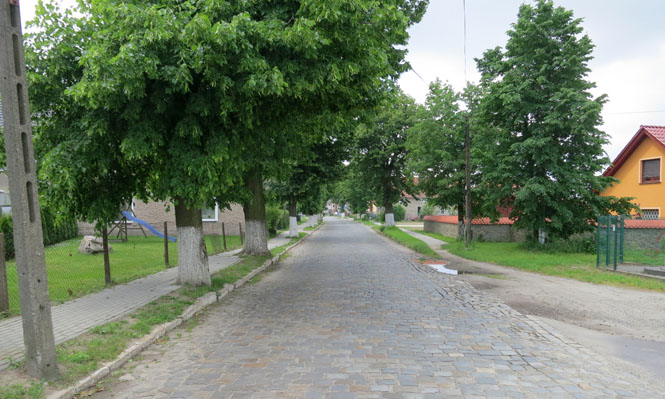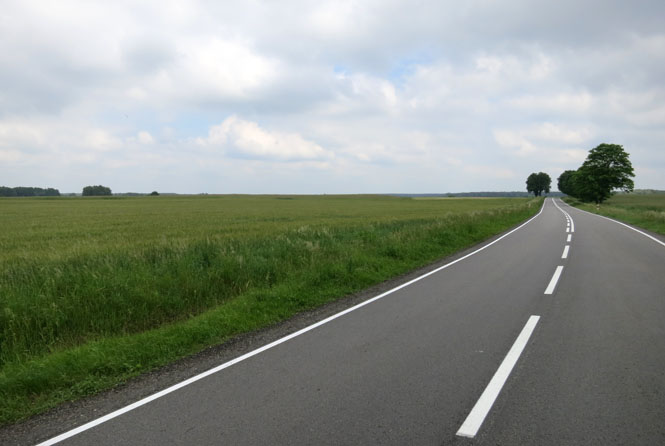 I don't always know what I'm eating, but it's almost always good. Vegetarians in Poland might just go hungry.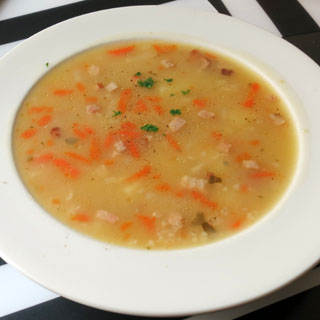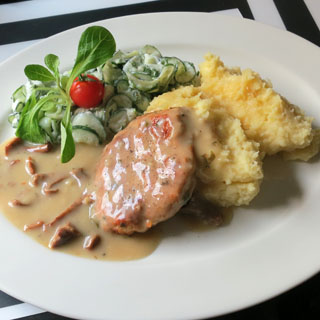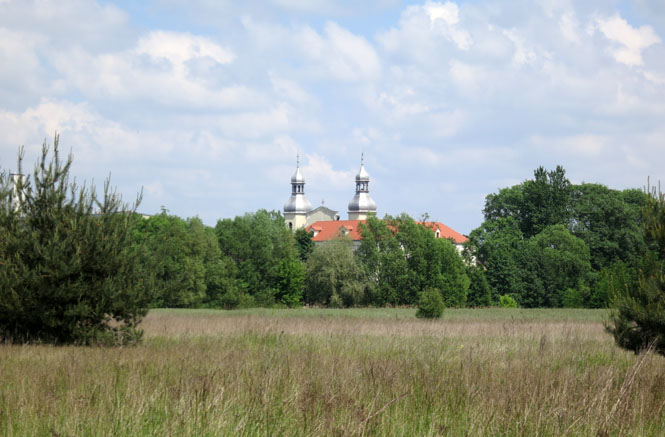 Plock is a fairly good-sized city, but, I could not find a hotel. This place is a few miles outside of Plock, and was really quite nice.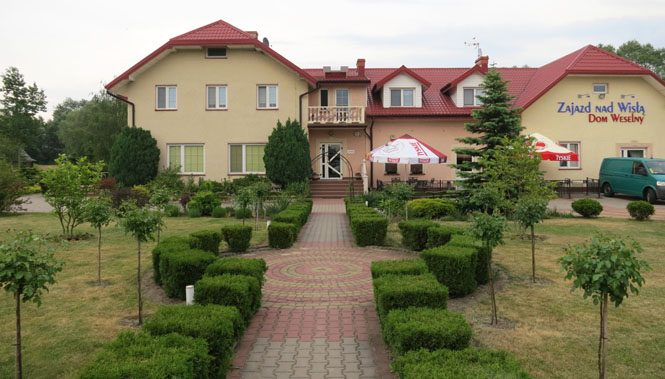 I'm not carrying much and it mostly is all unpacked every evening. The black bag contains anything dealing with electricity (plugs, cords, batteries) and the orange bag holds toiletries. The square black thing with the postage-stamp window on the front is my camera SD card backup drive. After the problems of last year, I now backup all my photographs every evening.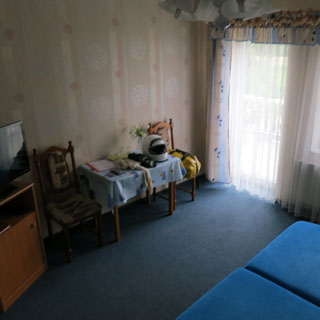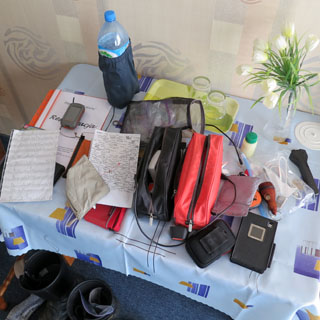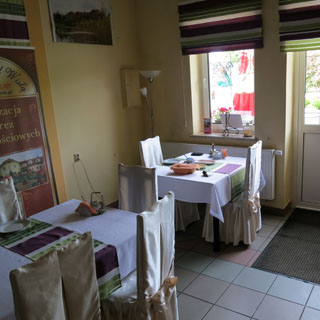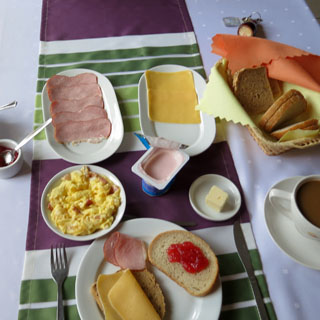 Some countries use dashed lines along the sides, some use solid lines, and some don't bother at all. In the US the center stripe is yellow, but that's generally not true in Europe (Norway is an exception--they also use yellow).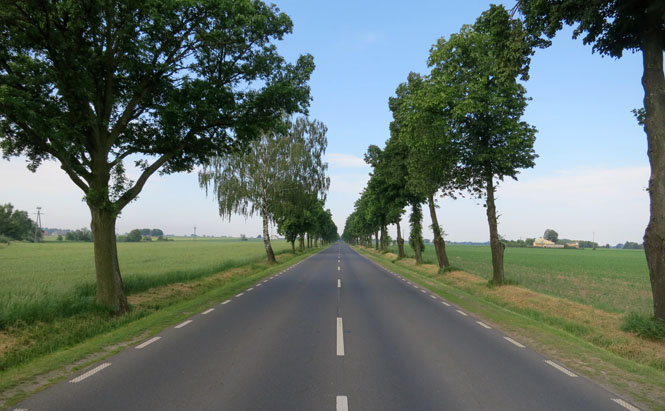 All across Poland I rode past these shrines. Some are large and costly, and others are quite simple (as with this one). On a few occasions, I saw individuals and sometimes whole families gathered around these shrines. They're generally at the entrance drive to a farm house.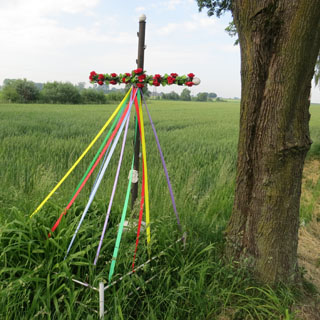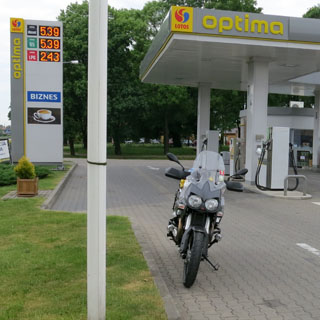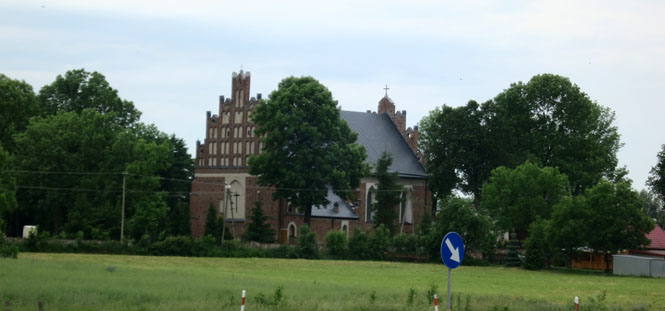 This common sign means entrance (or perhaps it's exit) and is pronounced in a way that avoids using any of the normal sounds I would associate with any of those letters.
That's not a bowl of coffee. It's hot beet soup (borscht) and was very good. I really made sure I didn't spill any drops on the white tablecloth.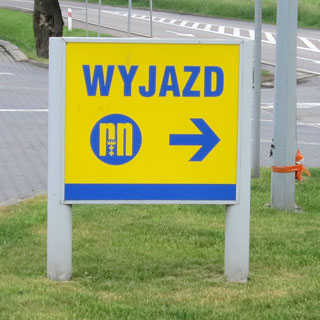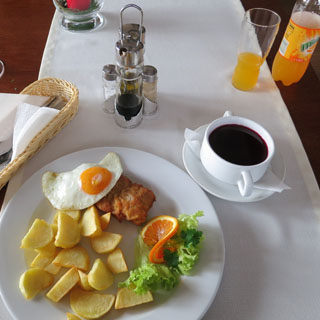 Storks. They're everywhere and seemed to be very welcomed. In many cases special high stork stands are in place in towns. This fellow may have built his nest on top of the chimney without any help.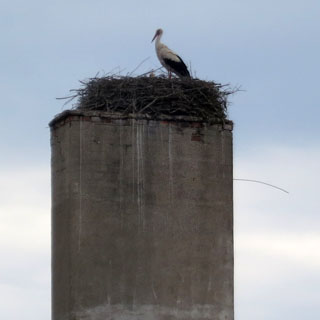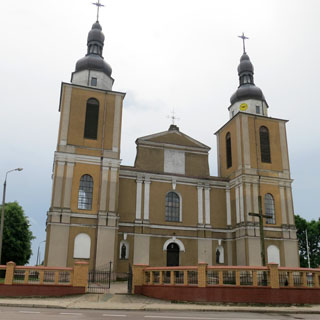 Stawiski, Poland. The little dog is not keeping up.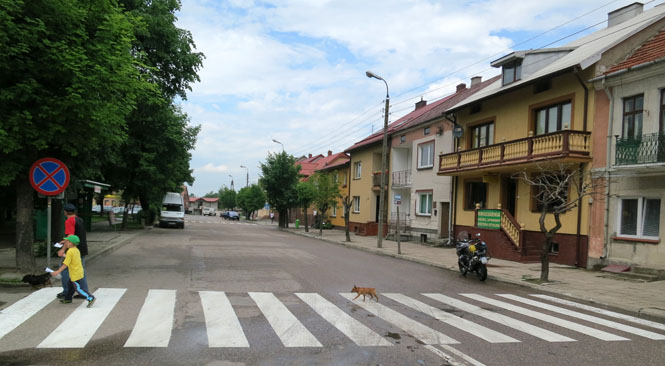 Grajewo, Poland. There are not many ring-roads and every highway dumps traffic into the center of town. Without GPS, you could spend lots of time just trying to figure out how to pick up the route you need to take to get through.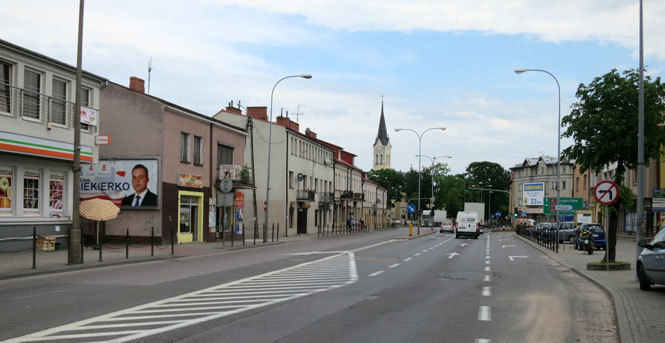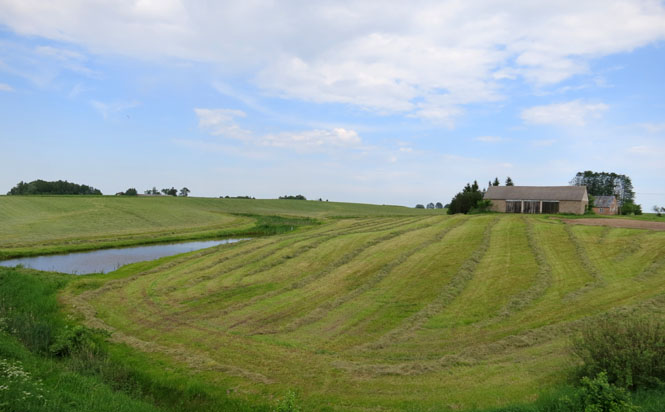 Lithuania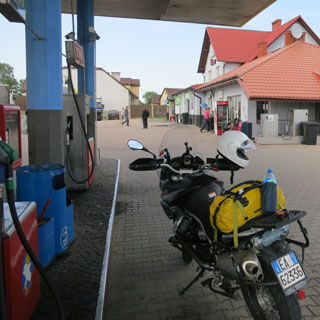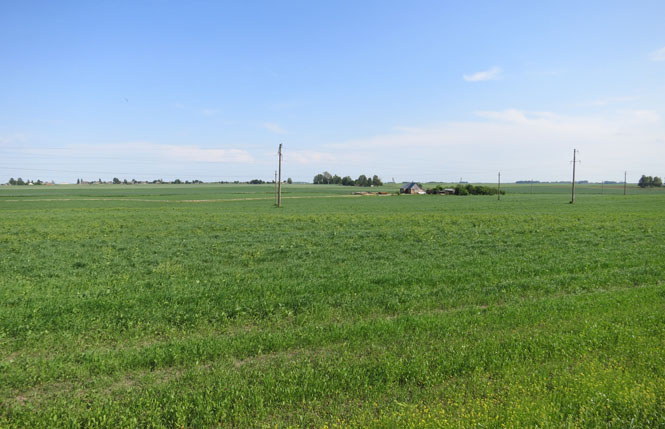 Marijampole, Lithuania. It was pretty clear that a great deal of this town had been destroyed and rebuilt.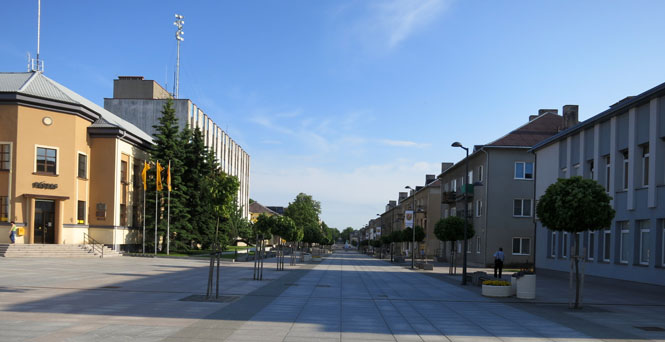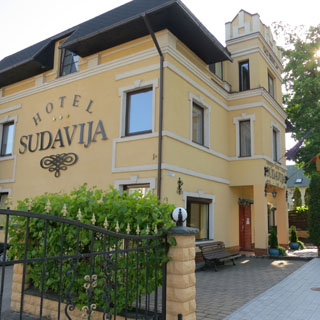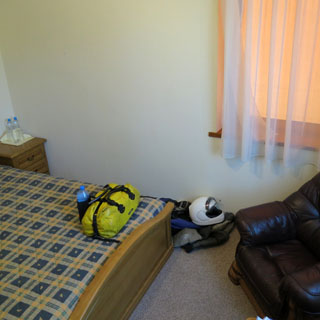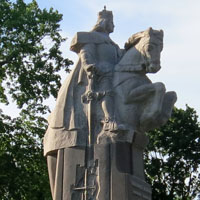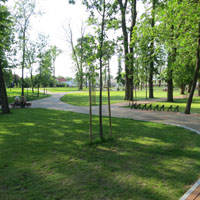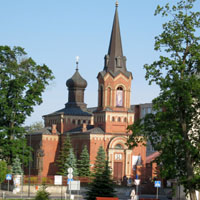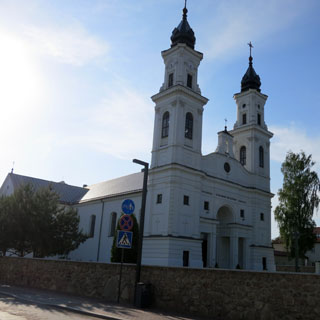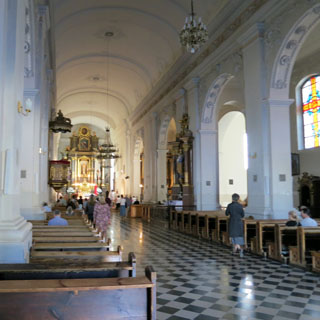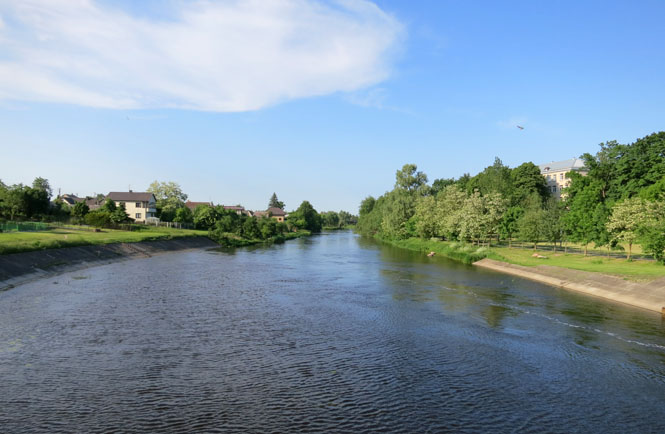 The yellow building (below) is a school. Nearly all the houses across the river had good sized gardens.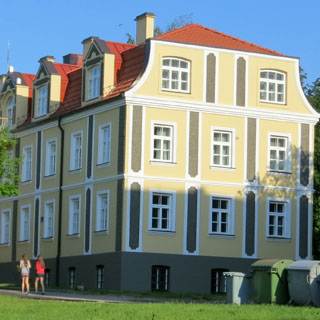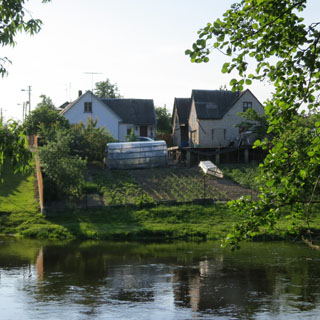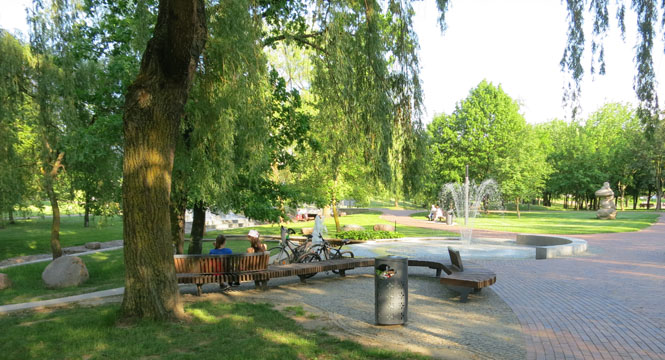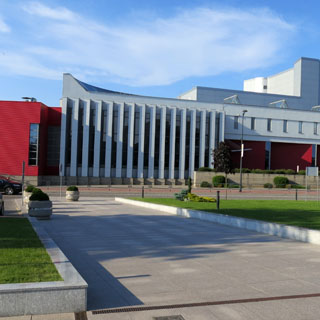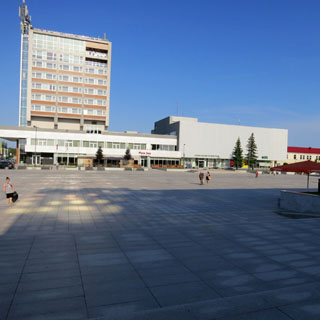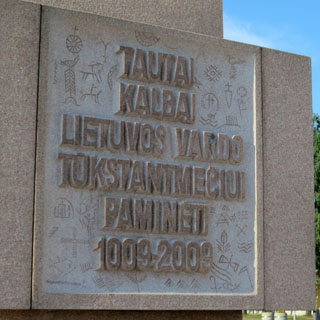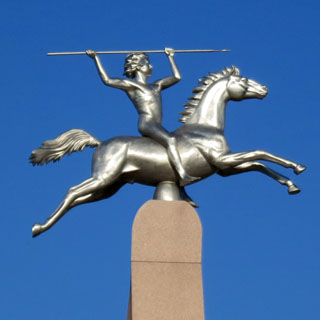 These are recent monuments to the struggles in Lithuania during the war and after the war (or at least our war. Their war continued; only the opponents changed).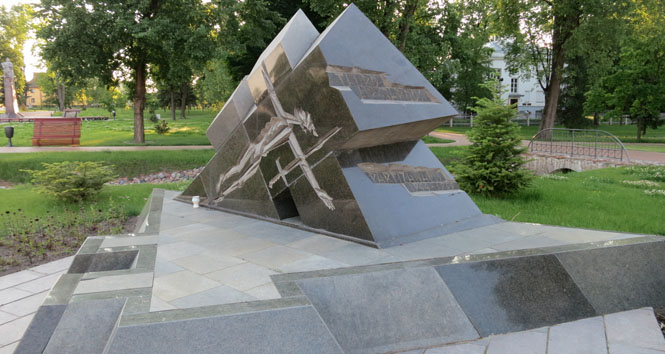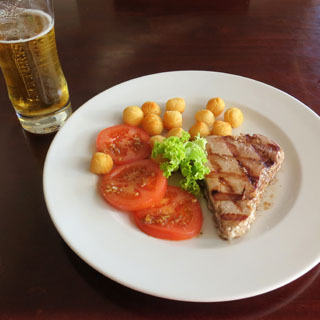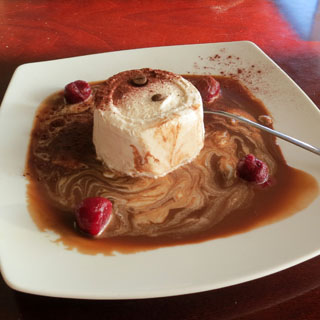 Mauručiai, Lithuania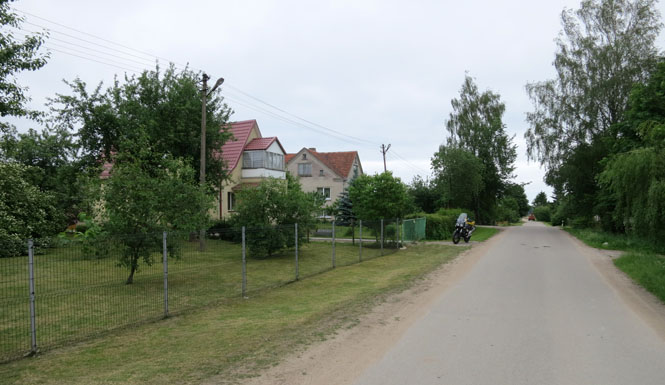 Jonavos, Lithuania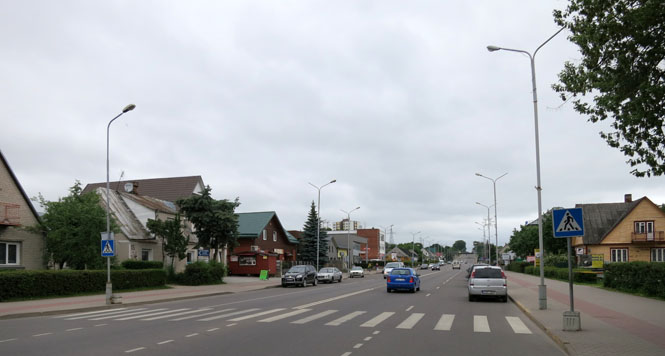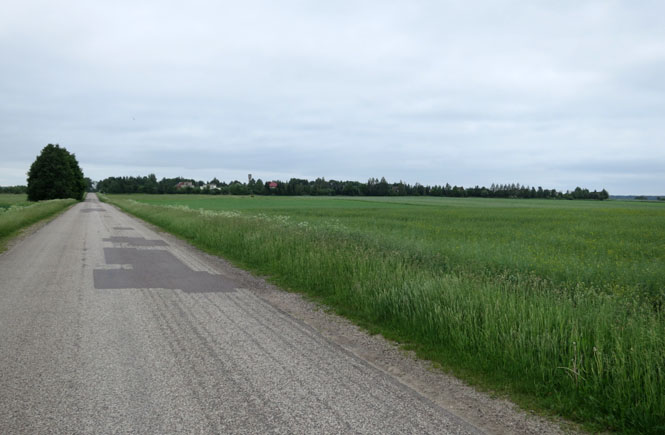 Ukmergė, Lithuania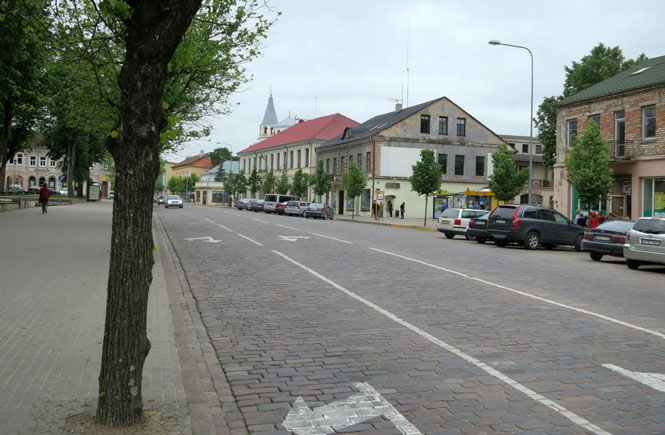 Kavarsko, Lithuania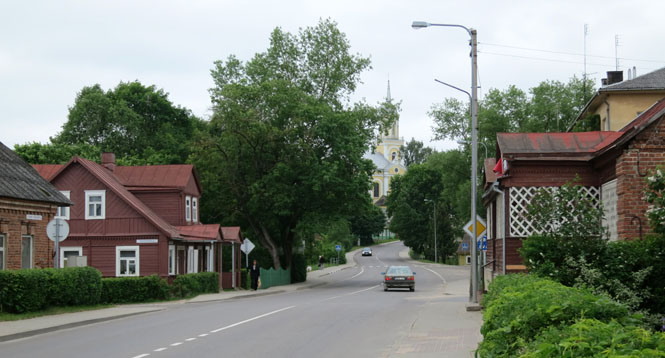 Outside the towns, the road would run for miles and miles through very dense forests.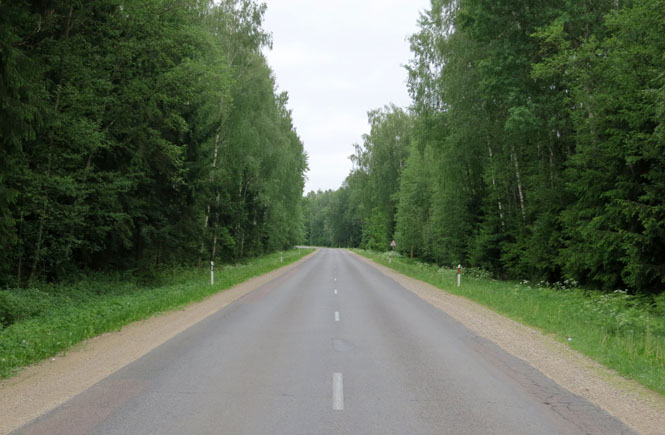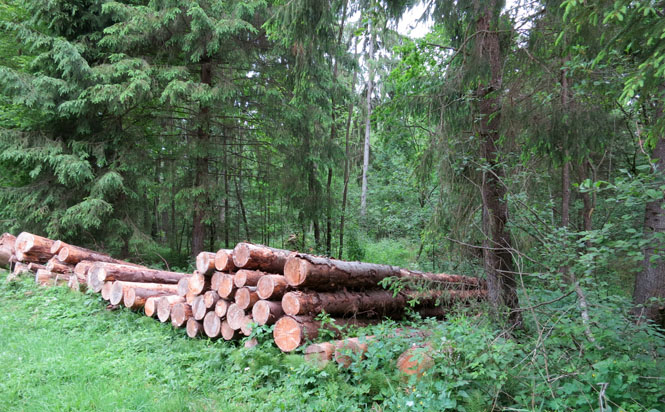 Svėdasai, Lithuania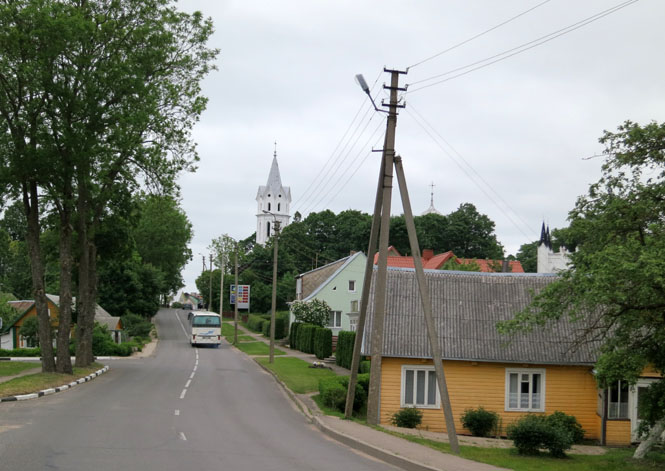 Have you ever seen a whole village of barns?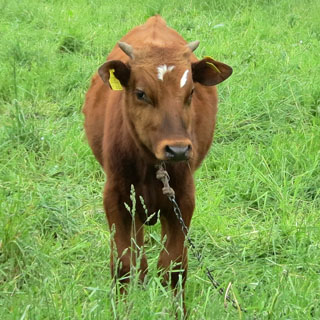 Such memorials are now common.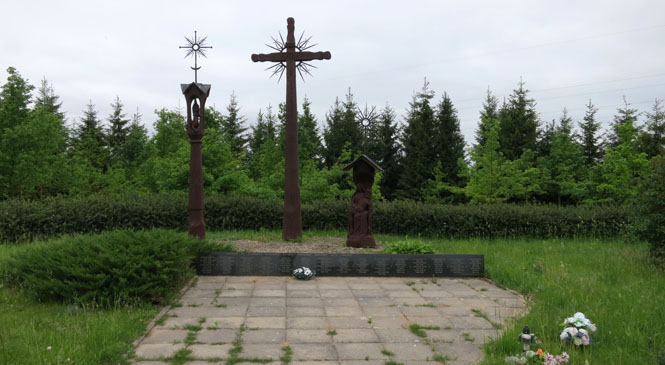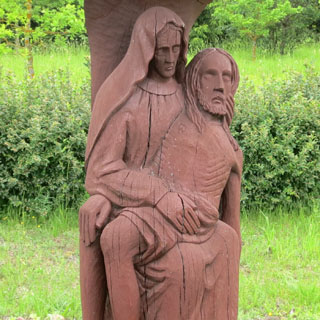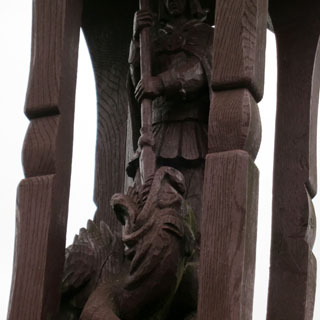 Rokiškis, Lithuania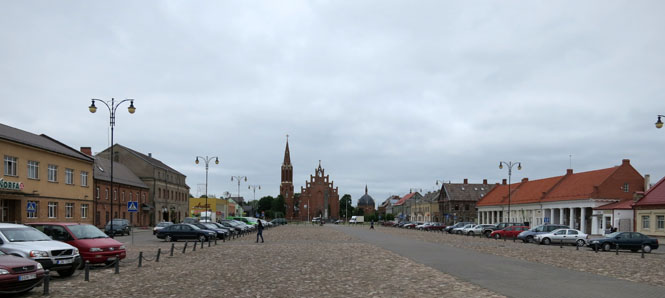 Lukštai, Lithuania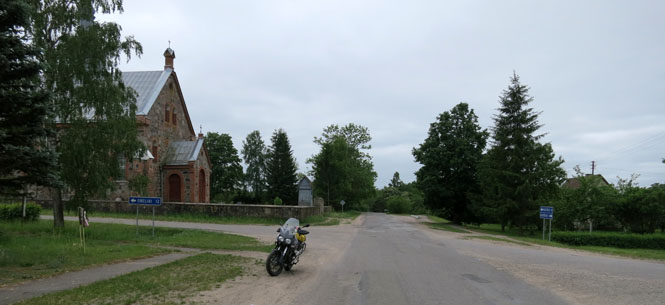 Juodupė, Lithuania. Many villages had multi-story apartment buildings such as the ones you see on the left side of the street. But, as with these, they are often empty. They look as out-of-place here as they would in a small town in western Kansas.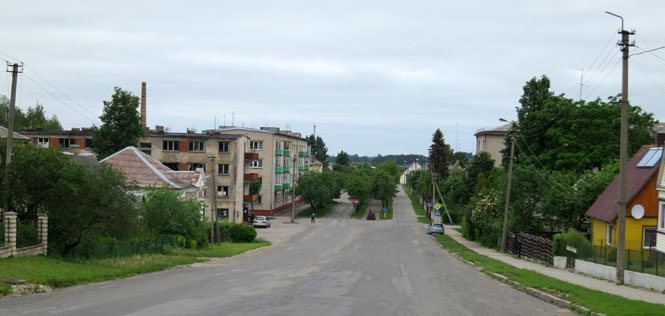 Latvia
Welcome to Latvia. Get used to dirt (which is often smoother than pavement). That's not quite fair; but, it did happen more than once that the pavement would suddenly stop, even on a numbered highway.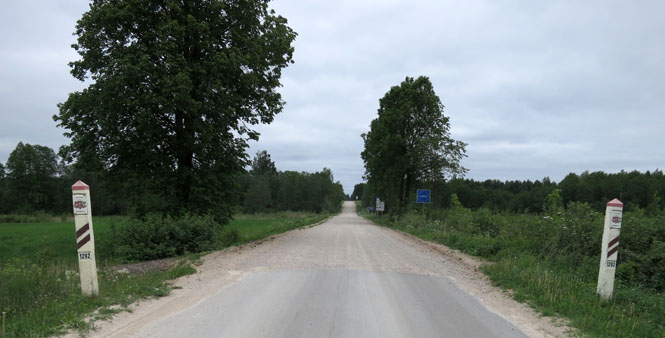 There is no following one of these trucks too closely. The cloud of dust is impossible.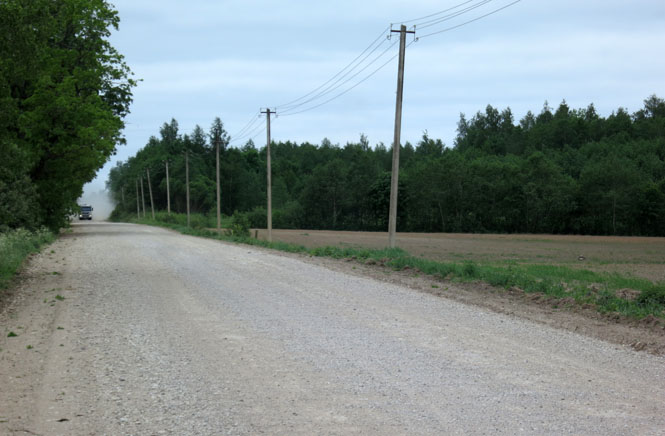 I like storks. Sometimes you'll see a pair tending the nest.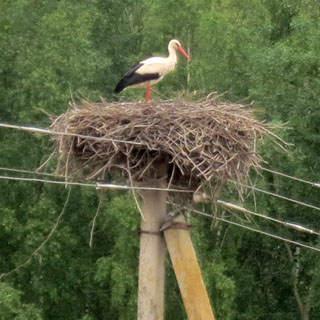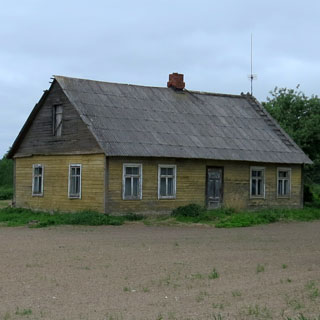 Akniste, Latvia.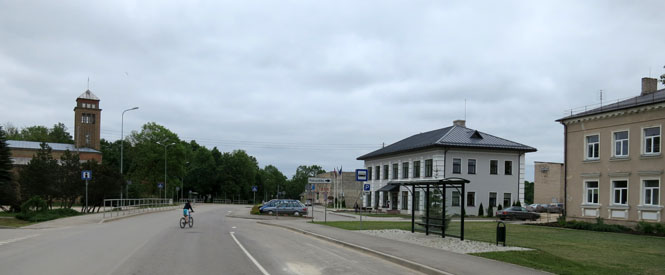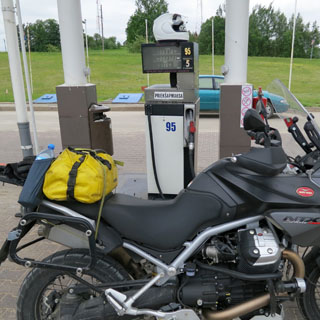 Curious roofs on some of the barns.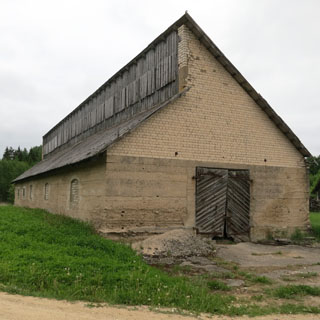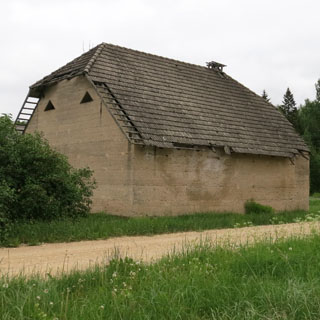 More miles of dense woodlands and narrow roads.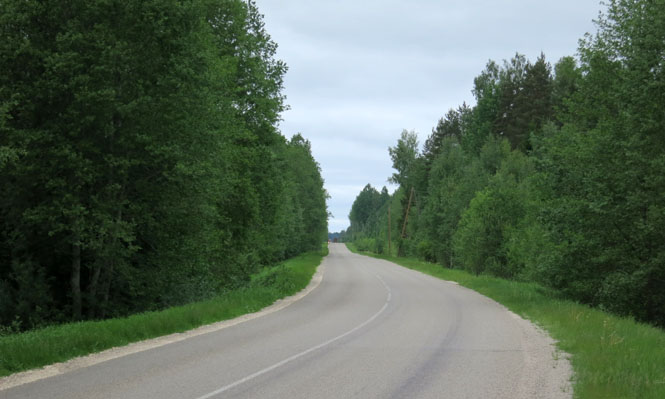 Jaunjelgava, Latvia. Those black-and-white poles? They seem to be lights for pedestrian crossings. Beyond that, I don't quite understand them, either.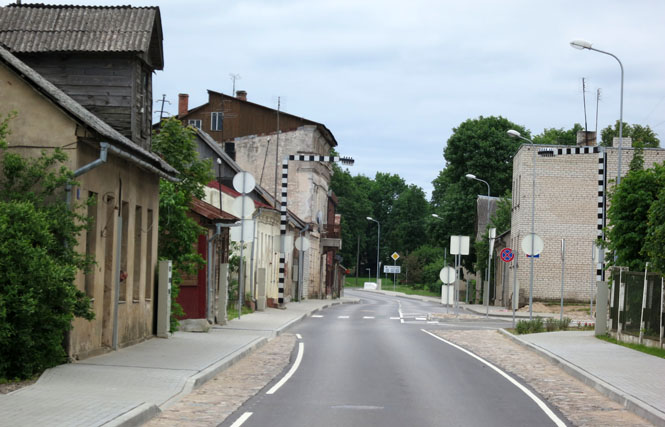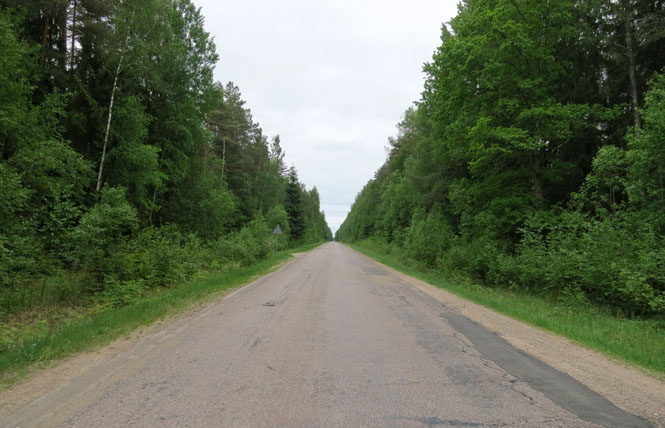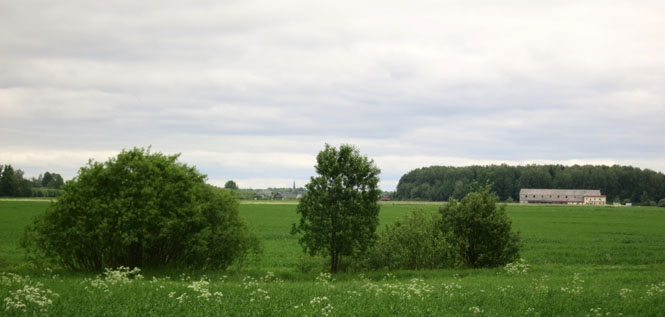 Stop signs at rail crossings are common, and not just in Latvia. Generally, I would just blow through them as it was easily seen that there were no trains coming (and often the rails are rusty from disuse). But, as I stood to take this shot, I noticed that every car would come to a full stop (not just a rolling stop) before proceeding. I later took notice that I never saw any car run the stop sign at a rail crossing (except me). So, I reformed and began to stop as well, figuring there must be a good reason for the whole country being so law-abiding.
Limbazi, Latvia. This is a fair sized place, but I couldn't find a single hotel. Keep riding.

Oh, dear. There goes the pavement, again.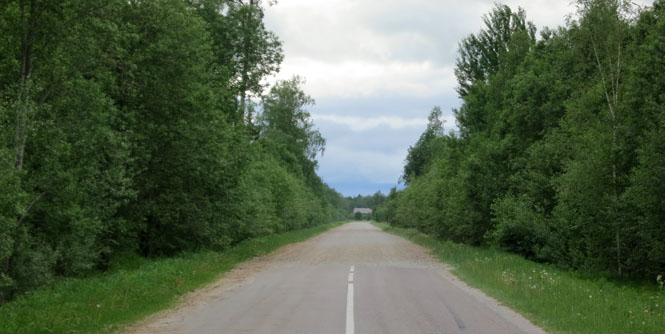 As dirt roads go, this is quite a good one. It isn't raining, so I've nothing to complain of.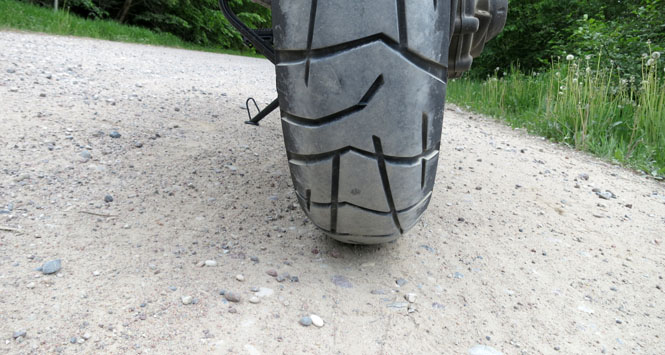 Salacgriva, Latvia
This was a very nice hotel to find. It's right on the Baltic Sea.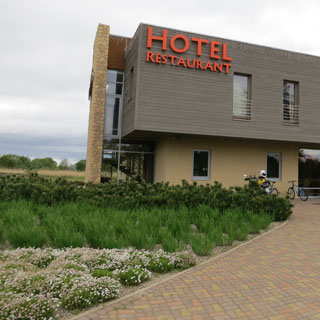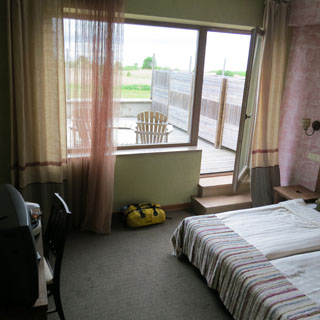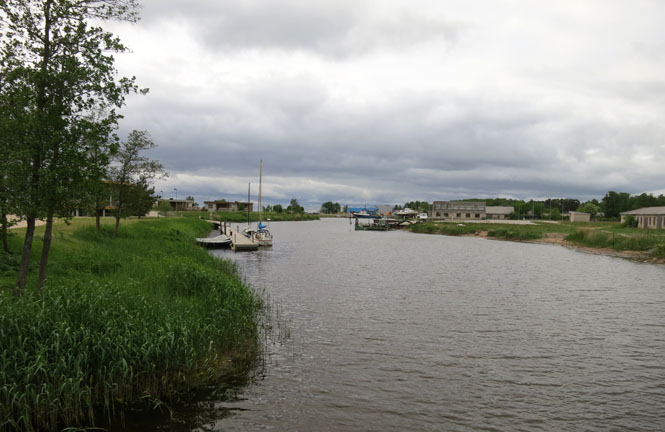 Fish, and more fish.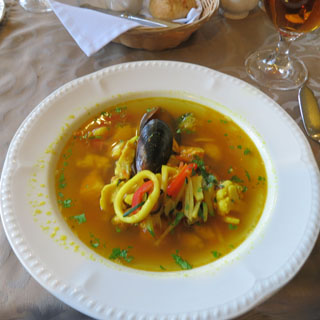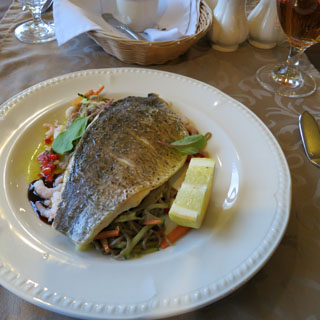 Estonia
Parnu, Estonia. The roads in Estonia are noticeably better.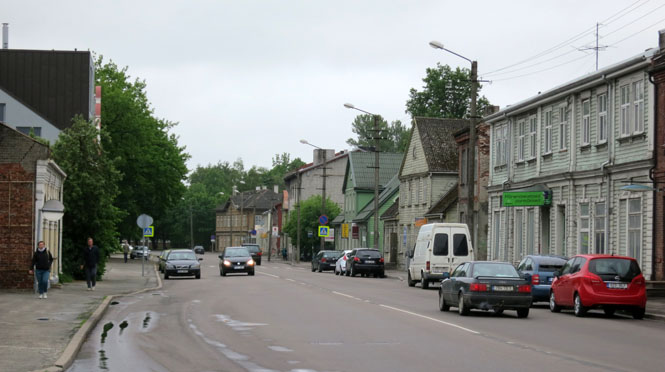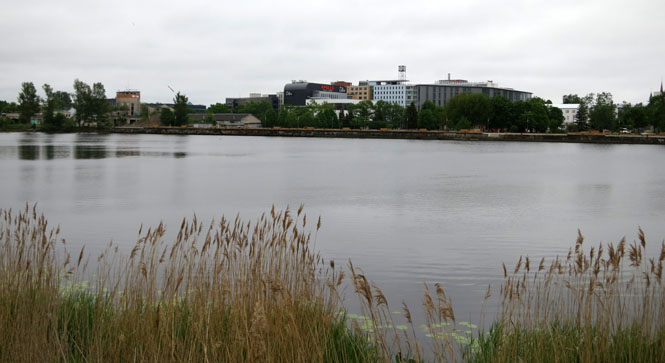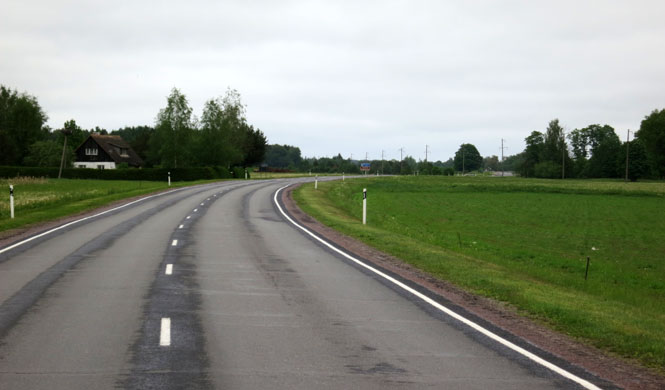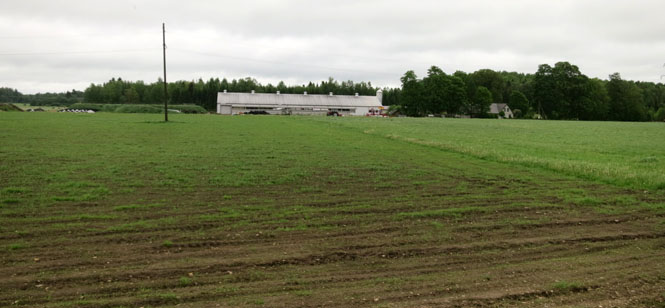 You'll see lots of old churches being restored and brought back to life (if not use), but you'll likely not find any synagogues.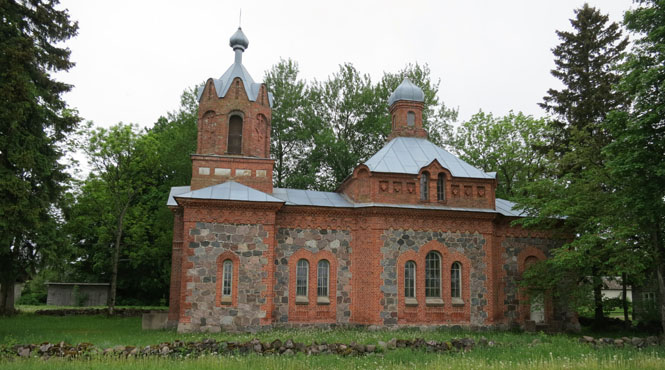 Is this an old windmill (without the blades)? Or is it an old signal building.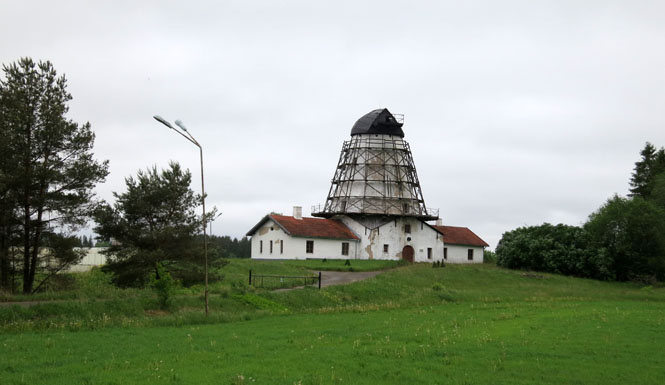 A stork out hunting.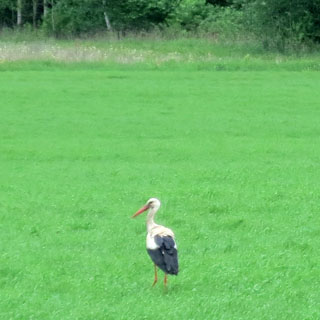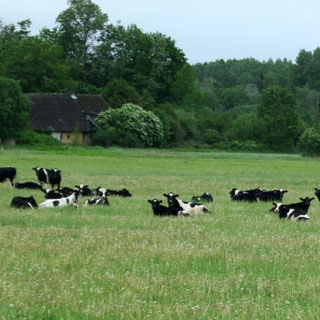 Very impressive barns with equally impressive thatched roofs.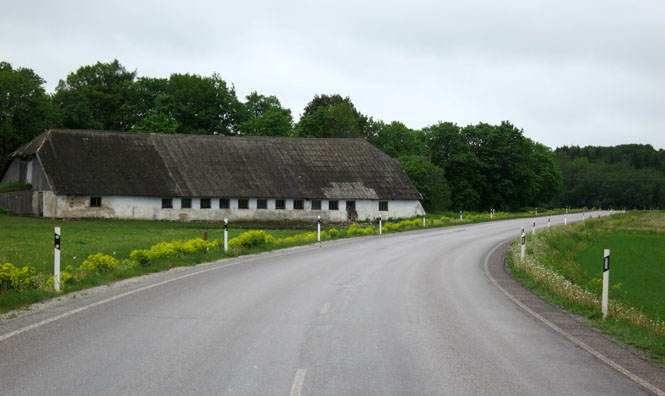 Tallinn, Estonia. This is the capitol of Estonia and is an amazing mixture of ancient and modern and everything in between. I focused on the ancient.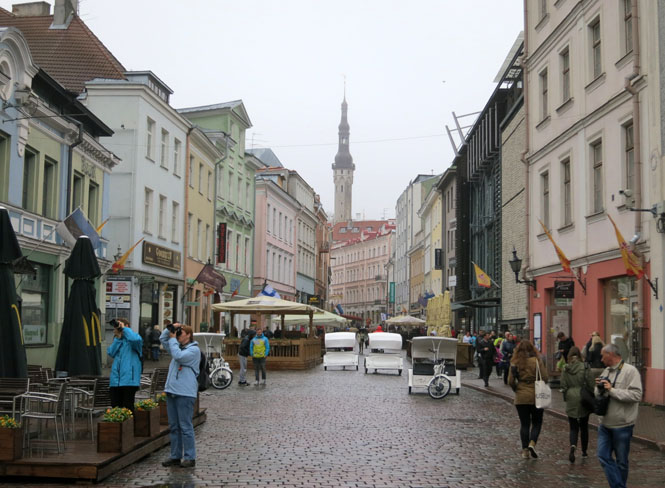 My hotel was selected for being handy to the ferry terminal.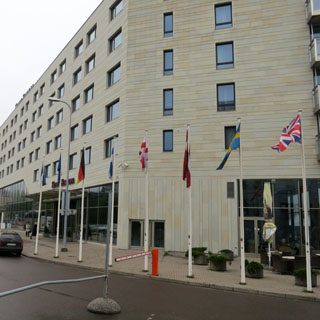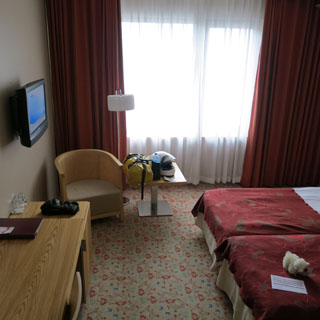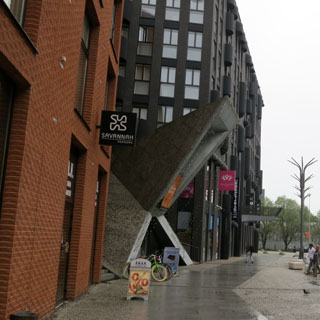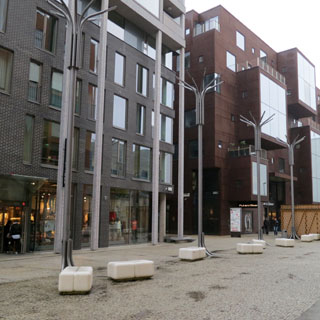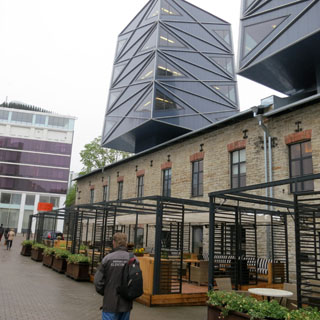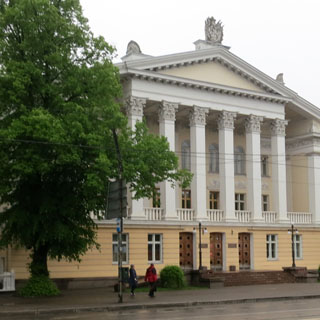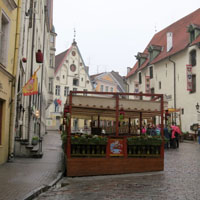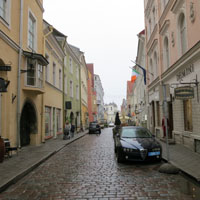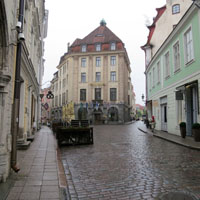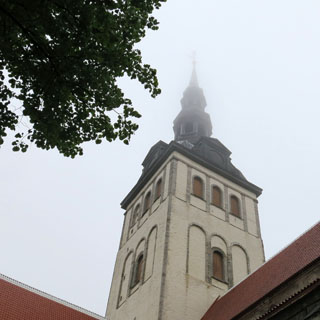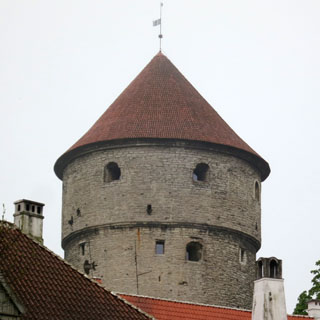 Remarkable paintings that survived the war(s). Poor Tallinn was well-bombed.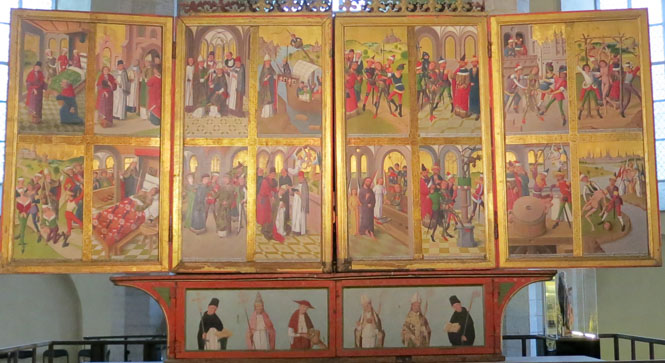 There's a feeling of pride throughout old Tallinn. Many buildings are under restoration.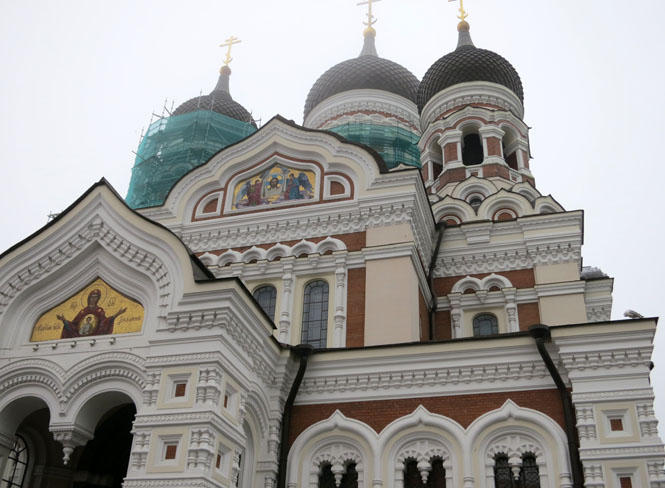 Take your choice of museums. Both were closed.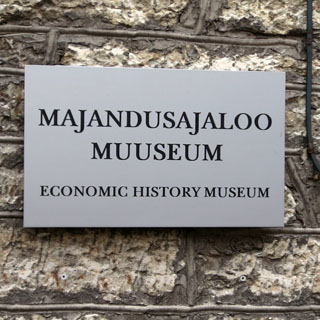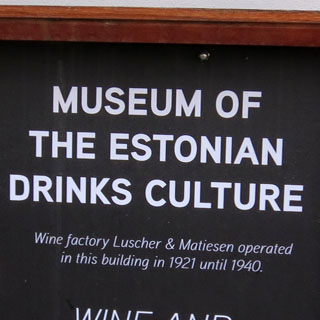 I believe this is the prime minister's building (perhaps something along the lines of the executive office building)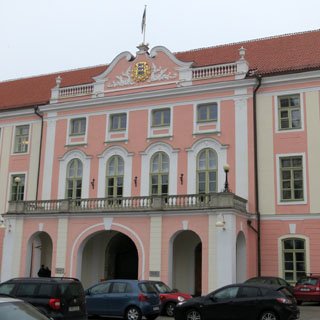 A nice view of old Tallinn.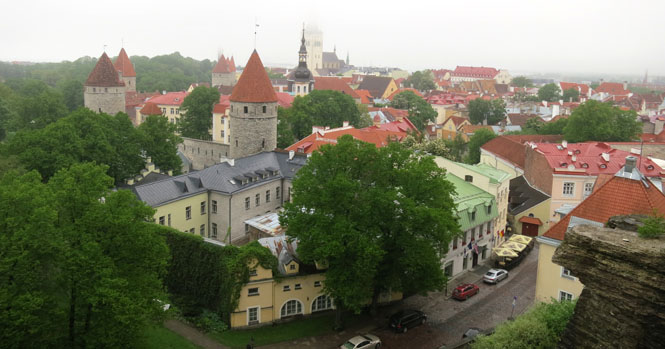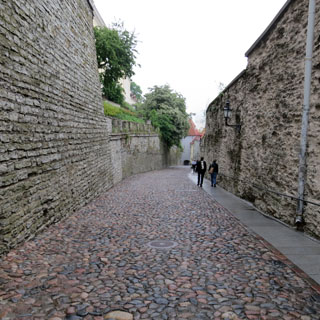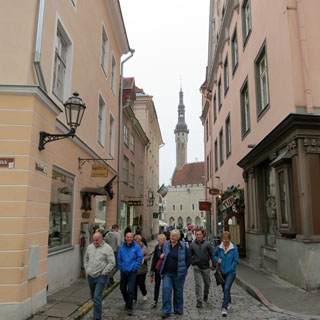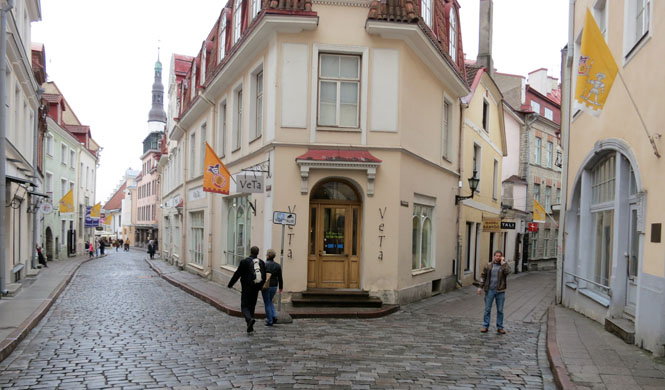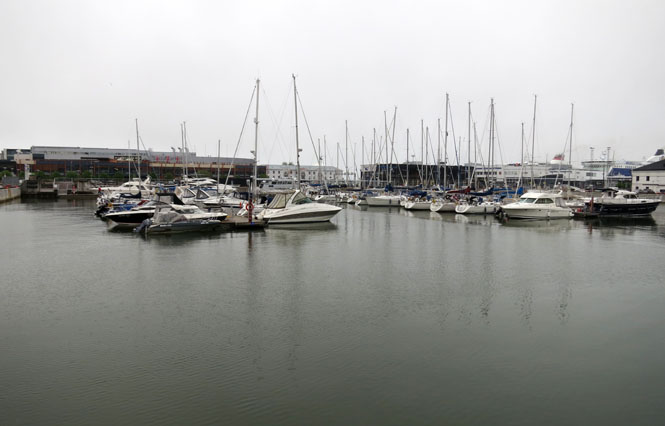 The first of my ferry crossings. This one would take me to Helsinki.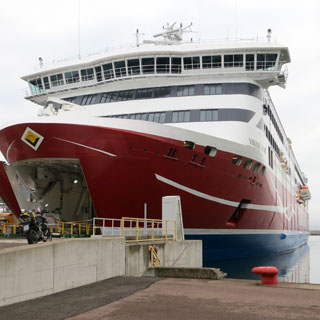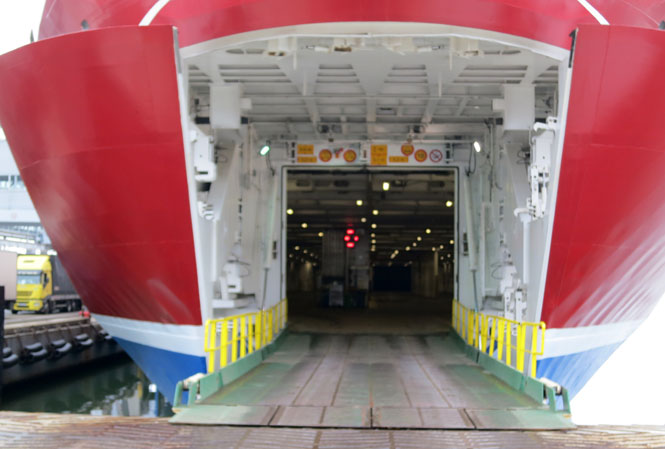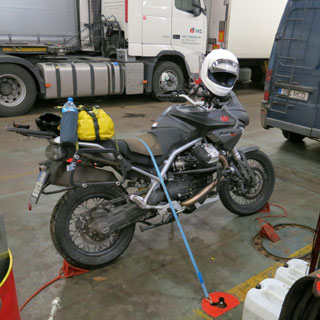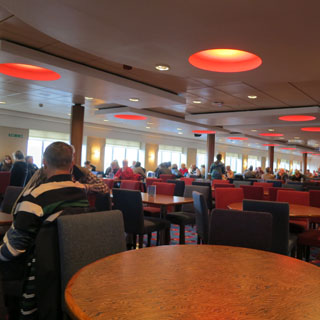 Finland
Goodness; the entrance to the harbor of Helsinki is narrow.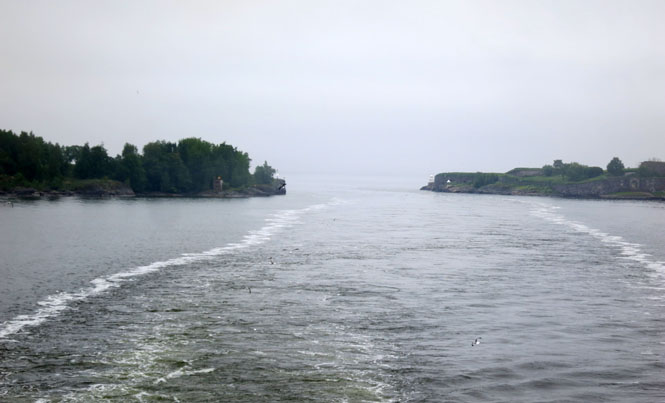 Helsinki, Finland. I didn't hang around this city any longer than required to get through it.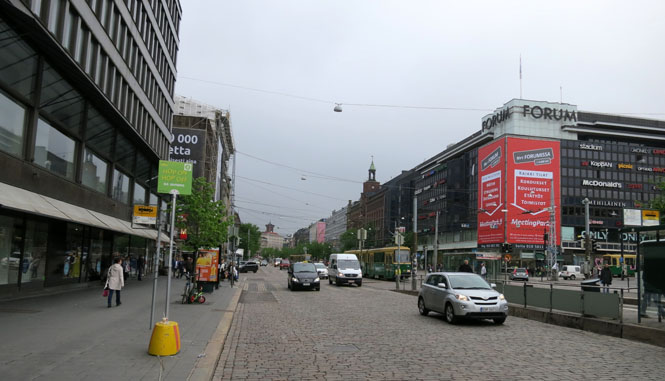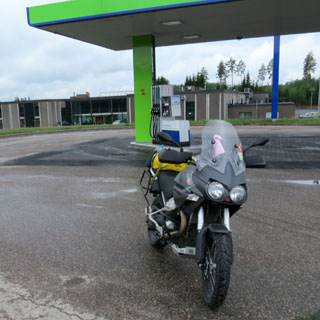 The bottom part of Finland is fairly low, with gentle hills and mostly straight roads.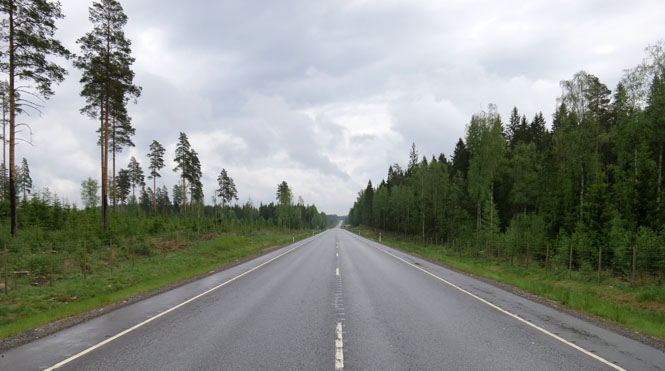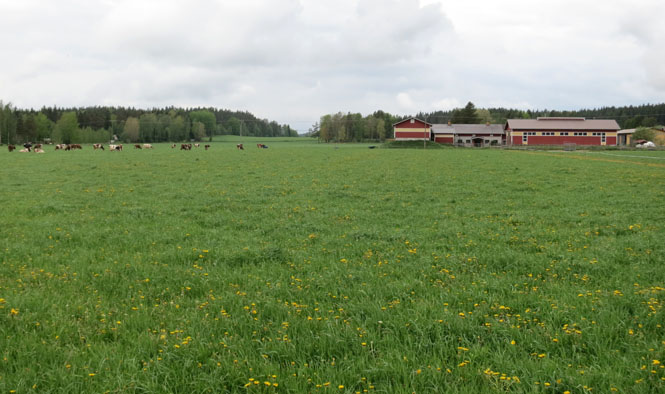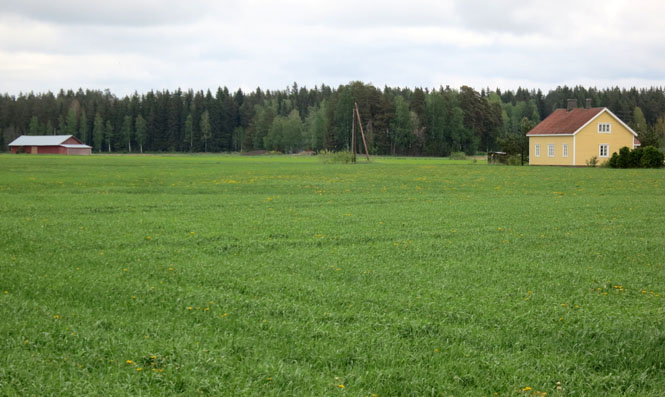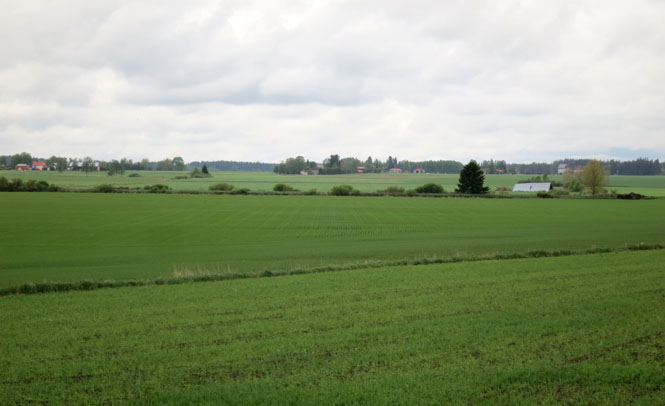 I probably had more rain on this day than any other day of the trip. But, while it could be heavy at times, it never did last very long.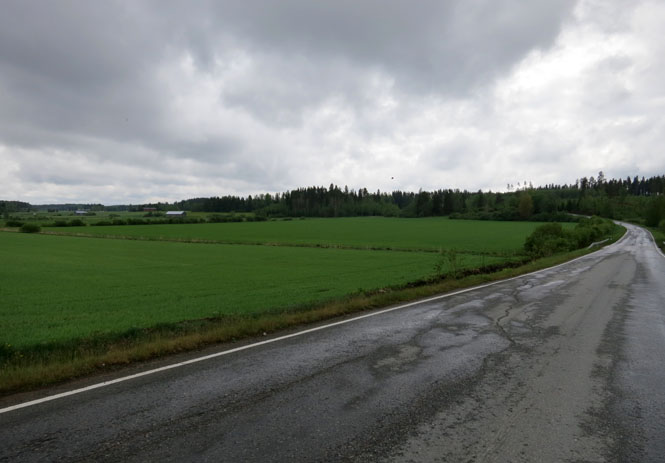 I don't know why, but I never did see as many grain elevators as I would have expected. Where else are they storing their grain?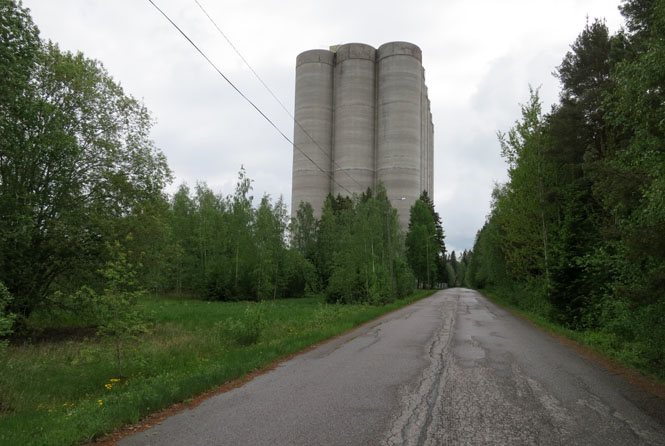 Loimaa, Finland. That's a bit of beef that has been well hammered.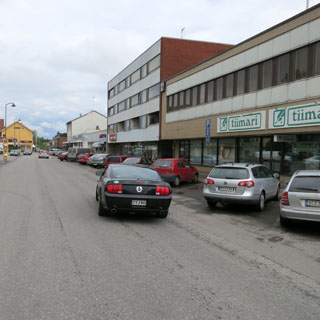 Wonderfully smooth roads. Look; a yellow line!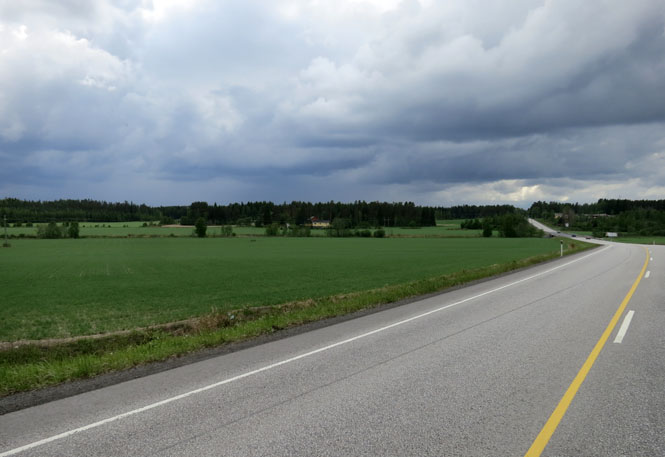 Lappi, Finland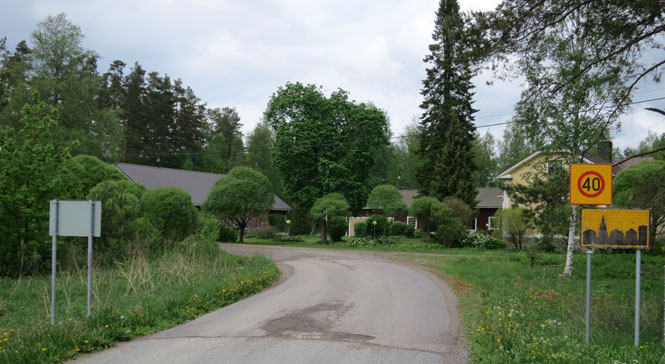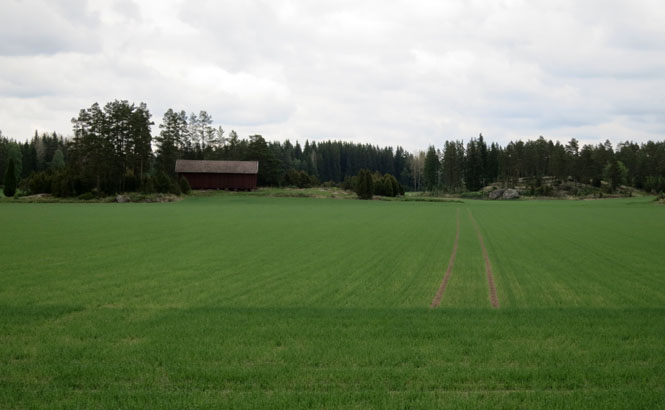 Uusikaupunki, Finland.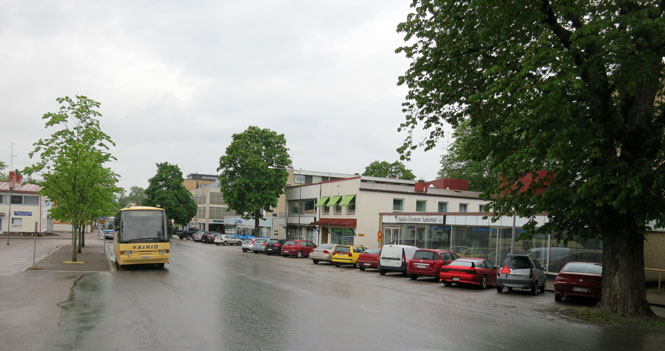 I'm riding down the west coast towards Turku.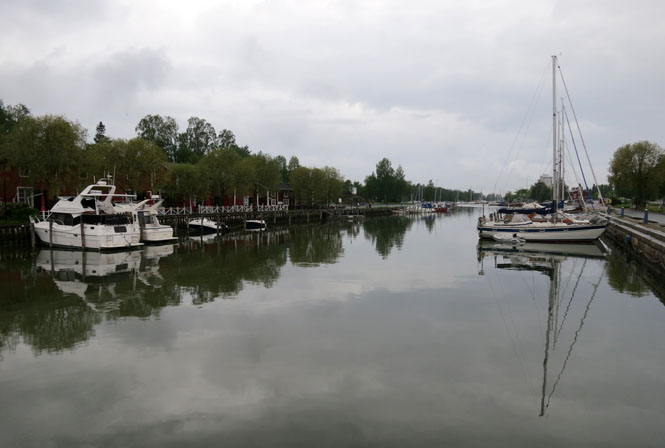 Turku, Finland. I'll catch the ferry for Sweden. It might be noticed that I've spent every night so far in a different country.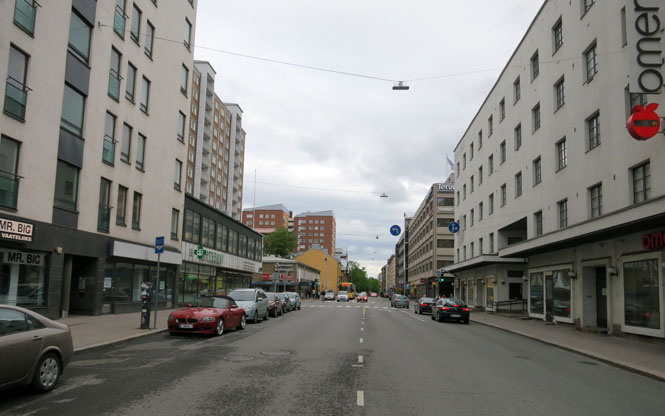 Unfortunately, I just missed the opening hours for the Turku Castle.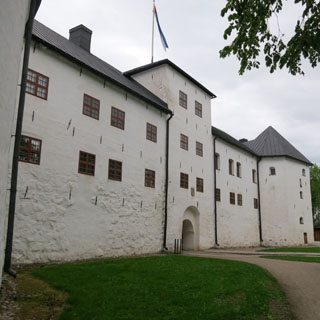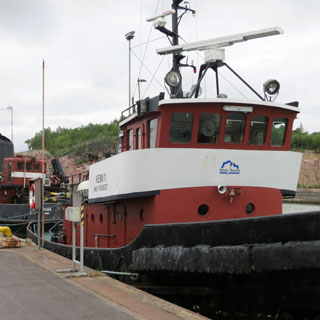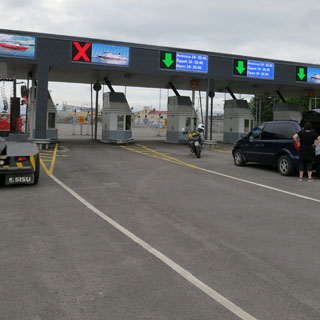 The ferry is coming.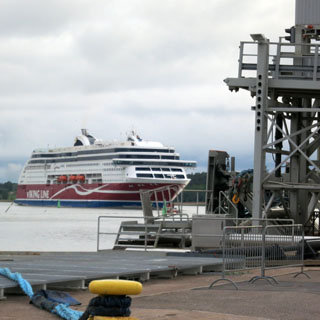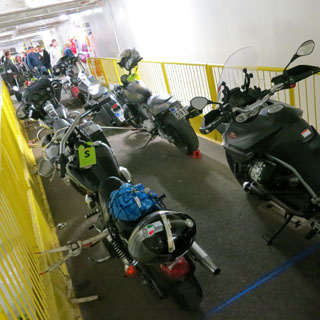 Literally, you could not turn around in this room without hitting a wall or the bed. I had this room to myself so I didn't pull down the upper bunk. But, it has all the things you need from a hotel room, so that's good enough.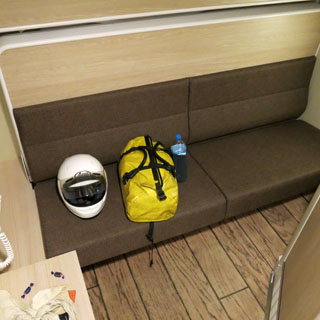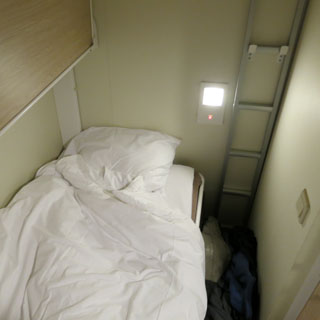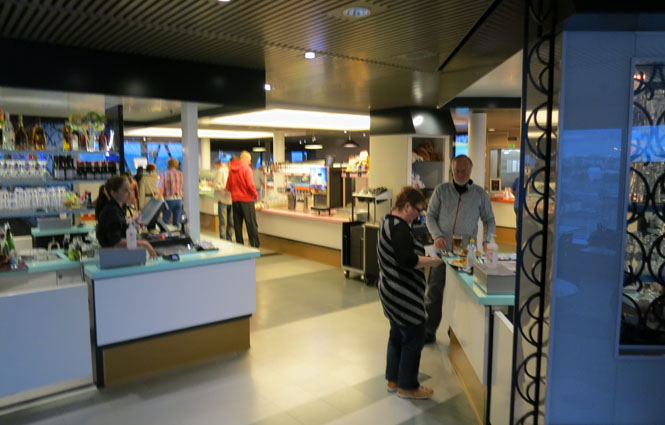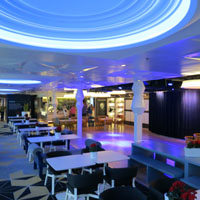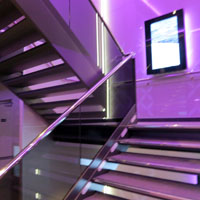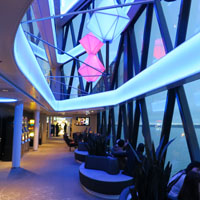 The Baltic Sea is not an empty desert of water. There are hundreds (probably thousands) of islands. It seemed to be quite a maze just to get out of Turku.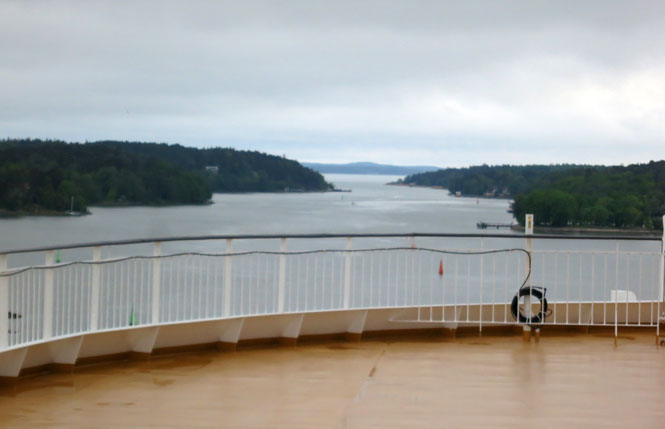 I ordered some sort of Nordic special meal.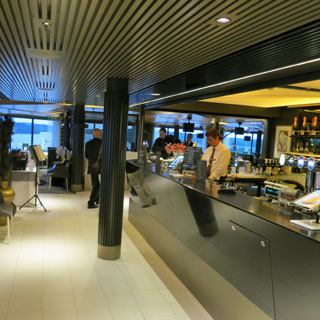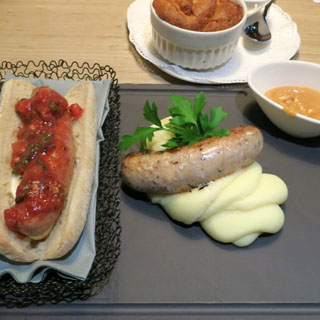 Sweden
Stockholm, Sweden. Good morning! It's always nice to have an overnight ferry; you make good progress without even trying.
It was raining pretty hard, and I was sure I was not just on the wrong highway, but was also heading the wrong way. So, I stopped at this McDonalds to figure things out. If only McDonalds in the U.S. were as good as this. Those are called pancakes, but I would call them crepes. The dish contains berries with sauce. All very good.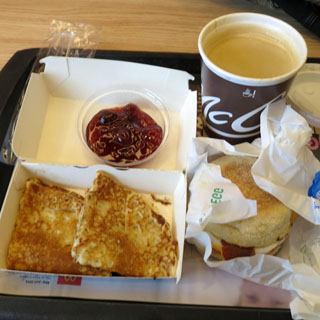 Back on course, and now well off the freeways.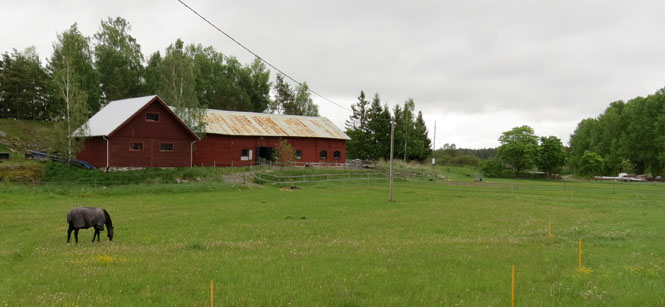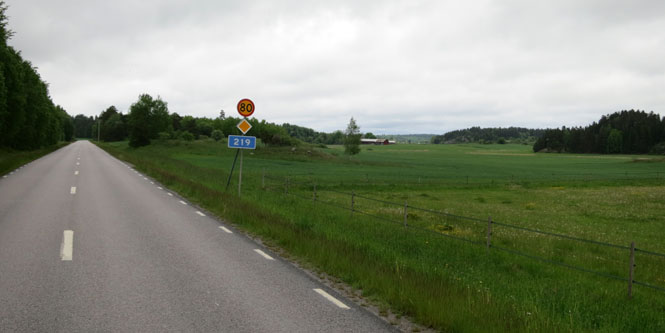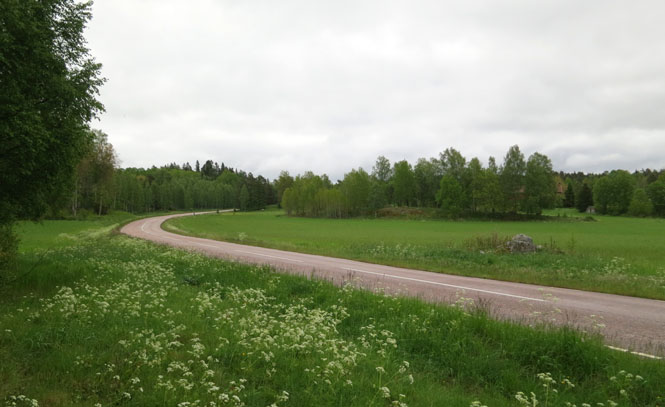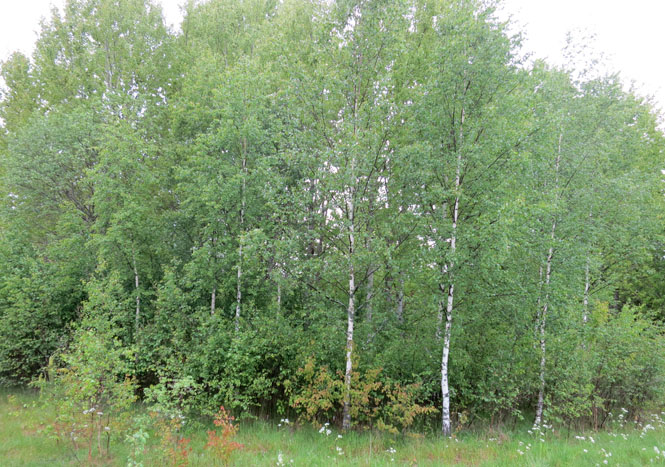 That's the Baltic Sea.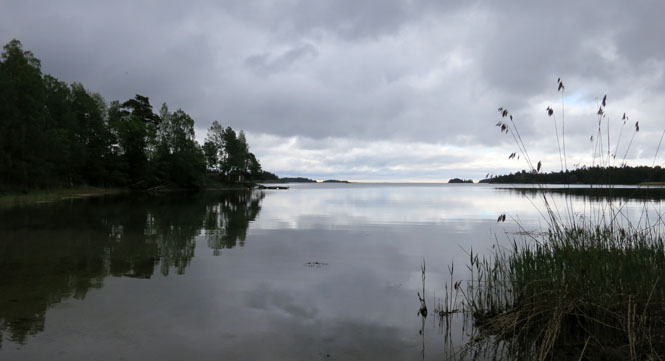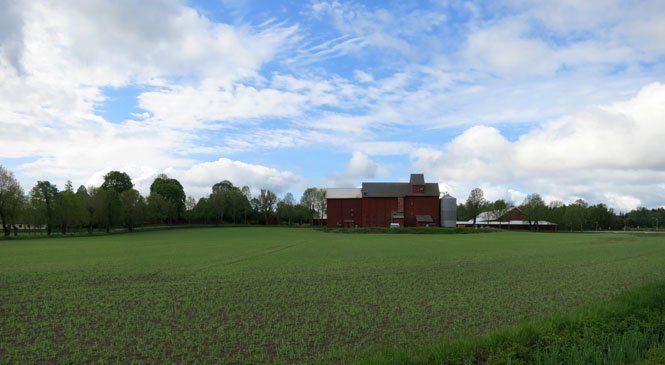 Nyköping, Sweden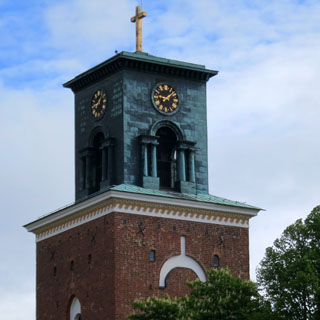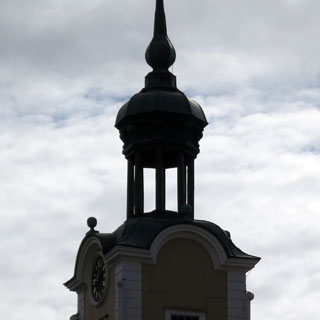 Edsbruk, Sweden. After hugging the coastline I've turned inland into the hills. At this point, I'm just picking up whatever road looks interesting and points mostly in the right direction.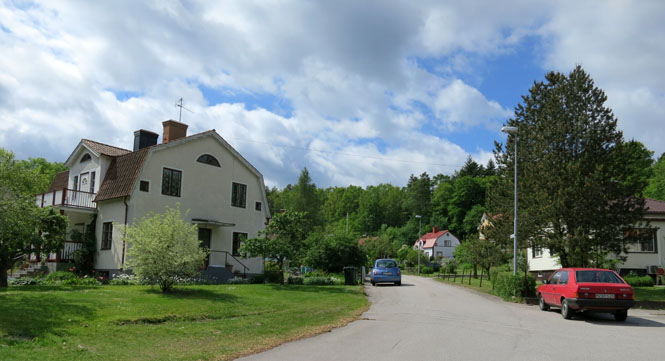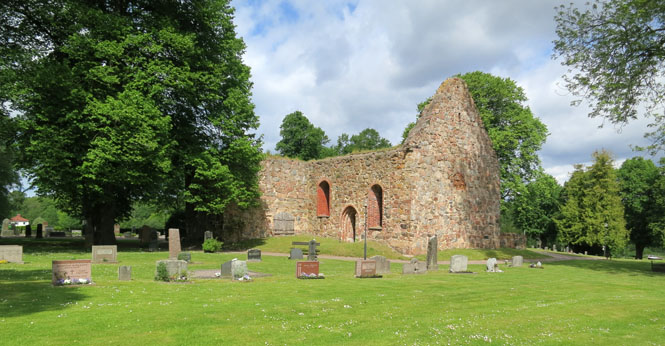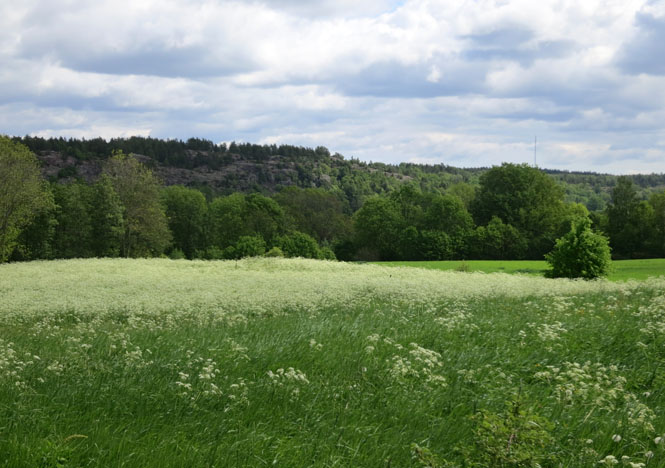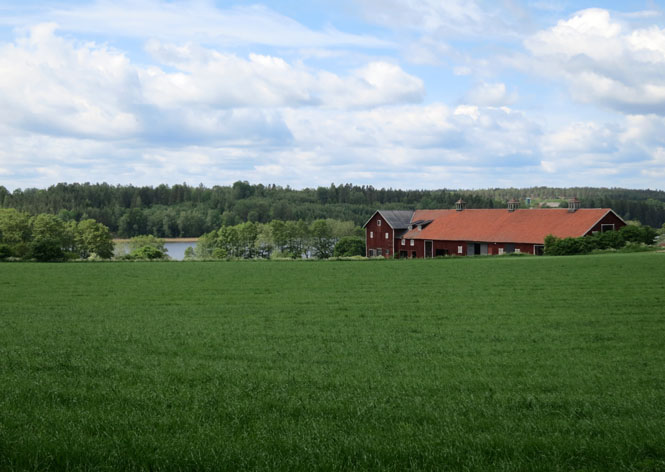 Västervik, Sweden.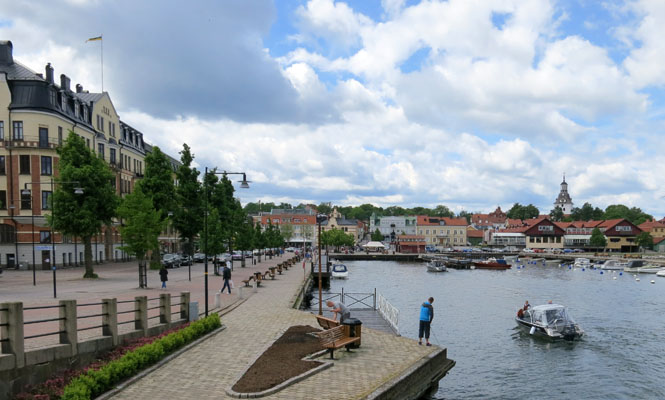 I don't know what the occasion was (if any), but on this day I saw lots of big American cars on the road.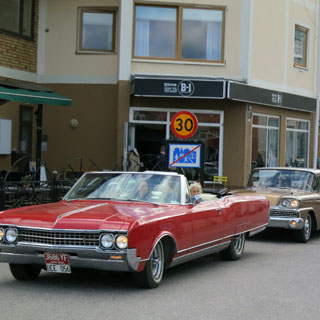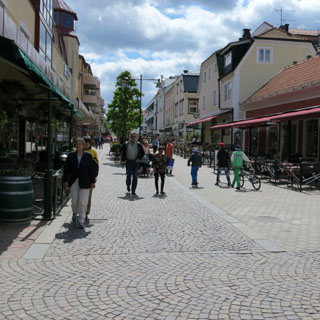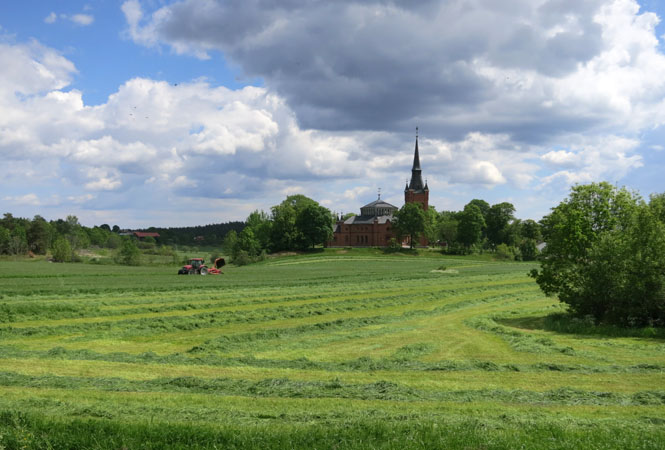 Öland island and the 6 km bridge across the Kalmar Strait.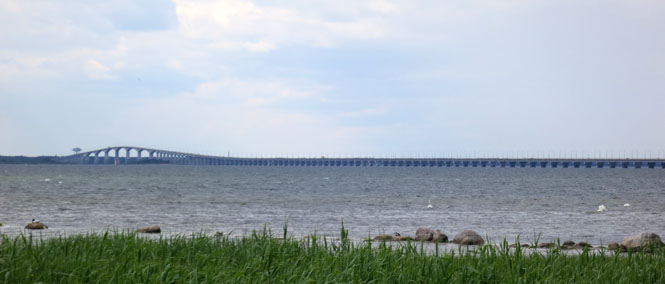 The southern part of the island is a world heritage site. The UNESCO citation reads: The southern part of the island of Öland in the Baltic Sea is dominated by a vast limestone plateau. Human beings have lived here for some five thousand years and adapted their way of life to the physical constraints of the island. As a consequence, the landscape is unique, with abundant evidence of continuous human settlement from prehistoric times to the present day.
I gather that the northern part of the island is one of the more popular summer tourist destinations of Sweden. The southern part (where I went) remains rural.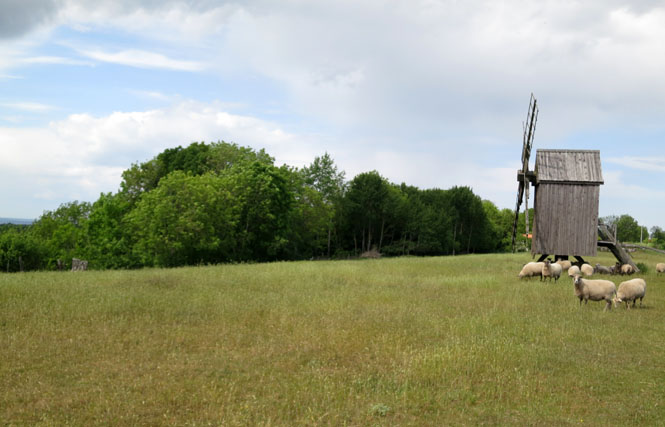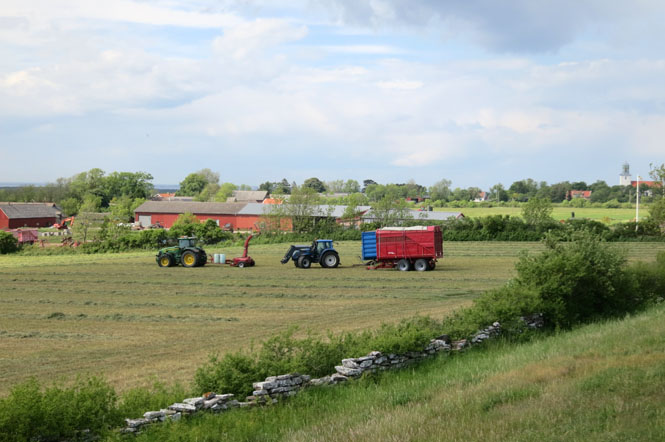 Ancient people seemed always to feel the need to upend large stones and to put them in patterns that would puzzle people thousands of years later.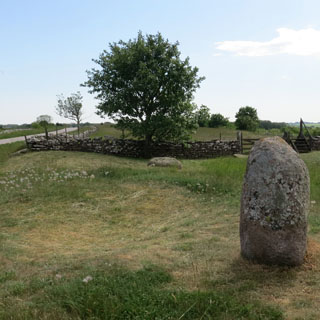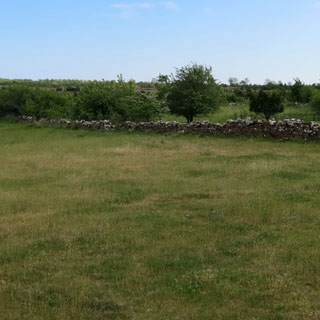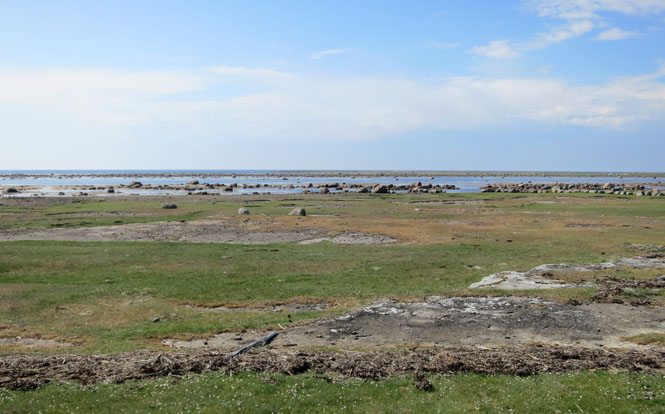 Ottenby, Sweden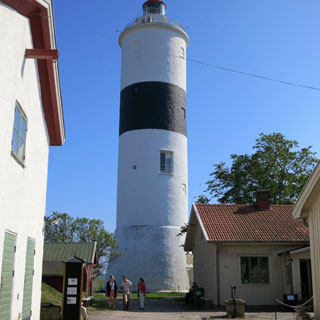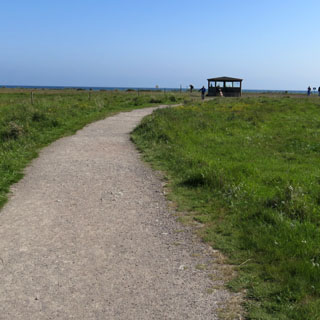 Swedish bird watchers are serious about their business.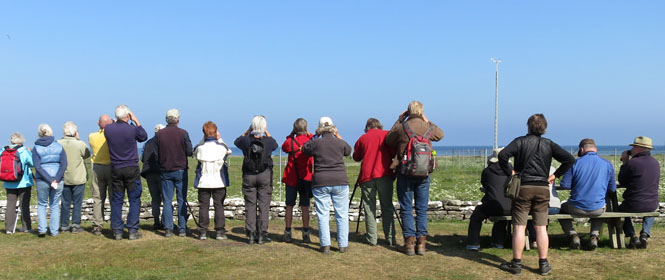 Degerhamn, Sweden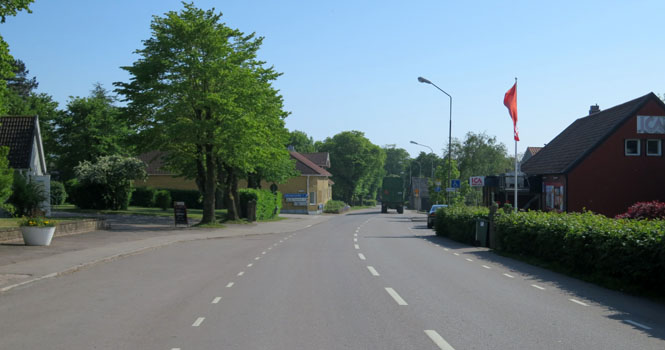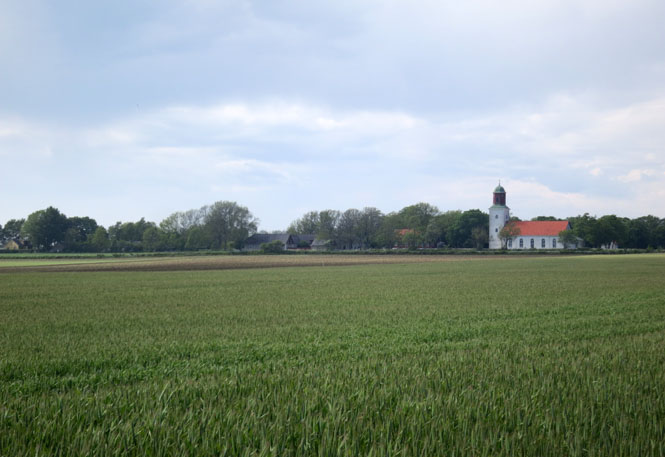 Kastlösa, Sweden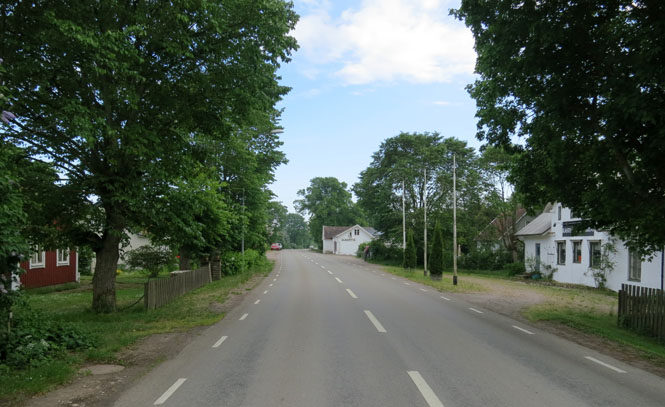 Most everybody else at the hotel seemed to be here for the birding, or perhaps for the orchid hunting; apparently that was in full swing, as well.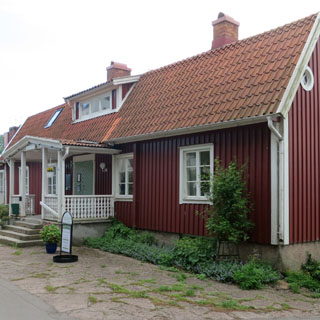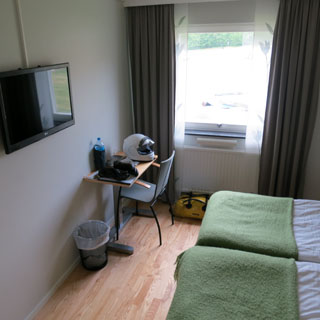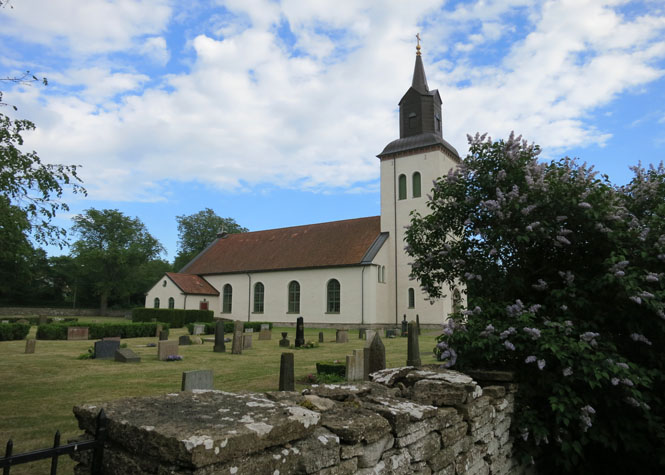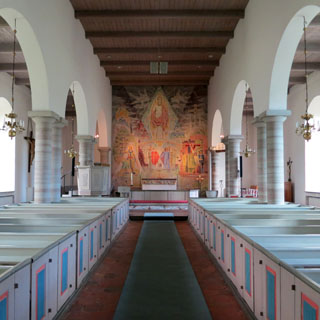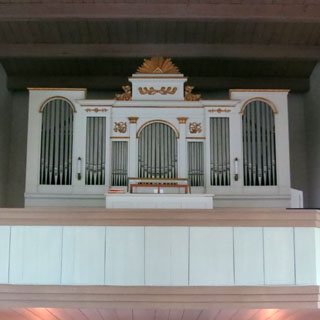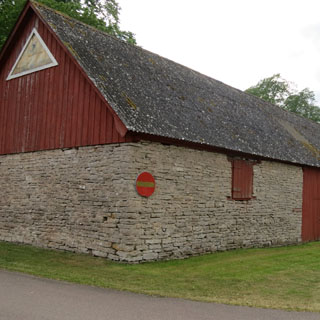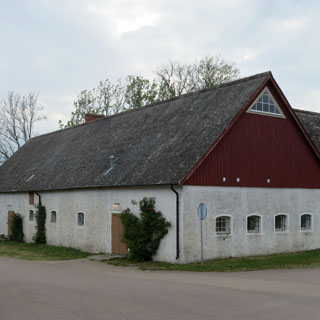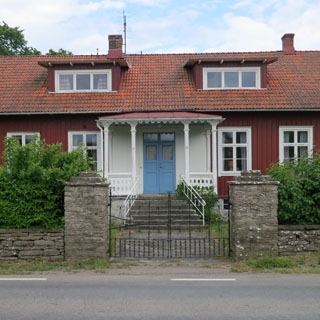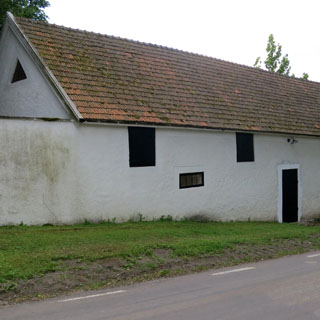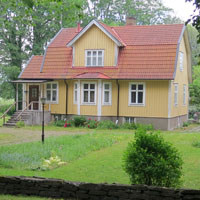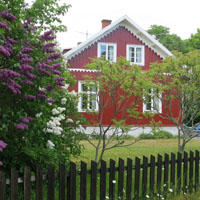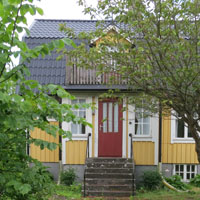 Quite a very good restaurant. The next morning's breakfast buffet was also one of the best.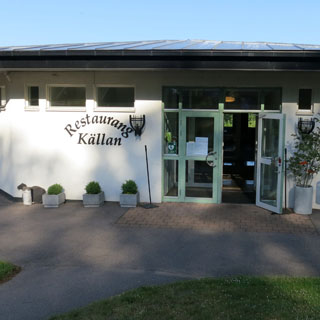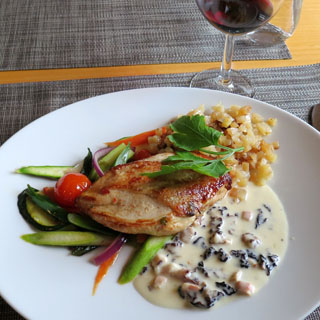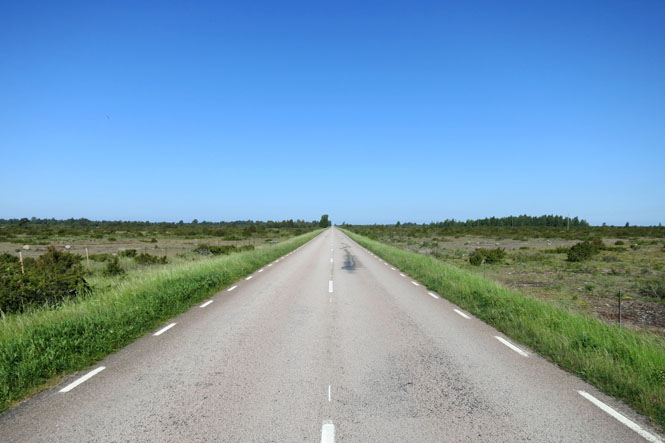 Stone walls are everywhere. Apparently, you can tell the really ancient ones from the more recent ones by how straight they are. The ancient ones tend to wander.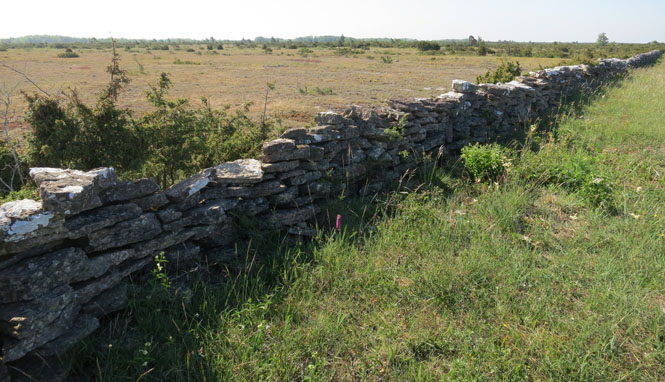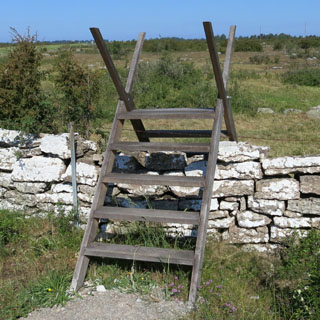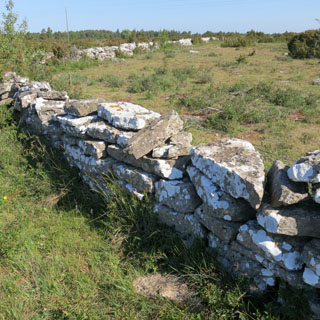 Big squares of land are in crops while others are kept as pasture for sheep.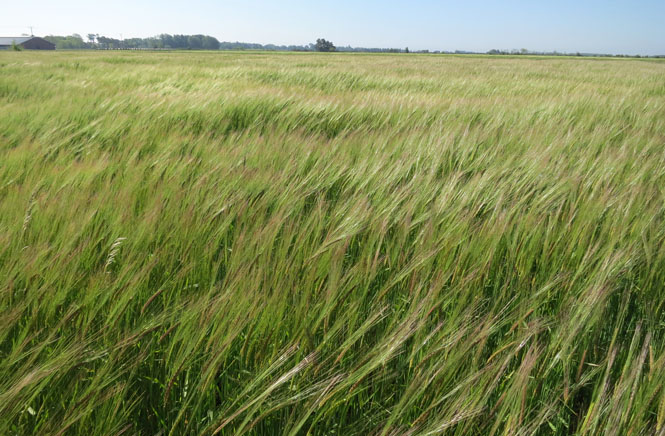 Alby, Sweden.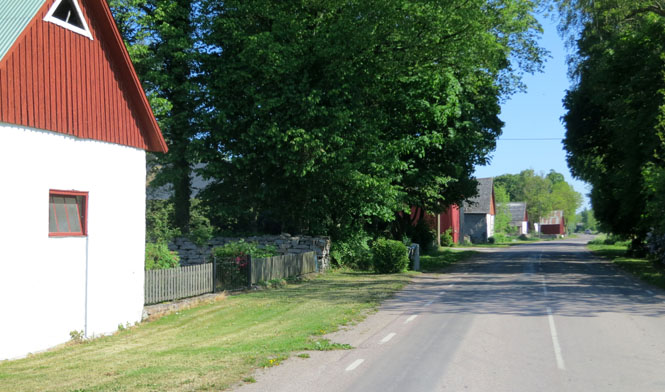 Gårdby, Sweden.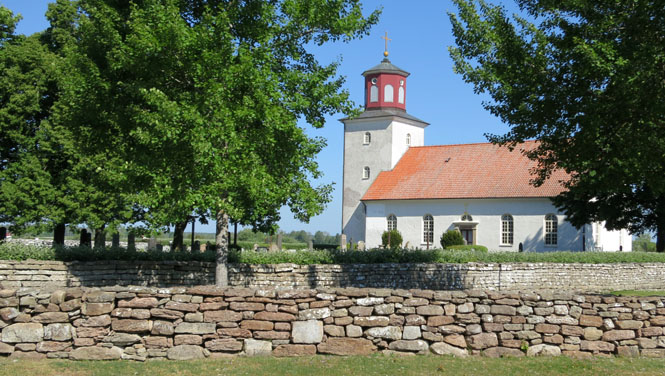 Off the island, and riding back into the interior.
Örsjö, Sweden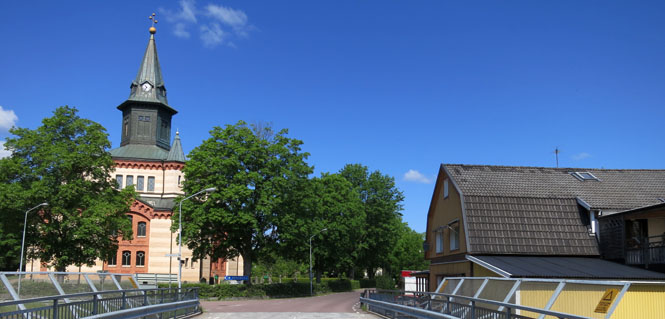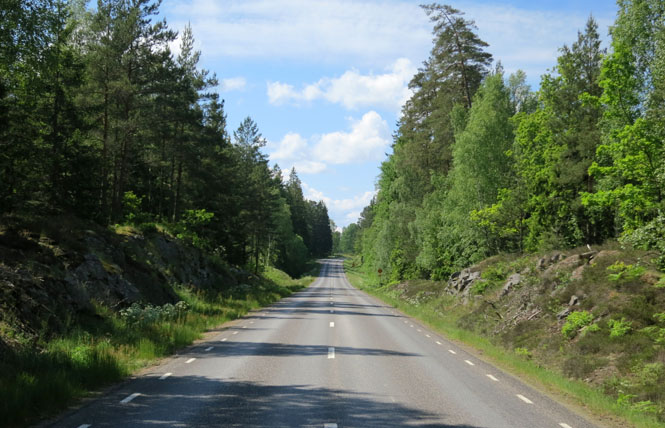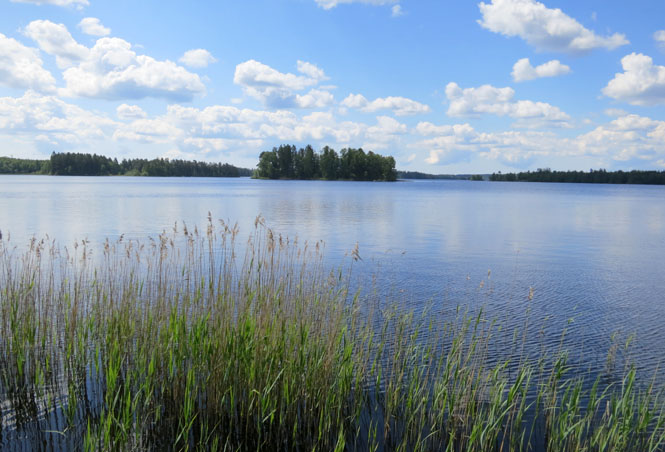 I rode past this mill-pond, and immediately knew I had to stop and walk back.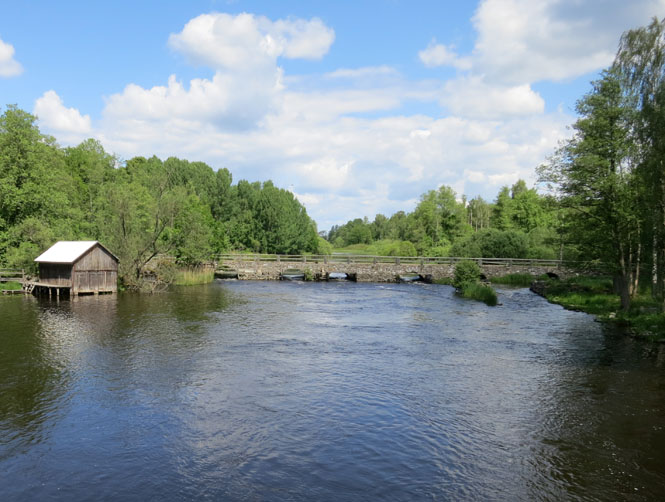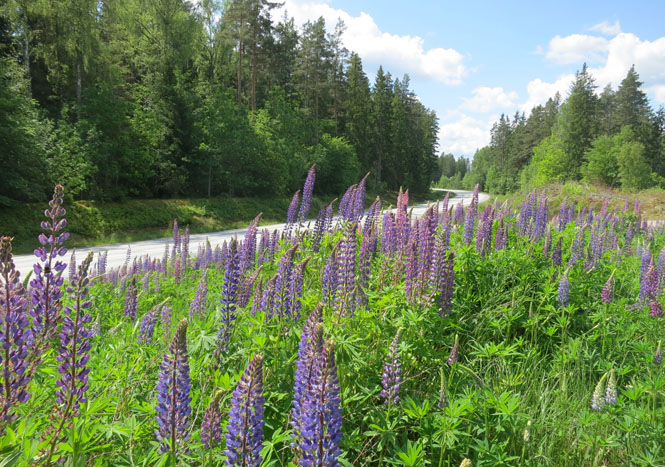 Like Finland (and Norway), Sweden likes its large red barns.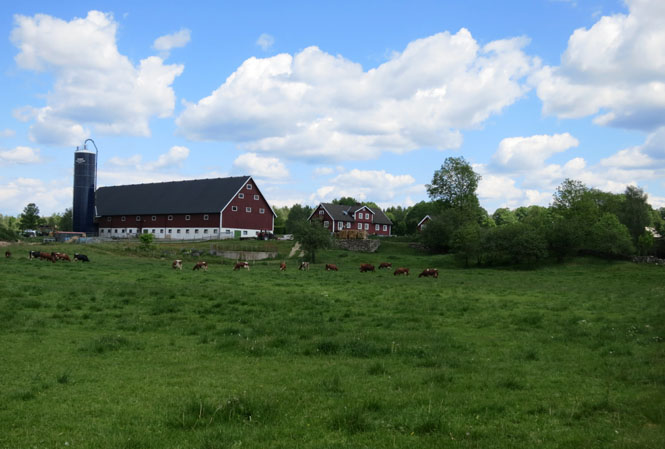 I saw almost no chain restaurants (that McDonalds not withstanding), but if you want a reasonably fast schnitzel, you'll be fine.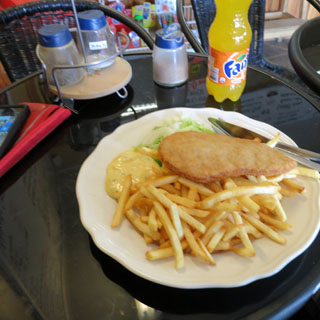 Notice the rocks in the pasture. There's a good reason why much of this land is used for grazing and not for crops. To clear these pastures would be enormously difficult.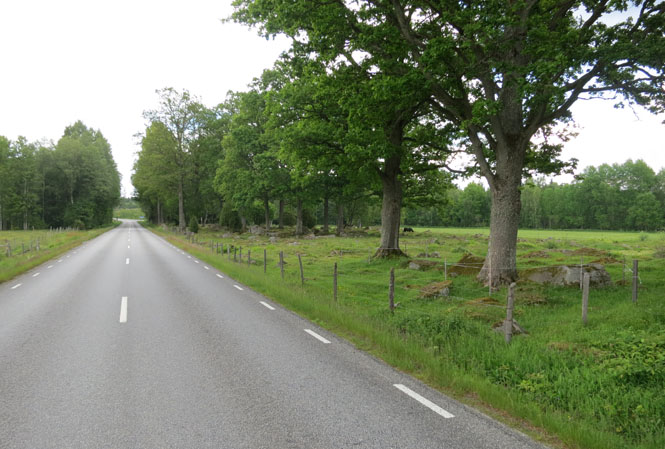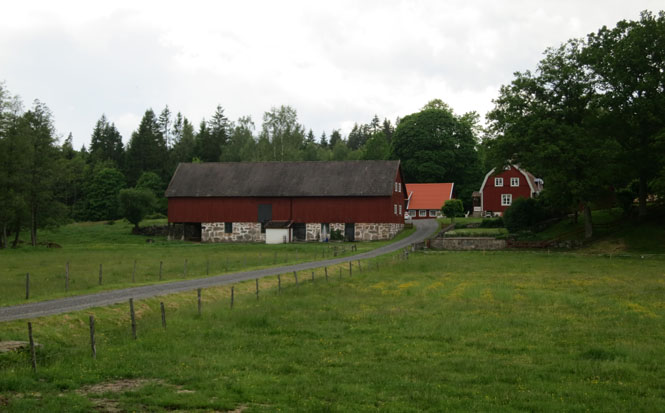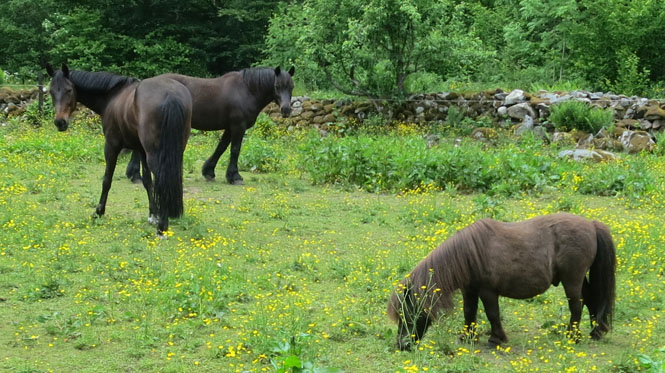 I'm at the bottom of Sweden; it's time to dip a toe.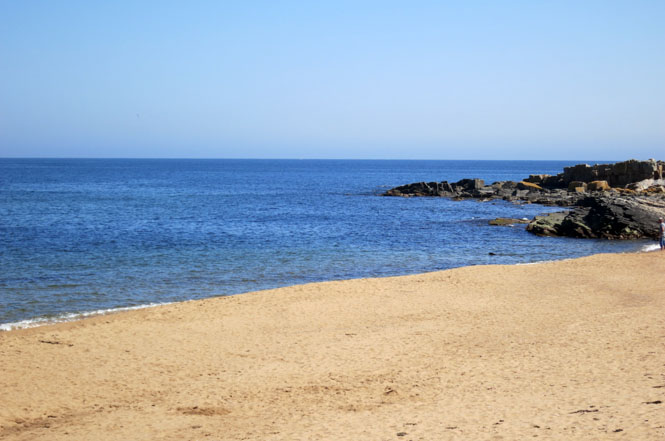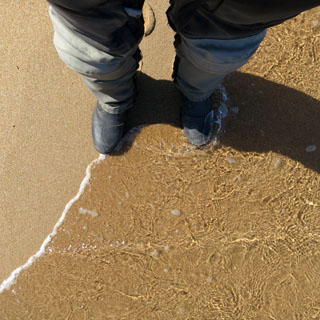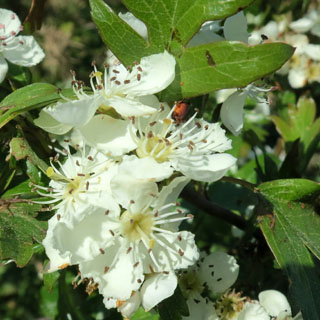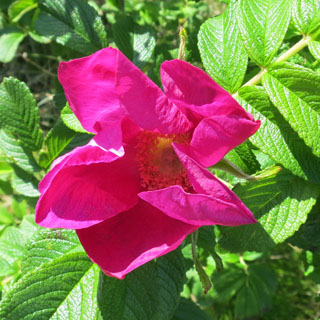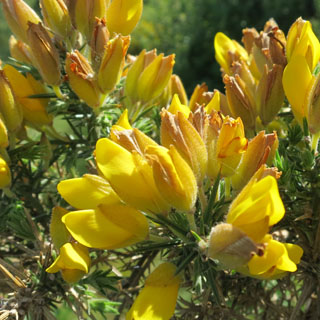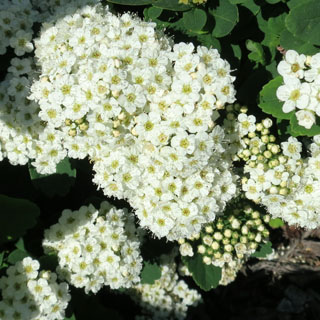 Hammenhög, Sweden.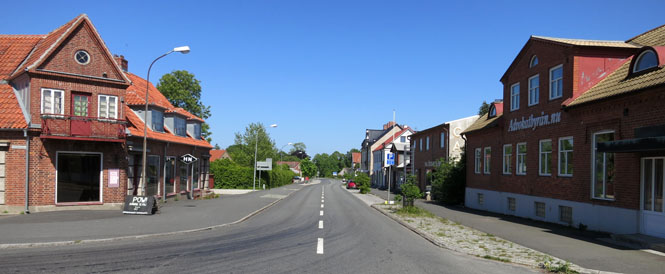 This is an unimportant rural road, but somebody has gone to the trouble of planting hundreds of trees alongside. It sometimes feels like you're riding through a park.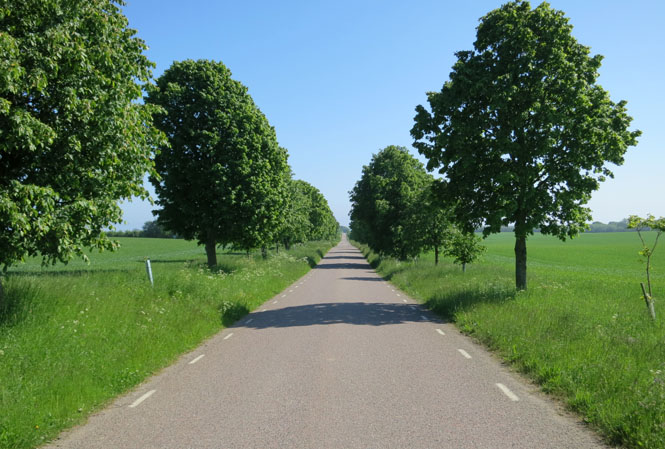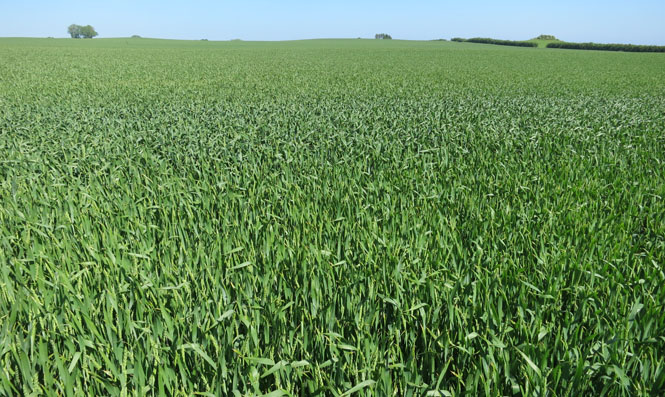 Coastal route, highway 9. Those are amazing flowering trees that lined the road.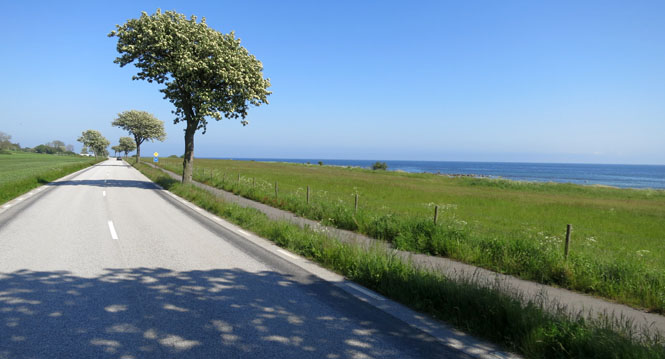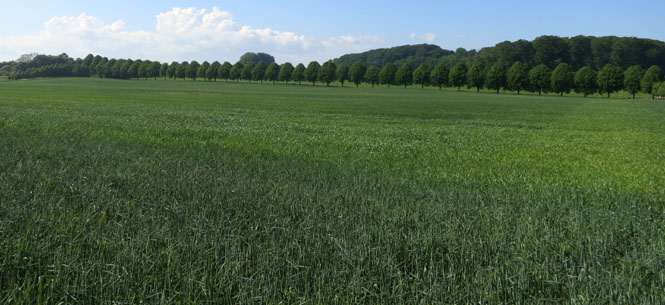 Trellegborg, Sweden. Before the trip, I had assembled all the various ferry options from the different ports over several days. It made sense to stay in Trellegborg for the night and to take the morning ferry across to Germany.
Unfortunately, when I dropped by the ticket office, I was told that the ferry was fully booked. That was a bother as there would be no other ferries, including the next day. But, the nice lady suggested that I could very likely just show up the next morning in line, and I'd be able to buy a ticket. It seemed doubtful to me, but that's what I did and it worked out just fine. There's always room for a motorcycle.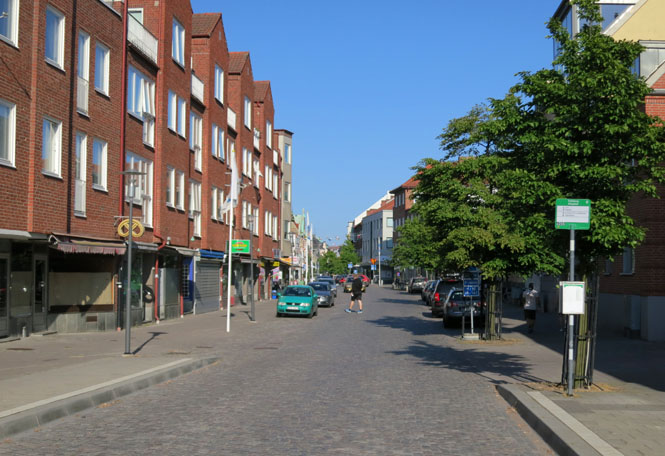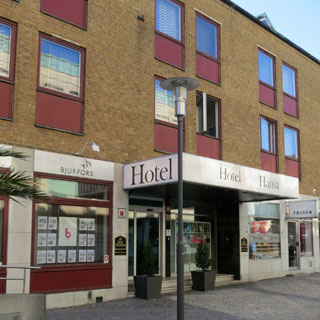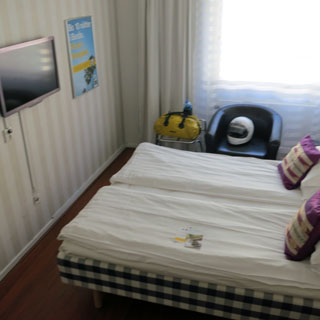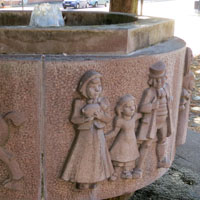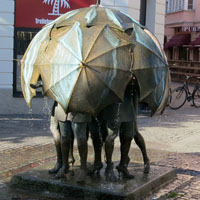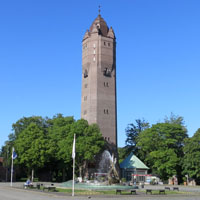 Sunday evening and the place was pretty empty. I found restaurants for India, Thailand, China and Turkey, but nothing open for Swedish food. I ate Indian.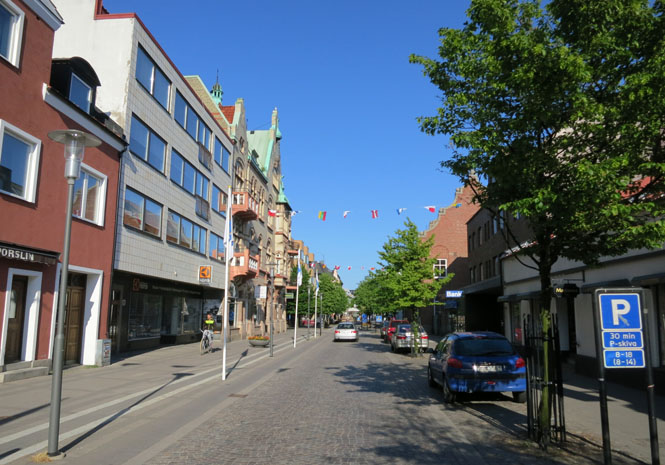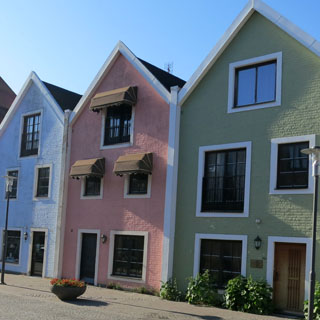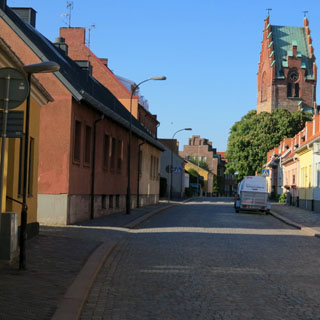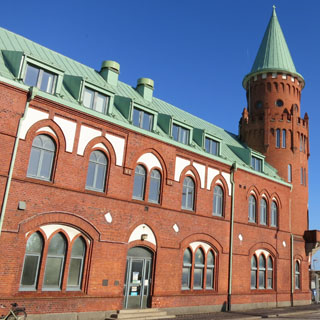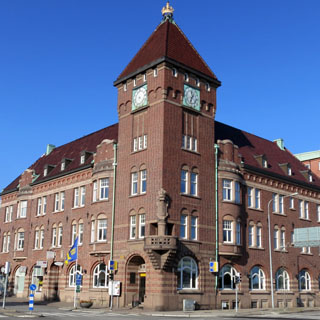 Ticket in hand, I waited for the ferry. That blue ramp is what I took to ride on board. At the German port, I rode off out the stern (which door is shown fully open).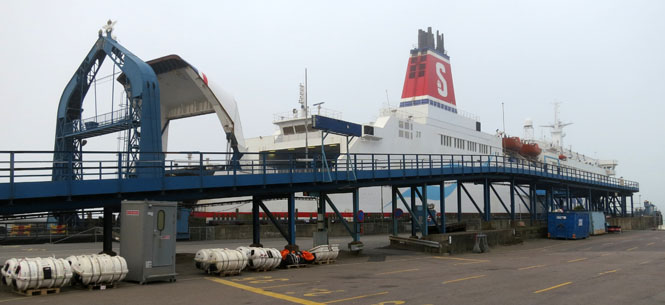 Yes; the hold was full of cars, but only one motorcycle (mine). I pack my own ferry tie-down straps for cases where nothing is available (such as was the case here).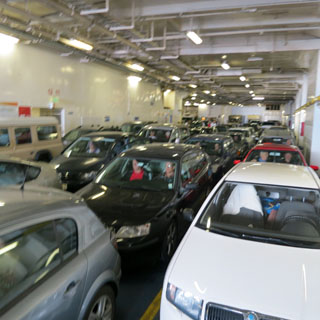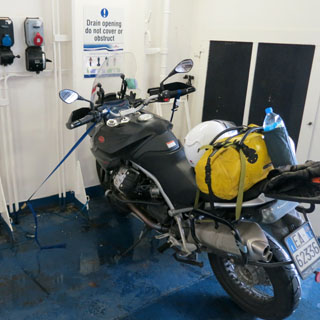 During the ride I saw lots of wind turbines. They looked bigger than the familiar ones in western Kansas, but it's hard to tell. Well, this picture answers that question; they're much larger. It's amazing that this blade (and two more just like it) rolled off the ferry from Germany.

Pushing southward. Needless, there wasn't really much concern that my bike would tip over on a day like this--with or without tie-down straps.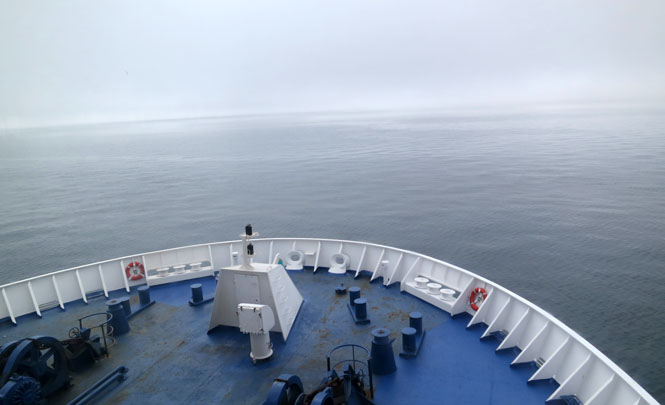 Sometimes food on a large ferry is outstanding; sometimes it's just food.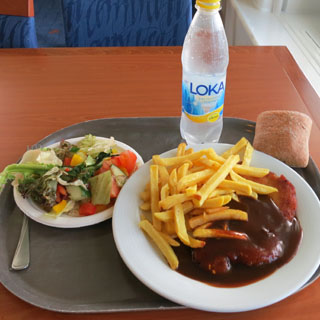 Germany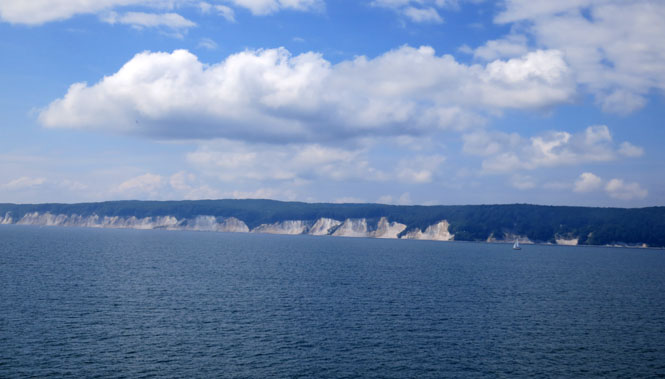 This is not far from Peenemünde, the site of German WW2 rocket development. I considered going, but didn't.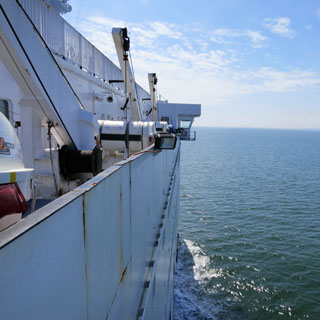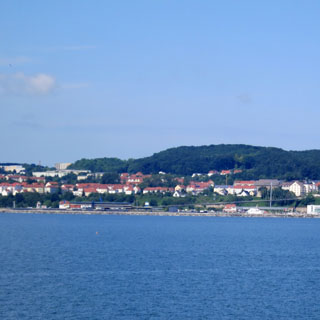 Demmin, Germany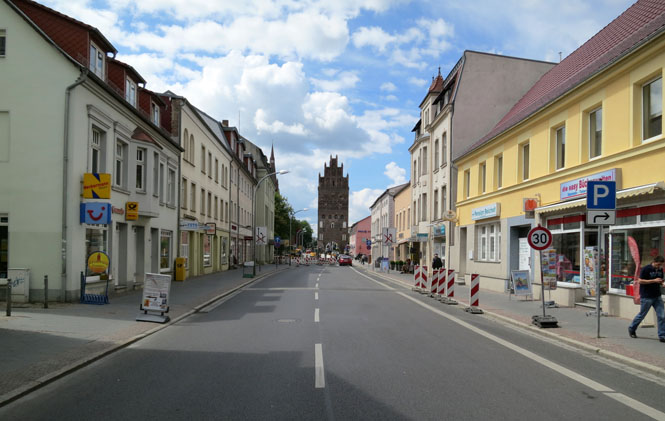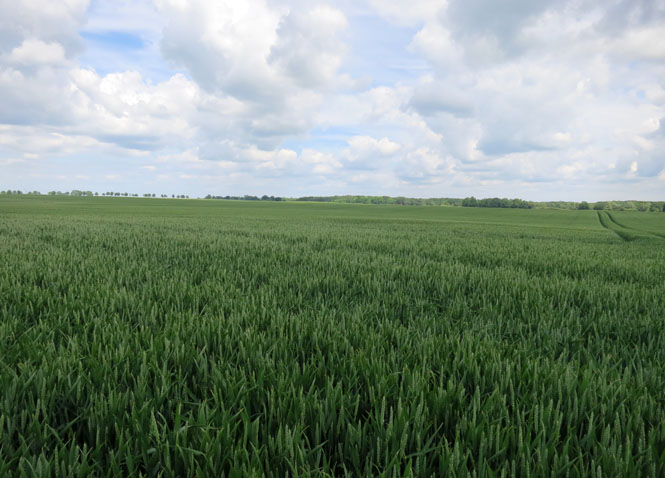 I find myself on some obscure little roads. Paving bricks are not smooth. Note that those are concrete rail ties stacked up. Concrete may last longer than wood, but it clearly doesn't last forever.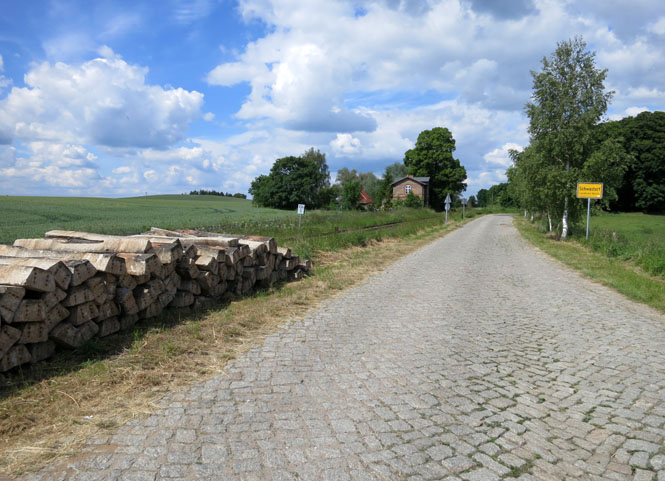 A barn. It's only a barn, but what a roof!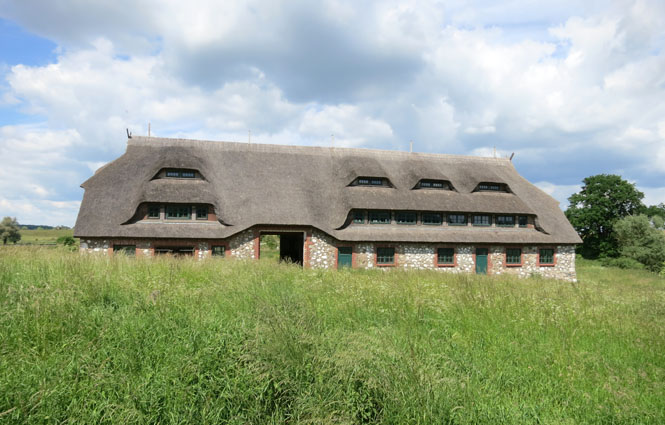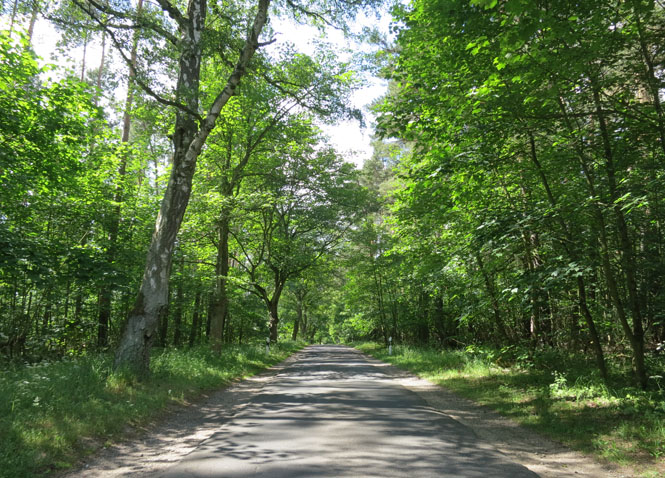 Speck, Germany. I liked the name, and for that reason only, I came here looking for a place to stay. There were a few farm B&Bs, but I wasn't looking for that.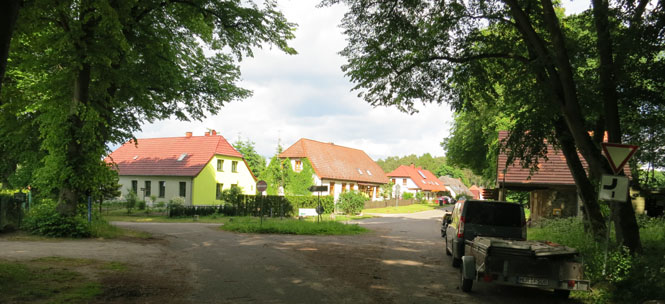 Instead, I stopped just a few miles away in Schwarzenhof, Germany. This turned out to be a National Park hotel and was exceptional.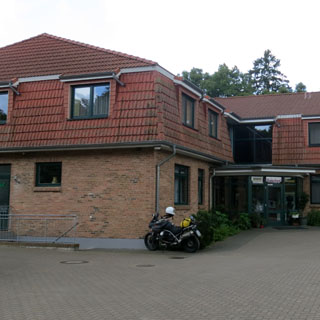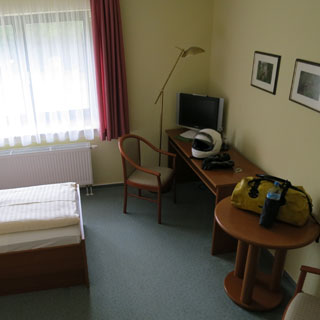 Walking, biking and bird watching is what people do when they come to this park. The hotel had quite a few mountain bicycles available to guests, but walking appealed to me more than riding. The paths were very well maintained.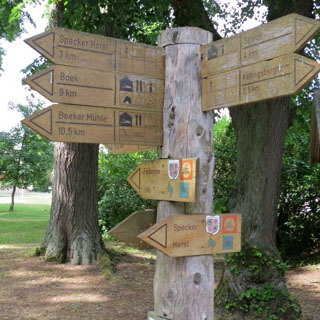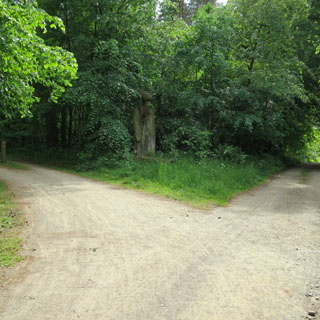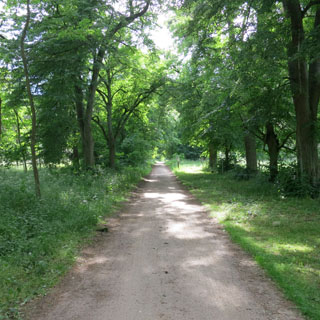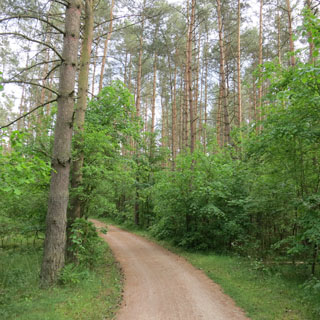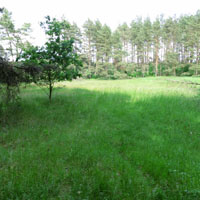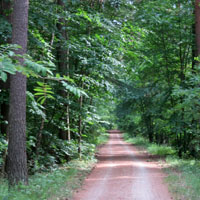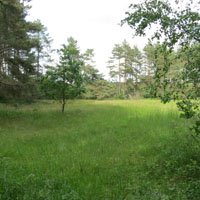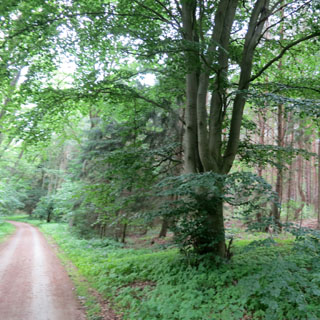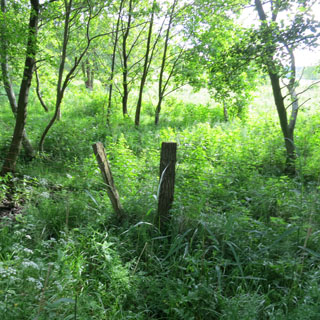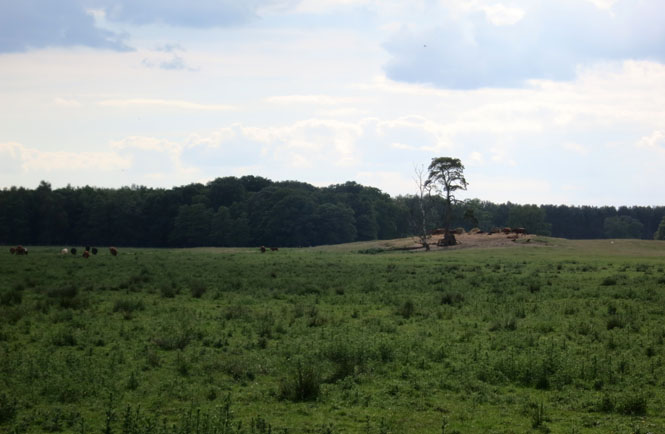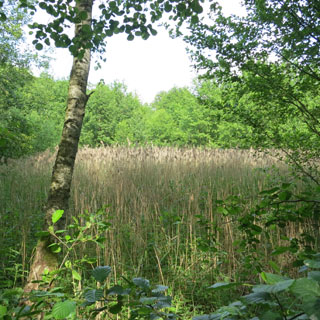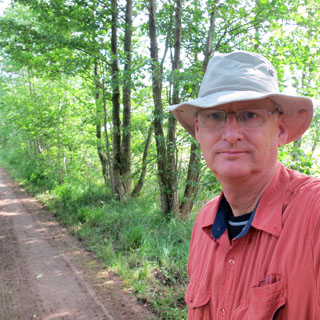 The region is dotted with small lakes, and in other areas it's wetlands. It's obvious why birds would love this area.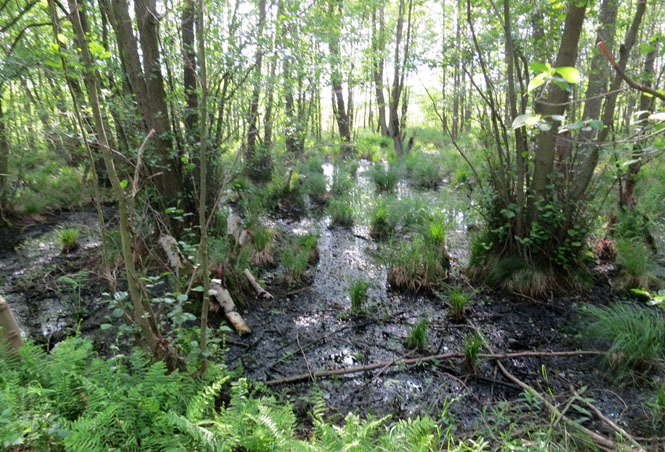 Specker See. This is the view from a tall platform along the walking path.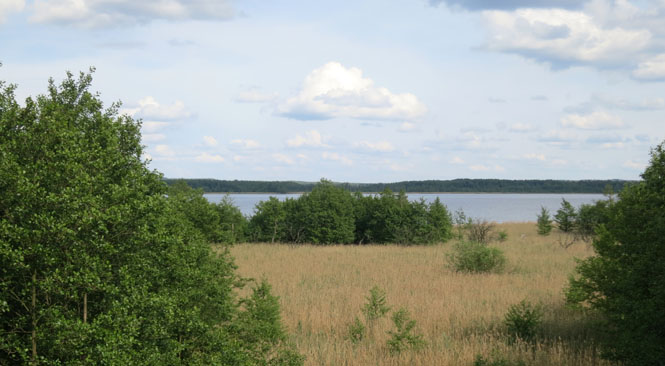 Back to the hotel for dinner. If I needed help in identifying a vögel there were guidebooks and binoculars at every table with a window. That's spargel under the fish fillets. German asparagus is grown white--spargel. The flavor isn't nearly as strong as the green version I'm used to. "Delicate" is the word that is often used. This time of year, spargel is available everywhere.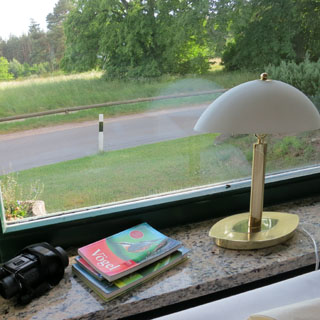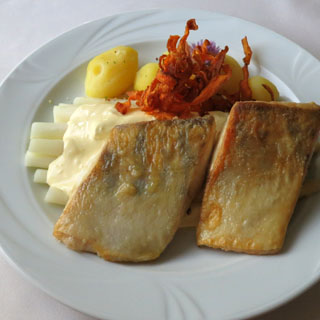 Canals and locks. As is the case throughout Europe and the UK, I'd imagine that virtually all traffic is now pleasure boating.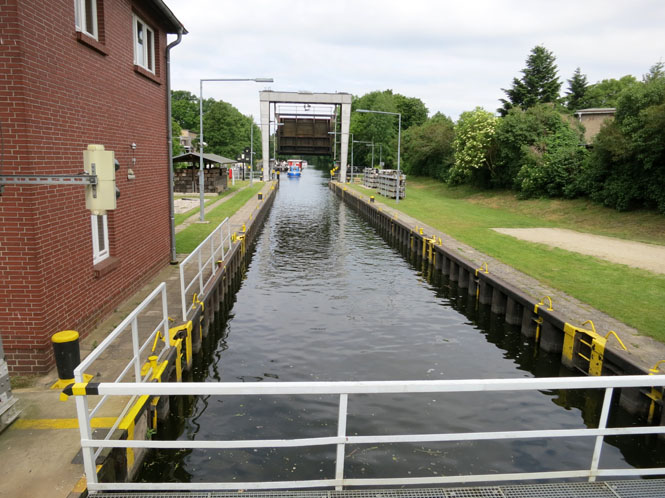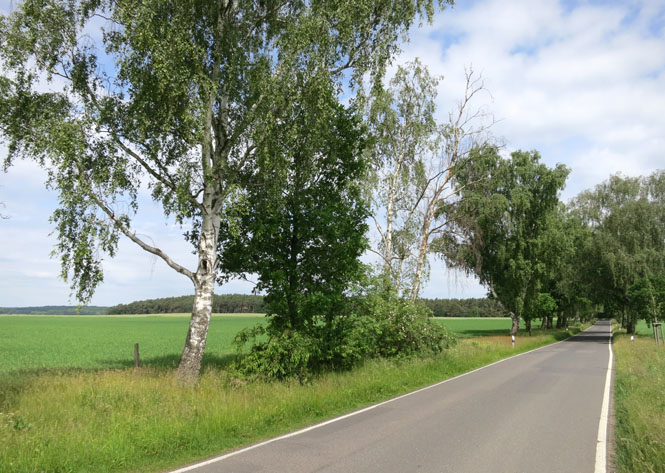 Zechlin-Dorf, Germany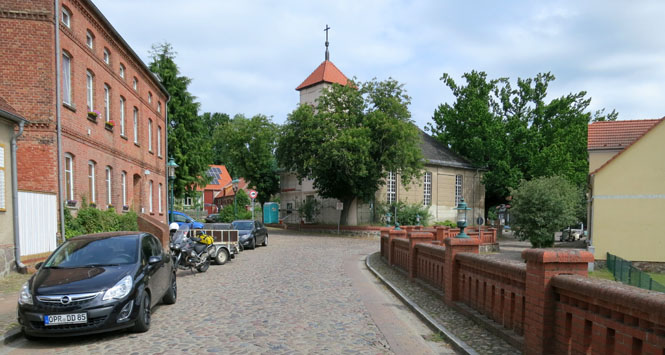 Rheinsberg, Germany.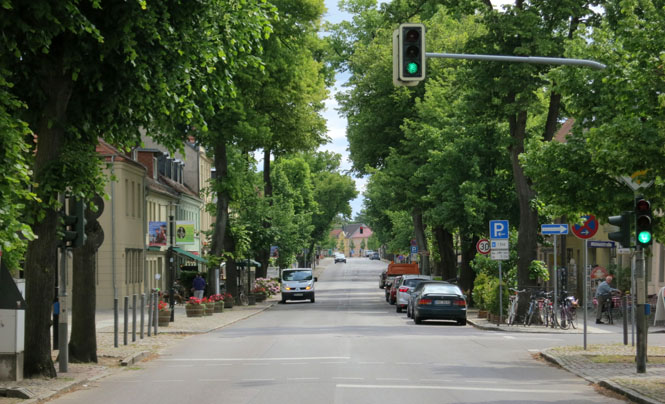 Dabergotz, Germany.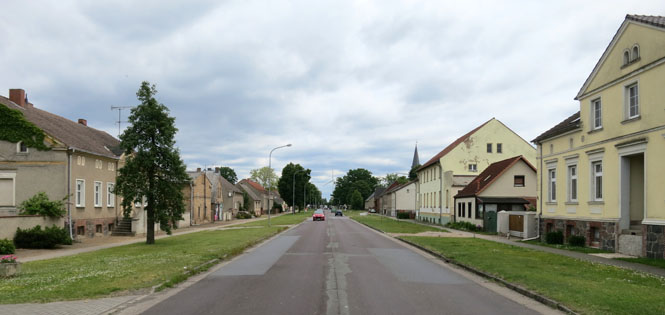 Temnitztal, Germany. The oversized steeples in this region dwarf the church building.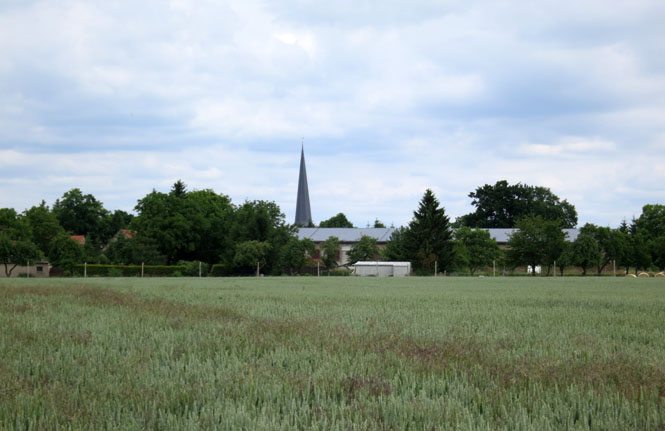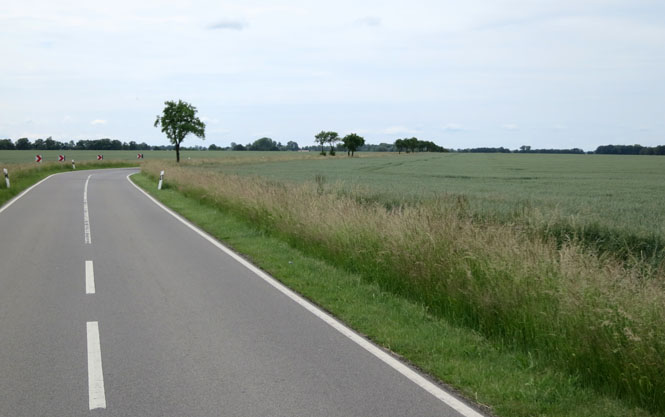 Vichel, Germany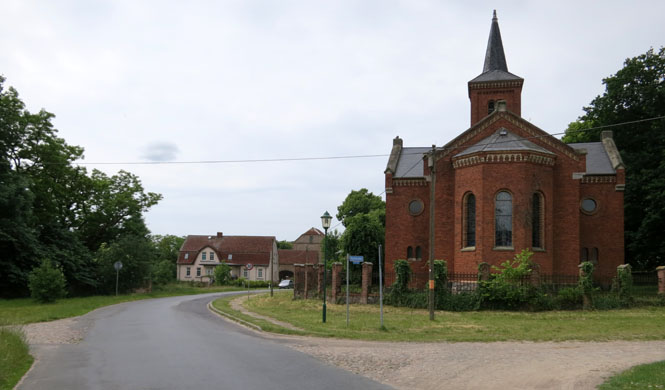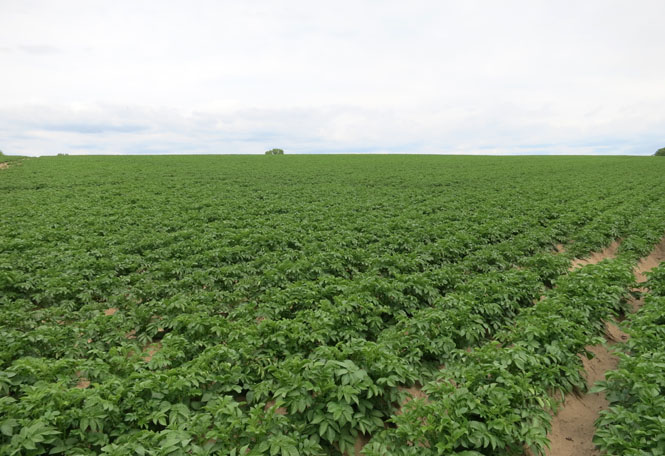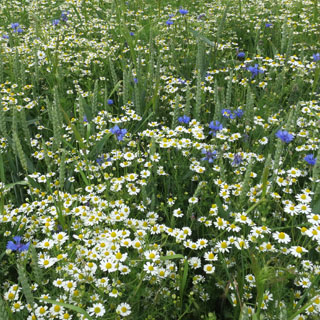 That helpful sign cautions you to avoid hitting one of the trees with your car. That's good advice.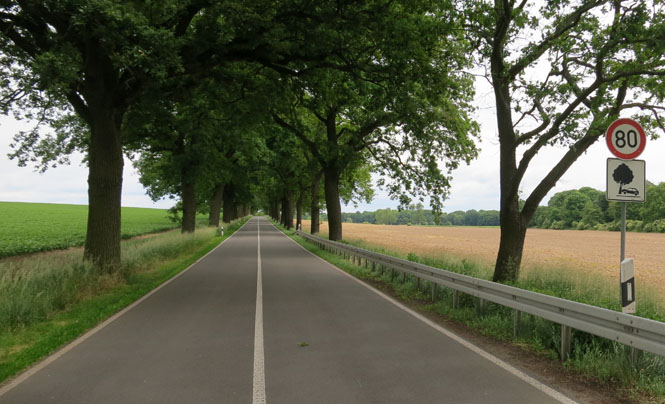 Rogäsen, Germany. Curbs or no curbs, it's far easier to have a motorcycle through these towns than a car.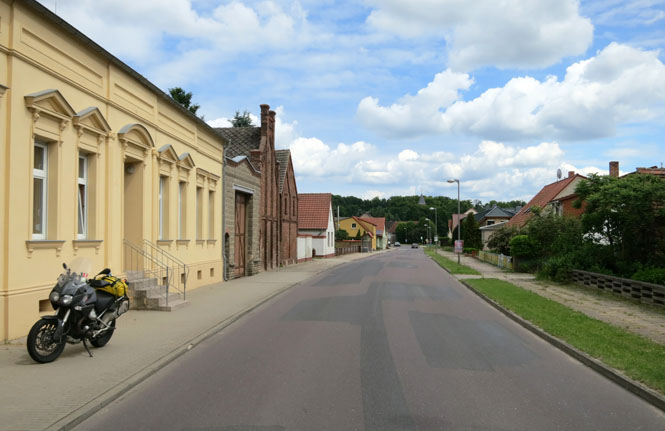 Ziesar, Germany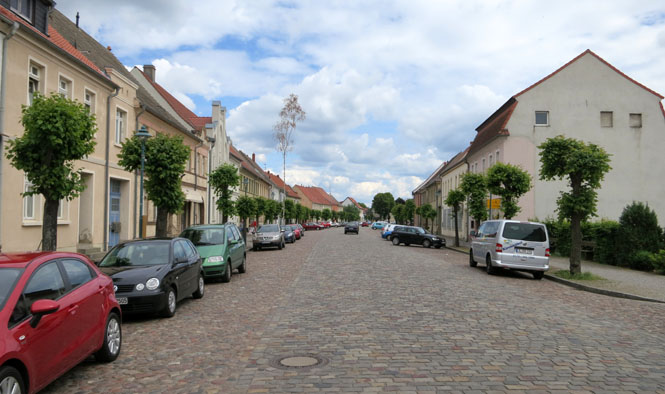 Trout for lunch.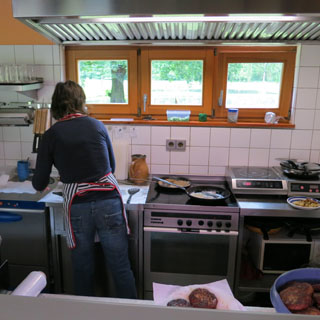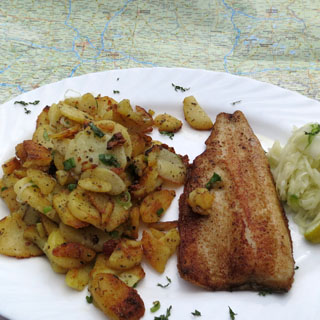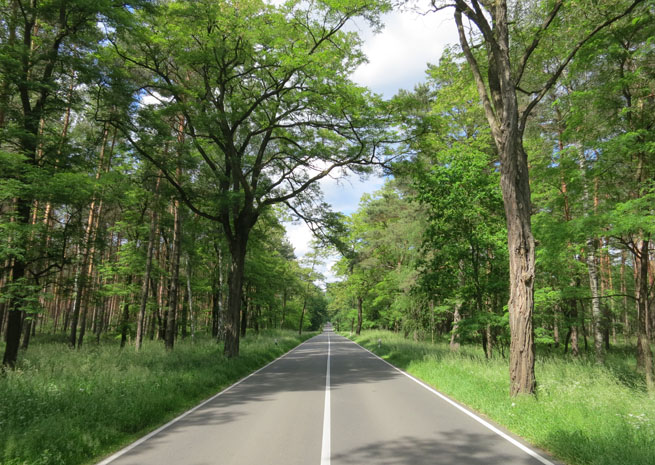 Crossing the Elbe. I knew my route would take me over the Elbe River, but I wasn't expecting a ferry. This was a clever thing. By changing the position of the boat, the force of the current moved us across the river as we swung downstream on a very long cable. The angle of the boat would be adjusted again, for the return trip. No power required. Think of maneuvering a kite left and right (a kite with two strings)--it's the same concept.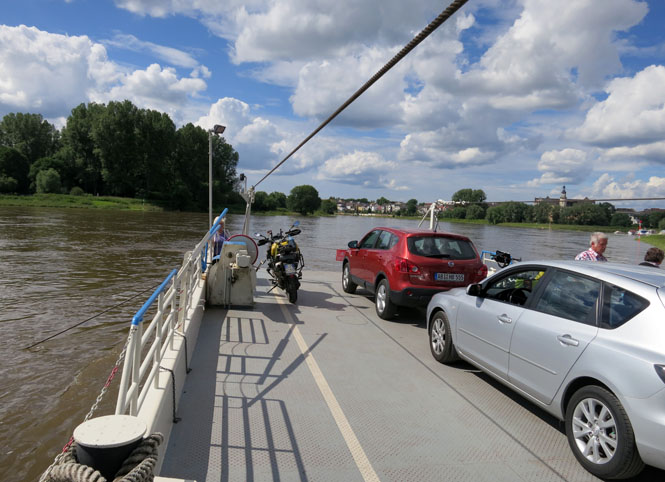 Coswig, Germany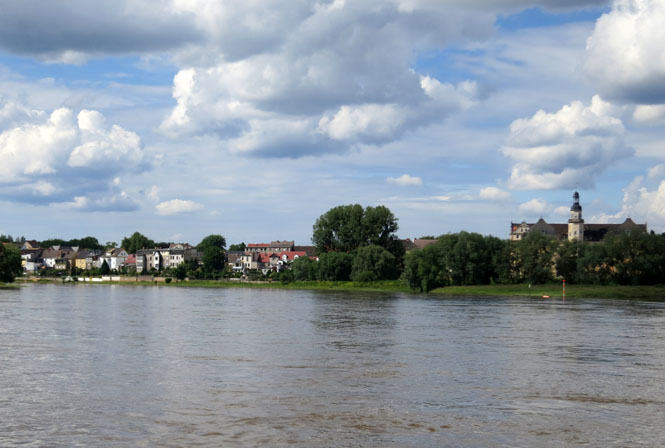 It was only a few miles but it seemed like a hundred. This is the roughest paved road I have ever ridden. I half expected things to start falling off the bike. The Stelvio suspension is fairly stiff and was entirely wrong for this road.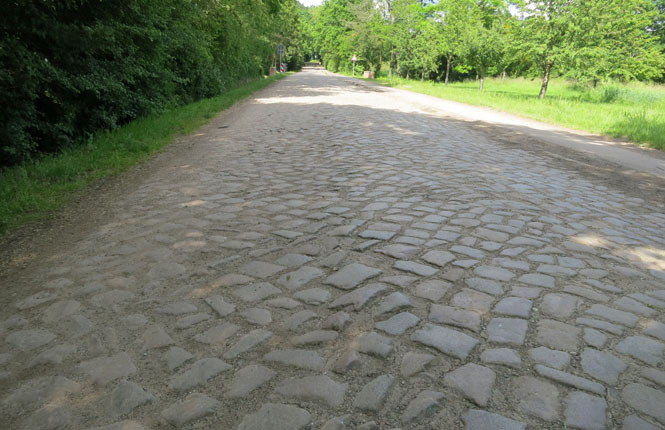 Dessau, Germany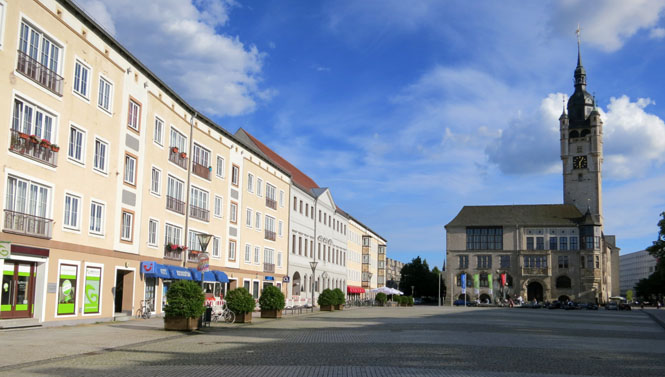 I'm on the second floor (which would be the third in the U.S.). Funny thing about this room, considering the upscale hotel that it is, you'd expect more than a single electrical outlet (that lamp).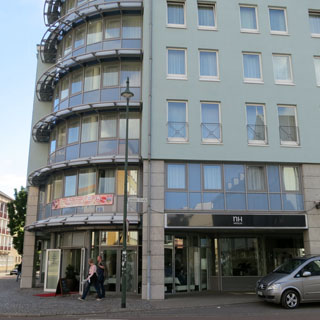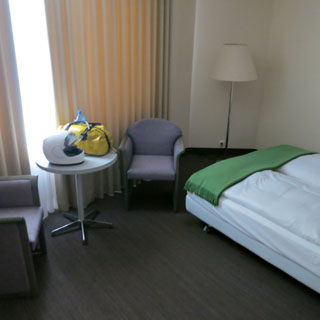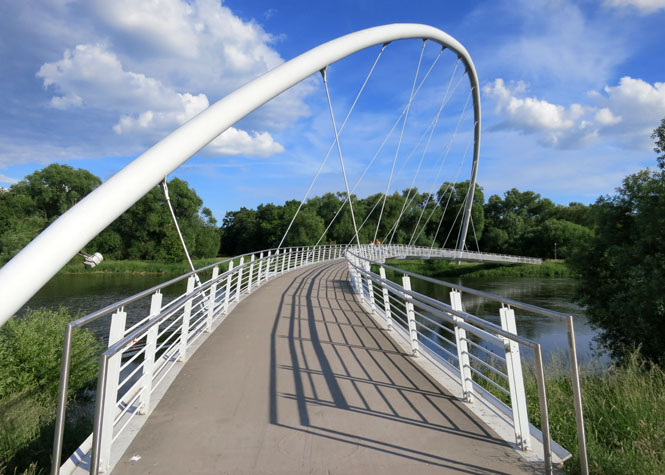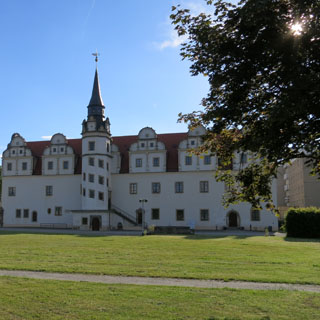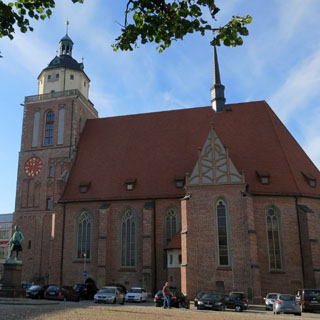 I'm not sure what I ordered, but evidently I ordered everything at once!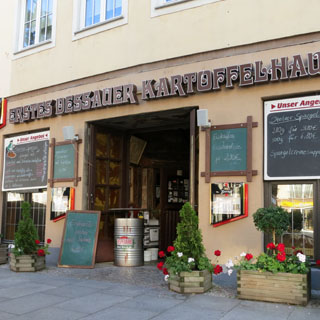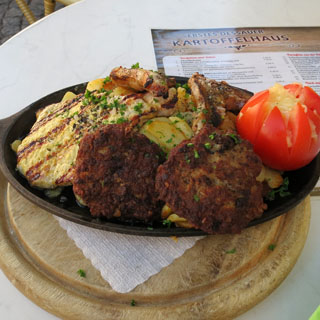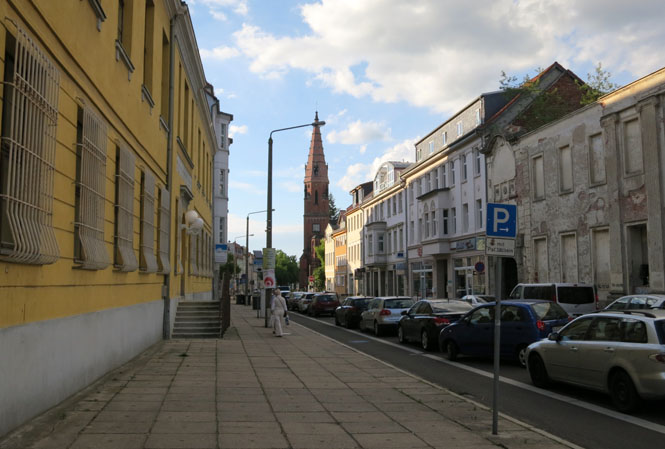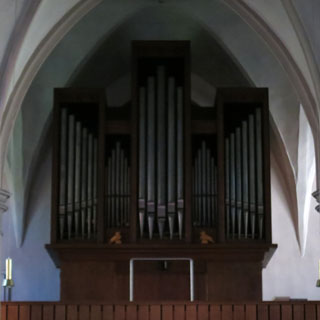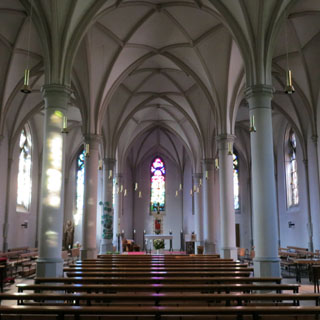 This jaunty green man is the signal to walk in Germany. [I just looked it up: He's called Ampelmännchen and he came from East Germany and was created by Karl Peglau in 1961]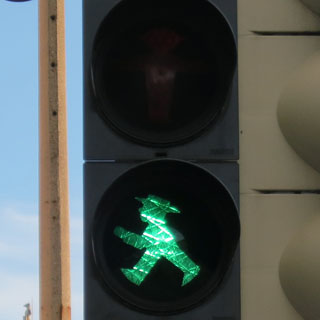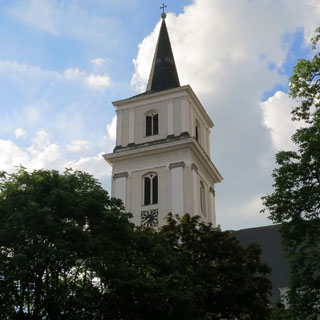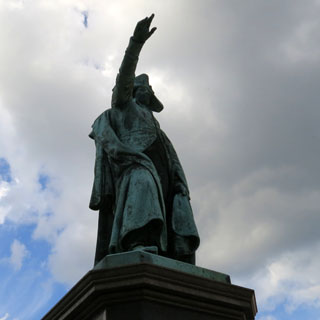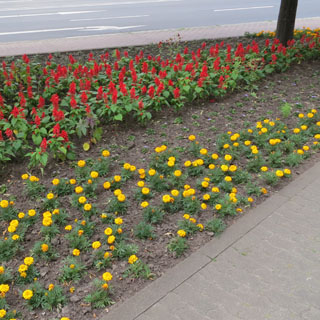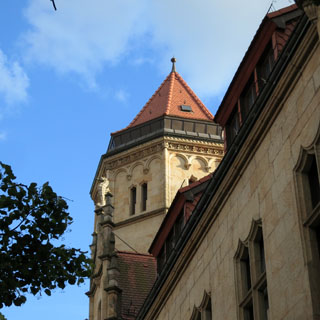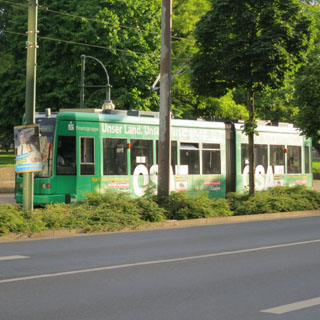 Bayreuth, Germany. I wanted to see the festival hall built by Wagner for the production of his own music, but the notoriety of the place gave me some pause.
It turned out that tours were not available as preparations for the next festival were in full swing.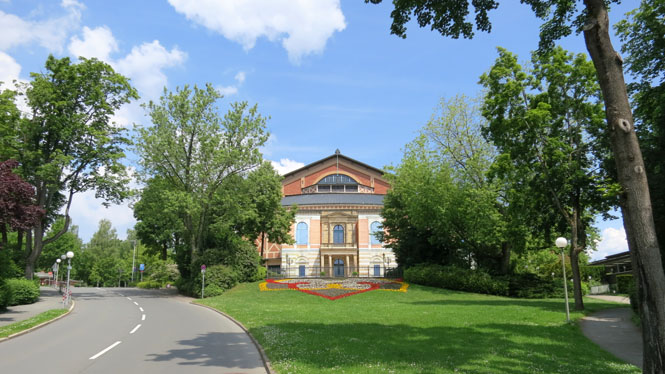 I've sometimes wondered how this building and the festival ever survived their reputation during the war. This outdoor exhibit answers that: they faced it fully.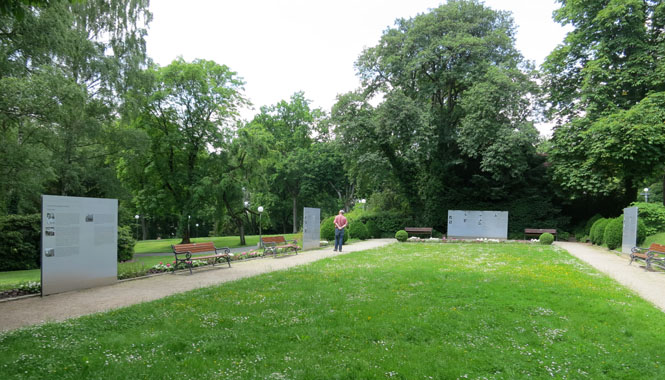 There are many, many display signboards presenting the history of the musicians of the Bayreuth Festival who were removed (and in many cases killed in the camps) for being Jewish. Wagner certainly had vile ideas, but he died in 1883. It was Cosima (his wife) and especially Winifred (his daughter-in-law) who were such fanatical supporters of Hitler. After the war Winifred was banned from having anything to do with the Bayreuth Festival.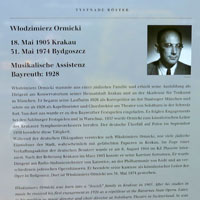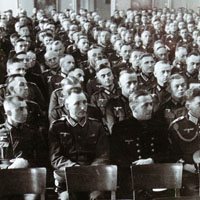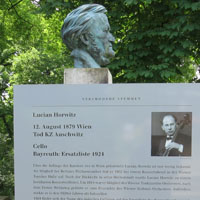 Ostheim, Germany .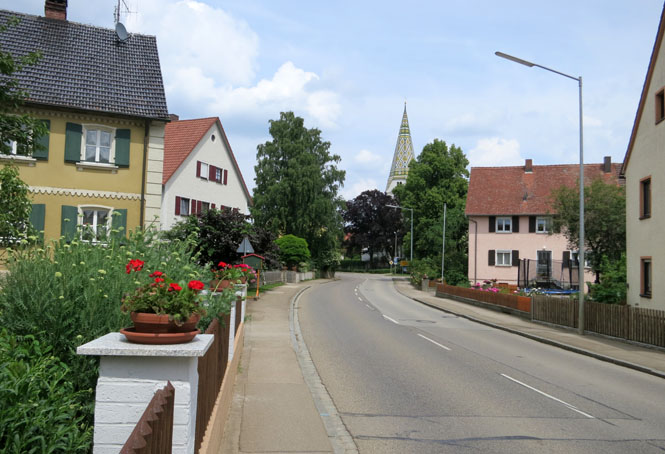 Nördlingen, Germany celebrated its 1,100th anniversary recently. It's been around a good while. Only three towns in Germany still have a complete ring wall. This is one of them.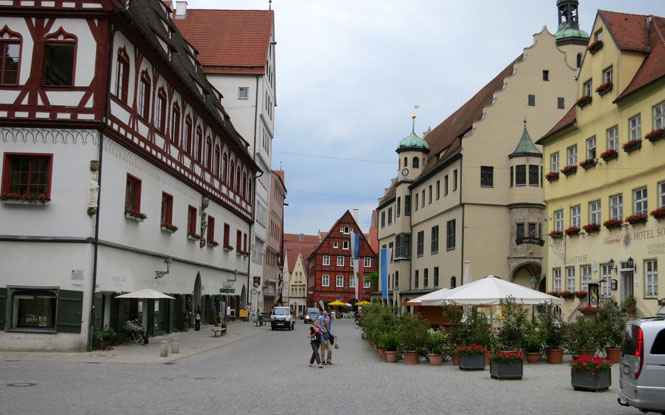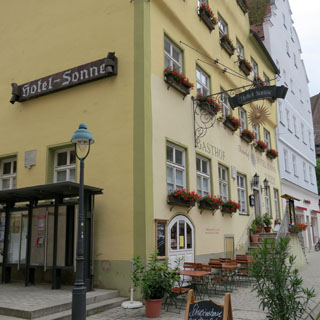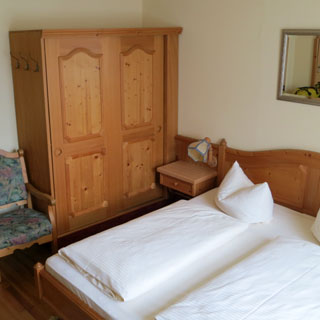 This might be the creakiest building I've ever been in. Every step is noisy. Those stairs, below? It's hard to avoid the feeling that you're going to tumble over the railing. But, it's not every hotel that has a full piano on your floor.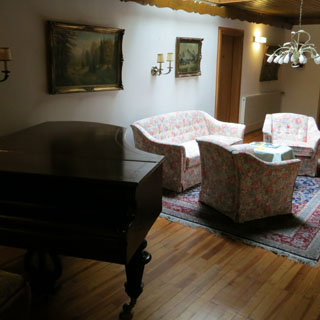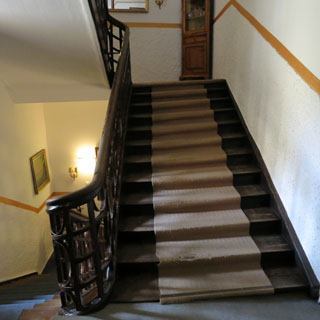 The map on the left was in the hotel. The one on the right was in the church. The streets have rearranged themselves over the hundreds of years, but things are still identifiable.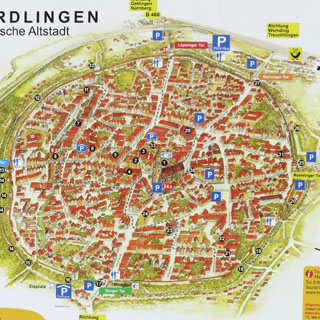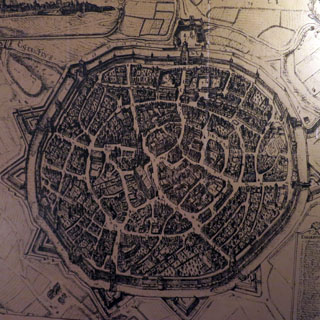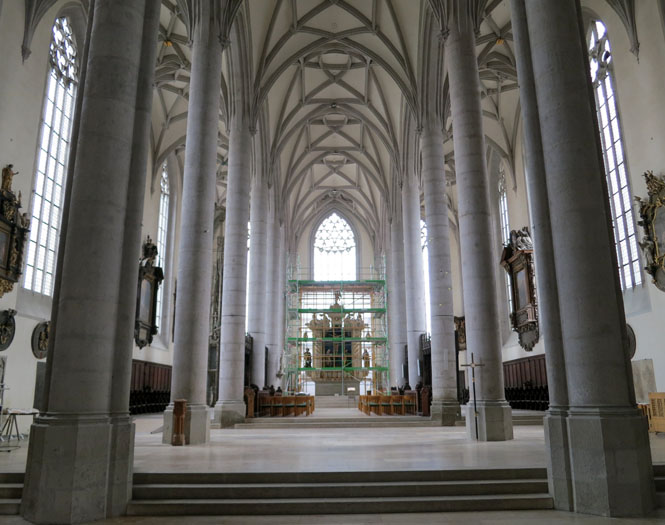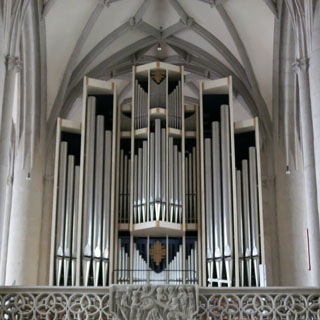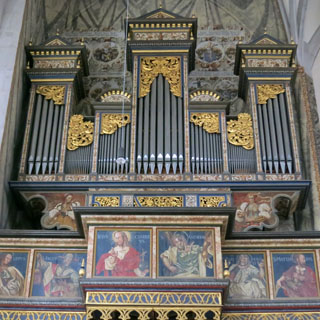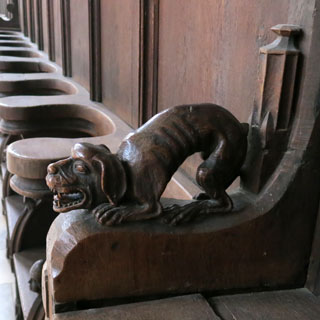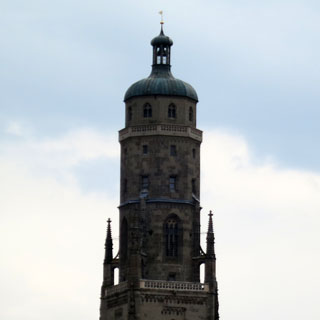 The tower of Saint Georg's Church is called "Daniel." I'll be taking the 350 steps to the top.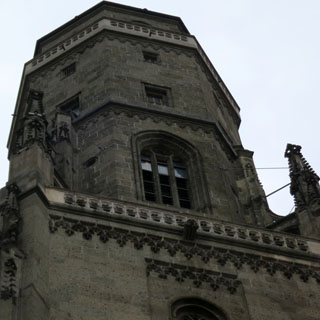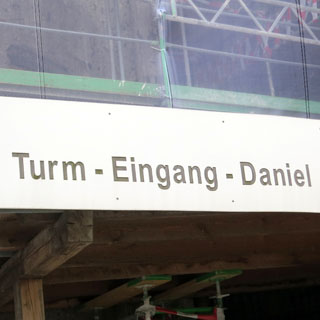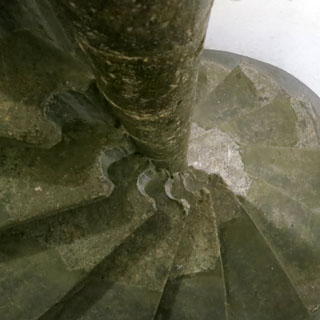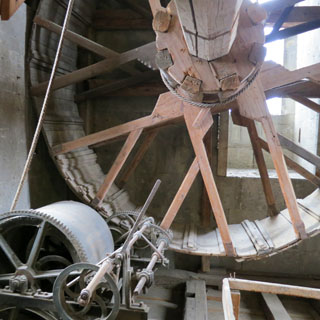 The view is terrific.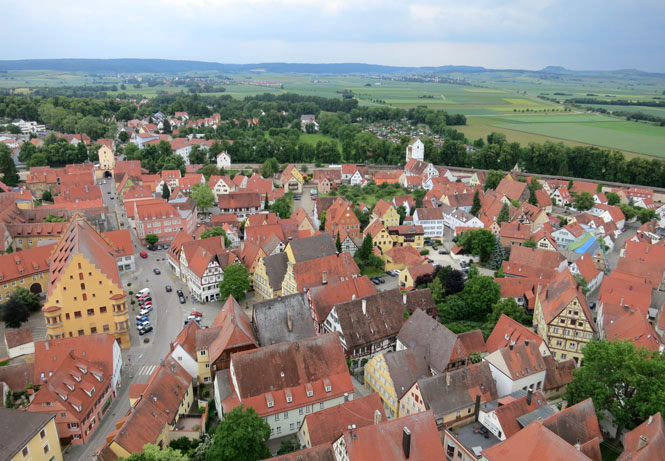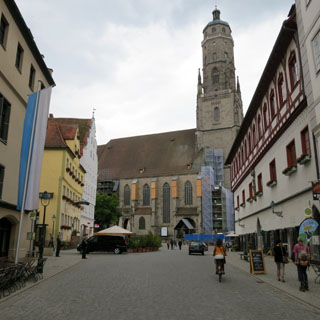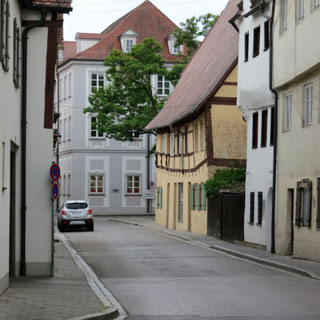 I walked on the wall about half the distance around the town.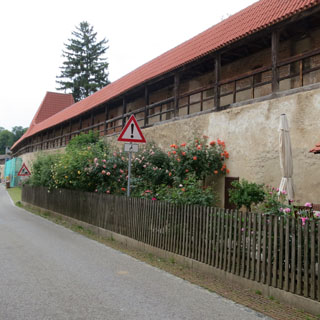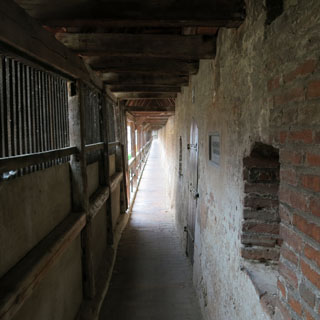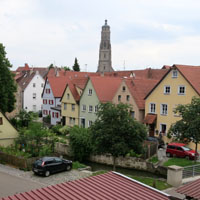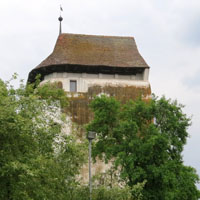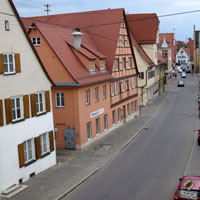 St Salvator Kirche.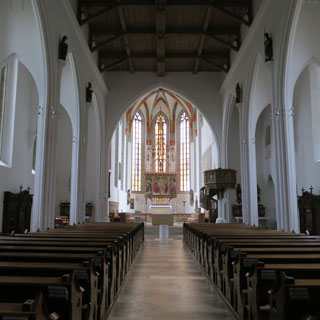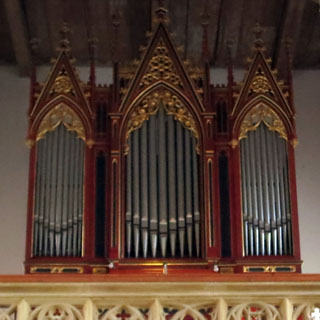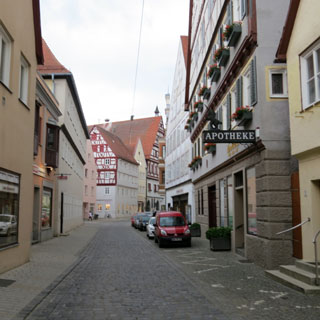 The hotel cat really wanted to be let into the restaurant. I asked the desk lady if that was permitted. She looked aghast and swept the cat up (talking to it in German) and carried him down the hallway.
Those noodles in the soup? Strips of pancake. Those desert dumplings? Filled with apricots. It's all really good.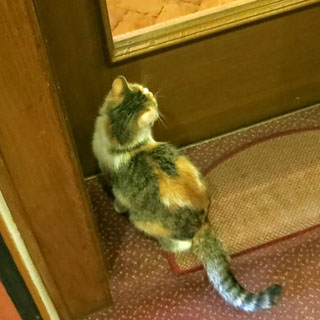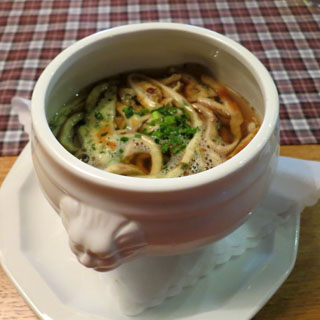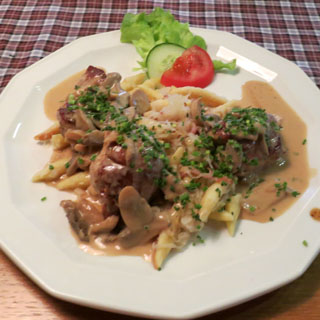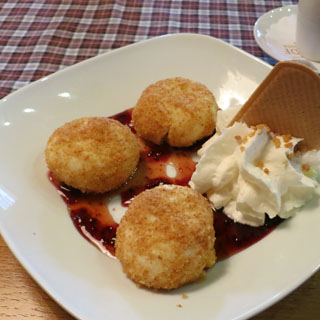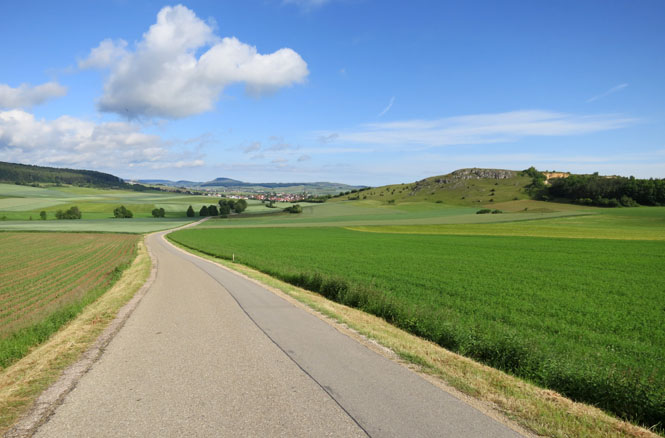 Nattheim, Germany. I'm back in the land of the really tall Christmas Tree (and storks).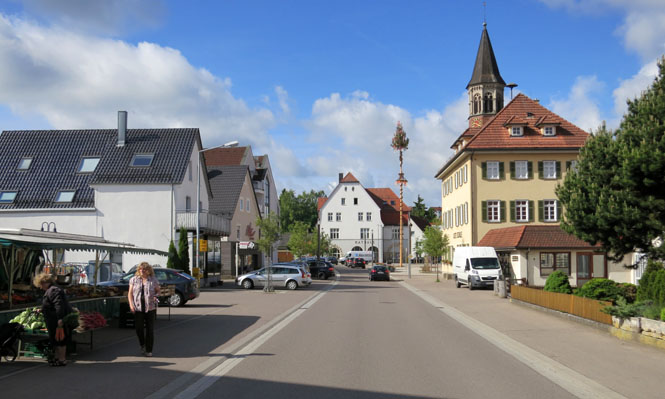 Unteressendorf, Germany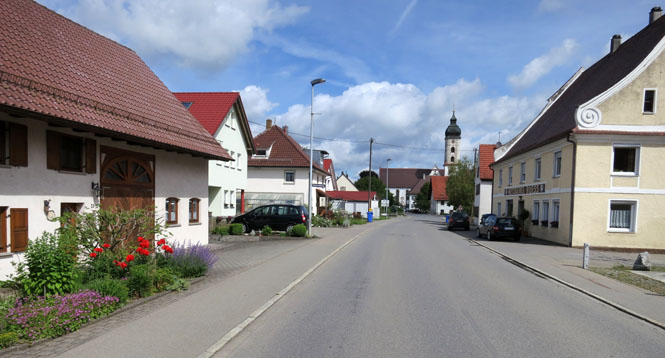 Switzerland
There's just one more ferry crossing for this trip. I'm crossing Lake Constance (or Bodensee, depending on where you stand).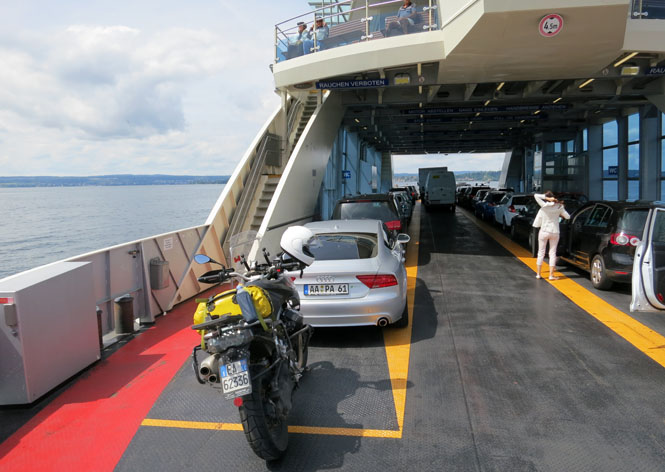 Wil, Switzerland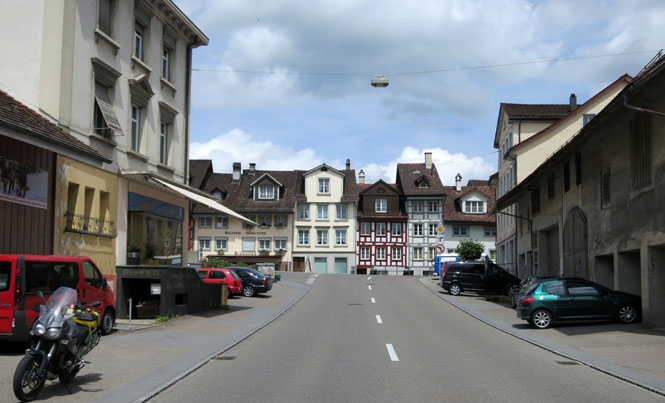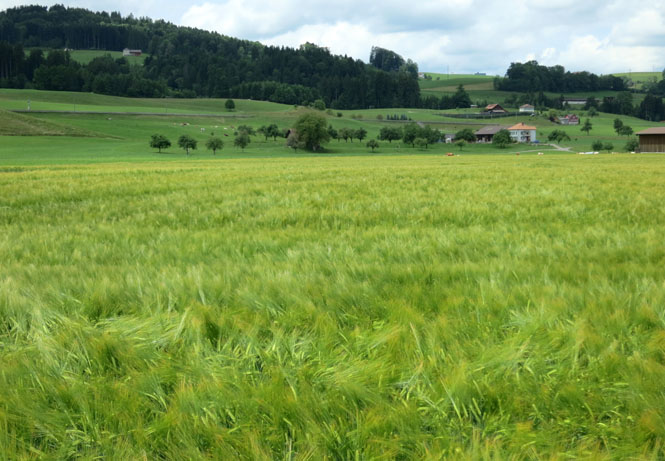 For the most part, once any Swiss river reaches the valley floor, it will be contained and controlled.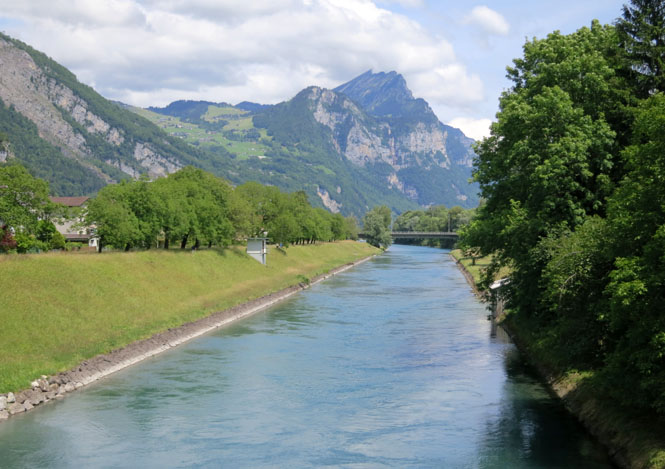 Chur, Switzerland. The last night that I'll have a motorcycle waiting for me in the morning.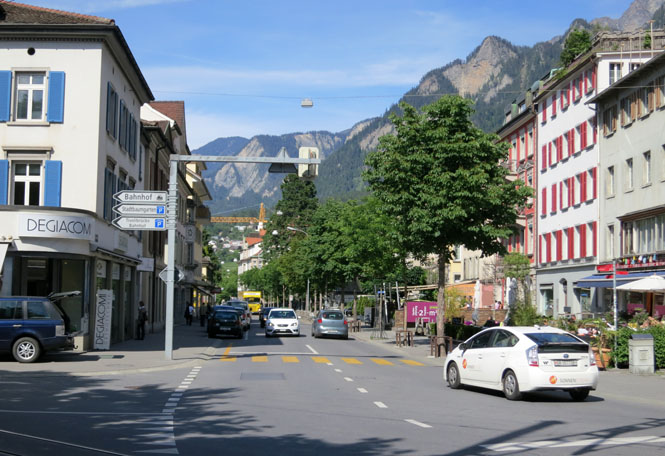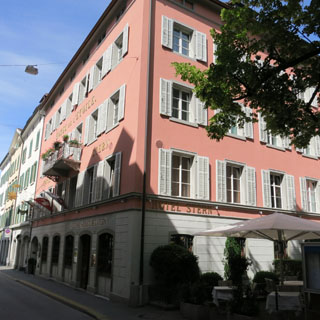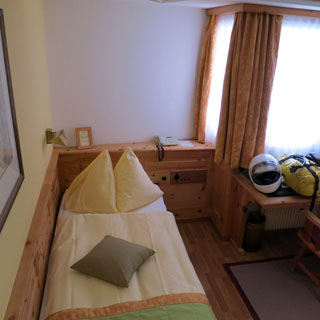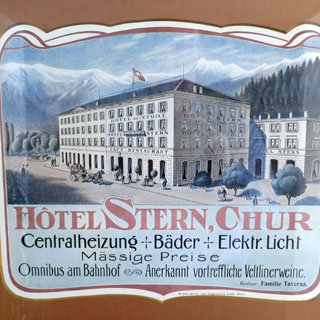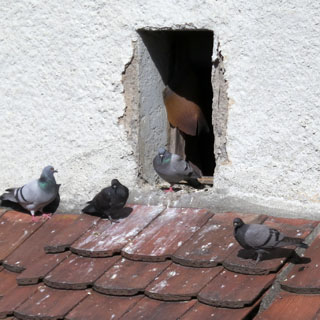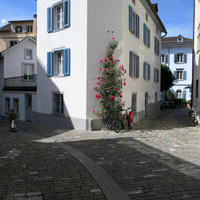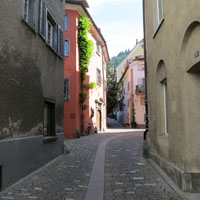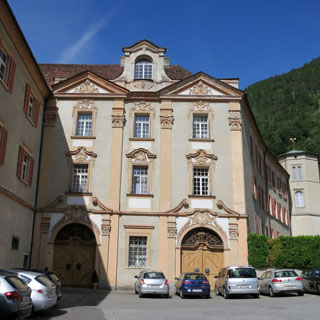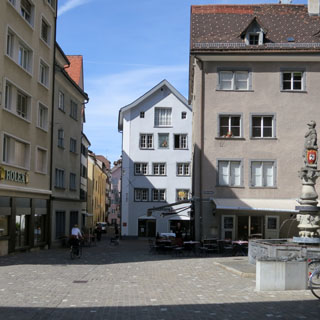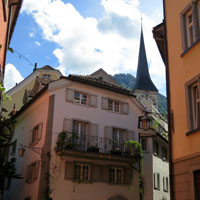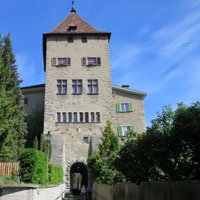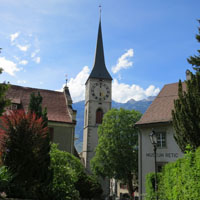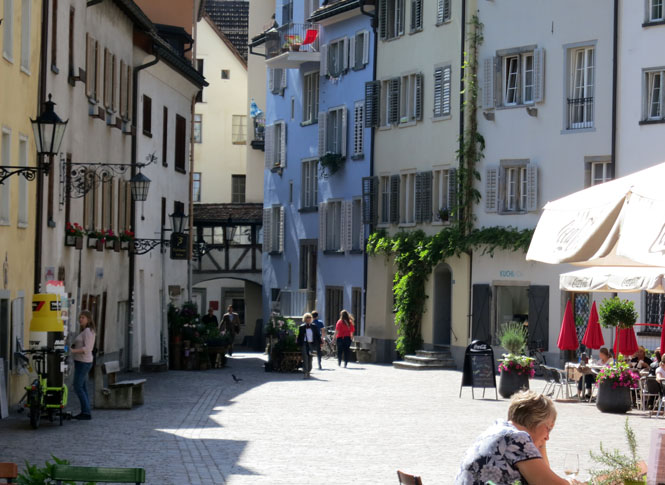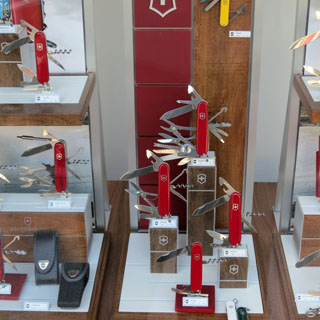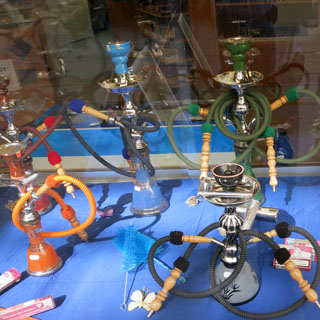 After a bit of discussion, the waitress suggested that the cook put together a collection of local dishes. I called it a "Swiss Sampler", but she corrected me. It isn't Swiss, it's local to Chur. The applesauce is intended to go with the dish in the lower right.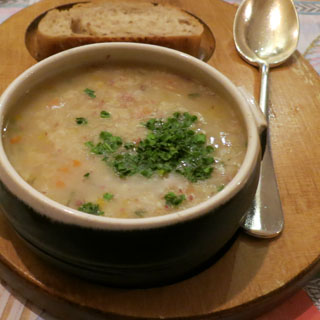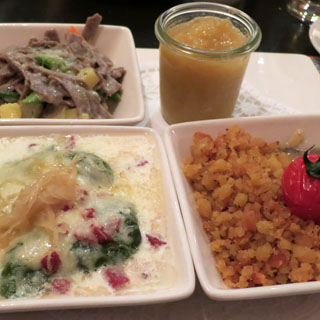 Tiefencastel, Switzerland.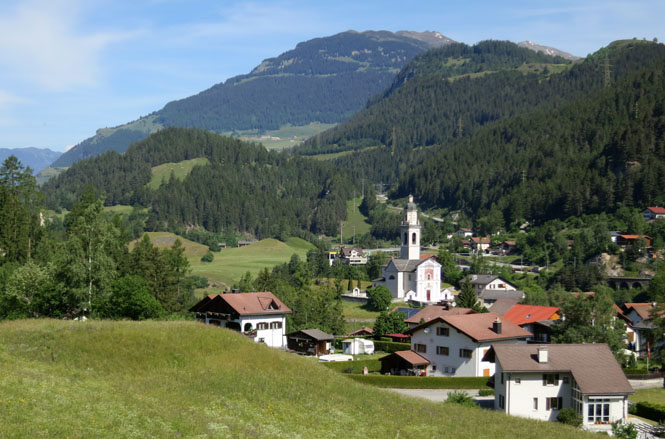 I couldn't ask for a more perfect day to cross the Swiss Alps. I've been on these roads already (it cannot be helped), but that hardly matters.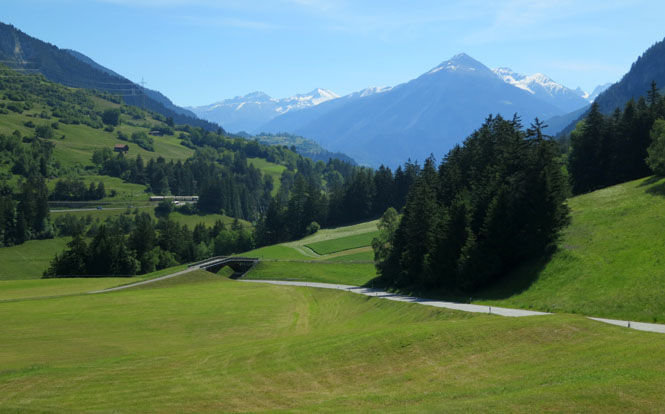 Reams, Switzerland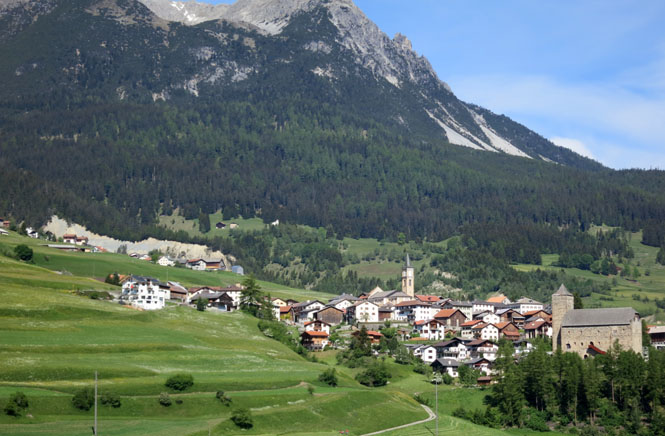 Roffna, Switzerland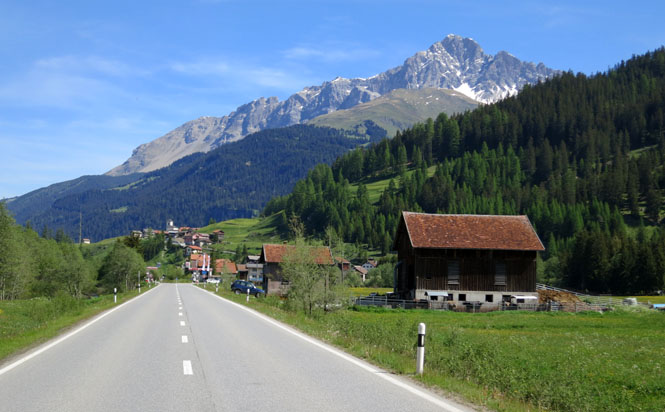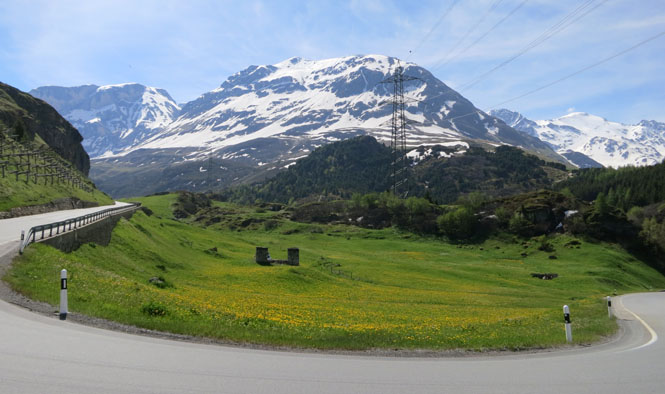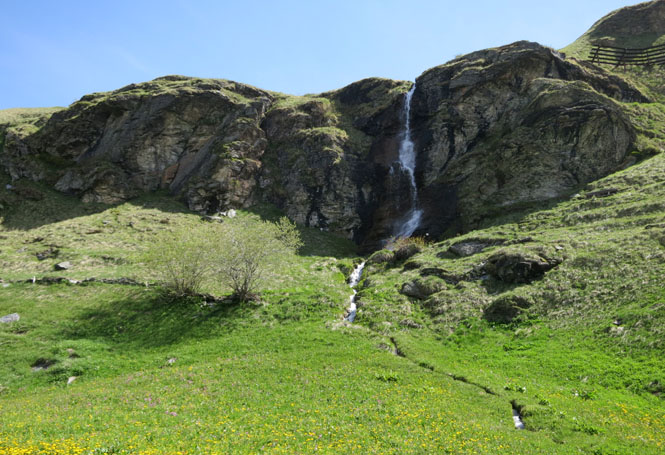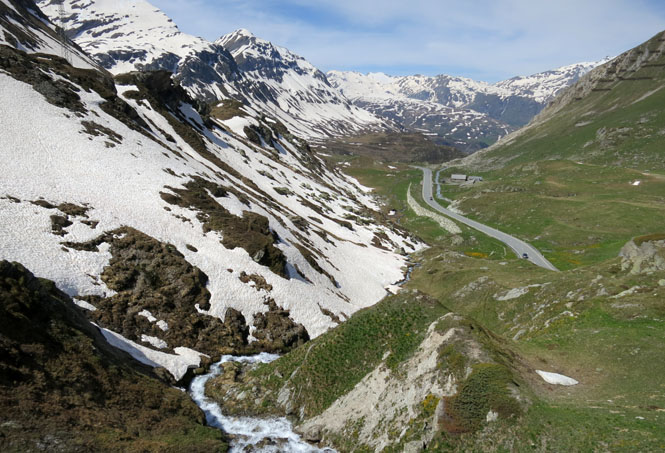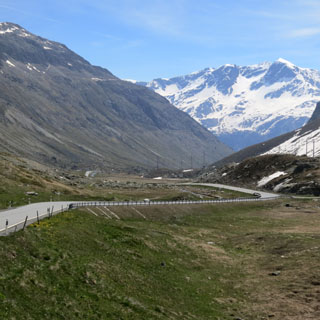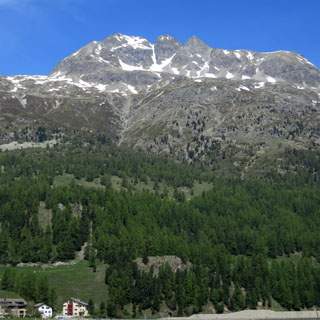 Lej da Silvaplana, Switzerland. This is just outside St. Moritz.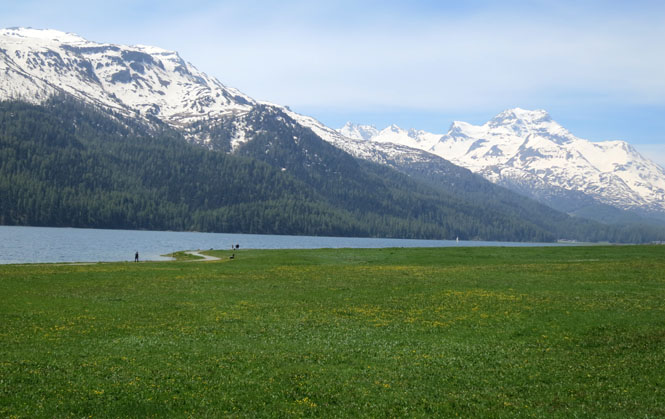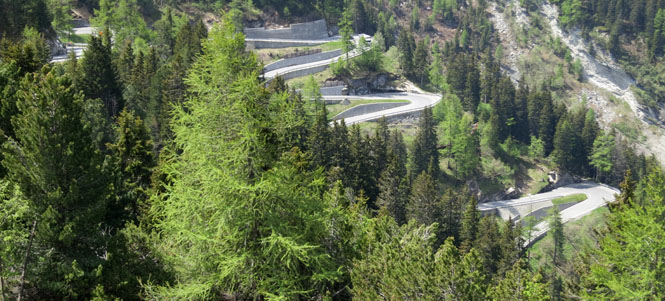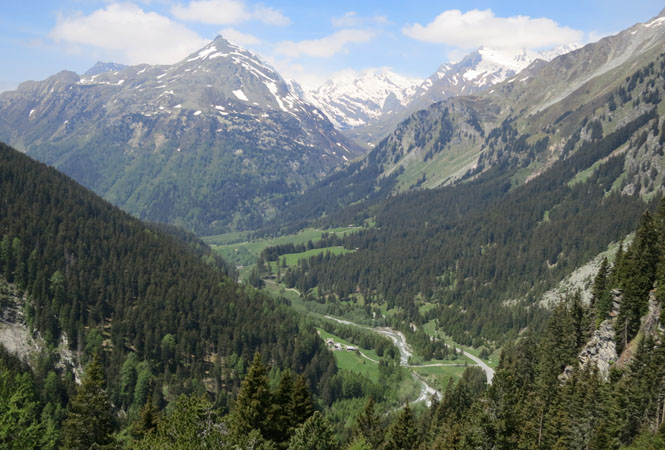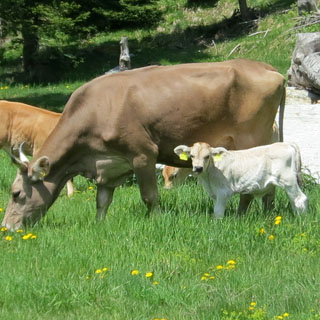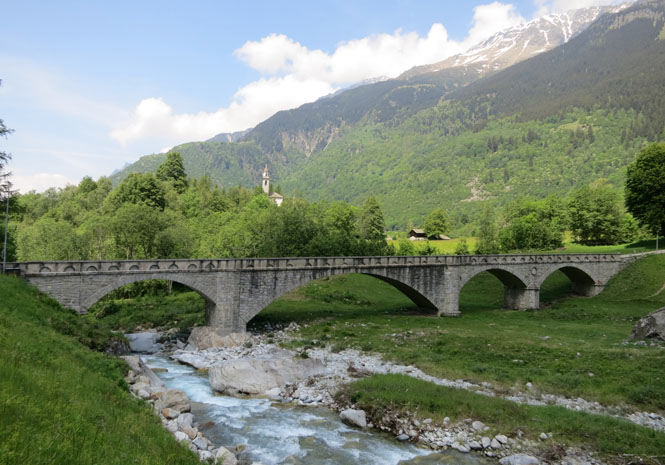 Italy
That's a plate of Gnocchi. I'm not that far from the Swiss border, but there's no mistaking that I'm in Italy.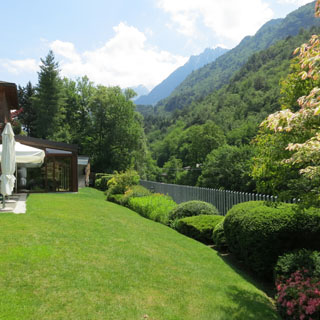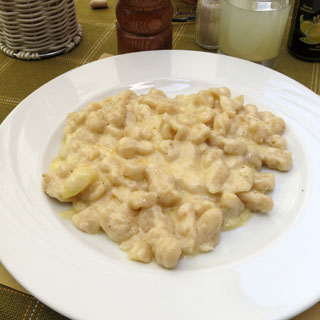 Back in Mandello del Lario to say hello to Carlo Guzzi (and the same white cat that I've seem on most every trip).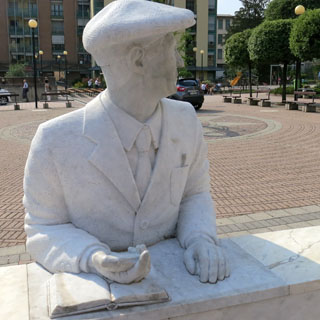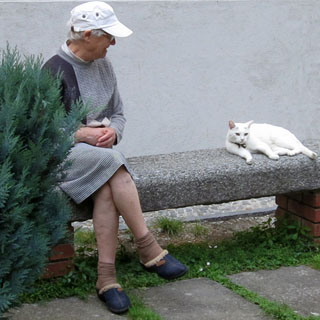 As always, I stay the last night at Mamma Ciccia's B&B.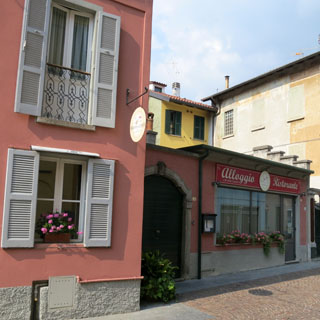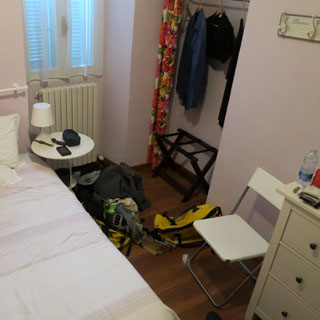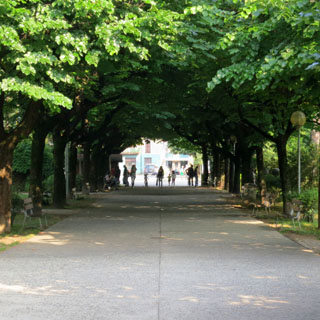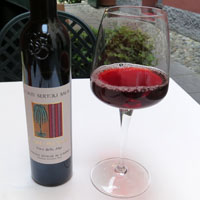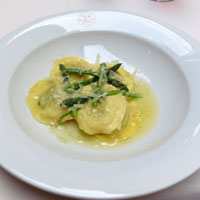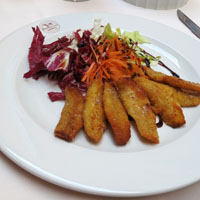 A final evening on Lake Como.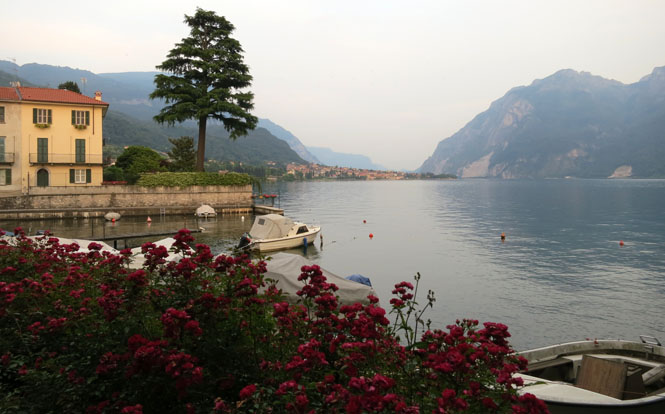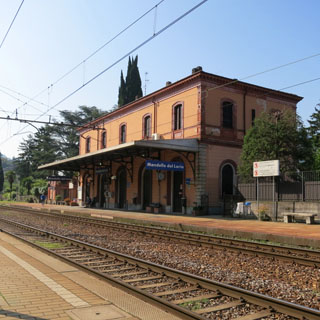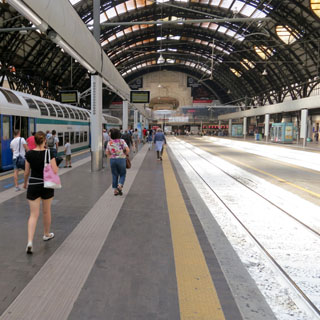 Back to Milano.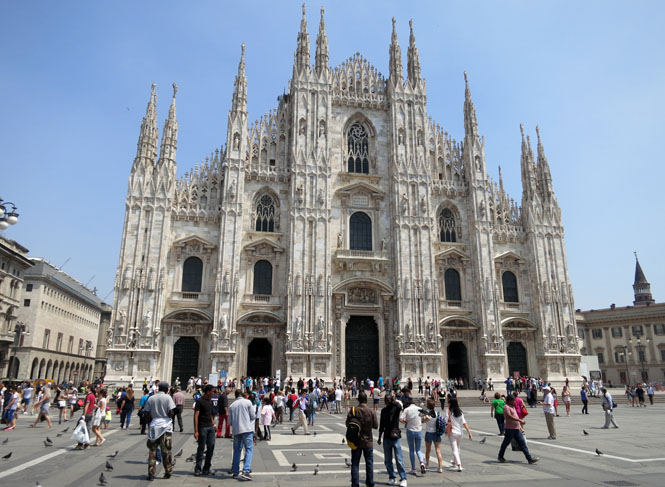 I took just a few photographs from the Duomo Museum before I realized that photography was not permitted.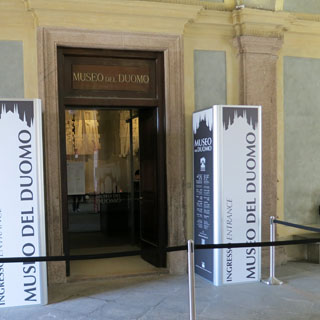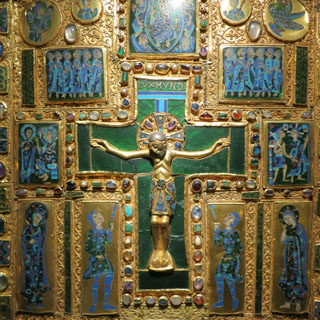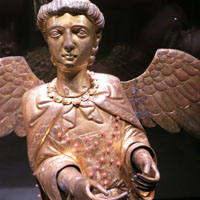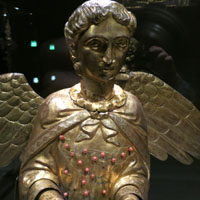 One of the in-flight movies: Jail House Rock.
I put down quite a few miles on this trip--particularly in the beginning. I hardly can claim to have seen Latvia (to pick just one country), but the point of all of these trips has always been the ride. And, for seeing lots of places and absorbing a wide variation of Europe, it was quite an enjoyable ride at that.
last edit: 7/9/2014