September, 2014

Sunday

Monday

Tuesday

Wednesday

Thursday

Friday

Saturday

7 September
8
9
10
11
12
Wichita
Newark
13
Milan
Lecco
14
Dongo
Lecco
15
Mandello
La Rochette
16
Chaudeyrac
17
St-Severin
18
La Gacilly
19
St-Malo
20
Jersey
21
Guernsey
22
St-Malo
23
Joigny
24
Lac de Chaillexon
25
Wassen
26
Mandello
27
Milan
28
Milan
Newark
29
30
1
2
3
4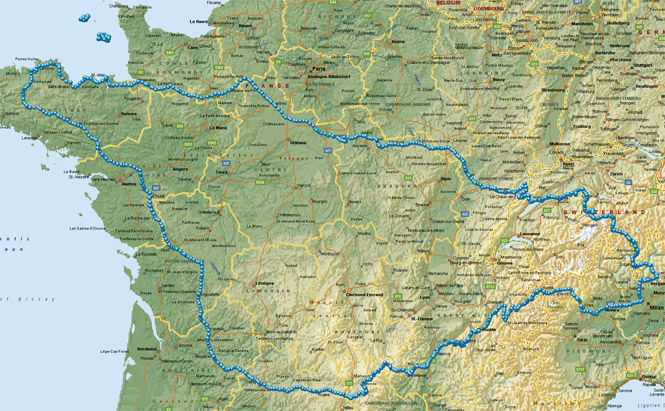 Europe Trip #11
The Channel Islands are under the protection of the U.K., but they are not part of the U.K. They are each independent Bailiwicks and are controlled by the Duke of Normandy, which title is currently held by the Queen. When King John lost the territories of Normandy, he retained Jersey and Guernsey (this was in 1204). They have remained a Crown dependency ever since.
Such interesting places deserve to be visited.
New Jersey
A connection: George Carteret (bailiff of Jersey) was such a help to Charles II (during the exile years when Cromwell ruled England) that when the Monarchy was restored to England he gave Carteret land in the colonies that would become New Jersey.
After the ride in Europe earlier this summer, I left my helmet and boots in Mandello del Lario. This meant that I could now pack everything into a single checked duffle-bag. No carryon bag means I don't need to rush onto the airplane like these folks so that I can find space in the overhead bin.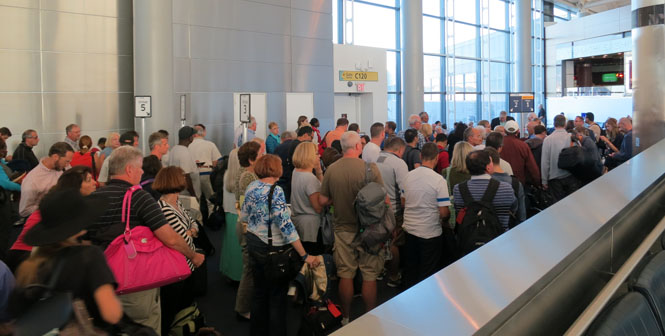 Italy
There are two ways to get to Lecco from Milan: from Milano Centrale train station or from Porto Garibaldi. I had the schedule of both places with me so that I could choose which station to go to from the airport depending on when I picked up my bag.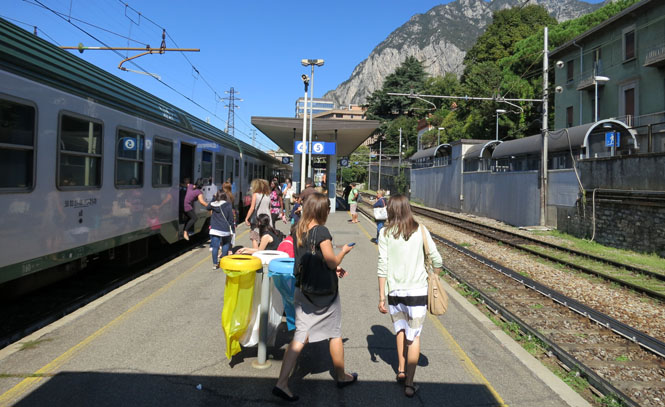 It happened that the Moto Guzzi Factory was having an open house on this weekend. It's a short train ride from Lecco to Mandello.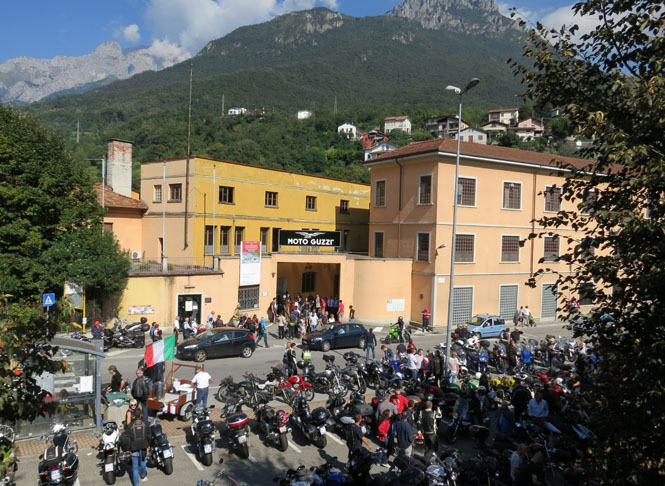 You don't see too many Guzzi singles in the U.S., but here in Italy, they're not unusual. For many people, the classic lay-down single cylinder engine still defines what a Moto Guzzi is.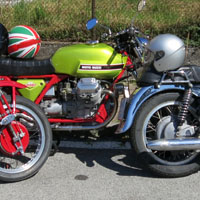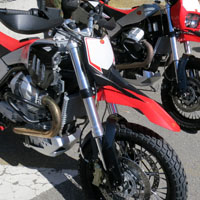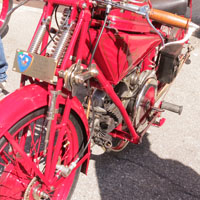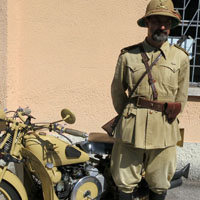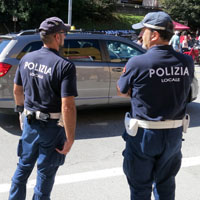 Several customs were on display. There's no expectation that a factory production bike will look like one of these, but it's good to see what is possible. Of course, the current models are also here.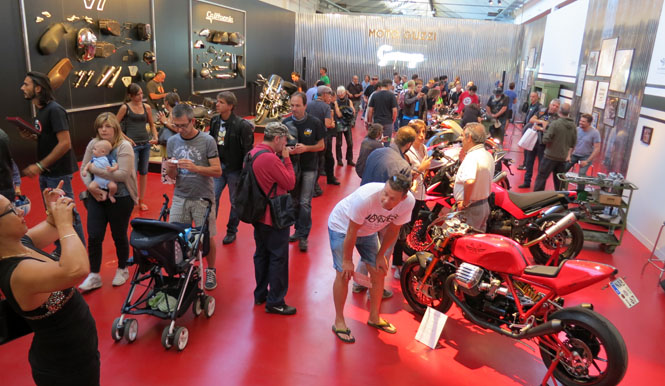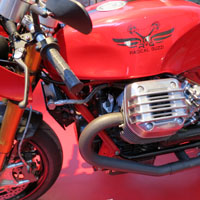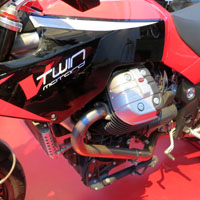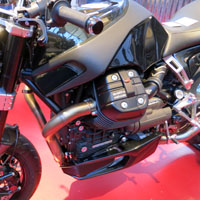 This is not a high production factory.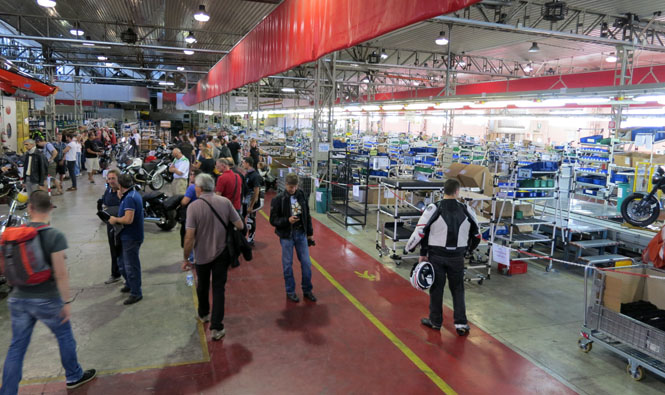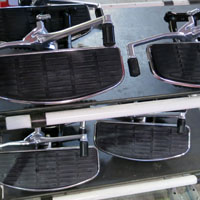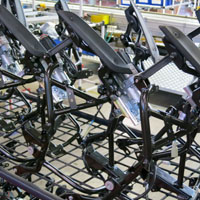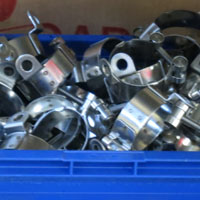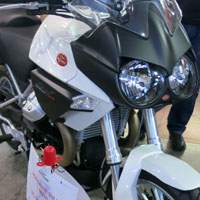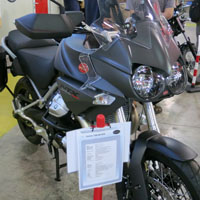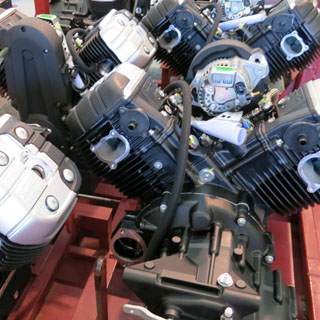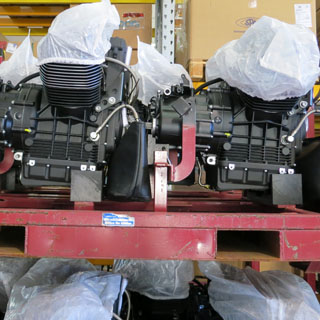 The old wind-tunnel isn't used anymore, but you still have to visit.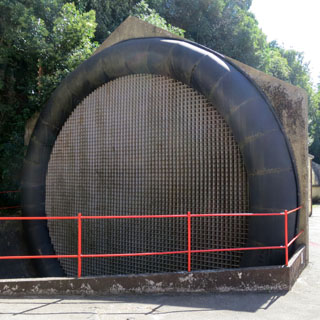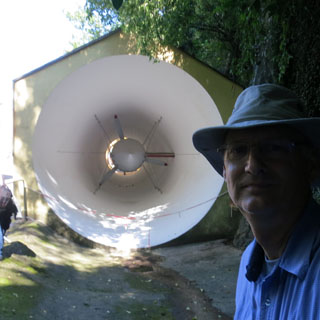 The amazing factory museum. It's all here; their entire production and racing history.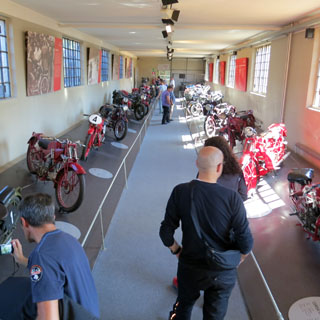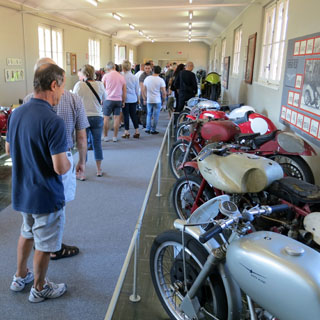 Lecco, is a good place to spend the first two nights. It's close to Mandello and has good transportation to lots of places.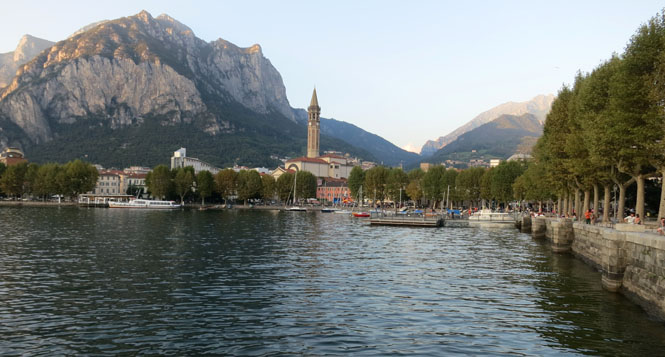 It seems every time I've been here, there's been something going on. I was not expecting outdoor ballet, but here you go.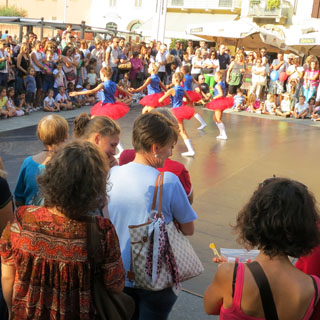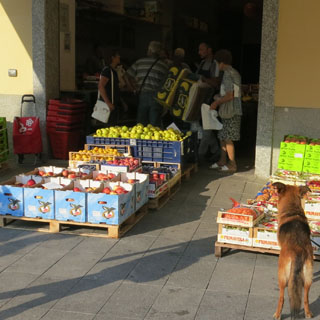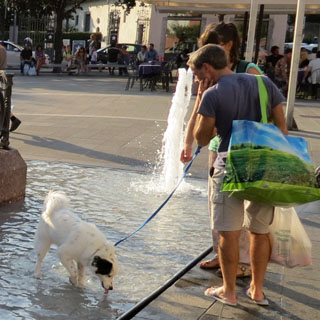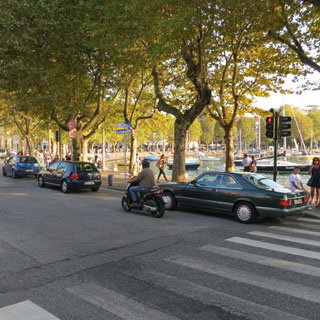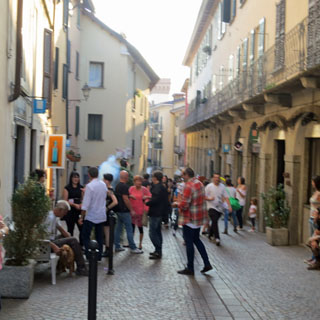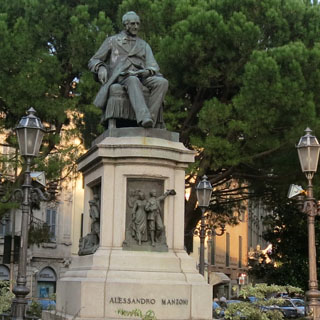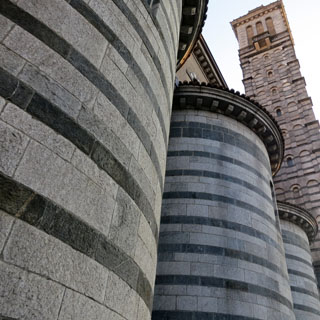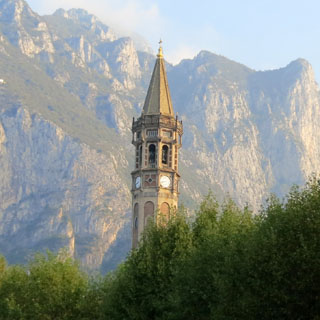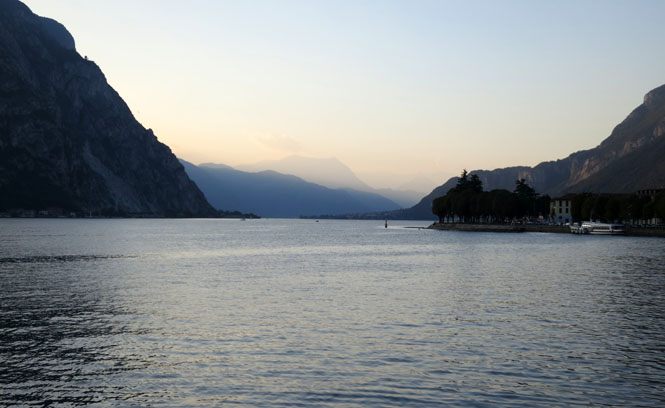 Sunday I'd take the ferry to the north end of Lake Como to the village of Dongo.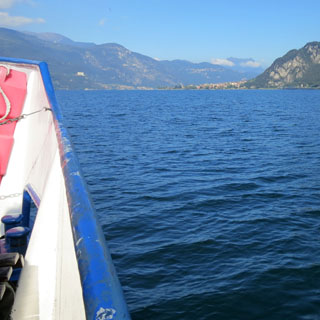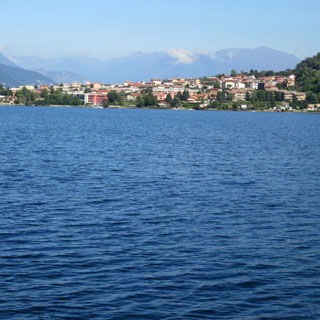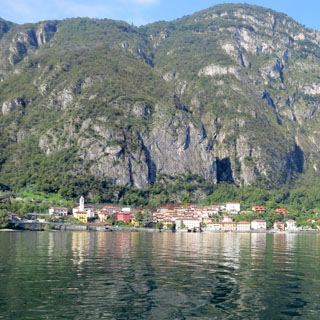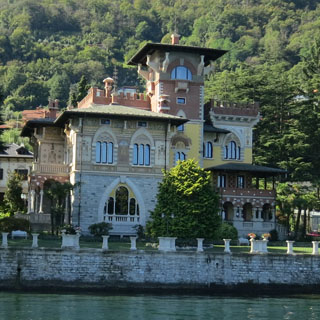 Change ferries in Bellagio with a bit of time to look around.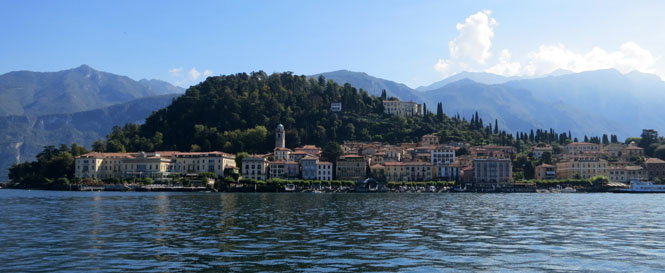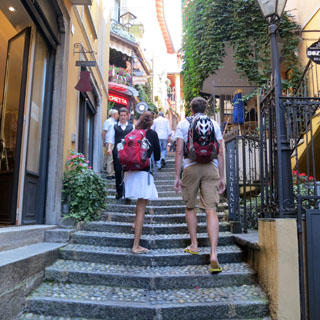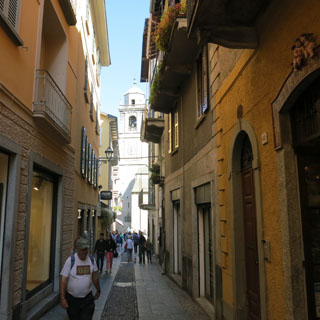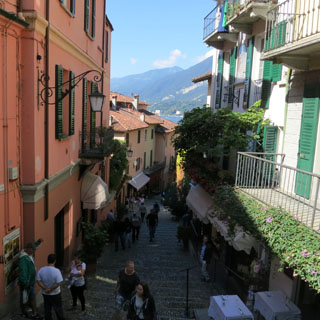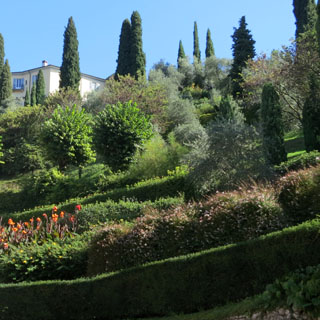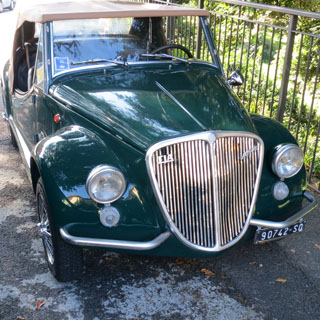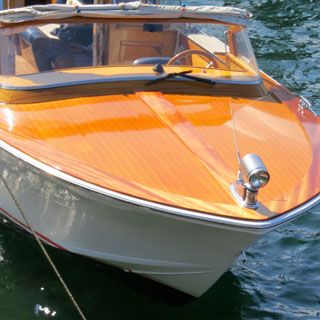 Continuing on. I didn't check the plate on this boat, but it has to be one of the older ferries in the system. It isn't fast, but then I guess that's not the point.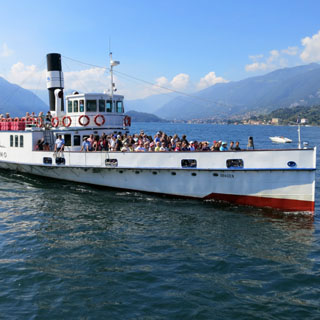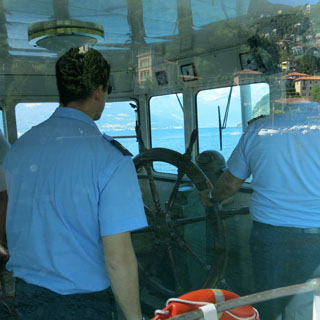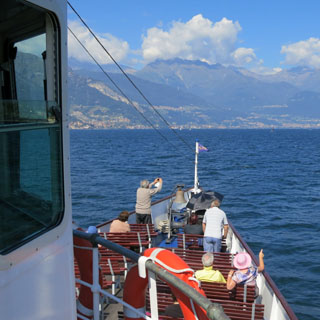 Dongo, Italy. On April 27, 1945 Benito Mussolini was captured near Dongo as he was attempting to flee Italy. He would be shot on April 28th. The Museo Fine della Guerra covers that episode as well as the larger history of the resistance movement of northern Italy.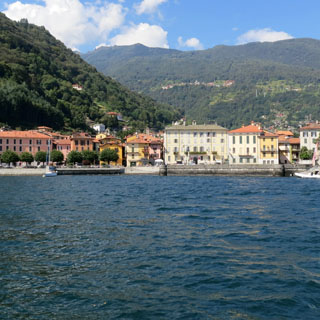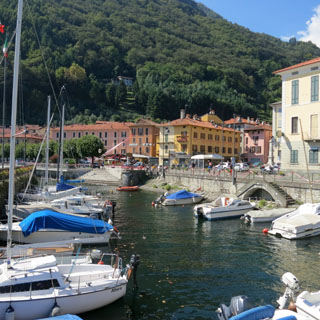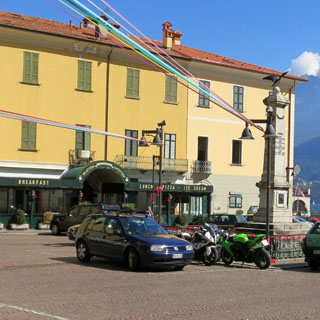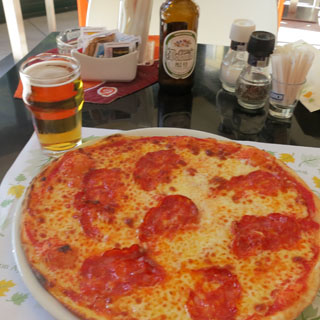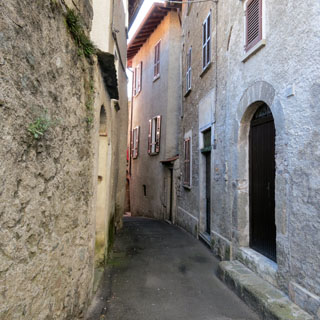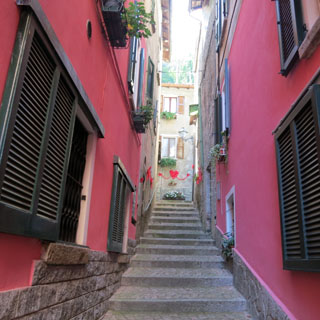 Unfortunately, no photographs were allowed in the museum.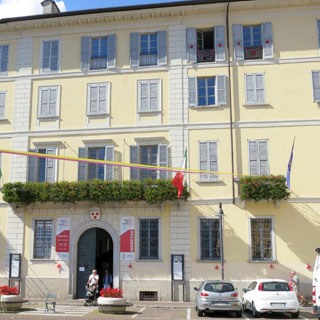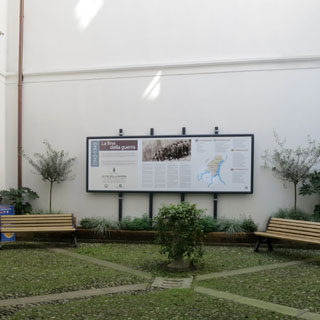 It's Monday morning, and time to start riding. As always, I'd be renting a Guzzi from Agostini in Mandello del Lario. This was the same bike I rode in June.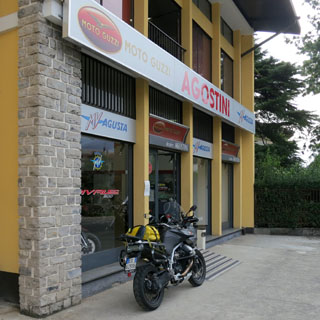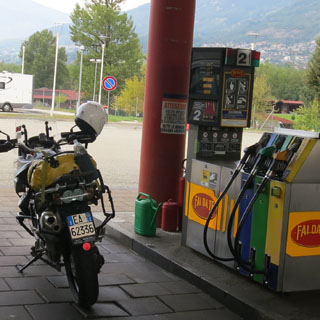 I hate toll plazas. Hate them. I endured a few in Italy, but avoided toll roads for the rest of the trip.

I'd be riding up the Aosta valley towards the Mont Blanc tunnel (or Monte Bianco in Italy), but would be turning south before I reached the tunnel. The plan was to go over the Alps; not through them.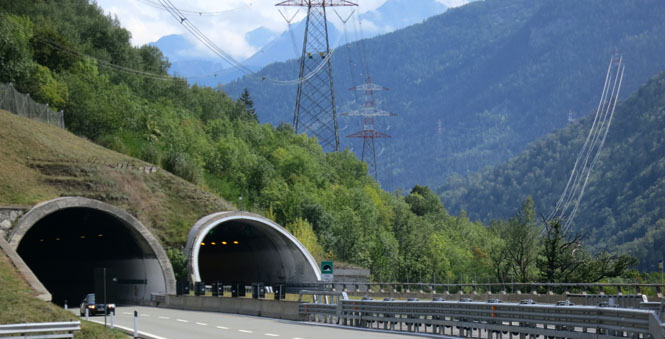 I was looking forward to this road over the Col d'Arpy, first, and then Colle del Piccolo San Bernardo (Little St Bernard Pass). It's a gorgeous and historic route but is little used, now. I saw very little traffic (more bicycles, probably).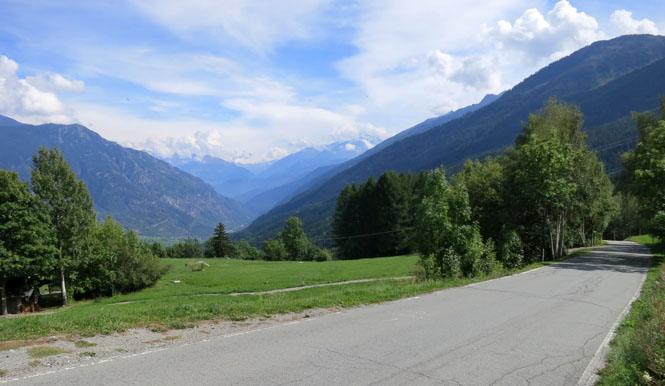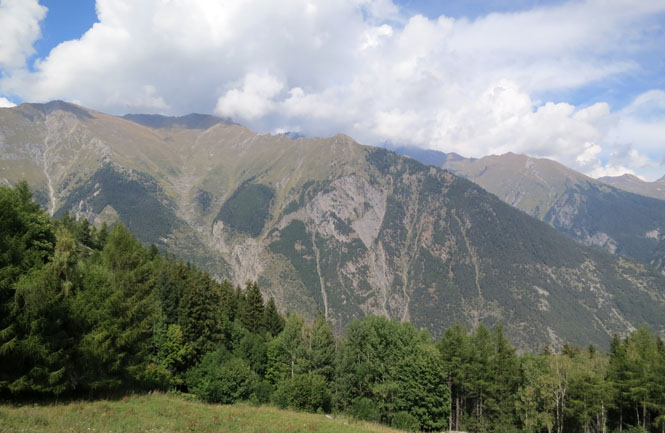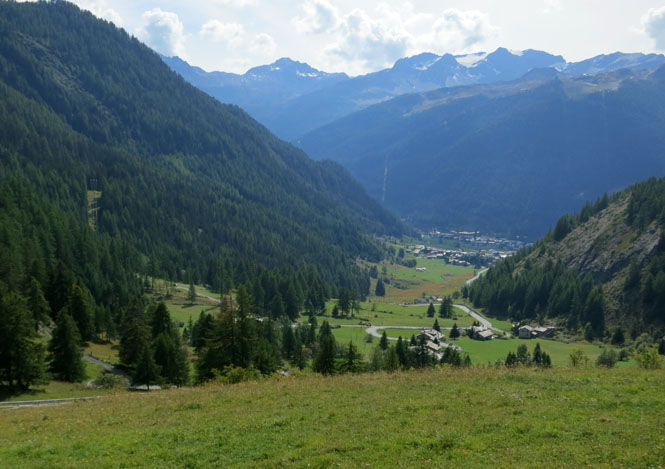 La Thuile, Italy.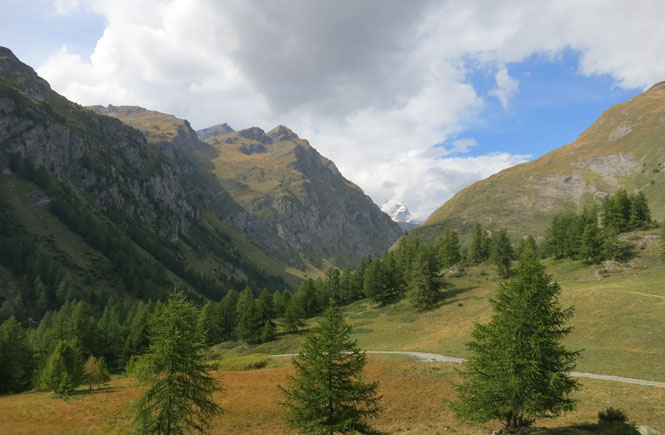 Little St. Bernard Pass.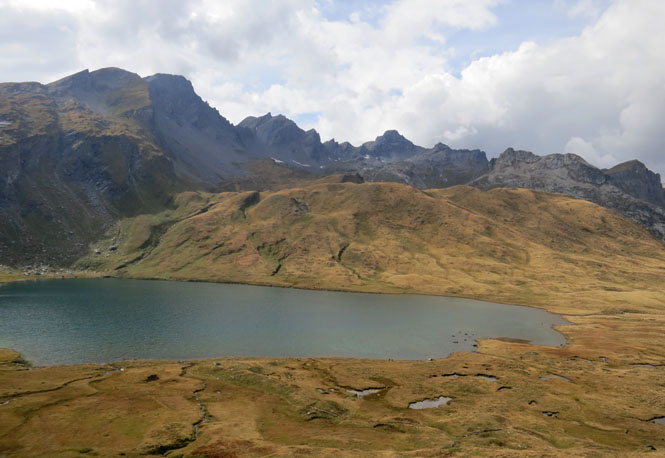 Yes; this is the same St. Bernard that gave his name to the large dogs with the brandy casks. Those concrete "dragon's teeth" are found in many mountain passes. The idea is to slow the tanks down during an invasion. I'd expect mine fields went along with the teeth, but we'll assume those have all been cleared.
France
After the war, boundary lines were clearly defined and marked. There will be no more fuzziness about that sort of thing--fuzzy borders cause trouble.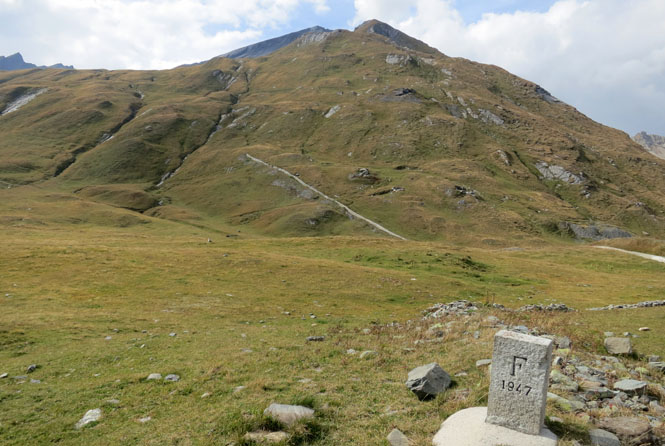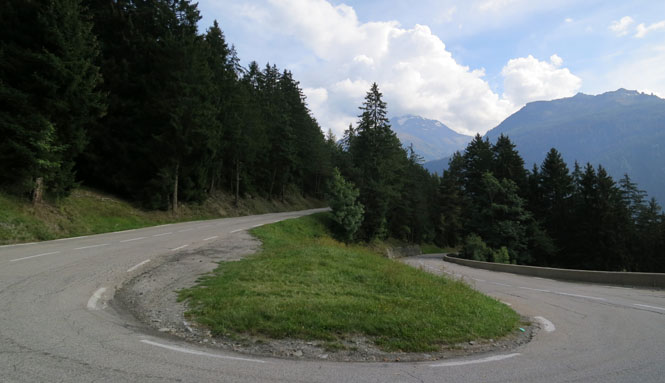 Séez, France.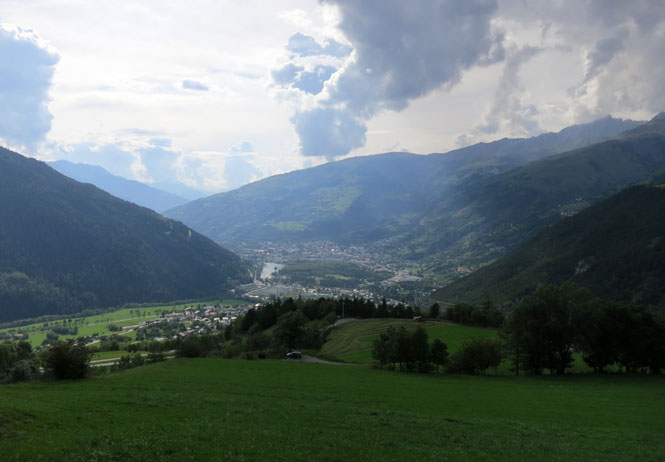 Next up; Col de la Madeleine, which is another high mountain pass that doesn't get much traffic.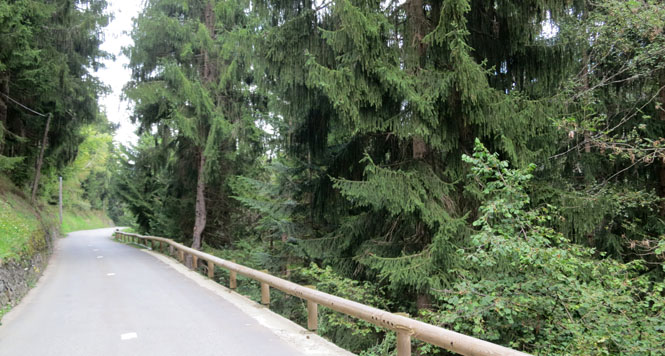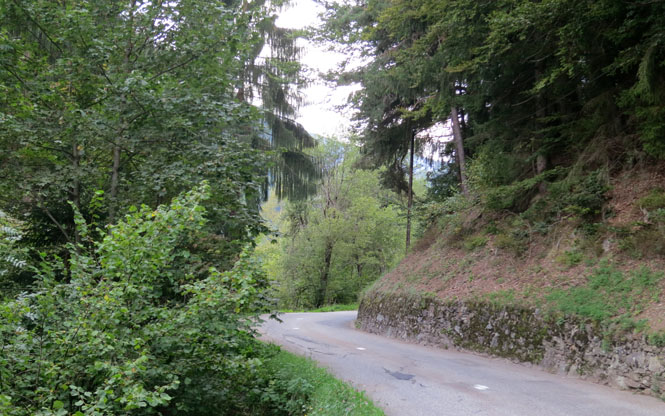 Celliers Bourg, France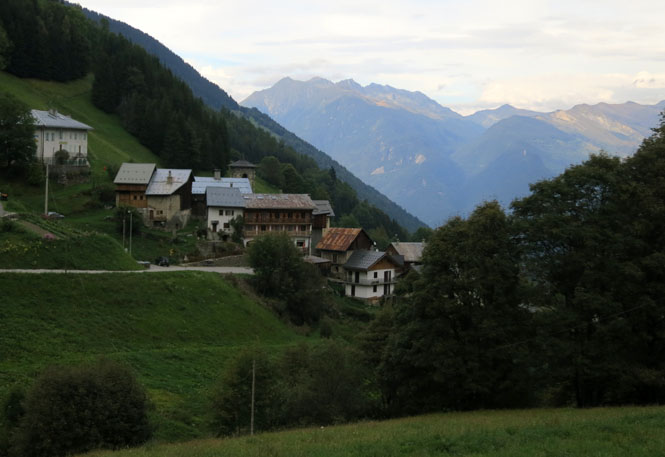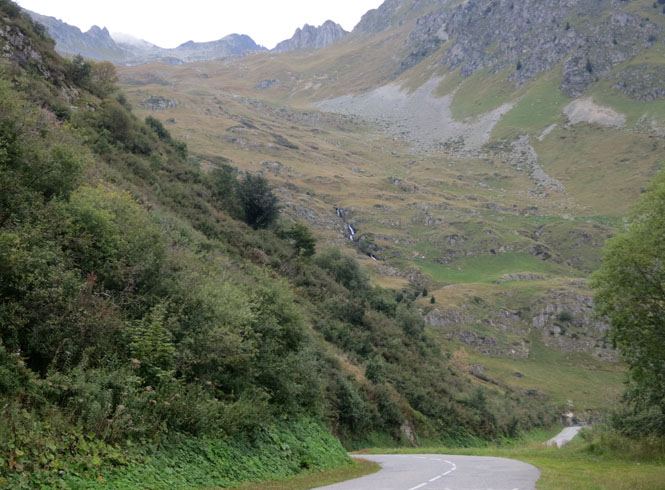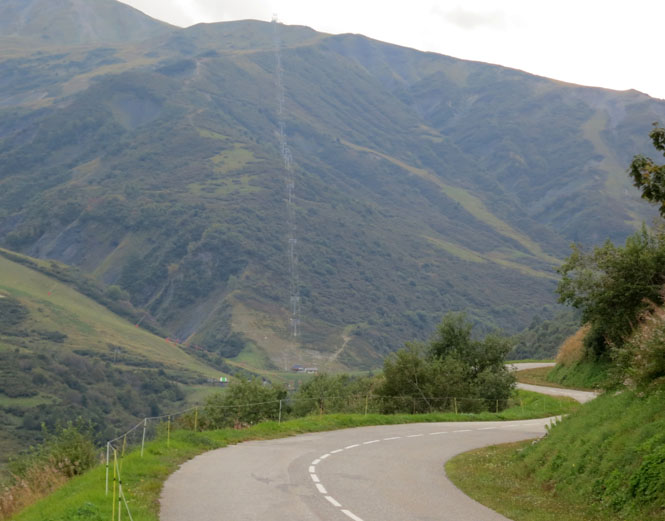 It's a steep and narrow road to the top. Based on all the painted words on the road, it looks like lots of bicycle races use this route.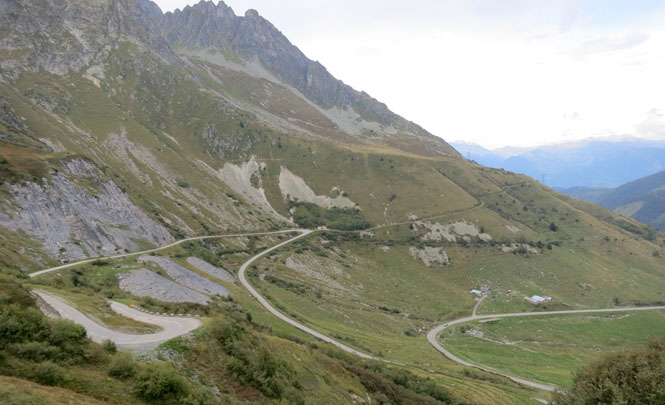 Aiguebelle, France. I was looking for a hotel by this point, but there wasn't anything too attractive here.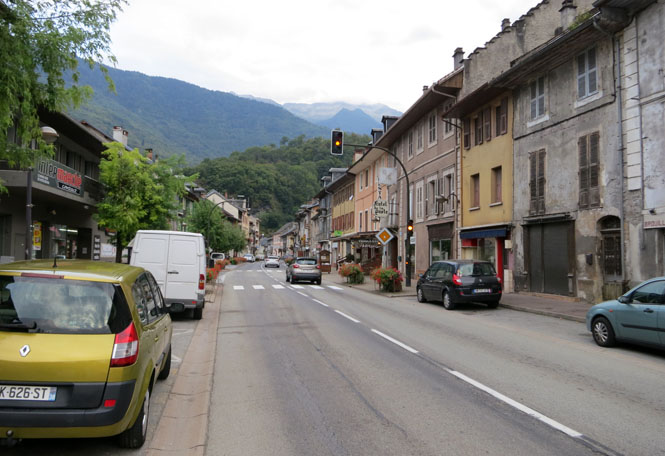 La Rochette, France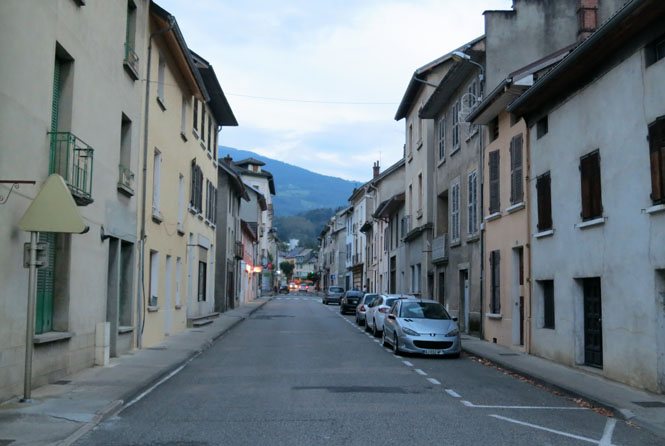 The Hotel du Parc worked out fine. This was once a significant route (La Route des Grandes Alpes), but all the heavy traffic these days is on the other side of the hill to the west (another toll superhighway to be avoided)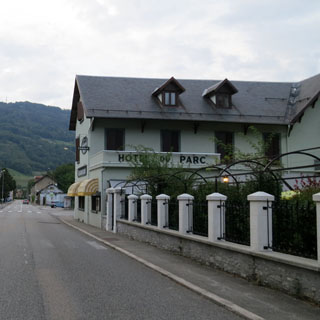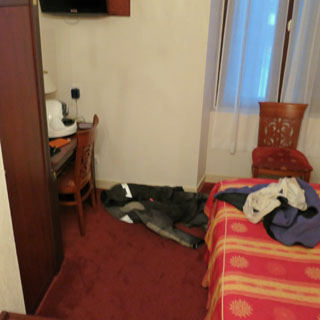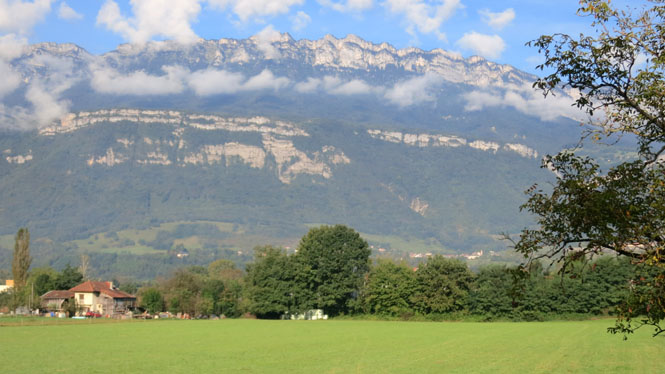 Grenoble, France. I didn't have much choice but to ride through the center of Grenoble. It's the second time I've done it, and I'd rather avoid a third.

Into the Combe Laval. What an amazing area.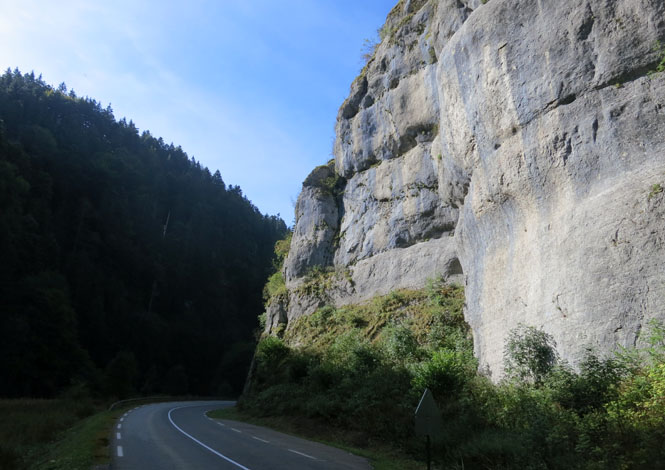 This road through the narrow gorge was closed not far ahead (the road was damaged), so I'd be going up and over.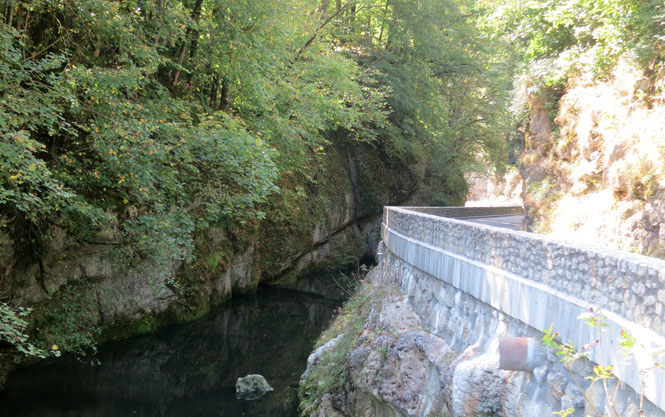 In some cases it wasn't wide enough for two cars to pass, but that's never a problem on a motorcycle.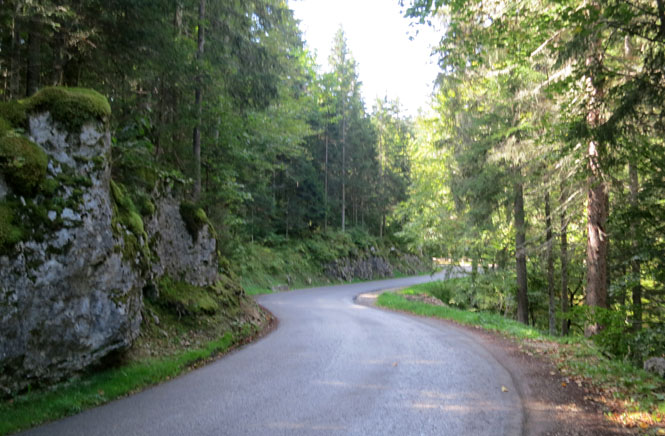 This was the scene of very heavy resistance fighting. You'll see many memorials throughout these mountains.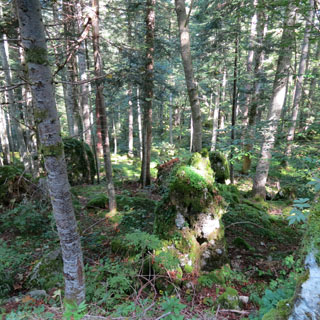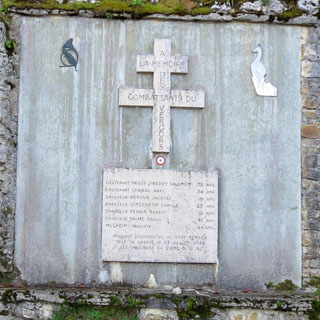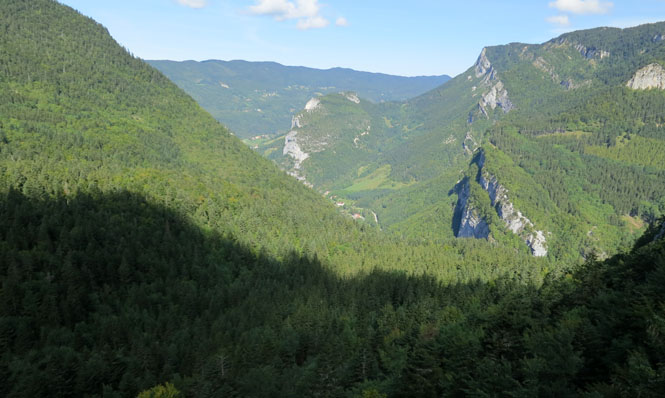 Saint-Martin-en-Vercors, France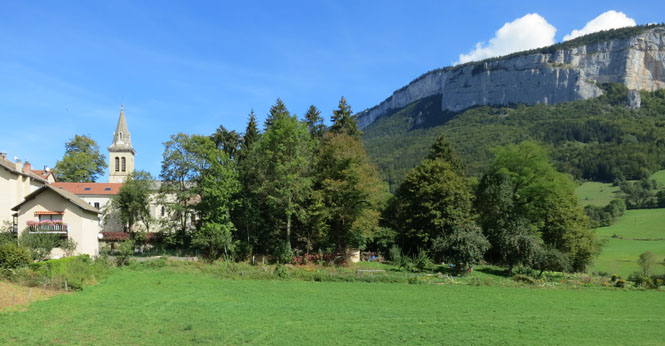 This must be extraordinarily difficult terrain to build a road through.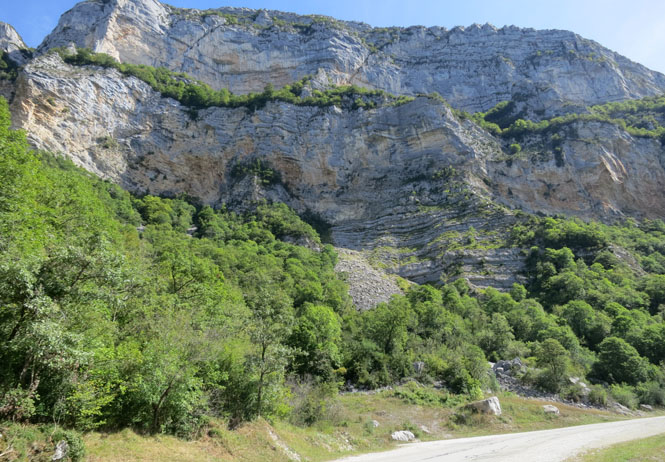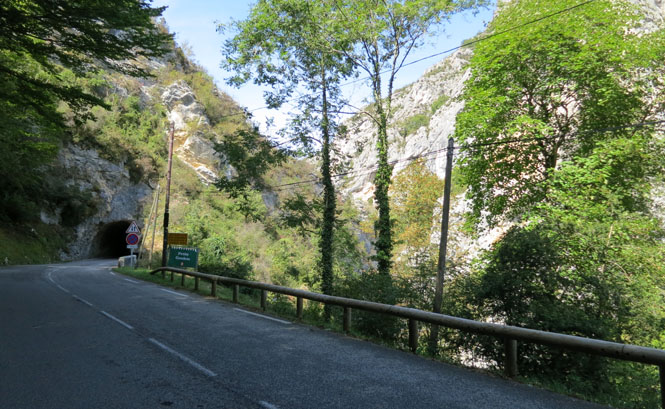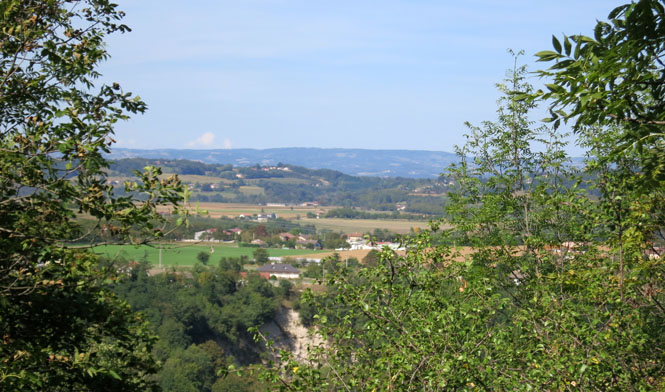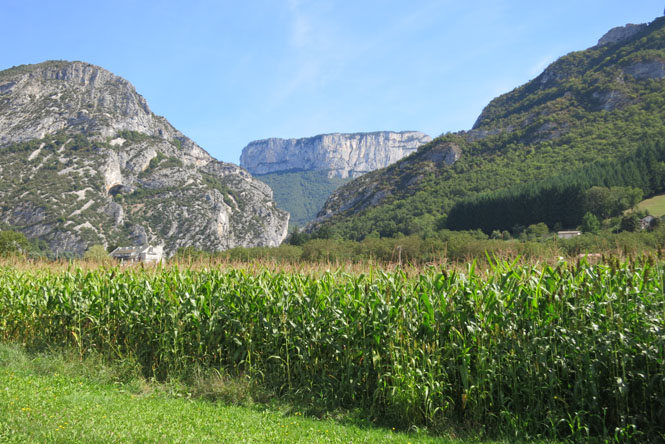 The Rhône River. There will still be plenty of hills ahead, but the Alps are now behind me.

A stop at La Voulte-sur-Rhône for the French version of a ham-and-cheese sandwich. I just made the 2:00 deadline when everything closes. The owner handed me the sandwich and the glass, locked the door and walked away. My table was outside, of course.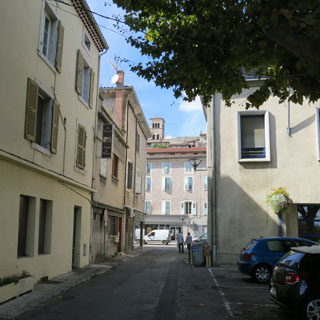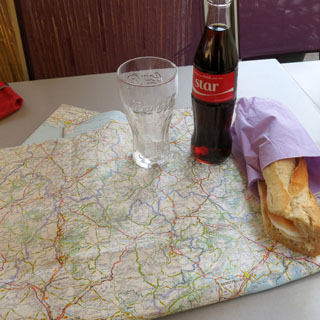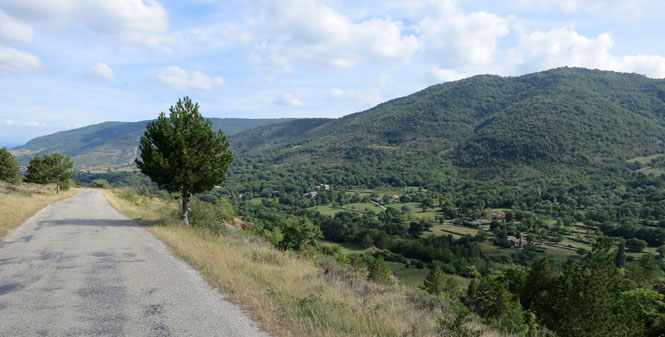 A boy and his goat...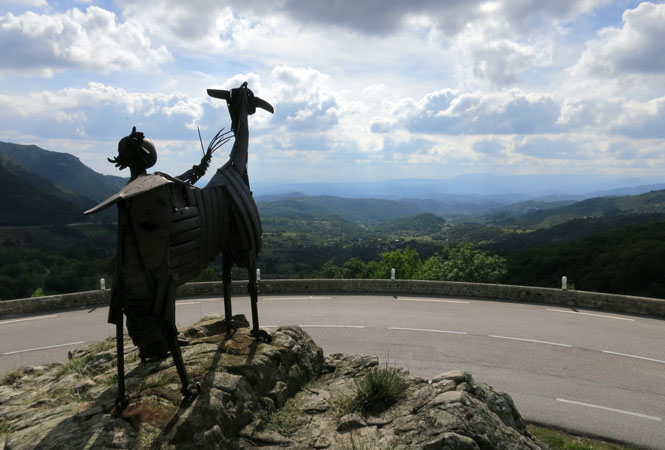 Pont-de-Labeaume, on the right bank of the Ardèche River.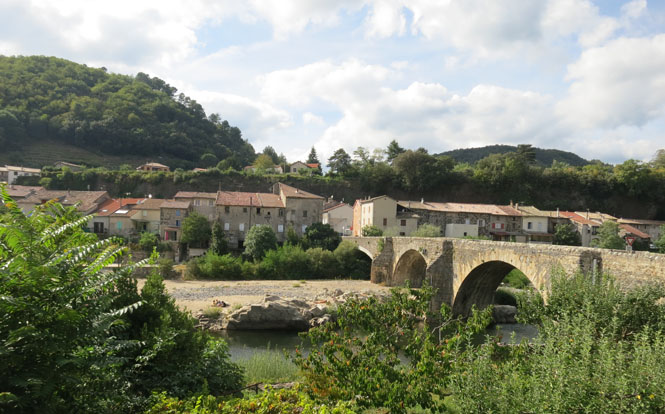 Thueyts, France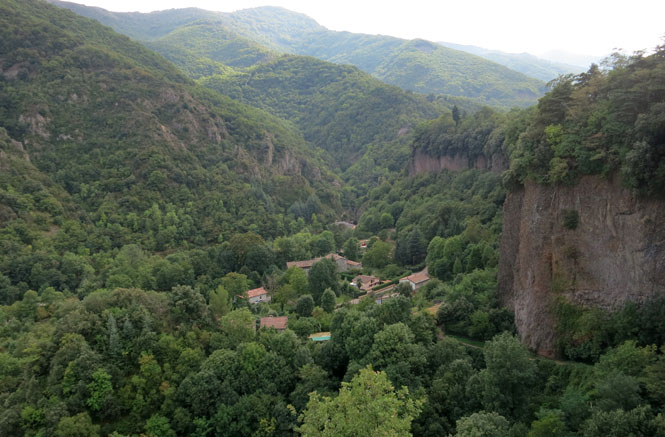 I don't know that I've noticed this type of sign, before. It isn't the significant boundary that the Continental Divide is in the U.S.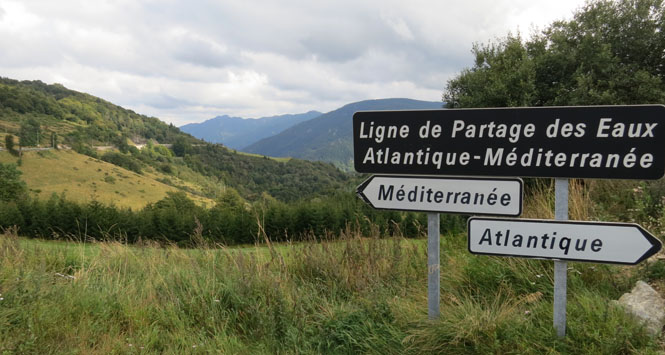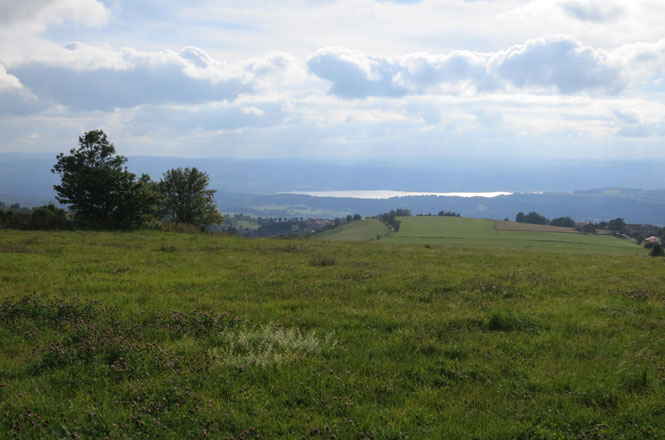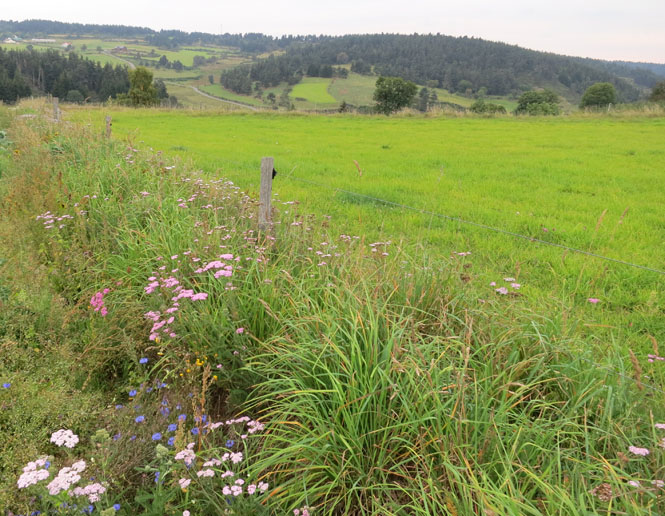 Chaudeyrac, France. I had thought of moving along a bit farther before stopping for the night, but it was getting fairly cold and the light drizzle was threatening to turn into real rain. Chaudeyrac will work fine.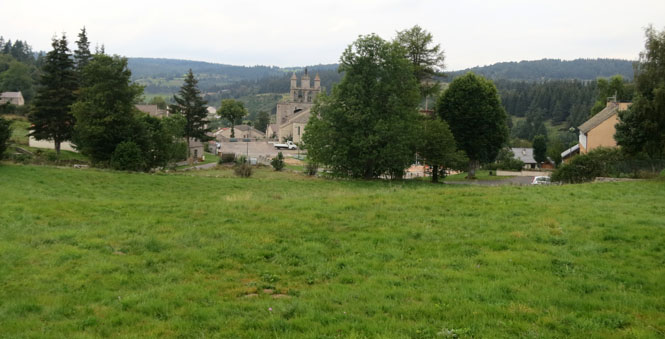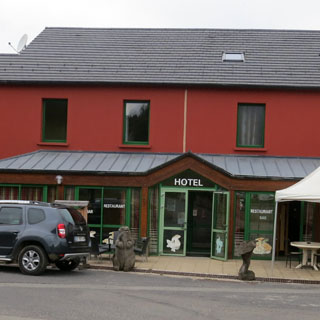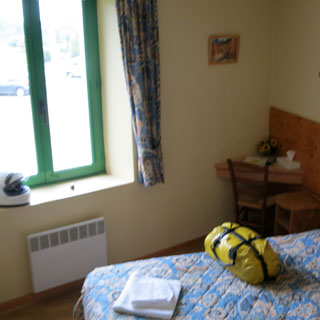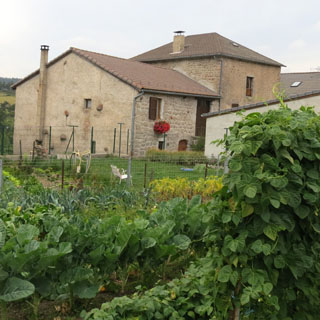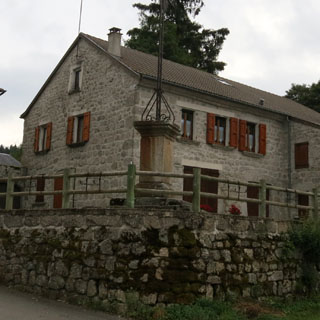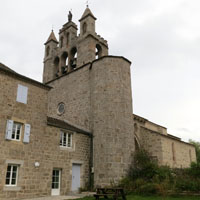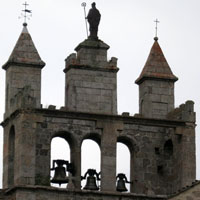 I had not seen these memorial tiles before. They'll last a long time and can include a photograph of the soldier. Nicely done.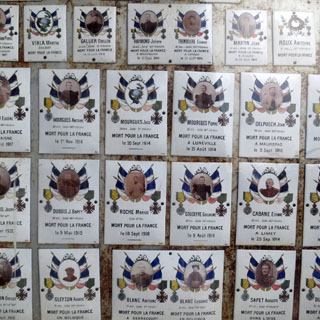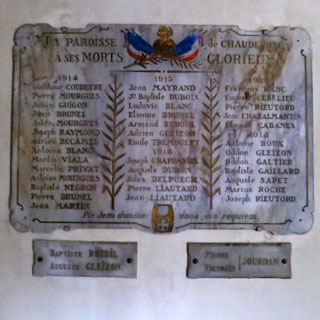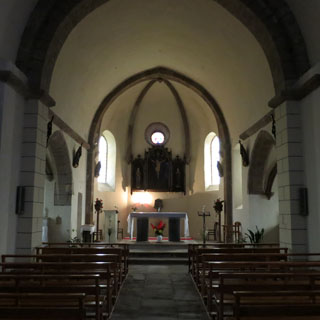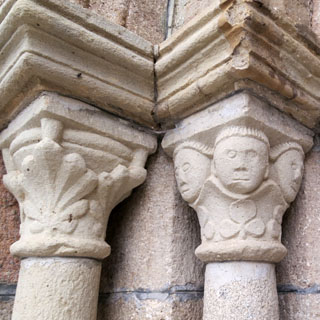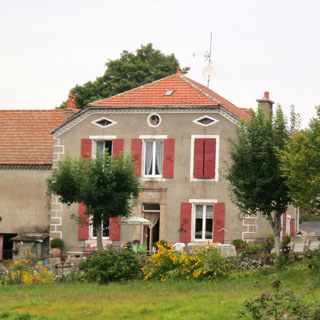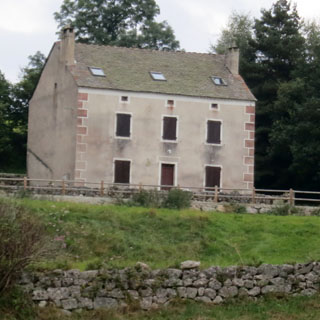 The goal this morning is to ride through Gorges du Tarn. I am hoping that these clouds (and the accompanying rain) will clear away.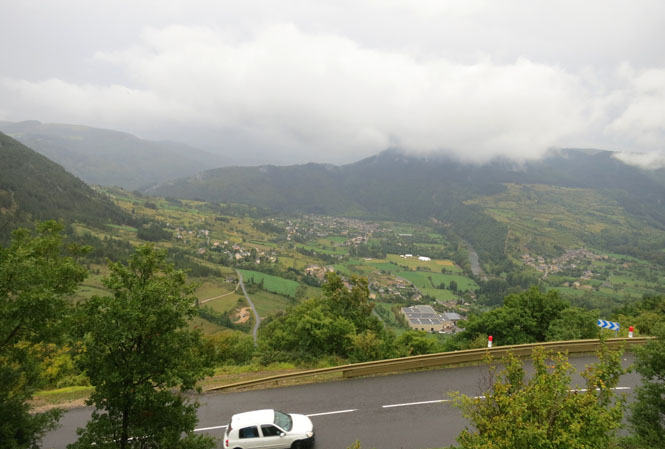 Fueling in Ispagnac. Now that I have a true Chip and PIN card, I don't need to worry about finding fuel in the off-hours. American credit cards are slowly converting to Chip and Signature, which still won't be any help at many self-service pumps in Europe.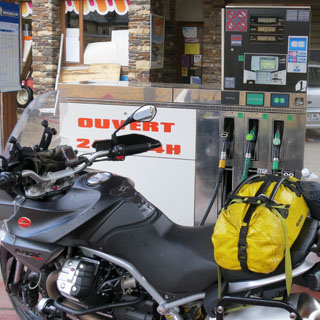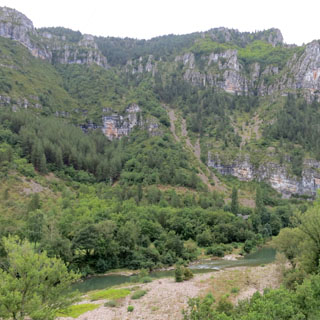 Route des Gorges du Tarn; one of the great drives in Europe.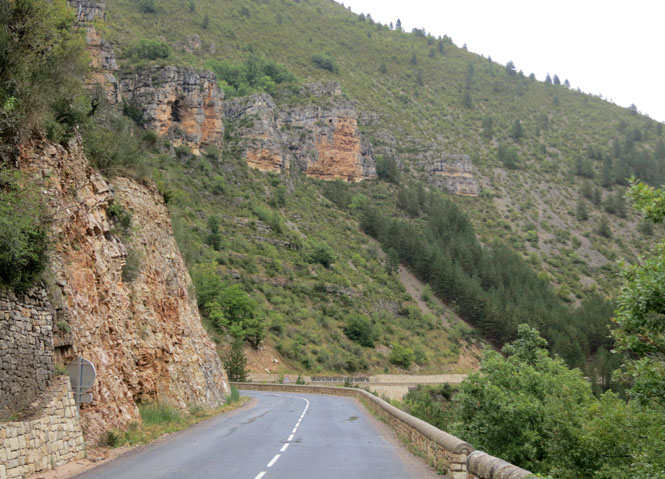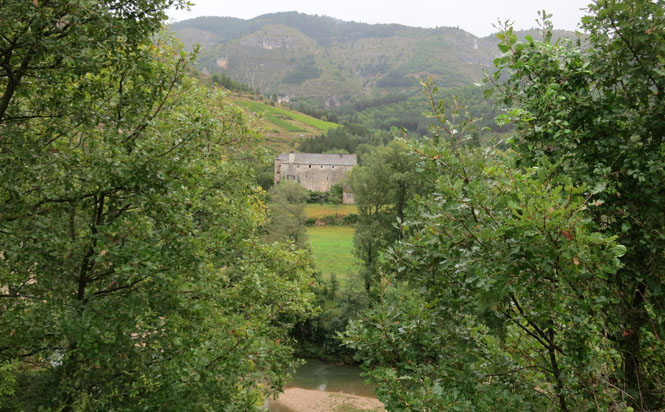 Castelbouc, France and the Le Tarn River. You may need to look twice to see the village.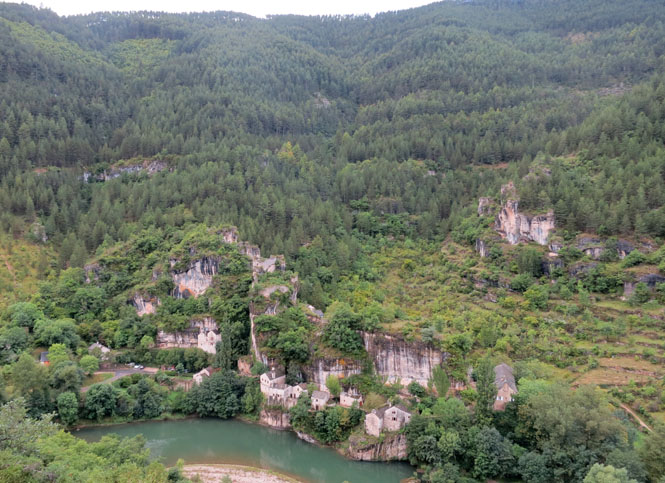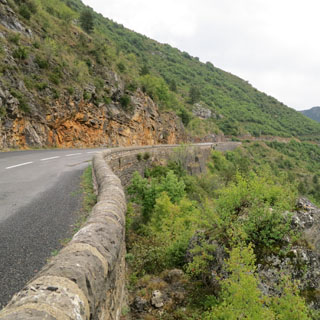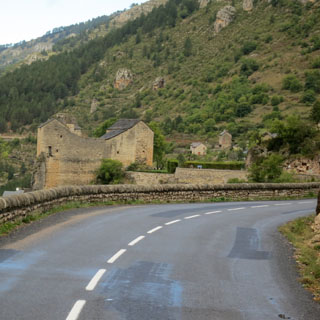 I've read reviews of this area that warn against great throngs of tourists clogging the roads. That must be in August because I didn't have any problem.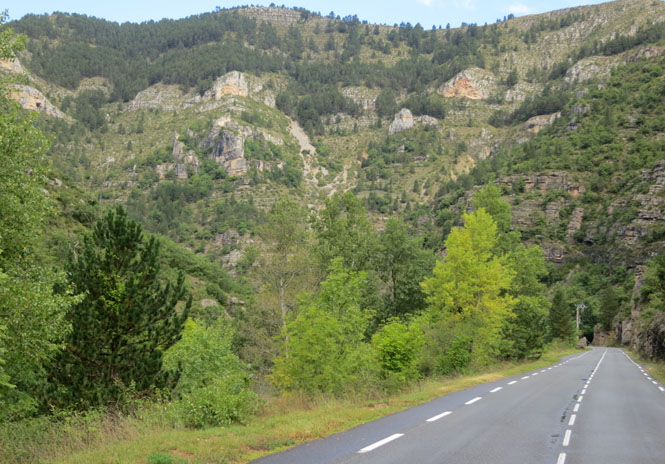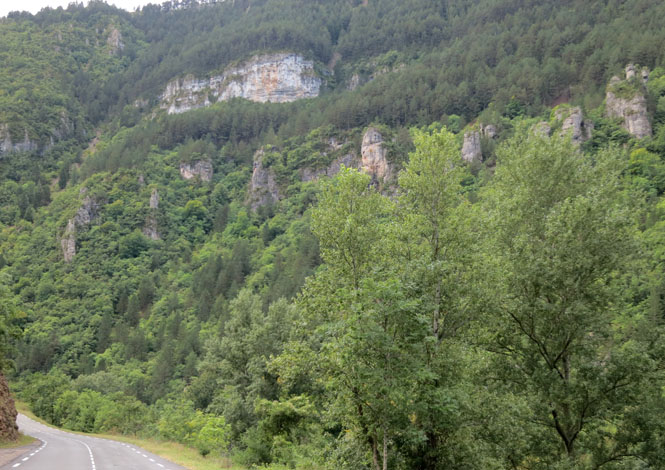 Sainte-Enimie, France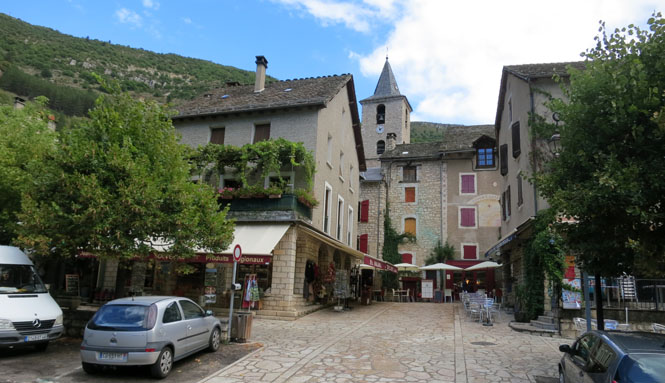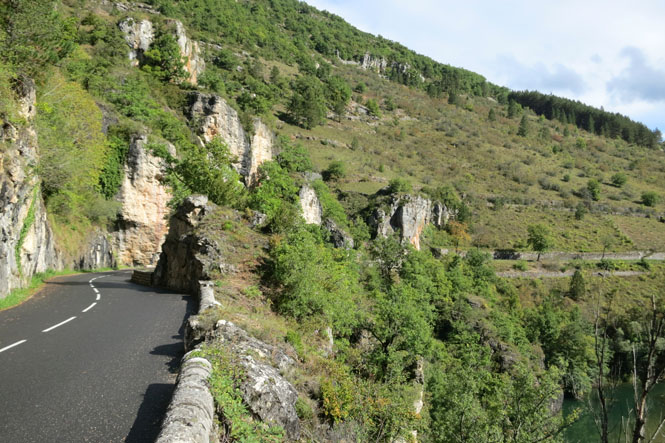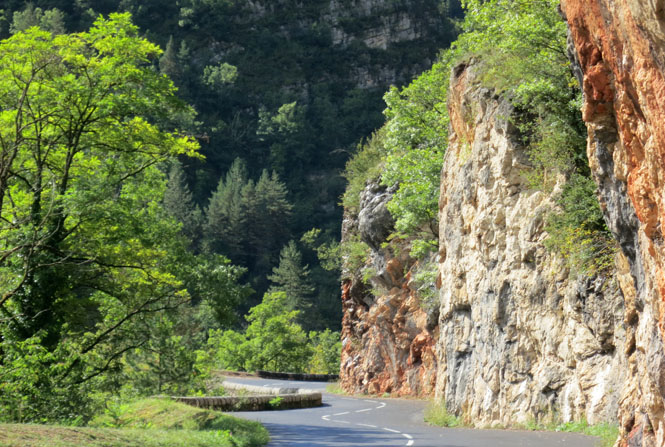 Saint-Chély-du-Tarn, France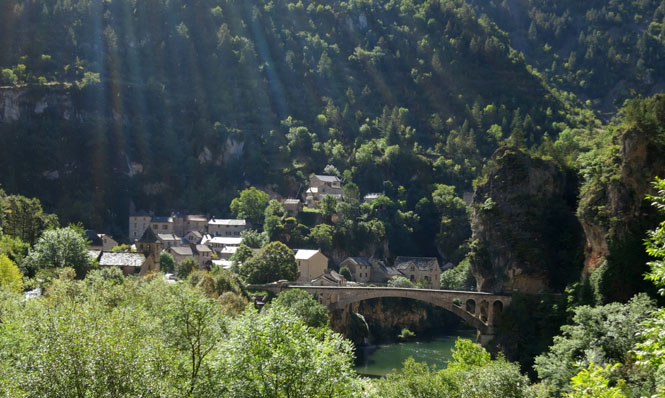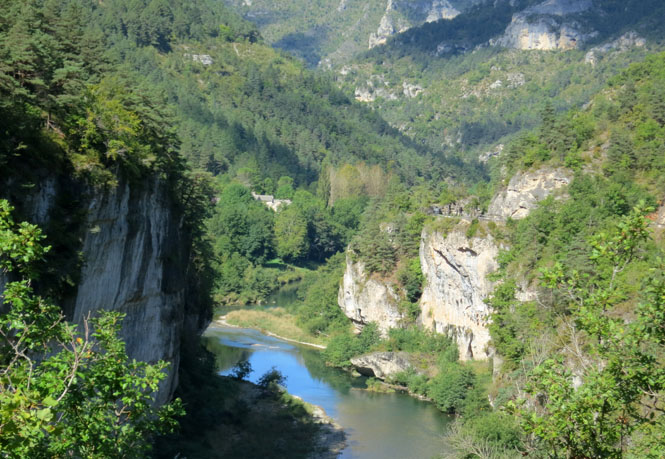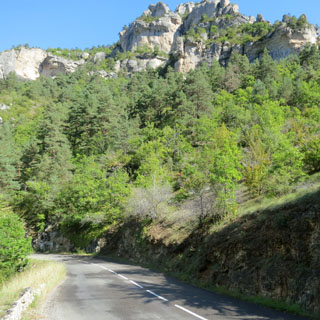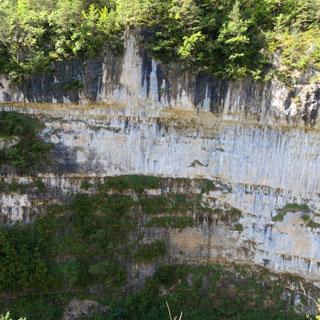 This kind of thing makes sense when you realize that the road was built before cars and there wasn't much point in removing more rock than you needed to.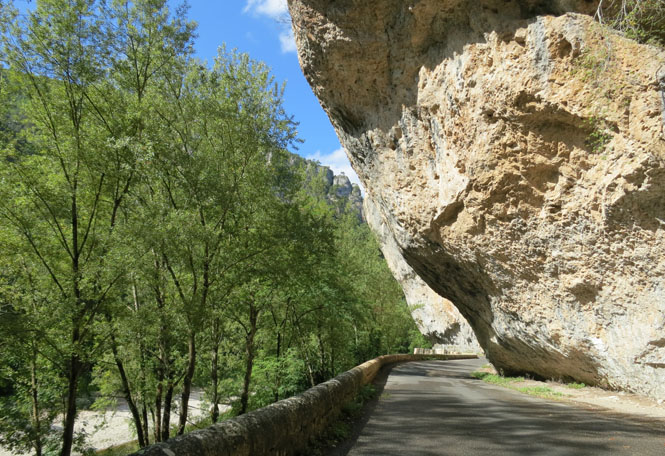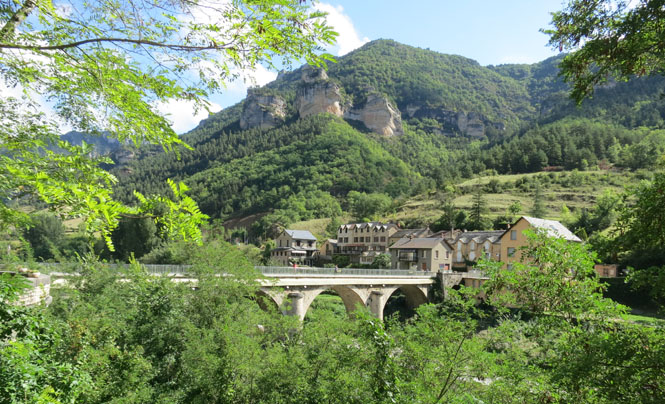 Les Vignes, France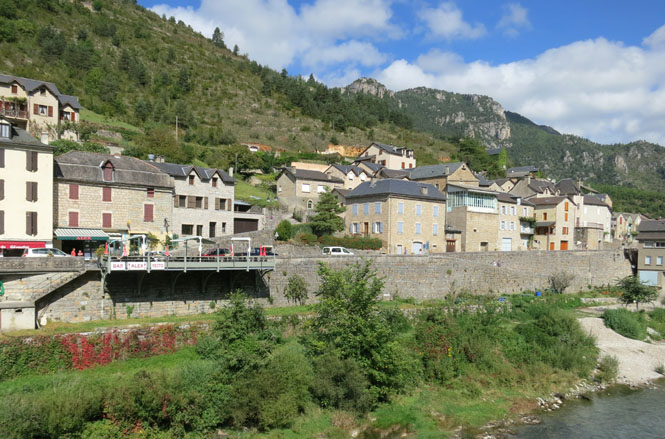 There were quite a few zigs and zags to get here, but this is the view of the Tarn River from above. The Gorge is in the distance.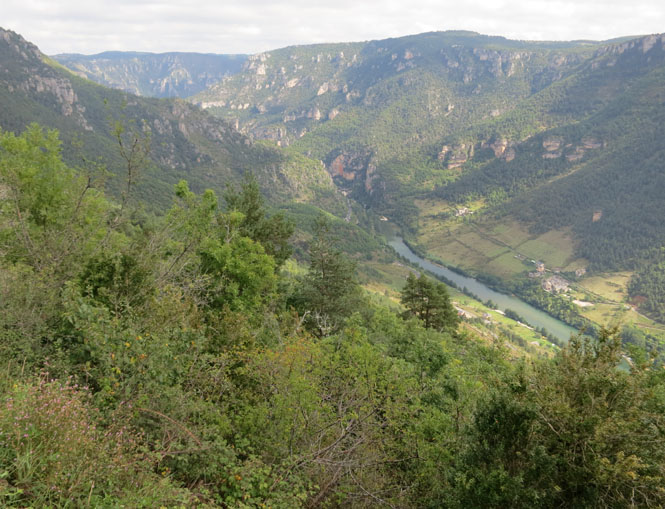 Saint-Rome-de-Dolan, France. I admired their striped field (and the fact that the tree in the middle has never been removed), so stopped for the photograph.
Bertholène, France.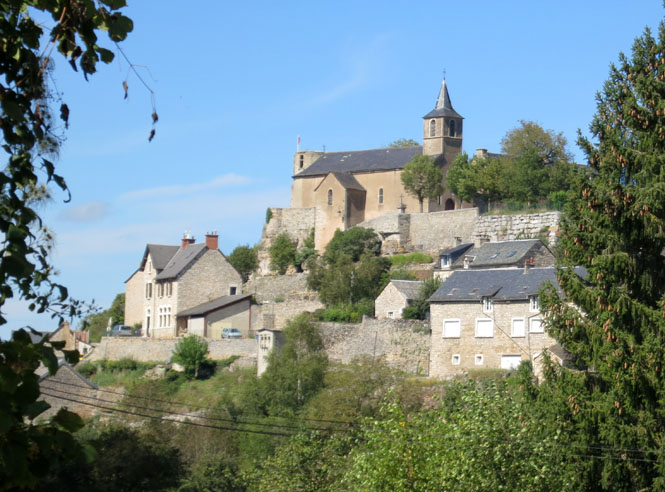 A long view from the highway.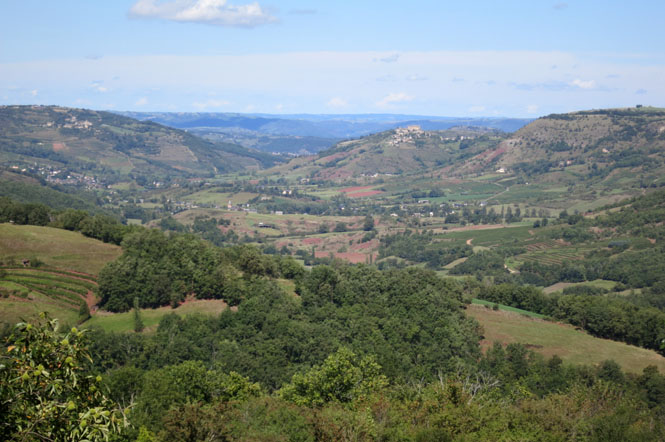 Marroule, France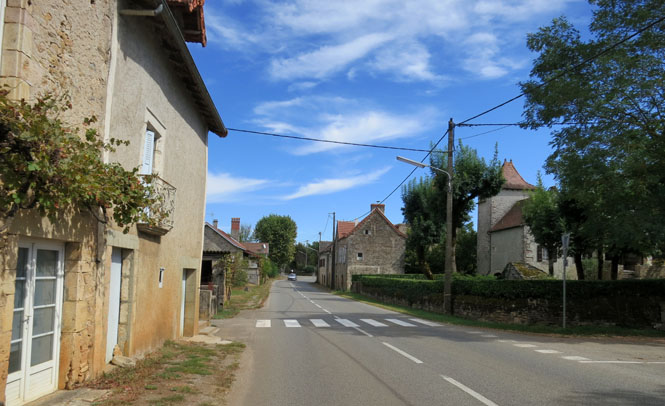 Limogne-en-Quercy, France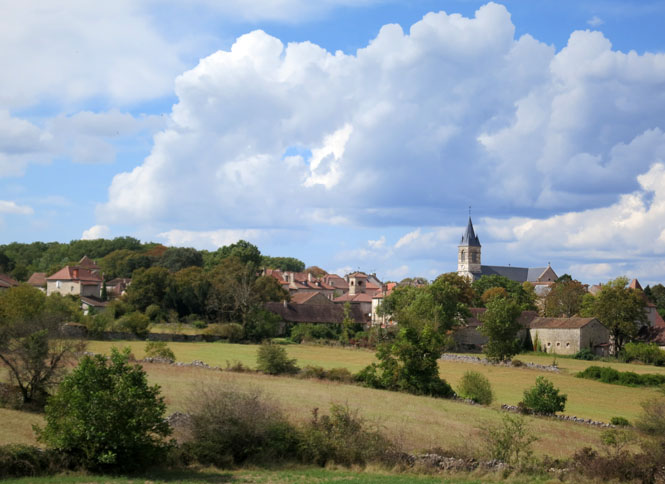 Concots, France. Small towns--very much like this one--are strung along every eight miles, or so.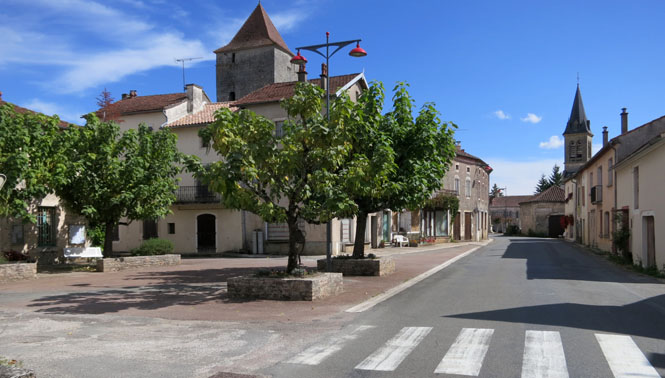 Cahors, France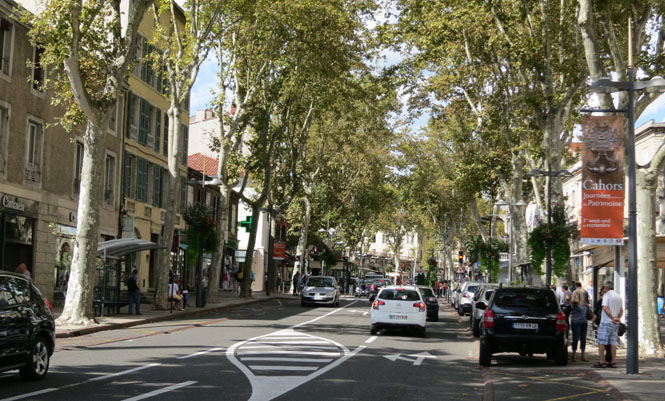 It's a good time to stop for a bite to eat. I didn't know I ordered this, but it's quite good. There's more "stuff" under the egg.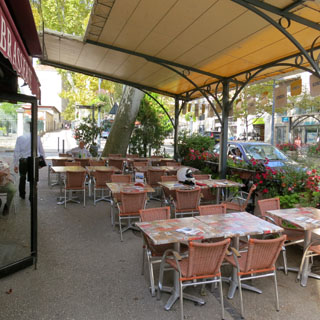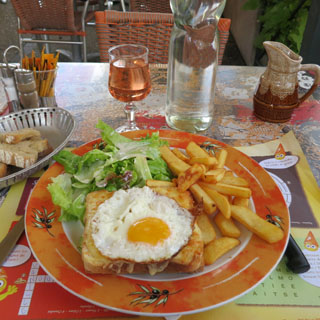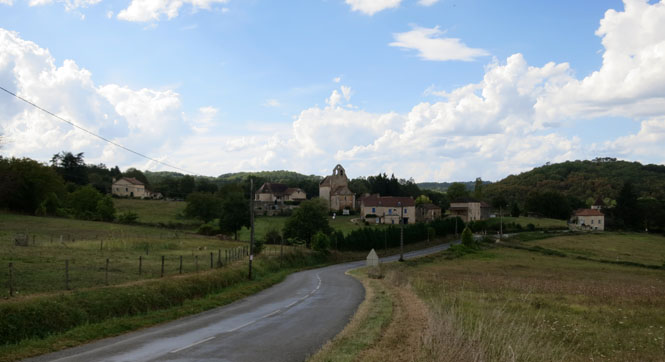 Goujounac, France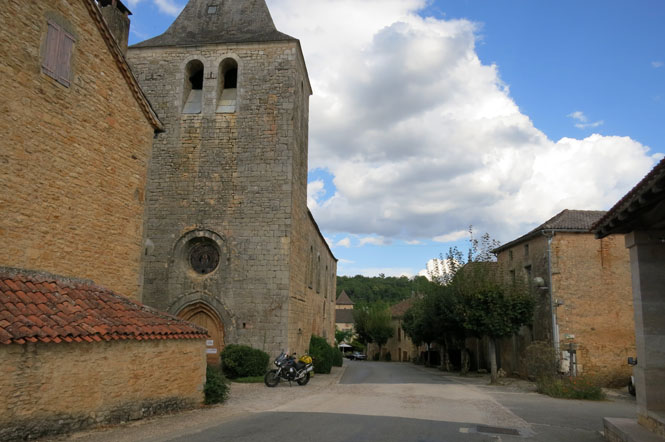 I rode through more and more vineyards as I approached Bordeaux (although I would not go into that city--it's much too large).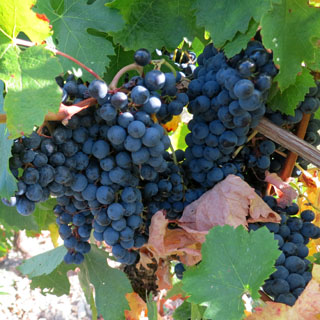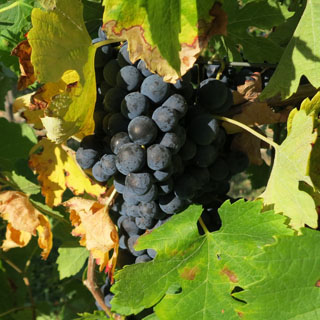 Saint-Séverin, France. After finding only a full hotel in the larger town before this, I was glad to reach smaller Saint-Séverin and find a room.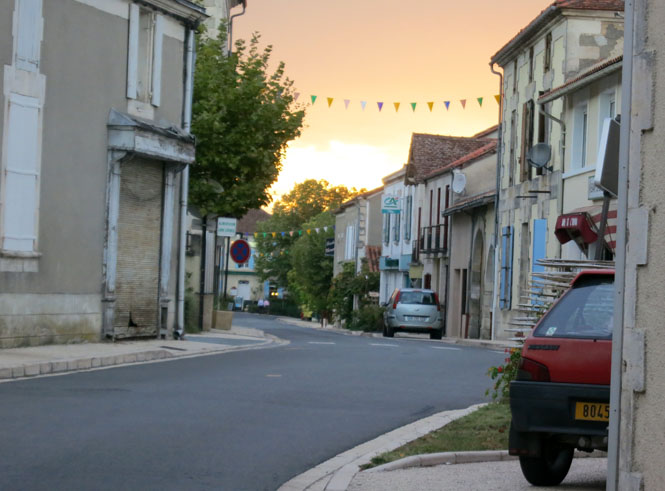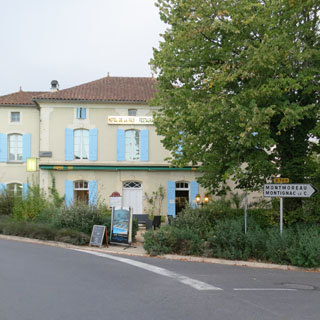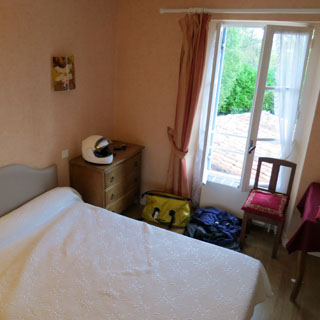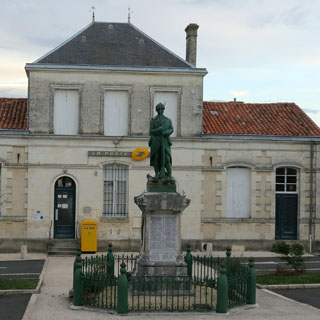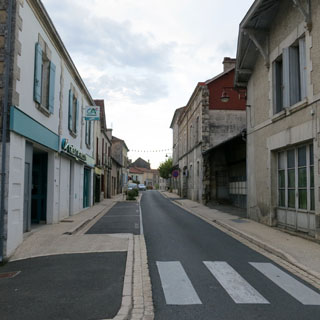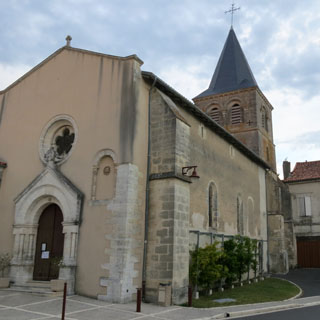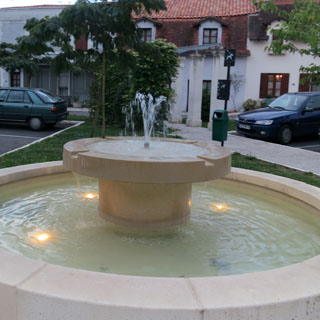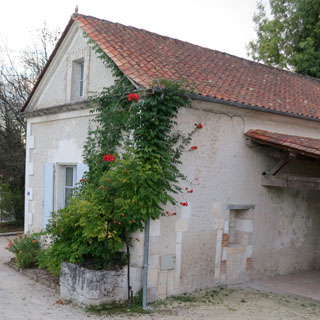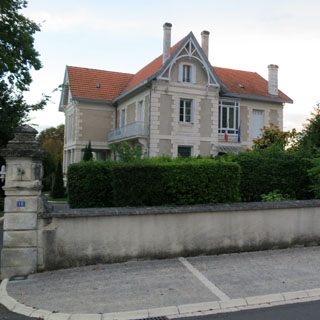 A perfect cool morning for riding.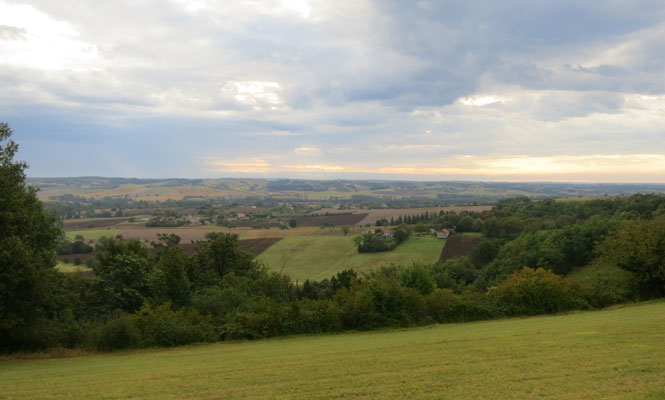 It had rained hard all night, but by morning, I only saw wet roads; nothing more.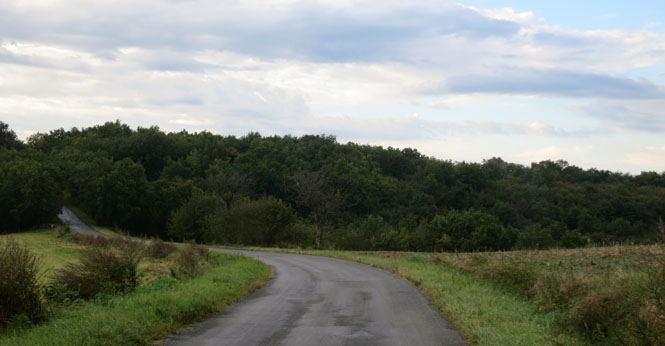 Melle, France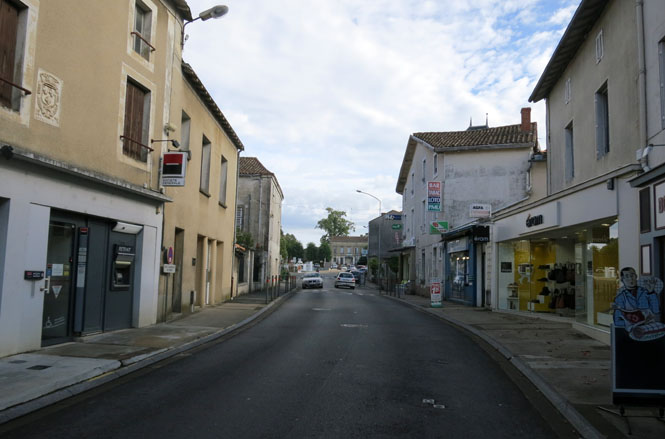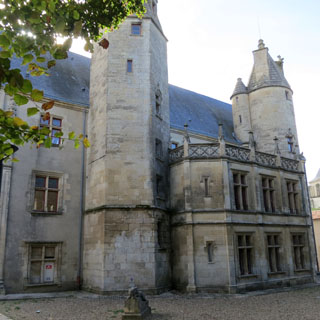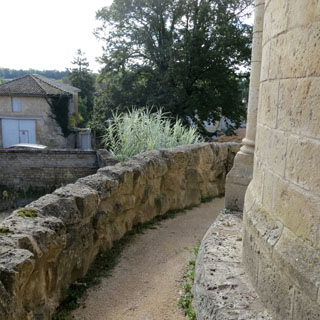 How do I keep track of where I've been? In some cases, I can rely on the GPS tracking in my camera (Canon S100). But, the camera's satellite acquisition speed is sometimes so slow that I'll just take a quick shot of my map. For nearly all the roads travelled on this trip, I've tried to stay on the yellow roads (Michelin map) or the white roads. Even the yellow roads can sometimes be fairly major, but mostly they're far less traveled than the red roads. Naturally, I stay away from the double red-and-yellow routes--those are multi-lane super-highways with ridiculously high tolls.

Birds aren't especially smart, so this netting is evidently enough to keep them from the fruit.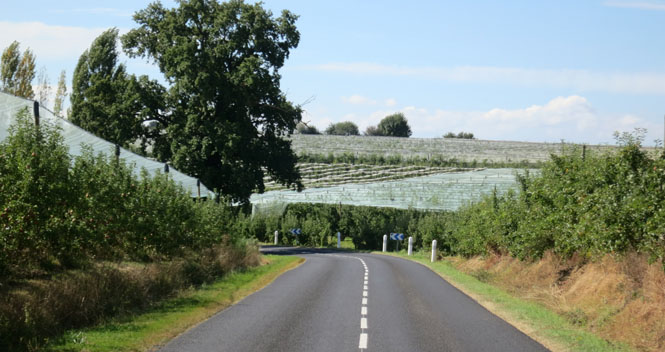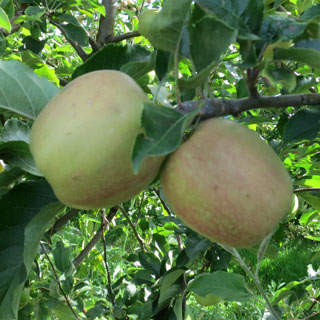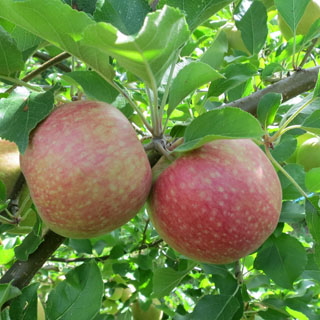 The yellow "D" roads.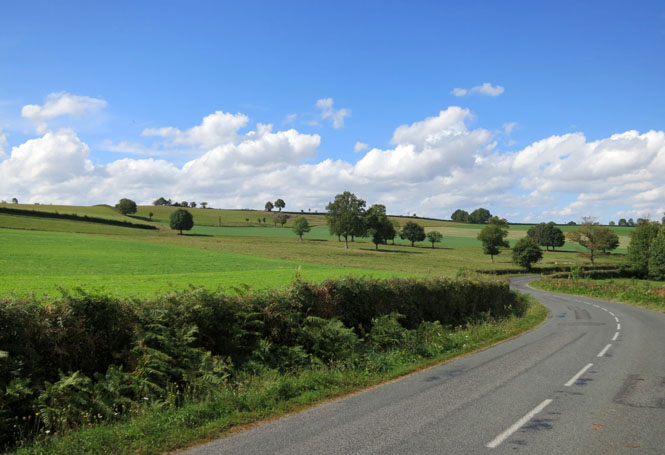 Pouzauges, France is built on top of a steep hill. It seems a crazy place for a town, but I guess the times required it.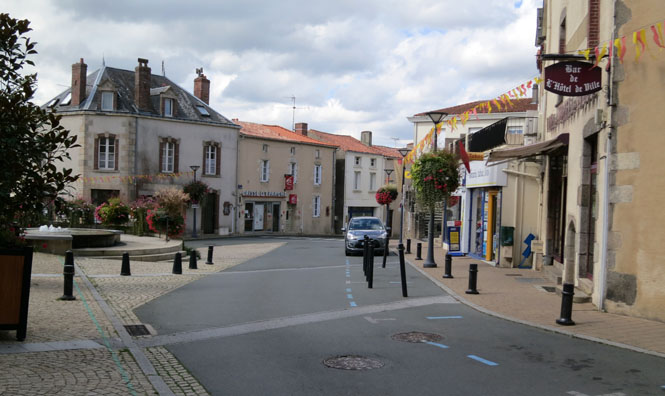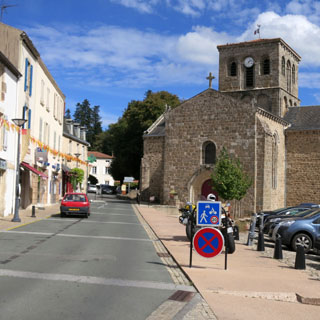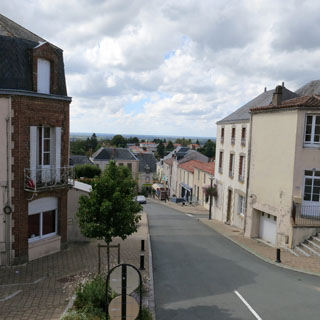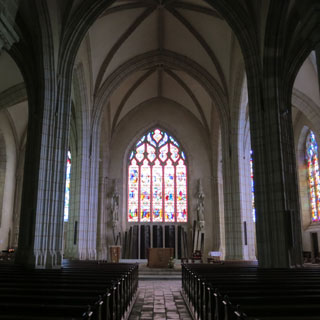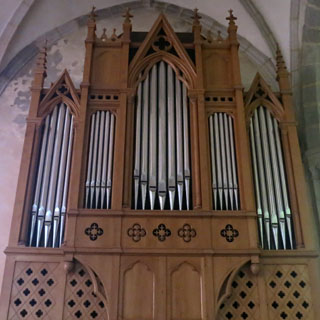 It's some sort of scallop; but, I couldn't say exactly what kind.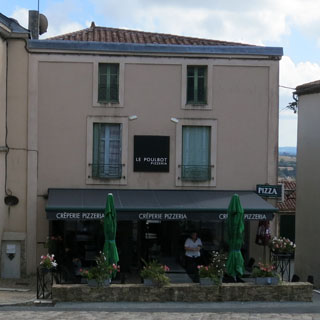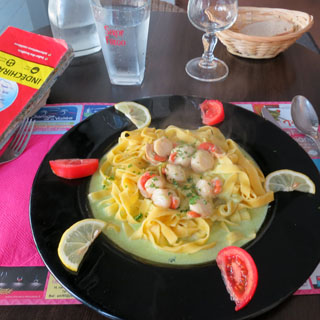 Le Puiset-Doré, France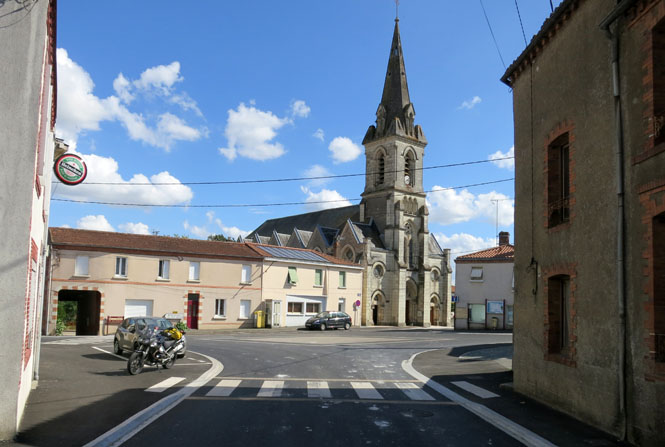 La Loire River at Ancenis. This was a good place to take a break for about an hour. It's pleasant to just sit here watching the water flow by.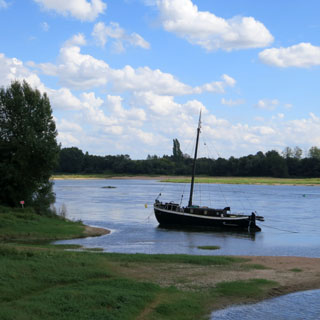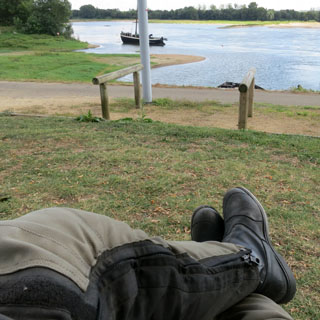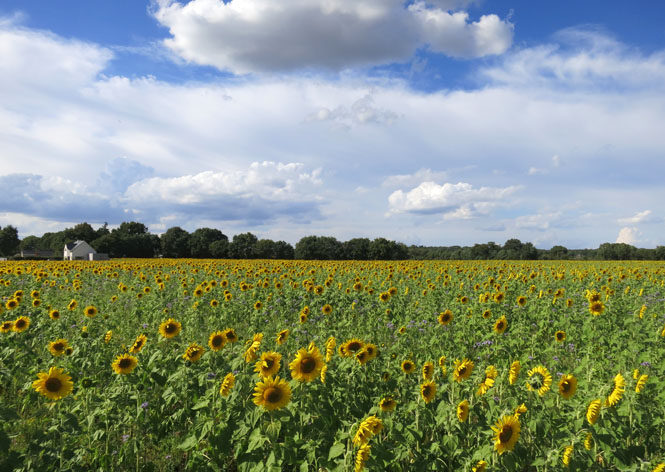 La Gacilly, France for the night. What a beautiful little town.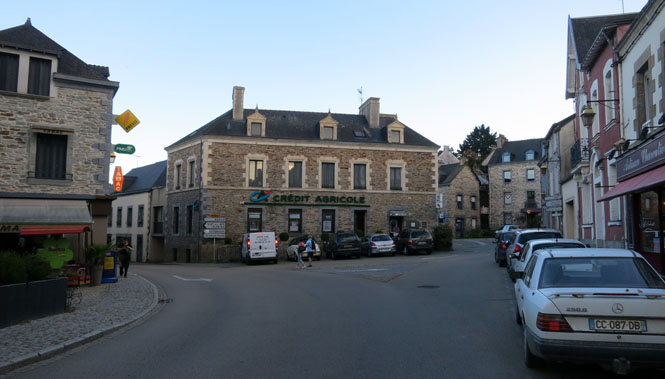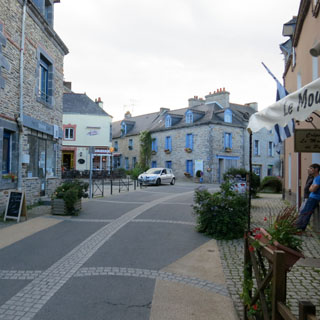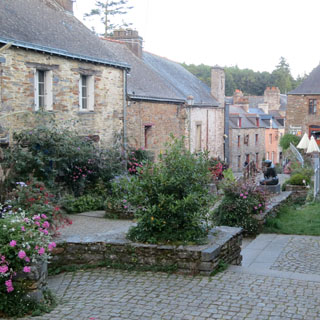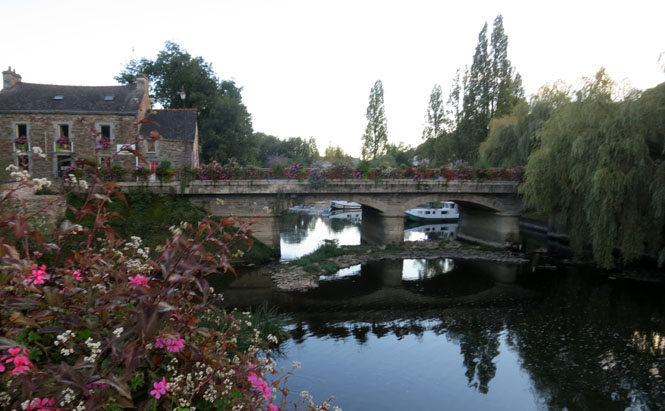 There was a combined show from many different photographers. I didn't recognize their names, but I sure recognized several of the photographs. I've never seen such an out-door event. Certainly that allows the photographs to be enlarged to a monumental scale.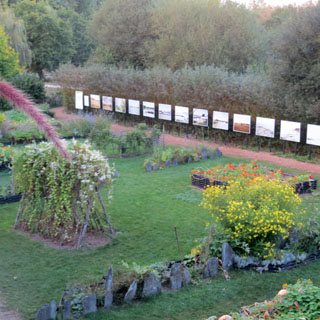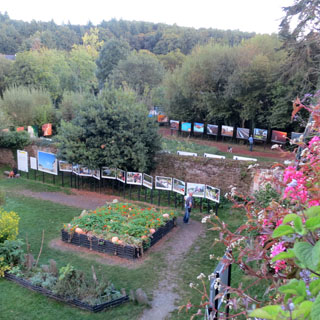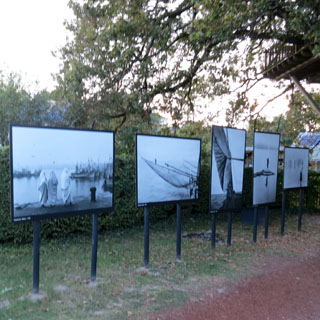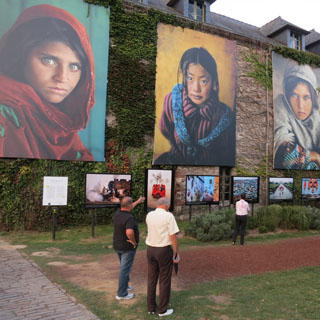 Look again and you'll see two (sculptured) birds on fountain.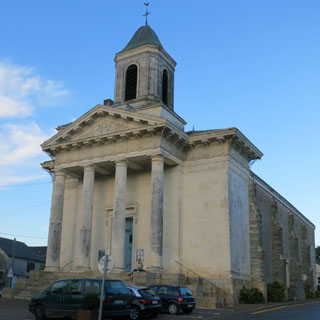 I stopped at a car dealership for fuel (a common thing) and saw this odd little new Renault. It seats one person (and perhaps a child in the back). No; I didn't test drive it. I believe it's electric.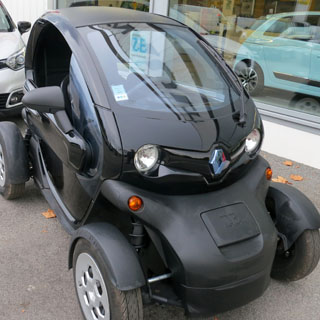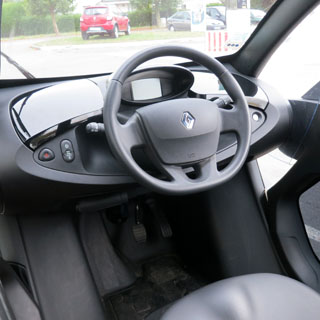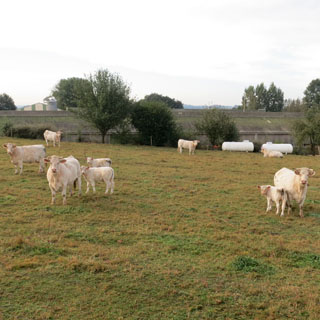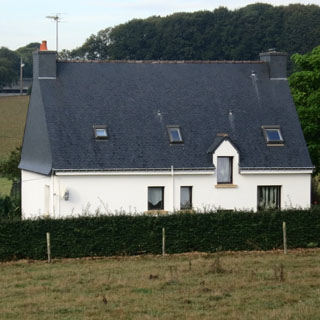 Pontivy, France and La Blavet River. We're deep into Brittany.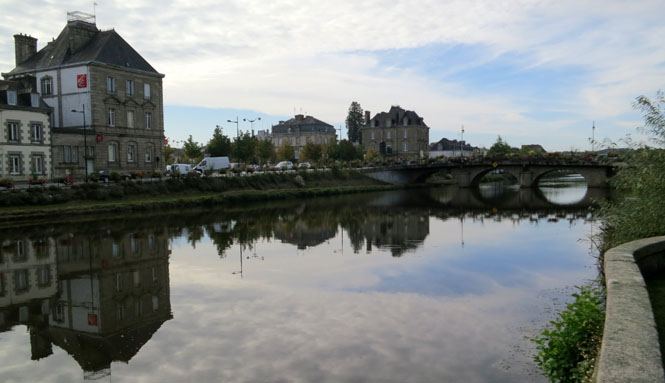 Plouray, France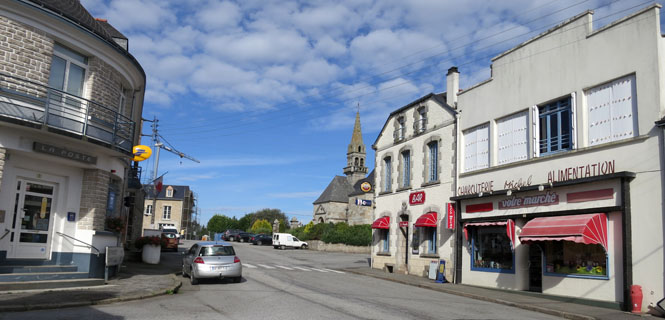 Gourin, France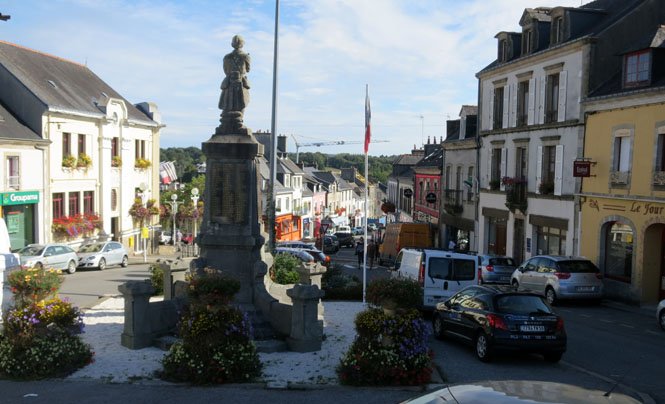 I had two crepes. The first was a pork and apple thing, which was not very good. The second was this berry and ice-cream combination which was outstanding.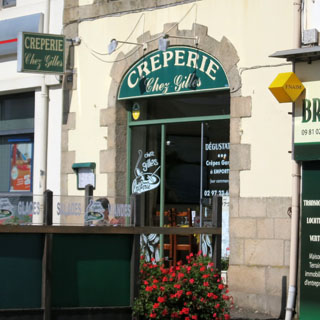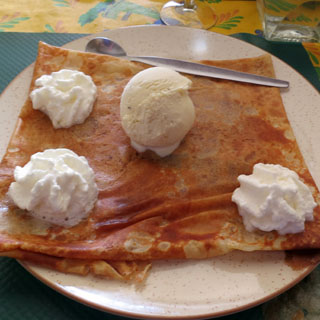 Plouyé, France. This skeletal type of extra-tall church steeple is common in Brittany.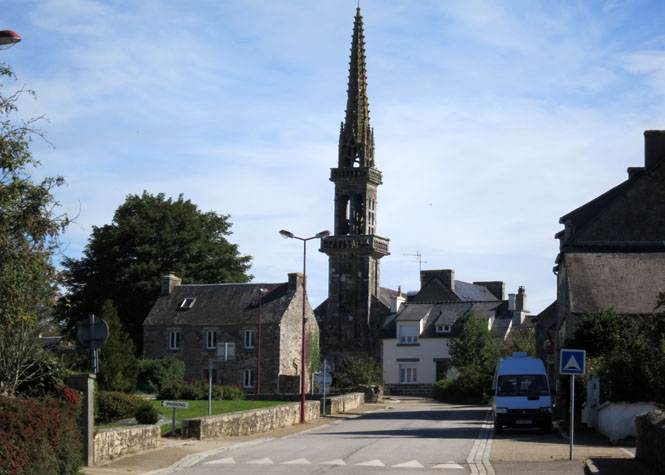 Huelgoat, France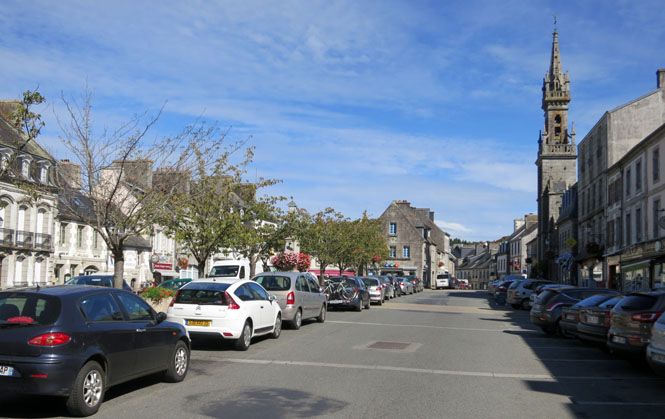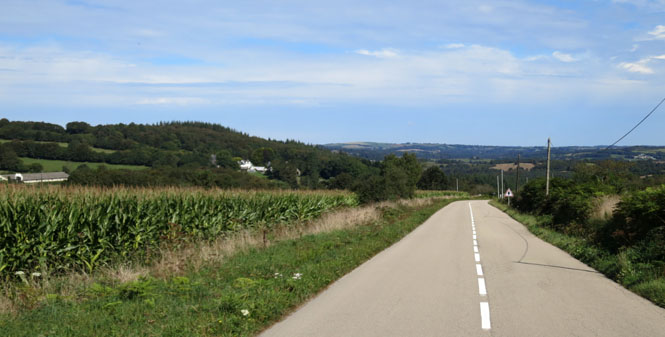 Saint-Efflam, France. The road ahead has been closed off due to sea damage, which has devastated this resort town. Nobody is here; nothing is open. I'd be looping back through the hills to continue following the coastline.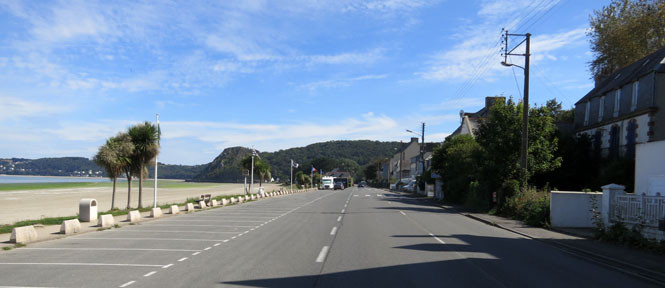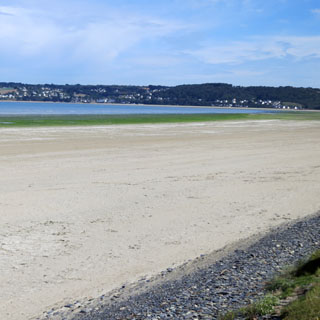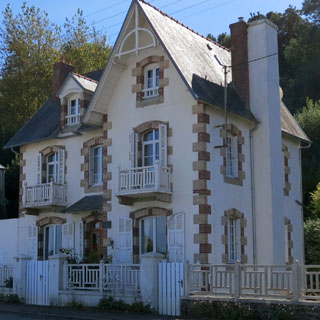 Plouzélambre, France. All signs are in the local language as well as French. For a time, it seemed that every town's name began P-L-O-U. A bit confusing.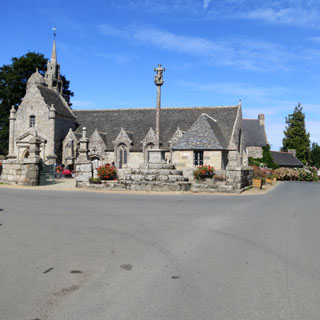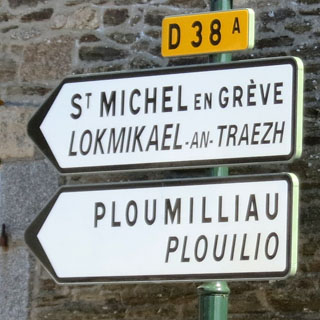 Tréguier, France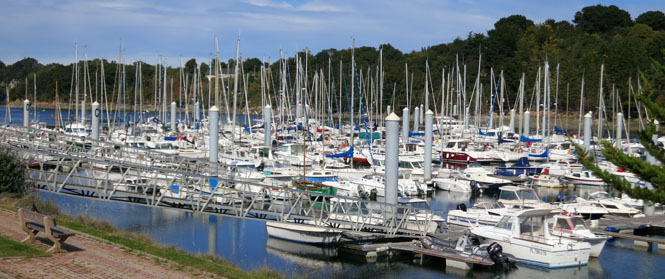 Les Ponts Neufs, France and the bridge over Le Gouessant River.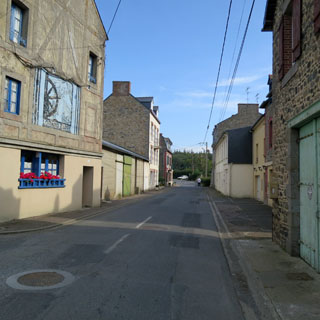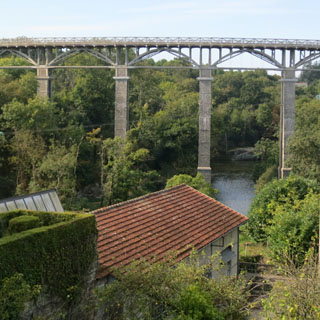 Caroual, France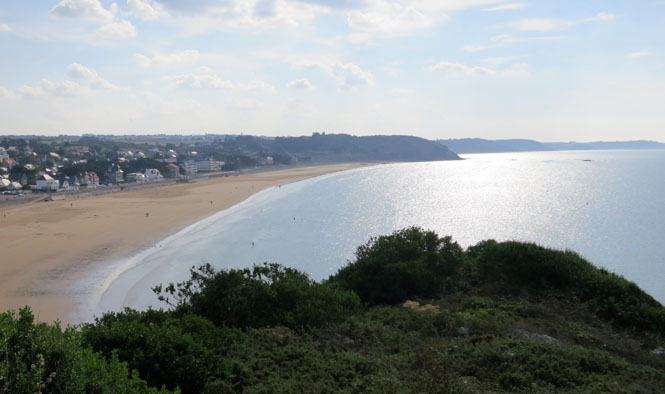 Saint-Malo, France. I had a ferry to catch, but that wouldn't be until early the next morning.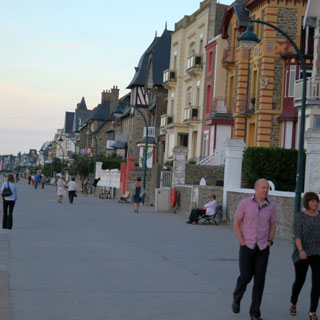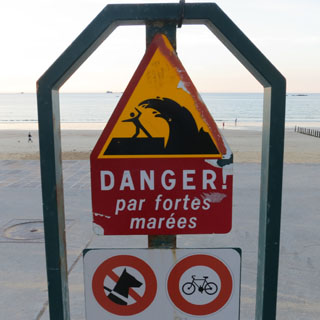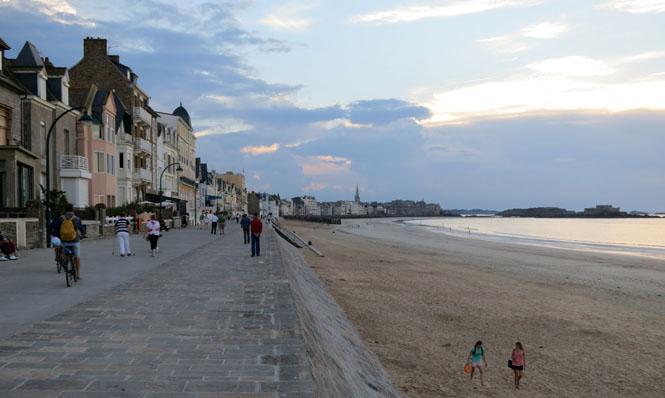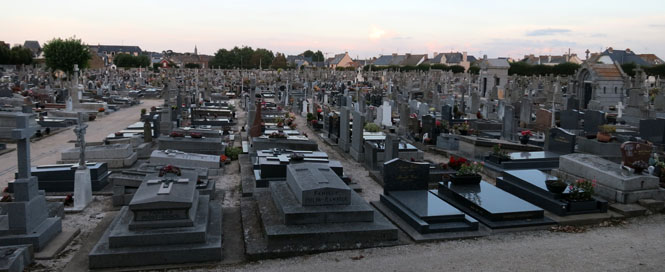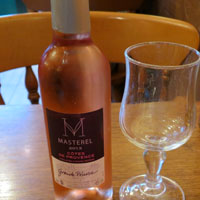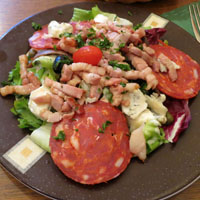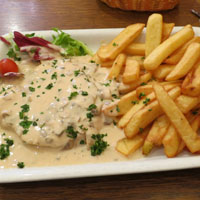 I was up at a crazy early hour to ride the couple of miles to the pier. I had prepared a schedule of all the ferries to both Jersey and Guernsey over several days. Until I arrived in St. Malo the previous evening, I wasn't sure which ones I'd be on. But, now I know, so I reserved each of the four crossings I'd be taking. First up is Jersey.
Condor Ferries does a good job. On all four legs two crew members snapped into action just as soon as I parked the bike to strap it down. Most ferries leave you to take care of it the best you can (which is why I carried a pair of tie-down straps with me--and, never needed them).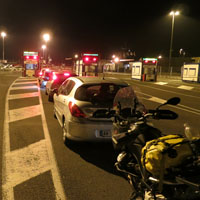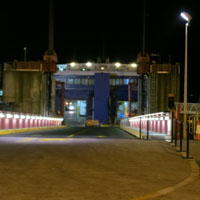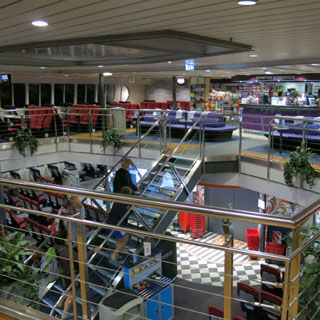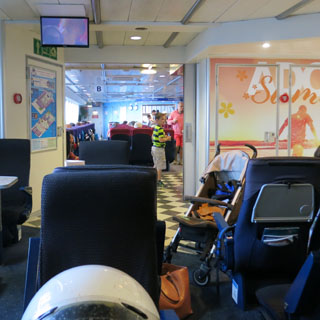 These high-speed ferries are amazing! I checked my phone (GPS) and we were doing 37 mph. Those are twin rooster-tails being kicked up by the water-jet propulsion. I read on the boat that these engines were capable of filling an Olympic pool in just 35 seconds. The ride is smooth.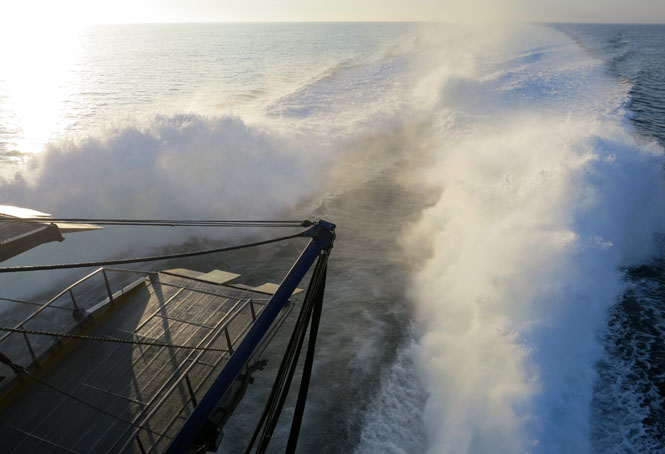 Jersey
My tracking device pings every ten minutes (or so); just enough to give some idea of where I've been.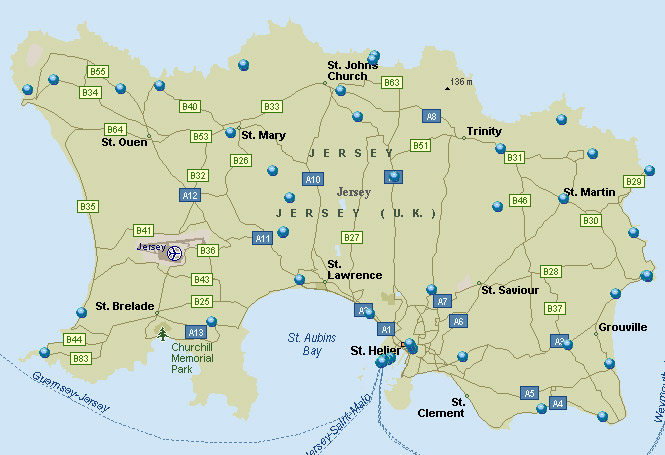 I was impressed by the tides at both Jersey and Guernsey. You'd better know your tide-tables if you want to avoid grounding your boat.
That concrete platform in the right-hand photograph? It's a German heavy-gun emplacement. Very common.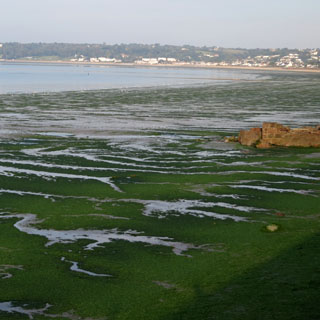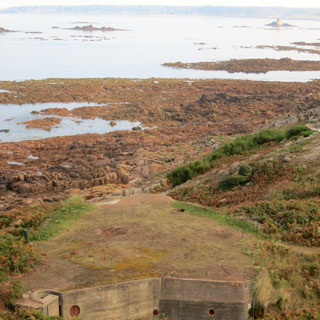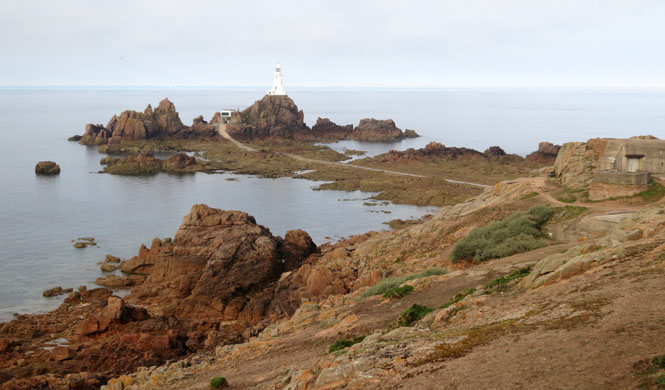 I have mixed feelings about actually restoring some of these World War 2 German guns. I think stabilizing them from deterioration would be sufficient.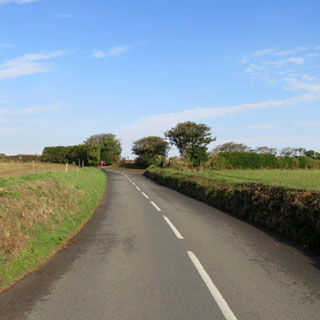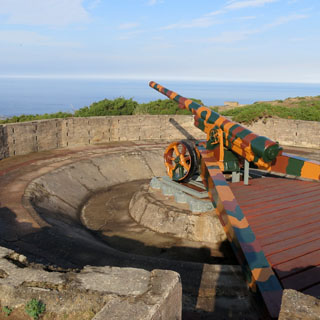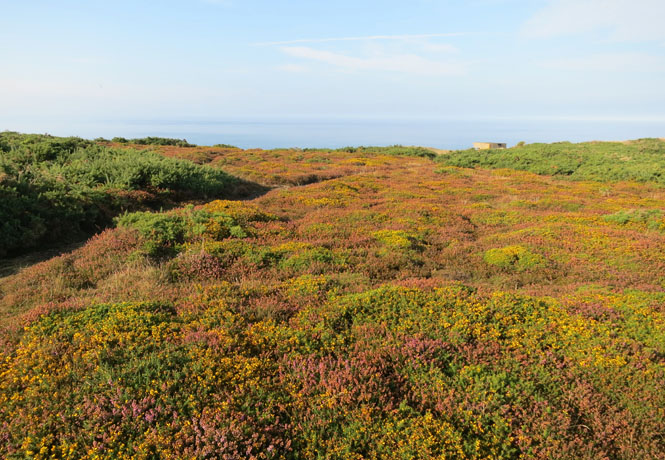 The island is small, so the small communities are not complete. You'll not find a High Street with shops, for instance.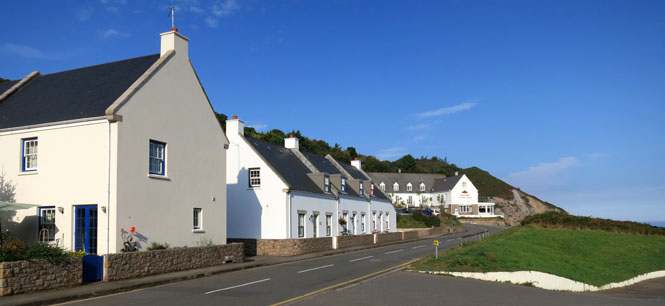 I didn't have any trouble converting to riding on the left. It came quiet naturally. I was surprised that there were not lots of signs when leaving the ferry warning drivers to stay left.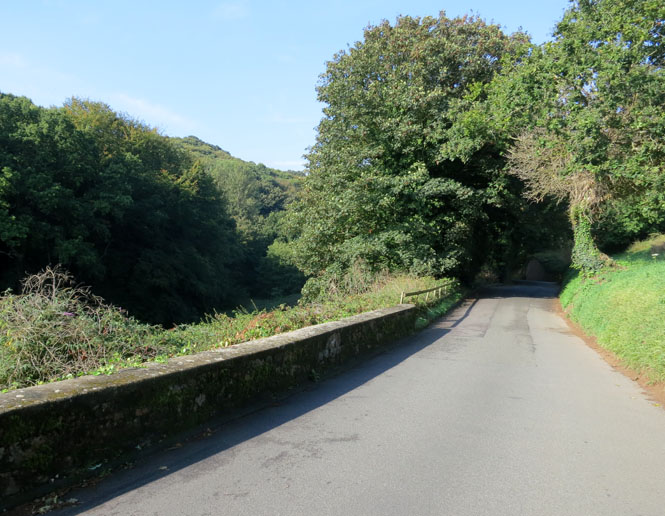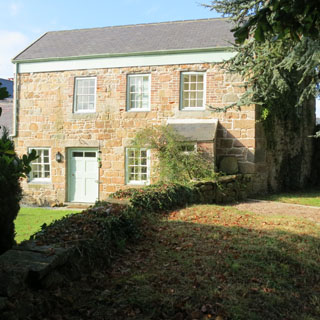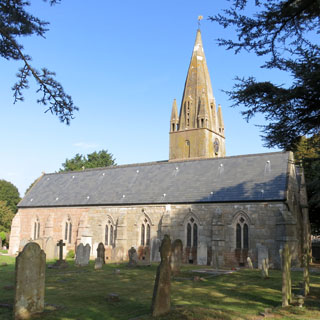 Devil's hole is an ocean blow-hole that has enlarged over the years. Many years ago a sailing ship wrecked on this coast. Eventually, the figurehead from this ship turned up at the bottom of the hole and began the name. There have been a few Devils over the years; this more recent chap is standing in a pond near the car park.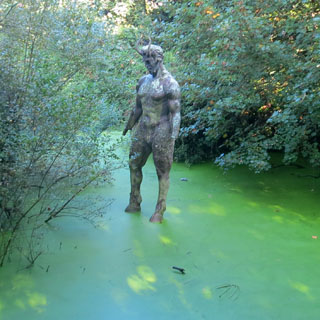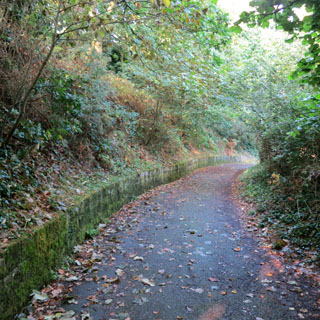 That's the hole in the lower right photograph. It connects to the ocean. There were plenty of signs warning people to not approach the sides of the hole. But (as the sign said), people do it every year, and have to then be rescued (or--worst case--recovered).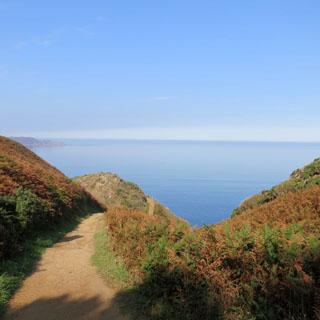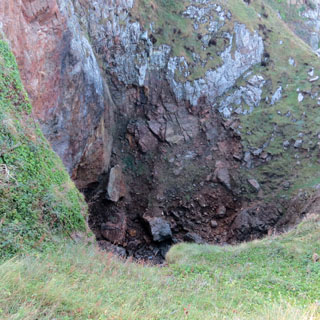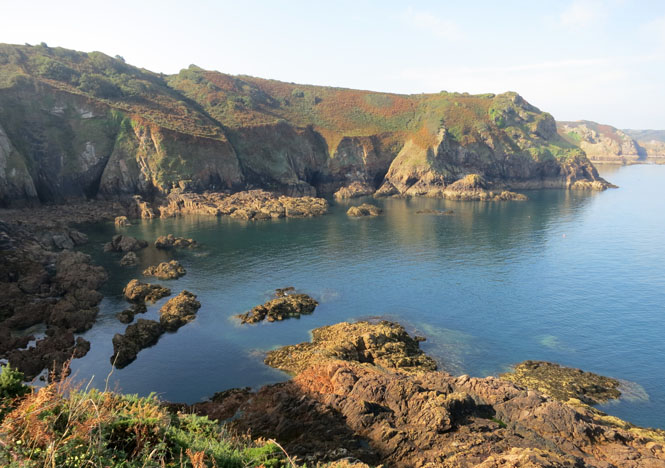 Jersey cows are famous. And, they have the prettiest eyes of any cow.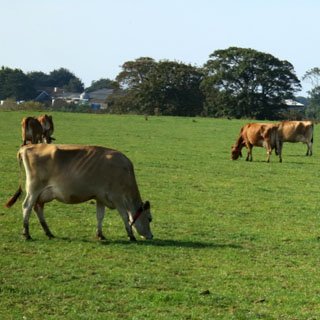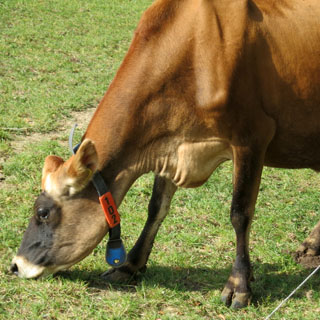 Elsie is surely the most famous Jersey cow of them all.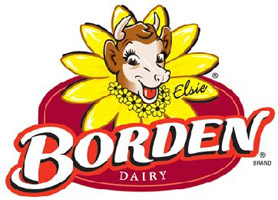 Saint-Martin, Jersey.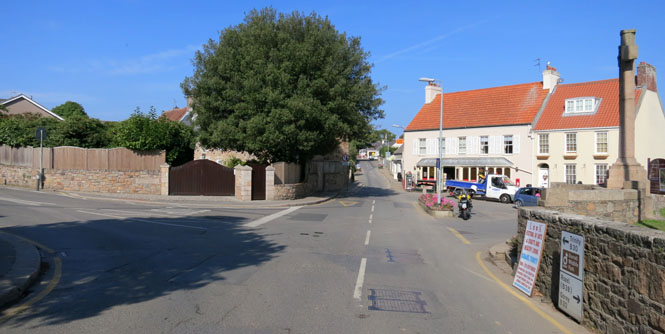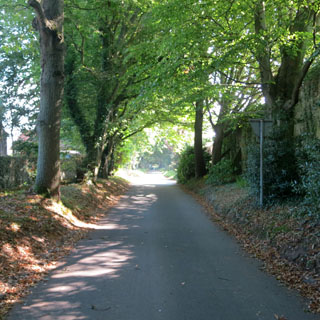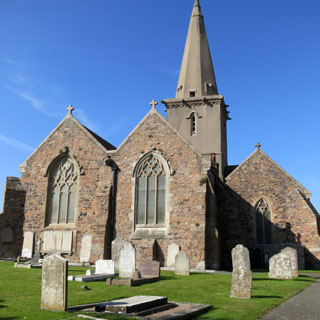 Back in the 1600's, Clement Messervy sailed from Gorey, Jersey to New Hampshire. He changed the spelling to "Messerve" which was the maiden name of my grandfather's mother seven generations hence (which makes it nine generations to me). For that reason, I took this shot of a combined cemetery marker with the names Messervy.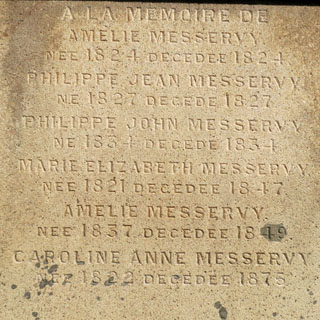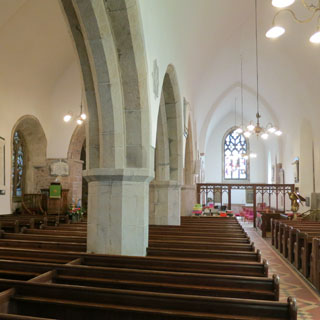 Clement Messervey was born in Gorey, Grouville, the homeland of his fathers for several generations. He was a farmer and raised cattle with his father. It was he who decided to leave a good life with security and venture forth to the New World, which had little to offer at the time but freedom and many hardships. Why did he make this decision, which meant having to make a long dangerous journey on a small sailing vessel getting a home together in which to face a long, cold winter We don't know, but we suspect it was a combination of curiosity, wanderlust and pioneering spirit that sent so many of the early settlers to our shores.

Clement Messervey (or Meserve as those in America soon came to be called) came on a boat that arrived at Strawberry Banke in 1670. Strawberry Banke was the early name for Portsmouth, New Hampshire. He almost immediately got work as a herdsman for a Richard Cutts, a prominent and prosperous citizen who had arrived some years earlier.

- Meserve Genealogy
Grouville Church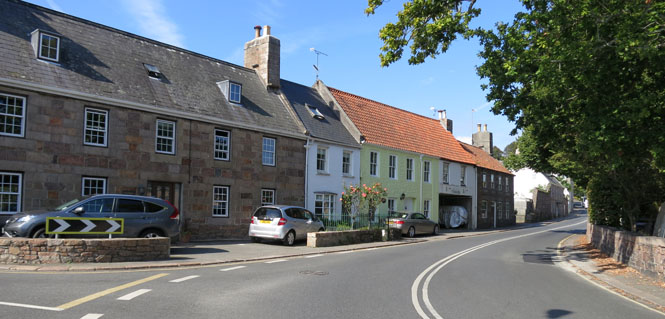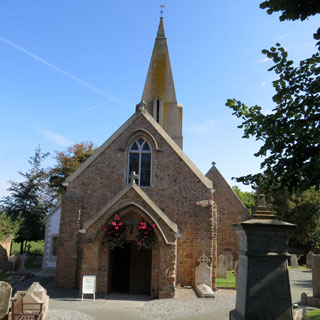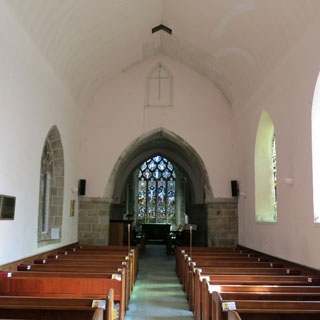 Sticky Nightshade is used to control nematodes from commercial potato crops. Jersey is famous for their small Royal Potato, but I didn't think to eat one.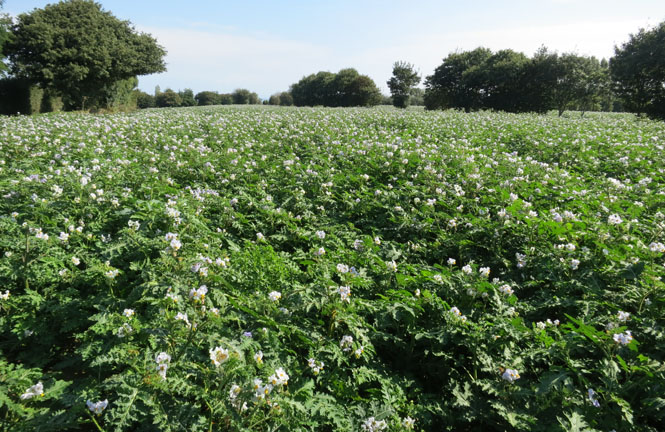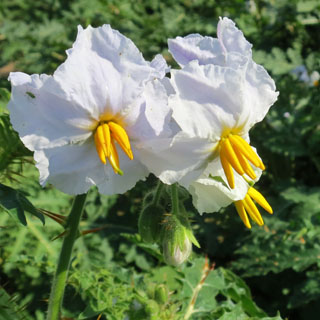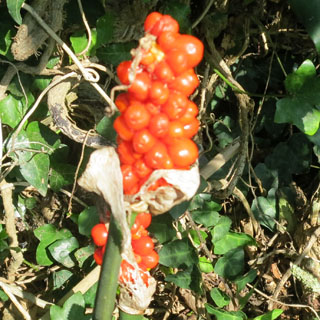 I rode pretty slowly along these sunken roads. They're not very wide and besides, you cannot tell what's around the bend.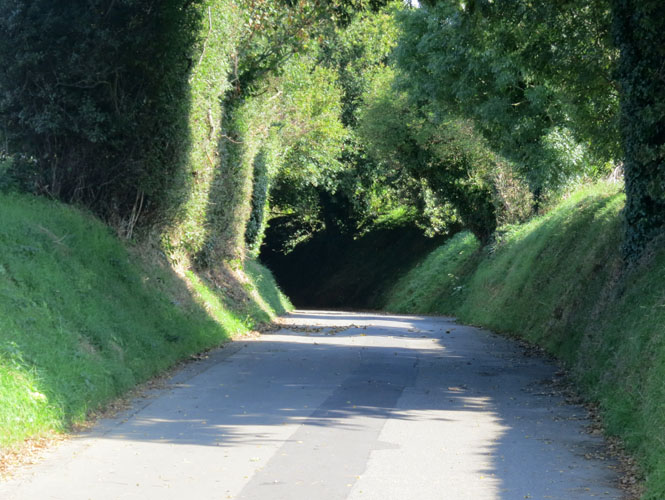 Saint-Helier, Jersey. It wasn't easy to find the road to the Jersey Museum, and I felt good to also find an easy place to park. Good luck to you if you're driving a car.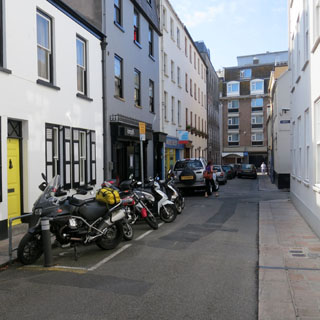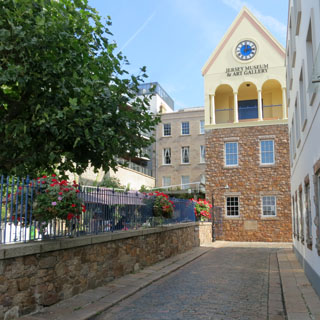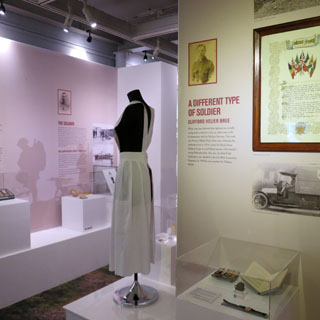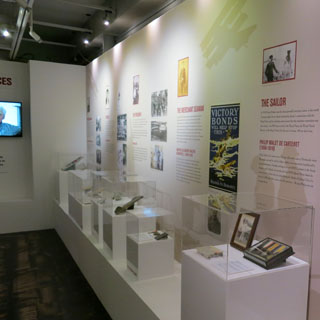 Lillie Langtry, (AKA Jersey Lillie) and her kit.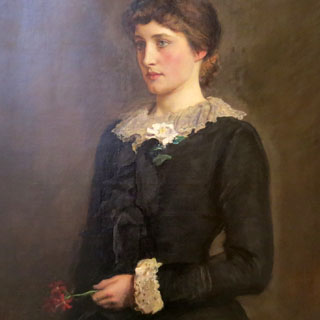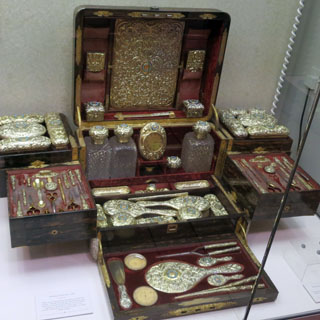 A lintel from a fireplace with the crest of the Messervy family. I was pleased to find this in the museum.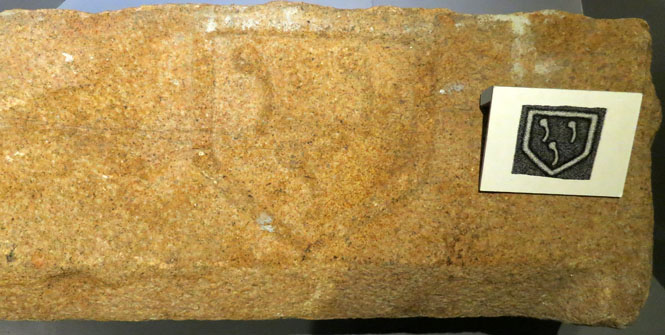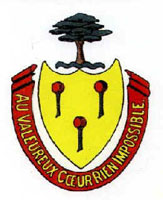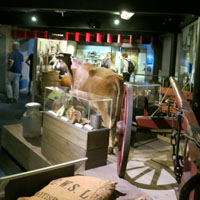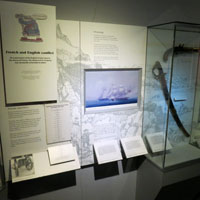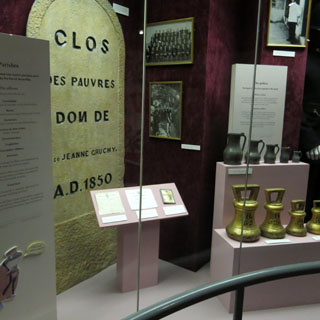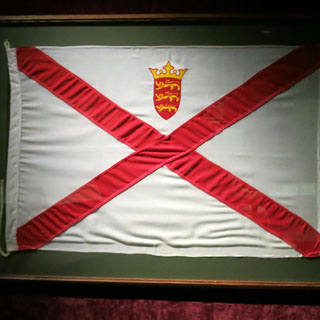 The Channel Islands were invaded and held by Nazi Germany through the duration of the war. It's hard to imagine what a traumatic thing that must have been. The islands were not considered strategically important, so the Allies simply allowed the Germans to retain them--but, not resupply them, of course.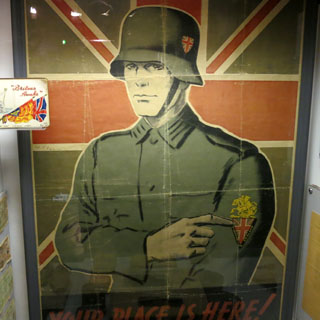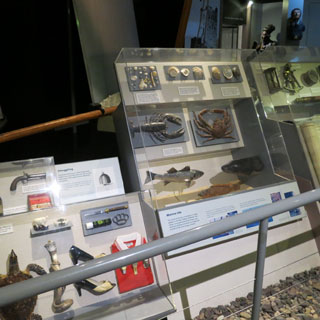 Some of the greatest bronze age hordes have been found in Jersey. This laboratory (in the museum) is reclaiming the coins for a large lump of coins. I was impressed by the horde of small axe heads that were essentially new and never used.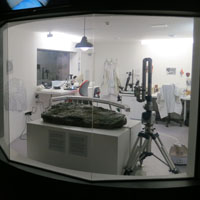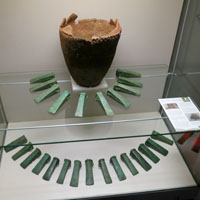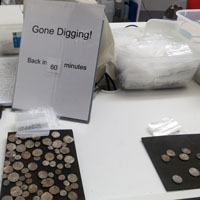 "Time and tide wait for no man."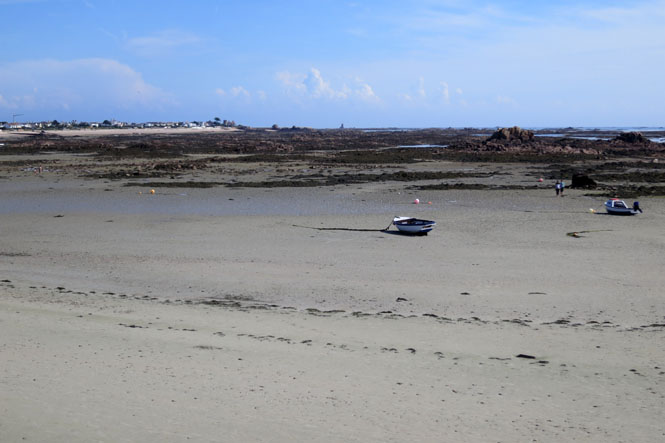 Mont Orgueil Castle rises over Gorey. And yes; there are German reinforced fortifications here, too.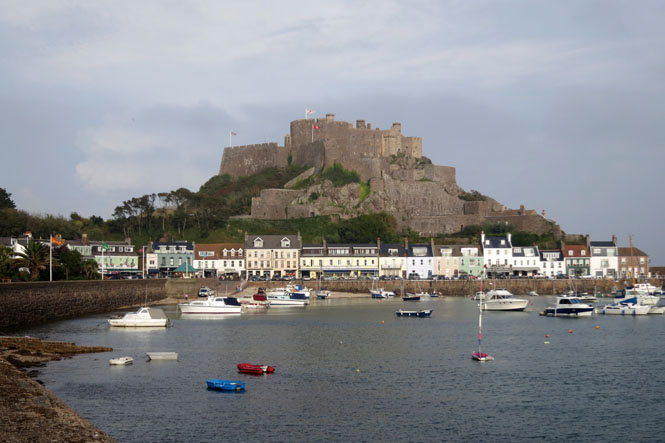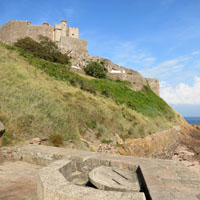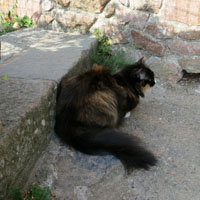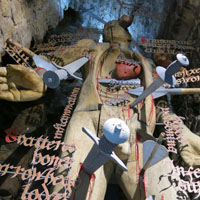 This was a terrific falconry exhibition. In this case it's a hawk (not a falcon) that's doing the clever work.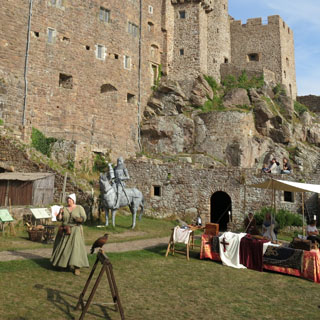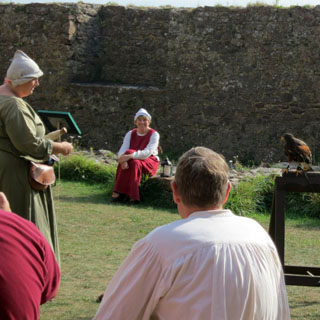 We have Civil War reenactor; Jersey has something from much longer back.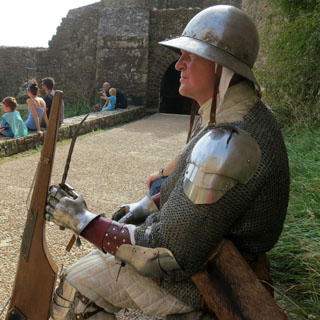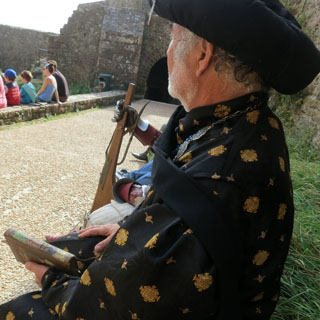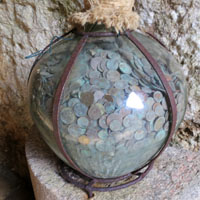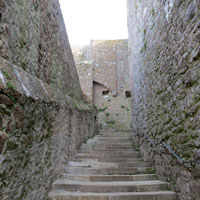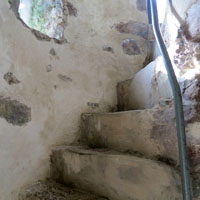 The view of Gorey from the castle. I like to think that my ancestor Clement had this same view. Then again, he might not have had such easy access as I had. Clement was born in Gorey in 1655.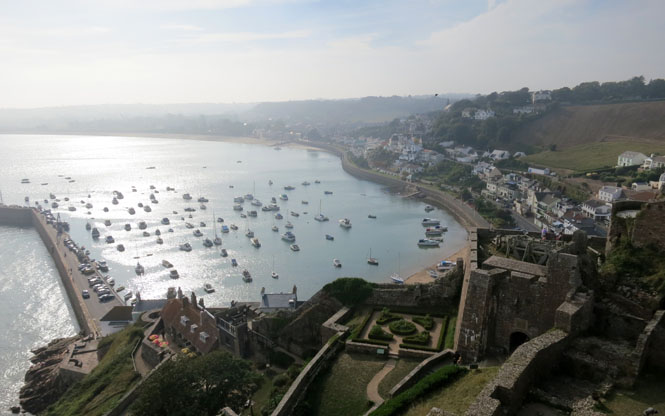 The Queen is game for most anything. As part of a rather complex process, she sat for quite a long time while an ultra-high resolution image was taken of her for a series of holograms. The results are astonishing.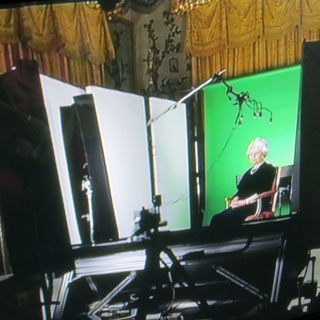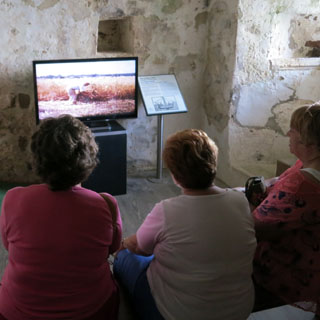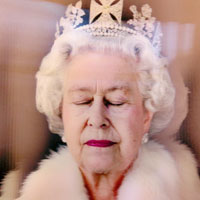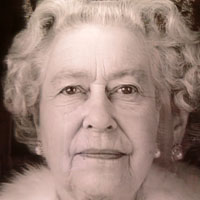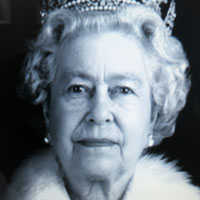 The Tree of Succession
by Brian Fell

Brian Fell's Tree of Succession shows the interlinked fortunes of the French and English crowns from 1154 to 1485. The royal houses of France and England were closely linked by marriage throughout the Middle Ages, but these complex relationships provoked significant Anglo-French rivalries and led to the Hundred Years War in which the castle played a part. Eleanor of Aquitaine is at the base of the tree. She was one of the crucial links between the two dynasties. She first married King Louis VII of France and then King Henry II of England, first of the Plantagenets. It was their son, King John, who ordered the construction of Mont Orgueil following the crisis of 1204 and the loss of mainland Normandy.

- The Heritage Magazine (Jonathan Carter)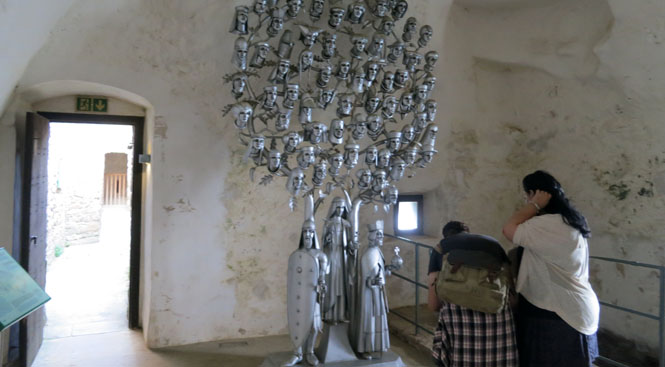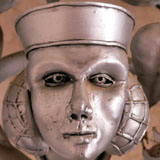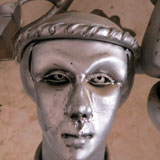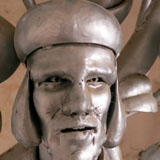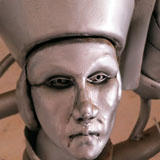 If you order a Jersey Cream, this is what you'll get. It's all very good.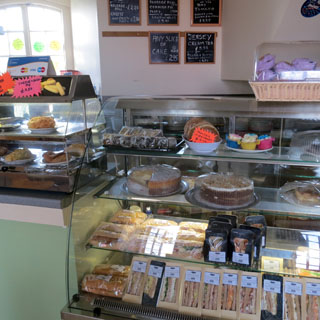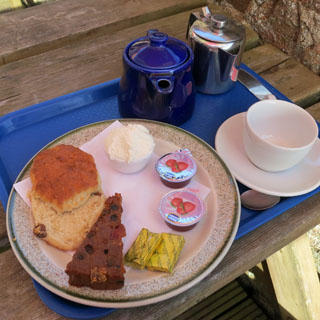 Breakfast the next morning at the Dolphin Hotel.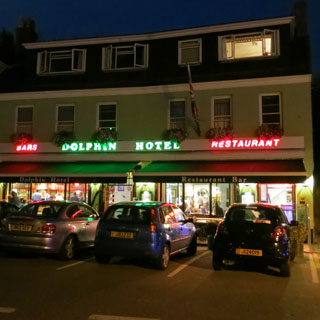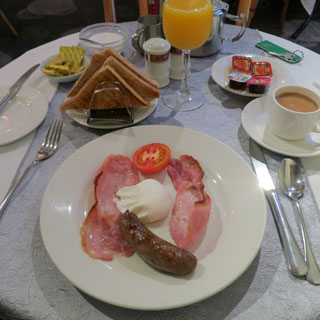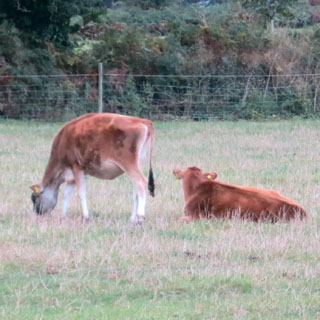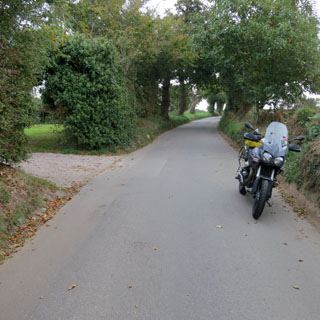 Jersey is a patchwork of estates. None of the pastures are all that large. I'm assuming that there are strict rules to maintain a rural setting.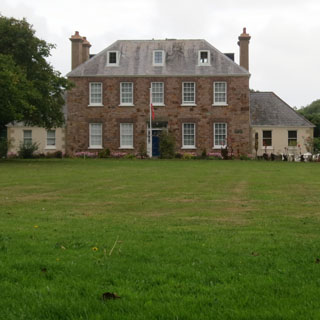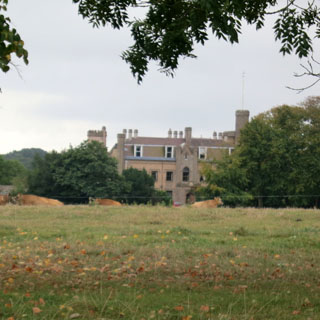 Looks like we won't be going out in the boat just yet...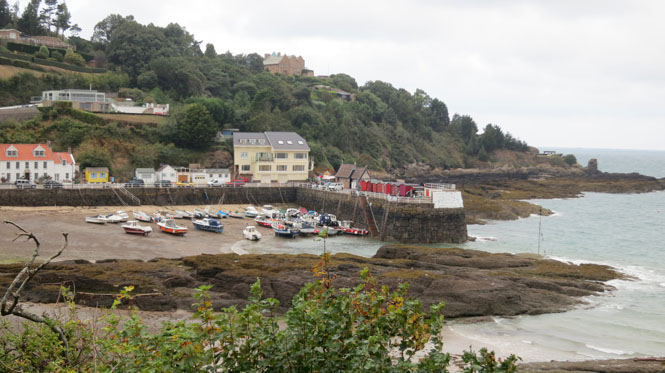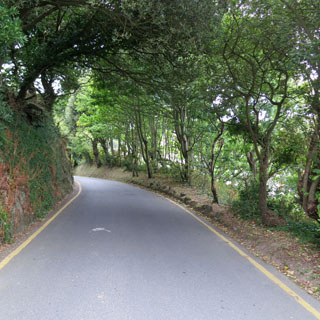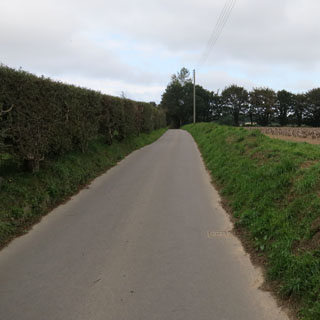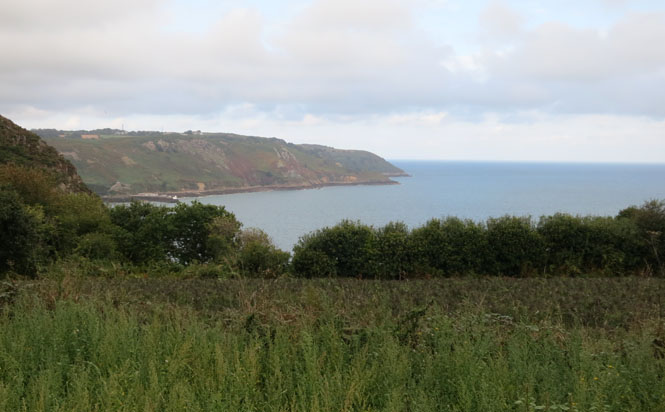 I learned to simply stop the bike and shut off the engine. I'm in no hurry to go anywhere, and the horses don't like motorcycles. I'm guessing that the one horse is capable of serious pulling power.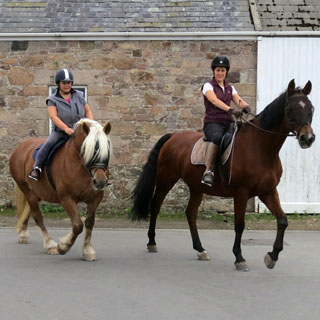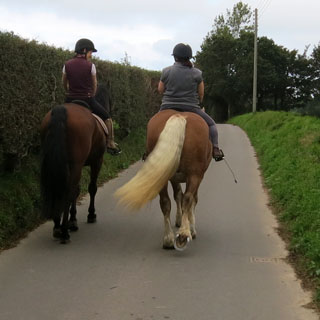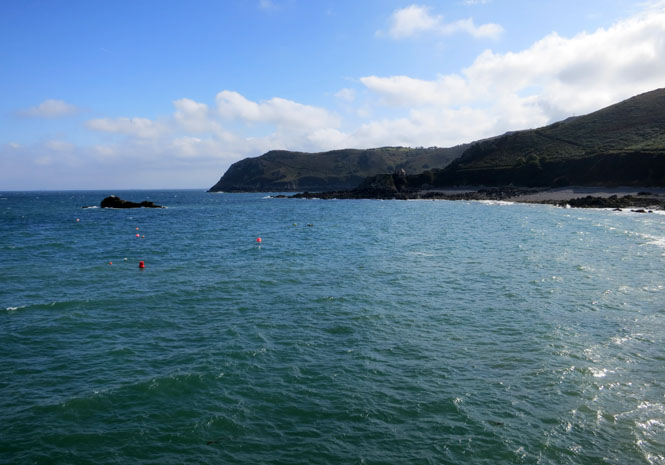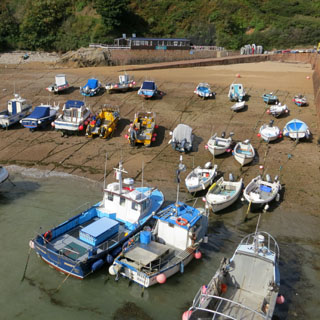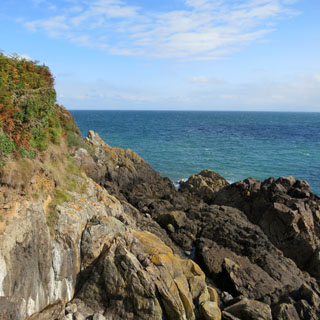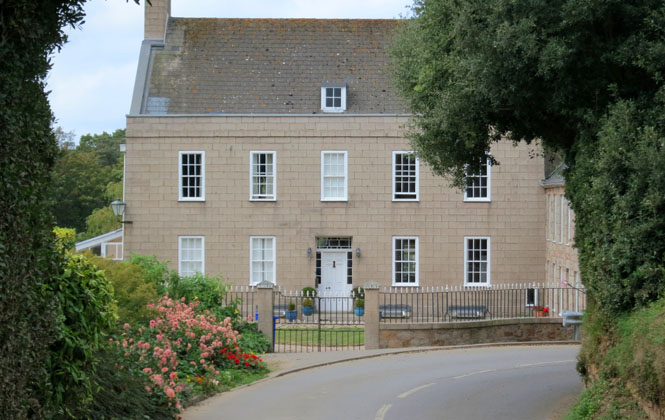 Jersey Royal Potatoes? Let's assume so.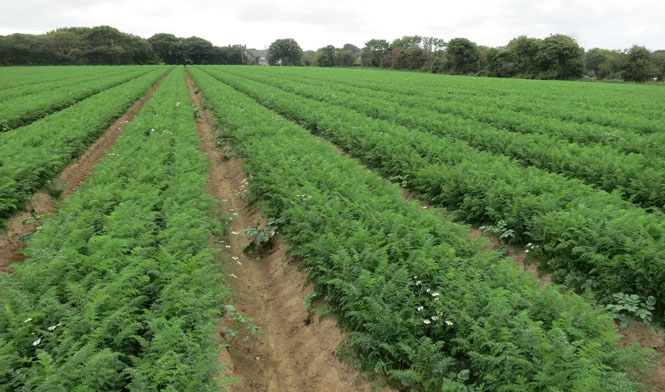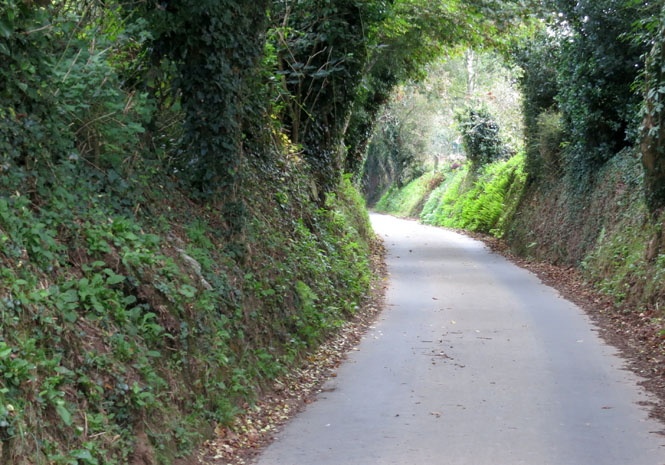 A German tunnel that was dug to contain a hospital is now the site of the Jersey War Tunnels museum. It is exceptionally well done.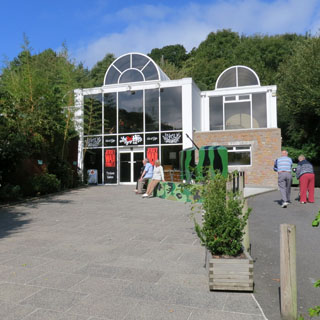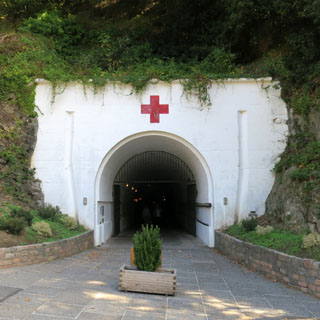 The digging was done by slave labor for the most part. In many cases, people were brought from eastern Europe to work on these tunnels. You cannot help but think of this when walking through them.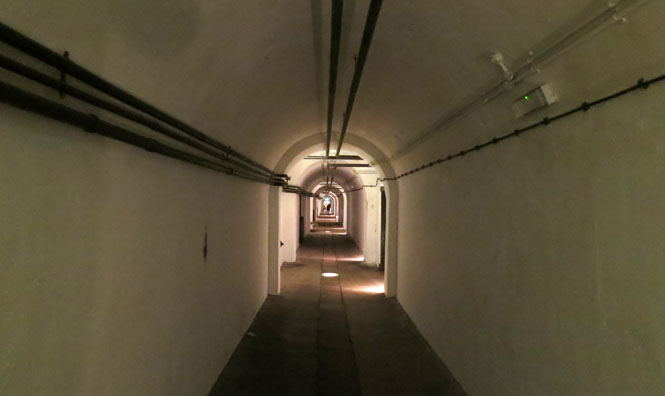 Would you leave or would you go? It was not an easy decision, and everything will change whichever way you chose.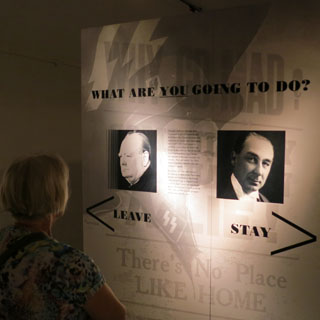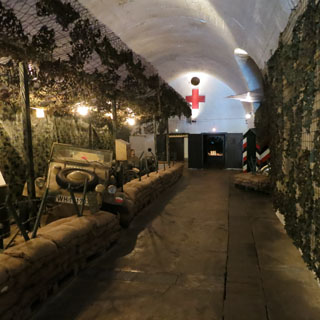 The displays used video monitors using actors to address some complex questions. What do you say to a friendly German soldier who meets you in town and only wants somebody to talk to? The island leaders were asked by Churchill to stay and to maintain good order; but, what's the line between collaboration and resistance? Can you do both? How would islanders look on these leaders after the war?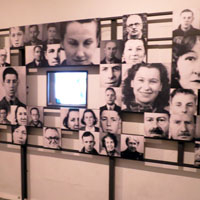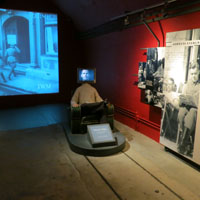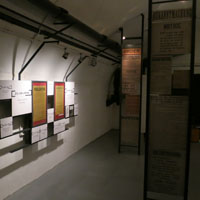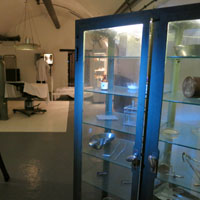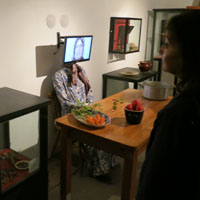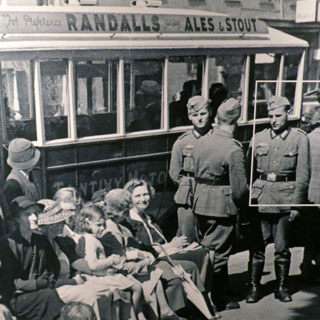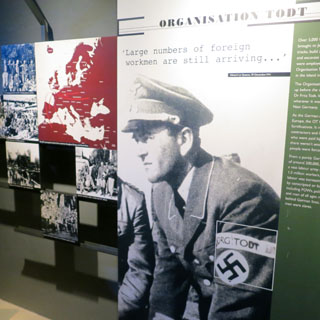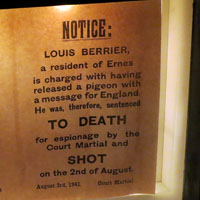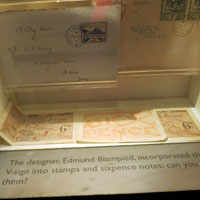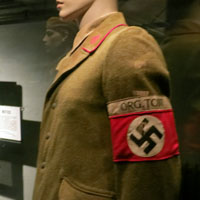 Back on another high-speed ferry for the trip to Guernsey.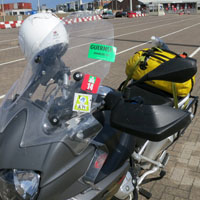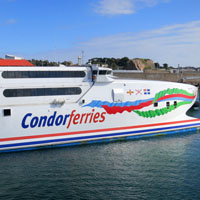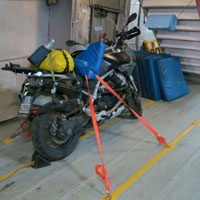 I'm the only one properly dressed up here for the brisk wind. I'm wearing a full riding suit.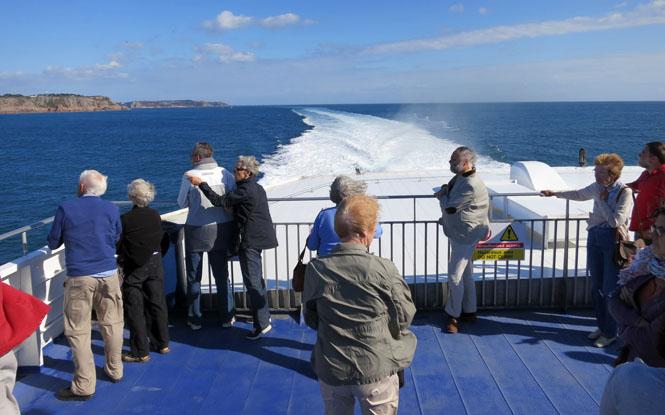 Guernsey
Saint-Peter-Port, Guernsey. It wasn't so easy to find a hotel on Guernsey as it was on Jersey.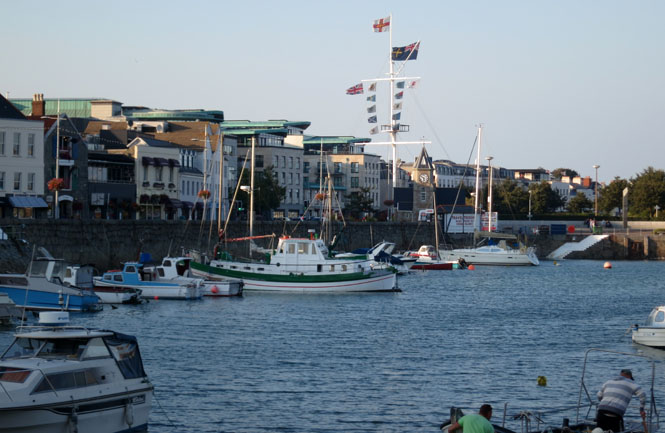 But, this was quite nice--I'm right on the main street through Saint-Peter-Port.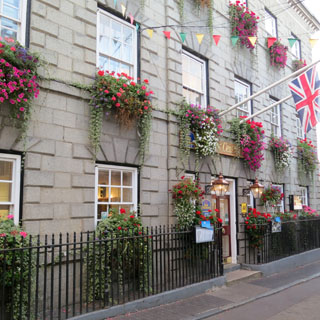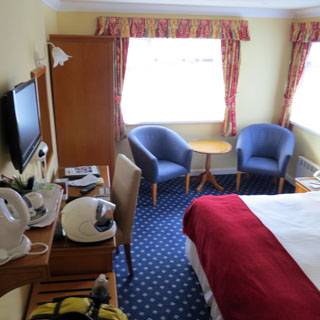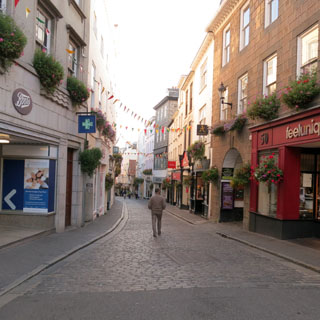 Take note and remember this view of the main street through the city with the Bank of Lloyd's building at the end of the street.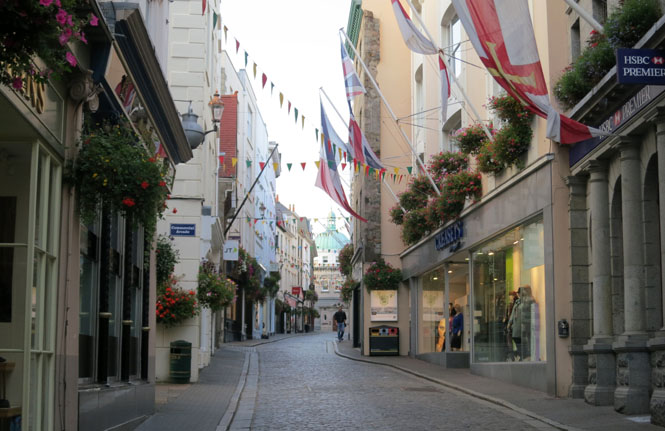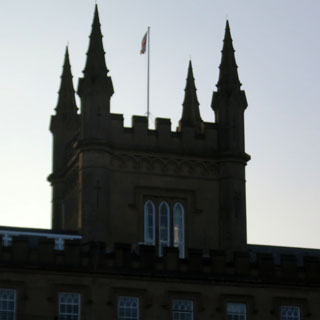 Shopkeeper hours are not the same as in France (or Italy). Things close early.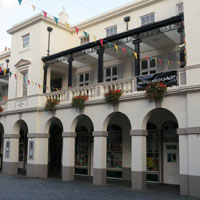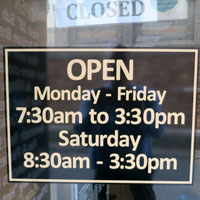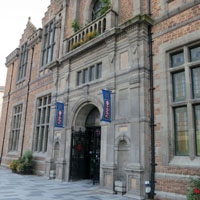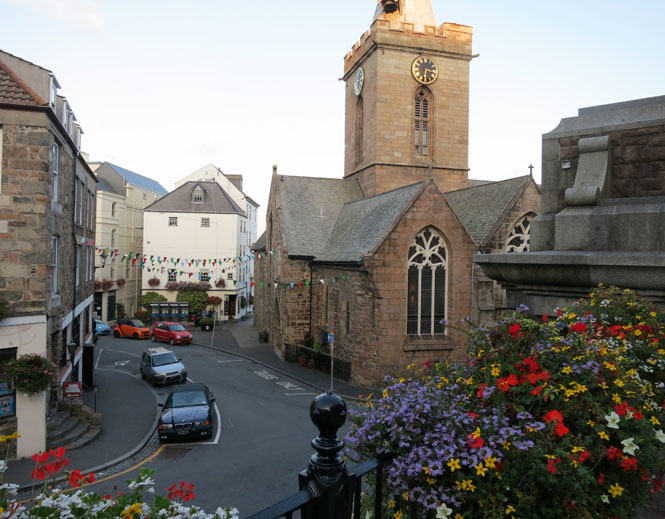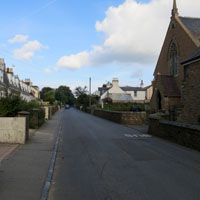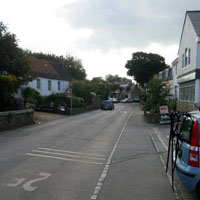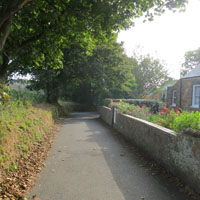 There's less open land on Guernsey than Jersey.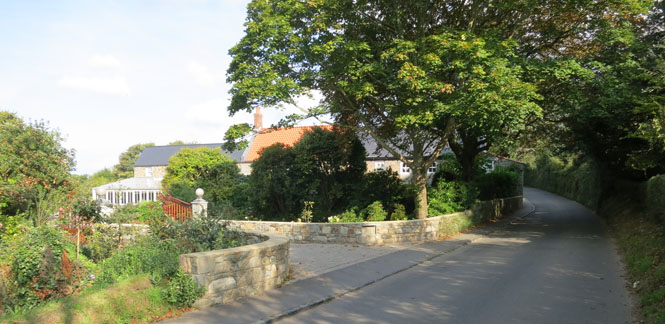 This is the Occupation Museum of Guernsey. It differs quite a bit from the one in Jersey. Jersey's is modern and incorporates multi-media displays. It asks the human questions and tries to engage people. The Guernsey museum is of an older type that presents an enormous amount of artifacts and collected items. You gain an understanding of what happened through the things. Both museums are very good; a visitor would do well to visit each.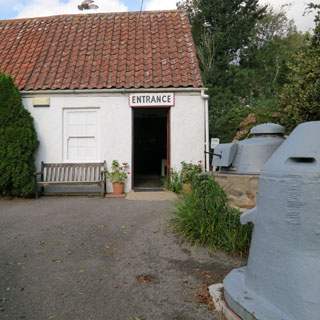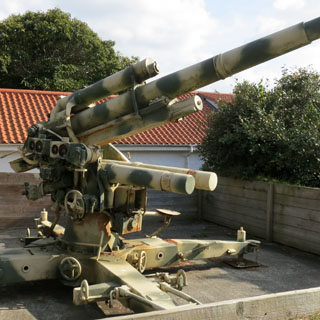 That earlier photograph that I asked you to remember? Here's the scene when the German band marched through. Islanders painted a 'V' (for Victory) everywhere. The Germans tried to stop them, but in some cases added the green laurel leaves for Germany (take note of a German officer's hat for the same).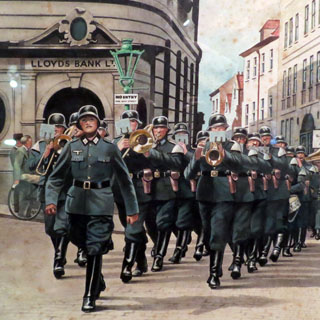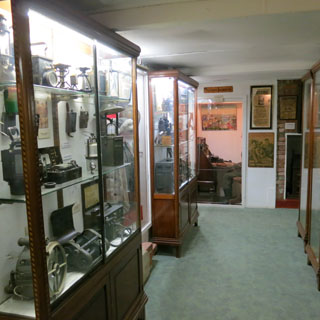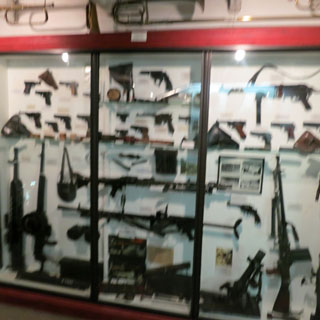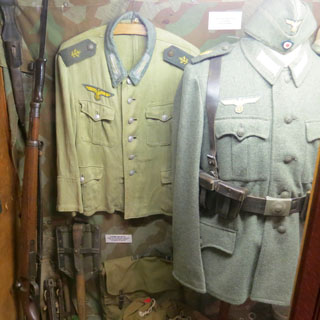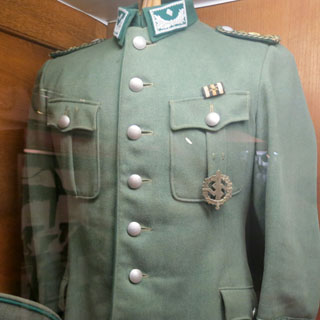 Only when the war ended did the Germans finally release control of the island. By that time, things were in horrible shape for them. They left many things behind, including photo albums.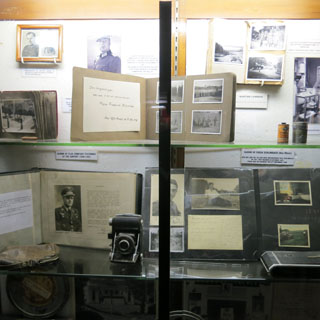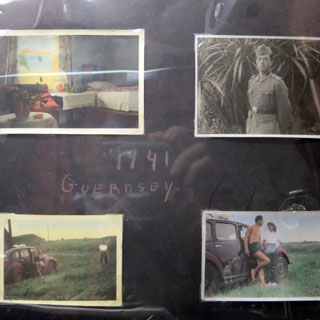 A Guernsey newspaper with all the news of the allied failures (including the note of Erwin Rommel dying in a car crash). By the time of this printing, the island would have been completely isolated from resupply and the mainland of France was completely in the hands of the Allies.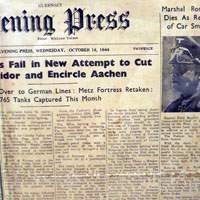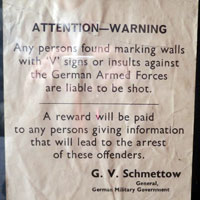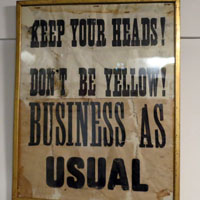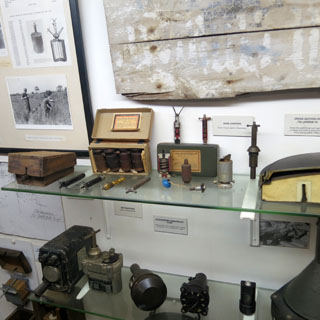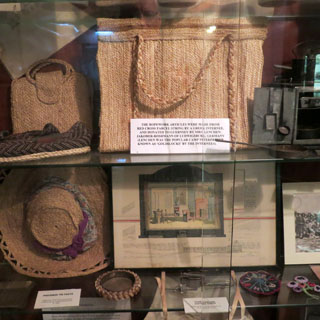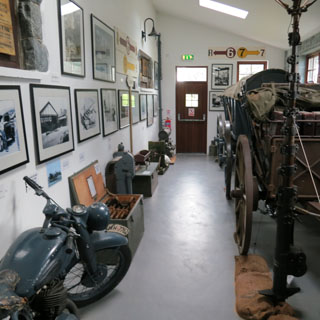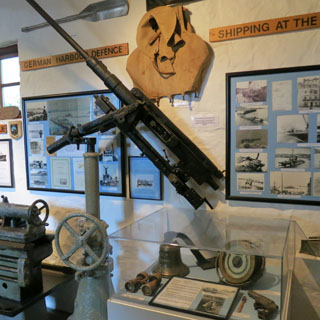 A Guernsey Cow is also famous. Which is better? Well, that depends on which island you happen to be standing.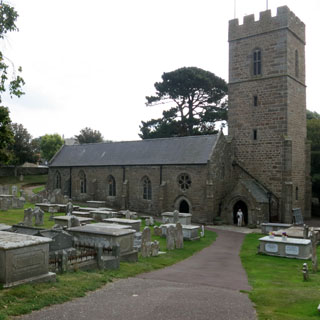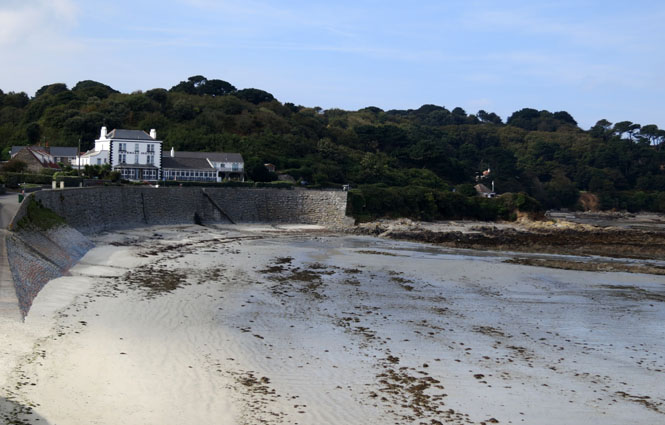 I had a cheese sandwich (excellent) with a Guernsey Gâche (also excellent) with very yellow Guernsey butter.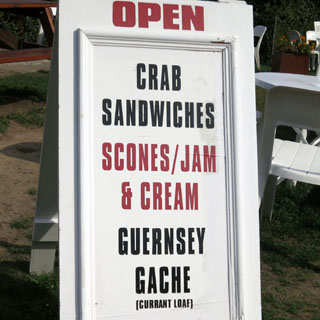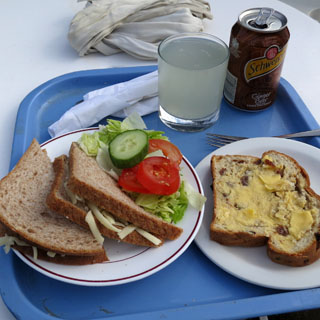 An artillery-spotting observation tower.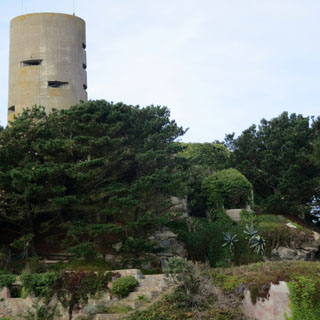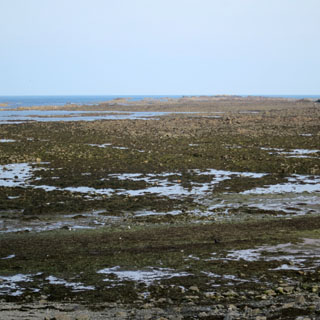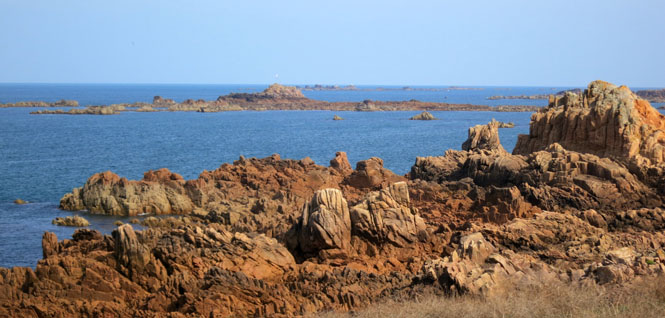 Fort Hommet. The fort is quite old. The additional concrete structure on top dates from the war. It will be here a very long time. The amount of concrete poured for fortifications in the two islands is staggering.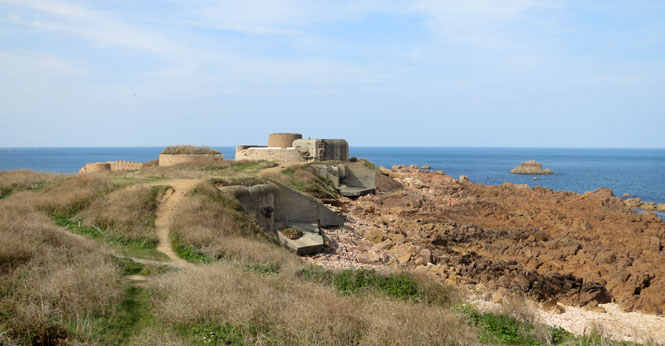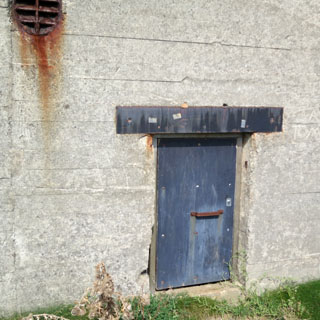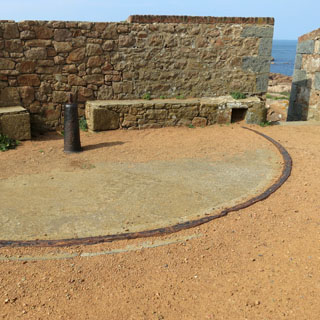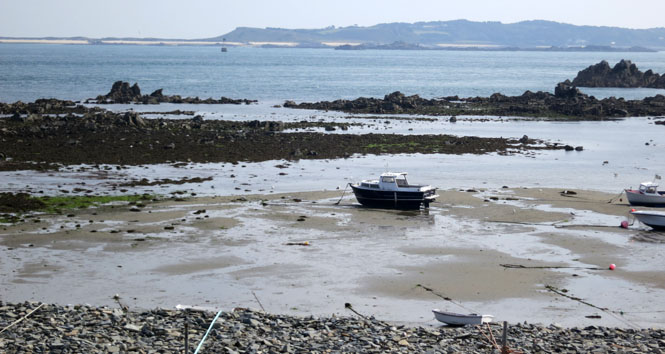 One of the fast ferries passing between Guernsey and Herm. This one must be coming from England.

Victor Hugo was French, but Guernsey claims him as one of their own. He spent many years in exile here.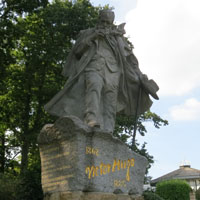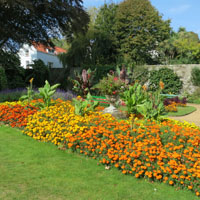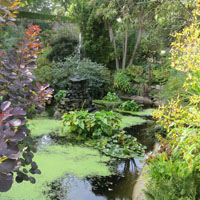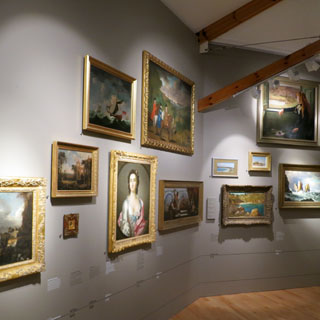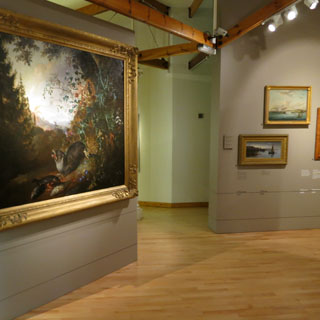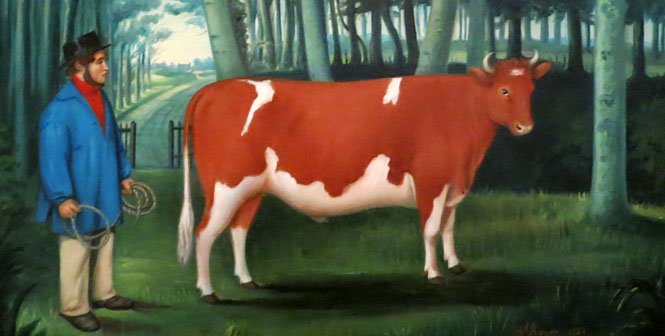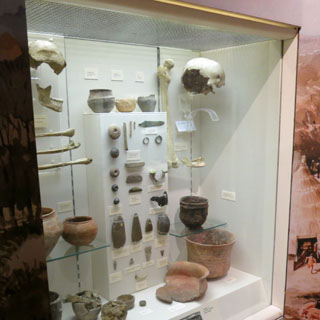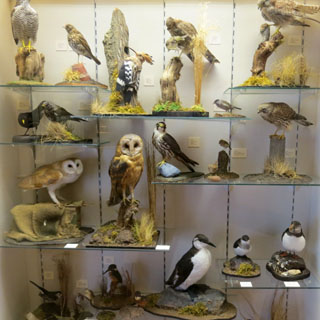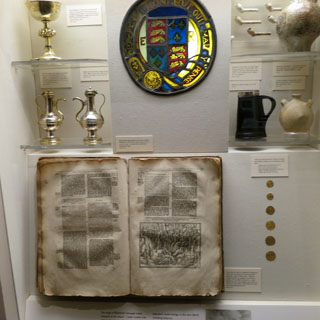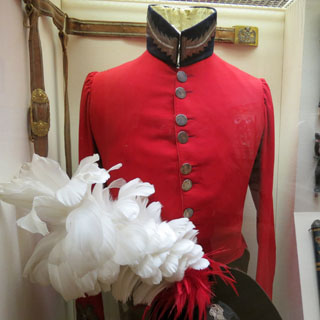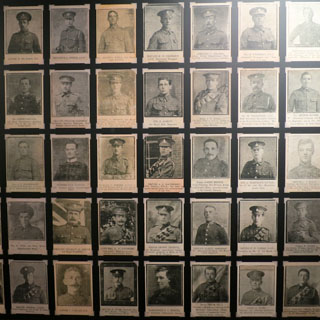 Back to the docks.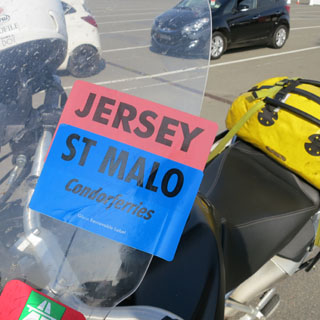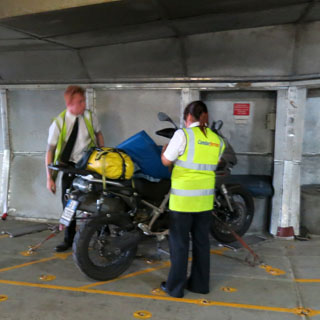 Jersey
My third ferry trip takes me back to Jersey. I ride off, turn around, and wait for the next boat.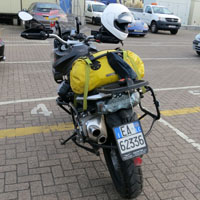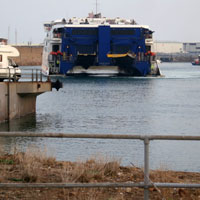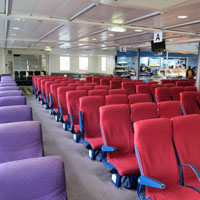 France
Back in Saint-Malo, late at night. I'm in the same hotel I used just a couple days earlier.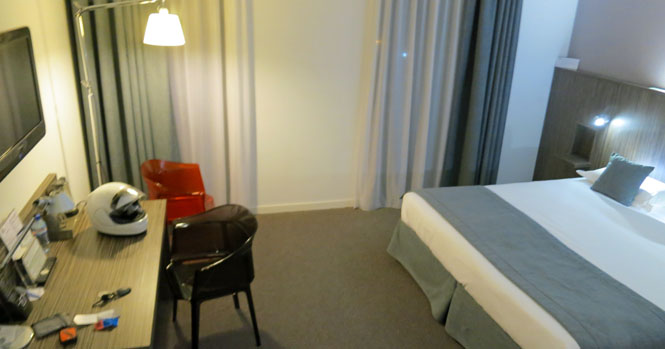 Le Teilleul, France. I had thought of riding north of Paris, but I wanted to keep a day of reserve so I kept to the south. It turns out I easily would have had time to divert north.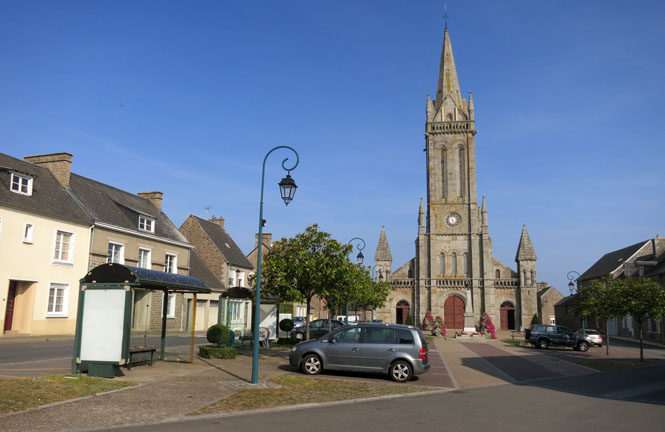 I've got the habit, now, of paying more attention to cows.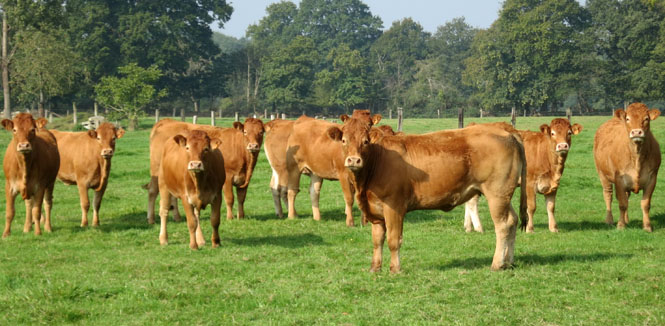 Juvigny-sous-Andaine, France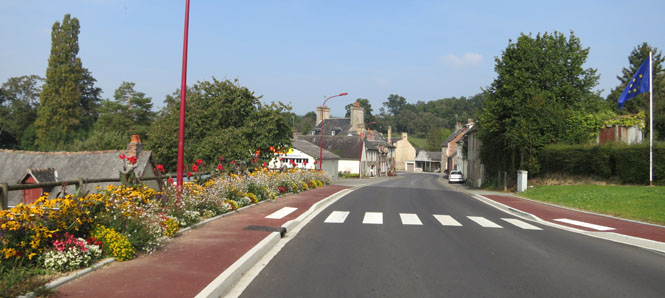 Pré-en-Pail, France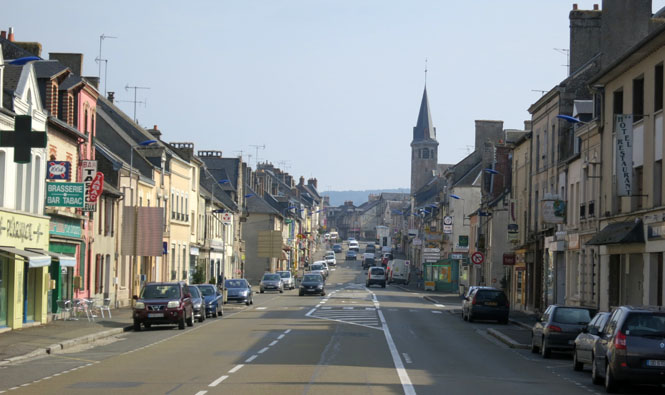 Verneuil-sur-Avre, France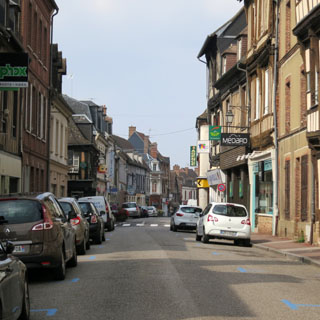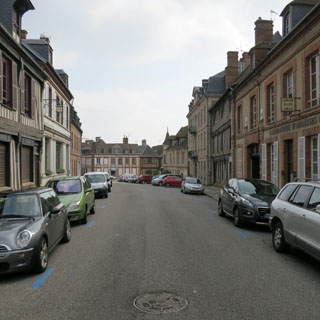 This would be one of the white roads on the Michelin map.

Brezolles, France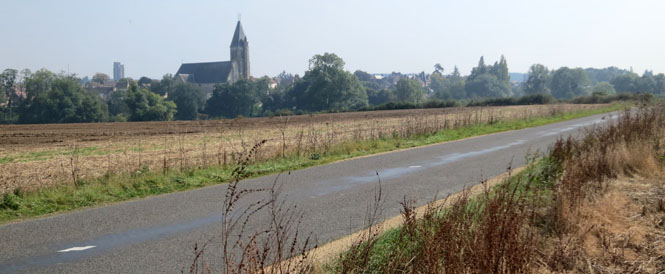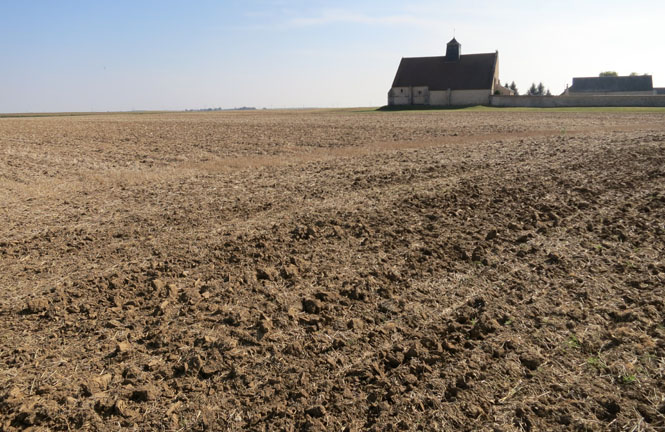 Sugar beets are being harvested.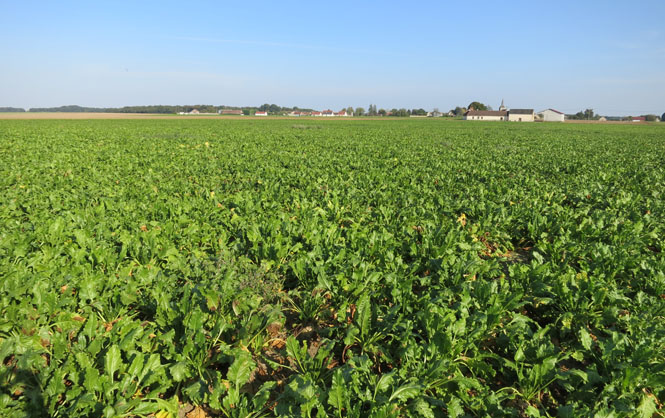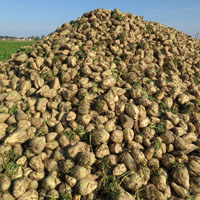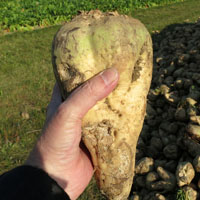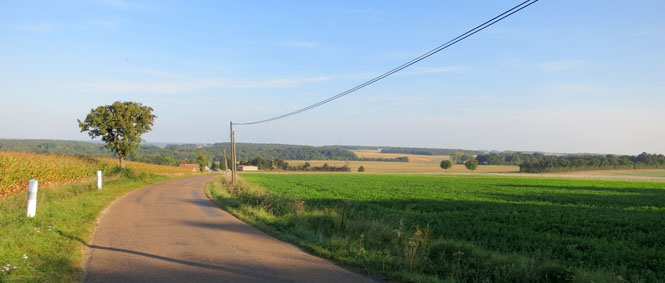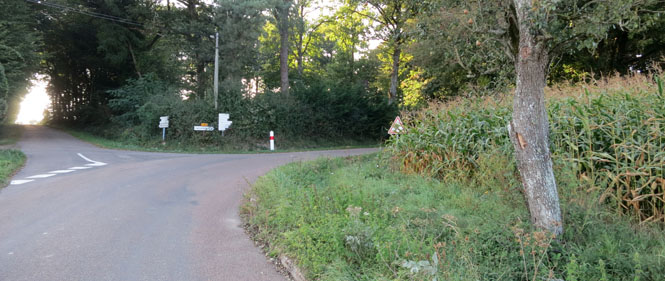 Joigny, France and L'Yonne River.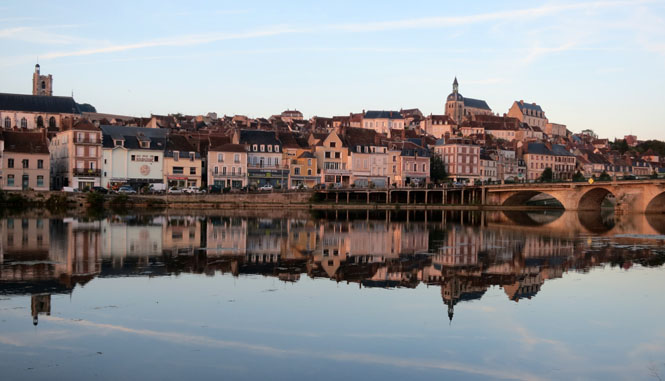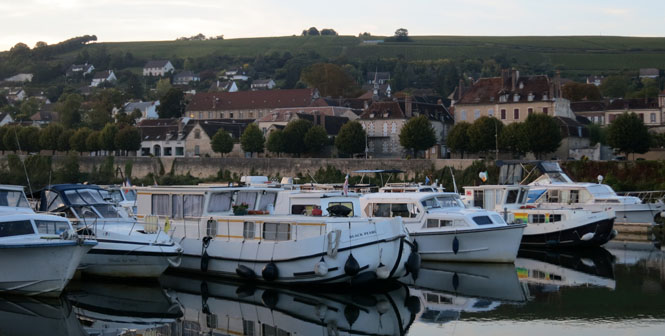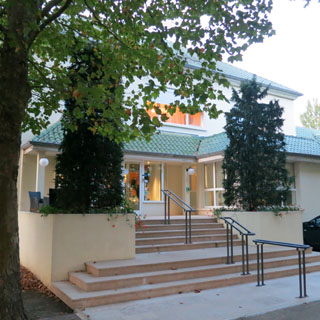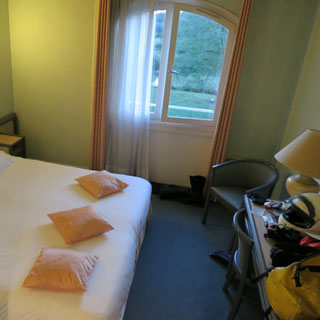 Chablis, France. I'm riding from one wine region to another.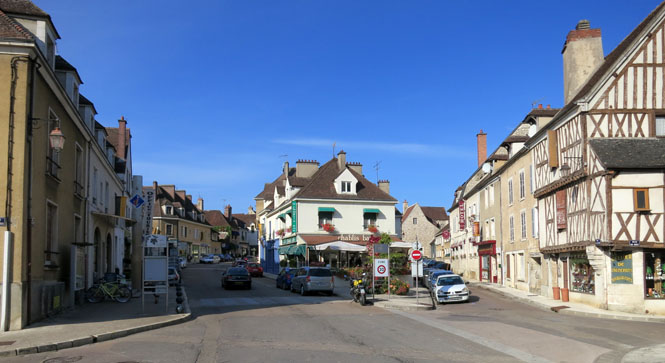 Several times I passed groups of people hand picking grapes and dropping them into large plastic tubs that they'd carry on their back.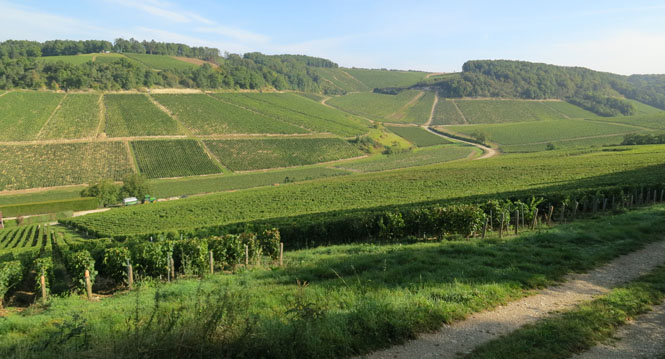 Baon, France
Châtillon-sur-Seine, France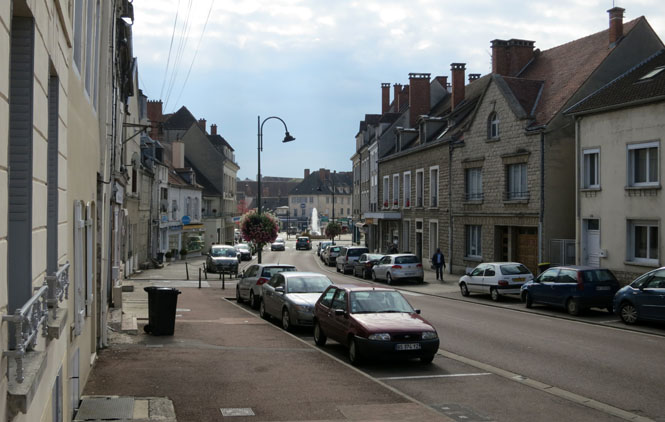 Was there once a town here? I've no idea, but that old church is now a barn.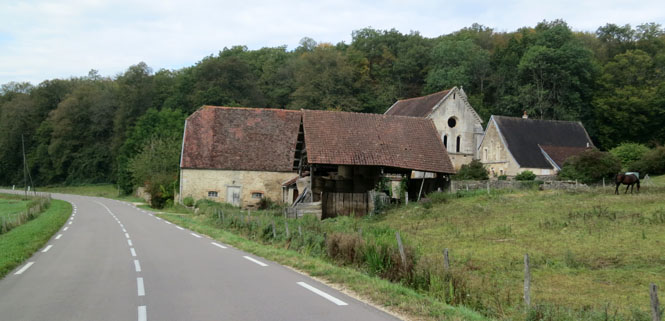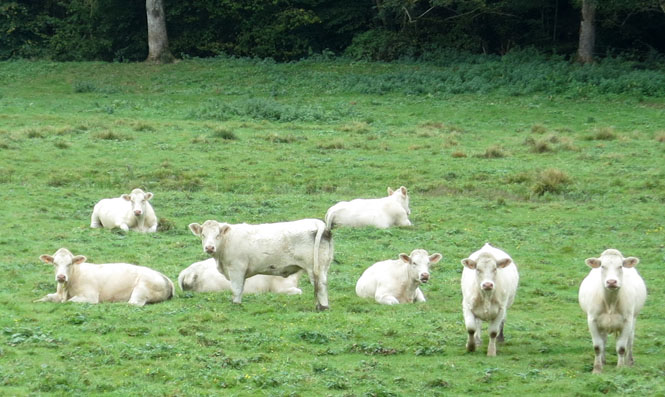 Germaines, France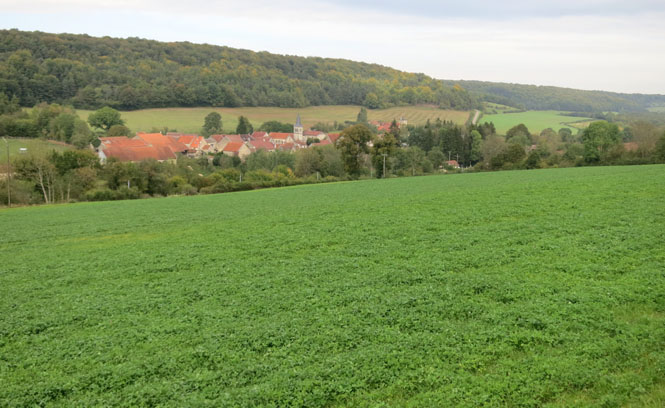 Gray, France and La Saône River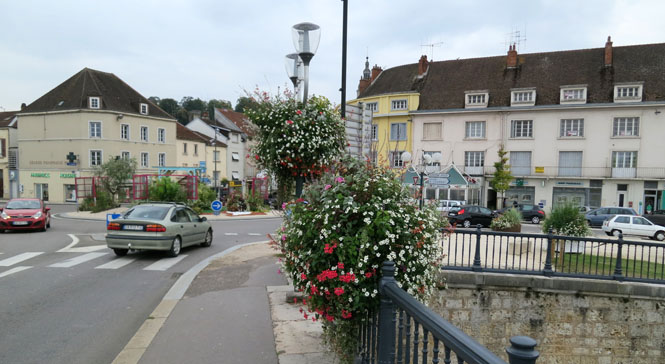 At least for the noon meal, it doesn't much matter what you order, you'll get frites with it.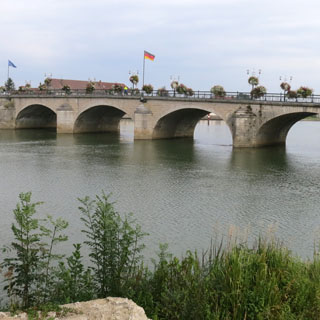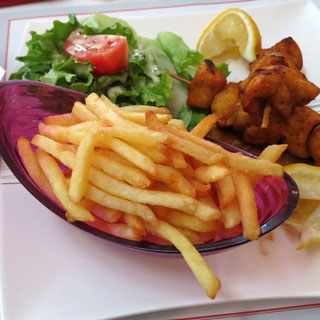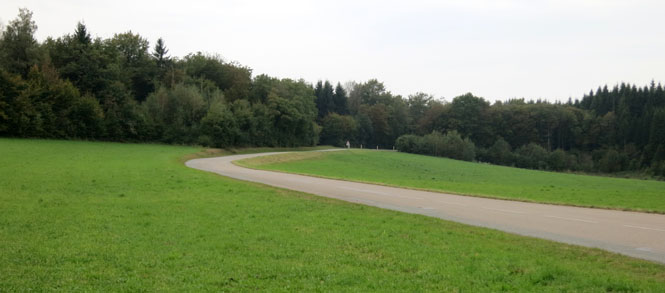 Le Luhier, France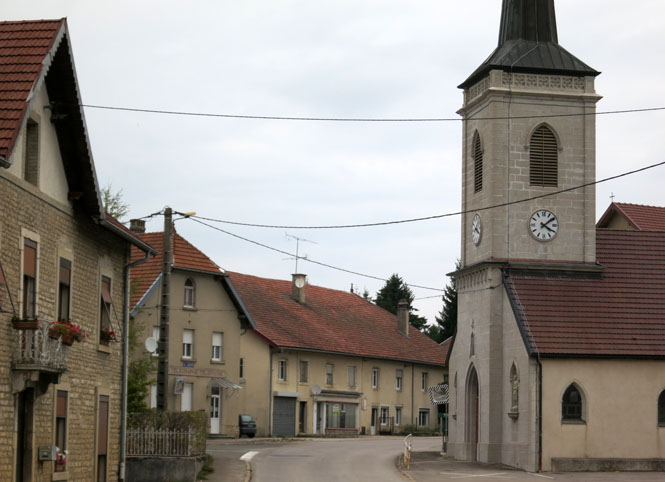 La Barboux, France
Switzerland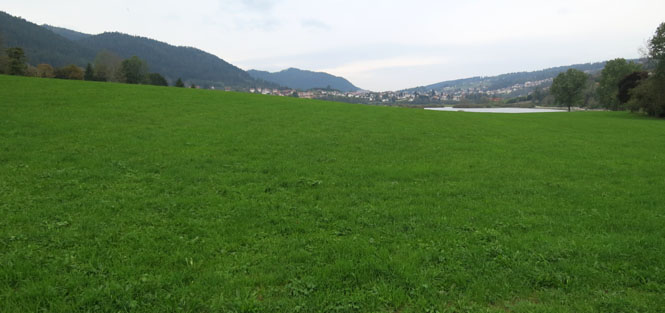 Lac de Chaillexon. That far shore is France; I am standing in Switzerland.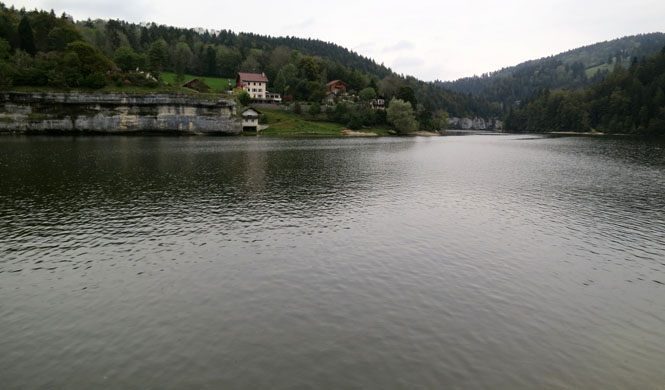 Les Brenets, France.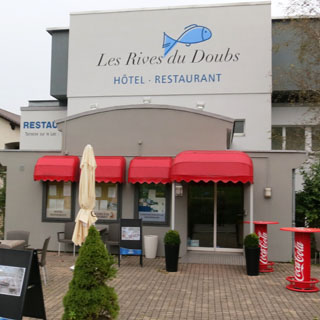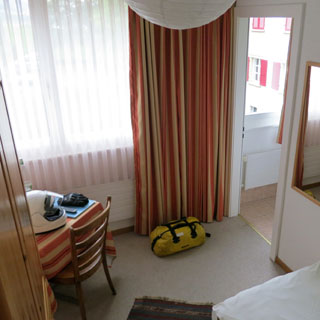 The Swiss have very tidy fields.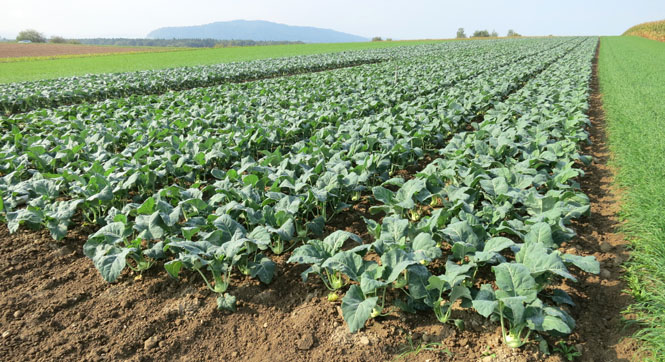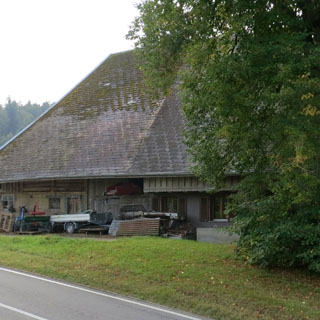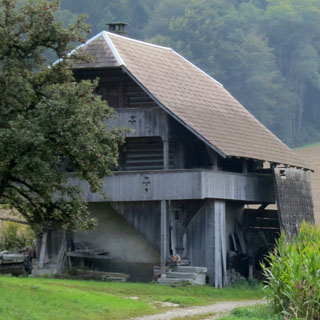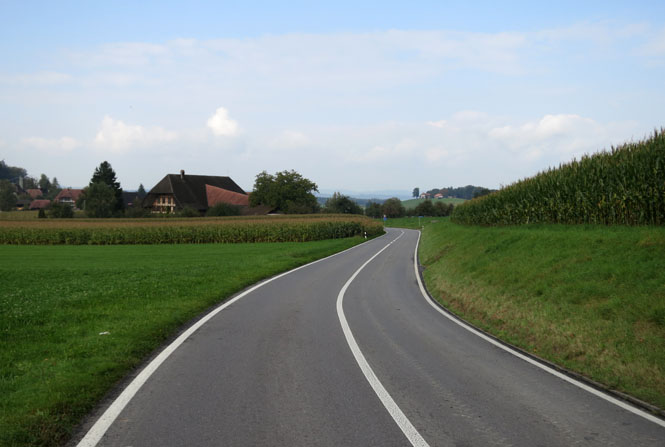 Burgdorf, Switzerland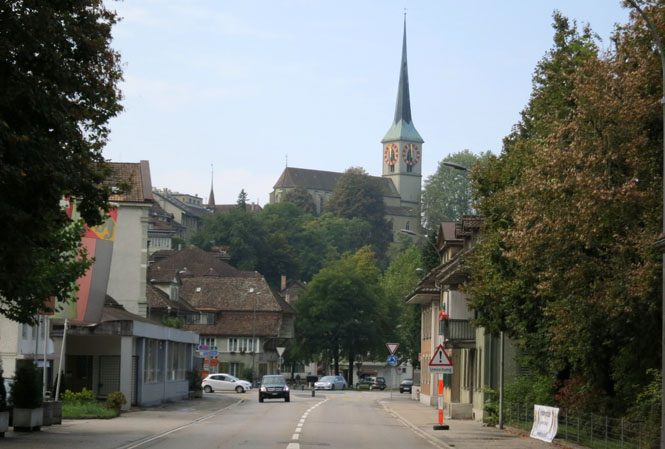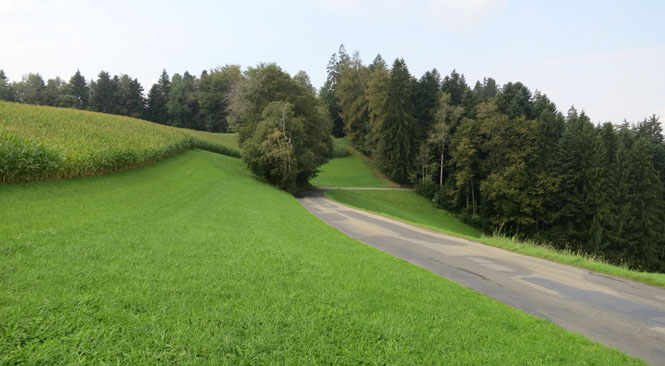 Eriswil, Switzerland. My grandmother's father was born of two Swiss emigrants (who met in America). The wife was from Eriswil. She had quite a hard life, being orphaned at a young age and talked of cleaning cabbage at the town fountain during the winter.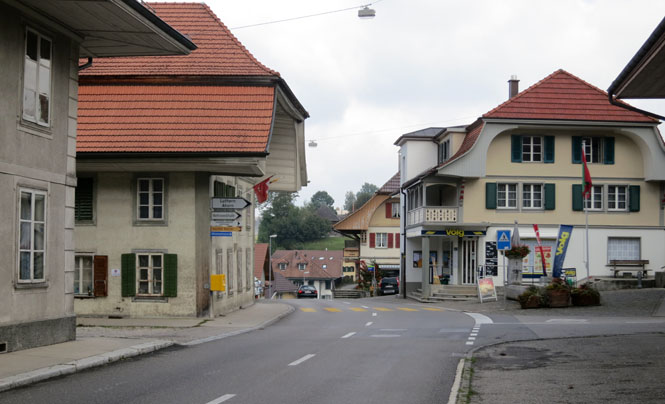 I was born June 20, 1836 in the village of Eriswyl, in the beautiful valley of Ammenthal, famous for its good cheese. I was the youngest of nine children. My father was the town baker. My mother died when I was five years old and my father soon after, leaving me an orphan at seven years old. My brothers and sisters were all married and away from home. My oldest sister kept me for two years, after which I had to shift for myself. I was buffeted around from place to place for several years.

I worked may places for my board which was often very poor at that. young girls had to work hard those days. I had to do such things as wash cabbage at the fountain in the winter.

Such things made me long to come to America.

In the neighborhood there were two young couples, who were going with a group of people and they persuaded me to go too, which was an easy matter.

As I had no money, it was loaned to me with the understanding that I would pay it back after we had arrived in America and I had had time to earn it there.

Father (my husband), afterwards paid this when we were married. I told him before we were married that I owed this money, and he said, "Oh, that don't matter," and went straight and paid it.

--reminisces of Anna Hug (she died 1933 in Elgin, Oregon)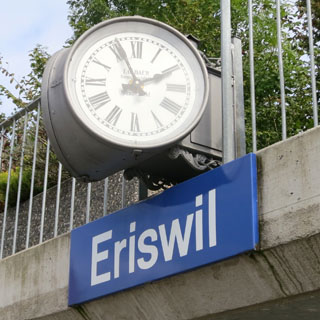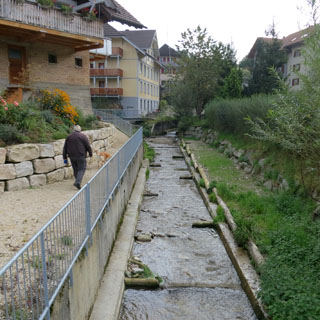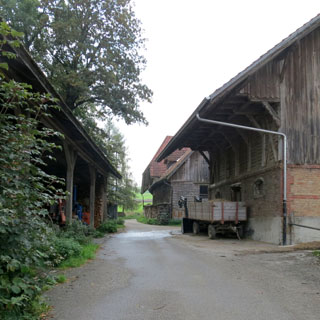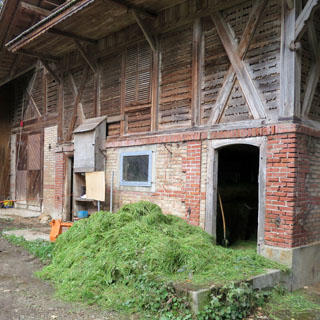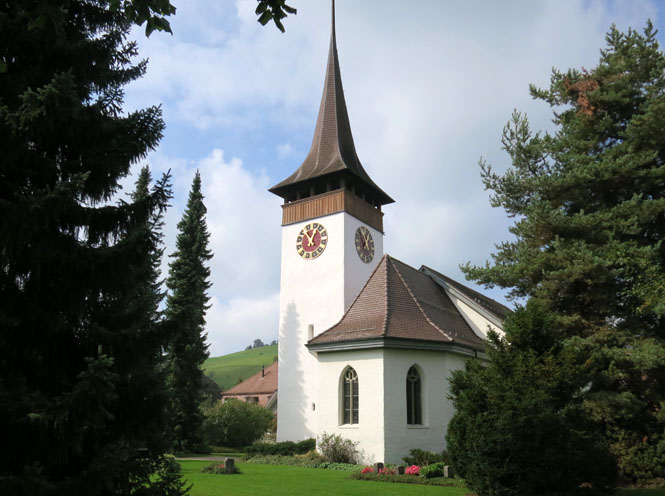 Was this the same fountain? Perhaps.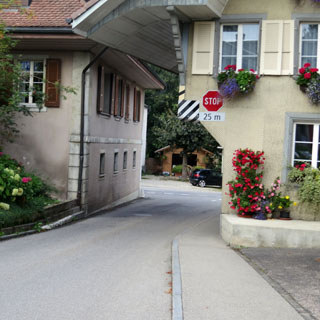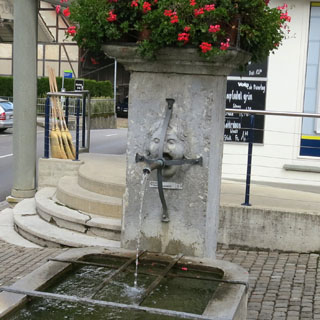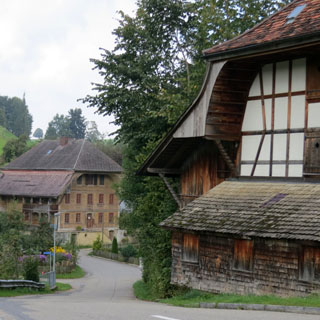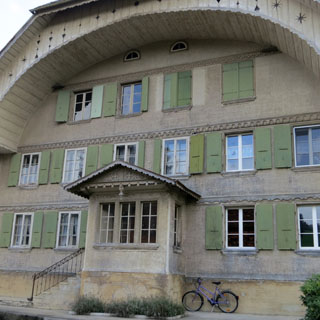 Riding over Glaubenbuelenpass.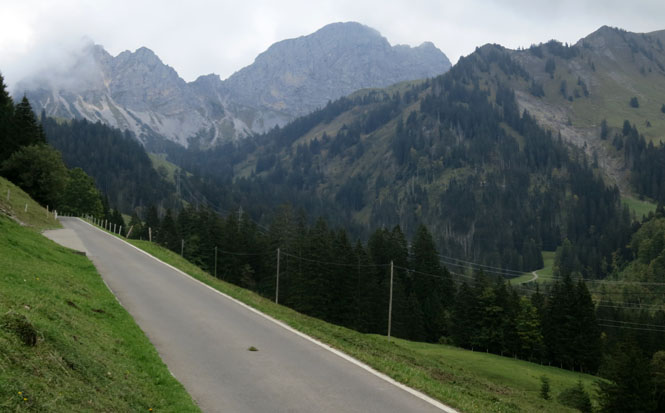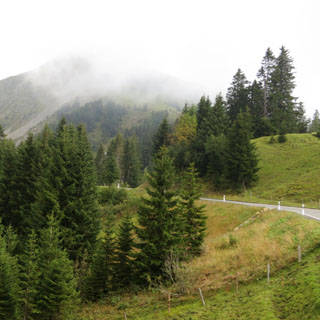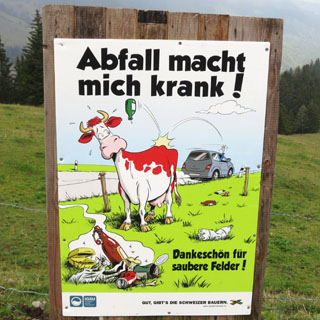 Busses and trucks are prohibited.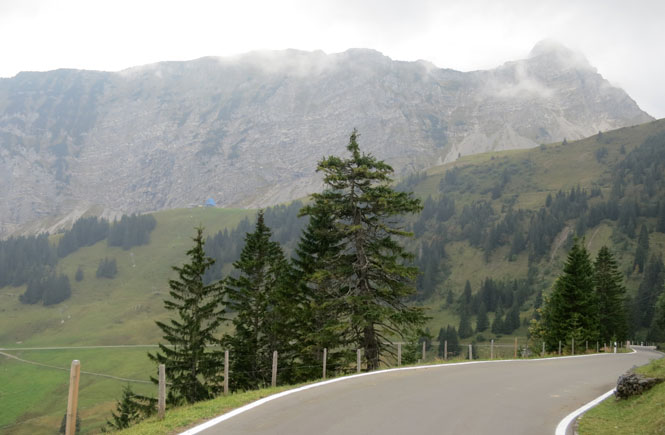 Sarner See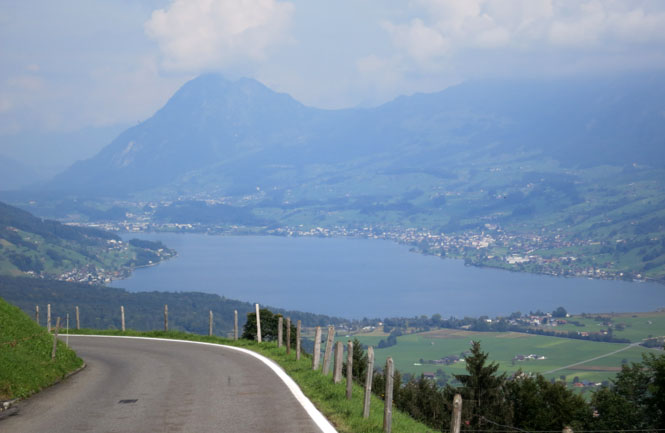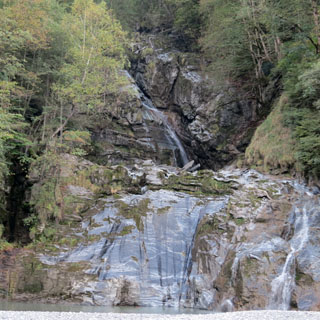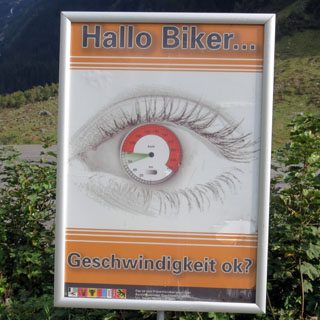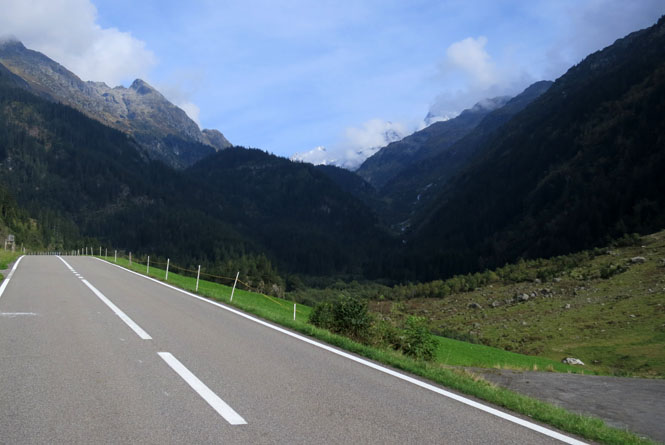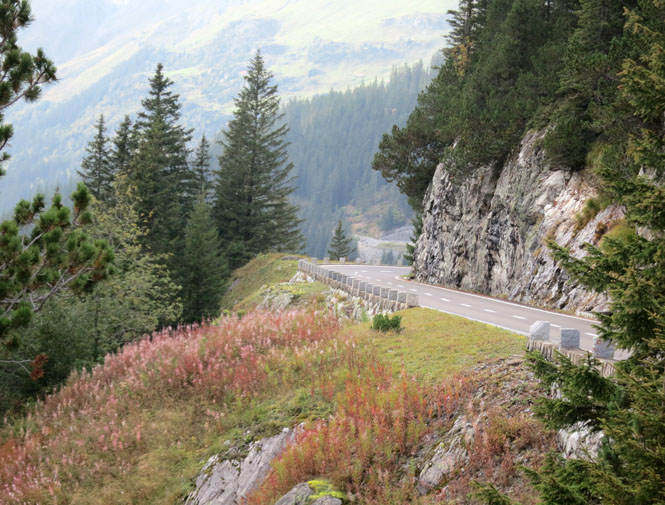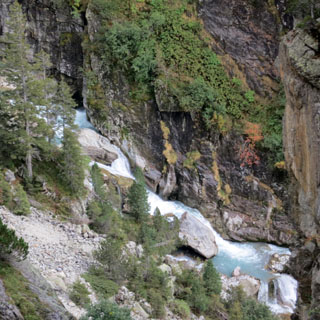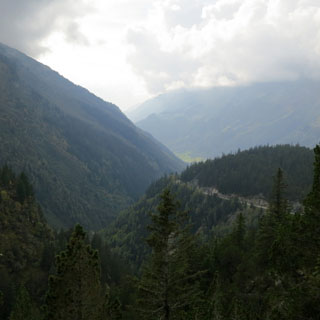 Up the mountain and over Sustenpass.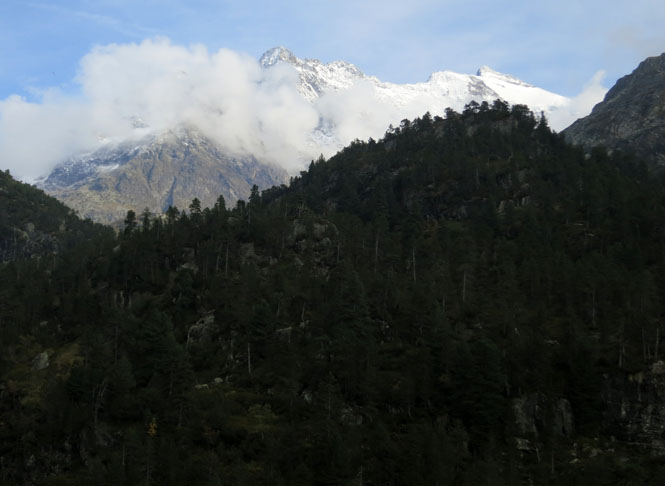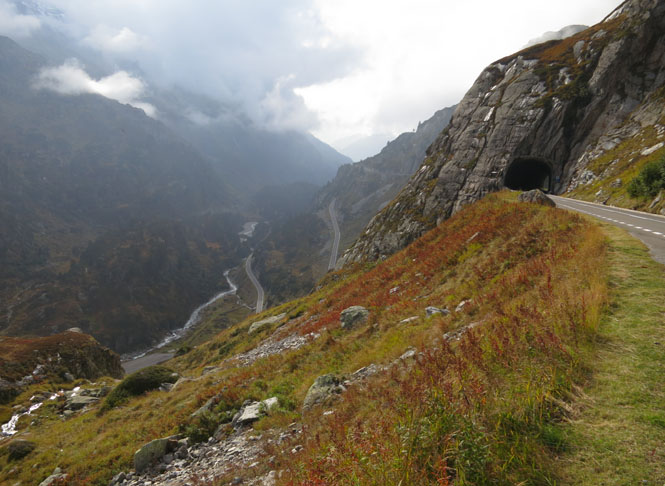 Seinsee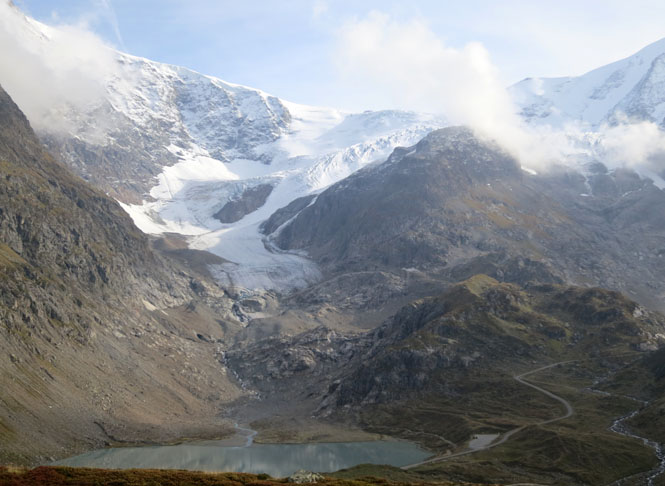 Only after a very long descent did I open up the throttle. Ack. the gasket between these two exhaust parts has come out, making my motor sound like a poor-running Briggs-and-Stratton lawn mower engine. The same thing has happened on my own bike, so I know what to expect.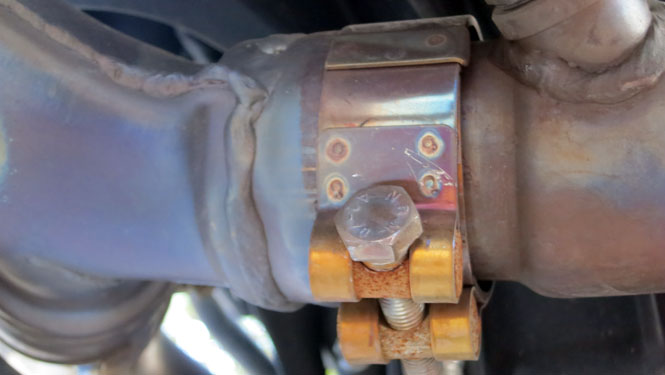 Wassen, Switzerland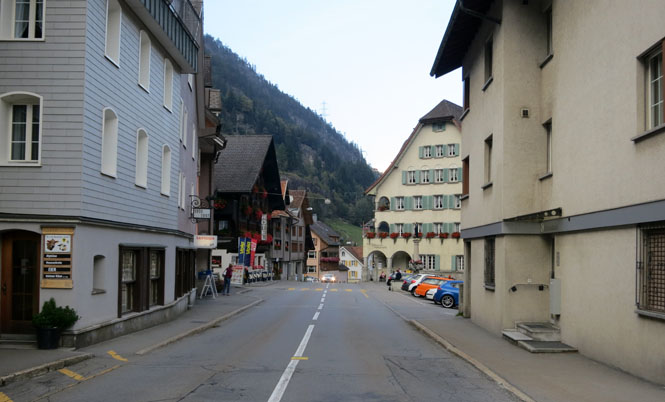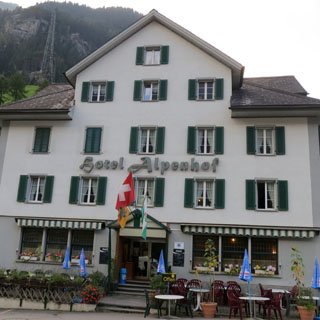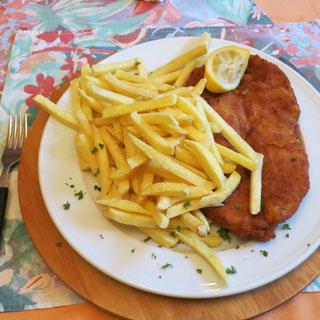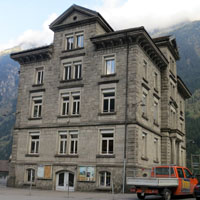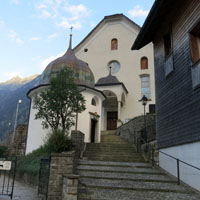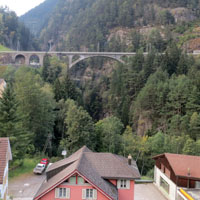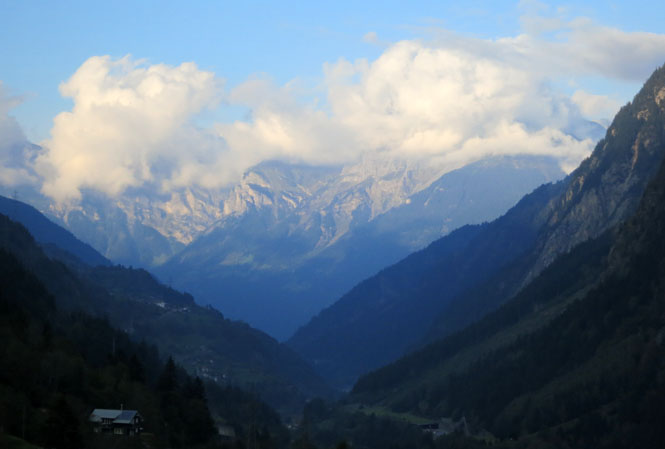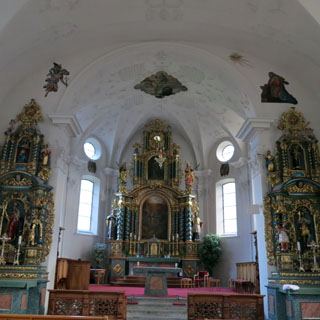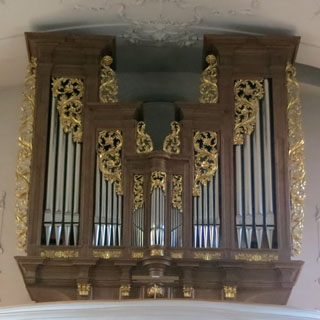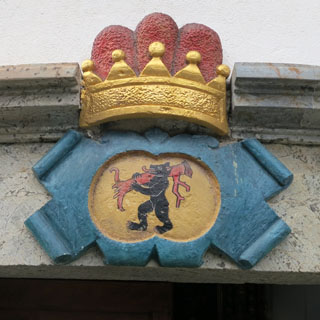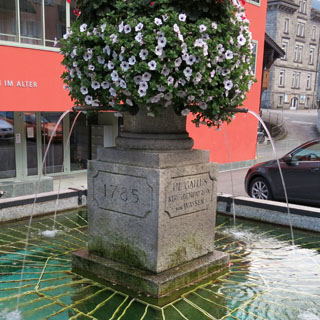 St. Gotthard Pass. I thought about taking the very long tunnel (since I've been over this pass, before), but really, it's such a nice day and miles of tunnel are not my favorite thing.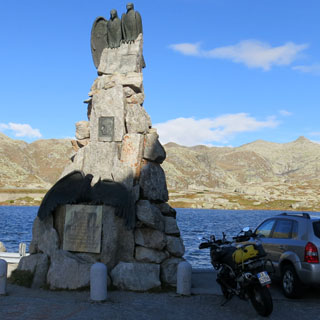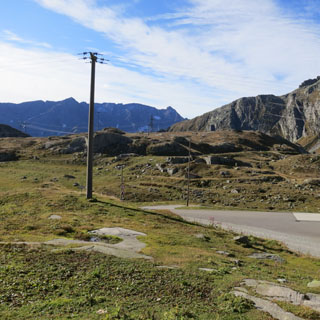 Airolo, Switzerland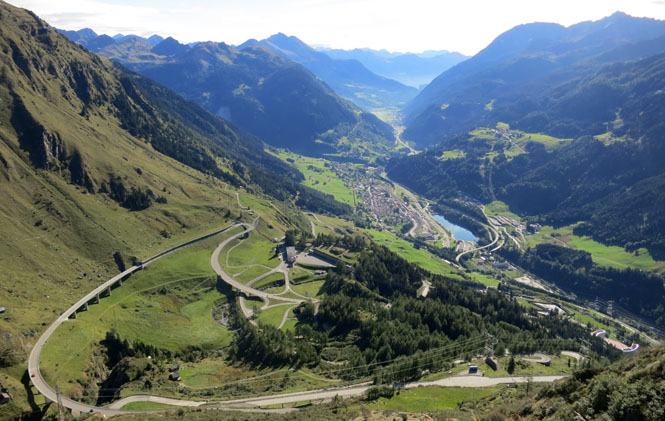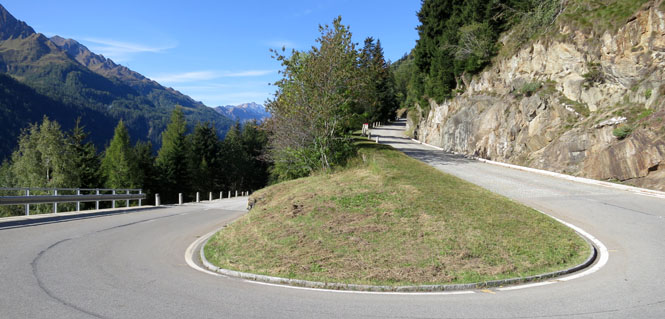 This surface is likely quite durable, but it sure is horrible to ride.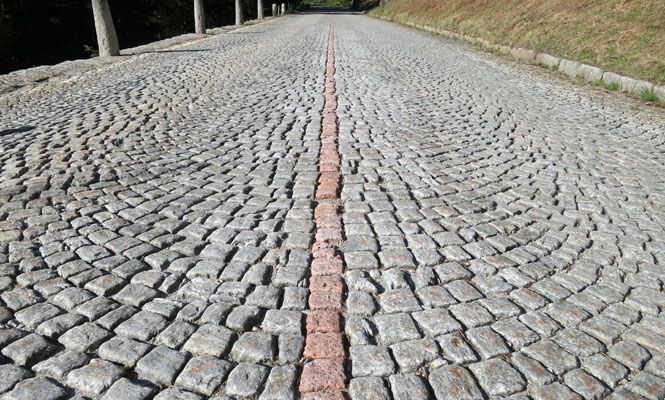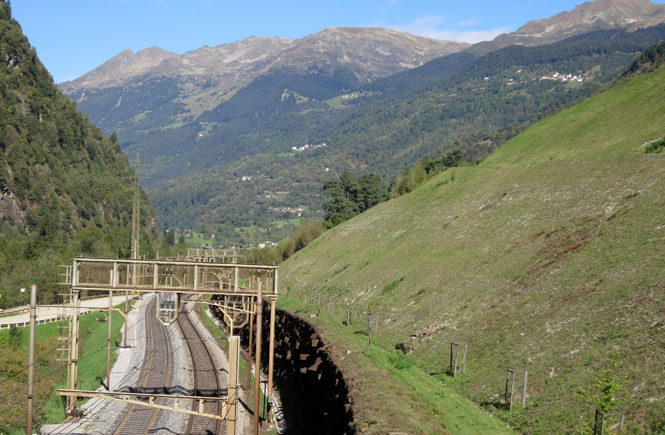 Some tunnel boring equipment.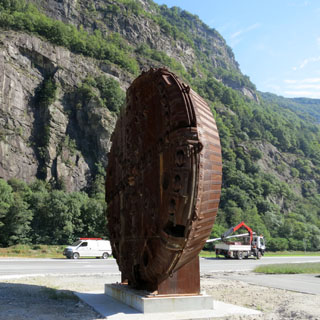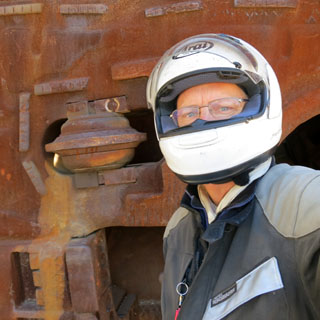 Italy
Mennagio, Italy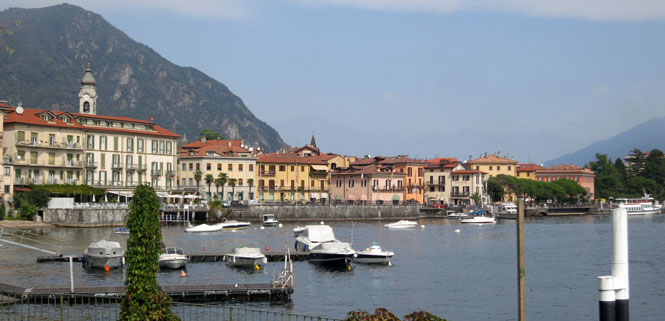 I'll have some lunch and wait for the ferry to take me across Lake Como to Varenna. I could ride around the like (which I've done more than once) or I could relax at the end of my ride. I pick relax.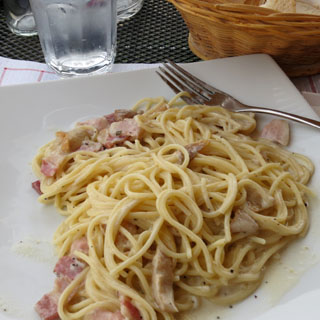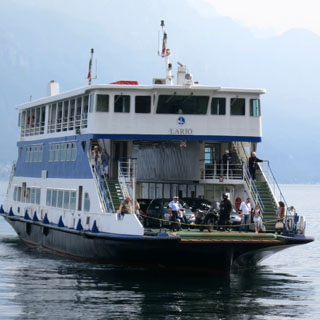 Back to Mandello and Mamma Ciccia B&B where I've stayed many times before.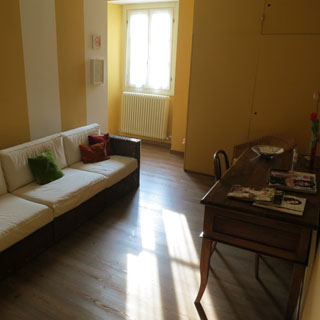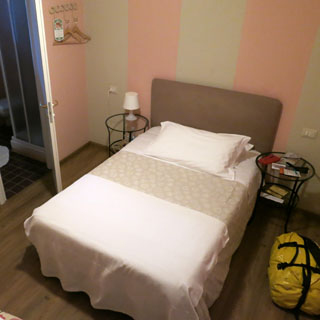 I've seen this same white cat on every trip. That group of people is waiting for the bride and groom to come out to a shower of confetti and a ride in their Maserati.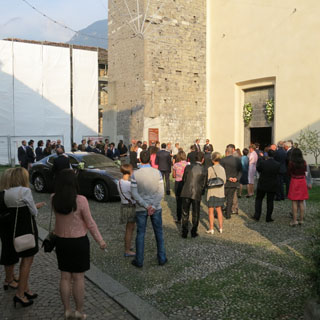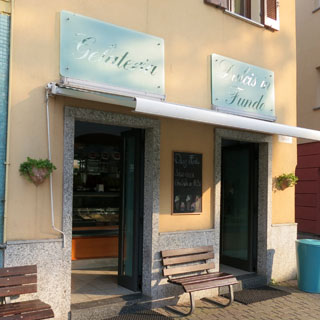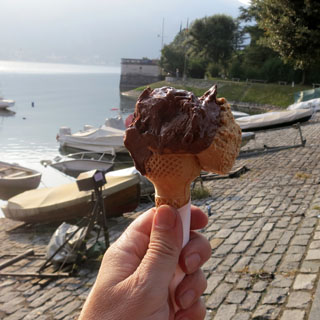 A final evening on the lake.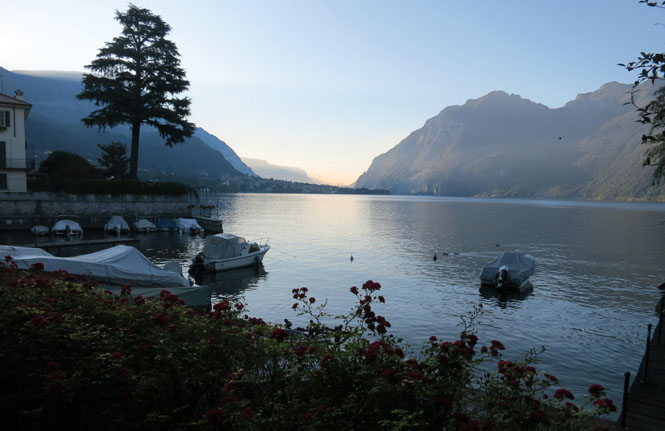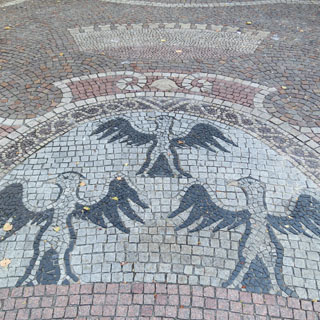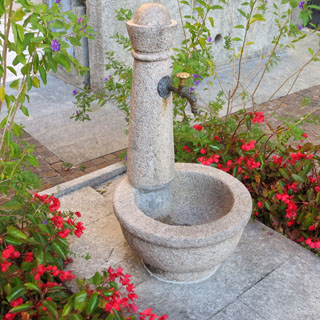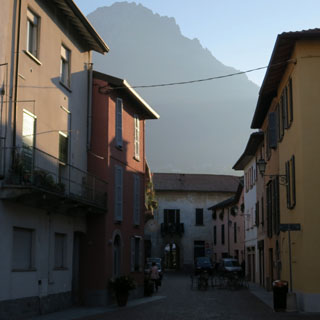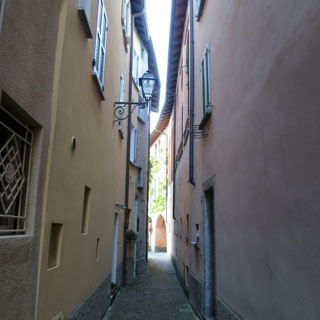 First, back to Lecco and then change trains to Milano.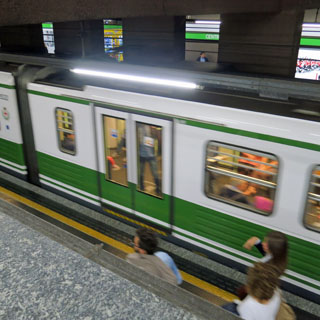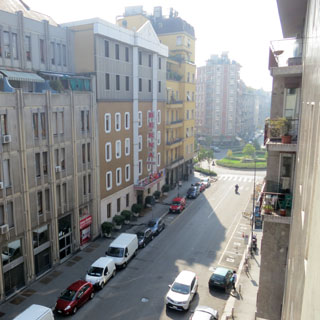 An afternoon walking in Milano.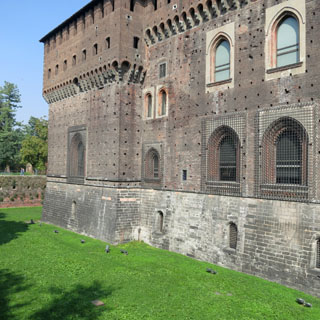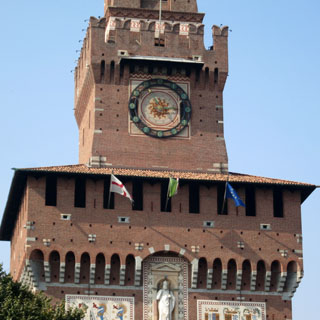 The Arch of Peace (finished 1838).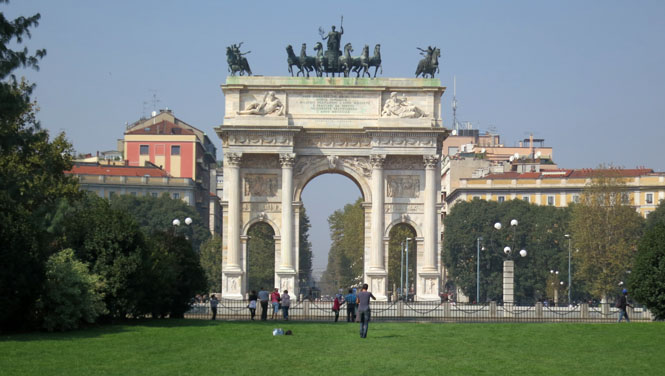 Watching a track-and-field meet at the Arena (built in 1806).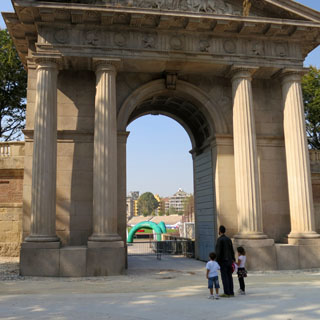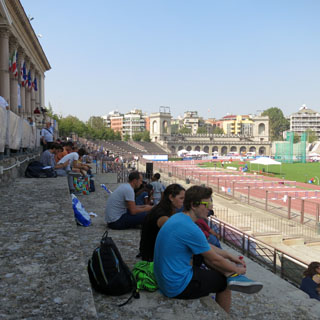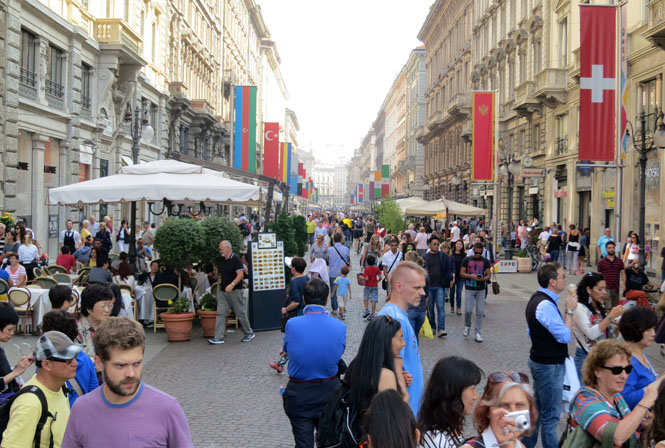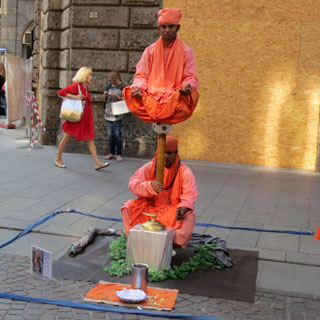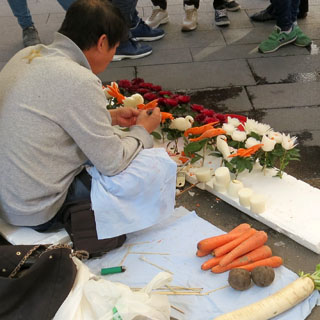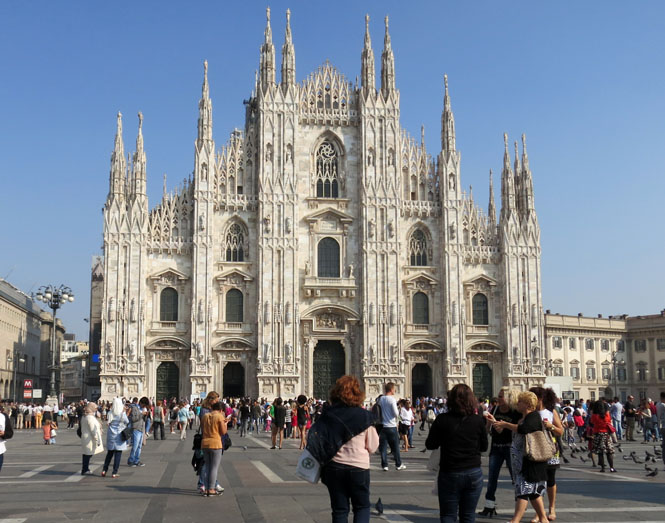 The line for the Marc Chagall exhibition was outrageous, but there was no line for the Segantini exhibition just next door.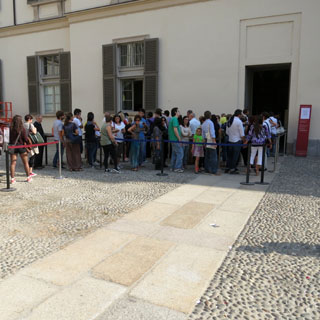 Photographs are not allowed, but here's a shot of my ticket... The exhibit was very comprehensive and I learned quite a bit about Segantini. Actually, I knew virtually nothing of him, so this was all very new to me.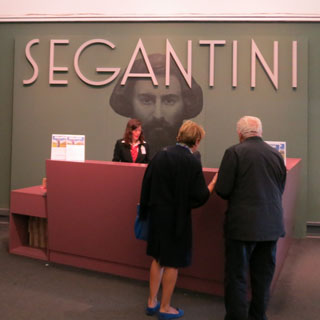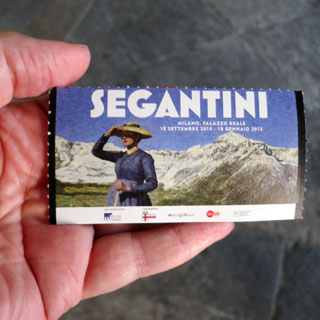 Work on cleaning the stone walls of the Galleria continues.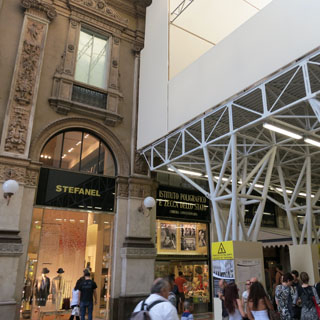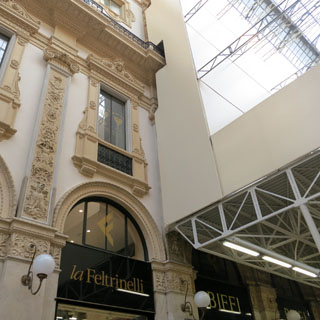 It's really looking good.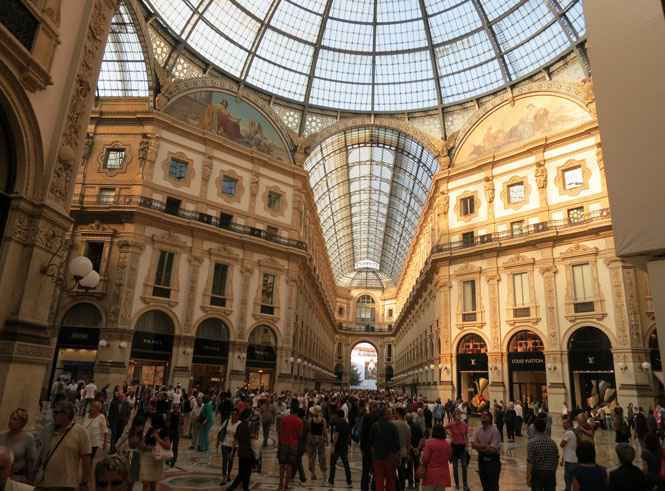 Ah, Milano. An entire large storefront window devoted to a single bag. I'd imagine it's a rather expensive bag.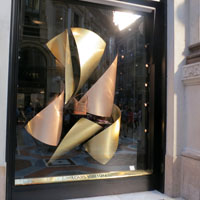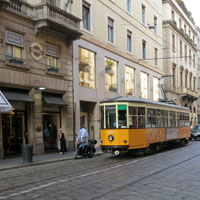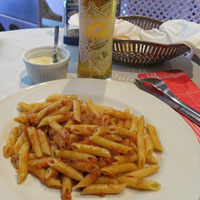 The early ride to the airport the next day, and the long, long flights back home.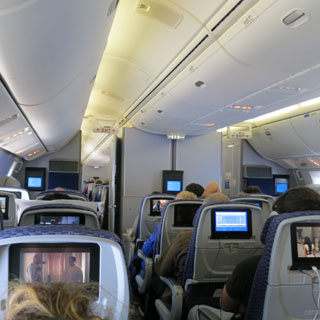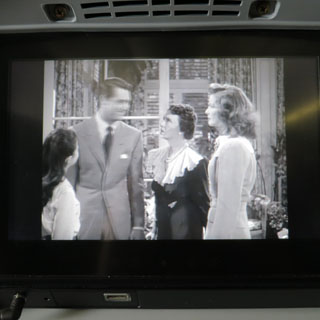 An excellent trip. No mechanical problems (save a little extra noise at the end), good weather (a little rain; nothing much), lots of new things seen.
last edit: 10/3/2014