December, 2014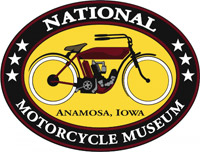 A visit to the National Motorcycle Museum in Anamosa, Iowa.
Iowa
I'm not sure what authorizes this (or any other) museum to call themselves the National Motorcycle Museum, but it has ambitions that go beyond any particular aspect of motorcycling in America--it covers everything. It has as much right to the name as any I know.
I had some expectation that it would be mostly a Harley-Davidson affair, but that's just not the case. Yes; H-D plays a big part; but, then it has also been the most important manufacturer in the country over the last century. The museum is well balanced.
It's not the most attractive exterior, but there is plenty of room (and it's still not big enough for the collection).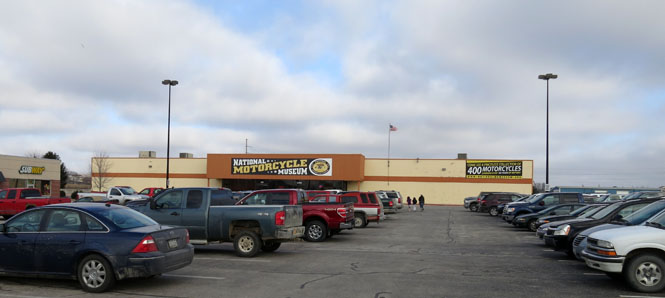 Enter the front door and turn right to go through the gift shop and into the exhibit area. A ticket is ten dollars.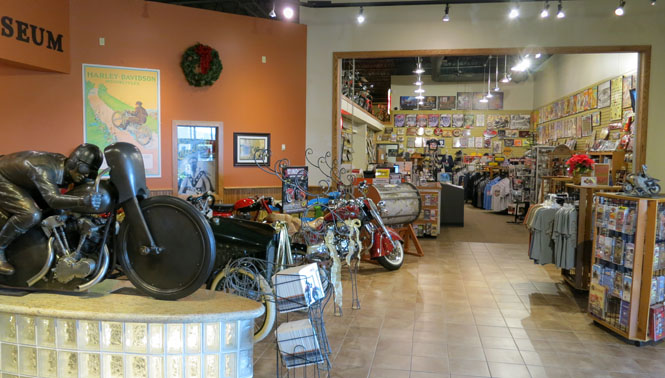 Your first view.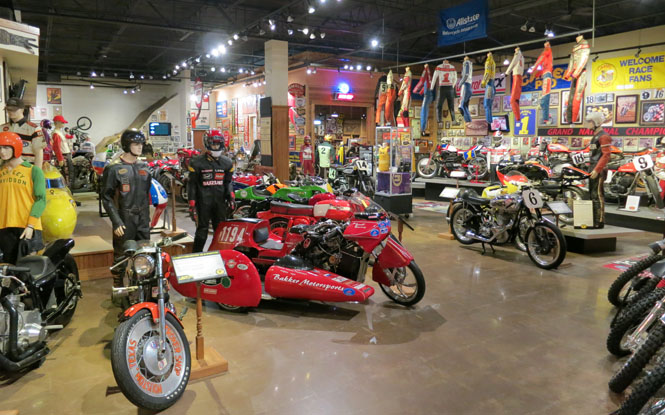 Dirt bikes of all stripes. Don't forget to look up; there are still more bikes perched on the walls.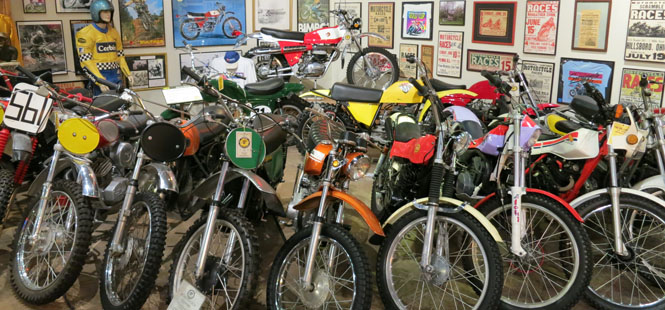 Road racing bikes, salt-flat speed-record bikes, and the history of bicycles that came before motorcycles.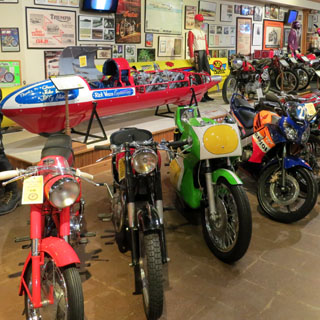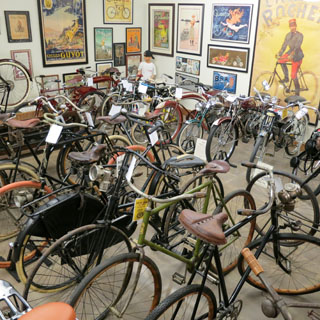 One of the current temporary exhibits covers American flat track racing. It's very complete. You hope there's some way to ensure that the collection can remain--it's a crucial part of the history of motorcycling in this country and should stay.

The Honda RS on the left and the Harley XR on the right. When those two factories were competing head to head is when the sport reached its most recent peak.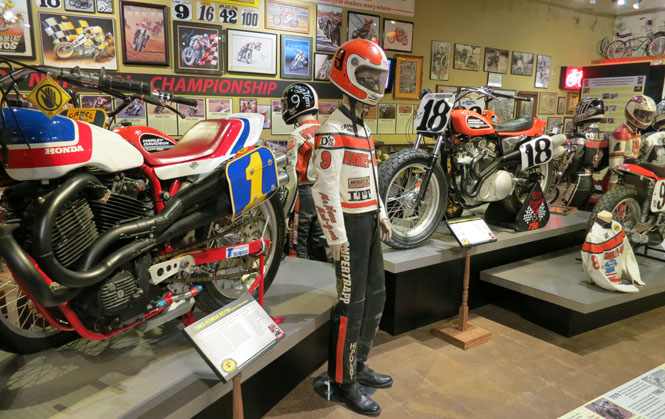 Going fast in a straight line on pavement (left), and going fast across an open desert (right).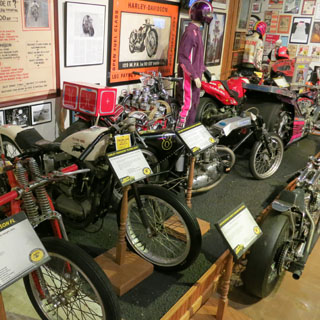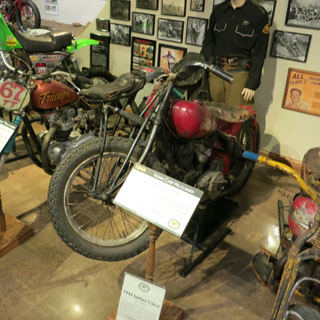 It takes a lot of Kawasakis to show their range, but that doesn't leave much room to actually look closely at them.

A good opportunity to compare a JD to an EL engine.

See that T-500 Suzuki in the middle (with the blue tank)? It's identical in every way to the one I had (and sold with 40,000 miles on it). I didn't think to check the VIN...
It's an overwhelming task to show the history of Honda in America, but they've given it a good try.

These BSAs are stunning. Too bad they didn't stand a chance in the marketplace against those Hondas (above).

Vincent; oh my. And Brough; sigh...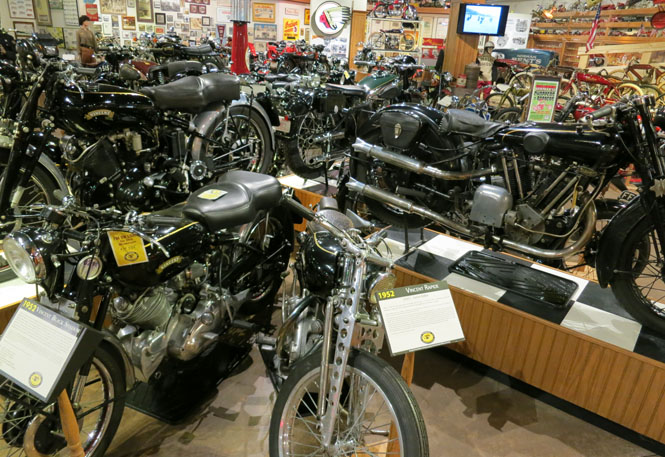 The museum had to sacrifice quite a bit of valuable floor space to build this section of board-track racers, but it's really the best way to show these special (and scary fast) bikes in their element. Nicely done.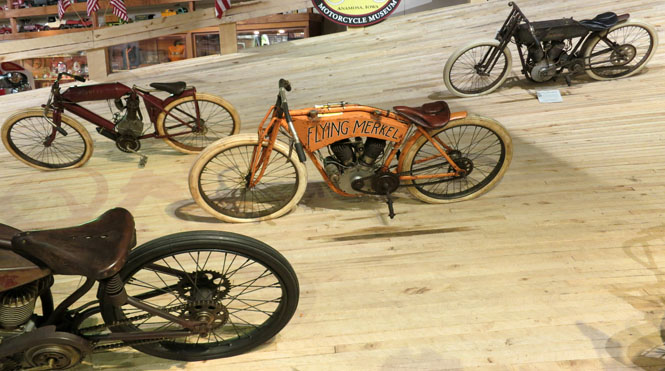 Two quintessential American custom motorcycles (even if one of them came from Small Heath, England).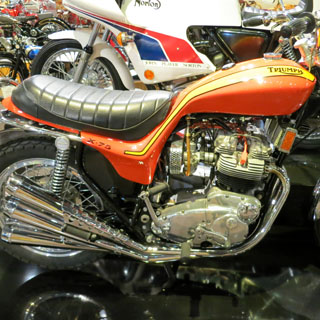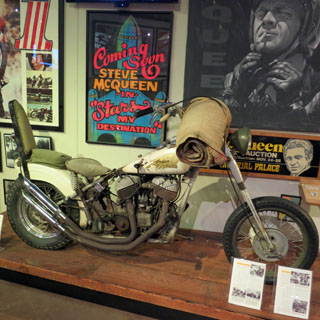 German bikes on the left and Indian Motocycles on the right.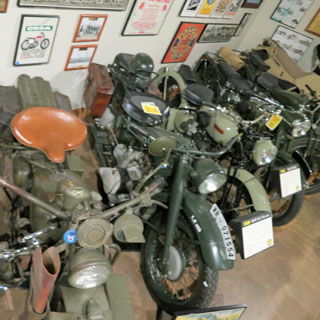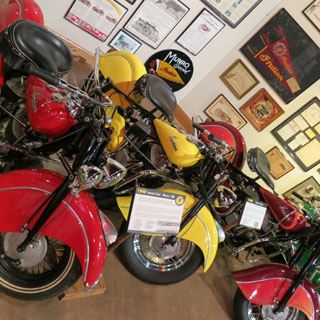 The Moto Guzzis on display are far cleaner and perhaps more perfect than the ones in the Guzzi museum. Of course, the ones in Mandello del Lario wear their original paint and look as if somebody simply parked them in 1929.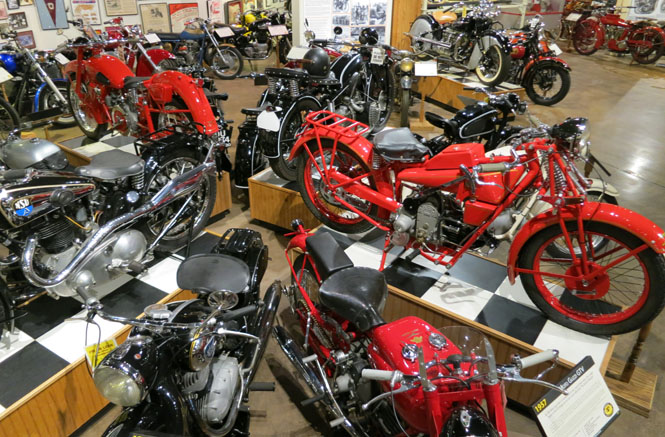 A nice coverage of Harley-Davidson. I prefer the early FL models to the current offerings. The seat is a rational height for me and your feet go just where they ought to be.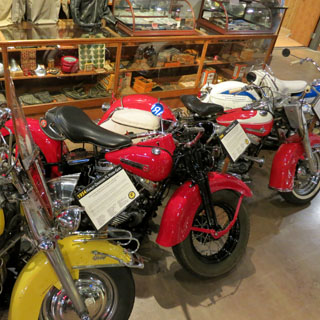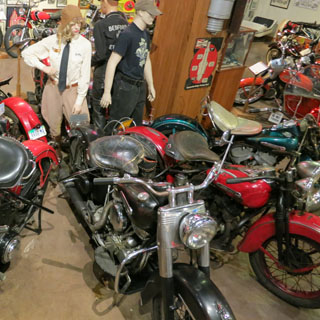 Well done.
last edit: 12/19/2014