February, 2014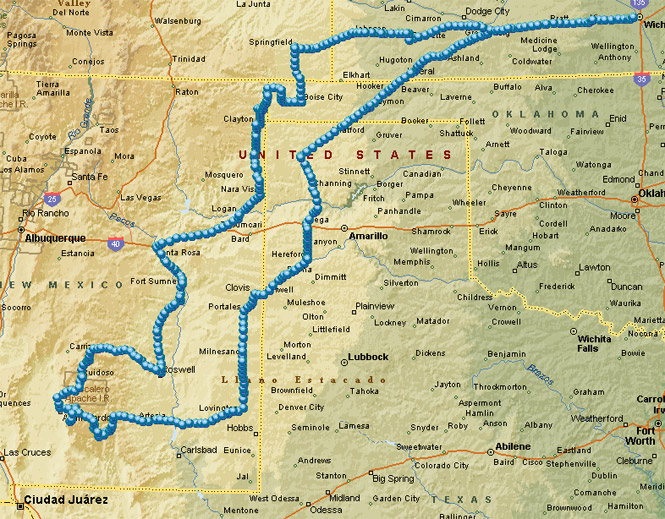 The Sacramento Mountains are in the southern part of New Mexico just east of Alamogordo and the Tularosa Basin. There's a well-travelled highway that passes through Ruidoso; but, there's also a less common road that passes through Cloudcroft that I'd not been on. That's where I'm heading.
Beyond that destination, I'd have a chance to ride the southern high plains--a region that I've always enjoyed.
Oklahoma
I routinely carry a Spot GPS tracker. The small device takes the current latitude and longitude every ten minutes and transmits that information through a satellite connection (independent of any cell phone access). This can be made available for real-time viewing on a web site, but primarily I use it to record where I've been so I can easily plot my route on a map (such as you see at the top).
Along US-54 in Oklahoma I stopped to take a photograph. When I checked to see if the Spot battery was still active, it was gone! My first thought was that I wouldn't have a record of where I was riding; then I thought about the cost; then I got a little smarter...
After all, I'd lost a device that sends out its own location. All I had to do was check the web site with my phone for the last reported coordinates (if it was still transmitting), ride back and pick it up (that is, if it hadn't yet been crushed under the wheels of a semi-truck).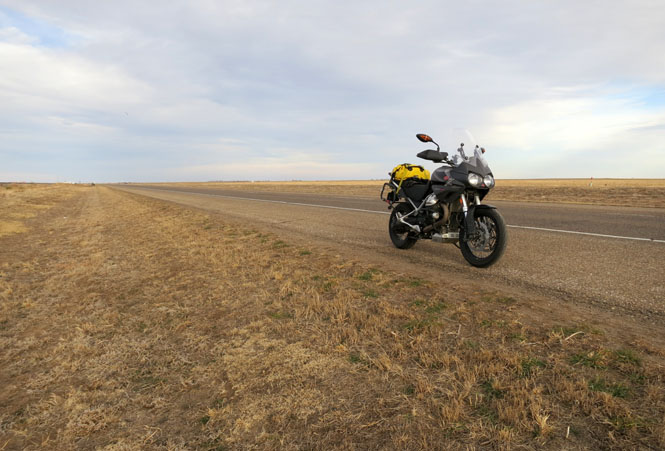 The official holster had failed and Spot jumped out along a bumpy stretch of road. It's a good thing that I knew exactly where it was (latitude 36.87601, longitude -101.1854), as I never would have found where it landed, well off the pavement--it must have really been tumbling.
But, it was still transmitting, and didn't look any the worse for wear. Carry on.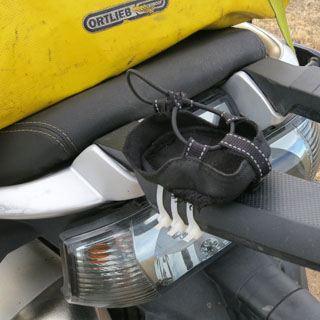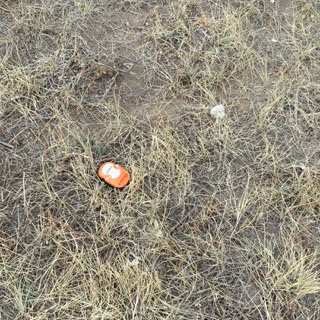 Texas
Most of the small town of Texhoma is in Oklahoma, but part is in Texas. In the photo, I'm pretty sure I'm standing in Texas, looking back into Oklahoma.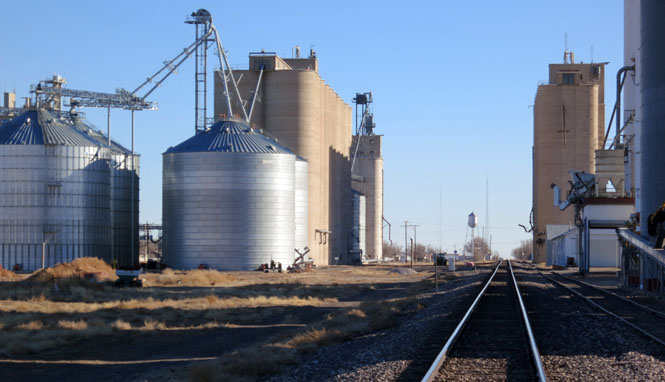 On US-54 in this area you'll see as many large trucks as you will cars. Not to worry; I've never been behind a slow truck on this road.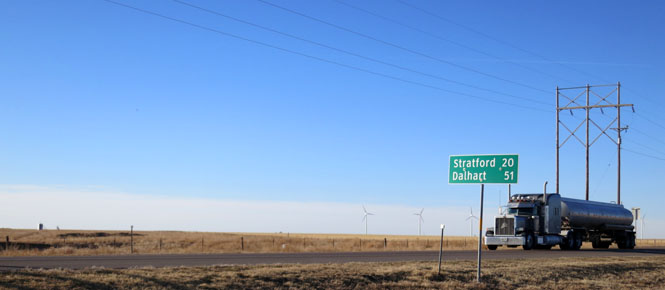 There's enough corn in this pile to supply you and future generations with cornmeal mush for hundreds of years to come. Likely, though, this corn is meant for either cattle feed or ethanol.

Hartley, Texas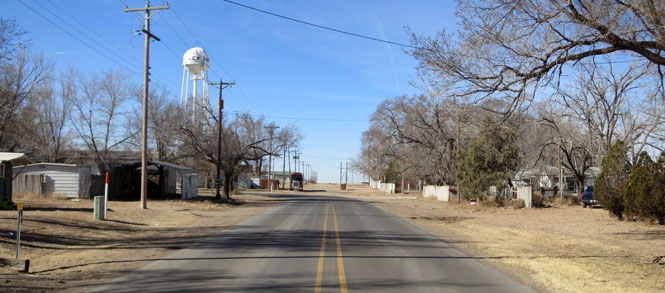 Channing, Texas

The Canadian River in Oldham County, Texas.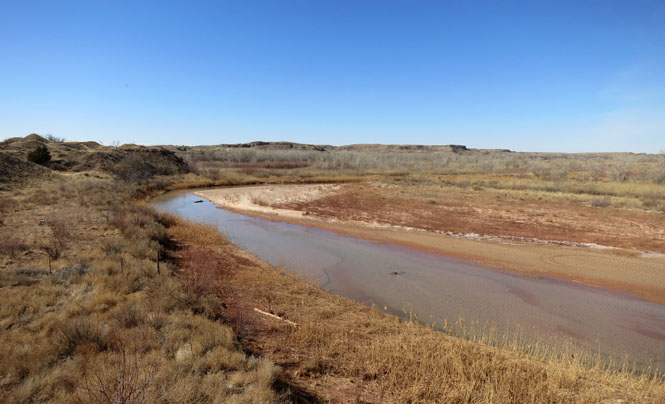 Vega, Texas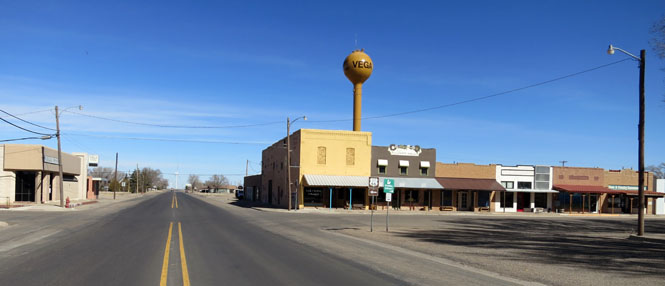 US-385, Deaf Smith County, Texas.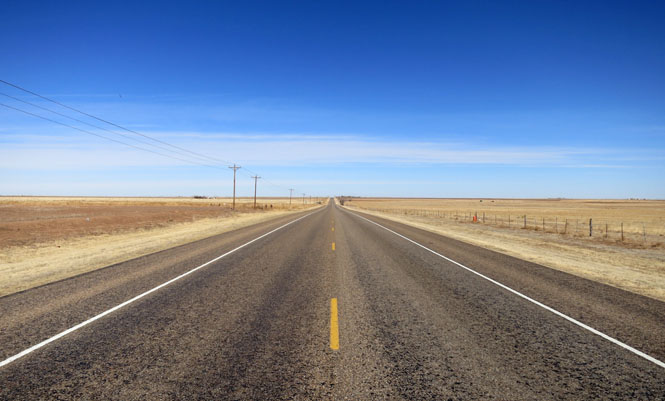 Friona, Texas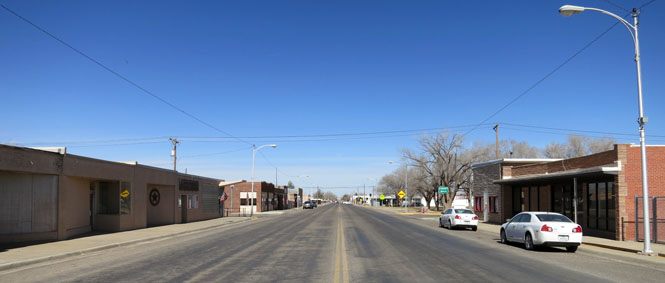 Bovina, Texas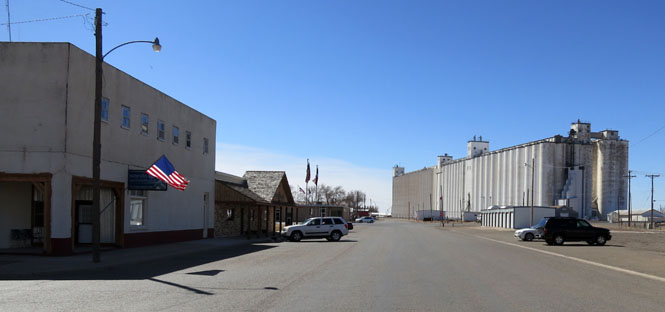 New Mexico
Texico, New Mexico is on the state line sharing the border with Farwell, Texas.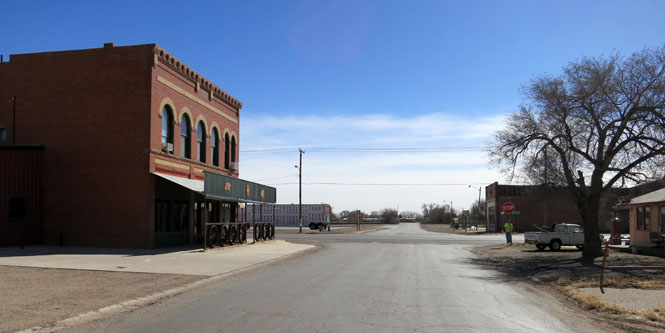 I may be wrong, but, I'm guessing that Farwell, Texas (just a hundred yards away) does not put green chili on everything. But, this is New Mexico; so naturally this is a green chili patty melt. No; I didn't eat all those fries.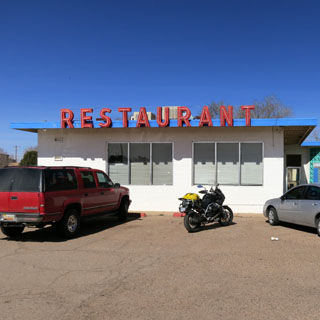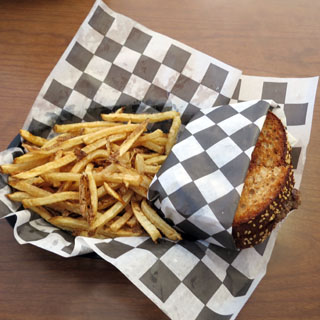 Dora, New Mexico. Do not count on buying gas in Dora.

Pep, New Mexico. At least Pep still has its post office. On the post office door is a sign thanking you for your business.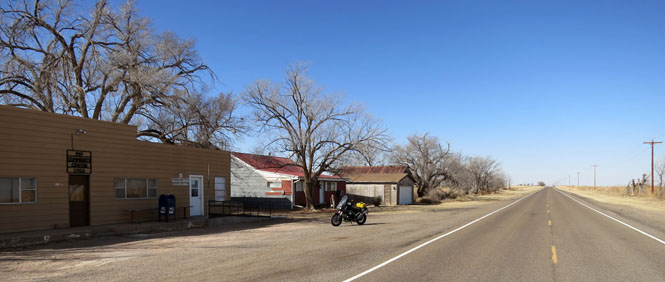 Running south on NM-206. Traffic is never a problem.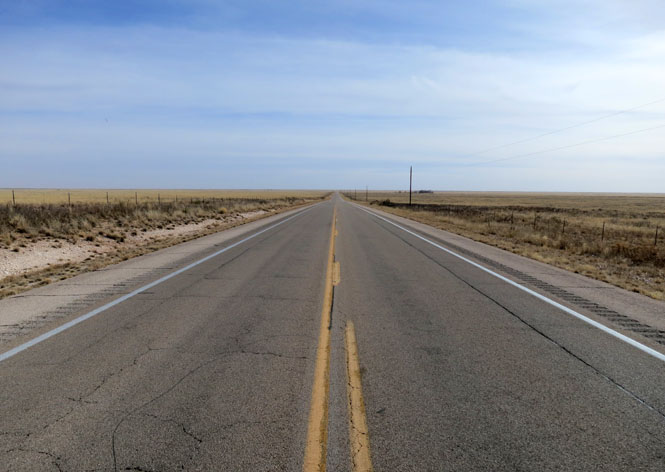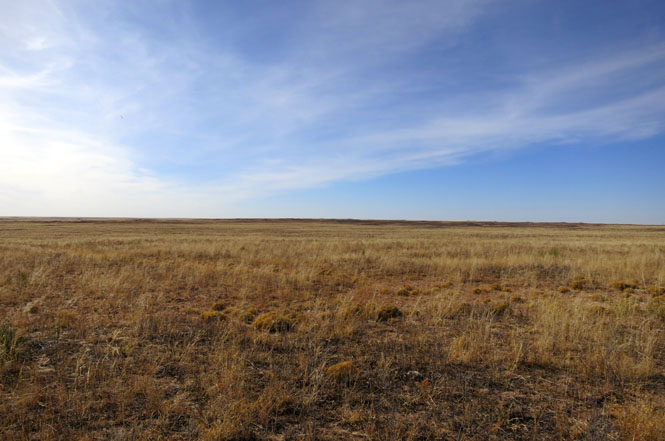 Tatum, New Mexico. It seems that all the original old buildings that once defined this town have been replaced by...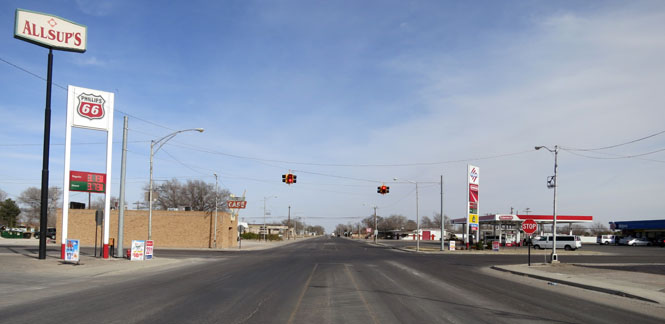 Riding west on US-82. Grazing rights or mineral rights; which would you prefer? The oil field pumpers must number in the thousands. There's an oil boom going on in this part of New Mexico, and it's huge.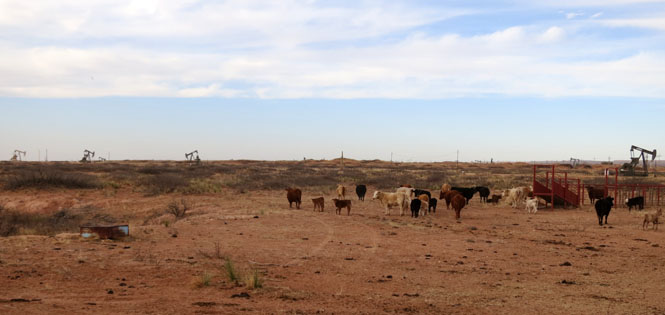 Hope, New Mexico on the road to the Sacramento Mountains.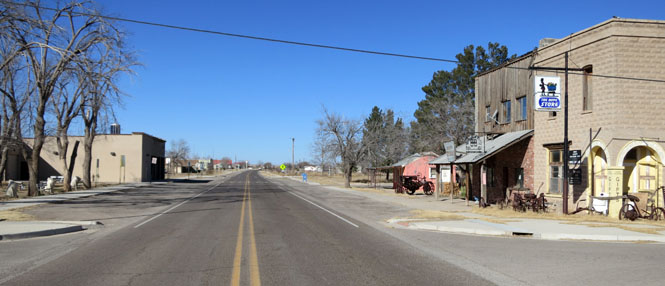 In the map, below, you can find Hope in the lower center part of the map (my trace is clockwise).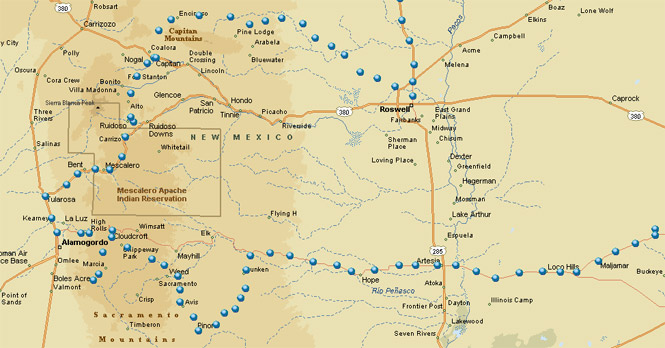 I'd stay on US-82 for several miles before taking an even less-travelled road that heads south into the mountains.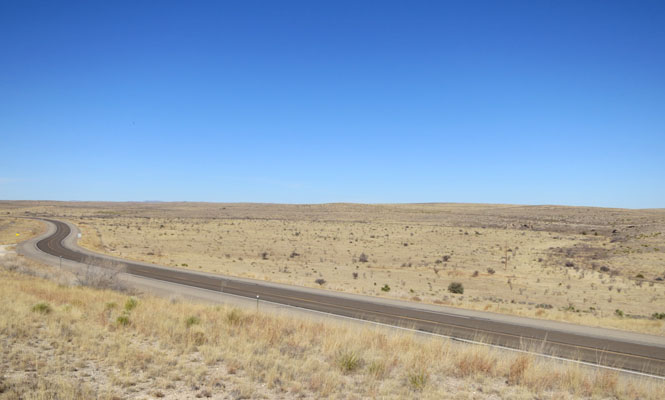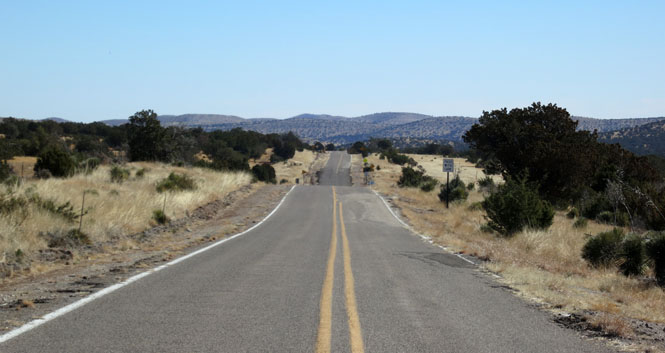 I wasn't altogether sure that NM-24 would be fully paved. My map said it was not. It is. It's a good road.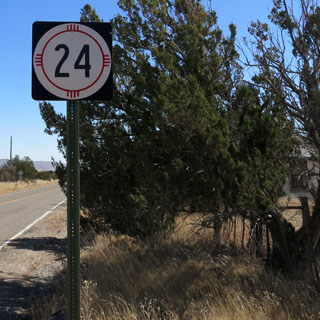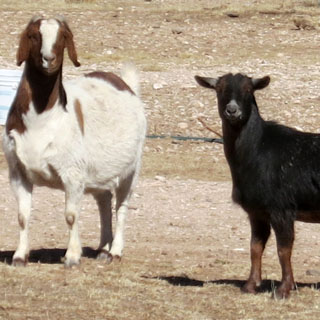 Piņon, New Mexico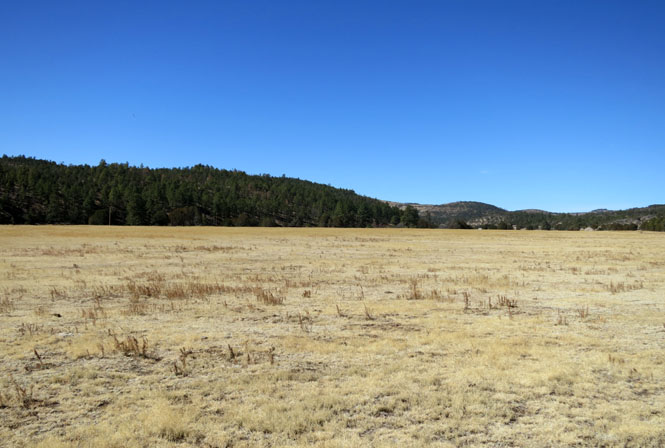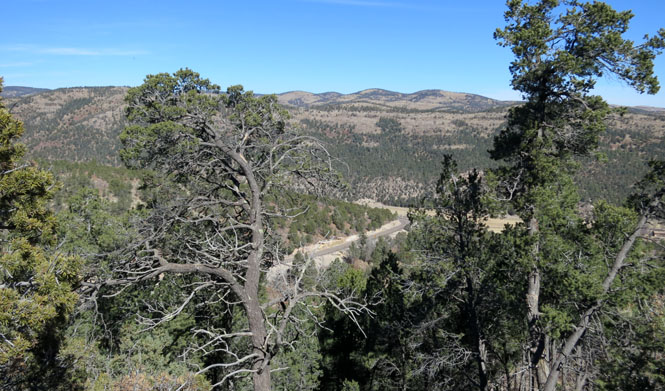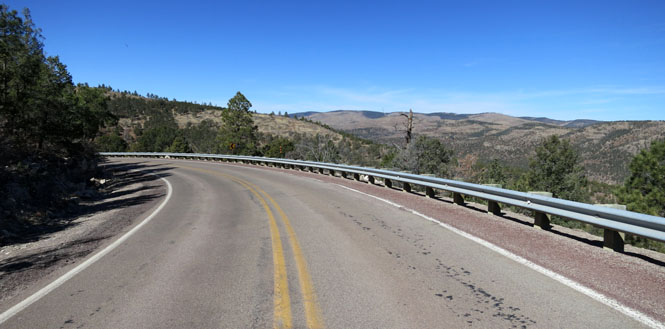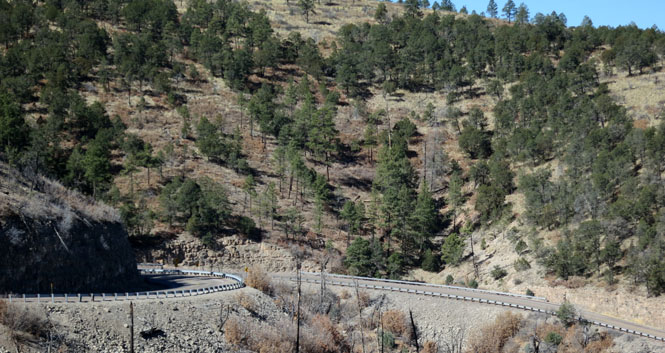 The National Solar Observatory is about sixteen miles south of Cloudcroft along a road that has spectacular views of the Tularosa Basin. I'm heading to Sunspot, New Mexico--elevation 9,200 feet.
New Mexico highway 6563. Take note of that number.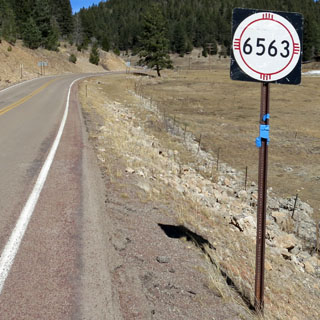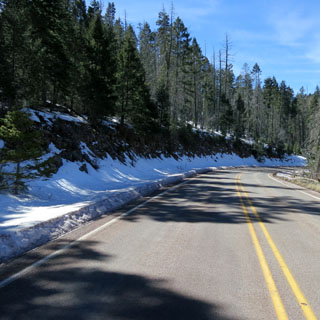 The visitor center was under winter hours, so it was not open.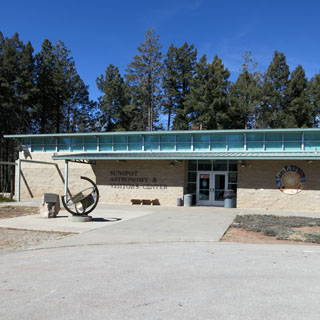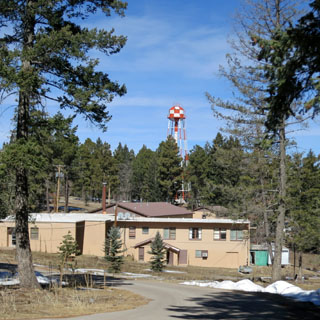 The facility has a number of observatories. I'm assuming that all are related to observations of the sun, but that may not always be the case.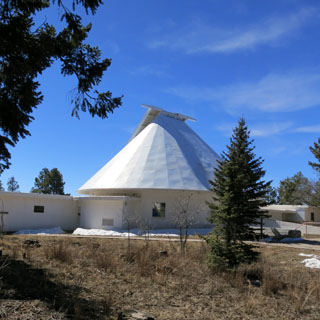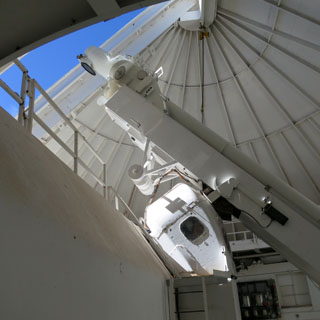 The view to the west is amazing. That's not snow out there in the valley. That's white sand.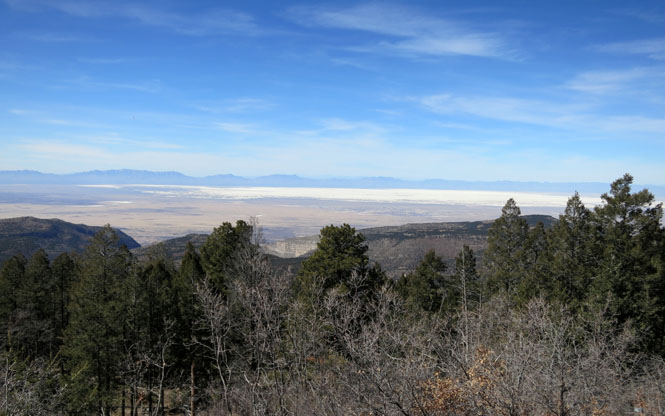 The Richard B. Dunn Solar Telescope
For more than half a century this location, high above Alamogordo, NM, has been known for its excellent daytime sky quality, both in terms of transparency and seeing. The Richard B. Dunn Solar Telescope (DST) takes advantage of these conditions to make high resolution observations of the Sun.

The DST is the finest instrument of its kind in the world. With 0.2 arc-seconds resolution, the DST has revealed many intricacies of the surface features on the Sun imposed by the complex magnetic fields that dominate that region. The DST is equipped with a wide range of excellent instrumentation, such as the Universal Birefringent Filter and Echelle Spectrograph.

The DST has also served as the test bed for the ongoing development of the next generation of solar instrumentation. This new instrumentation includes adaptive optics systems that will greatly reduce the effects of seeing on the solar image.

--DST web site
The door is open for visitors to enter and look around. They seem to assume that most visitors wouldn't be there if they didn't already know a fair amount about astronomy or physics, so you can expect the explanations to get right to the details.
It's interesting how much of the full telescope is actually below ground level. The entire telescope is suspended from the top of the tower on a floating mercury bearing system. Much of the surrounding structure is devoted to cooling.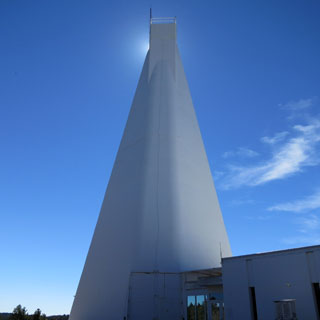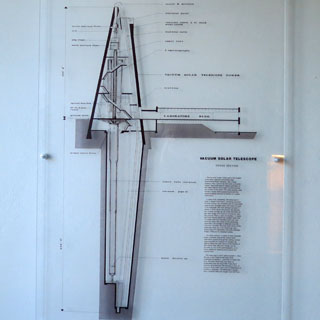 Scientists in action. The analytic side of this telescope was interesting even if I really didn't know a lot of what I was looking at. At one point the entire floor (along with the work stations) started to rotate. There's a simple rope barrier around the perimeter walkway to keep you from having one foot on the rotating floor, and the other on the fixed.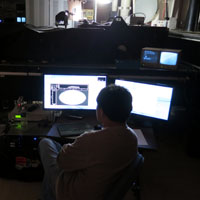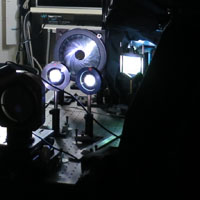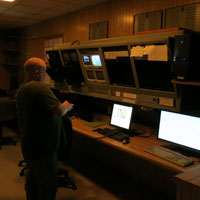 That highway number (NM-6563)? This is where it comes from:
Hydrogen-alpha (Hα) is a specific red visible spectral line in the Balmer series created by hydrogen with a wavelength of
6562.808

angstroms, which occurs when a hydrogen electron falls from its third to second lowest energy level. It is difficult for humans to see H-alpha at night, but due to the abundance of hydrogen in space, H-alpha is often the brightest wavelength of visible light in stellar astronomy.

Do you suppose a prankish grad student might have ever amended the sign to read the more accurate 6562.808? (a bit of Astrophysicist humor).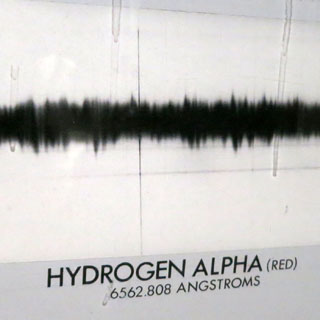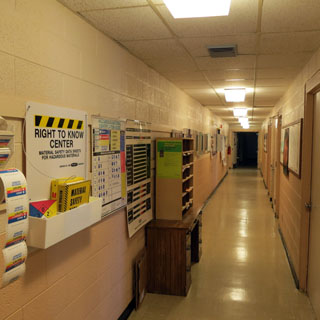 From Cloudcroft, I was again on US-82, and took that road west to the valley floor.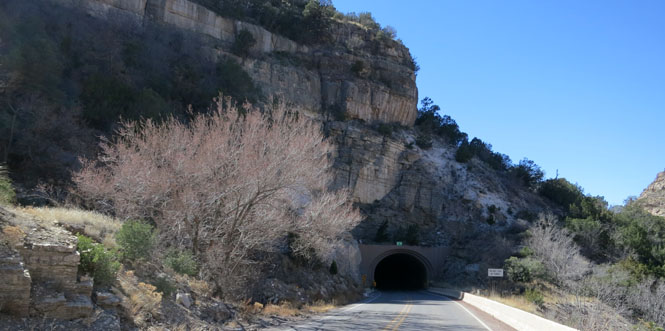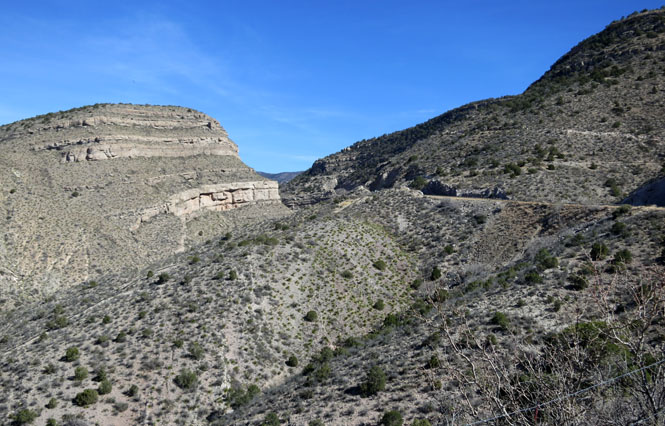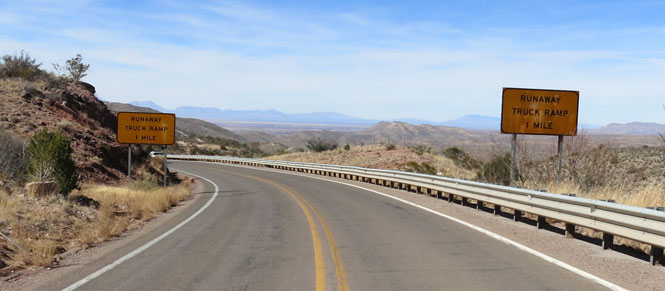 It has been something of a tradition. Stop at the "world's largest pistachio" for some pistachio ice-cream and something to drink.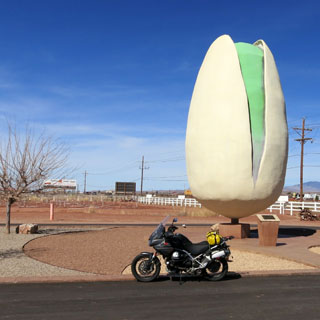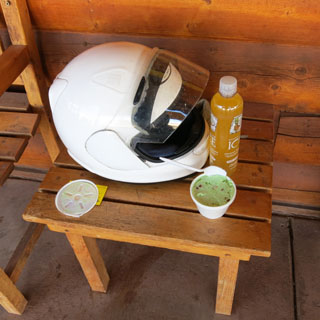 I didn't stay in the valley long before climbing back into the mountains towards Ruidoso, New Mexico.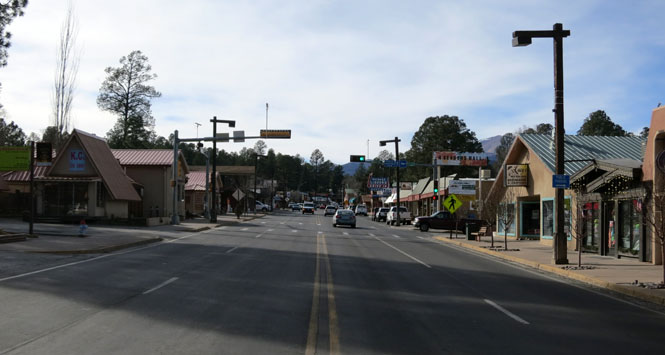 Capitan, New Mexico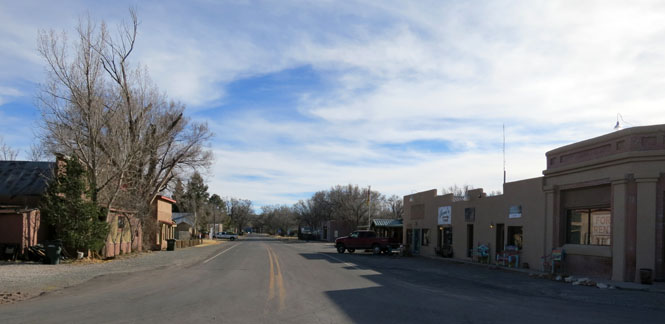 Those hills in the distance? Those are the Capitan Mountains. The road I'm on will cut through and then descend to the high plains on the other side.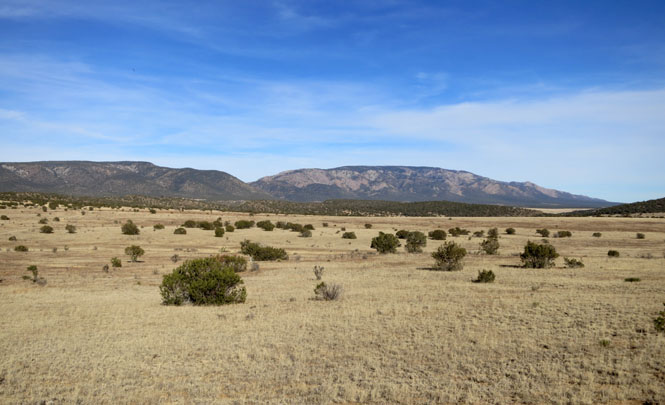 It's pretty clear where the mountains end and the grasslands begin. This is a hundred mile stretch of road with no towns and no traffic.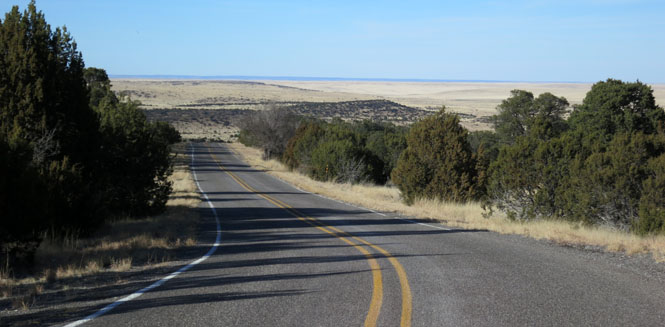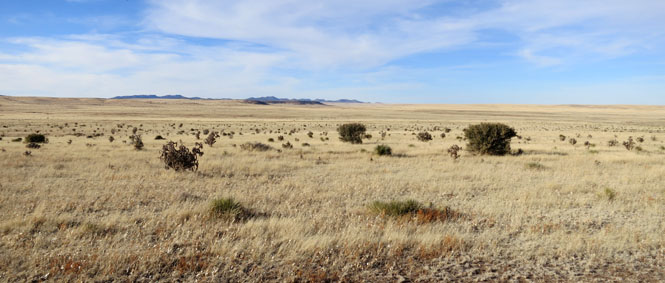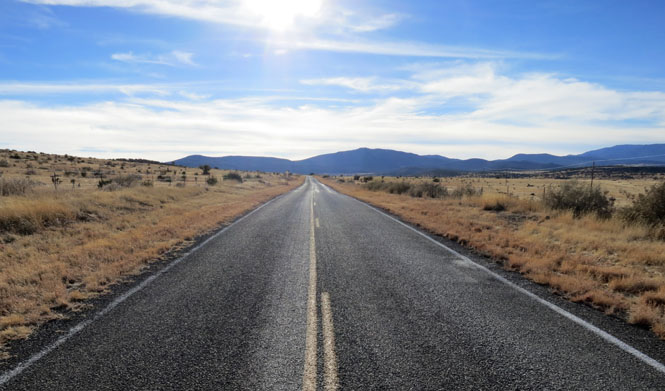 This old school house is most of what remains of the vanished town of Encinoso.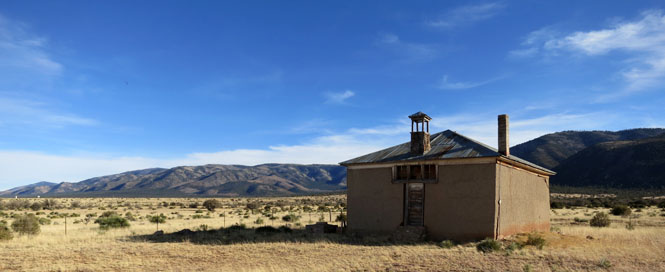 The pavement isn't bad, but the rocks are also somewhat loose. This is what happens when you pave with chip-seal, but there isn't enough traffic to smooth things out.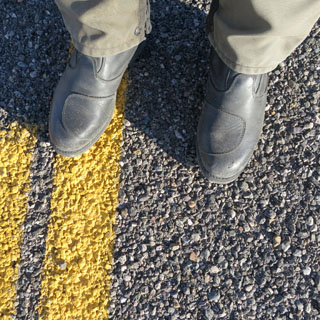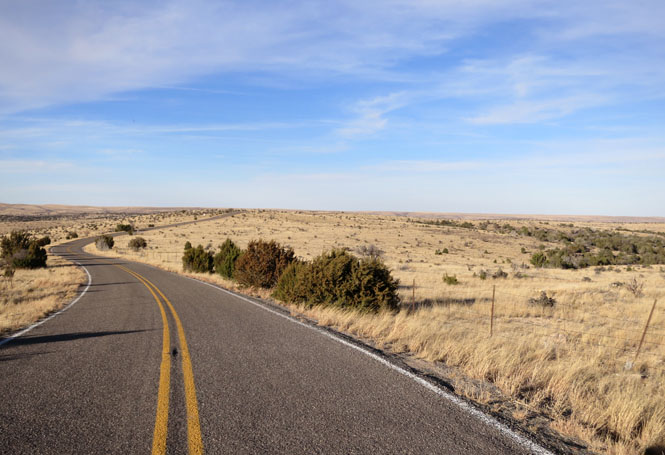 I saw a few sheep herds, and a handful of pronghorns.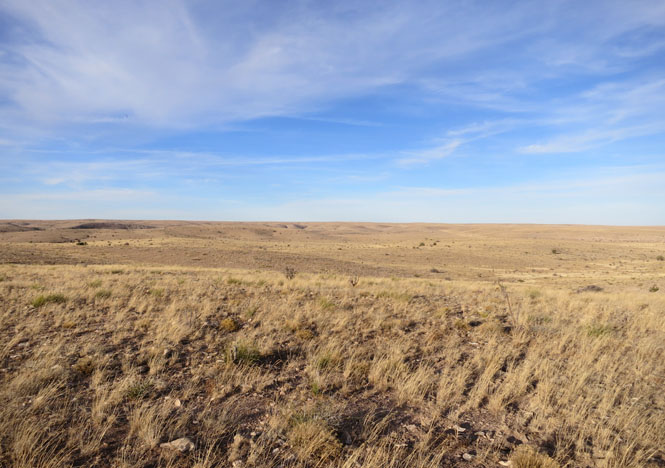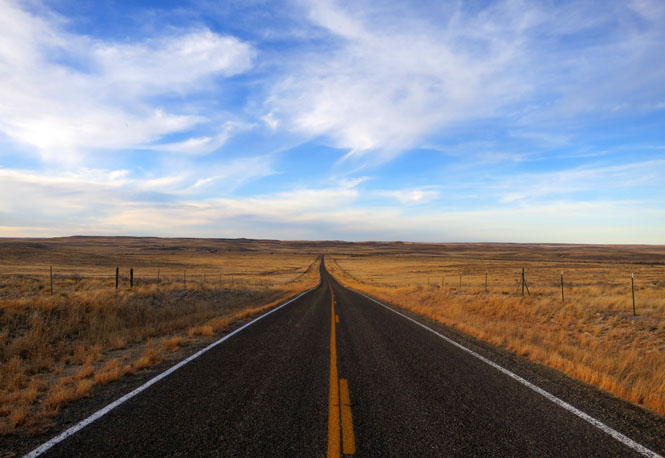 That's Sunset Peak, the eastern point of the Capitan Mountains. It's a fitting time to take this photo.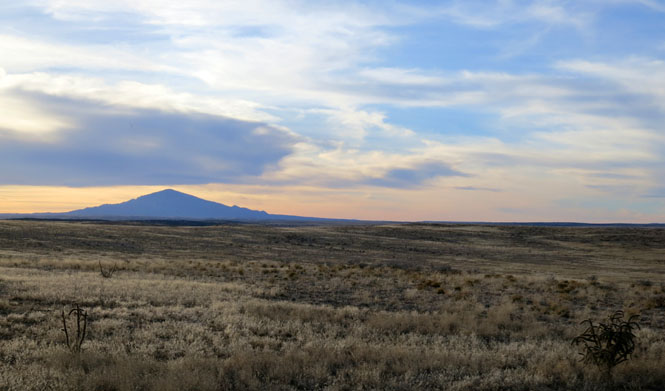 Roswell, New Mexico for the night. If they want to upgrade my room, I won't complain. Dinner was very good.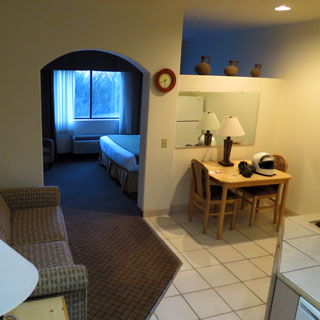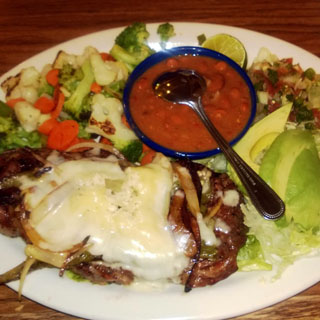 Riding north on NM-20.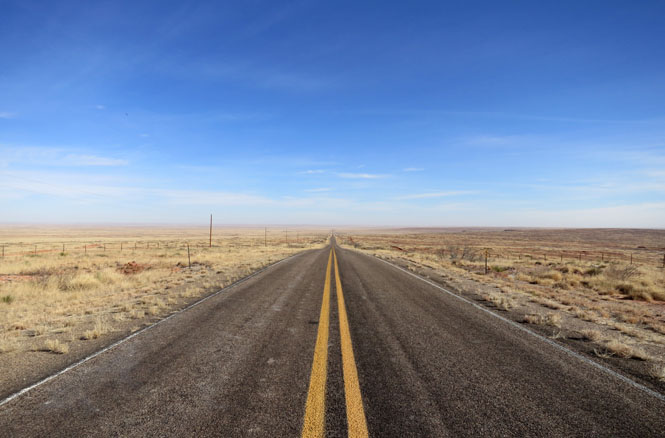 Do not expect phone service.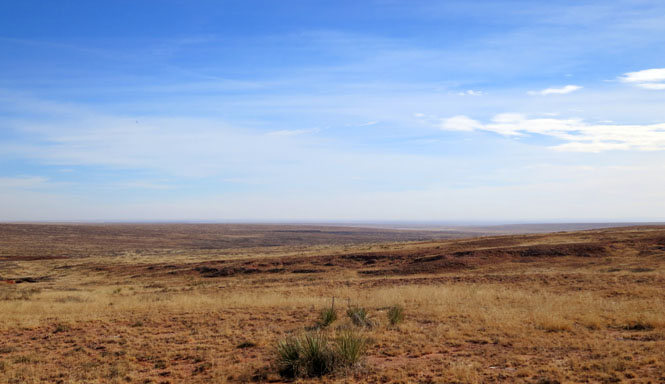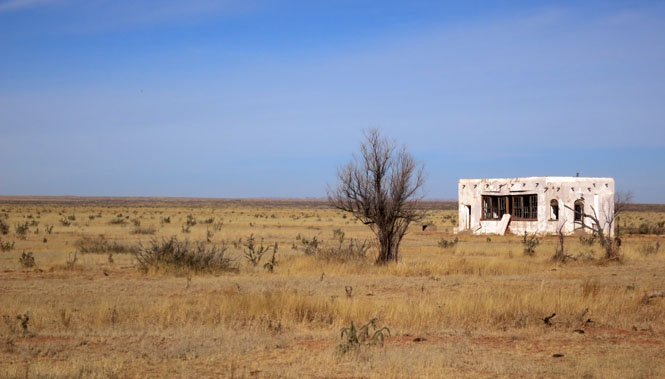 There are evidently five ranches down this unpaved road. Apparently, some expect to receive more mail than others.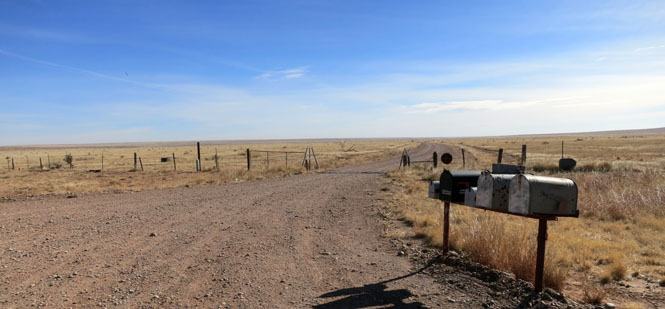 That's Fort Sumner, New Mexico, just over the Pecos River.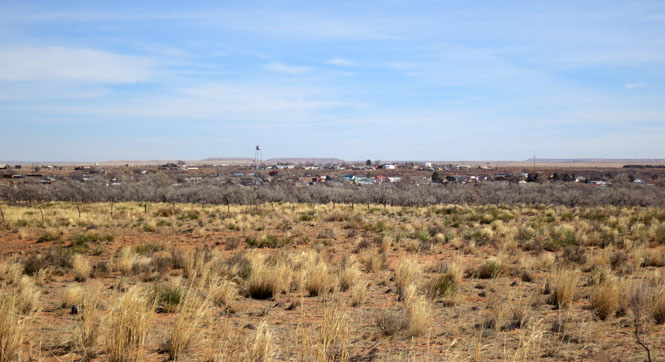 I-40. Sometimes you just can't avoid riding the interstate.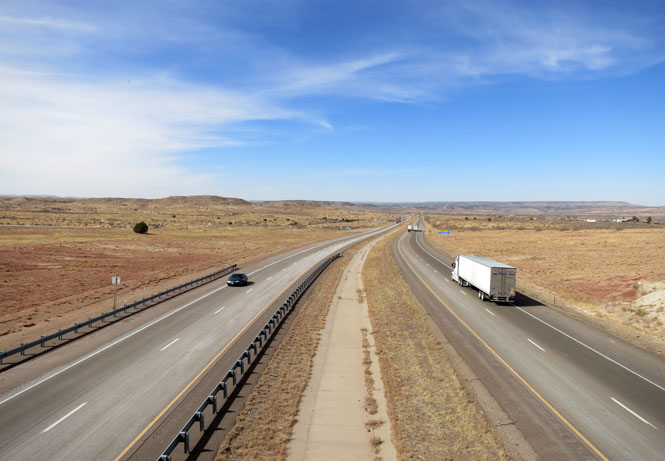 Tucumcari, New Mexico. This was the main cross-town street until Route-66 moved most traffic a few blocks to the south. Then I-40 came along and took nearly all the traffic yet further south leaving Tucumcari the unhurried town you see today.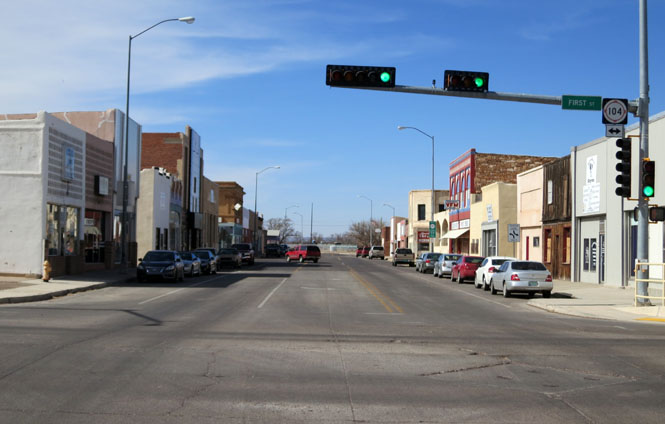 A Union Pacific freight running south out of Logan, New Mexico.

The Canadian River.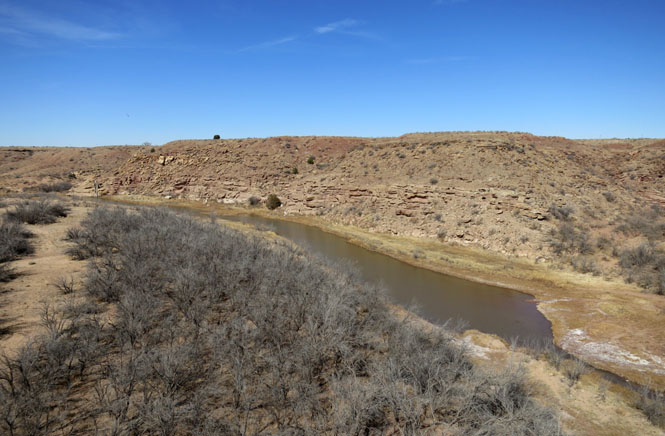 A Catholic church outside Nara Visa, New Mexico.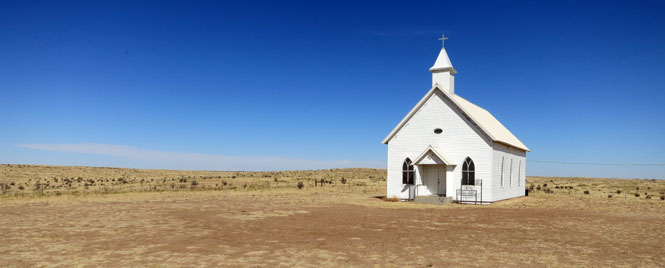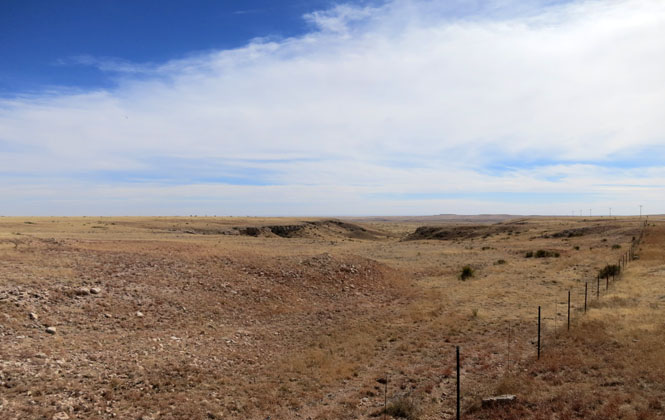 Amistad, New Mexico is just off NM-402.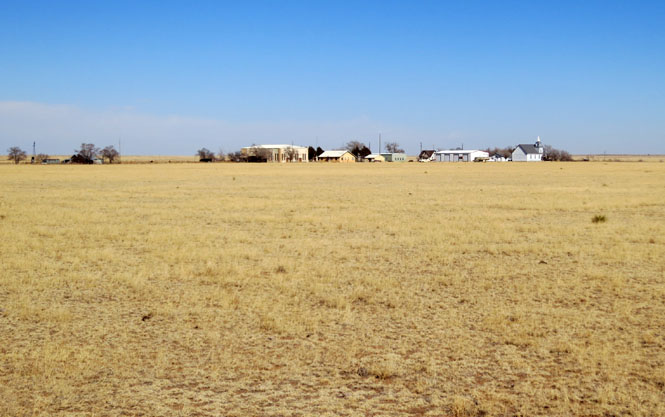 NM-402. I don't believe I passed a single car from the other direction.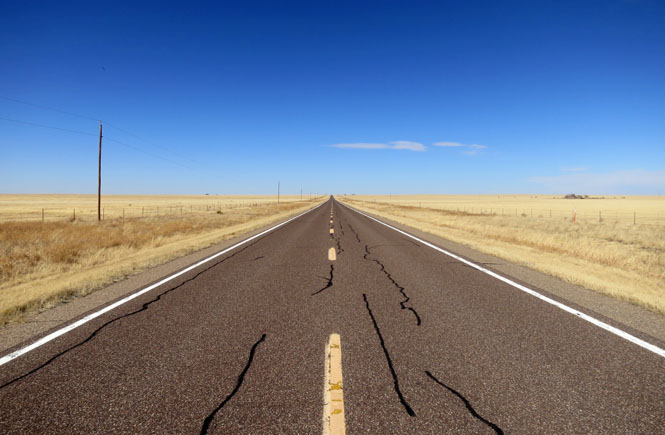 The high plains of New Mexico.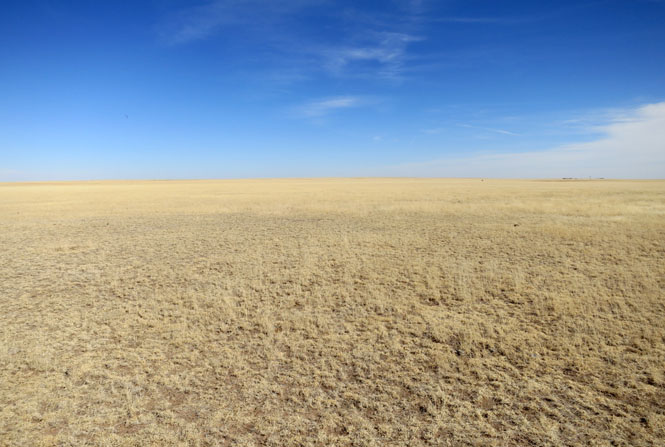 Clayton, New Mexico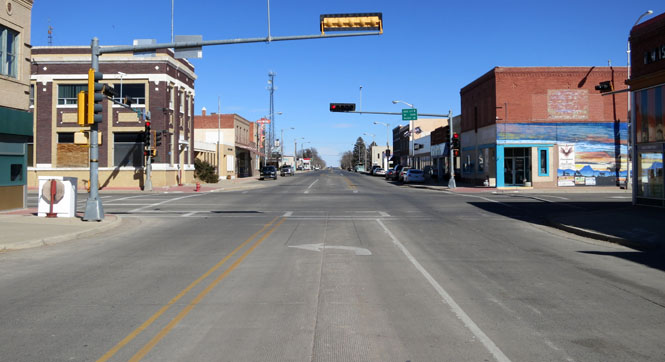 On a previous trip, I'd stopped at the Eklund hotel for dinner. On this trip, I'd stop for lunch. Perhaps someday, the timing will be right to spend the night.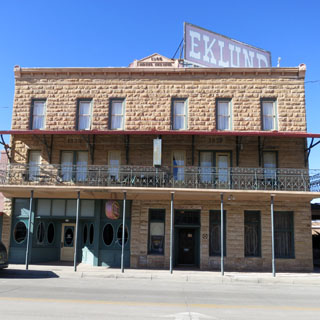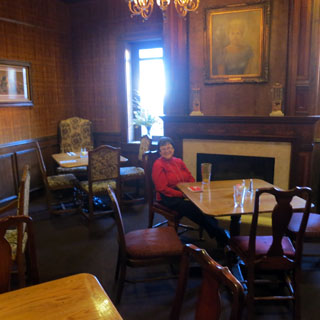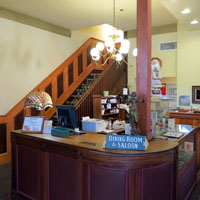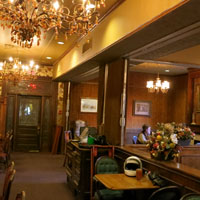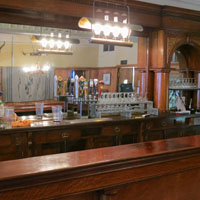 Today's special is a BLT. I finished it off with apple pie (and ice-cream).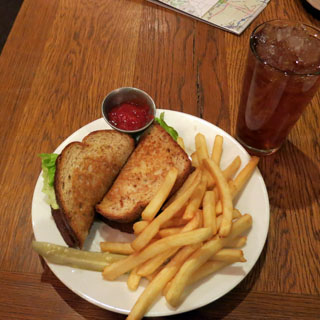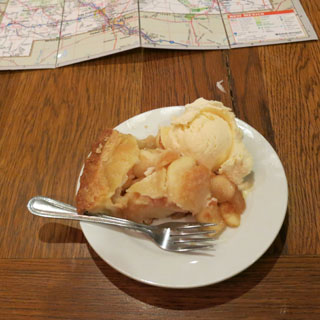 A long abandoned ranch house.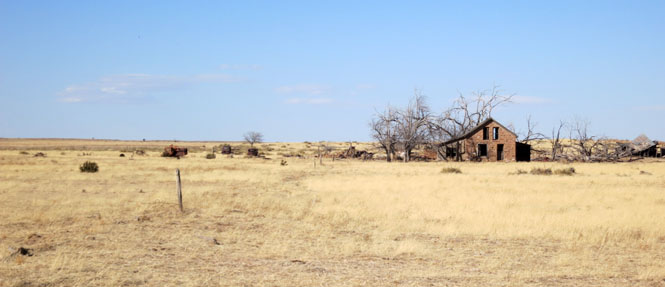 It's hard to know how big Moses, New Mexico once was. In any case, there's not much here today.

The Rabbit Ear Mountains. The name comes from a Cheyenne (or perhaps Comanche) chief who was called Orejas de Conejo, and not from anything to do with the landmark.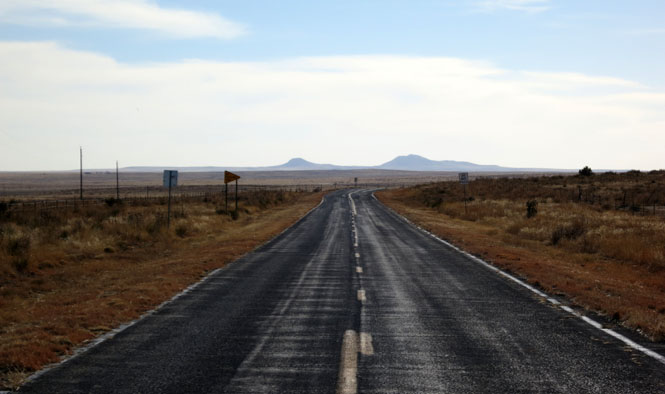 Carrizozo Creek.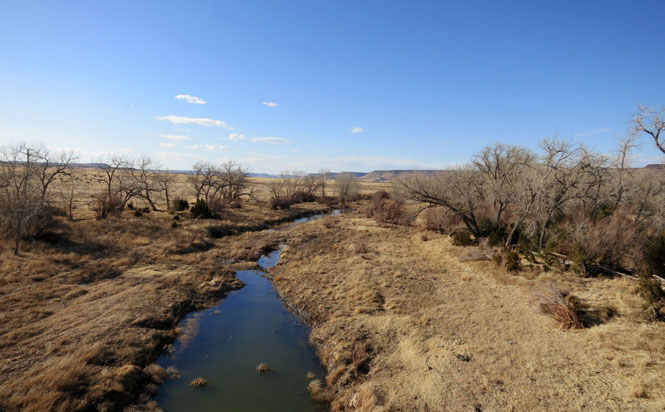 Oklahoma
That's Black Mesa in the distance.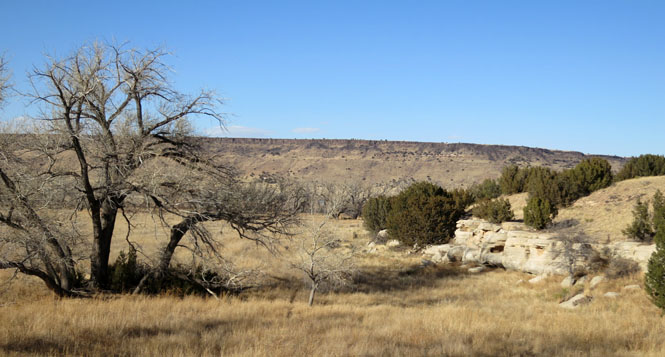 Kenton, Oklahoma

OK-325 out of Kenton.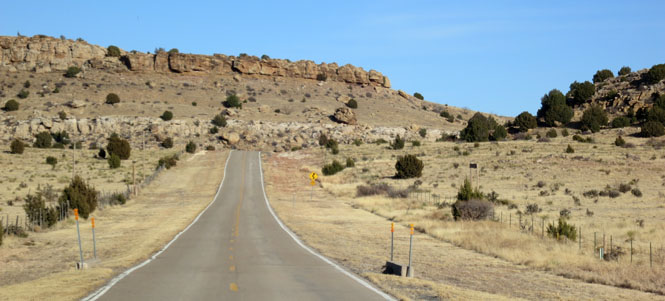 You might not think of an Oklahoma panhandle ranch looking like this, but this part of Oklahoma has more in common with New Mexico than what you'll find east of here.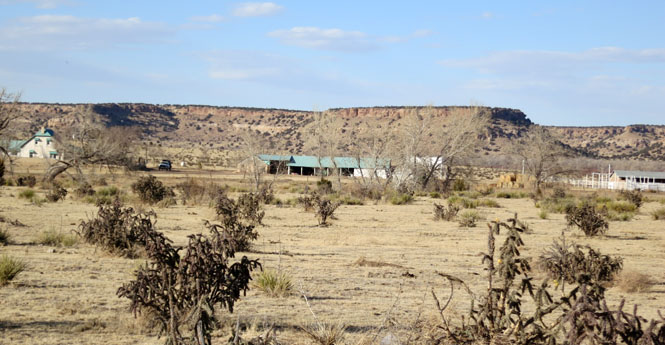 I've seen plenty of dogs waiting outside a store (or a pub) waiting for their masters to return. But, this is the first I've seen a waiting cat.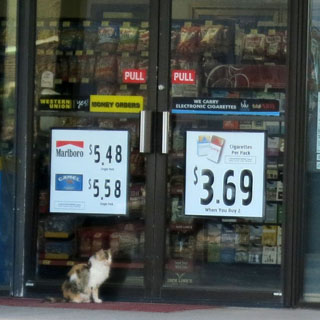 Colorado
Campo, Colorado on US-287.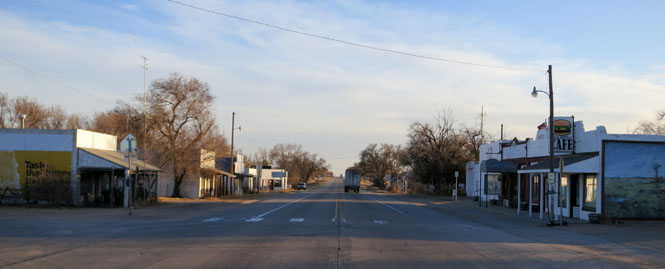 Springfield, Colorado for the night.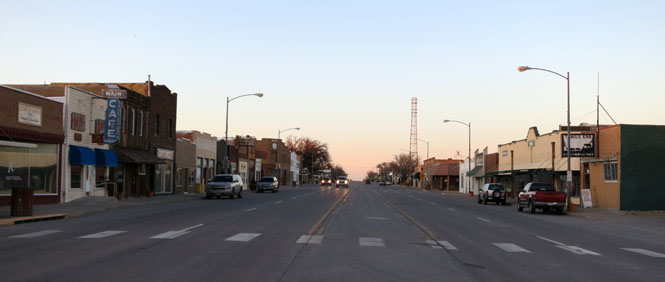 The "Stage Stop Hotel" began in 1923 as the "Commercial Hotel."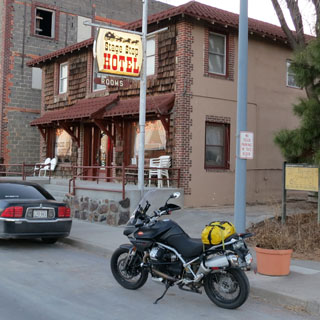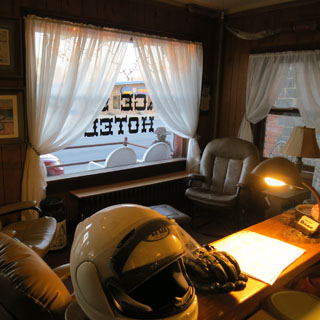 My room is upstairs, the second door on the right.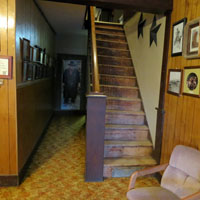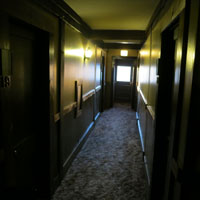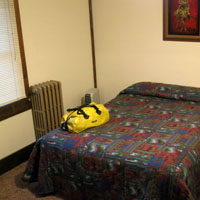 The next morning was cold. Too cold for me. I waited in the front lobby drinking hot coffee with the owner and another local waiting for the temperature to at least rise above thirty.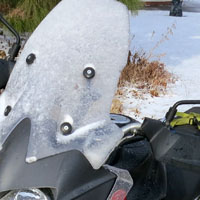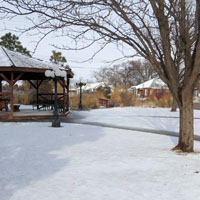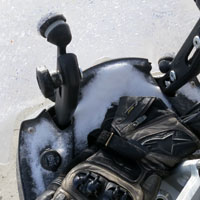 Kansas
Saunders, Kansas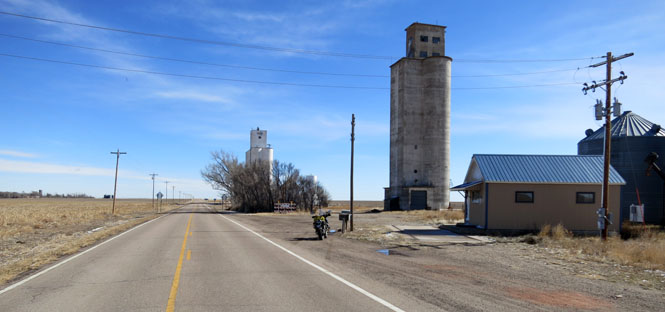 By the time I reached the Kansas border the temperature was in the high-thirties. The wind (left quartering out of the north) was very strong. It's a good time to use the built-in Moto Guzzi hand warmer.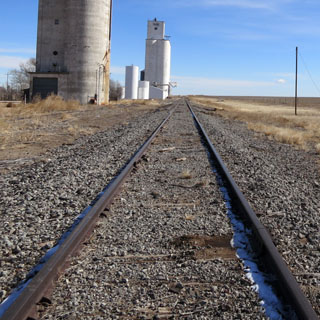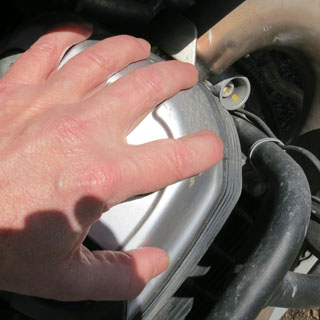 Johnson, Kansas. Yes; I'd like a cup of coffee, but really I only need the heat from the mug.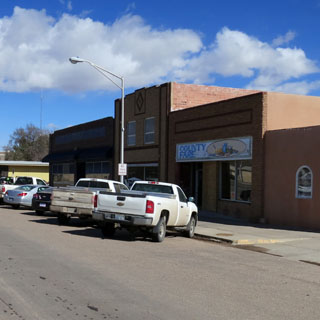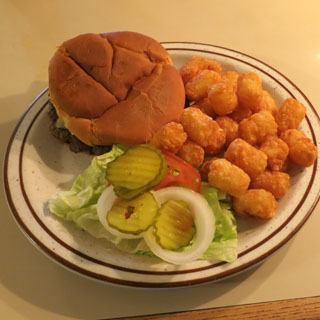 Sublette, Kansas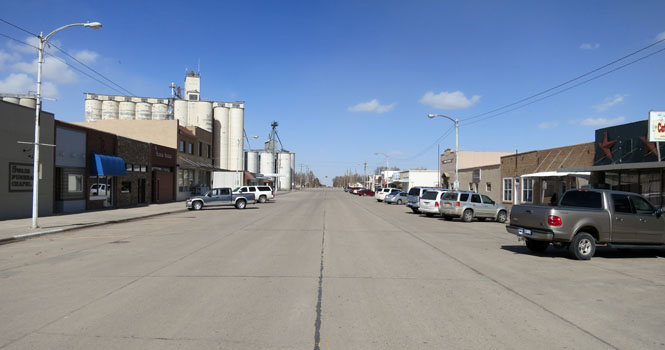 Riding the "secret" Ford-Ensign road that is a straight and empty shortcut that lets you avoid all the hassle of Dodge City. Neither end of this road is identified; you just have to know about it.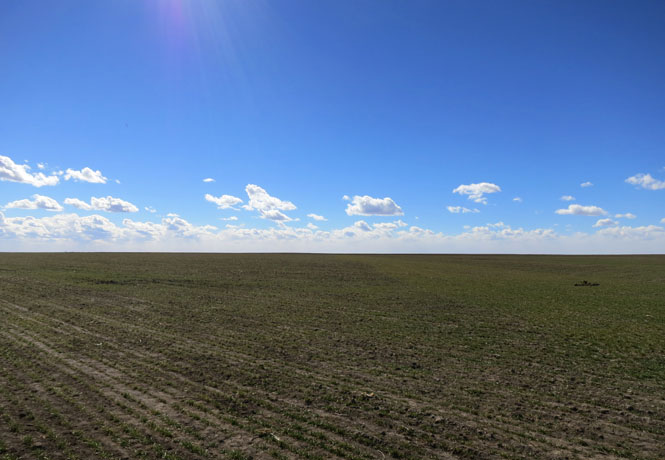 It never got much above forty degrees this day, but at least the strong wind was always at my back.

Riding five days in February is always a risk, but it worked out well this time.
last edit: 2/21/2014