March, 2014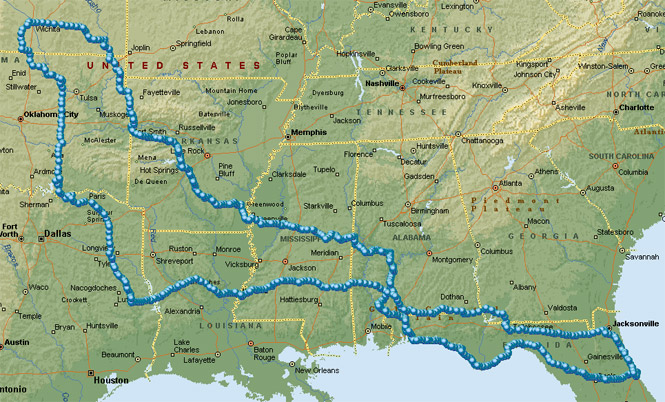 While I've been to Daytona Beach, Florida a couple of times during Bike Week, I've never ridden there. Perhaps more crucially, I've never been to the Daytona Grand National short track races.
This season, #5 Jake Johnson (a two-time AMA Grand National champion) will be riding for Lloyd Brothers Motorsports, and as Daytona is the first race of the new season, that's a good enough reason to go.
Kansas
The middle of March can be a tricky time of year to go anywhere if you're starting from Kansas (and on a motorcycle). But, earlier I managed New Mexico in February, so why not Florida in March?

It has become a common thing that once a community has resurrected their Main Street, the final thing to do is to install some sort of an archway. This is Parsons, Kansas.

It might well be springtime in Florida, but in Kansas it's still very cold in the morning. I wore my electric vest everyday and kept it turned on when the temperature was below fifty. Above that, the insulation properties were enough without the need for more electric heat. When it was below forty, however, the vest didn't help my freezing fingers.

Oklahoma
Grove, Oklahoma. I generally wanted to ride south through eastern Oklahoma before turning into Arkansas to ride towards Fort Smith along some more interesting roads.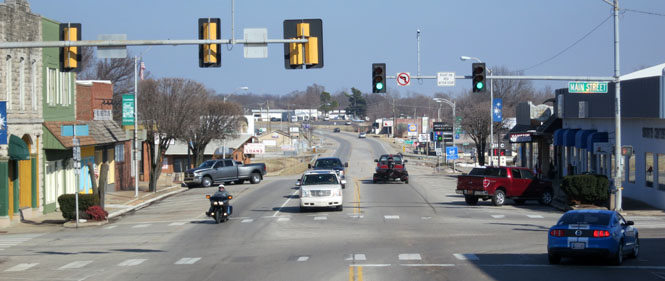 Arkansas
I waited for this horse to straighten out his hind leg (for a less awkward pose), but I had the feeling that he wasn't going to move a muscle while I was there watching him.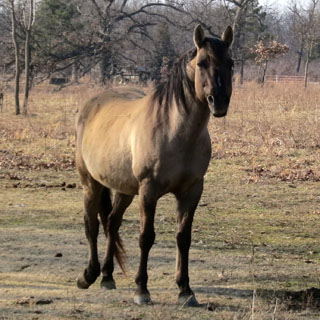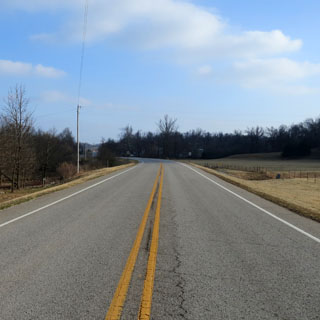 Arkansas is nothing if not the home for lots of sweepers, good pavement, and very little traffic.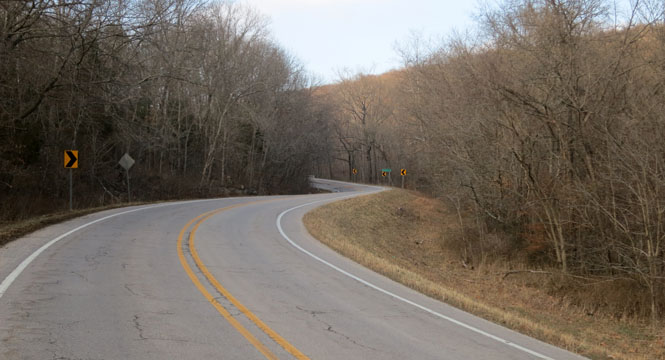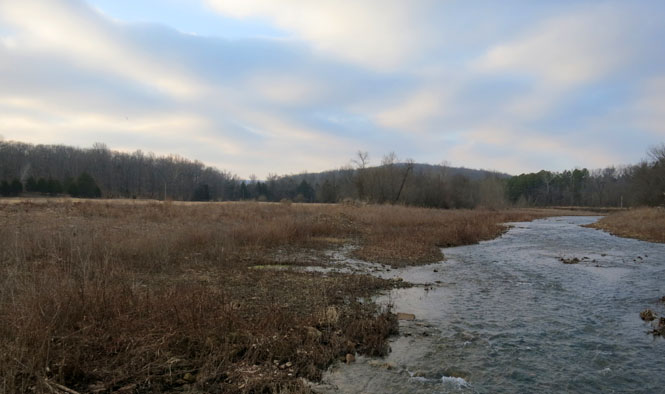 Van Buren, Arkansas. Yes; it's going to be a cold and foggy morning.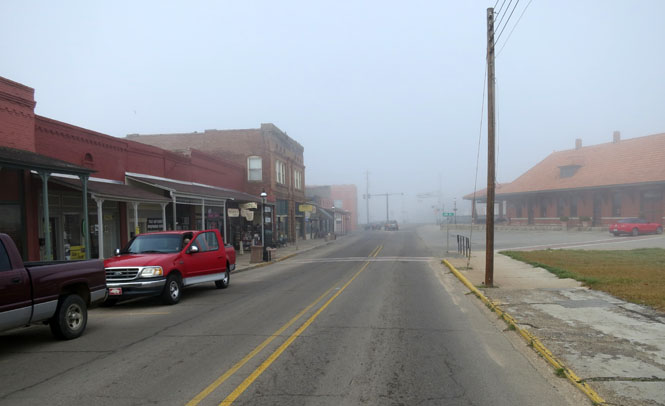 Fort Smith, Arkansas. That fog was as close to freezing as I'd want. My helmet face-shield was impossible to see through for the condensation, but when I lifted it up, my face took the brunt of the icy wind. Let's stop and wait for things to warm just a bit more.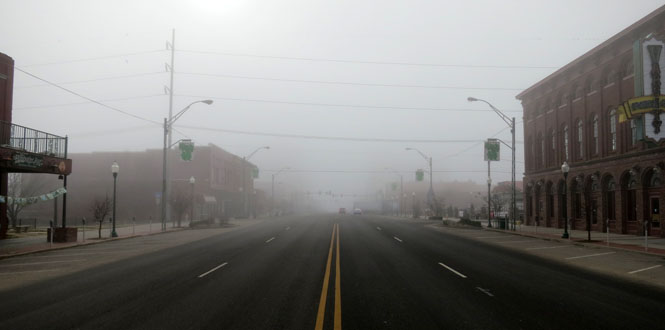 An Army cemetery existed here in Fort Smith since the founding of the fort in 1817. It was made a national cemetery in 1867.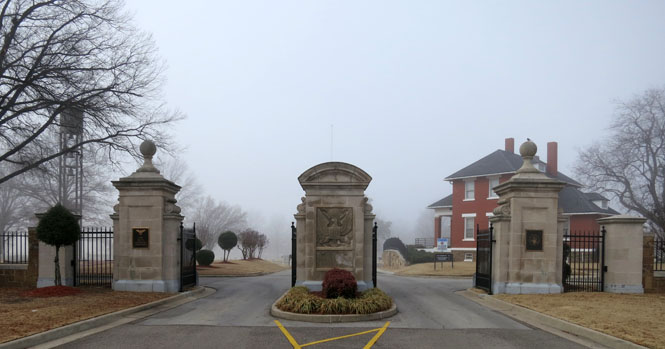 During the Civil War while the fort was in Confederate hands (until 1863), some 400 Confederate soldiers were buried here. Today, there are over 9,700 recorded burials in the cemetery.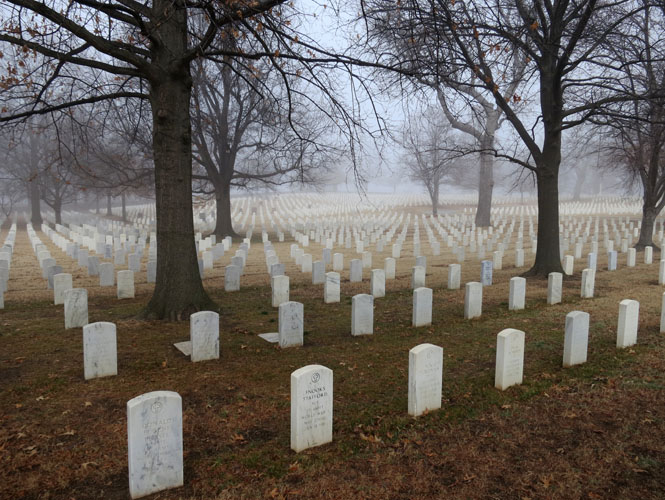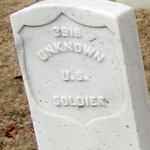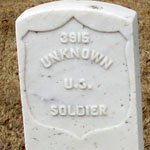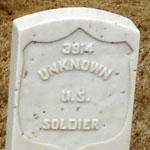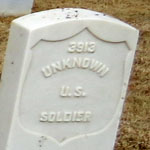 I'd be angling towards the southeast corner of Arkansas. This is Booneville, Arkansas.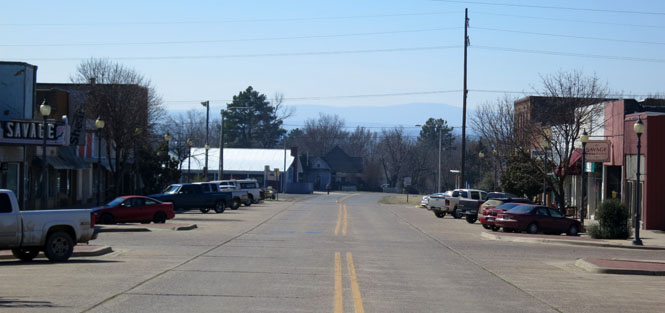 Magazine, Arkansas.

That hill in the distance? That's Mount Magazine, the highest point in Arkansas. I've been at the top, but won't be riding there on this trip.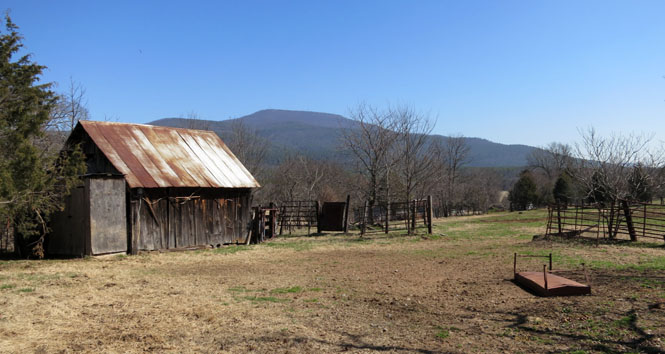 Belleville, Arkansas.

Danville, Arkansas.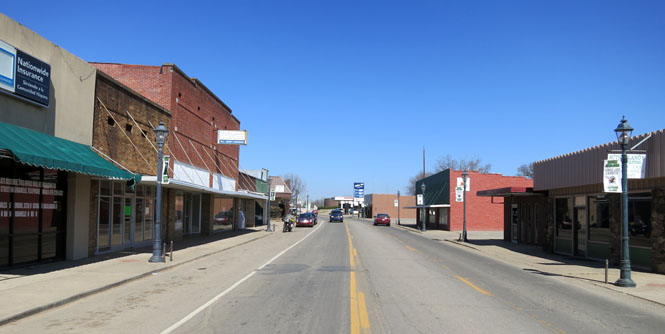 Ola, Arkansas. I made a point to ride through Ola just because of its name. Ola. In Yell County, no less.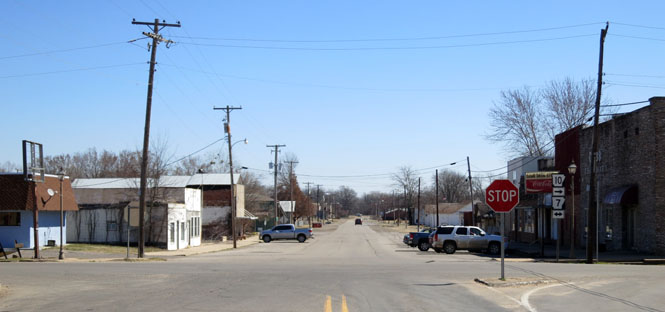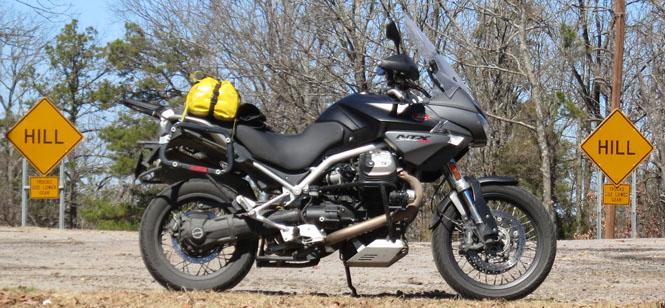 Colorado? No; Arkansas.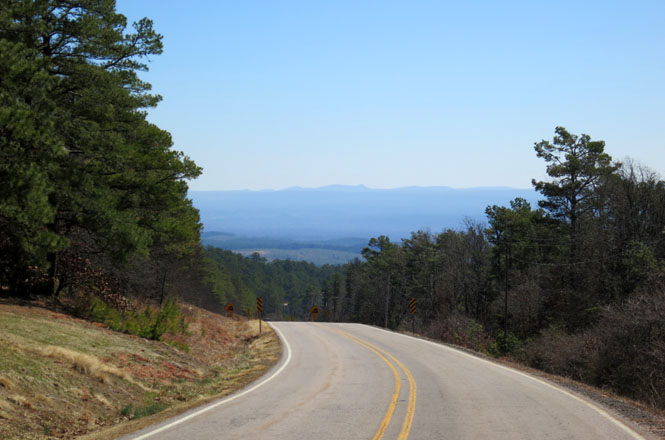 I already mentioned the lovely sweeping roads in this state. It's worth mentioning them, again.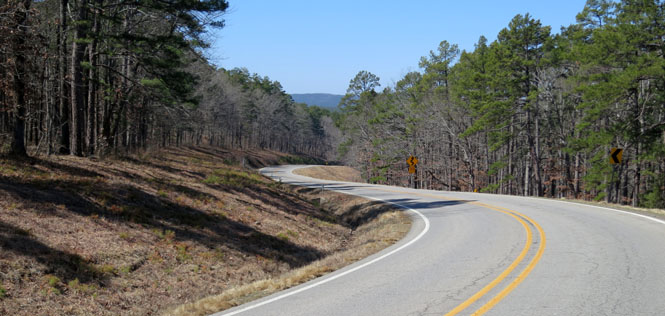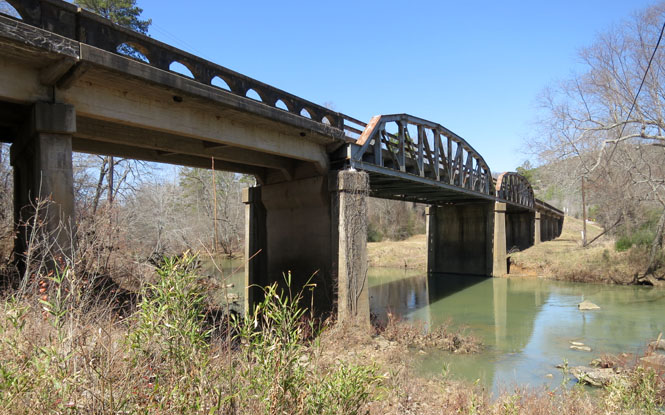 Perhaps there are days in the summer when these roads are crowded. I didn't have that problem.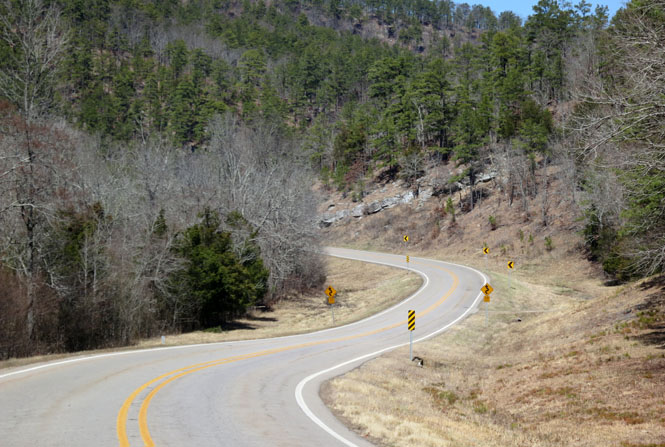 Hot Springs, Arkansas. The row of historic bath houses (now part of the National Park system) is further down this avenue.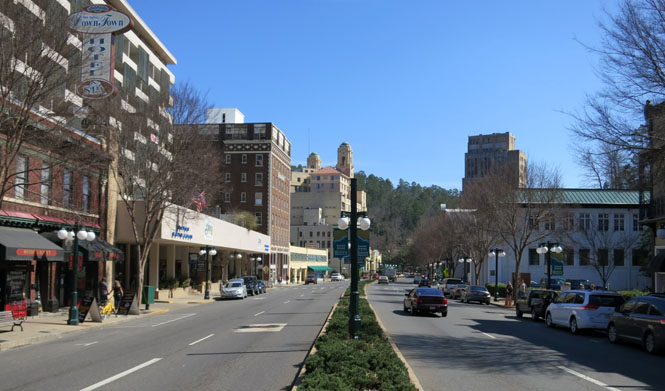 Malvern, Arkansas. I'm doing my best to avoid major highways.
Carthage, Arkansas.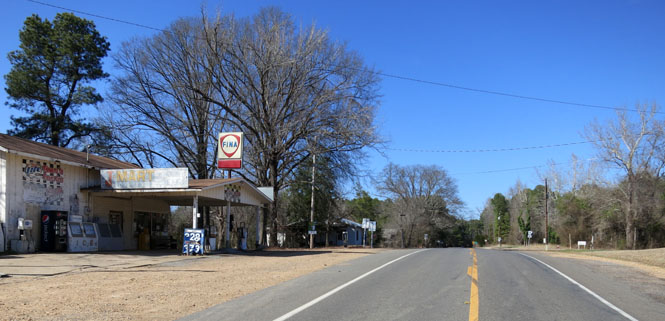 Fordyce, Arkansas.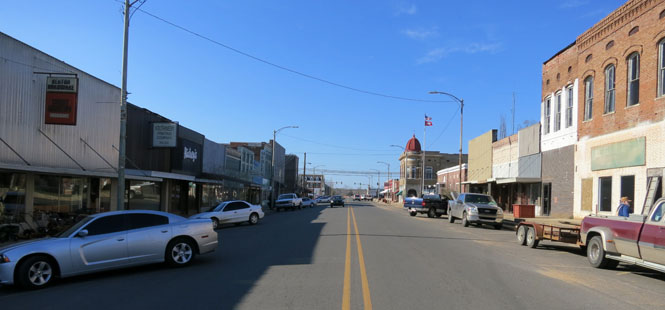 It's remarkable that there are trees that actually thrive growing in standing water.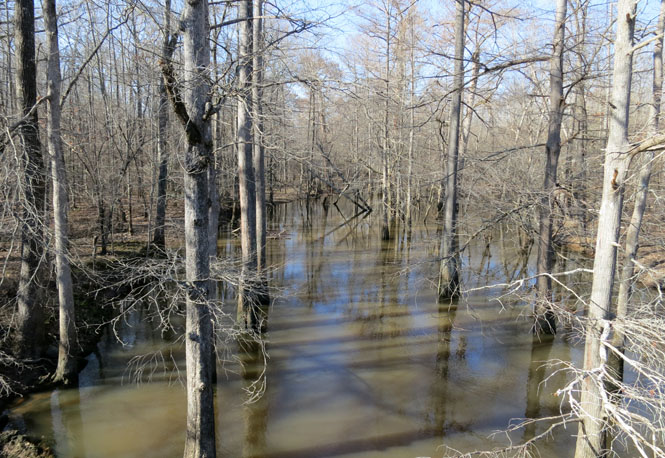 New Edinburg, Arkansas. Notice that all the old commercial buildings fronting the highway have extended roofs. None are currently occupied.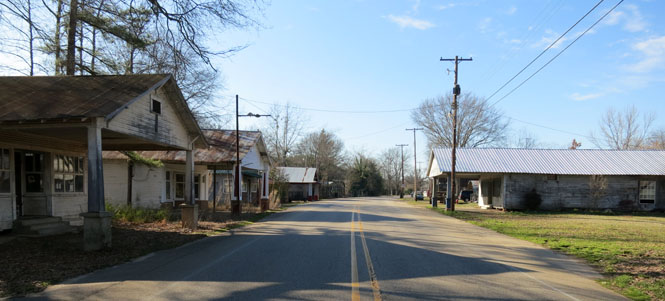 There's a broad meridian through this country where towns east of it have a central square (often with a courthouse in the middle) while towns on the west (even those with a courthouse) have a single Main Street with a grid system extending beyond. This is Warren, Arkansas (with its courthouse square).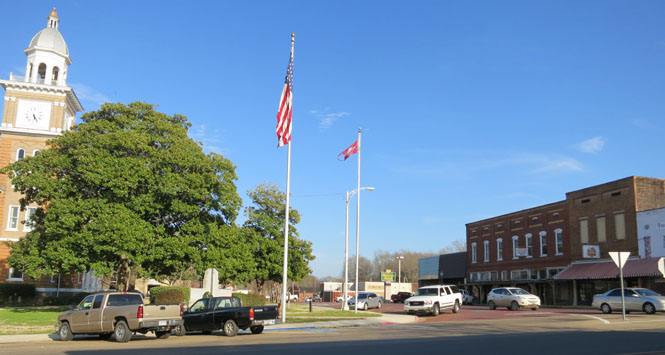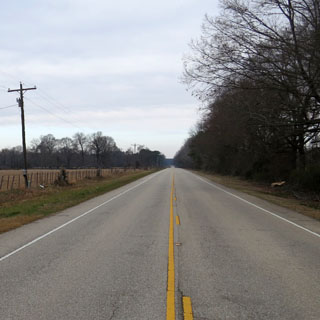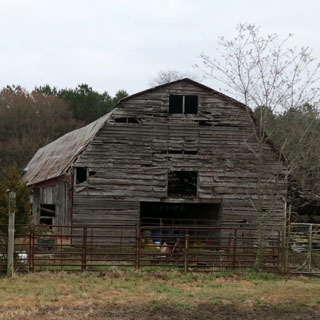 Once you've cleared the last of the Ozarks, Arkansas is as flat as flat can be. People in Colorado often ignore their eastern (flat) half; I'm not so sure that people in Arkansas don't also ignore their lower-right quadrant.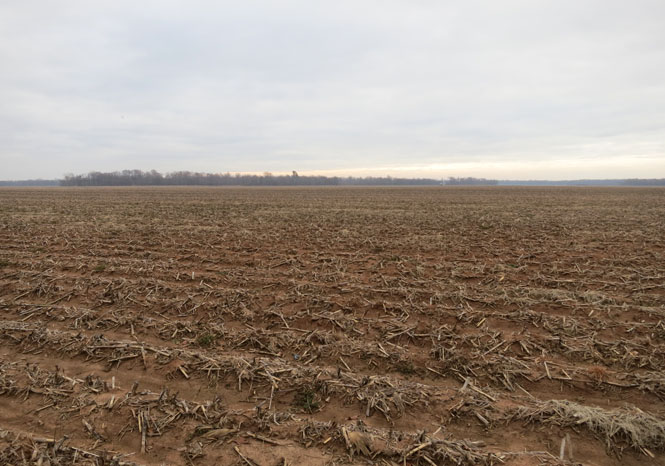 McGehee, Arkansas.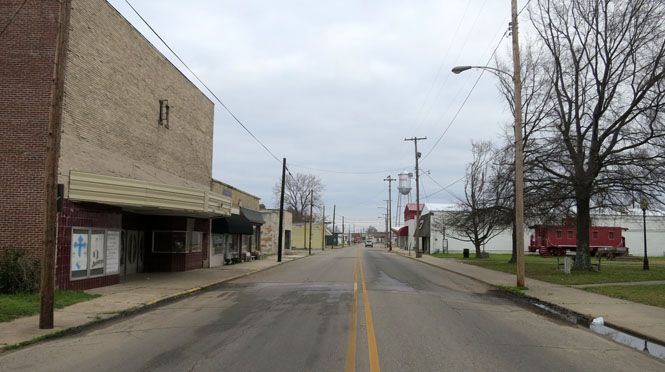 Mississippi
There's an impressive cable-stay bridge over the Mississippi River, but I just couldn't find a better vantage-point than this. The approaches are too long and there are too many trees along the levy to get a good shot.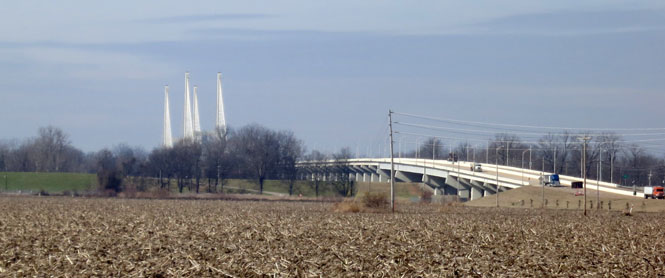 Miles and miles just like this. But, unlike Kansas, you won't find a road at every section line.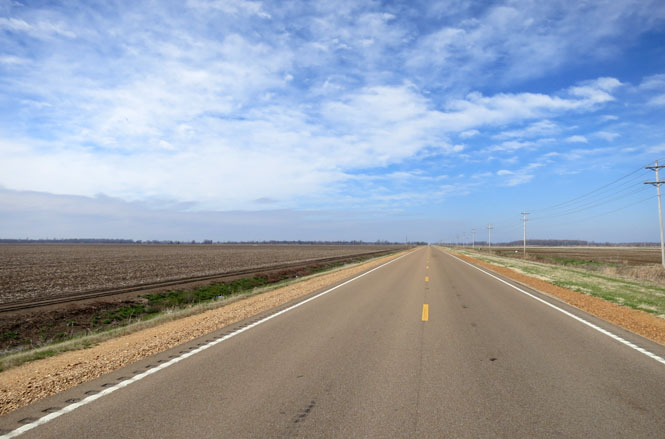 Arcola, Mississippi. I'd have to conclude that these are some of the poorest counties in the United States.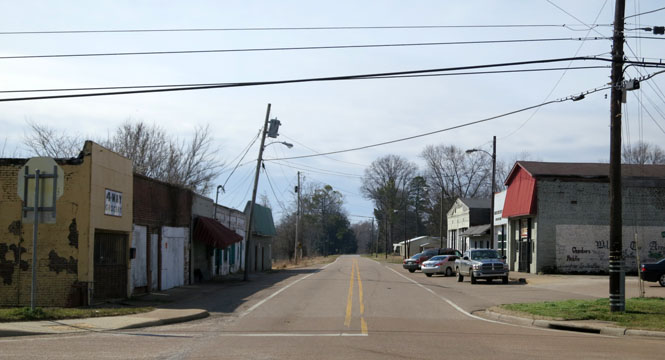 Tchula, Mississippi.

Lexington, Mississippi is another town-square town. These are always hard to photograph.
I'm not following GPS guidance. I'm really just riding east for awhile, and then riding south for awhile. It'll all work out.

Zama, Mississippi. It'll all just fall down, eventually


The (extinct) Ivory-billed woodpecker was once hoped to still live along the Pearl River. Sadly, that's not likely the case.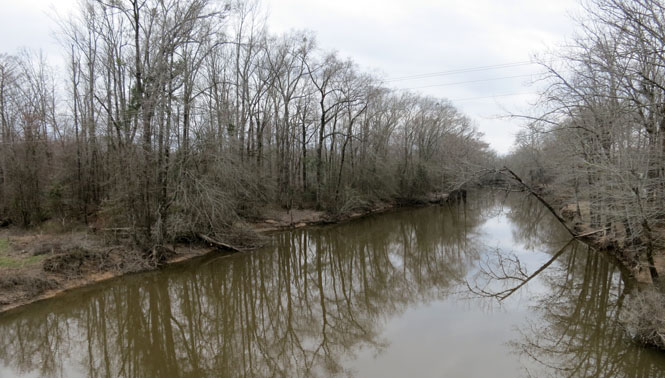 The Nanih Waiya mound was built around 300 AD. The nearby land (including the mound) is now owned by the Choctaw tribe.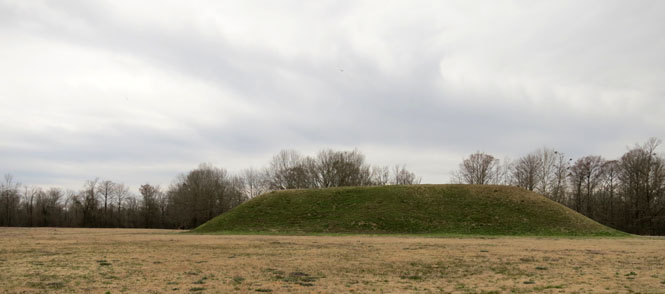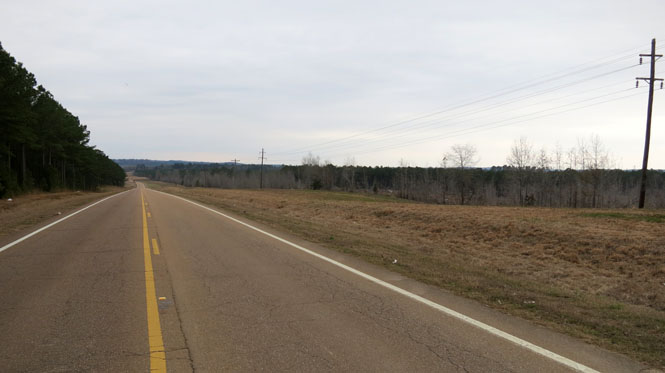 Scooba, Mississippi. Nothing is open on Main Street.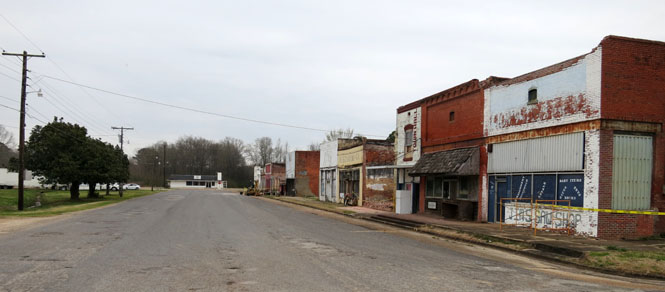 Alabama
Uniontown, Alabama. I had to look it up: the town's name pre-dates the Civil War and has nothing to do with the meaning of the word during the war.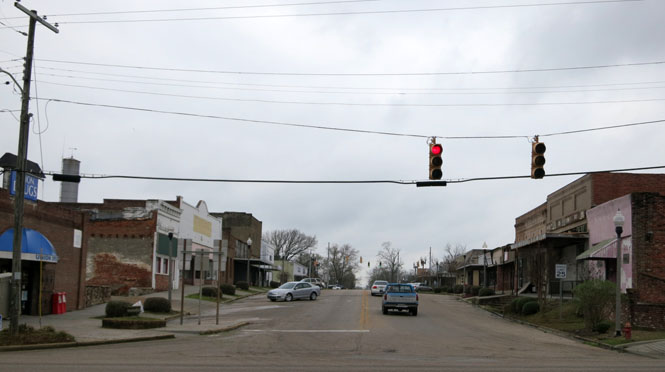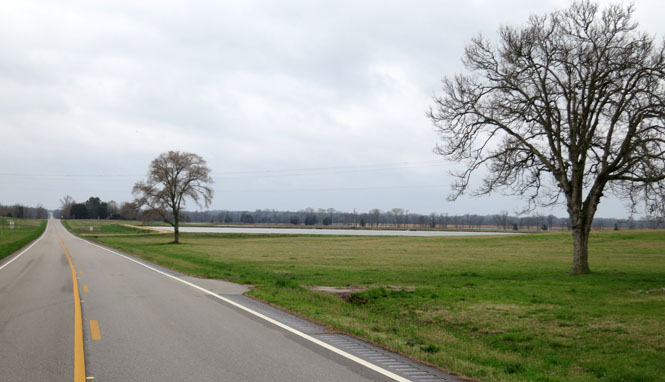 Gees Bend Park on the Alabama River (actually Dannelly Lake).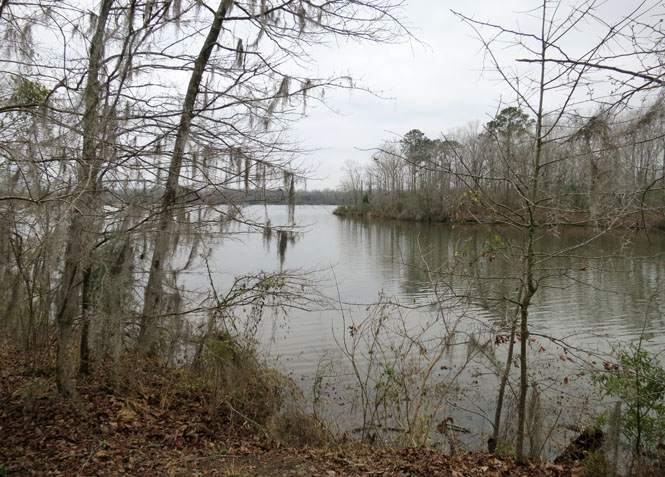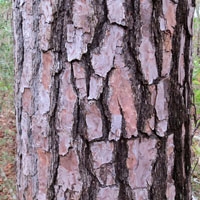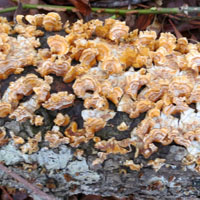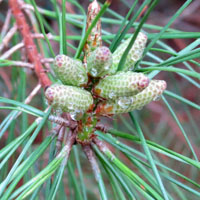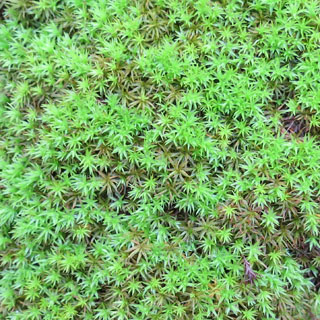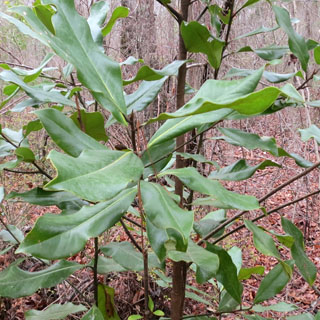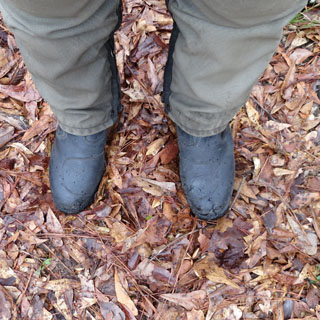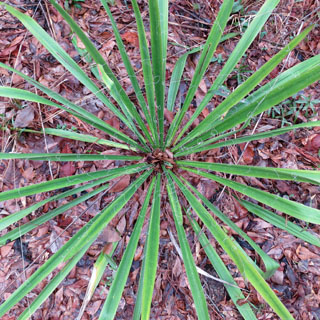 There are not too many river crossings by ferry that remain, so I was pleased to be able to take this one across the Alabama River. It cost me $2.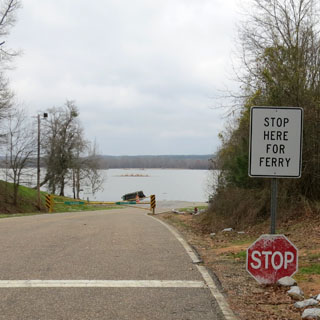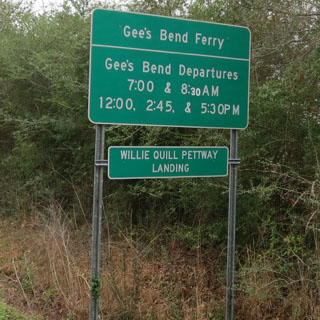 It's windy and even a little wet, but its not all that cold (it's above fifty).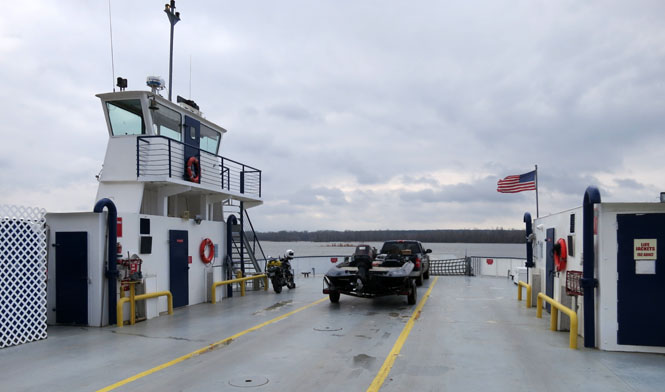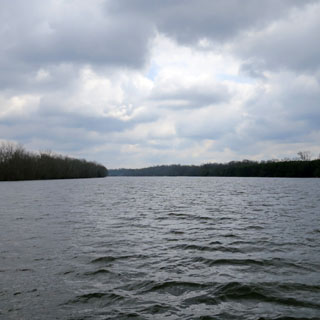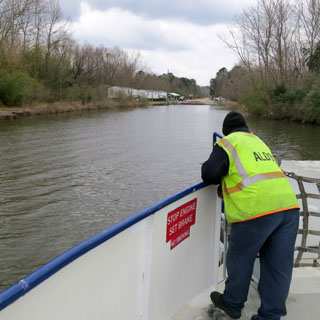 Camden, Alabama.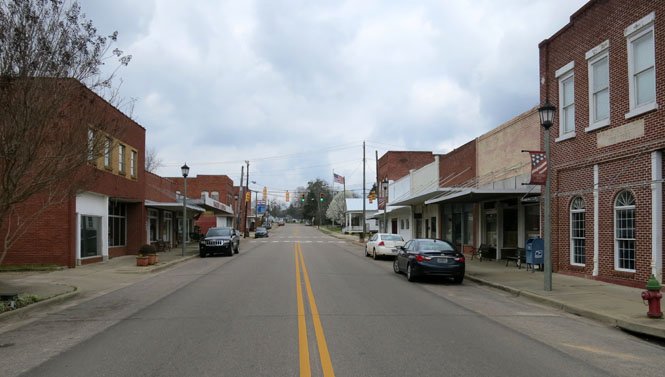 I don't know that anything on that menu-board could be considered especially healthy, but the fried chicken was good as was the cornbread and coleslaw. I had to smile; she wasn't sure what I said, and I wasn't sure what she said. But, it's all English, just the same.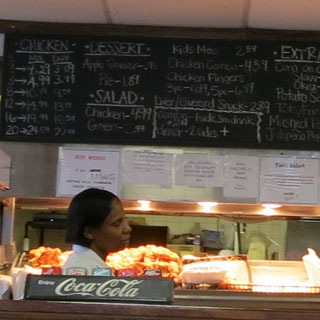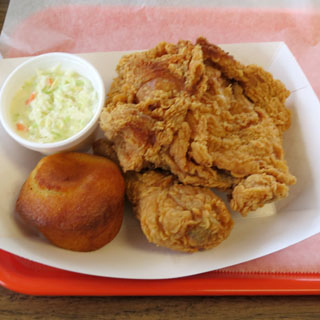 One of the ferry crewmen suggested a nice road that went south out of Camden. Since one road was as good as another to me, I followed his advice. He was right.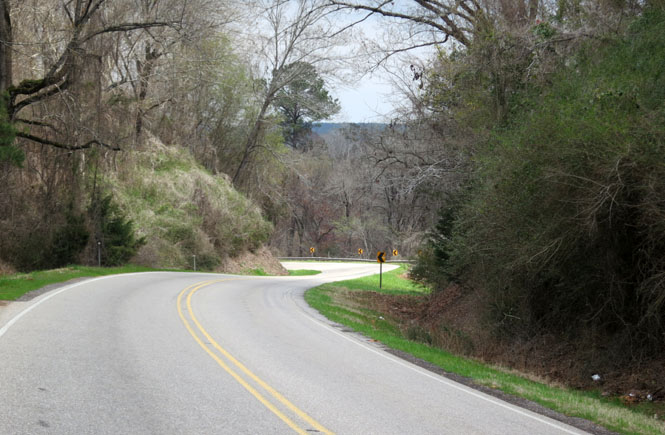 Franklin, Alabama.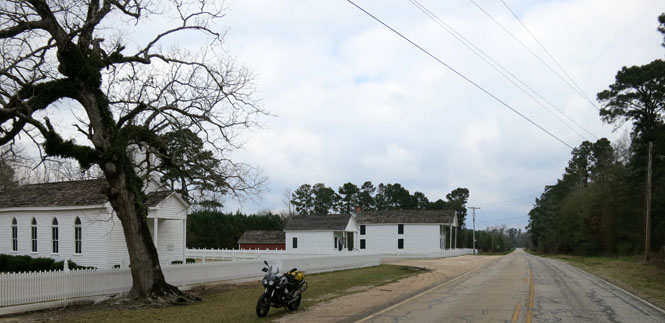 Monroeville, Alabama. Stupid me; I hadn't put two and two together until I passed an historic plaque at the site of the Truman Capote house. Only then did I realize that this is the hometown of Harper Lee, and that interesting courthouse building that I had just taken a photograph of is the same one that featured in the book "To Kill a Mockingbird." (It also explains the several murals of mockingbirds I saw, not to mention the Mockingbird Hotel along the highway).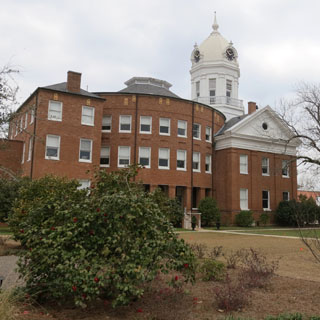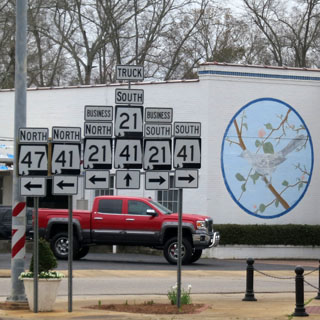 Repton, Alabama. In Kansas (and most all Central Plains towns) Main Street will be perpendicular to the tracks. But, generally, these towns have their Main Street parallel to the tracks.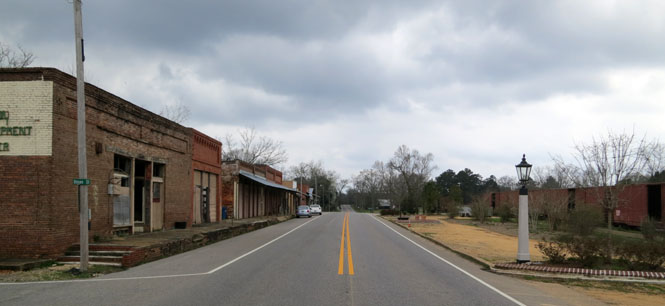 Lots of trees, and very close together. Mostly future telephone poles (or paper), I suspect.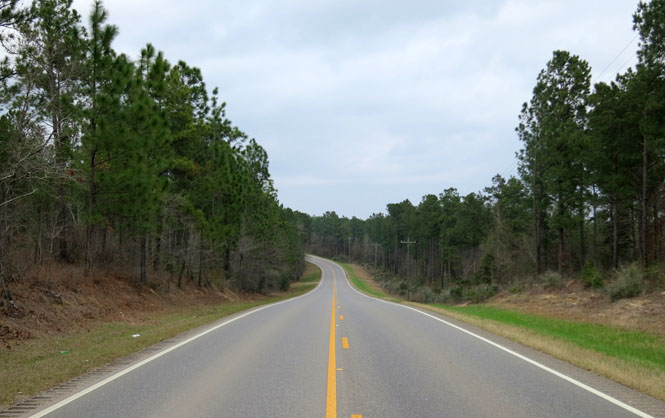 Brewton, Alabama.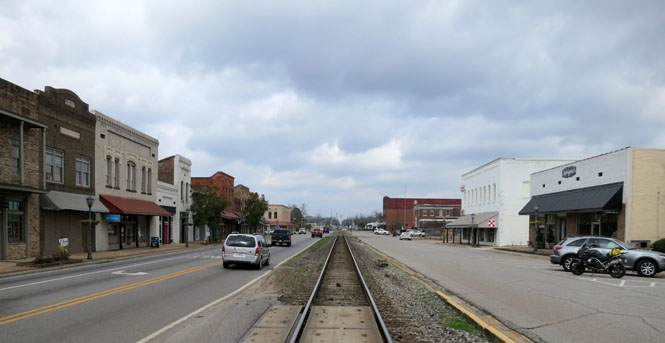 I saw a number of these small, round lakes. I'm guessing that a couple hundred years ago, this was all swampy and overgrown land.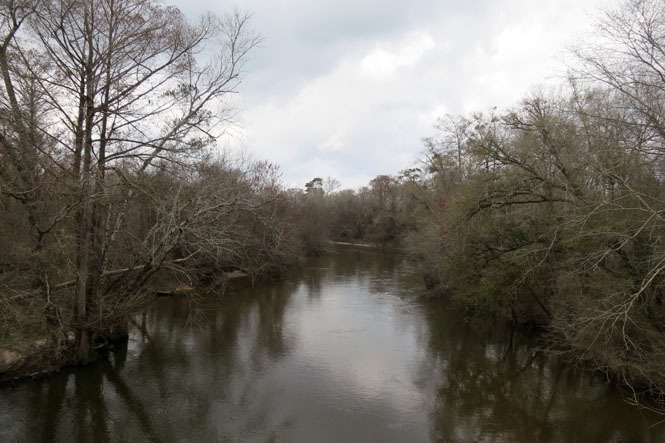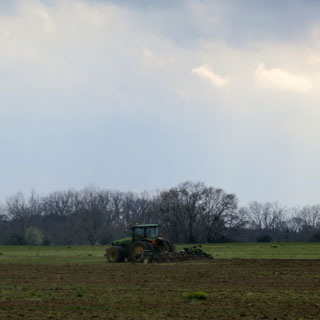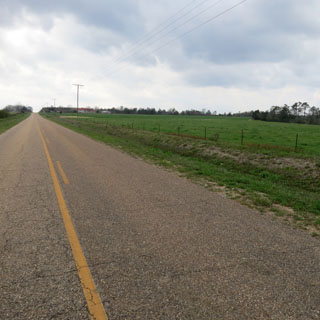 You can't help but notice that things are greening up!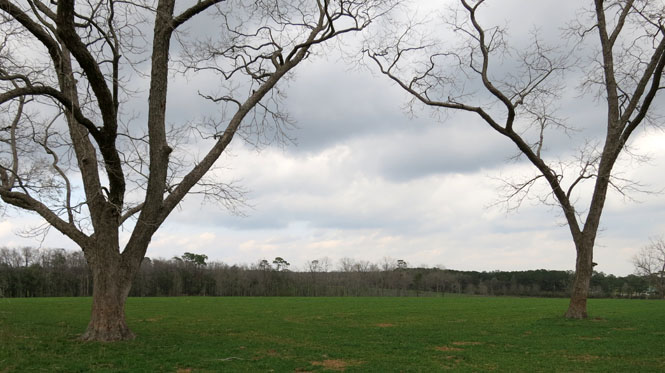 Florala, Alabama. I'm following a series of county roads that run just north of the Alabama/Florida border (refer to the map at the beginning of this report).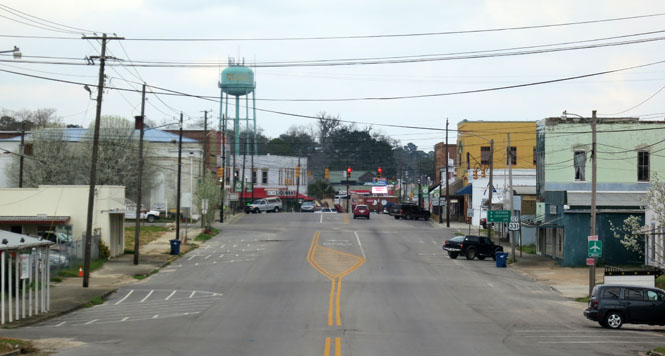 Florida
I intended to ride all the way across Alabama on those small roads, but I think they ran out on me (I wasn't interested in dirt). In any case, I dropped into Florida for just a bit before crossing into Georgia. That rain shower on the horizon wasn't in my path.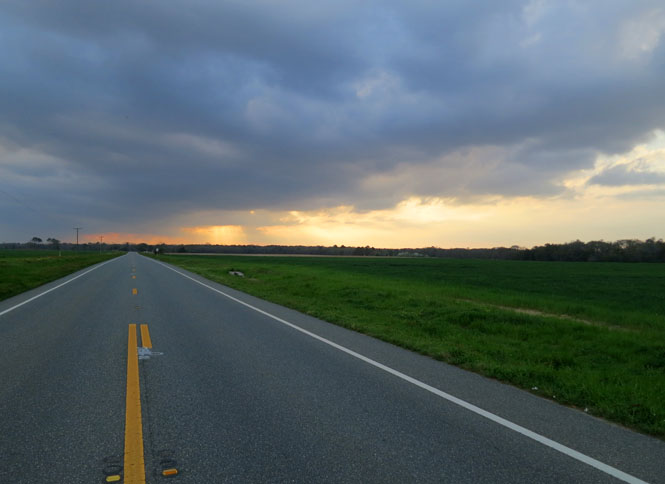 Georgia
Donaldsonville, Georgia. A curving Main Street is interesting. I'm guessing it's due to a north/south grid aligning to the railroad tracks that run at something other than straight east/west.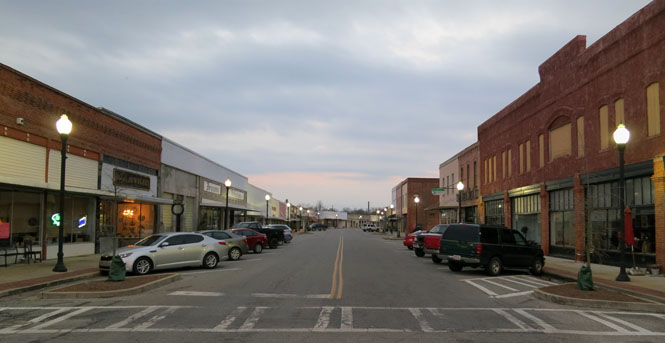 Pecan trees? I've no idea.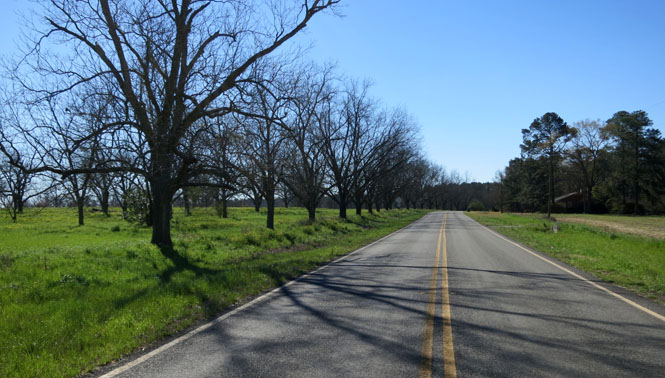 I stayed in Georgia for a good while, but eventually I had to drop south into Florida.
Florida
Havana, Florida.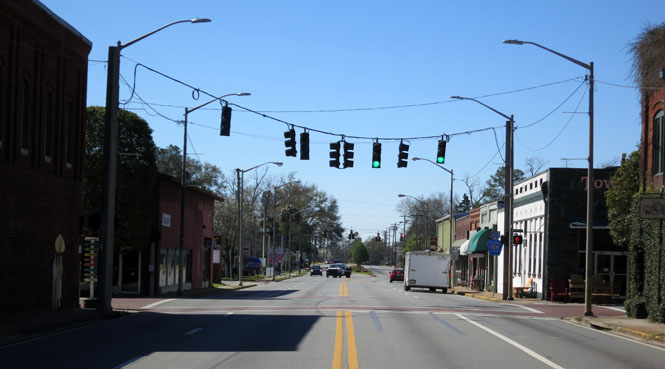 By this time, it made sense to hit the freeway (I held out as long as possible) and stay on it all the way to Daytona Beach. As freeways go, this is a nice one.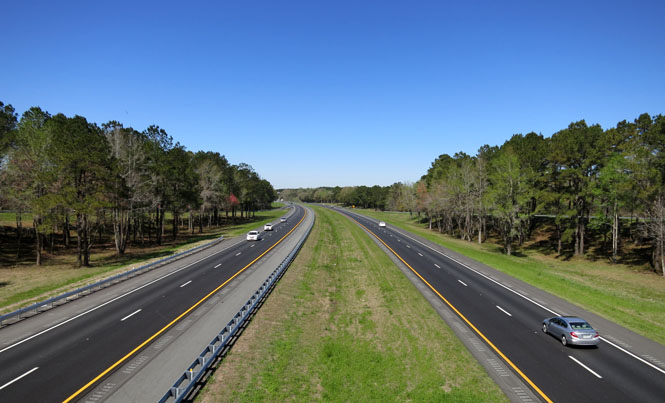 I had begun a quest for decent barbeque. This place looked promising, but, it let me down. The Pepsi was excellent.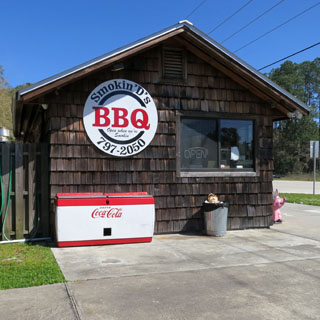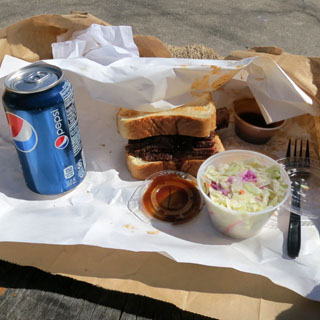 Daytona Beach. I was primarily here for the races, but you cannot help but be swept up in the madness of this place. Motorcycles are everywhere. Thousands of them. Everywhere. Most are Harley-Davidson. But, in that sea of "individualists", I did see two or three Moto Guzzis.
On the east end of the Speedway grounds was the vendor marketplace. Here, you could buy pretty much any accessory that comes chromed or fringed. All the major motorcycle manufacturers were here and (I believe) all were offering demo rides.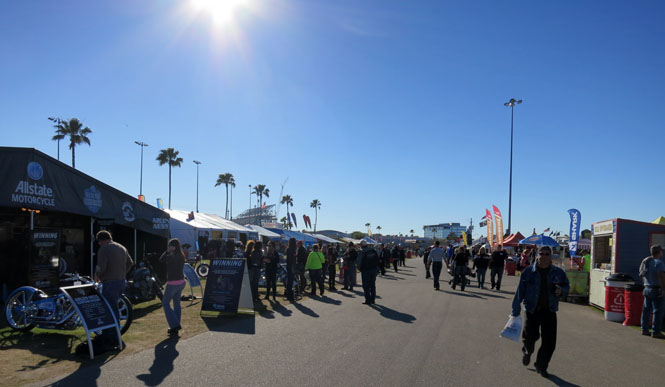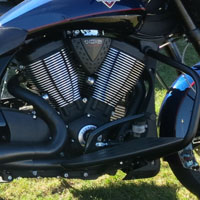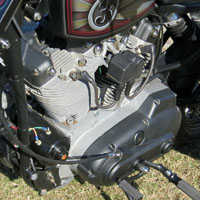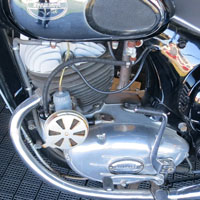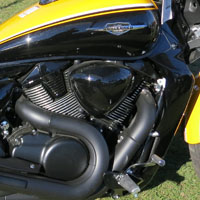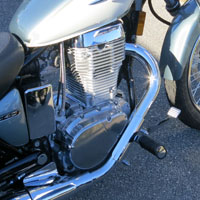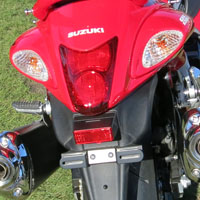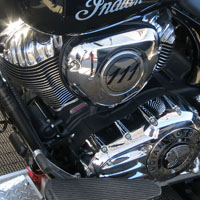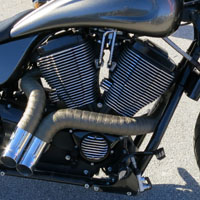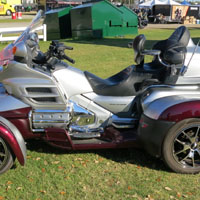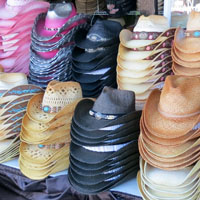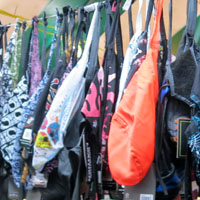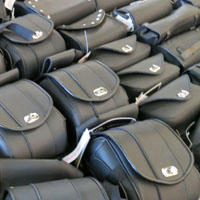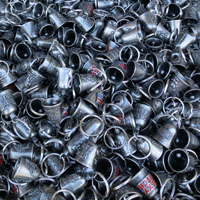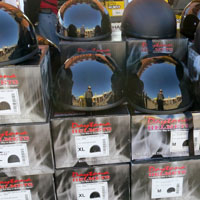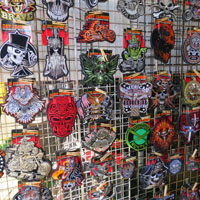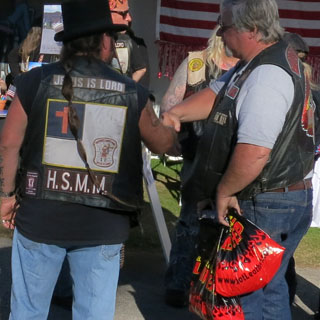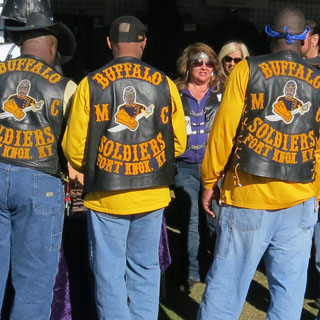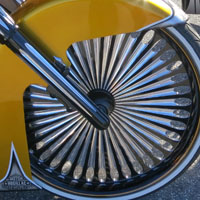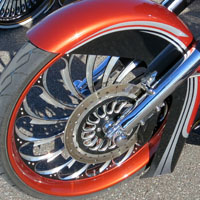 The short track facility is located west of the speedway grandstands, but still on the Daytona Speedway property. I was able to walk from my hotel to the location. This is a relatively new location; the old one had far more seating.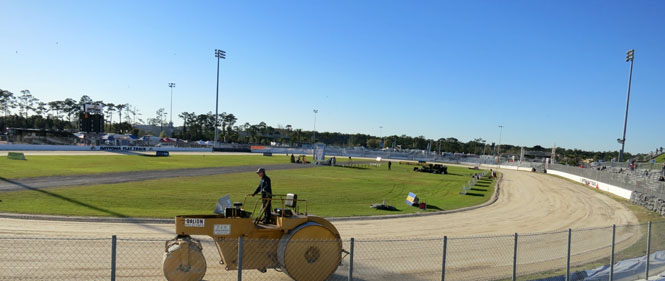 At 6:30 the pits were opened for an hour. It was called an autograph session, although mostly it was a good chance to walk by the team tents to see the equipment.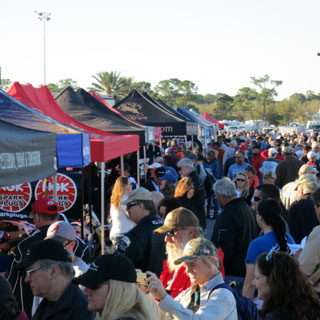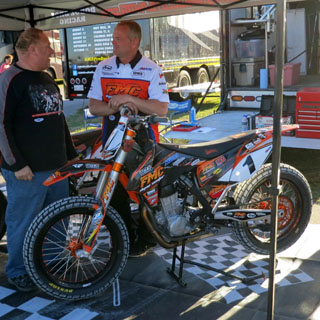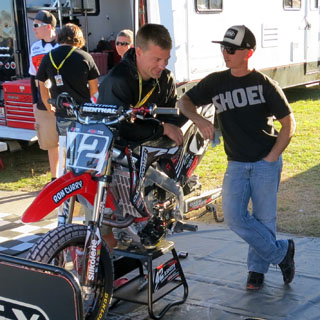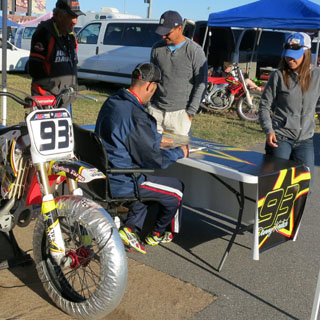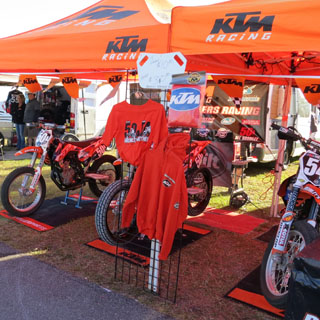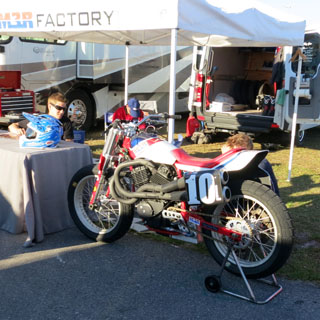 Jake Johnson's Honda.

The opening ceremony started at 7:30, and the races came soon after.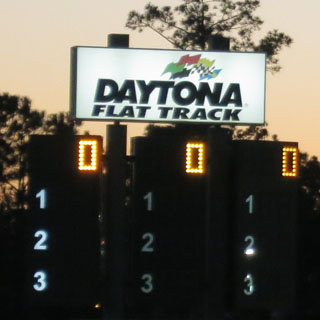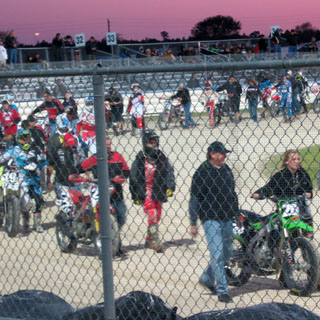 We're all standing for the national anthem.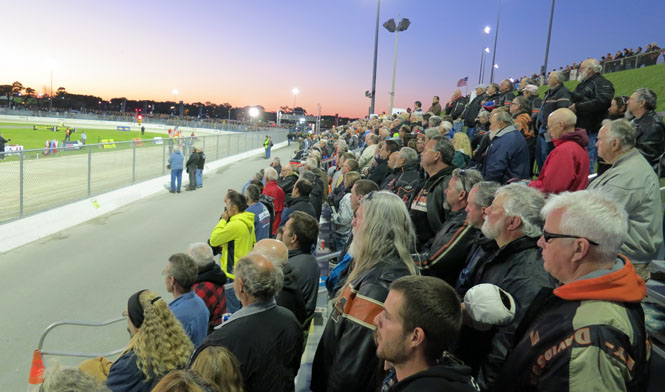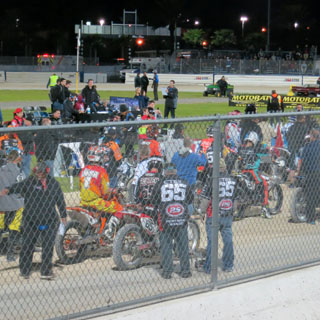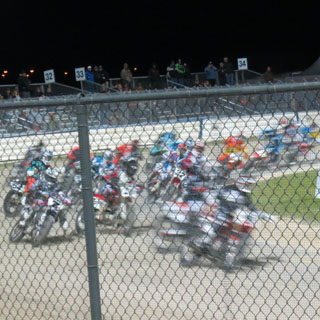 Briar Bauman won the expert-class race.

For some, there would be a ride back to a hotel room. For me, it was a walk to the other side of the speedway.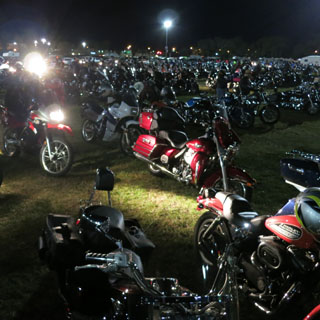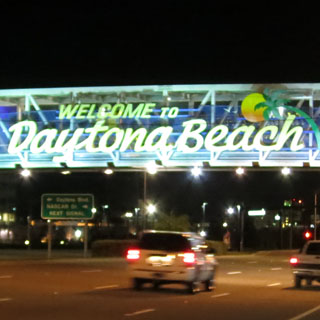 Thursday Race Results (top 10):
1 Briar Bauman
2 Sammy Halbert
3 Brandon Robinson
4 Mike Rush
5 Jared Mees
6 Henry Wiles
7 Matt Weidman
8 Chad Cose
9 Stevie Bonsey

10 Jake Johnson
Friday Race Results (top 10):
1 Kenny Coolbeth

2 Jake Johnson


3 Stevie Bonsey
4 Sammy Halbert
5 Brandon Robinson
6 Henry Wiles
7 Jake Constantine
8 Bryan Smith
9 Mike Rush
10 Jethro Halbert

Johnson had a tough night on Thursday, but came back strong on Friday. It's a good start to the season.

But, I didn't stay for the races on Friday. A front of horrible weather was moving in, and it seemed prudent to see if I could beat it. Either that, or I could have stayed a few more days in Florida (doesn't seem like a dilemma, does it?)

Friday morning on Ormond Beach just north of Daytona.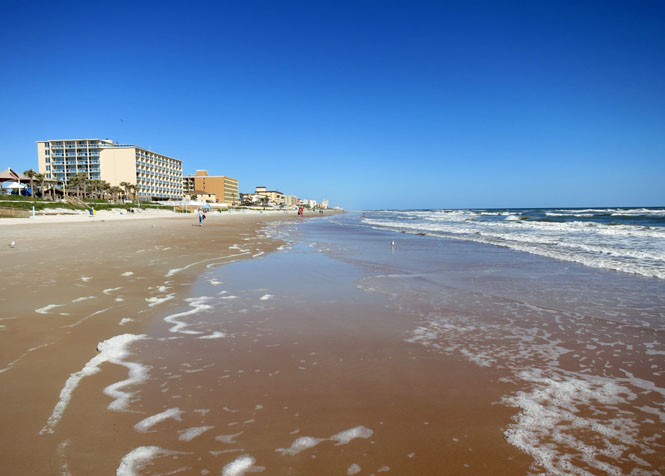 Crossing from one side of Florida to the other there's not a lot of elevation change.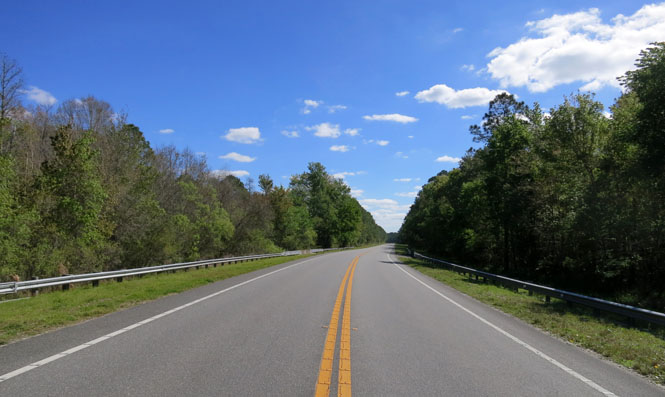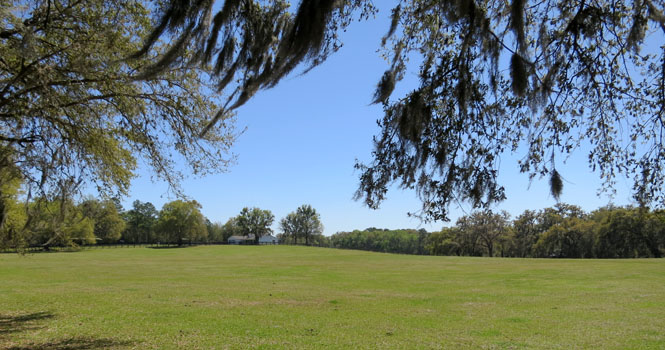 This is horse country. I saw quite a few private tracks and some neatly fenced grass pastures.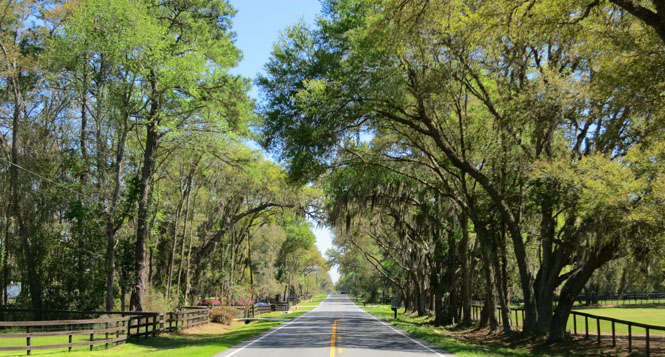 Williston, Florida. This sort of broad highway is common. The two lanes come together at each town, but then separate with a wide median strip outside.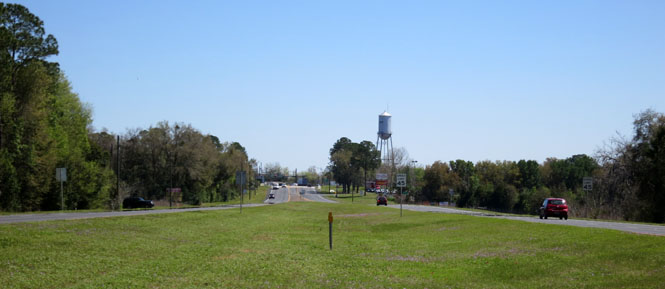 Chiefland, Florida.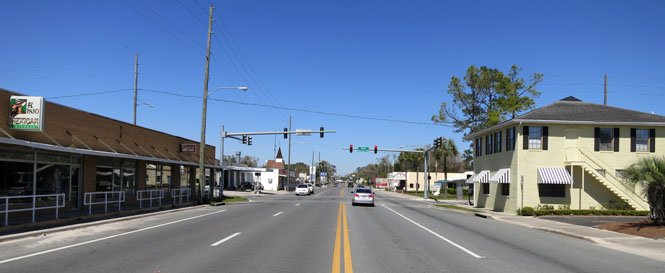 Suwannee River.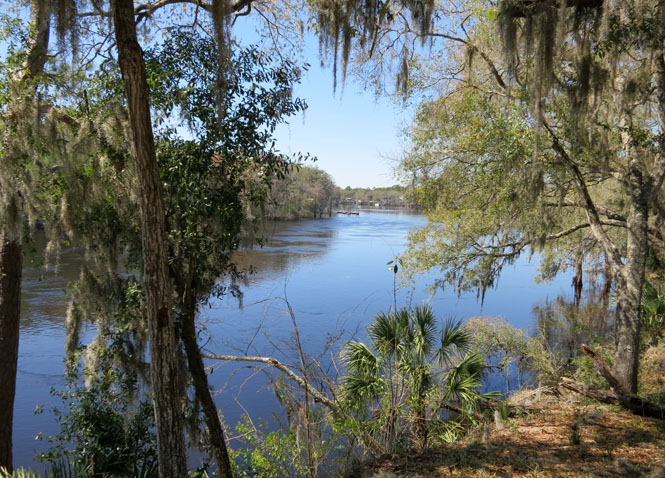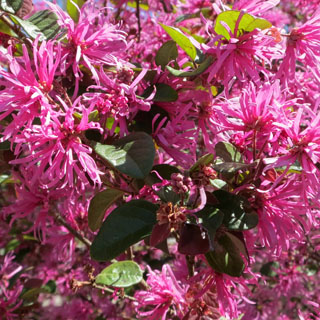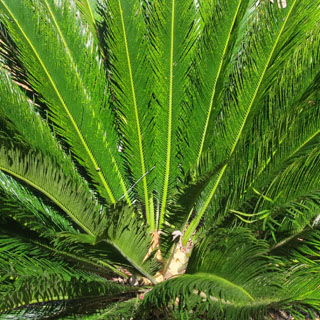 Riding along the panhandle the road is dead straight and level. If you were to fall asleep at the wheel, you'd definitely hit a tree, and you'd also end up in water. Building this road across such a long swamp must have been a challenge.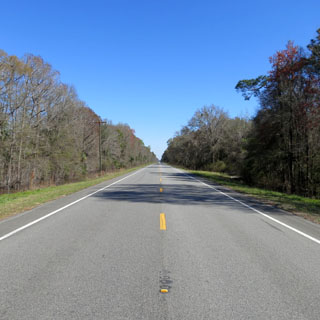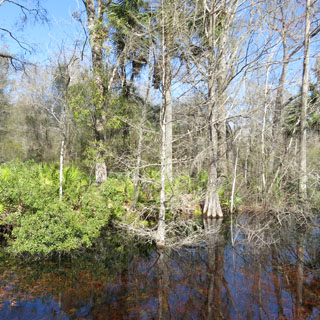 Ochlockonee Bay, Florida. I'm now riding along the coastline.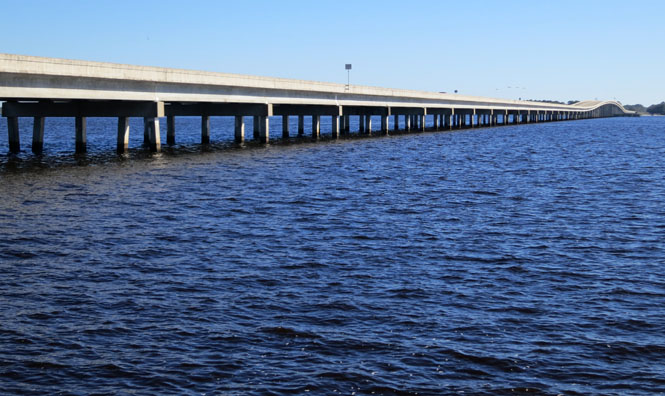 Carrabelle, Florida.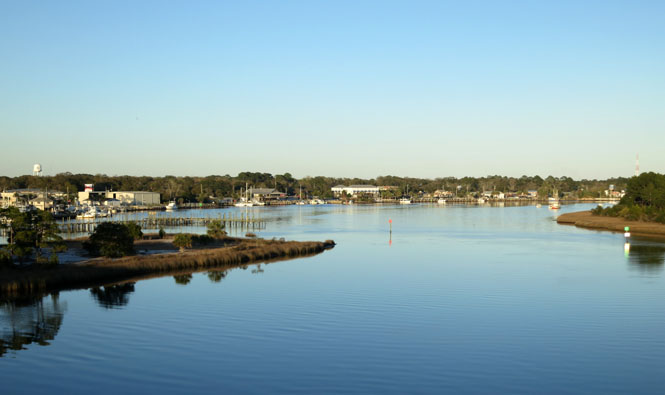 The hotel wasn't so obvious. The lobby is down by the harbor, and the rooms are along the road (with a door in the front and at the rear).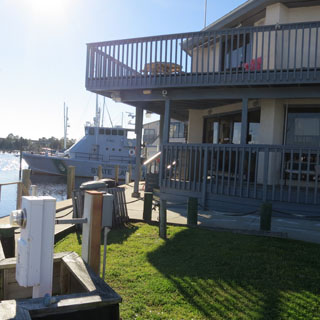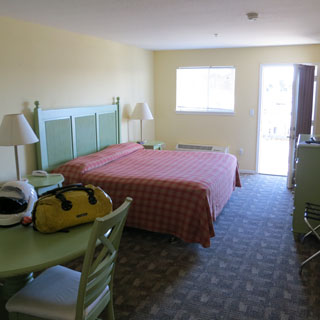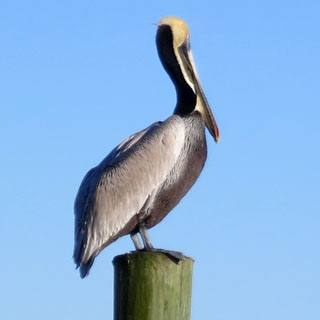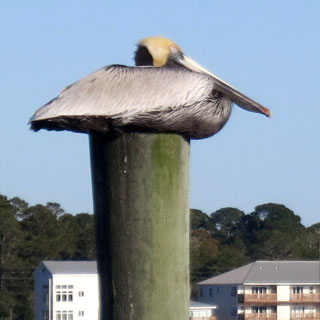 Dinner at "The Fisherman's Wife." That's fish (Grouper), grits, potatoes, slaw, and hushpuppies.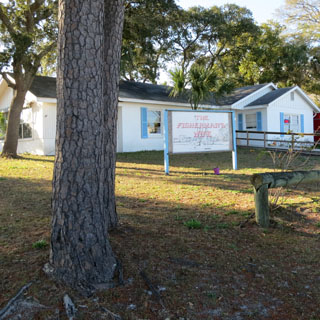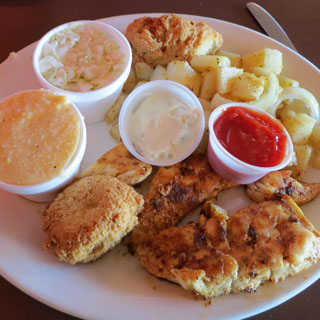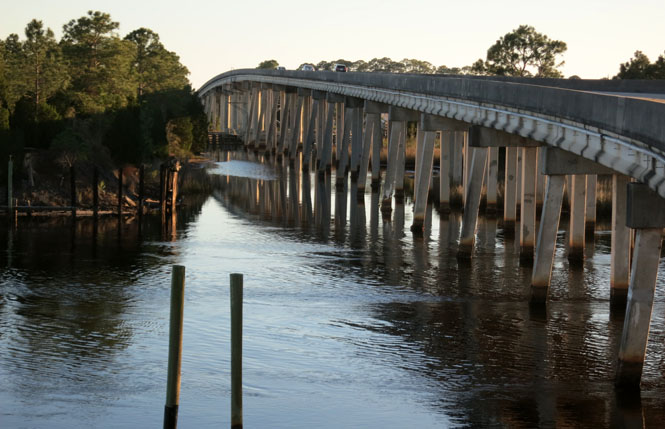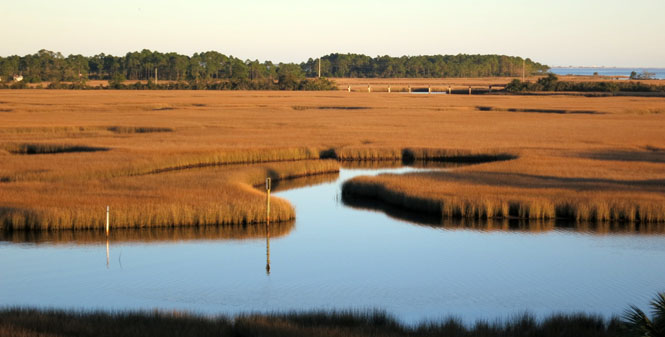 Very still (and cold) the next morning.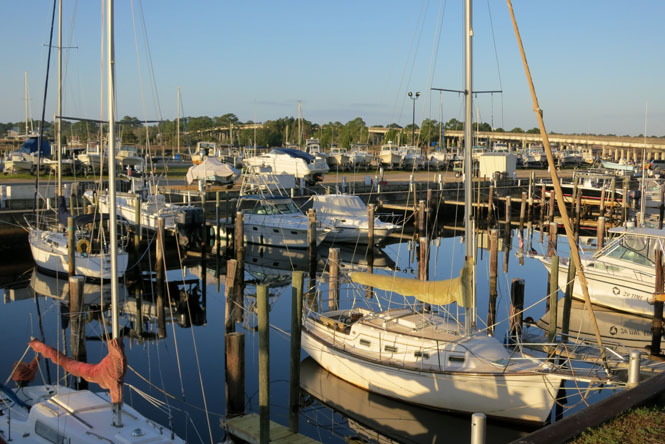 Riding along the gulf coast.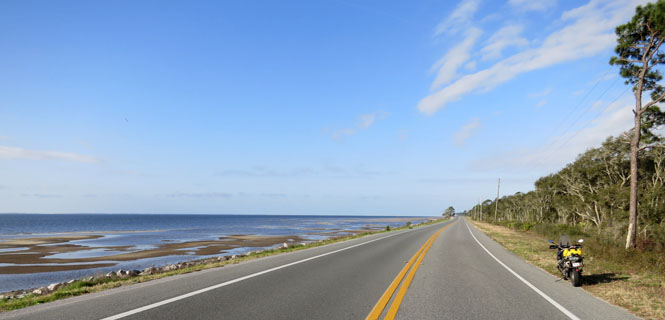 Apalachicola, Florida.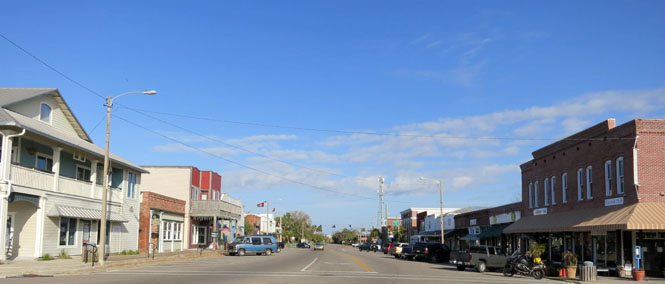 Crossing an inlet near Milltown, Florida

Destin, Florida is famous for its white sand. The natural (undeveloped) area to the west of Destin is actually more impressive.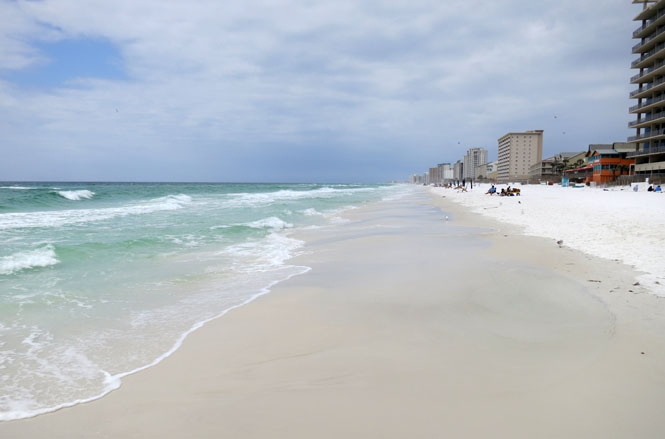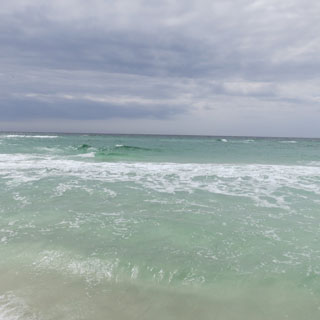 Navarre, Florida and much better barbeque.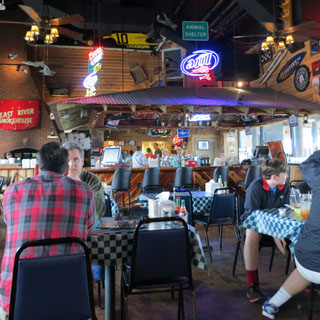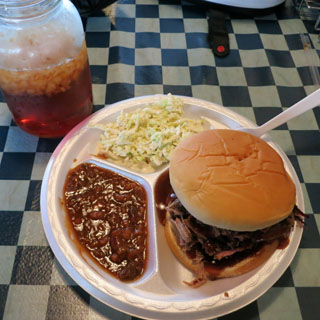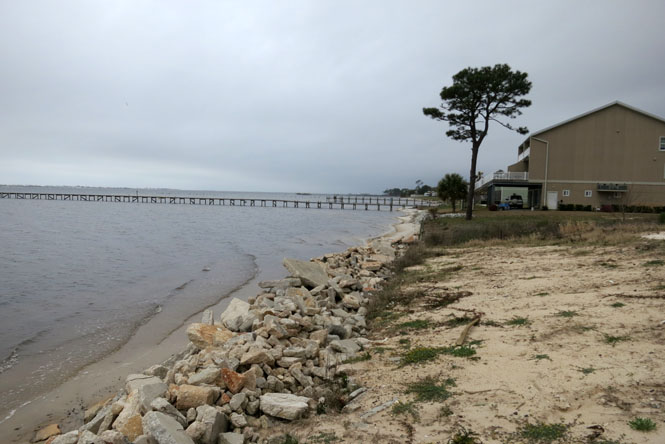 The Yellow River didn't look all that wide, but the length of the causeway gives you some idea of the size of the swamp along the plain.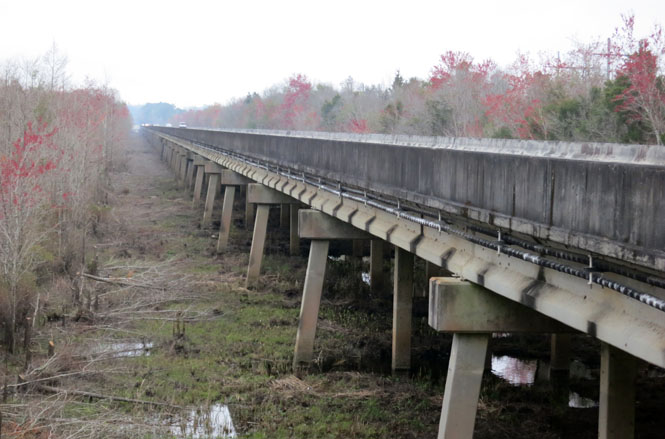 That morning I had a plan to ride into Pensacola to see the naval museum. But, the weather wasn't getting any better, and it looked like I'd have a better chance to stay a little drier if I turned north into Alabama. Mostly, that was true.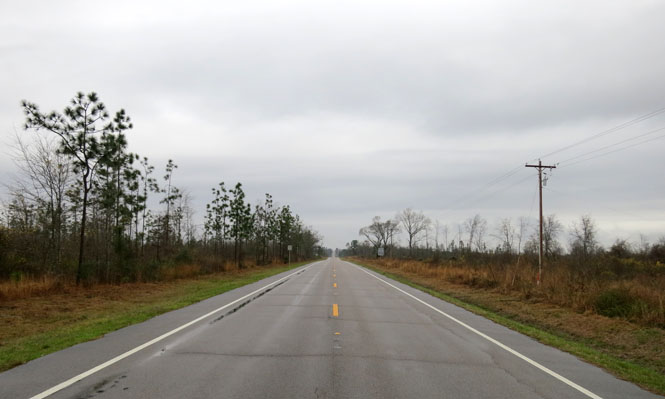 Alabama
Flomaton, Alabama.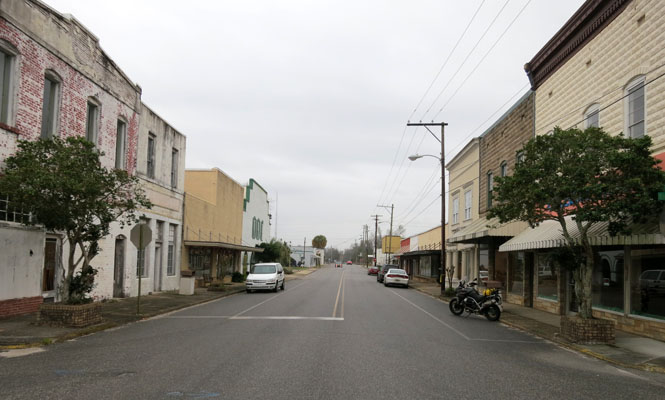 Atmore, Alabama.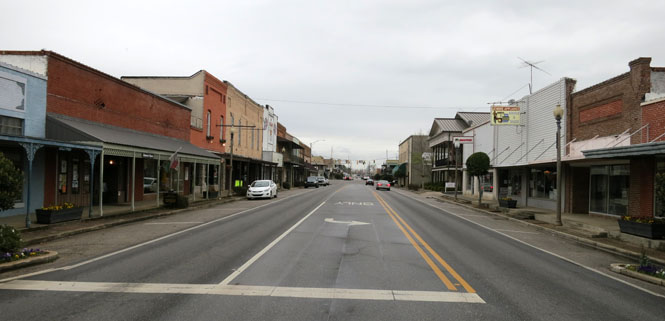 Unlike in Kansas, you can rely on these rural county roads to remain paved.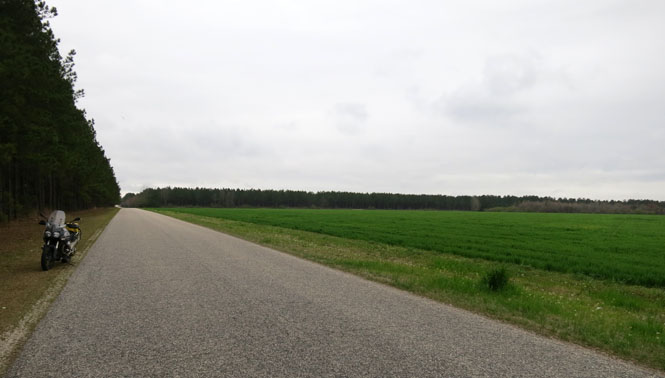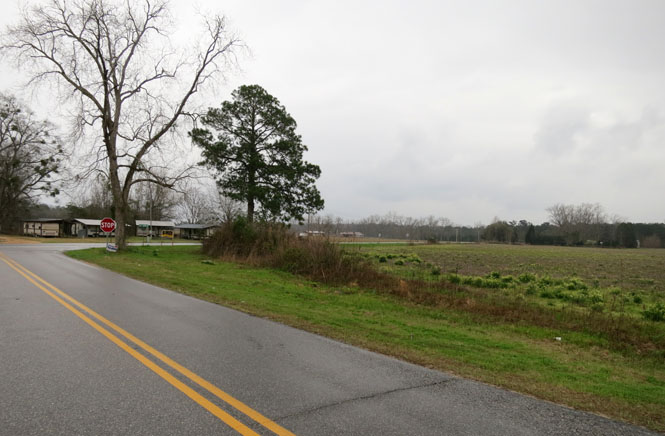 The long drive to the grave of William Weatherford "Red Eagle."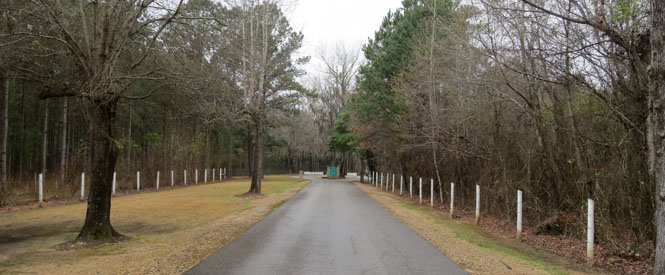 The grave of Red Eagle and his mother; both had an unusual mix of things left there by visitors.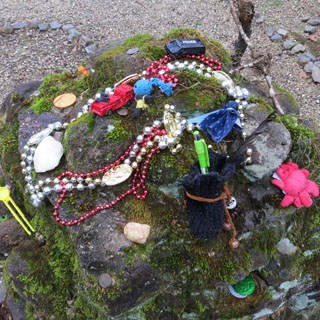 A big bend of the Alabama River. The road stops here.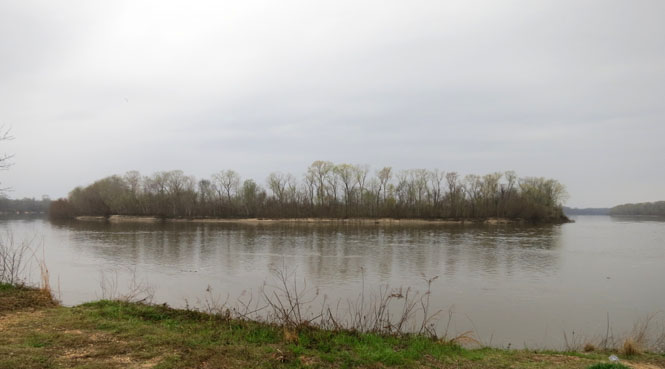 That white building? It seems to be a restaurant and bar. I'm not sure of the name of this small community by the river--if it even has a name.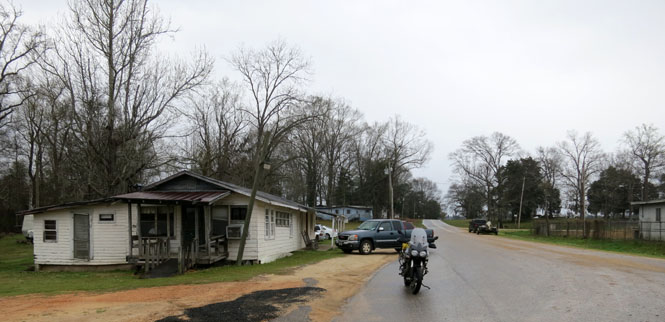 There are glimpses here and there of some impressive old farmhouses.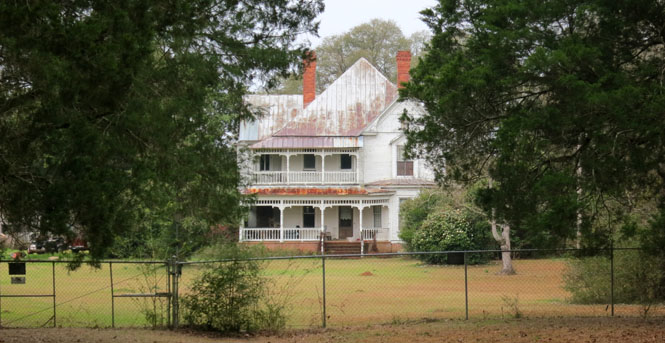 Perdue Hill, Alabama.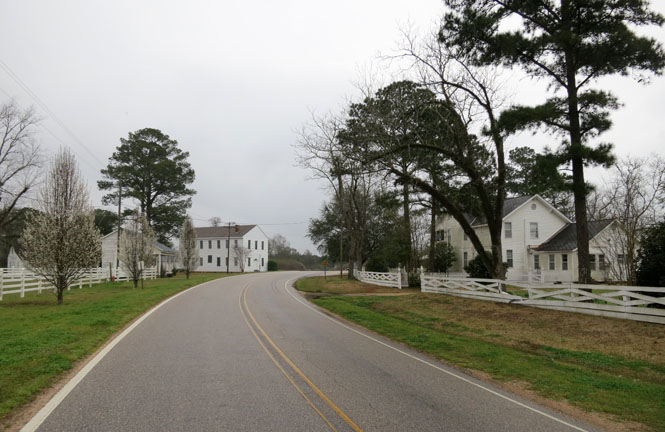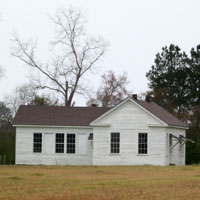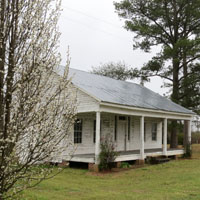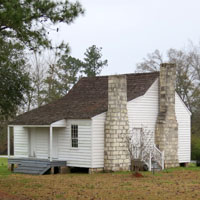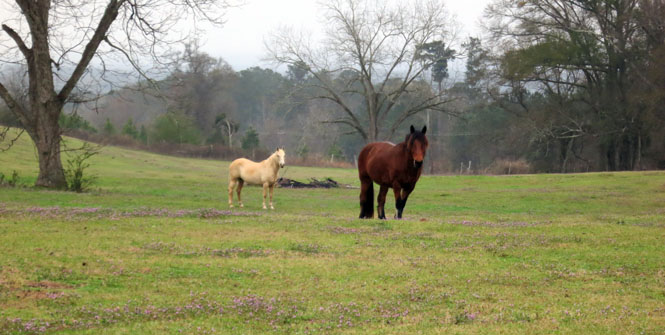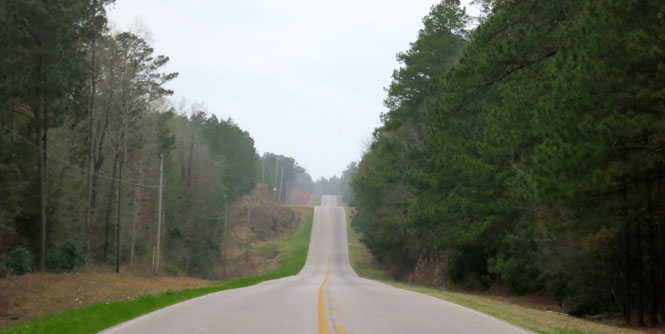 Tombigbee River.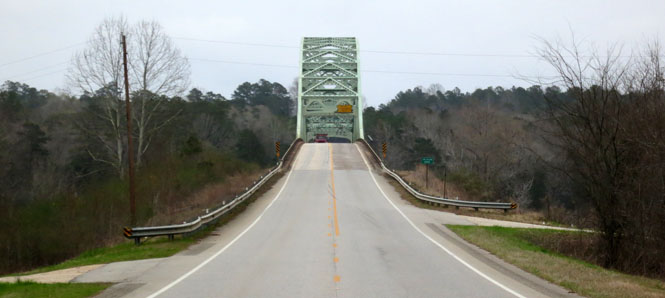 Mississippi
Waynesboro, Mississippi. This was excellent.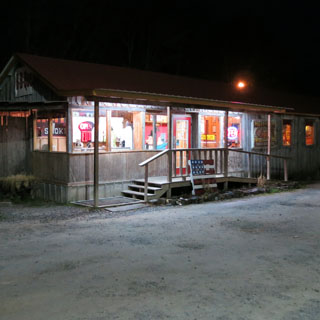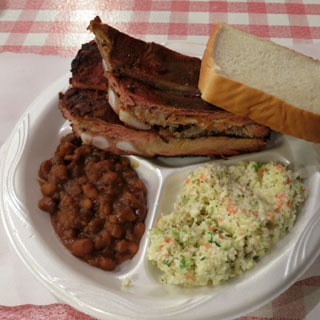 Laurel, Mississippi. Today I'd be running the electric vest all the time and sure that everything was zipped up. It was windy and often wet and always cold.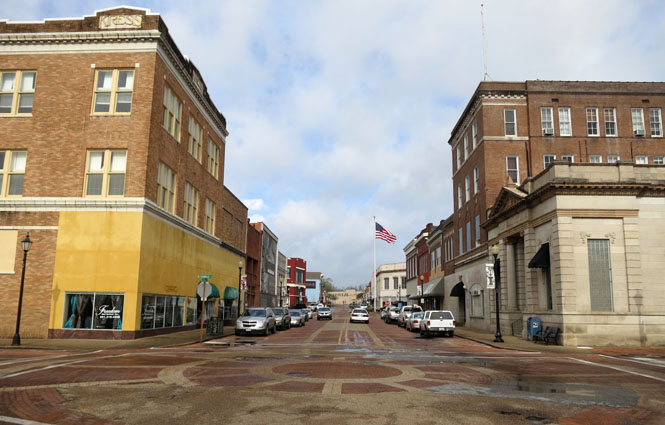 Taylorsville, Mississippi.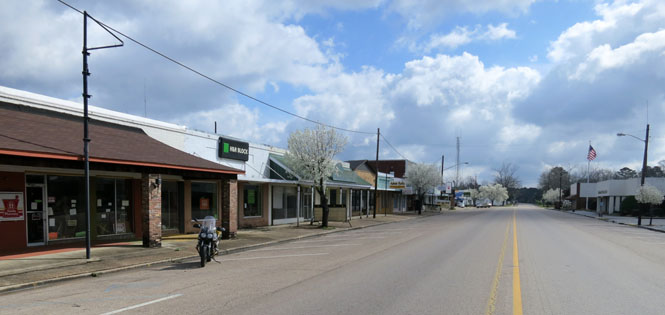 Pinola, Mississippi.

There are some very dense pine forests in Mississippi.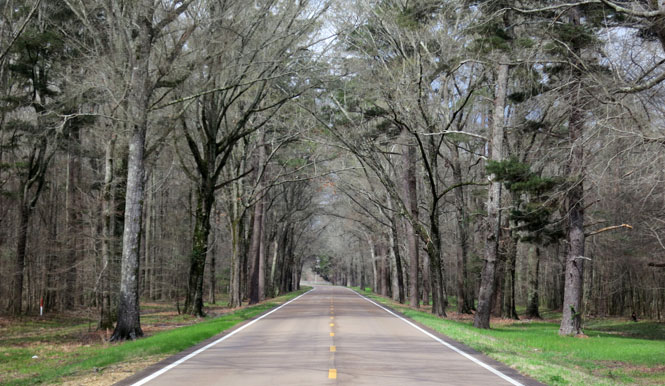 When you see these farms, you realize that somebody spent their life cutting down trees and removing stumps before they could pull a plow across the ground. Hard work.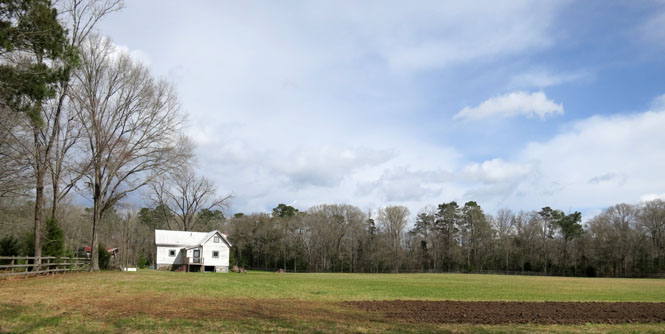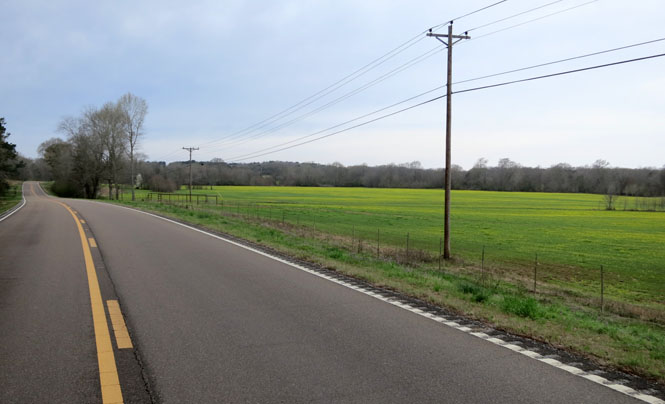 Fayette, Mississippi.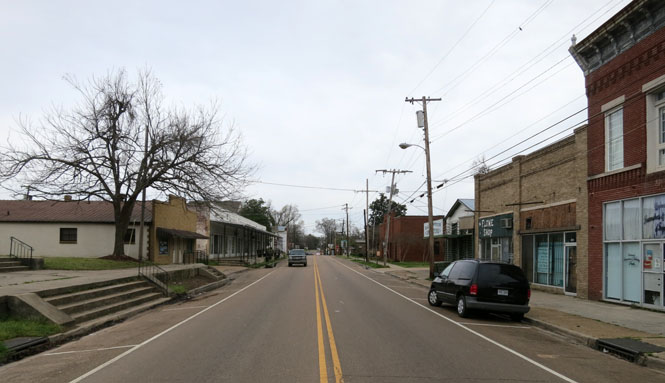 Natchez, Mississippi is famous for its pre-war mansions and being the end of the Natchez Trace. It's a beautiful town.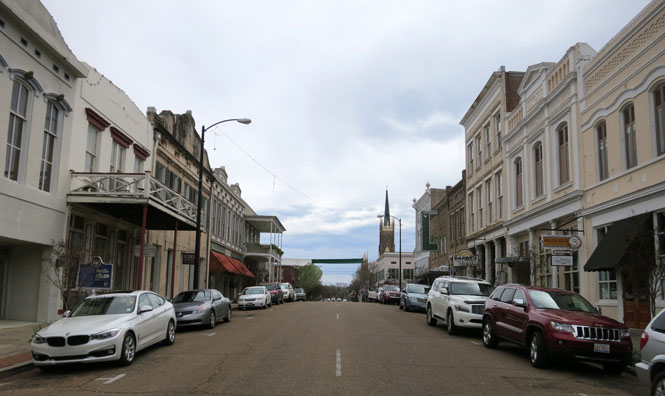 Yes; it caters to the out-of-town tourists, but I rate this place as quite good.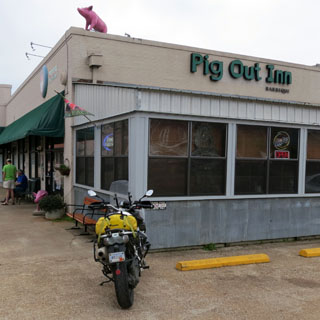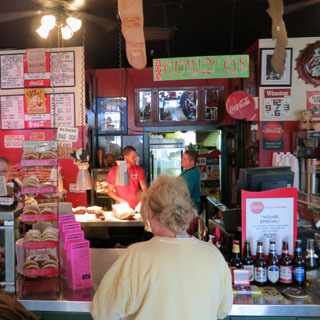 The Mississippi River. That's Louisiana on the far side.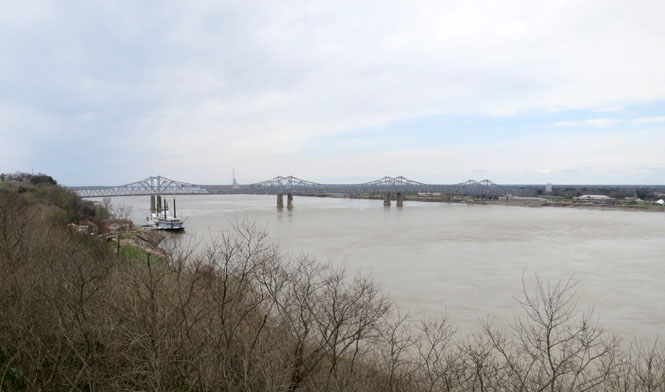 Louisiana
Jonesville, Louisiana. The old downtown would have been situated to receive passengers and freight from riverboats. Of course, those days are gone, so this part of Jonesville doesn't see much activity.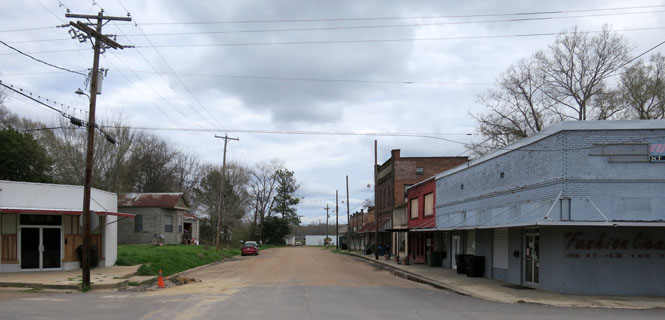 Jena, Louisiana.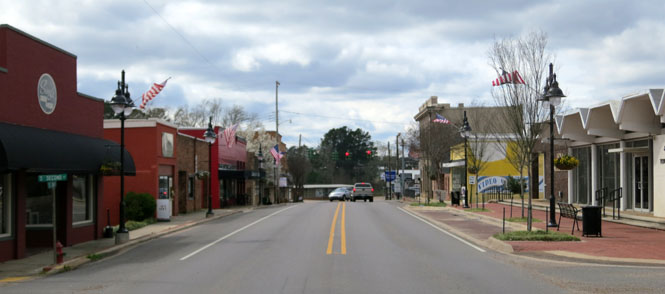 The trees did a great job to shield me from the wind.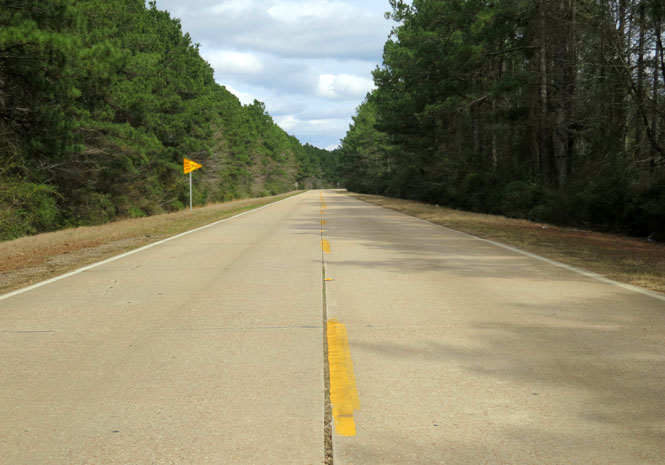 Winnfield, Louisiana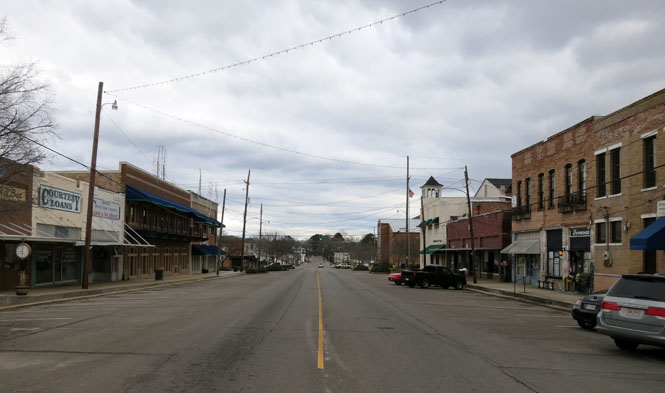 Natchitoches, Louisiana is the oldest town in Louisiana and has always been a top tourist destination for the state.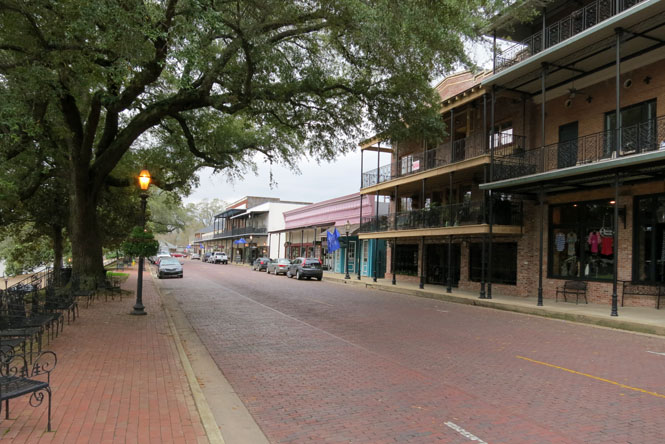 I stayed at the Church Street Inn. While there are a number of B&Bs downtown, this is the only hotel. A few miles out towards the freeway, you'll find all the major chains.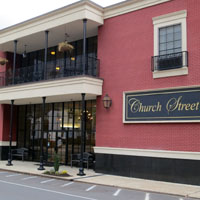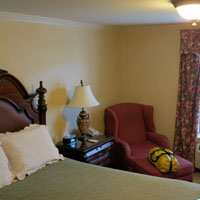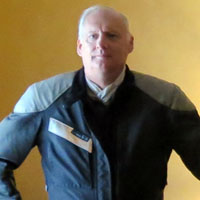 I think these boat teams were just practicing and not competing. Those four girls are holding up one end of their boat.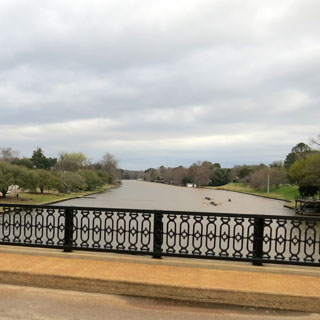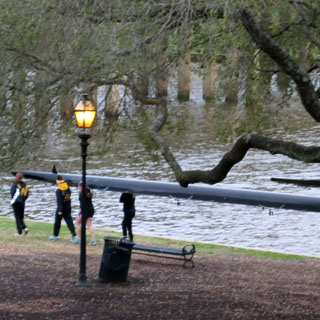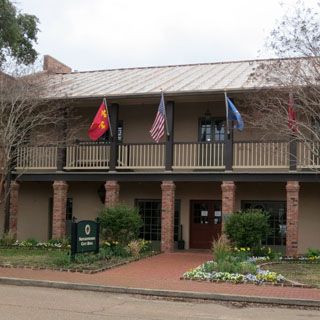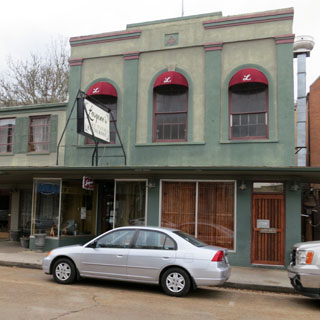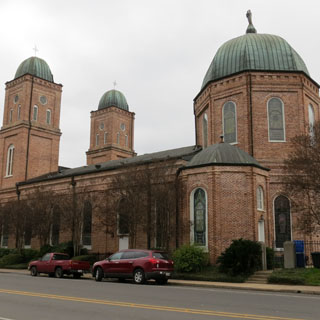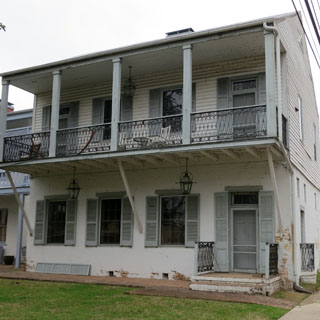 The Landing Restaurant. At the bottom of the plate is a bead of rice. Then catfish. Then topped with crawfish étouffée. Excellent.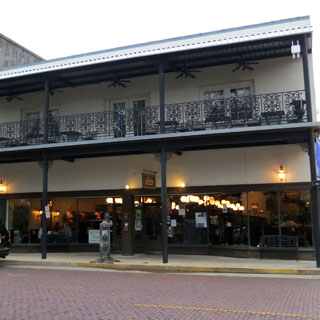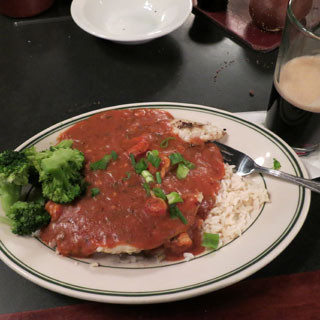 Texas
Sabine, Texas. Instead of heading northwest (the more direct route), I'm staying south and heading due west. The idea is to avoid a bit of weather to the north and to skirt around it by delaying my turn to the north.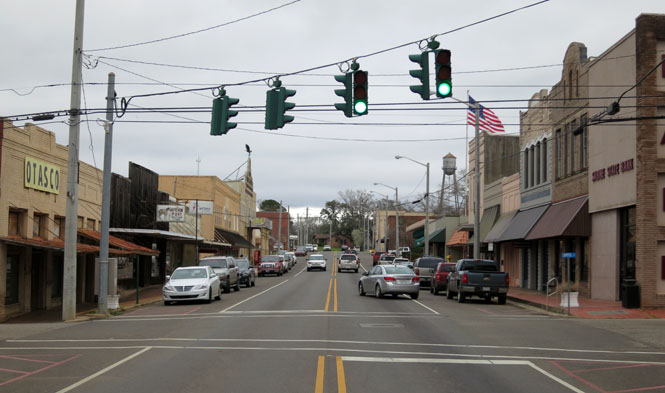 East Texas is hilly and full of pine trees. It's a beautiful place to ride.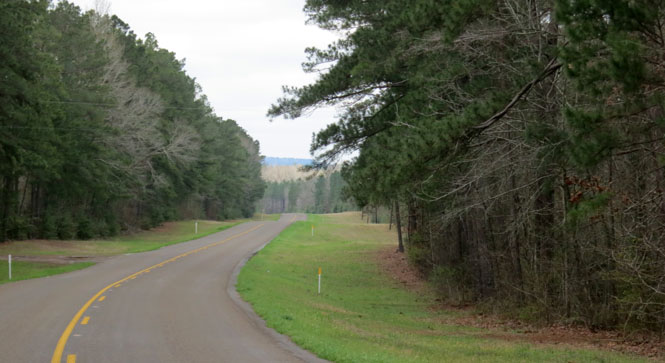 Chireno, Texas.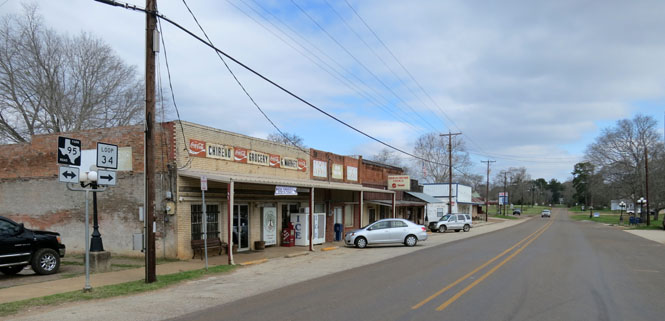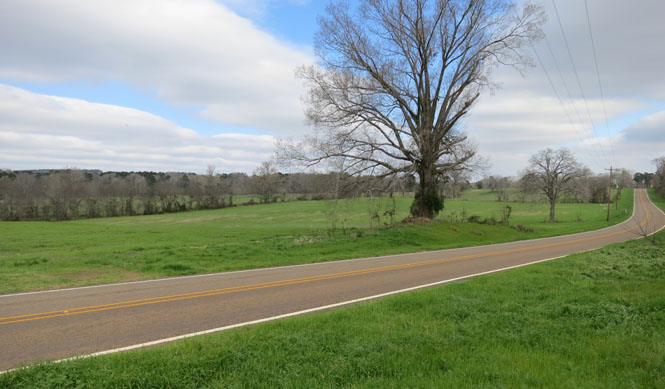 Garrison, Texas. This town has a half-square with the railroad tracks making up the fourth edge. An unusual arrangement. I'm guessing that years ago, this square would have been full of crops waiting rail shipment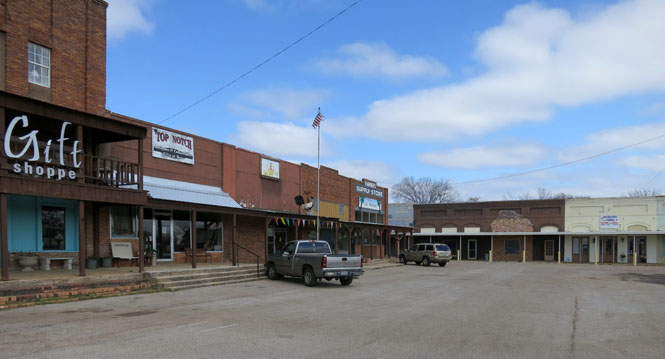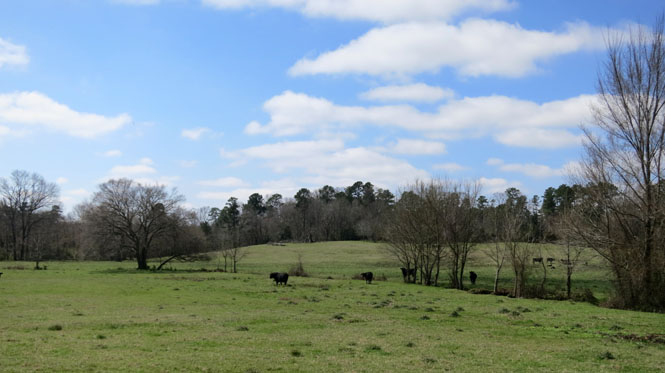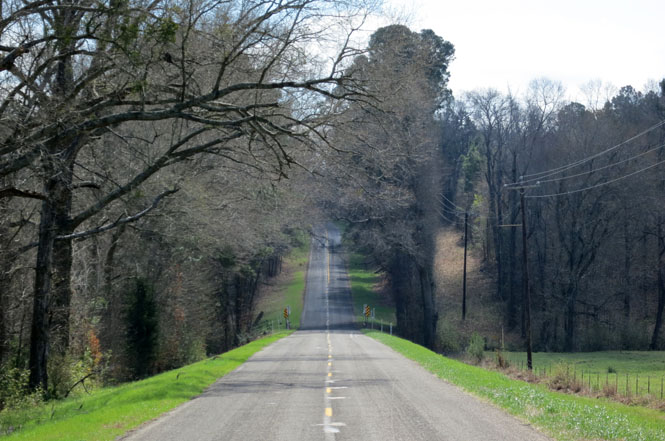 Henderson, Texas.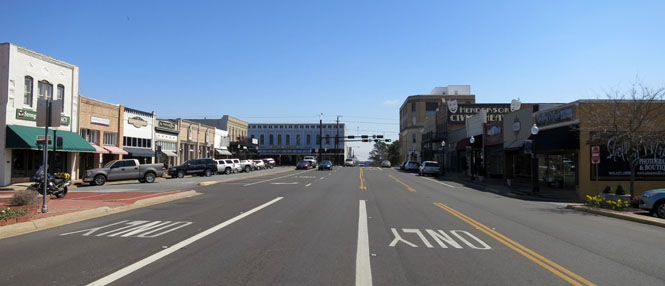 Kilgore, Texas was once a booming oil town. Apparently the place was virtually covered in oil derricks. Many of them remain.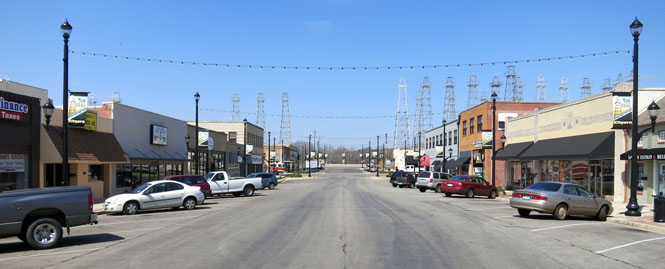 Edgar's on Main Street. Recommended.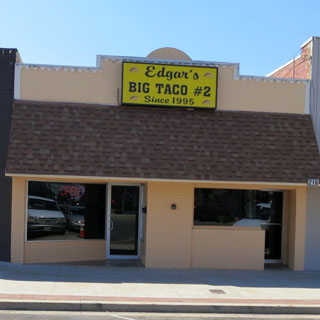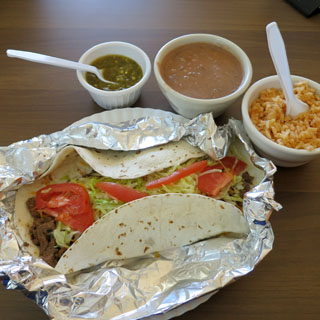 Talco, Texas.

Bogata, Texas.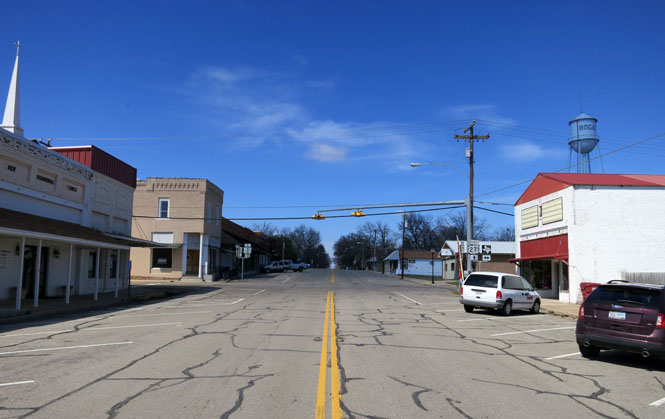 Allens Chapel, Texas. That's the name of the town--such as it is (and not that particular church).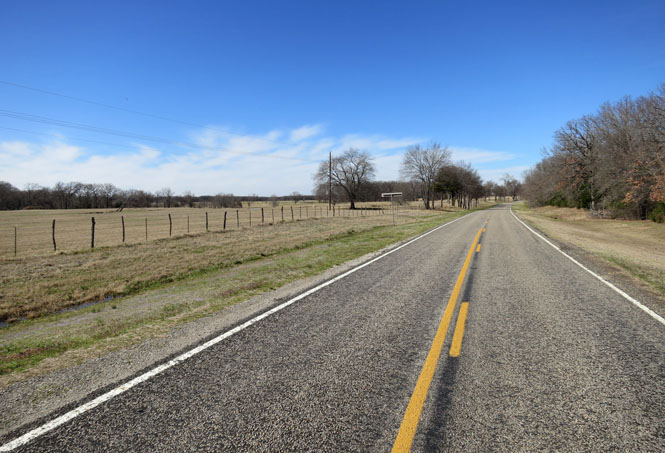 Telephone, Texas was named that because Mr. Hindman had the only telephone in the area.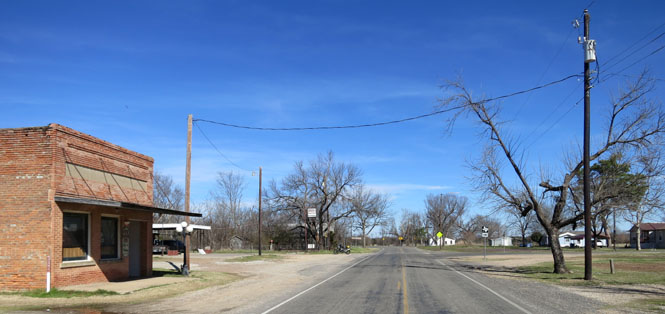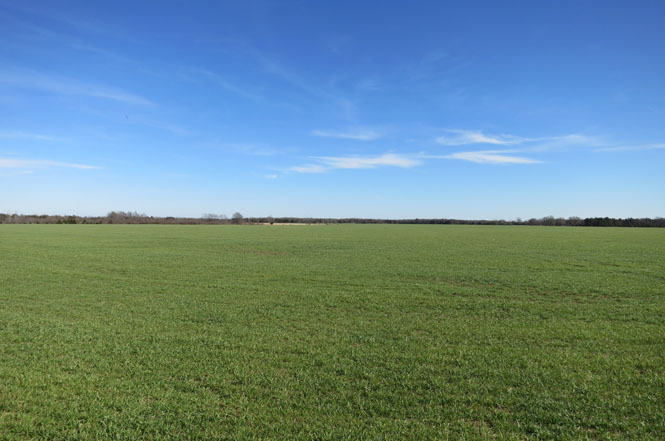 Oklahoma
The long bridge over the Red River and into Oklahoma. I'm going to simply stay on this road and keep pointing north. Navigation cannot be any easier than that.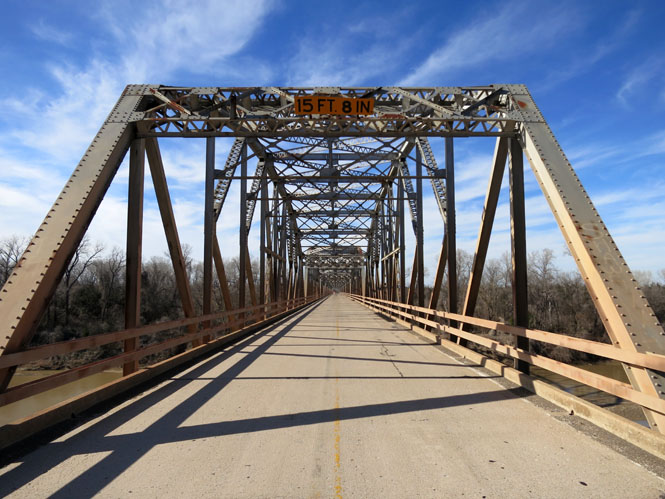 Achille, Oklahoma.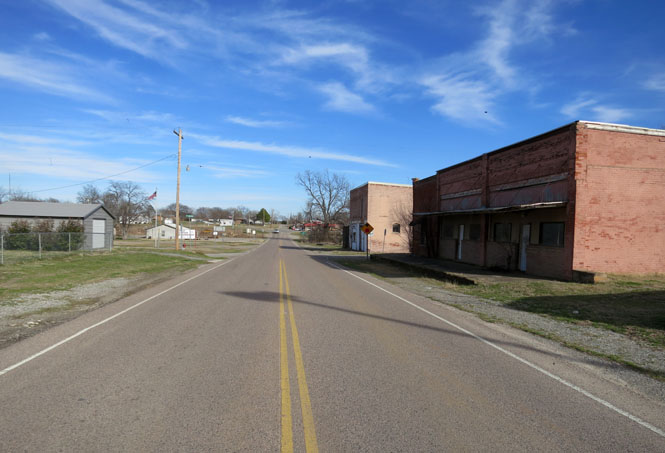 Durant, Oklahoma.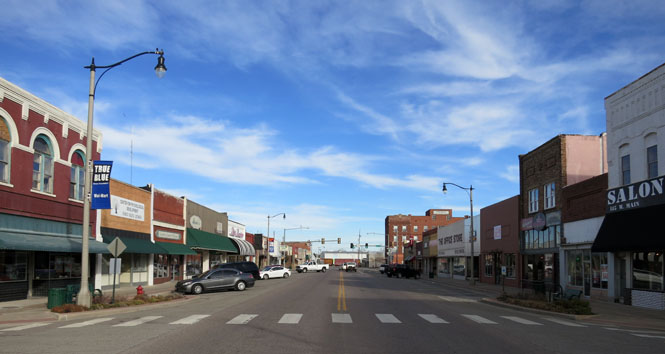 That's 'patches' the cat. She's the hotel cat who sits just outside the entry door (she never goes in) to greet the guests. Evidently, plenty of guests provide food for her and she walks with them to their cars (as she did with me to my motorcycle). The next morning I noticed paw-prints on the motorcycle seat, so I'll give her credit for guarding the bike.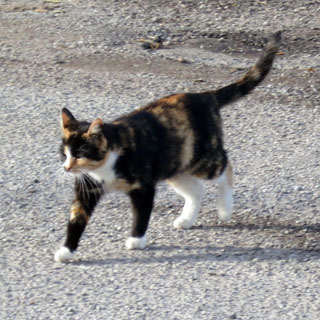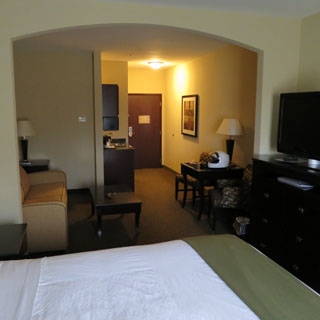 Wapanucka, Oklahoma.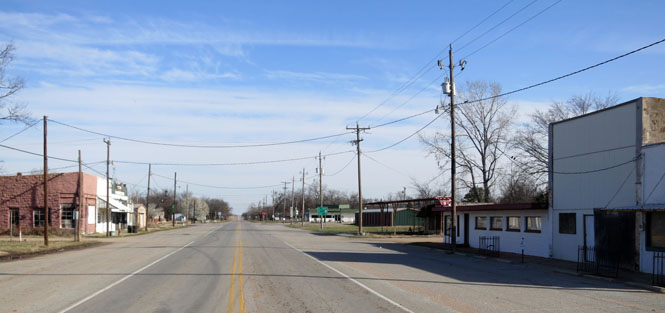 As I'm riding north, it's clear that it's not quite spring, yet.

Allen, Oklahoma.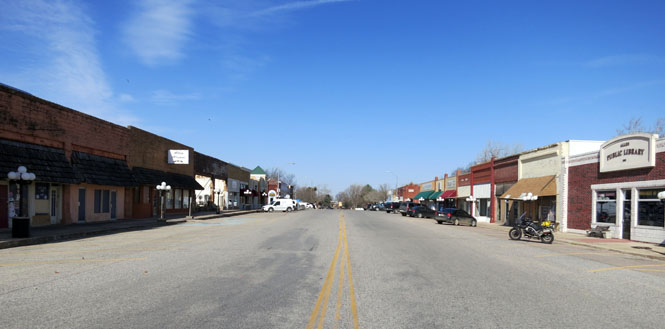 The library in Allen is running their own tournament to coincide with the NCAA. The Final Four in the youth category are "Camp Fear", "End Zone Thunder", "Diary of a Wimpy Kid" and "Catching Fire - the Hunger Games." I've heard of the last one, but none of the others.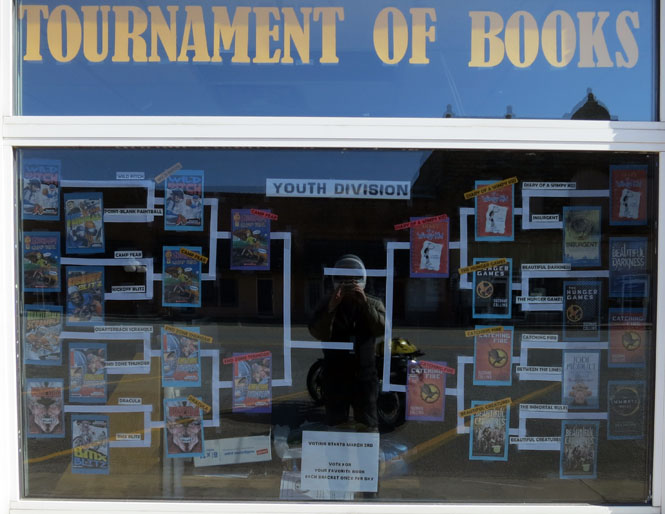 Holdenville, Oklahoma.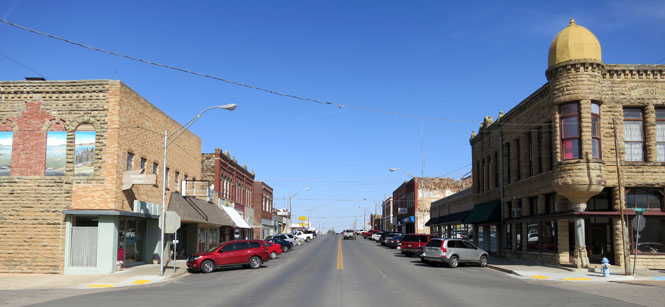 Putting in a new well.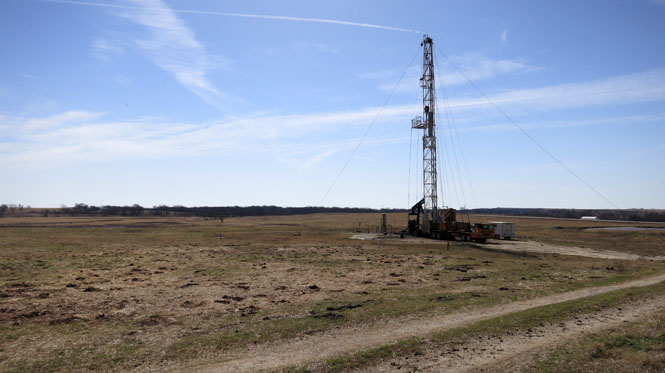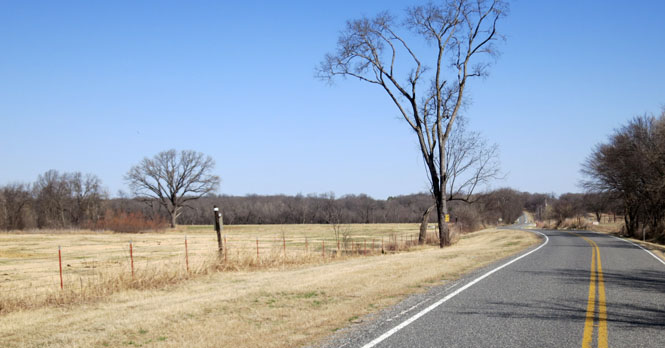 I.X.L., Oklahoma. I've been by this town several times, but could never figure out how to take a picture of it. There's not much to see. The name? "Indian Exchange Land" (from the Oklahoma Land Run). Or not; there are other theories.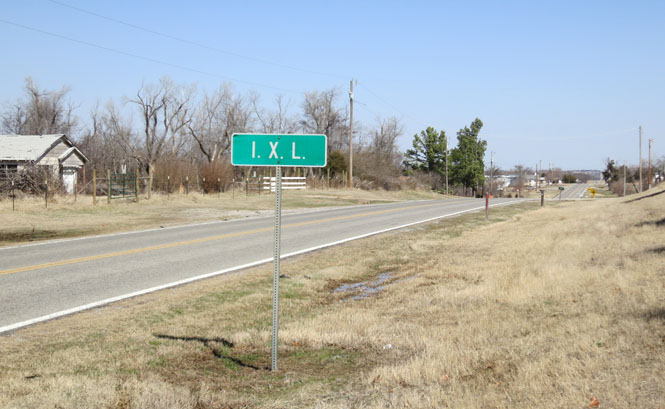 Bristow, Oklahoma.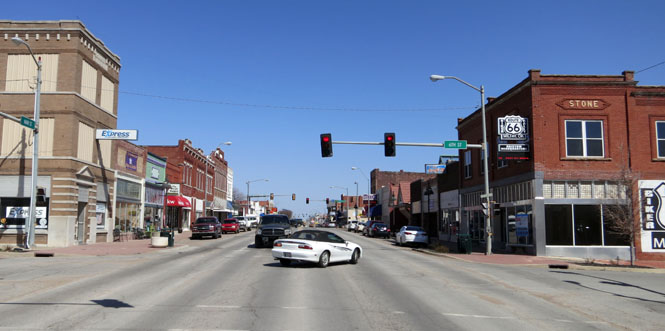 Cleveland, Oklahoma. I've ridden as far north as I can on this road; it's time to turn west.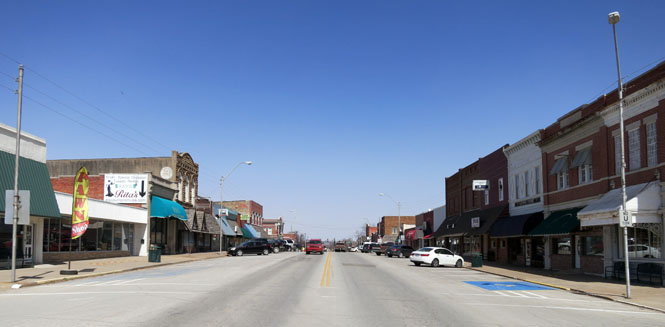 Hominy, Oklahoma.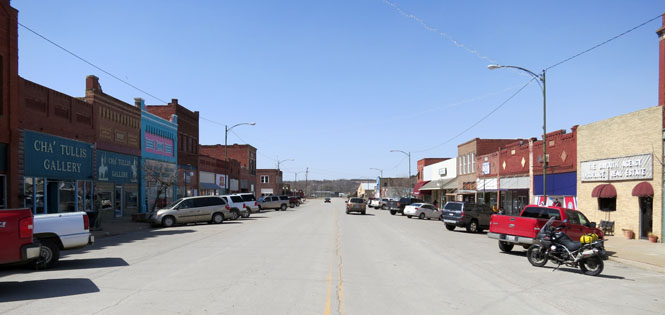 Certainly; north Oklahoma has hills.
Ralston, Oklahoma.

There are two cafes in town. Today, I ate lunch at the one on the south side of Main Street.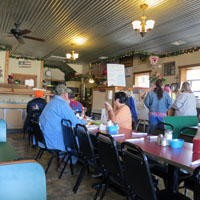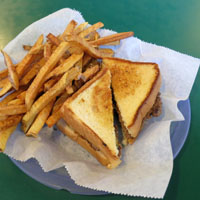 Ralston is known for their bridge and their striped water tower. While the roadway was being repaired, it was the earthmoving next to the bridge that caught my attention. What's going on? It seems they're going to remove the old truss bridge and put a new bridge in. That'll be a sad day. I expect the new bridge to be concrete and forgettable.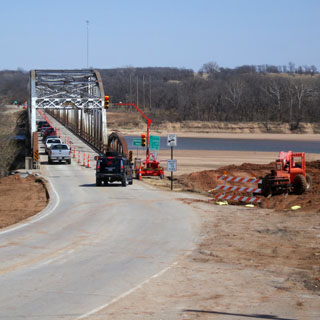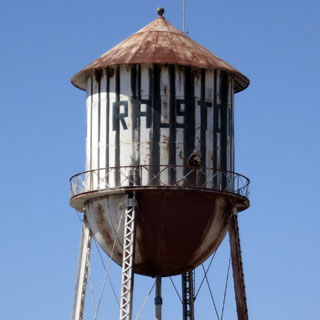 If you ride straight west out of Ralston, you'll come to another long truss bridge over the Arkansas River that gets almost no use. I'm guessing that this one is not going to be around much longer, either.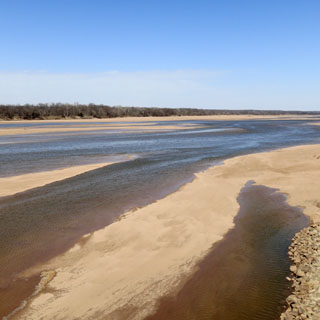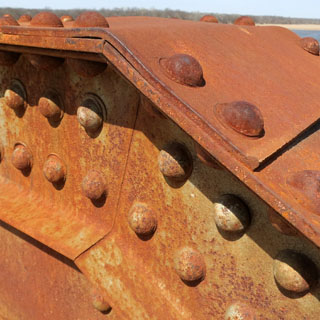 A lone school building at the top of the hill (long out of use).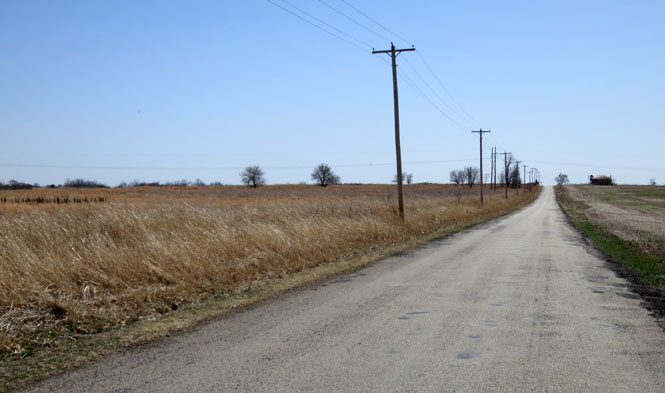 Just part of the Phillips 66 refinery in Ponca City.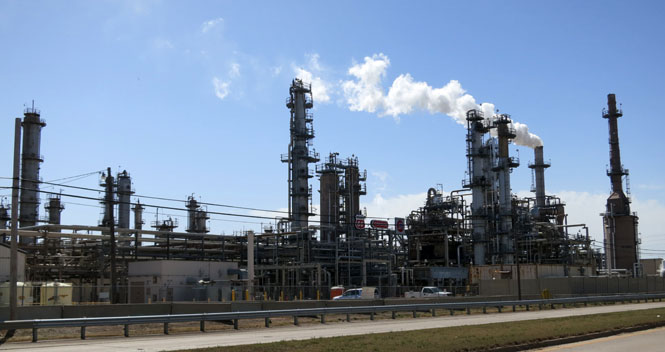 Kansas
"It's not Florida"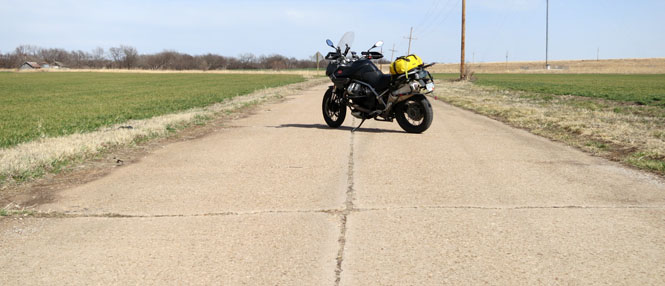 Caldwell, Kansas. I should have taken a shot of Caldwell's archway. They've recently completed a rejuvenation of downtown, and so have also erected a nice steel archway over the road into town.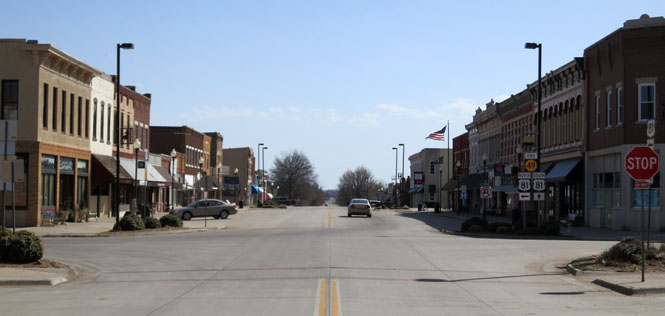 Last year's milo crop.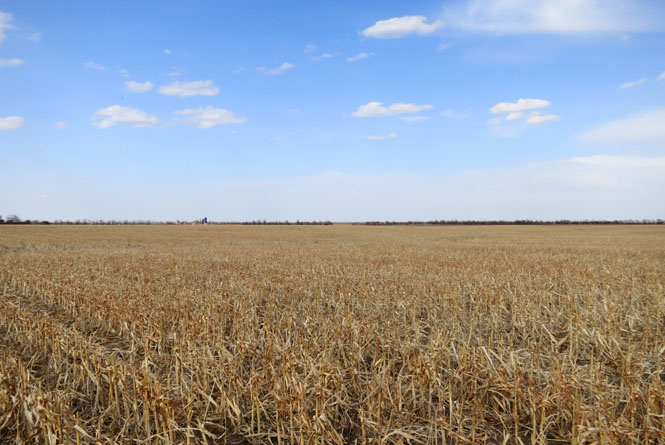 Ride to Florida in March? It might not be sensible in some years, but this year it worked out just fine.
last edit: 3/22/2014