April, 2015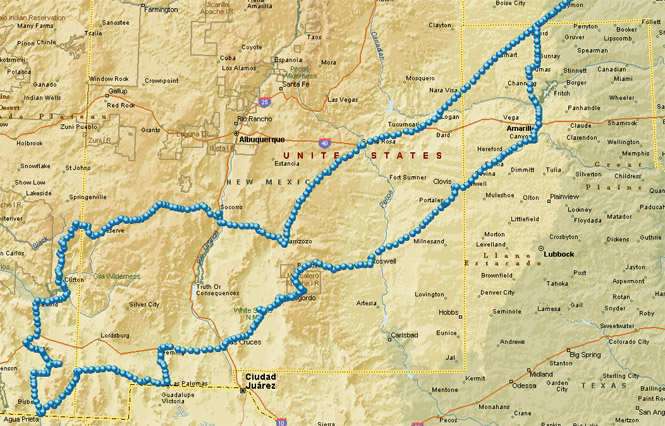 US-191 runs from Mexico to Canada (with a gap at Yellowstone). I've never been on the southern most part even though that portion through the eastern Arizona mountains is considered one of the best motorcycle roads in the country. That's what I'm aiming for.

Texas
Dalhart, Texas. It's time for lunch at the Loose Caboose cafe. Today's special? Chicken fried steak (no real surprise).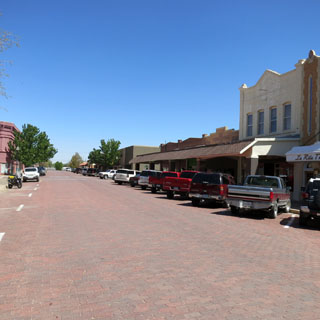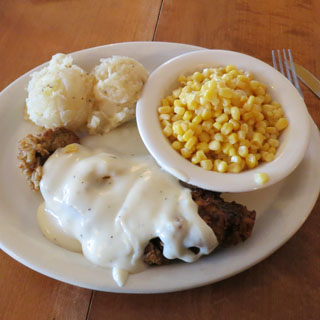 US-54 follows the Union Pacific tracks along a long sweeping arc towards Tucumcari.

This was a very long train pulling containers that aren't there anymore. I waved at the engineer and got a couple of quick toots in return (every bit as fun today as when I was eight years old).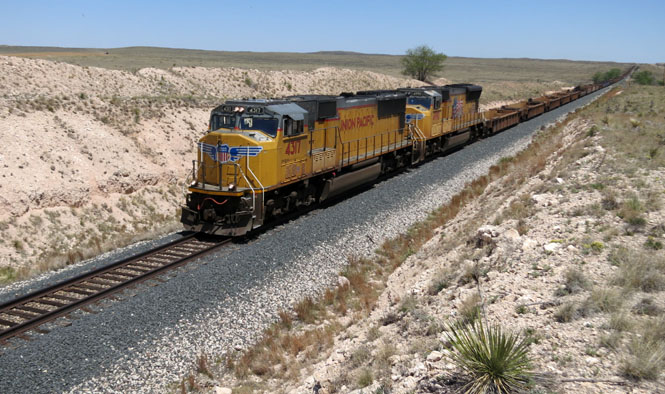 New Mexico
Tucumcari, New Mexico. This town has three historic main streets through it (not counting the freeway, which bypasses the town completely). There's the original, next to the railroad. Then, there's the street that's called Main Street that is the old business district (mostly empty). And then there's this, which was route-66. Today, the old hotels and restaurants are still here, but only a few are open for business.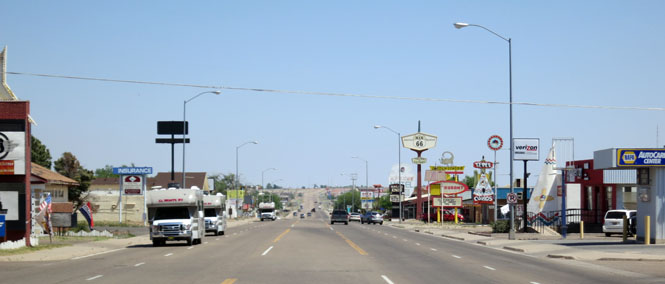 The Blue Swallow Motel is a classic '66' motel with rooms and garages built around a central courtyard. To its credit, it's still in business; the owners have embraced whatever people want route-66 to mean for them.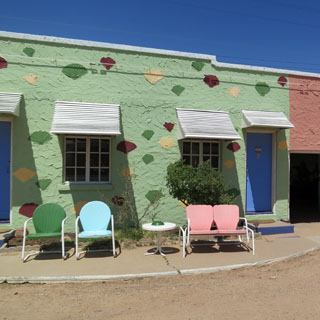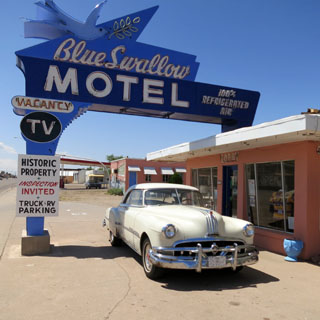 Every room has its own adjacent enclosed garage (likely much too small for your SUV), and every garage now has a full mural devoted to some aspect of '66'.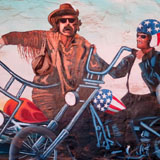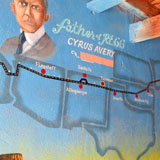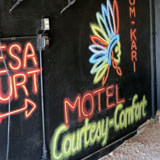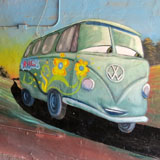 Newkirk, New Mexico (population 7) is typical of many small towns spaced along route-66 that are virtually extinct, today. Tires didn't often survive the journey, so there's a handy tire changing machine firmly mounted to the pavement.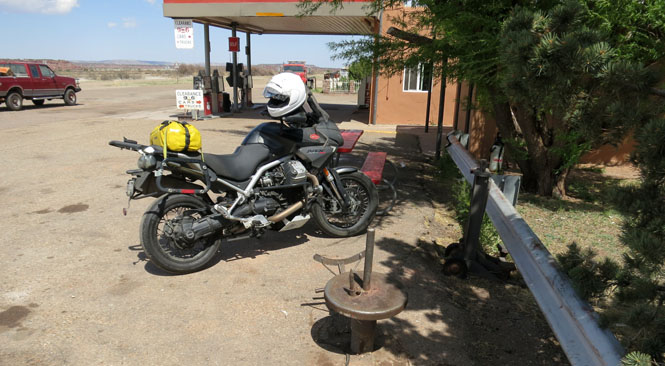 Pastura, New Mexico existed for the steam engines and their need for water. Of course, that need is long gone, so Pastura is not an active place.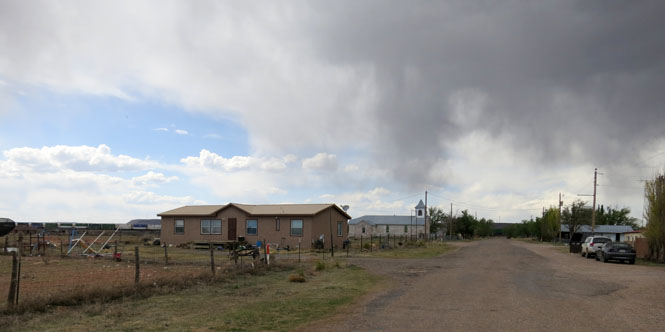 US-54 heading towards the crossroads at Vaughn.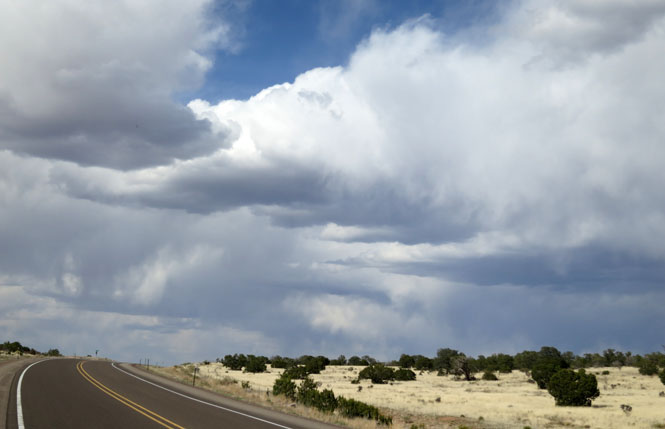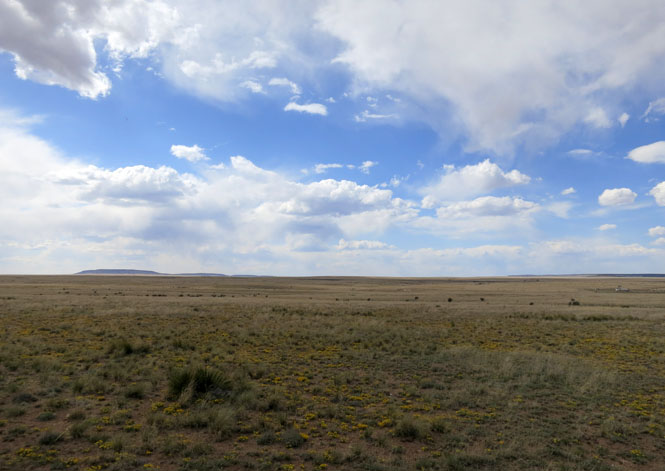 The town of Carrizozo is near those hills.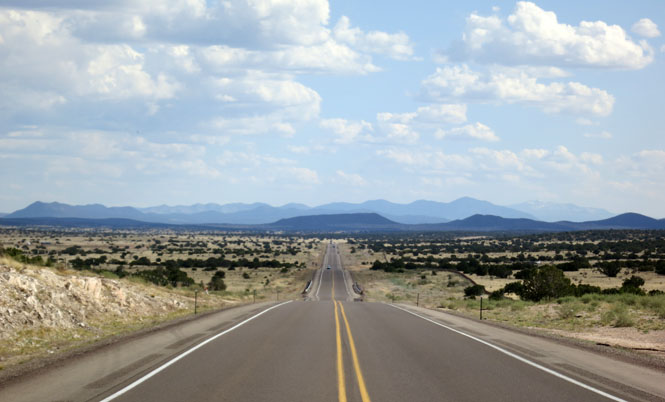 Crossing the Jornada del Muerto (route of the dead man). Large lava fields would make this an especially difficult valley to cross (and that name wouldn't give you much hope of success).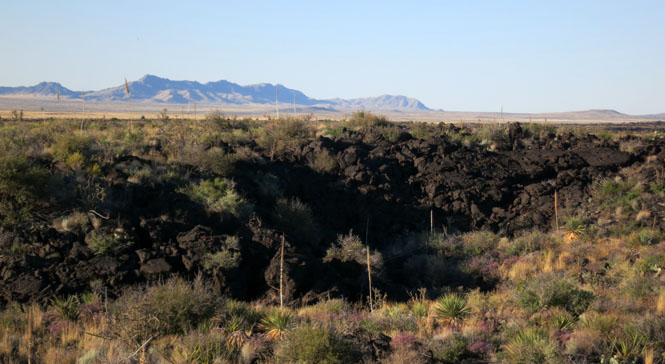 Crossing over the Oscura Mountains.
Trinity Site isn't too far to the south of here.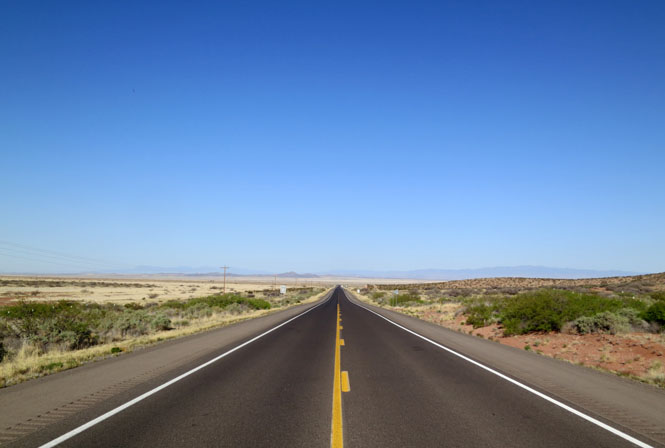 The Bear Mountains in the distance.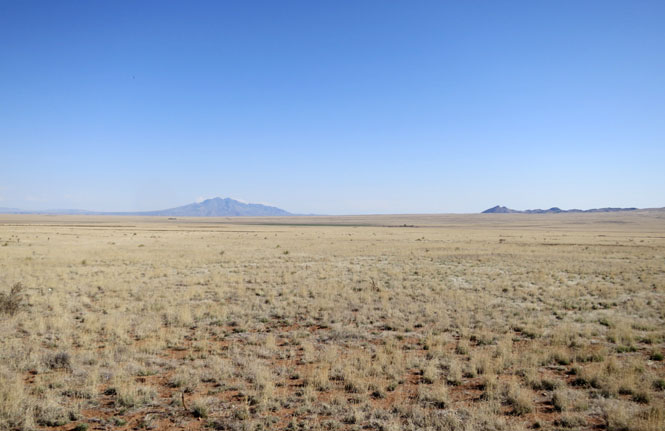 Magdalena, New Mexico, parked at the Magdalena Cafe.
It's a standard breakfast. That biscuit was freshly made and was perfect.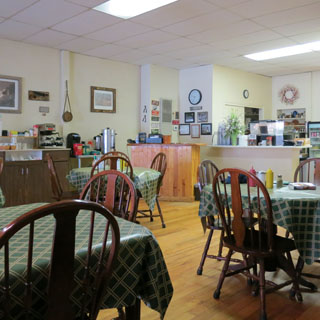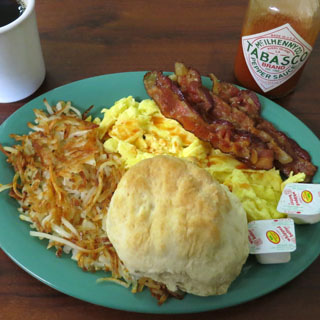 Not far west of Magdalena is the VLA (Very Large Array) radio telescope. There are quite a few dishes arranged along three arms, each 120 degrees from the next. They can be moved inward and outward depending on the sort of information you're after. When I was through here last year, all the dishes were quite close together (perfect for a photograph), but today, they're spread out to their maximum.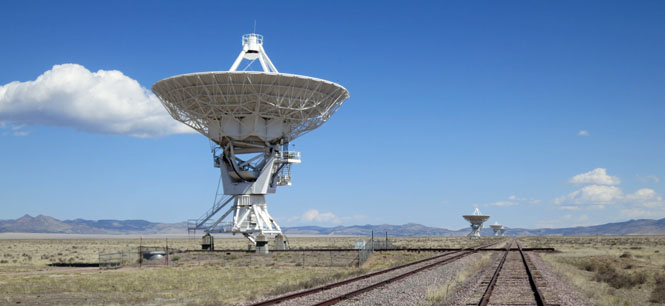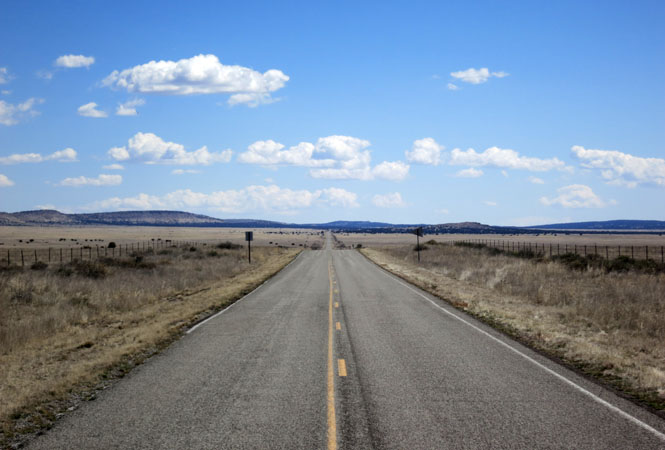 The Mangas Mountains.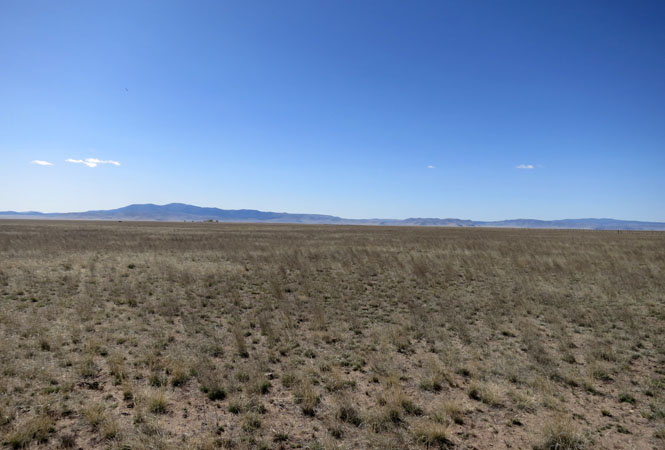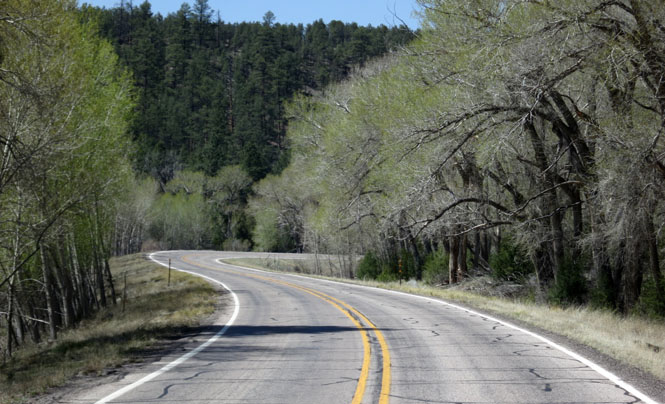 Aragon, New Mexico is just on the western side of the continental divide.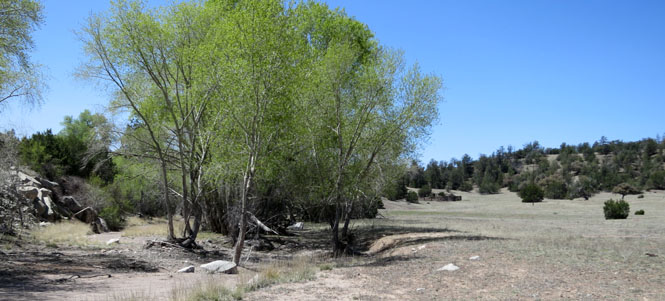 The San Francisco Mountains.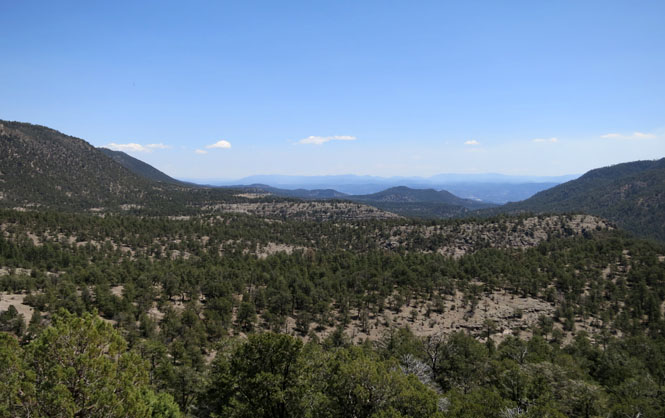 Luna, New Mexico, the last town before Arizona.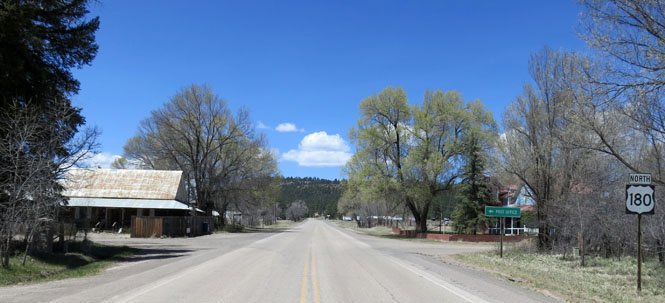 Arizona
Alpine, Arizona. I had a choice of the sunny cafe across the street with all the cars in their lot or the more rustic cafe on the right, next to where I'm parked.

Next time I'll probably eat at the place across the street. This is today's special: "the cowboy burger."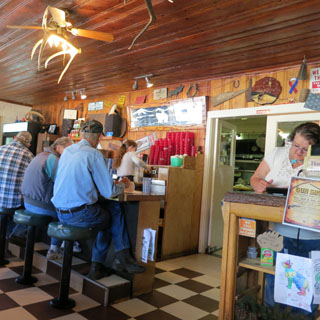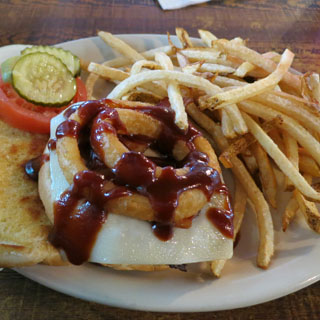 Alpine sits on US-191. I'll be turning south to climb into the White Mountains. Initially, the road is really smooth with good curves and clear shoulders. Eventually, though, it becomes rougher.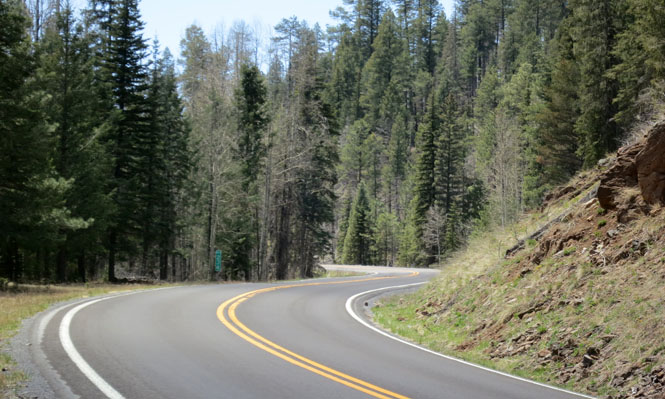 The old road would have been quite a challenge. This is only a small stretch of that original road; it leads to a scenic overlook.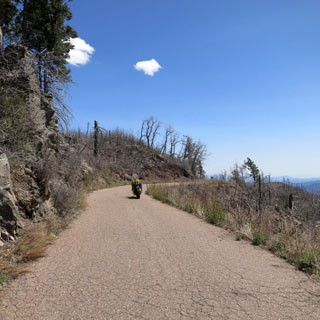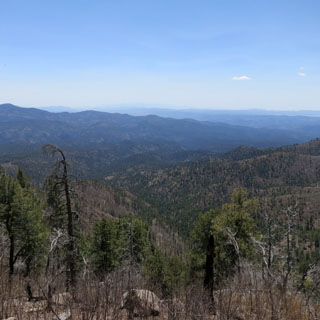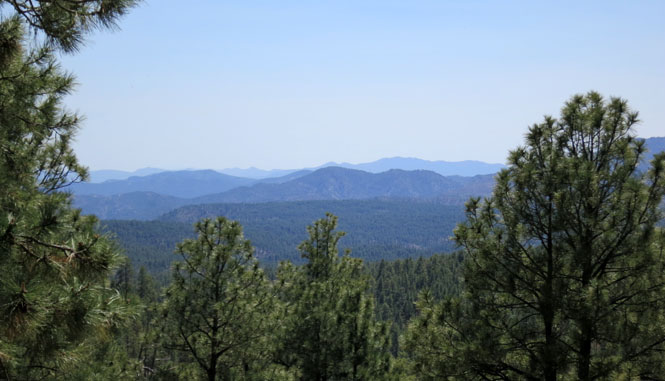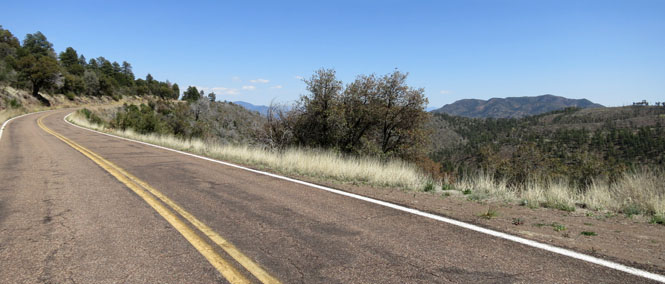 You have to wonder why this road is even here. There are no towns. I think access to mines is the original answer.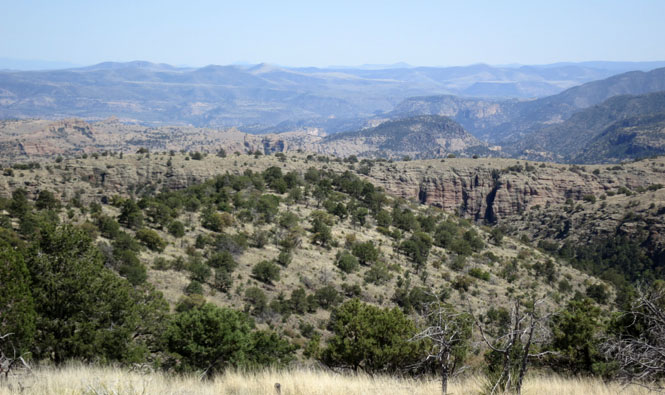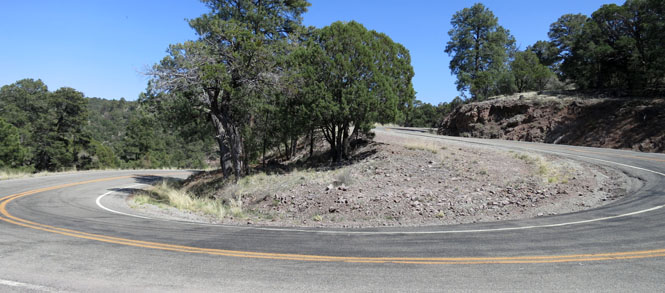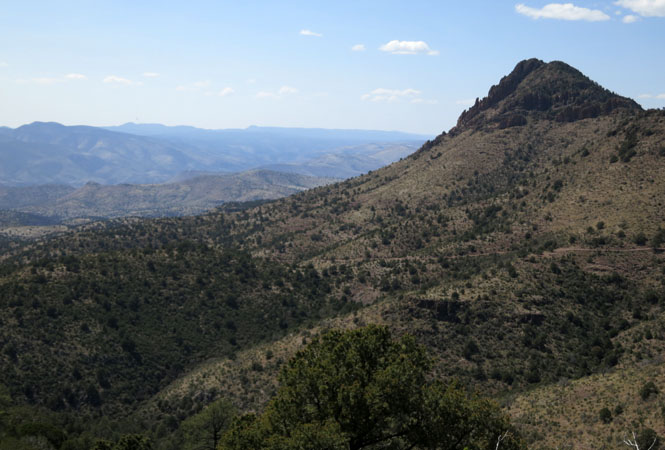 I hate it when the cattle-crossing is on a curve and you're on a motorcycle. But, on a straight section (such as this), they're hardly worth a notice.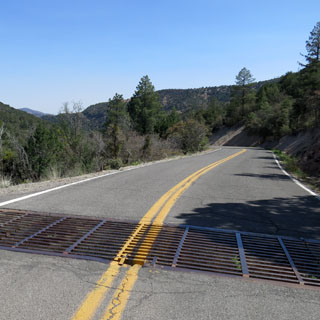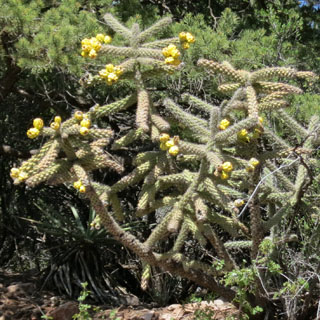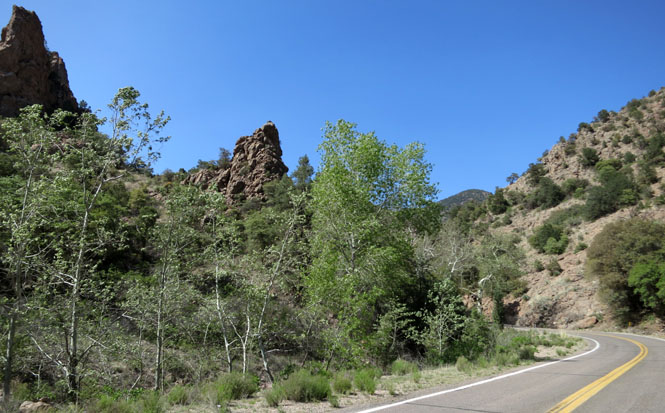 Wow; they're removing the whole mountain! This is the Morenci copper mine, which is now owned by Freeport-McMoRan Inc. (FMCG).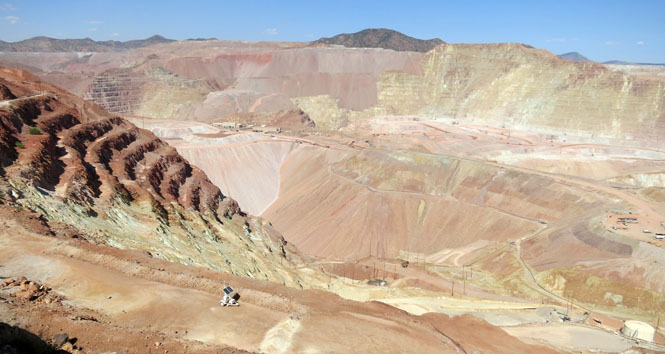 Clifton, Arizona. This would have been the busiest street in Clifton many years back--not now.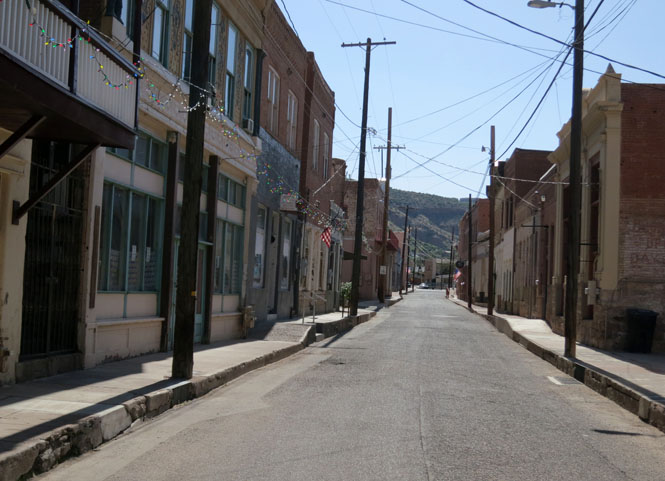 Out of the mountains, but still following US-191. That's Mount Graham on the horizon (10,720 feet).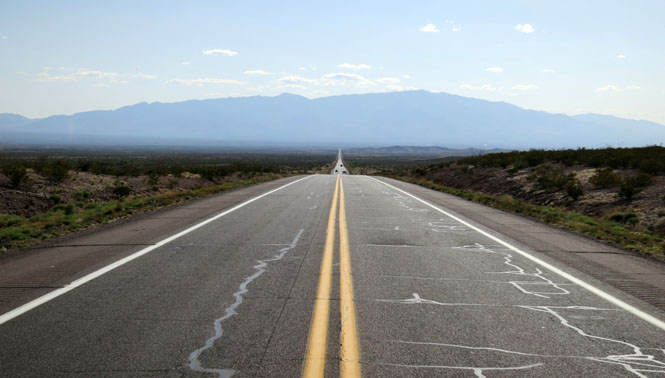 Willcox, Arizona was built because of (and for) the railroad.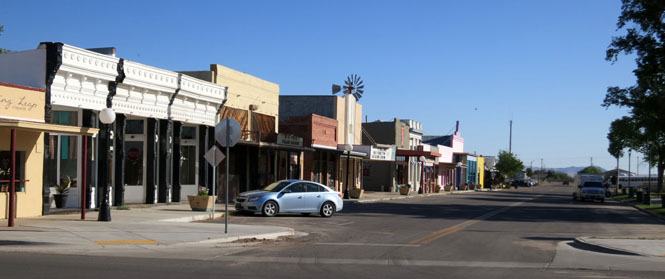 The Chiricahua Mountains. This is an impressive range surrounded by miles and miles of grassland. It's where I'm heading, today.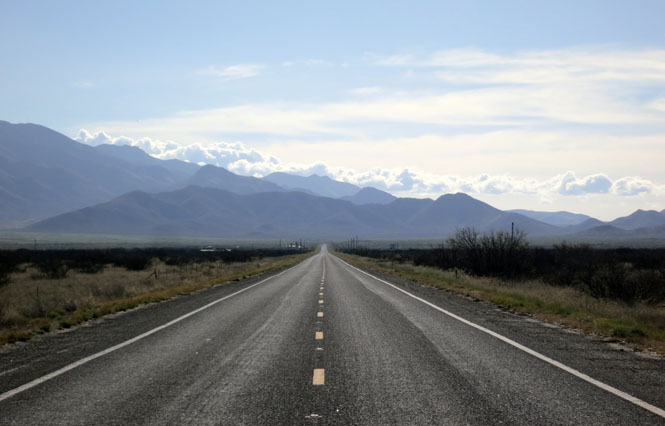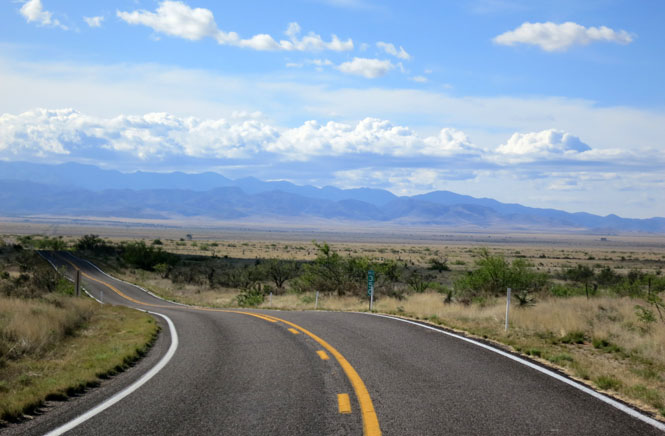 Chiricahua National Monument was created in 1924.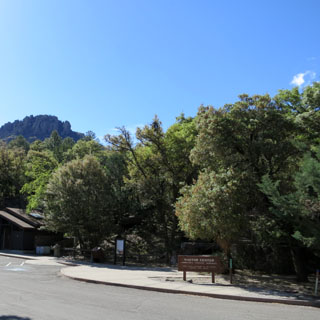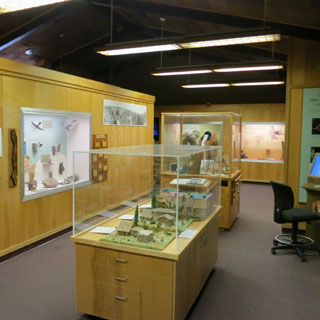 These formations are the remains of an enormous eruption some 27 million years ago. It's a remarkable place, and one that I wasn't aware of.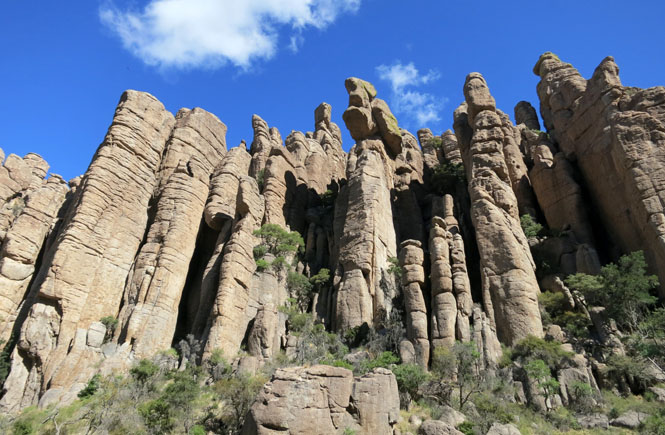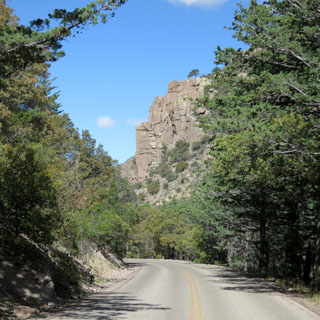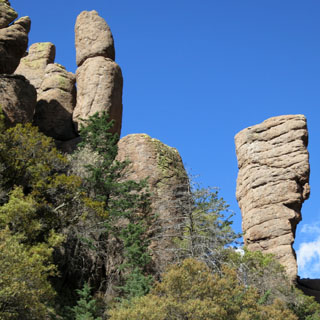 A paved road takes you to a higher elevation so you can look over much of the mountain.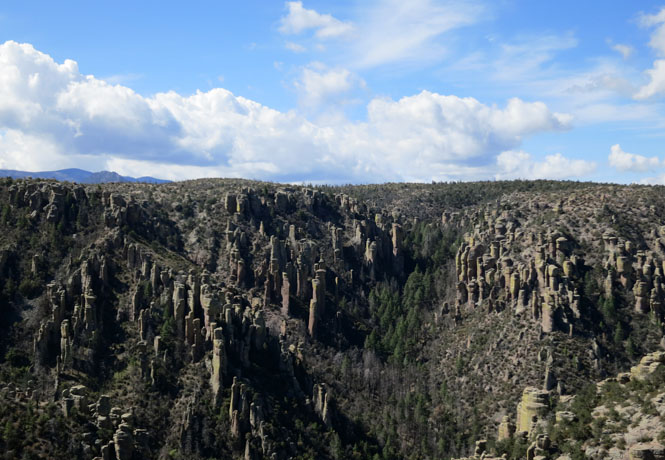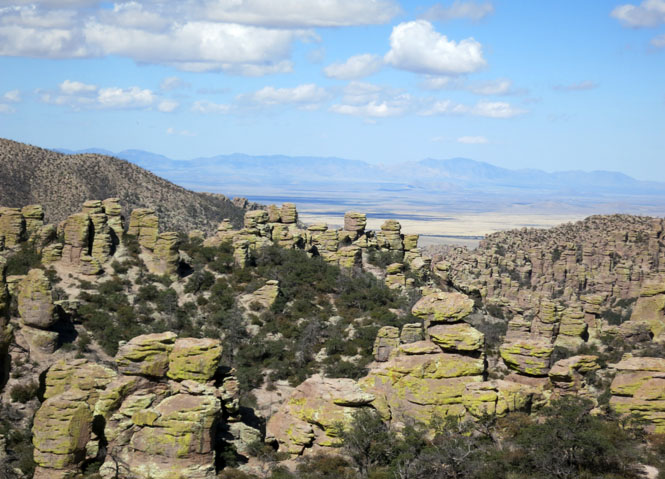 Hundreds, probably thousands, of balanced rocks. Sometimes, they lose their balance (below, right).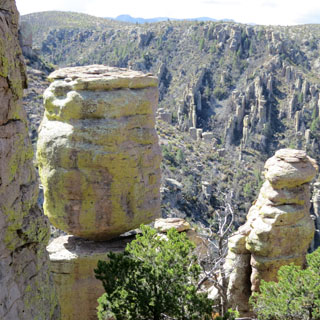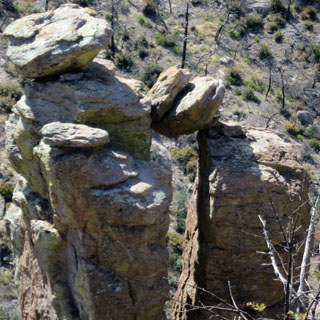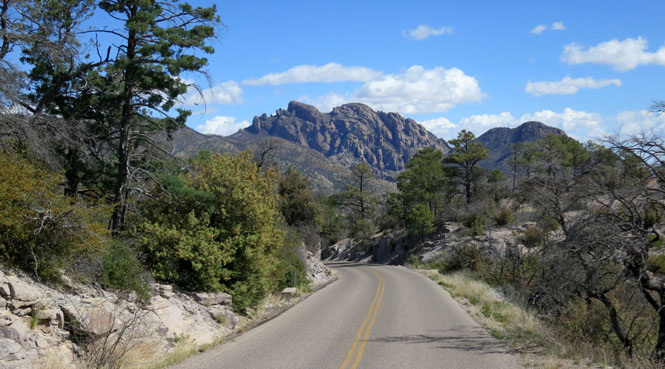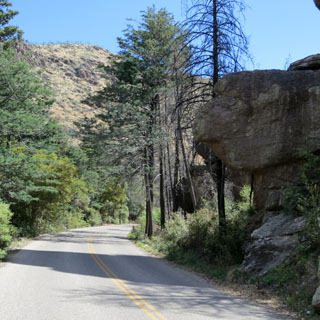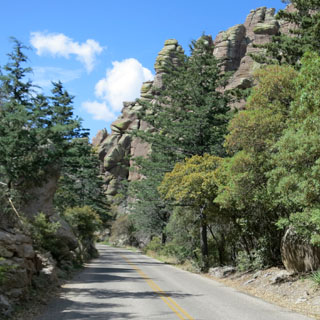 Swedish immigrants (Neil and Emma Erickson) settled the Faraway Ranch in 1887. Their daughter, Lillian, would live here until 1977.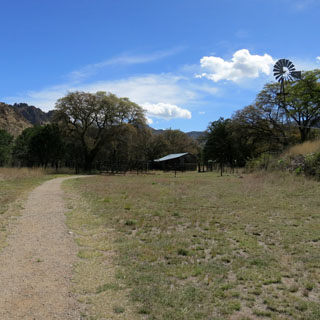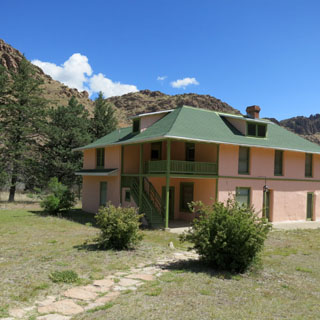 Douglas, Arizona is the southern end of US-191. Just a few blocks south and you'll be at the Mexico border.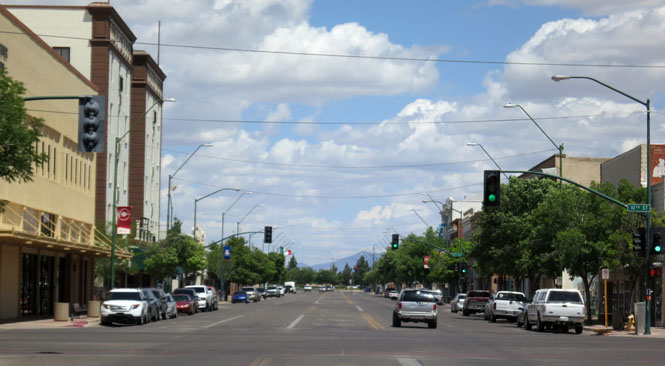 Now following Arizona highway 80 through the Pedregosa Mountains.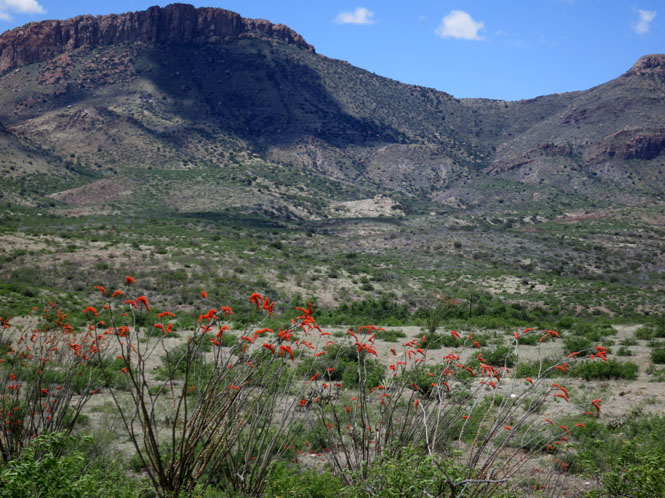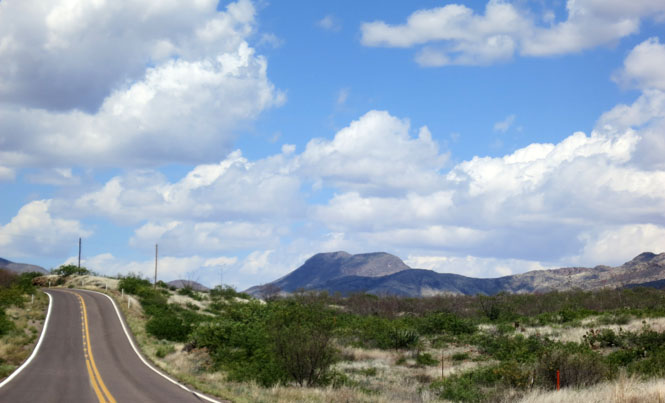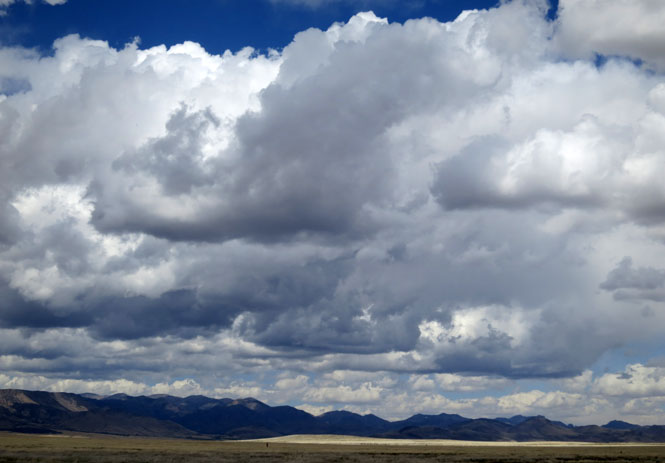 Well, it happens.
I walked back to the parked bike after taking a photograph of the hills (above), and found a completely flat rear tire.
Sigh...
A narrow, pointed rock did the deed.
This is sergeant Tomas Romero of the Douglas Police Department. Tommy kept me company while I repaired the flat--in his left hand is a bottle of ArmorAll, which was just the lubricant I needed to get that repair-plug properly inserted.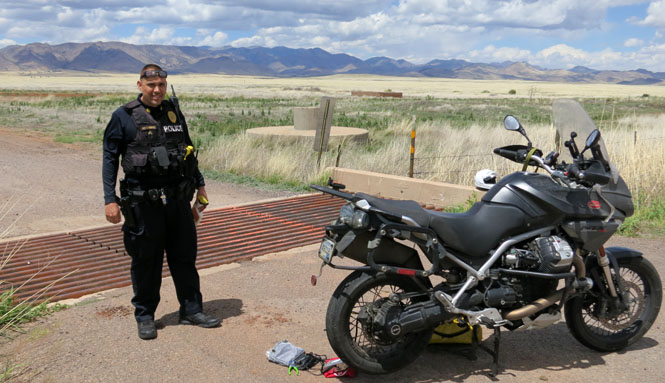 The Geronimo surrender site (1886), which marks the end of the Indian Wars.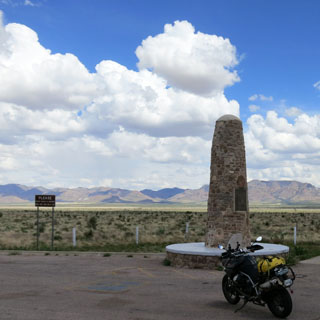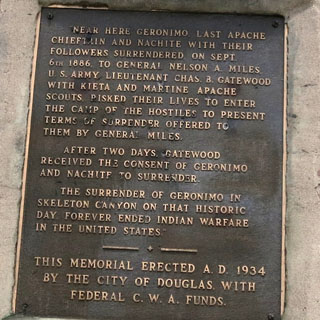 New Mexico
Animas, New Mexico for fuel. I'm still watching that rear tire, but it's holding air and all looks well.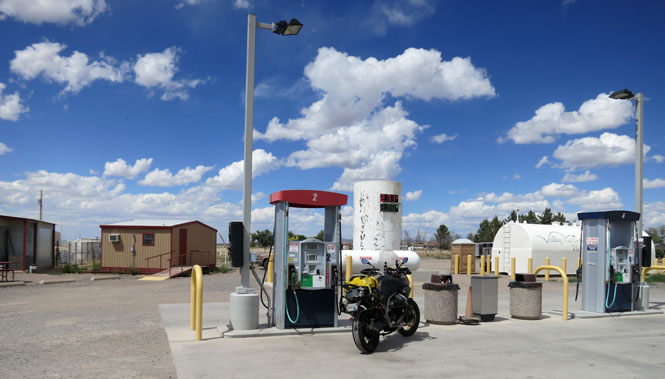 I almost always order the special, and as often as not, the special in any New Mexico cafe is going to be Green Chili Cheeseburger. You cannot go wrong.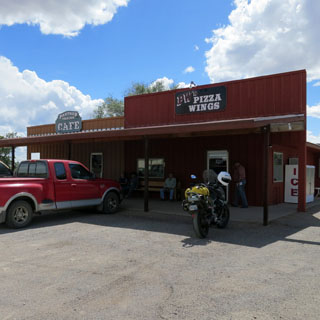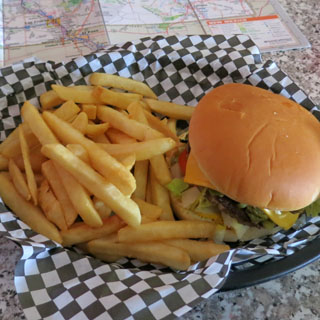 Hachita, New Mexico--another railroad town.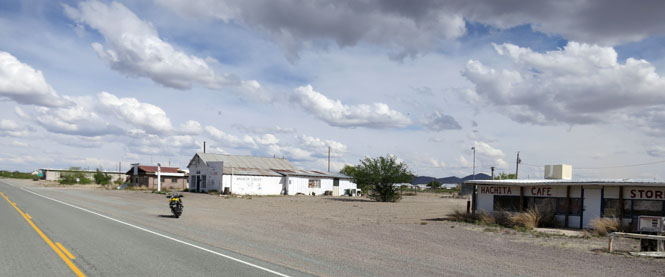 That large water tower (built for the steam engines that will never come again) will last for many more years.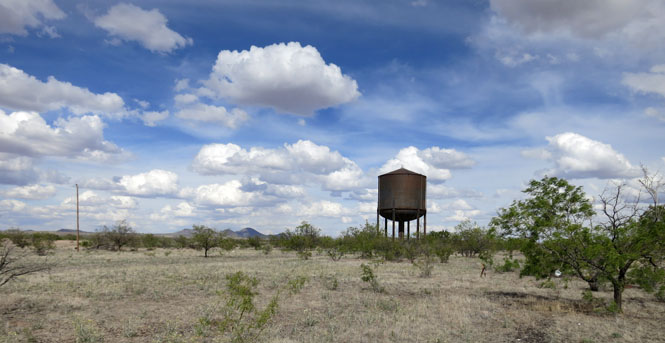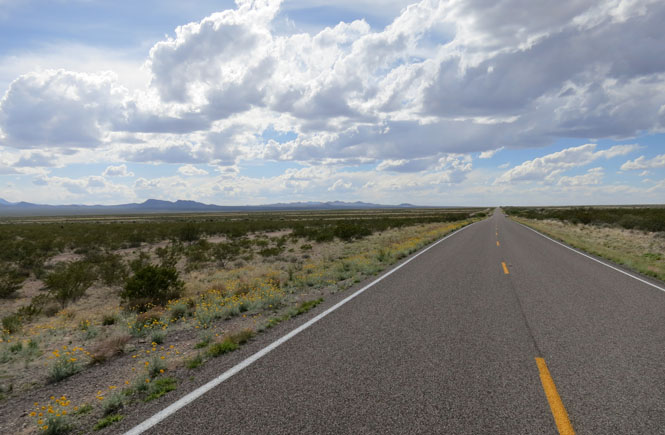 Columbus, New Mexico.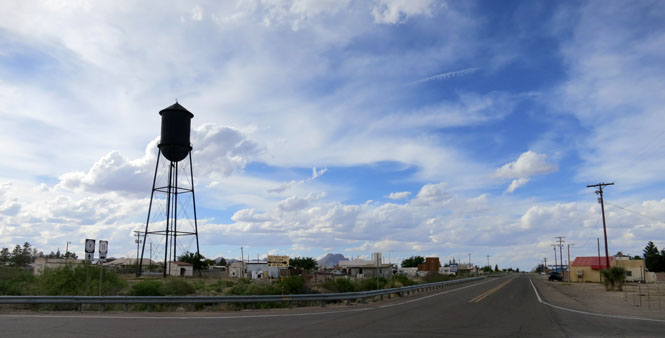 In 1916, Pancho Villa's army (but not Pancho Villa himself) of 500 men attacked this town. Seven soldiers and ten civilians were killed in the raid. The U.S. response was to send 10,000 troops under General John Pershing into Mexico to capture Pancho Villa. They never did.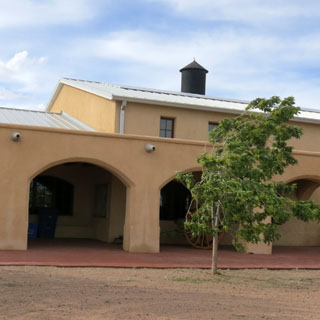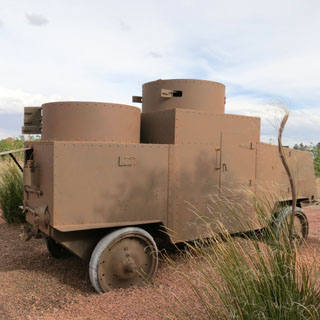 Very little of the army camp is left.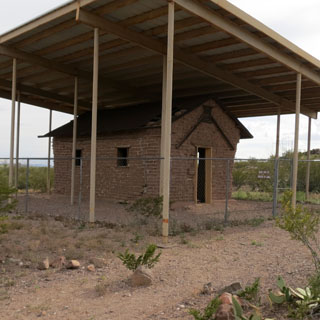 Deming, New Mexico.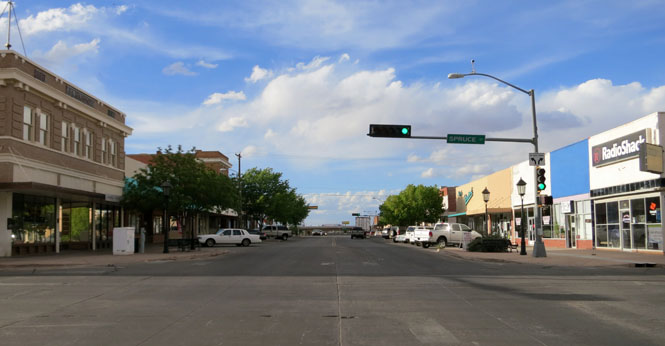 Crossing over the Caballo Mountains with a view of the White Sands Missile Range.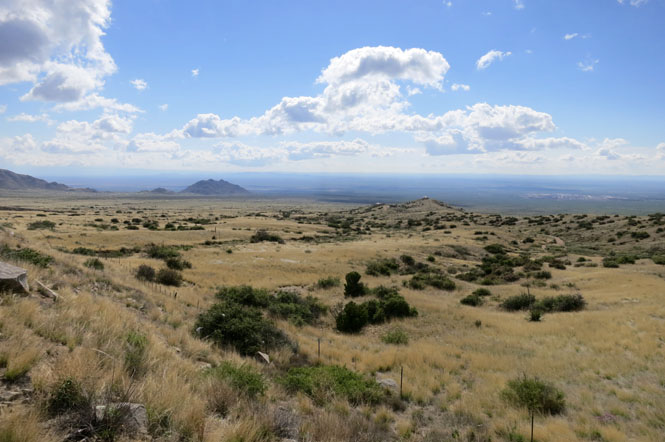 White Sands National Monument.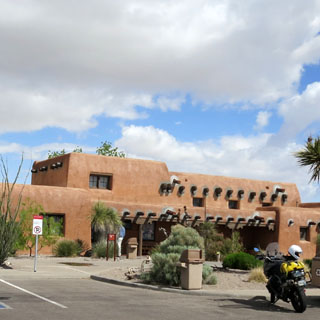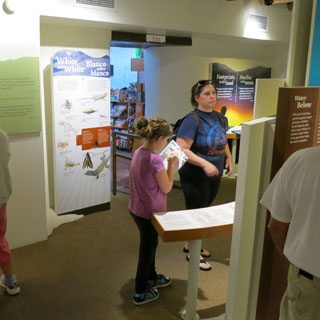 This isn't your ordinary sand. It's gypsum crystals (selenite) ground up to the consistency of talcum powder.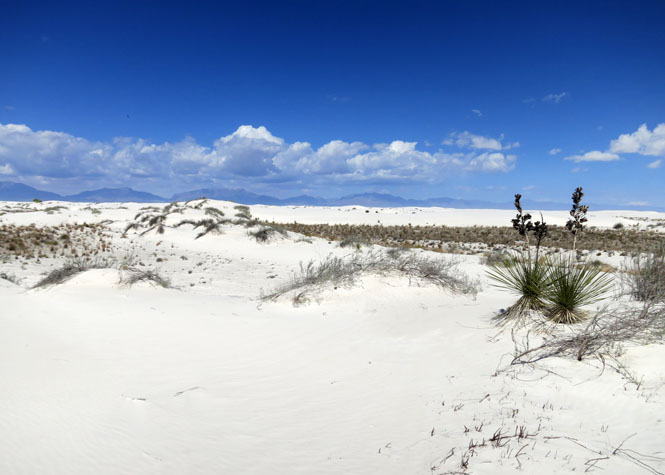 If you walk very gently, the surface supports you and your boots will not sink. Once the surface is broken, it's tough going. This isn't like any beach or conventional sand dune you've ever walked on.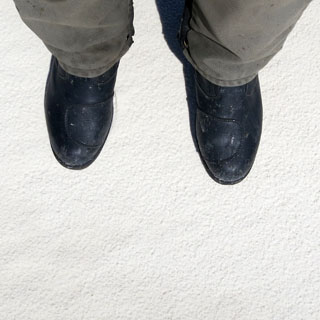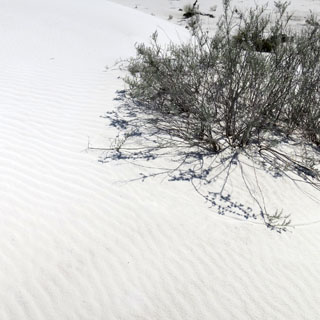 Alamogordo, New Mexico.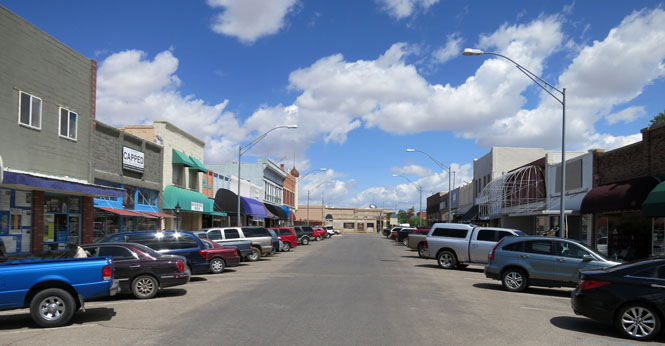 The International Space Hall of Fame is also a space museum.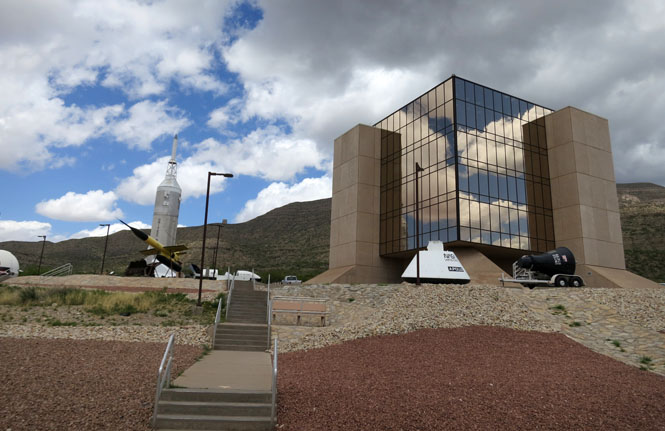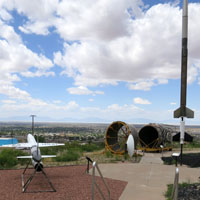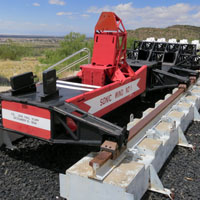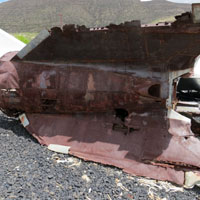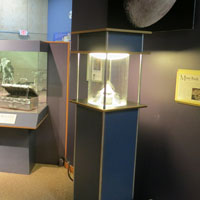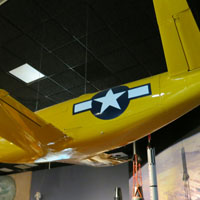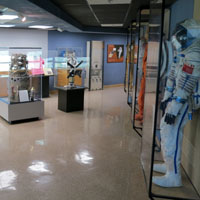 The display of inertial guidance equipment from various rockets was especially interesting. It's clear that simply building something with a lot of thrust was never the hard part; the hard part was making sure the rocket would go where it was supposed to go. That's the role of the guidance system. The first one (below) is from a German V2 rocket. The complexity of its connected gyroscopes is amazing.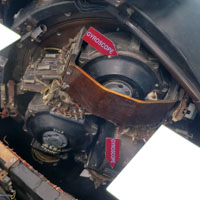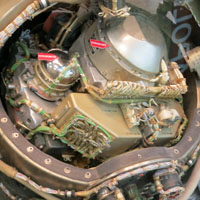 Cloudcroft, New Mexico is high in the Sacramento Mountains. There have been devastating fires in this town, so it sometimes has the appearance of a low-budget western movie set.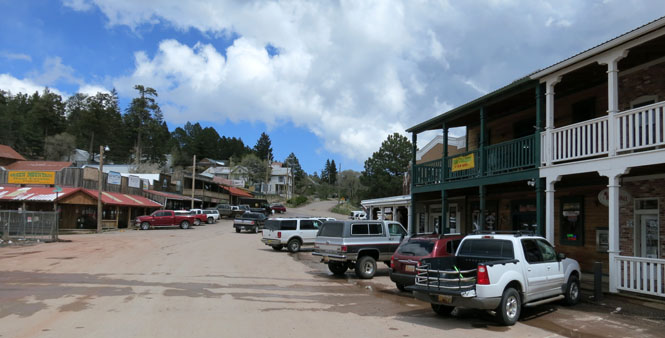 There's a road that connects US-82 with US-70 that I've wanted to take; now I finally have. There was snow on the ground, but the road was clear and dry (the riding temperature at the higher elevation was in the high forties).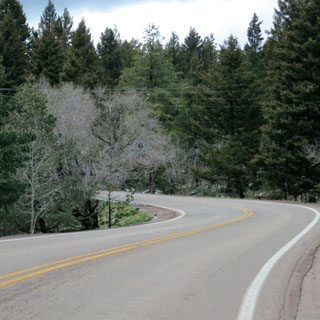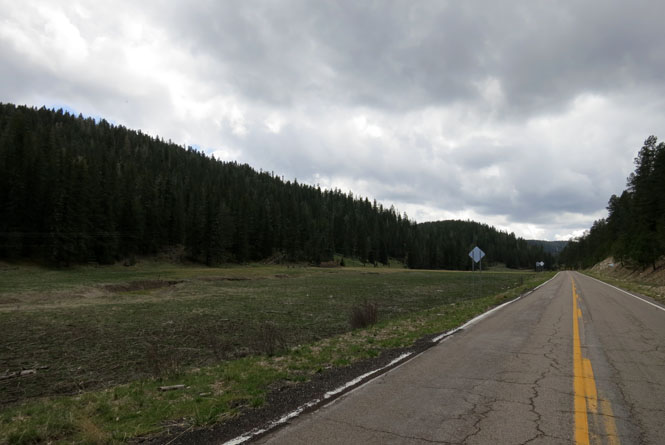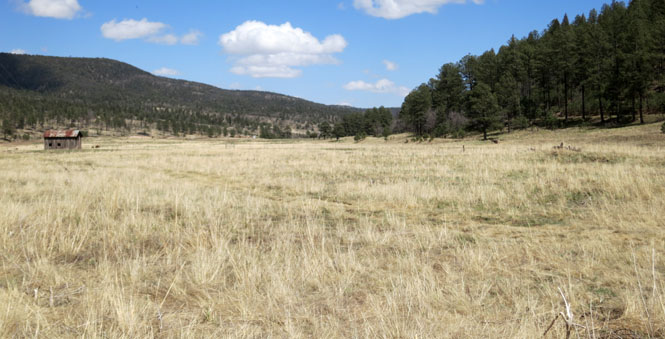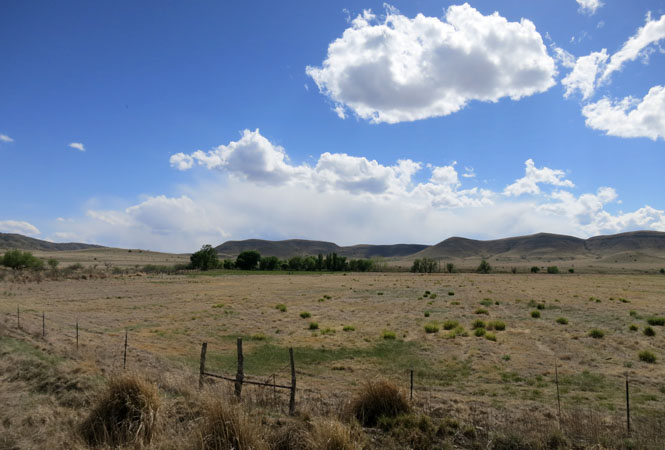 US-70 dropping into the plains. We're leaving the mountains behind.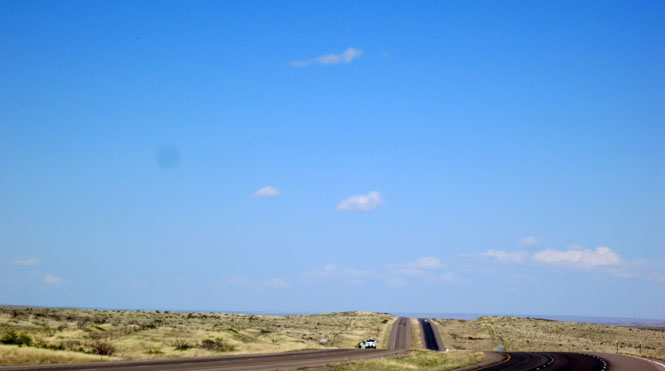 Portales, New Mexico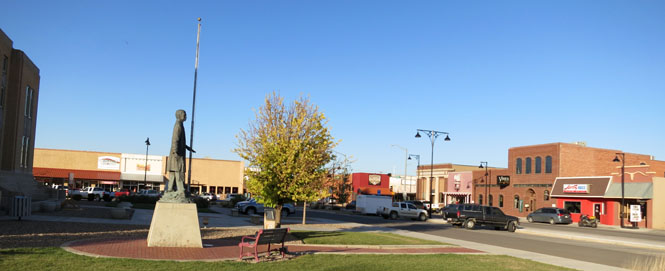 I ordered today's special, and--surprise!--it wasn't green chili cheeseburger. This is a bit more upscale a place; the special is steak and enchilada.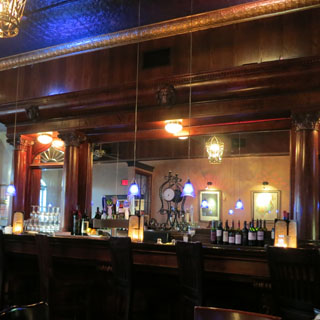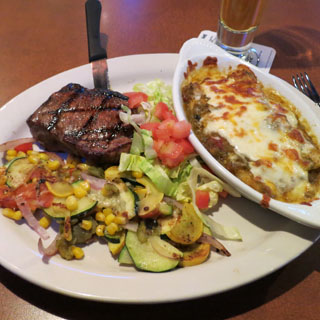 Texas
Sunray, Texas.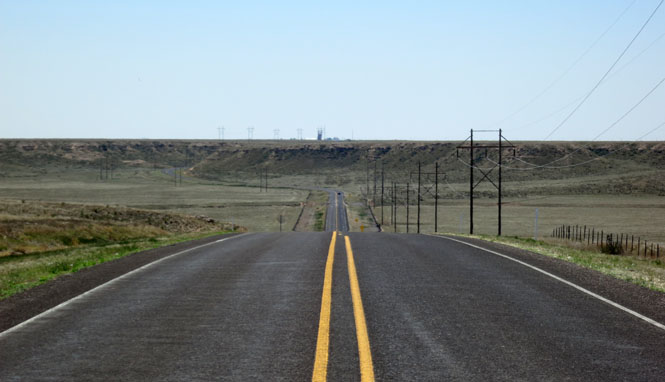 Oklahoma
Goodwell, Oklahoma.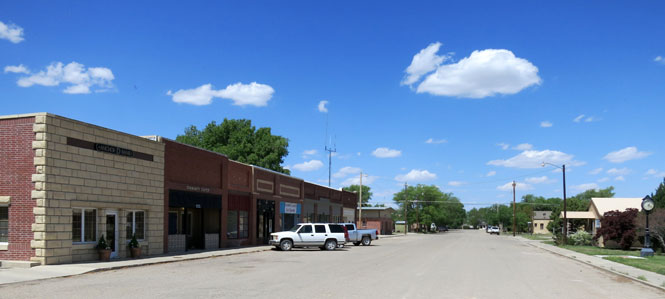 Guyman, Oklahoma.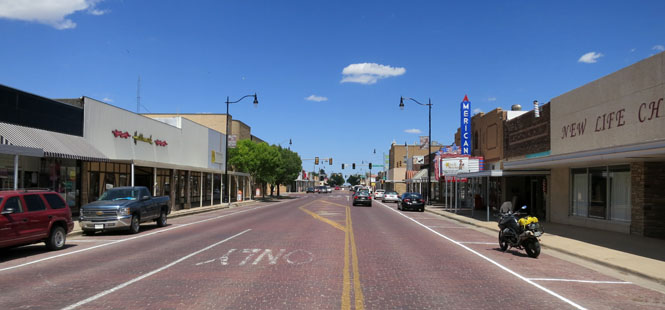 Kansas
US-54, Kansas.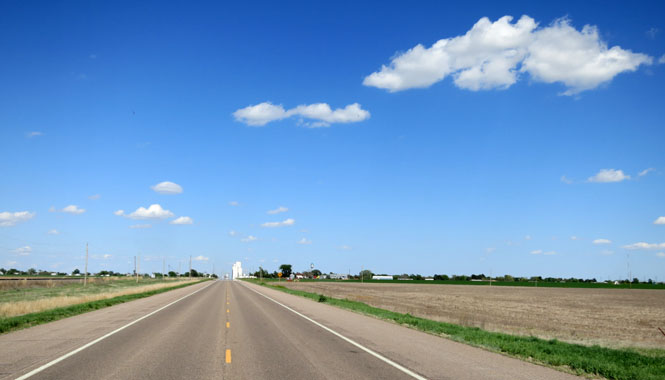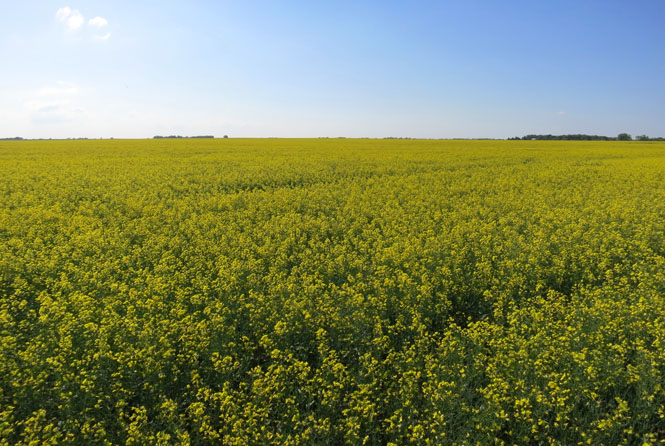 last edit: 4/26/2015