May, 2015

Sunday

Monday

Tuesday

Wednesday

Thursday

Friday

Saturday

10 May
11
12
13
14
15
Wichita
Newark
16
Milan
Lecco
17
Bergamo
Lecco
18
Mandello
Épinal
19
Reims
20
Newhaven
21
Ludlow
22
Liverpool
23
Douglas
24
Douglas
25
Moffat
26
Fort William
27
Ullapool
28
Elgin
29
Carnoustie
30
Melrose
31
Haltwhistle
1 June
Hull (ferry)
2
Marche-en-Famenne
3
Worms
4
Stein-am-Rhein
5
Mandello
6
Milan
7
Expo 2015
Milan
8
Milan
9
Milan
10
Milan
Newark
11
12
13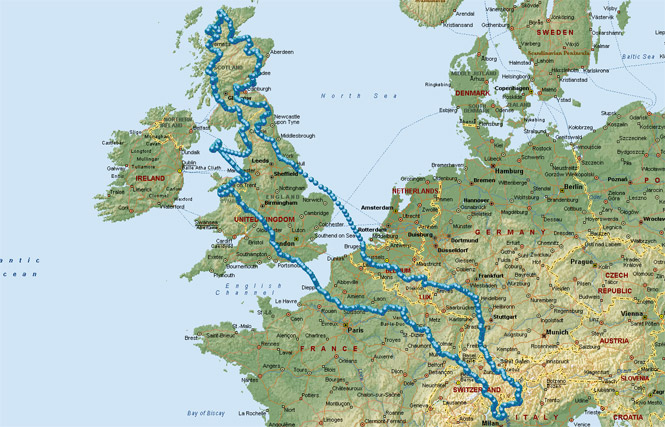 Europe Trip #12
Scotland had long been on my list of destinations; but, after riding to Wales (2012) and Ireland (2013) it didn't seem so unreachable. All that was needed was to allow more time than usual to account for the slower speeds of the narrow roads.
A second goal was to visit two of the more likely places in France that my grandfather's regiment (the 348th Field Artillery connected to the 166th Brigade of the 5th Corps) was located during the closing months of World War 1.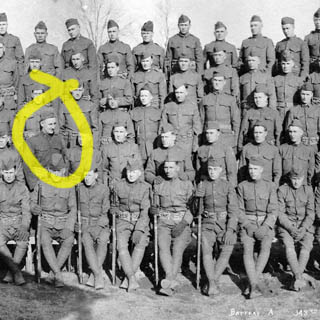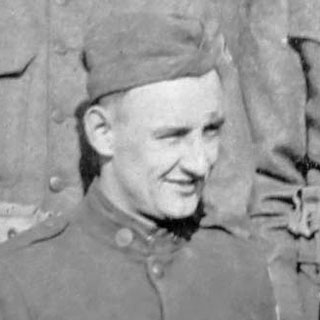 New Jersey
The Newark-Milan route remains the easiest.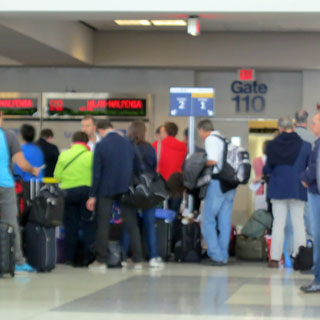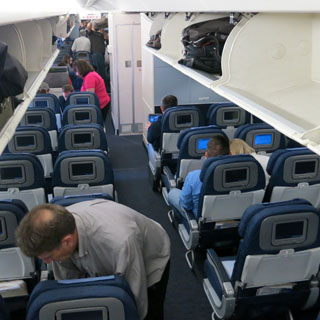 Italy
For several recent trips I've spent my first two nights in Lecco, which is at the end of the right leg of Lake Como. I took the Malpensa Express train into Milan from the airport.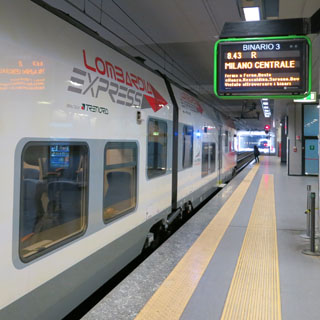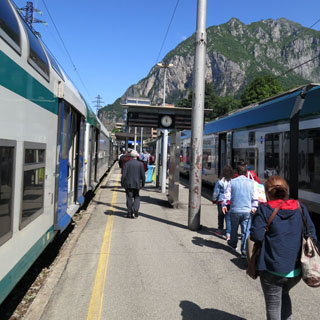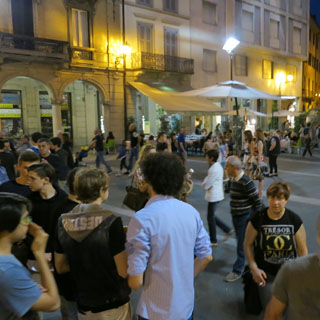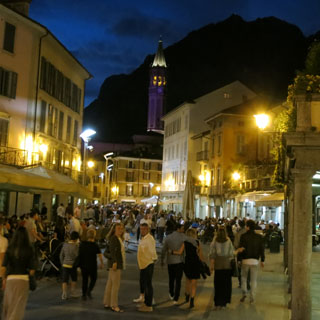 The first meal in Italy after being up thirty-six hours. I always spend the first two nights away from the motorcycle to shake off the time-zone change.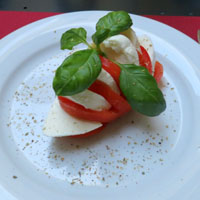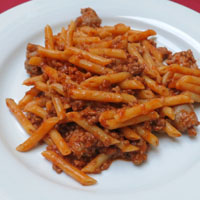 ---
Sunday, I took the train south to Bergamo. This city dates from Roman times.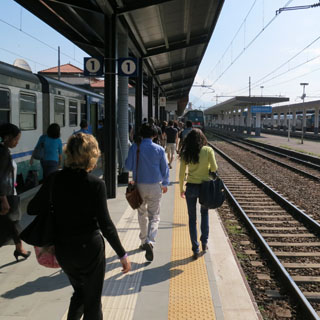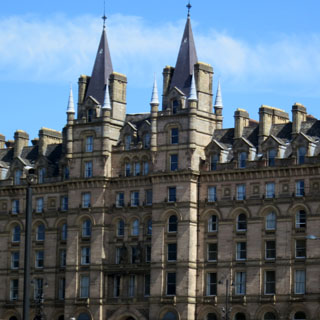 The original city is on that hill (Città Alta); the later growth is down here.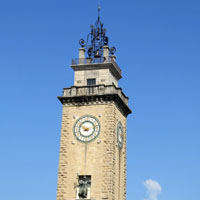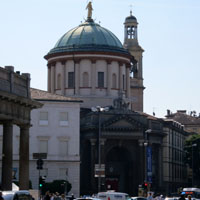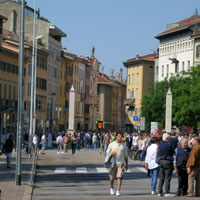 The Mille Miglia was an endurance race that took place in Italy and was a popular event through the 1950s. Bergamo is on a stage of a tribute to that race by Ferrari. The new and vintage Ferraris just kept coming. Naturally, the crowd only encouraged bad behavior from the drivers while the escorting police looked on with a smile. They sounded nice.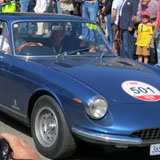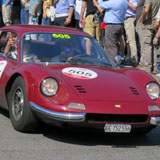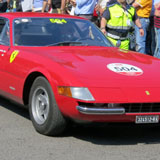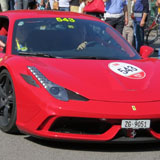 You can walk up the hill if you want, but it's easier to take the funicular railway (built in 1897).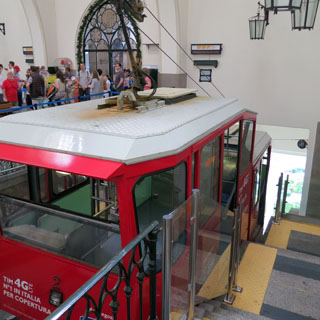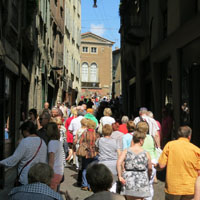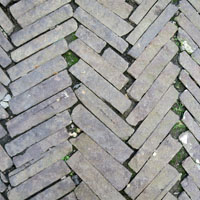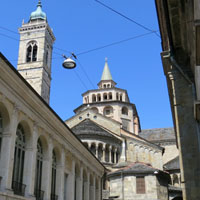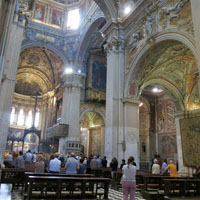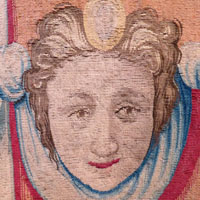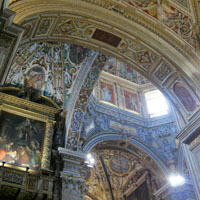 Inside the cathedral.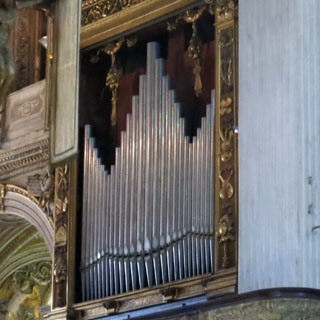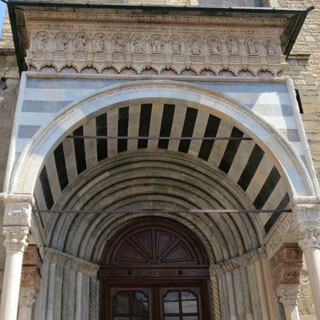 The composer Gaetano Donizetti was from Bergamo, and there's a nice museum devoted to him.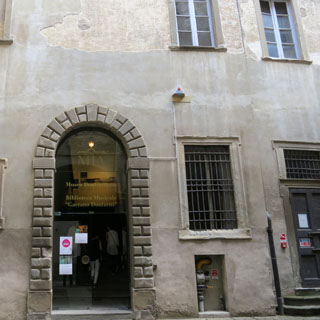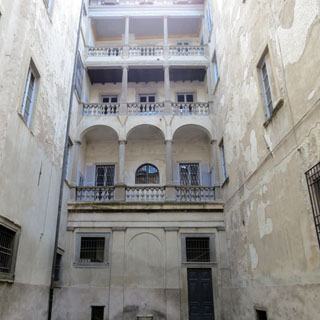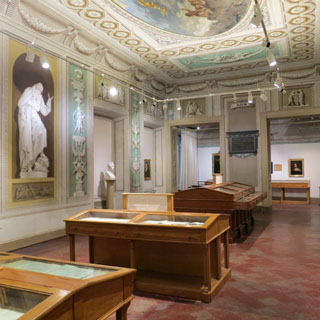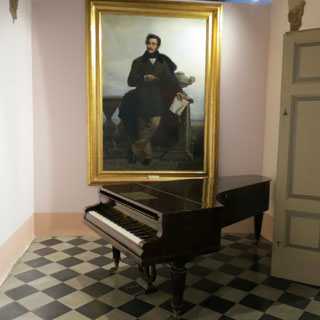 I liked that doodle at the bottom of the page. I can imagine him doing that while trying to solve a particular musical problem. Writing an orchestral score for an opera seems such a daunting thing, I'm impressed anybody can do it.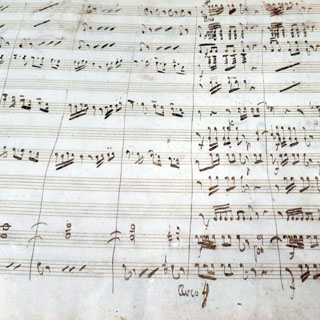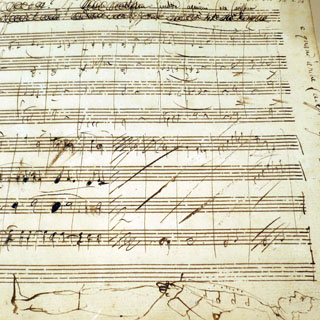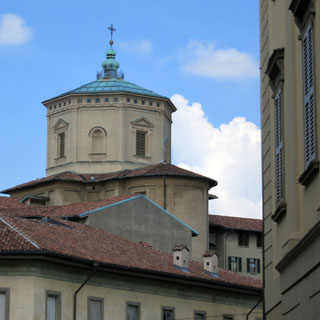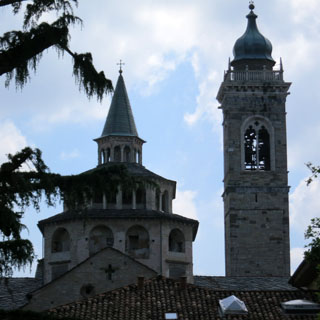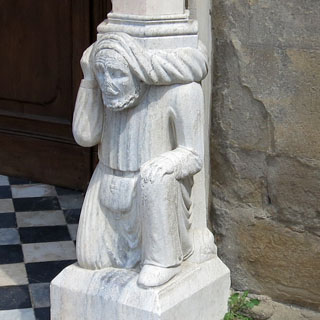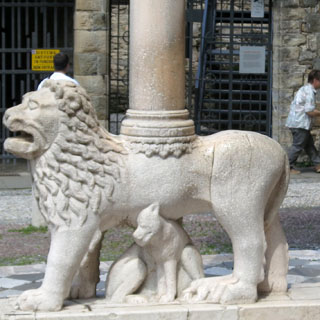 In addition to the cathedral, there are several other churches, all of them amazing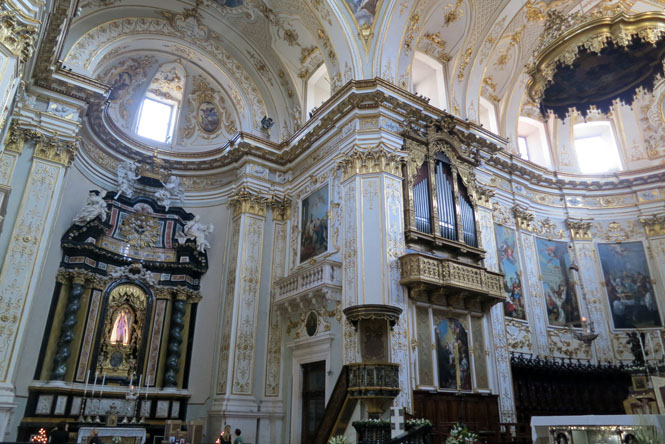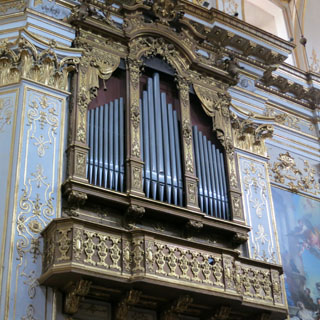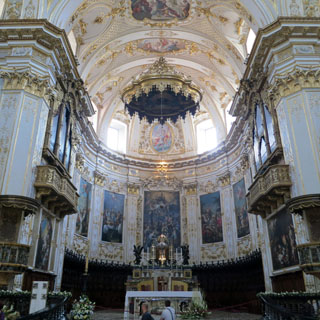 Stunning brick and stone work at the back entrance.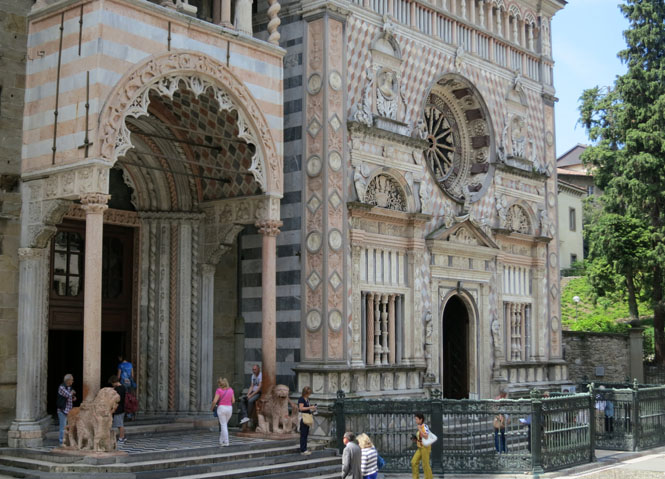 The view looking out over the plains from a bell tower.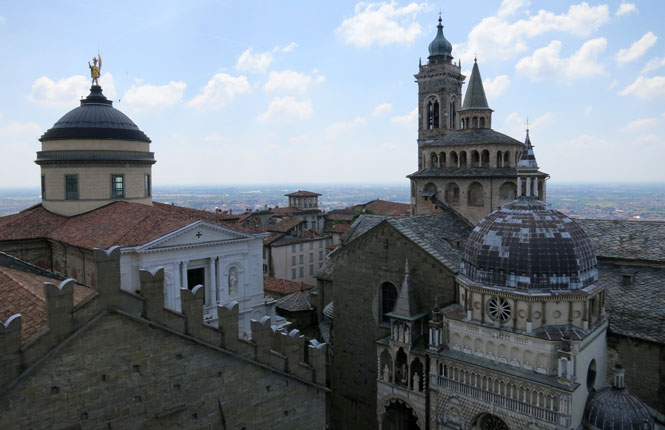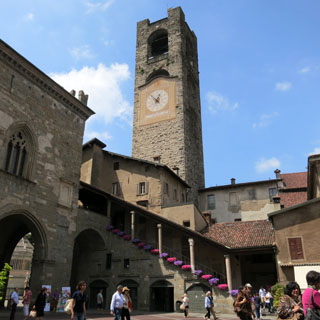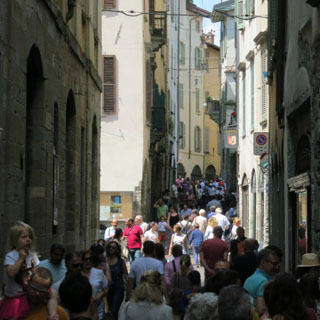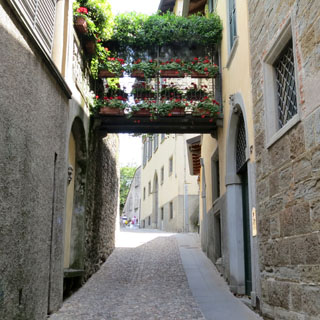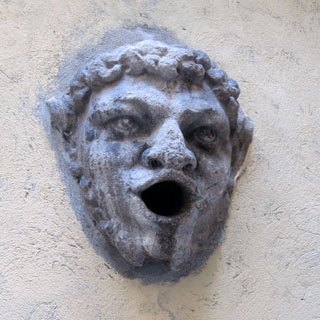 I chose to walk down the hill--as people would have done for centuries.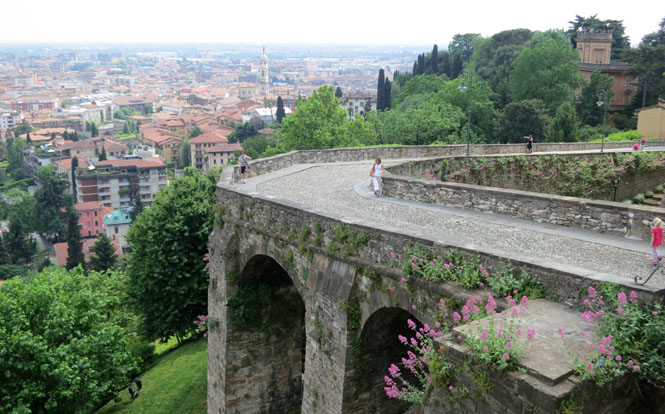 In addition to the steep hill, the city is also surrounded by an even steeper wall. The base of the old city wall is now a vegetable garden.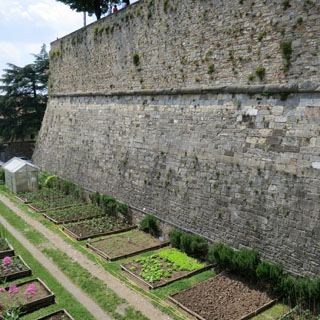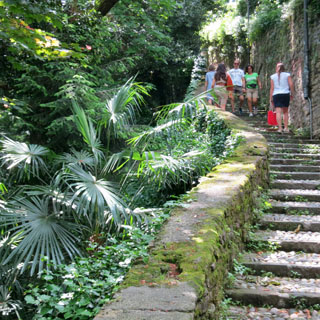 ---
Back in Lecco. Three-time Italy prime minister Silvio Berlusconi was speaking on the city plaza (Forza Italia is the name of his political party).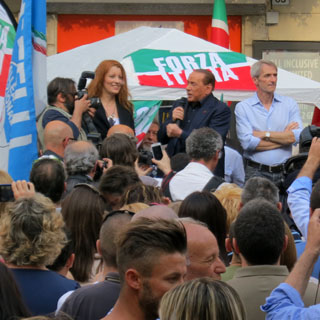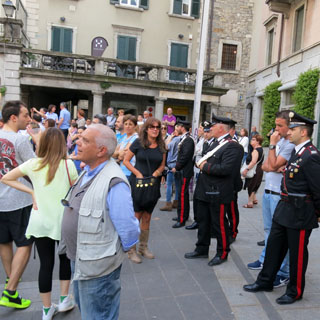 Risotto con Pesce Persico is the one meal you really need to have when you're here (pasta isn't a traditional northern Italy food). I prefer to eat on my time, which as often as not (in Italy), means the other tables are empty and the restaurant might not even be open just yet.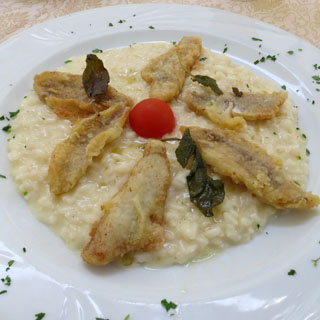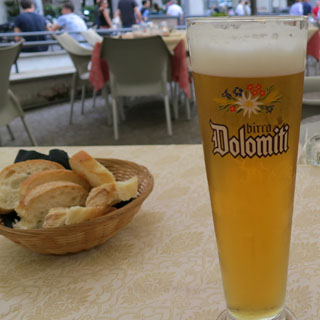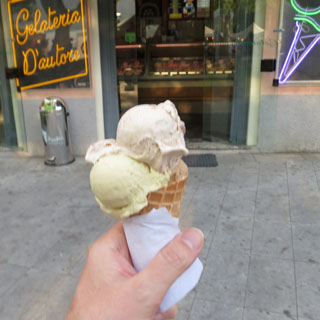 ---
Where it always begins: Agostini of Mandello del Lario. That's the owner Alby, followed by Luca and Stafano at the parts desk.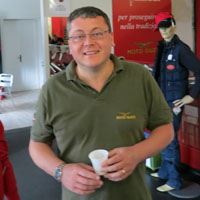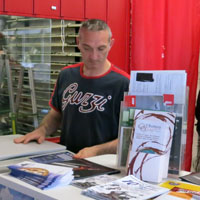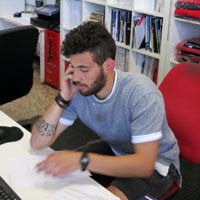 It's a Stelvio nearly identical to what I have at home. It comes with Metzler Tourance tires. These are fine tires, but I know, too, that they don't last long; I'd be keeping on eye on them.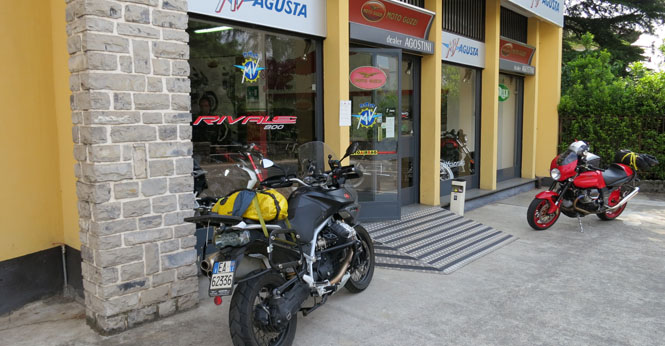 Switzerland
I had a long way to go, so I didn't have any plans to wander along the little back-roads to get there. At least, not in the beginning. For the first time, I rode through the Saint Gotthard Tunnel. This was at one time the world's longest tunnel, and today it's still the third longest at 10 1/2 miles.
Tunnels are unpleasant for a variety of reasons. The Gotthard tunnel has only two lanes (one each direction), so there's often a very long line of traffic waiting to properly space itself before entering the tunnel (where spacing and speed is strictly monitored). There's a traffic light that slowly changes from red to green as it allows one car at a time to proceed.
It was cool at the tunnel entrance (luckily it wasn't raining during the wait), but by midway through it was nearly 100 degrees F and pretty uncomfortable. Then it got colder and colder as I reached the exit running out of a sweaty sauna and into the frigid Swiss air. Car drivers never know what they're missing...
Lake Lucerne.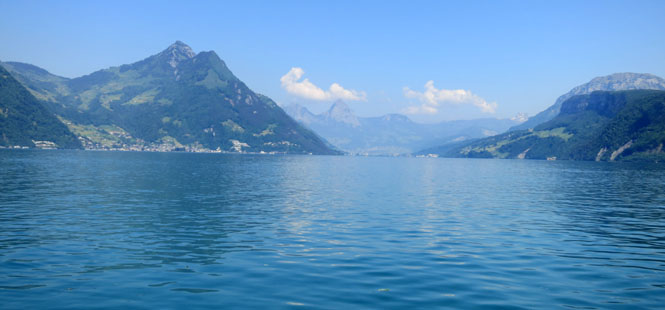 Rivella is something of the Swiss national soft drink. I always have a bottle.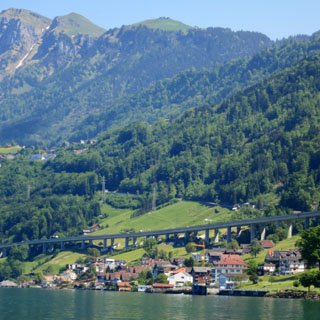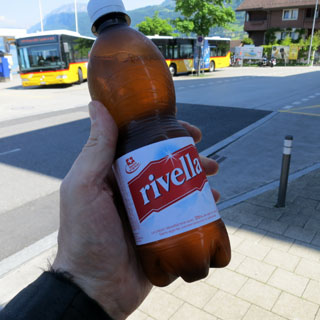 Rarely have I managed to get through Basel without messing up. There's a key exit you need to take, but coming out of a long covered freeway, your GPS won't give you much warning. On this day, traffic had been brought to a stop-and-go crawl by the normal Basel commuters, so I had plenty of time to think about where I needed to be.
France
Schirlematt, France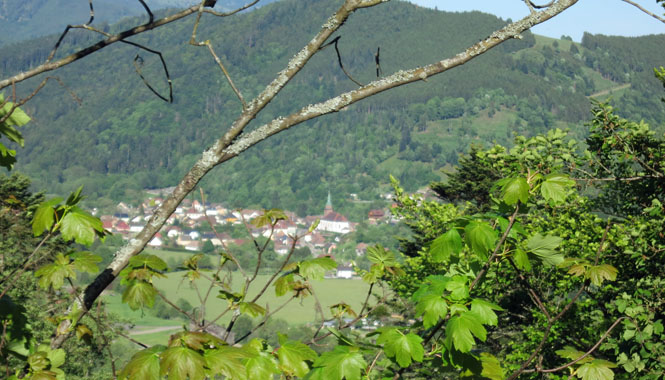 A memorial at the location where members of the French resistance were shot in 1944. I saw the simple road sign, and turned off on the single-track road to the memorial, which includes all the names of those who were shot.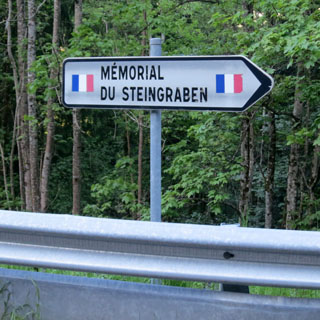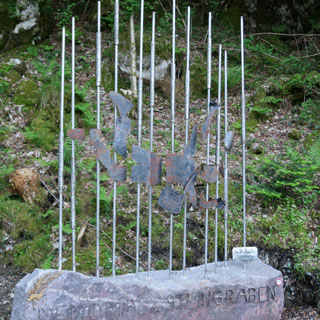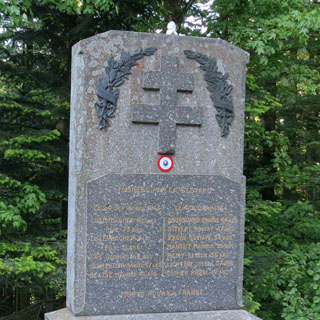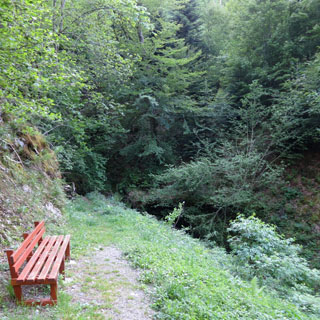 The Edward Jones Research Center at the National World War 1 Museum in Kansas City, Missouri was especially helpful in finding information on my grandfather:
In looking for information on the 348th FA regiment, 166th Brigade, I found that it was part of the 91st Division until leaving the US. In the Summary of Operations, page 4, I found the statement ' The 166th Field Artillery Brigade did not serve witht the division after leaving the United States. In the Order of Battle which shows when units were organized, where they trained, when went overseas and returned, I found the notation that the 348th was part of the 166th which was 'corps troops' during the overseas deployment. Since the 91st Division was part of 5th Corps in 1st Army during the Meuse-Argonne, I would expect the 166th Brigade was part of the 5th Corps artillery, which means they would have been employed in support of any part of 5th Corps that requested/needed the type of artillery support (heavy) they were capable of providing.

In looking through maps for St. Mihiel and Meuse-Argonne, I found that the 5th Corps was headquartered at
Epinal

on August 11, 1918 and the 91st Division was headquartered near Chaumont. Since the front line at this time was north of Nancy, this puts the 91st Division about 90 miles from the front, so they were probably doing some kind of training. Of course, the 166th FA was nearer the 5th Corps, which at Epinal was much closer to the front, and they were possibly within their range, something around 5 miles, since they were a heavy artillery regiment.

At some point, I found the 166th FA was near

Epinonville

, but I am not sure if this was during the Meuse-Argonne, or later. I did not find any reference to the 91st nor the 166th between Nov. 11, and their return to the US.

- Dean Weltmer, volunteer attendant, Edward Jones Research Center

Épinal, France was one of the French towns where my grandfather's unit might have been located (or at least the headquarters was).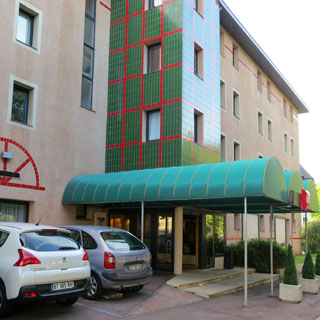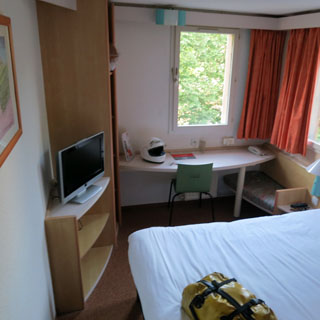 Moselle River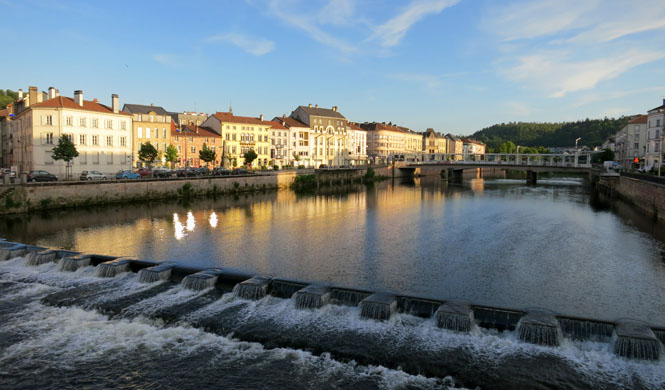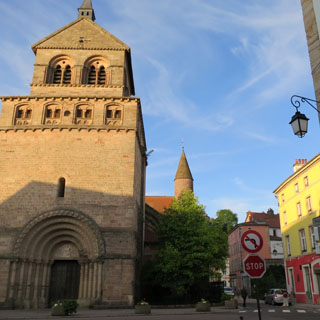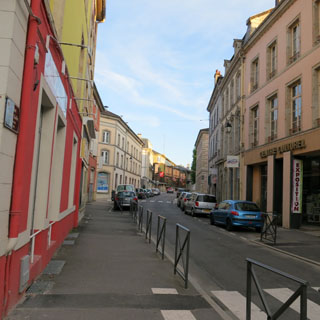 It's not hard to tell that some of these old churches have been through some rough times.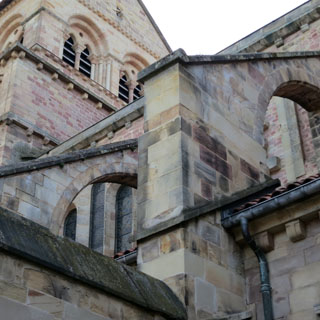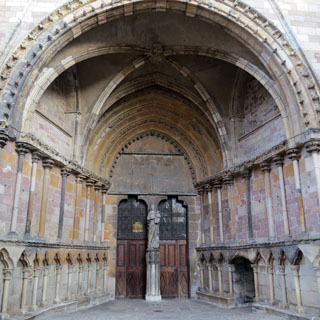 My dinner for the night. Sigh... I may give up ordering Buffalo Mozzarella with Tomatoes anywhere outside Italy. It should be a very simple thing, but it's often messed with (outside Italy) by adding too much other stuff.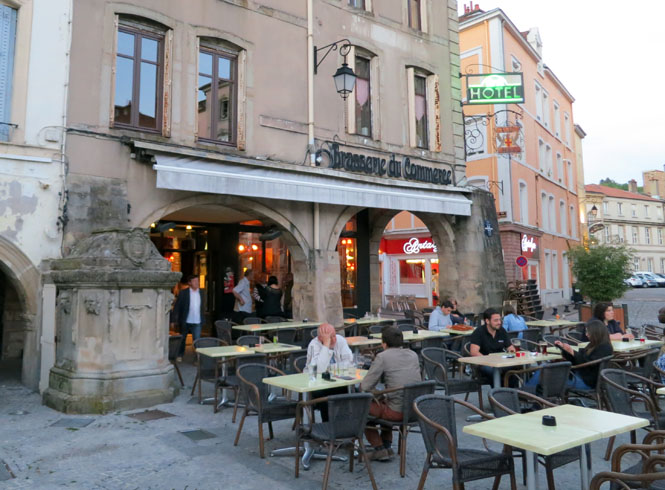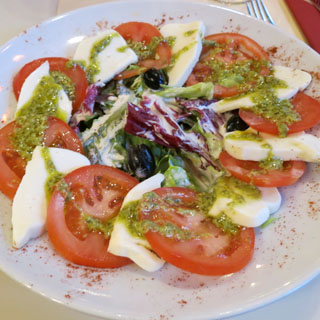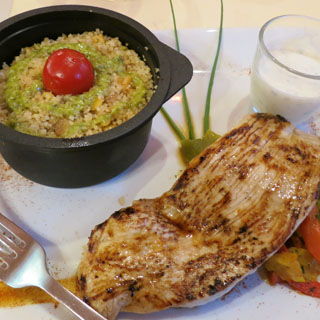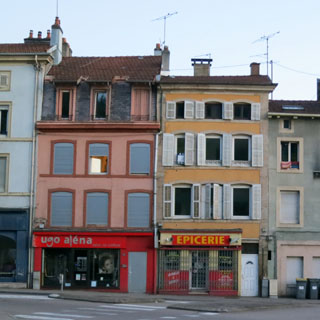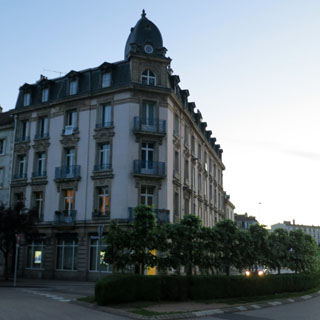 ---
Just south of Épinal is an American WW2 cemetery. It's a beautiful place; my respect to the people who take care of it. Nothing is out of place.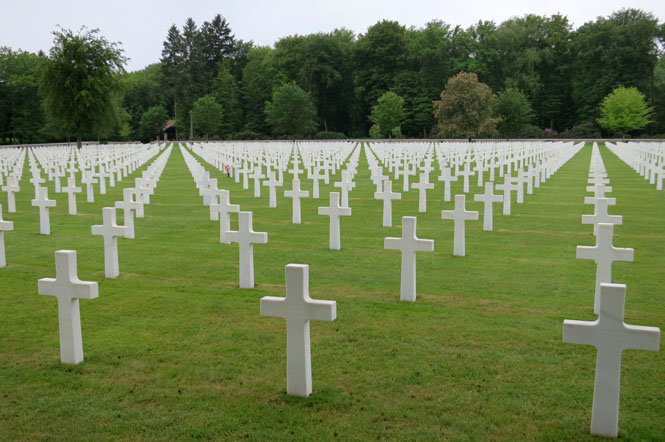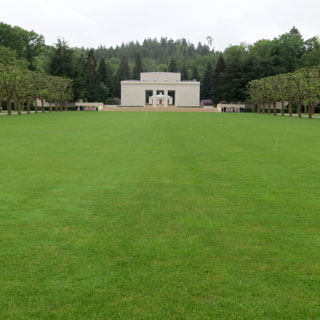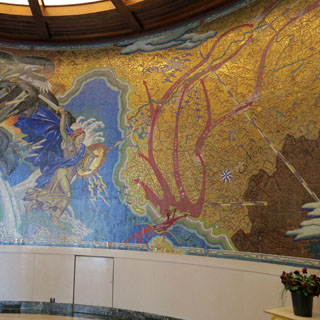 Preparations were underway for Memorial Day. I learned that many (perhaps most?) of the graves have been adopted by local French people, so even when there are no relatives to attend these events for every grave, every grave is looked after with real care and dedication. The posters and letters of thanks (below, left) are from French students. As is possible, the history and photographs of every soldier buried here is being assembled into a database.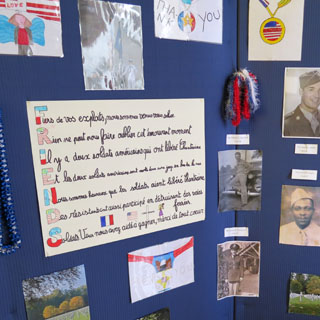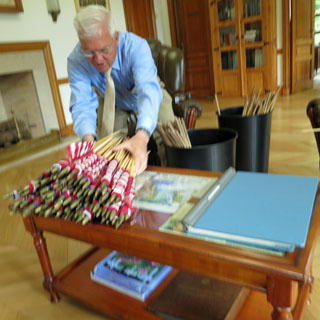 ---
I was making good progress and was able to move off the multi-lane highway (which is not a good way to see anything in any country) to ride the smaller roads.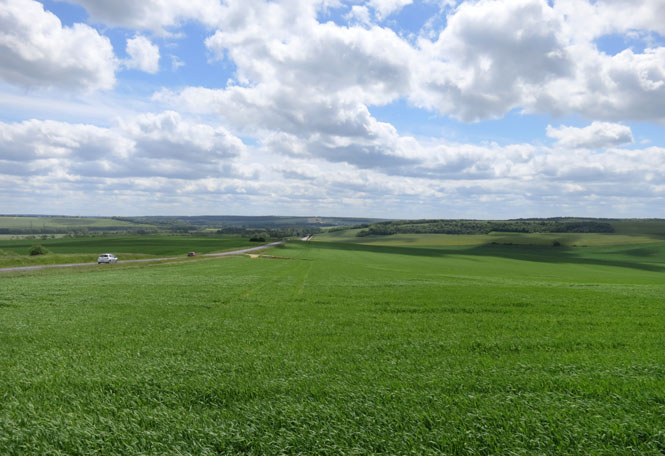 A guilty looking fox...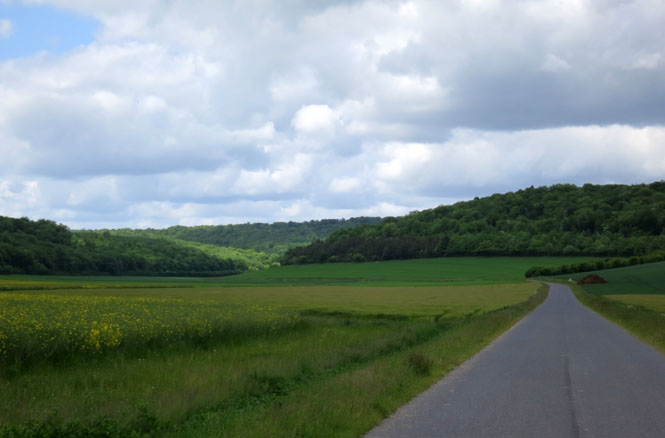 Rarécourt, France.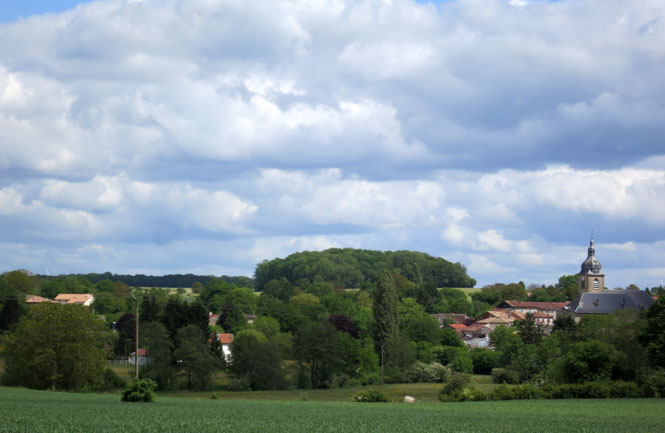 Charpentry, France.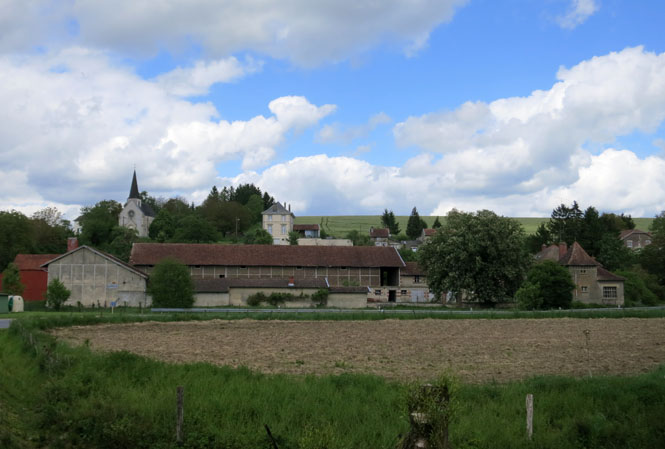 Épinonville, France is the other town in France where my grandfather was likely to have been. Épinonville was too close to the front lines and very likely not any of the buildings you see today date from before the war. Apart from the school and the church, there isn't much here, now.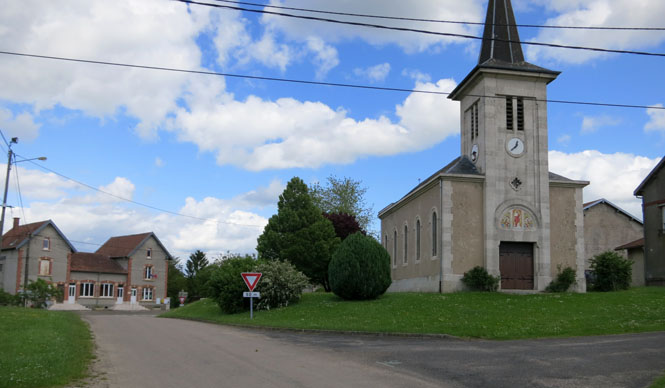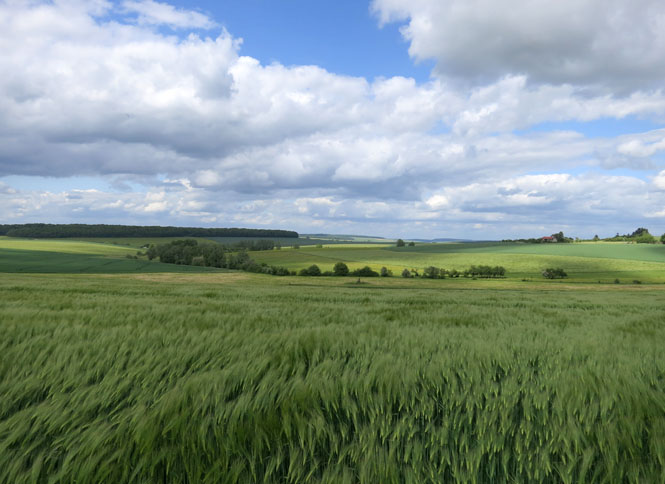 Montfaucon-d'Argonne, France is just a few minutes from Épinonville. This was the site of an important American victory during the Meuse-Argonne offensive.
That tower is a monument to the American soldiers who eventually took the hill. It's worth noting that during the battle, the hill wouldn't have had any trees left standing. The town of Montfaucon, once at the top, was rebuilt down below it.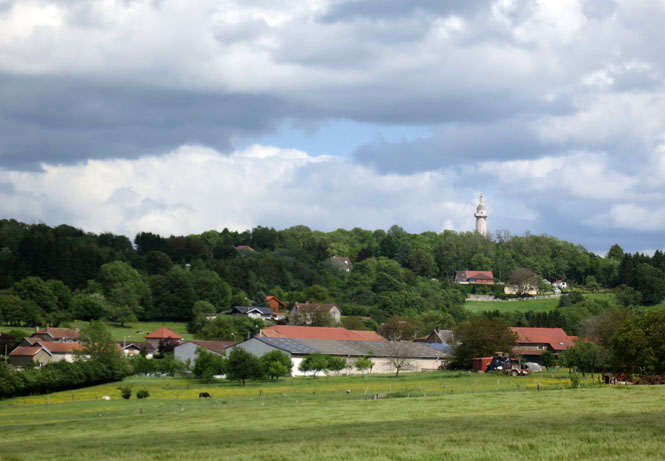 ---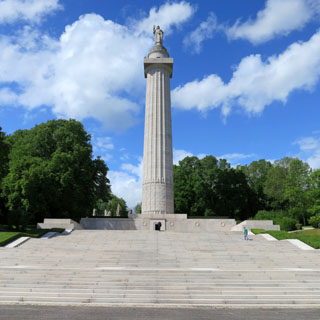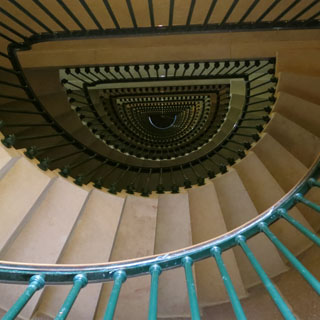 From the top of the tower, looking at what would have been the front lines in November of 1918.
All that remains of the old town is what is left of the church.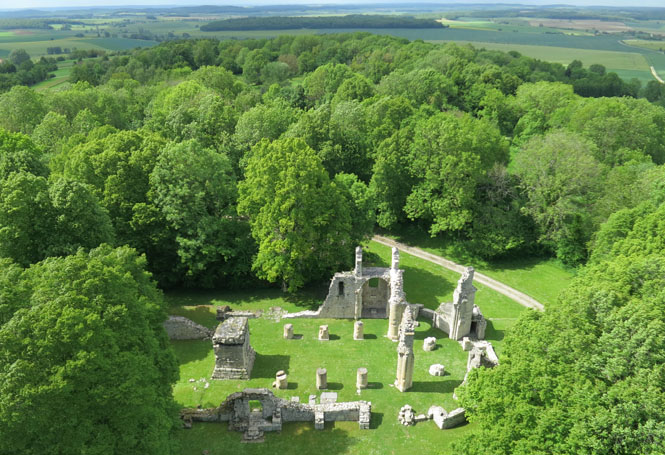 ---
American WW1 cemetery near Romagne-sous-Montfaucon. This is the largest American cemetery in Europe with 14,246 dead. As are all American cemeteries, it is maintained by the American Battle Monuments commission.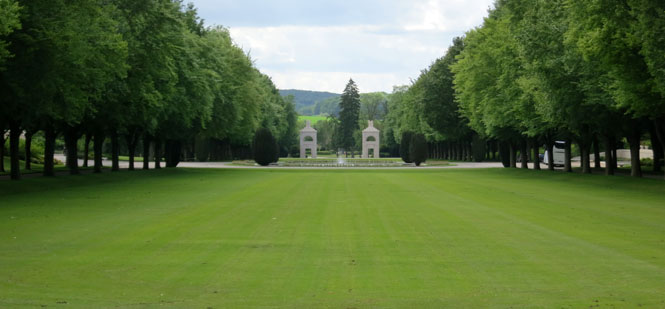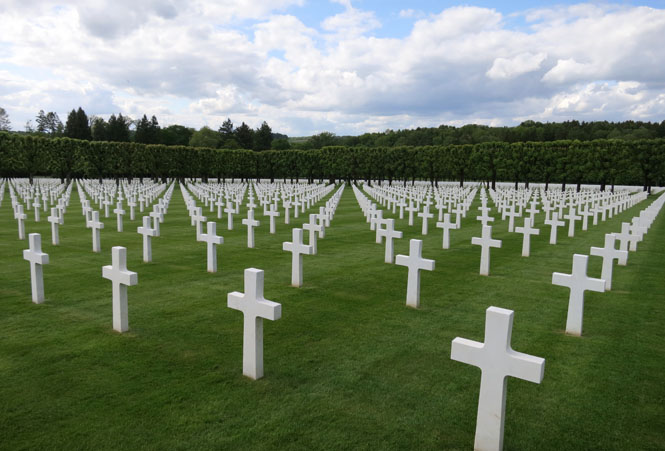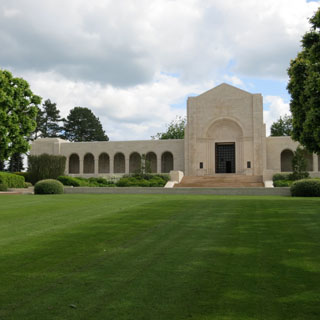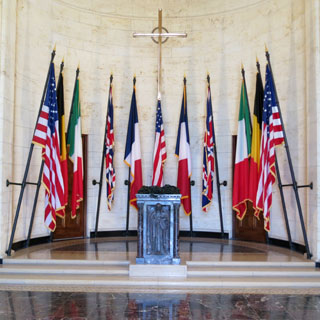 ---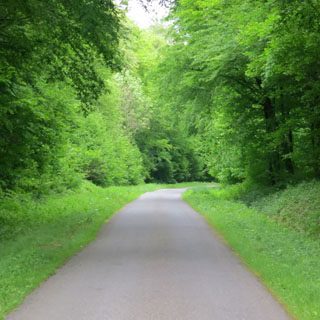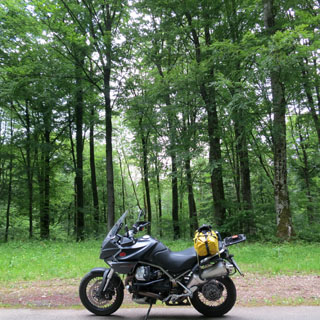 I brought my electric vest (much needed) but it wasn't working. It seems I wasn't getting power from the aux outlet on the bike. Rather than try to sort that out, I wanted to create a new extension cord and wire it directly to the battery. I would use my existing cord that plugged into the aux outlets by chopping off the plug at one end and splicing in more wire and keeping the powerlet (BMW) socket that I needed on the other.
But, I needed tools and I needed connectors. I stopped at this likely Derbi shop and was introduced to the diesel mechanic next door. He didn't speak English, but he took care of everything. When I tightened down the connecter to the battery, he shook his head and re-did it, this time making sure the wire to the battery was precisely aligned with the edge of the battery. It was all shrink-wrapped and made very tidy; everything in its place. No charge. Au revoir, and thank you!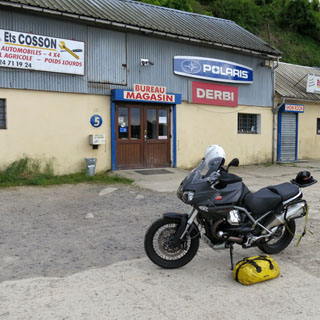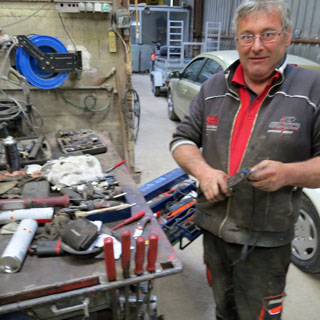 ---
Reims, France. I normally shy away from larger cities, but I was riding through the middle of it anyway, so stopped for the night.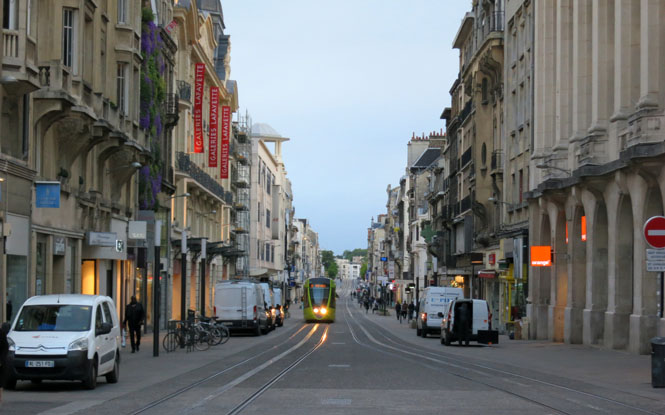 I need to include at least once photograph of my every-evening routine of doing laundry in the sink.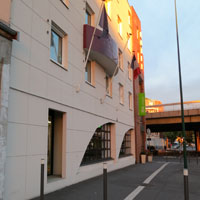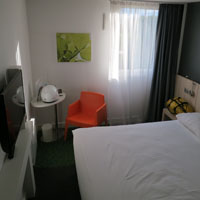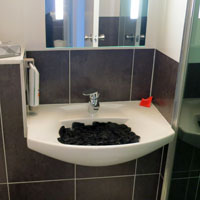 The St. Louis Cathedral was where kings of France were once crowned. It is an amazing building.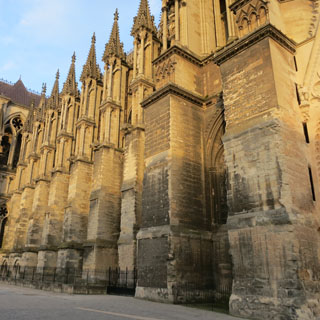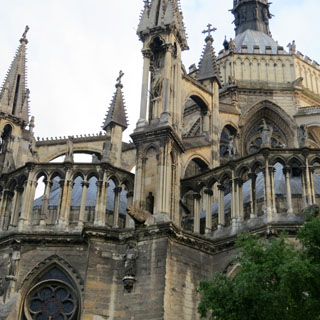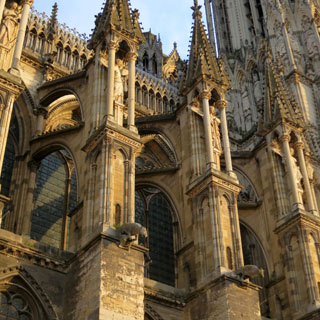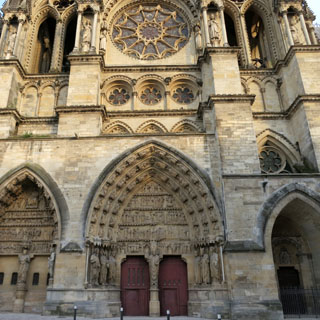 An Andrew Carnegie library here? Yes; they're everywhere.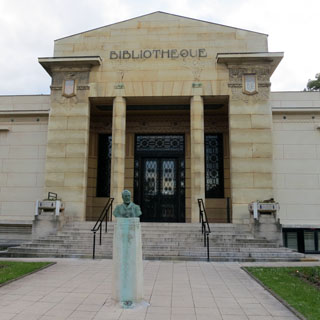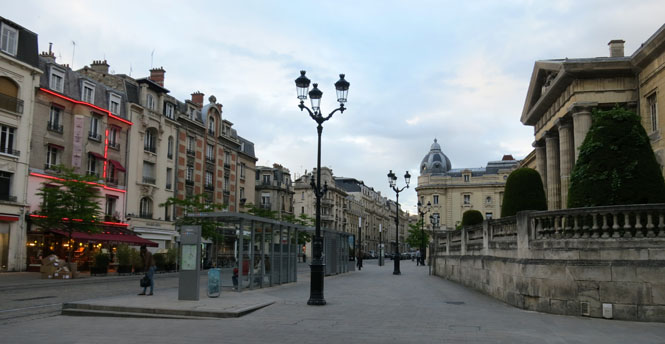 When one hanging plant from a window balcony just isn't enough.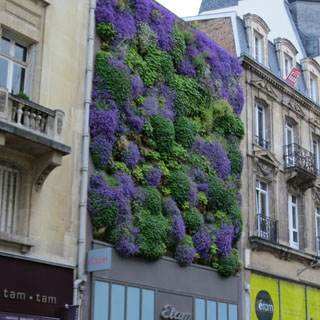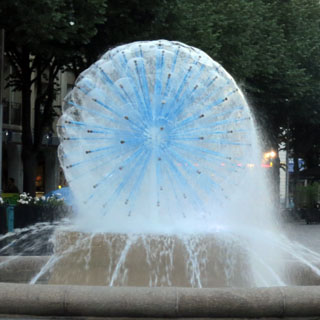 ---
Paars, France.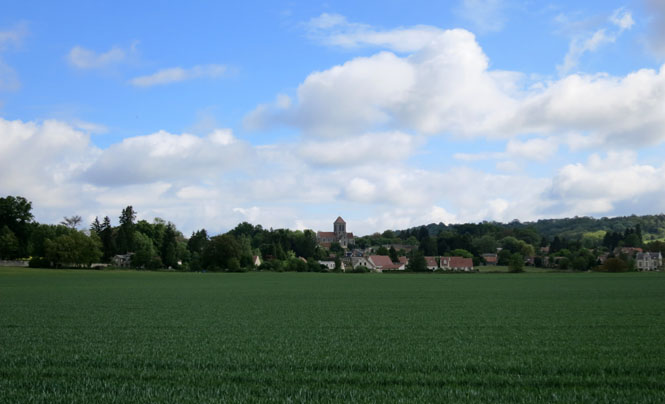 ---
Forest of Compiegne (Glade of the Armistice). World War 1 ended here in this clearing in the forest. Two trains stopped on parallel tracks; Germans in one, and French in the other. This isn't the place for massive monuments; it's still a quiet place in the forest.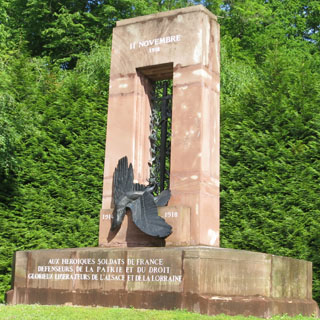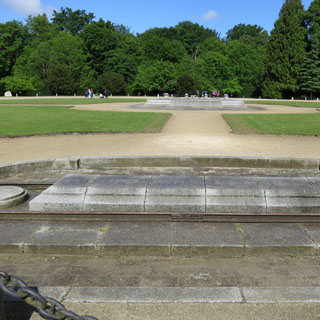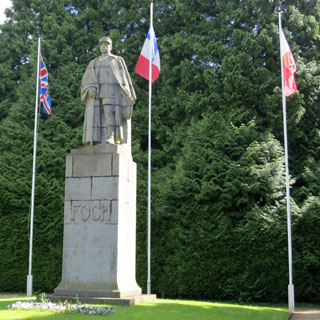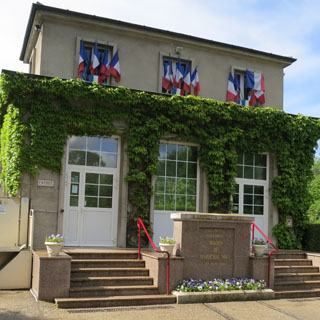 ---
Marseille-en-Beauvaisis, France.
Feuquières, France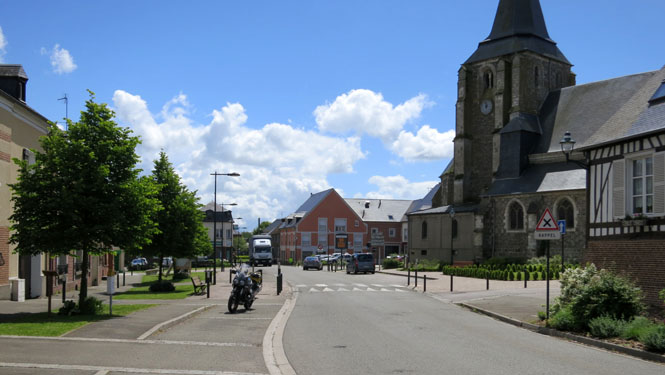 I'm riding towards the coast. If the timing works, I'll cross to England this evening. If not, I'll cross the next morning.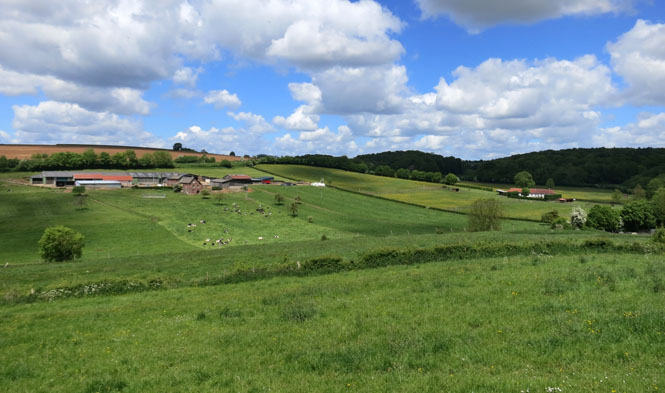 Lucy, France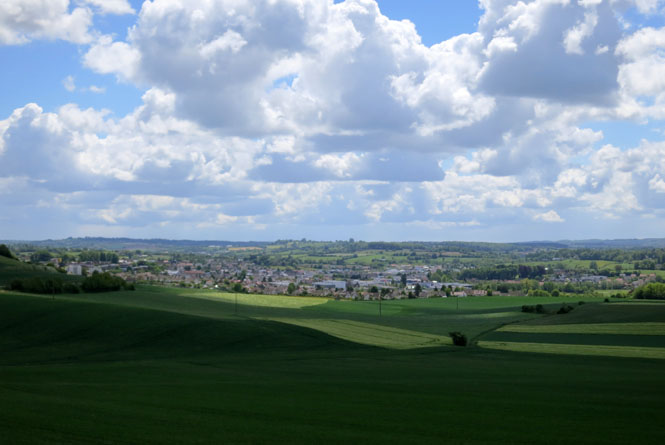 ---
Dieppe, France.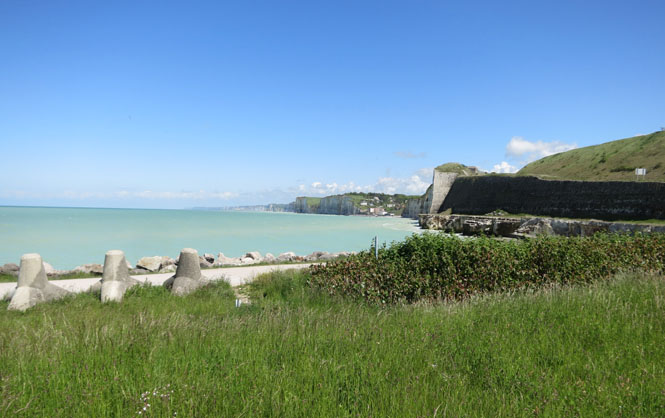 I was here with plenty of time. I bought my ticket for the crossing and joined the other people (mainly bicyclists from England) waiting until we were allowed to board.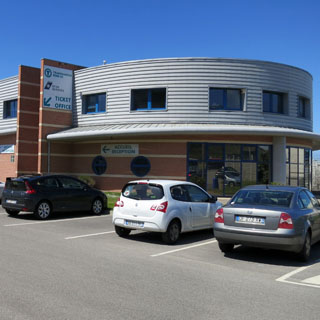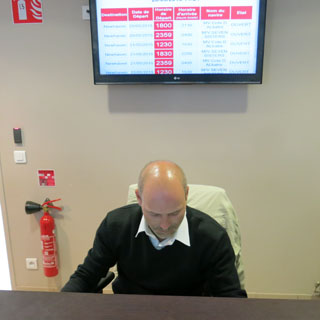 I carry tie-down straps with me, but they were not needed on this boat nor the three other longer crossings of the trip. This team was very professional and fast and did a nice job securing the motorcycle.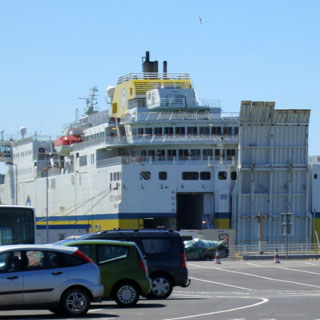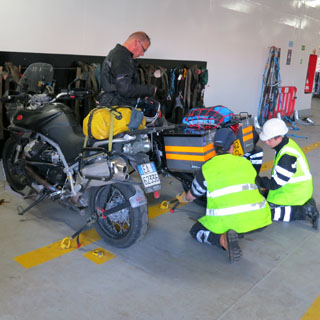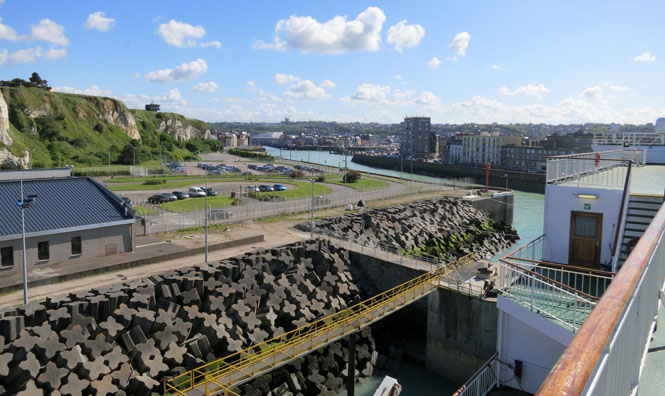 You could order a full meal, but a ham sandwich and some "strong cheese & onion" crisps seemed about right.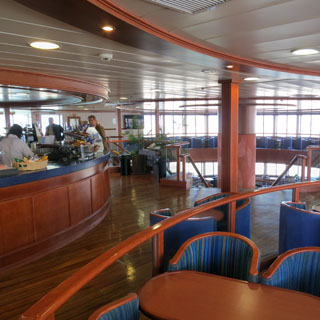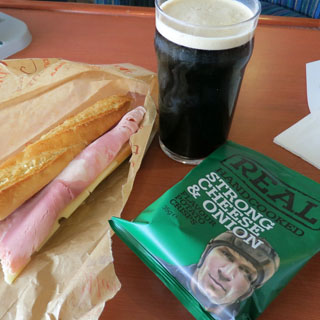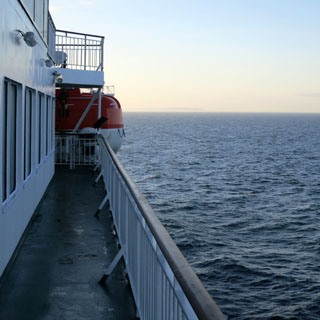 United Kingdom
England
Newhaven. Arriving very late (that glow in the sky not withstanding) isn't something I wanted to do. It isn't always easy to spot hotels and B&Bs in England (never a flashy sign out front). But, my first thought had to be: keep left; look right.
The ferry entering the Ouse River.
That's my B&B in the center (you can just see the hanging sign in front). My room is in the garret (actually, it's quite nice). With a car, parking would have been impossible, but I'm squeezed in the back alley without much trouble.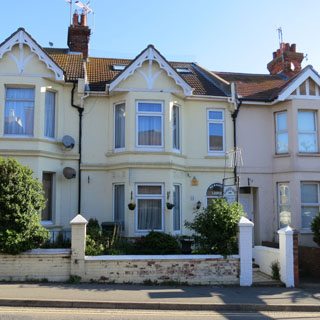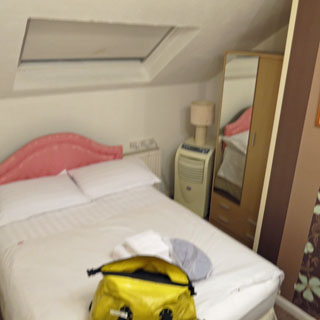 On the road the next morning. I'm heading in a general west and north direction with the aim to avoid congestion from larger cities and to end up generally towards Liverpool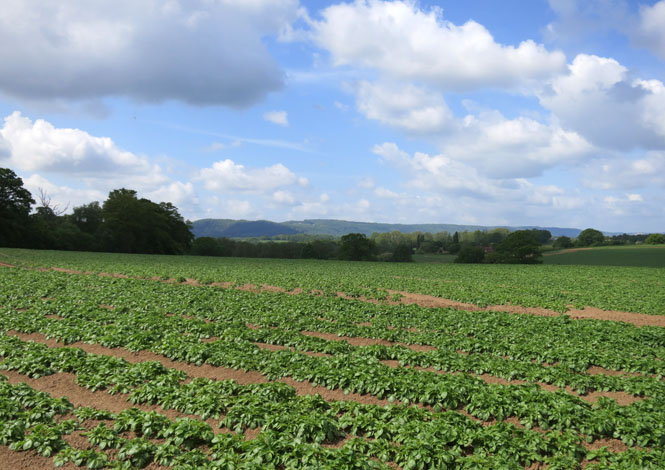 Rogate, U.K.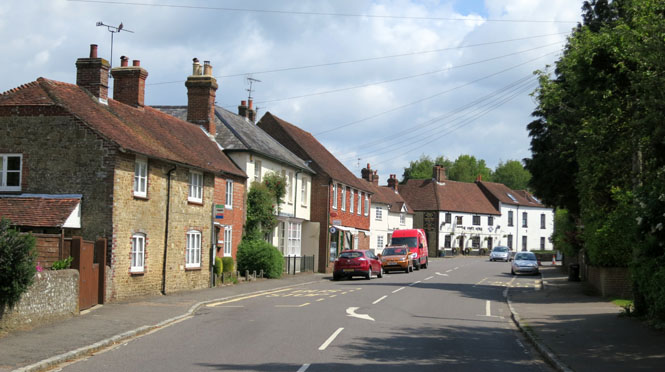 Chawton. I didn't know about it ahead of time (I'm not following a preplanned route), but I saw a road-sign for Jane Austen's house and turned to see.
But, let's stop first for a berry crumble with warm custard.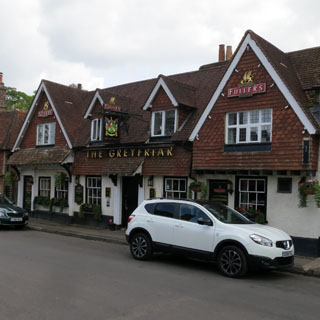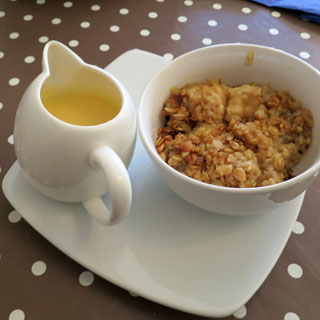 Jane lived in this house from 1809 until 1817. It is here that she revised her first three unpublished novels and wrote three more. Today the house and grounds are owned by a charitable organization (we would say nonprofit).

The grounds are beautiful and the buildings are in very good shape. I've no doubt that having to constantly raise money is a challenge for them, but they've certainly done a nice job.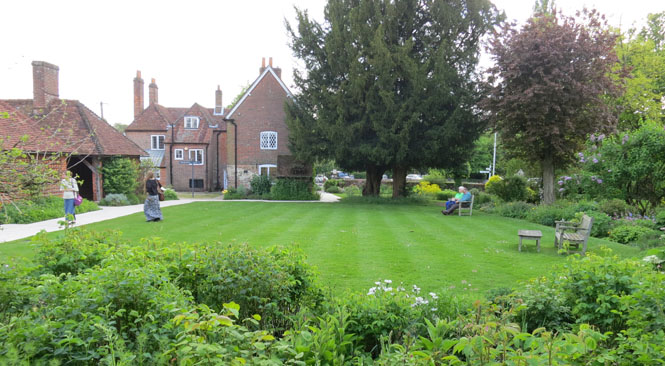 That's a neighborhood cat who spends her time on the grounds so as to be petted by everybody. The plan works.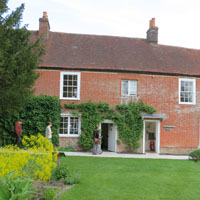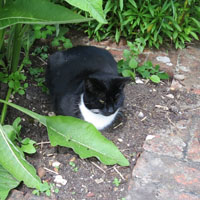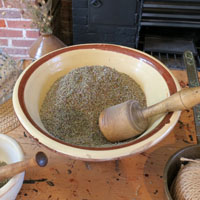 That small table (below, right) is where Jane Austen wrote her novels.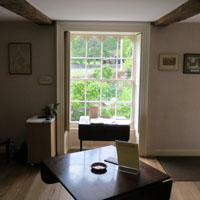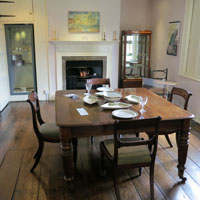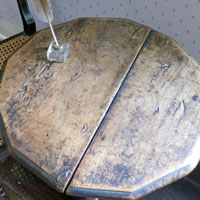 Little remains of Austen's personal possessions. But these three items of jewelry were hers. The ring was only recently obtained by the museum after money was raised to keep it from going to America (presumably they met the auction sales price of £152,000 which would have astonished Miss Austen).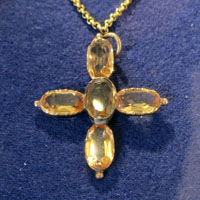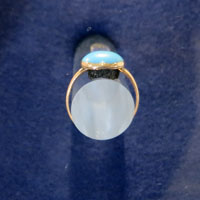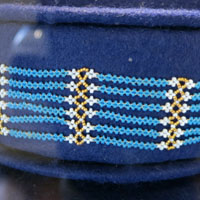 ---
Cricket at Cokethorpe School in Oxfordshire.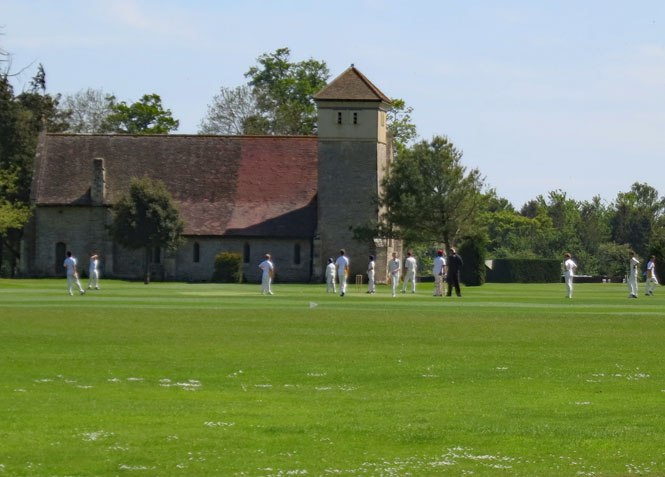 Riding through the Cotswolds.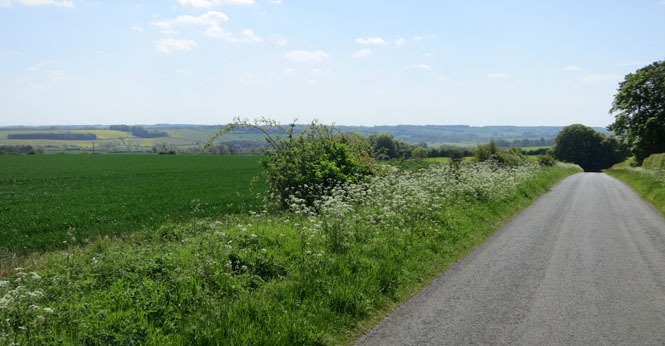 The ground is soft, so I hunted for a nice piece of yellow Cotswold stone to keep things level.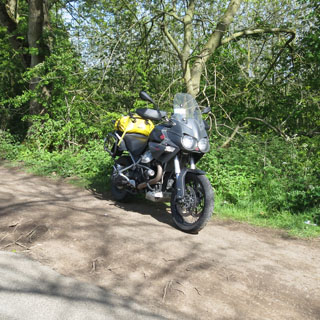 Broadway Tower was built in 1798 more as a romantic notion of what a Saxon tower should look like than for any practical reason.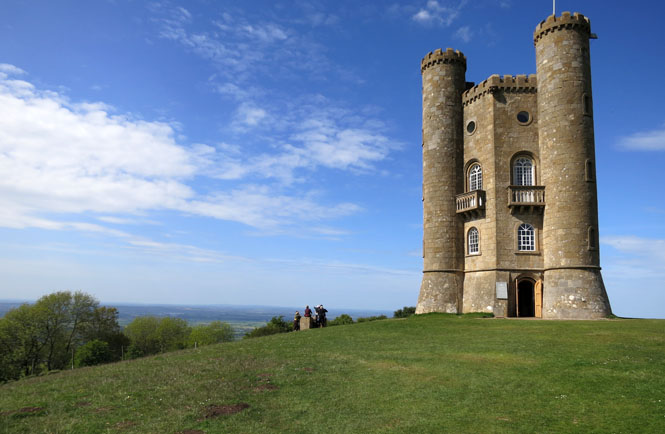 Evesham, U.K.
I had intended to stay the night in this area (more-or-less) prior to riding into Liverpool for the ferry to Isle of Man. But, as I was making pretty good time, I decided to keep heading west towards Wales. I still planned to be in Liverpool the next day.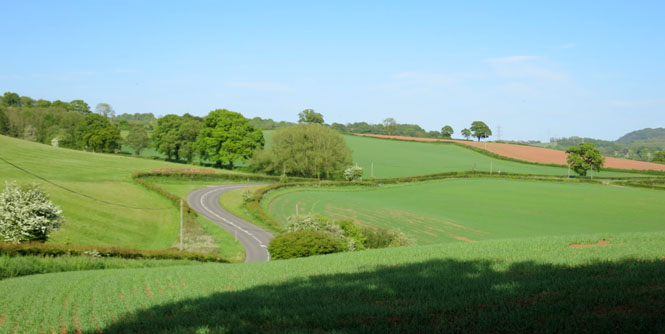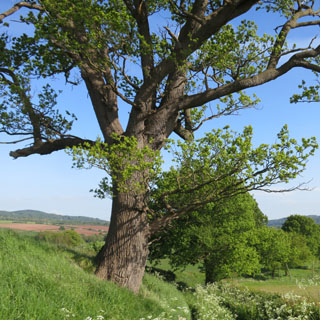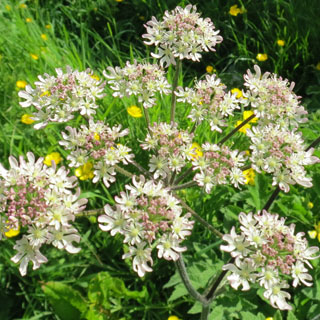 Abberley Clock Tower (at Abberley Hall School).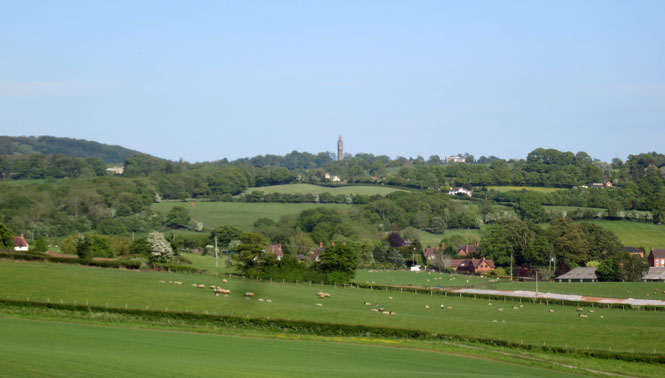 Tenbury, U.K.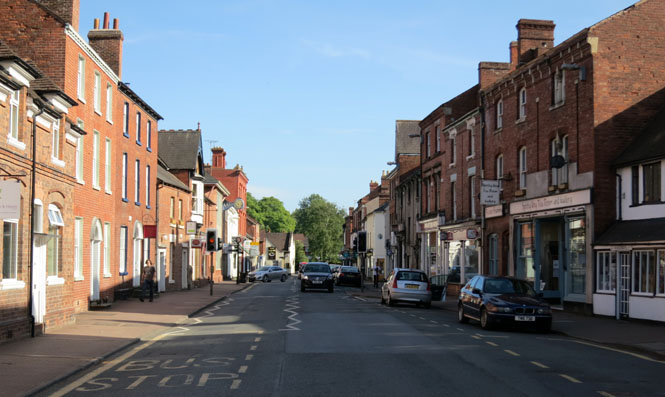 Ludlow, U.K. This is an old market town, and therefore an excellent place to stop (they're always interesting).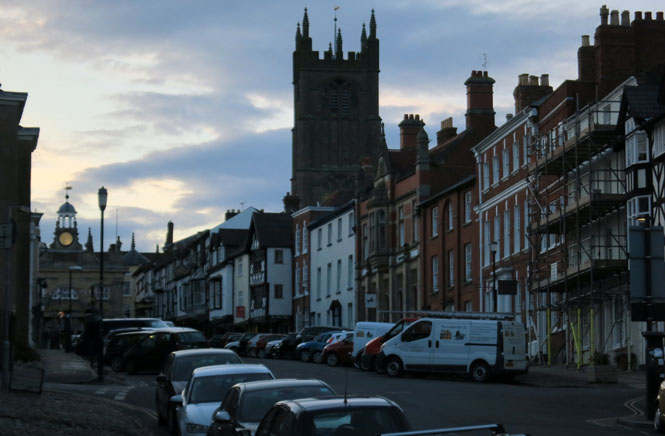 I stayed at the Church Inn. There's a good-sized pub on the ground floor, with several rooms on the next two floors above.
I did a very good job of keeping my head down and away from low beams. That is, until I made the final turn to leave the room for the last time the next morning and walked square into the door lintel. The building is at least 700 years old, so I'm probably not the first to hit my head. There's not a square corner in the place.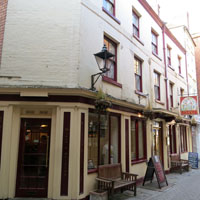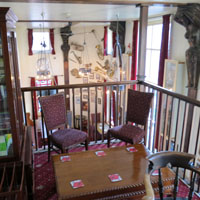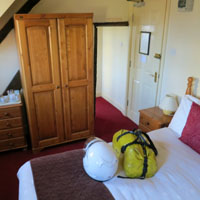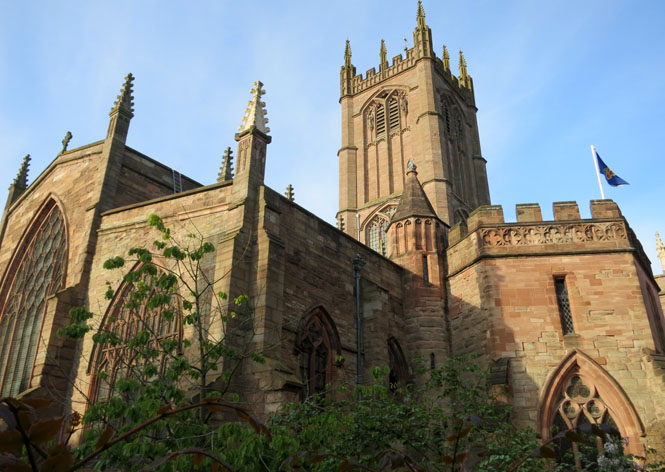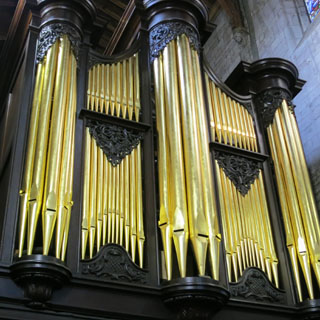 The choir was practicing; they were very good. In between the bits of music their director would tell stories of what Bach was doing when he wrote what they were singing (I was the unnoticed, quiet mouse in the back).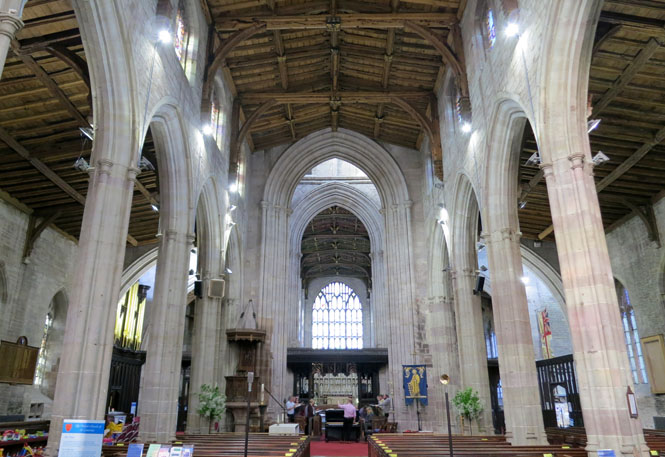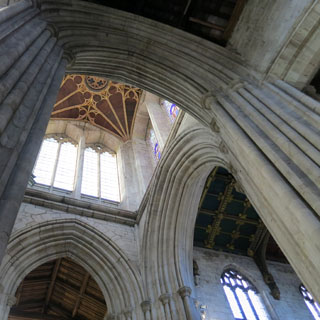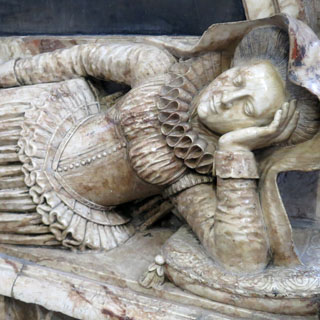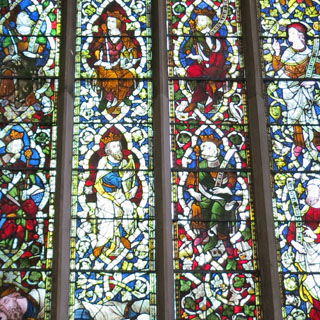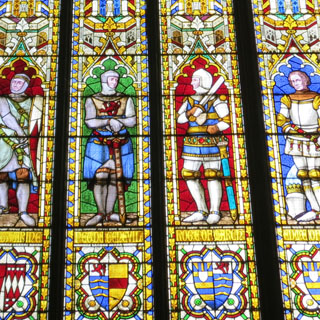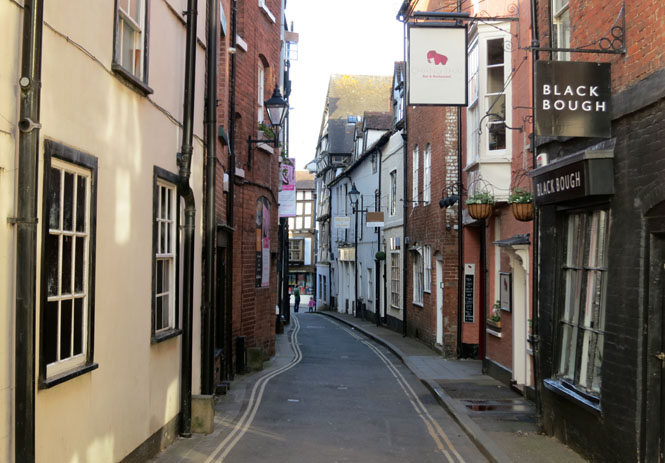 I almost always order whatever the special is. I'm guessing that this has been the special for many, many years.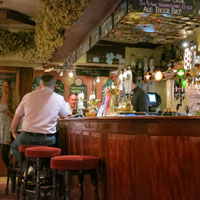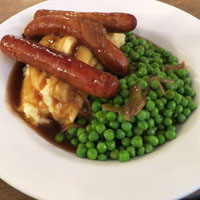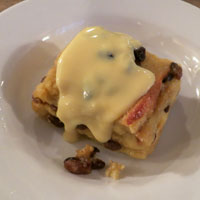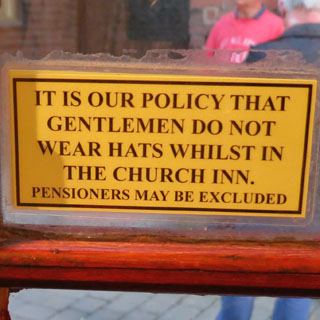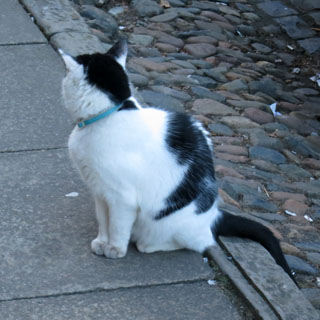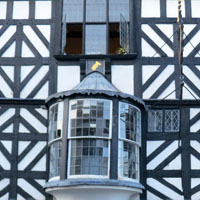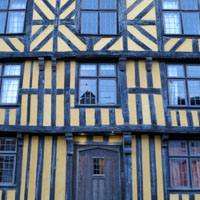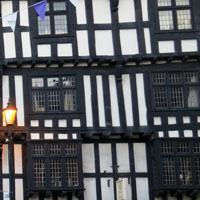 The view out my breakfast window, the next morning. It's obvious why this is called the Church Inn.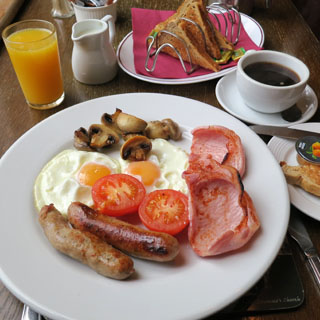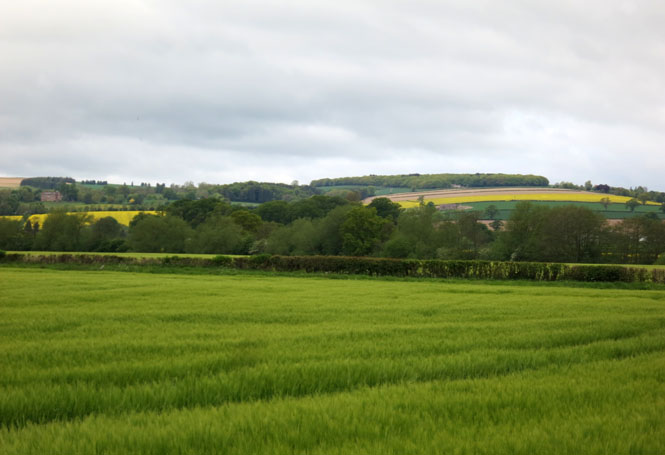 Wales
A very changing day. At times the sun would be out, but then more clouds would move in. It rained and then it didn't. Sometimes the temperature would dip down to around 40 degrees, and then it would rise to around 50 (which is a nice temperature for riding). On the open hills, the wind was always blowing, but the valleys were generally calm.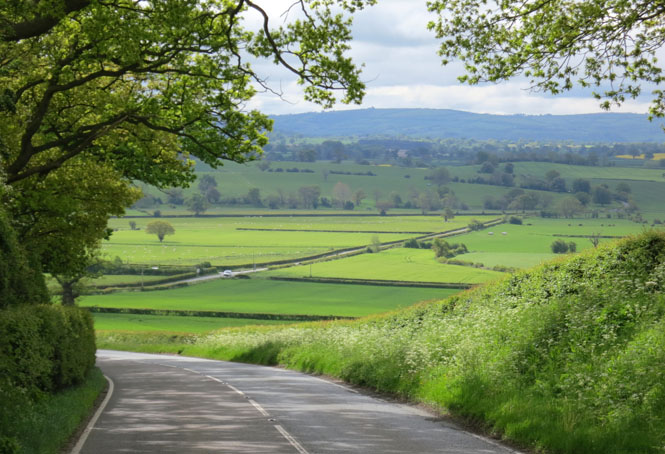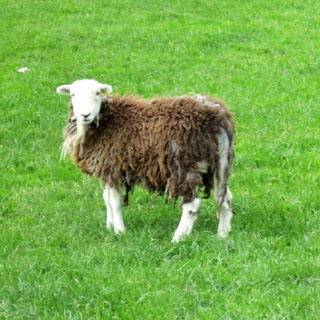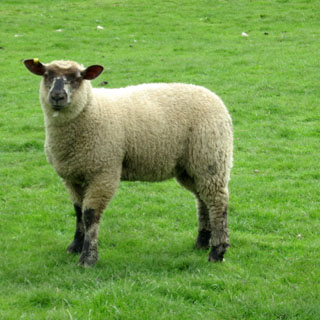 Llanfyllin, Wales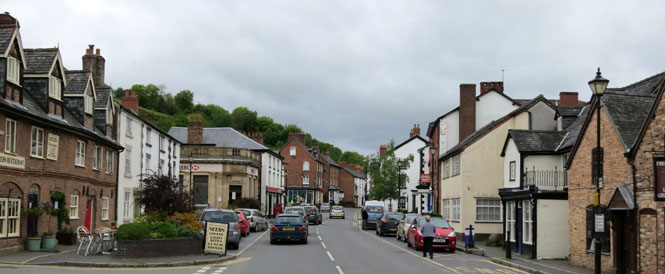 Once Wales was dotted with active coal mines, but those have all been closed.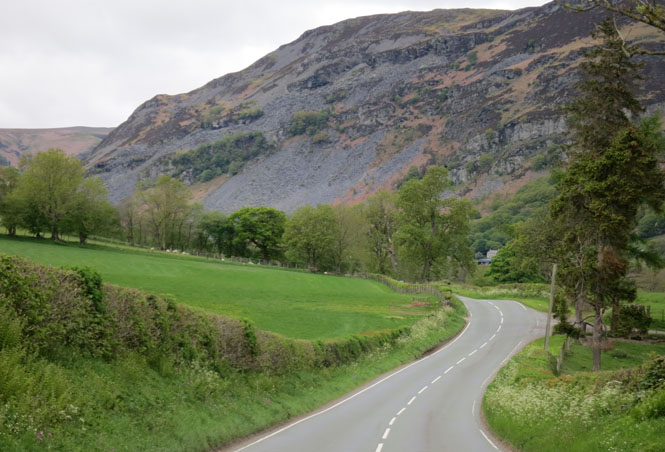 These are the moments you ride for.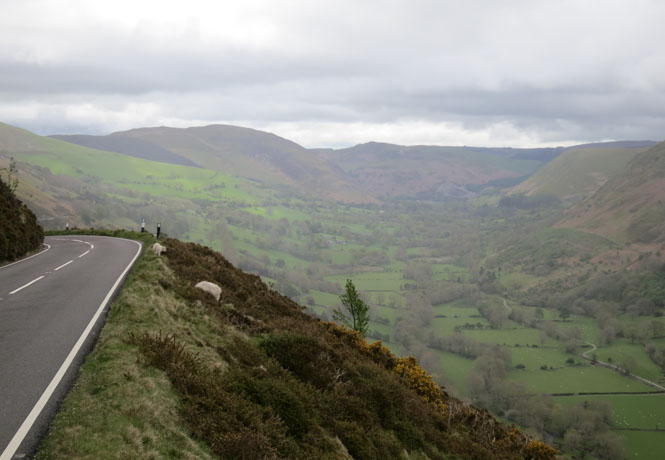 Bala, Wales. It's funny; some towns were full of tourists (like Bala, here), but mostly the roads were empty. I'm thinking that people are just following the guidebooks when deciding where to go, while leaving the unmentioned places clear for me.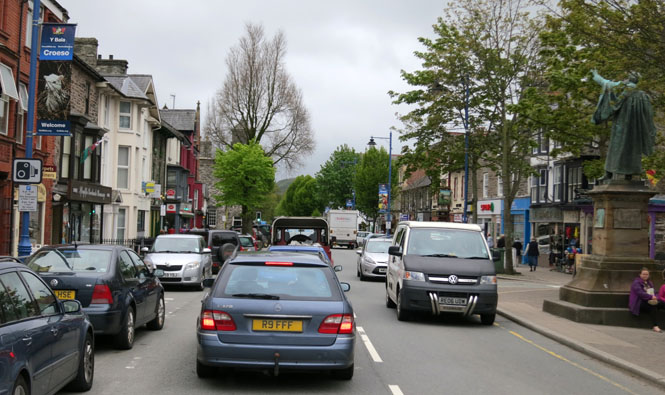 The Afon Mawddach and Barmouth Bridge (which is mostly wood). I've gone as far west as you can go without getting in a boat. It's time to turn north.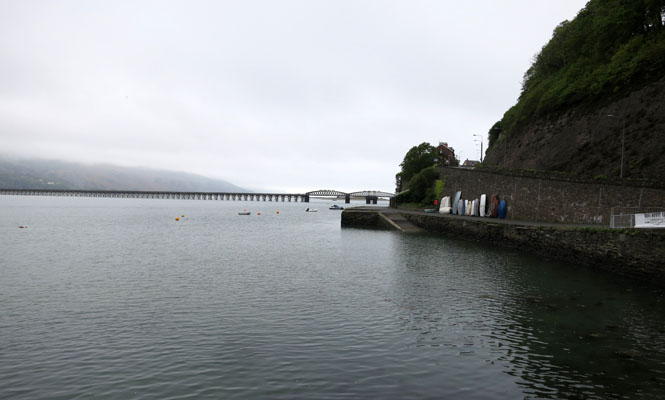 Cold and misty and I'm having a hard time seeing through my visor for all the fog. It's time to stop at the next tavern and wait for this cloud to lift.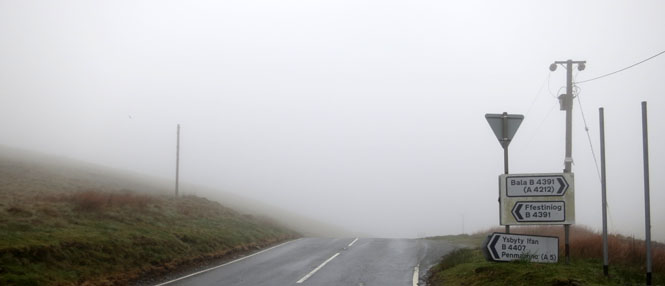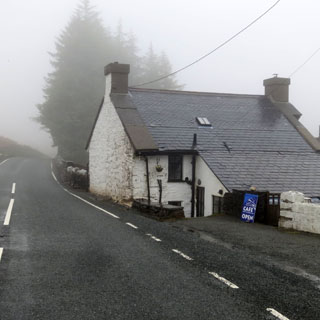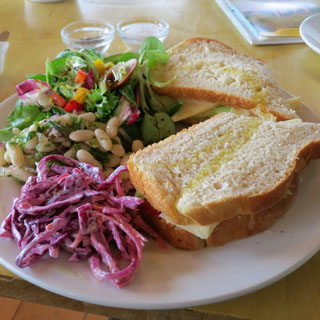 These are all mostly single lane roads with an occasional pull-out for when two cars meet. Of course, on a motorcycle, it's not anything to bother about except when oncoming cars don't even try to give way.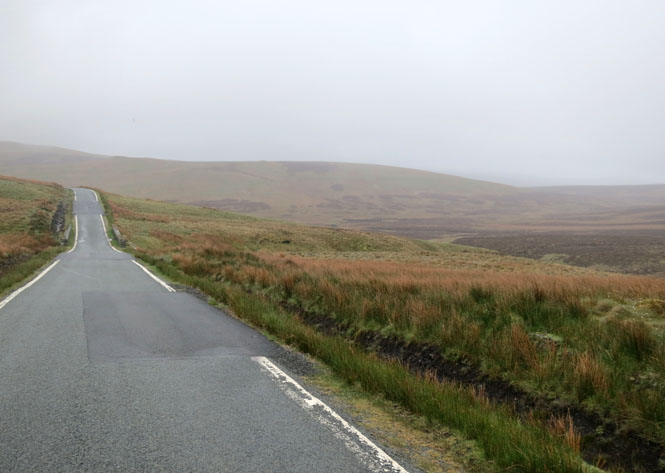 Pentre-Foelas, Wales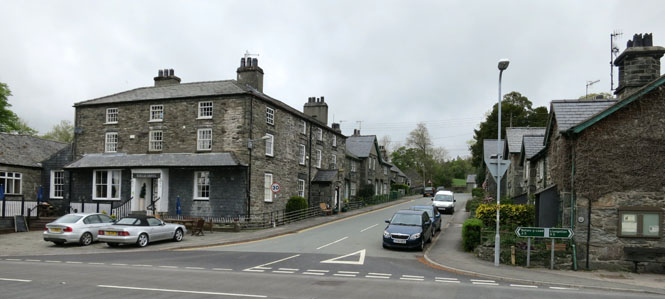 There's no end of good sturdy stone fences (to keep good sturdy sheep where they ought to be).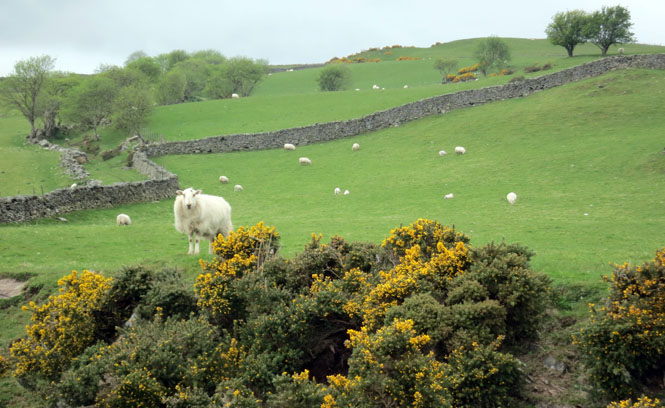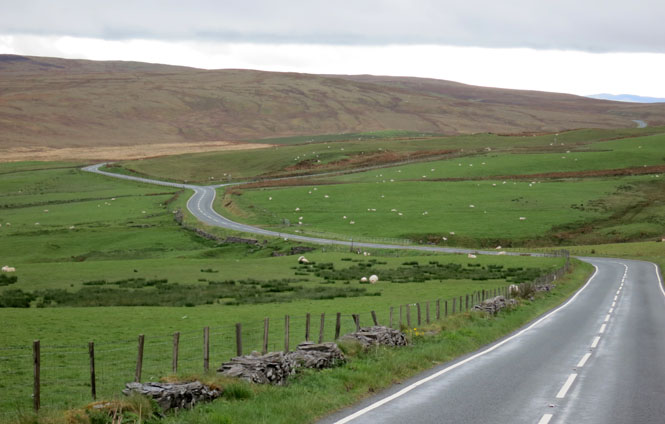 Denbigh, Wales. A number of castles have been built (and then destroyed) on this spot. It was last conquered during the English Civil War (Charles 1st was here in 1645) and was then completely abandoned in 1660 after the restoration of the monarchy by which time thick walls were no deterrent to big guns anyway.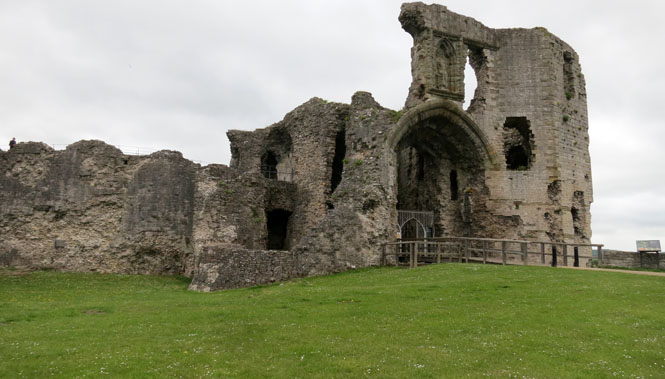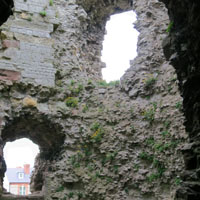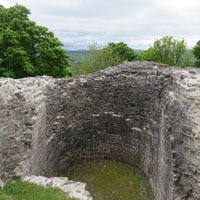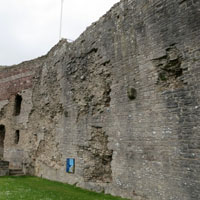 England
Liverpool, England
My plan was to spend the night here in Liverpool, and then catch the ferry the next morning to the Isle of Man. It seemed a good plan. Trouble is; the ferry was booked full. So, I'd have most of the day in Liverpool and then would catch the late-afternoon ferry.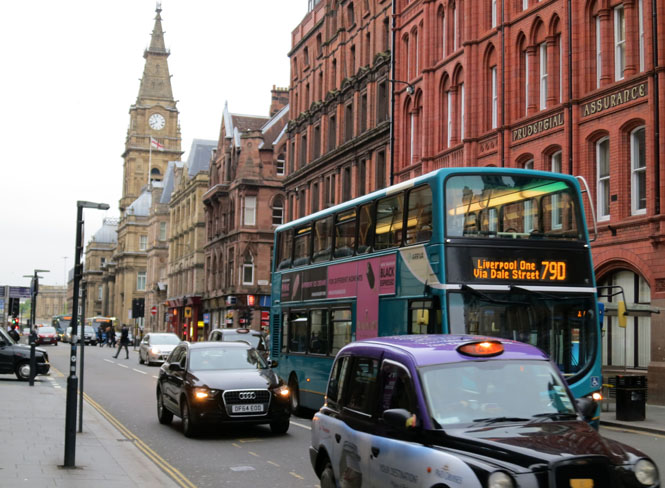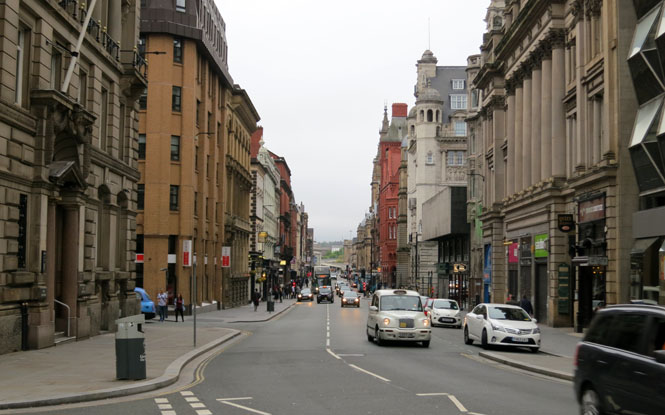 Matthew Street, home of the original Cavern Club. For unfathomable reasons, in the 1970s the place was demolished along with the warehouse above it. What's there now is a re-creation (although probably very accurate).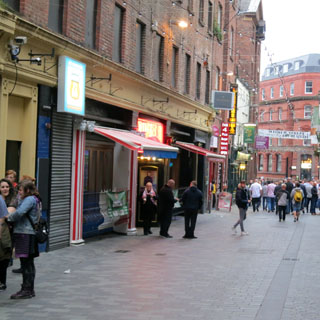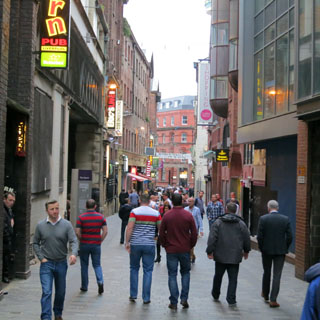 Liverpool does have a vibrancy about it. I like it.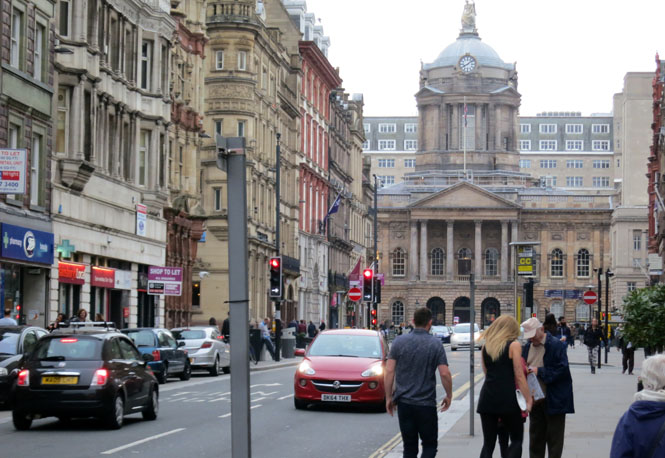 The enormous dockside brick warehouses have been converted to a variety of uses. Good for Liverpool for saving them.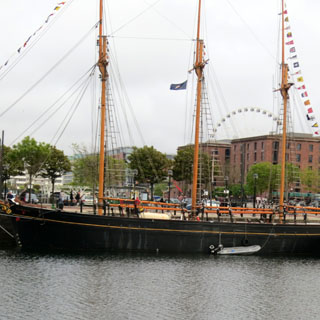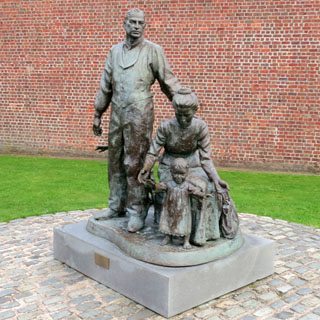 This would have been the business import/export district in the world. A significant percentage of all global trade came through Liverpool.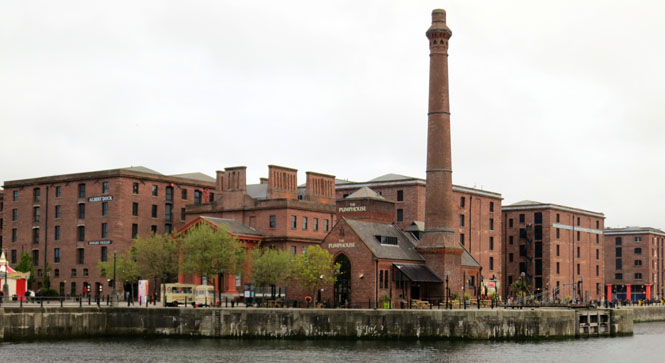 These special-bred draft horses were key to the whole operation. It's nice that somebody put up the statue. That's one of the screws from RMS Lusitania.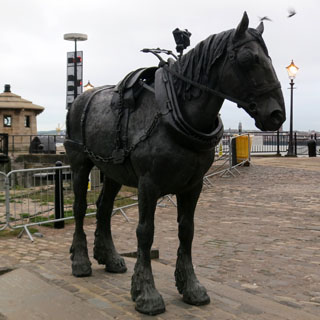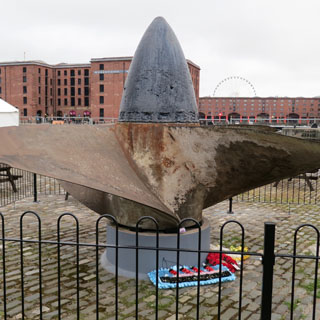 Small dry docks such as these would have been common.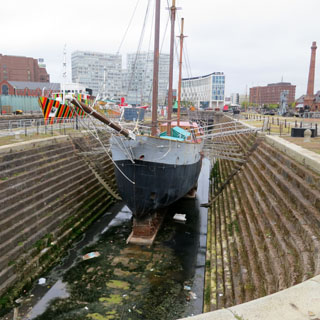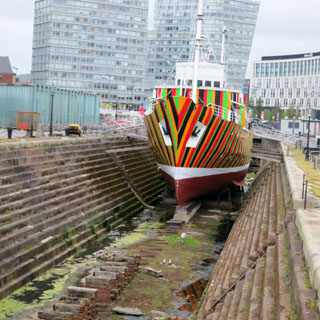 The memorial (below, right) is dedicated to the engine room engineers of RMS Titanic who kept the boilers running (and therefore electricity) as long as possible even though they knew that it would mean certain death for all of them.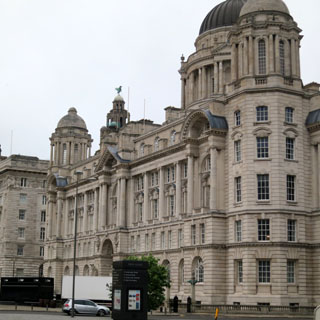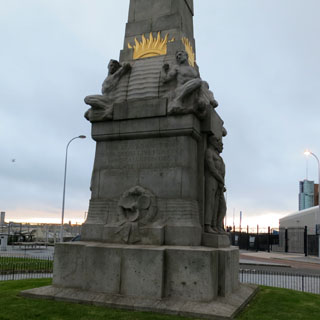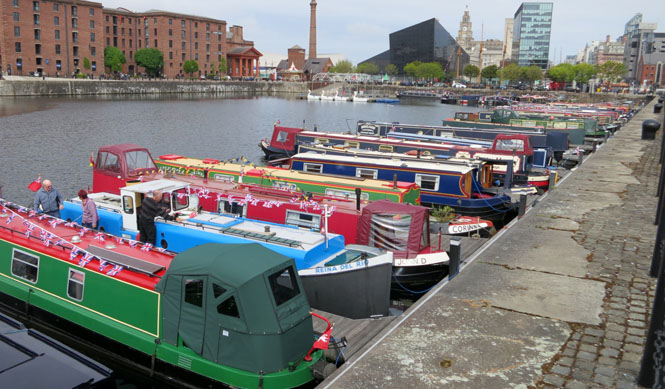 Of course, Liverpool is the home of the Beatles and there are lots of Beatles related shops and museums and tour-busses. This is the large Beatles museum in the old dockside warehouse district. It is remarkably comprehensive and quite well done. The fact that you exit the museum into the world's largest Beatles gift shop somehow is ok.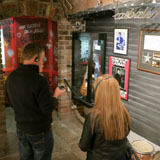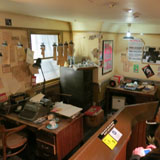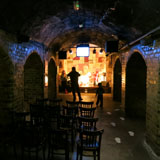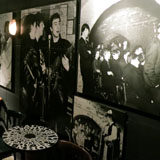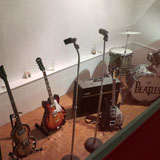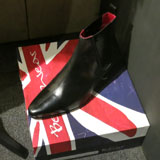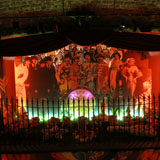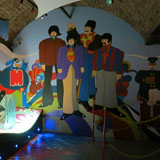 There are two Cathedrals in Liverpool. This one is for the Church of England and the other is Catholic. Both seem vastly larger than necessary--this one is the largest in the U.K. and the fifth largest in the world.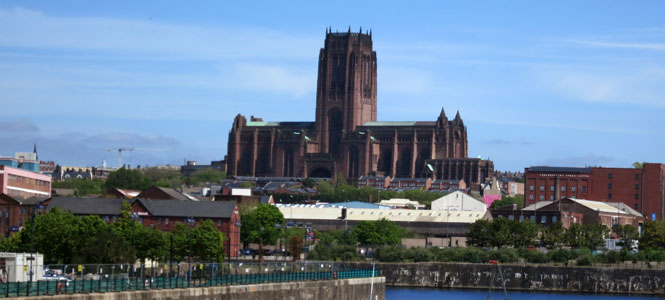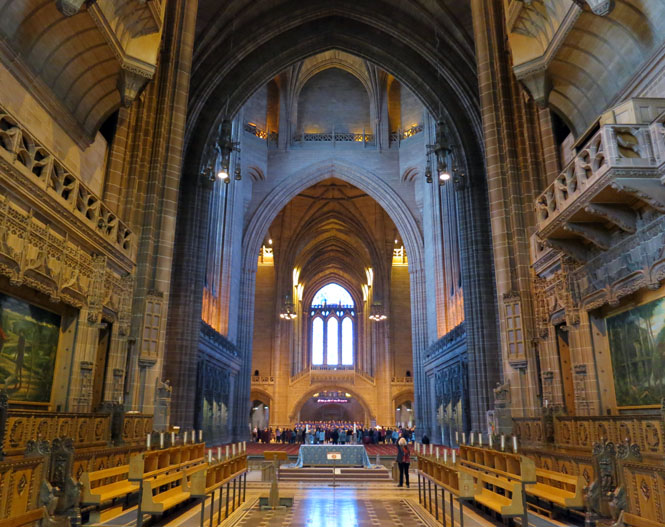 The Chorus sounded very good, but I really wanted to hear the organ (I didn't).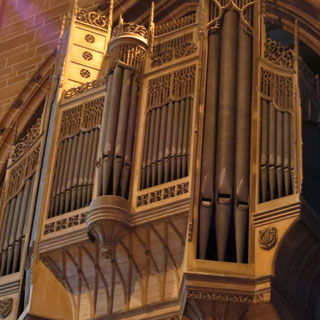 Out and about Liverpool.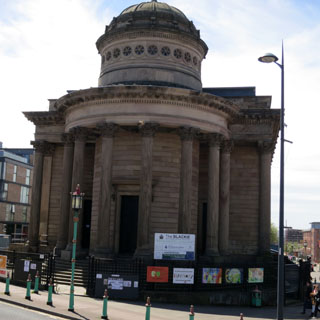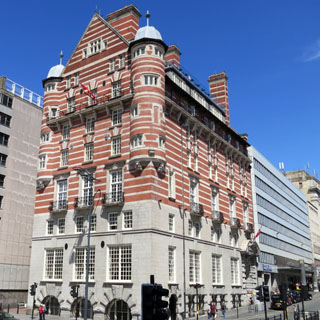 That's the catholic cathedral (below left). I'm afraid 1962 was not the best time for architecture.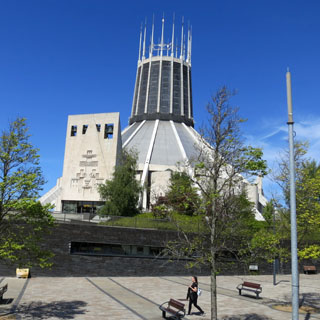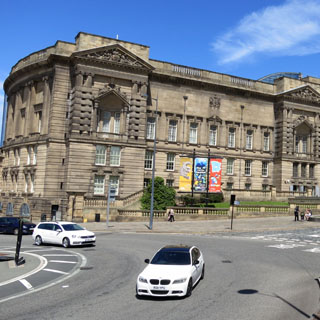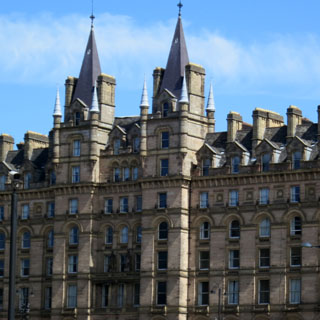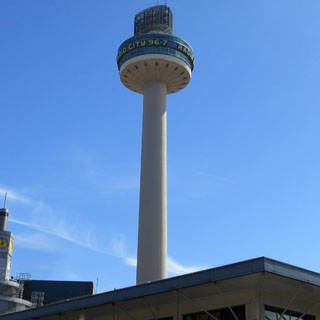 There are several museums in the dockside warehouses--mostly, they share the same multi-story building.
The U.K. had a disturbing policy of shipping children (always called orphans even when they were not) from Britain to its global holdings (Australia, Canada, etc.). Things were not always done honestly and the results were (and still are) painful for many people. The word "shameful" appears often in the displays. This went on until 1967. There remains a large effort to connect children with their parents. As a center for all shipping, Liverpool would have had a role in this policy.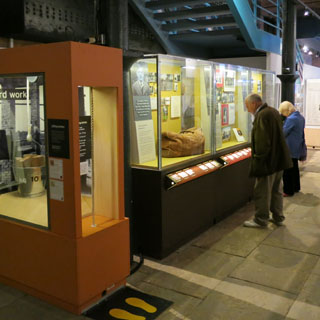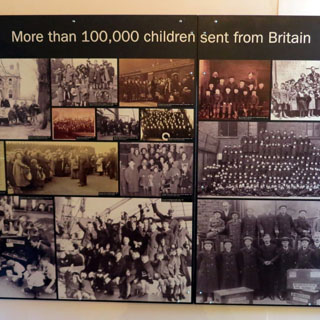 The maritime museum covers the enormous spread of ship building, merchant marines and the Royal Navy in Liverpool. This city had a maritime capability that would have been unmatched anywhere in the world.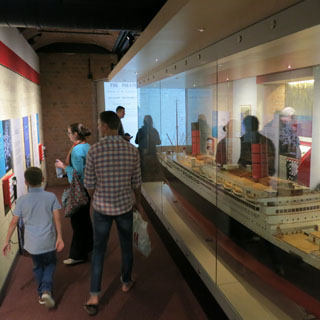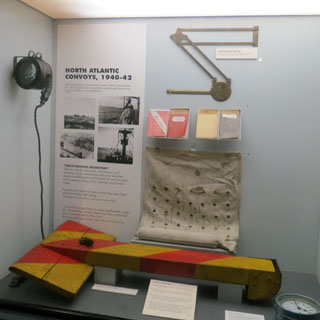 The history of the African Slave trade is integral to Liverpool's history. Many of the richest members of the city and the founders of well-known companies made their money from the slave ships. From this vantage, the American slave market was large and important, but it was just another market in a global industry. It isn't surprising, therefore, to learn that the anti-slavery forces also were strong in Liverpool.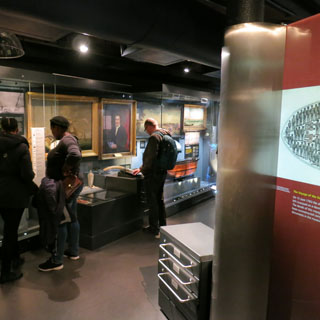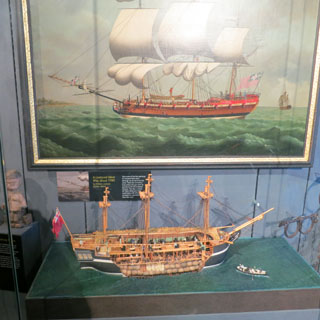 You don't often see a really good figure-head collection.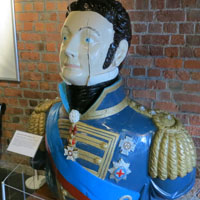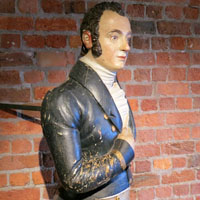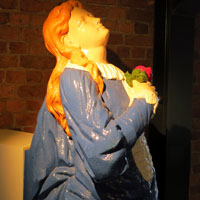 And, away. These fast catamarans are impressive (and all of them were built in Hobart, Tasmania).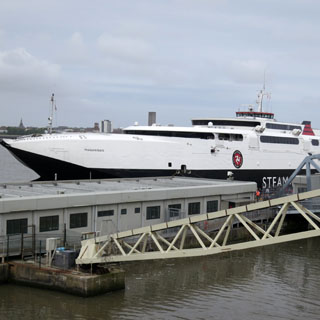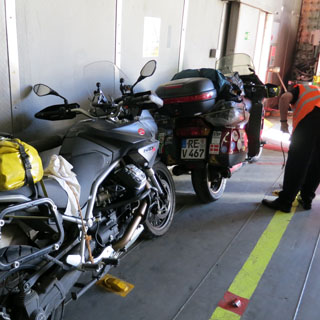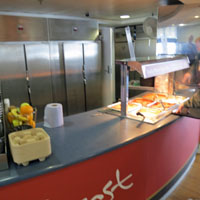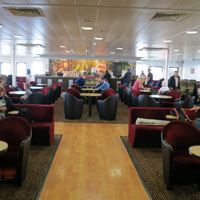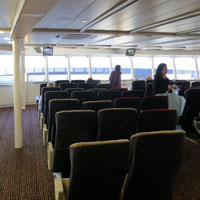 It's become something of a traditional ferry meal for me.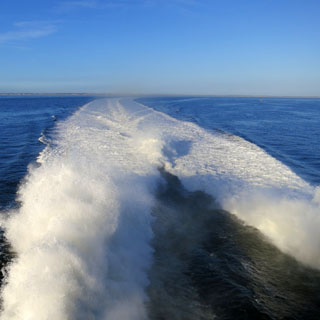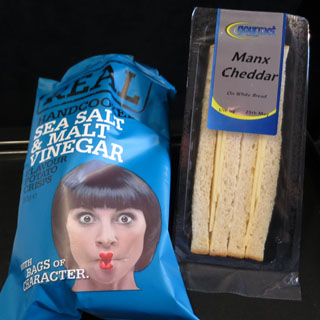 Isle of Man
Douglas, in the evening. I wouldn't have far to ride.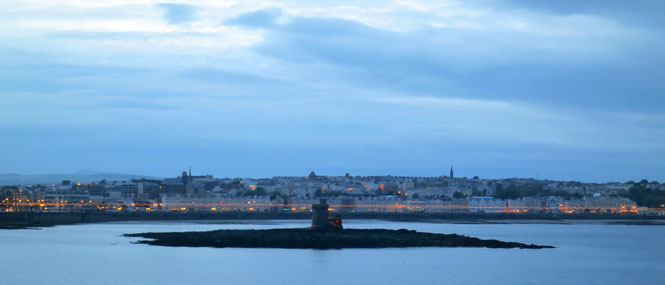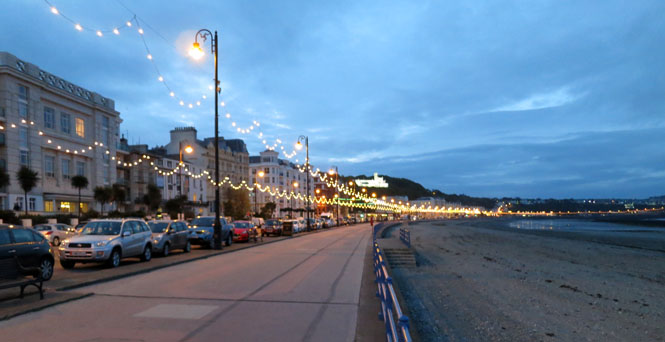 I'm parked on the sidewalk outside my hotel (The Empress). Motorcycles are welcome everywhere in Man and there's no thought of any problem with parking.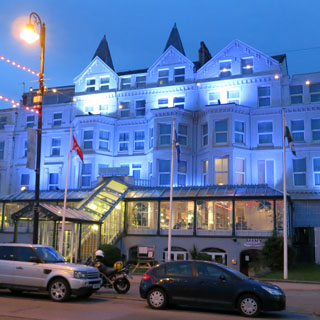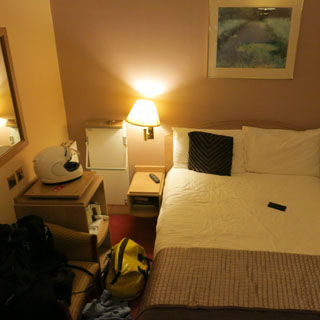 It's like Wales only perhaps a bit greener.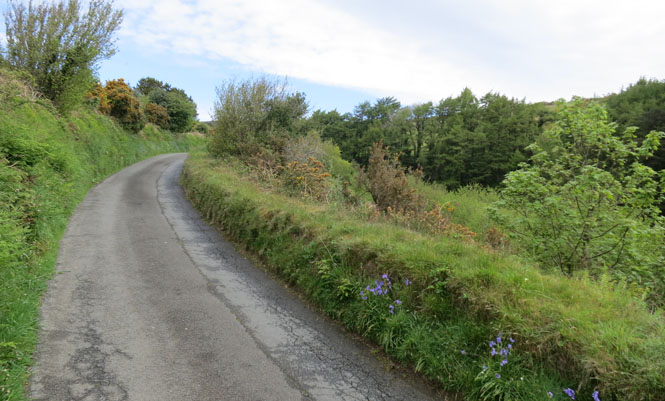 Agneash, Isle of Man. This was unexpected; I started up the single-track road (above) but, when I reached Agneash (below), the road ended. I guess I'll turn around. I'm on this road in the first place because I wanted to see the Laxey Wheel from above.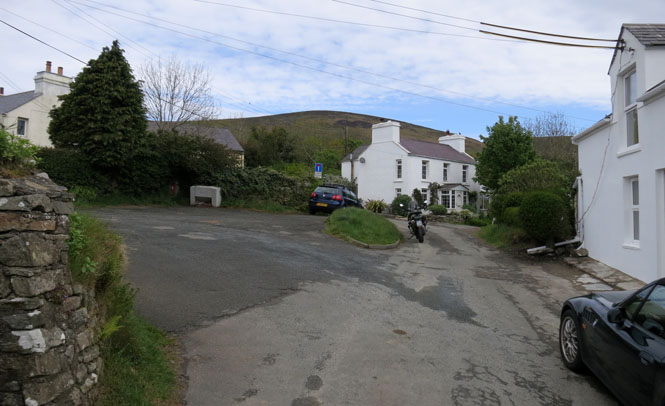 The Laxey Wheel was built in 1854 to pump water from a mine. A waterwheel using water to pump water is a symmetric idea (Man doesn't have coal). These days it still turns, but it does no real work (the mines closed years ago).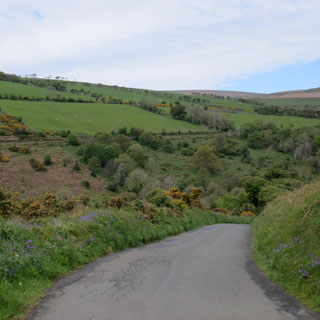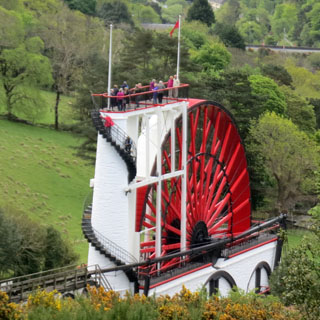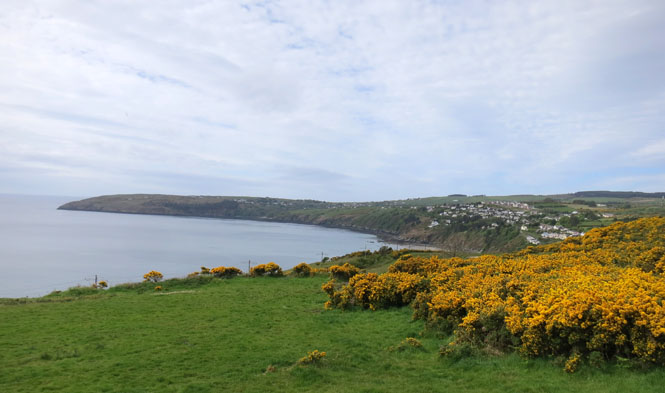 Andreas, Isle of Man.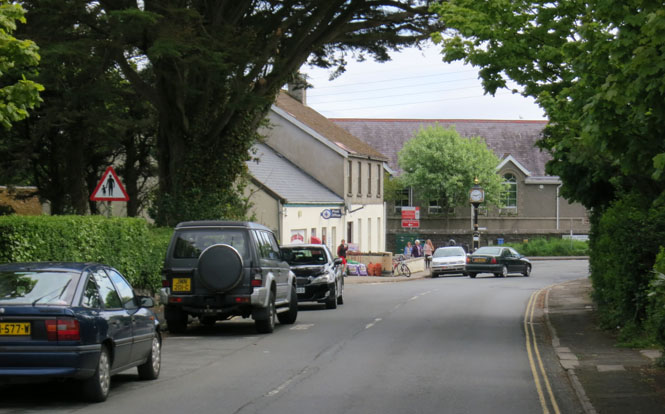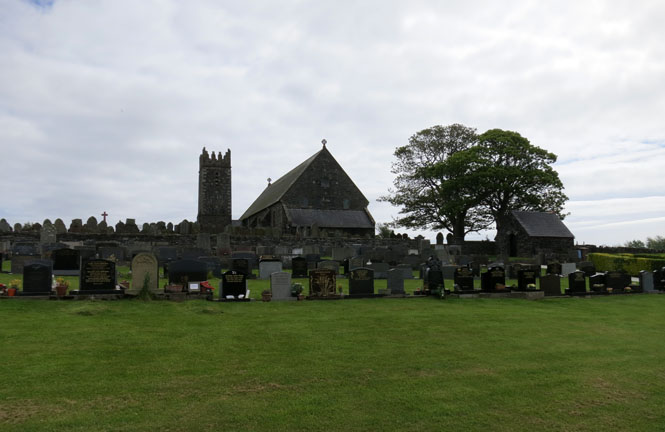 The Isle of Man is perhaps most famous (apart from the Manx cat) for hosting the Isle of Man TT motorcycle races. The course follows existing roads. Not surprisingly, although the races wouldn't start until the week after I was gone, there are a lot of motorcyclists out on the course seeing what they can do.
I did my best to avoid being on any part of the circuit when I was there. The other roads were mostly empty.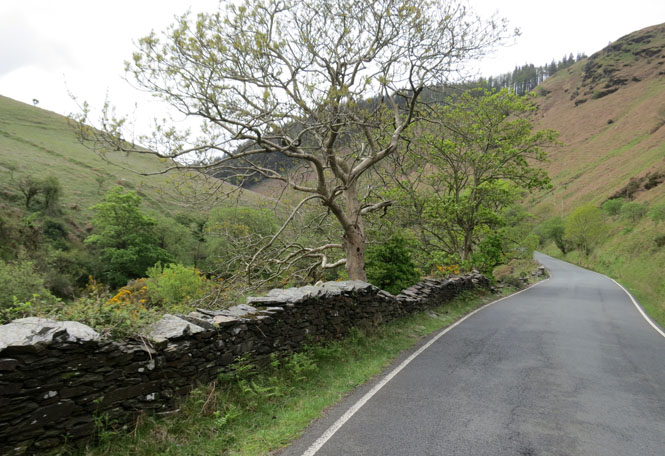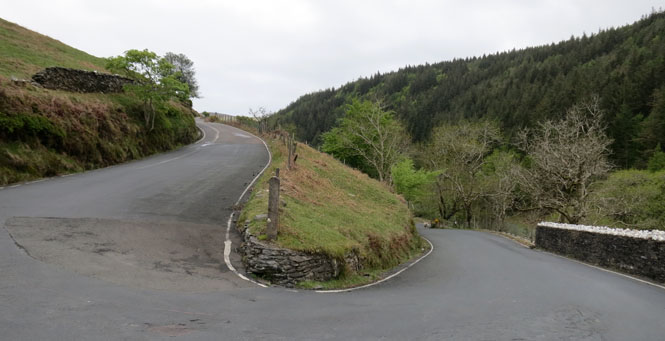 I stopped to take a photograph (above), and these two sheep came trotting towards me. You can just see them down the lower part of the road. They're moving quick.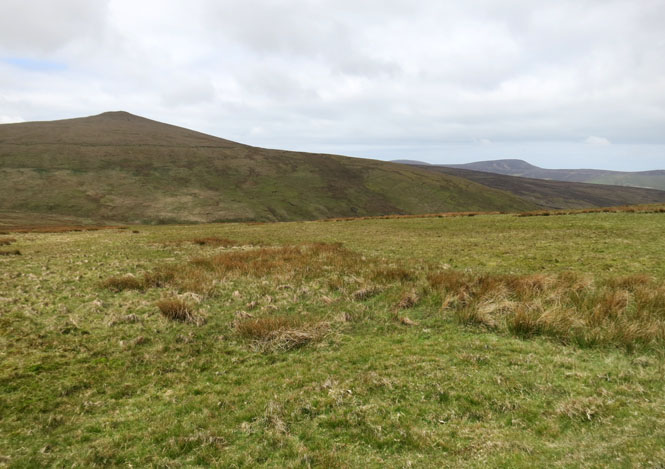 Snaefell mountain is the highest peak on Man. There's an electric railroad that takes you to the top (starting near the coast), although I had no plans to take it. But, when I happened to arrive at this crossing at the same time the car was coming up the hill, I took the opportunity to hop on board.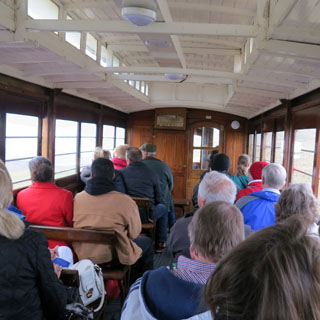 The view from Snaefell. It's windy and quite cold up here. I'm still wearing my riding suit, so I'm in better shape than many of the under-dressed tourists who were there with me.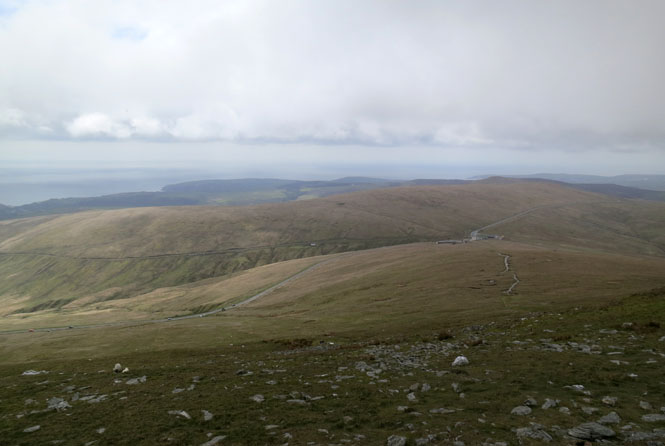 I'm beginning to rely on a scone with jam and butter for lunch each day. It's a perfect meal. This is the little shop and cafeteria at the top of Snaefell.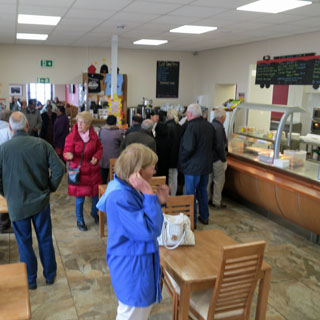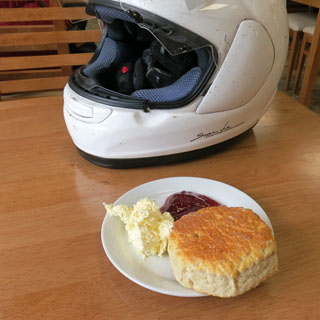 Driving an electric tram is not a difficult job. You go; you don't go. There aren't a lot of other options.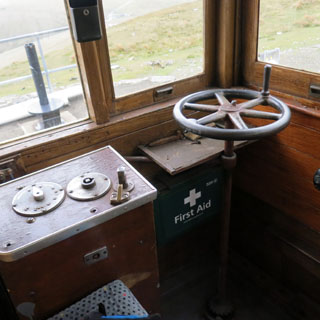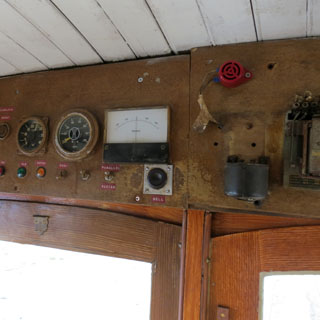 Part of the mountain course of the T.T. The record average speed around the 37 mile course is 132mph. It's mostly a series of high-speed straights and gentle turns, but with crazy-dangerous sharp turns with stone fences along the border. There are some two-hundred corners and any racer (who expects not to hit a stone wall) would need to have all of it memorized.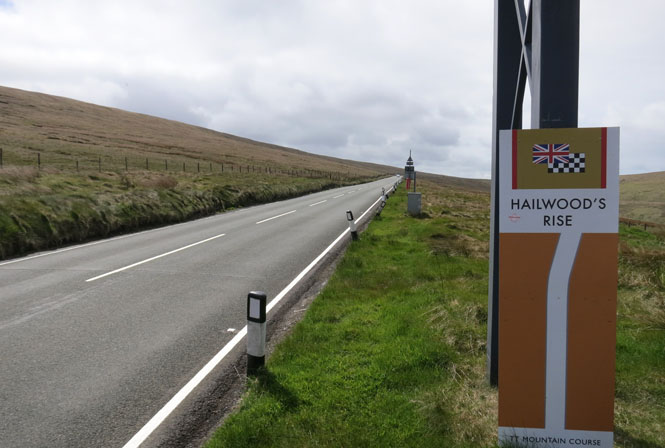 Some of the limited padding on the course. It's still a stone wall behind the padding, but I suppose this will help a little.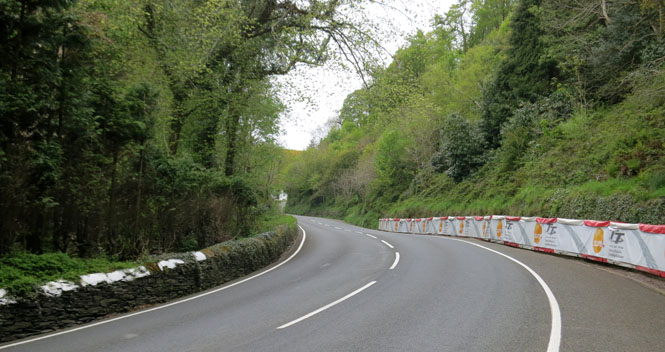 Tynwald Hill (in St. John's). Each year, all new laws are read to the public.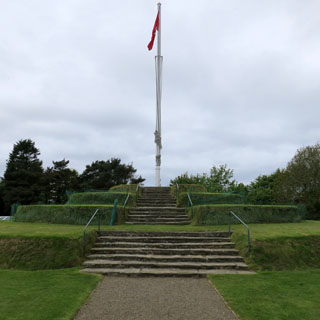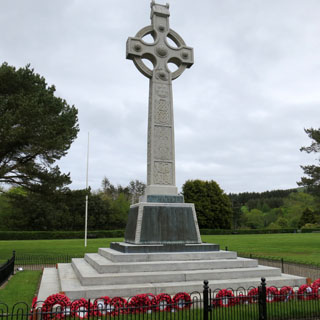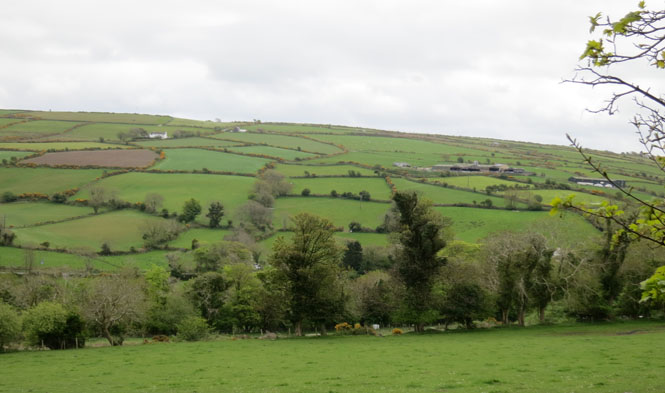 There aren't too many pull-outs on this road, so if two cars meet, somebody will be backing up a fair bit.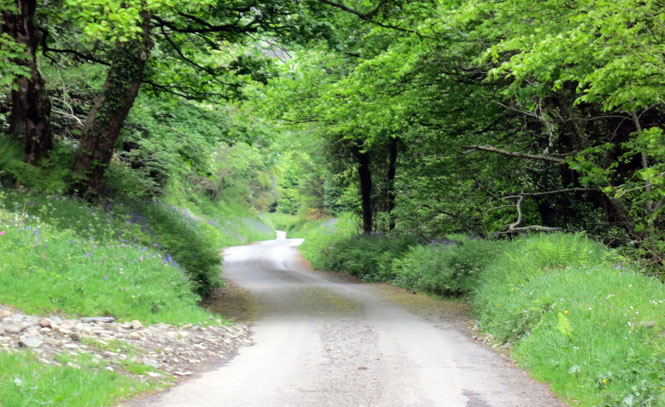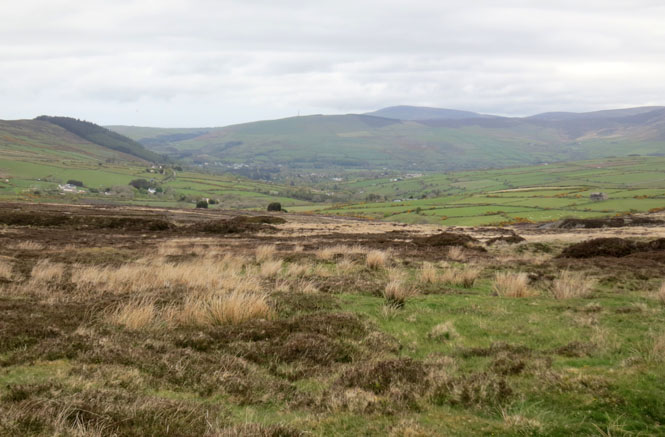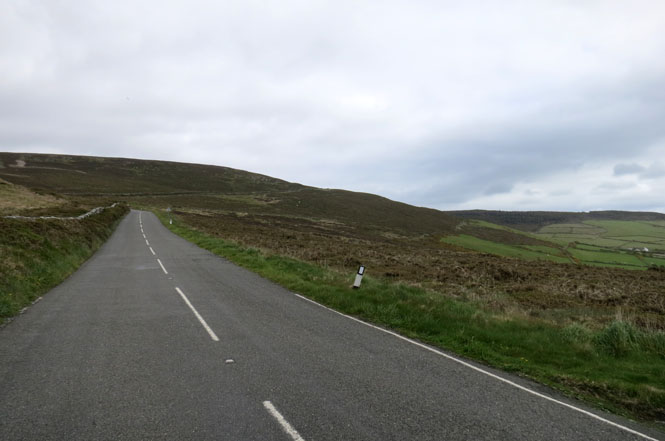 The Irish Sea. I'm on an amazing walking path.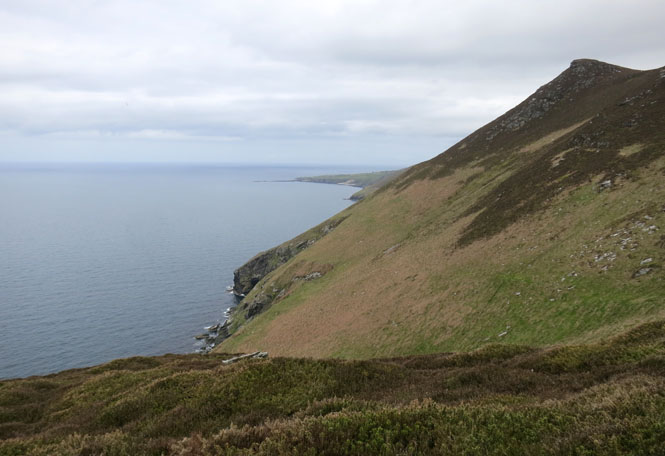 Castletown, Isle of Man. Until 1869, this was the capital of Man (now the capital is Douglas).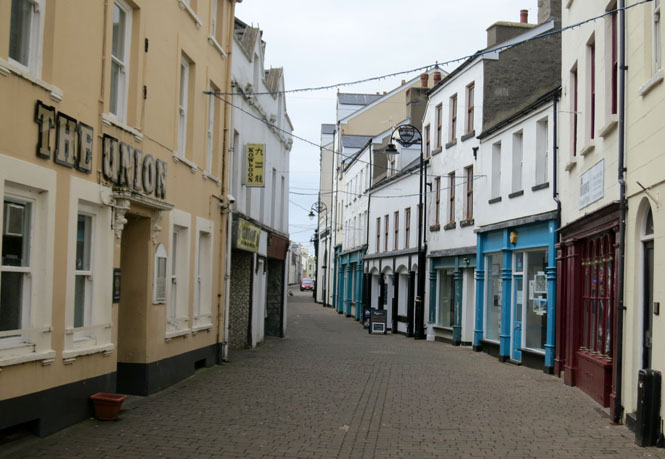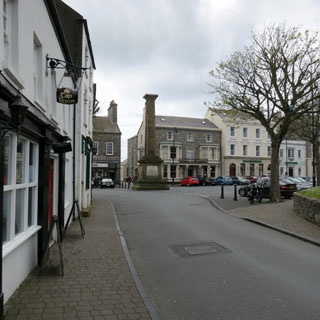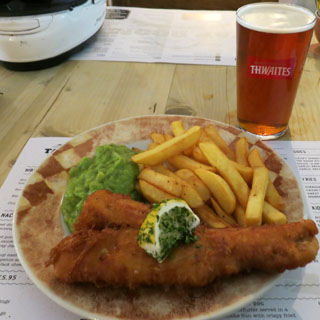 Castle Rushen. Perhaps because it was a prison for so long (until 1891) the castle remained at least not entirely a ruin. It has now been structurally restored and is generally complete.
The castle was the home of the King of Man for centuries. After the Isle of Man passed back and forth between Scotland and England the castle became the home of the Stanley's--now called Lord of Man, which title is now held by the Queen.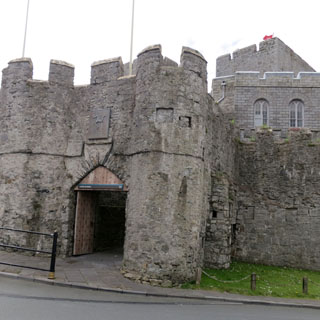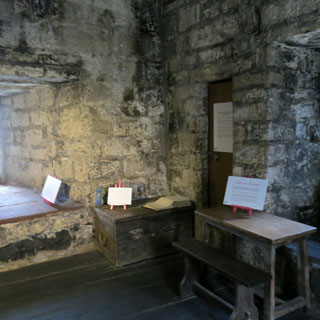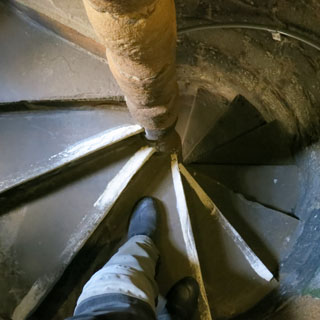 The view of Castletown from the castle tower.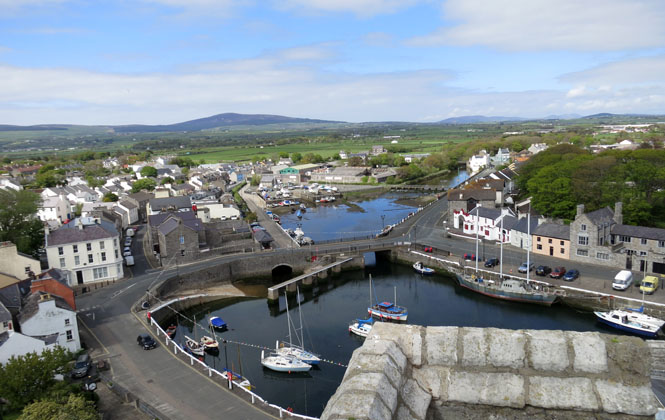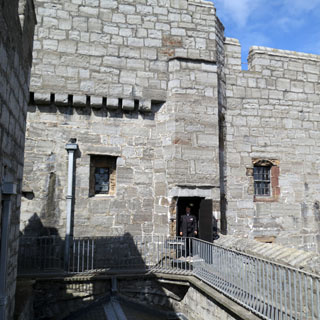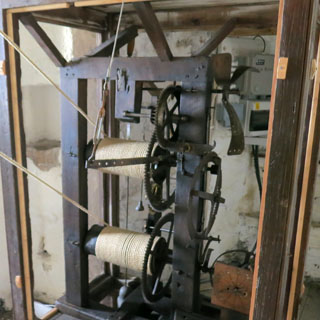 Several of the rooms have been restored into the condition they might have looked in the middle ages.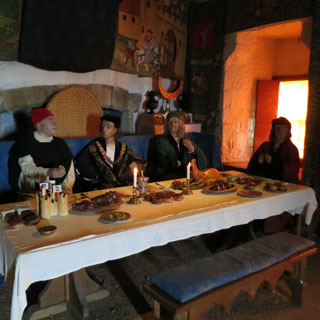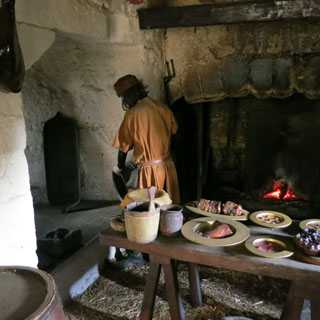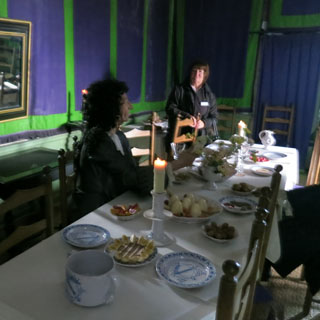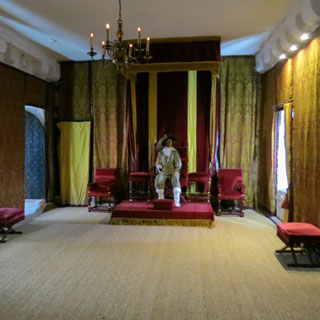 And, we're back in Douglas.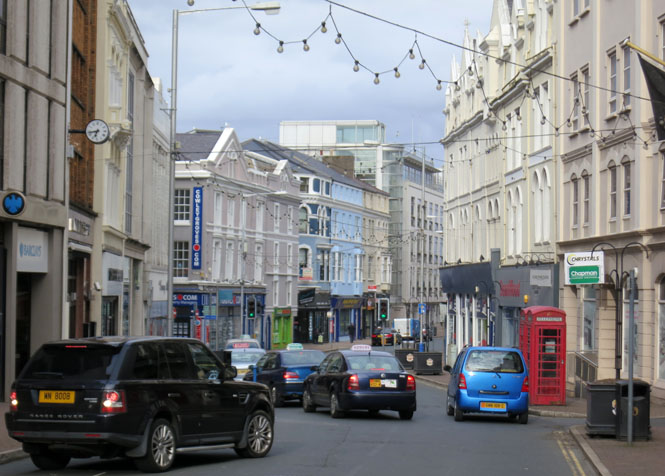 I'm afraid I know nothing of George Formby, beloved English ukulele-playing comic who died in 1961. Evidently, in 1936 he made a movie ("No Limit") which featured the Isle of Man TT Races in which our beloved George competes in his "Shuttleworth Snap" (perhaps it's a movie worth looking up?).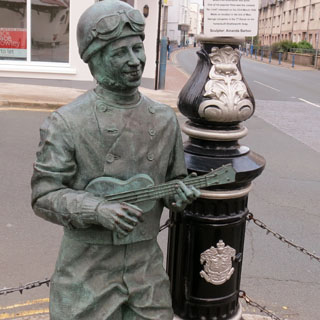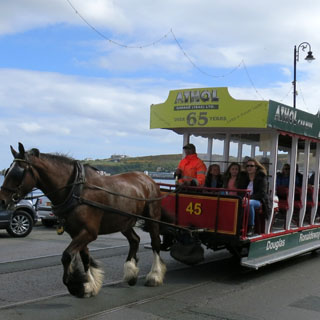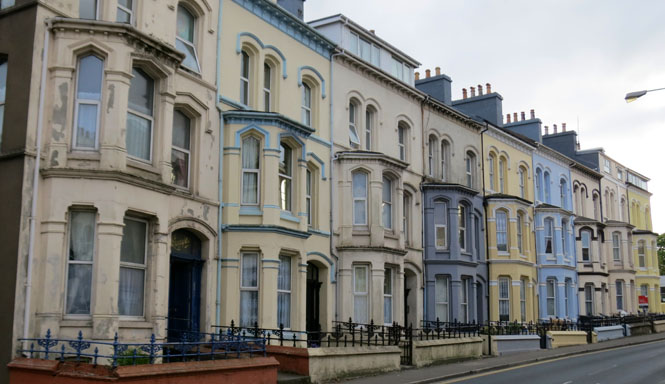 A sad dog waiting at the pub. These bears are just part of what this residential yard looks like. Some people like roses, and some like having tea-parties with their friends.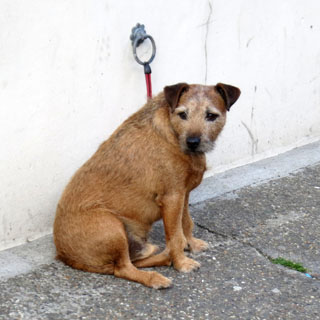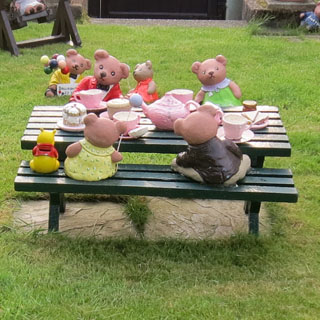 This is a city street in Douglas, but it is also the start/finish of the Isle of Man TT race.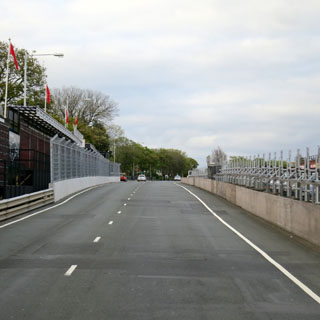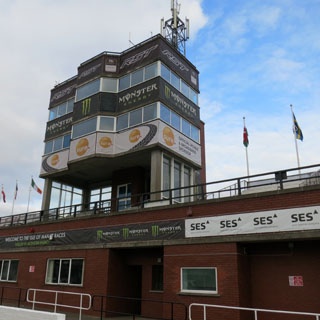 It's early morning, and time to return to England. The sprinkle on the cappuccino is a nice touch.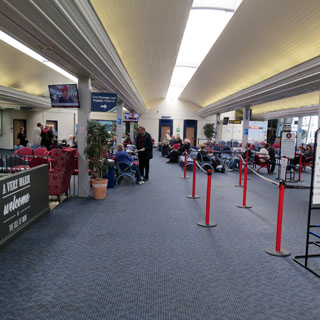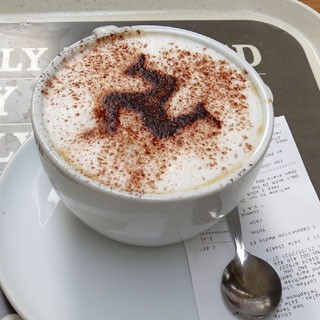 It won't be a high-speed boat this time. And instead of returning to Liverpool, I'm heading north to Heysham.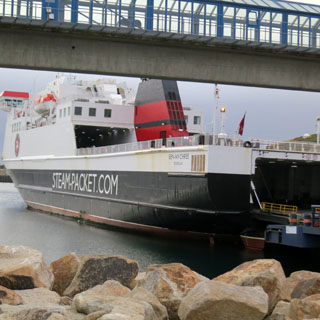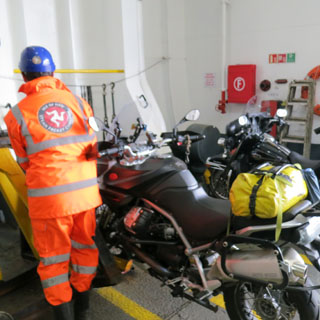 England
My plan is to run up the coast a bit towards the Lake District, and then continue into Scotland.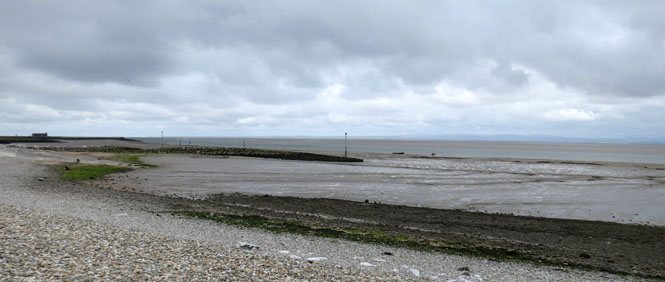 Morecambe, U.K.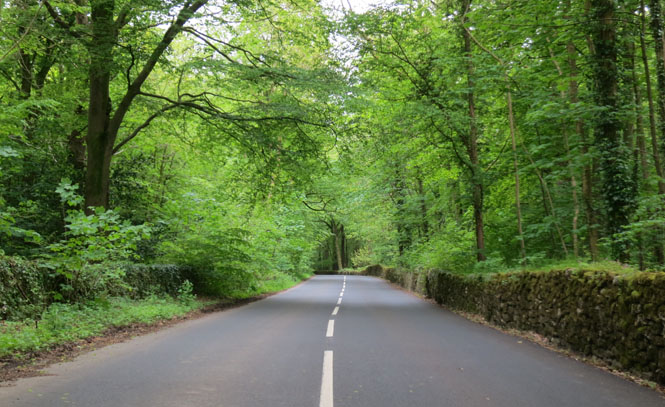 Beetham, U.K. Sort of funny: a car and caravan (camping trailer) had managed to get itself jackknifed in this road, just around the bend. They were trying to back out of a drive, and it all went wrong. Of course, their best bet would be to hand the wheel to somebody with some experience with a trailer. They didn't block my path (up and over the curb), so I didn't stick around to see the outcome.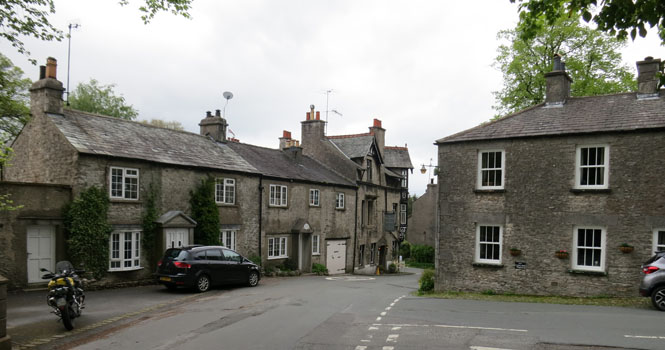 Windermere, U.K.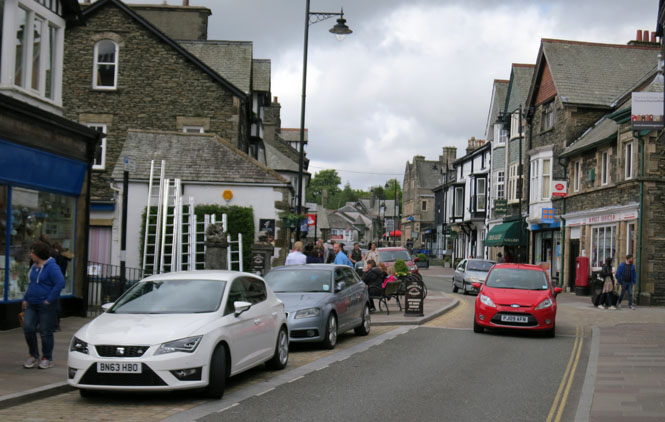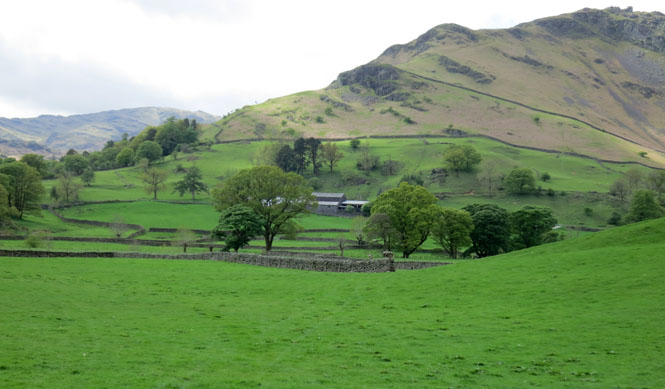 Riding through the Cumbrian Mountains.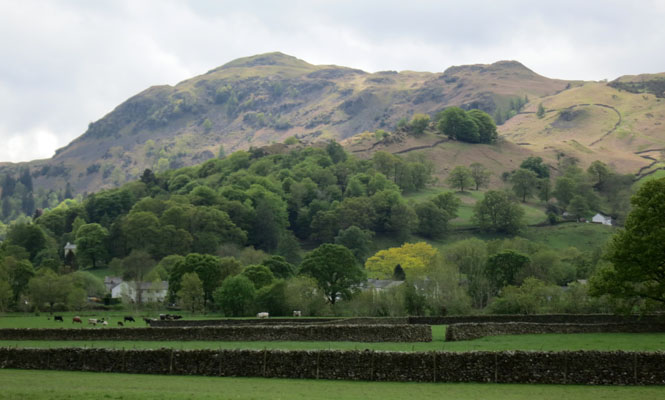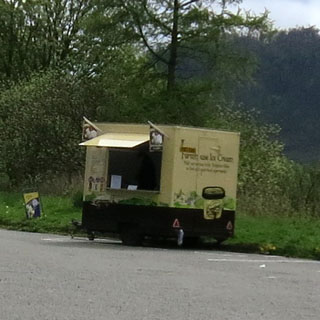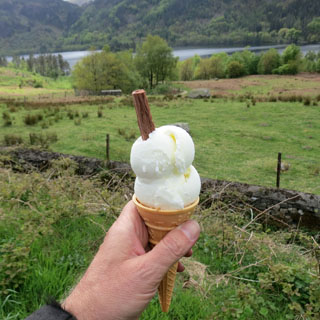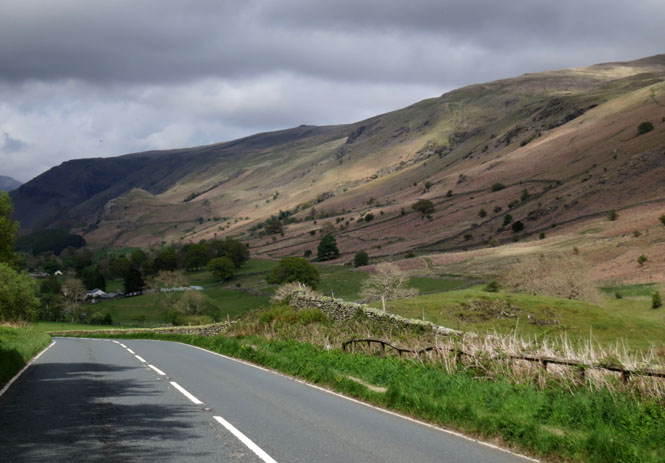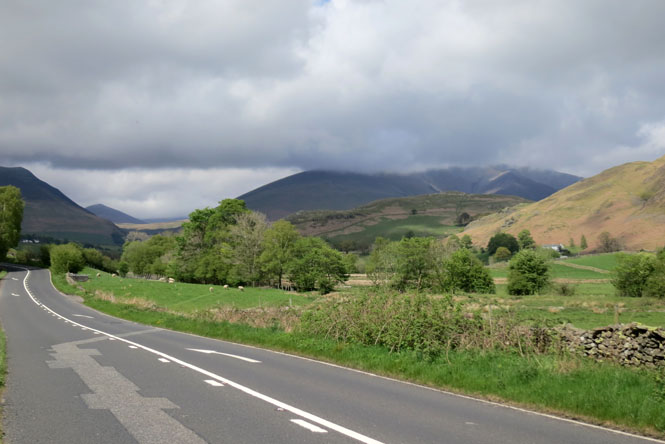 I had every intention of stopping in Keswick to see the home and museum of author Hugh Walpole, but is was so ridiculously crowded this day that I just carried on (and the crowds vanished).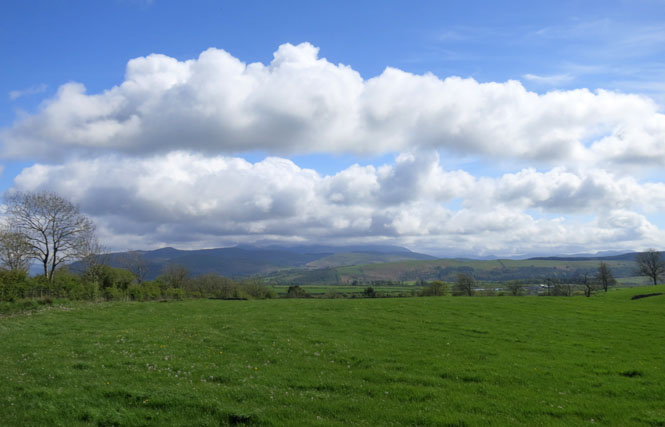 If you get away from the major roads, things revert to around 1910. This is not a road sign for a highway full of fast cars; it's more suitable for the carriage driver or horseback rider.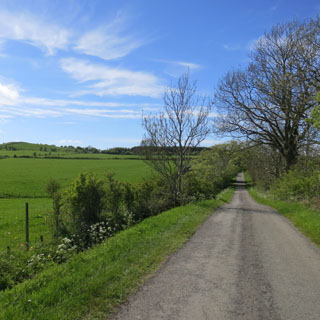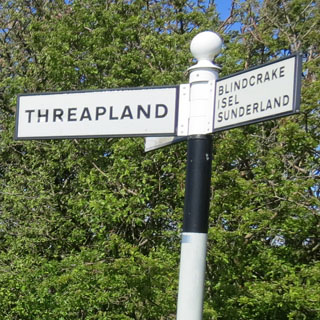 Skiddaw (mountain) in the distance.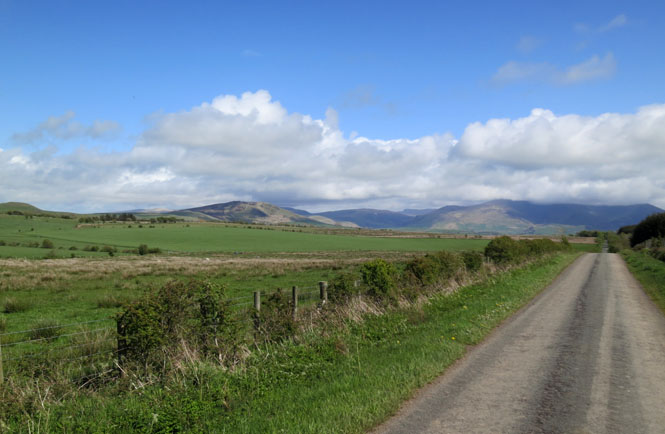 Scotland
I covered quite a bit of ground this afternoon by riding the M6, but then took the exit and slowed down in Moffat, Scotland. I would avoid motorways going forward.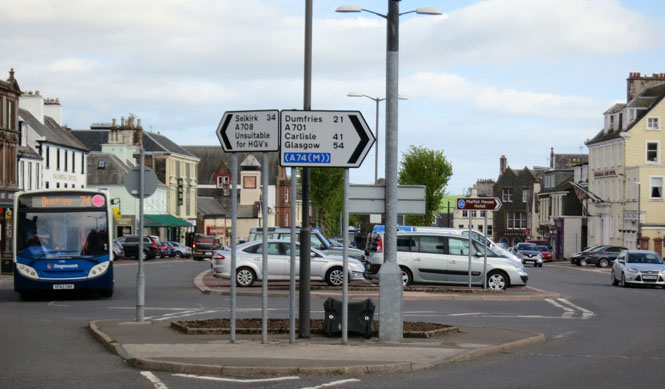 I'm at the top floor, but they don't seem to have put rooms in the attic, so I didn't need to keep my head down.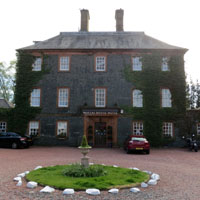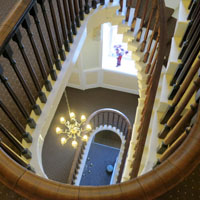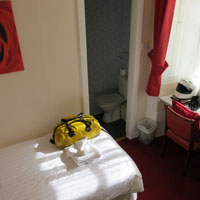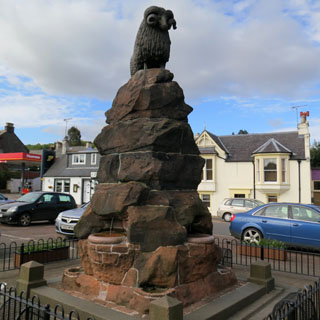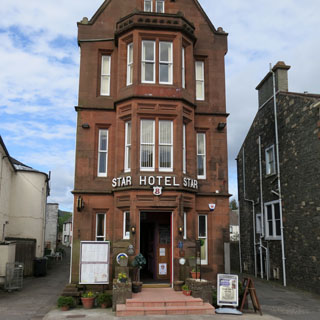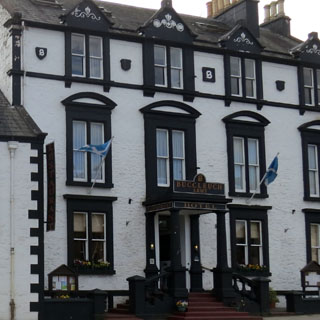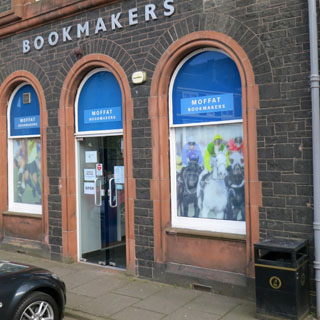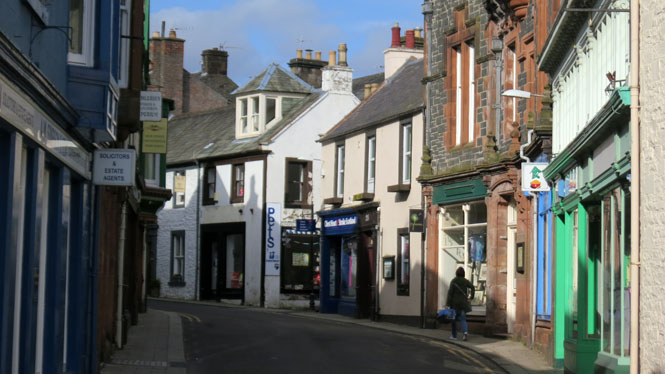 That's Robert the Bruce on the roof.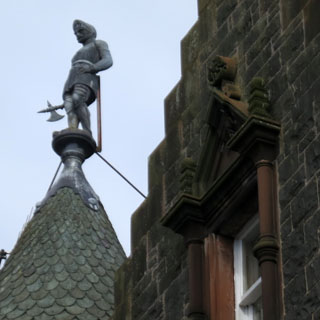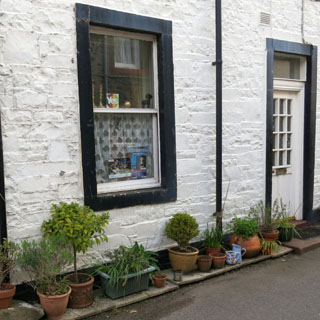 Yorkshire pudding in Scotland? I don't see why not.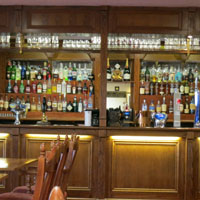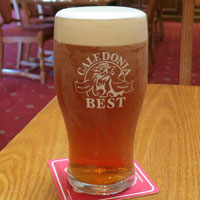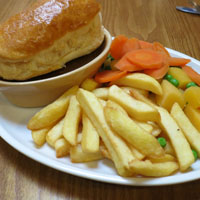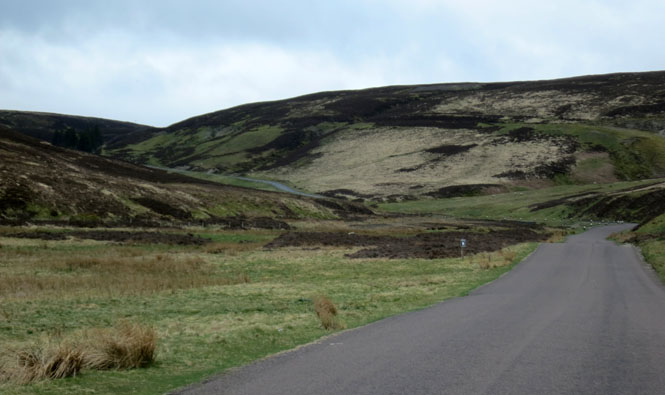 Leadhills, Scotland. There is some debate whether Leadhills or Wanlockhead is the highest village in Scotland. Certainly, Leadhills has the highest hotel since Wanlockhead doesn't have one.
Wanlockhead, Scotland.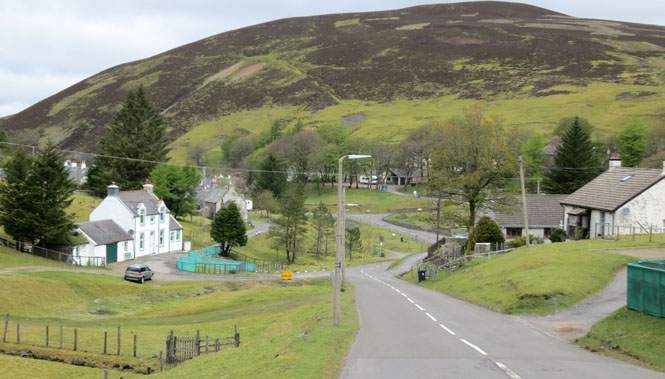 Grouse Moors. A beautiful area.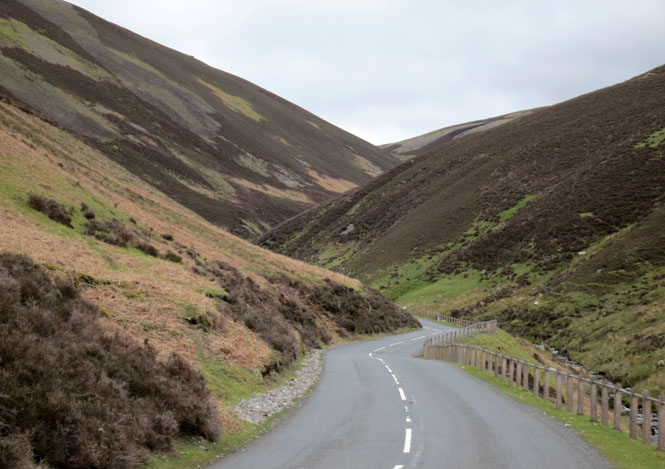 Sanquhar, Scotland.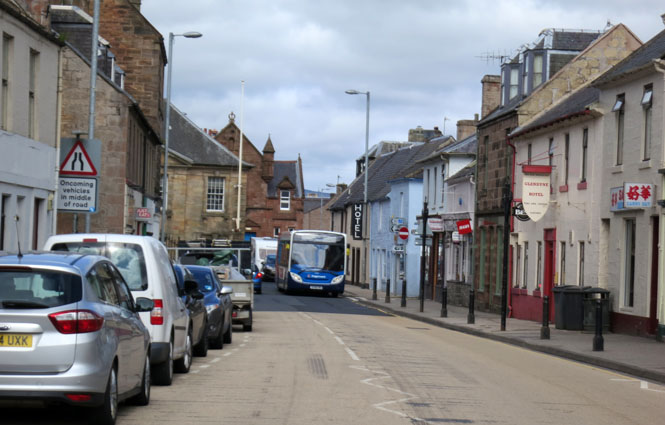 Mauchline, Scotland.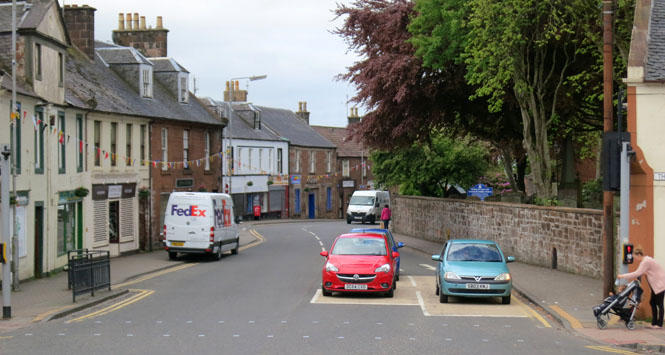 Robert Burns lived in Mauchline, and his house is now a museum.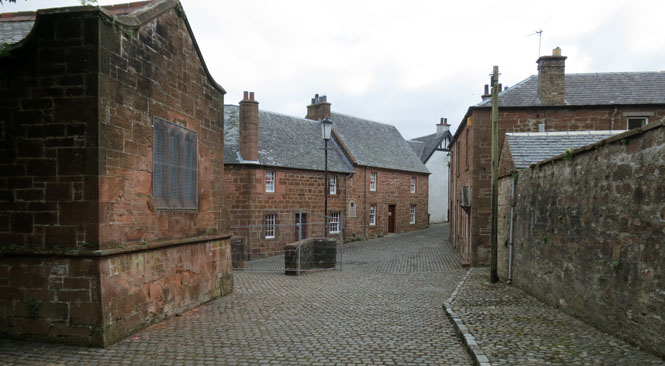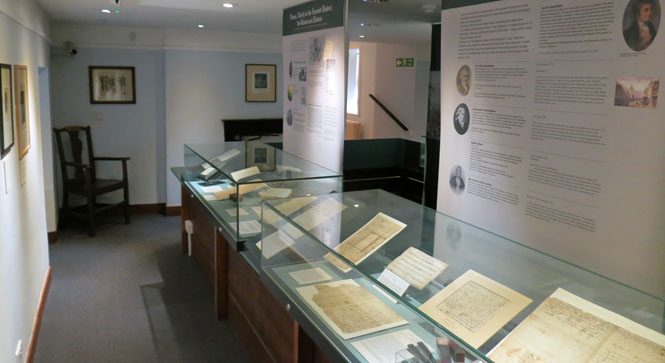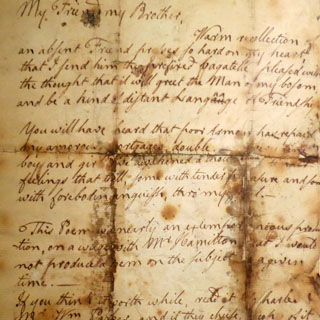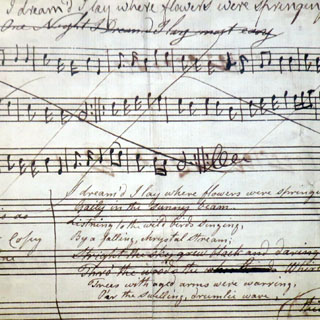 Jean Armour, his wife, is from Mauchline.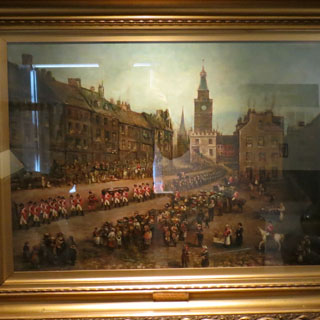 It's another Robert Burns memorial just outside Mauchine, but to what purpose, I'm not sure (it isn't open).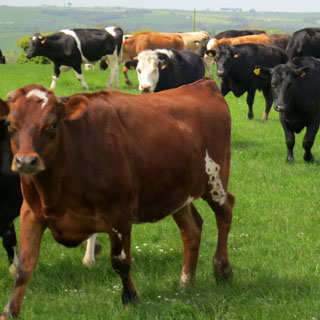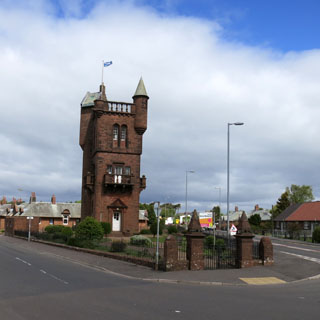 Dalry, Scotland is one of several places I stopped to see if I could exchange an old (but, not that old) English £50 note (from a previous trip) for a fresh note that would be acceptable. Who knew that paper money expired? Eventually I found a teller at the Royal Bank of Scotland who said she would do it for me ("just this once").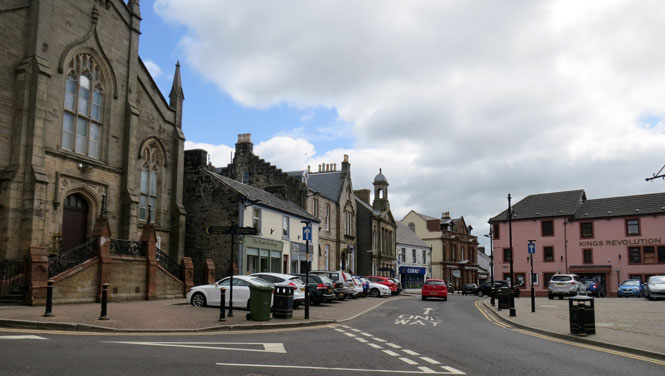 I hit the ferry at Gourock perfectly. I rode down the ramp, and minutes later they cast off. By taking the ferry I avoided any congestion getting through Glasgow. This crosses the Firth of Clyde to Hunters Quay.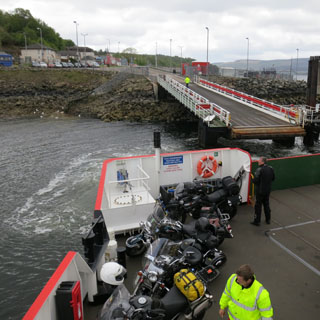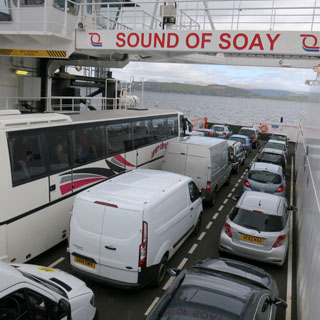 The River Fyne entering Loch Fyne. When is a loch a firth? There seems to be no rule (or at least there are plenty of exceptions to that rule). Additionally, some lochs have fresh water, and other lochs are open to the sea. They are what they are.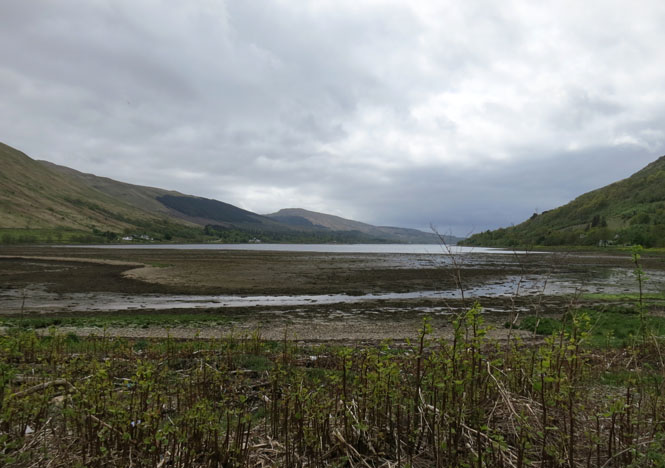 Inveraray, Scotland, the ancestral home of the Duke of Argyll, leader of the Campbells.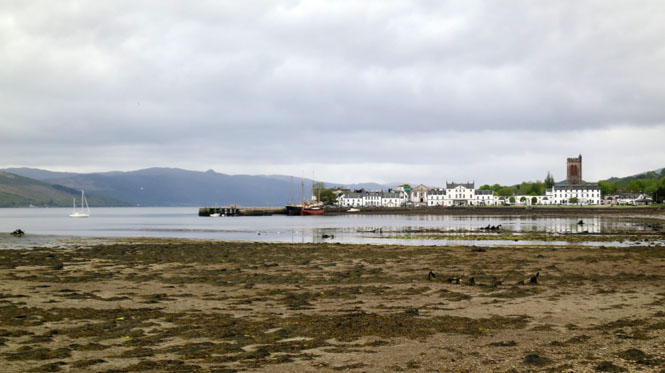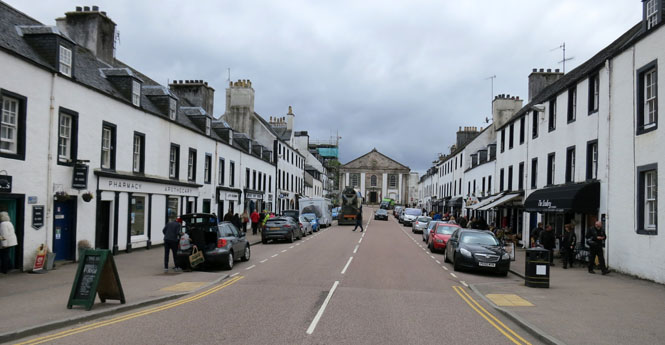 Loch Awe and Kilchurn Castle.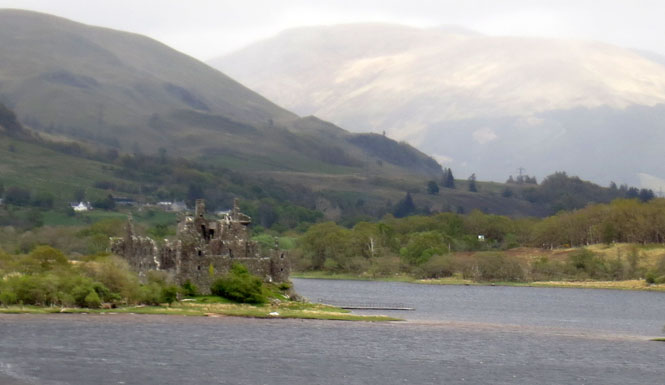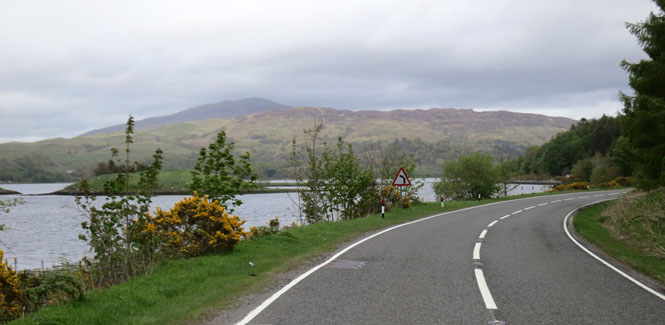 Loch Linnhe and Castle Stalker.
You might think that every Loch that has a remote island will also have a castle built on that island--you'll not be far off. In Monty Python and the Holy Grail, this castle appears at the end of the movie as "The Castle of Aaaaarrrrrrggghhh."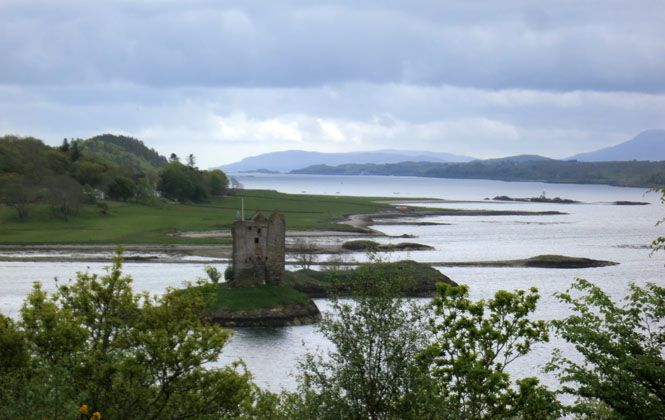 Bidean Nam Bian (Mountain).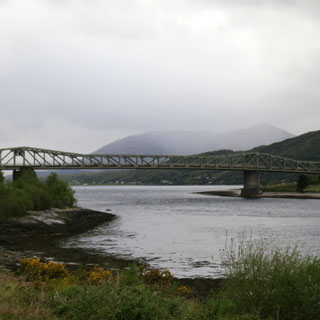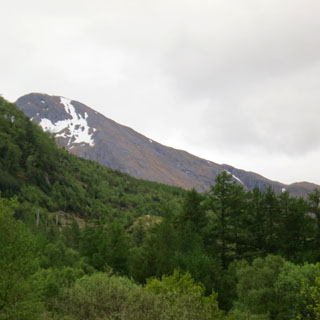 Loch Linnhe.
Fort William. Riding into Fort William, I was becoming concerned that there might not be any rooms here or further along. Every B&B I saw and every small hotel had a sign out front saying they were full.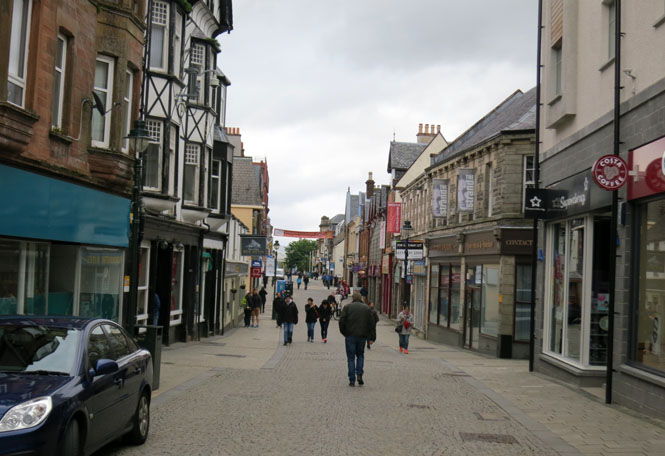 And, there didn't seem to be anything in Fort William, either. I returned to one of the larger hotels in the town just to ask for their help in finding a room. Perhaps the clerk took pity on me, but he said he did have a room and would I want it?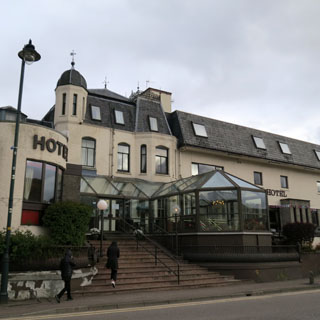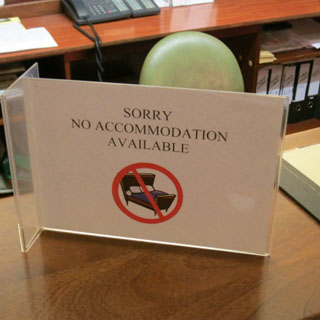 I had more beds than I needed (perhaps that's why it was available--there might have been a group cancellation), but I was only charged for a single. I'll include one shot of my typical outfit each day (not counting the riding suit). That's an electric vest, which was absolutely necessary these last few days, and there's a silk scarf around my neck.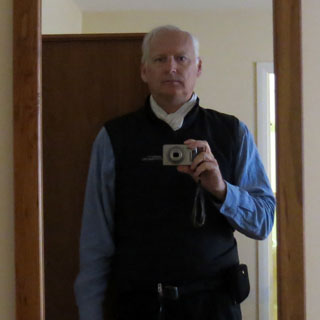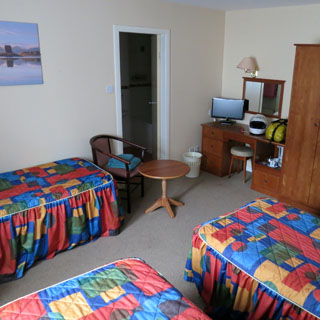 We're all looking out the window at the rain pouring down. I have a more direct reason to hope it isn't still raining tomorrow morning.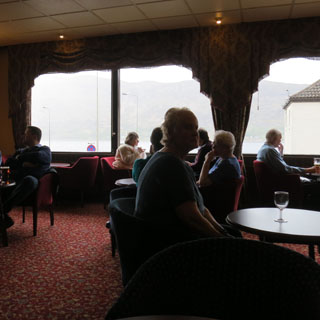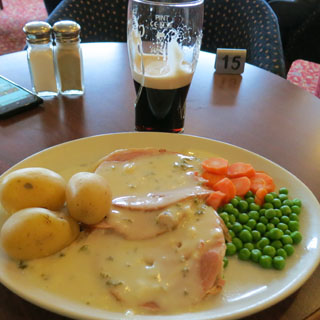 They've done a nice thing, here. This is a collective memorial to Scotland soldiers who served as commandos. Adjacent to the statue is a large stepped ring where anybody can leave their own memorial to individuals. This keeps the base of the large statue clear of added things, while the ring is allowed to be turned into a more personal memorial for families.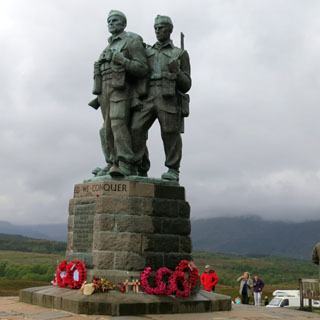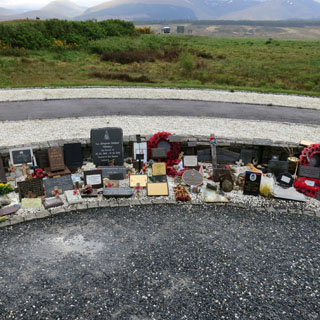 Ben Nevis (Mountain) is the highest peak in Britain. I'm pretty sure that's it; but, if it isn't, the real thing can't look too different. Too many clouds, and too much rain.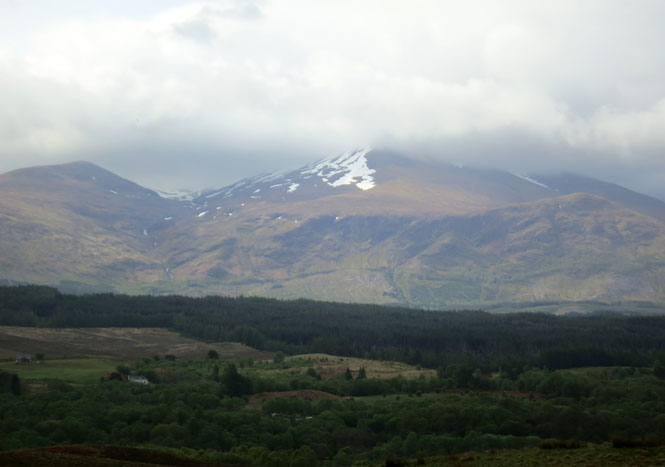 Highland cattle. I thought they came only in the one color, but I read that black is common, too.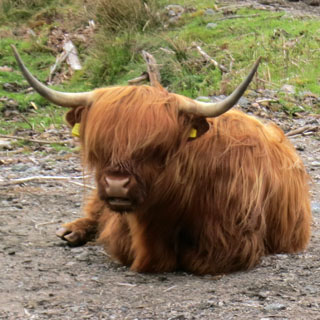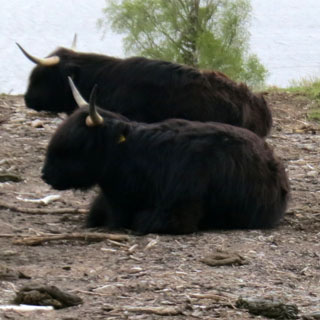 Loch Cluanie. Shouldn't there be a castle on that island? I'd almost bet that if you looked, you'd find the remains of one.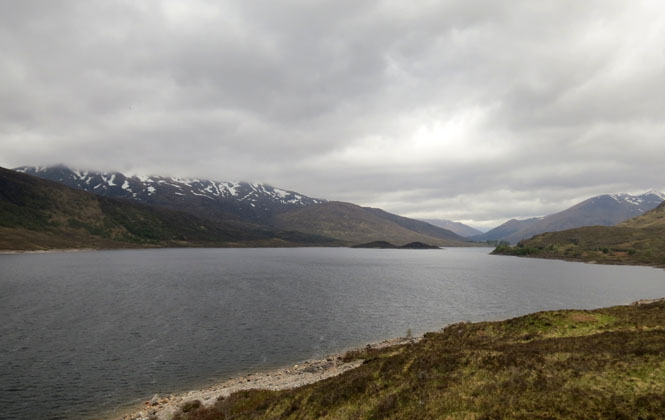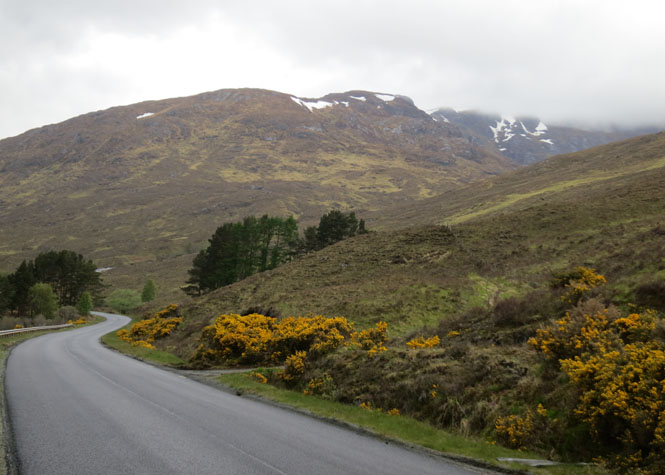 It's cold and windy and raining half the time, but what a great day and great location for riding.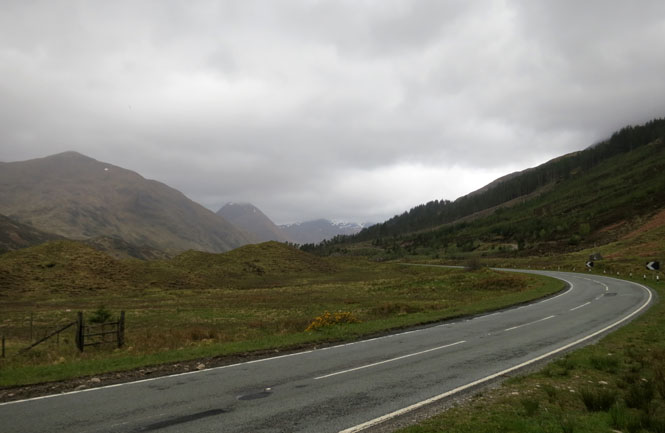 Loch Duich and Eilean Donan Castle.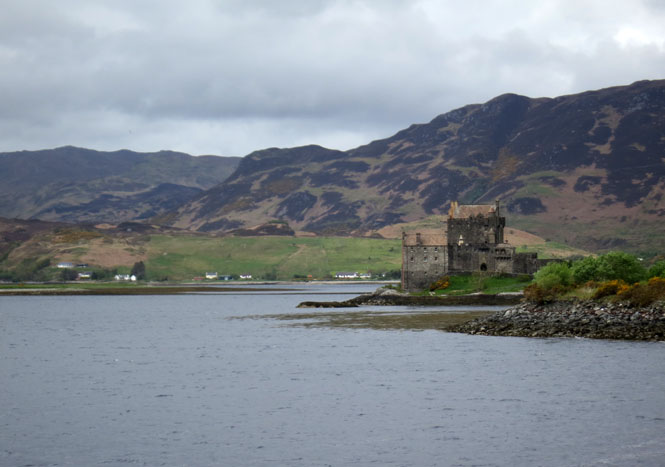 River Carron (flows into Loch Carron).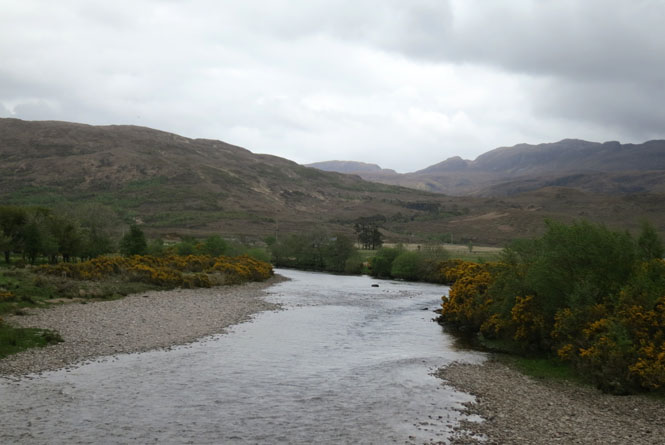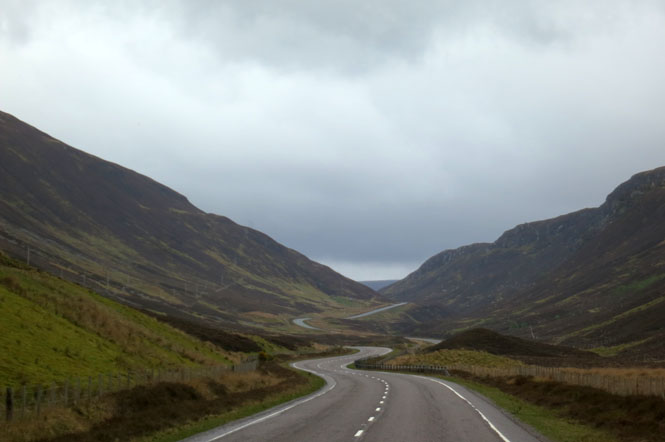 Charlestown. It's raining pretty hard, so now's a good time to stop for some fish cakes.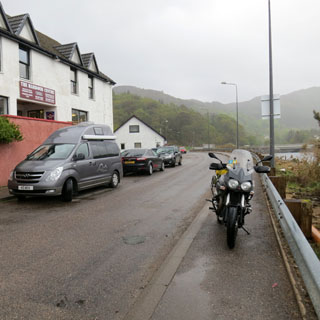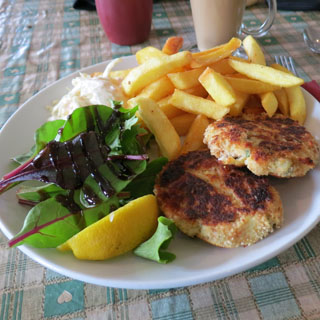 Loch Maree.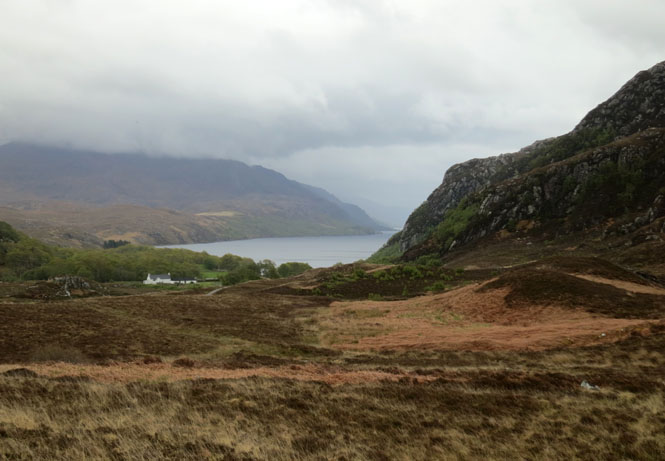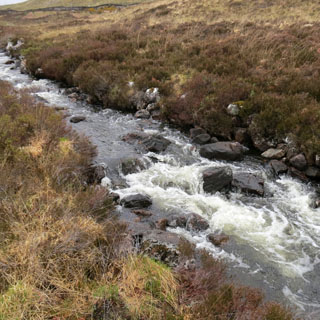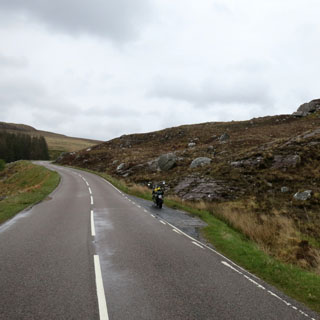 Gruinard Bay. I wasn't expecting to find such nice sandy beaches in Scotland. You'll likely have the whole thing to yourself.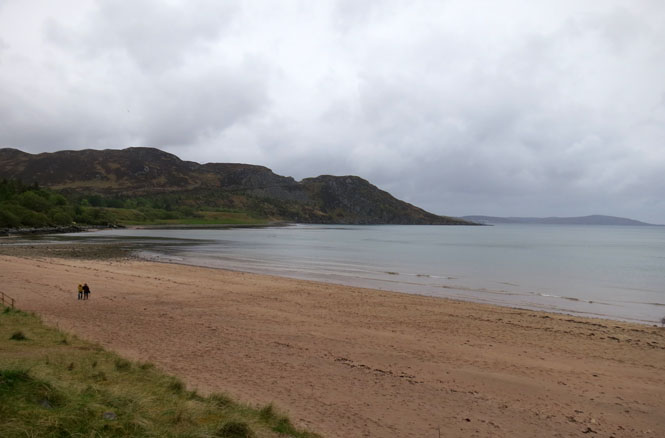 Dundonnel River.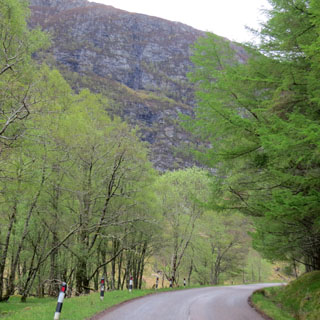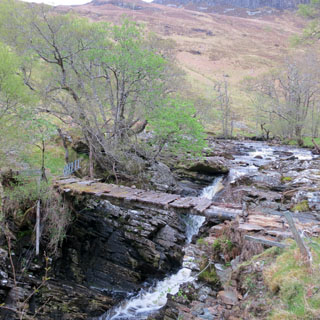 Ullapool, Scotland and Loch Broom
I learned my lesson at Fort William, so I stopped early in Ullapool to make sure I had a room for the night. Looking at the map, it wasn't clear that there would be many opportunities heading north.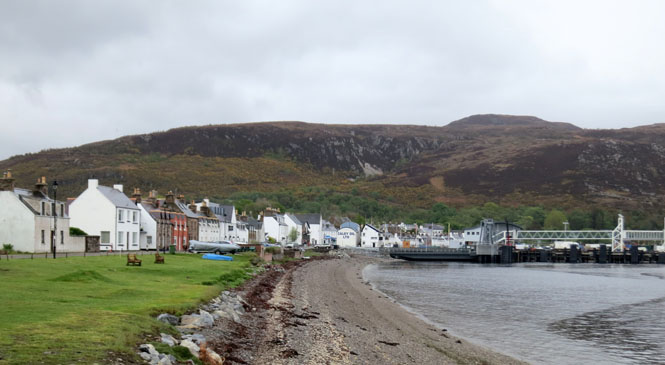 The Caledonian Hotel is a nice one. The scent of burning coal is pleasant.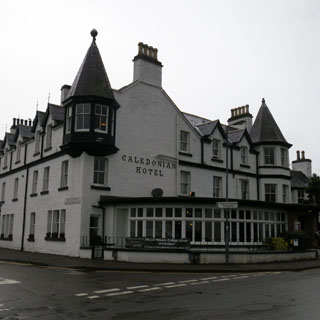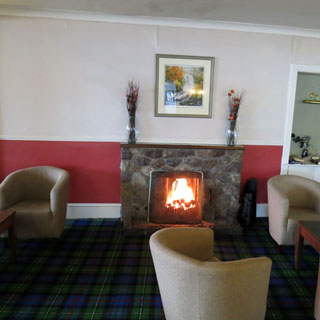 Cam Loch.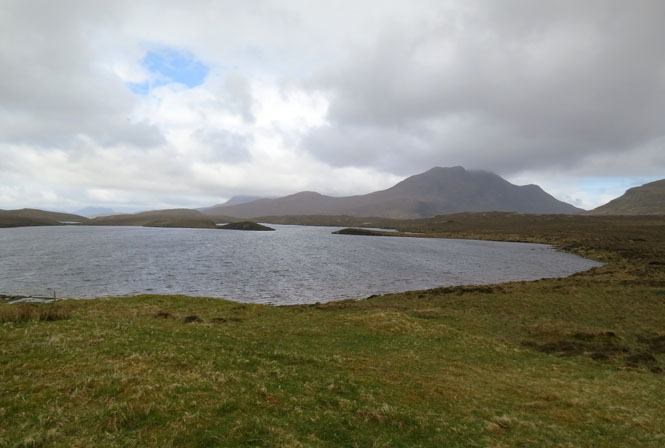 Loch Assynt. And, yes; there is a castle on that island.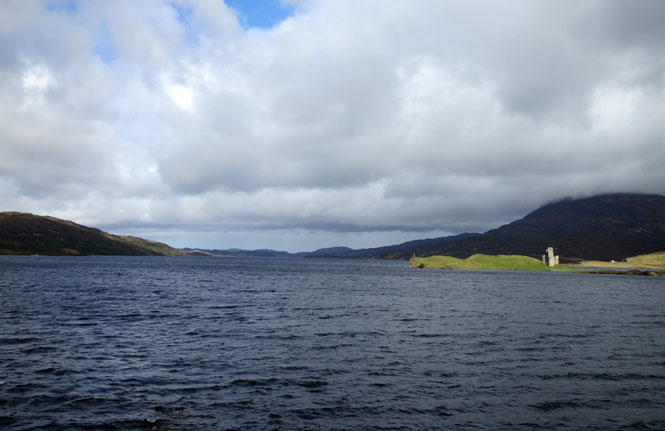 It isn't always clear if a loch is fresh water or open to the sea. Check the shoreline for evidence of tides.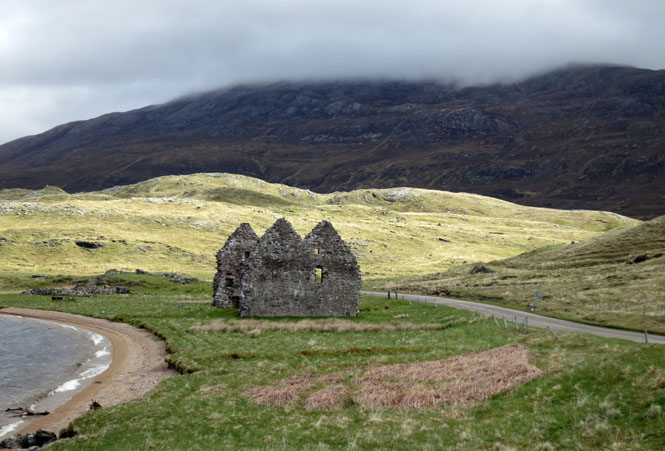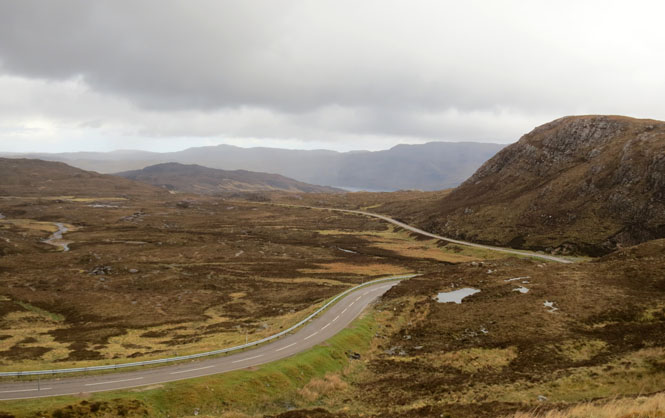 Scourie. I was wondering if there might be fuel along this road. There is. The Stelvio has a large fuel tank, so I would have been fine, but that yellow low-fuel light is annoying (I put tape over that light on my own bike).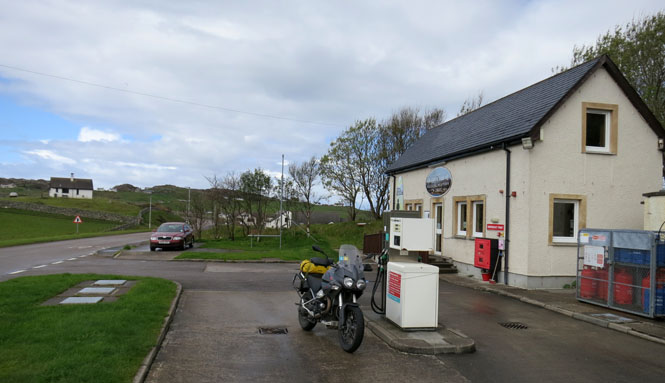 Laxford Bridge. I only assumed that since Laxford Bridge was identified on the map that there'd be a town here. No. There's a bridge (probably named Laxford).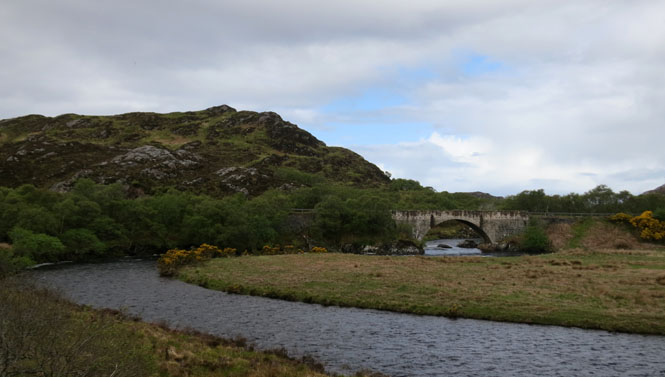 I had to decide if I wanted to continue up the coast and then east towards John o' Groats, or if it'd be more interesting to cut diagonally across the top of Scotland. Time-wise it didn't really matter. I decided to make the cut. That skinny little line on the map looked interesting.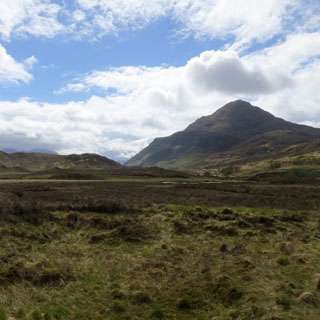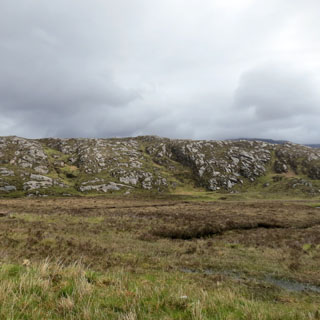 Loch More. This is another nice example of a typical single-track road. There are occasional pull-outs for cars that meet. On a motorcycle, of course, you don't need to worry about it. No matter; there were very few vehicles of any type.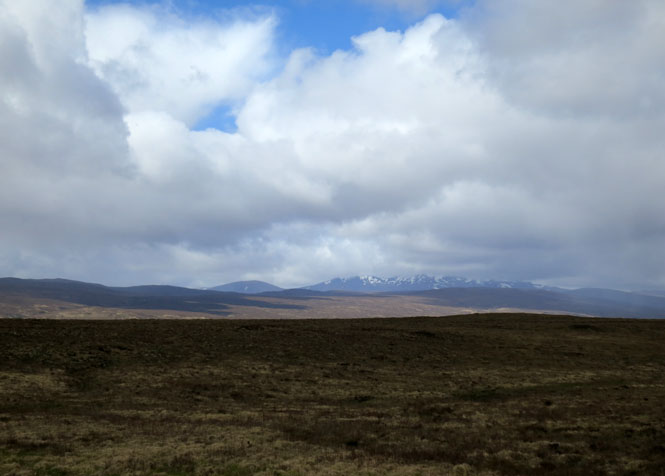 River Shin.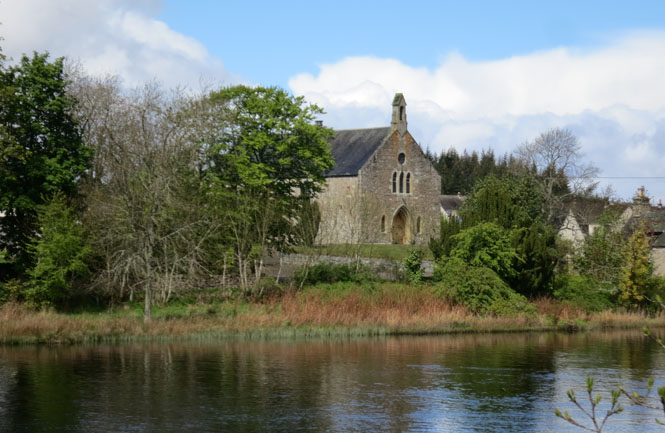 Lairg, Scotland. I departed from my normal scone with jam and butter and had a toasty.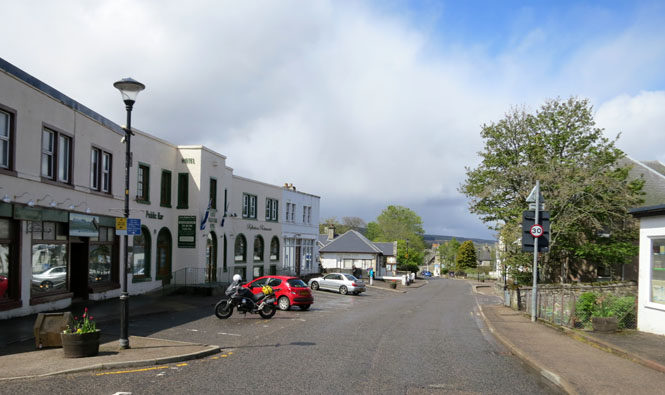 Comarty Firth. I'd be crossing that bridge. This is the route to Inverness, but I'd be doing my best to avoid that larger city.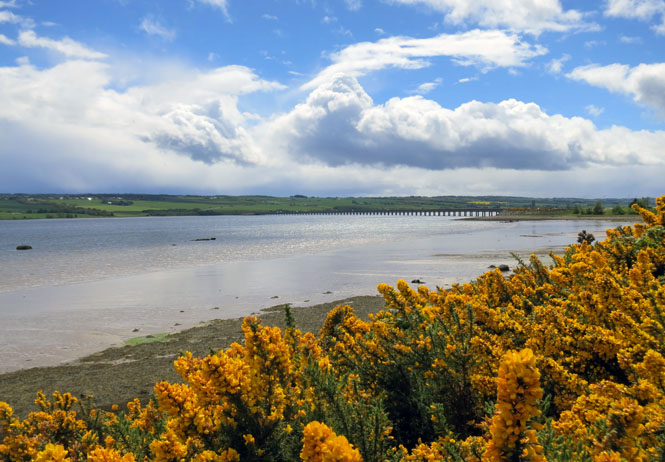 The Battle of Culloden, 1746. The deciding battle of the Jacobite rising of '45 was fought here.
There's an inevitability of the thing when you read the history of Bonnie Prince Charles and the Stuart cause leading up to this point. This is a sad place. Fifty men were killed on the government side and around 2,000 were killed on the Stuart side. This was the last battle fought on British soil.
They've done a very nice job with the battlefield; not the least of which is to keep it clear. The visitor center isn't obtrusive, and the battlefield probably isn't much different from what it was then. That has taken good planning.
Red flags are used to indicate the line of government troops, and blue flags show where the Jacobite line was (this was not a case of Scotland vs. England). It's an effective technique as it lets you know how things stand from all points of the field.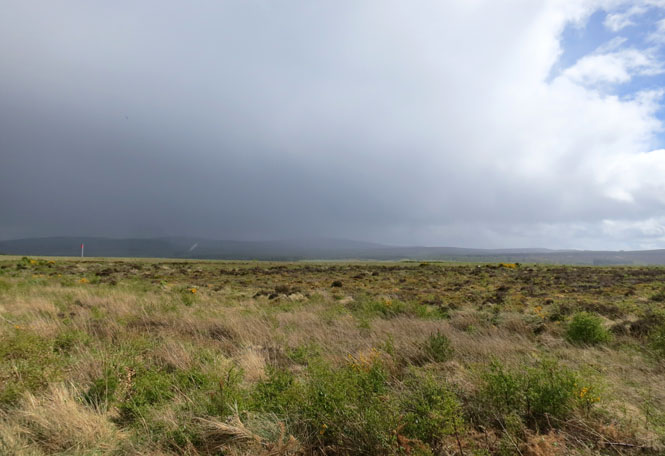 People still have strong feelings for this place (lost causes will do that). The clans fought together, so you'll see markers with their names. Soldiers were buried where they fell; it has more a feeling of a large cemetery than a battlefield, and is treated that way (signs advise people to please conduct themselves properly).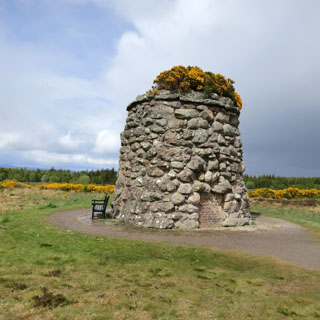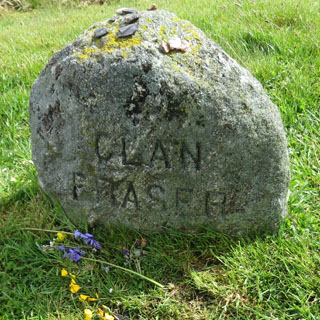 Work continues to return part of the field to the wetlands that it was, and which played such an important role. The full scope of the battlefield is still cut by a nearby highway--perhaps someday that, too, can be fixed.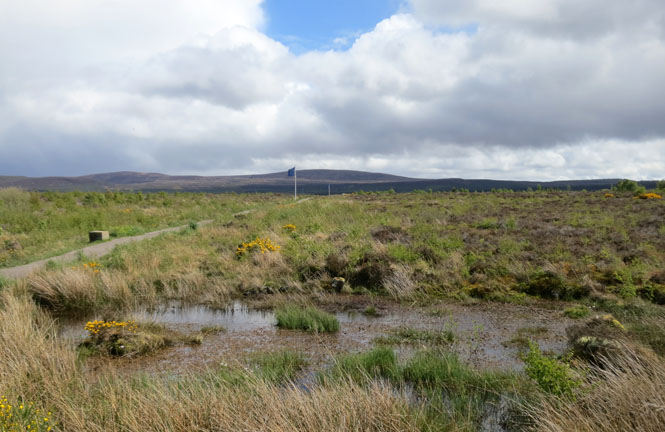 This stone wall was a significant feature so it has been rebuilt, just where it stood (although not as tall).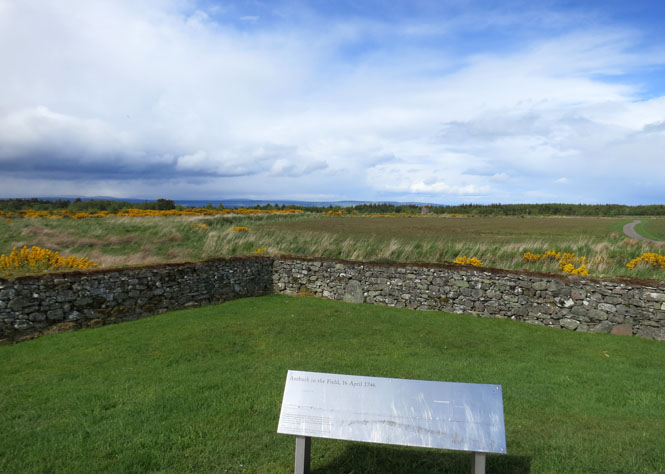 Back at the visitor center figuring out my next direction.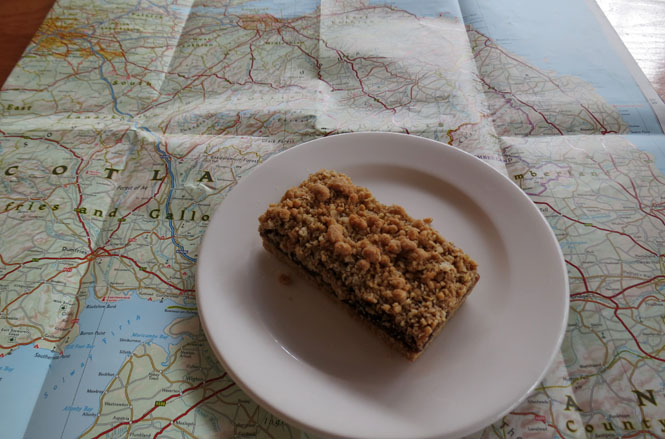 Elgin, Scotland. I've been to six different Elgins in the U.S. It's nice to visit the original.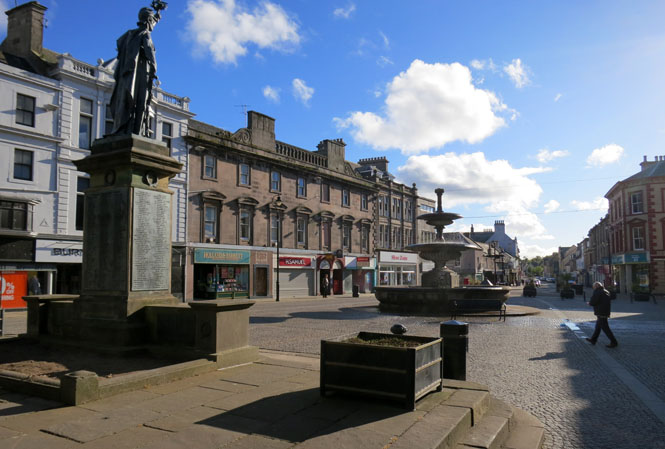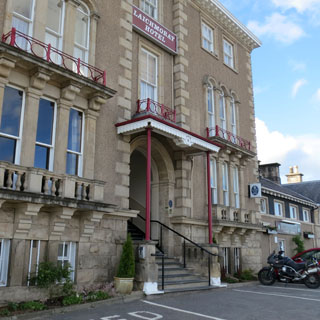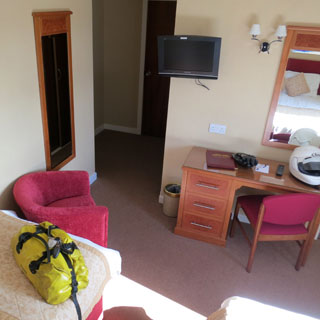 The number of single-malts available at the bar is astonishing. The photograph shows perhaps a third of the back wall.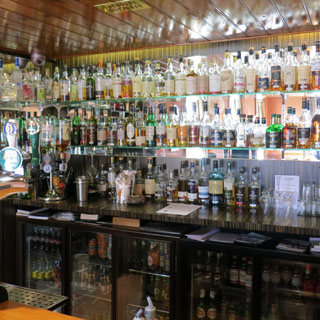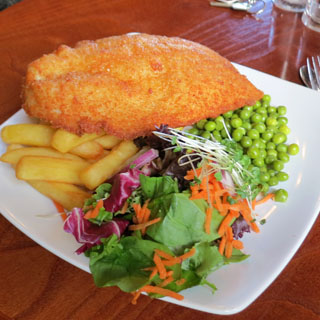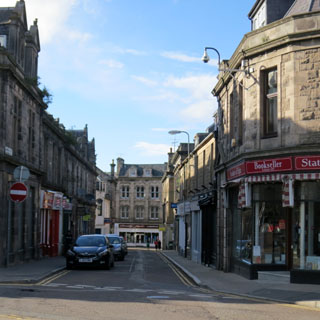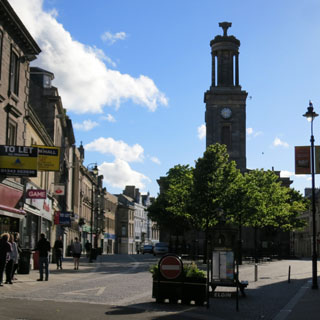 The Elgin cathedral dates from 1224. It was abandoned at the time of the Scottish reformation of 1560.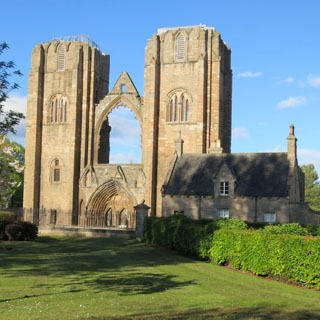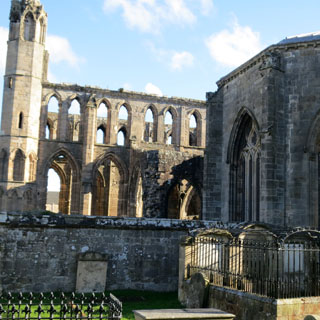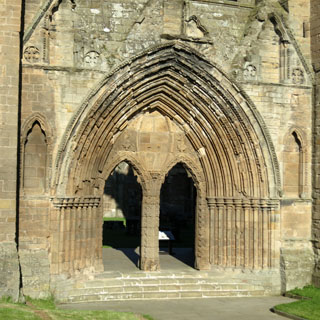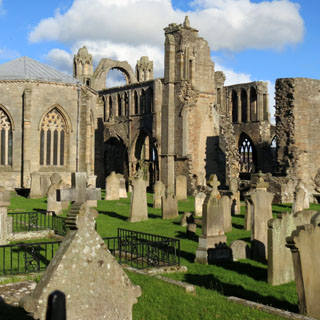 Breakfast the next morning. I know I'm going to miss this kind of breakfast, but I don't know that a person should be eating this way every day...

The distinctive pagoda roof of a malting kiln indicates a distillery. But is it real? Many distilleries don't do their own smoking with peat, but probably all of them sport that pagoda roof. And, they don't all have visitor centers. I didn't see any label for this one.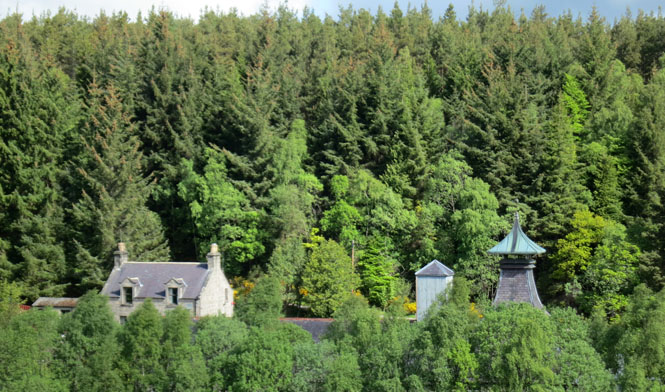 That's the John Dewar & Sons distillery (and there's the pagoda, which I'm sure is not used). You won't find a sign indicating visitor parking.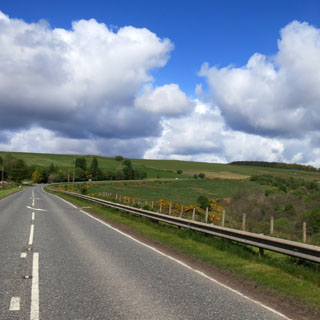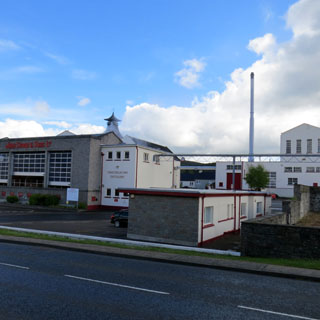 ---
Speyside Cooperage (Craigellachie) is open for visitors and was really quite an interesting place.
It's all about the barrel. Most of what they do is repair the millions of barrels that are already in circulation. Good Kentucky White Oak is what they use. Other woods have been tried, but Kentucky Oak is what they return to.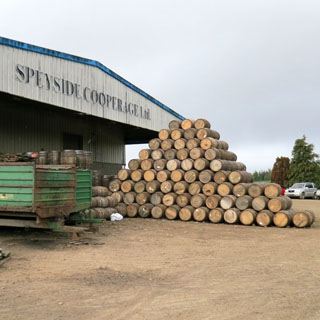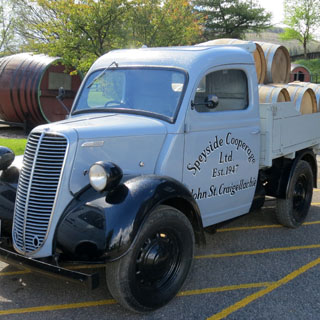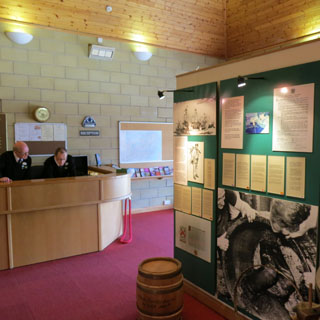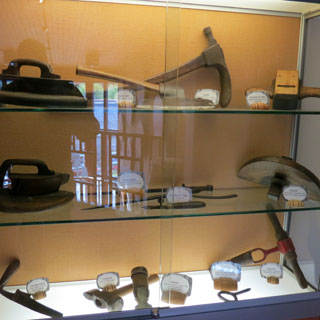 It takes a lot of hand work and skill, but there are machines to supply the high forces needed to push the iron rings down. The barrels are leak-checked with water and air.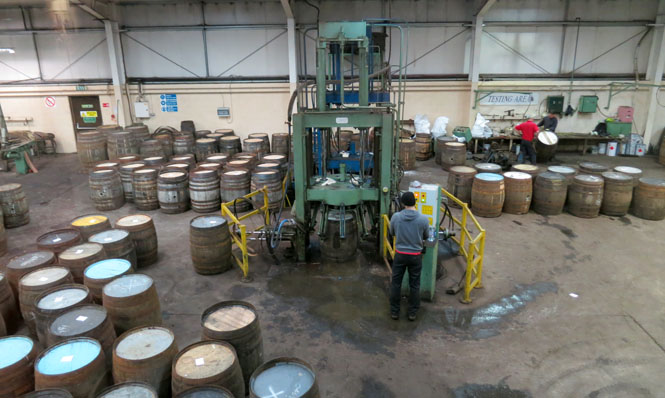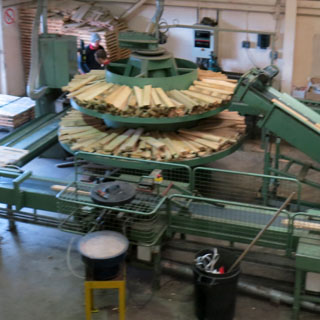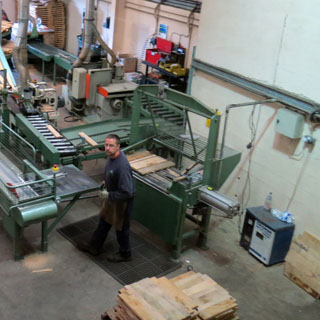 I didn't check to see if today's crew also kept a cat.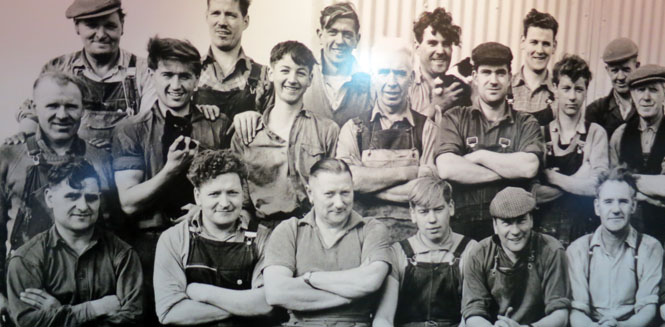 I asked about the red shirts and was told they probably found a good deal on a package of a dozen shirts and all went in together. They're known to be a frugal bunch. They're paid piece-work and can do very well for themselves. This same company also works in Kentucky.
(By the way, don't mention "stainless steel." You'll get nasty looks)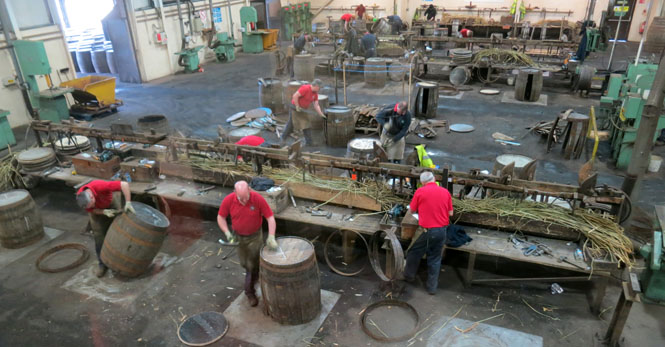 ---
On occasion I was riding into the thirties. Cold is cold and 38 degrees is cold. Checking the weather, I was confident that this wouldn't go on for more than another day, and as I dropped south, things would only get better.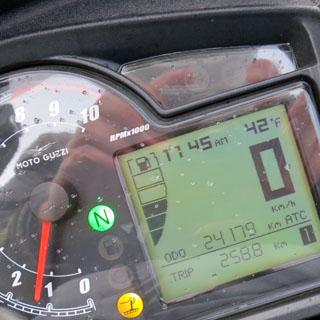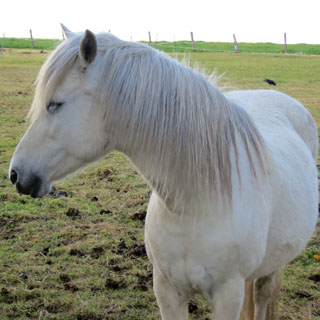 Tomintoul, Scotland.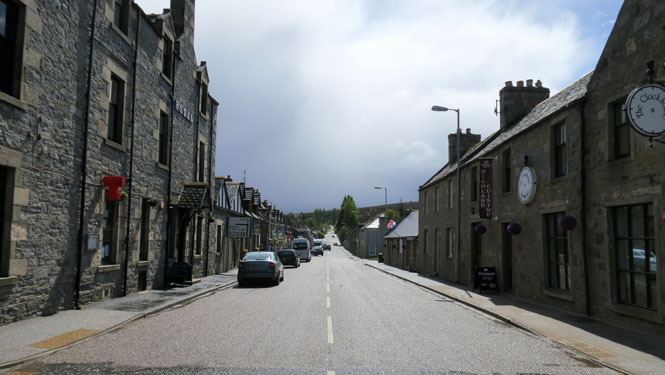 You'll find home-made tablet on most every cashier's counter. What is it? Best I can tell, it's condensed milk with Demerara sugar which is then cooked. Yes; it's sweet.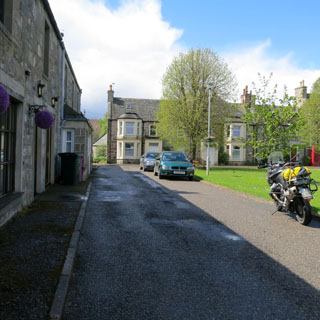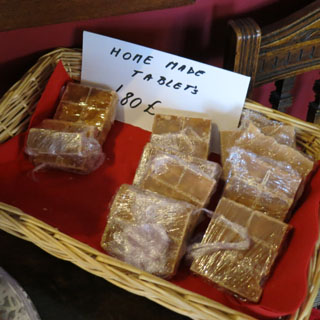 When it's too cold for riding, a hot frothy coffee drink (I never was sure what I'd get) along with the fresh scone with jam and butter is perfect. Add a fire, and you may not want to leave for an hour.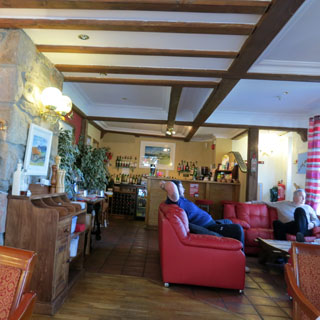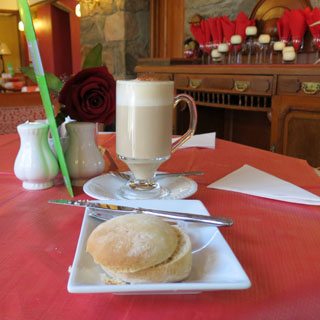 Conglass Water. These are beautiful hills.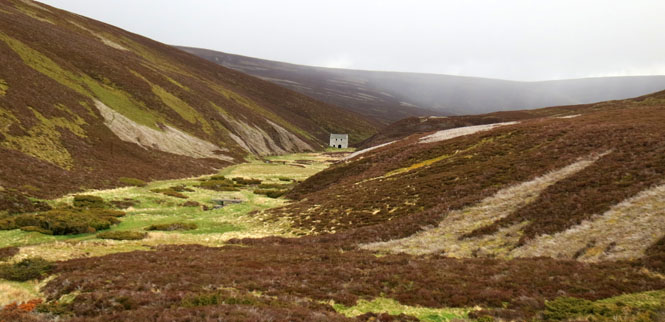 Sigh. Tree farms are hardly ever attractive.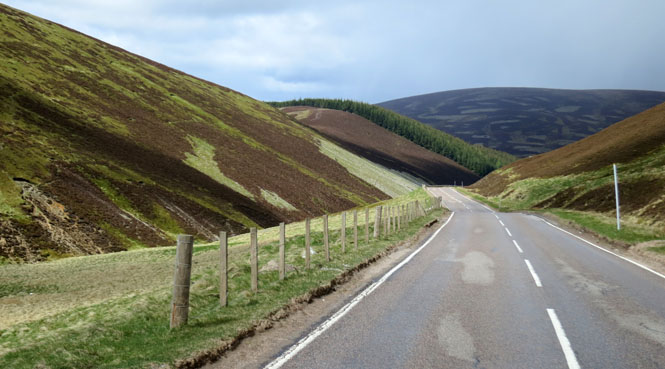 Corgarff Castle. Last time I was here, the castle was covered in scaffolding.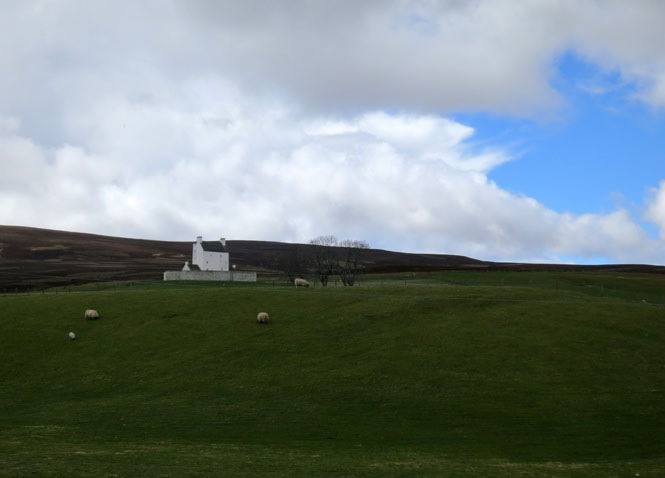 The holding of the Earls of Mar for centuries. But, in 1715 the Earl supported James Stuart (the old pretender) and that was that. If you support the wrong king, the consequences to you (and your castle) can be severe.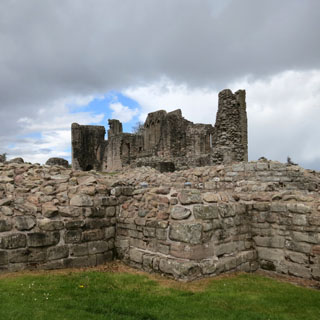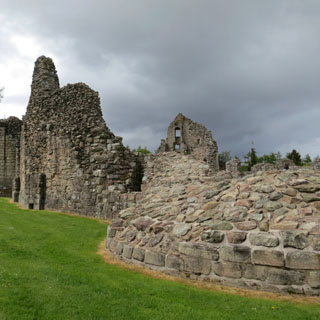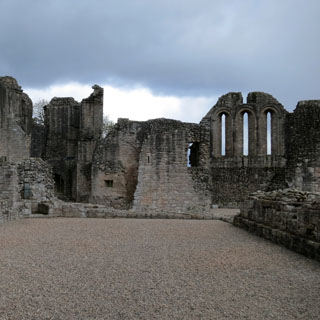 Craigievar Castle was the seat of the Forbes family until 1963. It is now owned by the National Trust for Scotland.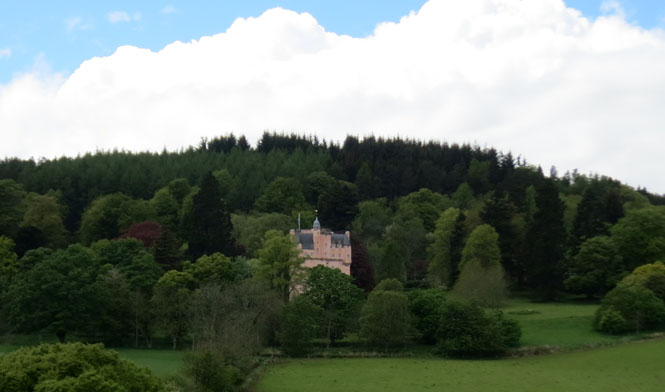 If you're in Scotland you should at least try a of bottle of Irn-Bru. It's orange, but don't imagine it will taste anything like an orange. Think "iron and rust" and you'll be closer to the mark.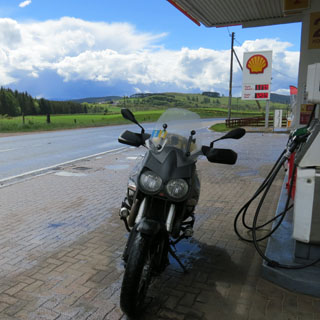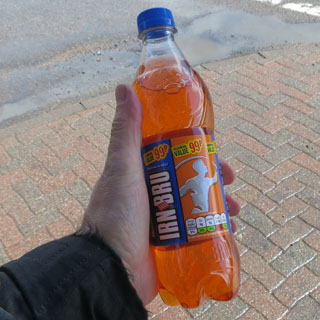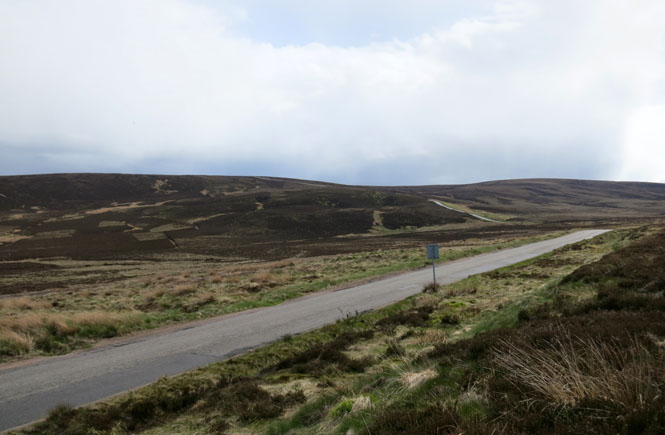 Just beyond those hills, but obscured by the clouds is the North Sea.
Fettercairn, Scotland.
I guess we should all reflect on our priorities from time to time.
Carnoustie, Scotland. Golfers will know this place (I'm not a golfer).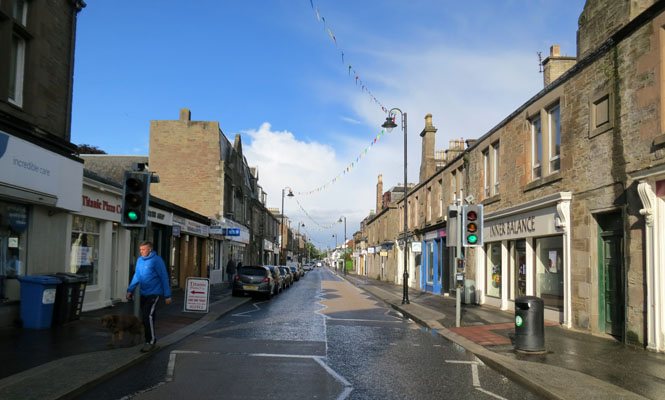 I stayed at the Station Inn...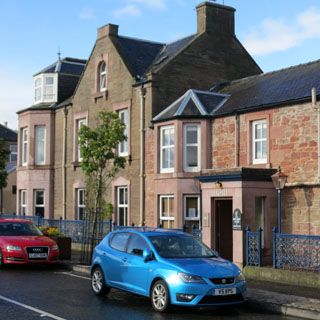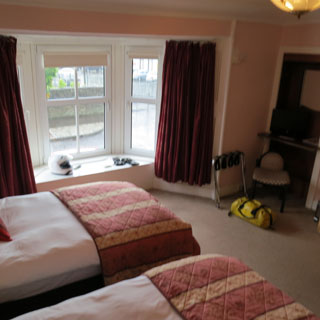 ...which gives you a clue to what I was hearing until late at night.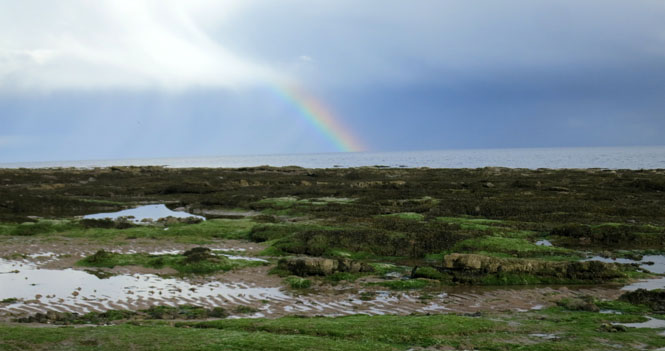 They have a nice World War 1 memorial. It looks like they're preparing the flower beds.

Two VCs from a town this small is remarkable.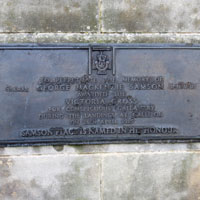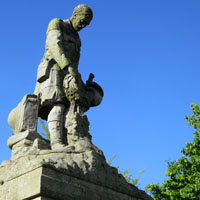 Order the steak pie. It's the best I've ever had.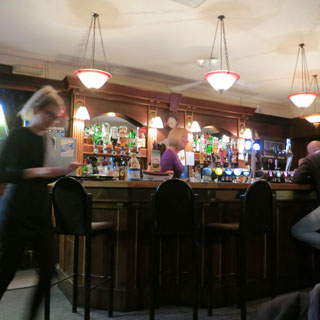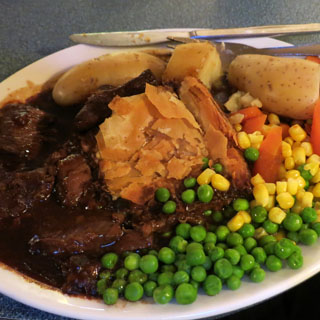 An Arbroath smokie for breakfast. In this context, a smokie is a haddock. The name "Arbroath smokie" is a protected EU name, so you can't call just any old smoked fish an Arbroath smokie. It's very, very good.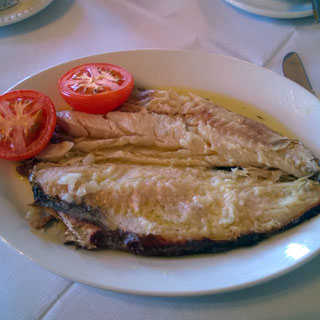 Dundee, Scotland and the Firth of Tay. You cannot take a photograph of Dundee without those big white buildings getting in the way (who approved them?).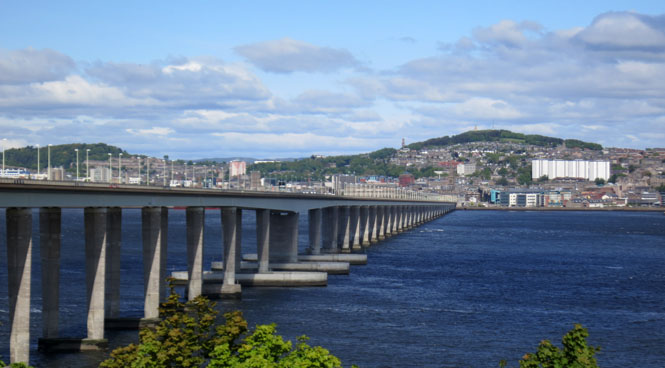 Kellie Castle in Arncroach is not far from St. Andrews. The Scotland Trust received ownership in 1970.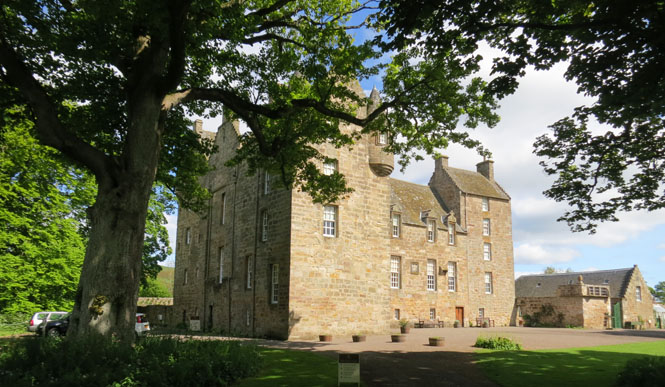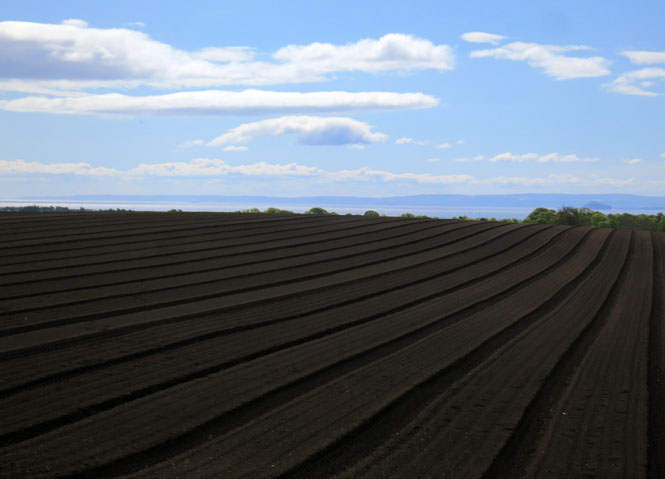 Firth of Forth and a good time for a break.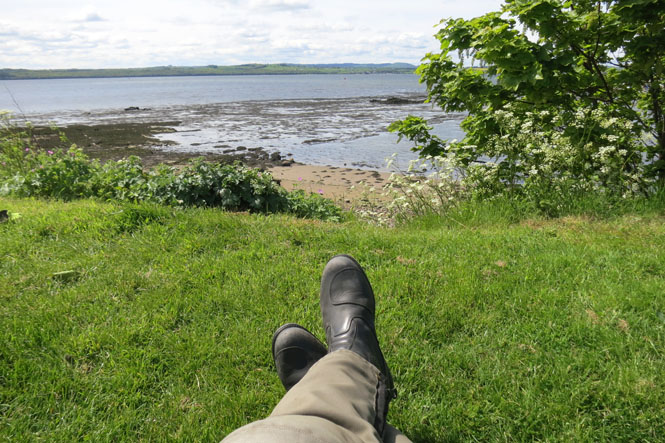 Some towns take advantage of the available space in round-a-bouts to do something interesting (Austria is especially good at this). I'm not sure what this one means, but it's well done.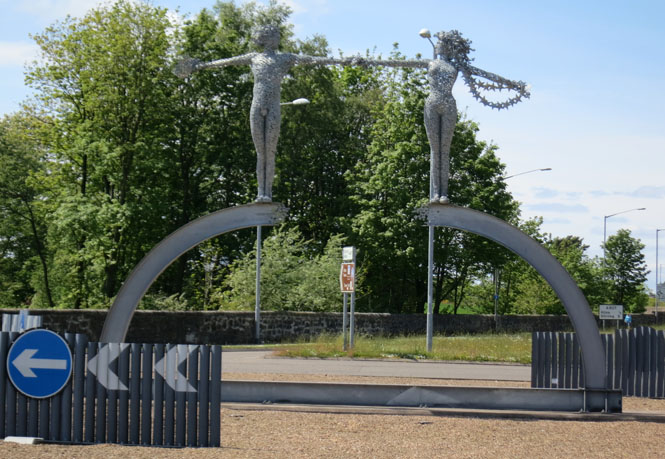 The Tower House in Alloa is one of the largest and best preserved in Scotland. The same family we met earlier, the Earls of Mar, owned this one. But, after the failed support for the rising of '15, the house remained in the family (even if the Earl did not remain in Scotland).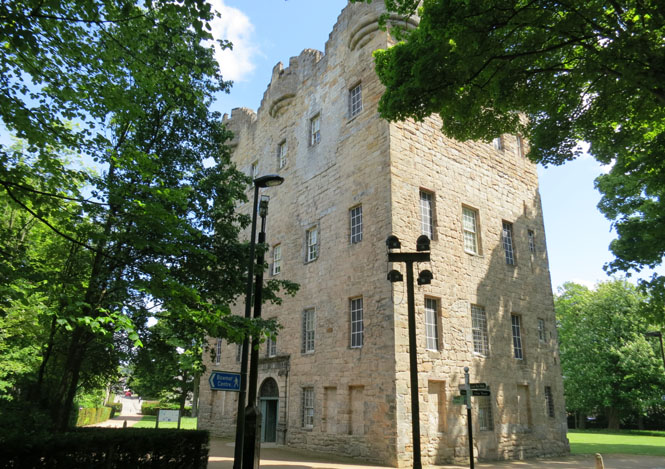 It turns out that interior photography is not allowed (so, I won't sell these for profit).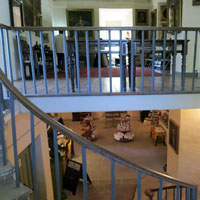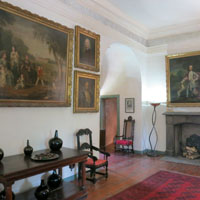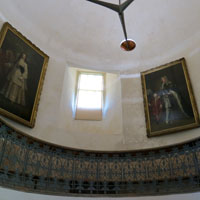 The once famous grounds and gardens are now replaced by a Tesco and its car park. This is the view from the top of the tower.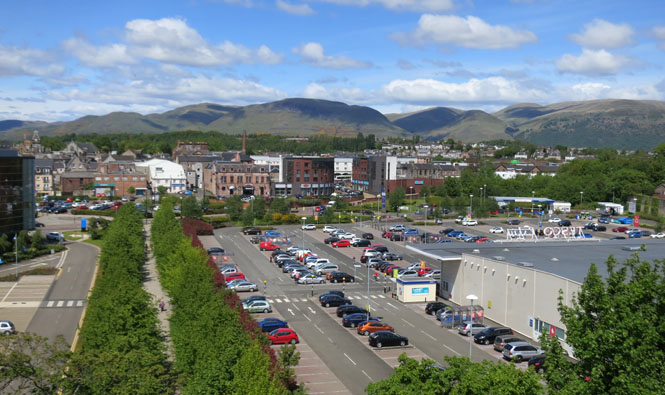 Forth, Scotland.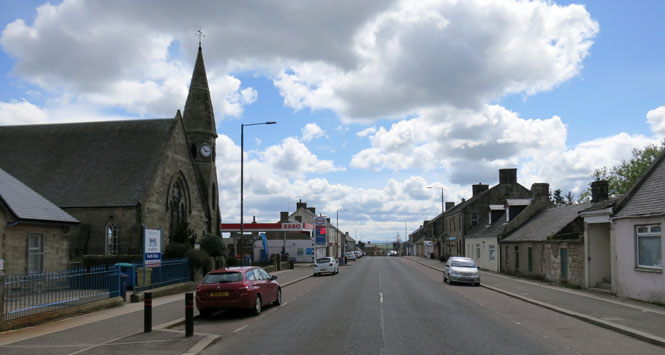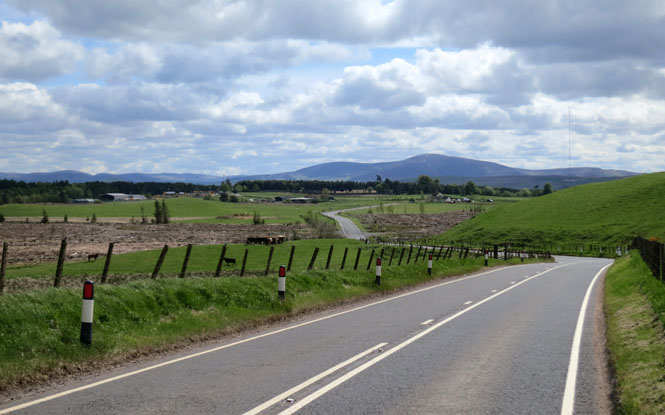 Ouch. A couple of local riders on a nice empty bit of road. One inexplicably turned off the road before the big lefthand curve and went through the wire fence (hitting only the lightweight stakes, and missing the very heavy posts). I helped push the bike back onto the road. The rider was fine, the bike not so much.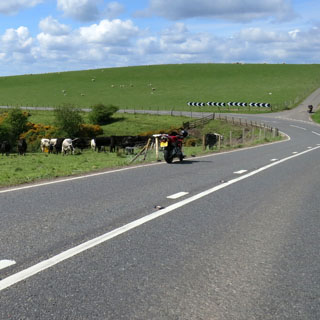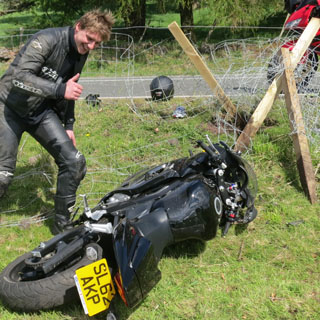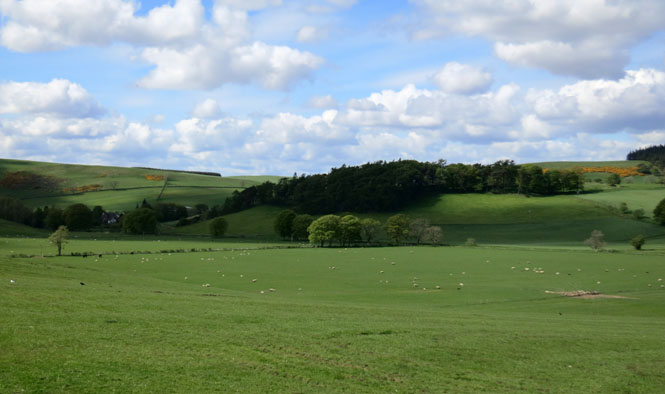 Peebles, Scotland.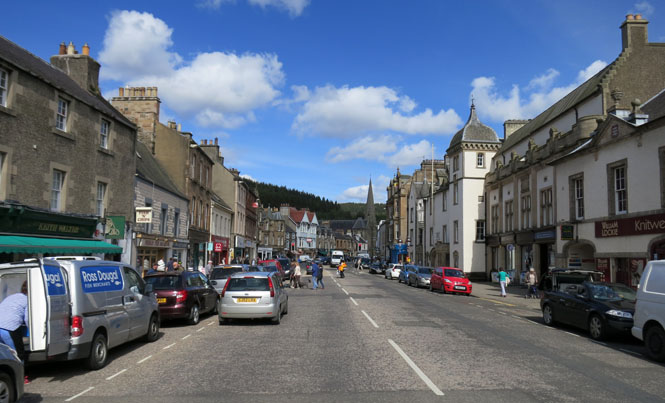 River Tweed.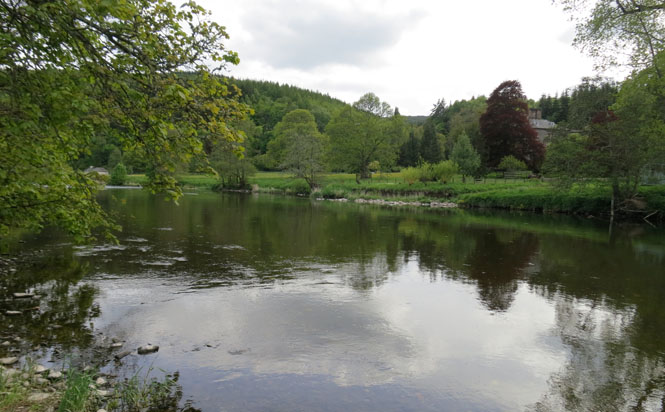 Melrose, Scotland.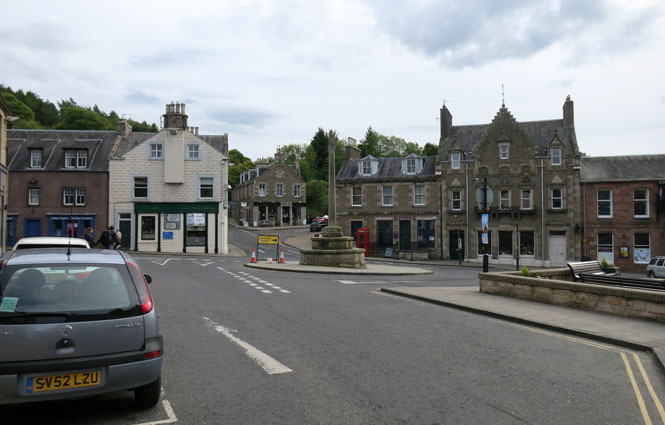 I've stayed at Burt's hotel before. You cannot go wrong.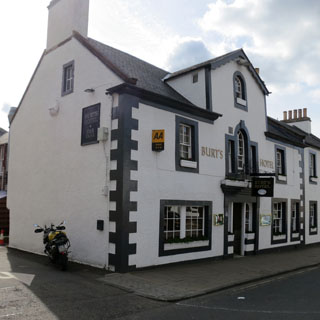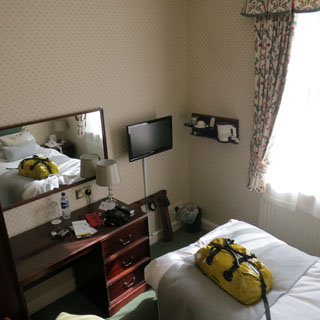 The Scottish protestant reformation of 1560 was not kind to Melrose Abbey. The heart of Robert the Bruce is buried here.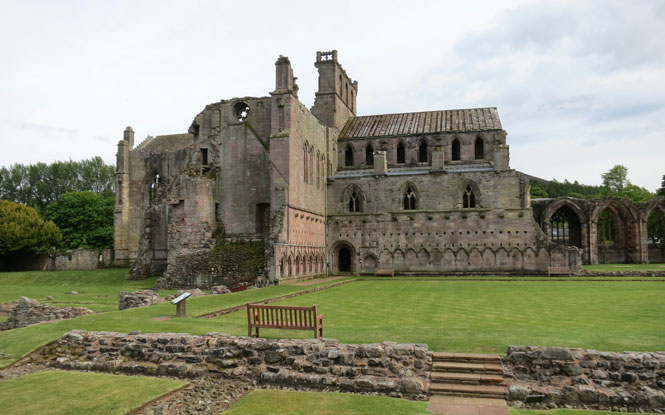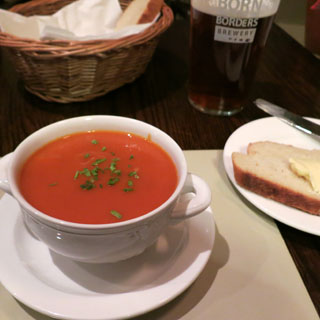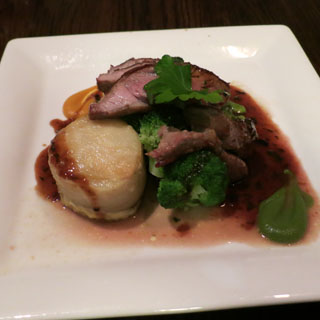 Abbotsford (near Melrose) is the house that Walter Scott built for himself from the proceeds of his books. He overstretched himself, and was to a point of needing to write books as fast as possible to support the house and his debts.
He pulled all sorts of Scottish themes and put it all together into this ultra-Scottish building that is like no other.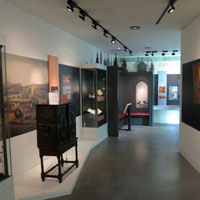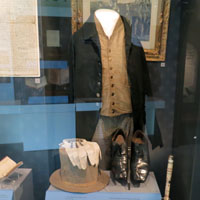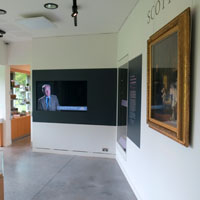 The private trust has done an excellent job with the house and with the visitor center that is sufficiently removed from the house so as not to be a nuisance.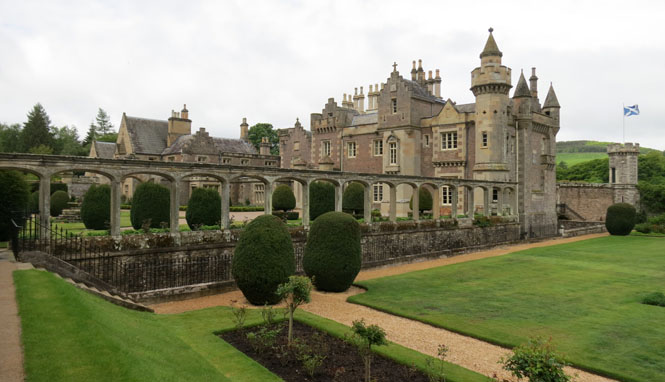 Every room is just as he had them. Walter Scott was a tireless collector of things; it is a remarkable place.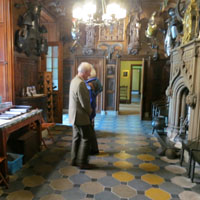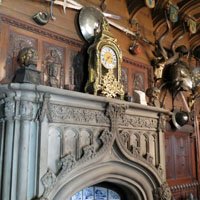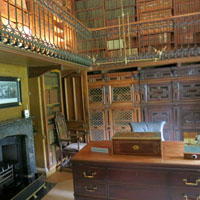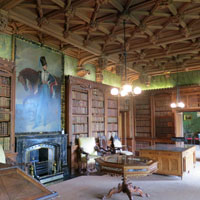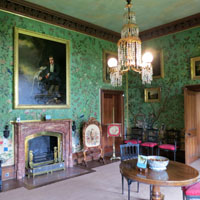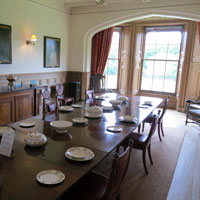 Kelso, Scotland.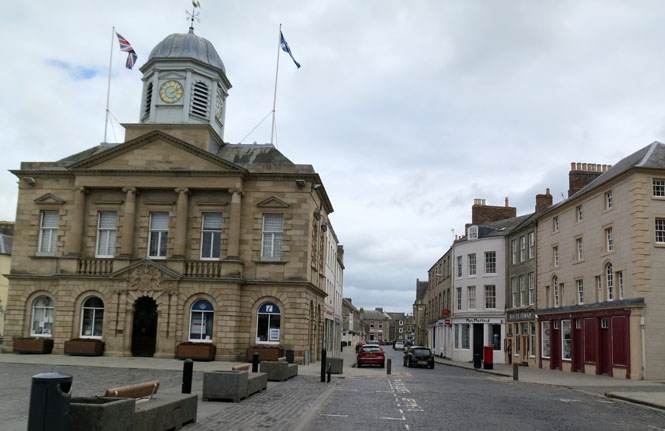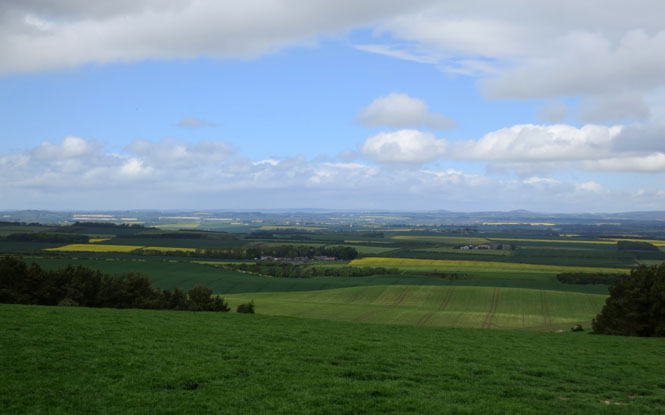 England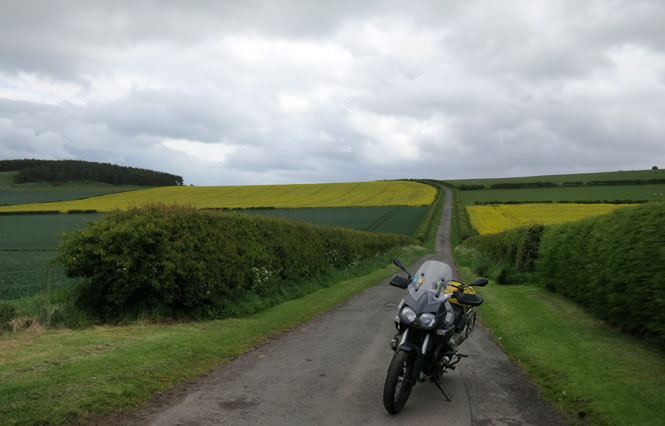 The battle of Flodden Field in 1513. This one is heartbreaking.
While Culloden was not England vs. Scotland (it was more a case of one branch of a royal family against another) the battle of Flodden Field was clearly England vs. Scotland (with France in the background).
There were 60,000 soldiers on this field. Some 12,000 Scots were killed and 1,500 English.
In the photograph (below), the Scots charged down the hill I'm standing on, and the English came down that hill opposite. Presumably, they met at the low point. The dead included King James IV of Scotland and members of most every major family of Scotland.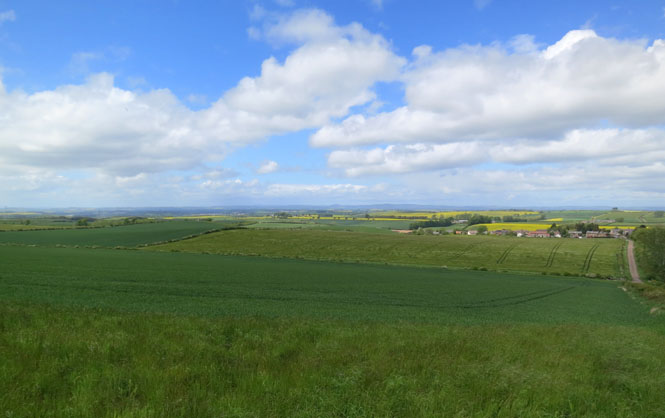 The monument is fairly recent (1910). That's the nearby village of Branxton. I'm glad there is no visitor center. You've got to find this one on your own.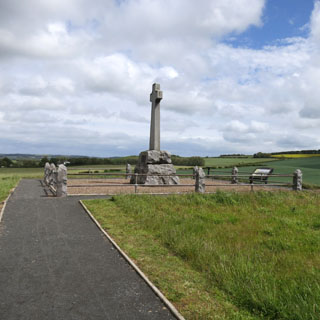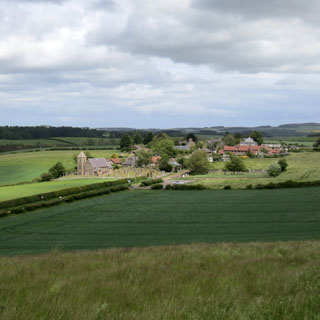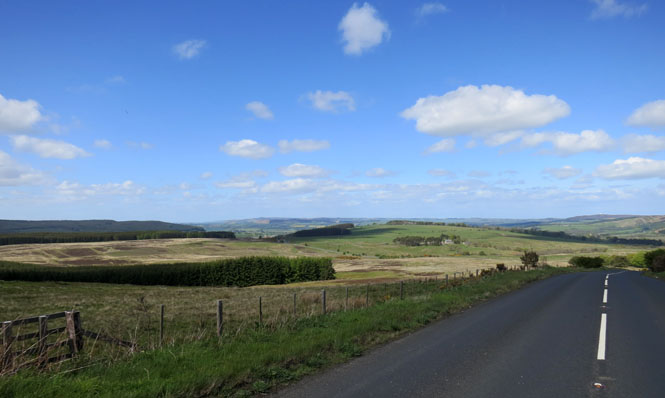 Rothbury, England.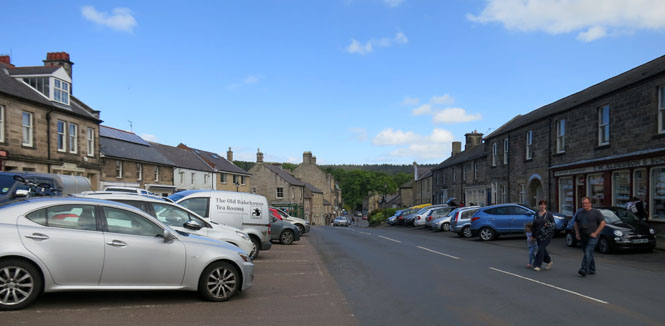 It's very windy, but it's not cold.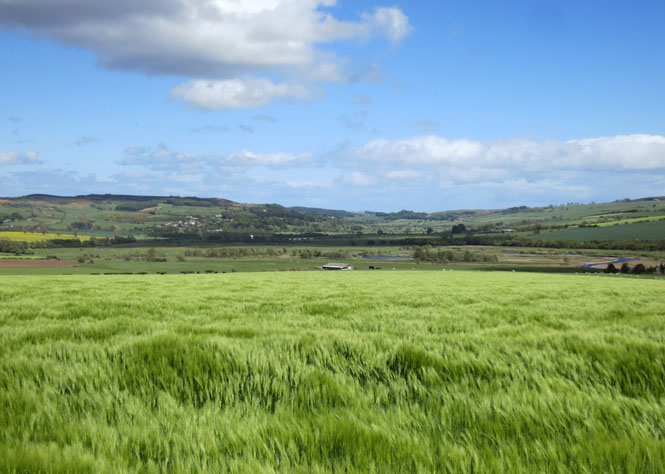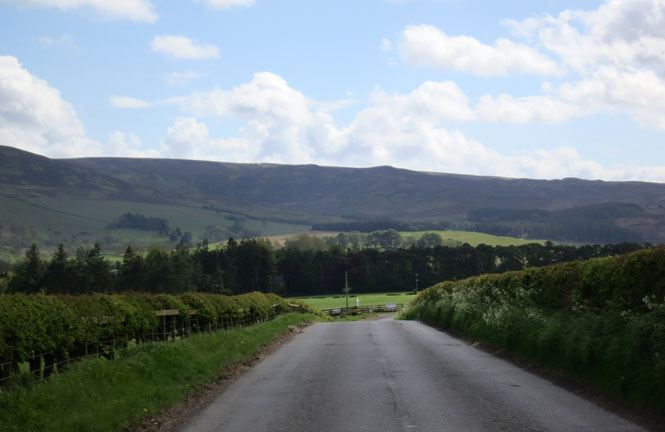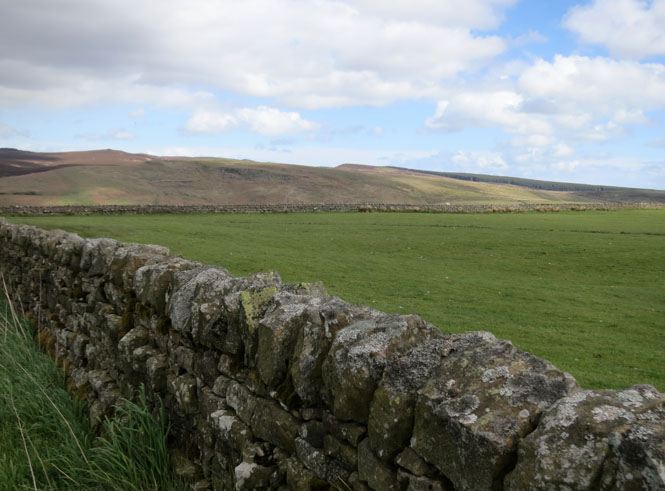 I didn't see any explosions.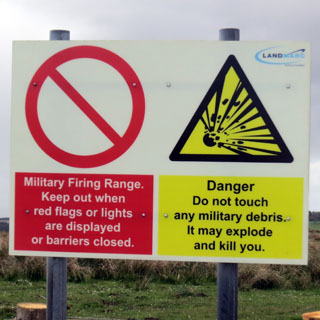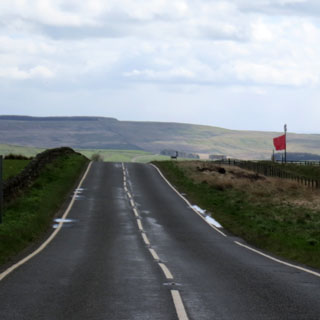 Otterburn.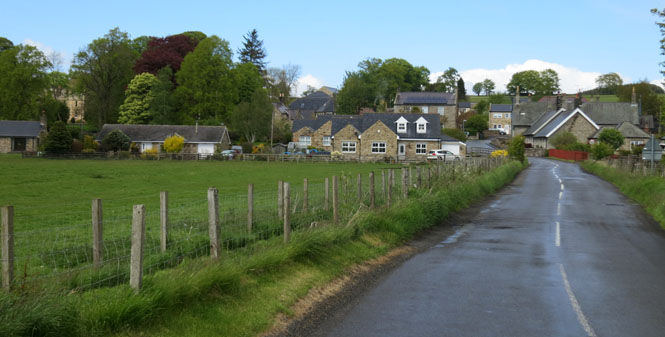 I'm not sure an Italian Moto Guzzi isn't the wrong bike for this road. I should be on a BSA Gold Star.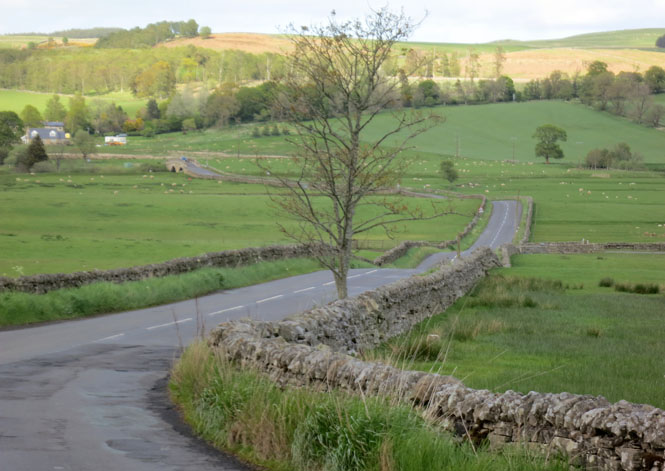 The Roman Fort at Chollerford. This is one of the outstanding remains of a Roman Fort in Britain. The fort was part of Haddrian's Wall and would have been quite a developed place.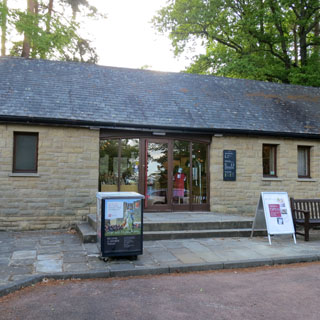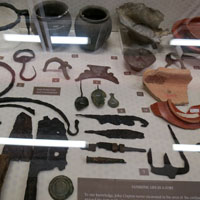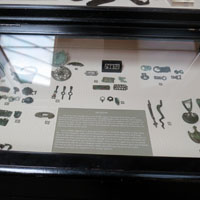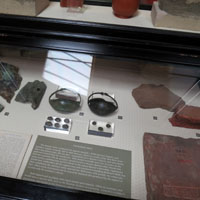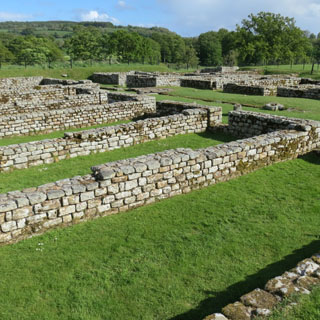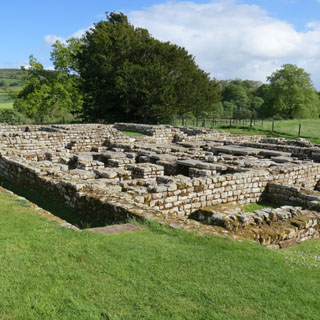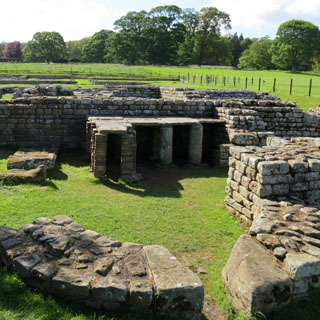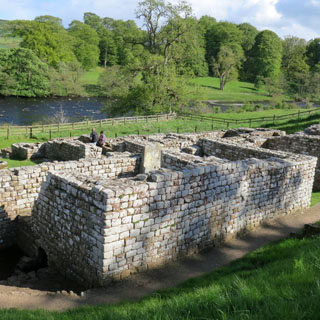 Hadrian's Wall. Those Roman soldiers were told to build a stone wall across Britain, so that's what they did. Even if it doesn't make a lot of sense when the natural features would work just as well.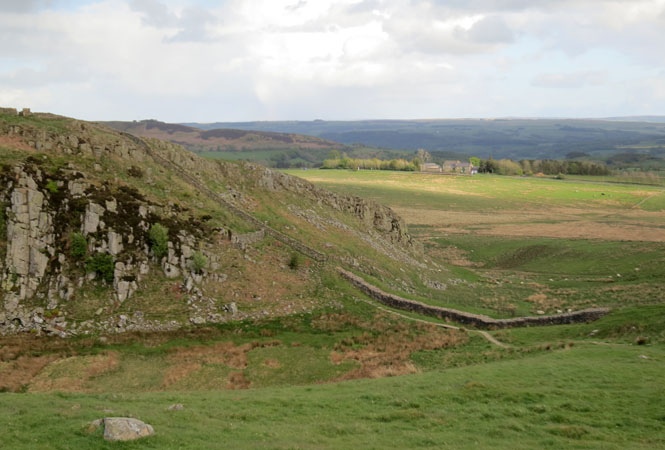 Two sheep walking Hadrian's Wall. How will they get down? Perhaps they don't care; the grass is good on top.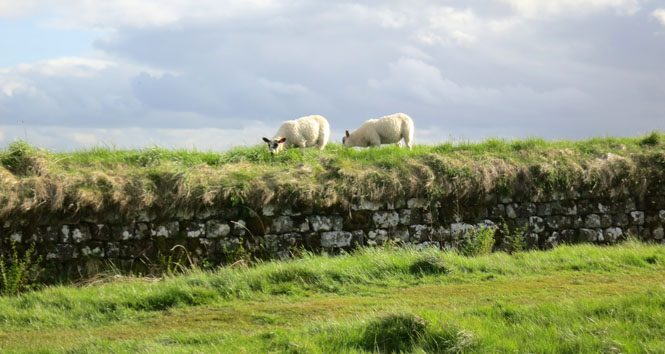 Haltwhistle, England has had a violent past as have many of these border towns.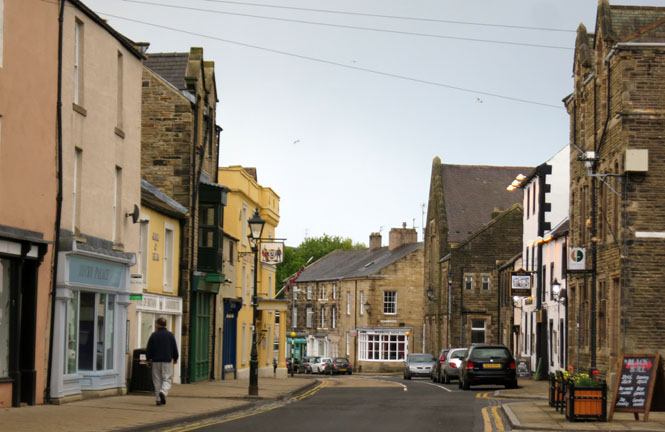 I stayed at the Manor House Inn. This building has some seriously heavy beams holding it together. The local ale is very good.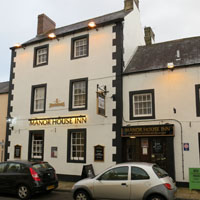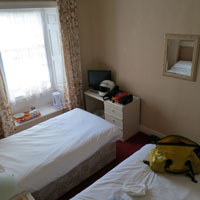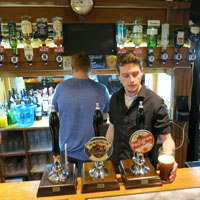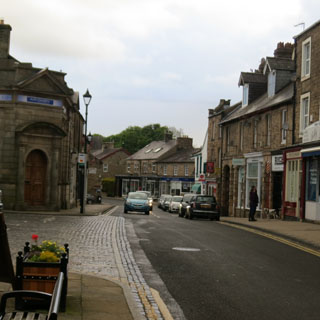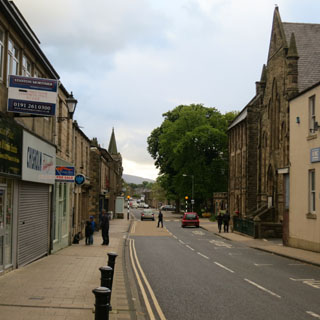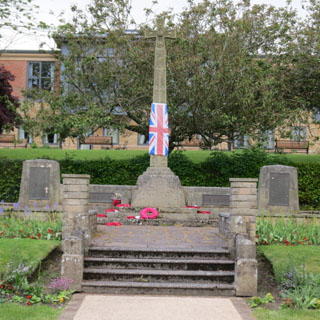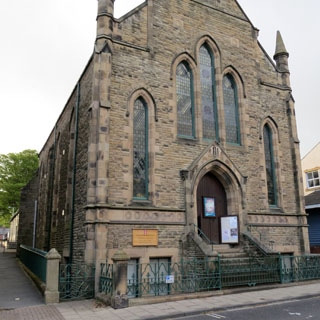 Crossing the Dales. This day would include one final blast of cold air. The temperature never reached freezing (for which I am glad), but I was riding in the thirties more than is comfortable.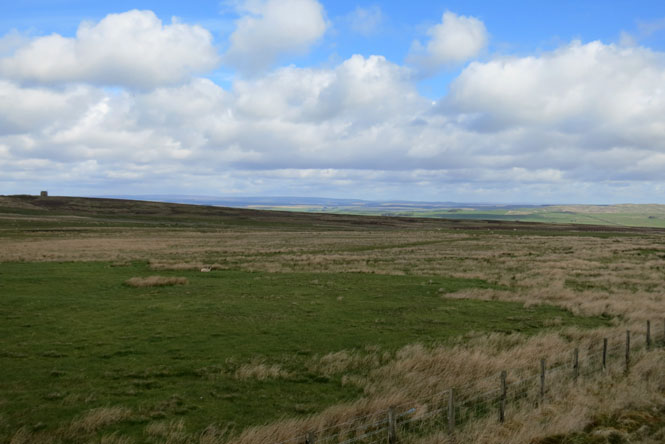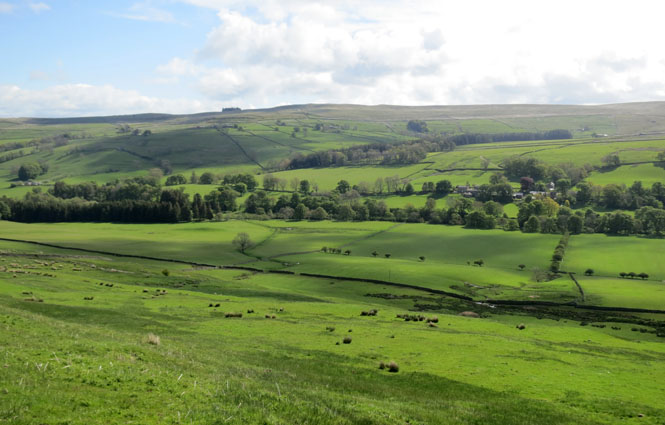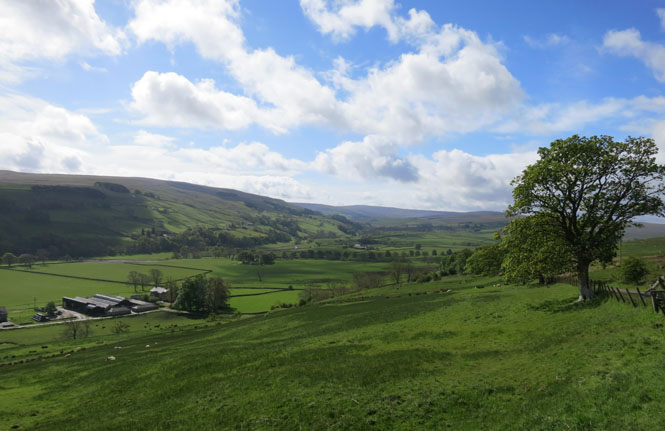 Alston, England.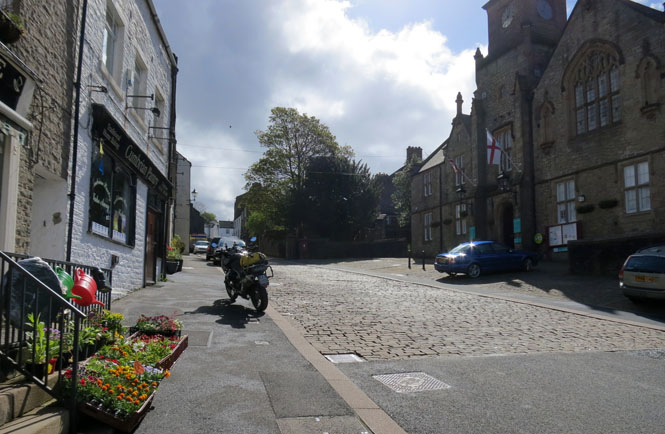 Lead mine (Whitesyke & Bentyfield). All the mines that were active in the Victorian age have long been closed. You would have seen a lot of children working this mine.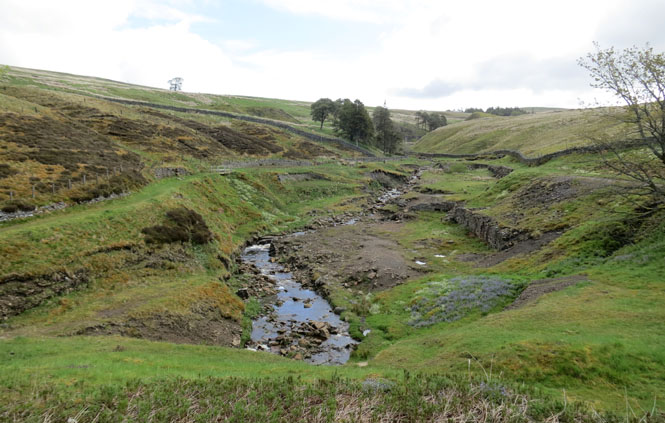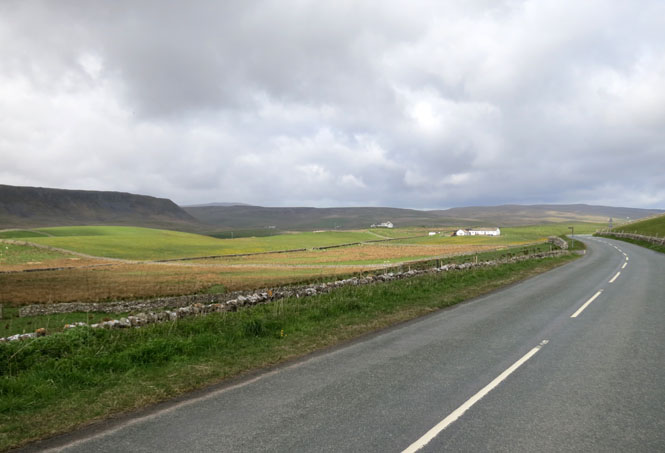 Rolling down from the barren hills, things warm up to the mid-forties. That's much better. I'm managing to stay on the 'B' roads most of the time.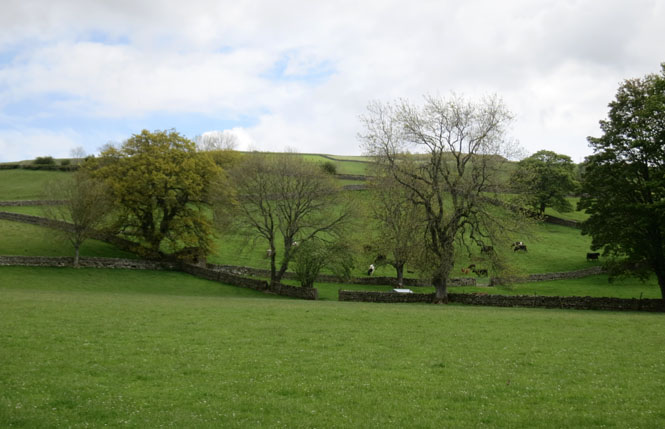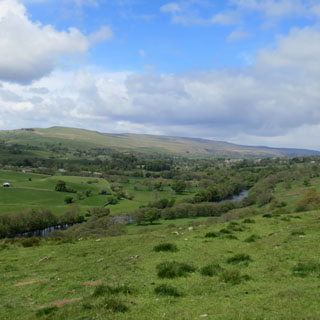 River Tees.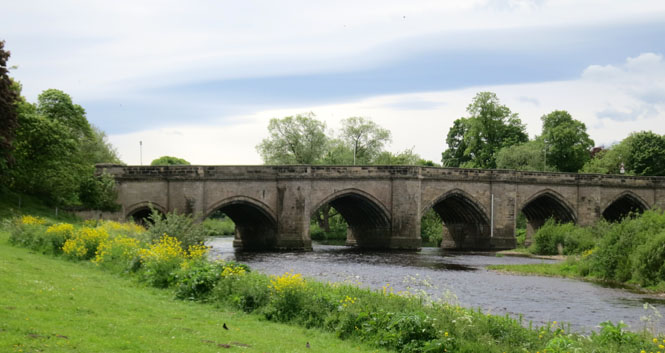 Northallerton, England.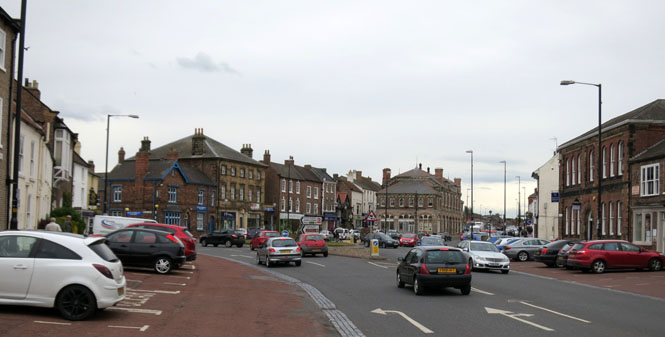 Thirsk, England is home to James Herriot (real name, James Alfred Wight) where he was a practicing veterinarian as well as an author of several books (collectively known as "All Creatures Great and Small")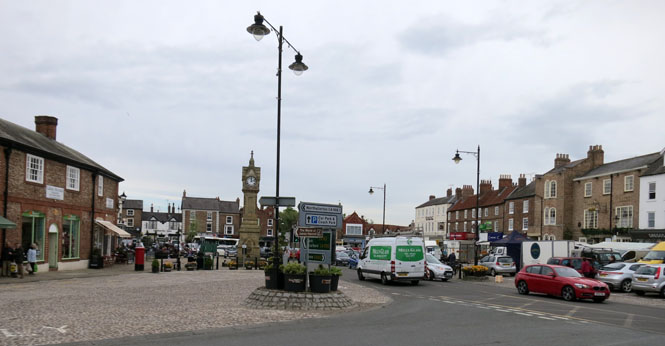 His house and practice are kept the way they were. It's a well done museum where it's clear the people who operate it love Wight and love his books.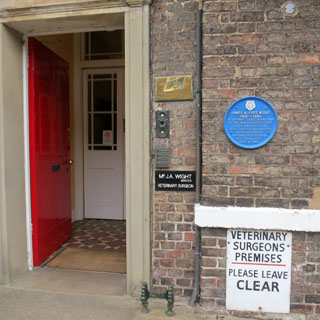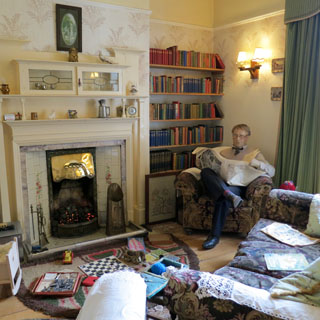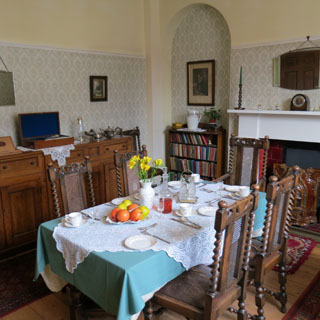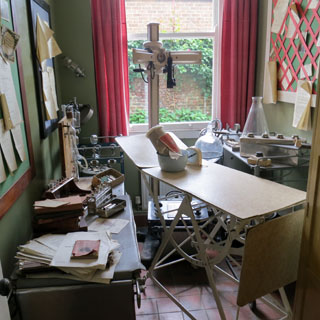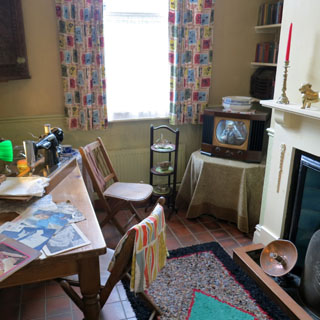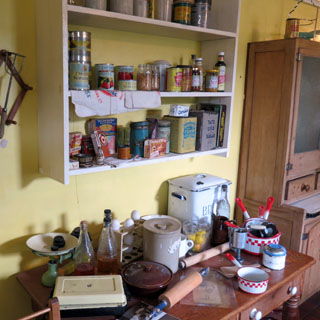 I once thought that I could park the bike at the Hull docks and go off to explore Hull. That was foolish. The docks are not within any kind of walking distance to Hull, and there's not much else to see.
After convincing the man that I wanted to buy a ticket and didn't just want to check in, he did set me up. It seems few people do what I'm doing--show up at the counter prior to a sailing to buy a ticket. Most evidently buy them online ahead of time.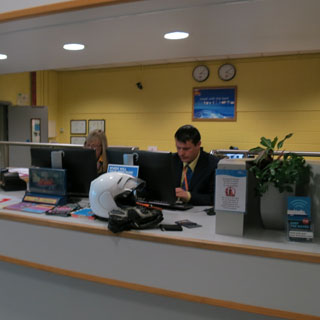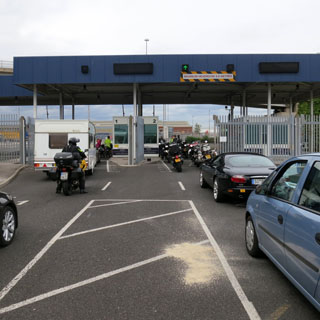 The ferry on the River Humber. This is a good sized boat. Most every passenger will have cabin for the night crossing (as do I). There were some poor students who spent the night on benches, and they all looked horrible the next morning.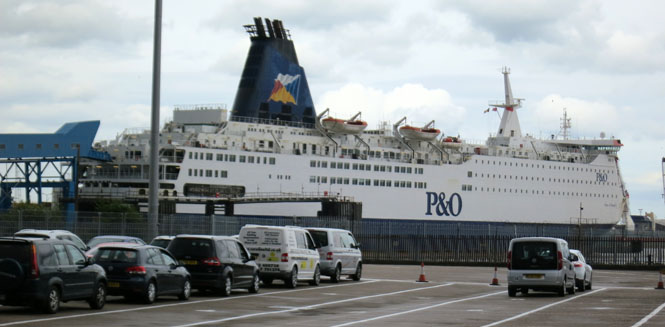 This time each rider was responsible for tying down their own motorcycle, but good quality straps were provided.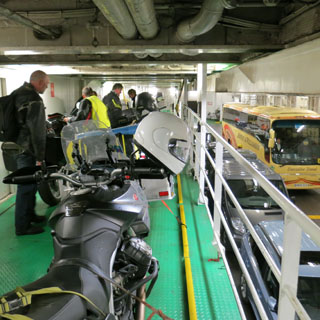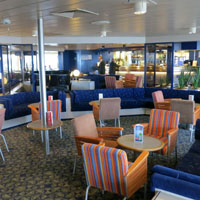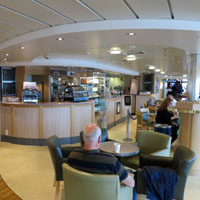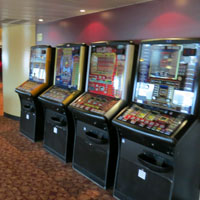 The North Sea. It was a very rough crossing (lots of crashing noises and rolling and pitching, and occasionally feeling a little weightless off the bed), and I thought about my helmet that I left perched on the mirror (thinking that I might find it rolling about the deck). It was fine, though. The sea was so rough that the crossing was extended by three hours. This would be my last English breakfast--probably for the best.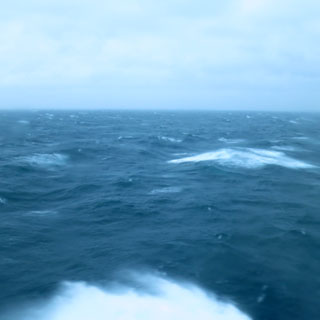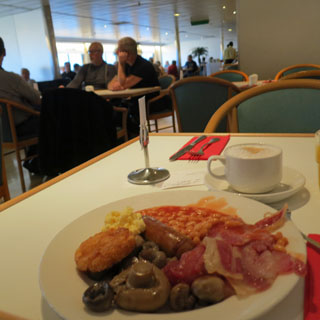 Belgium
Koolskamp, Belgium.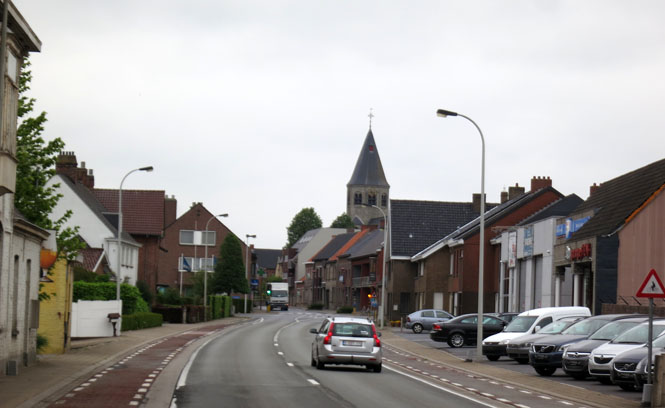 On the Kanaal Roeselare-Ooigem trying to figure out where to go next.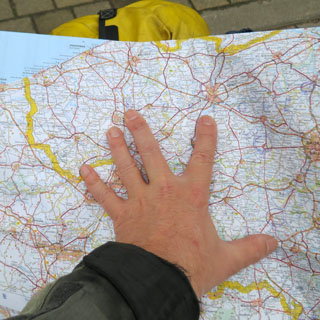 Wortegem-Petegem, Belgium.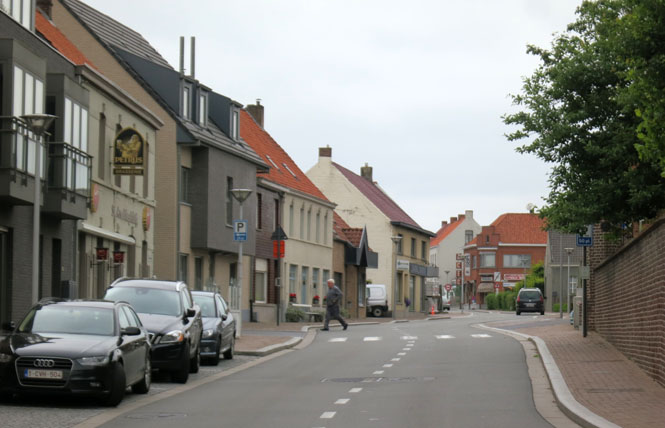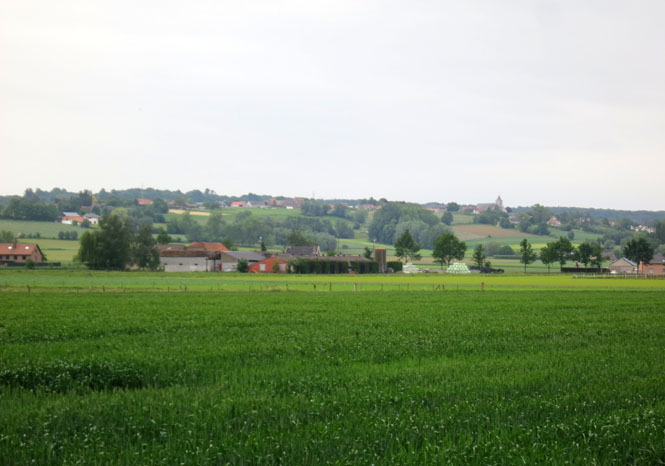 Ellezelles, Belgium.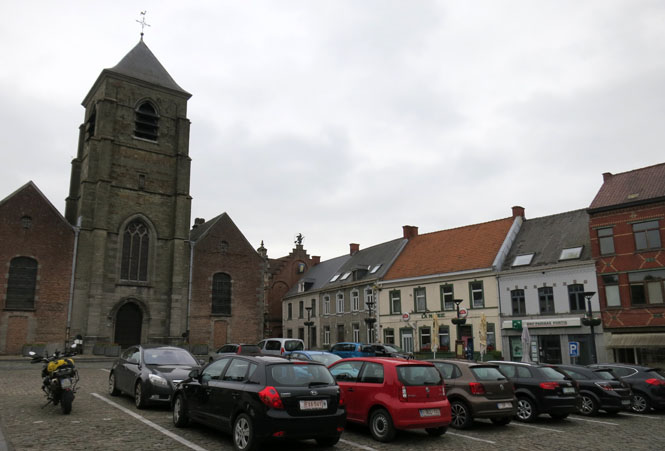 I don't know what connection Ellezelles has with witches flying on brooms, but that image is everywhere.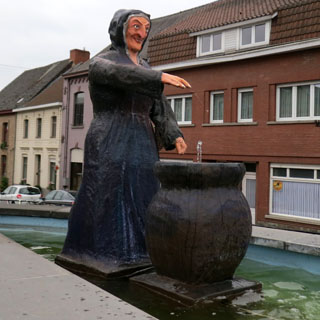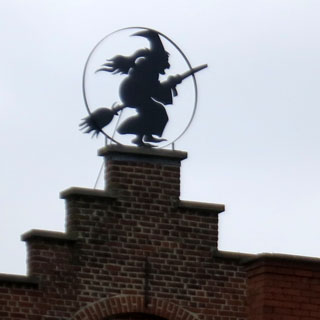 The Battlefield of Waterloo. This is the 200th anniversary of the battle--almost to the very day.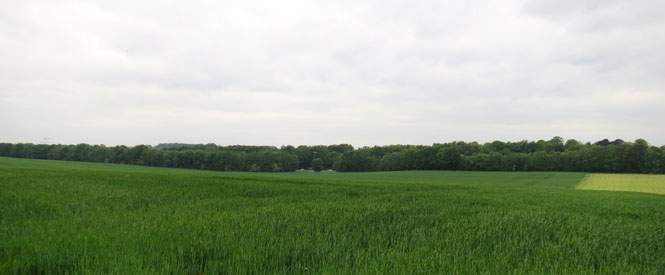 That's the Butte du Lion. A lot of dirt was moved to create that observation point, which then changed and smoothed what the battlefield really looked like. It's better to leave these things alone.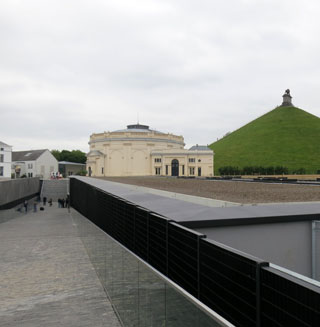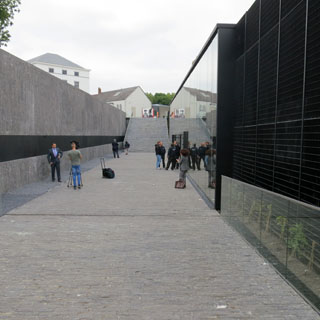 The new museum is nearly all below ground. It uses multi-media and clever computer-driven effects to an extent that I've never seen before. What might seem to be framed paintings are really moving images.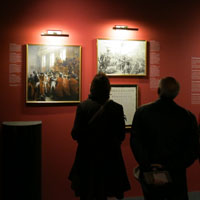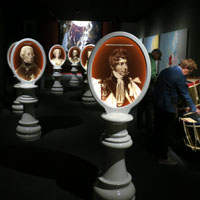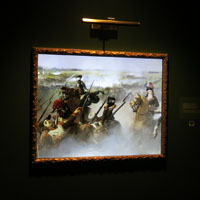 Many soldiers from many armies and countries took part. No doubt they've got an accurate reproduction of all of them. The attention to detail is remarkable.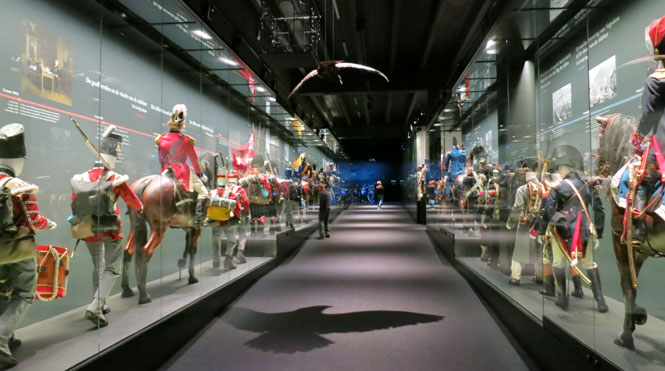 The panoramic movie is in 3d. It's quite effective.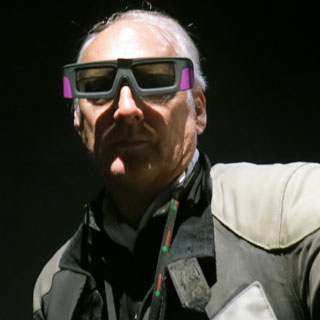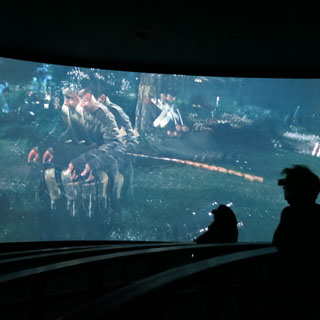 Touch the table-top image and slide the aerial photographs of the battlefield. I've never seen a touch screen so large.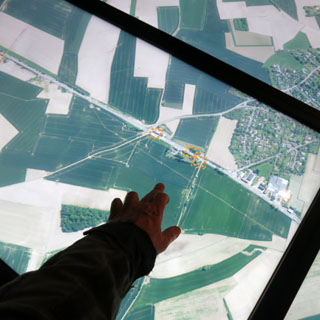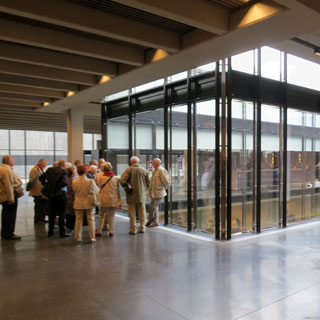 But, for all this technology, the battlefield didn't have nearly the same impact on me that I got from Culloden or Flodden Field or Montfaucon.
Marche-en-Famenne, Belgium.
I stayed at the Alfa hotel.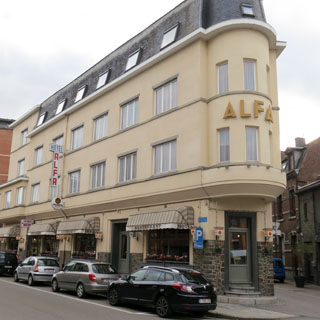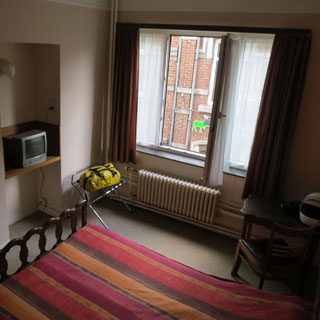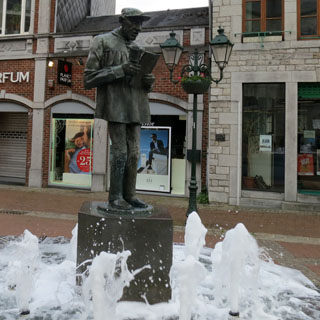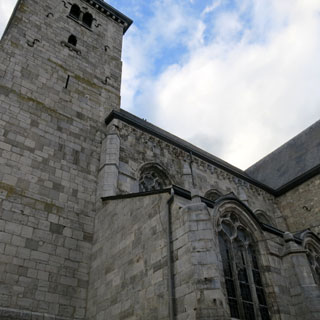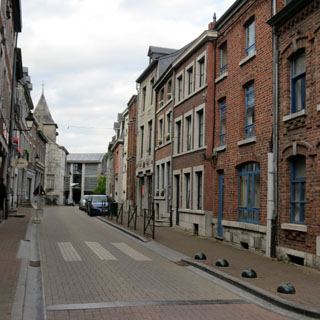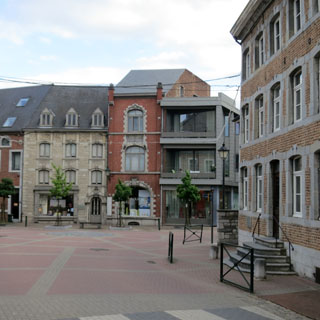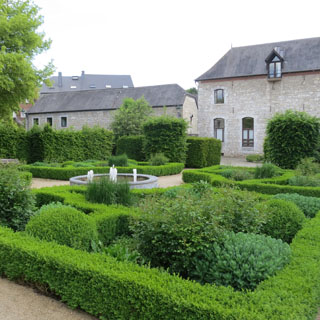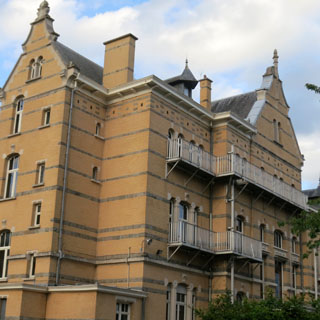 The first plaque is dedicated to the American 84th division, the second is for the English, Scots, Welsh and Canadians that liberated their town.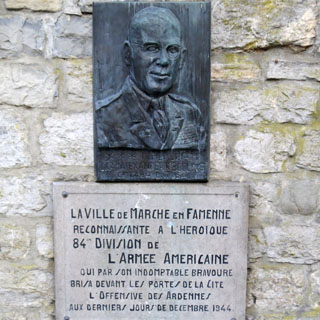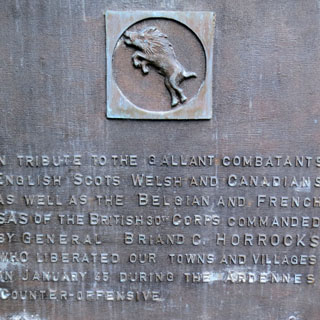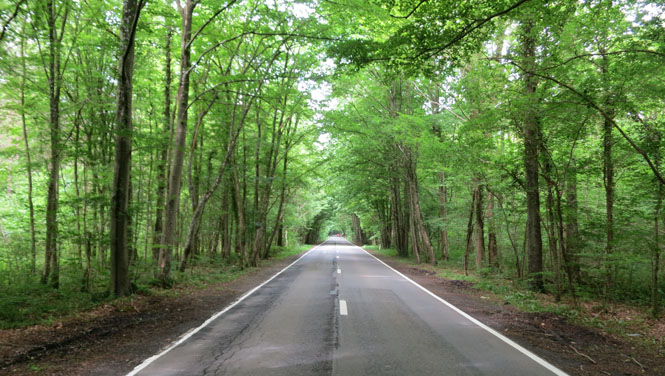 A dedication to the 951st Field Artillery. Memorials such as this are scattered throughout this region (the location of the Battle of the Bulge). It's common to see American (and British) flags flying. Some newer ones date from the 50th anniversary of the battle.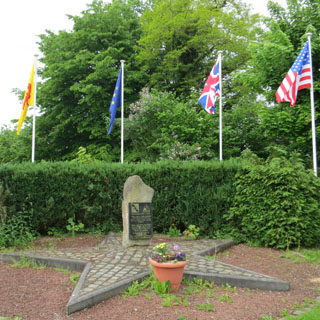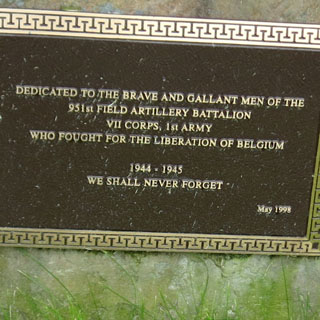 Salmchâteau, Belgium.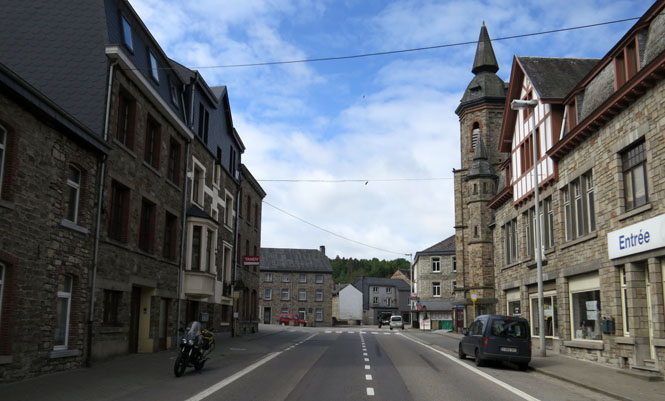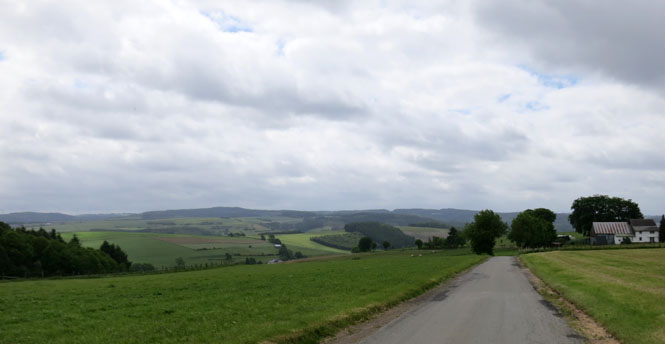 Oberhausen, Belgium.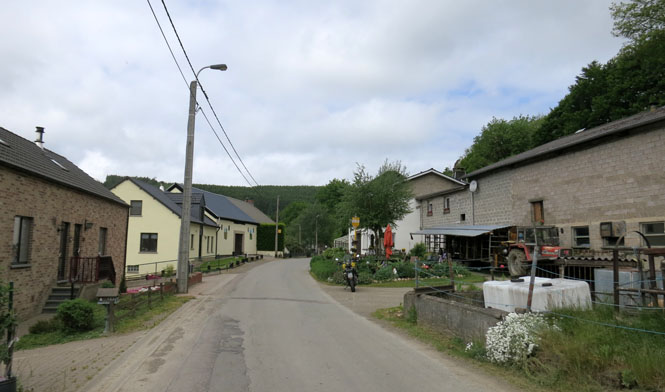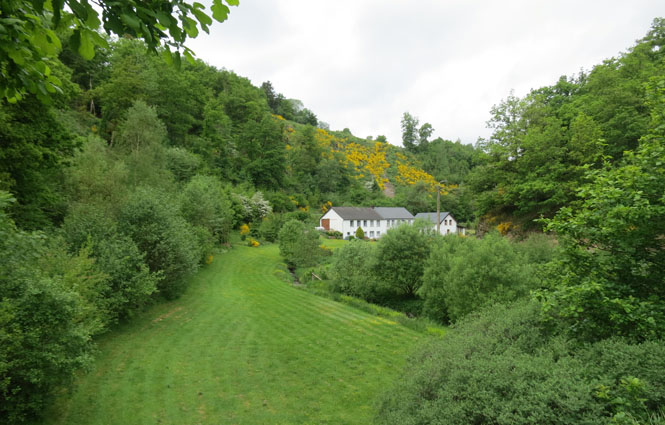 The ceremonial location of the creation of the European Union. This is where the borders of Germany, Luxembourg and Belgium join--it's an area that has been fought over for centuries. It makes sense that the dedication was here.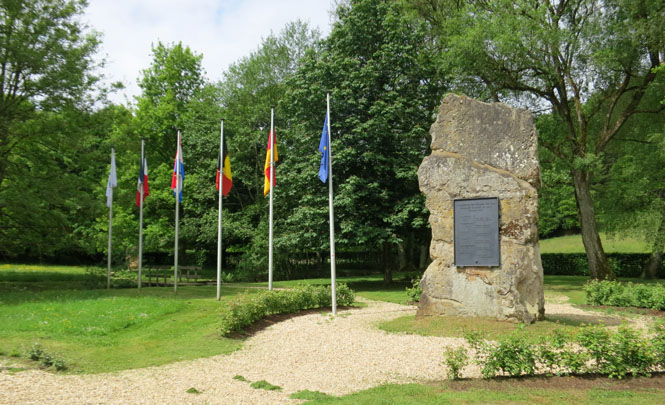 Luxembourg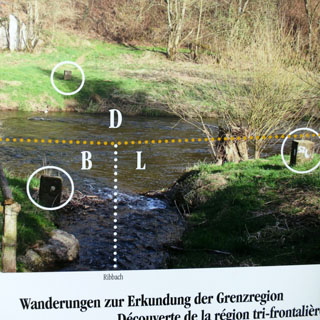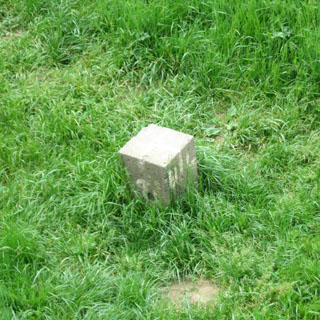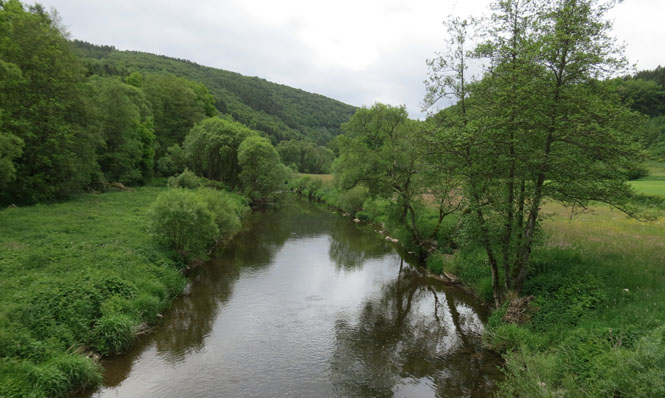 Imagine divisions of German tanks moving up this valley to begin the battle of the bulge. This was a violent place to be.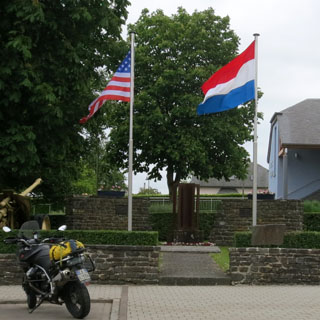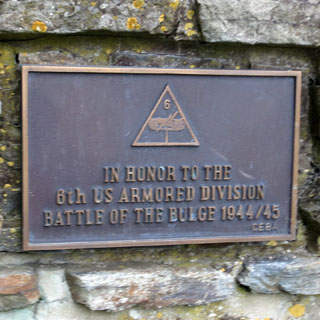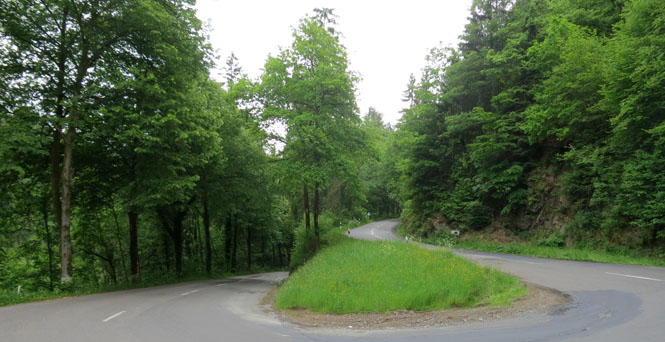 Germany
This bridge, built by the Army Corps of Engineers, was terribly important during the break-out. The plaque (and photographs) are on the German side of the River Our, and are entirely in English.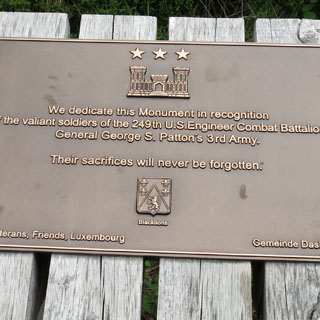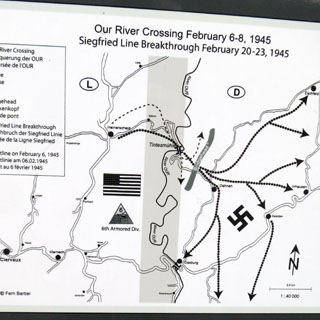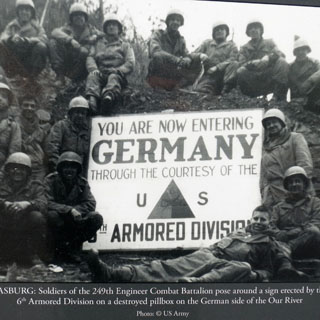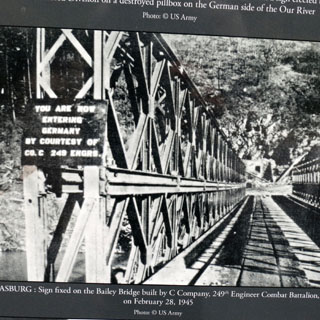 Imhausen, Germany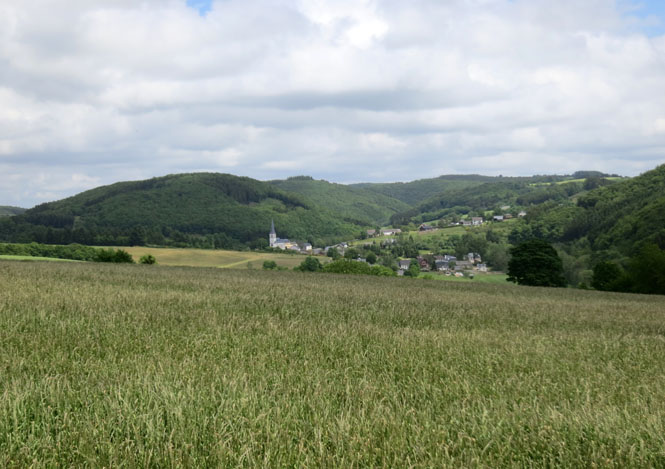 Plütscheid, Germany.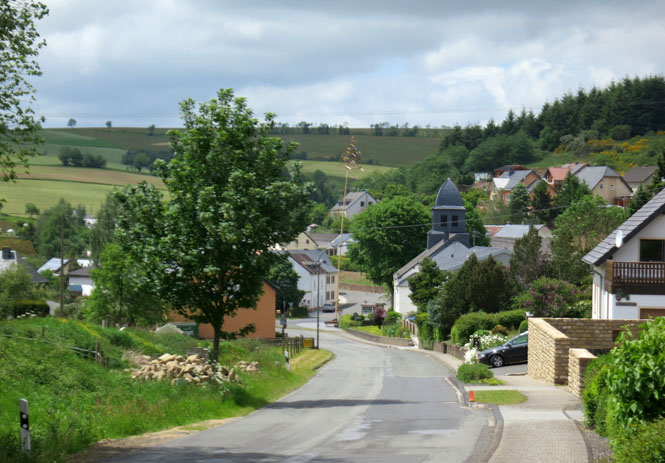 Malbergweich, Germany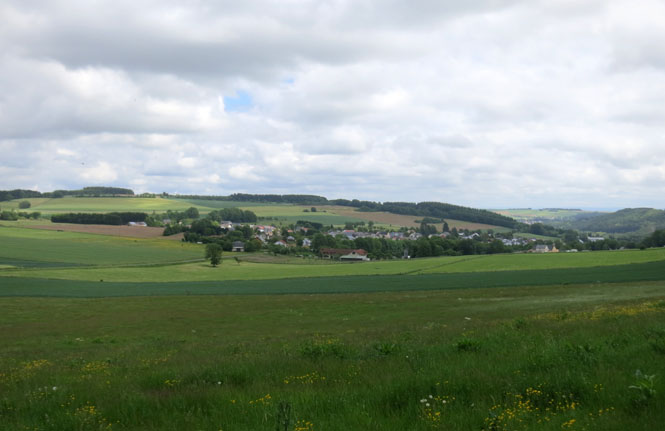 Malberg, Germany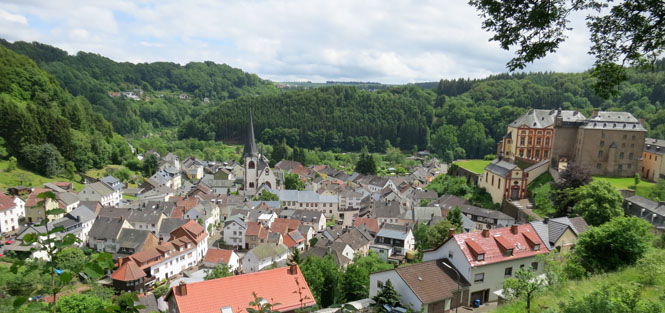 I'm doing my best to stay on roads like this.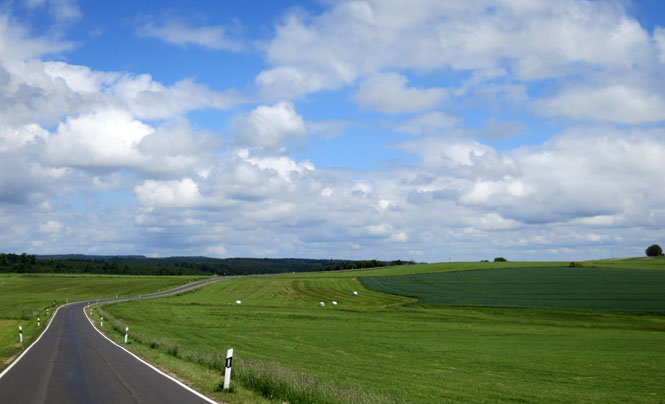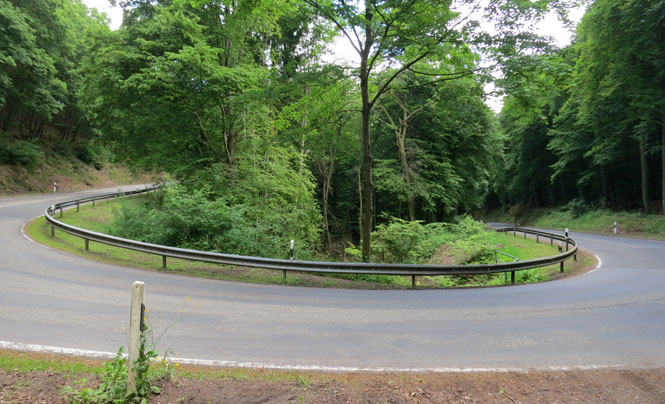 The Mosel River near Urzig. There's a new bridge being built (you see the supports) so in a couple of years you won't need to wind down the steep hillside to cross the river.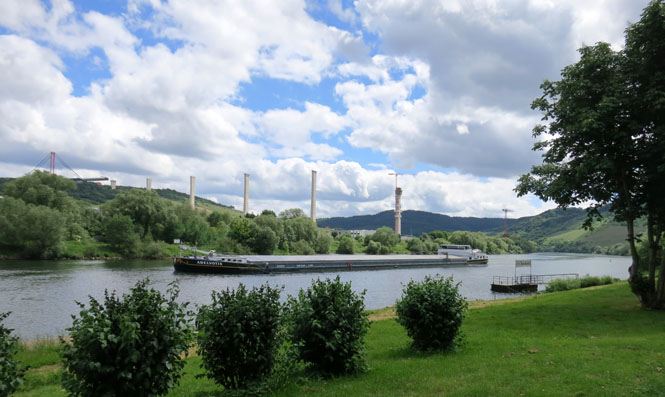 Vineyards on all the hills.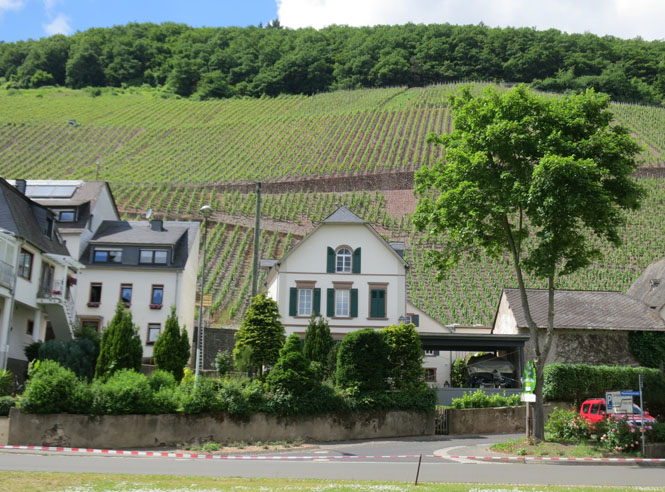 Traben Trarbach, Germany.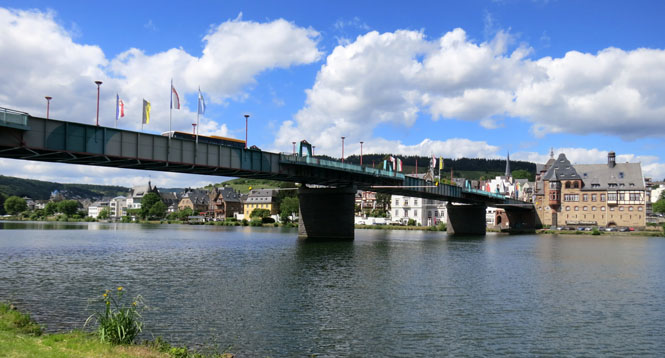 I only stopped for a brief break, and didn't walk this trail much more than a quarter mile.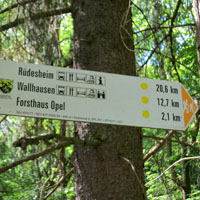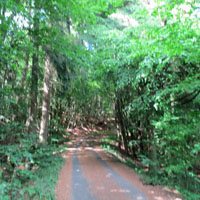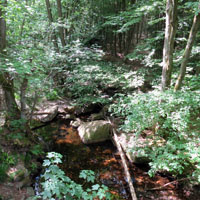 Worms, Germany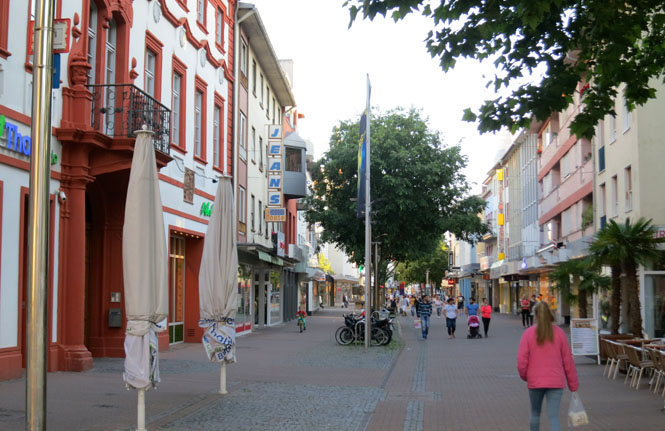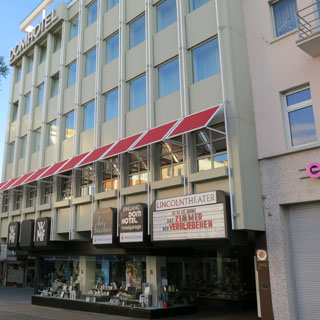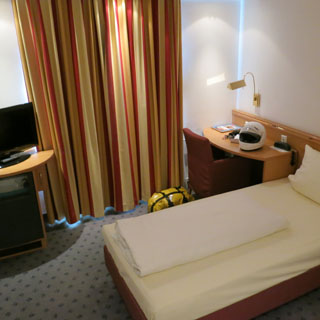 Worms is an important city--particularly as relates to the reformation and Martin Luther. It has been badly damage and virtually destroyed on a number of occasions in its long history.
A "Lindworm" is a dragon (Norse), so you'll see lots of dragons in images and statues around the town. That's not probably where the name came from: either Siegfried killed a dragon here or it's shortened from the Celtic word for "settlement in a watery area." I prefer the dragon story.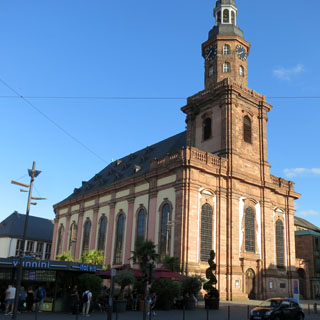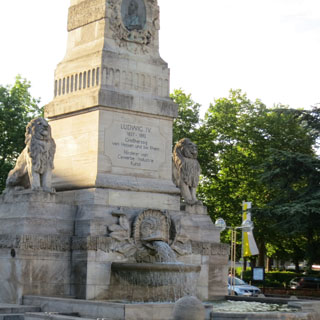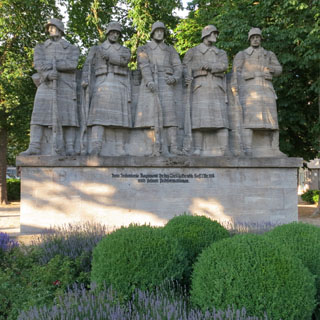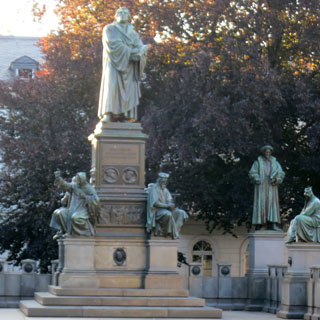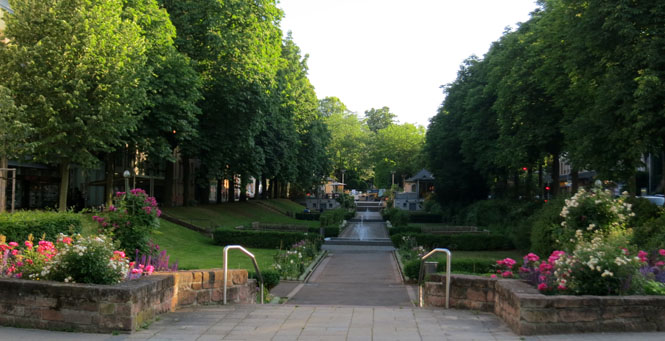 The cathedral was badly damaged during the war; but, repairs were made.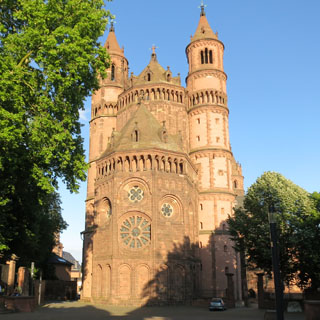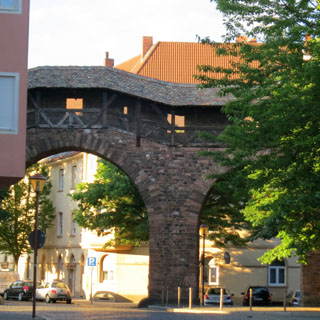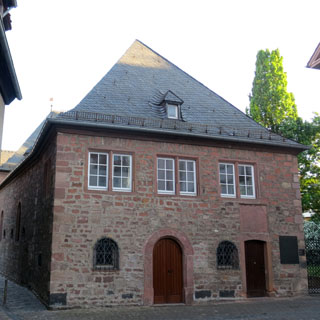 Street names from the past have returned. The history of this part of town is grim.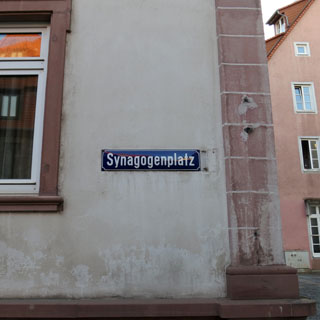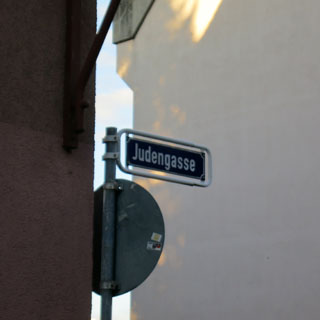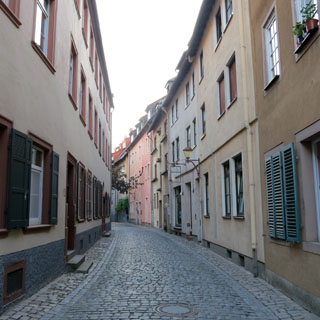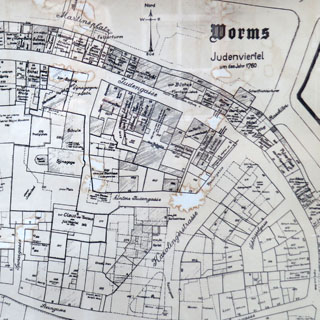 I liked this kinetic sculpture. It's a wheel-of-fortune that slowly rotates with water. On one side are the horrible events that have happened to the city (including the last war), and on the other side are people carrying on as they always have. Notice the dragon at the base.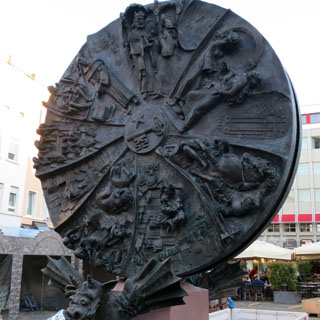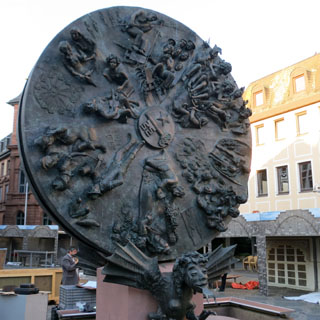 Back on the little roads.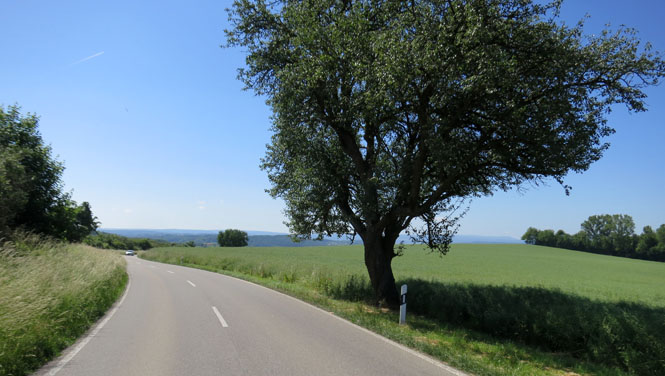 Ersingen, Germany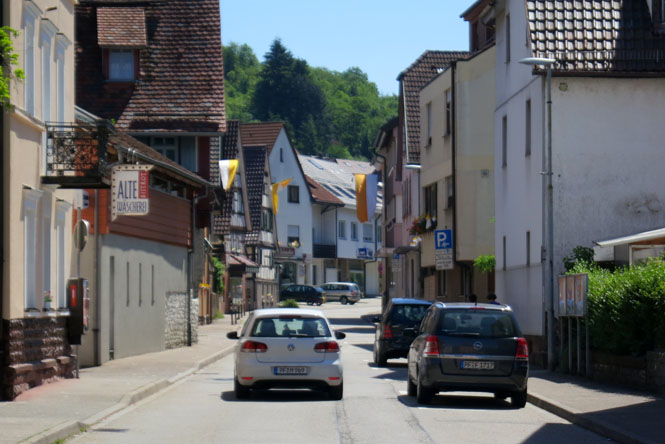 I was told that today was a religious holiday for this part of Germany. I'm not sure what the day is, but I saw a number of these religious displays that cover part of the road. People were walking along looking at each display.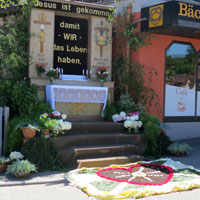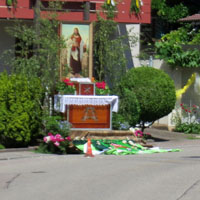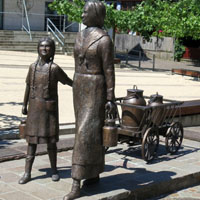 River roads are nice. Gentle curves; no surprises.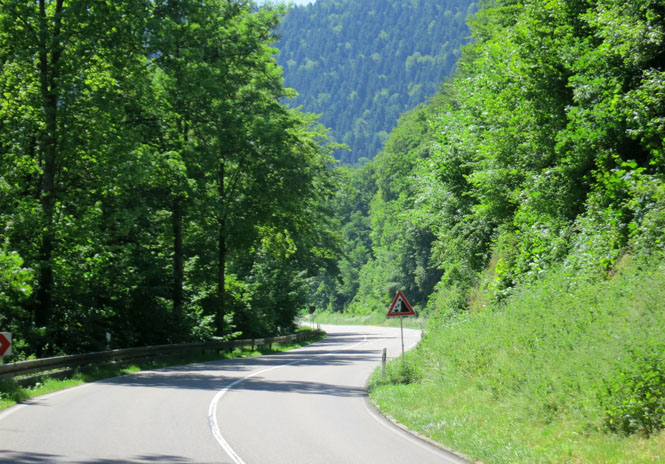 The Nagold River. Is he catching anything? I saw no fish in the water, but, I'm not sure it matters. It's a beautiful day.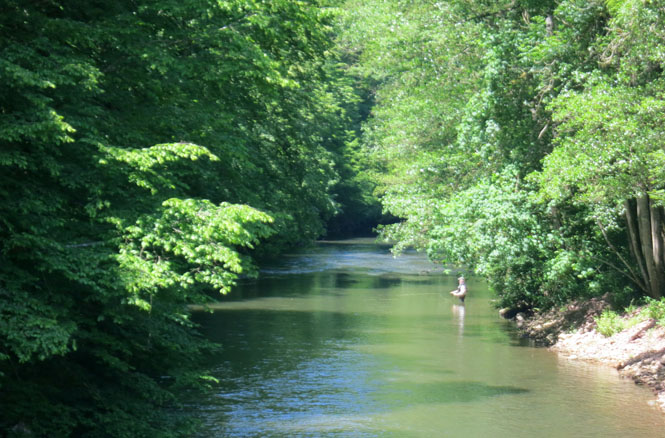 This was annoying. Road after road was closed to traffic and I was starting to wonder if I'd be able to get anywhere. With each closing, I just turned on any available road that took me in the right direction.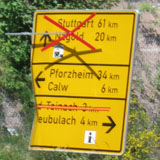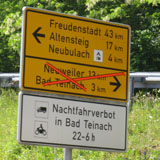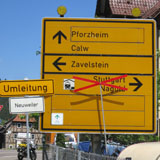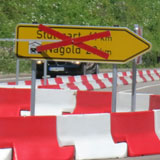 Wart, Germany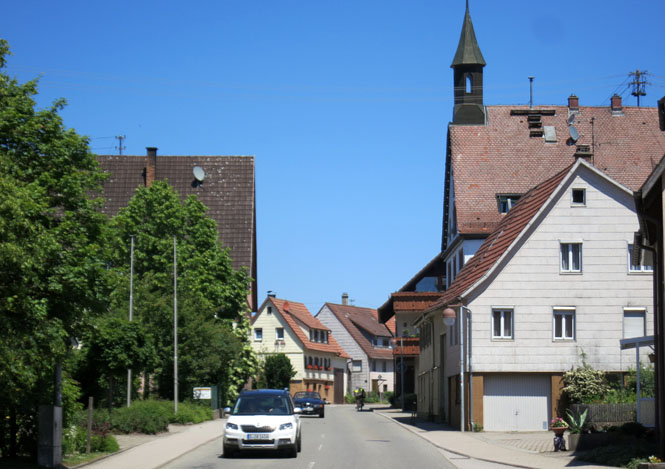 This orange cola drink might be the most popular soft drink in Germany. Anyway, it's the most commonly seen (as with Fanta in Italy)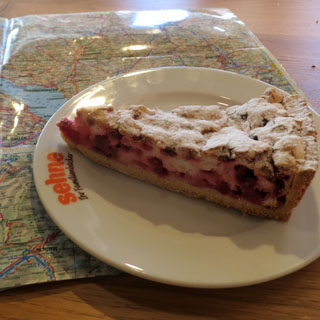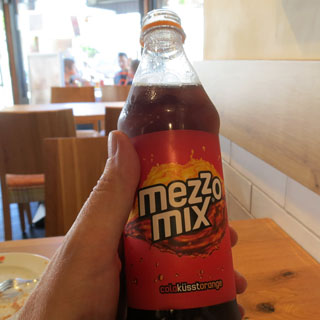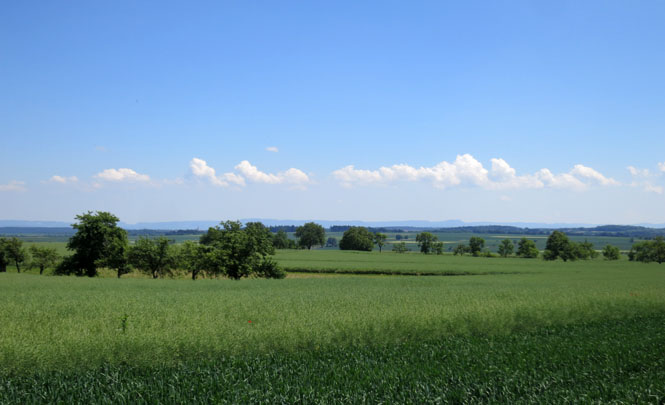 Horb am Neckar, Germany. This shows a common theme in many of these villages. The old town is on the hill, but in the late 19th century, the coming railroad moved the business core down into the valley.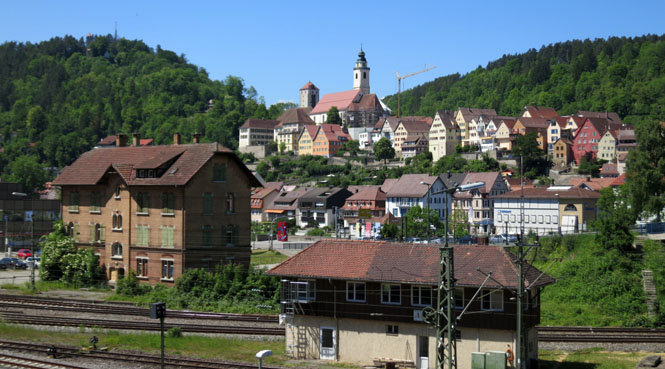 There's likely an Autobahn not far away (there always is), but this is so much better.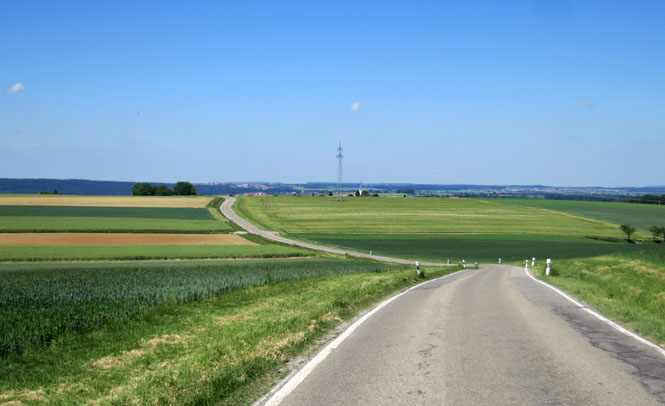 I hate Autobahns. Here, I didn't have much choice, but just as soon as I could I took the exit at Engen. I think there was an accident ahead, which brought the system to a standstill.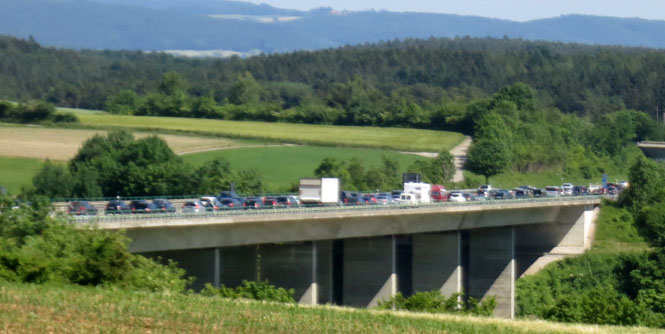 Switzerland
Stein am Rhein. This is the perfect-post-card town that people might imagine when they think of Switzerland.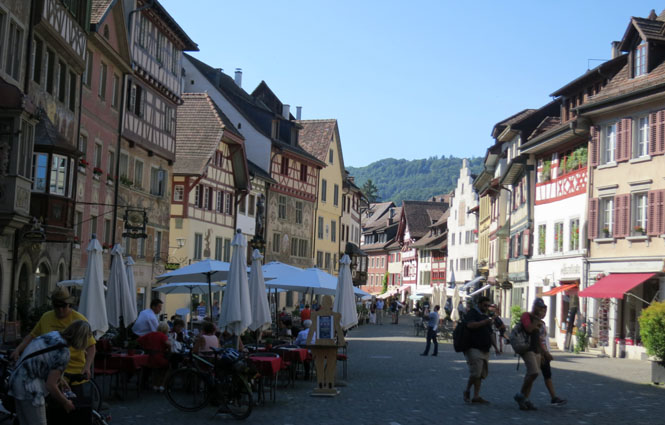 Two windows looking over the Rhine. Nice.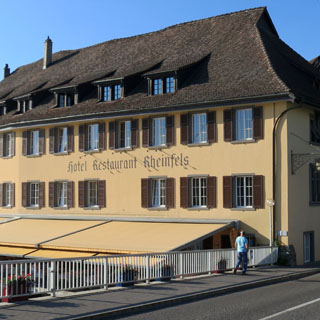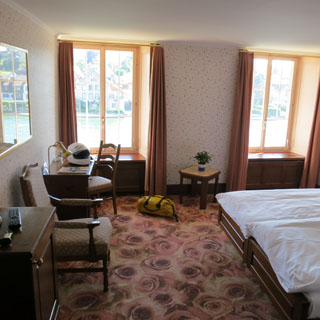 The hotel I stayed in has been there a very long time.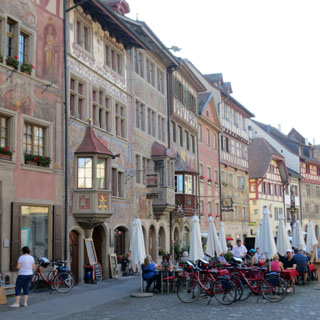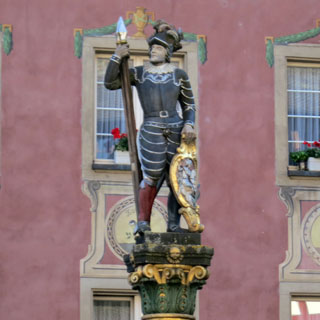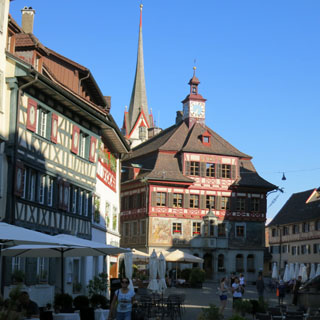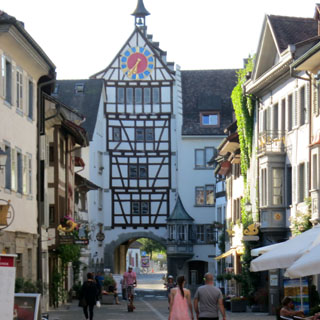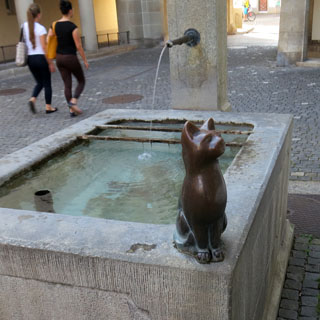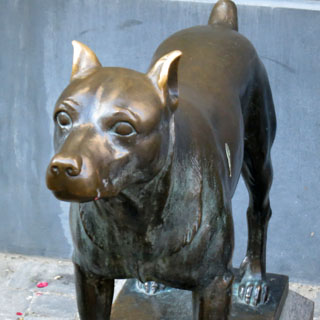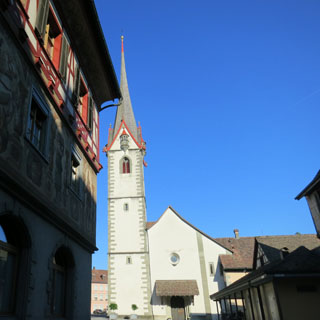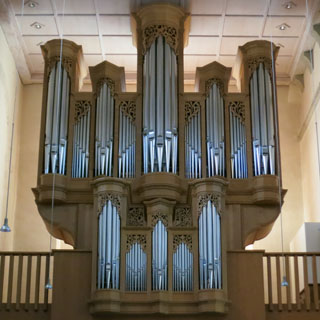 Fish soup followed by fish. It's all local.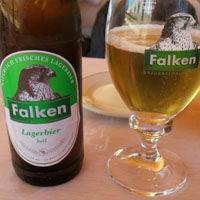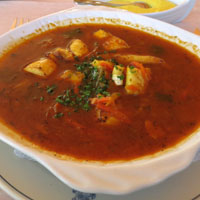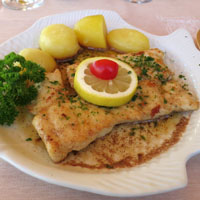 A beautiful warm day in Switzerland.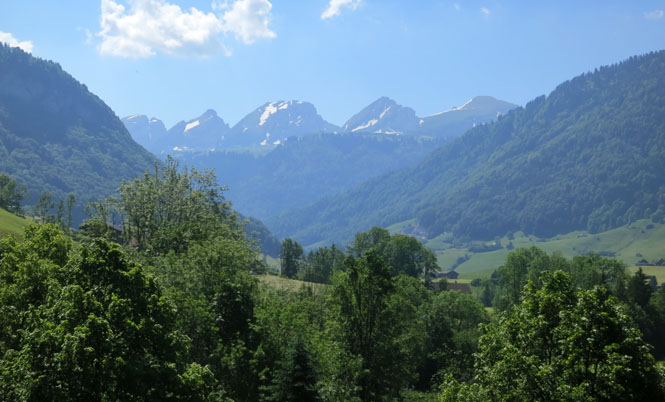 Liechtenstein
Crossing through Liechtenstein doesn't take much time.
Switzerland
Davoser See.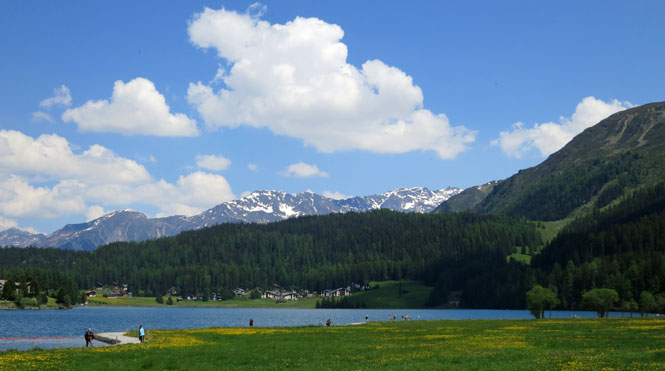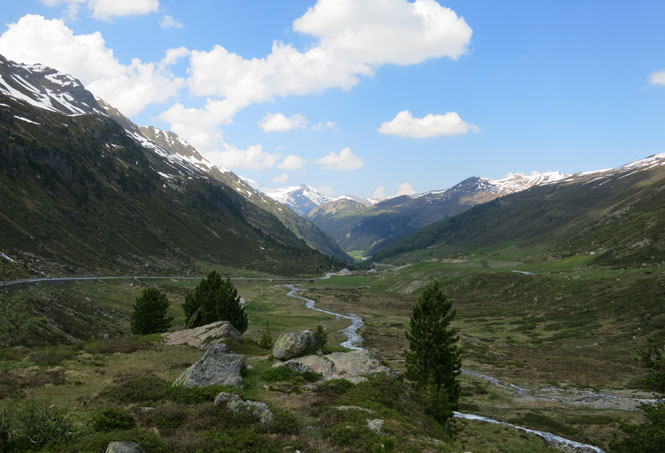 There are a couple of Alpine passes I've not been over.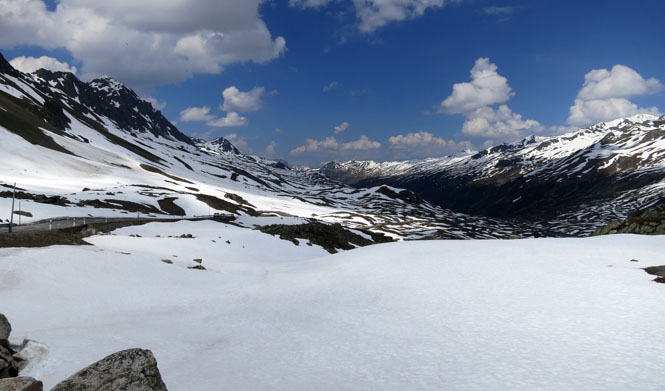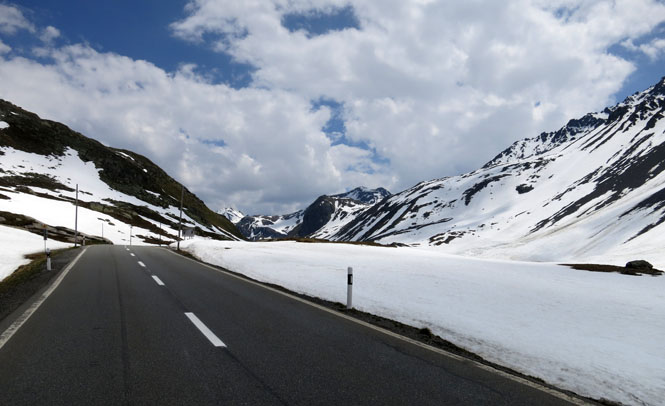 I'm generally pretty cautious on roads like this, but there were plenty of other motorcyclists who have faster standards than I do. I was passed by many (I know I'm not upholding the honor of my Italian license plate).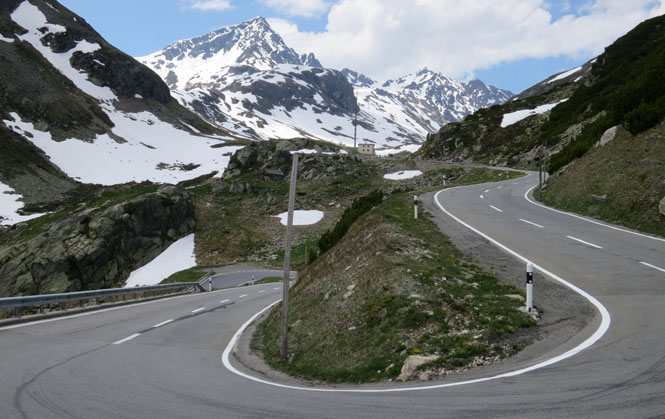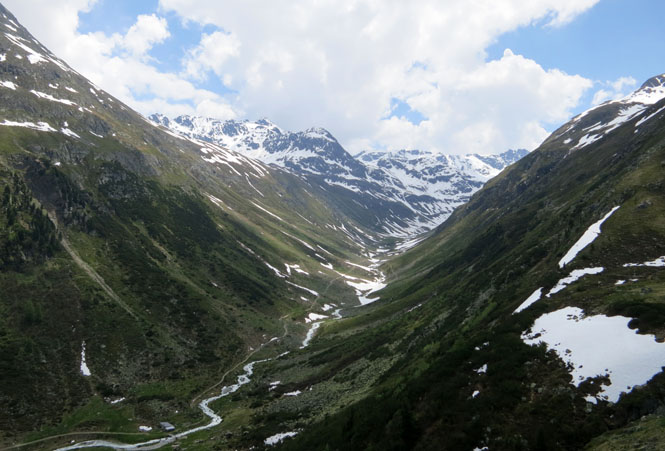 Italy
The Munt la Schera Tunnel comes through at the far end of this Alpine reservoir. It's a long (2 miles) single-lane tunnel (and not especially well lit) so you'll wait for the green light before proceeding. It'll cost you 13 Euros.
Livigno, Italy. This is a tax haven for shopping and for buying fuel. I bought nothing.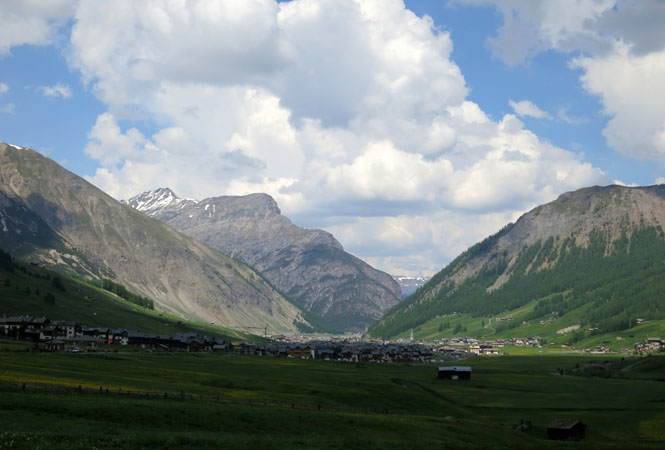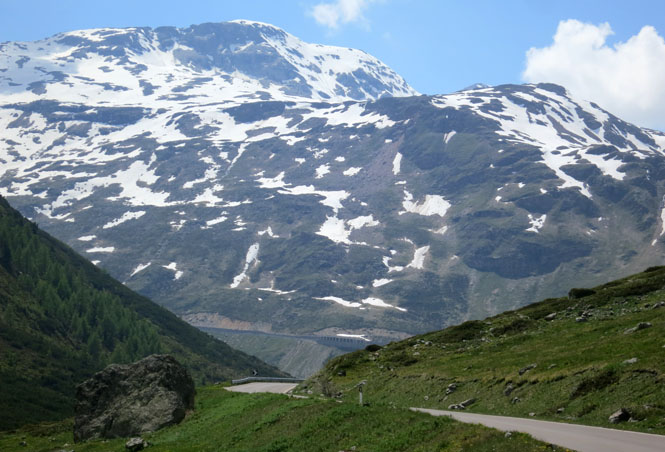 Now, it's down, down, down to the Italian valley below.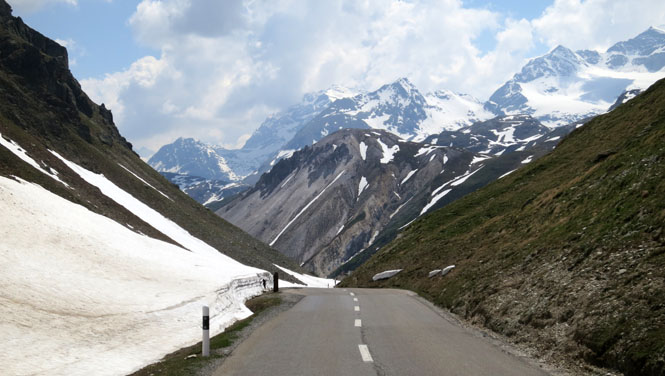 I return to Mandello del Lario.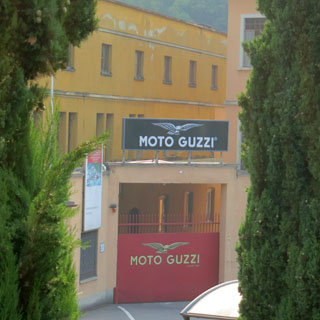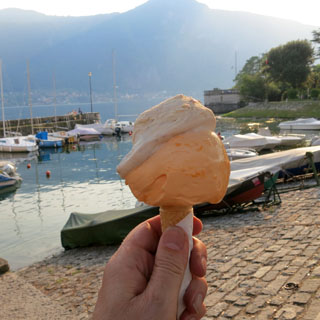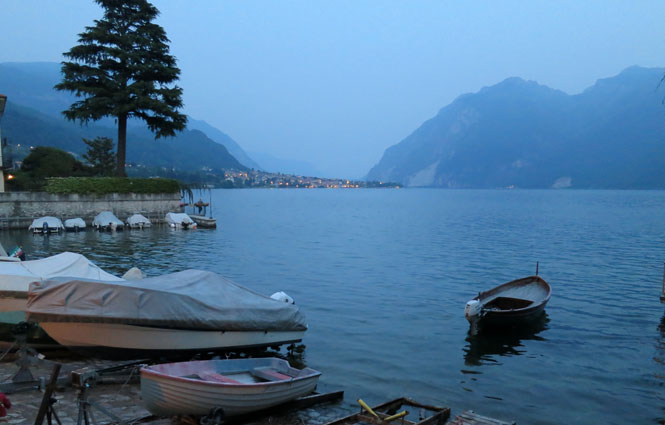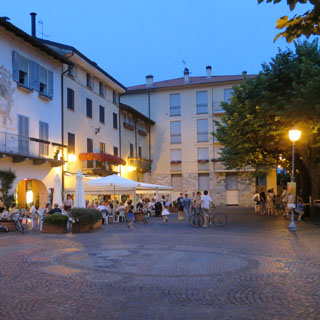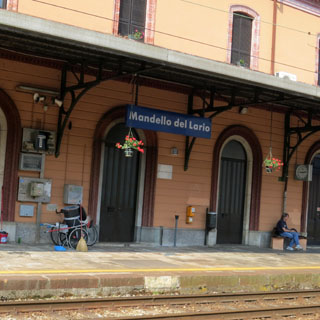 ---
Milano looks good for Expo-2015. It's been years since the central train station was free of scaffolding and construction equipment.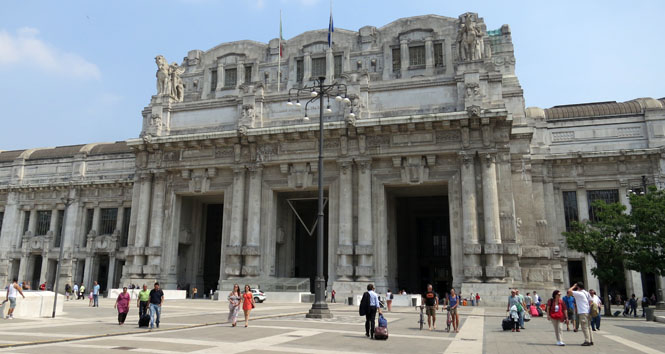 The Carabinieri always have interesting equipment.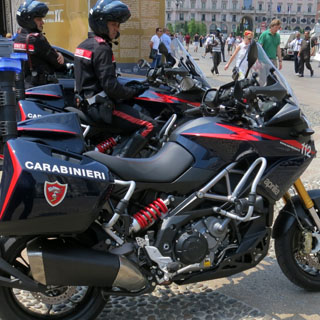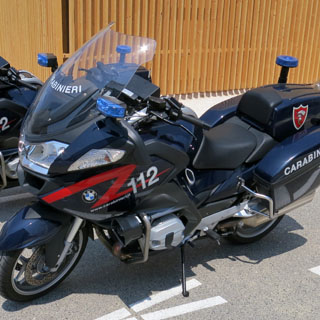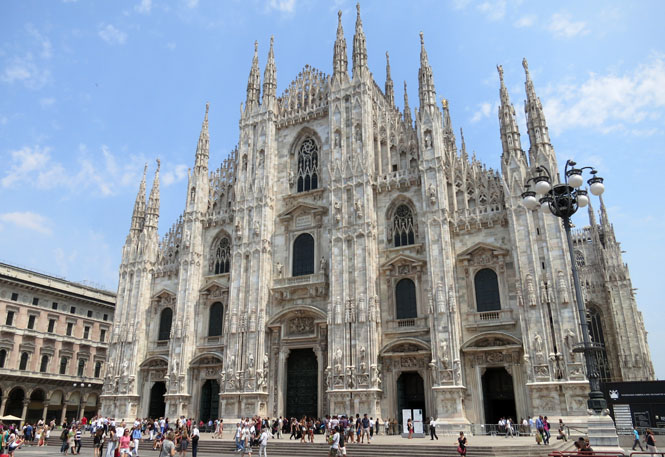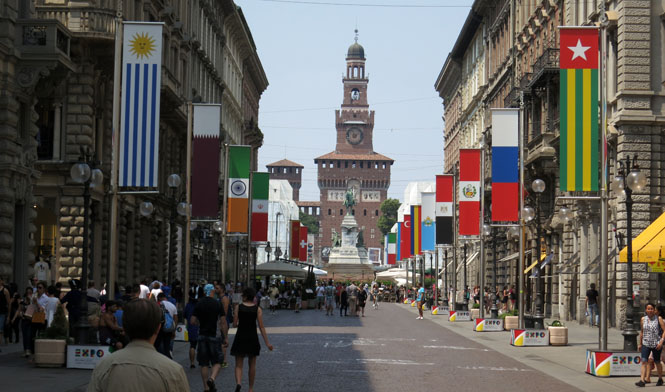 ---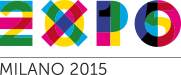 Expo-2105. I put aside an extra day to take in this latest world's fair. The theme is Food.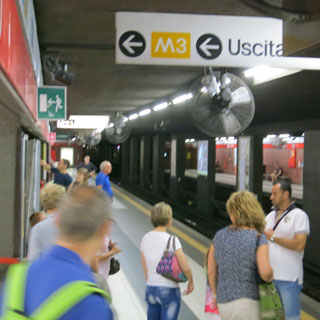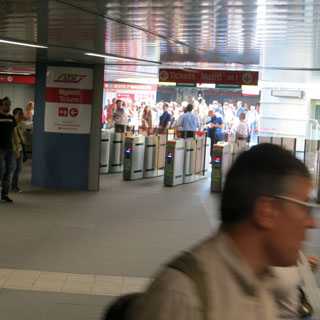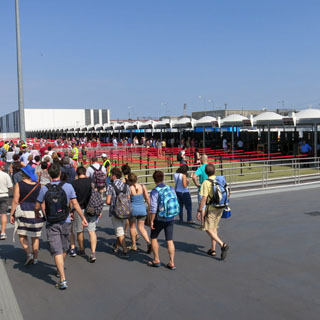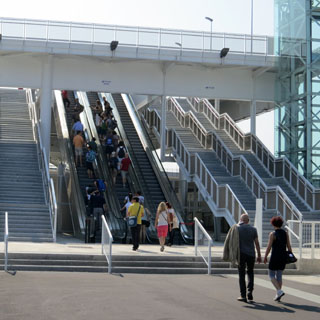 Expect to do a lot of walking. It's a long way to the other end.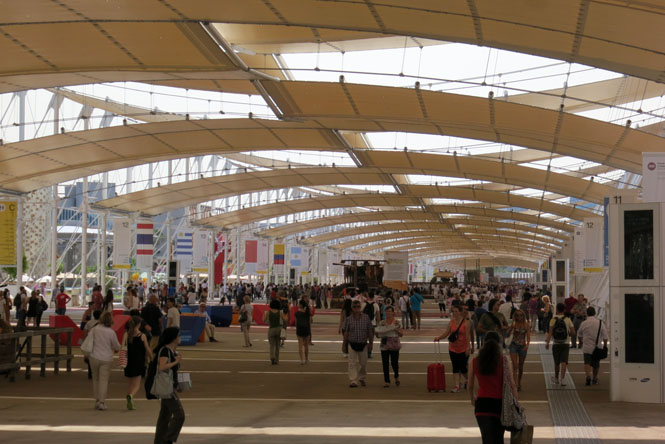 You could not tell by the pavilions which countries are wealthy and doing well, and which countries are not, and are not.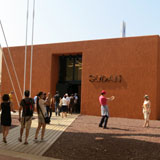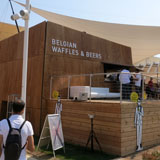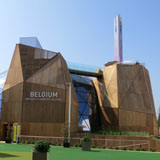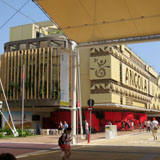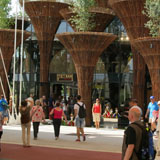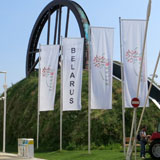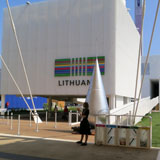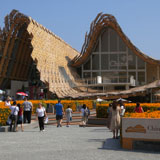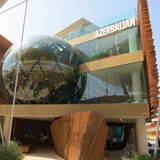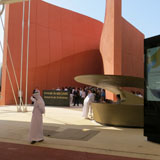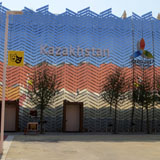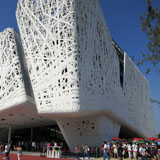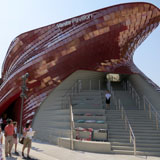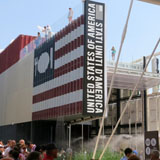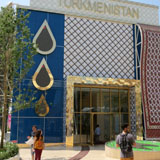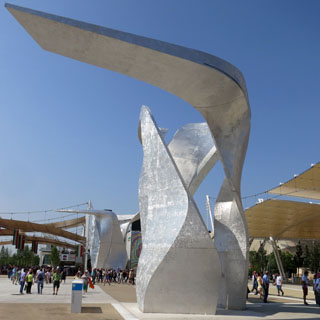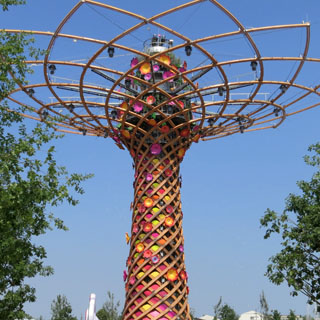 Seeds. I was impressed by the seed bank and examples of ancient varieties of common grains. Wheat stalks used to be quiet tall.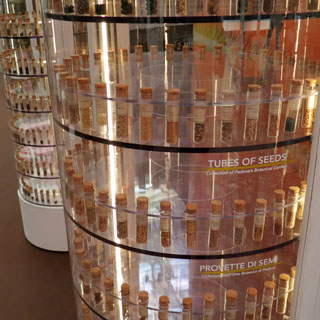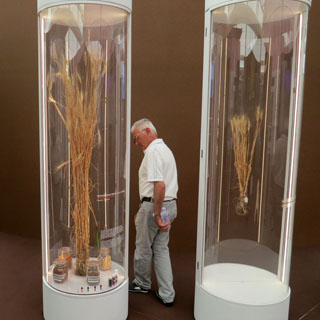 The supermarket of the future will be efficiently stocked and will give you lots of information about what you are buying.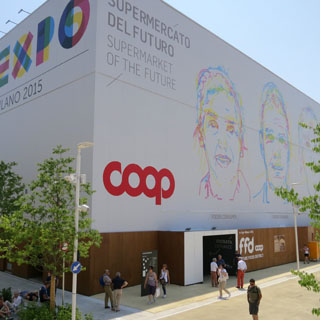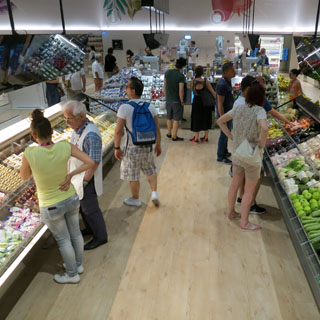 Need to know what's in that bottle of nutella and where the ingredients came from? I thought I might see Oregon show up, but it turns out that the hazelnuts in nutella are from Italy. You could actually do real grocery shopping in this store if you came prepared.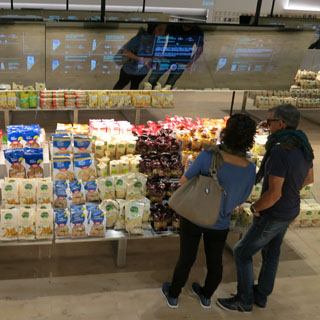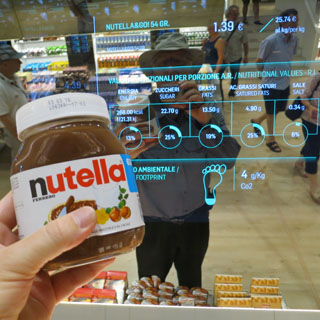 Lunch. You need to give this careful thought as you can buy food from all around the world. I chose Italian--they had open kitchens preparing food specific to each location (in this case, Abruzzo). That's my meal being prepared.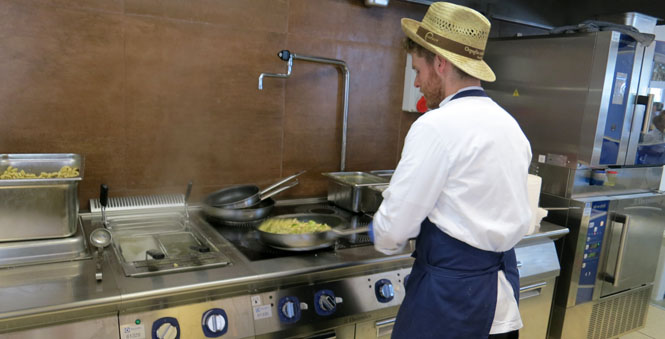 It's an enormous screen showing short videos that relate (in some way) to food. Right now ALL of the videos are being shown, but normally you'll watch just one--projected on the whole screen. I watched one of a Sardinian boy (I think) tending his sheep and visiting his father coming in with the fishing boat at the ocean. On the right? More seeds.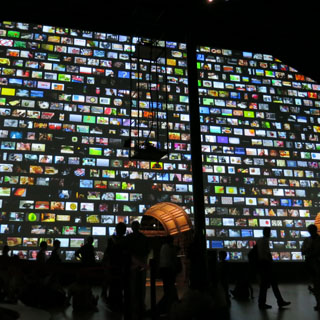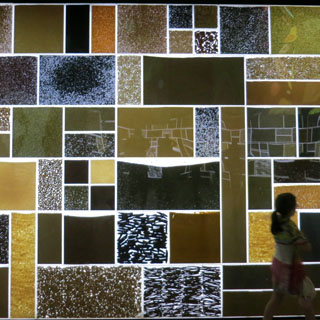 These 360 degree panoramic videos were seen in a number of pavilions. Very impressive resolution--the best I've ever seen. An Imax screen seems quite old-fashioned by comparison.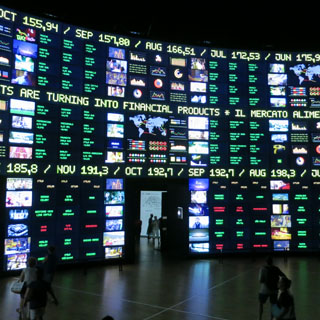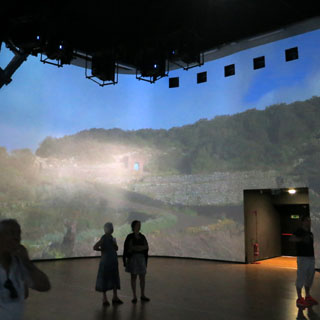 Not much talking on the Metro going back. Lots of tired people.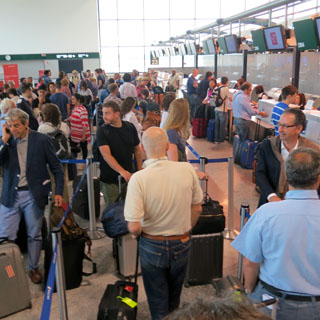 I am ready for the flight taking me back. But, no. The flight is cancelled, and I'll be spending two nights in this hotel (the futuristic white Sheraton on the right).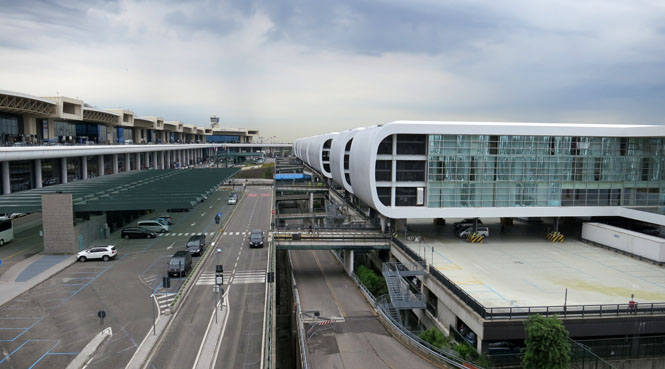 ---
So, there's time to visit the Volandra air museum, which is in the old Caproni factory, within walking distance of the airport.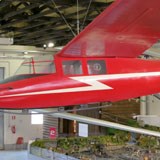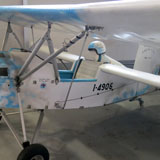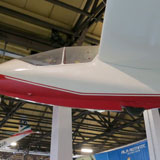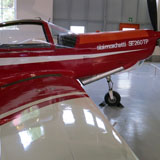 Caproni number 1 is on display. Amazing.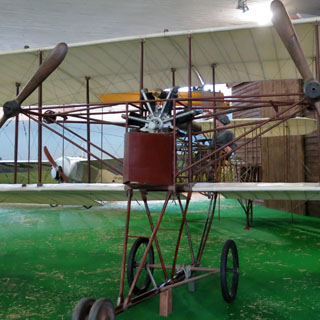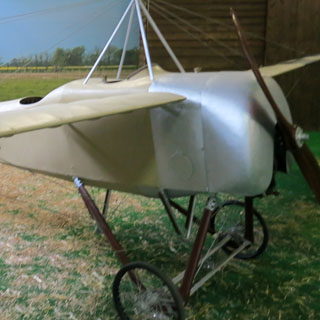 Some ideas are better than others.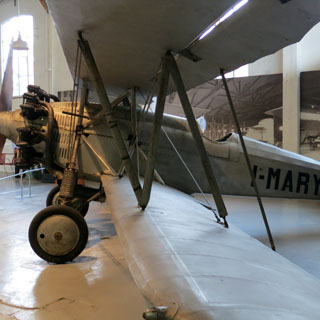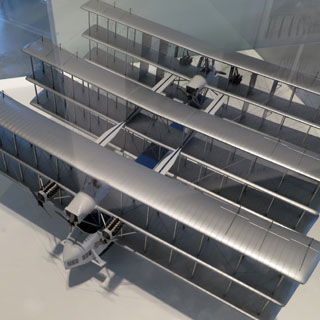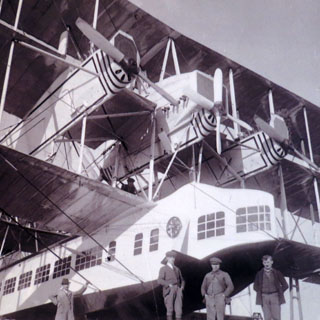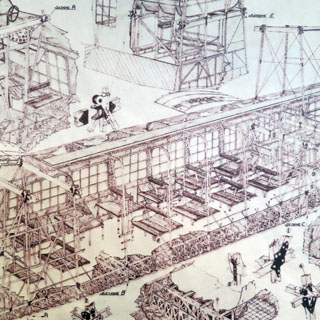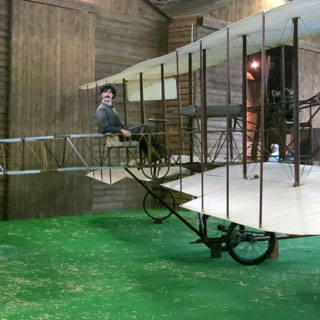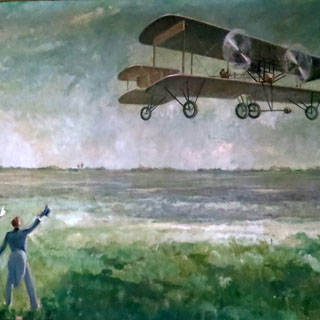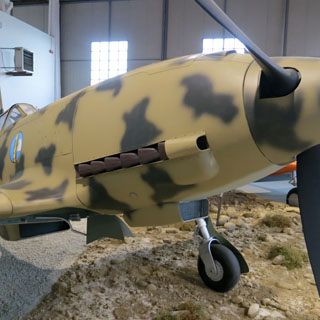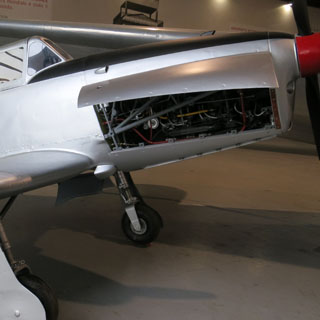 The restoration shop.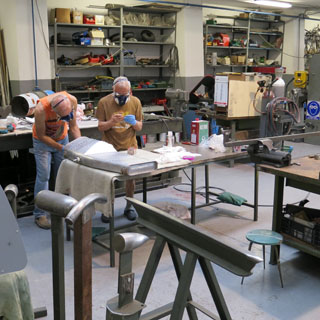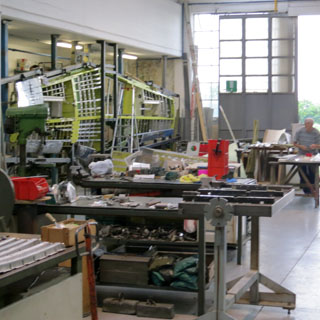 The lighting kept changing color, which is a challenge for the photographer.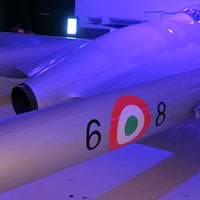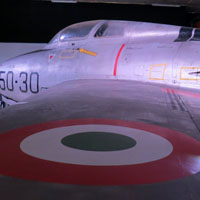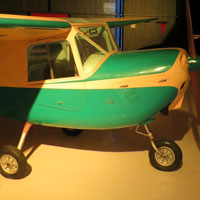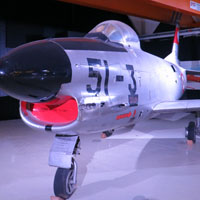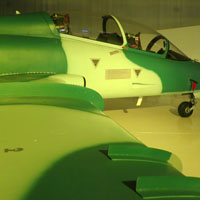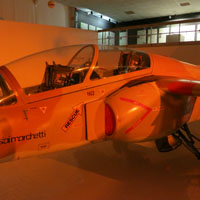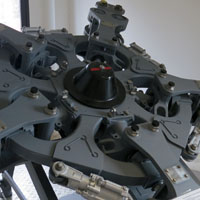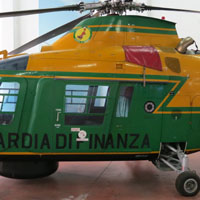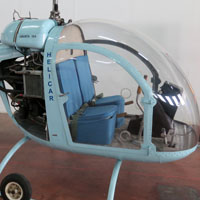 ---
The flight out, part 2. United Airlines brought in a special B767, but only 10 passengers were on board. Of course, I sat in first class. The flight crew didn't have much to do, so the service was terrific.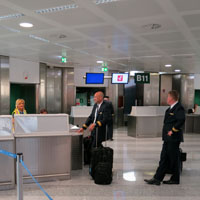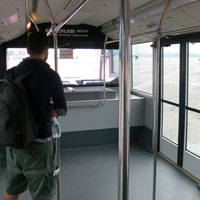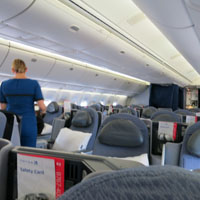 "
My in-flight movie selection: "Philadelphia Story" and "The Sound of Music" (nice to see the Alps from above).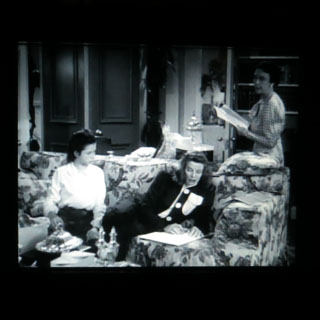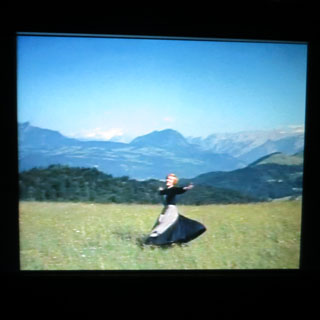 ---
Notes
I used 340 liters (90 gallons) to go 5,260 kilometers (3270 miles), giving a typical filled-tank range of 500 kilometers (300 miles). Normally, I'd fill up at around 350 kilometers. The distance ridden isn't far, but the average speed was slower than possible in the U.S..
Things left in Mandello (for future trips): boots, helmet, ferry straps, air pump, electric vest battery cord.
I left behind a UK electric outlet converter (but had a spare). The one I left behind was

not

marked with bright orange tape (as were the others); it should have been.
I did not take a German map as I assumed the other regional maps had sufficient overlap for the German roads I would be on. This did

not

work. I cut it too fine.
Coin pouch worked well. I did

not

end the trip with a pocket full of loose change as I often have.
last edit: 6/21/2015