July, 2015

The previous week I'd driven to Ohio for the AMA flat track races in Lima, but I didn't want to repeat the same horrible out-and-back I-70 route two more times for the next two races. It made more sense to connect those races with a ride to the north.
Anyway, a loop around Lake Huron is something I've wanted to do for a good while.
I don't normally have rigid date-and-place requirements on a trip, but I needed to be in DuQuoin, Illinois on Saturday (July 4) and Indianapolis, Indiana on the next Saturday (July 11). Beyond that, I'd make up the route along the way.
Kansas
Chanute, Kanas is a good place to stop for lunch. Those clouds were a nice relief from what could have been another blazing hot July day in Kansas (of course, I'd still have a return trip for that).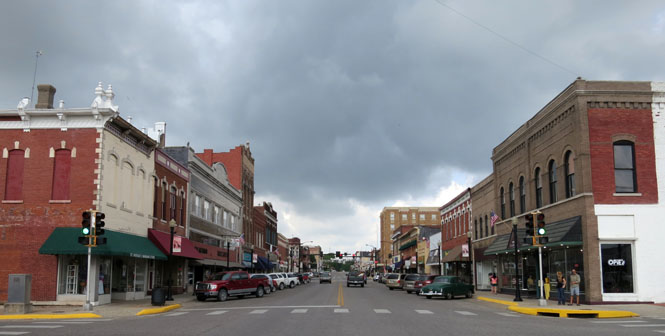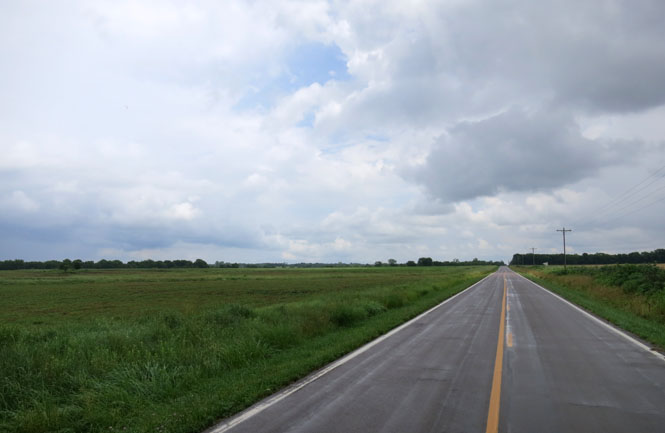 Garland, Kansas. In most cases, putting your town right on the tracks would also have meant that the eventual highway would also come through your town, ensuring its success. That didn't happen along the Kansas-Missouri border. The north-south highway (US-69 is several miles to the west). Garland only got smaller and smaller.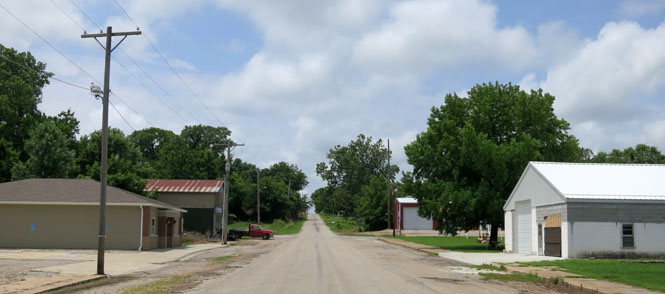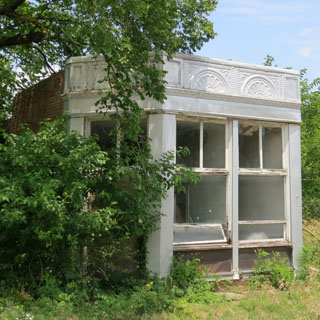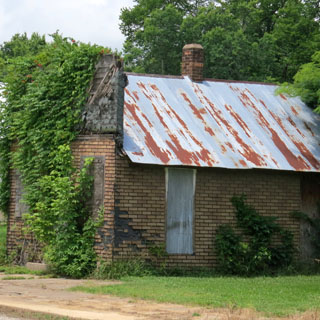 Missouri
Bronaugh, Missouri. It's the same with Bronaugh; the north-south highway (US-71) is several miles to the east.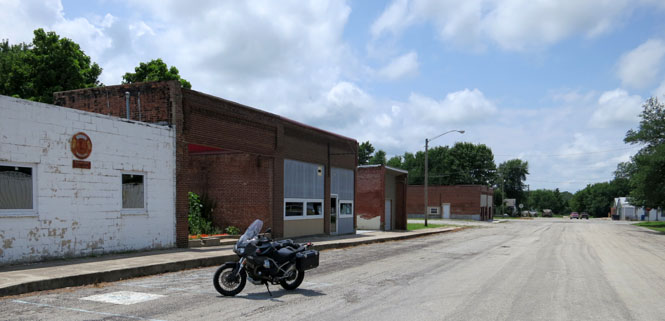 Sheldon, Missouri.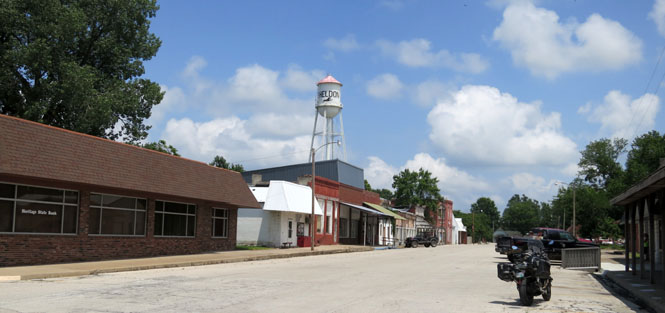 Entering the rolling hills of the Missouri Ozarks.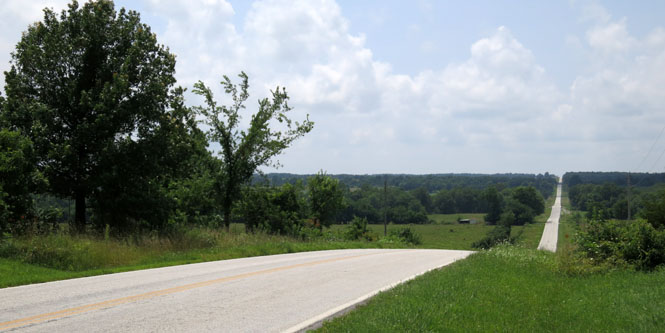 It looks like those combines finished the field before the heavy rains came. But, right now it's all too soggy to move anything.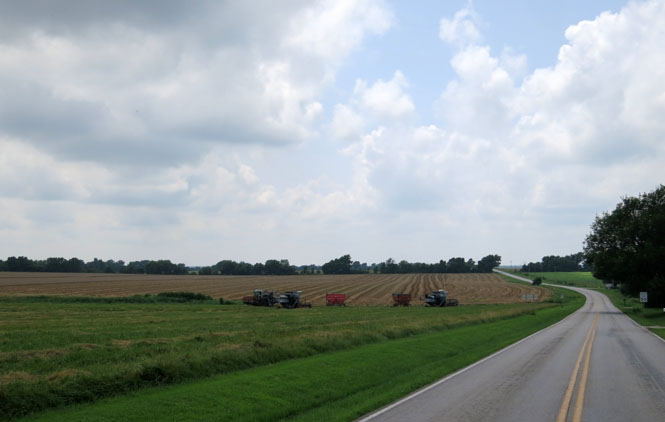 Sometimes these Missouri roads drop so suddenly over the crest that you're not sure what to expect on the other side until you're there (and you hope it's not an immediate turn). At other times, the bottoms are so deep that you'll see scraped pavement where things (most likely the hitches of loaded trailers) have bottomed out.
If you like roller-coaster roads, come to Missouri.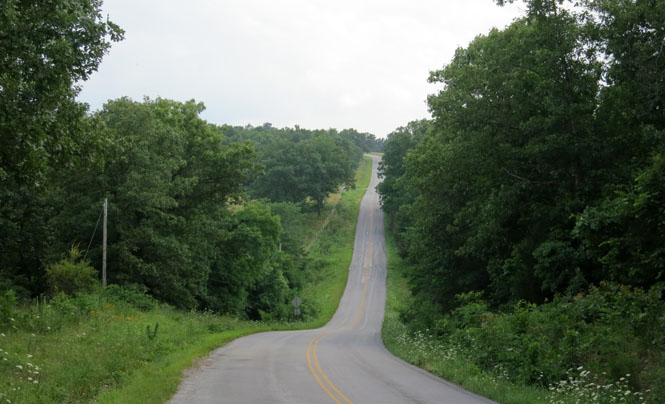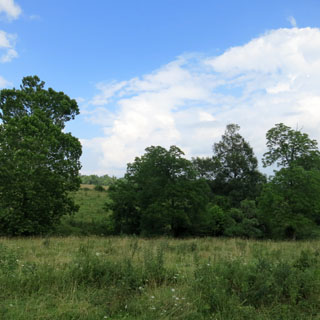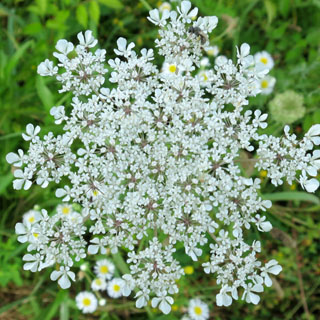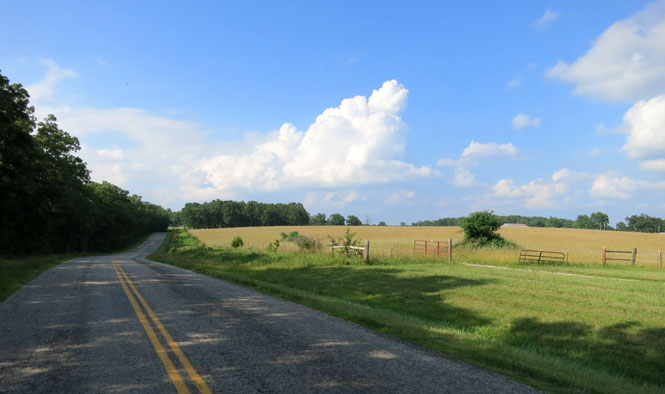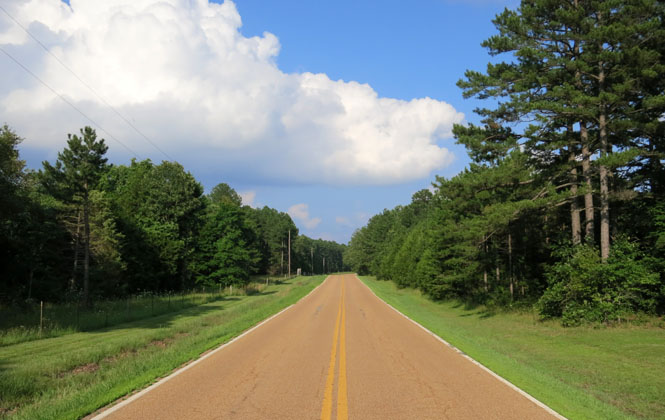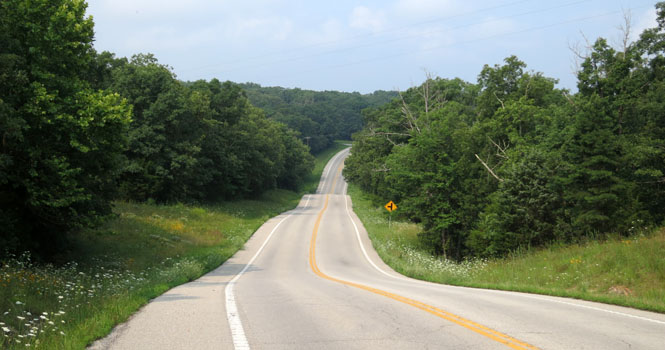 Steelville, Missouri. Entering the Mark Twain National Forest (which isn't helpful as every other bit of forest in Missouri is also named the Mark Twain National Forest).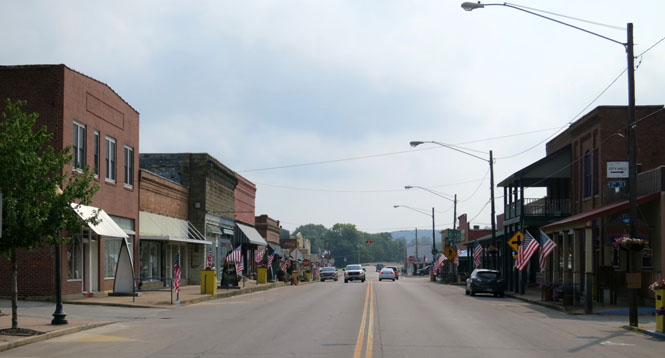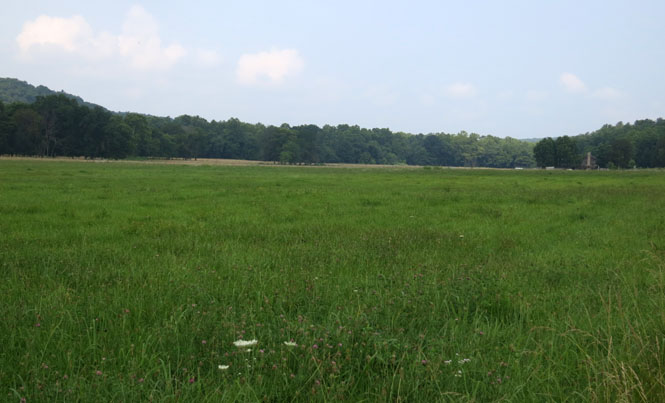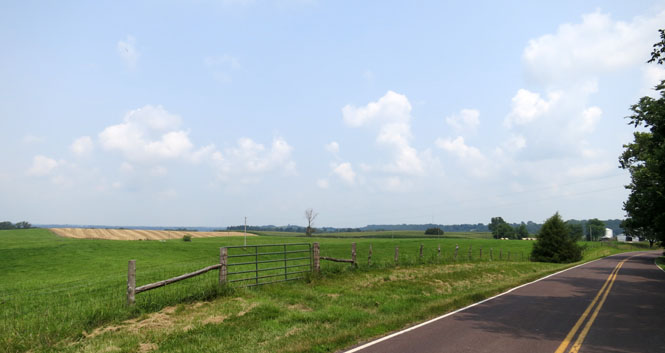 There's a final bit of winding road to cross the steeper hills that border the Mississippi River, and then you're in the broad flood plain. I'd expect that on occasion these tracks are impassible and are under water.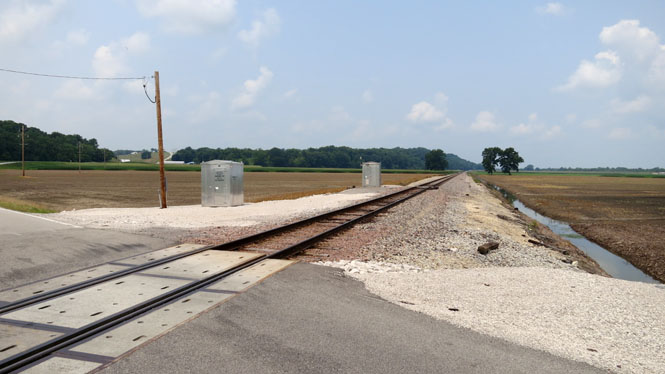 Illinois
The Chester Bridge over the Mississippi was built in 1942 and then destroyed just two years later by a tornado. Two years after that, it was up again (and so far as I know, has not been hit by a tornado since then).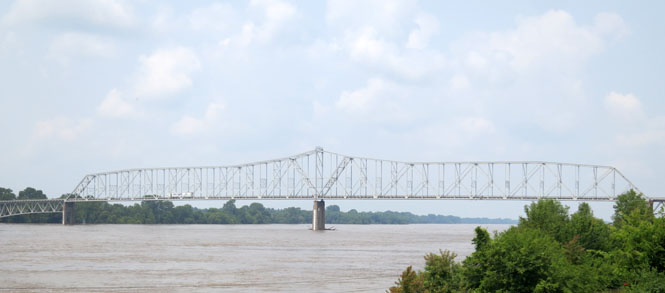 Chester, Illinois. Chester is the home of Elzie Segar, the creator of Popeye "I'm Popeye". You cannot ride through the town without learning at least that. The murals and sculptures of the little man with the annoying voice are everywhere.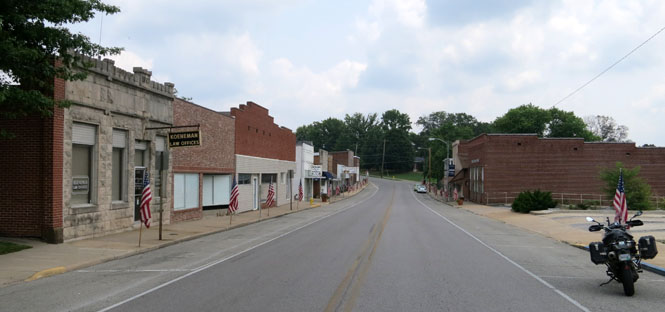 ---
The DuQuoin Mile. It's been ten years since the AMA flat track series has included DuQuoin, Illinois. It's a beautiful facility and a very fast and racy track. The trouble is that DuQuoin is not a big place and isn't near or on the way of anything bigger.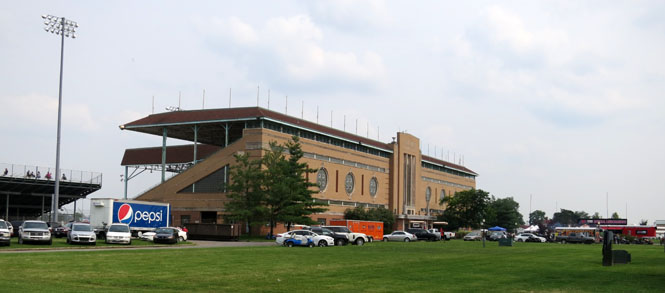 In the pits with the Lloyd Brother Motorsports (LBM) team. Johnny Lewis (#10) is the sole rider for the team since his teammate (and previous world superbike champion) Troy Bayliss was injured at the Sacramento Mile earlier in the season.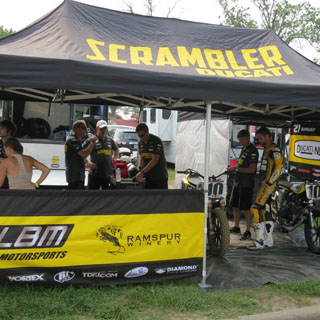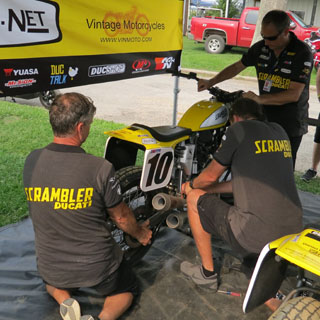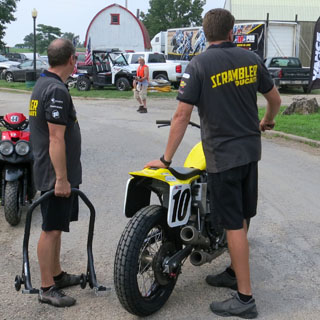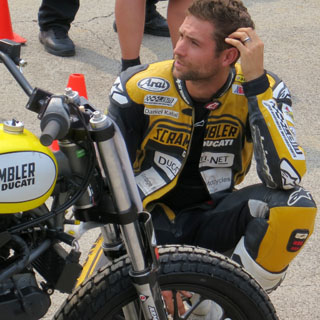 Looking at some of the other teams...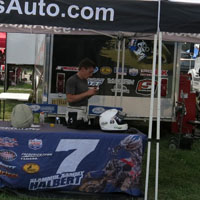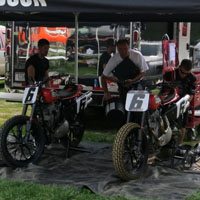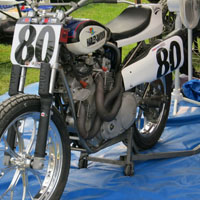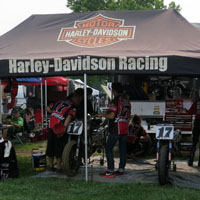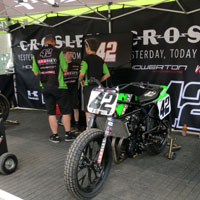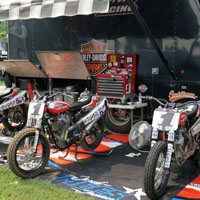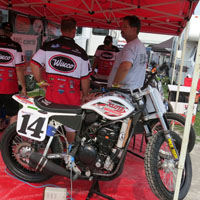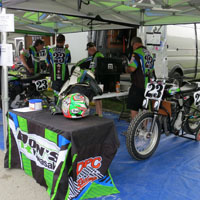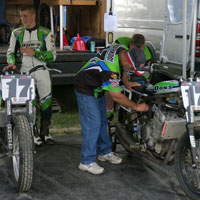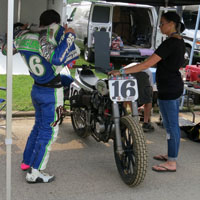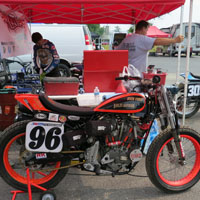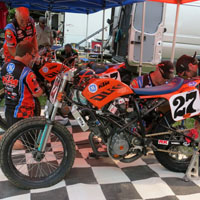 A view of the very long straight at DuQuoin. It's the longest of any of the mile tracks.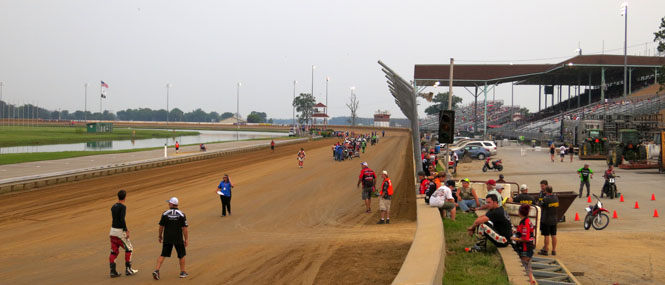 One of the heat races (#10 is against the rail). My camera is good for many things, but action shots using its built-in zoom isn't one of them.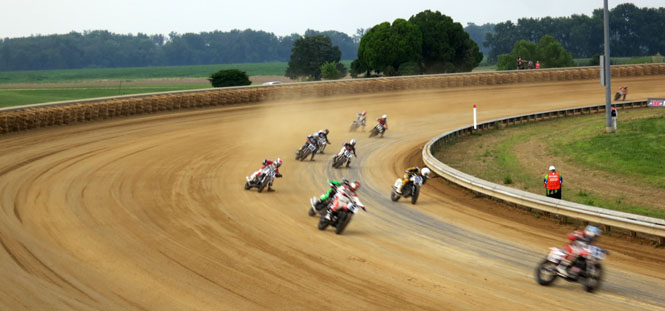 Preparing for the night's final race.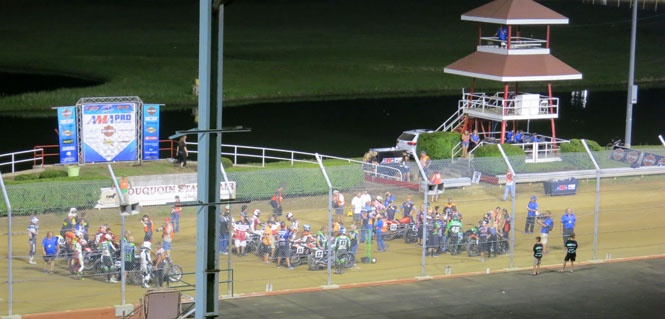 The top three finished in a three-way photo finish where first and third were separated by only 0.013 seconds.
GNC1 expert twins finish:
1. Bryan Smith (Kawasaki)
2. Jared Mees (Harley-Davidson)
3. Kenny Coolbeth (Harley-Davidson)
4. Johnny Lewis (Ducati)
5. Sammy Halbert (Kawasaki)
6. Jeffrey Carver (Kawasaki)
7. Jarod Vanderkooi (Kawasaki)
8. Nichole Mees (Harley-Davidson)
9. Briar Bauman (Kawasaki)
10. Doug Lawrence (Kawasaki)
---
Turning north and aiming to avoid Chicago and Milwaukee and any other congested place along the way.
Nashville, Illinois. Nashville is not congested.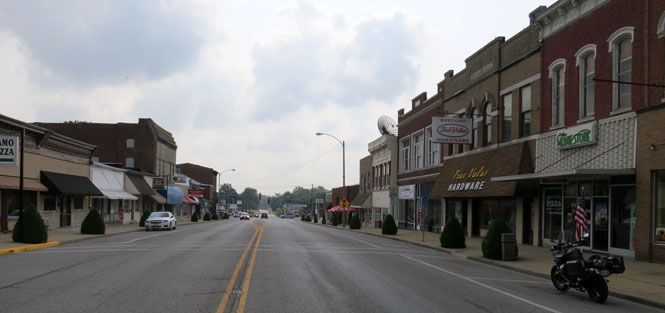 I navigated mostly by compass. Head north on something that looks interesting until that road ends (or turns to dirt, which happens occasionally). Jog east or west as possible and repeat. In this part of the country, section lines that follow longitude lines make it all pretty hard to get lost.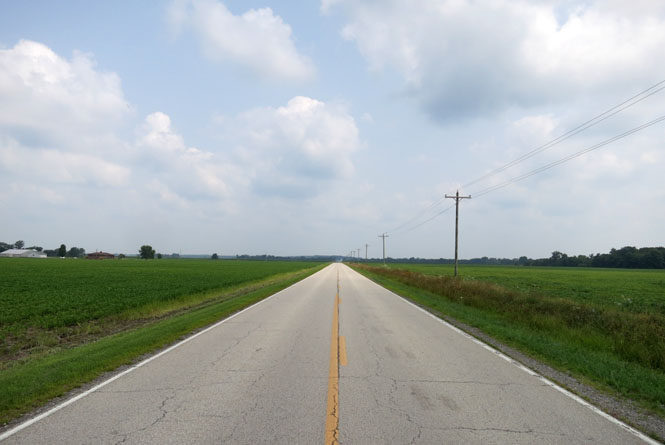 Miles and miles with no traffic on a road that doesn't show on all maps, yet making nearly the same time as I would if I were on I-39 (the primary north-south Interstate through this part of Illinois and Wisconsin)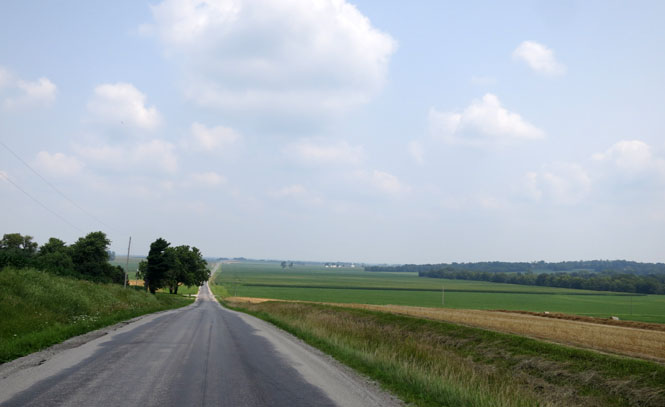 Nokomis, Illinois.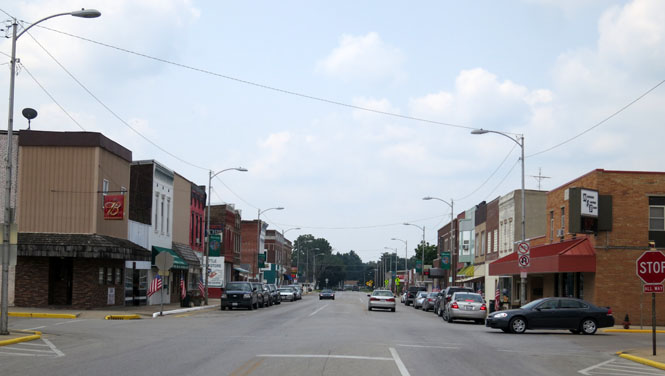 This is one of the roads that unexpectedly turned to dirt, but there's always a paved intersecting road to keep me going.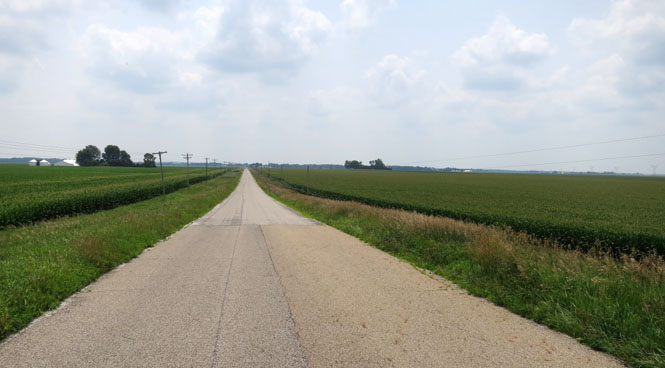 Pulaski, Illinois. Abe Lincoln's law practice brought him to the courthouse here (a fact you cannot help but learn even if you don't stop).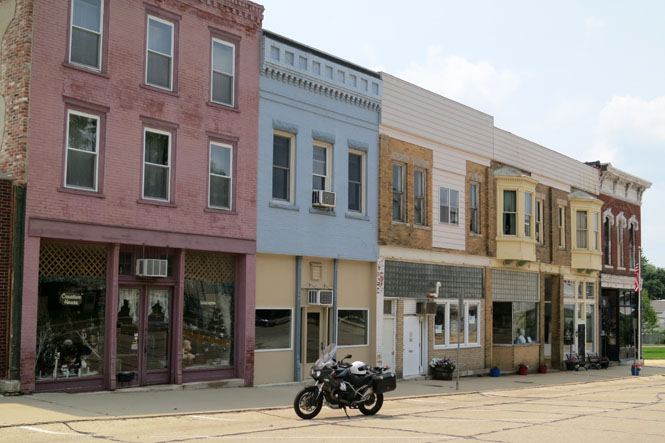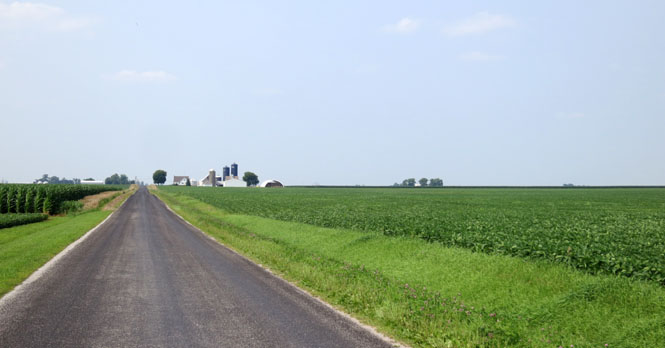 Harvard, Illinois. The last stop before the state line.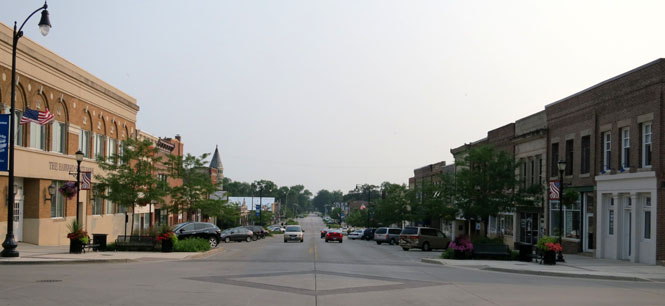 Wisconsin
A small part of the large marina on Lake Geneva (at Fontana).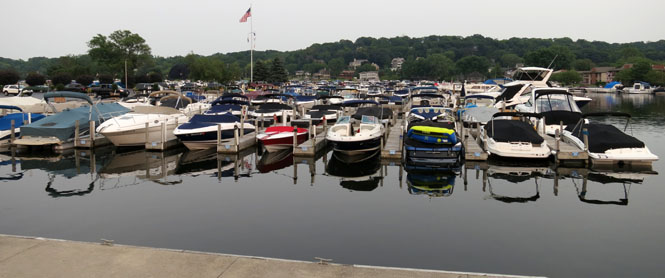 County Road A.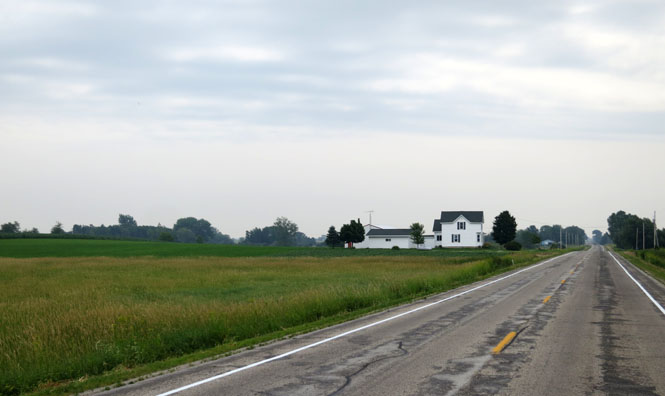 Green Lake.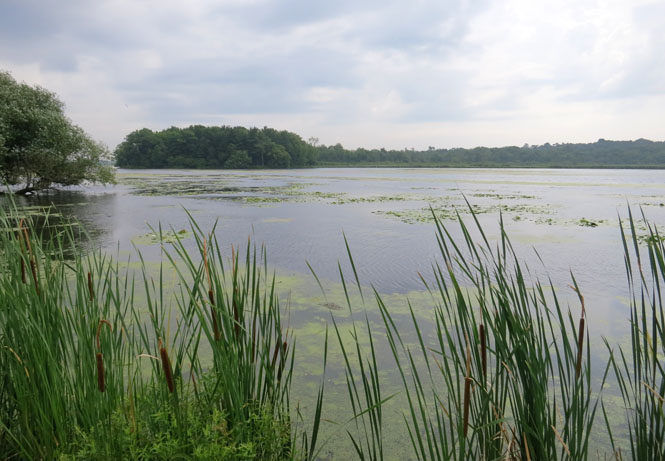 Berlin, Wisconsin. It's cold and raining off-and-on, so a good time to stop for breakfast to let these clouds blow over.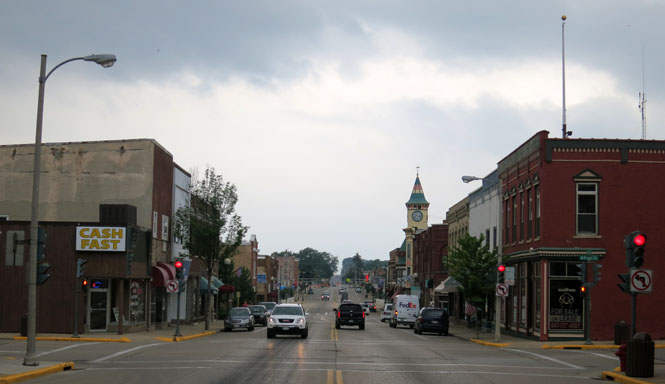 I wonder. Is there a Tabasco Latitude, above which Tabasco sauce is not readily provided at the breakfast table?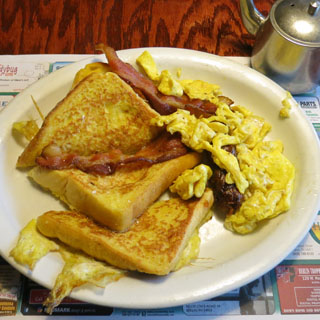 Weyauwega, Wisconsin. Today was a day of mostly rain.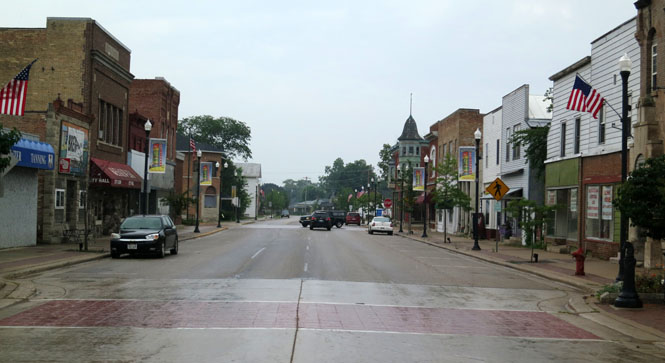 The Wolf River.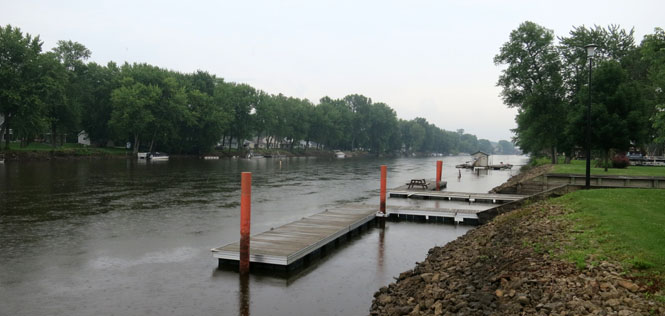 The family quilt pattern is painted on the barn. This practice is widely common from the Dakotas down to Missouri and all states between.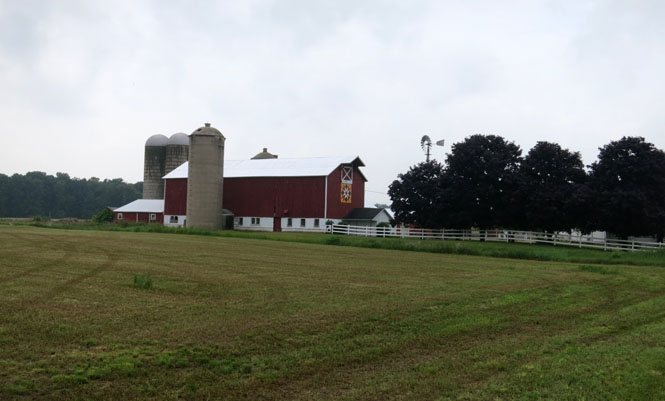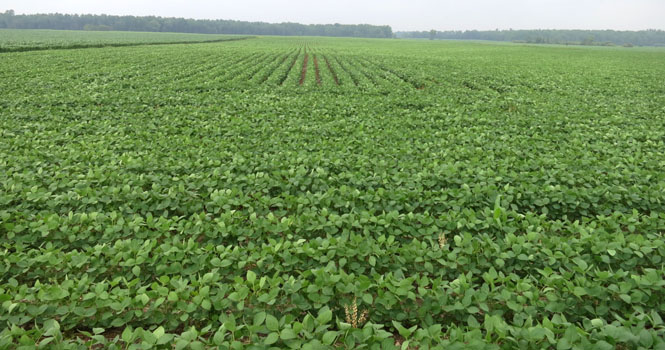 Lake Michigan (or more properly, Green Bay).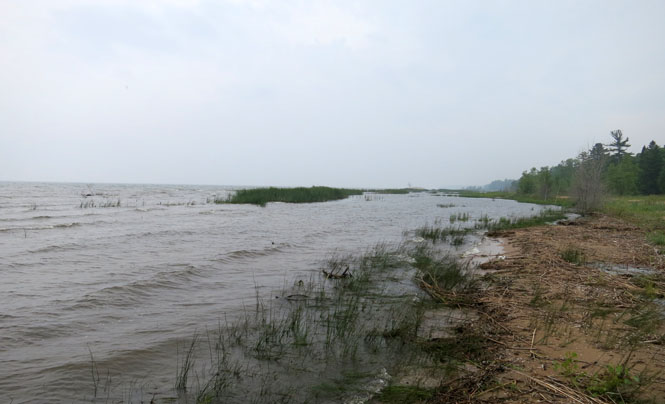 Riding across the Upper Peninsula of Michigan from Lake Michigan to Lake Superior the rain became heavier, the wind stronger, and it was much colder (now into the low forties). I was no longer thinking of how far I might make it before stopping for the night, but was just hoping that there'd be a welcoming hotel at the next town.
I topped a hill and saw a shadowy object in the opposite lane. Just when I realized it was a deer standing crosswise to the road with its head above the centerline, I passed it. What sort of crazy deer stands in the road in a driving rain? I was probably just a couple of feet from its head; I'll give it credit for not jumping forward.
Munising, Michigan. I'll stop here for the night.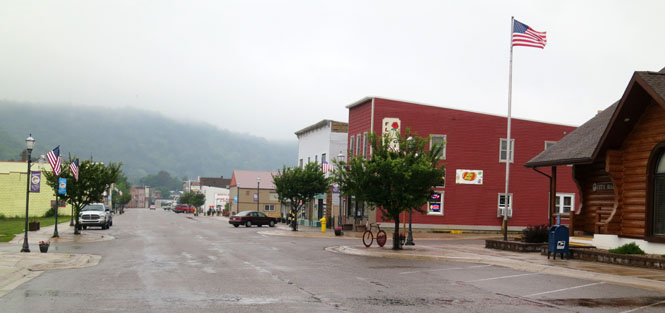 Grand Island Harbor is protected by Grand Island (that's it on the left) and is a deep harbor that dates back to the lumbering days.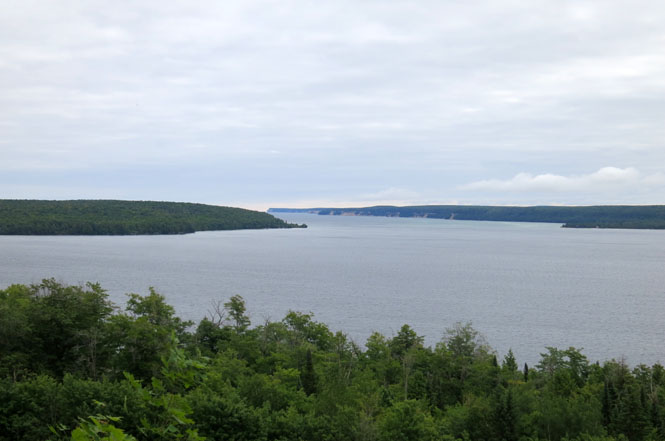 The Guzzi engine has a nice feature for when it's wet and cold outside. When you're having your breakfast, keep your gloves on the "warming shelf", they'll feel nice when you start riding again.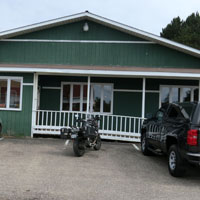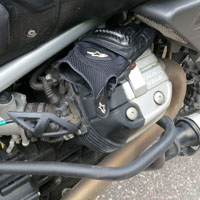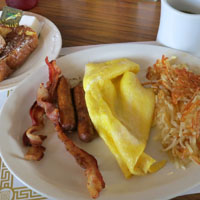 There are not many roads in all of the United States that are as long and straight and level as this road along Michigan's Upper Peninsula.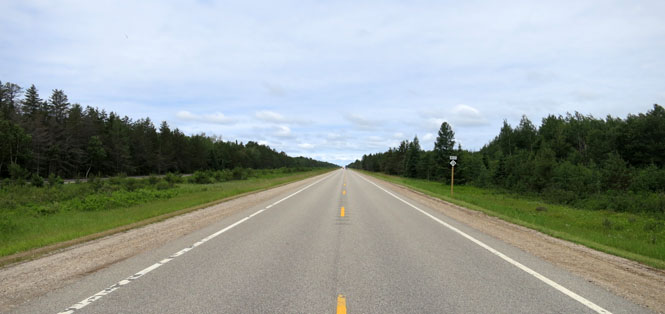 Lake Superior. Red flags were flying at this beach; it was very windy.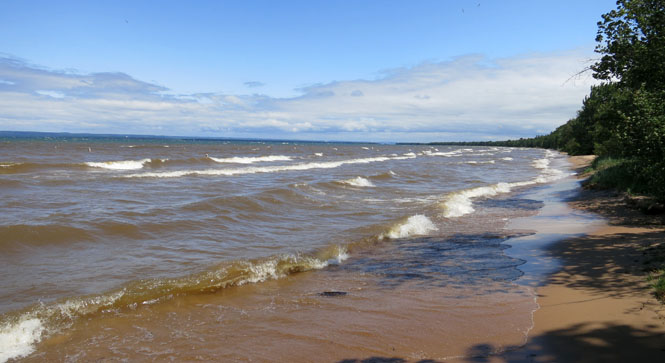 Ontario
First there's the line to pay the toll to cross the bridge over the bit of water connecting Lakes Superior and Huron. Then, there's a far longer line to process through Canada Customs and immigration. But, as has nearly always been the case with me, the Canadian official was polite and welcoming (in contrast to the U.S. official on returning who criticized me for not immediately producing my passport even though I was still rolling to a stop and had my gloves on).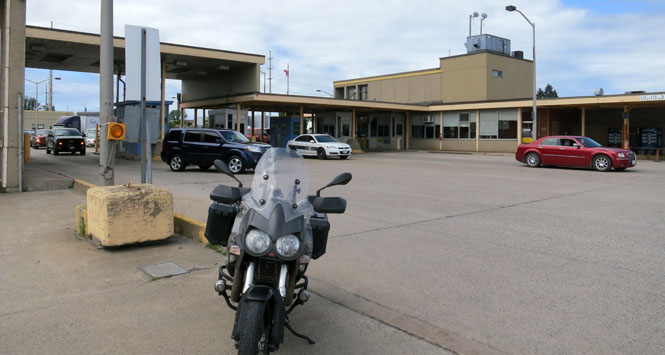 The shipping is a reminder that the Great Lakes are large.

---
Sault Ste. Marie is the home of the Canadian Bushplane Heritage Centre.

They've got quite a good collection; some of these airplanes are rarely seen.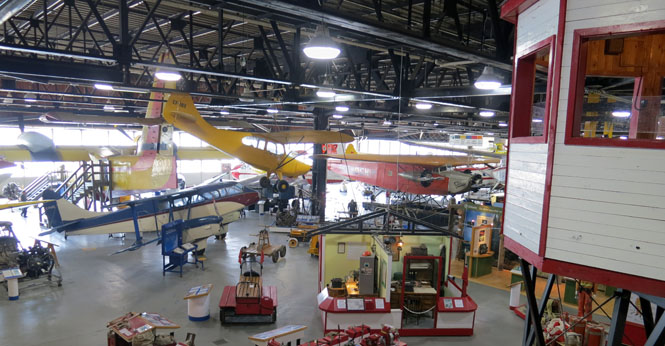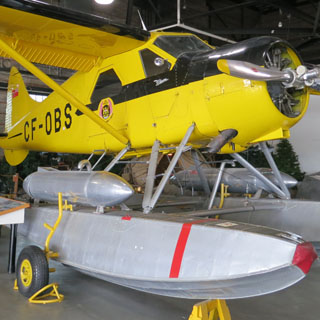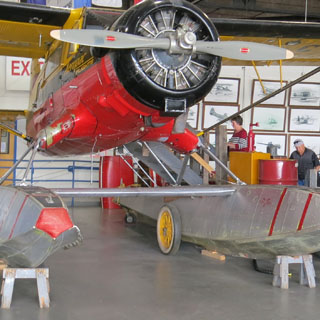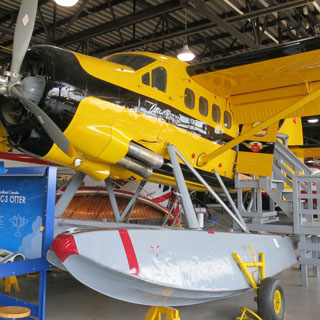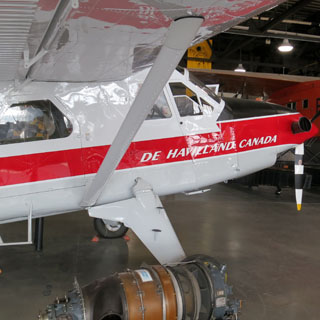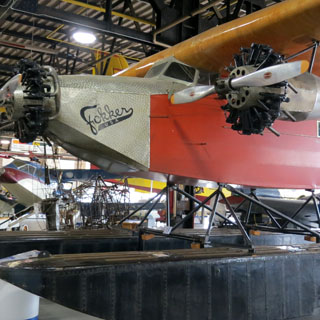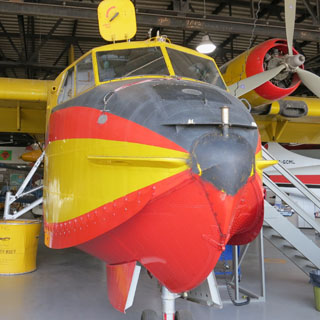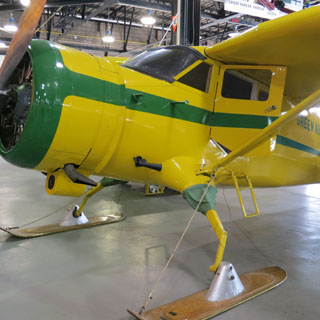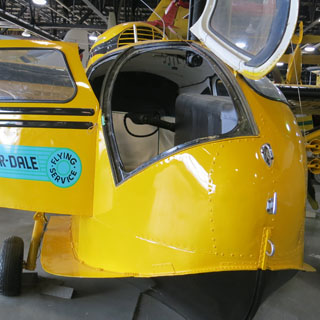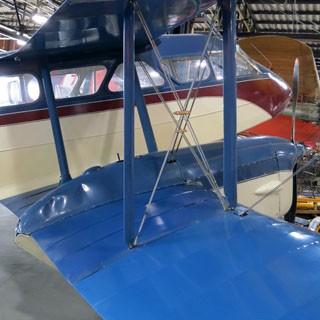 Basswood Lake is one of hundreds of smaller lakes you'll pass while riding around the north shore of Lake Huron. I think in some cases, there are so many lakes that they've just assigned a number to the lake instead of a name.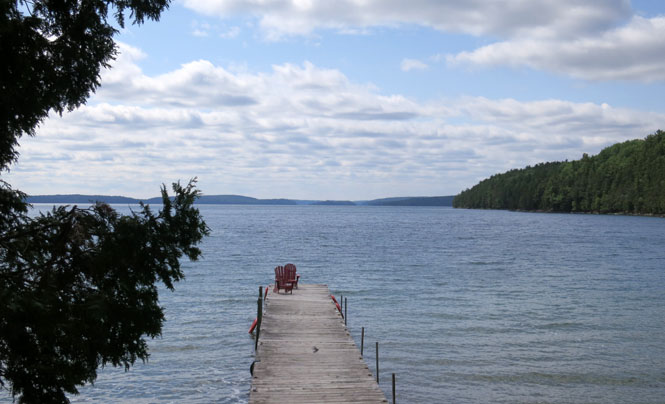 Blind River, Ontario.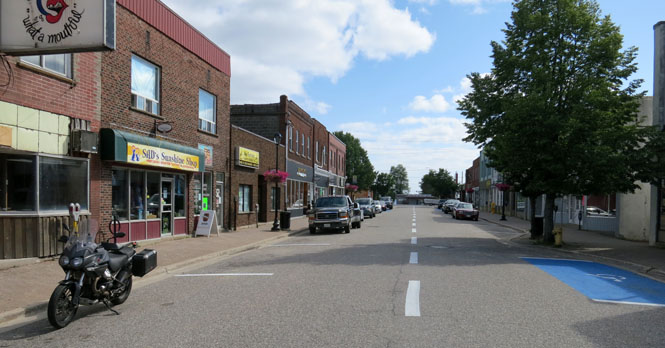 Massey, Ontario. Massey is the birthplace of "Broom Hockey." Looking at the old photographs of their hockey teams (both men and women and of all ages), it's clear that hockey was once much more important to these small towns that were only marginally connected through the lake and by the railroad. The highway has changed everything.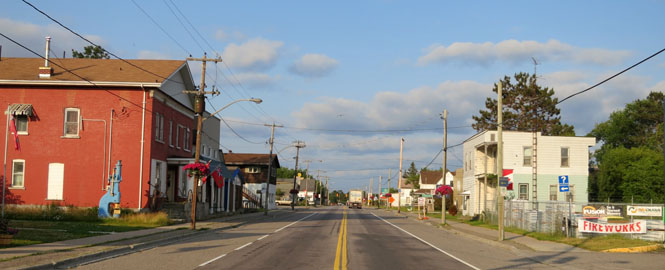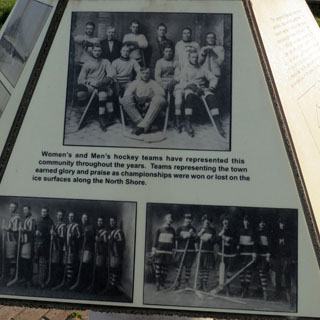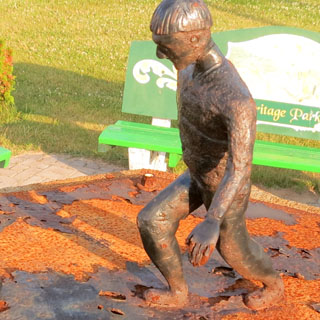 The French River was a primary link for trappers traveling from Montreal to the lakes. This museum explored the history of the two major beaver trapping companies that helped develop Canada as well as the missionary activity that came even before the trappers.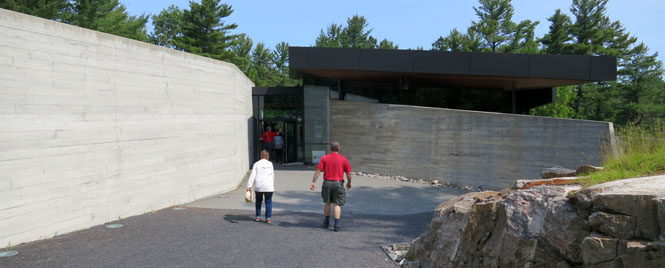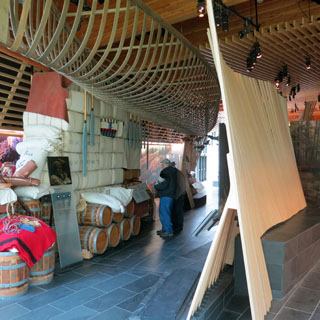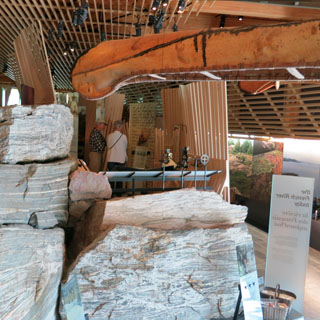 The sign said 1.5 km to Recollet Falls. That seems right, but doesn't suggest the ruggedness of the trail getting there.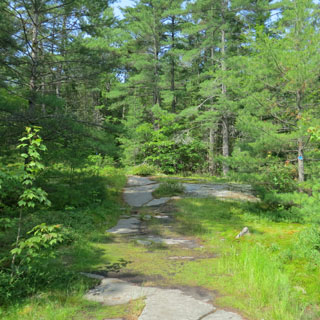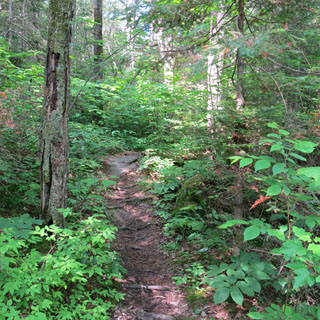 Recollet Falls of the French River. I wonder how many trappers and their canoes thought they'd give it a try? Probably not too many.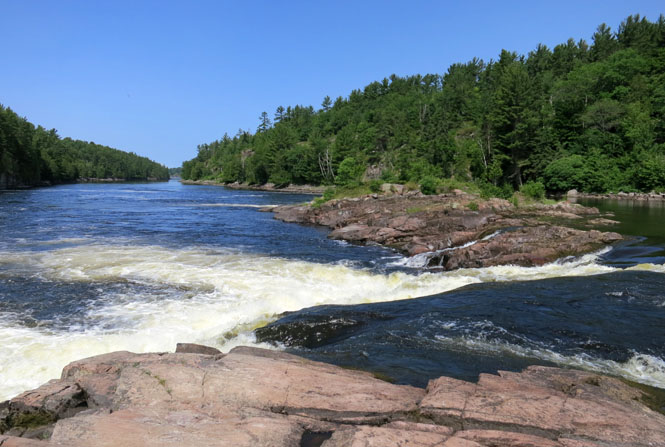 There was a serious accident on the highway, so I re-routed through a few smaller roads that hugged the shore.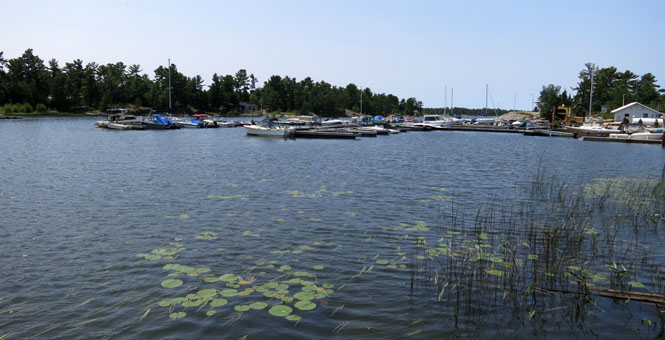 Parry Sound, Ontario.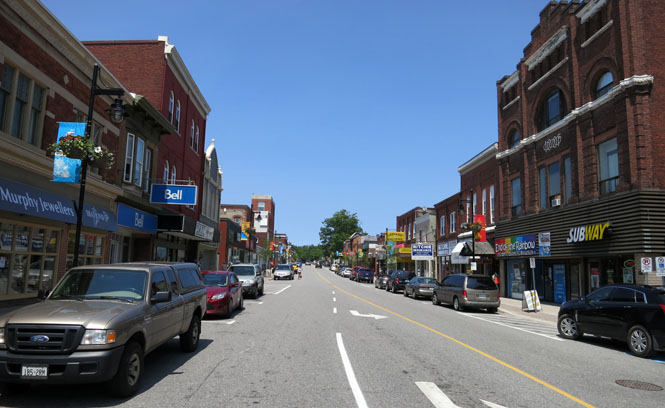 What's a Canadian Club sandwich? Nothing to do with the whisky, it's a club sandwich made with Canadian bacon.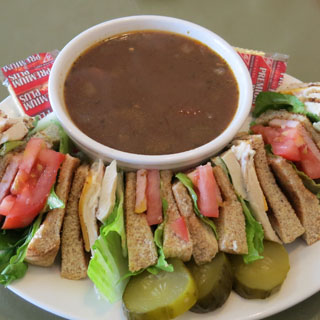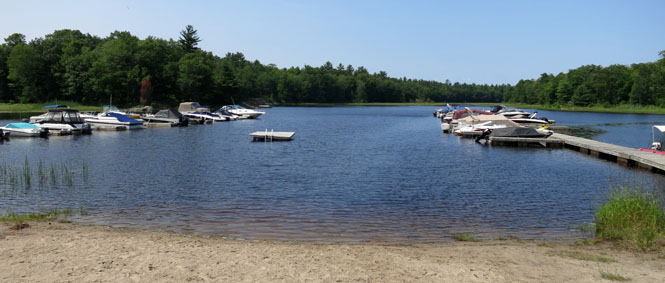 The route along the top of the lake has a remarkable slow speed limit. For the most part, it's posted at 90 kph (55 mph). Why so slow? I've no idea. But there are numerous signs listing the heavy fines for exceeding that limit. Even so, it's a safe bet that virtually all of the traffic on the road is breaking the law.
It's all the more perplexing when you consider that much of the route looks like this: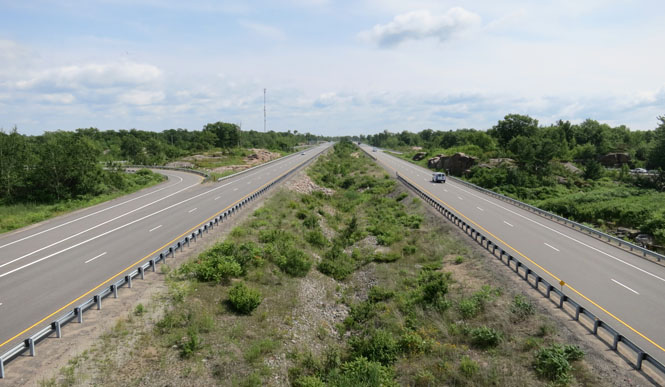 New Elgin, Ontario. I've been to eight different towns names Elgin (including the original in Scotland). Here's number nine.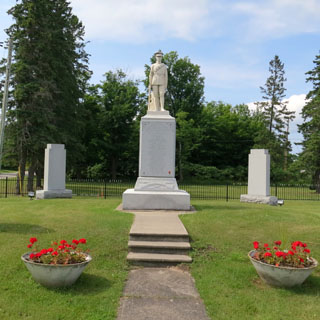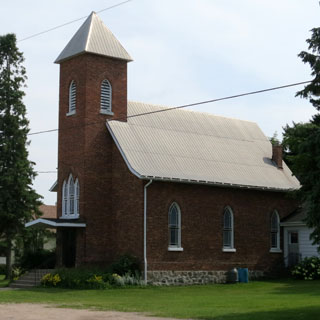 Wasaga Beach, Ontario. This is the tourist part of town, and isn't nearly so attractive as what's west of here.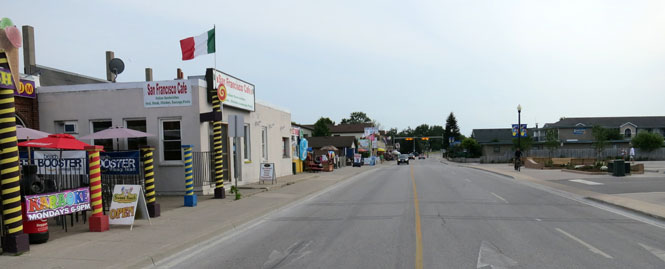 It's advertised as the longest freshwater beach in the world.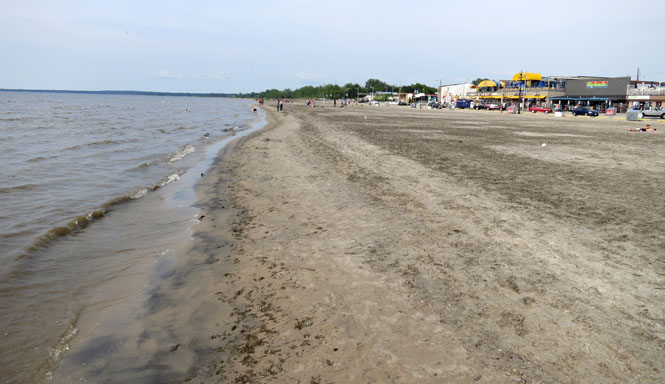 Creemore, Ontario. The part of Ontario between Lakes Huron and Erie is about the same latitude as Iowa, and it doesn't actually look all that different from Iowa (except for more pine trees between the farms).
Tidy farms.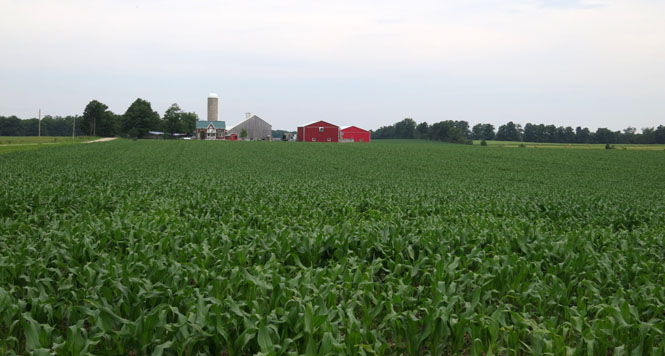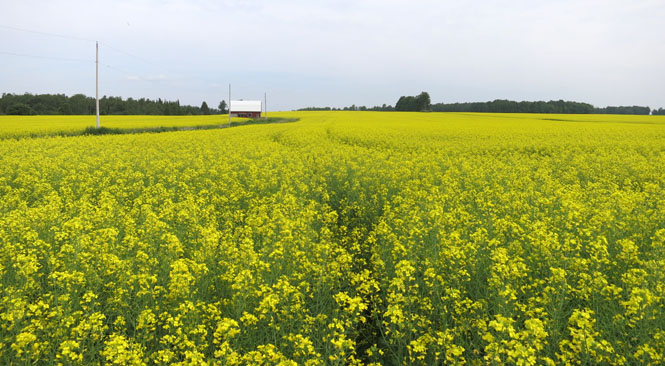 On occasion, you'll also see the family quilting pattern painted on the barn.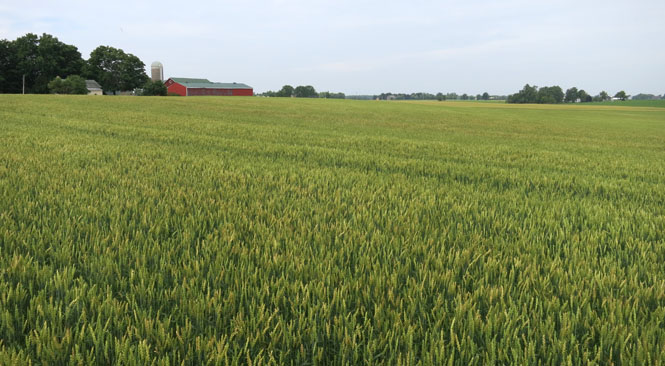 Listowel, Ontario. You've got to love Canada. Each time I'd venture into the street for my usual photograph, all traffic would stop--waiting for me to cross.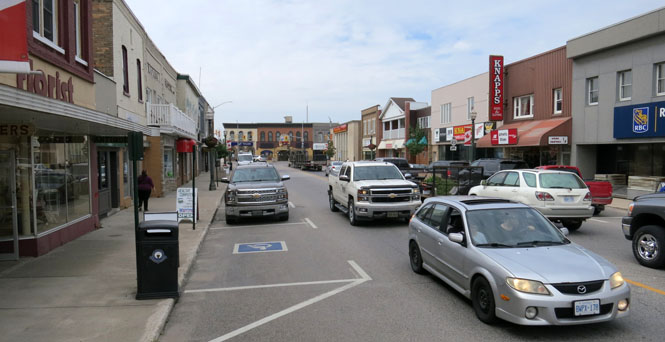 Atwood, Ontario. It's time for lunch.
Toasted tuna and the soup of the day. The attendant at the gas station recommended this cafe, and she was right.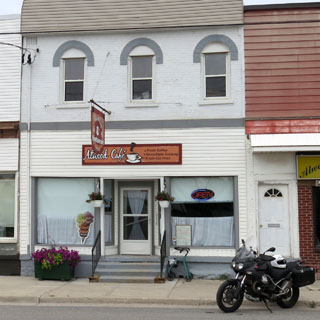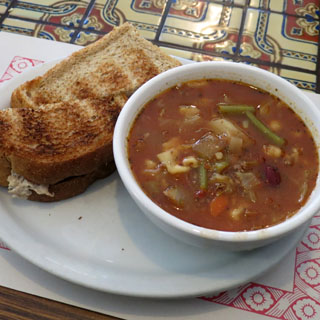 Grand Bend Beach, Ontario (Lake Huron). This is a much nicer beach than the last one.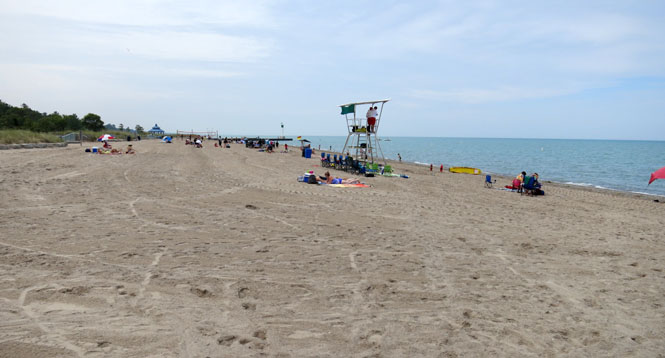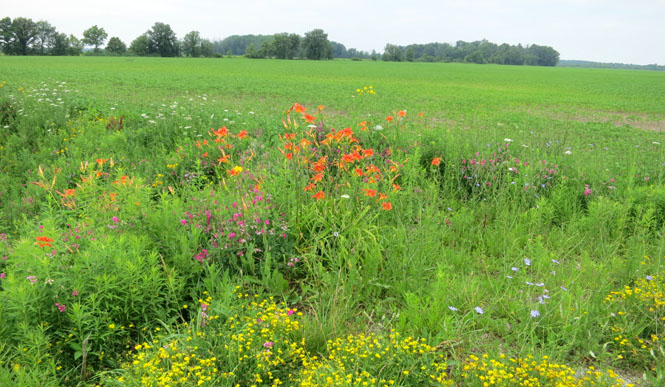 Many years ago I crossed the border at Port Huron. I remembered that taking forever, but I also didn't want to cross down in Detroit. So, I picked one of the two ferry crossings. That worked well.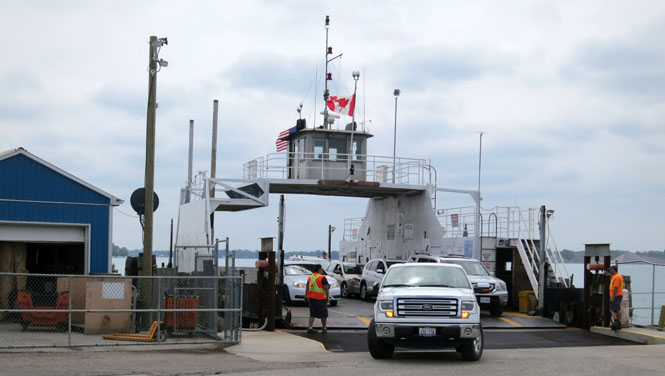 The St. Clair River. This is part of the St. Lawrence Seaway that connects the Great Lakes to the Atlantic Ocean. This water is between Lakes Huron and Erie. The United States on the left, and Canada on the right.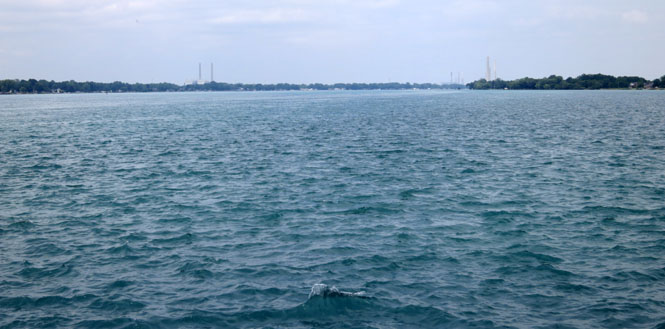 Michigan
Marine City, Michigan. The ferry will turn 90 degrees to the right when it reaches the dock.

Adrian, Michigan.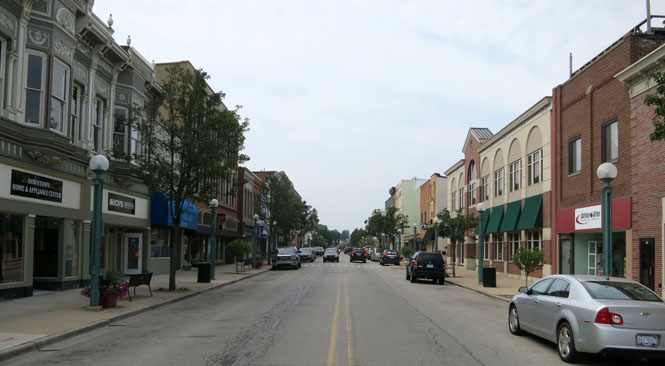 Mainly, I wanted to avoid the congestion of Detroit while riding south. I didn't, and I'm not sure it's even possible at any time of the day.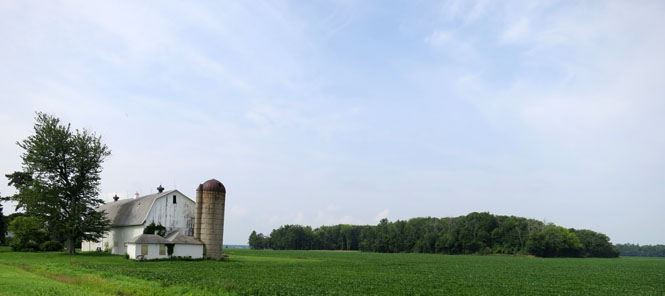 Ohio
This part of Ohio had seen a huge amount of rain in the last couple of weeks. I tried to stay on smaller roads, but those roads sometimes closed due to flooding. Many corn fields were lakes.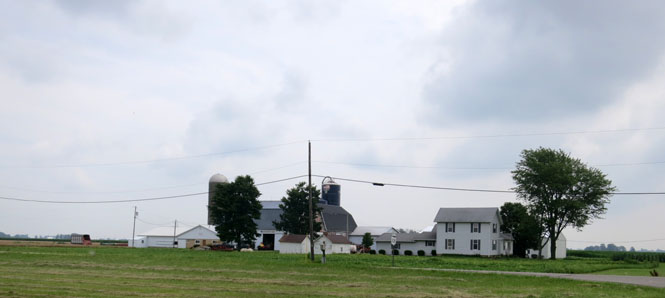 Grover Hill, Ohio.

Van Wert, Ohio.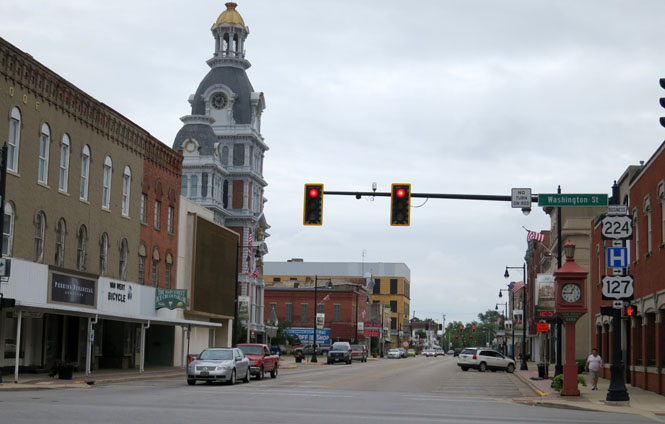 There's a cafe in downtown Van Wert that's highly recommended. Sausage, sauerkraut and mashed potatoes. At the very least, you won't feel hungry when you leave.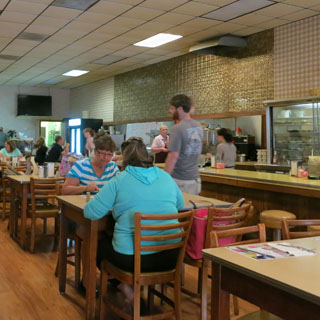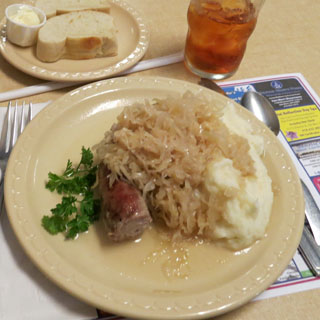 Indiana
Huntington, Indiana. Huntington is the hometown of vice president Dan Quayle. There's evidently a museum for him, but I didn't happen upon it.
I've been to seven towns names Waverly, and now I can add New Waverly, Indiana for the eighth. All of these towns are named for the Walter Scott book. Oddly, of the towns I've been to so far, only Waverley, New Zealand has the spelling correct.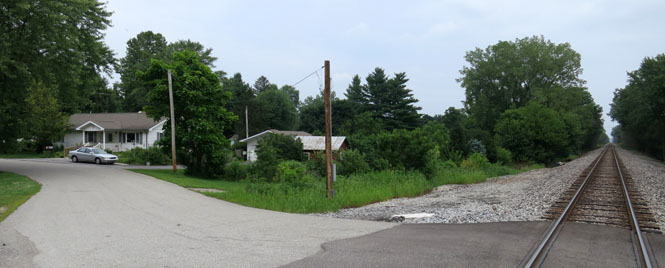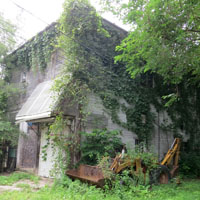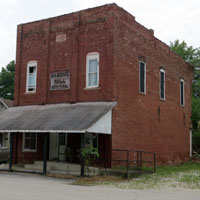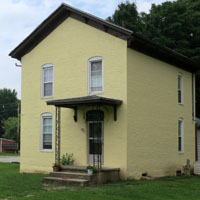 Indianapolis, Indiana is an active place on the weekend. As the sun went down, the downtown streets were full of people.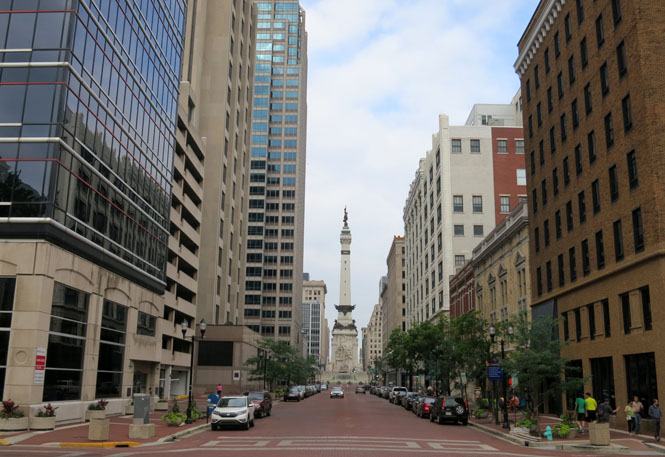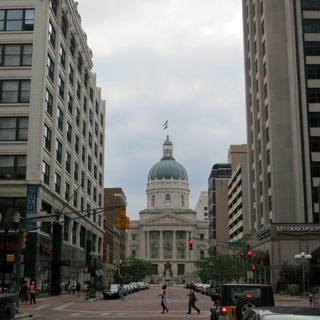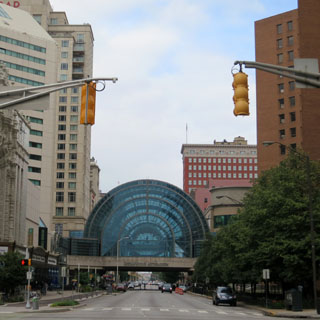 ---
The Indy Mile. At times, this place has been packed for the race, but that wouldn't be the case for today's race.
In the pits with the LBM team. That's Johnny Lewis with young Maxsen getting things ready at the autograph table.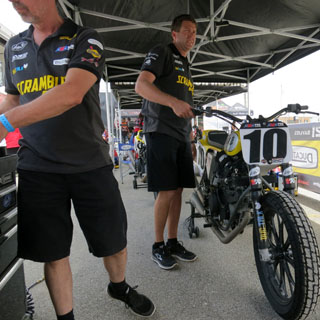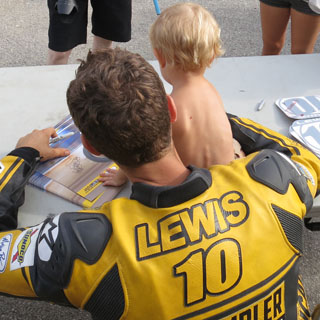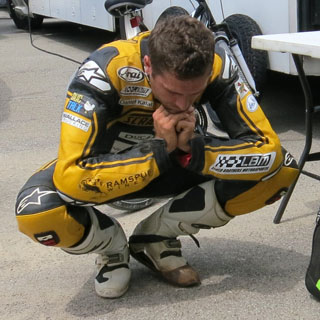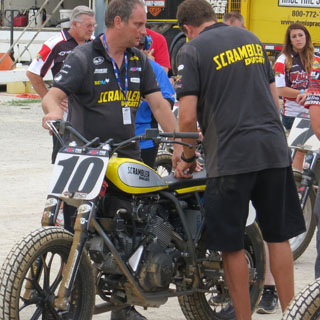 Other teams preparing...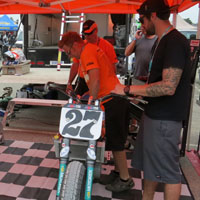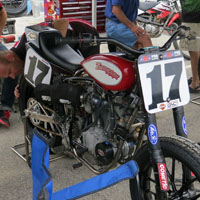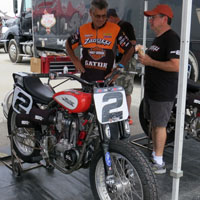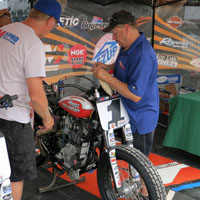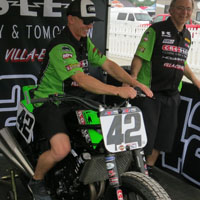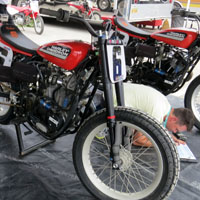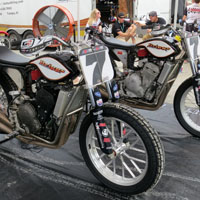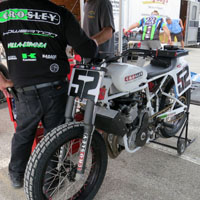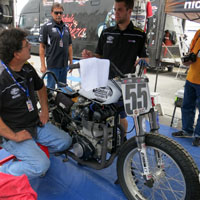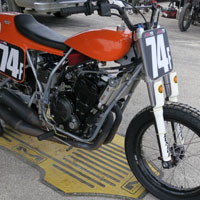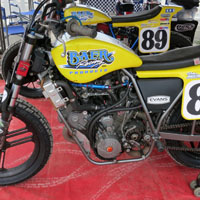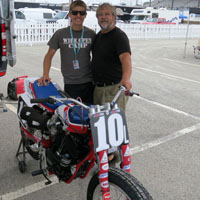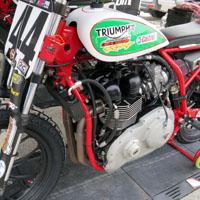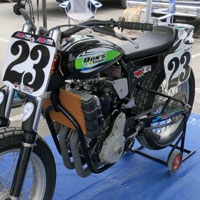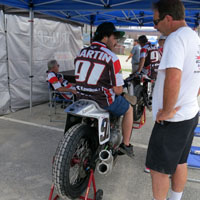 There's quite a support network necessary. Somebody has to keep the protective airfence in good repair and somebody has to sell hotdogs to the riders in the pits.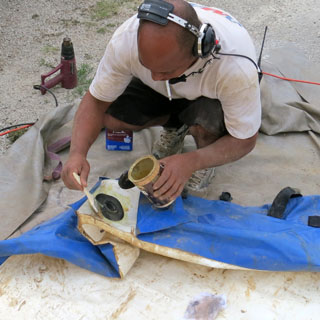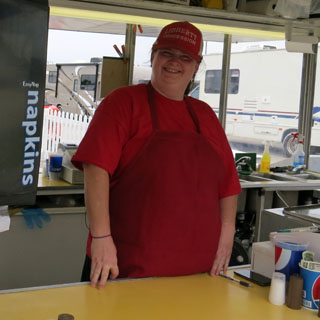 Signing for the fans...
Flat track racing is especially good at connecting to the fans. The pits are not nearly so accessible with most other forms of motor racing.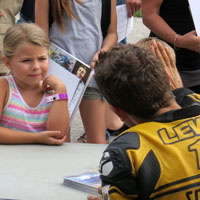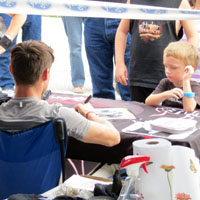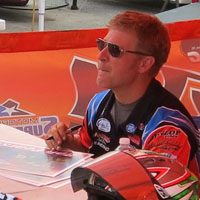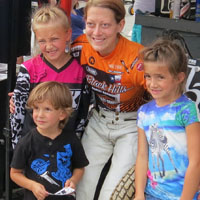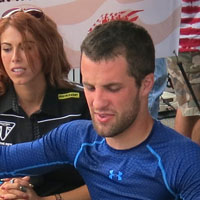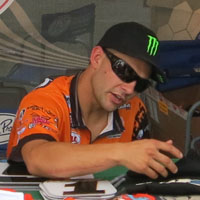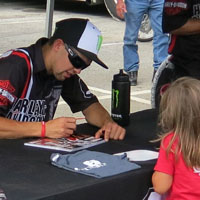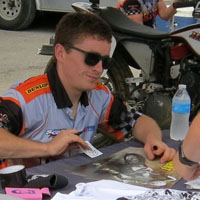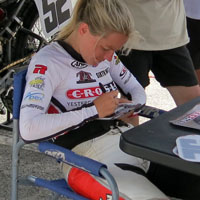 Watching the races...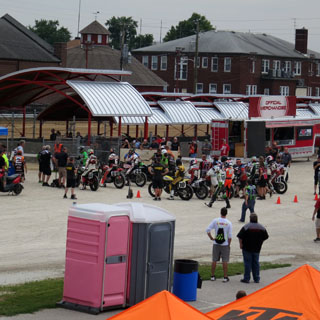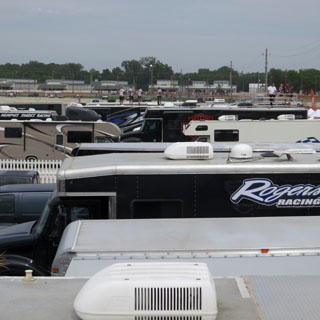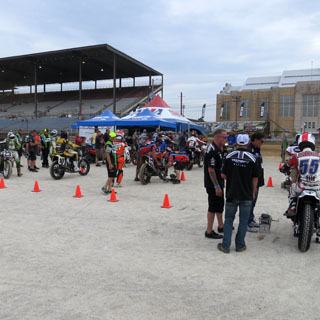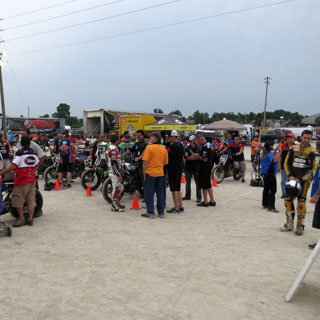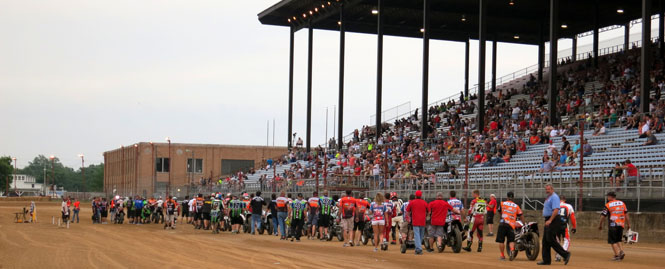 Just as with the week before, the top three were in another close finish. This time first and third were separated by just 0.066 seconds.
GNC1 expert twins finish:
1. Brad Baker (Harley-Davidson)
2. Bryan Smith (Kawasaki)
3. Jared Mees (Harley-Davidson)
4. Mikey Martin (Kawasaki)
5. Johnny Lewis (Ducati)
6. Brandon Robinson (Triumph)
7. Sammy Halbert (Kawasaki)
8. Nichole Mees (Harley-Davidson)
9. Briar Bauman (Kawasaki)
10. Jake Shoemaker (Triumph)
---
Earlier, I had planned to ride due west from Indianapolis, but this morning I figured it'd be better to ride southwest and turn the trip into a large loop (instead of a figure-eight).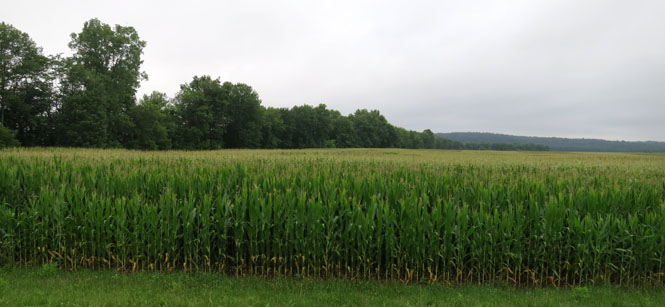 Spenser, Indiana.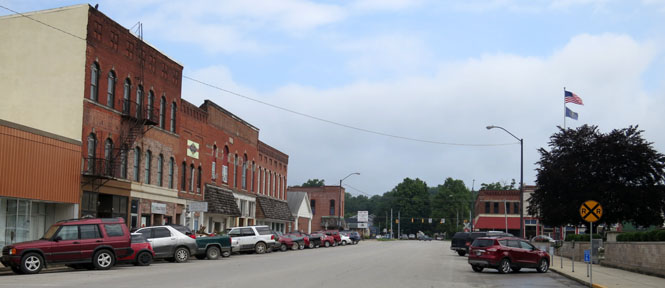 Freedom, Indiana.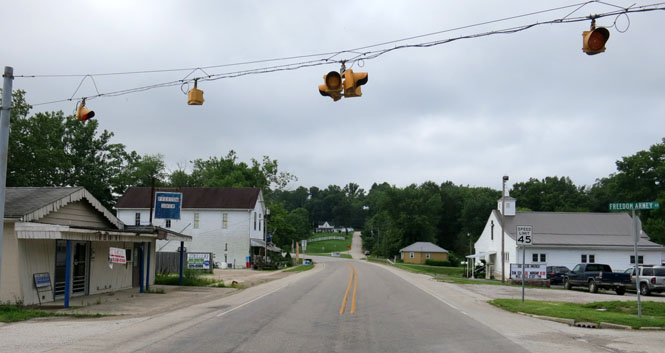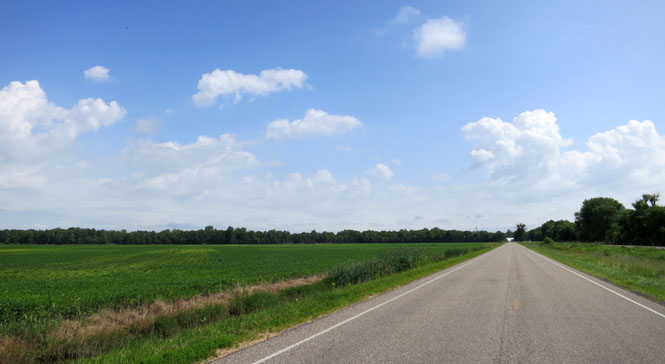 Illinois
Carmi, Illinois (which is near another Waverly, but I didn't know that at the time)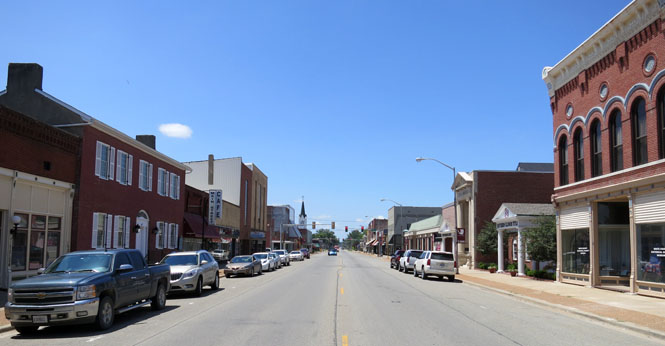 Ozark, Illinois. With a good name like "Ozark" I was expecting more.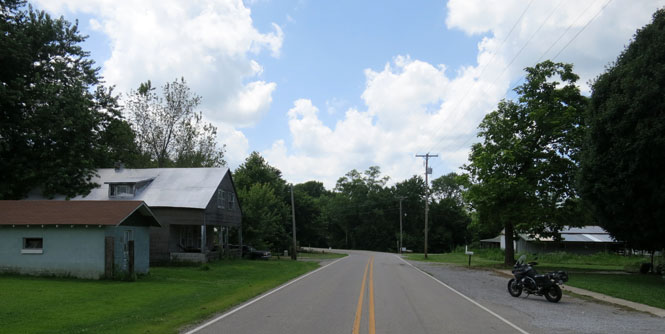 Vienna, Illinois.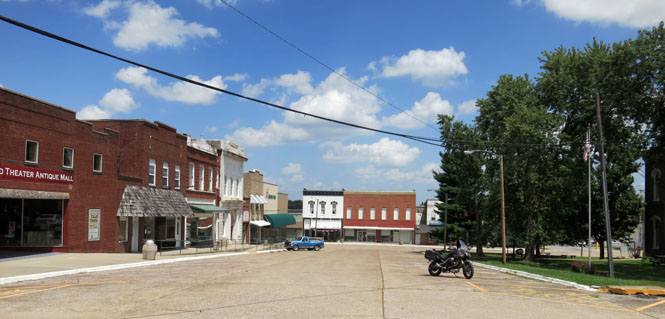 For much of the length of the Mississippi there are hills on either side of the river. I was poking along these smaller roads looking for an interesting route that would cross over the hills on the eastern side.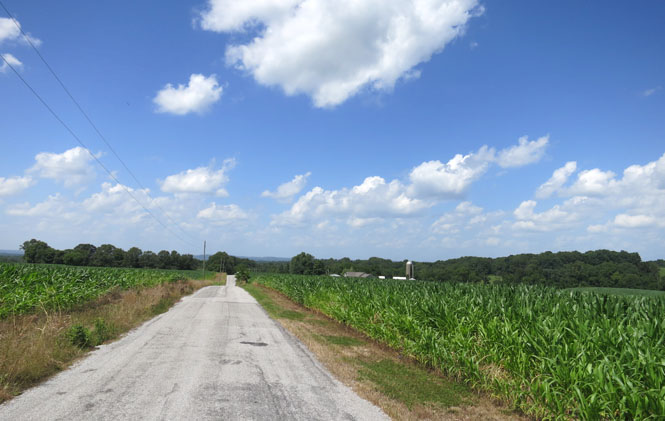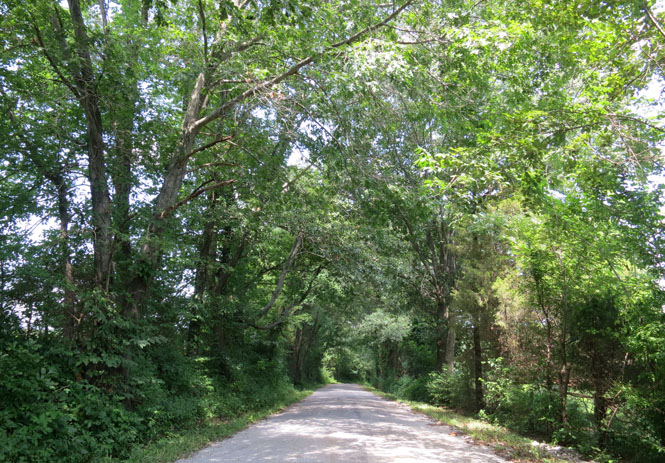 This road started out pretty good, but got narrower and narrower. The few creek-crossings weren't bad as there was a concrete base under the water. But, the road (or now trail) got steeper until I reached a point where there were numerous eroded gullies across it that were a foot wide and even deeper than that. I was on the wrong bike for this sort of thing. With some difficulty I got the bike turned around (while sliding) and coasted back down the hill.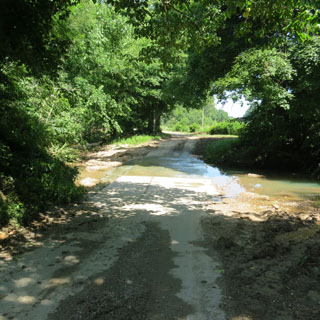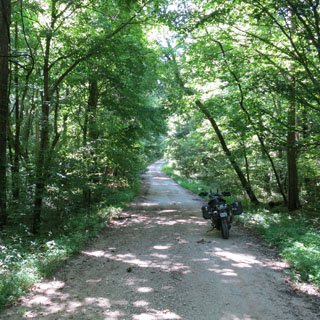 Eventually, I found a nice paved road that crossed over to the river. you can see some of the flooded fields in the distance.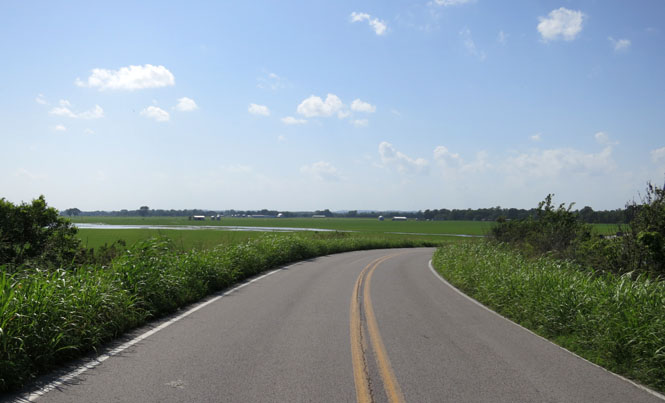 McClure, Illinois.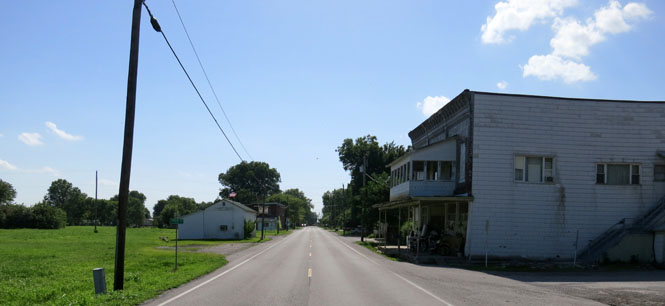 Missouri
Now, we're in the heart of the Missouri Ozarks and the roller-coaster ride begins.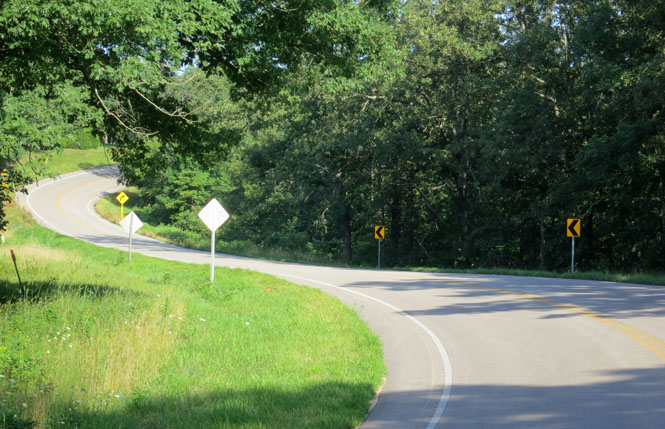 Marble Hill, Missouri.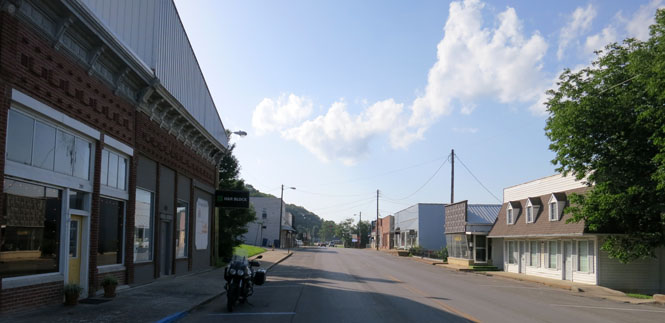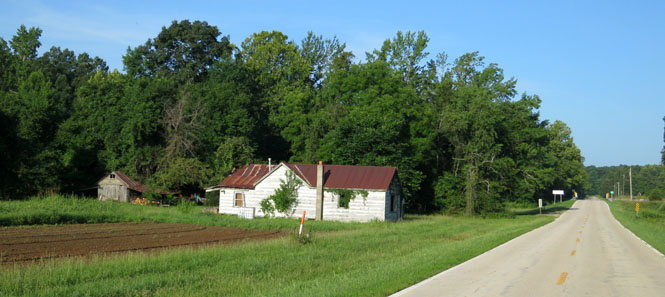 Piedmont, Missouri.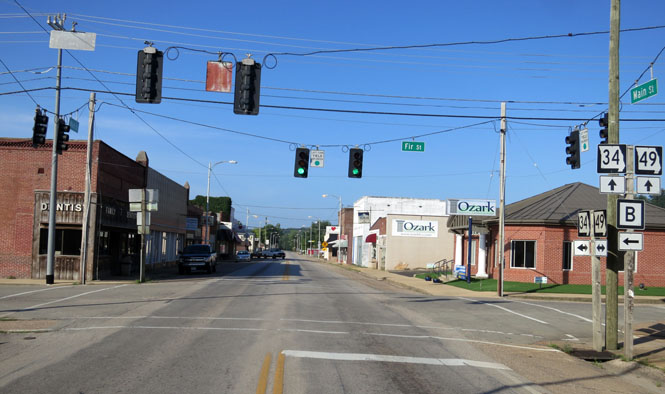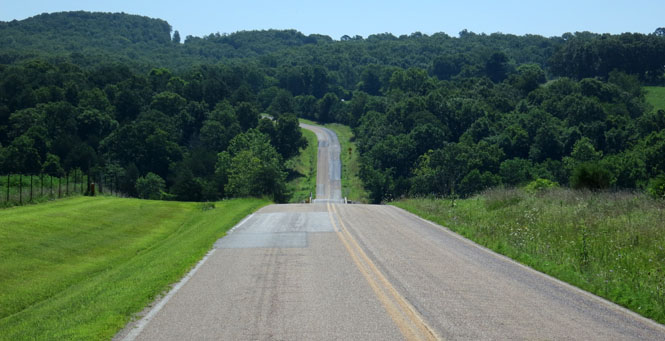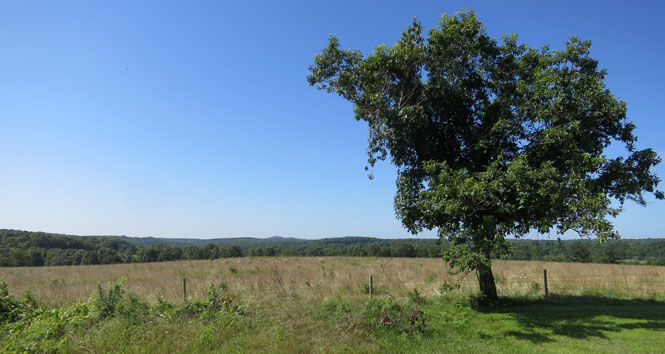 A combination of MO-34, MO-76 and MO-14 makes a nice route across the bottom of the state. Most traffic is over on US-60.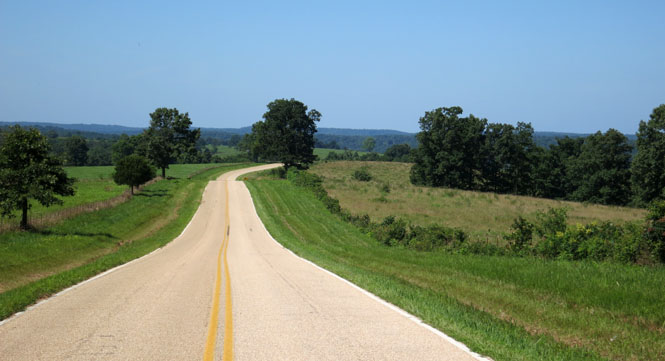 Ozark, Missouri. This Ozark is more attractive than that other Ozark.
Roast Beef and Cheddar and the soup-of-the-day.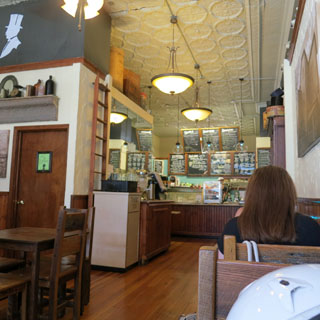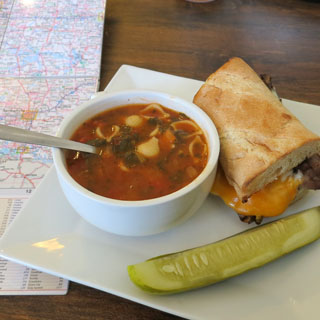 Kansas
Baxter Springs, Kansas.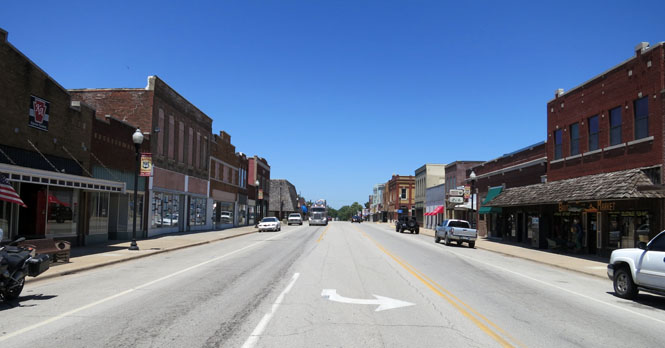 Only a few miles of Route-66 are in Kansas, and if you want specific Kansas Route-66 memorabilia you'll need to stop here, in Baxter Springs. Me? I generally stop here for a root beer float.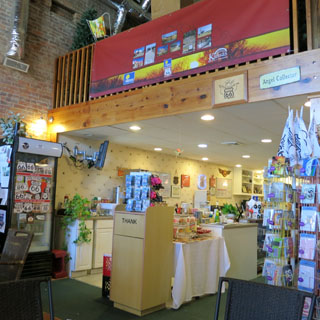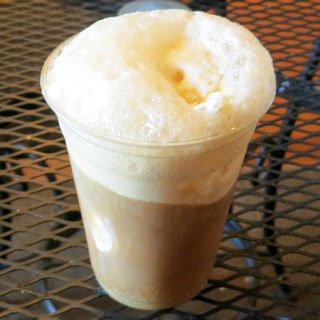 It's just skirting 100 degrees and is awfully hot for riding. That cloud in the distance would soon expand into a serious thunderstorm, but it wouldn't do much good for me. It's hot.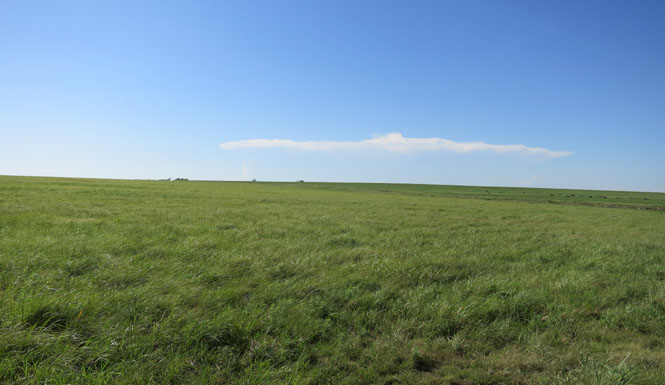 Excellent trip. Two races with a bit of Canada in-between.
last edit: 7/18/2015