August, 2015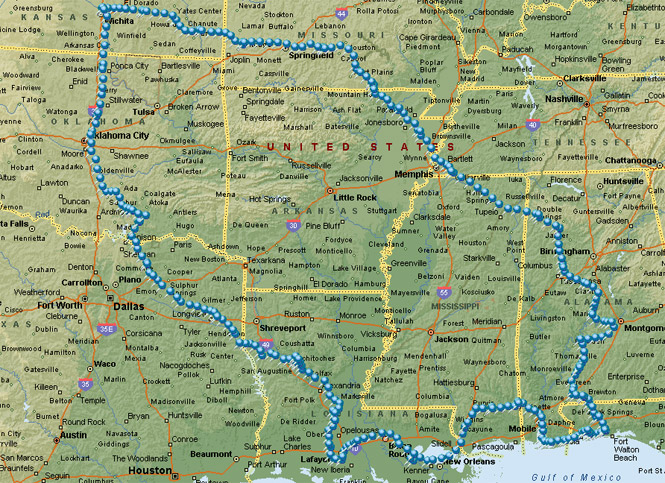 The primary goal and destination for this trip was the Edmund Pettus Bridge in Selma, Alabama, this being the fiftieth anniversary of the voter's rights march from Selma to Montgomery. Beyond that, perhaps the gulf coast? Perhaps Louisiana? We would see.
---
California
Rebecca and Awanna drove to the Medford airport to catch their flight. Unfortunately, direct routes from Eureka are not what they used to be.
Stopping at the Klamath Bridge to say hello to one of the golden bears that guard both ends of the bridge.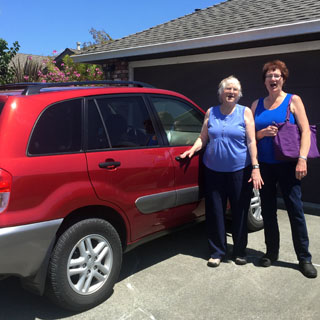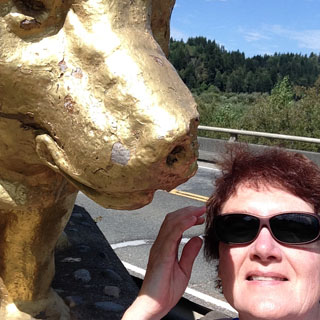 Driving along California highway 1...
...with a mandatory rest at Trees of Mystery.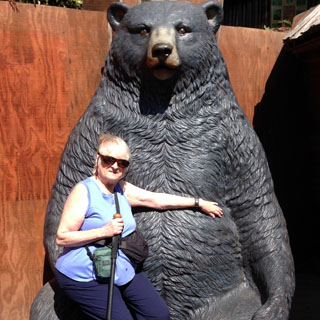 Oregon
Walking through the cemetery at Jacksonville. Old cemeteries are always interesting.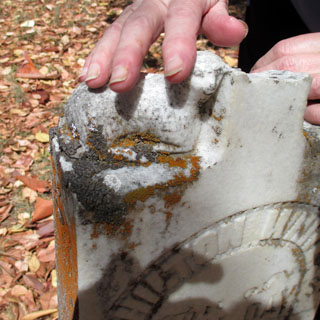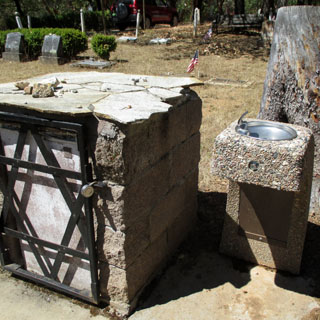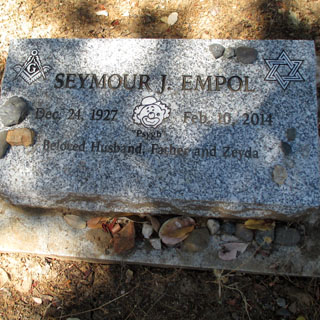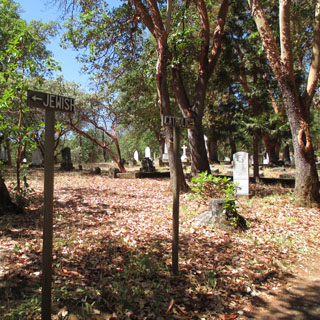 Jacksonville, Oregon. Nearly all the shops have steps to their front entrance. Many don't have railings.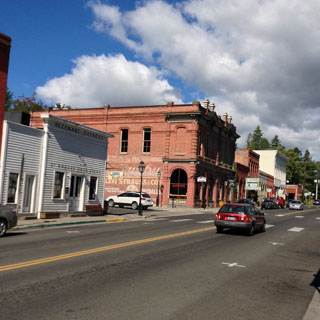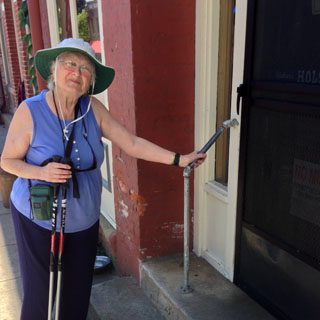 ---
Kansas
Arrival at the new Wichita airport, and then just as quickly, all three of us are away.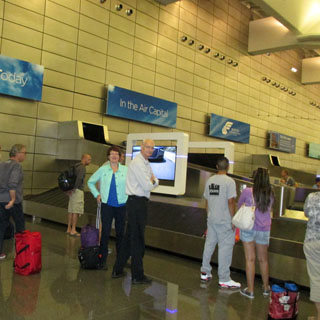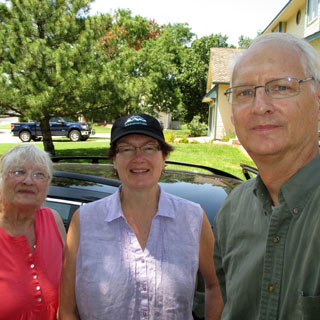 A stop at Beaumont, Kansas, which was once a major cattle loading point on the railroad as well as a maintenance facility (including a roundhouse). All that is gone, but the original water tower remains.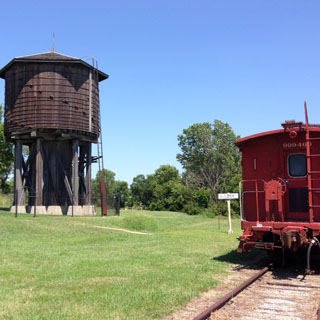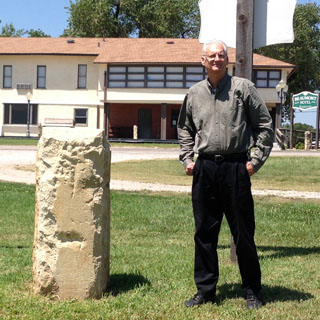 A quick lunch at the Fredonia Sonic Drive-in and then filling up in Parsons.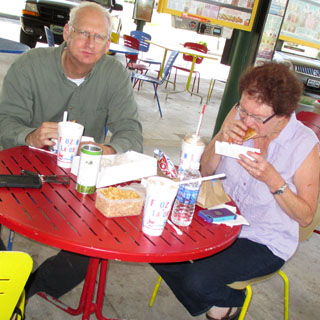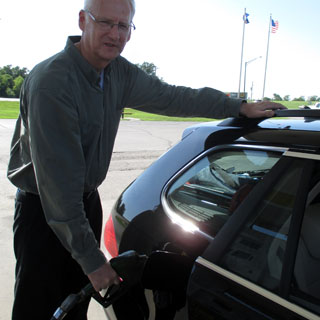 This was a very hot and humid day, and we'd have even hotter and more humid days to come. The little Jetta may have its advantages (we averaged around 45 mpg), but an effective air-conditioning system is not among them.
---
Missouri
Oh dear. It's the Precious Moments Park and Chapel near Carthage, Missouri. It isn't something that can easily be explained. It's not really a church, but you might think it is. It's not really art, but it's more than yard decoration.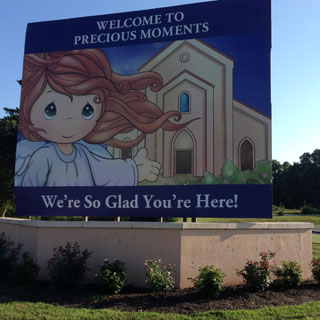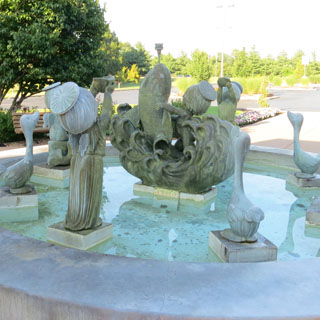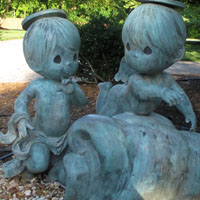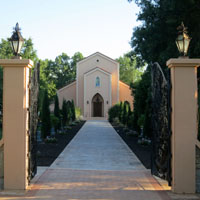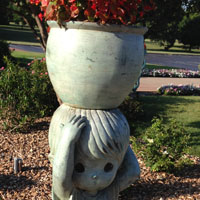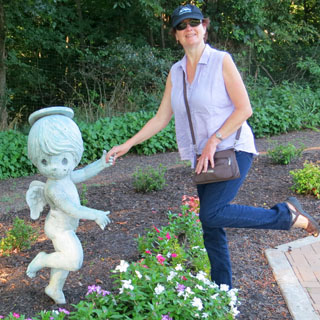 We stayed at the Precious Moments Hotel, which was well decorated with plenty of children with teardrop eyes.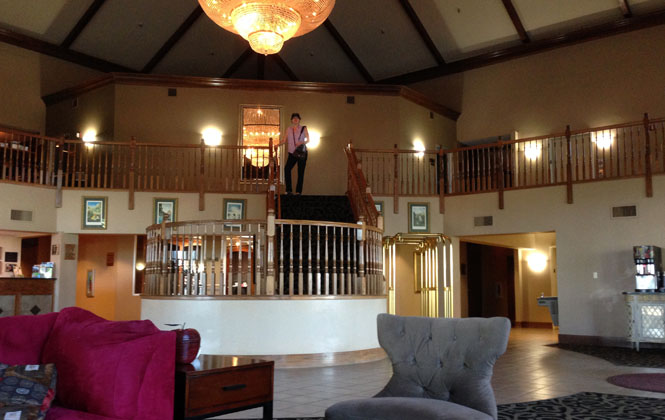 ---
Carthage, Missouri is on old route-66. A few shops have taken advantage of that.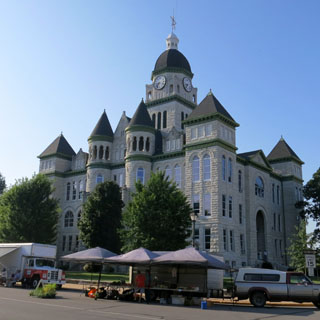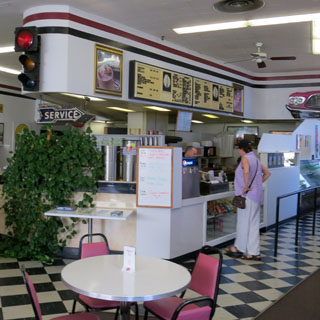 ---
Driving...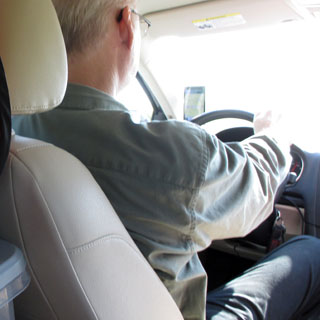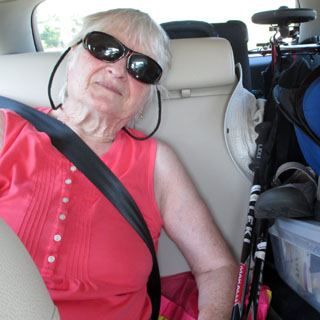 ---
The Laura Ingalls Wilder Historic Home & Museum near Mansfield, Missouri. This is where the Little-House books were written and it's where Laura and Almanzo lived most of their lives.
Recent strong winds brought down thirty-two trees on the grounds.

Rose Wilder built the rock house (on the left) for her parents, but Laura and Almanzo evidently always preferred their original house, and eventually moved back.
The Little House Books Began Here

While living here in the Rock House, Laura Ingalls Wilder started writing the Little House Books which made her famous. With pencil, on five-cent tablets, she completed the following books: Little House in the Big Woods, Farmer boy, Little House on the Prairie, and On the Banks of Plum Creek. During the same period, Rose Wilder Lane wrote extensively including her best known novel Let the Hurricane Roar. First published as a serial in The Saturday Evening Post in 1932, it became a best selling book during the Depression years.

--historic marker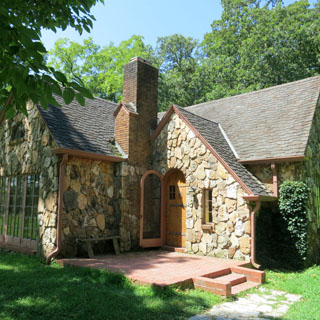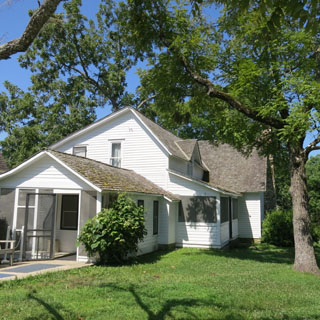 Both houses are open for tours (photographs are not allowed). The original farm house is far the more interesting to see. There's also a museum next to the original house as well as a gift shop. The editorial influence of their daughter Rose on the books isn't addressed too deeply, but a fair amount of the museum also does cover Rose's remarkable career as a journalist.
---
A BBQ restaurant. Mediocre BBQ is never what you want. Trouble is, the very best ones often look sketchy.

---
Arkansas
Mammoth Spring State Park. The original spring is somewhat concealed by the fact of a small dam that originally supplied power for the town. Even so, it's a pretty impressive thing.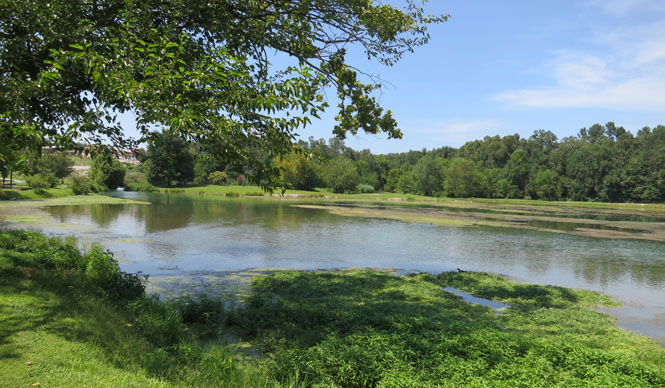 This day (and this location) might have had the highest humidity that I have ever felt. The ladies in the tourist information building were even warning people about it. When a local tells a visitor that the weather is the worst they've ever seen, you can believe them.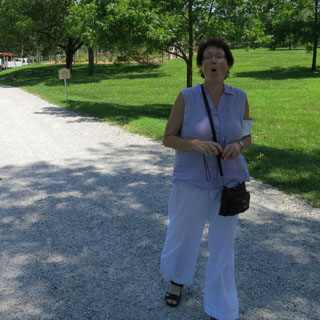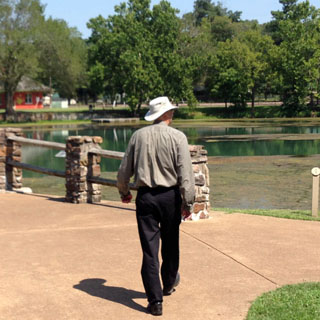 The turbine and generator lasted a very long time, but when it was damaged by lighting, it was decommissioned.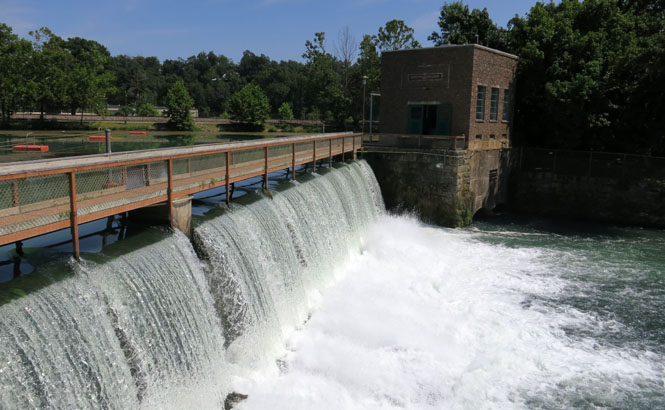 ---
Driving...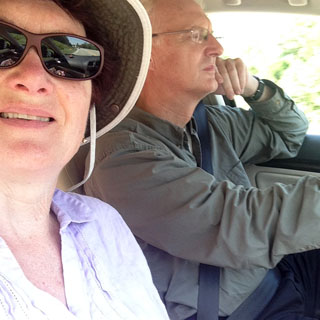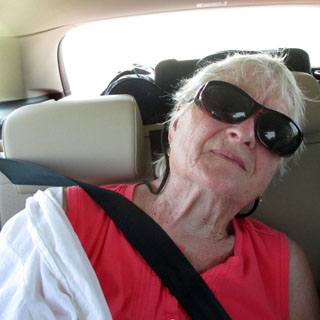 ---
There's a more famous "Blues Highway" that attracts visitors even from Europe. Evidently, there's also a Rock and Roll Highway (US-67) that is trying for the same success. This display was actually well done. You could press a button at one of the panels and hear Roy Orbison singing.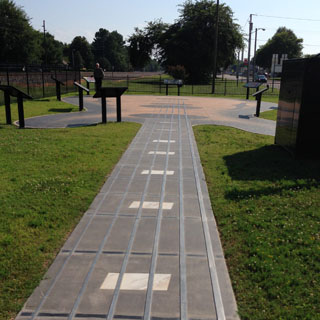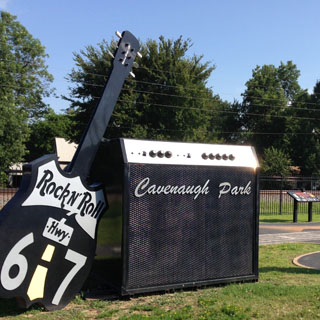 Years ago, the Beatles intended a quiet stop-over at a nearby ranch during their first tour of America. They flew into the Walnut Ridge Airport. Word got out.
Unfortunately for us, the local museum (which would have had more local Beatles content) was closed as was the malt-shop in town (that should have been open). Alas, "it's closed" would become a theme of our trip.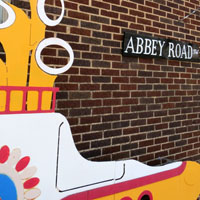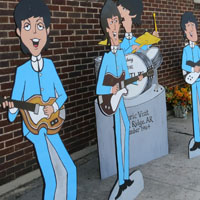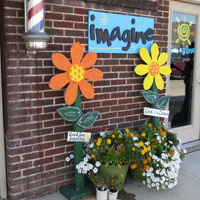 We liked these butterfly benches. I'm following George, but haven't quite got the same stride.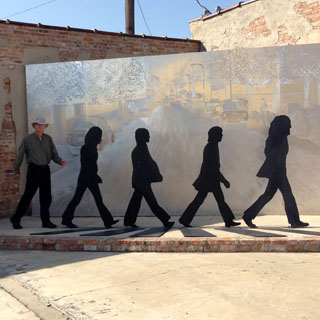 ---
Alabama
Driving in the rain...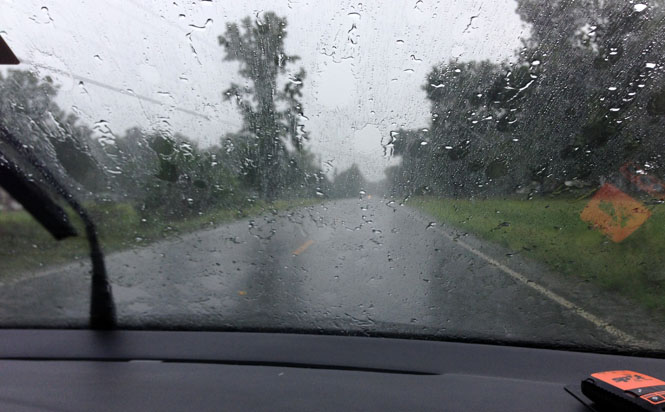 ---
Entering Selma.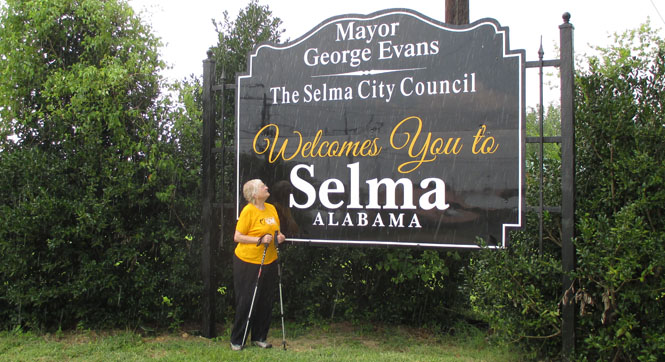 Selma, Alabama.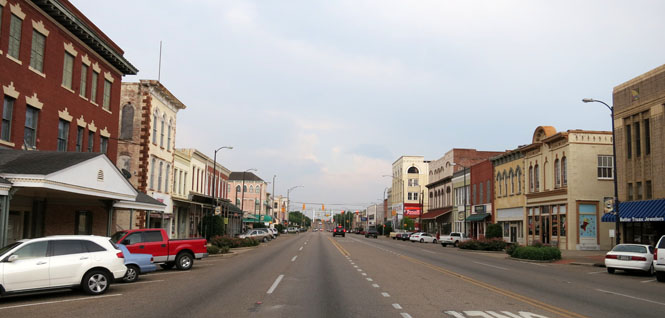 We're here! Awanna at the Edmund Pettus Bridge.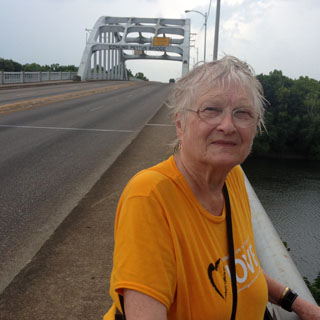 Edmund Pettus was a Grand Dragon of the Alabama Ku Klux Klan among other notable positions.
---

The Selma Interpretive Center of the Selma to Montgomery National Historic Trail. The National Park Service has done a tremendously good job with the two centers that we visited. There's a good mix of artifacts, photographs and audio content--and it's all very accessible. In modern museums, there's sometimes a tendency to use computer screens that require user input when a simple printed signboard would work better. The Selma Center doesn't go down that road.
The history of the march on Montgomery isn't so long ago that there aren't still plenty of first-person accounts of what happened. Some of the recordings are done by the participants, but others are done by those who opposed (and still oppose) the march and everything the march stood for.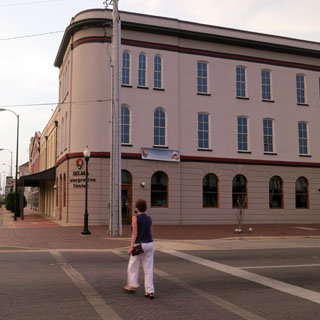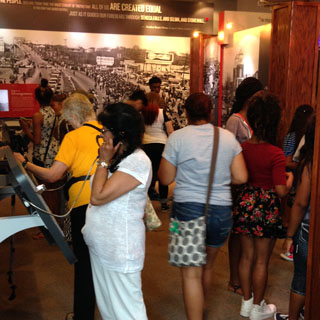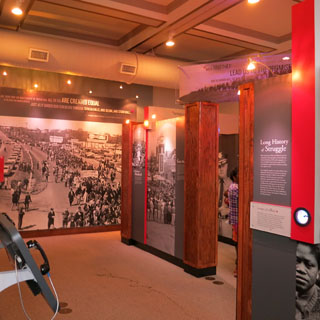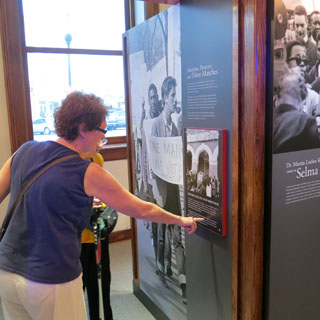 That "welcome to Tuscaloosa" sign gives a hint of what things were like fifty years ago. The local and state government policy was to not allow any black people to vote.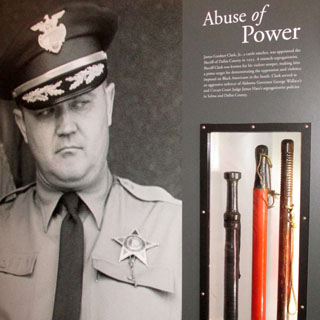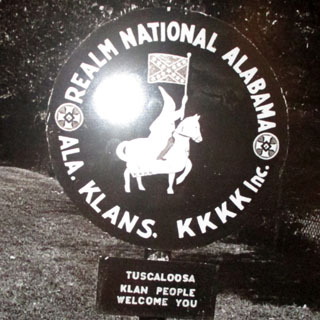 JoAnne Bland arrived to talk to a bus load of visiting high school students from Michigan. We were very lucky to be here when we were.
Ms. Bland was just eleven when she marched with her fifteen year old sister. Her sister was one of those that went down during that first "Bloody Sunday" march across the bridge. She needed thirty-five stiches after being beaten by the police. But, even so, JoAnne would return for the next two marches.
Awanna was invited to sit next to JoAnne during her talk to the students (shirt printing: "Standing on the Side of Love").
JoAnne's talk was quite powerful. She has made it her duty to tell young people what happened and why, and she wasn't about to let any of the students not pay attention while she was talking.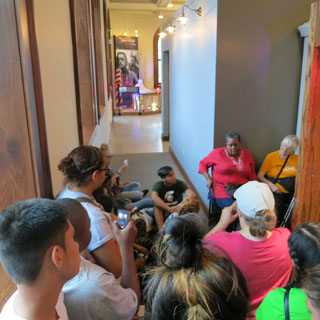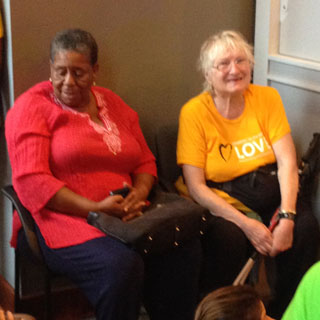 ---
Standing at the memorial to Reverend James J. Reeb, a Unitarian minister who was killed at this spot.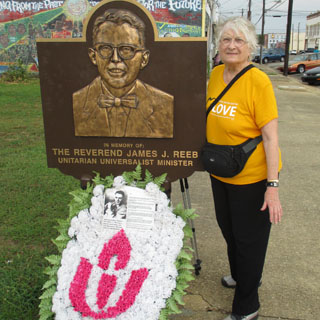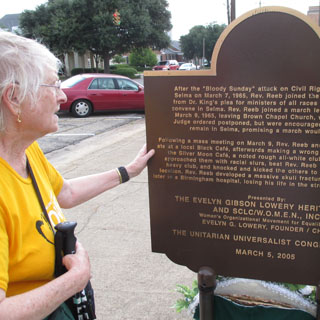 After the "Bloody Sunday" attack on Civil Rights marchers in Selma on March 7, 1965, Rev. Reeb joined the nationwide call from Dr. King's plea for ministers of all races and religions to convene in Selma. Rev. Reeb joined a march led by Dr. King on March 9, 1965, leaving Brown Chapel Church, which a Federal Judge ordered postponed, but were encouraged by Dr. king to remain in Selma, promising a march would be held.

Following a mass meeting on March 9, Rev. Reeb and two other ministers ate at a local Black Café, afterwards making a wrong turn, turning towards the Silver Moon Cafe, a noted rough all-white club. four white men approached them with racial slurs, beat Rev. Reeb on the head with a heavy club, and knocked and kicked the others to the ground at this location. Rev. Reeb developed a massive skill fracture and died two days later in a Birmingham hospital, losing his life in the struggle for voting rights.

Presented by:
The Evelyn Gibson Lowery Heritage Tour and SCLC
The Unitarian Universalist Congregations
March 5, 2005

--historic marker
---
The Brown Chapel AME Church, which was the starting point of the march as well as the headquarters of the organizers.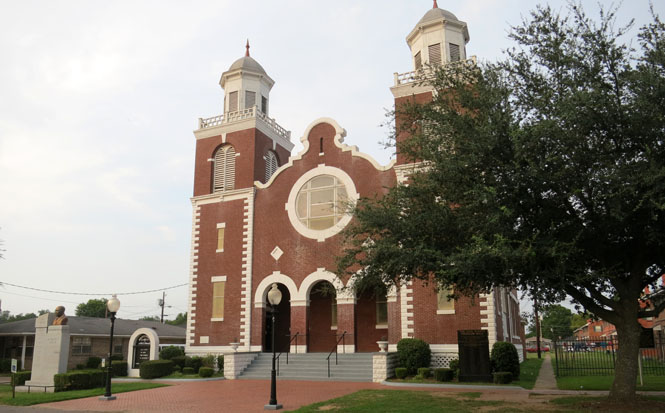 THEY GAVE THEIR LIVES

to overcome injustice
and secure the fight
to vote for all Americans

JAMES J. REEB
Boston

VIOLA GREGG LIUZZO
Detroit

JIMMY LEE JACKSON
Marion, Alabama

DEDICATED
August 11
1979

This was the
starting point
of the march
from Selma
to Montgomery
March 21, 1965

--granite marker at the front of the AME church
---
The old Selma cemetery.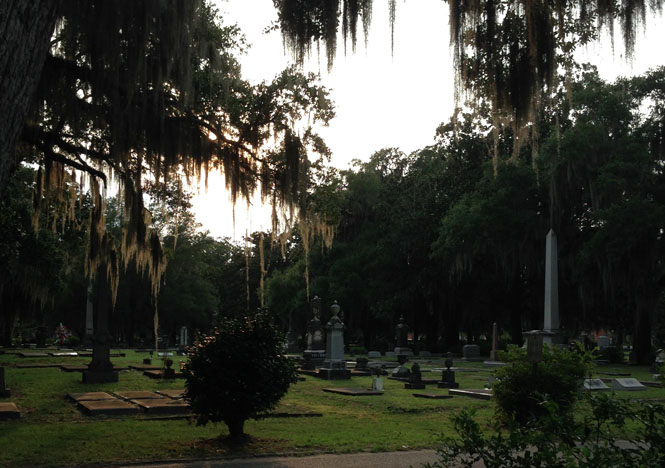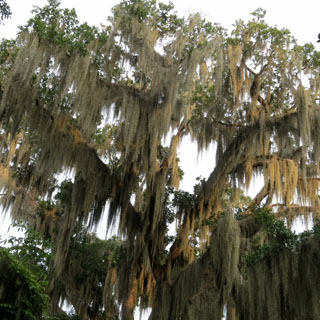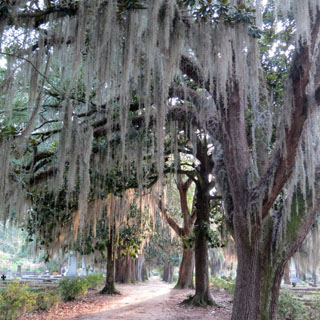 As recently as 2000, this monument to Nathan Bedford Forest (slave trader, CSA general, and the first Grand Wizard of the Ku Klux Klan) was erected here (note that he was from Tennessee and is buried in that state). This bust was stolen a few years ago, but was recently returned.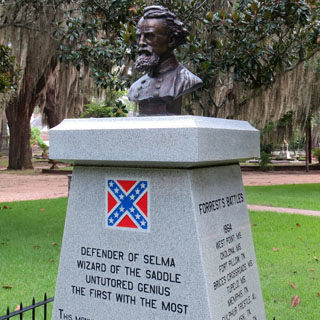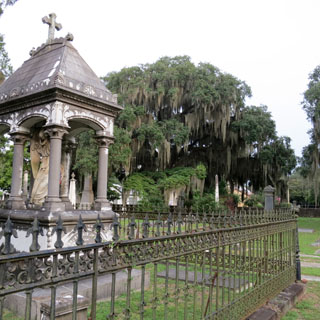 ---
The Saint James Hotel in Selma is an excellent place to stay if you're visiting the historic sites.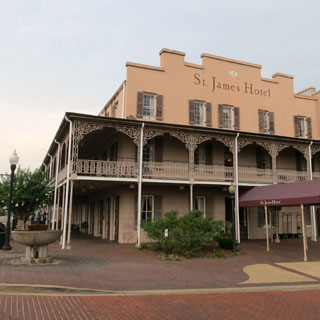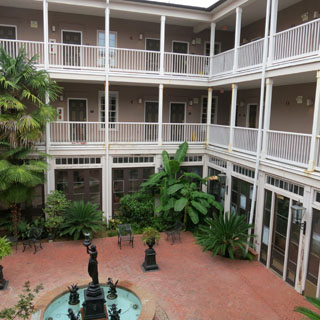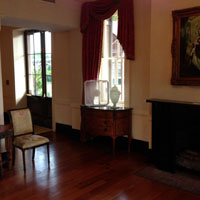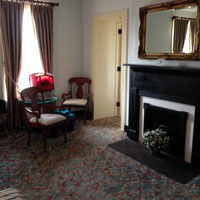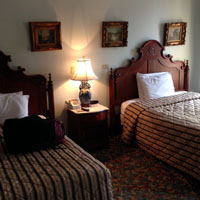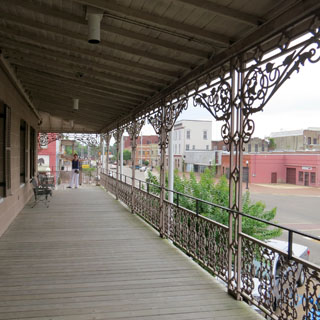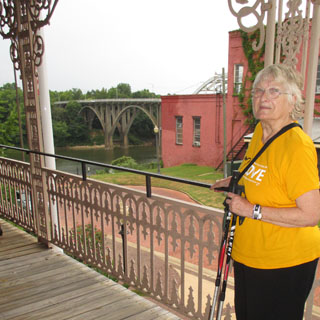 ---
Dinner and then breakfast (grits and more grits).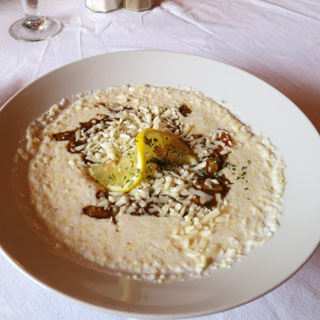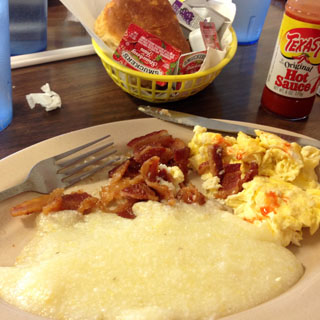 A final view of the bridge the next morning.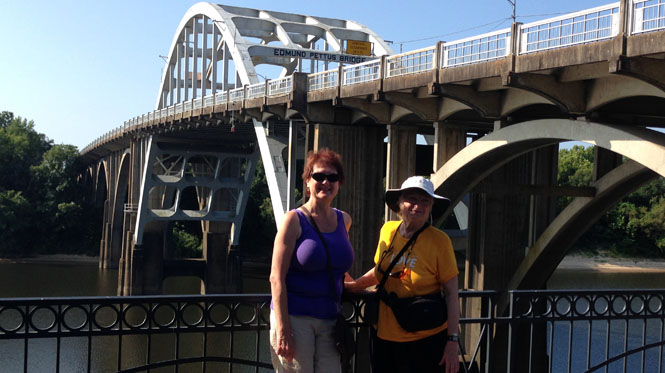 "Bloody Sunday" Attack at Edmund Pettus Bridge

A voting registration campaign in 1965 turned tragic Feb. 17 when an Alabama state trooper fatally shot Jimmie Lee Jackson in Marion. It prompted a protest march from Selma to Montgomery that triggered a milestone event in the Civil Rights Movement.

On March 7, john Lewis and Hosea Williams led a group of 600 African Americans from Brown Chapel AME Church six blocks and across the Edmund Pettus Bridge. State Public Safety Director Al Lingo ordered armed troopers to attach the marchers, hospitalizing 50.

Two weeks later, Rev. Martin Luther King Jr. and Rev. Ralph Abernathy led a court-approved march with federal protection. It covered 54 miles and reached the State Capitol on March 25. In a speech before 25,000, King said "the arch of the moral universe is long, but it bends toward justice." Racists killed Boston minister James Reeb on March 11 and Detroit housewife Viola Gregg Liuzzo on March 25.

--historic marker at foot of bridge.
---

The Lowndes Interpretive Center of the Selma to Montgomery National Historic Trail. This is a considerably larger visitor center than the one in Selma. It's on the location of one of the camps established during the march.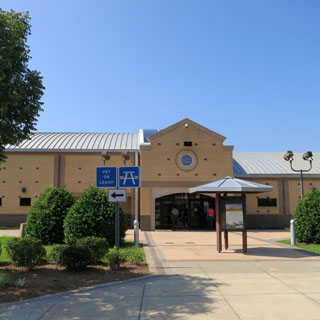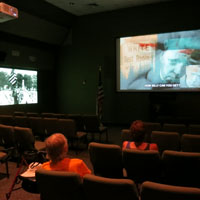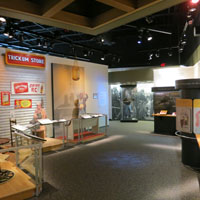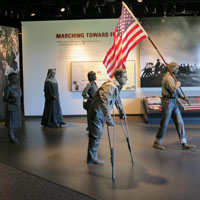 ---
The memorial to Viola Liuzzo, a Unitarian from Michigan who drove down to help shuttle marchers. She was killed near this spot by members of the Ku Klux Klan. She was 39.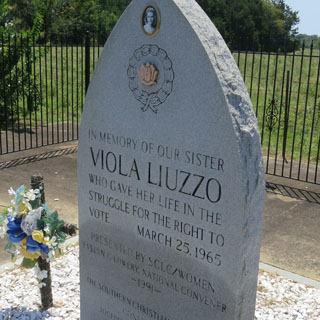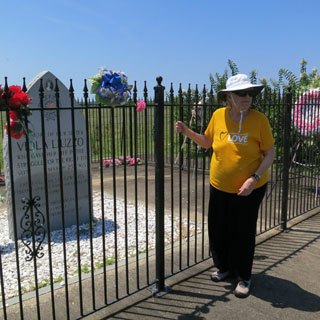 ---
Monroeville, Alabama is especially known as the home of Harper Lee and the setting of her book "To Kill a Mockingbird."
The courthouse (which is now a museum).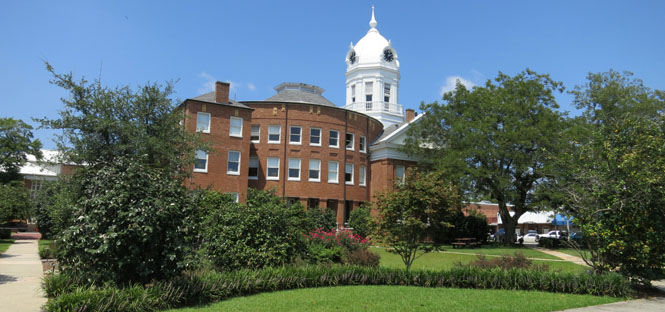 The old courtroom, which was copied for the movie set.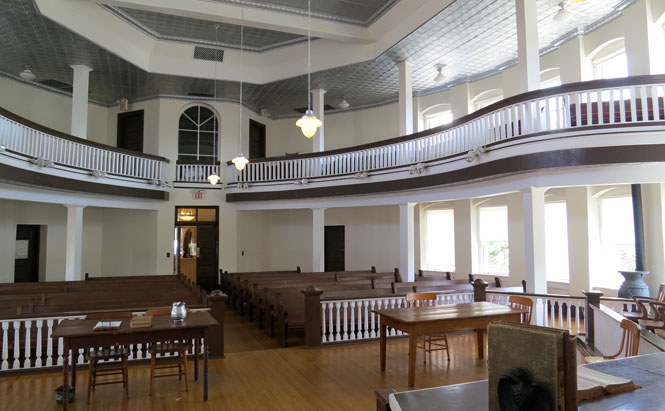 No; that's not Scout and Jem looking over the upper railing.

The movie set was faithful to the original.

The gift shop.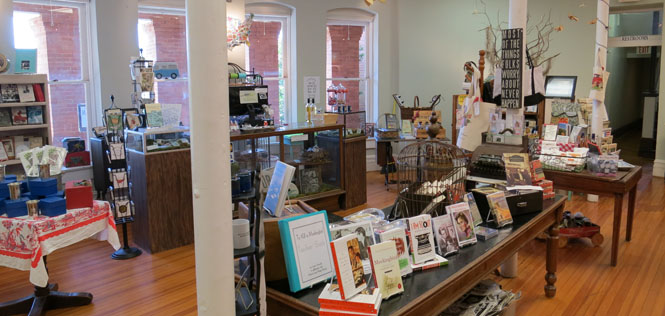 The museum is as much about Harper Lee and her book as it is anything else about Monroeville. There's a lot to read in the exhibit displays, which is appropriate and nice to see. This is not an exhibit meant to entertain.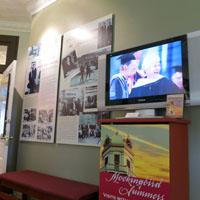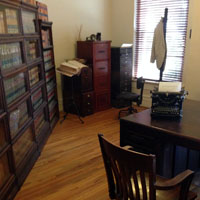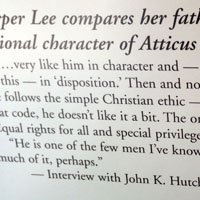 ---
Florida
Welcome to Florida!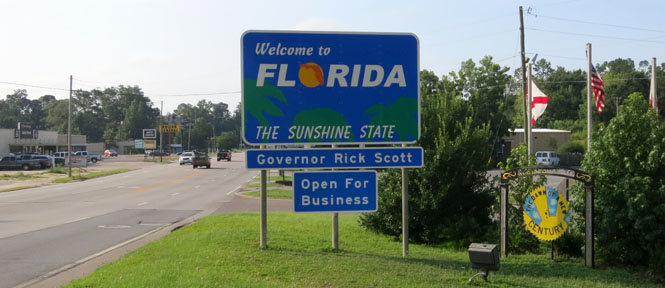 ---
We made a stop to replenish our supplies, and one of us thought a pot of boiled peanuts might be just the thing. Perhaps not.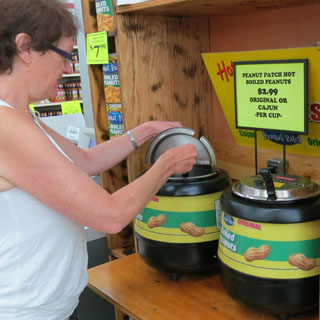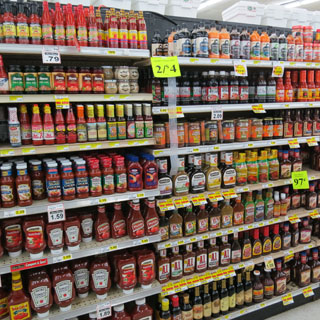 ---
Question: what is that crop? Answer: cotton.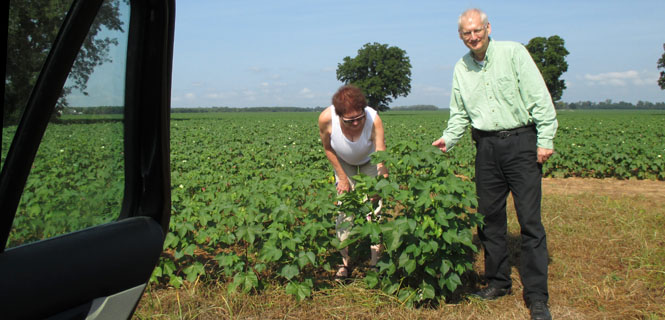 Both red and white flowers; it's quite distinctive.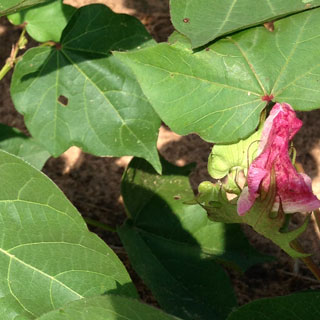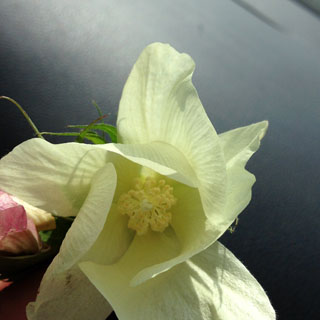 ---
Navarre Park in the small town of Navarre, Florida. That water is the Santa Rosa Sound, which runs between the long and slender Santa Rosa Island and the mainland.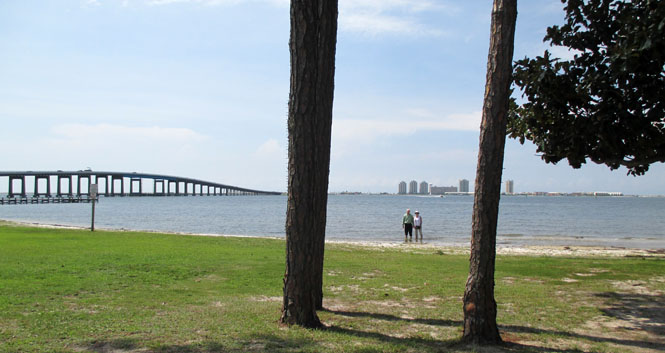 ---
On Santa Rosa Island looking over the Gulf of Mexico.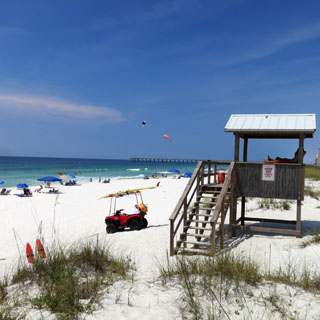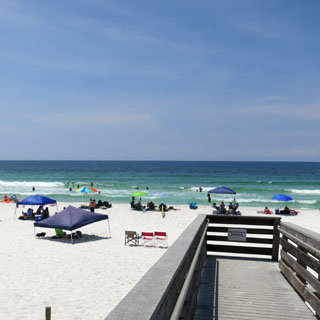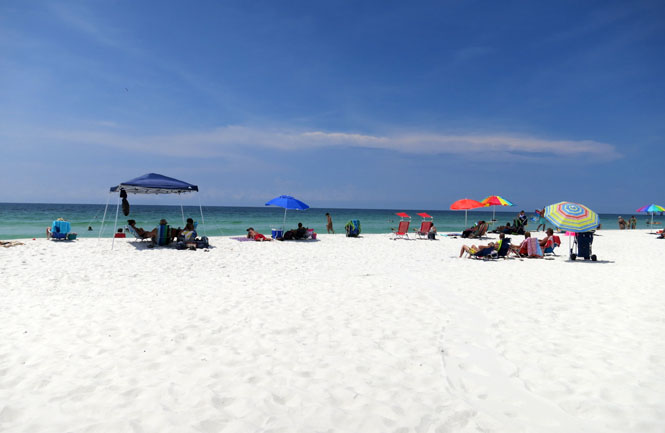 One of us braving the surf.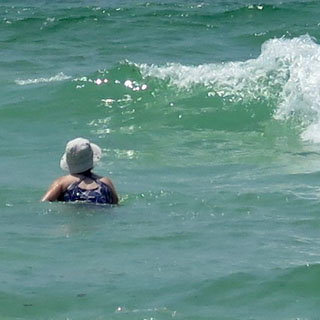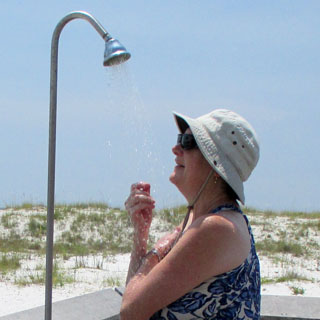 ---
Driving west on the island along the white sands.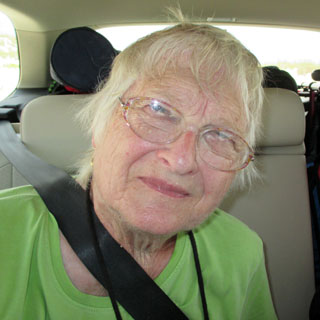 Homes on stilts on both sides of the road. It isn't hard to imagine that during a strong storm surge, this whole island might be inundated.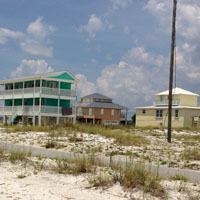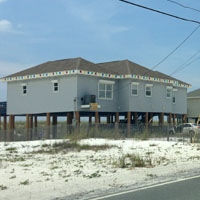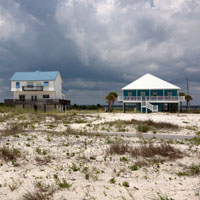 Gulf Islands National Seashore. The sun is so bright and the sand is so white, it's not easy to keep your eyes open.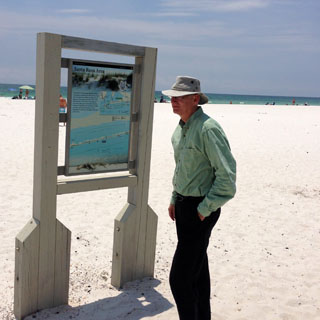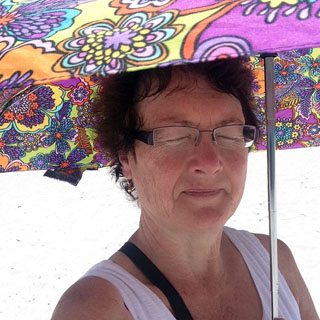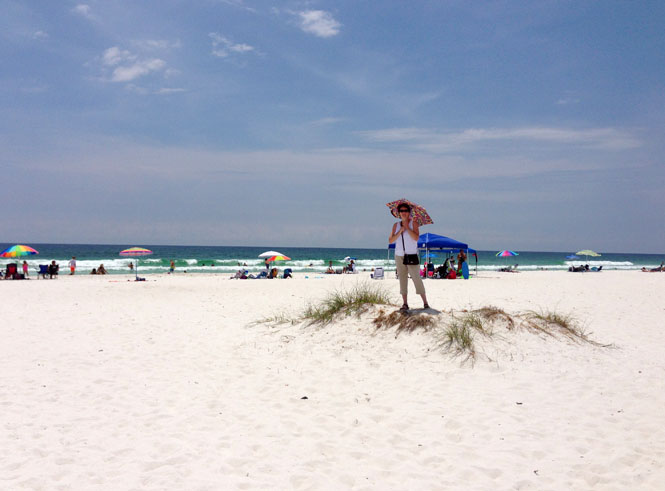 ---
Alabama
Fort Morgan is at the western tip of Alabama that stretches across Mobile Bay. We'd be crossing over to Dauphin Island and then north to the mainland over a long causeway and bridge.
The ferry across the entrance to Mobile Bay.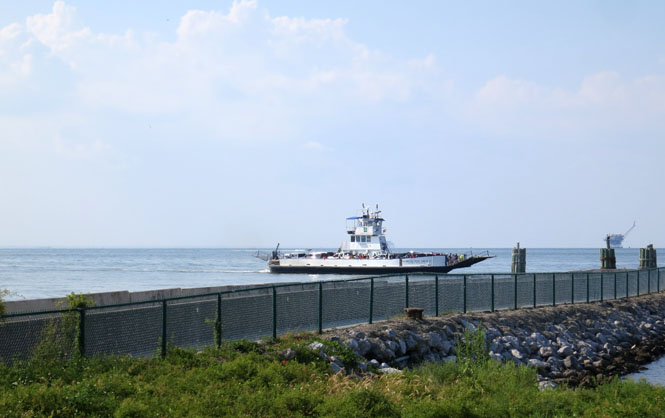 While President Obama was on this ferry (in 2011) the ferry call sign was Ferry-One.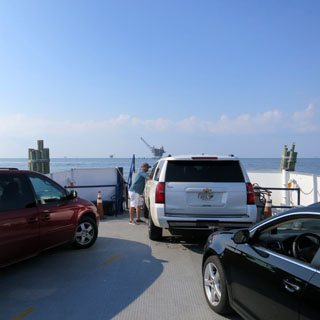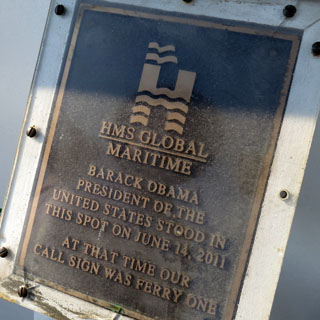 At least one dolphin was seen during the crossing (no photograph as proof, however).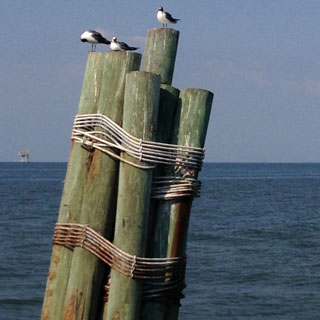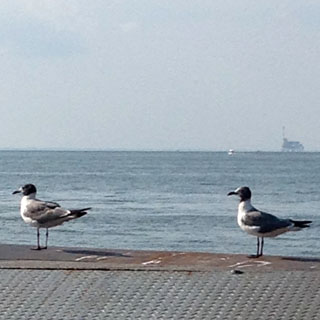 ---
Mississippi
A drive-in north of Lucedale. Some are better than others.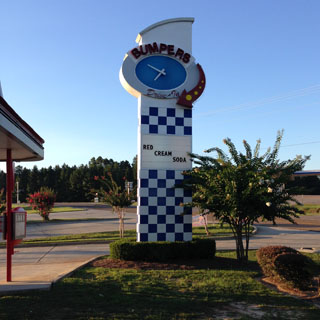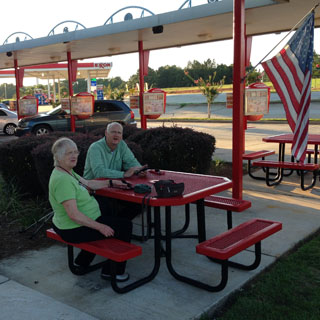 ---
Louisiana
The causeway into New Orleans. This is I-10.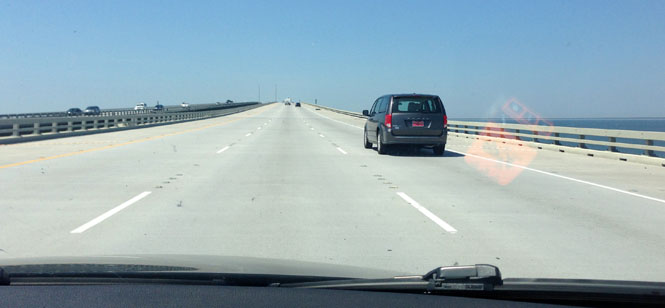 ---
Oak Alley Plantation. North of New Orleans, along the Mississippi River, there are a number of plantation mansions that are open for tours.
The house was built in 1837, likely on the site of an earlier house. The large oaks that define the "alley" are much older than this house.

Our tour guide was a high school student dressed for an earlier period.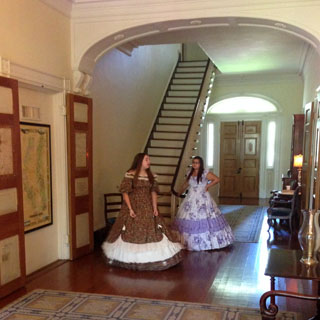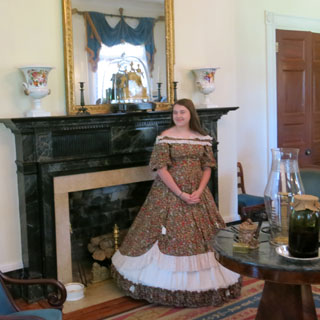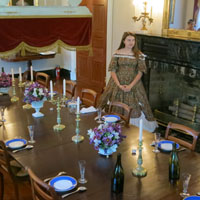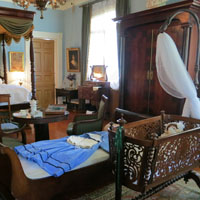 Fairly recently, the old slave quarters have been reconstructed, giving a better idea of what the plantation would have looked like in the 19th century. That iron bowl (below, left) was used in the sugar refining process.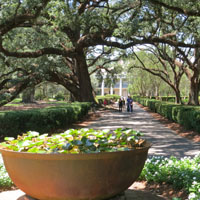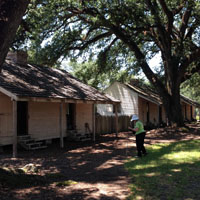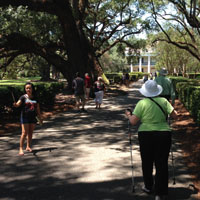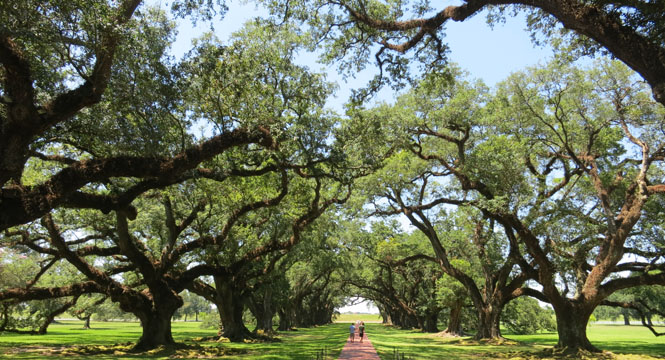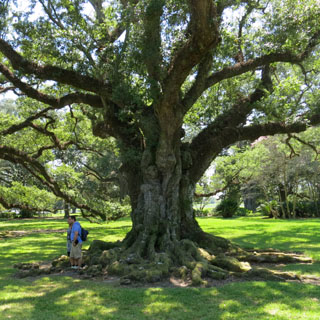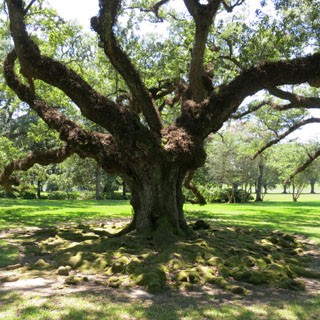 Sugar is what made the plantation. Growing it and refining it. There's a special sugar theater where we were hoping to learn something about how granulated sugar was made in the 19th century. There was none of that.
Instead we saw a video of very modern equipment with a brief overview of the process, but mainly we were told how wonderful eating lots of sugar can be. Yes; the video was sponsored by the local sugar growers association. They went too far: the audience laughed.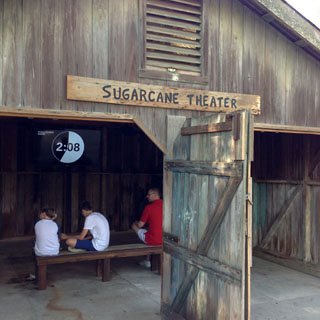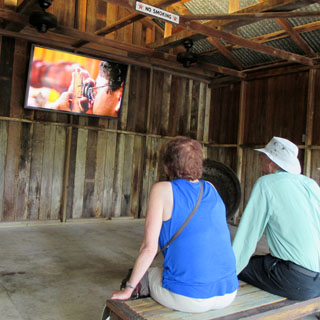 Within the plantation complex was a gift shop and restaurant. We tried the special--it was good.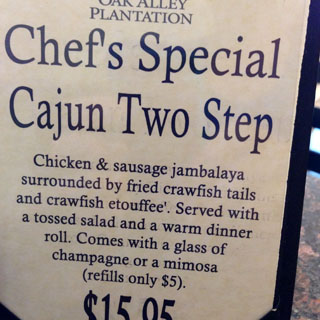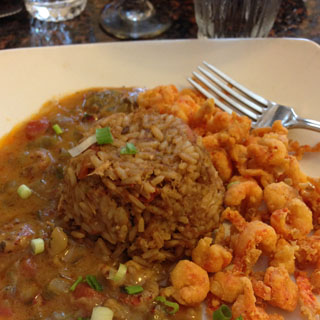 ---
A highlight of the hotel in Breaux Bridge was Mamma the hotel cat. We invited her into the room, but found out later that she had been instructed to stay out of the guest's rooms.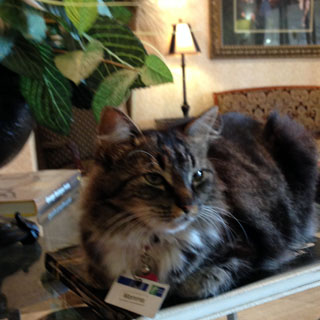 ---
Breaux Bridge, Louisiana, "crawfish capitol of the world."
St. Bernard Church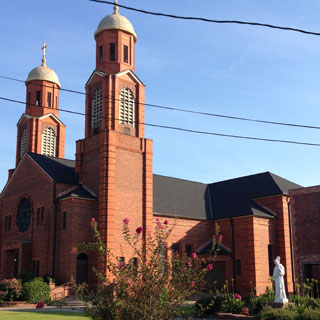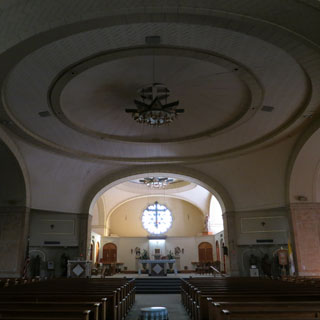 The Breaux Bridge cemetery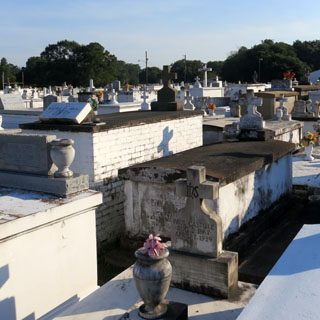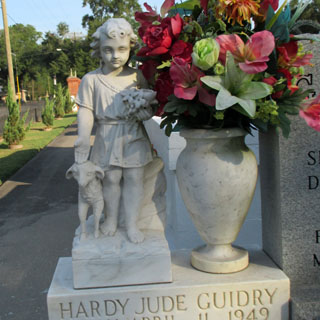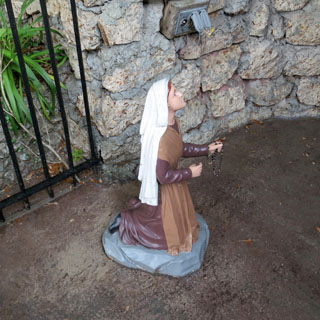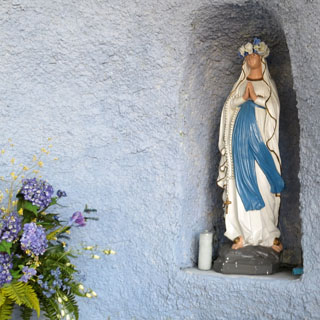 ---
Abbeville, Louisiana is in the heart of Cajun country; we were expecting to visit its museum. Closed.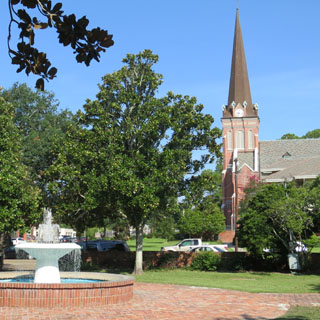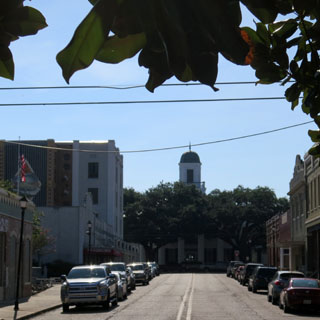 ---
Eunice, Louisiana
The Prairie Acadian Culture Center. Closed. sigh...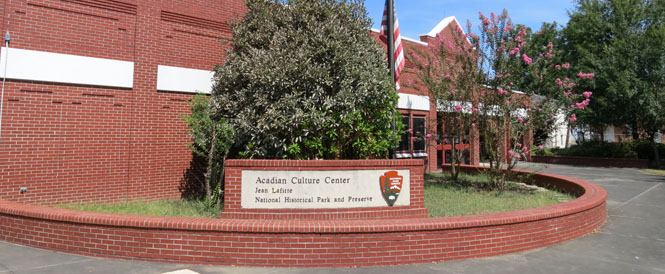 Eating lunch at the cafe in town. It's open!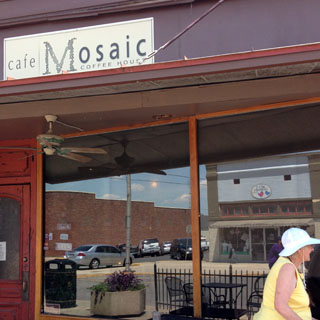 ---
Lake Chicot (in Chicot State Park) was a good place to stop for a spell.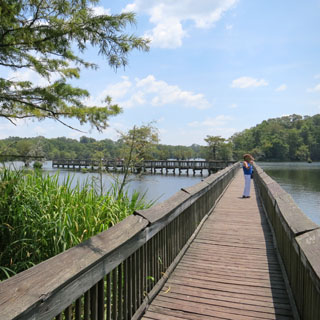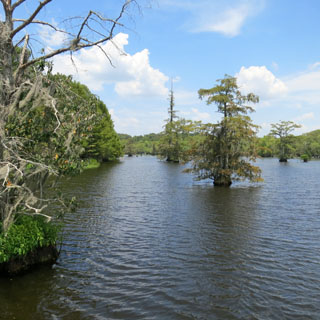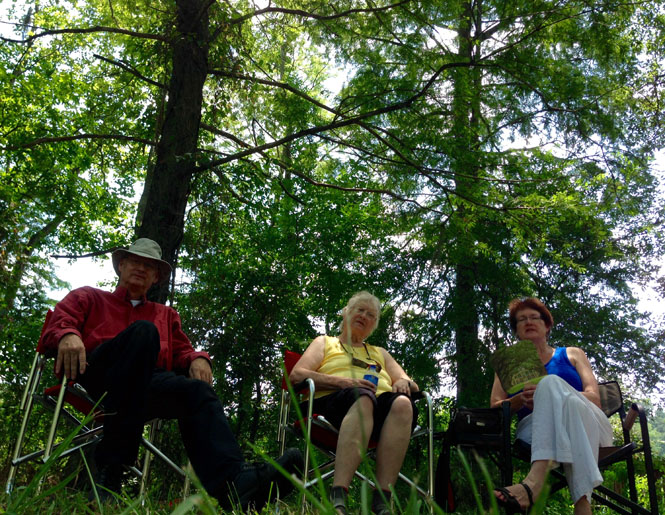 ---
Natchitoches, Louisiana
We stayed at The Church Street Inn. It's right in town and is really the only hotel in the heart of the historic center of Natchitoches.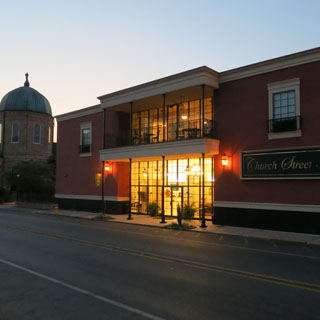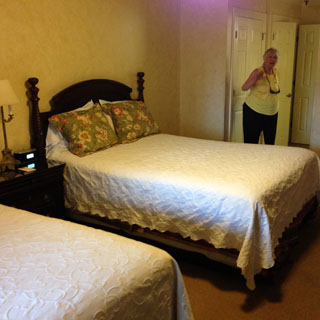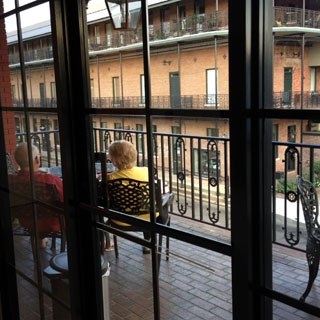 Walking out and about.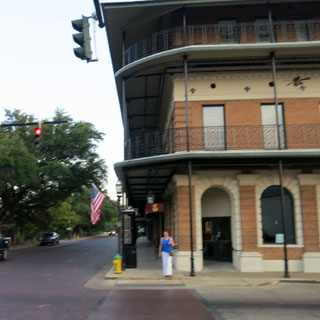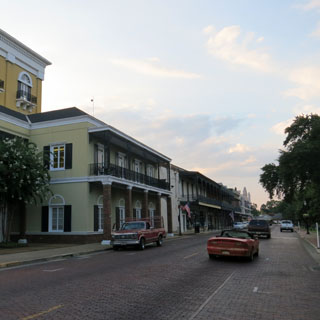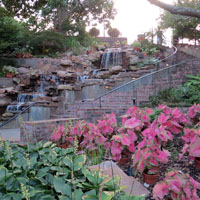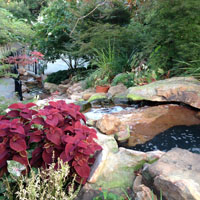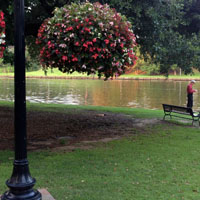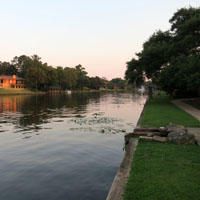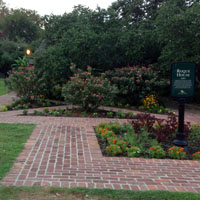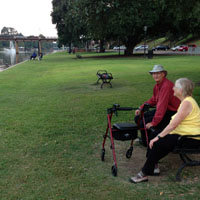 ---
The Natchitoches National Fish Hatchery and Aquarium is just outside Natchitoches.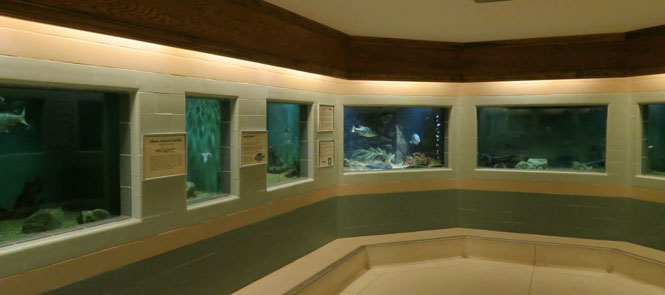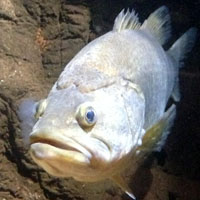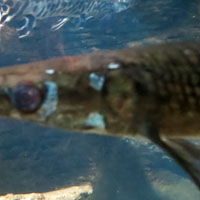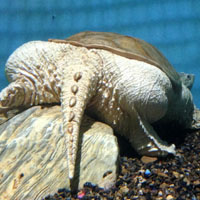 Using a coin to provide a scale.

---

Cane River Creole National Historic Park
There's a three-hundred year history of Creoles along the Cane River and the Oakland Plantation has survived for many of those years.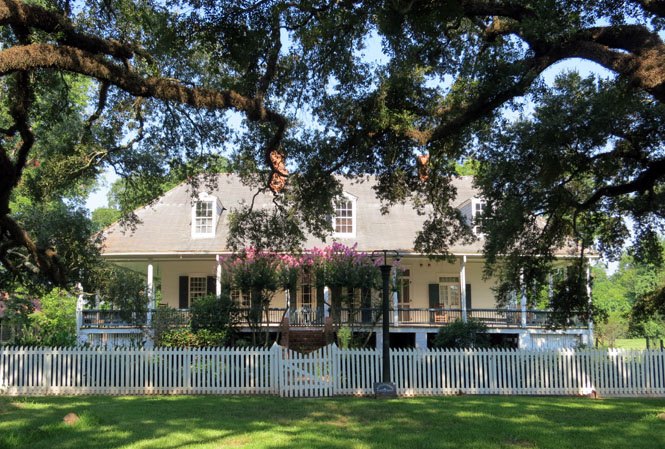 Looking out from the house is the Cane River--where most all traffic of people and goods would come from. Some of the old slave quarters have survived, having been used as sharecropper houses as late as the 1970's.
[The Cane River was once what is today the Red River. Rivers change course.]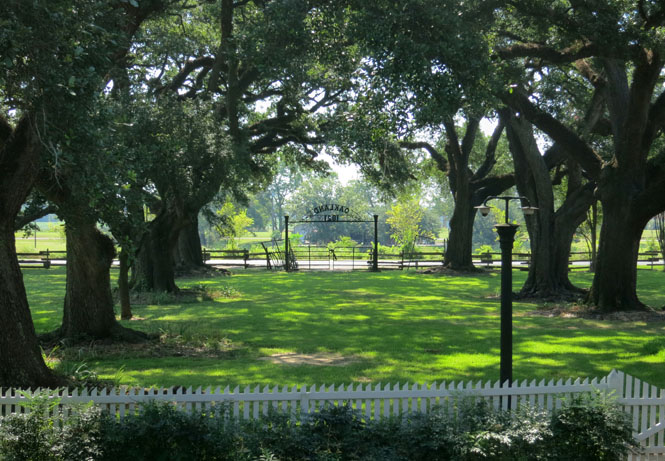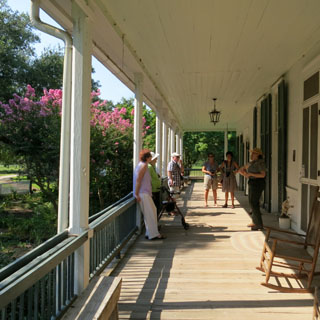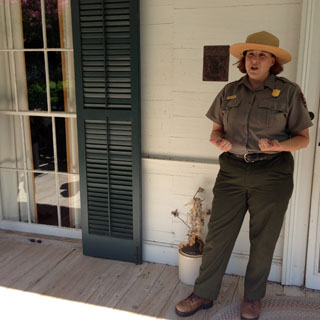 A tour of the inside of the house. Things are largely frozen in the 1950's, and I'd imagine it looked pretty old-fashioned even then.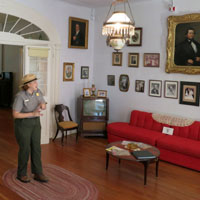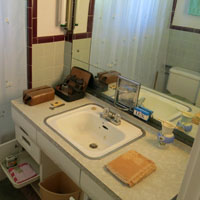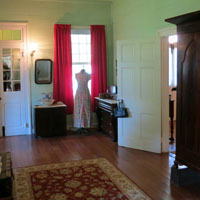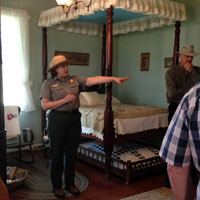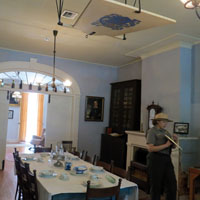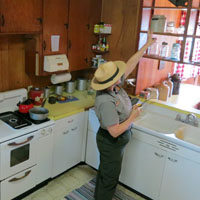 The plantation buildings. Much has survived.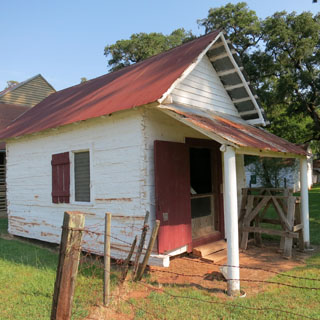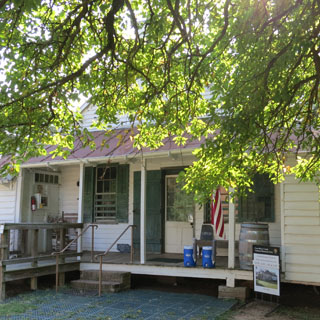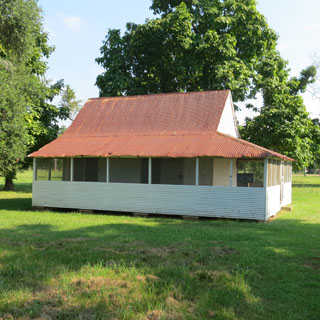 The site of the "Battle of Bermuda Bridge." The advance of George S. Patton's Blue Army (training in Louisiana prior to our entry into the war) was stopped by the three Prudhomme boys (Alphonse, 14; Kenneth, 12 and Mayo, 9) who were using a toy cannon and firecrackers.
The battle raged for about half an hour, with the Blue army firing blanks, setting up smoke screens and bringing in a .155 howitzer to defend against what they thought was a large Red army force. Alphonse Prud'homme, the boys' father, and a field hand named Jesse "Chippy" Williams joined in the excitement, setting off firecrackers in addition to the cannon. Kenneth recalled that the firecrackers had sounded like .50 caliber machine guns.

An umpire finally came to investigate (impartial Army officers observed each engagement and determined the victor) and discovered the "enemy" holding up their 500-car convoy was in fact three young boys.

"'Mr. Prud'homme, do you mind calling off your boys''" Kenneth said the umpire asked his father. "'You're holding up our war.'"

--WWW.ARMY.MIL web site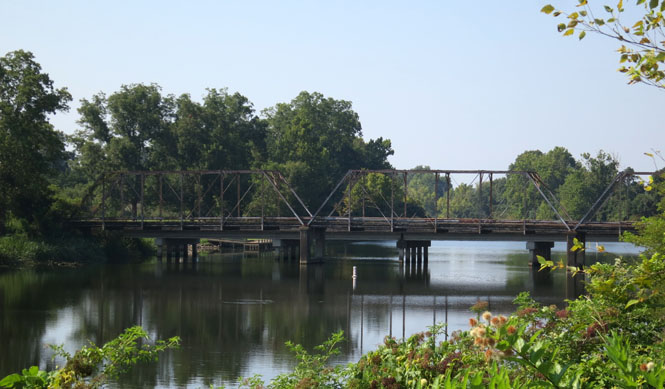 ---
Texas
Haslam, Texas and long logs loaded on a trailer. We'd seen far more extreme examples of this along the way--particularly in Alabama. In some cases the ends of the logs were dragging on the road.

---
Driving across Texas. Those rail cars (below, right) are crossing the Red River into Oklahoma.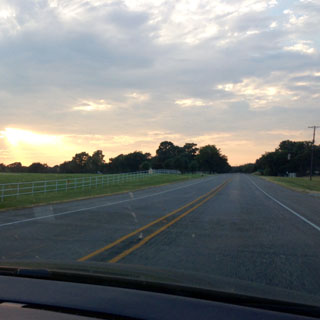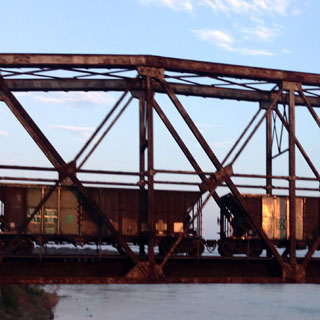 ---
Oklahoma
We saw a sign for "Chickasaw White House" (near Emet) and made the left turn down the straight country lane.
This was the home of Douglas Henry Johnston and his family (and dependents) from 1898 to 1971. Johnston was governor of the Chickasaw nation for thirty-six years.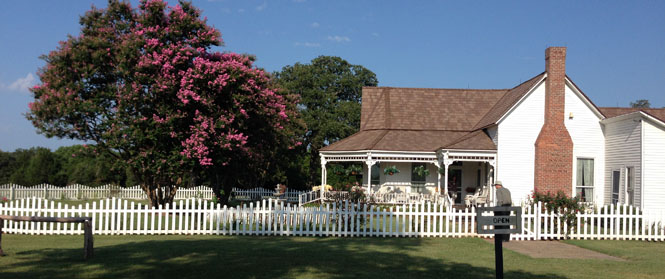 While of general public interest, the White House holds particular patrimonial significance for the Chickasaw People. The unique combination of tribal institutions and Southern social and political influences is a story within which all may find greater understanding of Indian Territory and the Chickasaw experience in the early twentieth century.

--Chickasaw Nation web site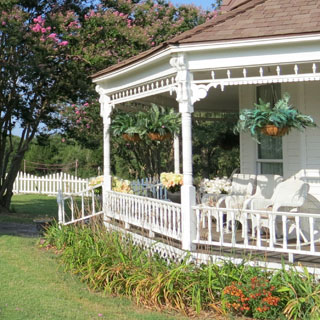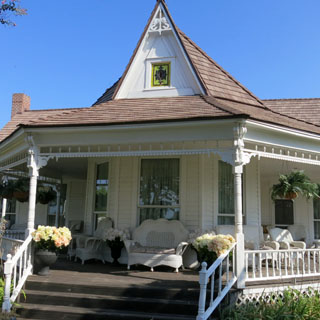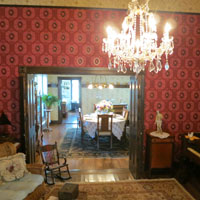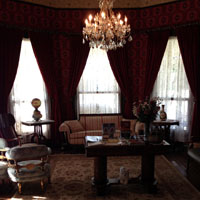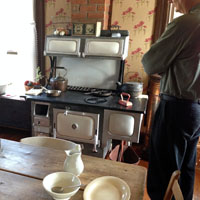 ---
The Chickasaw National Capitol in Tishomingo, Oklahoma. This impressive granite building was erected in 1898. It was the Chickasaw Capitol until 1906. After many years as a courthouse, it is now a museum for the Chickasaw Nation.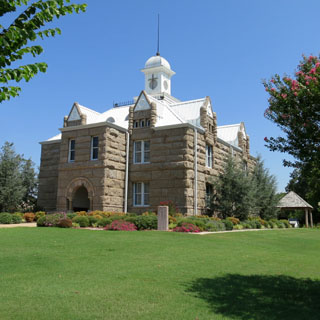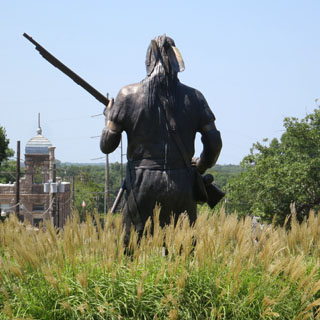 The first floor has a good display of the history of the Chickasaw. Things have rarely gone too well for the tribe, and particularly after the Civil War, they struggled to maintain even what they had earlier achieved.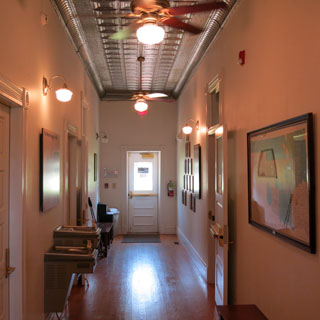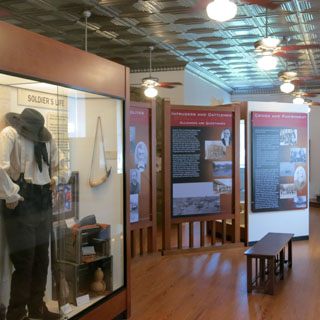 Before we got in the car we heard a loud and continuous noise of fracturing wood. We weren't sure what it was until we saw this large limb come crashing down. Nobody was under it when it happened. Curiously, there wasn't even any wind. I guess it was just time. A city maintenance crew happened to be in the area, so they were able to attend to it within minutes.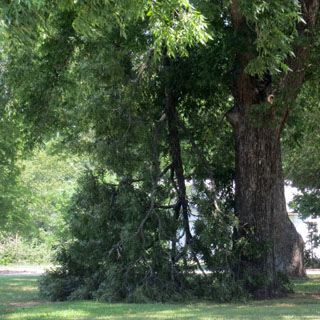 ---
Davis, Oklahoma.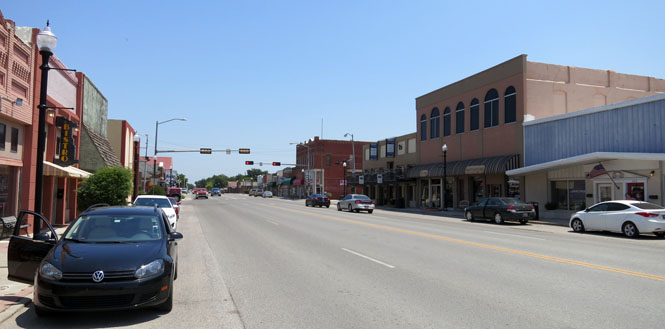 ---
The Oklahoma City Museum of Art. We were here for a special exhibit of Fabergé.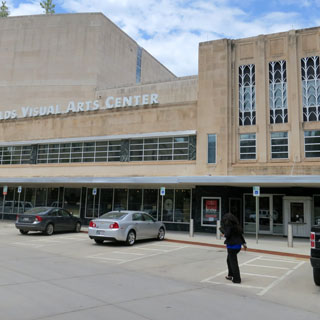 More than 230 rare and storied treasures created by the House of Fabergé will be celebrated in a new exhibition at the Oklahoma City Museum of Art. Fabergé: Jeweler to the Tsars will be on view from June 20 through September 27, 2015. The exhibition, drawn from the Collection of the Virginia Museum of Fine Arts, Richmond, will showcase Peter Carl Fabergé's fine craftsmanship in pieces of jewelry and adornments once belonging to the Russian Imperial family.

--Museum Web Site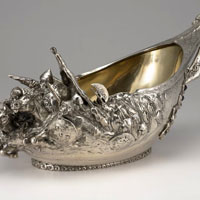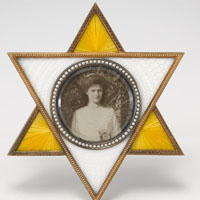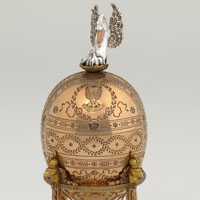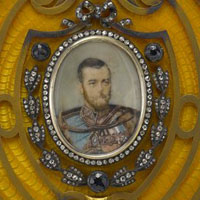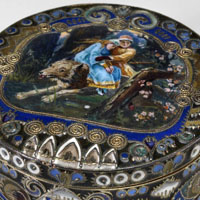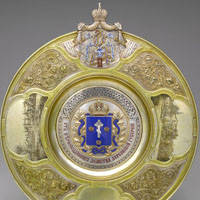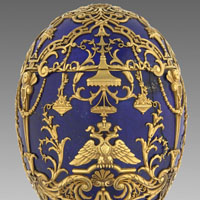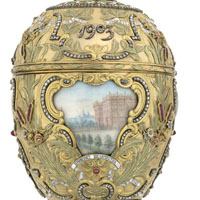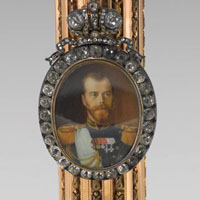 The Oklahoma City Museum Cafe
It's almost a requirement that if you visit any museum, you must also eat at their cafe. This is a good one.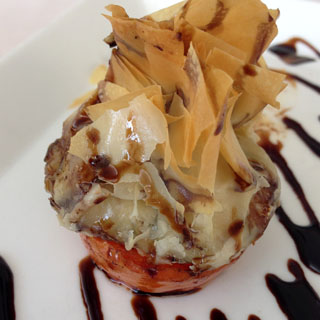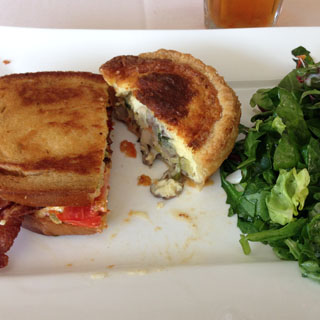 ---
Kansas
And away...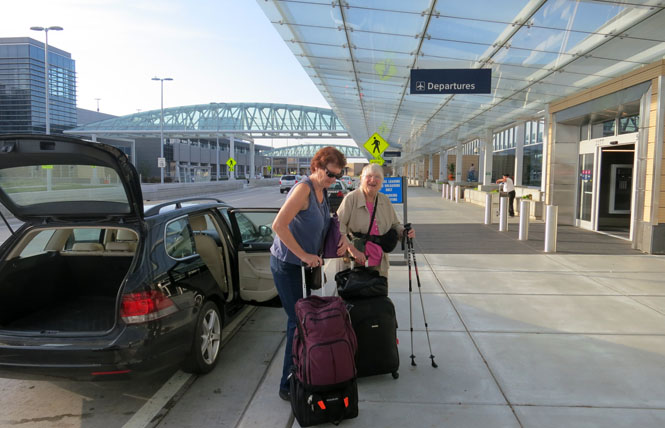 Oregon
Landing again at the Medford airport, but just as quickly, driving back to California.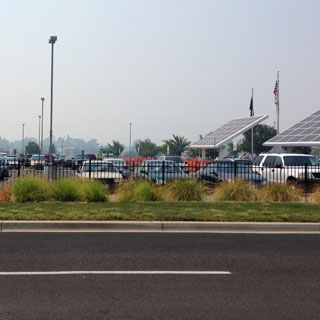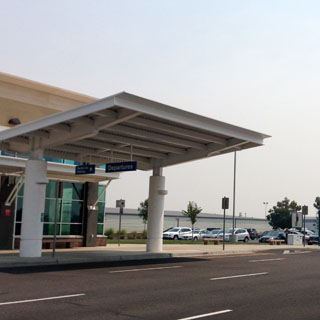 California
A traditional stop at the Crescent City park (always a windy place).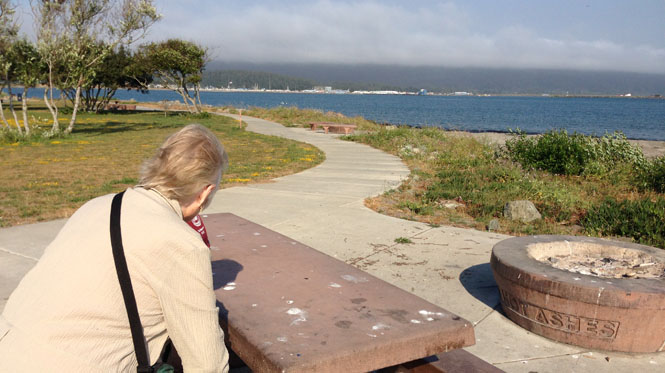 ---
I think Selma had to be the high point of the trip. As always, we saw a great deal, but also drove more miles than you might want. It's a pity that so many places were closed, but if you travel with no itinerary, that's always the risk.
last edit: 9/4/2015