September, 2015

Sunday

Monday

Tuesday

Wednesday

Thursday

Friday

Saturday

6 September
7
8
9
10
11
Wichita
Newark
12
Milan
Lecco
13
Lecco
14
Mandello
Cerkno, Slovenia
15
Kutina, Croatia
16
Ključ, Bosnia
17
Tuzla
18
Tuzla
19
Tuzla
Goražde
20
Podgorica, Montenegro
21
Brindisi, Italy
22
Termoli
23
Amandola
24
Bagno di Romagna
25
Mandello
26
Milan
27
Milan
Newark
28
29
30
31
1 October
2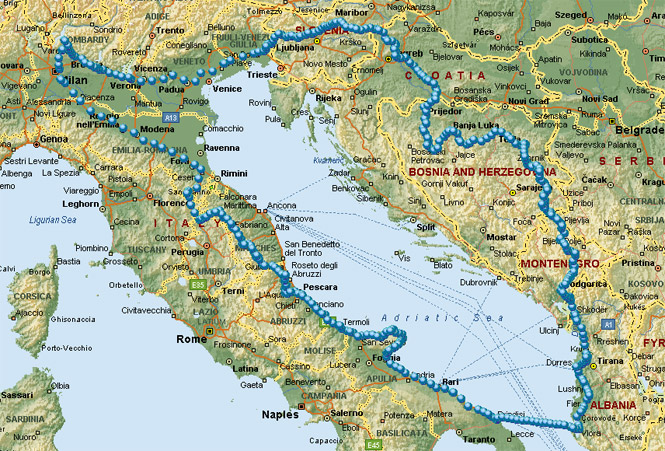 Europe Trip #13
How about a ride around the Adriatic Sea?
Earlier this summer I rode to Scotland; so, the opposite route would be to to ride towards the Balkans and then complete the loop around the Adriatic Sea by crossing back to Italy and returning north.
I would allow the route to decide itself each morning, but I had some general plan to ride as far south as Patras, Greece before crossing over to Italy. It didn't happen that way; things sometimes work out differently.
New Jersey
It was once a Continental flight, and now it's a United flight, but for all the times I've done this, only one route has ever made sense: the evening flight from Newark to Milan, which arrives at a comfortable time in Italy to make the train connections to Lake Como.
Italy (Repubblica Italiana)
Aeroporto di Malpensa is a joy to arrive at (if not to leave). It isn't terribly far to walk to baggage claim, and the lines at passport control have always been short. I only check one bag, my bright yellow duffle-bag (which contains a smaller bright yellow duffle-bag that I'll strap to the motorcycle seat).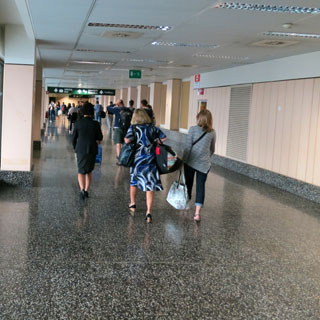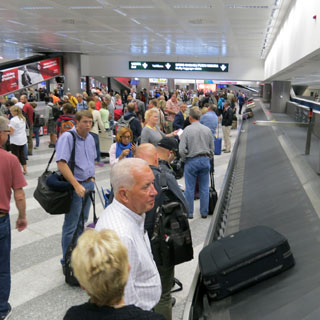 Sometimes I take the bus, but this time I took the train from the airport to the Central train station in Milan. Which method I use just depends on what time it is when I leave the baggage claim area.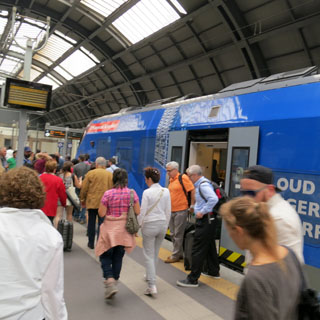 For the last several trips, including this one, I've spent the first two nights in Lecco, which isn't far from Mandello. It's a nice town with easy access to the trains as well as the Lake Como ferry system.
It happened that Moto Guzzi was having their open house on this same weekend--I've been lucky with these things, and have been to several large Guzzi events in Mandello del Lario. I'd be stopping in on Saturday (the same day as my arrival).
This is the only place in the world where you'll see so many Moto Guzzi motorcycles of all types and years.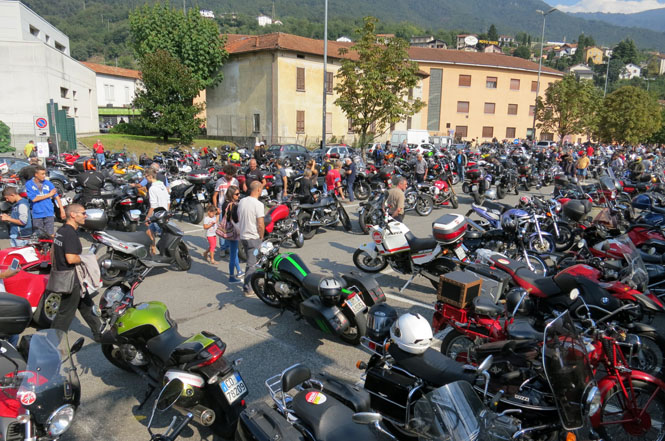 The crowd on the right (below) is heading into the museum (and coming back). I'd been through it several times already, so didn't go through it this time.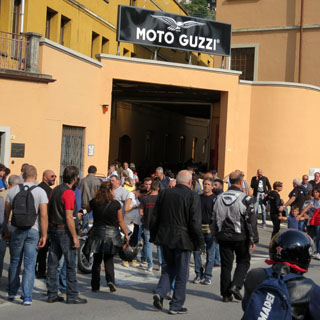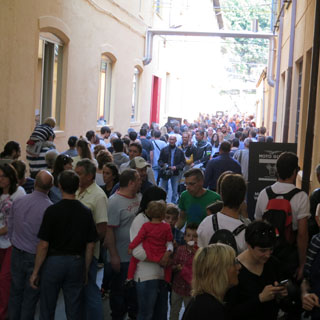 Parts of the factory are open. I'm not sure what this space is normally used for, but for these events, it's turned into a showroom for the newest models.
The assembly line is spotless--no doubt the workers spent their last half working day of the week making it so.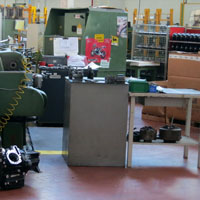 The museum has by far the best collection of Moto Guzzis in the world, but the ones in the hands of private enthusiasts are pretty impressive, too. These were assembled in the town plaza (note the statue of Carlo Guzzi).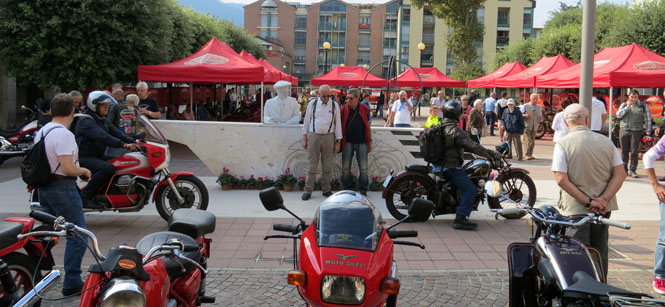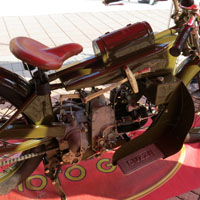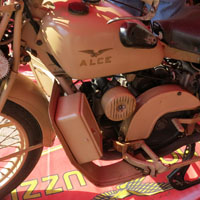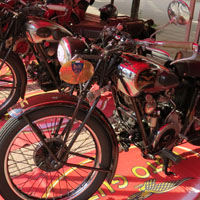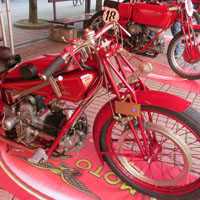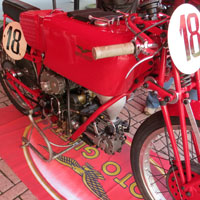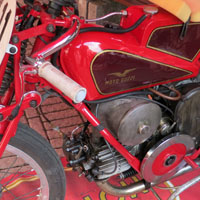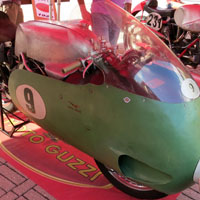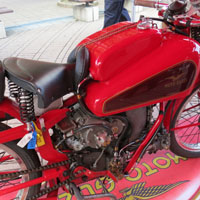 The Mandello park had vendors selling vintage parts and hard-to-find things and food and folks camping in their tents and more and more motorcycles parked everywhere. That's an assembly line of crepes of all types. Remember that Lake Como is just a few miles from Switzerland, France and Austria, so you'd expect the food (and the languages you hear) to reflect that.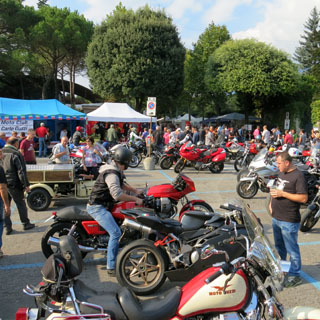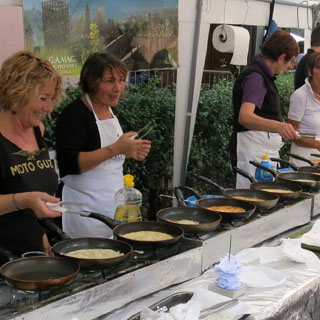 And, back to Lecco for the evening. It's been a long day that began early Friday in Kansas and is ending late Saturday (allowing also seven hours of clock shifting).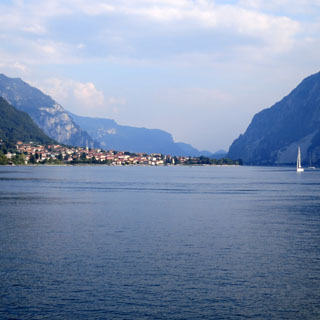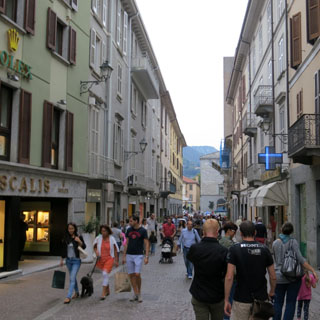 Two foods I'll always have when I'm at the lake. Caprese Salad (which is little more than tomatoes and buffalo mozzarella) and Risotto con Persico (which is a rice and perch dish that has been traditional to Lake Como for centuries).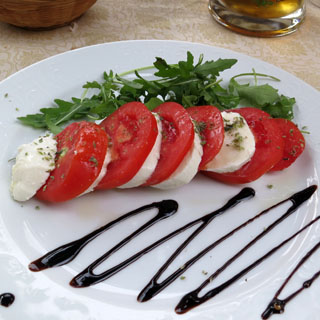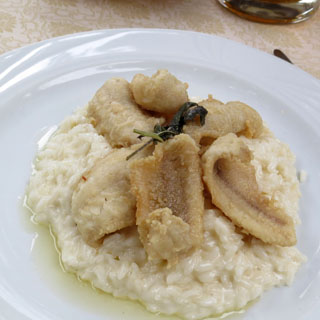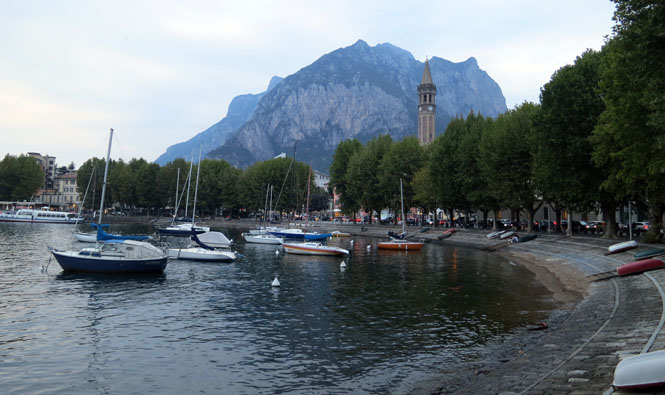 Sunday is my free day, and I'm going to visit the Villa Balbianello, which is just outside the village of Lenno, across the lake from Bellagio. I'll be taking a couple of ferries to get there.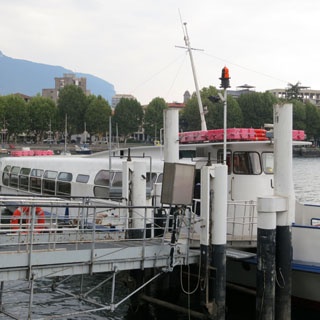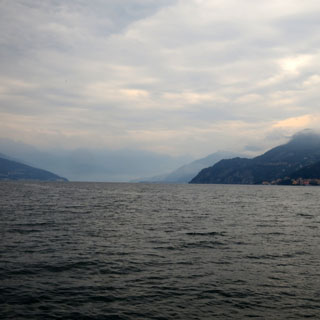 Stopping briefly at Bellagio while waiting for the next ferry.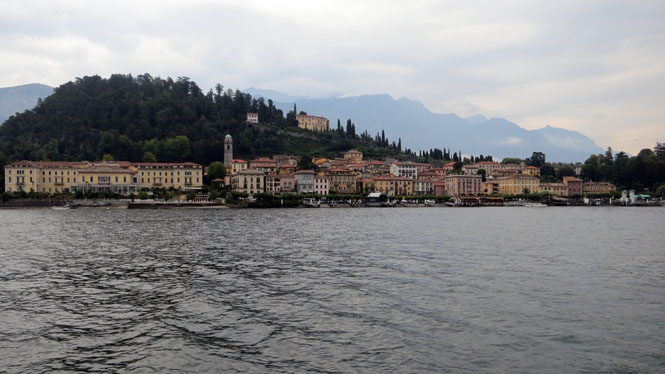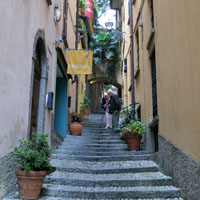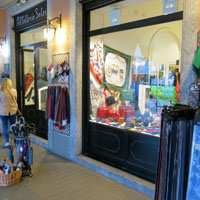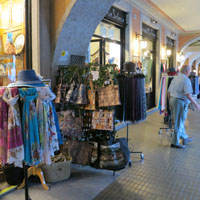 Villa Balbianello was built in 1787 for the local Cardinal (who evidently lived quite well). It was purchased in the early 1900s by Butler Ames (an American engineer and manufacturer) who thoroughly restored the house and the gardens. Italian Guido Monzino bought it in 1974 and after his death the estate was left to the National Trust of Italy. Monzino was born into lots of money, and seems to have spent his life enjoying himself by mountaineering and exploring.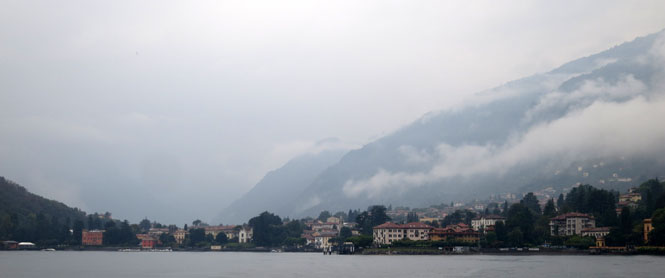 The grounds are open to stroll around, but you must be part of a guided tour to see the interior. Incidentally, one of the Daniel Craig "James Bond" movies was filmed on the lawn.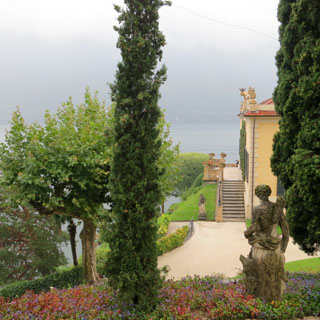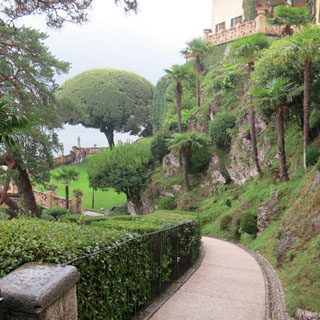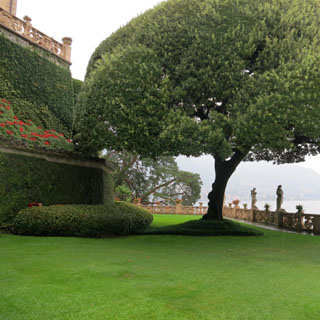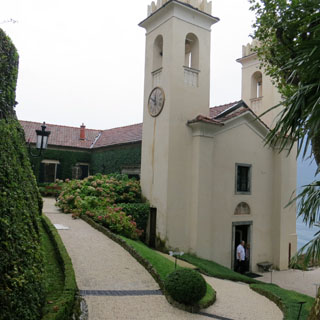 The house is just as Monzino left it. Frankly, I would have liked to see how Ames restored it as I'm afraid Monzino put a little more "1970" into it than it needed. No matter, it's quite a remarkable place.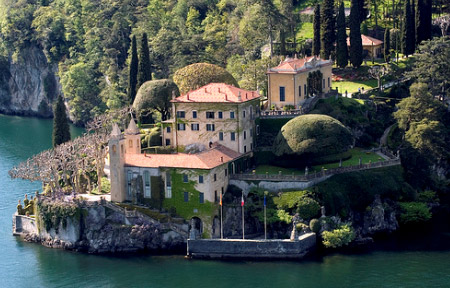 - courtesy photograph
It has multiple stories, but is built on a sloping rocky hillside so that each story is also mostly built on solid rock and the house is built with something of a stair-step arrangement.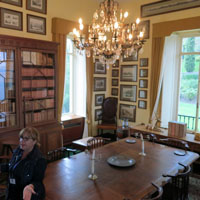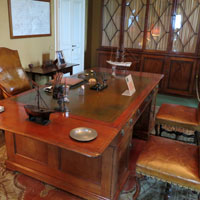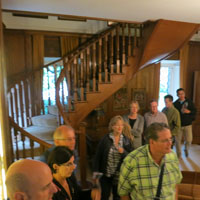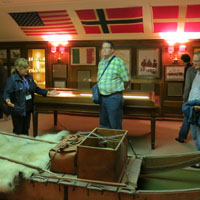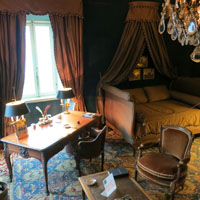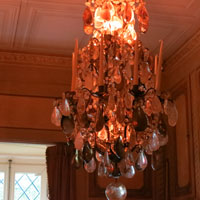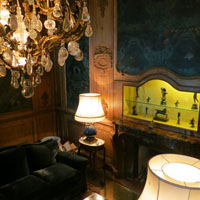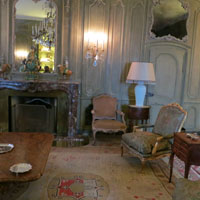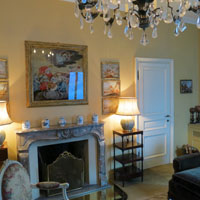 Two more ferries, and back to Lecco.
As is usual for a weekend, there are many outdoor food vendors in Lecco. At this cheese tent, I was introduced to real Mozzarella (the owner scoffed at what is called Mozzarella in the United States). He offered my a thin slice of local mountain cheese, which really was wonderful. I'll finish the evening with yet another meal taken from the lake.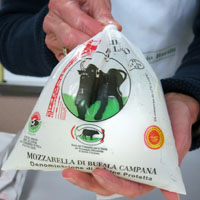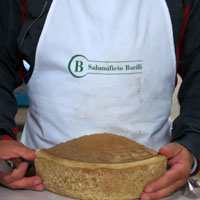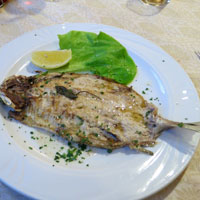 It's time to go riding.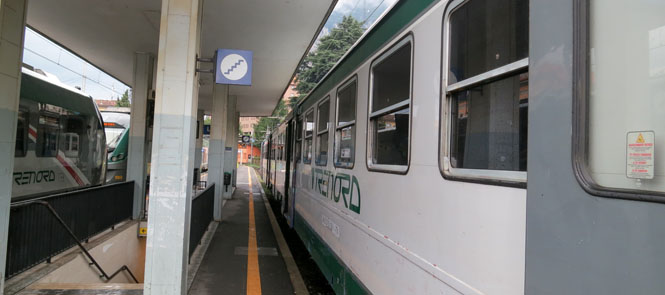 I keep a helmet and pair of boots at Agostini's so I don't need to haul those on the airplane. I'll unload the larger duffle-bag and repack things into the smaller bag, which is then strapped to the back half of the seat. Of course, I'll be wearing my riding suit, so I won't need the space of the larger bag.
Coccaglio, Italy. I'm heading east to Slovenia, keeping off the Autostrada.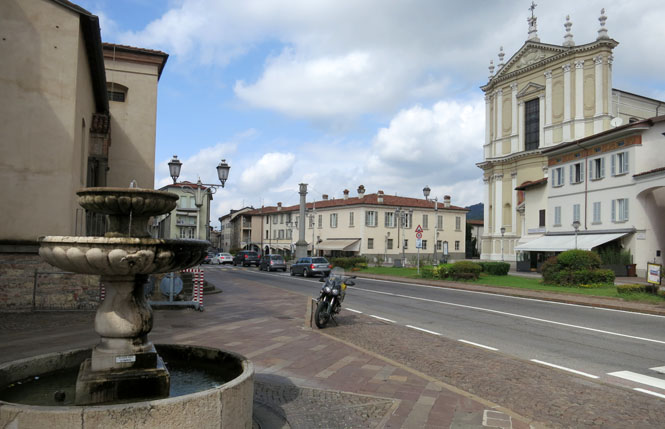 As much as I dislike the Autostrada, I wasn't making much progress staying on the side roads. At Lake Garda, I eventually gave it up, took the paper ticket that the machine spit out, and got on the tollway.
Funny. While droning along at 80 mph (staying with traffic), I got to wondering what would happen if you didn't have your ticket when you got off the Autostrada (if you do that in Kansas you'll be charged as if you got on at the beginning of the turnpike). You guessed it. When I pulled to the booth, my ticket was gone, evidently it fell out of my pocket when I got fuel at the last stop.
I told the man I got on at Lake Garda (and he believed me), so I didn't have to pay any extra penalty.
Slovenia isn't far from here. I've turned north on smaller roads to avoid any congestion near Trieste.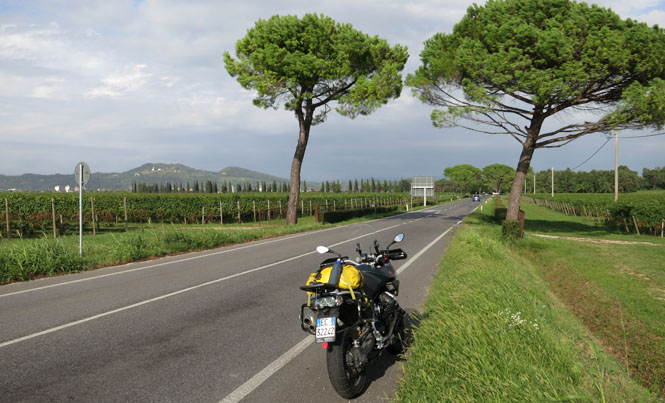 Slovenia (Republika Slovenija)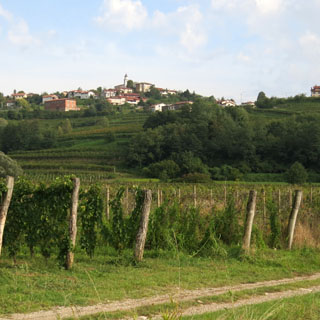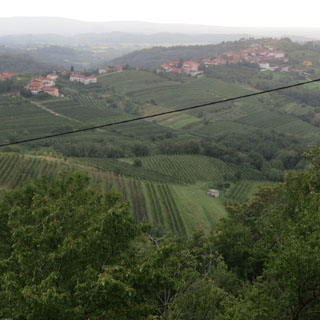 Smartno, Slovenia. I'm running some pretty narrow little roads that seemingly run up and around the steep hills without any reason or direction.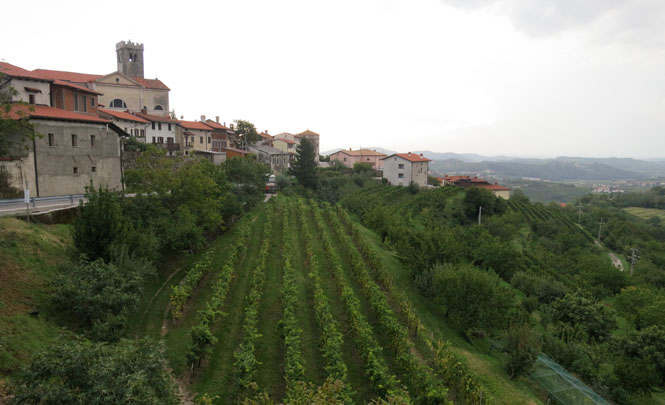 Kanal ob Soči, Slovenia. I've just ridden across that bridge. The river is very high and running fast. Evidently, the nearby mountains have recently seen tremendous rains.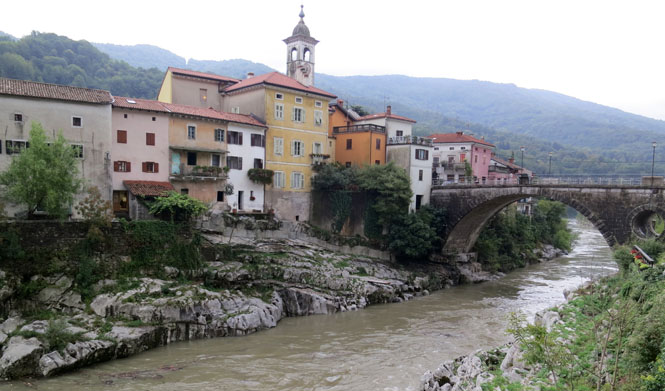 Slovenia roads are terrific.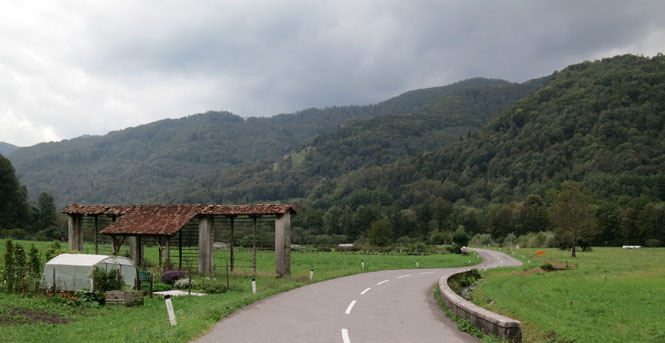 Kozaršče, Slovenia.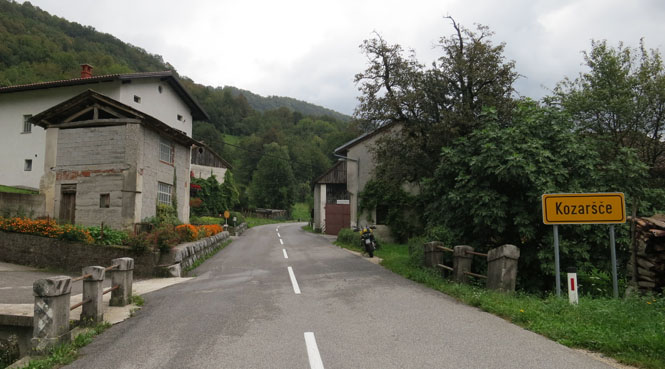 By this time, I'm looking for hotels in each little town I run through. Nothing is looking promising, but there is a sign pointing north to the town of Cerkno and winter skiing. I'll try that. There may not be skiing this time of year, but there are probably hotels--are they open?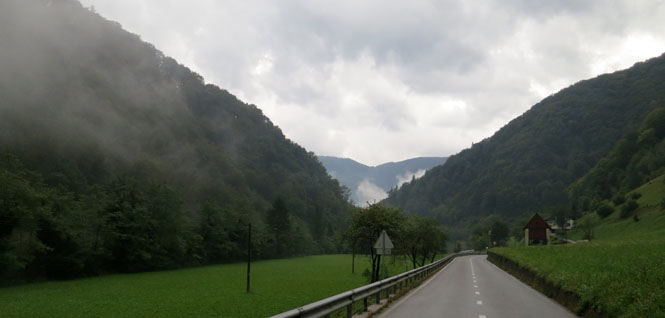 Cerkno, Slovenia. Yes; there's at least one nice hotel (with lots and lots of vacancies).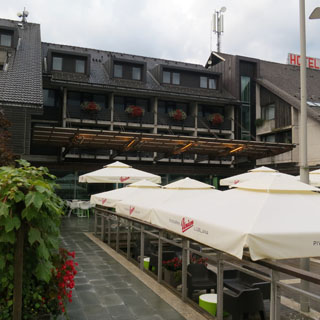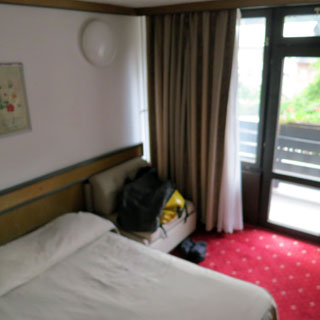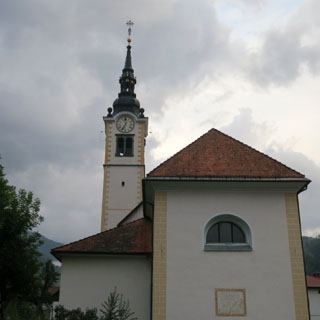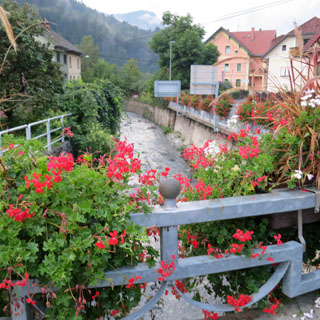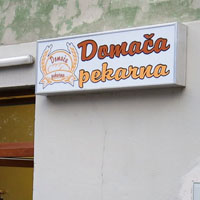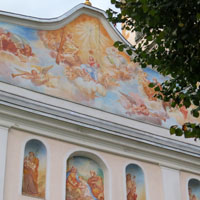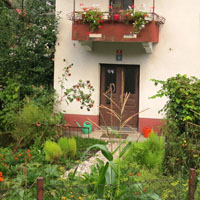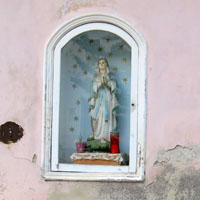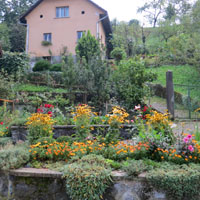 Soup, then something unknown with mashed potatoes followed by a crepe for desert. It's a good ending to the first day's ride.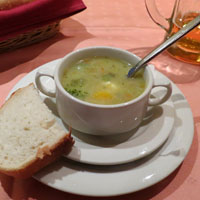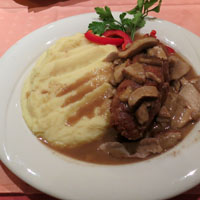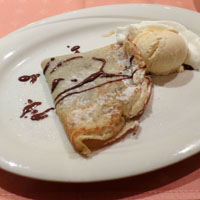 On the road again and climbing over several rugged mountains. A few of the hairpins are sharp, but most have full radii like this one.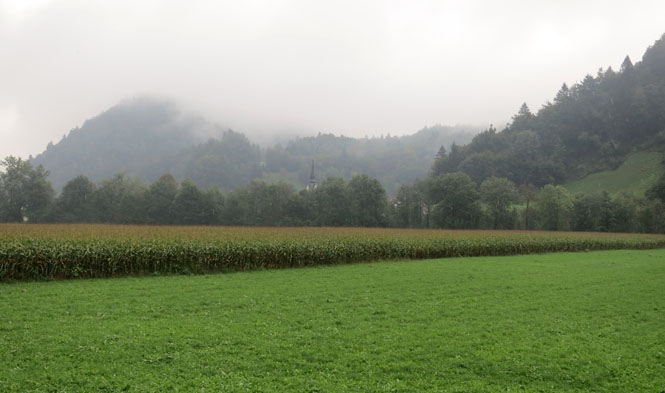 I'm back in the land of the elevated tree in each town (something also seen in Slovakia and several other places). Frequently, there's a sign below (as with that white horse) and a number on the sign. What does the number mean? I've no idea.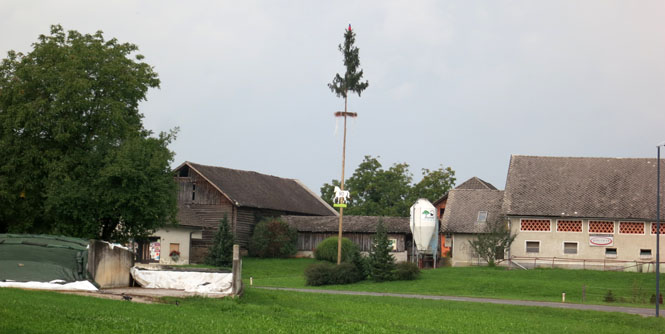 These narrow open sheds are common. Sometimes you'll see wood stacked (as in this instance), and other times you'll see corn drying on racks.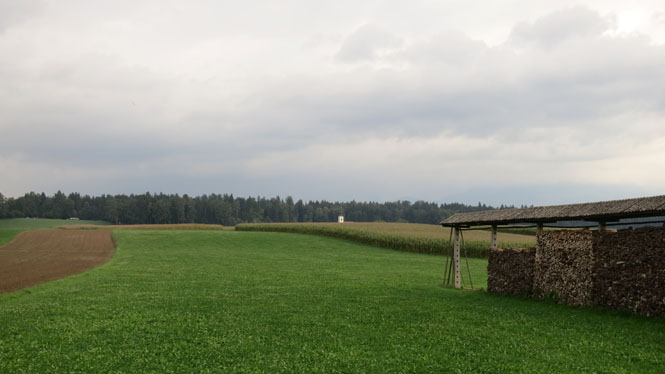 When the barn looks better than the house, you know the farm is prosperous.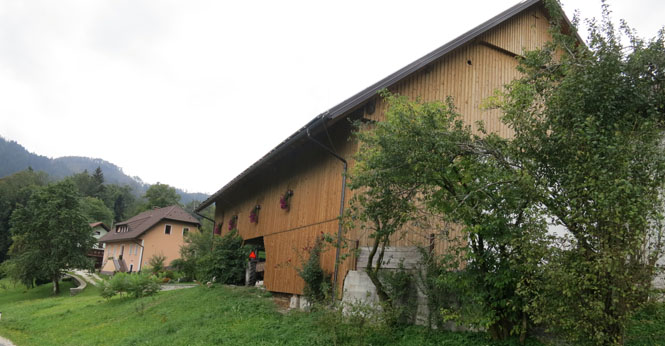 I'll be on that bit of road in five minutes. I'm riding in rain off and on, but nothing that's too objectionable.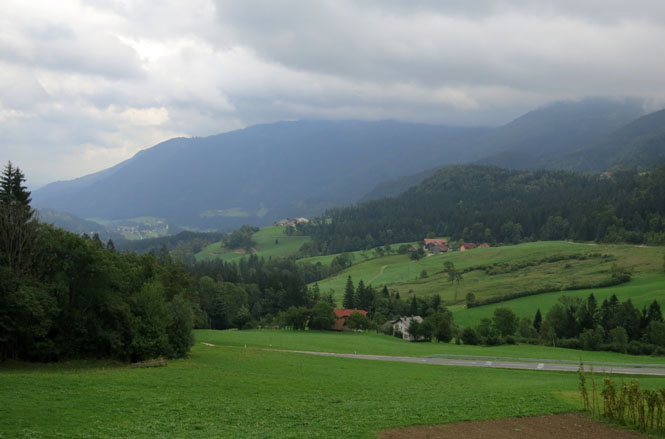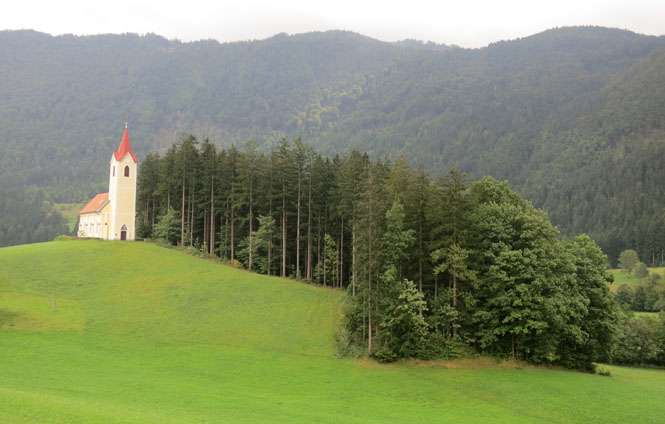 Each "bud" on the monument has the name of a local patriot who died during the second world war. I've never seen such a design.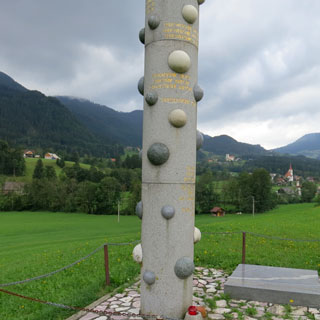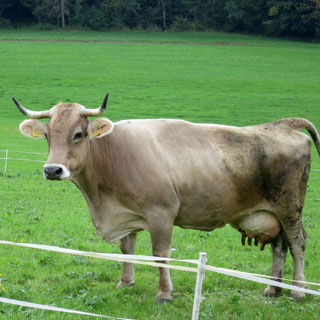 Narrow roads with the grass fields coming right to the pavement. When stopping to take a photograph, I need to be careful that the side-stand doesn't sink into the moist ground. There's so little traffic, that sometimes I'll just stop in my lane and not worry about it.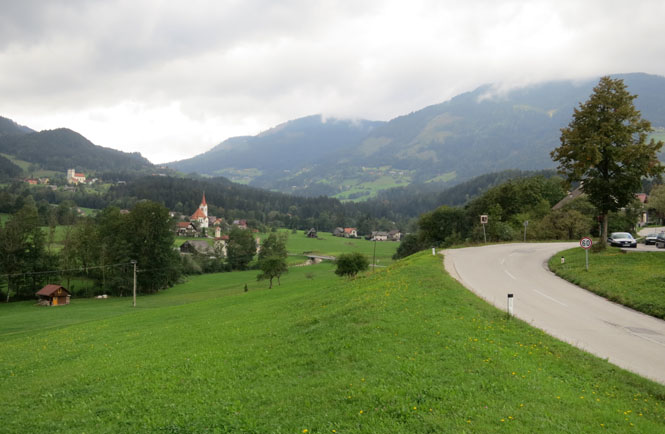 Sts. Hermagoras and Fortunatus Church in Gornji Grad. This is the largest church in Slovenia. This town is along the escape route taken by eighty-seven British prisoners-of-war from Stalg XVIII in Manibor and there's a plaque commemorating the event and the local partisans who helped them on their way.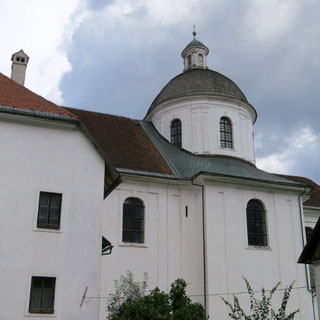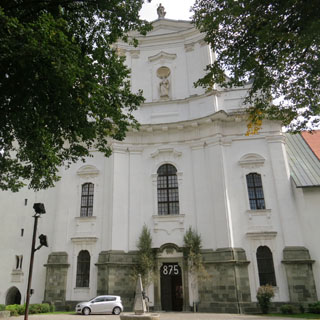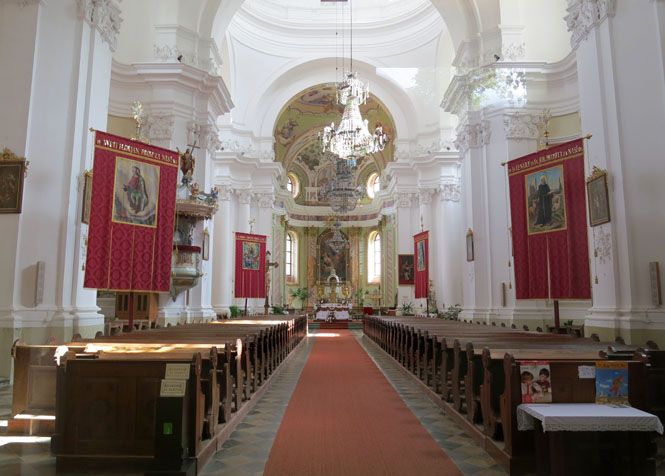 War memorials are in nearly every town.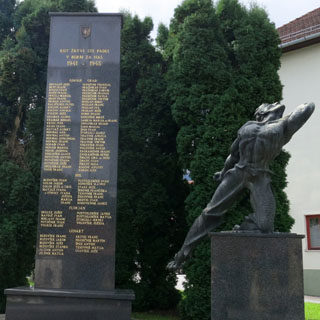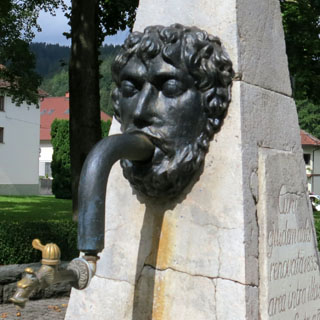 There are larger (and much busier) roads in Slovenia, but I'm not interested in them.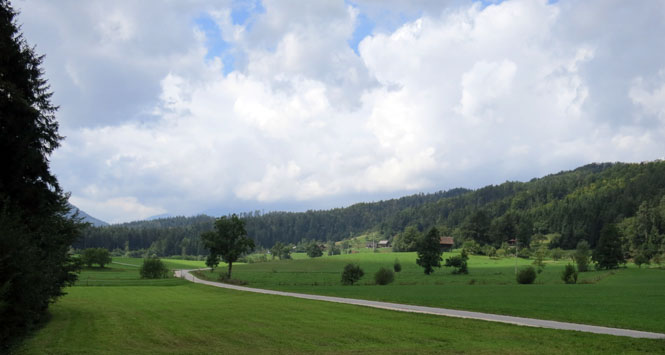 In all the countries south of Slovenia, it always seemed that Slovenian beer was the more common. I'd imagine that's where these hops are going.

It's hard to tell in the photograph, but there were miles of steel scrap piled along these tracks. I passed several steel mills, and I'm guessing that they work more with scrap steel than anything out of the ground.

It's an all-paper "can." Why isn't that more common?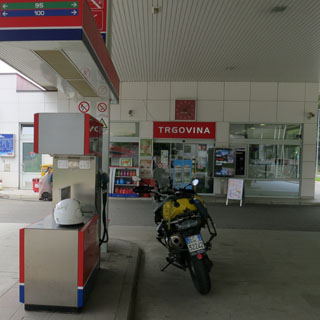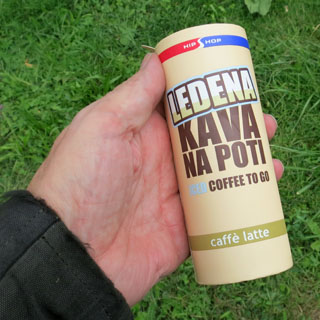 Croatia (Republika Hrvatska)
From here on, I won't be sailing across the borders. There are lines and passport checks and long looks from unsmiling officials. Also, it seems everybody wants to see the papers for the motorcycle. "This is a copy! I need the original!" Sorry, it's all I've got (while trying to not look like a smuggler or desperate person).
Marija Bistrica, Croatia. A Madonna statue, now called "our lady queen of Croatia" is in this town. It dates from hundreds of years and continues to be the destination of pilgrims in Croatia.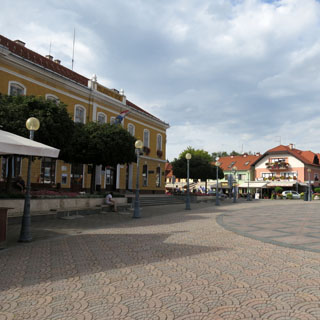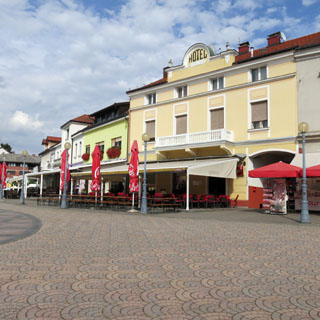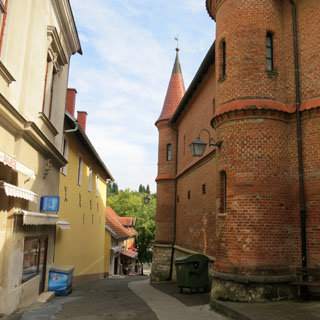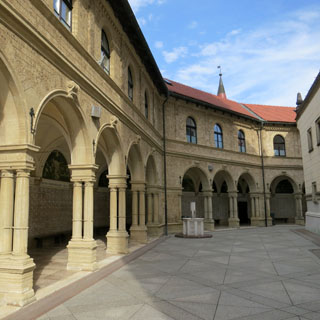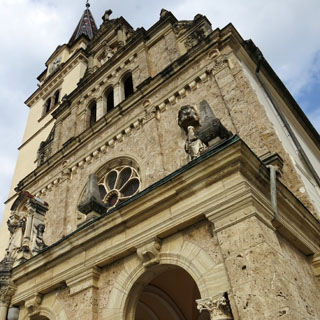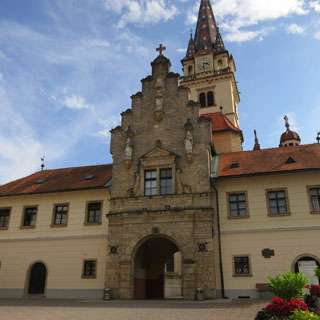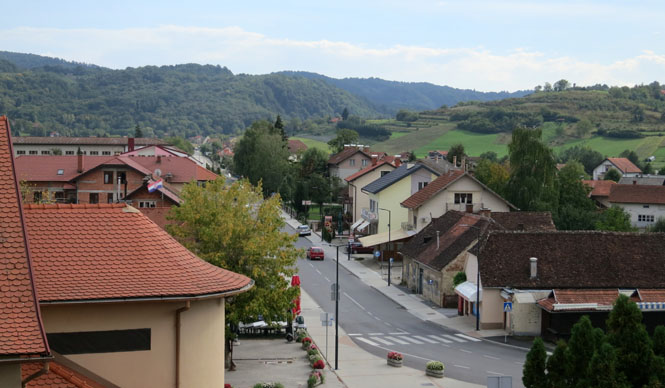 A peaceful statue of a child reading near the church, and another memorial to the people who suffered during the war (near the town square).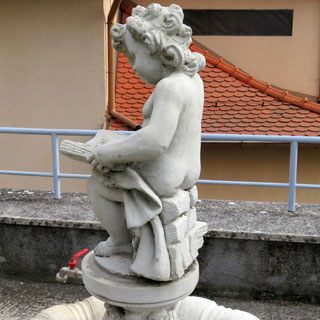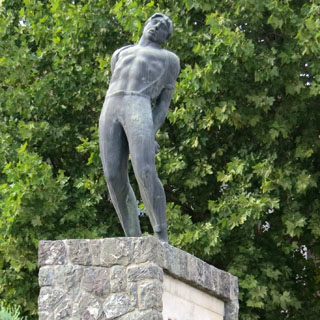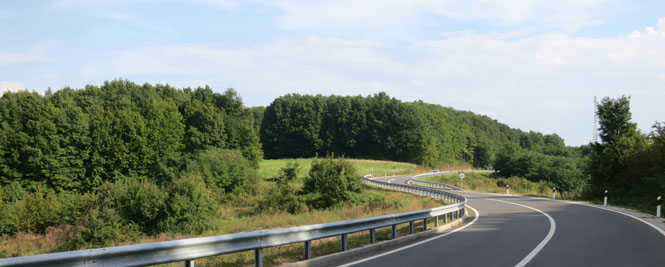 Near Planina Gornja on the Kasina River. That old water mill is missing parts, but it doesn't look like it'd take much to put it to running again.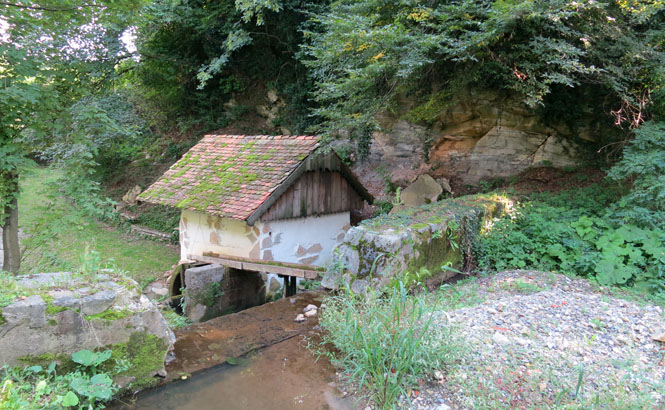 This promising road is not on the paper map, so I didn't explore it further. It was also heading 90 degrees from where I wanted to go, so that was another argument against continuing--you cannot explore every interesting road you come across.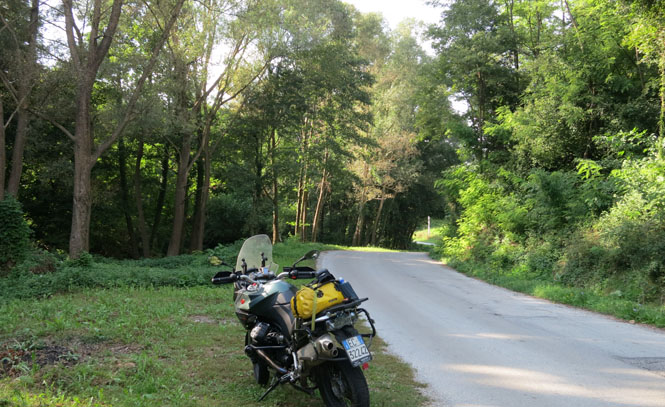 Lupoglav, Croatia.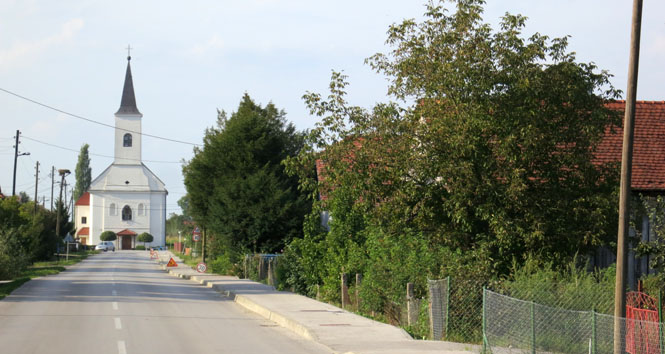 Kloštar Ivanić, Croatia.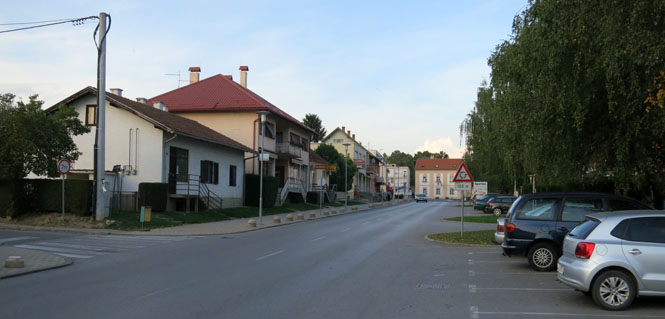 Kutina, Croatia. The sun is setting; let's see if I can find a place to stay.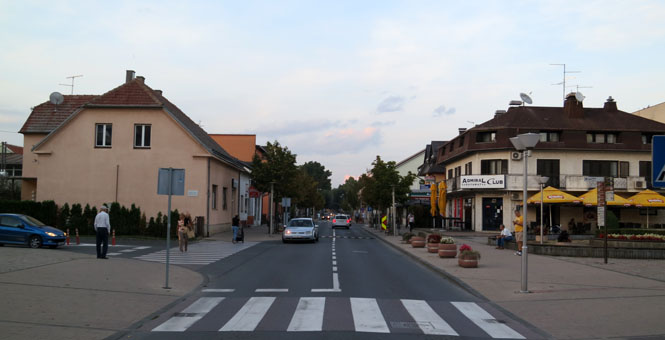 Yes; the Hotel Kutina will work fine. Why is this hotel even here? I'm not sure; it seems larger than necessary (perhaps the Olympics is the reason).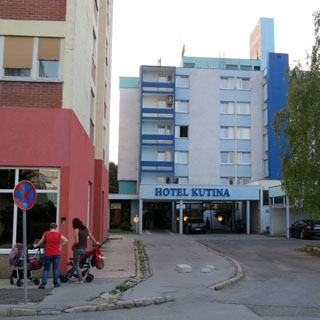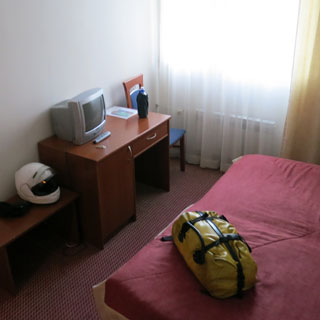 It's evident in many towns I've been through that the historic buildings of the town core have been destroyed. What replaced them is often pretty ugly. Sometimes the outer sections of a town still have the old buildings, which is a real advantage.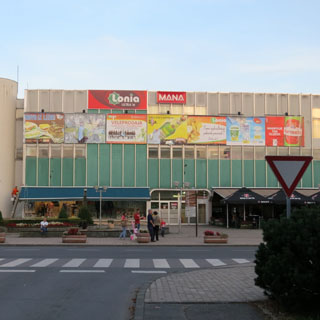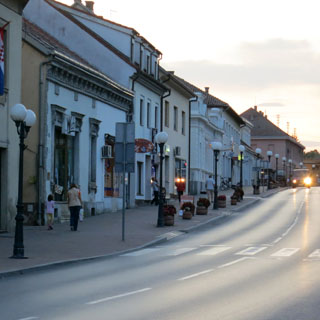 Punjeni ćevapi for dinner. I'm not sure what that is. Anyway, it was good.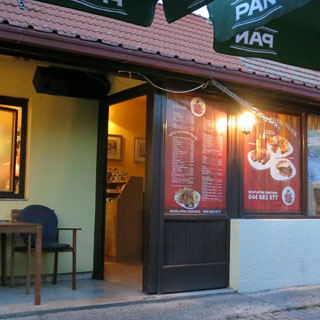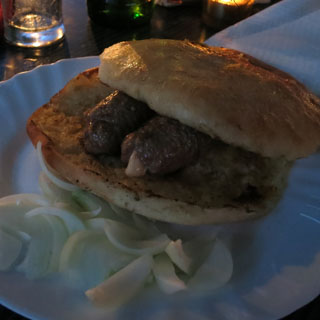 On the road. Such basic "factory" installations are fairly common. Many are clearly not doing anything, and haven't for years. This particular place seemed to be burning wood chips (for power?).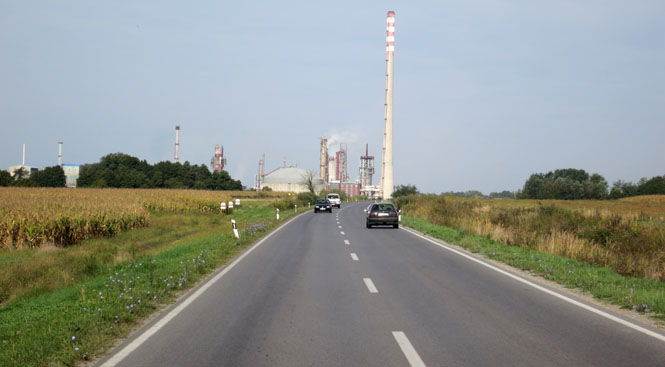 Banova Jaruga, Croatia.

I took this shot for a reason. This road (which parallels the main highway) might run for fifty miles looking just like this--houses and a few businesses lining every bit of the road. If you look between the houses you can see open farm fields, but at no point can you really see the fields from the road. It's just miles and miles and miles of an endless town with no side streets and no relief.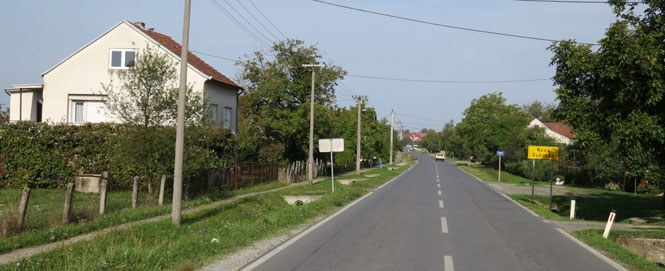 The monument at the site of the Jasenovac concentration camp (established and run by the NDH - Croatia government of the time) at the meeting of the Sava and Una rivers.
Some one hundred thousand people--mostly Serbs and then Jews--were killed here. It is noteworthy that this is a camp run by Croatia, not Germany. it was an extermination camp where the killing was on an individual basis not unlike a cattle slaughter-house.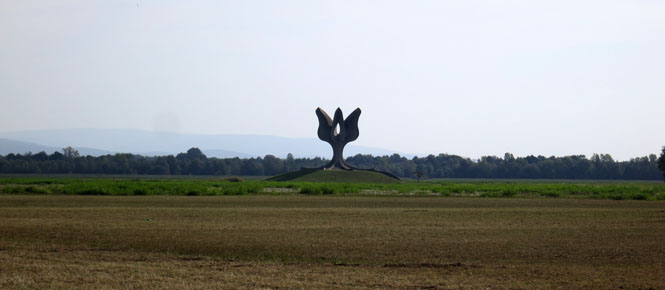 An aside (and it seems a good place to put this): During this trip, I would hear some people say things about other people that were unfathomable and irreconcilable. Croatia did this thing to Serbs (true), Serbs did this thing to Bosnians (also true), and so forth. Deciding who is righteous and who is evil only works if you can freeze history and cut a narrow slice through it, and only holds true if you believe the same thoughts run through every generation.

This area has such a mix of shifting borders, centuries of conflicts, different religions and invasions on a vast scale. Without knowing but a fraction of the issues and the history, I am especially impressed by the people that assembled the Dayton Peace Agreement of 1995. Well done Warren Christopher, Richard Holbrooke, General Wesley Clark and all the rest.
Bosnia and Herzegovina (Босна и Херцеговина)
I think this was my longest wait to get across the border.

Of course, this was all once Yugoslavia, so many of the war memorials are dedicated to the patriots of that country.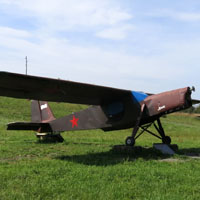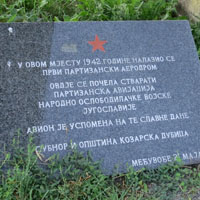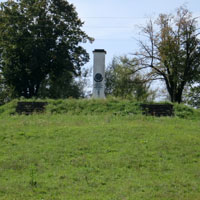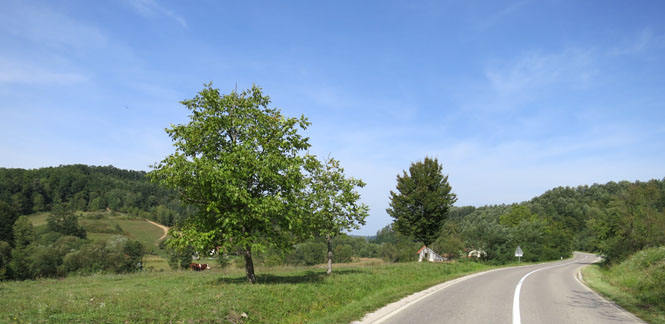 Following the Sava River.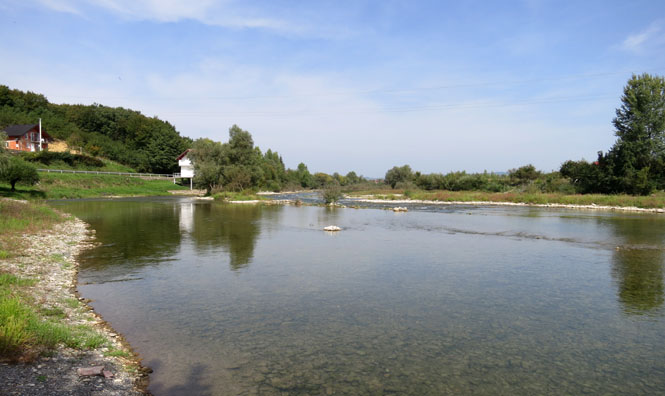 Sanski Most, Bosnia.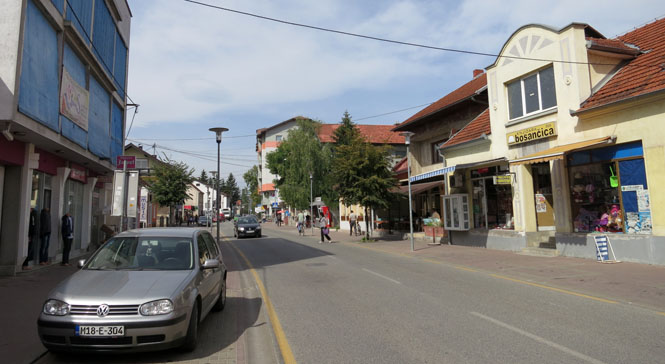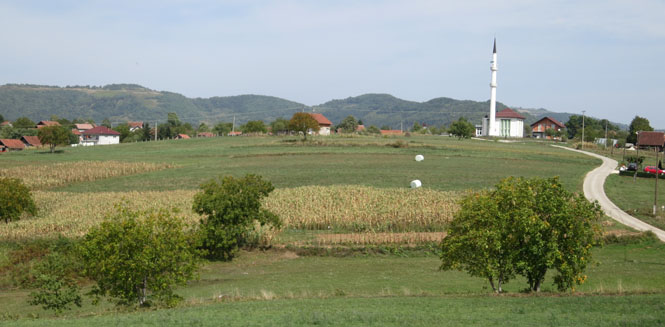 These are all Muslim markers and they all show deaths within a span of three years. Cemeteries just like this one are common.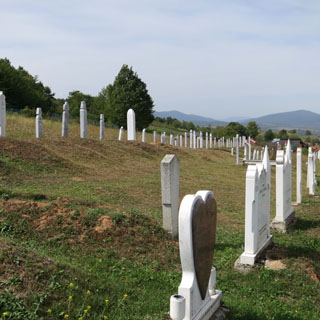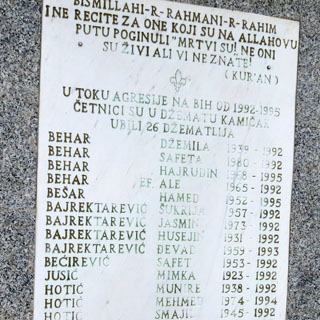 Velagići, Bosnia. I filled up with fuel and pushed the starter button. The engine fired, but then died. Repeat. Repeat. The engine would start just fine, but would not continue to run.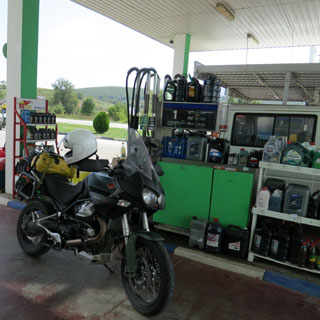 Fuel? Possibly. Nobody has good things to say about the quality of fuel in Bosnia. But, first I checked all the fuses (and Guzzi being Guzzi, you'll find the fuses in three different locations). They all looked fine.
By now, I had plenty of help. That's young Osman (above) next to the bike; he was a big help with translating. The internal fuel screen looked fine; the fuel was confirmed to be not diesel. Just in case, we drained the tank and replaced it with fresh (probably identical) fuel.
I called back to Italy, and after a fair amount of back-and-forth was connected to the road service out of Slovenia who would be contacting somebody near me in Bosnia.
Meanwhile, a couple of Osman's friends drove me to a hotel in Ključ that I never would have found on my own. I left the bike pushed up next to the service station.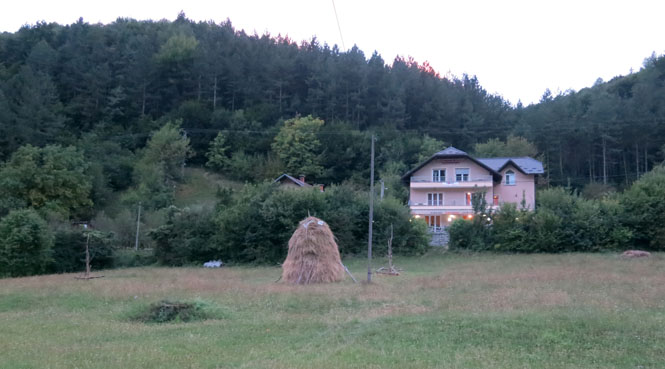 Konak Crvenu jabuku. Peaceful is the right word for this hotel. Those hay stacks? These were quite common throughout the trip. You'd see them even in highway medians where somebody had cut and stacked the hay. It's all manual work.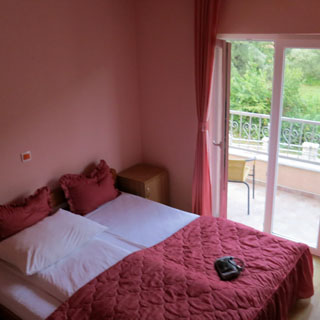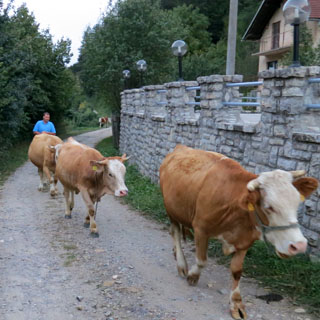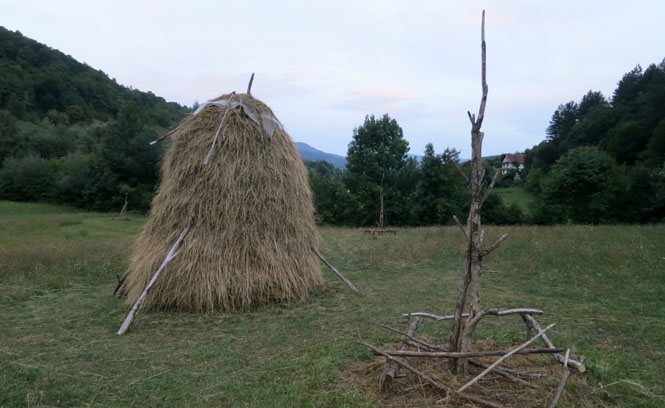 The Granja Dobr flows near the hotel. That wheel is a low-energy way to pump water from the river. At the top of the hill, you'll see the dates 1941 - 1945 with the red star of Yugoslavia.
In the evening a few more calls were made to schedule the trailer that would be coming down from Banja Luka the next morning.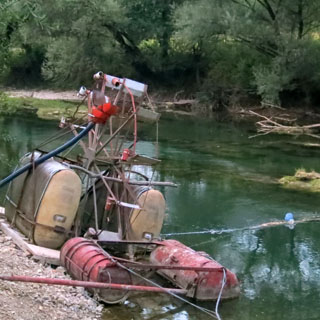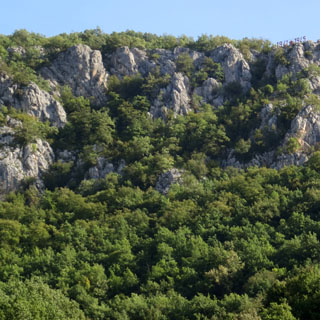 The next morning I was picked up at the hotel, and we drove back to Velagići to load the bike. Unexpectedly (fortune shines), there is a Guzzi shop in Tuzla, so that's where we're going. North to Banja Luka, and then east to Tuzla across some really beautiful mountains--pity I wasn't riding.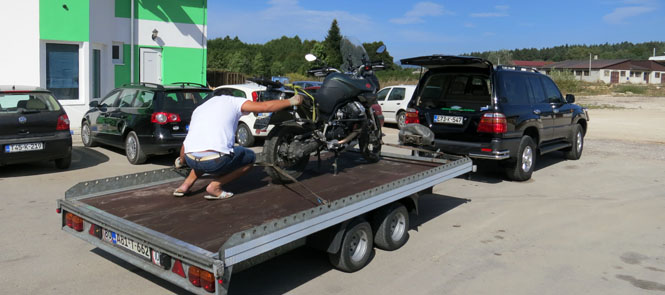 Driving...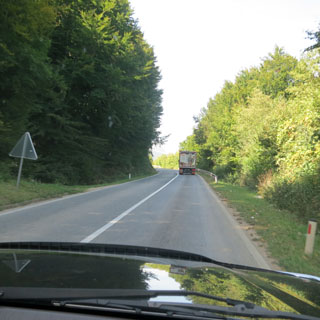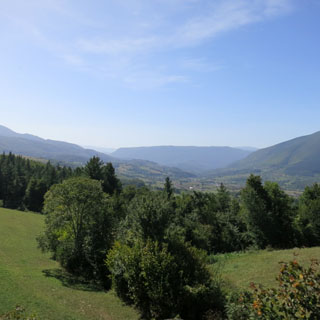 More driving...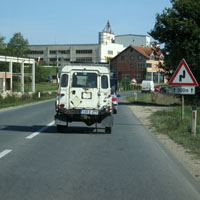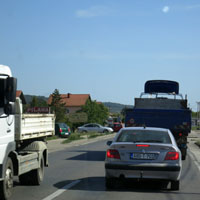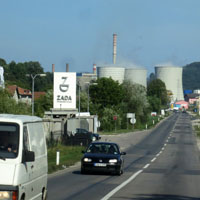 More driving...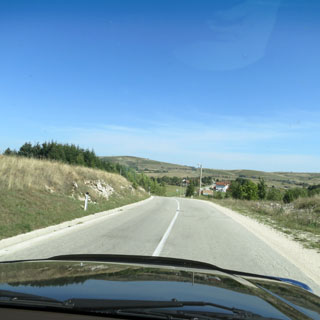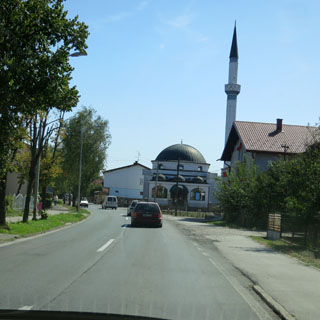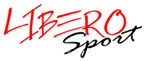 Late afternoon, we arrived at Libero Sport in Tuzla. Almir (the owner) said that Mirel (his mechanic) was out today working a maintenance contract for the post office, but might be in for a short time on Friday, and Saturday. Clearly, I wasn't going to be going anywhere in the next couple of days, so I asked Almir for the name of a good hotel in the center of town where I'd check in for two nights (at least).

Tuzla, Bosnia. That orange building on the left (below) is my hotel. That distinctive column turns out to be the stairwell. I used it just once, but found it more ornamental than useful (and very dark at the bottom).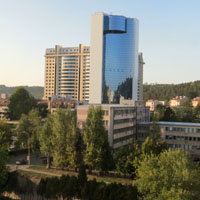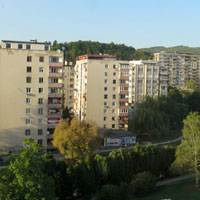 Tuzla is a mix of old and new and quite a few of the grey, bare concrete boxes that are prevalent in the larger cities.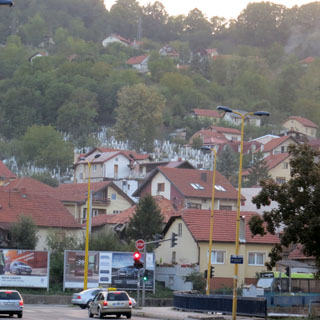 You had to look for signs of what Tuzla might once have looked like.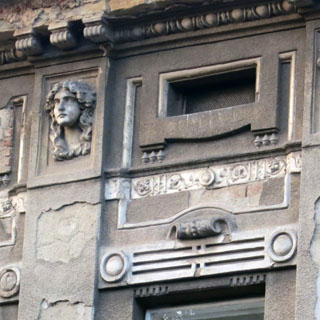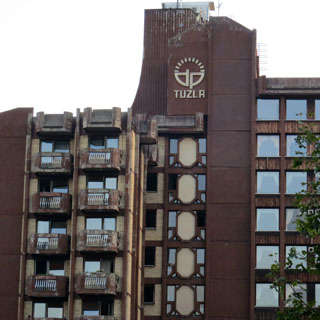 The old town still exists. It's been damaged and re-built over the years, but it's still here.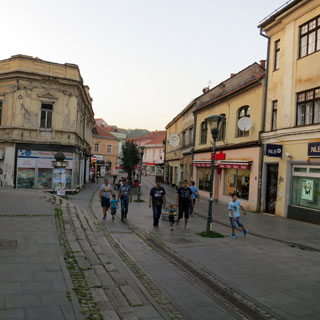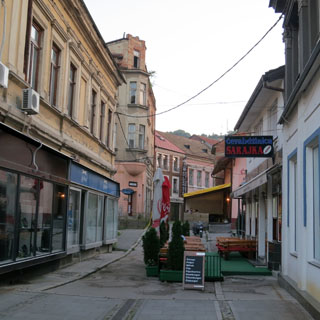 Take notice of that marker inset in the green wall (below). That's the memorial for what has become known as the Tuzla Massacre. On the evening of May 25, 1995 (the birthday of Marshal Tito) the Army of Republika Srpska (a self-proclaimed Serbian state within Bosnia and Herzegovina) shelled the old town. Seventy-one people were killed and two hundred and forty were wounded. All were civilians and many were under twenty years old (celebrating the last day of school).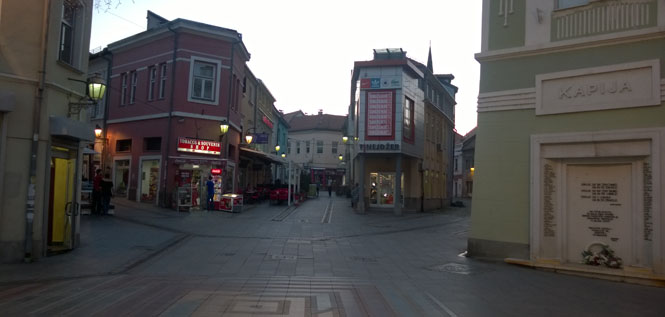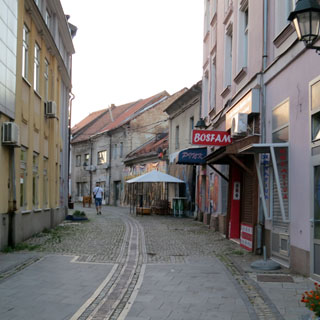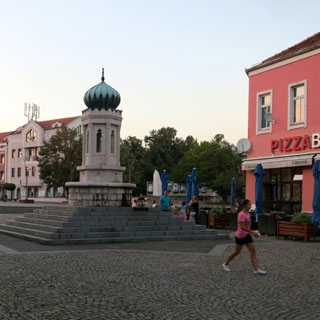 A Mosque, and an Orthodox Catholic church and others, all within sight of each other and a wide range of people sharing the same town square. You'd like to take comfort that it can all work well (and it would seem now that it does), but history says these things are not guaranteed.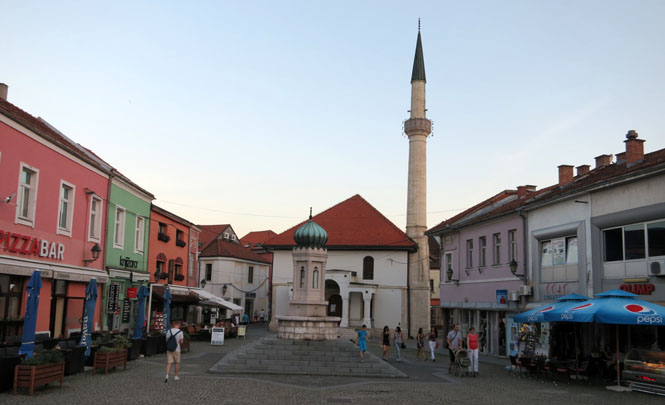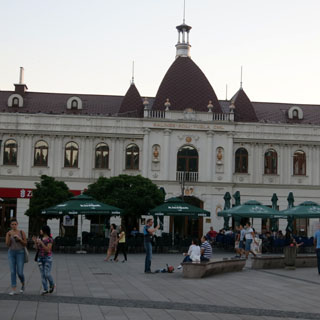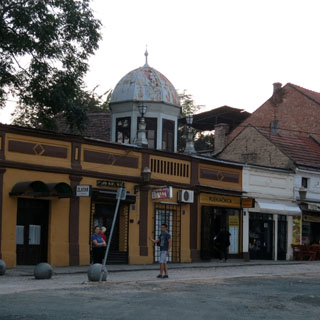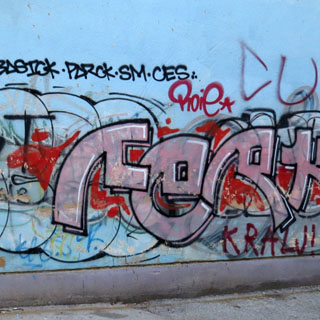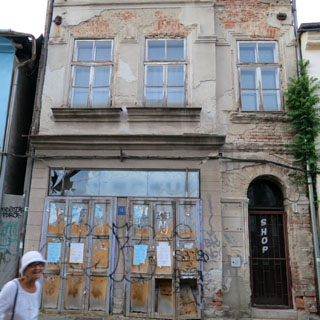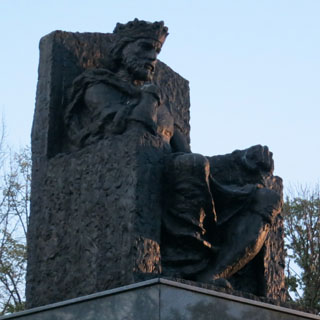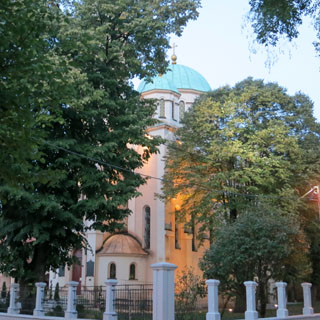 This is an city of unexpected things. Why is this very old barn (below, left) here?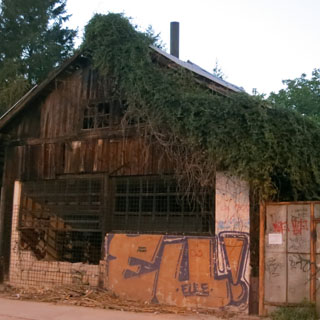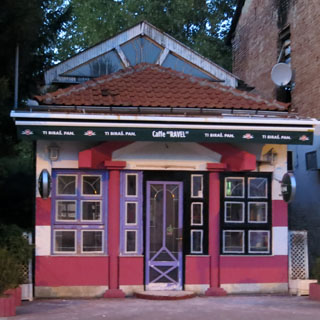 Caprese salad is not just found in Italy (and this seems to be made with proper mozzarella). On the right? It's pasta, but then there are all sorts of vegetables added--I'm not sure really what it was, but it was good.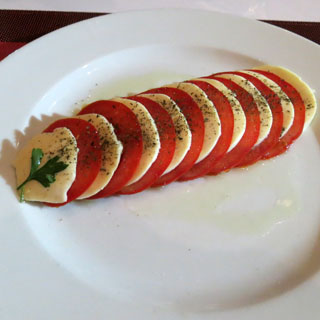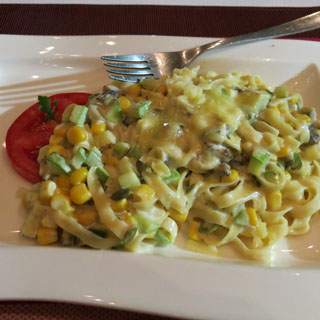 Lots of food vendors on Friday. Lots of vendors for all sorts of things: particularly honey, cheese and smoked meats.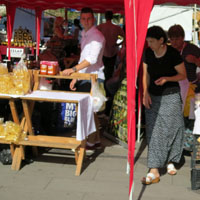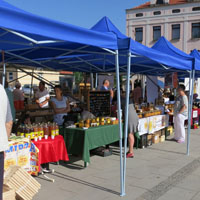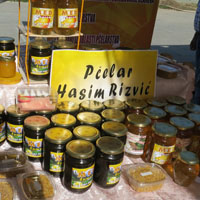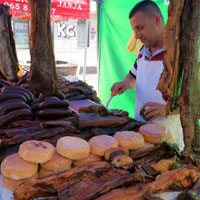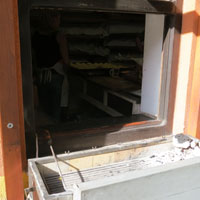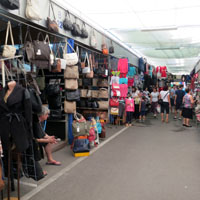 Want fresh fruit and vegetables? This is where you need to be. I don't know that the prices marked were firm as there seemed to be quite a bit of spirited talking between customers and sellers.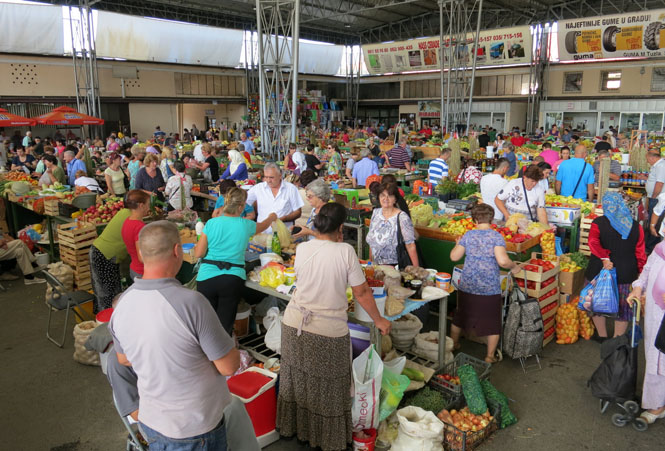 Many doors had a small wreath (such as this one) hanging from the lintel. What's it made from? I've no idea. This door happens to be the entrance to the Orthodox church. That gleaming building on the right is the Porsche dealership.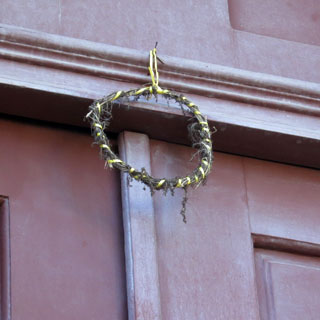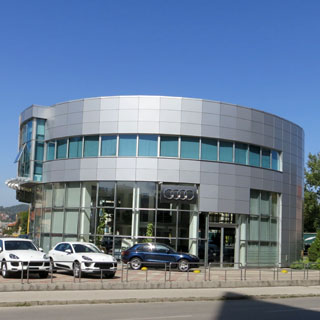 The Slana Banja Memorial. The victims of the Tuzla Massacre are buried here. Unconventionally, they have been buried side-by-side regardless of religion.
Despite fierce opposition from religious conservatives and radical nationalists the massacred youth, Muslim and non-Muslim alike, were buried together in a single location in the Slana Banja memorial complex. The killed youngsters are united in symbolism. All graves are similar with only one identity symbol engraved under each photo and name. Parents were given the choice of the symbol, whether religious or secular. Many parents chose non-religious symbols, such as flowers or books. The burial site is overlooking the city centre where the youngsters found their tragic death.
--http://www.transconflict.com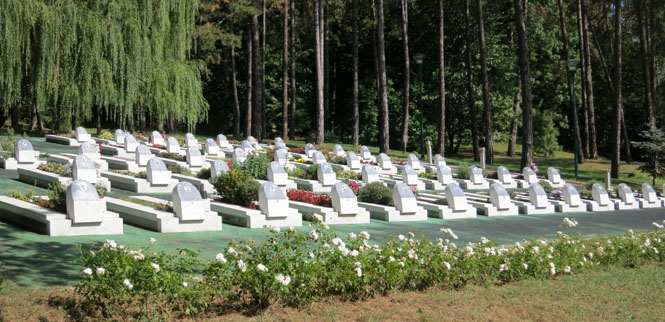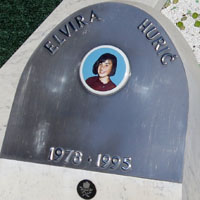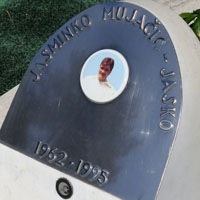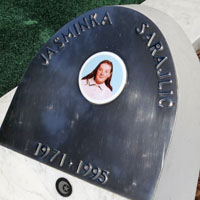 Nearby are memorials and monuments from other eras and other wars.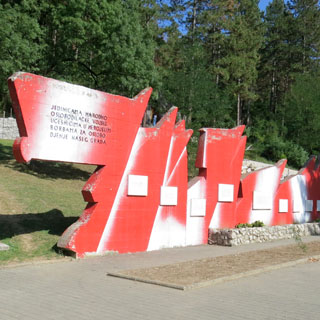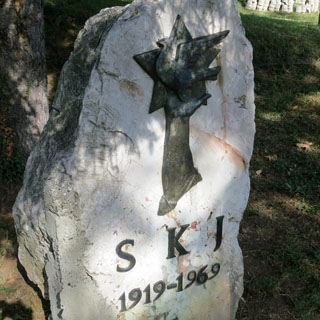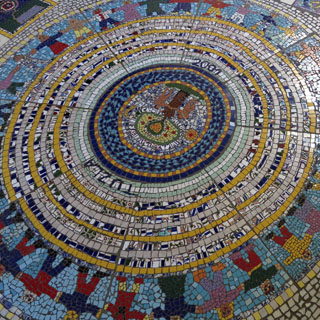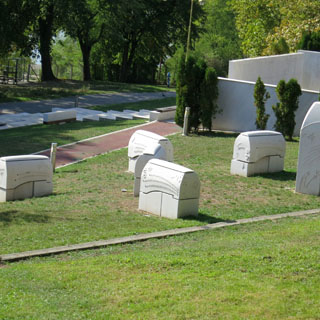 Friday afternoon I got a note from Almir (at Libero Sport) asking me to drop by the shop. It seems Mirel had made time to come in and plug my bike into the computer to see if they couldn't get me back on the road. He had made good progress.
The engine rpm sensor wasn't giving information to the ECU, so that was causing the engine to shut-down immediately after starting. Mirel opened up the connector, cleaned things, bent a bit of metal to make a better connection, and put things back together. Success.
However, there was another error code that indicated something was still amiss with the left side HT coil during idle (even swapping the coils didn't change the error message). This wouldn't be a show-stopper, but might be annoying. Anyway, I made plans to leave Saturday morning after their shop opened up at 10:00.
Meanwhile, Almir took me nearby to his other business, Libero Cafe, where I had the best espresso in Bosnia and a cake (made right there) that would tide me over for the rest of the day.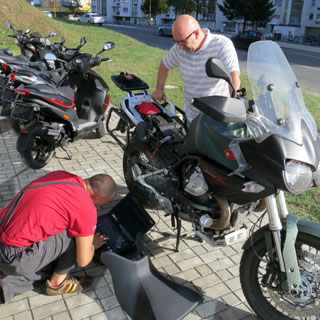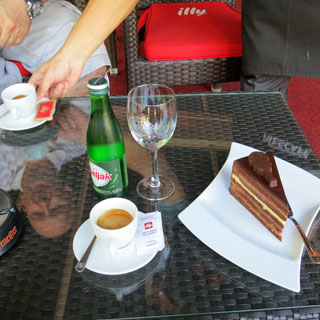 The next day, Mirel was buttoning things up. He had thought about the HT problem overnight and realized it could only be yet another poor connection. He took care of that, and the error code was gone for good (and the bike was flawless for the rest of the trip).
All I needed now was to find a station that sold good gas for my nearly dry tank (that wasn't the cause of the problem, but let's at least start with clean fuel) and I could be on my way.
Almir wouldn't take my money, and even though the bike was under warranty, he said it wasn't worth the effort to get reimbursed. So, if any Guzzi (or Aprilia) rider is ever in Tuzla, be sure to look up Libero Sport; they're good folks (Guzzi people are the best).
I'm back on the back roads of Bosnia.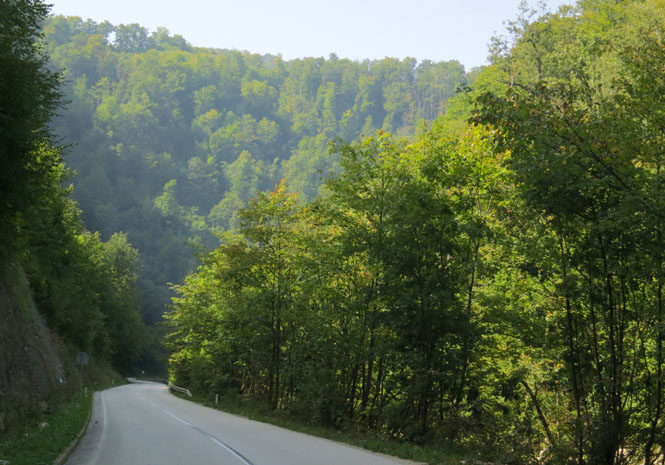 Drinjača River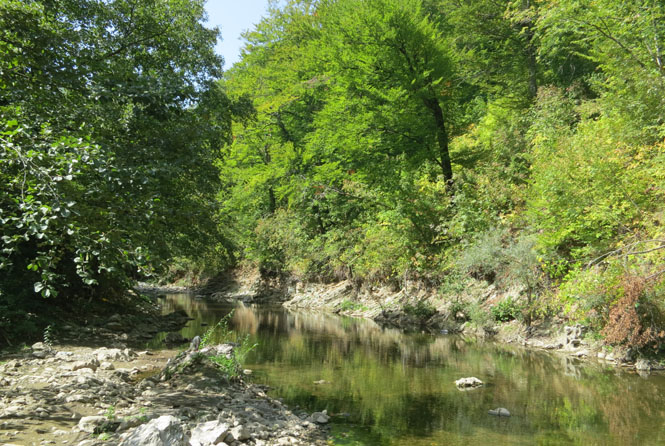 I looked for a typical farm house, and this is it.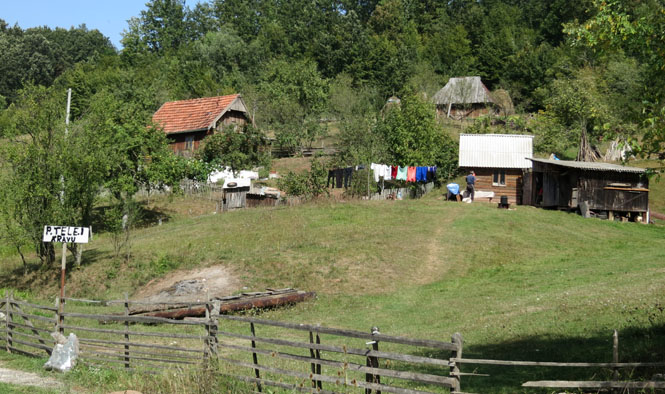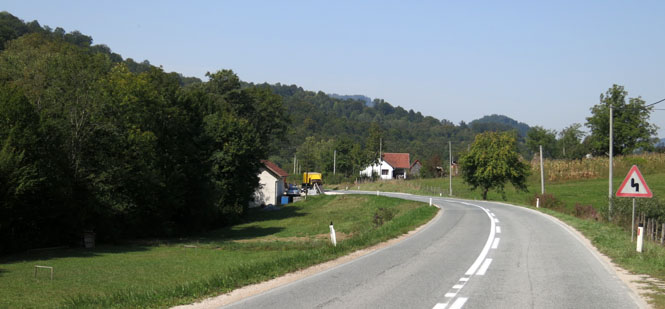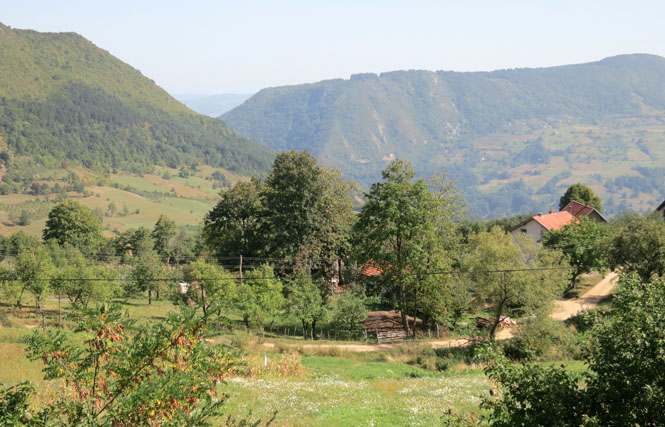 At the top of one of the mountain passes was this excellent little restaurant.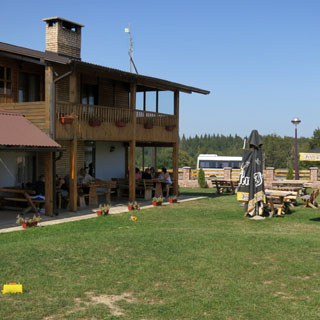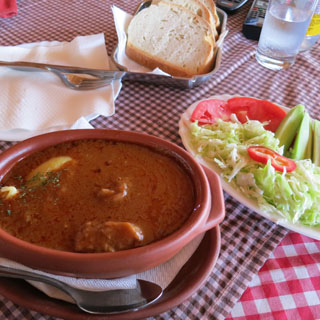 Spending two nights in Tuzla meant my schedule was off, so I needed to sort things out and this was a good place to do it.
Not having a planned route each day doesn't mean I didn't do any planning. I had earlier put together a list of all the ferries that crossed the Adriatic over the three days that I would most likely be crossing. The list is ranked from north to south.
My nominal plan had been to cross from Patras, Monday on the 5:00pm ferry (the yellow highlight).

Patras was still possible, but that would mean pushing along on the major highways--what would be the point? Some of the other ferries had truly awful departure times (12:30am!) so it fell out that leaving from Vlora made the most sense.
There was a ferry leaving both Monday and Tuesday at 2:00pm. Perhaps arriving in Vlora late Monday and then taking the Tuesday ferry would work just fine.
Let's continue...
Riding on some very back roads, now. There is no traffic.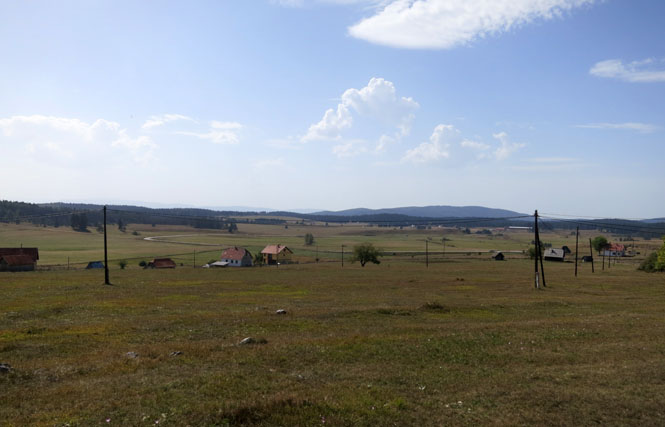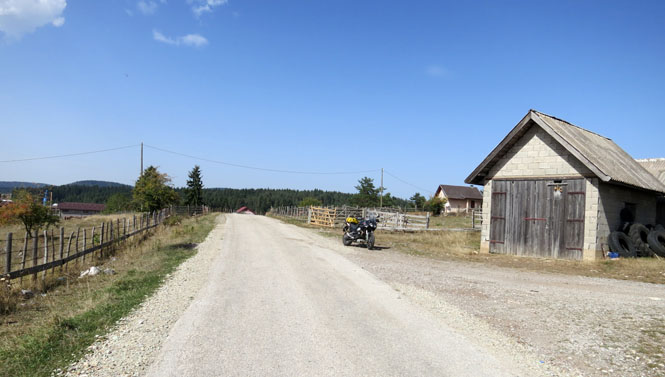 My only concern was that the road might not stay paved even if some of that pavement was very poor at times.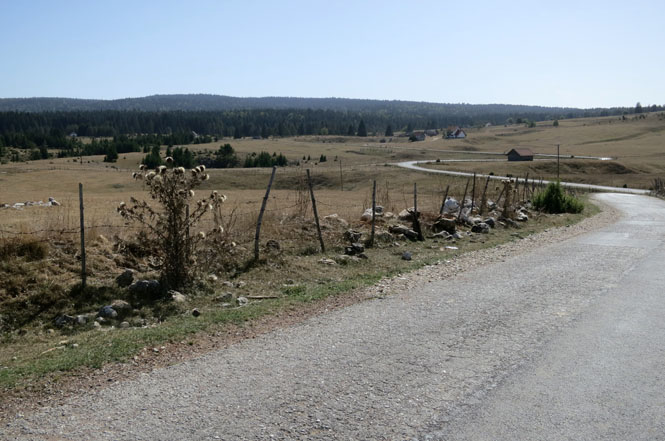 It turned out that my little paved road stayed that way until I reached the next numbered highway (itself just a two-lane bit of blacktop).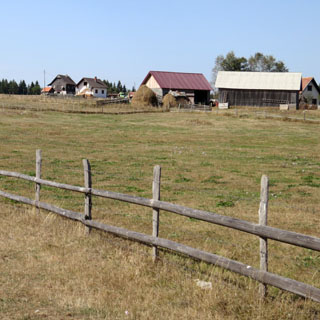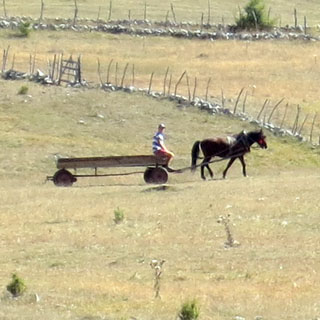 Živaljević, Bosnia.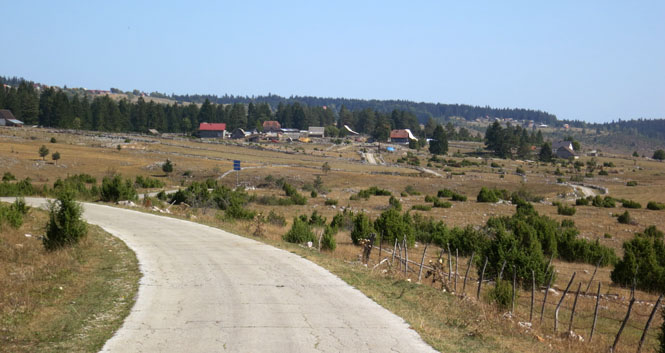 The area I'm riding through is virtually empty and is as quiet and peaceful a place as you could imagine. But, that wouldn't have been the case just twenty years ago.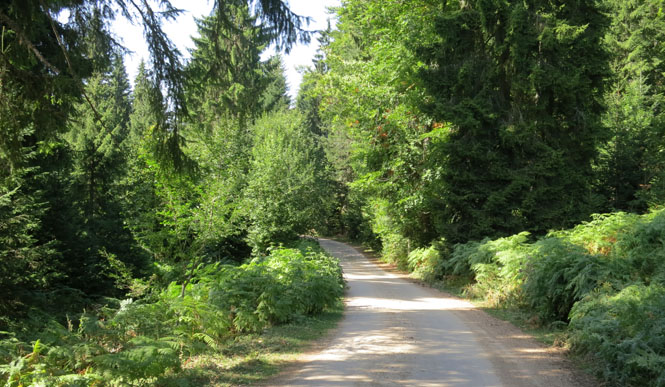 I'm only about fifteen miles from Srebrenica; it's over that hill in the photograph (below), but there aren't any direct roads that would take me there. In July, 1995 Muslim Bosnians were collected and some 8,000 men and boys were then killed by the Army of Republika Srpska. A memorial was opened in Srebrenica in 2003 by President Clinton (who presided over the Dayton Peace Agreement).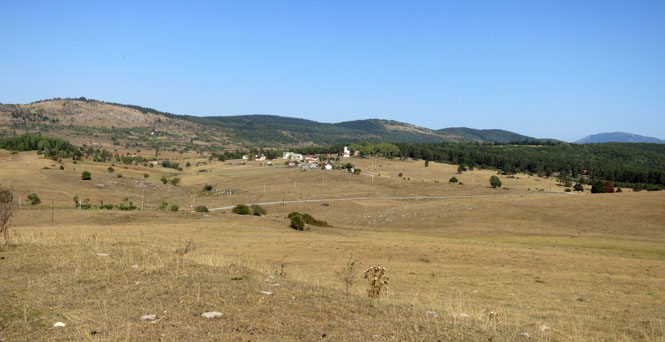 Rogatica, Bosnia.

I'm finding that roads that go where I want to be are not to be found. It's clear that the political boundaries of the last century have had a profound influence on road building. You might think by looking at the topography of the area that you could guess where the roads might be, but you'd probably be wrong.
By the way, that's Schweppes Bitter Lemon in that glass. It's not all that common in the U.S., but you'll find it everywhere in Europe.

Goražde (Горажде), Bosnia. I'd been heading for a town south of here for an eventual crossing into Montenegro, but decided to stop here, instead. The small road east to the border looks interesting on the map, but I doubt there will be any hotels along the way. It's best to stop here for the night and take that road tomorrow morning.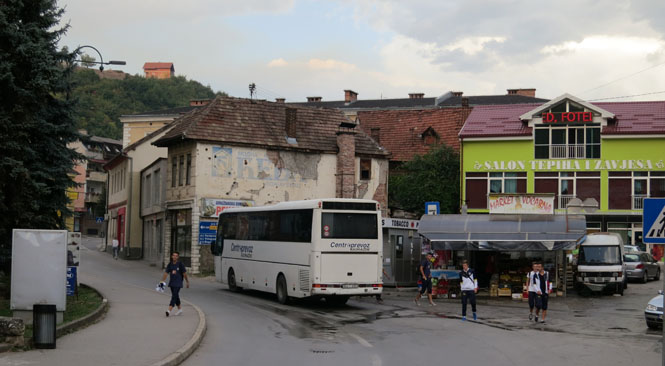 I often heard calls to prayer (particularly in the evenings), but was never certain if I was hearing a broadcast recording, or if somebody was actually standing on these minarets and sending out the call.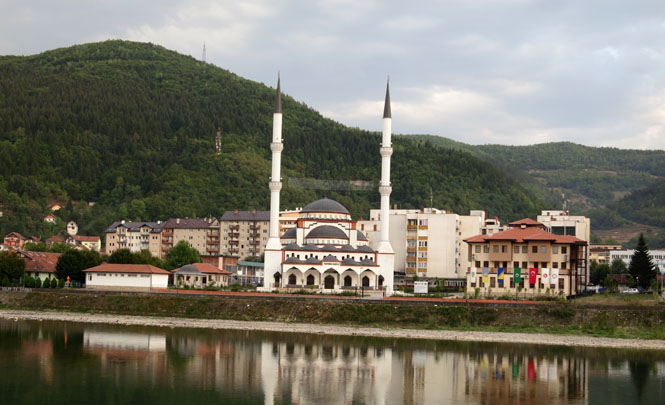 Patched bullet holes in many buildings isn't normal in most areas. It is, here.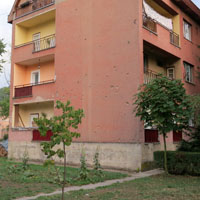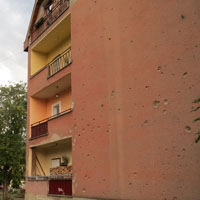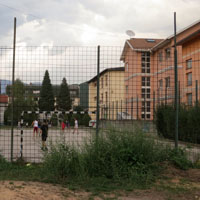 Perspective is needed.

Goražde was occupied by German troops during world war 2, then liberated by the NLA (under Marshall Tito), then again by the Germans, then liberated again. And, then yet again. Aerial bombing, tanks and artillery--all of it. Half of the city was destroyed.

In 1992 Goražde was repeatedly under siege by the Army of Republika Srpska (VRS). In 1994 it was attacked by the VRS, which brought a NATO response of air strikes. In 1995 it was again attacked by the VRS but repulsed by British troops (preventing a duplication of what happened at Srebrenica).

I may talk of ugly gray concrete buildings, but I think I'm also being unfair.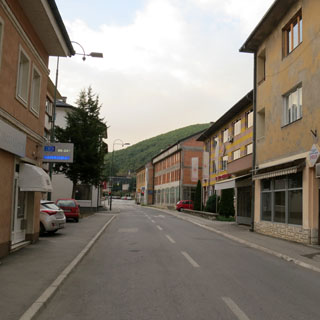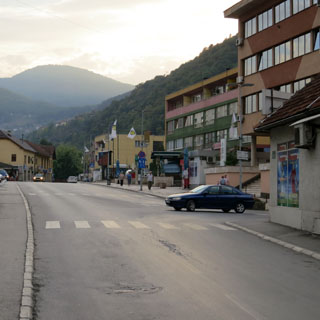 I'm so used to routinely using engineering formulae using Greek symbols, that I've found I can read these words without much trouble. Sometimes both alphabets are used (as is the case, here), but other times, you'll need to work harder to know where you are.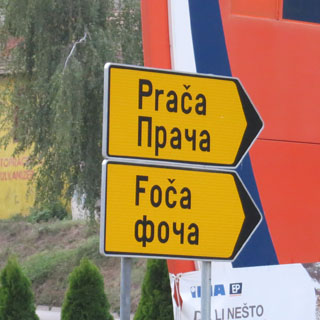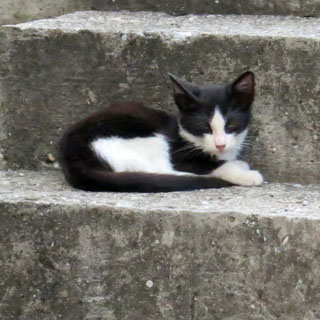 The Drina River. If you remember the news accounts of the Bosnian War, you'll have also heard of this river. If you look closely, you'll see a fisherman standing in a shallow part of the water.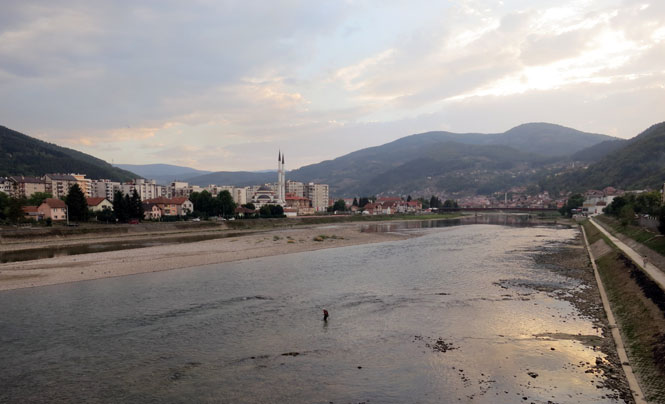 A little bit of old, and more dismal concrete blocks.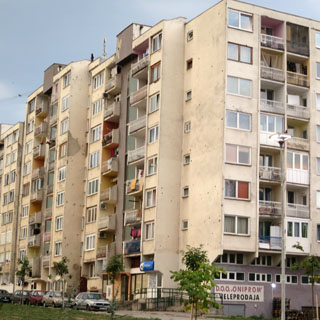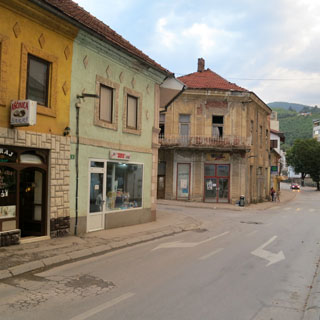 On the road the next morning; the road that looked so interesting on the map. It was!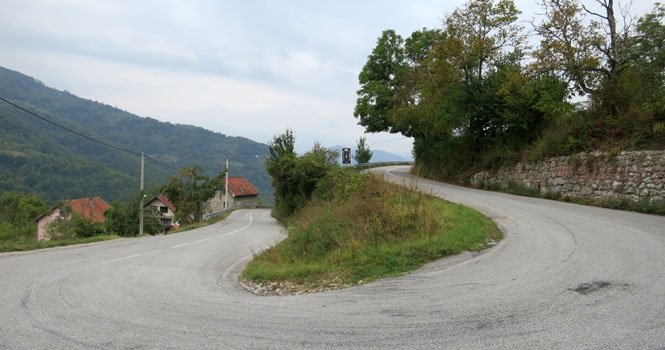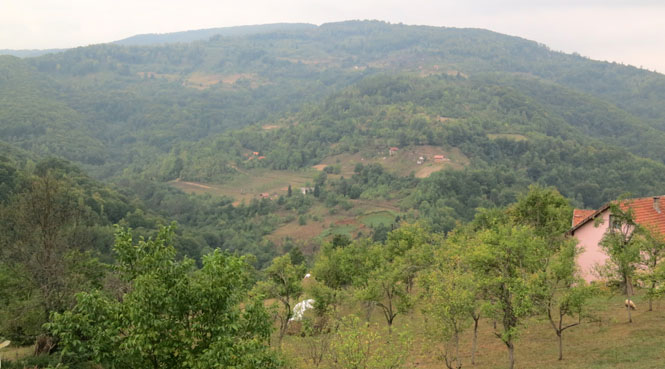 Montenegro (Црна Гора)
This worked out well. I dislike having to wait in long lines at a border crossing. I still had to wait a bit, but it wasn't all that bad. Incidentally, while I knew that taking this photograph might be problematic, the official never asked me to delete the shot when he told me to put my camera away.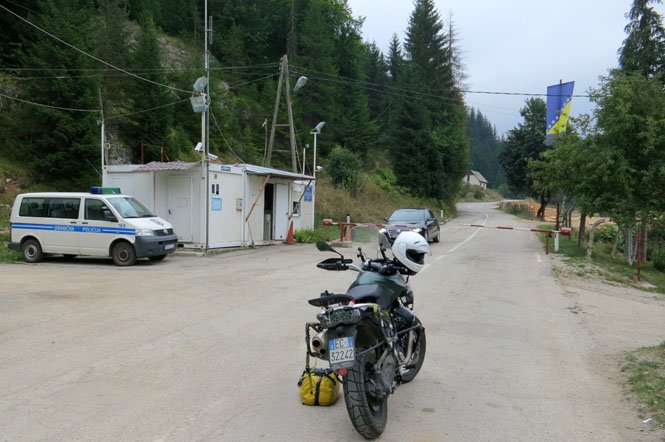 In the above photograph, you'll notice that my yellow bag is on the ground. The papers for the motorcycle are kept under the seat, so every time I was asked to "show me your papers" I had to unstrap the duffle-bag so I could lift the seat.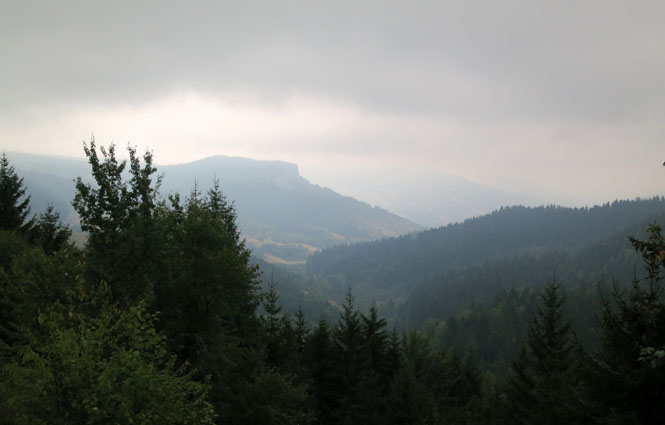 Rain, and more rain. At times it was very heavy. This shot is taken from under the protecting awning at the Montenegro border checkpoint (just down the road from the Bosnia border checkpoint)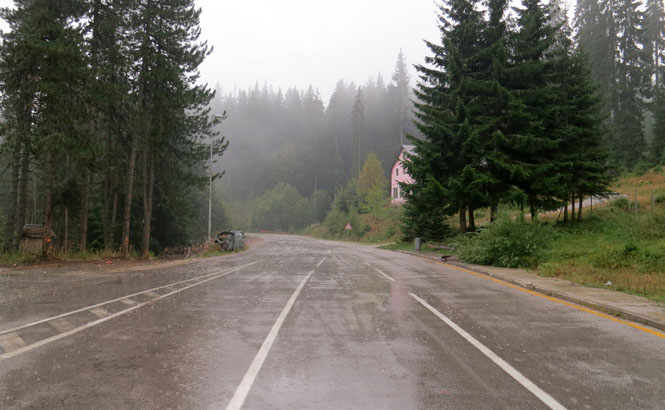 But, the clouds would lift and it would be perfect riding weather, again.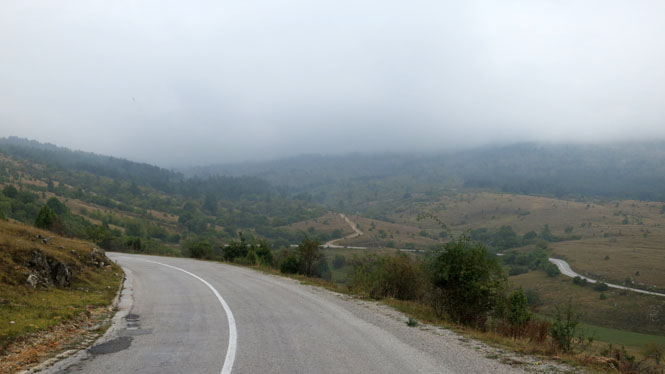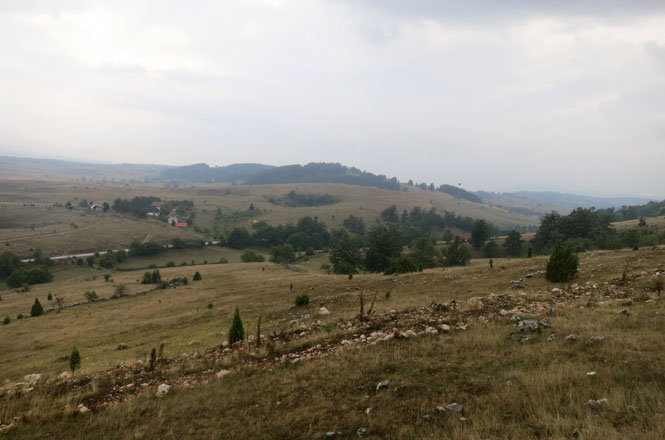 I'll soon be on that stretch of road. I'm heading down deep into the valley so that I can cross the river.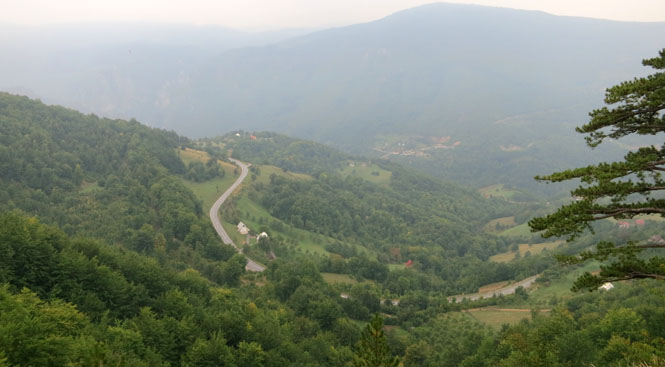 Over the Tara River on a nice curving multiple-arched bridge.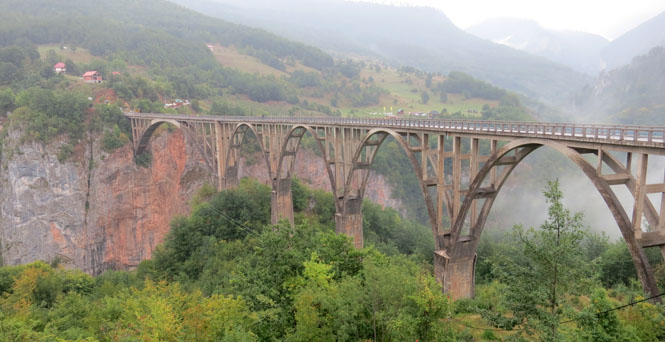 And, the rains come down even harder (you'll notice the water on my helmet). Let's have another Schweppes Bitter Lemon and a cheese with sliced meat sandwich of some sort while I look at the Montenegro map some more.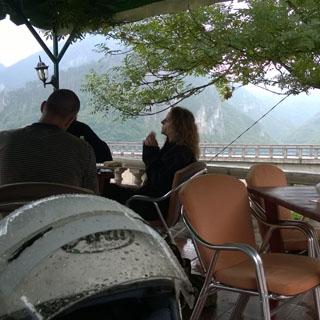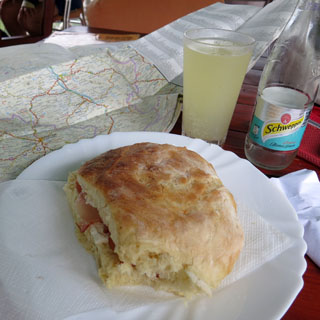 Following the Tara River on a long and winding road that must be one of the more scenic roads in the world. The size of the canyon is immense. Some of the signs (back at the outdoor cafe, above) made comparisons to Arizona's Grand Canyon in size. That's a stretch, but it's still quite amazing.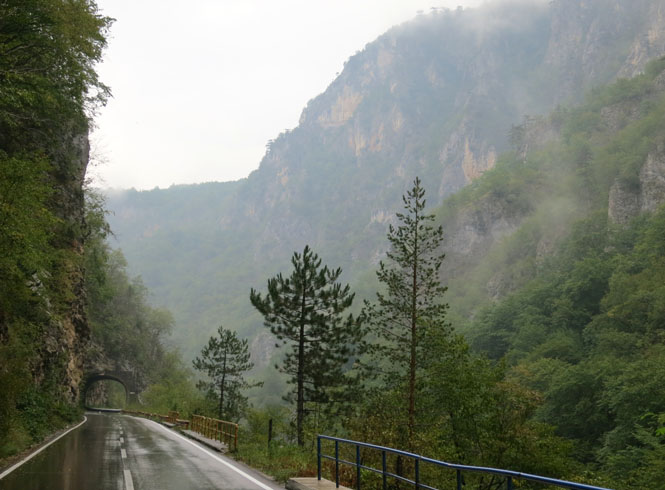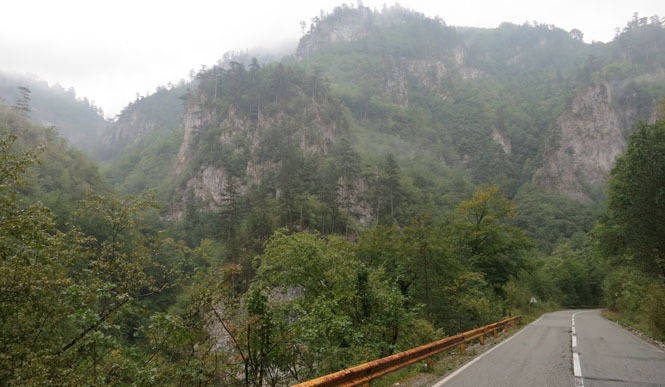 Where are the cars? I don't know. There were quite a few people back at the bridge, but most of them came in tour busses.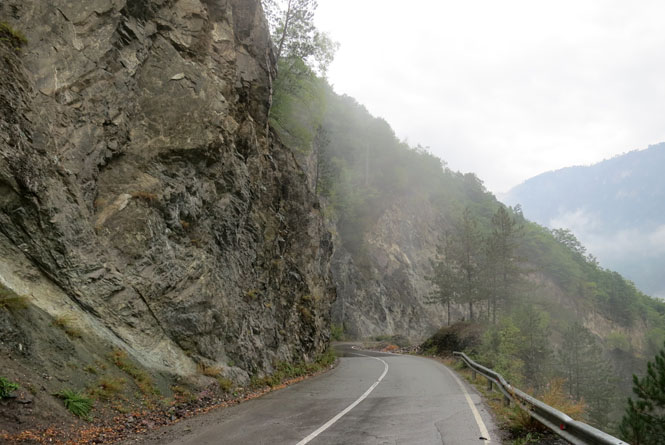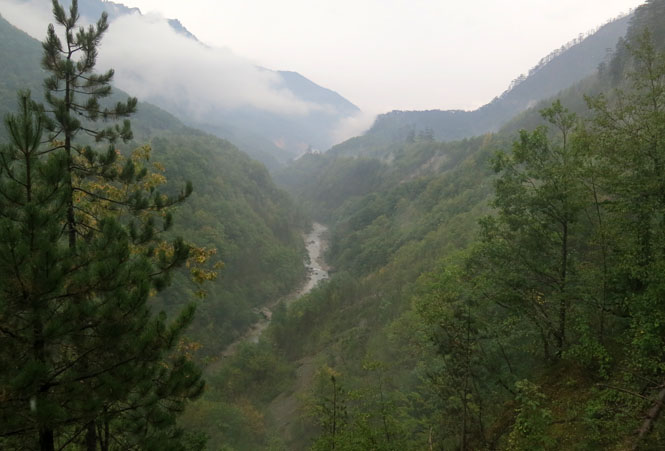 That's a rail bridge. I won't be on it.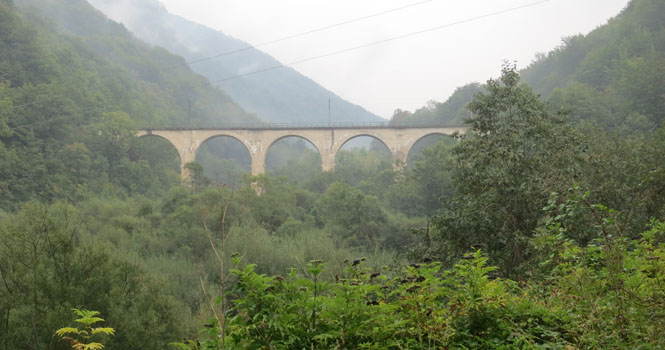 Any sign that I cannot read, I just assume says "be careful of stuff up ahead." I'm back on the thin little road that I'm not sure will be paved all the way. It was.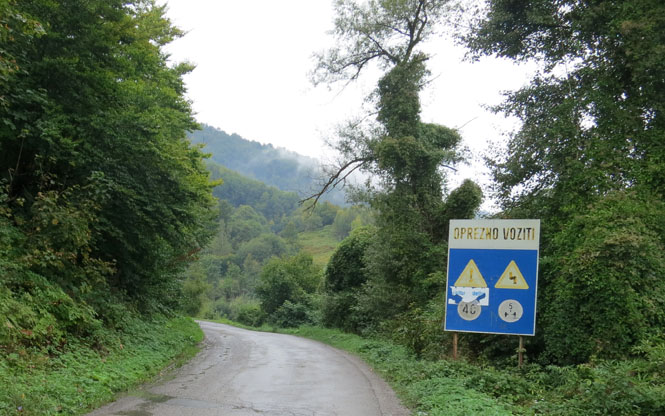 Mateševo, Montenegro. Trucks around here are rugged to the extreme. They're not fast, but I think they're unstoppable.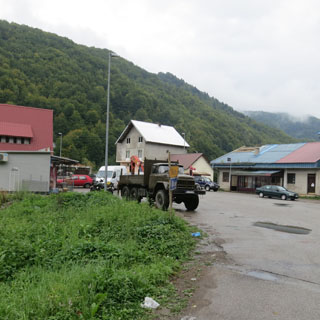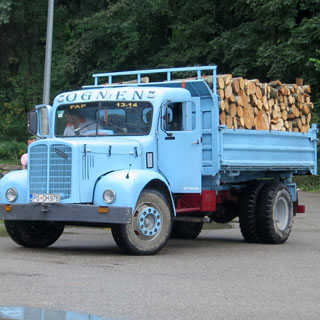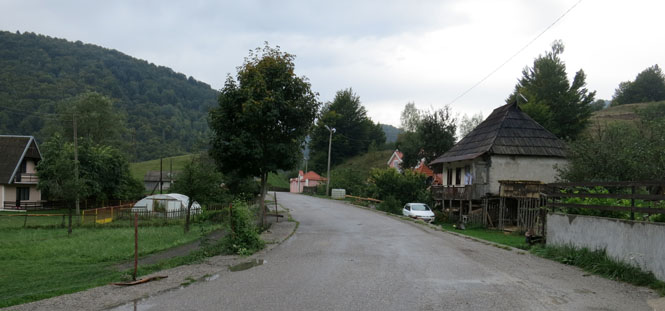 Lucky for me, while I was often riding on wet roads, I wasn't often riding in anything more than misty rain.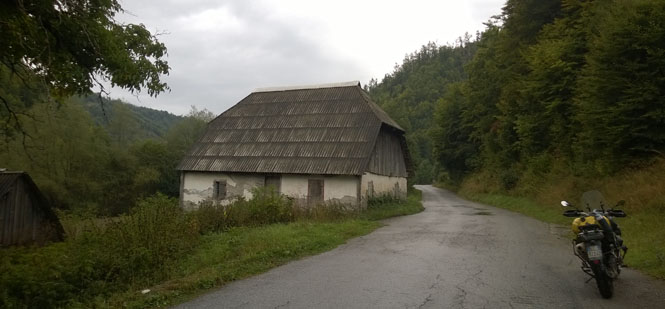 I turned off the engine and got off the bike, waiting for the shepherd to notice me and make some clearance for me. When he did, I'd putt my way through the sheep trying not to start a stampede.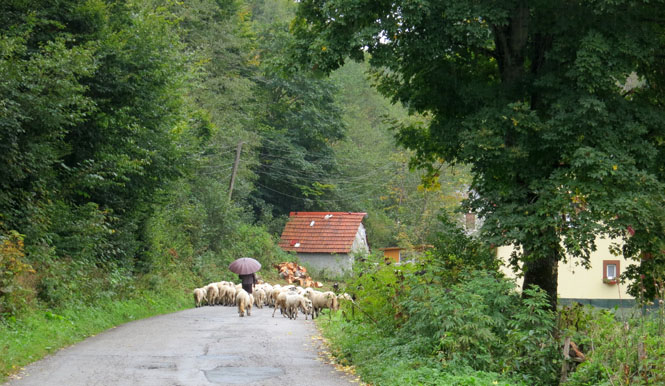 Another classic hay stack.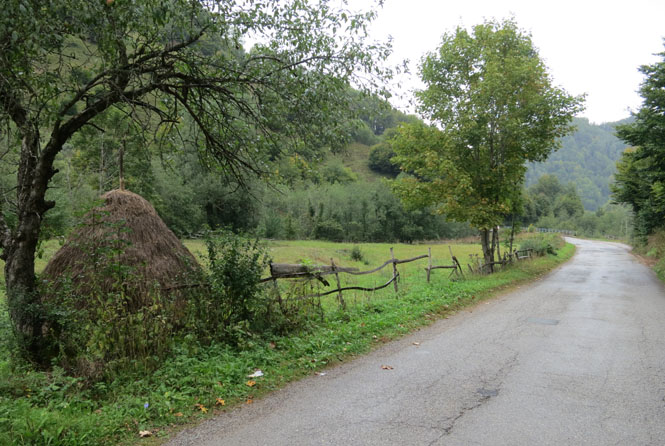 This was a road to wear you out. Miles and miles of the tightest, twistiest curves I've ever seen. And, if you go off the road here, you'll wait a very long time for the next car.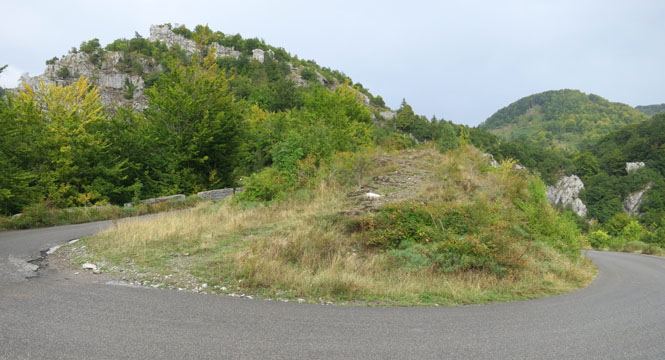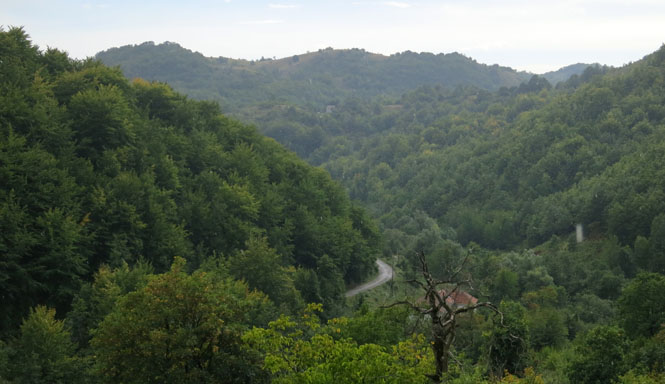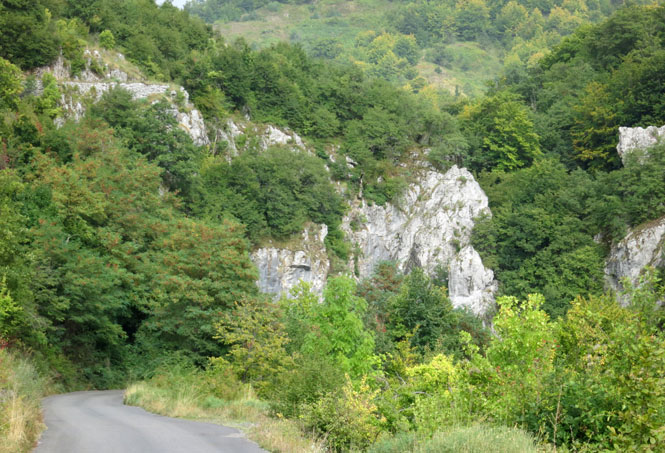 The road I'm on (looking out over the valley) is climbing up on a ledge of a steep-sided mountain.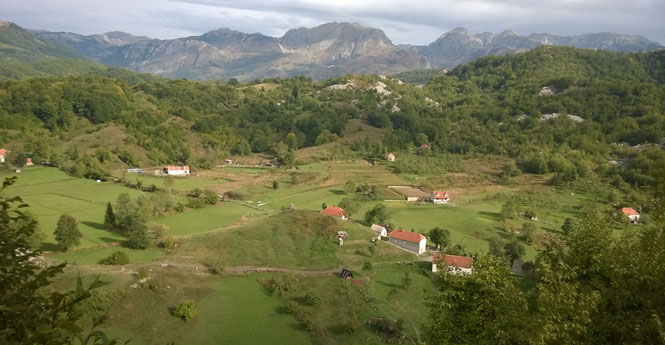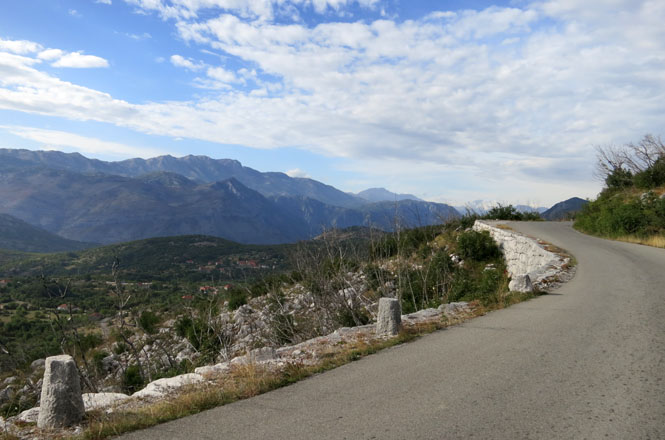 Morača River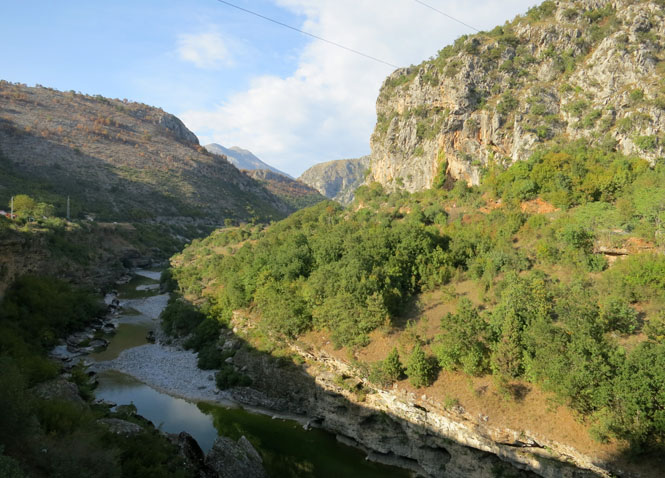 Podgorica, Montenegro. It's not all that late, but I don't need to make quite so many miles. Besides, I want to spend a night in Montenegro. I rode to the center of the city, got off the bike, and looked around for a hotel.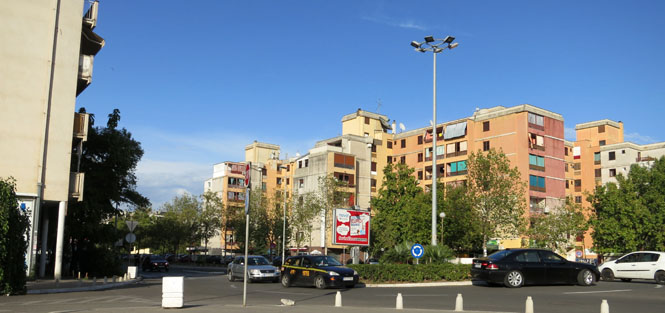 Not many choices, but what's here is very nice. The manager dropped by my room to give me my complimentary Koka-Kora and a Mars bar (which ought to be enough sugar for this evening).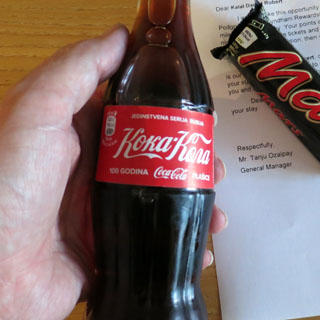 A memorial park.
The view from my hotel. If there is any part of this city that has buildings that date before the 1950s, I didn't see it.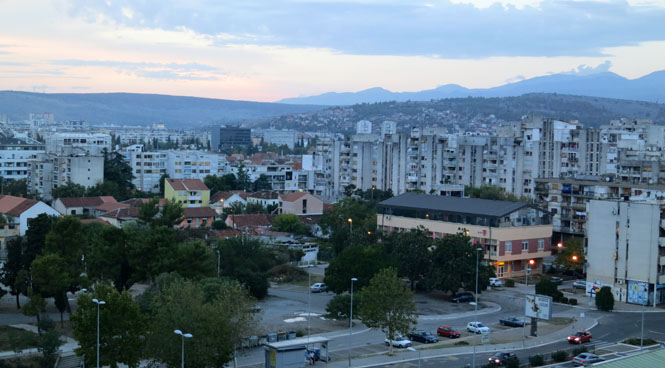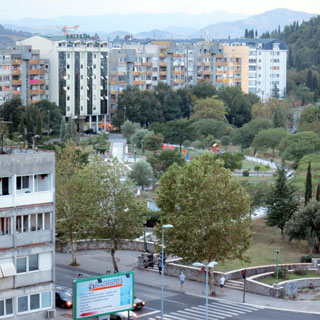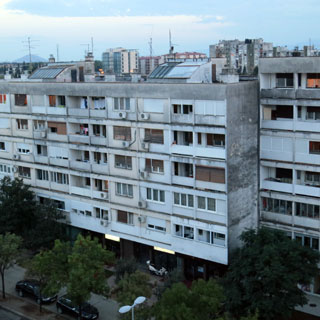 Riding south towards the border.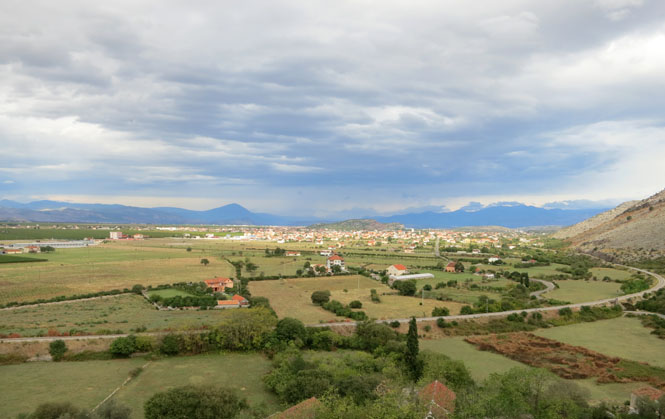 Albania (Republika e Shqipėrisė)
Lake Shkodėr.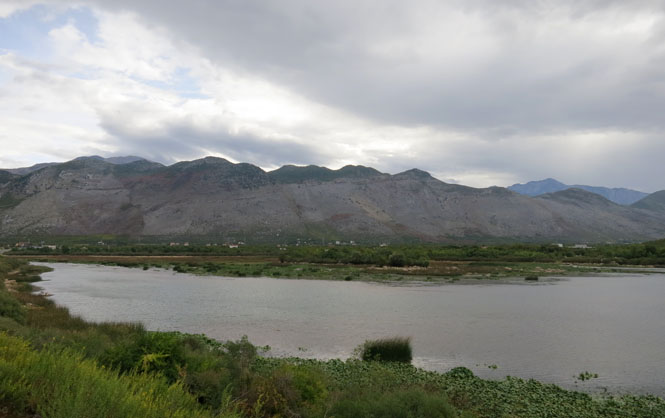 Shkodėr, Albania. This city dates from at least 300BC. Reading its history is a history of pretty much every empire in Europe that also would at some point control Shkodėr--continuing through the 20th century when it was occupied by Austria during the first world war.
I was simply trying to get through this large city cleanly. I was reminded of riding in India with all manner of bicycles and cars crossing the road any place they wanted--and sometimes going against the flow of traffic. There are very few stop lights; the idea is to just keep moving with the flow and hope the cross traffic doesn't do the same.
I believe all Mercedes Benz cars come to Albania to live out their final useful (and smoky) lives.
Who knows when a castle on this strategic hill was first built? It predates the Romans. The current Rozafa Castle was built by the Venetians. The last siege was as recent as 1912 (by the combined forces of Montenegro and Serbia against the Ottomans).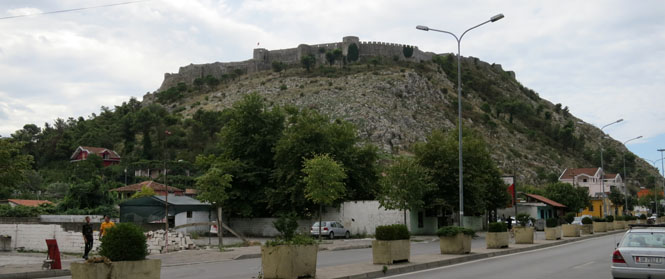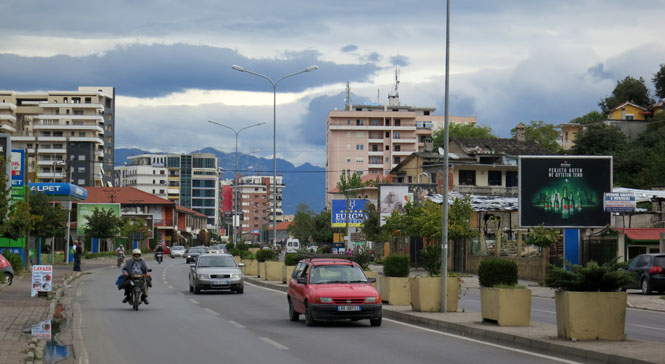 I had some idea of riding to Vlorė, checking the ferry situation and then running east into the mountains for the rest of the day and perhaps spending the night there. All foolish.
There is a primary north-south highway through Albania, but regardless of the intent when it was built, it is not a freeway. There are other roads that run crosswise to this main highway, but connections across these are very few and in any case, these are not roads to make any time on.
The mountains to the east looked inviting, but I would not be enjoying them.
Incidentally, cash was the only thing accepted--even for the ferry ticket. It didn't matter what sort of credit card you might carry. Euros work if that's what you have, but you'll get Leks in return and you may not like the exchange rate.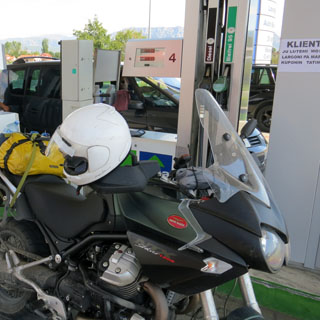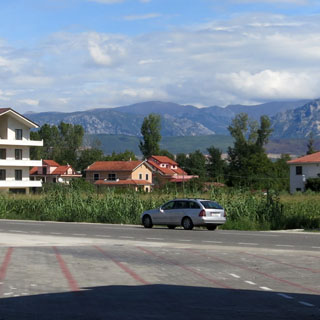 When I reached Vlorė, the ferry that should have left a couple hours ago was still there. So, I checked with the man in the ticket office, and he said that there was still time to board.
I had already dismissed my plans to head into the mountains--I wasn't going to retrace the road that brought me here under any circumstance. And, as there seemed little point in hanging around Vlorė for the rest of the day and half the next, I bought my ticket and rode onto the ferry--the last one to board.
I was skeptical of the rope being used to lash the bike down (I do carry my own straps), but these guys assured my they'd never lost a bike yet, "Don't worry." It worked fine; they did a good job.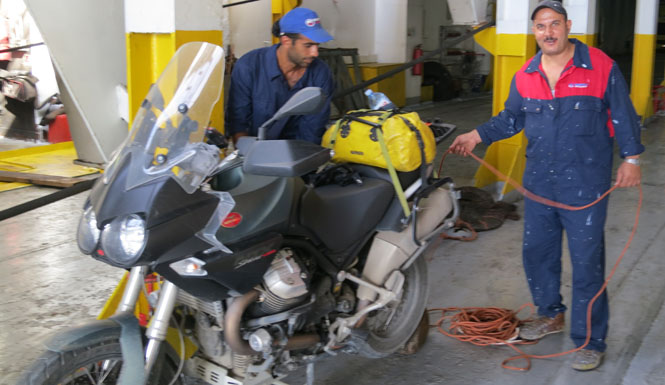 So long, Vlorė, Albania. If there are any regrets for this trip, it's that I didn't have more time to ride the Alps of Albania. I still had an extra day to work with, but didn't want to use my last bit of pad against getting back to Mandello del Lario by Friday.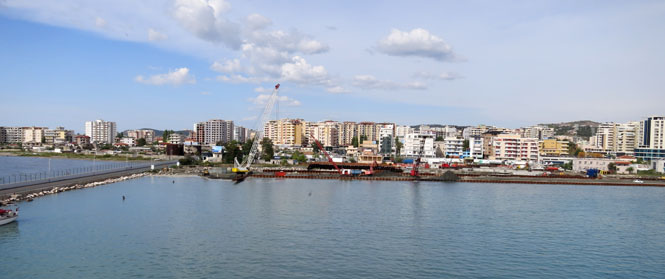 I never did hear why the ferry was so late leaving port, but while it was the reason I was on this sailing in the first place, it also meant that I'd be arriving in Italy late into the night--something I don't like doing (without any hotel reservations or knowledge of where the hotels even might be).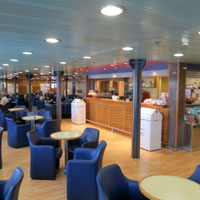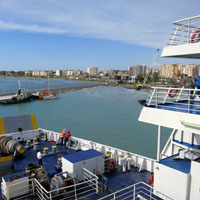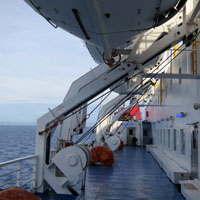 The crossing took about five hours and was surprisingly rougher than I expected it to be. It was a bit difficult to walk in a straight line without crashing into a wall (all the while, thinking of the bike tied down with rope).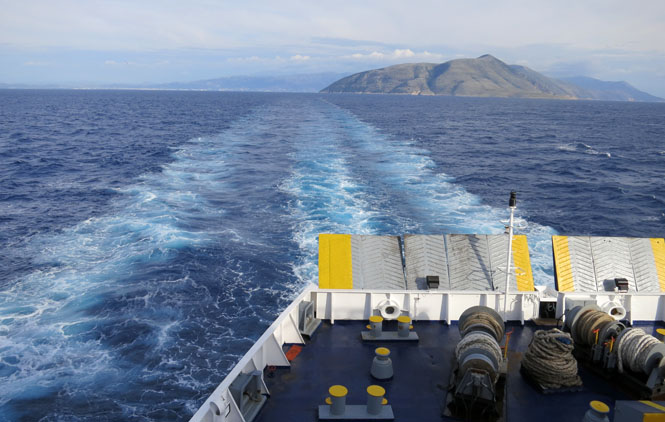 Italy (Repubblica Italiana)
Brindisi, Italy.
On top of the late arrival, the wait for customs and immigration added another hour (at least). Two ferries had arrived at the same time.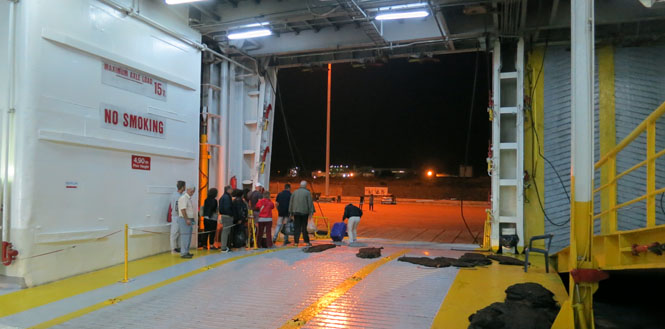 My plan was to follow the signs to the center of town, locate the piazza, park the bike and look around (my little GPS is not backlit, so it would be no help in the dark).
Success.
Hotel Torino is a good one (with original artworks in the rooms and hallways and a nice breakfast in the morning). You can just see the bike parked under the window, to the right of the entrance door.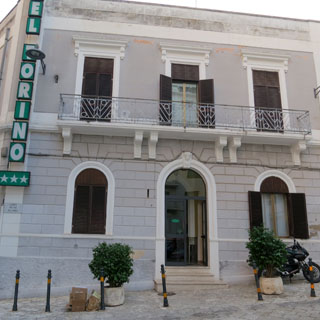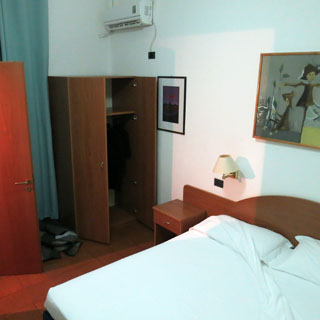 Running along the Adriatic I saw dozens of these things. I'm certain they are kilns, and I'd even guess that they are lime kilns (but I really don't know).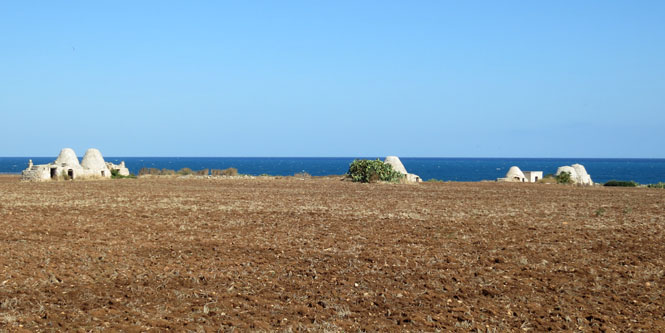 You'll find olive trees most everywhere in Italy, but this region is extra thick with them.

Italy is shaped like a boot. Just above the heel is what might be seen as the spur of the boot. That's Promontorio del Gargano. My plan is to ride around the coastline.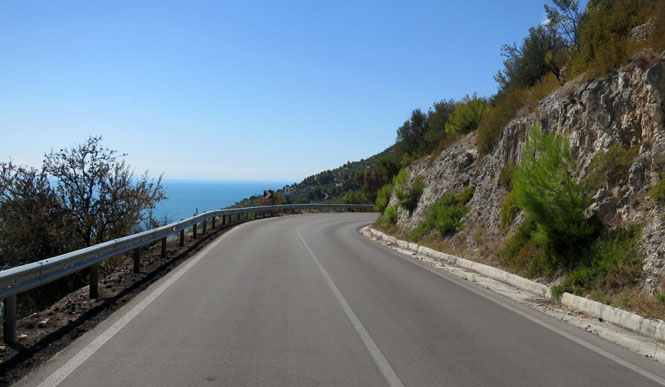 What a spectacular road it is. And, the color of the Adriatic Sea--wow!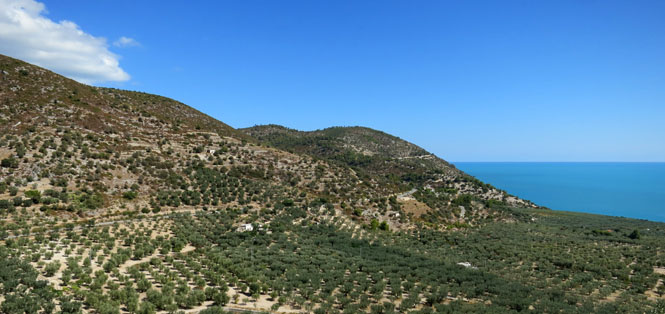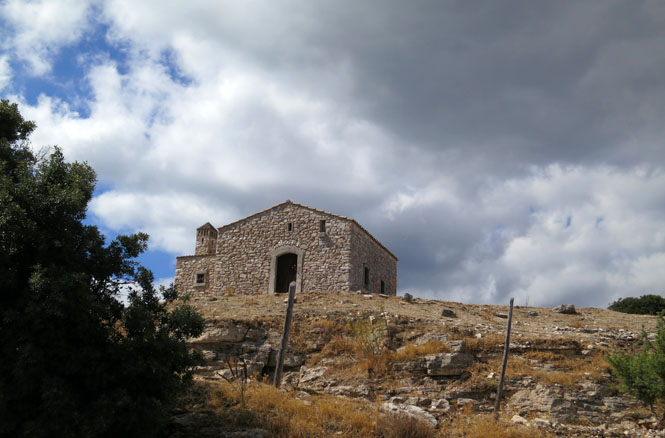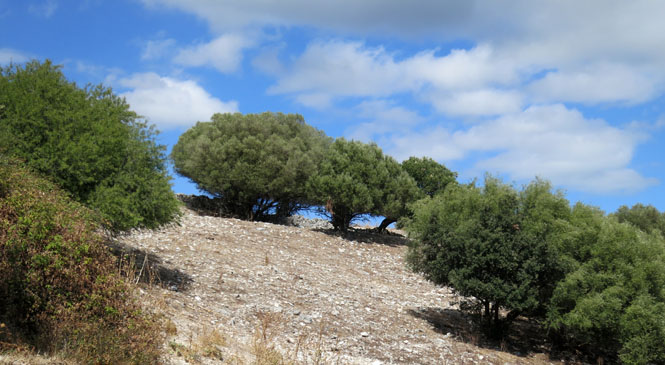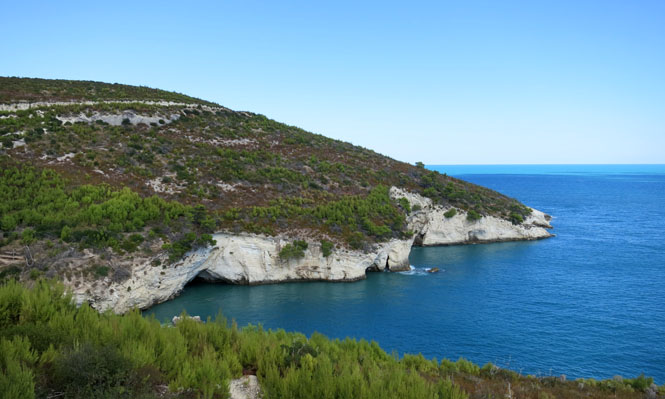 Vieste, Italy is at the easterly most point of the promontorio. It's a fashionable looking place, and appears to have played that role for a very long time.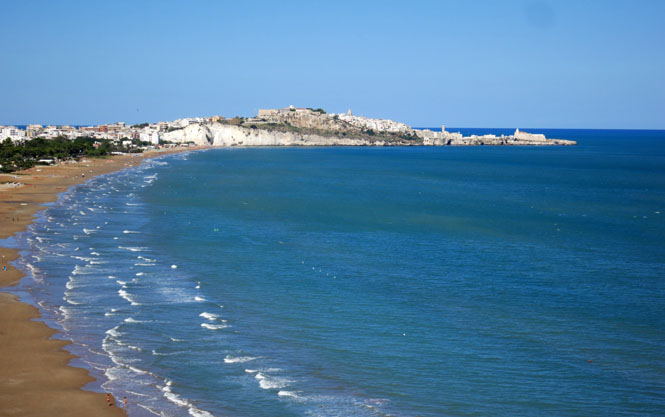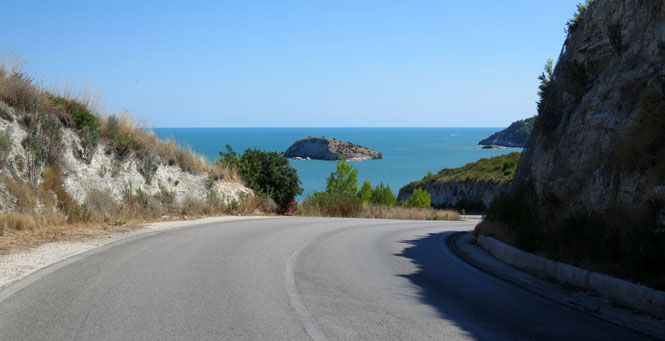 You'll find both dense forests and wide olive groves.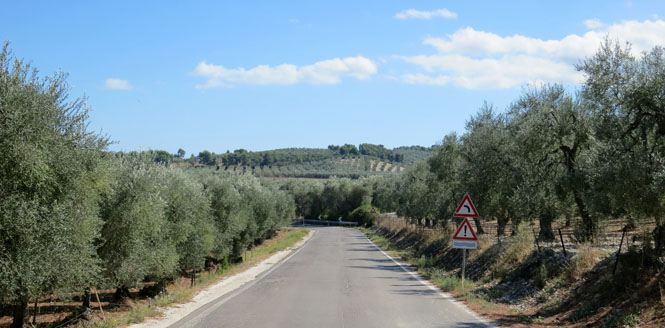 Peschici, Italy. Another town along the promontorio coastline.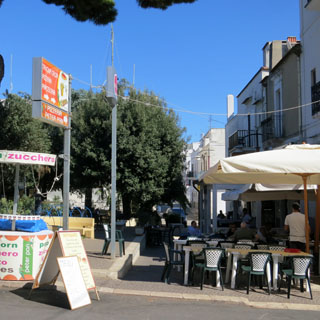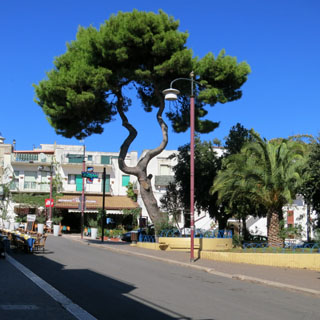 Caprese salat and gnocchi.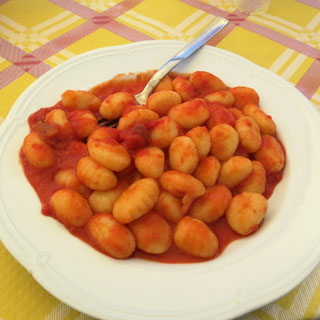 looking back at Peschici's old town.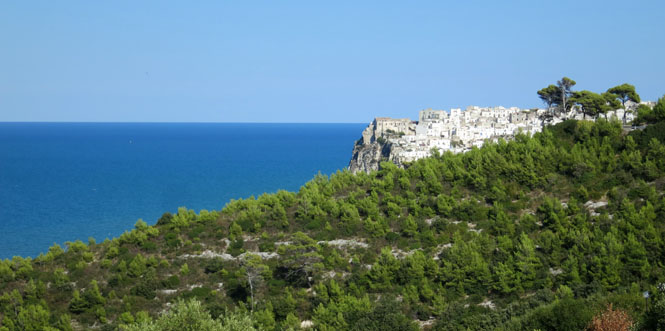 Rounding out from the promontorio and back to the straight line of Italy's Adriatic coastline.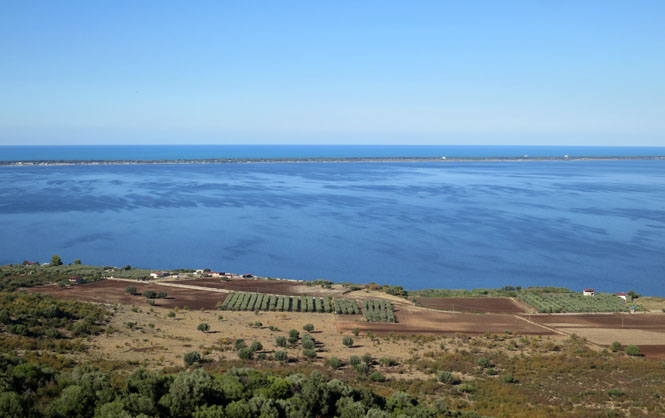 Termoli, Italy retains its ancient walls on all sides.
I used the "stop, park and walk around" technique to find a hotel, and this as a good one--just outside the old walled town and on the beach.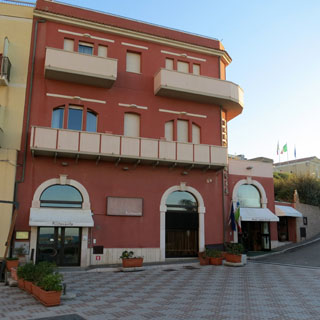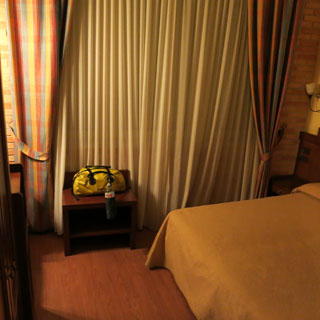 That's a Trabucco (below). I saw a number of these rickety looking things along the coast. Evidently, they're used to drop a net into the water for easy fishing. I would guess that while they were once useful and productive things, they're now retained for being historic and scenic.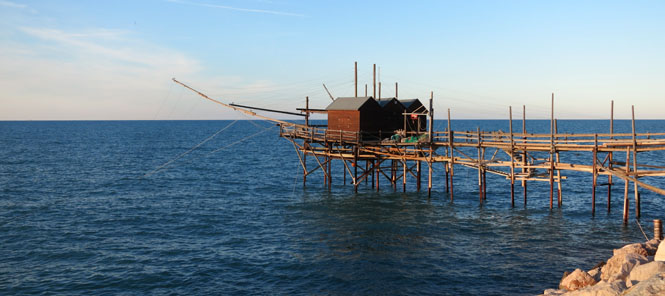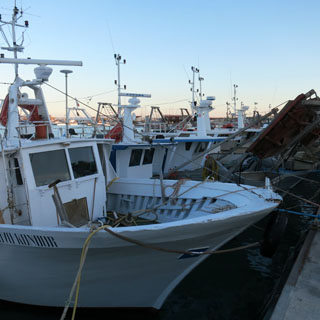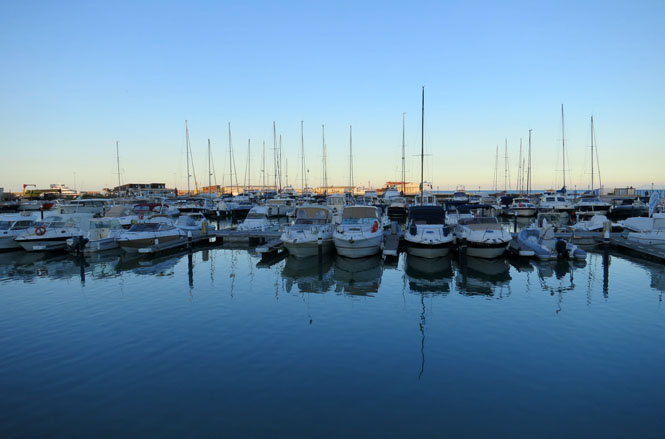 Walking through the old town.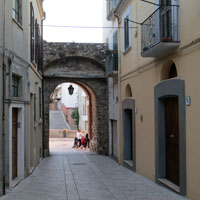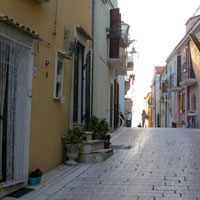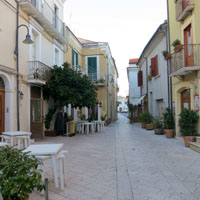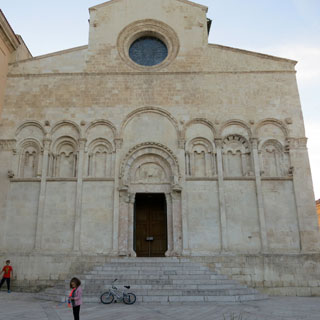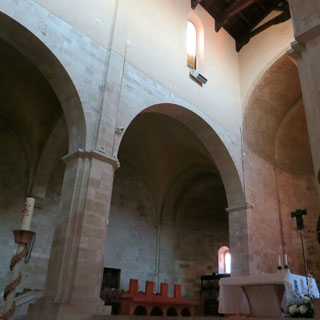 While there, the organ was being played by a student and his teacher. The pipes sounded terrific.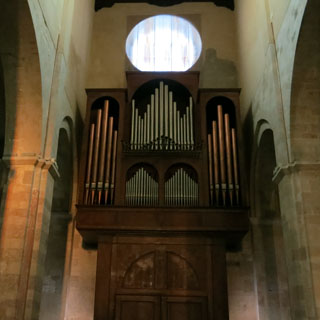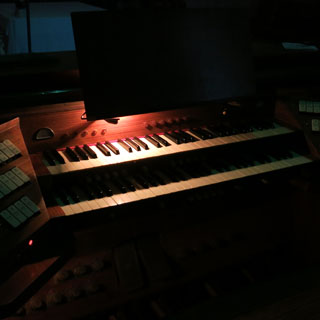 The view north from the town wall. My hotel is just to the left. Those are empty lounge chairs on the beach.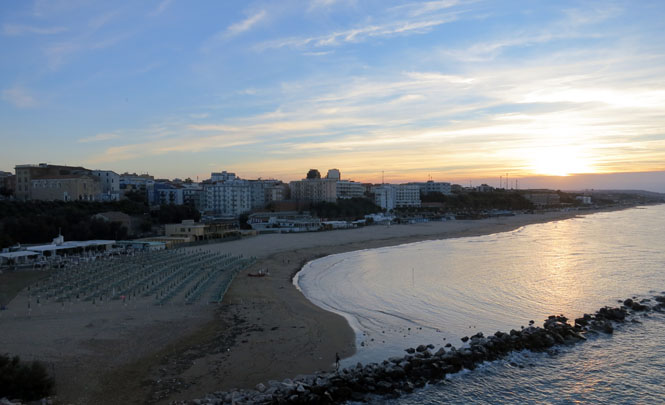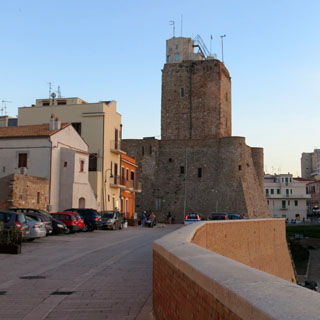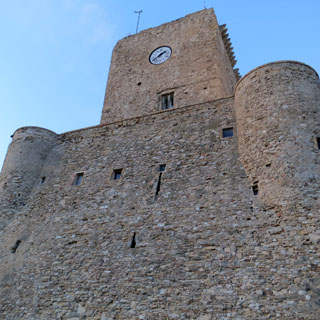 The "new" part of town is inland from the walled town. Being Italy, things don't even open and the people don't come out until the sun goes down.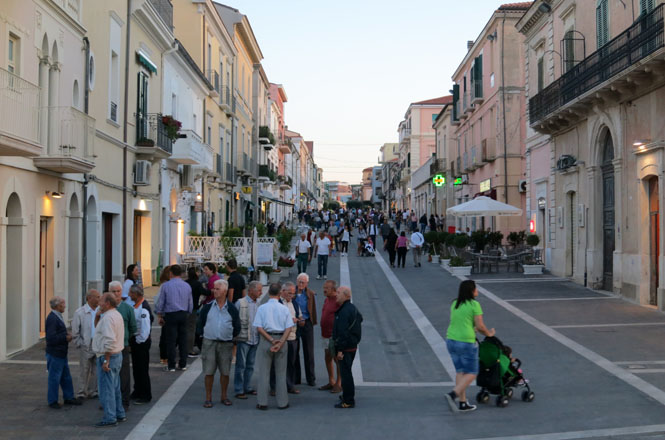 This is the smaller planning map that I kept in my riding suit (in addition to whichever detailed map I needed at the time). Each night I mark each spot I've been to give me a better idea of my overall pace and where I should expect to be by the next night if I want to make it back to Mandello in time. There are six crossings of the Adriatic Sea that I had marked ahead of time. I eventually used the fourth one down (the point where the crossing is the most narrow).
The next morning, the staff of the Hotel Santa Lucia is cleaning the entrance.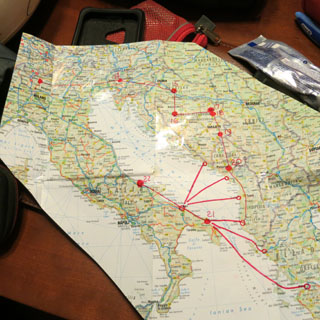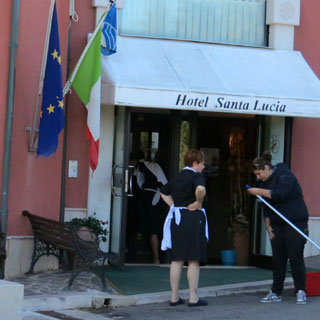 Riding up the coastline. Sometimes the beach is sand, and sometimes it's small rocks.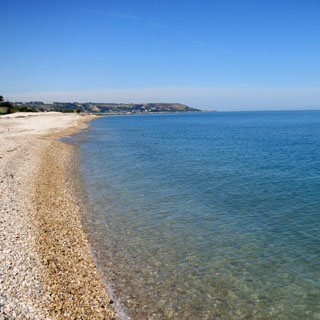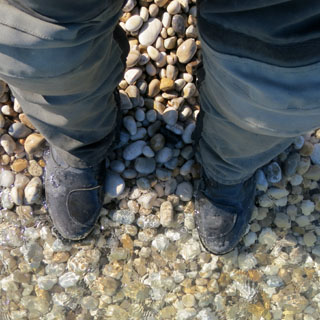 That coastal road isn't changing much, so let's turn inland and try to make my way north by picking any small road that's going my way.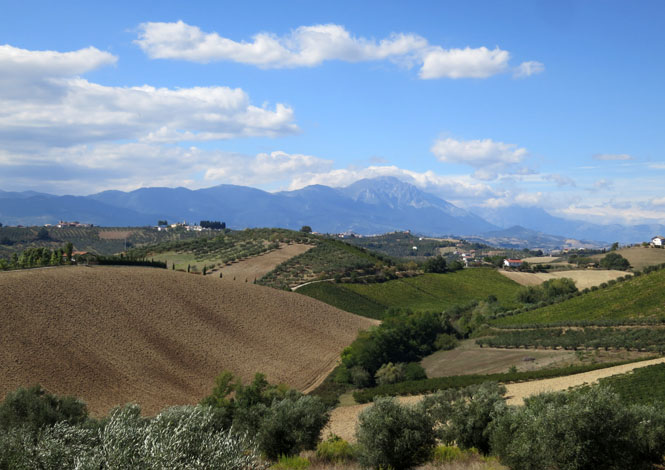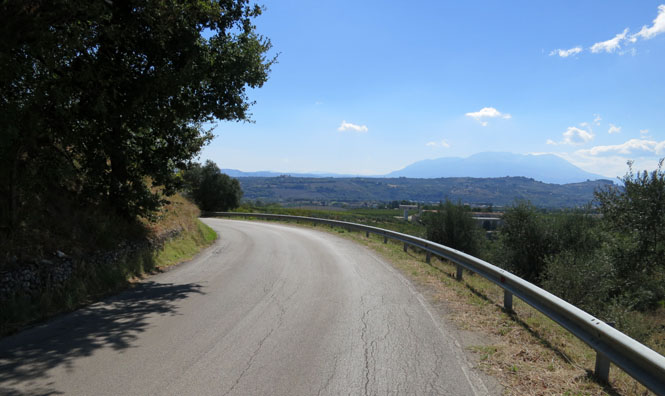 I had the good idea to stop in Penne and have Penne for lunch. It was a good idea (still is), but I missed the turn through the gate and into the ancient walled hilltop town, and nothing else looked promising, so I missed my chance.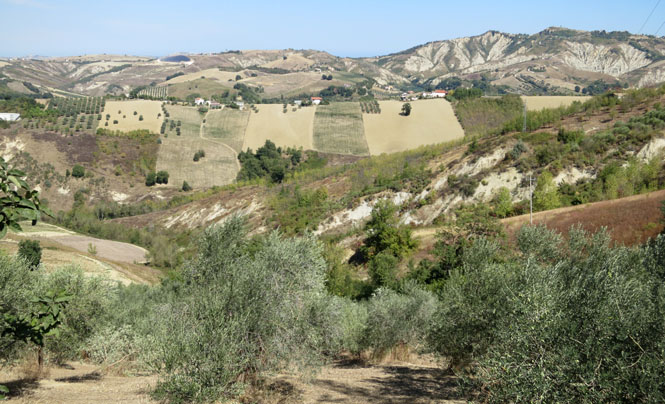 Some of these roads seemed as if they were about to slide down the hill. Often there'd me a warning sign, but I learned to just be careful to avoid the sharp drops where the road was subsiding. At times barely the width of one lane remained.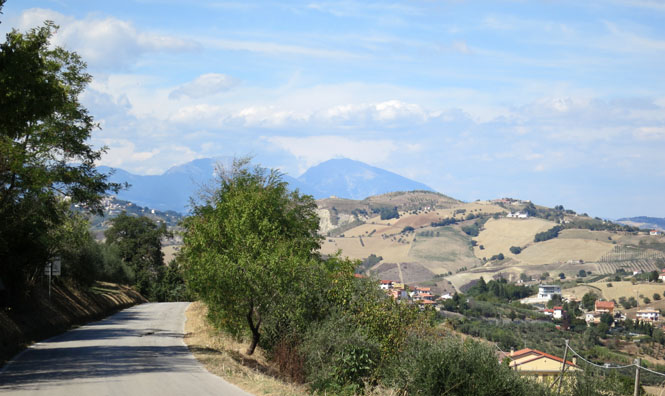 I'm standing in the field to take this shot (below), when the owner (I'm guessing) from the farm-house across the road walks out, pulling his suspenders over his shoulders (wearing only an undershirt) while looking narrowly at me. I waved my left hand across the panorama in front of me while holding up my camera in my right hand and said "Bella!" That's when he brightened and broke into a big smile and nodded at me. Bella, indeed.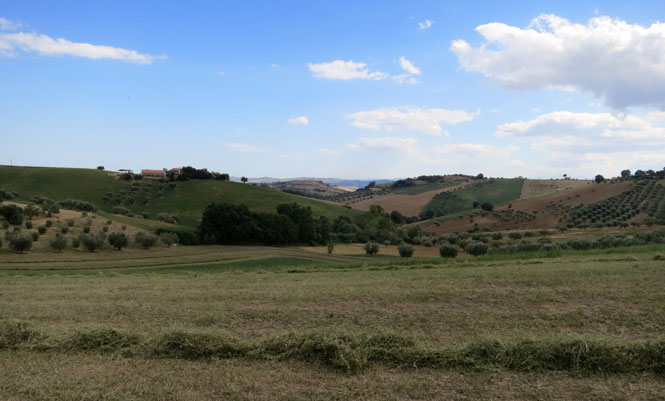 Comunanza, Italy.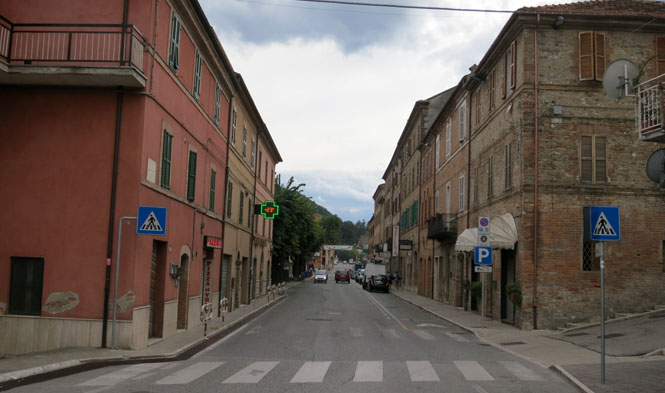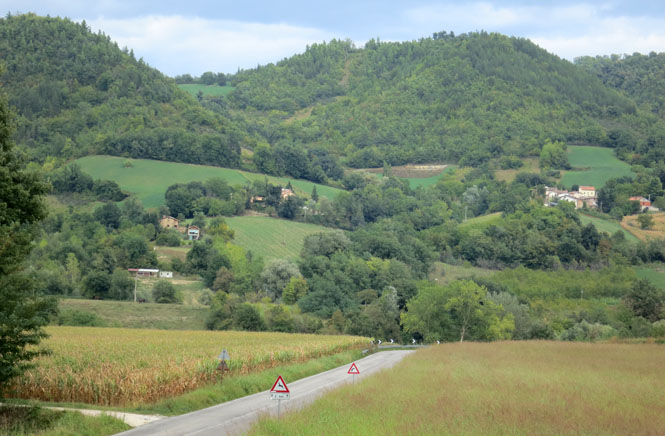 Amandola, Italy is another walled town. I rode through the gate (a phrase; the gate is usually not even there) and into the piazza following signs for the Hotel Paradiso, but not knowing what to expect.
The road was quite steep and narrow and seemed to be climbing to the very top of the old castle hill. One more gate (and this time it really is a gate) and I reach the 1950s vintage Hotel Paradiso. What a terrific place.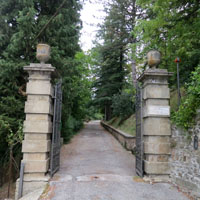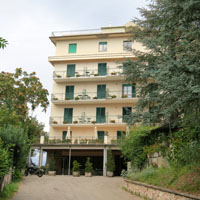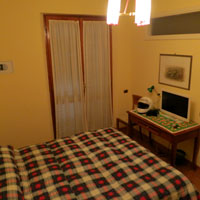 Walking the steep streets of Amandola.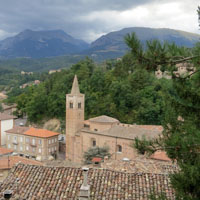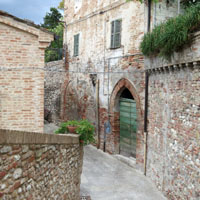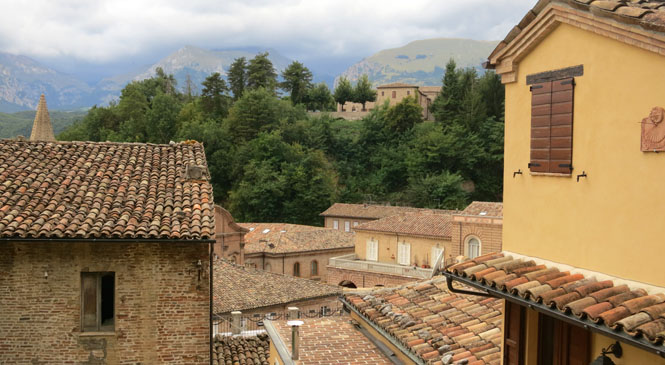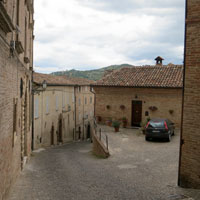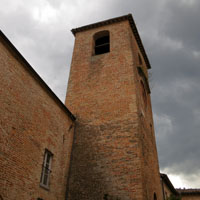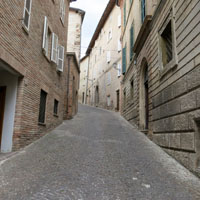 Within the abbey walls, and painted in the alcoves above the cloisters, are paintings that show...

...remarkable scenes from a time long ago (yes; there has been much restoration work done).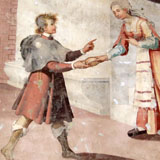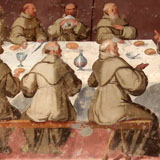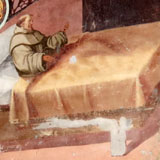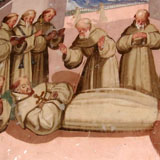 Yes; this is a public street. At least it's one-way.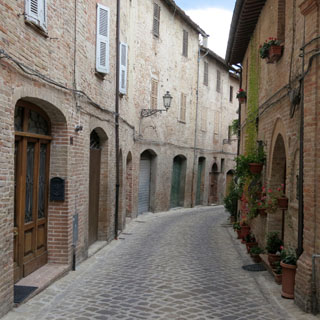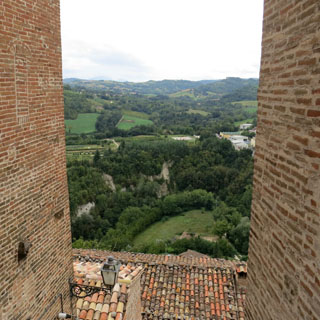 I heard birds singing, and at first didn't know where they were.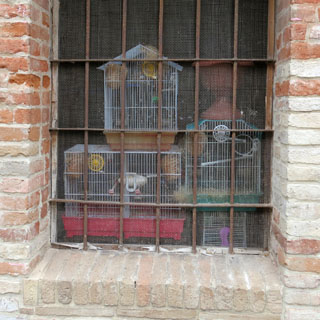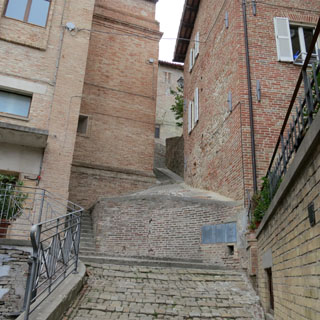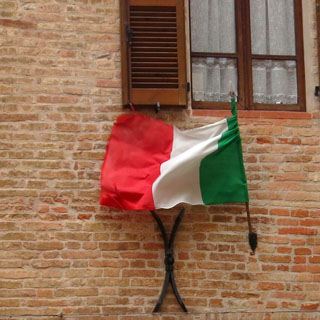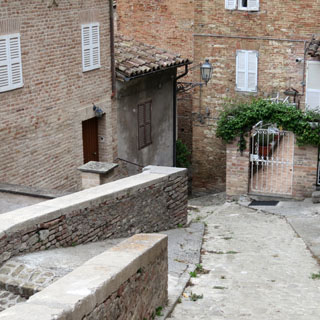 Back down in the piazza. Incidentally, there are some remains of the old castle next to the hotel, but I suspect it's been in ruins for several centuries.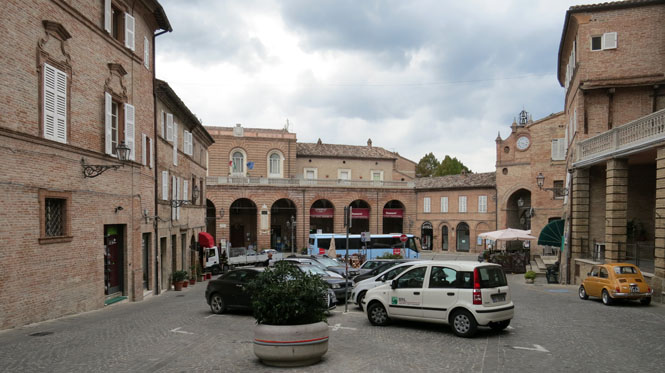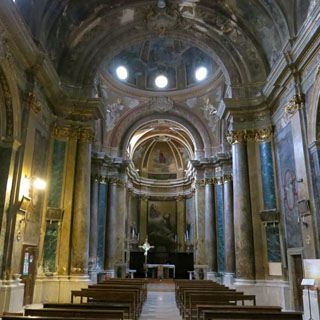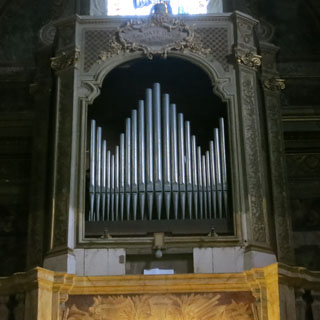 Stopping for gelato. This little shop sells gelato, pastry, coffee and drinks.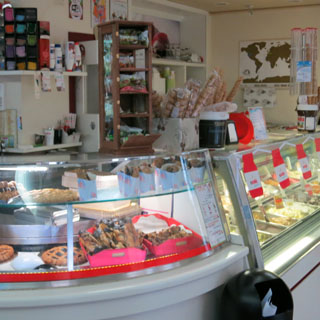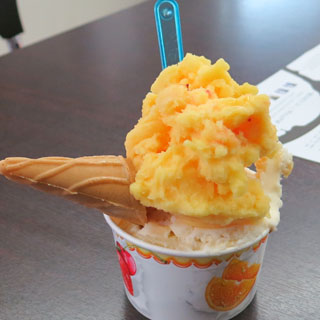 Dinner is included in the price of the room (as is breakfast and that small pitcher of wine, which is now empty). The owner explains the choices (usually just two for each course) and is happy to discuss each one with you. Most of the guests were at tables along the same wall I'm next to and it wasn't long before everybody knew everybody else. I was surrounded by several very well-travelled people. All of them knew this hotel well, and made a point to come here every year. They were a bit surprised when I said I just happened to it and otherwise knew nothing about it.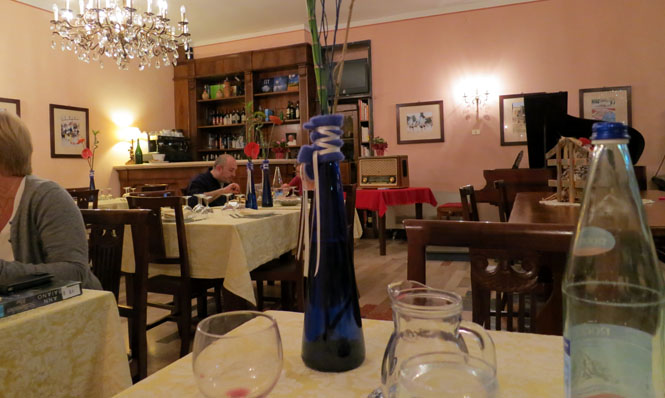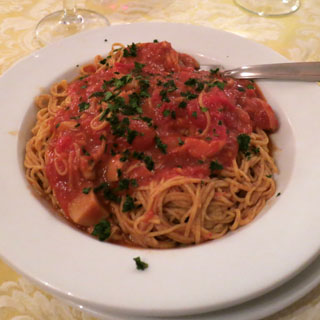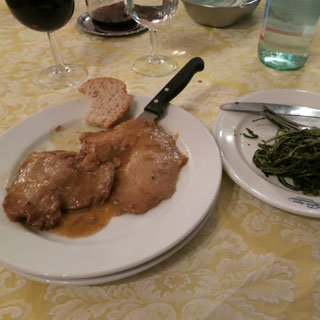 It's a colder morning than I'd seen the entire trip.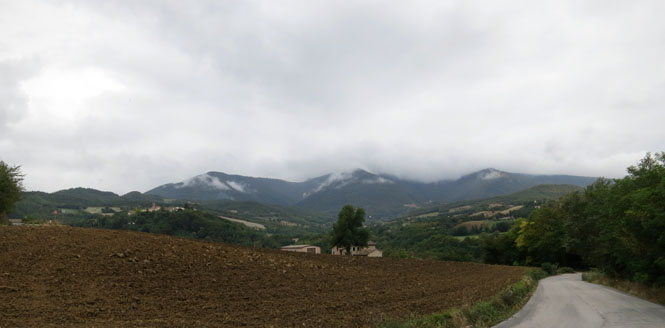 It's a trick travelling north (that is, parallel to the Italian peninsula) when most of the primary roads want to run crosswise.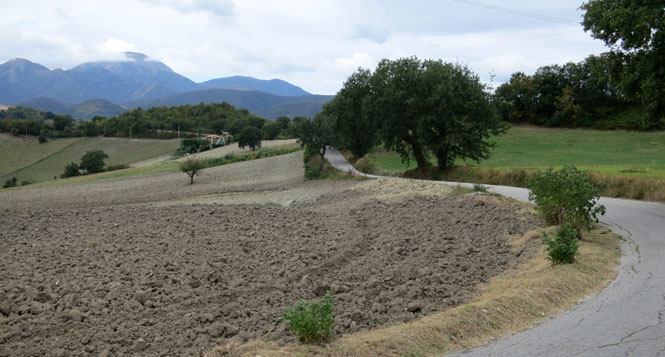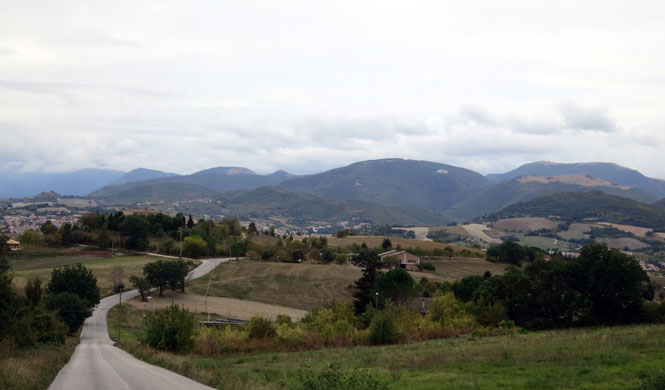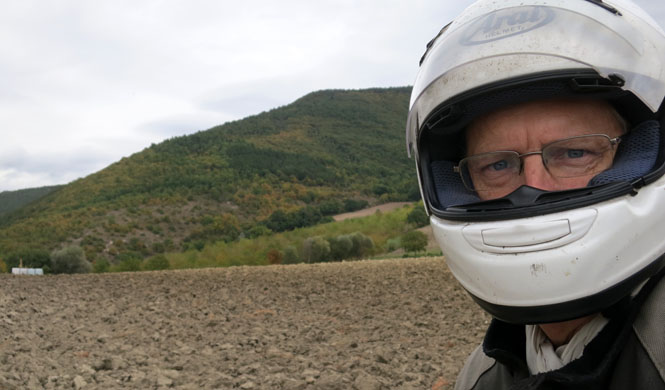 I'm heading higher into the mountains. At some point along this route, I plugged in my electric vest. It's nice that I didn't carry that thing around in my duffle-bag while never needing to use it. I needed it here.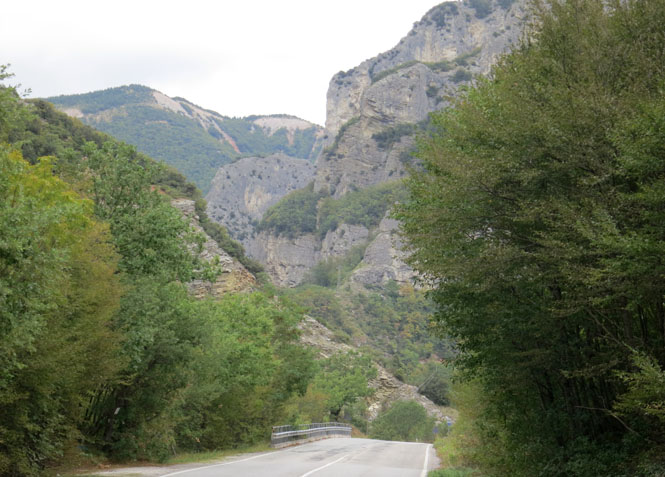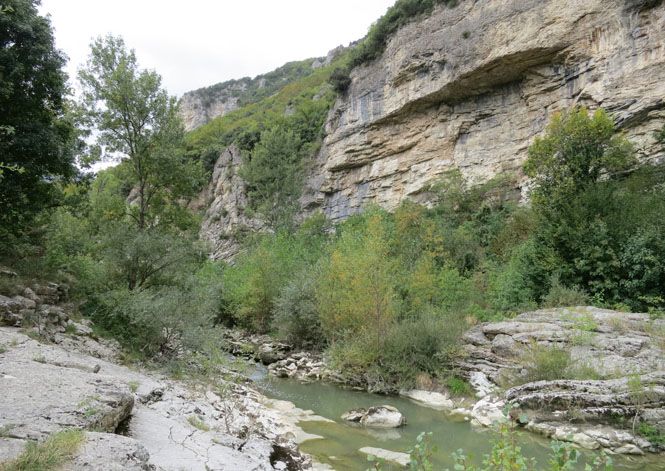 Cafe Colorado Route 66. Sigh...
While Colorado does border Kansas, Oklahoma, and New Mexico (and Arizona, sort of)--three states that Route 66 does pass through--Route 66 does not go through Colorado. It's not so obvious, but the theme of this restaurant is meant to be "Mid-America Diner." No doubt when an Italian is in some supposed Italian Cafe in Kansas they'll take photographs, too.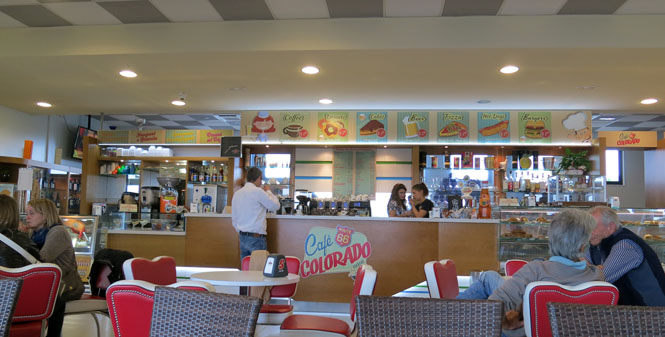 Bagno di Romagna. It's raining (sometimes hard), it's quite cold and windy, and there's absolutely no reason to keep going. This looks like a good place to stop.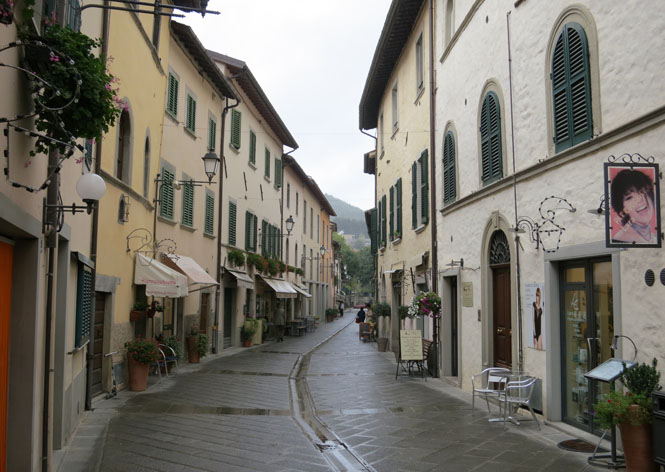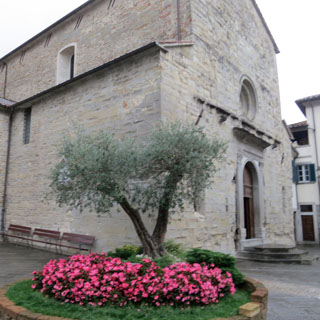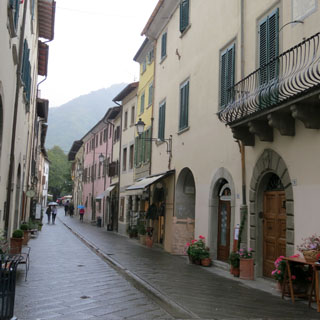 I'm at the Grand Hotel Terme Roseo, which is nice, but certainly still not the best hotel in town. This old spa town has attracted visitors for many years.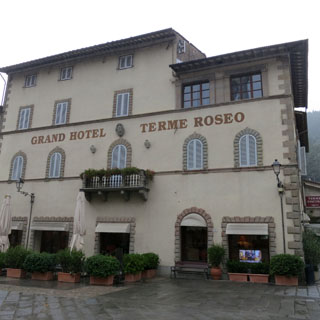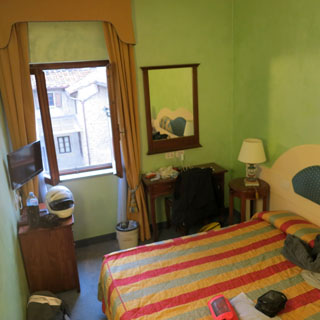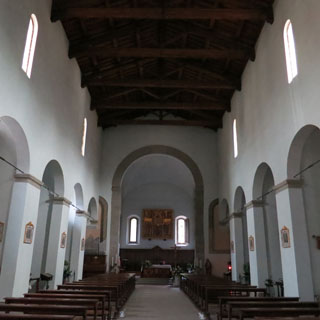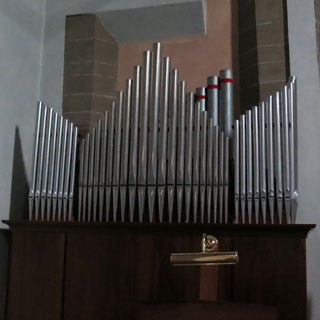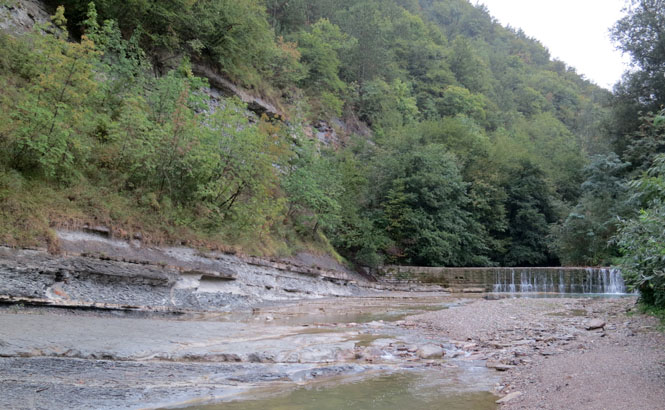 Evidently, some years ago a resident said he saw a gnome in these woods. Not to let this opportunity be wasted, there are now quite a few gnome-based gifts you can buy. I didn't.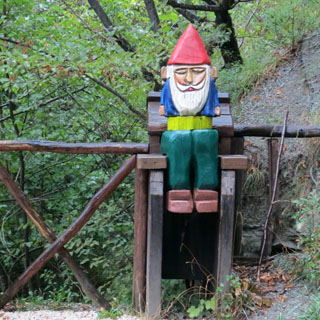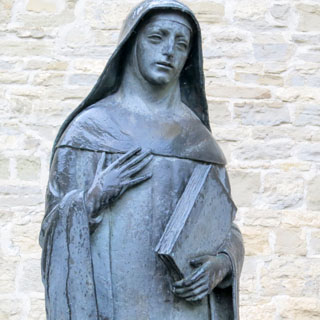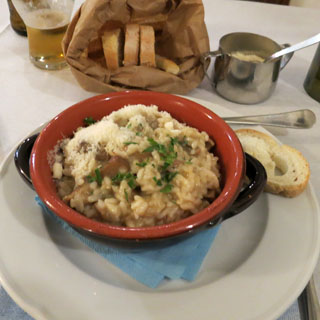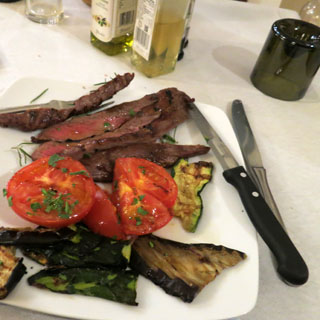 This was my last day on the road. I had some thought to stay in the hills to Parma, but in the end (considering it was still raining and cold this morning), I just shot down to the Po River valley and ran back to Milan on the Autostrada.
Arriving back at Agostini. That's Stefano, the new man behind the parts counter (working with Lucca). He and Lucca were of great help when I was back in Bosnia trying to sort through the arrangements to have the bike towed.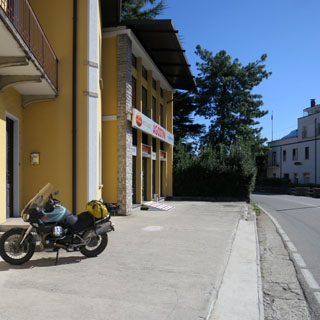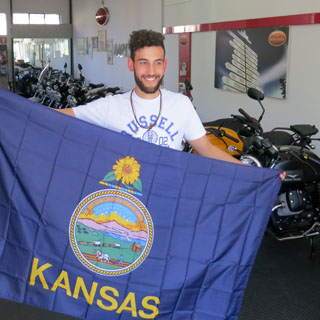 There's a member on the sport touring Internet forum (alias of Orson) who also has been solo riding a Moto Guzzi across Italy and Europe for a number of years. His home base is Parma, while mine is Mandello. We've crossed paths several times, and a few years back were even in the same town at the same time, but had never met. Arrangements (of a sort) were made to meet in Bellagio, so that's where I'm heading.
The ferry and I both reached the dock at the same time. I've walked down from Agostini having unloaded the bike and left it there.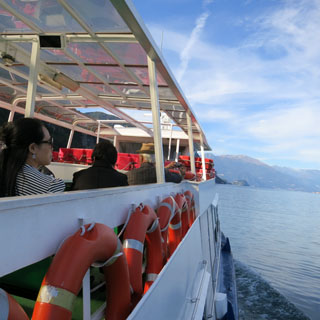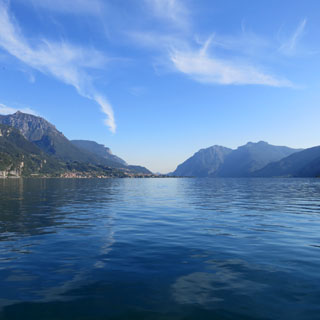 And so, we finally meet. Anyway, at least long enough for a beer before I need to return on the last ferry out of Bellagio that's going my direction.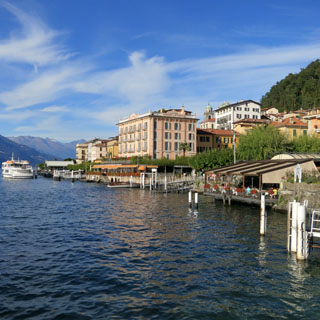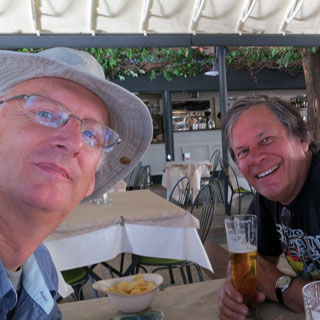 As always, I spent that last night in Mandello at Mamma Ciccia's B&B before catching the train back to Milan.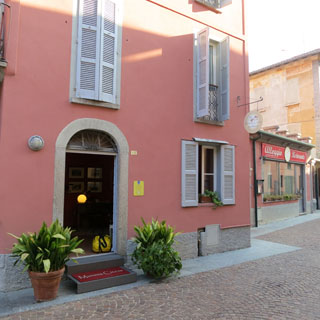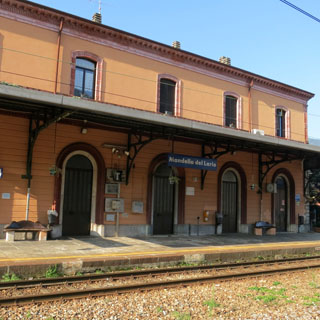 The old Palace next to the Duomo (now a gallery) does a good job of rotating several new exhibits each year (it's large enough to have at least two different exhibits at any given time).
I went through an exhibit of ancient Roman and Greek art as seen through the connection of nature and mythology (perhaps a little too academic). Some of the very old works showed the elaborate houses that were built on the shores of the Italian Lakes. Some things haven't changed.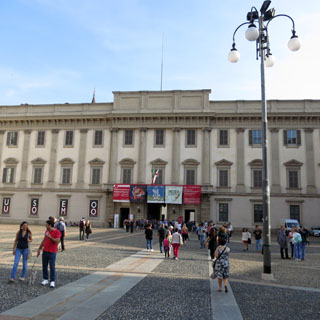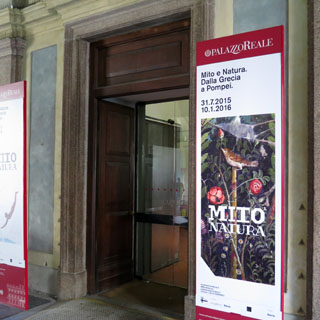 And this? It's the largest gathering of alphorns outside Switzerland. Five hundred years ago, Swiss soldiers came over the high pass to Milano to support Duke Sforza. To commemorate that event, a record-setting 420 alphorns played in the piazza Duoma.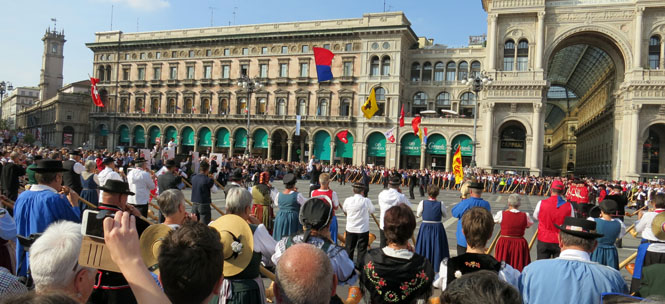 For such a large horn, it makes a surprisingly sweet sound.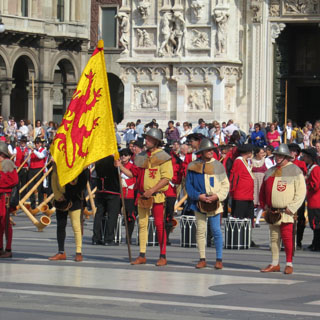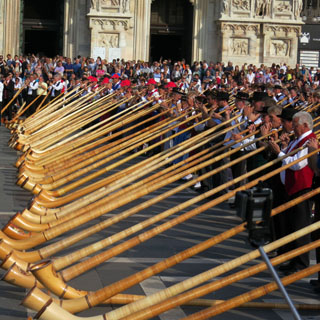 The trick to tossing flags is to do it with an easy grace and to never look as if you're trying to catch a javelin that might kill you.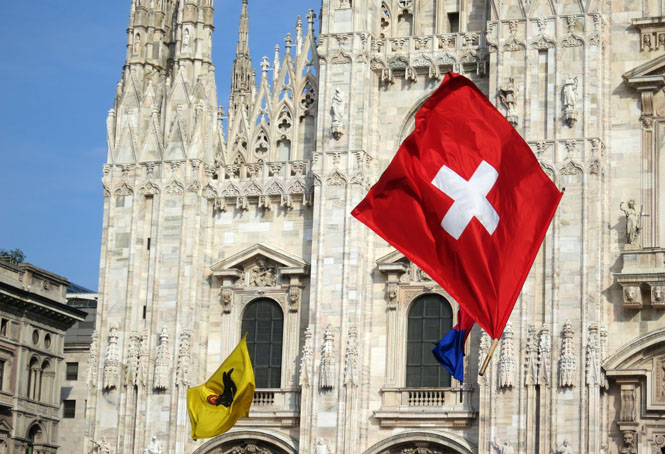 Walking about Milan.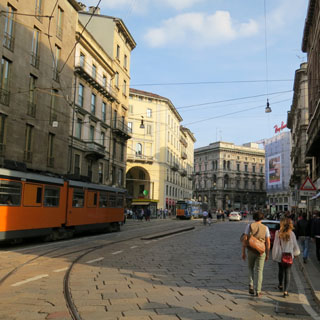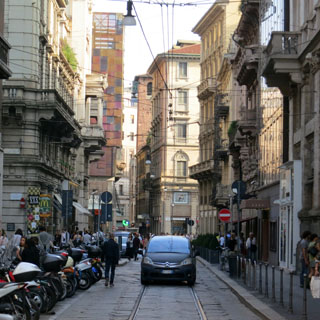 Respect.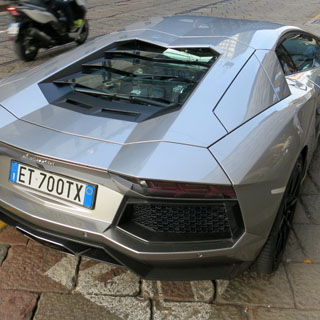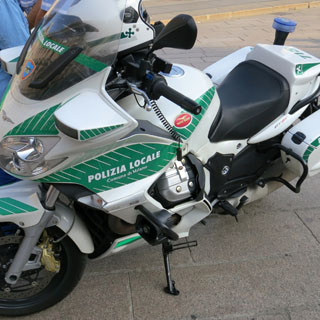 Two iconic buildings of Milan: the Milano Centrale Railway Station and the Pirelli Building.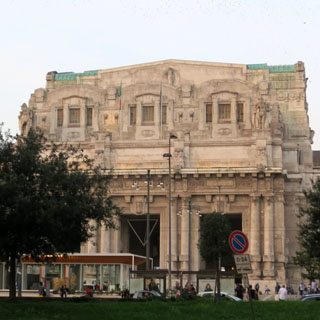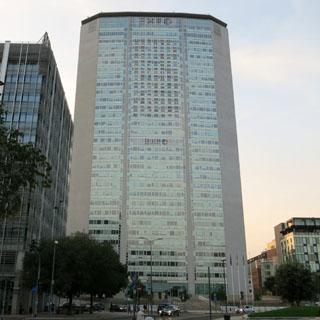 I think I had these same two dishes just a few days ago. But, Gnocchi changes across regions, so it's never really the same.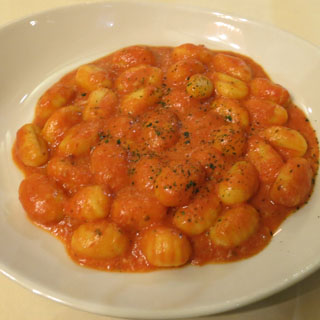 The (seemingly) endless flight(s) back.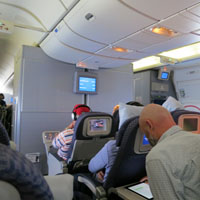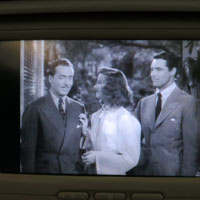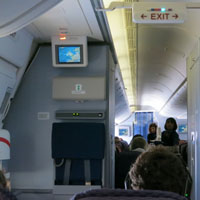 When in Chicago, you should always have a Chicago Dog--you can't buy one in Italy.
An excellent trip. I didn't make it to Greece (nor to Serbia), but that's of no real consequence; what I saw was amazing. And the electrical problem in Bosnia that took two days out of the trip? I don't know that I could meet so many people willing and happy to help me any place else. I wouldn't have known that if the bike had started in the first place.
last edit: 10/21/2015