March 7, 2015


Oklahoma
The Deep Fork National Wildlife Refuge is just south of Okmulgee, Oklahoma.

Deep Fork National Wildlife Refuge
The Deep Fork River is nearly as deep as it is wide and spans 34 river miles on the refuge. The bottomland hardwood forests the river supports are part of an extensive habitat dependent upon waters that drain into the Mississippi River watershed.

The refuge provides a glimpse of a diminishing ecosystem extremely important to a variety of wildlife and plant species. Historically, the vast bottomland hardwood ecosystem of eastern Oklahoma encompassed an estimated 2.2 million acres. By the early 1980s, roughly 85 percent of the floodplain forests had been cleared. The 9,700-acre Deep Fork River National Wildlife Refuge was established to protect these amazing natural resources.

--NWR web site
Being Saturday, the refuge headquarters wasn't open. Everything else was still available, of course.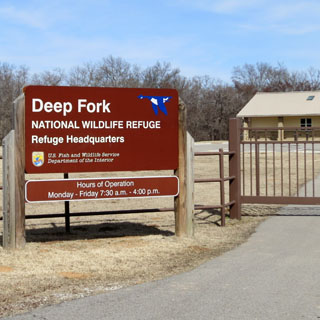 The boardwalk is unexpectedly long. Much of this area floods, so a boardwalk makes good sense. I did walk some of the natural paths and paid the price in muddy shoes.
The Deep Fork River dominates, but there are several much smaller streams throughout the park.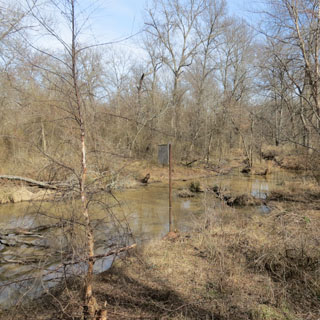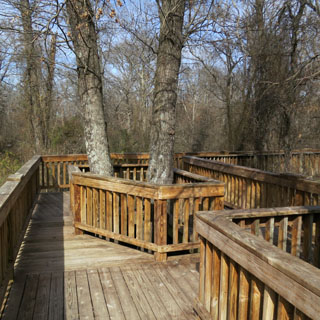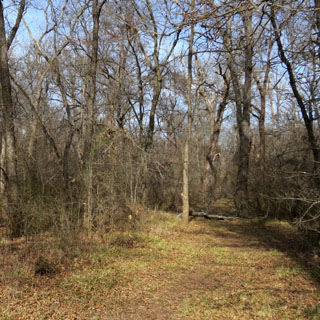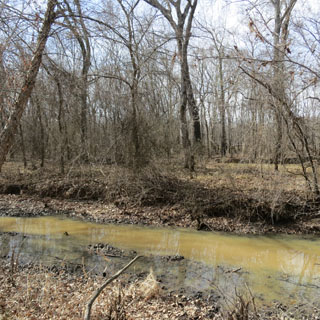 In the winter, it's not hard to find the trail. The place was noisy with the sounds of birds.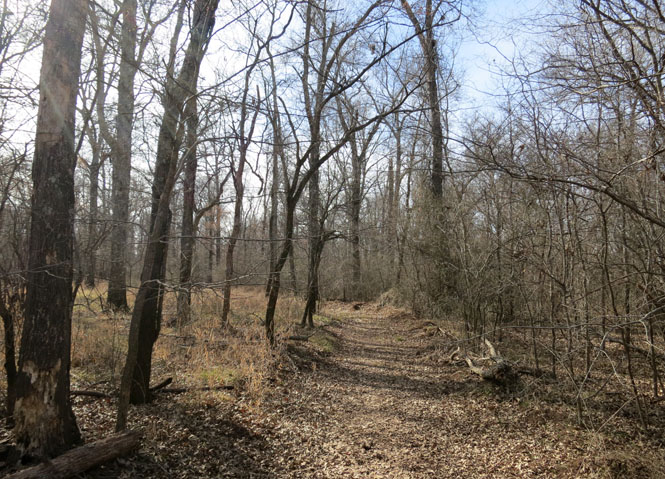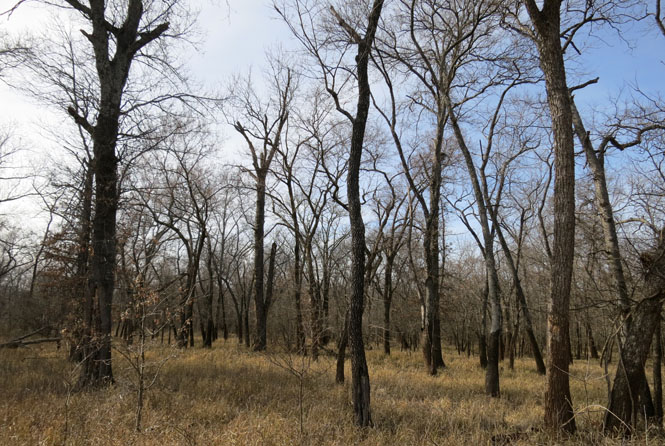 That's a photography blind on the right (below).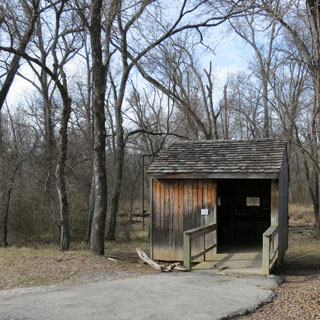 The leaves were constantly rustling with (unseen) moving creatures. That's an armadillo on the left, and a cardinal on the right. Lucky, it's not a beauty contest.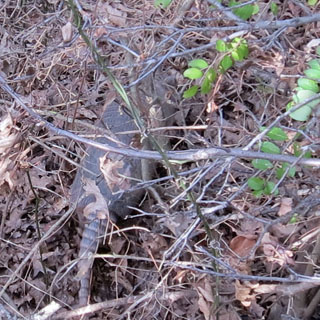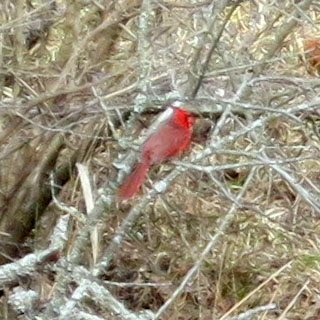 In spring, this would be a broad, shallow lake with lots of waterfowl.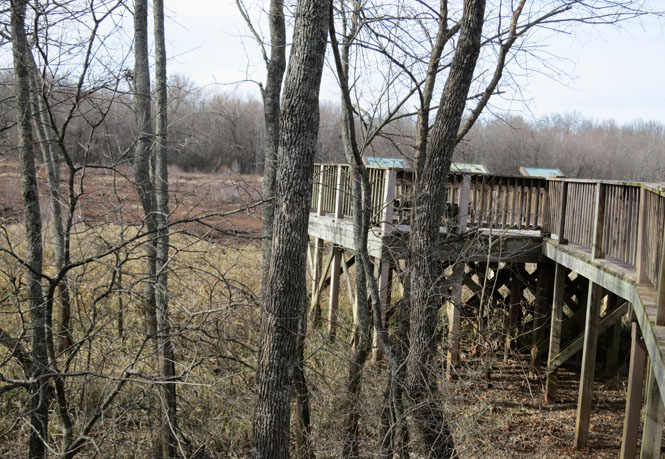 A few miles south of the visitor center, a walking trail follows the old bed from a long-abandoned railroad.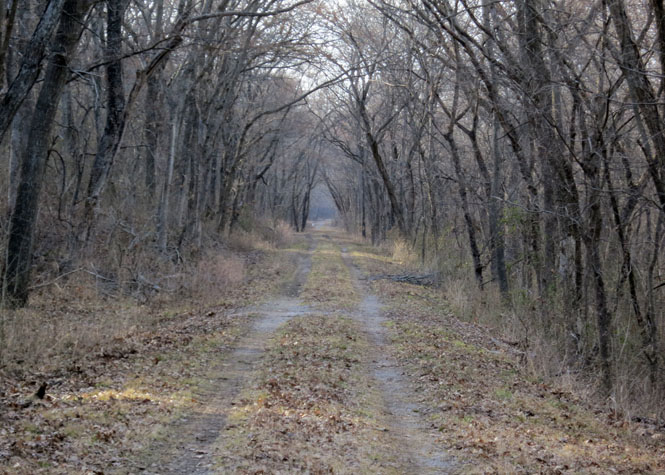 It makes a pretty level pathway for riding. There were a few sections with more water than I'd want to ride through, but mostly it was good.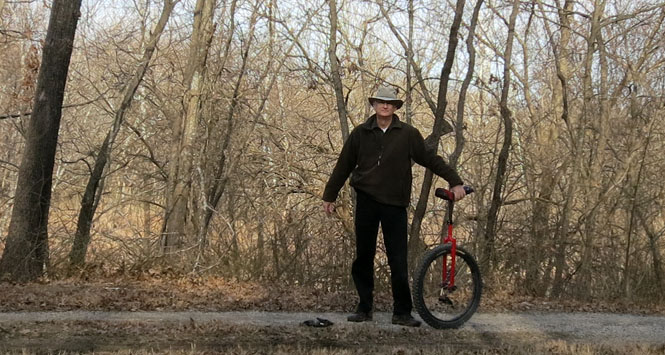 Park your wheel and walk out on a platform that overlooks a bend in the Deep Fork River.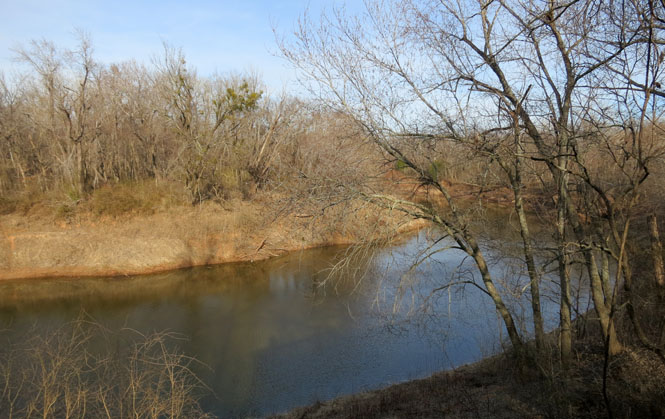 last edit: 3/7/2015