May/June, 2016

Sunday

Monday

Tuesday

Wednesday

Thursday

Friday

Saturday

15 May
16
17
18
19
20
Wichita
Chicago
Newark
21
Milano
Lecco
22
Villa Carlotta
Lecco
23
Mandello
Genova
24
ferry
Barcelona
25
Teruel
26
Caravaca de
la Cruz
27
Córdoba
28
Vale de
Chaos
29
Peso da
Régua
30
León
31
Puente la
Reina
1 June
Castres
2
Gap
3
Mandello
4
Milano
5
Newark
Chicago
Wichita
6
7
8
9
10
11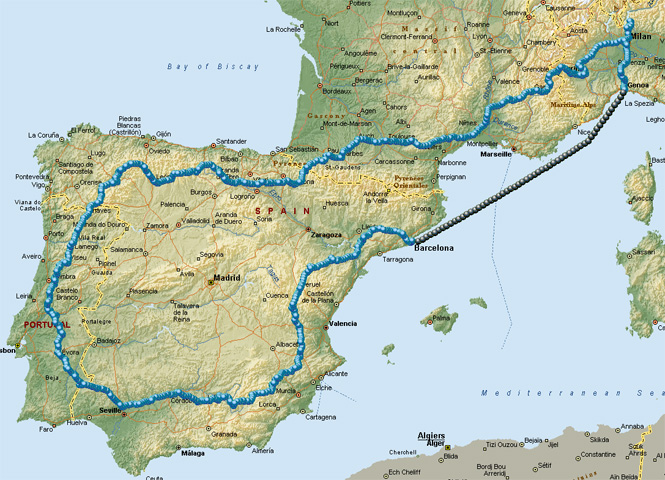 Europe Motorcycle Trip #14
Portugal and Spain are two wonderful places to ride: the back roads are usually clear of traffic and motorcycle friendly, the weather is mild, the food is terrific, the scenery is amazing and it's easy to find a good hotel at the end of the day's ride. This will be a circle of Iberia.
I was here in 2010, but only had time to dash west across northern Spain to the Portuguese coast, and then east towards Valencia before heading north to France and then Italy. For this trip, I'll use the same number of days on the road, but I'll be taking a ferry from Genova to Barcelona on my first day out, and I won't spend much time sightseeing through France on the way back. I'll have eight nights in Spain and Portugal.
In the context of distances travelled in the Great Plains of the U.S., The Iberian Peninsula isn't all that big. However, I know from experience that once you're off the primary roads, you cannot count on anywhere near the number of miles that you might make in Kansas.

My plan was to travel clockwise, keeping inland the whole time. There's no question, but that most any guidebook will list countless coastal towns as "must-see" places for the tourist. I'll be skipping those. Instead, I'll try to keep mostly to the rural country--knowing that running through the occasional larger city will be unavoidable.
New Jersey
It's mostly always the same for every trip: fly to Chicago, then Newark, then Malpensa/Milano in Italy. The cross-Atlantic schedule hasn't changed from the days of Continental Airlines, even though the name on the airplane now says United.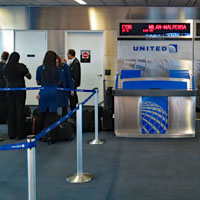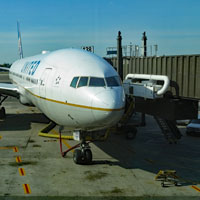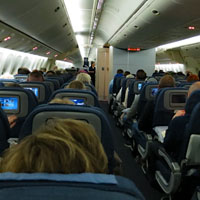 Italia
Ordinarily, the line through Italy passport control is very fast, but today was not. Once my yellow bag came down the chute at the luggage carrousel, I was out the door; there is no Customs check.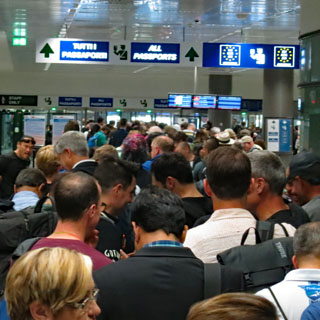 It depends on when I've picked up my bag whether or not I take the bus or use the express train to get to Milano. If the plane lands earlier than scheduled, the train works the best. It takes about an hour to get there. There's less walking at the Centrale Station if you take the train (and no stairs to climb, either).
Once at the Centrale Station, you've got about twenty minutes to find the train to Lecco. Miss that one, and you'll be waiting a couple of hours for the next one. I've done that on previous trips, but today things worked out and I hopped on the Lecco train with plenty of time.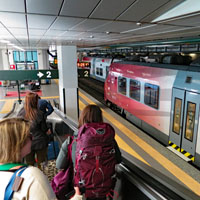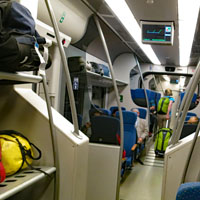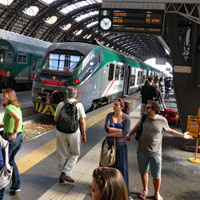 Arrival at Lecco. The hotel folks are good at having my room ready even though I'm arriving well before the normal time. I appreciate that.

First order of business is to stop across the street at La Capri for a typical Como meal.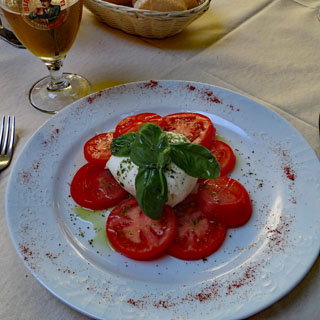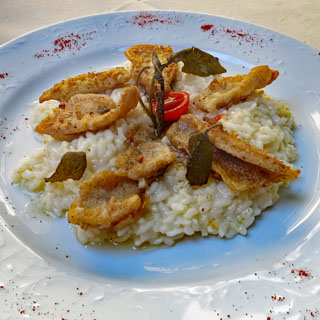 Lecco; it's a comfortable place.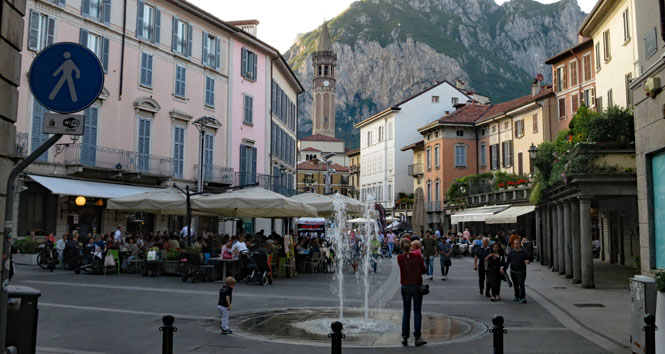 There's always something going on. Today it seems to a national level bike race, where the bikes all have electric assist motors. I've never seen such things, and here they have an entire class of fully sponsored racing events just for them.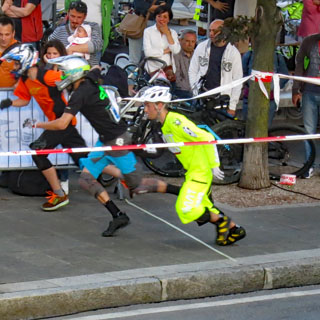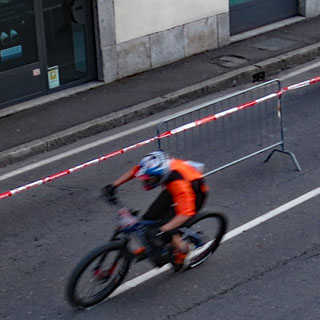 The electric motor might be helping out, but the riders still seemed to be working pretty hard to ride up the stairs. Riding down doesn't look so tough.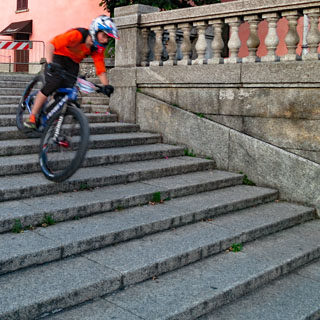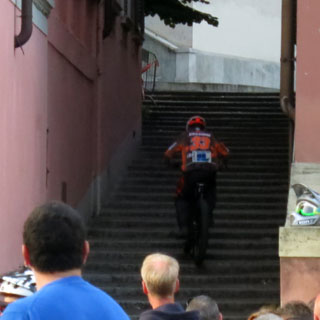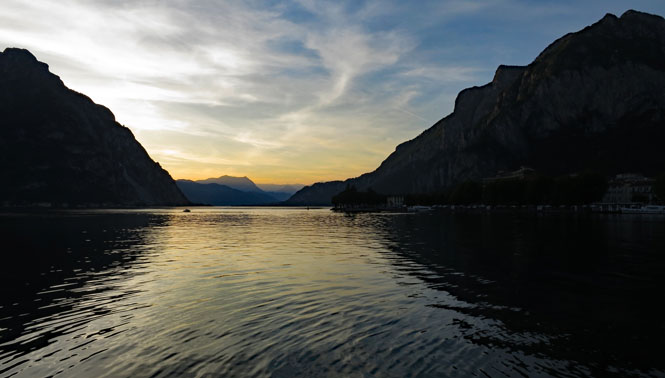 Lago Como (and a view of the Swiss Alps in the distance). My goal for today is to visit Via Carlotta, which is across the lake from Bellagio. I'll be taking the ferry from Lecco.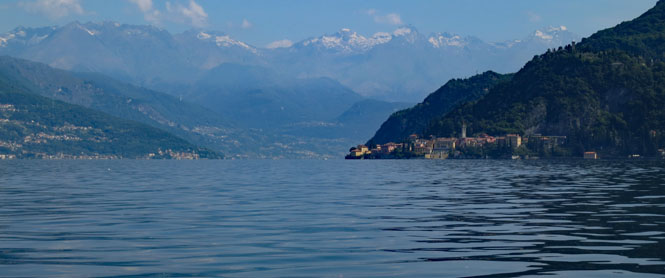 Bellagio. I only stayed here long enough to catch the next ferry.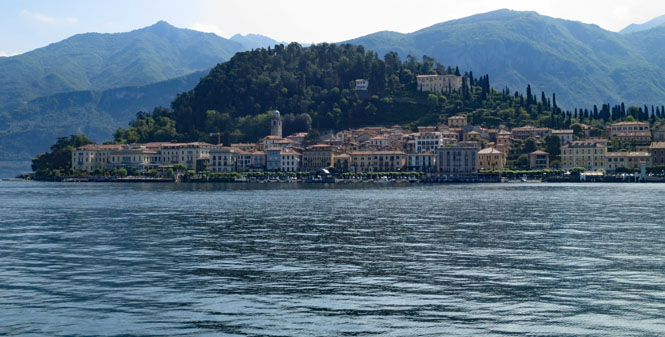 Villa Carlotta was built in the late 1600s for a Milanese marquis. In 1843 it was a wedding present to Charlotte, the Duchess of Saxe-Meiningen for whom the place is now named. After the first world war, the government of Italy confiscated the house, and it has remained a state museum and property since then.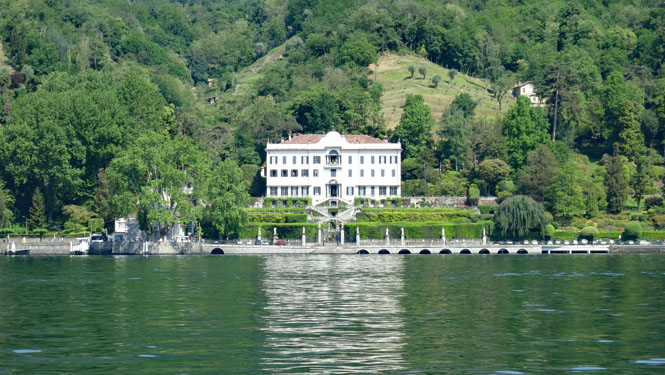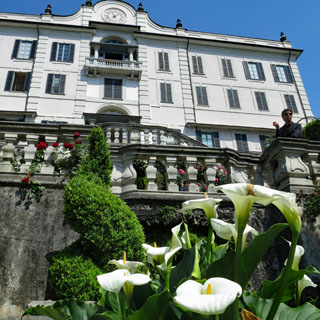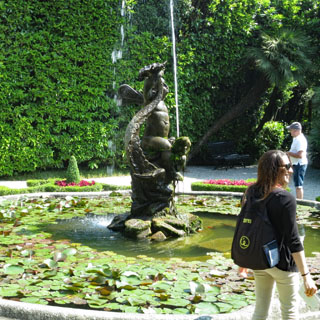 The grounds cover some seventeen acres with lots of foot paths that take you through seemingly hidden and isolated areas. Plants are from all over the world (including a couple of large Sequoias).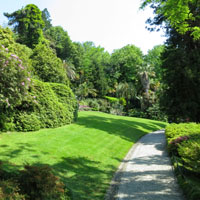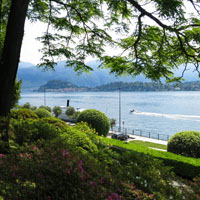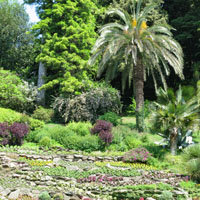 I heard one of the guides say that we had just missed the season when the trees and many of the other flowers were in bloom, but still, it's all pretty impressive.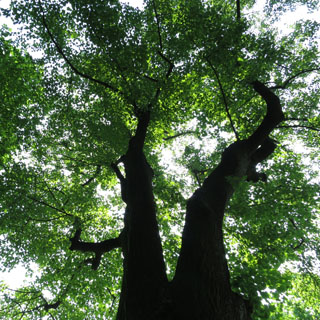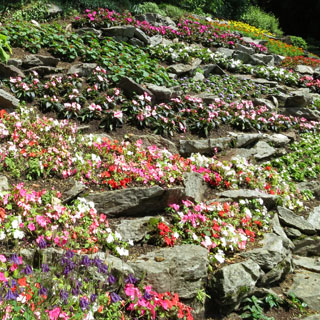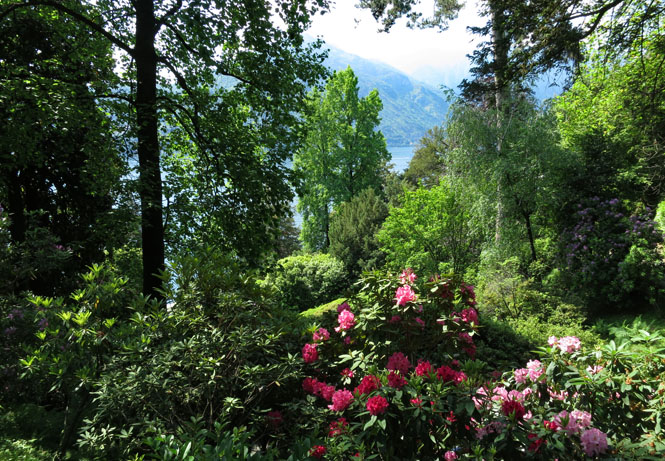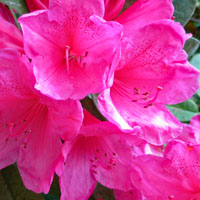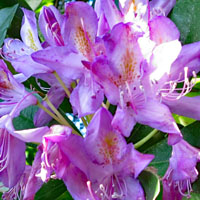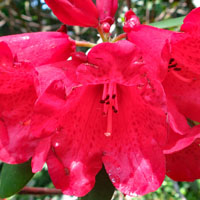 The villa is perhaps more famous for its well-known statues than the other art works on display.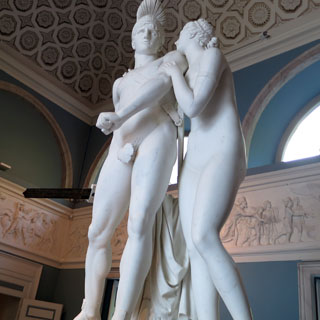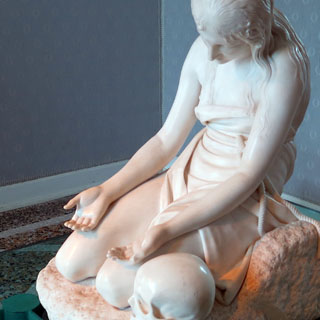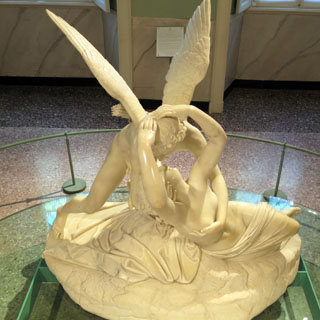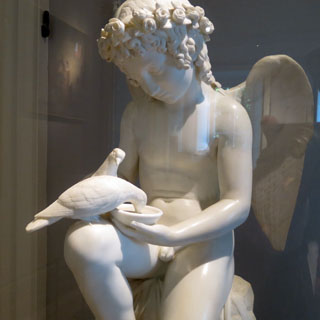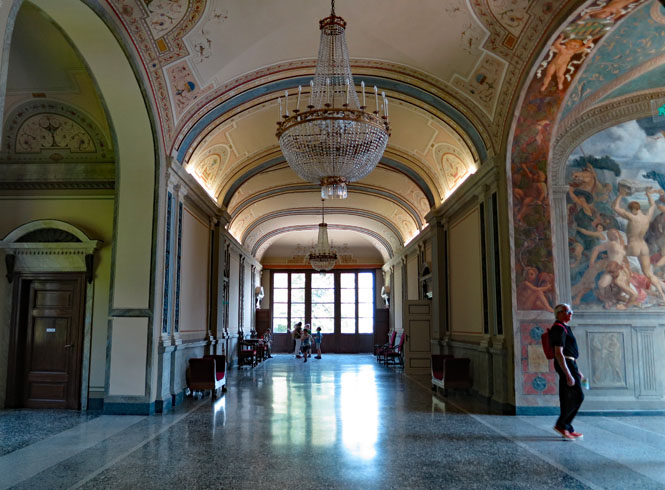 A couple of very large tapestries (see above, as well).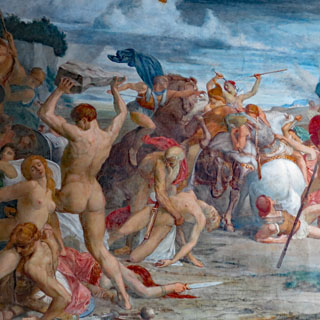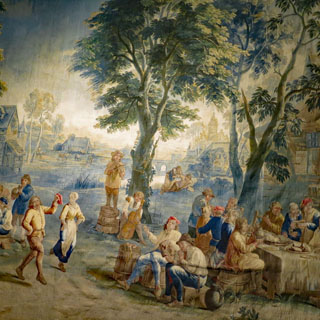 This disappointed me. I noticed that the top button of my pants was nearly undone, and needed to be sewn back on. A pantomime to request a needle and thread is easier than you might think. The reason for my disappointment was that this very thing is on my detailed checklist for the trip, and I still didn't catch it.
A glass of Grappa will reset the priorities.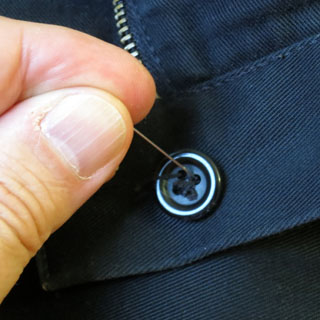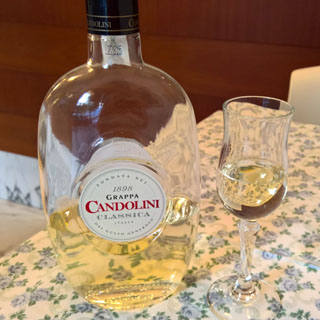 Monday morning, it's a ten minute ride to Mandello del Lario.

And, it's raining. Quite a bit, really. Stefano did me a favor and brought the bike into the showroom so I could load things up without soaking myself. The soaking would come soon enough.
Everything comes out of the larger yellow duffle-bag and is repacked into the small yellow duffle-bag that will be strapped to the pillion seat behind me. My boots and helmet and air pump were kept in Mandello, so those are three things I don't need to worry about hauling in. The air pump goes under the seat where the tools would ordinarily go, and the tools go in a waterproof bag that is strapped to the handlebar. I bring my own tools, so I don't rely on the feeble tool kit that comes with the bike.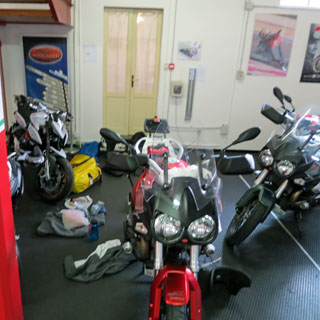 Getting south out of Milano is trouble enough. Miserable, really. There is no clean way to do it. Even the autostrada was stop-and-go. I had a fair amount of rain the first hour, but it mostly cleared up by the afternoon.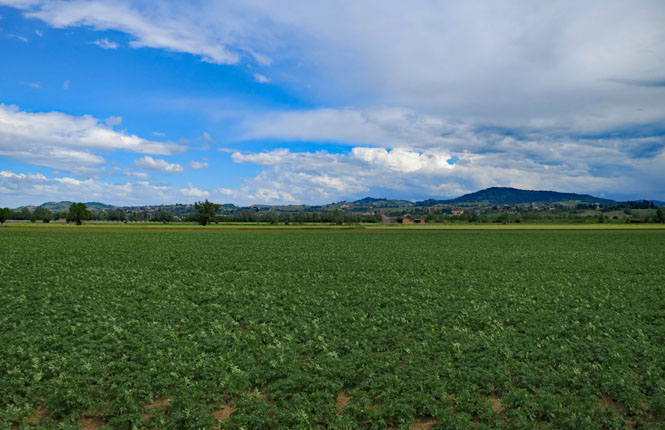 Voghera. I'm following the old route to Genova--avoiding the autostrada.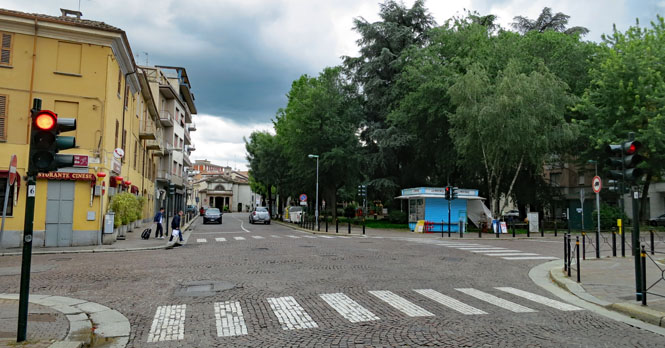 Villalvernia. These aren't towns that dress up for tourists.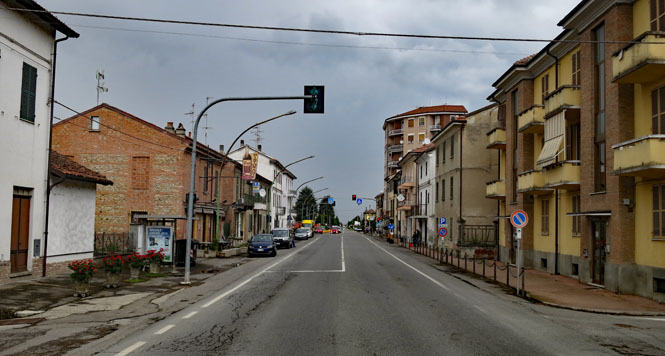 Serravalle Scrivia. If you avoid the bypass and run right through town, chances are good you'll be riding on several one-way streets that don't make much apparent sense, but you'll get across town if you pay attention to the signs for the next town (which you'll see if you are lucky).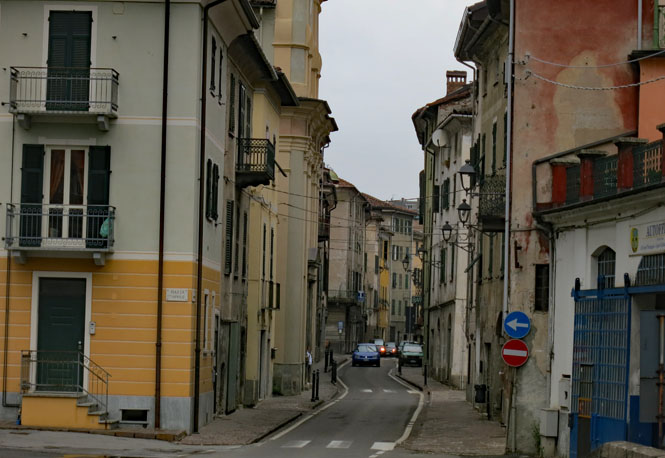 The passo over the mountains to Genova has been used for centuries. Today, the autostrada makes quick work of it through multiple tunnels and viaducts, but the old highway still winds up and down through the valle, following the fiume.
The temperature dropped down to the high forties with a bit of drizzle to chill the hands, but I figured that would probably be the last time I'd need the electric vest.
I had a pretty difficult time getting to the dock as there were virtually no signs directing traffic to the ferries. On returning home, I pulled up the proper route. Well! It's no wonder I didn't get to point 'B' without several missed turns and more frustration. This aerial view doesn't fully show you the multiple levels that this path takes.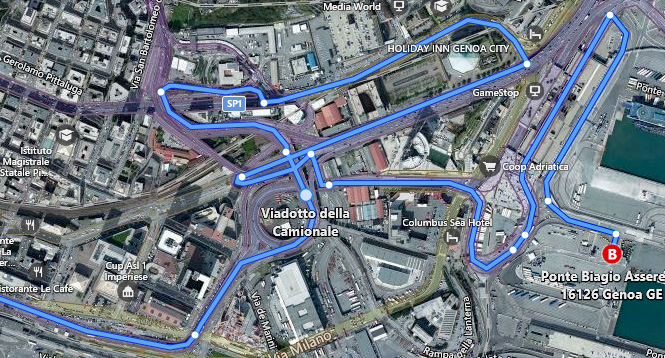 In the end, the key to success was to make that sharp LH U-turn and then an immediate RH turn, at which point it all became mostly clear.
The Grandi Navi Veloci ferry "Excellent." Sailing time was listed as 8:00pm and people were advised to be ready two hours before that. I didn't roll on the ship until 10:00pm. I've been on many large ferries, but the loadmasters for this one would have to be called the least organized of them all.
Compared to some of these BMW riders, I felt decidedly underdressed and my bike both underequipped and under loaded.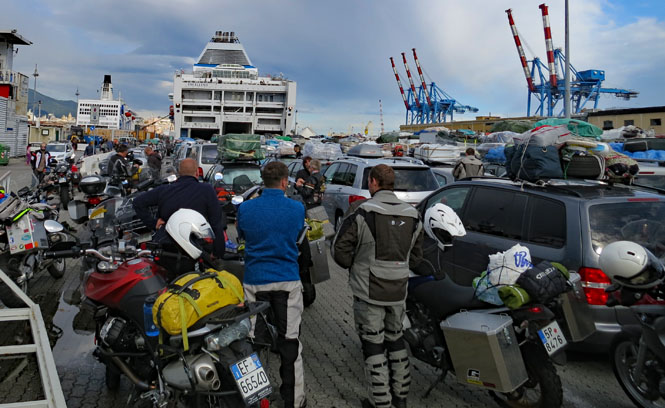 They have a lot of nautical miles to make up for the delay--and, they did.
Oh, dear. I thought some of these might tip over just getting on the boat. I cannot imagine what it was like to drive something so overloaded on an Italian road. The ferry is going to Barcelona, but from there it continues to Tangier, Morocco. That's where these vehicles are headed.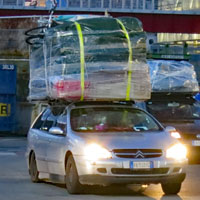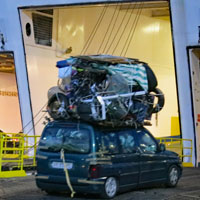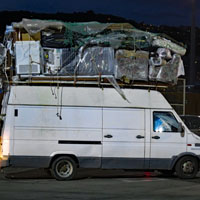 I had a cabin with a window, which was nice. That's the view of Genova at night. As is always the case with these ferry berths, the bed is too short, but no matter; I slept well.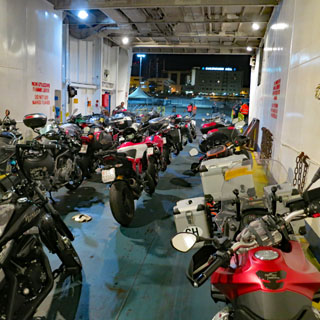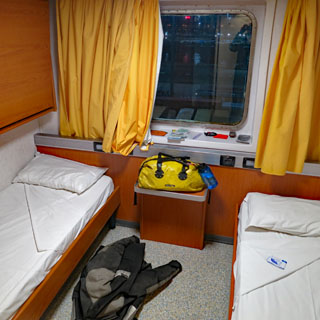 Genova and the docks.

Looking at what the ferry has to offer. We wouldn't be in Barcelona until 3:30pm the next day.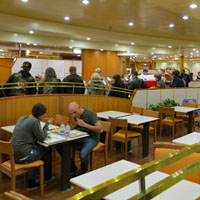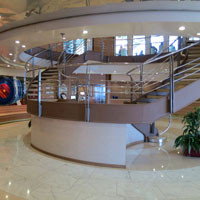 It was a smooth ride. I had no worries that there'd be a jumble of motorcycles in the hold.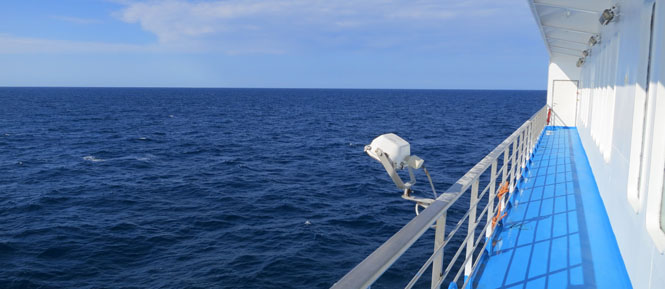 España
Catalonia
Barcelona. Look close and you can see some of the famous buildings. We passed several large cruise ships on the way to our slip.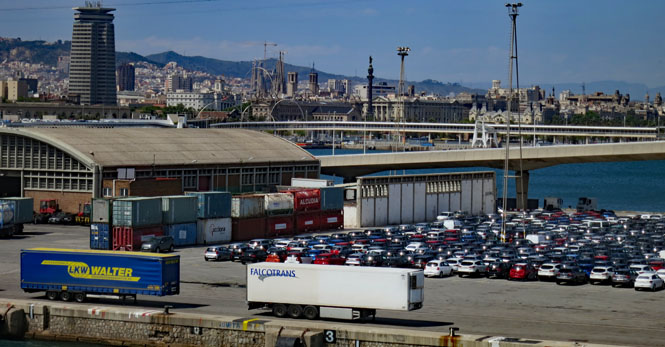 Since the ferry is sailing from one EU country to another, there is no passport check. Just roll off the ferry and you're on your way.
This was the only night I'd made earlier reservations for a hotel. I didn't have far to ride this day. Painting the ceiling black? I guess you can do that in Barcelona.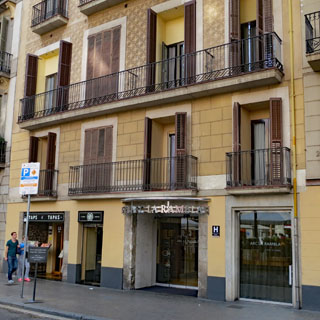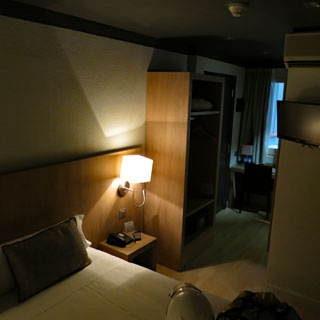 La Rambla--easily the most famous street in Barcelona, if not all of Spain--is just outside my hotel.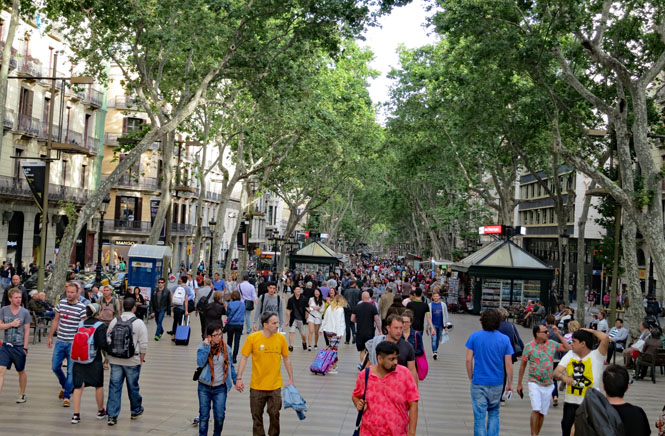 Everywhere you look you'll see amazing architectural details. Most every building has something special about it. It's a remarkable neighborhood--Barri Gòtic (The Gothic Quarter).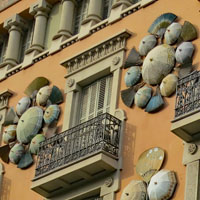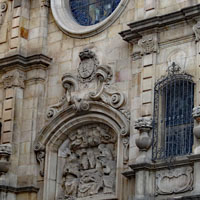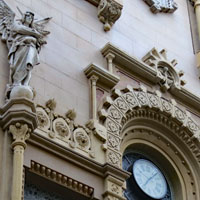 I'd heard and read that the quarter is safe and is very well patrolled. I believe it.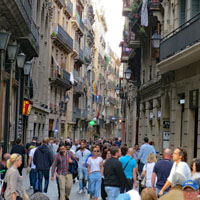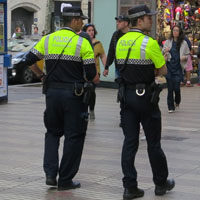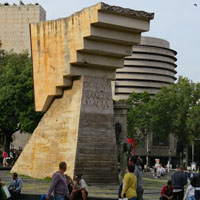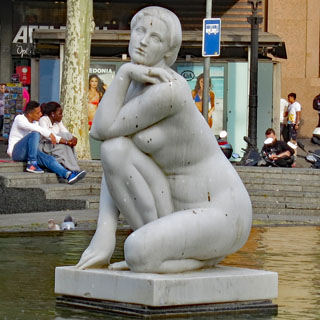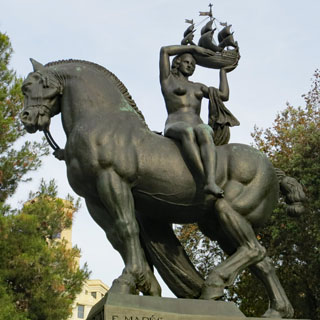 Details everywhere you look.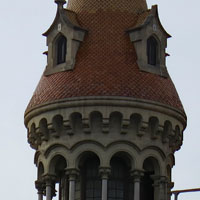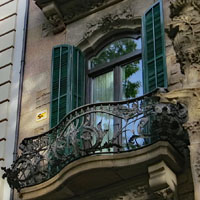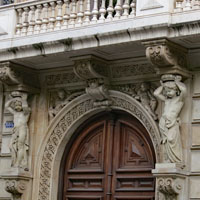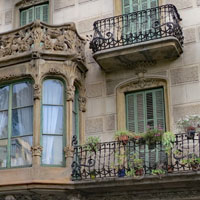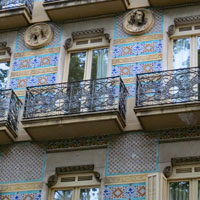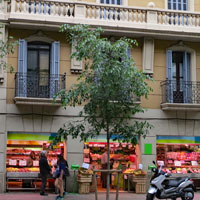 The Basilica Sagrada Família. Wow. Construction on Antoni Gaudí's masterpiece began in 1882. Work continues today.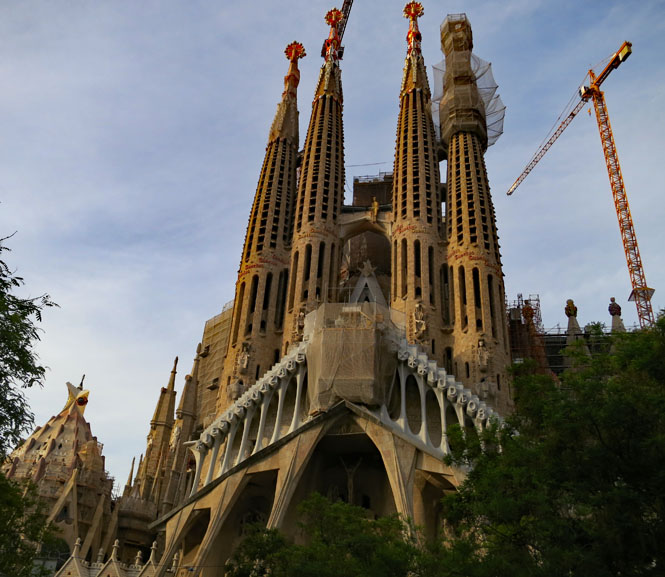 I have never seen such stone work. This is really a jaw-dropping building.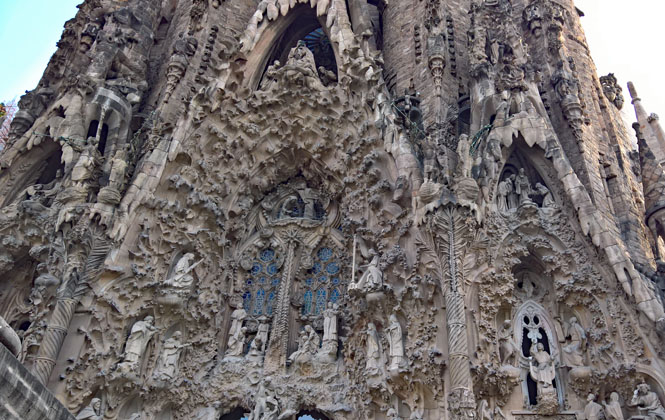 Unfortunately, I was too late for tours of the interior (even if I had made reservations ahead of time as would have been required). No matter.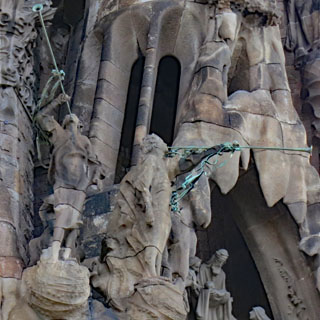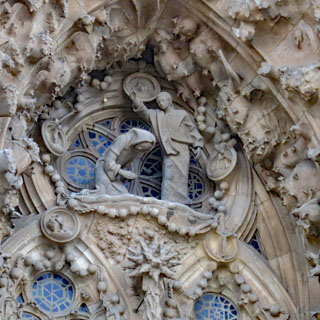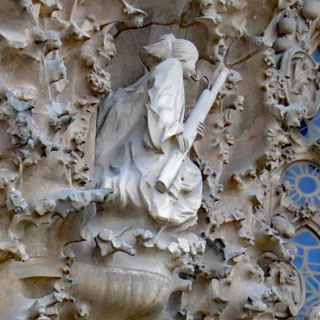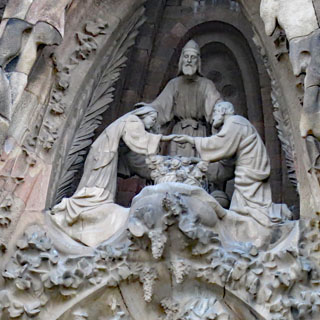 Barcelona isn't afraid to put up interesting buildings.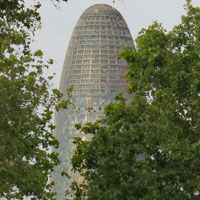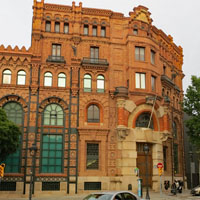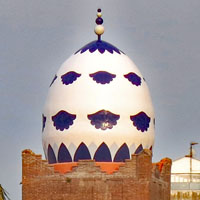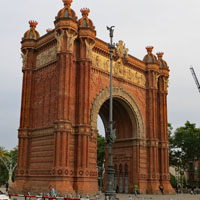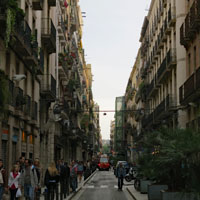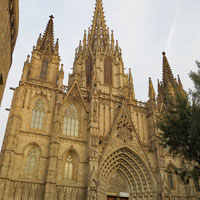 Sangria...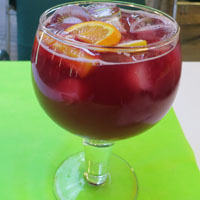 That's gazpacho on the left, followed by paella de carne on the right. Excellent. Welcome to Barcelona.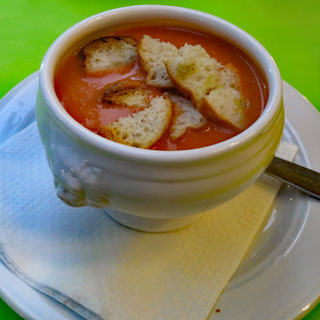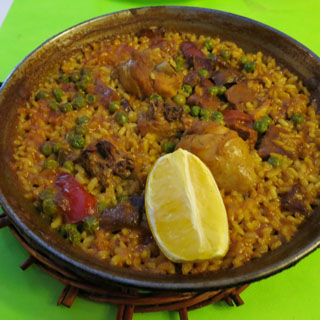 The first goal the next morning was to ride south in the most efficient way to get out of the Barcelona sprawl.
A reminder on fuel. Look and look again. Make sure you're putting gasoline in the tank. Diesel is common, but often is not called diesel.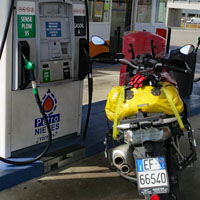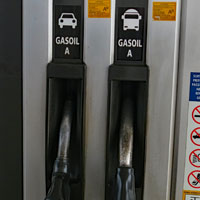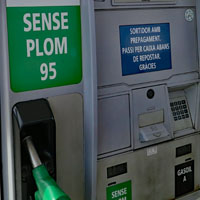 Cervera. I'm well out of the city by now and am just looking for interesting and inviting roads. I have no destination and don't know where I'll be when I need a hotel.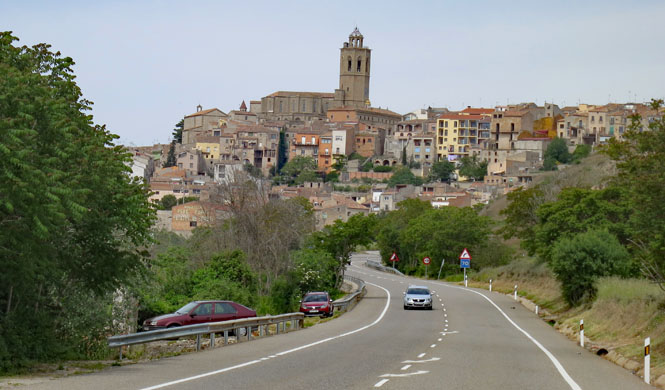 Very tidy gardens. This sort of thing is common.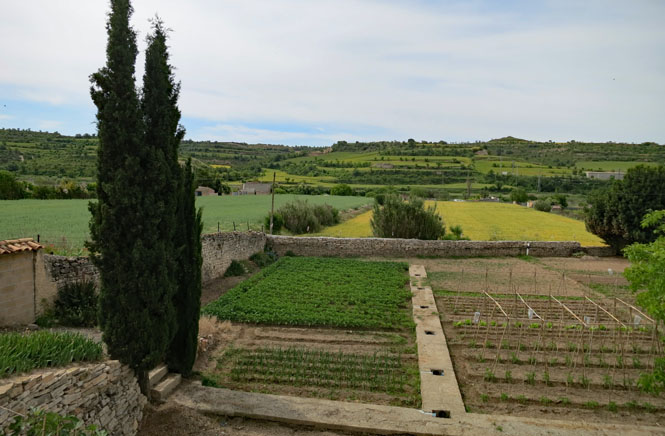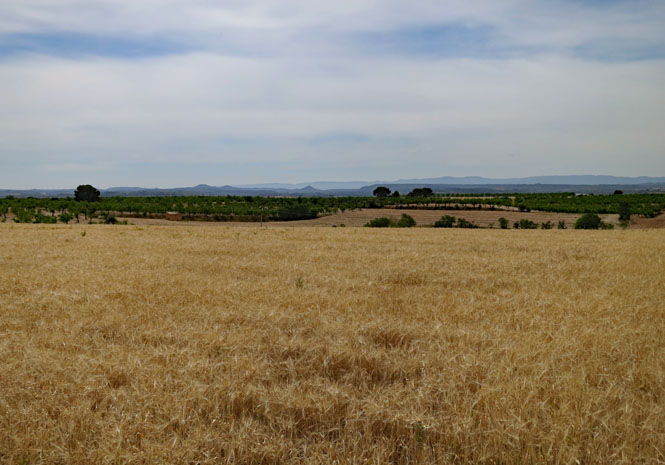 L'Albagés. Surrounded by olive groves.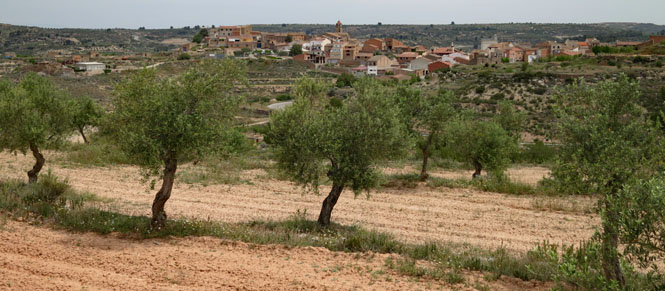 This is the sort of road I'm always looking for. It's too narrow for a center strip, but gets me to where I want to go.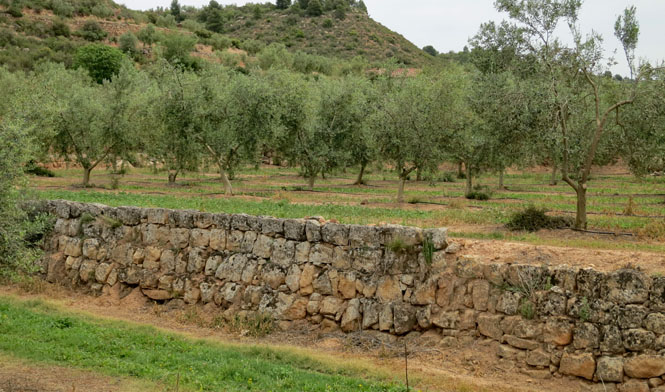 La Granadella. The extent of stone walls is amazing. It's the work of generations.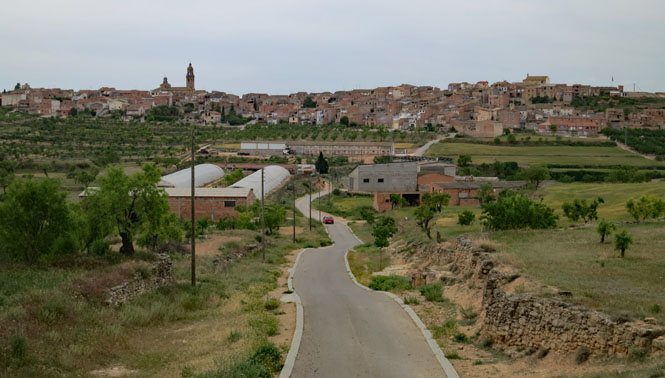 Gandesa.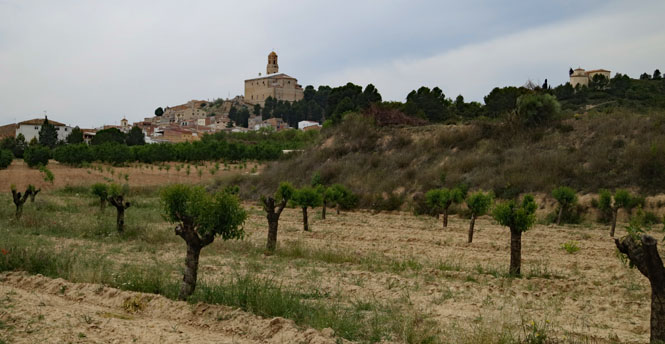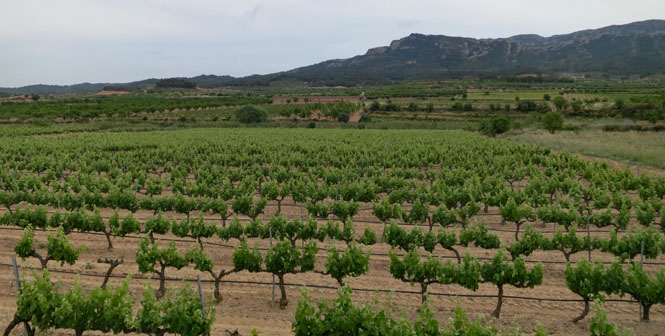 Aragon
The Prime Meridian passes through here. Look north and you're looking at Greenwich, U.K. I wonder how many such roadside displays there are (literally) around the world.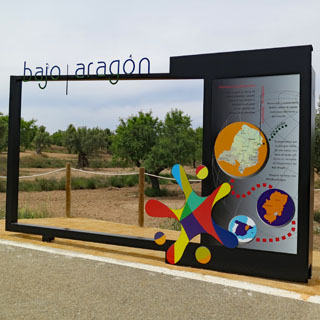 Torrecilla de Alcañiz. These towns blend in so well to their surroundings. Sometimes if not for the taller church you might not even notice them.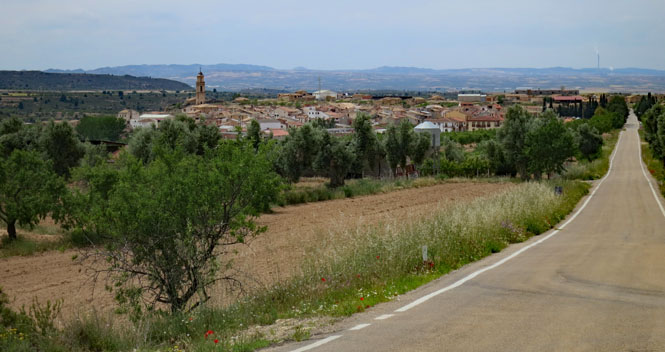 Castelserás. I was impressed by that bridge; it's been there for hundreds of years. Without it, the town is protected by a deep canyon.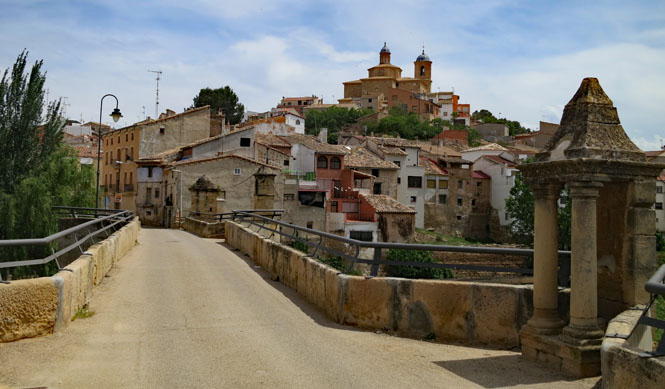 Alcorisa.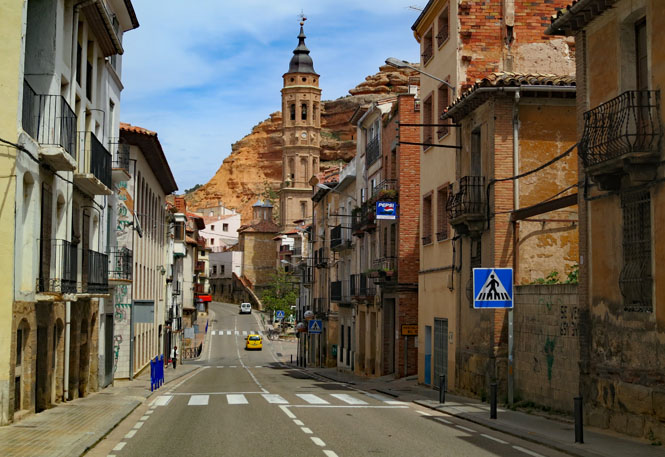 I'm not riding in flat plains--not much, anyway. I'm crossing mountains and then dropping down into valleys.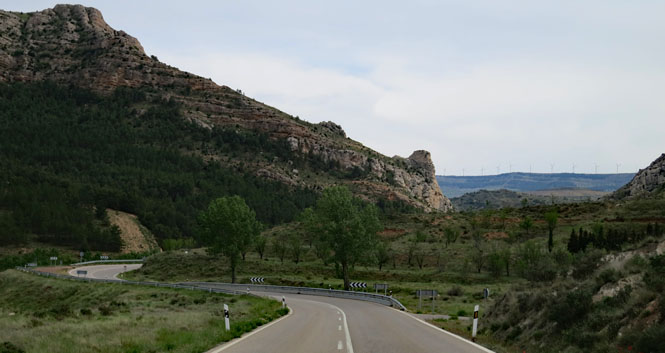 Alfambra. If you look close at the top of every mesa, you'll see a castle or a church or the remnants of something made from stone.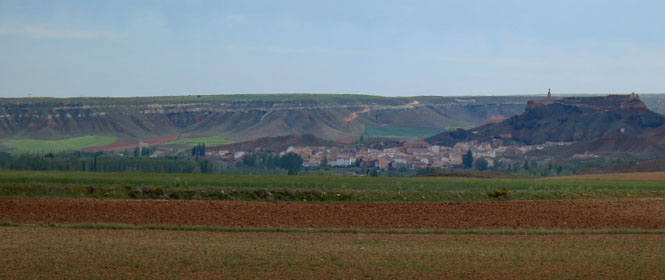 The plains of Aragon.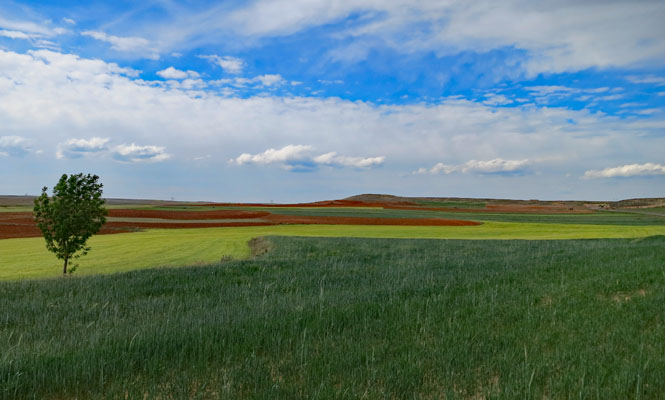 Teruel. A half hour earlier this wouldn't have been where I expected to stop for the night, but it looks promising. My technique is to ride to the center of town (or just outside if the center is pedestrian-only) and then walk around looking for a likely hotel.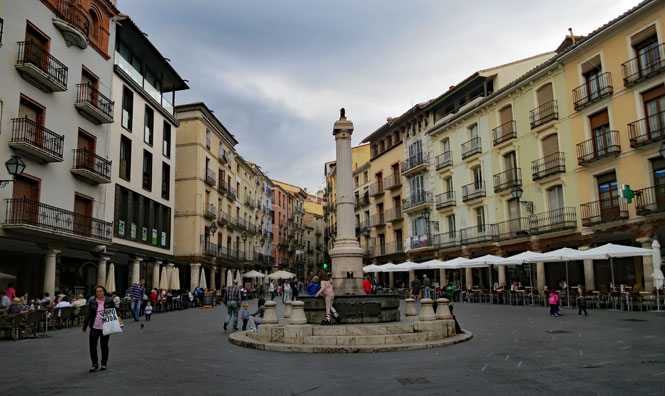 In Teruel, the first two hotels that looked good were booked. The third--Hotel Reina Cristina--had a room for me. Excellent. Yes; it might be a legitimate four-star hotel, but I'm only paying about fifty euros (breakfast included). Spain is not an expensive place.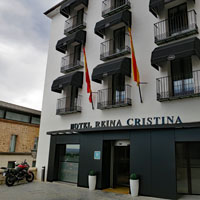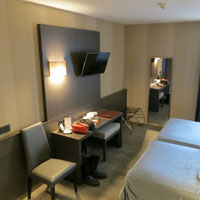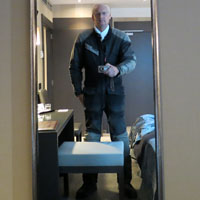 I don't know that I've ever seen a city with such extensive and elaborate stone and brickwork.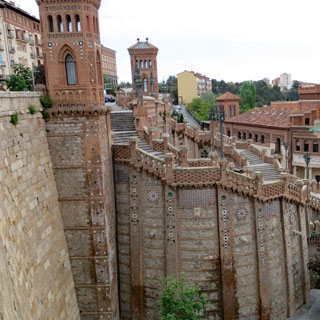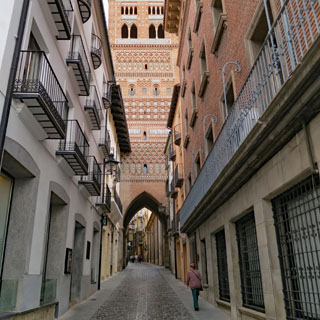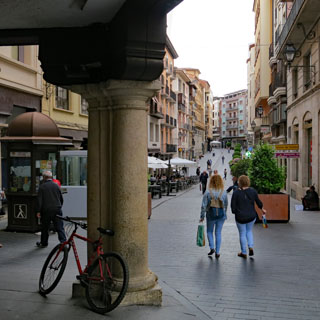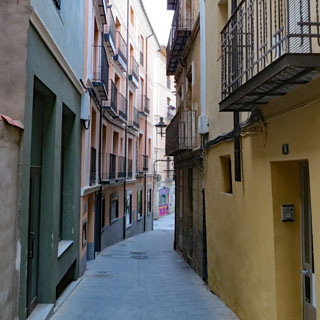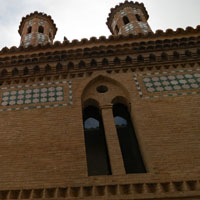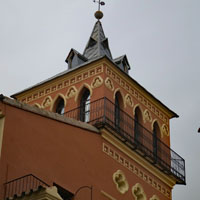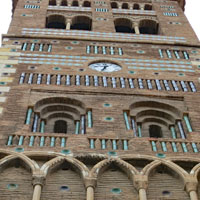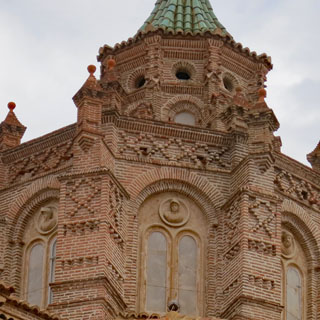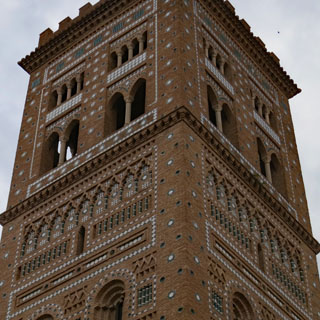 Tapas. I've not sorted out all the ins and outs of ordering at a tapas bar (and never do), but it's a good concept--and, you don't need to wait until 10:00pm for the restaurants to open. Toast with Jamón ibérico (Iberian ham) and tomatoes. It's perhaps not a usual dinner (not even here), but it's really good.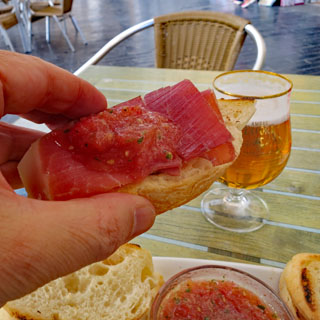 Back into the hills. It's a beautiful morning. I had thought that I could just pack my electric vest at the bottom of the yellow duffle-bag for the rest of the trip. That didn't work out. I'm wearing it now, and would for the rest of the trip. But, riding in the fifties and sixties is perfect for me.

Libros. High canyon walls looking every bit like Apache country. It's easy to see how during the sixties filming Westerns in Spain made sense.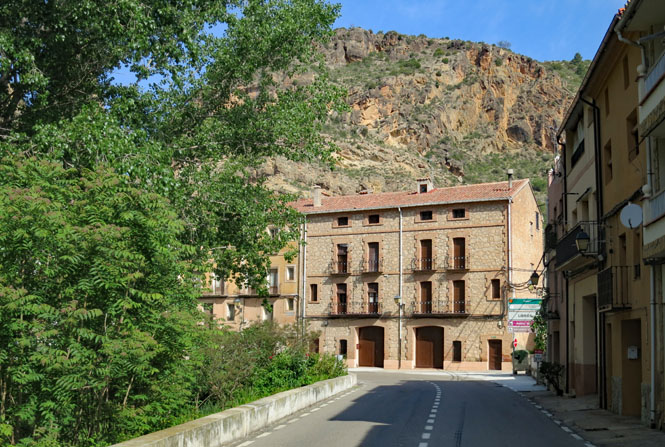 Valencian Country
Ademuz. No homeowner association in America ever had the success that these towns have with ensuring a standardized look--and, I'd bet that there's nothing in writing.

The red Stelvio performed flawlessly.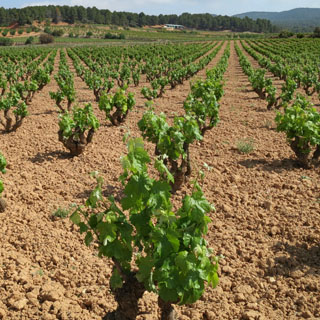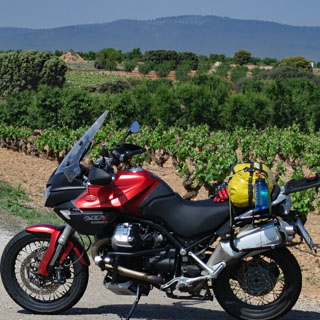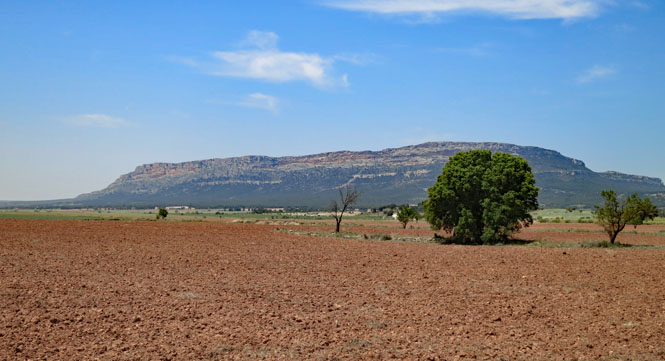 Castilla-La Mancha
Almansa. Any town with a hill will also have a castle on top of that hill.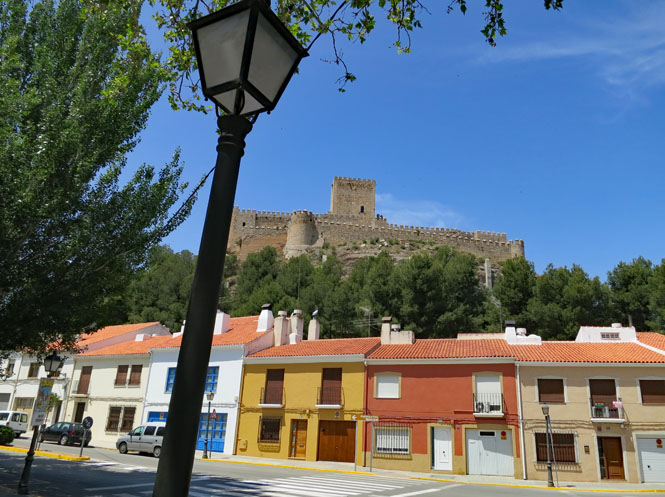 Region of Murcia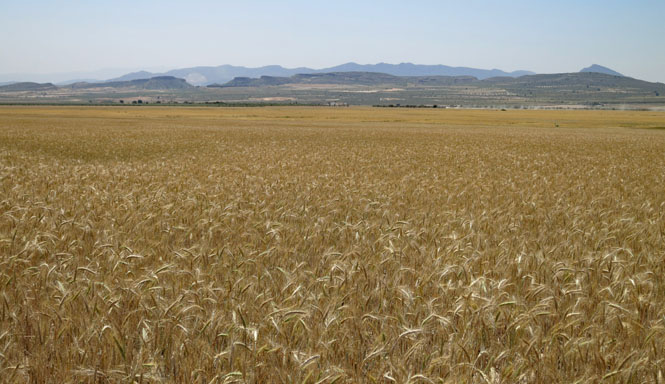 Yecla. While I saw plenty of bull rings, I never made any effort to see a bull fight.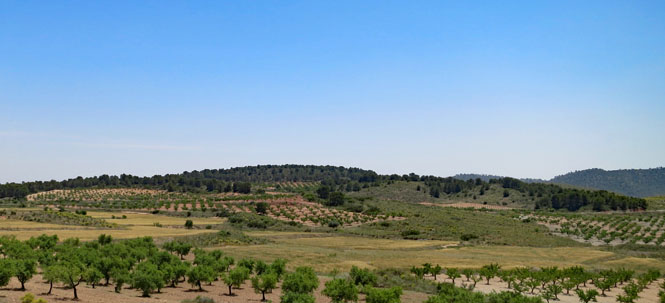 Castilla-La Mancha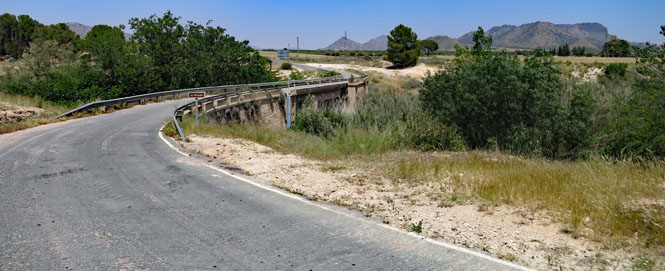 I prefer the little roads, but this was about as rough as I'd want. At times it was more pothole than pavement. It's only the width of a truck, so luckily there was no traffic.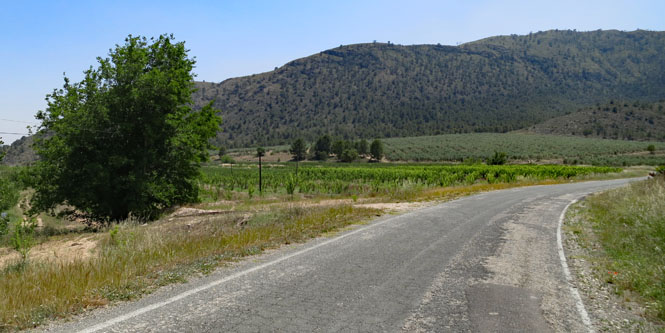 Las Minas. Sulphur mining was done here since Roman times, all the way through the first world war. That's all finished, now.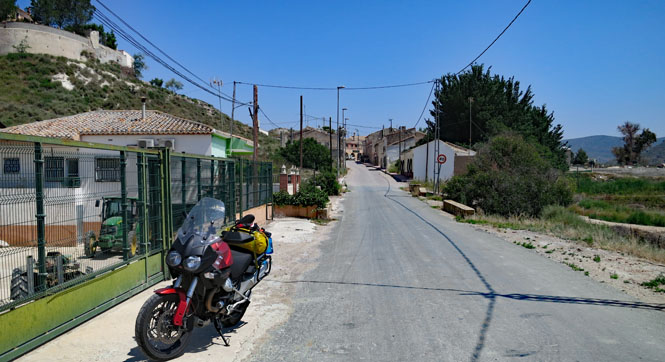 I'm sure the only reason for the paved road was to support the mines, and now that they're all closed, I don't know that there's much maintenance being done.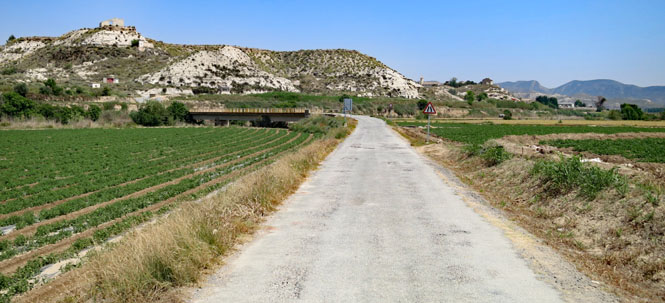 Region of Murcia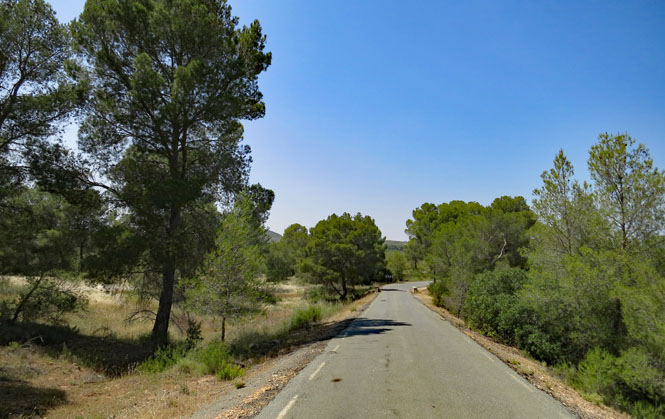 Moratalla. I thought this place looked big enough on my map to have a hotel or two. If it does, I never found them. Move along to the next spot.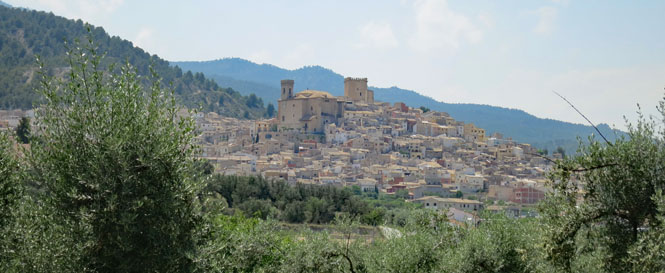 Caravaca de la Cruz had one hotel (that I saw). But, it was pretty good.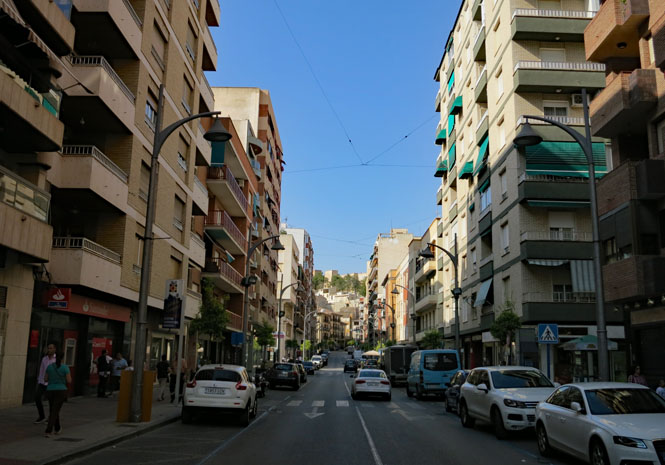 The hotel starts on the second floor above the restaurant and shops. Parking is in the basement and you'll get there with an elevator (you'd best know the length of your car before driving on the lift and closing the door).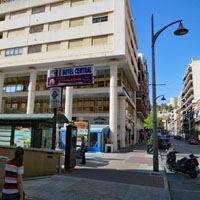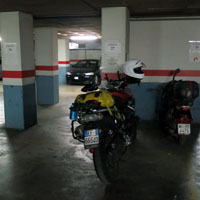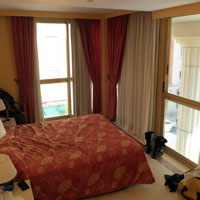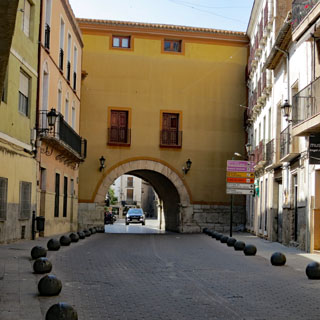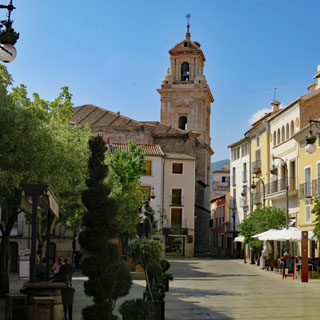 This town has quite a high hill, and yes, there's a large church on top.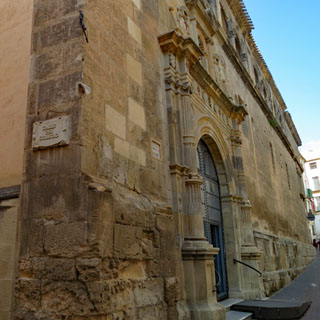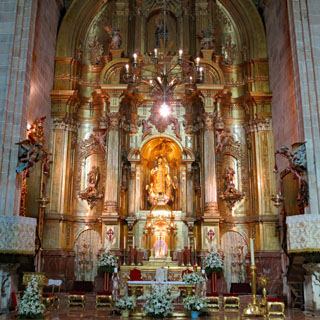 This is the end of one of the major pilgrim routes through Spain. Without realizing it, I'd been following half of that route ever since this morning in Teruel.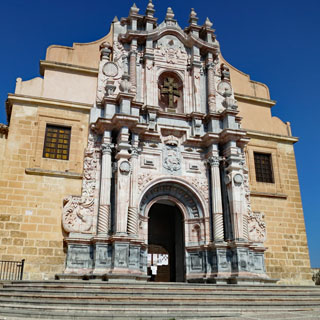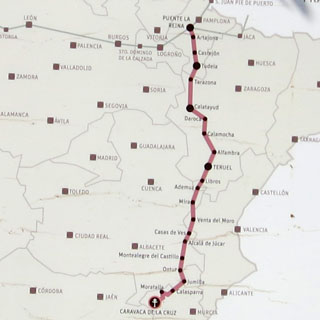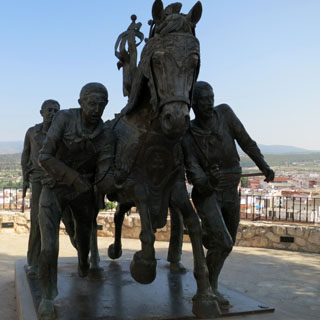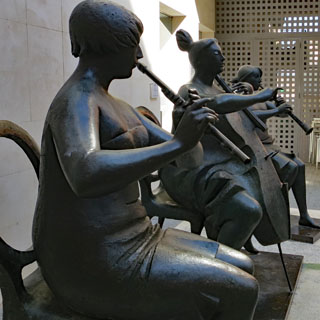 Church cats are always ever calm.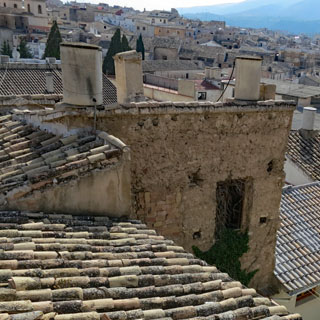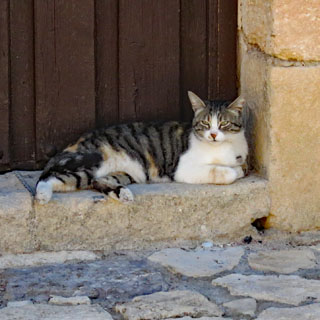 Dinner. More Jamón with the salad, followed by pork. You might be missing out on large parts of the menu if you don't eat pork.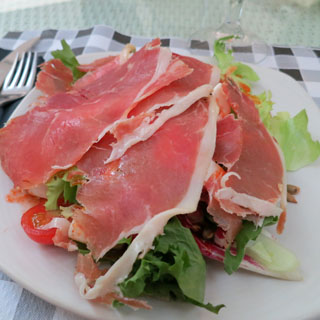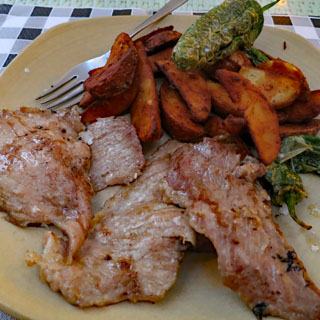 Breakfast: toast, tomatoes, fresh squeezed orange juice (and no Jamón).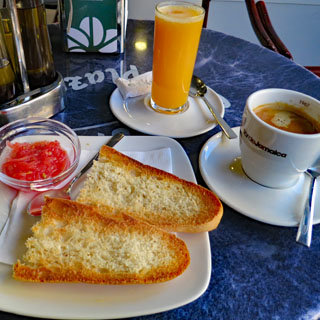 Topping a crest and looking over these valleys spreading out in front of me, with hardly any roads and few towns. It's a remarkable part of the country that probably hasn't changed in centuries.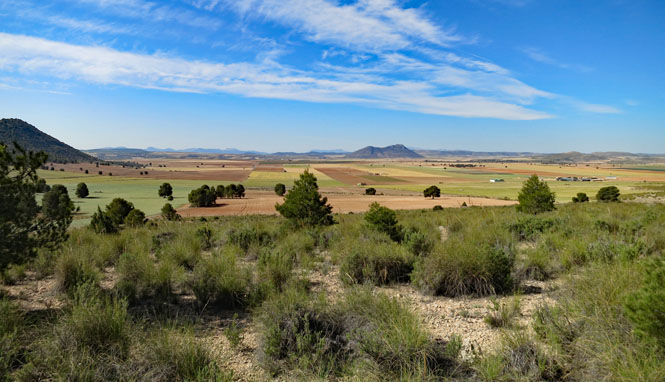 Andalusia
Puebla de Don Fadri. I'm cutting across some mountains that the primary roads avoid. I'm not sure how smooth it will be, but I'm pretty sure the roads are all paved.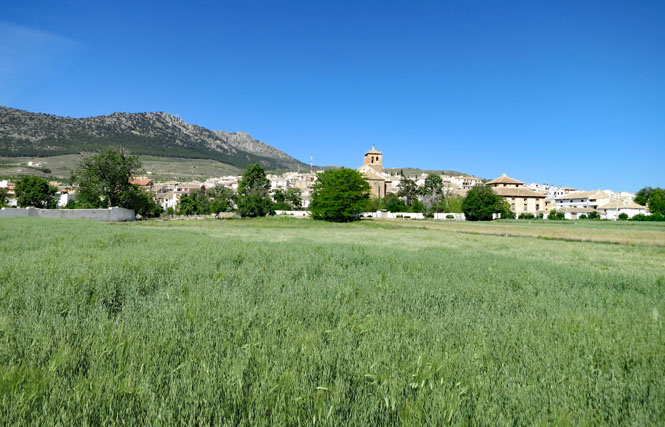 Huéscar.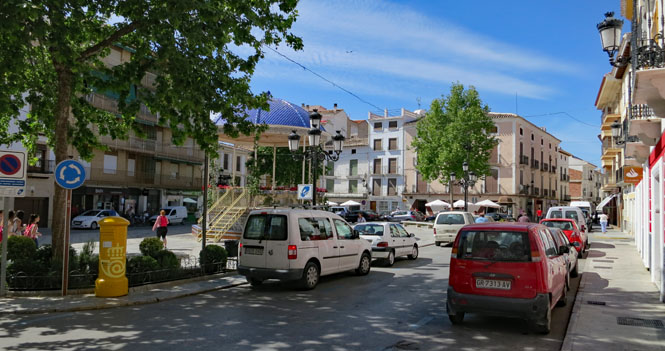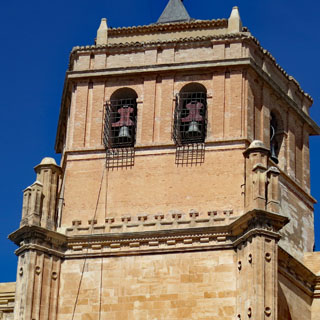 I always check the organ loft. For the most part, every church has one.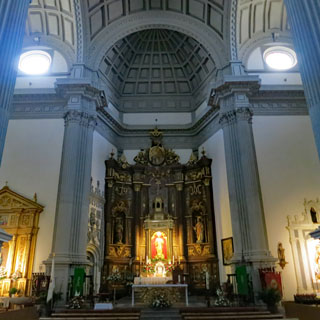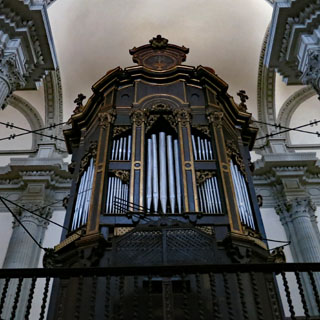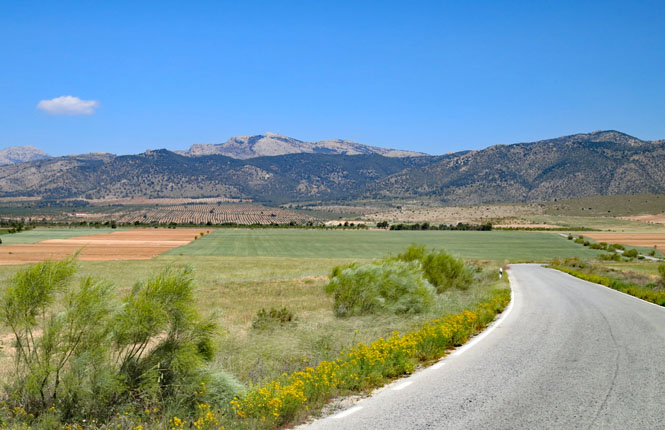 That's the thing with these flat valleys. They look easily crossed, but very often you'll come to a gorge such as this that would be impossible without a bridge.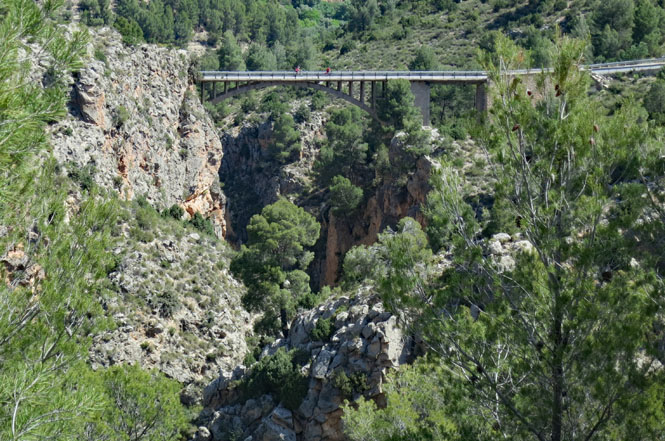 Almond trees. The dirt these trees are growing in seems to be nothing but rocks. It's difficult to walk.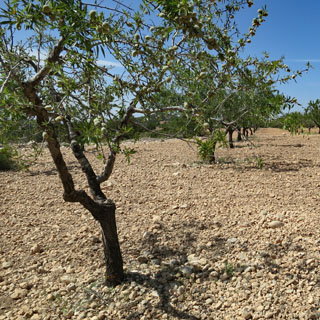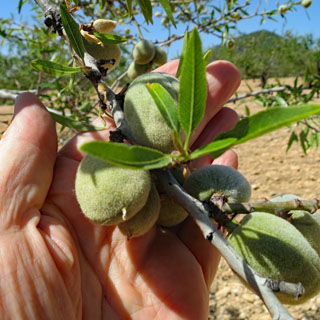 I'm always paying attention for any slow moving farm tractors chugging up the hill.
What a lot of work to plant and tend these groves (olives and almonds I'm supposing).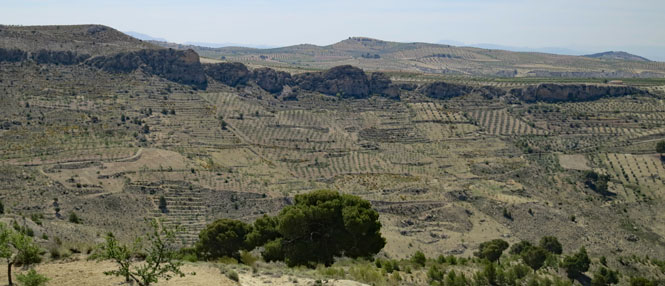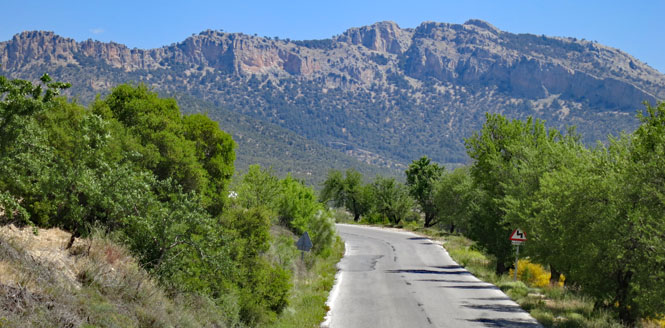 Castril. Some countries build their towns on hilltops, and others build in the valleys. I guess it all depends on how much you trust your neighboring towns to behave themselves.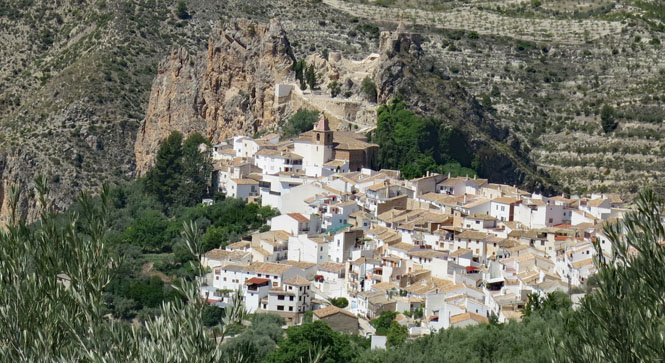 Rio Guadalentin.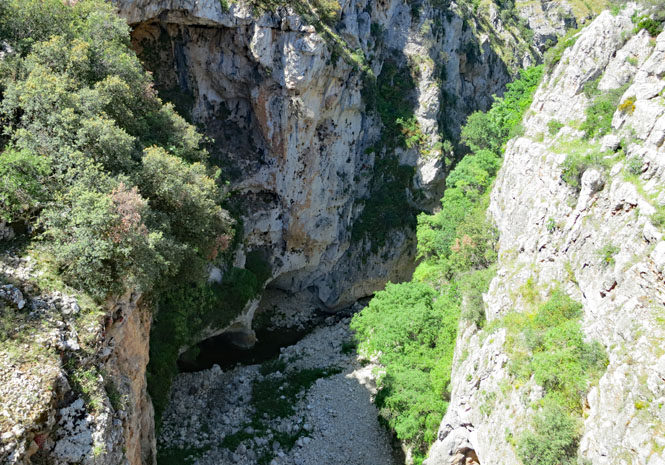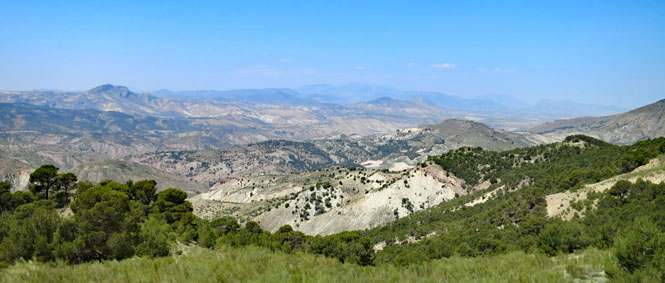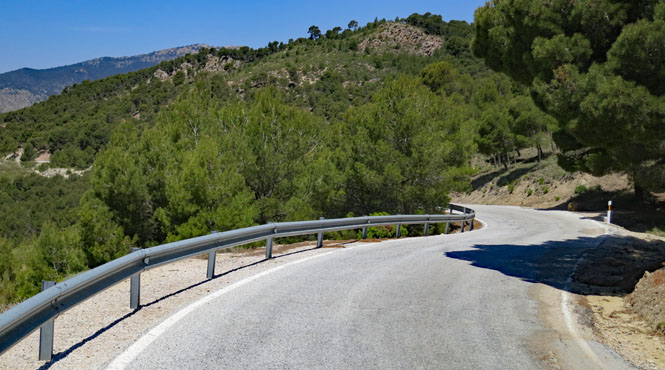 Church or castle or house. Somebody had an isolated existence.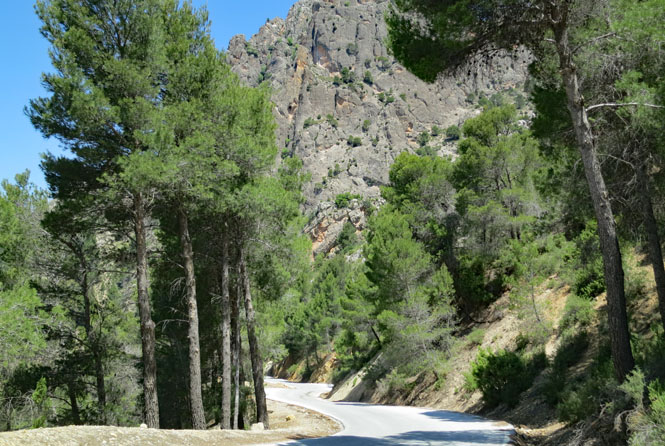 I admired this road. It could not have been easy to build.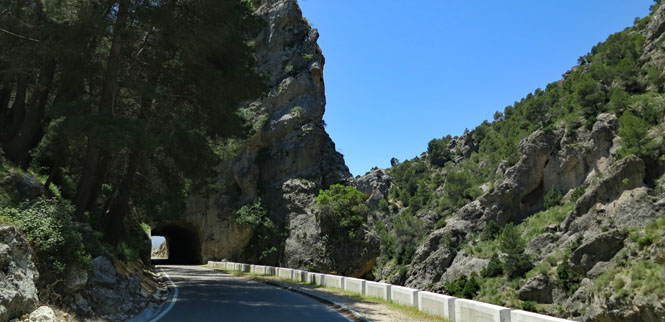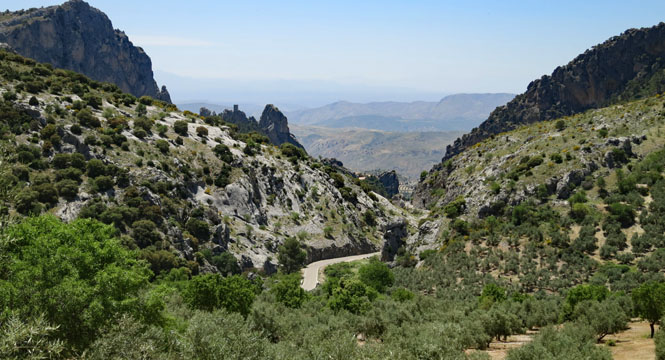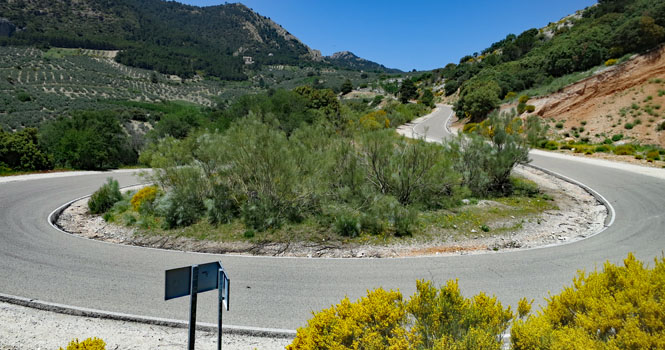 Olive groves for as far as you can see. And farther.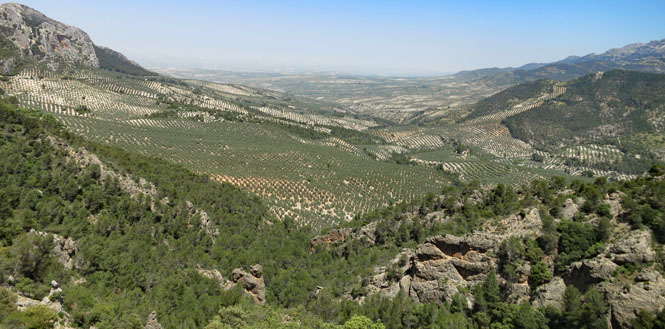 Jodar.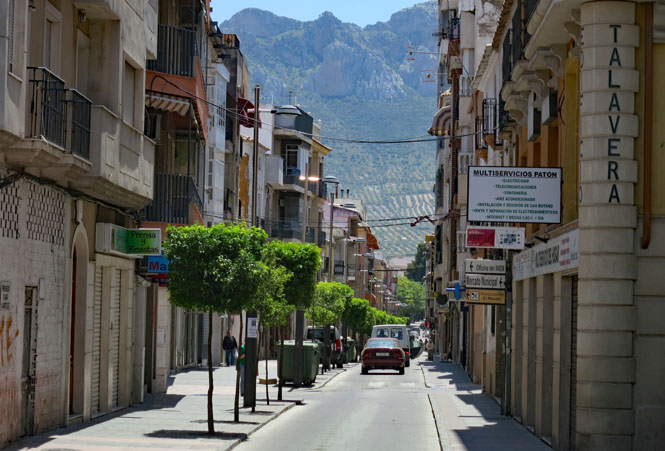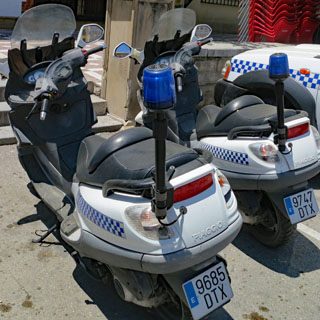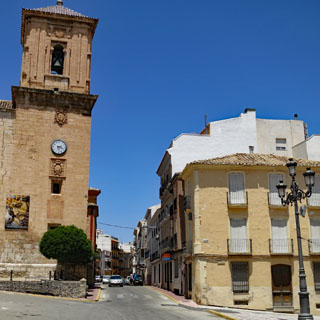 I stopped at the bar (the yellow building) for my usual drink while riding--Schweppes bitter tonic water. As is often the case, that will come with some sort of tapas food. Eighty cents for lunch.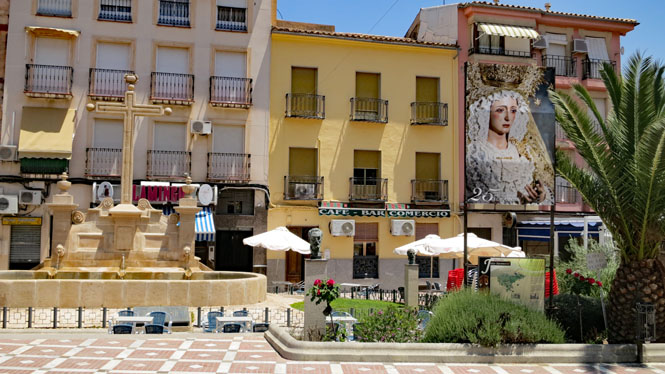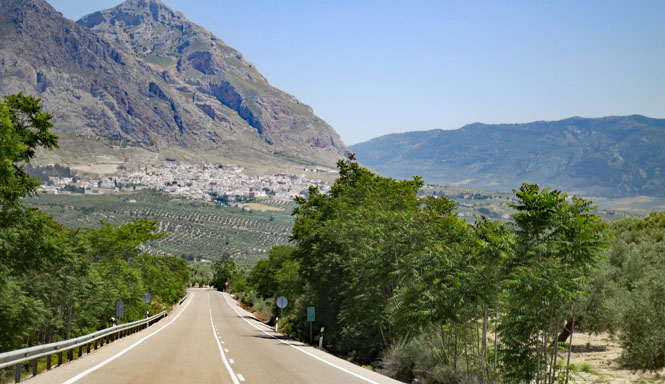 I have never seen so many olive trees. Miles and miles and miles. Stopping for a bottle of "sin gas" and to figure out where I want to go.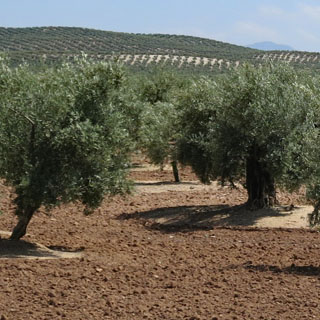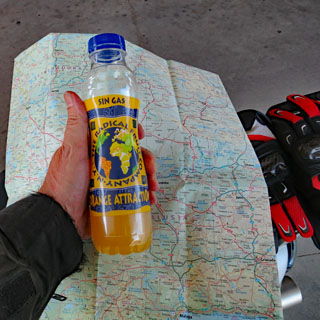 Córdoba. I'd been heading for a town beyond here, but by the time I reached the center of the city, it made sense to stop. This was the first hotel I saw, and it was a good one (likely, most other guests were on an expense account).
Each night I updated my bit of laminated map to track my progress.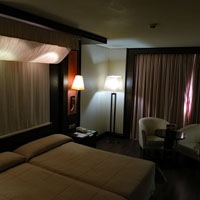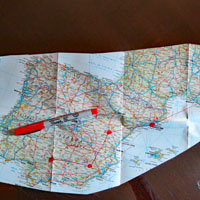 Old town Córdoba. What a remarkable place.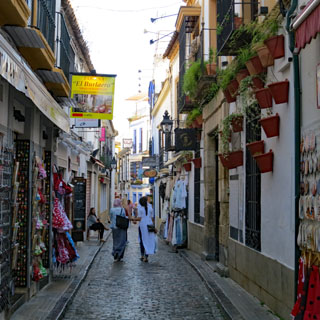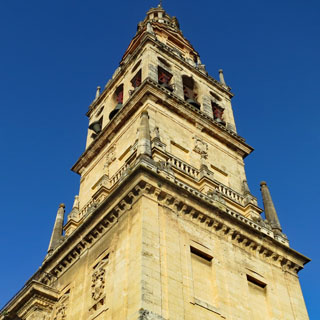 It's a mix of architecture from several civilizations.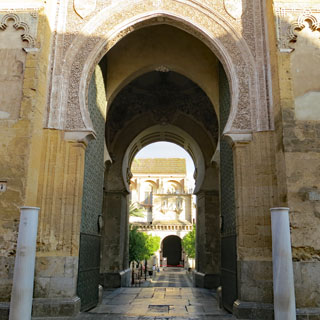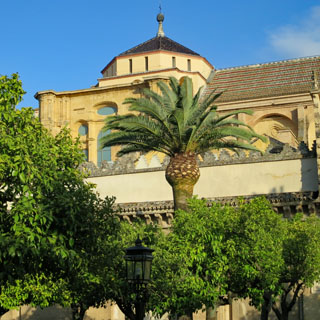 A map would help, but I think it's sometimes best to just wander. There are no straight lines, but I'm not one to get lost.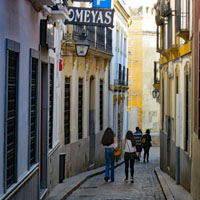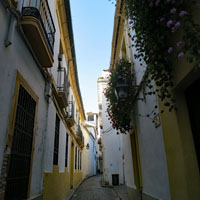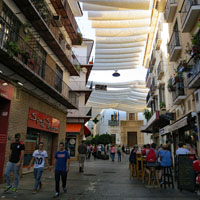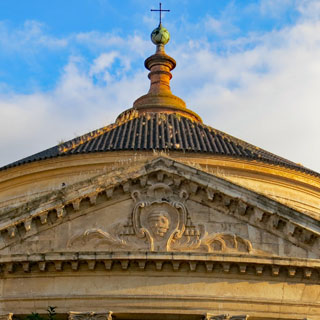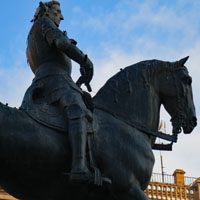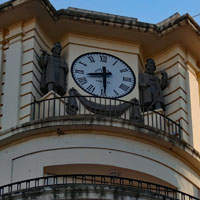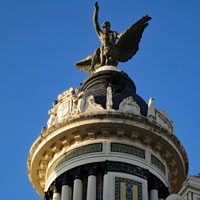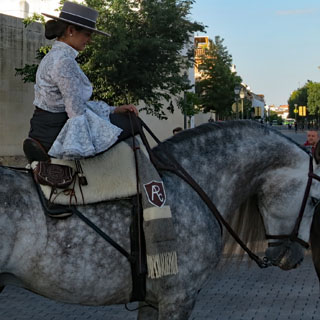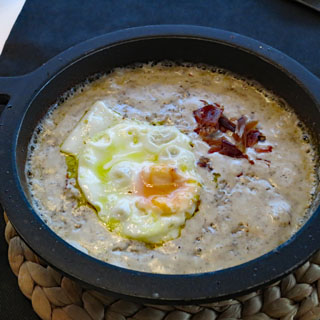 It's going to be a cold, wet day, but at least I don't think the rain will ever last too long. That thunderstorm to the right is a concern--that's the direction I'm heading.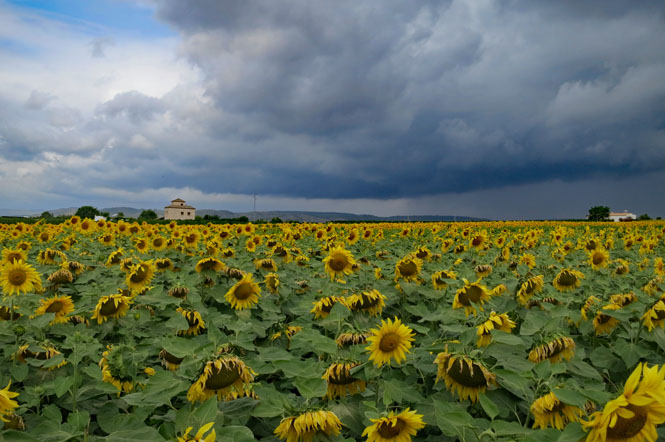 Oh, man. When the rain is so heavy that the roads are streams and the cars have their wipers turned to high-speed, it's only sensible to pull over and wait it out.
It's around fifty degrees; a cup of hot coffee just to warm my hands would be nice. I'm afraid these tiny cups don't work so well for that purpose.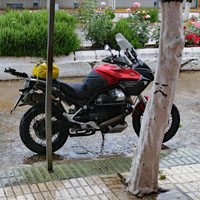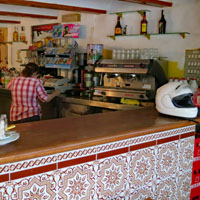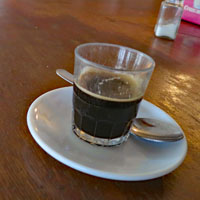 Aracena.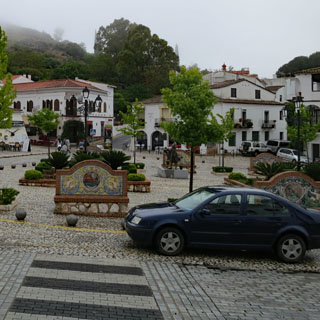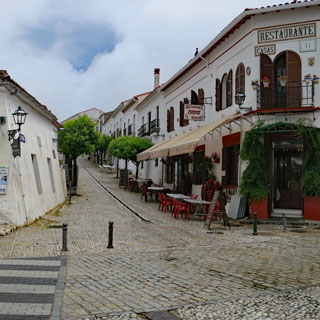 I've not seen such a well-preserved public washing plaza. Aracena has really dressed herself up and is a popular destination--several large tour busses arrived while I was here.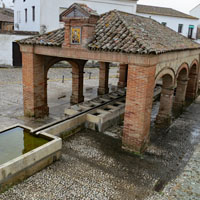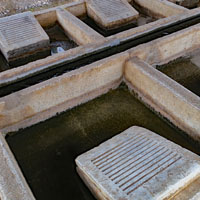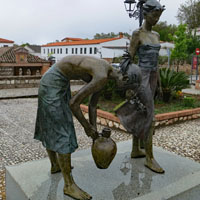 This could easily be central California.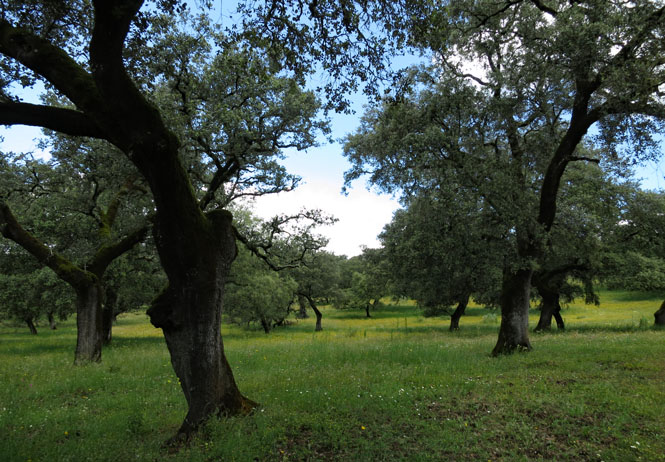 Traffic was stopped to allow these folks to cross the road. I asked one of the policemen what was going on and he replied "Roma."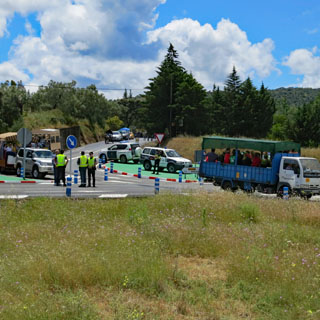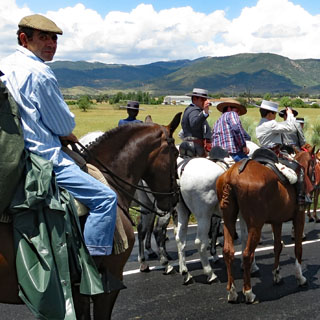 They were having a great time. Lots of singing and laughing. I was offered a beer.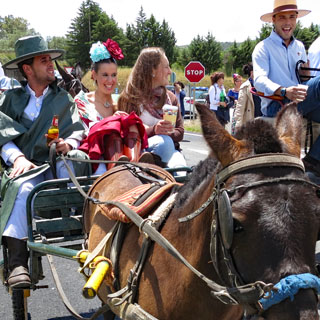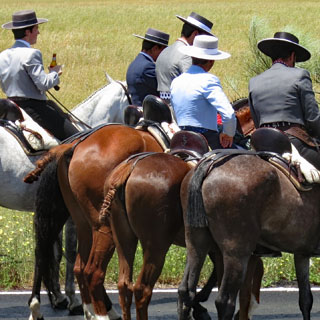 Cromlech Pasada del Abad. You'll find such standing stones all over Europe.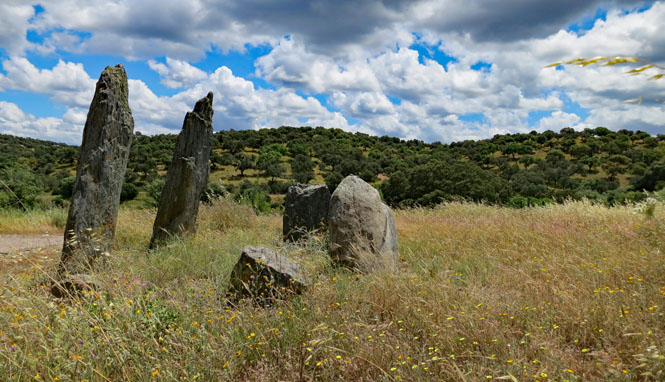 Portugal
The loads of wood are very common. Eventually, I concluded that they're used for firewood. I saw at least one smaller truck carrying cork bark. The truck looked outrageously overloaded, but then I suppose it doesn't weigh that much.

Portugal is a comfortable place to ride.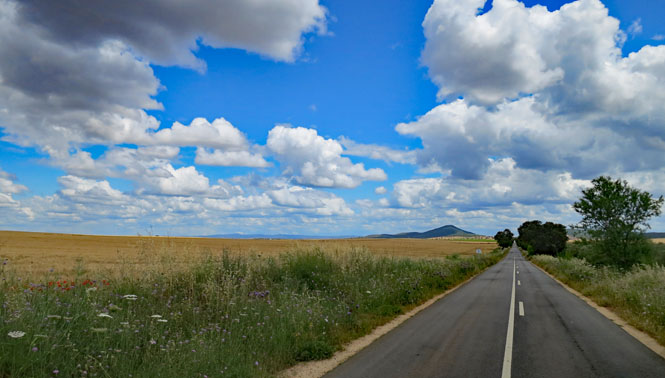 Many old bridges have had this type of concrete wall added. Perhaps an iron railing has been replaced.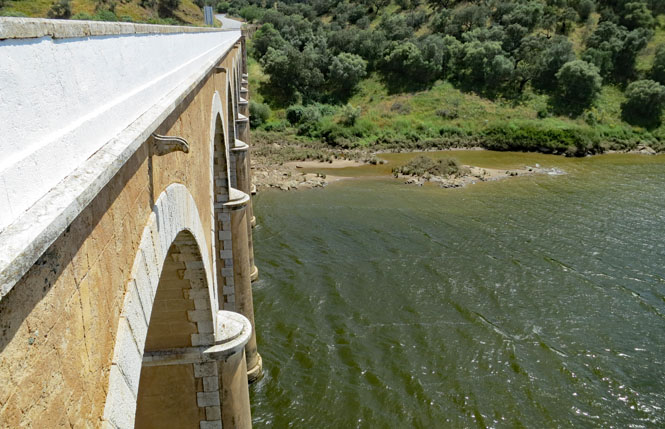 Arraiolos. These old towns were not built for cars. The through-highway turns right and zigs and zags as a one-way street until it reaches the other side of the town (beyond that castle on the hill).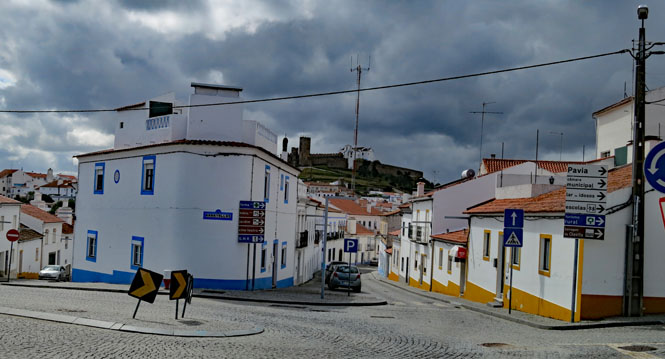 Heavy rain followed by bits of sunshine. I've had every sort of weather today.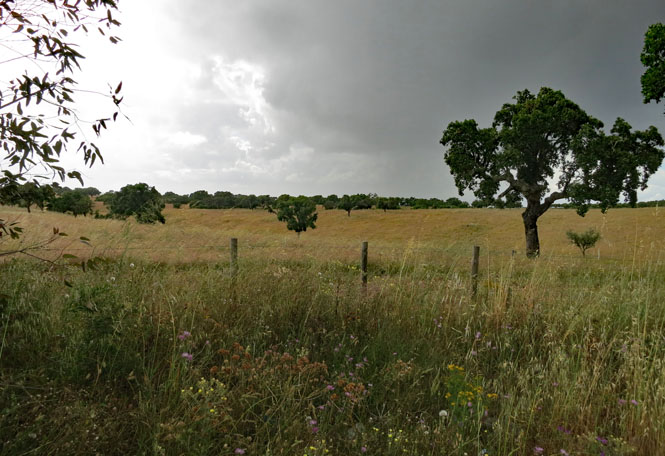 I almost stopped at Évora for the night--an attractive walled city with a history that dates to Roman times. But, that would have put me too far behind even the minimum miles that I needed to complete so I pressed for a couple hours more.
I didn't think finding a hotel would be a problem, but I was only finding one hotel after another that had been closed (I wish they'd remove the highway signs).
Near Vale de Chaos, I saw a sign for a hotel, which led me to this one. It turned out to be a resort and was much better than I was expecting.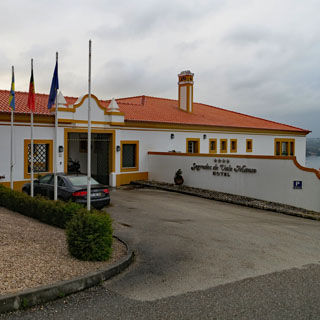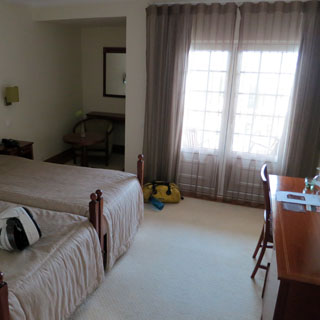 Always checking my map. The Euro soccer championships were playing on the TV between two Spanish teams in Milano. I watched to the end when the score was tied 1-1, and figured that was it, only to read the next morning that the match was finished with an exciting shootout...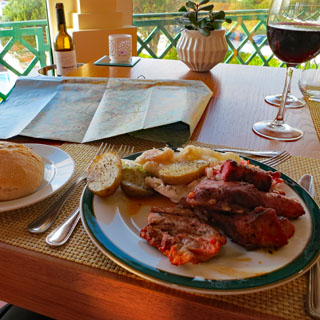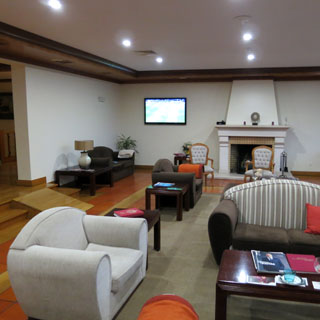 It's an interesting difference. Gasoline stations generally do not have an attached convenience store (as is almost universal in the U.S.), but they do often have an attached bar/cafe. Unexpectedly, the poster shows a Moto Guzzi, so I thought it worthy of a photograph. I'm waiting for the rain to stop.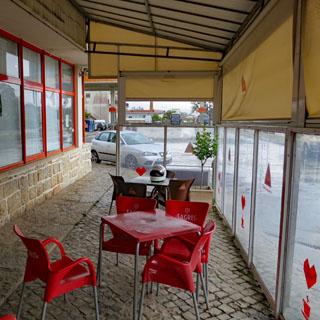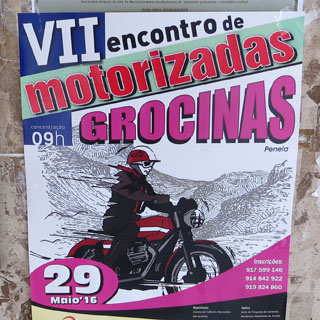 Sometimes it doesn't matter if there isn't much protection. If it's raining so hard you cannot see; pull over. Turns out there was a doorway I could step into. The bike will just get a nice rinsing. When it stops, I'll take a photograph and be on my way--until the next downpour.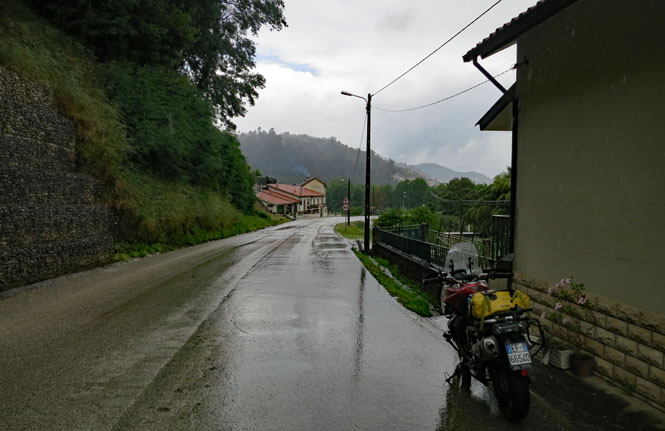 Penacova.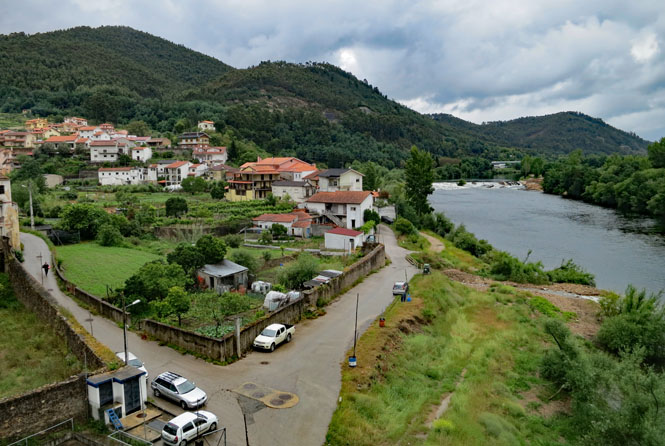 Cortiçada.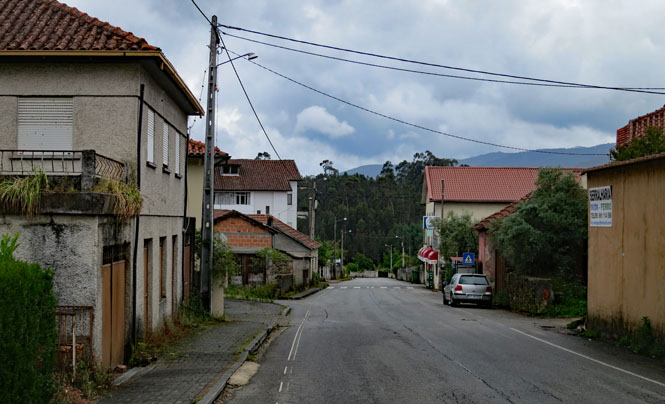 I'm climbing a mountain and seem to have entered a rainforest.
Caramulo is a resort community that looks devoted to food. But, I was more interested in this auto museum, which was founded in the 1950s by a couple of brothers. After winding up the road, I didn't expect to find anything like this. It's an amazing collection.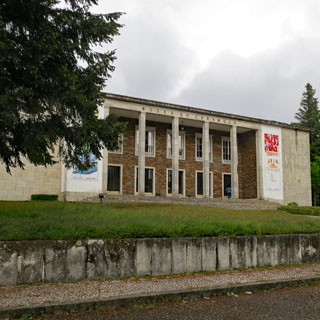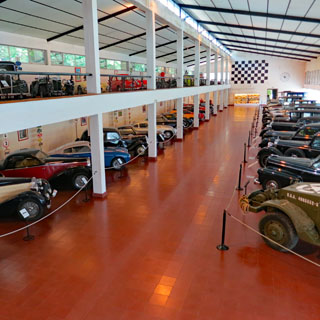 I think this Alba (left) and Bugatti (right) are my two favorites.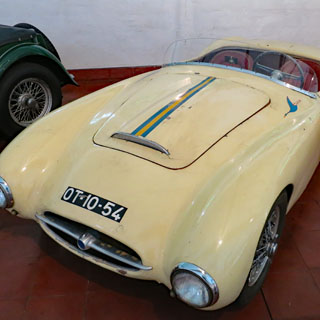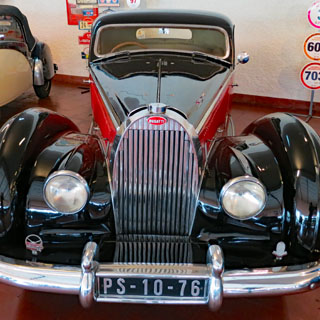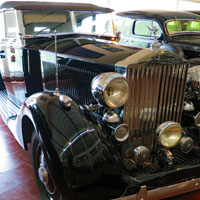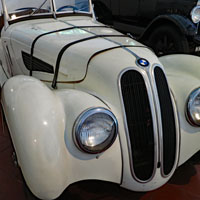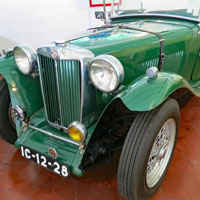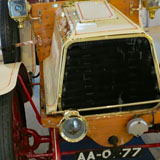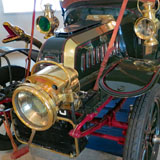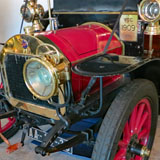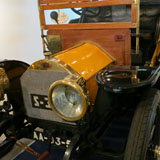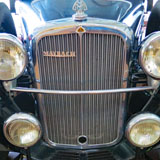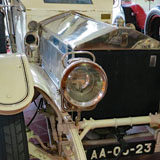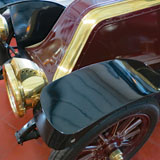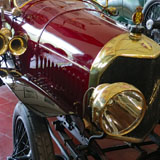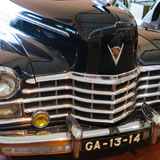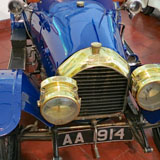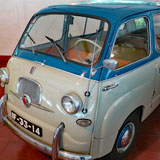 Each stone seems to have been dressed to fit in place, but the result is still decently square--the windows remain in line. I'm sure that this house has been abandoned for years, but it will likely remain like this for many more years to come.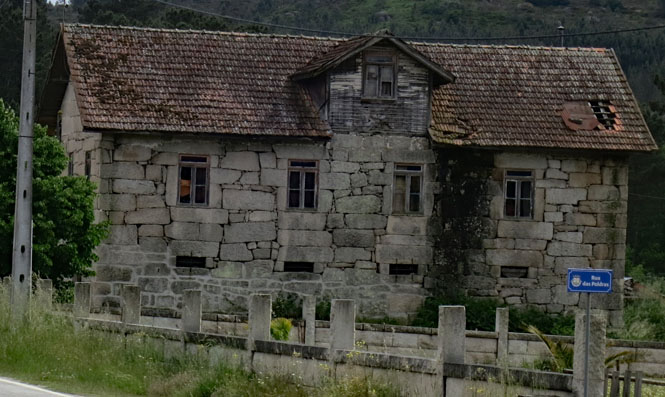 I'm off on another very narrow bit of road that is (mostly) paved. This scene is almost too perfect.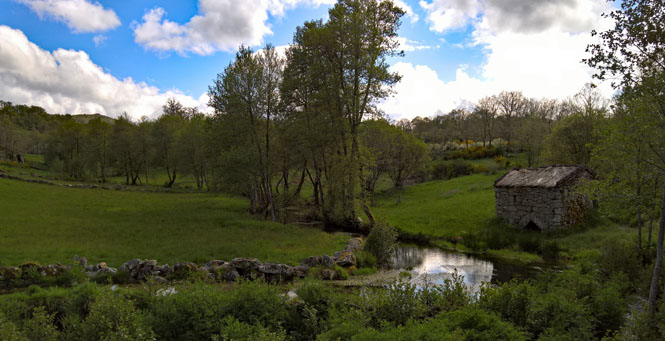 Peixeninho. Sometimes I'm not sure if I'm still on the road or if I'm just on a driveway or a back alley.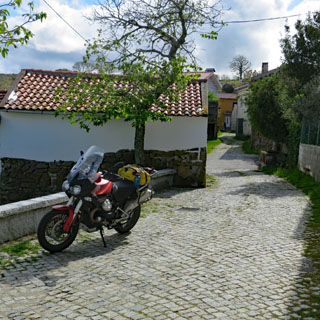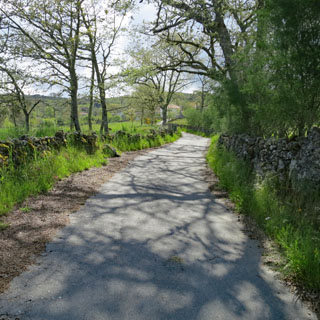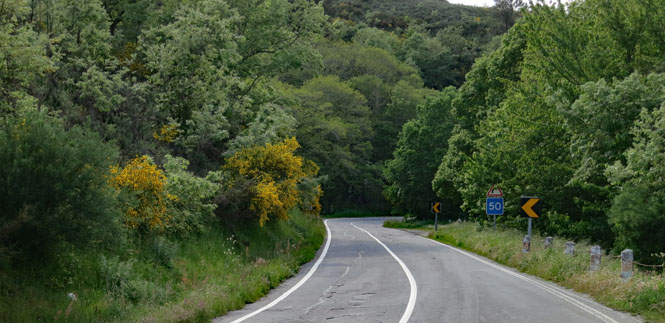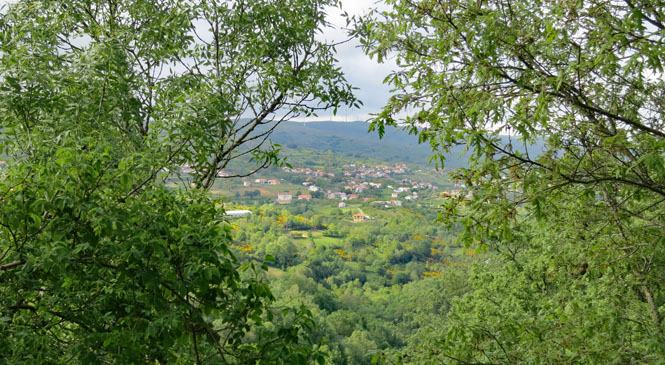 Lamego. Pilgrims have their work cut out for them with the climb to the church. Several tour busses were arriving, and there were lots of people showing up (on this Sunday evening). I had thought of finding a hotel in Lamego, but one look at the traffic jam while riding into town was enough to send me along to the next.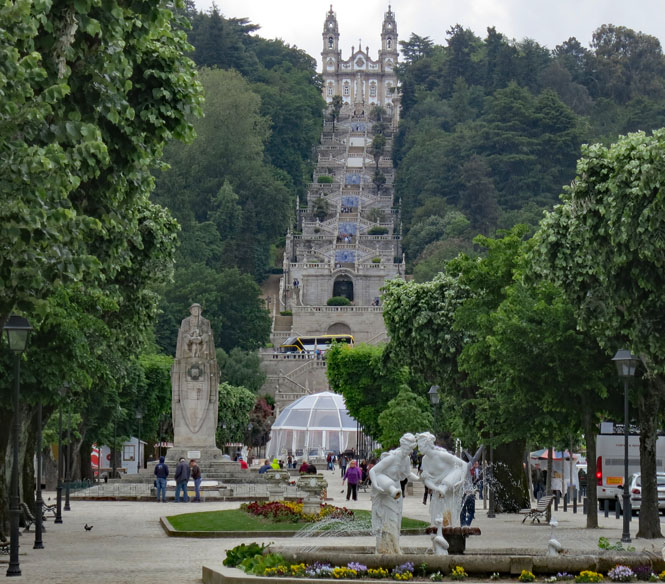 Peso da Régua along the Rio Douro.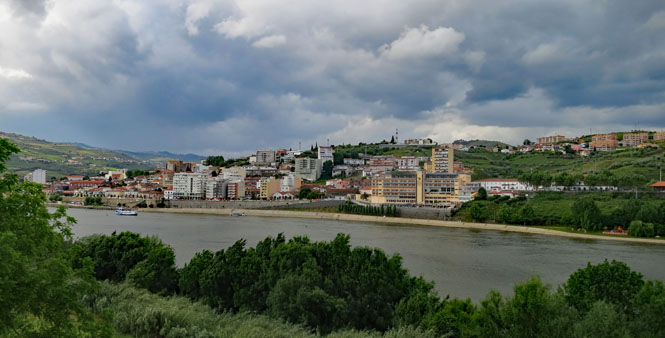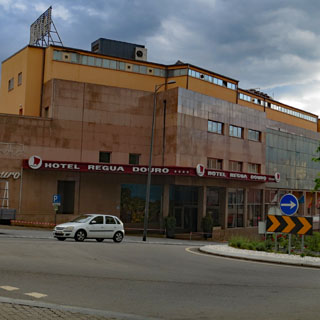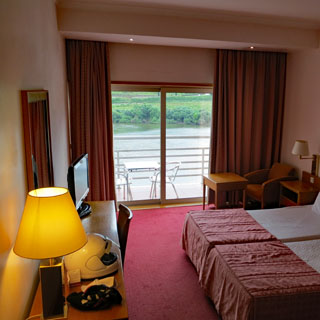 The high bridge is the tollway--a thing I avoided. I came across on the older, lower, bridge.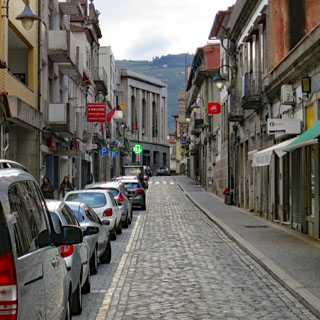 Most every building has been sheathed in distinctive tile.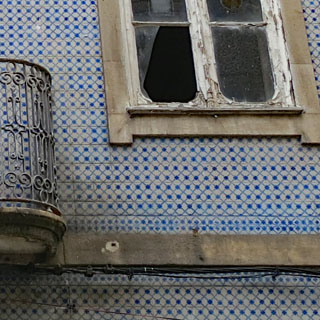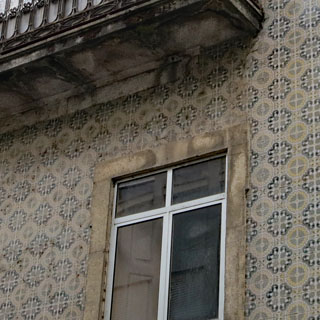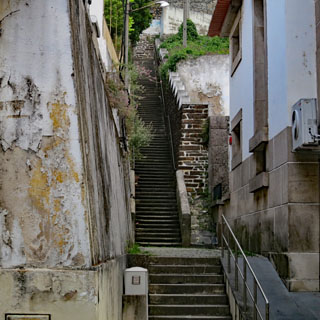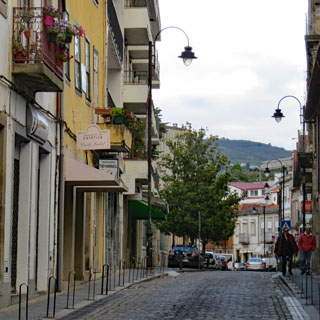 Perhaps the wine came from the vineyards I can see, just across the river.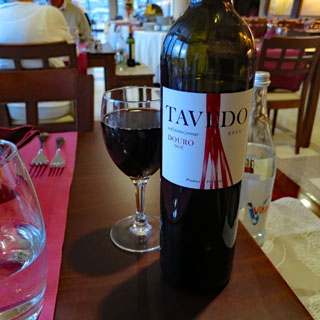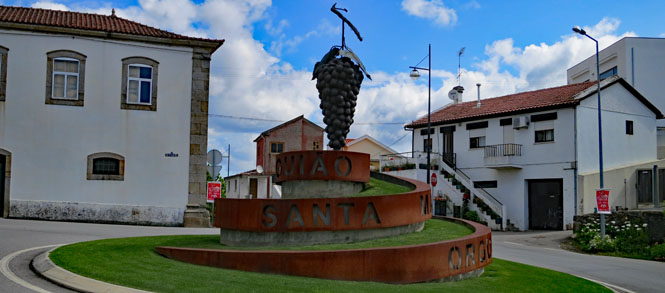 Did anybody plan these terraces, or did they just happen naturally over generations of use?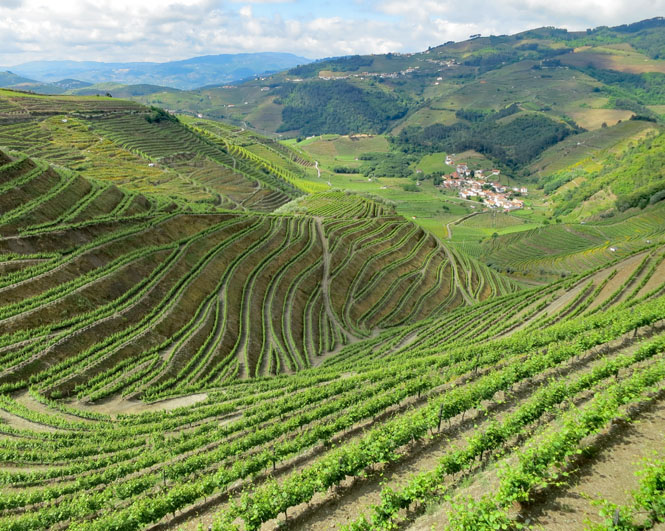 Some of the viaducts for the national toll highways are really impressive. Except for just a small unavoidable bit, I didn't use the Motorway.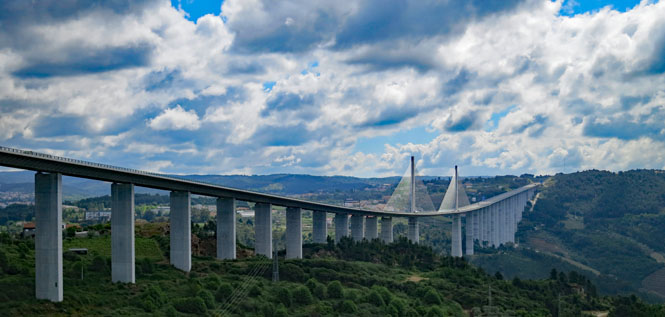 These are not unusual in Spain, but are common in Portugal. If you don't slow to 50 kph at the edge of town, you'll be given a red light and will have to stop. Eventually the light will change to green. If you approach slower than 50 kph, the light will remain green and you can continue.
I never sorted what the range of detection was, or what the tolerance was. These could be nuisance at times (especially if a car in front of you triggered the red light).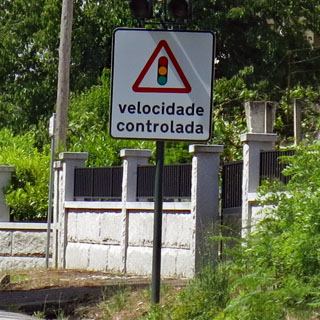 Chaves.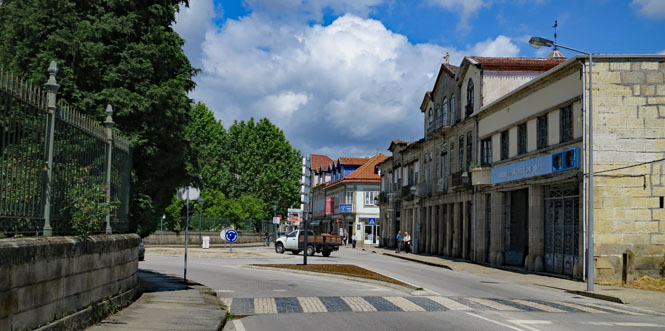 España
Galicia
A Gudiña.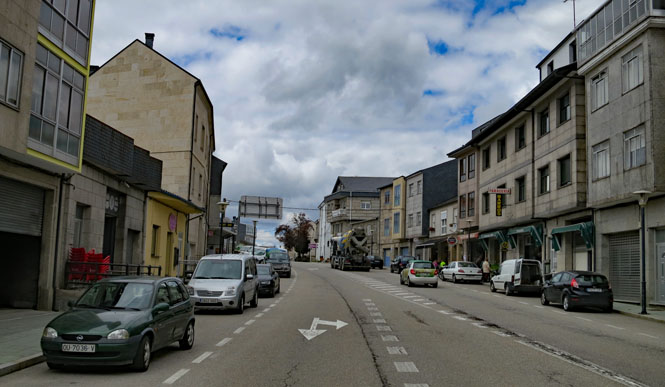 Pradocabalos.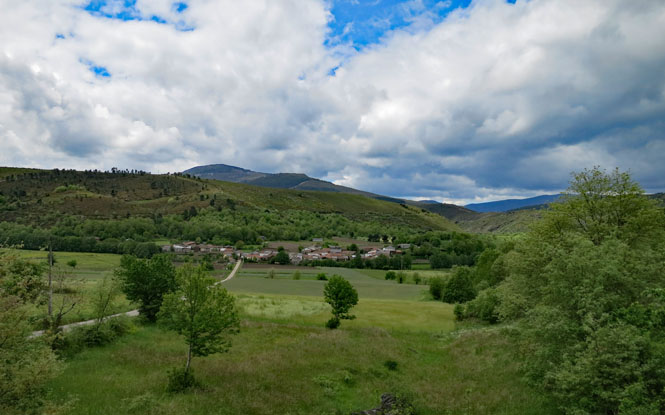 At this point, I'm looking a couple of days ahead to sort out the best place to cross the Pyrenees mountains, which will define somewhat the roads I'm on right now.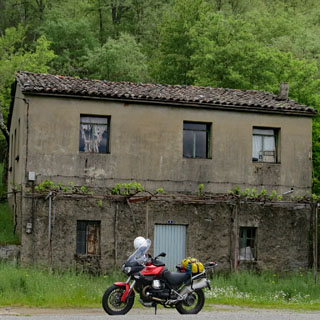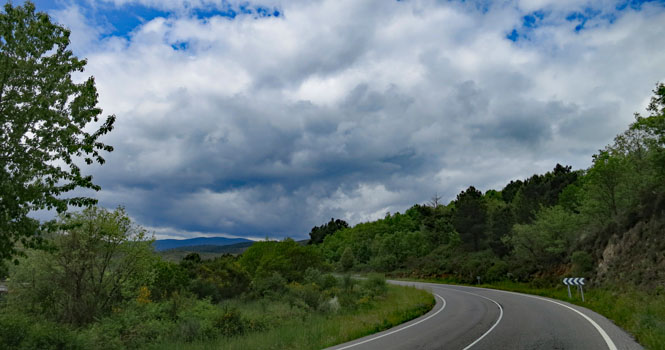 Santa Cruz.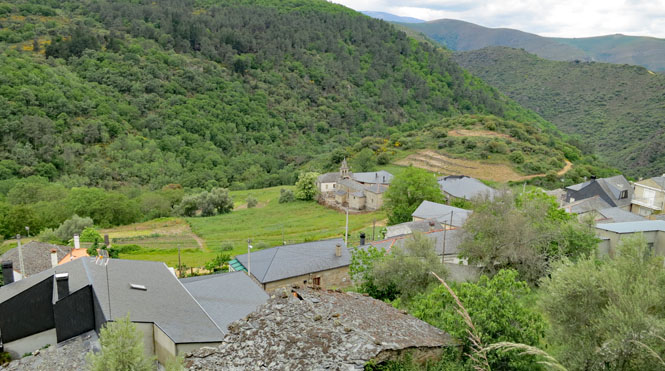 A Rúa.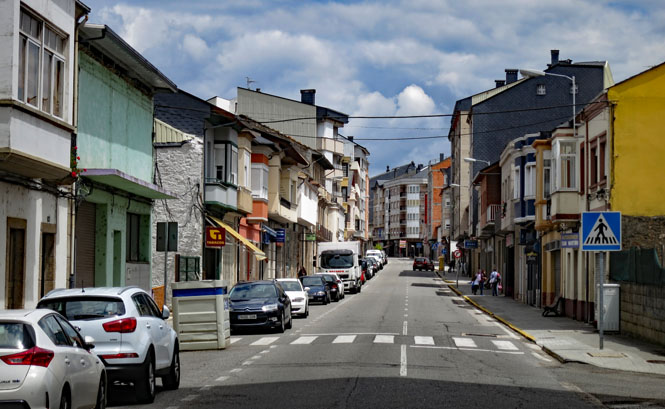 Castile and León
Between those two hills is a deep canyon with steep stone walls. I tried to find any sort of road (paved or not) that would get me closer. My only view was a short glimpse while over a bridge between two tunnels through those hills.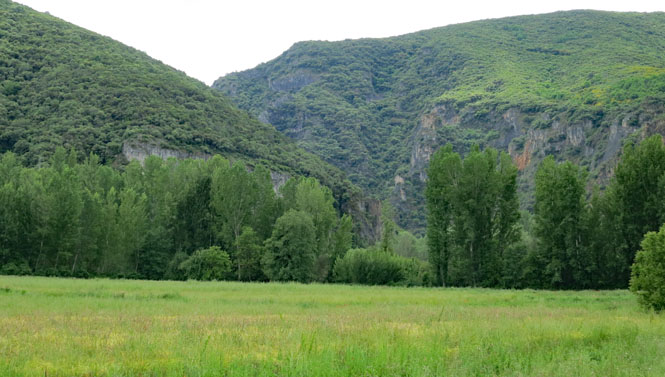 Cacabelos.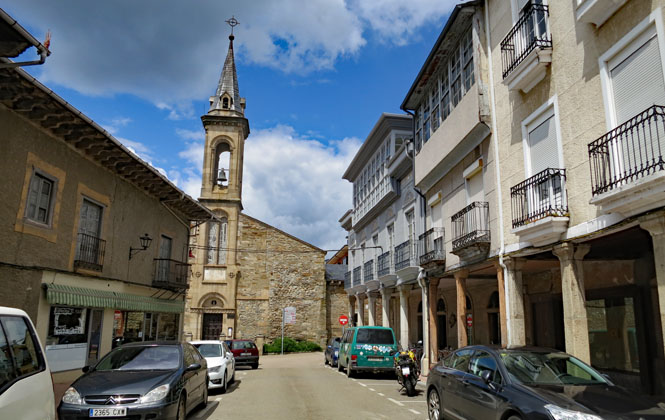 Ocero.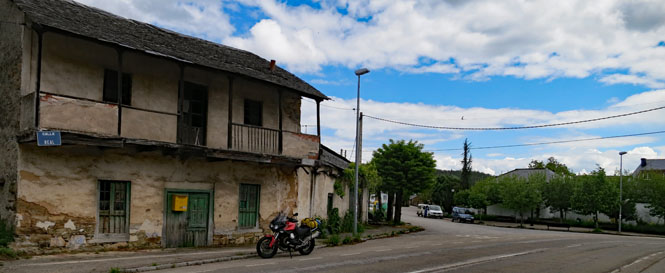 La Espino. I'm crossing over these mountains on a logging road where the only traffic seems to be logging trucks.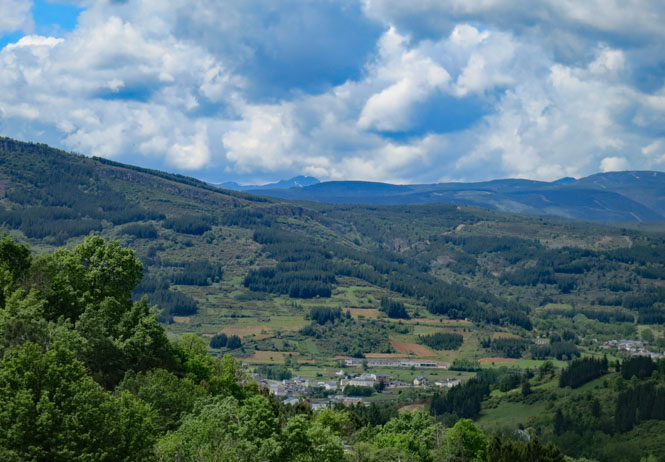 Just part of a very large open-pit mine.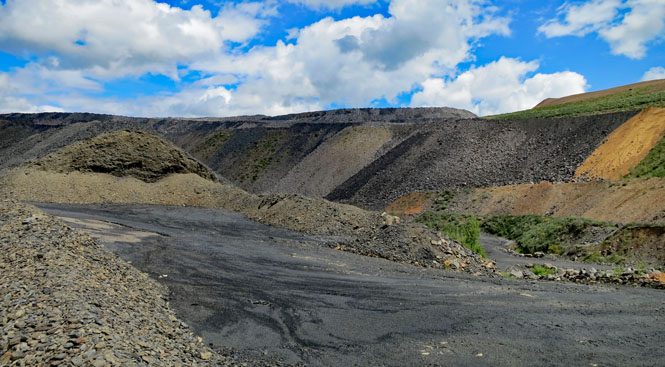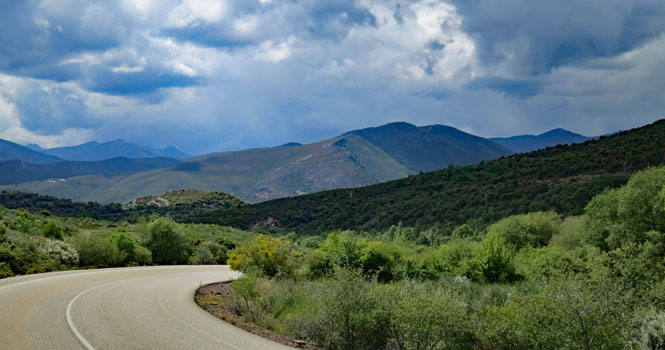 Palacios Del Sil.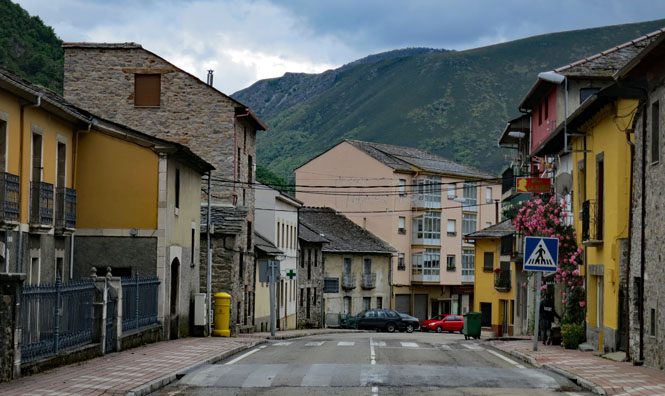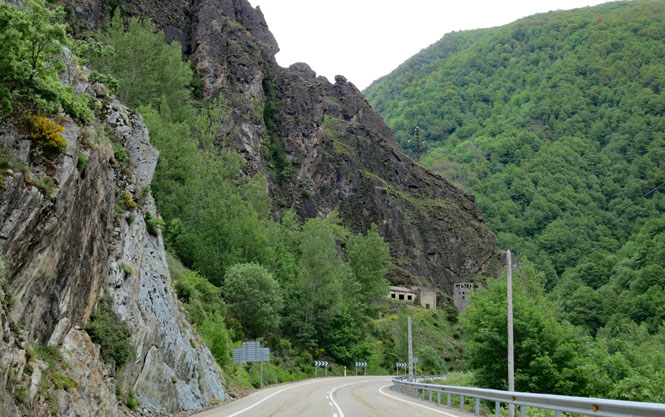 I wondered if I'd be seeing any snow closer to the road. The temperature was sometimes as low as the high-forties, but it never happened that I was in icing conditions.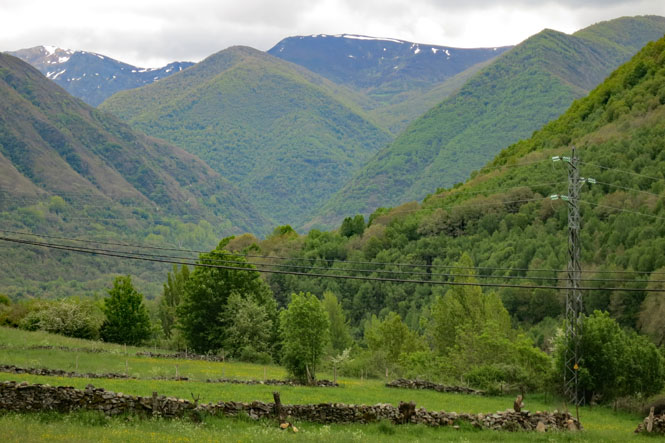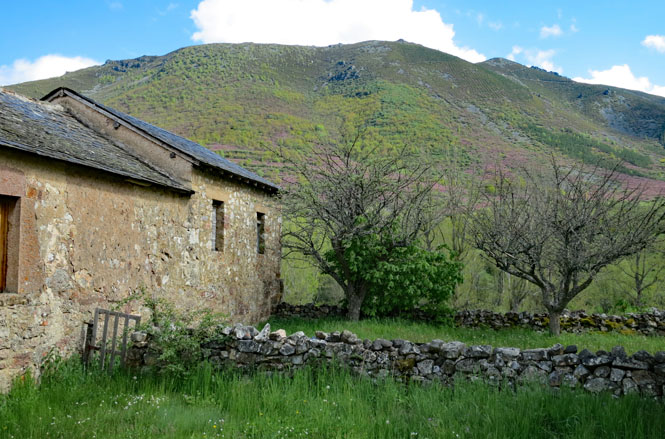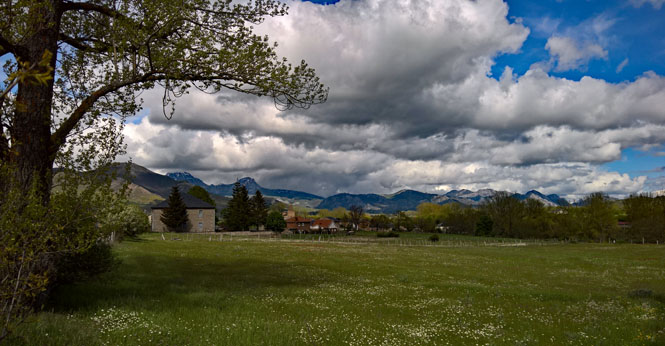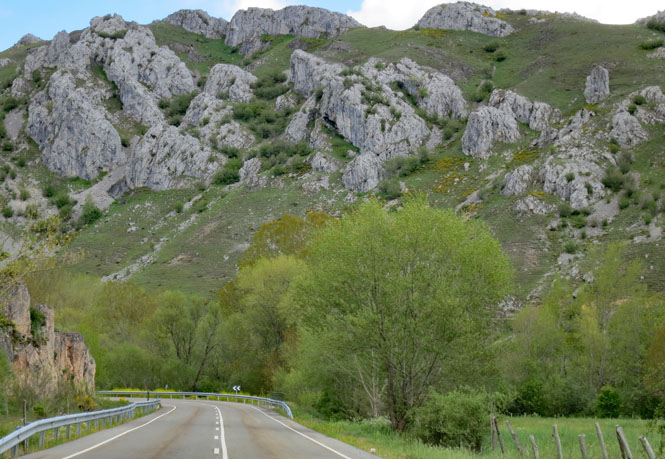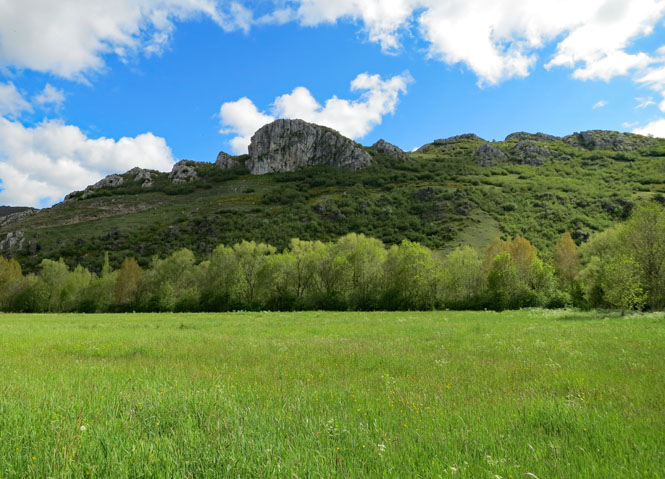 Rio Luna. I've been checking the various small towns for hotels, but there are none. I may have to reconsider my route and deviate to a real city.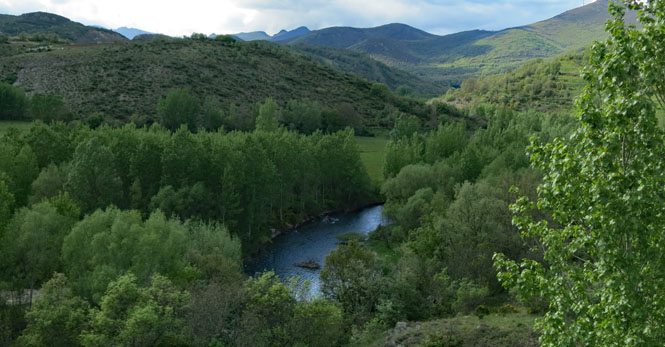 León. This certainly qualifies as a real city. I rode to the center of town, pulled off to the sidewalk and looked around me. Plenty of places to choose from.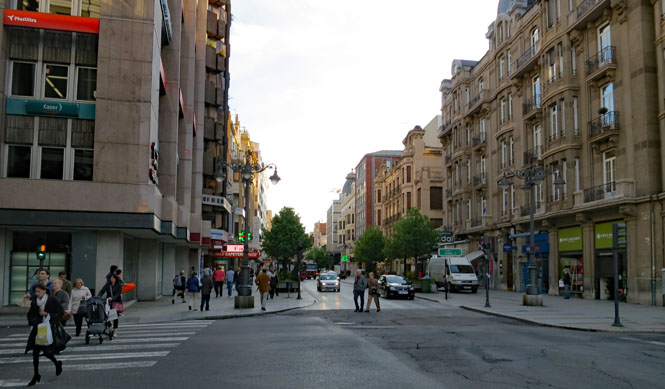 The Hotel Conde Luna will do just fine.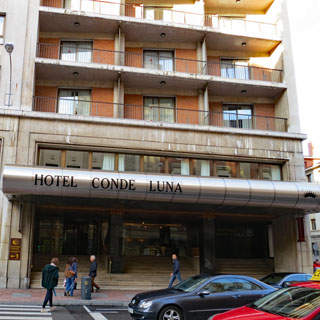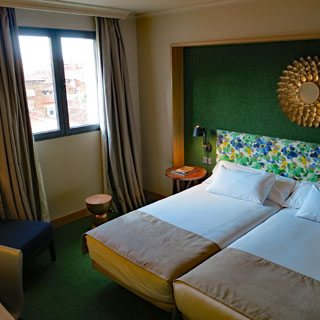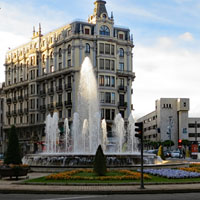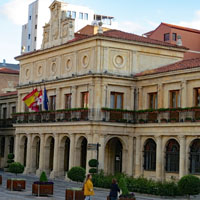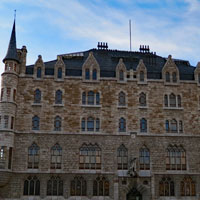 What an active, vibrant place. Everywhere you turn is something altogether different.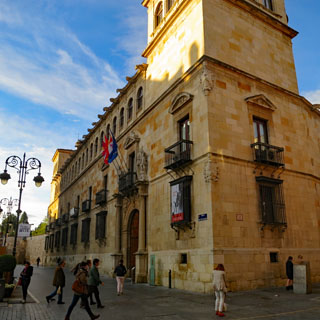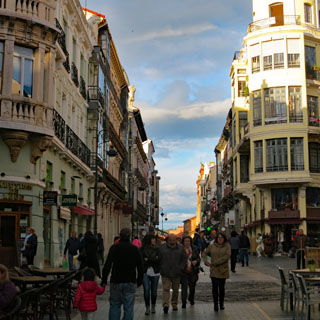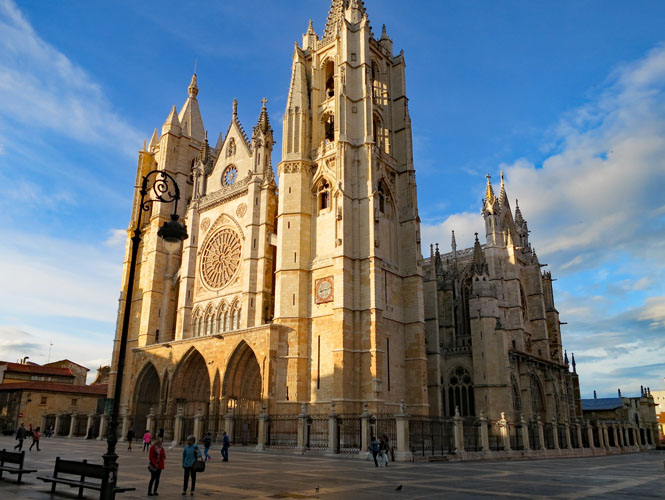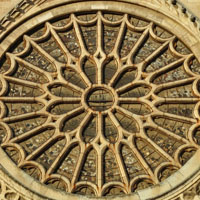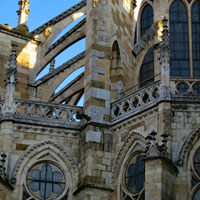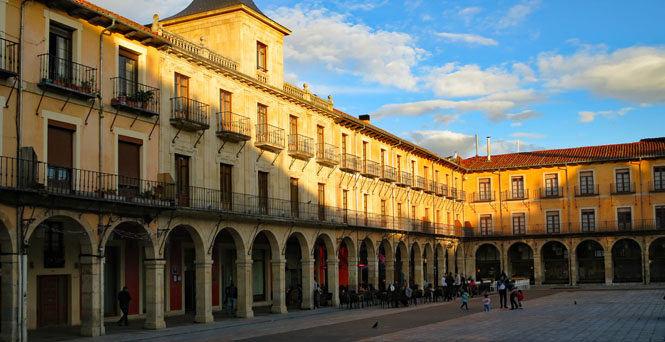 Roman ruins are still visible.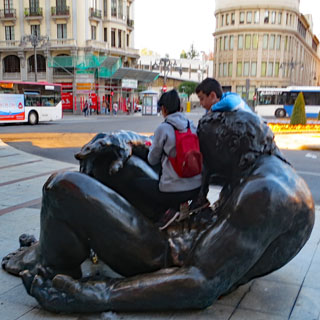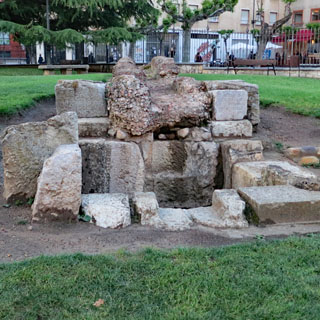 That food from the tapas bar? Just 1.80, including the beer.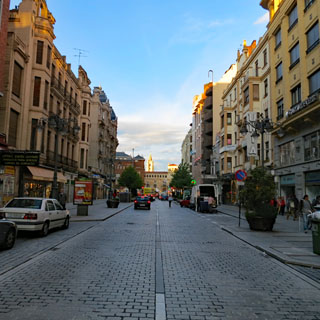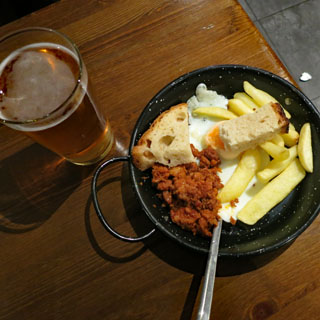 I've decided on my route across the Pyrenees. Of course, I won't stick to it, but at least I've got a direction for today that mostly heads the right way.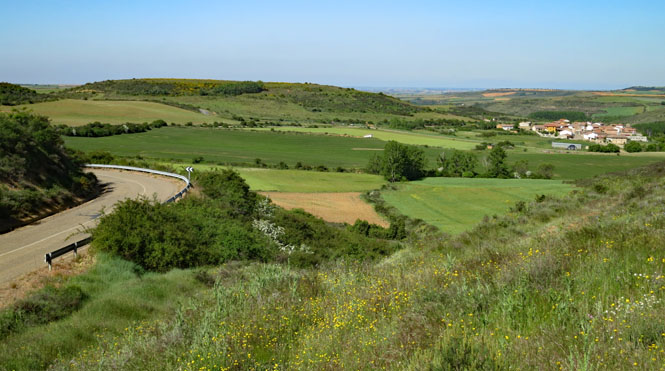 Cifuentes de Rueda. These small towns like their storks.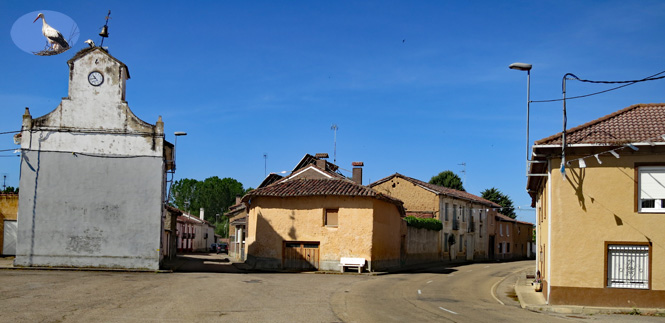 Almanza.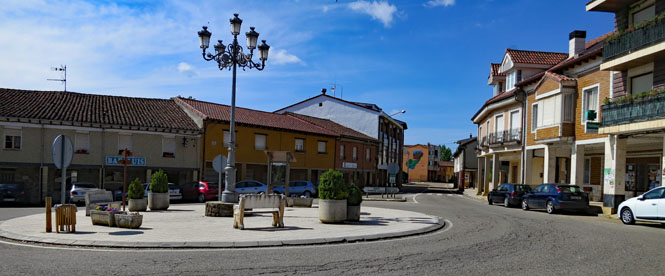 Puente Almhey.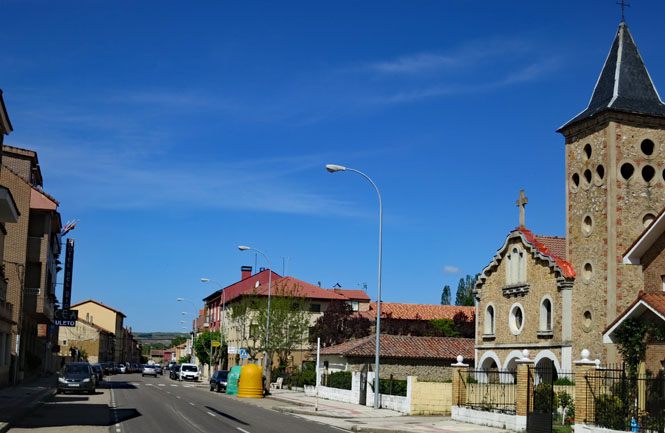 Vado-Cervera. I really just needed a bench to spread my map out and drink some water. The old station at Vado-Cervera worked well. The train never came.

Northern Spain is one of my favorite places to ride.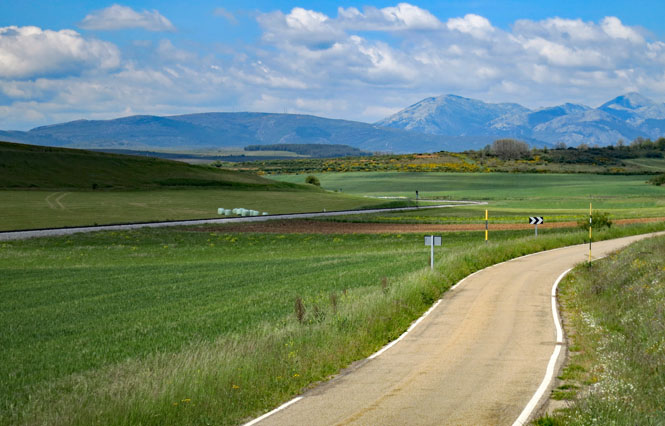 Cantabria
That might well be a church, but sometimes it looked as if simple barns also had bell towers. Perhaps historically, there was a good reason to have bells to ring in an emergency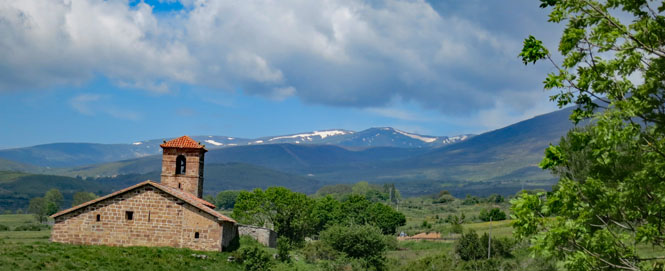 A stork village.

Castile and León
Valle de Valdebezan. It seems I'm ever pulling up on a sidewalk to recheck my map. I'm using a GPS, but as often as not, I disregard that route and turn off on more interesting roads. In any event, I only set the GPS destination to be about fifty miles distant, and then choose another destination. Most of the time, I don't even reach that destination.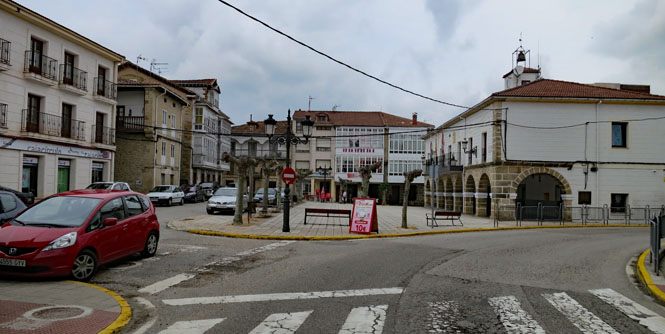 The road is following a variety of rivers through some very steep canyon walls.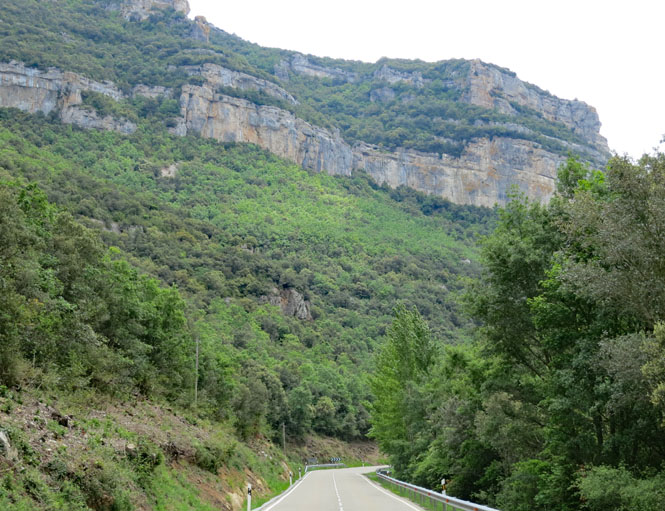 Rio Ebro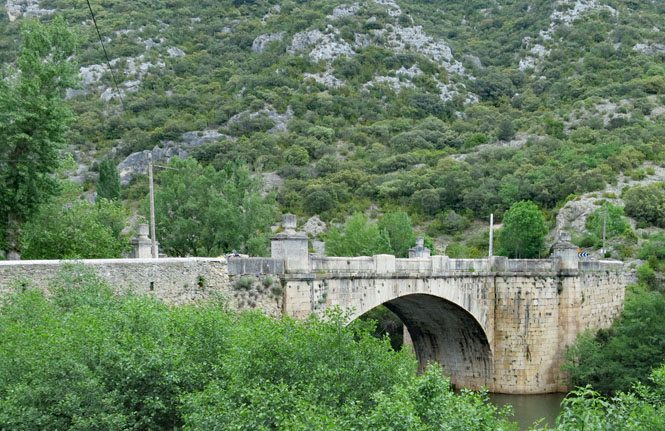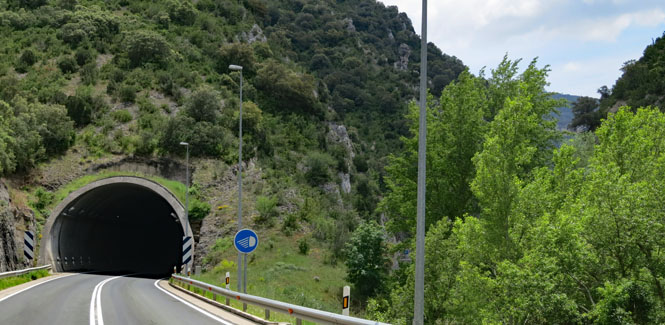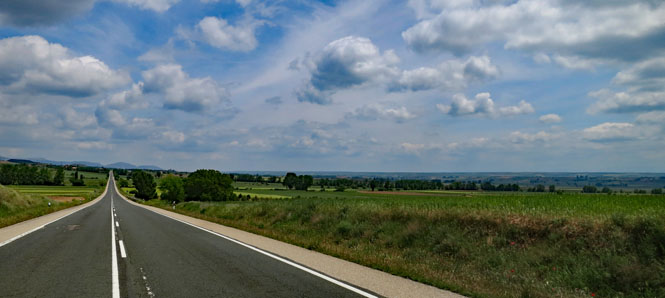 I love these fertile valleys between the mountain ridges.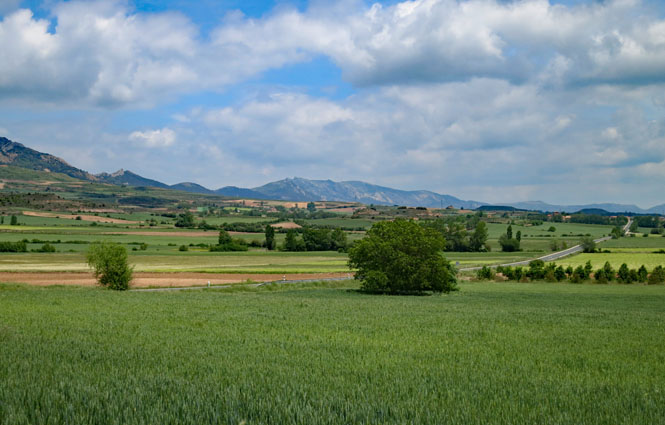 Basque Country
Every narrow part of any valley and every mountain pass will have a castle watching over you.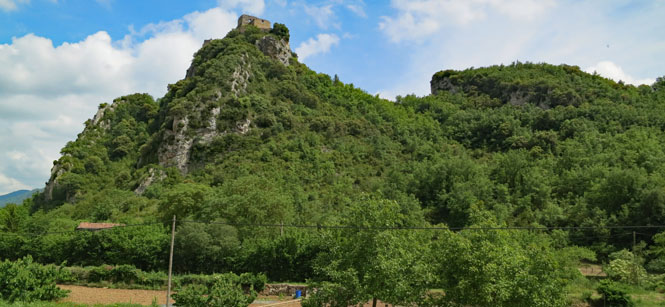 Left, right, left, right. The road is not smooth, but that doesn't matter.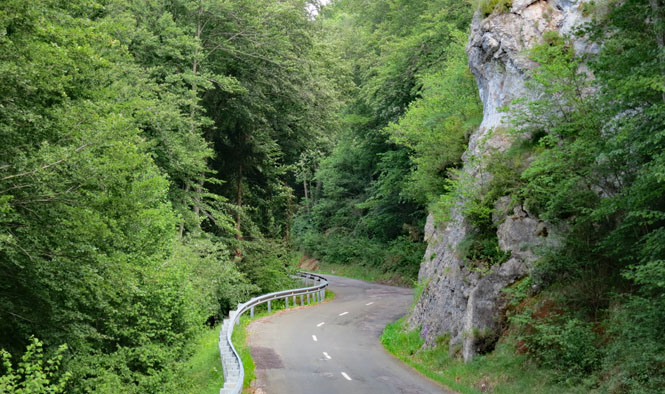 Lagrán. None of these small towns have fuel stations, so I'm being pretty careful not to get too far down the road without filling. Since American cards don't work at self-service stations, I must not wait too long.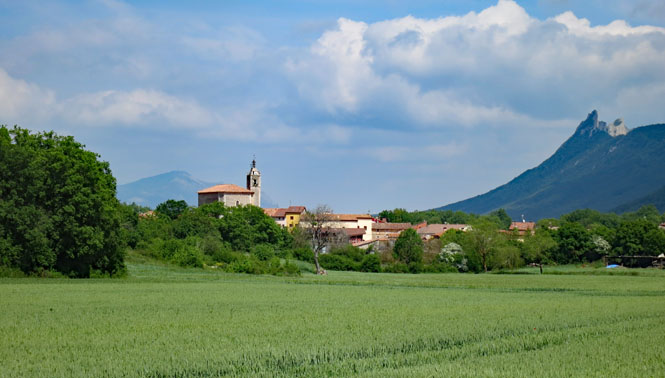 Navarre
Cabredo.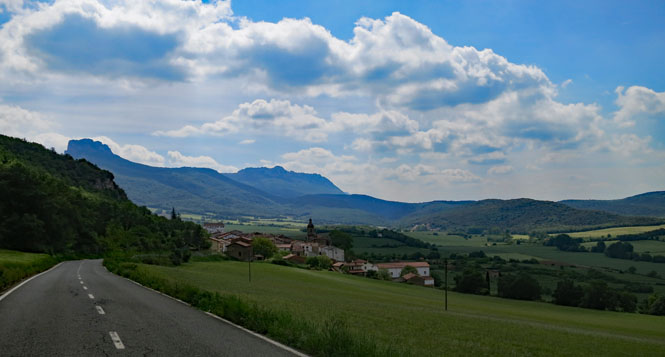 Puente la Reina (Spanish) / Gares (Basque). This is a walled town, which I was fairly sure had at least one hotel within its walls (it did), but I rode farther along until I saw this place. I could easily walk back to the center of town.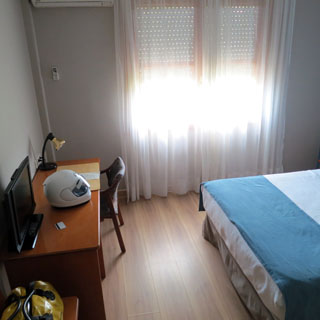 The convent garden is extensive. I don't know that I've seen a working bell tower quite so overgrown as this one.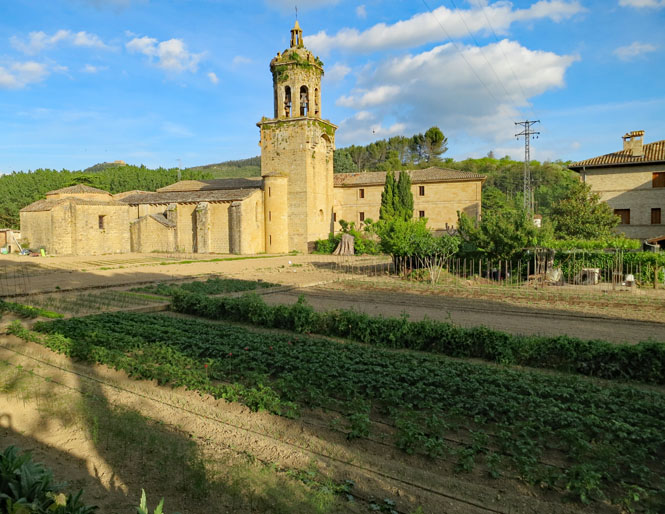 Within the town walls.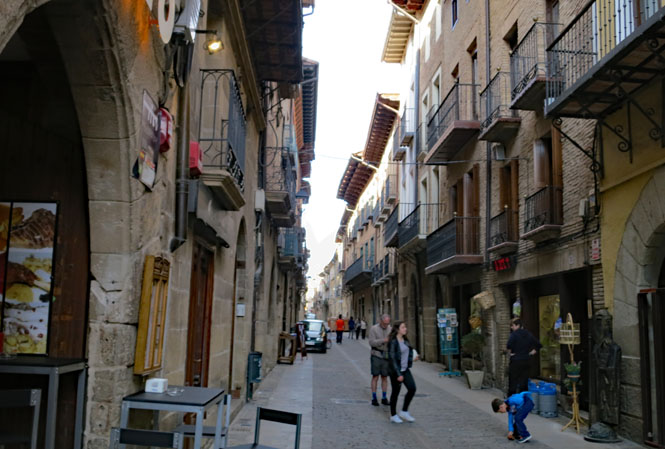 It would appear that growing things on the bell tower is the thing to do.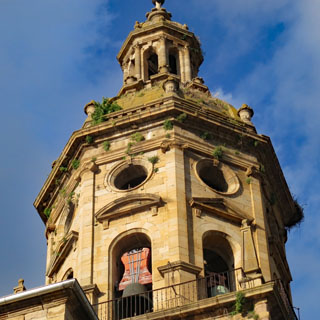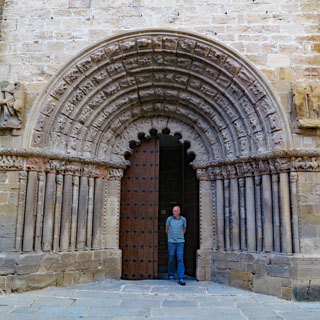 Statues facing the church.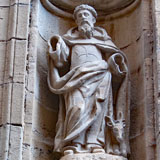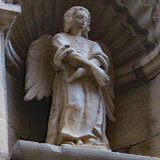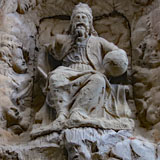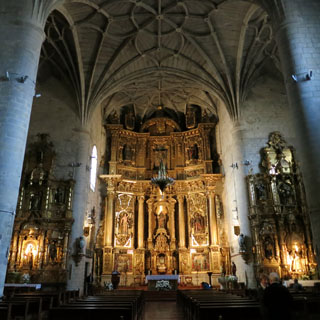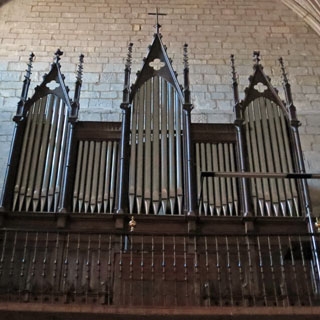 Checking the tire pressure and then using my air pump to put things to right. This little pump plugs into the same Powerlet socket that I use for my electric vest (which I wire to the battery before starting out). It easily and quickly pumps to 40 psi, which is what I need.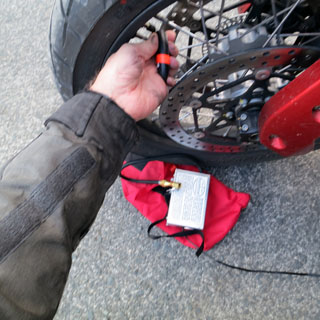 Water from the north, flowing to the south. It's a common theme.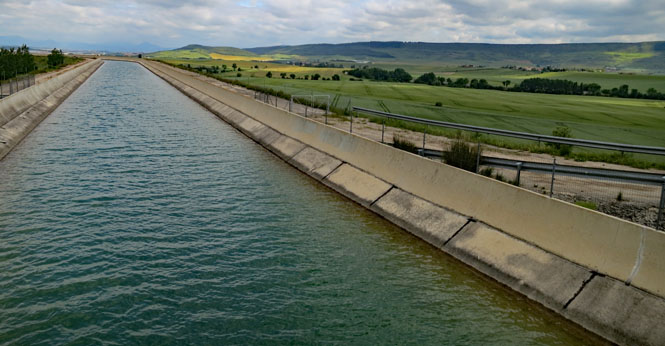 Güesa. In the foothills of the Pyrenees, the towns begin to take on an Alpine look, largely indistinguishable from the towns on the French side of the border.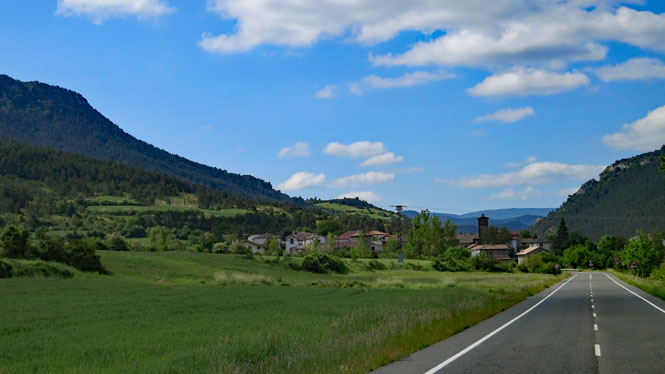 Ezcároz.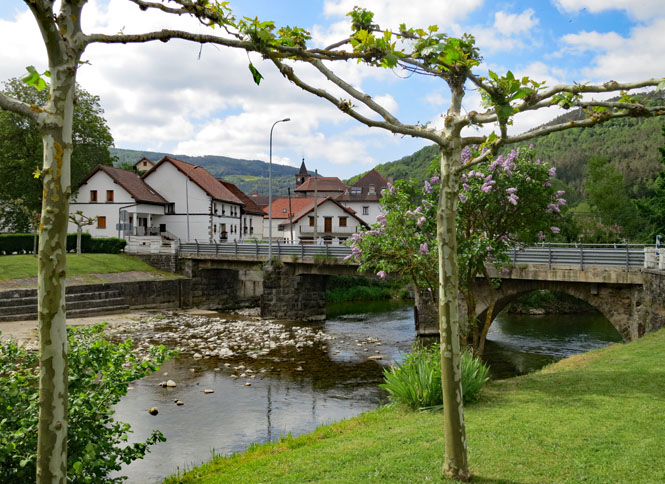 Ochagavia.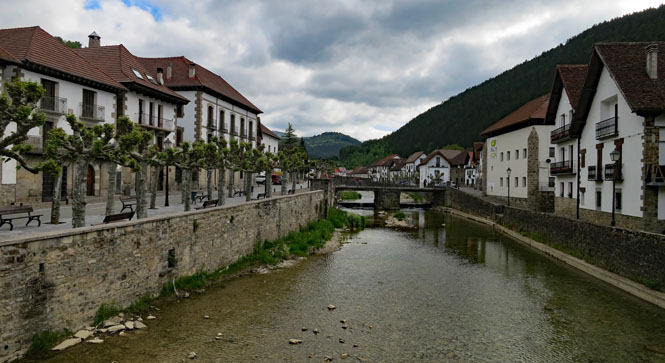 The higher the road climbs, the more narrow it becomes.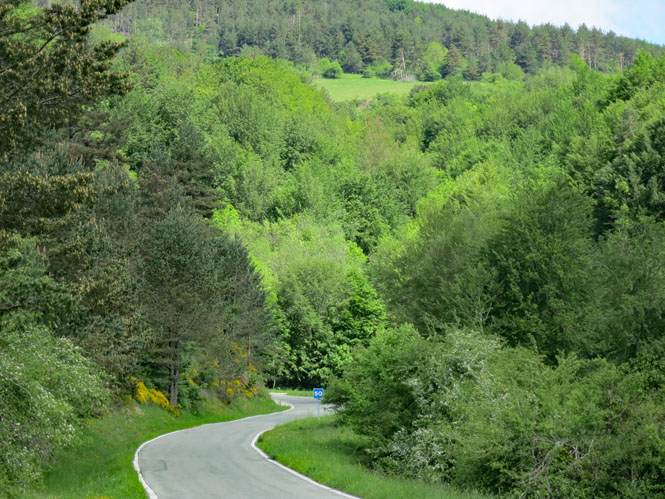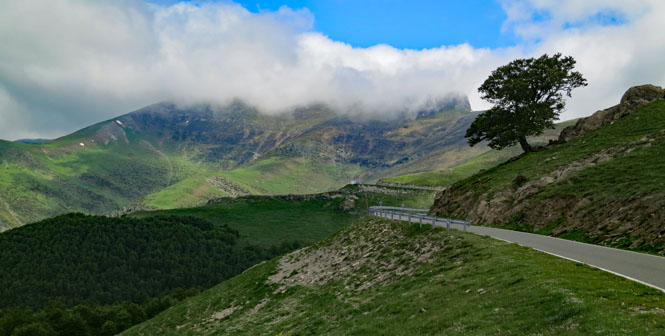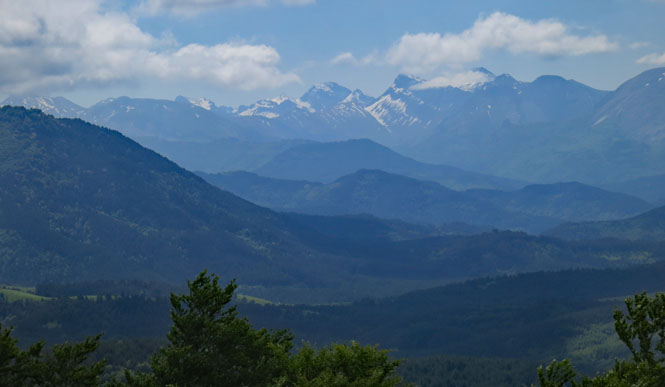 Evidently, there's a crest trail that follows the Pyrenees. This is part of it.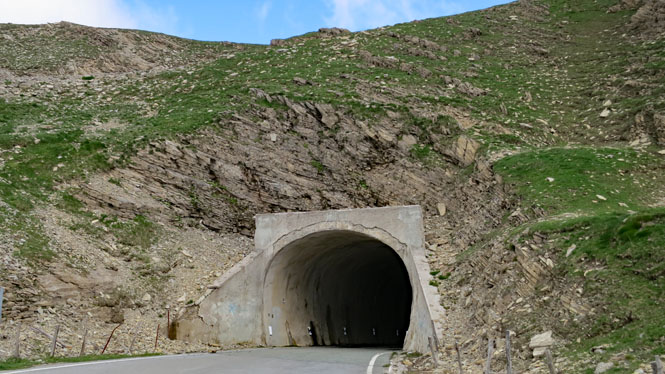 France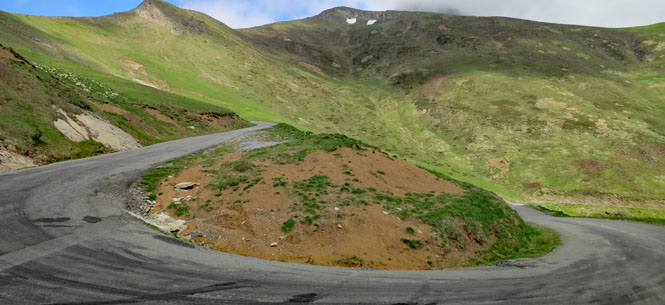 It tires me to think of it, but judging by the painted messages I saw on the pavement, this road is often used for bicycle races.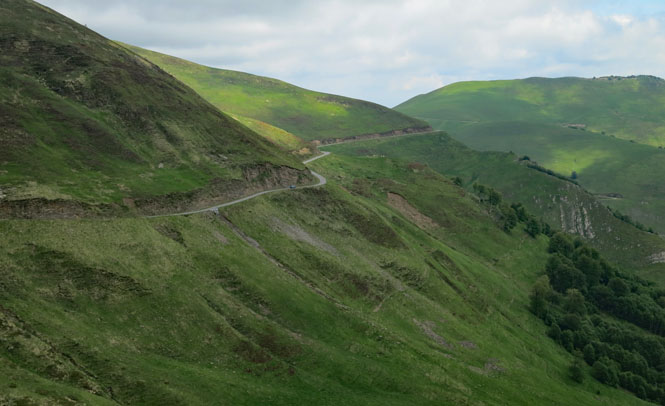 Escout. I'll occasionally meet such lines of cows moving to other pastures. They seem to know the way well enough. I'll shut the engine off and wait for them to pass.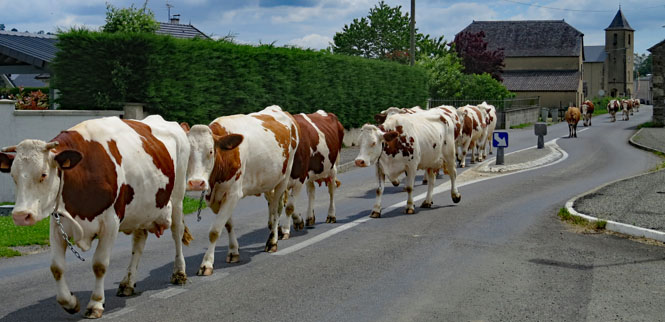 A border collie was further down the road, turning the cows into the proper pasture. Their owner was standing just beyond the dog, but really not needing to do anything.
Looking back to the Pyrenees, and Spain. My favorites change depending on where I am, but for today, the Pyrenees are my favorite mountains.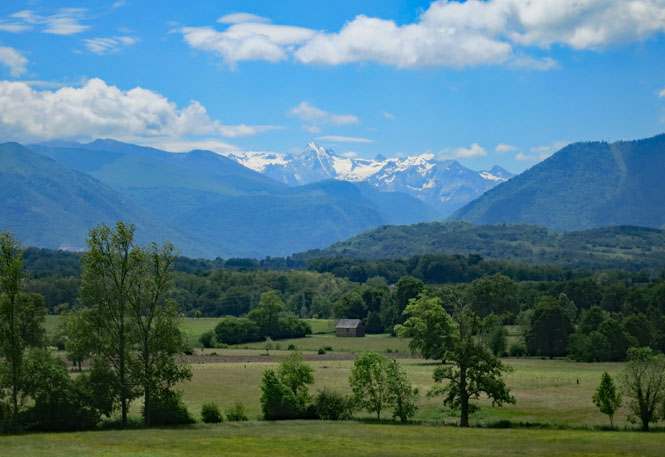 Rabastens. There must be a good story behind that goat on the pedestal.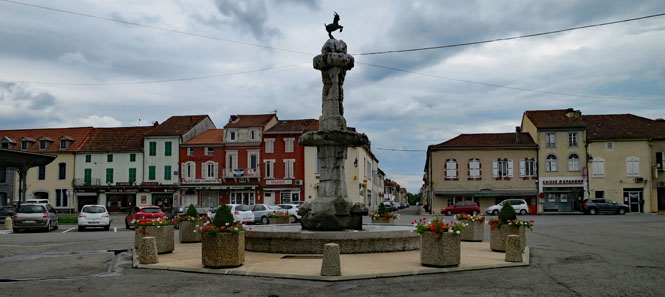 Auch.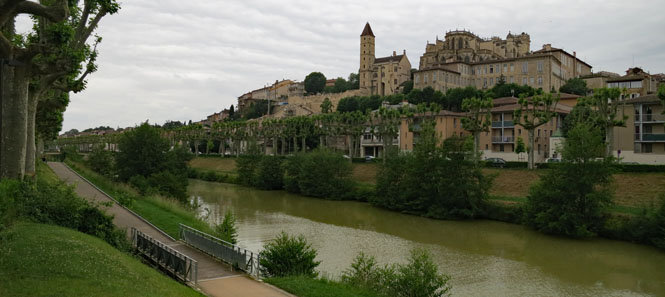 Gimont.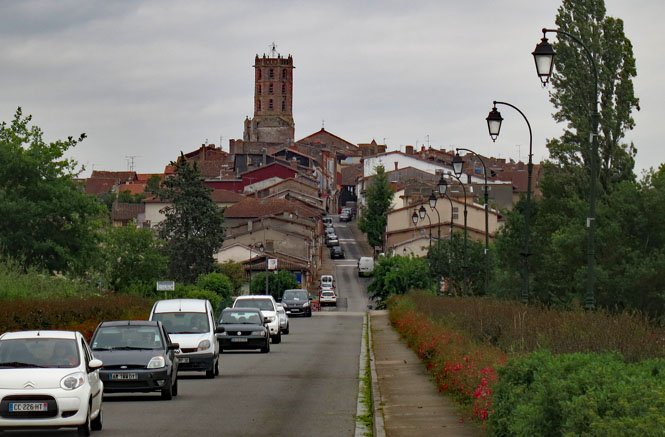 Castres. I haven't shown you a single photograph of my ride through the center of Toulouse. That's just as well; it's nothing I want to do again.
I didn't have to look very far for a hotel in Castres. It turns out, I parked the bike right in front of a good one.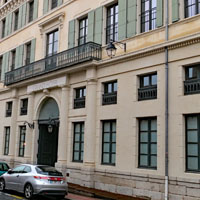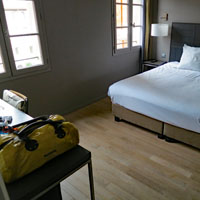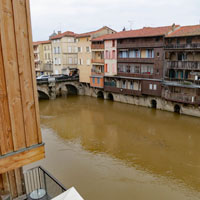 My room looks out over the L'Agout River. It's running high and muddy. On this same day Paris is seeing high floods, but it's not quite that bad this far south.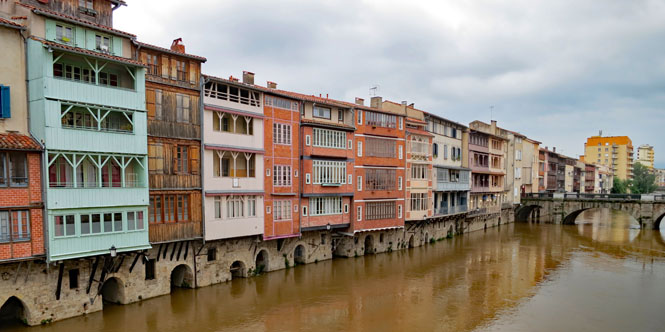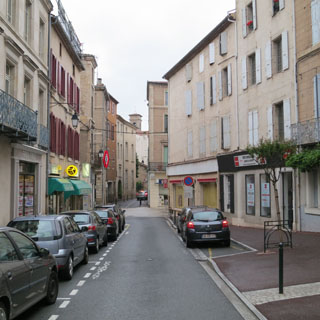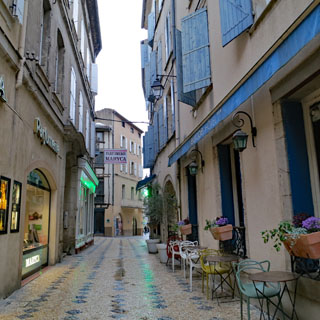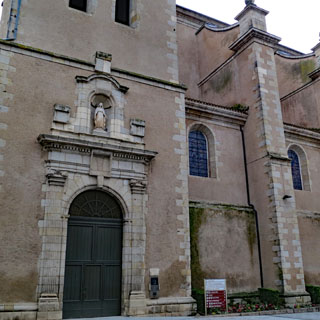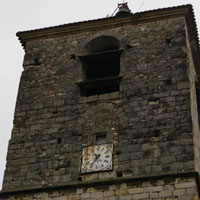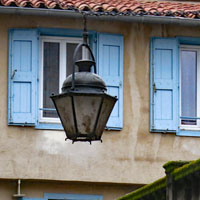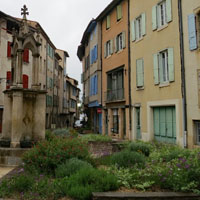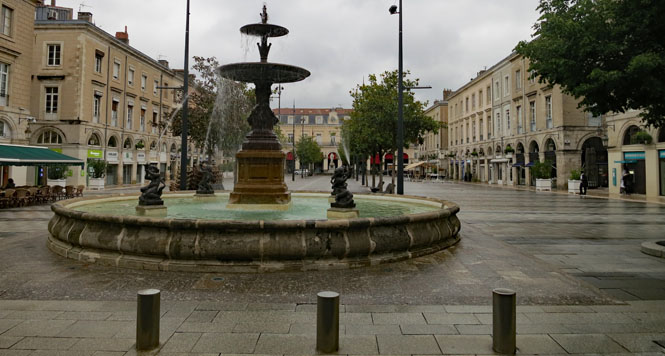 My restaurant for this night is the little place on the left. They only have seven tables, and there's no turnover during the evening. Five tables were used, including mine. I have some idea what I ordered, but not fully. Anyway, it was good.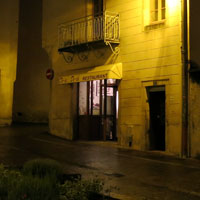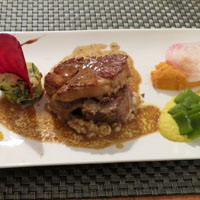 The next morning, about a mile down the road, I noticed that the view was particularly clear even though it was misting fairly heavily.
Oh; I'm not wearing my glasses.
I turned around and rode back to the hotel. There on the street--just six feet from where I parked the bike for the night--are my glasses. Not crushed. Let's not do that again.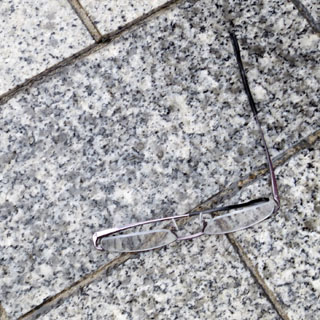 Olargues.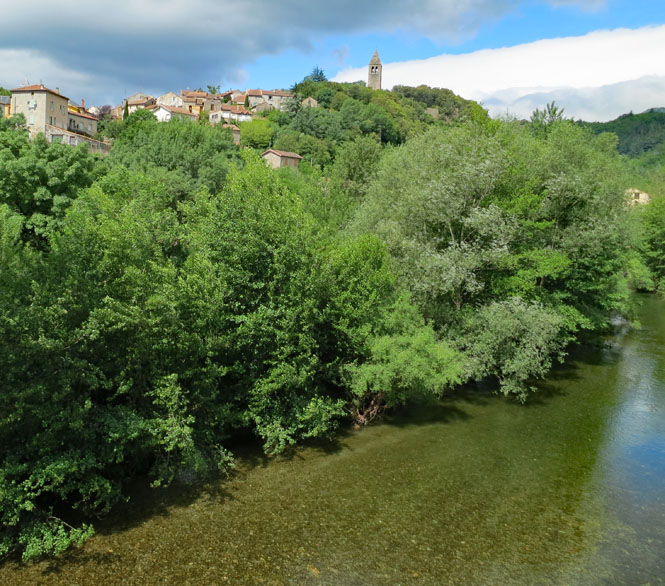 I wanted to avoid the motorway (and all the many French toll stations), so kept almost entirely to surface streets. Unfortunately, that meant riding through town after town after town that all run together. From Montpellier to Nimes is just a continuous, unpleasant stretch of urban sprawl. It's my fault; I should have known better.
Clermont-l'Hérault.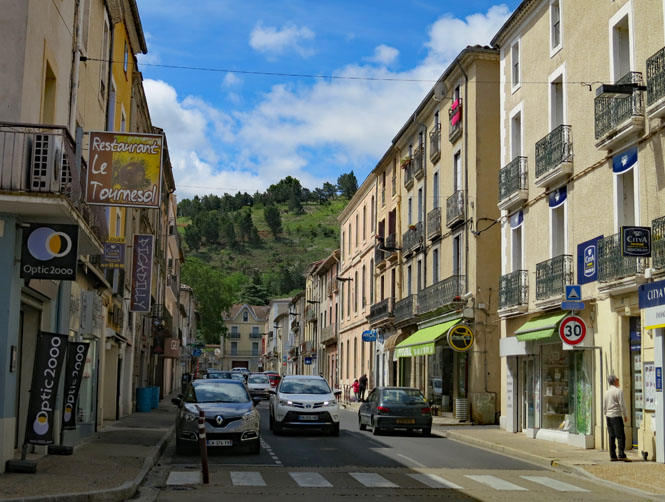 Into the foothills of the French Alps.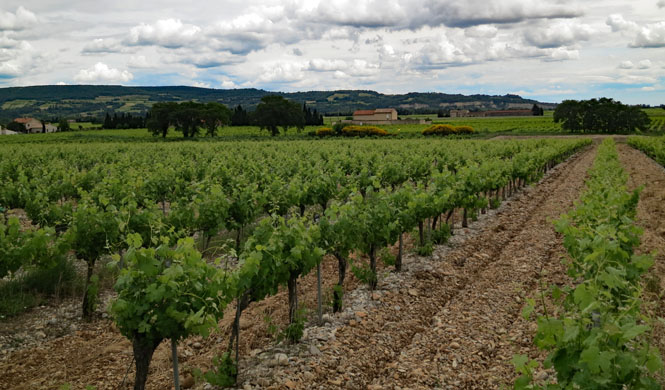 Sahune. Following the Eygues River.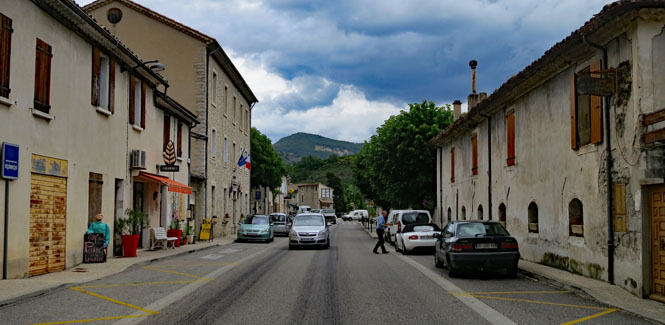 I liked the notch above the road. I guess there's no point in cutting out more rock than necessary.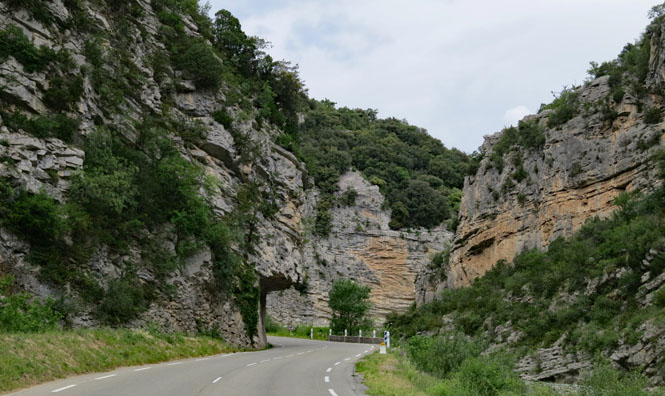 Gap. My last several miles were in cold rain. I'd considered going farther--I had time--but really, there didn't seem much point. I'm in good shape to be in Mandello tomorrow afternoon.
I parked in this plaza and walked around looking for a hotel, only to come back and take a room in the hotel right in front of where I'd parked in the first place. The manager gave me the key to the hotel (and my room) and said he'd see me the next morning. Bonsoir!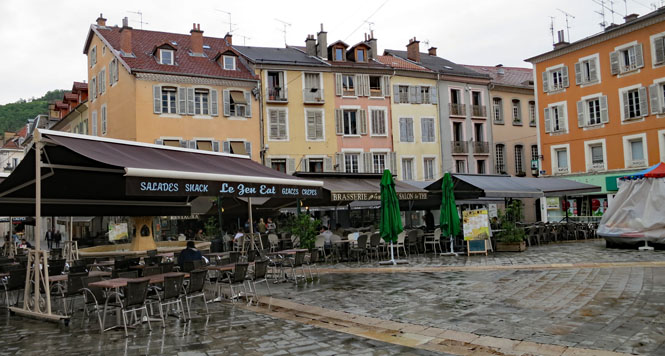 Mine is the top window on the right. It was good to have a flashlight on my riding suit zipper when climbing the stairs as I never found the light switch (and the stairs were anything but regular).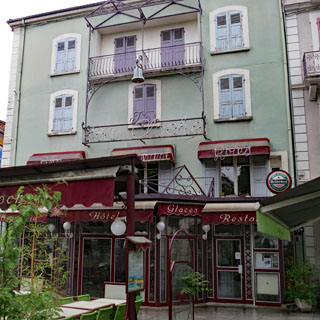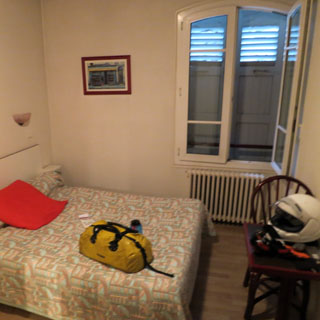 Many restaurants were closed for the evening due to the rain, but I found a pretty good store-front pizza place.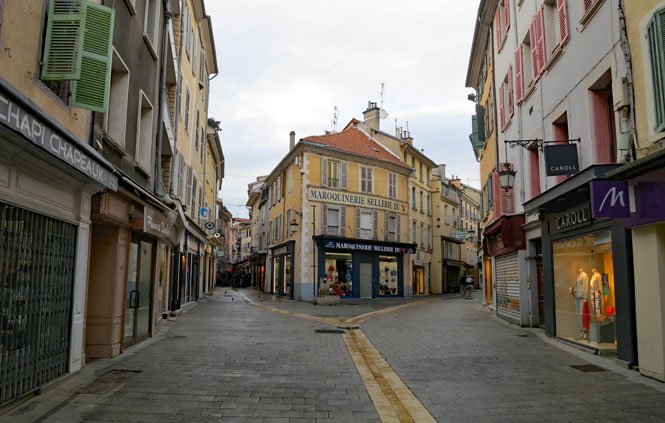 This church building isn't all that old (dating from the late 1800's), but according to the information on the plaque, a church has been on this site since it was a Roman temple.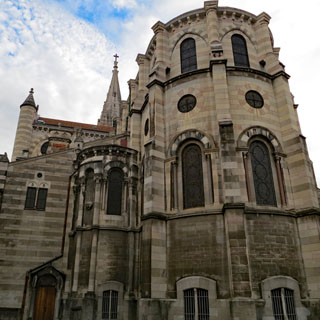 River La Durance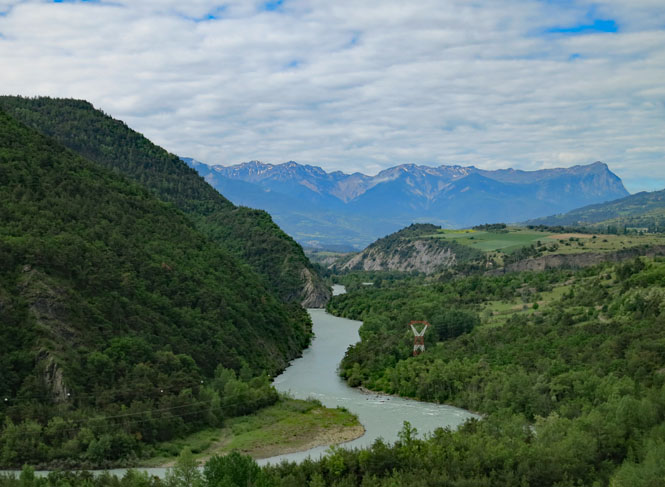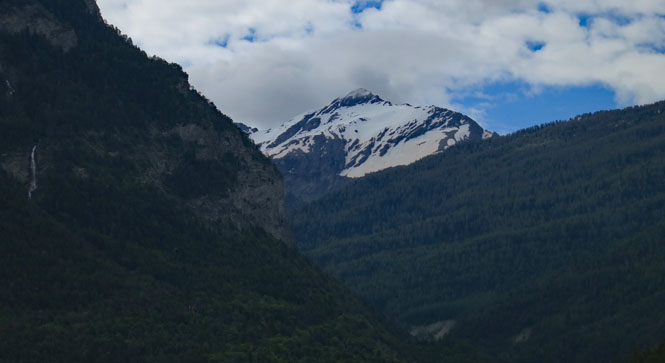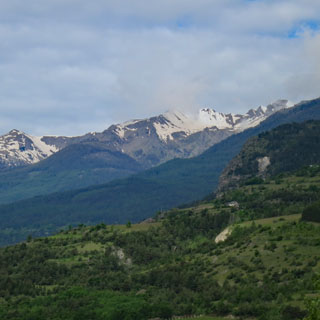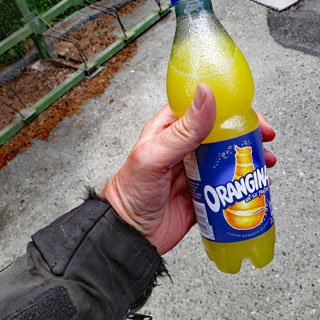 Briançon. I've been through here several times, before. It's the natural pass between France and Italy so it isn't surprising that there are plenty of castles and forts lining the way.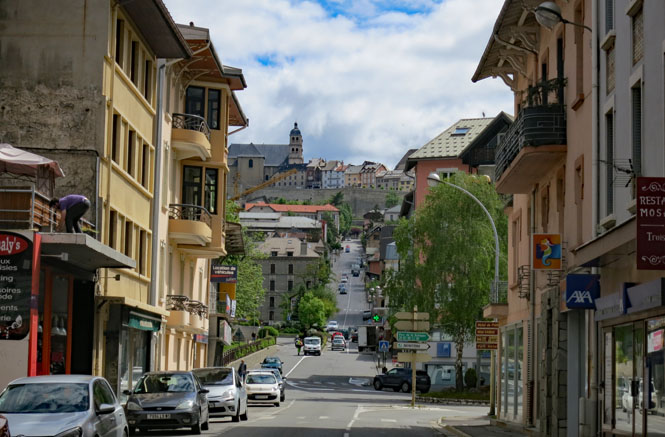 Italia
The Autostrada takes a different route (much of it in a tunnel), but I'm not interested in that.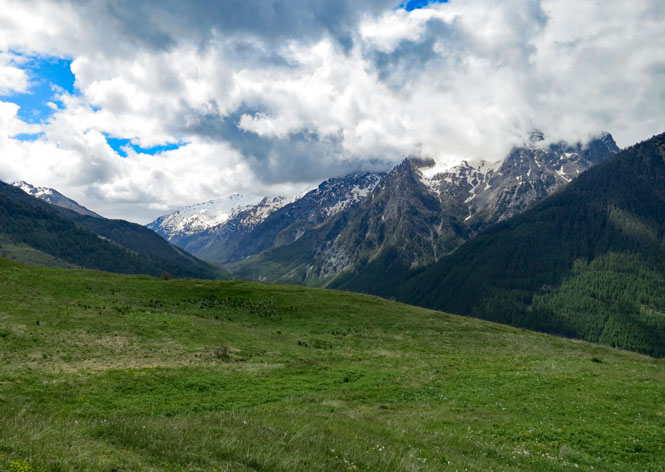 No treats for you; sorry!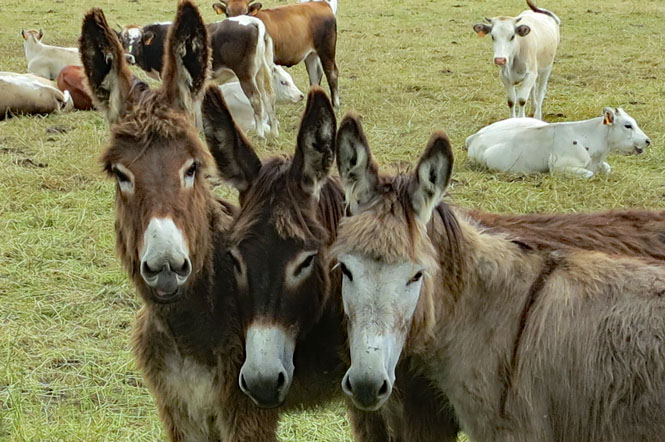 Back in the wide Po River plain. I'd have rain off and on during the rest of the day, but it was never too bad.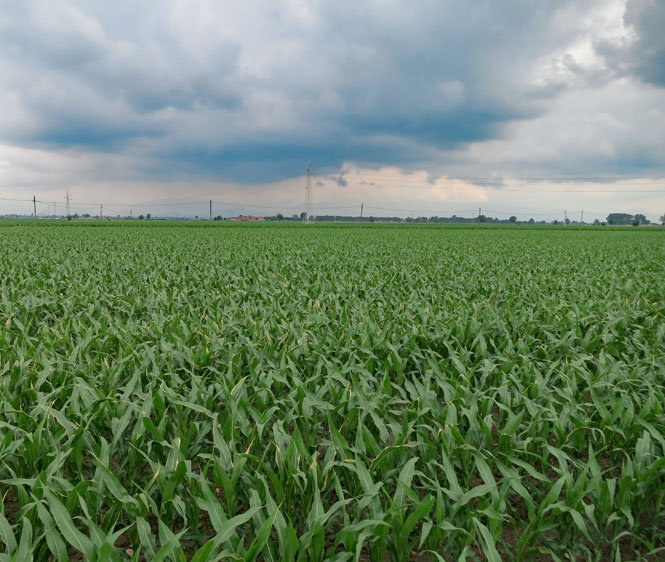 Vigone.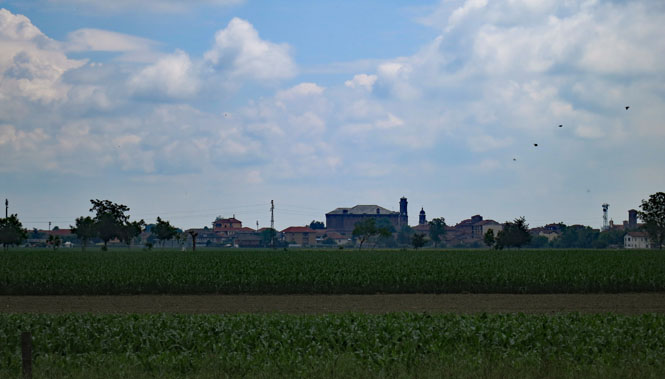 San Bernardo.
Carmagnola. I would have preferred--given more time--to stay away from the Autostrada. But, experience says that once you get anywhere near Milano it's all pretty hopeless. So, from Carmagnola, I took the ramp, cranked the throttle up to 130 kph and rode around Turino towards Milano (stopping occasionally to throw out some money at a toll booth)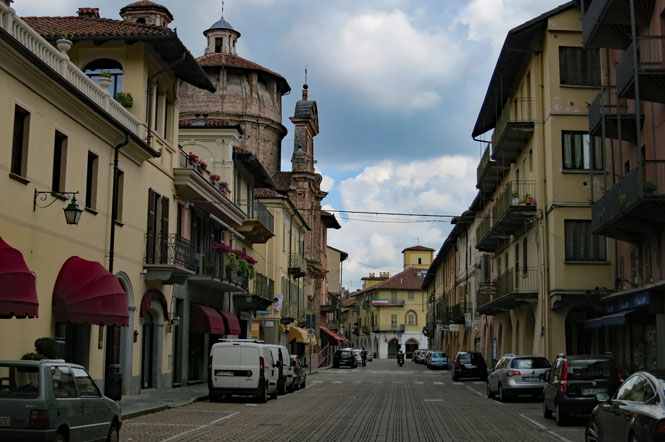 And back. As always, while I've been gone less than two weeks, it always seems far longer. Seeing so much new country every day really stretches out time.
And, of course, I'll stop at the Mandello gelateria for my traditional photograph.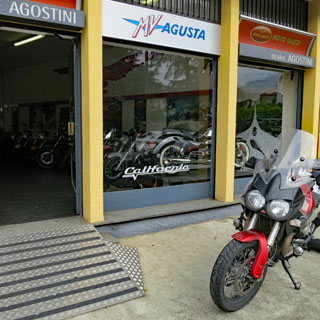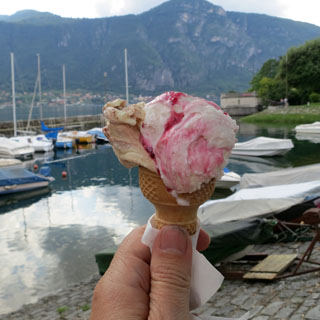 Mamma Ciccia's is where I always stay at the ride's end.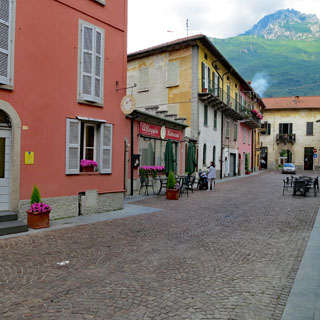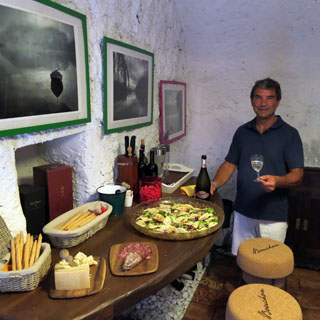 Lago Como. World's most beautiful lake?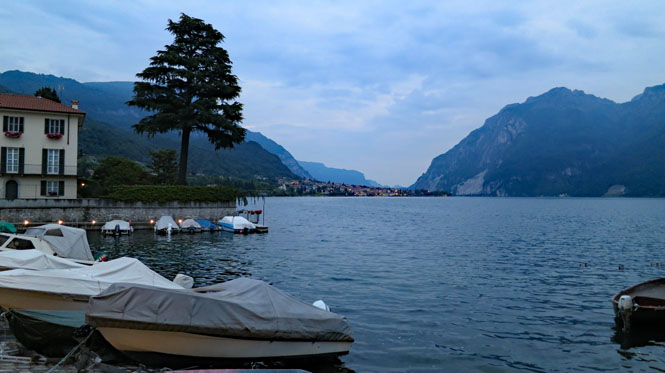 At the Milano Duomo the next afternoon.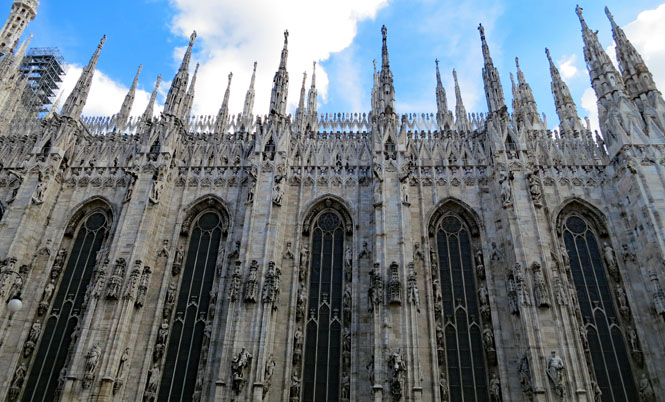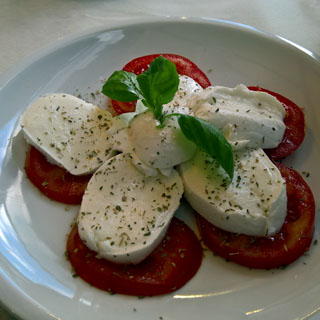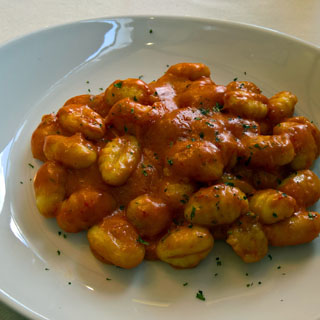 More high-end shops than you'd think could be supported, but all passengers are required to see all of them as you endlessly walk to your gate.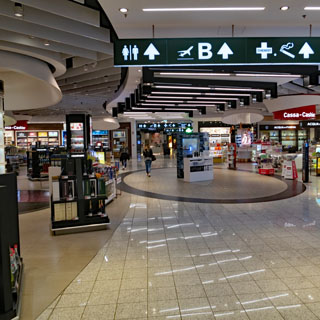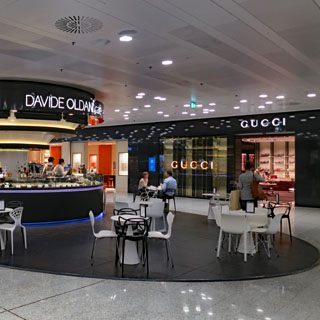 Waiting for the Newark flight to load (most of this time I'm upstairs in the lounge). There's a curious lack of chairs here. The airport (and all those high-end shops) would prefer that you wait out by the shops and restaurants and only show up at the gate when it's your time.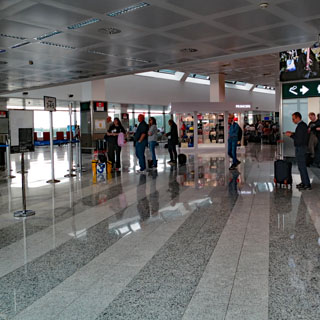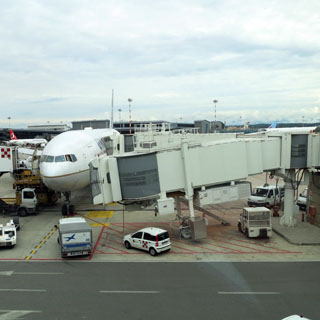 Welcome to America (and Chicago). Have a genuine Chicago Dog. you won't find one of these in Italy.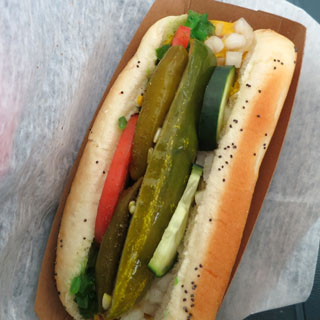 An excellent ride. Spain and Portugal remain on my list.
last edit: 6/15/2016