July 12, 2016


There are a good number of museums in and around Lincoln, Nebraska. I've been to several, but not either of these. Both are excellent.
Nebraska
Nebraska Tractor Test Laboratory and the Larsen Tractor Test & Power Museum
As gasoline/kerosene fuel tractors were rapidly gaining favor in Nebraska, it became apparent that the advertised claims of the many manufacturers were not a reliable indication of how well the tractor would perform in the field. Often, they hardly made it to the field, let alone did any work.
So, in 1919, the Nebraska legislature required that any tractor sold in Nebraska must be tested and must receive a certificate that guarantees its performance. The Lincoln laboratory (on the campus of the University of Nebraska) has been running tests ever since.
The original building is on the left (and is now a museum), and the current, much larger building is on the right.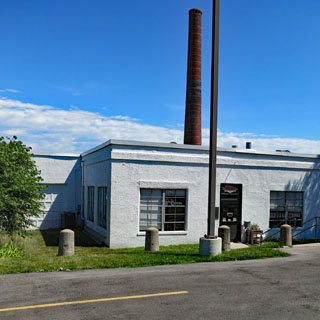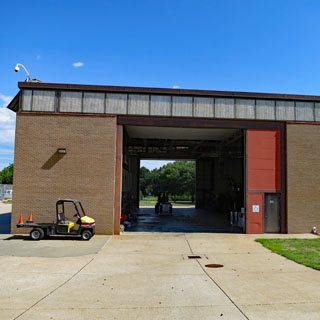 The test track was once dirt, but is now concrete. While it doesn't match any field (of course), it is a reliably consistent surface for testing.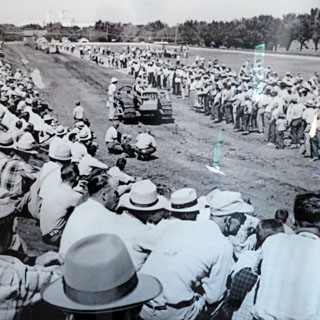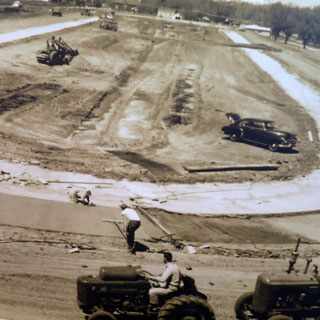 The pulling red tractor is what's being tested. The yellow machine being pulled contains measuring equipment as well as the fuel for the tractor (so that it doesn't get lighter as it burns fuel). Round and round and round. This is a job for undergraduates...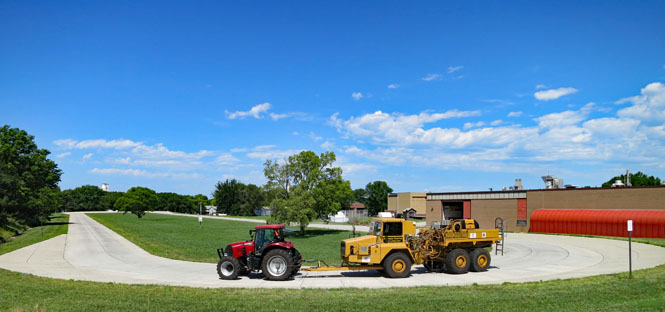 Inside the air-conditioned monitoring station.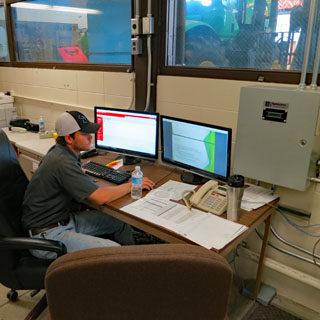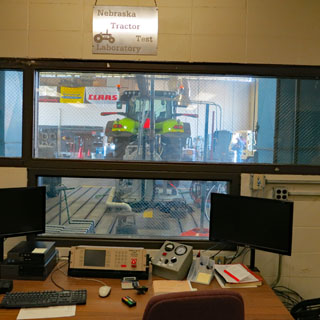 That European Claas tractor is being prepared for testing.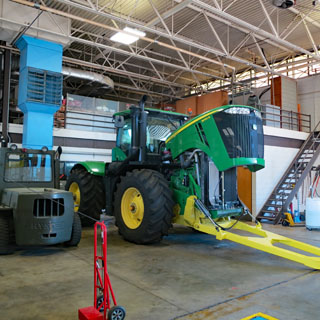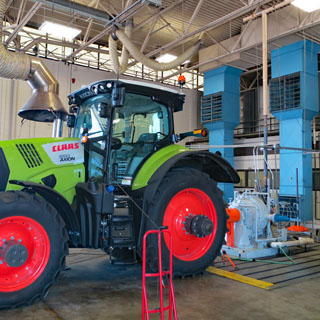 Supporting machine shops. You don't want to cancel a test for want of a simple fitting that could be whipped up in the shop.

In the museum building. This is the original dynamometer, which has long since been replaced. The analog gauges are in the original test rig (which has been replaced by digital instruments in the yellow rig you saw, above).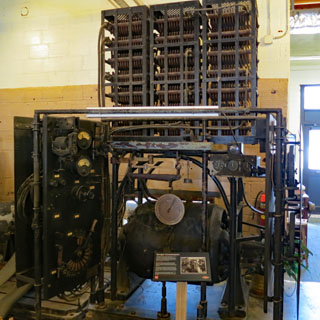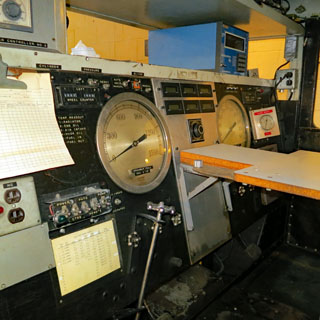 Some significant tractors in the history of testing.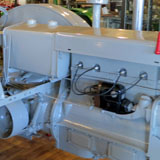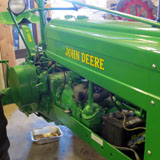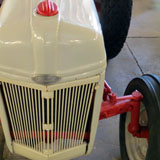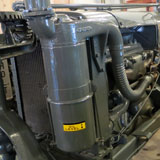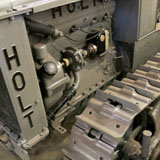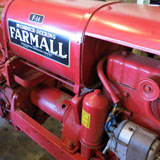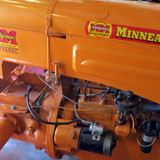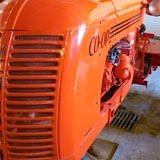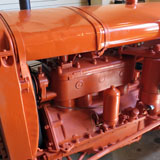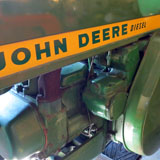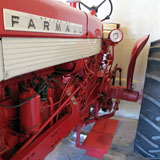 A collection of tractor carburetors that were once used for instruction.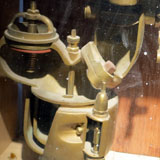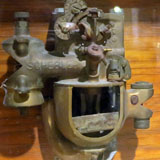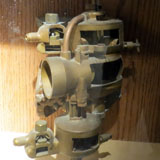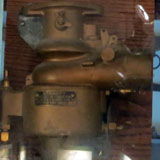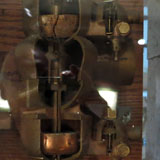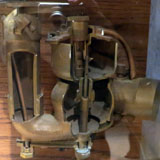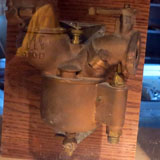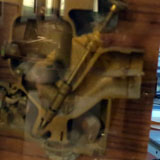 ---

Speedway Motors is a large supplier of racing parts and equipment located in Lincoln, Nebraska.

Just across the parking lot, you'll find the Speedway Motors Museum of American Speed.
It's much larger and more comprehensive that anything I've seen. If it's about racing engines used in the United States, you'll very likely find it here. There are three floors of display area, with room after room of more.

Harry Miller is the father of it all. Out of his shops (and those that developed from them) came the most winning American racing engines of all time.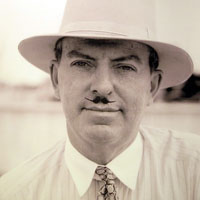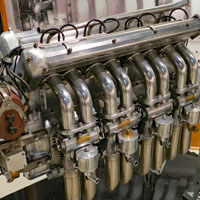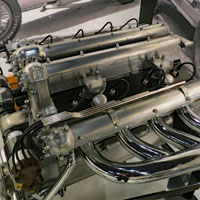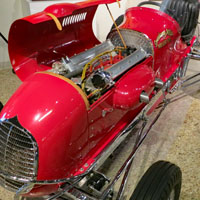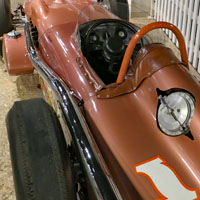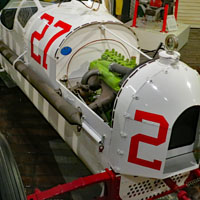 The collection is particularly good when it comes to oval racing--both dirt and pavement.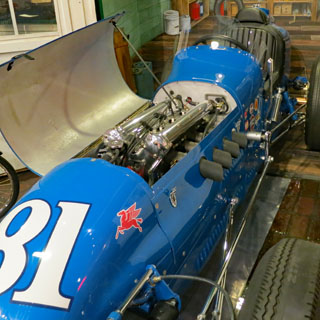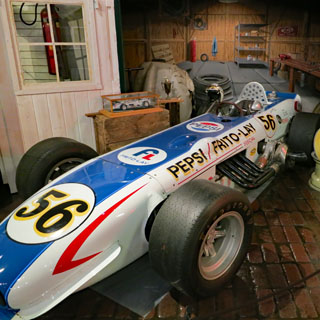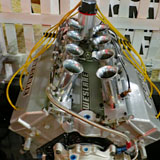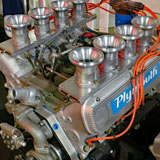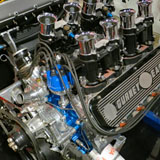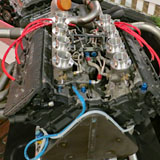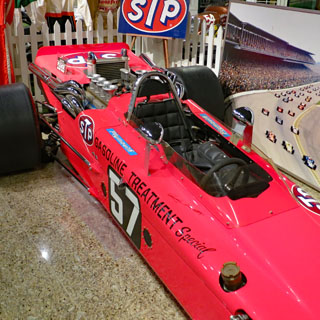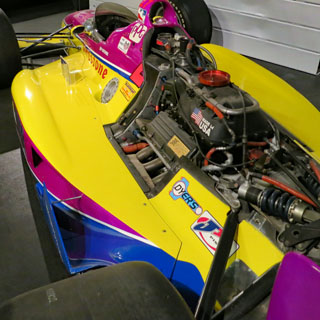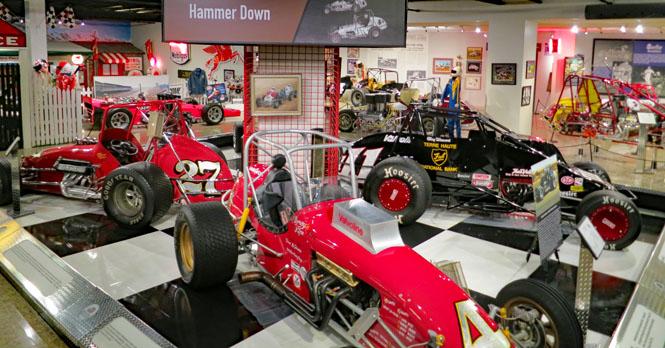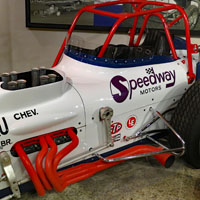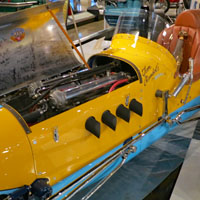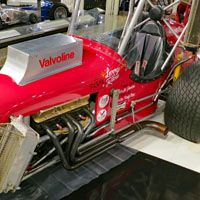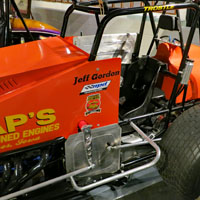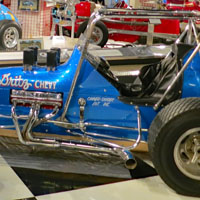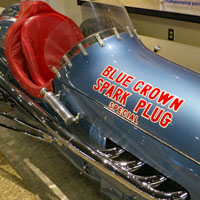 Engines of all types and all makes. I cannot imagine there are any gaps. Many are prototype engines of successful engines to come (and a few that were not so successful).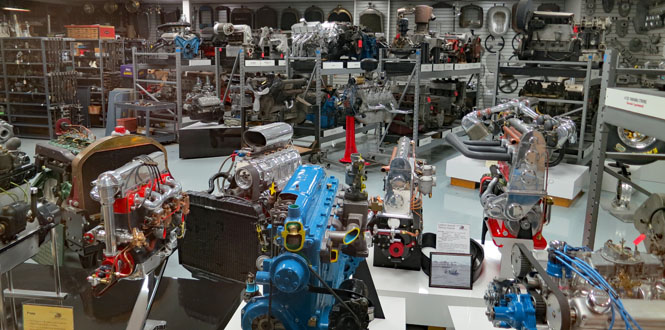 The museum technician is working on a one-of-a-kind prototype engine.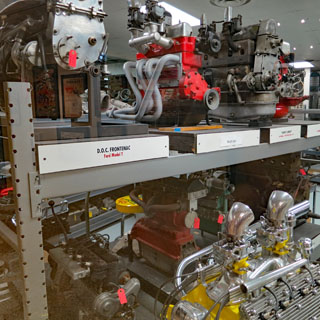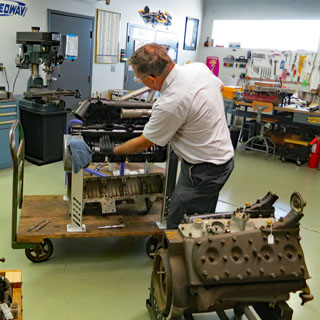 Land speed cars and engines.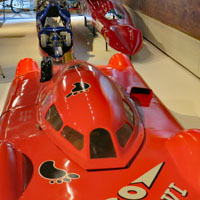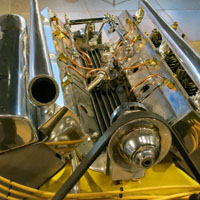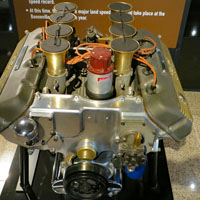 Early Nascar.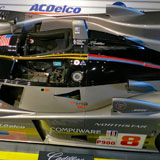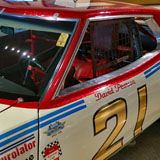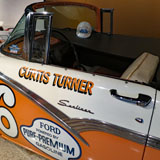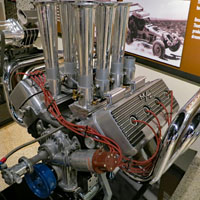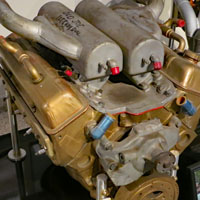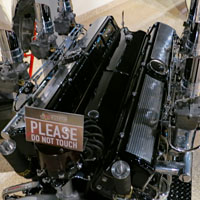 Not racing, but still significant. The Tucker (along with spare engine).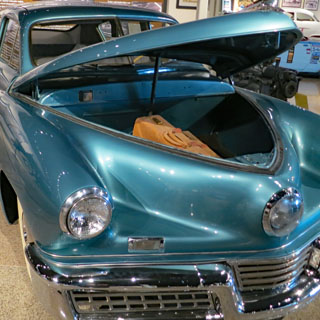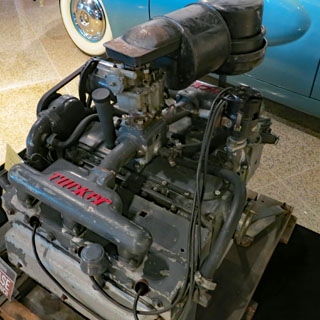 Original posters for hot-rod movies from the fifties and sixties.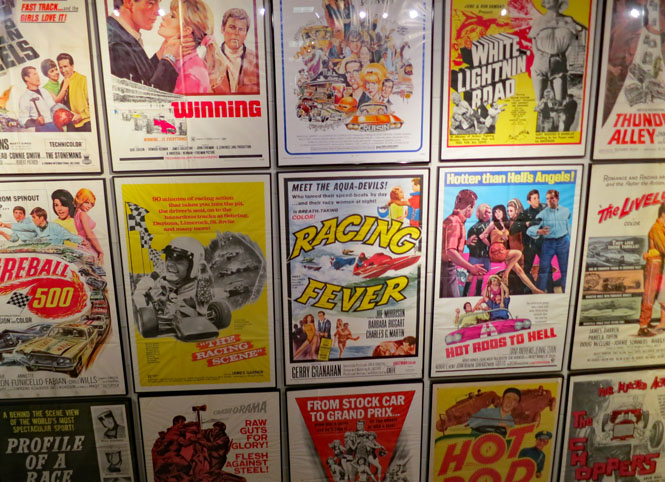 Company by company displays of racing heritage over the years.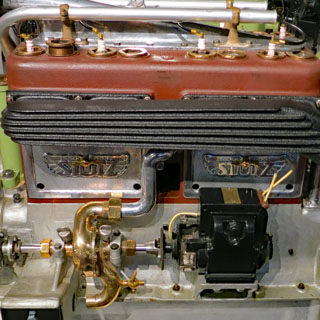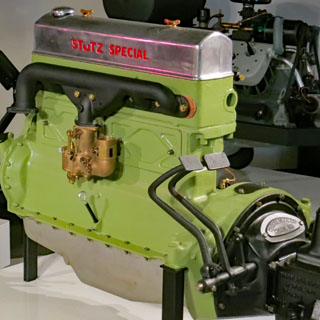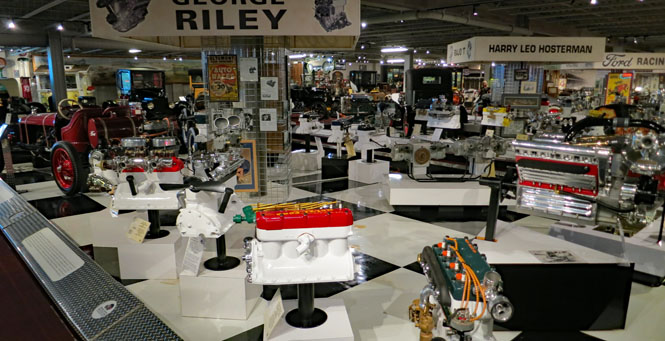 It's a racing spark plug collection.

Engines and more engines. This is likely the largest collection of its kind in the world.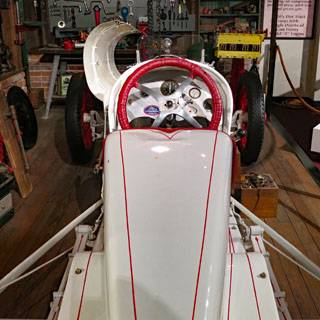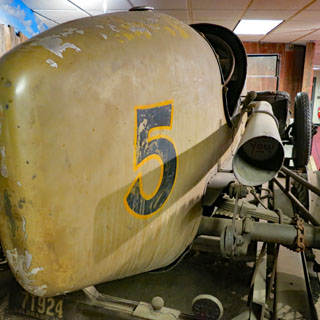 The prototype Ford flathead V8.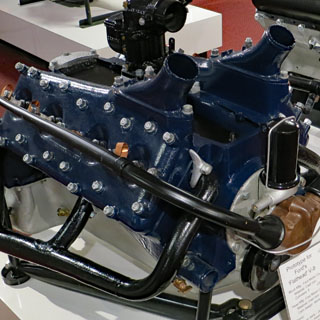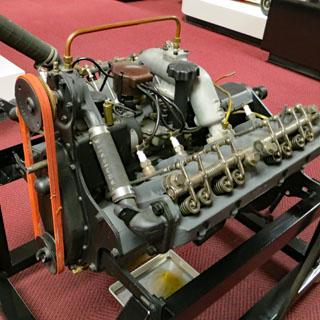 Pedal cars of all kinds.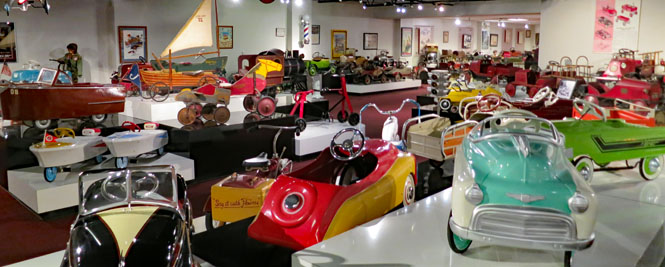 Lunch boxes.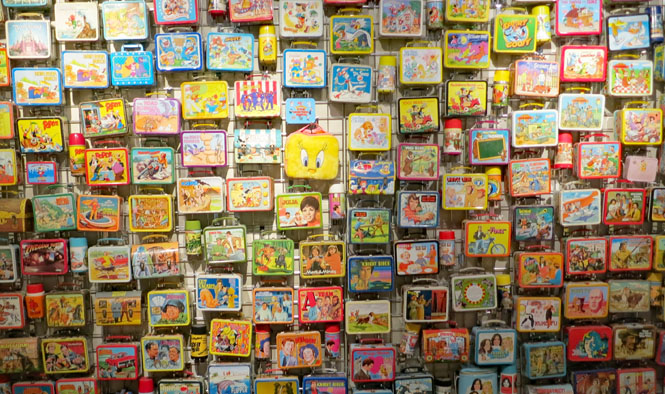 automotive children's toys.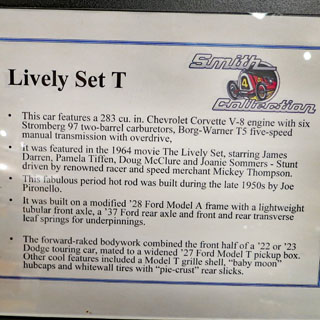 Sound effect 33 1/3 albums.
last edit: 7/18/2016