October, 2016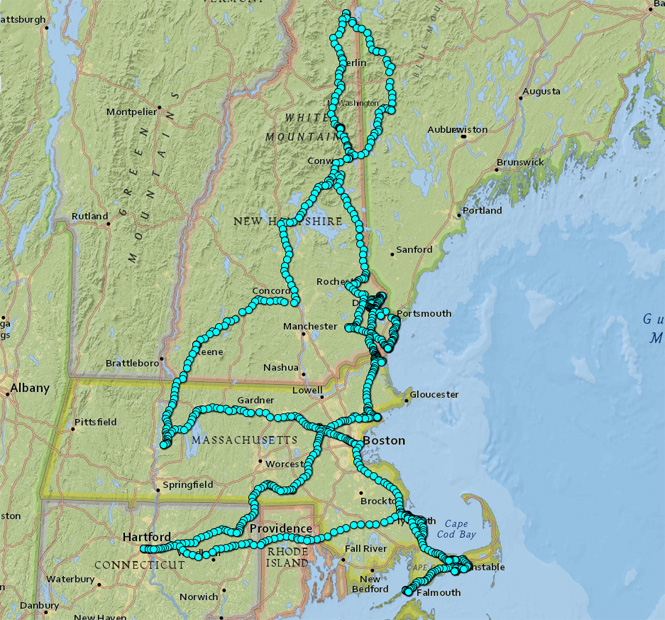 From the 1600's through the 1800's some eight generations of our ancestors lived between Cape Cod and the White Mountains of New Hampshire to the north. They came from Scotland and England, and were among the first to settle in the new colony and to help start the towns that exist today.
This will be a driving trip by Awanna, Rebecca and Daniel to explore a part of that area.
Refer to the end of this report for genealogy charts and family information.
We all left together, flying directly to Boston on the red-eye after first taking the short hop down to San Francisco.
California
Looking fresh at the start; would we look the same the next morning in Boston? Don't expect much to be open late at night at the Eureka airport (aka California Redwood Coast - Humboldt County Airport).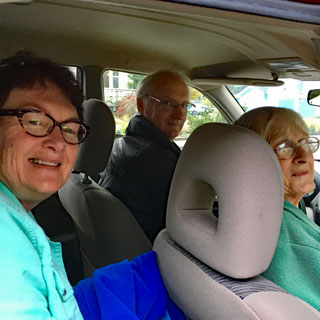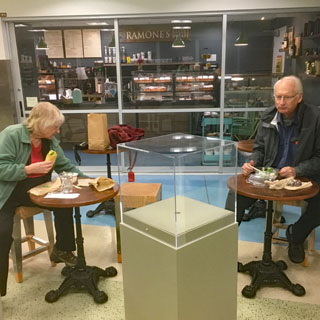 The lighted cities around the San Francisco Bay.

Massachusetts
Our car is ready, and we're soon on the freeway heading south on I-93. We hadn't made any reservations (or determined an agenda) for the trip, but we did reserve rooms for the first two nights in Yarmouth, Massachusetts on Cape Cod.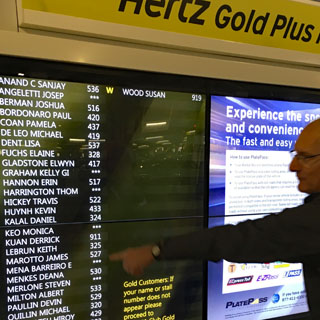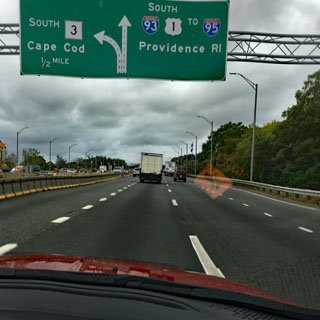 Breakfast or lunch; it's time we stopped for food. This is Manomet.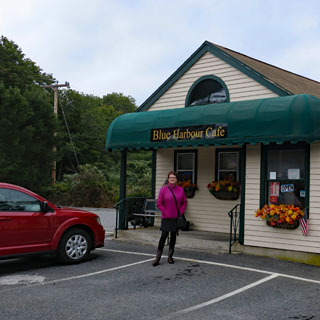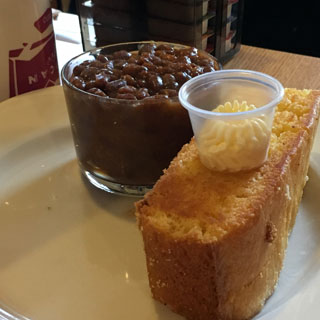 There's no point checking into Yarmouth, just yet; it's still early. We'll explore Barnstable and the surrounding area.
Cape Cod Peninsula, Massachusetts - Barnstable

Reverend Joseph Hull and family lived in the area 1639-1643. He helped found Barnstable and was one of the earliest preachers in the area.
Plaques in the area related to our family:
• Lothrop Hill Cemetery, approx. 2801 Main St, Barnstable Town (Highway 6A), with plaque in stone wall facing highway, commemorating fellow minister and friend John Lothrop (1584-1653) who also gets credit for founding Barnstable.
• Just west of Lothrop Hill Cemetery is a stone and plaque commemorating the location of the First Meeting House in Barnstable, 1646, where Hull would have attended. Approximate location 2786 Main Street (Highway 6A).
• Hull preached in 1639 at what became known as "Sacrament Rock." A monument and plaque commemorating the occasion, which was cobbled together after the original large stone was demolished during road work, is now located on the north side of Highway 6A in West Barnstable, approximately 2426 Main St, Barnstable Town.
• Another fragment of Sacrament Rock is embedded in the foundation of The Unitarian Church of Barnstable, near the front door. Located at approximately 3330 Main St, Barnstable Town.
• Plaque "Site of the House Built by Rev Joseph Hull" on north side of Highway 6A, in private yard at approximately 2786 Main Street, Barnstable Town.
• Plaque "This Boulder is Erected as a Memorial to Elder Thomas Dimmock Who with Rev Joseph Hull Received the Charter for the Land Now Occupied by the Town of Barnstable. On this knoll he built a fortification house in 1643." Embedded in private wall on north side of Highway 6A, 3704 Main St, Barnstable Town.
Barnstable Cemetery. Our man is Joseph Hull, who was instrumental in the founding of Barnstable and was one of the first ministers in the area. However, you're much more likely to see mention of John Lothrop who was also there from the beginning, and (as the plaque says) was "beloved by all who knew him."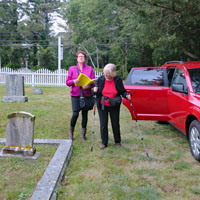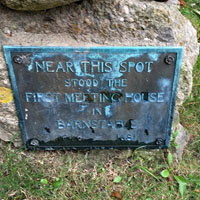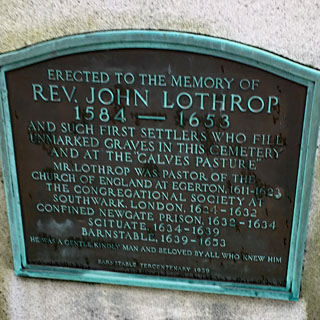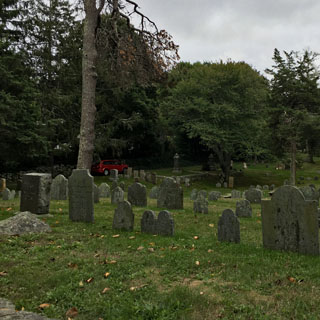 The site of the house built by Joseph is commemorated. This area does not lack for historical plaques--well done citizens.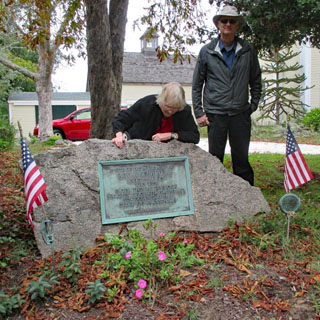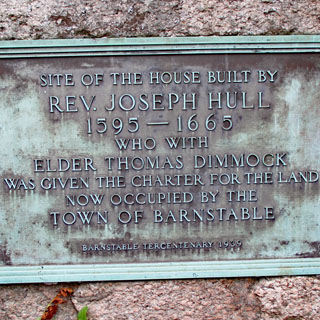 The center of Barnstable. We weren't very efficient with our local destinations, and probably drove this road at least six times.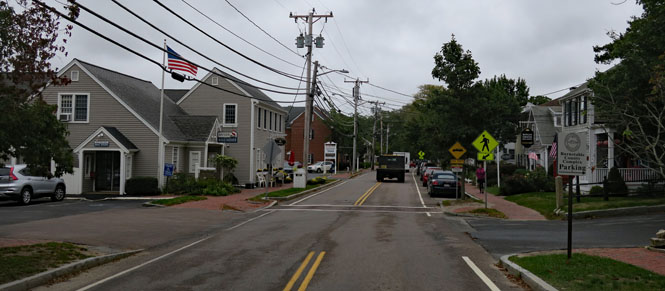 The Unitarian Church of Barnstable, established 1639. A Unitarian church isn't, in general, common. But, in New England (at least the part we drove) most every small town will have one, and you'll find that it has been there from the first.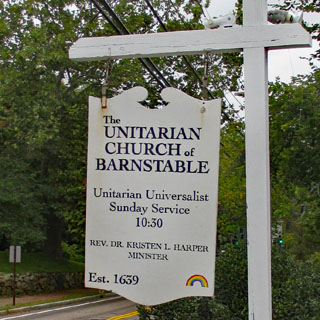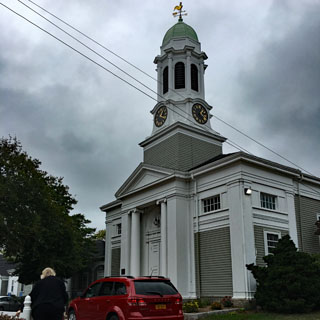 The woman in the red jacket (below) was very knowledgeable of local Barnstable history and especially the history of the church.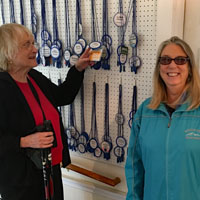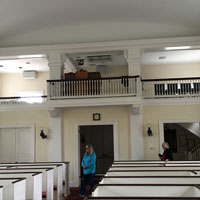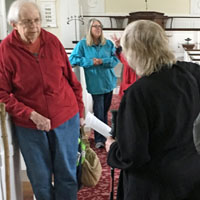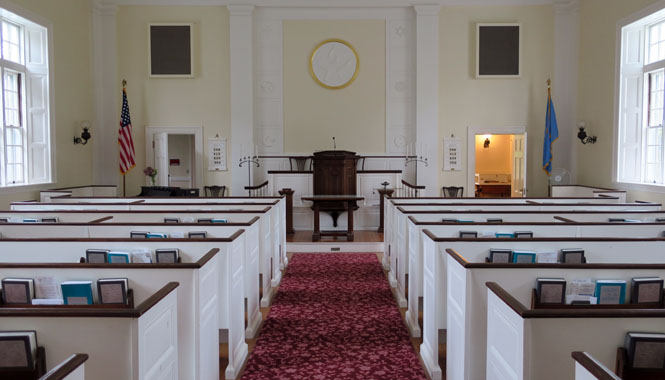 History is in these buildings. You will almost always see commemorative signs and plaques. The church cornerstone contains a fragment of the sacrament rock (which, our man Hull preached on).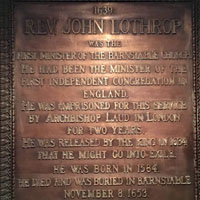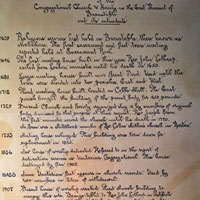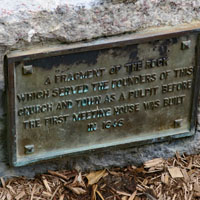 Poor sacrament rock. It hasn't been treated very well over the centuries. But, what remains, is here (along with another plaque).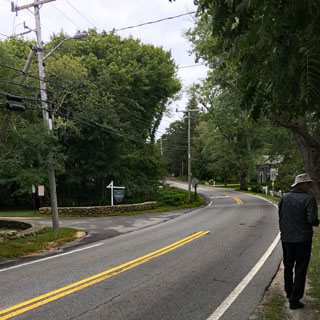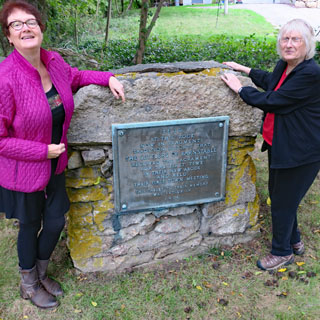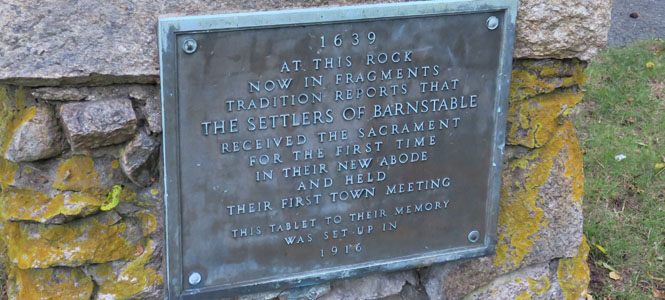 The Sturgis library in Barnstable encompasses the original house built by John Lothrop. If you are interested in the earliest history of this area, this is where you need to be.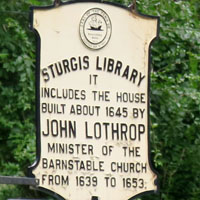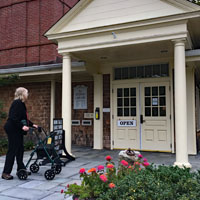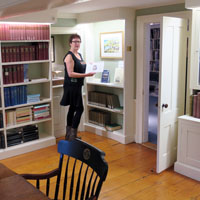 The congregational church in West Barnstable. Yes; John Lothrop preached here, as well.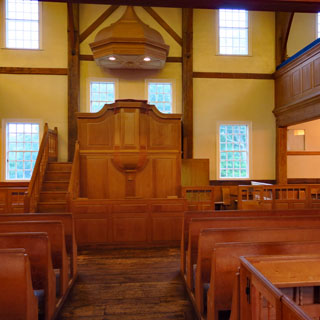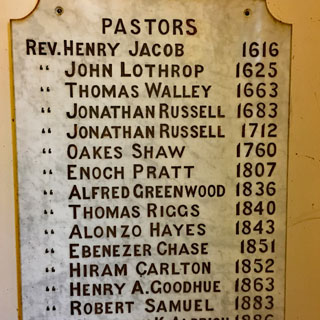 This very old church has seen many changes over the years, but it has more recently been returned to something of what it looked like originally.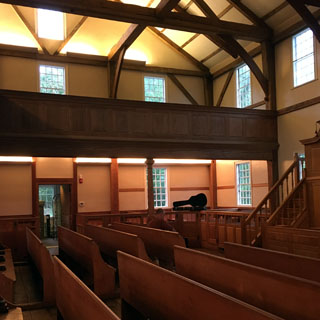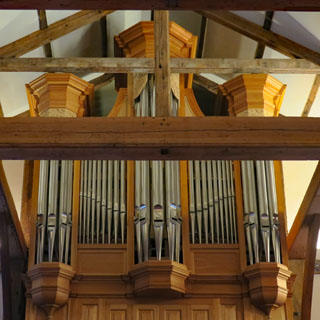 We spent two nights in Yarmouth. The hotel had a nice pool as well as this lounge.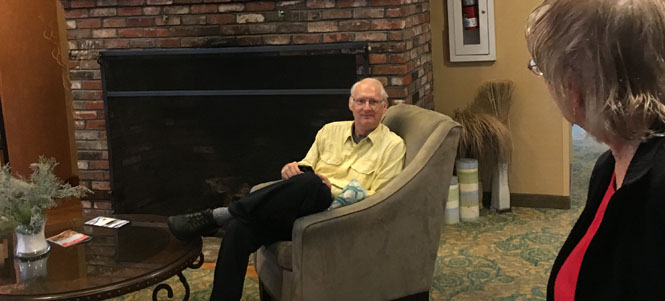 If Hyannis is famous, it's because of its long association with the Kennedy family and their nearby compound.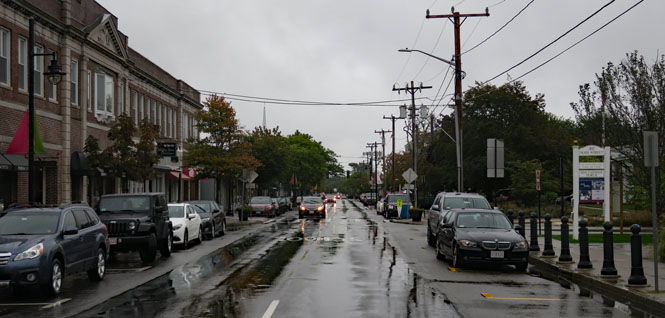 The John F. Kennedy Hyannis Museum is primarily devoted to the Kennedy family and their life in Hyannis. It's not a large museum, but it gives you a real sense of the devotion to public duty that Rose Kennedy--especially--instilled in her children. They were expected to know the day's news and to be able to sensibly discuss it at the dinner table.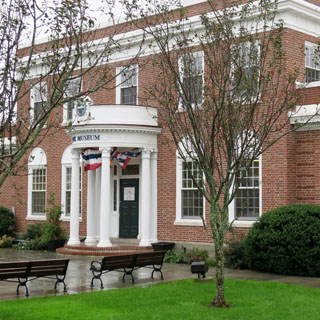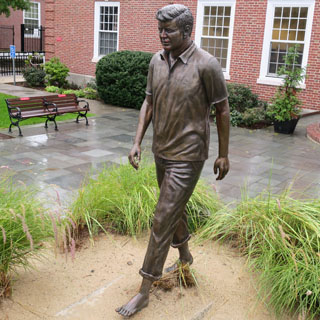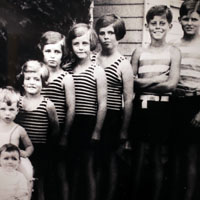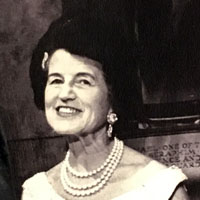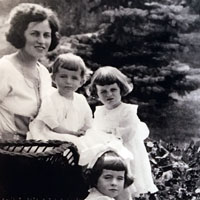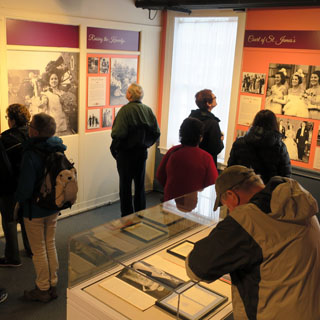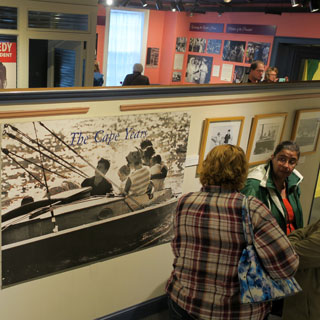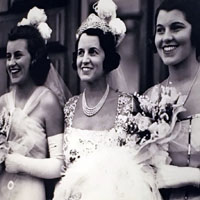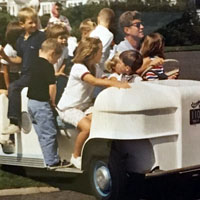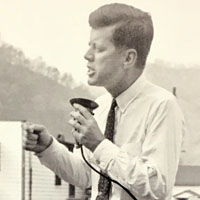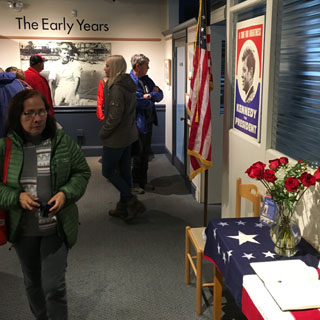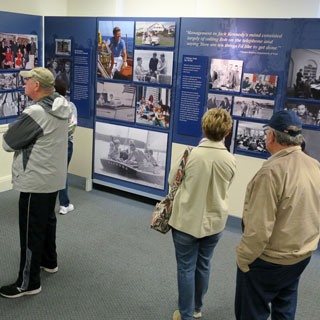 It was cold and wet this morning; a perfect time to walk across the street to the coffee shop and have a Nutella crêpe.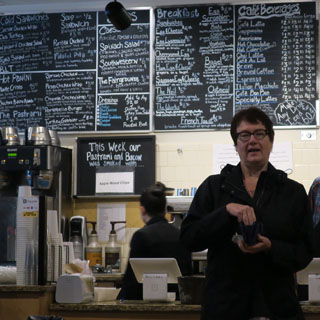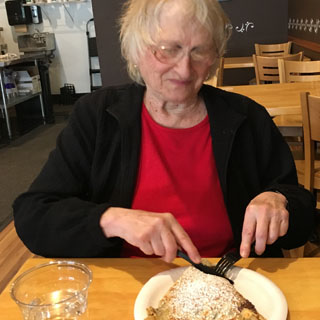 Just outside Hyannis is Keyes Beach, on Nantucket Sound. That's an Atlantic horseshoe crab--odd creatures, evidently closer to a tick than a real crab.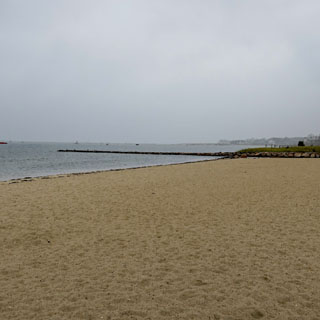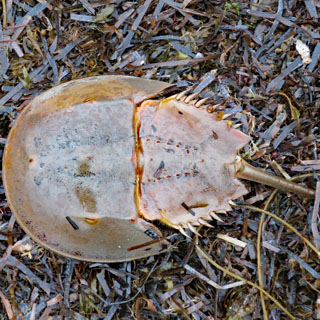 It might be windy and wet, be we're intrepid.

The Mashpee Old Indian Meeting House is the oldest church on Cape Cod. It was built in 1684 and used by the Wampanoag Indians.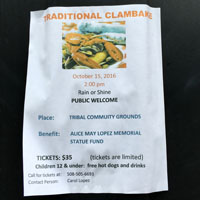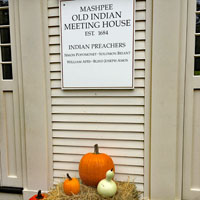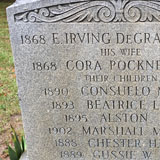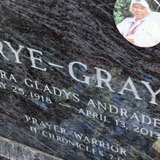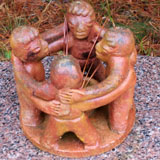 Woods Hole is a town, but the name Woods Hole is more commonly known for the Woods Hole Oceanographic Institution. The Institution was founded in 1930 with an endowment from the Rockefeller Foundation. Since then, the Institute has received support from the U.S. Navy as well as the National Science Foundation. Additionally, you'll see the names of universities on the buildings, so it's safe to say that this non-profit independent institute is connected to all sorts of ocean-related research.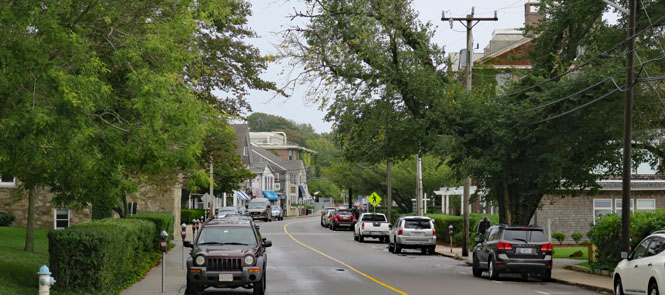 Rachel Carson is probably best known for her book "Silent Spring." She was a marine biologist here at Woods hole.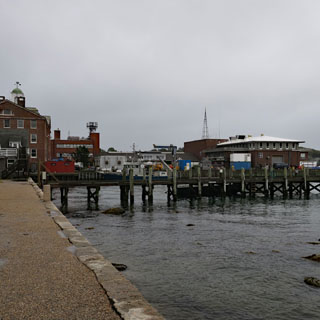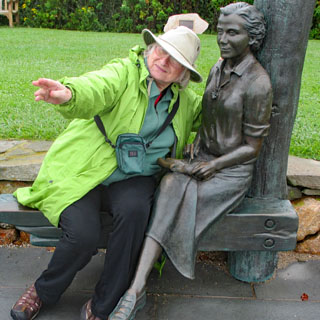 Long before the scientists took over, the town existed for the whaling industry (the building below was used for the manufacturing of spermaceti candles).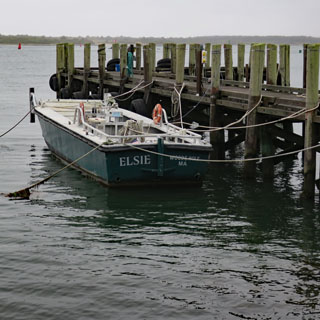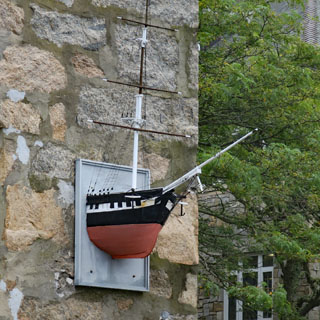 We didn't see anybody in the lab, but water was flowing from tub to tub in quite large amounts.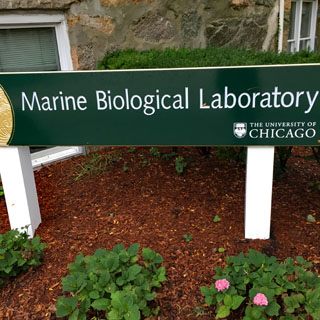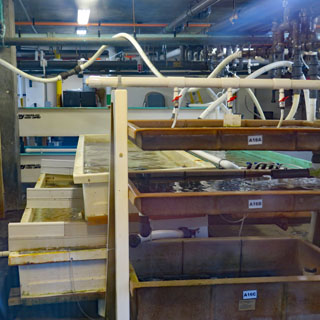 Every once in awhile, a boat would need to pass through the narrow inlet to Eel Pond, so the bridge tender would stop traffic and raise the bridge.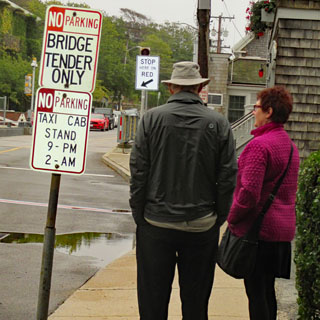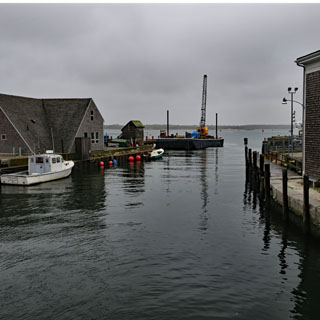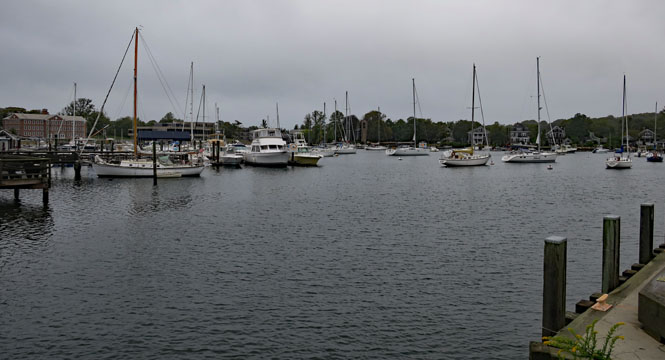 The Woods Hole Museum. This is a general-purpose museum of the institute. There are other museums more directly focused on scientific areas.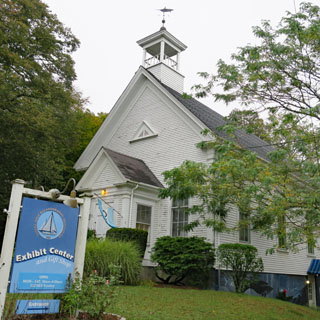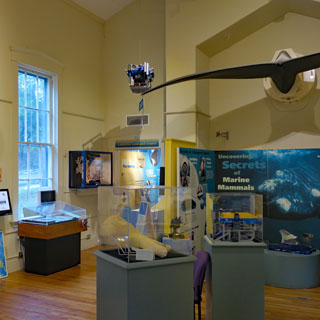 Alvin was commissioned in 1964, and continues to do research dives to this day (having been updated and overhauled several times).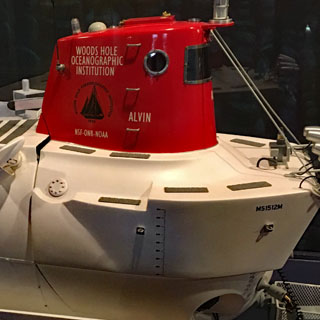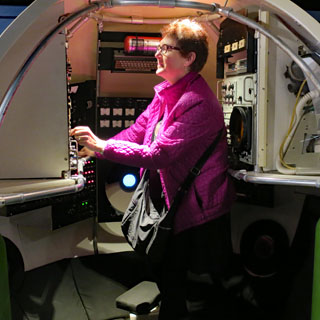 Lunch with a nice view of the Eel Pond (a protected harbor with plenty of boats tied up along multiple piers).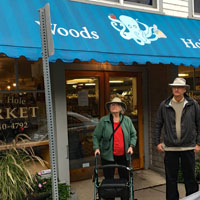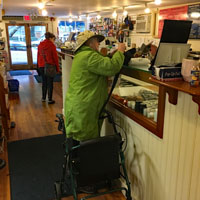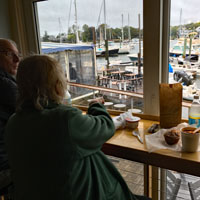 Driving along Buzzard's Bay.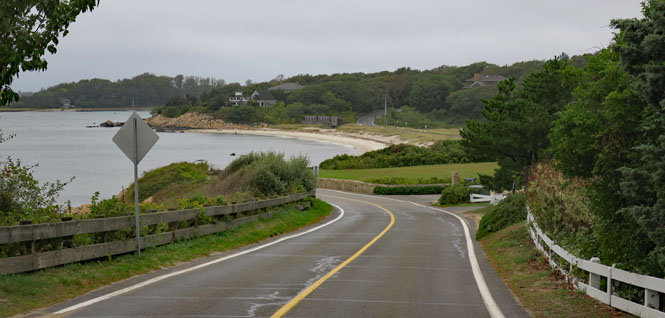 The Nobska lighthouse. It is very windy out here! The sections of the lighthouse were made off-site (steel rings) and then assembled here. It's probably sturdy enough to withstand most anything.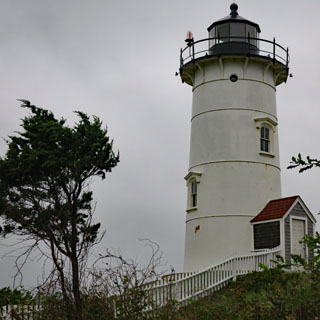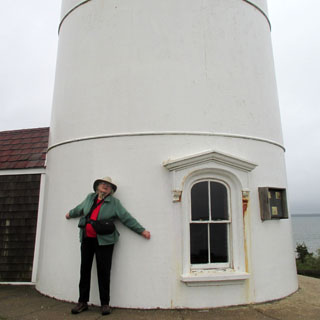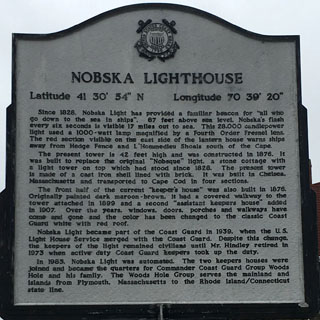 Back at our hotel in Yarmouth--enjoying the hot tub and staring at devices.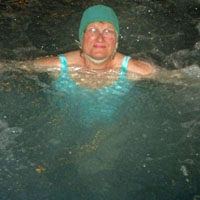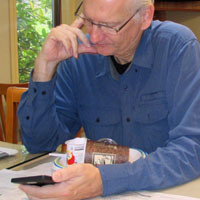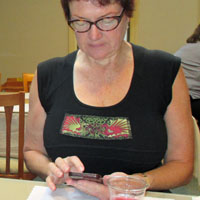 We looked for a certain plaque in Barnstable the first day, but never found it. Let's look again. There it is. The mention (on the plaque) of a fortification house is a common theme. These were dangerous times and building a fortification house (or garrison house) was not being over-cautious.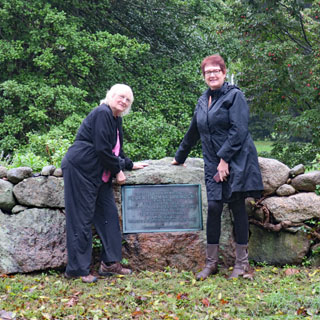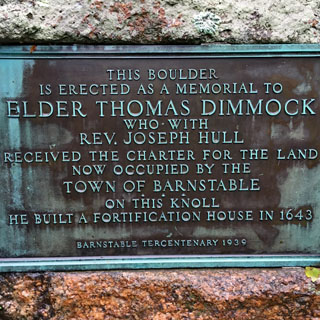 We're back at the old Barnstable Unitarian Church for the Sunday service.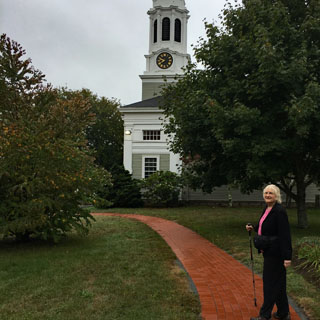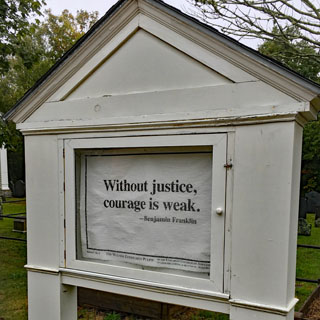 Afterwards, meeting the minister (Dr. Kristen Harper) and the rest of the folks for coffee in the adjacent meeting room.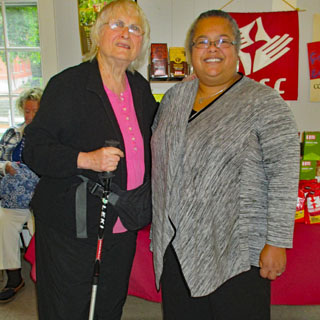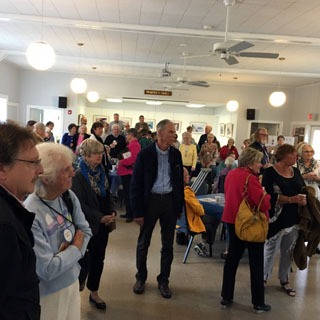 Cap Cod is a spider web of walking trails. This one is just across the street from the church. It's a beautiful morning for walking.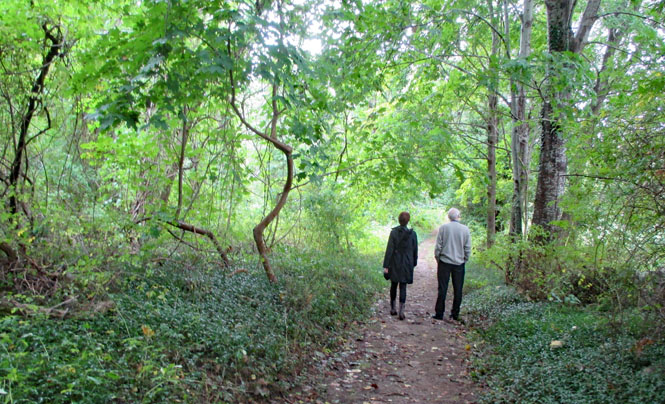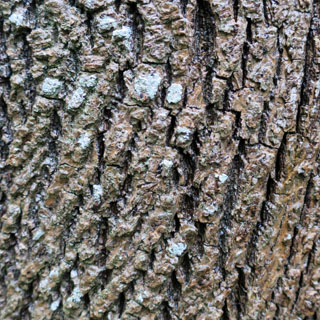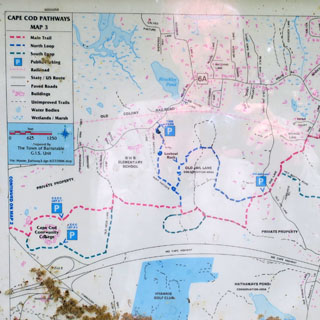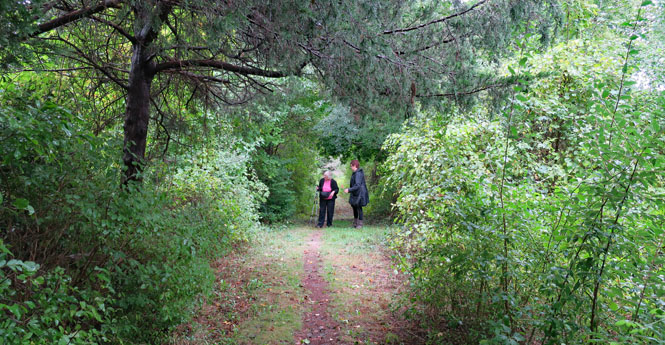 Edward Gory is perhaps most notable for the opening scenes of PBS "Mystery." Once you see his work, you realize "Oh, I know this." This is his house (now a museum).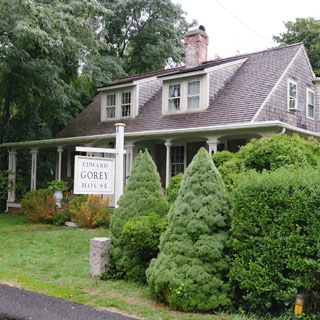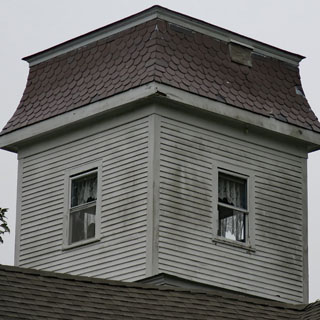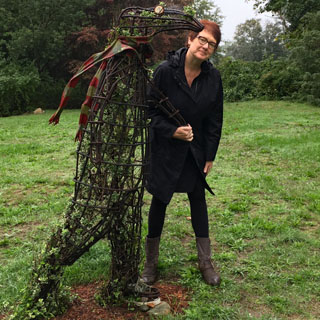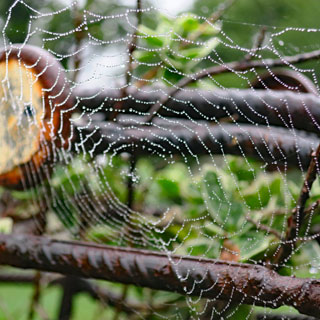 His is an unusual mix of horror and comedy and the unexpected.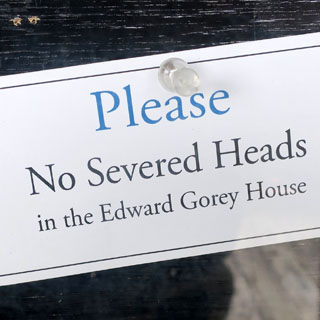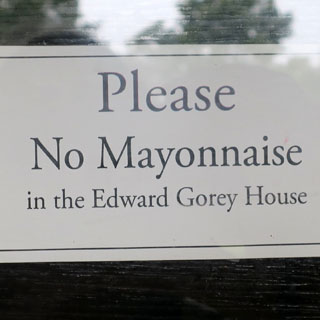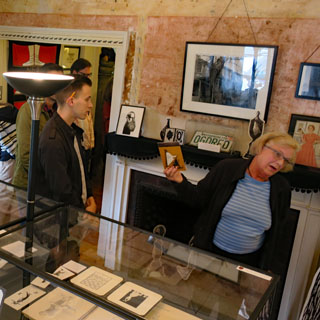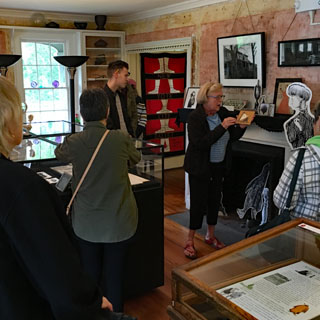 You never know what dangers might be around the corner...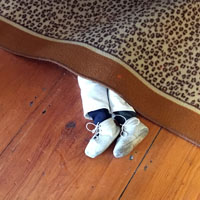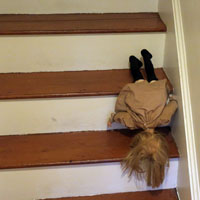 On display was a special exhibition of some of his unpublished and rarely seen works.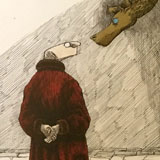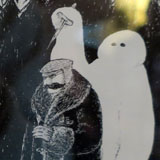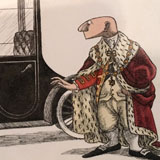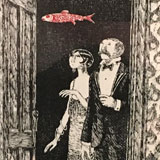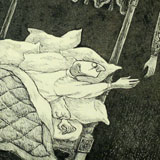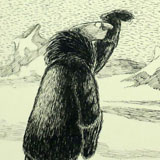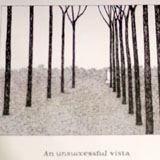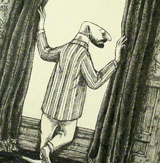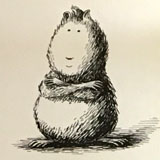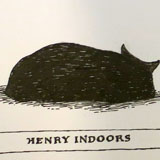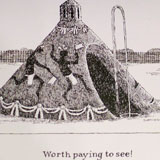 The man had the complete works of Trollope (and not as a "complete works" from the same publisher). I'd have expected that.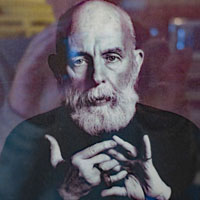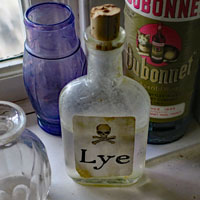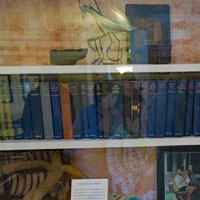 He should have won the Tony for set design.... (as he said).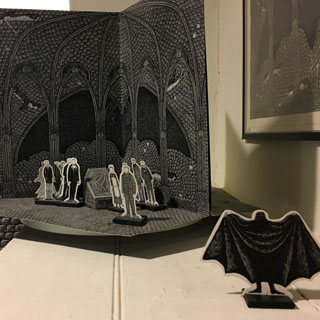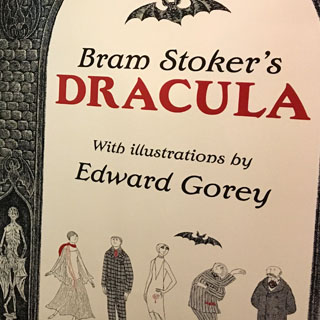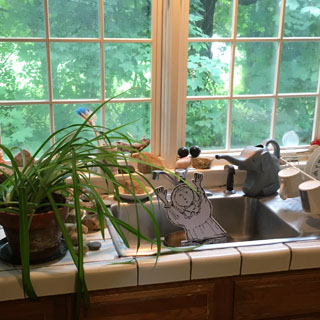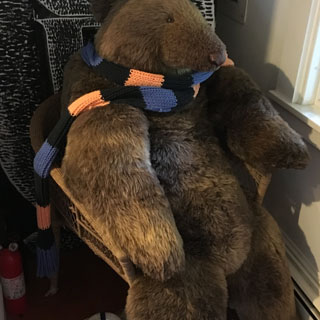 Plymouth is just up the Cape (we passed it on our way south that first day). We'll spend a couple of days here.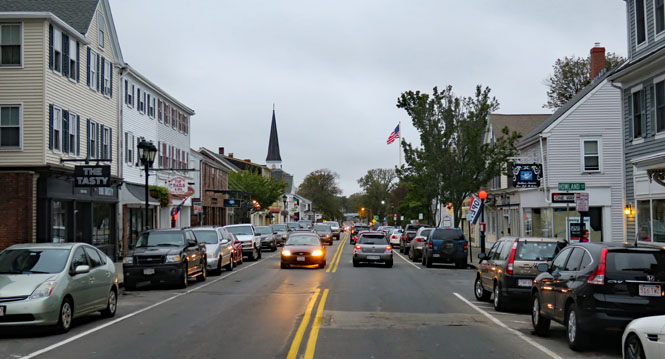 Painted fiberglass cows seem to be more common for this sort of thing, but lobsters work, too.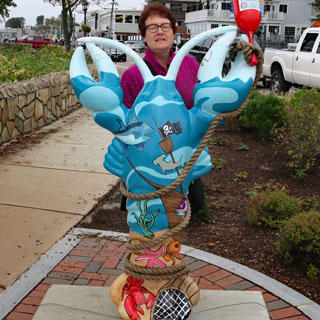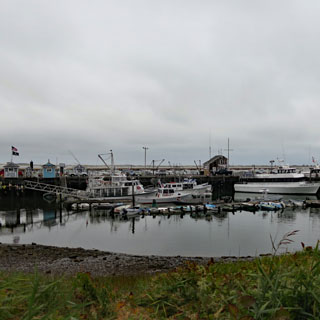 The Mayflower II was built in Devon England in 1955. The ship is now fifty years old and is undergoing a multi-phase restoration with the goal to be in fine shape by the 400th anniversary of the founding of Plymouth (in 2020).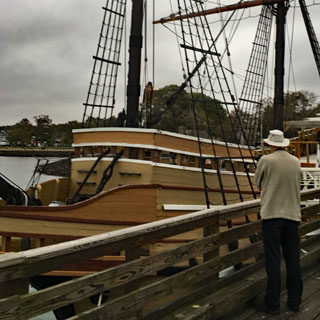 That Greek temple? That's where you'll find Plymouth Rock. The poor rock has had a hard life and is smaller than it once was owing to some rough treatment over the years.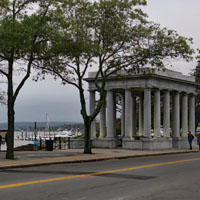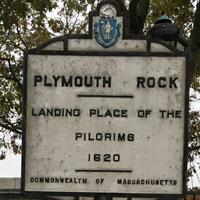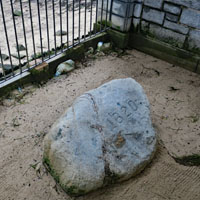 Plymouth Harbor. Today is damp and overcast. Tomorrow will be better.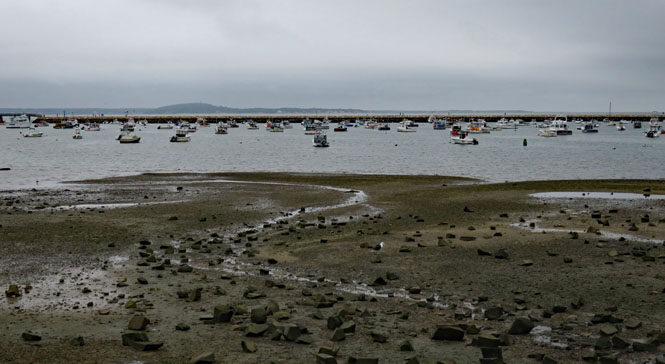 I suppose considering the conditions that the pilgrims endured, a hotel blackout in the morning isn't the worst thing. Breakfast was on the house.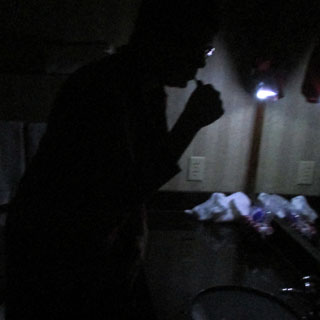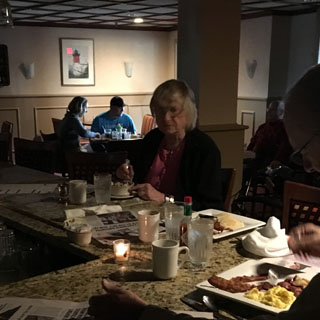 There are many museums in Plymouth; this is the one to see. Pilgrim Hall Museum.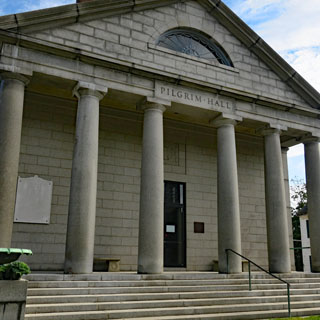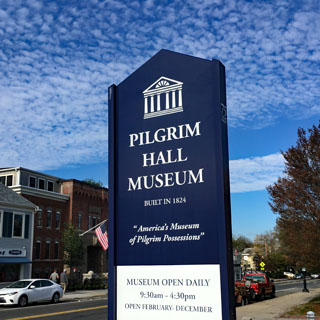 Where this museum excels, is its collection of original artifacts that came over on the Mayflower as well as original documents (official and personal) that date from then.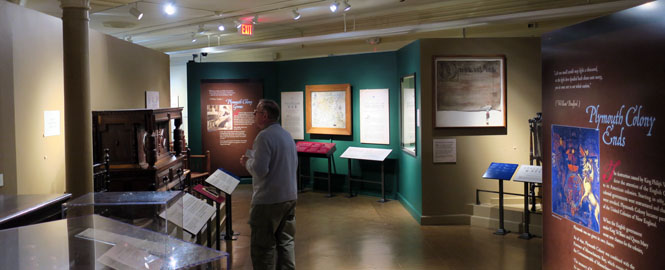 The poster (below, right) clearly shows the passengers that started out on the Mayflower (top half), and those few who survived the journey and the first year (bottom half). By necessity they had to discard their original plans of settlement (based on what they knew from England) and figure out how to combine their resources to survive.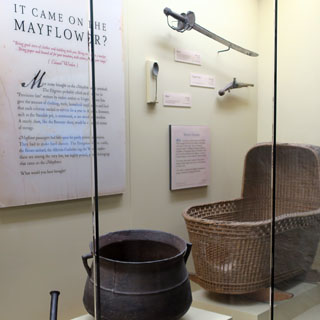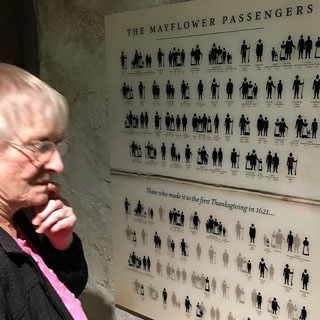 That's what a real pilgrim hat looks like.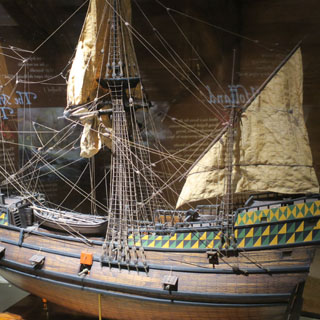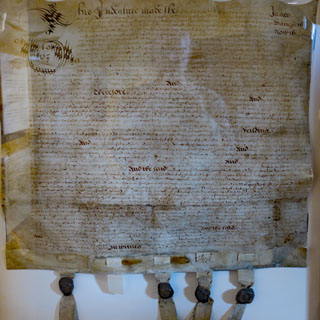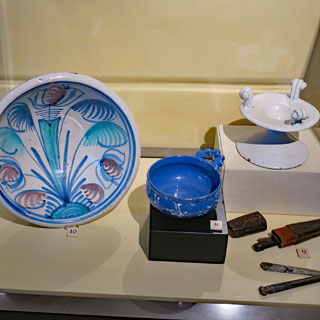 An original charter from Oliver Cromwell (below, right).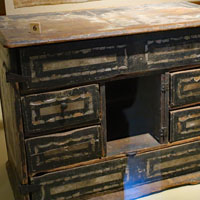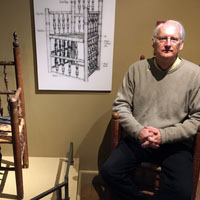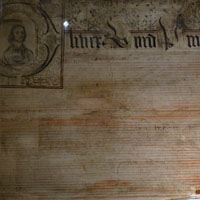 A (Geneva) bible that came on the Mayflower.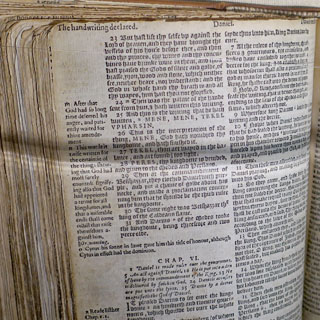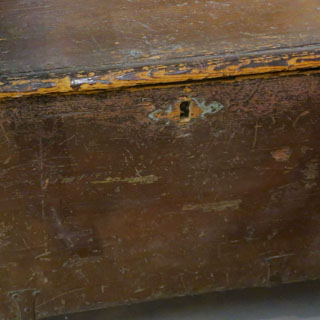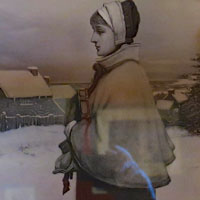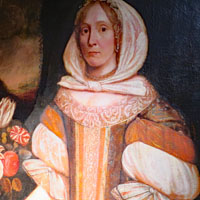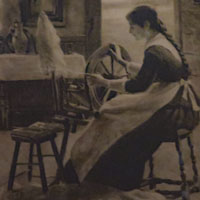 There are two types of pilgrim costumes: 1) what they really wore, and 2) how Norman Rockwell et al, dressed them.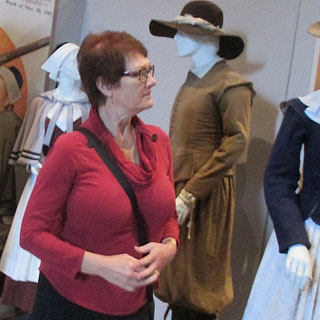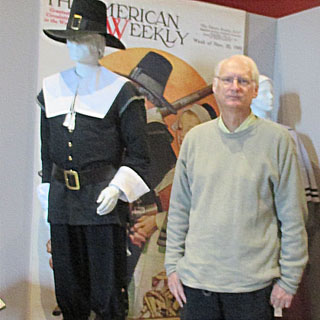 There have been plenty of (over) romantic images of the pilgrims. You'll find the originals of several familiar pieces in this museum.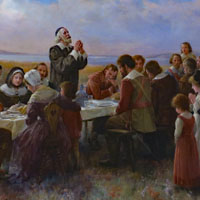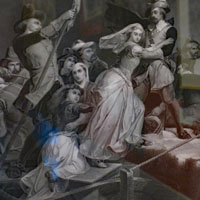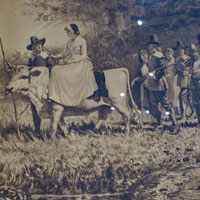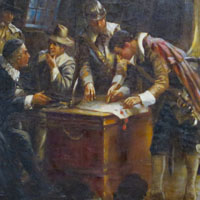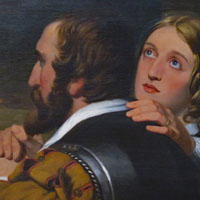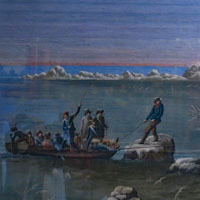 Awanna touching the rock (one of many pieces taken from the original).

Plymouth Harbor on a beautiful sunshiny day. For now, the Mayflower II is missing it's rearmost mast (that would be the mizzen-mast).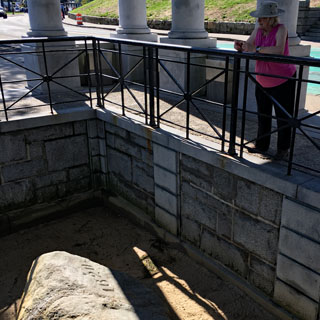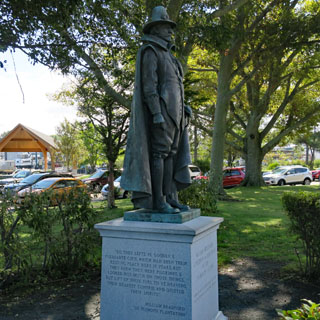 One hundred and four passengers were buried on this hill during the first year in Plymouth.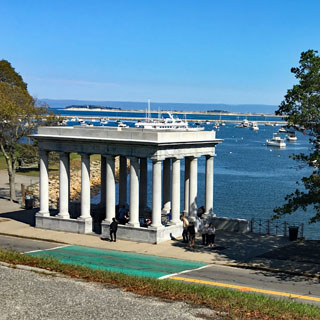 Not surprisingly, you'll find plenty of monuments in this town. The monuments to the Wampanoag Nation are more recent.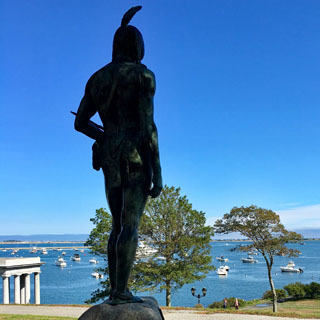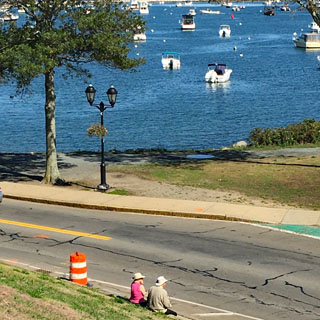 Plimoth Plantation was established in 1947 to be a working recreation of the original (1627) version of the town of Plymouth. We feared something along the lines of "Main Street, Disneyland" but were impressed by the quality of the place and the careful attention to historic details.
First stop was at the visitor center for lunch (Succotash is on the menu).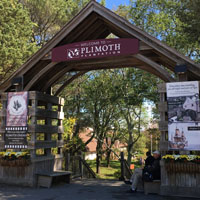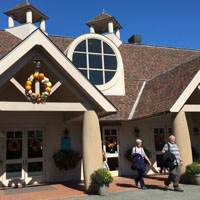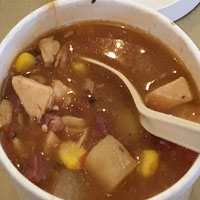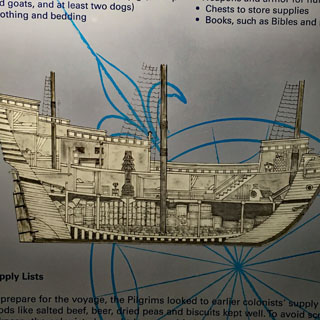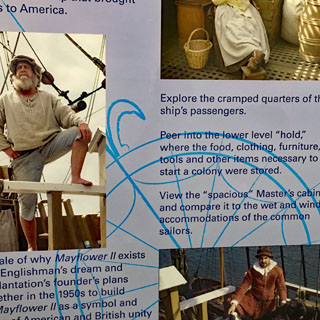 Their are two settlements in the compound: the English village and the Wampanoag homesite.
The plantation guides in the Wampanoag homesite are Indians working the historic ways with the tools that would have been used. They are not, however, acting in the character of the Indians from 1627.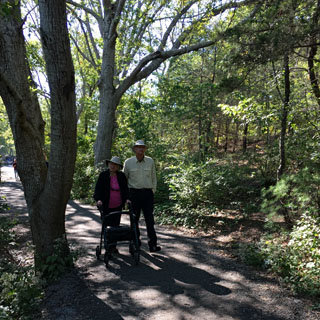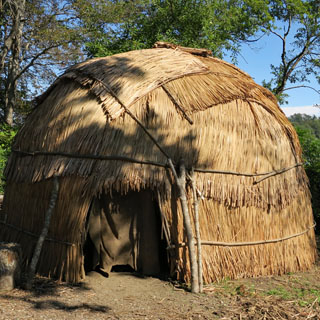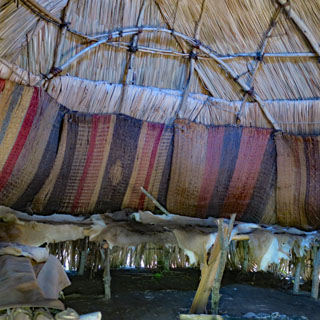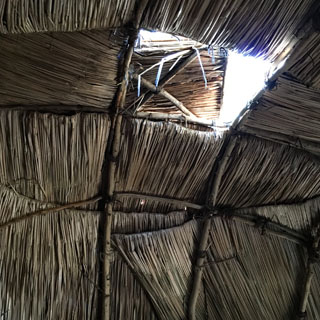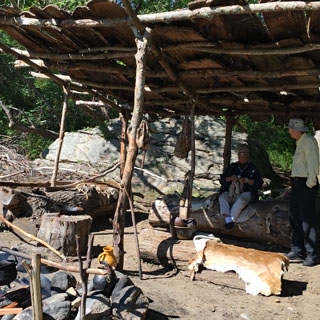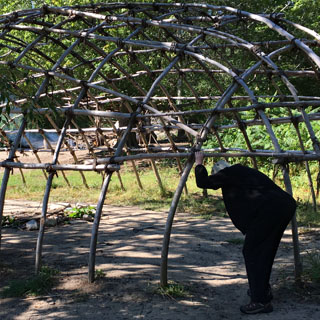 Between the two settlements is a building devoted to crafts from the time.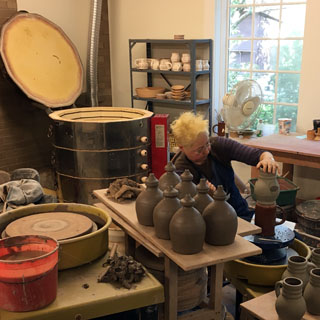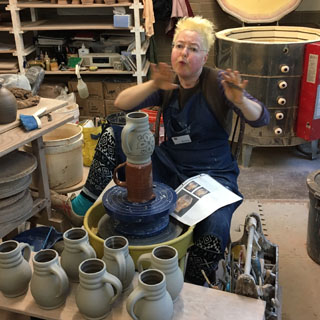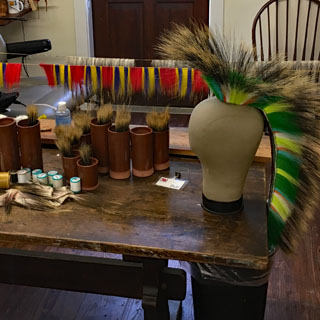 That's a beekeepers outfit, below (and yes, those are bees).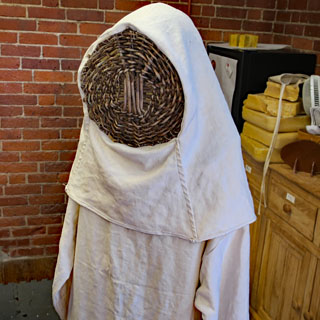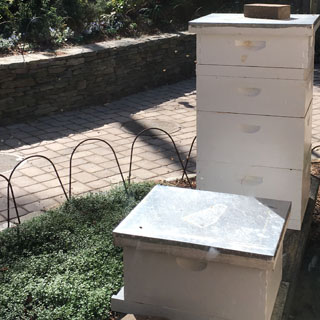 The tailor in the correct posture (we are informed) stitching buttons to a shirt. He also made the buttons.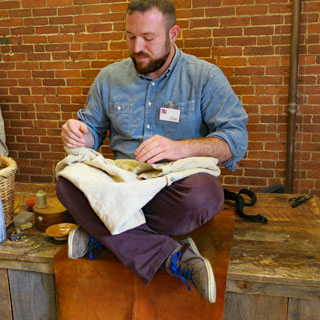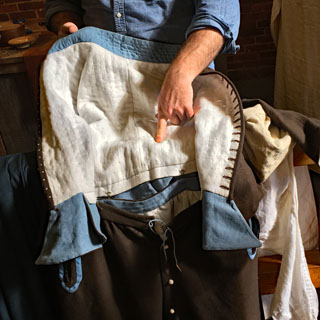 Making cloth and making candles. Many of the items made can be bought in the gift shop.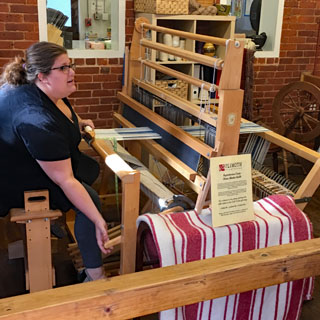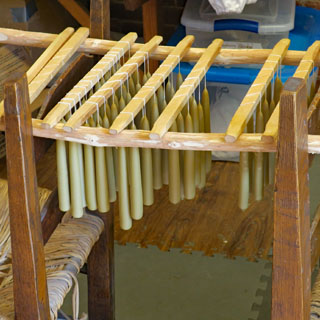 The view of the protective walls of old Plimoth (the spelling used throughout).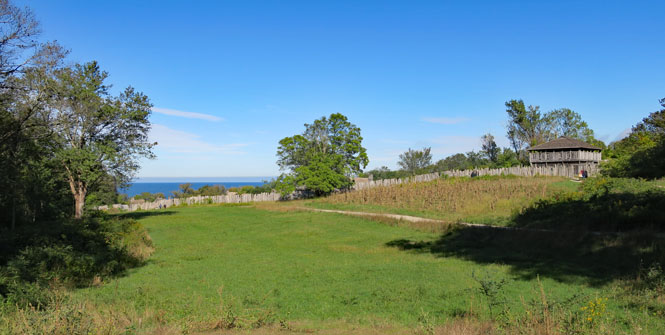 While the people at the Wampanoag homesite will answer questions related to the original settlement, they are not pretending to be of that time. But here in the English village, the people you meet are fully in character. Remarkably so.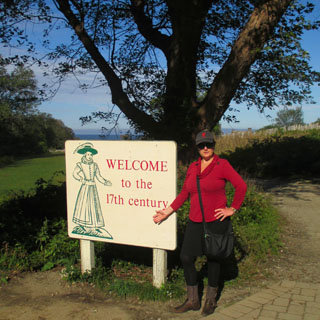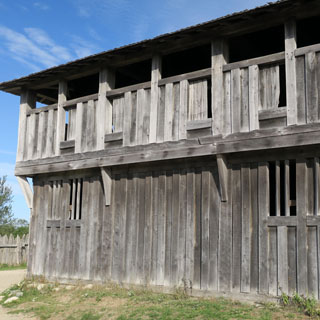 The fortification house at the top of the hill overlooks the entire settlement.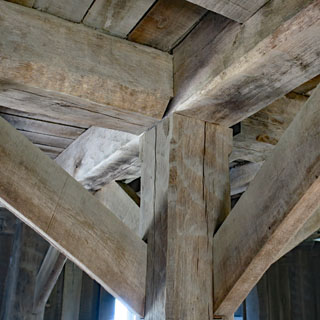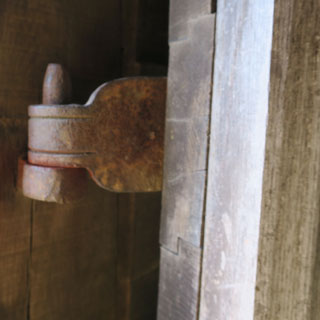 It was Elder Wentworth who blocked the door of the Heard garrison house near Dover, New Hampshire in the year 1689, keeping the attacking Penacook Indians out. That scene is here reenacted.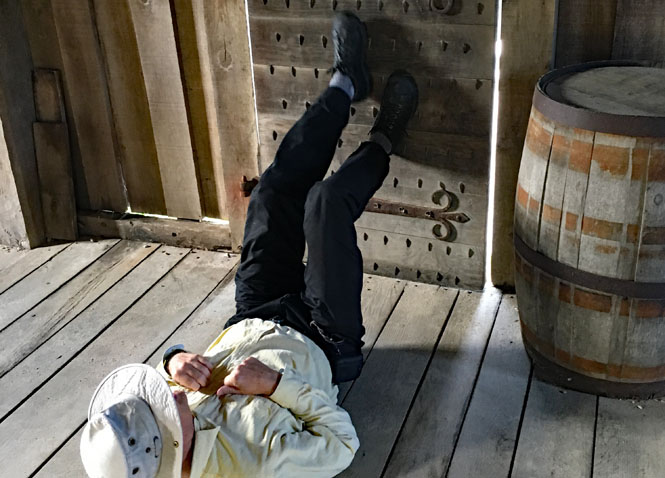 As with the original settlement of Plymouth, the recreated village is not far from the sea.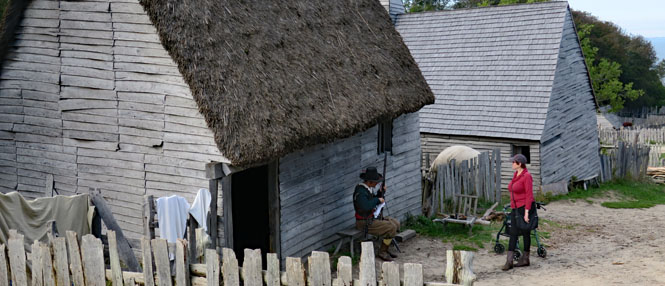 While telling us about the abilities (or lack) of the local militia, this gentleman quite efficiently cleaned his musket. He spoke the language that you'd expect from somebody who had only just recently arrived from England.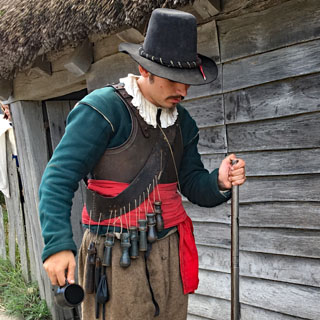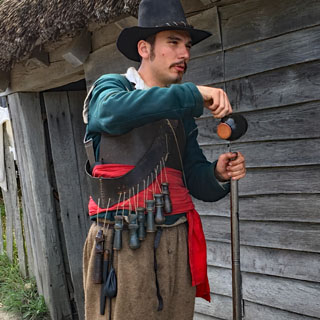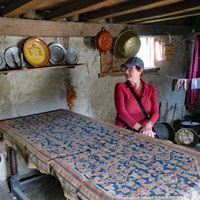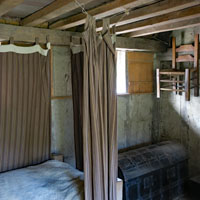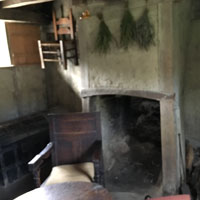 Considering that this recreated village was built in 1947, it must be challenging to keep things looking as fresh as they would have been in 1627. Seventy years on, these original houses would likely have been replaced and rebuilt to something stouter. The detail is amazing.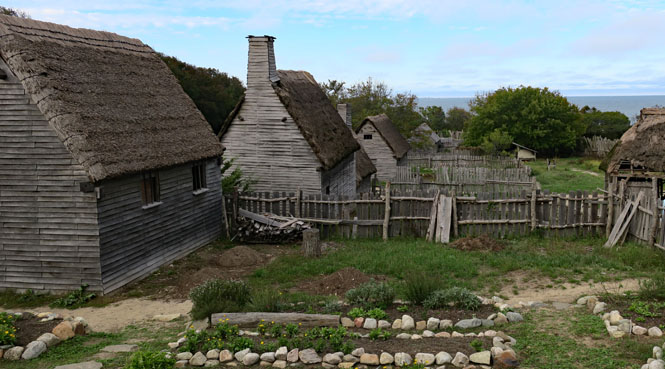 Some houses had chimneys, others didn't.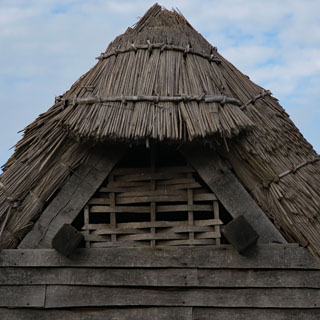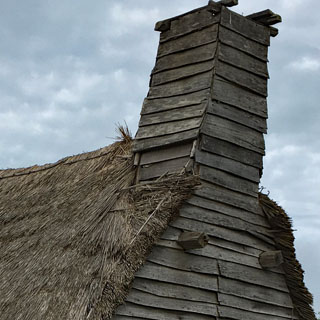 She's cooking a rabbit stew for her brother.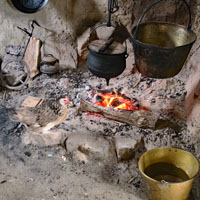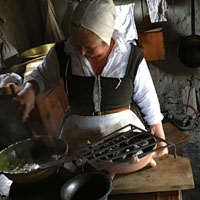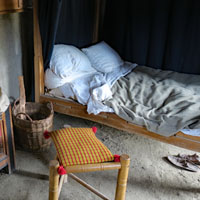 Communal living isn't what they planned, but circumstances forced them to regroup to survive those early years.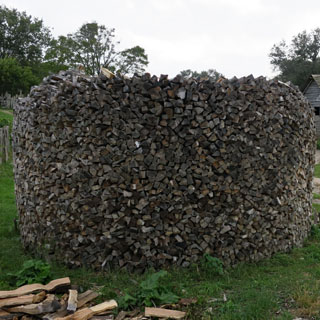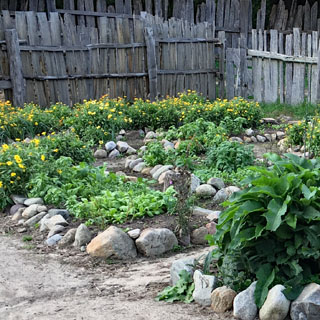 That table cleverly turns into a chair. Ah, but she was quite apologetic for the amount of dust and quickly tried to make things better for her guests.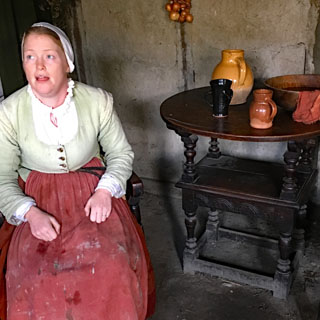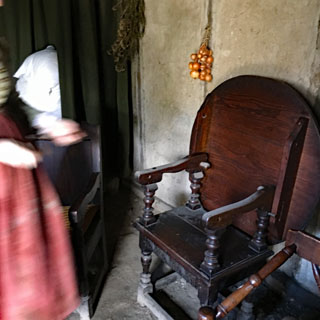 It isn't kind to trick cattle into believing you've got food for them. On the right is a saw-pit (not in use when we were there).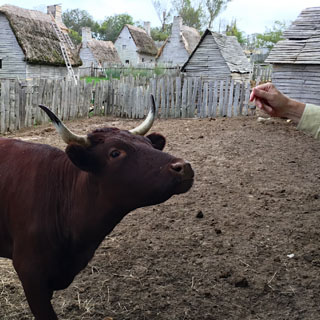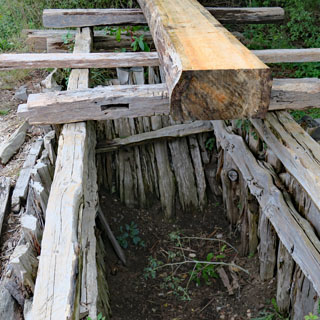 Stopping back in the visitor center to look at the "Mooflower."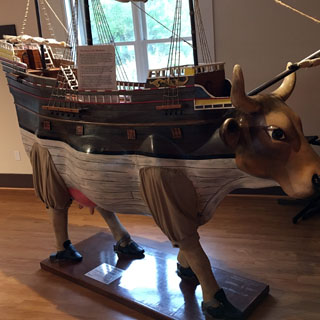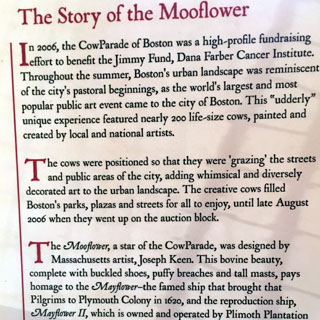 The barn contains a number of animals--particularly the old breeds that would have first been brought to New England.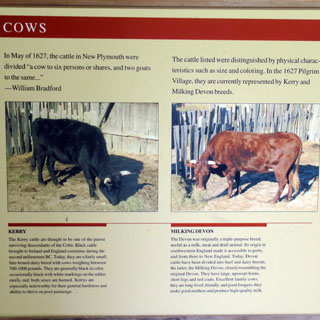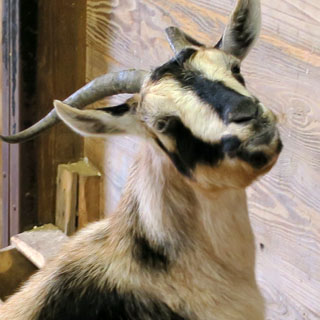 Rhode Island
We were in Providence only long enough to find our proper route across the river.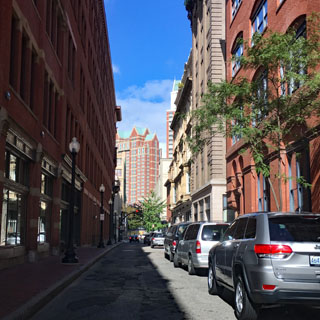 Connecticut
Entering Hartford.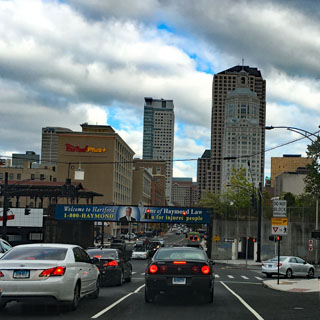 The three of us had been to the Mark Twain Museum in Hannibal, Missouri just a few years ago. Twain grew up in Hannibal, and that's the setting of two of his more famous books, but he lived much of his adult life in Hartford, Connecticut, which is also where most of his books were written.
His house is now open for tours, and there's an adjacent museum complex, which has a museum and theater. The Mark Twain House & Museum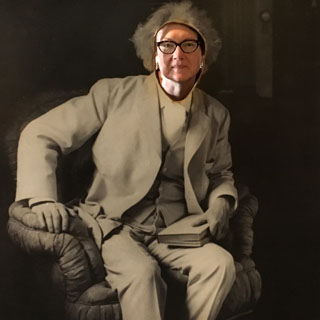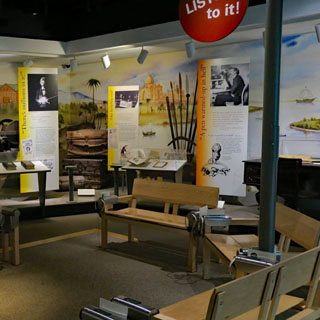 Twain was ever the unsuccessful businessman. Below is the automatic type-setting machine that he invested too much money to bring to market and which drained any money he had. His later books were written to pull himself out of debt.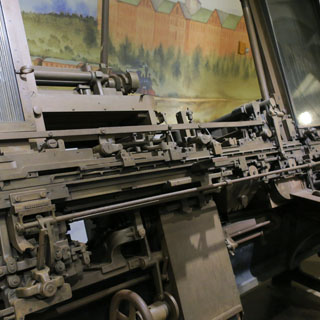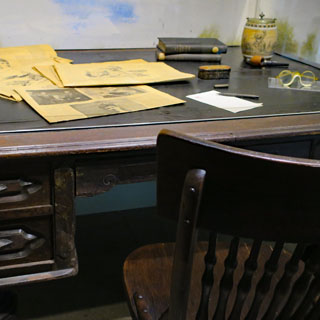 It could have gone a different way, but the Mark Twain house is today intact and much the way it was when the whole family lived here. Perhaps it's more than he could really afford, but it's a beautiful house.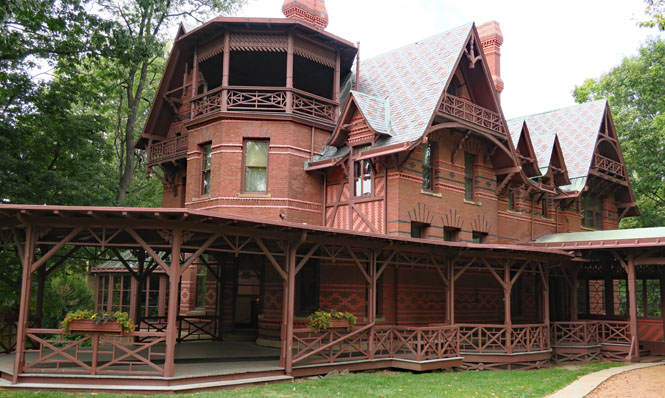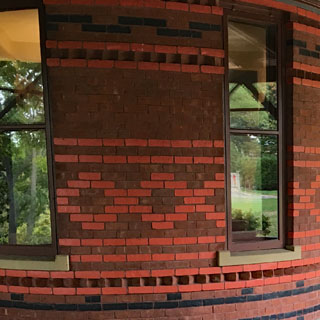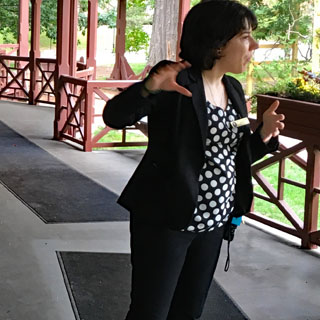 Hartford in the evening.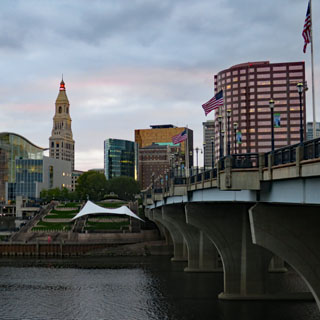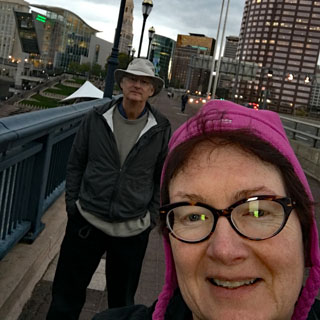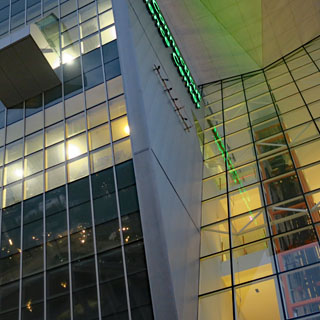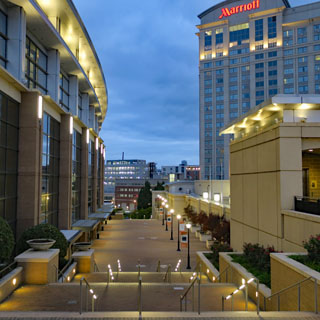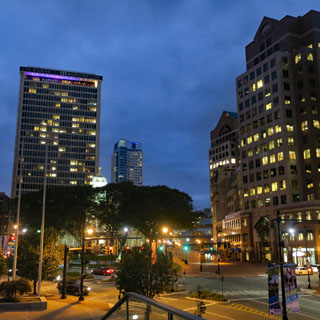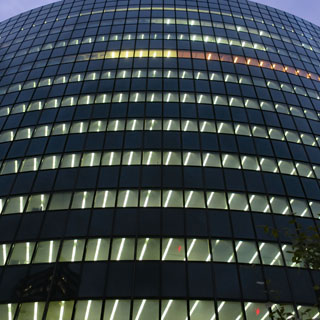 "Big Cat" by Denis Curtiss.

Back at the East Hartford Hotel, it's time to plan tomorrow's destination.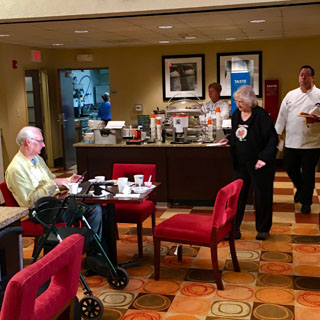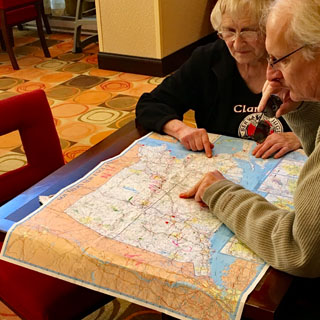 Mashamoquet Brook State Park, near Pomfret, Connecticut.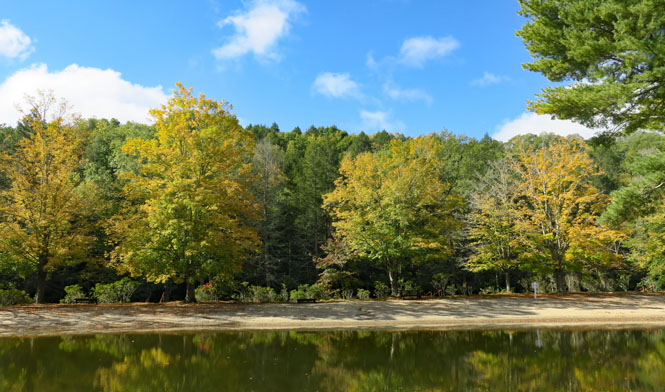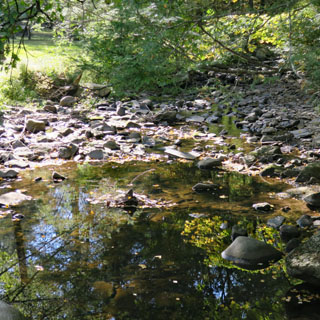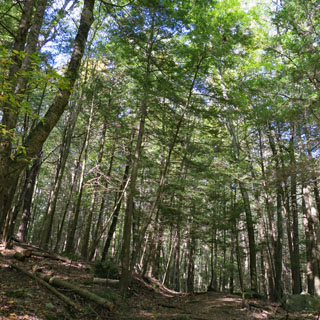 We didn't walk far; but, it's amazing how quickly you are in a New England forest, isolated from everything else.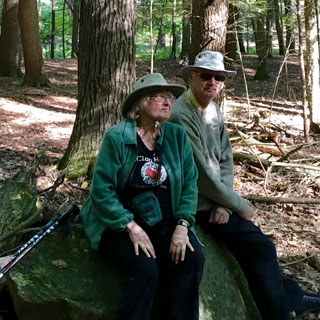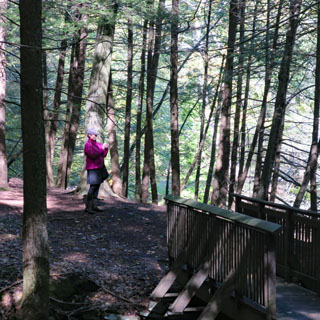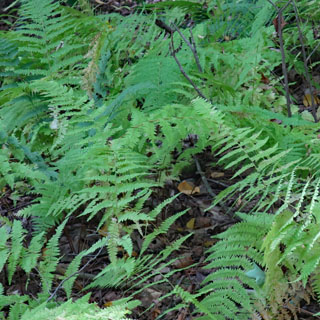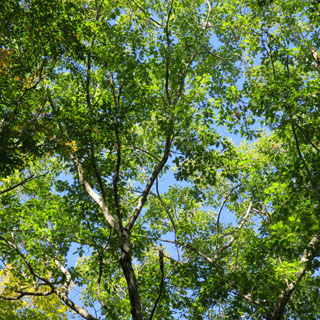 Massachusetts
Driving along the back roads as much as practicable. You can call the lake by that full name, or you can just call it Webster Lake.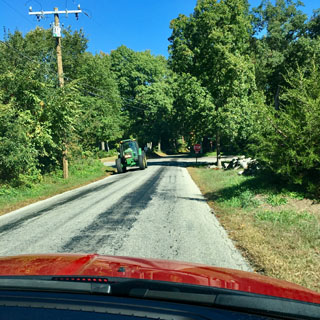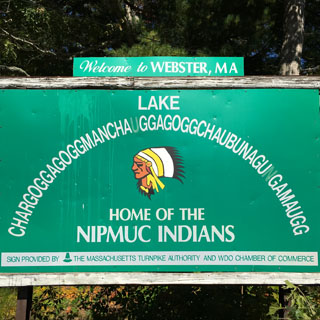 The trees are only starting to change colors, but farther north they're well along.
Purgatory Chasm State Reservation, near Sutton Massachusetts.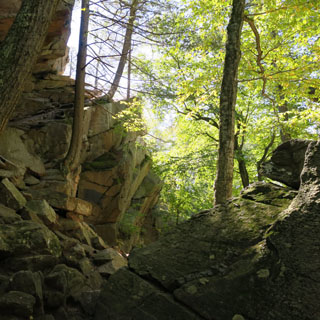 Parts of the trail require more scrambling over rocks than actual walking.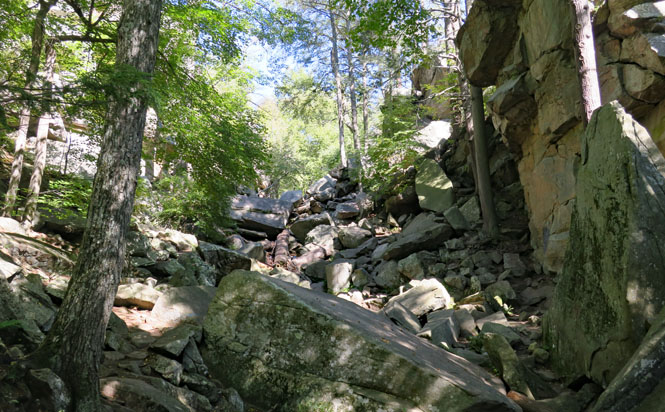 The Unitarian Congregation of Mendon and Uxbridge. The first meeting house was built in 1668. This, the fifth meeting house, dates from 1819.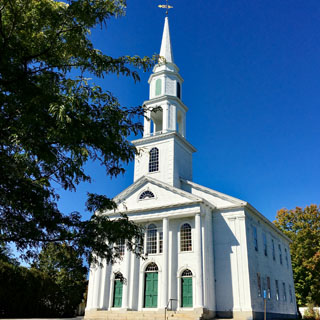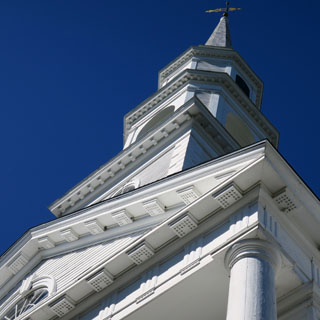 Walden Pond, and the Walden Pond State Reservation is just south of Concord. This is an exact replica of Henry David Thoreau's cabin. We know it's exact as Thoreau was meticulous in his description of it.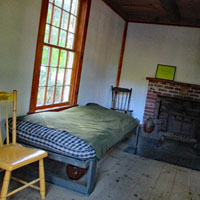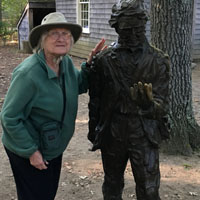 Walden Pond. You can hear an occasional train and you can still hear traffic up on the highway, but mostly, you can imagine yourself in nature, as Thoreau would have wanted it. There has been plenty of pressure to do "other things" with this spot; we can be grateful that it's still here.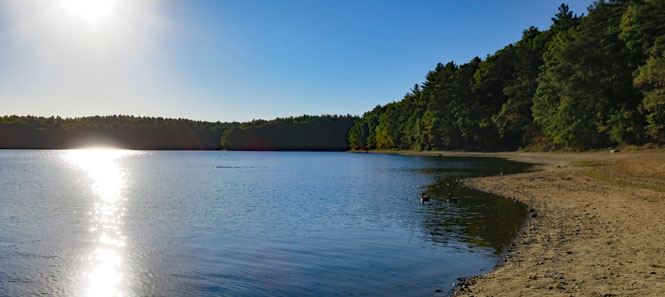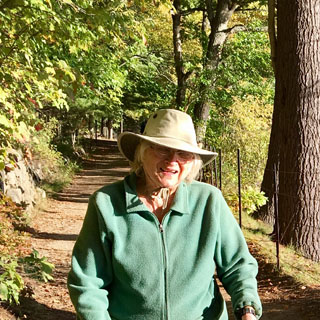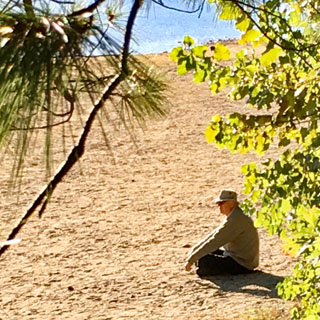 It's a short drive to Concord from Walden Pond.
Sleepy Hollow Cemetery outside Concord is the "home" to several famous American authors.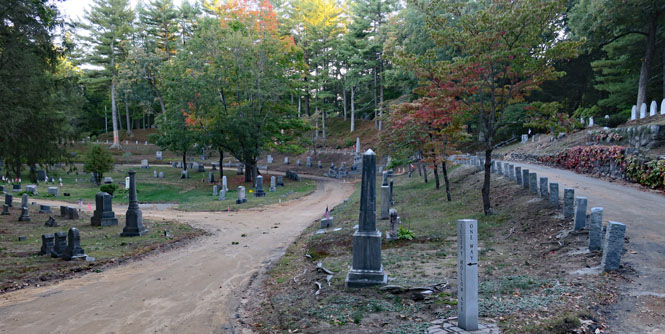 Several members of the Thoreau family are here, included Henry David Thoreau.

"We need the tonic of wildness...At the same time that we are earnest to explore and learn all things, we require that all things be mysterious and unexplorable, that land and sea be indefinitely wild, unsurveyed and unfathomed by us because unfathomable. We can never have enough of nature."
― Henry David Thoreau, Walden: "Life in the Woods"
Louisa May Alcott and Ralph Waldo Emerson.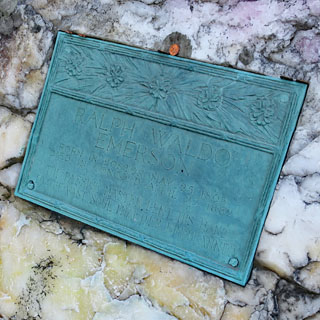 "Have regular hours for work and play; make each day both useful and pleasant, and prove that you understand the worth of time by employing it well. Then youth will bring few regrets, and life will become a beautiful success."
― Louisa May Alcott, "Little Women"
"Unless you try to do something beyond what you have already mastered, you will never grow."
— Ralph Waldo Emerson
We didn't have time this evening to explore Concord, but we'll be back in a few days.
This is Meriam's Corner, part of the Minuteman National Historic Park. It played a part in the ill-fated 1775 march by the British from Boston to Concord, and then back to Boston.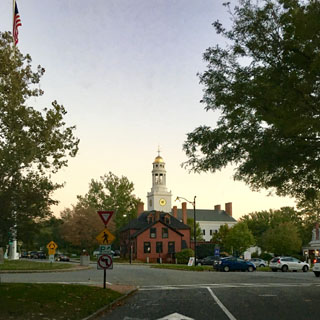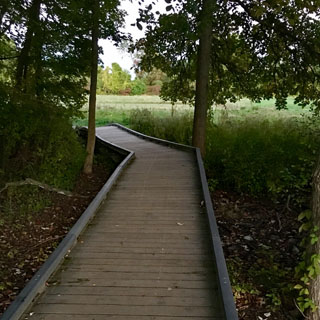 Our South Lynnfield hotel (just north of Boston) had a salt-water indoor pool.

Salem, Massachusetts. In 1692 and 1693 twenty people were executed for being witches and five others died in prison.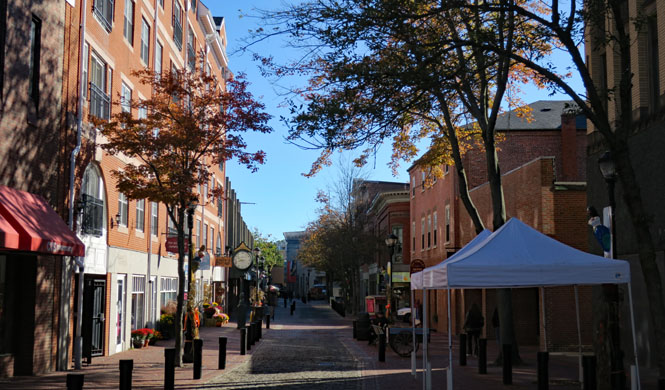 The historic town plays up the whole "witch thing" and not always with somberness. How much time needs to pass before something like this becomes just a curiosity? Three hundred years, apparently.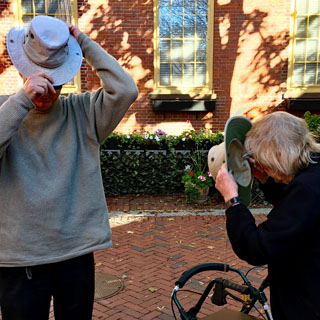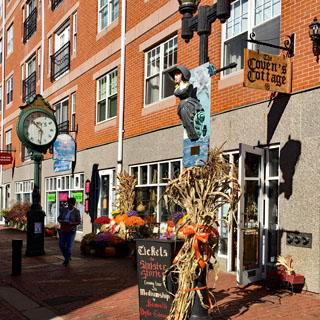 There is a memorial park, which was commemorated in 1992 and included Elie Wisel as a speaker. A further memorial on the location of Gallows Hill remains in planning.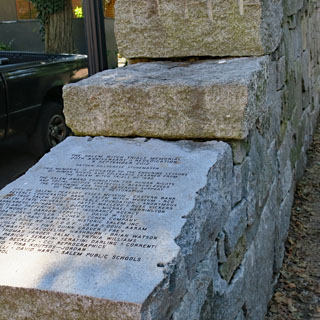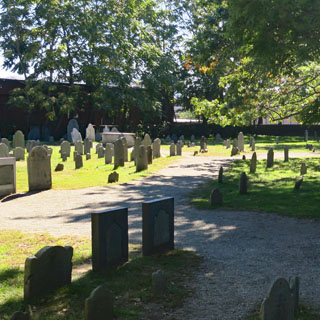 The Peabody Essex Museum in Salem.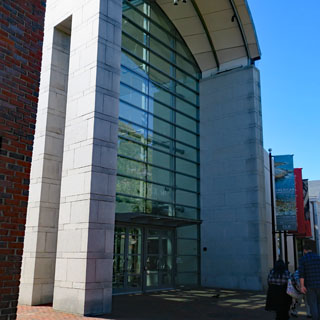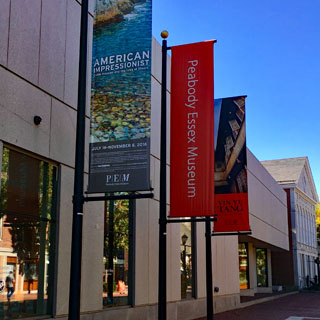 It's impressive on the outside, and just as impressive on the inside.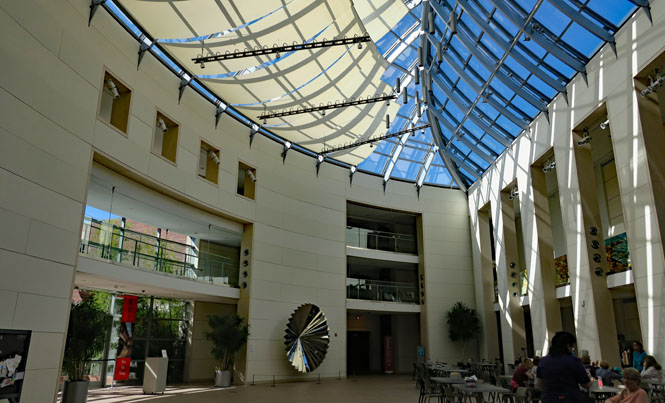 Portrait details from the Collection of American Art.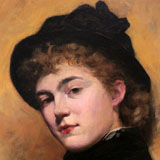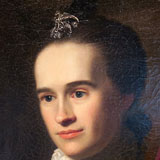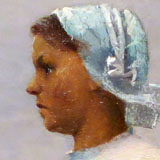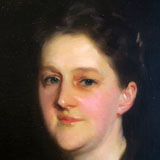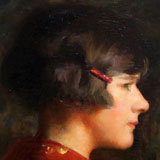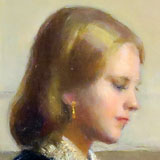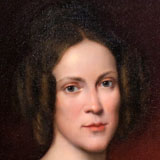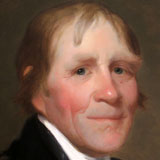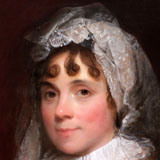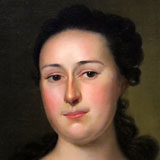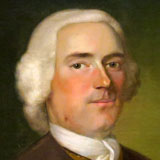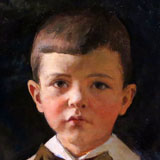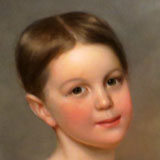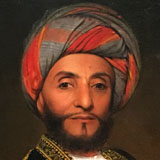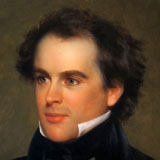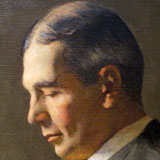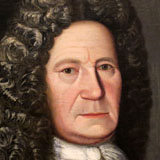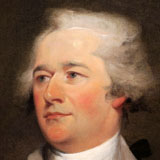 Ship models.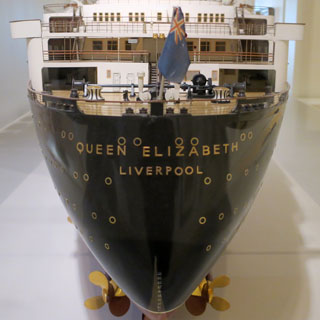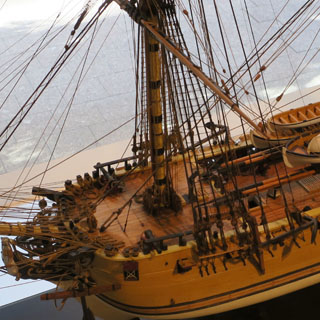 A special exhibit of Childe Hassam was being shown. As is the usual case, photography was not allowed, so this is the entrance to the exhibit.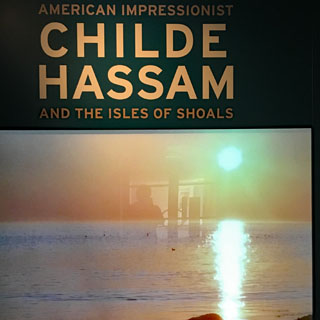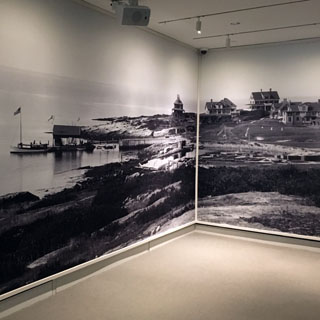 From Salem, we're driving north towards New Hampshire. First stop, Salisbury, Massachusetts.
Salisbury, Massachusetts

• John Clough (with his wife Jane?) emigrated here as a free man from England 1635.
• Daughter Elizabeth Clough born here 1642.
• Clough family home site near highway commemorative marker at approximately 49 Elm Street (Highway 110) "Garrison House and Court House."
• Grave of Rev John Wheelwright, died 1679, in Colonial Burying Ground. He was not an ancestor, but he led the company of immigrants from England that included ancestor Elder William Wentworth.
The Salisbury Colonial Burying Ground (1639).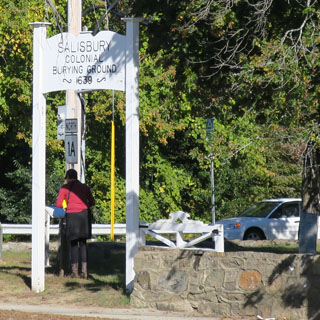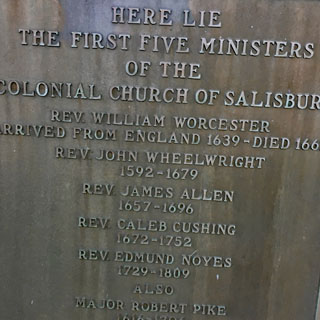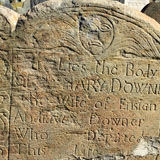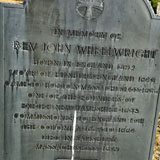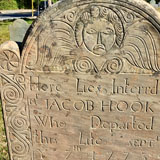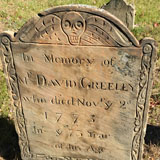 The location of the Clough family house.

Amesbury, Massachusetts (About 4 miles from Salisbury, MA)

• At Salisbury Plains Burying Ground, located approximately 83-85 Monroe St, Amesbury, is a plaque honoring immigrant John Clough and his wife Jane. According to the plaque, about 1656 he "purchased a farm of several hundred acres" in Salisbury Plains.
• (Records in the book "History in an Oystershell" indicate he was later living in Oyster River, NH (now Durham), where his daughter Elizabeth Clough married William Horne, so apparently John Clough is not buried here.)
Salisbury Plains burying ground near Amesbury.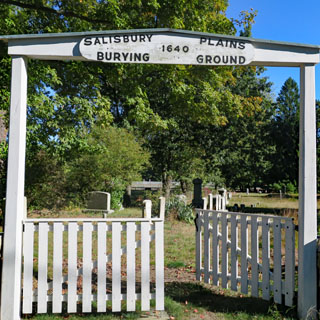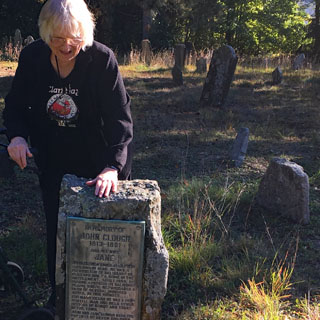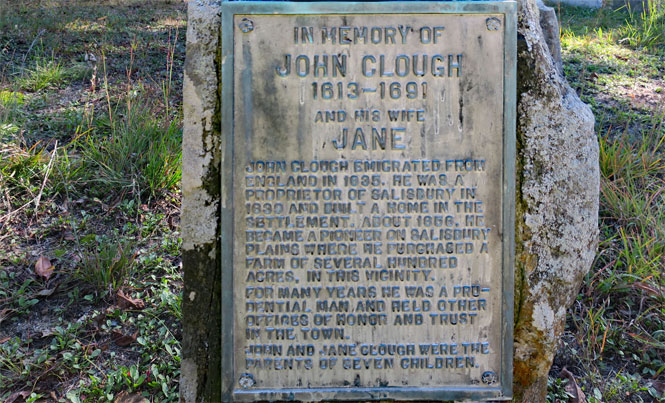 Driving by a few Massachusetts cows.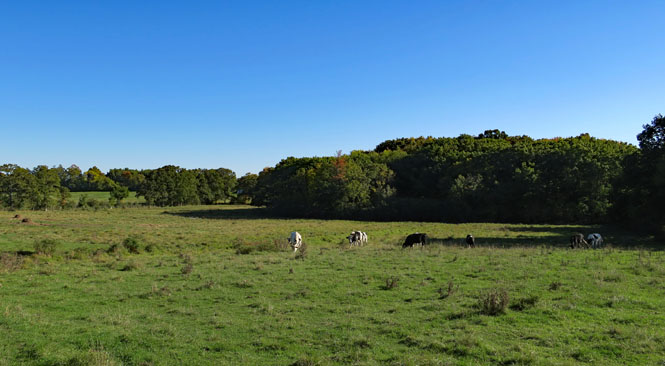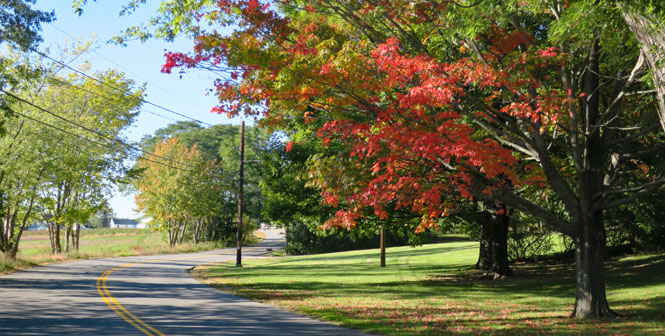 New Hampshire
Dover, New Hampshire

• Dover was where many of our immigrant ancestors converged in the 1600's. The list of ancestors who resided here includes Joseph Hull, Elizabeth Hull, Tamsen Meserve, John Heard, Elder William Wentworth, William Horne and Elizabeth Clough Horne, John Hayes "the Covenanter," his son John Deacon Hayes, and many Hams.
• There is a plaque honoring John Hayes "the Scotsman" in a private yard at 24 Littleworth Road (Highway 9), just northwest of the railroad crossing. His actual gravesite is unknown.
• The grave of John Deacon Hayes, son of "the Scotsman," is in Pine Hill Cemetery in Dover.
• A plaque honoring Elder William Wentworth (d. Dover 1697) is just outside Dover, in Rollinsford, on private land approximately 466 Portland Ave (= Highway 4). His actual gravesite is unmarked, and, according to the plaque, is 800 yards to the west. At a home near the Wentworth plaque, we were invited to see a private Wentworth family cemetery plot, where all the stones have been placed flat on the ground.
• Site of the Heard Garrison, built by John Heard and his wife Elizabeth Hull Heard, at the foot of Garrison Hill, now occupied by Garrison Women's Health Center, 770 Central Ave. During the "Cocheco Massacre" of 1689, when 23 colonists were killed and 29 captured by native peoples angered at being tricked by some of the settlers, widow Elizabeth Heard and her family were away in Portsmouth, arriving home by boat in the midst of the attacks. Elder William Wentworth was staying at the Heard Garrison and saved it from destruction by holding the main door shut with his legs.
• William Horne (b. 1609 Clerkenwell, St James, England, d. 1689 in Dover defending the Waldron Garrison, during the Cocheco Massacre.
• The Damm Garrison House, built around 1675 to prevent attacks from native peoples, was moved on log rollers to Dover's Woodman Institute in 1916, where it can be seen to this day. It is the last remaining garrison house, out of 50+ that were built in the greater Dover area.
Dover, New Hampshire in the evening.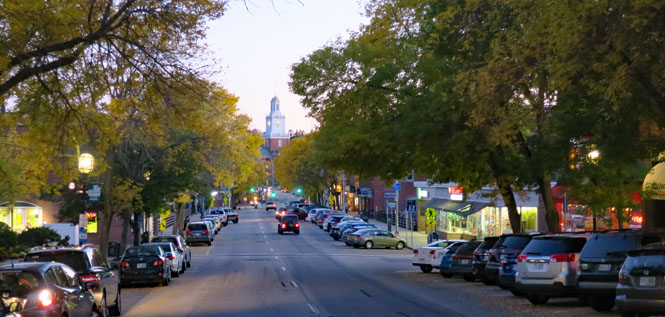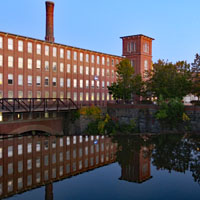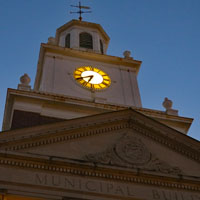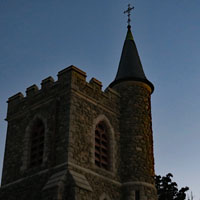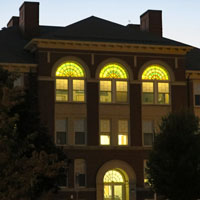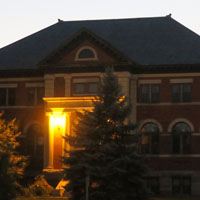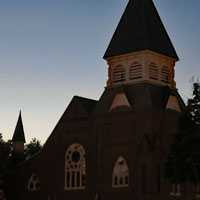 The site of the old Cocheco Falls millworks (textiles) is now an office complex. Some of the old brick mill buildings remain in Dover; others were lost in flooding or were torn down after they all closed by the 1930s.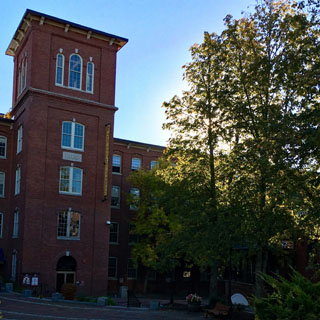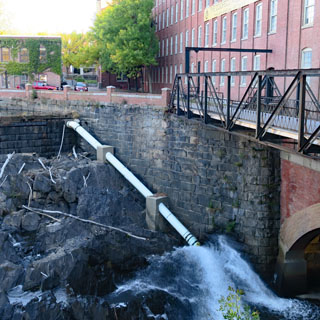 Pine Hill Cemetery is just outside Dover.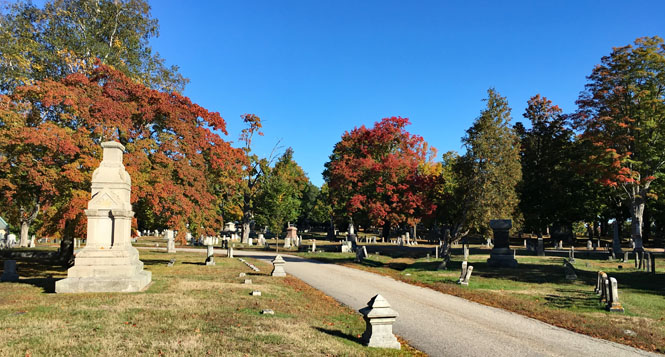 The stone for Deacon John Hayes, son of John Hayes "The Covenanter."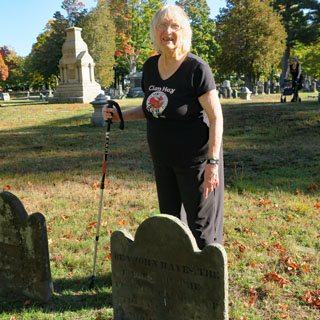 An appropriate meeting spot for Clan Hay.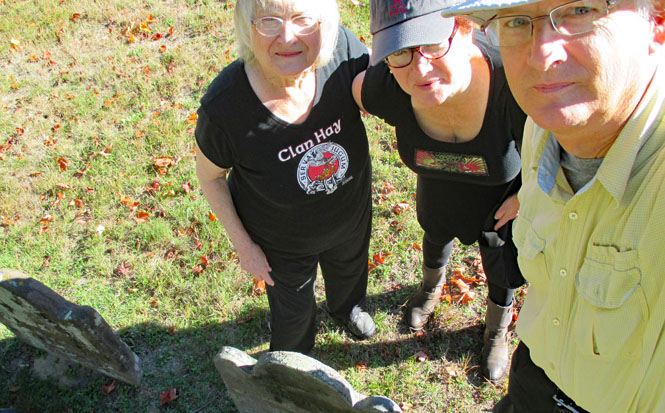 The trees are spectacular.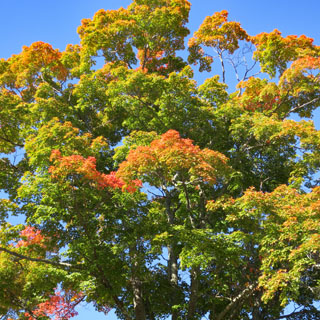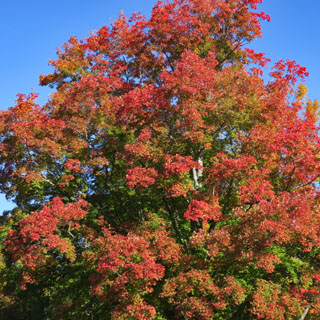 The Woodman Institute Museum was created in 1915 with a gift from Annie Woodman for history, science and the arts. It includes the Woodman House, the Hale House (next door) and the original William Damm Garrison house, which was moved to this location.
The Woodman House is the primary building of the complex.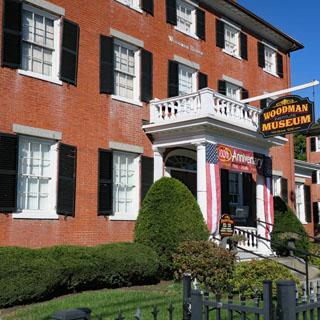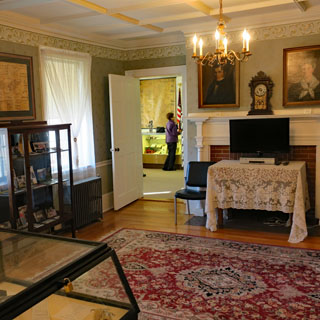 From a bear wearing a hat to a well-dressed cub scout to lots of stuffed creatures. You'll find it all at the Woodman.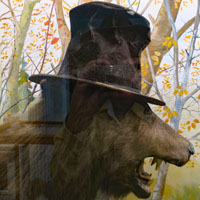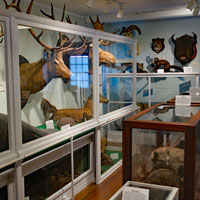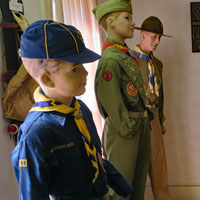 The Damm Garrison house was moved to this location after considerable effort. It is one of the few remaining garrison houses in existence.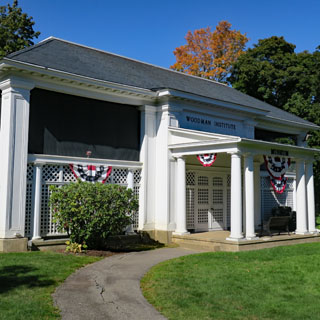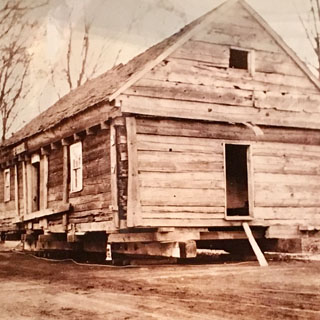 A garrison house was built to be far stronger than your typical house. Additionally, any windows were kept quite small. It had to be able to withstand a direct attack, but to still enable those inside the house to defend themselves.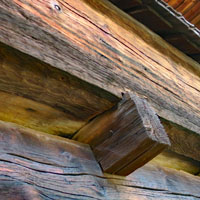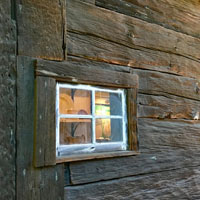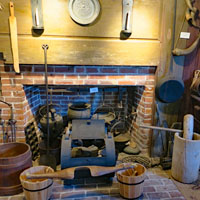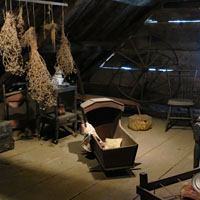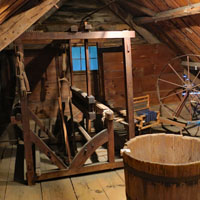 The museum annex (Hale House). The collections covers pretty much everything.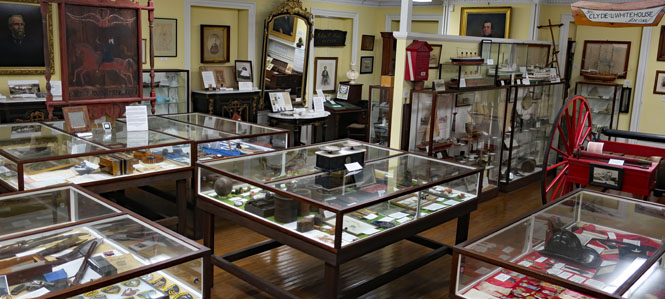 Old photographs taken from the mills in Dover. Plenty of children worked in these mills. Conditions ranged from tolerable to awful--depending on the owners and managers.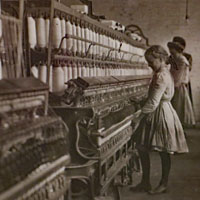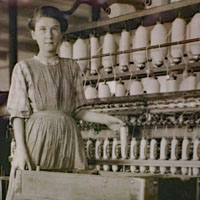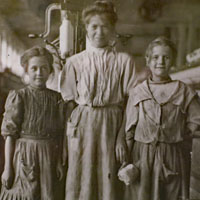 Samples of printed textiles from Dover.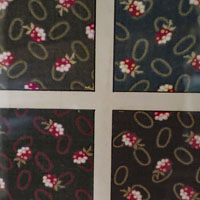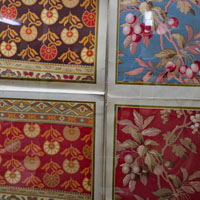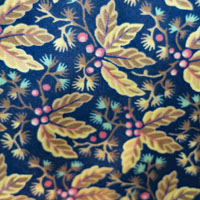 Our rental is a Dodge Journey. It's a front-wheel drive minivan in the guise of an SUV. Plenty of room, not much power, confusing radio controls; it worked fine for us.

Just northeast of Dover on Portland Avenue is this plaque for Elder Wentworth.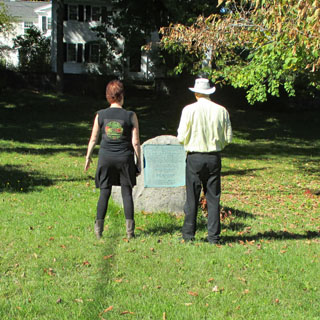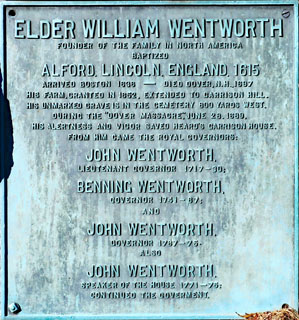 We stopped at this nearby house--still owned by descendants of Wentworth--and walked through the small cemetery in the backyard.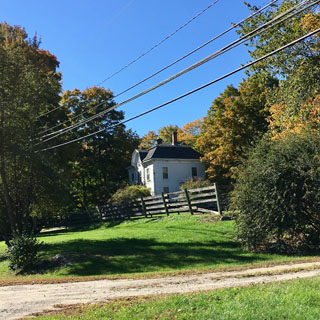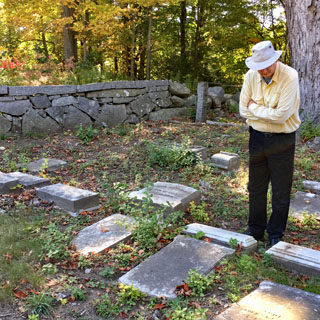 From the house is a view of the old burying ground (in the saddle of the hill) where Elder Wentworth is buried. There's little there to see, now, and we did not make the walk.

The location of the Heard Garrison House. This is the famous spot where Elder Wentworth held fast the door with his legs.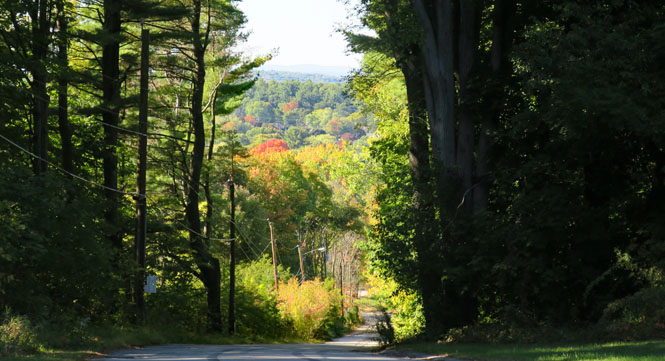 Today, the garrison house is long gone, but there's an observation tower that gives a really nice view.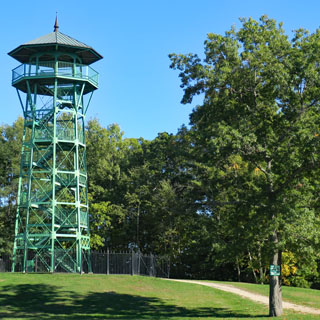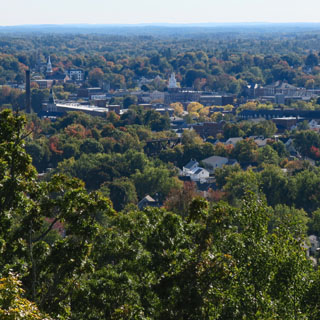 We knew the general location of a Hayes Cemetery on "Old Stage Road" west of Dover. Let's see if we can find it.
Stopping at a house to ask if they knew anything of it. They did; it's just out back over there.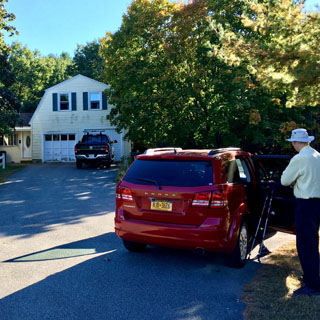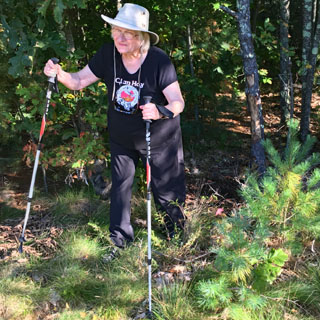 Certainly, there are lots of markers for Hayes; most are difficult to read. Undoubtedly, some are relations.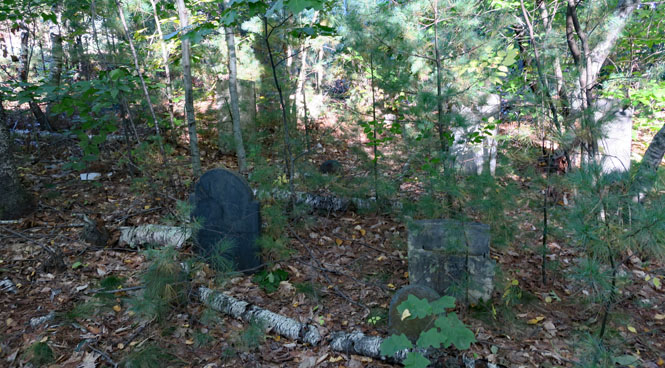 It doesn't take long for these old family cemeteries to vanish in the undergrowth. While this one looks overgrown, it's probably the case that somebody made an effort to clear the area less than thirty years ago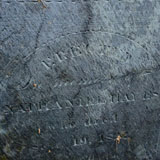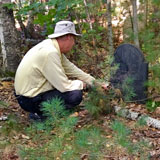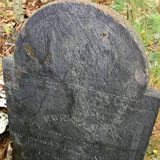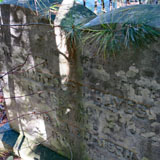 You'll still find the Hayes name.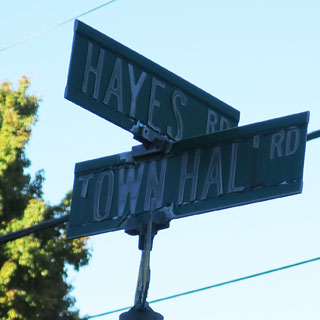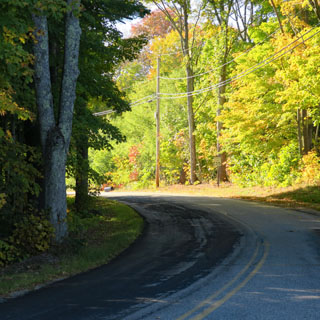 Madbury, New Hampshire (originally part of Dover)

Died here:
• Joseph Meseph Meserve (4) d. 1787, b. 1729 Madbury
• Daniel Meserve (3) d. unknown date, b. 1710 Durham NH
• Daniel Meserve (2) d. unknown date. b. Portsmouth, NH
• Deborah Merrow Meserve d. unknown date, b. 1677 Reading MA
Joseph Meserve (5) b. 1760 Madbury
Two Hayes private family cemeteries are in Madbury. (One of them was marked on a regional map of Dover, which sent us on a quest to find it.) Daniel talked to a man living at 54 Old Stage Road, Madbury, near Tolend Road who pointed out the cemeteries. We explored one very overgrown cemetery, but did not find anyone we knew. It would be very difficult to find someone - the inscriptions are often gone; stones are buried or completely covered with plants.
Madbury. These are the community buildings, but you won't find anything that looks like a village.
There's a nice plaque for John Hayes on Littleworth Road, not far from the tracks. Many thanks to the previous generations for putting these up, and many thanks to today's generation for keeping them in fine shape.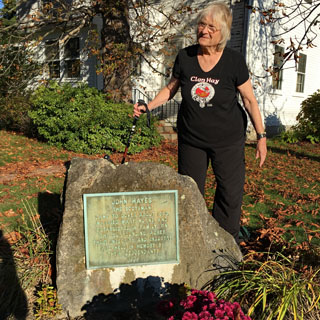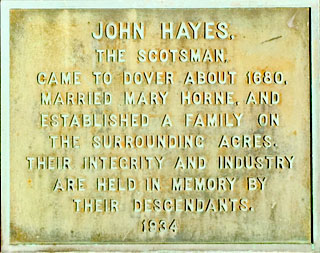 Driving on Hayes road.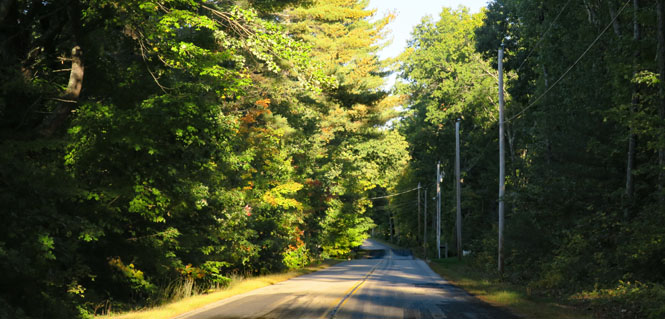 Durham, New Hampshire (originally part of Dover; originally called Oyster River)

• Captain Samuel Hayes (b. 1730) and his wife Sarah Cate lived here with their daughter Elizabeth "Betty" Hayes, who was born in Durham, along with her siblings, and who later married Joseph Meserve (5) in 1789.
• Daniel Meserve (2) b. 1679. He and his wife Deborah Merrow Meserve lived here
• Tamsen Meserve (2) d. here.
• Abigail Ham b. here.
• Joseph Hull lived here as minister 1662. (Side note: His daughter Naomi (a great aunt, not an ancestor) was accused of bewitching a cow here.)
• John Clough moved here from Salisbury MA.
December 1774, Paul Revere rode up the coast from Boston to warn the colonists that the British were coming to seize the gunpowder and cannon taken by the colonists from Fort William and Mary. According to a plaque in Durham (25 Newmarket Rd), a gundalow transported the powder and cannon to Durham, where they were hidden from the British underneath the Meeting House. (Other accounts say the cannon and powder were distributed among several locations and that there might not have been a cellar at the Durham Meeting House.)
Durham, New Hampshire is the home of the University of New Hampshire "We are Wildcats, hear us roar."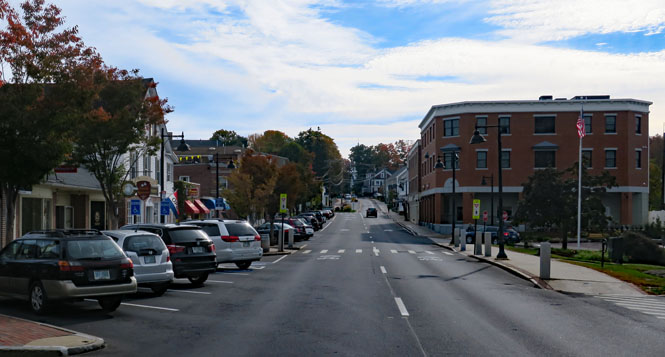 A wildcat (perhaps not roaring) and the field-hockey team at practice.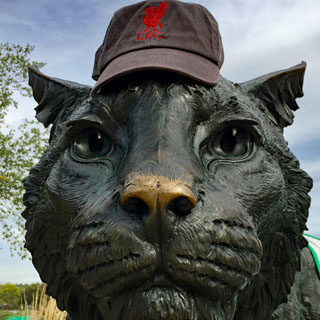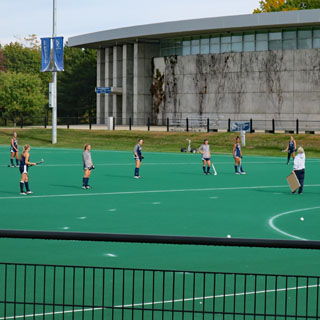 The old mill pond on Oyster River.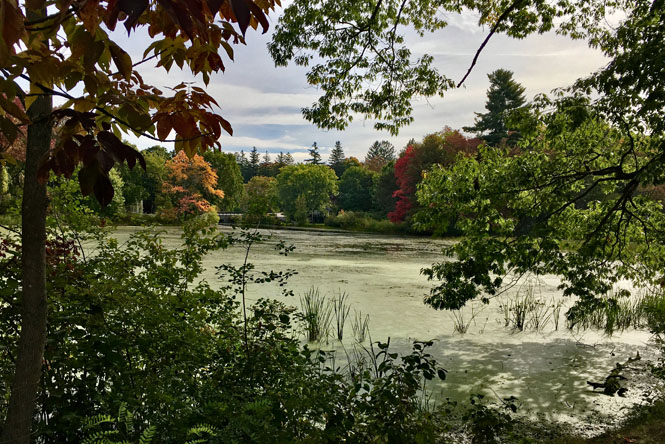 Driving along the shore of Little Bay.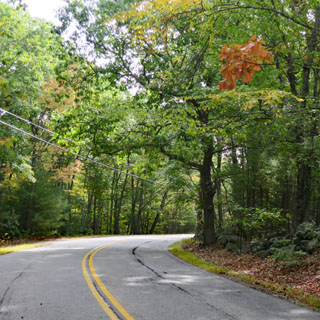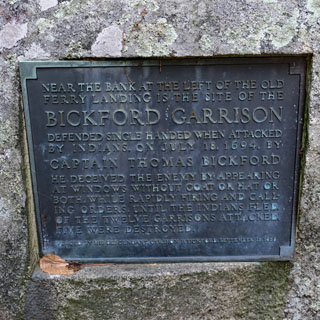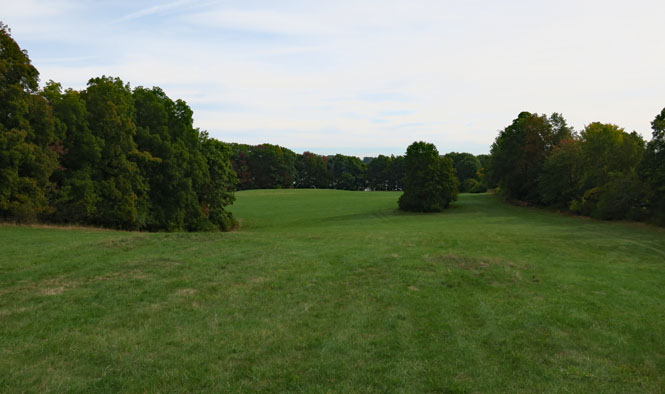 Adams Point.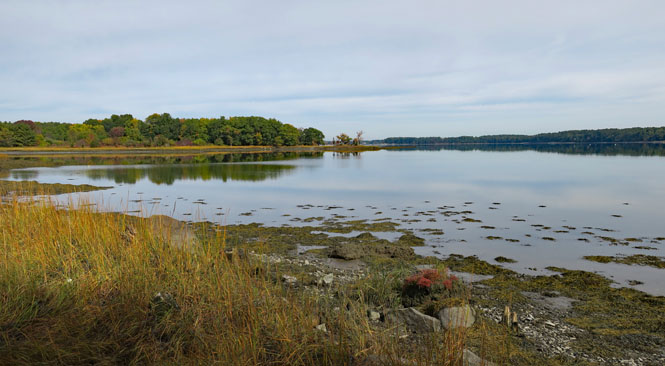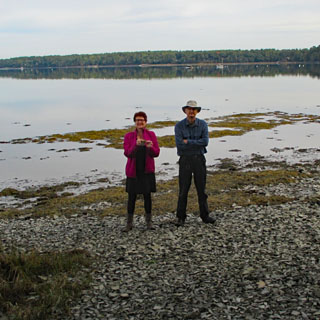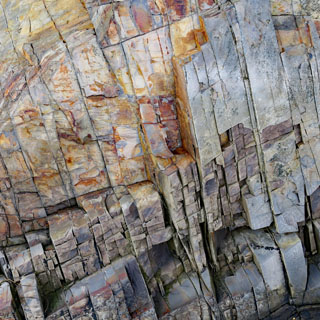 Durhan at end of Little Bay (where the Oyster River enters). Gunpowder taken from the British was hidden at this spot and was later used at Bunker Hill. Take note (on the plaque) of the mention of a "gundalow." That distinctive boat is unique to the area; we'll be on one later in the day.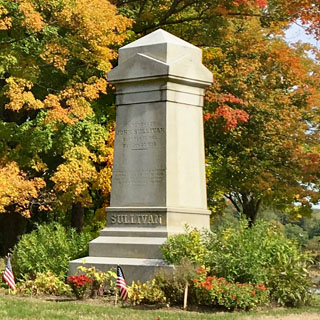 Day by day, the trees become even more amazing.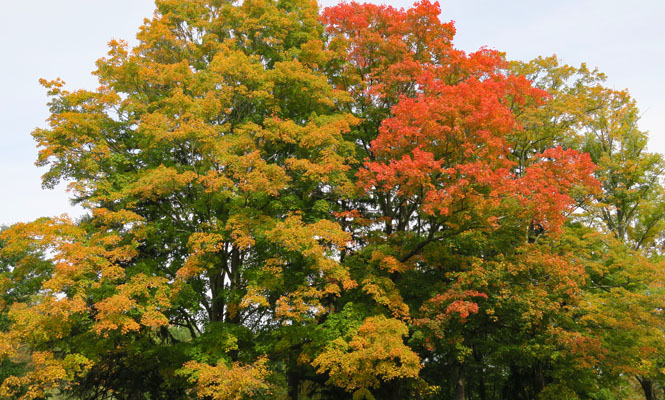 Portsmouth, New Hampshire (Originally Strawberry Banke)

• James Cate d. 1677
• John Cotton d. 1714; b. c. 1650 Portsmouth
• Dr Renald Fernald and his wife Joanna r. Peirce's Island, Portsmouth 1631. (Peirce's Island, also known as Doctor's Island and Pierce's Island, is across a short bridge from Point of Graves Burying Ground in Portsmouth; we could easily have walked there during our visit, but did not know all this history at the time.)
• Dr Fernald (d. 1656) and Joanna (1660) were buried at Point of Graves in unmarked graves, before the site became an official burying ground for Portsmouth.
• Captain Samuel Hayes' Company in the Revolutionary War was stationed on Peirce's Island, Portsmouth, 1775, at newly-erected Fort Washington, to protect the port of Portsmouth.
• William Ham and William Cotton died here.
• Clement Meservy, emigrant, lived here. He had a pew in the Old North Church. He paid taxes here 1673.
• Elizabeth Hull and John Heard married here.
• Elizabeth Ham lived here.
Portsmouth, New Hampshire.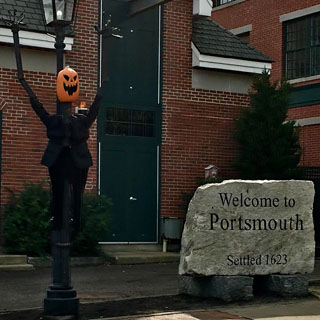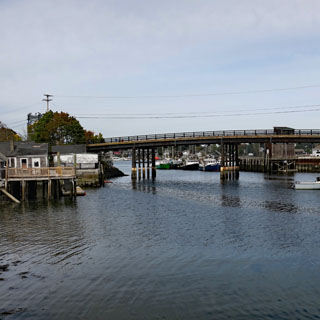 We'll be on board a gundalow in a couple of hours, but we have time for lunch (and lobster).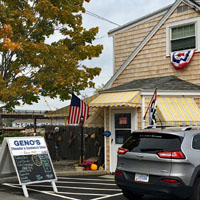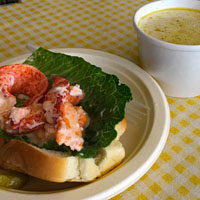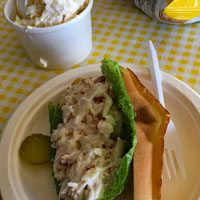 The old burying ground (Point of Graves).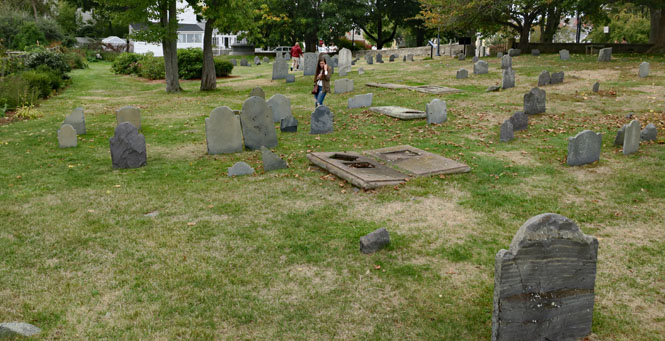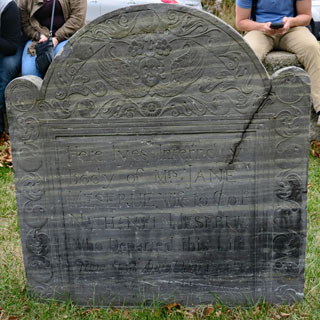 A gundalow is a flat-bottom boat used for cargo along the Maine and New Hampshire rivers. They relied on the tidal currents, but also have a single sail to help. There is no keel, but there are daggers on either side.
A gundalow is a shallow drafted type of cargo barge, once common in the Gulf of Maine's rivers and estuaries. The Piscataqua gundalow began as a simple undecked barge, first appearing in the mid 1600s, poled or rowed with long sweeps (oars). From the 1700s into the 1900s gundalows evolved into fully decked flat-bottomed cargo carriers with a cabin and lateen sail that could be lowered to "shoot" under bridges. The sail acted as an 'auxiliary engine' since gundalows depended on the tides to take them upriver on the rising tide and downriver on the falling tide

Built from wood lot timber, most salt-water farmers, fishermen or traders simply built their own. No two gundalows were alike. The Fanny M., (photo left) launched from Adam's Point in Durham, NH in 1886 by Captain Edward H. Adams, was the last gundalow to operate commercially in the area. Drawings of the Fanny M. in the collection of the Smithsonian Institute inspired the design of the new gundalow Piscataqua.

--gundalow.org website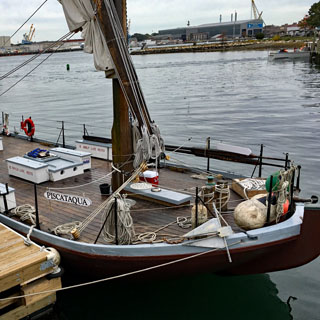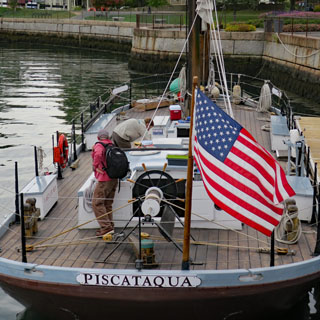 The Piscataqua is a replica of the type of boat that was once common in the area. It was launched in 2011 by the Gundalow Company and is the only working gundalow in the world.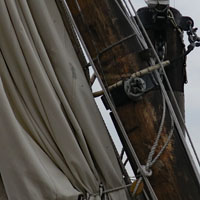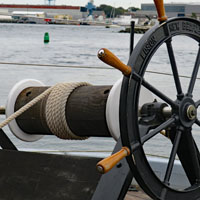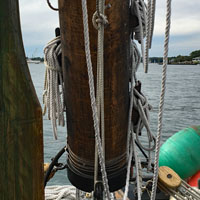 We'll be taking a short cruise down the river to near the mouth, before turning back.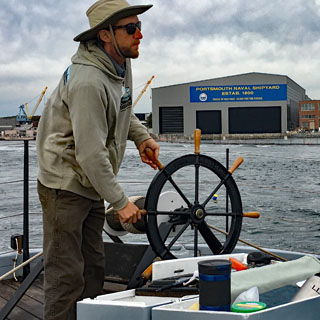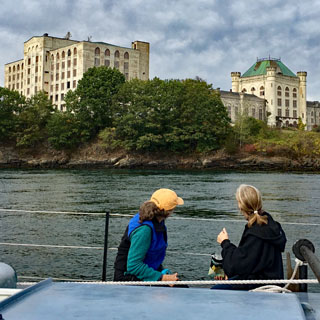 The passengers (that's us) are invited to help the crew to hoist the sail.
Ready on the main sheet.
(response) Ready on the main sheet!
Ready on the brails.
(response) Ready on the brails!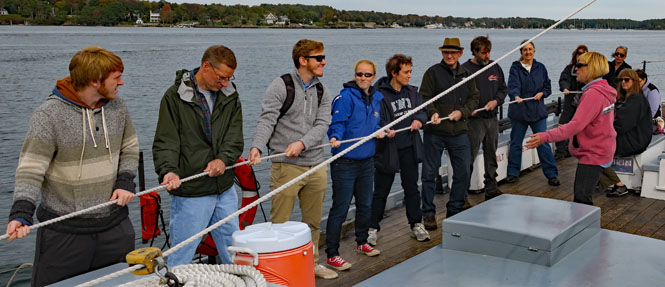 Now, haul the sail!
Gunda
(response) Low!
Gunda
(response) Low!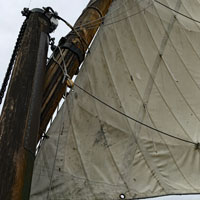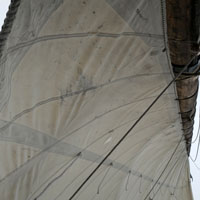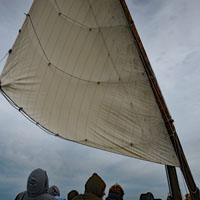 She's not a fast boat, but then there are not many boats her size that could haul as much cargo over shallow waters as can a gundalow.
The USCG Station, Portsmouth Harbor.

Passing Fort McClary.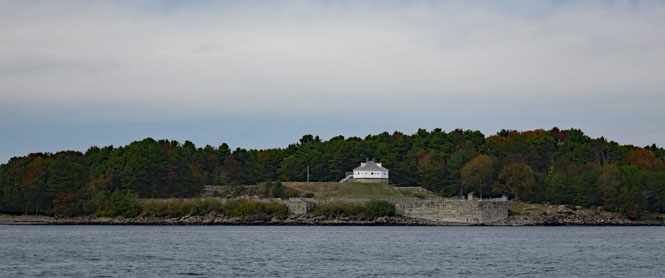 A song to sing to make the labor easier...
(Chorus)
Gundalow row
Gundalow sail
Carry the lumber, the crops and the mail.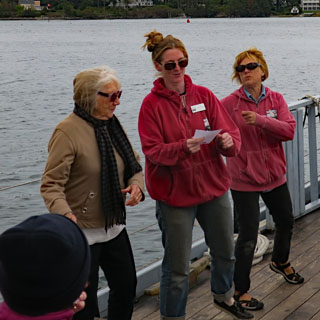 The crew has pride in their boat. The Gundalow Company relies on volunteers and donations to keep this program going. Education is an important part of their mission.
It was difficult to find a place to stay this night. For whatever reason, it seemed that all of New England within 75 miles of the Piscataque River was fully booked. Eventually we found a place in Hampton Beach. That's south of Portsmouth, though we intended to be north of Portsmouth; no matter.
Hampton Beach, New Hampshire.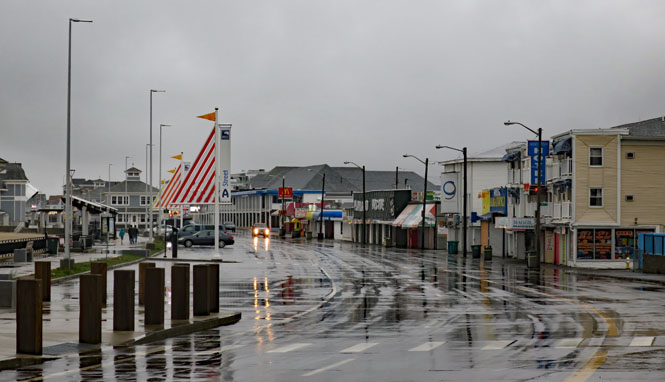 The wind and the rain coming right off the Atlantic was pretty cold the next morning. That's our hotel, below.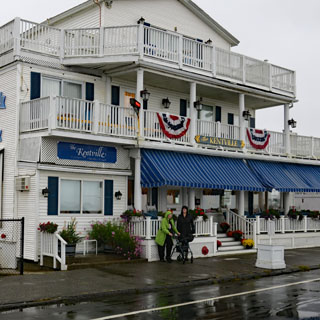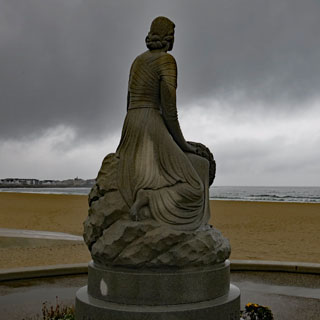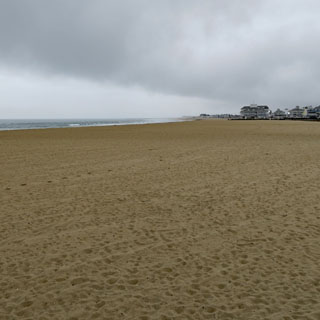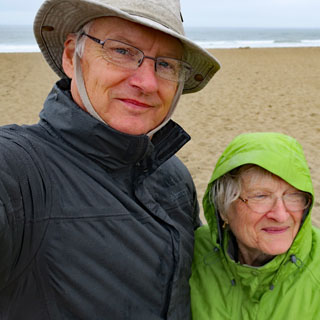 You could tell by the accents that this is a popular place for French Canadians (looking for warmer weather?).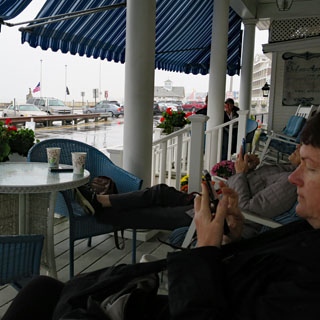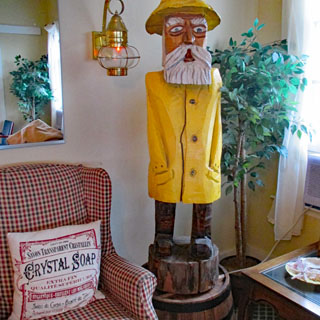 After that deviation to the south, we're now driving north.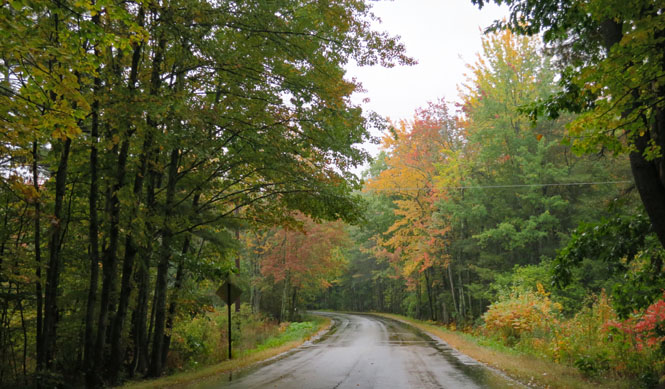 Barrington, New Hampshire

• Solomon Cotton's will.
• Edward Cate d. c. 1732
• Ship Capt. William Cate's will 1730.
• Private cemetery for the Otis family on Pond Hill Road in Barrington. We unsuccessfully searched for Deborah Merrow Otis (first husband) Meserve's grave here, based on a guess by someone posting on Find a Grave website.
Stopping at the Otis family cemetery on Pond Hill Road. None of the markers can be read.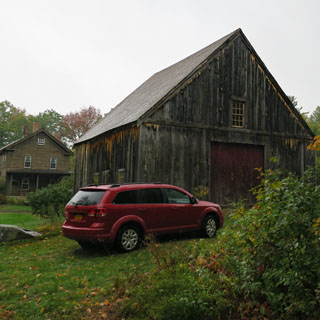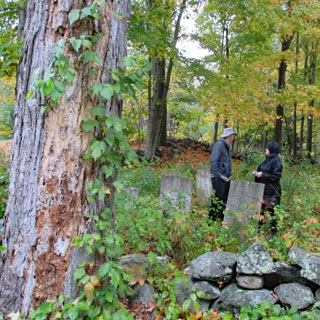 Trees and leaves. The trees are more colorful with each mile we drive north.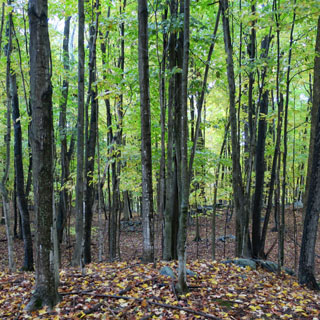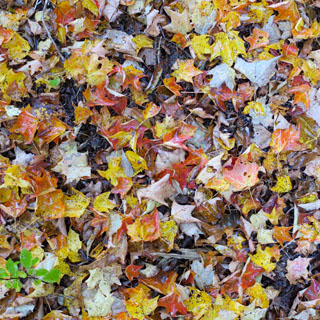 It's raining, but it's not too bad.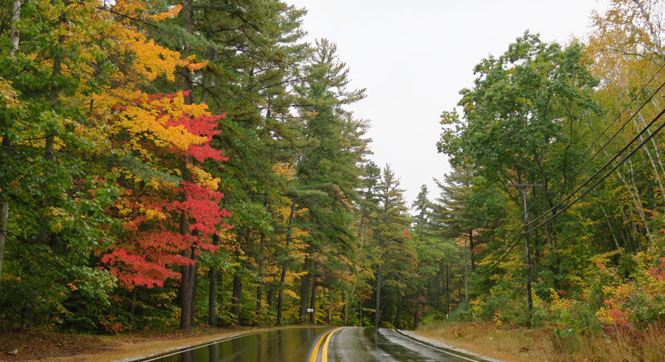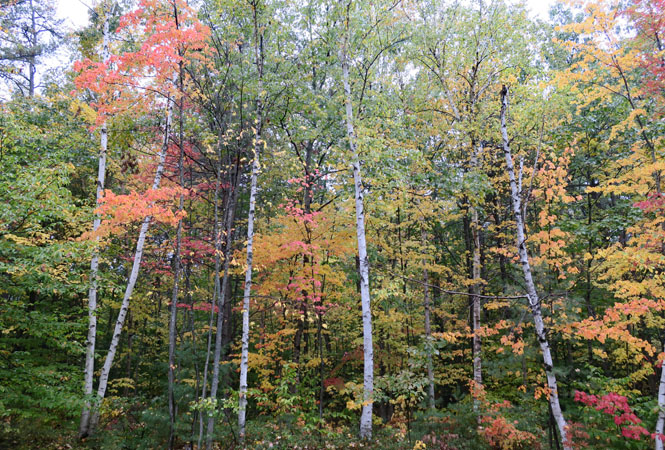 Jackson Falls. We knew that we'd be in New England during the changing of the colors and made some attempt at adjusting our schedule for it. These things run at their own pace, but, I think we managed to hit the exact day and at the best location for the very best display.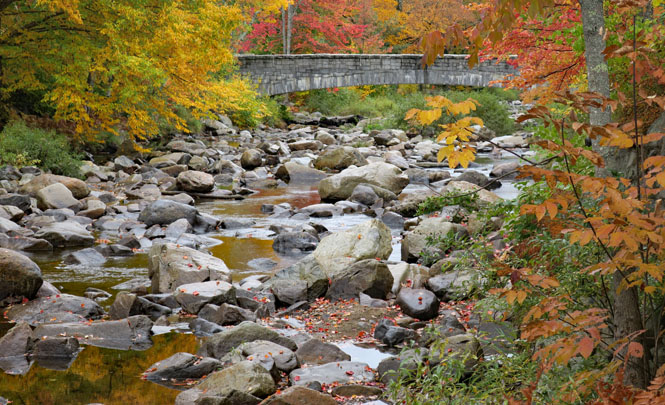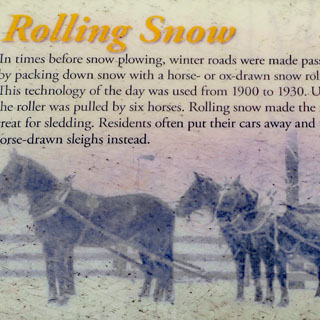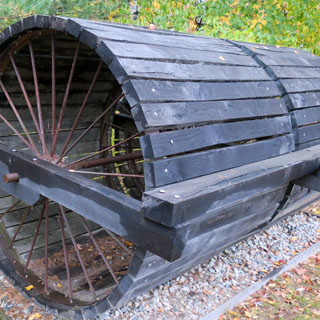 The trick is to manage your photography to avoid capturing all the other people out trying to take the same shot.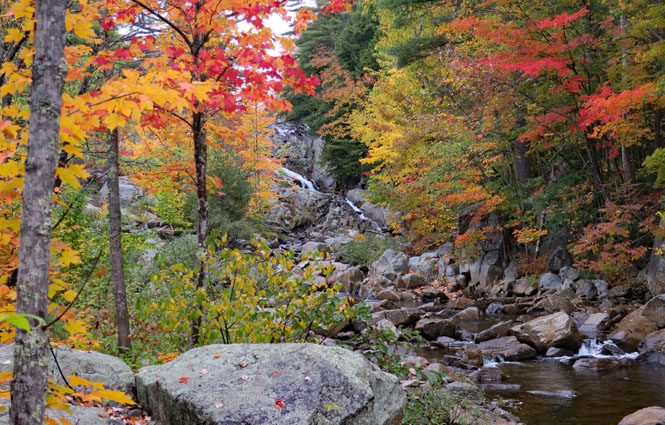 Jackson, New Hampshire

• John Willis Meserve b. 1827.
• His grandparents Joseph Meserve (5) and Elizabeth "Betty" Hayes moved here c. 1810? from Durham NH (or Madbury? NH) and farmed beans, potatoes, rye and flax. Joseph built a loom to weave cloth from the flax.
• Grandpa Joy Laughlin's Big Black Binder has a map with Grandpa's notations about the site of Joseph Meserve's home/farm, which we didn't know about until we'd returned from our trip.
Jackson, New Hampshire.
It's Mary Poppkins and the dancing Pumpquins with that jackolantern-of all-trades, Bert. Such displays were everywhere in Jackson.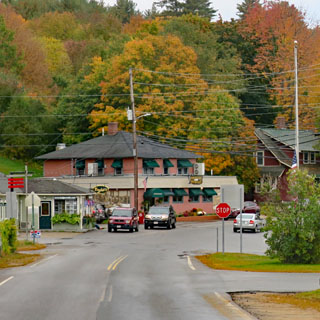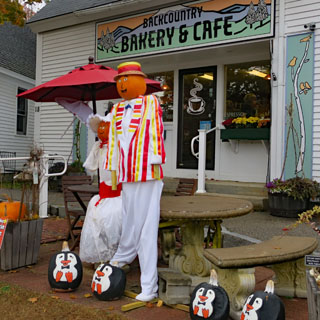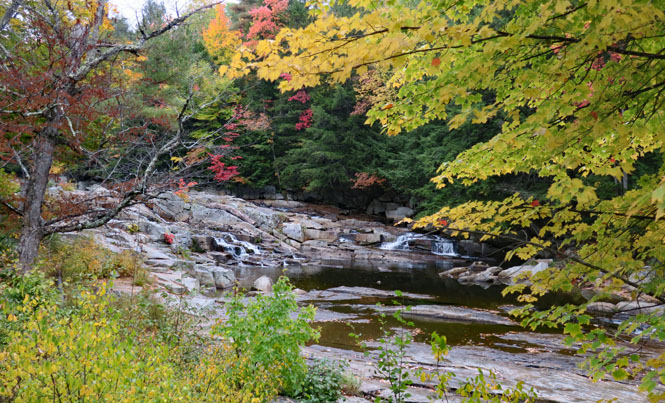 Quite possibly related to one of our Meserves; you never know.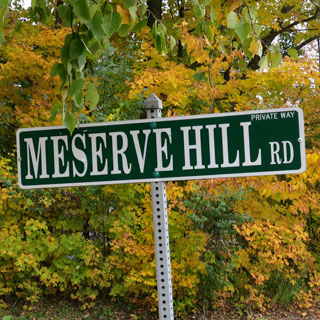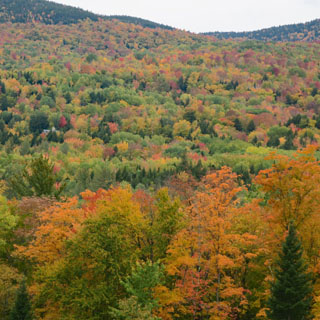 The Jackson cemetery. Lots of names are recognized, but they are at best just cousins.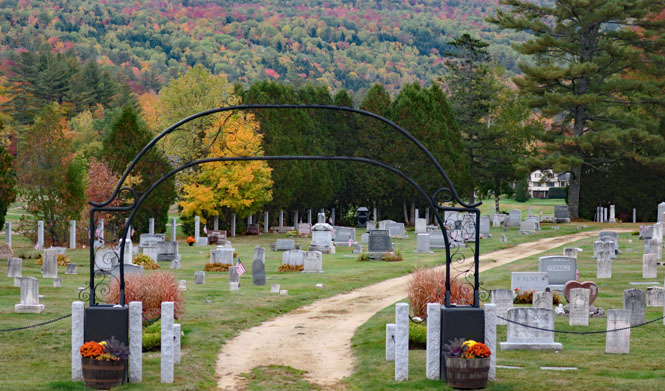 Waiting to drive through the covered bridge. I suppose that's Washington Irving's "Headless Horseman" riding a moose and carrying his own head.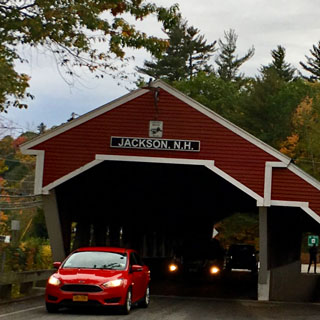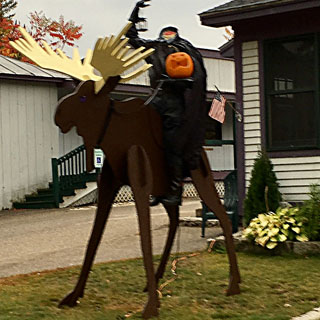 We stayed two nights in Conway at the Merrill Farm Inn.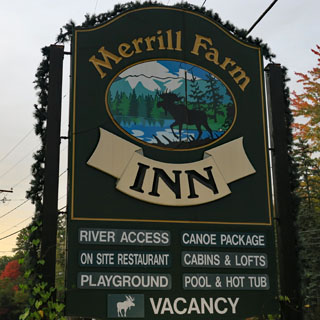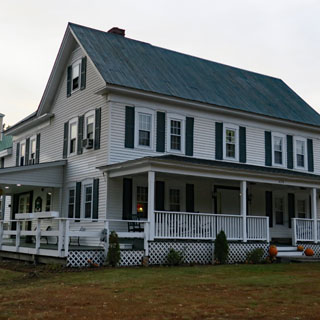 The river just behind the Inn.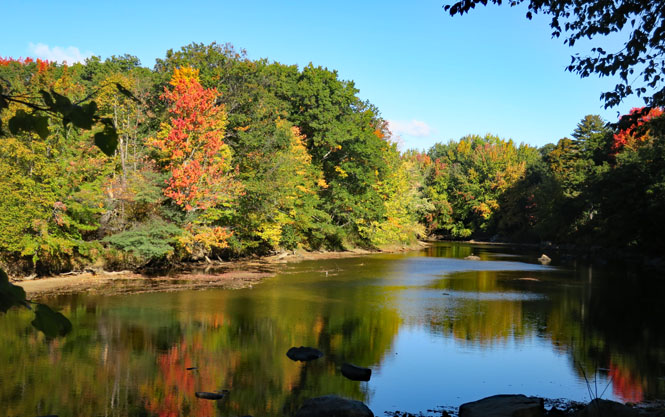 Today we'll drive north, looping around to Maine before returning to Conway.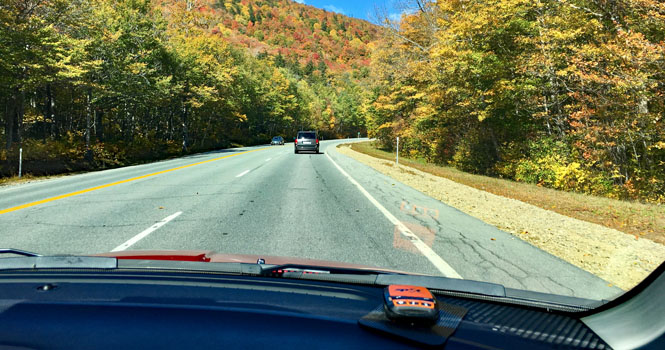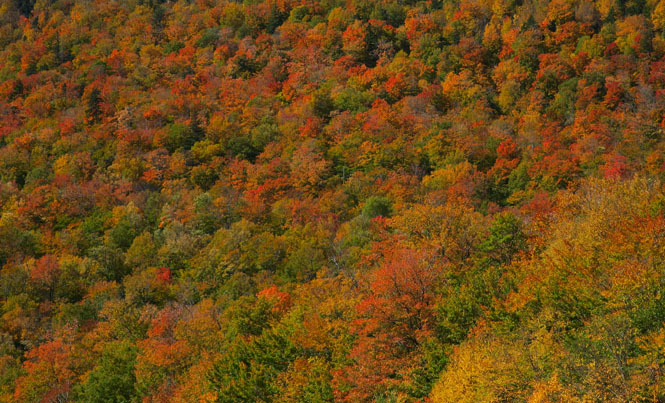 The "Auto Road" to the top of Mount Washington. Today, there are lots of people who want to take that road; we don't.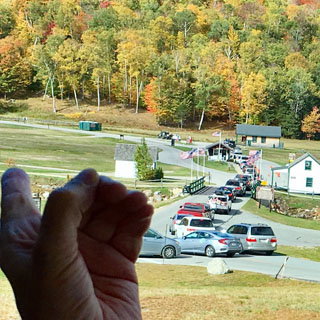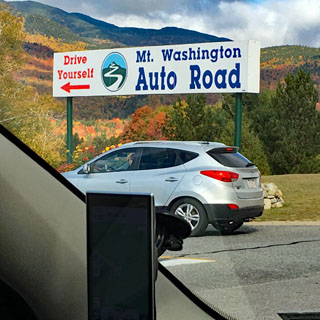 A wayside park along the Peabody River. One stop is as good as the next. It's all quite stunning.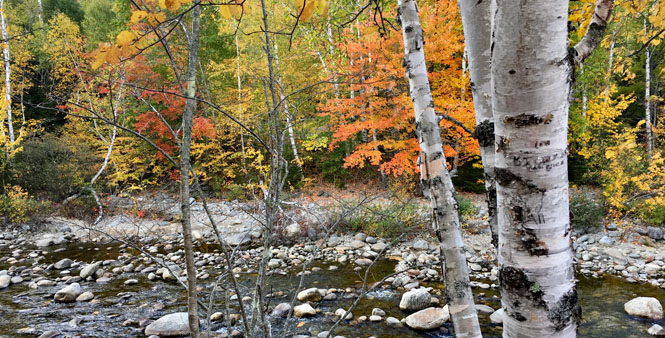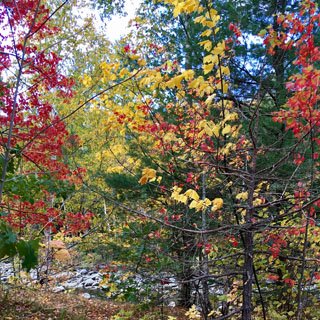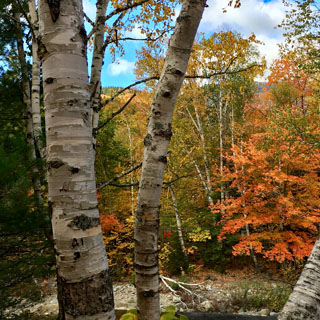 The Peabody River.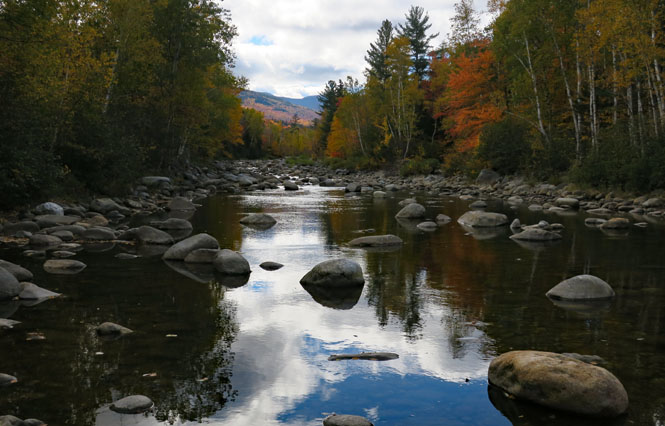 We saw signs giving warning, but never did see a moose.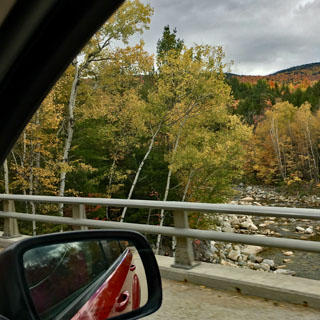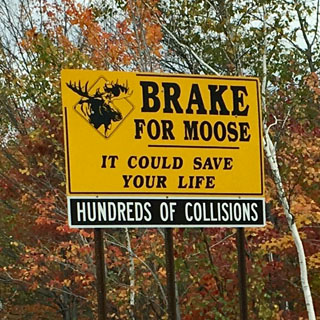 Berlin, New Hampshire.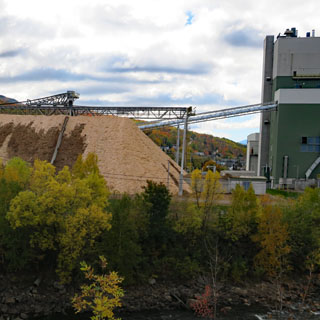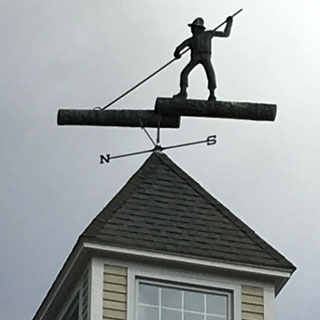 Boom Piers along the Androscoggin River. The piers run for many miles.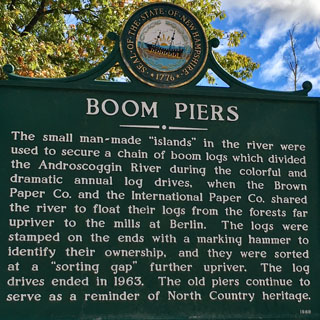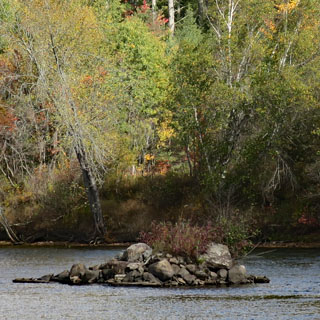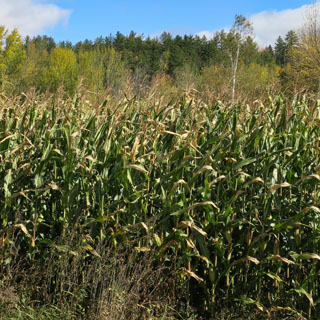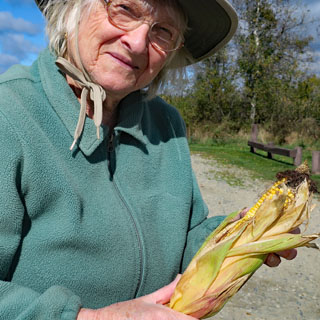 We intersected the route of a cross-country rally of classic cars. Many of them were brought over from Europe just to run this event (note that both the Jaguar and the Mercedes are right-hand drive).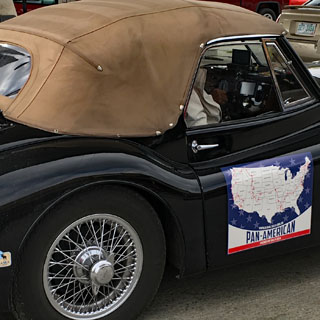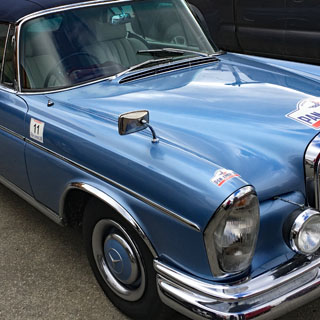 The Umbagog National Wildlife Refuge. We looked for a visitor center down this dirt road. Evidently there is no visitor center.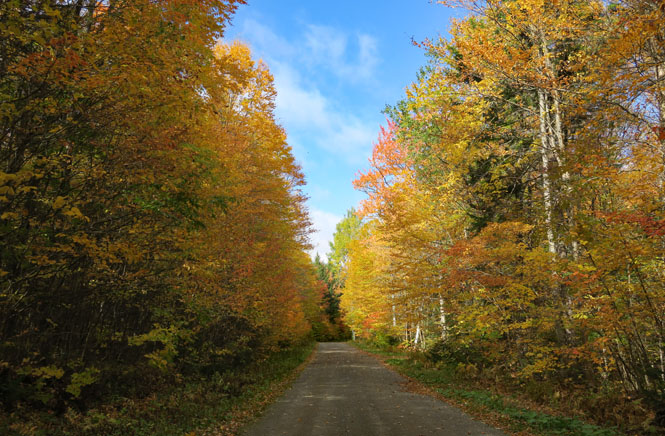 In the winter, this is a snowmobile and cross-country skiing trail.
Maine
Driving through a bit of western Maine.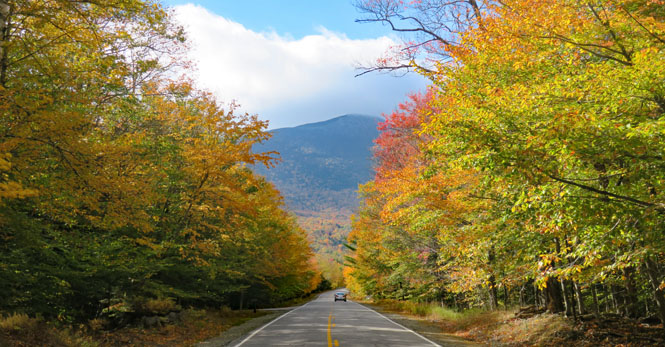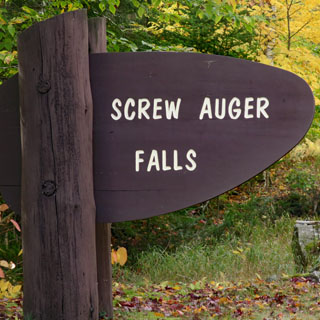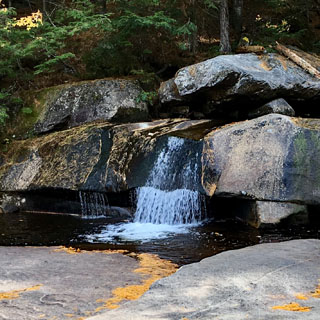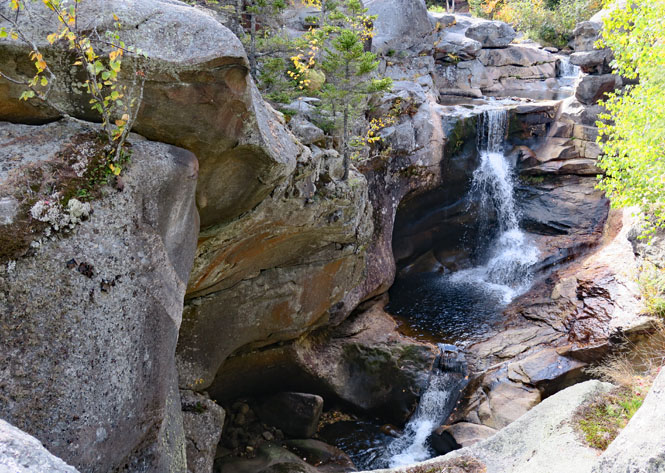 An honest pie store. Take the pie you want and leave your money in the milk can. We had peach.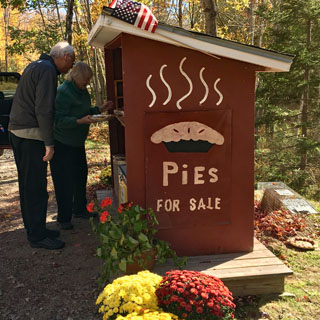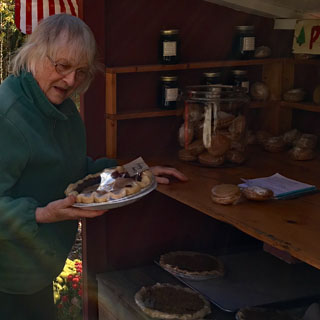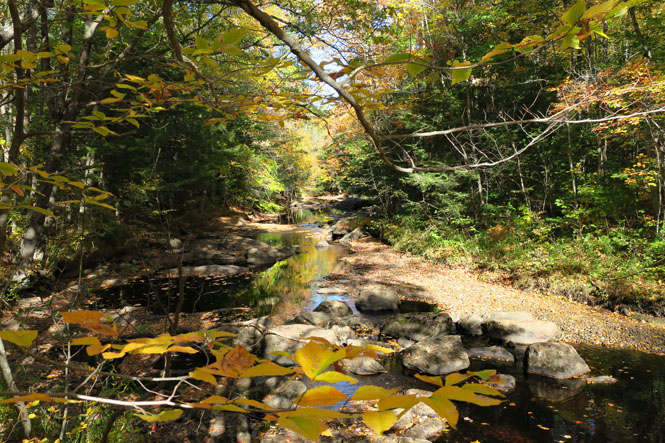 New Hampshire
We're back at Conway. He had breakfast at the Inn restaurant before leaving.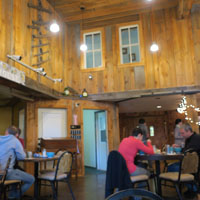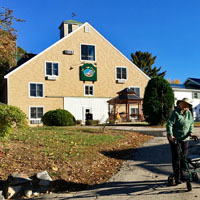 Well, I guess we did see one moose on the trip. Our room had an upstairs loft, which had another bed and sink.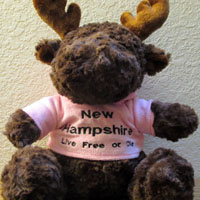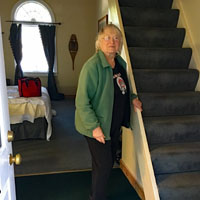 Tamworth, not far from Conway. We stopped at the Unitarian church where Awanna met the minister who just had time before dashing off to a meeting.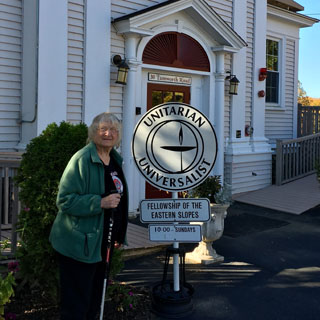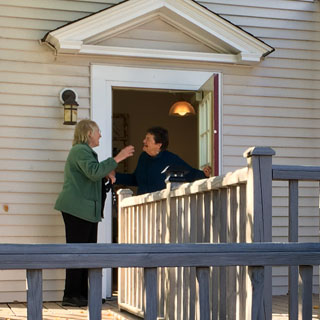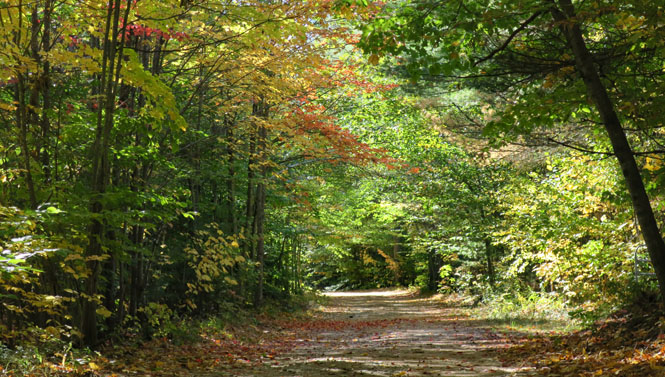 Massachusetts
Amherst is home to Amherst College, Hampshire College and the University of Massachusetts...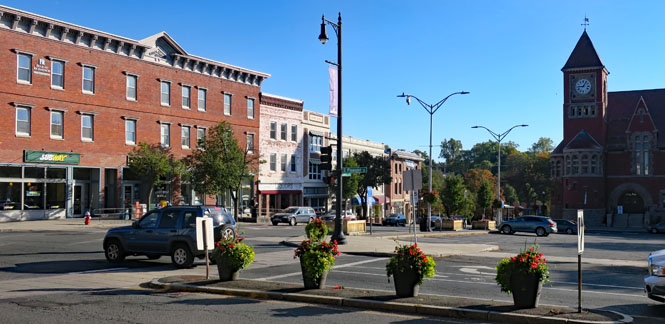 ...It's also home to the Jones Library, which is decidedly much more inviting and comfortable than any Carnegie library you've been inside.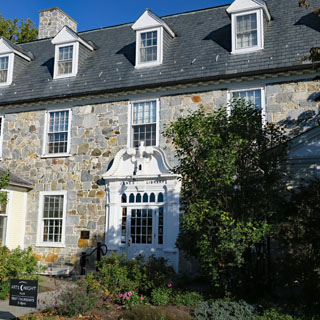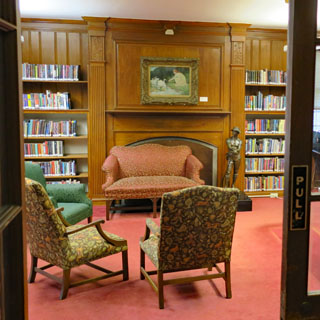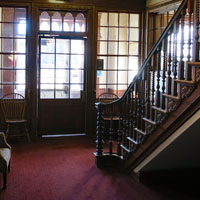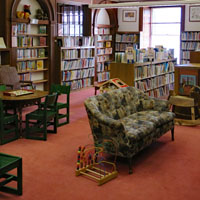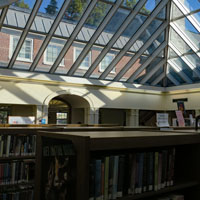 Plenty of books, but quite a bit of art on display, too.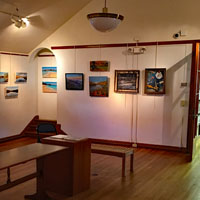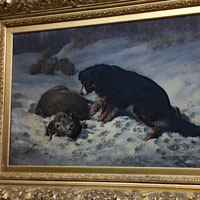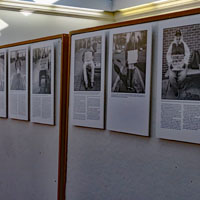 Concord, Massachusetts. We were here, earlier, but we didn't take time to look around, properly.
Concord, Massachusetts

Old family tradition from the Meserve family claims that our ancestor Captain Samuel Hayes (b. 1730), of Durham NH, received the command while plowing his fields to gather his company of men and head immediately to Concord MA to head off the approaching British, April 19, 1775. According to a "much yellowed old tablet"* written by Dr. John Willis Meserve (b. 1827), apparently after interviewing an elderly Mary Hayes who he claims is his grandmother...

So Capt. Hayes left the oxen hiched to the plow in the furough went to the house told Mery His Daughter a girl about 16 years old to go down to the field and get the Oxen and He Divested Himself of his worck cloathes Doned His Captains Colonial uniform Captain sord with an emence Bar Skin Hat and Himselfe ran to Concord Got command of His Company of Minute men which he found asembled awaiting His orders. Capt Hays drew His Men up acrost the Road at the end of the Bridge to oppos the advance of the British Souldiery The commander on seeing the Colonests araied against him Halted his Men shoughting at the Top of his vois Dispurse you Rebel Dogs Dispurce you Dam dogs. The next breath He ordered His Men to fire. They quickly obeyed. The Americans as quickly answered with a voley of Musketerey that Sounded around the World and Still Echoes in the eares of Tyrents the world over. The English About faced started for Boston on Dubble qick. The American army folowing them and shooting from behind fences trees Stumps and Brush. They beat a haystey retreet And a few of them returned to Boston. But the Americans paid deer for Captain John Hays Lay dead in the Road in Concord at the end of the Bridge.

*(Transcribed by Joy J. Laughlin. A later version typed by Laughlin, with updated spelling, cites Elizabeth "Betty" Hayes as the daughter, which makes more sense, as she was Dr John Meserve's grandmother.)

Connecting our ancestor to the events of Concord's "shot heard round the world" makes a stirring tale indeed, but it is untrue. (Perhaps his quick run from Durham NH to Concord MA [75 miles!] is a clue. And who can resist an "emence Bar Skin Hat"?) Samuel Hayes was indeed a captain in the Revolutionary army, and led a company of 35 men, but they were apparently attached to Fort Washington on Pierce's Island (also known as Peirce's Island), which is part of Portsmouth, NH. Their mission was an important one: to protect the harbor at Portsmouth from British ships. He was still alive and in charge of his company November 5, 1775.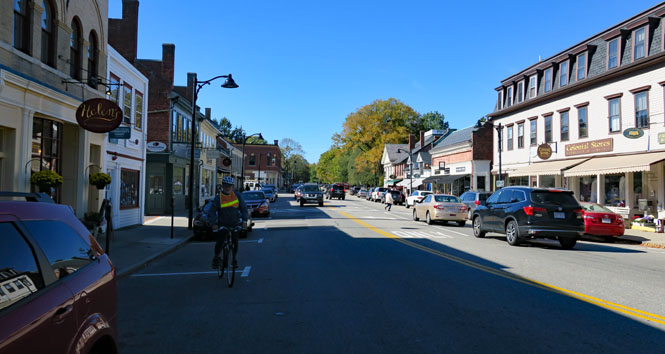 The first Parish Church of Concord.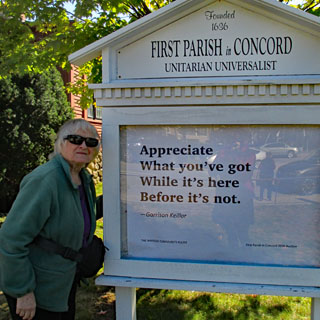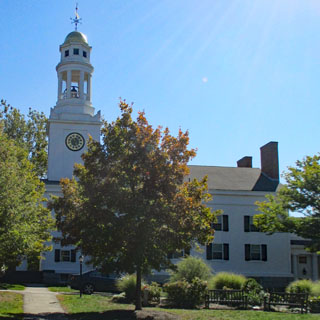 Awanna meets Howard Dana, the minister.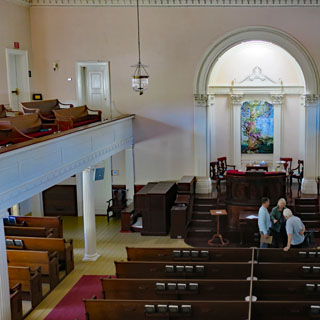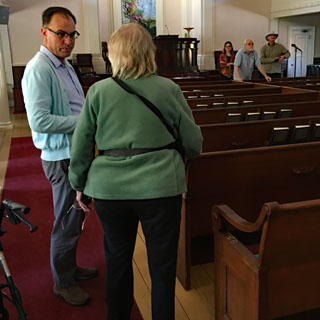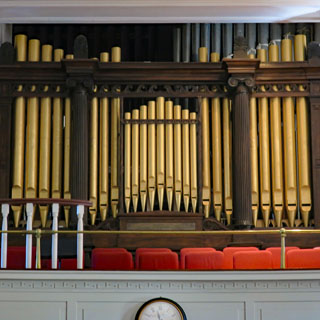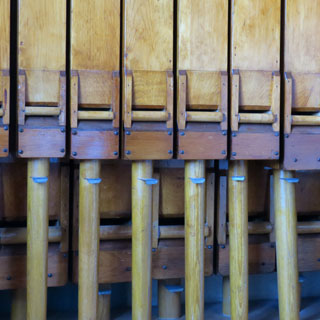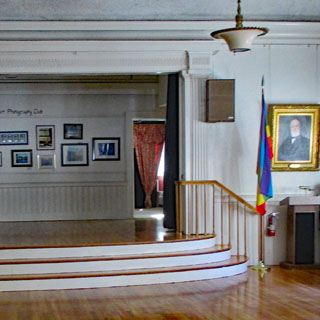 The Minuteman National Historic Park visitor center.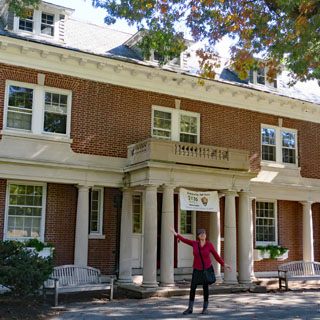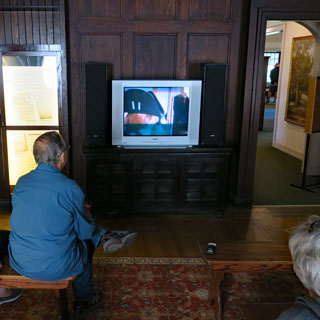 This is the rebuilt North Bridge over the Concord River. The British crossed here and then came "the shot heard 'round the world."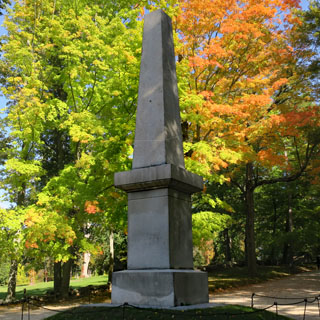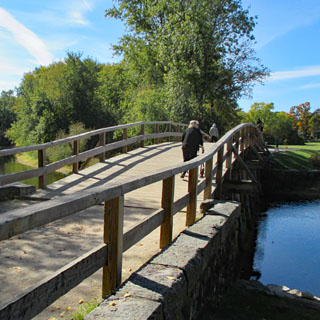 "The Minute Man" (1875) by Daniel Chester French.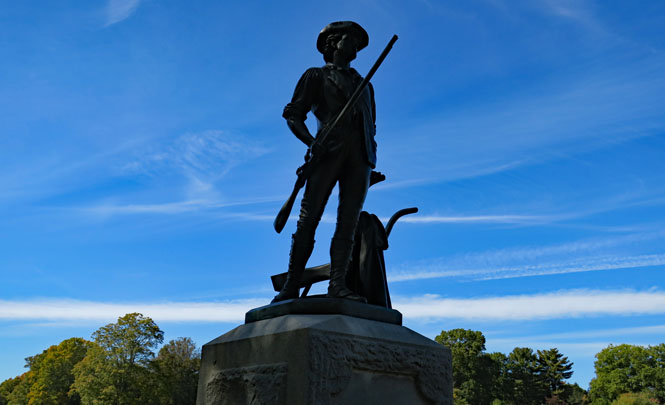 From Cocord we stayed off the tollways and drove through Boston to Logan International Airport.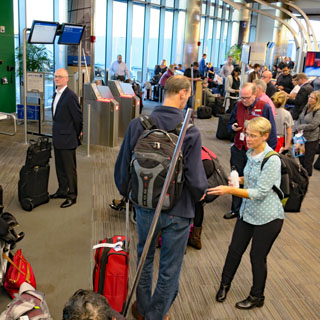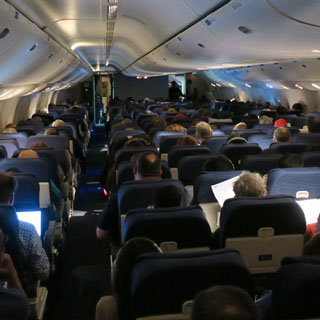 And back to California. We saw so much, and yet, we didn't see all that we could have. There are so many family connections in this area, that there is no end of places to visit. No matter; we did pretty well.
---
Some of the Weathervanes seen along the way.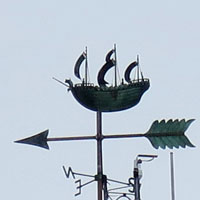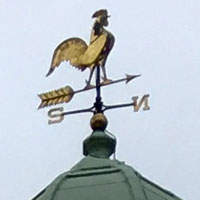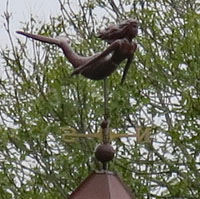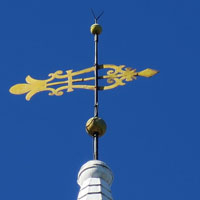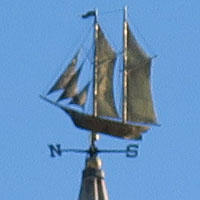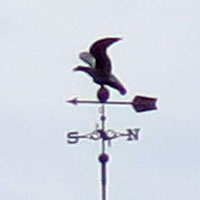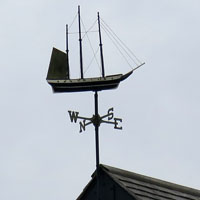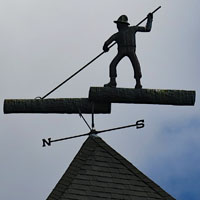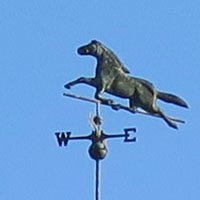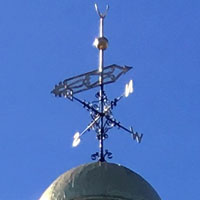 ---
Let's first look at the more recent generations--from Fannie Meserve (Awanna's grandmother) to Joseph and Ruth (in Madbury) and Samuel and Sara (in Barrington). It was Joseph (b 1797) who first started west and his son John (Dr.) who completed the westward journey, eventually settling in Oregon.

Now, let's look back even further, to the ancestors of Joseph and his wife Elizabeth.
Our known American ancestors of Joseph Meserve (born 1760, Madbury, New Hampshire) reach back to Joseph Hull, who arrived in 1635: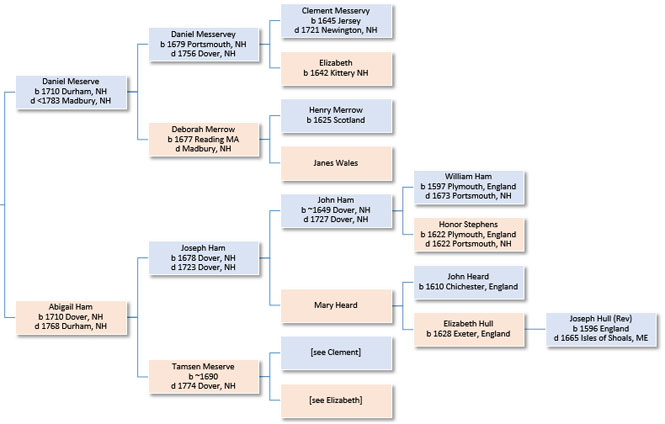 The emigrant Ancestors of Joseph Meserve:
Clement Meservy was born in Gory, Isle of Jersey in 1645. He was a farmer and raised cattle with his father, but in 1670, he became one of the earliest Jerseymen to emigrant to the New World arriving in Strawberry Bank, which was an early name for Portsmouth. He married Elizabeth from Welch Cove and they had six children. Their daughter, Tamsen at age 23, was scalped by Indians, but recovered and married Joseph Ham, great grandson of Rev. Joseph Hull. Their son, Daniel, married Deborah Merrow, daughter of Henry Merrow. Clement died before 1721 in Newington, N.H. (Daniel has been to Gory, Isle of Jersey and has seen some things connected to the family.) Clement is Awanna's 7th great grandfather.
Henry Merrow (Merry) was a Highlander born in Inverness-Shire, Scotland in 1625. He was captured by Cromwell's men in the Battles of Dunbar and Worcester in 1650 and he was sent to the Colonies as a prisoner of war/ indentured servant (bonded captive worker). He did not come on his own. He came in 1659 in the ship "Unity" and landed in Massachusetts. He married Jane Lindes and eventually settled in Reading, MA where he died in 1685. He is Awanna's 8th great grandfather.
William Ham was born c 1597 in Plymouth, Devon, England and died in 1673 in Portsmouth, NH. In 1688, his son, John Ham, married Mary Heard, the granddaughter of Rev. Hull. He is Awanna's 8th great grandfather.
Honor Stephens was born in Plymouth, England in 1601. She married William Ham in 1622 and died in 1674 in Portsmouth, NH. She is Awanna's 9th great grandmother.
John Heard was born in Chichester, Sussex, England c 1610. In 1643 he married Elizabeth Hull in Kittery, York, ME. He died in 1688 in Dover, NH. He is Awanna's 8th great grandfather.
Rev. Joseph Hull, who was born 1596 in England, led a group of 106 people to Boston, MA from Weymouth, England in 1635. He served in several different places in New England including Durham, NH, Dover, NH, Weymouth, MA, Hingham, MA, Yarmouth, MA, York, ME, and Barnstable, MA, where he is said to have stood in the middle of the street on a rock and preached to his armed parishioners. In 1665, he died in the Isles of Shoals, ME but we have been unable to find where he was buried. We saw plaques in Barnstable, MA about him. He is Awanna's 9th great grandfather.
Elizabeth Hull who was born 1628 in Exeter, England, at age seven arrived in Boston, MA in 1635 in the group led by her father, Rev. Joseph Hull. (Daniel, R., and A. saw Elizabeth's baptismal font in her father's church when we were traveling in England in 2003.) She later married John Heard in Portsmouth, NH. They also lived in Dover, NH. Elizabeth is Awanna's 8th great grandmother.
Our known American ancestors of Elizabeth Hayes (born 1767, Barrington, New Hampshire) reach back to John Clough, who--like Joseph Hull--also arrived in 1635: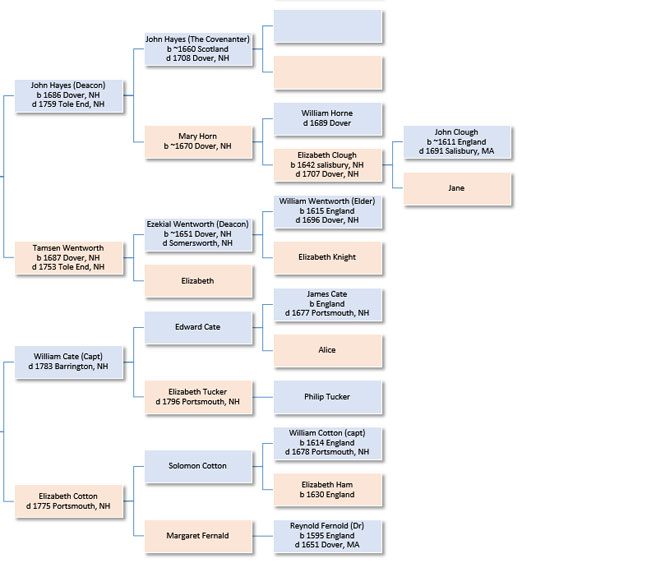 The emigrant Ancestors of Elizabeth Hayes:
John Hayes, "Covenanter" was born in Inveresk, Scotland in 1660. He had been a prisoner in Edinburgh Tolbooth, but was banished to the Plantations in 1685. He died in 1708 in Dover, NH. We have a photograph of Awanna standing by his plaque while wearing her Clan Hay t-shirt. John Hayes is Awanna's 7th great grandfather.
William Horne who was born in 1609 in Clerkenwell, England, came to New England and lived in Salisbury, MA and Dover, NH. He married Elizabeth Clough, who was the daughter of emigrant, John Clough. He is Awanna's 8th great grandfather.
John Clough, who was born 1611/13 in England, in 1635 sailed in the ship, Elizabeth from England and settled in Salisbury, MA. He was not indentured; he was a house carpenter. We saw a plaque at Salisbury Plains Cemetery in Amesbury, MA. for him and his wife, Jane. John died in 1691. He is Awanna's 9th great grandfather.
Elder William Wentworth, who was born in 1616 in Alford, England, was a follower of John Wheelwright, a Puritan clergyman, and likely came with him in 1636 from England. Wentworth continued to follow John Wheelwright to several different places. Wheelwright was banished from the Massachusetts Bay Colony in 1637. Eventually Wentworth went to Dover, NH where he lived the remainder of his life. He was the proprietor of a sawmill, and held several town offices, but is most noted for being an elder in his Dover church for nearly 40 years. He had 11 children and two wives. For a photograph, Daniel portrayed Elder Wentworth's bravery and strength in saving the women and children from an Indian attack on the garrison, which had been built by John Heard. Elder William Wentworth died in 1696. We saw the plaque for him in Rollinsford, NH, near Dover, NH. He is Awanna's 8th great grandfather.
James Cate Family folklore says that four Cate brothers, including James, came from England in 1635. James resided in Portsmouth, NH, but was never a landowner. He was a carpenter and died in 1677. His will was probated in 1702 and his oldest son, Edward, inherited his father's estate. He is Awanna's 8th great grandfather.
William Cotton was born c 1614 in England. He lived in Portsmouth, NH and Exeter, NH. He married Elizabeth Ham in 1649 and died before 1678 in Portsmouth, NH. He is Awanna's 8th great grandmother
Elizabeth Ham was born in 1630 in Devenshire, England and lived in Portsmouth, NH. She married William Cotton in 1649. She is Awanna's 8th great grandmother.
Dr. Reynald Fernald was born in England in 1595 and was the first doctor in Dover, MA where he died in 1651. His great-granddaughter, Sarah Cate, married c 1757, Captain Samuel Hayes, grandson of immigrant, John Hayes. He is Awanna's 7th great grandfather.
last edit: 12/2/2016