March, 2016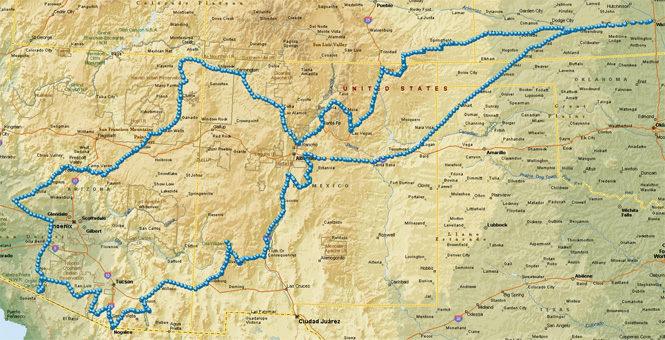 Organ Barrel Cactus National Monument is in the Ajo Mountains of southern Arizona along the Mexico border. I've not seen much of that part of the country, and this looked like a good time to visit.
Texas
I've been up and down US-54 through Texas countless times and have often noticed the sign for the town of Middle Water. This time I stopped.
Middle Water, on U.S. Highway 54 in central western Hartley County, was established in 1888 as a division of the XIT Ranch. This division, which derived its name from nearby Middle Water Creek, was used for breeding purposes and was a cull ranch, where undesirable cattle were cut out from other division herds.

--Texas State Historical Association website
I walked out to the tracks, looking for any signs of a town. That old wood shack (below) seems to be the extent of it. The question is, why is there still a highway sign?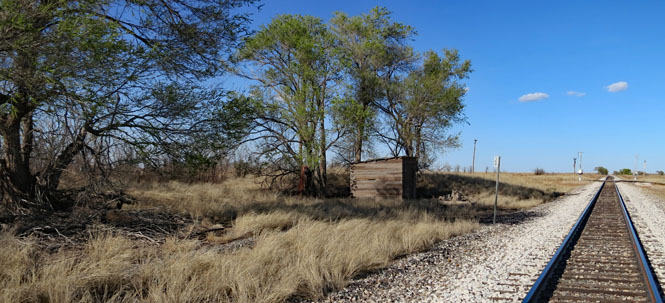 New Mexico
Tucumcari, New Mexico. Before the Interstate Highway, everybody on Route-66 had to stop for the night in Tucumcari. There really wasn't any other choice east or west. Not all the motels on the old highway through town remain in business, even if their sign still invites you to stop.

And I've been from Tucson to Tucumcari
Tehachapi to Tonopah
Driven every kind of rig that's ever been made
Driven the backroads so I wouldn't get weighed

-- Lowell George link
I stayed at the historic Blue Swallow Motel. Not often will you have an attached garage with a rolling door to keep your car (or motorcycle) covered overnight. This motel has been here since 1939. That Hudson sedan (below)? It belongs to the owner of the motel and was originally purchased at the Hudson dealership a few blocks west of here.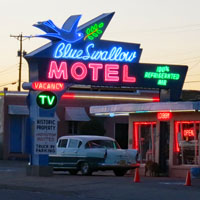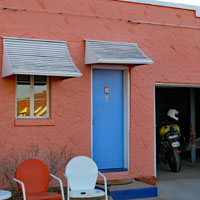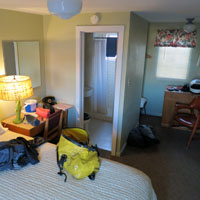 But, of course... Chicken-fried-steak is a featured item on the menu at Del's Restaurant (since 1956).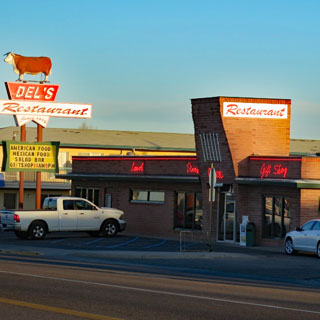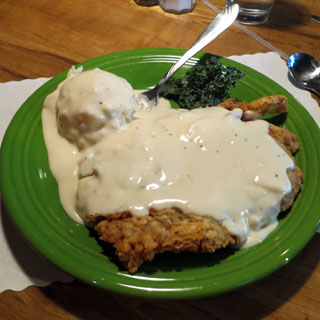 I always try to ride roads I've not been on. This is NM-337; it runs from Tijeras (on I-40) south to Mountainair (on US-60) just into the mountains that are east of Albuquerque. This is the view looking east to the high plains while dropping down from the higher elevations.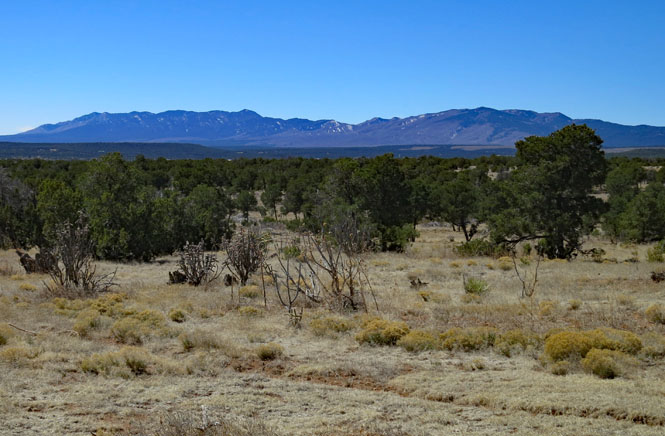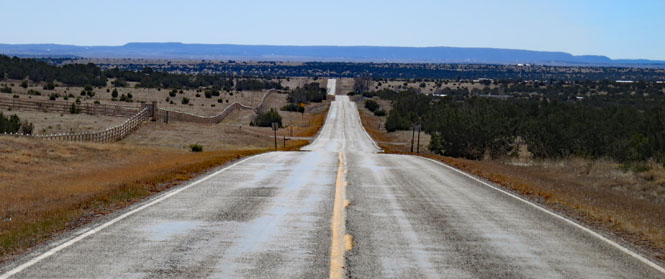 Torreon, New Mexico. This road traces part of the old Spanish salt trading route. Salt is largely why the Spanish stayed after those first explorations through this area.

Manzano, New Mexico.

That's an interesting angel that's been carved from a single stump.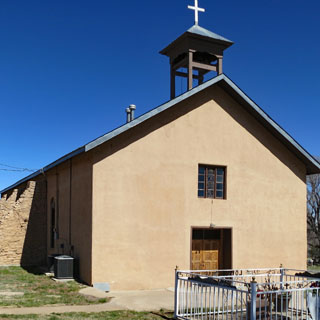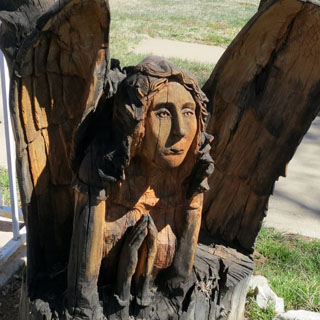 Quarai-Salinas Missions National Monument
This was a Franciscan mission built in the 1600s. It didn't last long before a number of events (weather, people) came together forcing the abandonment of the area. This place was a long way from Spain; you have to wonder what a soldier (or priest) would have thought when given his travel orders.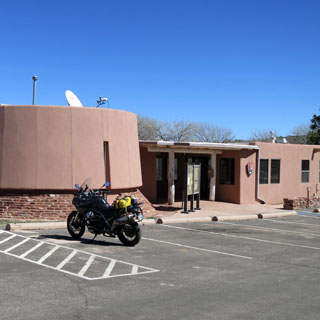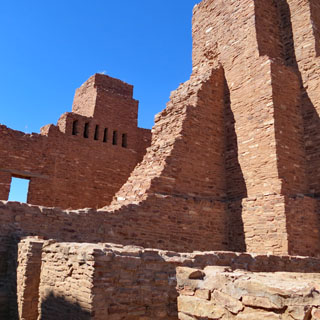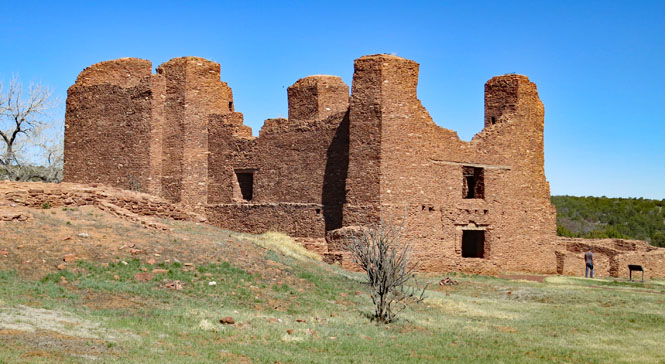 Abo Canyon was first used in 1908 by the Santa Fe Railroad as a replacement for the original 1879 route of Raton Pass and Glorieta Pass on the transcontinental route. Just a few years ago, the Santa Fe completed the addition of a second line through the canyon, eliminating what had long been a bottle-neck on one of the most heavily used rail lines in the country. These days, only Amtrak uses Raton Pass.
Guess which line is new and which one dates from 1908...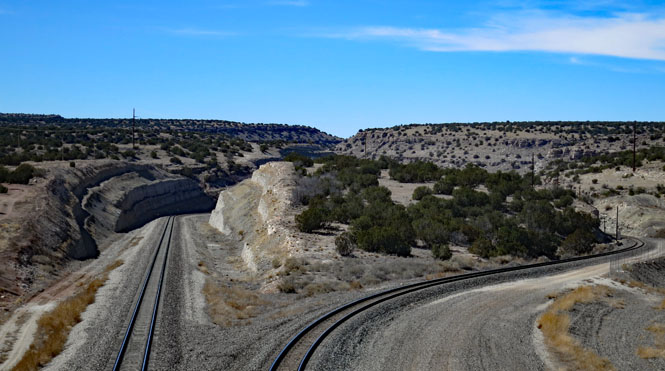 US-60. The highway does not go through Abo Canyon--the railroad has dibs on that route. Of course, most cars are north of here on I-40 (a route that has always been unsuitable for trains).
It's pretty clear which is the newer track.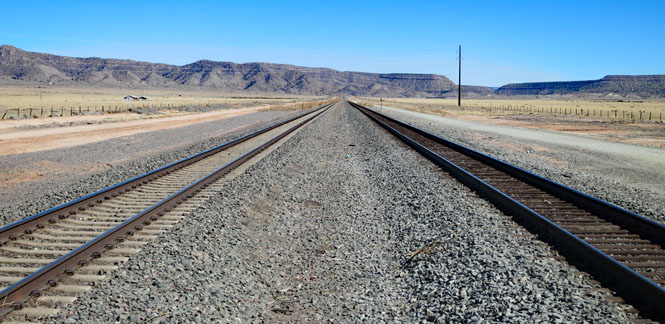 Belen rail yard (south of Albuquerque) is busy.

I-25. Like it or not, if you want to follow the Rio Grande south from Albuquerque, you'll be riding the freeway.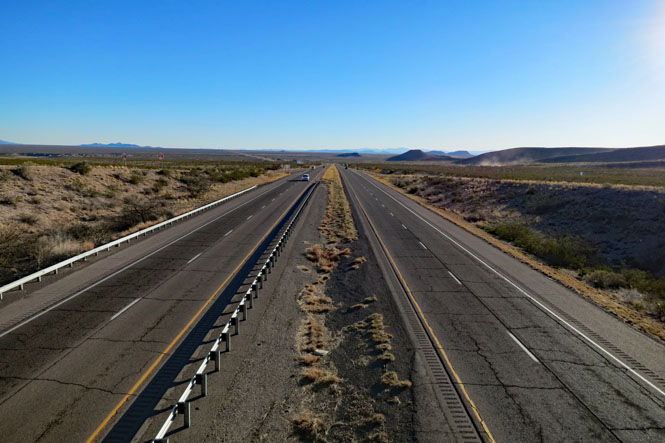 Truth or Consequences, New Mexico. Main Street through town is a pairing of two one-way streets. This isn't the busy direction.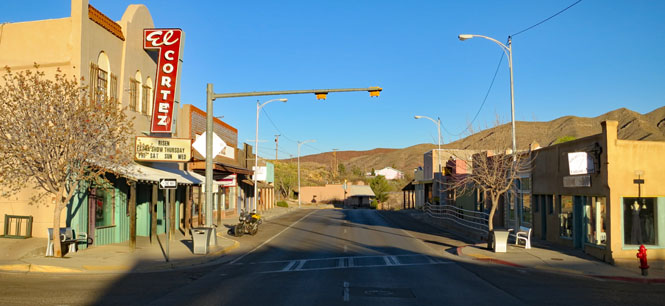 NM-152. I'm figuring out where to go, on the fly. Right now I'm heading west towards Silver City, up out of the long, flat, Rio Grande Valley.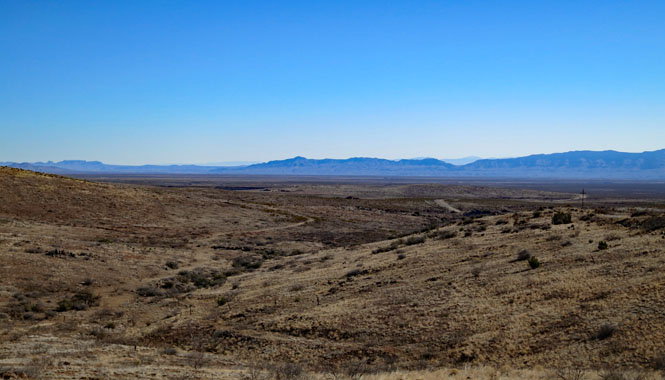 Hillsboro, New Mexico.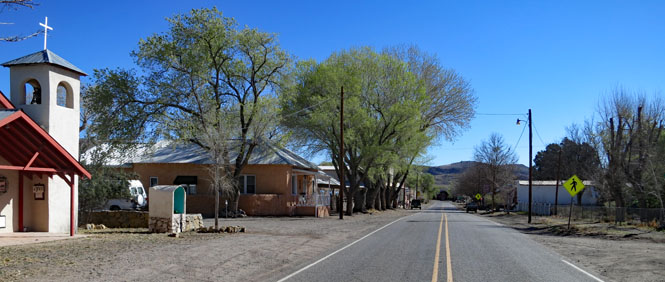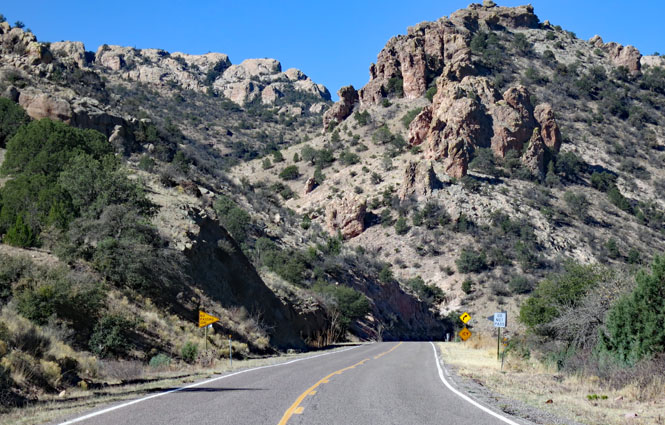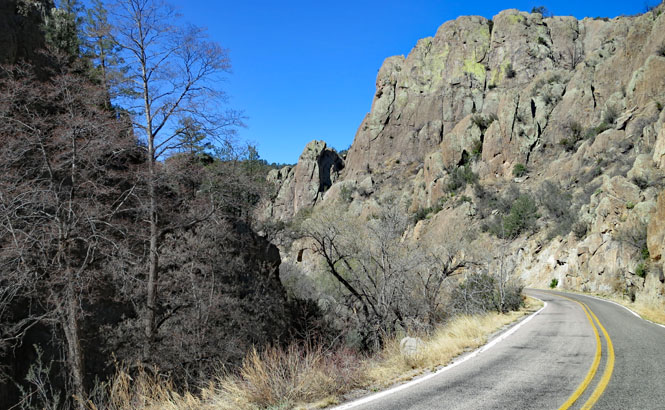 NM-35. Turn north to visit Gila Cliff Dwellings.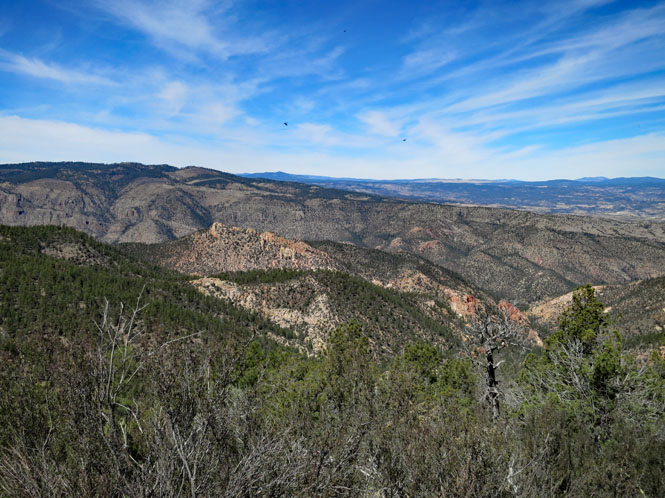 Gila Cliff Dwellings National Monument.
The West Fork Gila River. Incidentally, Geronimo was born near the headwaters of this river.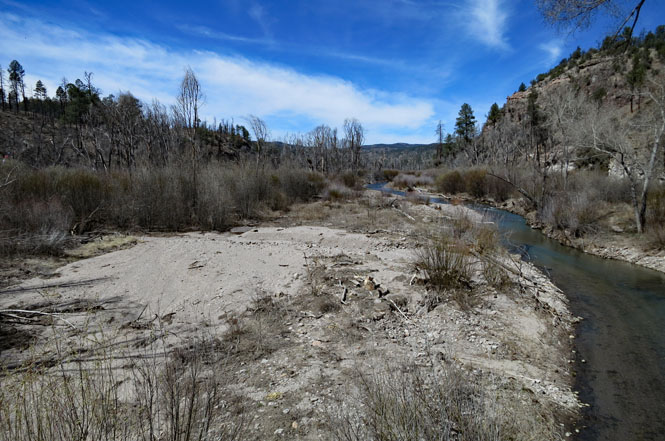 It's a steep climb to the dwellings, but not too far to walk.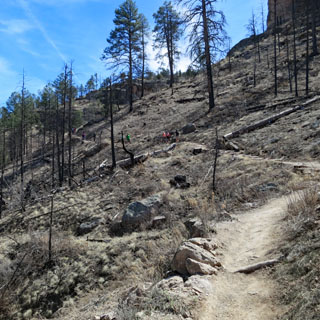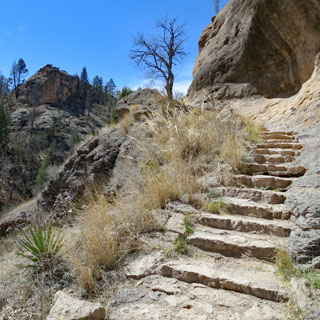 The earliest people would have just used the open cave. Later, walls were built making for more substantial dwellings. But, the ones who built the walls didn't stay long before scattering.
Think on that soot on the ceiling and the people thousands of years ago sitting by the open fire...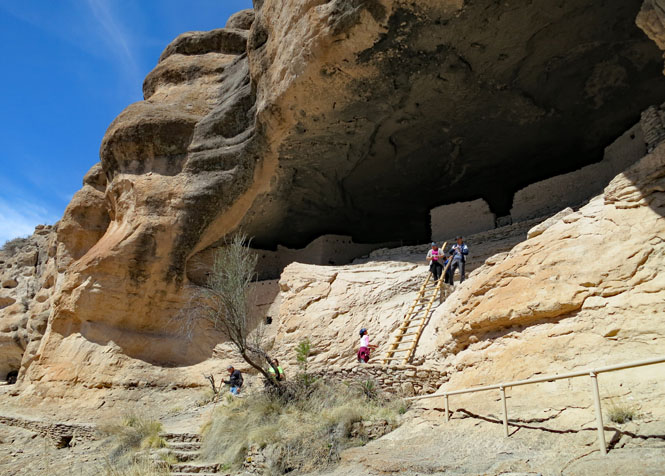 I believe much of the structure we see is a reconstruction done after the time the national monument was created.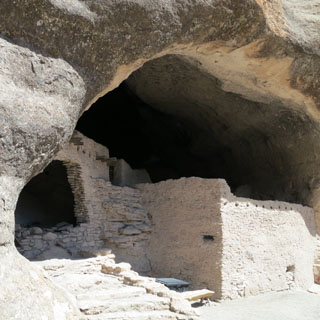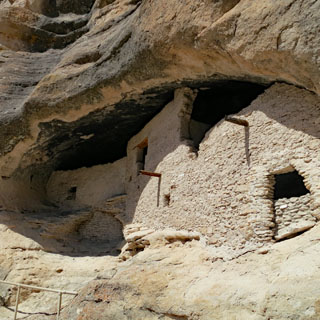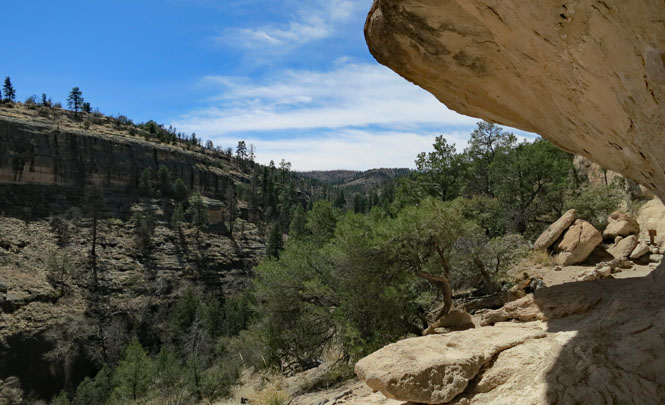 The return trail follows the creek.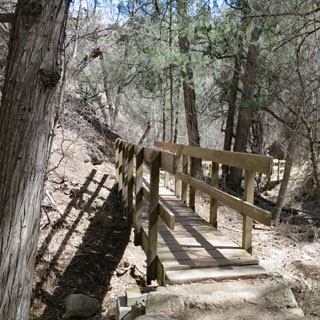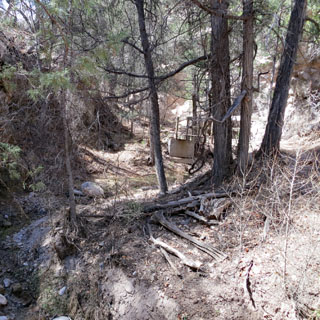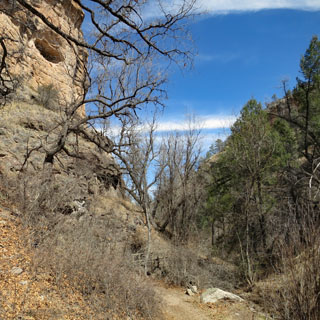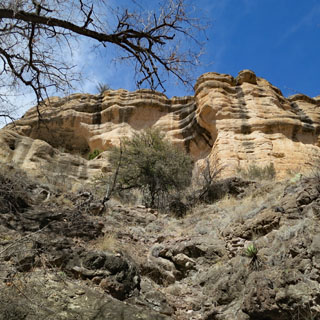 NM-15 is not as developed as the other road to the park and is sometimes not quite wide enough for two cars driven by people not used to mountain driving. This is the road to Silver City.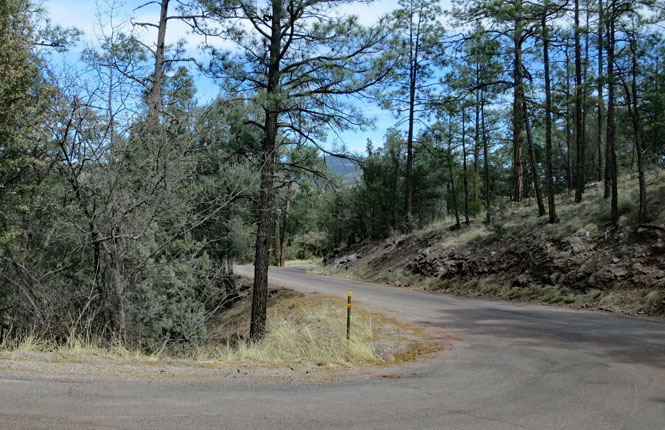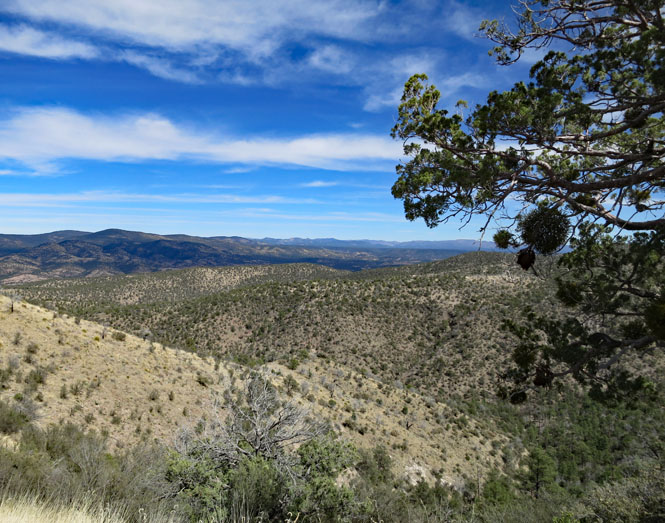 Drop a wheel off the edge of the pavement and your car (or trailer) might suffer some damage.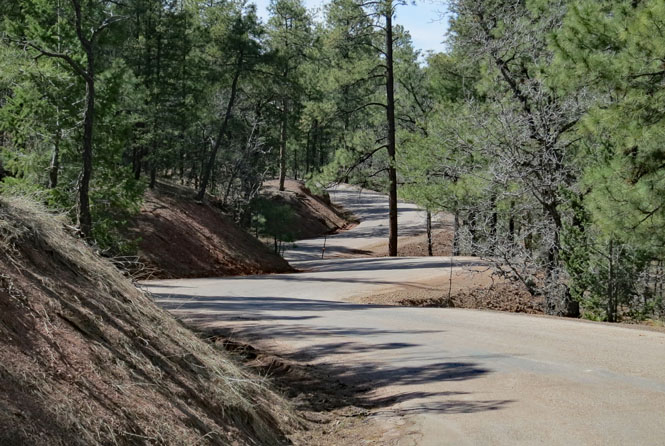 Silver City, New Mexico.
I stayed at the Palace Hotel. It's been here since the boom years of 19th century mining. I had a bedroom and separate living room for well less than the price of a room out on the main highway in one of the nationwide chains.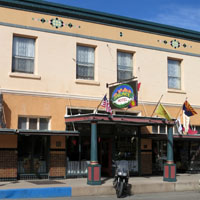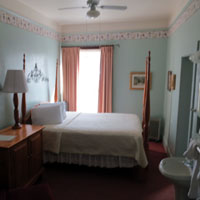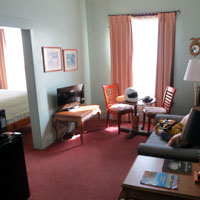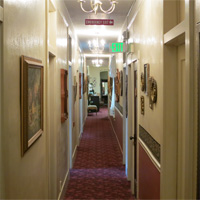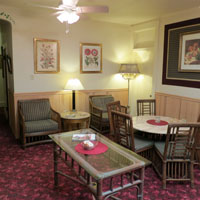 Silver mining and copper mining. Over that last 150 years, there's been quite a bit of ore pulled out of these mountains.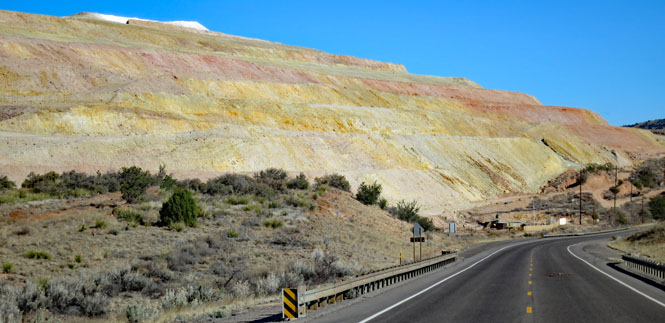 US-180 dropping out of the mountains to a broad, flat desert.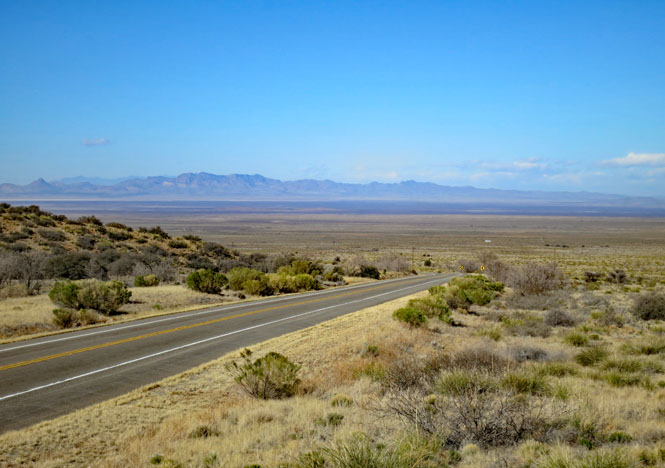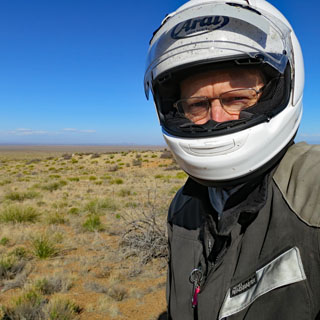 Lordsburg, New Mexico faces the railroad tracks--because that was important when the town was built. Today, I-10 bypasses Lordsburg, so there's not much traffic to fill four lanes.
Arizona
Benson, Arizona.

Benson, Arizona, blew warm wind through your hair
My body flies the galaxy, my heart longs to be there
Benson, Arizona, the same stars in the sky
But they seemed so much kinder when we watched them, you and I

-- Bill Tayler and John Carpenter link
Tombstone, Arizona. I wavered as to the need to even come here. My turnoff to AZ-82 was a few miles north of the town, but I thought I'd take a quick look, just the same.
The place was crowded. This is just a side-street to the main tourist area. I rode past some sort of fenced arena that appeared to be the OK-corral. A shoot-out was in progress and the stands were full of spectators. Perhaps there are multiple shoot-outs each day?

Back north on the Tombstone highway and turn west on AZ-82.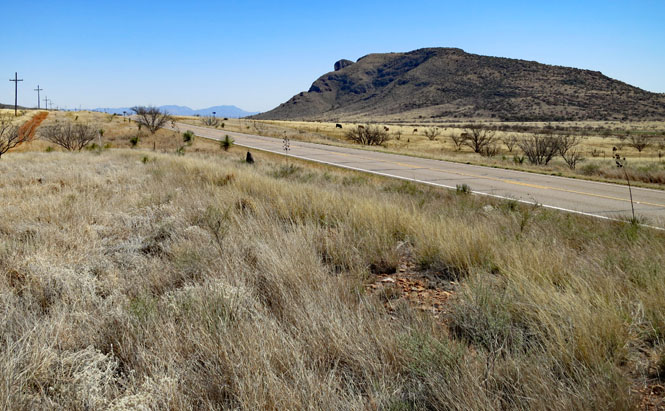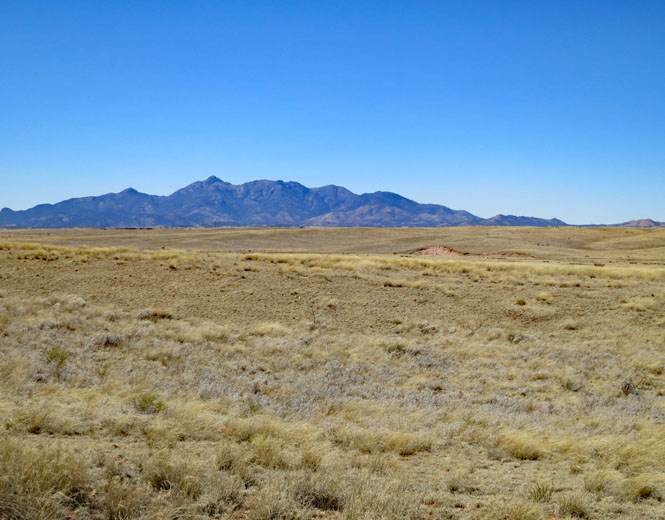 Riding all the way to Nogales and the border.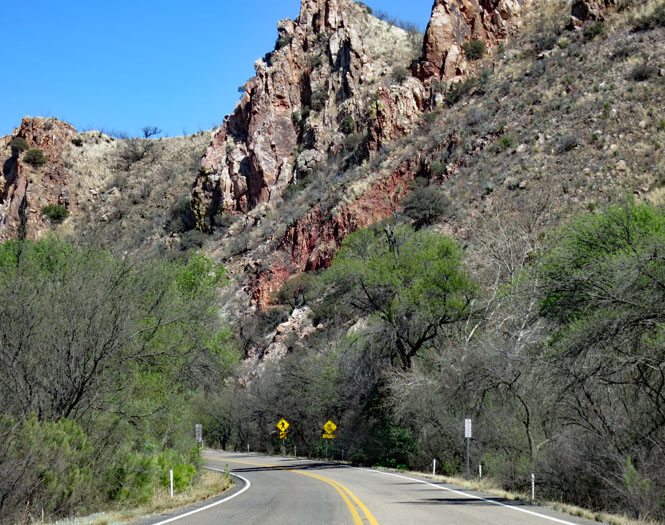 But, that's as far south as I'd go. I turned north on I-19 to pick up the much smaller Arivaca Road, which turned out to be a remarkably curvy and hilly little road that ran for many miles across an anything-but-flat desert.
Advice: make sure you have a full tank.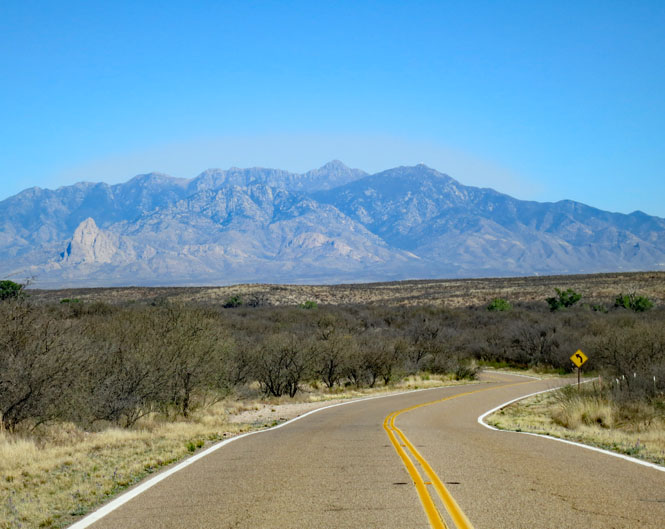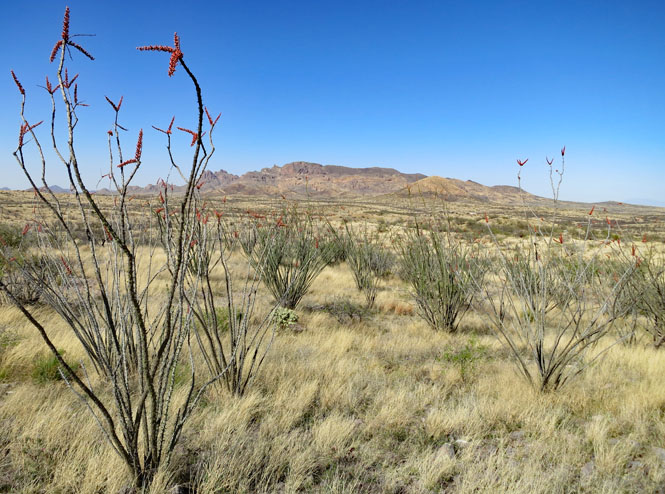 I stopped for these photographs and saw this cross and marker for Michael Blank. It's not next to the road; I don't know if he's buried here (probably not), or if perhaps he just liked this spot (probably so).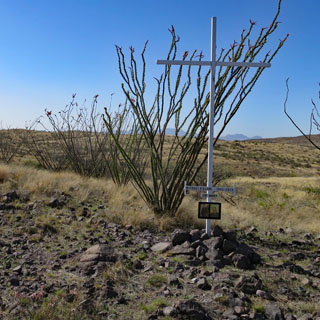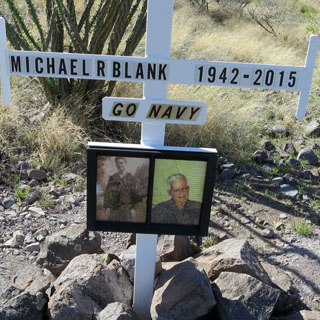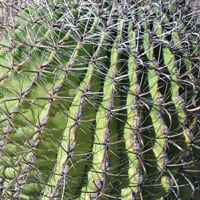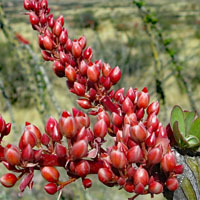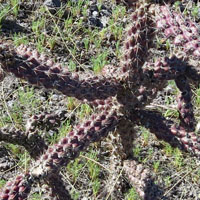 Arivaca, Arizona.

NM-86. There's a reason my intended route is such a zigzag. There are steep mountain ranges that are not crossed by any roads. You've got to go north or south if you want to go east or west.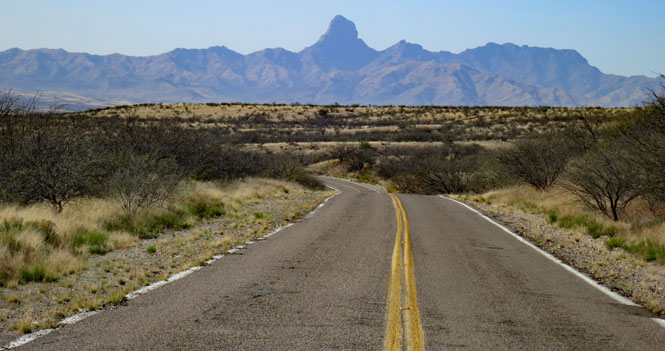 Kitt Peak National Observatory. This site has the largest collection in the world (and includes some 24 optical telescopes)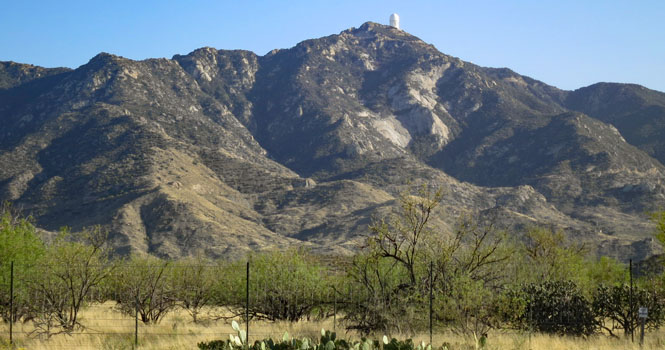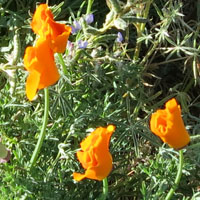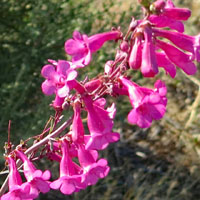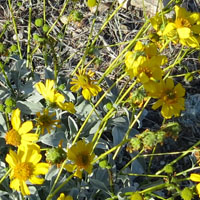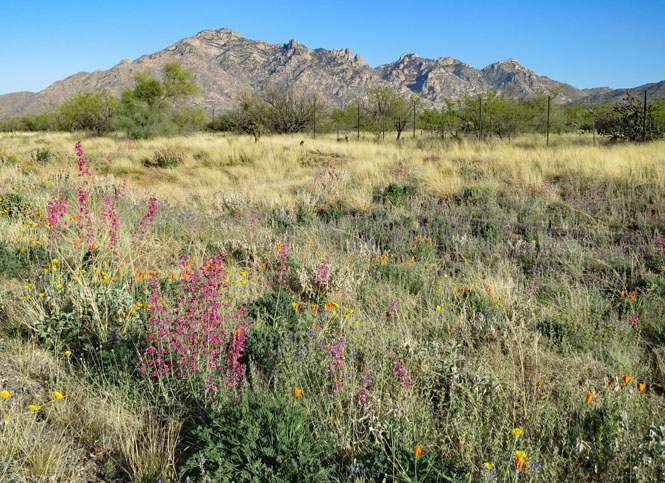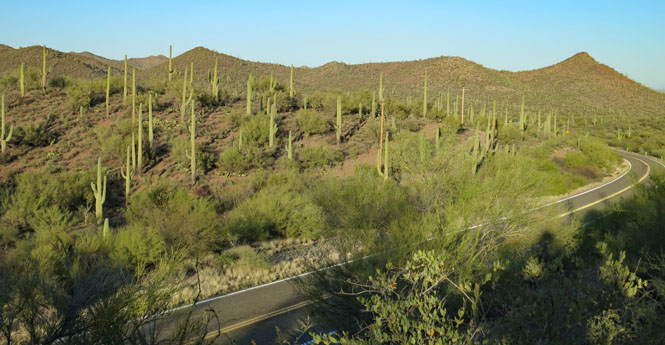 Ajo, Arizona. Yes; I'm here, but I won't visit the National Monument until tomorrow morning (which is also when the two photographs were taken). I think this motel might not survive a serious Kansas storm (well, I didn't pay much). Evidently, they do a much bigger business with the transient RVers parked out back.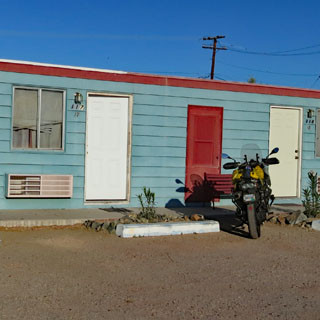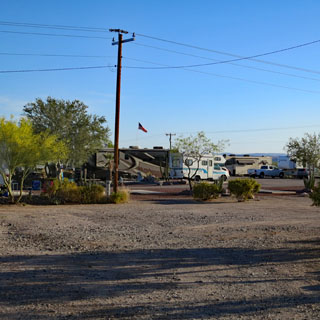 It's a pretty little town. Copper mining was once big--the town is surrounded by mountains of debris.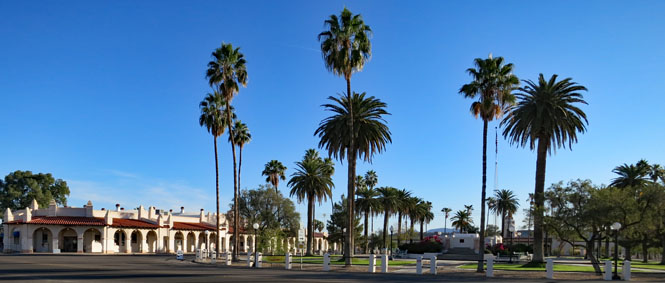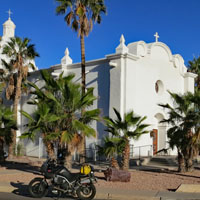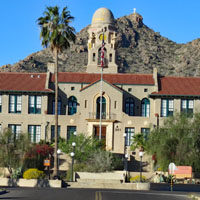 Organ Pipe Cactus National Monument.
This is a large park with several options for off-road exploring. Actually, without going on at least some of these roads (or the hiking trails) you really won't be seeing much.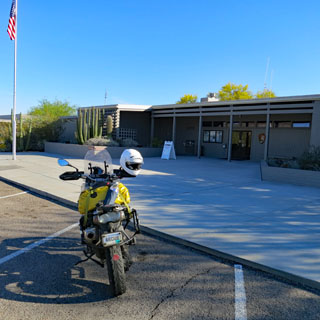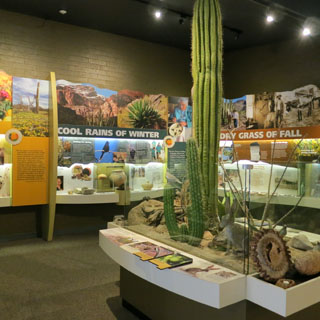 The visitor center is named for Kris Eggle, who was killed in 2002 while on duty in the park. Considering its location, there are postings explaining the danger from smugglers (both people and drugs) and how to minimize the risk to you. I saw nothing.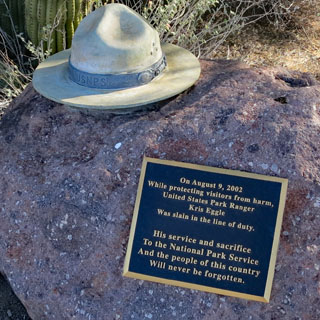 The cactus on the left is the Organ Pipe cactus. It's not rare in the world, but this is its most northerly habitat, and one of the few places in the United States where it can be found.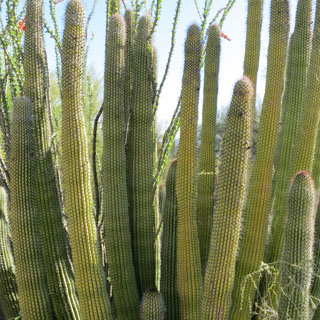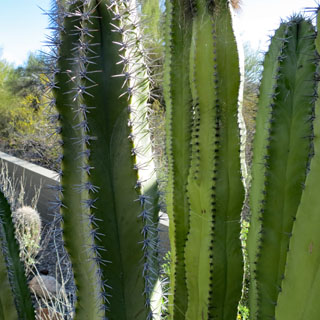 In general, try not to touch anything. And, that thing on the left? Don't even get close--it's not called "jumping cactus" for nothing.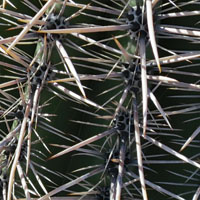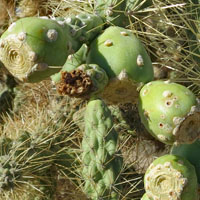 Ajo Mountain Drive. This is a 21 mile one-way dual-track loop at the end of a couple miles of two-way graded dirt road.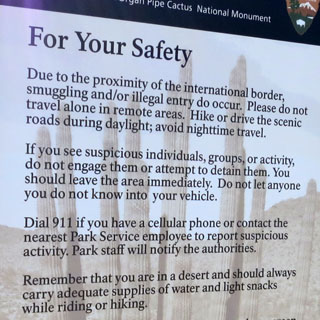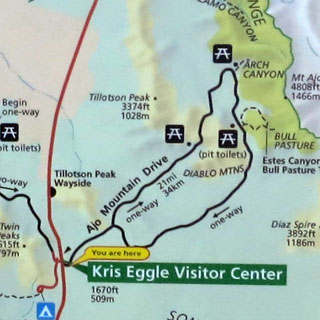 The graded section (below) was particularly annoying as it had some serious wash-boarding, which makes riding very uncomfortable. Mostly wash-boarding is caused by cars braking, so I made sure to go downhill on the left side of the road, and uphill on the right side. There's hardly anybody out here, so not to worry about oncoming cars.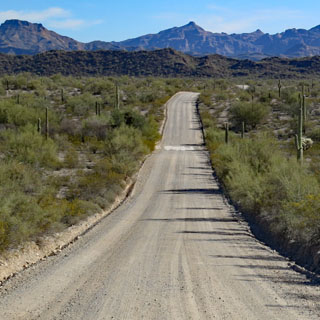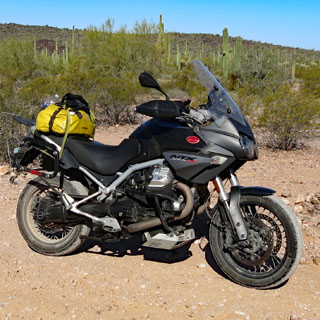 The motorcycle was clean up to this point. But, from here out, I'd get questions about where I might have been to get so dirty.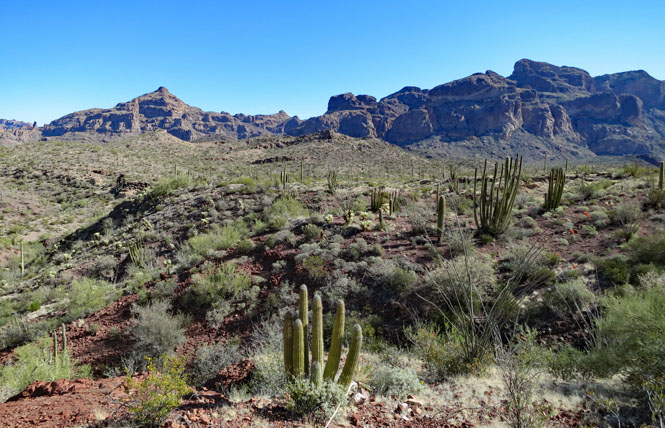 Some sections were paved. That's good as without it any water runoff would quickly create deep gullies across the road. In general, every place that had a water crossing also had a bit of concrete (as you can see in the first photograph).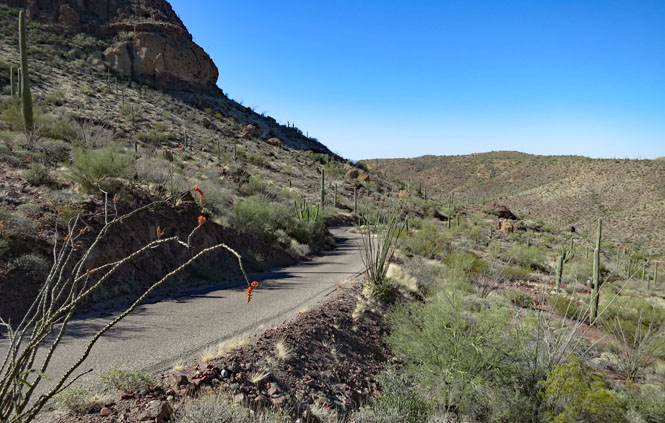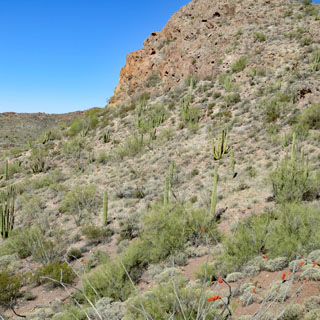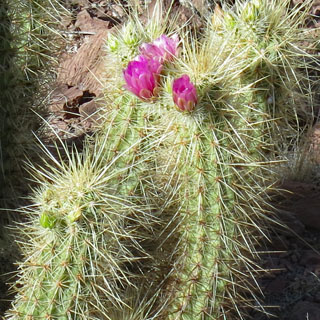 The Stelvio did fine, but a smaller and lighter motorcycle with real off-road knobby tires would do even better. Parts were very choppy with large rocks and deep holes. Cars were ok if they were careful and drove slowly in these places. If not, you could easily drag something on the bottom. Signs recommended high-clearance vehicles.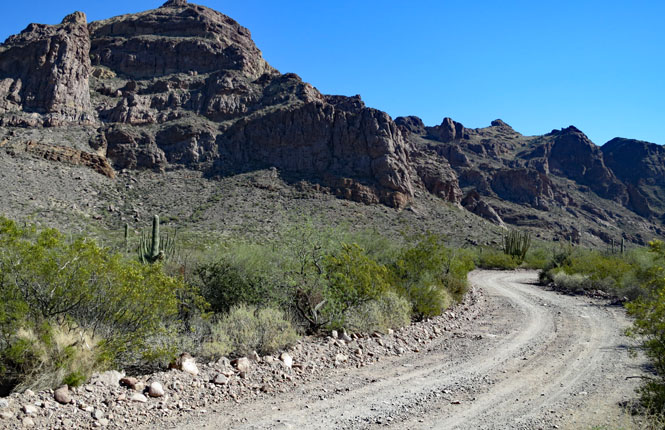 An arch! Neat.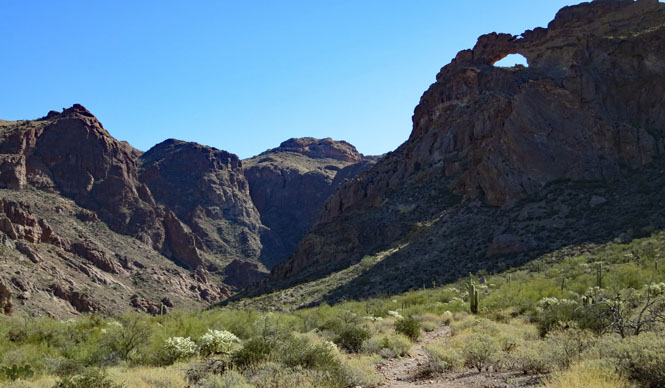 Visibility is limited only by the curvature of the earth. What an amazing place!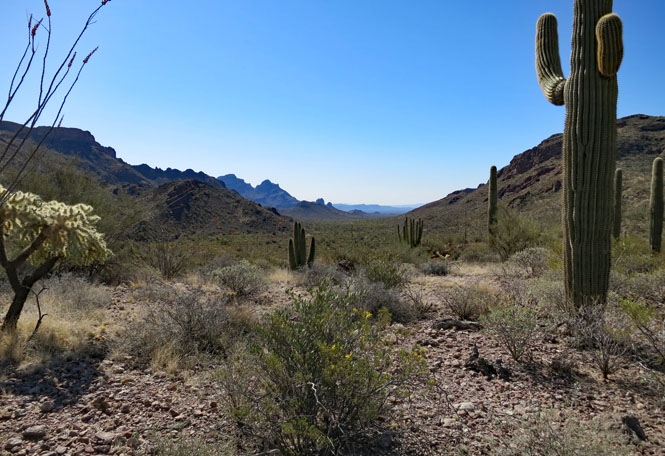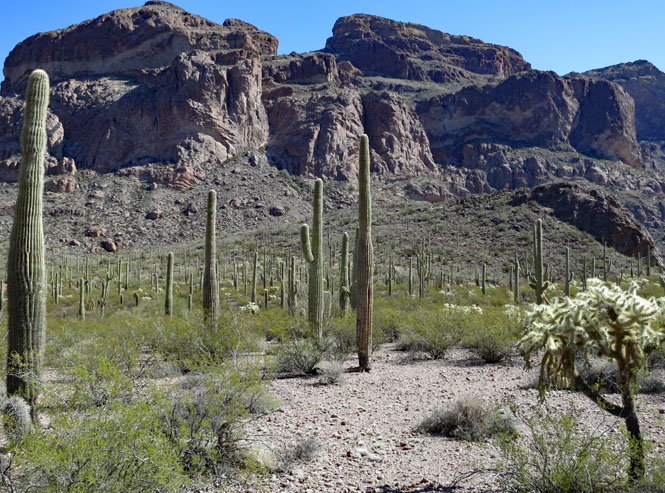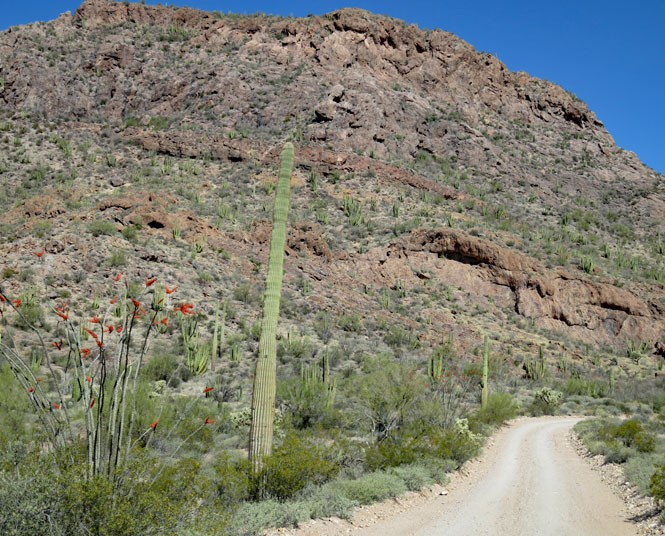 Twenty miles, or so, of this isn't too far, but I was also glad to be back on mostly smooth pavement.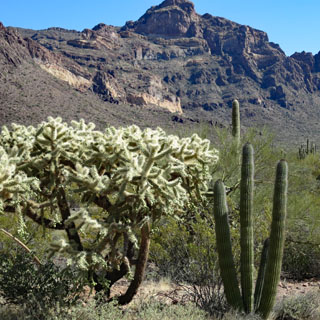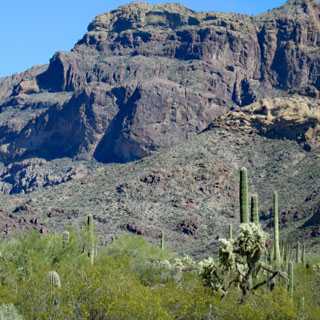 There's only one way out--return through Ajo. I stopped for lunch. at the plaza.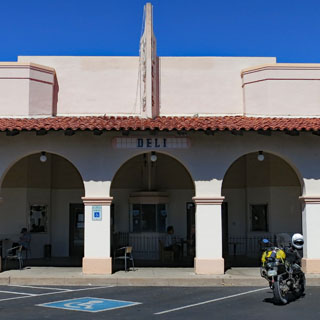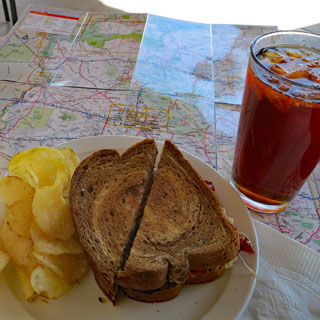 Incidentally this was the only day of the trip that I did not wear my heated vest or my heavier gloves. It was mid-seventies by noon--an excellent day for my visit.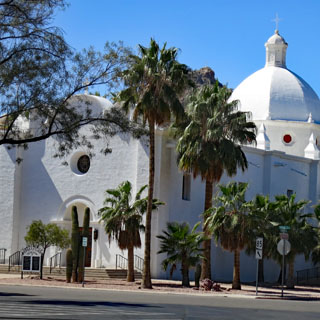 Salome, Arizona. More zigs and zags to get around mountain ranges.
AZ-71.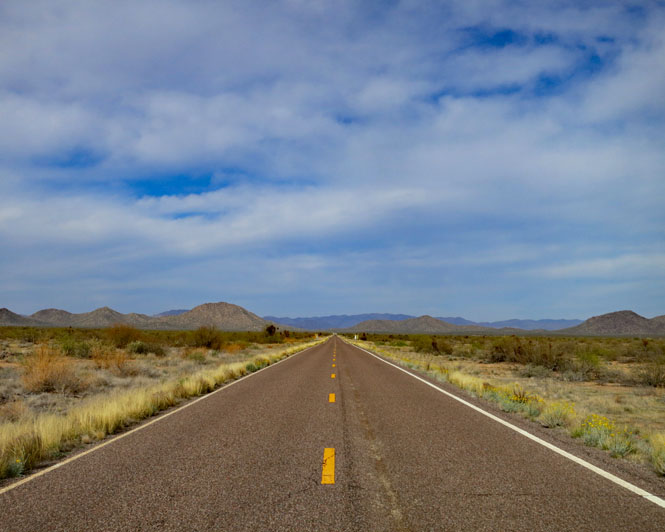 AZ-89.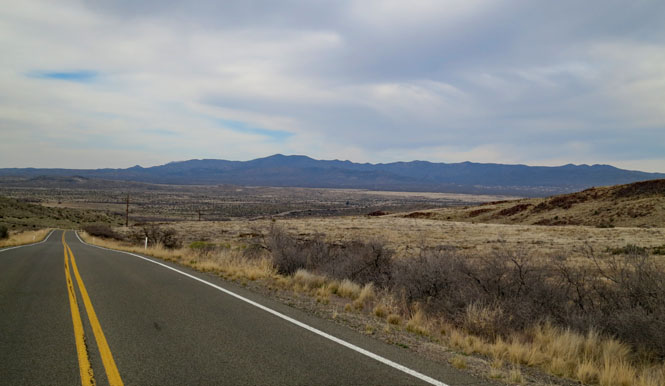 It would have been smart to put that heated vest on around this time. It's dropping to the mid-fifties and getting colder.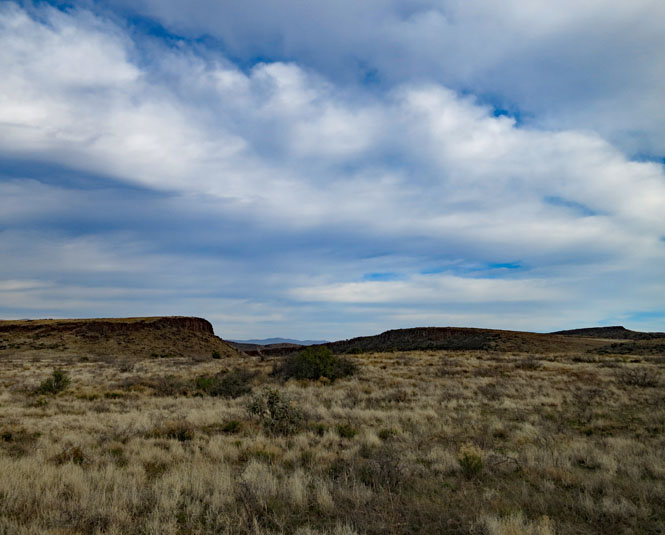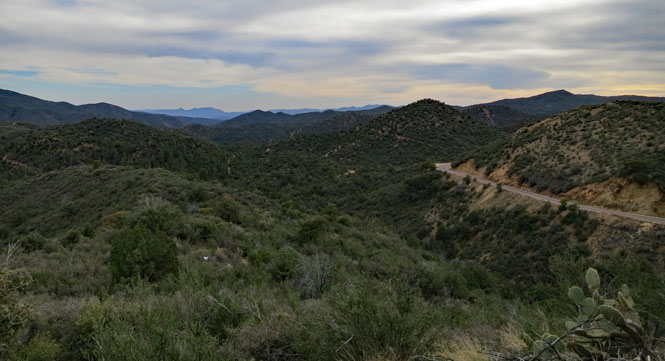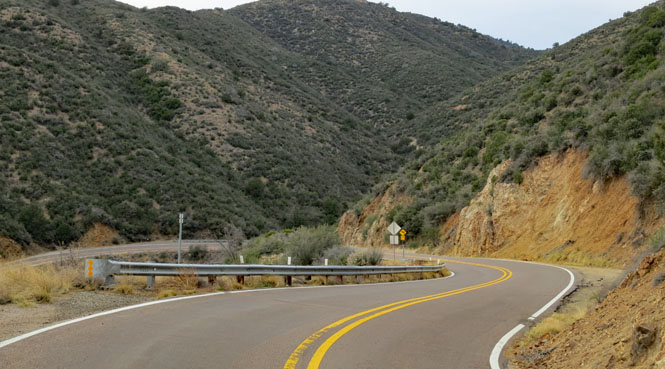 Prescott, Arizona and time to park the bike at the courthouse plaza and look around for a hotel.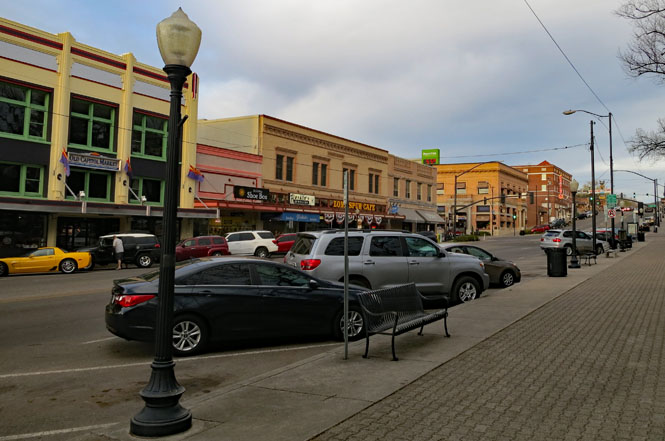 The Hotel St. Michael faces the plaza and will be just fine. It's a good one.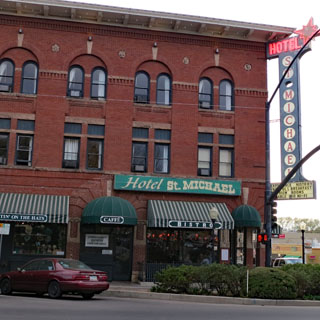 Dinner on the left and breakfast on the right.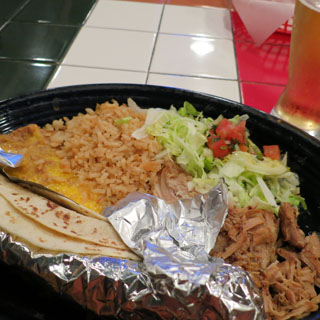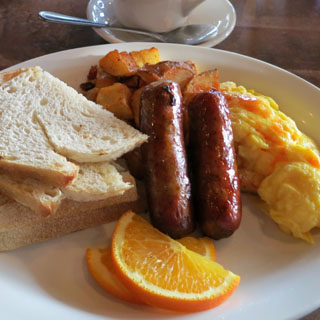 I'm keeping track of the weather to make sure I don't get trapped here for too many days. Things are looking pretty good, though. The Colorado passes are still in play, but riding as far north as Wyoming is definitely off the table.
AZ-260. My plan is to cut directly northeast towards Winslow.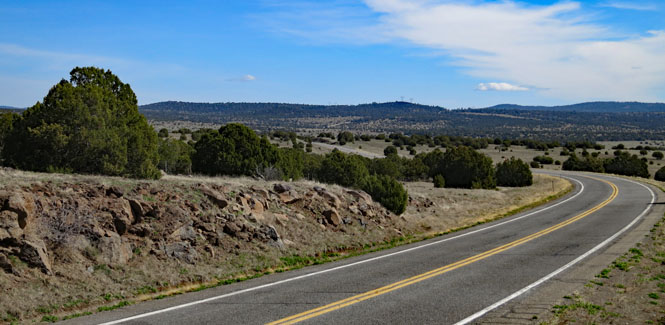 Evidence of some serious volcanic activity a long time ago.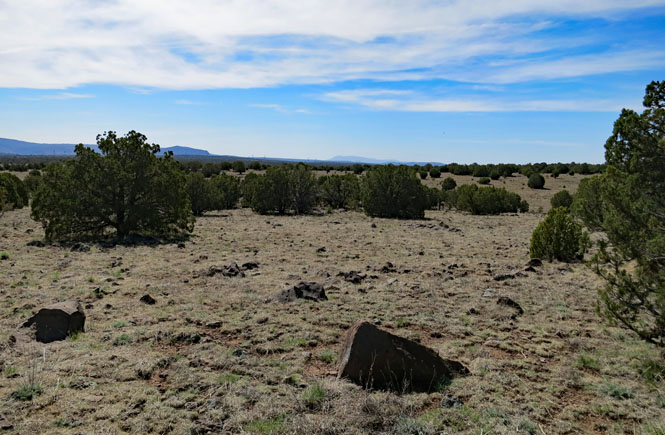 AZ-87. I'm above 7,000 feet and it's cold. Mid-thirties cold. But, the sky is blue and I have hope for lower altitude and warmer temperatures.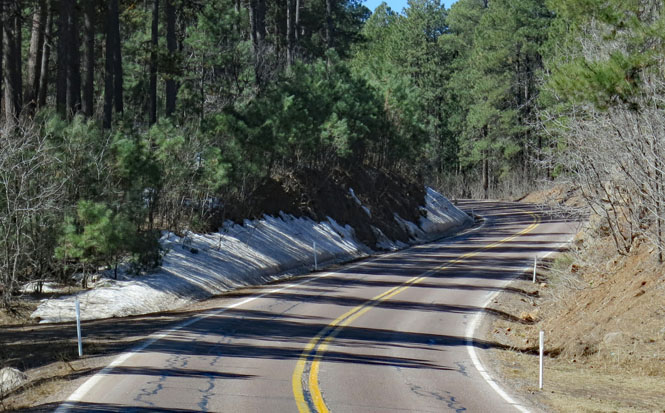 Just now leaving the forest behind me and reaching the higher plateau.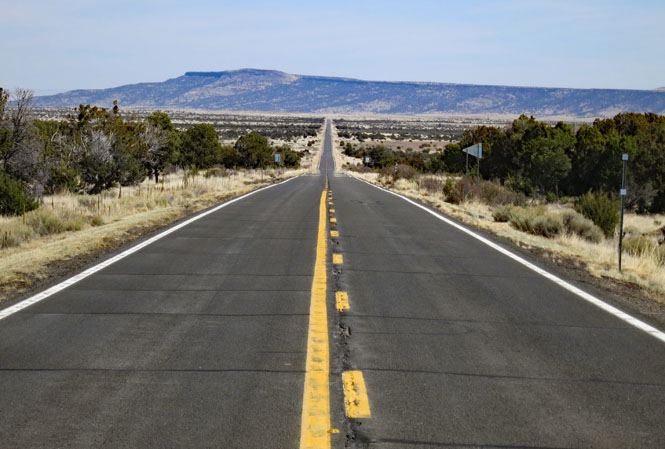 And, now dropping all the way to the desert floor (still around 5,000 feet elevation).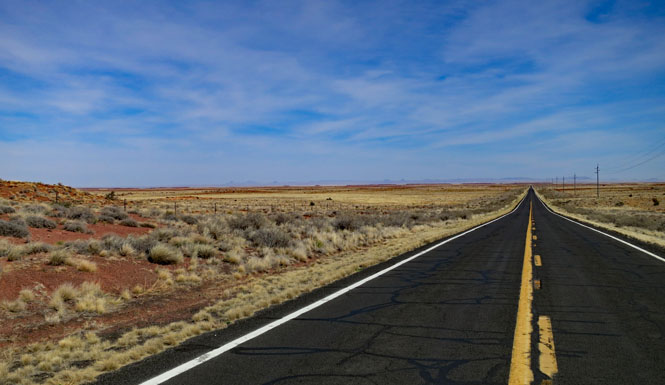 Winslow, Arizona.
"Well, I'm a standing on a corner in Winslow, Arizona and such a fine sight to see. It's a girl, my Lord, in a flatbed Ford slowin' down to take a look at me"

- Jackson Browne, Glenn Frey link
It's amazing what a town can do with a song that was popular in 1972 (it hit number 12 on the Billboard chart).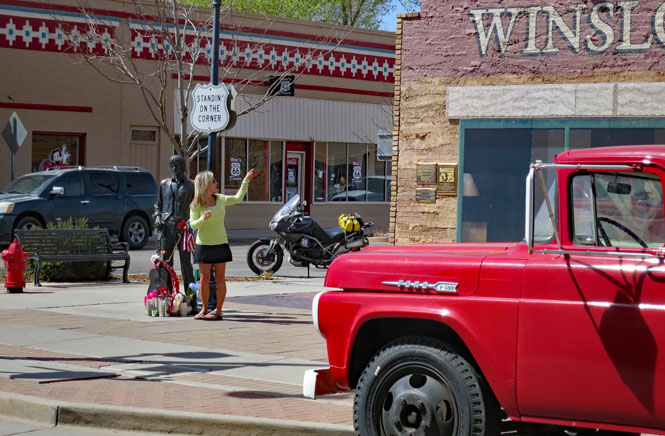 I still have a few new roads in Navaho Country to ride. I love this part of the country. AZ-87. Traffic is never a problem.
Repeat advice: make sure you have a full tank.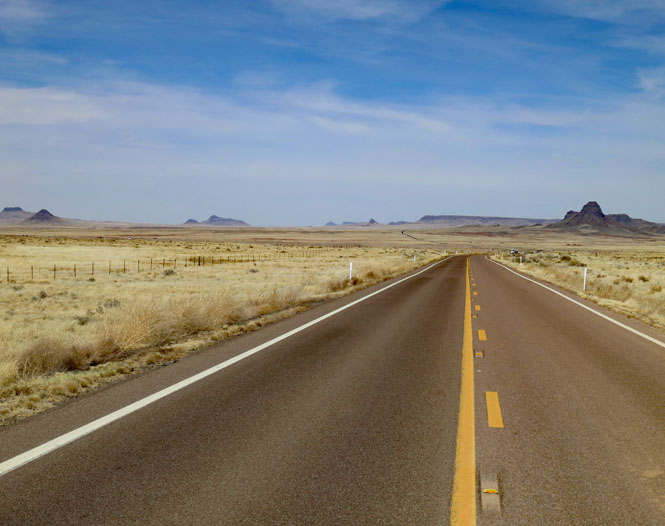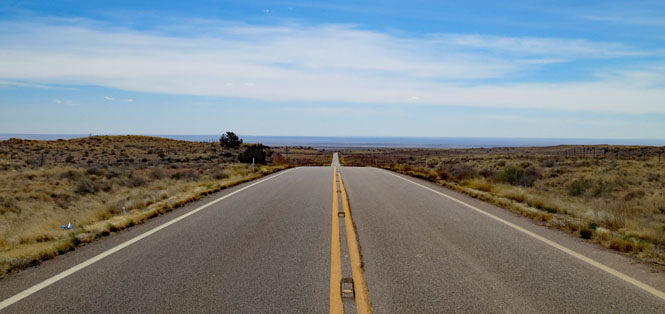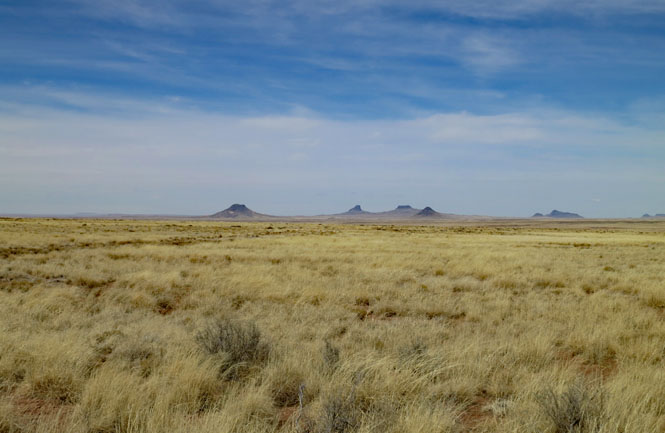 BIA-15. I notice that road-cuts aren't nearly as much used as I would have expected. If the hills are steep, expect the road to be steep, too.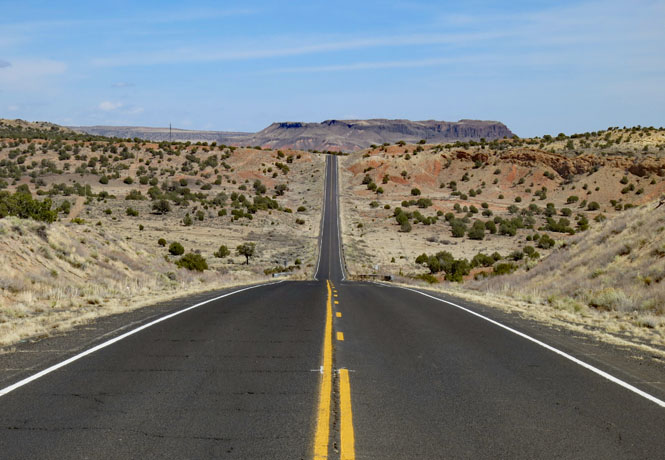 BIA-15 into BIA-6 at Bidahochi where I'll turn north.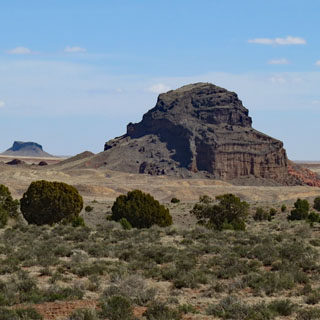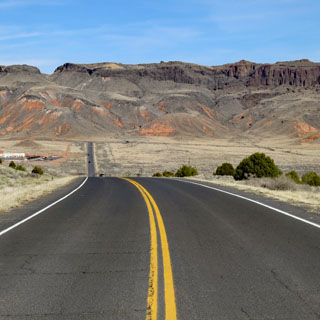 The towns often aren't so much towns as scattered collections of houses. In any case, just because a town is listed on a map, you should not expect to find fuel (or a restaurant or a hotel).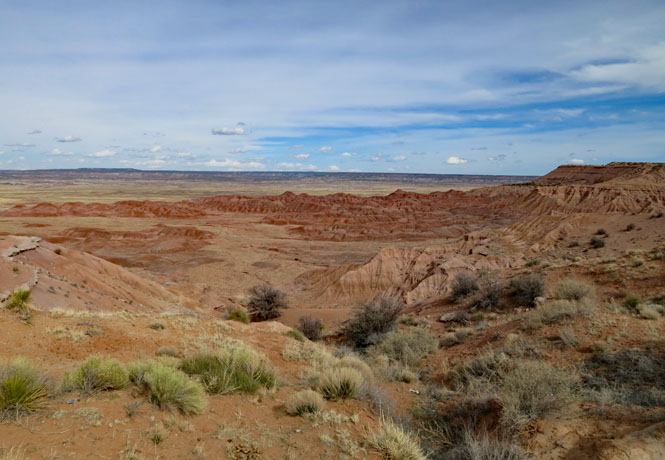 US-191. Yes; the dirt is very red.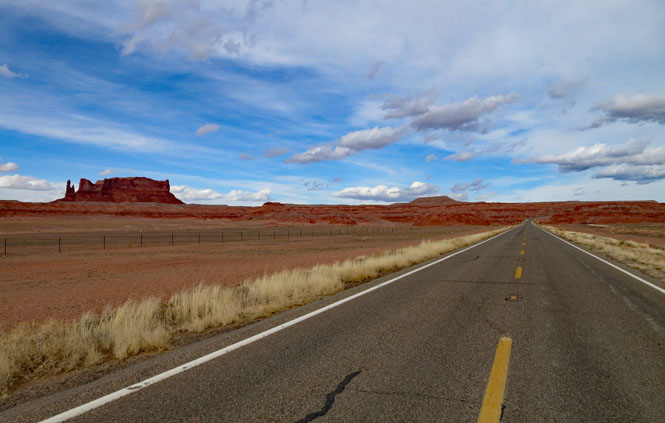 New Mexico
Decision: Do I head north into Colorado at four-corners? No; the weather doesn't look good for that. I'll keep to the high desert and slash diagonally southeast across New Mexico.
Shiprock (TsÚ Bit'a'Ý) rising nearly 1,600 feet above the desert floor. It's cold and blowing hard and I'm walking out into the open prairie while the sun is setting. What an amazing place.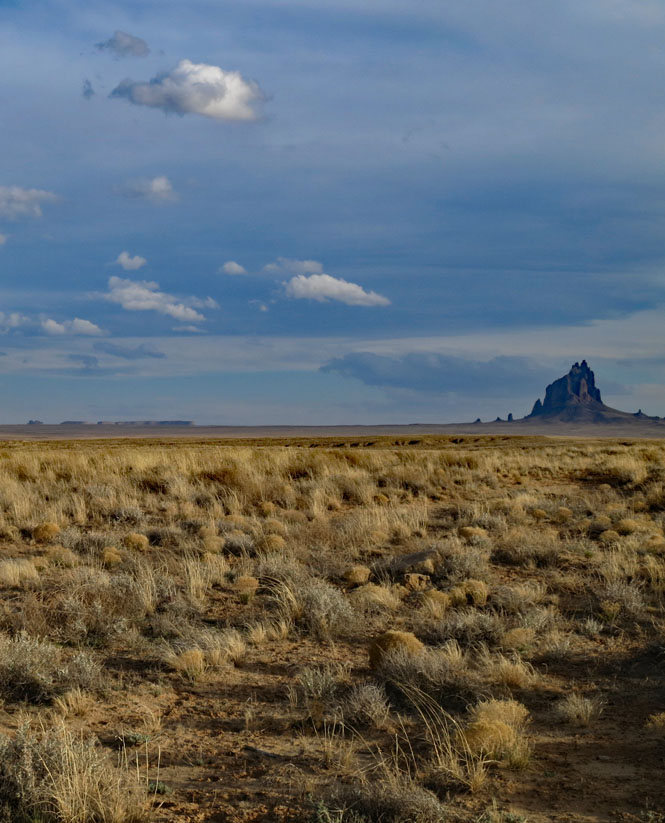 US-550 at Jicarilla Apache Casino. My fingers are too cold, and after a couple stops to warm them on my valve covers (which are surprisingly not very warm, either), it's nice to be able to stop for soup--some sort of red chili and vegetable affair that was perfect for what I needed.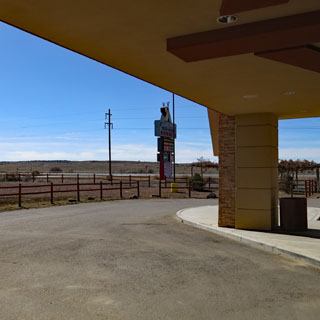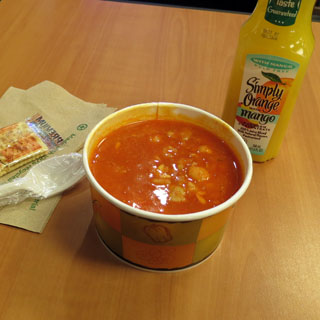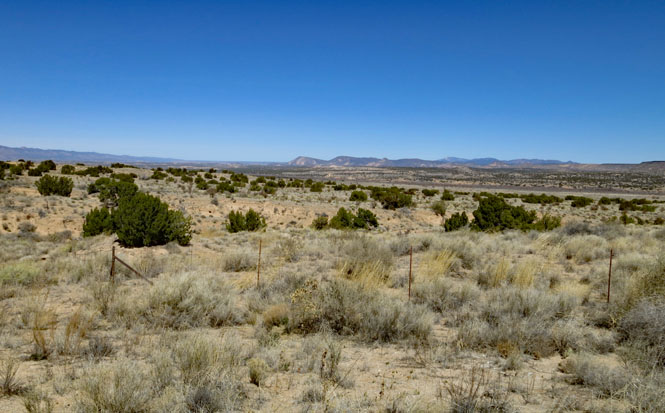 I'd first though of crossing the mountains at Taos--it's a really nice road. But, I haven't been on the road to Mora in several years. I'll go that way, instead. And, it won't be quite so cold.
NM-503.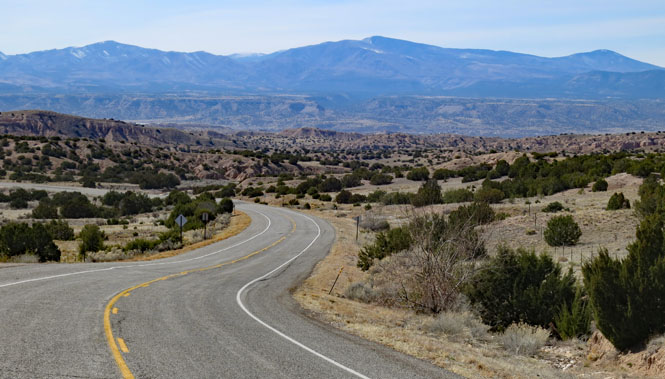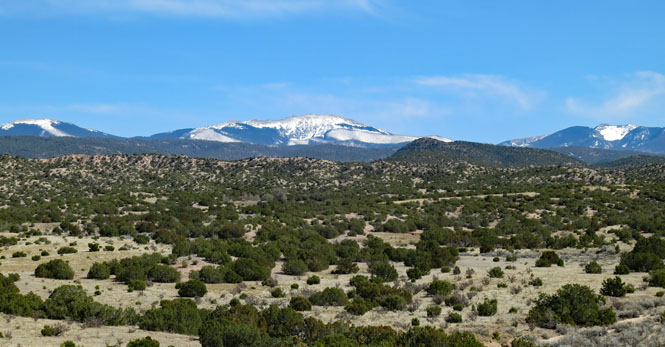 NM-518. This is a terrific road.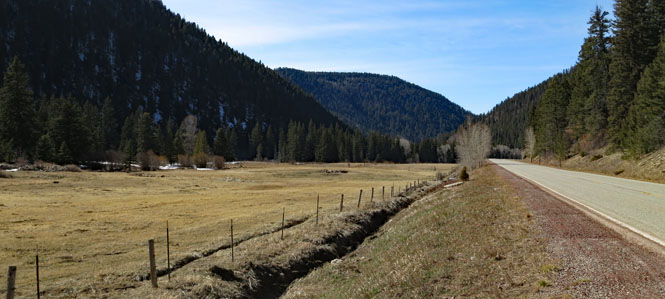 Mora, New Mexico.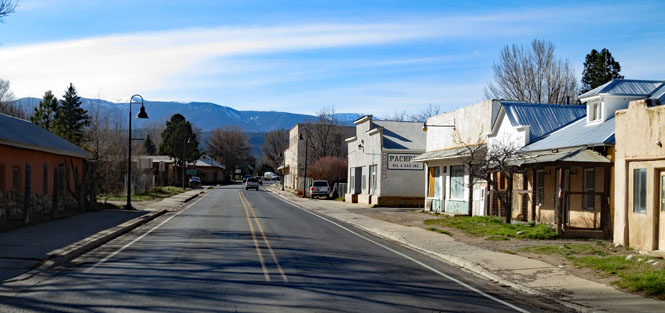 Las Vegas, New Mexico.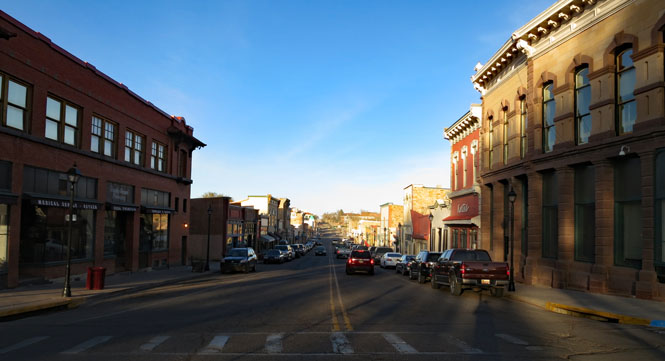 The Plaza Hotel is a restored old place (it was once a Harvey House) that I've stayed at before. If you've seen the television show "Longmire", you'll recognize both the hotel and the carved statue in the plaza (standing-in for a fictional Wyoming town).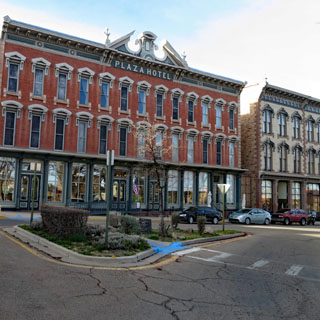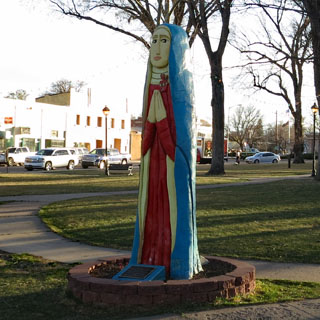 It's another lava field. It's flat, but quite difficult to walk as it is littered with loose lava rocks and outcroppings that are not loose at all (so you'd better not casually hit one with the tow of your boot because it might not move).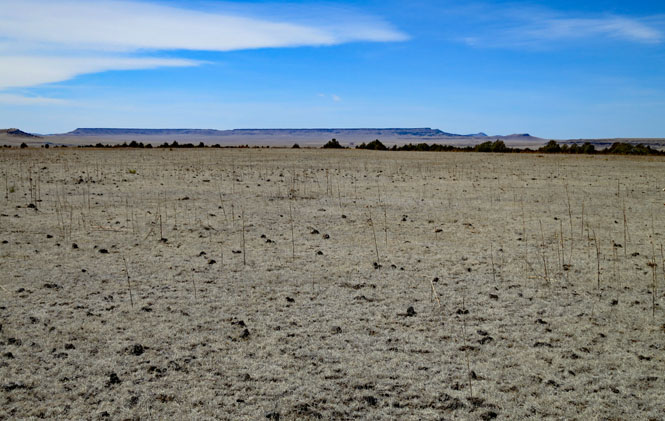 Capulin Volcano Mountain (8,182 ft) is one of several cones in the area. This one is classically shaped.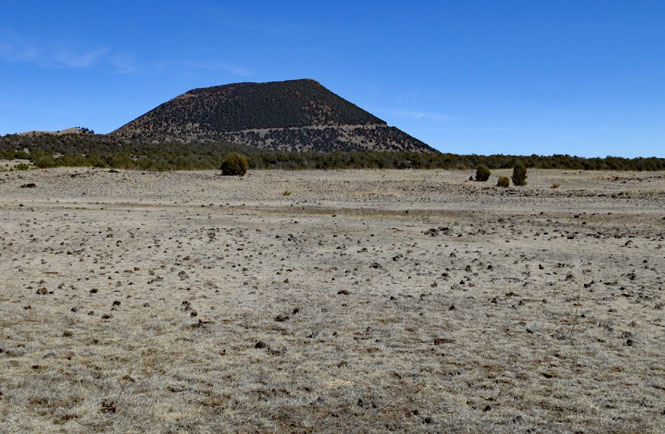 Capulin Volcano National Monument.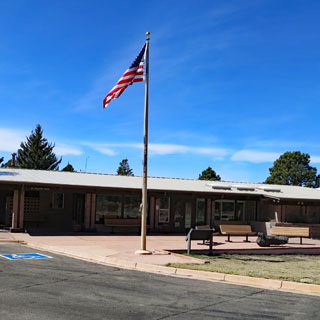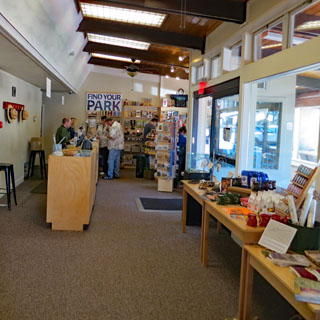 There's a road that circles a full 360 to the lower part of the rim. You'll walk the rest of the way if you want the best view.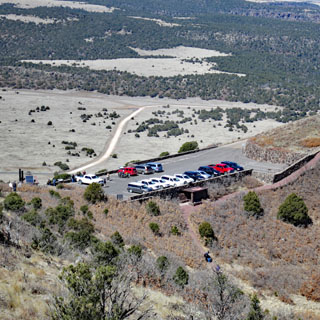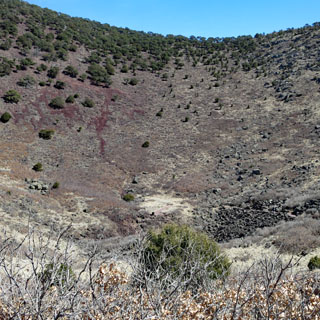 The rim is not wide. It drops down both left and right. I'm at 8,000 feet and feel it.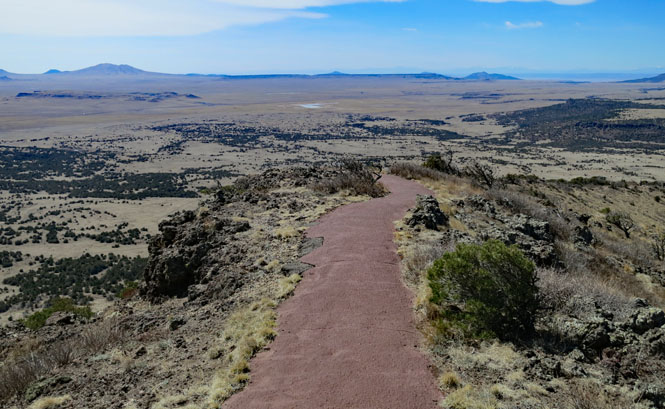 The view looking southeast. That volcanic peak (Sierra Grande, 8,723 ft) is taller than Capulin, but doesn't have the less-weathered steep cone shape as the one I'm on. That one was once a much larger volcano.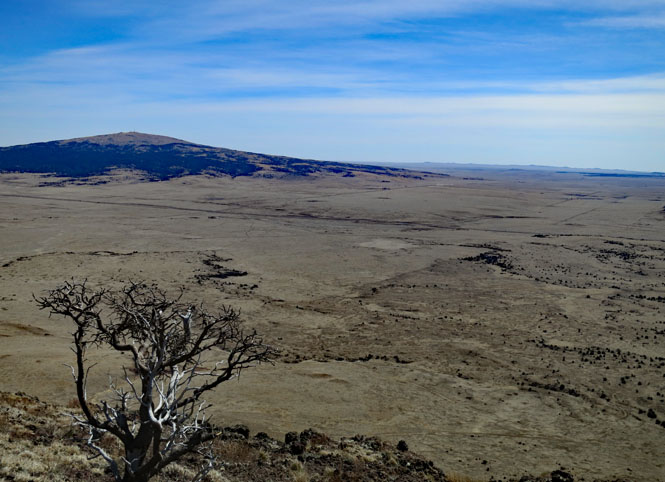 Looking west to the Rocky Mountains, seemingly floating above the hills (but, much farther away).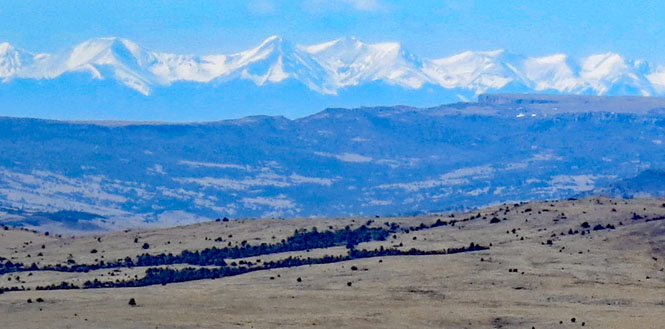 Folsom, New Mexico. I'm not sure, but there might be more buildings than people in Folsom.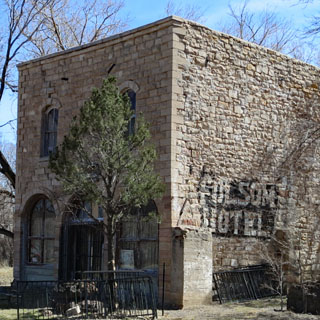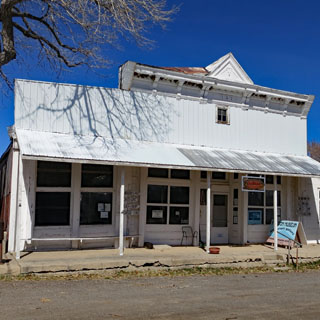 NM-456. The finger of the Rocky Mountains that points east is quite diminished here, and not much trouble to climb. Keep in mind that this is the same range that Raton Pass takes you over (west of here).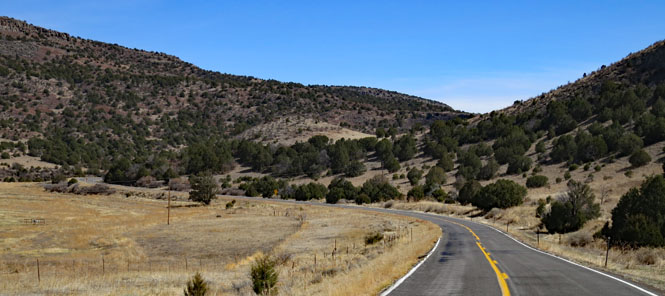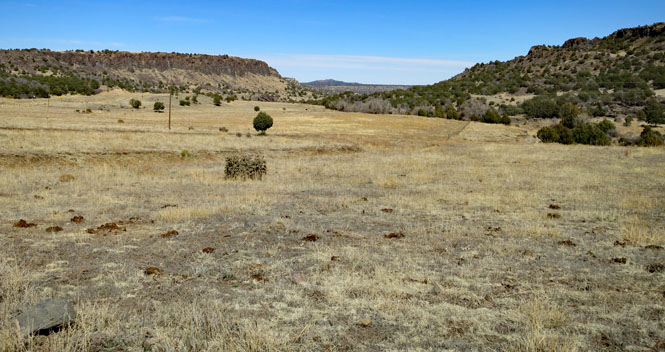 Colorado
CO-389. Out of the last part of the Rocky Mountains, and down to the Great Plains that will extend all the way to the Ozark Mountains.


Branson, Colorado.


If you look for Branson, Colorado on a map, you'll see that it's not going to be visited very often. I had just ridden through the small town when I saw dozens of people walking and running on the highway. Both lanes. I pulled up next to a man who was trailing them (walking) and asked what was going on. He was evidently the coach and said he was exercising his track team. By the spread of ages on the road (K-12) I'm guessing that every student in the school is on the track team. And no, he said, there isn't much traffic on the road for them to worry about. All of them waved at me as I rode slowly ahead--none bothered to move off the road, though.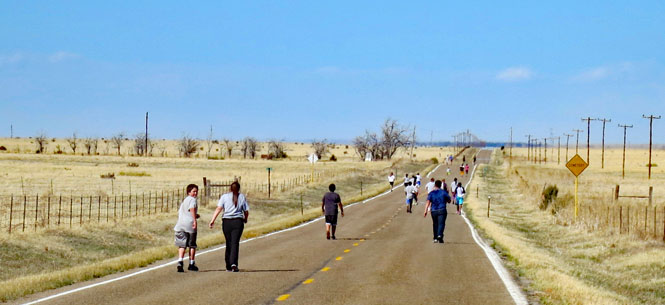 US-160. This is one of the best ways to cross eastern Colorado.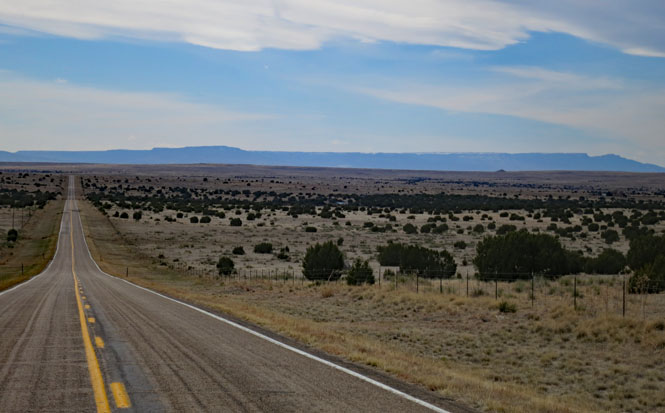 A cut-stone house. Where did they find the stones and how much trouble was it to build this?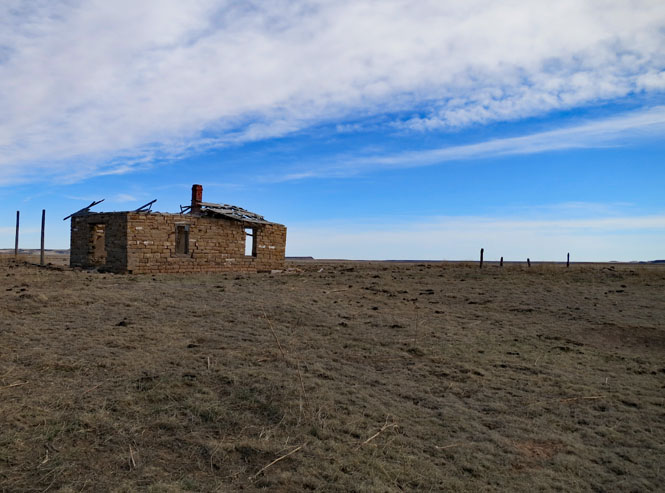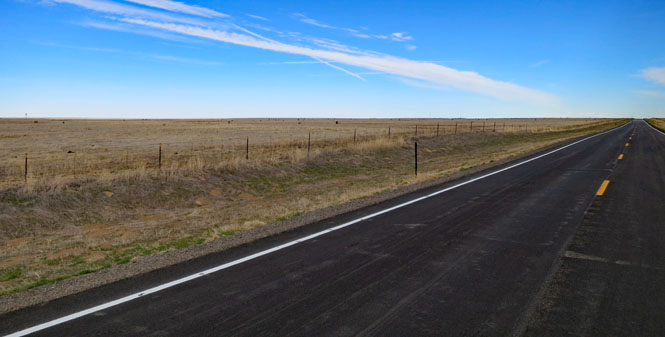 Kim, Colorado. Fuel is available in Kim. I'm guessing you might need to walk around to scare up somebody to open the pump, but fuel is available.

Pritchett, Colorado.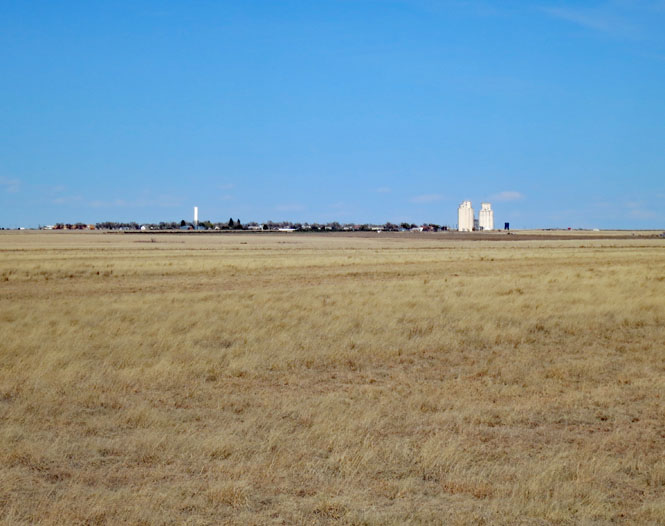 Kansas
US-160. I'm standing in Kansas, looking at the Colorado border. The Rocky Mountains are far over the horizon.

It can be a risk traveling in March, but it worked just fine. It snowed the day after I returned.
last edit: 3/20/2016