May 1 - 3, 2017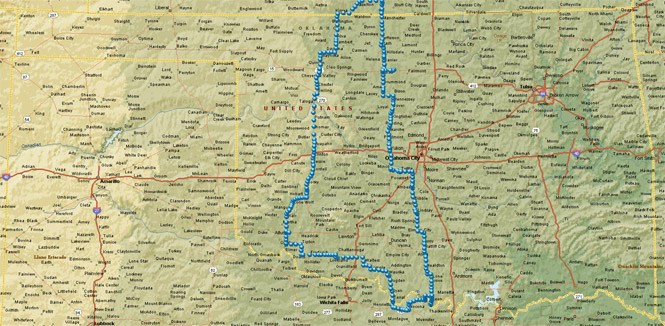 Riding across Oklahoma. Primarily, I wanted to ride OK-132 and OK-76 south to the Red River, skirting just west of the congestion that is Oklahoma City. Neither of these highways is much used, yet the two of them make a fairly straight route from top to bottom. I'd see very little traffic.
My return route would depend on the weather. There was less chance of rain to the west, so that's where I went.
There is nothing spectacular on this route; but, there's an unchanging sense of the place that is its own attraction.
Oklahoma
When the winter wheat is tall and green, you can almost imagine what the vast prairie once looked like.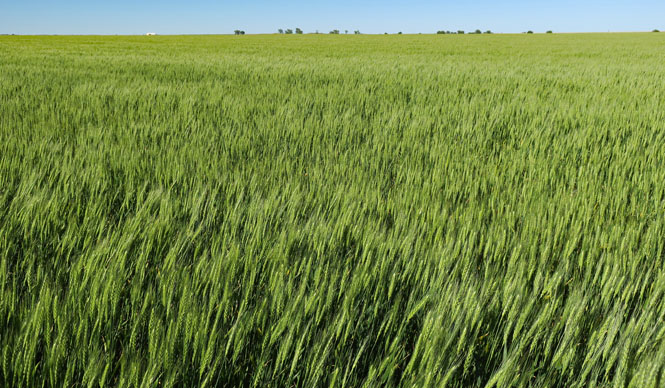 These unexpected turns around an unseen obstacle might seem to be a joke played by the highway department. Actually, though, it has to do with the fact that the earth is a sphere, and you cannot just survey a grid of square sections and townships and expect it to work. The perfect squares would all bunch up as you move north, so something has to give. The needed correction results in the section lines having to jog a bit. Naturally, as the highway follows the section lines, the highway will also need to jog a bit.

Nash, Oklahoma.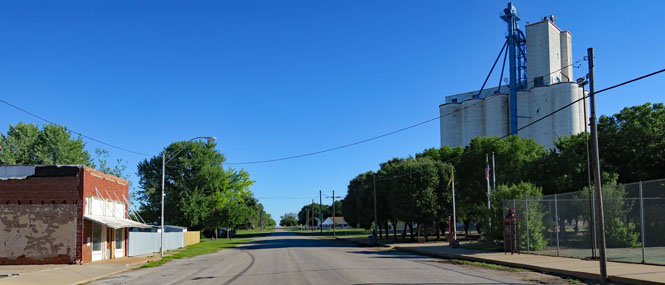 Enid, Oklahoma. Many of these towns (especially the larger ones) reflect the boom-and-bust cycles of the oil patch over the decades. You can identify the good times by the dates on the nicer buildings (which might now be empty).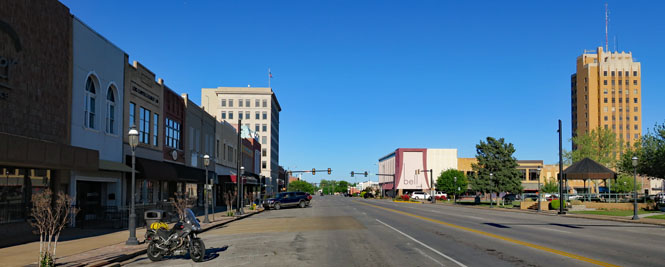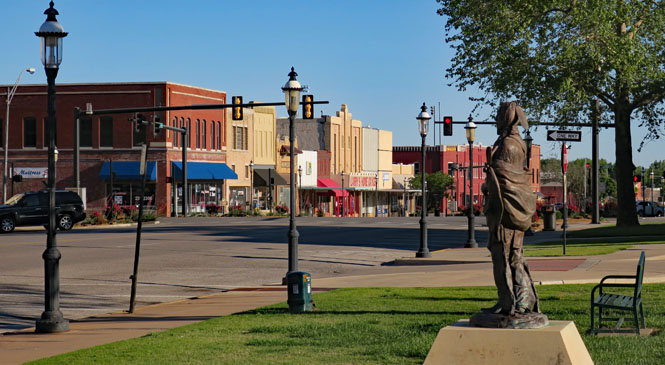 Drummond, Oklahoma.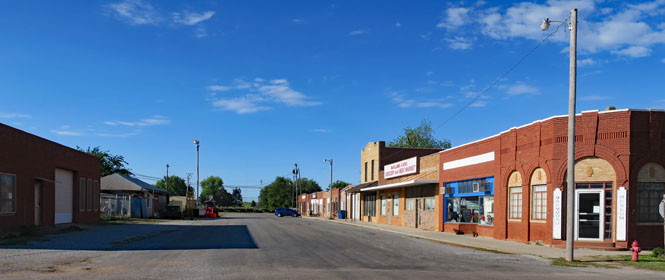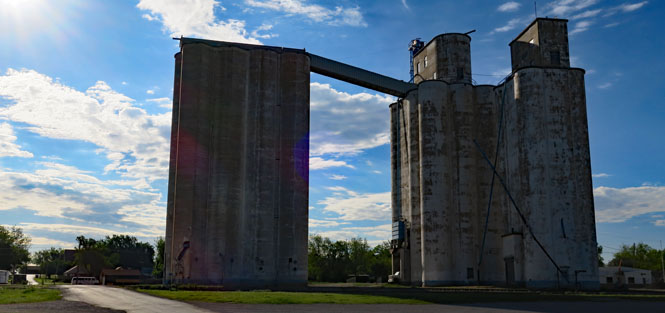 It's another dog-in-pickup for the collection...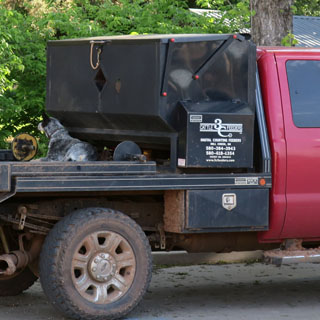 It's a gamble that never seems to end. Drill for oil, prices plunge, stop drilling for oil. Repeat.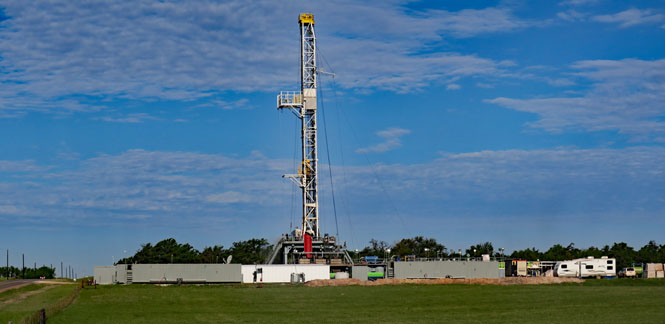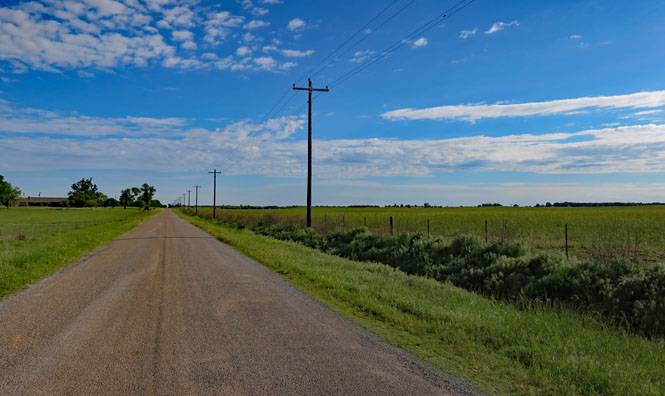 Hennessy, Oklahoma.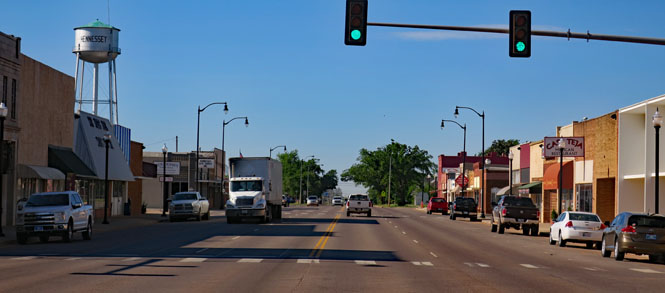 Kingfisher, Oklahoma is named for a man named King Fisher, and has nothing to do with the bird (no doubt King Fisher's parents had a sense of humor when they named their new son).
El Reno, Oklahoma. First, the town was just plain Reno, but that got confused with the better-known town of the same name in Nevada. So, this town became El Reno. I'm sure they smiled when they solved that problem.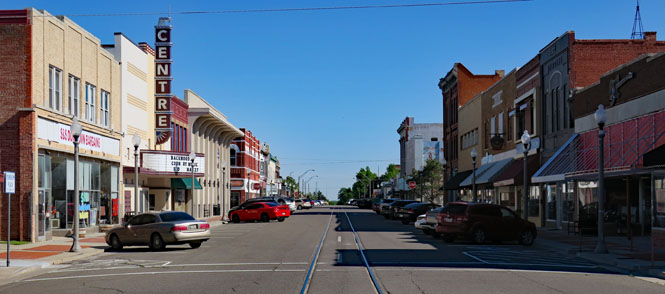 Minco, Oklahoma.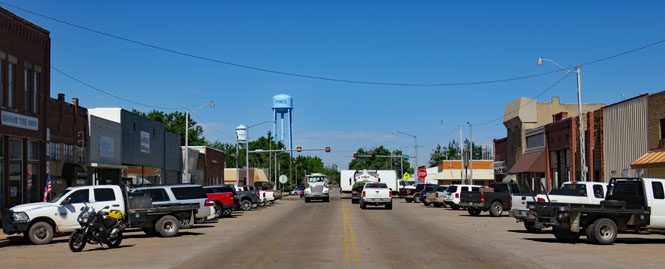 Tuttle, Oklahoma.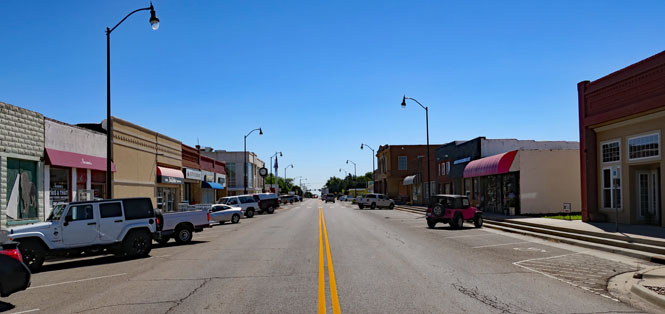 We're reached the end of OK-132 and are now riding OK-76.
Lindsay, Oklahoma.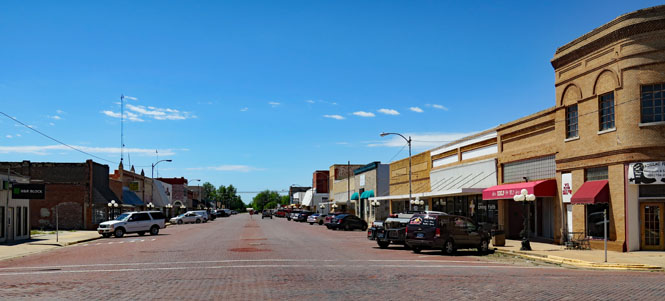 I ordered a BLT sandwich with chips. But, I got a melted cheese and ham sandwich with tater-tots. The All-Star cafe in Lindsay might not deserve its name.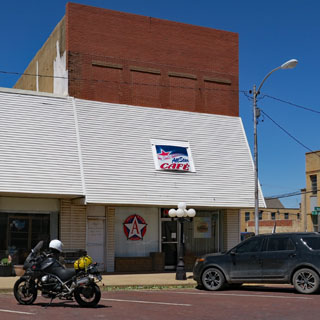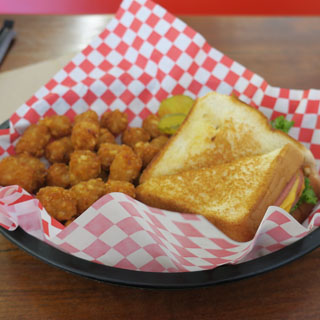 It's a little bit hilly in the south central part of Oklahoma. Just a little bit.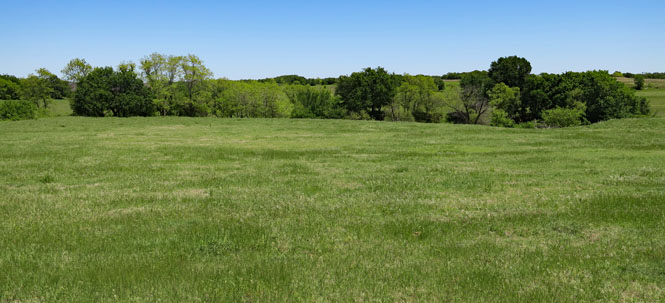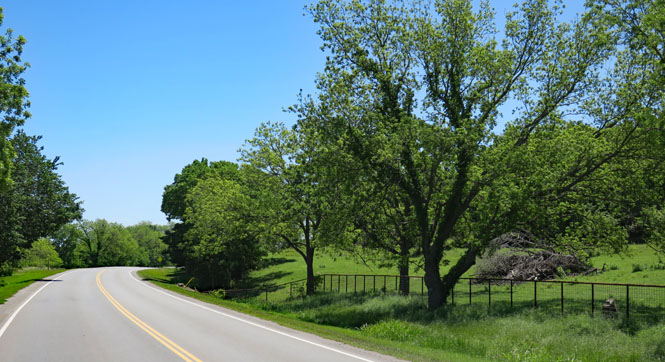 Healdton, Oklahoma.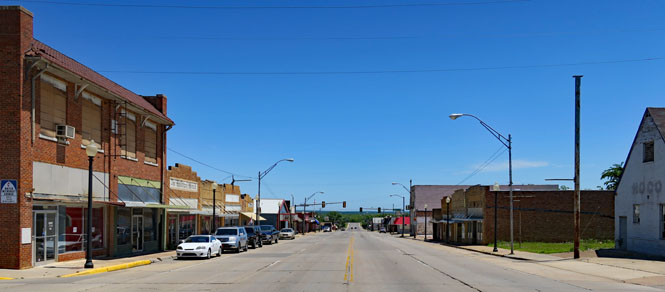 Wilson, Oklahoma.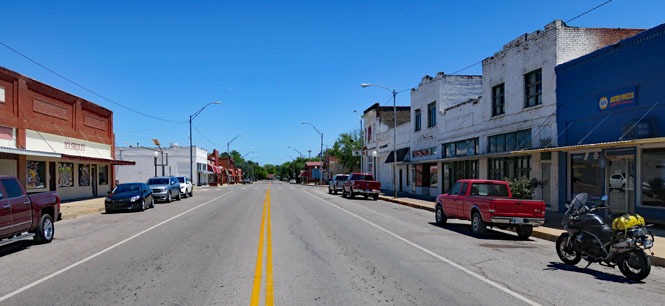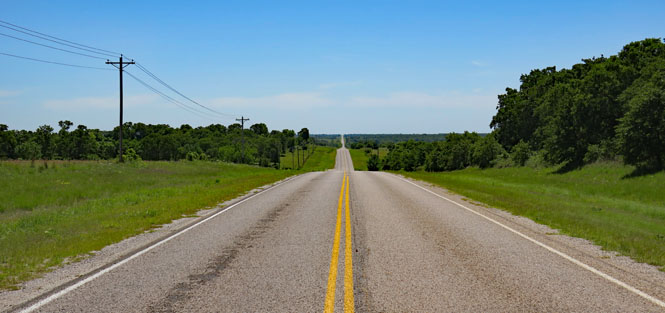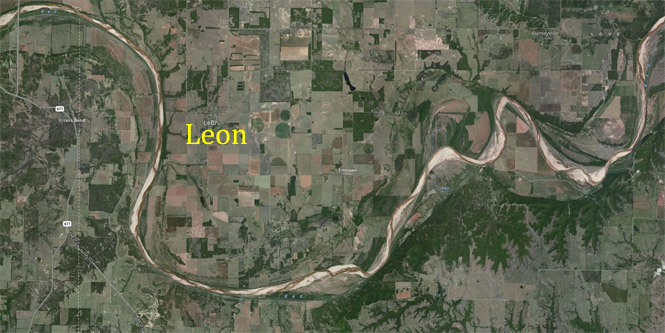 Leon, Oklahoma. OK-76 reaches the small town of Leon and continues south for perhaps a mile, but then gives up. That's the Red River you see (above), and there is no bridge across; there's no going any farther. Perhaps a hundred years ago there was a ferry.
This was a fair-size school that Leon once had. It's clearly been closed for many years.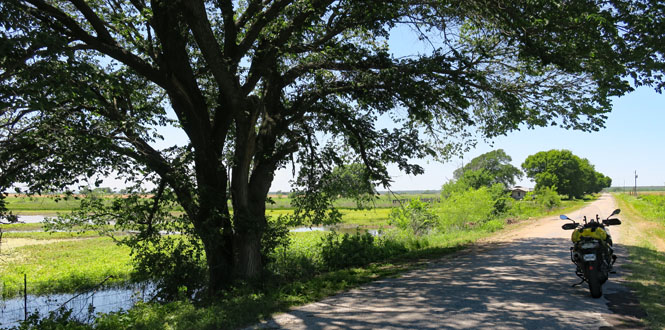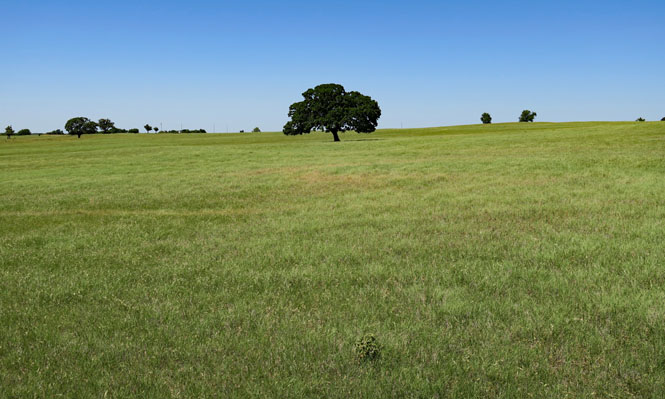 The highway has turned into a gravel driveway, and that's it. Not far beyond those trees is the Red River and Texas.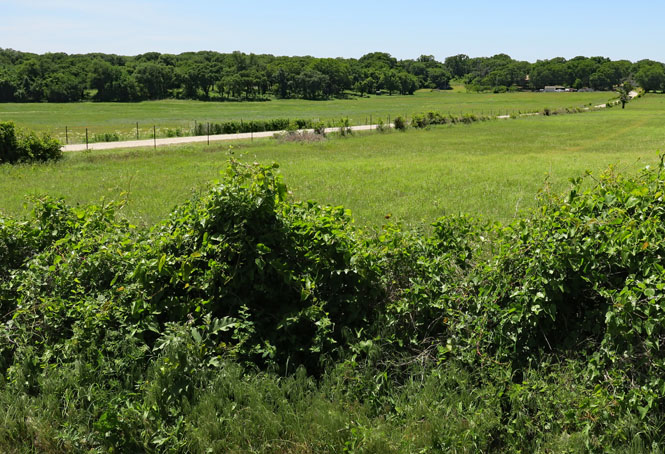 Rubottom, Oklahoma. I'm riding west to the next bridge over the river.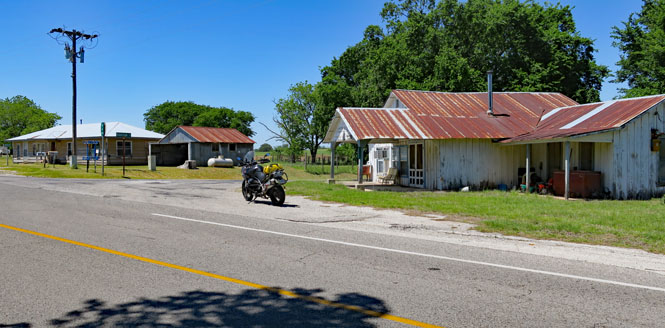 Texas
The Red River lives up to its name. Twenty or thirty years ago, all the narrow bridges over this river were steel truss bridges. Now, there are very few left; they're all being replaced by reinforced concrete (as is the one I'm standing on).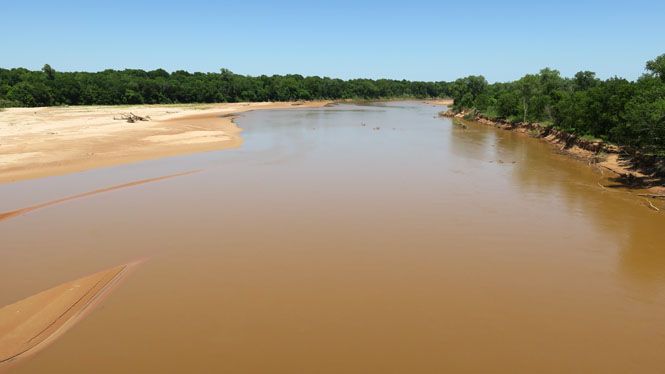 Riding the county roads through Texas.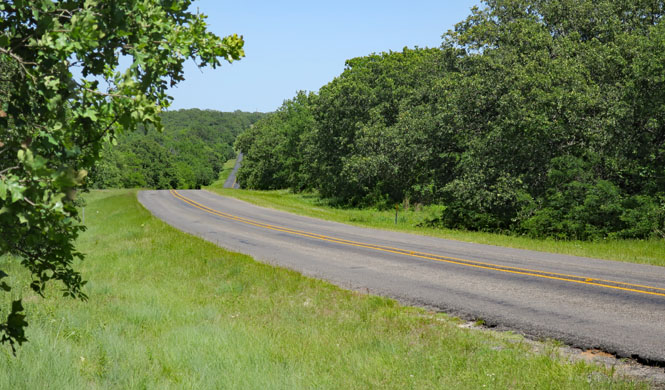 Nocona, Texas. This is an unexpected attractive and vibrant place.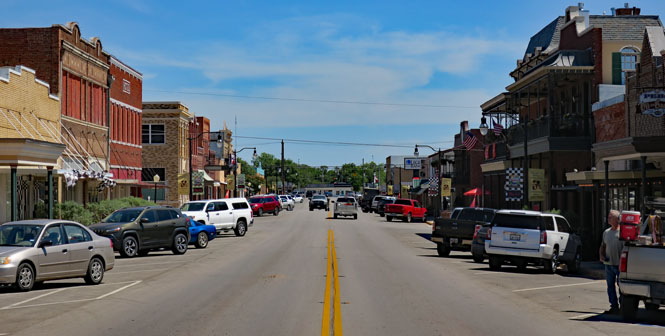 Oklahoma
Crossing back over the Red River, and I'm back in Oklahoma. The weather is showing quite a bit of rain east of Oklahoma City, but not much on the west side of the state, so that's where I'm heading.
Terral, Oklahoma.

Ryan, Oklahoma. I like these red brick Main Streets. They don't last if there is much heavy truck traffic. I notice that Ryan directs the grain trucks away from this street.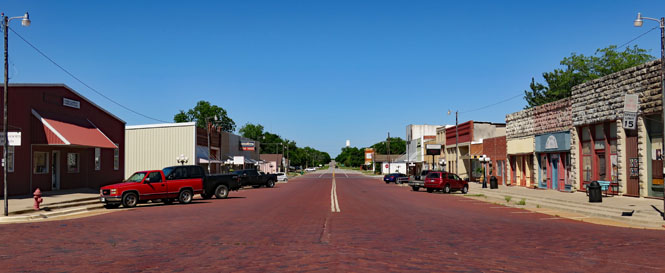 Waurika, Oklahoma.

It's not exactly flat, but it's not hilly, either.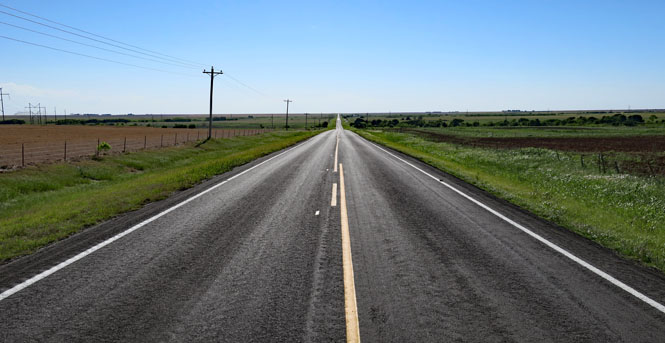 The wheat ripens first in the southern part of the state.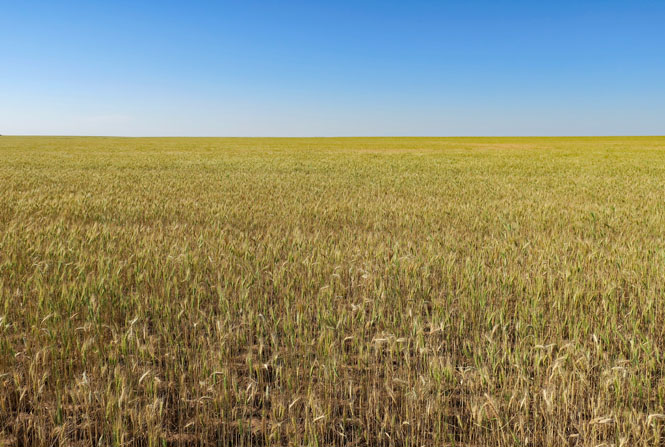 The Wichita Mountains are not mountains so much as unexpected hills of granite that rise up out of the flat plains.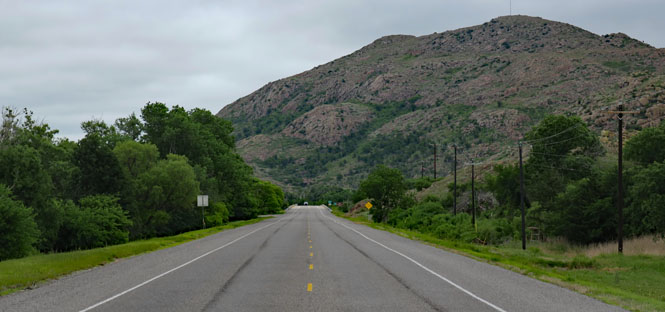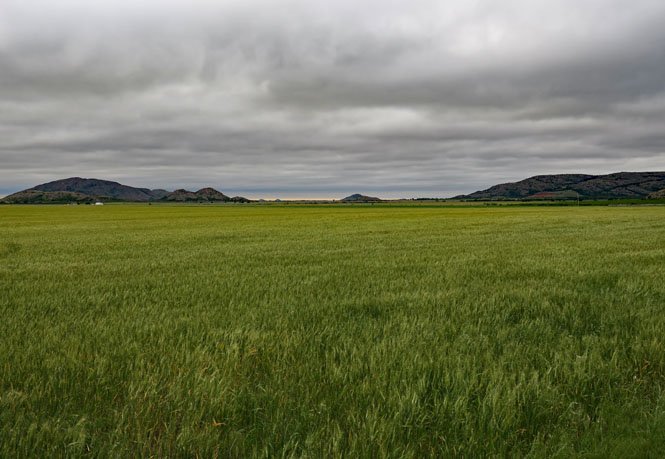 Rocky, Oklahoma.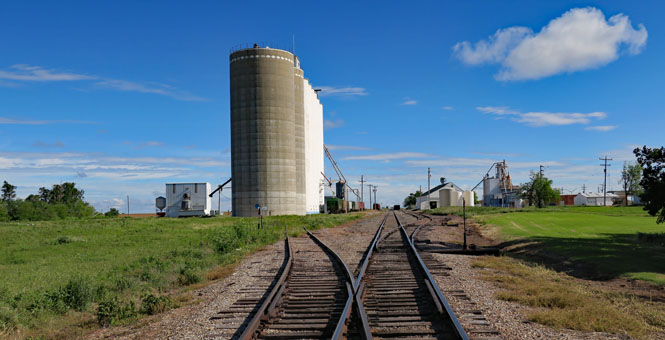 Cordell, Oklahoma.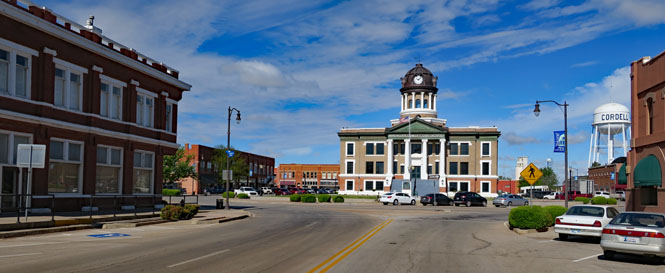 Clinton, Oklahoma is on old Route-66.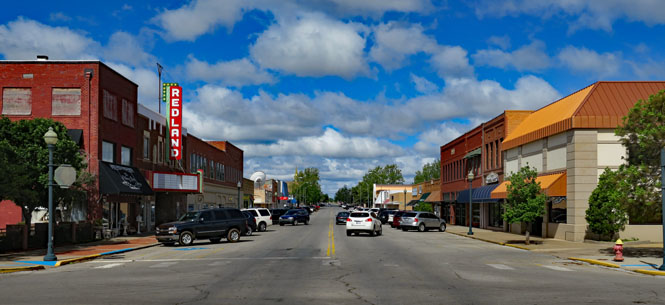 The dirt is red.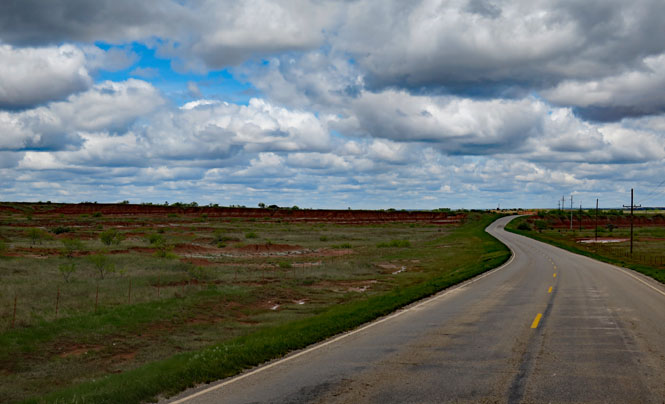 Waynoka, Oklahoma.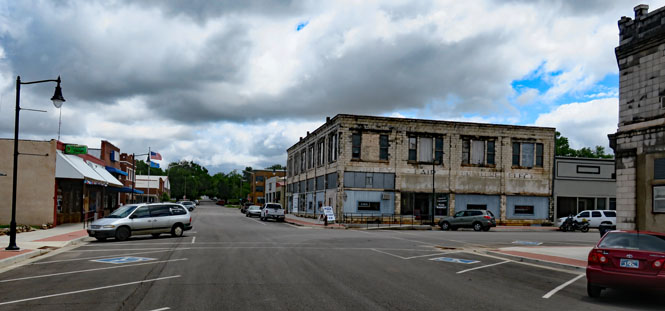 Hopeton, Oklahoma.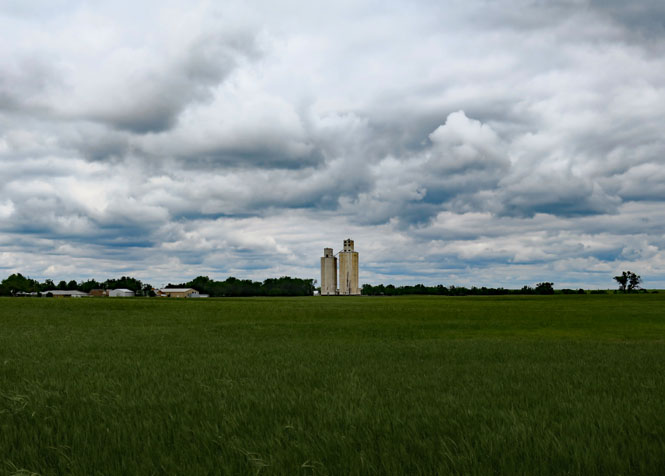 Yes; Oklahoma does have some interesting areas--even spectacular when taken in context. But, this is what Oklahoma looks like.
last edit: 5/3/2017