May, 2017

Sunday

Monday

Tuesday

Wednesday

Thursday

Friday

Saturday

21 May
Wichita
Newark
22
Milano
Lecco
23
Lecco
Bellano
24
Mandello
La Rochette
24
Brioude
25
Saint-Jean-d'Angély
27
Pont-Saint-Martin
28
Mandello
Milano
29
Malpensa
Eureka
30
31
1 June
2
3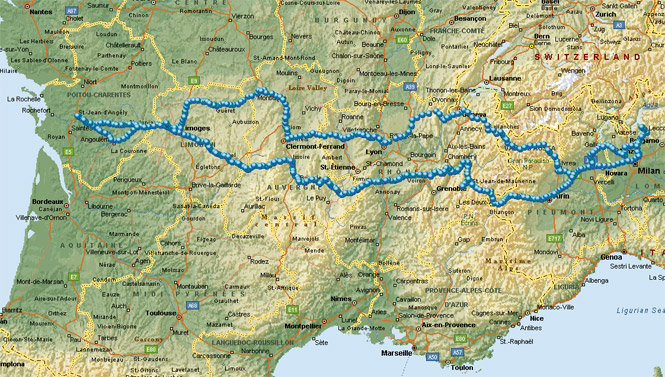 Europe Trip #16
The intended route was to ride across France to Brittany, take a ferry across the channel to Plymouth, ride around Bristol Channel to Wales, take another ferry to Ireland and then take a much longer ferry back to France and then onward back to Italy.
But, life happens; as it always does.
After I reached the town of Saint-Jean-d'Angély (in Poitou Charentes) I heard from my sister that my mother was not doing well. I had taken three days to reach this point, but it took just one day to be back in Italy so that I could be at the airport the next evening for a flight out the next morning.
It doesn't matter if you are writing a letter, a novel or writing the instruction manual for a washing machine; as you write, you will have a particular person or a collection of people in your head, listening to your words. At any rate, I do.
I wrote my first motorcycle trip report in 1976; it was not much different than this one: lots of photographs with just enough words to connect those photographs to what happened along the way. This is the 192nd motorcycle trip report I've done. Those first reports were (literally) letters to my grandparents--rather thick letters! It is because my grandparents kept all of them (along with all the photographs) that I still have those reports, today.
After my grandparents died, these reports (along with all the earlier ones) were posted on my website, where the audience is less clear. Nonetheless, while still being reminded of my grandparents, my internal audience became my mother and family (and an assortment of likeminded motorcyclists). That includes the photographs that have always been the focus of these reports. There are likely more photographs of cows and sheep and birds than I'd have included, otherwise.
But, now, with the death of my mother, my internal audience changes once more. She saw some of these photographs (via emails) during my ride, so much remains the same. This isn't the trip I expected to write about, but that's how things work out. Take enjoyment as it comes; carry on.
New Jersey
The flight numbers don't change much from trip to trip: Wichita, Chicago, Newark, Milano. This is the B767 in Newark just before we loaded for the overnight flight to Italy.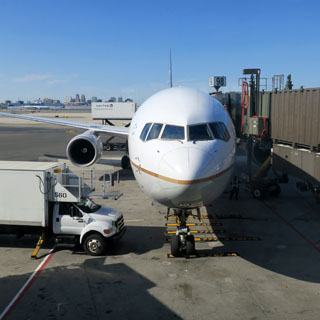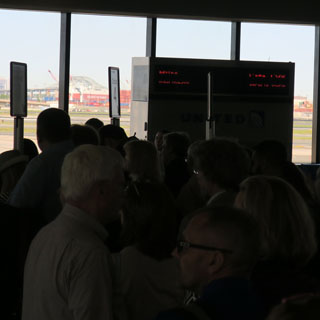 Italy
It all depends on the arrival-time from Newark (and the other arriving airplanes) if there will be a line at passport-check. There almost never is; but, today the line was quite long.
The Malpensa Express departs the airport for Milan pretty frequently, but it's hit-or-miss if I'll be in time for the earlier train that matches up to the departure for Lecco from Milan. Today, I missed it.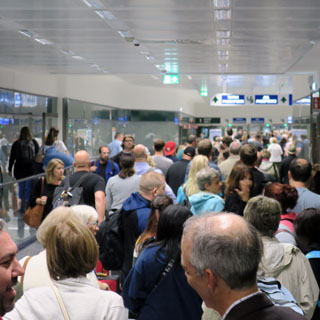 The later train means I'll have a wait at the central station of around two hours. My soft yellow duffle-bag makes a good seat--that's a good thing because you'll not find any seats at the platform.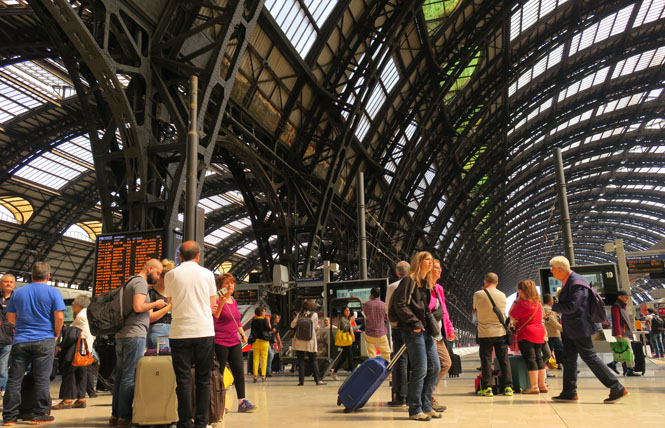 Lecco. This has long become my standard resting place the first two nights in Italy.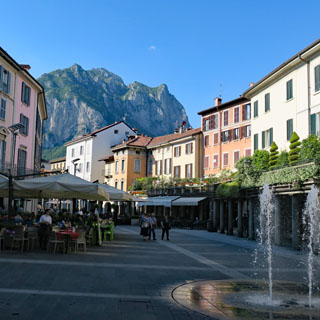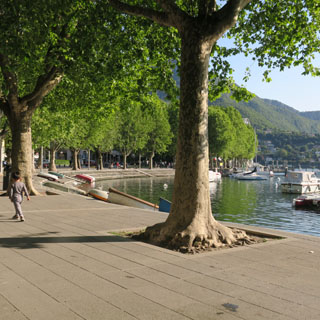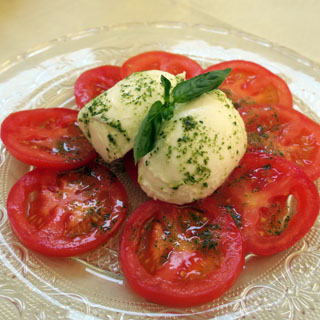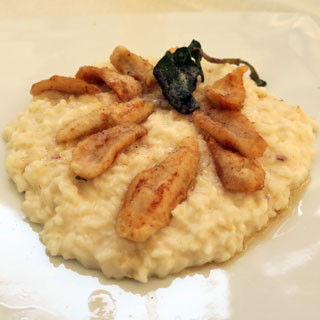 I had planned to visit another village along the lake--one that is accessible by ferry. But, I hadn't counted on the ferries not operating on weekdays when out of season (normally, I'm here on a weekend). So I changed my plan and took the train to Bellano, a town I've ridden through plenty of times, but, never stopped to properly look around.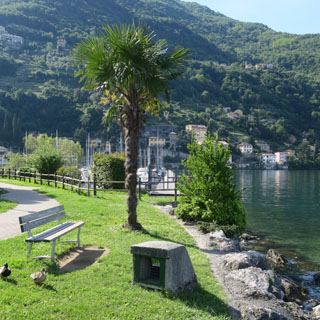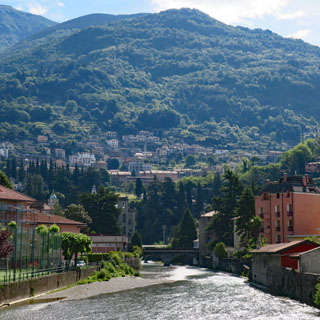 If Como is shaped like a (headless) running man (or an inverted 'Y') Bellano sits on the eastern side of the man's body.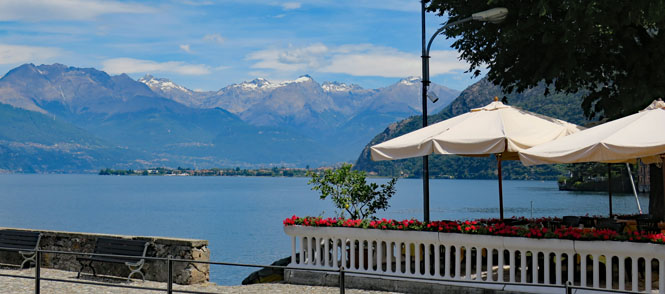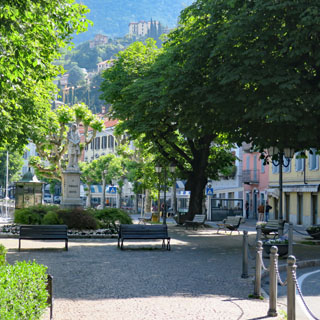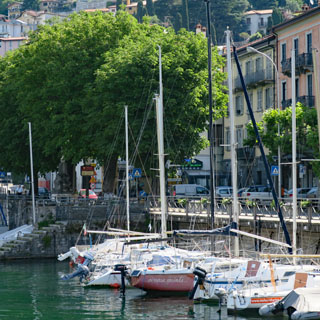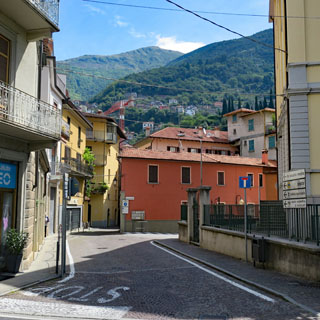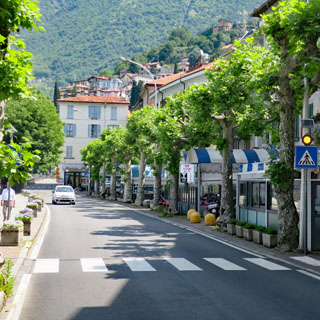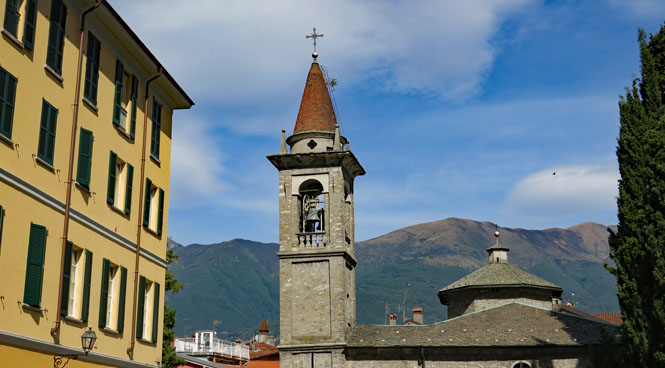 Chiesa Santi Nazaro e Celso (14th century).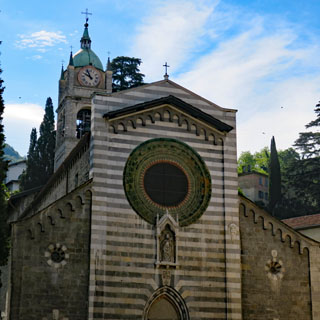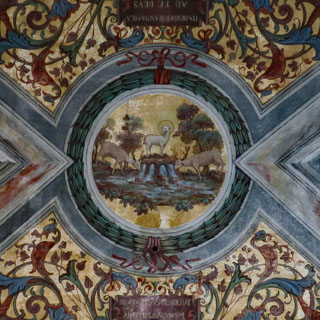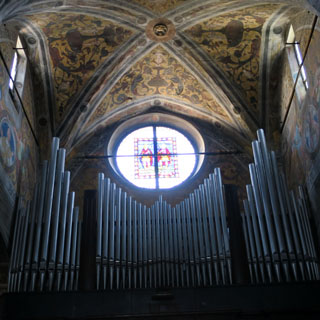 The Orrido, through which the Torrente Pioverna flows. In 1859 some of the water was diverted upstream to power the local silk mill (for which the Como area has long been famous). The region was once called "Little Manchester."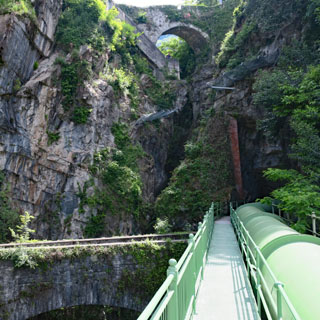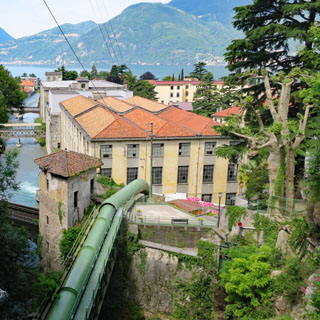 For a small fee, you take the catwalk through the gorge.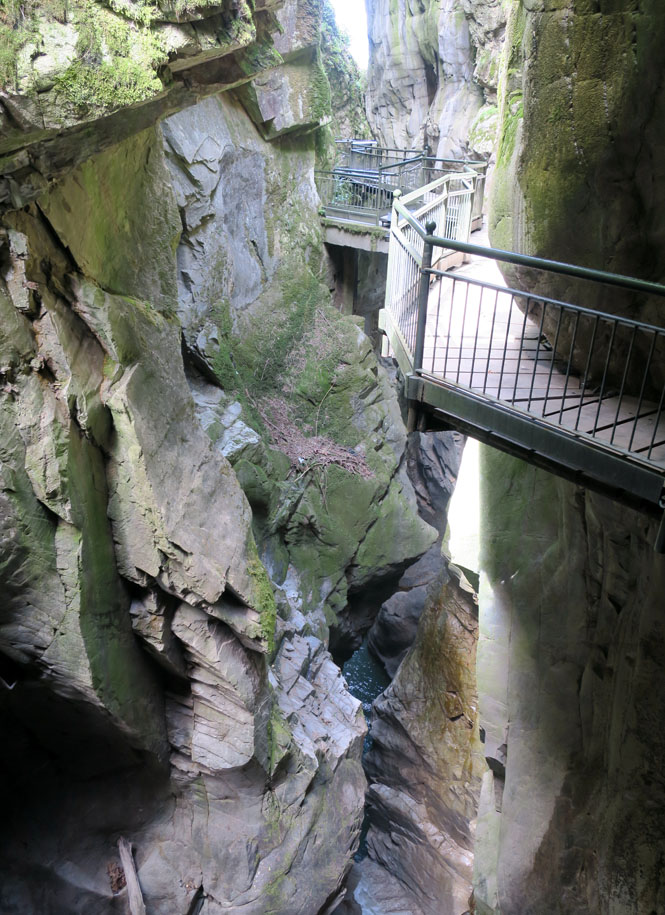 The Stelvio is in the shop, ready for me. The larger yellow duffle-bag contains my riding suit as well as another, smaller, duffle bag. After a bit of re-packing, I am ready to go. The last step is to turn on Spot, which will track me and let me know where I've been when the trip is done. The larger duffle-bag stays behind.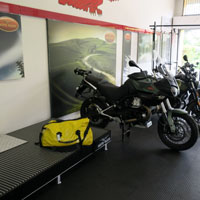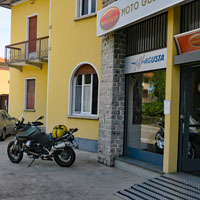 I'm planning to make good progress this first day, and will stay on the autostrada all the way to Fréjus Tunnel.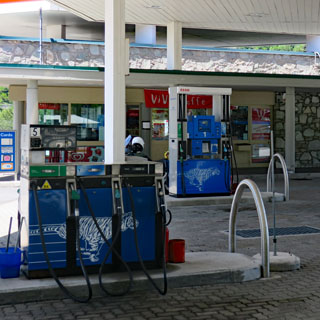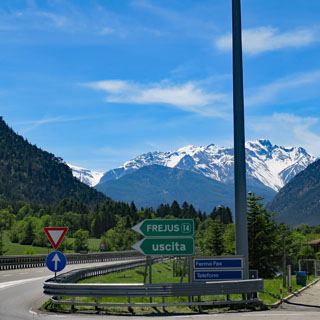 The Fréjus Road Tunnel was finished in 1980 and handles the majority of traffic between Italy and France. At just over eight miles, it is the ninth longest road tunnel in the world. Of some interest is a scientific laboratory within the mountain used for the detection of neutrinos.
The toll is something less than $40. I don't know if motorcycles are charged less; I just paid the man what he wanted.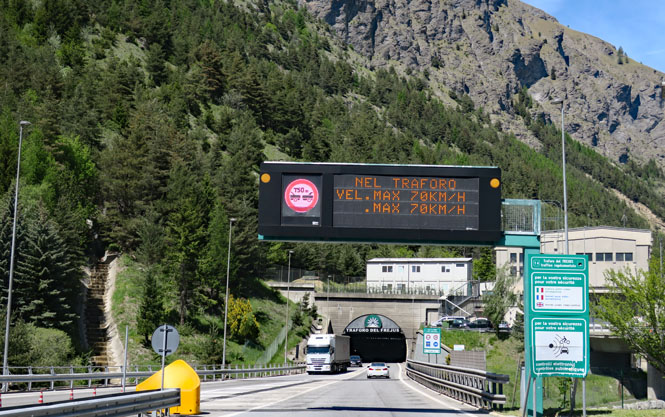 France

I had planned to take the Route de la Colombiere, taking the road to the south. I had already been on the northern part of this route during an earlier trip. I saw signs that said the road was closed, but I pressed onward. Why would it be closed? I don't see that much snow.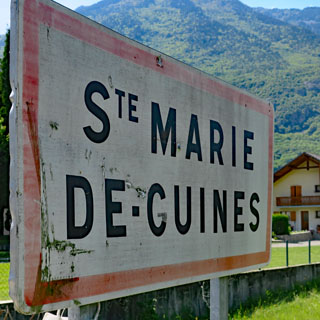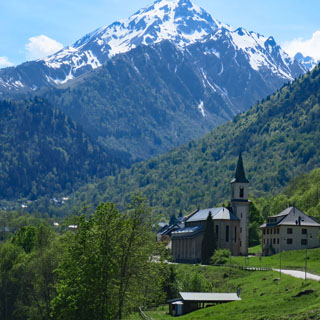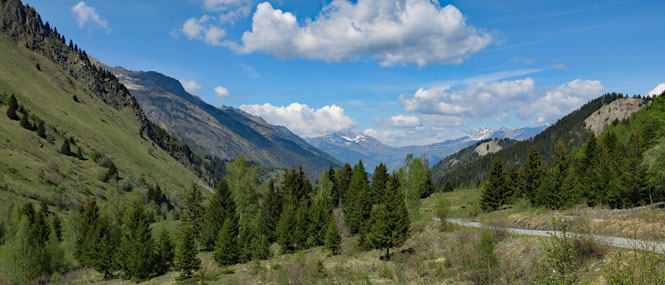 Well, this looks pretty closed, and I think they're serious about it. On the way up, I passed a stopped highway construction crew and asked "Ouvert?" The driver gave me a shrug of the shoulders and moved is hand up and down as if bouncing a ball. I took that as "maybe yes; maybe no" Anyway, it was getting too late in the day to risk going too far into the mountains and possibly having to come back the same way. Let's just turn around, now. I'll save "avalanches" for another day.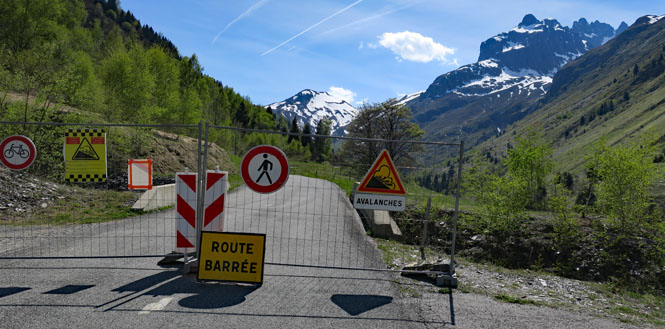 I've been in this area before, and knew of a decent hotel (Hotel du Parc) in the town of La Rochette. Unfortunately, I'm not here on whatever days their restaurant is open, so I had to look elsewhere for food. I mostly had the entire place to myself.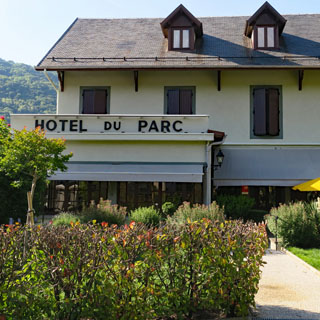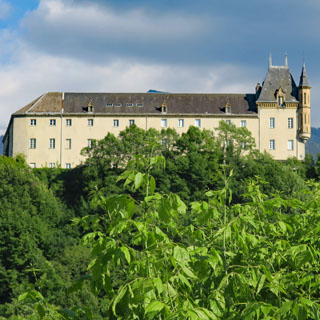 Walking around the town.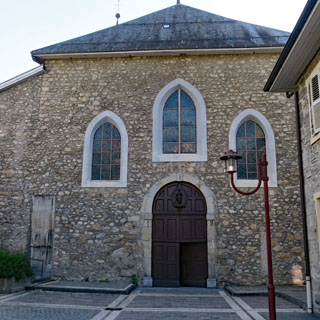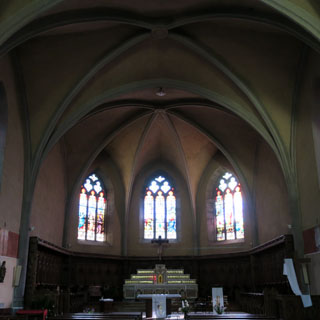 I think bar food is bar food, the world around. Sometimes very good; sometimes acceptable. This was acceptable.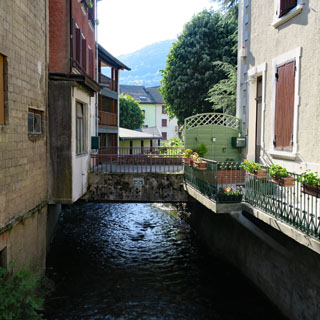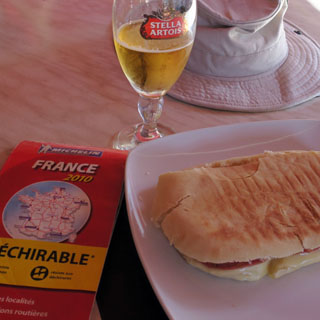 If you look at the city of Grenoble, you'll see two highways that run north. One goes left, and one goes right. Straight north are some very steep and impossible mountains to route a proper highway, but just the thing I'm looking for. I'll be crossing these.
Below is Fort Barraux, built in 1597 and used until 1985 (when it was being used as a supply depot).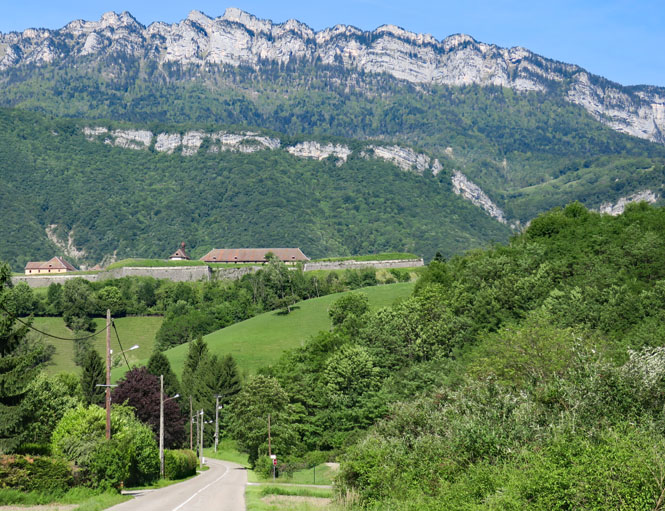 Looking back towards the Italian Alps (the mountains you see are in France).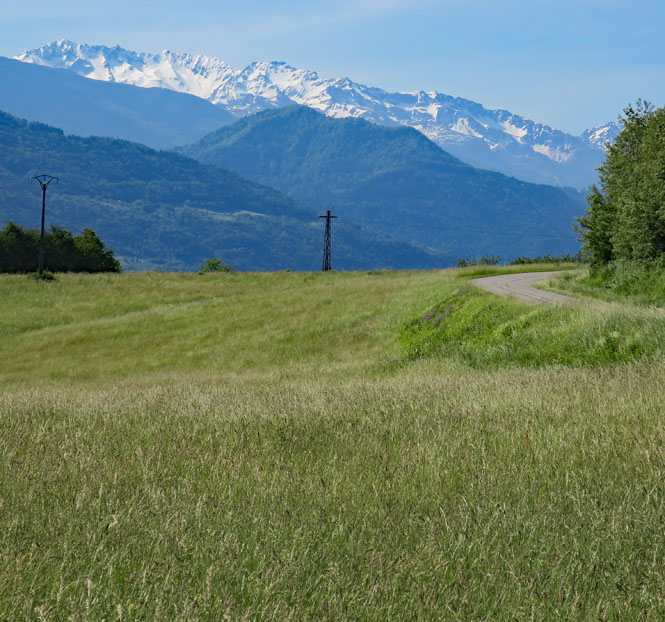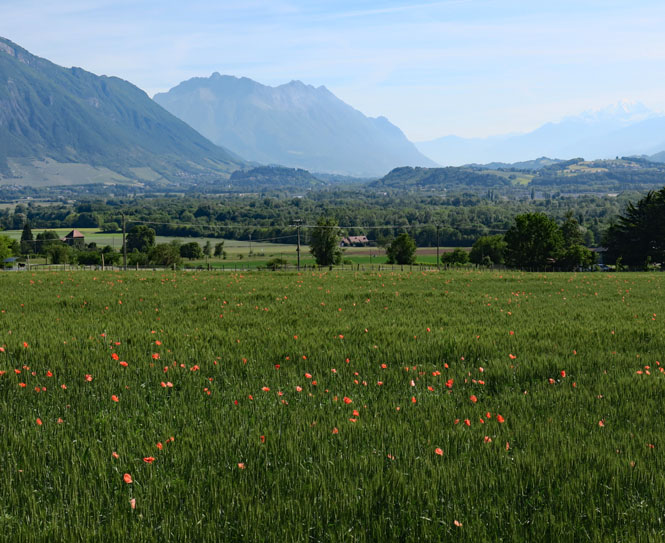 Up there is where I'm going. It's as if the road has to think about it before it can figure out how best to get there.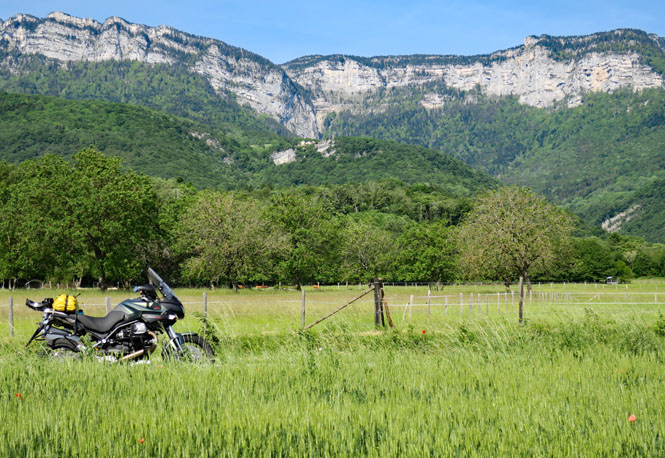 I'm following the Route des Entremounts.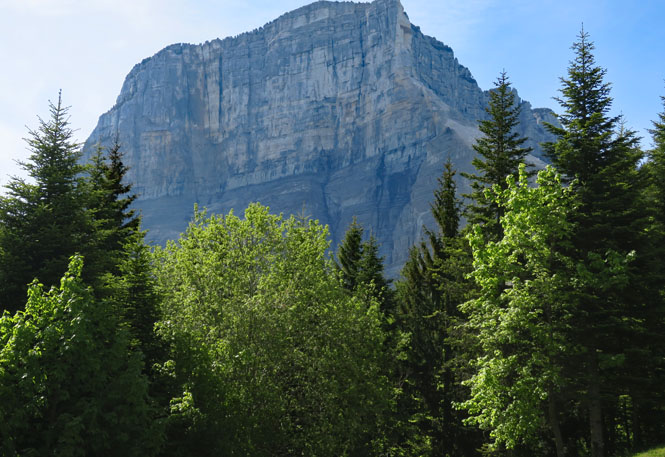 Col du Granier. It's not a high pass, but naturally, there is a restaurant at the top. There are a number of motorcycles, but far more bicycles. That frozen thing I'm having has much more fruit than ice cream, so I figured it counted as lunch.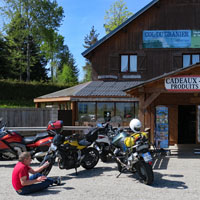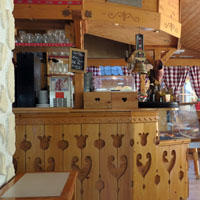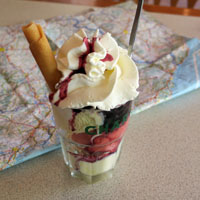 I've always admired French road-building. Just hack away what is in the way of the road, but leave everything else alone.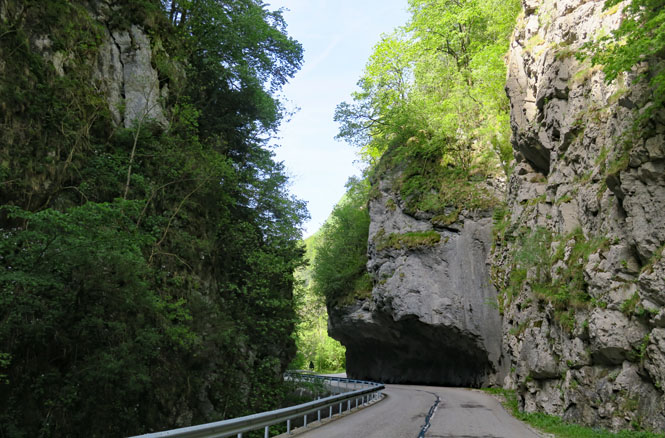 It takes a brave highway engineer to look at this and even think that a road is possible. But, here it is. Note that the outside lane is actually cantilevered off the cliff, which means the original road was probably just one lane wide, and it has been widened to what you see, today.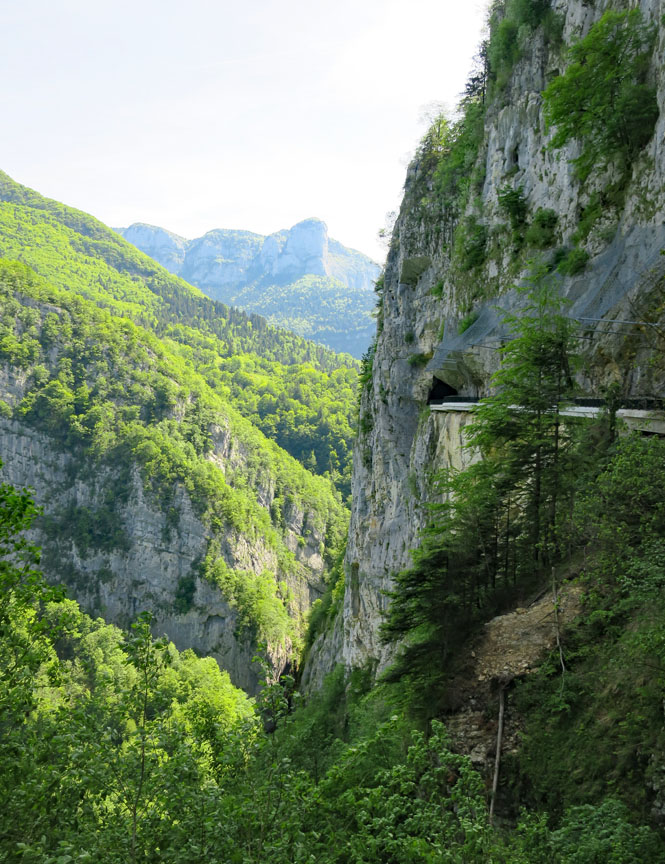 We're over the mountains and are descending to the wide, Rhone Valley.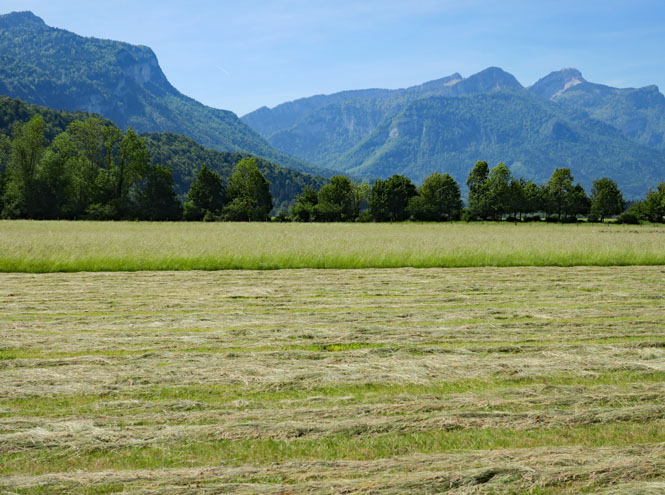 The Rhone Valley is dotted with small towns separated by fields of crops and connected by sparsely-traveled narrow two-lane roads.
La Côte-Saint-André. The composer Hector Berlioz was born here.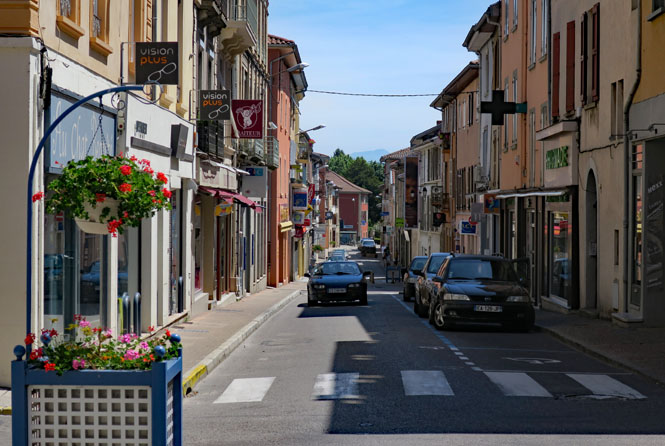 Beaurepaire.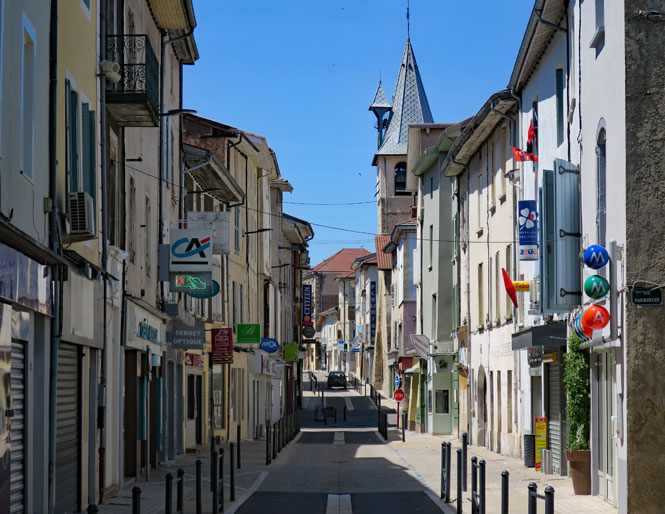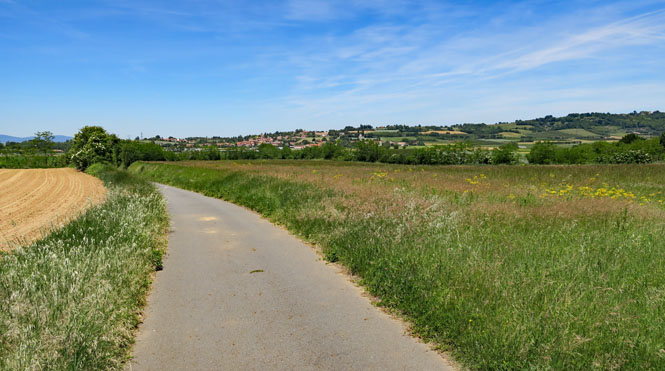 Serrières, Saône-et-Loire. It's a good place to rest in the shade on the steps that drop down to the river.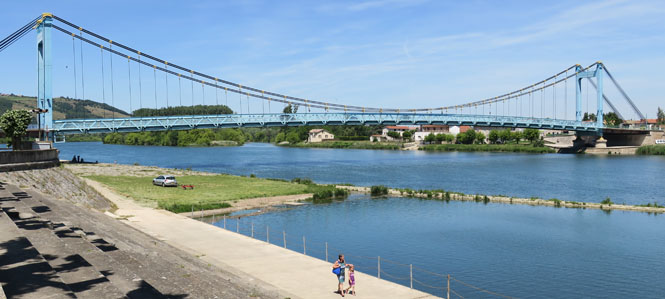 Col du Fayet. These are popular roads for bicyclists, but (nicely) not popular with any other traffic.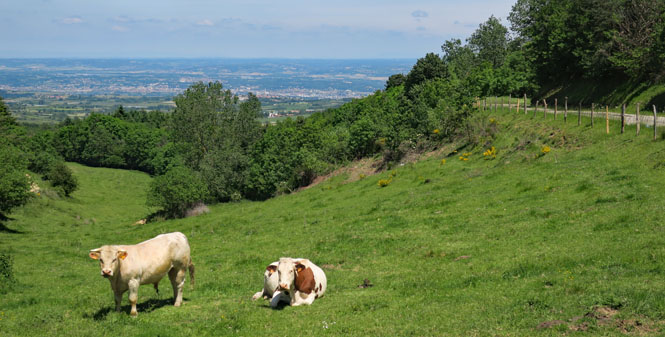 This rail bridge no longer has rails, and just carries bicycles and long-distance walkers.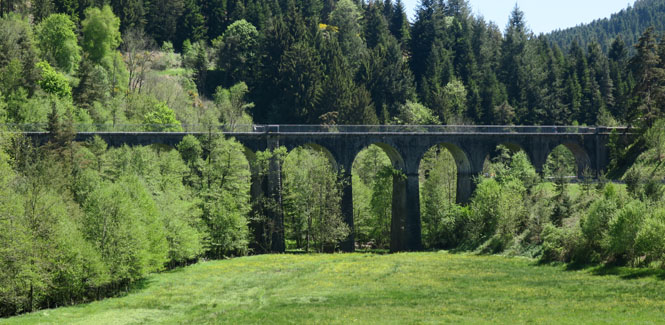 Montfaucon-En-Velay.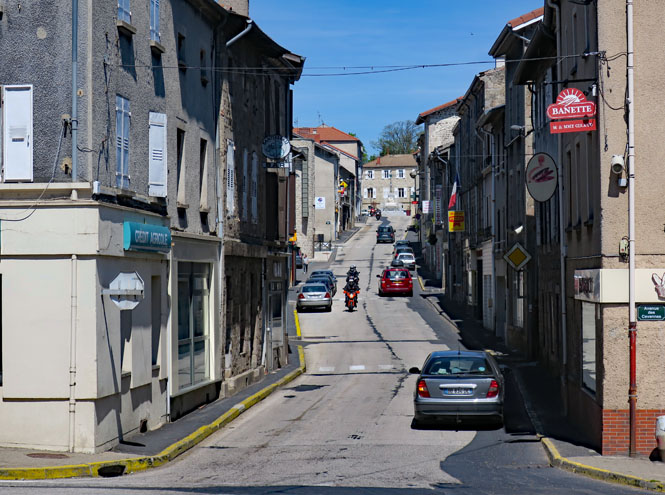 La Loire at Retournac.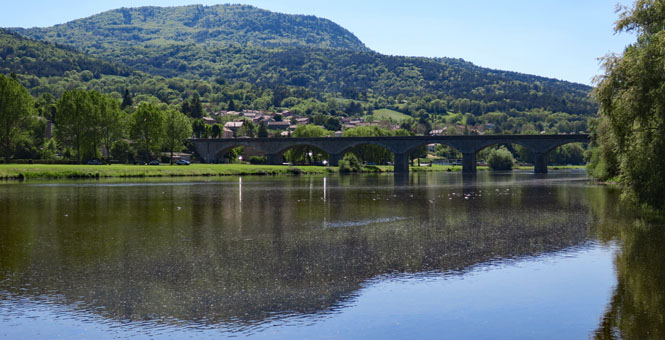 Craponne-sur-Arzon.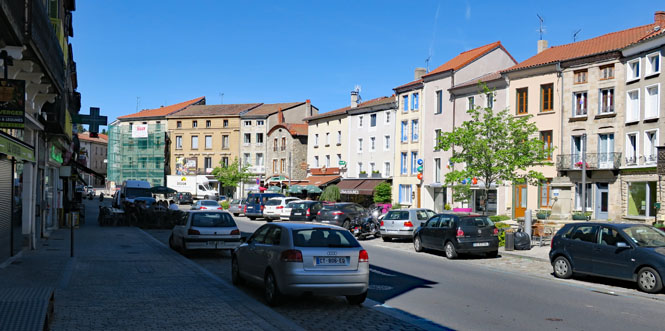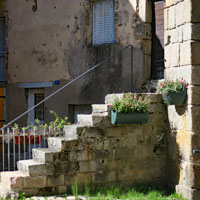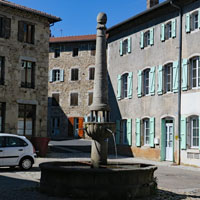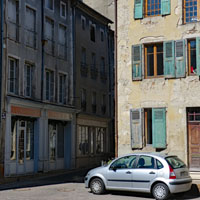 Lots of logging in these hills, but the mills never look much bigger than this one. You'll see loaded trucks passing each other, going opposite directions. The rule is: give way to any logging truck. Also note that an empty logging truck will run the roads very fast and will use both lanes without seeming to pay much attention to you. It's your watch.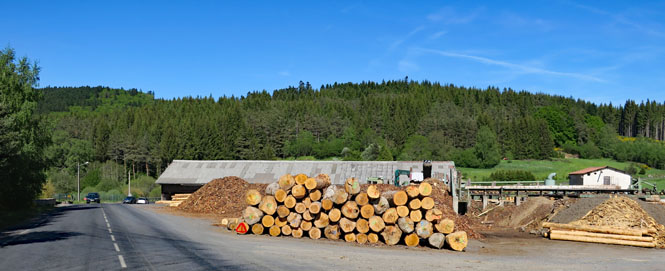 Javaugues.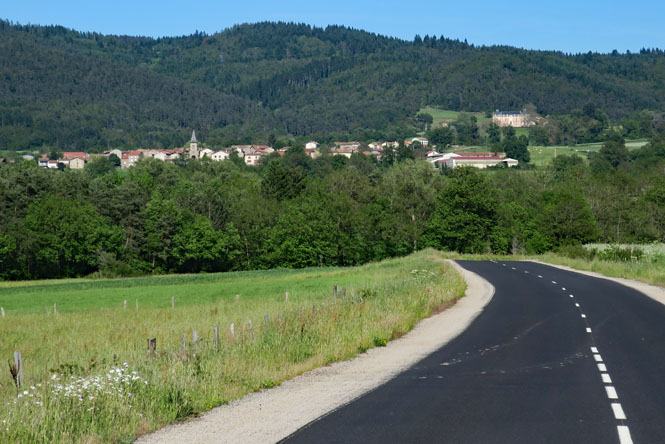 Brioude. It's time to stop and this looks like a nice place.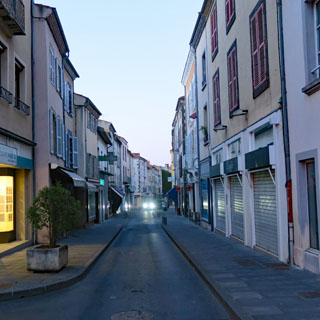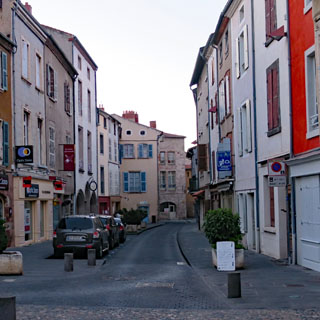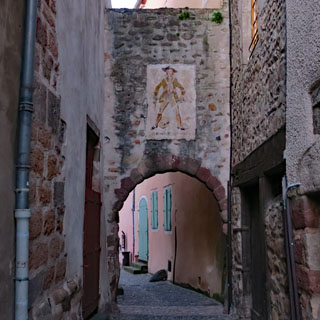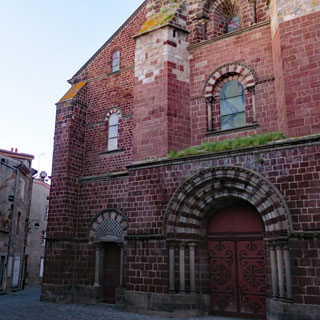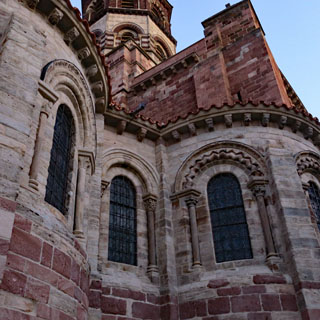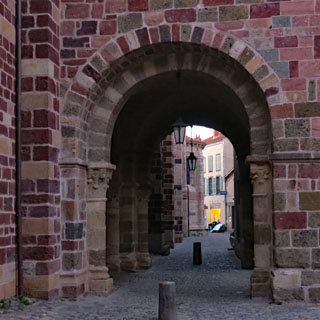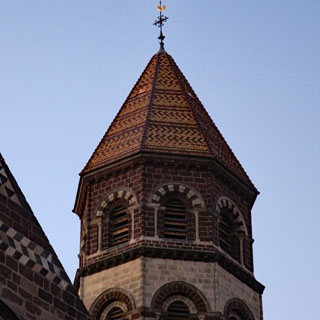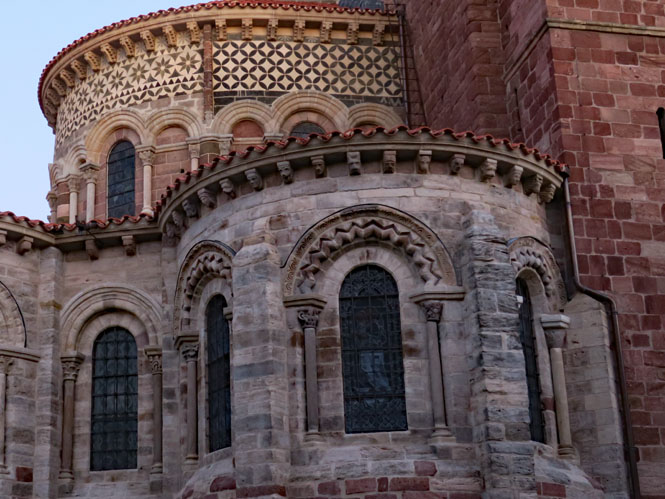 As is sometimes the case in France, you'll spend more for dinner than the room (and the room is nice). I don't always know what I'm eating, but I'm never disappointed.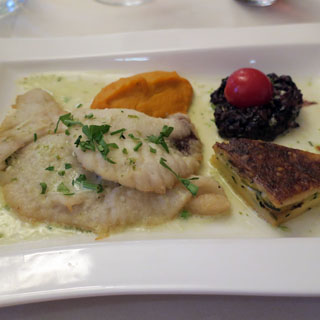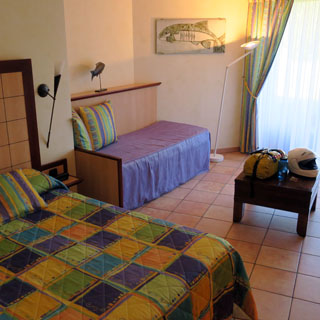 A hotel dog with free access to the facility; always a good sign.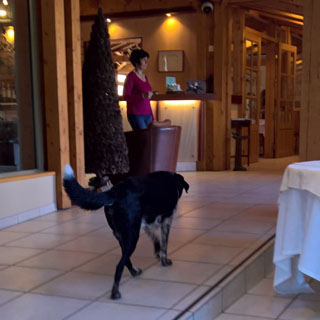 Saurier. Chances are that bridge is a thousand years old. Good maintenance is worth the trouble.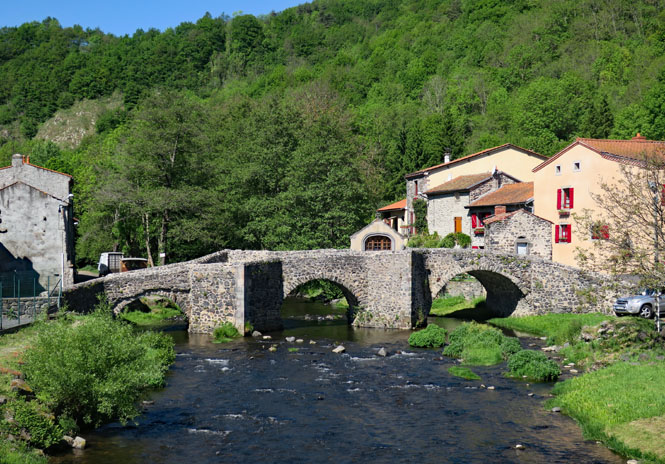 I am well off the main highways, but I've no doubt that a paved road will remain paved--they always do--and that the road will end up someplace that will connect to something further along.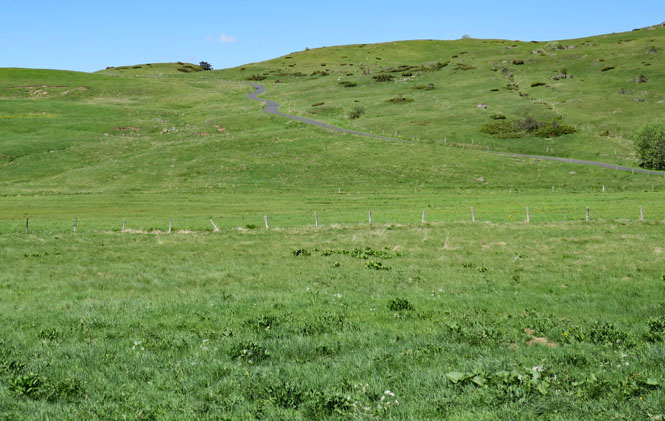 Bugeat. Of course, it's foolish to laugh at a town's name because it seems silly in your own language. But, Bugeat?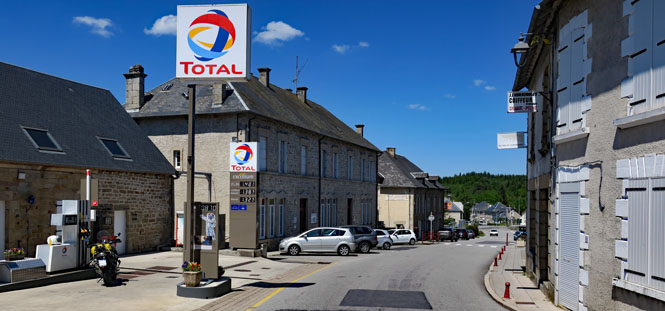 And, take a look at their official shield... Bugs.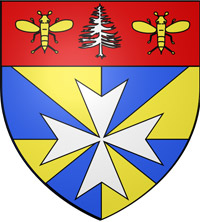 By the way, I became a fan of Total stations on this trip as their pumps have (mostly) been updated to handle American credit cards. Most other stations reject them, which is a real nuisance.
Q: When is a PIN and Chip card not really a PIN and Chip card?
A: When it's an American credit card.
This part of France is beautiful.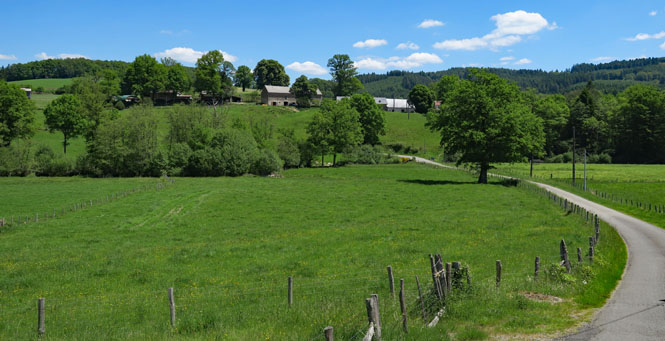 Oradour-sur-Glane.
Oradour-sur-Glane is unique in Europe: a fully preserved, ruined village that was the site of the worst Nazi massacre of civilians carried out on French soil. Six hundred and 42 people, including 247 children, were shot or burnt alive on 10 June 1944 in an unexplained act of barbarity.

It is not clear why the SS chose to butcher all civilians: the village was not a centre of Resistance fighters, nor was it a reprisal attack. "Many villagers had never seen a German before the massacre," one resident said.

Unlike other Nazi village massacre sites, such as Lidice in the Czech Republic, which were razed or rebuilt and marked by monuments or fields of roses, the charred remains of Oradour-sur-Glane are the only ones to have been left untouched and still standing after Charles de Gaulle ordered they should forever bear witness.

--excerpts from TheGuardian.com
The visitor center is below ground--just across the street from the town. Once in the visitor center, you'll cross under the street in a wide hallway and climb up the stairs, emerging inside the town, within the low stone perimeter-wall that surrounds it.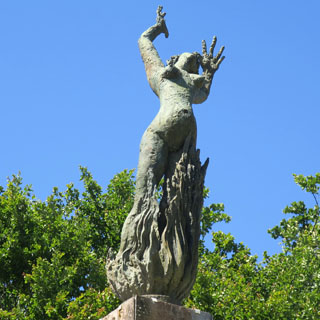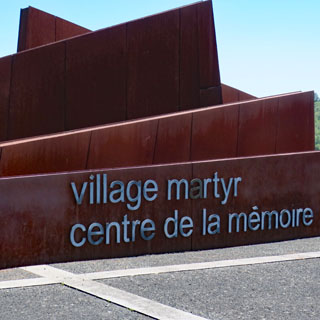 I've been to a number of difficult places in Europe. But, Oradour-sur-Glane is different from all of them. It remains as it was after the massacre and the subsequent attempt to destroy the evidence; only time has smoothed the edges.
There are signs requesting silence, but I don't know that they are even needed. At any rate, most everybody was walking slowly up and down these streets without talking--just as I did.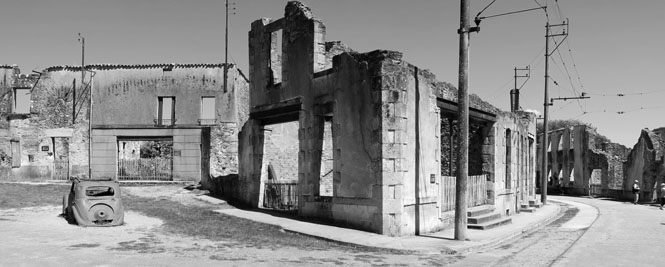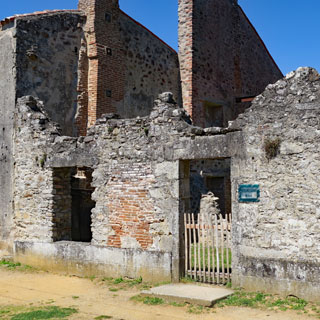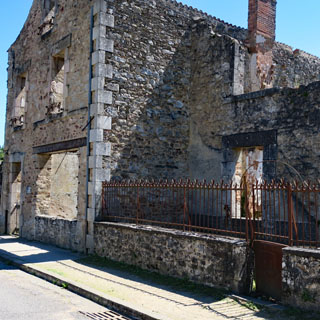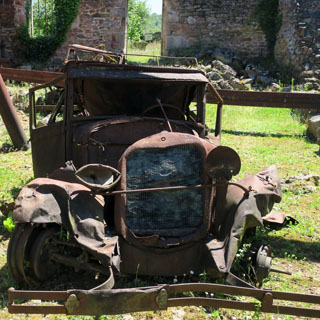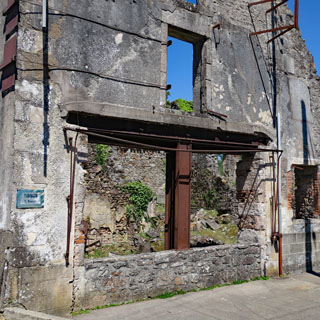 This is the church where all women and children were brought--and then killed.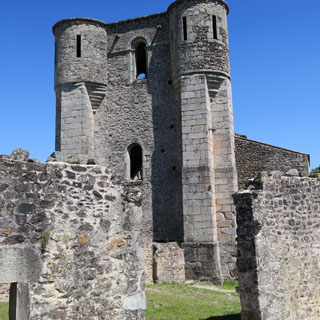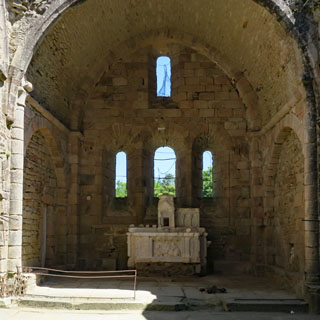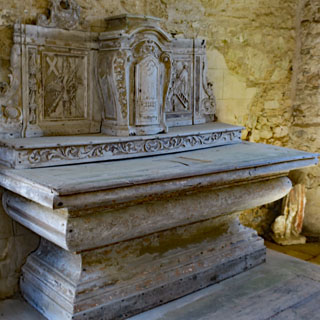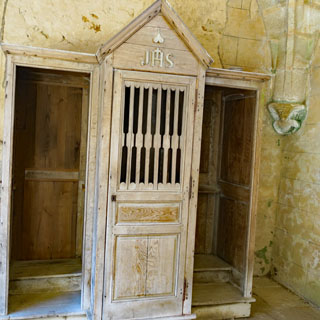 The overhead lines for the trolley still remain.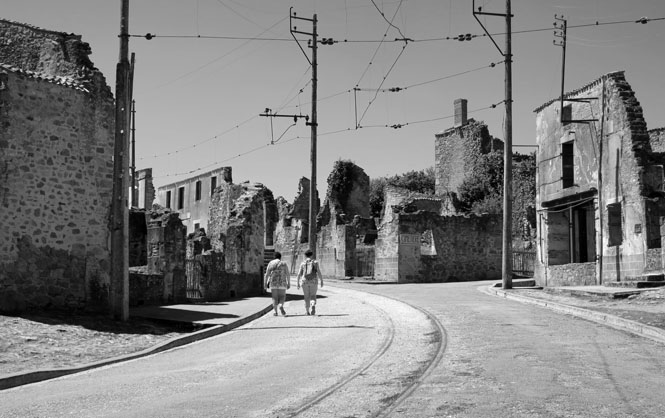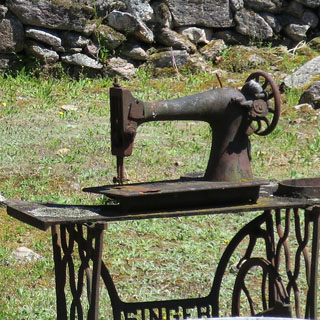 A small collection of found items is in the memorial room in the cemetery.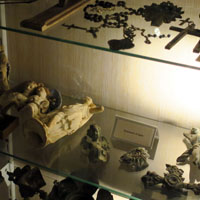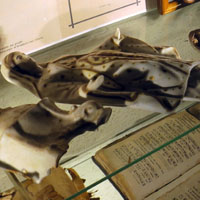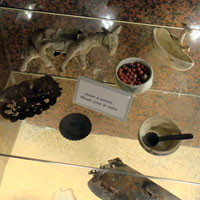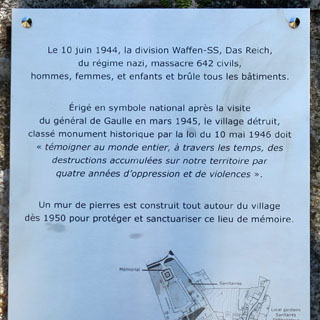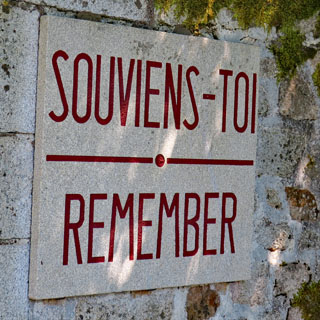 Riding westward across fields of grain and vineyards that support the local cognac distilleries.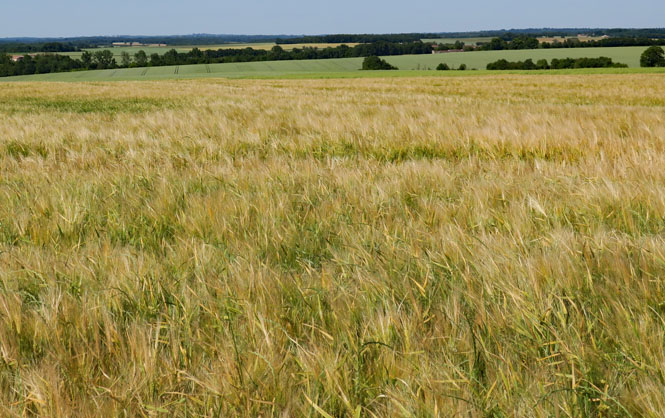 There is very little traffic on the roads I'm riding. Stop and park anywhere you want.

Grapes for wine and grapes for Cognac. Some could probably tell the difference; not me. The town of Cognac is not far from here.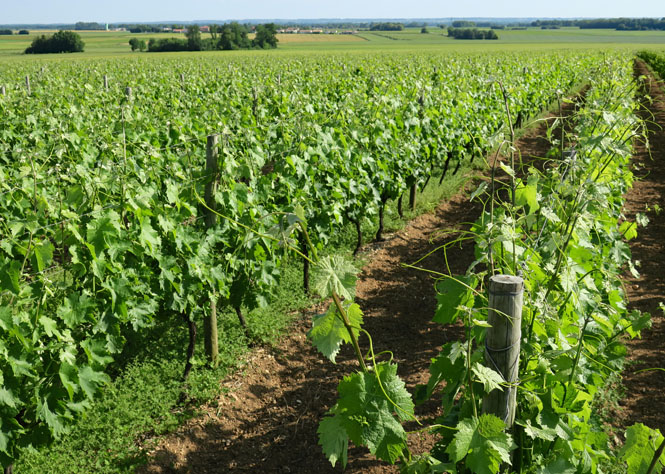 Saint-Jean-d'Angély. It's a good place to stop.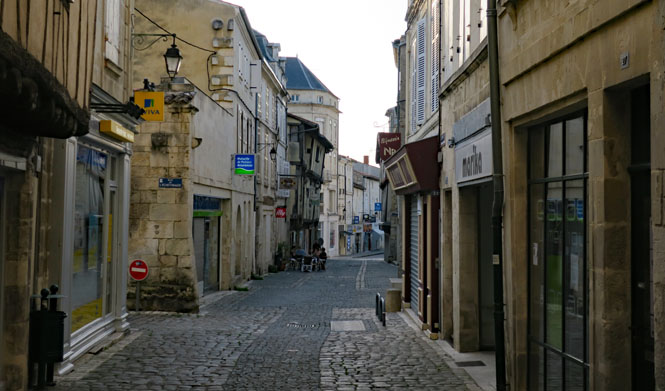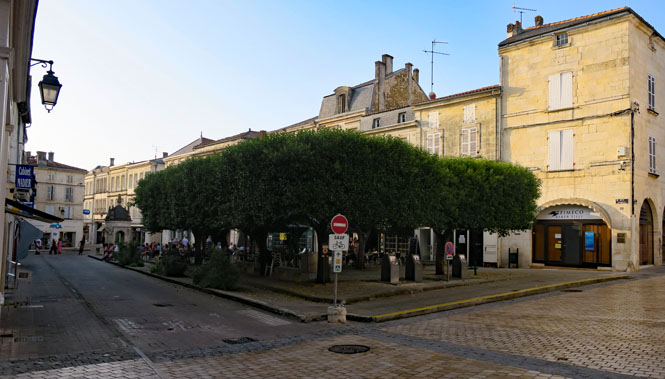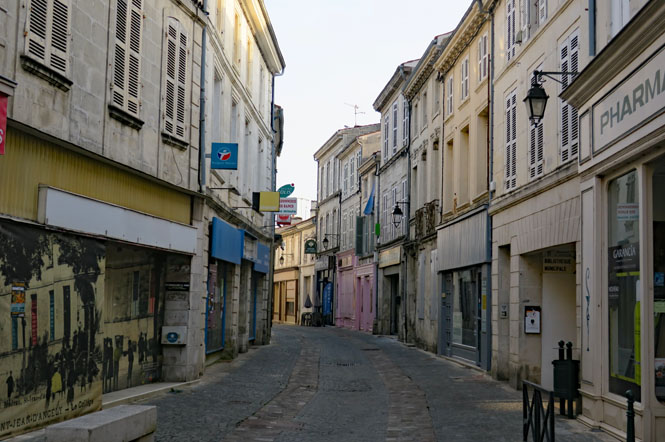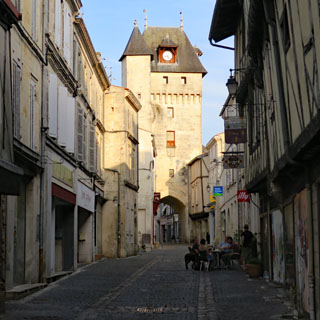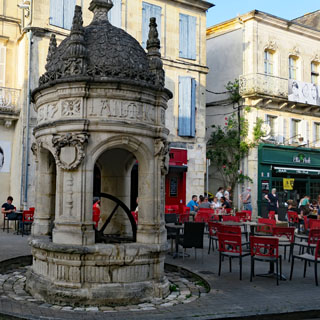 This is the Royal Abbey, Saint Jean Baptiste. The religious wars of France destroyed lots of old churches and cathedrals and abbeys. Just looking at the height of that free-standing buttress and the enormous front facade tells you that this would have been an amazing building.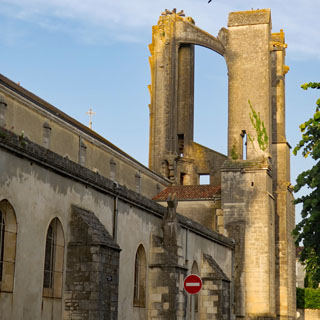 But, now, it's time to return to Italy. Today was meant to be a ride to Rosscoff, Brittany, before crossing the channel, but that will not happen on this trip.
Italy
Pont-Saint-Martin in the Aosta Valley in Italy (not far below the Mont Blanc Tunnel, which I rode through) was my final night before reaching Mandello the next morning. That bridge? It is over two-thousand years old, built by Roman engineers and still doing its job.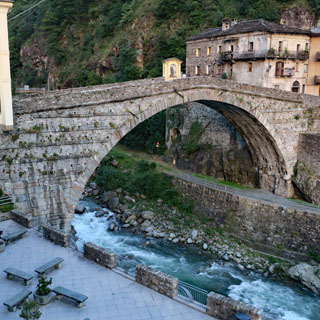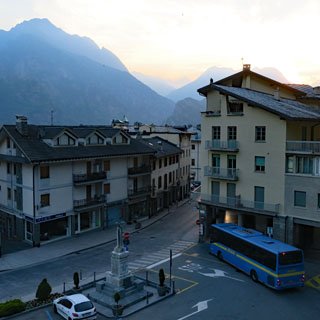 last edit: 7/10/2017