September, 2017

Sunday

Monday

Tuesday

Wednesday

Thursday

Friday

Saturday

3
4
5
6
7
8
Wichita
Chicago
Newark
Malpensa
9
Lecco,
Italy
10
Lecco,
Italy
11
Trento,
Italy
12
Pordenone,
Italy
13
Metlika,
Slovenia
14
Požega,
Croatia
15
Zrenjanin,
Serbia
16
Drobeta-Turnu Severin,
Romania
17
Curtea de Argeș,
Romania
18
Sighișoara,
Romania
19
Dej,
Romania
20
Monor,
Hungary
21
Monor,
Hungary
22
Wolfsberg,
Austria
23
Lienz,
Austria
24
Merano,
Italy
25
Mandello,
Italy
26
Milano,
Italy
27
Malpensa
Newark
Chicago
Wichita
28
29
30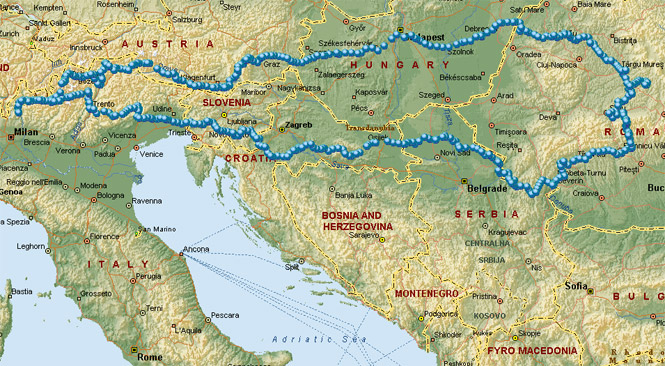 For many of us, when we think of the great mountain ranges of Europe, we think of the Alps, the Pyrenees and perhaps the long Scandinavian Mountains. But, of course, we know there are others.
This trip was planned to be a ride of the entire length of the Carpathian Mountains (the second longest in Europe), which extend from Serbia, across Romania, through Ukraine and Poland and end in Slovakia, not all that far from the east end of the Alps.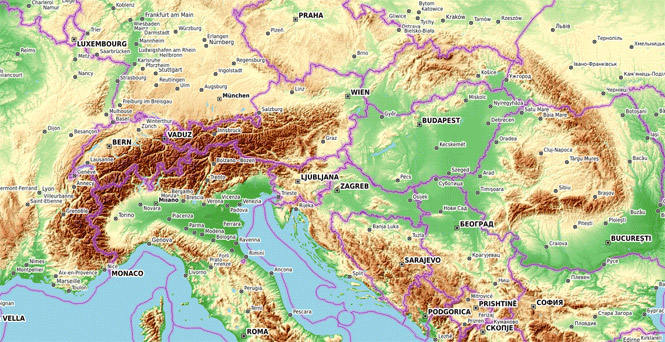 Before the trip, I marked on a laminated map my expected route, with each day's anticipated progress noted (shown in blue, in the photograph below). I'd only know the roads I would take and the places I would stop at the end of the day as the trip progressed, but this map would give me a good indication if I was on track to be back in Italy when I needed to be, or if I needed to make changes to avoid missing my return flight.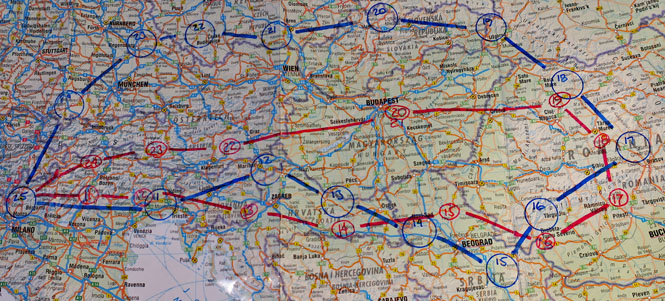 Each night, I'd mark (in red) where I was. As you can see, after just two days on the road, I was already a day behind. By the 16th, I was back on schedule. But, by the 18th I was once again a day back and I didn't think it was going to be possible to catch up. So, instead of crossing the border north into Ukraine, I cut west and made something of a dash through Hungary into Austria (two countries I didn't expect to see).
This would make the second time I've run across Hungary without spending anywhere near the time I'd like to. Perhaps for some future trip, I'll focus entirely on that country.
Europe motorcycle trip #17
Leaving on a Friday is generally easier, as that puts me in Italy for the first two non-riding days over the weekend. Also, starting the ride on a Monday also works well as Agostini Moto Guzzi is not closed (as motorcycle shops generally are in the U.S. on Mondays).
New Jersey
Considering that the waiting area was sealed off for construction, Gate C102 really should have been closed for use. But, it wasn't, and there was the expected disorganized crowd in the terminal trying to read the signs (that they couldn't see) and trying to listen to the announcements (that they couldn't hear).
It turned out, too, that the airplane-type had changed, so many seats had to be re-assigned (and I ended up in a center seat). But, eventually, we all got on the airplane.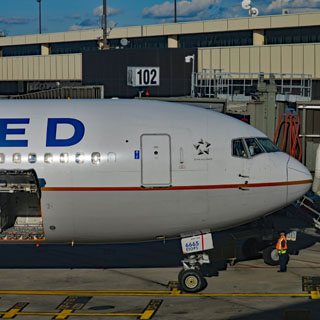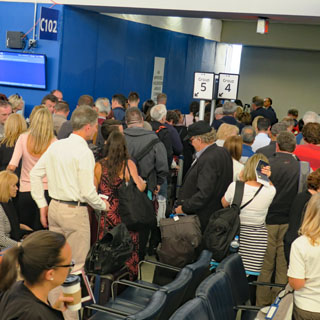 Italy (Repubblica Italiana)
Usually, the run through passport control at Aeroporto della Malpensa is easy, but the second time in a row, there was a pretty healthy line. It's not a big deal, but if things go really smoothly, I can often catch the earlier Express train to Milano and then avoid a longer wait for the next connection to Lecco.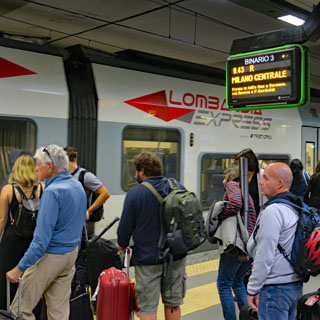 But, I didn't catch that earlier express train, so I made use of my yellow duffle-bag as a fairly soft seat, up against the wall of the Milano Centrale station. Like many large train stations, there are no seats in the boarding area. I can keep an eye on my train by that electric sign board.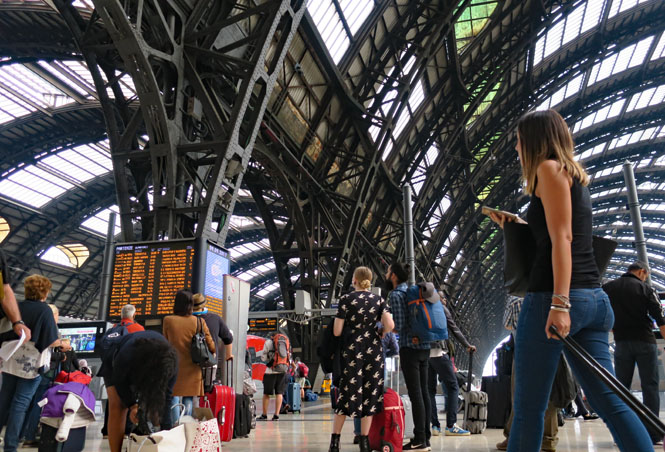 It takes forty minutes to reach Lecco.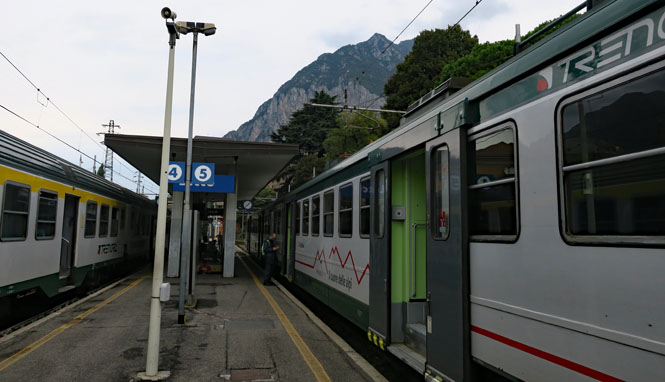 This has happened several times: my schedule just happens to match the (mostly) annual Moto Guzzi factory open house in Mandello del Lario. After checking into my hotel in Lecco and taking a couple of hours to rest and do laundry (which I'll be doing every day), I was on the train to Mandello.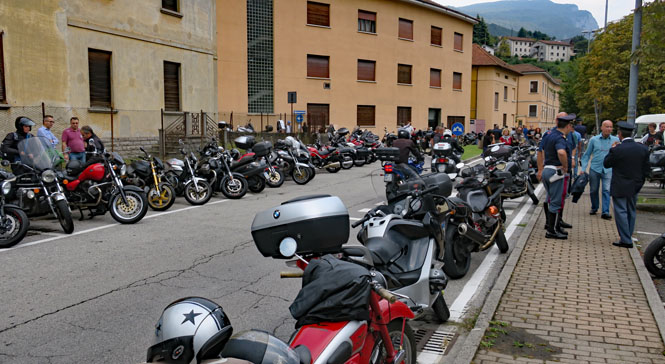 The motorcycles in the parking areas are much more interesting than the ones in the factory (not counting the Guzzi museum, of course).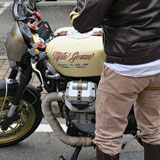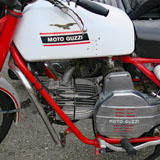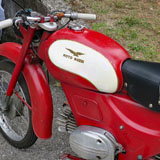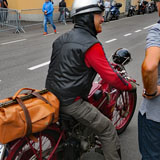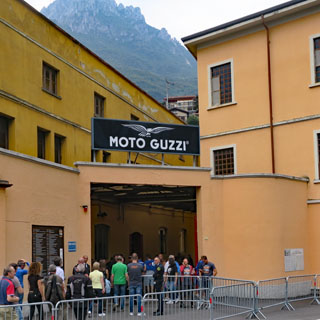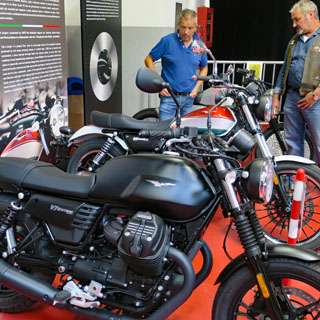 Need a shave? Have a seat; Moto Guzzi is ready for you. These things are done differently in Italy.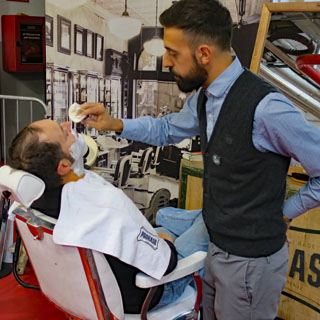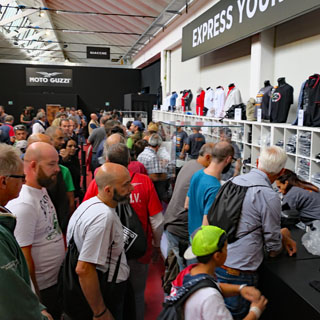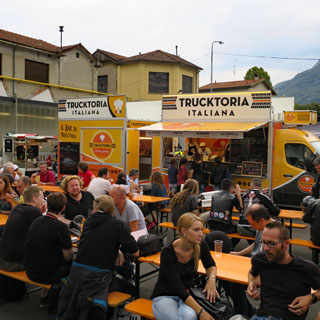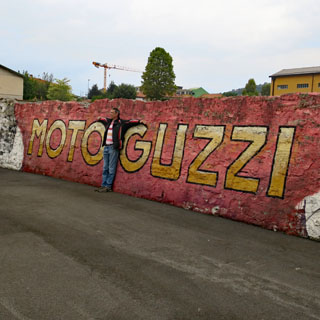 The demo fleet was quite large. I'm not in the market, and anyway, I am going without much sleep so I'm not signing up.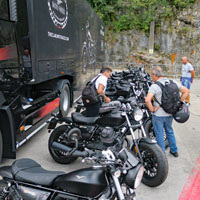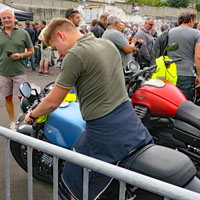 A mozzarella food truck. A great idea!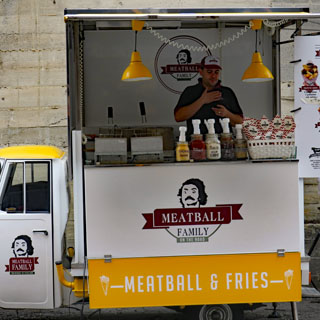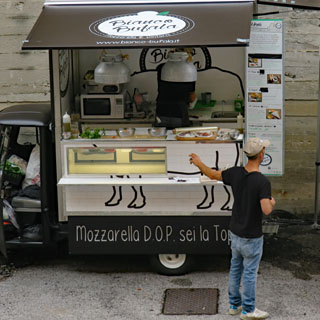 Inside the factory assembly line. The number of models being produced is about as thin as it's ever been. That looks like a California Audace (Bold).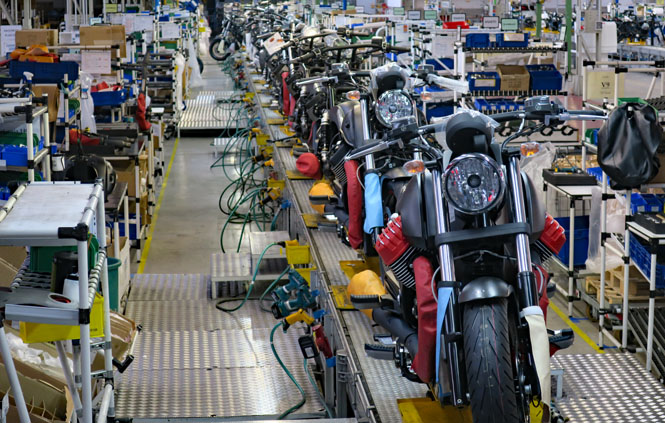 A nice collection of Italian police bikes from earlier years.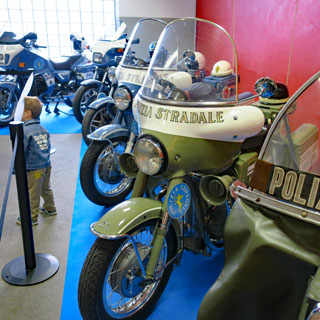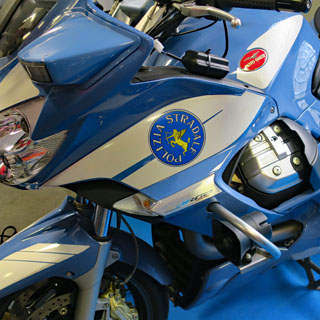 I heard somebody calling my name. Keep walking. Then, again. It turns out I was spotted by some folks from Anima Guzzista, an Italian Internet forum where I occasionally post photographs of my trips. Left-to-Right: "Alcidex", "Skleros", me, "Ticcio", "Maxmonter."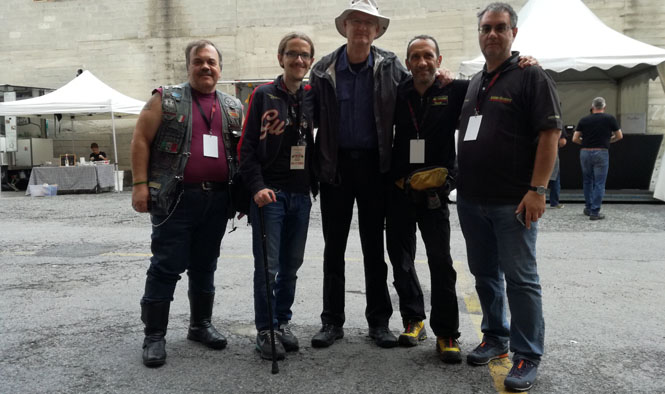 It's raining hard out there. This bunch prefers to be dry.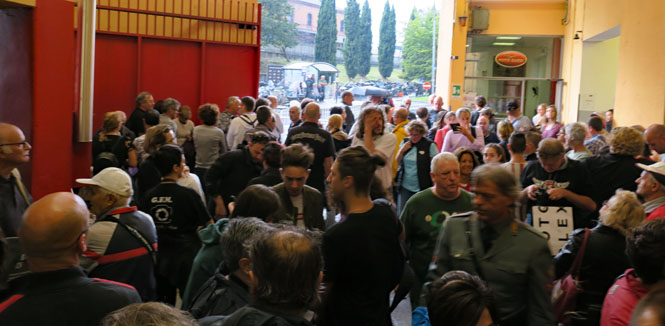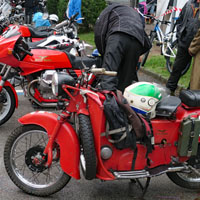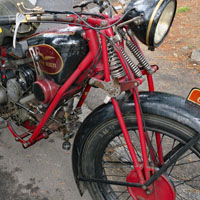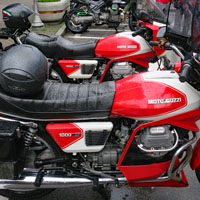 Down towards the lake from the factory, there are far more motorcycles in the park. It's a bit soggy for the vendors, and would be much worse tomorrow (Sunday).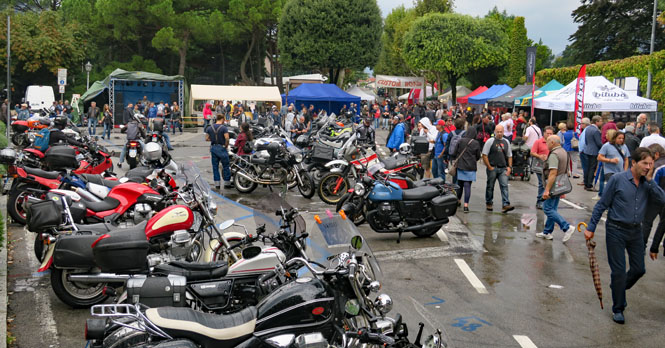 Only in Mandello will you see so many motorcycles, like these, all in one spot.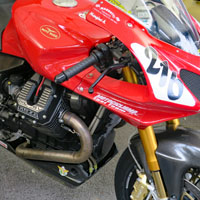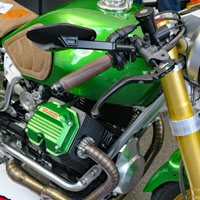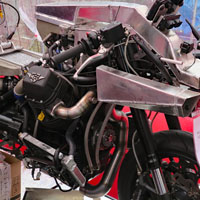 The covered stage and assembly area in the park.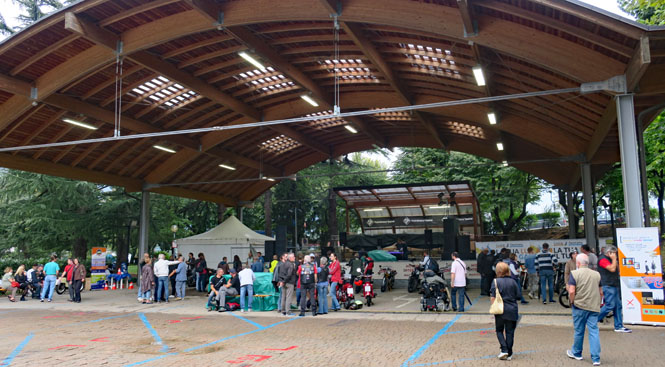 They might be wet, but there are thousands of people here.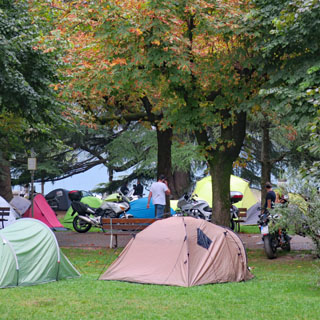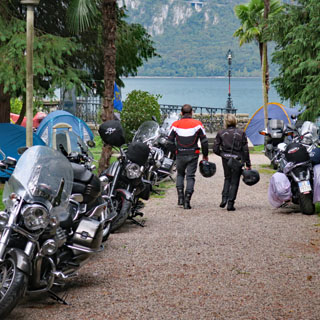 If you do something often enough, it's tradition. My tradition is to have a tomato and buffalo mozzarella salad (caprese) with my first meal in Lecco.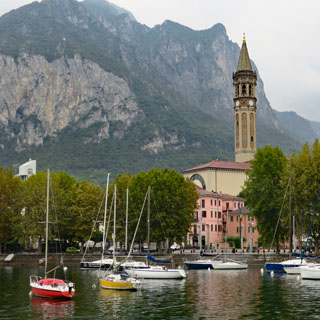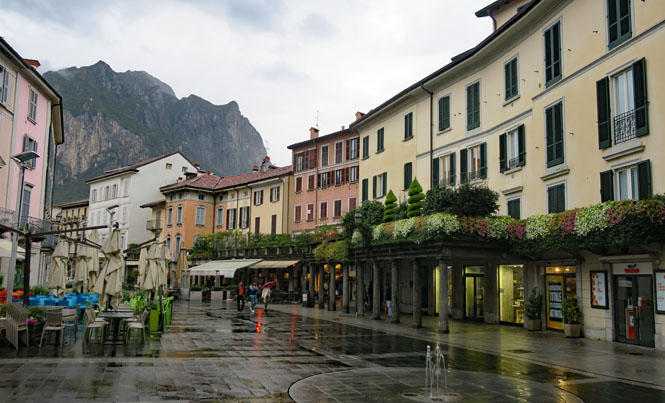 I've had this enough times that it might also be a tradition: Pizzoccheri della Valtellina. It comes from the Valtellina Valley (a redundant phrase) of Lombardy and uses buckwheat (saraceno) pasta.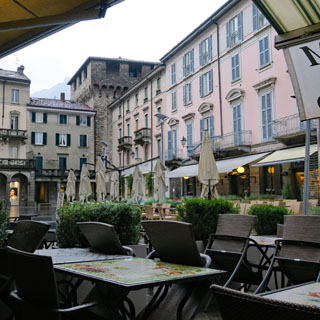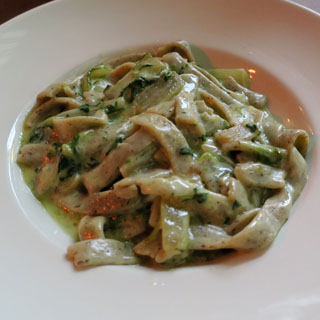 It's Monday morning in Mandello del Lario and time to start riding (Agostini Mandello).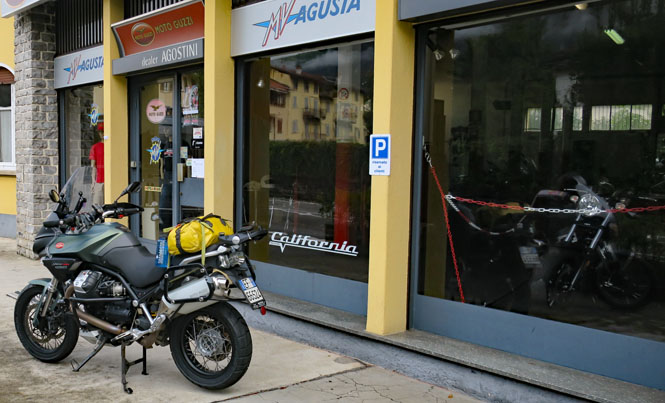 My equipment hasn't changed much over the years: yellow duffle-bag strapped (no bungee cords used) to the saddle-bag frame, a water-bottle clipped to the duffle-bag handle, a Spot device strapped to the rear rack with a zip-tie, a small battery powered Garmin GPS attached to the handle-bar using a Ram mount. Under the seat I've stored a battery powered air pump in the bin meant for tools and documents. Tools are in a bag that is strapped to the center of the handle-bars. And lastly, I've wired a Powerlet outlet to the battery with the outlet sticking out from under the seat on the left side.
Verenna, Italy. I'll be riding north along Lake Como before turning east.
A view looking back at Valtellina as I'm climbing out of the valley. Now you know where that pasta comes from.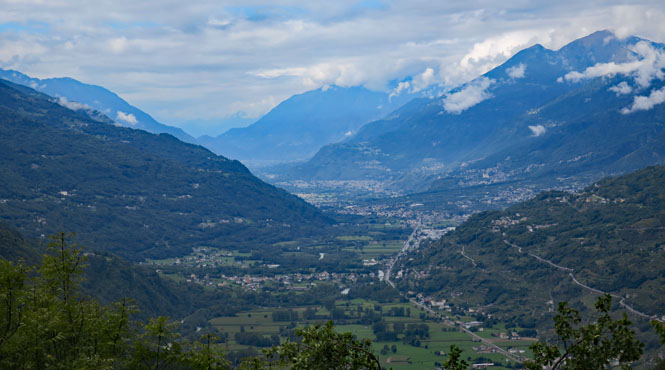 Corteno Golgi and a view of the Adamello-Presanella Alps. There are no roads that cross those mountains; I'll be turning left and riding around them.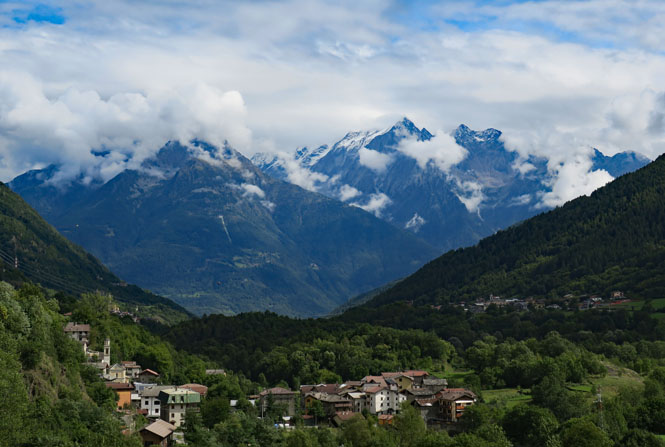 Edolo, Italy. Just a couple hours earlier, I had expected to turn south at Edolo, but once here, it looked more interesting to turn north and take a different route through the mountains.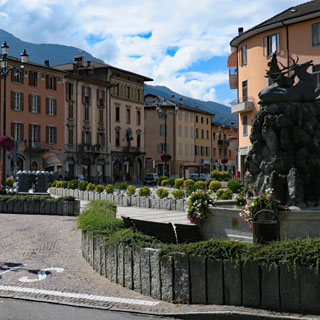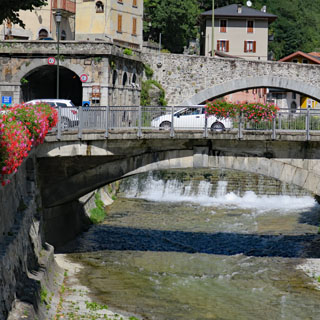 SP73 - Following the Coroso Nazionale.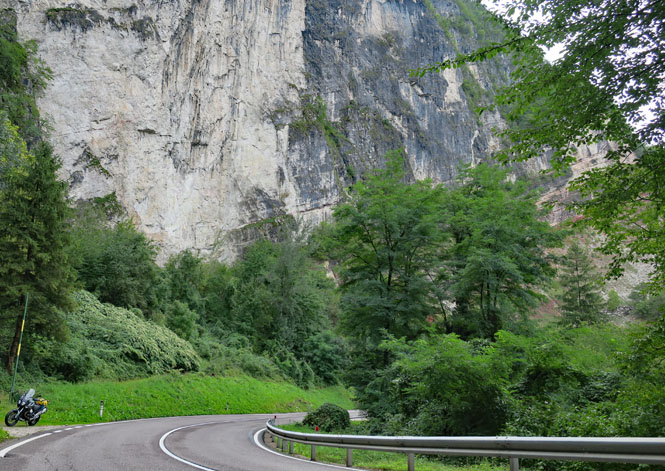 Stanna, Italy. Those clouds were a constant concern, and I'd be battling rain off and on.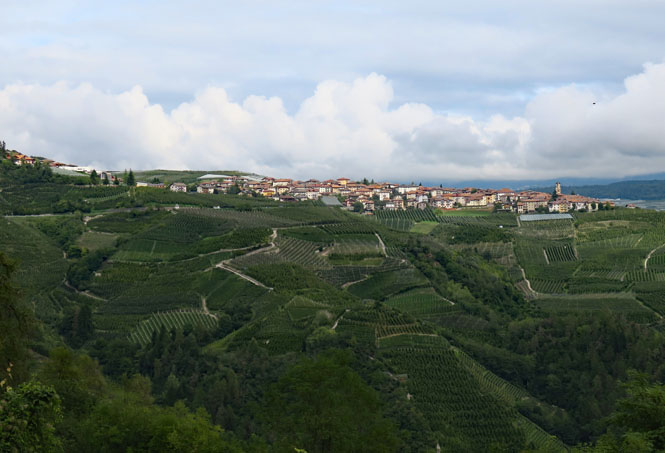 Trento, Italy. I'm stopping earlier than expected, but it seems sensible. Anyway, this is a pretty nice place. My room (apartment, really) is on the second floor of that yellow building (below), with a view out the back onto the old town streets.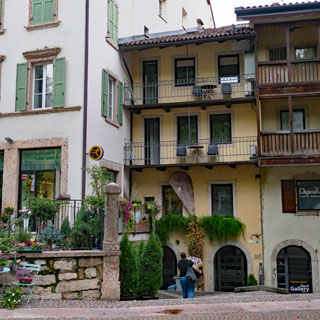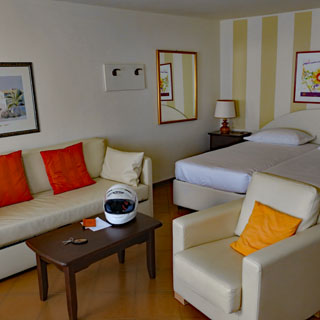 Walking through Trento. Before the first world war, "Trient" was part of Austria and the Südtirol.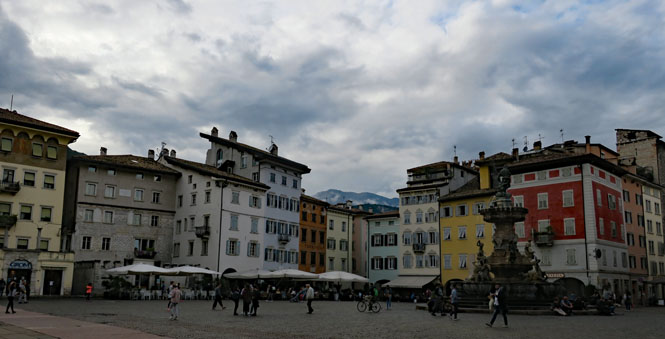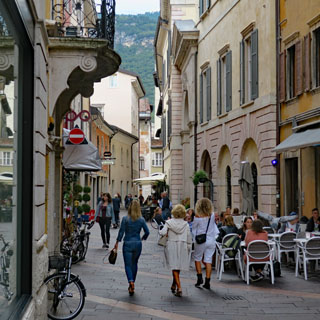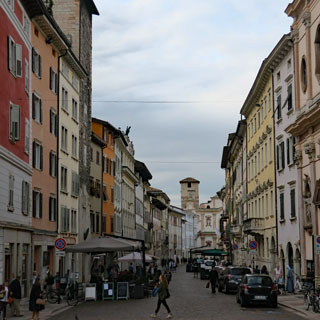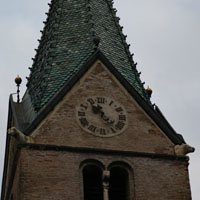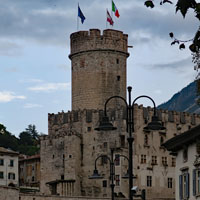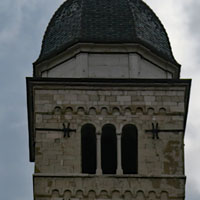 It's common to see Romanesque facades such as this one built over far older Gothic buildings. Fashions change.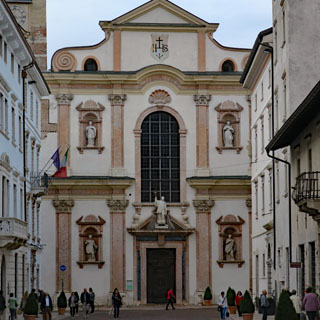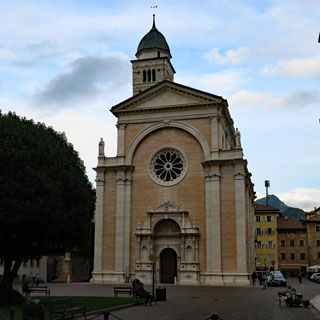 The next morning, it's raining. Hard. I wait an hour and have another coffee, but eventually, there's nothing to be done for it, and I head east, away from the autostrada.
I'm riding the original road over the pass...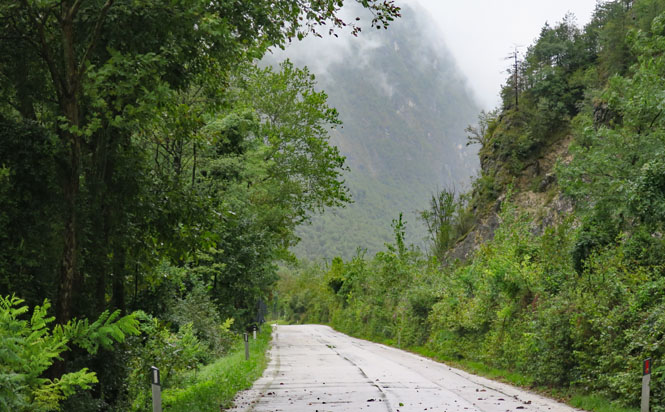 ...while the main highway runs through the Galleria San Vito.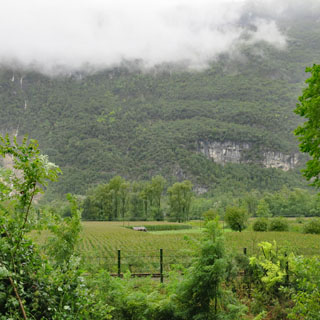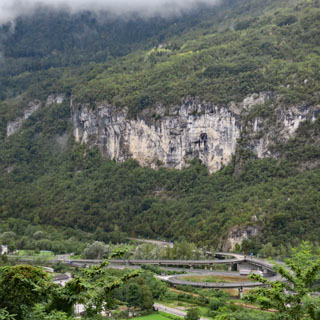 Via Claudia Augusta. These roads and these passes date from Roman times (and likely well before). Over the centuries, they've been fortified and guarded, however, it's not always clear who is being guarded against whom as this area has been in many different hands.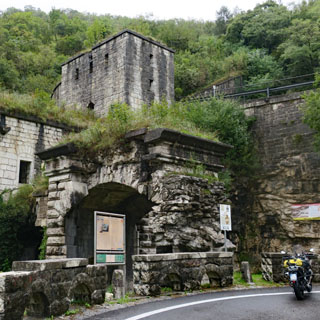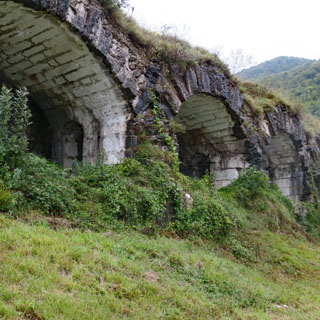 It is not likely that an army of any size would ever be able to sneak into Lombardy from the north without passing by some sort of fortification.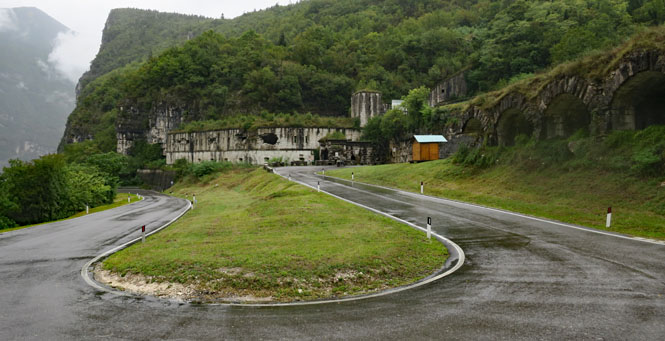 Lago di Santa Croce. I guess once you've optimized the shape and size of a small fishing boat, there's no point in making anything else.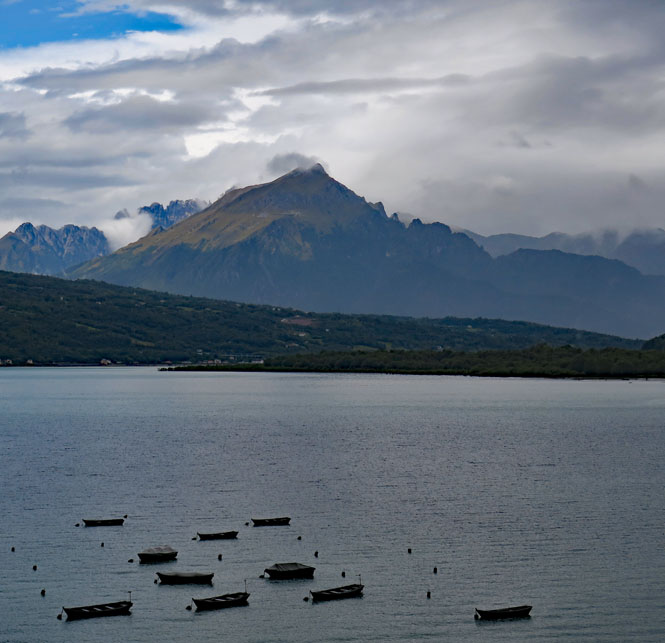 That's not the road I'm on (even if we're going the same way), but the viaducts of Italy can be impressive.

It has been raining steadily most all day, and I think I'll stop for the night here in Pordenone, Italy.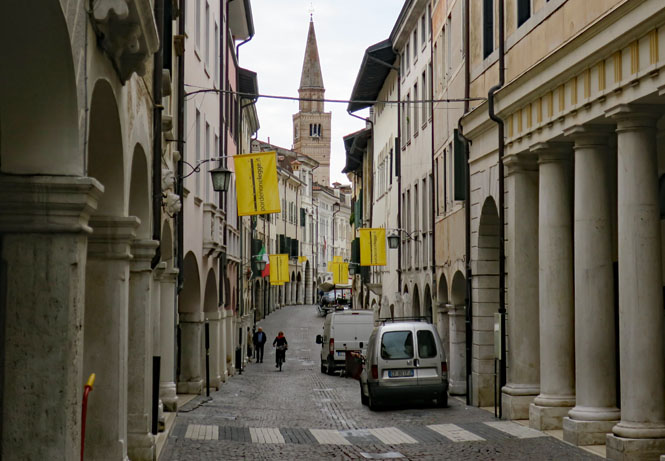 The town dates from the middle ages (Habsburg). My hotel (right in the middle of it) looks newer, I think.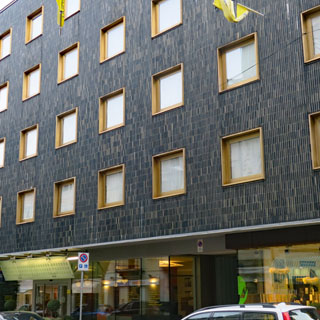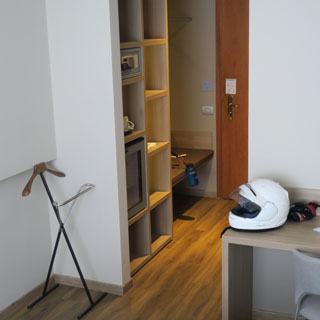 The details are amazing. You'll want to walk the full length of Corso Giuseppe Garibaldi to see the best of the old town.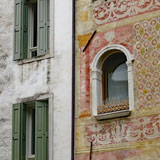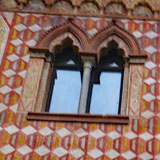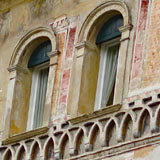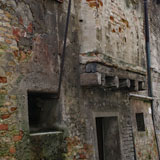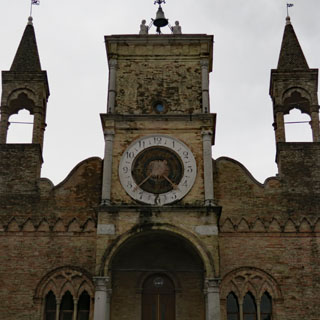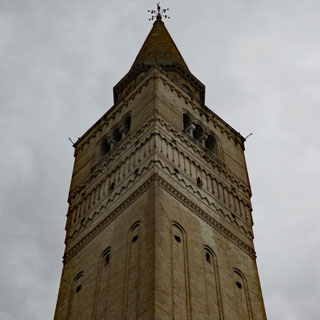 The church of the Santissima Trinita is an octagon.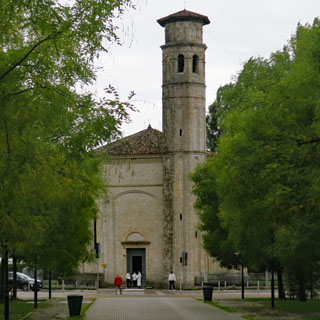 I've often been lucky and have been able to hear similar large organs being played during weekday practice, but today the organ is quiet.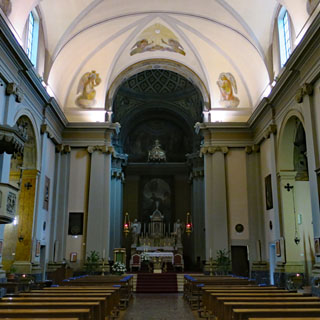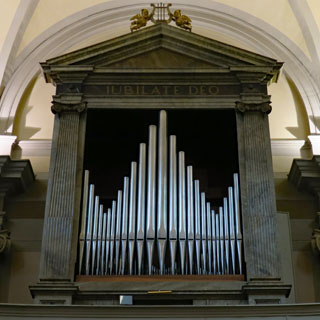 A routine scene at most any city train station. If this were The Netherlands, every bike would be black and identical. But, it's Italy.
The mountains are never far away.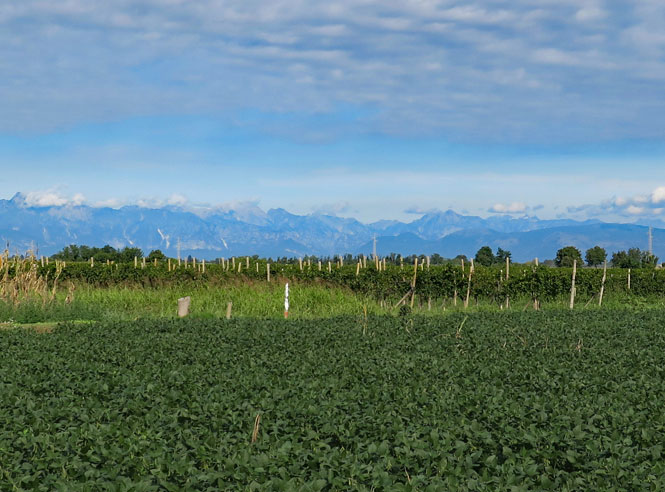 It's a terrible photograph, but I was surprised to see this formation of jets flying by at a fairly low altitude. The Italian Frecce Tricolori is based at the Rivolto Air Force Base in Udine.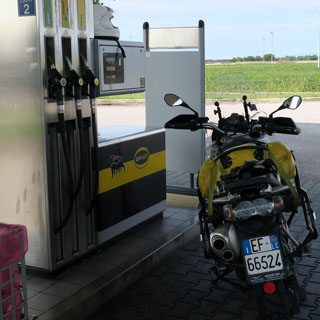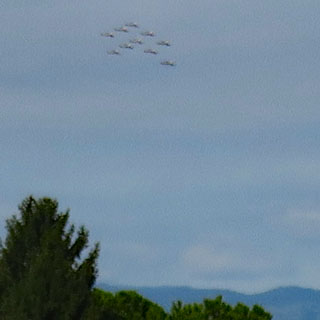 Slovenia (Republika Slovenija)
I crossed into Slovenia within the city of Gorizia. Other than a sign on the road, there is no obvious border.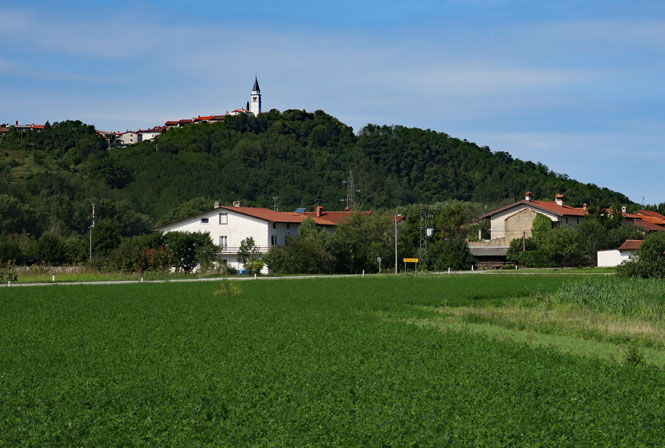 This is quite a hilly area; the roads are beautifully maintained with virtually no traffic.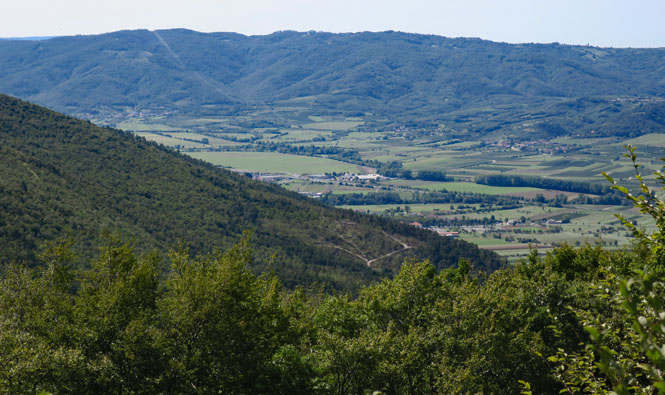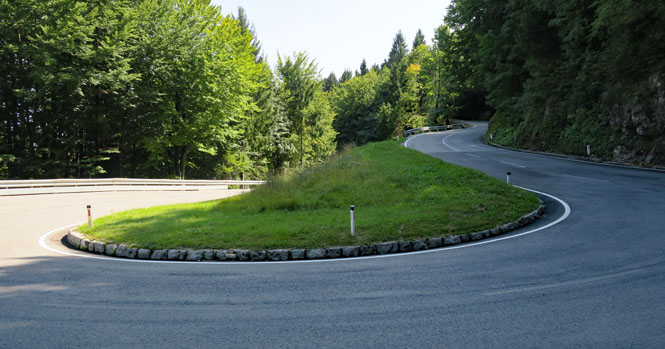 Miles and miles of forests with occasional clearings for crops. Yes; you can see the snow-covered Alps from here.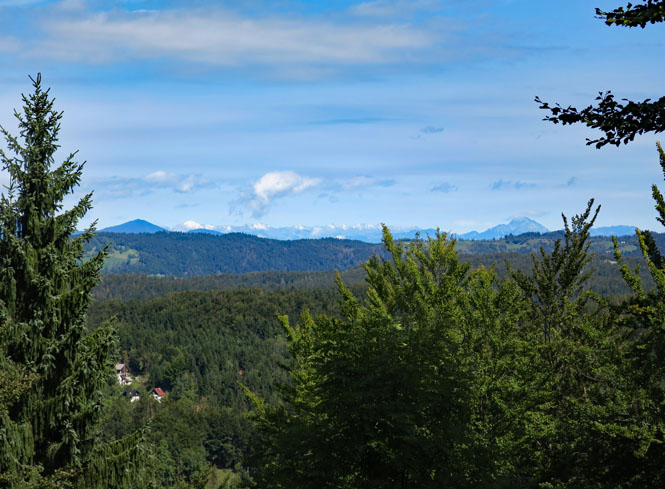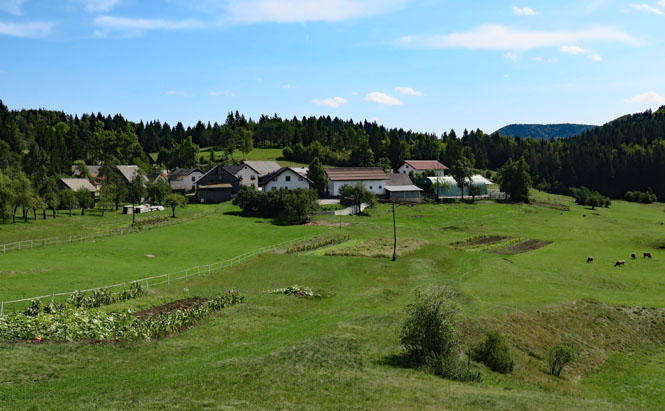 As is the general case for southern Europe, only white paint is used to stripe the roads.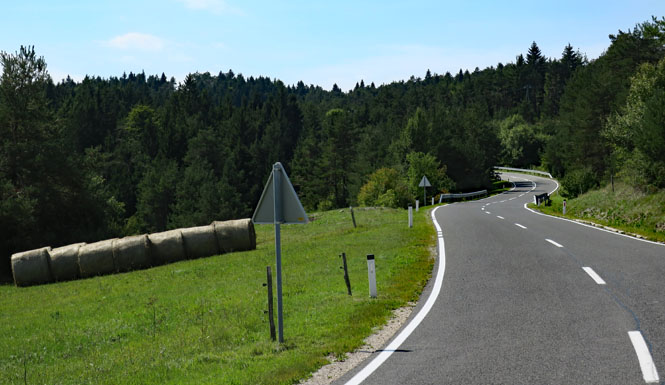 Ribnica, Slovenia. There has been a town on this site for at least 3,000 years.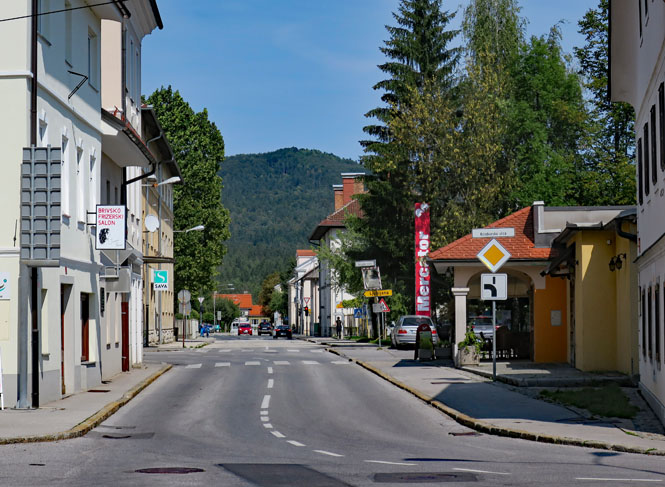 The towers of the Saint Stephen church might look quite old, but the church was built in the late 1800s. I'd guess, however, that the bridge over the Bistrica River is far older.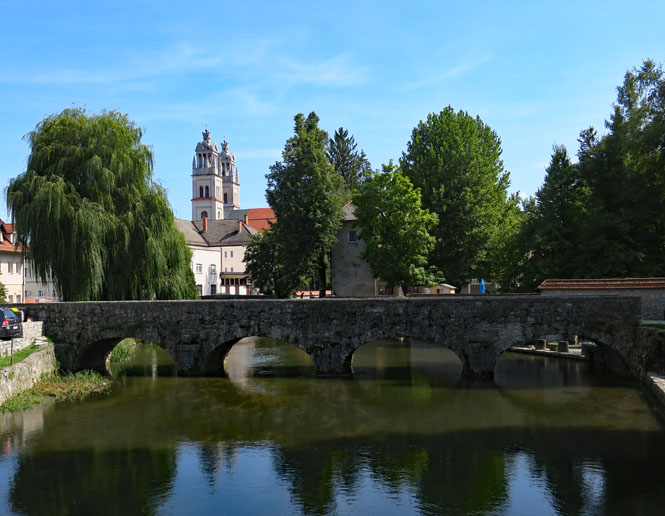 The hills are not high, but getting a road across them isn't so easy. Expect plenty of switchbacks.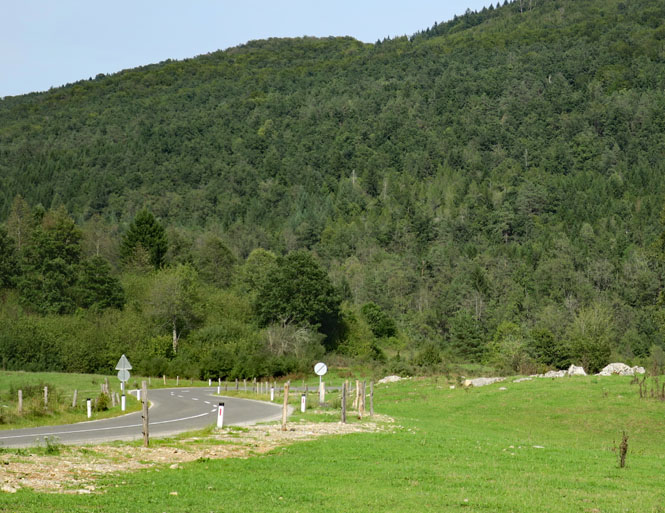 Reka Krka and (fort) Železarna na Dvoru (in use from 1796 to 1891).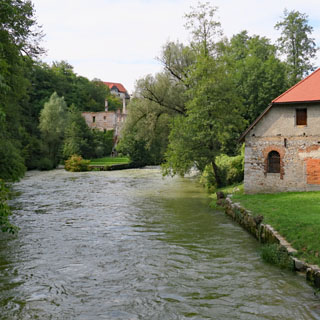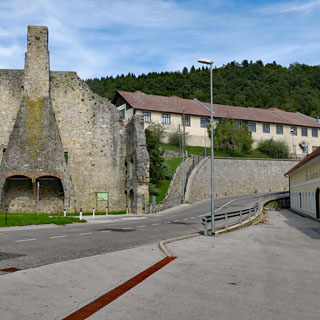 On the horizon is Croatia. I've got my small planning map out to figure out which direction I ought to be going. This is the same map (although not yet all marked up with red and blue ink) that you saw at the top of this report.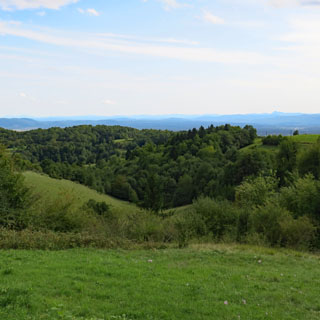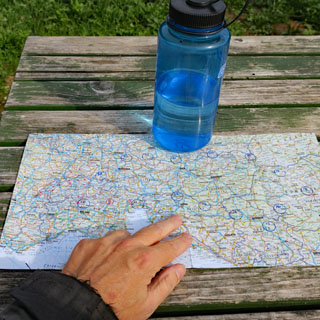 Metlika, Slovenia.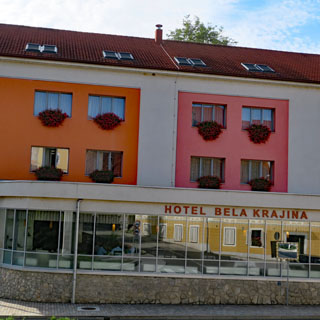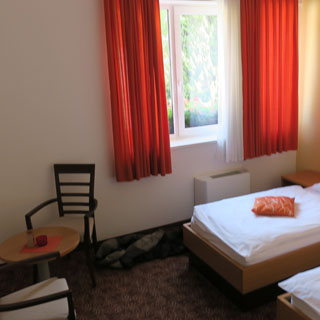 The settlement of Metlika is far older, but it was declared an official town (for whatever privileges that might bring) in 1335. However, in 1705 the whole place burned, so nothing is going to be much older than that.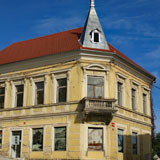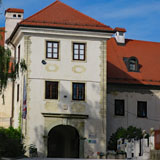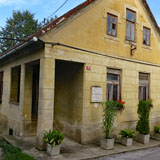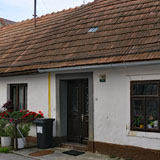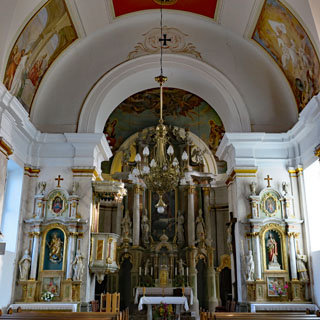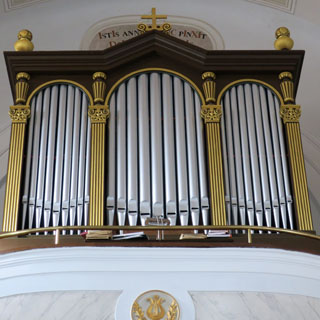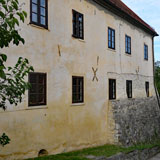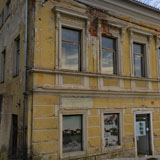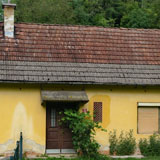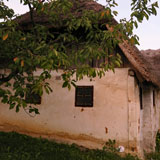 Statues such as this one--representing the partisans of World War 2 fighting fascism--are fairly common. You can just see the grenade in his right hand. What you can't see is that he's barefoot.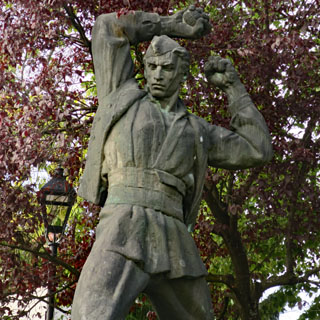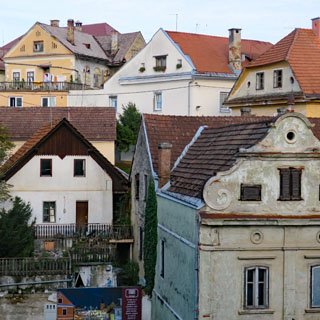 For dinner it's beer with Gobova juha z ajdovimi žganci followed by ajdovi struklji. That's a lot of ajdovi (buckwheat). Just as in northern Italy, buckwheat seems to have been (and still is) a staple food.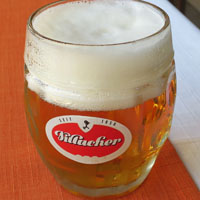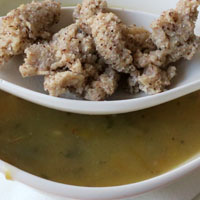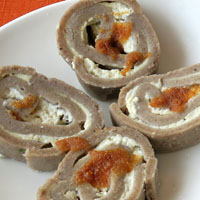 I always aim for the likely least busy border crossing. I went too far with this one. It's no longer used. No doubt there were signs ten miles back, which would have told me all about it, but that's my limitation at not being able to read the local language. I'll go find another place to cross.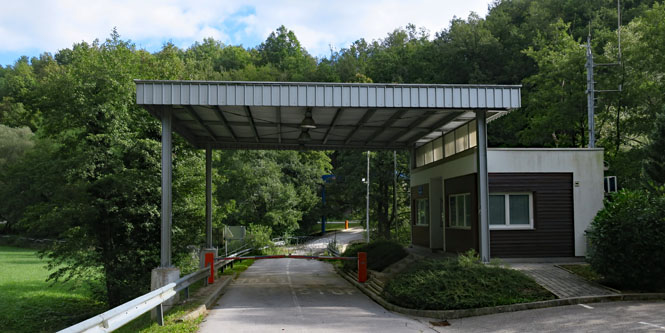 Croatia (Republika Hrvatska)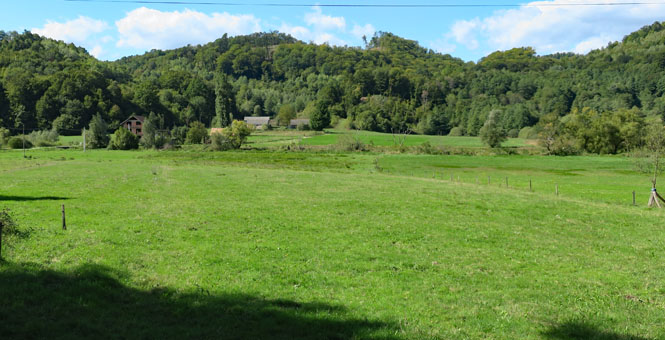 Knezevic-Kosa, Croatia. I've just ridden through the larger city of Karlovac, and having missed several turns and been otherwise annoyed by heavy traffic, it's good to stop for a bit at a quiet place like this. I sat on a bus-stop bench looking at the map and sorting out where I ought to be going.

I'll head straight east on a string of secondary roads towards the broad Sava River lowlands.
Glina, Croatia. The road surface is mostly patch-on-patch and can be quite rough.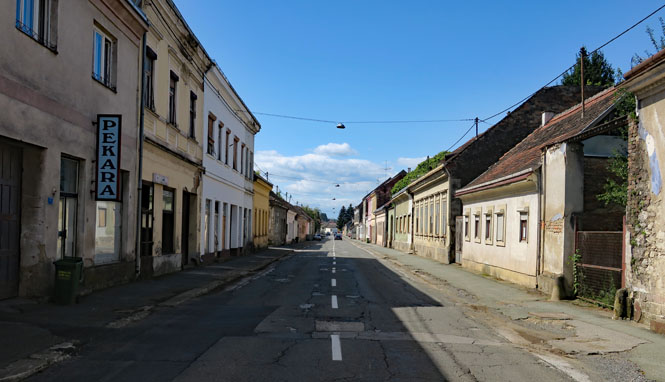 Popovača, Croatia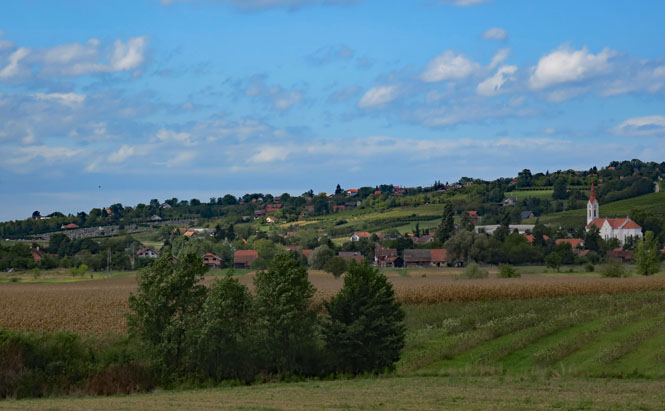 You don't have to go far to come to another apple stand. Everybody seems to have a small orchard in the back and a stand along the road. In many cases, there was nobody in attendance, so I suppose you just take what you need and leave the money in a can (the system used the world over).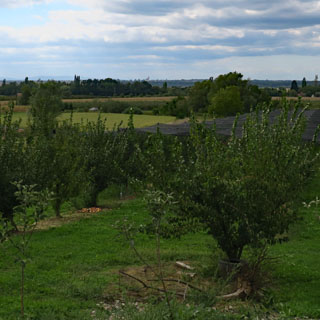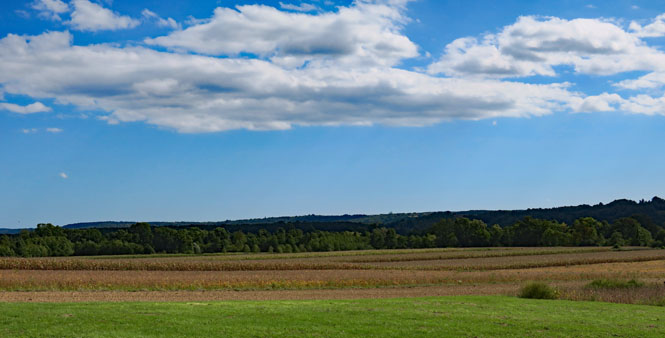 It's an interesting way to mount utility poles. In addition to keeping the wood out of the ground, they've also mounted a small "roof" to protect the end-grain at the top. This technique is widely used in the old Yugoslavian countries.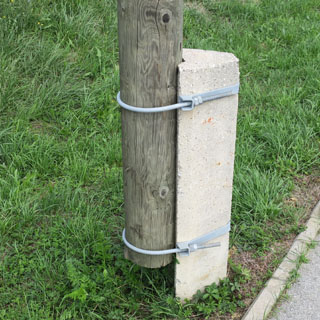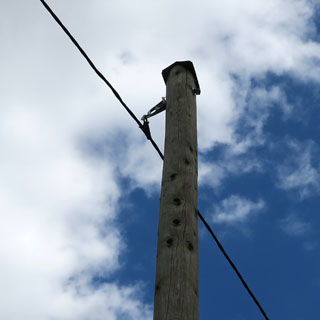 Poljana, Croatia.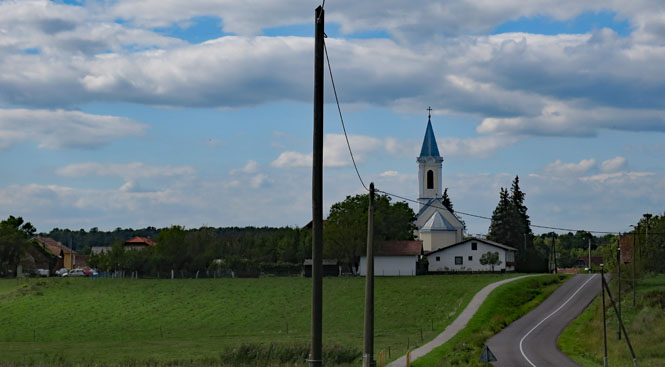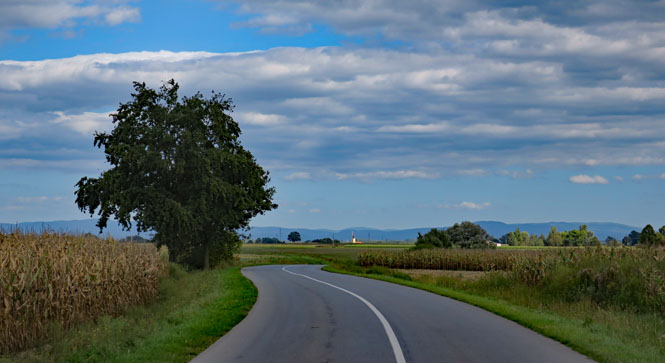 You'll find broad, flat, agricultural land between some fairly rugged hills that have nearly no population.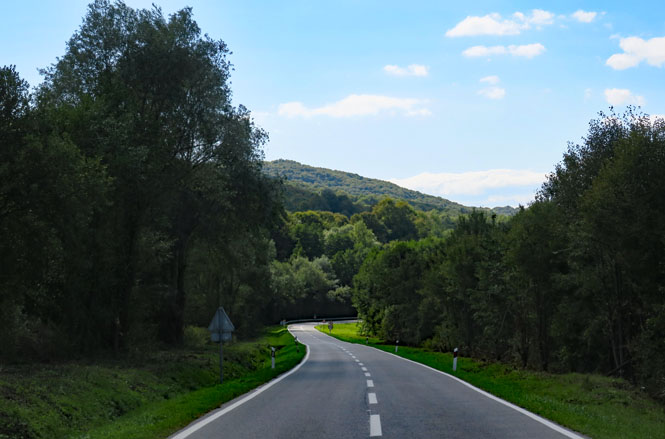 I stopped at this one, but there were dozens of other memorials, pretty much just like this. Evidently, this is the site of a battle (world war two), but other than the names and dates on the monuments, there isn't much more information. This was once a small village, but the buildings have been mostly destroyed and then abandoned.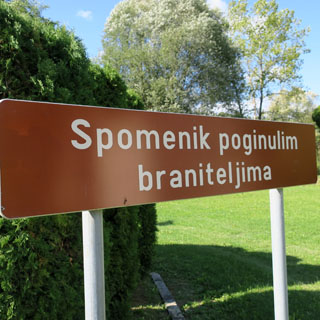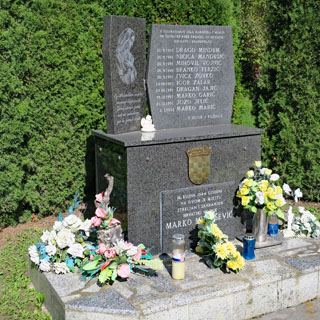 You are never far removed from scenes of fighting--some dating from the more recent Balkan wars that came with the breakup of Yugoslavia. Western Europe has long removed and repaired any battle-scared buildings, but you'll still see them, here.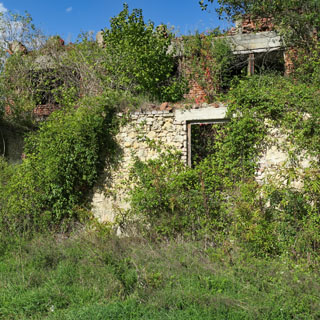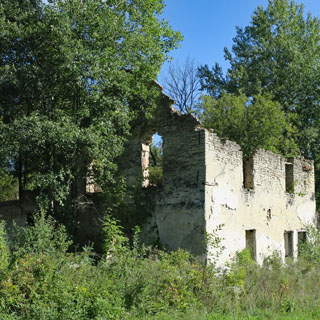 Požega, Croatia. That's my hotel (below) and the view of rooftops from my room.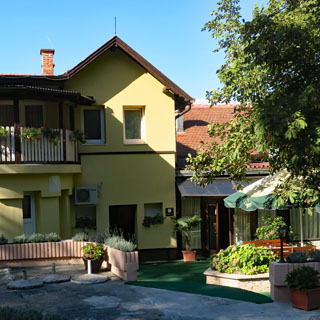 The town square. That's the main highway through the town on the left. Initially, I stopped here (a system that often works), but not seeing any hotels, I rode slowly along the road keeping a sharp eye for any decent hotel on a side street--that's how I found the one I'm staying at.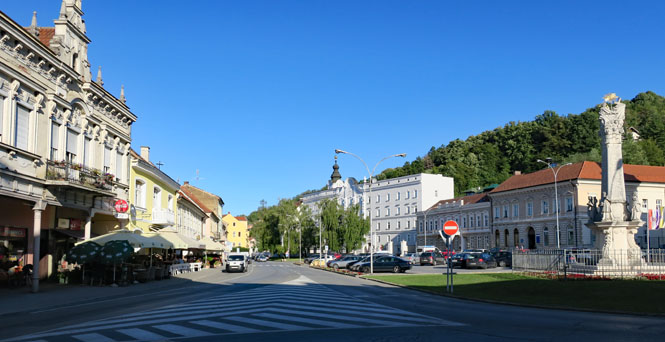 The search for a good hotel begins right in the center of town. Once you reach the outskirts, you might as well continue to the next town (this, of course, is the opposite way of finding a hotel in many U.S. towns).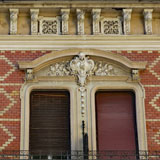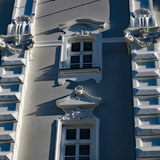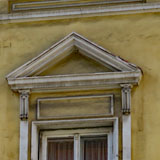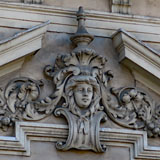 There's a wide array of different churches, which only shows the many different cultures that have controlled this town over the centuries.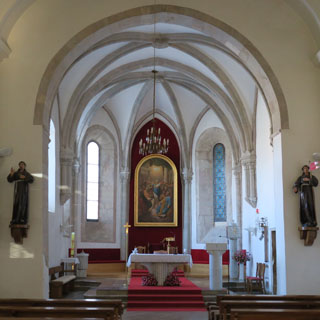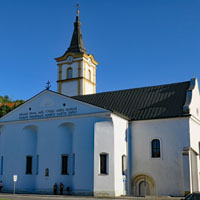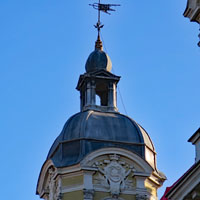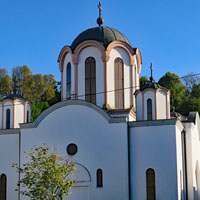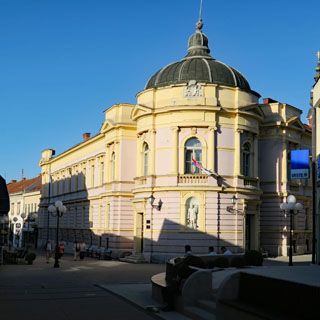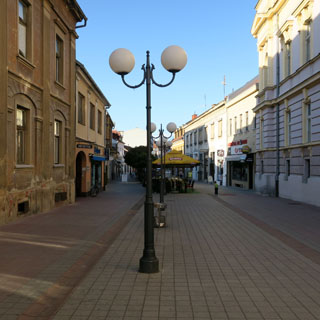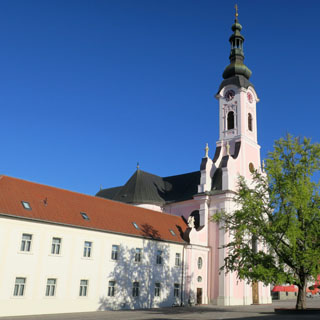 The waiter insisted that the ingredients for this pizza are entirely Croatian. I believe him. He couldn't help notice that I was American (or Canadian--which I'm often mistaken for), so he quickly sliced up the pizza at my table. As in Italy, your pizza will not come sliced, and you do not eat it with your hands (something I often tend to do, anyway).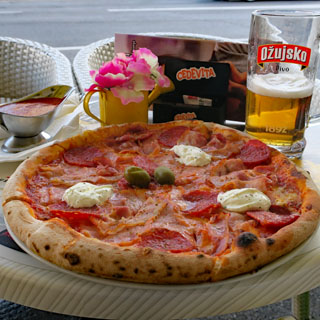 Tobacco fields.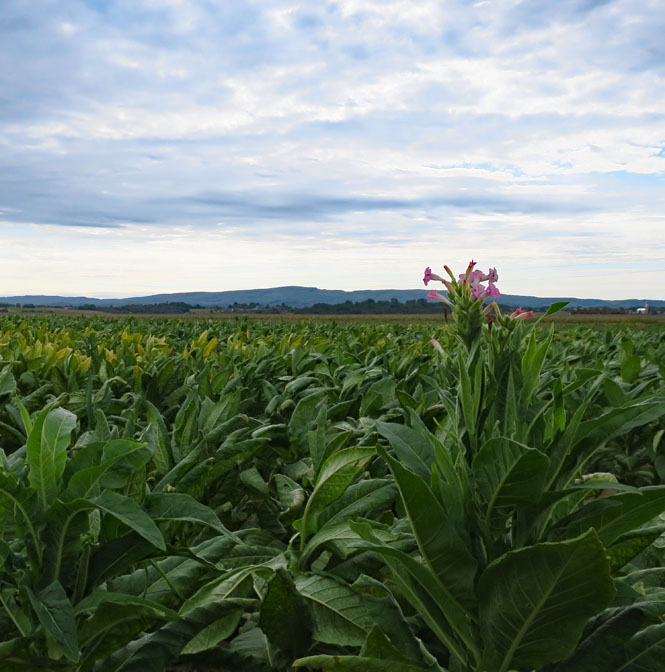 Cerovac, Croatia.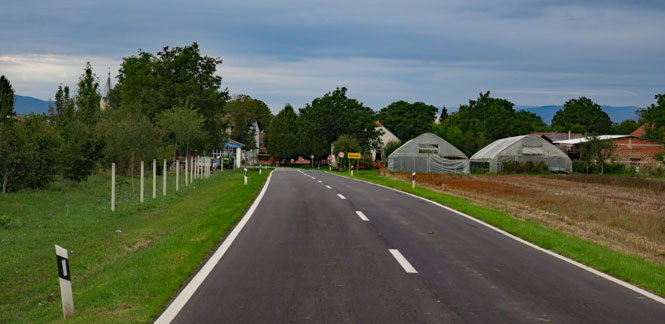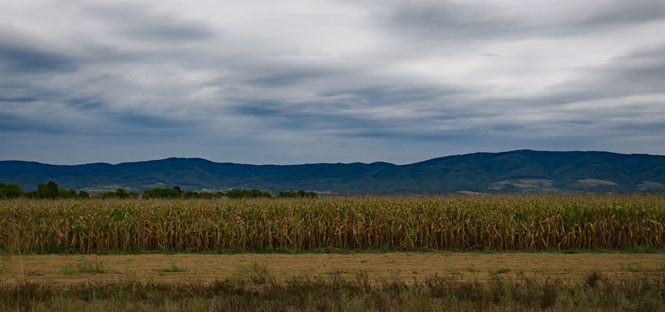 More hills, more sweeping roads to follow.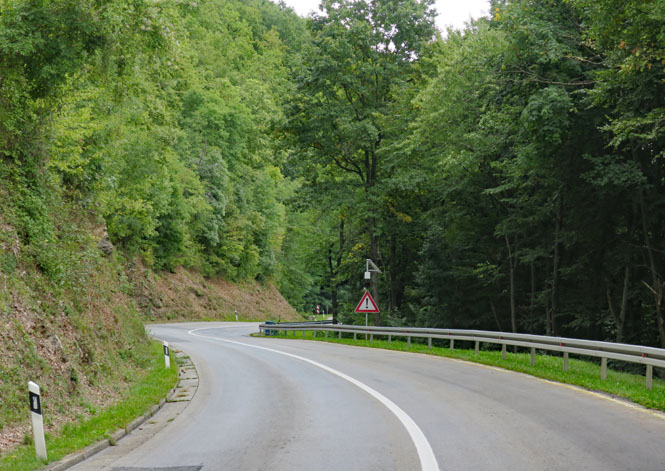 The forest floor is virtually clean. It was not unusual to see people walking along the roadside with bundles of branches on their back.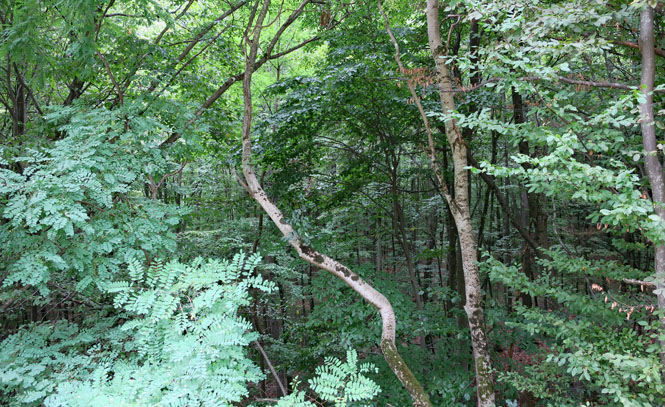 Koska, Croatia. I call this sort of thing a "fifty-mile town." It might look like a residential neighborhood, but these houses are all along the main highway. There are no cross-streets. The houses are often so close to each other that it's hard to see between them. But, if you could, you'd see wide open farm land. And that's a problem--mile after mile of a populated street with little possibility of actually seeing the land you're riding through because you're...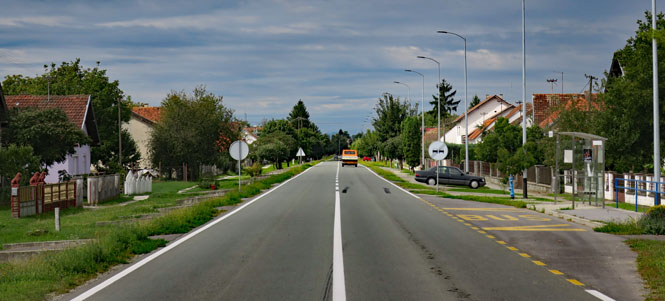 ...riding through a fifty-mile town.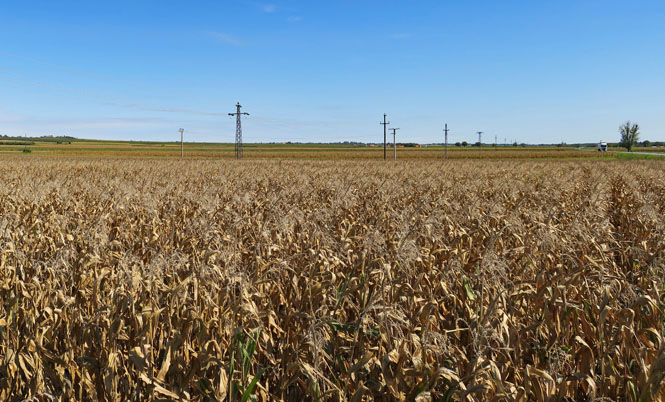 I'm aiming for a slim looking border crossing just over the Dunav. There are not many bridges across that large river, so I don't have many choices. (The Dunav is what most Americans would know as the Danube)
Bavarian: Doana
Bulgarian: Dunav
Czech: Dunaj
French: Danube
German: Donau
Hungarian: Duna
Italian: Danubio
Polish: Dunaj
Romanian: Dunărea
Romansh: Danubi
Serbo-Croatian: Dunav
Silesian: Důnaj
Slovak: Dunaj
Slovene: Donava
Sorbian: Dunaj
Spanish: Danubio
Ukrainian: Dunai
Serbia (Република Србија)
It was an odd crossing.
After riding past quite a few stationary trucks that were lined up in my lane, I checked in at the first post. She looked at me and then my passport and sent me ten yards to the second post. He (seemingly) looked at the same things and then clearly motioned me to a third shack, just over there. There was no doubt what he wanted me to do.
Unfortunately, there was another line of trucks on this side of the border, and an equally long line of truck drivers waiting at the shack. As I walked to the front of that line, the same man who had sent me to this spot yelled something at me (not in English) and then walked up to me and said "what are you doing here?" I replied "you sent me here." "You're an American; go, go!" So, I went. Odd.
Odzaci, Serbia.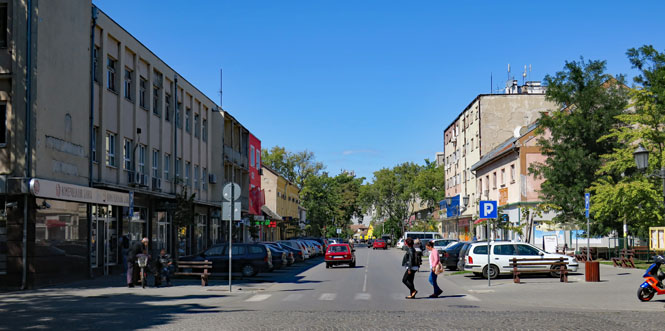 This is the DTD Kanal (Dunav-Tisa-Dunav), which is part of a large network of canals that were evidently started during the Austro-Hungarian Empire and continued to be extended into the 1970s. My route took me over this canal several more times.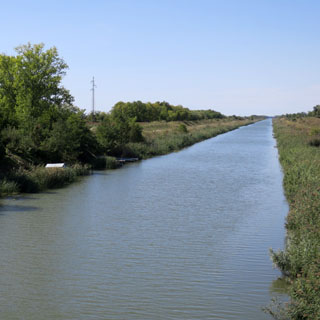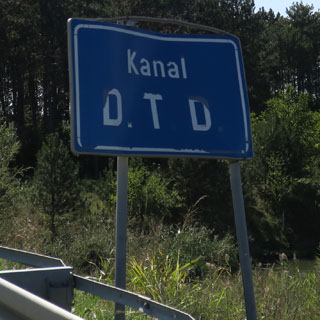 I'm seeing policemen and police cars everywhere. Every corner, between corners, in towns and between towns.
In one small town, this man waved the wand at me and motioned me to pull over. I expected to have all my documents checked, but he explained (mainly with motions) that they were expecting a large bicycle race to come through at any minute.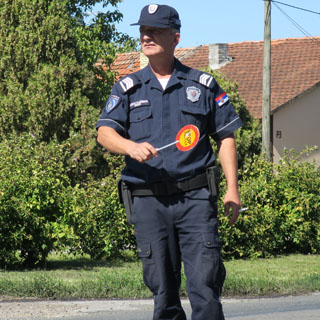 After waiting about 30 minutes, the radio traffic must have said that the bicycles were running late, so I was allowed to proceed down the road. At least, now I knew what was going on as I continued to see a large police presence. Lots of oncoming cars were flashing their lights at me giving me warning, but now that I know it's not some sort of crack-down, I'm not concerned.
Becej, Serbia.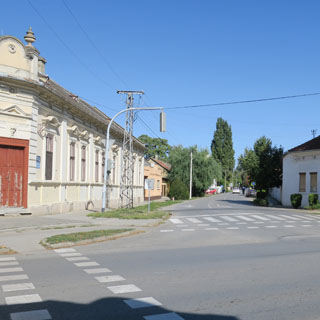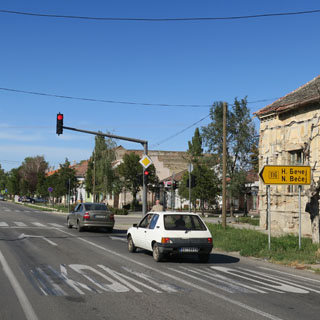 Zrenjanin, Serbia. Without trying, I've been following the route of the bicycle race this whole time. So, when I reached Zrenjanin and the main road was blocked by police, I already knew the reason.
But, this was actually handy. I shut the bike off and without much difficulty asked the nearest policeman where a good hotel was. He gave me a name (which I had him repeat several times), but indicated that I couldn't get there from here.
No matter; by keeping to the alleyways and side-streets (and with only a bit of illegal riding in a pedestrian zone), I was able to skirt around the roadblocks and find the Hotel Vojvodina on the main square of Zrenjanin.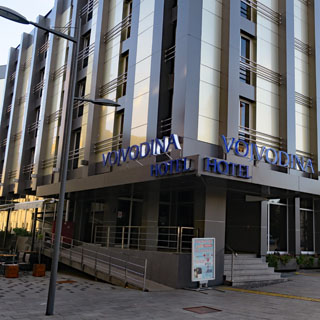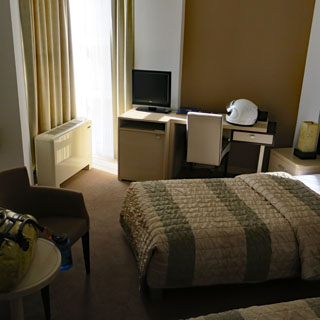 Time for my daily washing and time to switch the currency in my wallet from Croatia money to Serbia money.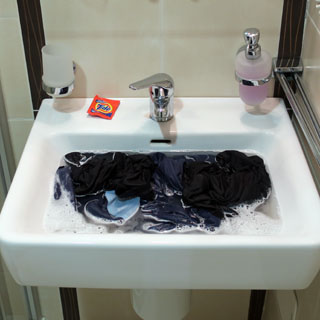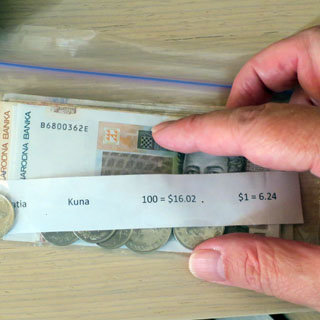 Even if you cannot read Serbian, you can figure things out. But, it was nice that the warning about not drinking the water in the hotel room was also in English. Not to worry; the strange color was already a good indicator that I shouldn't drink it (and anyway, there's always that liter bottle of water that's clipped to my yellow duffle-bag).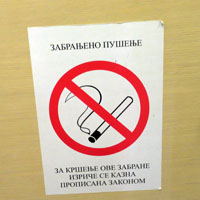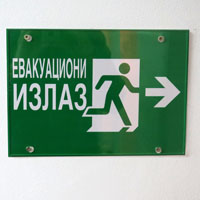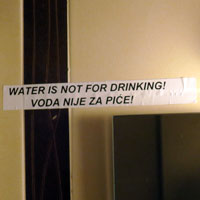 Ah; the bicycle racers have arrived while I was busy in my room. I made it down to the victory podium in time to see the top three finishers receive their medals. I am glad that I managed to stay in front of the pack--the stragglers might still be out there.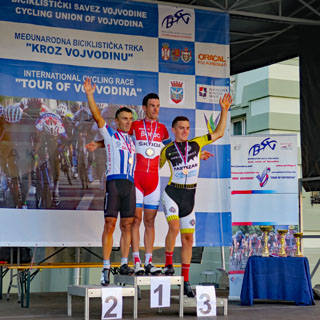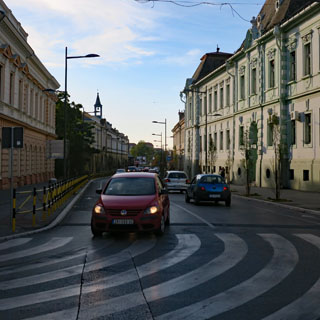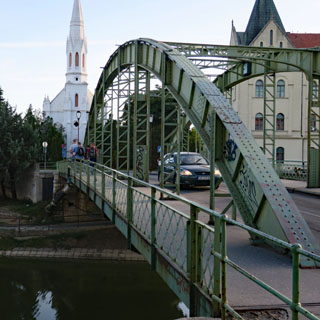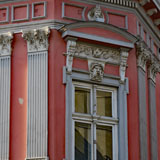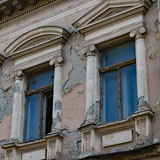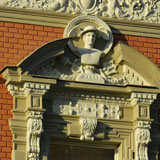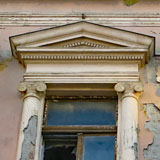 A mix of new and old buildings.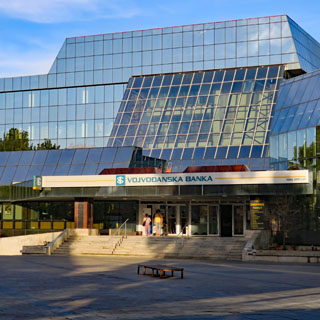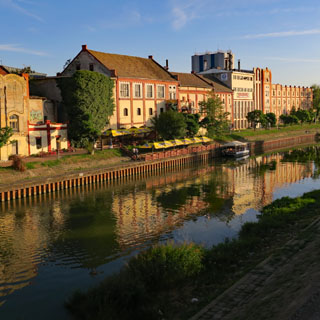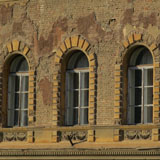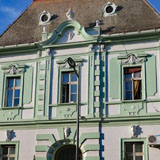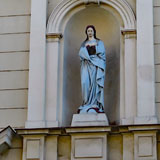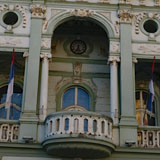 The main pedestrian street had a typical European arrangement of several open-front shops selling a narrow range of goods in each. It's a nice system. There were quite a few popcorn vendors in the center of town.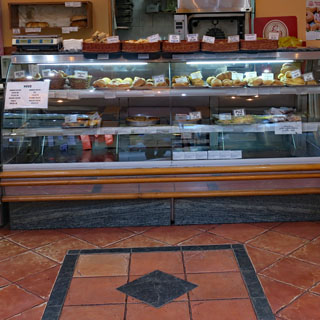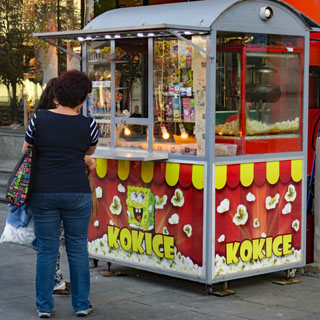 Notice that large television screen? It's showing a basketball game between Serbia and Russia. Perhaps five screens had been brought out to the public areas (from various bars along the street), each with a fair sized crowd watching and cheering on their team (which we'll assume is the Serbia team).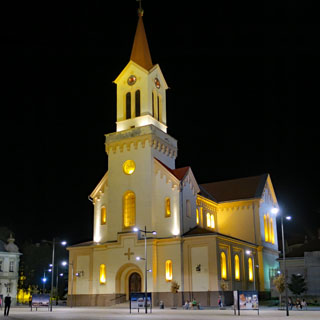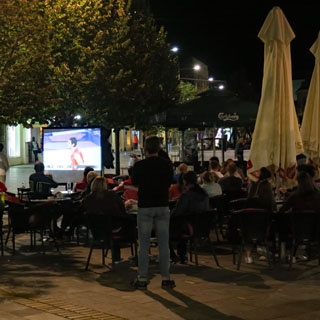 This part of Serbia is wide and flat and every bit agriculture. There were quite a number of tractors on the road, but they were good about pulling over (it's not France).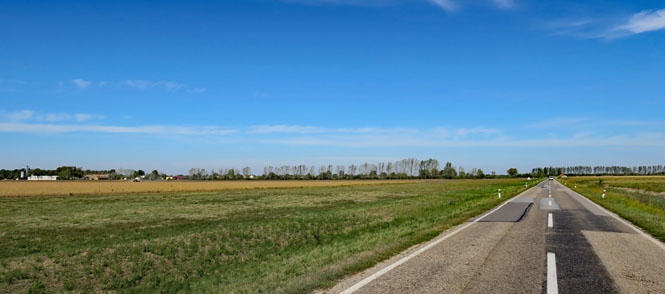 Finding fuel was never a problem. I had only a few problems using my American credit card at the self-service pumps (Chip and Signature isn't accepted as readily as Chip and PIN), but most pumps were staffed, so overall, I didn't have any problems keeping fuel in the tank.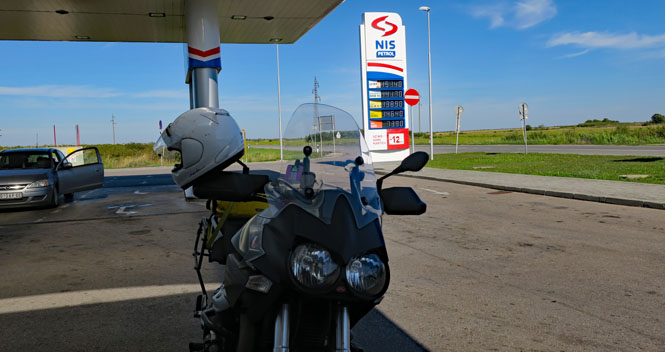 Vršac, Serbia. This was a market day in Vršac and it was more difficult than you'd think it should be just getting through the place. Eventually, I took any road that was even remotely going my way, which is how I ended up here--apparently, the old highway.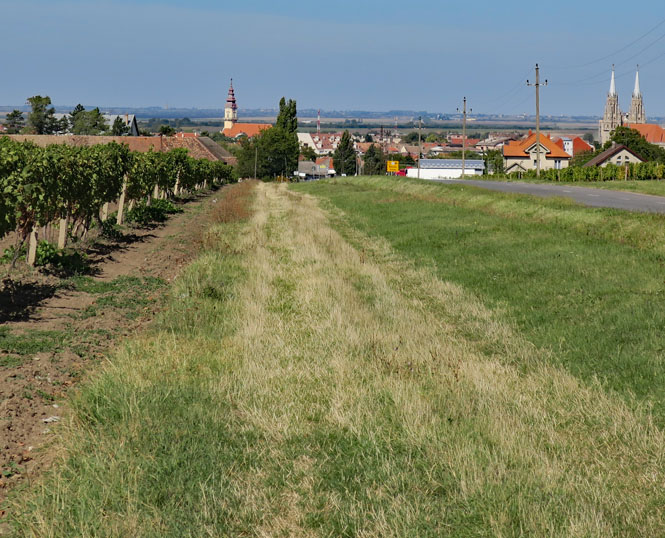 It's not quite like Italy, where most every hilltop will have a fortress or castle, but even so, it's not rare.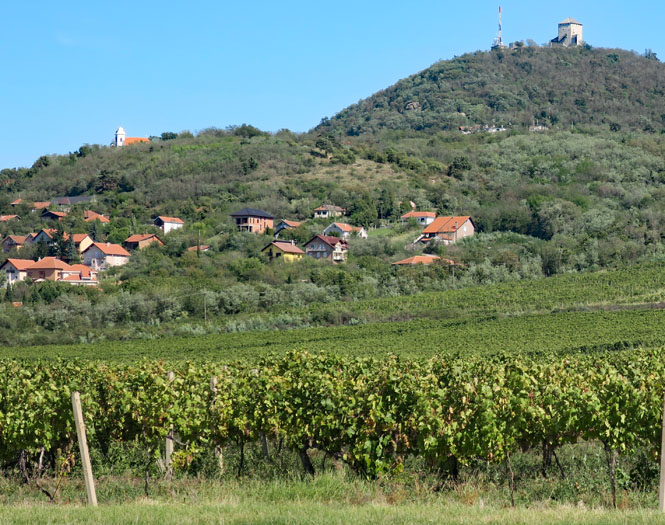 I smile to see that photograph of the motorcycle parked on the shoulder. There was no traffic and nothing to worry about.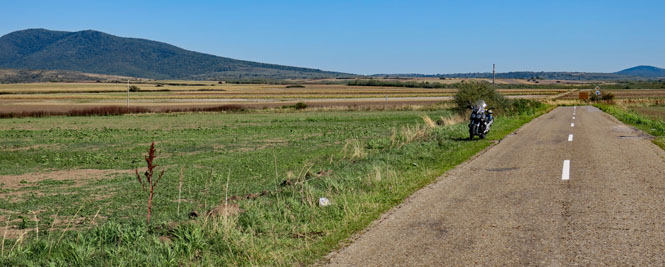 Udvardszállás, Serbia. This town has two names listed. I saw as many as five names for some towns. I'm still riding the old highway, so I am confident that it will remain (mostly) paved.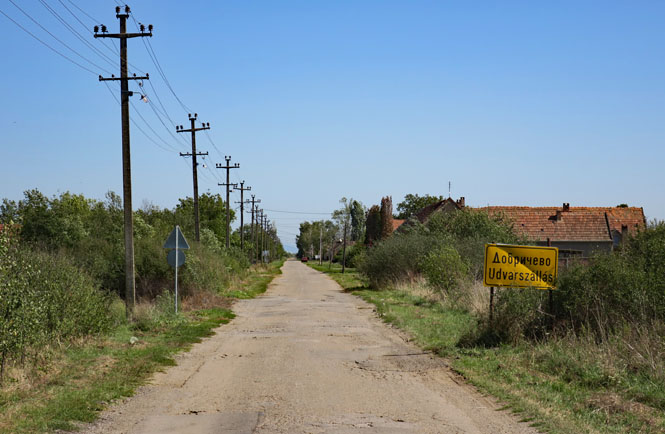 Jasenovo, Serbia. It's here that my old road runs into the newer road. It's still just two lanes, but the pavement is much better.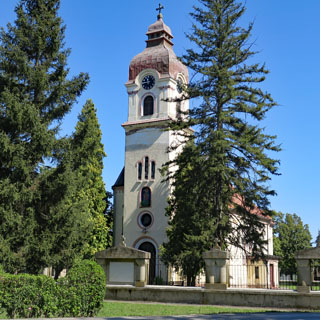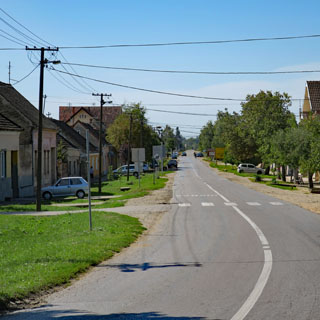 See those hills? That's the beginning of the Carpathian Mountains. After the effort to get here, it was good to see them for the first time.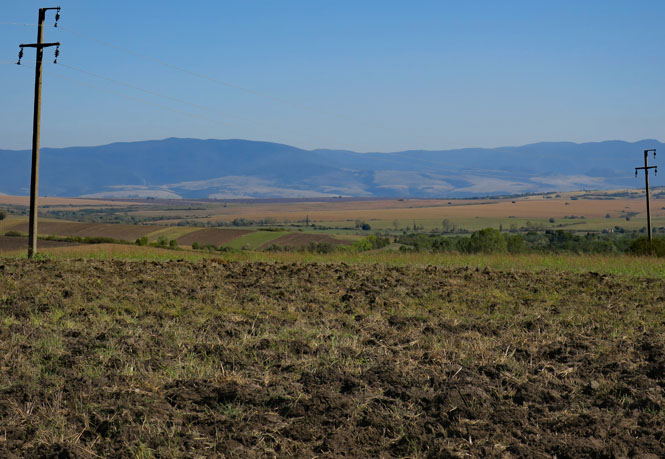 Again, I'm heading for the least border crossing I can find on my map--the thin grey line; not the thick red line.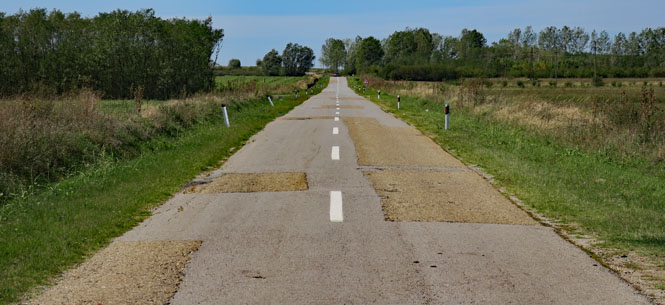 Romania (România)
I had another odd crossing, but different than the one into Serbia.
There was one road lane into the border checkpoint, but cars seemed to be in two lines. I took the right line, and got off the bike to simply push it along as the line moved forward, as I often do at these places.
I offered the official my passport, but before taking it, he looked at my license plate and said "Italiano?" No. "Io sono un americano." American? He smiled, made a joke of asking if my bag had contraband, waved off my passport and said I could leave.
So, that's what I did: I left. A mistake.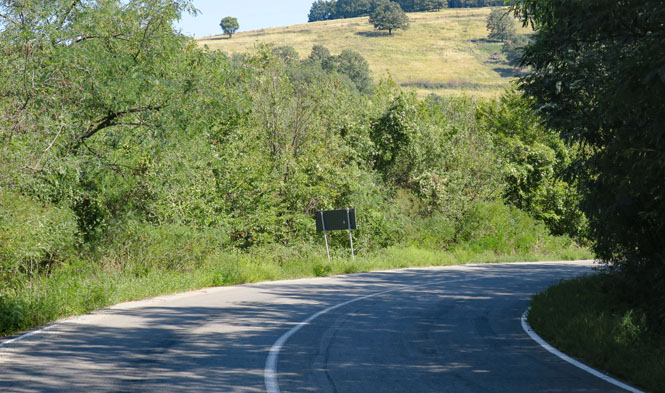 I now believe that this is what really happened:
The left line was for passport checks and the right line was for customs. I bypassed the left line, but the official didn't know that. He assumed I'd already been checked out by his colleague. So, that's how I found myself in Romania without the official stamp in my passport or without ever even showing my passport. Leaving without that official stamp was my mistake.
The Beautiful Blue Danube--or Dunarea on this side (Romania) and Dunav on the other side (Serbia).

My intention was to head towards Tirgu Jiu in the most straight way possible over the mountains (actually the foothills of the Carpathian), which would mean roads of questionable quality. Things were going pretty well, until this point, when the pavement gave way to compressed rocks and the path ahead was looking more like a mining road with large potholes than a real road meant for cars (of which there were none). Looking at my watch and the map and the sky, I decided for a different route, entirely. That was a good decision. I hate turning around, but then, I don't want to be stupid about it, either. That night there was a record-setting rain in this area.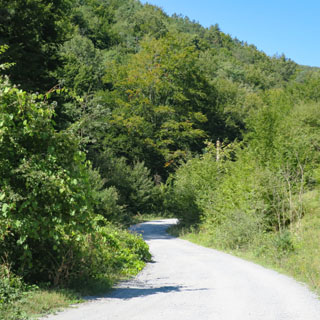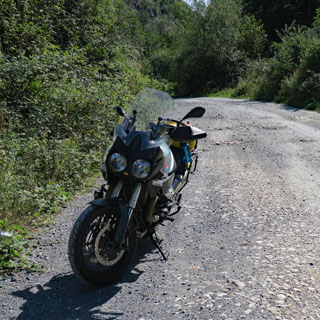 Instead, I'll follow the big river and then turn north at some point.
This is the Golubac Fortress (across on the Serbia side of the river). It's been controlled by a variety of empires over the centuries. At one point, there was even an iron chain across the river, which would have been a pretty effective way to limit smugglers. The main point of the fortress was to collect customs from anybody using the river (one of the longest in Europe, and so, used by everybody).
If you tried to avoid paying, I'm sure the people in the castle would insist on it.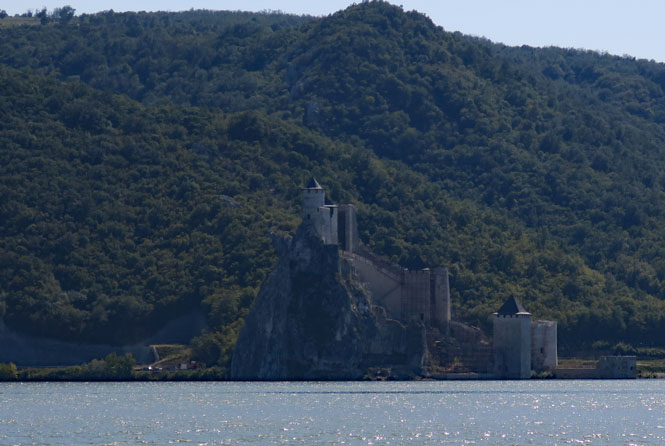 We seem to be mining different colors of dirt and rocks...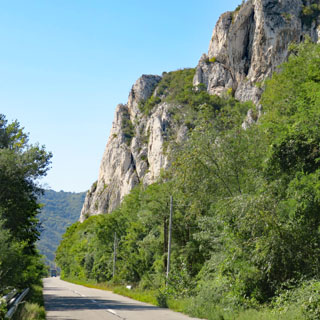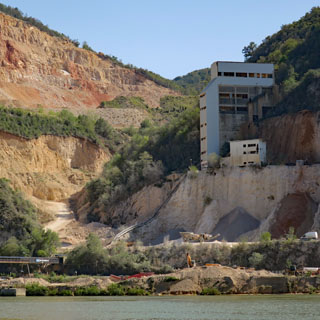 The road along the river is beautiful.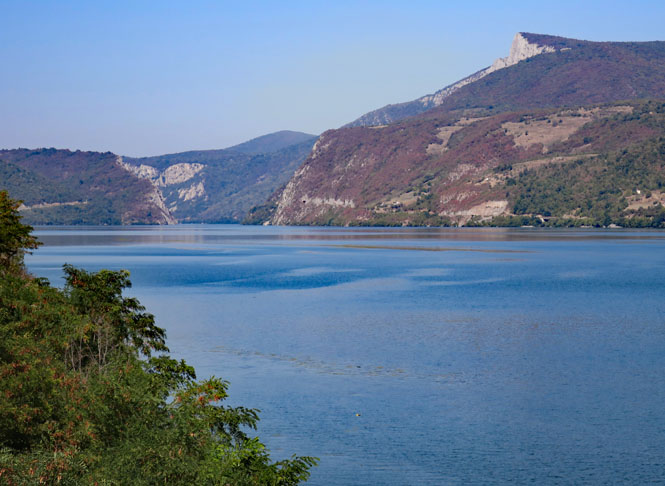 The Iron Gates of the Danube. Considering the size of the river, this narrow gorge is quite something.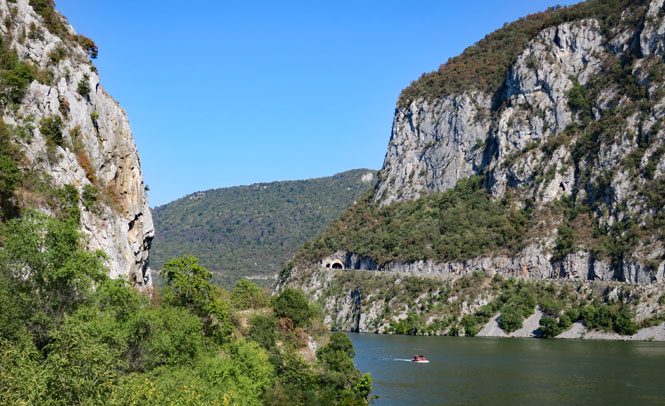 Instead of turning north, away from the river, I'll stop at the town of Drobeta-Turnu Severin and sort my route in the morning. I'm not certain there will be any hotels beyond here in the remaining time I have, today.
There was a comfortable bar/lounge next to the reception area, so I dropped to the couch before even going to my room. I am fatigued. Put the beer on my tab, please. Vă mulţumesc.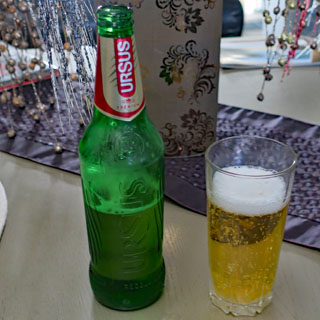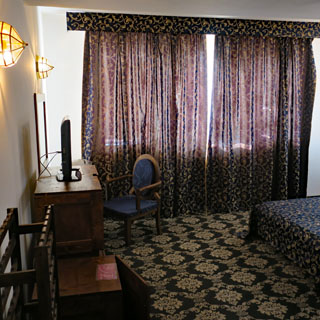 It was Roman Emperor Hadrian who first proclaimed this to be a city. Since the Romans, there have been Huns, Hungarians, Bulgarians, Ottomans, Austrians and assorted other conquerors.
Looking towards the river along a broad pedestrian street. That distinctive building at the end is the Castelul de Apa (water castle).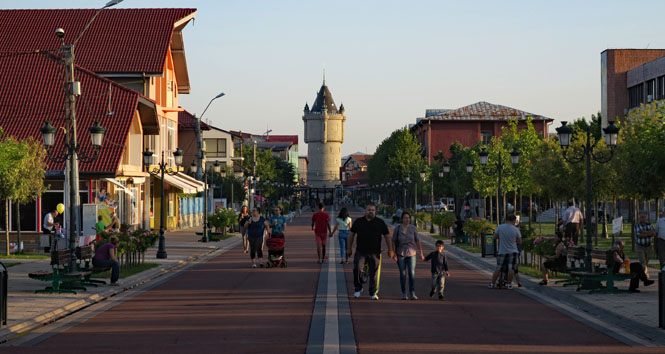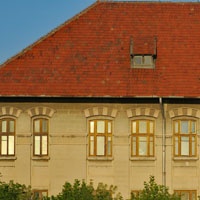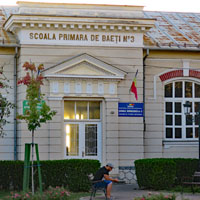 There's a mix of ghastly twentieth century architecture and beautiful eighteenth and nineteenth century architecture.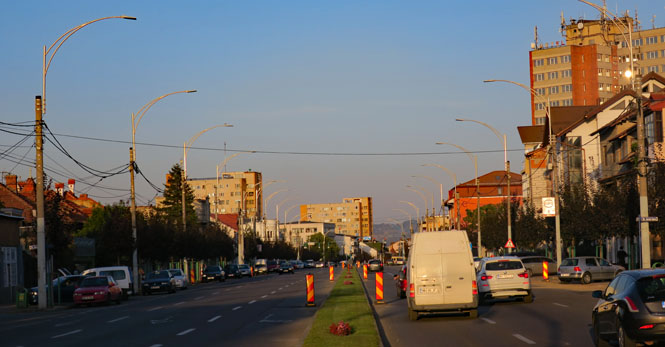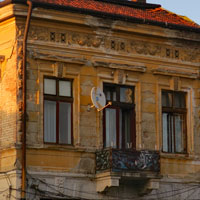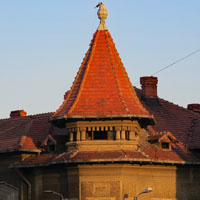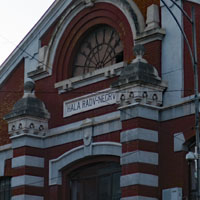 The interior of the orthodox church is stunning. It doesn't look all that old (perhaps it was rebuilt on an existing site), so it's nice to know that the skill to do this sort of religious painting still exists.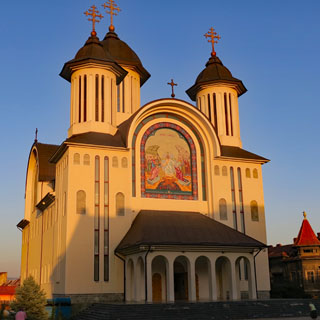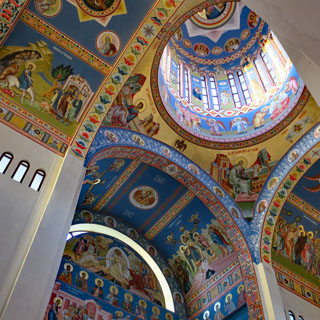 I was careful not to be in the way or otherwise intrusive. I stepped into the orthodox church and was a witness to a christening and was therefore able to hear some amazing chanting during the ceremony.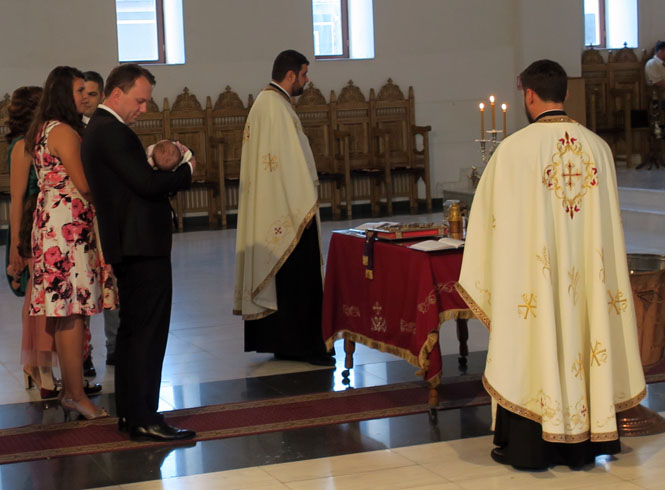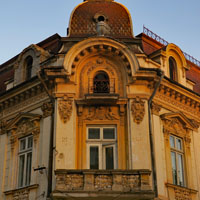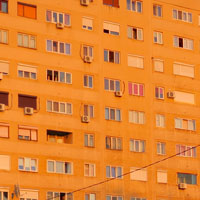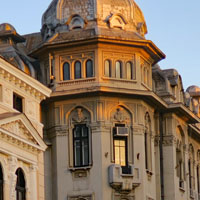 That fountain has several gracefully moving parts and puts out quite a bit or water.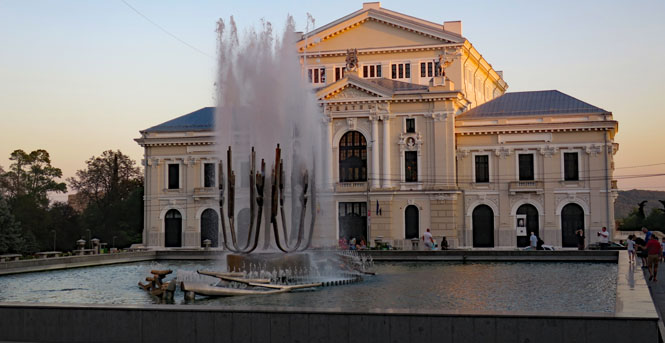 One of the great air-missions of World War 2 was the 1943 raid on the Ploiești oil refineries by B-24s, which had taken off from Benghazi, Libya. This isn't that refinery, but it's pretty close and (perhaps) is similar to what the target might have looked like.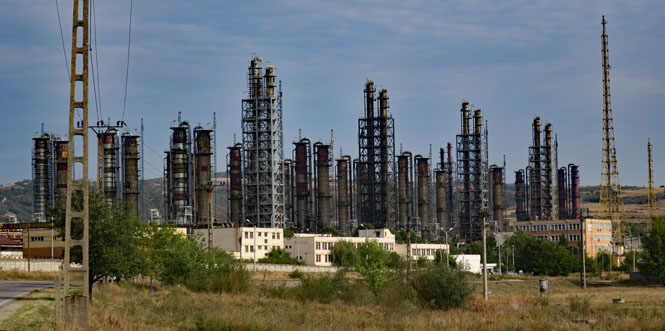 Cards are not accepted; cash only. And, don't expect anybody to speak English. Benzina or Motorina? You'd best pick the right one.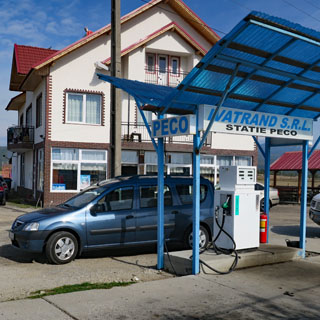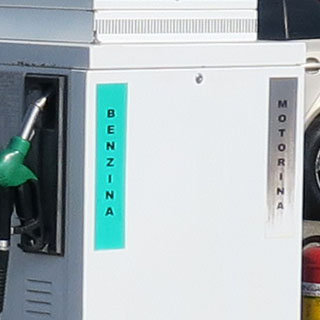 Hay stacks such as this (using a pole in the center) are quite common throughout the Balkans. It's also common to see men out in a field hand-reaping with a scythe.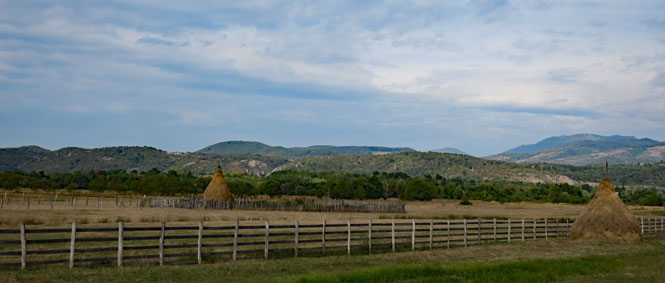 Arjoci, Romania.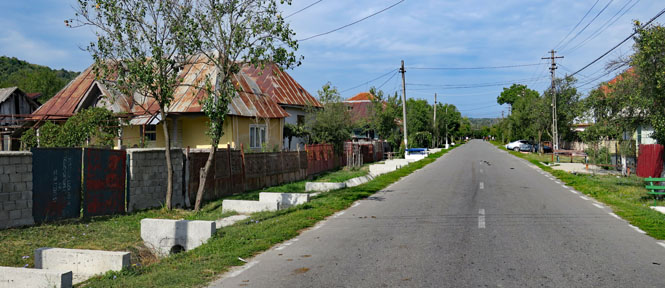 This is common. About every five or six houses there will be a water well next to the road. Notice the clean pail and the hand crank. If you want water, you'll need to do more than just twist a knob in the kitchen.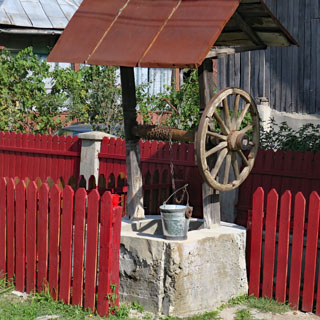 Romanii de Jos, Romania. The "fifty-mile towns" that I saw in Croatia and Serbia are also in Romania. Sigh...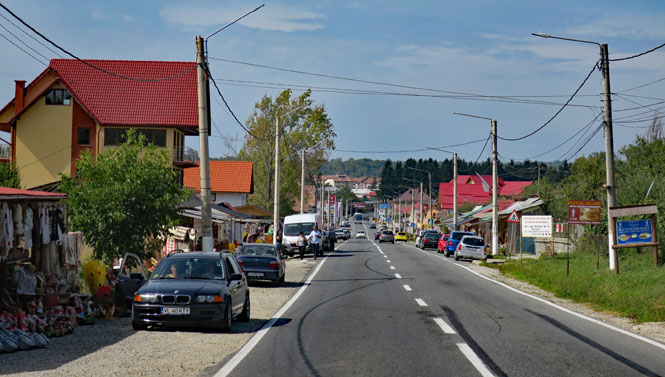 There are two routes across the Carpathian Mountains that I've got to choose from and I have marked both on my map: the Transalpina and the Transfăgărășan. Both are somewhat famous and both are probably going to be spectacular. Distance-wise, they're not that far from each other. I choose the Transfăgărășan, just because. Next time I'm here, I'll take the other.
Curtea de Argeș. Next up is the mountain crossing, and since I'm not really sure how long that will take, I'll stop here for the night at the Hotel Posada.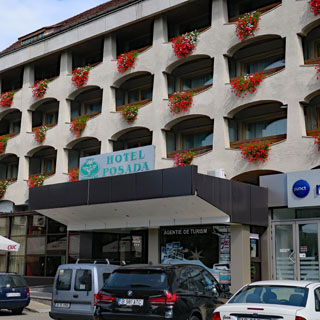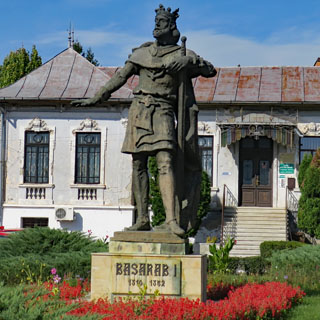 This town has been here a very long time and was once the capital of Wallachia. Because of that, Basarab I is a popular figure around here. He was the first ruler of Wallachia and ruled in the mid-thirteen hundreds. Incidentally, Vlad Dracula is his descendant.
The Biserica Domnească was built in the time of Basarab I. The ruins of his palace have been partially excavated.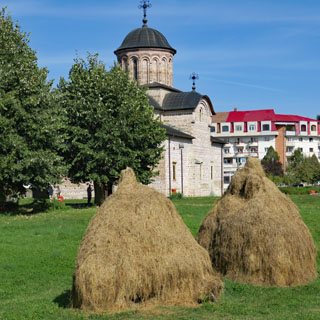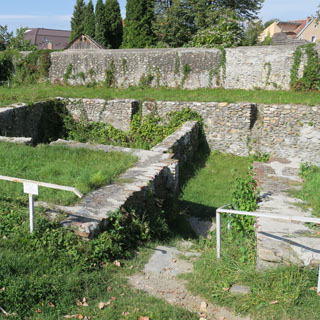 It has perhaps the most stunning interior of any painted church I've seen.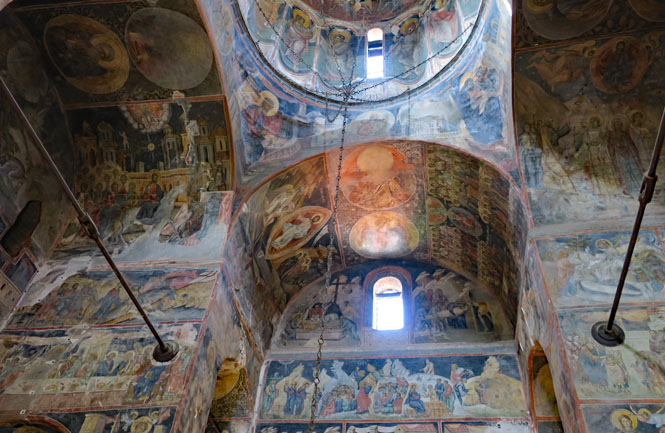 The local museum is nice, but none of the exhibits are in English, so you've really got to work at it.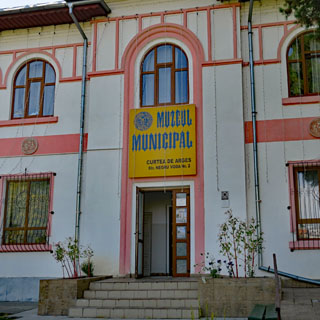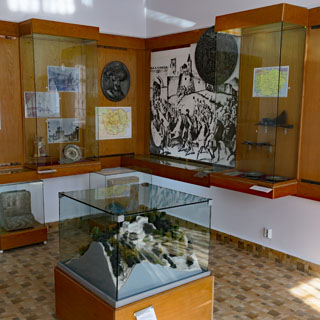 I like seeing these older maps. They're really helpful in understanding the various changes over the centuries of who ran things, and explains a lot of what you'll see in the towns and why.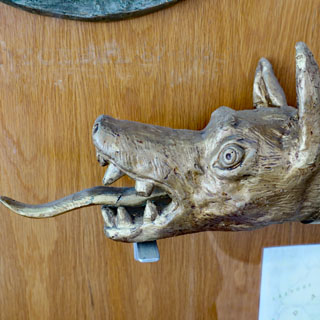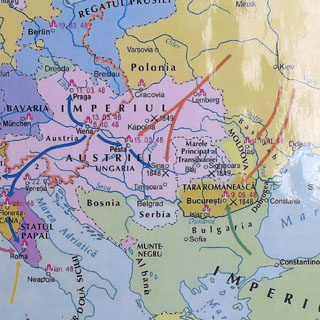 On the left is just a (typical) house, and on the right is the Episcopal Palace of the Romanian Orthodox Archdiocese.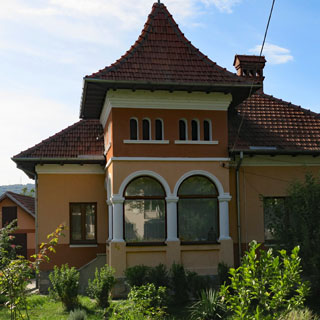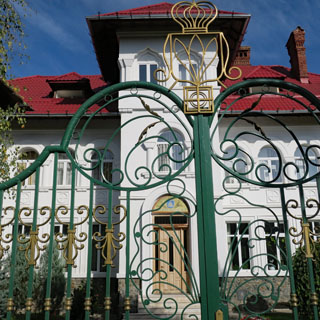 The Curtea de Argeș Cathedral (sixteen century).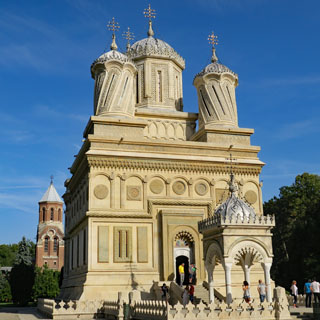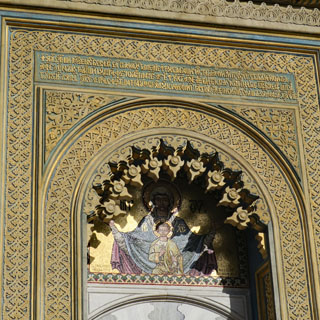 I begin to have an appreciation for Romanian food.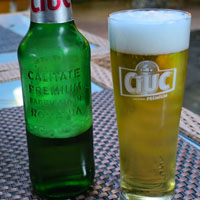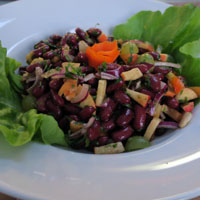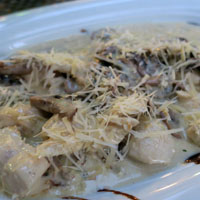 It's morning; time to hit the Transfăgărășan.
Up on the hill is Poienari Castle, a sometime home for Vlad III, Vlad Dracula, Vlad the Impaler (one and the same). It takes some 1,500 stair-steps to get up there, something I had little interest in doing.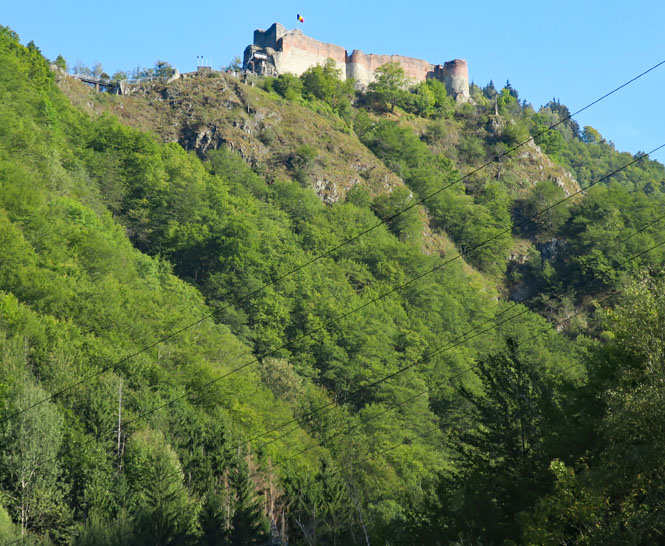 Already this road is pretty astonishing. You can't look at that mountainside and think that's a sensible place to build a road.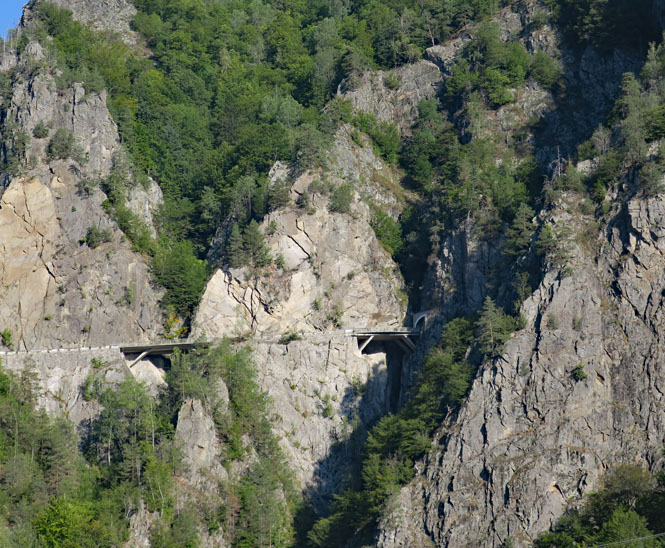 The Argeș River.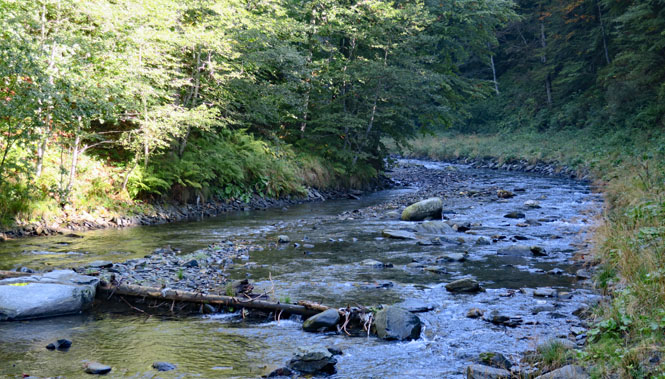 The road is open.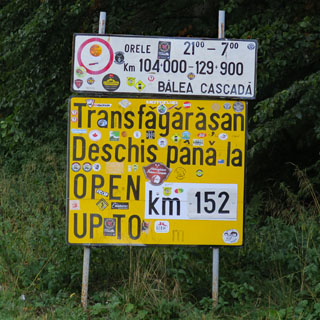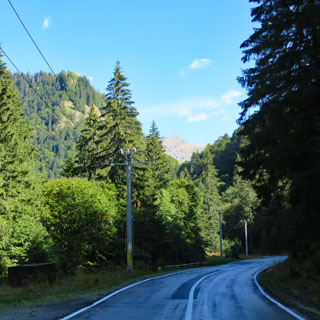 The Transfăgărășan was constructed between 1970 and 1974 during the rule of Nicolae Ceaușescu as a response to the 1968 invasion of Czechoslovakia by the Soviet Union. Ceaușescu wanted to ensure quick military access across the mountains in case of a Soviet invasion. At the time, Romania already had several strategic mountain passes through the Southern Carpathians, whether inherited from the pre-communist era (the DN1 and the high-pass DN67C) or built during the initial years of the Communist regime (the DN66). These passes, however, were mainly through river valleys, and would be easy for the Soviets to block and attack. Ceauşescu therefore ordered the construction of a road across the Făgăraş Mountains, which divide northwestern and southern Romania.

Built mainly by military forces, the road had a high financial and human cost. Work was carried out in an alpine climate, at an elevation of 2,000 metres, using roughly six million kilograms of dynamite, and employing junior military personnel who were untrained in blasting techniques. Many workers died; official records state that 40 soldiers lost their lives, but unofficial estimates by workers put the number in the hundreds.

The road was officially opened on 20 September 1974, although work, particularly paving of the roadbed, continued until 1980.

- Wikipedia
I'm not sure what that sign says, but it's probably something about not driving stupid.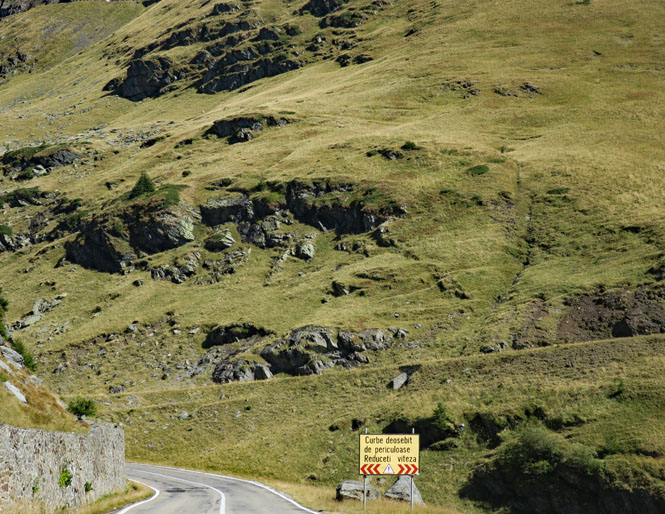 We've gone up the valley as far as we can; now it's time to climb the side.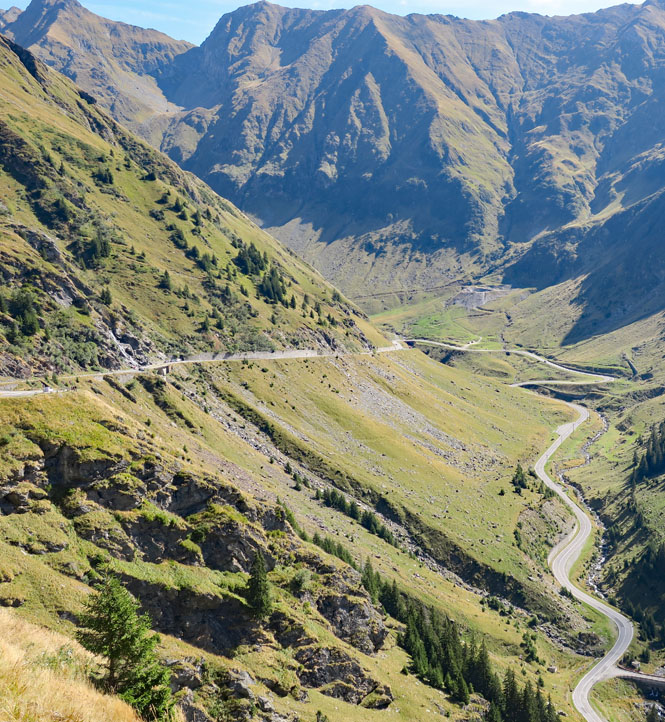 Look up at the rocky area, you'll see the road.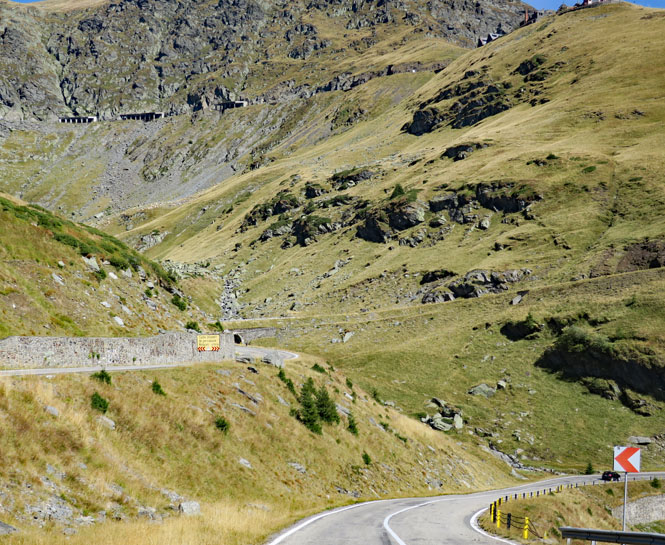 Looking back at the road I've just been on.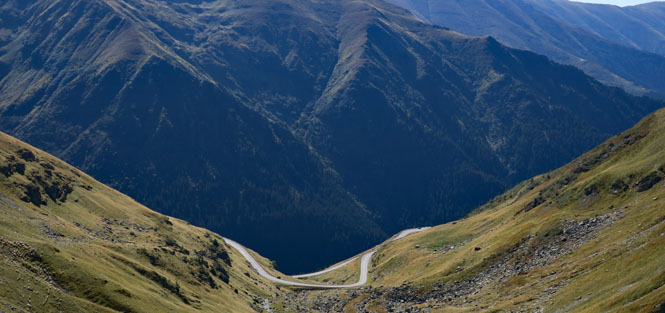 Eventually, there's no more climbing that can be done, and so the road plunges through the mountain and emerges at this flattened area on the north side (seen below). If this mountain were in Switzerland, they'd have just tunneled through at the base level and called it a day.
Plenty of vendors are selling things.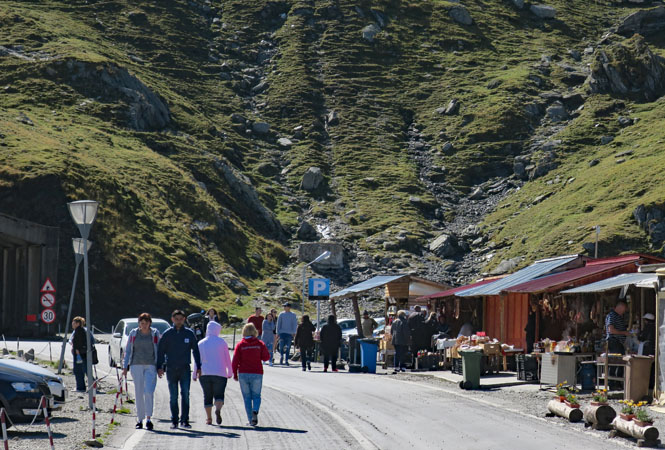 The meats are already cooked/smoked and are ready to eat. I'm not at all sure what the rest of the things are.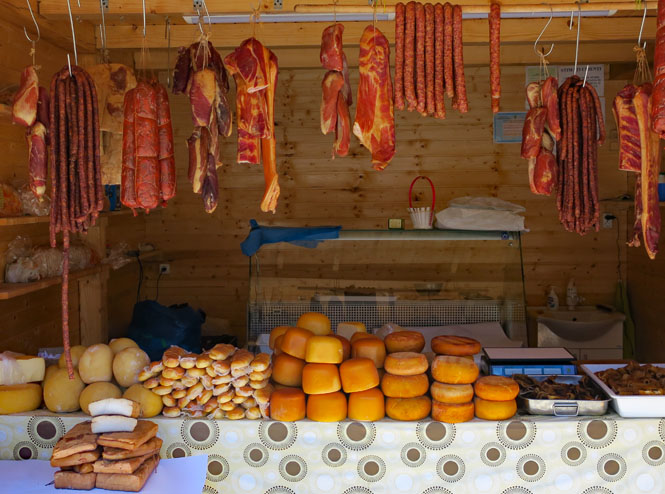 I'm having a grilled polenta shell filled with hot polenta mush mixed with cheese and a sausage of some sort down the middle. Excellent.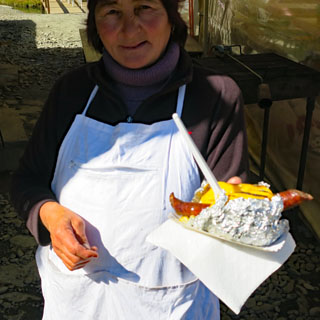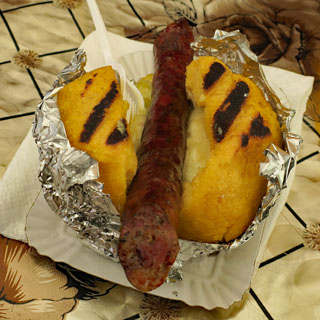 The view looking to the north. I'll be down in that flat land soon enough.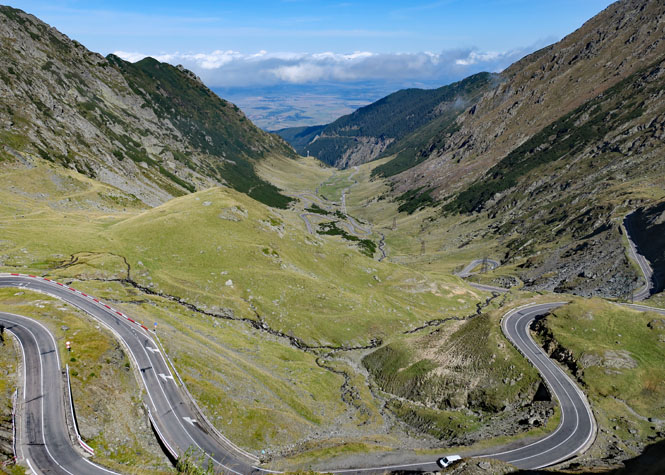 Looking back to the mountain. You can see the road zig-zagging its way up.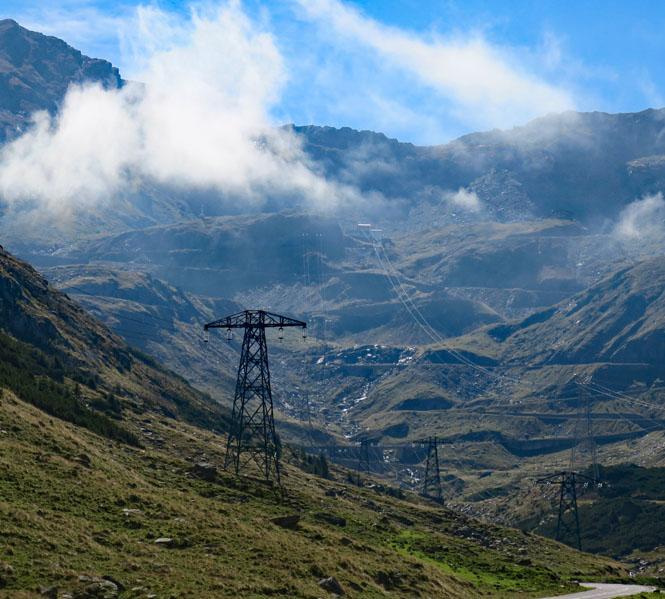 A view of the Carpathians.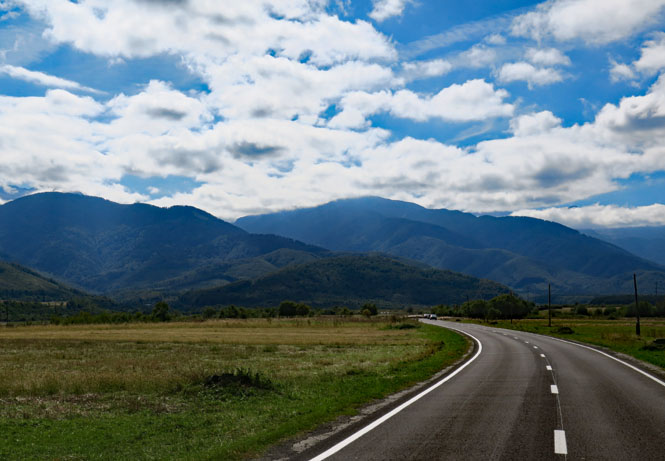 I'm running small roads in a generally northeast direction. In some cases, there are not many bridges over the larger rivers, so there can be a pretty significant deviation.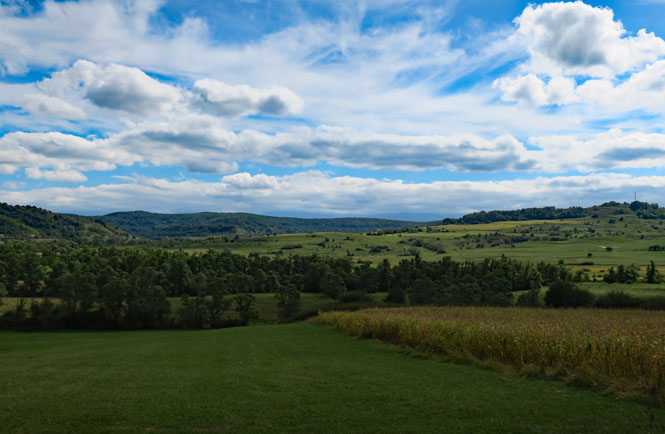 Something I quickly noticed is the lack of any "fifty-mile towns", which makes me happy. This part of Romania (Transylvania) has a different history than the land south of the Carpathians. Evidently, that had an effect on how the towns were established and the people who settled them.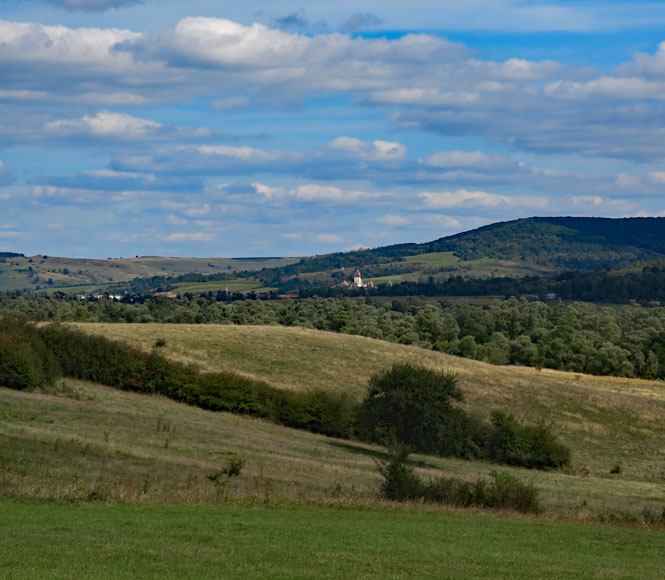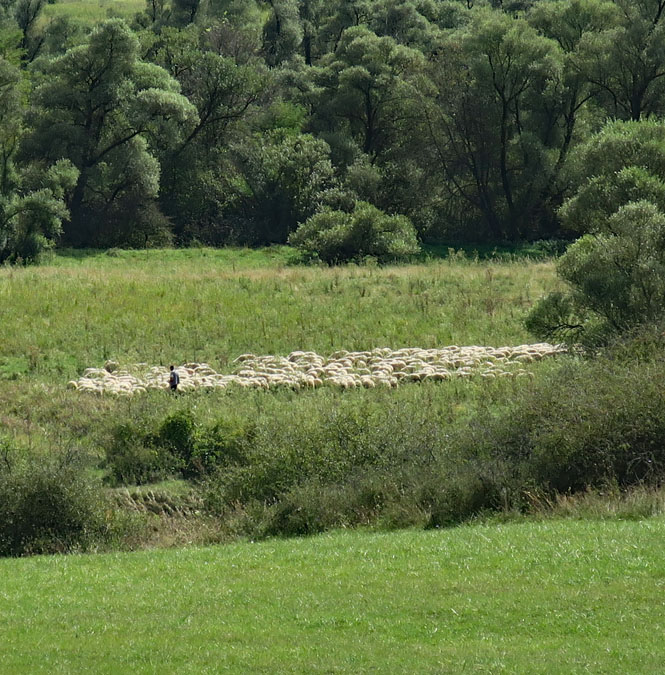 Nocrich, Romania. The tiled steeples is something that you'd expect to see in Bavaria and other parts of Germany. But, here they are, no doubt reflecting the large influx of people during the Habsburg reign.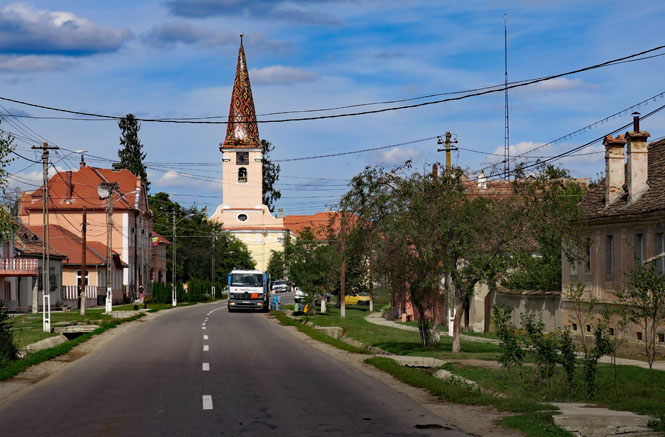 A common sight. The horses generally have a tassel hanging at their eyes. I'm guessing that's for flies, but really don't know; it might just be for decoration.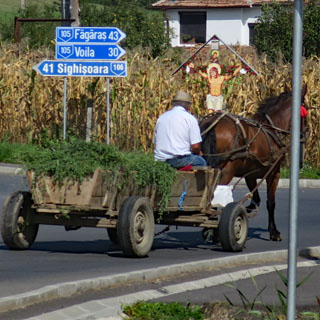 Netus, Romania. The bell tower of a church will double as a defensive position during an attack. Clearly, this has not always been a peaceful place. Transylvania is at the center of several conflicting and colliding cultures and has been the scene of battles that turned out to be historically significant to all of Europe. (you'll notice another horse-drawn cart on the road)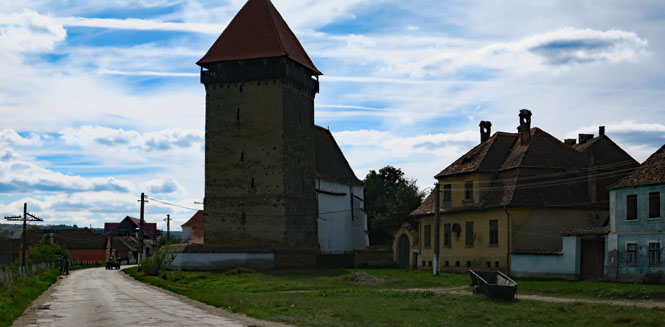 Grânari, Romania. We could be in Saxony.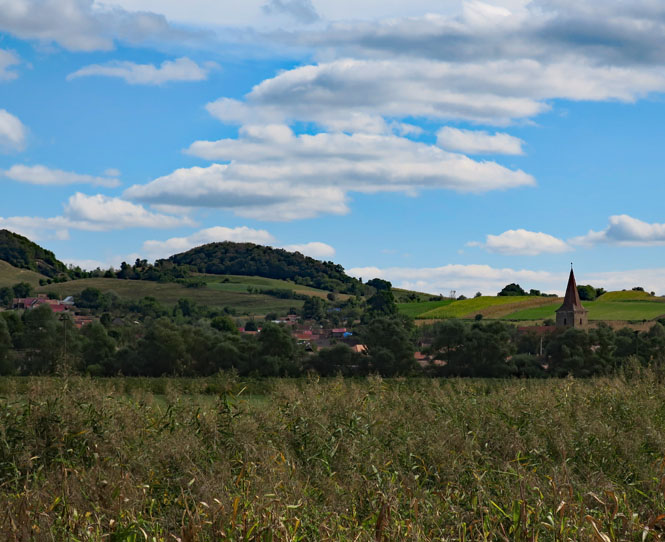 Apold, Romania.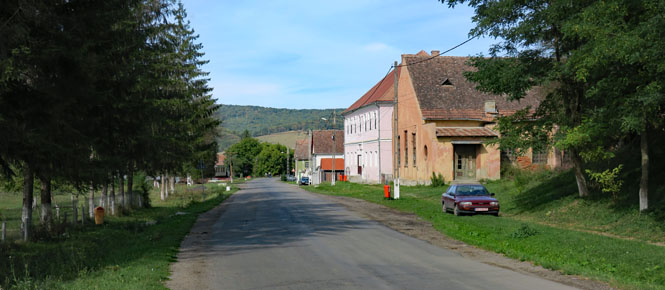 This sign gives people advice on architectural details to be avoided. It's an attempt to keep Apold looking Romanian and not Italian or German. I've no idea if it's simply a gentle reminder, or if it's enforced, but it's probably not much different than the pressure to keep you from building an Italian villa in the middle of the English Cotswold.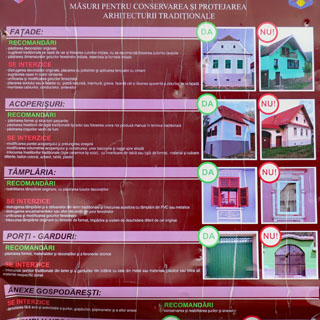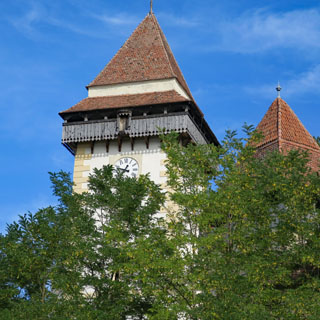 Oh, dear. For many miles, the small sections of pavement have been removed, leaving these sharp-edge holes. Both lanes. They're easy enough to avoid on a motorcycle, but a car I followed was zigging and zagging all over the road to avoid dropping a wheel into one of these things (and probably bending a rim). I dropped well behind him as I didn't want to be near when he met another car coming the other way doing the same thing.

Sighișoara, Romania. What a beautiful place; I'll stop here.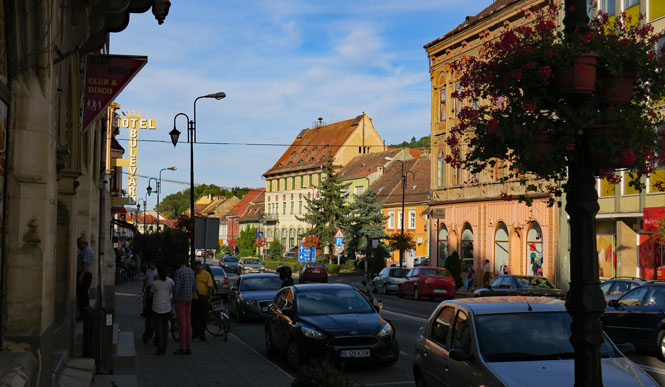 The hotel was built in 1897 as a home and business. During the communist times, it was taken over as a government building. Since then, it has been substantially renovated and reconverted into this nice hotel. I'm guessing I'm the only guest here who just "dropped in."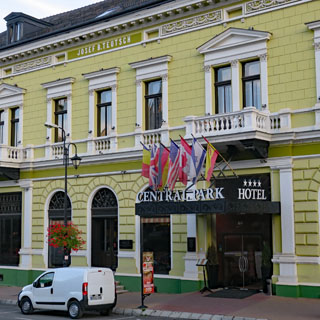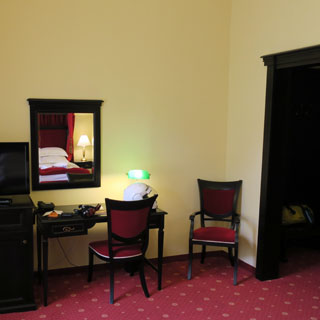 The view from my room. Each evening, along with doing laundry and charging the GPS batteries, I remove my liquids-and-gels to let the contents settle (so I can squeeze out something other than air)-- shaving gel, shampoo and toothpaste. Incidentally, as I recently had my toothpaste confiscated by an over-conscientious TSA agent who didn't know the difference between ounces and fluid-ounces, I now squeeze a 6 ounce tube of toothpaste into this 3 fluid-ounce container so everybody is happy.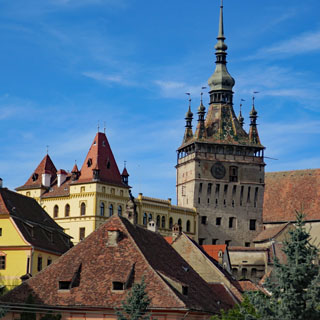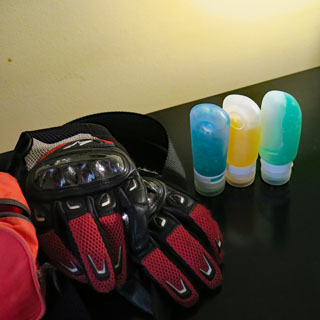 The roads and paths in the old town are pretty steep. The bride and groom are being photographed shortly after their wedding.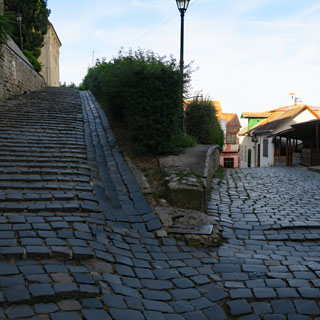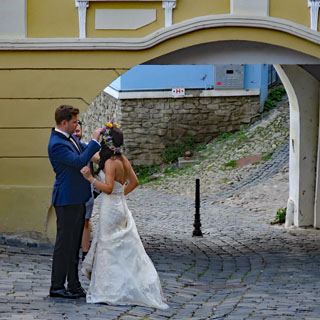 During the 12th century, German craftsmen and merchants known as the Transylvanian Saxons were invited to Transylvania by the King of Hungary to settle and defend the frontier of his realm. The chronicler Krauss lists a Saxon settlement in present-day Sighișoara by 1191. A document of 1280 records a town built on the site of a Roman fort as Castrum Sex or "six-sided camp", referring to the fort's shape of an irregular hexagon. Other names recorded include Schaäsburg (1282), Schespurg (1298) and Segusvar (1300). By 1337 Sighișoara had become a royal center for the kings, who awarded the settlement urban status in 1367 as the Civitas de Segusvar.

The city played an important strategic and commercial role at the edges of Central Europe for several centuries. Sighișoara became one of the most important cities of Transylvania, with artisans from throughout the Holy Roman Empire visiting the settlement. The German artisans and craftsmen dominated the urban economy, as well as building the fortifications protecting it. It is estimated that during the 16th and 17th centuries Sighișoara had as many as 15 guilds and 20 handicraft branches.

- Wikipedia
I was expecting more action from that clock at 6:00 (note the figures to the left of the dial). But all that happened is the little man hit the bell six times. Perhaps at high noon there's more activity. The city walls are still here.
Here's a listing of the city towers:
Shoemakers' Tower
Tailors' Tower
Leather Dressers' Tower
Butchers' Tower
Rope Makers' Tower
Locksmiths' Tower (demolished)
Weavers' Tower (demolished)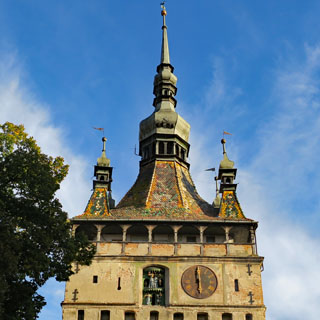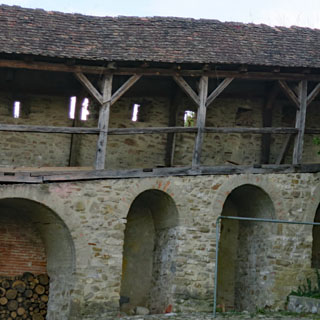 The Scholar's Stairs. The students had to climb 176 steps (in sections of 6 steps, as you see) every morning to reach their school. The school was built in 1619, so there have been many students who have walked this route before me (pant, pant).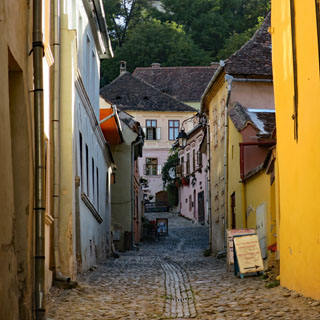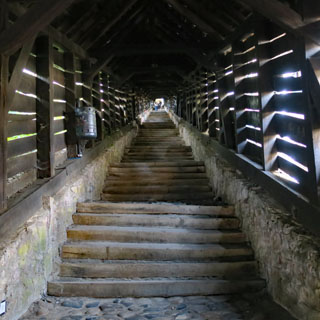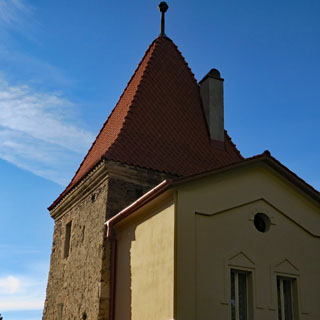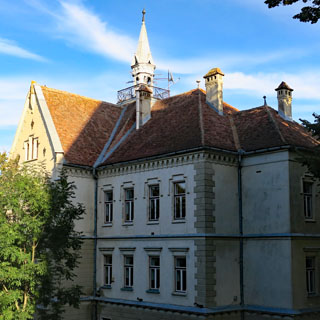 The view from the top of the hill and the Târnava Mare River.

A Romanian cat sleeping on the chair. Flowers are everywhere.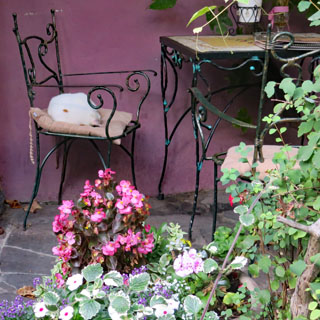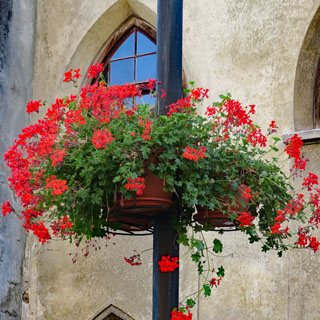 The dining room (where--as usual--I'm far earlier than everybody else). I'm really liking Romanian food (however, it's imperative that you like polenta and hot red peppers--I do).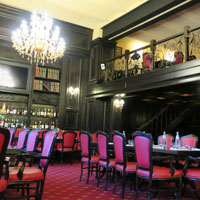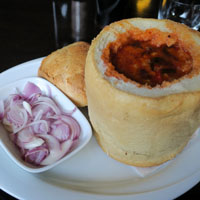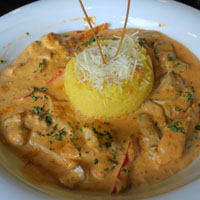 As I have for several trips, I carry a small electric air pump under the seat, which plugs into the Powerlet outlet I've also installed. It's not very fast, but it works well. I was a bit worried for a few days due to the loss of about 10% pressure in the rear tire each day. I looked many times for any sort of nail in the tire, but it looks clean. I'm guessing that one of the seals for the spokes (it's a tubeless tire) has a slow leak (or perhaps the valve)--anyway, not something that will ever rapidly deflate the tire. So, I just add a bit of air each day.
The helmet and (currently dry) gloves are waiting for the rain to stop. It never does. I hate starting out in a heavy rain.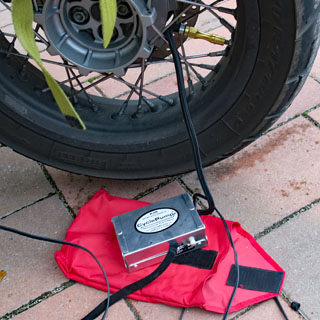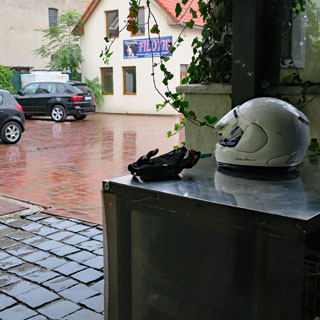 I'm headed for a UNESCO Heritage Site: a fortified Unitarian church in Dârjiu. The rain has mostly stopped.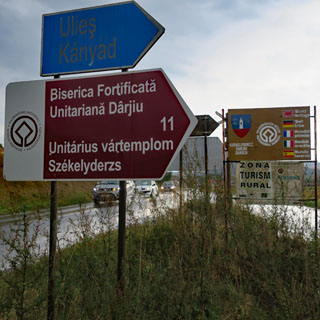 Villages with Fortified Churches in Transylvania

These Transylvanian villages with their fortified churches provide a vivid picture of the cultural landscape of southern Transylvania. The seven villages inscribed, founded by the Transylvanian Saxons, are characterized by a specific land-use system, settlement pattern and organization of the family farmstead that have been preserved since the late Middle Ages. They are dominated by their fortified churches, which illustrate building styles from the 13th to the 16th century.

- UNESCO description
Not many years back, this road was not paved (and my map shows that it still isn't). I'm very glad it is, else I wouldn't be here on this wet (but clearing) morning.
It's interesting how the inclusion of a sundial on a wall is such a uniform thing with church buildings all over Europe. That's a war memorial (to soldiers from Dârjiu) next to my motorcycle.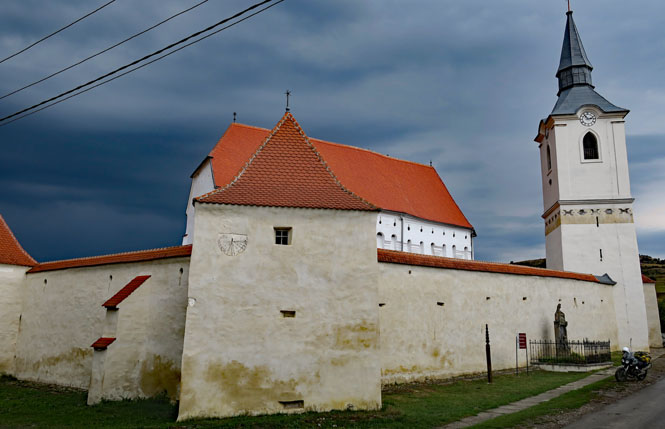 The model is helpful to understand how things are situated. Nothing is square to anything else.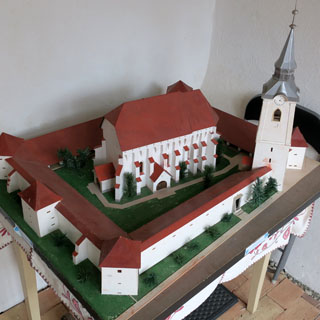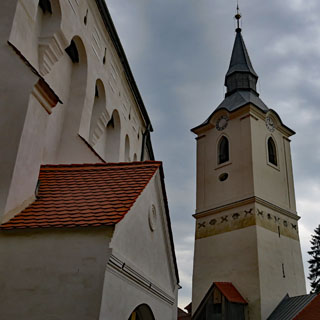 The church remains an active Unitarian church, so it's perhaps not surprising that the entry door is new.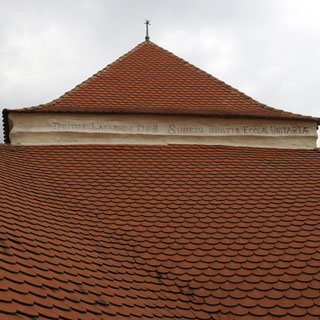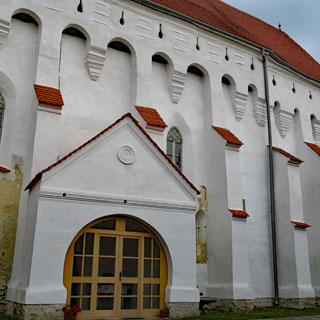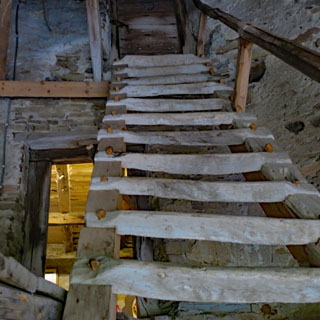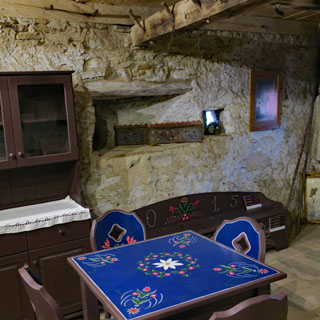 Period photographs of Dârjiu. Undoubtedly, they've put on their very best for the session; I wonder what was normally worn?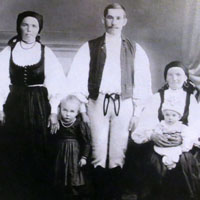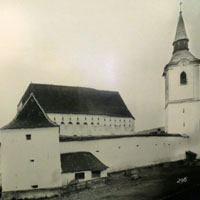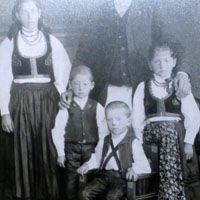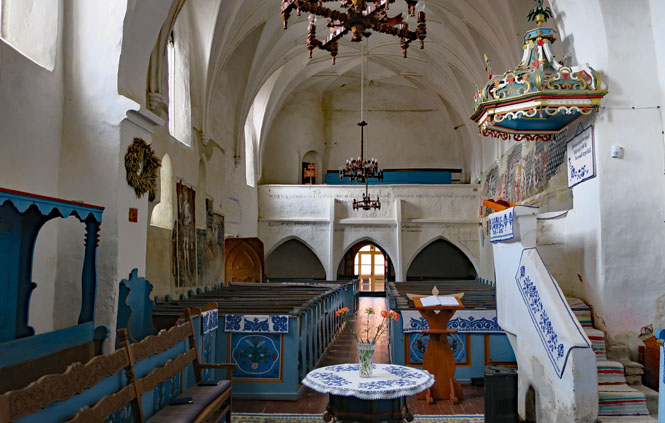 Where the alter would be (in a Catholic or Orthodox church) you'll find more pews, facing the other pews. Clearly, in this church, if in doubt, make it blue.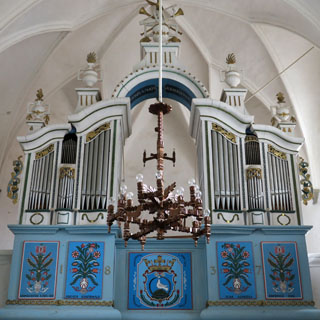 Every song book was similarly covered.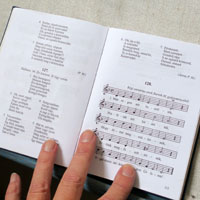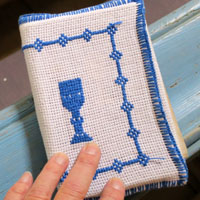 Beyond the fortifications (rare enough), it's the surviving murals that makes this church so special.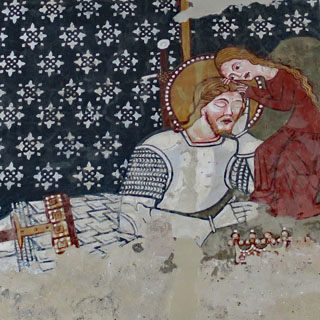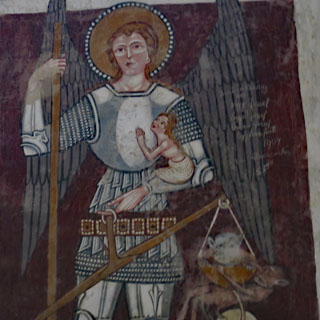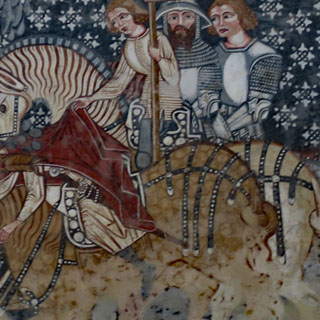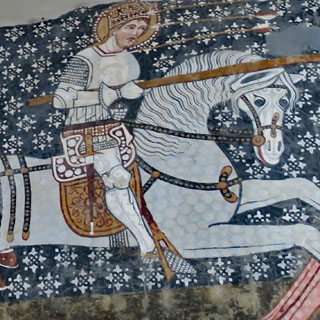 I was the only one here, and took the opportunity to look into the attic. These are more recent stainless-steel fittings to help hold things together.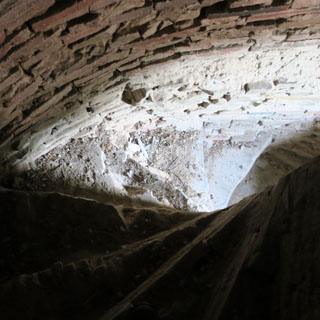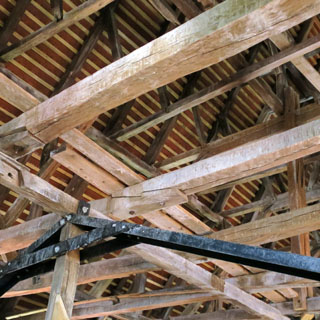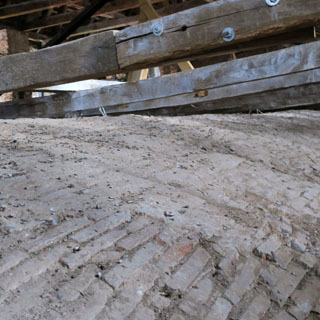 If you pull the cord to sound the bell, you're not actually moving the bell, but are swinging the hammer against the bell.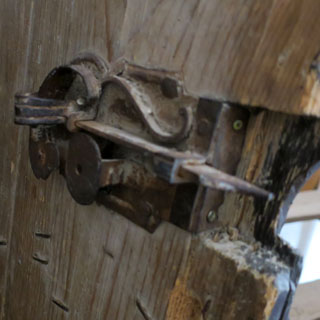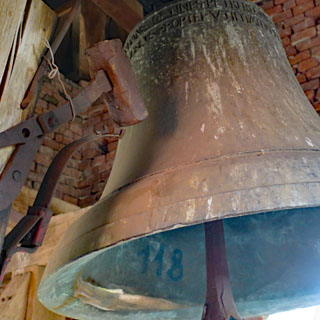 One of the several ladders needed to get to the top of the bell tower, and the resulting view looking at the road I came in from.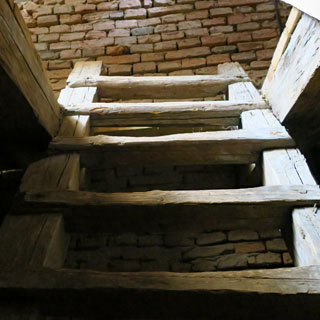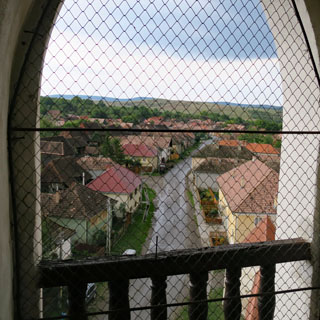 Thanks to Bryan Jessup, who put the town of Dârjiu on my list of places to see if I'm able. It was well worth it.
Tigmandru, Romania.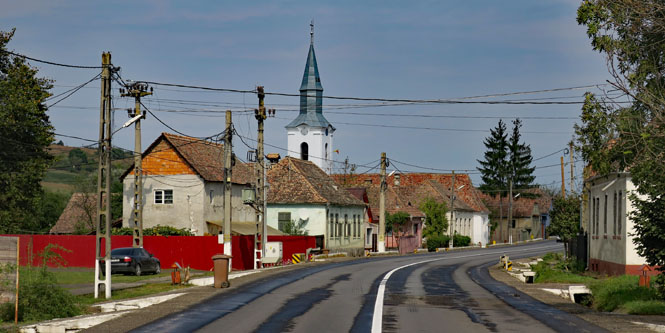 Looking at my map, it's clear that my original plan of crossing into Ukraine and further following the Carpathian mountains is not going to work. I need to start curving to the west, towards Hungary.
Yes; this is what happens when you ride on muddy roads.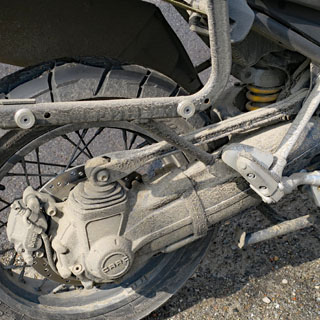 Sânvăsii, Romania. I've stopped at another Unitarian church. This one is not fortified.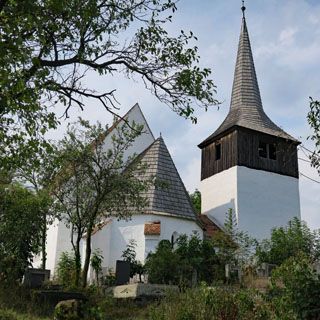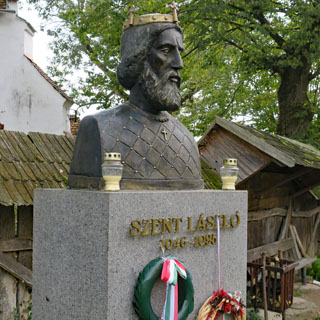 Those wooden staffs in the cemetery are evidently a Transylvania thing; I do not know the meaning.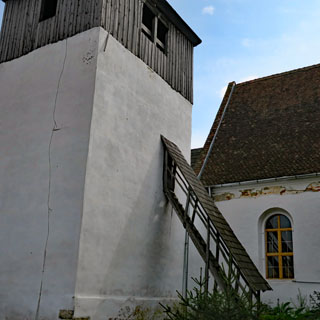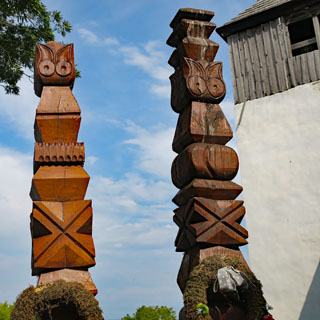 Riding west, now, through rolling farmland. I'm completely gone from the "fifty-mile towns" for which I am grateful.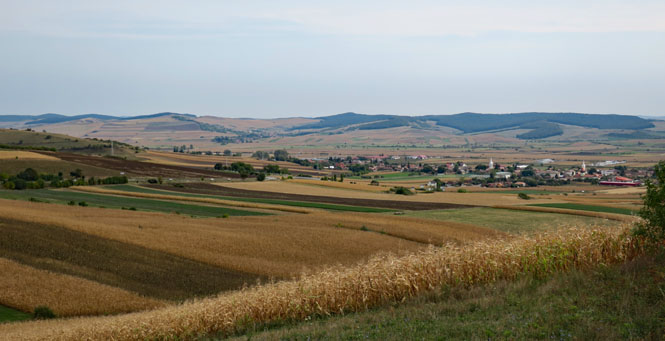 I don't often get food from a gas station, but this was made fresh for me, and was really quite good.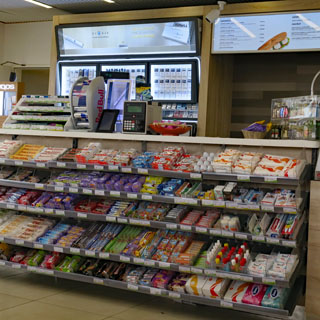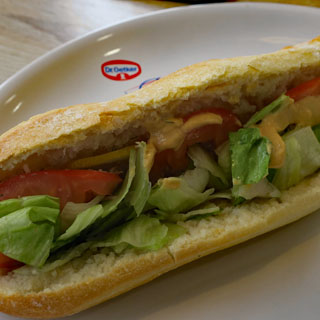 Săbed, Romania. If I could pick the perfect riding weather, this would be it. Calm and cool and dry.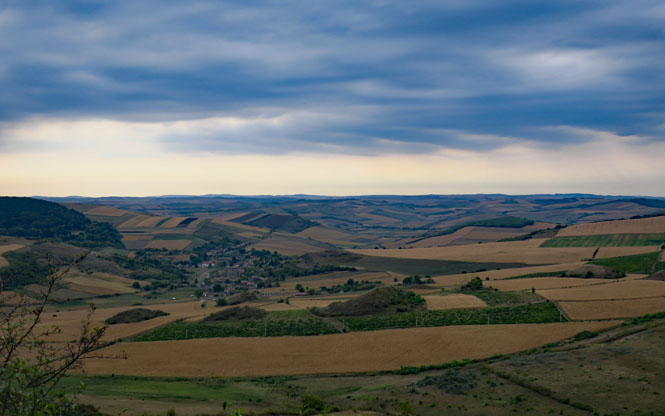 That's my road down there. What a great place to ride.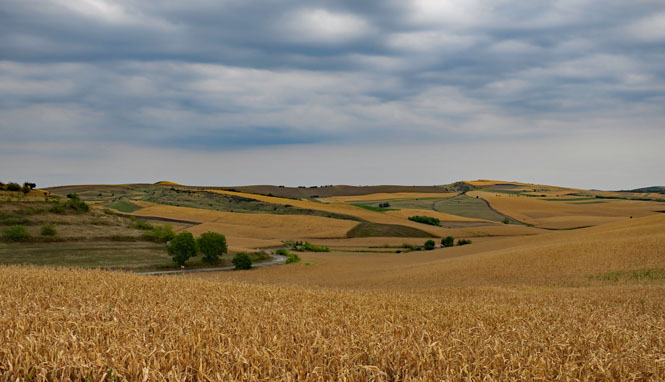 Notice the hay stacks.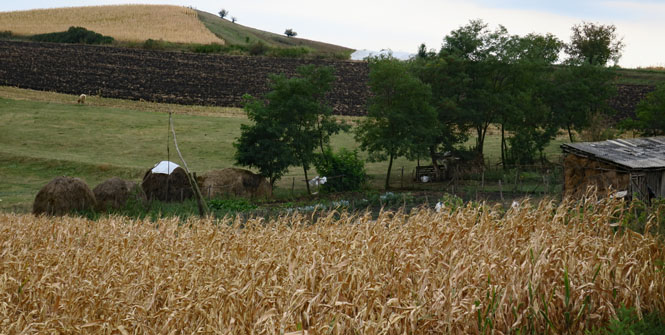 The River Fizeş is a slow moving, shallow thing that runs through this broad valley.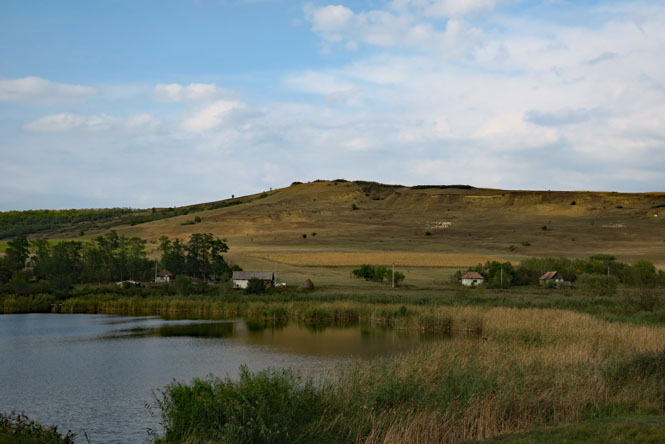 Fizeşu, Romania. The road will either follow a winding river through those hills, or it will climb over them; it's hard to tell.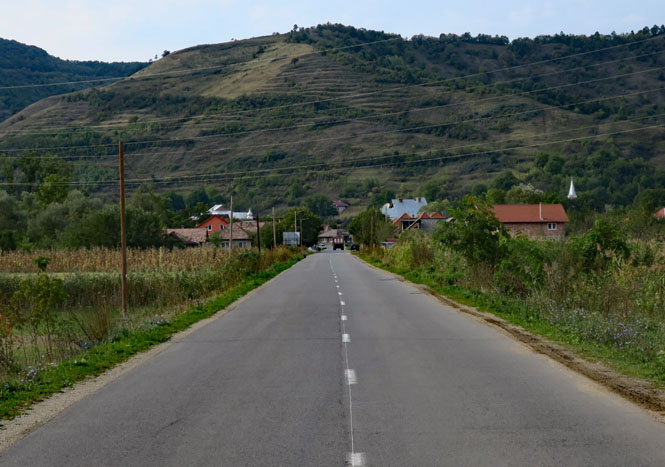 Dej, Romania. I've made good progress at getting back on track to a schedule that will have me in Italy on time. This part of Dej is the working class part of town.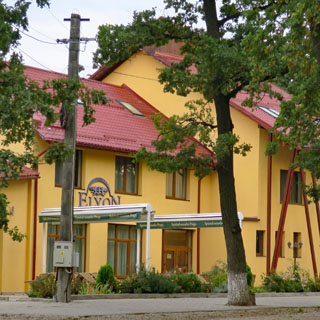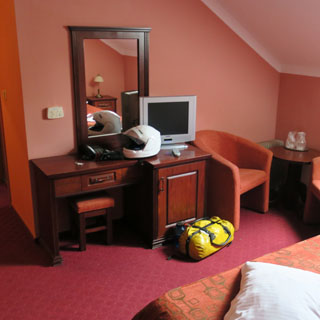 I suppose I could eventually make myself understood to the desk clerk that I need three clothes hangers, but a drawing is so much faster. Why three? For drying my wet laundry, of course. It's odd that the room didn't have any.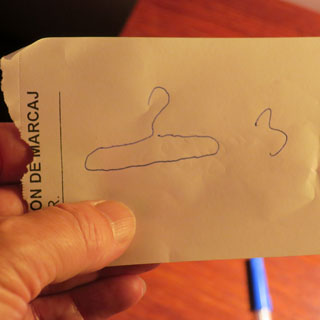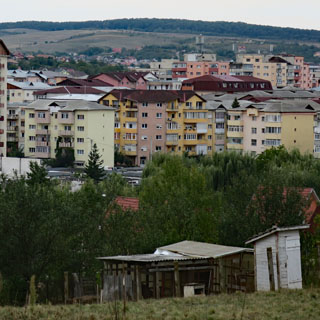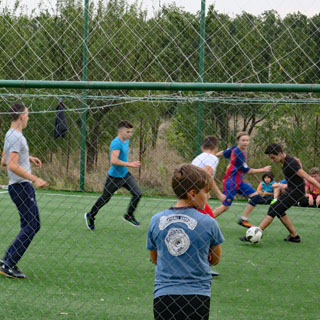 Walking through the open market of Dej. The red peppers are paprika.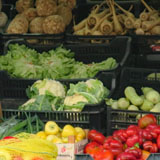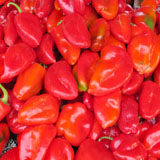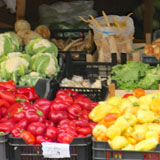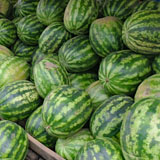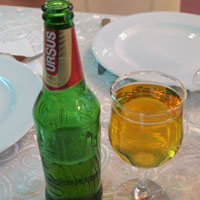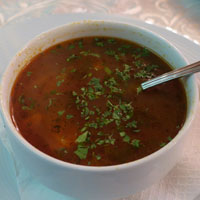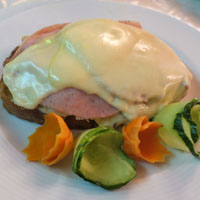 Fresh pavement is a surprise...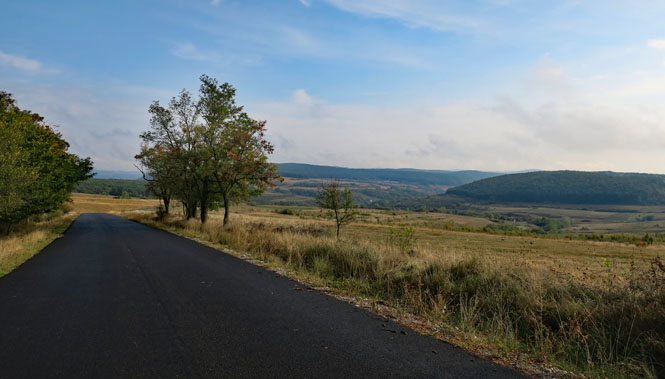 ...as is no pavement at all. Pavement comes and goes without any warning. Pay attention.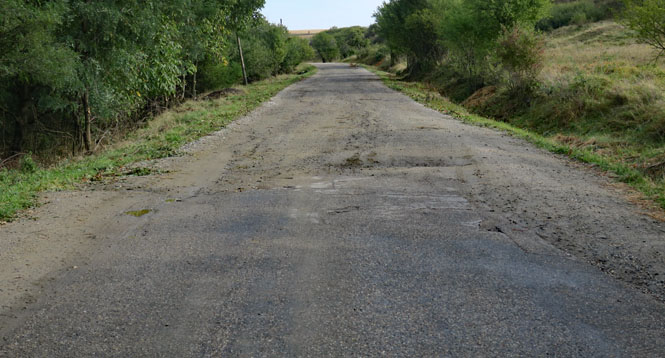 If you look very closely, you'll find the watchful dogs.
Riding towards the Hungary border.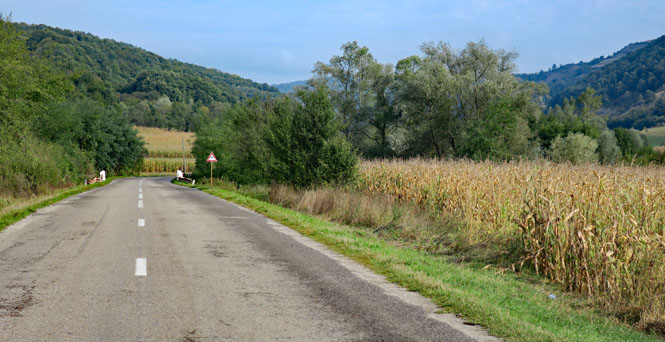 Hungary (Magyarország)
Another border crossing, and another (small) annoyance. The Hungarian official asked where I've been. answer: Romania. But you have no stamp in your passport that says you ever entered Romania. answer: that's because I was waved through; they didn't want to see my passport. Hand me your vehicle papers. Wait here.
I'm thinking it's probably better to have this difficulty in Hungary than Ukraine, as I had once intended.
After waiting for about thirty minutes I was given my passport and the motorcycle documents and was told to continue on my way. It was probably more trouble than it was worth, and if I just continued into Hungary, their problem would cease to be a problem.
---
After many miles in Hungary, it's becoming apparent that avoiding the toll roads (as I've done the whole trip) is a nuisance and will cause me to go quite far out of my way for no advantage.
I've ridden in Hungary before, and knew about their electronic Vignette system. Instead of a sticker (as is the case with Switzerland and Austria), Hungary has you register your vehicle and license plate so that the photo-detection devices will know you've paid. Service stations can do this, so after filling up, I checked with the clerk and registered into the system (and also paid the exorbitant fee for just a day's riding).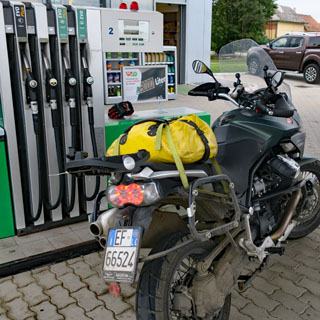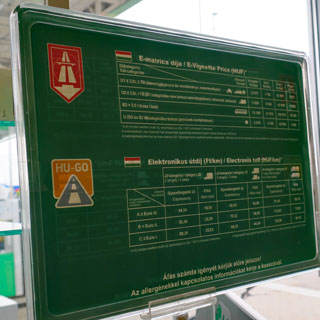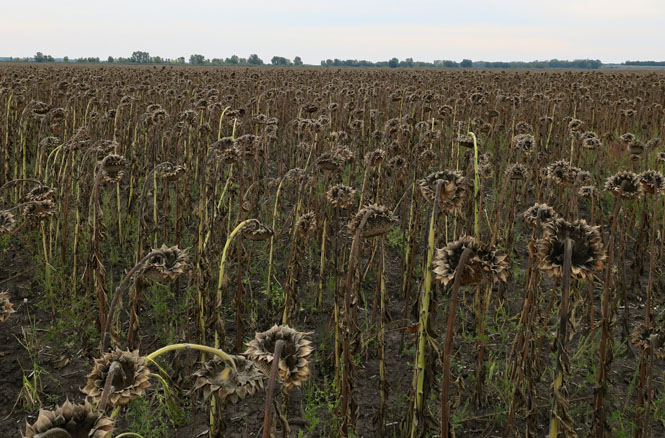 All roads seem to lead to Budapest. It makes sense to find a hotel short of Budapest than deal with the traffic while trying to find something close to the city.
Monor, Hungary and Hotel Nyerges is exactly the right place.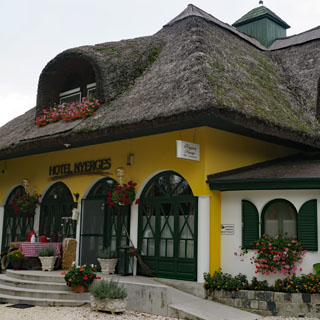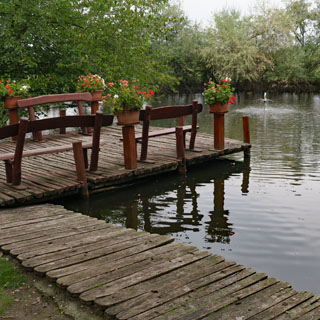 Once more, I'm pretty sure that I'm the only guest at the place that just dropped in for the night. This is the sort of hotel that people plan their vacation around.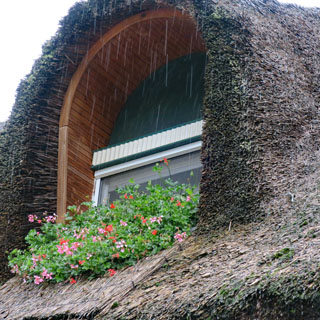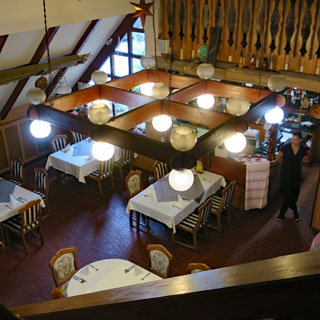 The owners are pretty clearly "horse people" and the trophies in the lobby show that they (or their horses) compete at a very high level.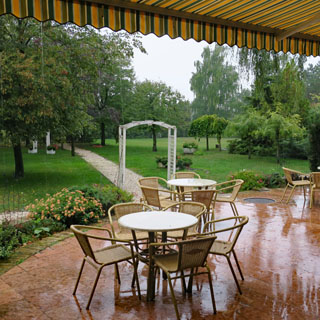 The next morning it was raining quite hard, and it looked like if I tried to head out and get away from it, I'd be riding well into Austria before it might clear. Otherwise, the forecast was for rain all day and mostly clear the next day.
I'll stay another day; this is certainly the ideal place to do it. But, again, I'm moving backwards in my attempt to get back on schedule. I'm afraid that I'll need another make-miles day and I won't be spending much time looking around Hungary.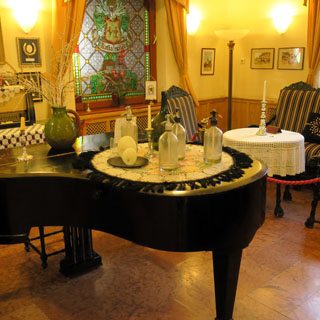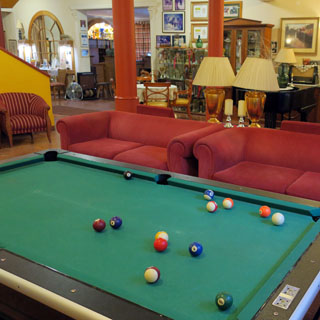 Meanwhile, I'll have another pot of this terrific goulash soup and play the part of the gentleman traveler-of-leisure at the billiards table. The pancake with chocolate is ideal in the evening (I'd call it a crępe, but in Hungary it's a pancake).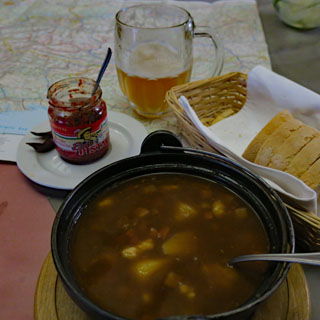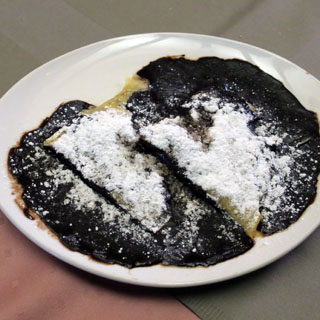 I've really come to like Pista. It's a fairly hot paprika spread that works perfectly with bread and goulash--pretty much anything.

Any rain I get this day won't amount to much. I'm riding through the wine country of Hungary.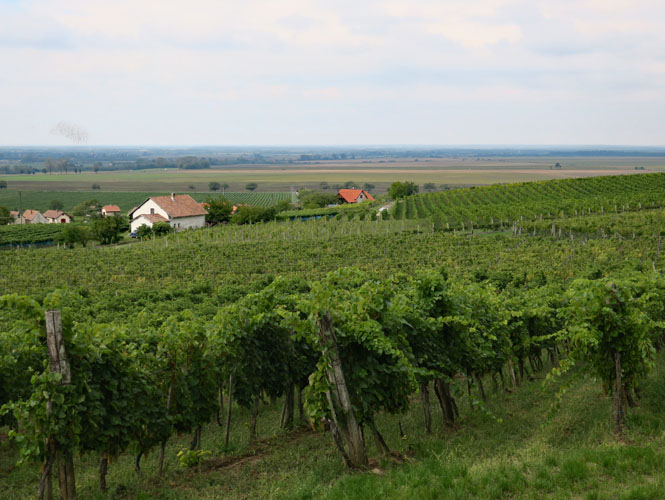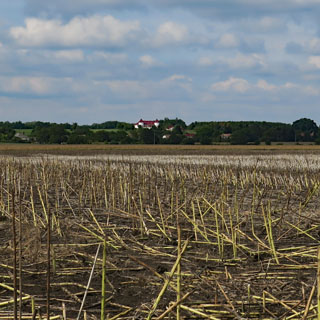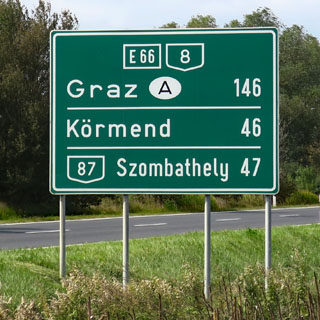 Hosszúpereszteg, Hungary.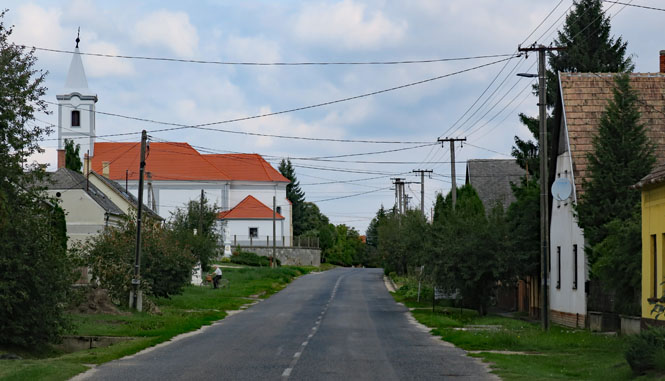 Austria (Republik Österreich)
The first order of business is to get through the city of Graz while staying off the Autobahn. That took much more time than you'd think. But, eventually, I've reached the Alps and I'm completely caught up to my schedule. From here out, I don't need to be concerned about having time to make it back to Mandello. It's a pity that I (once again) had to blast across Hungary. I will return.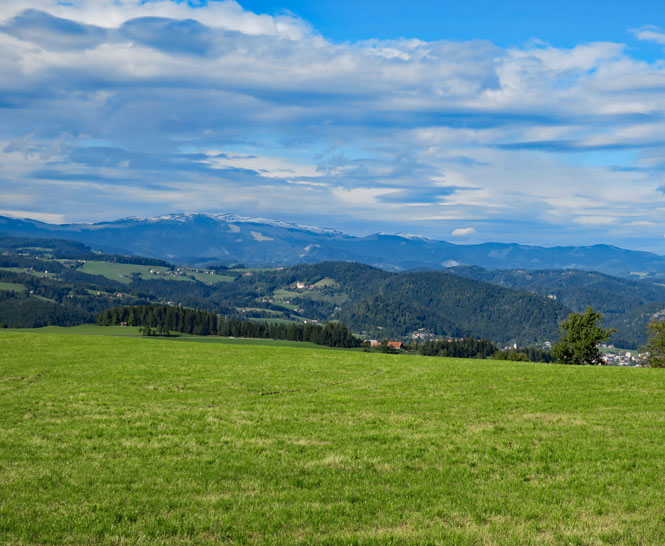 Wonderful roads, not much traffic, attractive small towns. Austria is nice.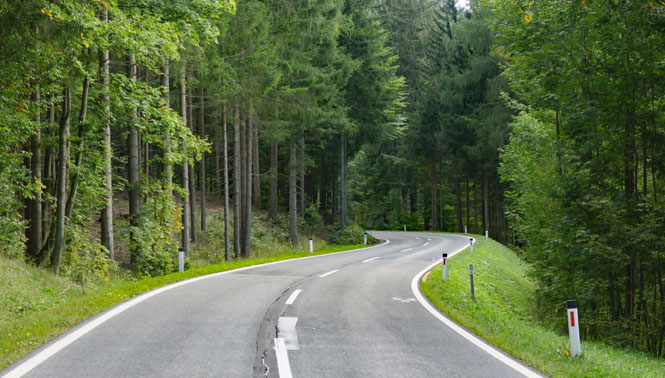 It seems I'm changing my route at every intersection. Just an hour earlier, I had no expectation of being even near Wolfsberg, but here I am, and it looks a nice place to stop for the evening.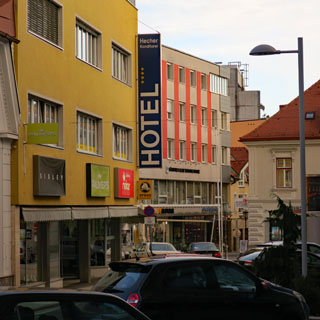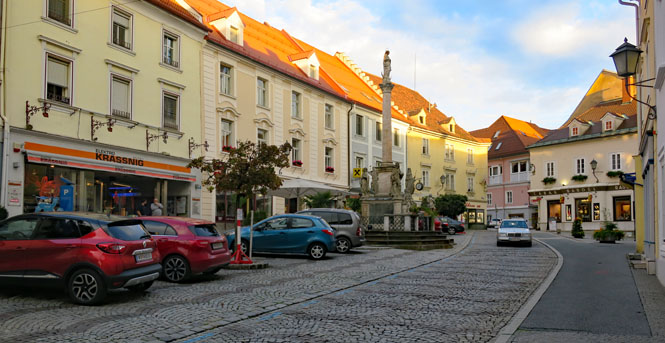 The Lavant River flows through the center of Wolfsberg.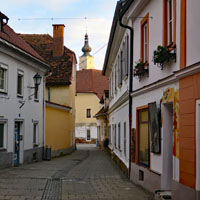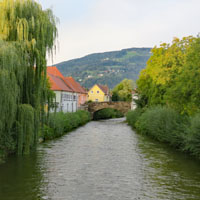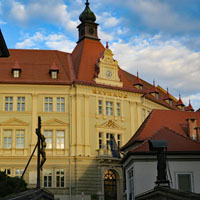 In some form Stadtpfarrkirche St. Markus has been here since the thirteenth century, but I'm not sure how much, if any, of the original building remains in the current structure.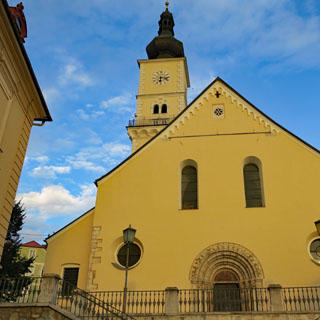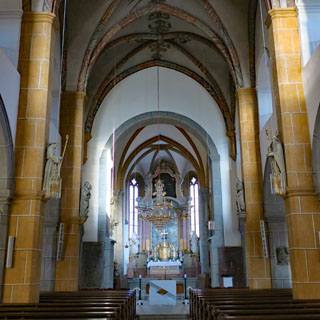 These ladies were in the church, practicing "Amazing Grace" for a performance the next day (and were quite good). I asked why they were singing in English and they replied that it didn't sound as nice when sung in German.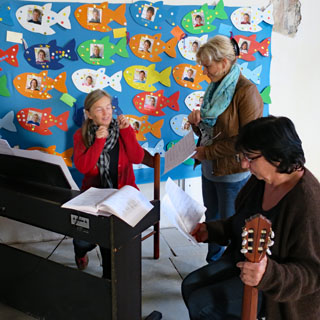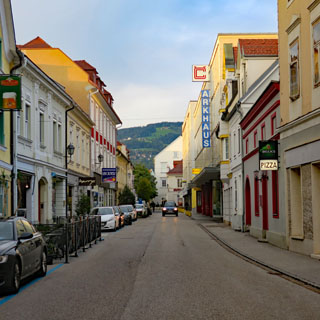 No paprika? No polenta? I guess I'm not in Hungary or Romania anymore.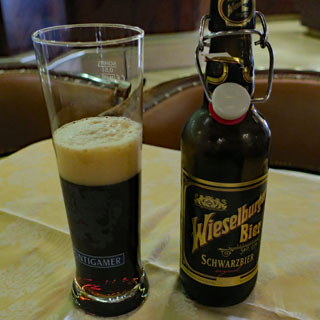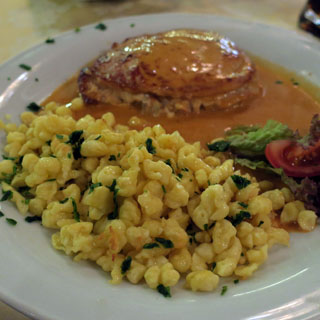 Low clouds the next day, but only a few sprinkles here and there.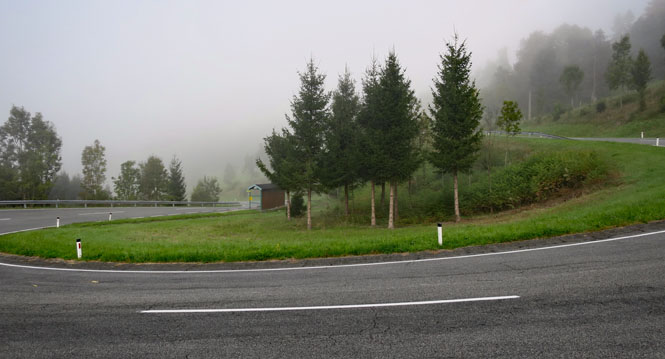 Gösselsdorfer See.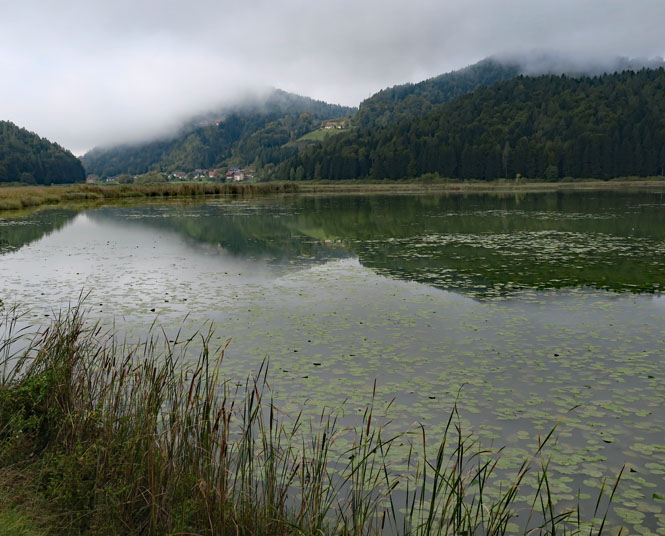 Wildensteiner Wasserfall is not far from the Slovenia border. The sign says that it's just a twenty minute walk to the falls from the parking area. Perhaps that's true if you average going up with coming down.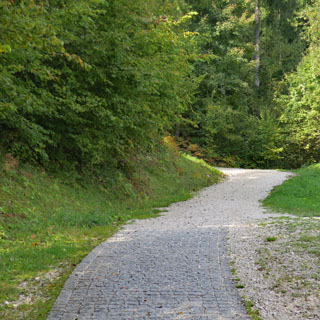 The drop is 180 feet. For the standard comparison, Niagara is 167 feet.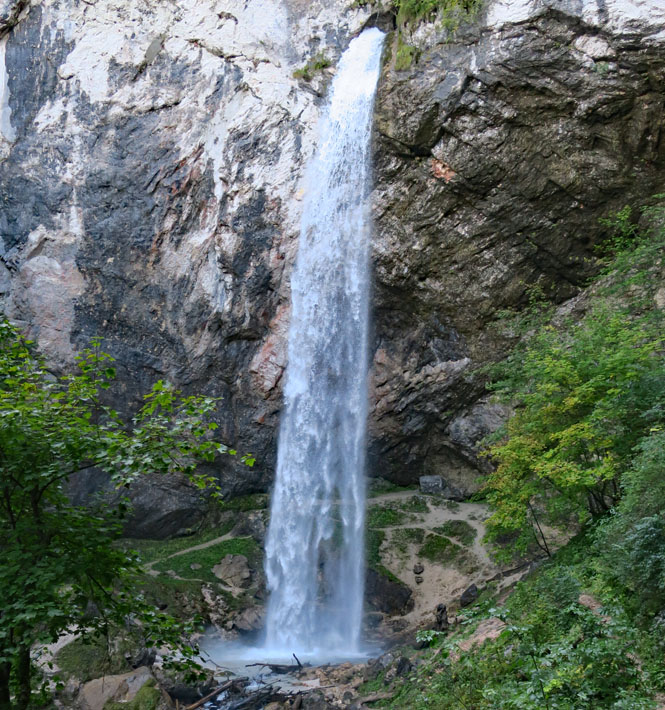 The village of Gallizien, at the base of the trail to falls. Apfelstrudel is my reward after the hike to the falls (it's Austria; every place that has coffee will also have apfelstrudel). That, and I really need to figure out where I'm going before starting the engine.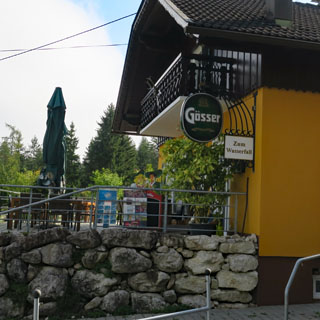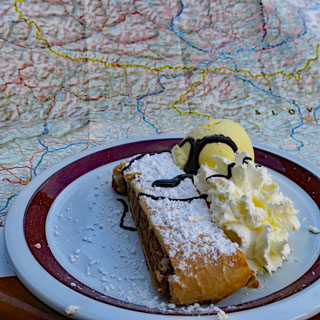 Sankt Margarenten, Austria.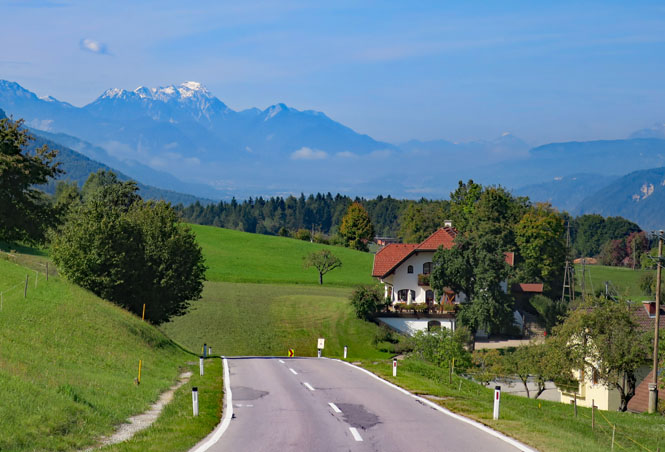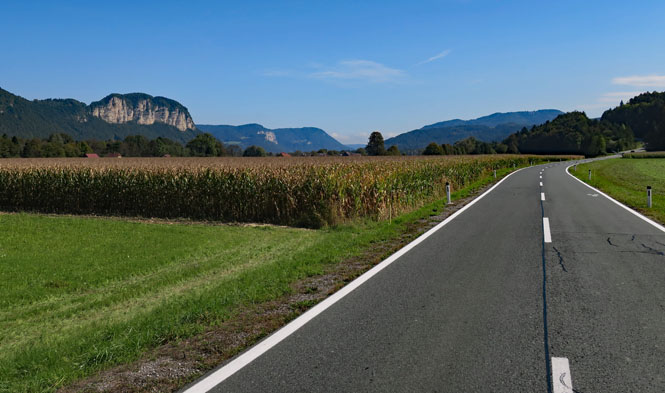 Following the valley of the Drau River and then the Gail River valley.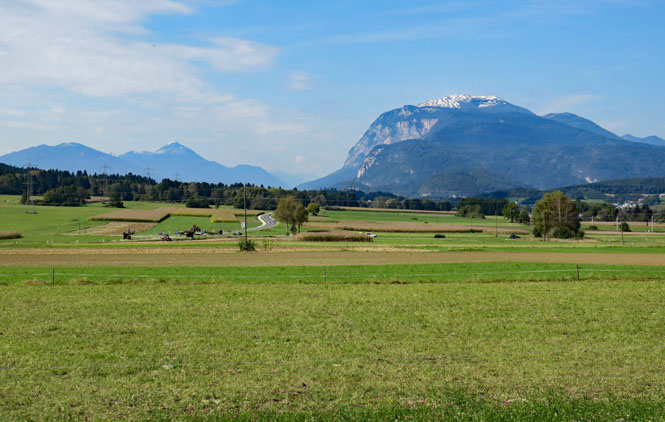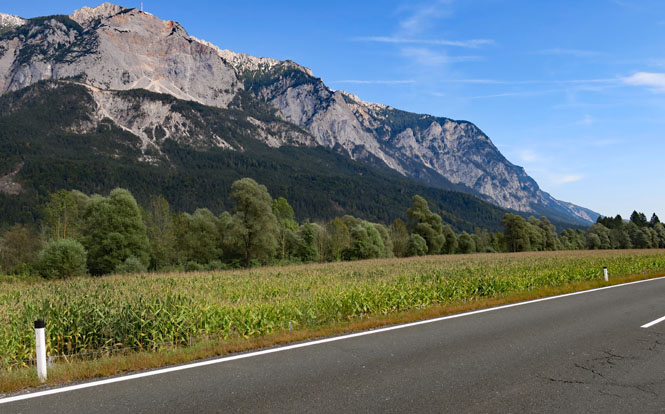 The style of these wood sheds varies across different regions and countries.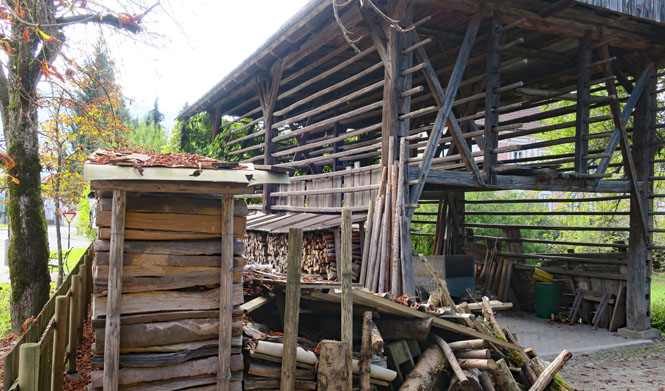 Nötsch im Gailtal, Austria (small fact: Edward VIII and Wallis Simpson came here soon after they were married).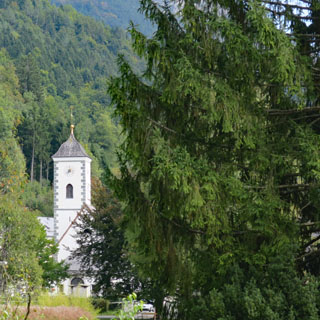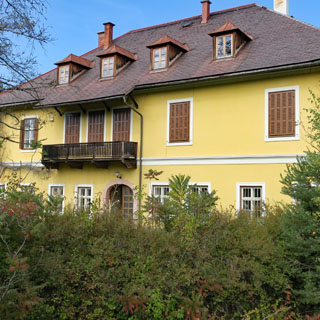 Crossing over the mountains to get back to the Drau River.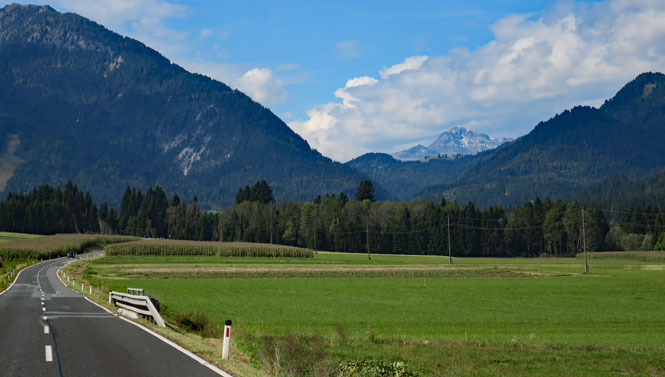 Another wood shed, but this one in better supply for the winter.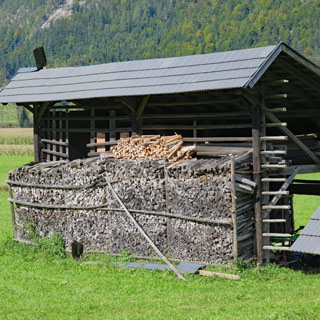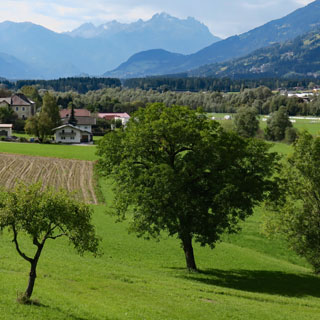 This is evidently a popular place for sailplanes; I saw more than one.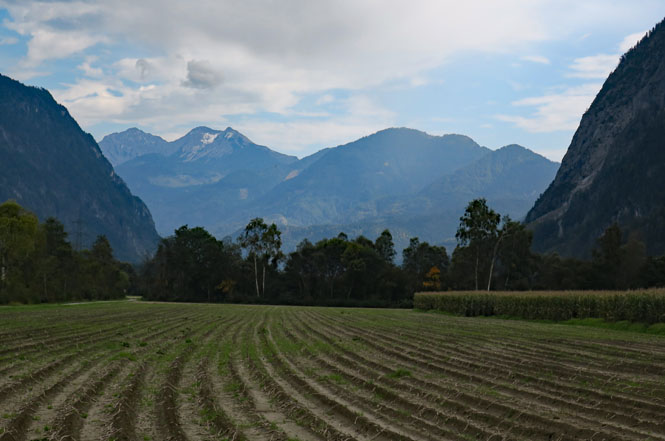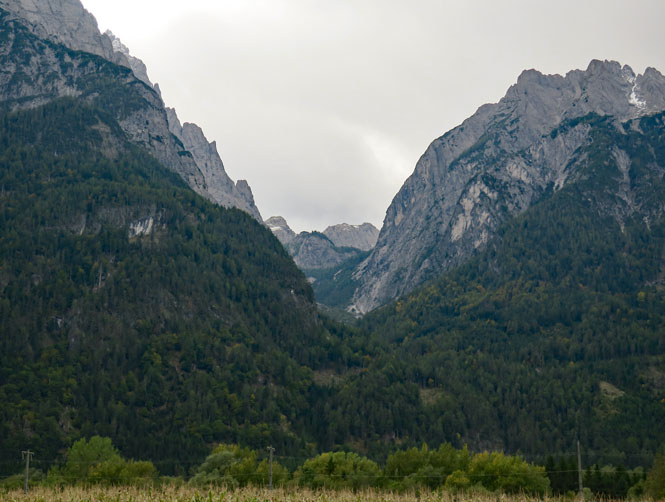 Lienz, Austria. I've got to choose a route for the next day, and it makes sense to stop here for the evening.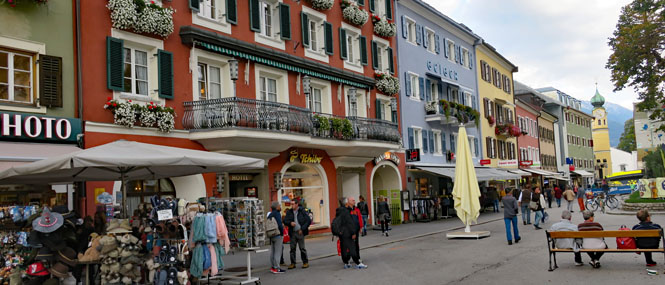 The hotel has an underground parking area, which is nice as there's not much space above ground.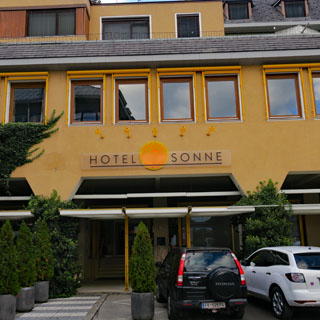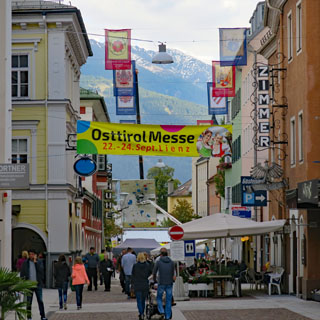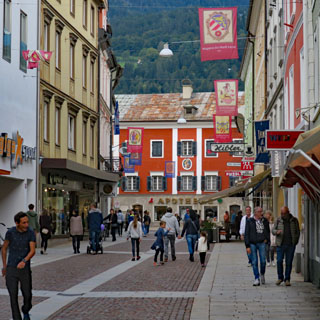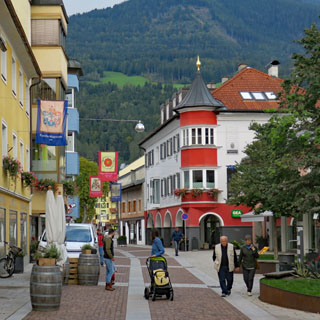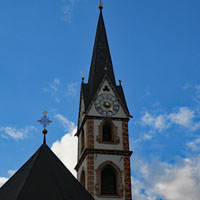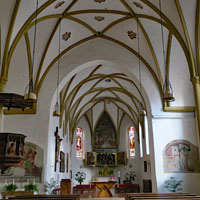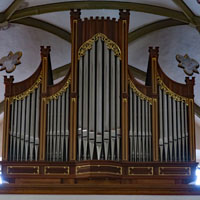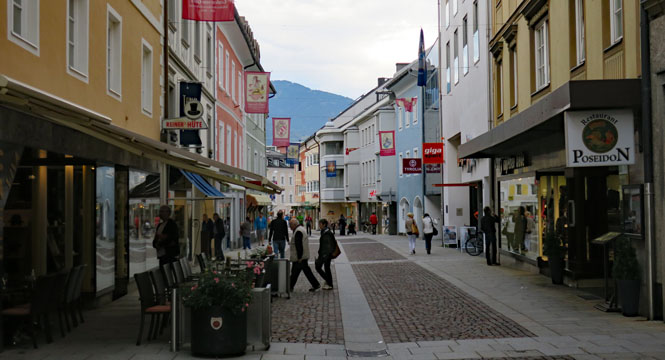 Again, the apfelstrudel. If a region is very good at something, you should have it, often.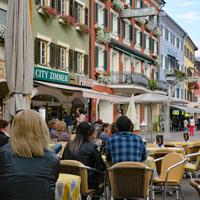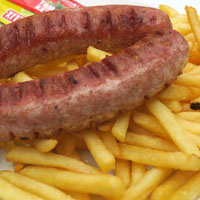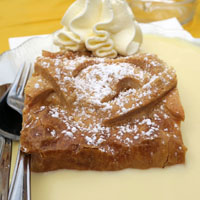 I'm taking a fairly obscure route over the mountains towards Italy. The weather looks to be fine, but I'm dressed as warmly as I have the whole trip, including my electric vest plugged in and switched on.
This is Hopfgarten in Defereggen, Austria on a Sunday morning. I'll be waiting at this spot for about thirty minutes while the procession makes its way to the church. There's a brass band leading the way. They're in no hurry; I'm in no hurry.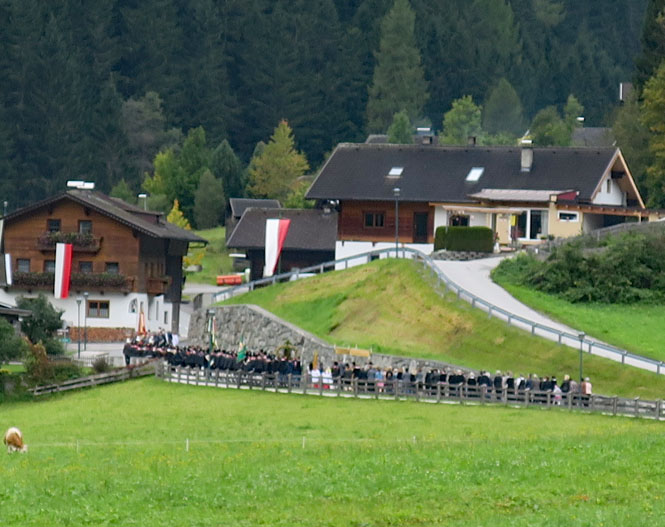 Schwarzbach River. It's getting colder and I'm starting to wonder if I'm going to be riding in snow pretty soon. I hope not.
The sign indicates that up ahead you'll have a fifteen minute window every hour at the top of the hour. If you miss that window, you'll wait.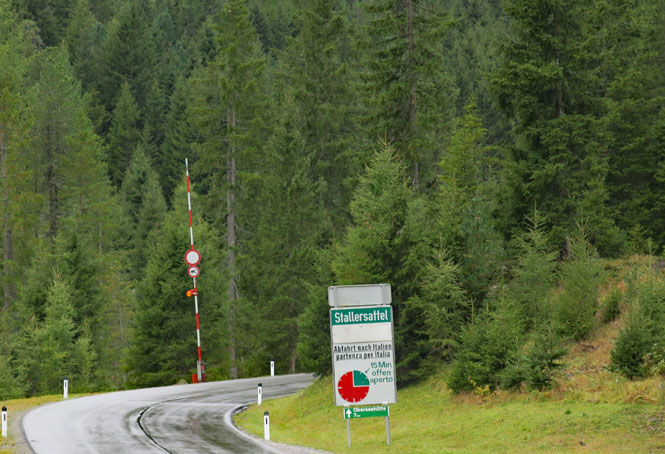 Italy (Repubblica Italiana)
The light is red, so we're all waiting for the minute-hand to point straight up. There's evidently a bit of a scramble for the fast people to get to the front of the line. My plan is to just wait for most everybody to head down the mountain, and then I'll follow along.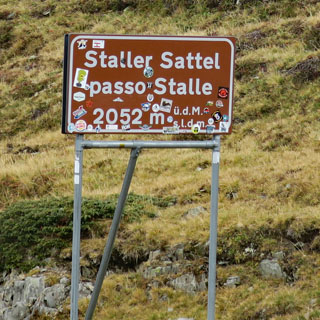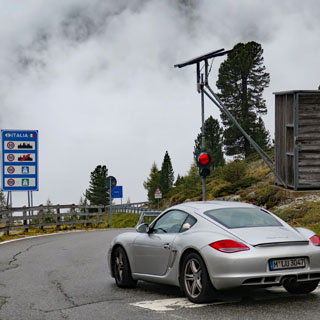 After I took the above photograph, two motorcycles parked in front of that Porsche. However, I'm not so sure that I wouldn't put my money on the Porsche. In any case, it's cold, it's wet, and it's foggy. This isn't the sort of weather that you should be pushing things on a motorcycle on a road like this.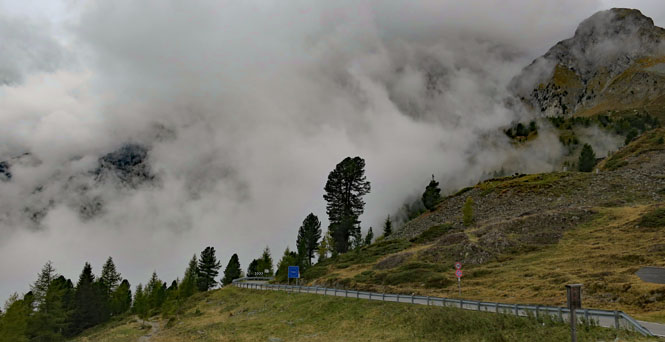 Why the light? Because the road down is very narrow (including a single-lane tunnel) and the turns are very sharp. There's no room for oncoming traffic.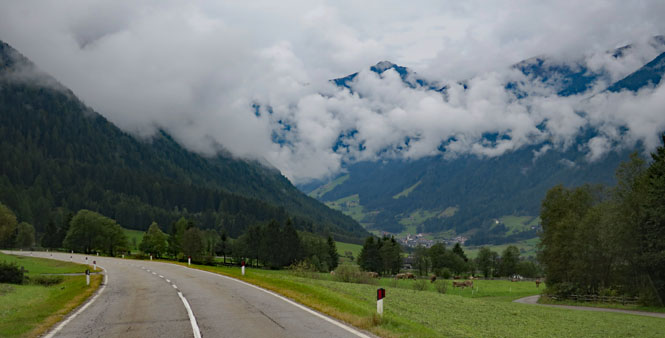 Here's what I'm thinking. The purple roads (map, below) are roads I've ridden on previous trips. I'm going to see if I can't pick up those additional green roads. This means that even though I'm riding a Moto Guzzi Stelvio, I won't be going through the town (or over the pass) of Stelvio.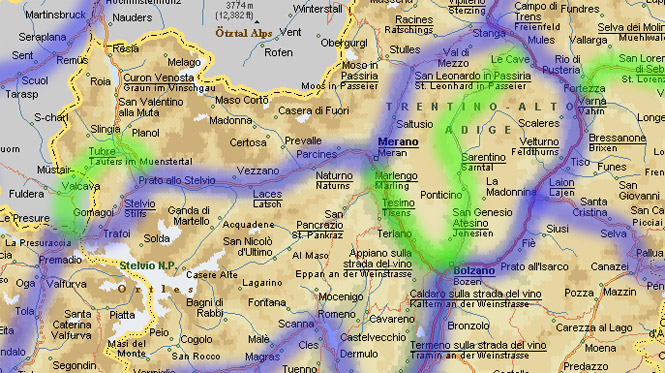 On the highway (that parallels the autostrada) to Stanga, where I'll turn south on a far less travelled road (the top end of the green road, above).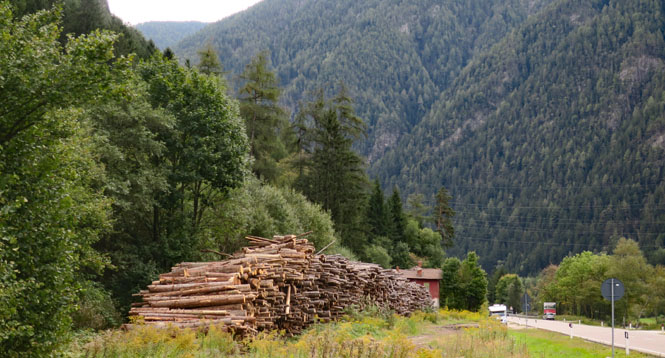 Lots of climbing. The road gains altitude quickly.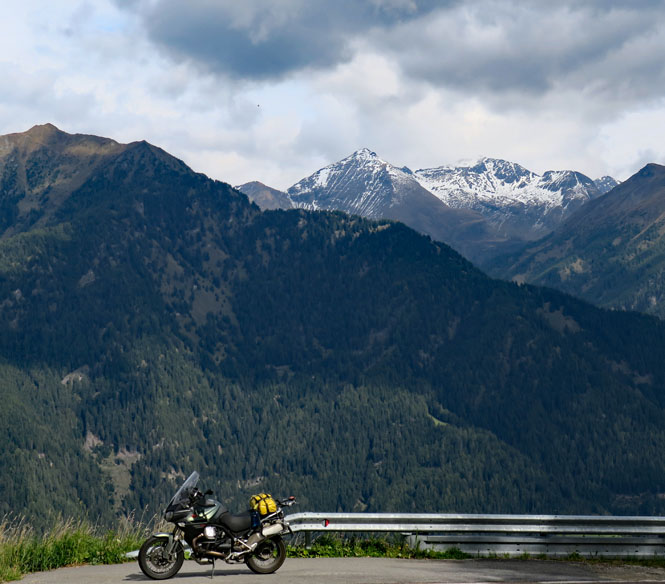 The summit is well above the tree line. It's quite windy up here.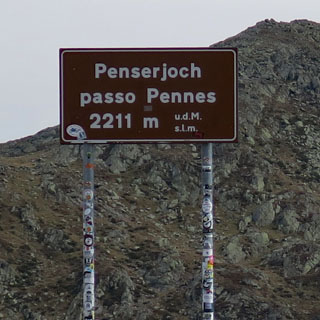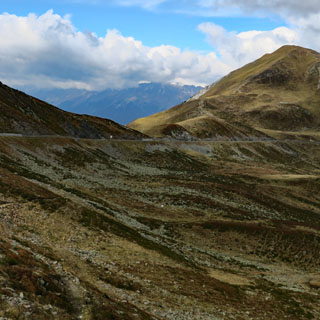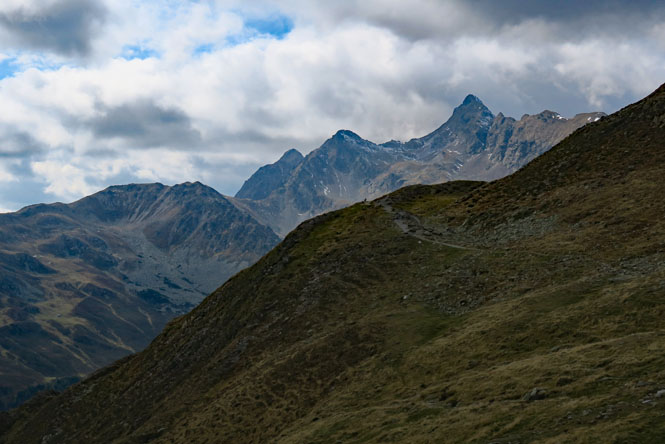 From here to Bolzano, it's nothing but down, down, down.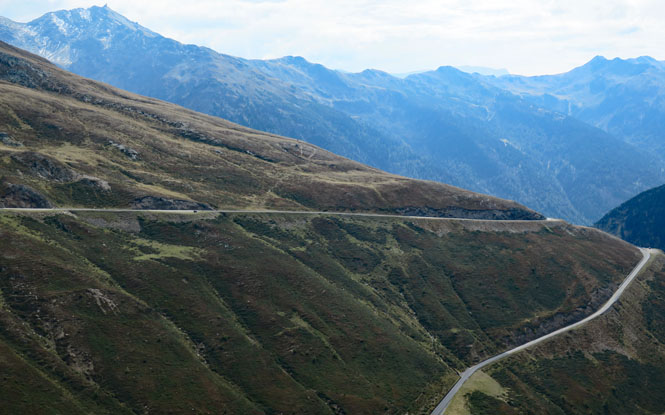 You can follow that Ferrari, but I wouldn't try to keep up. It's nice to see (and hear) a car like this used the way it's meant to be used.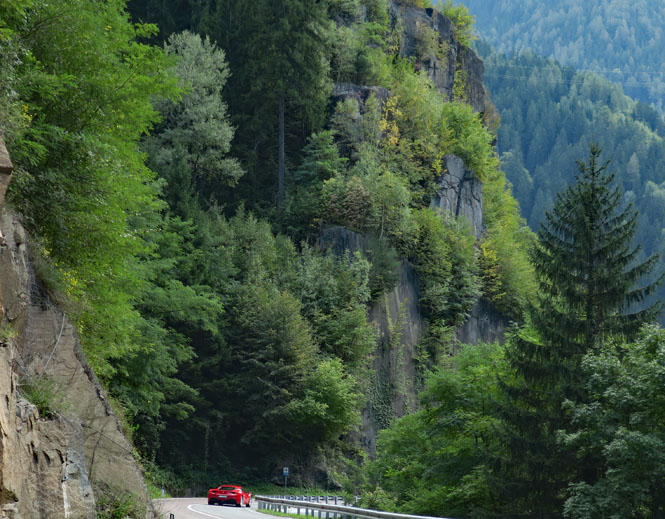 Much of the more spectacular lower canyon parts of the road have been replaced by miles of tunnels.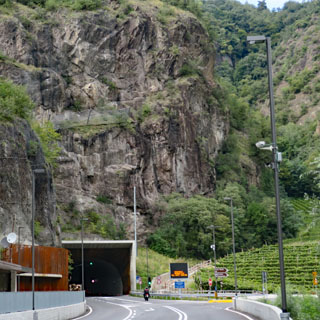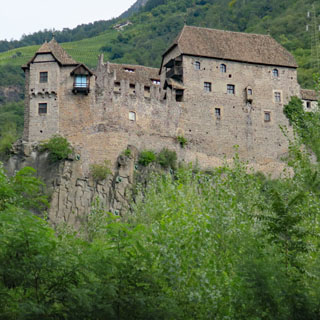 Merano, Italy. I've got one more high mountain pass to cross, and I think I'll put that off until tomorrow and stop here in Merano. This looks like a nice place.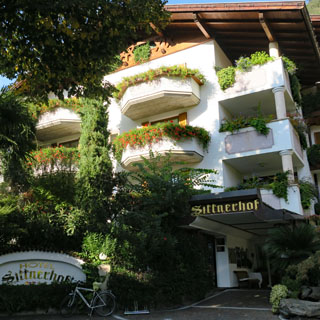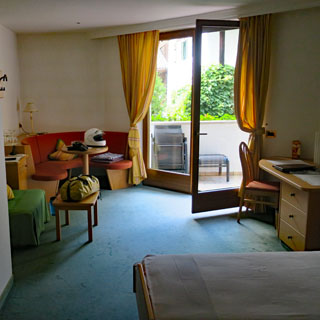 Vineyards to the edge of the city.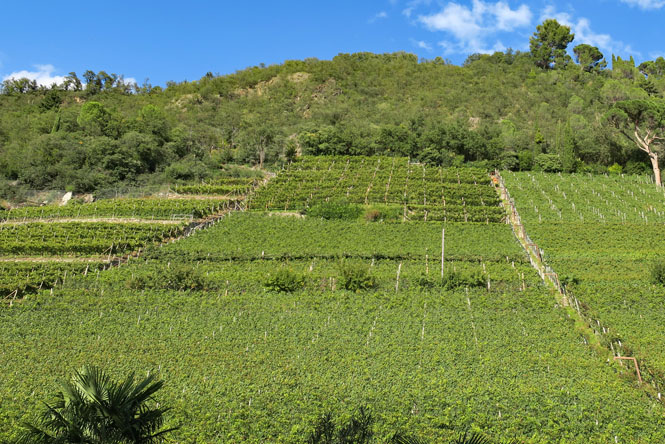 Much of the old town remains. It's a beautiful place. This was once Austria (occupied by France) and Bavaria, and you'll hear as much German as you will Italian.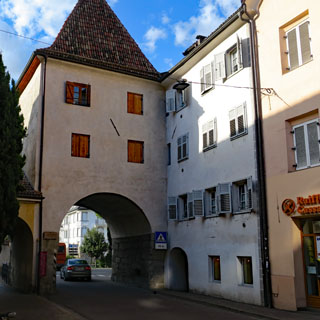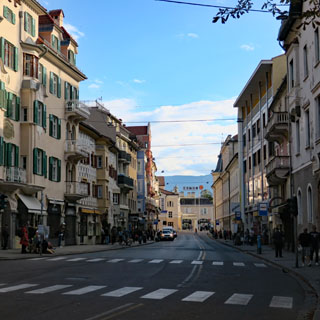 The Passer River.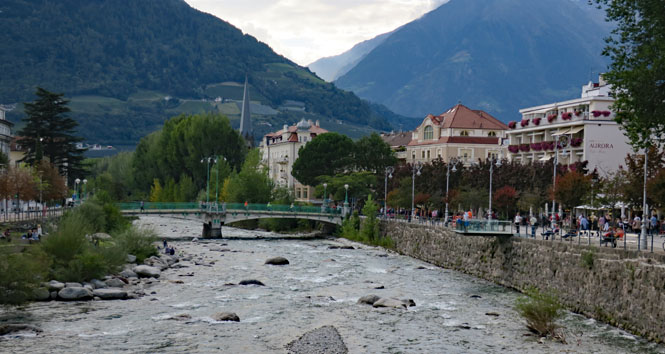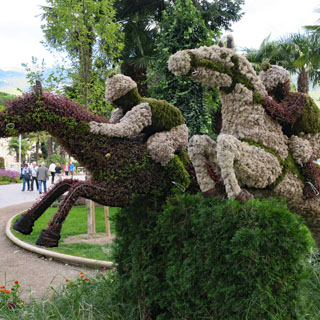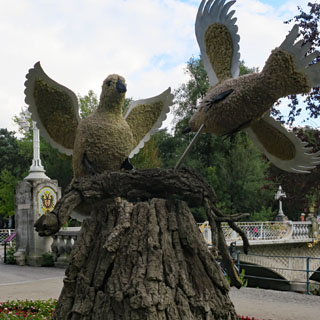 The tower of St. Nicholas Church.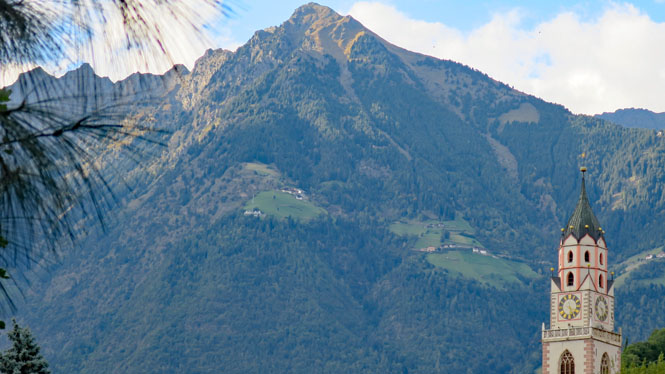 The bridge is seventeenth century, but there has been a bridge here going back to Roman times. The river walk was the place to be seen when Merano was a popular European destination for folks doing the Grand Tour during the nineteenth century.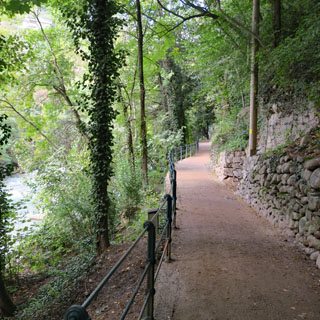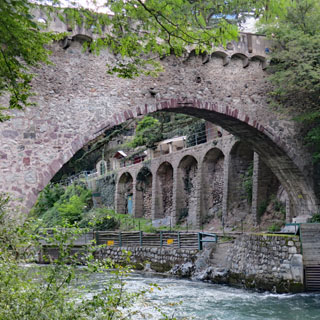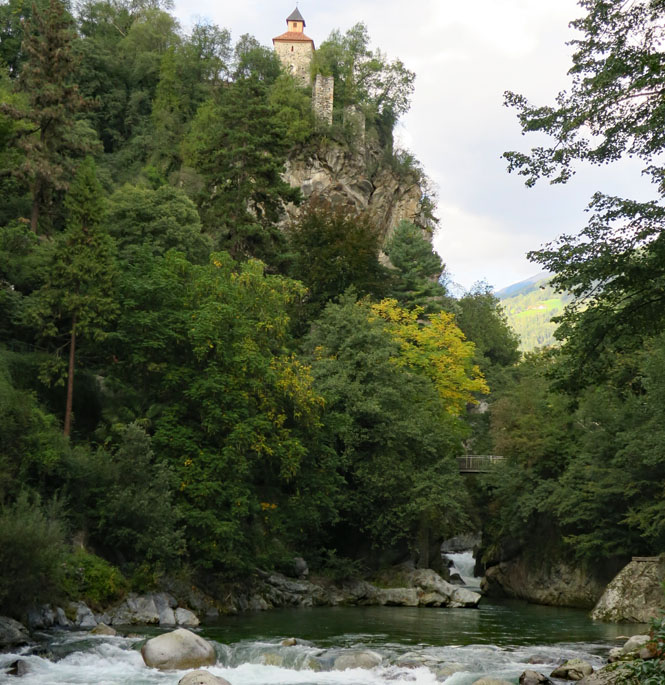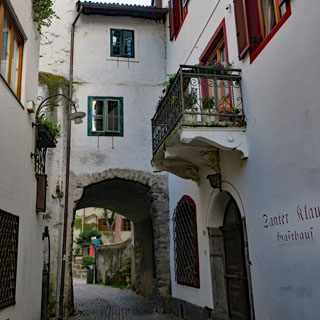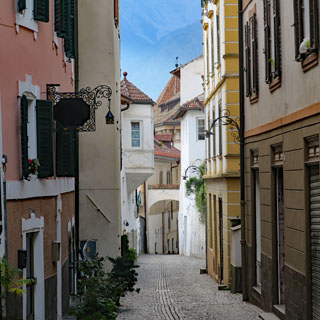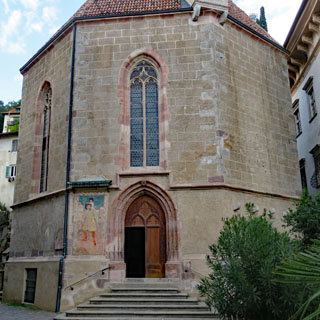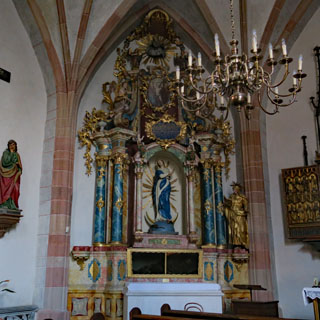 Typical of these very old buildings, nothing lines up.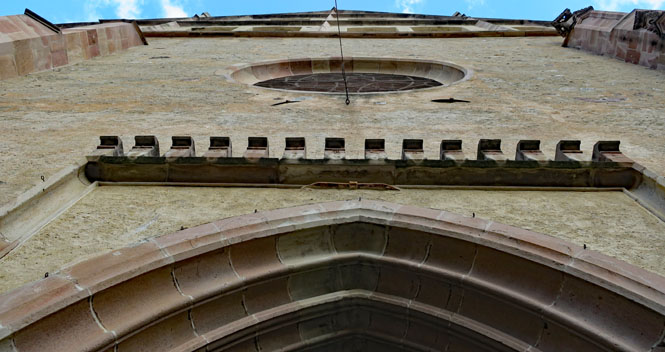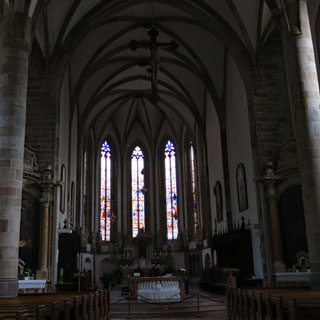 Below, right is the fanciful Landesfürstliche Burg, which was the home of the Archduke of Austria (15th century).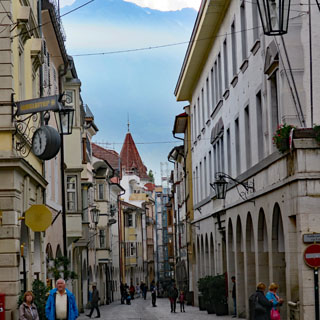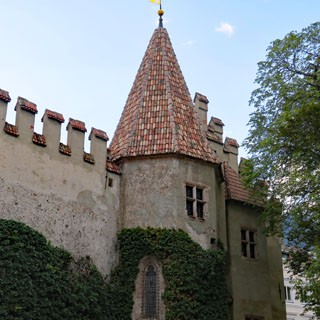 Following the valley of the Adige River.

Val Venosta.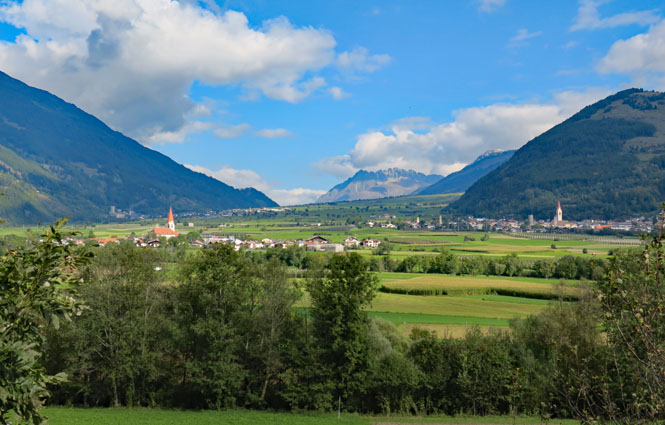 Switzerland (Confoederatio Helvetica)
Val Müstair, Switzerland.
Via Umbrailpass hasn't been entirely paved until 2015, so it hasn't received anywhere near the attention that the Strada Statale dello Stelvio (the route over Stelvio Pass) has for motorcyclists or sports car enthusiasts. But, it's no less dramatic. Somehow, though, I doubt there will ever be a Bugatti Umbrail or a Moto Guzzi Umbrail or an Alpha Romeo Umbrail.

The view towards Zernez, Switzerland.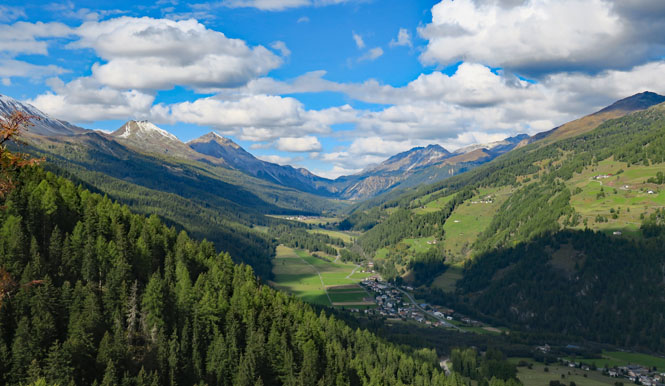 This is the part of the road that was only recently paved.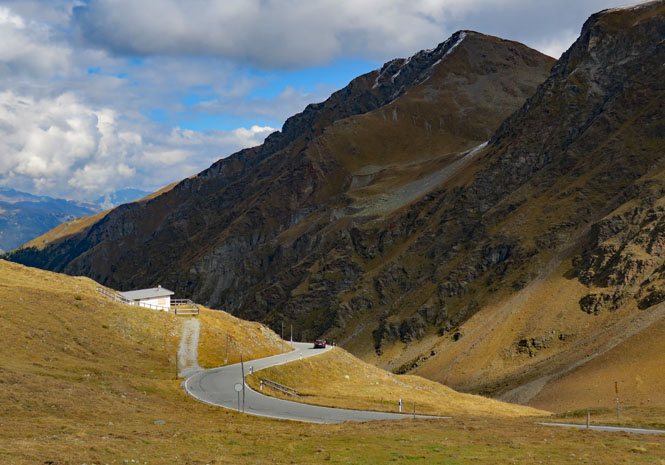 During the first world war, the high Alps between Italy and Austria were a battle ground. There's a good exhibit at the summit.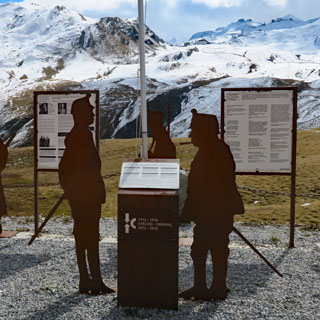 Stelvio pass and Umbrail pass are quit close. Stelvio is up the road about a kilometer into the snowline. Today, both sides of Stelvio are in Italy. Before the war, this was the Austria line.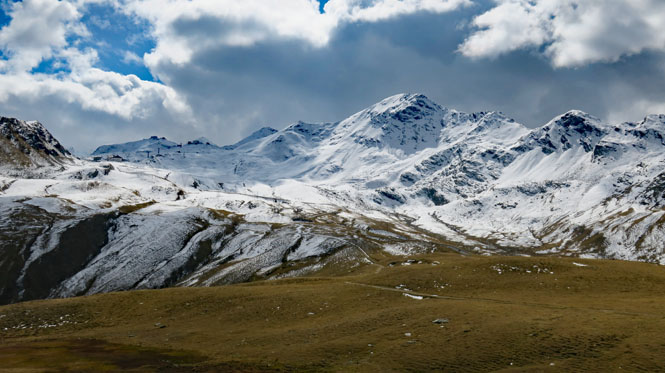 Italy (Repubblica Italiana)
The Austria border has shifted, but I don't believe the Swiss border has. In any event the marker that's dated 1912 is still correct (C.S. is Confoederatio Helvetica, aka Switzerland).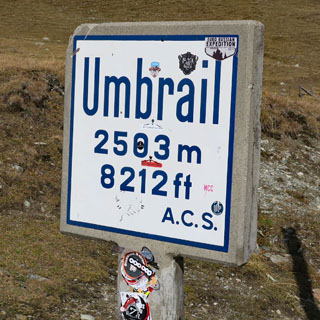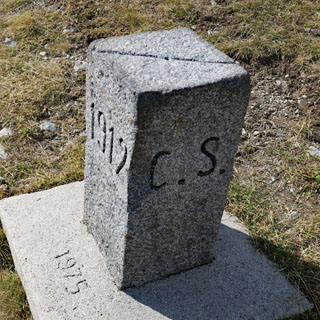 It's a long downhill run to Tirano, but don't be deceived by this gentle bit of road.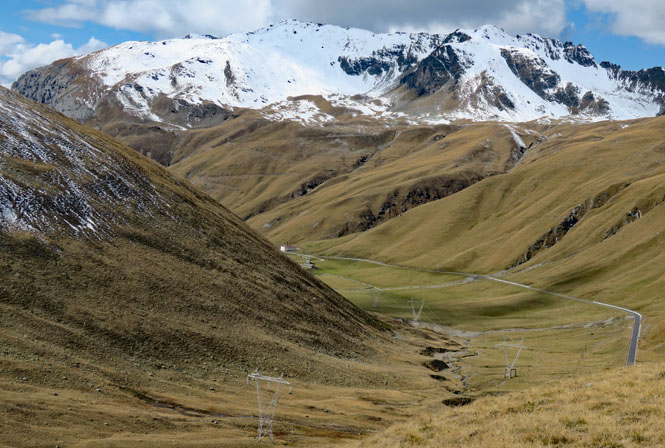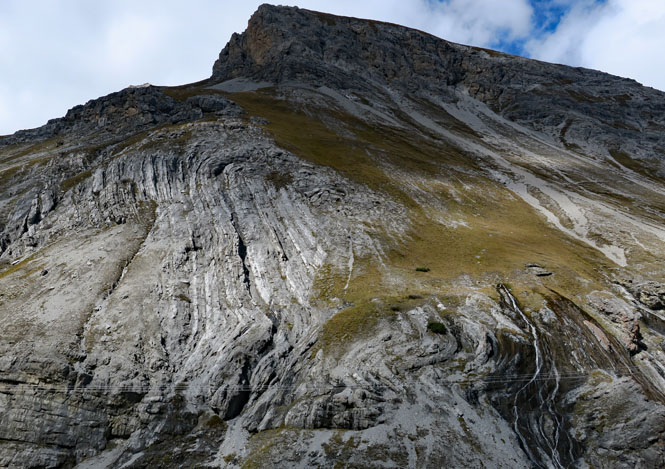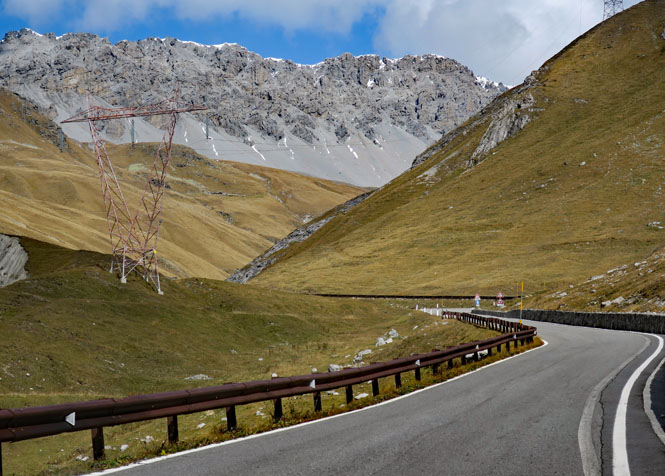 Back and forth, back and forth. It will wear you out.
Nearing Tirano and Valtellina.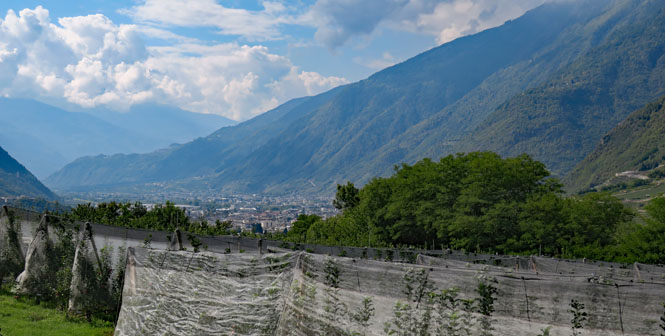 Mandello del Lario, I have returned.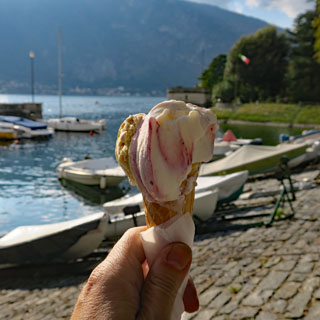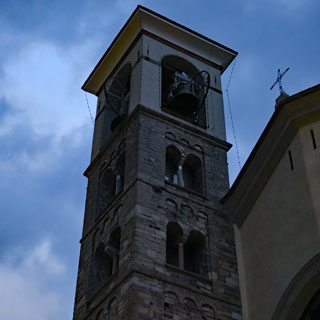 Mamma Ciccia's, as always.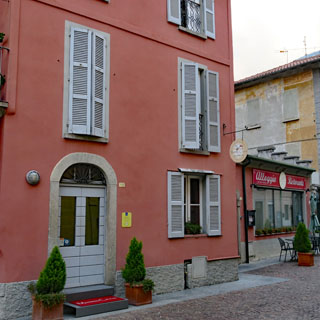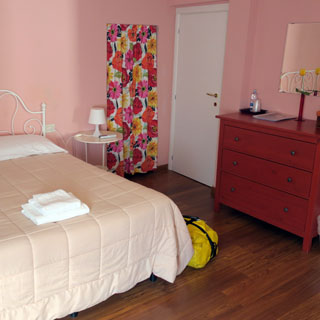 "The most beautiful lake in the world."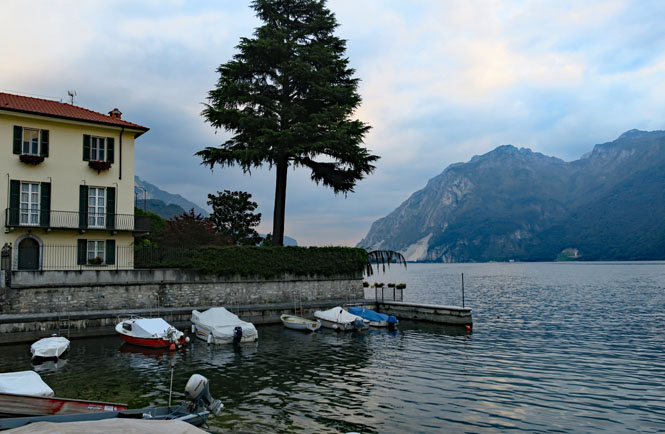 Silvia and Marcello have opened a new cafe this year, connected to Mamma Ciccia's. It gives me a last opportunity for tomatoes with buffalo mozzarella and polenta.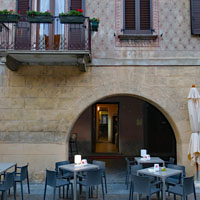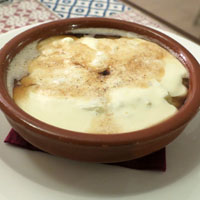 A final look back at Mandello del Lario. I'll take the train to Lecco and transfer to the train to Milano.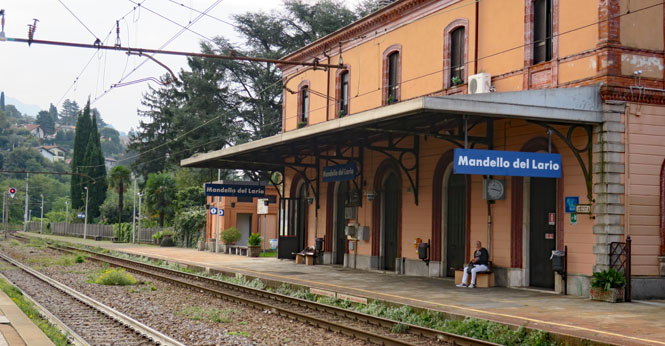 If you're going to take a photograph of the same building with each trip, this isn't a bad one to pick. Duomo di Milano.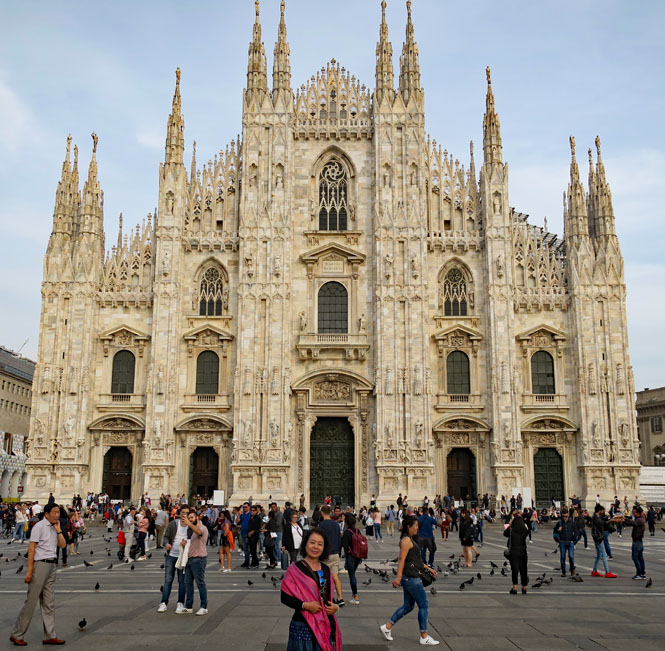 A view of the Duomo di Milano and and the Galleria Vittorio Emanuel from the Museo del Novecento.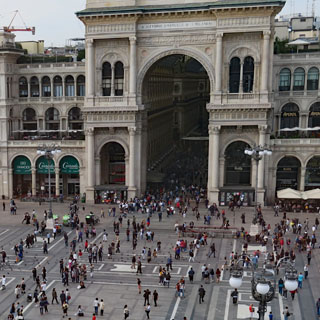 It wasn't the trip I set out for, but that's often the case, and no matter. The Carpathian Mountains were the original goal, and I did see much of them.
But looking back, this was especially a trip to Romania. I didn't have much of an idea what to expect, but I've come to really admire the place. And, Hungary. It deserves a return visit where I'm not rushing through.
last edit: 10/21/2017