November, 2017

Sunday

Monday

Tuesday

Wednesday

Thursday

Friday

Saturday

29
30
31
1 November
2
3
Wichita
Washington
4
Dublin
Los Cristianos
5
Los Christianos
6
Laguna
7
Puerto Rico
8
Las Palmas
9
El Cotillo
10
Teguise
11
Las Palmas
12
Agaete
13
Puerto de la Cruz
14
Hermigua
15
Los Cristianos
16
Dublin
17
Newark
Chicago
Wichita
18

Several years ago while riding in Ireland, I met a couple from the Canary Islands who were on holiday; they were enthusiastic about their home and suggested I visit. But, after looking into the ferry schedules from Cadiz, Spain I dismissed it as being impractical (at least at that time).
Jump ahead to last February and a Facebook post by Mauricio Sedó (on the Moto Guzzi National Owners Club page) in response to a cold European rider who was bemoaning the current weather. "Come to the Canary Islands!" said Mauricio.
I've no idea if that cold European ever followed through; but, I did. I immediately contacted Mauricio and made arrangements for some sort of Guzzi to be available in November. Afterwards, I'd figure out what I could expect to see on the islands.

The Canary Islands are part of Spain. They are every bit as much Spain as Andalusia and Valencia and Aragon and all the other autonomous communities that comprise that country--it's just that they lie off the coast of Africa, not exactly close by the mainland.
The islands were conquered in 1402 by the Kingdom of Castile, had a rather tumultuous history (including being attacked by Admiral Nelson, during which he lost an arm), and in 1982 were made an autonomous community of Spain.
There are seven islands; my first plan was to ride all of them. Later, I'd figure out which islands made sense without too much disruption of schedule. Some are easier to get to than others.
Europe Motorcycle Trip #18
None of this would be possible without Mauricio Sedó and his small rental outfit that has Guzzis as well as other models. I gather that the available models might vary, but at the time I contacted him, he was planning on picking up a 2002 California EV, and that's the bike I rode.

http://mbmtenerife.com
I have done many miles on a five-speed Guzzi with heel-and-toe shifting, so this would all be familiar.
Virginia
My first stop was Chicago, then a long wait in Washington before the overnight flight to Dublin. There's not much to be said about Washington Dulles Airport except that I'm sure I walked two miles from my arrival gate to my departure gate. The food in the United lounge was good and the chairs comfortable, so that helped.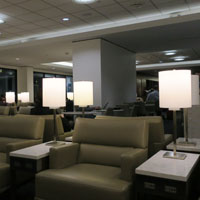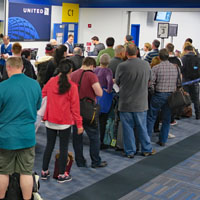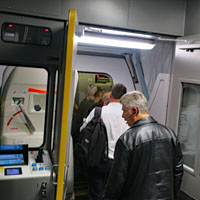 Ireland
It's not easy getting to the Canary Islands from the U.S. The difficulty comes when trying to link any of the standard overnight flights crossing the Atlantic with the flights that link Europe to the Canary Islands. Stopping in Dublin made some sense as that route, at least, seemed more direct than the other routes, which had me going through Zurich or Frankfurt. In any case, I had a long wait in Dublin. It'd be much longer on the way back.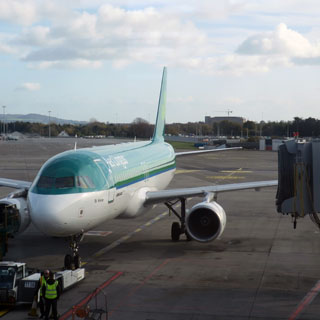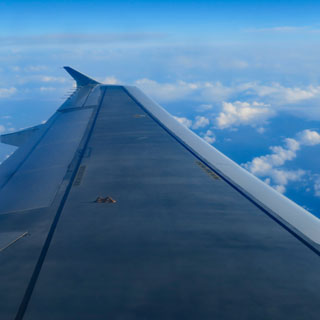 Spain (Reino de España)
Canary Islands (Islas Canarias)
Tenerife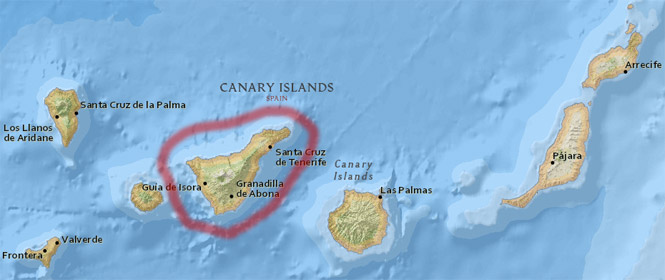 I'd be landing at South Tenerife Airport as that's nearest to where I'd be picking up the motorcycle. The approach to the island gave me my first view of Mt. Teide, looking dramatic above the clouds.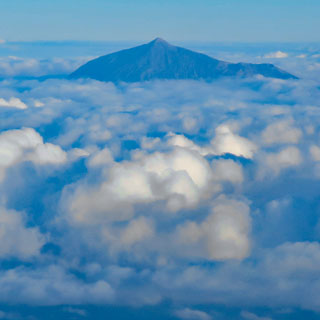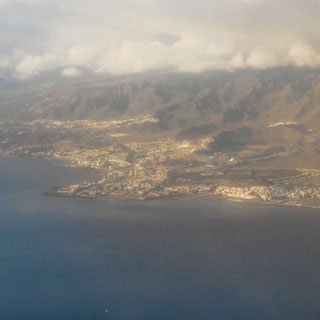 South Tenerife Airport (TFS). The airport is more modern and larger than I expected. There are many flights each day bringing vacationing Europeans to the resorts. Package deals including airfare and hotel seems the way things are often done here.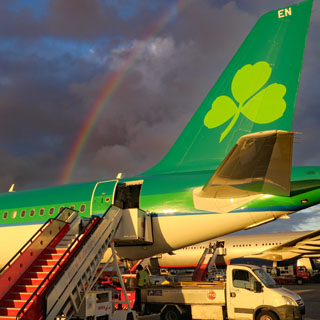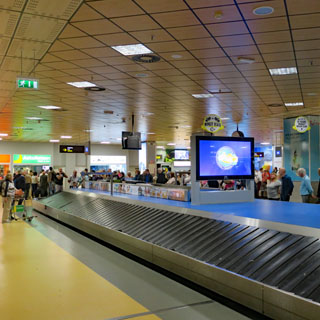 Los Cristianos (and the connected communities) is the largest city on the south side of the island. It's just a thirty minute drive from the airport by freeway. As with all my overseas trips, the first two nights will be spent getting used to the time zone shift and not doing much of anything else. It's Saturday; I'll start riding on Monday.
I'm staying in one of the larger hotels that was built at the beginning of the big expansion of Los Cristianos in the late sixties. These days, it's not all that big by comparison and it is no longer in the center of the major resort hotels that have gone up in the last fifteen years.
My hotel and the view from the rooftop.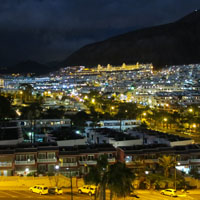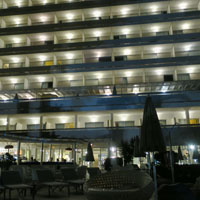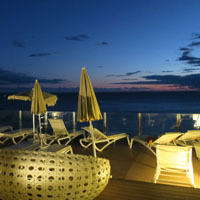 It's not hard to walk the entire length of the Playa.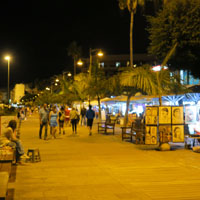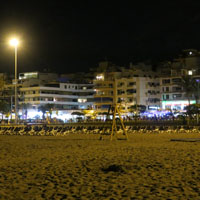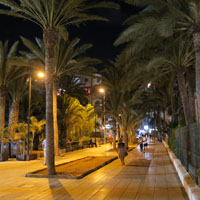 Liz and Richard once stayed here. I'm afraid that by today's standards, they are both dreadfully overdressed. That thing at the end of the fork is "papas arrugadas" (wrinkly potato). It's a common thing across the Islands, and is usually served with mojo rojo (sauce).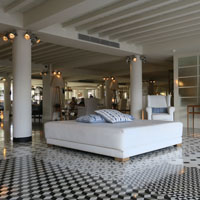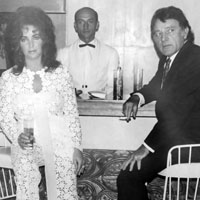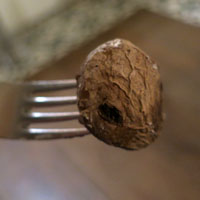 Another view from the top of my hotel, including the fast ferry to Gamora, which has just arrived.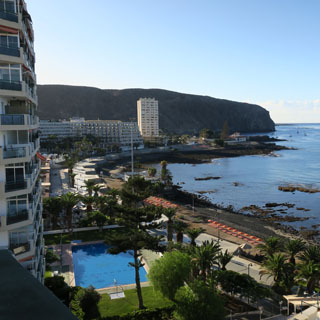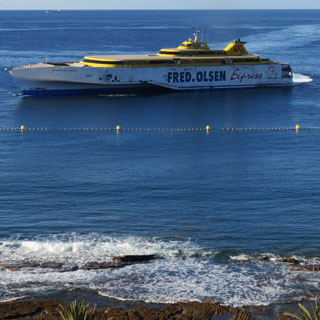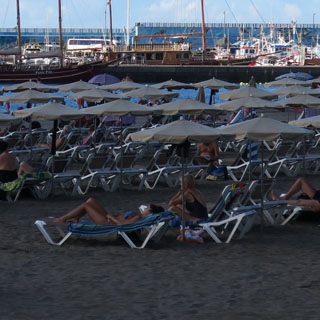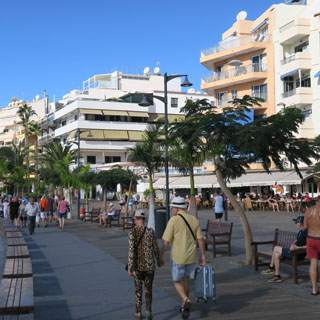 The beach wasn't originally sand. But, there's a great deal of sand on the land east of here, so it was only a matter of bringing some of it back. There are several other such Sahara-transplanted beaches on the Canaries (and many other beaches that are quite nice and sandy without any outside help, thank you very much).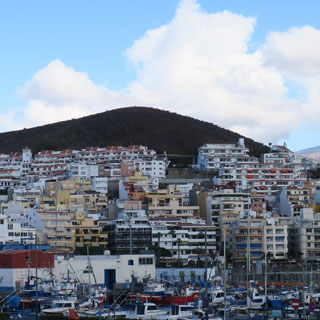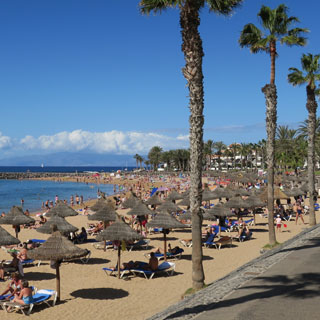 It's clear that many people come here for their week of sun and relaxation, and don't go any farther. Consider the weather in Oslo, right now; this is pretty nice.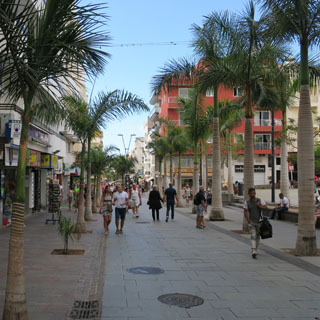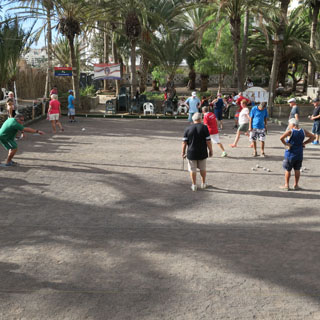 It's Monday; time to ride. I'll be on a blue EV, which Mauricio had made sure was in fine shape. I didn't have any problems with the bike the entire trip.
I'm starting out on a fairly narrow and rather steep inland road and not the main highway heading for the big volcano in the middle of the island. This is Guía de Isora.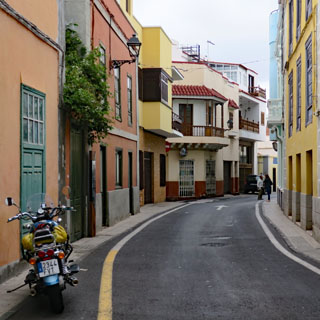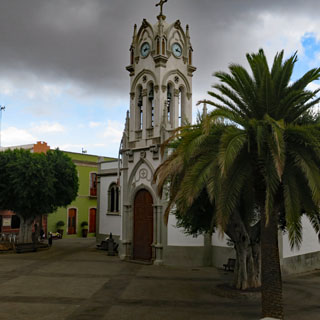 The small town of Chirche. You don't need to go too far inland for the hills to climb rapidly. Down there are resorts and tourists; up here are houses and the people who live in them.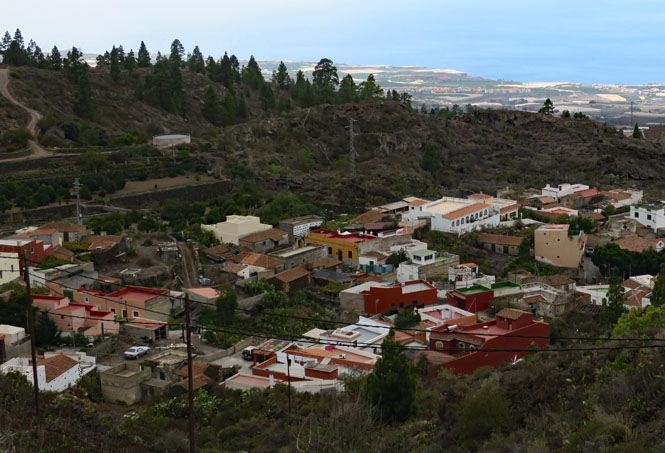 The first miles I'm sorting out how wide the roads are, how much traffic there is and what sort of signage I can expect.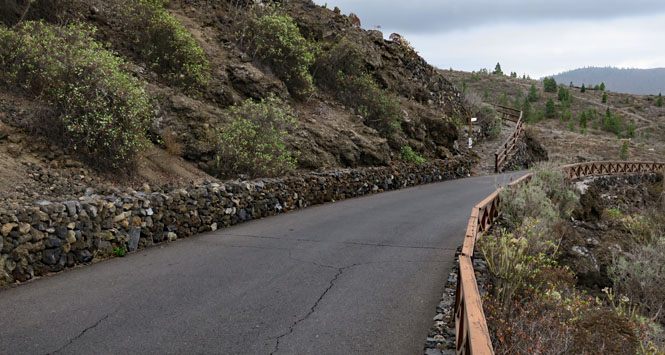 It's clear that there has been some recent (geologically speaking) volcanic activity. Unfortunately, I'm also in and out of a cloud layer that seems to be in the middle of the island. At times, it isn't so easy to see very far down the road.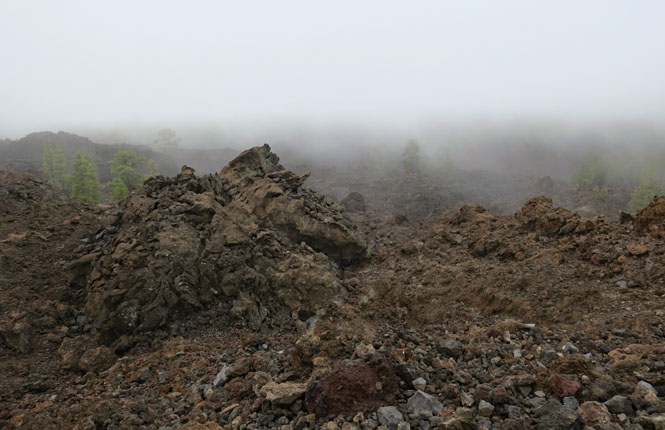 My ride. I've packed largely the same as I have on other trips. This Guzzi is an EV, but in the U.S. that model had twin front disks and a tachometer. Of course, Guzzi has always been known to assemble bikes anyway they want (the Chris-Craft bow navigation light on the front fender is something a previous owner has added).

I'd be seeing plenty of bicyclists on all the islands. In every case, they were well-disciplined and it was easy to share the road with them.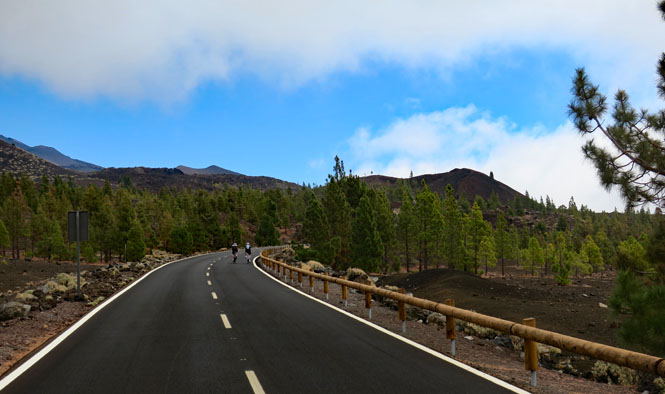 Pico del Teide: 3,718-meter (12,198-feet). This is the tallest mountain in Spain. This abrupt obstacle to the prevailing winds is what causes such dramatic changes in the weather from one side of the island to the other. Combine that with the natural change in temperature due to the altitude and you have a case where there can be twenty degrees of difference in just half an hour of riding.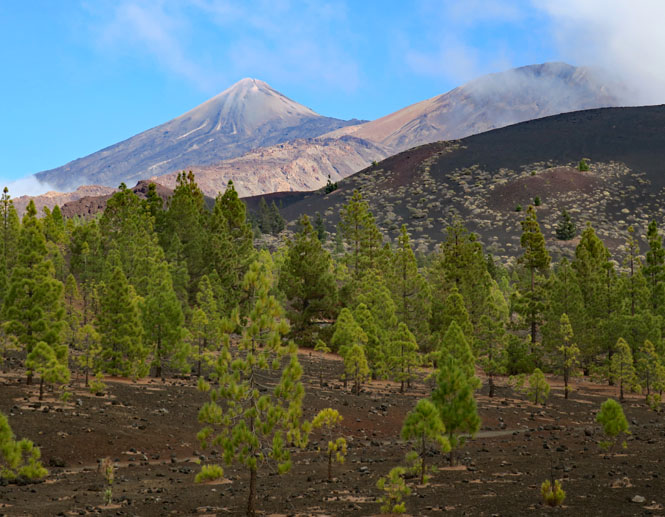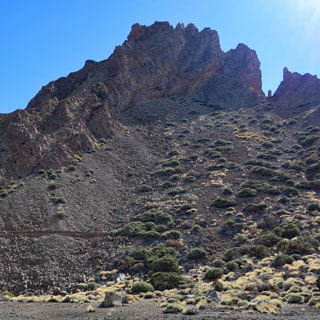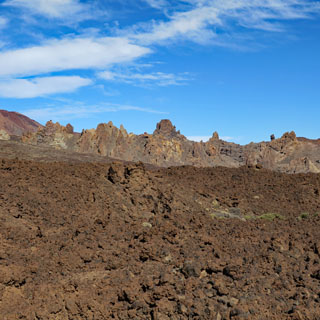 There would be times in history when riding in a caldron would be ill-advised. As you can imagine, putting a road through here is not a trivial thing.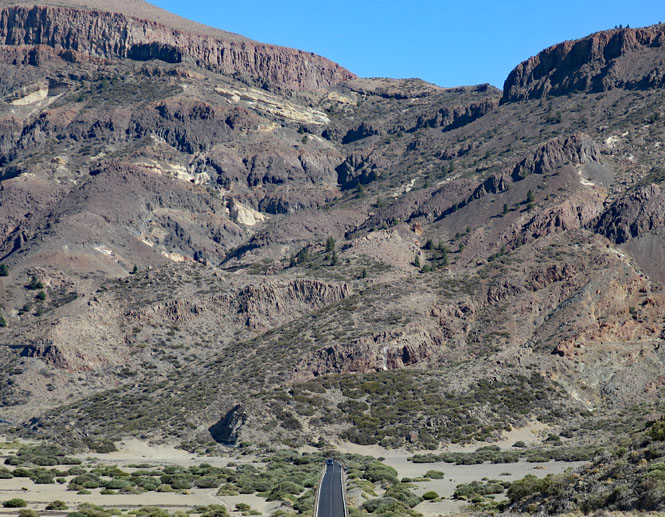 I've just come through that cloud bank, and will soon be entering another.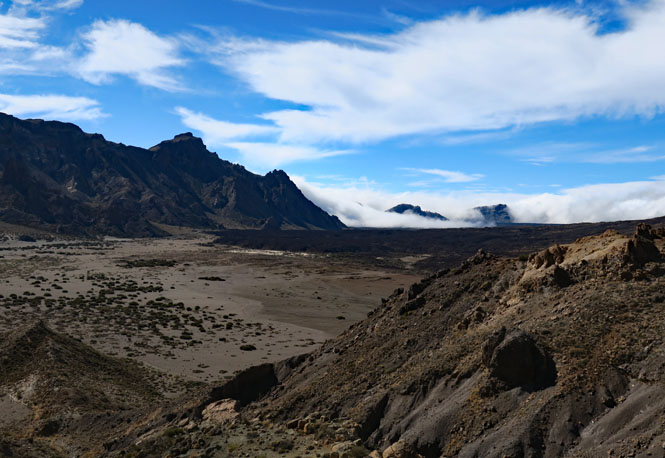 Notice the colors.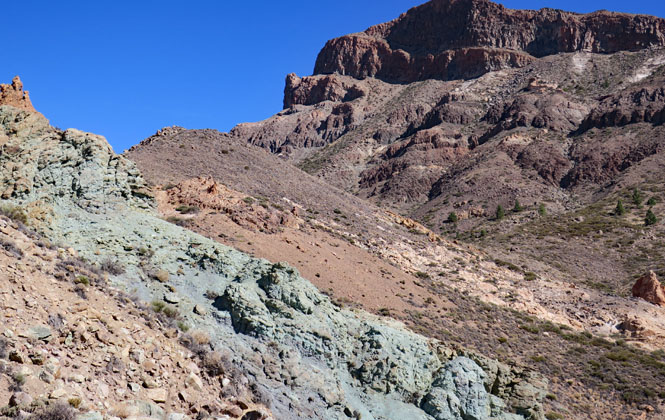 Lava flows, wind erosion, but not much water. It's a strange landscape. Anything growing here will need to be hardy.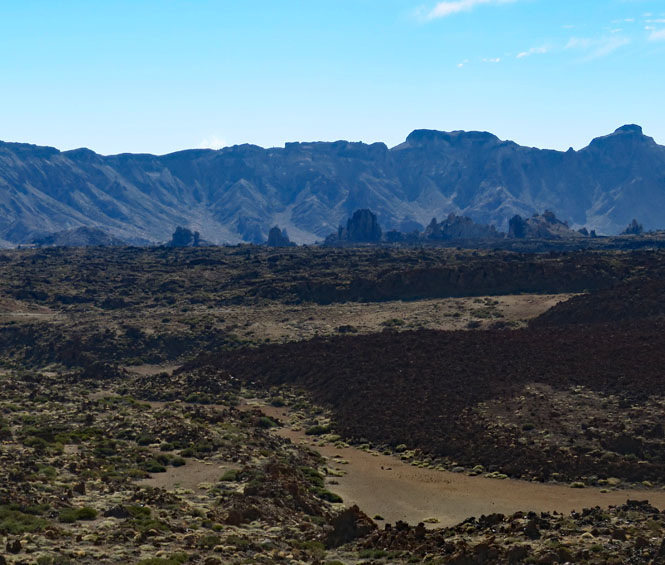 Sand and rocks. For scale, you can see two people in the distance.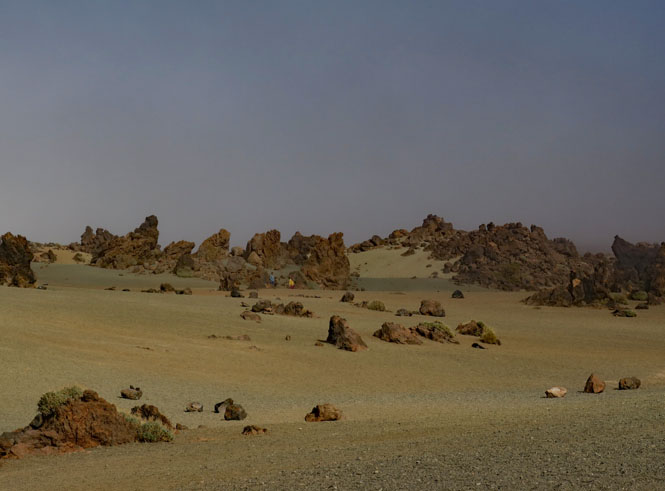 I resort to a technique that I'd rather not use, but sometimes it's the only way. I removed my glasses and lift my shield up; now I can see through the fog and mist that would otherwise obscure my face shield and glasses. As it happens, my distance vision is fine.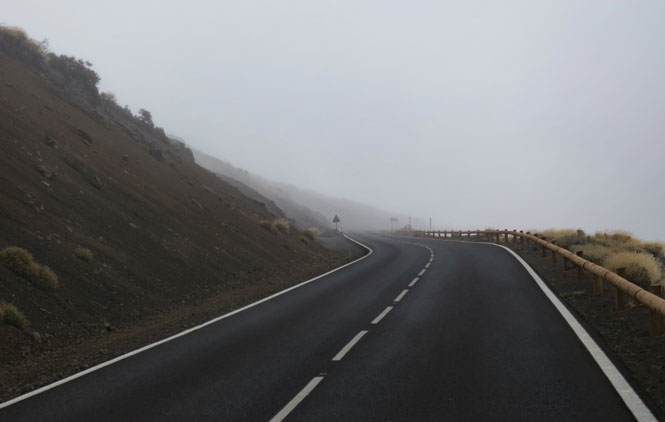 Many of these roads are in really good condition.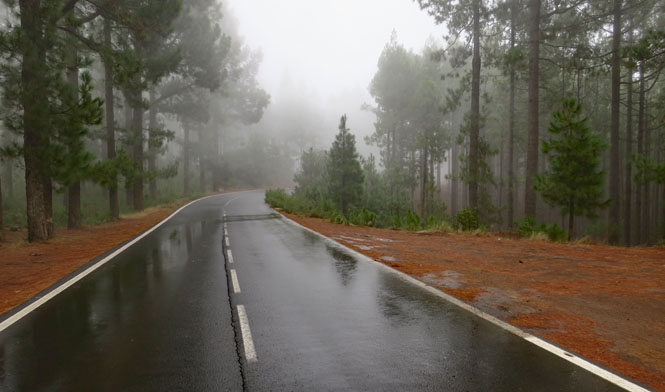 It's cold and it's very wet. I'm estimating it's down to around 45 degrees and I'm kind of wishing I had my electric vest with me. An old Guzzi trick is to lay your gloves on the valve covers (palm down) when stopped--it works. As to those chrome steel grips--it felt like I was hanging onto icicles. Oh well, perhaps in another thirty minutes I'll be warm again.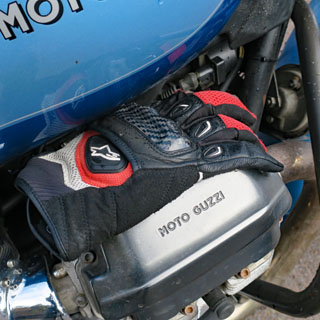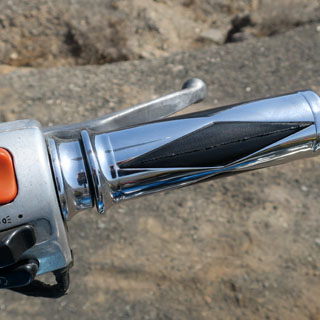 A view of Santa Cruz de Tenerife. My ferry tomorrow morning leaves from here, but I'm not sure if I'll stay in Santa Cruz tonight, or not. We'll see.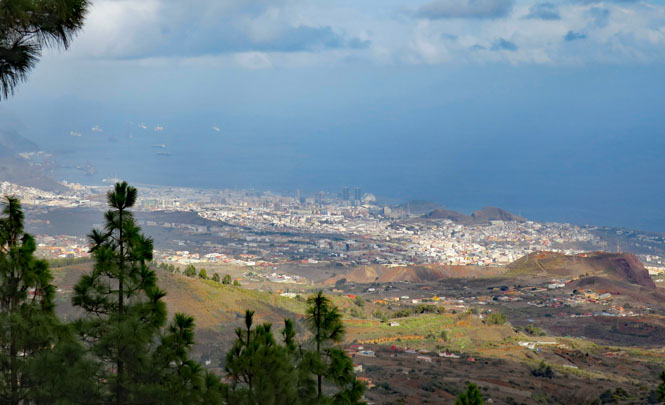 San Cristóbal de La Laguna. This looks much more interesting than Santa Cruz.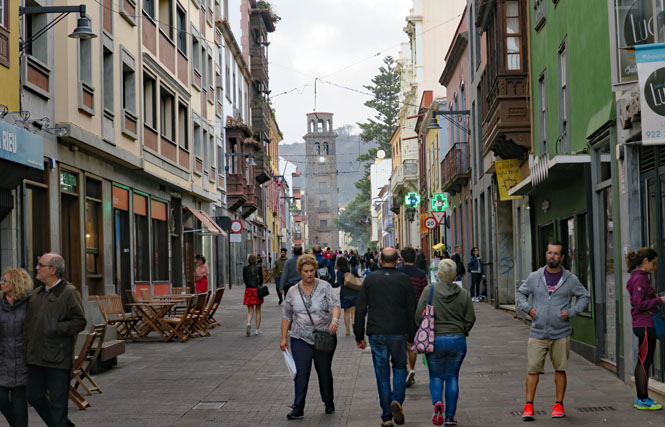 My standard (European) method of riding to the center of the oldest part of town and looking around for a hotel worked perfectly.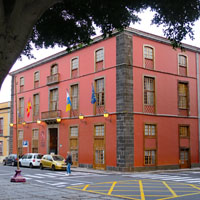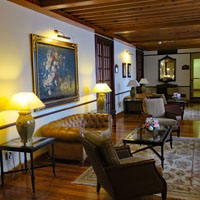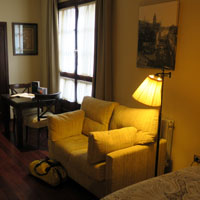 It's a beautiful city.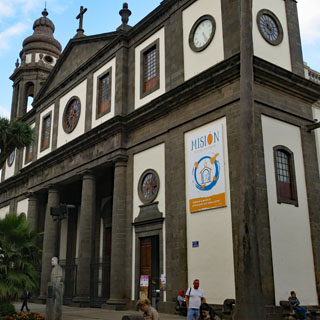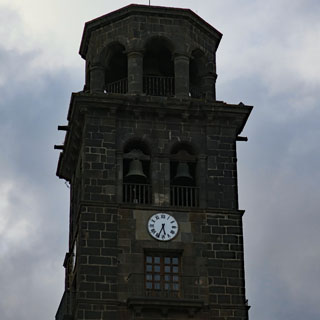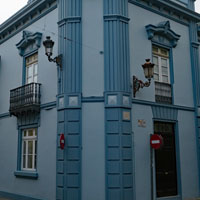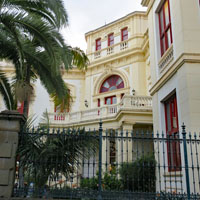 Against the odds, I left my underwear at the last hotel. It's inconvenient as what I'm wearing is therefore all I've got; time for a little shopping.
If you shop at Wehbe you're seventy years back in time. The salesman (wearing a suit) filled out a slip of my purchase and then walked with me to the cashier (also well-tailored) where he put my purchase behind the counter. The cashier eventually got to me and reached back for my little package as well as the salesman's slip and then rang me up (without any outward groan for my American credit card), putting everything in this nice blue bag.
On the way out, I was wished a good evening by the sales force. Wal-Mart it is not.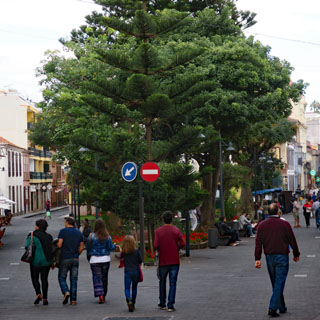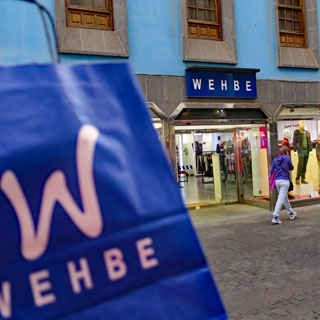 Such bar/cafeterias are common in Spain (just an obscure open door off the main walk) and I've never been disappointed.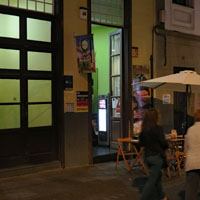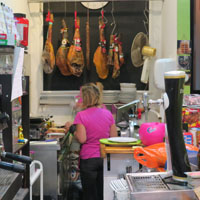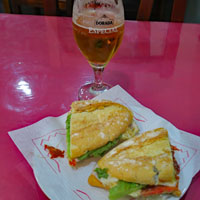 There's a peninsula of Tenerife that extends north of Santa Cruz. I'd spend my morning riding a loop through it.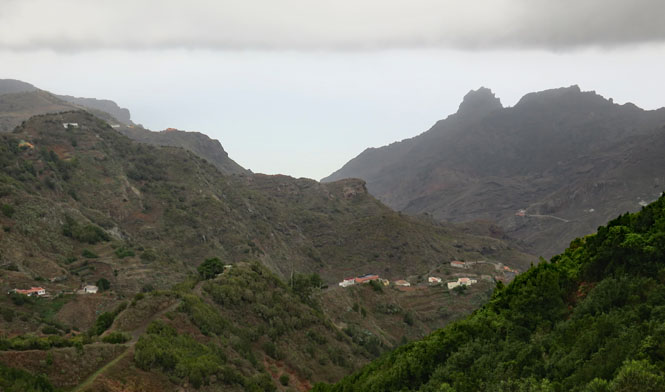 It's quite unlike the south side of the island.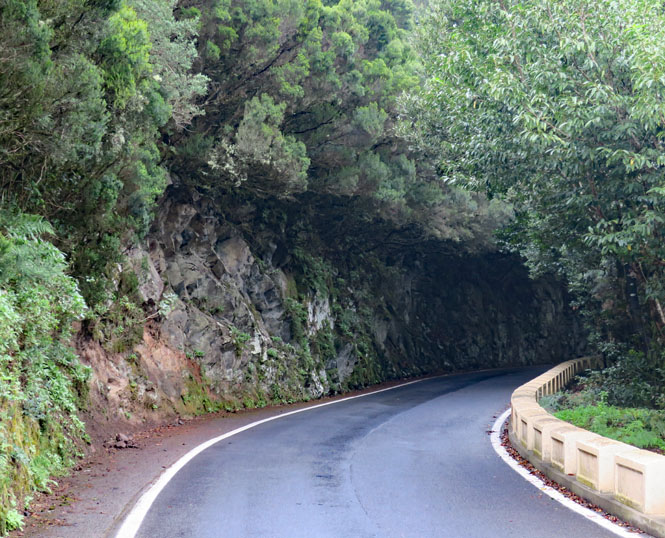 Sometimes I was in the clouds, but often enough, I was below or above and was able to see things well enough.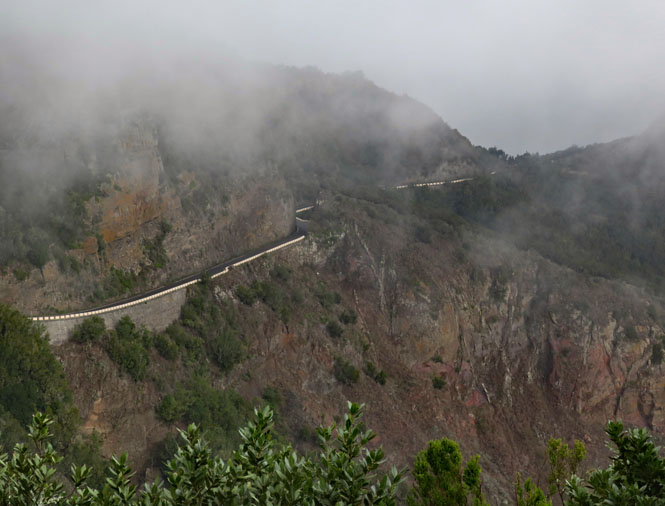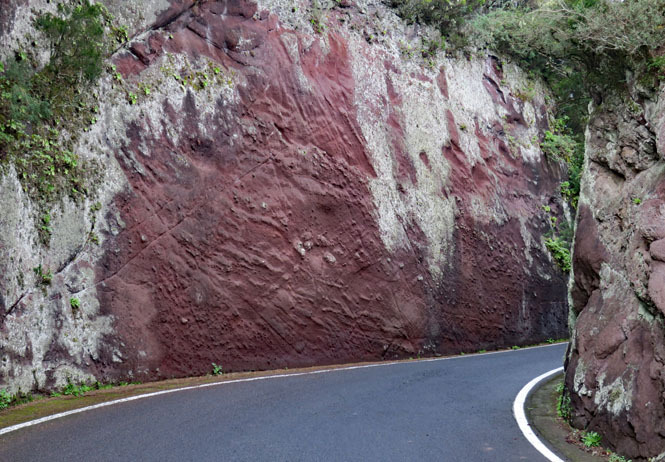 You'll see a lot of oil platform maintenance and staging off shore from Santa Cruz.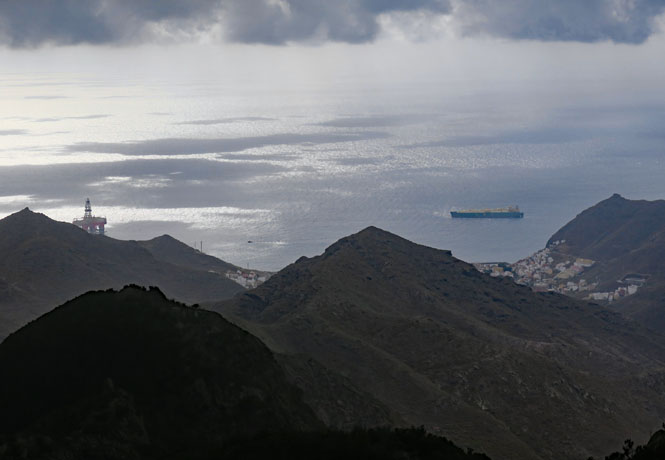 I doubt there's ever much traffic on these roads.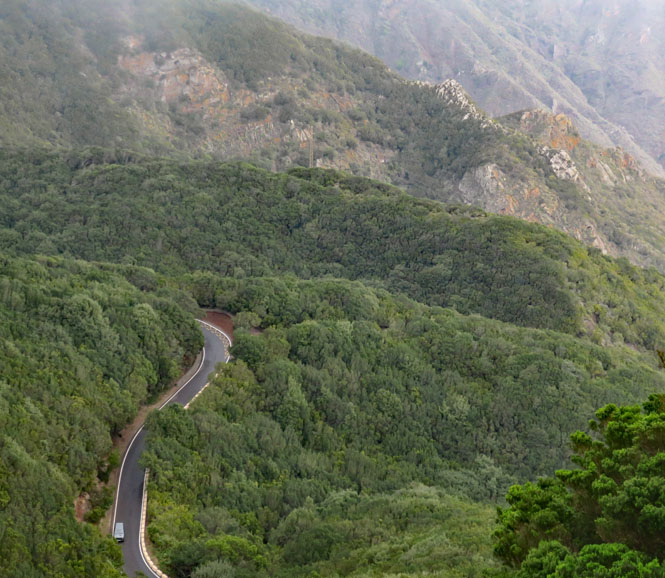 Before starting this trip, I put together a complete schedule for the two major ferry companies for all the islands and for all the days that I'd be traveling. It's a good thing I did as neither of the ferry companies had anything of the same detail to share at their offices. Remarkably, there wasn't even a sign in the office saying when the next sailing would be. For that matter, it was often hard to find where the office was so that I could buy a ticket.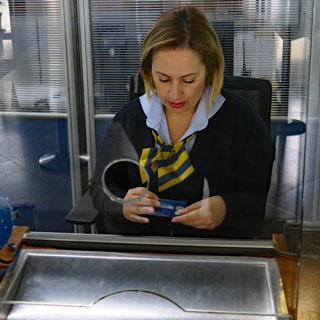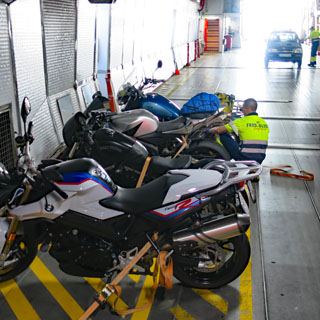 But, clarity and signage aside, the ferry personnel were uniformly helpful and courteous and always tied my motorcycle down with care (even if they all did it differently).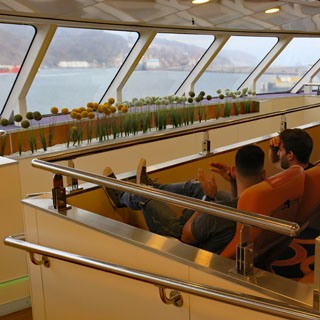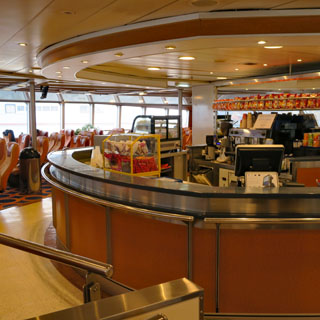 These are the same type of fast-ferry boats that I've had experience with between the Channel Islands of Jersey and Guernsey--except those boats moved even faster (all are made in Tasmania).
It's 12:00, the horn makes a single blast and we're away. These boats keep a tight schedule.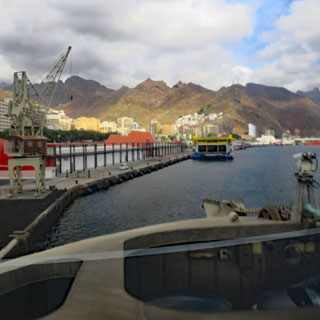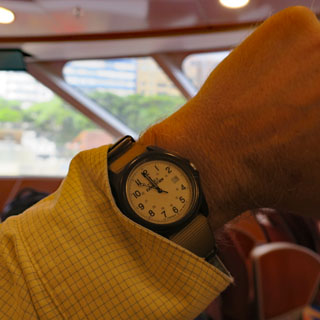 Gran Canaria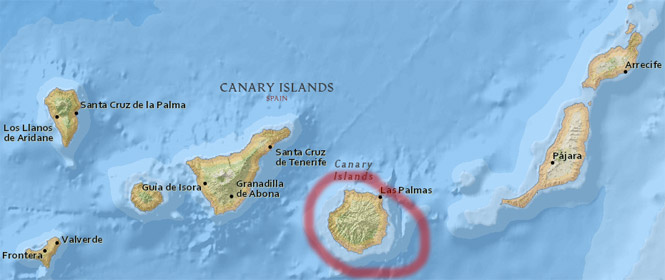 The crew warned of a rough crossing, but I didn't find it at all objectionable. Evidently, some did... For the smoothest ride, find a seat all the way aft (as I was told), for the roughest, sit up front where I am.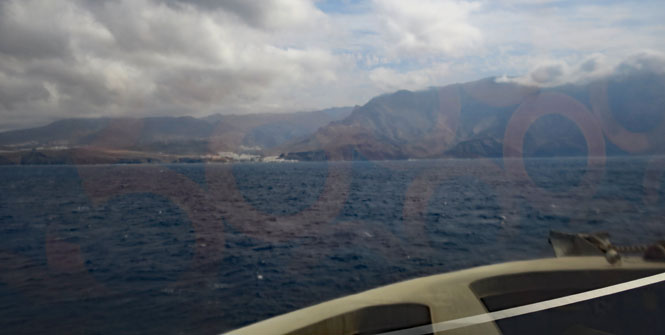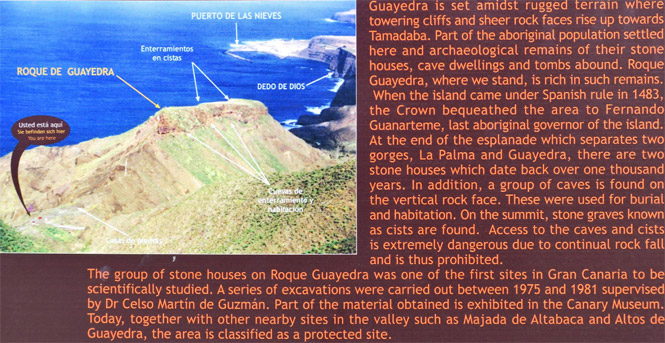 Throughout the islands, but especially in Gran Canaria, you'll see these archeological digs of the ancient ones where were here before the conquests of 1402.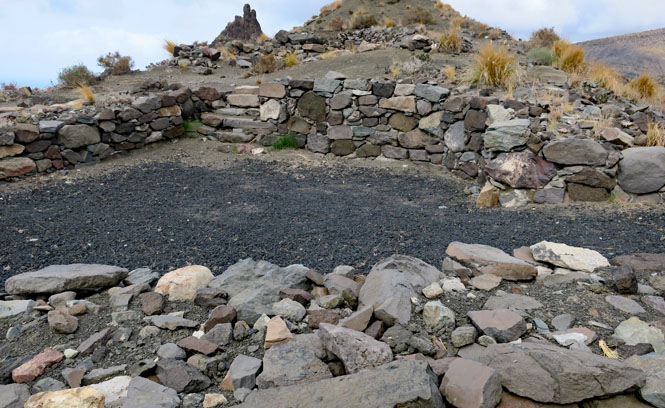 The roughly round island has radiating "spokes" of very deep ravines that extend to the ocean. Building a road around the island (or across it) is difficult.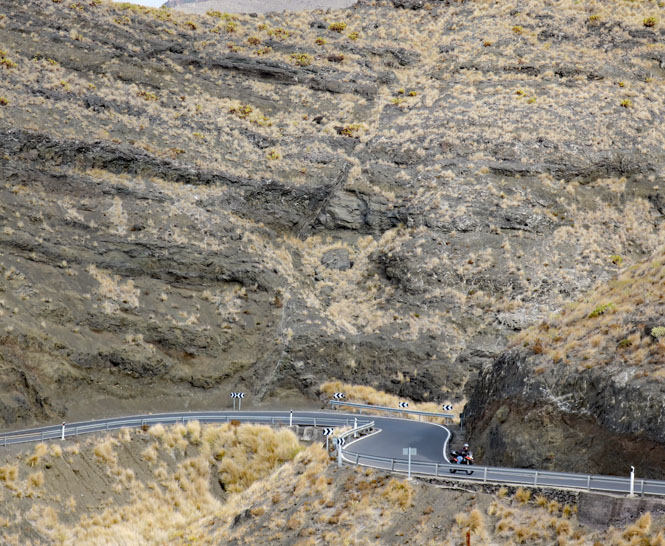 Look close, and you'll see the road. On the east side of the island (between two major resort towns) the express highway will tunnel though such obstacles. But, here, you can expect a slow journey. I don't think I ever got out of second gear, and spent much of my time in first. Advice: don't ride stupid.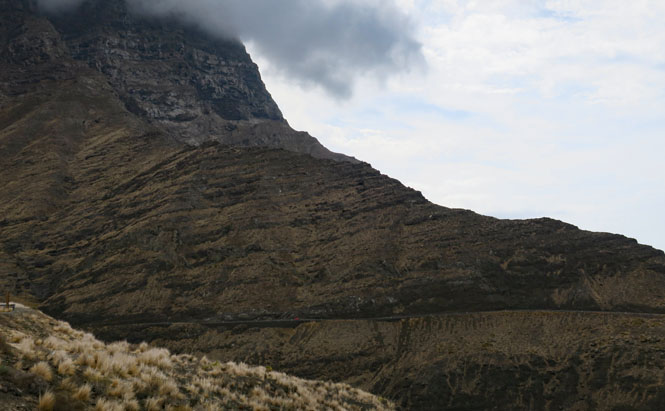 Albercón.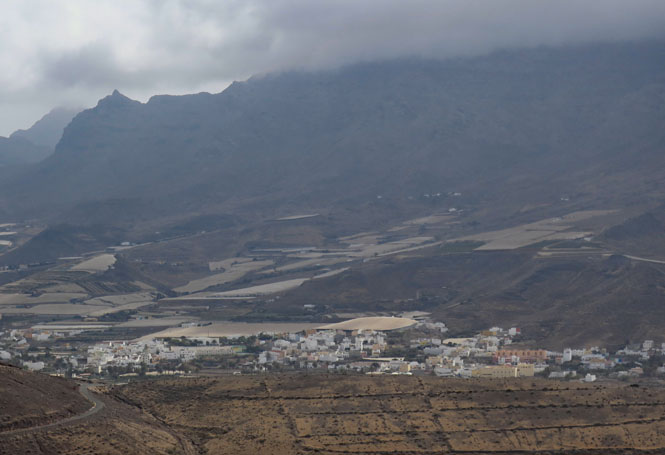 From riding New Mexico and Arizona, the plants look familiar, yet different.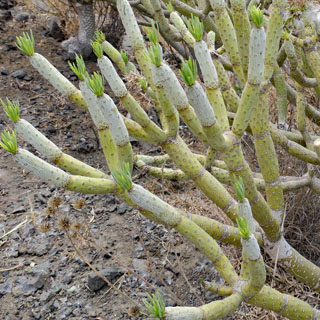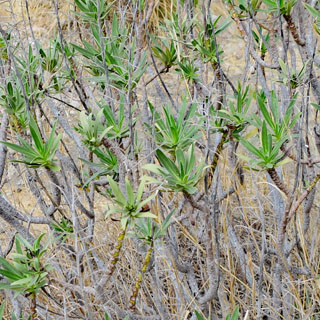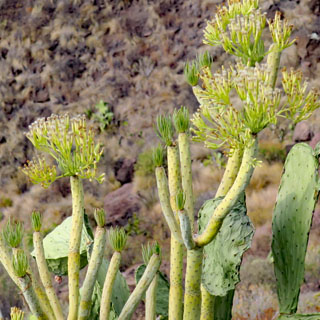 La Cogolla. Think of the access to these small towns before the roads (or trails) were paved.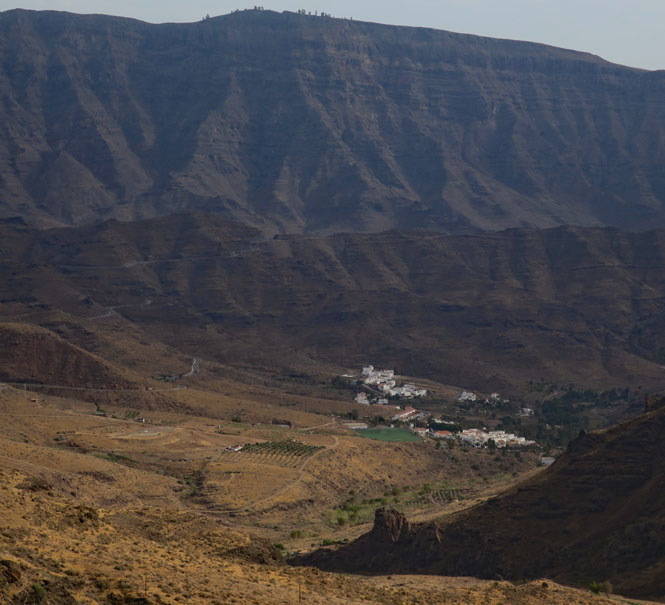 Layer on layer of lava.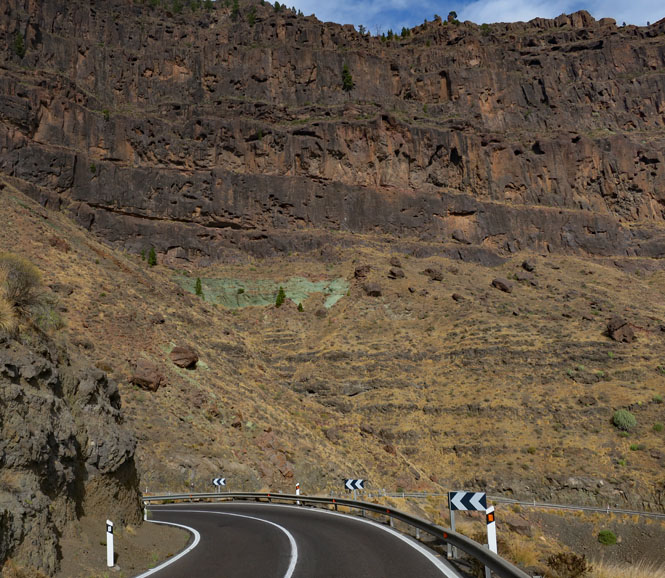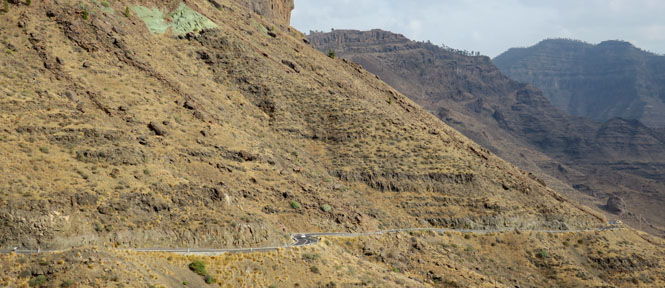 The GPS may say that your destination is only five miles away, but unless you're a crow, it might take you a couple of hours to get there.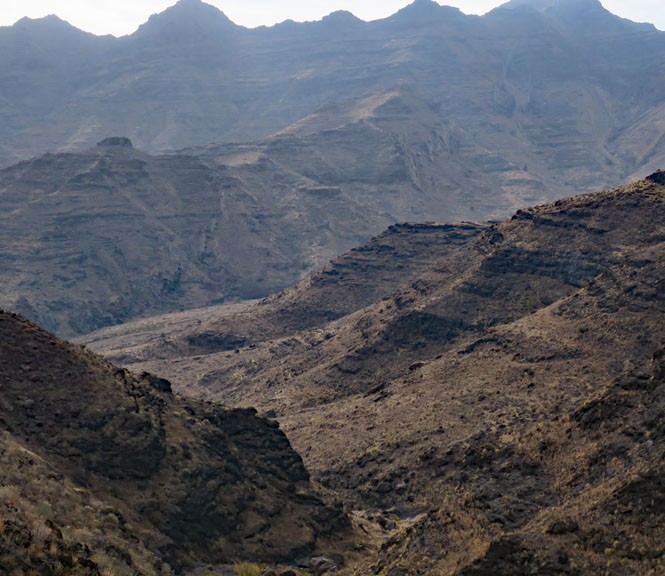 My hotel-finding-technique completely failed in Puerto Rico. I rode to the center of town and looked for a hotel and found only restaurants and shops. Just beyond the center were row after row of apartments--effectively, long-term hotels. Where are the hotels in this vast resort area? I'd need to ride up the coast for a bit.
There are more five-star hotels around here than otherwise. But, the cost isn't all that much. I might be paying less as a drop-in than some of the people staying here on a package deal from the travel agency.
You're seeing only half the height of the hotel. The lower level extends to the beach from this mid-level.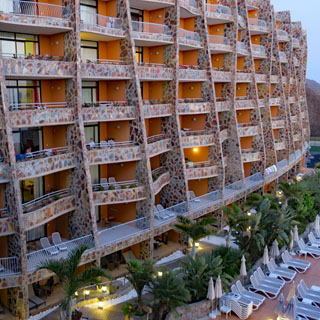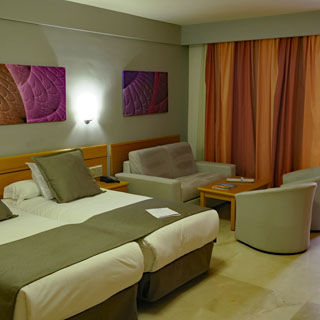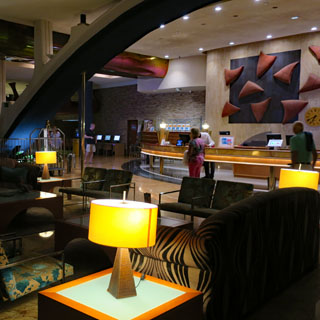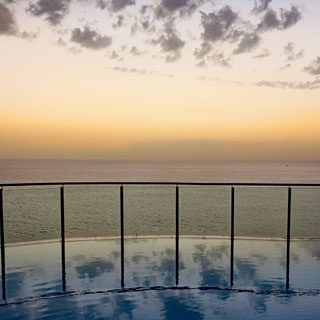 Fataga. I'm turning inland to cross over the island. Two miles from the beach, I'm completely removed from the resorts.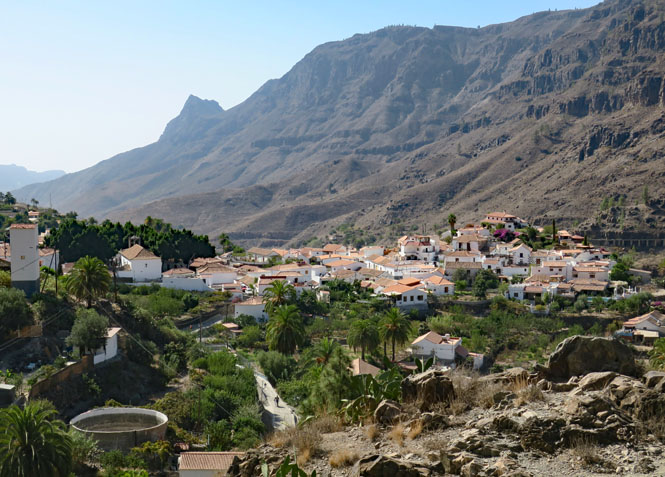 My standard drink at the bar; Schweppes bitter lemon.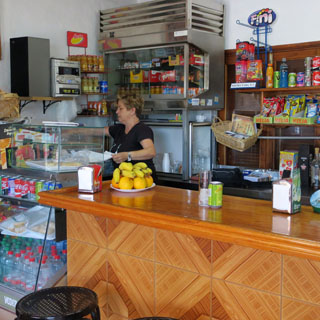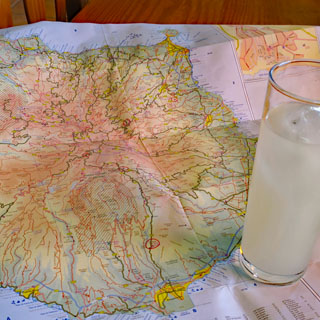 The road is rarely this level. You're either climbing or descending.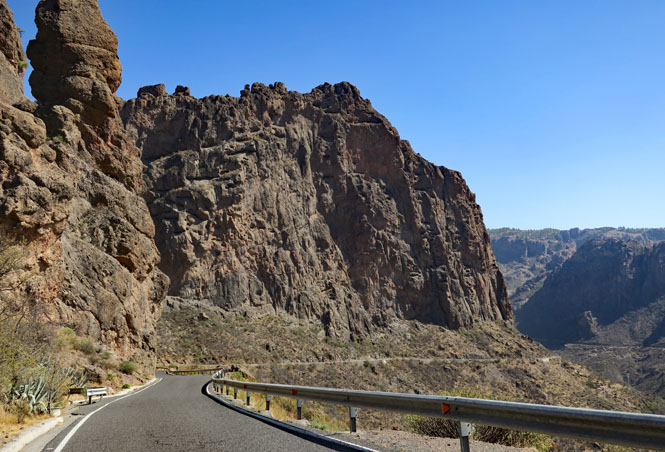 It's hard to believe that any road can get across this.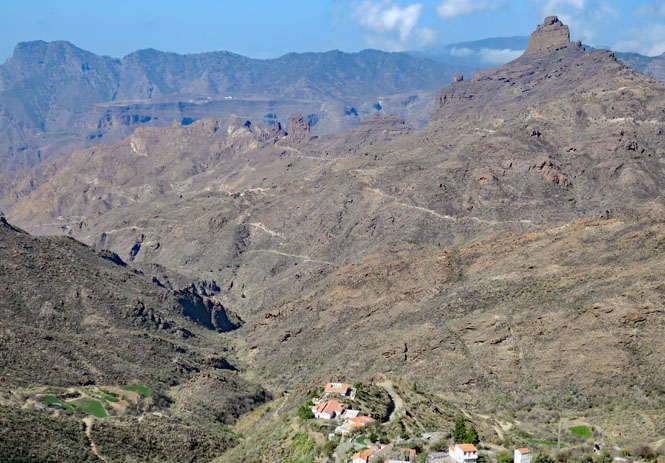 Roque Nublo.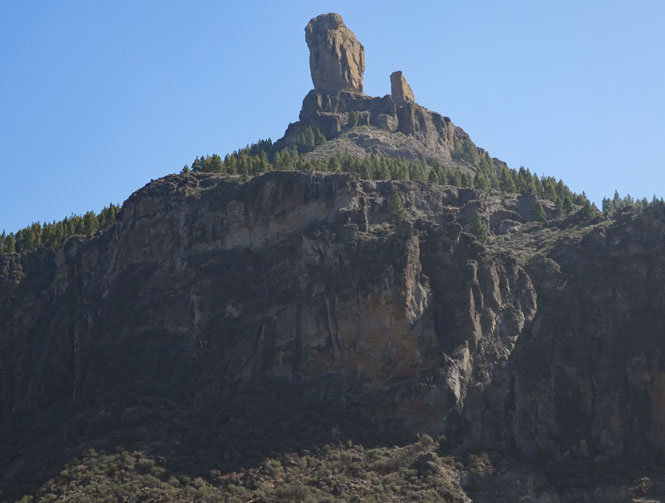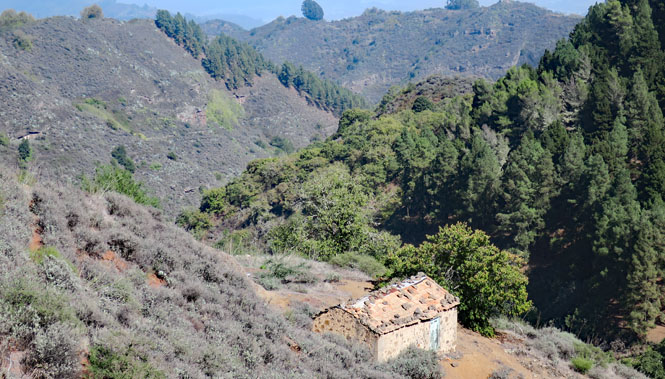 Las Palmas is the largest city and has long been a hub of shipping and the transatlantic lines. I'll be staying at the Hotel Santa Catalina, perhaps the most historic in the city--certainly, the best I'll be staying on this trip.
Do you see that balcony railing (with the rounded top)? That's outside my room. I placed my Spot satellite locator on the railing and then

heard it drop all the way down to a marble-floor terrace below. Sigh... With help from the front desk and the occupant of the room with the terrace, I recovered the device. It still works and doesn't have a mark. Amazing. These things are sturdy. The occupant was a bit alarmed by the orange thing with the blinking lights that dropped out of the sky; he never touched it until reception called him.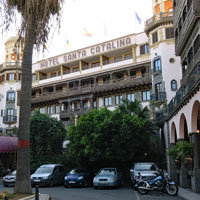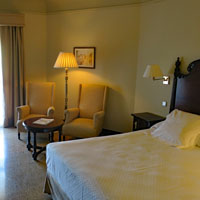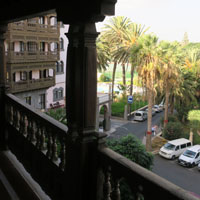 The grounds of the hotel. I gather that I might be the only one here who just dropped in for the night (on a motorcycle, no less).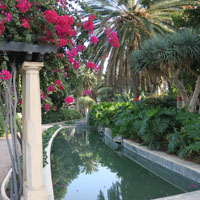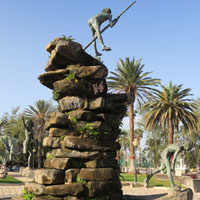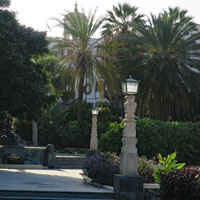 Walking to the oldest part of the city.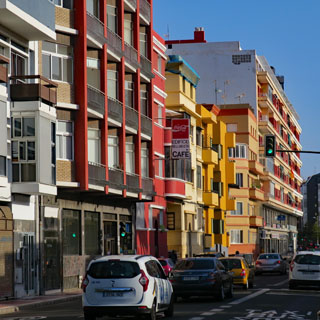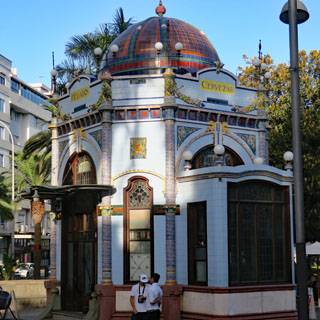 Pedestrians only.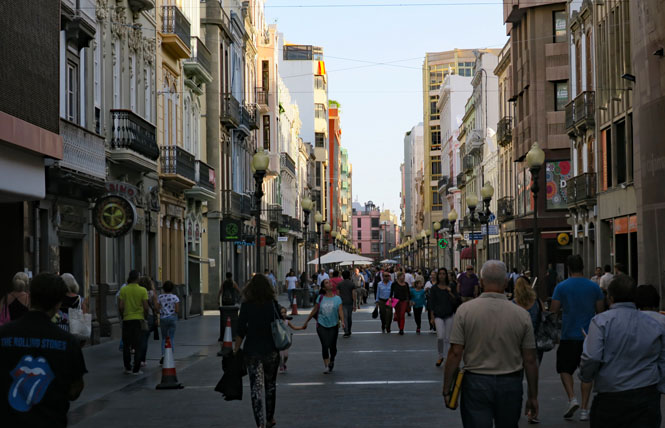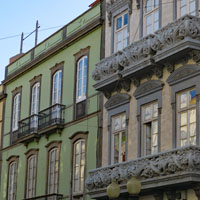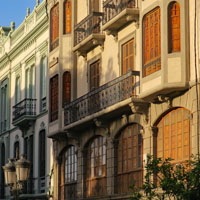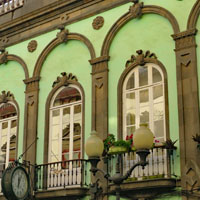 The Canary Islands are named for dogs (not small yellow birds), and dogs guard the old cathedral.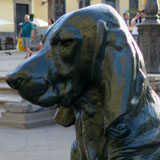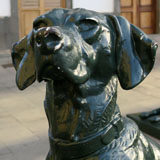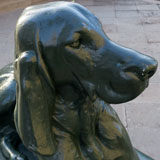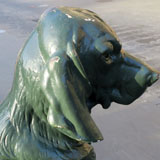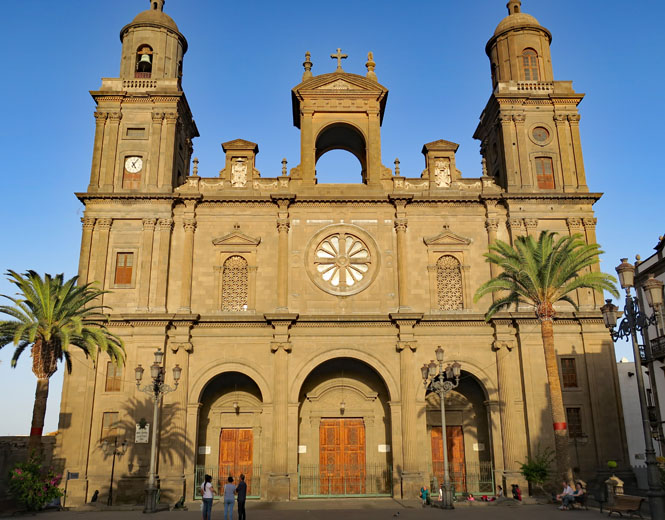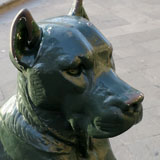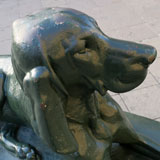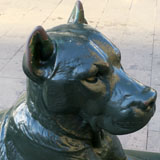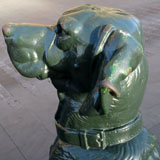 Relaxing at the outdoor bar of the hotel with papas arrugadas and mojo rojo and beer. Perfect.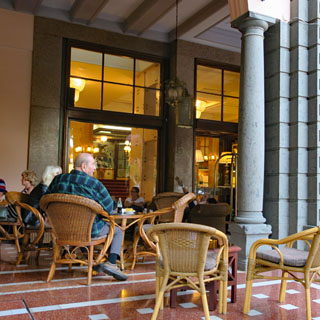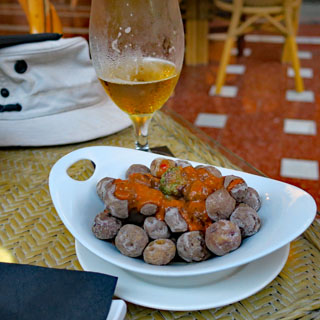 Another ferry terminal and (of course) another search for the ticket office. I'm sailing (so to speak) to Fuerteventura.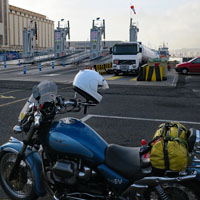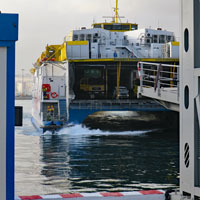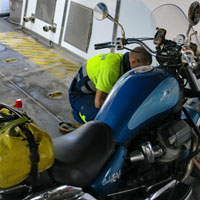 Fuerteventura
Morro Jable is at the bottom of the island. I'll just be fueling and then on my way north.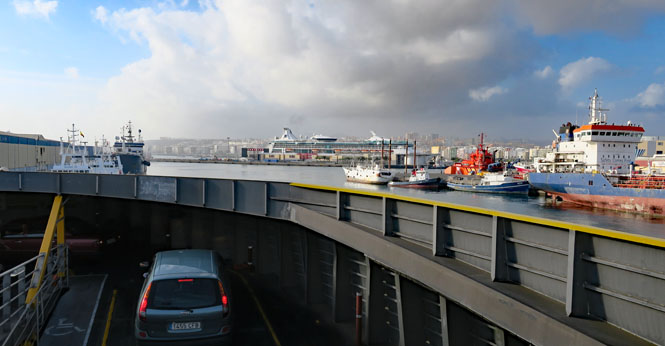 From left to right the islands have less vegetation. No matter; I really like Fuerteventura. And, too, it's the only place that I was able to let the Guzzi stretch out to the higher gears. It's a smooth bike.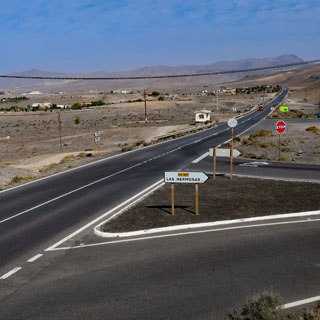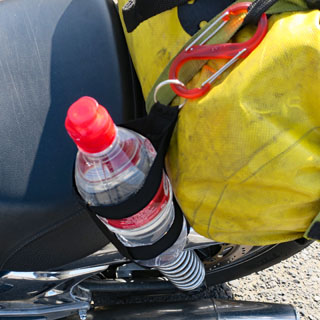 It feels like New Mexico, but with enough differences that you know it's not.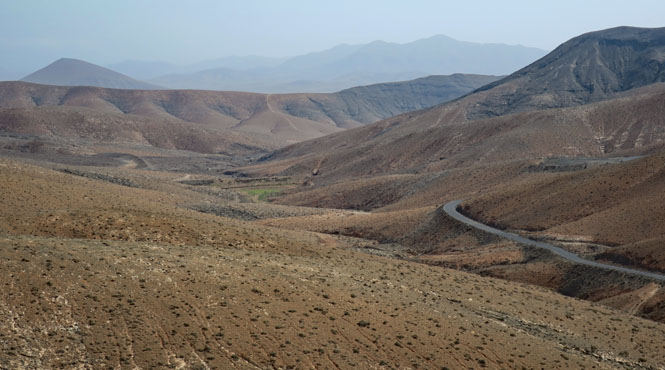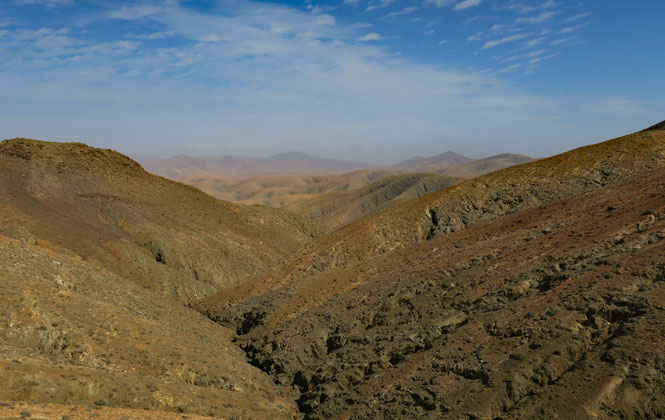 You'll find plenty of traffic at the resort towns, but otherwise, this place is empty.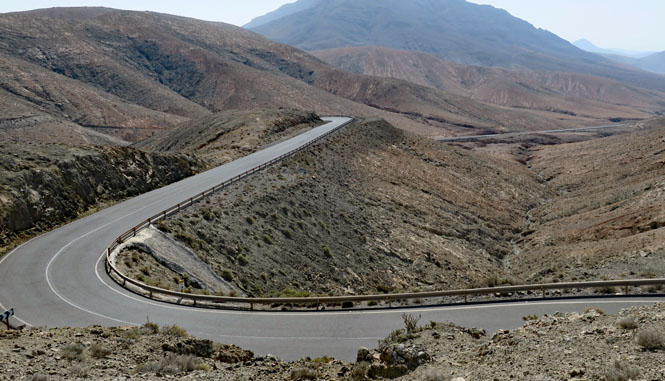 Goats are the thing. You'll see plenty of them.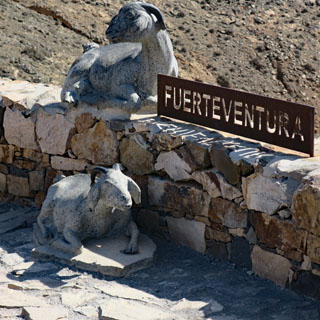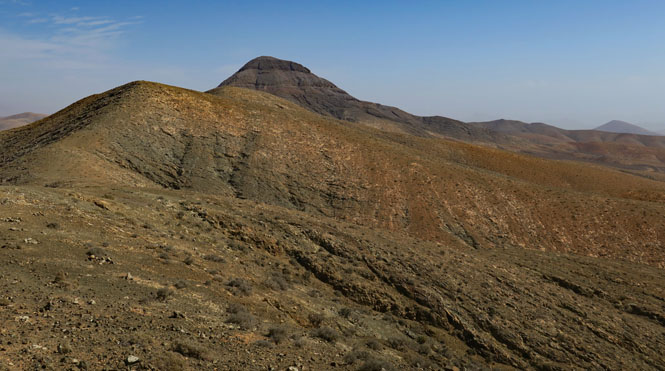 Pájara.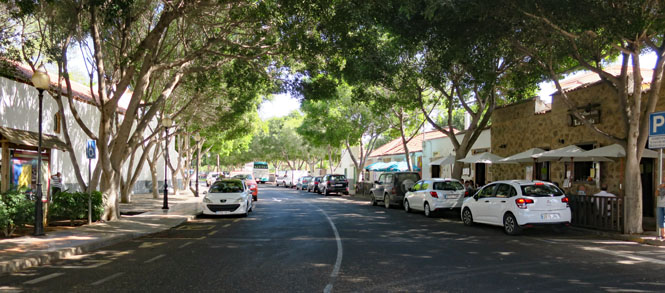 Time for another Schweppes. The church is distinctive for its (possibly) Aztec inspired designs.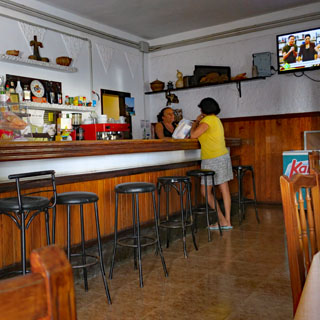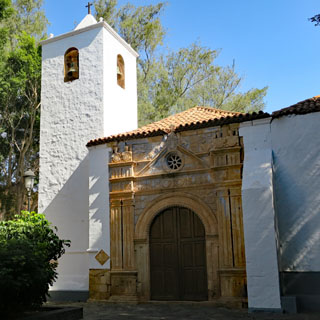 The roads are very good, but are not over-wide. Also, you won't find wide shoulders to pull over for a photograph.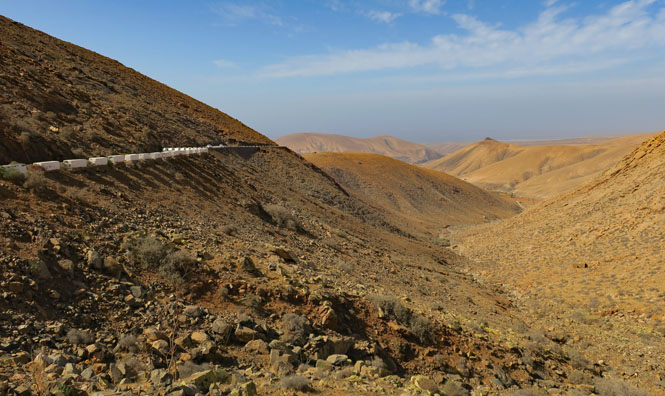 There is evidence of quite a bit of terrace farming in years past. Most of that seems to be over and the terraces are mostly all empty.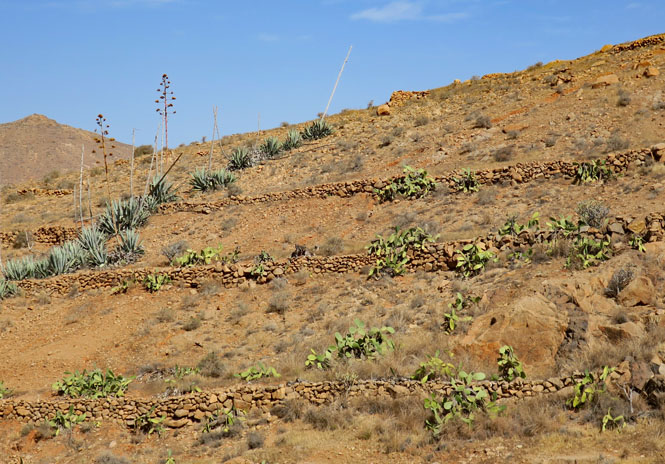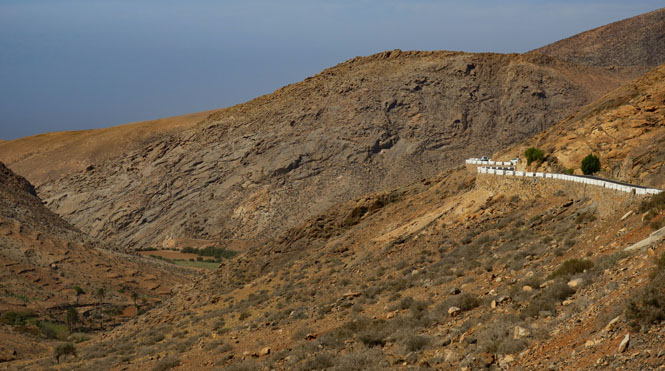 Vega de Rio Palmas.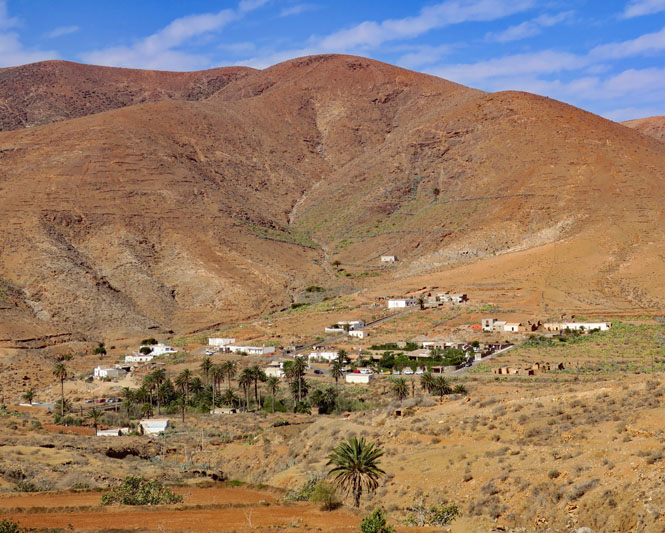 Guize and Ayoze (aka Luis and Alfonso after their conversion to the church). The two leaders of the island met here to agree on the governance of the north and south halves. Either way, its the Castilians who are now in charge.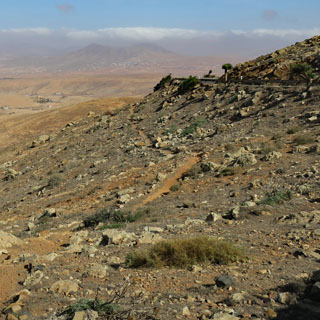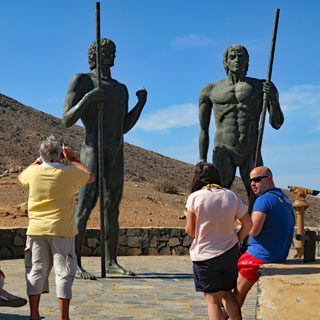 Betancuria is the earliest settled town (1404). The town is named for Jean de Béthencourt, who was the French (Norman) leader of the conquest of the Canary Islands on behalf of Henry III of Castile.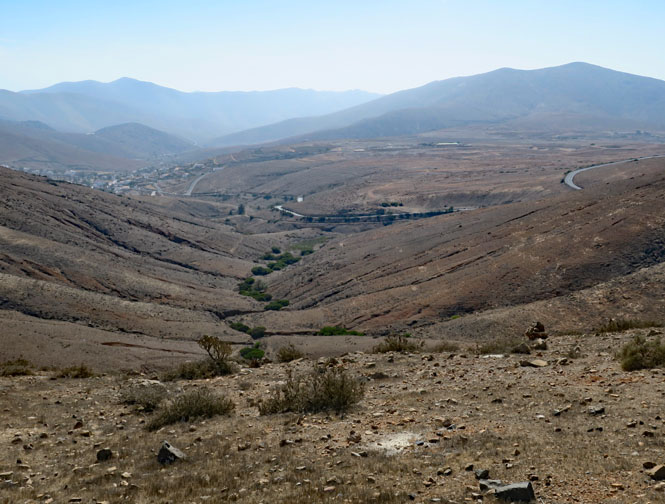 You could be in south central Spain (Andalusia).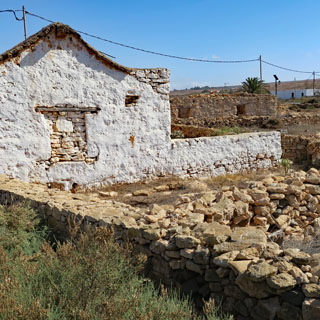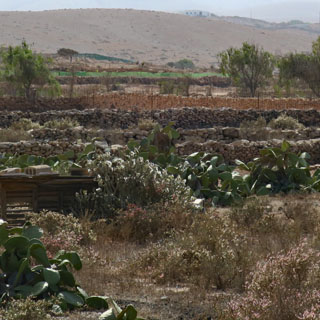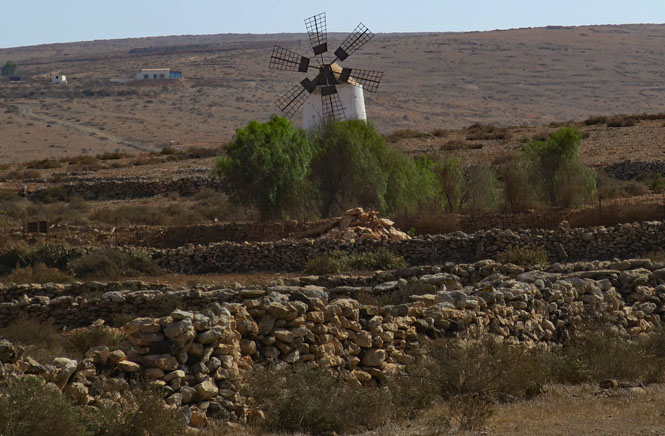 If you see this, you might want to slow down.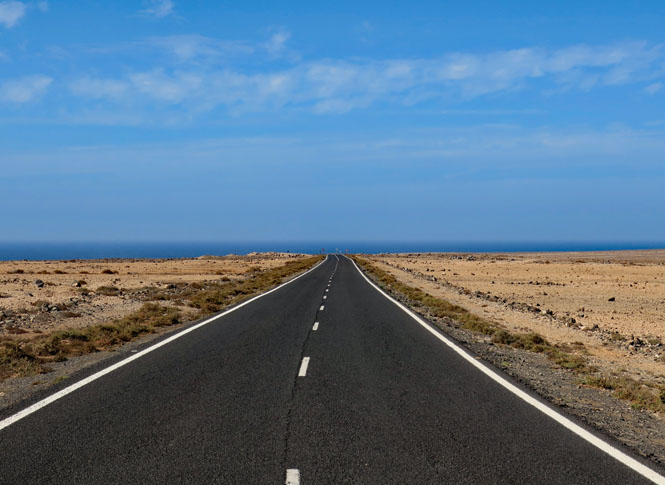 Puertido de Los Molinos.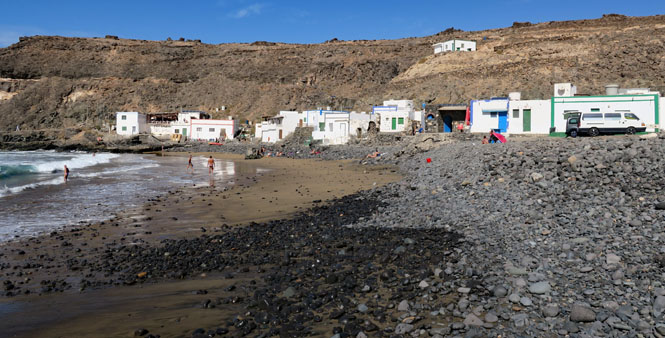 The waves are larger than expected.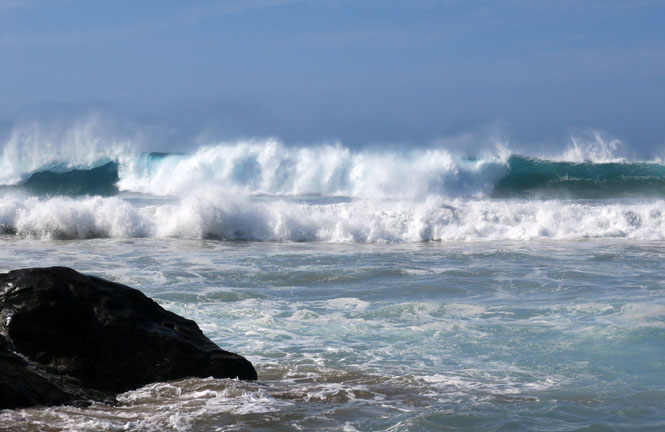 This is pretty typical at all the stations. You'd think that diesel and gasoline would be defined and separated more distinctly (as is the case with U.S. stations). The consequence of getting it wrong is sudden.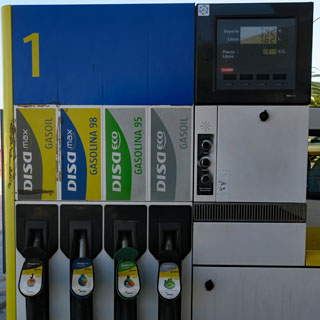 El Cotillo is a small beach town--not yet the resort that it will almost certainly be in a few years. I stopped at this hotel, but their hotel rooms were booked. However, they had an apartment a few blocks up the beach (with four rooms) that was available for the same price. Did I want that?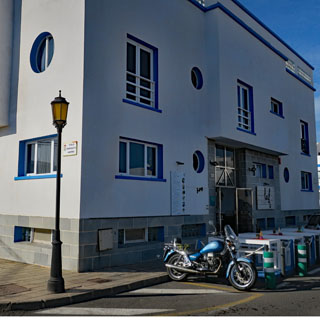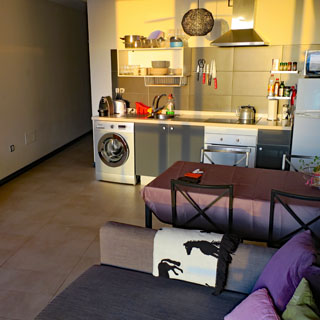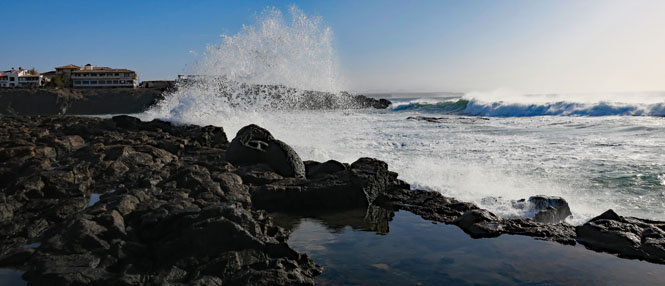 Nearly every town along the coast had evidence of some sort of fortification. This tower remains in fine shape. Pirates; it's hard to keep them out.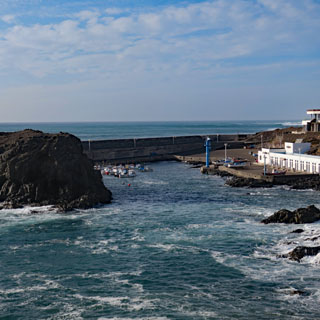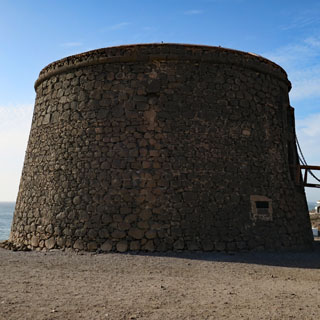 The beach looking north of El Cotillo.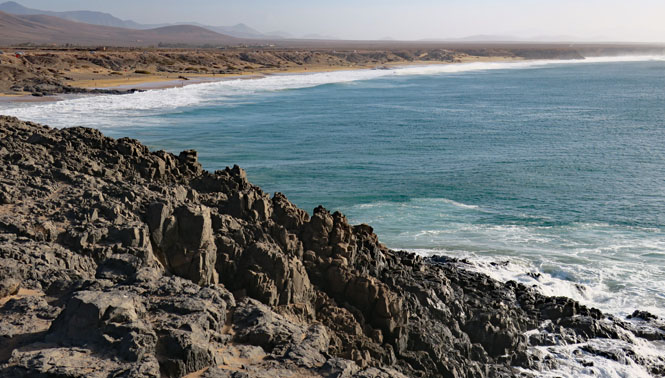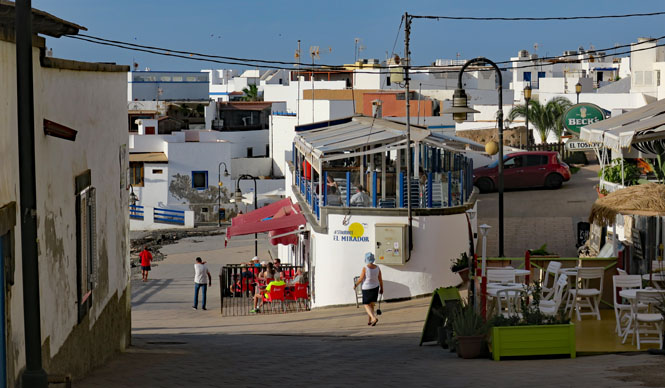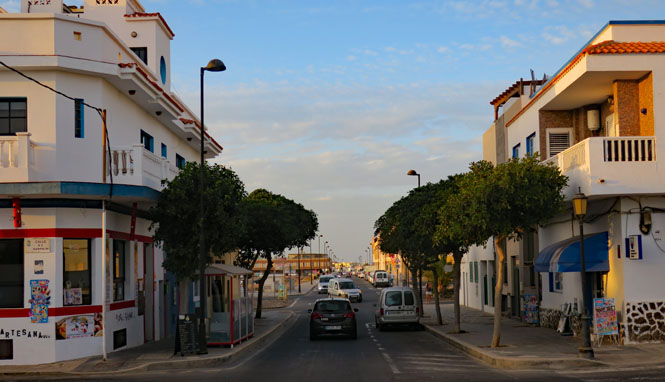 These little cafes are uniformly excellent. I doubt you can ever go wrong.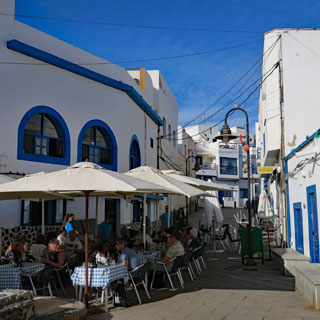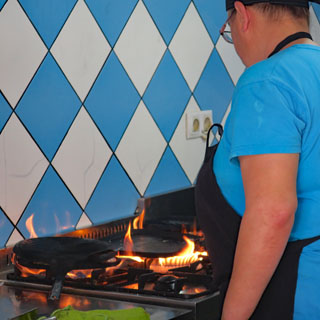 Whatever language you speak, there will be a sign board for you. Just point to the number of whatever you want. Curiously, I noticed that not every language had all the numbers listed. For my case, I asked the waitress what was good and she recommended this cold salad of sea creatures. It was (and I noticed that the other waiter had the same thing on his break). Naturally, papas arrugadas came with it, this time with sliced tomatoes.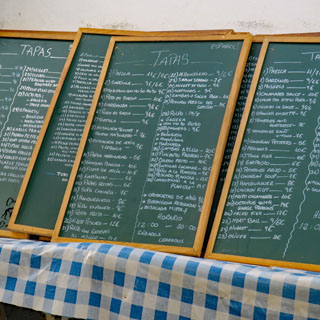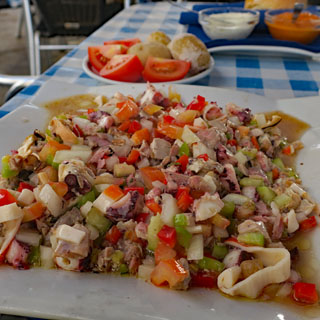 A bit of sand and lava as the sun goes down on El Cotillo.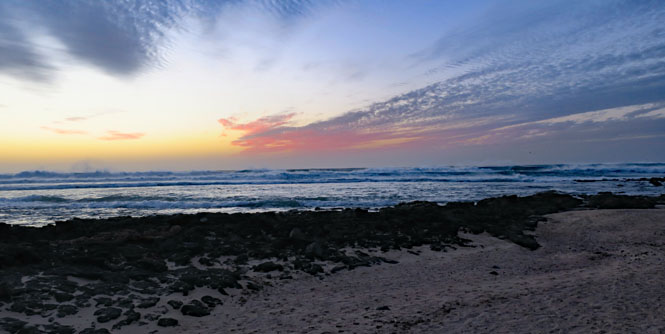 Corralejo. I arrived to catch my ferry according to my schedule and was told that there was no such ferry. My confusion was cleared when I found out that the ferry company had taken its boat out of service for scheduled maintenance for several days.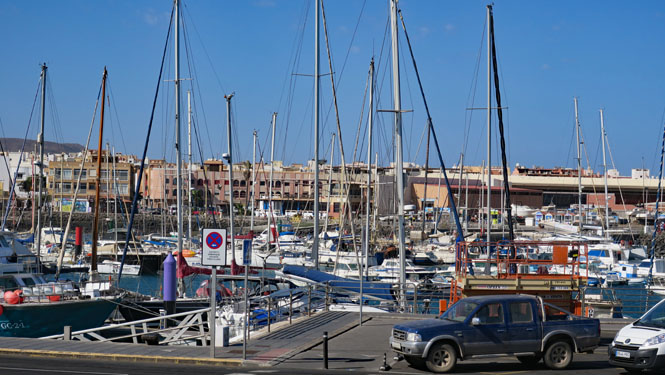 The other company was picking up the slack. This isn't a fast ferry, but it's not all that far to Lanzarote.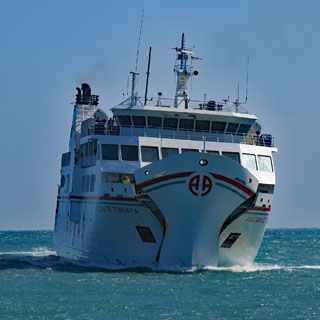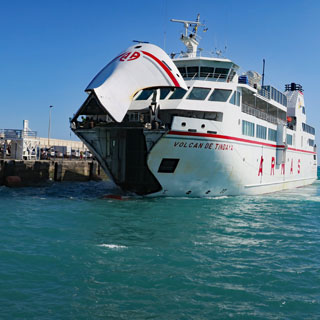 Lanzarote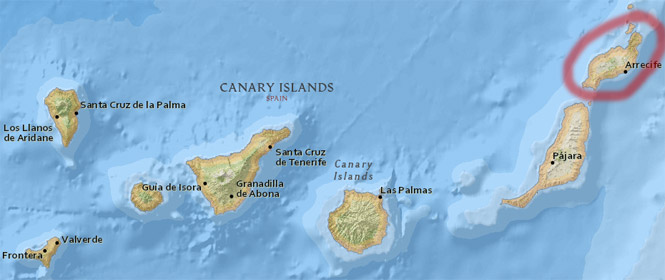 Playa Blanca is at the southern most point of the island. Lanzarote is noteworthy for banning the tall resort hotels you'll see on the other islands. Nothing taller than a palm tree.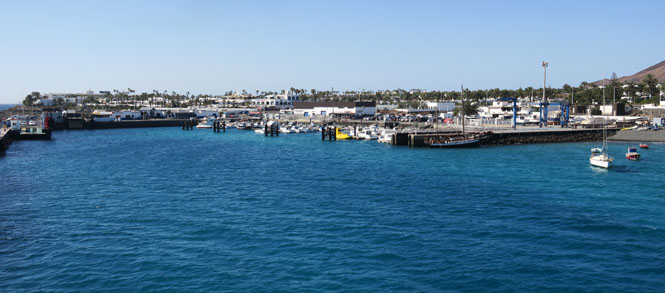 Salt is valuable and salt is one of the things that made these islands important.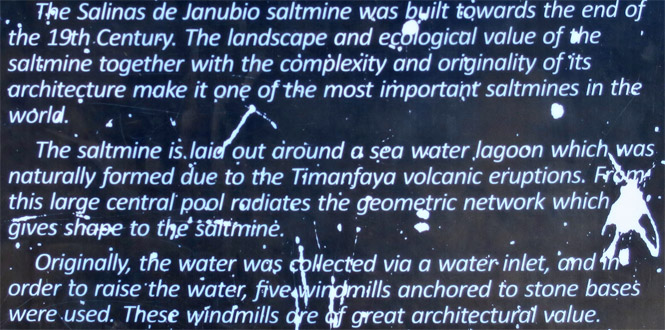 Volcanic activity is important to all the islands, but it's most evident on Lanzerote. The last big explosion was in 1736.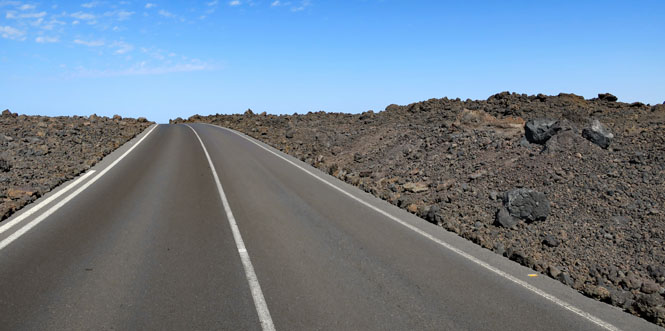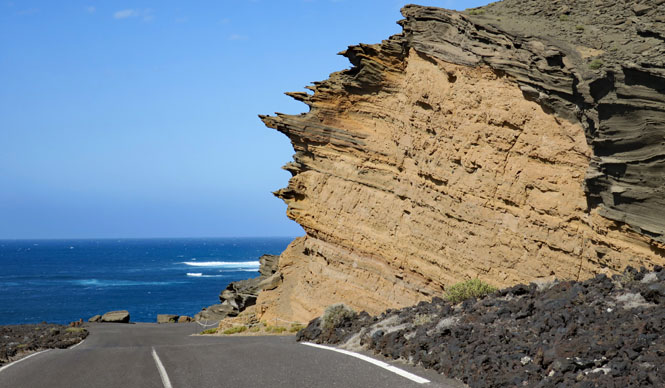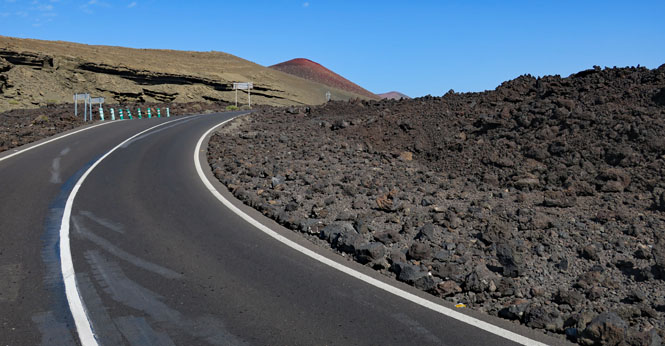 Camels? Yes. I've never ridden a camel, and have probably missed my best chance. Camels have been used as farm animals on this islands for centuries.
The visitor center at the national park is well blended to the environment.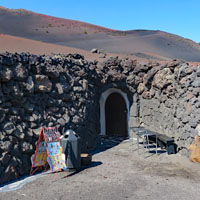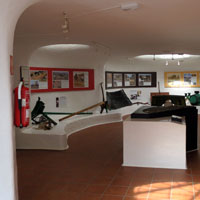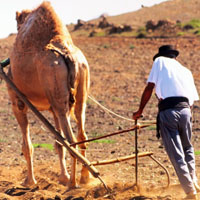 After paying your entrance fee, you ride up to the parking area and then board a bus for the narrated tour of the several volcanoes in the park.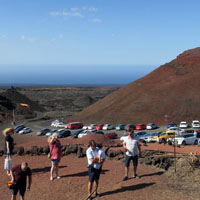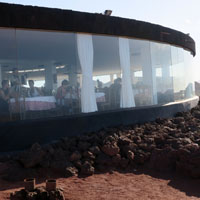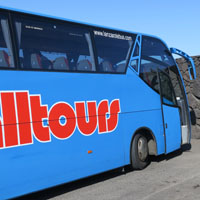 It'd be nicer if you didn't have to shoot photographs through heavily tinted plastic windows, but it works well enough.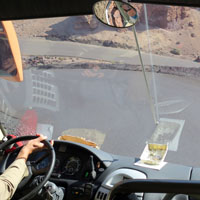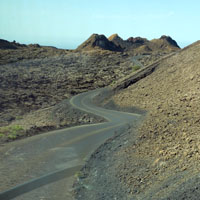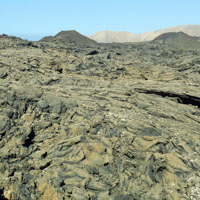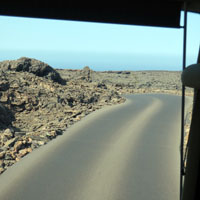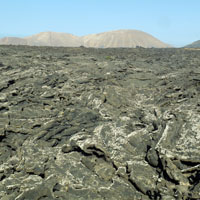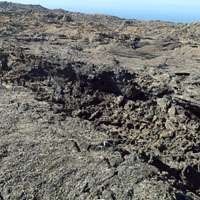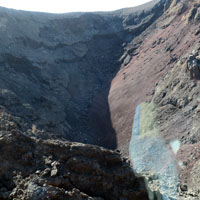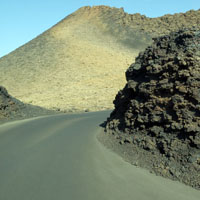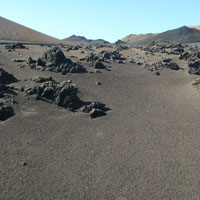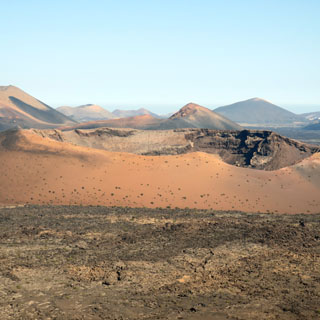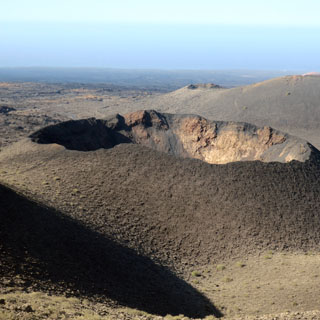 You wouldn't think that there'd be enough nutrients in this soil (being little more than ground lava and ash) to grow anything.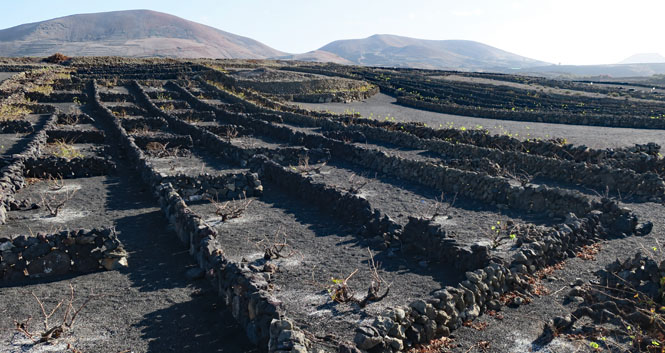 Mancha Blanca.

It's not so easy to distinguish between the black surface of the road and the black dirt of the farm land.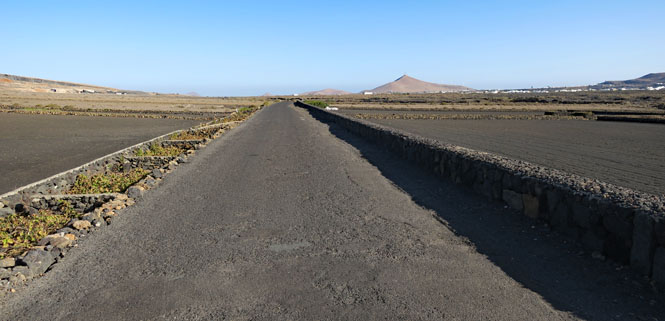 Haria in the distance. The road will take several sharp turns to get down the hill.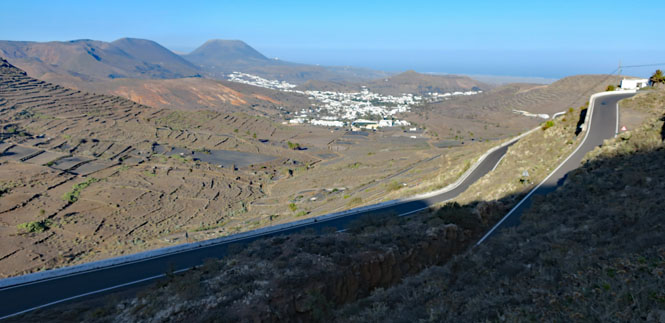 Mirador del Rio. This separation between La Graciosa and Lanzarote is separated by a strip of ocean named El Rio. Of course, it's not a river, but evidently the current is very swift.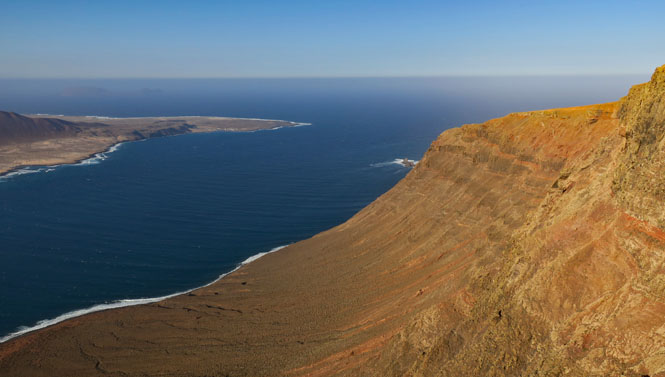 Costa Teguise for the night. It's either resort-hotel or nothing around here. The small towns have no hotels (that I could find). Certainly, this will do.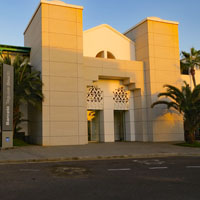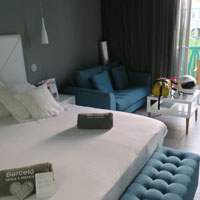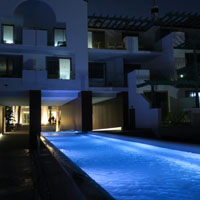 Looking across the inlet from one resort hotel to another.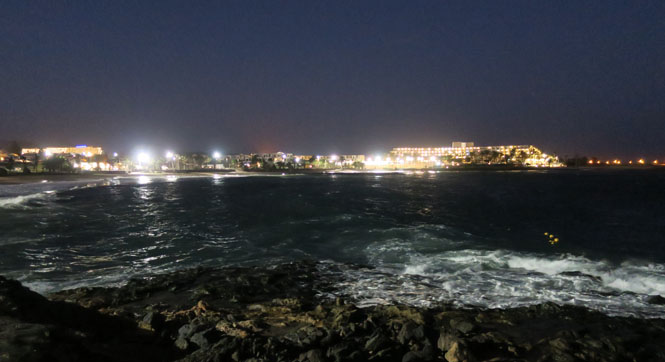 Aloe is one of the crops of the Canary Islands, and these small Aloe shops are quite common. You'd be surprised at how many common things come in Aloe.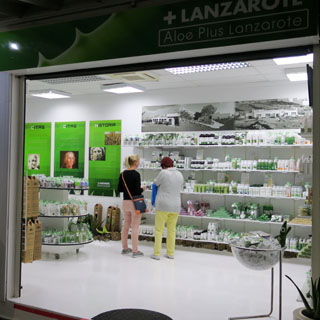 Decision time.
I've been to the top of Lanzarote and have now turned back to island-hop my way back to Tenerife along different roads. That will work fine, and I might even have time when I reach Tenerife to take the ferry out to Gomera for the day. I've already given up on visiting the westernmost islands of La Palma and Hierro as being to impractical.
But, another solution would be to take the longer ferry from Lanzarote to Gran Canaria, bypassing Fuerteventura on the return trip and effectively giving me more flexibility to visit Gomera.
That's what I'll do.
This is the largest ferry of my trip.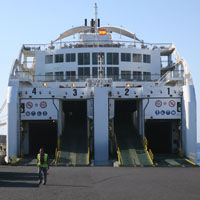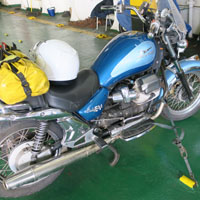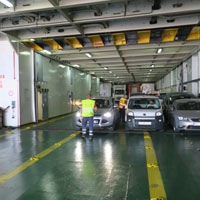 That's the little pilot boat picking up the harbor-pilot after we're in open water.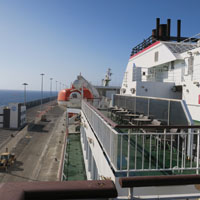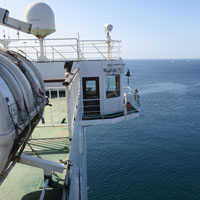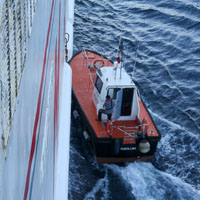 Gran Canaria
Back in Las Palmas. I won't be staying at the Catalina Hotel this time, but will instead ride to the north beach and pick one of the several hotels along the shorefront.
I was given permission to park below ground in the service bay for the hotel and restaurant. In spite of the warning tape on that ventilation duct, I walked right into it...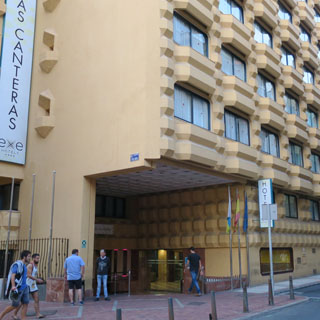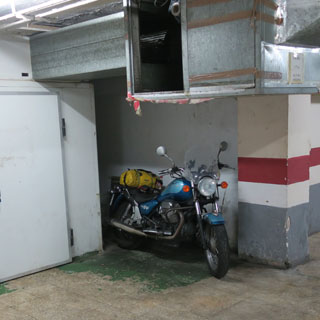 Restaurants and hotels and bars. Repeat.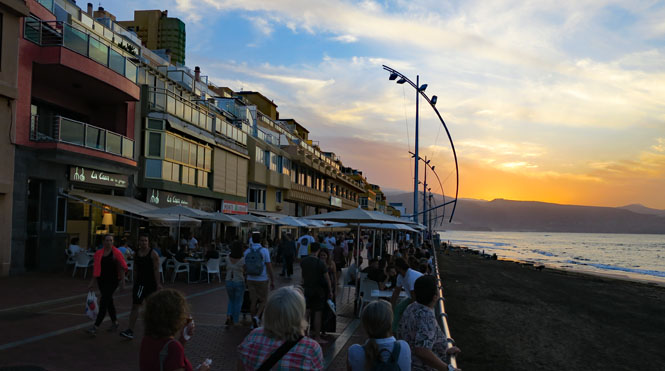 Mauricio told me that there was to be a large vintage motorcycle event in Arucas this weekend. Of course, the important day is Saturday as everybody is packing up an leaving by Sunday. I'm here on Sunday.
The view of Arcuas from Montaña de Arucas and a really nice BMW single and its owner who had also ridden to the top.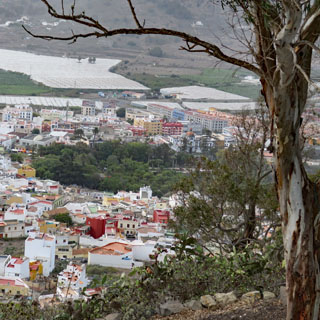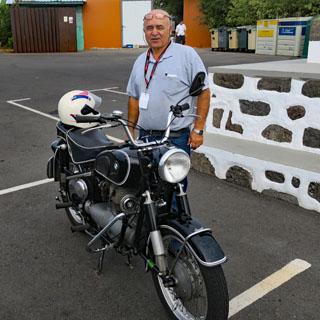 Arucas. There were several streets that were blocked for the big event, so I never did manage to get to where the vintage bikes might be. Oh well.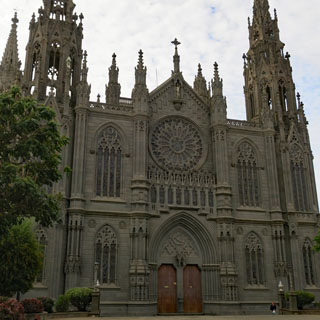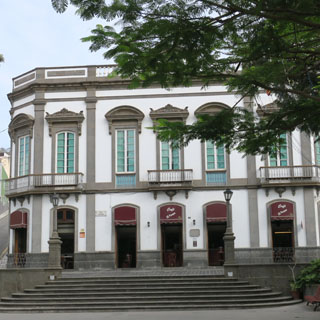 Firgas has water! Over the last several days, I've crossed plenty of rivers and streams, but they were always dry. Firgas, on the other hand, has more water than it needs. You'll find Firgas branded water bottles all over the islands.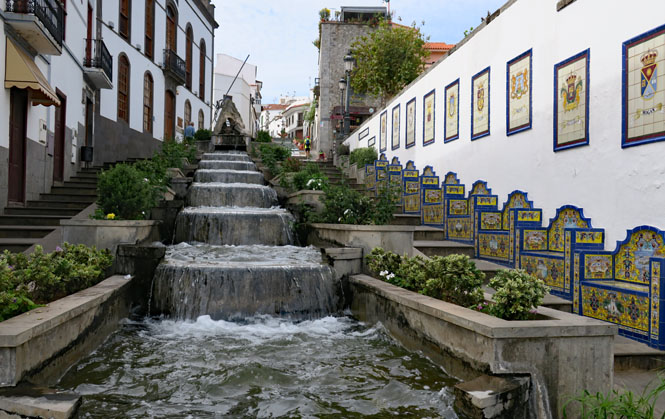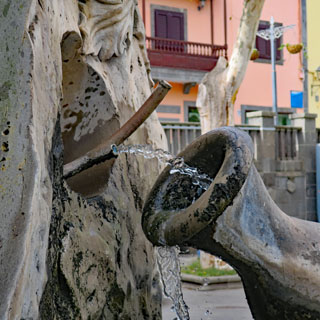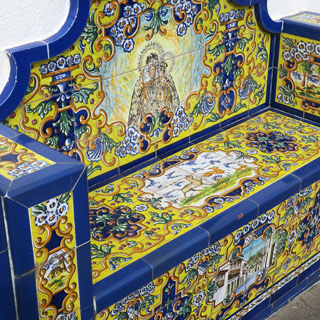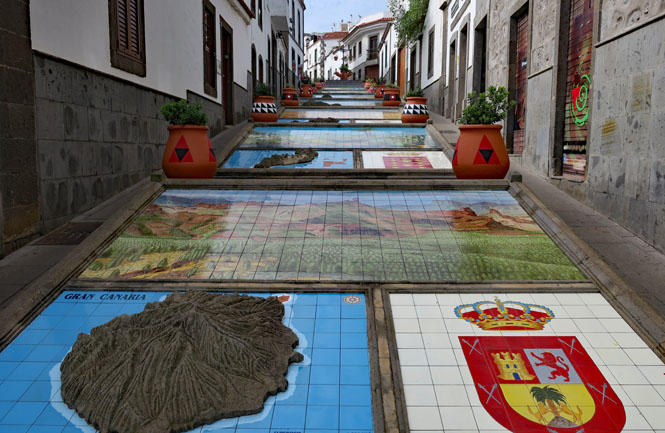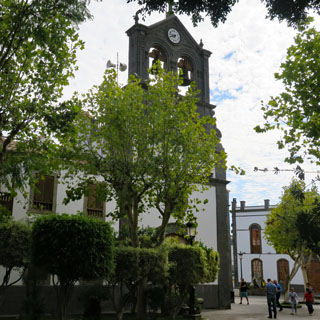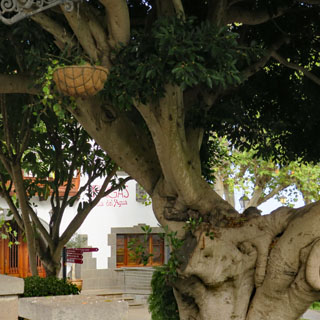 The stream has for centuries been encased in this "Royal Ditch" (a name that might lose something in the translation).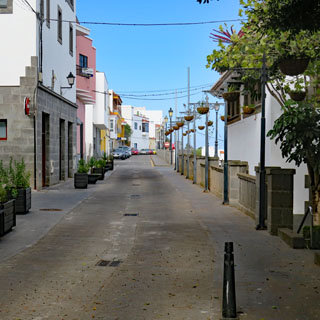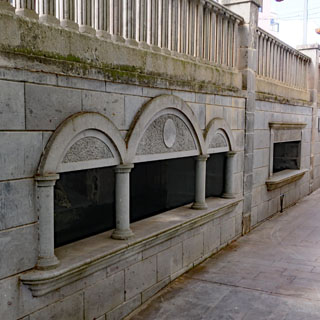 The old roads follow the ravines inland (while descending) to the narrowest point and then back (ascending) towards the ocean.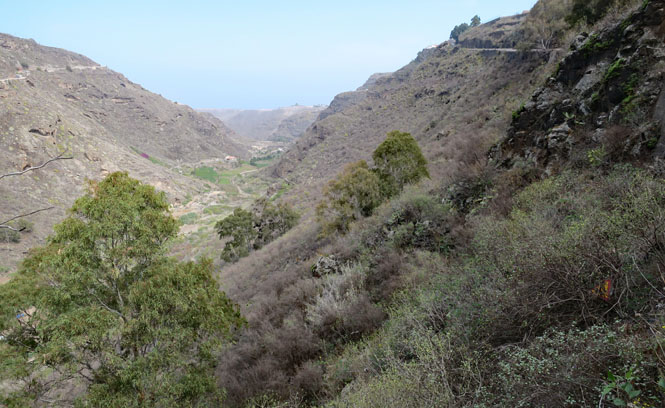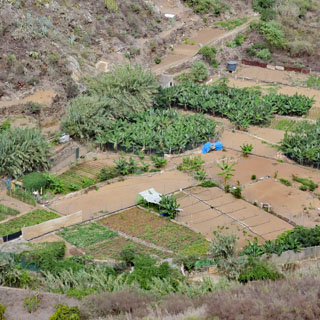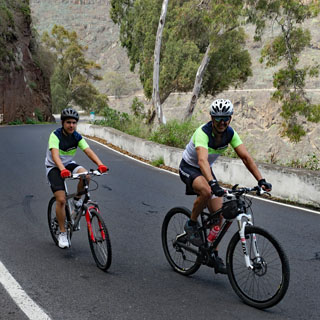 Moya is just across a ravine from Firgas, but it takes time to get there.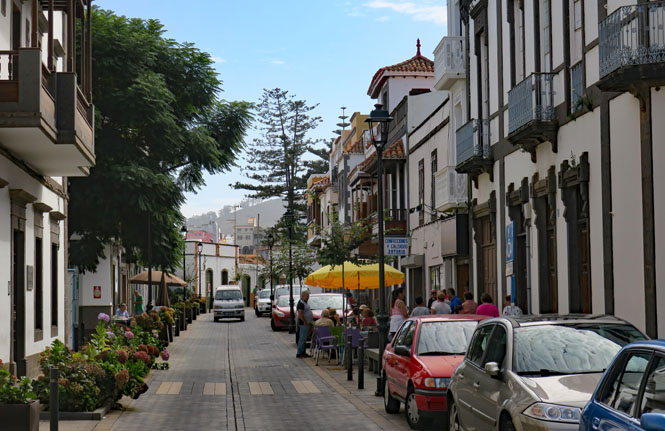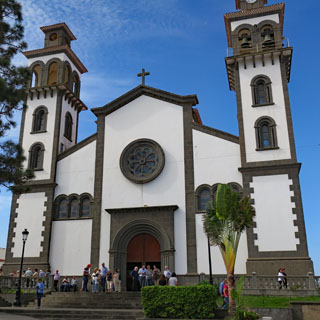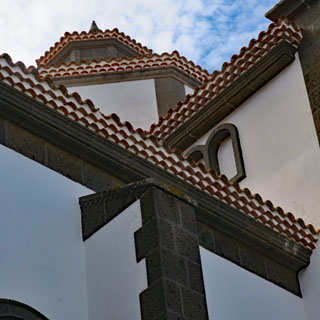 Tomás Morales (1885 - 1921) was a poet, influential to the Canary Islands and Spanish literary modernism. He grew up in this house, which is now a museum.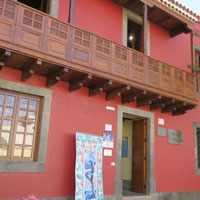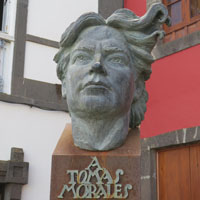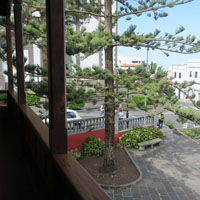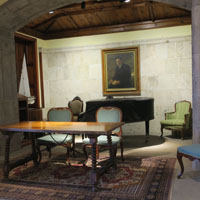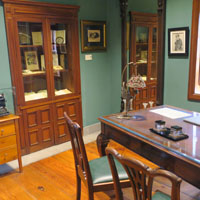 An archeological area which has the remains of substantial buildings. The area is closed to any public traffic.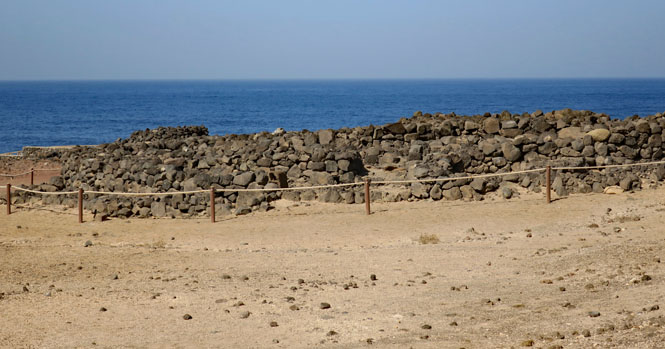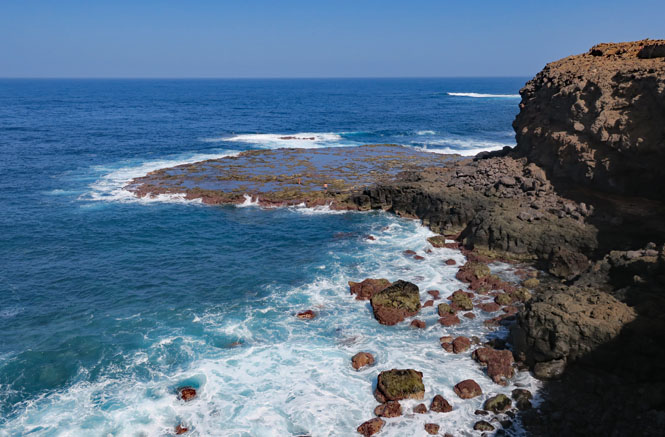 Where lava flowed into the sea, it's possible to carve out swimming areas that are then naturally flushed with the tide. The concrete posts will (hopeful) keep swimmers from being flushed out at the same time.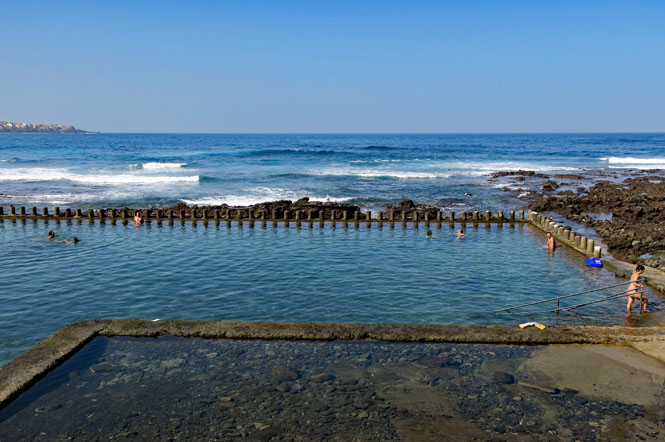 Agaete is the small village where the ferry will arrive tomorrow morning.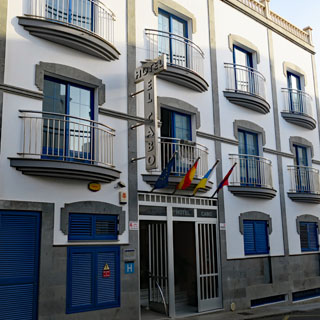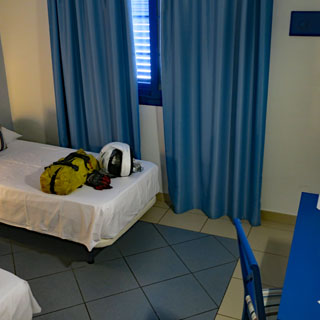 I thought it might be just a place to wait for the ferry, but it turns out to be a nice little town of its on right.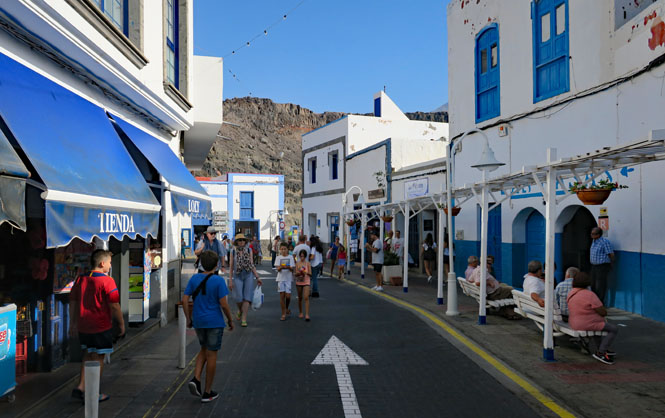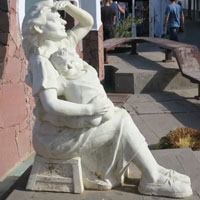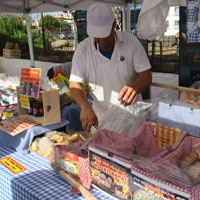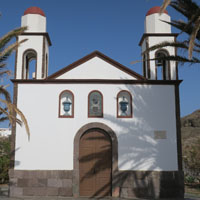 Between now and tomorrow morning, this ferry will take a couple more trips, but this is the boat I'll be on.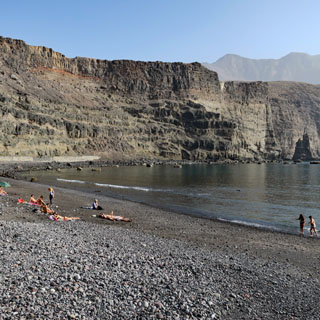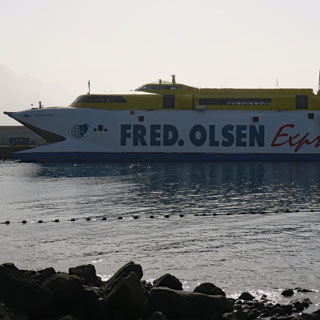 Fish soup, fish, and more potatoes.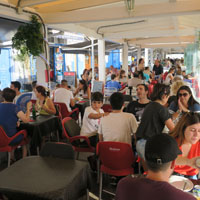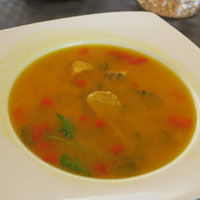 Another nice swimming area carved out of the lava field.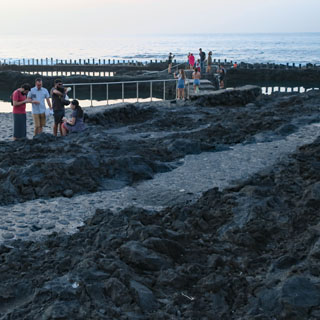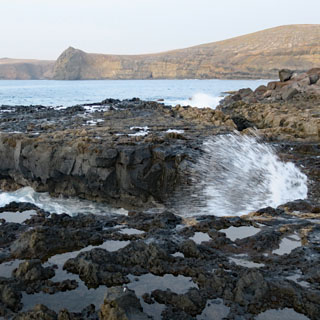 Tenerife
I landed in Santa Cruz, but didn't spend any more time in that city than the last time I was through. I'm heading for Güímar and then up and over the island to the other side.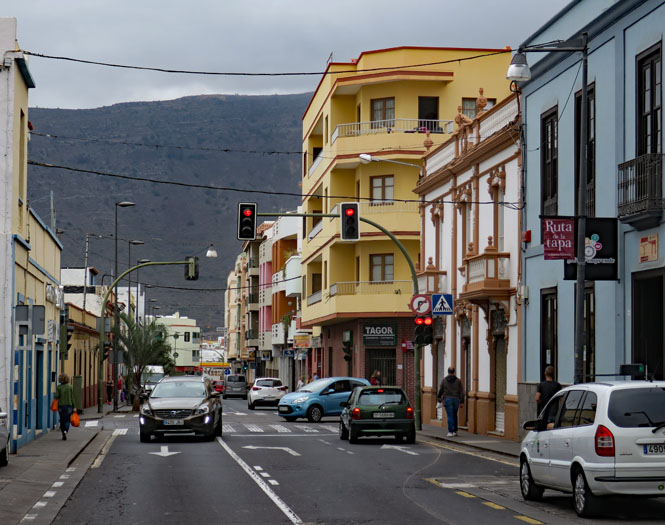 I had heard about the pyramids of Güímar, but somehow missed the sign that would take me directly there. Oh well. They're a series of terraces formed into a stepped pyramid. Nothing special about that, except that some over-enthusiastic people* jumped to the conclusion that they must therefore have some connection to the ancient pyramids of Egypt. No; they were made in the nineteen century; nothing more.
* including the adventurer Thor Heyerdahl who had a history of passion over rigor.
I was worried that I'd be seeing a repeat of the weather from the last time I was here, but I've come out above the clouds this time.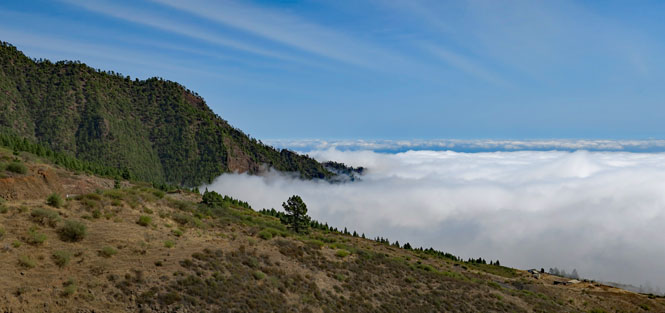 Mount Teide.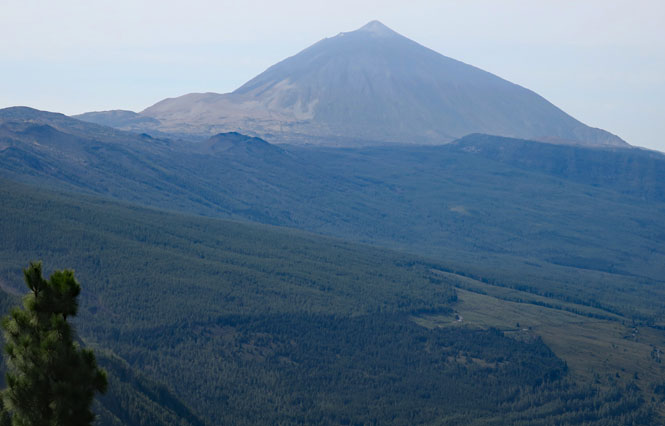 I'm heading for that coast, but I've got several dozen turns before I reach it.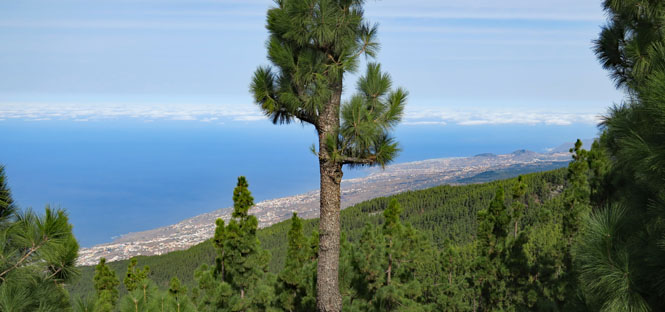 Observatorio del Teide. This is a solar observatory.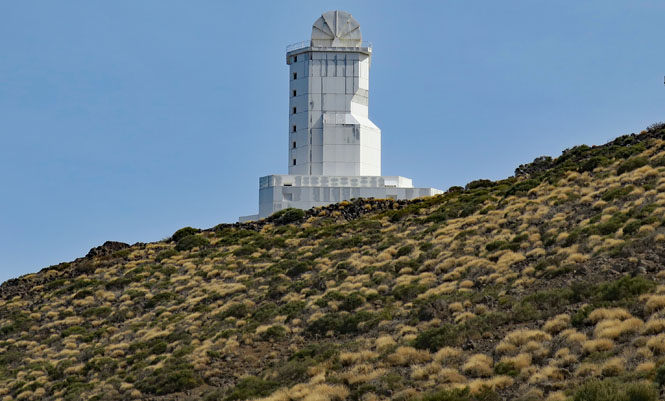 Puerto de la Cruz. Ride to the center of the old town, and look around for a hotel.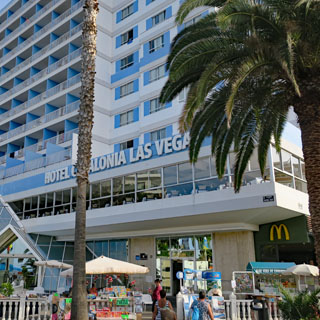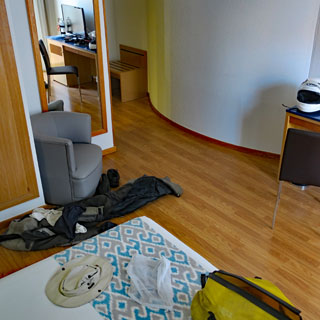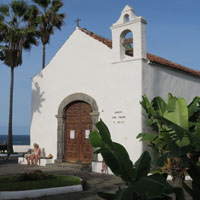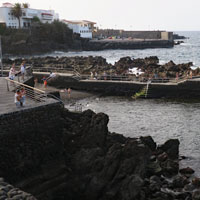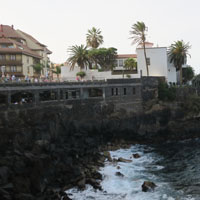 This is a resort town, but it retains plenty of heritage to make it interesting.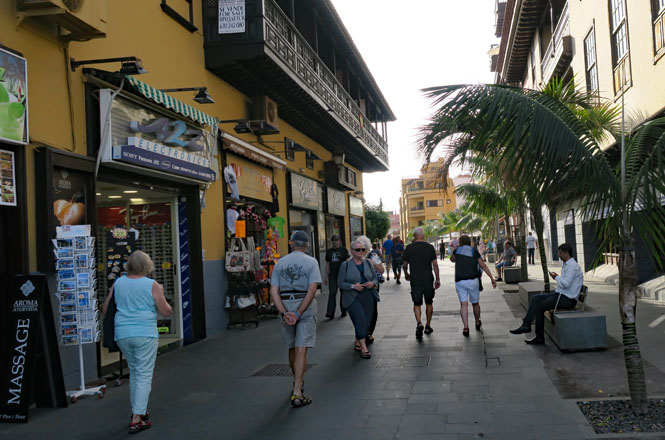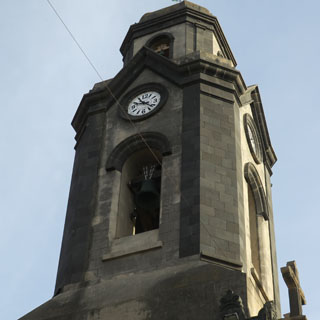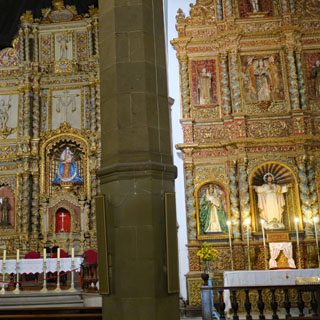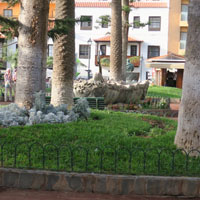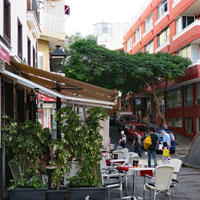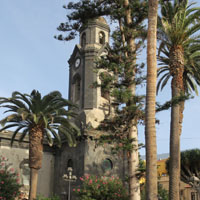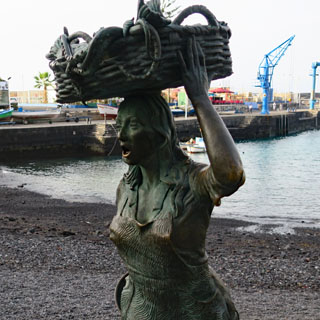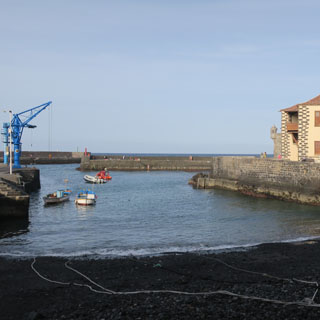 The harbor fortifications are larger than most.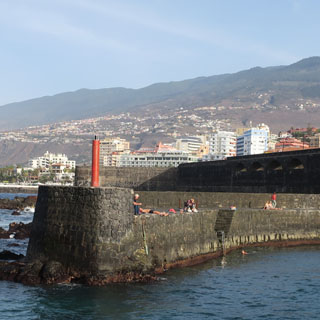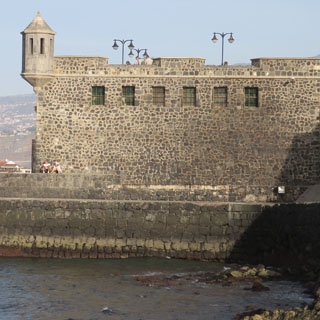 I'm standing near the oldest part of town at the harbor entrance; what you see is the resort section that has expanded the town into a city. My hotel is the white building with the blue trim.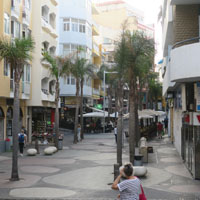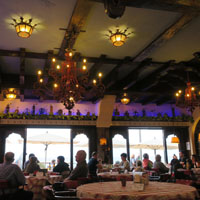 Every town of a certain size will have an aloe store. Every town of any size will be happy to sell you rum with honey. Frankly, you might be better off just buying the rum. You can add honey if that's what you want.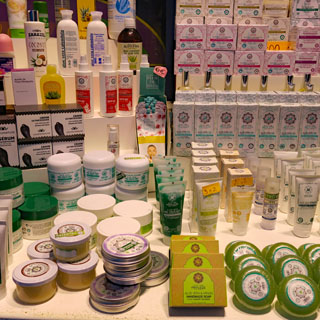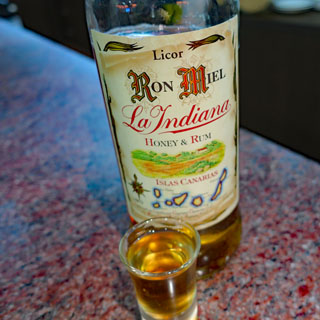 The road to Masca is a twisting thing. The first step is to get over that hill. Then it gets interesting...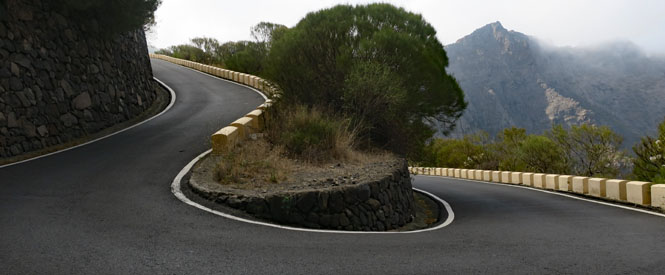 Good grief; what is that green tour bus doing here? There really is not enough room.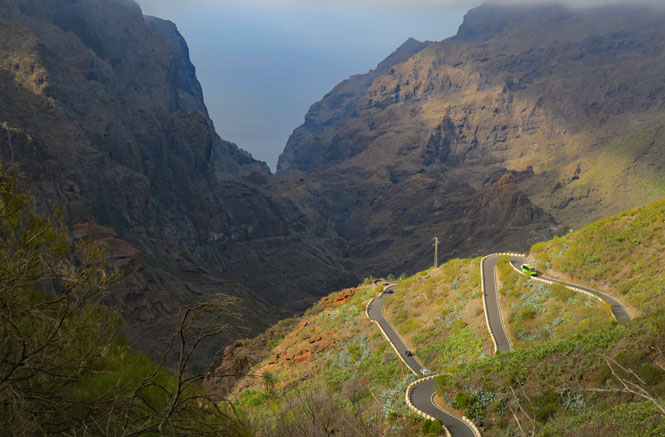 Masca. I'm not so sure this is a real town these days as much as a destination for people like me to buy things. Anyway, it's a remarkable place.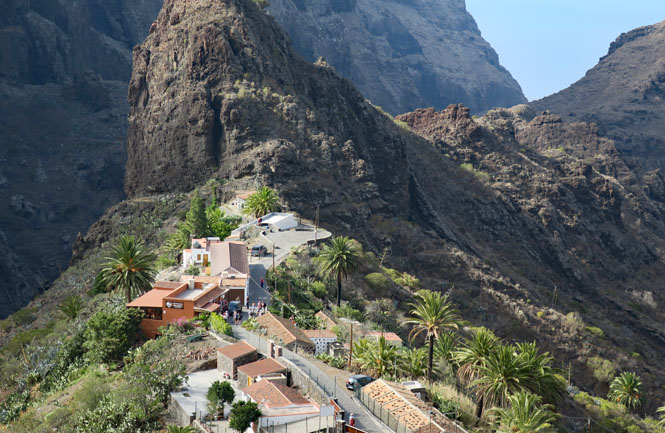 Banana plantations. What a curious thing is a banana.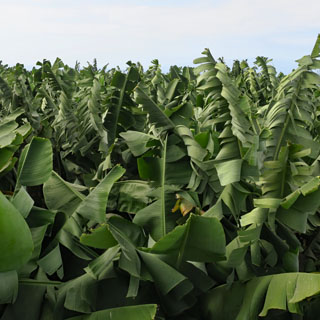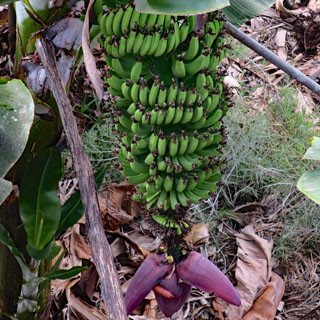 Acantilados de Los Gigantes. To the ancients, these were known as the "wall of hell."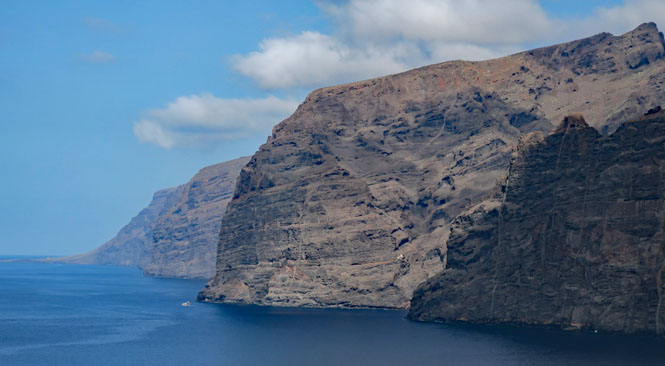 Los Cristianos, once again. The timing has worked out well. I'll catch the afternoon ferry to Gomera, spend the night and all of the next day out there, and then return in the evening to conclude my trip.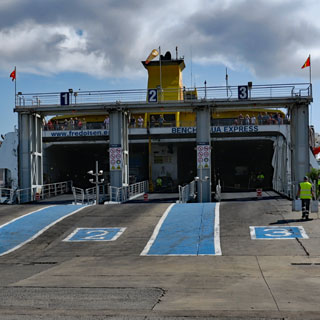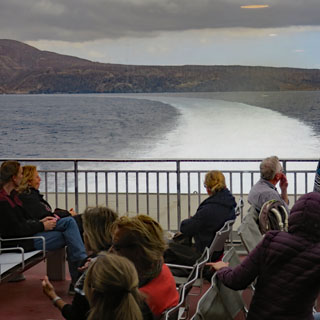 La Gomera
Arriving at San Sebastián de La Gomera.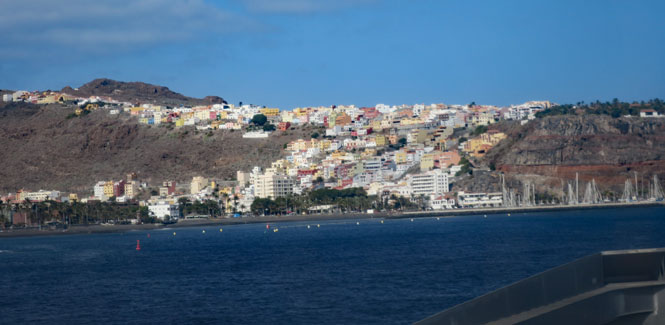 Immediately, it's clear that these are perhaps the best roads that I've ridden--well engineered and well maintained.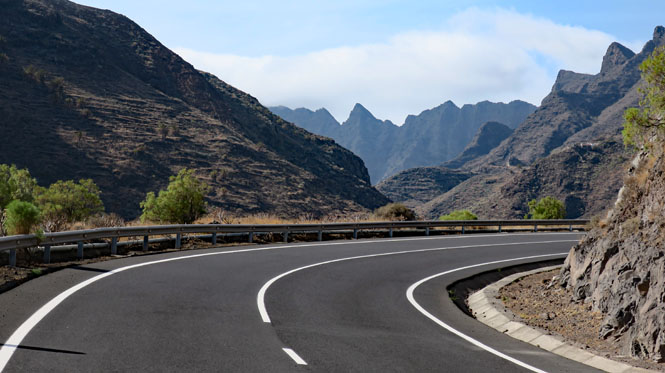 The same ravines as Gran Canaria, but there's much more vegetation on Gomera.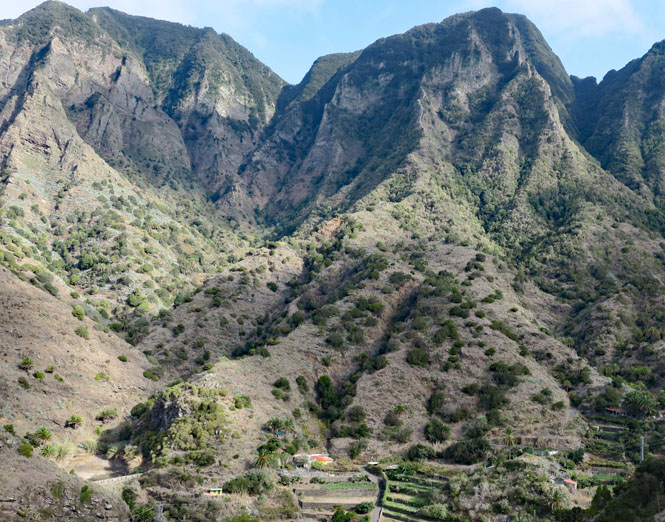 Somewhere down there is where I'll find a hotel.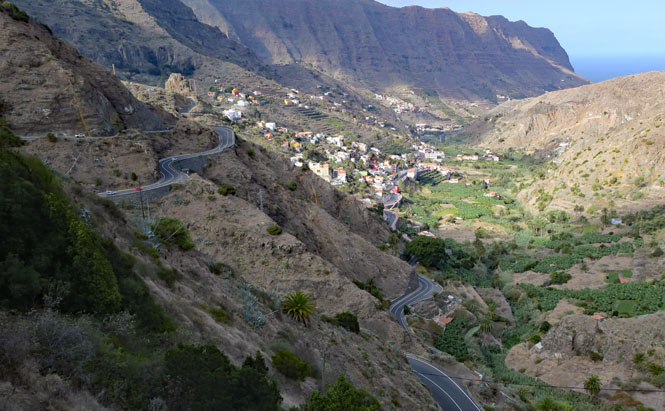 Hermigua.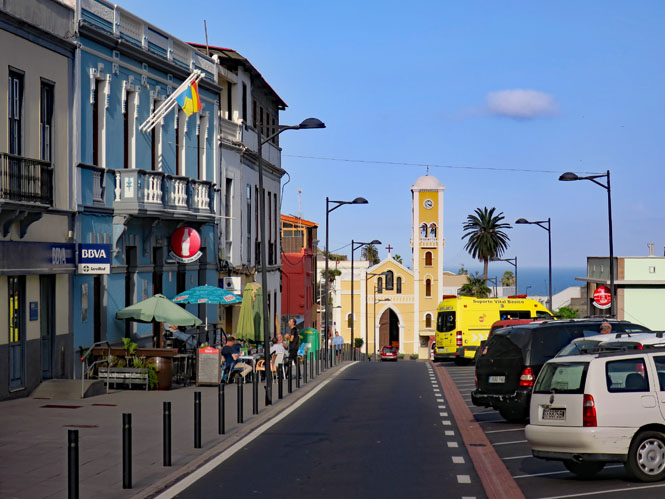 That pink building up there? That's my rural hotel. The owners weren't there yet, so I walked into town for some dinner.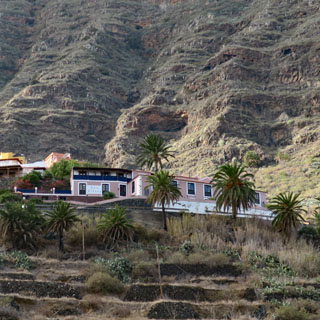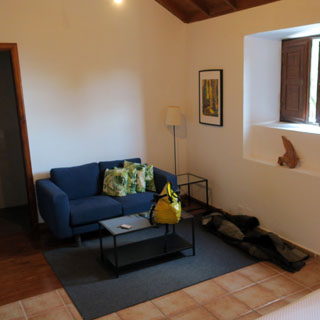 The crops? Bananas and aloe.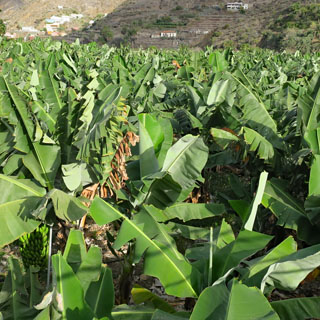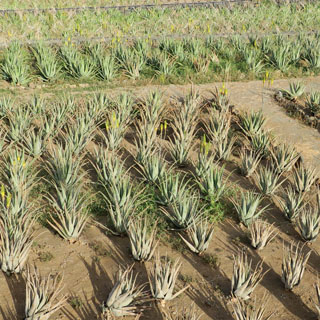 It's hard to beat a tapas bar when the restaurants aren't yet open.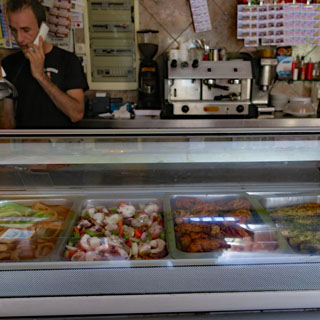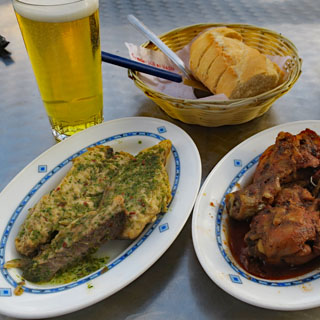 I think this is the most rugged and most beautiful island of all the ones I've seen.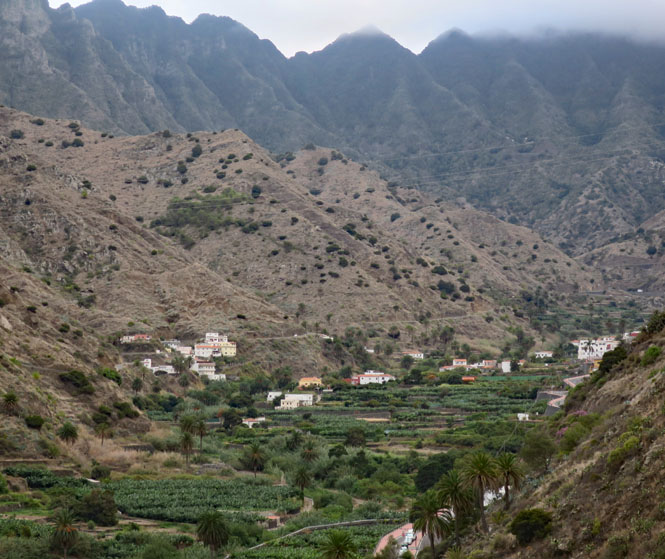 Agulo.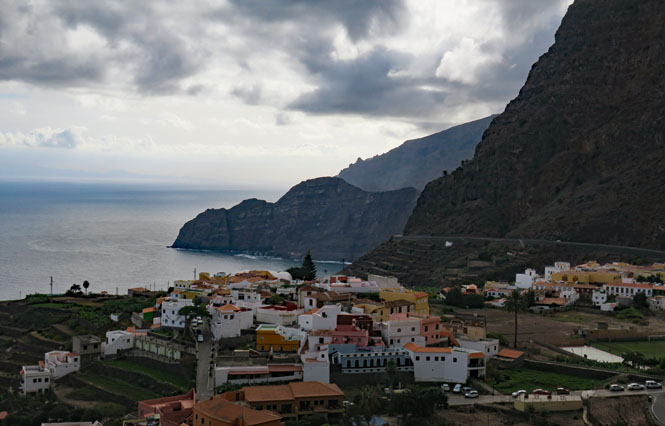 Sometimes a tunnel is the only solution.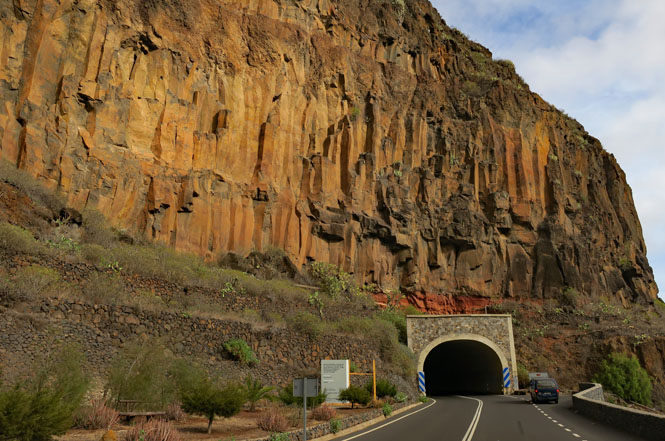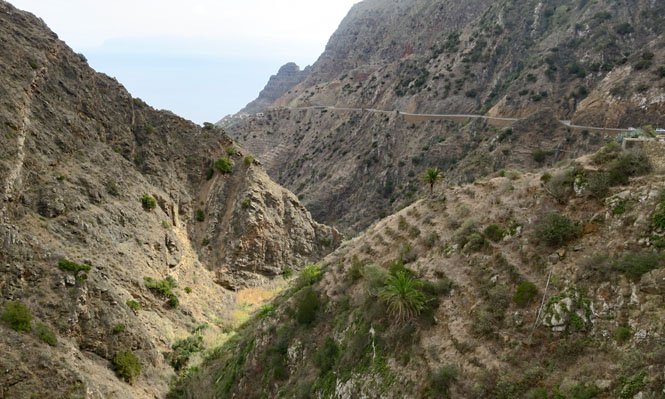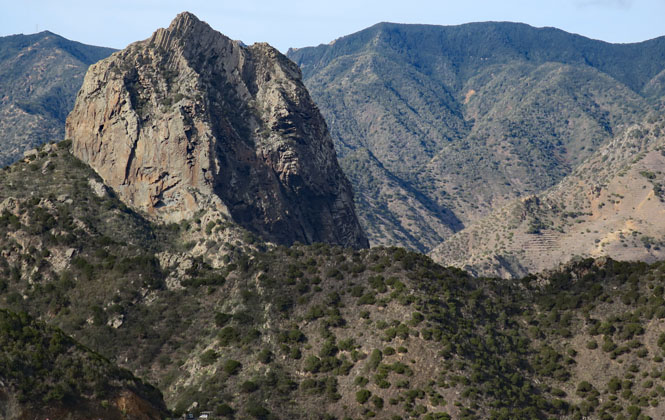 Playa de Vallehermoso. That's an old fortification with a more modern restaurant built into it. Trouble is, the road out there has been destroyed through a landslide, so the restaurant is out of luck.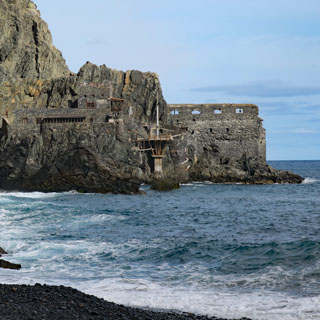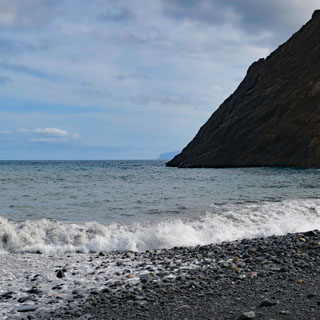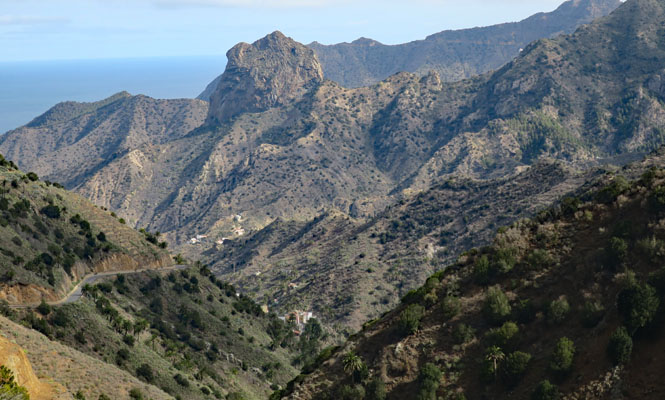 There's not much room for a road, but they've done a remarkable job.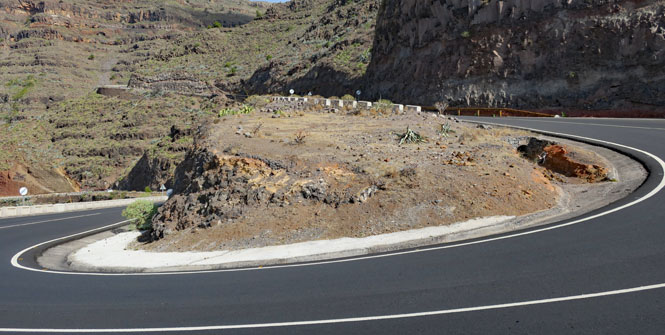 Valle Gran Rey.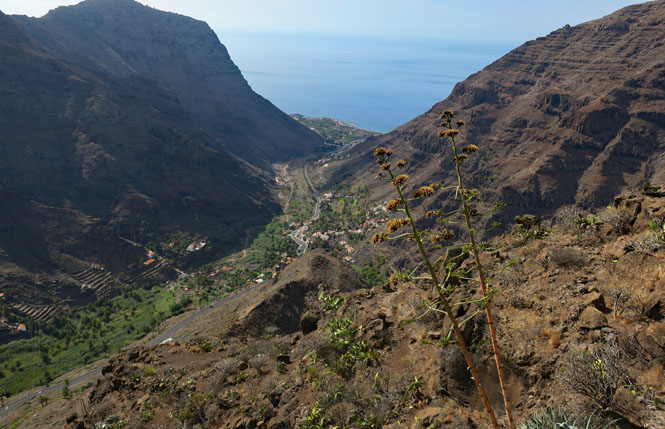 Before the road, you'd arrive by boat.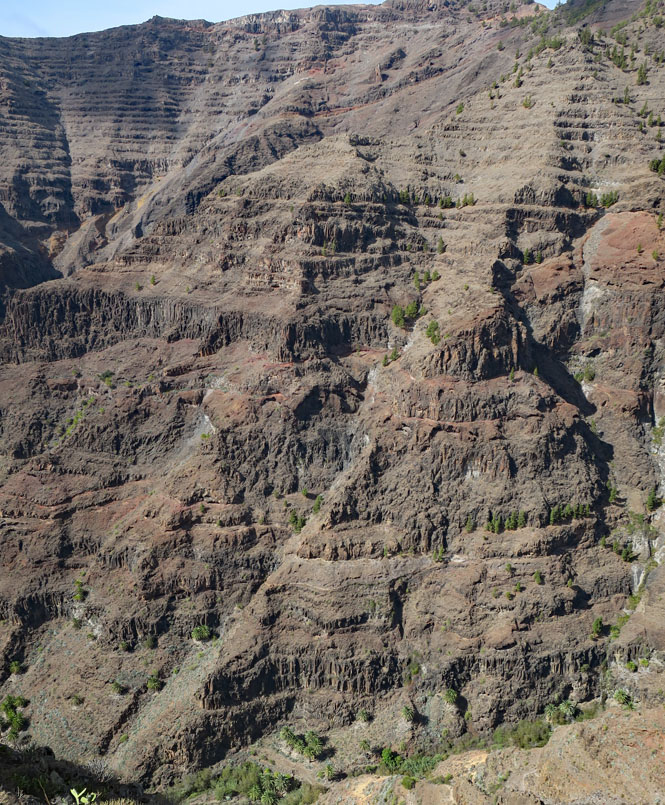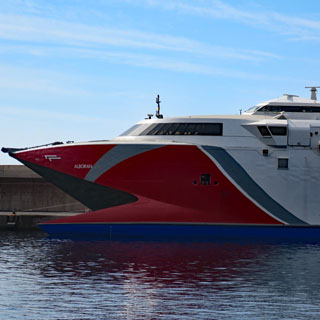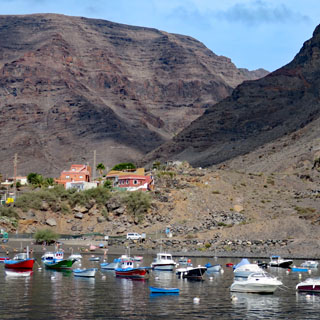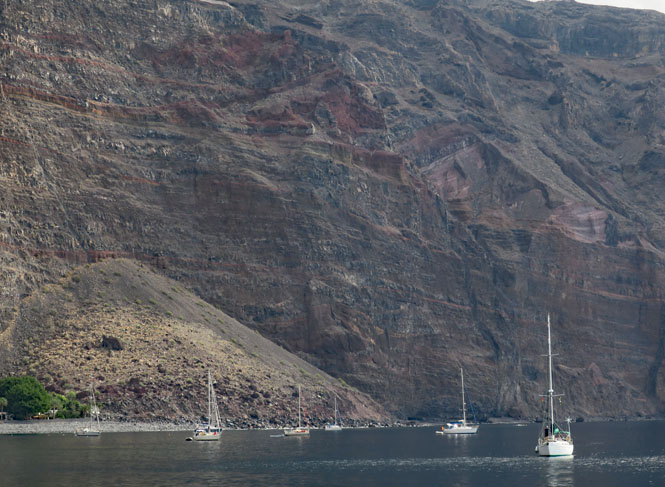 The center of the island is a national park and is far greener (lush, even) than the outer edges.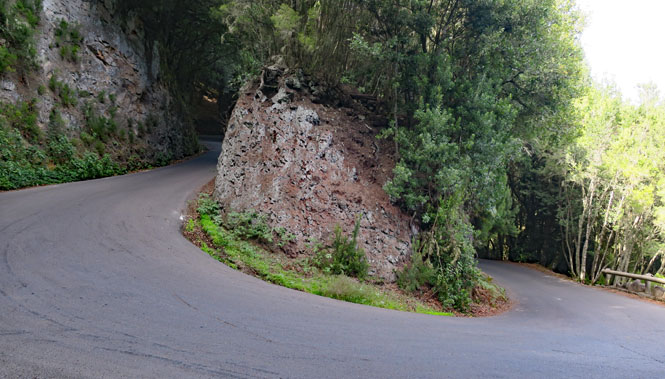 Do you see room for a tour bus on this road? Neither do I. Even so...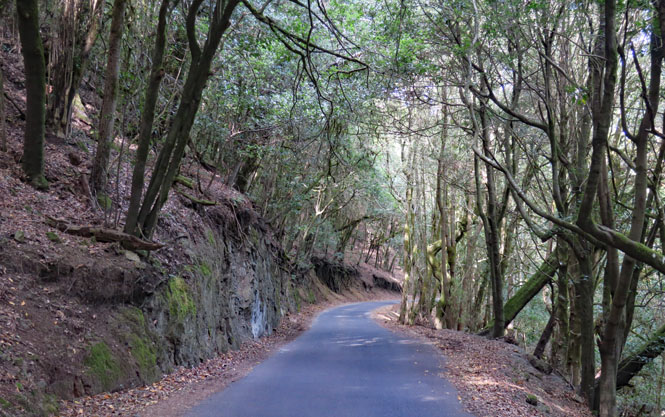 The town of Vallehermoso and the formation named Roque Cano.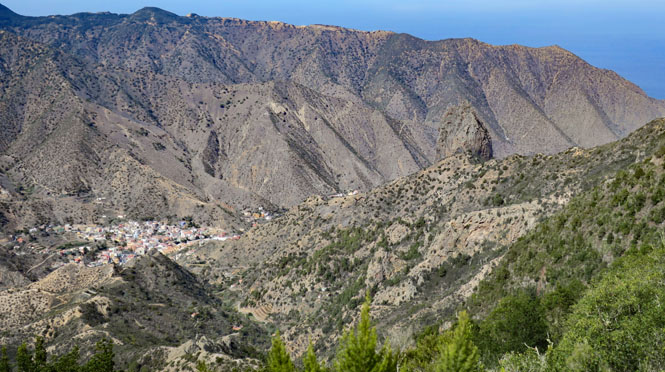 It's not much of a photograph except to show the extend of the forest in the interior. There are hiking trails, and that is the only way to see much of this park.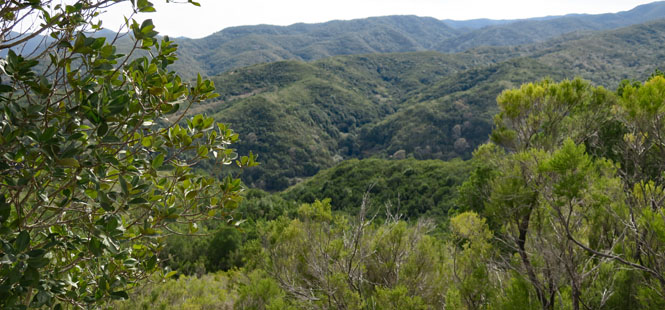 Visitor Center, Garajonay Parque Nacional. My paper map was repeatedly found wrong, so the ranger was kind to give me one of theirs. He seemed used to visitors having bad maps. "Don't go there; it's just a foot trail..."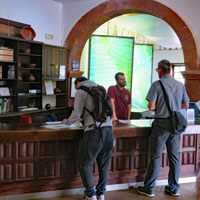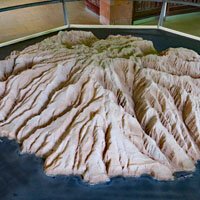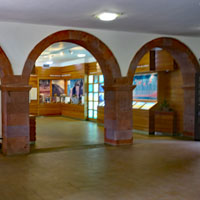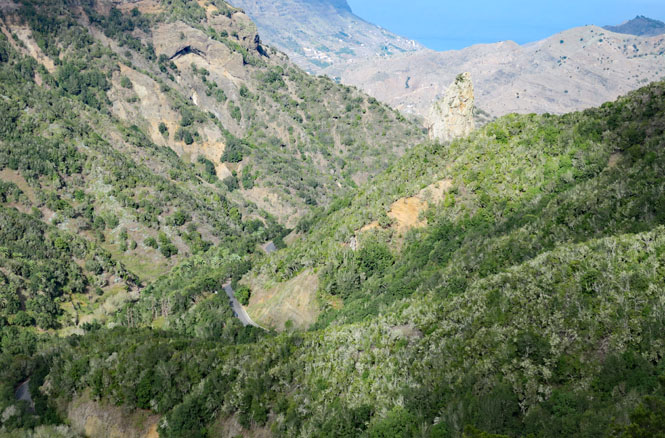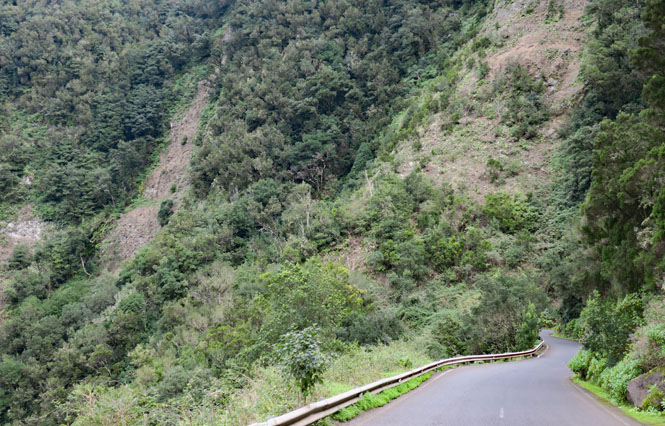 Roque de Agando is perhaps the symbol of the island. Notice the road to the left.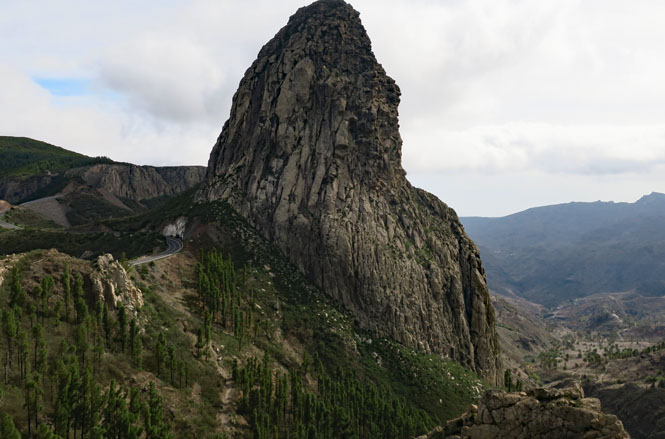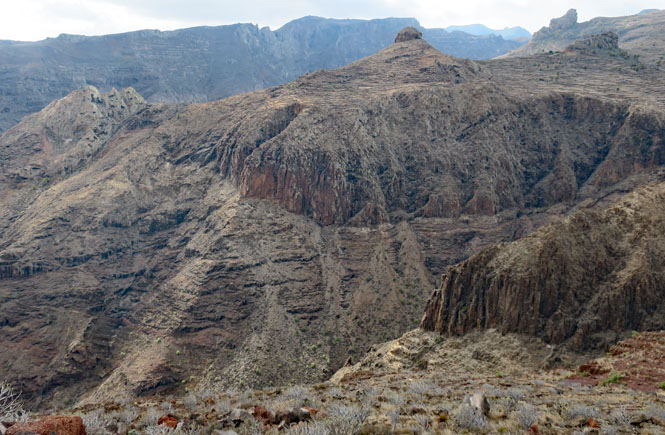 San Sebastián de La Gomera, on my return.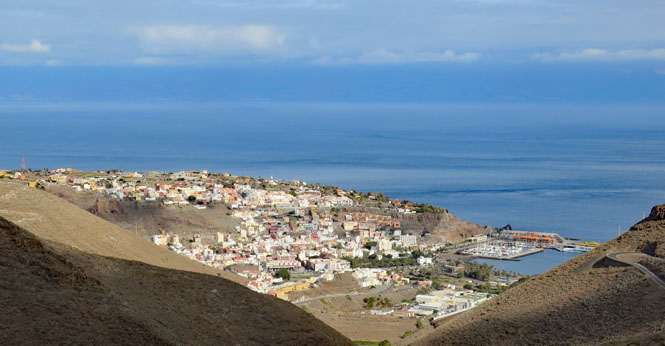 I have an hour to wait before we sail.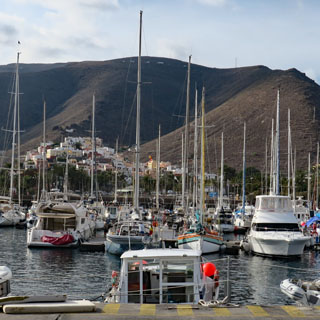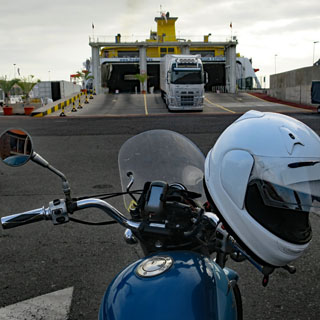 I'll step into the little cafe and have some authentic Canary Island spaghetti and Schweppes.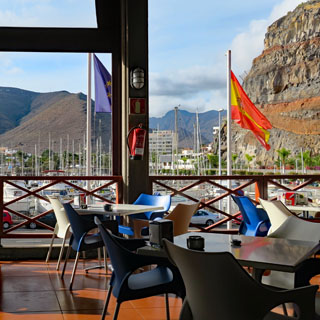 Tenerife
I return to Los Cristianos for the third and final time.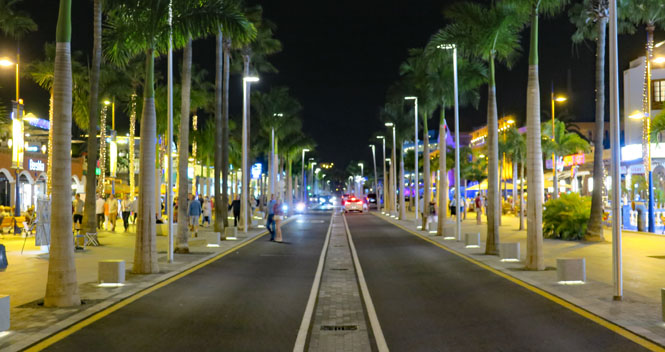 The beach is filling up on this beautiful day (as I think must always be the case in Los Cristianos). My flight leaves later in the afternoon, so I've got time to follow their example.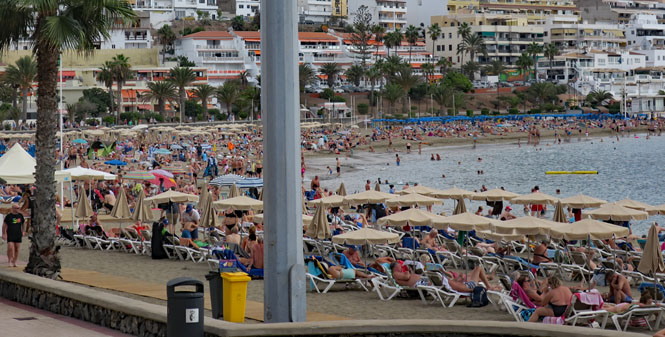 What a nice trip; what a great place to ride. Beautiful.
Many thanks to Mauricio Sedó, otherwise this never would have been possible. He picked me up at the airport and handed me a beautiful motorcycle that was flawless the whole time.
last edit: 11/27/2017