October, 2007

Sunday

Monday

Tuesday

Wednesday

Thursday

Friday

Saturday

14 October
15
16
17
18
19
Wichita
Los Angeles
20
lost day (International Dateline)
21
Sydney
Canberra
Bungendore
22
Canberra
Bungendore
23
Cooma
Jindabyne
Wodonga
24
Wangaratta
Omeo
Sale
25
Tarra-Bulga
Melbourne
Bass Straight
26
Devonport
Campbelltown
Swansea

27
Triabunna
Sorell
Port Arthur
28
Richmond
Hamilton
Queenstown
29
Strahan
Rosebery
Bass Straight
30
Geelong
Princetown
Warrnambool

31
Grampians
St Arnaud
Deniliquin
1 November
Narrandera
Wyalong
Peak Hill
2
Mudgee
Bathurst
3
Wombat
Harden
Bungendore
4
Canberra
Los Angeles
Wichita
5
6
7
8
9
10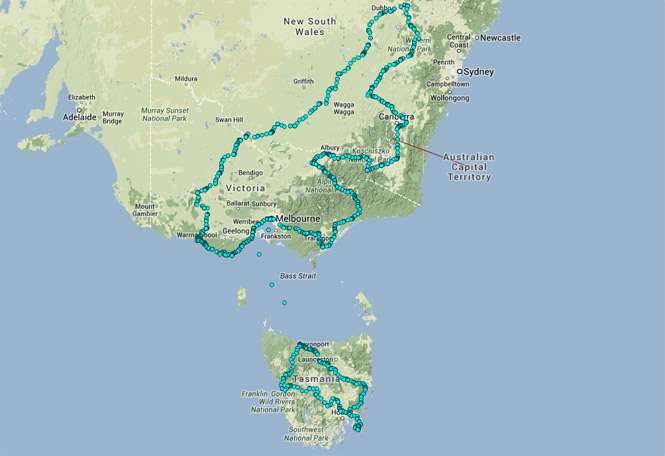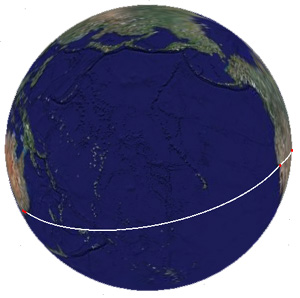 Back on January 10 of this year (2007), I emailed Pete Roper asking him if he was still considering starting a Guzzi rental business out of his shop near Canberra, Australia (something he had been musing about on a Guzzi Internet forum). He immediately responded and said "not yet" but that I was "welcome to borrow the mighty Griso."
I answered that that was awfully generous, but borrowing a man's bike for a couple of weeks might be overstaying his welcome. To which Pete replied "Don't be wet!" So, this trip was born. Guzzi people are the best!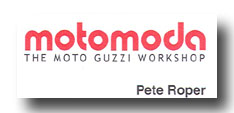 Australia is a big place (to state the really obvious); this would not be an "Australia Trip." Instead, I wanted to concentrate on just the lower RH corner of the place, and I was particularly interested in getting down to Tasmania--no reason, but I just liked the idea of it.
To jump right to the end, the trip went smoothly as planned (such as there was any planning done), and the whole experience was terrific. A huge thank you goes to Pete and Jude and Connor and Val. Inviting a stranger from halfway around the world to share your home (not to mention motorcycle) is not common, but then, that's not a word that most would use to describe Pete.
Kansas
My preparation would be similar to the New Zealand and Italy trips. That is, collect highway maps, buy a few tourist guide books, and don't make any reservations. Well, actually, I did make a first-night reservation in Canberra, but Pete immediately said that I was to cancel that straight away--I'd be staying with them. And, so I did (and, so I did).
The guide books were to get some flavor of the area, and to read up on things that might be interesting to see. But, I didn't bring the books with me, and didn't make any specific plans based on them. I pored over the maps quite a bit during the prior months so as to at least have a good feel for where things were, and to understand the lay of the land. You can learn an awful lot about a place just by studying road maps. Of course, I'd take all the maps with me. The Aerostich riding suit, helmet, and boots accounted for most of the rest of my luggage.
Colorado
You can see in the photograph that the cowl is open on the right-hand engine. It stayed open for over two hours before they gave up, and rolled another airplane in.

California
And then during the landing approach--after the pilot was already quite apologetic about the long delay--he had to declare a go-around at LAX because another airplane on the ground had strayed over the taxiway and so we had to add another twenty minutes to the flight sweeping over the Pacific to get back in line for landing.
As it happened, the gate for the departing airplane to Australia was just next door, and I was able to board that plane with hardly any waiting at all (no worries).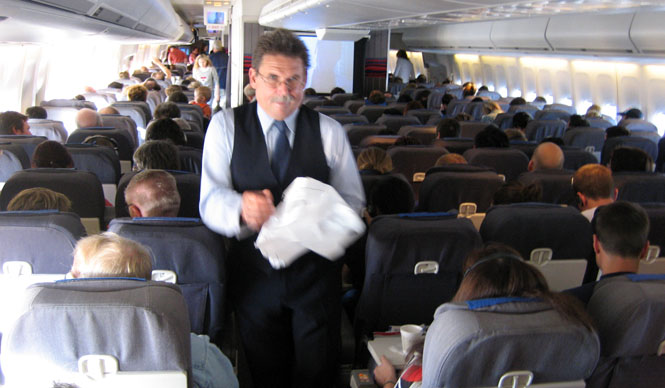 That's the Coral Sea down there.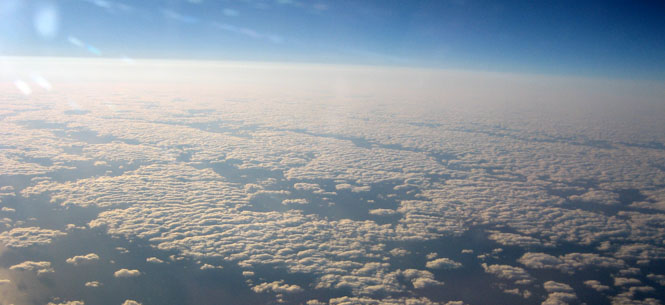 New South Wales
I met Pete at the Sydney airport, and the two of us flew the short hop over to Canberra...

...and then drove to Bungendore, about 25 miles to the east.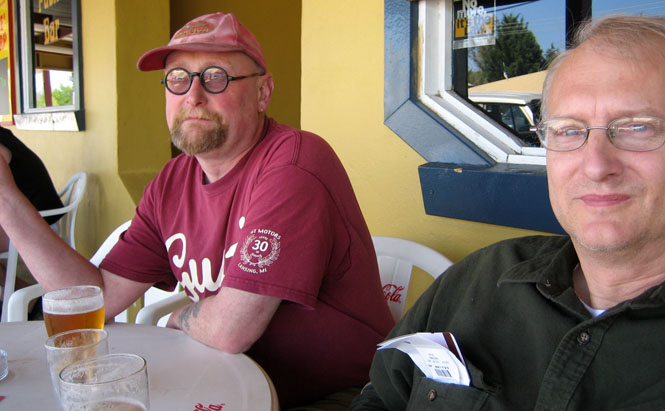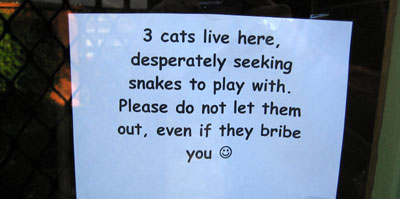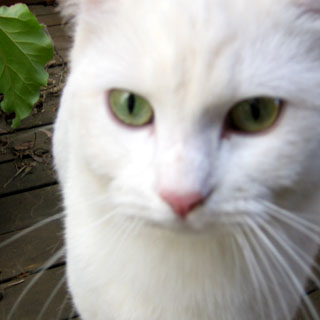 The "at home" part of the Roper clan: Pete, Connor and Jude.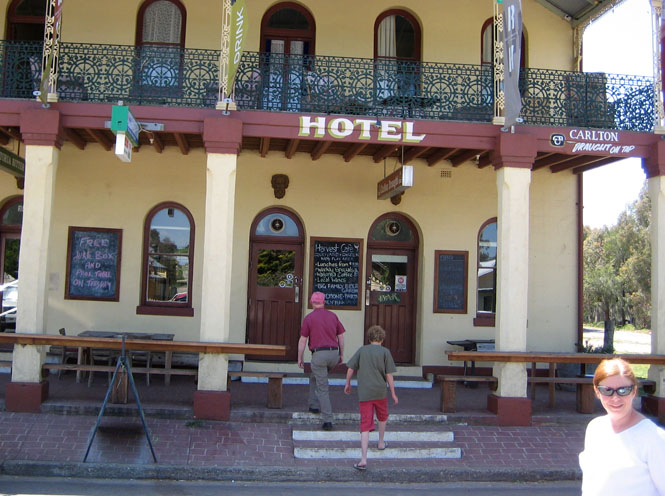 Bungendore's main drag (Gibraltar Street).

Bungendore's Post Office, and, Bungendore's elementary school.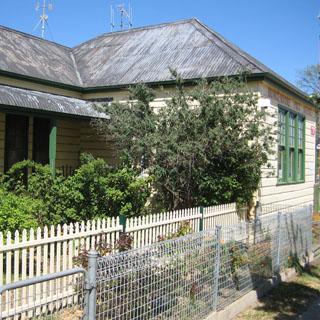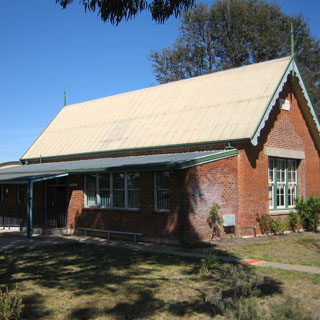 This first full day was used to adjust to the time shift, meet the Griso and to see a bit of Canberra.
Australian Capital Territory, ACT
Canberra is a fairly new planned city, so doesn't have much of the jumbled mix of roads and buildings that most cities that have grown up over many years have.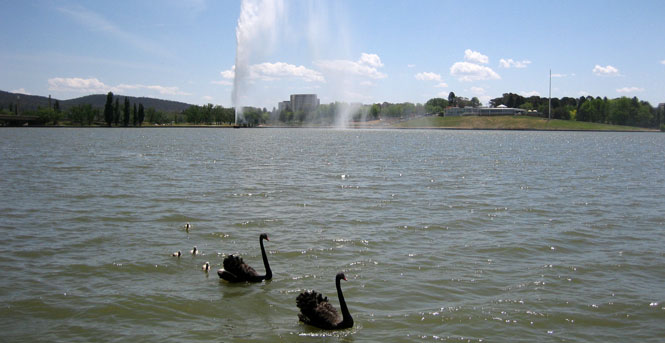 The National Library. They had some older documents on display, but the much larger exhibit room which will eventually show far more is still in the future.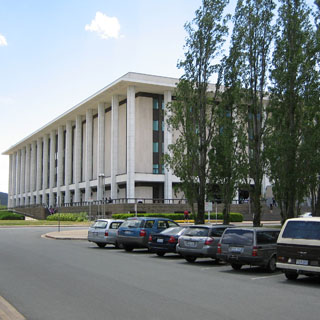 I only stepped into this National Science and Technology building to double-check that it was what I thought it was (mainly a showcase of concepts for children). It was.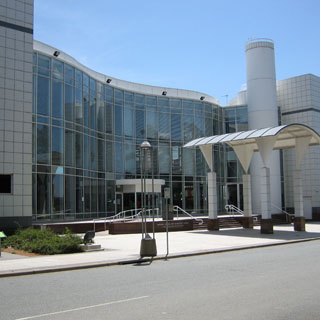 The old parliament building has been replaced by a larger (and far more modern) building, so this is now the National Portrait Gallery as well as still being shown for its own historical place.

School groups were being shown through the two chambers.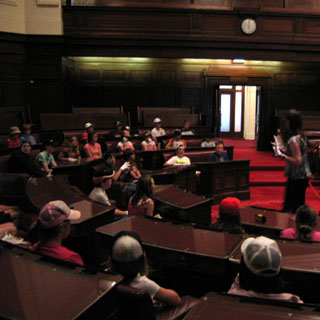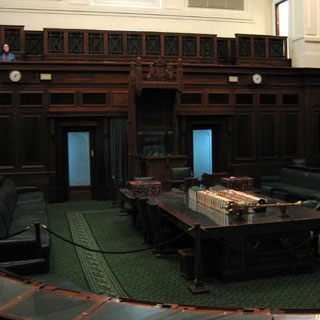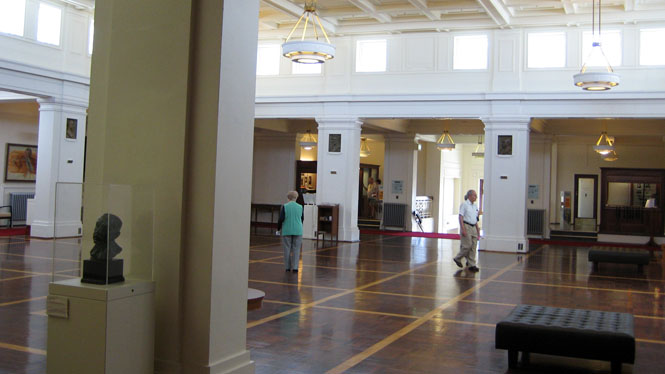 The view across the lake shows the War Memorial.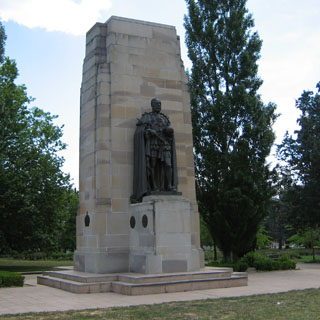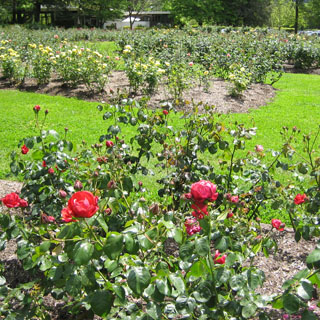 The National History Museum is not in an ordinary building. It was easy to get disoriented in this place as some doors unexpectedly took you outside, and there was no clear definition of floor levels.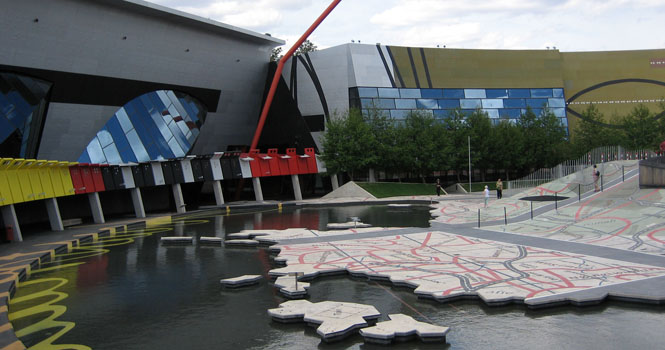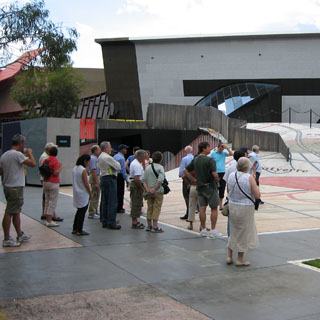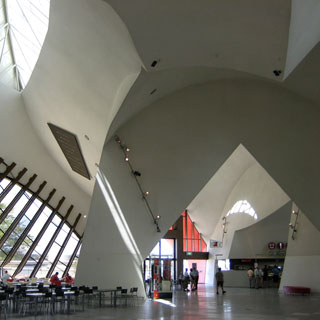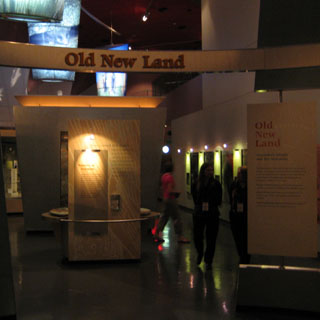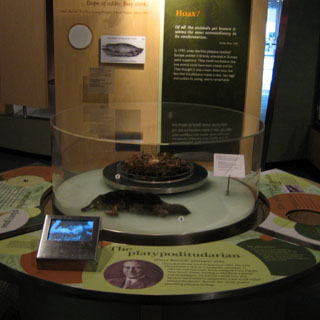 That's the skin of a Thylacine (now extinct Tasmanian Tiger) on the left, and the development of a Platypus on the right.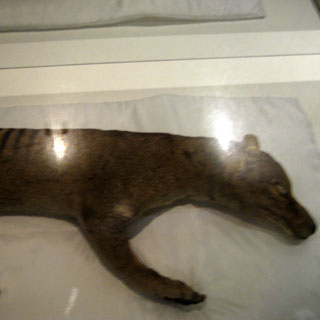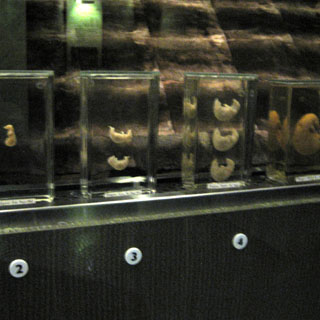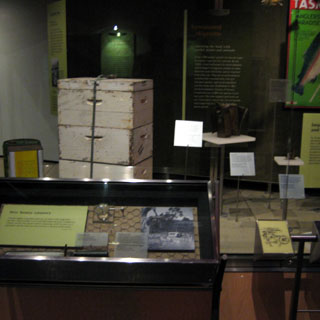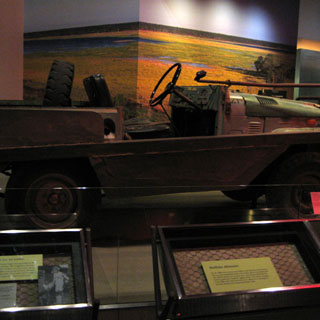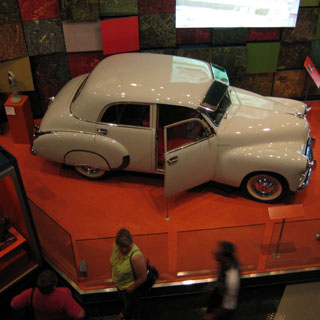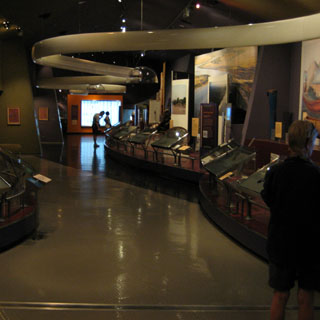 This is essentially just a storeroom of the museum, and is not normally open. But, I found it one of the more interesting rooms. Thousands of artifacts, all tagged and crowded on hundreds of shelves.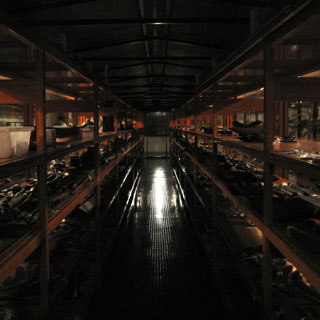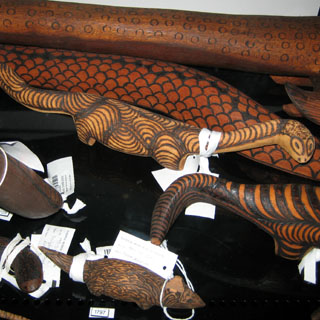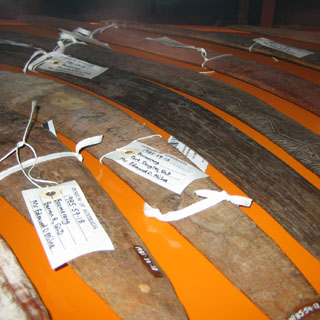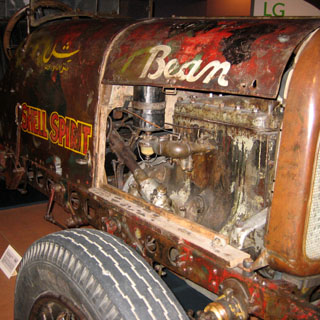 On the left, school children and their teacher looking at the heart of the race horse Phar Lap (larger than normal, we are told). On the right is the bat of Don Bradman, who is (I read) without any argument the best cricket player of all time, and may possibly have been the best player of any sport.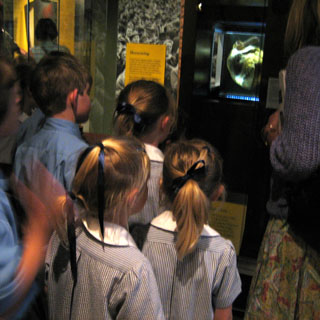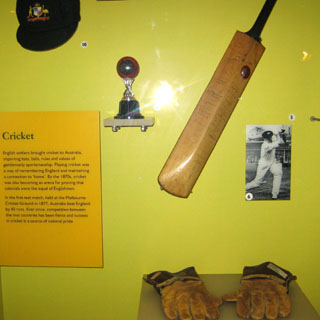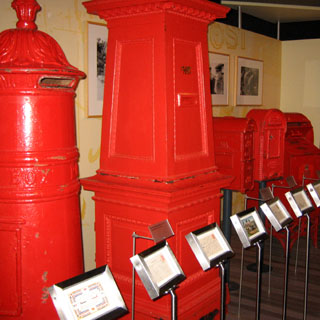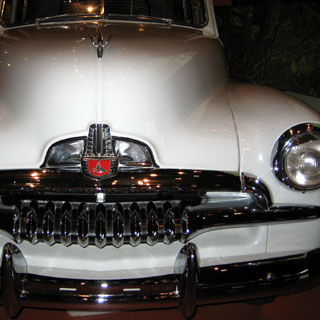 The War Memorial is at the end of a very long approach from the lake.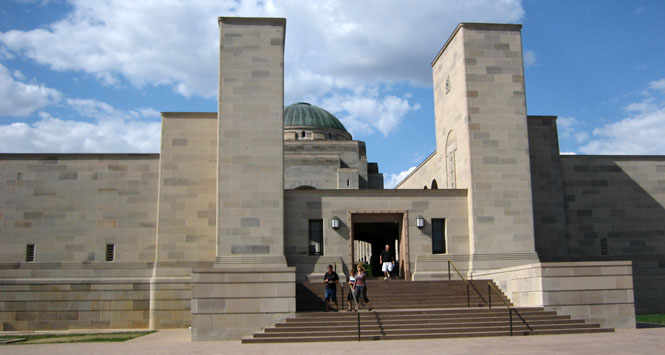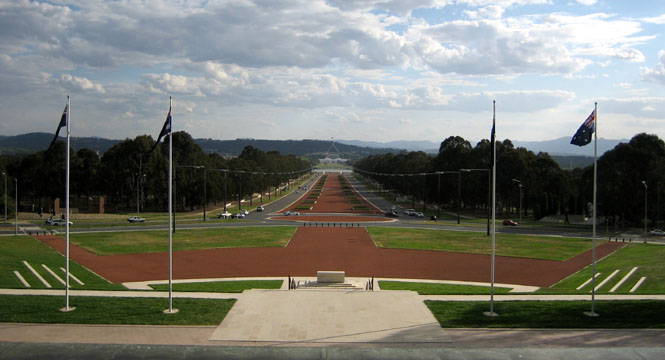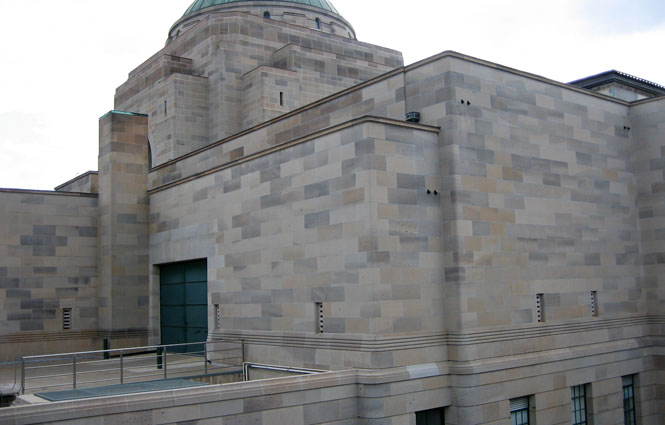 On the left is an original boat used in the landing at Gallipoli. The memorial museum has done a very good job presenting the Australian effort in the first World War. As with New Zealand, Gallipoli was a defining moment for Australia even though the British lost many multiples more men during that campaign.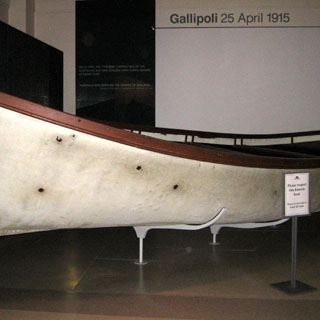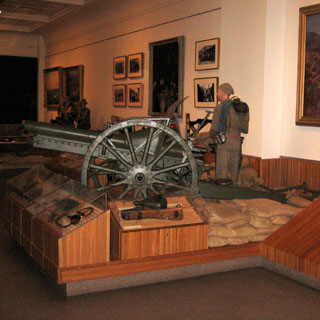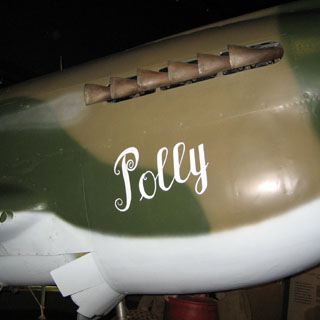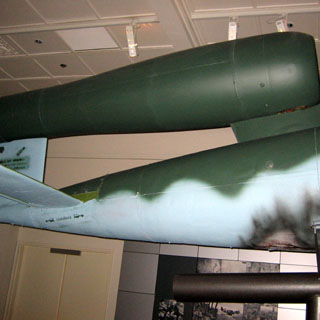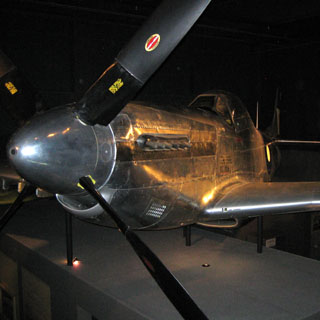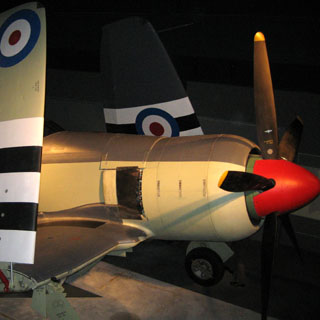 On the right is a Japanese mini-sub that entered Sydney harbor.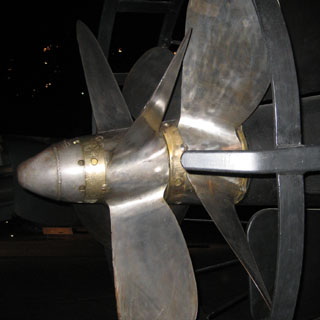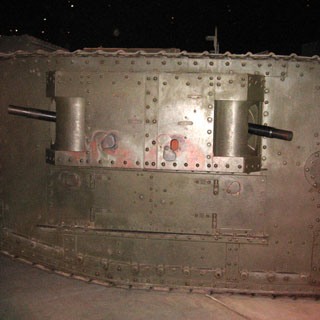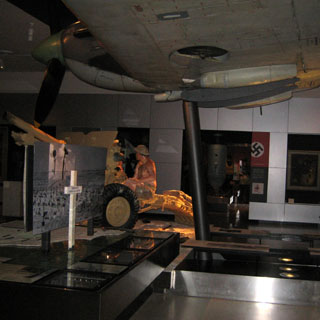 There were several "death marches" during the war. An entire wall was covered by these small army service photos. Everyone of these Australian soldiers died as a prisoner.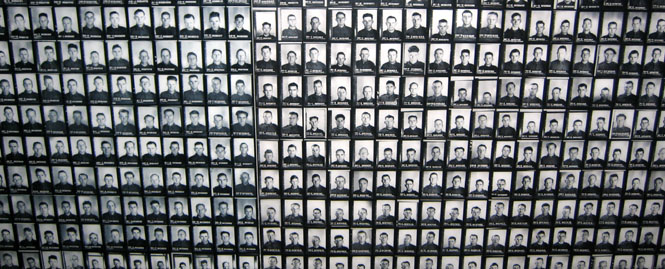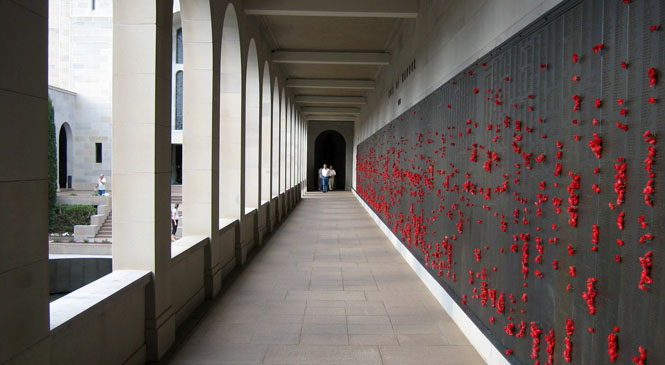 The tomb of the unknown soldier.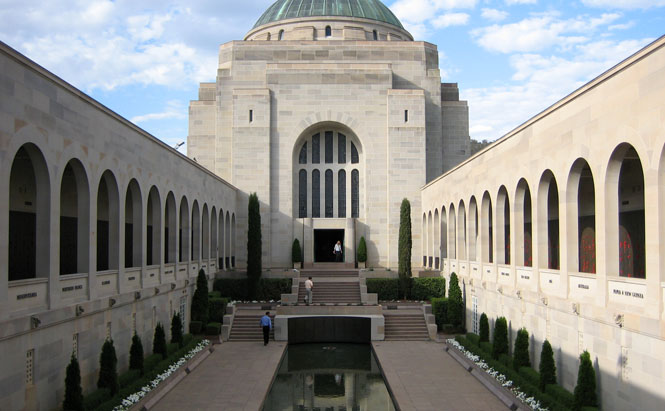 New South Wales
I returned to Bungendore from the north. Pete had already installed the Guzzi soft luggage, which I found to be very high quality, and worked just great (isn't this a pretty motorcycle?).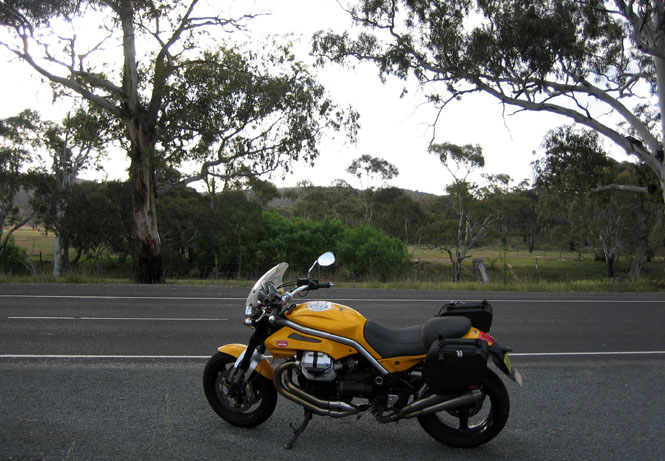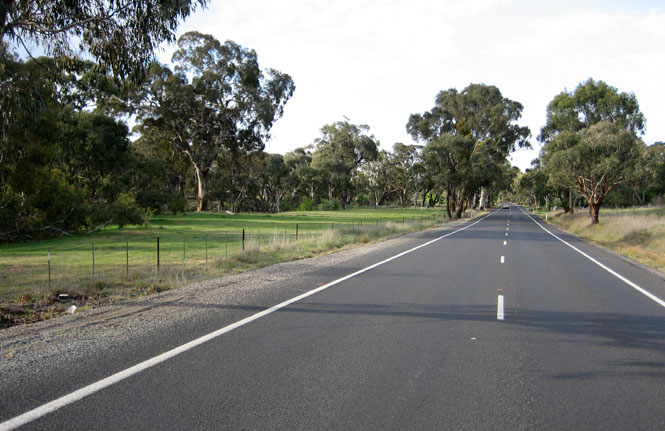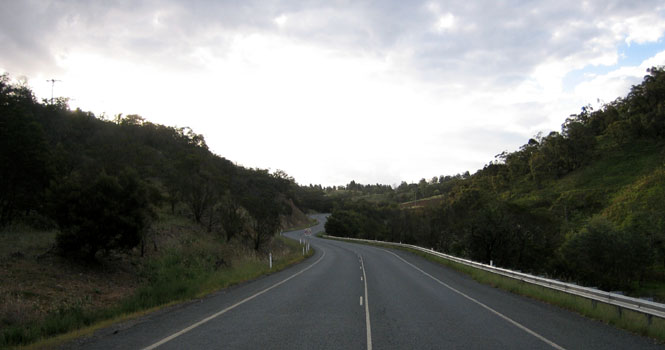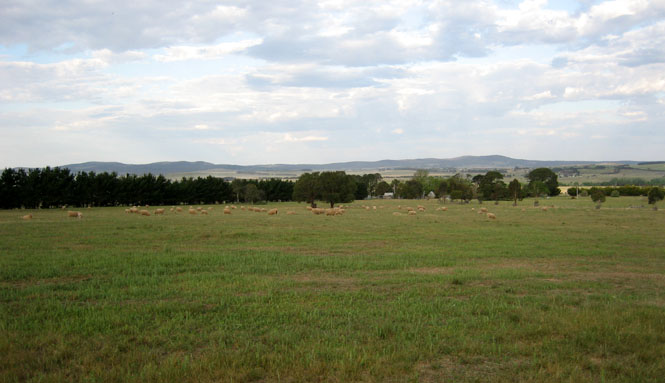 But, now it's the next morning, and time to strike out. The plan was to ride south to Cooma, and then turn west on the Alpine Road. After that, I thought I'd head directly towards Melbourne with an idea to take the ferry across to Tasmania the third day (after, perhaps, spending time looking around the center of that city).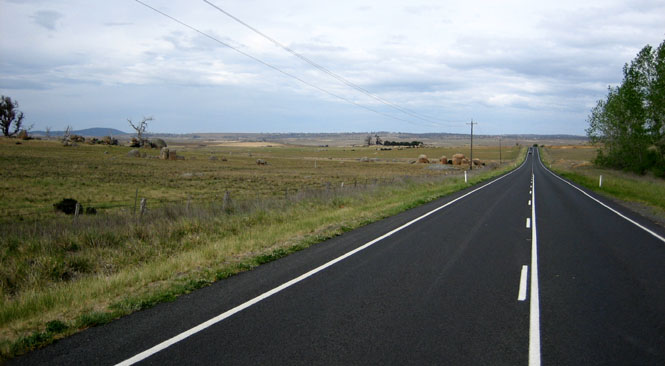 Curious groups of rocks in the otherwise gentle plains.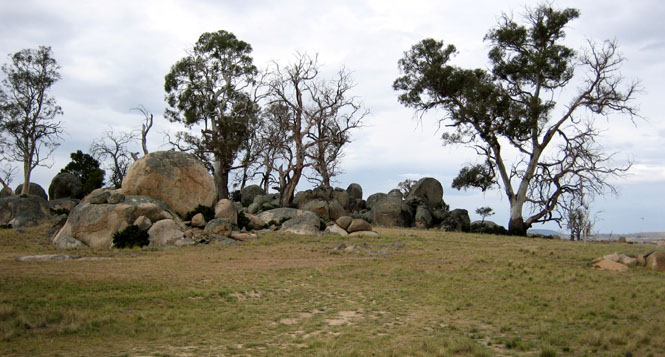 Kosciuszko National Park.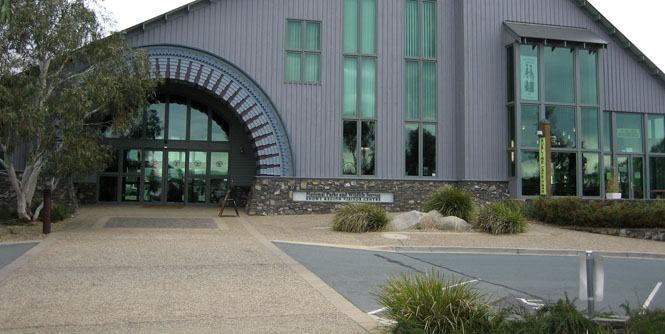 I was asked if I was staying in the park, or was just traveling through. No charge for me; I'm just riding.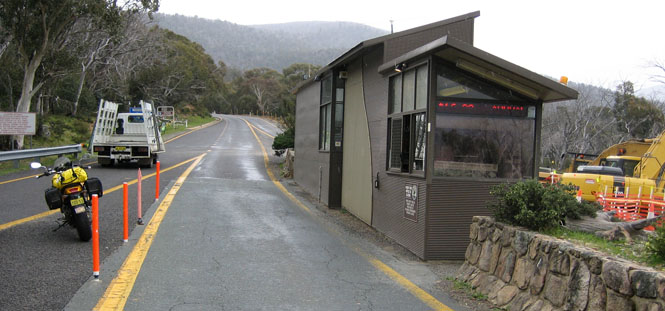 This wouldn't be the first time I had rain, but other than wetting the pavement, this wasn't anything to bother about.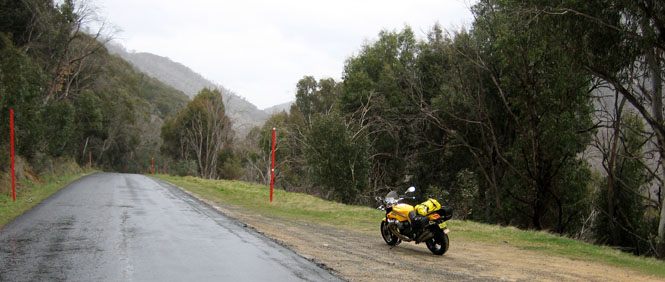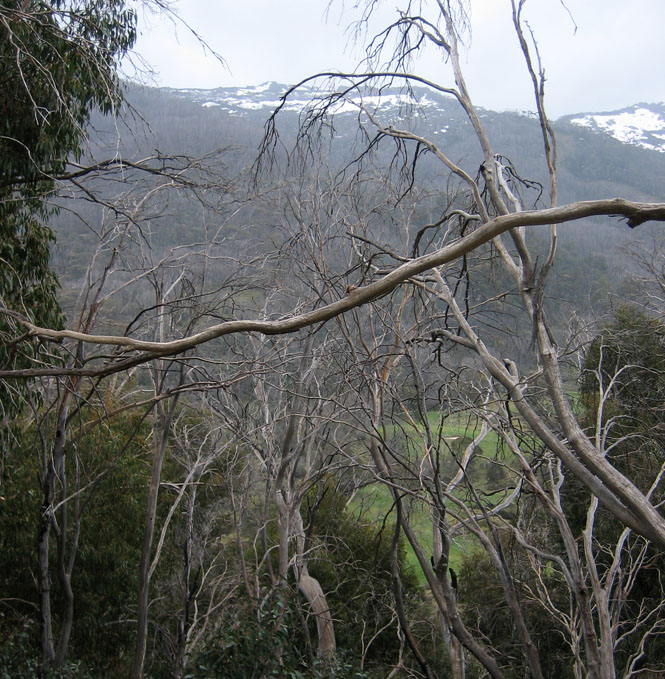 Looking back down the valley (along the road I had just ridden up).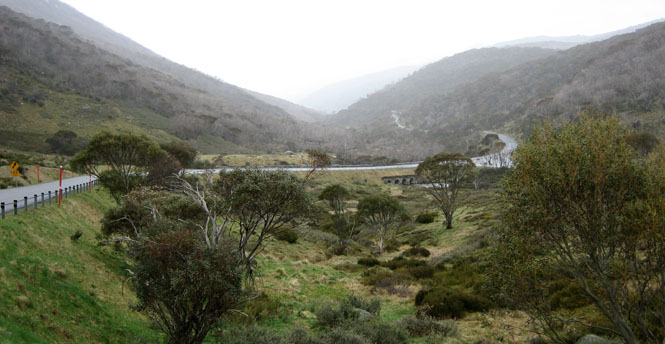 I had a nylon bag of whites in the right bag, and coloreds in the left (I'm really not that fussy, but doing it this way kept the weight balanced). The nylon bags ensured everything stayed dry. In the yellow (YES, IT'S YELLOW!) bag (which was also my carryon bag for my helmet on the airplane) I had a Polartech pullover (which I never had to use), a light rainproof 3/4 jacket (for walking off the bike), walking shoes and a toiletries bag. Nothing was packed so tight that it was a problem to just toss things in, each morning.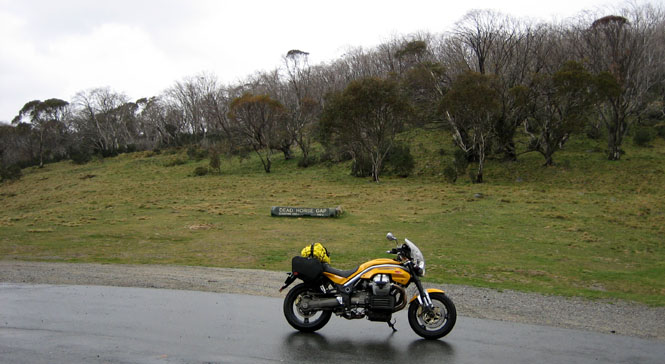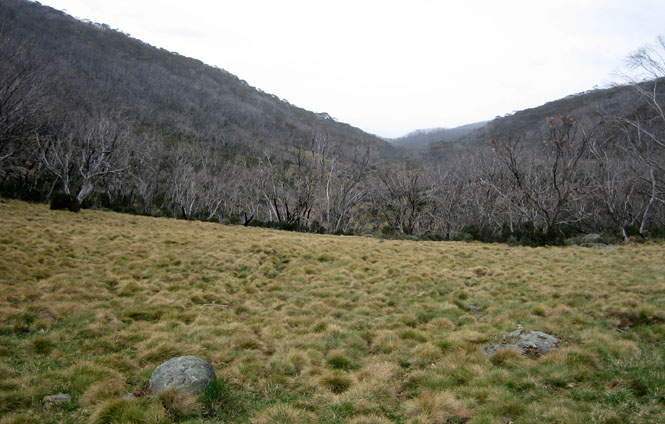 Much of the Alpine Road looked just like this. There's room for two passing cars if they watch themselves, but not much more than that. Unfortunately, that meant that parking on the side of the road was often not possible.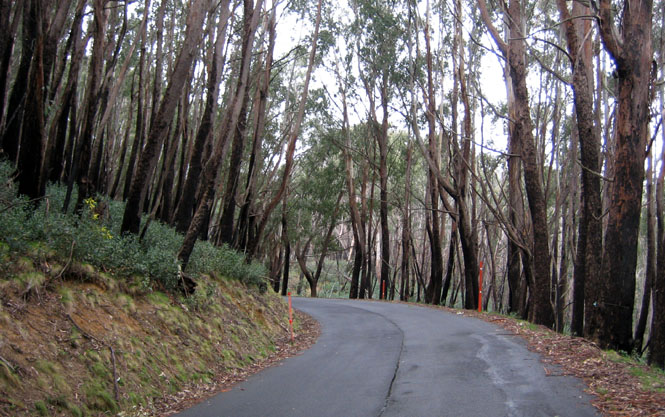 You have to just admire this bike... The windshield worked fine for wind protection, but not as fine for rain.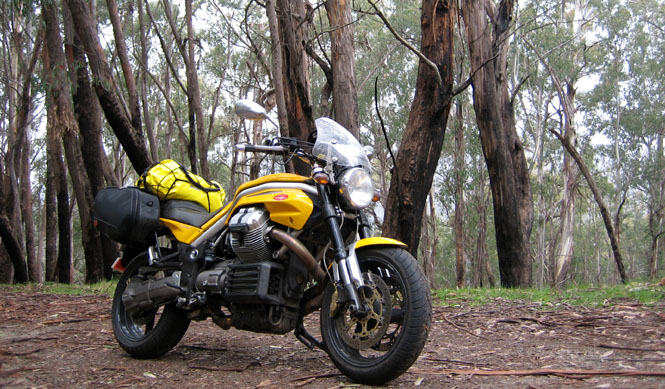 There were some surprisingly nice bridges along this road. I wonder what was here thirty years ago?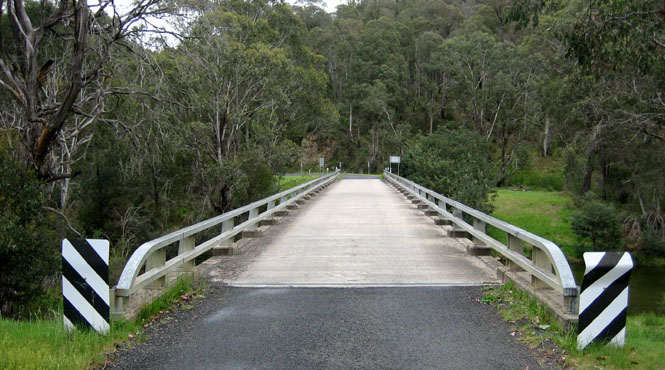 Swampy Plain River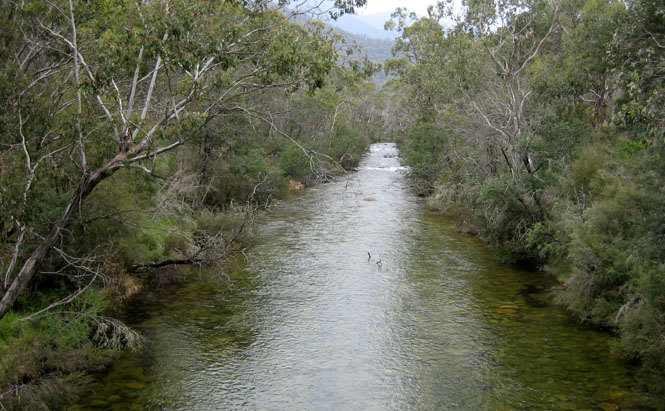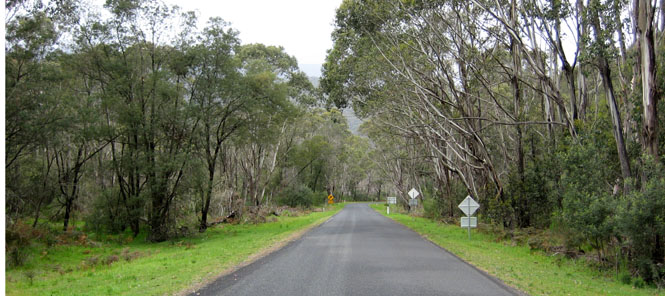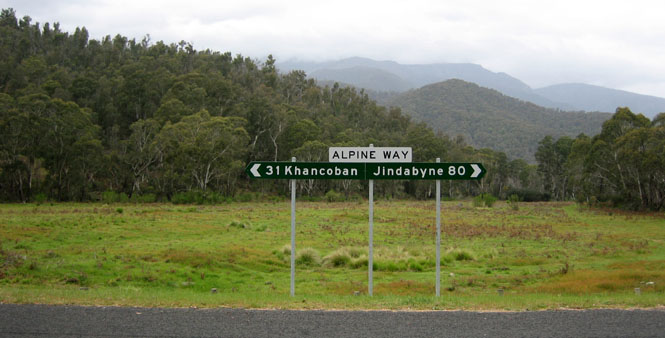 Bogong Creek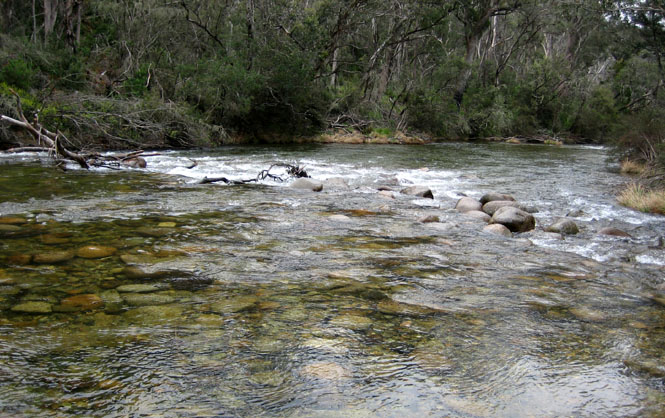 The highway crew didn't waste any more energy on this cut than they had to to put the road through. The result was a road full of fallen rocks and dirt.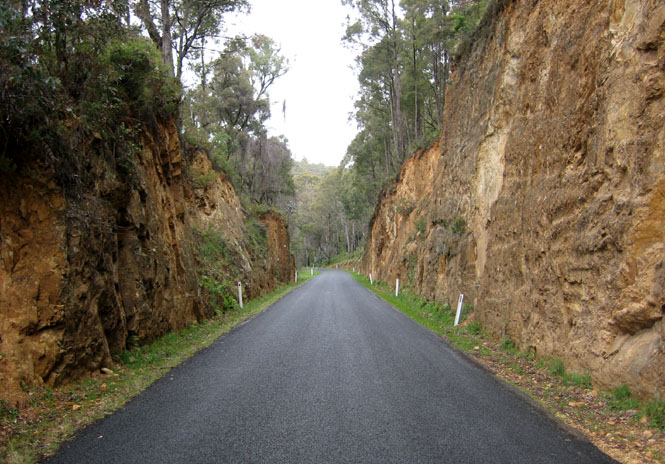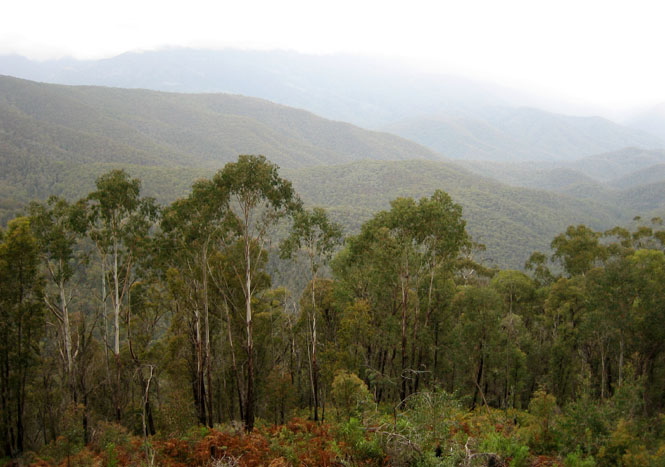 Throughout the Snowy Mountains there was evidence of a massive water transfer system. The basic idea is to move the water to the side of the mountains where the people and crops are, and to make electricity at the same time.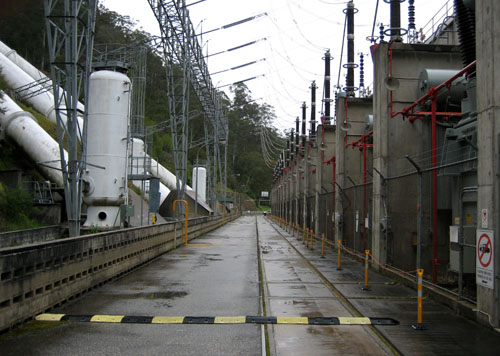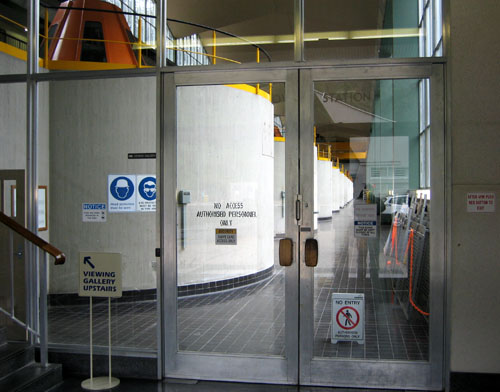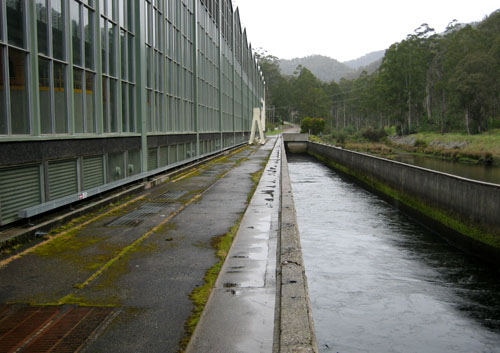 Cool and misty and a perfect day for riding.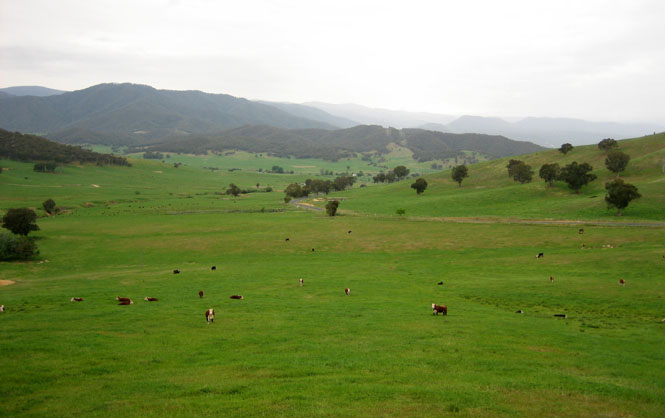 Eventually, I'll have enough photographs of Pete's motorcycle.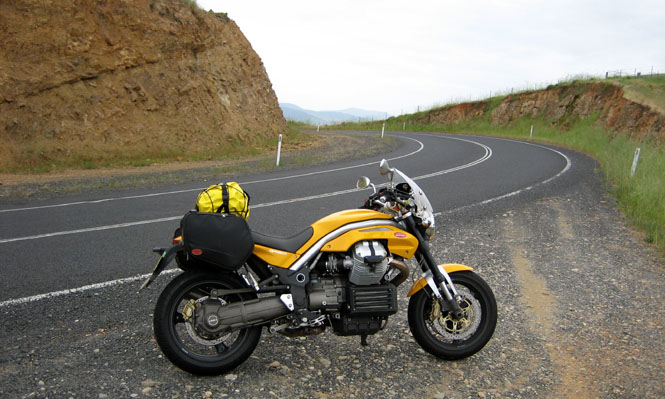 Corryong for fuel.

This was once a rail bridge (and is now closed, even to foot traffic). The tracks are now gone, but this line was still in use when the hydro system in the Snowy Mountains was being built.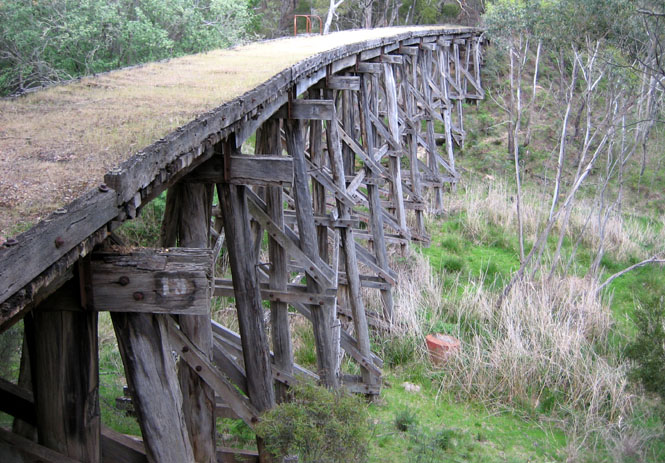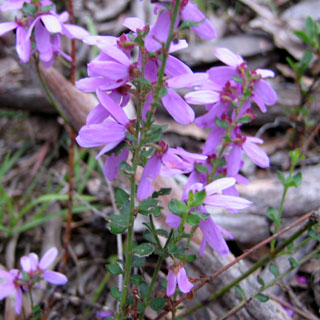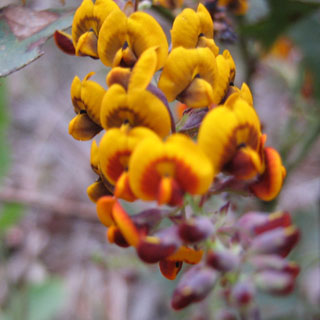 Victoria
Wodonga for my first night.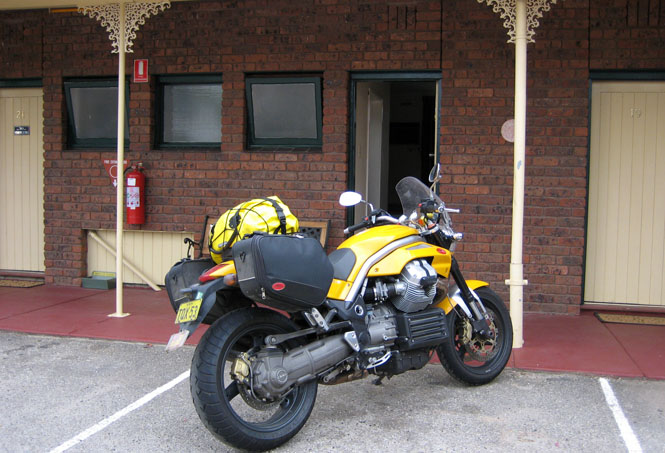 Wangaratta. In the morning, I fully expected to take the M31 all the way to Melbourne. But, when I reached Wangaratta, I had had about enough of the M31 (which is a freeway). It was time to try something else.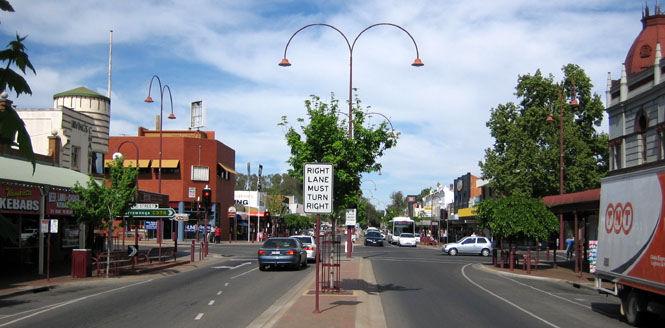 I turned back east on the Great Alpine Road (not to be confused with the Alpine Road that I was on the day before). I really liked this part of the road across the valley to the mountains.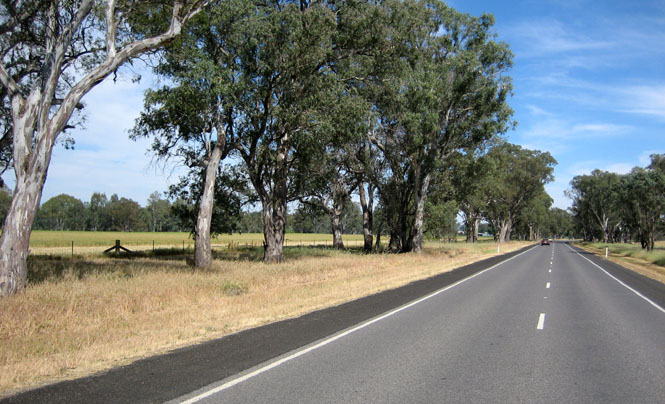 There are vineyards everywhere.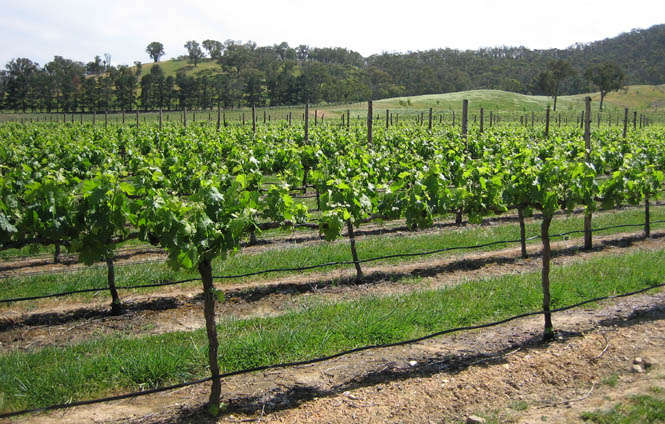 Harrietville is at the base of the mountains. From here on, things would get much steeper and much more twisty.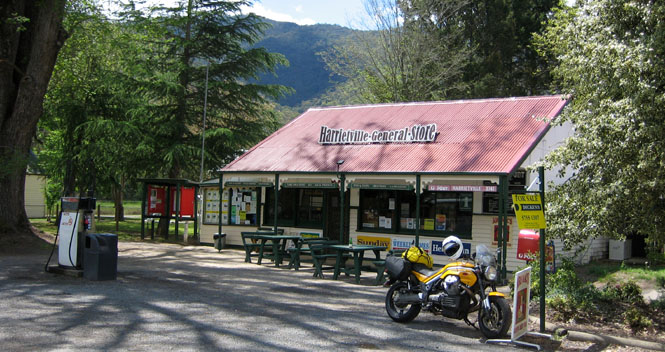 At this point, I was just below the cloud base, but that would change.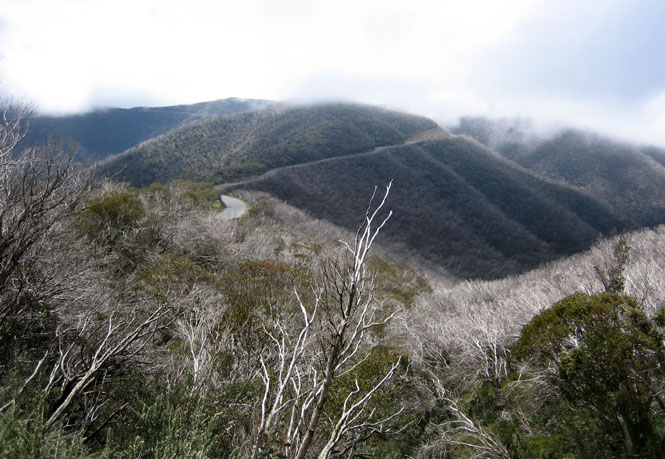 Climbing and climbing and climbing, until it became difficult to see very far ahead, for the mist and fog.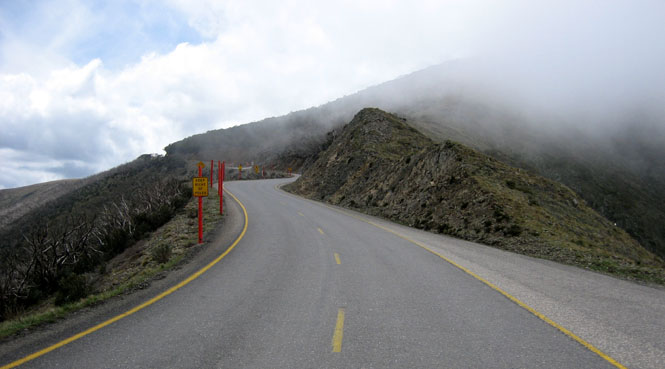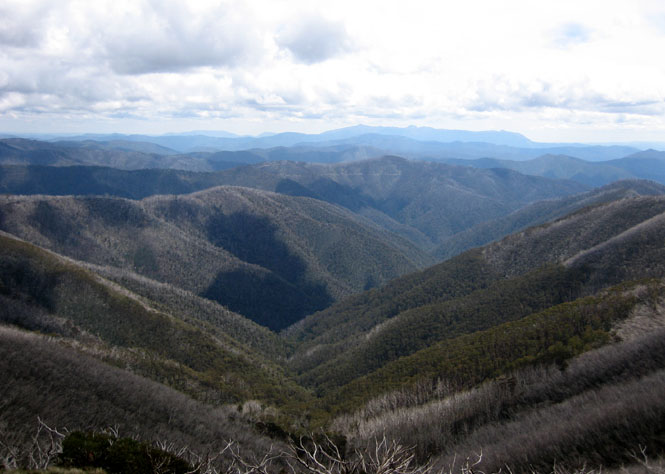 We're over the top (where there was snow on the ground) and are heading back down the eastern slopes. These roads were great for riding.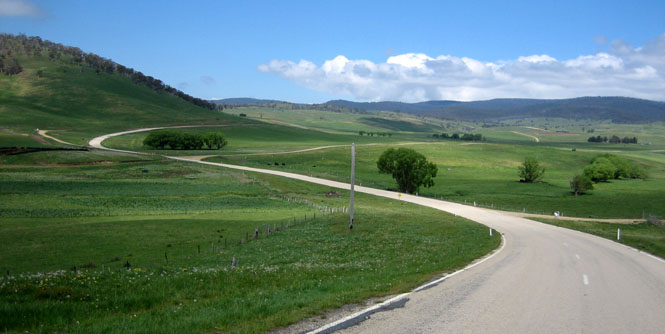 Omeo, and time for lunch.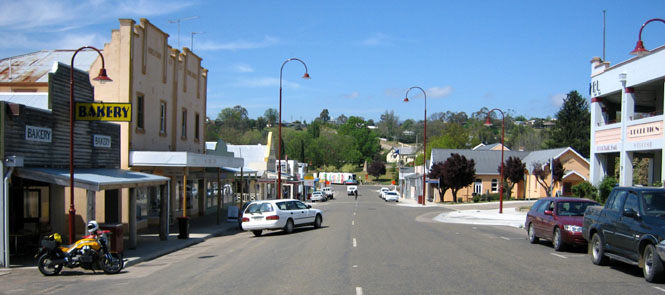 I came to love these bakeries. There's generally a choice of a dozen different kinds of (meat) pies, any of which, you can be sure will be terrific.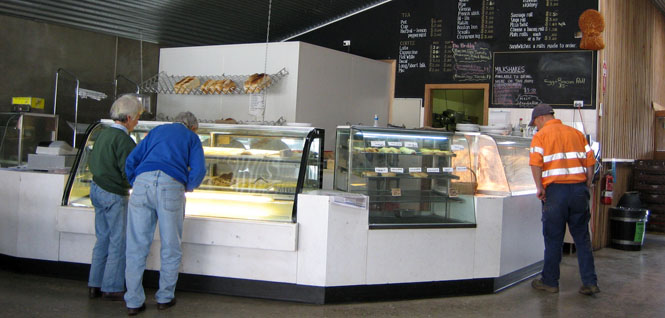 My first dog-in-truck photograph!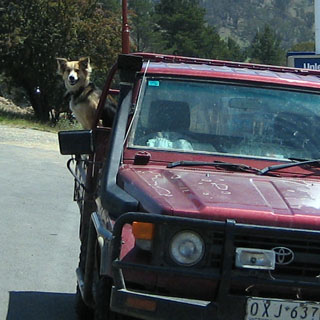 I stopped in Swifts Creek to use their library Internet point (something all libraries had).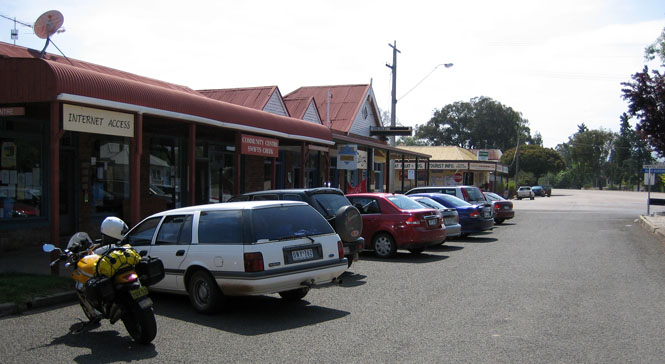 Most every town has a memorial to the Great War.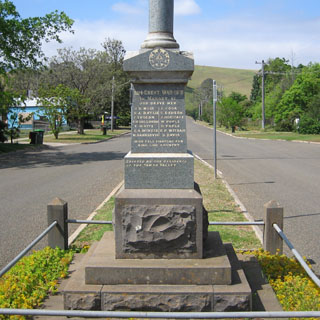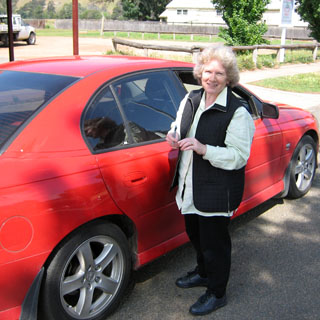 This is Kaye, a particularly helpful guide to the area. In fact, everybody I talked with was very helpful, and I especially liked how they were so passionate for their own local area. "Why would you want to go there? Just stay here; there's so much more to see".
It's just like the California foothills, except the trees are all wrong, and the birds don't sound right.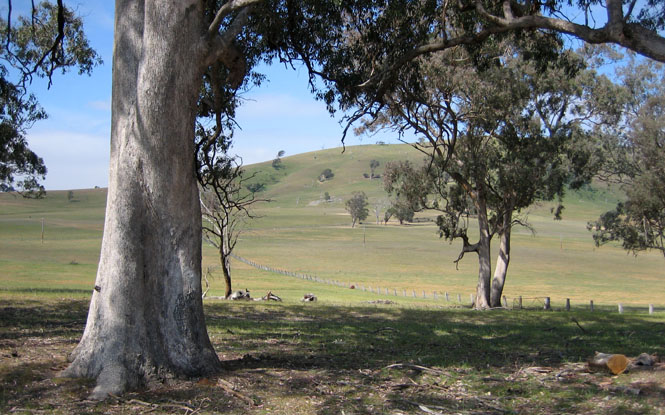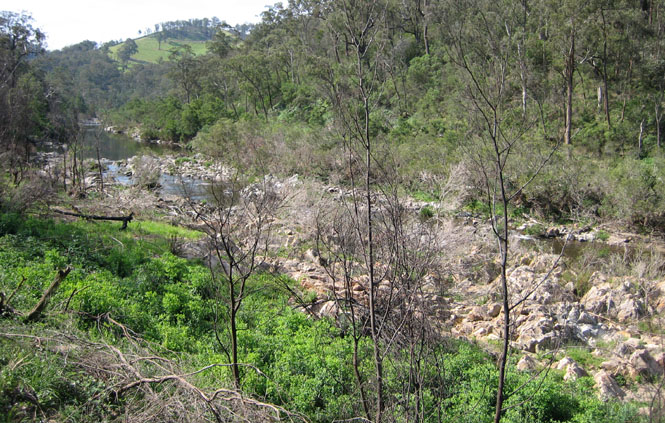 There is nothing like a winding river road and a Moto Guzzi.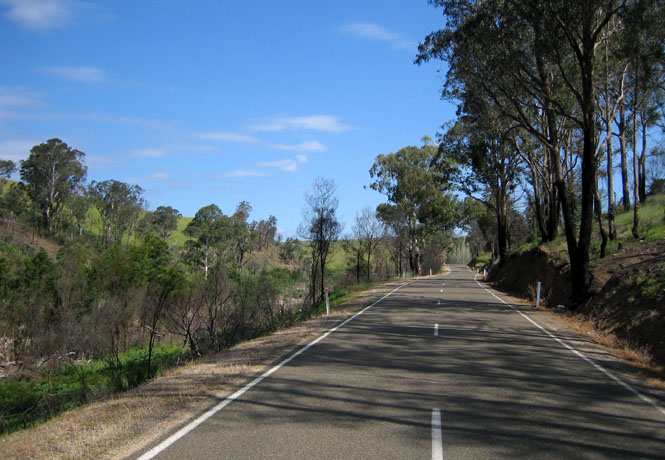 Bruthen, where I picked up the Princess highway, and was heading towards Melbourne, again. Of course, I had no chance to make it by night (well I did, but I didn't want to try).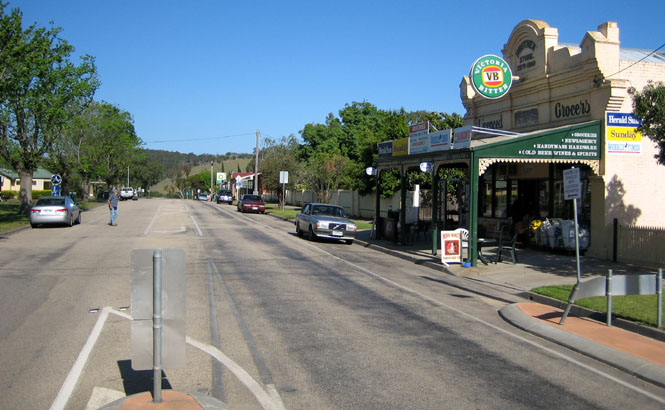 I always tried to have whatever was local, but I can't say that I would recommend a refreshing bottle of Aygee. Rather odd stuff, to be sure.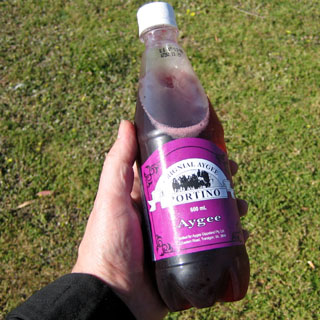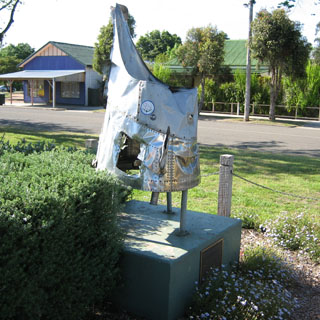 The remains of the jet fighter from the first (and successful) bailout from a jet over Australia.
Bairnsdale. No, there's nothing important to see in this photograph. Some places just look like all the others.

I was told to look for this church (by the helpful woman, above) as where the traveler's information center would be. It seems to have been built too high for its width. (They may still remember me

there as the American who knocked over an entire rotating display of earrings while opening a folded map. All over the floor...). I needed the information center so that I could ask about the sailing times of the ferry to Tasmania.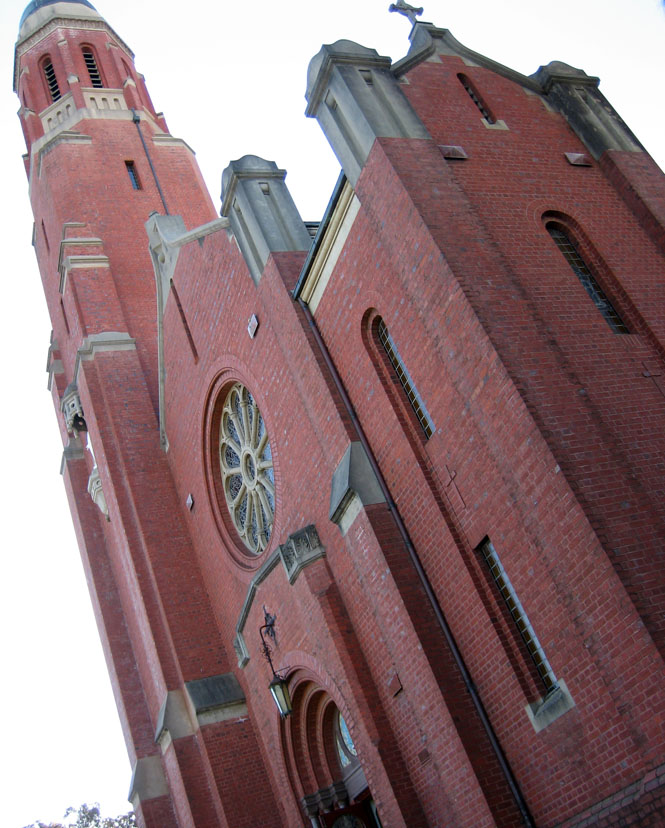 White settlement came to Bairnsdale area in 1842 when a cattle run was established. Gold was discovered in the 1850's bringing miners and followers and a demand for services; in 1860 Bairnsdale was surveyed and declared a township. The railway came to Bairnsdale in 1888 and creameries and a butter factory grew following the dairy industry. By the early 1900's a Courthouse, Mechanics Institute, Railway station, St. John's Anglican Church and the famous St. Mary's Catholic church was built; with the spectacular painted ceilings being completed during the depression years of the early 1930's. Today ; Has the most easterly situated golden arches in the southern state of Victoria. (the roadside trash from the fore mentioned outlet diminishes to zero after about 15-20 miles. Bairnsdale is an attractive and thriving rural centre situated on the Mitchell River Flats and considered to be the western gateway to the lakes and wilderness region of east Gippsland.
Sale for the night. I could have easily gone farther, but I wasn't sure how many hotels I'd find if I turned south, which was what I was intending.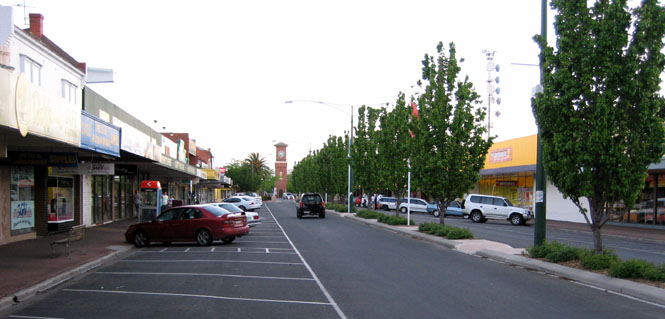 This fish doesn't look so good (in the poor light), but it actually was terrific. The pub was packed; I was lucky to find a table (but, I have no doubt that I would have been invited to share a table with another group).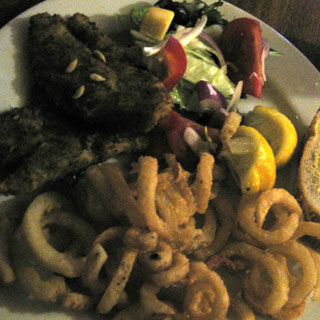 Any river traffic has now ended, but this bridge was once able to rotate for boats. I'm glad they decided not to tear the thing down. It's no longer open for cars.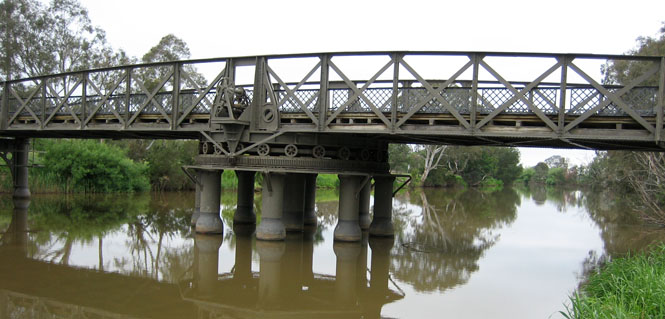 I had been riding close to the ocean, but hadn't seen it yet. So I took the side road down to Woodside Beach. I had the whole thing to myself.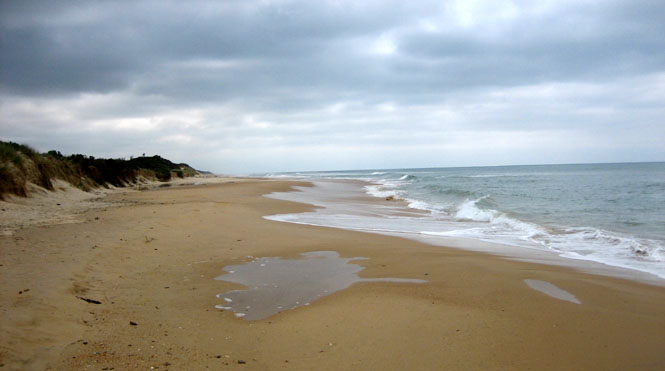 I had the idea of continuing down the coast towards Wilson's Promontory, but a road that went north looked much more interesting. So I took that one, instead. I'm glad I did.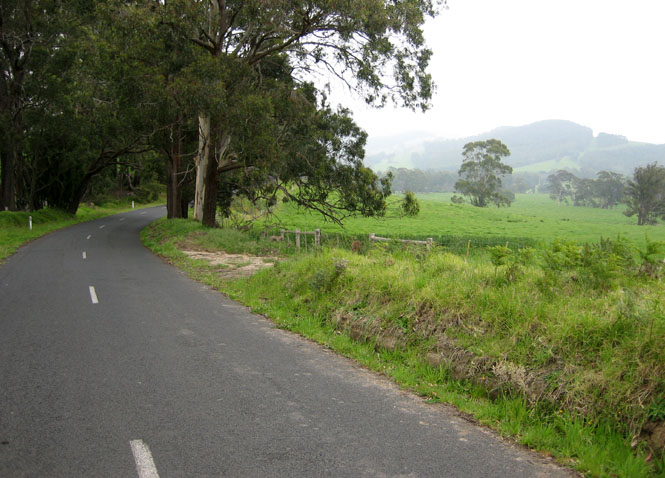 Following the Tarra River along a single-width road.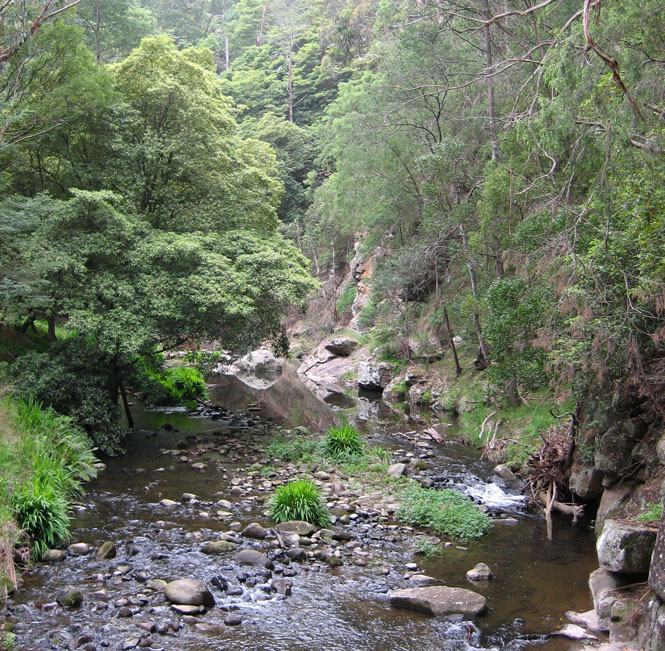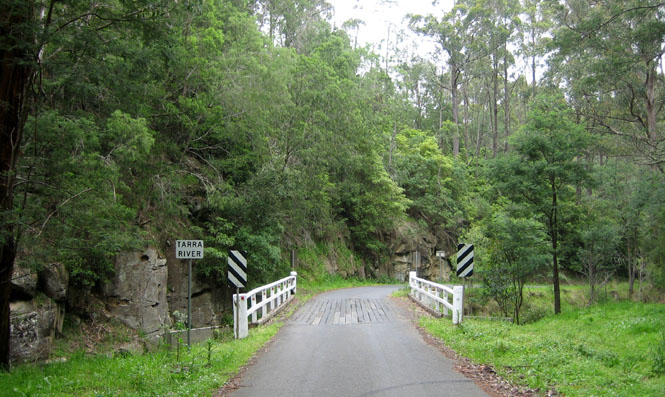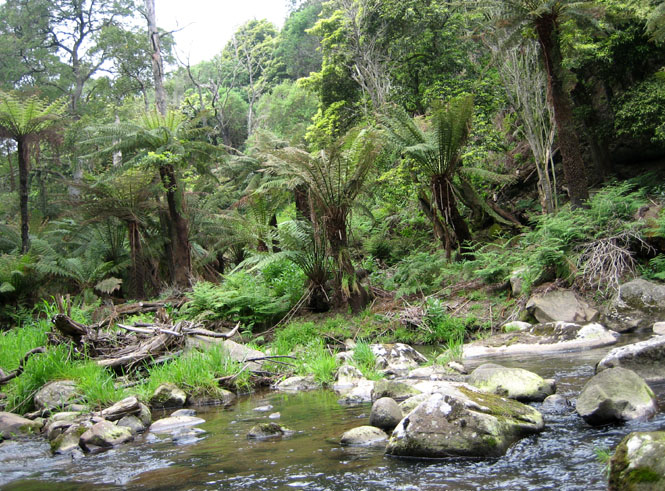 At times the road was covered by fallen vines and bark from the trees. This was not a road to be aggressive with.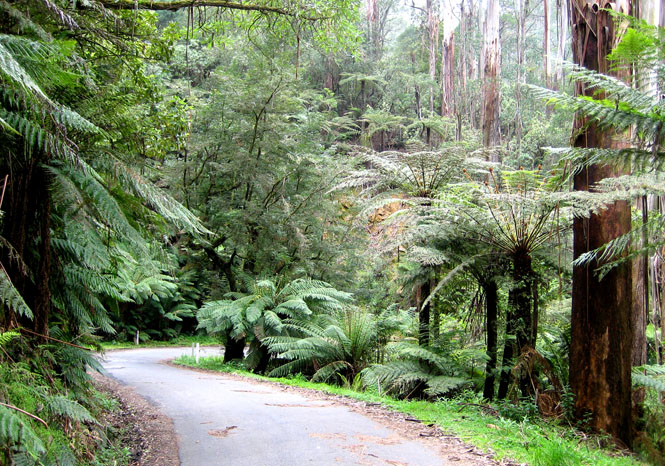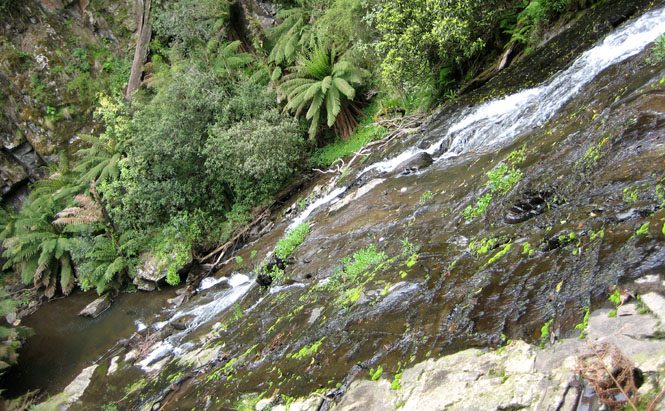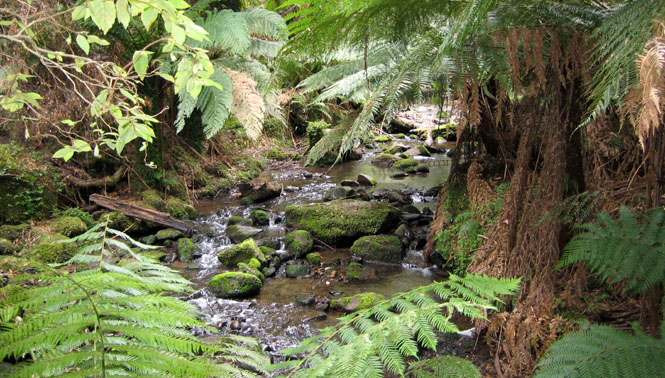 Tarra-Bulga National Park contains what was once a vast rain forest. At one time much of this land was logged, and some even tried to convert it to agriculture.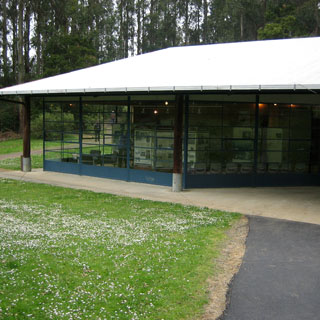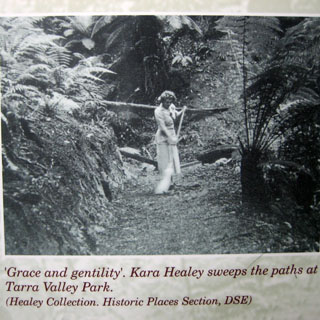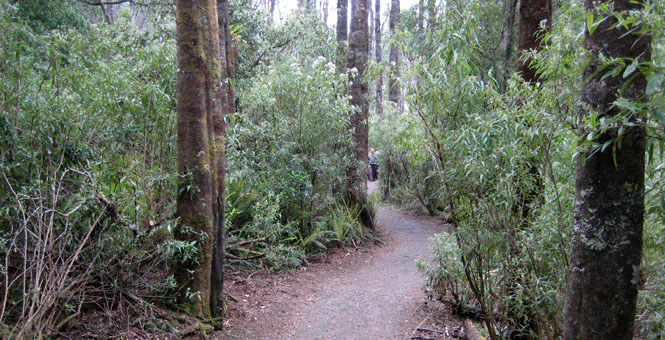 Descending to Traralgon.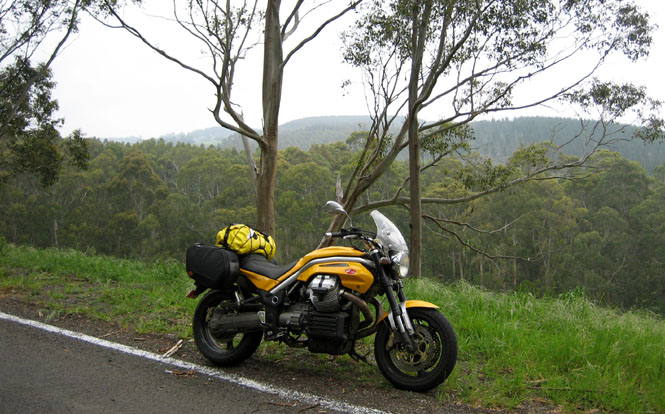 I'm back on the M1 (again) which runs into Melbourne. It was raining more often than not, and occasionally was quite heavy. At least it wasn't too cold. I stopped at the village of Yarragon for lunch.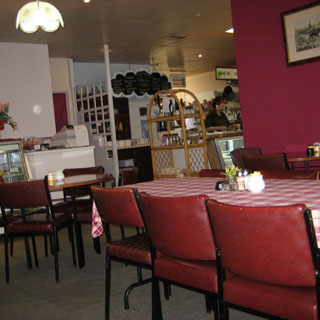 From the GPS, I knew ahead of time the freeway exit number and the best route to the pier. That's a good thing since it wasn't all that well marked. Unlike most large ferries (at least all of them that I've been on) loading for motorcycles would not be "first on, first off." I'd have to wait in line with the rest, although they did make an effort to group the motorcycles together. For this trip, I booked a four-bunk gentlemen's room. The cheaper option would be to spend the crossing in a recliner (essentially an airline business class seat), but that didn't sound too attractive.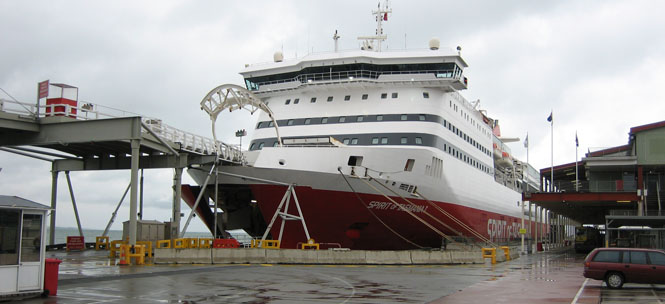 There are two identical ferries: Spirit of Tasmania I and Spirit of Tasmania II. They both leave port at the same time in the evening, every evening.

Buying my ticket.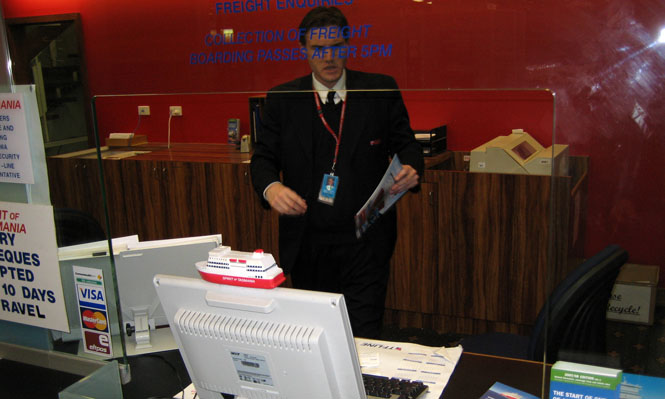 Waiting for the gates to open prior to loading (Cascade is a Tasmanian beer and is very good).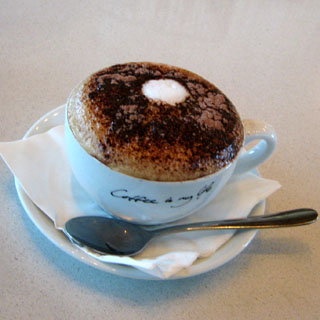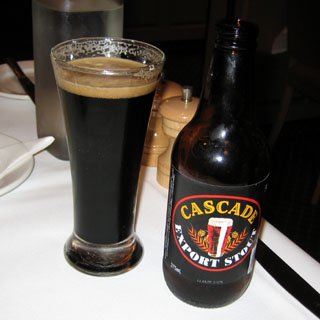 Loading went well enough. The ferry company supplied the tie-down straps, and did the work themselves. They were conscientious and did a good job (and knew not to over-compress the forks).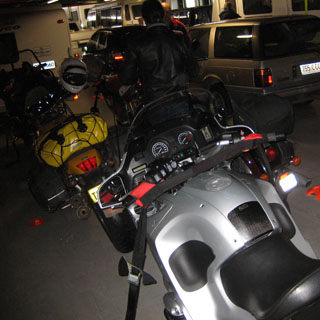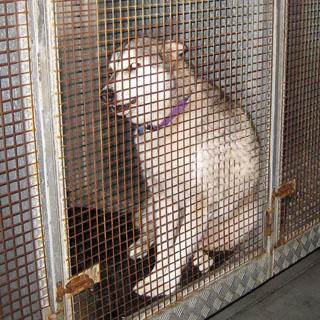 A rolling kennel was provided. You could keep your animal in your car if you wanted, but for larger dogs, this makes more sense. Of course, people were not allowed to stay.
The bar...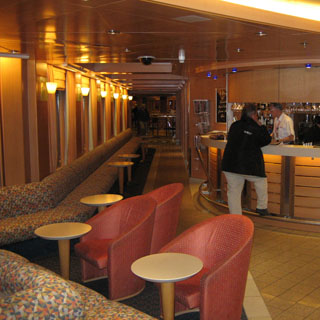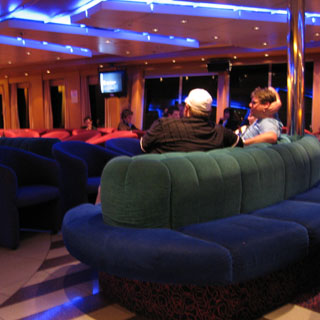 ...the forward lounge area...
...and, the restaurant. There was also a much less expensive buffet and cafe, but I ate here.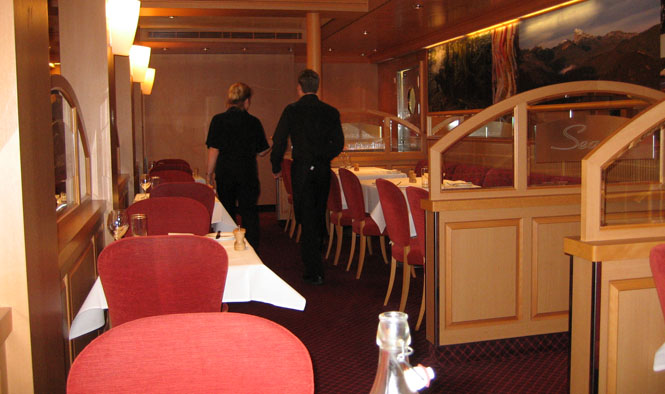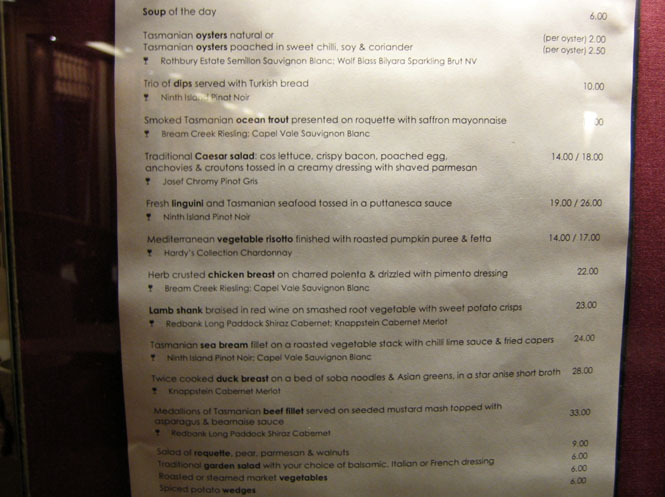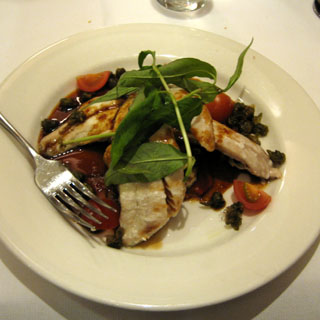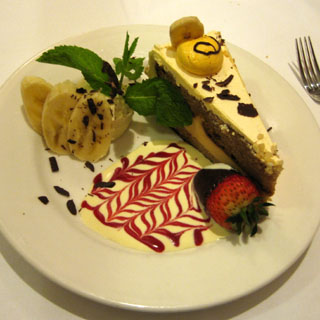 The crossing takes eleven hours. The change was quite dramatic when the ferry passed from Port Phillip Bay into the Bass Strait. But, even then, except for feeling the ocean swells, it was smooth enough. It was interesting being able to use the GPS to track our position and speed. I saw 29 mph at one point.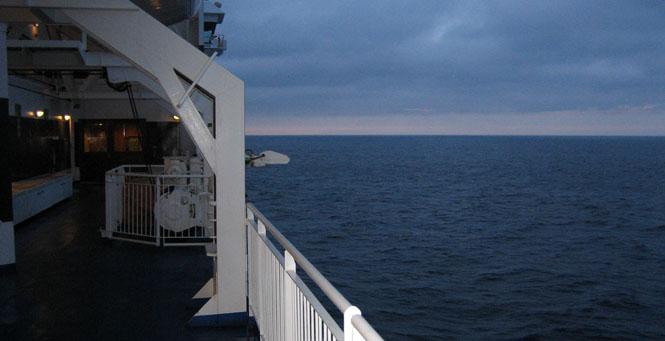 Tasmania
Arriving the next morning in Devonport.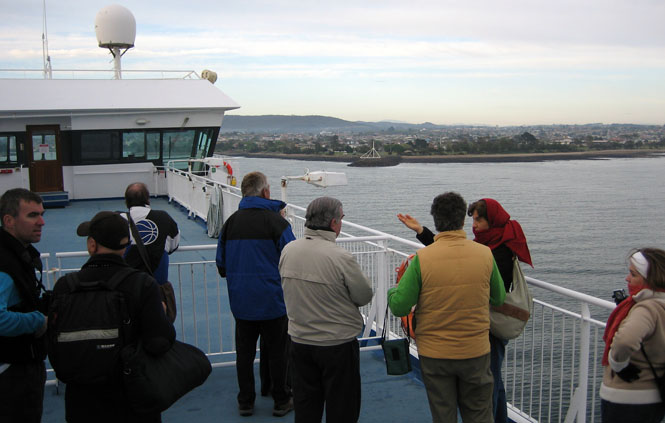 Stupid move #1 for this day:
After quite a few cars drove off the ferry, the few motorcycles in my group were directed to move off. For the most part, we were moving slow enough that only an occasional slight slipping of the clutch was needed to keep the speed up, along with paddling of your feet. For reasons that were not clear, just as I was turning towards the center exit ramp (and still following the other motorcycles), a ferry worker stepped in front of me and motioned me to stop. I applied the brakes, the front wheel slid out, and the bike and I both fell to the steel deck, with the Griso resting comfortably on my leg. After a moment, another worker helped lift the bike off me, and then both of us righted it. I don't know that the bike even touched the deck, and it was unscratched (as was my leg). That first worker did come up to me and apologize for stepping in front of me.
I needed fuel, and I needed breakfast, and I needed to figure out where I was going. Latrobe is not very far south of Devonport.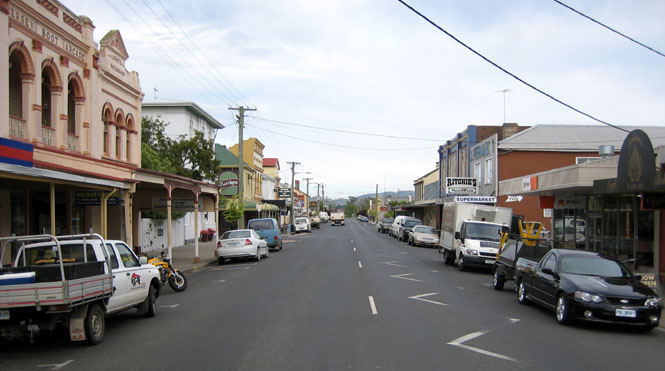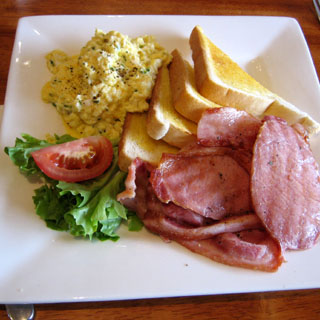 At Westbury, I turned south off the main highway and picked up a number of much narrower (but always paved) back roads.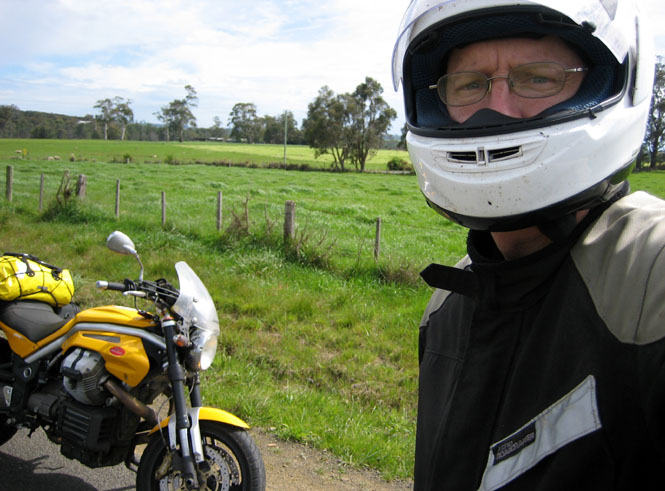 In general, I headed south and east along whatever road looked viable. I don't remember that I ever saw any other cars.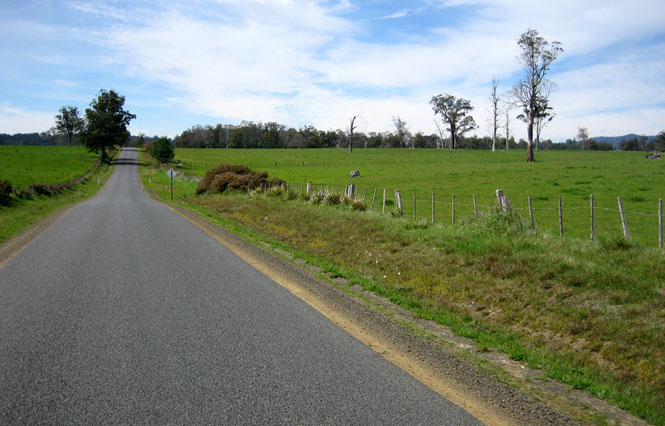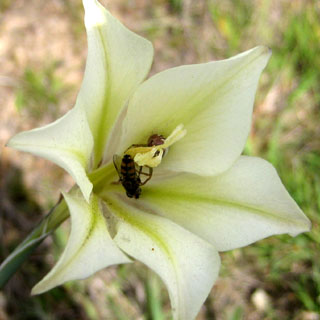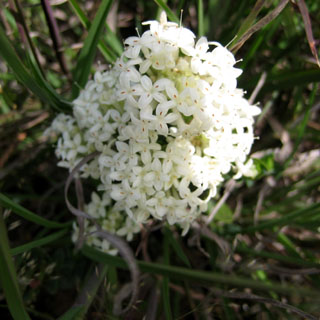 The town of Blackwood Creek was on the map, and it intrigued me that there even would be a town out here. It's not, anymore.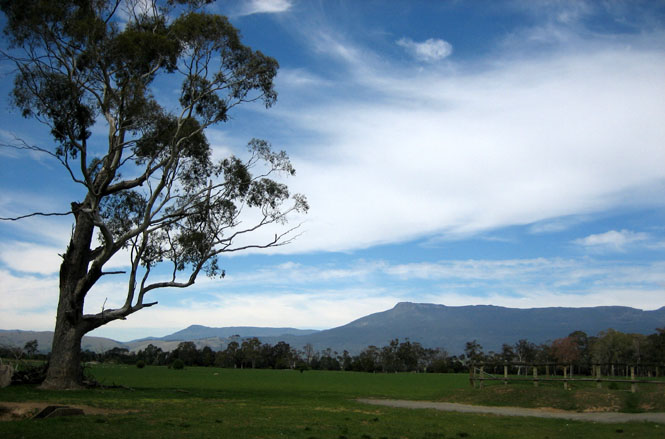 Stupid move #2 for this day:
Considering how I was selecting the roads, the GPS was useful to let me know just where I was. I would spot-check it each time I stopped to take a photograph, and doing so would also mark the location so that later on I would have a record of where I was (which helps when writing this sort of journal). I put the switched-on unit on the yellow bag, and walked down the road to take a photograph. Then, I returned to the bike and rode off. Only when I reached Campbell Town did I realize that I didn't have the GPS with me. I returned the 20 miles to the spot, riding slowly both ways, but never found it. If I had remembered that all my purchased map databases back home were also now useless (being licensed to this unit), I might have spent even more time looking.
Campbell Town. I was impressed by this stone church. In general, it seemed that Tasmania towns looked much more like 19th century English towns than the towns on the mainland. Of course, some of that might be related to the available building materials.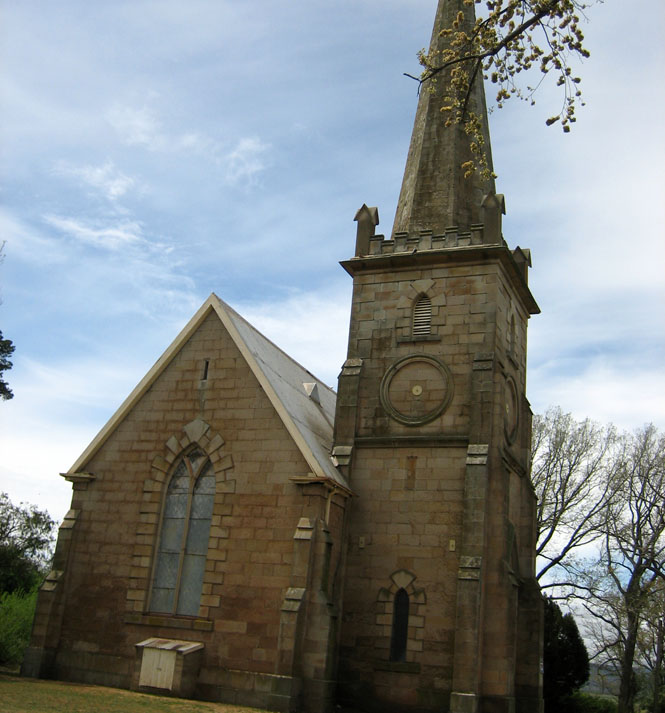 The narrow road from Campbell Town to Swansea was quite a good one. But, by the time I reached Swansea, it was raining hard enough that it seemed more sensible to just stay the night, and hope for better weather as I rode down the coast the next day.
Generally, I could count on being on the most exotic motorcycle wherever I parked, but in this case, that red MV Agusta over there may have trumped the Guzzi.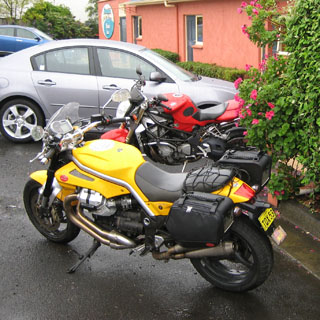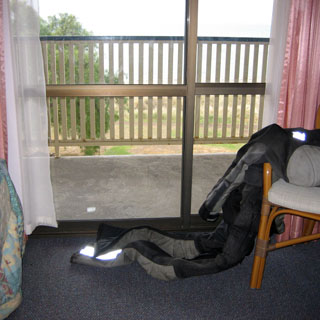 I certainly had a nice view from my hotel room deck.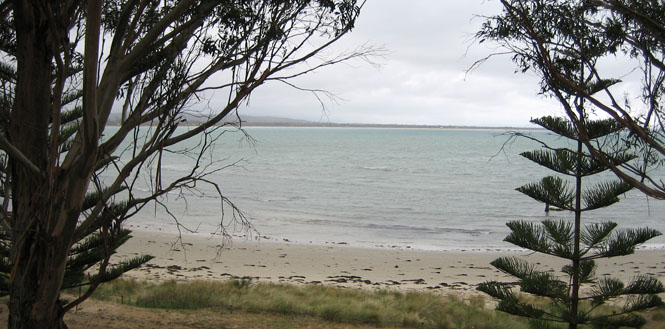 The highway through Swansea.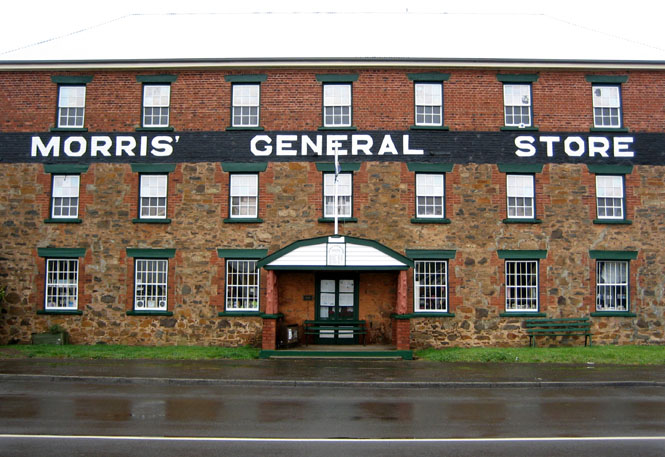 The Swansea elementary school.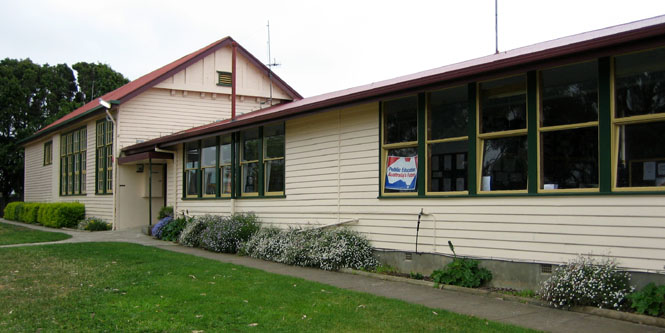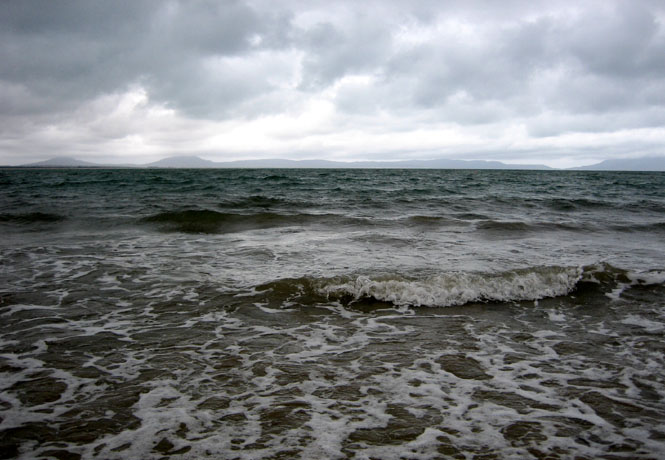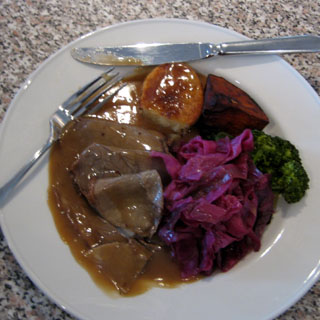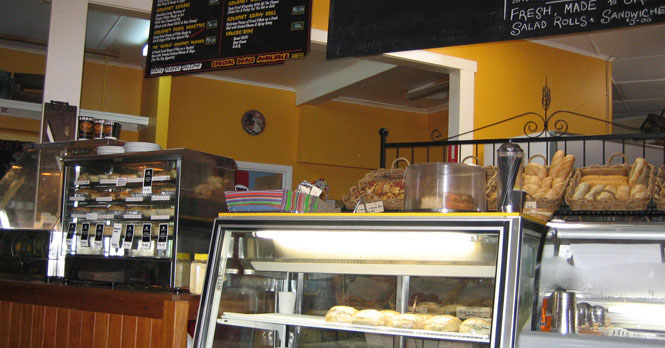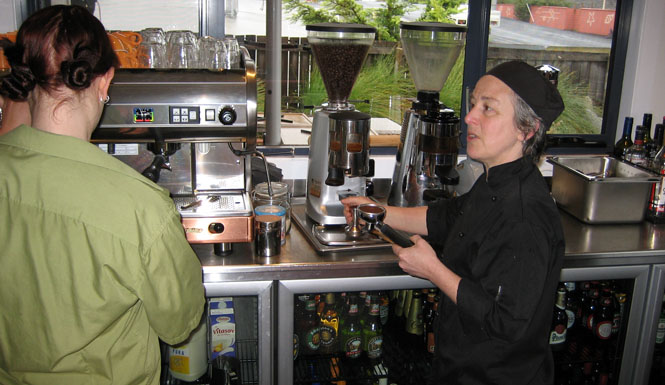 I'd seen several bowling greens, but hadn't seen anybody using them, yet.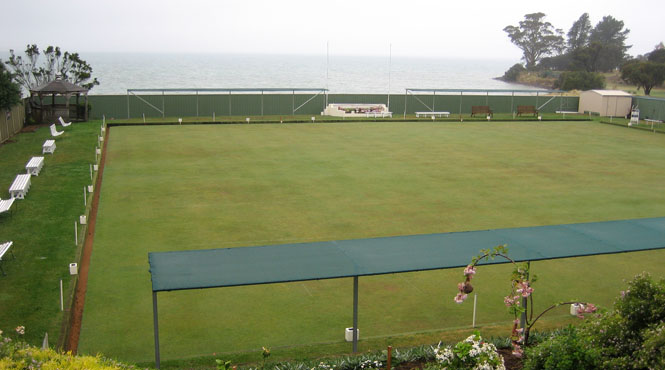 This worked well. While there was a gentle mist, the rain of the evening before was gone. This was quite a nice ride down the coast.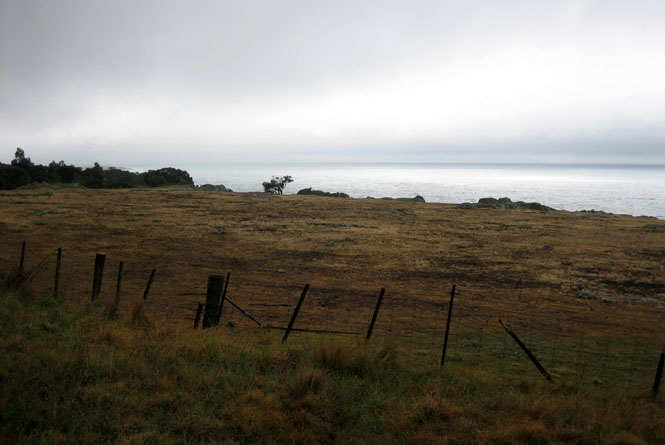 The "Spiky Bridge" was built by convict labor (as was just about everything else on this island). There is no explanation for the spikes above the railings of the bridge (which is no longer used).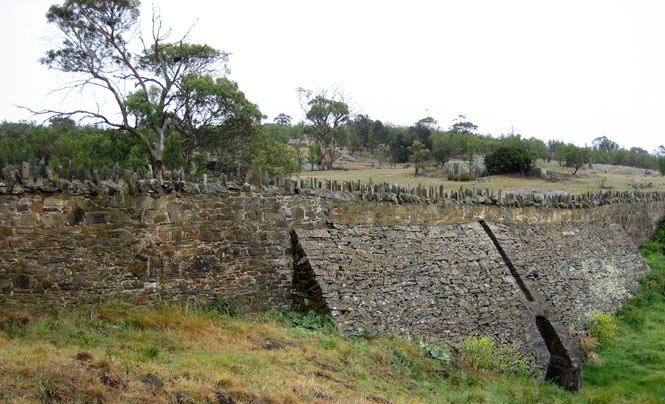 At Triabunna, I thought about catching a boat over to Maria Island, but the ferryman was ill that morning (I was offered his phone number in case I wanted to see how he was doing, and if he might be feeling better).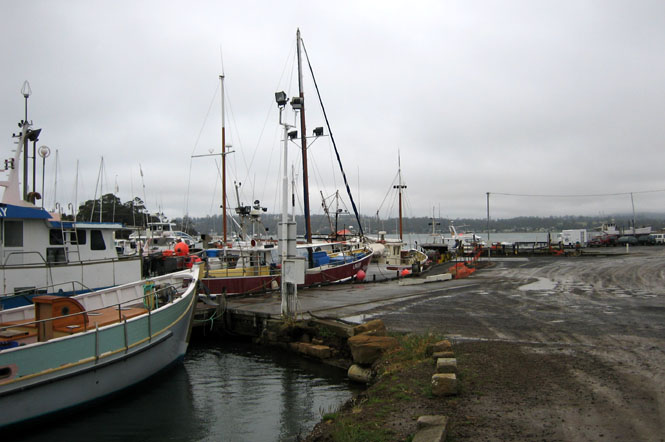 Devil's Kitchen. The shoreline of the Tasman Peninsula has eroded into numerous steep cliffs, canyons and blow holes. As I was standing on the wet rocks to take this photograph (below), I noticed evidence of waves that had been even higher than I was not many minutes earlier. It seemed prudent to climb to higher ground.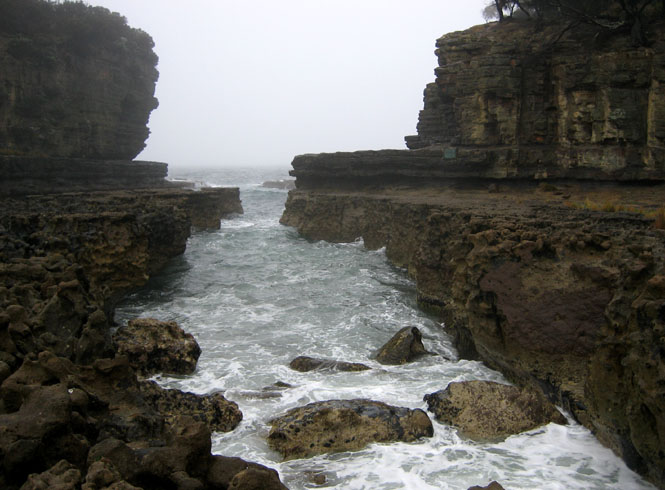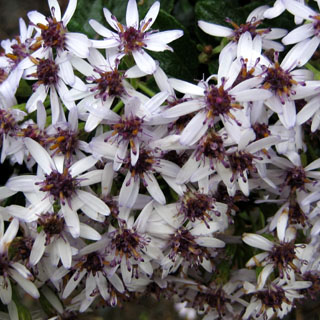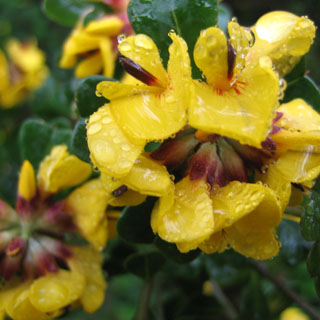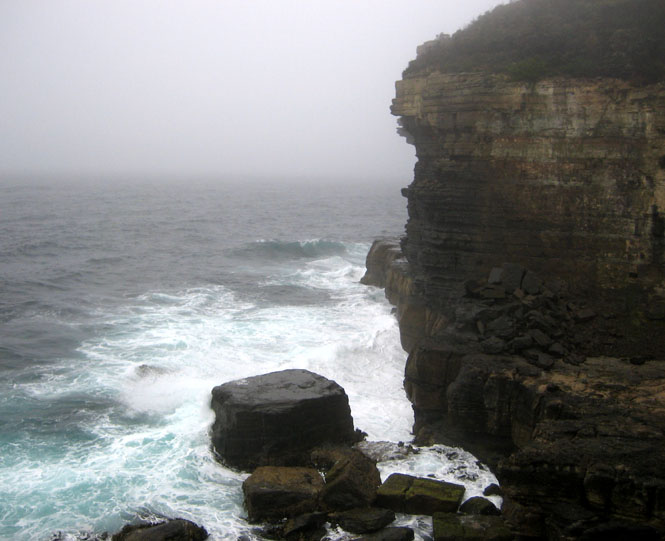 Tasman Arch. Eventually, the bridge will collapse into the ocean.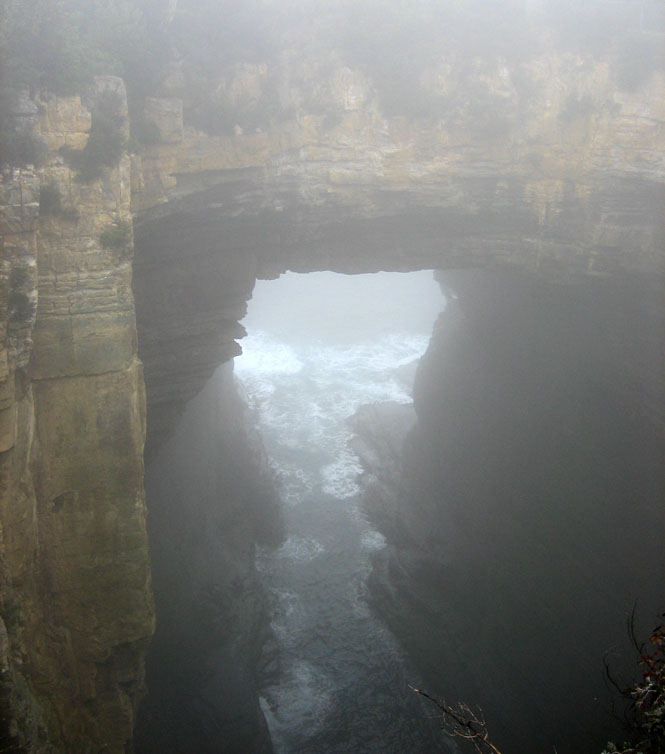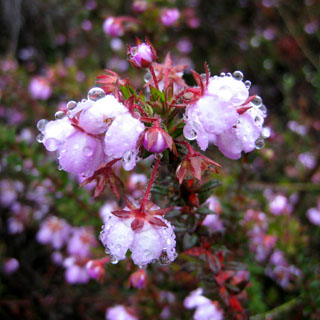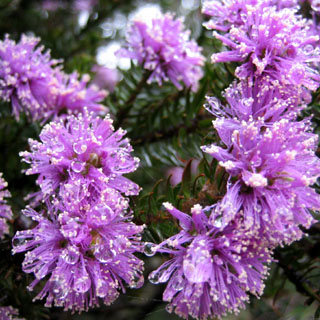 Not far from Port Arthur, I stopped at Taranra and the Tasmanian Devil Park. I'm not sure if this is a public supported thing, or if it's a private organization. In any case, they had a large area to show Tasmanian Devils as well as several other native animals.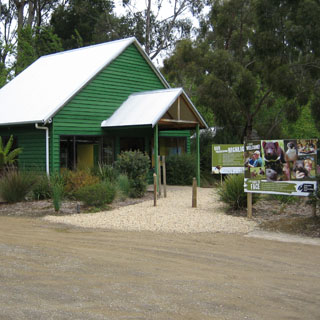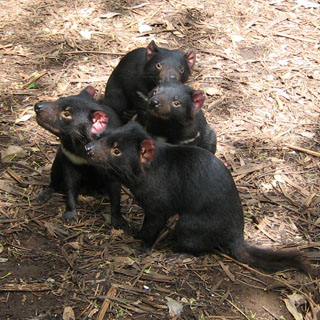 They look sort of sweet in this picture, but once the meat (kangaroo pieces) was tossed in, they became insane.
Just after they were given their food (and went tearing around chasing each other in order to steal the food out of their neighbor's mouth) I dropped my glasses over the wall. Lucky for me, the devils didn't notice, and the keeper jumped the wall to retrieve them. Otherwise, this would have been Stupid Move #3. These guys will eat (or try to eat) anything.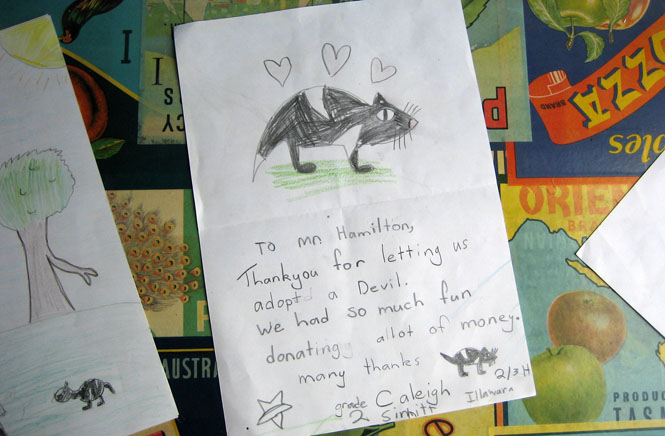 The kangaroos, on the other hand, were much more gentle and friendly-like. They had no concern for people walking right up to them to take a photograph. I liked the long-hair mountain kangaroos.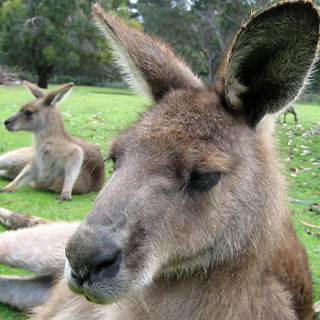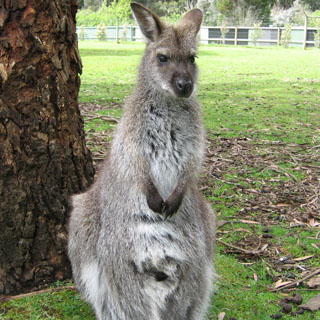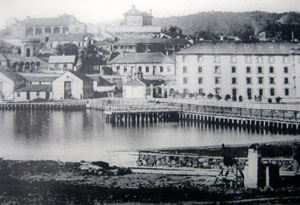 Port Arthur was the largest prison in Australia and was used from 1833 to 1877. It housed the worst of prisoners and was noteworthy for trying different approaches to reforming (or punishing) prisoners--the last one being absolute isolation, which had the (expected) effect of driving the prisoners insane.
Much of this main building was gutted through fire. It started as a flour mill (run by human powered mills), but eventually turned into a more conventional prison.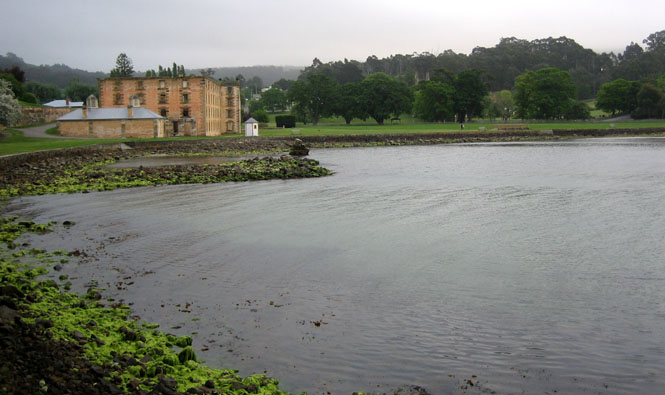 The entry ticket included this boat ride around the bay, including a circle around the Isle-of-the-Dead (where the prisoners were buried in unmarked graves).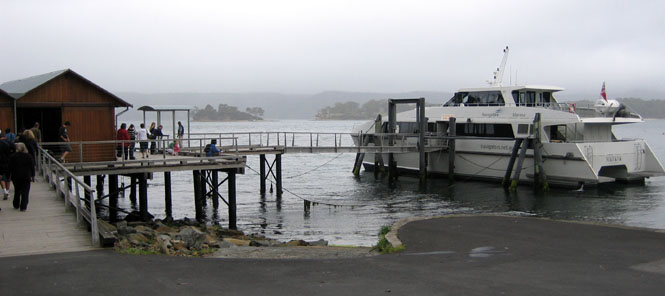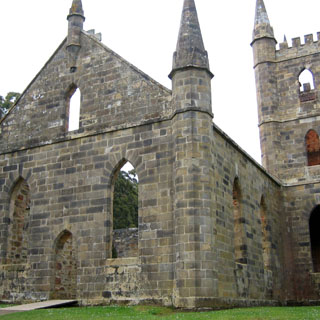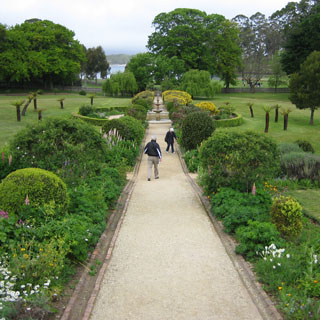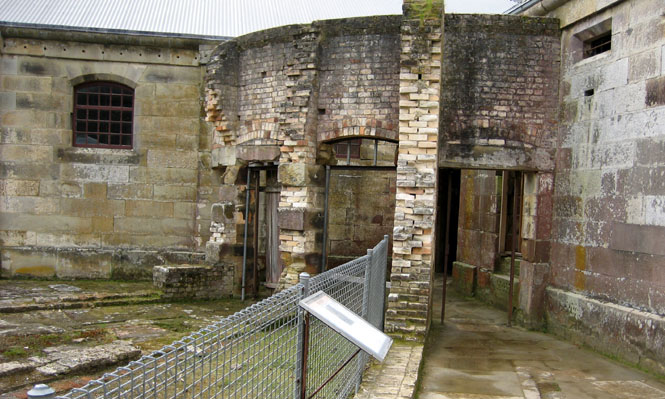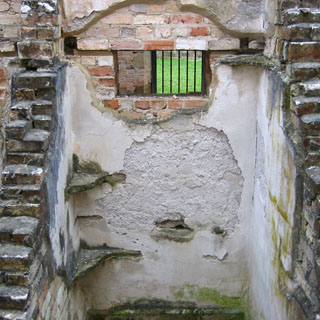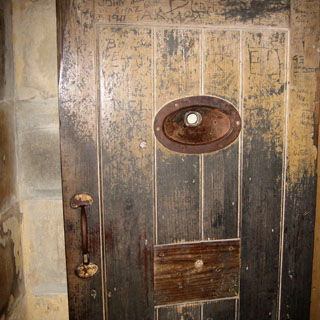 The stairs into the chapel.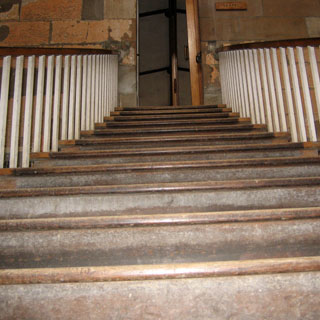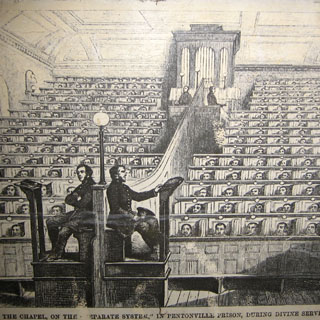 While standing in the chapel, the prisoners were isolated from their neighbors. Religious training was an important part of their week.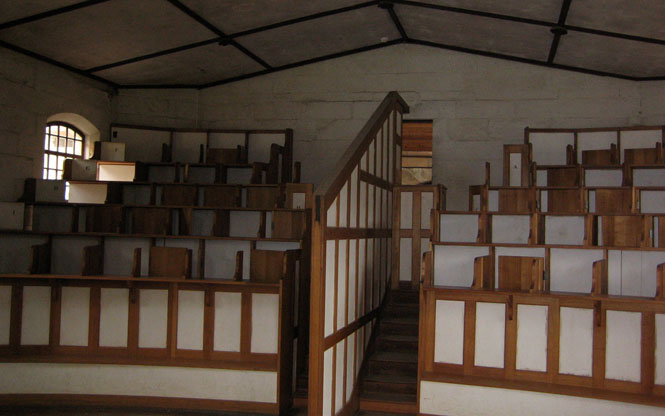 Canary Yellow and Black. By all accounts wearing this outfit was considered as exceptionally degrading.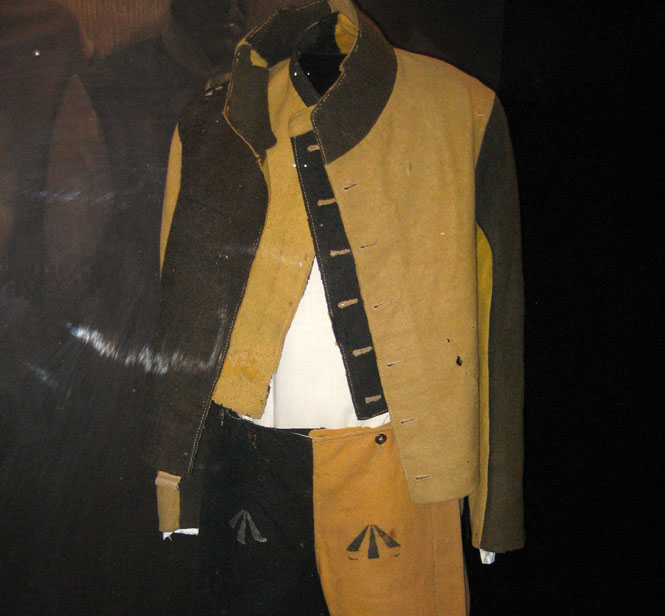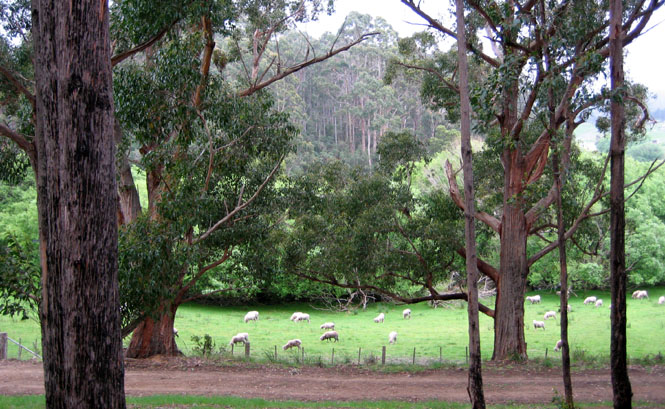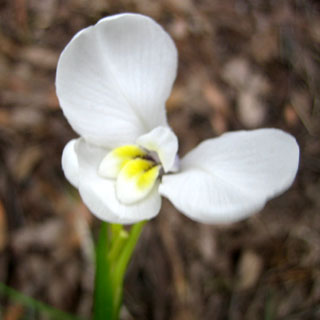 In 1999 a gunman killed 35 people at Port Arthur, many at this location (the site of the park restaurant). This reflecting pool is part of the memorial.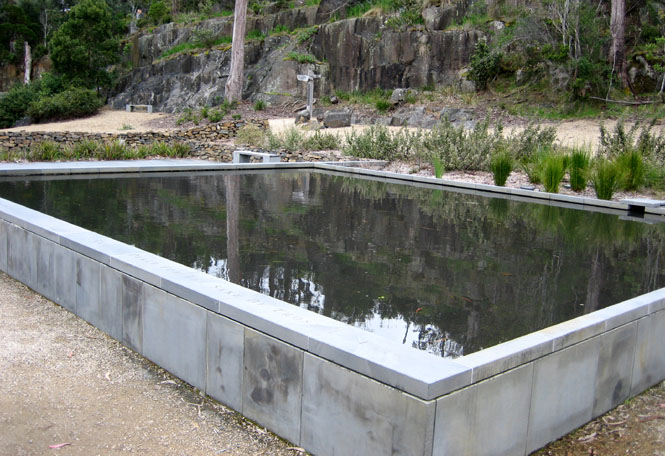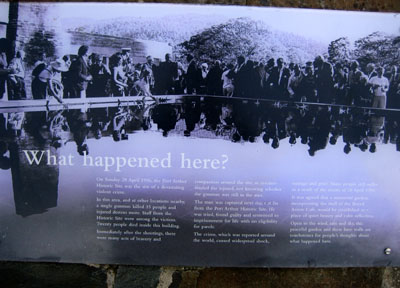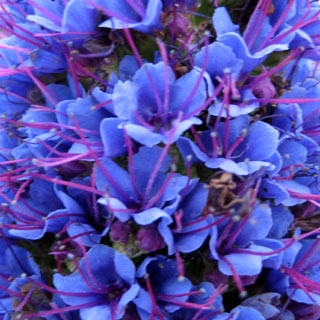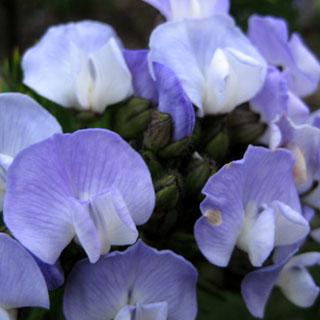 Interesting wall paintings.
I had quite a comfortable room, right on the park boundary.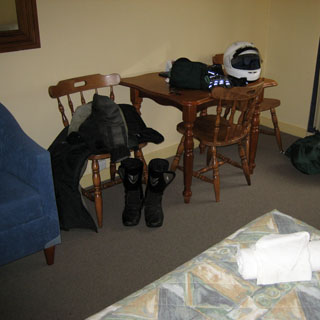 Eaglehawk Neck separates the peninsula from the main island. It's narrow enough, that you can imagine a large wave completely over-washing the neck (and the road).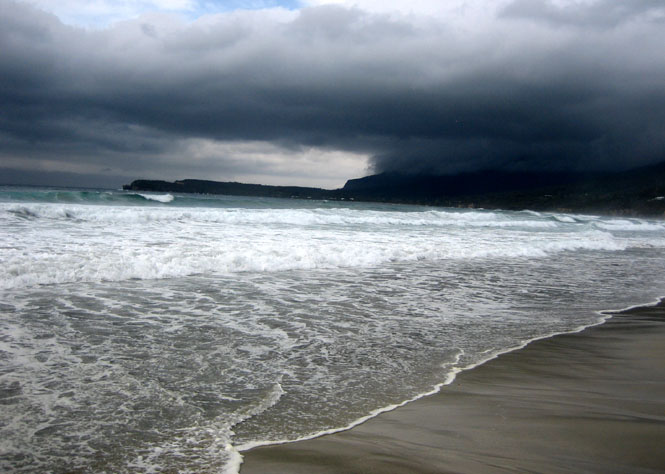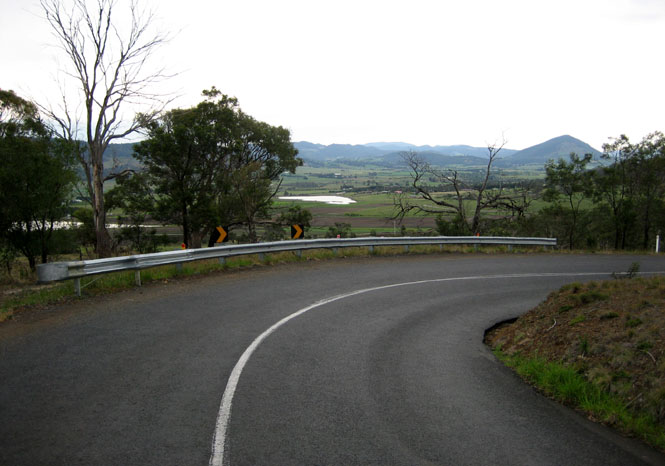 Richmond is not far north of the capital city, Hobart. I thought about going down there, but in the end, didn't.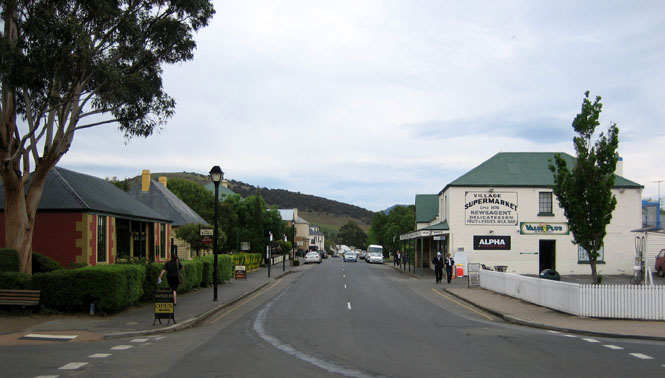 Another convict-built bridge. They did good work.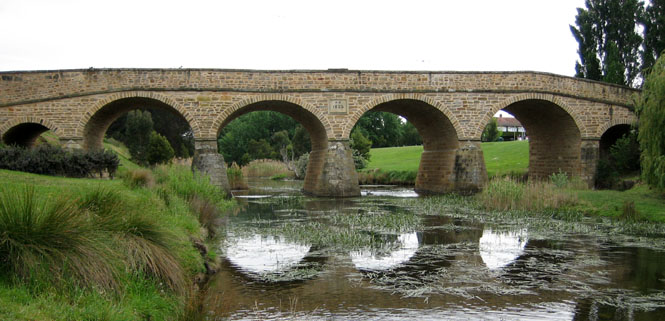 And, another prison from the days of the penal colony.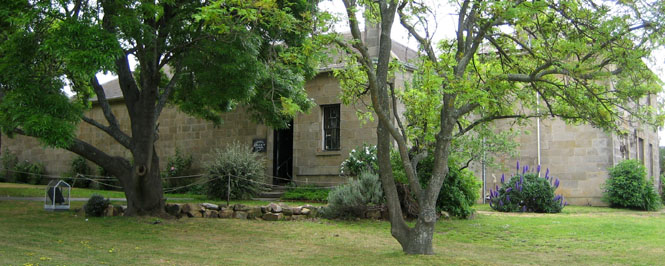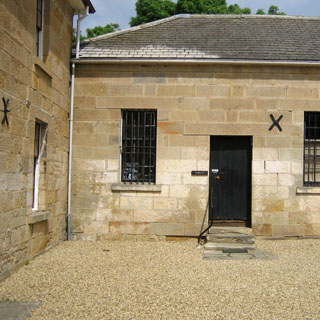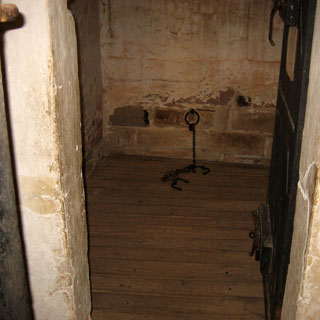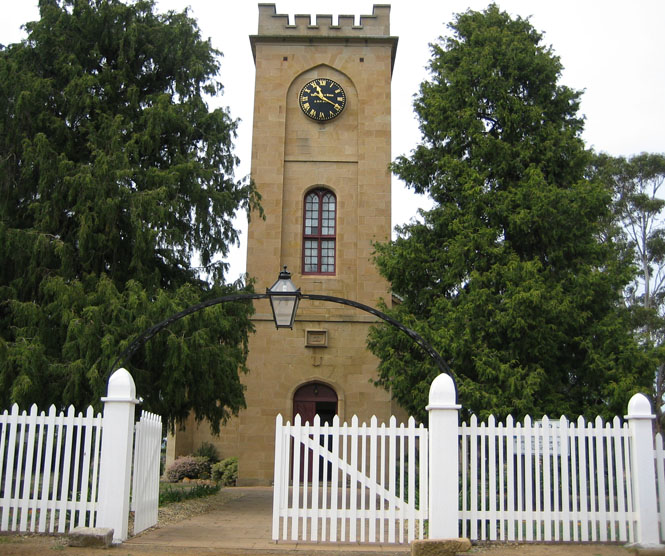 There seemed to be some sort of get-together of the local antique car and motorcycle club.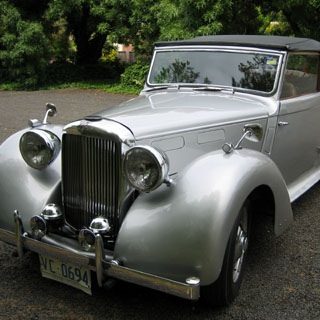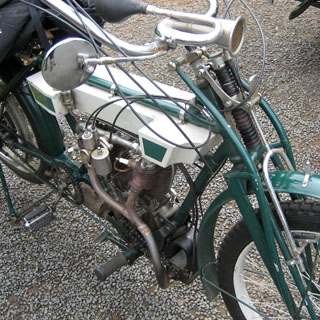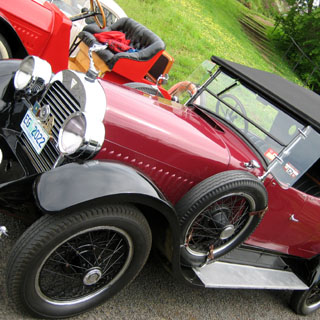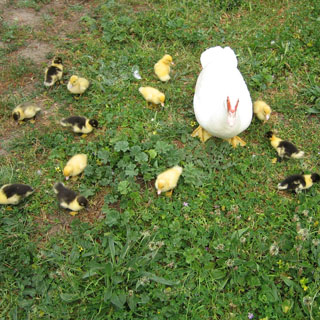 You just cannot beat a good bakery for an excellent lunch.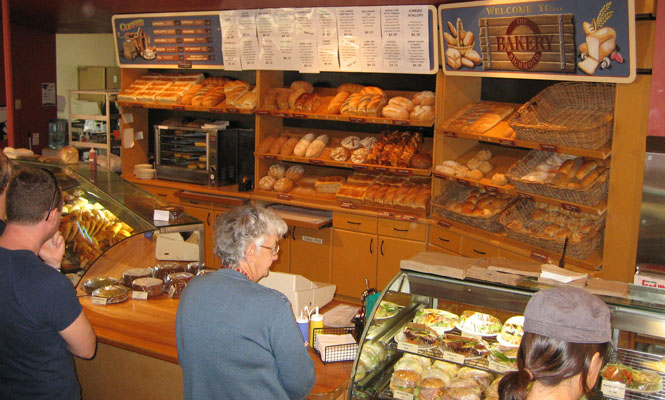 This ginger beer was great. It's nothing at all like the ginger ale commonly seen in the U.S.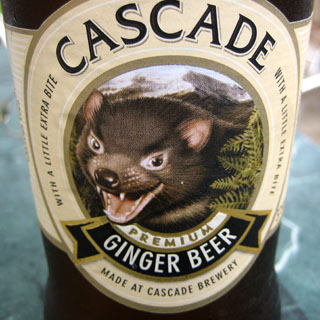 Melton Mowbray is on the cutoff road taking me into the center of Tasmania. I really liked this area.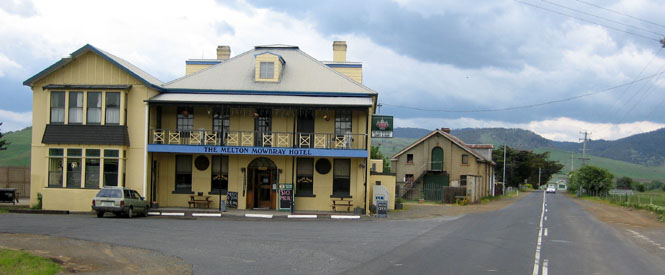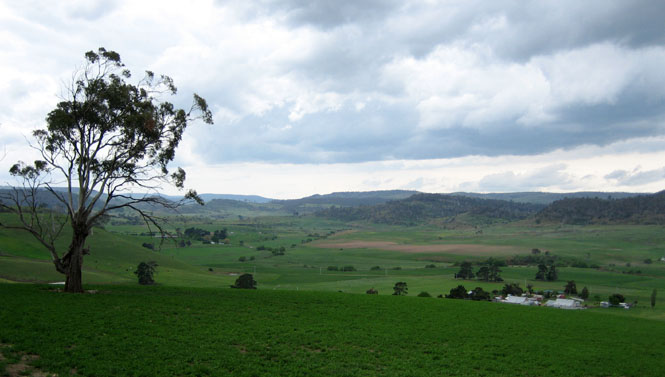 The Clyde River. No; we're not in Scotland. It just looks that way.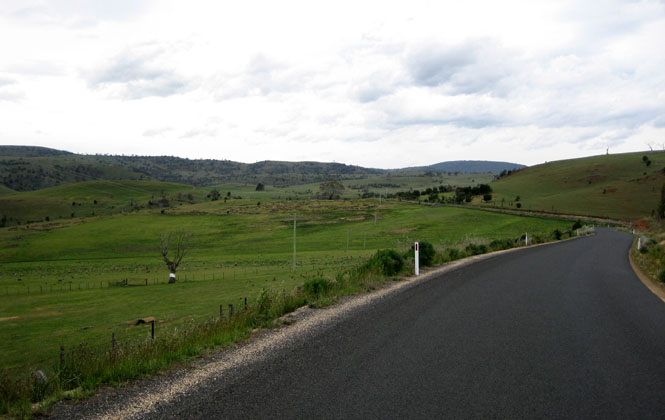 Hamilton is on the Lyell Highway, which I'd be taking across the island.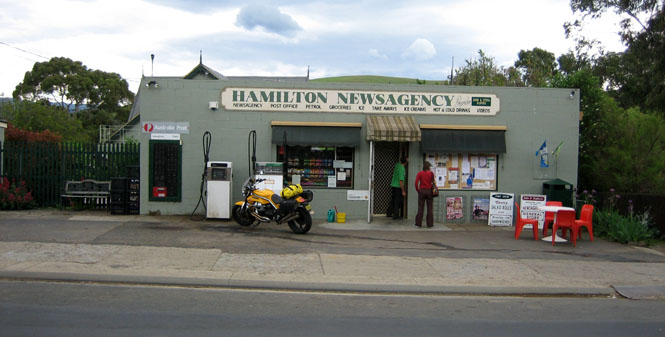 Tarraleah, and more of the same hydroelectric and water moving projects I saw in the Snowy Mountains.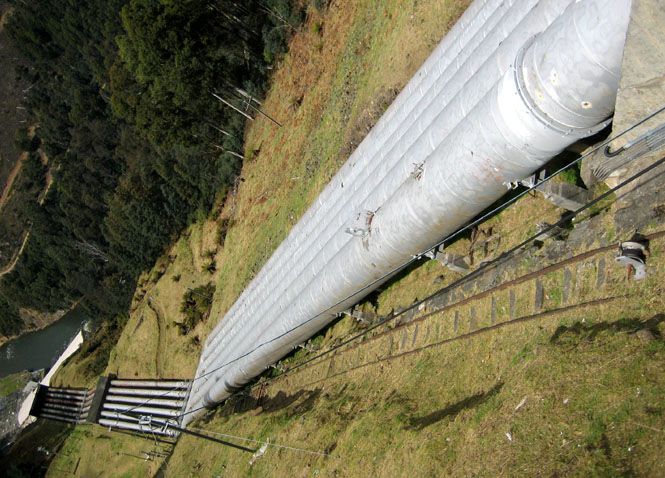 I saw these mobile telephone restrictions at several stations. Of course, there really is no risk of explosions from using them, but I suppose any rule that gets people to turn the things off can't be all bad (but now I notice that it doesn't say to turn them off--just not to use them).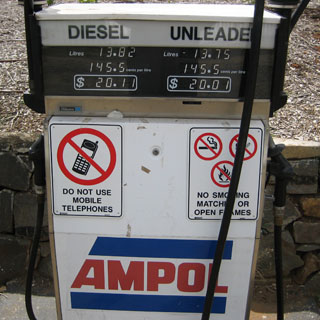 This might have been my favorite region to ride.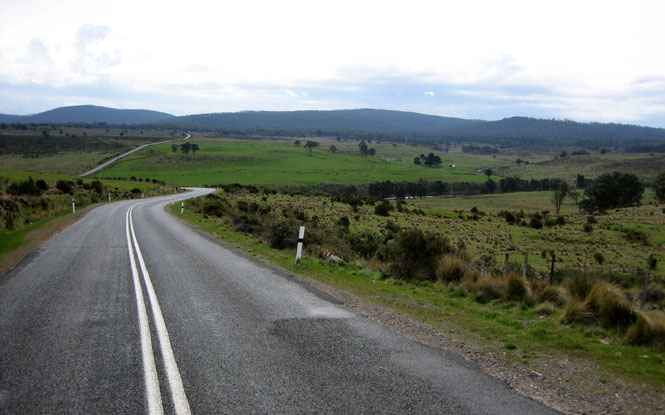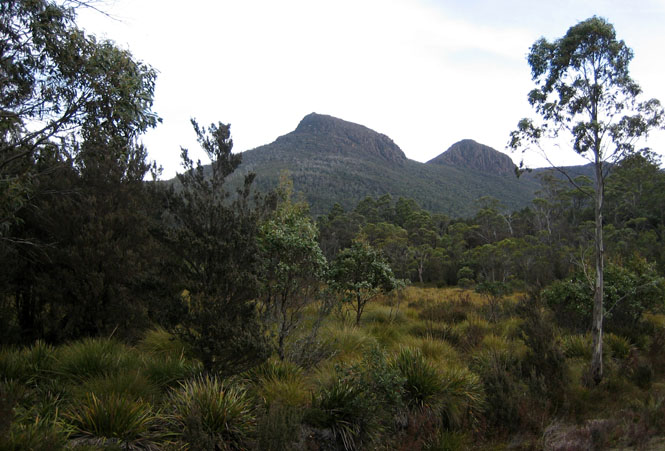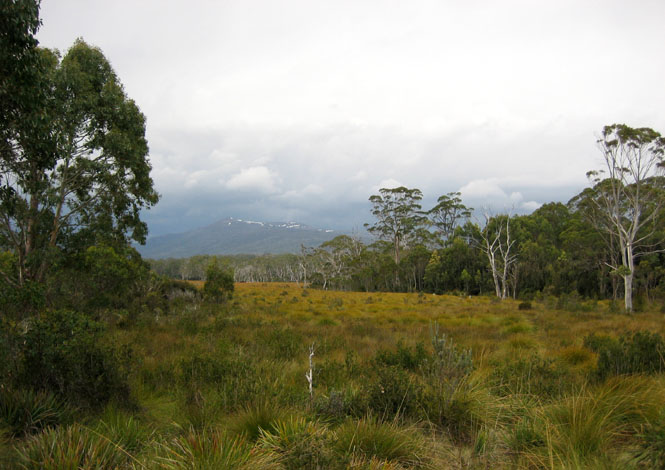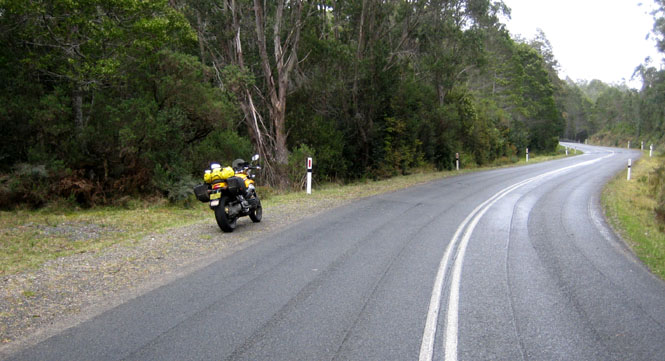 Dropping down to Queenstown.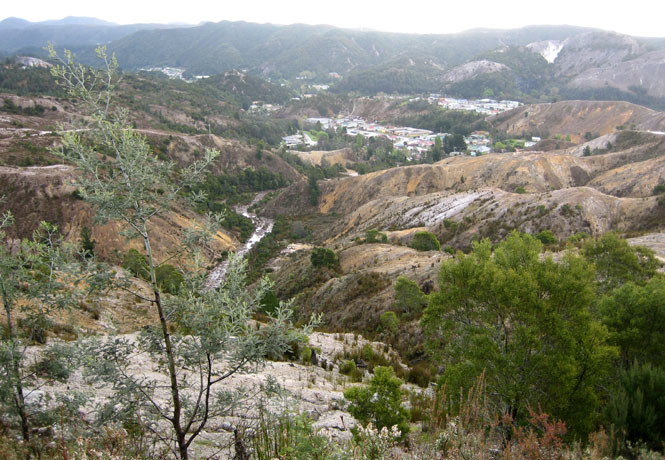 This road was crazy: steep, winding, sheer drops and wet. I took it easy.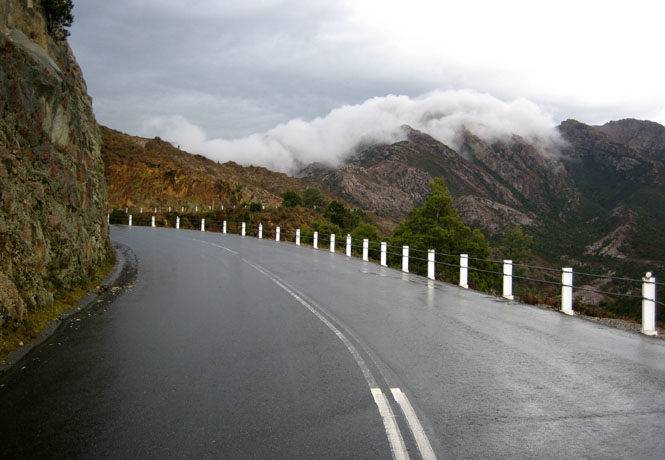 Queenstown is an old mining town.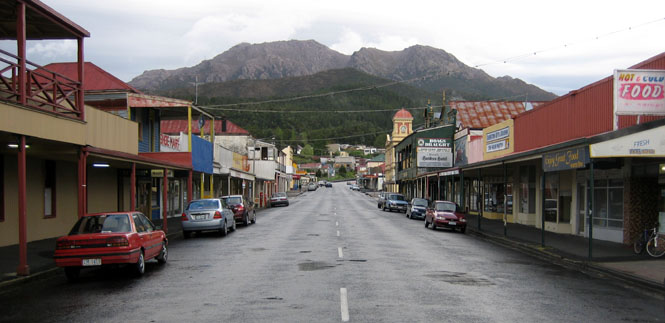 The little steam engine now pulls tourist trains.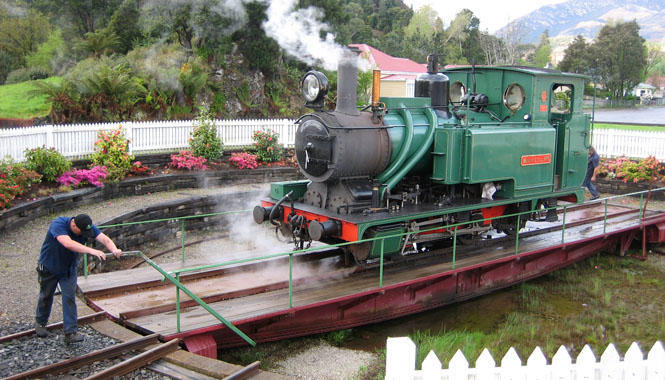 It's hard to say what's in the water, but I don't think I'd wash any clothes in it.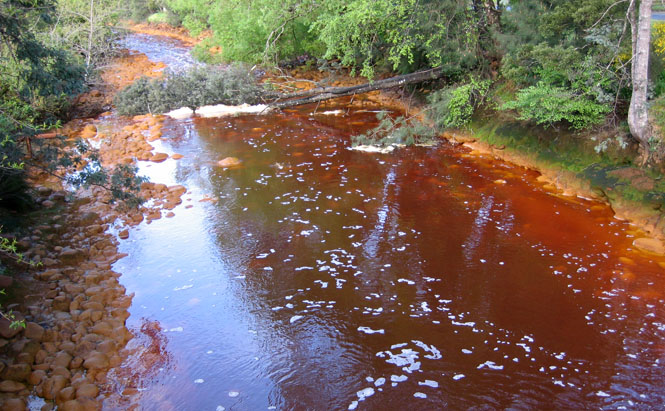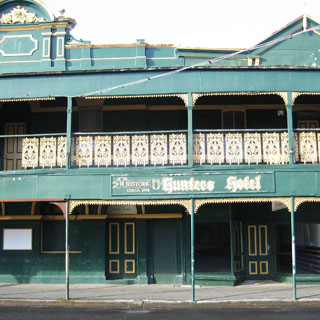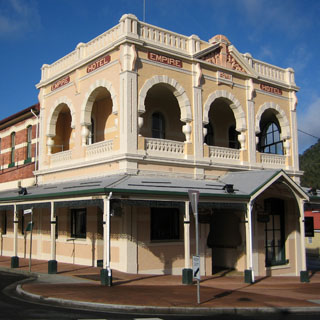 Strahan is on the coast and is at the end of a very winding road from Queenstown.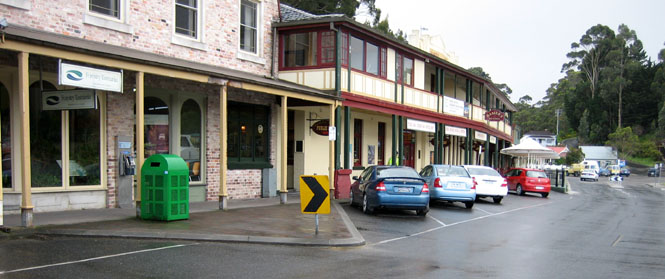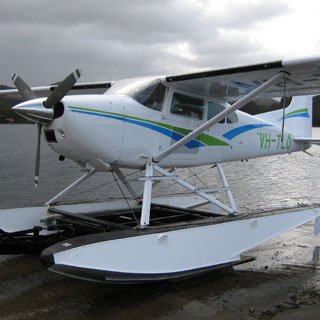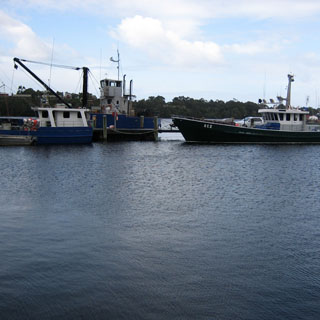 The skeleton of a Thylacine.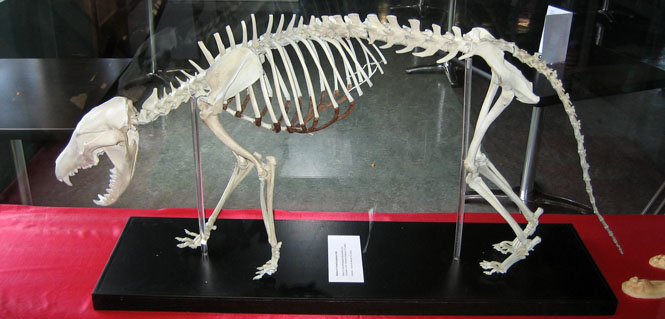 On the road to Zeehan. I asked this guy about the types of trees, and he rattled off their full Latin names as natural as anything.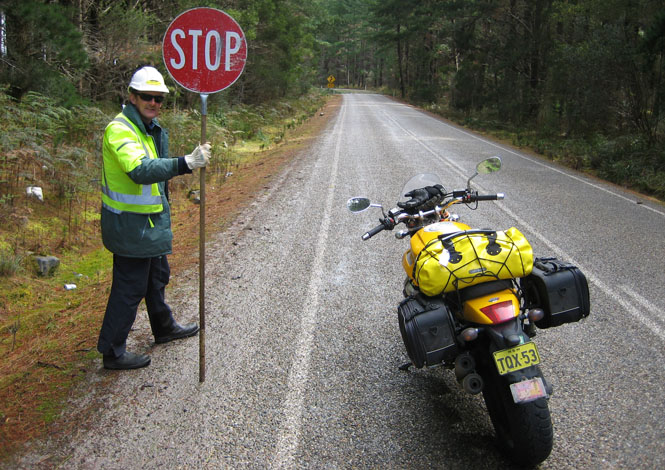 When I reached Rosebery, the rain was coming down heavily. It seemed a good place to stop for lunch. This never lasted more than half an hour.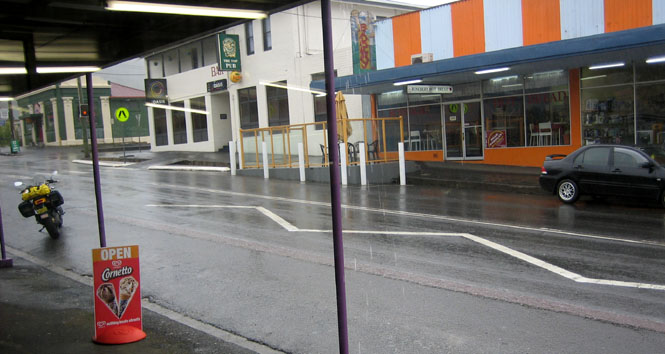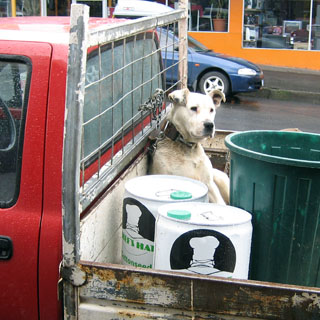 Riding towards the north coast.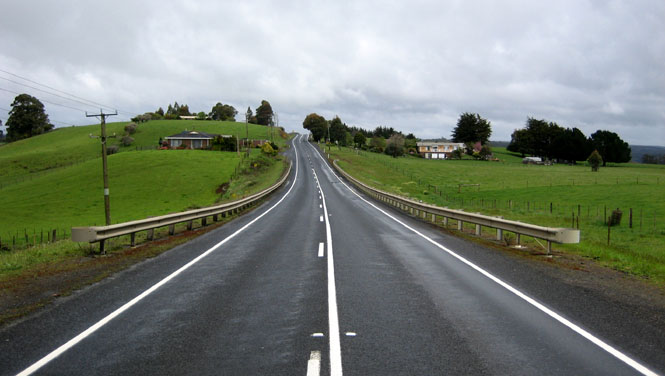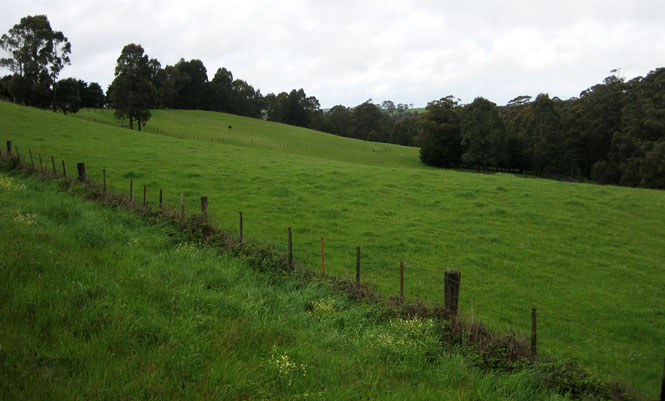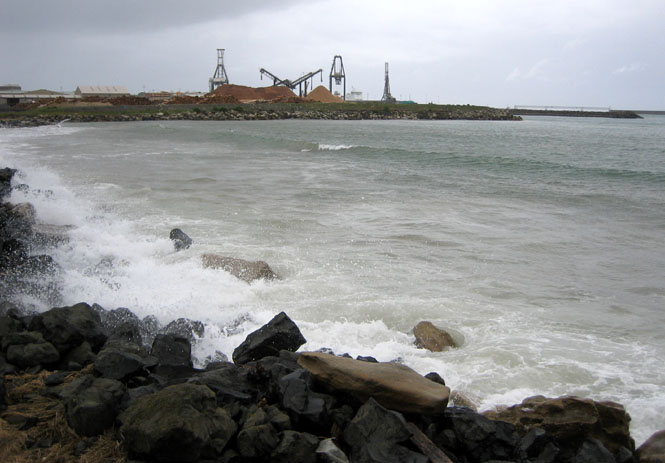 Penguin on the Bass Strait.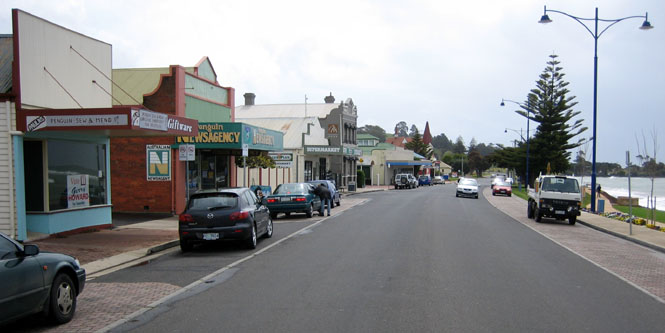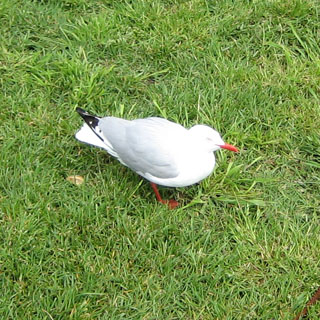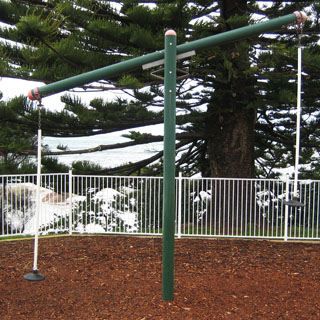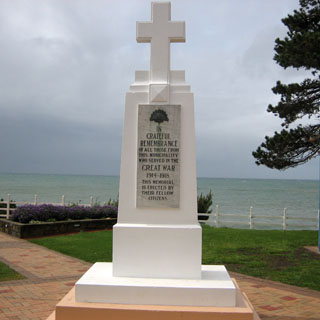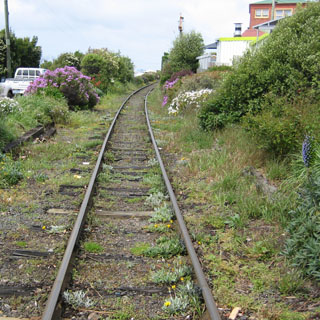 I admired the skill of all the postal carriers. Almost all that I saw were riding these Hondas. They went everywhere--over curbs, across lawns, and were as sure-footed with them as walking. I asked this guy if rain ever stopped him from his rounds, and he only laughed.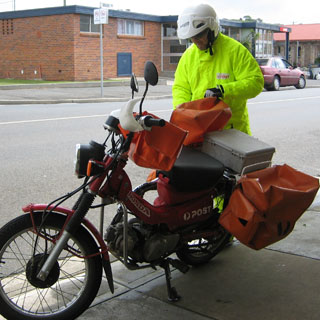 Back in Devonport, but this time I'd have time to look around.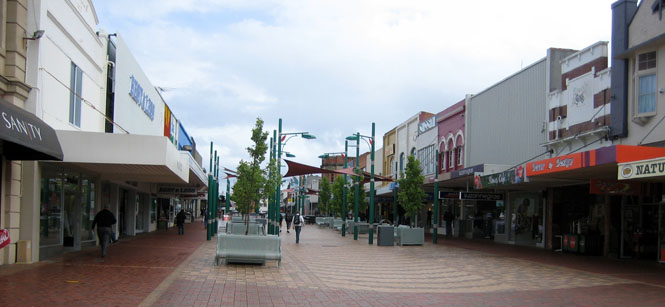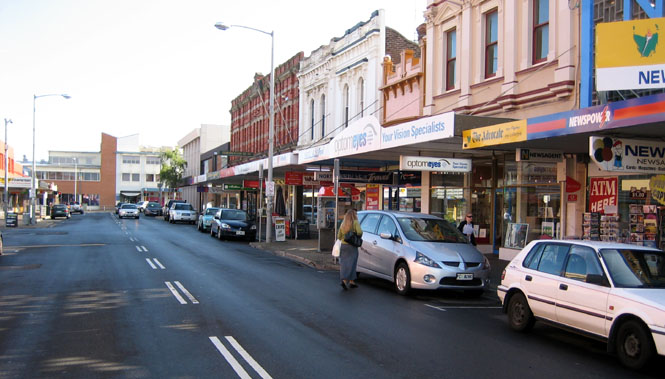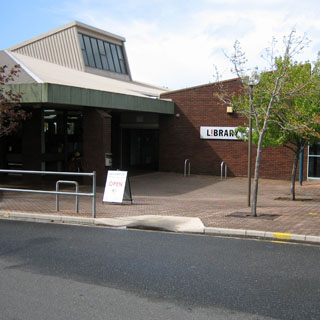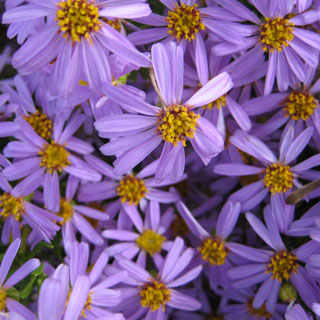 The view across the bay of the ferry. At this point, I'd already been over there to buy my ticket.
This beautifully restored Harley-Davidson was on a trailer, waiting to load on the ferry.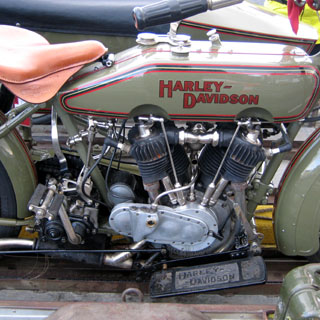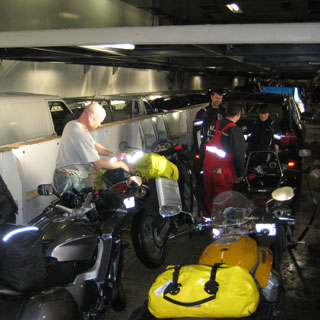 The group of motorcyclists just after we rode onto the ferry. And, no, that BMW rider doesn't also have a yellow bag; that's his yellow Aerostich jacket that he's packing away.
The view towards the front. The rooms with a porthole are on the left, and the inner rooms are on the right. The large state rooms are all the way forward, but I never got a chance to look into one.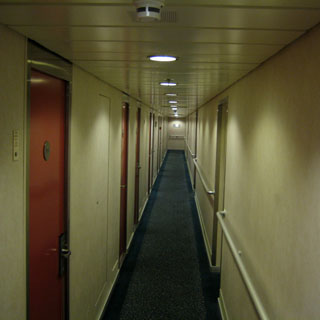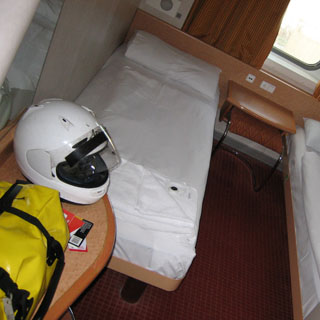 For this crossing, I booked a room all to myself. This room is no different than the one I had earlier, except that one had two bunk beds instead of these twins. I also remembered to bring the yellow bag with me, so I'd have a change of clothes for the next morning.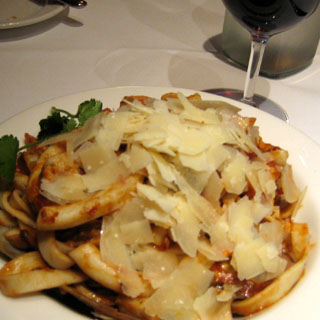 This crossing was much rougher than the first. At times the spray completely covered my porthole window, and on occasion there was a noticeable crash and shudder as we dropped into a large swell.
Victoria
On arriving at Melbourne, I was very, very careful when riding off the ferry. I vowed that if any ferryman asked me to stop, I was going to just coast without touching the brake. Anyway, nothing happened.
Geelong is on the far west end of Port Phillip Bay.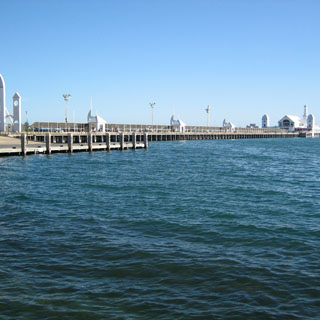 This used to be a major shipping point for wool products, and remains an important wool center. Wool is the largest export of Australia (perhaps not counting mining exports).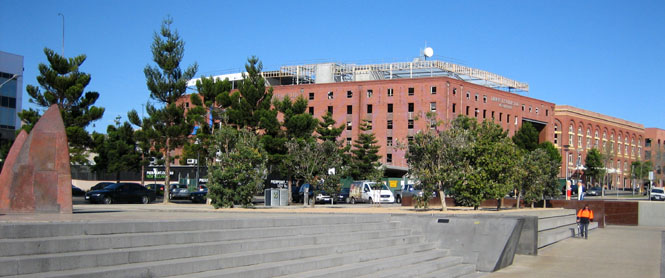 The National Wool Museum in Geelong was very well done.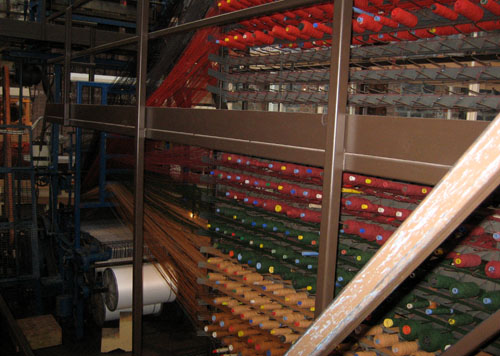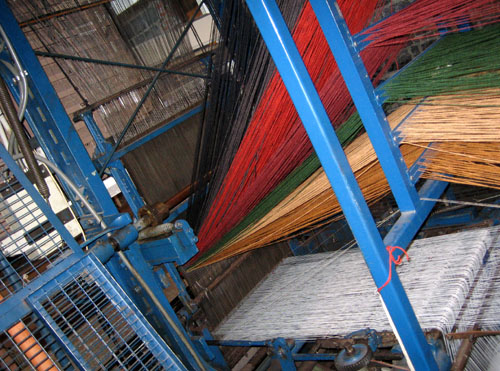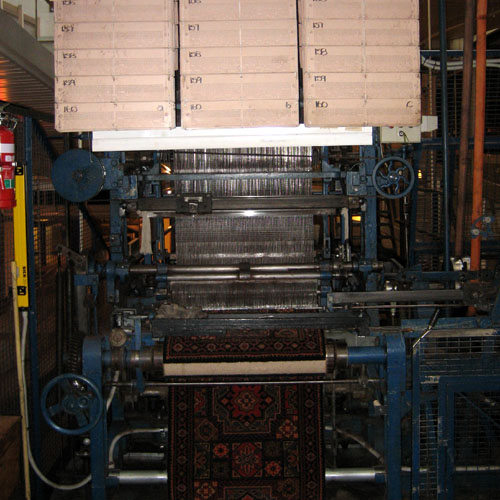 I had no idea the number of sheep breeds, and what they're used for.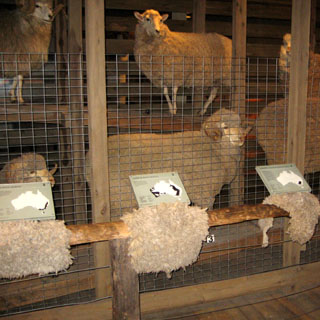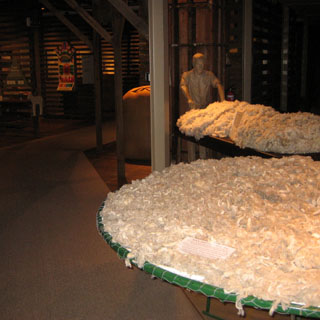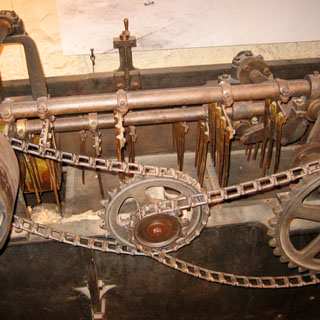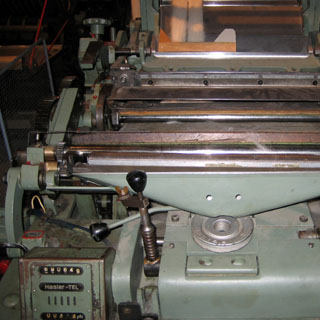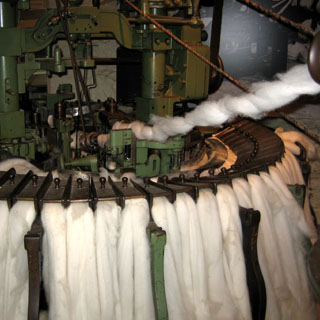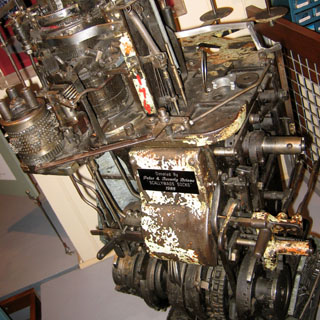 A machine to make socks (on the left).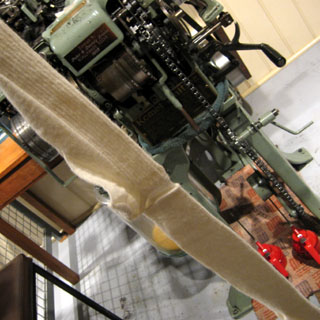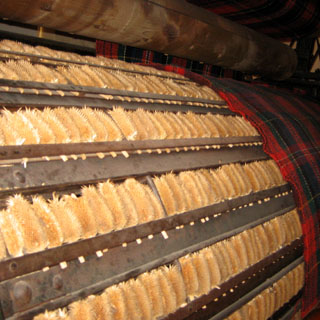 The Great Ocean Road is something that every guidebook said was a must. And, most everybody I talked with said that I had to take this road.
And it is a gorgeous road. Unfortunately, all those guidebooks, and all that advice, means that it can be a rather crowded road. And perhaps because I'd been practically alone on most of the roads I'd been on, I wasn't as thrilled with this one as I should have been.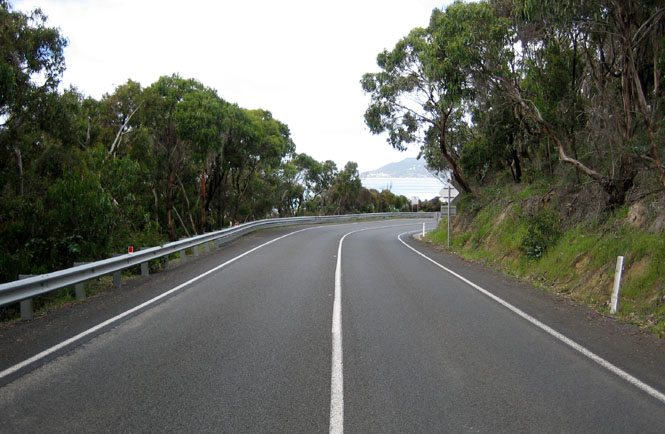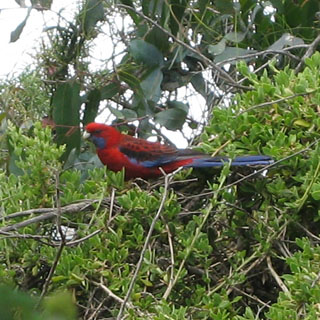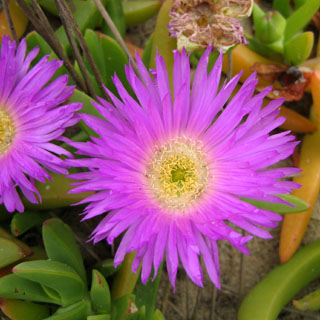 But, the views are stunning.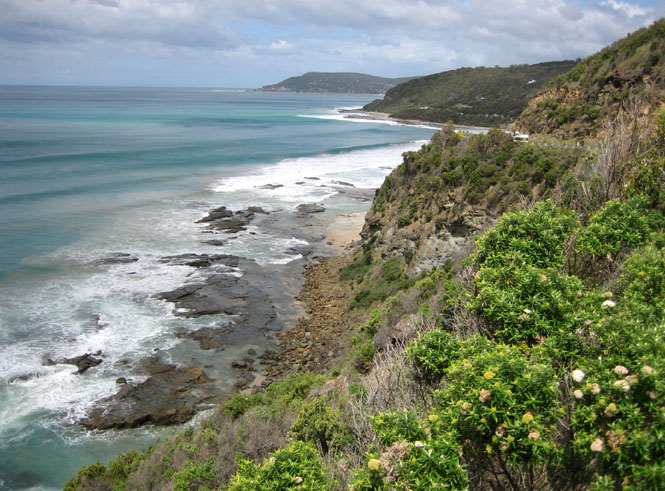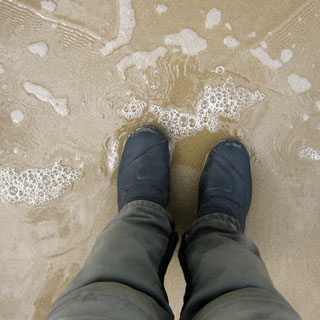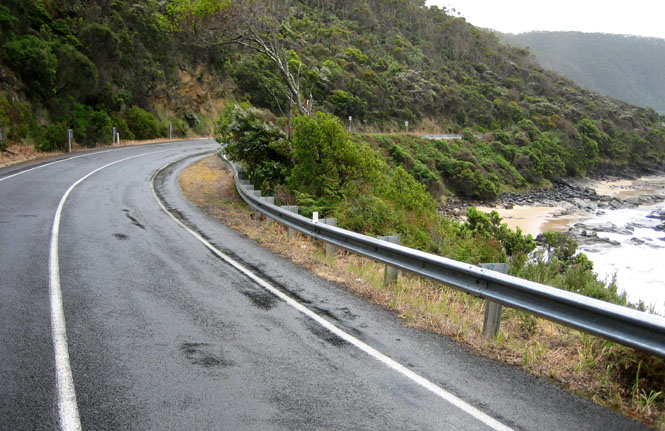 The Great Otway National Park was a high-point. This is an old-growth rainforest, and it worked out very well that it was actually raining when I walked through it.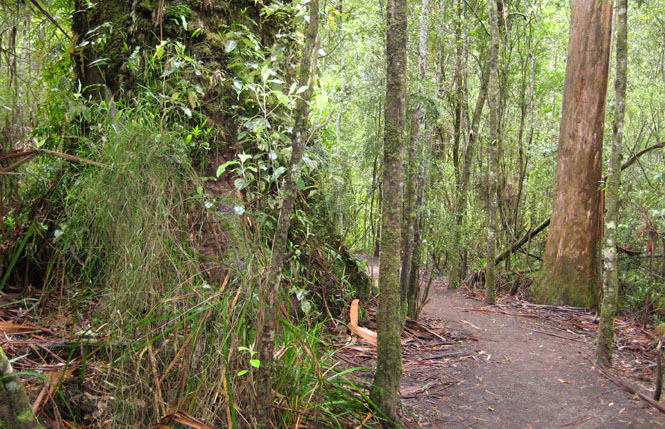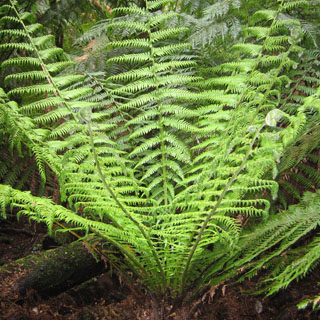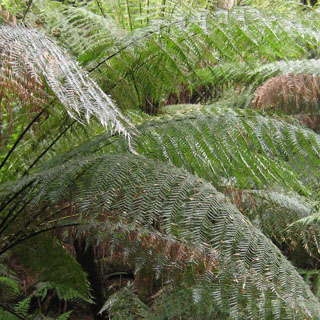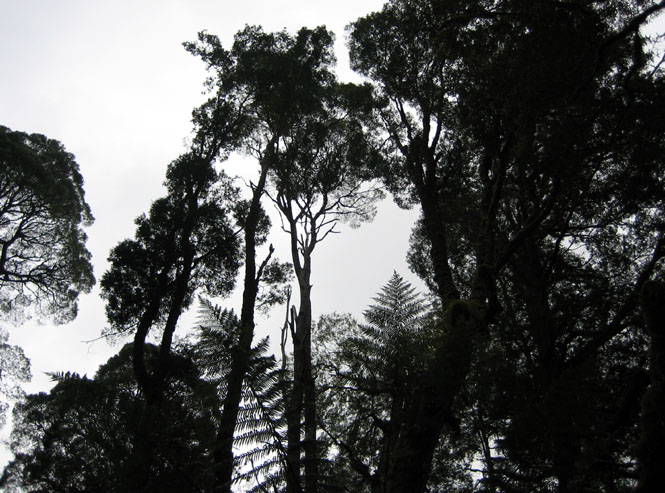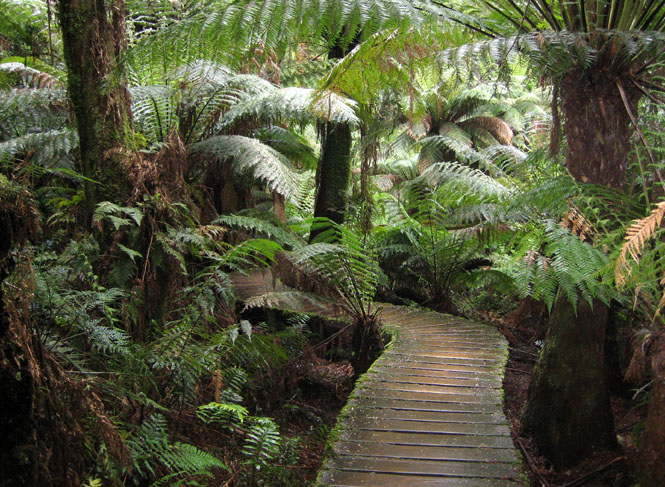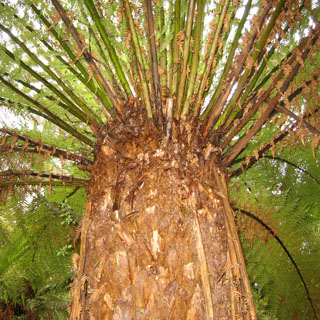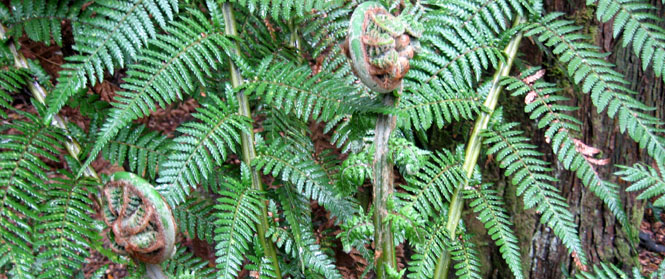 These trees may not be anywhere near as large as the coastal redwoods, but they still give you that feeling of awe that you get from those largest trees.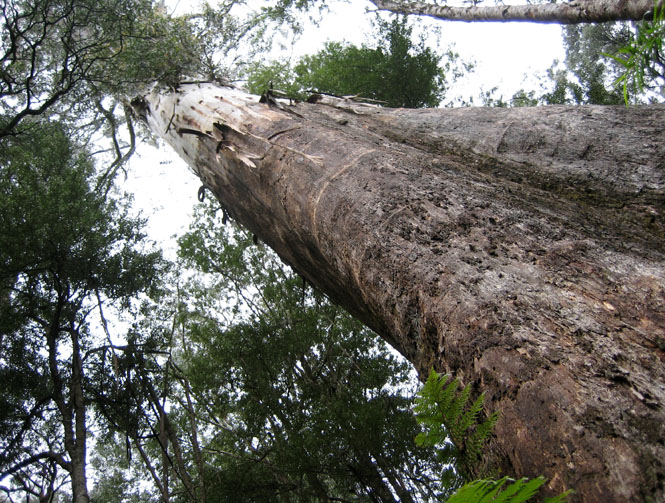 A view looking up at the sky.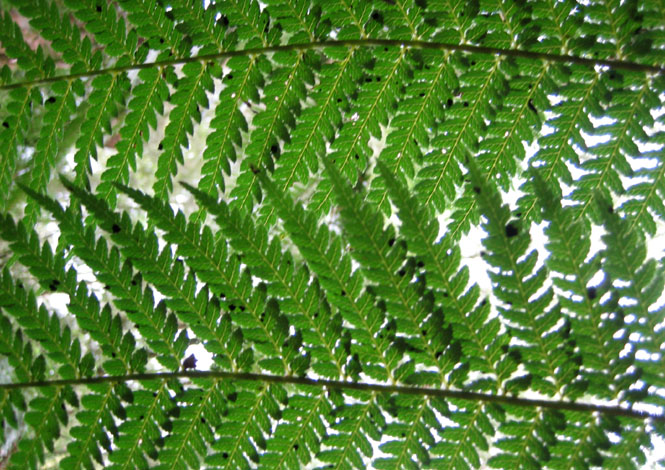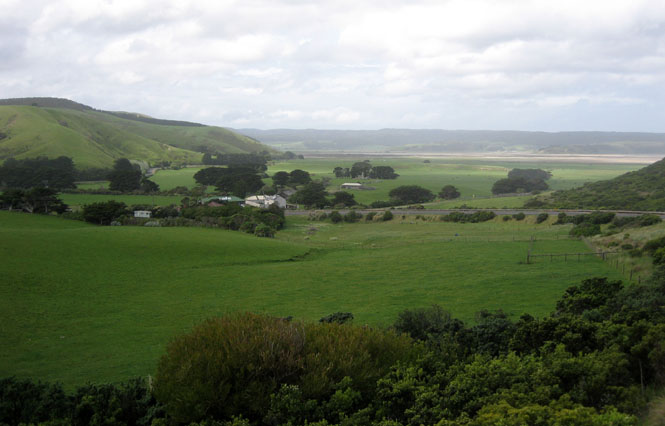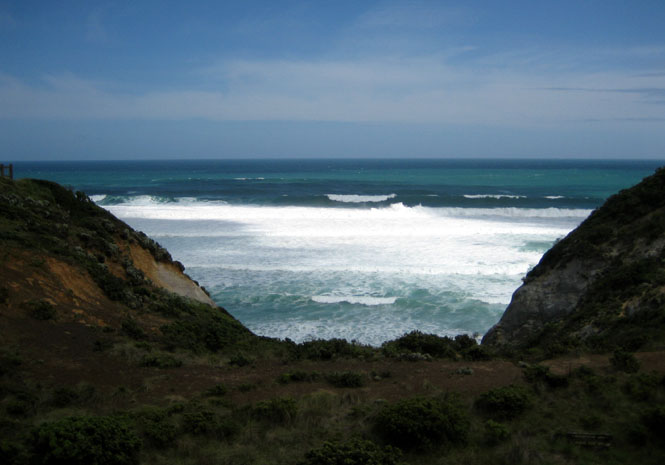 Princetown isn't much larger than you see. There's another store behind me, but that's it. But, they do sell gasoline.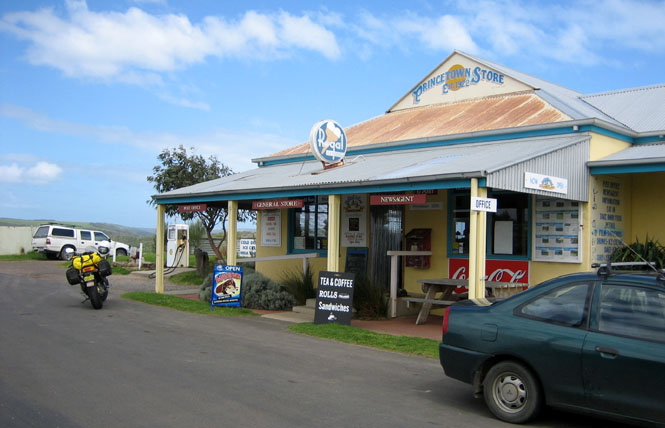 The view towards the ocean from behind the store.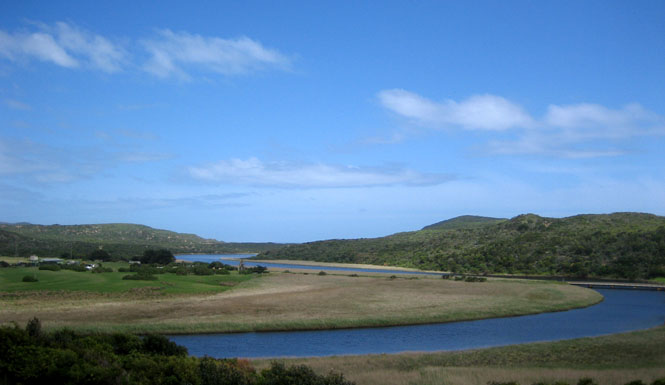 This little guy was the greeter at the Princetown store. He asked for just a bit of my sandwich.

The Twelve Apostles.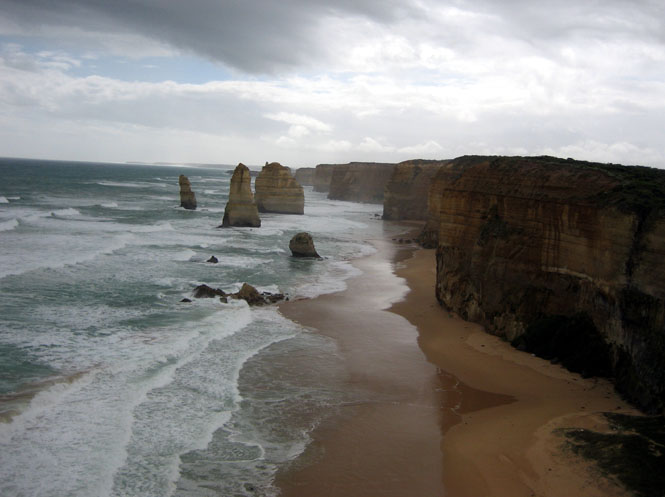 Warrnambool is at the west end of the Great Ocean Road.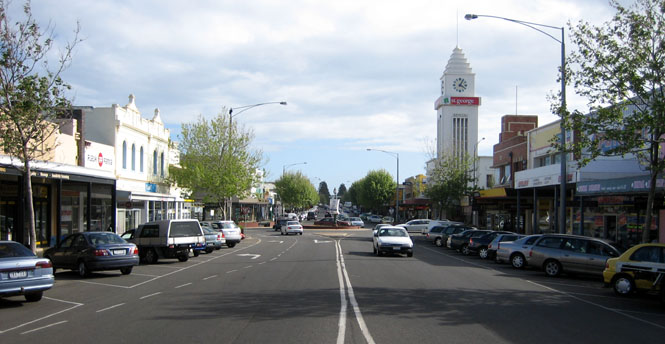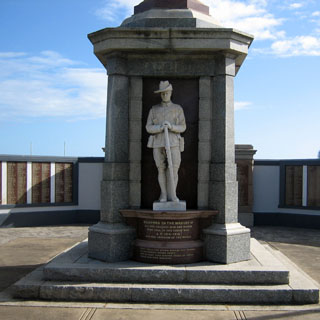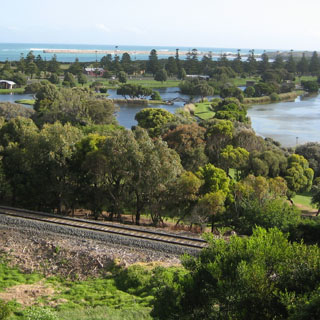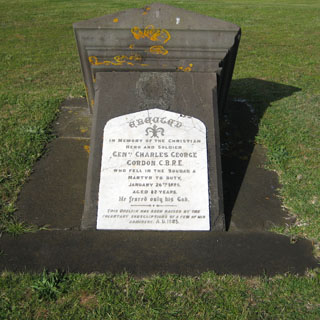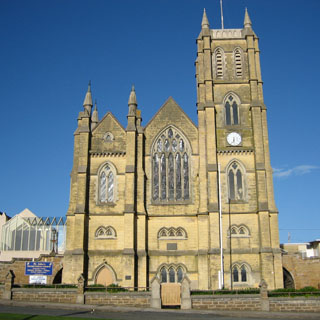 Heading north from Warrnambool, I'd be leaving the mountains (mostly) and ocean behind.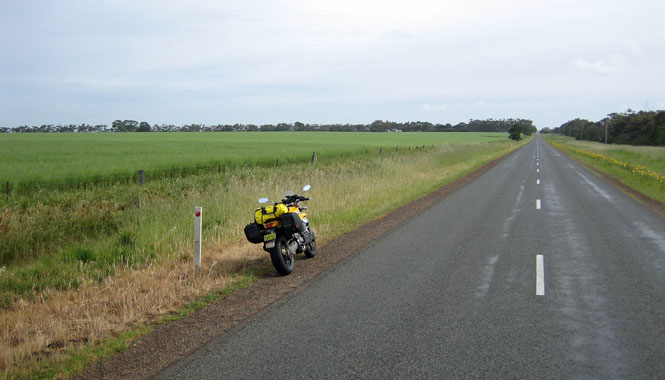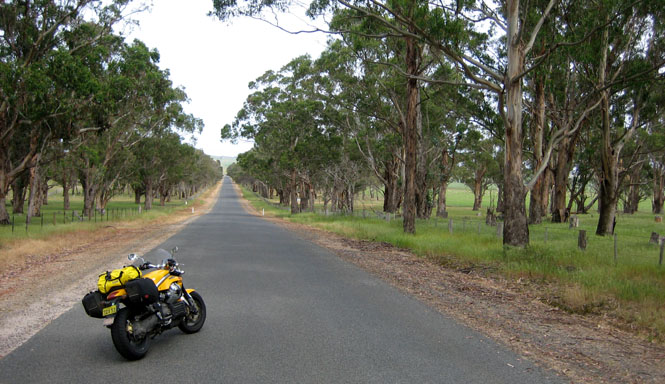 Those are the Grampians in the distance--that's where I'm heading. I was taking any road that headed in that direction and seemed to be paved. This road qualified on both counts, but not by much.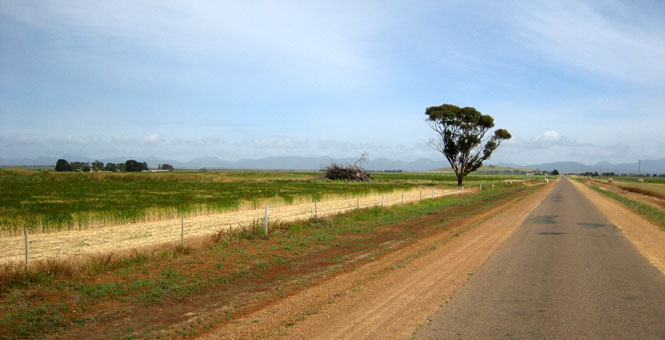 A flock of white birds (looking like cockatoos) decided to fly right across my path about four feet off the ground (teenagers, likely). They all did fine except for the last one, and he left his mark on the brake lever and grip.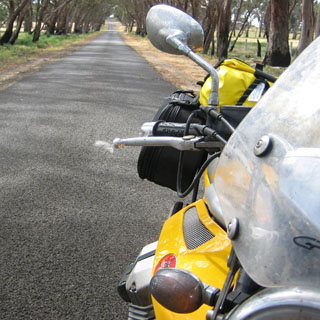 Grampians National Park. It's not much of an entrance, but I don't think I'm entering by the usual way.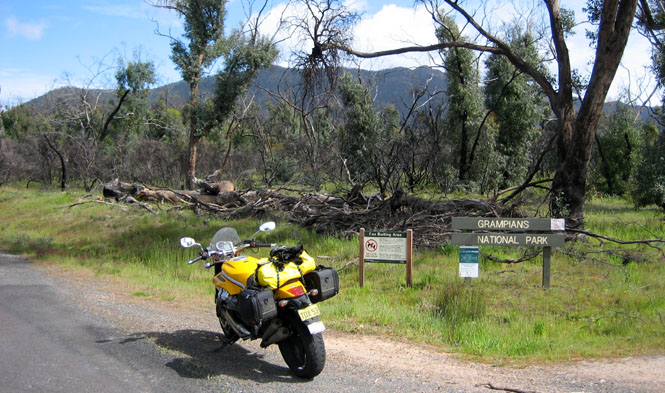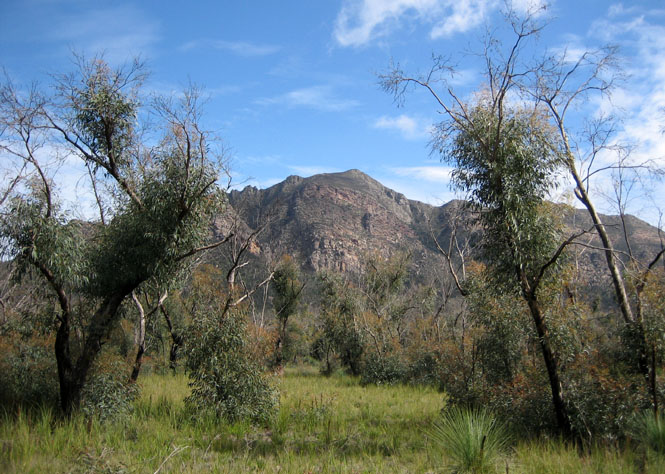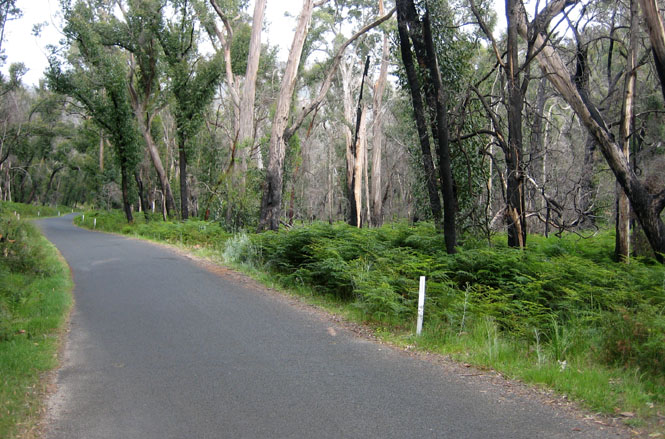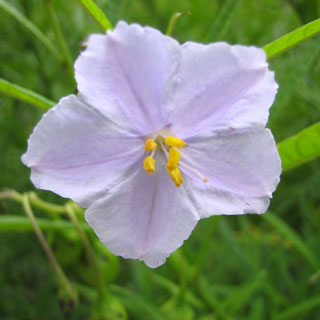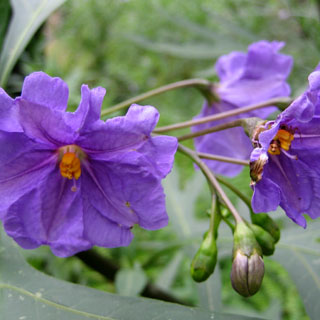 This is the strangest waterfall I've seen. The water comes down, it hits the rocks, and then--that's it. Where does the water go? Underground, of course, but this is unexpected.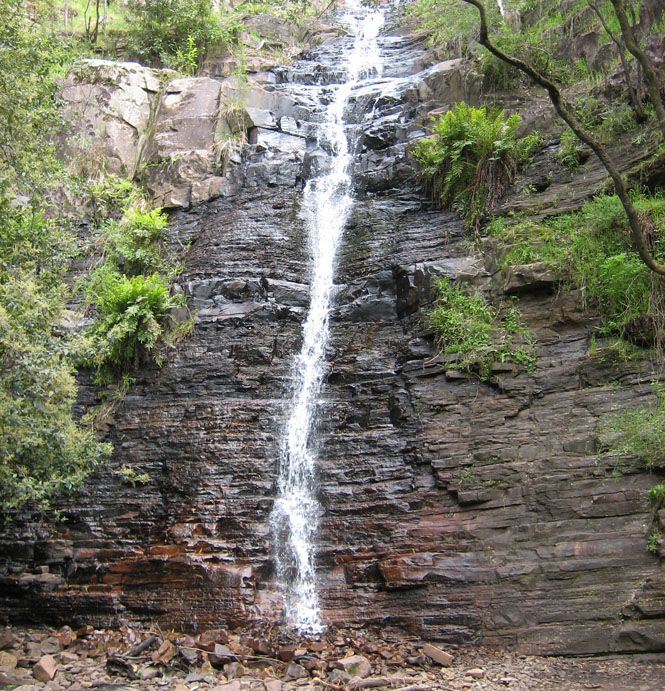 The visitor center for the park.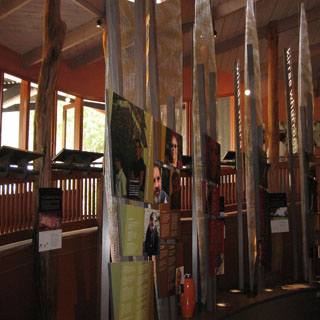 I bought gas in St Arnaud, and took the time to walk the full length of the main street through town.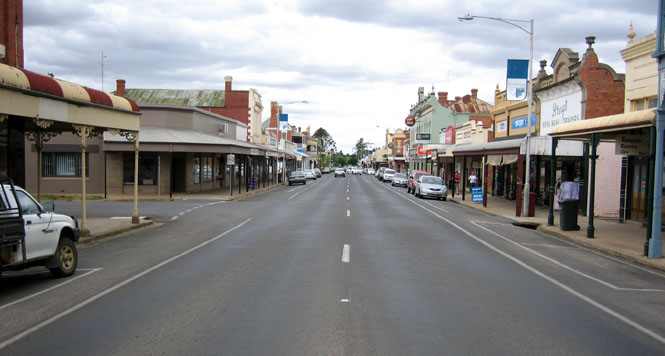 I've been impressed by the iron work on many buildings through-out the trip.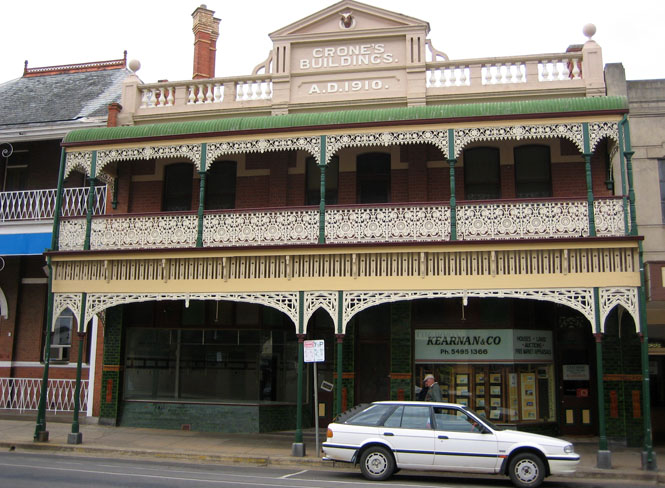 I would be taking the road to Charlton (which doesn't mean that I would end up there).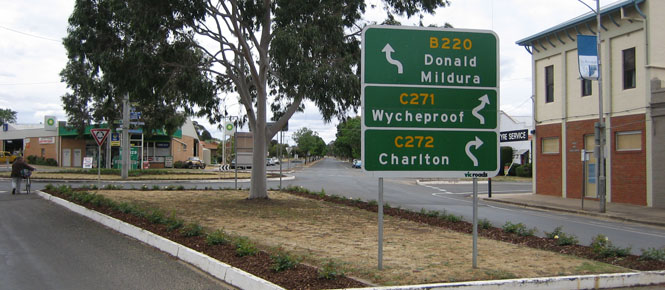 This could very well be Nebraska (but, only if you pretend the gum trees are cottonwood trees).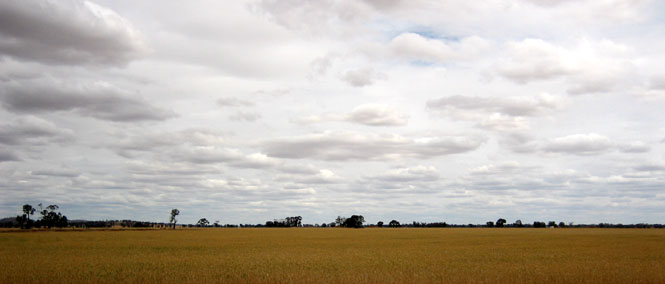 The Boort lawn bowlers. I was impressed that they all wore the outfits appropriate for their club.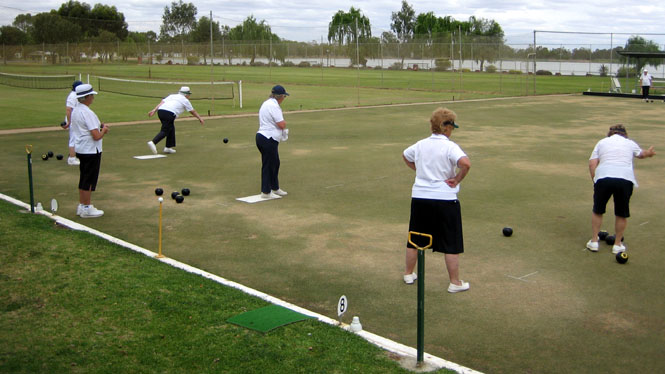 New South Wales
Crossing the Murray River, into Barham. There was a distinct difference between the two sides of the river. Of course, irrigation was the reason.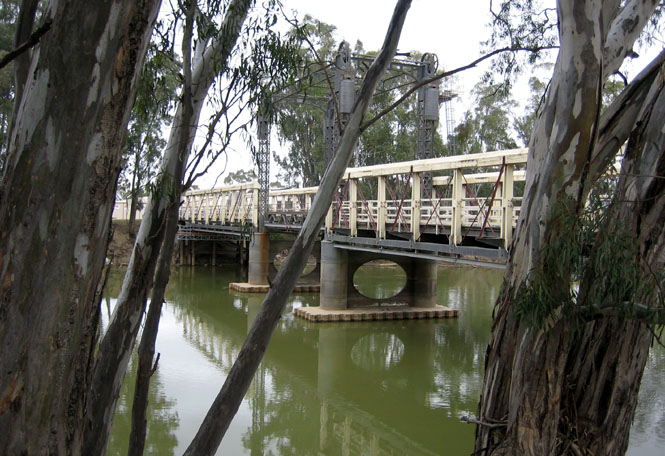 I don't know if these places are found across Australia, but I saw several during the ride. Drive-through liquor stores such as this are common in Texas, but the ones in Texas generally aren't something you'd want to hang around. The ones I saw here were all quite pleasant and open.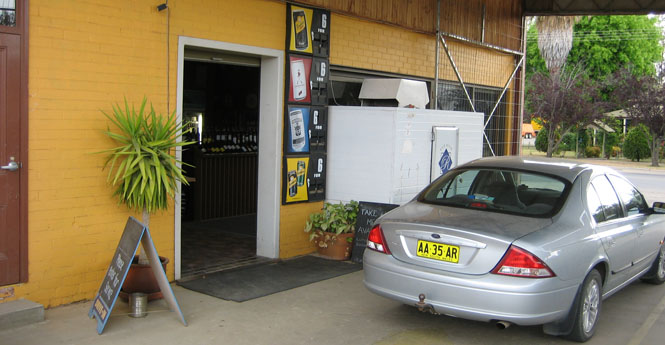 A person could go really, really fast if he wanted to...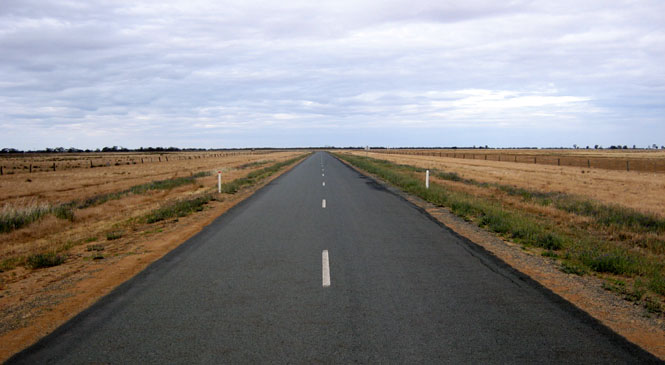 Deniliquin's downtown. I could say that this was a pleasant town, too, but in fact, they were all pleasant towns.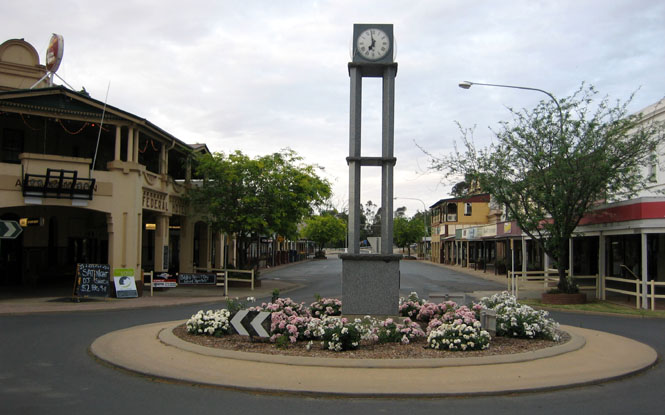 The park and that round-a-bout clock (above) and the flowers throughout the town show a lot of civic pride.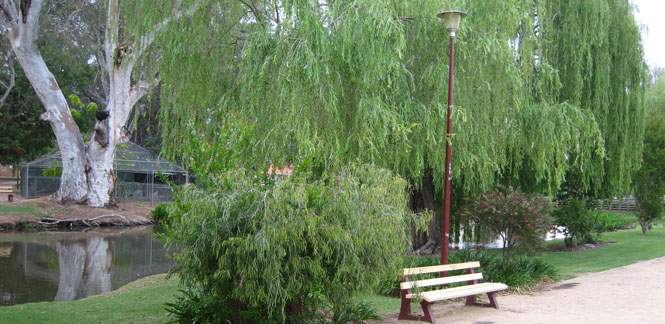 There really isn't any reason to go through Conargo; the main road from Deniliquin north doesn't go this way. But, those thin red lines always get my attention, so I turned north to see what was there.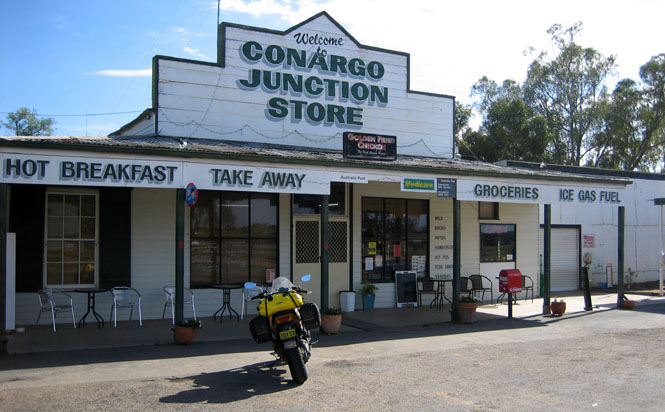 Morundah. This is just about the entire town.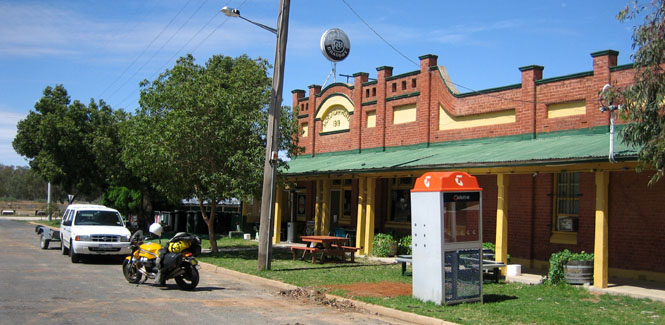 I haven't started a sheep-in-truck collection, and I don't think I need bother.

Narrandera was a busy place. I walked about six blocks through town, and they were all full of people.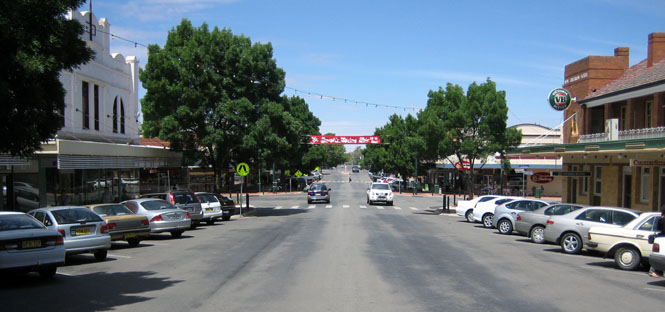 The Narrandera council chambers.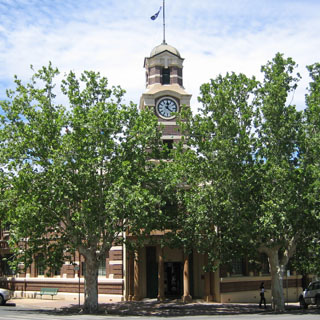 Grong Grong had a gas station and a general store and a grain elevator and not much more.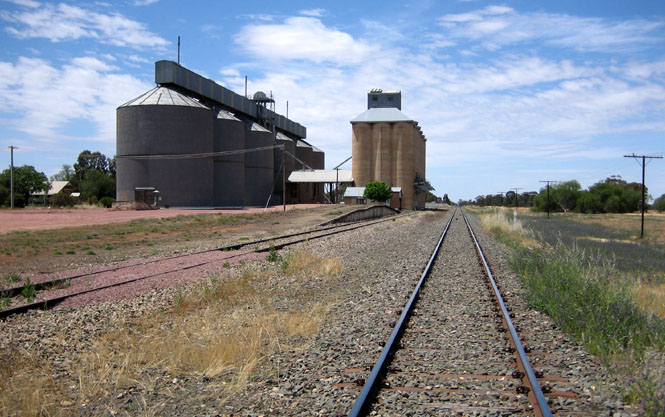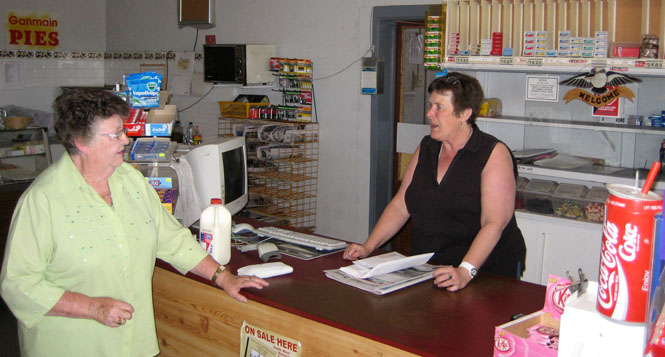 This large public house in Mirool is pretty much the only active building in town.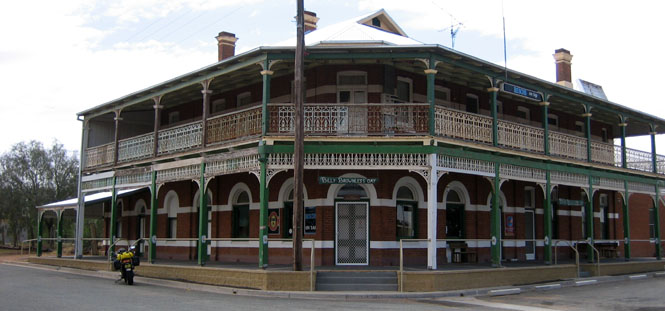 Each year (except when they don't) they have a contest to see who can kick a ball (I presume an Australian Rules Football) over the elevators. Amazingly, somebody succeeds most of the time (but, not always).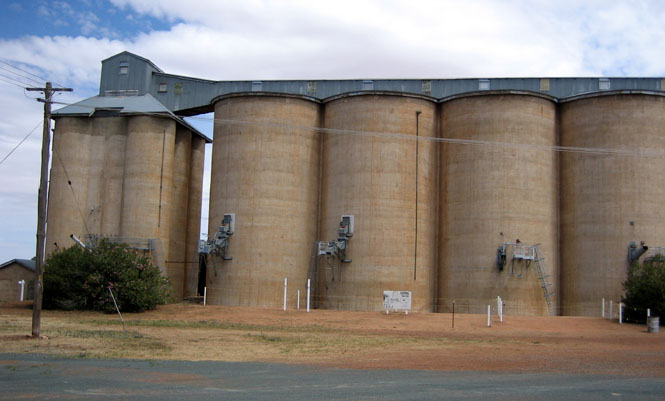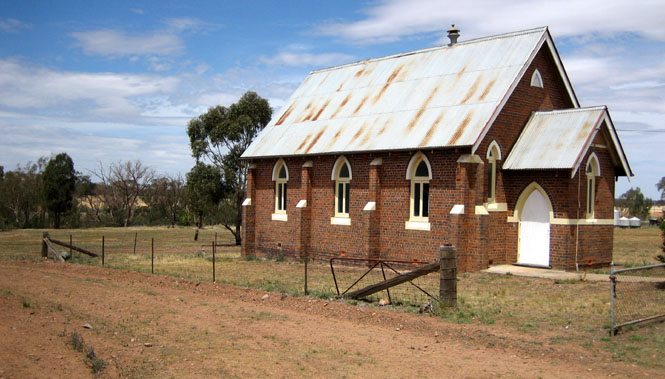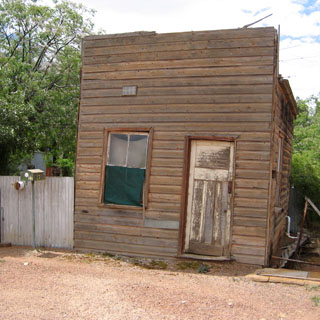 West Wyalong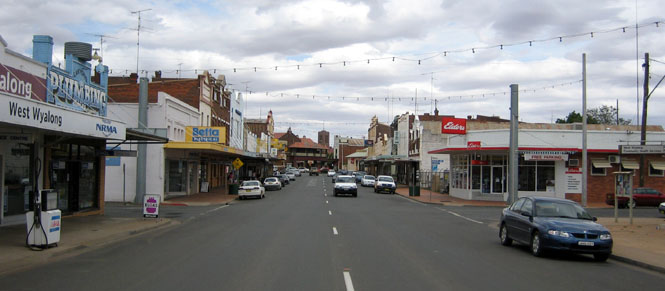 I've come to depend on finding a bakery whenever it's time to stop for lunch.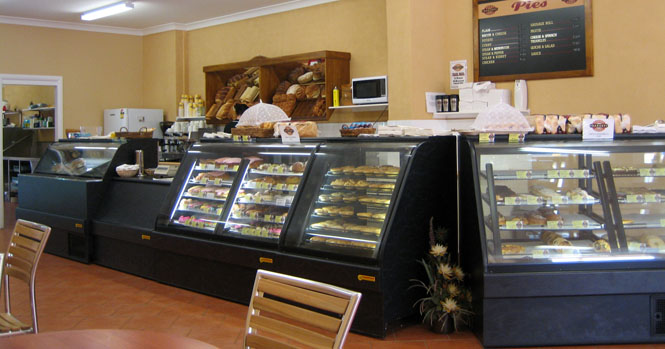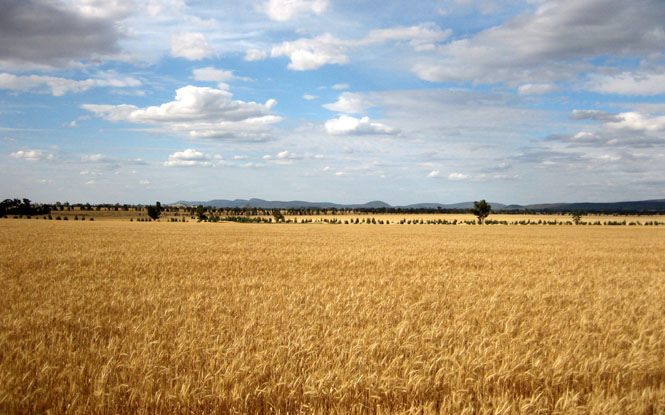 This is the same large radio receiver that was featured in the movie "The Dish." Unfortunately, the visitor center was closed.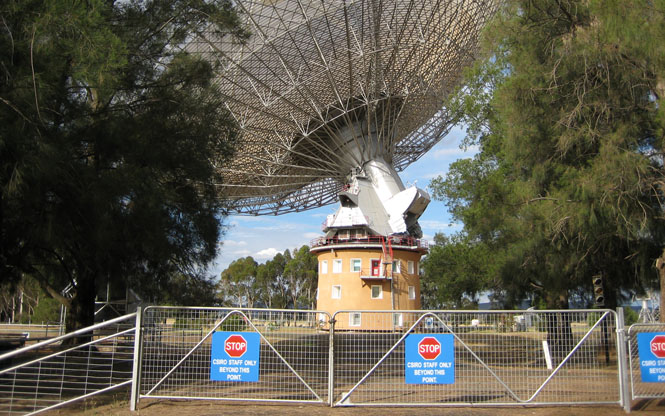 Peak Hill is an old gold mining town, although the mines are no longer active (I believe).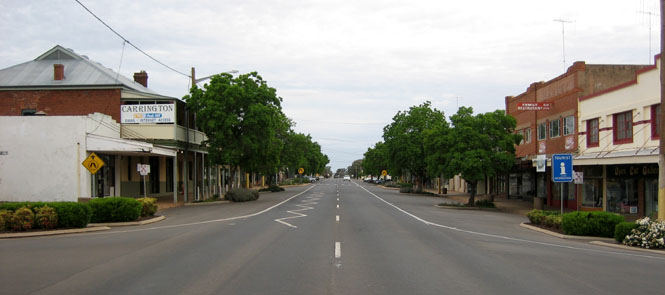 The fierce guard dog at the hotel.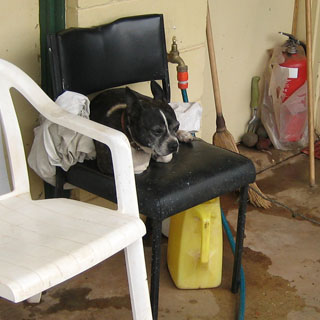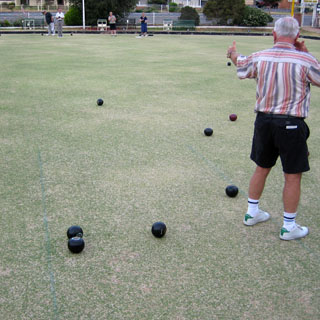 This is such a classic and typical Australian residential house, that I took a picture of it.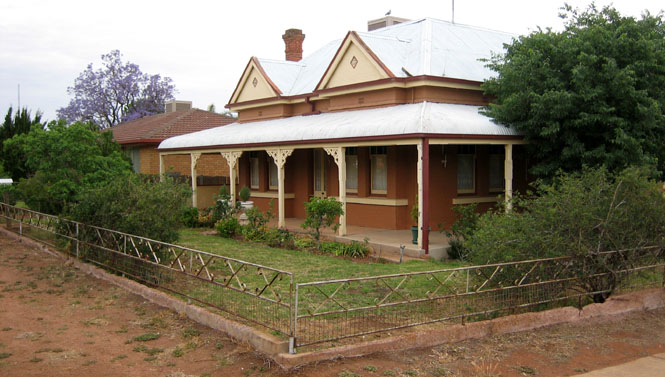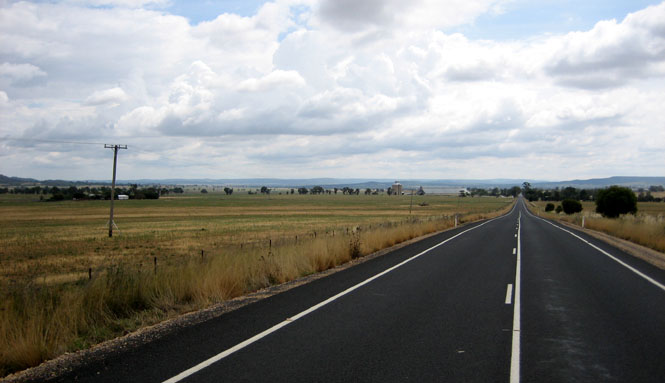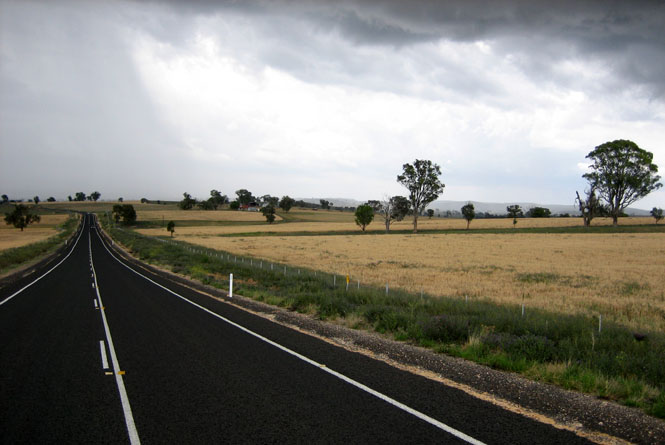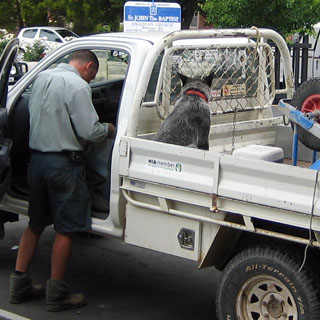 Reaching Mudgee, I'm nearly out of the plains and back into the hills.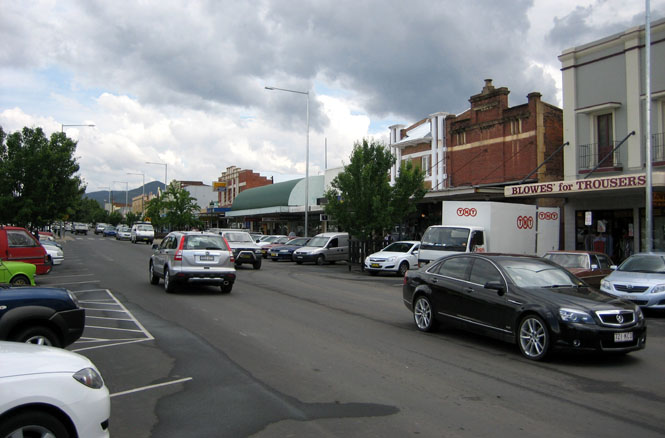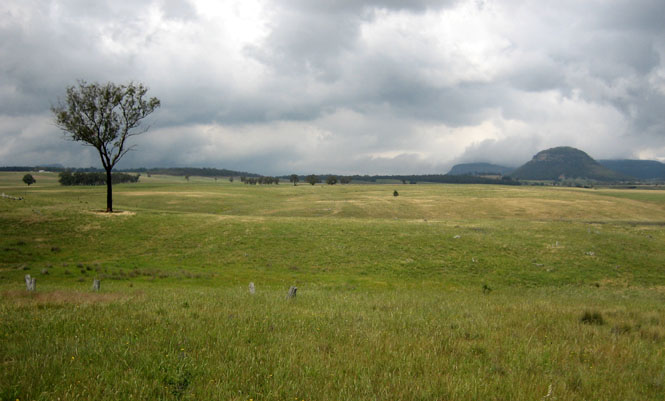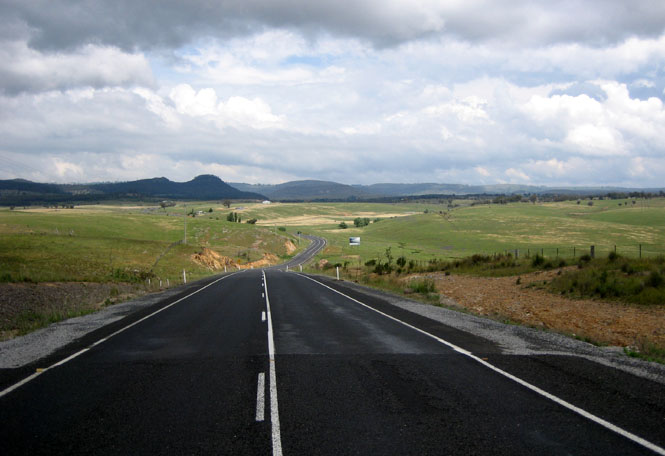 A typical farm house.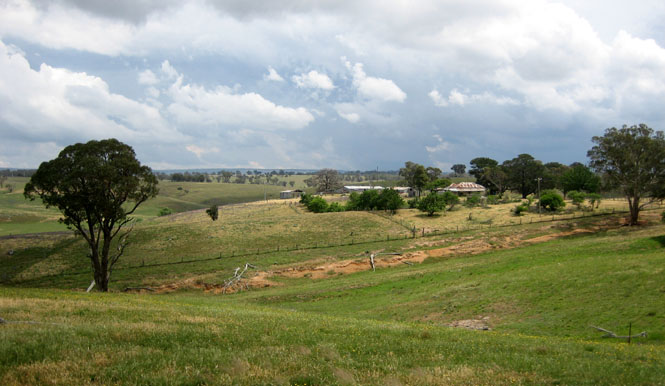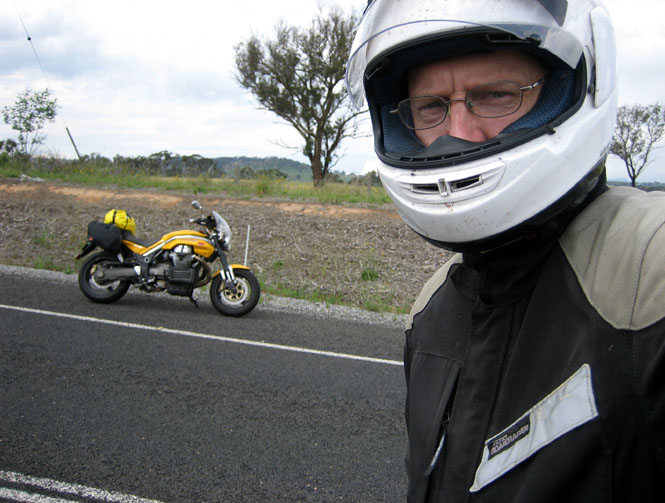 Bathurst would be my last night out. This is a good sized town, and took me a couple of hours to walk through.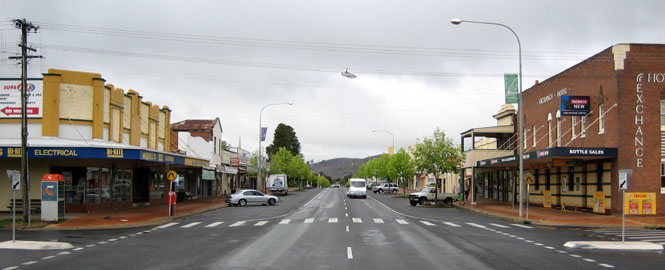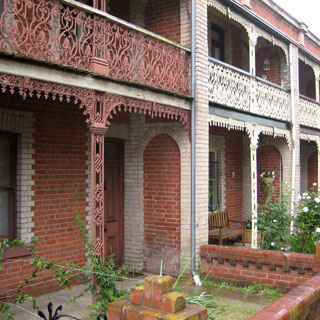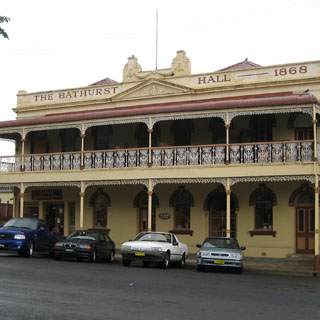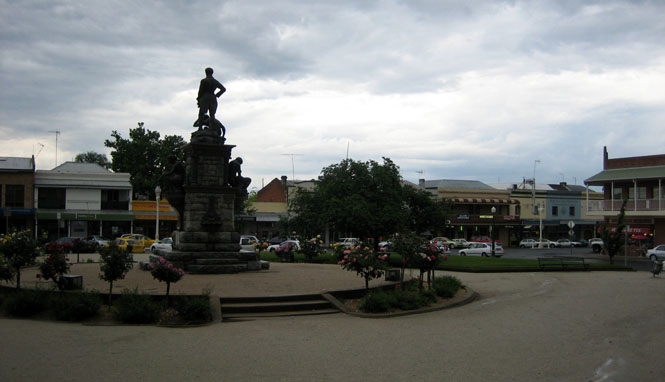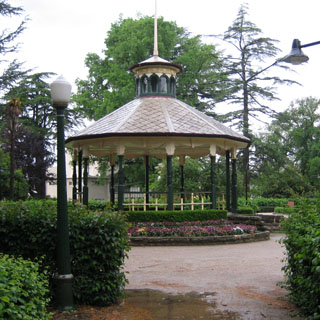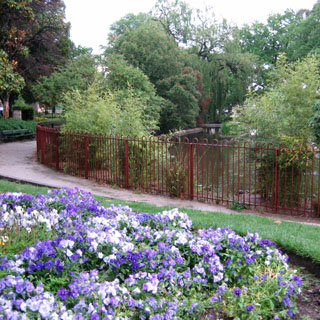 I was very impressed by the courthouse.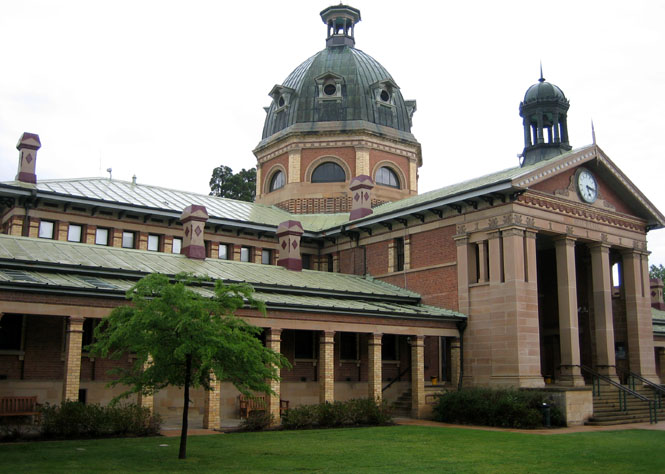 Carcoar is one of the oldest towns in the area.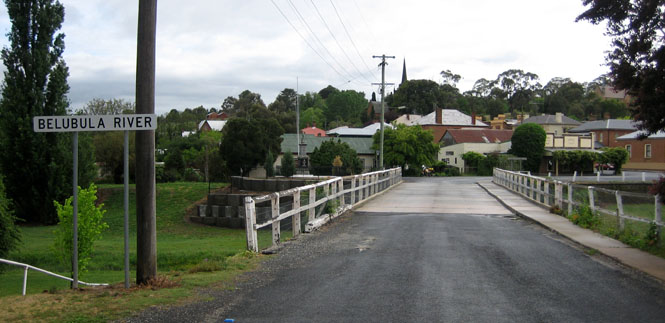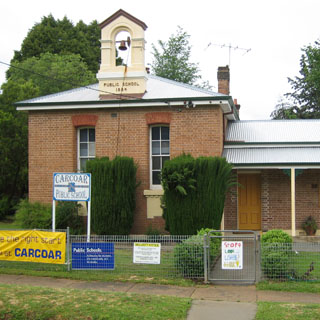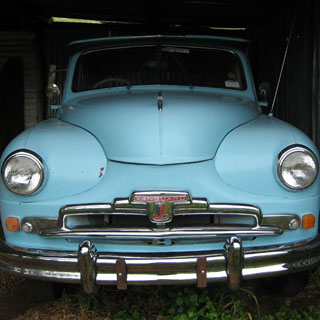 At this point, I'm not following any map, but am just picking out roads that head in the right general direction. But, how can you not stop at a town named Wombat?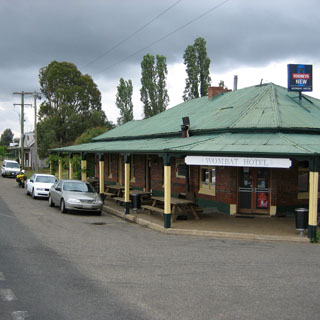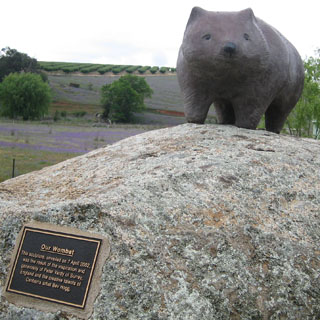 Harden is paired with the town of Murrumburrah. Most all the towns in this area have this sort of back-in parking. In some towns, the sign said to park at 45 degrees, but in Harden the signs said that 60 degrees was what you wanted.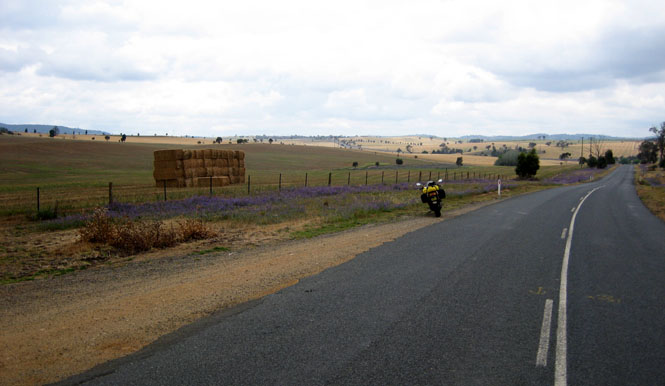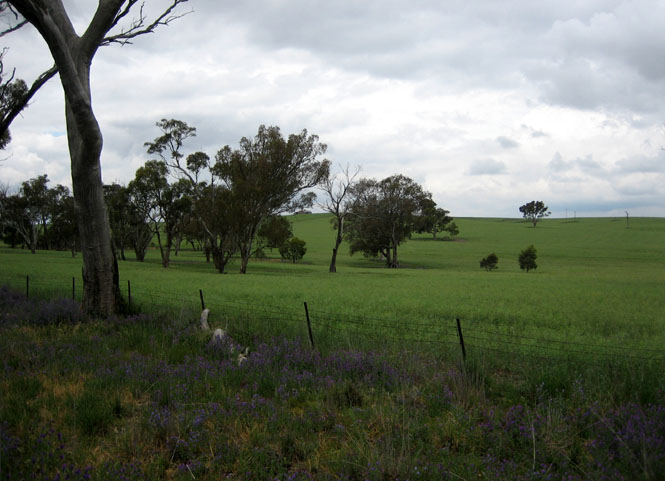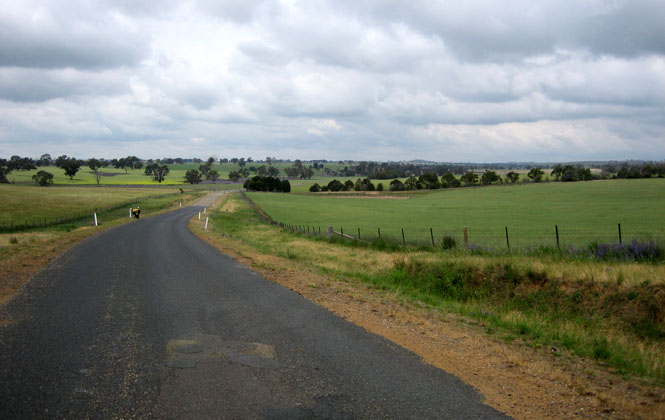 This is a typical windmill. In general, the diameters are larger than the typical windmill found in Kansas. It may have to do with the average wind speed as I think this one wouldn't last a Kansas spring without flinging itself to death.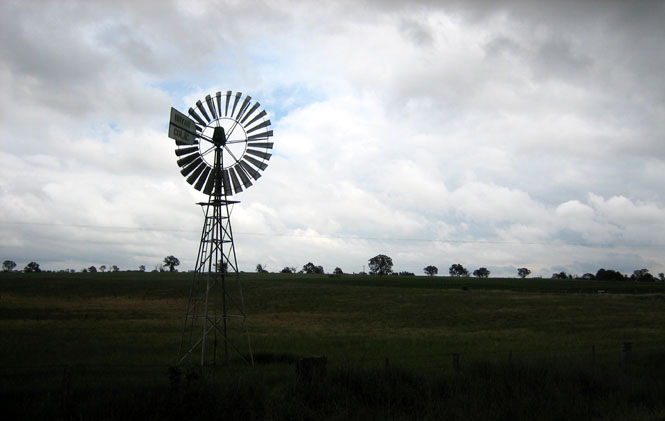 So soon? I'm back to Bungendore.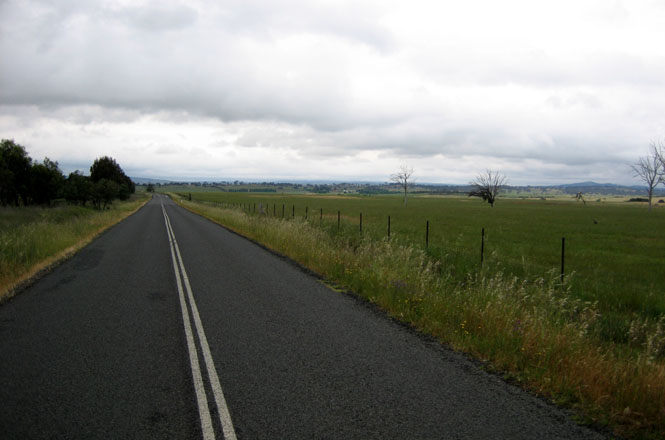 The motorcycle ran perfectly and I had no problems with it at all. In fact, the whole trip couldn't have been any better. Thanks again to the whole Roper clan--without whom none of this could have happened.
After a terrific roast beef dinner at the Roper's, and then more breakfast than anybody needs at the cafe in Queanbeyan the next morning, I was off to the Canberra airport for the short flight to Sydney and then back home.

Notes
What kind of name is "Griso" for a motorcycle?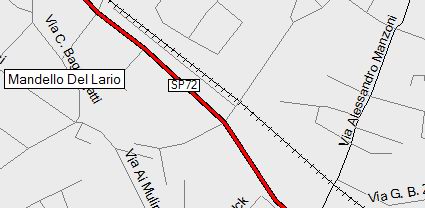 An appropriate one. A few facts: The Moto Guzzi factory is in Mandello Del Lario. An important road in that city is Via Alessandro Manzoni, which runs nearby the factory.
Alessandro Manzoni (1785 - 1873) was an Italian author who is by far the most famous and influential author in Italy (not counting the history before Italy became a unified nation). He's probably the equivalent of Tolstoy to Russia, or Dickens to England. His most famous novel is "I Promessi Sposi" (1822), which is full of romance and intrigue and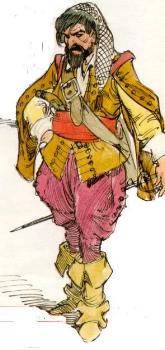 plague and religion and is probably impossible to fully understand unless you are Italian. A key character in that book is Il Griso. Griso is a nasty sort of man who would be perfectly willing to kill you if it suited him. In Italy, at least, the name Griso brings to mind something lawless and dangerous.
Hardly risen, he sent for Griso.—Something important,—thought the servant to whom the order was given; for the man who bore this assumed name was no less a personage than the head of the bravoes, to whom the boldest and most dangerous enterprises were confided, who was the most trusted by his master, and was devoted to him, at all risks, by gratitude and interest. Guilty of murder, he had sought the protection of Don Rodrigo, to escape the pursuit of justice; and he, by taking him into his service, had sheltered him from the reach of persecution. Here, by engaging in every crime that was required of him, he was secured from the punishment of the first fault. To Don Rodrigo the acquisition had been of no small importance; for this Griso, besides being undoubtedly the most courageous of the household, was also a specimen of what his master had been able to attempt with impunity against the laws; so that Don Rodrigo's power was aggrandized both in reality and in common opinion. 'Griso!' said Don Rodrigo, 'in this emergency it will be seen what you are worth. Before to-morrow, Lucia must be in this place.' 'It shall never be said that Griso shrank from the command of his noble protector.'
How was the Griso to tour on? Better than you might think. The riding position of the legs is nearly the same as a full-on sport bike, while the bars are as wide as a super-motard's. To a surprising degree, it's all very close to my KTM Adventure. I'm 6-4, and didn't have any problem with it. While I didn't put on that many miles each day (the whole trip was less than 4,500 km), I never had any aches or stiffness after getting off. The bags worked great, while the windshield worked well enough. The seat was fine. In short, I could have toured many more miles each day without any problem.
Language. While they do speak English, it's not the same English as is spoken in Kansas. But, of course that goes both ways. There were times when I had to speak very slowly and distinctly for somebody to understand what I was saying, too.
Drivers. They're no better than drivers anywhere. If you're on a motorcycle, watch for oncoming drivers to turn in front of you (as they do everywhere), and on multilane highways, watch for drivers merging into your lane (as they do everywhere).
Towns. I loved them. They are all functioning, vibrant and generally all the buildings are occupied. I didn't see any coreless cities as can be common in some areas of the U.S. If you want to find the good hotels, don't ride to the edge of town (as you would do in the U.S.)--go right downtown.
Bakeries. I can't say enough about this great concept. Fresh food, a wide assortment and always friendly people.
Aerostich Riding Suit. I've had this one for fifteen years. I hit a lot of rain on the trip but always stayed completely dry. It may be faded, but it continues to work very well.
Food. All of it, good--most of it, excellent.
Beer. Man, these people drink a lot of beer!
Roads. Interesting. The pavement was often something that looked like upgraded chip-seal (as it would be called in the U.S.). Meaning that rather large rocks were at the surface (see the photograph at the beginning). This is fine in the dry (although it probably wears tires out quickly), but it made me very nervous in the wet. Rocks can be slippery.
Gasoline. There was never a problem finding it. Even the smallest towns had gas (which is not the case in western Kansas, for instance). Unfortunately, not a single station had pumps that would take a credit card swipe (as virtually all pumps in the U.S. do). I saw a number of full-service stations.
Children. Is this nation full of well-behaved children? It might be, because that's all I ever saw. Even in the large school groups in Canberra, I was impressed by their behavior and their conversations (that I overheard).
Dogs. I think all dogs in Australia must have IQs at least as high as your typical five year old. Possibly higher.
Lemon soft drinks. These are common, and the U.S. has nothing like it. 5% lemon juice in a carbonated base. It's not 7-up; it's more like carbonated lemonade (but, not as sweet).
Bacon. Little fat, and very thick. Excellent.
Road signs. Some are good, some are horrible. Though nowhere was as bad as Wyoming (where you cannot count on any useful signs on the secondary roads).
Motorcycles. I saw lots of Harley-Davidsons on the Great Ocean Road (with wildly inexperienced riders), but not very many away from that road. Curiously, virtually all of the HD riders had open faced helmets with bandit-like scarves over their face, below their eyes. They looked like old desert racers.
Internet. Wifi is not common (free Wifi is non-existent), and access will cost you.
Money. I wish the U.S. dollar were worth something...
last edit: 11/12/2007